I have lived in the city for almost 9 years and, every week, I uncover new things to do in Singapore, places to see and interesting tourist attractions. This is why I keep updating this post almost on a monthly basis, so that it continues to reflect my selection of over 100 of the best places to visit in Singapore.
As anybody who has ever visited will know, the city changes at a remarkable pace and there are always new attractions that open and others which disappear (hello colorful HDB buildings in Rochor).
Psst! If you find something incorrect, let me know so I can fix it for others!
In order to simplify your life and make your trip to Singapore easier to plan, I have organised this list of the best Singapore attractions by neighbourhood.
Singapore is pretty small by any main city standards, but you can always be more efficient and make sure you don't spend your day criss-crossing the city by exploring one neighbourhood at a time.
Wondering what to do in Singapore?
Pick a neighbourhood and go explore with my list of the best things to do in Singapore.
Or if you prefer to focus on the types of activities you love most, check out the table of content below so you can select the Singapore attractions you like the most, from points of interests to landmarks, parks, temples, buildings and museums!
There are great Singapore staycation deals all around the country whether you're a local or visiting internationally. Read our article on the best Singapore staycations under S$200 to find out more.
Things to do in Sentosa, Vivo City and surroundings
Sentosa is a man-made island accessible via a bridge from the main island and is well known to visitors as one of the most famous places to visit in Singapore. The island measures 500 hectares and is located about 20 minutes drive from the business district.
Aside from several entertainment and leisure options and the beach, Sentosa also has a golf club and a residential development located on the southeastern coast and made of 2,000 of the most exclusive homes in Singapore called Sentosa Cove.
Getting to Sentosa can be done by tram or on foot from Vivo City, by cable car, by car or by bus. There is no MRT service to the island and motorbikes are not allowed. Taxis will have to pay an entry ticket between S$3 and S$7 depending on day/ time. Moving inside Sentosa is free of charge through their network of buses.
I have also written a separate Guide to Sentosa if you want even more information and details.
Enjoy a romantic dinner in the air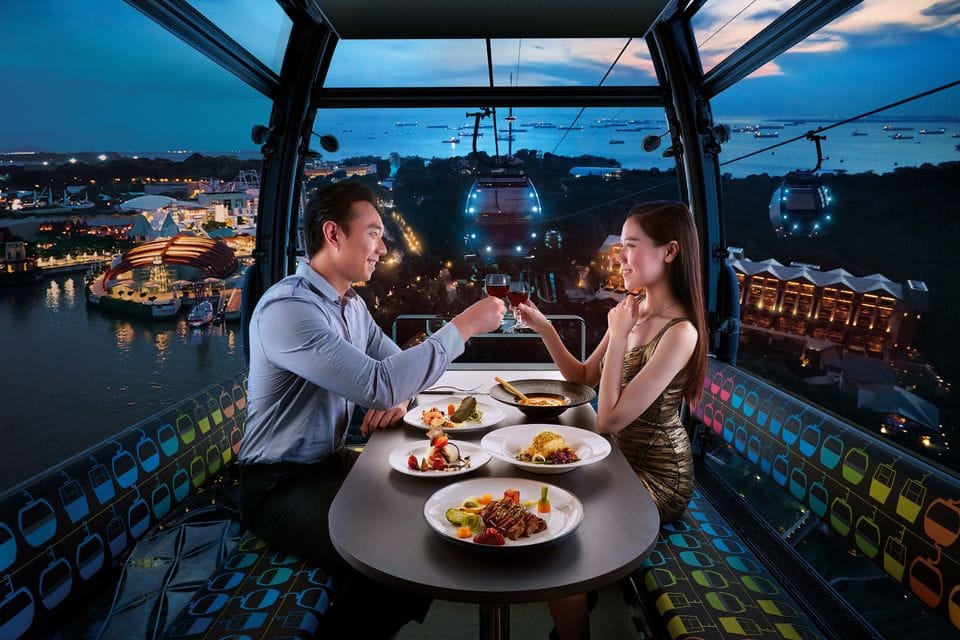 We start this list of things to do in Singapore with an idea for two. The Singapore Cable Car offers short 15min rides to and from Mount Faber and is also one of the most fun ways to get to the island, but did you know that they also set up romantic dinners for two?
Dinner lasts 90mins and starts with a welcome drink at Mount Faber then follows with a 4 course meal onboard your private car. There are four menus to choose from and the car will go around three times (15min each way down and up) until you are returned again to your Mount Faber departure point.
This is probably one of the most unique ways to dine in Singapore and surely one of the most stunning sunset locations so all in all, one of the most unique things to do in Singapore for couples.
Book your dinner for two here.
Sentosa beach life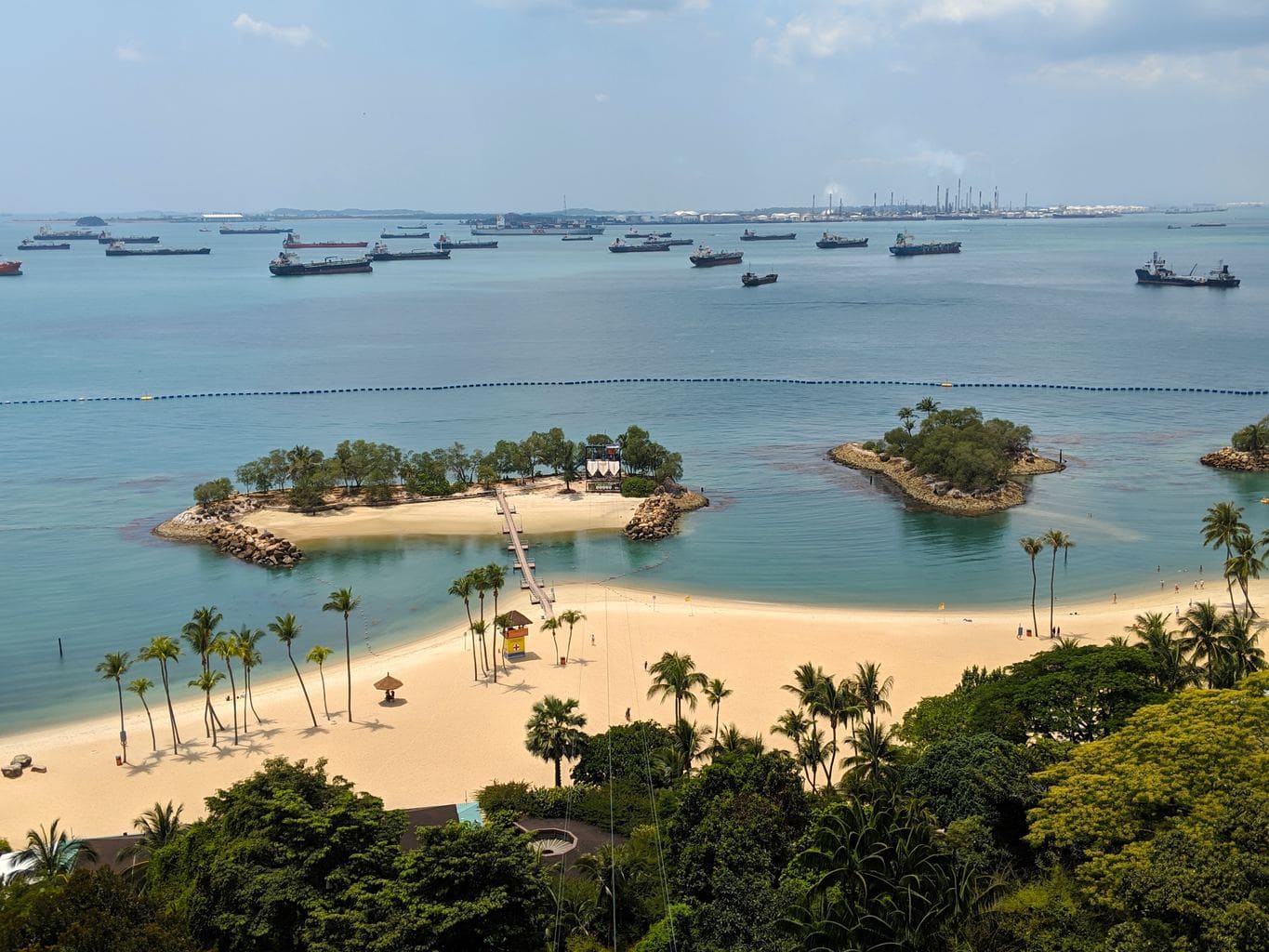 One of the most relaxing things to do in Singapore is to take advantage of its island status and visit the beach to chill for the day.
There are three beaches on Sentosa, each aimed at a different type of beach-goer, and they are, hands down, Singapore's best beaches.
Siloso Beach caters to the active beach bums as it has a range of water and sand sports, the AJ Hackett bungy jump (which is awesome and also has a less scary swing-style option), iFly Singapore, zip-lining at Mega Adventure Park and even water-jetpacking at Ola Beach Club.
Siloso is also filled with some of the most laid-back beach clubs, perfect for families and friends. These are also one of the best places to visit in Singapore if you are looking for some real island life. Check out long-time favorites Coastes (<- this link has deals on food) and Bikini Bar. I love Coastes whether you go with some friends or children as the sea is shallow and there is plenty of shade.
Palawan Beach is a bit quieter and more geared toward families, you will find less beach clubs and more sand here. It's a great place to bring the little ones as the waters are really shallow, the beach clean and there is a fun suspension bridge going to the southernmost point in continental Asia.
There is also the Animal & Bird Encounters, and a few places to fuel up including my favorite, Spanish beach club, bar and restaurant FOC which has tables, sun loungers and food & drinks so it's easy to make a day of it.
The last of the main beaches on Sentosa is classy and hip Tanjong Beach. If you're a social butterfly or like your beach time with a side of DJ music, this is the place to be.
Tanjong Beach Club (TBC) has DJs spinning some tunes and Sunday is the day when it really gets electric with all of Singapore's beautiful people turning up after lunch to enjoy tunes that go until after sunset.
Pro tip: Tanjong Beach Club also organises regular events on a monthly basis, from beach yoga to cinema under the stars, check their website or Facebook page for details.
Go pump some adrenaline
Sentosa is not just the beach but also a great destination for anyone who has a bit more time and needs a break from all the cultural attractions in Singapore.
The island was constructed with entertainment in mind so it's one of the top places to visit in Singapore for golfing, fishing, sailing or just to participate in some adrenaline pumping activities like skydiving, zip-lining or surfing.
And try the newest extension that will get your blood pumping, the Skyline Luge which is part toboggan and part go kart. It's a super fun activity that can be booked online.
iFly Sentosa
I highly recommend iFly where you can quickly master the art of skydiving safely and do pretty cool acrobatics. Check out the video above. If I can do it, so can you, trust me.
Buy one of two ticket options online, peak or offpeak times, and then just walk in whenever you want.
The ticket gives you two full rounds of sky diving and you will get all the safety equipment and a briefing beforehand so you know what to do. I would not jump from a plane, but this was pretty fun and equally exciting minus the risk.
Bunjy jumping only for the bravest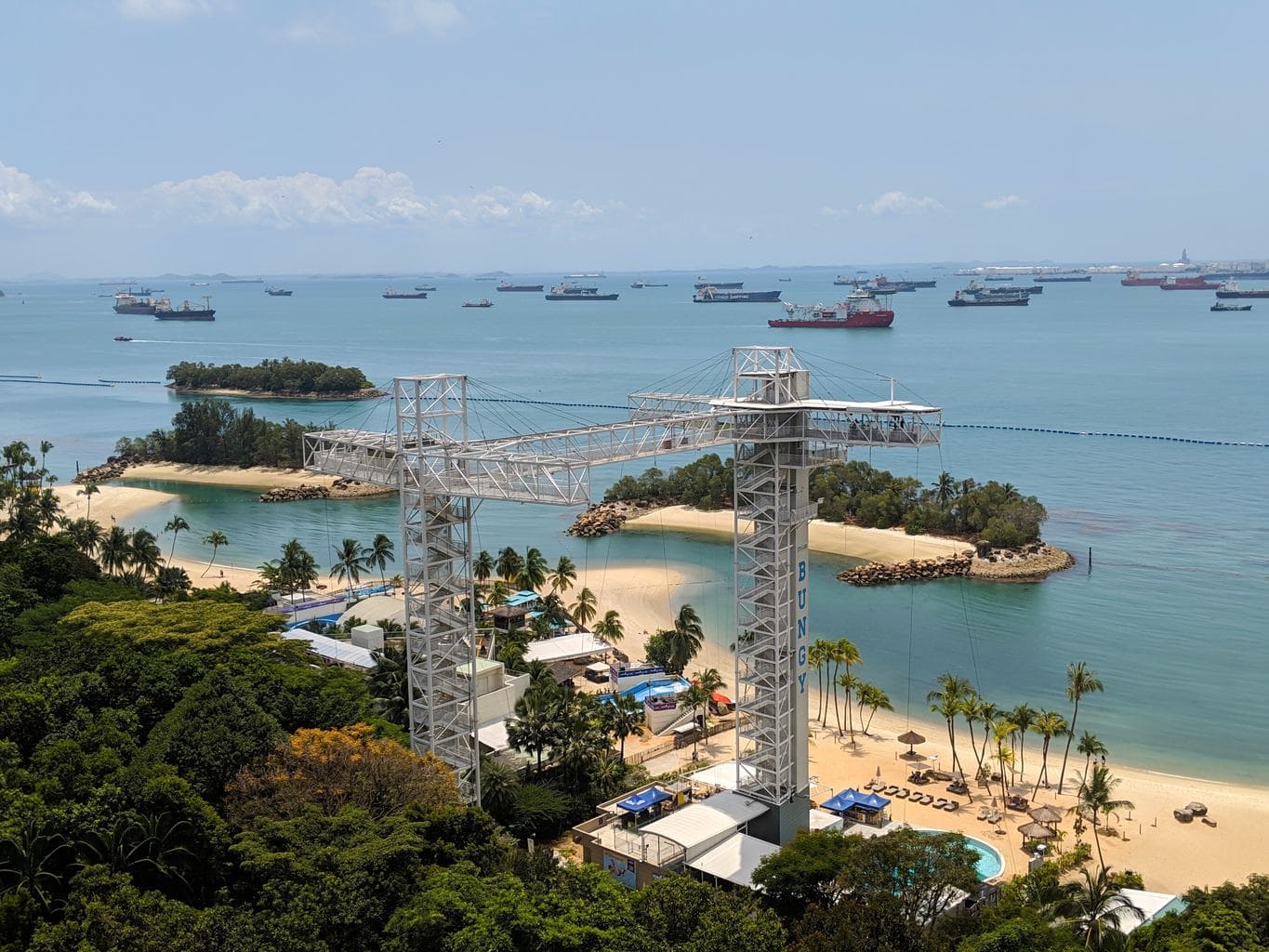 Talking about adrenaline pumping, what about being suspended in the air, walking on see-through floor, being swung at high altitudes or bungy jumping?
Yep, you can do all this from the AJ Hackett structure right on the beach and enjoy great views too.
These are the same folks who manage the Macau Tower offering a host of similar activities so you know they are experienced and know what they are doing.
Choose between bungy jumping from 50m above sea level (if you dare! I didn't, I just watched my friends drop), a giant swing, which will give you great views and also a rush similar to the one you get on a roller coaster, or a walk on a sky bridge, which looks easy from the distance but may be quite frightening 50m above the ground.
Butterfly Park
Kids will love a visit to the Butterfly Park where you get to be inside an enclosed area with lots of butterflies flying around. You can get as close as you like to them and even get them to walk on your fingers. The friendly staff will also be able to explain the cycle of a butterfly as you the larvae and worms evolve into the beautiful creatures in real life.
The Butterfly Park also has an imposing but totally harmless iguana and a couple of pairs of colorful parrots that can be pretty loud, don't speak but are very smart. For a small fee they can be persuaded to jump on your shoulder for a photo op.
Haw Par Villa
Haw Par Villa and its sprawling grounds are one of the most interesting and unique places to visit in Singapore and is regularly highlighted as the weirdest place the island has to offer.
The complex was built by the Aw brothers, the founders of the famous Tiger Balm ointment. During WWII the villa was taken over by Japanese troops who used it as a view point to watch for ships.
This is a place to explore and experience Chinese folklore and mythology in a surreal landscape and architecture. You should come with an open mind and expect to be wowed by the over 1,000 weird structures, sculptures and designs.
Do not miss the chance to get into the Courts of Hell, a permanent exhibition that showcases, with figurines and sculptures, the major sins and the punishment offenders would get in Hell.
It is pretty grotesque and not for the little ones. It is hard to explain how you will feel after a visit to Haw Par Villa but tales and stories won't lack you.
After being left almost abandoned for over 30 years, it was bought by the Singapore Tourism Board in 1985 and walking tours of Haw Par Villa are now available. You can also visit on your own and simply wander around. There are few signs explaining everything (except for inside the Courts of Hell), which is why it is better to go with a guide, but it is still a fun experience.
The best way to see it is on a Twilight tour which will add extra umph to the already macabre and fascinating place. Are you brave enough to visit this popular attraction in Singapore when it gets dark?
The park opens from 9am to 7pm daily. You can find more info on their website.
VivoCity walk
VivoCity is a shopping mall with undulating outside spaces and a pleasant decked walk along the water towards Resorts World Sentosa and the Keppel Marina.
Although there are a lot of malls in the city, this is probably one of the top places to visit in Singapore for open air shopping with the option to can dug in for AC when it gets too hot outside. It is also the largest shopping complex and is really busy on weekends with families.
If you are keen to go to Sentosa, VivoCity is a good starting point as you can walk along the Sentosa Boardwalk or take the free tram from the mall to Resorts World which also makes for a fun ride. The boardwalk is usually lined with weekend markets.
In VivoCity there are a few places worth checking out. One is the Pet Safari a large a pet store selling all sorts of goodies for your favorite friends. The other is the rooftop Sky Park, where there are fountains and water features kids always love to play with (and get wet!).
The mall houses Singapore's largest cinema and there are over 50 restaurants and cafes many of which have outdoor seating too. Last but not least, VivoCity has free WiFi access and a complimentary kids club that is more like an amusement park.
Southern Ridges and Henderson Waves
Most people don't realise that behind the high population density of Singapore hides some true unspoiled bits of jungle and I always think that one of the best attractions in Singapore are actually its parks and gardens.
There are tons of green spaces that make for fabulous weekend hiking and walking excursions and are some of the best places to visit in Singapore.
The Southern Ridges is a network of green spaces that makes up one of Singapore's parks and, besides having some untouched jungle, it has a beautiful design and a few romantic spots to watch the sunset from.
The Southern Ridges includes Mount Faber Park, Telok Blangah Hill Park, HortPark, Kent Ridge Park and Labrador Nature Reserve via 10km of walking trails, forests, jungles and plenty of monkeys. The video below will give you a great feel for what to expect in the Southern Ridges park.
Of all the parks that make the Southern Ridges I especially like Henderson Waves, a bridge that is famous for its undulating shape and is one of the most iconic of the Singapore attractions for locals. Henderson Waves are very romantic at night when the dimmed orange lights provide shelter to couples that hold hands and cuddle.
This is also one of the most Instagrammable places in Singapore and it is not uncommon to see local designers doing a photoshoot.
But don't stay at the waves only and make sure to walk through the canopy walk, the suspended forest walk which is amazing, and the many trails that go up and down the hill. You can top it all off at HortPark where there are regular workshops about gardening and plants, or head for Gillman Barracks (see next).
Read my Guide to the Southern Ridges to find out everything there is to do. The trails are open at all times and you can find more information on their website.
The best way to combine this park is with a WWII tour of Singapore which explores the Japanese attack and occupation and starts at Henderson Waves. This is one of the most interesting, if sober, parts of Singapore's recent history and Mount Faber played an important role in this. The tour also explores Haw Par Villa.
Gillman Barracks
Gillman Barracks is a contemporary art cluster in the West of Singapore which brings together dining options, art studios and galleries in the same compound among greenery and jungle.
You can simply get into the galleries that you like or go on a guided history and art tour of the area which are offered by Friends of the Museum in cooperation with the Economic Development Board.
Even if you are not so much into art, Gillman Barracks is a good place to unwind, enjoy a lunch or a drink and carry on with your sightseeing of Singapore.
Details on the tours can be found here where tickets are available. Each gallery has its own opening hours.
Spend a day at the spa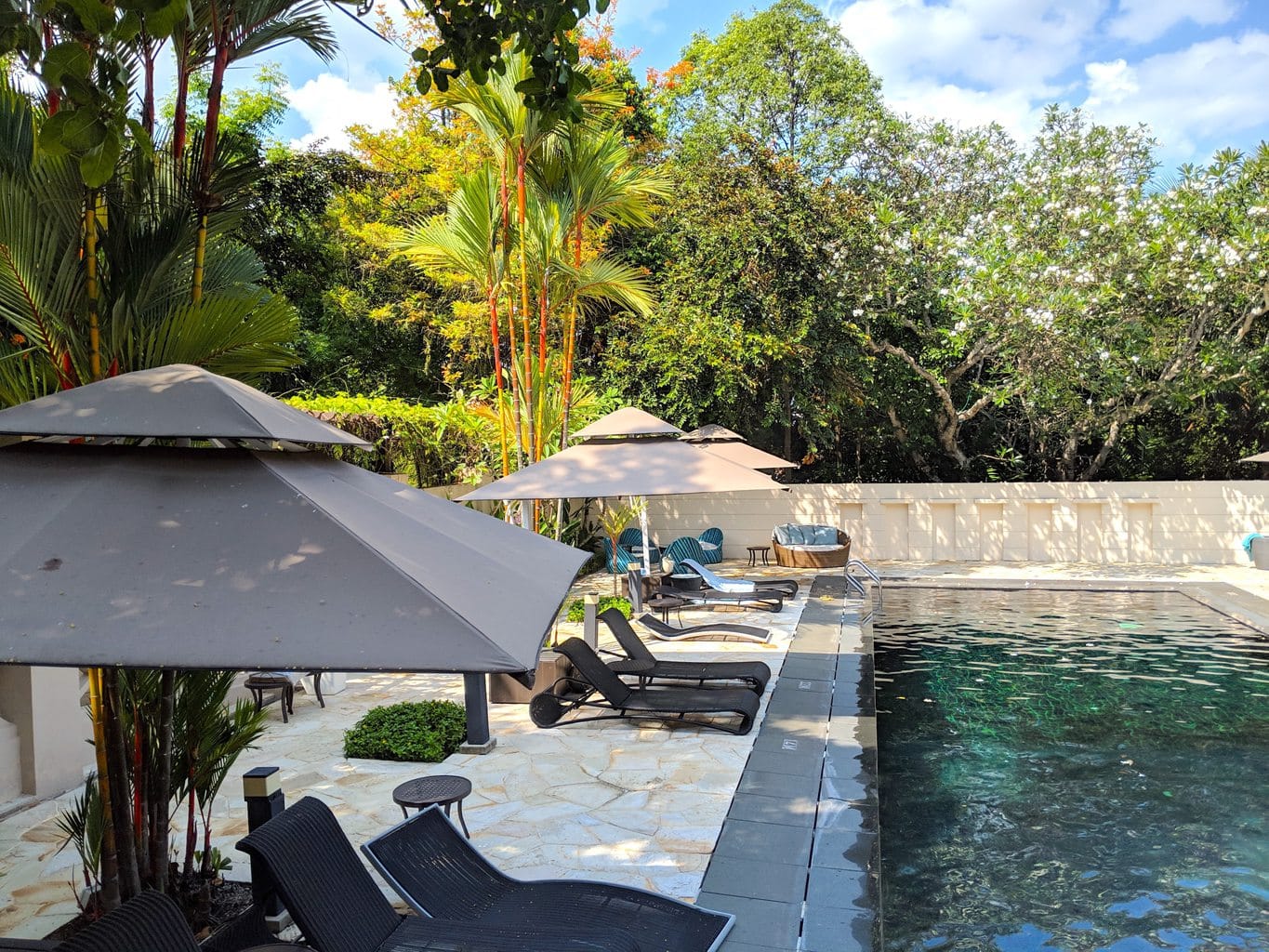 To me, holidays also equal wellness and spa. Pamper yourself with a 60 minute treatment at any of the day spas in Singapore where indulgence is in order.
I highly recommend heading to the Sofitel So Sentosa Spa which offers the option to use the facilities for the entire day of your treatment after or before having it.
That means you can laze around the pool, enjoy organic and healthy food at the restaurant, cover yourself in mud, chill in the waterfall pool, sweat it all out at the steam bath and enjoy some bubbles in their jacuzzi. A fabulous day to take care of yourself or to share with the girls or with your partner.
Universal Studios Singapore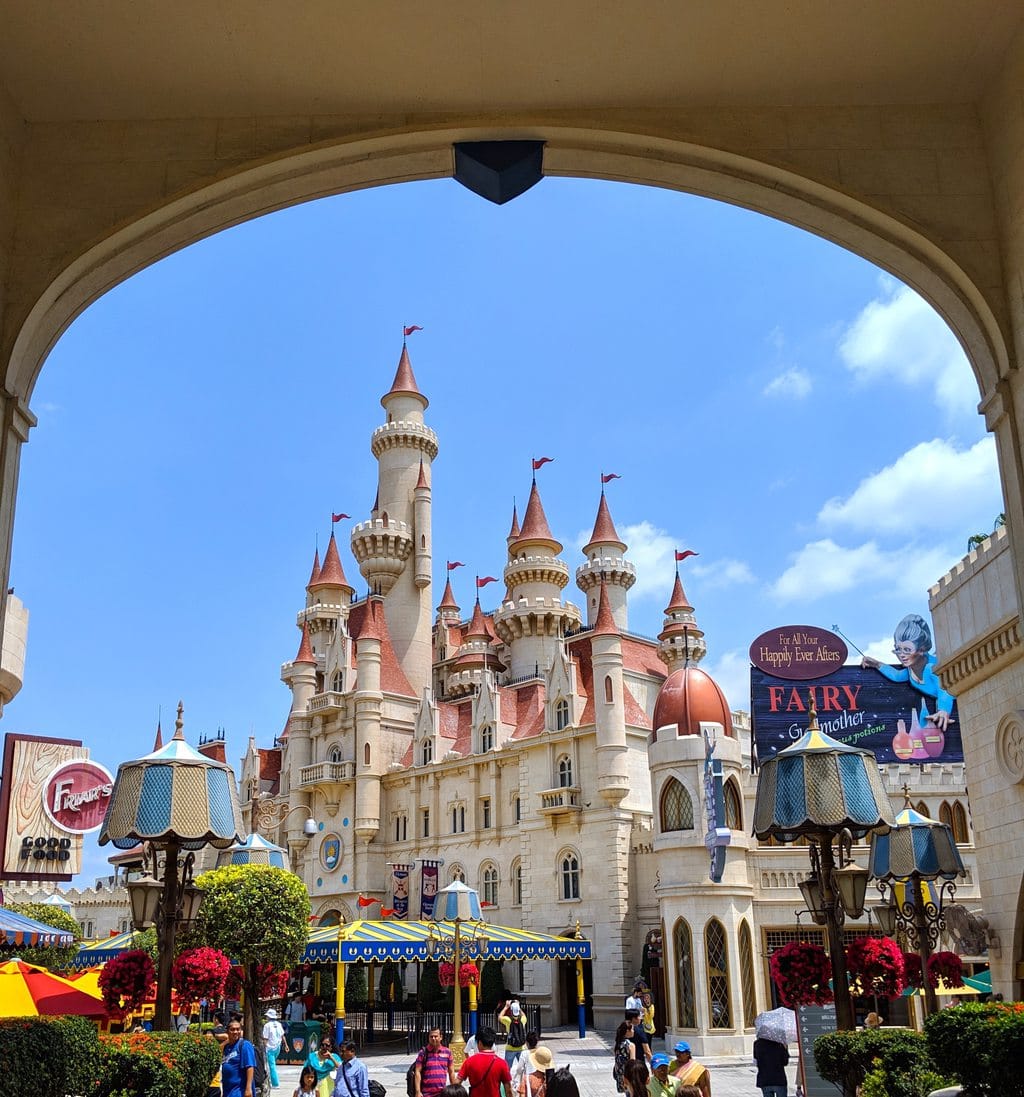 Spending half a day at Universal Studios on Sentosa is a fantastically fun tourist activity in Singapore which is great for families and children. I have been there with friends but also with my partner's 5 year old and we all had a great time.
Unlike other similar amusements parks in the chain across the world, Universal Studios on Sentosa is relatively small and unpacked. In fact, if you get the Express Pass you will not queue at all for the rides so you can try them all in half a day to a day (I highly recommend that).
Universal Studios is possibly one of the best Singapore attractions if you are with kids or just want some easy fun.
The park has several rides, including the famous adrenaline pumping Galaxy roller coaster which is only for those above 1.5m and most rides are for anyone taller than 1m if accompanied by a parent.
There are also lots of shops to buy toys and souvenirs, street performances, as well as various theatres with shows (eg. Sesame Street) for when the weather is too hot and you just need some time in an air conditioned room.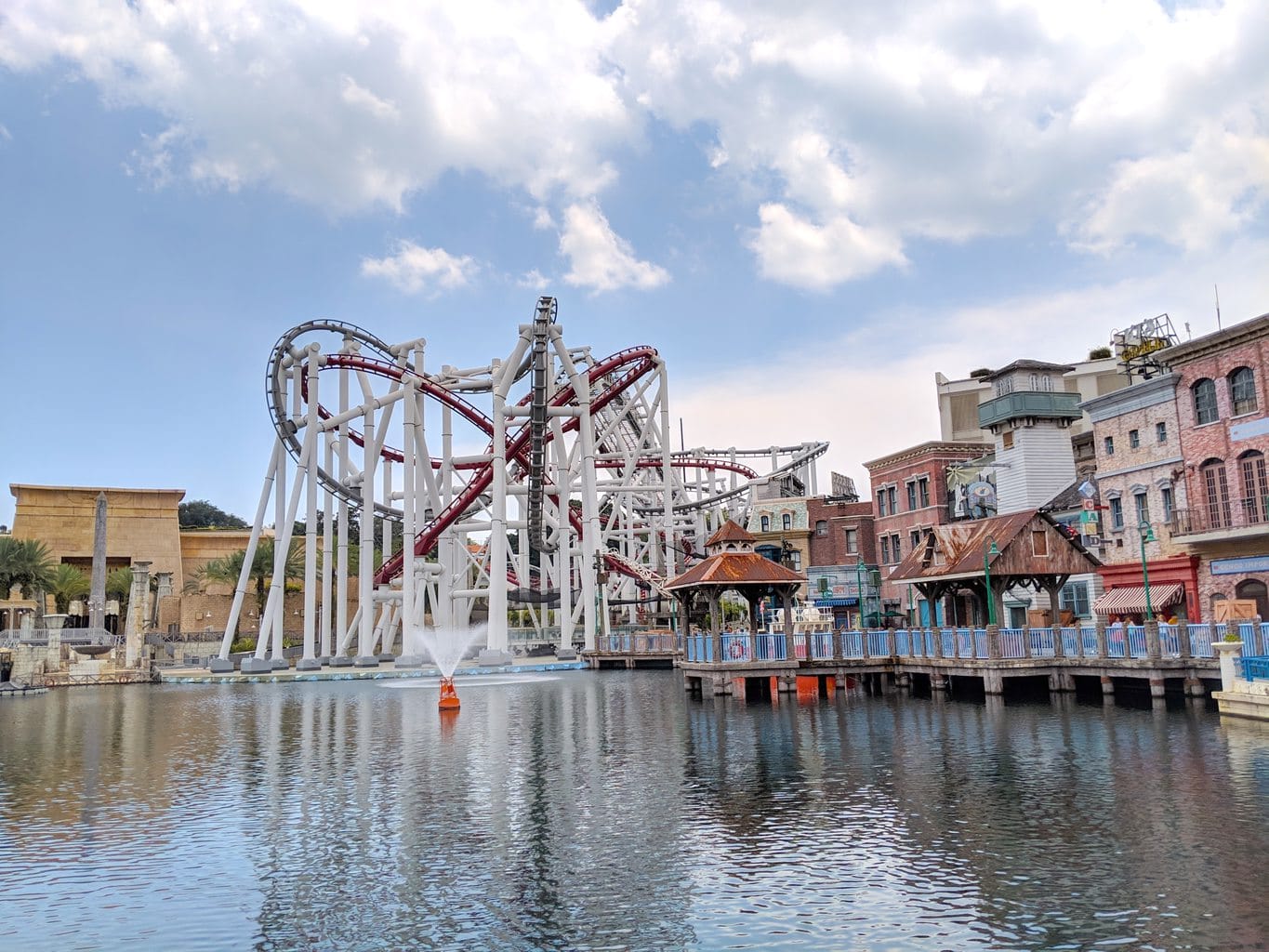 Universal Studios is located in the leisure integrated complex of Resorts World Sentosa and opens from 10am to 10pm every day. Read this post for more details on Universal Studios Singapore.
There are often special events and themed evenings happening, like Halloween Nights (not just during Halloween time but usually from September). The park has free wifi and all sorts of facilities. Book your day pass online with hotel pickup here (<- 10% off if you book via this link)
Pro tip: Be smart and book your entrance ticket with Express Pass. This gives you access to each of the rides once via the Express Pass queue. I bought that ticket when I last went, and we did not queue once. This was a Saturday in the school holiday period and the queues on the regular tickets were 20-45min whereas we just went straight in to the next available spot.
The Express Pass is totally worth it and the best way to make the most of Universal, otherwise you spend 30min queueing for a 2min ride and waste all your day in line. Families with younger kids should also combine a visit to the S.E.A Aquarium which is a family favorite destination. You can book tickets online here.
Pro tip no. 2: Make sure to stay till the evening fireworks. If you don't buy the Express pass tickets, make sure to come as soon as the park opens to avoid the insane queues in the very popular rides that happen mostly after lunch.
Adventure Cove Waterpark
Singapore has its own waterpark on Resorts World Sentosa. Like Universal Studios, Adventure Cove Waterpark is not very large but enough to put away the heat that usually permeates. And this one is not just for kids, Adventure Cove Waterpark focuses on the rides so get ready to scream.
You can snorkel in a coral area or rent cabanas for two and you are sure to be wet the whole time.
Skip the queue and book online.
Sail into the sunset in a one of a kind ship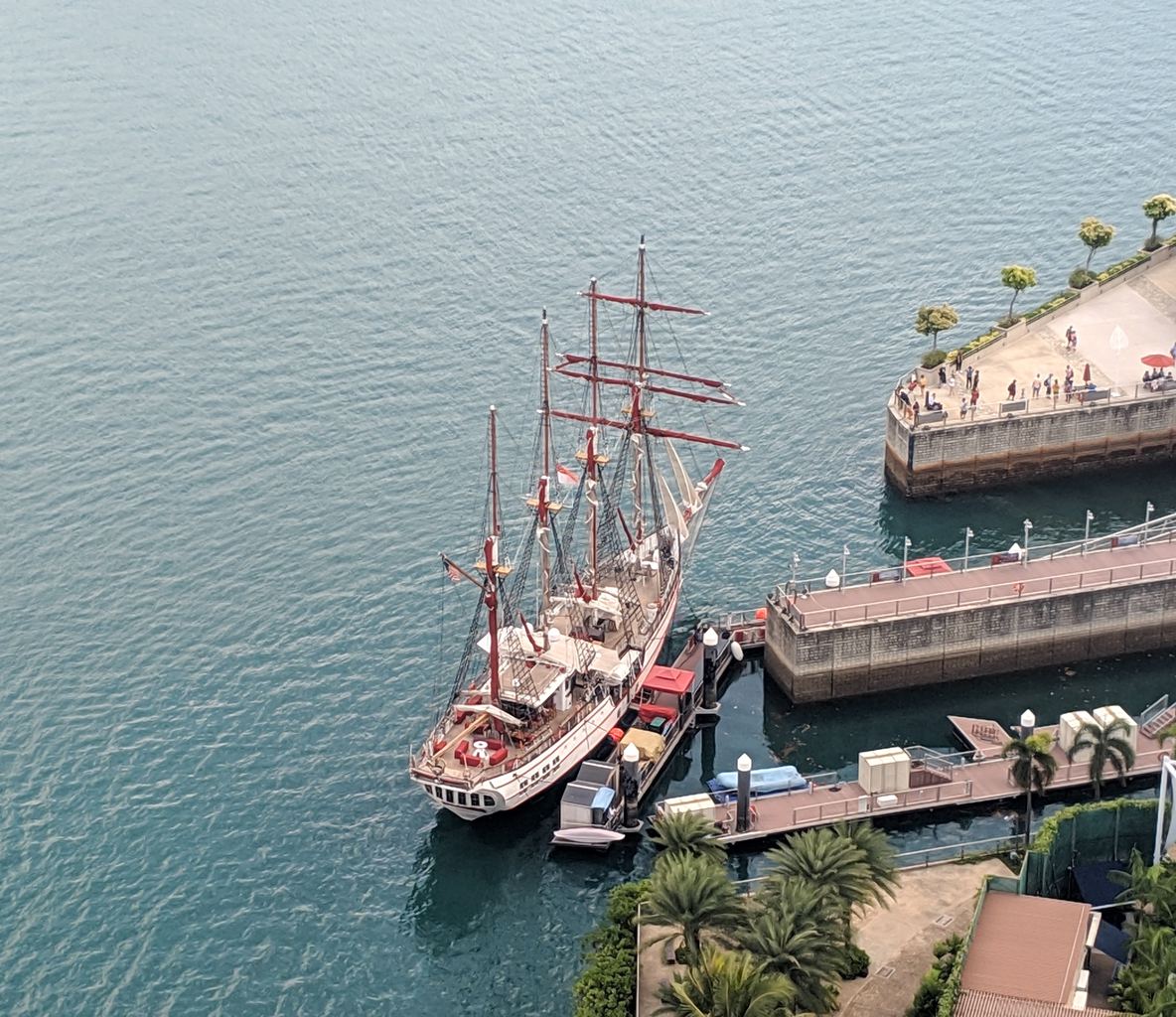 From Sentosa you can embark on a journey onboard the Royal Albatross, a rare ship there are only 150 in the world of, for something special to do in Singapore.
You can go on a sunset cruise where a BBQ dinner will also be served and, although the views may not be fabulous, as you will be cruising on the channel, you do get to enjoy Sentosa's shoreline and a quick trip to Lazarus Island, Singapore's best stretch of tropical beach.
This is one of the most romantic things to do in Singapore (together with the cable car dinner) and a good way to get away from the city and out at sea.
The Royal Albatross has regular sunset cruises with just a drink or full dinner a few times a week.
Explore Resorts World Sentosa
Do you want to spend a couple of hours of fun at a Singapore attraction without actually spending any money?
There are two places where you can do that in Singapore: Sentosa Island, where everything entirely is like an amusement park for adults (and children) or at Marina Bay, where things are a different kind of over the top.
At Resorts World Sentosa everything that makes Singapore so unique converges in the main shopping and entertainment open-air area called Fortune street. Here you can shop, eat or have an ice cream. There are plenty of stores geared towards tourists and locals and a lot to tempt you with spending money.
At RSW is where this artificial feeling one sometimes has in Singapore comes in full swing. But don't let it deter you, it is a fun way to spend a couple of hours being a child again and you can combine it with the rest of activities on Sentosa to make a full day out of it.
If you are looking to fill a couple of hours with light-hearted and fun-filled activities in Singapore, this is the place to come.
Mingle with the rich and famous at Sentosa Cove
Sentosa Cove includes several mansions with direct canal access, a few condominiums as well as a dozen dining outlets located around the One 15 Marina Club and is one of the most interesting places to visit in Singapore to understand the amount of wealth the residents have accumulated.
The houses here are over the top (check this one with a $2 million pool) and show the real money that exists in Singapore. Imagine stepping out of your home and onto your speedboat or yacht.
Around the Quayside Isle promenade you can walk among boats and super yachts anchored at the marina and feel as if you were in the South of France. This makes for a lovely day out and feels miles away from the other neighbourhoods in Singapore. You are not likely to find any tourists here, but largely locals who live on Sentosa and drop by on their scooters or golf carts.
Find out all about this playground of the rich and famous in this neighbourhood guide.
Check out my complete Sentosa things to do Guide.
Things to do in Singapore's Marina Bay
When thinking about what to do in Singapore, Marina Bay is definitively high on anyone's list. This is because it is one of the best known Singapore attractions and because the emblematic Marina Bay Sands has become the city's most iconic tourist spot, despite its recent opening and the fact that is was built on land that did not exist in the 70s.
Plans for the development of Marina Bay were laid in 2003 when the master plan for the area was presented and included two promontories, a beachfront promenade and a new business district.
In 2004, the Urban Redevelopment Authority of Singapore was tasked with the land management and development of the area. Esplanade and the Merlion Park opened in 2002.
Growth and development of Singapore's marina has not stopped since but reached a milestone with the opening of Marina Bay Sands Hotel in 2010 after the country and Asia recovered from the 2008 financial crisis.
Beyond being home to many of Singapore's attractions, there are a lot of hidden gems and unusual things to do around the Marina area that you may miss when fully absorbed by the skyscrapers and the shiny lights. Here are some fun Marina Bay Sands facts to know before you go.
If you want to discover all there is in the marina area with an expert, a walking tour is the best (and only really) way to explore. This one is great because it covers the Merlion, the colonial history of Clifford Pier and the Fullerton Bay Hotel which were the heart of British commercial and trade developments, a visit the Red Dot Museum and of course the crown jewel, Marina Bay Sands, after crossing the DNA-shaped Helix Bridge. You can book this tour online here.
If you want to explore the Marina on your own, you've come to the right place. I have selected the best places to visit in Singapore Marina Bay below. Let's start.
Gardens by the Bay
Sometimes overshadowed and hid behind by the big brother Marina Bay Sands, Gardens by the Bay is my most favorite place to visit in Singapore and it is one of the top-20 most checked-in places on Facebook! It is also Singapore's most Instagrammed location and it is an absolutely beautiful place all hours of day and night. It's also why I created this complete guide to Gardens by the Bay.
This avatar-ish park is large and takes long to explore. I recommend doing so just before sunset to avoid the heat of the day (alhough this is a garden, there is little shade) and start at Marina Barrage.
Shhh! The Barrage is Singapore's best kept secret and one of the best places to see the sunset in Singapore, but I did not include it in the list because it is such an incredible place I don't want it discovered, but I will spill it all in the next item on this list.
So what's there to see in Gardens by the Bay? Loads! And to make it more convenient, the park only closes at 2am so if you come before sunset you will be able to enjoy the beautiful light, the music and light show, dinner and then explore the park when it is empty.
Pro tip: Go to Gardens by the Bay at night when the park has no crowds and the lights make it magical and romantic.
The Gardens by the Bay Light Show is free and it is a must see Singapore attraction. The show happens in the Supertree Grove area at 7,45pm and 8,45pm every night. Check out our detailed write up on Gardens by the Bay Light Show.
The music and the trees are lit as if dancing to it and, unlike the main Marina Bay laser and music show, this performance changes often, in fact, there are usually themed songs played depending on the time of year and always a great one on the month around Singapore's National Day in August.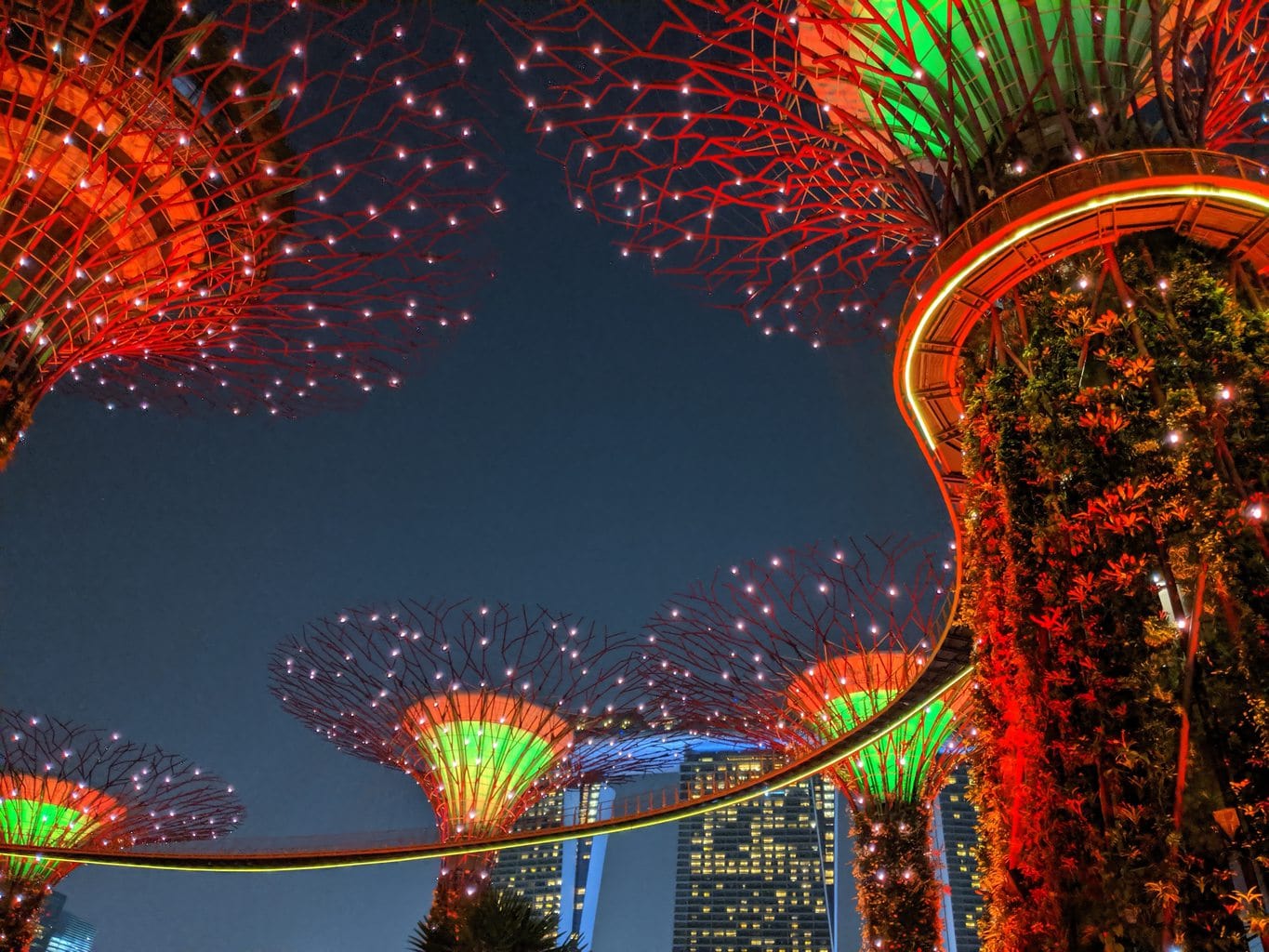 Pro Tip: The best way to enjoy the show is by laying down under the largest Supertree, on the base of each where there is a small sitting area, and looking up with your head resting against the ledge. This way you get the best view of the show which actually happens on the treetops and the bridges. Read all the details of the show in this guide.
There are three parts of Gardens by the Bay that are accessible only with a paid entrance ticket but the rest of the park is free. The ticketed areas are the Cloud Forest and the Flower Dome which are located by the Marina Barrage inside two domes that are a recognizable feature of Gardens by the Bay, and the temporary exhibitions happening at the Bayfront MRT event space.
These three are all well worth it so make sure to get tickets. I have visited all three numerous times. Tickets for Gardens by the Bay (including Flower Dome and Cloud Forest) can be booked online here.
The Flower Dome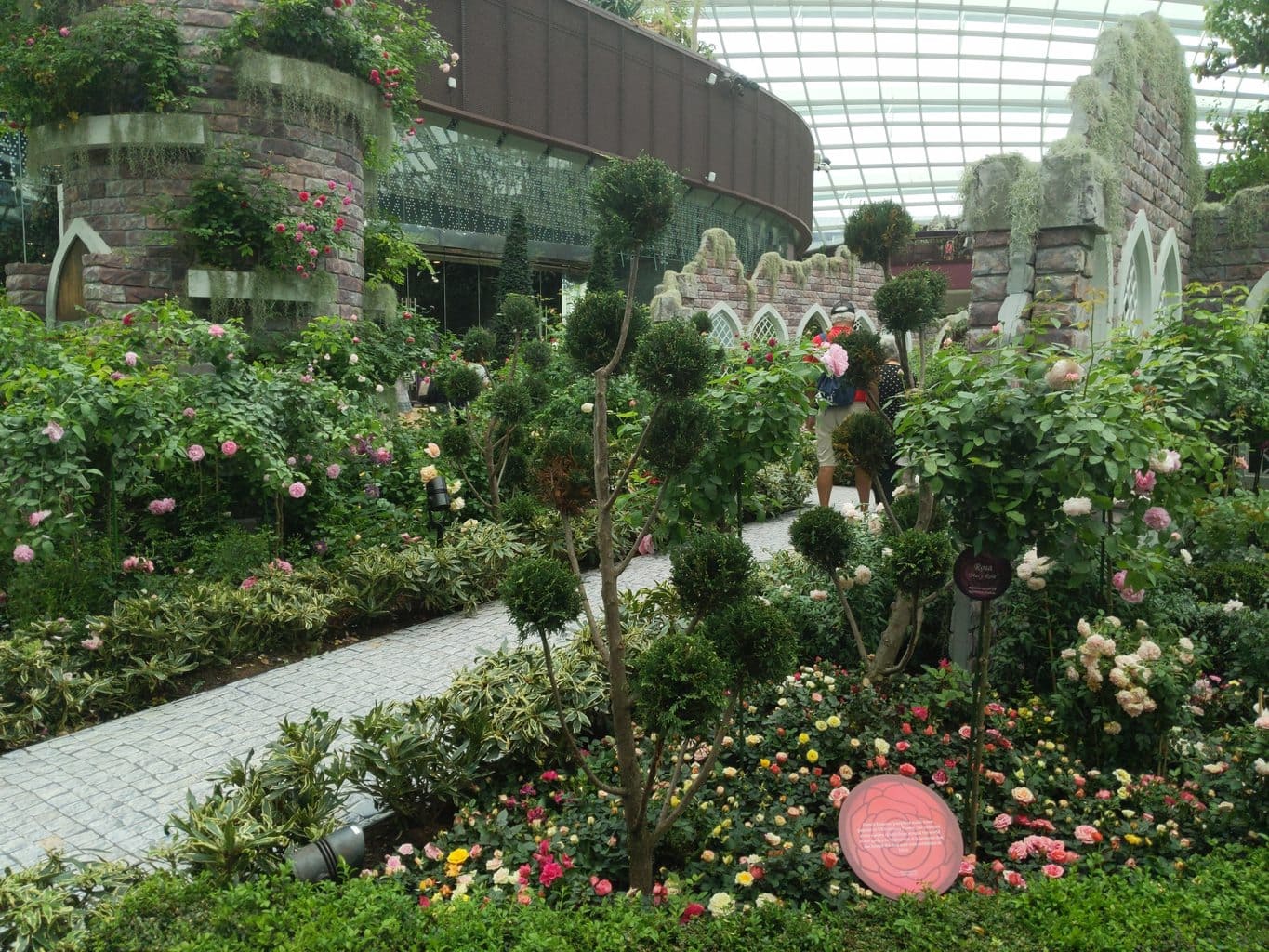 The first one of the paid activities at Gardens by the Bay is the Flower Dome, an indoor air conditioned dome where plants and flowers from all over the world are on display.
This is a great place to visit in Singapore with kids. Each of the plants or trees will have signs telling you more about their origin and how and where they grow. The dome is organised by world regions and you can see flora from all over.
Pro tip: This is one of the coldest places to visit in Singapore, it's absolutely freezing inside the dome so bring a jacket if you don't want to feel like running away from the moment you walk in.
Buy the combo ticket for the Flower Dome, Cloud Forest and Skywalk all together in advance to avoid the queues but more importantly, to save money, the combo ticket prices are much less than the 3 tickets together.
OCBC Skywalk
The OCBC Skyway is another popular place to visit in Singapore and a nice perspective on the famous landmark. The ticket gives you access to the top of the Supertrees and you can walk along the suspended bridge that connects all of them.
Buy the combo ticket for the Flower Dome, Cloud Forest and Skywalk all together in advance to avoid the queues but more importantly, to save money, the combo ticket prices are much less than the 3 tickets together.
Pro tip: Try to time the Skywalk visit with the light show on the Supertrees for an extra special experience but remember that the Skywalk closes at 9pm so you need to be good at timing it all. Ask the staff on site to make sure you get it right and account for queues.
Cloud Forest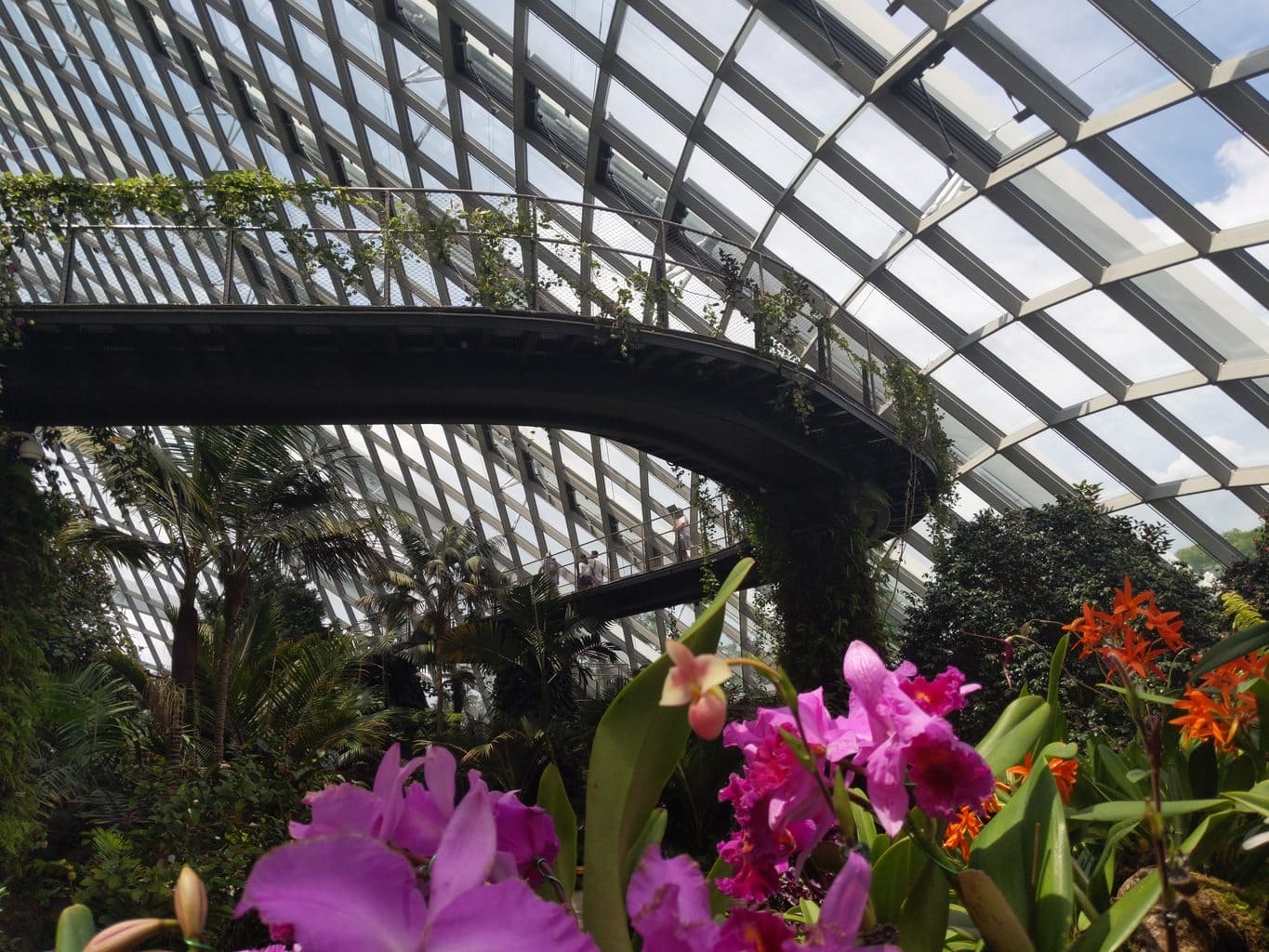 Lastly, the Cloud Forest is an impressive greenhouse where you can find a 25 meter mountain veiled by a waterfall and filled with plants and flowers and it is one of the most exciting places to visit in Singapore.
There is a special orchid section, the official flower of Singapore, and you can see Vanda Joachim, the official orchid of Singapore. The Cloud Forest mountain can be "climbed".
The visit starts at the entrance in front of the famous waterfall and then you climb up the tower to the top where there is a small garden. There are often exhibits there, for example last time I went there was a Lego exhibition with lots of carnivorous plants made of Lego pieces. You then descend down slowly around the tower via a network of suspended bridges.
The Cloud Forest is my favorite of all three of the ticketed venues at MBS. The space is beautiful and covered with plants and flowers and the dome with the tower in the middle and the opportunity to smell lots of orchids is great.
Plus this is a place to learn about the rainforests and about sustainable living. Don't miss the chance to see the video that plays towards the end of the visit and which tells more about climate change.
Buy the combo ticket for the Flower Dome, Cloud Forest and Skywalk all together in advance to avoid the queues but more importantly, to save money, the combo ticket prices is much less than the 3 tickets together.
When you decide what to wear for the day bear in mind that the indoor spaces at Gardens by the Bay are air-conditioned, while outside it will be quite hot (Singapore style 30 Celsius).
Gardens by the Bay has a few dining alternatives, from fine dining at Pollen (which has the nicest terrace and chef's table) to more casual fast food chains like MacDonalds. There used to be a rooftop restaurant hosted by the Indochine Group at the top of one of the Supertrees, yet as of April 2019 it closed down in order to build an observation deck.
For the smallest in the house, the Children Garden is sure to keep them super happy. Here they can play with water features and fountains and get wet. Best of all, entrance is free! I told you there were only three places were an entry ticket was required.
Gardens by the Bay is one of those places to visit in Singapore where you can spend many hours. The park is huge and there is a lot going on. Check out the many trails on the maps and explore the dragonfly lakes, the sculptures that dot the park, the benches and swings, the canyon, the sun pavilion…or just chill on the grassy mounds.
Gardens by the Bay also offers guided tours for groups of up to 12 people or just go on a self-guided tour following one of the maps you can buy for S$1 at the garden's shops.
Gardens by the Bay opens from 5am to 2am but the SkyWalk, Cloud Forest and Flower Dome are only opened from 9am to 9pm. The Children's Garden opens from 9am to 9pm on weekends and 10am to 6,30pm in weekdays. There are guards that patrol the gardens at night so do not even think about doing anything your mum wouldn't approve of!
Pro tip: The park is permanently packed and can get really hot during the day so it is best to explore either before 10am or after 6pm, sunset here is amazing. Or alternatively, come at night (after 9,30pm), it's my favorite place to visit in Singapore when the lights are on and the tourists have left, totally magic. You can find more details on Gardens by the Bay in their website.
Marina Barrage
When you get to the main building of the Barrage you may not realise that its rooftop is covered with grass and is a popular place for a picnic and to fly kites. This is one of Singapore's secret places and one known to a few tourists.
The rooftop of the barrage is open as long as the park opens and you can get there by either walking the spiral path or by taking the lifts that are on the left when you head towards the path that leads to the other side of the river.
Pro tip: There are public and relatively clean toilets on the ground floor of the barrage.
Marina Bay Music and lights show – Spectra
The 15 minute Spectra music and lights show has been playing day in day out since 2010 but has been recently revamped and made even more awesome so it is even a cooler Singapore attraction now.
The best place to see the show is from the decked area in the middle of the Marina Bay Sands promenade, by the main underground waterfall, which has been habilitated for that and is usually quite packed.
I have written a detailed guide on the Music and Lights Show to make the most of it and I used to live in a condominium that had direct views (and sound) to it so I must have watched it hundreds of times.
The water and light show has changed since starting, although it was almost the same for over 7 years, and it is well-worth enjoying even if you have to see it more than once, there is a degree of magic you can feel when the music, the lasers and the mist appear floating on the marina.
Pro tip: On weekends the area can be quite packed so come 15min before the show to find a spot. If you want to see if from one of the restaurants, only two of them have views, Dallas Cafe & Bar and JustIN Flavours of Asia, but you will not have such a great views because there is always a lot of people between you and the water.
You can catch the show every evening twice on weekdays and three times during the weekends. For the best views, book a River cruise and board around a show time so you see it from the water. Buy tickets ahead of time here (10% off!) and then simply board the boat.
River cruise
Not necessarily as exciting as the hair raising activities you can do on Sentosa, but a nice tourist attraction in Singapore nonetheless, going on a bumboat Singapore River Cruise is a great way to see the city from up close and from a different angle.
You can jump on and off at any of the stops but make sure to make it all the way down to the marina area because the perspective you get of the ArtScience Museum from the water is very interesting. See the embarkation points on the map below.
Pro tip: You can also combine the music and lights show at the Marina with your cruise starting at 7,30pm. This is a fabulous way to truly experience Singapore. You can buy tickets at the embarkation points or ahead of time here (10% off!) so you can jump on and off at anytime.
The views from the Bay East Garden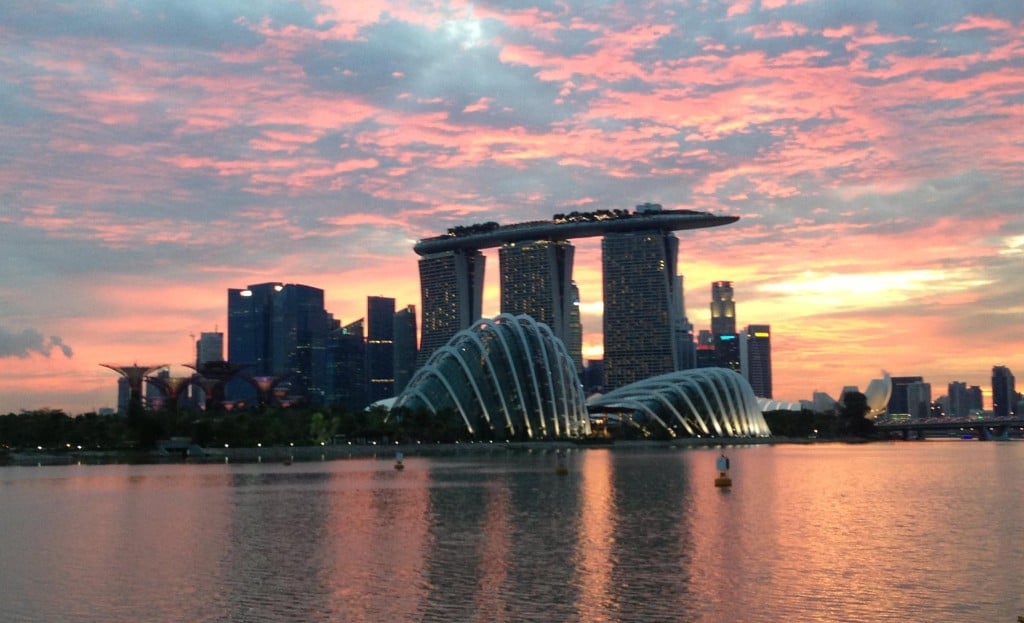 Bay East Garden is on the other side of the river from Gardens by the Bay and you can get there from the main park area by crossing the bridge over the Barrage. This is one the latest parts of the park to open and it is mostly made of greenery and lawns and pretty empty still.
However, when the sun sets this is one of the most impressive places to see it as you can catch the sun going down against the Singapore skyline. You are also mostly going to be on your own as very few people come here and tourists are not aware of the location making this one of the quietest of all Singapore attractions (for now at least).
Pro tip: Bring a picnic, or buy some food from Satay by the Bay (satays and juices or a young coconut) and enjoy it here as the sun goes down.
Enjoy the sunset over the Singapore skyline
Singapore is a beautiful city at night and one of the best things to do in Singapore is enjoying the sunset at one of the rooftop bars, the city has many. There is no better way to welcome the evening than with a drink in hand when the temperatures have already come down and it is all much more bearable.
The CBD (Business District) is a great place to do that not only because there are many rooftop spots but also because the skyline is prettiest. I compiled a list of the best rooftop bars in the CBD to help you choose but the best piece of advice I have is to decide which side of the Marina you want to see the views from as the sun does not set against the Marina Bay Sands Hotel but on the city side.
Pro tip: There are a lot of rooftop bars in Singapore, but in my opinion, the best views over the Marina are from Level33 where you can see both the Business District and Marina Bay Sands at either side. The bar also brews its own beer on the 33rd floor of the Financial Center, the highest brewery in the world. You can see more photos of my visit here.
Level33 doesn't just do great drinks but also amazing food and the views are fabulous. Go early as Level33 fills up quite quickly, especially during the week when all the business people working in the area come for an afterwork drink.
Afternoon tea at Clifford Pier
Before the development of the Marina, the opening of the Marina Barrage and the closing of the Singapore River to the sea, Clifford Pier used to be the main disembarkation point for sea visitors to Singapore who would descend from their larger ships and get on smaller river bumboats.
When the river was finally closed and the barrage opened in 2008, Clifford Pier lost its importance and function and was gazetted as a conservation building and renovated into one of the most beautiful 5 star hotels in Singapore, the Fullerton Bay Hotel.
The main Clifford Pier building is today one of the hotel's restaurants and a beautiful place to enjoy afternoon tea. The specialty is not only the traditional English afternoon tea but also a Heritage Afternoon tea menu that is a Peranakan version with kueh and other traditional sweets which make for a perfect match to the building's historical past. You can even get a taste of traditional ice cream flavors or laksa.
Explore the trading heritage of the city on a walking tour
One of the nicest things to do in Singapore is to go on a walking tour. Although the country is not very old (when compared to Europe), several remnants of the British colonial times and WWII are well-preserved and can be explored to get a reminder that it did not always look like this.
Did you know that all of the Marina area is on reclaimed land? Did you know that the Raffles Hotel used to be on the beach? Or that the Fullerton Hotel was the former post office? Do you know why the rooftop bar the Fullerton Bay Hotel is called Red Lantern?
For this and other fun facts and in-depth understanding of what the city was like pre-21st century you need to join a walking tour which will not only tell you about the buildings and landmarks but also about the many small things you miss even when walking past them every day. Trust me I used to work in the heart of the CBD and didn't notice a lot of what these tours explain until I joined one.
There are a host of walking tour options available in the central part of Singapore. This 3hour walking tour covers the same in a larger group and at a more affordable price. The guides are trained and can answer any questions you may have.
For other ideas, our list of free-walking tours in Singapore hits the main Singapore tourist spots and is a must-have when planning your Singapore vacation. Lastly, there are marked self-guided tours with golden placards and markers at main sightseeing spots in Singapore which can be organised into handy tours through the many free apps available.
Esplanade
Esplanade is a theatre, auditorium and shopping center all in one topped with dining options and in the shape of the famously stinky durian fruit.
The building itself is worth admiring from the outside or you can go in to find stores focused on the arts (music instruments, designers, jewellers, etc.) and most of Singapore's main theatres and music performances. This is a place to visit in Singapore if you are into performing arts or like to photograph and iconic building.
Outside, on the main stage between the two buildings and facing the water, there are regular outdoor events taking place from concerts to plays or performances. You can also enjoy traditional BBQ food by the side of the building in the outdoor food area.
Find more information about the plays and events taking place here.
ArtScience Museum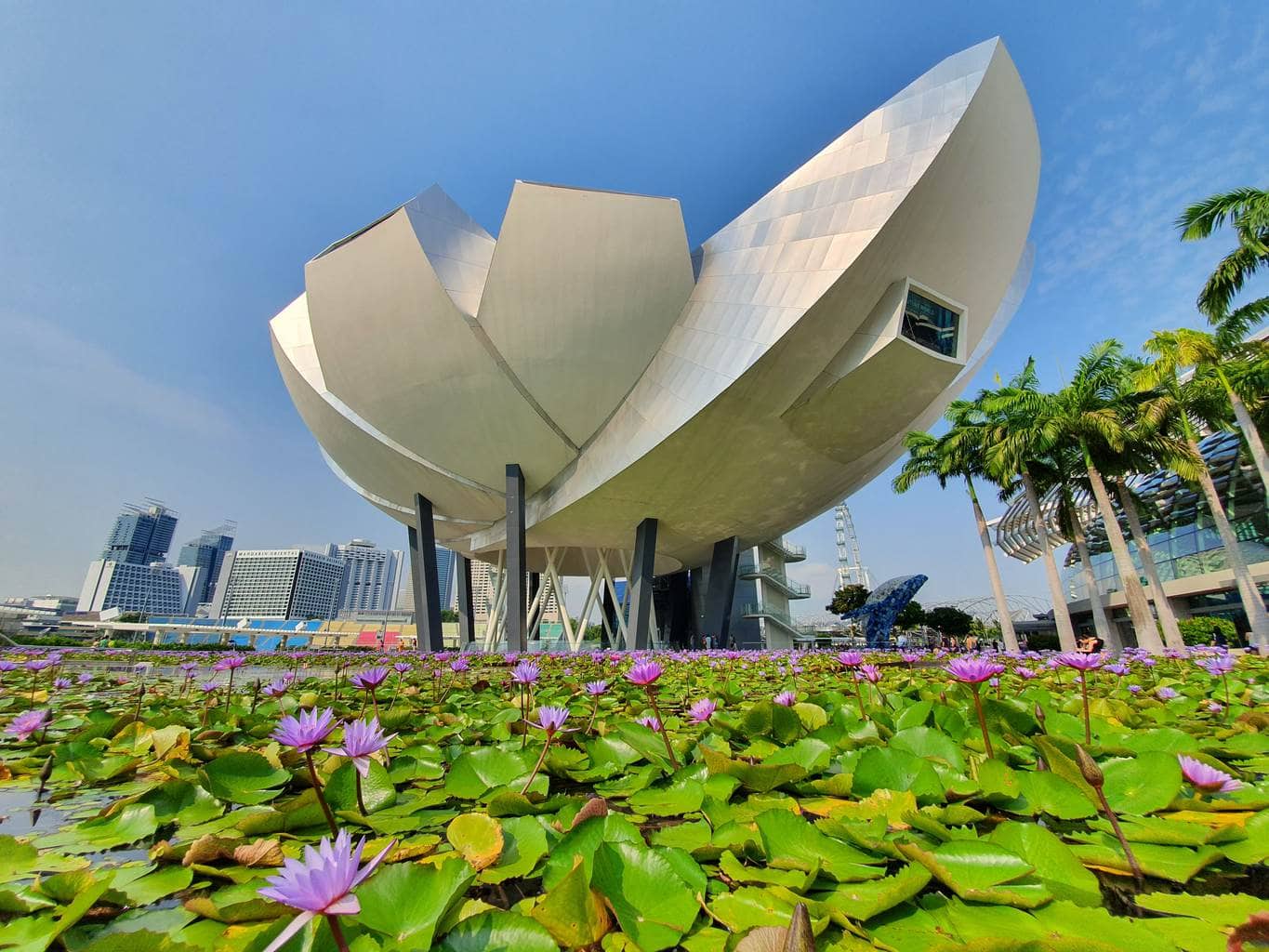 The ArtScience Museum is an iconic Singapore attraction and the Marina Bay Sands Hotel and ArtScience Museum combo is probably one of the most photographed landmarks in Singapore. It's a great thing to do in Singapore when it rains.
The Museum is the place where you can find innovative, creative and modern exhibitions by the likes of Lego or renowned artists like Dali. The building stands out for its incredible architecture, in the shape of an open hand or a flower. At night, it is lit magically.
One of the most famous permanent exhibitions is the Future World by TeamLab, a favourite Instagram spot for visitors to Singapore. The exhibition is a great place for adults to experiment with light and sound but most important for kids who will have a blast interacting with the displays.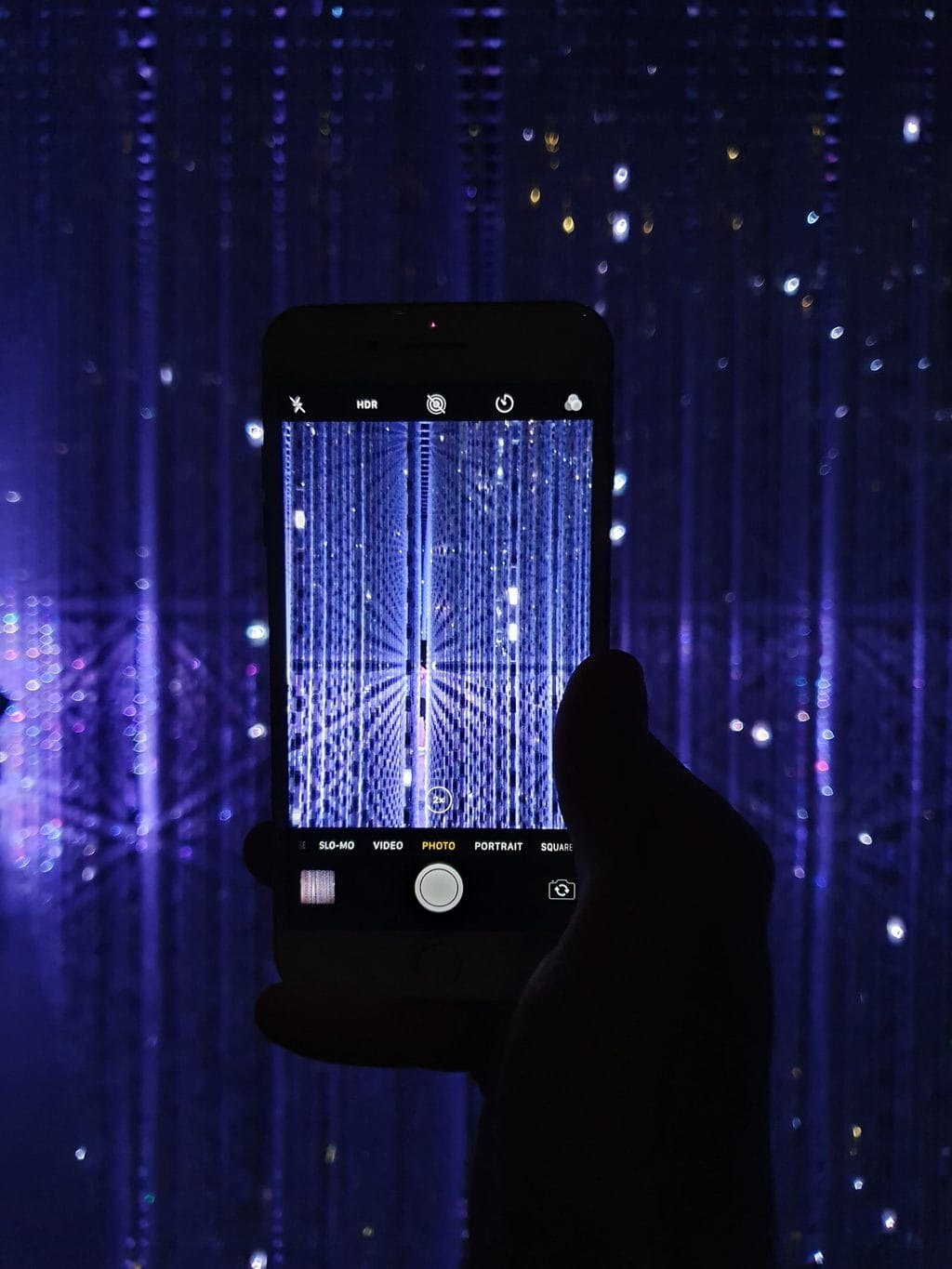 There are toboggans that function like real-life pinballs, illuminated bouncing balls, games and the opportunity to draw your own animals which you can then scan and see on the light installations.
For adults, the entire exhibit is fascinating but in particular the LED installation titled Infinite Crystal Universe made of thousands of LED lights and music is a highlight.
ArtScience Museum is open from 10am to 6pm daily, all days of the year. Children come free on Friday evening for a children's day out. You can book your tickets online here.
Pro tip: One Thursday a month the museum stays open until 10pm and offers special per late night sessions with performances.
Ce La Vie instead of the Marina Skypark Observatory
Do you want some beautiful views over the city? I have already told you about a few places to see the sunset, but if you want to go up to the top of Marina Bay Sands, do yourself a favour and hear my local advice: Skip the observatory deck at the Marina Bay Sands Skypark and, for the same money, get a drink at swanky Ce La Vie.
This popular bar and restaurant is right above the observatory deck and for the price of the ticket to the observatory deck you get a cocktail. Isn't that much better?
And that is not all. Ce La Vie offers free drinks for the girls on Wednesdays, like at many other places in Singapore, which have Ladies Night deals.
If you still want to visit the observation deck, you can pre-book your tickets online here.
Pro tip: Come at around 6:30pm to snap a spot outside and watch the sunset.
The Marina Bay sands Casino
Alright, so you are not a gambler. And you don't like crowds. And you hate indoor smoking. Still, even if it is just from above, the Singapore Marina Bay Sands Casino is a lesson in organized gambling and one of the most unique places to visit in Singapore.
The casino occupies 15,000 square meters spread over 4 floors in the iconic hotel Shoppes complex and has many hidden elements, underground sections and high-stakes tables and clubs. Check out some of the most incredible facts about Marina Bay Sands and the casino.
Despite its relatively modest size when compared to other casino complexes around the world (the government of Singapore has capped the size of the gambling facilities in the country), like the ones in Macau, the casinos are so important to the economy of Singapore that they contribute to 2% of the country's GDP and Marina Bay Sands is one of Sands Group most successful casinos, before Las Vegas and even Macau. They have even announced a fourth tower to be erected which will have an auditorium, but no casino facilities.
The Singapore casinos attracts a lot of visitors to the city although they are not so much into sightseeing or going out to explore Singapore's tourist attractions as they are into gambling and many of them never leave the premises of Resorts World where the other casino is, or Marina Bay Sands.
Although entrance to the casinos to foreigners is free, locals and permanent residents of Singapore need to pay S$100 to get in.
The Singapore Merlion
The symbol of Singapore is a half lion half mermaid spitting water like a fountain, across the water from the Marina Bay Sands hotel. Sounds weird? You are right.
The Merlion was an invention by the Singapore Tourist Promotion Board (or STPB, currently the Singapore Tourism Board) in 1964. They wanted a mascot to use and did so from its conception in 1964 until 1997. It was originally designed by Fraser Brunner, curator of the Van Kleef Aquarium.
But what does the half fish half lion allude to? Well, it quite simple. The fish tells us of Singapore's past as a fishing village, while the lion, of course, tells us of its name Singapura or the lion city.
A fun fact is that the symbol of the Merlion is the exclusive rights of the STB. While using the symbol is encouraged, if anyone does not comply with the STB's regulations, they could get a fine of S$1,000. Yet so many people use the logo on everything from t-shirts to mini statues, that the now STB has admitted that they cannot keep up with all the uses.
There are officially seven authorised Merlion statues around Singapore, although the two most famous ones are the one in the Merlion Park and the one in Sentosa.
The 8-metre-tall statue at Merlion Park was unveiled in 1972 and was designed by Kwan Sai Kheong, who was the late Ambassador to the Philippines and former Vice-Chancellor of the University of Singapore from 1975 to 1980. Lim Nang Seng used his blueprints to sculpt the statue. It weighs in at 70 tons and is reinforced by a 0.6-metre concrete beam underneath.
It's interesting to note that the statue's pump system has broken down at regular intervals over the years due to corrosion and that the larger statue was struck by lightning which made a large crack in the Merlion's mane.
The second most popular Merlion statue is the larger Sentosa Merlion tower which was completed in 1996. This statue stands 37-metres high and is a 12-storey structure that cost S$8 million. It was designed by Australian sculptor James Martin.
A lesser known Merlion can be found outside the STB's office at Tourism Court. This smaller 3m sculpture was made from glazed polymarble and is originally a product of the Philippines.
The main Merlion at the Merlion Park is best visited at sunset time and at night when the background lights of the Business District make the water shine and it is less hot. This is one of the most popular places to visit in Singapore so you should expect lots of people around the statue in what is called the Merlion Park.
Fountain of wealth
The Fountain of Wealth is a modern creation believed to be a place one comes to ensure a return to Singapore and good fortune. The fountain was once registered in the Guinness Book of records as the largest fountain in the world but was surpassed by one in China. The fountain of wealth is sunken in the middle of a roundabout in Suntec City Mall.
The water is stopped three times a day from 10am to 12pm, from 2pm to 4pm and from 6pm to 7,30pm for visitors to walk in the smaller inner circle three times for luck. Access is via the Suntec mall although the top of the fountain is visible from the road level. More details here.
The Singapore Flyer
There are ferris wheels like this in several parts of the world including Dubai, Cape Town, and London, but the one in Singapore provides one of the best views. However, while going on a ride is fun, it is worth mentioning that you can pretty much get the same view from several other places, for free or for the price of a drink, so consider if it is worth it.
Alternatively, one of the most original ways to enjoy the view is on a four course meal served privately in your own capsule for something a bit more special. You can book this romantic dinner for two here.
If you prefer a romantic yet more casual way to enjoy the Flyer, you should book this admission with a Singapore Sling online.
The Singapore Flyer is open from 8:30am to 10:30pm daily. Each flight takes about half an hour, yes it does turn slowly.
The Helix bridge
This is perhaps the most emblematic bridge and one of the most recognizable Singapore attractions. The Helix as it is known, was open in 2010 and is a metal pedestrian bridge connecting Marina Central with Marina South that has become a landmarks in Marina Bay.
The bridge is a left-handed DNA and is as beautiful during the day as it is at night when it is lit. Look out for the pairs of letters c and g and a and t which represent cytosine, guanine, adenine and thymine, the four bases of DNA and which are illuminated at night.
Aside from being an architectural masterpiece, the bridge has 4 platforms from which you can admire the Marina Bay area and Art Science Museum.
Things to do in Chinatown
Chinatown is one of my most favorite places to visit in Singapore. This is where most of the Chinese legacy in Singapore can be found and where the culture of this majority ethnic group in Singapore is most present and preserved.
Chinese represent about 60% of the population of Singapore and were the first arrivals onto the island. As they were primarily merchants and traders, they were allocated the area by the Singapore River in what is today the CBD and Chinatown.
See the map above from the beginning of the 19th century and drawn by Lieutenant Jackson who was tasked by Sir Stamford Raffles, British Governor in Singapore, to draft out the plan for the Town of Singapore to grow as migrants started to arrive with promises of growth and wealth.
Today's street names in the area have been kept from Raffles' planning efforts who allocated names based on the purpose of each street (Temple street for the Hindu temple, etc.).
As Chinese migrants came from several different parts of China, each was given a specific sector in the neighbourhood which is reflected in the architecture and heritage that can still be seen today and the clan buildings that are still in use and which dot the neighbourhood.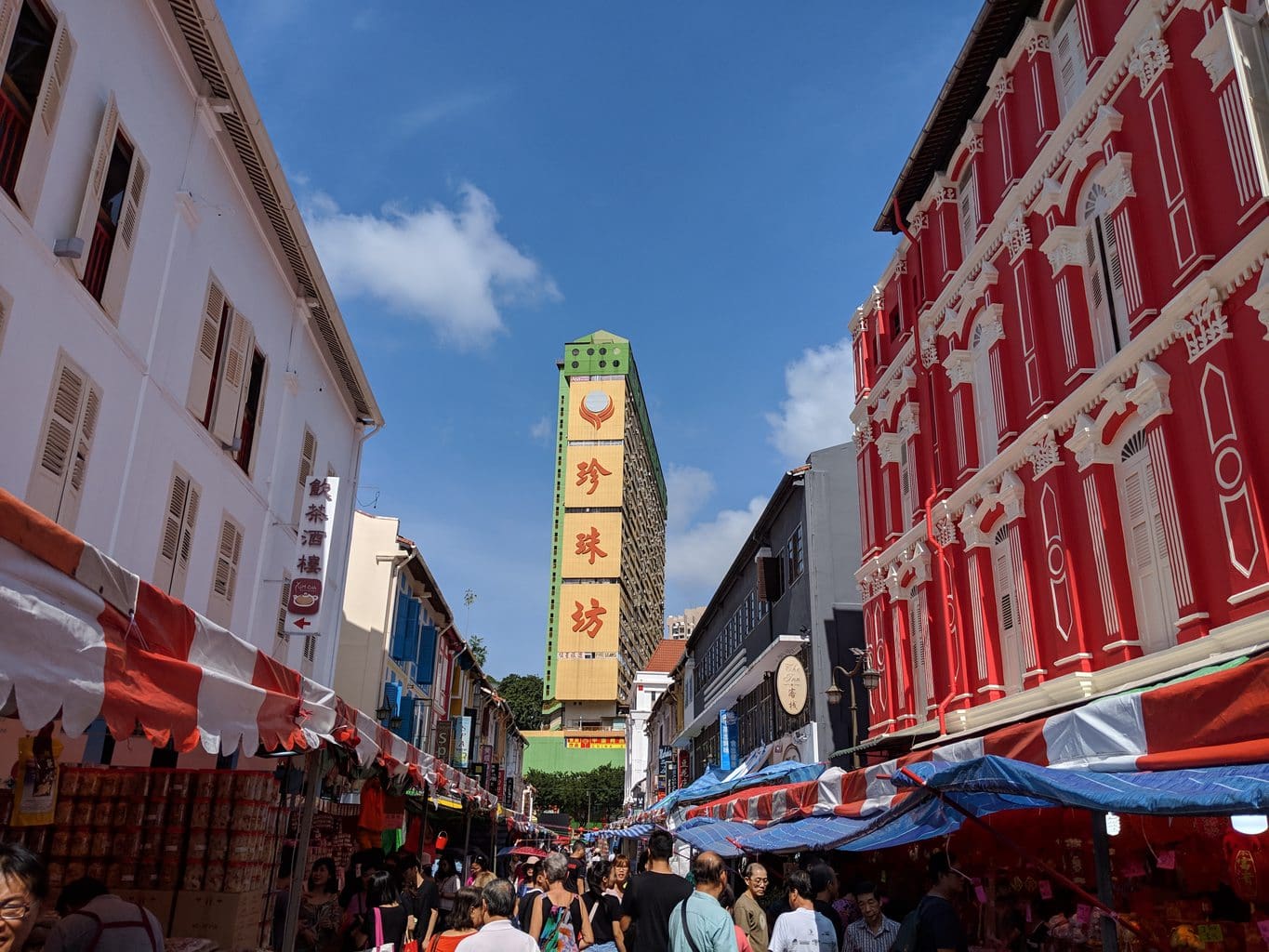 The Hokkiens settled in Telok Ayer and the river waterfront, the Teochews along today's Clarke Quay and Fort Canning and the the Cantonese and Hakka at Kreta Ayer. Remnants of that period have been preserved in the form of temples and monuments which you can explore today.
But Singapore's Chinatown is not just a neighbourhood full of culture and heritage but also the booming business district, so old buildings blend in with flashy skyscrapers and a multitude of Singapore attractions.
As one of the most culturally-rich parts of the city, many of Singapore's attractions and points of interest can be found in Chinatown. Take a trishaw tour with a local dinner or a walking tour of Chinatown or just walk around on foot with our guide of the best things to do in Chinatown.
The Buddha Tooth Relic Temple and Museum
The newly built Singapore Buddha Tooth Relic Temple and Museum opened in 2007 and is one of the most picturesque and beautiful Singapore attractions.
As most of the locals and temples in Singapore are Buddhist, it is no surprise that the largest and most well-known of them is a Buddhist temple, however new it may be.
The Museum houses a giant stupa weighing 3.5 tonnes and made from 320kg of gold, of which 234kg were donated by devotees. Inside, there is a Buddha tooth relic. Visitors cannot approach the stupa which is only accessible to the monks.
Another main element in the museum is the "10,000 Buddha Pavilion" housing a large prayer wheel, which is a rotating cylindrical book shelf engraved with Buddhist scriptures. The relic room is on the fourth floor and can only be accessed during certain times. You will need to take your shoes off.
You should not miss the chance to climb up to the rooftop garden which provides respite from the crowdedness and high-rise buildings in the area. Free food is available in the basement dining hall, as is tradition.
For insider tips and to find out everything you need to know to make the most of your visit read our guide to the Buddha Tooth Relic Temple and Museum.
The museum opens from 7am to 7pm daily. You can find more details here.
Chinese medicine
Wondering what to do in Singapore for a true cultural experience? Forget all the glitz and glam and visit a Traditional Chinese Medicine doctor or store.
The world of Traditional Chinese Medicine is fascinating and very new and unusual to foreign visitors to Singapore. In Chinatown you will find a lot of the stores selling plenty of dried ingredients ready to be blended, mixed or taken together to relieve any pains.
The Thye Shan Medical Hall, opened in 1955 in Chinatown, is one of the oldest Traditional Chinese Medicine (TCM) shops. Tell the owner what ailments you have and wait to receive the prescribed concoction. There are also TCM doctors on hand to provide a consultation and they make their own products at a facility in Singapore.
Even if you do not visit this store or have any ailment to fix, it is very interesting to simply wander into any of the TCM stores in Chinatown (there are many!) and ask the shop staff to help you understand.
I did just that and you can find some of the strangest medicine you can get from cordiceps to rare fish, spices, plants, herbs and anything from the animal or plant world. You can find details of the events and talks they offer here.
Thian Hock Keng Temple
Built in 1842, the Hokkien Thian Hock Keng Temple is one of the oldest in Singapore and it is outstanding for its architectural genius: the temple is built with no nails, how is that for an amazing Singapore attraction?
As you walk through the Telok Ayer and Amoy Street area, on the border between old Chinatown and new CBD, you will not be able to miss this beautiful working temple.
The temple was built in 1940 by the Hokkien clan who also housed their offices in the building. The facade and interiors are covered in phoenixes, carvings, intricate designs and the traditional green and red paint common in Chinese architecture.
During marked Chinese celebrations this is one of the Singapore attractions that comes alive with incense, traditional Chinese wishes hanging, prayers and celebrations. Come for Chinese New Year or Mid-Autumn Festival to see it come particularly alive.
More details can be found on the website of the temple.
Chinatown wet market – Chinatown Complex
Open markets in Singapore are called wet markets because well, the floors tend to be quite wet with the melting ice. For a modern city like Singapore, the wet markets are not only an institution and a sign of the city but also one of the most fun places to visit in Singapore.
You can still haggle (or be ripped off!) for the prices of vegetables, fruits, flowers and other meats/fish at the wet markets because a lot of them don't have marked prices.
In fact, you may even find that locals pay different prices than you may be quoted if you look like a foreigner, even if you live in Singapore. Wet markets are also one of the most authentic places in Singapore and one of the most common places to hear Chinese dialects spoken.
Although pretty much every neighbourhood has its own wet market, there are two that are particularly traditional and genuine: the Chinatown Market and the Tiong Bahru Market.
The Chinatown Market is located at the end of Smith Street and is also well known for having one of the two Michelin-starred hawker center stalls in Singapore. See the next item on this list of attractions in Singapore.
At the market you can find all the regular foods you can buy at any supermarket plus some weird and unusual items like shark (still largely served at Chinese restaurants in Singapore in the form of shark fin soup), eel, frogs (for the frog leg porridge), sea snakes and interesting fruits that you may have never seen before and the name of which you have never heard.
Look out for durian, a priced Asian fruit with a harsh smell and a strange taste that is a polarizing love or hate food and which you will quickly recognise (hint: it looks like the Esplanade building).
Have a S$2 Michelin starred meal
See the video above of the owner of the famous soy chicken rice stall in Chinatown Market, Liao Fan Hong Kong Soya Sauce Chicken Rice & Noodle, notice how happy he is?
He has not stopped smiling since he was granted a Michelin star in the first Michelin Guide to Singapore in 2017 and became the cheapest restaurant with a star and one of the most affordable meals in Singapore.
And what is best, he has not changed the prices and his regular customers continue to come every day. The difference? The queues that are now lining up in his humble stall to buy Hong Kong style soy chicken rice. It's probably now one of the most famous Singapore attractions for foodies.
But fret not, if you don't want to queue, you can also try the chicken rice at his chain of food stalls called Hawker Chan.
Lau Pa Sat
Lau Pa Sat is one of Singapore's most famous, and longest standing landmarks and the hawker center of choice by visitors to Singapore because of its slightly more hygenic look, its central location and its outdoor evening satay (skewered meat).
Located in the heart of the Business District, the market's distinctive octagonal shape and beautiful columns were designed by British architect George Coleman. When it was moved from its original waterfront location and rebuilt in 1894, Municipal Engineer of Singapore and Scotsman James MacRitchie added a graceful clock tower and a new cast-iron supporting structure.
The market was restored in 2014 and the original intricate design of the columns and the ceiling are a stark contrast with the surrounding tall glass office buildings, its is a Singapore attraction that is hard to miss.
Lau Pa Sat is the only authentic hawker center in the CBD and during the day, hundreds of office workers in their suits and ties flock to the market to buy traditional hawker center dishes "chopping" (or reserving) their seats with the all-too-common tissue paper packet.
Lau Pa Sat buzzing satay street market everyday from 7pm is one of the must-see places to visit in Singapore and one of the most traditional meals you can have. If you are looking for some fun things to do in Singapore try watching the staff and customers order plates of BBQ satay and beers in the heat of the tropical weather. People watching has never been as fun anywhere else.
Food tour of Chinatown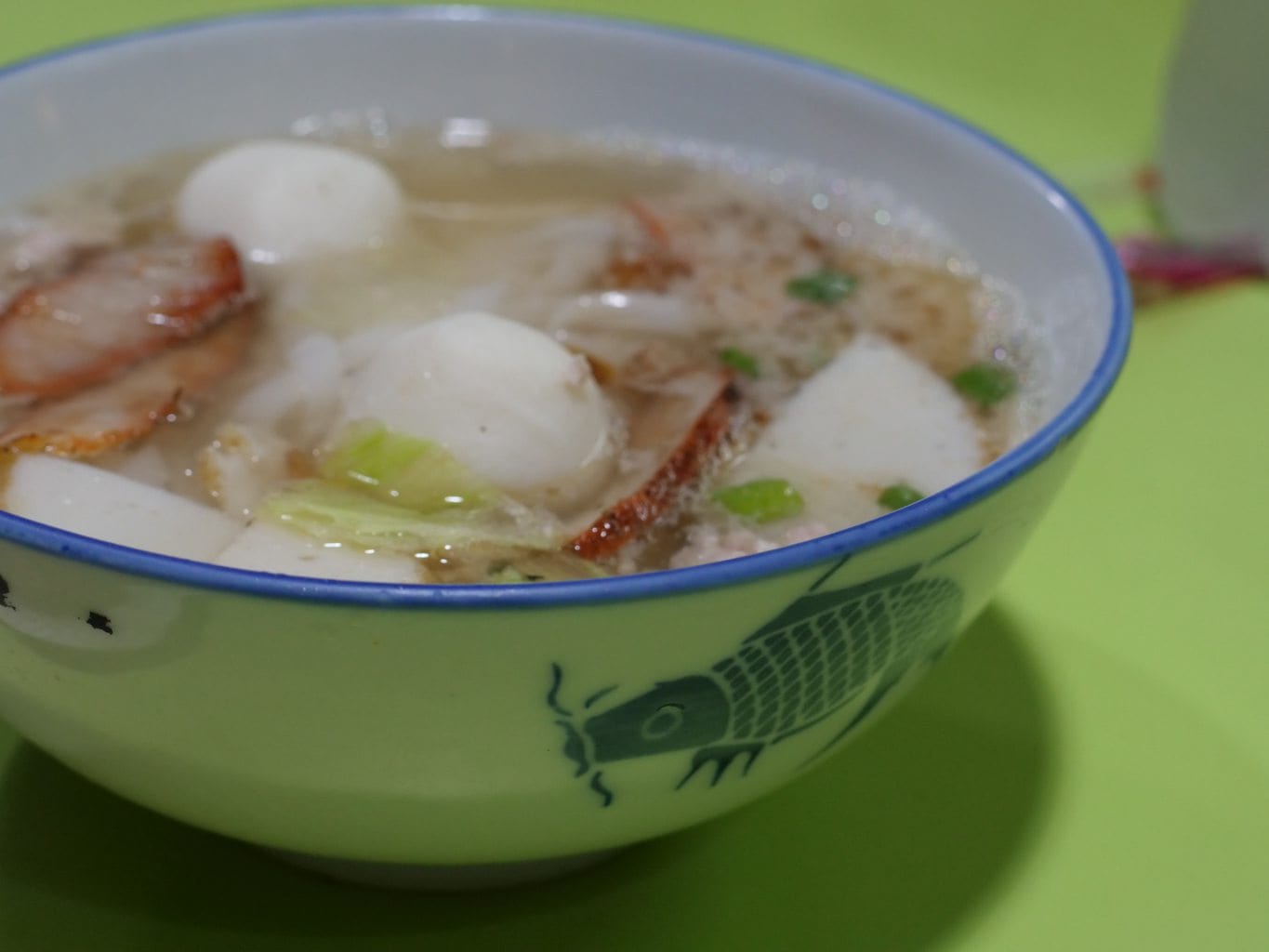 Many people come to Singapore in search of a foodgasm and they are not disappointed. Eating is national sport and a real Singapore attraction. What makes the city truly great is the choice of food options. Because of its multi-cultural background, you can find pretty much any Asian cuisine.
Hawker centers can be overwhelming to anyone wanting to try the local foods. Signs may not be in English and many of the dishes are not your typical noodles and rice so food tours are a fabulous way to explore Singapore's history while also enjoying a meal.
I recommend this this food tour of Singapore with a certified guide that will take you to all the best hawker centres and beyond and tell you the stories behind each dish. Or book this food and market tour which also includes hands on popiah making (a sort of local spring roll) and a visit to a famous dessert stall.
Explore Duxton Hill
Duxton Hill used to be the enclave of prostitution and a small red light district with several dodgy karaoke bars that are of questionable business objectives.
But that has changed in the last 5-10 years slowly but steadily, as the karaoke bars have been replaced by Soul cycling, Lulemon, yoga studios, interesting restaurants and alternative stores. It's become one of the hippest places to visit in Singapore for the trendy.
In the evening Duxton transforms into one of Singapore's favorite expats hangout with outdoor seating at most bars and restaurants overflowing with guests sharing a drink.
Come on a Thursday or Friday night and enjoy a fabulous margaritas and some tacos at Lucha Loco, an authentic Sicilian meal at Etna (named after the famous volcano in Sicily) or a creamy imported mozzarella dish at Latteria Mozzarella.
Kilo Lounge serves Asian-Spanish cuisine with great grilled meats and cool atmosphere. For refined cocktails try the Six Senses Duxton bar. Or just go with the flow and pick any place that appeals to you, any cuisine is available.
Do as expats do on Club Street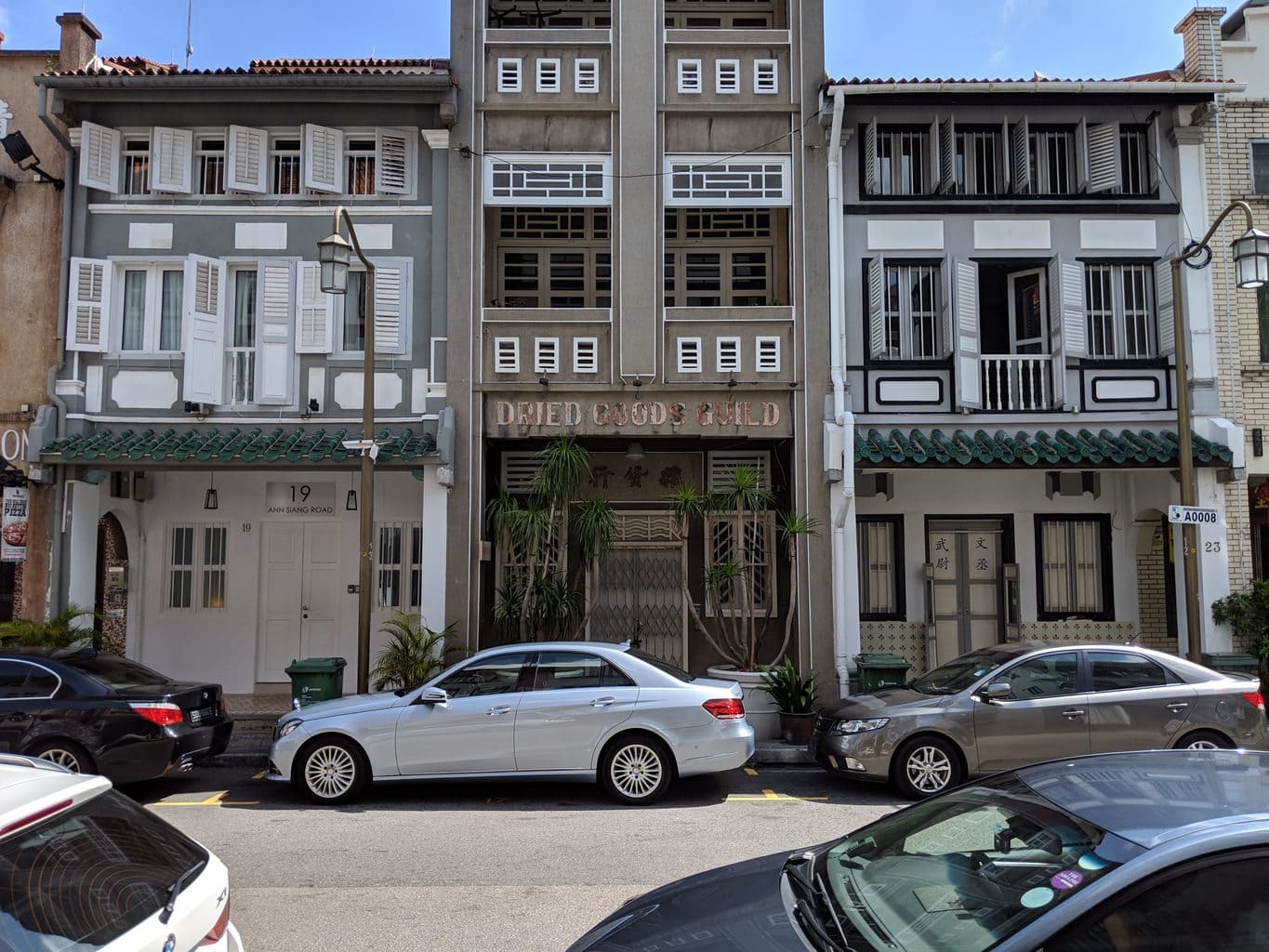 Club Street is synonimous for what to do in Singapore for expat party-goers. It's even more popular and established as the expat hub of Singapore than Duxton Hill.
The street is closed on Friday and Saturday night from 7pm to ensure the safety of every customer and the bars and restaurants put chairs and tables on the pavement. This is where every office worker in the nearby CBD comes to unwind after work.
Club Street is also well known for being a pretty shophouse street and during the day you can come snap lovely photos with the colourful houses behind. At one end of Ang Siang Hill, the street that crosses with Club Street and which is generally bundled in when people mention the latter, there is a small hill with a cute colonial wooden walkway and some greenery.
Most of the shophouses on Club Street have lovely rooftops from where you can see the shophouse architecture of Chinatown so just look up to locate one you like favourite PS Cafe for truffle fries.
Tea appreciation workshop
Tea is a major part of Chinese traditions and culture and in Chinatown you can find a few really traditional and authentic tea houses where workshops and appreciation classes are offered. In one of those classes you can learn how to choose, store and brew the perfect cup of tea.
I particularly enjoyed the workshop you can see in the video above which was carried out at Yixing Xuan teahouse which is located in Tanjong Pagar road, at the heart of Chinatown. You can book the same workshop on Klook here.
Tea also makes for a great souvenir to take home.
Have yum cha (dim sum)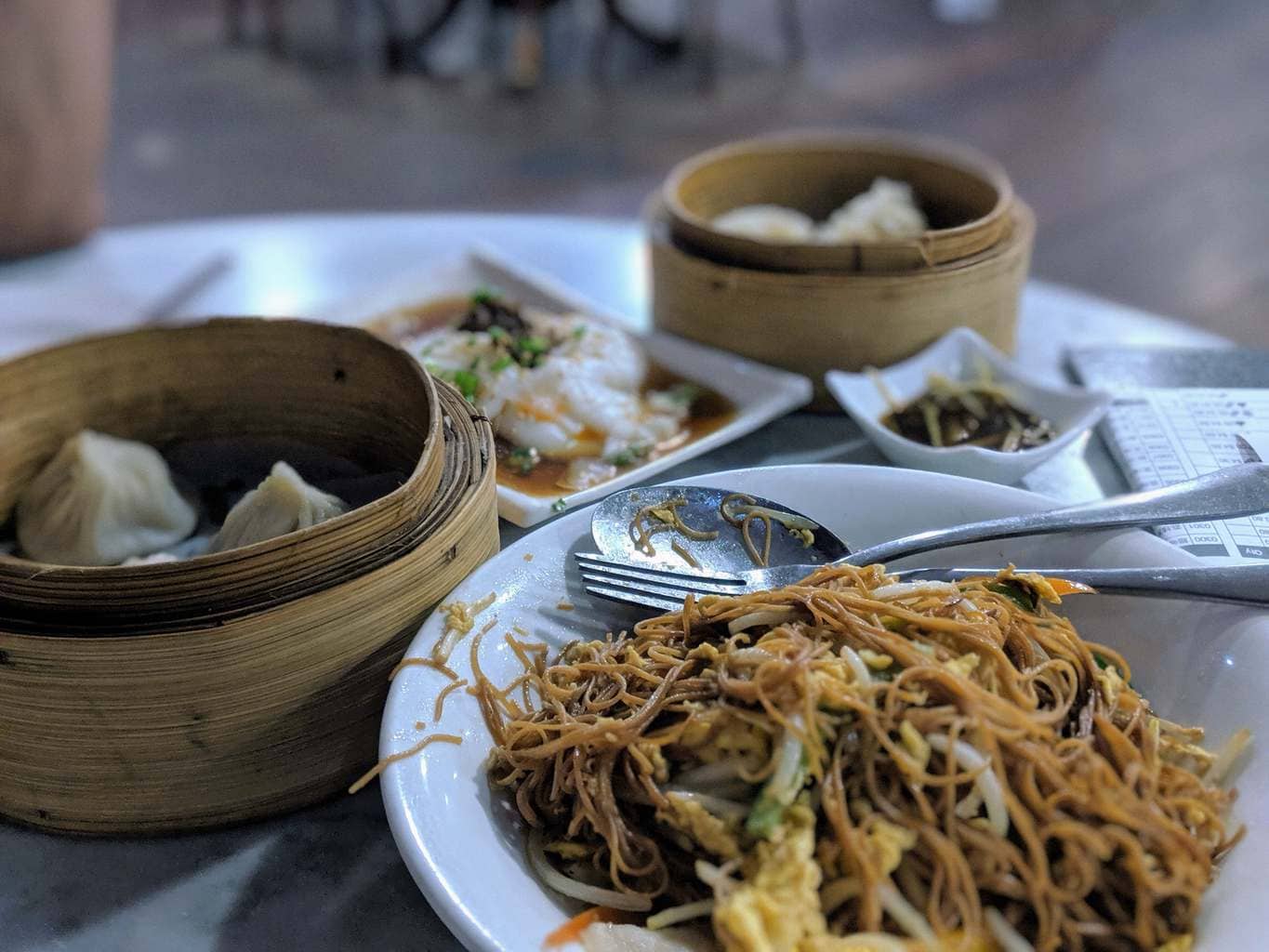 Yum cha, literally translating to "drink tea", is one of the yummiest things to do in Singapore. The Cantonese meal of dim sum (dumplings) enjoyed for brunch in traditional tea houses is one of the age-old Chinese traditions you can enjoy in Chinatown the way locals do. If you have been to other Cantonese parts of China, like Hong Kong, you will already be familiar with the term and the practice.
There are a few dim sum places to visit in Singapore that are very well known like Taiwanese chain Din Tai Fung, but I suggest you go local and authentic and have the real tea house experience at one of the yum cha houses in Chinatown.
Try the Yum Cha Restaurant off Temple Street in the heart of Chinatown, they are authentic yet cater to foreigners with menus in English and some pictures. Marble top tables, wooden chairs, tiled floors, antique furniture, everything will make you feel like you are back in China and it is not the result of someone trying to imitate the style.
If you want to be extra, dim sum is traditionally a morning/lunch time meal but not evening food, just like parathas are breakfast, but nowadays you can have it for dinner in most dim sum places as they have become more commonplace.
The staff will go around pushing a dim sum trolley from where you can simply select the dim sum that you like. You can also pick from the menu but this is a much more fun thing to do in Singapore.
Do not leave without trying the Xiao Long Bao, the fried savory carrot cake (and remember, there is no carrot in the carrot cake), the crispy prawn wantons and some of the vegetables. There is a full menu if you want something more than steamed buns. Check out their menu here.
Go to the rooftop of People's Park Complex
This is one of Chinatown's most emblematic buildings and it features on almost every skyline picture. It is impossible to miss it because of its sheer size, making it one the most prominent of the Singapore attractions.
But a lot of people do not know that you can go up to the rooftop of its carpark for some expansive views over Chinatown and for a close up Instagram shot of its symmetrical yellow flats.
Update: We have heard, but have not yet confirmed that access to the rooftop is restricted and you can only go after scheduling.
Chinatown Heritage Center
For a real glimpse into Chinatown's life and heritage, the Heritage Center does a really good job with lots of information and background. It's one of the top things to do in Singapore if you want to learn more about Chinese heritage in the Lion City.
The most interesting part of the center is the reproduction of a traditional shophouse in Chinatown during colonial times when the area was home of coolies. You will see how a coolies cubicle, all packed up with as many workers as was possible to fit, looked like and what the living conditions were.
Free walking tours depart from the office in the morning and it is a good place to start your exploration of Chinatown. The amount of information hidden in this packed building is astonishing so do not miss a chance to stop by.
Sri Mariamman Temple
Sri Mariamman is a Hindu temple, typical of the South Dravidian Indian style, right at the centre of Singapore's Chinatown.
Along with being the oldest Hindu temple in Singapore, dating back to 1827, it was gazetted as a national monument in 1973 and is one of the most visited Singapore attractions.
Created by a Penang government clerk, Naraina Pillai, Sri Mariamman was a place of refuge for South Indian Tamil Hindu migrants (from Chennai and surroundings), serving as a shelter of sorts before they found permanent employment and accommodation. It still serves as a place of worship for the Tamil community of Singapore.
Its most notable feature is the large six tier intricate gopura at the entrance. Along the gopura and surrounding wall there are sculptures of Murugan, Krishna and sacred seated cows. You should definitely venture inside if you get the chance as there is a gorgeous mandala painting and various shrines depicting important deities, gods and scenes from the Hindu epics.
If you're wondering what to do in Singapore for an authentic cultural experience like no other, visit the temple about a week before Deepavali or the Festival of Lights. The venue then plays host to the annual timiti (firewalking) festival which is one of the more interesting things to see in Singapore.
For more information visit their website.
Admire Chulia history at Masjid Al-Abrar & Masjid Jamae Mosques
Chinatown stands testament to Singapore's religiously integrated society. I have told you about the various temples, but there are also churches and mosques dotted around the area. The Masjid Al-Abrar Mosque, also known as Kuchu Palli (hut mosque in Tamil) and Masjid Chulia, is one of the oldest mosques making it one of the under the radar Singapore points of interest.
Immigrants from the Coromandel Coast of South India are known as Chulia and were among the first settlers in Singapore. Masjid Al-Abrar was first set up as a makeshift thatched hut in 1827. Two years later, in 1829, the mosque was granted a 999-year lease that was held in trust by Hadjee Puckery Mohamed Khatib.
The humble hut was transformed into a brick building only in 1855 ands was gazetted as a national monument in November 1974. Other renovations were carried out between 1986 and 1989. Today it can house 800 people with an adjacent shophouse that was converted into a madrasa and prayer hall for women in 1998.
While not one of the most visited Singapore tourist places, Masjid Jamae is another Chulia mosque in Chinatown Singapore on South Bridge Road that was built in 1826. It is right next to Sri Mariamman. Due to its age, it holds important historical and cultural significance.
The mosque you can see today was constructed between 1830 and 1835 although it was originally demarcated in 1826. While basically unchanged since renovations took place, it is still a beautiful building to see with a mix of South Indian and Neo-Classical styles. Other than the main carpeted prayer area which is reserved for Muslims, anyone may visit this lesser known Singapore tourist spot.
See antiques at the Musical Box Museum
What to do in Singapore with kids?
Straight after visiting Thian Hock Keng Temple, hop on next door to the pale beige and blue double storey shophouse that is the Singapore Musical Box Museum. This delightful little museum looks at Singapore's past in a unique way, through musical boxes. It is one of the cutest hidden Singapore tourist attractions.
Mr Naoto Orui, the founder of the museum, displays his personal collection of these little melodic devices. You can also choose to take a guided tour if you are interested in the origins of the boxes. Book a tour on their website.
Chinese Methodist Church
Methodist Christianity was introduced into Singapore in 1885 by two missionaries, William Oldham and James Thoburn. After their arrival small congregations formed in Amoy Street who then moved to a shophouse in Nankin Street (today's Jong Lim Park), then Boon Tat Street in 1905 and finally to the junction of Telok Ayer Street and Cecil Street in 1913.
Telok Ayer Chinese Methodist Church which began as a small makeshift tent on a vacant plot and transformed into a proper structure in 1924, was erected by local Methodist bishop, George. H. Bickley.
The wonderfully unique building you will see today was designed by Denis Santry of Swan & Maclaren with both European and Chinese influences, for example look out for the European arches with a Chinese-style roof.
There are Chinese characters throughout the building which portray both Christian and Chinese values such as gong (恭, 'reverence' or 'respect'), qian (虔, 'piety' or 'sincerity'), and sheng (圣, 'holiness').
During the Japanese Invasion of Singapore in 1941, a buffer wall was erected to protect the Church from bullets.
Fairfield Methodist Church
The Fairfield Methodist Church has quite a different origin story to the Telok Ayer Chinese Methodist Church.
It actually started out as a theatre called the Metropole (or the Jing Hwa) Cinema. The building was designed by local architect Wong Foo Nam and was one of the top three cinemas in Singapore back in its heyday. You can observe its Art Deco elements.
It was renovated in 1986 when it was transformed into the Methodist Church it is today. An interesting place to see in Singapore which you would probably never guess the origins of, and a nice building to snap a selfie in front of.
Visit the Majestic, a historic cinema
While not one of the top places to visit in Singapore, the Majestic does have a perfectly Instagrammable facade.
If you visit the it today, you'll find a modern shopping mall, but what you might not have known is that the building was actually home to the former Tien Yien Moh Toi Theatre (or "Tin Yin Dance Stage" or "Great Theatre of Heavenly Shows") which was an opera house built in 1927.
Its most notable feature is the intricately detailed green and pink tiled facade that illustrates opera scenes, with flying dragons and other animals. The building was designed by the very same architectural firm that designed the Raffles Hotel, Swan and Maclaren.
The theatre was the place for Chinese immigrants to meet and welcomed opera troupes from the rest of Asia, including China, whose political and social environment was at a peak just before WWII.
A decade after opening, the famous Shaw brothers rented out the property and transformed it into the Queens Theatre showing the latest movies from Hong Kong. It was then taken over by the Japanese during World War II to show Japanese propaganda movies and renamed Tai Hwa Opera House.
The theatre became The Majestic after it was tenanted by the Kong Ngee Film Company. But that was not the end of it. In 1956 the Cathay organisation bought it from the original family and it remained a cinema until 1998 when it finally closed down.
In 2003, The Majestic reopened as a shopping mall but that didn't last long either. Today, The Majestic is mostly a betting house.
Try Bak Kwa pork
Wondering what to do in Singapore if you need a cheap and delicious treat? Trying Bak Kwa should be on your list.
Bak Kwa is the Hokkien (or Fujian) answer to the US beef jerky or South African biltong. Yet the difference is that Bak Kwa is barbecued over a charcoal fire, so it maintains its oily goodness instead of being totally dried out.
Try one of the two variants of the snack, the first being chewier from thinly sliced pork and then second being tender from minced pork.
Bee Cheng Hiang is the most well known gourmet Bak Kwa retailer with two outlets in Chinatown alone at 69 Pagoda Street and 189 New Bridge Road. If you've had Bee Cheng, the next best is Fragrance Bakkwa also on New Bridge Road or Pagoda Street. Both brands are preservative free.
See the best hawker centres in Chinatown
There's no better way to explore Chinatown in Singapore than through its flavors. There are various different hawker centres, eateries and cafes in Singapore Chinatown and going on a personalized guided food tour is probably the best way to savor all of the delicious tastes, it's also one of the most fun things to do in Singapore if you ask me.
The three top hawker centres in Singapore include Singapore Chinatown Food Street on Smith Street, Maxwell Hawker Centre and Chinatown Complex Food Centre.
Singapore Chinatown Food Street is not really a centre per se and is more a covered street lined with food kiosks. Some of the best stalls include duck from Tiong Bahru Meng Kee (Stall No. 7), Satay Skewers at Old Airport Road Satay Bee Hoon & BBQ Steamboat (Stall No.2) or Kway Teow at Food Street Fried Kway Teow Mee (Stall No. 8).
Maxwell Food Centre (originally Maxwell Market) opened in November 1928 during the Japanese Occupation as a market selling fruits and vegetables. It was only at the end of the war in 1946 that the first restaurant opened its doors.
In 1987 the wet market transformed into a hawker centre and it finally given a facelift in 2001 but many of the stalls contain history and are second or third generation family businesses.
Try handmade sausages, liver rolls, ngoh hiang (fried meat roll) and egg slices at China Street Fritters or the famous Tian Tian Chicken Rice for the Singaporean dish.
Chinatown Complex Food Centre is probably the most famous of the lot due to its credibility as having the cheapest Michelin star restaurant in the world, Liao Fan Hong Kong Soya Sauce Chicken Rice Noodle. So for foodies, this is by far one of the best things to do in Singapore.
The hawker centre, originally known as Kreta Ayer Complex, was built in 1981 as a part of the urban renewal of the Chinatown. The idea was to create a central location for the multitude of street illegal vendors in Singapore's Chinatown. It also helped to sanitize and clean up the area.
Apart from the Michelin winner Hawker Chan, there are many other great options from Zhong Guo La Mian Xiao Long Bao to Jia Ji Mei Shi, from Xiu Ji Ikan Bilis Yong Tau Fu to Ah Lo Cooked Food.
There are a few tours that I would recommend that include:
1. Chinatown Food Street in Smith Street
2. Chinatown Singapore Walking Tour
3. Chinatown Food Tasting & Walking Tour
4. Chinatown Food Adventure (3.5 hours)
5. Go one step beyond with a food tour in Chinatown, Little India and the Malay Village
6. Combine a world class cooking class in Singapore with a visit to a local market
Learn about shophouse architecture
While shophouses are not unique to Singapore, the country does have some of the best and most beautiful examples in Southeast Asia.
Want to play a game with shophouse architecture? One of the nerdiest things to do in Singapore is to look up and try to guess the architectural style of each of the shophouses, the are four!
Shophouse architecture in Singapore can be divided into four marked periods from the 19th century till today. Visit Craig Road to see three of the four styles in one go. The first style is quite ordinary with no lavish touches. They were built in the 1840s as a basic two-floor building with two windows and one door. Simple and structured.
From the 1900s things started to get a bit more intricate with ceramic panels under the windows that were glued with plaster. The most detailed and decorative of the lot come with the third wave, in fact they could be seen as a bit overly embellished. You will know it is a third wave shophouse from the Chinese characters that line the facade.
The last of the shophouses are the fourth wave Art Deco buildings which have square windows, no wooden shutter and have the addition of a spike on the roof. This architectural style is typical of Miami Beach as well as Chennai and Mumbai in India.
For the newer Art Deco design, check out the popular eatery Potato Head at 36 Keong Saik Road, which is also one of the most famous places to visit in Singapore for a bite to eat, or stroll along Keong Saik Road.
Blair Road another one of the most wonderful places to visit in Singapore to take some pictures of shophouses for the Gram. These particular shophouses have a simple Peranakan design with a hint of European influence. Don't forget to look down and marvel at the detailed floor tiles.
Visit the Tintin Shop
This is a quick little stop for all Tintin enthusiasts. The shop has all kinds of memorabilia from the cartoon including life sized figurines. There is also tons of merchandise for sale from puzzles to t-shirts to watches and figurines. Not the most typical of the Singapore attractions, but amazing if you're into the intrepid cartoon explorer. See more information here.
Explore the history of Telok Ayer
Telok Ayer used to be a bay and a Malay fishing village that became a hub for Indian Lightermen who unloaded cargo from merchant ships. Two Indian Muslim buildings were erected there Al-Abrar Mosque and Nagore Durgha Shrine to serve the growing community.
The bay was turned into land in 1900 because of overcrowding and later became the area for Chinese immigrants. Today there is a little park called Telok Ayer Green next to Thian Hock Keng temple with plaques describing the history of the area, definitely one of the under the radar tourist attractions in Singapore.
Nagore Dargah is a shrine that was built by the Chulias between 1828 and 1830. As there are no historical records of the shrine, the construction date remains a mystery.
Search for Yip Yew Chong's murals
Just like in Tiong Bahru, you can see some more murals by local artist Yip Yew Chong including the Paper Mask & Puppet Seller at Mohamed Ali Lane (side wall of house 227 South Bridge Road) or the 44m long mural at the back of Thian Hock Keng Temple.
The mural at the back of the temple is quite different from his other ones which usually capture daily life in Singapore from the past. This one is basically the history of Singapore in a painting from the first migrants to modern Singapore.
This is definitely one of the most instagrammable spots in Singapore. Read more about his inspiring stories on his website.
Siang Cho Keong Temple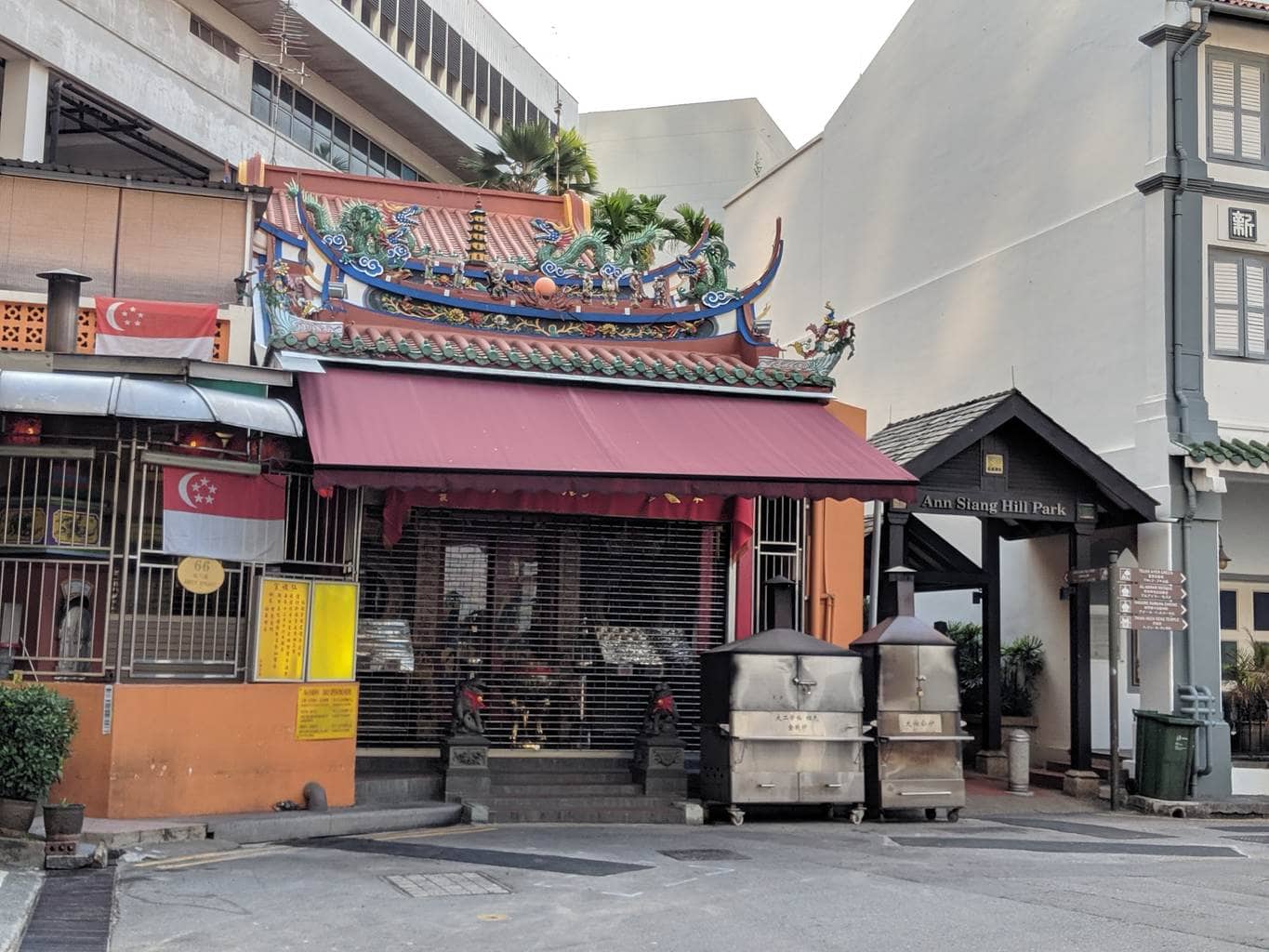 Siang Cho Keong Temple in Amoy Street is not the most extravagant temple, but if you're wondering what to do in Singapore when you are in need of some tranquility, catch a glimpse of this decorative Hokkien temple. Built in 1869 it is one of the earliest temples in Singapore and is dedicated to sailors coming from Fujian.
Being one of the lesser visited Singapore attractions, Siang Cho Keong Temple is quiet and peaceful and mostly frequented by locals. Look up at the entrance and you'll find a wonderfully ornate swallowtail roof with a dragon relief and Buddha statues.
Kong Chow Wui Koon Cultural Centre
After learning about the different shophouse architecture phases, you may want to see more of the fourth-wave Art Deco inspired buildings. The Kong Chow Wui Koon building is a fantastic example from this period. It is home to the The Chinese Clan association of the same name that formed in 1840 by Xinhui clansmen.
The current building became home to the association in 1924. So the newer design is in contrast to its ancient origination. The association is home to the first Martial Arts and Lion Dance troupe in Singapore, as well as many other firsts.
Apart from admiring the building itself, this is a fun place to visit in Singapore to learn more about Chinese culture and its history in Singapore as they host ongoing cultural events from Cantonese opera to Lion Dancing. There are also various multimedia kiosks surrounding the building.
Check their tour schedules on their website or just stroll in and take a look.
Poon Yue Association
Walk 2 mins from the Kong Chow Wui Koon Cultural Centre and you'll find another heritage site known as the Poon Yue Association, one of those Singapore attractions that almost pops out of nowhere.
The association was founded in 1879 by the Poon Yue (or Pan Yu) emigrants who came in from Guangdong. Their philosophy is one of promoting the traditional virtues of mutual help, support and protection. They practice this by providing scholarships and hosting cultural events.
Relax at the longest sky garden in the world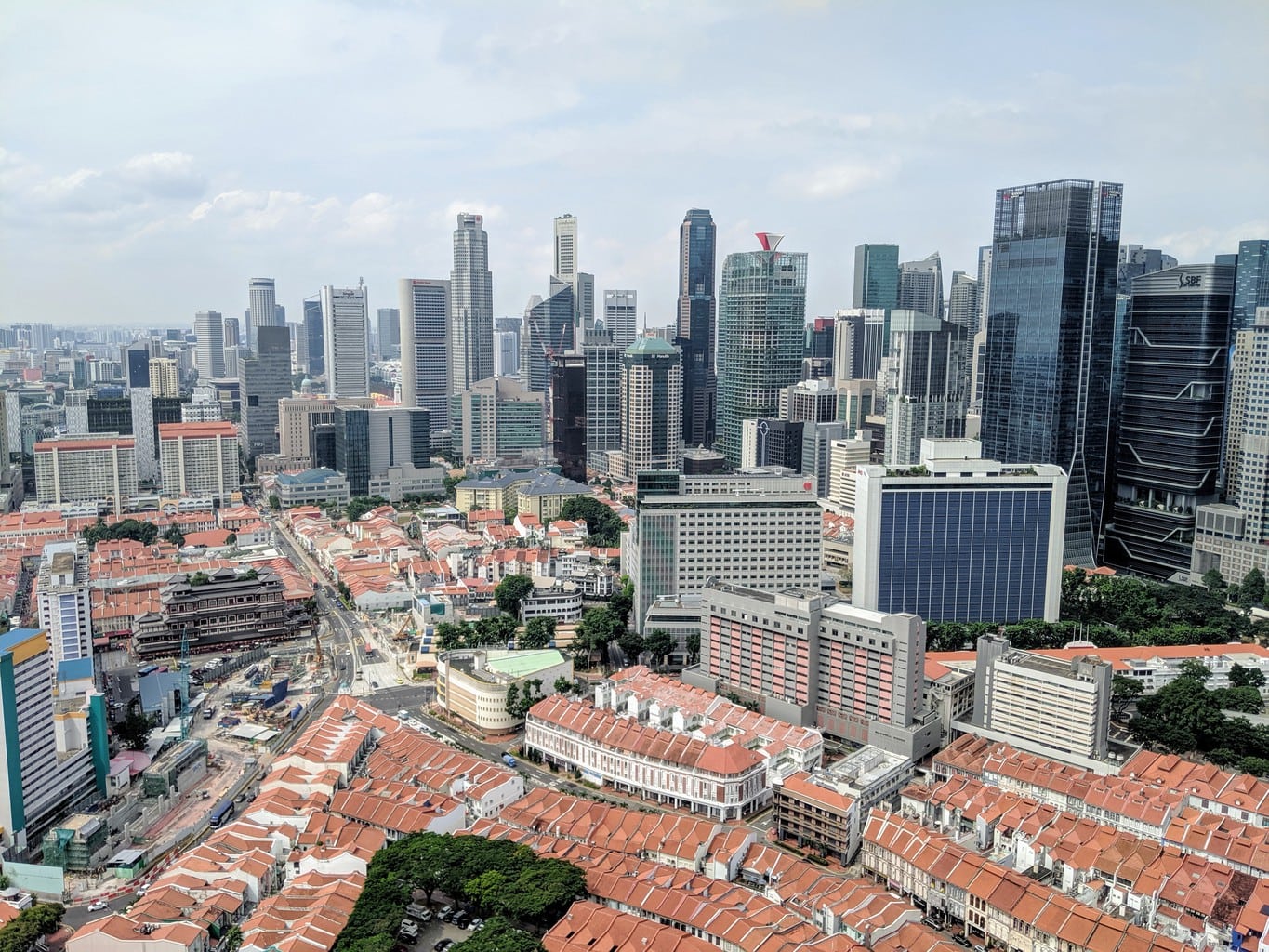 What to do in Singapore for a great view of Chinatown? Continue reading.
It's definitely hard to miss the Pinnacle@Duxton, especially if you're walking along Duxton or Keong Saik. This goliath residential building is a 50-storey giant that is home to two of the world's longest sky gardens.
But don't just admire the building from afar, it's actually one of those hidden places to visit in Singapore that can be accessed by the general public. Yup, you can actually visit the top sky garden on the 50th floor which is open to the public between 9am to 9pm daily, except during special events, for a S$6 fee per person per day.
There is a limit of 200 people per day though, so it's best to go early. If you're looking for things to do in Singapore that not many people know about, this is it. To get in head to the Security house at 1G where you will have to pay the S$6 entry fee and present your MRT card to get it validated. The card is essential to be granted access but you pay in cash.
From the top you can enjoy the best views of Singapore from all sides, both the CBD and Chinatown as well as the ocean and West of Singapore. There are seats to take a break and lots of plants.
Indulge in a cup of artisanal ice cream
My readers will know that I have a very large sweet tooth, so one of my best things to do in Singapore would, of course, involve dessert. I don't know how many times I've visited Apiary on Neil Road, but I think it's fair to say it's many.
You'll first notice the store with your nose as the smell of baking waffles is heavenly. Inside, it's all light and airy with touches of light wood shaped like a bee hive.
The ingredients used are all natural with no artificial colorings or preservatives. The dairy products are also pasteurised on site. While my favorite flavor is Ferrero Rocher, you'll find an entire list of amazing treats from Black Sesame to Baileys & Brownie to Milk Chocolate & Cookies.
Ask for a sample taste to make sure experience one of the most delicious things to do in Singapore. Find out more here.
Have brunch in a colonial house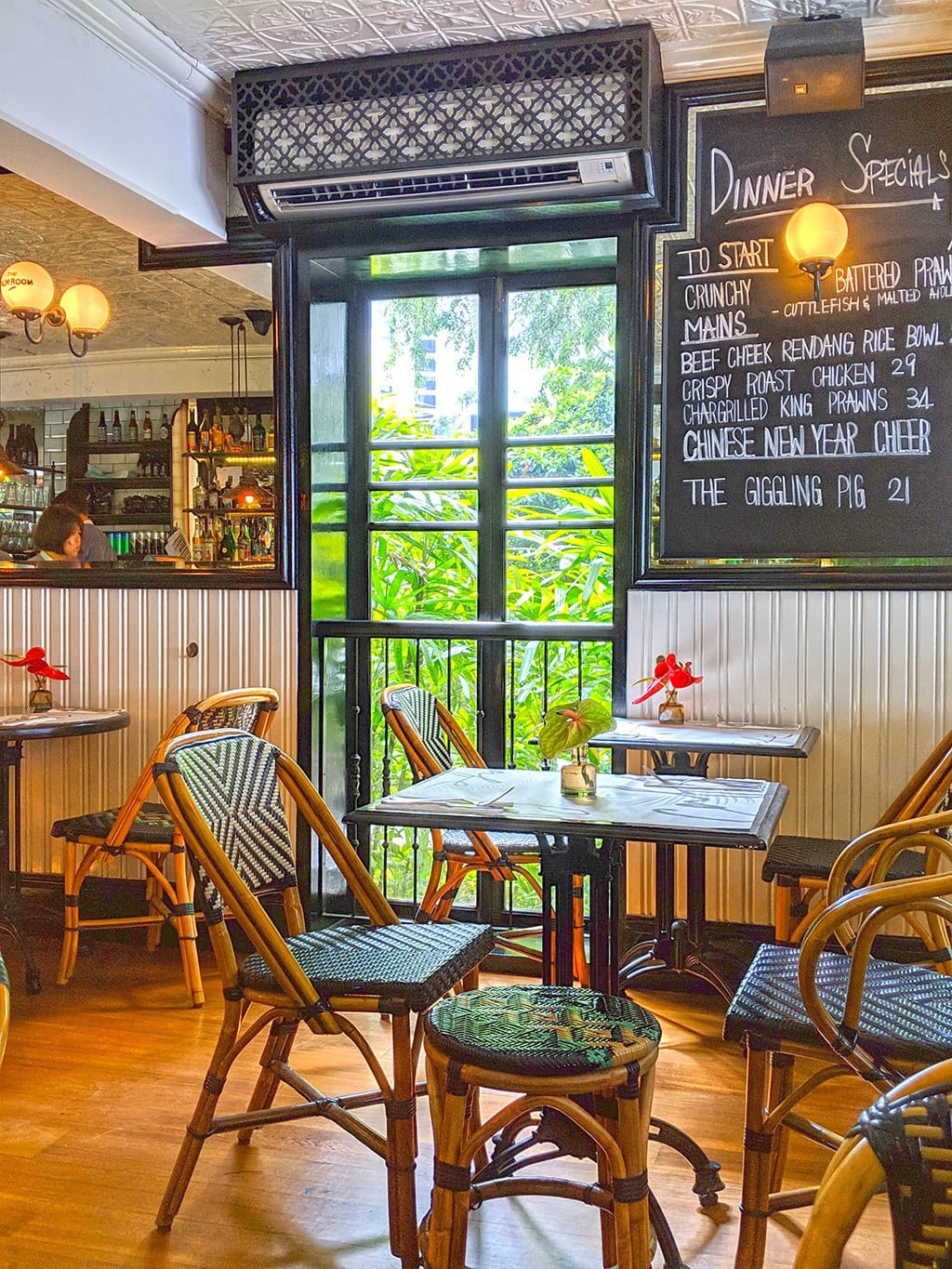 Wondering where to go in Singapore after walking the busy streets of Chinatown? You may want to get away from all the hustle and bustle and do some serious chilling out. The perfect place to take a rest is the gorgeous PS Cafe.
You'll find decorative ceilings, black leather banquettes and white marble tops in this former colonial residence turned cafe and restaurant The ambience is refined and chic with a Western menu that has an Asian twist like pesto pasta with laksa leaf.
They are also known for their scrumptious cakes that are always on display and made for sharing. And don't forget the adults-only rooftop bar if you really want some respite. This is not a Singapore tourist attraction but a place for locals to come enjoy drinks or Sunday brunch.
Eat a traditional Singaporean breakfast
A typical Singaporean breakfast is simple and quick and can be found at any of the Ya Kun Kaya Toast stores in the city. The meal consists of kaya toast with a slice of butter and comes with soft-boiled eggs and kopi. It does not get any more Singaporean than starting the day with this.
The kopi is not like the artisanal beans you'll find elsewhere but is rather made by wok-roasting the beans with sugar and margarine to a dark brew. It is rich, sweet and piping hot. You can also pick the amount of sugar you want when ordering as it is mixed for you. Be careful though, the coffee can be extremely sweet. For those with an extra sweet tooth, try ordering it with condensed milk.
The stall in Singapore Chinatown at 18 China St, Far East Square, is the original one where Hainan-born Loi Ah Koon began selling the breakfast staple in 1944. It's an institution and one of the top places to visit in Singapore.
Have a craft cocktail
I really had to mention Six Senses Duxton as one of the most amazing places to visit in Singapore.
The luxury hotel is designed entirely by Bond Girl turned interior stylist Anouska Hempel and screams elegance. The gold and black Art Deco Yellow Pot Bar is a posh affair that is elegant and cozy.
Make sure to try their signature Escape to Kaifeng which consists of gin with chrysanthemum. It should definitely be one of the top Singapore attractions to put on your list. Here is my full review of the boutique hotel.
But this is not the only craft cocktail bar in Singapore, the city has its fair share of great drinking spots that are trying to do things a little bit different.
One of the most inventive bars in Singapore Chinatown is the underground Operation Dagger. In this dimly lit bar on trendy Ann Siang Hill the mixologists are surrounded by a cloud of diffused lightbulbs and jars of herbs and spices.
Co-owner and creative director Luke Whearty has put together a list of unique cocktails that you will find nowhere else. But the best part is that if nothing suits your taste buds, just tell one of the bartenders what you like and they'll whip something up for you. More on Operation Dagger here.
Two local bars in Singapore Chinatown that you must try if you're into something more locally inspired are Native and Nutmeg & Clove. Brainchild of Vijay Mudaliar, Native in Amoy Street is a bar that forages local ingredients to serve some highly inventive alcoholic treats like Thai rum with crunchy ants or pink jasmine blossoms sourced from Ann Siang Hill and then prepped in a rotary evaporator. Read more about Native here.
Nutmeg & Clove on the other hand tells the history and culture of Singapore through its wonderful cocktails. The menu is actually inspired by William Farquhar's (former British Governor after Raffles) Collection of Natural History Drawings. Each drink tells a story of Singapore's past, along with the gunny sacks and 60s posters on the walls. See their full menu here.
Things to do in Bugis and Colonial Singapore
Bugis is the neighbourhood to the east of the central business district and the Marina and, together with the Singapore river and Chinatown, is the former colonial neighbourhood of Singapore. This is where you will find all of the former colonial buildings and structures, from the Parliament House to the well-known Raffles Hotel.
Remember I told you that in the past the Raffles Hotel was by the ocean? If not, scroll back up the Marina part so you can see the before and after photos from the 70s.
The best way to explore this area is on foot as most Singapore tourist attractions are close to each other. I wrote a neighbourhood guide to Bugis which will be useful if you are going to explore the area as it also gives recommendations for where to eat and shop.
Tea at the Raffles Hotel
The Raffles Hotel in Singapore is the first one in the brand currently owned by Accor Hotels Group and the oldest hotel in Asia.
As the Hotel is not accessible to non guests the only way you will get to see it inside is by booking at one of the restaurants. Considering what to do in Singapore for high tea? I highly recommend trying afternoon tea in the famous Tiffin Room where many of the Raffles main events happen.
Correction: Afternoon tea is now served 12pm to 6pm daily at the Lobby Lounge.
The hotel completed a massive renovation after 130 years of history, in 2018 and reopened in August 2019 with a new face but preserving its original soul. Read some of the most fascinating parts of the Raffles Hotel history to have a feel for how important it has been to Singapore.
Have a Singapore Sling
Different from actually having tea at the hotel itself, a Singapore Sling, the famous drink that was concocted by the barman at The Long Bar in the Raffles Hotel, is best enjoyed while throwing peanut skins on the floor of the bar that has survived from then, although it has actually been renovated a few times.
If you are not familiar with the Singapore Sling, expect it to be sweet and fruity and served with a slice of pineapple for SGD35++. By far one of the most thirst quenching places to visit in Singapore and one that will be packed with tourists.
Fort Canning Battle Box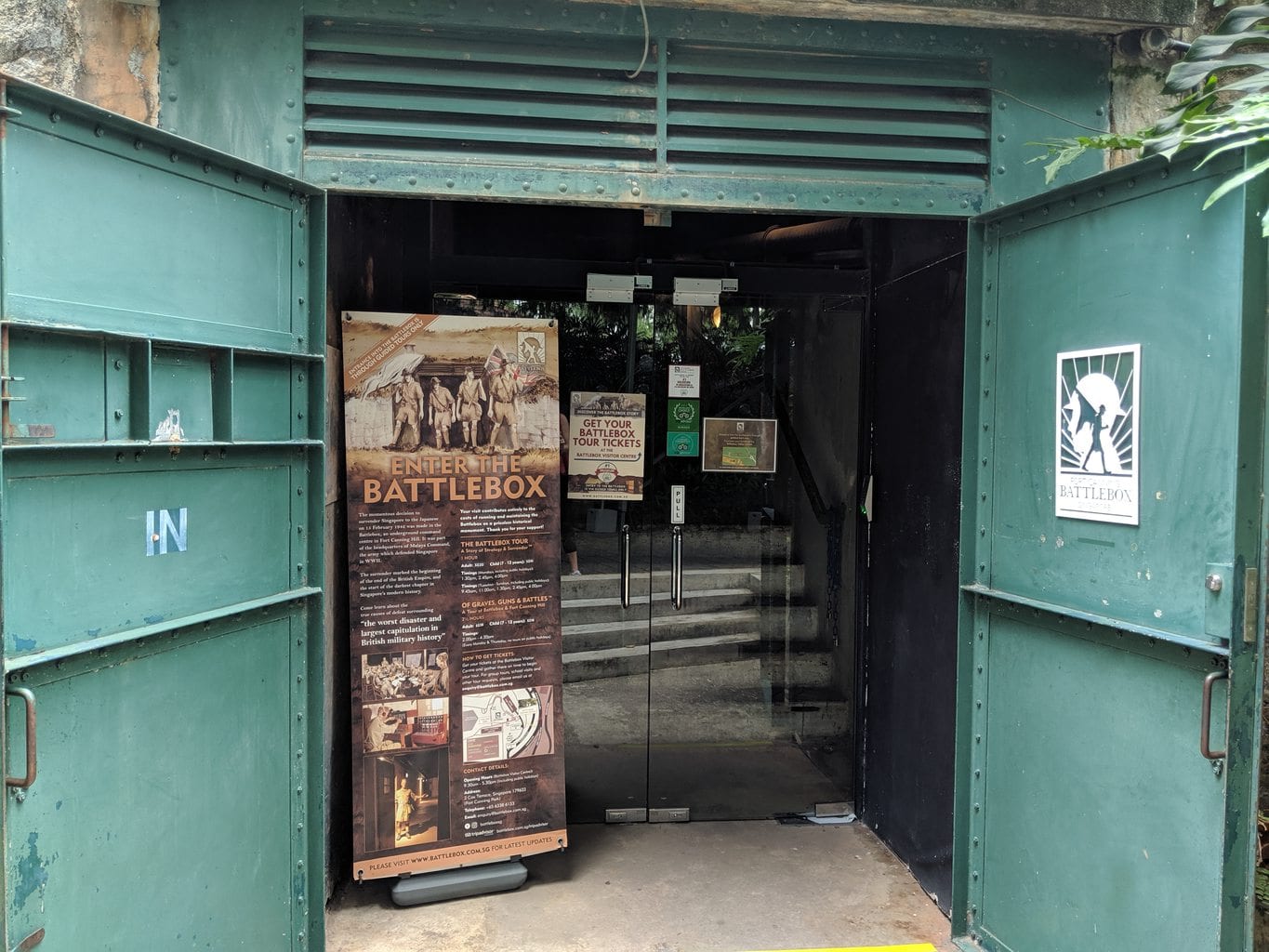 Fort Canning Park was the site of the palaces of 14th century Malay Kings and served as the Headquarters of the Far East Command Centre and British Army Barracks during the WWII.
The decision of the British Command to surrender Singapore to the Japanese on 15 February 1942 was also made on the hill, in the Underground Far East Command Centre, commonly known as Battle Box, which reopened for tours in 2016 after it was discovered hidden away.
The Battle Box offers guided tours several times a day which last between 1h and 15min and 1h and a half and are conducted by very well-trained staff who explain the function of the bunker as well as the Singapore side of WWII.
The museum is regularly awarded best in Singapore and for good reason. The tours are informative, entertaining and also tell you of the last days before Singapore's surrender with maniquins and photographs in a very graphical and tangible way.
It is a great place to visit in conjunction with other WWII tours, a visit to Changi, Kranji Memorial and the Singapore National Museum. I highly recommend you book tickets to the Battle Box in advance because they always get sold out as groups are small.
A visit to the Battle Box is a highlight activity in Singapore for history buffs. You can book your guided tour of the Battle Box online here.
See Singapore's only archeological site at Fort Canning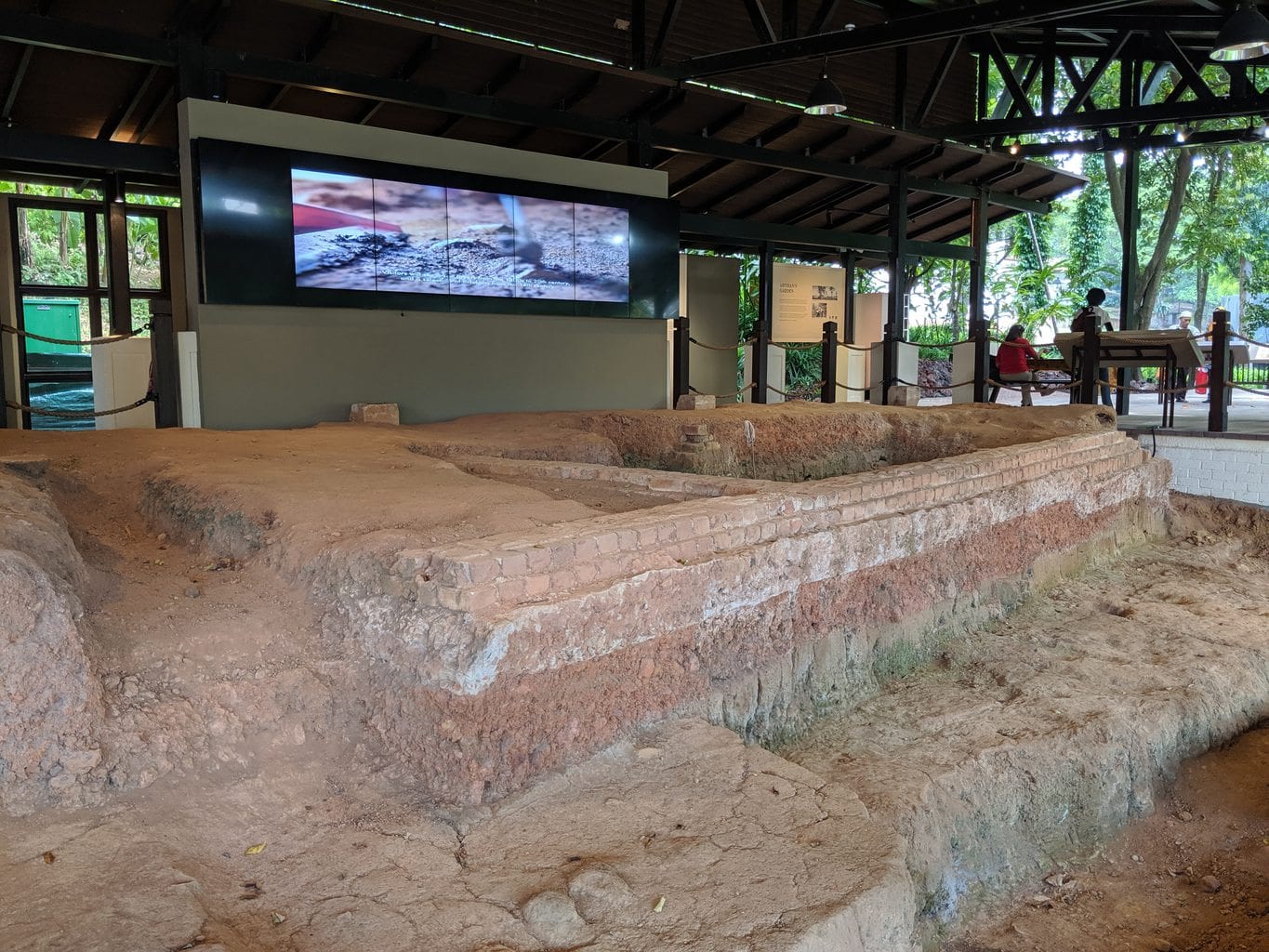 Located in the middle of the city Fort Canning is a great place for a break. The park plays host to a variety of festivals and other outdoor activities like Shakespeare in the Park. You can also visit the Spice Garden and the ASEAN Sculpture Garden. Stroll through Fort Canning and visit the many gardens or take a break in the shade.
But Fort Canning is perhaps most unique for being the place of Singapore's only archeological site which also proves the existence of the city before the arrival of the British. The site is open and you can visit it for free. Several events and tours are organised in Fort Canning. Find out more details here.
National Gallery of Singapore
The National Gallery with the extension into the site of the old High Courts is a gift to Singapore's art scene and a stunning building to explore even if just from an architectural point of view without any considerations for the exhibitions inside.
Modern and contemporary artists are on display with installations as far fetched as foam structures, puppet shows and large paintings. This is also one of the few places to visit in Singapore where you can enjoy an almost 360 degree view of the city for free from their rooftop.
While there are a few restaurants and bars at the top of the National Gallery that are worthy of designer uber-sophisticated cocktails, you don't have to sit down and spend S$30 per cocktail to enjoy the views, just walk up to the 6th floor.
The National Gallery opens from 10am to 7pm on weekdays and until 10pm on Friday and Saturday. You can find more details about the exhibitions and the guided tours here. Or just skip the queue and book your ticket online here.
Asian Civilisations Museum
The Asian Civilisations Museum is located by the Singapore River and it showcases art from China, Southeast Asia, India, and the Islamic world. As the nexus between all the cultures in Asia, the Museum also focuses on showing the inter-relations among the countries.
Temporary exhibitions at the museum are free and constantly changing so it is worth a quick pit stop if you are in the area, even if you don't want to visit the museum.
Asian Civilisations Museum also offers guided tours and is open from 10am to 7pm everyday and until 9pm on Friday. More details can be found here.
You can book your e-ticket here so you don't have to queue, highly recommended if you are going during the weekend when the queues can be half an hour long.
Clarke Quay
This is one of the places to visit in Singapore to find some night entertainment and fun. There are bars, restaurants and nightclubs all under the same roof, literally. Clarke Quay is best explored when the sun sets and the lights come out, as do the party-goers and tourists. Most of the places are actually closed during the day.
There are usually two types of people in Clarke Quay, younger local regulars of the bars and clubs and tourists attracted by the music and the lights.
Even if you are not one of either, it is still worth enjoying the views and people-watching. Pick one of the bars with views over the river and if you want to be a bit farther from the buzz, cross the river and watch it from the other side.
Have chilly crab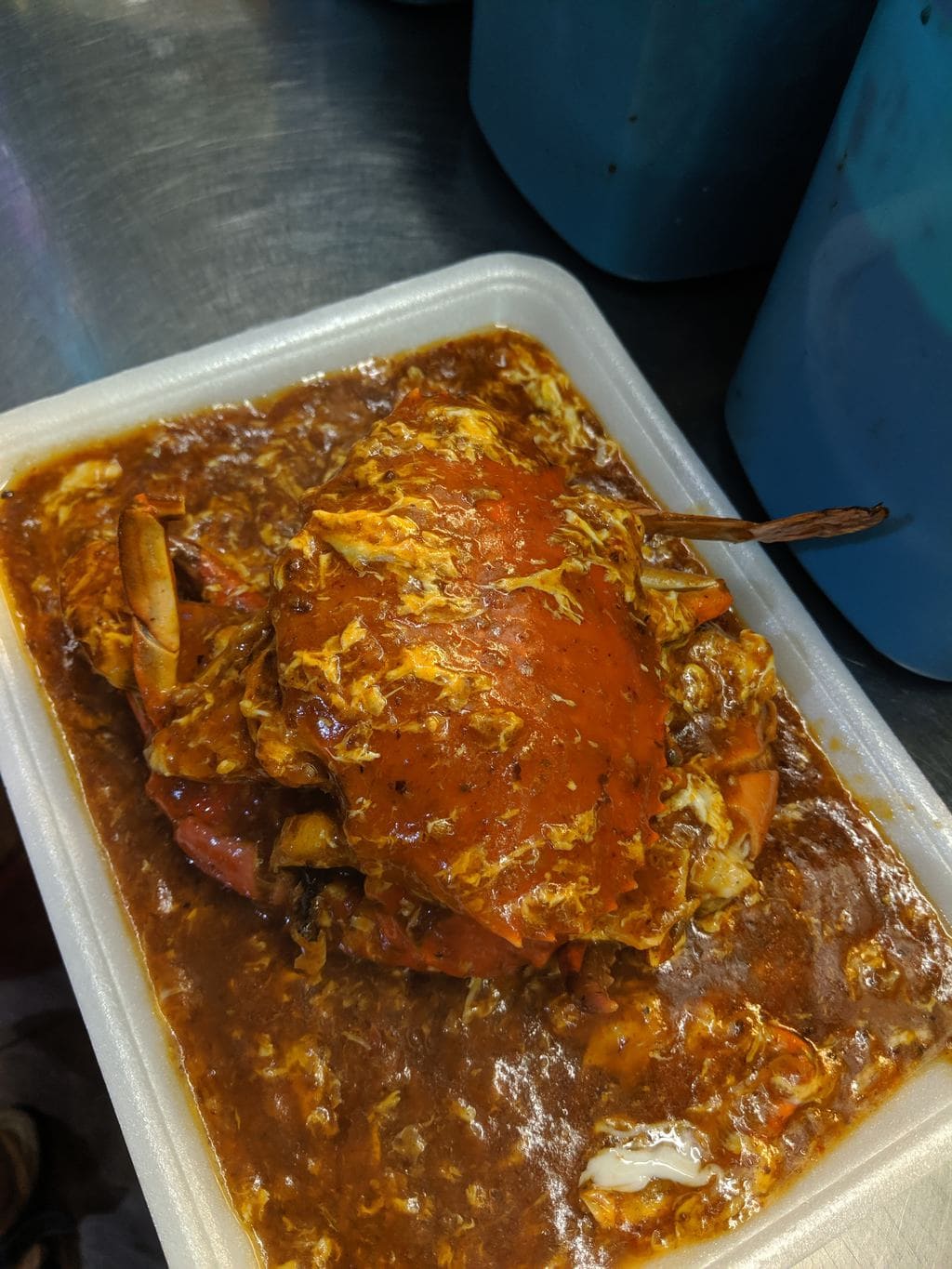 If you come to Singapore asking what is a traditional Singaporean dish you will most likely be pointed in the direction of chicken rice or chilly crab both of which are associated with Singapore and Singapore only.
There are a lot of other dishes that are popularly known to be famous here but are also traditional of other countries. This is why one of the most typical things to do in Singapore for visitors is to enjoy chilly crab at one of the Jumbo restaurant locations.
There are a few of them but perhaps the most scenic are the two by the river and in particular, the one across from Clarke Quay where you can enjoy river views with a side of chilli crab sauce and bread rolls.
Make sure to wear the bib so you don't get the orange sauce on your white dress. And order the fried bread buns, the best part of the chilli crab is the sauce!
Visit the Peranakan Museum
Update: The Peranakan Museum is closed for a full revamp and will only open again in 2021.
Wondering what to do to in Singapore for some authentic cultural exploration? The Peranakan Museum is the best way to learn about this unique culture of the Straits.
Did you know that although Singapore is a melting pot the only truly Singaporean heritage not inherited from other countries is the Peranakan one? Peranakan are the mixed Malay and Chinese children of migrants who came to Singapore from the 13th century when the city was a major port in the Straits of Malacca.
While the same cultural heritage can be found in Malacca itself and Pin enang, it is also distinctive of Singapore.
Peranakan culture has elements of both cultures and is recognisable for the blue tiled artworks, the vintage wooden furniture and the delicious meals. Book your ticket for the museum online here.
Or better yet, while the museum is still under renovations, make a booking at True Blue, the restaurant adjacent to the Peranakan Museum which serves Peranakan food in an authentic Peranakan home. Make sure to try the chicken buah keluak, made with black candlenut that are typical of the cuisine, kueh pie tee (small crunchy cups filled with vegetables and prawns) and beef Rendang.
Visit the National Museum of Singapore
This is Singapore's oldest museum and was opened in 1887. If you only visit one of the best museums in Singapore, I would recommend you make it this one.
Here you will be able to find all about Singapore's history and past. The museum building is also worth a visit regardless of its content because of its white colonial architecture, dome and details.
There are two parts, the historical building with the famous central dome, and the more modern part which is made of a glass galleria and walls. Read this guide to the museum to find out how to make the most of your visit.
Make sure to allow enough time to visit all the galleries and the temporary exhibitions, when I visited the TeamLab light installation was on and there was another one on Singapore's packaging evolution, both of which were well worth it.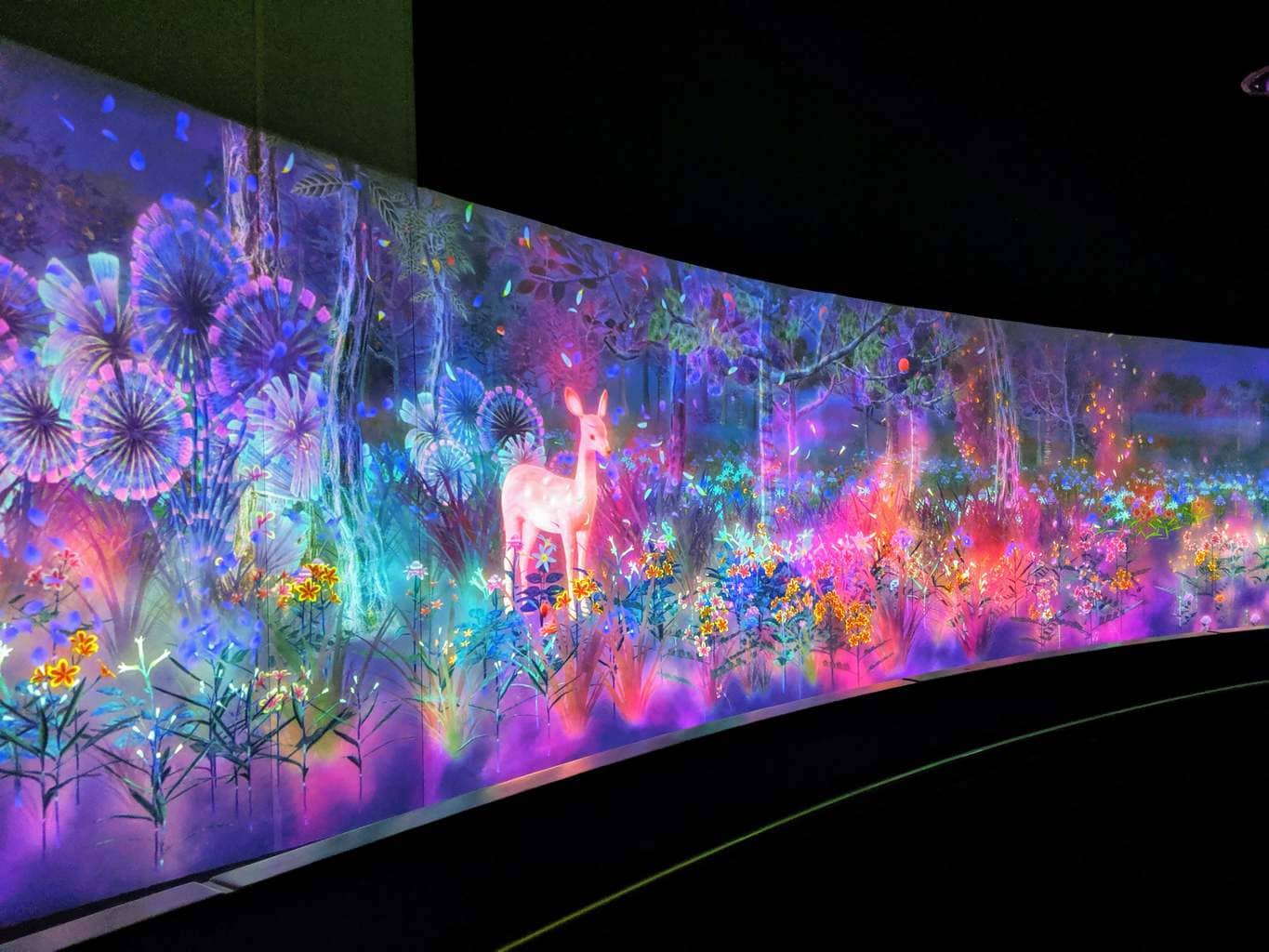 The museum also has a couple of restaurants on site, including Violet Oon Peranakan restaurant that are well worth a stop.
Pro tip: Join one of the free 1.5h guided tours through the museum to get a first hand explanation of the museum's various galleries along with a brief walk through Singapore's history. Tours are in English and Chinese offered daily, and free, you just need to register at the ticket office after buying a ticket.
Book your ticket for the museum online here because it does get busy, I had to queue for 20min.
Things to do in Kampong Glam and Arab Street
Kampong Glam is the Malay and Islamic district of Singapore and where you will find most of the Middle Eastern inspired Muslim fabrics, lanterns, food and alike. While the Geylang and Katong areas of the east are the primarily Malay communities, this is where the rest of the Muslim migrants used to live.
The Malay royalty moved to Kampong Glam when an agreement was signed between the British East India Company, Temenggong Abdul Rahman and Sultan Hussein in 1819 to set up a trading post in Singapore. After that, the Sultan brought all his family from the Indonesian island of Riau and established his residence here.
Kampong Glam is pretty small and can be fully explored in a couple of hours, provided you do not sit down for coffee or for any delicious food but make sure to look up and notice the beautiful shophouses in the area. This is the place where traditional islamic items were sold and some of those shops are still open today. Kampong Glam has the best places to visit in Singapore to find attar (essential oil parfum), traditional hajj products, fabrics and spices.
Today, while some of the former items are still on sale, Kampong Glam is the center of the hippie and bohemian in Singapore. There is live music, jazz concerts, yoga nights, craft cocktails and coffeeshops.
For a laid-back and easy way to explore, follow this neighbourhood guide to Kampong Glam. If you prefer a guide to take you to all the hidden areas, take this guided tour of Kampong Glam called the "Sultans of Spice".
Trishaw or walking tour of Kampong Glam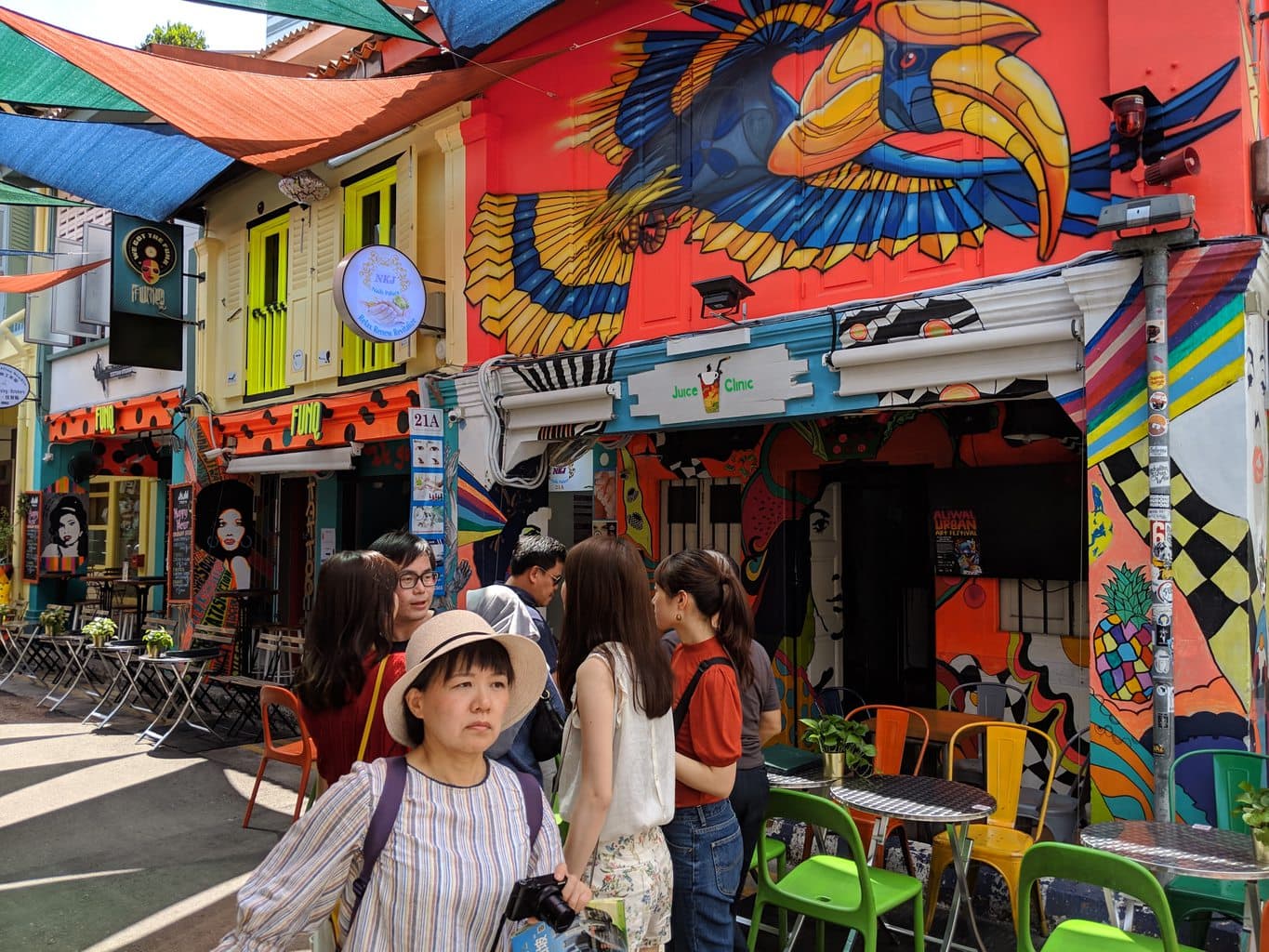 There are a lot of tours and options for guides in Singapore and, while many of the attractions in Singapore you can visit and explore on your own, Kampong Glam is perhaps one where I would strongly recommend going on a trishaw or walking tour.
Why? Because every single building, store and even first level of the shop houses along the Kampong Glam area is filled with stories that talk of a past gone by and an era that is still trying to survive modern Singapore ways and hipster looks.
Book one of the expertly led trishaw tour of Kampong Glam
which will tell you all about this fascinating part of Singapore that is so much hidden in plain view and so interesting. There are various routes to take, and Kampong Glam is only one choice of many.
Hajji Lane
Haji Lane is one of the coolest streets in Kampong Glam and places to visit in Singapore and it is the main area most people associate with Kampong Glam.
A small and narrow pedestrian lane in the Arab neighbourhood, Hajji Lane offers a few cafes and bars, including a good jazz club, Blu Jaz, and several hipster and local designer shops selling clothes and other accessories. The best way to explore it is on a shopping spree following our shopping guide as each little store packs a lot of goodies and is very peculiar and unique in its own way, with several hand-made unique items being sold there.
The area around the lane is also known as Kampong Glam and it is a mixture of old and new, bohemian and hand-made with traditional.
Although Hajji lane lies at the center of the Muslim quarter you won't find any more shisha here, the Government sadly banned it in 2015.
Sultan Mosque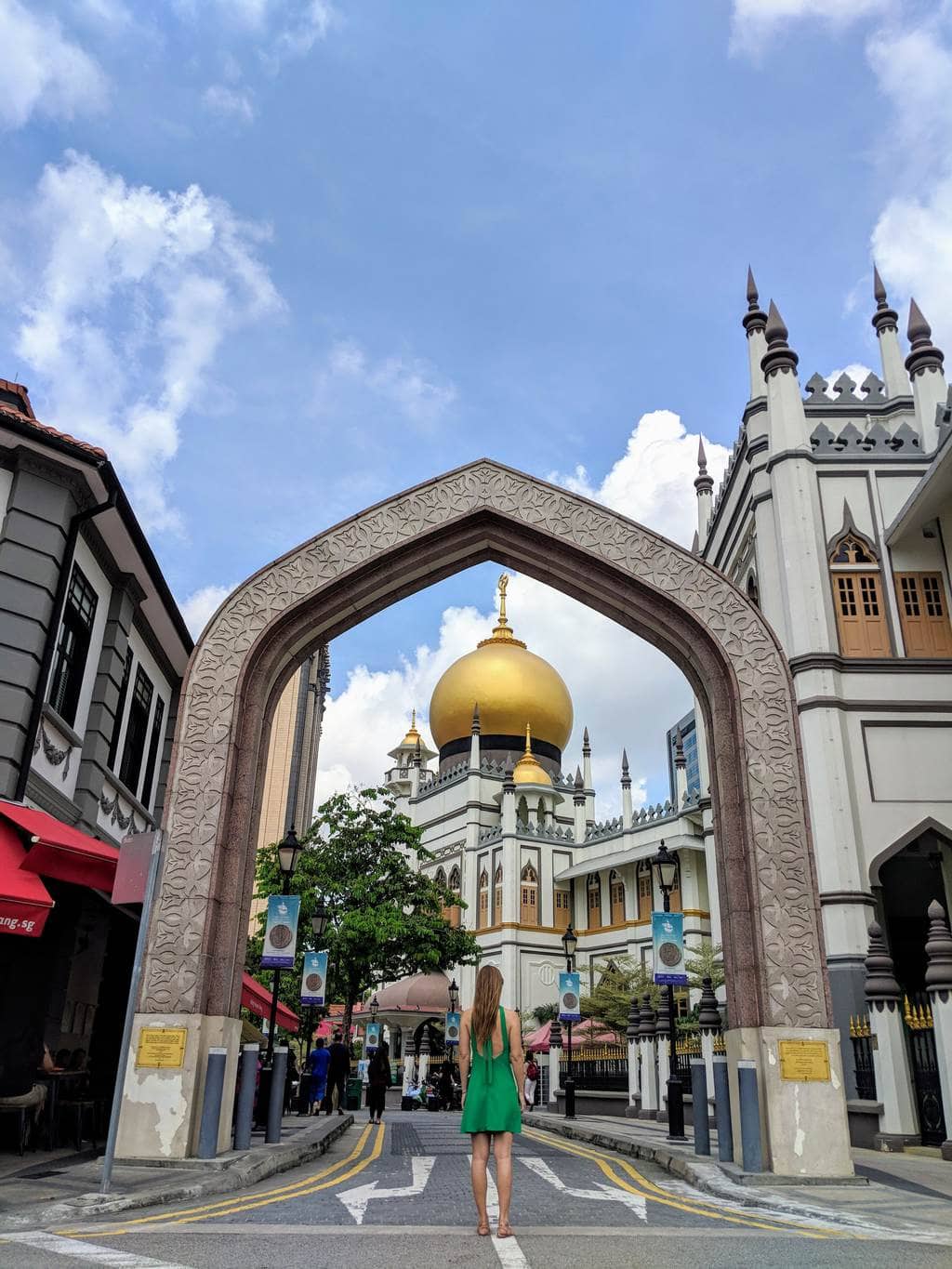 Sultan Mosque is the shiniest and most easily recognizable mosque and Singapore attractions. Its golden dome takes on a precious hue at sunset that is best seen from the rooftop bar at Maison Ikkoku.
The small area around the mosque and Hajji Lane is the official Muslim/ Arab Quarter otherwise known as Kampong Glam Malay Heritage District. The mosque was finished in 1826 thanks to financing from Sir Stamford Raffles at the request of Sultan Hussain Shah, Ruler of Temasek, former name of Singapore.
You can find more information about the mosque on their website.
Malay Heritage Center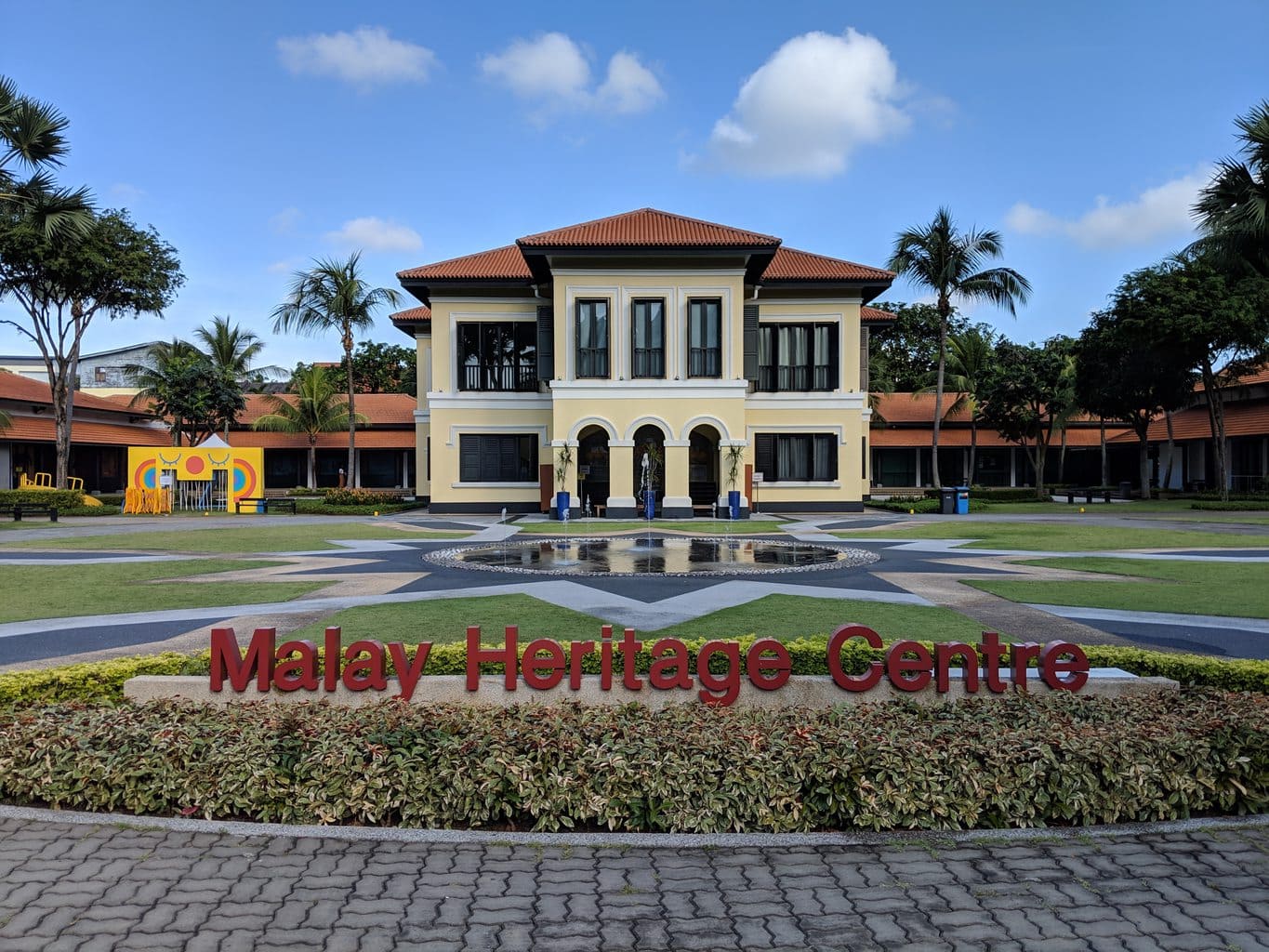 Located in the Kampong Glam area, the Malay Heritage Center is a sort of museum and destination to learn more about Malay culture in Singapore.
The building was the former residence of the Sultan and was built in the 19th century following architecture that is reminiscent of Malacca. Even if you do not go in, the building is worth a visit from the outside, for its pretty entrance and colonial architecture.
The Malay Heritage Center is open everyday but Monday from 10am to 6pm. Book your tickets online here.
Things to do in Little India
Little India is the Tamil part of Singapore and the neighbourhood where Raffles decided the Indian migrants would be allocated living spaces.
Today, the area is still very authentic and you truly feel like you are in South India, with the smell of spices and jasmine, the ladies wearing colourful saris, the sound of the temple prayers, the golden bangles, the Bollywood signs and the Tamil language being largely spoken.
Aside from this list, I also wrote a neighbourhood guide to Little India you can take with you and which gives you ideas on where to eat and shop as well as what points of interest there are. If you prefer a guided tour of Little India, you can book one online here. The local tour guide will give you all the inside information of Little India including where all the streets got their names.
The markets of Little India
Little India is synonymous with markets. There are the more organised type at Tekka Centre, the wet market, the stalls of street vendors in every narrow lane or the permanently crowded, opened 24h Mustafa Center.
I recommend spending some time exploring the many street vendors selling fruits and vegetables you will not find in Chinatown or Tiong Bahru and typical Indian items.
This is also a photographers paradise with explosions of colors and photogenic settings giving way to a host of frames and portraits.
Mustafa Centre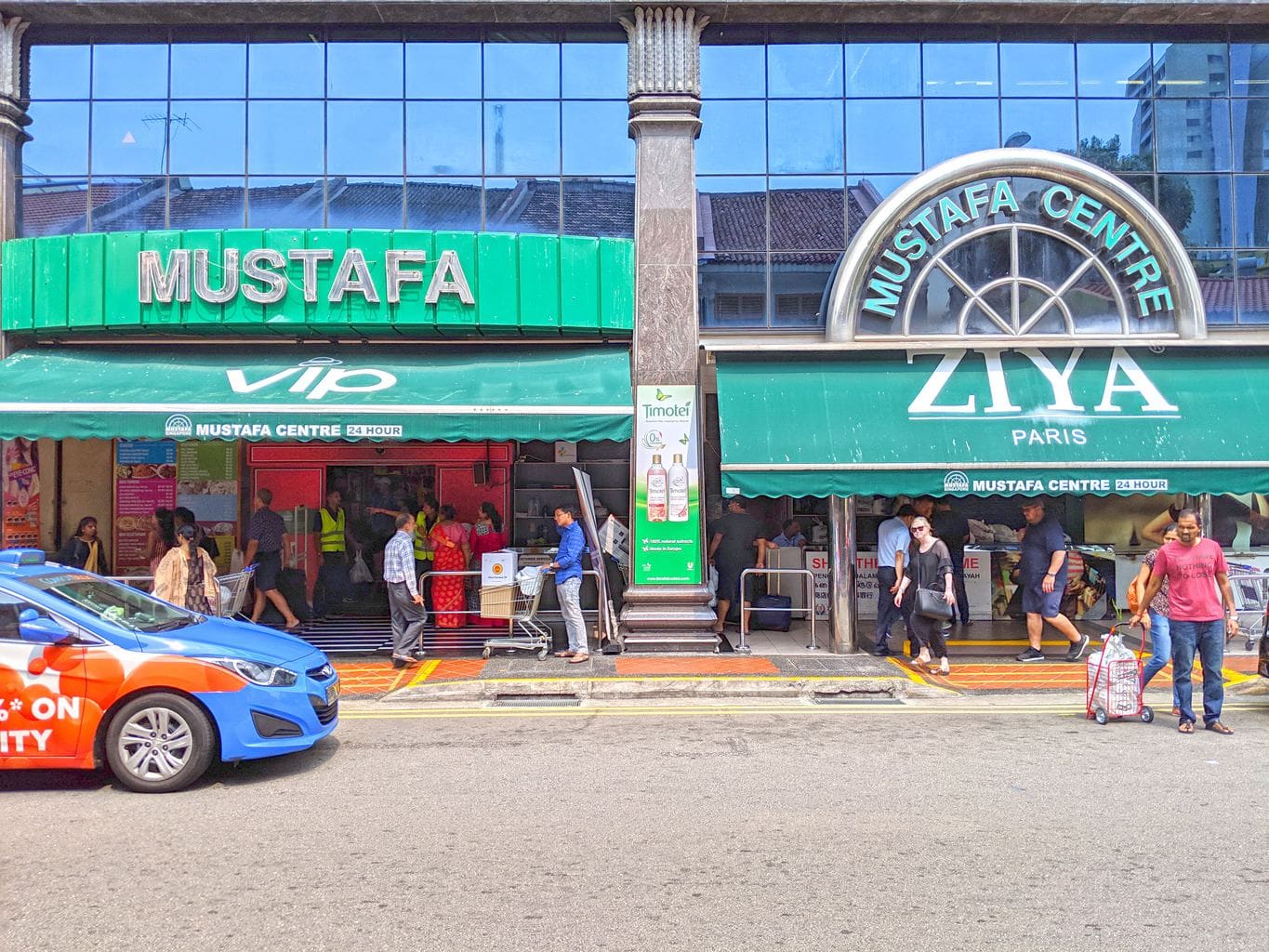 Our beloved Mustafa Centre is one of the coolest most fun places to see in Singapore but don't spend too much time there because it is sure to get on anyone's nerves after long exposure.
Mustafa is a sort of department store where you can find pretty much anything from appliances to any sorts of food, clothes, furniture, snow balls, trainers, vegetables and perfumes. The place is busy at any time of the day or night, a 24h shopping haven. Or nightmare, as you are most likely going to get lost in one of the many buildings and floors.
You are almost guaranteed a lower price here than anywhere else, that is if you find what you are looking for because the alleys are not organised in a logical manner that would help you locate what you need.
We have written a complete guide though with some great tips and tricks. You can find more details here.
Little India walking tour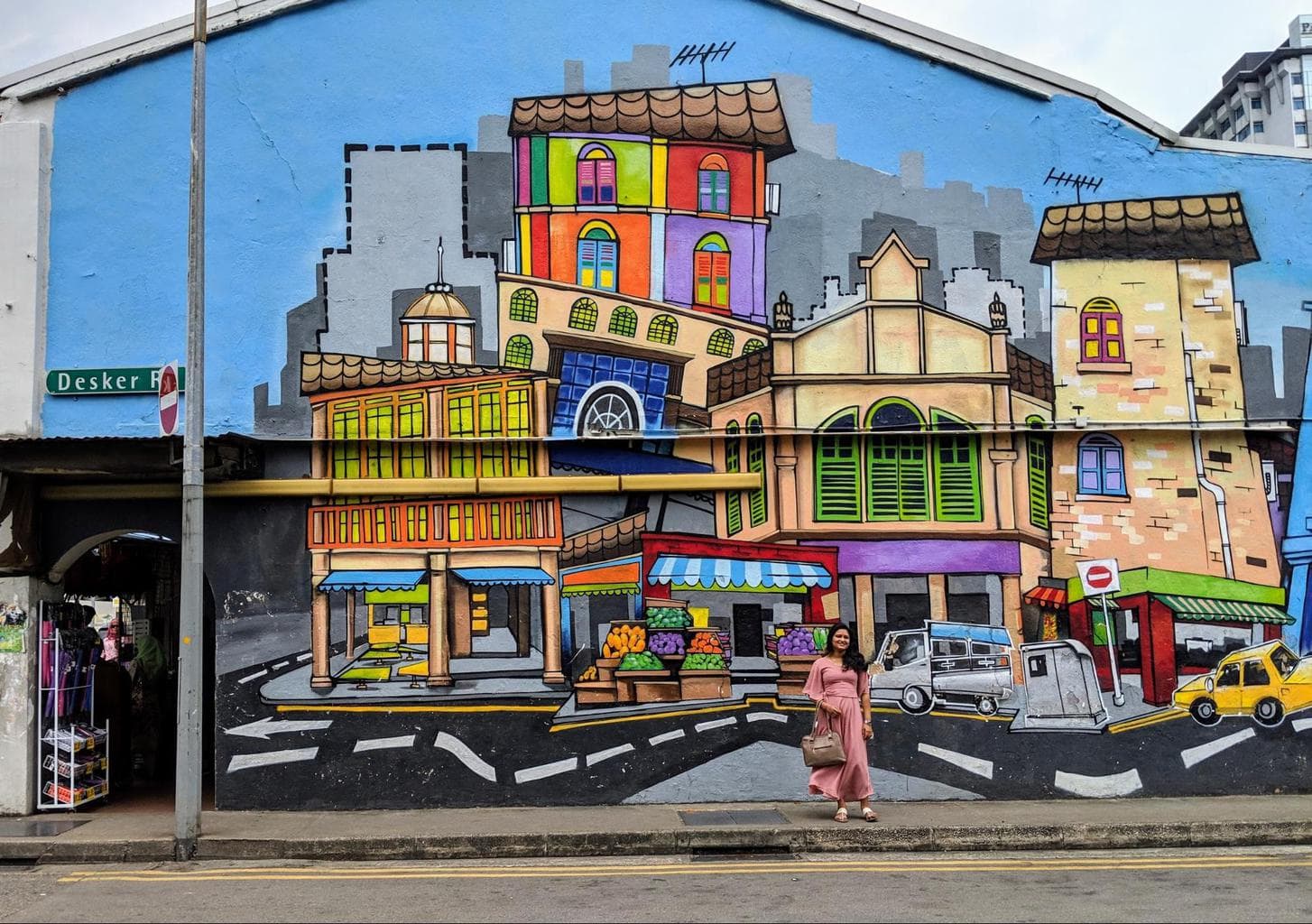 There are several walking tours of Little India including some free options. This 2 hour walking tour on Klook
is highly rated where an expert local guide will explain the various sites and history of Little India including Little India Arcade, the Wet Market and Sri Veeramakaliamman Temple. You'll also get to sample a local and authentic Indian pastry.
House of Tan Teng Niah
Besides its colourful facade which was the product of a recent restoration effort, and the fact that if you type Little India on Instagram this is by far the most location-tagged place, this building is one of the few Chinese villas left in Little India.
The residence and one of the top Singapore attractions for IGers was built by Tan Teng Hian, a rubber smokehouse merchant and one of the few Chinese businessmen in Little India, for his wife in 1900. The building is said to have European influences. Look up to the bamboo tiled ceiling.
Street art in Little India
Wondering what to do in Singapore and where to go for you #OOTD? Well, Singapore has a lot of street art in several of its neighbourhoods but Little India has some of the largest share. As you walk through the streets, look out for wall murals that make for beautiful photos.
For more details, read my Little India Guide which has specific addresses and street art and murals to look out for. Happy Instagramming!
Visit the Hindu temples
Little India has a thriving Hindu community that congregates around the main southern India style temples with their intricate and colourful roofs and interiors.
If you visit Little India you cannot miss the two main Hindu temples of Shree Lakshminarayan and Sri Veeramakaliamman. At times of prayer both temples fill with lit oil candles, drums and singing.
Make sure to remove your shoes before getting in. These temples, built during the British Colonial times, were the center of Indian culture and social gatherings and helped original settlers feel more at home.
Here is my list of all the most beautiful temples in Singapore including Buddhist and Hindu. Definitely a list you should save for all places to visit in Singapore with religious significance.
Learn about Singapore's Indian community
To get a deeper understanding of the Indian community in Singapore, you should visit the Indian Heritage Centre. I recently visited the centre and had a great time trying on the traditional clothing, scrolling through the multimedia displays and just generally learning about the the heritage of Singaporeans of Indian descent.
If you decide to visit the centre, it should be at the beginning of your Little India walking tour as it will provide much needed insight into the area. There are guided tours of the museum and interactive screens where you can learn all about the history of this interesting and diverse culture.
More information about the center here. You can also reserve your ticket online here.
The Sakya Muni Buddha Gaya Temple
Built in 1928, the Thai Sakya Muni Buddhist temple in Little India Singapore is a striking temple located along Race Course Road. It was originally a structure that sheltered a statue of Buddha that the Venerable Vutthisasara brought to Singapore.
After donations from the famous Haw Par Villa/Tiger Balm brothers, the temple grew in size and grandeur. Make sure to walk to the back of the temple to admire the golden done which has the 300 ton 15m high Buddha inside. There are a multitude of lights surrounding the statue which gives the temple its nickname the 1000 Lights Temple making it one of the most unique places to visit in Singapore.
Leong San See Temple
Another must visit Buddhist temple in Little India is the Leong San See Temple (Dragon Mountain temple in Chinese). It's actually located directly across from Sakya Muni, but houses a statue of the Goddess of Mercy, Guan Yin. It was the abbot of this temple that requested Vesak be a public holiday in 1956, which was accepted and is still celebrated today.
Explore the Little India Arcade and Campbell Road
Little India Arcade is one of the most atmospheric streets in the neighbourhood. The Arcade is a cluster of Neo-classical buildings that date back to 1913, although the current Arcade was opened in 1995. You can't miss the salmon and orange building when walking along Campbell Street that houses souvenir shops and eateries.
There is a store that sells small clothing for deities, statues of Hindu gods, as well as gorgeous jasmine flower bracelets and garlands used for festivals and celebrations. Visiting the Arcade and exploring all the wonderful stalls is one of the most fun things to do in Singapore.
Visit the Tekka Market
If you haven't visited a wet market (fresh food market) in Southeast Asia before, this is your chance. Opening in 1915 in a different location and originally called Kandang Merbau Market, it was demolished and rebuilt in its current location in the 80s. It is a lively, colorful market with a vibrant energy where you will find many of the herbs and spices used in authentic Indian dishes that will satiate your Singapore sightseeing cravings.
Kampong Kapor Methodist Church and Church of the True Light
There are two churches to visit in Little India that aren't the top of the Singapore attractions to visit, but really nice for those interested in architecture and history. These are the Kampong Kapor Methodist Church and the Church of the True Light.
The Kampong Kapor Methodist Church started as a group of 10 Malay speaking Chinese citizens. The actual church was built later in 1929 and revamped in its current Art Deco style in the 80s. The church offers services in English, Tamil, Malay and Peranakan and has missions in various countries across the world.
The Church of the True Light is an Anglican church in Campbell Road that was completed in 1952. It started as a congregation for Heng Hua and Hock Chew Chinese from Fujian that met in a barber shop. In 1940 the land was finally acquired and it took a few decades to raise funds to construct an actual building.
Mahatma Gandhi Memorial Hall
After the death of the famed activist, the Mahatma Gandhi Memorial Hall was constructed in 1950 by the then Indian prime Minister Jawaharlal Nehru. Starting as a small memorial the hall expanded into several buildings and even a library as a response to the public's donations and proposals.
After renovations in 2011 the Hindi Society occupied the building, but you can still visit the impressive library that is filled with books about and by Gandhi, all in several languages. More info on the Memorial here.
Angullia Mosque
There are several Anguilla Mosques in Singapore, but the one in Little India was the first, being built in 1892 and completely reconstructed in 1970. The mosque is named after the famed wealthy Gujarati Muslim trader who sold spices, sugar, timber and other items. Angullia Mosque still belongs to the very same family, a direct line from Anguilla himself. More information can be found here.
Sri Srinivasa Perumal Temple
Sri Srinivasa Perumal Temple came about after a group of Indian residents wanted a Hindu temple that was devoted to Narasinga, one of Vishnu's avatars. Construction finally started in 1855 and was complete in 1885. The Chettiar community later brought in some more idols from India which led to the temple's expansion in 1914.
After some renovations in the 1950s and a wedding hall financed by a famous local businessman, P. Govindasamy Pillai (PGP) in 1965, the temple changed its name to Sri Srinivasa Perumal Temple translated as the "source of light or abode of prosperity" and has become one of the most famous Singapore tourist spots.
Anyone looking to partake in the Thaipusam festival will start here. But beware the festival is not for the faint hearted and displays devotees piercing their skin, nose and lips with large needles.
Learn about Islam at Abdul Gafoor Mosque
Wondering what to do in Singapore to learn more about its Muslim citizens? Abdul Gafoor Mosque is your best bet. When I visited, one of the caretakers offered to walk me around the premises and told me more about Islam.
I learned a lot about this often misunderstood religion and there are several books and pamphlets to take away for free. Remember to take off your shoes at the entrance and slip on one of the robes to cover your shoulders or legs.
While there are flashier mosques in Little India and others with more history, Abdul Gafoor Mosque is a beautifully underrated mosque in Singapore's Little India with beautifully intricate details to admire. The architectural design reflects Saracenic and Neoclassical elements with the facade holding a lovely sundial.
Rex Cinema
Rex Cinema is a historical cinema that opened in 1946 on the former premises of the Singapore Boxing Club. It screens Tamil and Hindi movies to a primarily local audience. It is the meeting point for fun and entertainment for the Indian community in Singapore and really is a fantastic way to have an authentic experience.
Eat authentic Indian food
I absolutely love Indian food. I have visited the country too many times to mention and always enjoy visiting the many restaurants and tasting all the most authentic treats. Little India has some Indian institutions if you want to test the delicious dosas or vegetarian delights. When you're looking for places to visit in Singapore, put all of the below on your list.
Little India has remained largely unchanged as Singapore embraces the hipster coffee shops and Western fine dining. Here are my favorite South Indian vegetarian restaurants in Singapore.
The first treat you should try in Singapore's Little India is the south Indian dosa that is popular in Kerala, Karnataka and the Tamil Nadu states. The most popular place to chow down on dosas is the Mavalli Tiffin Room, or MTR, which is actually an outpost of the Bangalore based dosa institution located on Serangoon Road.
These dosas are actually quite unique in that they are both fluffy but crunchy, the masala dosa is my favorite. You should also try the vada idli, a great alternative to the rice based dishes as it is made with semolina. Remember to get mango lassi or a masala tea to wash everything down. MTR is open for breakfast, lunch and dinner only closing between lunch and dinner.
Another institution is The Banana Leaf Apolo that has been going since 1974. The restaurant serves mostly south Indian food on a banana leaf and you are expected to eat the food with your hands. The fish head curry and chicken tikka masala are both super spicy but oh so delicious. This is one of the top places to visit in Singapore for visitors with an extra spicy palate.
If you can't handle spicy food, you should rather give Banana Leaf a miss as they will not tone down the spiciness. There are two outlets, one on Race Course Road and one in the Little India Arcade. The Banana Leaf Apolo is only open for lunch and dinner. You can book a seat on their website here.
What can be more authentic than sitting on cushions on the floor?
Komala Villas like the Banana Leaf serves meals on the same biodegradable dish and you should also eat with your hands. Opening its doors in 1946, Komala Villas also serves traditional South Indian and vegetarian with food like dosa, uttapam or vadas. Yet you will also find North Indian options with naan, rice and lentils in gravy.
While the original outlet is located on Serangoon Road there are other locations on Race Course Road and Buffalo Road with a sweets store on Serangoon Road.
The final restaurant I would recommend, and is one of the oldest opening in 1924, is Ananda Bhavan. While the original outlet is no longer standing, there are a few offshoots in Little India with the most vibrant one being in front of Mustafa Center.
You will find both North and South Indian vegetarian food served on banana leafs at mostly shared tables. You can get dosa or thali with lentils, potato curry, rice, papadom, chapati, chutneys and other curries. Ananda Bhavan serves breakfast, lunch and dinner. More information here.
Things to do in Orchard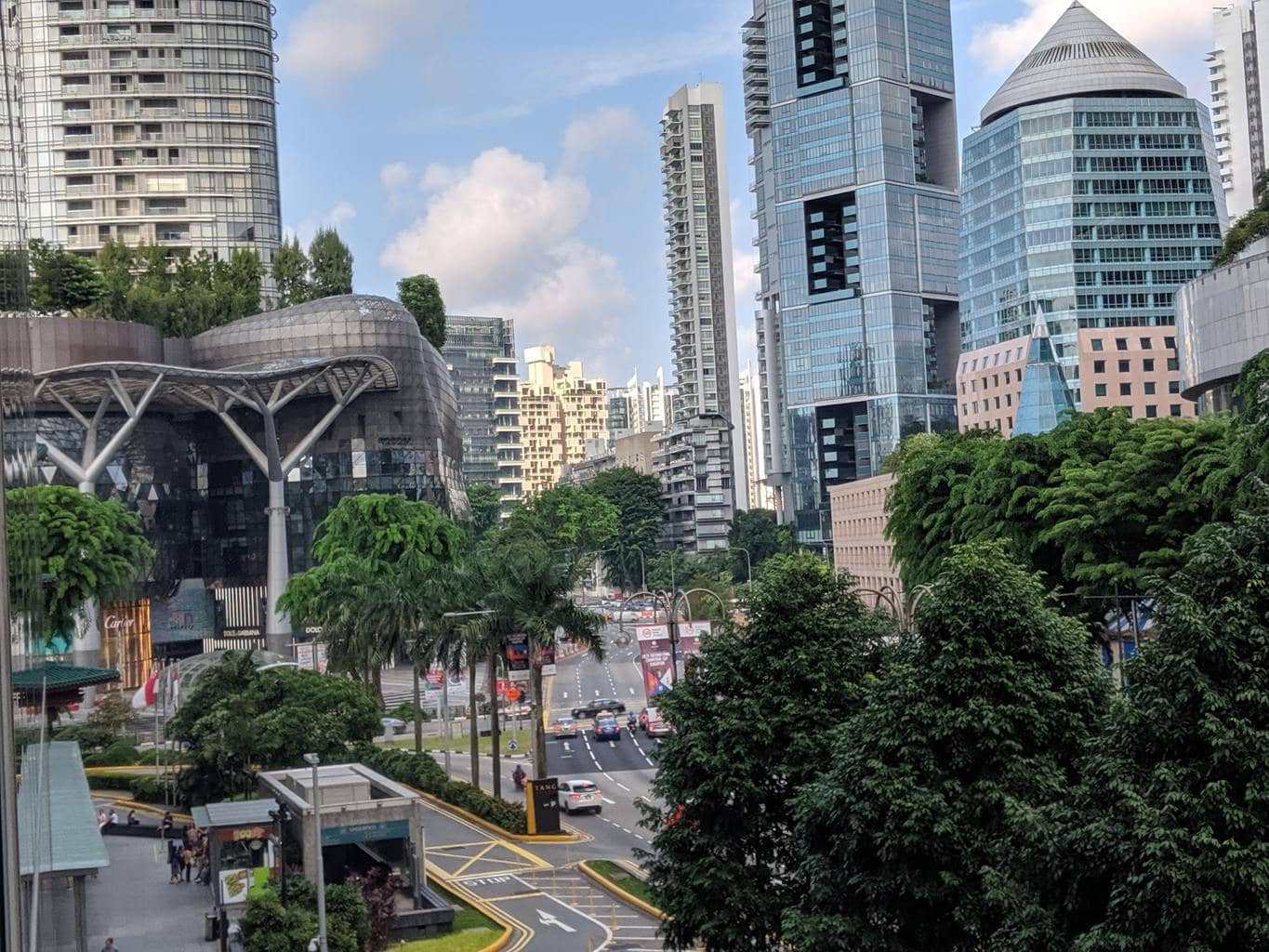 Orchard Road is the shopping district of Singapore. It is a large boulevard lined with shopping malls and department stores selling all the international brands. The area is lined with malls, high-end apartments and office buildings.
While it is definitely one of the top places to visit in Singapore for retail therapy, Orchard Road should be avoided at all costs on Sunday when it is absolutely packed with shoppers and becomes one of the most visited Singapore attractions.
Ion Sky viewing point
56 levels and 218 meters above Orchard Road ION Sky gives a great view over the commercial heart of the city. You can also see the city through a high-tech telescope, the first of its kind in Asia.
Public access to ION Sky is from 3pm – 6pm daily. It pays to go late to see the golden hour sunlight. In order to gain access to the deck, you will need to purchase S$50 worth of goods in the shops. Show your receipts to the reception at the desk to get a ticket. Receipts and entrance must on the same day.
Orchard road
Orchard Road is the place to come for a real shopping spree, mind you Singapore prices are not particularly low.
The 2.2km road is a continuum of shops and malls each specialising in a different niche. There are higher-end malls like Paragon, Ion Orchard and Scott's Plaza and more affordable options like Lucky Plaza or Far East Plaza. If you did not stop it would take you half an hour to walk it all but no doubt you will be tempted to get into some of the malls.
Details and information about Orchard Road can be found in its official website which is worth checking out because of the many ongoing offers and events always taking place.
Emerald Hill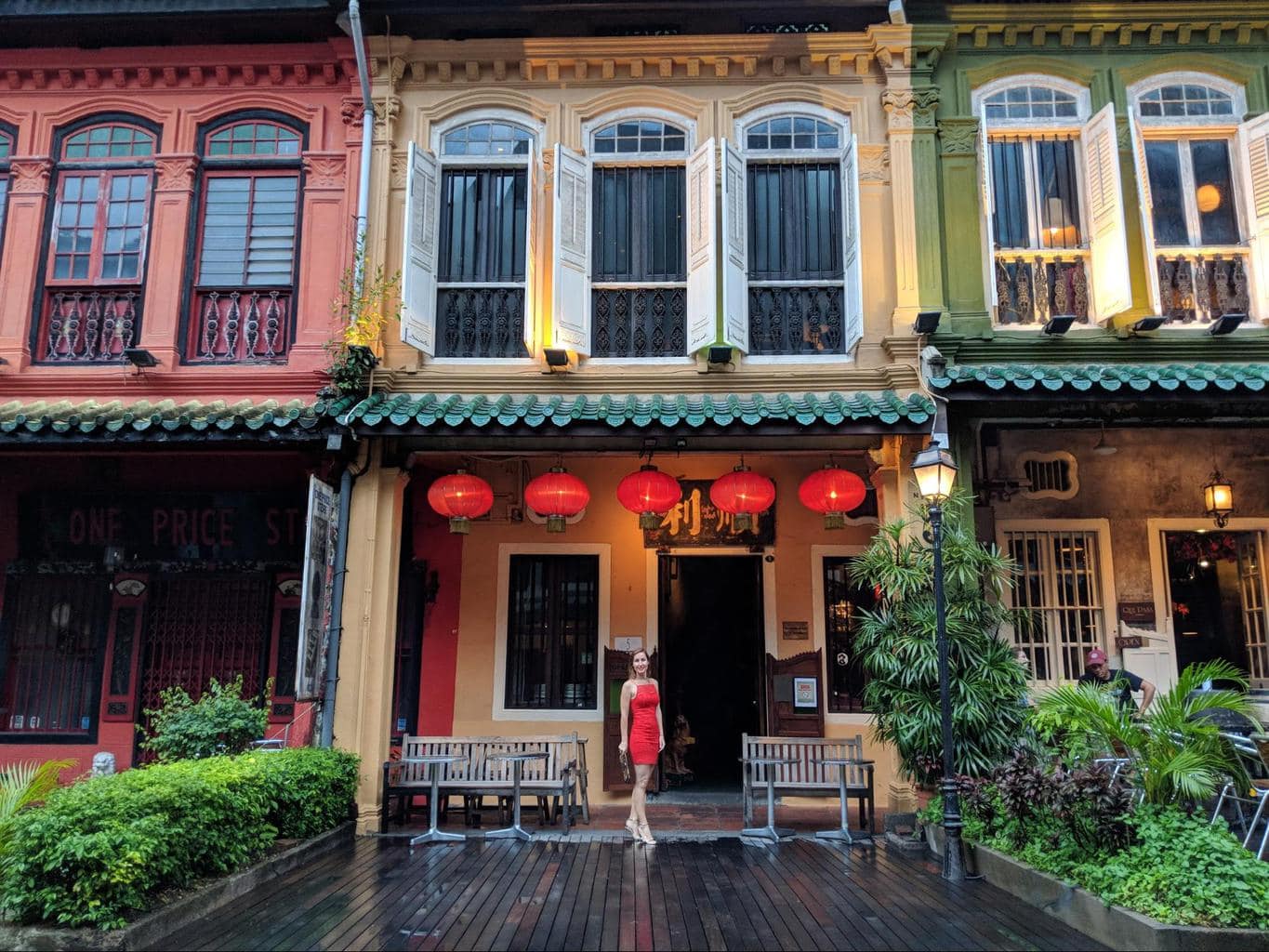 This is one of the most intagrammable and beautiful places to visit in Singapore and one where fashion photo shoots are a daily staple.
But before its role as a fashion backdrop, Emerald Hill was one of the estates off Orchard Road where nutmeg was grown, until 1860s when the local beetle killed all the plantations and they were replaced by rubber and pineapple.
Today, the street is lined by beautiful Baroque and Peranakan shophouses in colourful designs and lots of plants and wooden decks. There are also a couple of bars that give a glimpse of what it is like to live in a shophouse that is 100 years old. Hint: dark! I like No.5 Emerald Hill Cocktail Bar which also serves food.
You can explore Emerald Hill on an Open House art-based tour which takes place in public spaces and private homes through the street where art pieces have been put on display.
Botanic Gardens
Singapore's only UNESCO site, the Botanic Gardens is a sprawling park featuring lakes, ponds, waterfalls, lawns, plants and flowers that expand 82 hectares. The above video should give you a good feel for what to expect. It's one of the must see places in Singapore to visit for nature lovers.
The Botanic Gardens were first created in the 19th century by Stamford Raffles and developed since as a center for horticulture and botanic research including successfully growing the rubber trees in Singapore and Asia.
But perhaps what the Botanic Gardens are most known for is the orchids that were invented by local growers and which are on display inside the Orchid Garden. The gardens require a separate ticket but are free for Singaporeans and residents of Singapore. They are well worth a visit.
The gardens are a wonderful place to stroll around, to read a book or to come for a picnic. There are also a couple of al fresco restaurants in the park that provide a great spot for a break, for brunch or for a romantic dinner.
Things to do in Tiong Bahru
Tiong Bahru is the oldest public housing estate in Singapore built before the war, and it has one of the first hawker center in Singapore. The name means New Cemetery and is the combination of a Chinese and a Malay word that refers to the area formerly surrounding the estate.
In recent years, the area has been gentrified and evolved into the central of the Singapore attractions for traveling hipsters. Yet it still very much preserves its soul and despite the arrivals of expats and hip-searching locals, it still preserves is soul from the 50s.
Unsurprisingly, one of the most hipster things to do in Singapore then is to walk the streets of Tiong Bahru, look for one of the first artisanal specialty coffee shops, some local designer stores, a local book publishing house and the signature shophouses and Art Deco inspired buildings.
Let's take a tour of Tiong Bahru, one of the coolest areas in Singapore, but you can also save my guide here.
Tiong Bahru heritage trail
Heritage trails are available pretty much in every neighbourhood represented in this guide but the one in Tiong Bahru is particularly recommendable because it talks about a more recent past of Singapore and it is very easy to follow.
Tiong Bahru Hawker Center
Nobody can come to Tiong Bahru and not explore the hawker center which is the first one to open in Singapore in 1955 and was renovated demolished and reopened in 2004 and renovated again in 2017, even Anthony Bourdain visited when he was here on his 24h food quest of Singapore. Here is a list of what to eat at Tiong Bahru Market.
If you are not so keen on hawker center food, there are some great brunch spots in Tiong Bahru and one of the best places to visit in Singapore for a scrumptious croissant.
Street art in Tiong Bahru
Like Little India, Tiong Bahru has quite a few murals on main walls that are worth looking out for. Unlike Little India, the murals here are not modern street art but depict scenes of regular life in Tiong Bahru, especially in the past. In particular, Yip Yew Chong murals are famous across Singapore for depicting local Singaporeans in traditional settings.
These are a few murals that you should look our for. Tiong Bahru used to be known for the many bird cages the residents had hanging outside their homes and there is a mural with that.
You can find a list of all the murals by Yip Tew Chong on his website.
BooksActually
This real life bookstore is one of the reasons a lot of people come to Tiong Bahru. They are one of the few local publishers and fully into the book scene with book readings and launches. There is also a vending machine outside that will dish out a mystery book.
There are not a lot of old bookstores in Singapore and this one is not particularly old as it opened in 2005, but if you get in and walk past the cashier and into the back rooms you will find a world of 80s and 90s memorabilia that will transport anyone of that age right to their childhood.
The store opens from 10am to 6pm on Sunday and Monday and until 8pm the rest of the week. More details on their website.
Butter coffee by day, yakitori by night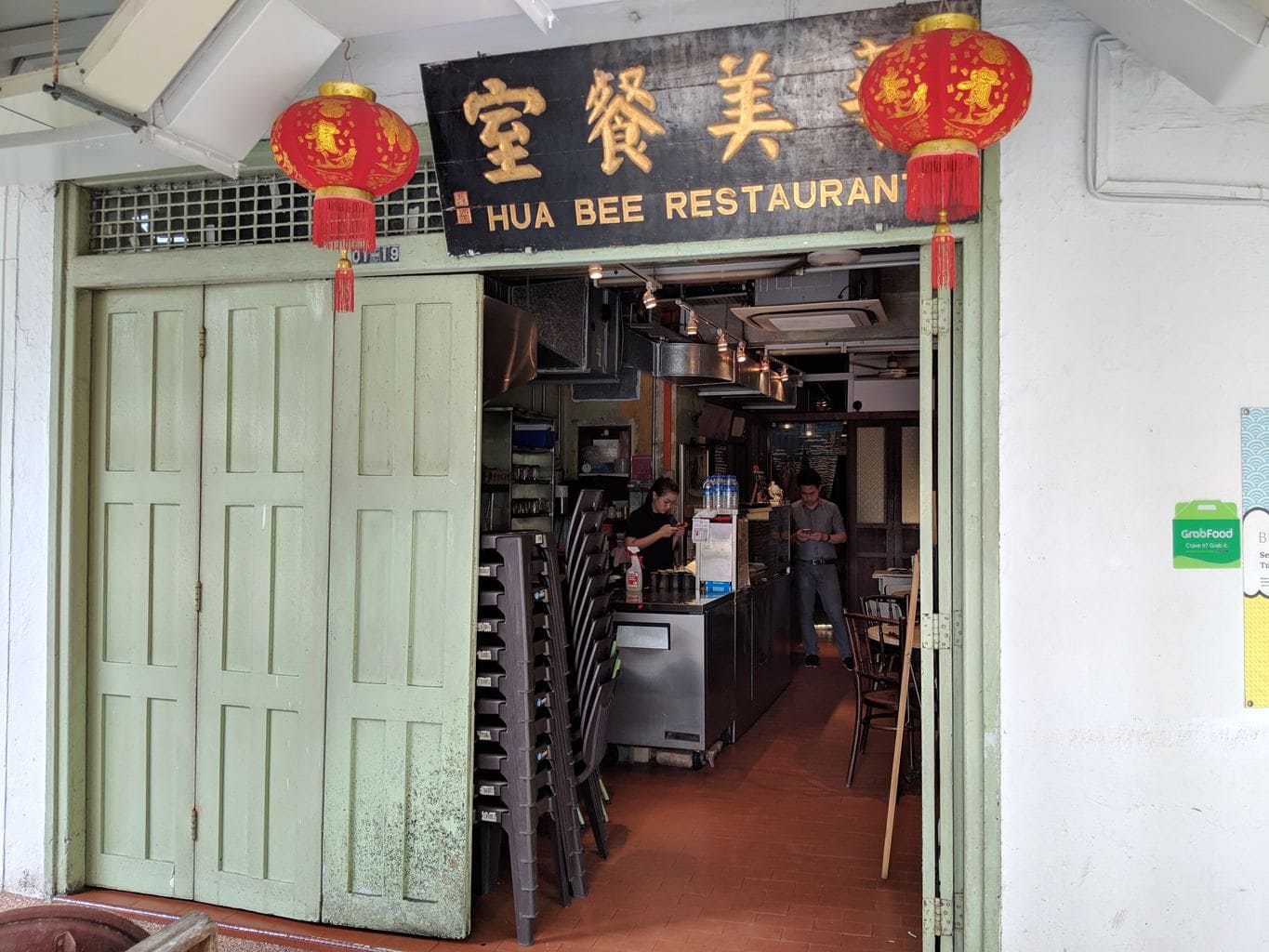 Hua Bee is one of the oldest coffee shops in Tiong Bahru and has been in operation since the 1940s when the uncle of the current operator, Ong Ngah (Hokkien for 'baby'), opened it. The store started serving drinks, bread, and eggs and in the 60s added fishball noodles.
What makes this place unique is the fact that it is one of the few remaining coffee shops in Singapore that still serves coffee with a slice of butter in it, well before this drink became a hipster trend. But this is not the fancy version you find in the large cities across the world, but rather a more humble version with traditional Chinese coffee and a simple slice of butter for just a couple of dollars.
The store became famous in the 90s because it was the set for Eric Khoo's 1995 R rated movie, Mee Pok Man. The movie featured the love between a poor noodle seller and a prostitute and showed a poor side of Singapore. Its rating, and the many accolades it received abroad, made it an iconic film of the decade.
It also starred Singaporean Michelle Goh as the young prostitute co-protagonist. The movie was replayed in 2014 and its rating changed in 2004 when Singapore reviewed the rules.
On top of being a drinks and noodle store, Hua Bee transforms into a refined and expensive Japanese yakitori restaurant at night under the name of Bincho, which can be accessed via the backdoor. The decor stays the same, but the front door of the restaurant remains closed and the alter ego of the place comes into play.
Qi Tian Gong Temple
This is one of the oldest temples in Singapore dating back to the 1930s when Tiong Bahru was established. The temple is dedicated to the monkey god and is practically open to the street. Devotees go through the day for prayers and incense is always burning.
More details on the temple can be found on its website.
Look up for architecture
While it's fun to see all the hipsters and trendoids walking around Tiong Bahru, one of the most interesting things to do in Singapore is to take a look at the spectacular architecture.
Looking at the beautiful display of both late Art Deco Streamline moderne and colonial shop houses will transport you to somewhere in Singapore's past before the housing development of the 50s kicked in.
Make sure to look our for the spiral staircases at the back of the shophouses and the roofs of the Art Deco buildings some of which imitate an airplane (find block 81 and 82 which the locals refer to as airplane buildings). There is also Block 78 which is shaped like a horseshoe.
The reason why most of these buildings look like various transportation is that the main architect, Alfred E. Church, was inspired by technology and speed. You will need to look closer to see the cars, trains, ocean liners and planes. There are also nautical elements within the houses like porthole windows and curved corners that are reminiscent of a ship's bridge.
On a closer look, you will notice the nautical elements built into the residential houses, such as the rounded windows, which resemble portholes; and the clean, curved corners that resemble the bridge of a ship.The architecture is best admired from a distance. Also look out for the Dancing Girl sculpture by Lim Nang Sang who also created the famous Merlion sculpture.
Singapore's coffee culture
Today Singapore is full of specialty coffeeshops but this is only a recent trend which mostly started in Tiong Bahru and with Forty Hands. It is no surprise that the area is well known for the many cafes, bakeries and other places ready for an Instagram shot and a shot of caffeine.
The best places to visit in Singapore for a coffee and a something sweet are the cupcakes from Plain Vanilla, the coffee from Forty Hands, the croissants from Tiong Bahru Bakery, the brunch at gluten-free The Butcher's Wife and the cakes from Drips Bakery.
Explore an Air Raid Shelter
Tiong Bahru is home to the first public air raid shelter in Singapore that was built for WWII. It's located in the basement of block 78 in Guan Chuan Street, and was used by Singaporean citizens during the Japanese bombings of 1942.
While the area was spacious for those who had to escape here (about 100 people at a time), there was limited ventilation so it could get very hot and extremely dark. They had to wait for about 20 mins until the sirens stopped. The windows were only added later after the shelter was converted into a warehouse.
There are free guided tours available from the National Heritage Board, but you can also go inside by yourself and read the various information plaques. It is by far one of the least visited Singapore attractions, but still worth a visit.
Things to do in the North of Singapore
The north of Singapore is usually ignored by most tourists because it is far, it is less well-connected than the rest of the country and it has less of the well-known Singapore attractions and landmarks but if you are staying a bit longer or enjoy real unspoiled nature, this is the place to go get your fix.
Shuang Lin Monastery and Temple
This beautiful Buddhist Temple is a feast to the eyes. It was founded in 1898 by Master Xian Hui on land donated by Low Kim Pong when he stopped over Singapore on his journey back from Myanmar to China.
As the temples and monastery are very old, they have undergone several restoration efforts and are considered a National Monument. The nine storey pagoda was constructed in the 70s.
The monastery complex is brightly painted in blue and red and made of several gardens and peaceful areas where devotees chant and pray. Service is still offered following mostly Burmese Buddhist. Look out for the offerings and for the tree of fortune with the wishes of pilgrims and visitors.
The monastery is one of the most spacious places to visit in Singapore, especially for a temple. It opens from 8am to 5pm daily. More details about events and timings can be found on their website.
Kong Meng San Phor Kark See Monastery
Kong Meng San Phor Kark See is a very large monastery and Buddhism teaching complex in Singapore which organises several workshops, retreats and classes teaching anything from how to lead a healthy vegan diet to meditation and Buddhism principles.
The complex aims to be a Buddhist hub and it succeeds with a huge area made up of temples and teaching halls. There are golden stupas in the Pagoda of 10,000 Buddhas, Chinese temple structures, Memorial Halls, stores selling products and merchandising and several rooms.
The monastery opened its doors in 1921 in the middle of the Singapore forest, in a rubber plantation, as a place of teaching and lodging for the monks visiting Singapore and it has grown since. Its name comes from the original location on a "Bright Hill" and that is also the name of the road it is on today.
The monastery public areas are open from 6am to 10pm. Wear appropriate clothing covering shoulders and knees. More information can be found on their website.
Coney Island
Singapore's version of New York's Coney Island is one of the latest parks to open and one of the best places to visit in Singapore to see wildlife, especially otters.
The island is located on it own private island and owned by the famous Haw Par Villa brothers, the founders of Tiger Balm (side note: Tiger Balm is one of the best souvenirs you can buy in Singapore, it is small, affordable and useful for anyone!).
Coney Island is a place to go spend the day in or at least a few hours. You can walk, cycle, get close to nature (do not feed the monkeys), see the birds and, on select Saturday mornings in some months, attend a free guided walk.
The park is 50 hectares so it is best to pack lunch from one of the picnic emporiums offering cold cuts, breads and other ready to eat foods and head for a day in the wild. Or at least as wild as Singapore can get.
You can also combine Coney Island with the Northern Riverine Loop and cycle the path ending at Coney Island West gate and then explore the park. That would make for an awesome day out in Singapore.
The park closed in 1998 and reopened at the end of 2015 as an environmentally rich area. Contrary to its namesake, Coney Island in Singapore is not an amusement park but a nature reserve.
As this is pretty wild and untouched, make sure to bring repellent and sunscreen. Coney Island opens from 7am to 7pm and can be reached on bus 84 from Punggol exchange. More information here.
MacRitchie Reservoir
Wondering what to do in Singapore while the sun is out? MacRitchie Reservoir is one of my favourite places to visit for some fresh air. It is a fantastic place to spend a half day trekking through real tropical forest.
The longest trail is 12km through sometimes-rocky signposted paths and thick jungle and it has a loop on a suspended bridge over the park that has awesome views. There are shorter walks that are flat and on wooden boardwalks around the reservoir area. You can also hire canoes and paddle in the water which is regularly filled with students practising and running races.
The park has several picnic areas and a cafe at the entrance where you can buy basic Malay and Indian snacks like samosa or fried chicken and drinks (don't miss the fresh coconuts). Be careful with the monkeys who have learned to literally steal your lunch from your hand and are pretty vicious, unfazed by humans so hide your valuables and food in your backpack.
While on your walk, look out for large monitor lizards, turtles, birds and snakes. There are also a host of free tours and activities organised in MacRichie so check out the official park's website for more information.
MacRitchie Reservoir opens from 7am to 7pm.
Sungei Buloh Wetland Reserve
Sungei Buloh is far from Singapore's city center and this is why even locals and residents don't even know about it. In fact, it is so far that you can see Malaysia from its shores making it one of the most hidden places to visit in Singapore.
But did you know that one of the best things to do in Singapore is spotting crocodiles in the wild? I kid you not. Sungei Buloh has a few of them although you are more likely to see the massive monitor lizards who regularly roam around the visitor's center.
This wetland reserve is best known as a birder's paradise and is full of bird watching huts and towers where avid photographers can hide in while they spot the birds. You can see Malaysia across the water.
Even if you are not a bird lover, Sungei Buloh is a good place to feel like you are somewhere really far away, for when the city gets to you. There are boardwalks that are above mangroves, mudflats and forests and the main trail going around the park takes about an hour to complete.
While you are in the area, why not visit some of Singapore's farms most of which are located in the Kranji area? Not a lot grows in Singapore as it is a small country, but whatever does is grown there. Scroll down for one of the most interesting ones.
The park is open from 7am to 7pm. You can get there from Kranji MRT on the bus 925 or the Kranji Express which runs in the weekends. Getting a taxi back will be tough so take the bus to avoid being stranded. There are free tours organised in the weekends where you can get experts insights into the wildlife. Find more information here.
Bukit Timah Nature Reserve
Bukit Timah Nature Reserve is another large green area of Singapore. The park is home to 40% of the Red Dot's flora and fauna and one of the best places to visit in Singapore to spot turtles in the wild.
One way to explore Bukit Timah is by combining it with MacRitchie as the two parks are connected so you can start in one and finish in the other. In the weekends, Bukit Timah is a bit less crowded than MacRitchie.
Make sure to climb the hill all the way to the top and to find the pond where the turtles are chilling as they are easy to spot when they come up to breathe.
Bukit Timah Nature Reserve is open from 7am to 7pm and you can find more information here.
Bollywood Veggies
The name is as glamorous as the owner of this friendly vegetable grove and cafe, Poison Ivy, who has a particular sense of humor.
For people who grew up in the city, Bollywood Veggies is a good place to come see where mangos, papayas and pineapples grow as most of Southeast Asia's vegetables and fruits are grown here.
You will also be able to buy some of the few locally-grown fruits and vegetables to take home or enjoy a vegetarian meal at the cafe made with the ingredients available form the farm. After a visit to Singapore's wet markets, Bollywood Veggies is a good way to go full 360 and understand where all these colourful fruits came from.
Although slightly unusual, this is one of the nicest and most interesting things to do in Singapore, especially with kids who will learn that fruits don't grow in fridges.
Bollywood Veggies is open from 8,30am to 5,30pm during the week and from 8am to 6,30pm in the weekends and public holidays and closed on Monday and Tuesday. Farm tours are available every last Sunday of the month and there are other children activities on offer too. You can find more information here.
Night safari at Singapore Zoo
Of course, you can also visit the zoo during the day, but one of the best things to do in Singapore is actually experiencing the nocturnal animals at Singapore's Night Safari, the first of its kind in the world. Once the "day zoo" closes, the night zoo opens and you can explore the park from 7,15pm until midnight. While most families go as soon as the park opens, if you go later, you will probably be among adults.
There are a lot of activities at the Night Zoo but one of the best is cruising around in a tram or on a boat in the River Safari while you see the various animals in their own natural habitat. It is a great insight into some of the animals that are not usually seen in other zoos because they are hidden during the day. There are also creatures of the night shows where you can see the animals from closer.
Unlike other zoos, the Singapore Zoo is pretty good, animals have a lot of space and everything is very well done.
The Singapore Night Zoo is one of the best things to do in Singapore with kids because the entire area is children themed. There are restaurants where you can eat in kid-friendly environment, with kid's menus and lots of activities that will make all the family happy.
However, because it is so popular and it receives well over 1 million visitors every year, you will no doubt be surrounded by crowds. If your children are older or you are going as adults, go later, the later the better. In fact, go at 10pm if you can.
For the complete experience, spend a night in the wild glamping in the zoo. You can get a package with the tours and dinner and a tent for the night.
You can buy tickets only and you should to avoid some of the queues. Singaporeans love to queue and the Night Zoo is a great place to do just that. But don't despair, I would still recommend going and simply managing your expectations.
Food is available at the many outlets but it is expensive so you might as well eat before and go later. The Singapore Night Zoo is far from the city, about half an hour's drive. More details here. You can book a ticket to the zoo here, and you can reserve your night safari here
.
Singapore River Safari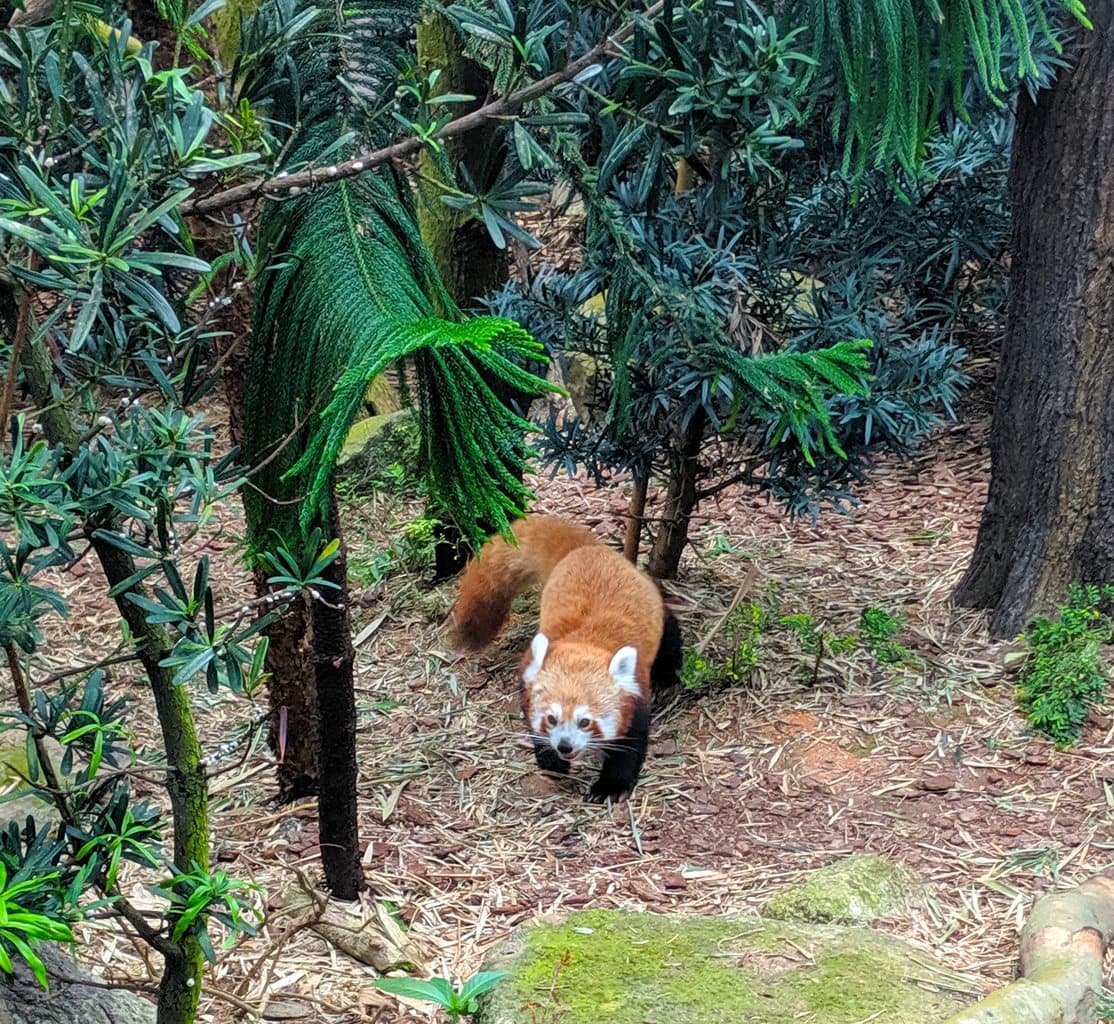 If you have already visited the zoo or are looking for a complete day, th Singapore River Safari is right next to the zoo and offers a different take on wildlife: that which lives near the world's greatest rivers.
The space is split into different areas depending on the river, from the Ganges to the Amazon, and you can see a large amount of fish species in large tanks. One of the coolest things to do is to participate in Manatee encounter or meet the pandas. The red panda is particularly cute.
There is also a river cruise that takes you around the reservoir and an add-on you can get for the Amazon River Quest which is a semi-amusement park attraction which takes you on a short river ride from where you can see lots of monkeys, flamingos and anteaters among other. If you are lucky you can also spot one of the three jaguar.
The pathways in the River Safari is entirely covered so you don't have to worry about the sun and while it is hot, this is Singapore after all, I did not find it unbearable. There are a few eateries, including a panda-themed one, and some souvenir shops. You should plan for 2-3 hours there.
Pro tip: Visit either as it opened at 10am, or later in the day at around 4pm, as during the heat hours the animals rest and are hard to see (we did not see the pandas because they were hiding). The other reason to come early or late is because there are a couple of animal shows that are either at around 10,30am or 5,30pm.
Book tickets here with hotel pick-up at a very affordable price (the grab ride will cost you between S$15-20 depending on surcharges and it can be tough to get one on the way back). You need to buy them ahead because they sell out and you don't want to make it all the way there for nothing (20-30min cab ride). You could also combine the safari with the night zoo and make it an afternoon/evening. Come at around 4pm enjoy the safari for 3h and then hop on to the night zoo.
Go to the races
I am referring to horse races which you can enjoy at the Kranji Racecourse. Races are an eminently gambling affair in Singapore but they make for a fun day out and they are one of the most unusual things to do in Singapore.
Lorong Buangkok
Like Pulau Ubin, Lorong Buangkok is an old kampong, a Malay village, of which there are only two in Singapore, and this is the only one on the main island.
Here, life happens at a slower pace and although a few visitors come by everyday, the mostly elderly residents have simple lives and live in harmony with nature. Visiting Lorong Buangkok before it fully disappears is probably one of the highlights of any visit to Singapore.
Things to do in the East Coast of Singapore
The East of Singapore is primarily a residential area where a lot of families live. It is also the center of the Malay community, the heart of the Red Light District and of beautiful traditional shophouses.
The area usually encompasses pretty much everything that is east of the business district and the marina and up until Changi Airport in what is a really large part of Singapore. As a result, there are a lot of Singapore attractions which are located in the east coast. If you are interesting in finding out more about this area and its Malay heritage, you can book a tour online here.
So let's see what's there to do in the East of Singapore.
Go glamping
I have spoken about camping and there sure are a lot of places to do that in Singapore but why not take that experience to the next level with some proper glamping.
Let the folks from the Glamping Society take care of the set-up for you so you do not need to worry about anything related to the set up and only need to turn up to your cosy teepee tent.
Prawning
This may sound like one of the weirdest things to do in Singapore, but it is a fun activity. You basically go to a prawning place which has a pond with prawns, sit and have a drink while you wait for the prawns to bite.
Pulau Ubin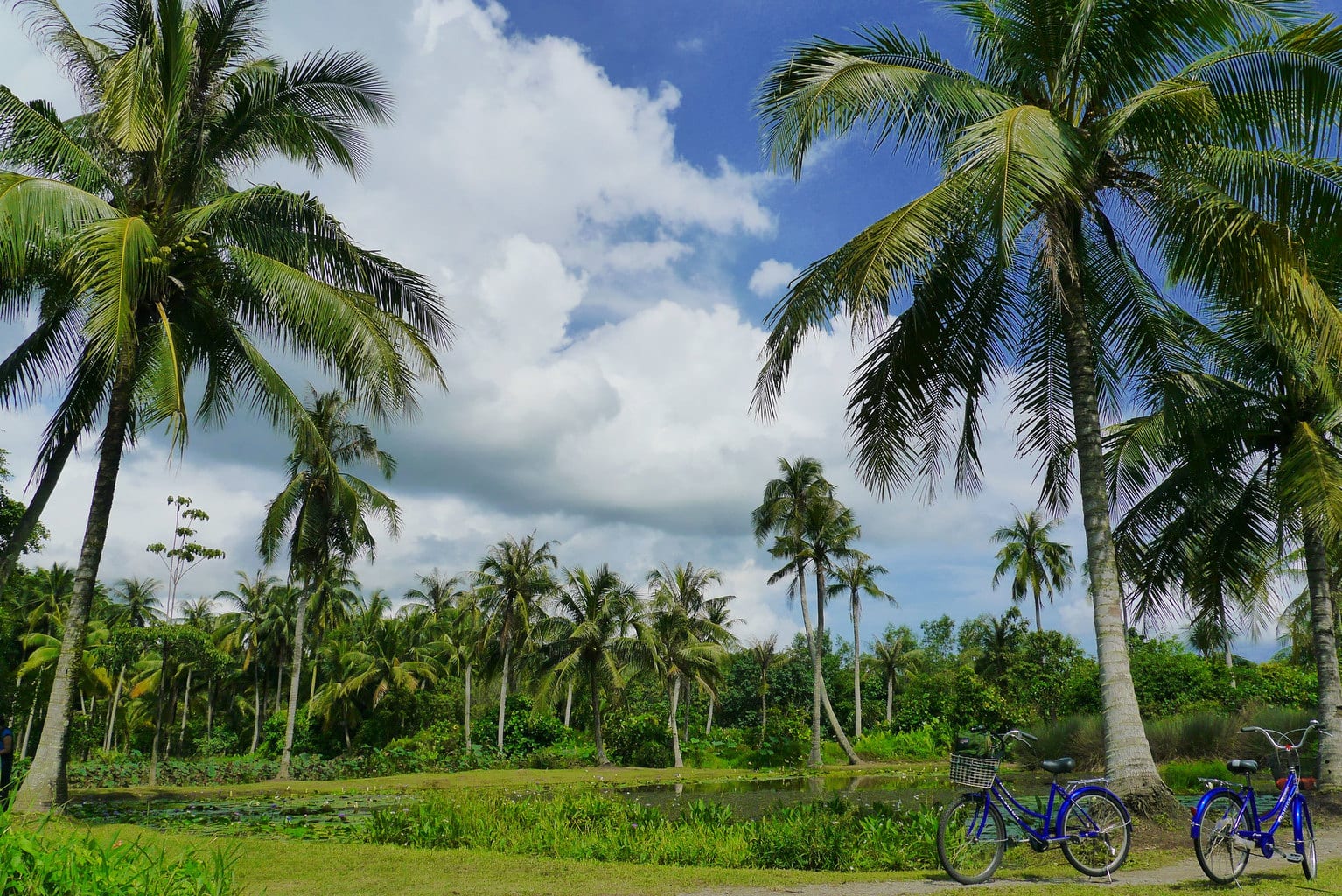 Pulau Ubin is one of Singapore's most iconic spots but one which most tourists don't visit. As the name indicates, it is an island 10minutes from the main island only accessible by boat and one of the last places to see real kampong (or traditional) life in Singapore. There is no electricity and the 24 households that still live there do so in largely traditional ways. This is a must do in Singapore.
To get to Pulau Ubin, take a boat and then rent bikes on the island to go explore this nature paradise and cultural center.
There are guided tours in the weekends and most importantly, the opportunity to see a habitat that has practically been untouched. Read more about it in this Guide to Pulau Ubin or, to make it even more special, camp on the island with this guide to Camping in Singapore. Camping in Pulau Ubin is free.
Cycling on East Coast Park
Cyclists must also be wondering what to do in Singapore to get their blood pumping. Well, East Coast Park stretches for 15km along the beach on the Eastern coast of Singapore and is great for riding. It goes pretty much from the Marina area all the way to Changi airport.
The park is a popular spot for families and one of the most "normal" beaches in Singapore. It is also hardly visited by tourists who tend to favour the flashier and more developed man-made islands of Sentosa.
One of the best things to do in East Coast Park is renting bikes and cycling it for as long as you feel like. For an extra element of fun, rent a tandem bike or a pair roller blades. You could also put your towel down but it is not the nicest beaches and it has views ver the thousands of container ships awaiting in the Singapore Channel, not a pretty sight.
Along the way you will find bars, restaurant and various other outlets, mostly congregated in spots so you can stop and have a drink half way.
The park is open all day as there are no fences or entrances, but the bike rental places usually close at 10pm. You can check everything there is to know about cycling in Singapore in our guide here. You can find more details about East Coast Park here.
Golfing
If you are into golf you are in luck because there are 13 golf clubs and 30 golf courses in Singapore. The country has high rainfall which is very conducive to green lush gold courses although golfing in Singapore is pretty expensive and the locals escape to the luxury hotels in Bintan and Batam for more affordable tea times.
I put together a list of the best golf courses in Singapore to help you get started. And a few places to stay like Natra Bintan, Banyan Tree Bintan, and The Sanchaya Bintan.
Geylang
Geylang is Singapore's Red Light District and Malay food mecca. As contradictory as it may sound to have both the Muslim neighbourhood and the Red Light District together that is the case in Singapore.
Singapore being always so rule-abiding and organised, Geylang has been zoned as an official and legal prostitution zone. Originally, the area was a marsh filled with coconut plantations at the mouth of the Kallang River where sea gipsies and, later on Malays, used to live.
Today, Geylang and the surroundings is a mixture of heritage shophouses with traditional colonial architecture from the turn of the 20th century, hawker centers with go-to Malay food, and outlets for the oldest profession in the world.
The best thing to do in Geylang is to simply have a walk around. Look out for the pretty shophouses and try the great Malay and Singaporean Chinese food. One interesting Singaporean Chinese dish you can try is frog leg porridge. Check out this neighbourhood guide to Geylang for details of a great day excursion.
Go horse riding
There are stables at Gallop Stable in Pasir Ris where you can go horse riding without being a member. Singapore has other horse stables around but they are usually members-only and with high fees. At Gallop Stables you can come and try it out and then see if you would like to join this fabulous sport of the rich. Or practice your craft if you are only visiting Singapore.
Xtreme SkatePark @ East Coast
This skate park is the right place to practice your jumping skills both on skates as well as on bikes. Even if you are not either, you can come here to see the amazing skill and talent of some of the experts. It is easy to get lost watching them go up in the air and turn and loop.
The park is free and open to everyone and has three separate spaces catering to everyone's experience level.
Joo Chiat shophouses
This row of shophouses is one of the most famous places to visit in Singapore for Instagram photos. They are pretty, well preserved and in beautiful pastel colors.
Changi Point Coastal Walk
This boardwalk extends over 2 km long and has six distinct parts: Creek Walk, Beach Walk, Sailing Point Walk, Cliff Walk, Kelong Walk and Sunset Walk. The park is open all day long and is a great way to enjoy a stroll along the sea. This is also a great place to watch the sunset in Singapore.
You can find all the details here.
Try durian
This is the ultimate fruit and one that you will either love or absolutely hate. Most people cannot even tolerate the smell of the fruit and it is forbidden in public spaces like the MRT or lifts across the city because of its completely unbearable pungent smell.
If you want to try it, one of the best places to do so is the East Coast. A well known durian seller is Ah Hung D24 Sultan Durian, the D24 refers to the type of durian as there are many. You should not eat the durian directly with your hands but use plastic gloves (trust us). This stall is located on a street that specialises in selling durian but beware that a lot of them have been reported to switch the fruit after you picked it. Ah Hung is one of the most honest vendors.
If you do not want to try the fruit but want to give the flavour a go, when it is the right season durian is available in many stores in the form of ice cream, cream puff, etc.
Get lost in the maze at Pasir Ris Park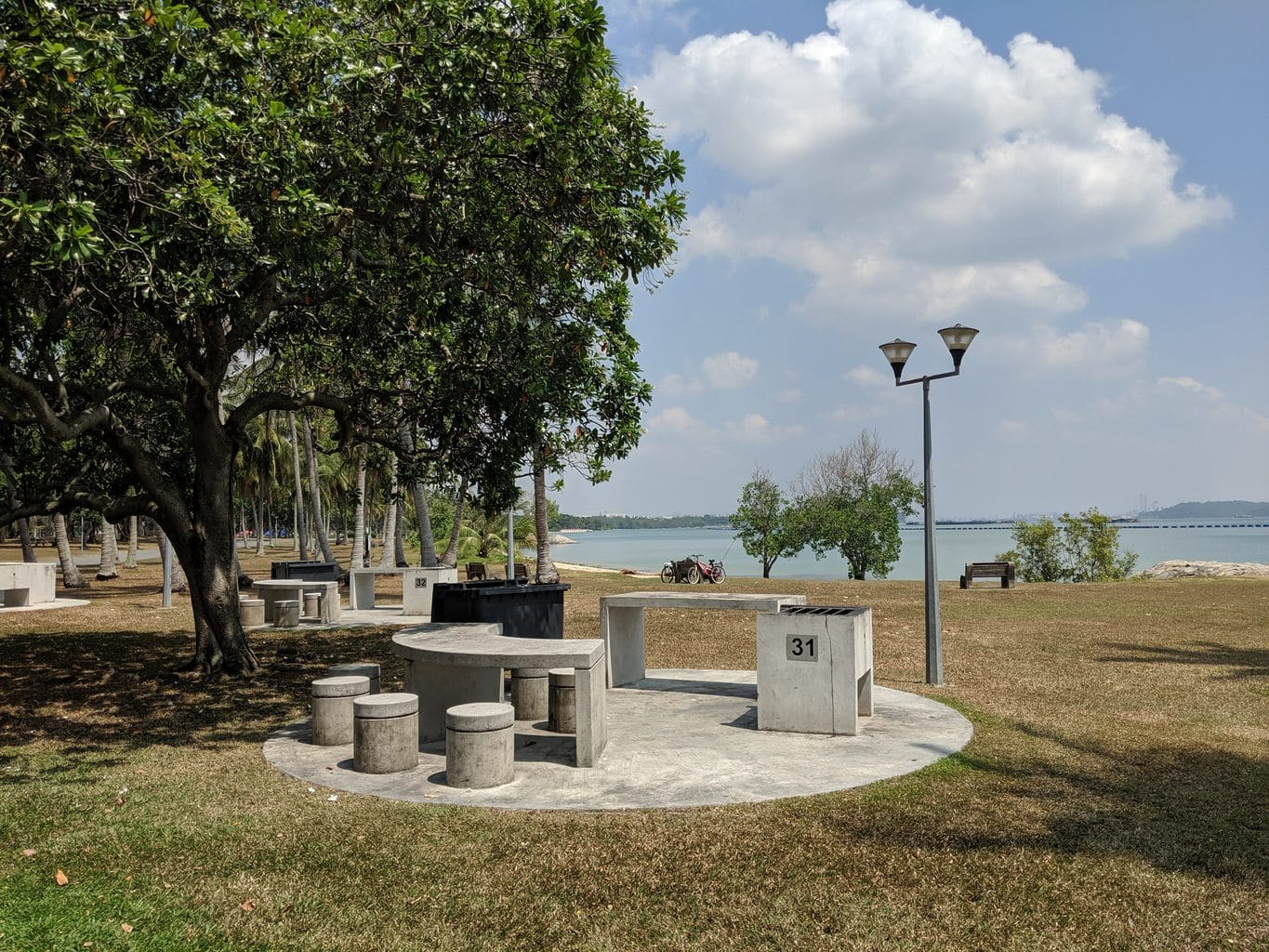 This park in the Eastern coast of Singapore is probably one of the quietest in the whole island. Frequented mostly by locals who come here for weekend barbecue picnics on the beach and for fun in the maze.
The maze is not very big so you should be able to get out of it pretty quickly. There is also a small graded area where teenagers come to have fun with their skates and bicycles. The beach here is relatively quiet and cleaner than in the East Coast Park.
Pasir Ris Mangrove Park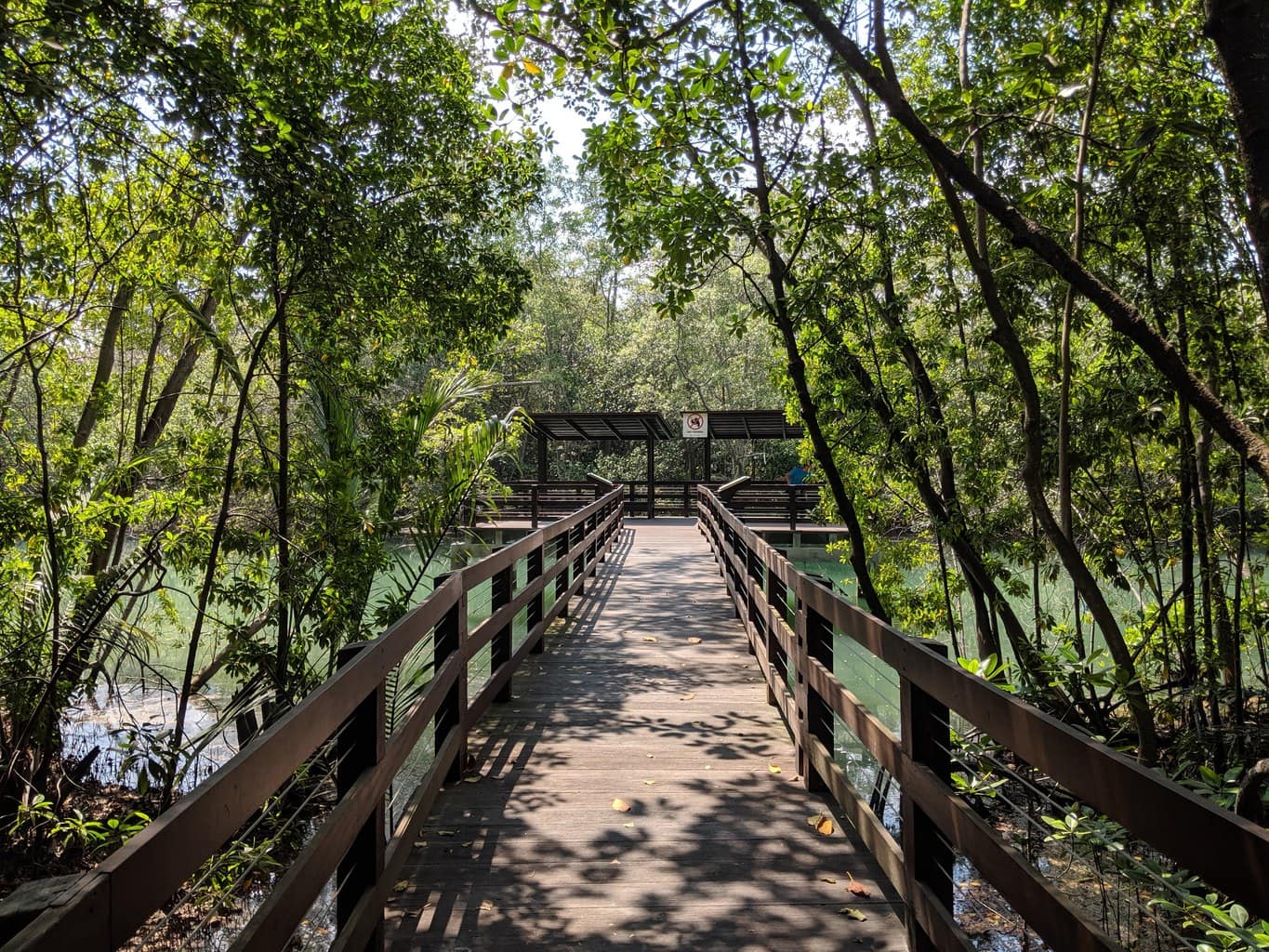 Pasir Ris mangrove park is a small mangrove area adjacent to Pasri Ris Park with a healthy amount of wildlife and quaint drawings on exhibits along the boardwalks talking about the animals and plants. If you come at low tide you will see lots of clams and the monitor lizards swimming and resting on the shore.
Other things to do in Singapore
There are a lot of fun things to do in Singapore that are not specific to a single area so we have decided to list them all here.
Explore the Jewel at Changi & Jurassic Mile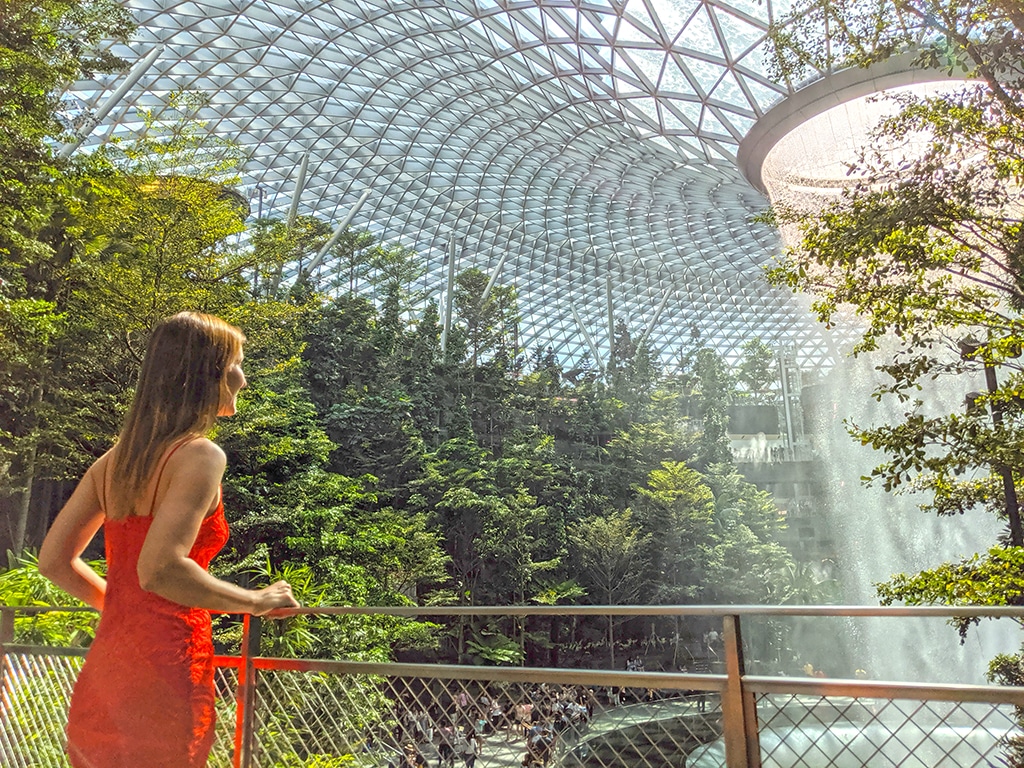 Probably one of the best free things to do in Singapore, especially if you don't have much time as this jawdropping mall is a new addition to the airport. Jewel at Changi is a retail space like no other, it offers many experiences that you can't find elsewhere from the world's first Pokemon Centre outside of Japan, to the world's largest indoor cascading waterfall the HSBC Rain Vortex measuring 40m.
Like other spaces in Singapore, Jewel offers many attractions where nature is combined with cityscapes from the Canopy Bridge and Canopy Park to Shisedo Forest Valley. There are also tons of fashion outlets and food chains of course, it is a mall after all. Yet you'll want to come with a fully charged phone as you'll be snapping pics like crazy. Best of all, it's completely free to explore.
It's right at Changi airport so it makes a great Singapore attraction to visit when entering or exiting the country. While popular among locals and tourists, the mall is best visited in the morning and on a weekday if you want to avoid the crowds. Yet it is a really beautiful and famous site in Singapore at night where hues of pink explode around the Rain Vortex with a backdrop of the dark sky.
Interesting fact about Singapore – Changi, like Sentosa, is a man-made island and used to be water. The highway up to the airport used to be beach. What a crazy thought.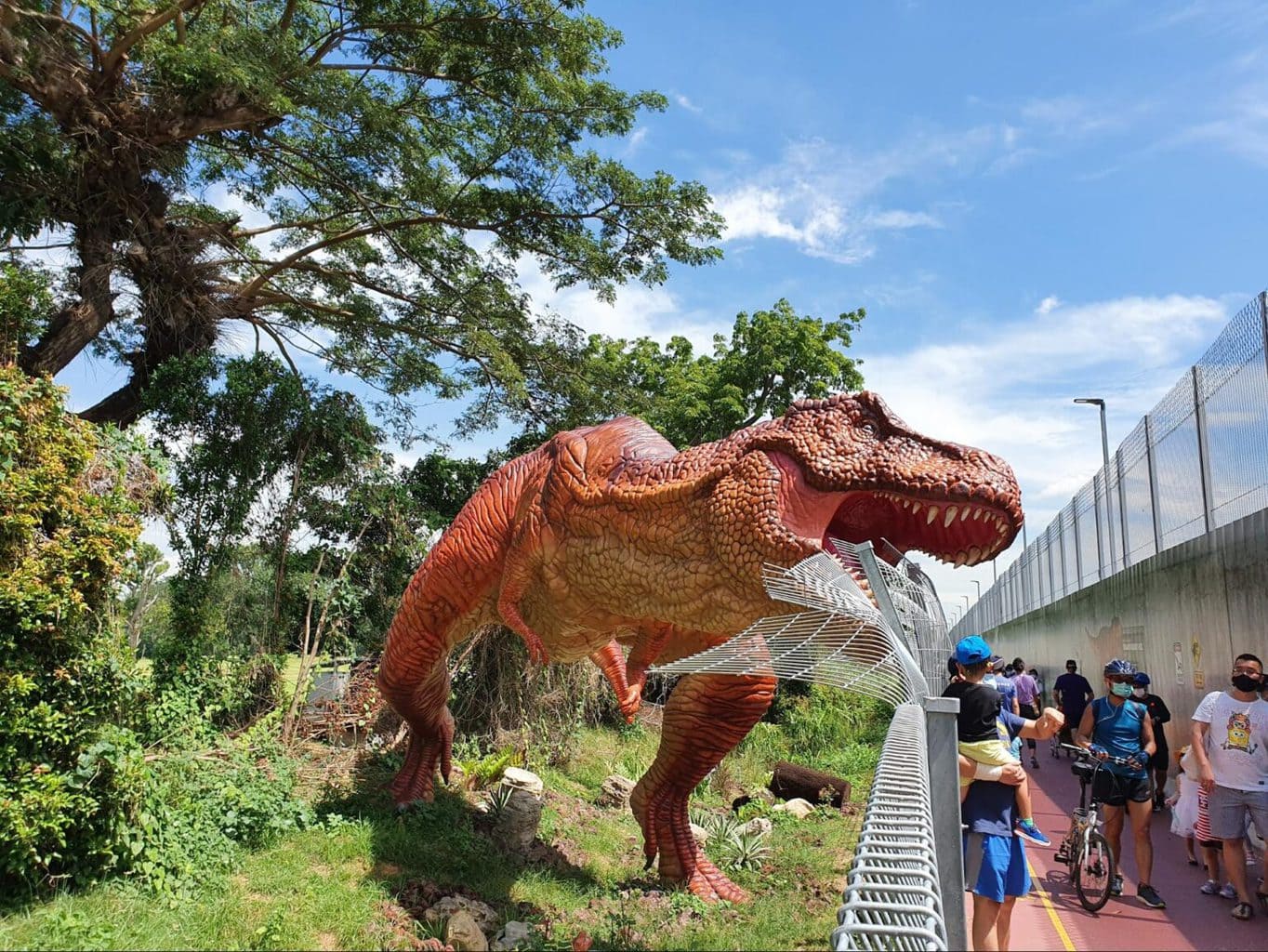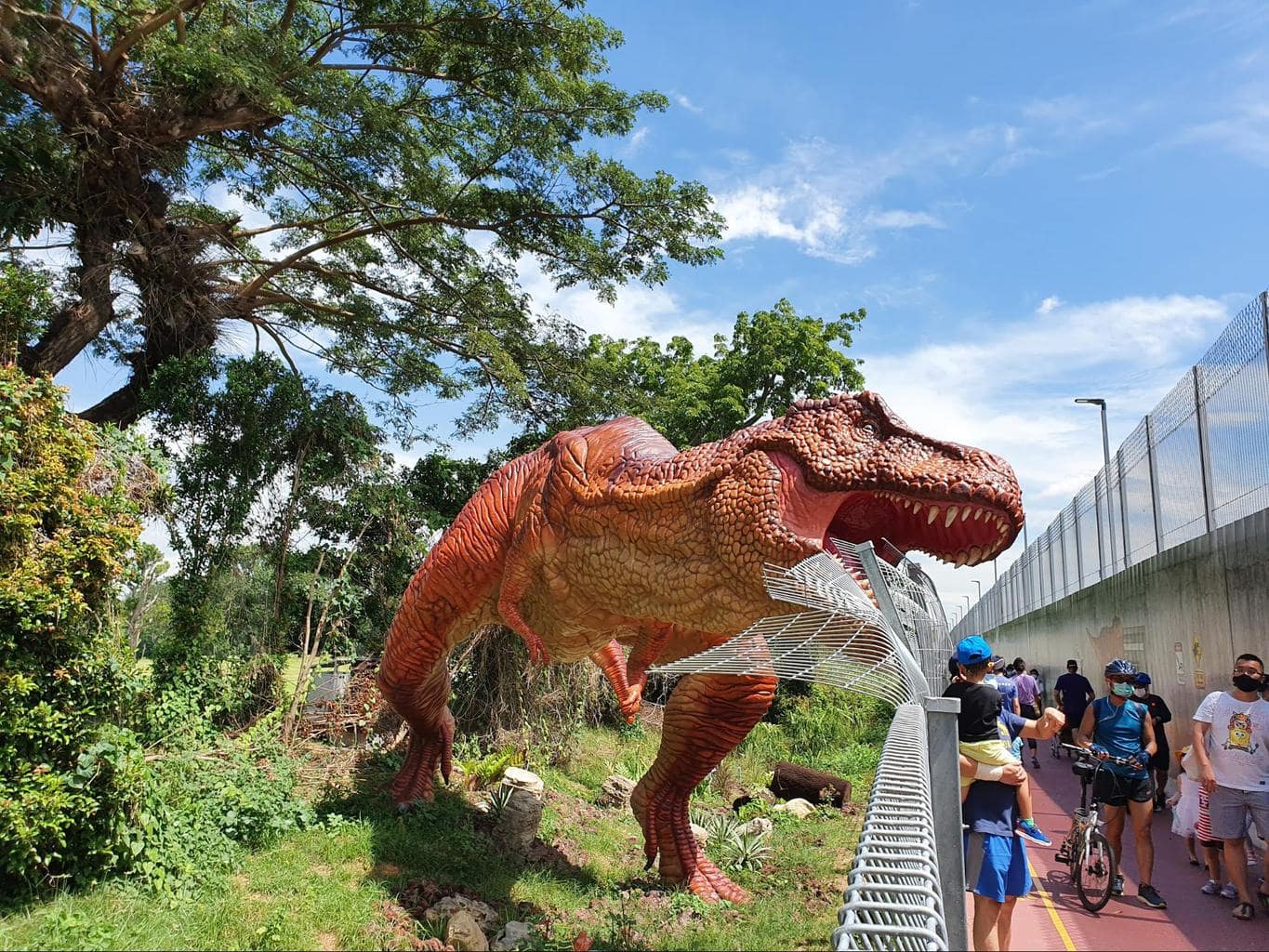 Nearby is the newly opened Jurassic Mile, which is a 1km walk starting at T4 with to-scale replicas of dinosaurs. It's a super fun way to pass some time with the family where you will also learn some great information of the prehistoric creatures. Combine it with a bike ride (you cannot ride through the walk though) and remember to book your spot ahead.
Southern Islands
Did you know that there are a few islands near Singapore that are still part of the country?
I talked about Pulau Ubin and Coney Island but there is also a group called Southern Islands which are around 20-40min by ferry from the Marina South Pier ferry terminal.
The Southern Islands are made of three islands, St John's, Kusu and Sisters' Island. Both Kusu and St. John's are easy to visit while there are no scheduled ferries to the Seven Sisters. St. John's Island is relatively large and offers various picnic opportunities, some paths across the forest and a pretty crescent shaped white sand beach, Lazarus beach, popular with day yachters from Keppel and One15 Marina. This is one of the nicest beaches you will find in Singapore but it does require some effort.
Kusu Island receives its name from the word tortoise in Chinese and is certainly has a few of them. The island is also accessible on the same ferry heading to St. John's and is a much smaller island without the beaches of St. John's. Instead, the island is a good spot for a picnic and has two interesting shrines, one Taoist at the bottom of the stairs and one Muslim at the top of 152 steps. Both are still worshipped by pilgrims.
Go cocktail bar hopping
Let us tell you about the best thing to do at night in Singapore via the video I made.
The Singapore cocktail scene has massively developed in the last few years and today there are a few respectable and pioneering cocktail bars serving their own spirits, blends, spices and bitters. Some of them are speakeasy and hard to find, others are more approachable.
What makes the cocktail scene in Singapore so interesting is the blending of east and west and the Asian influence on the drinks.
Have an ice cream sandwich
An ice cream sandwich is another quirky Singaporean food that makes every Singaporean proud and is one of the most fun things to eat in Singapore.