Camping in Singapore has grown in popularity as a way to get closer to nature and away from the concrete. After spending a day in glorious nature, we're always refreshed and ready for another packed week.
Whether you're in the mood for a quick day camp by the beach or a complete night under the stars, this article is for you.
The list below includes all of the best places in Singapore to go camping, as well as some really great information on permits, how to get to each place, who is allowed to camp (foreigners may not be allowed) and local tips in each spot. It's one of the top things to do in Singapore to escape the busyness of the city.
Getting a camping permit in Singapore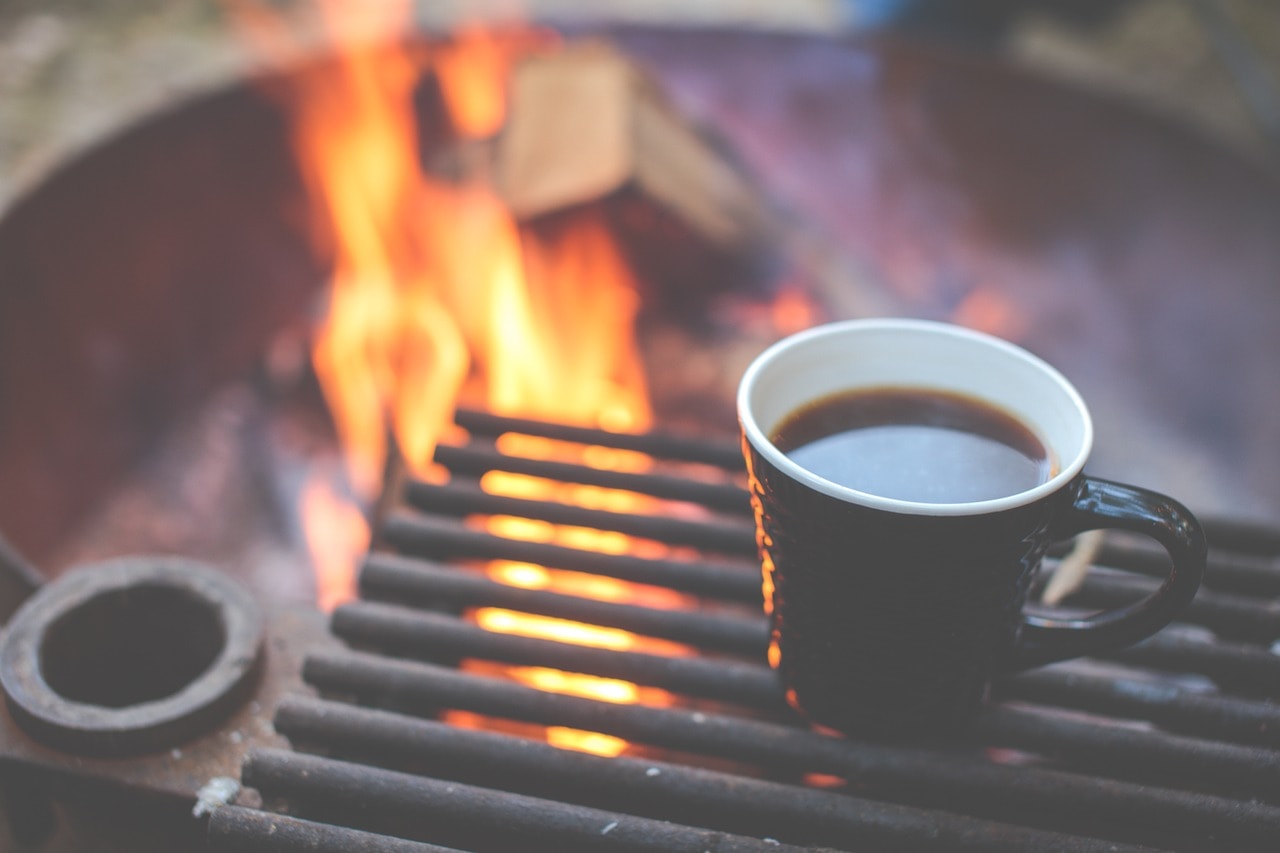 Even though most camping is free, to those who think they'll just take their chances and not get a permit, you should rethink your strategy as there is an extremely high chance that you'll get caught and be fined around S$2,000!
For this amount, you could rather get a luxury hotel on Tioman Island or Langkawi in Malaysia, or if you love nature, just stay at Hotel Fort Canning among the foliage or one of the many options for luxury hotels in Singapore (some with amazing staycation deals).
Permits for camping in Singapore exist to control numbers and minimise overcrowding in popular spots. We can't imagine the chaos that would ensue if these small patches of land became chockablock with campers. So we're happy to go along and reserve our spot for an extra slice of solace.
NOTE FOR FOREIGNERS/TRAVELERS – Only Singaporeans and foreigners with a residence permit are allowed to camp in Singapore (except for Pulau Ubin, more on this later). If a member of your camping party doesn't have a Singapore National Registration Identity Card (NRIC), drop an email to Nparks at least 2 weeks in advance. They will follow up with further instructions.
East Coast Park, West Coast Park and Pasir Ris Park require a permit if you intend to pitch a tent. Apply for one here or at any AXS station. We recommend booking at least 3 days in advance. Do note the Terms and Conditions during application!
For Pulau Hantu Besar camping is free, but you will need to obtain a permit from Sentosa. Contact the Southern Islands Management (administrator@sentosa.com.sg) to apply for a permit with all the standard details like your name, contact number, dates intended to camp and the number of campers. You will need to provide at least 7 days' notice.
Camping at Pulau Ubin doesn't require a permit and for this reason is the only place that foreigners without residence permits and travelers to Singapore are allowed to camp.
The permit counts the number of days your tent is pitched, not the number of nights you stay over. For example, if you are camping from Monday to Tuesday, you need to apply for a two day permit. You may camp throughout the year including weekdays, weekends and on Singapore public holidays at all NParks.
Each resident of Singapore is allowed 4 camping days per month, so you should plan ahead and well in advance, as spontaneity is not the way to go when camping in Singapore.
Things to take when camping in Singapore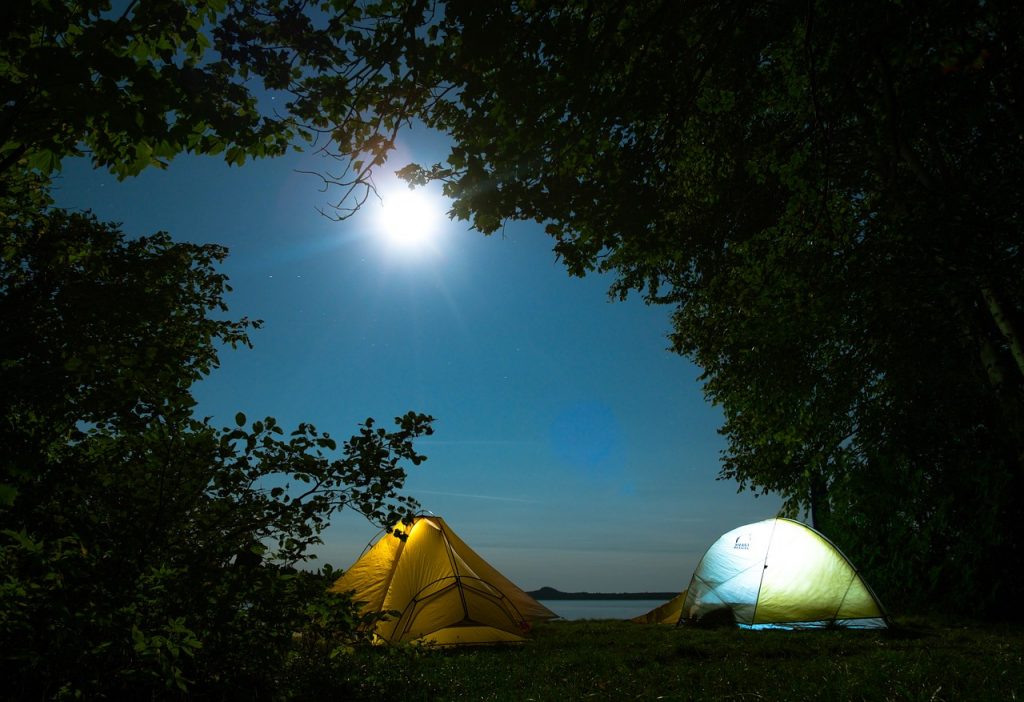 Here's a brief list of essentials to take with you for wehn camping in Singapore.
A tent: Winds can be strong, so be sure to bring metal stakes to secure your temporary home to the ground. If your tent isn't waterproof, we also advise bringing a rain fly in case of bad weather, weather in Singapore is unpredictable. We love this tent from Wakeman Outdoors which is an Amazon top pick. Families might need something a bit more spacious like this Instant Cabin tent. If you prefer not to purchase one, rent a camping tent in Singapore at Camp Kaki, which has a variety of camping equipment. The Camp Company is another good place for tent rental in Singapore.
A sleeping bag, camping mat or bed sheet. In our warm climate, we recommend a light, thin or even multi-seasonal sleeping bag with minimal padding. A standard liner will also do in the summer months. Don't worry too much about comfort, the grass makes a surprisingly comfortable mattress! If you prefer to sleep uncovered, a foam mat would suffice.
A portable light source and charger: This light also keeps the bugs away. And don't forget the extra batteries. You can also use the portable charger if your phone decides to run out of battery during the night. A headlamp will also do.
Speakers: A little ambient music made all the difference. We have the JBL Flip 5 and absolutely love it, it's insane how much quality sound can come from this tiny device.
Insect repellent or repellent patches: Self explanatory, right? You can also use the suction type Bug Bite Thing to suck the mosquito venom out of the bite area if you want to go chemical free.
Flushable wet wipes: are something that will always come in handy. They are great for a quick clean or if you're feeling sticky.
Extra tissue or toilet paper: It may run out in the available toilets.
Food, snacks and drinking water: The food choice will be up to you from a simple sandwich to a full-on BBQ. But remember to pack light for less of a struggle, there are always vending machines and food options nearby. The snacks will come in handy in case of any midnight cravings. And always bring more water than you think you may need and a refillable bottle to refill at the water stations. You never know when you'll need to hydrate. Better yet, bring some coconut water to stay hydrated for longer.
Disposable cutlery and crockery and fire starters if you cook a BBQ. There's no use in cooking a meal if you have nothing to eat the food with. Opt for green and environmentally-friendly bamboo style cutlery and biodegradable crockery if you can. And there's absolutely nothing worse than getting prepared only to find that you have no lighter. Remember that you can only cook at designated BBQ areas which you will also need a permit for which you can book online here.
Trash bags and ziplock bags: It's always good to take care of the environment, so clean up after yourselves. Packing away your food waste will also keep the stray animals and bugs at bay. Use ziplocks and tupperware to store leftovers and to keep valuables safe from condensation and water at night.
A jacket and portable fan. Yes Singapore is constantly warm, but a warm jacket is always a good idea in case the forecast is wrong or the winds are blowing. North Face has plenty of great options for men and women. Alternatively, as the weather is usually above 25 °C year round, a battery operated portable fan is most likely a better option. Here's one you can grip to a stroller, but also wrap around any pole. This sturdy clamp portable fan is made for camping in Singapore with 4 speeds, rotating head and clamp for extra security.
Where to camp in Singapore
Now that we've got all the details out of the way, let's dig into all of the spots where you can go camping in Singapore. Read on to find out where you can camp in nature, for free, with these camping spots in Singapore.
Pasir Ris Park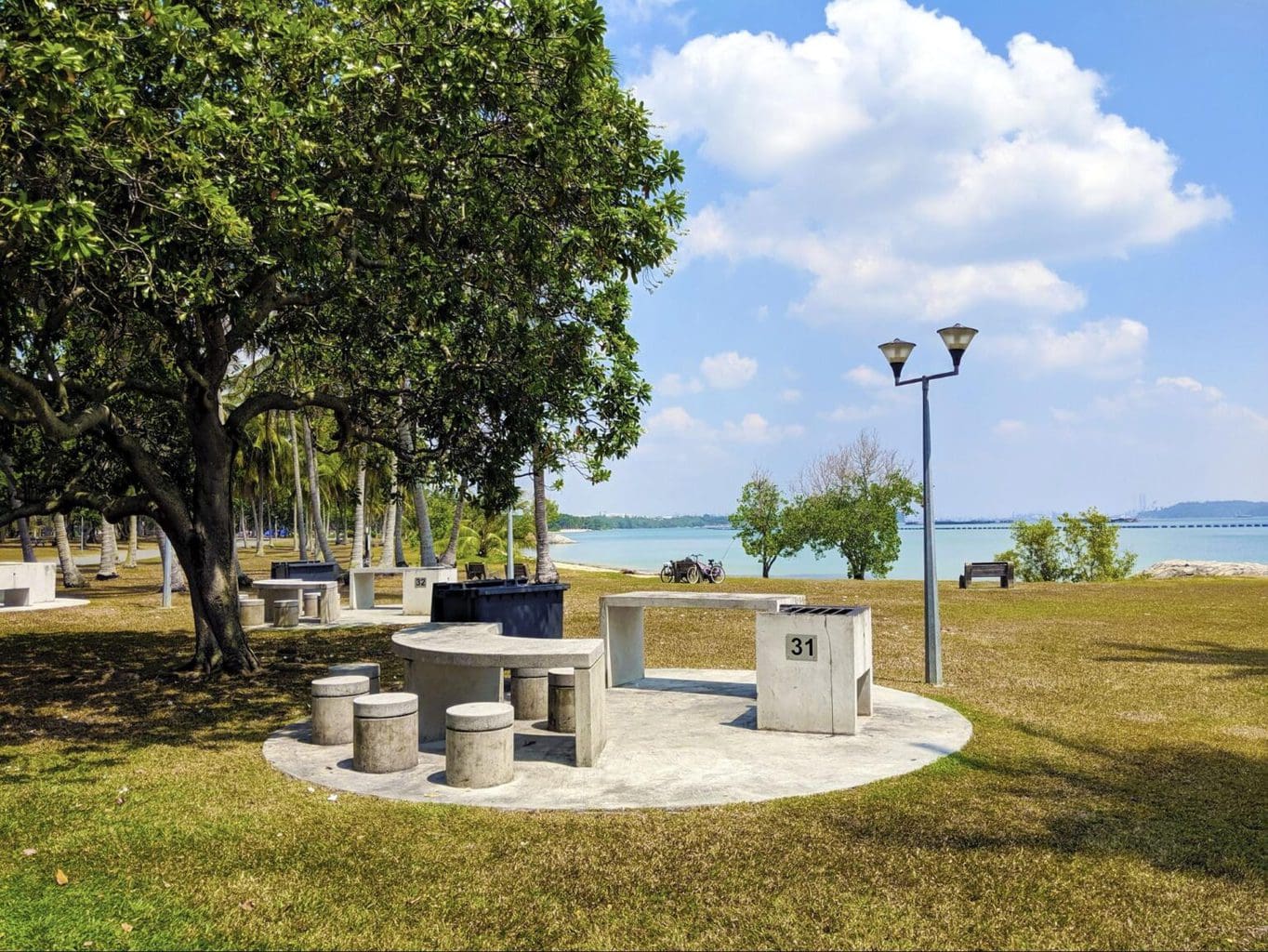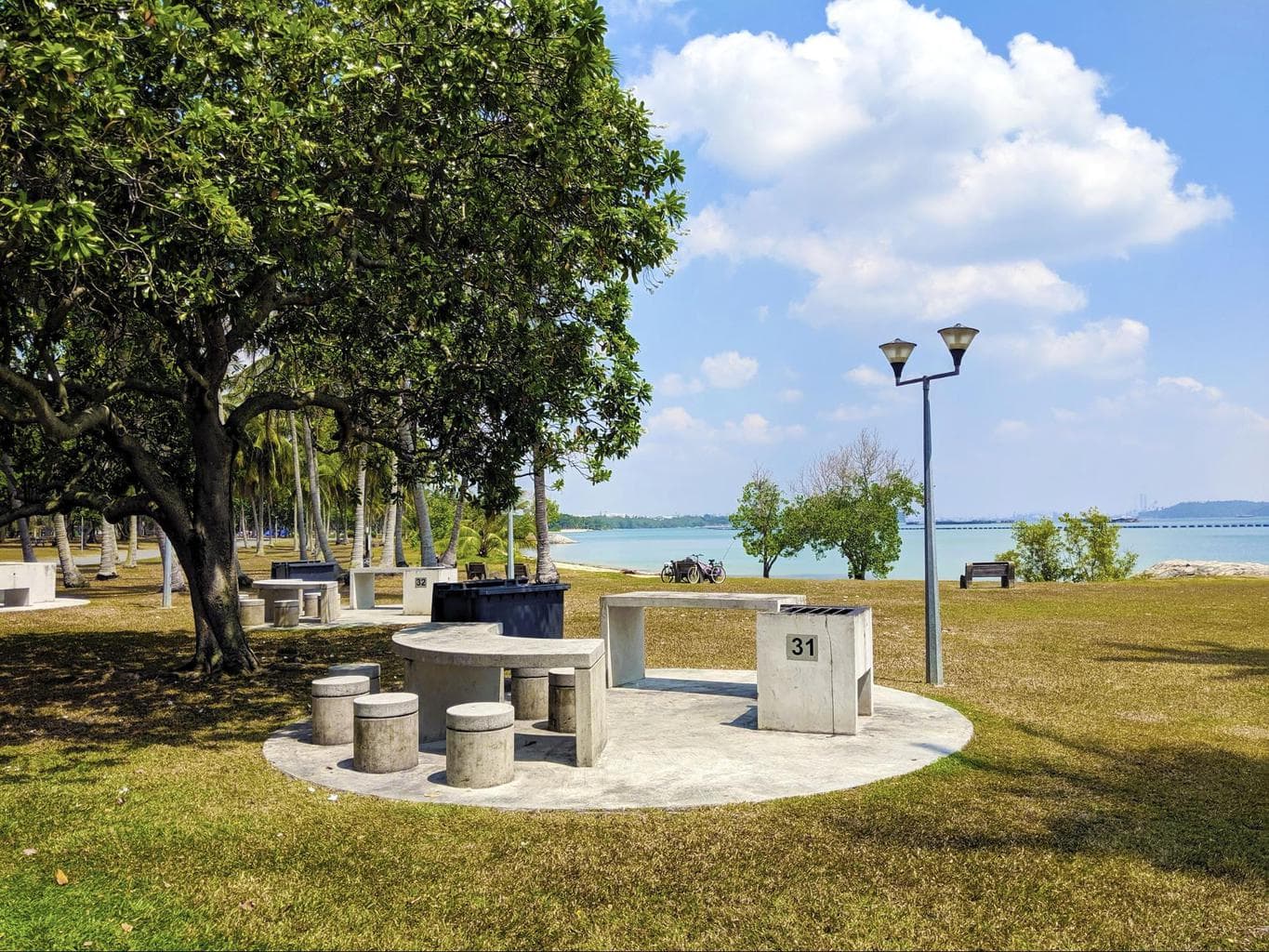 Visiting Pasir Ris Park is more like exploring the outskirts of Malaysia than being in a metropolis. It's like being out of the country, enjoying a rugged and relaxed holiday without crossing the border.
Pitch a tent in the midst of multiple, towering palm trees and feel the constant breeze from the sea calm your nerves and wash away the insidious heat. Make sure to really slam those metal stakes deep into the ground to avoid your tent from being blown away.
While it may feel like you're in a whole other country, Singapore always provides convenience. There are a variety of eateries and convenience stores available at nearby mall Downtown East. Order takeout from restaurants like The Basil Inn for dinner, their authentic Thai dishes are great to eat by the beach. Asli Village Food Court has the perfect wake up grub for a satisfying breakfast as they open at 8am daily.
With exciting activities like cycling and watersports available, Pasir Ris Park is calmer on weekdays but does get crowded on weekends, similar to the Southern Ridges. A definite must-see is the preserved six-hectare mangrove forest and the three storey bird watching tower, both unique to Pasir Ris Park. Although less peaceful on the weekends, the sound of picnicking families and the smell of barbeque complimented the tropical energy.
Facilities
Camping is only allowed in Area 1 and Area 3
Toilets and outdoor showers are available
BBQ pits available for booking here
How to get there
Enter 519599 into Google Maps to get to Downtown East
or 519127 to Pasir Ris Park Carpark D, Area 3
or 509404 to Pasir Ris Park Carpark A, Area 1
East Coast Park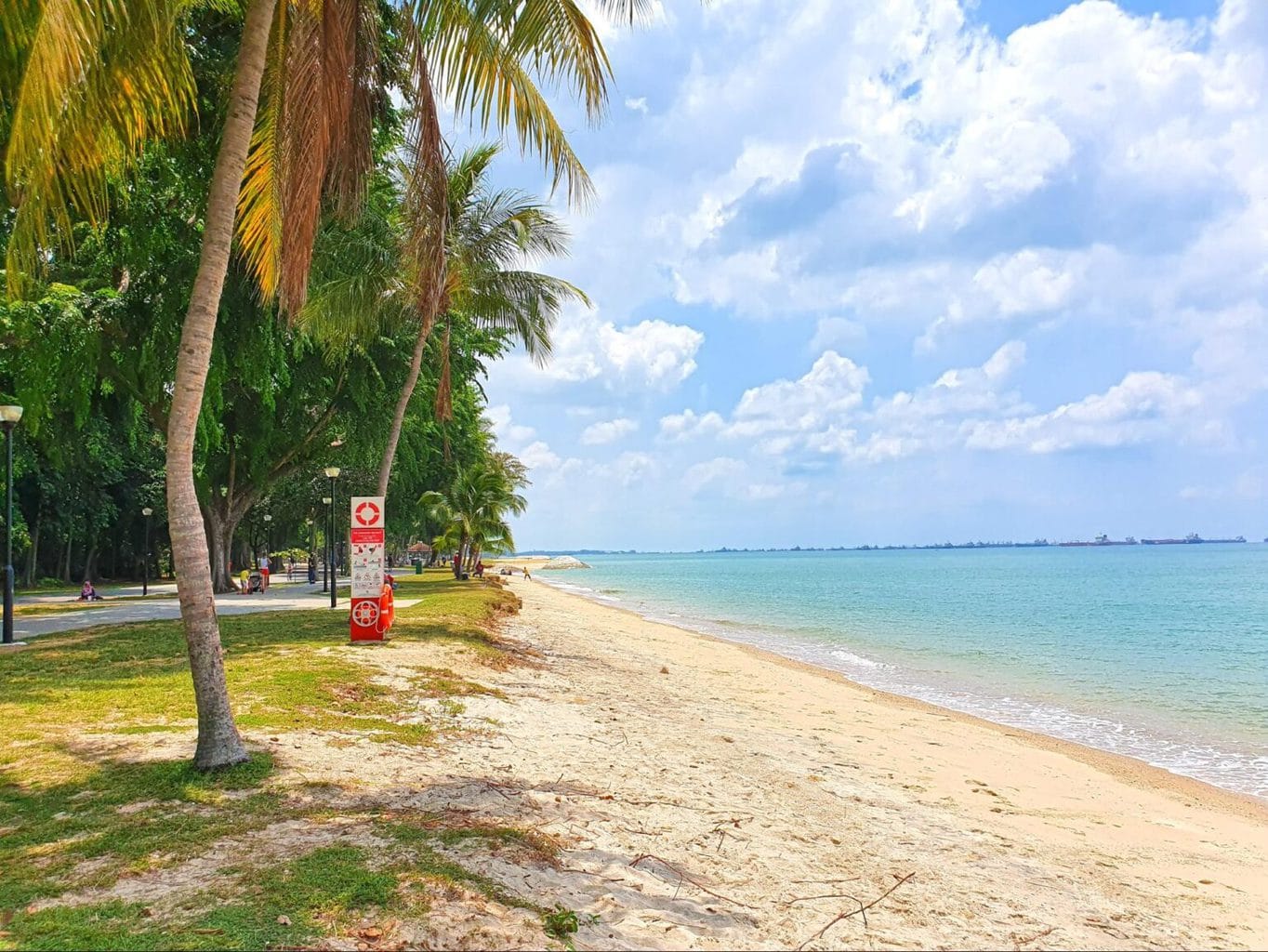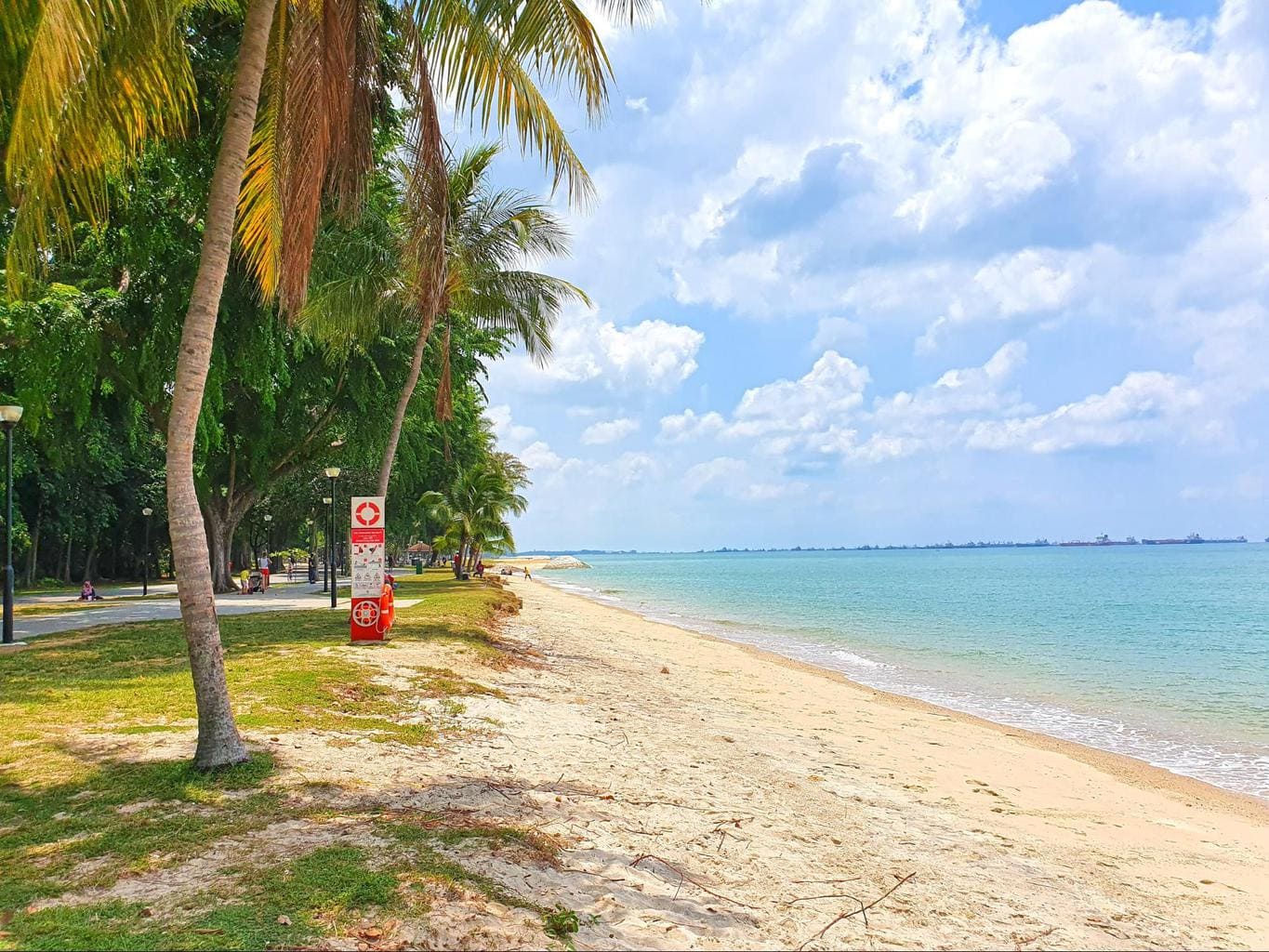 East Coast Park is the perfect camping spot in Singapore if you're a bit more active and social. If you prefer to be closer to bicycle rental shops and general entertainment, apply for a permit at Area D. The abundance of tents almost creates a community, due to this family-friendly place to camp in Singapore you should be sure to get your permit extra early!
If you're after peace and quiet however, Area G is for you. Located almost at the end of East Coast Park, you'll hear nothing more than waves hitting the shore.
Whichever campsite you choose, stopping at East Coast Lagoon Food Village is a must! This hawker heaven will never fail you with its honest selection of Singapore's best. Must haves include Orh luak (fried oysters with egg) from Song Kee Fried Oyster and BBQ pork noodle from Hwa Kee Barbeque Pork Noodle (華記雲吞麵)!
Facilities
Camping is only allowed in Area D and Area G
Toilets and outdoor showers are available
BBQ pits available for booking here
How to get there
Enter 440000 into Google Maps to get to East Coast Lagoon Village,
or 449880 to East Coast Park Carpark D2-D5, Area D
or 468963 to National Sailing Centre which is right by Carpark G, Area G
Tip: Alternate Route – Behind Fairprice Finest at Marine Parade Promenade there is an underpass that leads you right into Parkland Green!
Pulau Ubin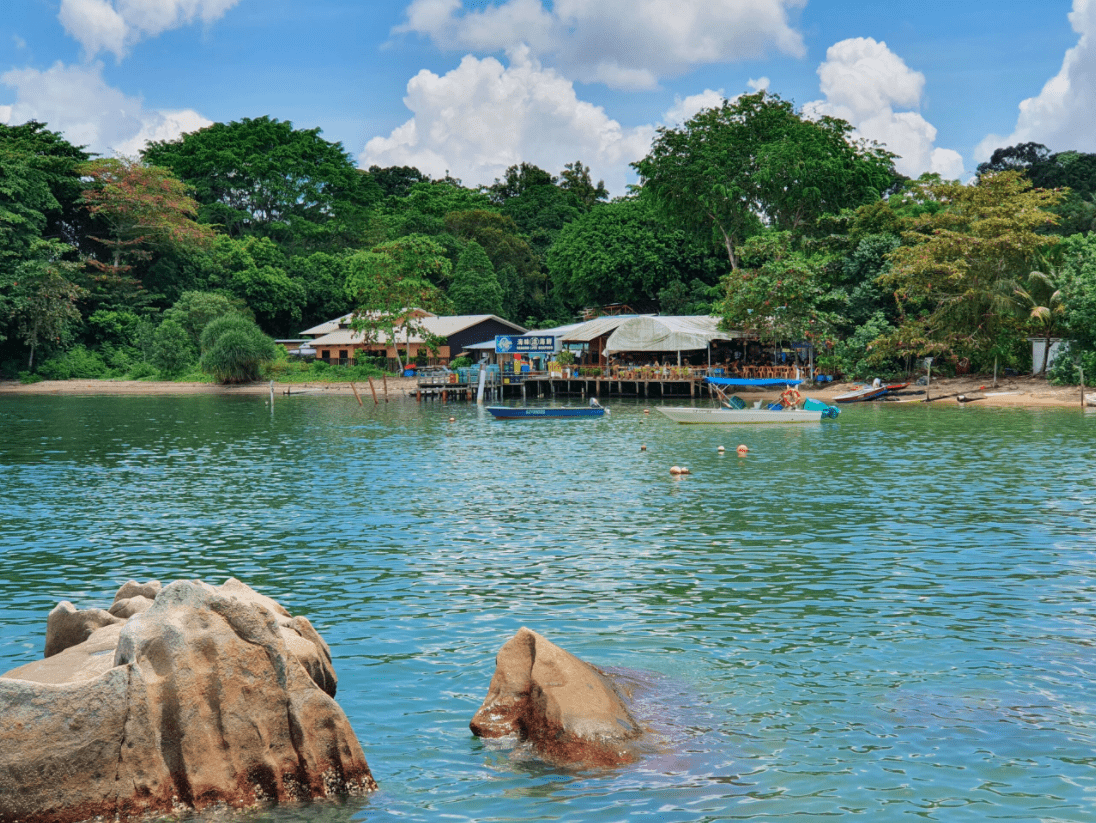 The only place in the country where foreigners and visitors are able to camp because no permit is required, Pulau Ubin is easily the most fuss free of the lot. So camping at Pulau Ubin is perfect for spontaneous getaways as well as backpackers who have a strict budget and some time on their hands for traveling.
$3 gets you a one way ride to and from Changi Ferry Point to Pulau Ubin. Each boat waits for an estimated 12 passengers before departing, unless you're willing to pay the full fee of $36, then you can leave straight away.
With no camping permit required, there will be many tents. So it's best to head there early for a scenic spot on either Jelutong or Mamam beach. If you're staying overnight, drop by the Pulau Ubin Police Post to give them a heads up – they will look out for you. If you're camping in a group larger than 20, drop Nparks an email to ensure there's room for everyone.
Cycling is a must when camping in Pulau Ubin. Even if you don't have a bicycle, you can rent one for just $5. There are many rental shops available, and get a bicycle with a basket to put your bag in for extra convenience.
Tip: Remember to test the bike for a couple of minutes before setting off! You don't want to discover a loose gear or flat tire in the middle of the island.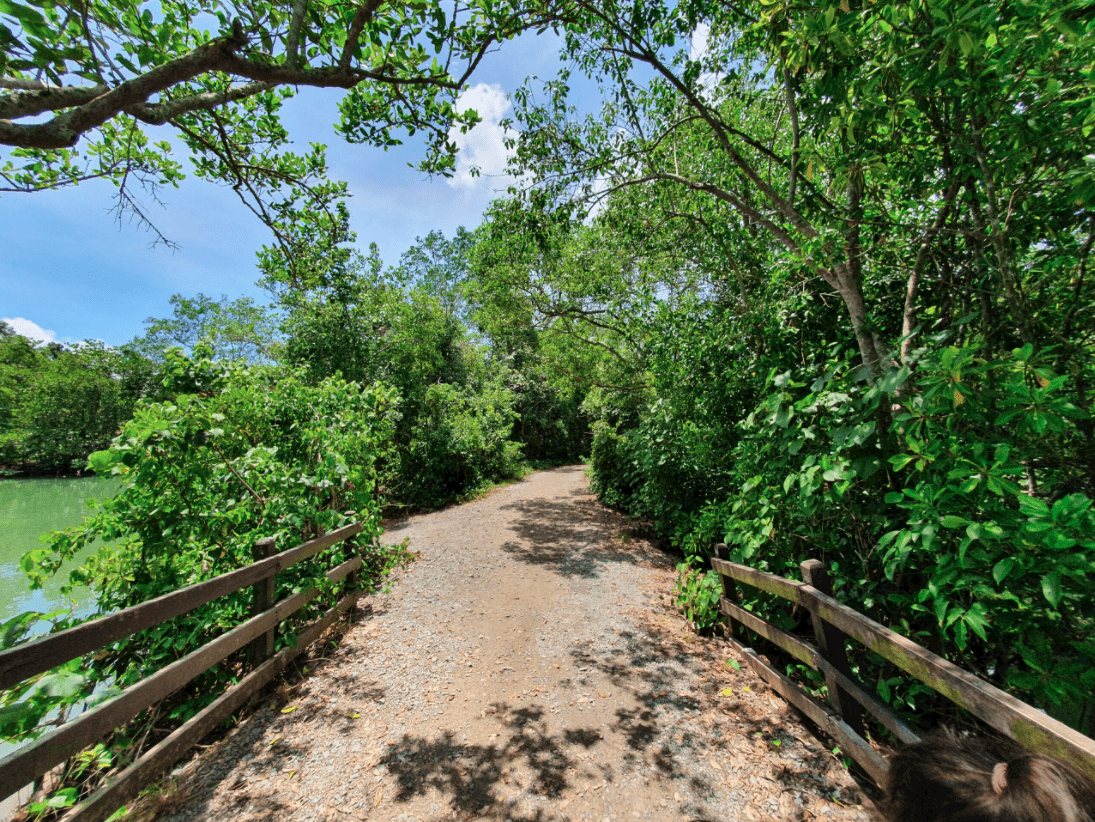 Be sure to visit Chek Jawa Wetlands, an ecosystem consisting of six major habitats. Many ecosystems are visible at tides 0.5 metres and under, so do refer to this Tide Table to ensure you catch them at its clearest. There are also some desolate beaches on Pulau Ubin to relax on.
Don't be afraid to go off the beaten track but be wary of wild boars and swinging monkeys. As long as you keep your food in your bags and leave them undisturbed, you'll be safe. As there are steep slopes around the island, do pay attention to signs warning of various dangers.
The Pulau Ubin Tree Trail is worth a try, before enjoying dinner at one of the family restaurants near the dock. Cheong Lian Yuen served deliciously fresh food at reasonable prices, you will leave feeling extremely satisfied. If you're heading to the mainland, Changi Village Market and Food Centre is a 3 minute walk away, chock full of local fare.
Remember to stock up on drinking water as tap water on Pulau Ubin is non-potable. During the day, snacks and bottled water are available for purchase in town. Be sure to head back to your campsite before dark as there are no street lights to guide your way after sunset. Alternatively, bring a torch or make sure your phone is fully charged.
Here is our complete guide to Pulau Ubin for everything you need to know.
Facilities
Shelters and toilets are available.
How to get there
Enter 499172 into Google Maps to get to Changi Ferry Point
24 hour bumboats are available at Changi Ferry Point to and from Pulau Ubin
A ten minute one way trip costs $3, cash only
West Coast Park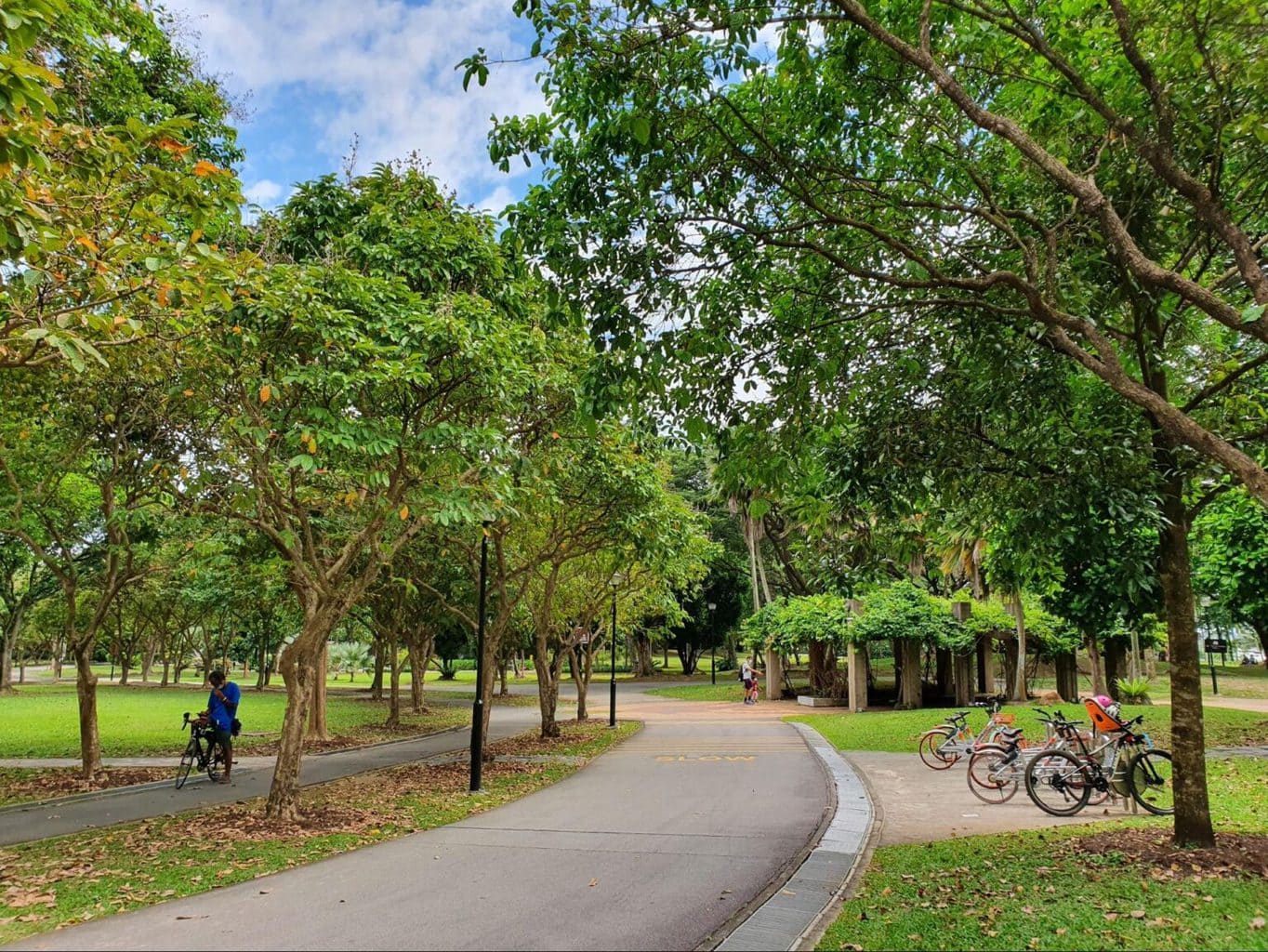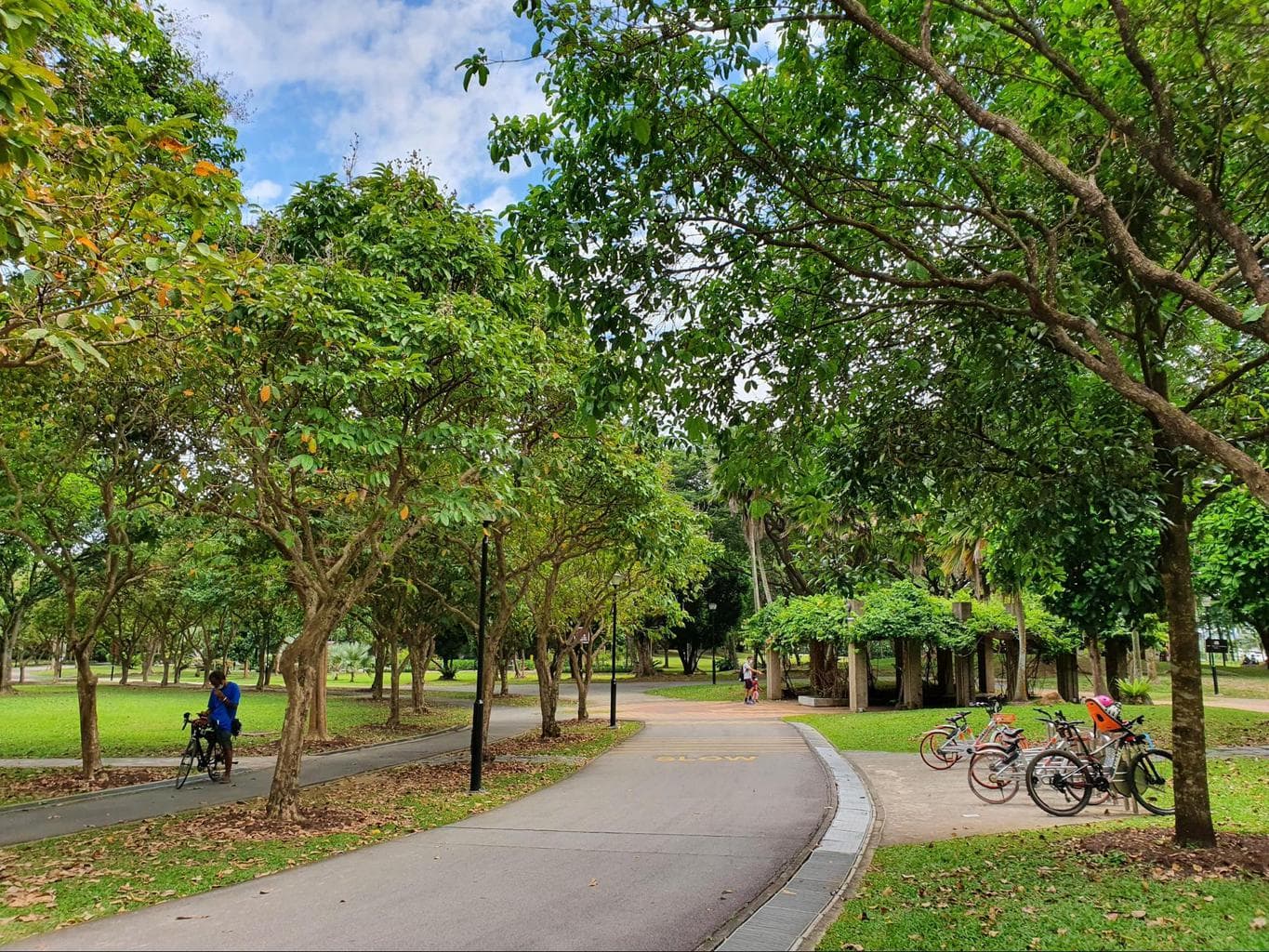 The sounds of play ring clear at West Coast Park, which is no surprise with its gleefully large playground. Camping is a pleasure on the slightly hilly Area 3, sleeping among the tall trees that mimic the look of a forest. Walk a little further to see the marks of fishermen on the shore, an interesting contrast to the tall buildings in the distance.
McDonald's would be your closest source of food in West Coast Park. But don't fret, there are more options available across the West Coast highway, definitely within walking distance. Al amaan Restaurant serves fantastic Indian food.
Tip: West Coast Park is a great place to catch the sunset while camping in Singapore.
Facilities
Designated area within Area 3
Toilets and outdoor showers are available
BBQ pits available for booking here
How to get there
Enter 126844 into Google Maps to get to Mcdonald's West Coast Park,
right by Carpark G
Pulau Hantu Besar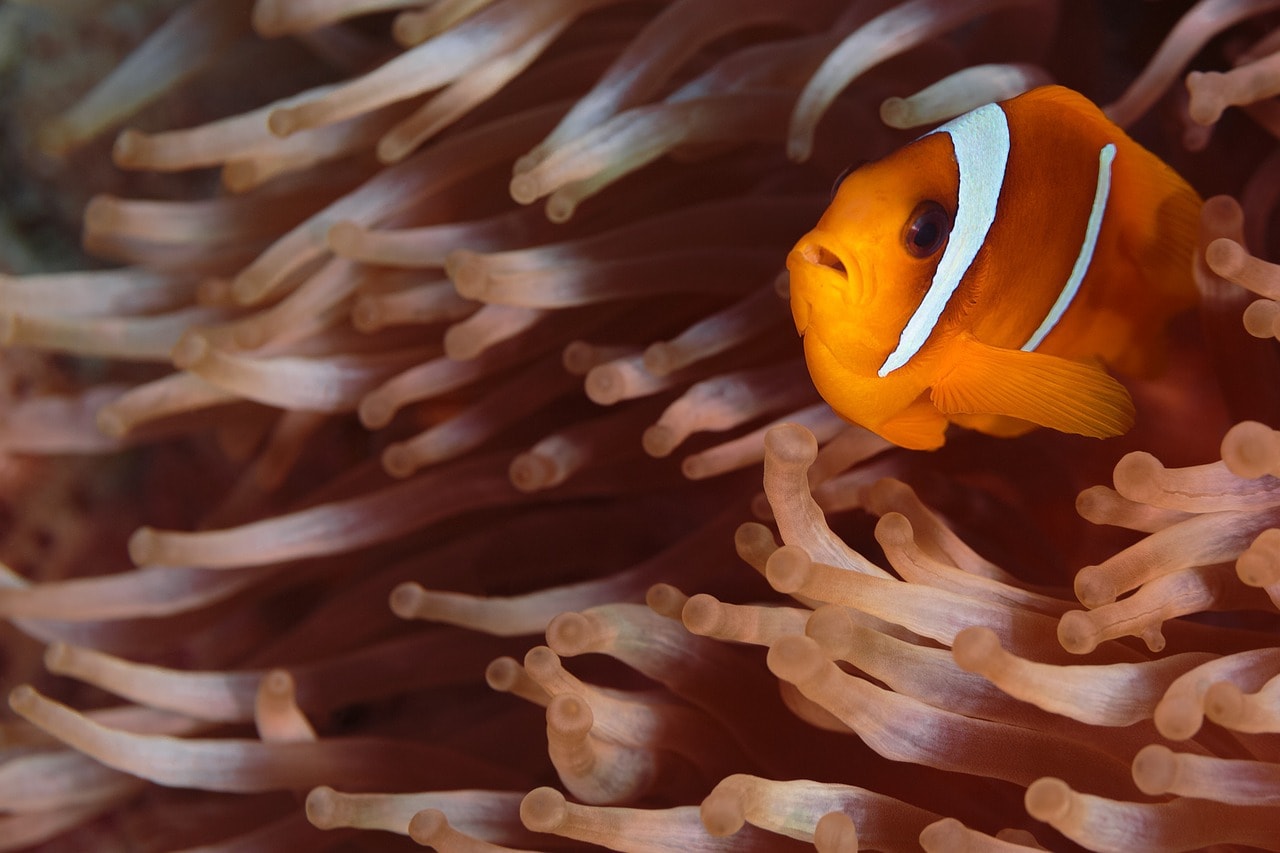 Clown fish while diving at Pulau Hantu Besar
Although Pulau Hantu Besar translates to 'island of ghosts' in Malay, if you're not too superstitious, it's a great place to pitch your tent for the night. Camping on Pulau Hantu Besar is probably the most rugged place for camping in Singapore. It's on a private island and away from the city, so you'll most likely be all on your lonesome.
As it's an isolated and tiny private island, there are no convenience stores, so you'll have to bring all of your own bites for your night away. Once the sun sets and the stars come out, you'll be embraced by the silence that only a secluded destination can provide. Wake up to your very own white sand beach and jump in the water for a swim and a snorkel!
Divers can also take a dip and see a range or corals and sea life. Contact the Hantu Bloggers if you'd like more information on diving at Hantu. You'll be pleasantly surprised with what you can see in the waters just off Hantu. You can also book a diving excursion online on Klook which would really compliment your camping excursion well. Book it here.
The island actually consists of two separate islets, Hantu Kecil and Hantu Besar, meaning little ghost and big ghost respectively. You can take a stroll from one island to the other at low tide, but make sure you're on the correct islet when the tide comes up.
Facilities
Both Hantu Kecil and Hantu Besar: jetty, shelters and picnic areas.
Hantu Besar only: toilets with fresh water (bring your own water though), lagoons where you can swim.
How to get there
There is no regular ferry, but you can organise a fast work boat at West Coast Pier or Marina South Pier. The prices will fluctuate depending on the diesel rates and availability. Expect to pay anywhere upwards of SG$40/pax. Note to foreigners, you will need to go through Immigration Control at West Coast Pier to get to the boat. Only IC (Singaporeans) and passports with FIN cards are allowed. No other forms of photo ID will be accepted. Singaporean residents with kids will need to bring their buscards.
Glamping in Singapore
You might love the outdoors but really dislike pitching a tent. Fret not, there is also a perfect option for you! Glamping is a luxurious alternative to roughing it in the wild. All you need to do is show up and everything is there waiting for you. It's a fantastic idea for families who can't be bothered carrying all the equipment and setting everything up (getting the kids there is enough work).
It's also an amazing idea for a Hen or Stag party if the bride or groom to be want a more intimate experience than bar hopping. Campers with back issues can also make use of the glamping facilities which usually come with comfy air mattresses.
We loved our glamping experiences at Natra, one of the best resorts in Bintan, Madulkelle Eco Lodge in Sri Lanka and the uber luxurious Capella Ubud in Bali. So we have no doubt that glamping in Singapore ups the ante when it comes to camping in style.
In fact, Singapore is all in for glamping and there are a variety of companies that assist with your wonderful outdoor experience. Here are some options with prices and optional stand-out features. All include air mattresses, pillows, and linen:
Glamping City. From SG$190/night, comes with a fan, fairy lights, a hammock, and an option for an 80-inch movie screen with WiFi and a speaker for SG$380.
Glamping Society. From SG$270/night, with air-conditioned tents and power outlets (outlets in Punggol only) with option for picnic. Their Bridal Shower Package for SG$499, offers spacation specials like nail polish or henna, desserts and more.
Heavenly Glamping. From $350/night, comes with a fan, complimentary soft drinks and snacks and an option for a picnic.
Glampingkaki. SG$150/night, comes with fans and decor like bunting and fairy lights.
Wondrous Glampers. SG$150/night, comes with fans, bluetooth speakers, fairy lights and complimentary drinks. Option to add up to 20 people.
Go Glamping. From SG$200/night, comes with complimentary snack and drinks, fans, towels, beach chairs, padlock and ziplock for your Camp Permit. Option for up to 8 people with picnic additions.