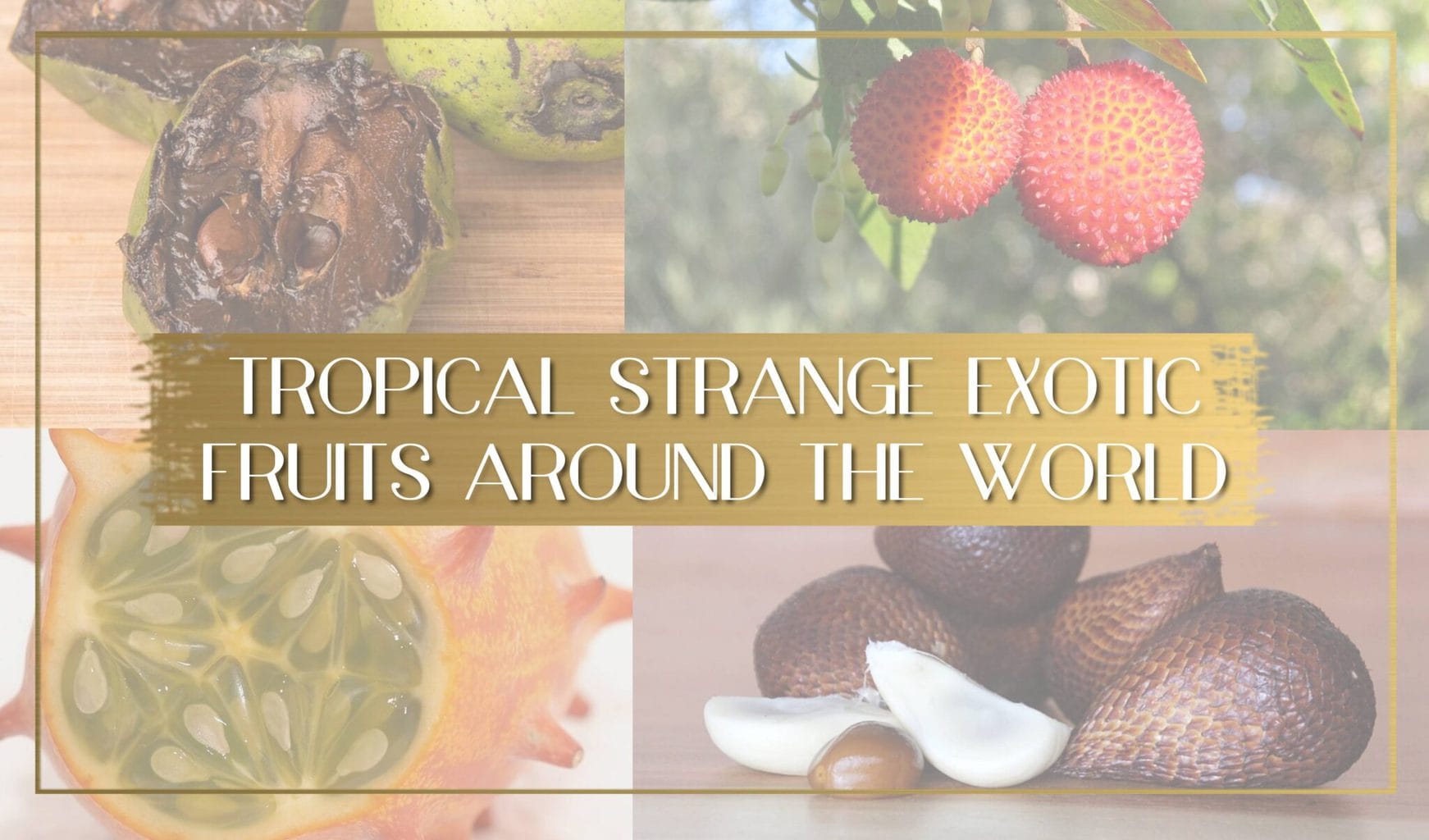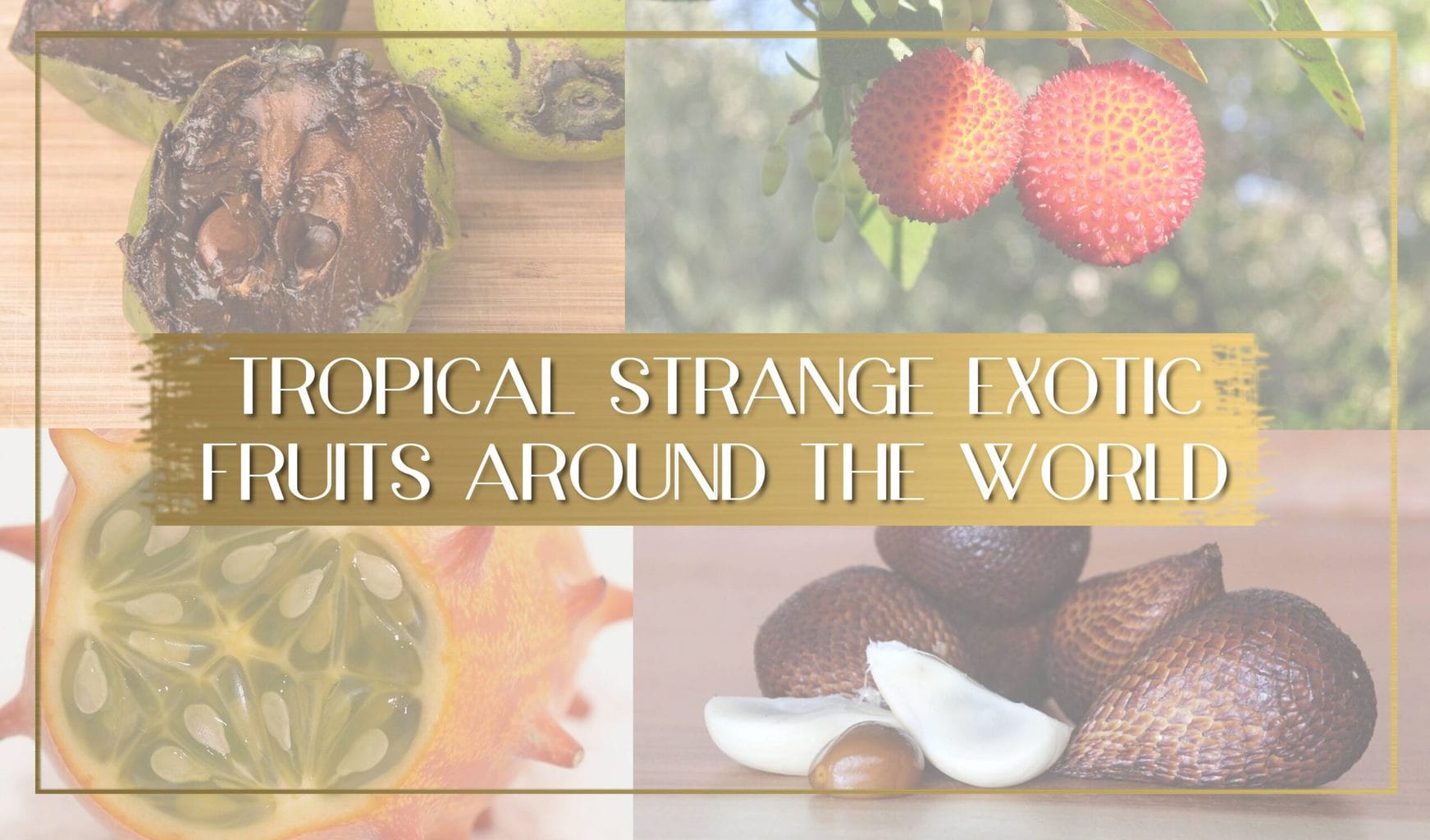 In this article we will explore the rarest and most exotic fruits from around the world, from the tropical fruits from warm countries to the wild fruits in colder climates; and trust us, there are a lot of unusual tropical fruits out there!
One of the best ways to explore a new culture is through its food. The smells, sights and tastes are an invitation into a country's history, culture, customs and traditions. This not only goes for specific dishes, but also for fruits.
What may seem like a strange fruit in one country is a staple in another. Travel to Cambodia and instead of apples you'll find rambutan and longan. In Thailand, Singapore and Malaysia locals devour the epically stinky durian. Mexicans love the messier wild version of a dragon fruit.
If you're adventurous and willing to go a little out of your comfort zone, you'll find an entirely new range of deliciously tropical fruits that can be eaten fresh or used in smoothie bowls. These unusual fruits also have some powerful health benefits and can be eaten to alleviate ailments.
So let's get down to our list of the most scrumptious and healthiest exotic fruits from around the world to add to your foodie bucket list.
Dragon fruit, Pitaya or Pitahaya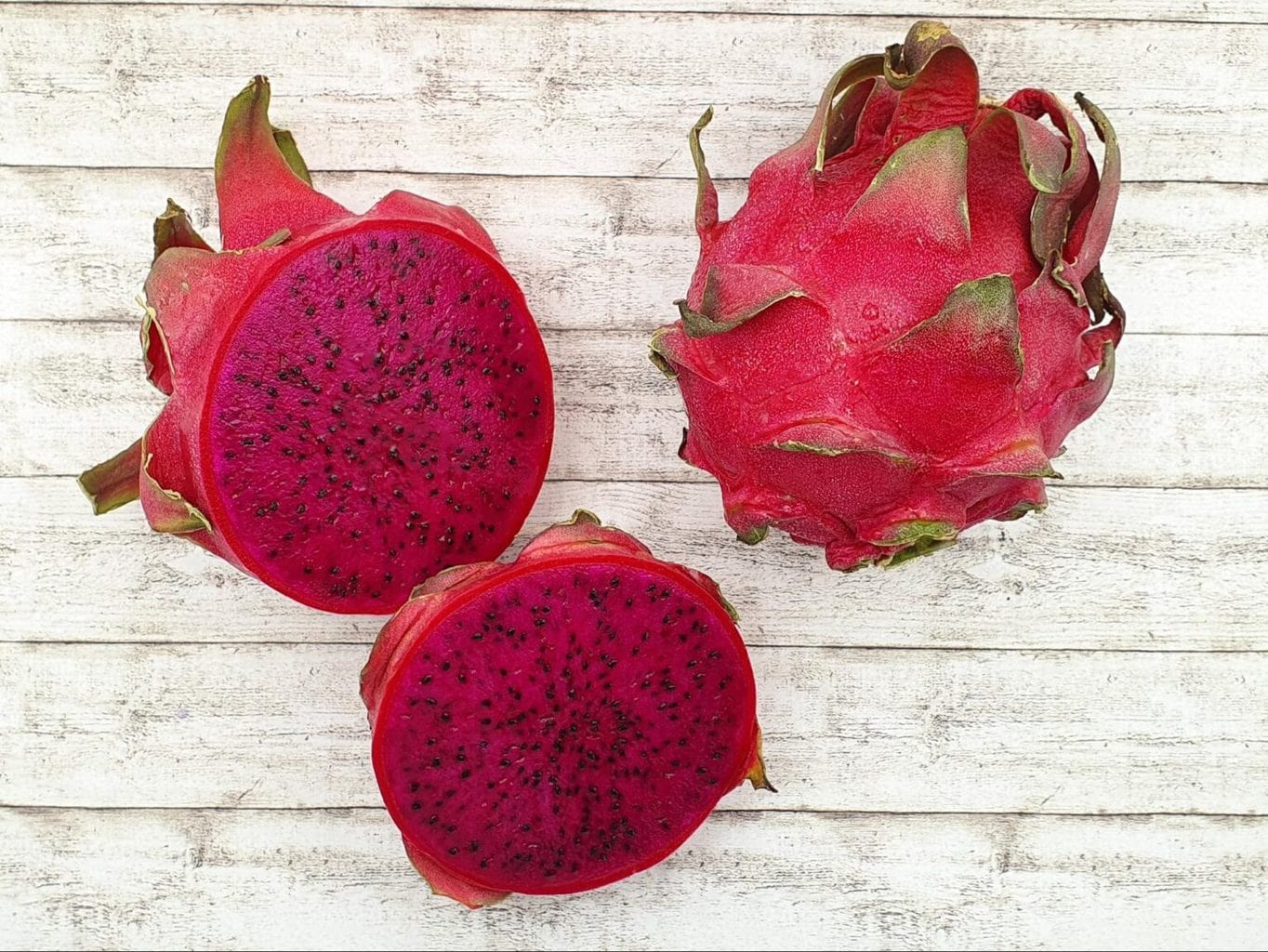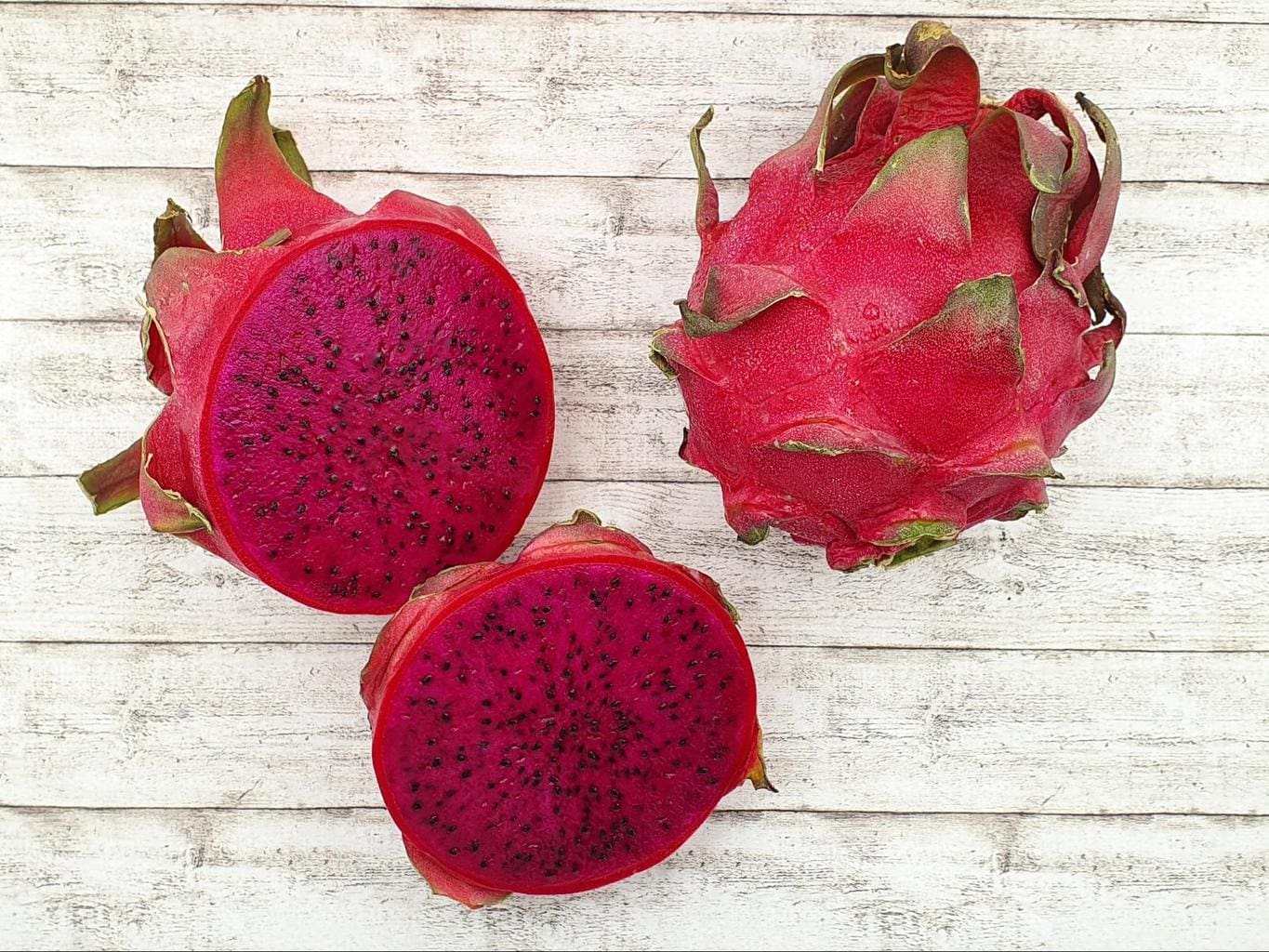 Probably one of the most beautiful exotic fruits in this list is the brightly colored dragon fruit. Also known as pitaya, pitahaya or strawberry pear, the dragon fruit grows on the Hylocereus cactus (Honolulu queen).
Although dragon fruit is common in Southeast Asia, this tropical fruit is indigenous to southern Mexico and Central America where it is known as pitahaya and has a messier darker look.
Its name is derived from the purple color with green scales and definitely not the taste. While the exterior of this exotic fruit looks gorgeous, the white pulp and black seeds inside the fruit provides quite a bland taste – something like the texture of a kiwi with the taste of a less sweet pear.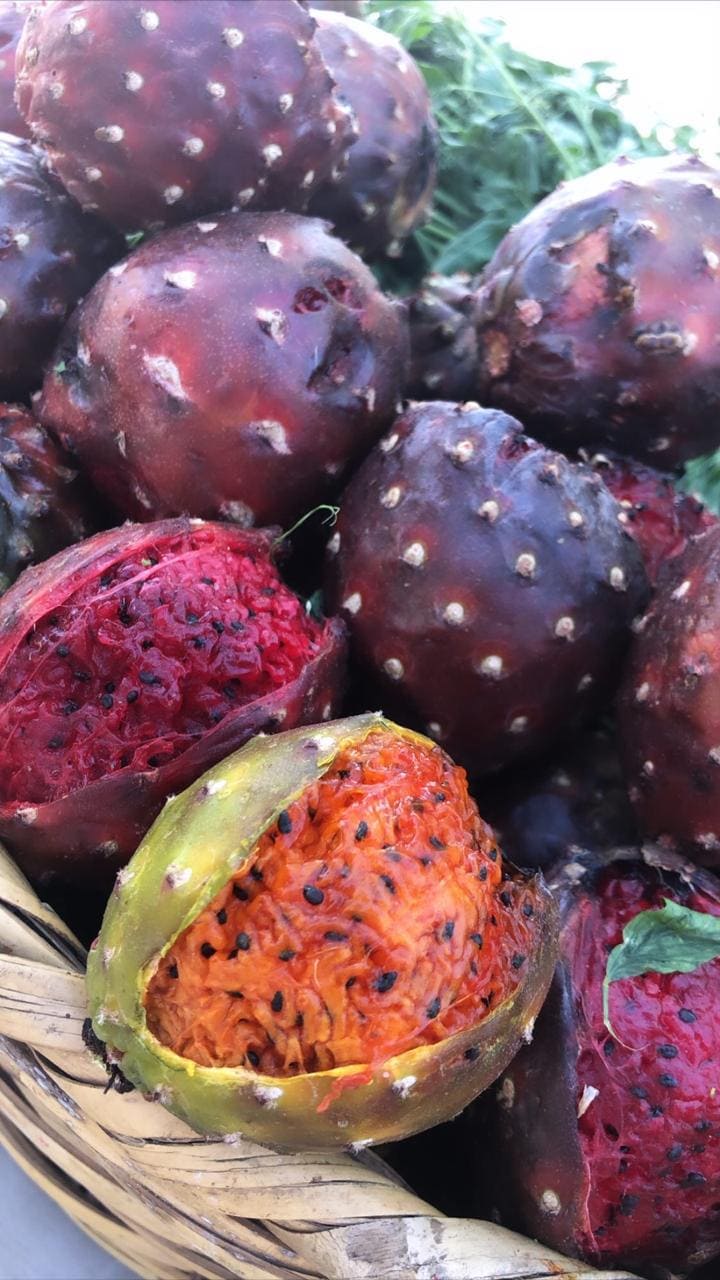 Dragon fruits come in three color combinations: red skin and white flesh, red skin and red flesh and yellow skin and white flesh. Pitahaya can be a darker shade of red and closer to purple in color.
Nutrition: A highly nutrient-dense exotic fruit with a good source of iron, magnesium & fiber that is low in calories. Antioxidants include hydroxycinnamates, flavonoids & betalains (in dragon fruit with red pulp).
Persimmon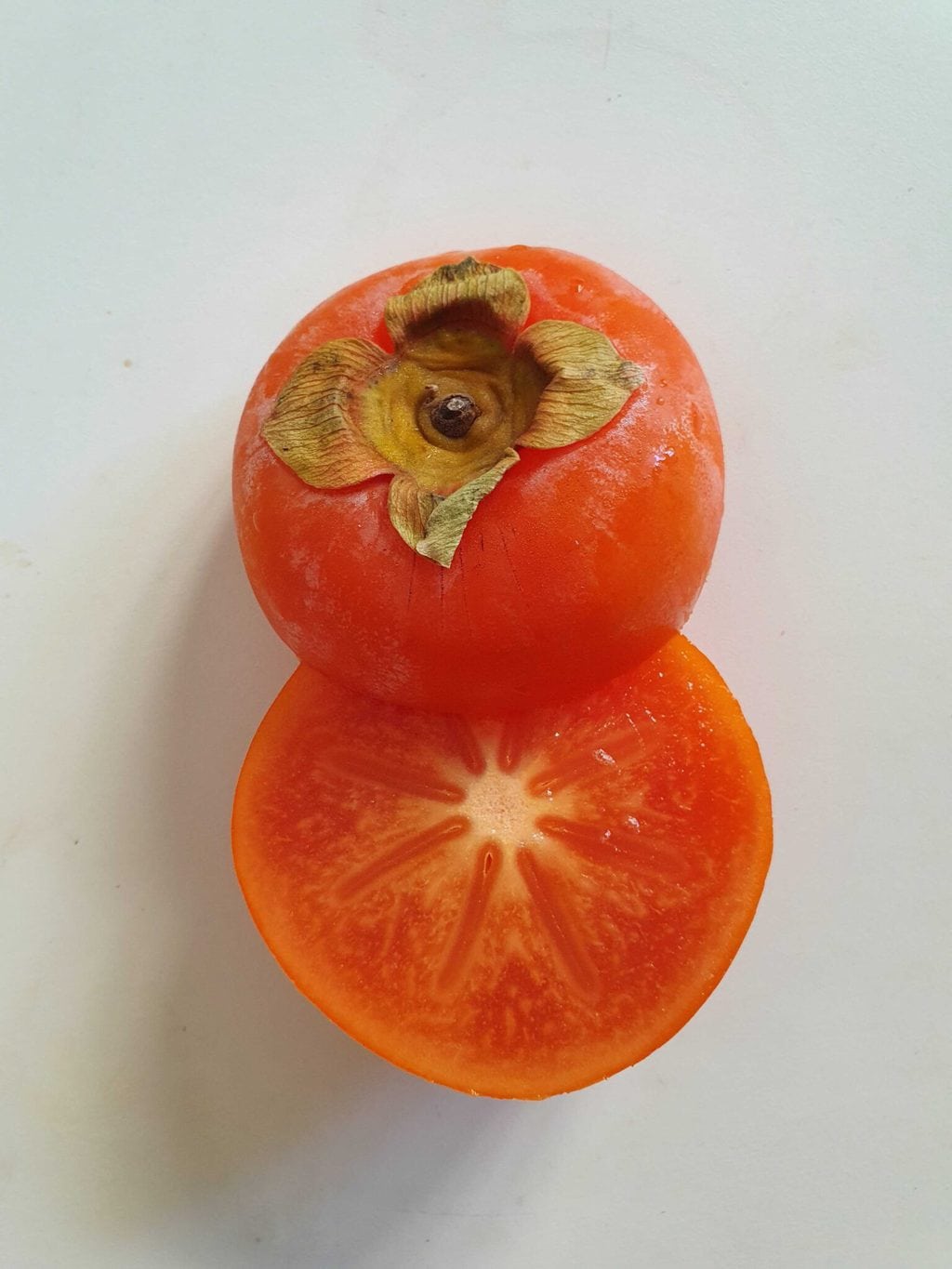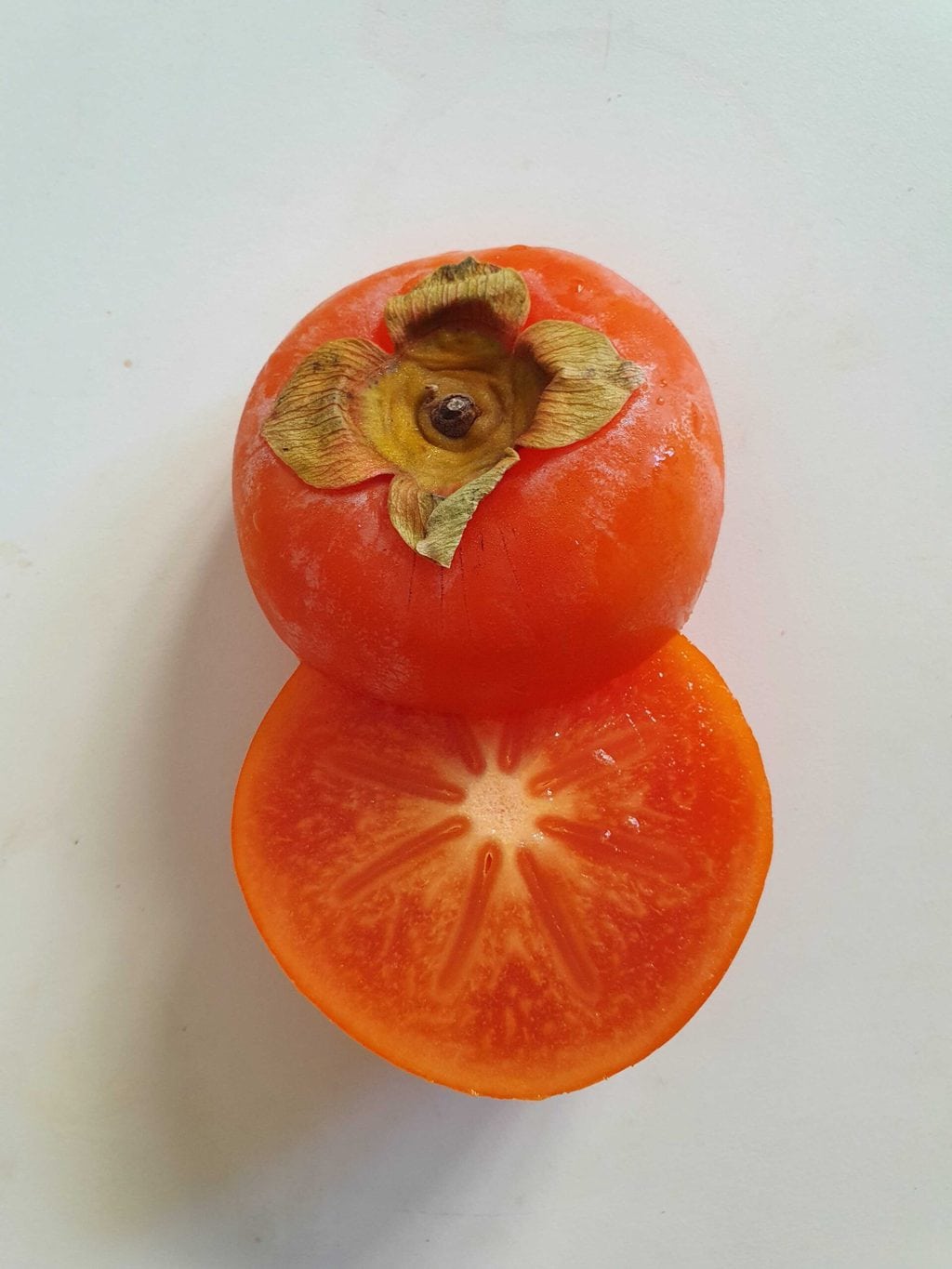 No, you're not looking at a giant tomato (true story) but a very unusual exotic fruit. Persimmons are orange globule fruits budding from the tree genus called Diospyros.
This unique fruit originally comes from China, and is now most commonly found in Asia, particularly Japan and South Korea, but I find them in supermarkets in Singapore too. It is easy to confuse them with a common tomato but they are in fact quite a unique fruit.
Persimmon is eaten in a variety of different ways from fresh to dried, cooked to jellied. It's also placed in all kinds of different foods and drinks including puddings, pies or curries.
There are more than one type of this exotic fruit from the sweeter variety to the more bitter versions. The most common persimmon comes from the Diospyros kaki tree, also known as the Asian or Japanese persimmon. This is the sweet, yet tangy variety which is soft and slightly fibrous when ripe.
The more astringent variation also called Hachiya in Japan or Tteolbeun gam in Korea is also fairly high in tannins. The longer it ripens, the less tannic the fruit becomes. To be safe, rather eat the fully ripened kind.
Persimmons are also found worldwide like the Spanish persimmon (Ribera del Xuquer/Rojo Brillante), American persimmon (Diospyros virginiana), Mexican Black sapote (Diospyros nigra), and the Date-plum (Diospyros lotus) in southwest Asia and southeast Europe – among many others.
Nutrition: Stand out nutrients include manganese, provitamin A beta-carotene, vitamins A, B6, C, E & K, potassium, copper, fiber and iron. They're also a good source of thiamin (B1), riboflavin (B2), folate and phosphorus and contain phytochemicals like catechin, gallocatechin and betulinic acid, as well as being antioxidant rich. As they're low in calories, it's a great weight loss-friendly fruit.
Mangosteen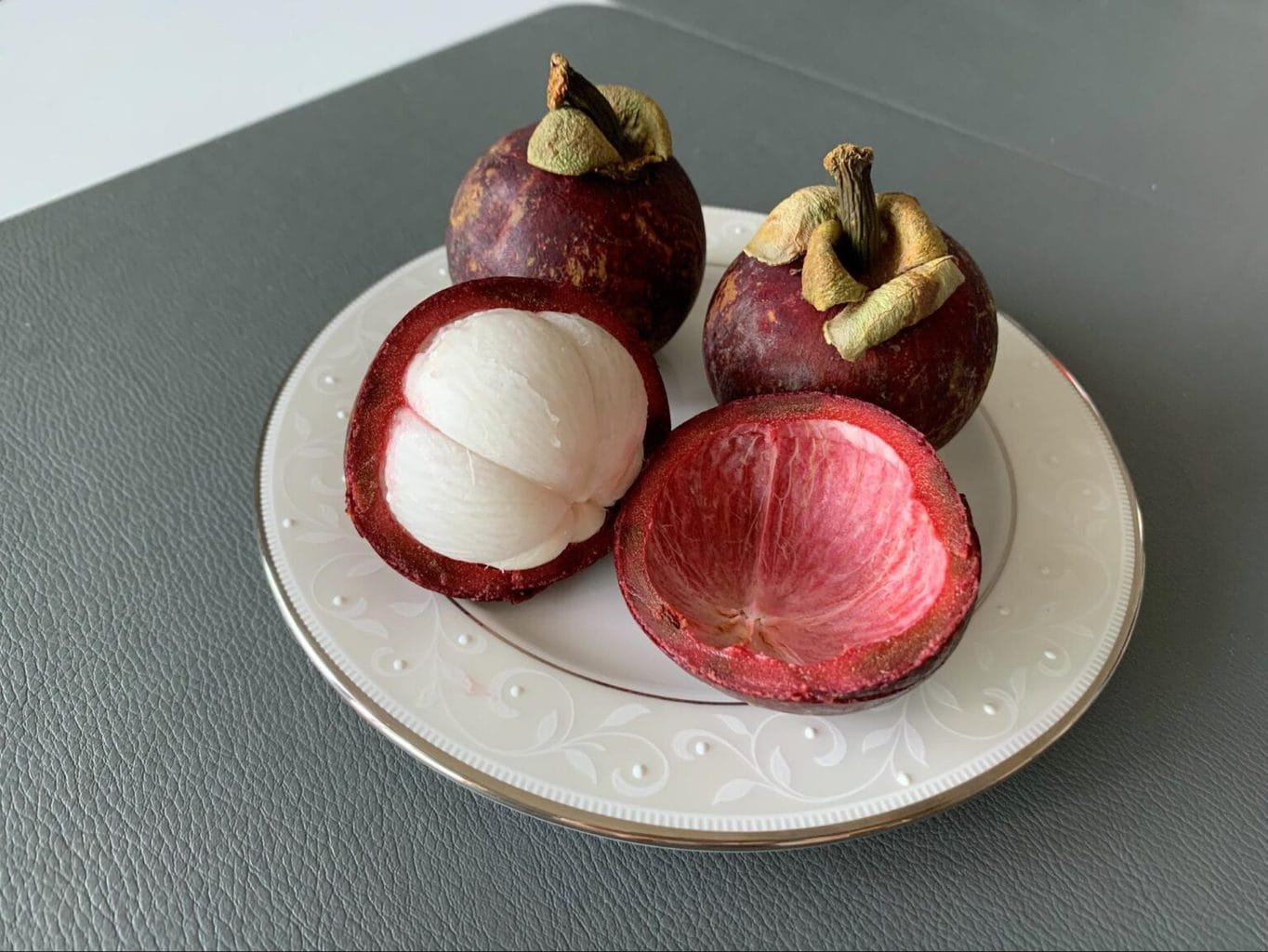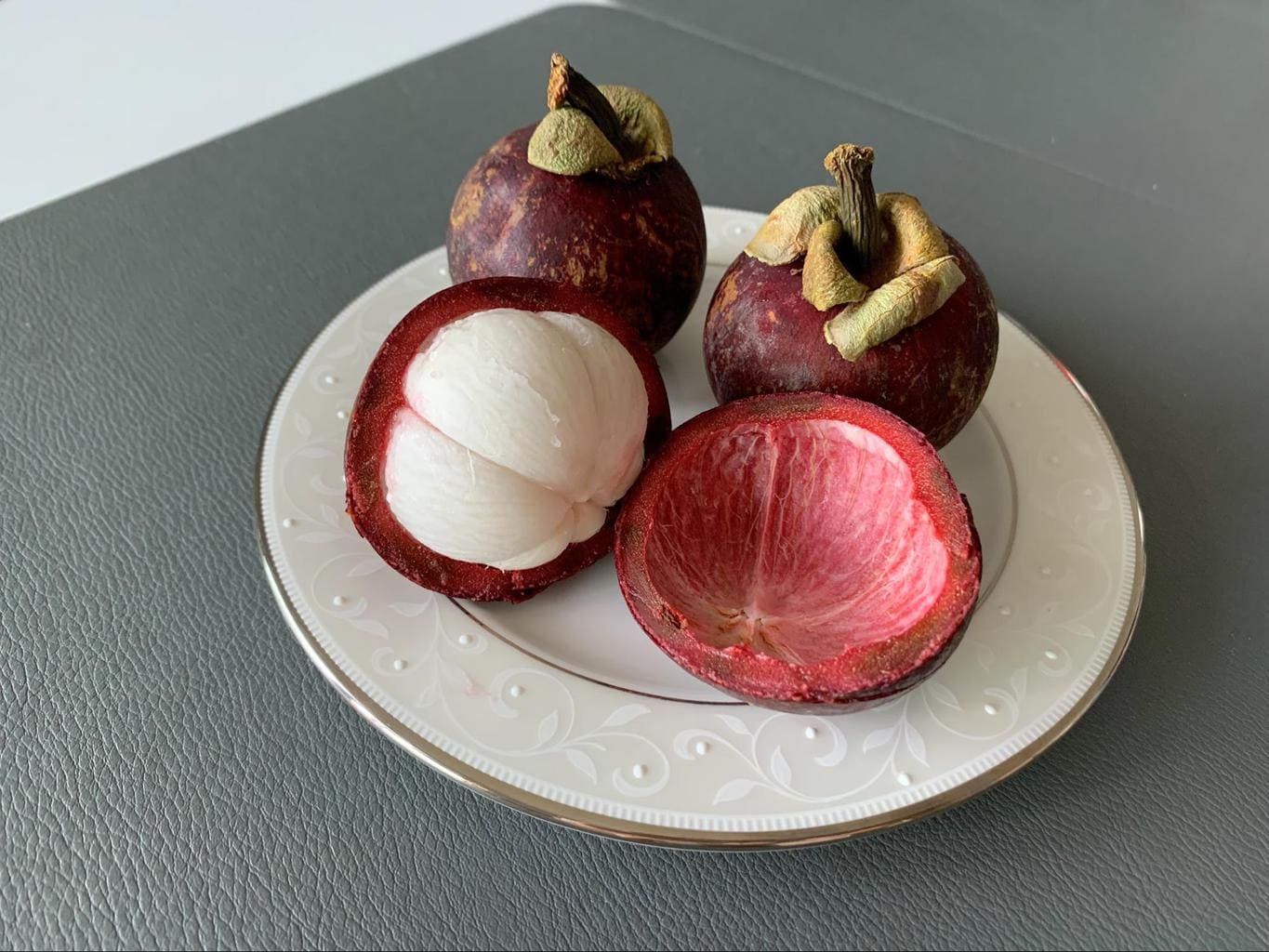 The only similarity that mangosteens have with mangos is that they're tropical fruits from Southeast Asia. While mangos can be found all over the world, mangosteens are usually only seen in Indonesia, Malaysia and Thailand.
This rather weird fruit from Southeast Asia has a vivid and hard purple exterior. Yet after peeling away its outer layer, you'll find soft white pods that visually look like fleshy giant garlic gloves.
Mangosteens are one of my most favorite tropical fruits. They taste creamy, tangy, sweet and highly addictive. Just don't eat the bitter seed and be careful with the peel which will stain your fingers and nails.
As mangosteens have a brief season between May and July and due to this short window can be a little more expensive than other exotic fruit. Note that some hotels in Southeast Asia, along with durian, have banned mangosteens. Unlike the smell of durian, mangosteens are banned due to their ability to stain easily.
Nutrition: While being low in calories, they are packed with nutrients such as containing xanthones which are antioxidant rich. They are packed with Vitamin C, as well as Thiamine (B1), Riboflavin (B2), Niacin (B3), Pantothenic acid (B5), B6 and B9. They're also rich in minerals including Calcium, Iron, Magnesium, Manganese, Phosphorus and Potassium.
Kiwifruit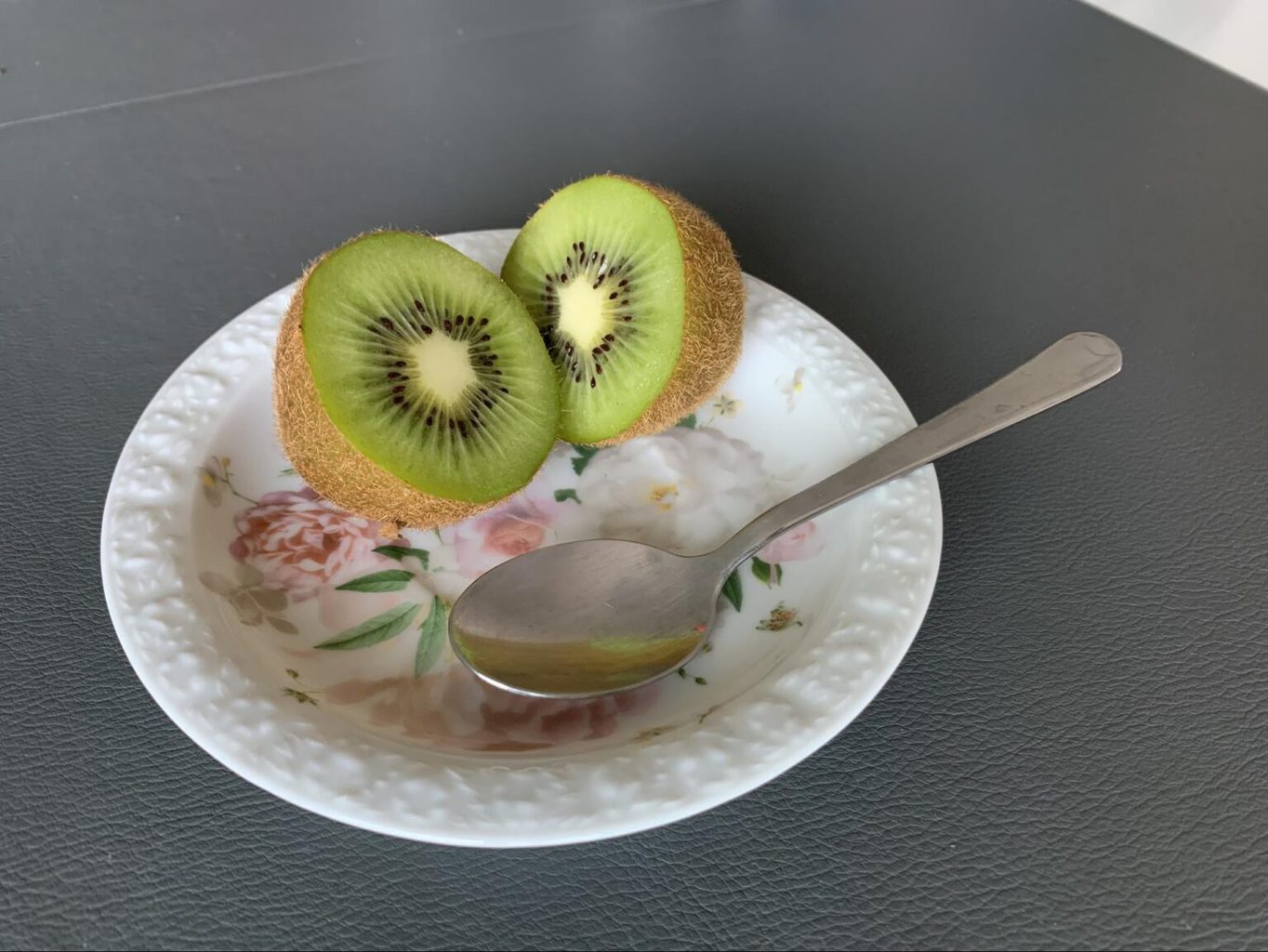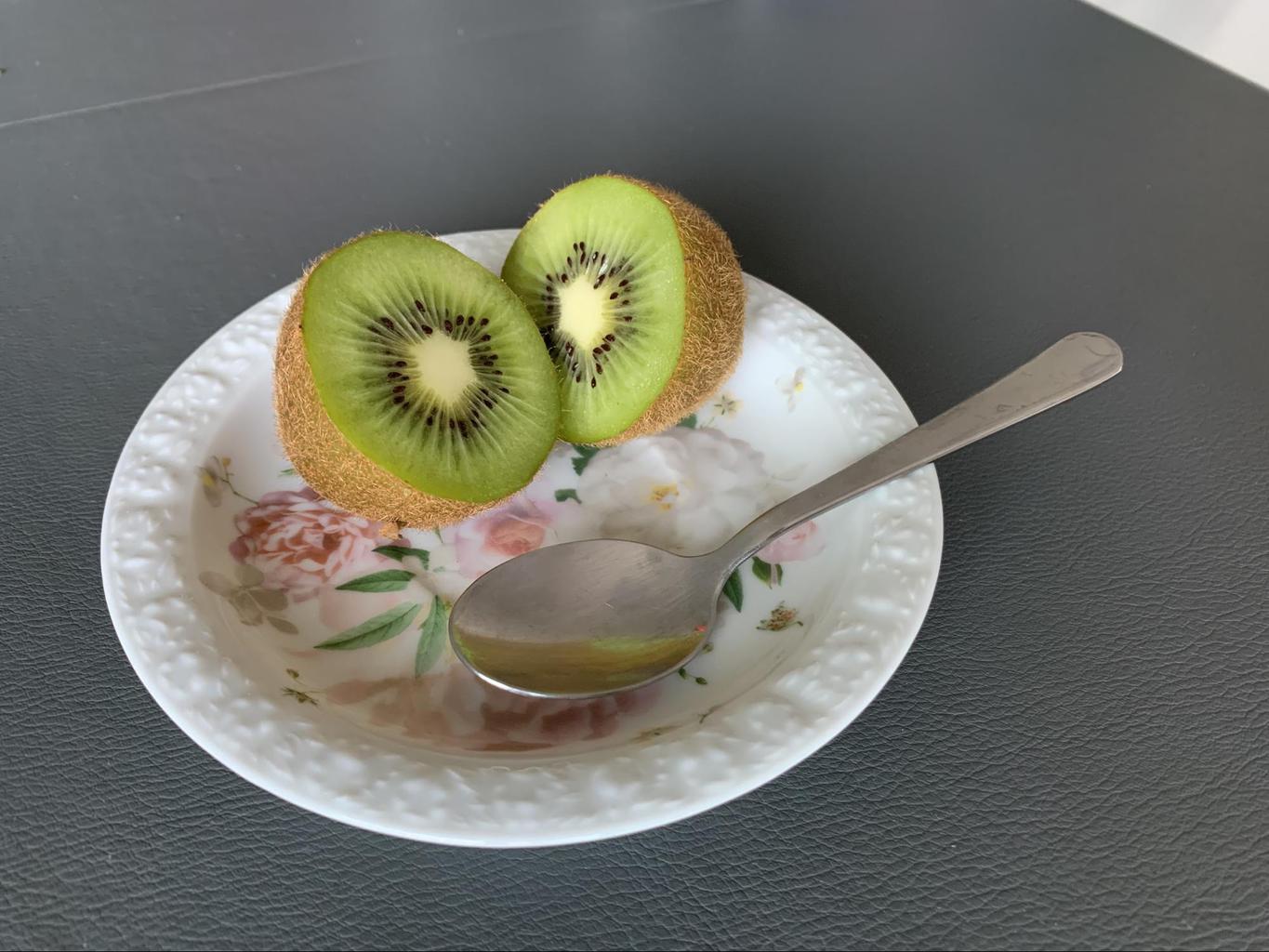 Kiwifruit are one of the funkiest tropical fruits and they make for a great snack when you need an instant nutritional boost.
The small soft fruit is usually cut in half and the juicy flesh is scooped up with a spoon and eaten straight. While not everyone's cup of the tea, the skin can actually be eaten, even though the slightly hairy texture could be off putting (like some peaches).
This small egg-sized exotic fruit is originally from China where roughly 50% of the world's kiwifruit is actually produced. It then spread to New Zealand where the original name Chinese Gooseberry (it tastes like a ripened yet sweeter gooseberry) was changed to kiwifruit as a marketing strategy (a nickname for New Zealanders is Kiwi).
Those who have tasted the kiwifruit may be surprised to know that they actually come in a variety of sizes, textures and flavor profiles from the inedible to the ultra sweet.
The kiwifruits found in most stores is the Hayward cultivar which is the standard green range. The sweetest cultivar is the unusual crimson red kiwifruit, which is in fact more nutrient dense than others and a pretty weird fruit if you ask me. There is also a golden variety which is a bit less furry.
Nutrition: This small unique exotic fruit is packed with vitamin C and K. In fact, within 100 grams it has 20% more than the suggested Daily Value. Green kiwifruit contains more vitamin K while the Zespri SunGold variety has about double the vitamin C. It's also a good source of fiber and antioxidants and as it contains a proteolytic enzyme called actinidin that breaks down protein, it's a great digestive aid. Kiwifruit seed oil has an omega-3 fatty acid known as alpha-linolenic.
Mini kiwifruit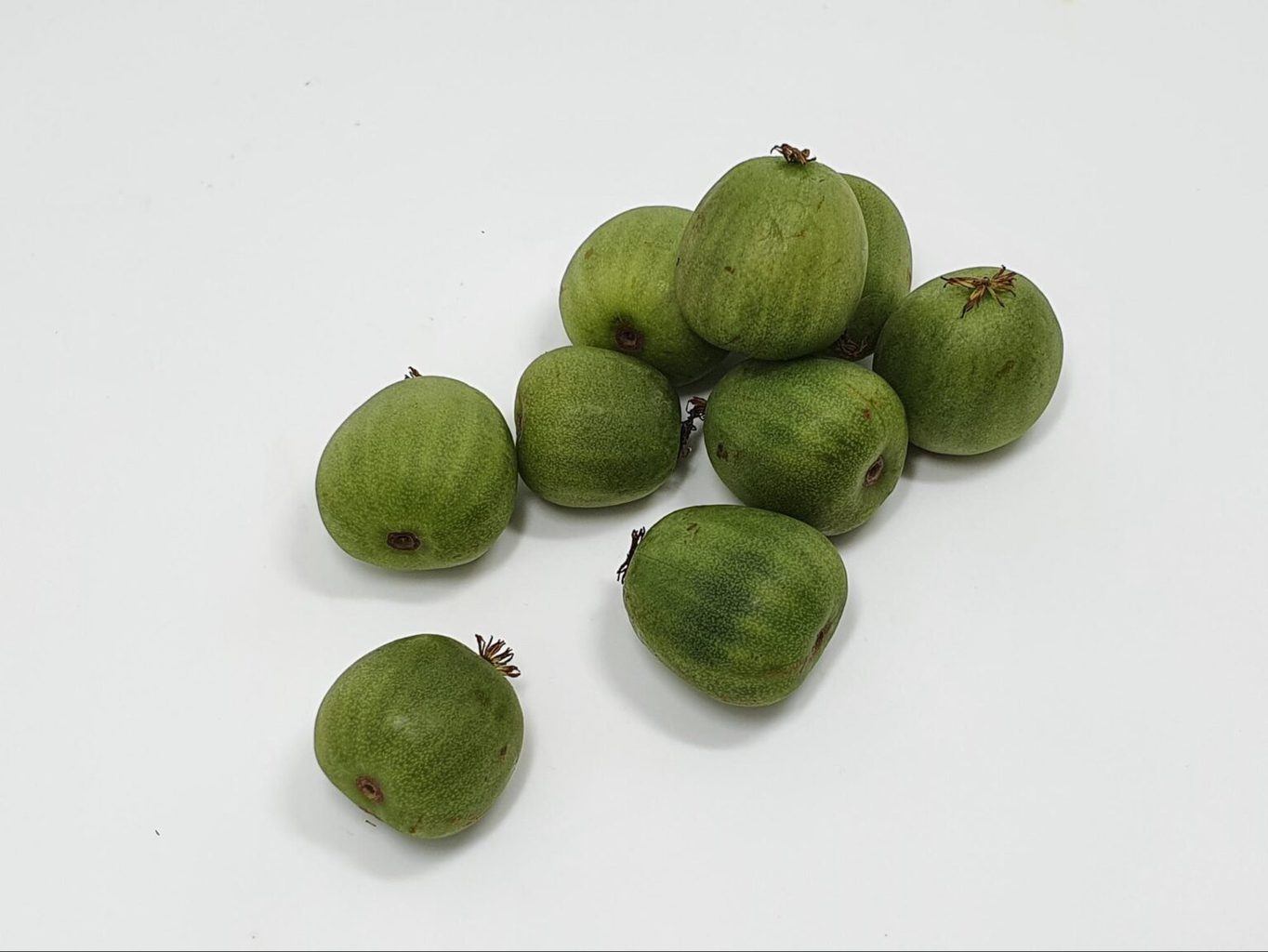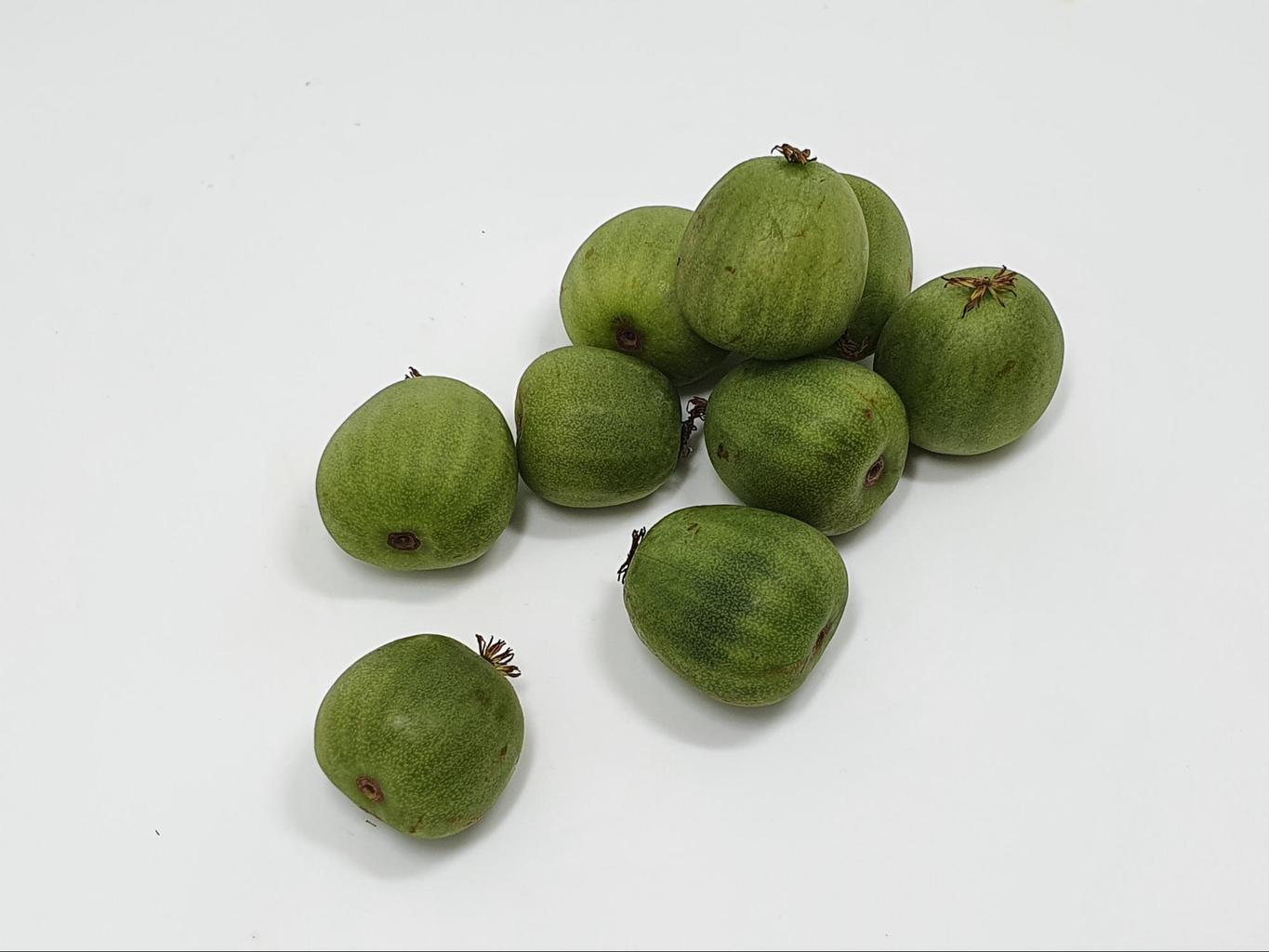 If you'd like to munch on kiwifruit like grapes, with the skin intact, you can try out the smaller and sweeter mini kiwifruit. This tasty tropical fruit goes by many names including the Siberian gooseberry/kiwi, hardy kiwifruit, kiwi berry, baby kiwi, grape kiwi or even cocktail kiwi, among others.
The exterior is smooth, unlike its larger, fuzzier cousin. The smooth, leathery skin contains the soft flesh inside, much like a grape. They can be eaten raw but due to their extremely short shelf-life and sporadic ripening times, they are very difficult to find.
Hardy kiwifruit or also made in jams and in South Korea the young leaves (darae-sun) can be used as a namul (edible grass or leaves or seasoned herbal dishes) side dish .
Nutrition: Like its larger cousin, the mini kiwifruit is packed with vitamin C and also has small amounts of potassium and sodium.
Açaí berries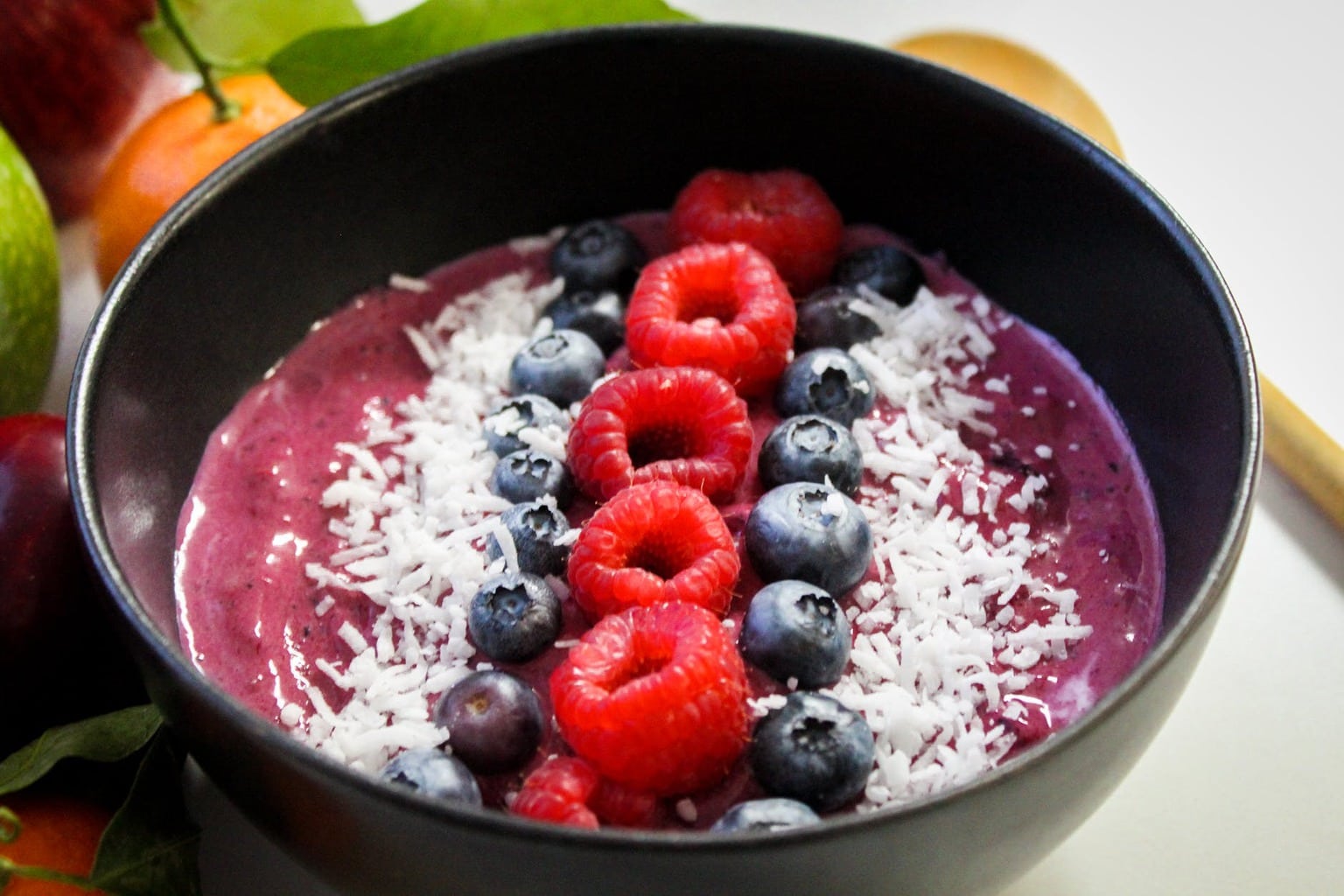 The açaí (pronounced ah-sigh-EE) is a type of palm tree native to Brazil, Peru, Suriname, and Trinidad and Tobago. The açaí berries drape down from the slender tree's branches in clumps of about 500 to 900 fruits.
A little known fact is that açaí berries are actually drupes as they contain pits like olives. They're similar in size, shape and color to larger blueberries, but they're a little more bitter and earthy in taste (like unsweetened chocolate).
While this tropical fruit has been around for ages in Amazonian regions, their nutritional value only began to become popular in the 1990s in Western countries after the berries were "discovered" on the Oprah Winfrey Show as a superfood.
Nowadays you can find açaí bowls or smoothies in most cafes and bars and the very pricey powder form is common in health food stores throughout the world. You can even get them in pill form.
Nutrition: The nutrition of this unique fruit is all in the skin. Açaí berries contain more antioxidants than other berries and are as close to the Fountain of Youth as you can get. The most notable antioxidant is anthocyanins, like blueberries.
Kumquat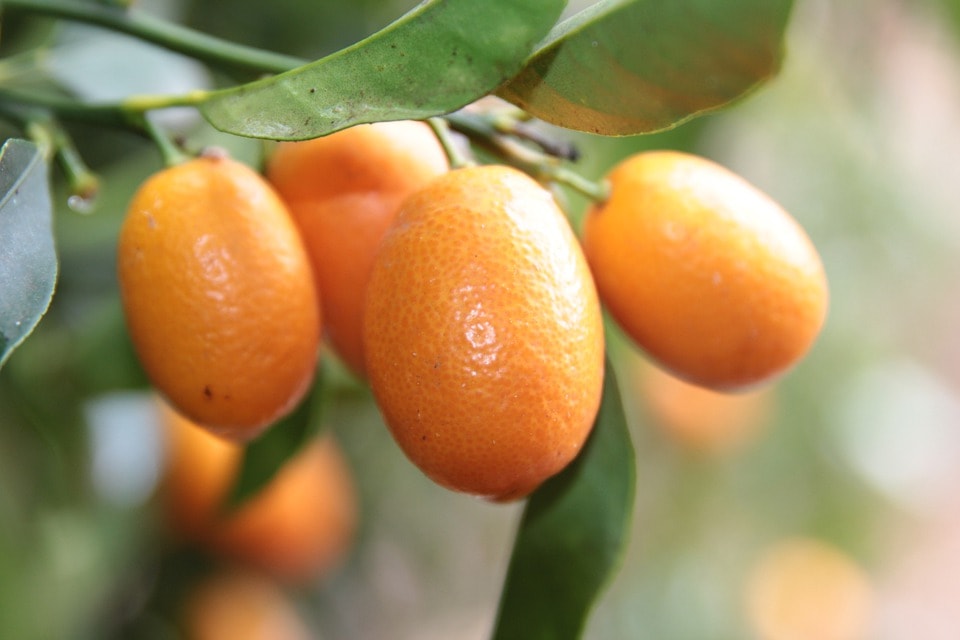 Another unusual fruit from China is the kumquat, meaning "golden orange", is a bite-sized citrus in a glorious orange coat. It's usually used to make a marmalade, jelly or other preserve.
You may mistake it for a mini tangerine, yet the peel is actually edible and sweet. Blended with the tart citrus flesh, you get a large flavor profile.
As it spread around the world, different varieties started popping up from the usual round kumquat to the oval, Meiwa, Hong Kong, Jiangsu and Malayan varieties. The trees, which are evergreen, also make for wonderful bonsais if you're keen for a new hobby that can also produce some delicious citrus.
Nutrition: Kumquats are rich in vitamin C and fiber. The seeds and peel provides a tiny amount of Omega 3. As they have a high water content, they make for great weight loss snacks, and they're quite filling.
Chayote Squash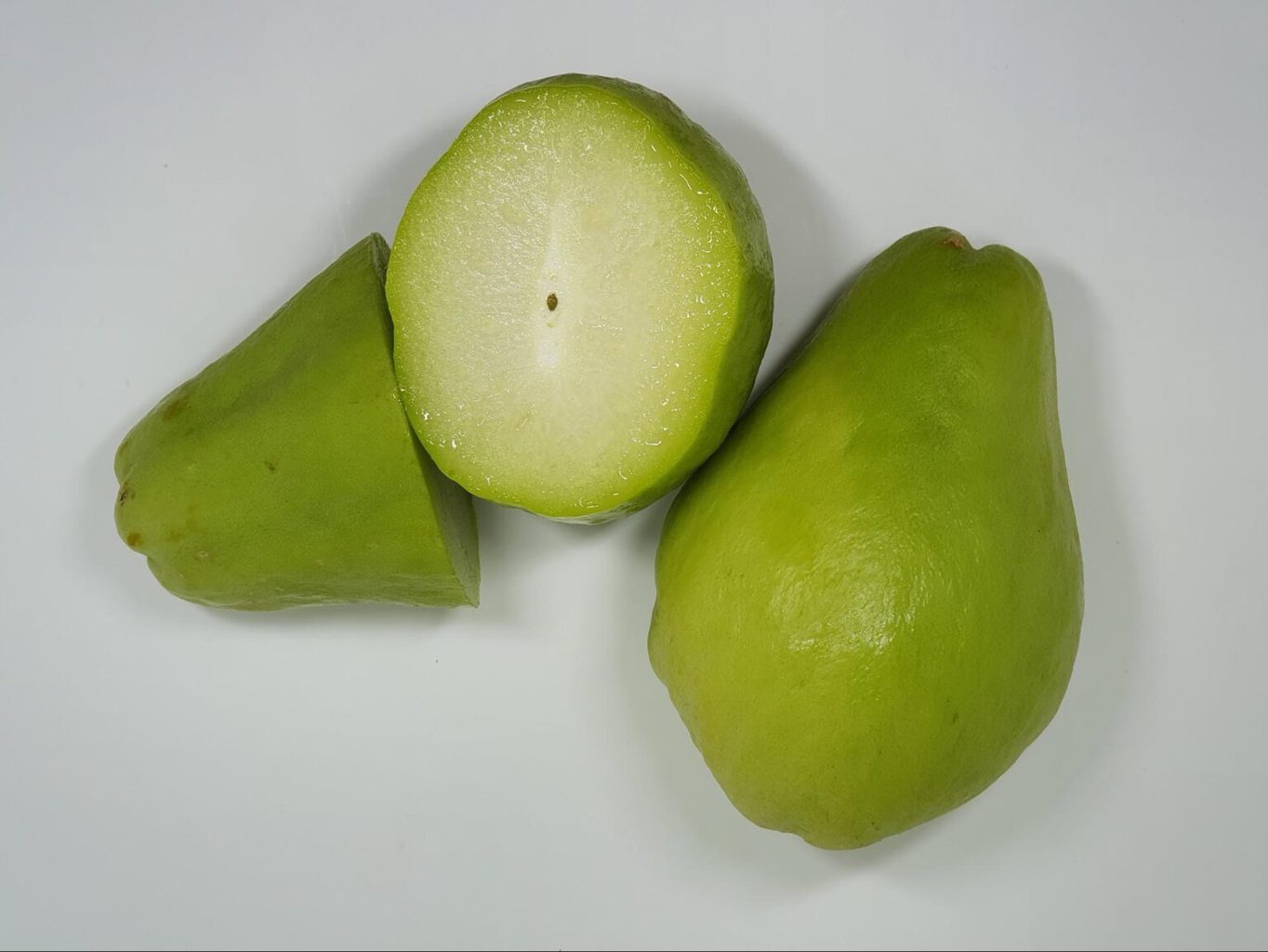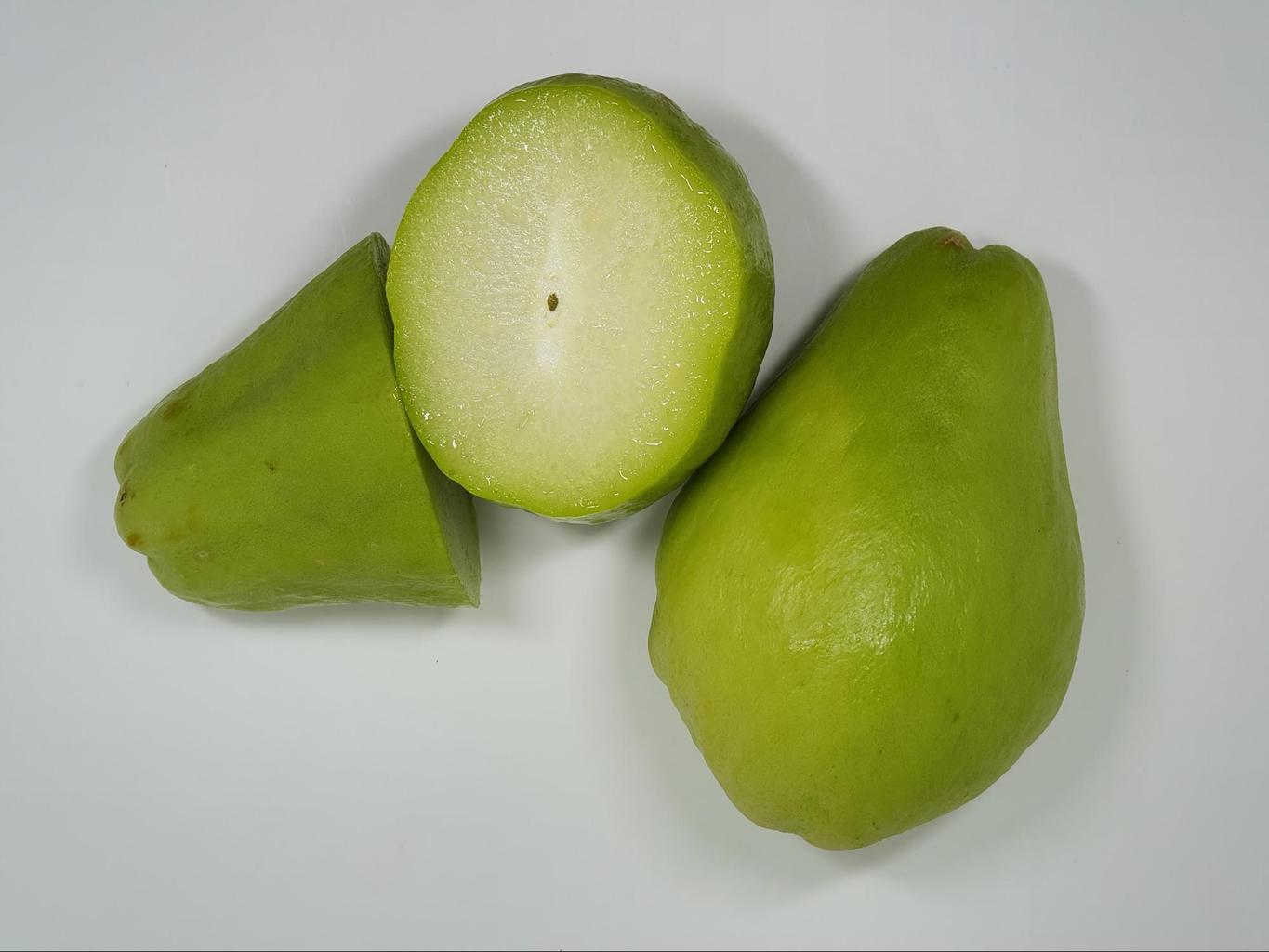 This exotic fruit from Latin America is often confused for a vegetable. Chayote (Sechium edule) is a type of squash that belongs to the gourd family Cucurbitaceae. It's very rarely eaten raw as the tough texture makes it rather unpalatable.
The chayote is usually used in meals for its texture and not its flavor, as it tastes somewhere between a potato and an apple and is really known for its crispness. It's best when sliced really thin and then sautéed, stir-fried, or even stewed. It can also be pickled and thrown into a salad.
It originally hails from central Mexico and various parts of Latin America but is now grown all over the world. It's also known as mirliton squash or chocho. The shoots and leaves are also edible if you're keen on really venturing out into new tastes.
Nutrition: Chayote is a good source of vitamin C and other nutrients especially folate (vitamin B9). Chayote also has a rich antioxidant content such as quercetin, myricetin, morin, and kaempferol.
Oddly-shaped watermelon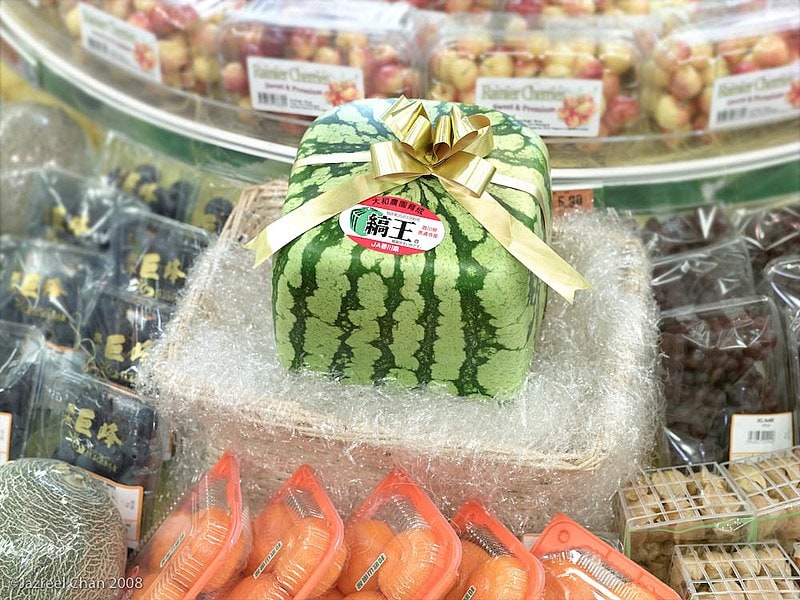 If you want a dose of weird and wacky, Japan is always a good place to begin. From the curious pet cafes and robot restaurants to crazy movies and over the top shopping, the Land of the Rising Sun always offers something new and fresh (and a little strange).
Food in Japan is no different. In 1978, graphic designer Tomoyuki Ono patented a specific box to grow melons in. What came out were the rarest fruits yet, cube watermelons!
Yet be warned, these are only for show as they need to be harvested before they are ripe to maintain their form. Think of them as agricultural art pieces that can last up to a year and not so much as weird fruits.
Of course, some farmers went one step further and created heart-shaped watermelons which are in fact edible! These love melons are perfect for a Valentine's gift, if a little pricey. So jet for some Japan travel and don't forget our Japan itinerary to experience all the other weird and wonderful things to do.
Nutrition: As the cube melons are inedible they have no nutritional value. The heart melons however have the same nutritional aspects as the normal oval kind such as vitamin C, A, B1, B5, B6 as well as potassium and magnesium.
Star fruit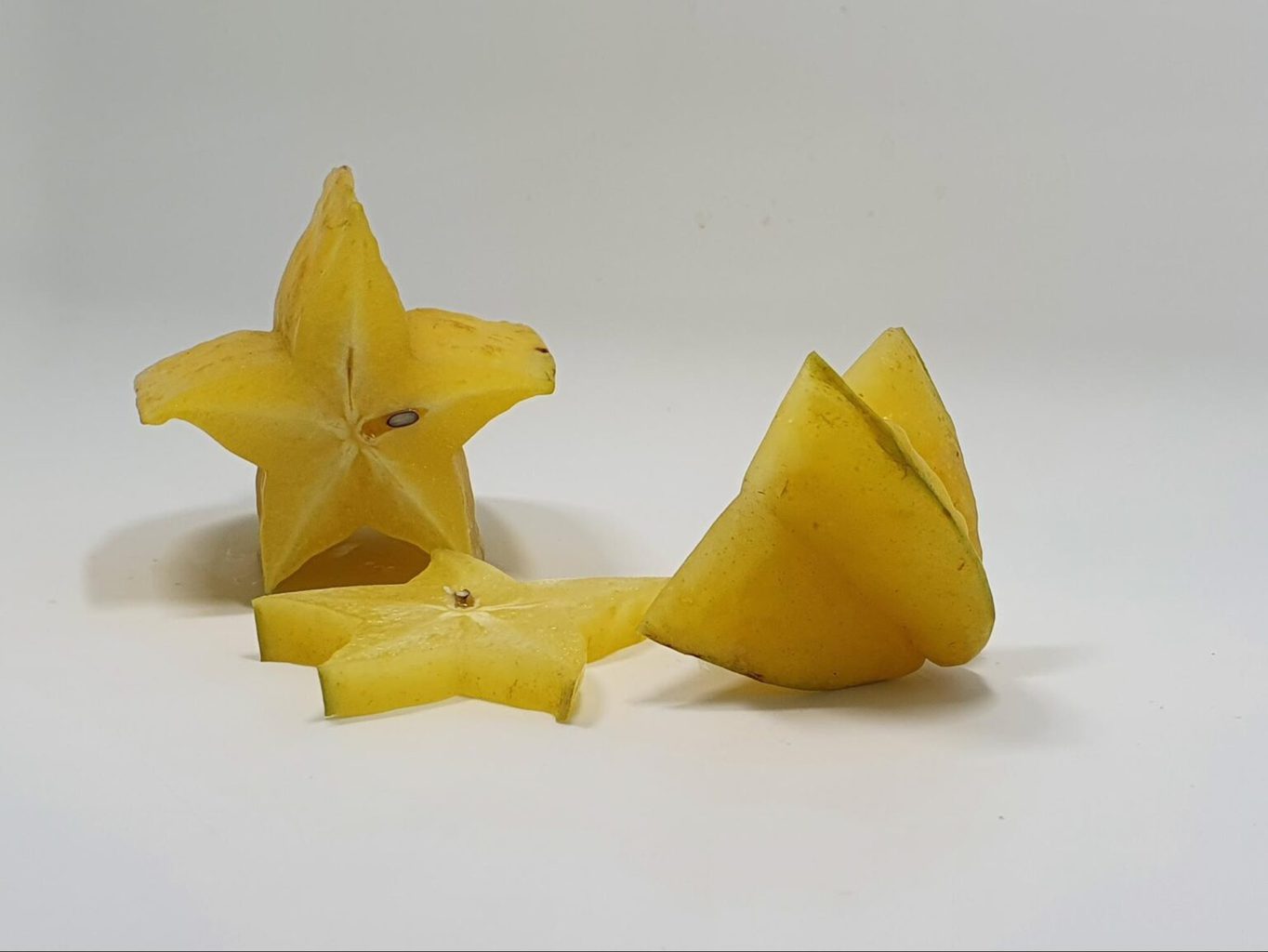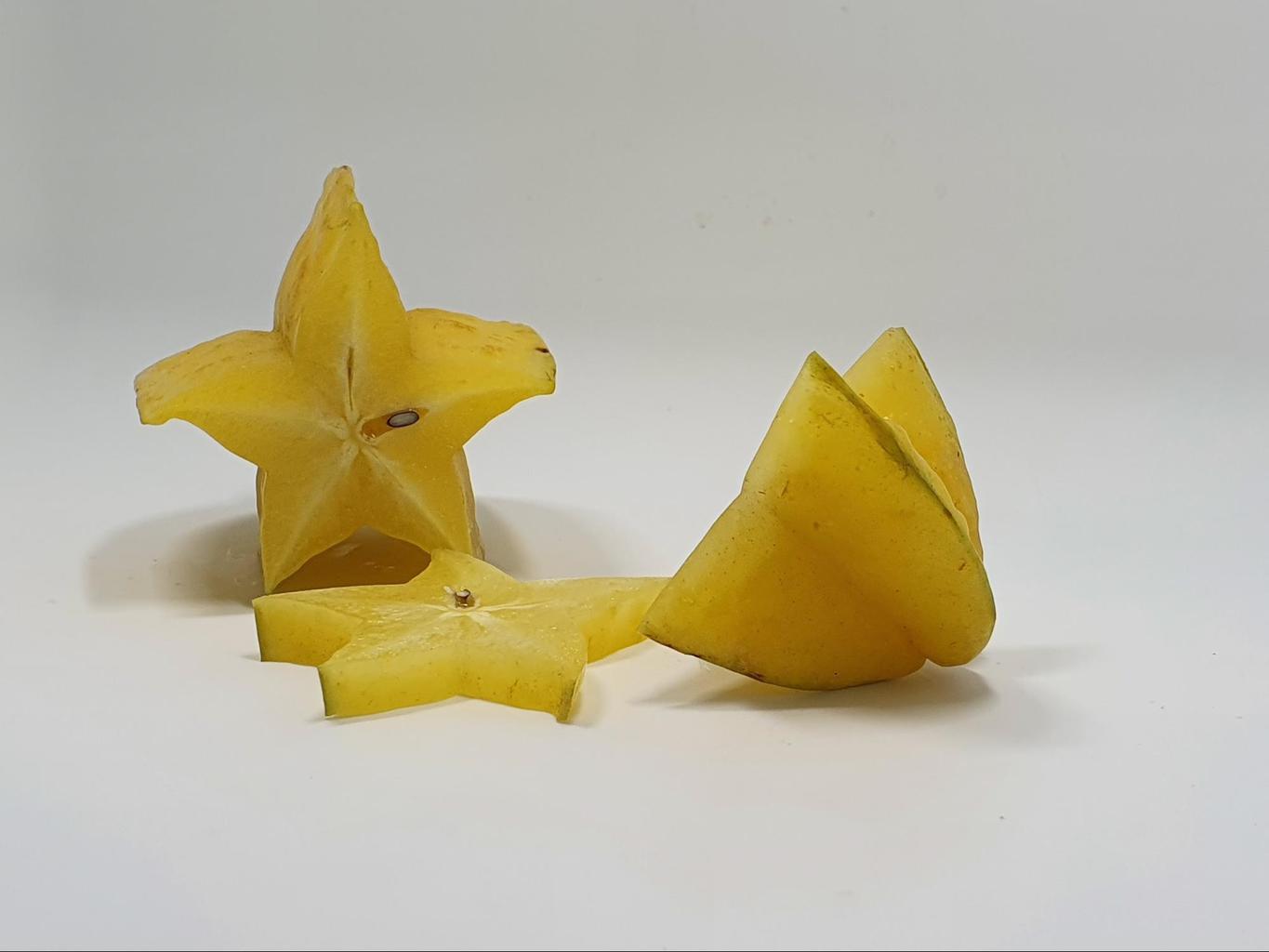 This tropical fruit from Southeast Asian, also known as carambola or birambi, is both tasty and beautiful. As its name suggests, when cut in half it resembles a star due to the 5-6 ridges that run along the sides making it one of the cutest if strange fruits.
The entire fruit is edible either raw or cooked (except for the seeds) and is often used for relishes, preserves, garnishes, juices and food platters.
When eaten raw the smaller yellow or green star fruit has a mild sour taste, where the larger ones are sweeter. They are slightly crunchy with an explosion of juices, similar to grapes.
Nutrition: Top nutrients include vitamin C and fiber with a lower percentage of vitamin B5, folate, copper, potassium and magnesium.
Longan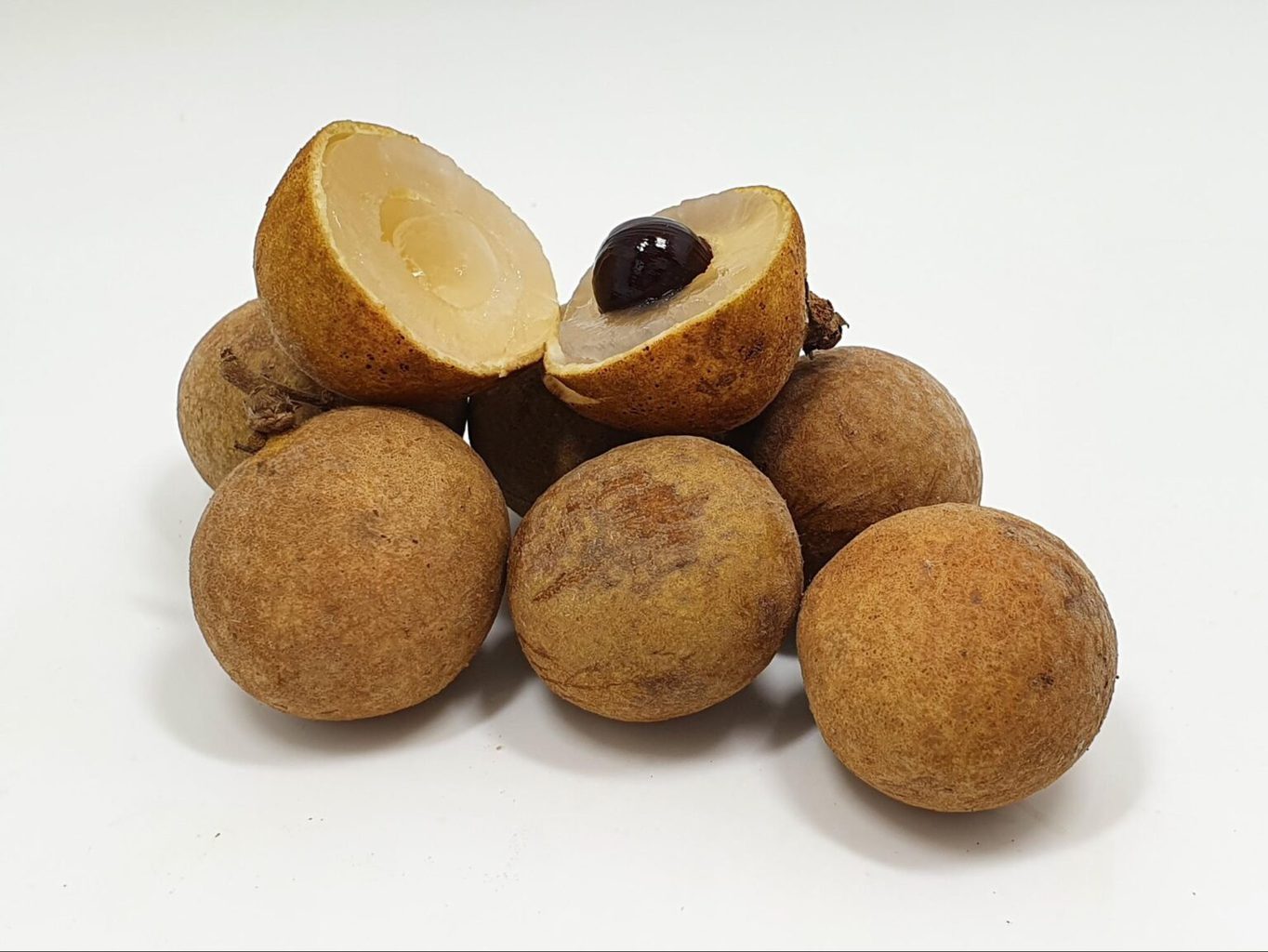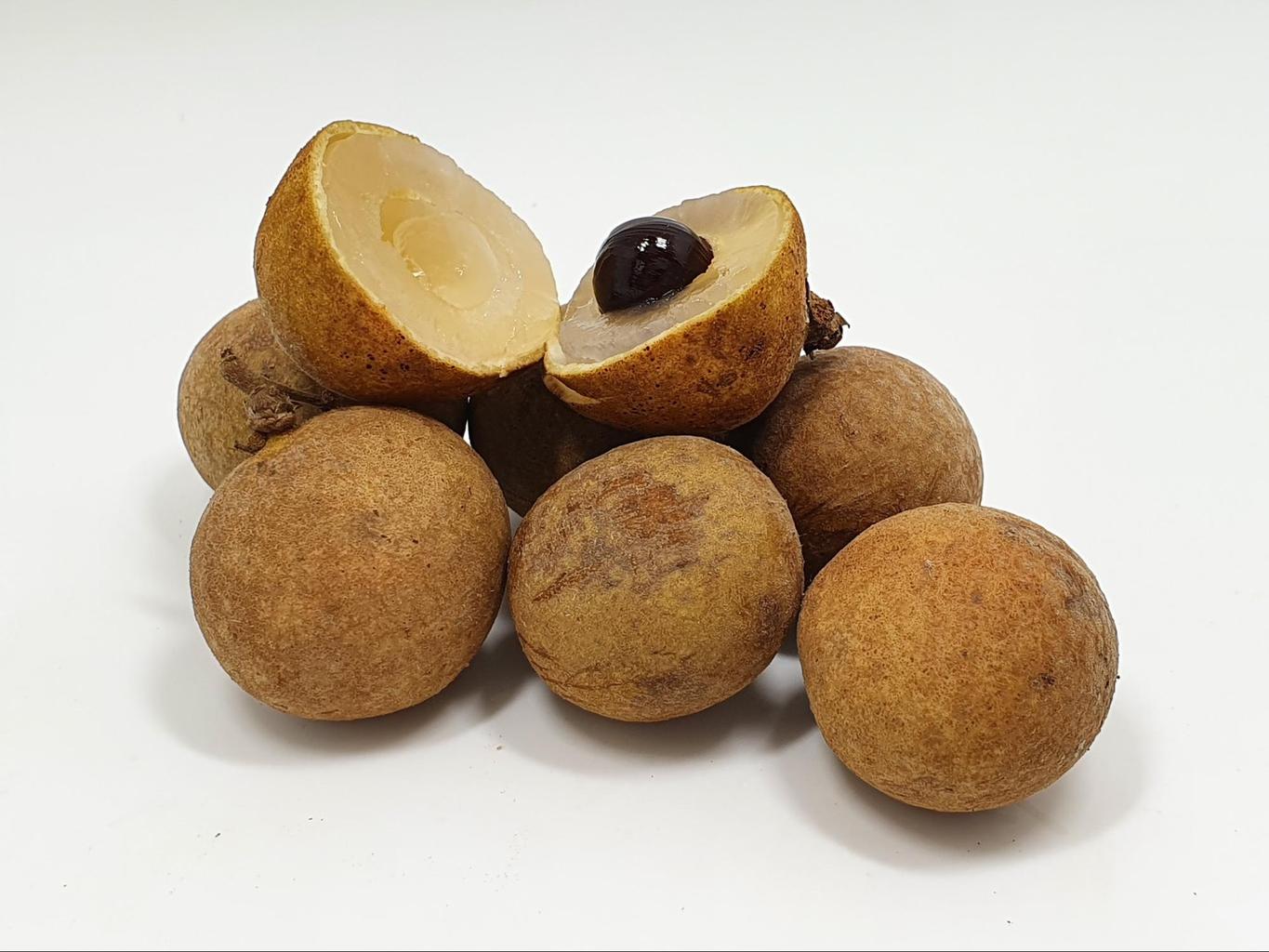 Longans are the less aromatic siblings of lychees yet pack the same fruity punch. This translucent exotic fruit, translated to "dragon's eye", is very sweet, slightly tart and abundantly juicy. They have been used in Chinese medicine for anti-ageing as well as to boost the sex drive.
While they can be eaten raw, longan is dried and can be used in soups and desserts even in stews, quite a versatile tropical fruit. But don't eat the shiny black seed in the center.
Nutrition: Longan vitamin C, calcium, iron and phosphorus.
Rambutan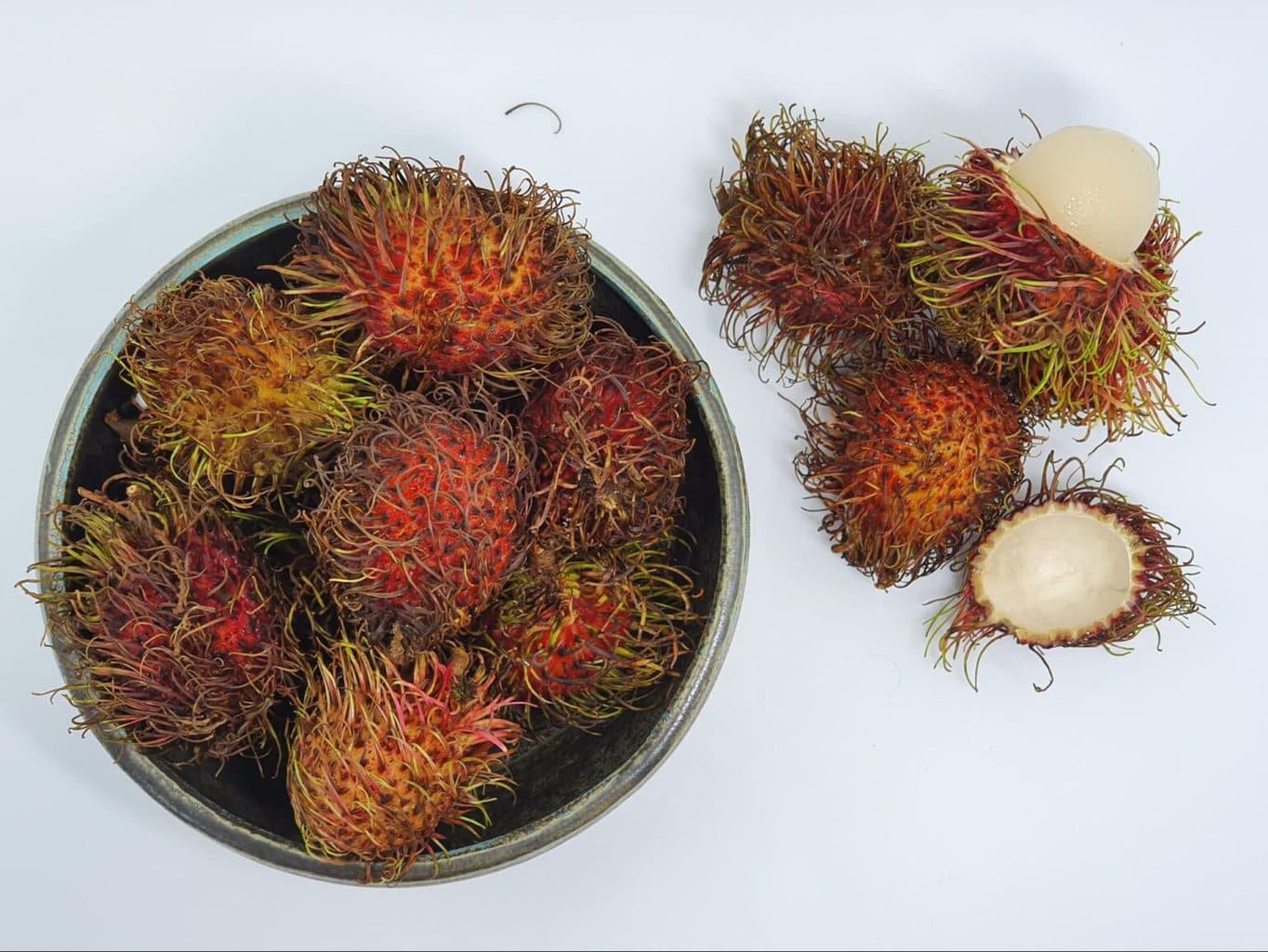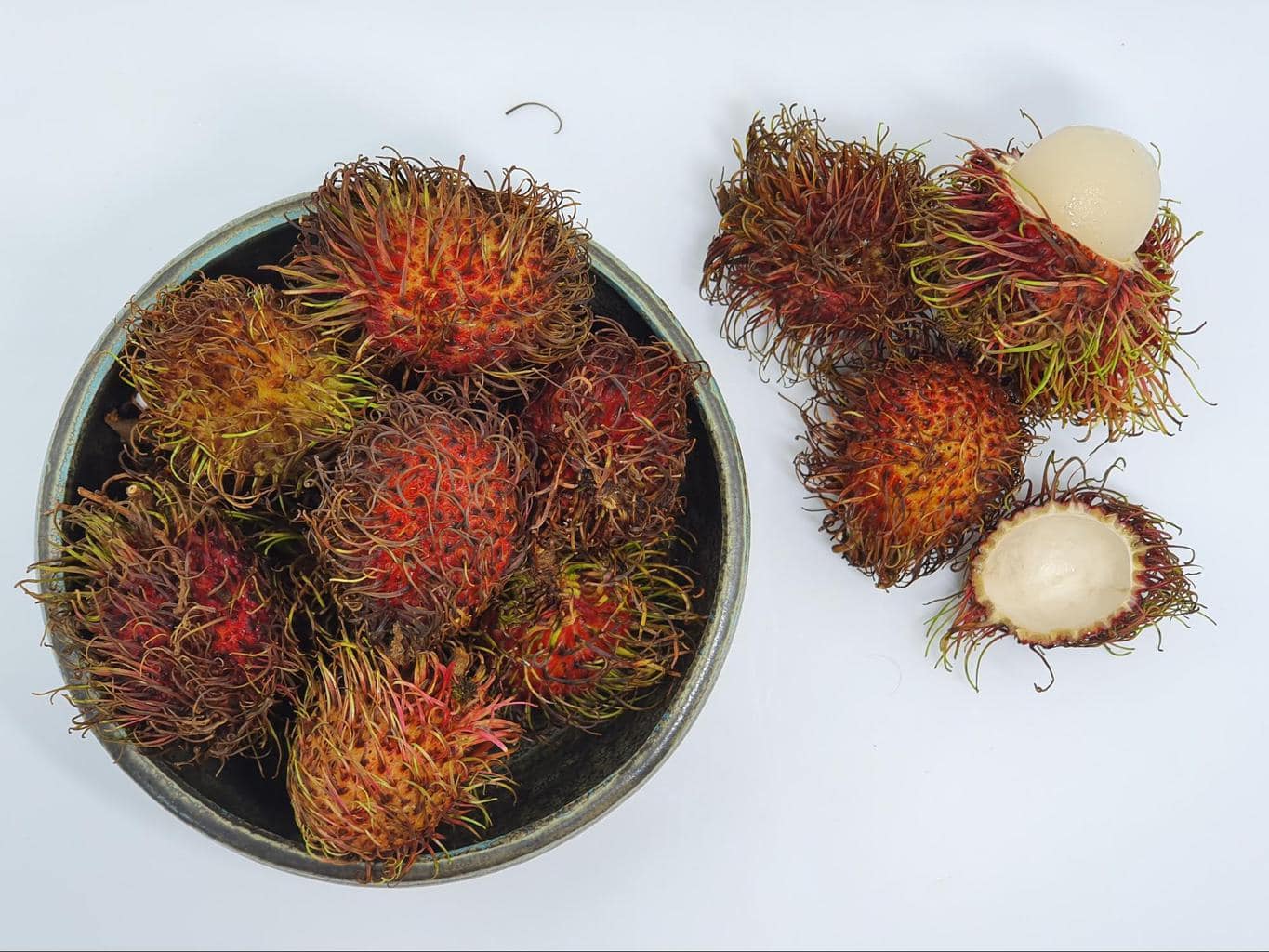 Rambutan is a tropical fruit you'll most likely come across when visiting the cafes in Bali's Ubud. While the flesh is similar to a lychee or longan, the exterior is a beautifully chaotic mess of red hair. In fact the word rambutan comes from the Malay word for hair (rambut). Even in Vietnam it's called chôm chôm, meaning "messy hair". Others compare it to the look of a sea urchin.
The juicy exotic fruit is native to Southeast Asia and usually eaten raw like a grape. It has a sweet taste, creamy texture and floral aromas. You can peel it with your hands and they keep longest when peeled and in a tupperware in the fridge, a tip I learned from the lady at my neighbourhood fruit stall. Watch out for the seed inside.
Interestingly, while the rambutan tree is evergreen, only the female trees produce fruit whereas the males create flowers.
Nutrition: Rambutans are high in fiber and vitamin C. Eat 5 to 6 of them and you'll get around half of your daily vitamin C requirements. There are also small amounts of copper, manganese, phosphorus, potassium, magnesium, iron and zinc.
Pulasan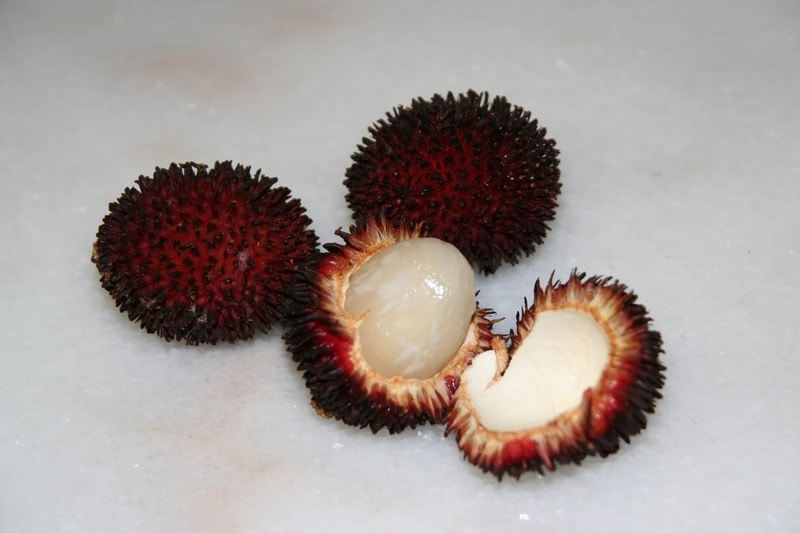 This is another Southeast Asian fruit that is similar to both the lychee and rambutan. The shell is closer to the rambutan yet knowledgeable folk will be able to see that the "hairs" are slightly shorter. Let's call this strange fruit a rambutan with a haircut.
It's name comes from the action of twisting the shell with both hands in order to open it. Pulas in Malay means twist.
While it has the same features as the rambutan – translucent flesh, red coat, inner seed – it is much sweeter. Unlike the rambutan, the seed can be eaten raw, although the flesh detaches from the seed a lot easier.
Nutrition: Like the rambutan, the pulasan is high in fiber and vitamin C. It shares much of the health benefits of the rambutan.
Jackfruit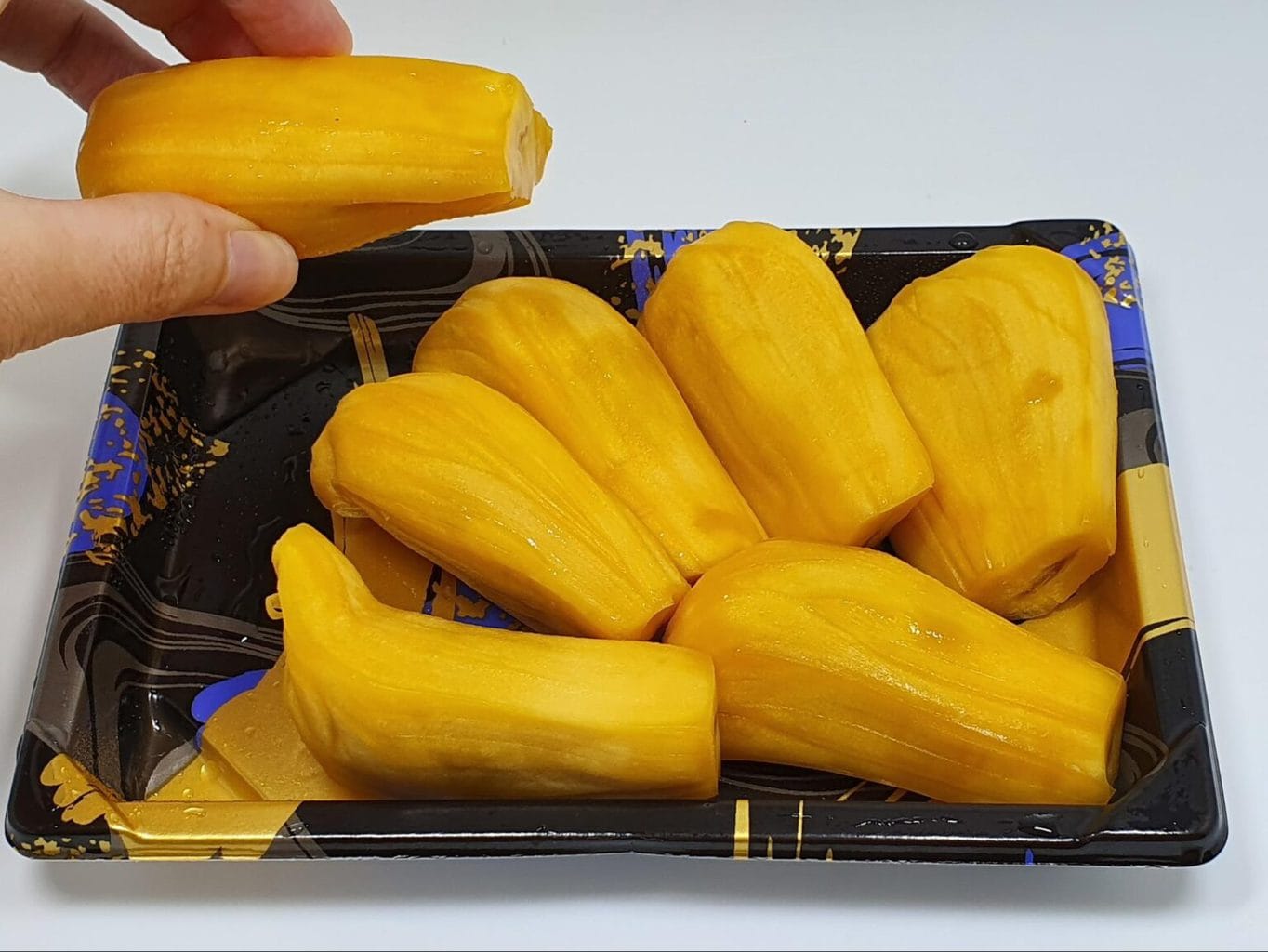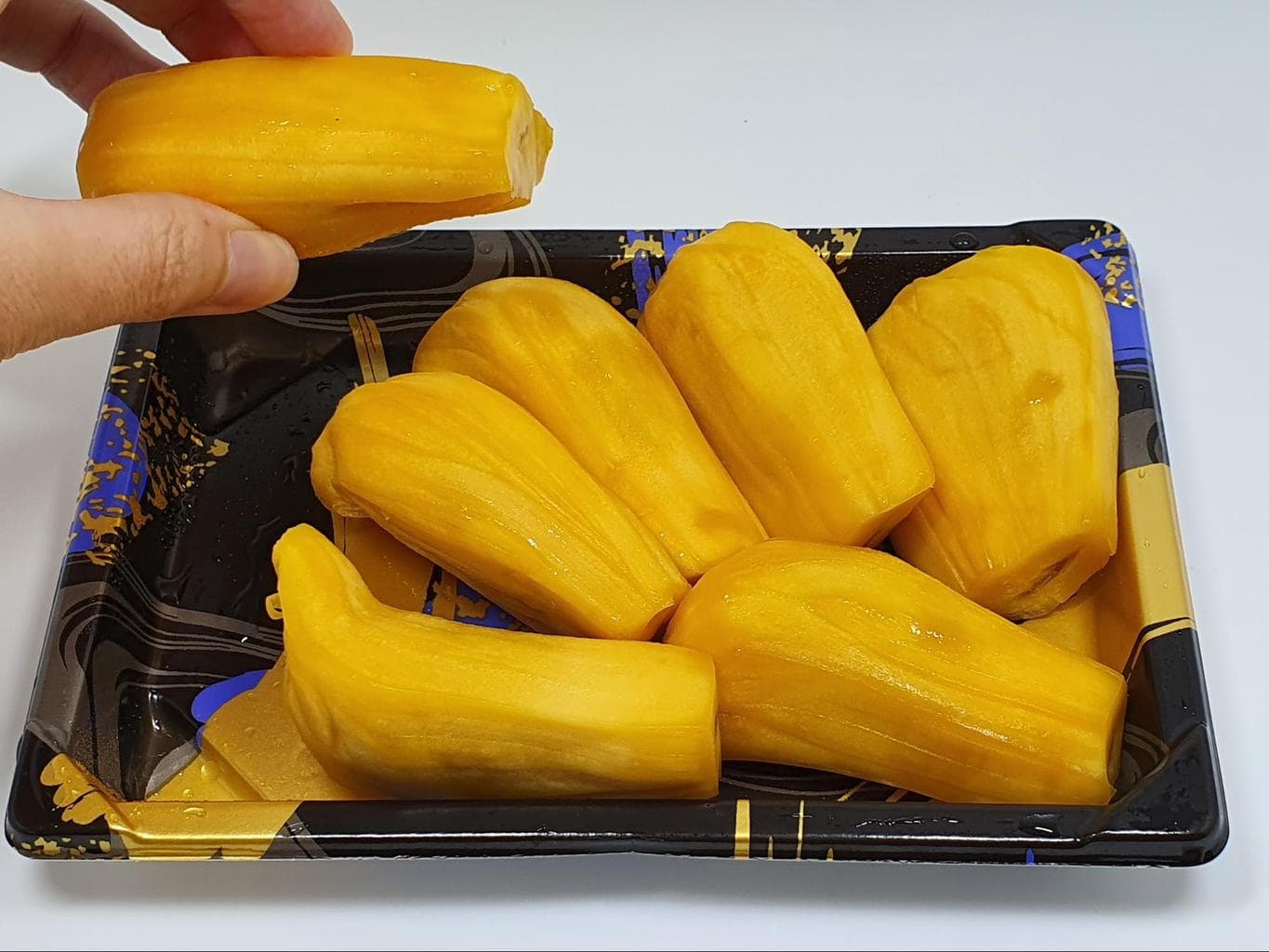 Don't be afraid, this is not a gigantic durian, but it is the largest tree fruit in the world that can weigh up to 35kgs (80lbs) and grow up to a meter (3 feet) in length.
Manage to crack open the outer shell of this exotic fruit and you'll find several waxy bulbous lobes to dig into. Jackfruit has been a staple Southeast Asia fruit for a while now.
When cooked jackfruit takes on a texture similar to pulled pork and has grown in popularity in the Western world as a vegan substitute for meat. It can also be shredded in the same way. Jackfruit tacos anyone?
What's more is that the seeds are edible and even have a chocolatey taste when cooked.
Nutrition: Jackfruit is known to provide much needed sustenance in underprivileged communities, as it is particularly protein heavy (3 grams per cup). This tropical fruit is also rich in antioxidants and other nutrients such as fiber, vitamin A & C, riboflavin, magnesium, potassium, copper and manganese.
Sapote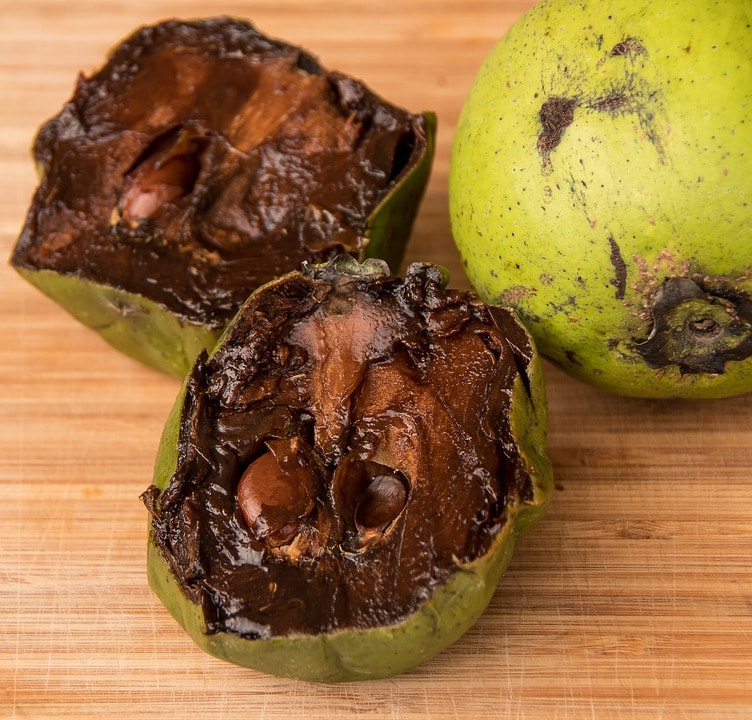 Sapote is a soft unusual fruit native to Mexico and the Caribbean, where it's called soapapple in Caribbean English but originally comes from the Mayan Nahuatl word tzapotl.
Sapotes come in a variety of different colors and flavors with the most popular being mamey, white and black sapote.
So what's all the buzz around this little delicate strange fruit?
Well, due to its rich taste and creamy texture it makes a perfect replacement for chocolate or milkshakes! In fact, the black sapote is also known as chocolate pudding fruit due to its texture and color. It tastes more like a blend of banana and pumpkin than chocolate though.
The white sapote is a cross between an avocado and a milkshake. The mamey sapote has orange flesh and is very sweet, something like sugar cane meets a yam.
Put this unique fruit in the freezer when they're ripe and you'll have a brilliant and healthy alternative for a calorie-heavy shake.
Nutrition: The sapote is low in fat and sodium and is cholesterol free. It's a good source of fiber, vitamins A, B3, B6 and C, as well as copper, magnesium, pantothenic acid, iron and potassium.
Cherimoya or Custard Apple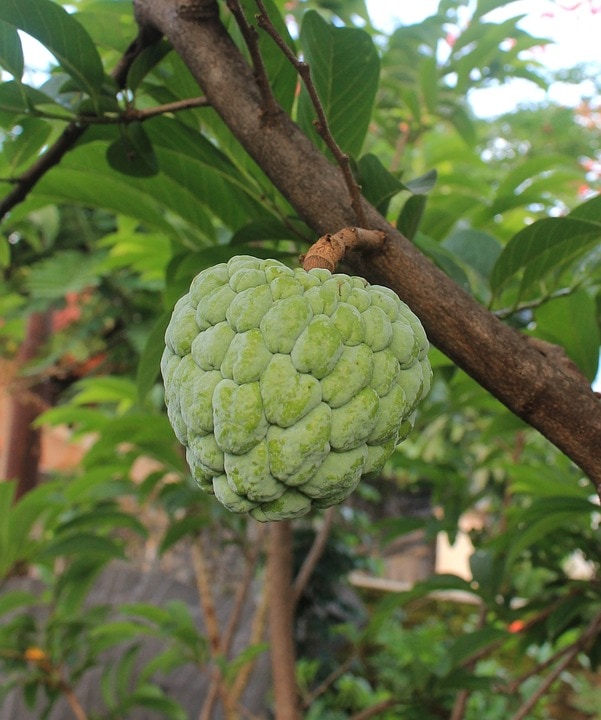 Cherimoya is a tropical fruit that looks like an apple with reptilian scales and due to its creamy white flesh it's actually known as a custard apple.
Even Mark Twain labeled it as "the most delicious fruit known to men" and famed botanist Haenke said it was "the masterpiece of Nature".
While its uber soft flesh can be likened to ice cream or bubblegum, its seeds are poisonous when cracked open. It's usually scooped up and eaten straight, but in some countries like Peru and Chile it's used in yoghurt and ice creams.
It is a burst of delicious flavors including banana, pineapple, papaya, peach, bubblegum and strawberry.
Nutrition: Cherimoya is known to reduce fevers, heal dysentery, boost immunity, fight inflammation, as well as promote eye and heart health. It is packed with fiber, vitamins and minerals.
Passion fruit or Granadilla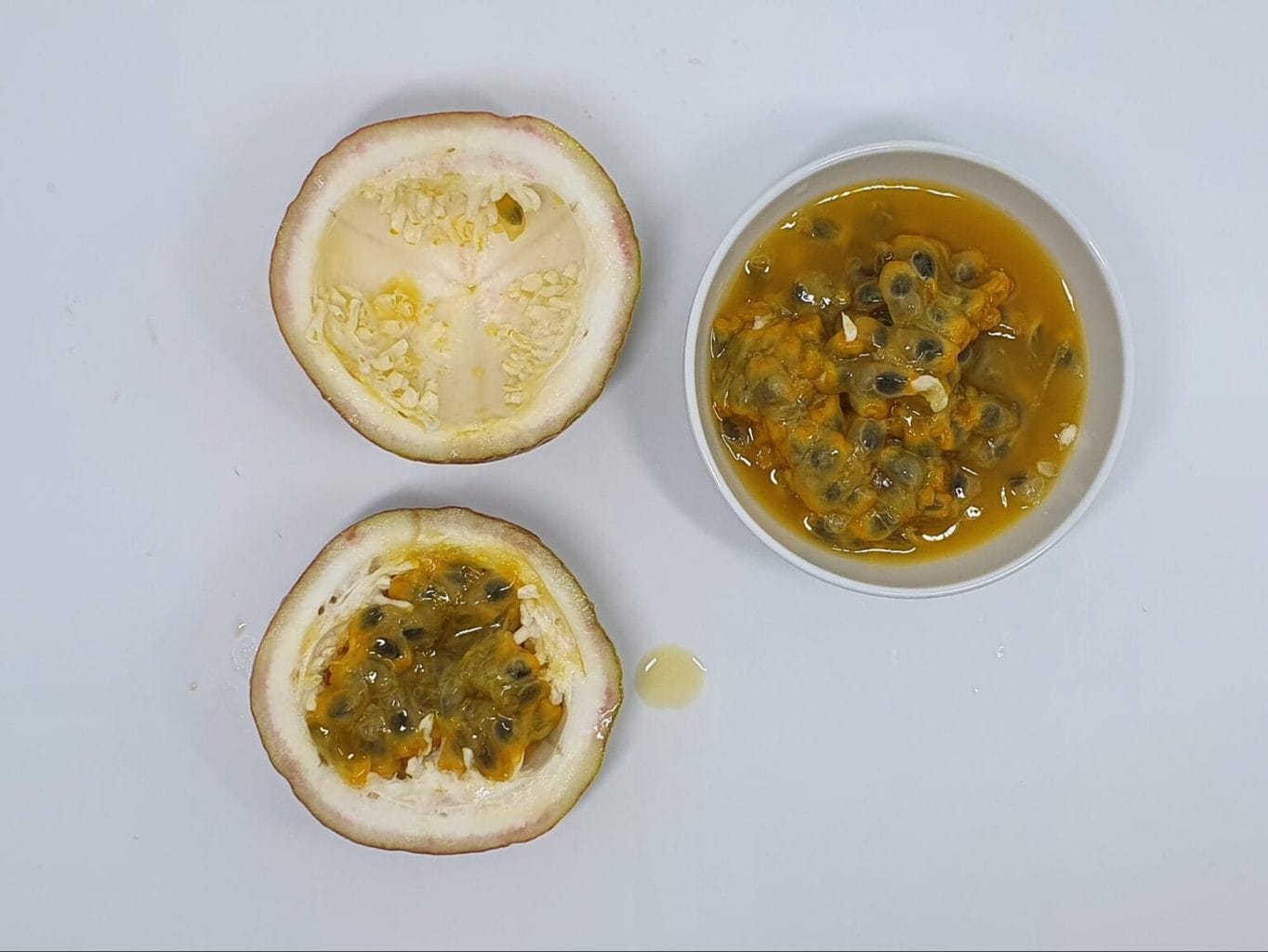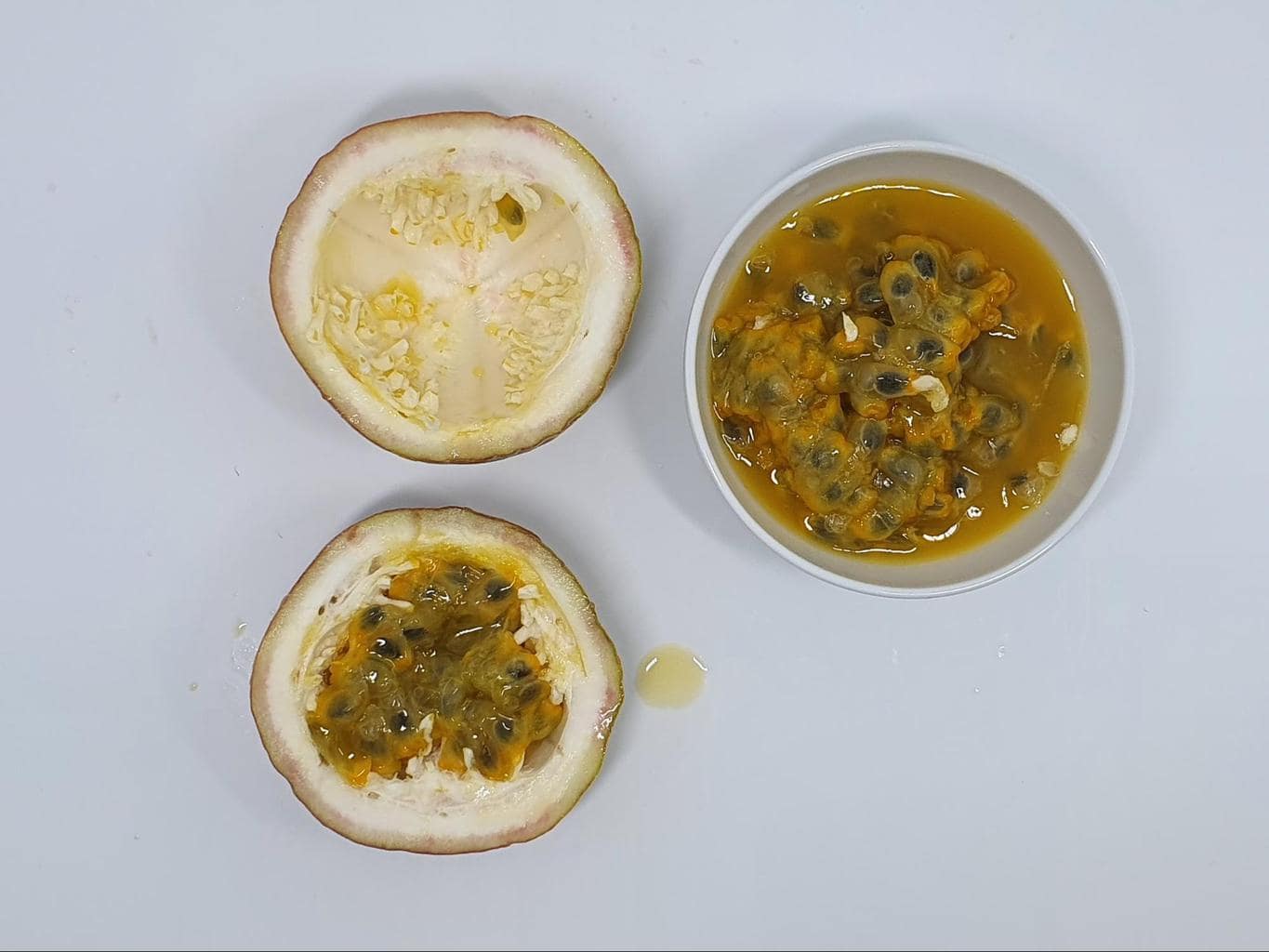 While not the most unusual fruit on this list, as it's found all over the world, passion fruit is definitely one of the most delicious tropical fruits that sprouts one of the most exotic flowers.
While native to South America, it's found all over the globe with a variety of names such as liliko'i in Hawaii, granadilla in South Africa, maracujá in Brazil and chinola in Dominican Republic. It's even used as a flavor in the Schweppes cordial in South Africa.
While small in stature, it's one of the most versatile fruits on this list. The passion fruit is used in cordials, cocktails, cakes, toppings, juices, to flavor yoghurt, syrups or just literally scooped out of its beautiful purple or yellow casing with a spoon and directly into the mouth.
It's sweet and tart, acidic and musty, with a whole lot of edible seeds (around 250 in a single fruit). So expect a crunch if you're eating it raw. Pop it in your gin and tonic for an additional dose of yum.
Nutrition: Passion fruit is packed with vitamin C, dietary fiber, vitamin B2 (riboflavin) and B3 (niacin), as well as iron and phosphorus.
Prickly Pear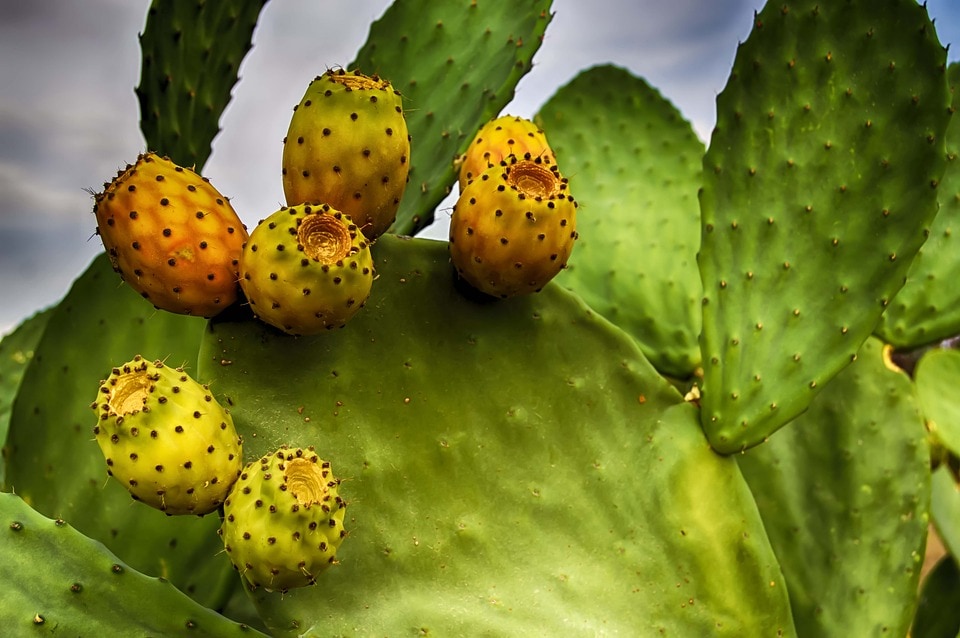 The prickly pear is a unique fruit that grows from the cactus known as Opuntia (genus Cactaceae). While the name opuntia comes from the Greek word Opus, the fruit is Nahuatl in origin where it's called nopal (paddle from the cactus shape). Prickly pears are also known as tuna and sabra fruit.
This rare fruit is wildly abundant in Mexico and the United States, and was introduced to Australia, Europe and is especially dominant in South Africa. In Spain, they grow wildly and I used to eat them as a kid. They are however hard to find in places where they don't grow.
While there are over 100 species, many being hybrids of the Opuntia, the most common prickly pear used for culinary purposes is the Indian fig opuntia, which is most likely the one you'll find to eat.
If you find a raw prickly pear, be sure to peel it correctly by removing all the hairs and spines called glochids. It's not pleasant to get these sharp spikes caught inside your mouth.
If you are traveling to South America and want to try some unique Mexican food, be sure to check out this unique fruit which is used in many appetizers, as well as soups, salads, starters, breads, desserts, drinks, candies and jellies. Look for the word "nopales" in the dish such as huevos con nopales (eggs with nopal), or tacos de nopales.
Nutrition: Raw prickly pears are nutrient-rich fruits and have vitamins A and C, vitamin B2 (riboflavin), B3 (niacin), B6, B9 (folate), as well as magnesium and small amounts of calcium, iron, phosphorus and potassium.
Spanish lime or Mamoncillo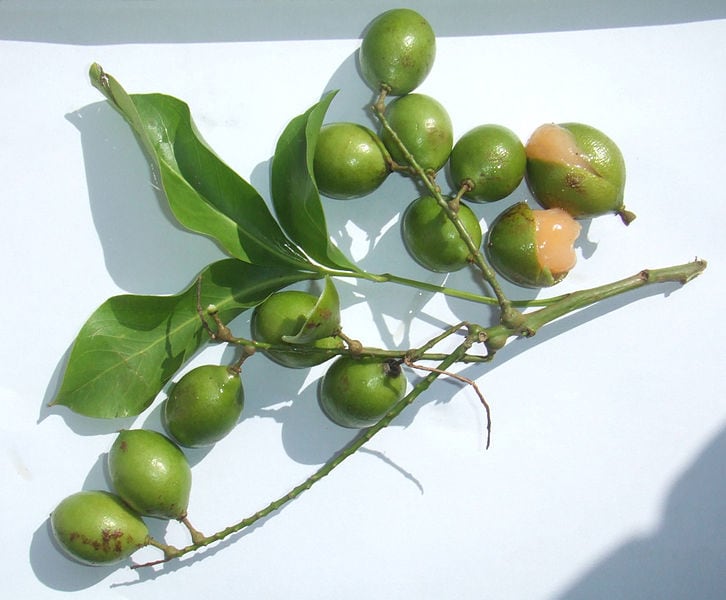 This is definitely a strange fruit you have probably never heard of before unless you live in South or Central America and possibly parts of the Caribbean. Despite the name, it is not common in Spain (and careful with the name because mamon is actually an insult in Spain!).
This unusual tropical fruit has several dozen names from mamoncillo or limoncillo, talpa jocote, skinip, huaya, and genip (with variations such as guinep, genipe, kenèp, quenepe etc.).
It's a small and rounded fruit similar to the longan, lychee or rambutan, with a green peel and bittersweet orange pulp. As it is a drupe like the rambutan, it has a seed in the center which is rather large and slightly slippery, but stuck on quite well to the flesh. So watch out if you're feeding this to a minor as it can be a choking hazard.
As the peel is quite soft, when eating the Spanish lime raw, you can either use a knife to open it, or just bite down until it pops open. Peel half the skin off and pop it into your mouth. Otherwise, you can purchase them in cans in certain parts of the Americas.
If you're in Nicaragua you can try the mamoncillo horchata. In season, you can find this Salvadoran fruit on the road up to the Santa Ana Volcano in El Salvador, right at the starting point that is lined with stalls.
Nutrition: Mamoncillo has quite a lot of iron and phosphorus, and also contains vitamin B1, B2 and C.
Breadfruit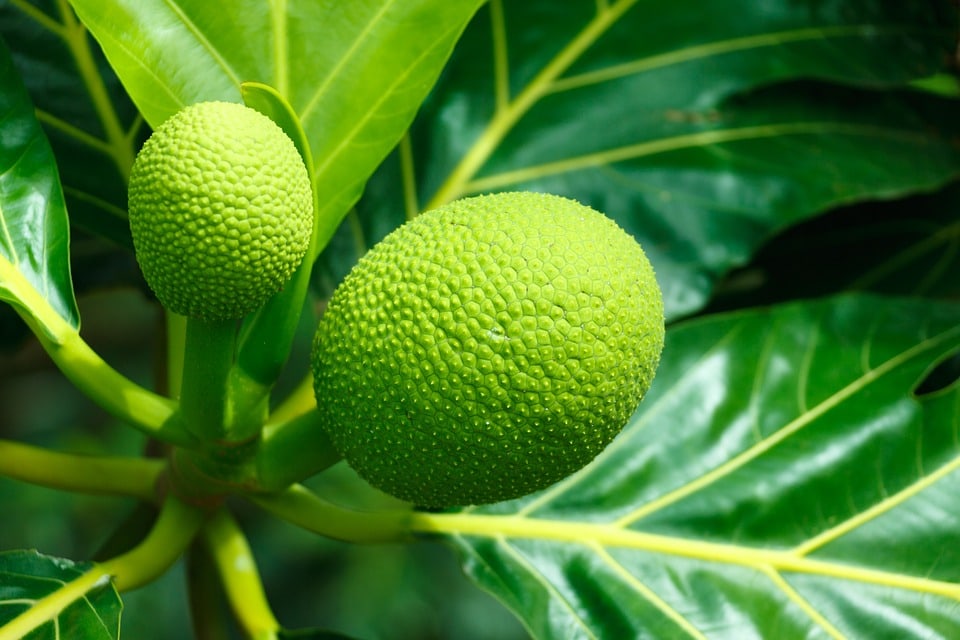 A smaller version of its cousin, the jackfruit, breadfruit gets its name from the texture it obtains after being cooked which is similar to bread. Its taste however is similar to potatoes.
Breadfruit is commonly found across the South Pacific nations especially in Tonga, Samoa, Vanuatu, and the Solomon Islands, but also in Southeast Asia, although there are hundreds of varieties cultivated in over 90 countries.
This is a staple in many tropical regions but you won't travel the Pacific without eating this tropical fruit regularly. It can be eaten both ripe and unripe where it is cooked through roasting, baking, as well as being fried or boiled.
One culinary method is to core the fruit, add fillings such as meat or coconut milk, and cook it over an open fire. In Borneo (in all three countries where it's called sukun) it's made into fritters, like a potato, in the Philippines it's called rimas eaten "ginataang rimas" (cooked with coconut milk), similar to Sri Lanka.
It can also be pit fermented in order to last longer for around one to even twenty years. Fermented breadfruit has a sour taste and goes by many names including mahr, ma, masi, furo, and bwiru.
Nutrition: Breadfruit is a great source of vitamin C with moderate traces of thiamin, potassium and B vitamins.
Durian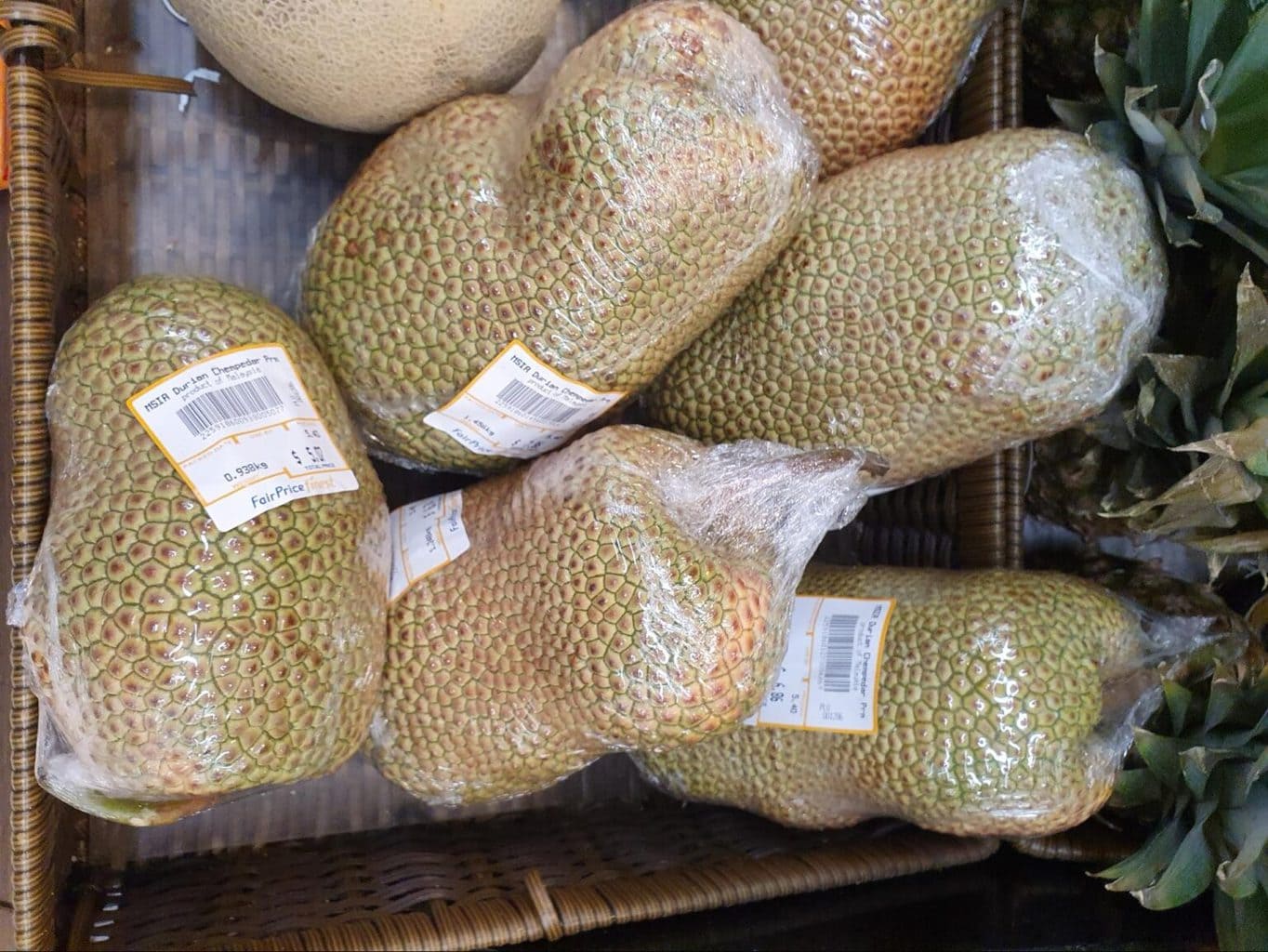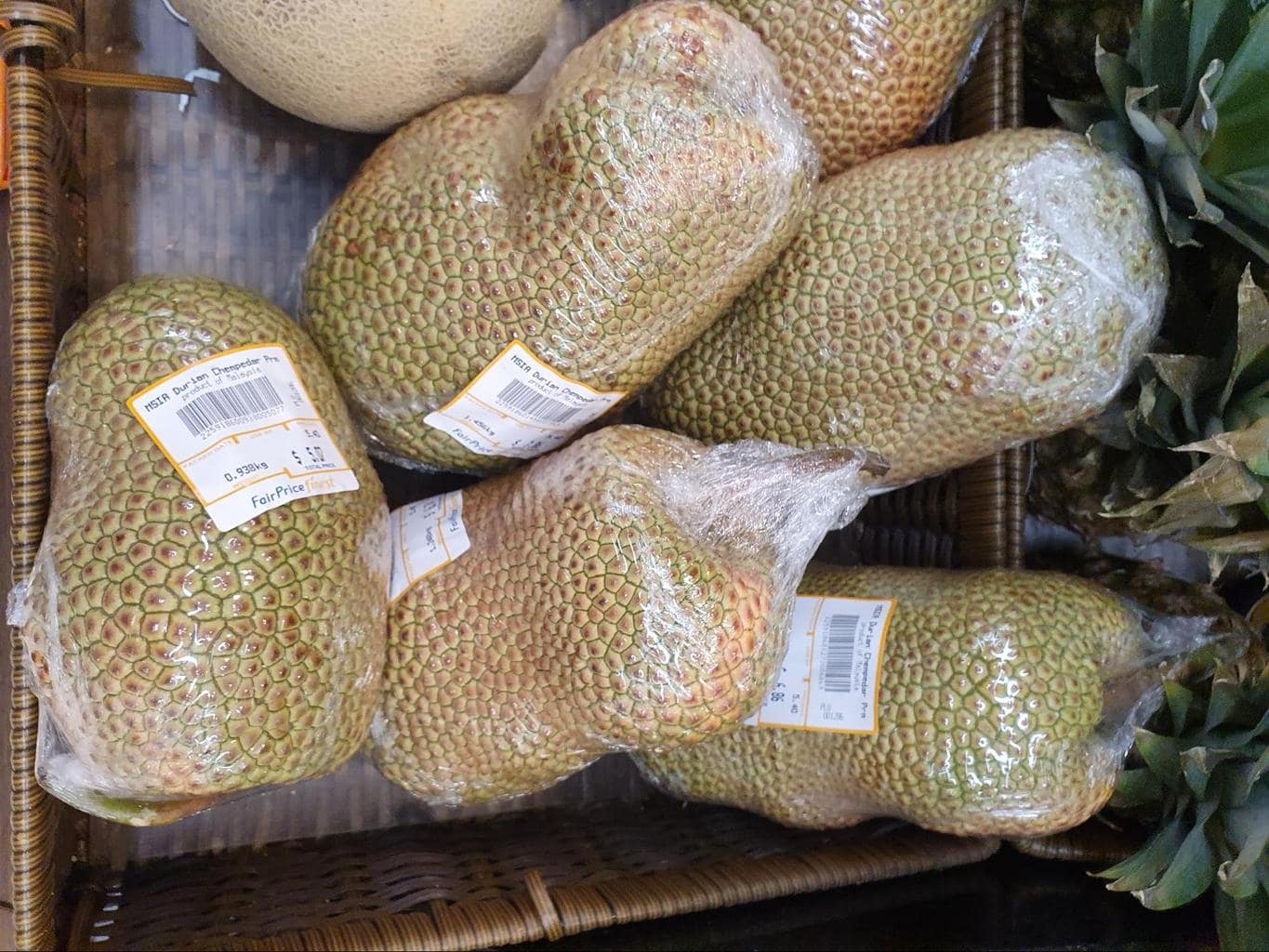 This is the most notorious weird fruit on the list and is even banned from entering hotels throughout most of Southeast Asia.
Why?
Because of its incredibly pungent smell. You will know you are coming across a durian from far away as it will hit you in the nostrils.
Novelist Anthony Burgess said it's "like eating sweet raspberry blancmange in the lavatory" and travel and food writer Richard Sterling says, "its odor is best described as pig-shit, turpentine and onions, garnished with a gym sock".
Sound enticing?
This stinky tropical fruit contains organic sulfur which explains its curious smell. If you are the adventurous type, and are willing to block your nose, you'll actually be rewarded with quite an indescribable taste.
Durian is a fairly large, spiky exotic fruit from Southeast Asia with a yellow flesh (although it can be white, green or red). The name actually comes from an Old Malay language word dûrî which means thorn. It's even called "the king of fruits" in parts of Southeast Asia.
One can't really explain the taste which is a hybrid of various fruits combined with cheese, nuts, garlic and even caramel. It's neither acidic, sweet nor juicy, and has a creamy pulp. Some new wave hipster stores have mixed it in ice cream and other desserts.
Nutrition: Durian is probably one of the most nutritious Asian fruits on this list. It has fiber, protein, vitamin C, B1 (thiamine), B2 (riboflavin), B3 (niacin) B6, manganese, potassium, copper, folate and magnesium.
Snake fruit or Salak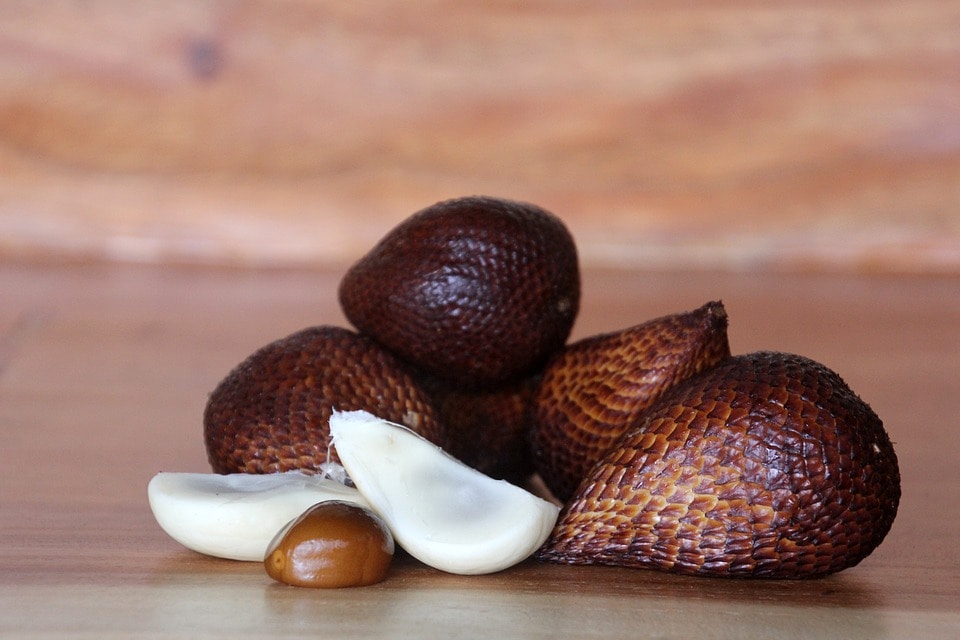 No, you're not looking at some avocado-shaped reptile. The salak or snake fruit is a weird fruit from a species of palm tree that is indigenous to Sumatra in Indonesia.
As you can imagine, the name comes from the scaly and prickly brownish-red skin that must be peeled back in order to get to the tasty globular flesh.
Eat it raw and you'll get a sweet-sour and slightly acidic flavor that is something like a banana, pineapple, nut party.
Tip: pinch the non-spiky tip of the fig-like shape which will cause the skin to break open and can then be peeled easier without pricking yourself. The seed is inedible.
Try the salak pondoh from Yogyakarta and you'll get a dry and crumbly texture. The salak Bali on the other hand is apple-like so you can expect it to be moist and crunchy. You may also like to try it candied, pickled or canned, but if you're looking for something extremely alternative you can try salak wine.
Nutrition: Salak is a good source of nutrients, vitamins and minerals, packed with iron, fiber, vitamin B2 and C, calcium, phosphorus with dietary fibers and phenolic compounds. It's also known as the memory fruit if you're cramming for exams.
Goldenberry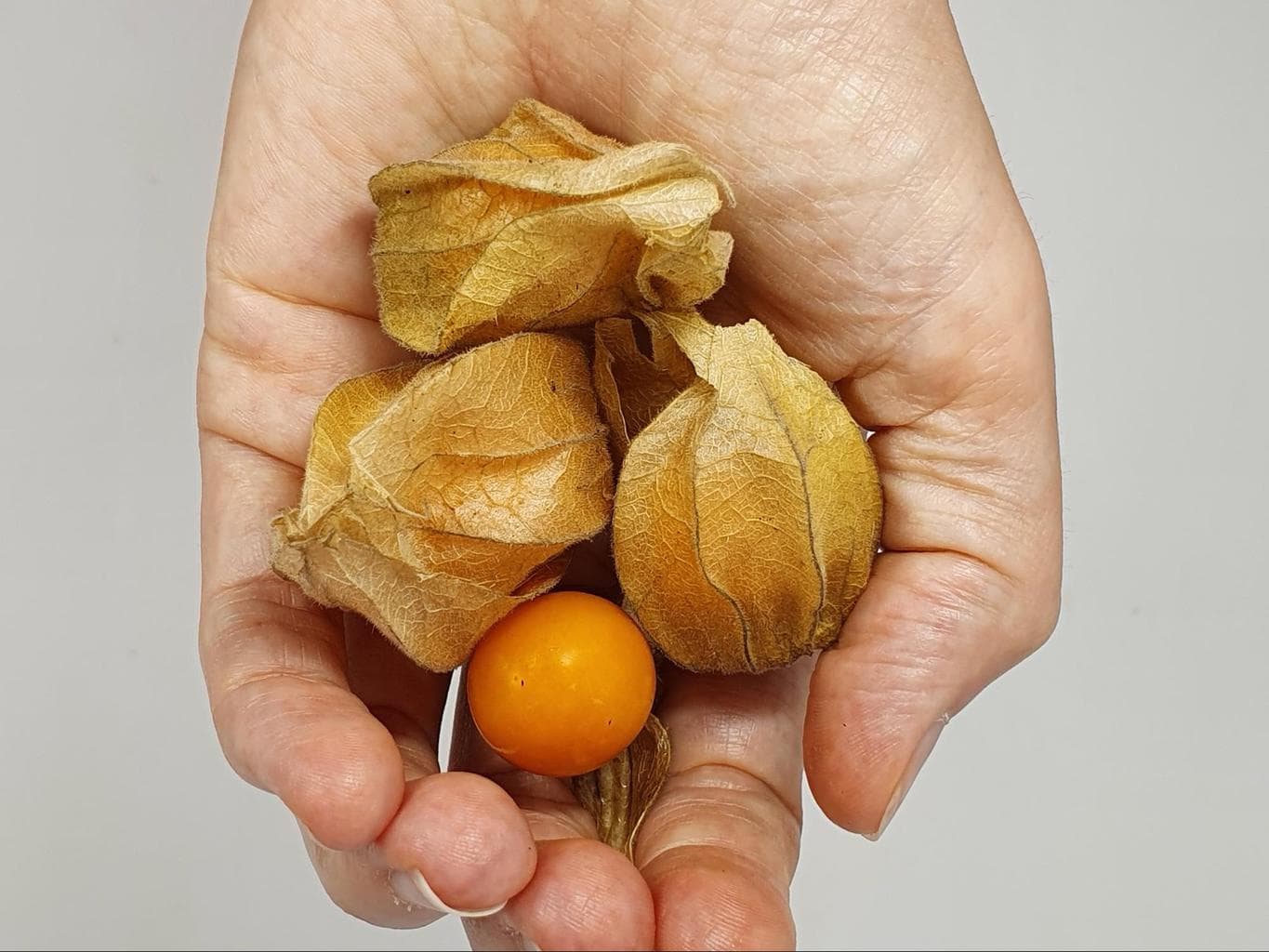 Not to be confused with gooseberries, the physalis is a plant that sprouts a little, round, orange-to-gold berry that's similar in size and look to a small orange cherry tomato (it's from the same family). Common to South America, especially Mexico, Peru, Chile and Ecuador, this pint sized unique fruit packs a taste punch.
Unwrap it's decorative sheath (called a calyx) and bite into the mini fruit to get a slightly citrus, almost sour burst of juice which leaves a distinctively bitter aftertaste. It occasionally accompanies chocolate or is mixed with pisco sours in Peru to make a refreshing cocktail.
Physalis is the name of the plant, but the exotic fruit goes by many names depending on which country you're visiting. It could be called aguaymanto (in Peru), Peruvian groundcherry, Inca berry, goldenberry, poha berry, Cape gooseberry (South Africa), Chinese lantern, or rasbhari (India). Just don't eat the poisonous flower.
Nutrition: Apparently, the goldenberry contains more antioxidants than broccoli, apples, and pomegranates, so it's a super healthy little fruit from South America. It has more vitamin C than a lemon and also contains vitamin A, iron, calcium, phosphorus, fiber, anthocyanins and phyto-chemicals like polyphenols and carotenoids.
Kepel
It may be quite difficult to find this exotic fruit out of its home in central Java, Indonesia. If you do happen to visit and see the tree in person, you'll notice the fruit immediately as they look like globulous growths sprouting out of the trunk.
Kepel fruit (Stelechocarpus burahol) are closest in flavor to mangos or papaya and therefore have a touch of spice to them. It's unique fragrance is something akin to ice cream.
There are many legends about this unusual fruit. Some say that it has natural contraceptive qualities for women, others state that it absorbs horrific odors and can even change your sweat (as well as your pee and poop) to a sweet smelling violet fragrance – a natural deodorant. This has even been backed up by some scientific studies stating that it activates the probiotic bacteria Bifidobacter.
For this reason, it's said that kepel was a favorite of princesses and was only grown within the confines of royal abodes. Good luck finding this truly rare fruit.
Nutrition: Kepel contains anti-bacterial properties with saponin, flavonoids, polyphenols, terpenes and quercetin. It has high levels of vitamin C and A.
Mulberries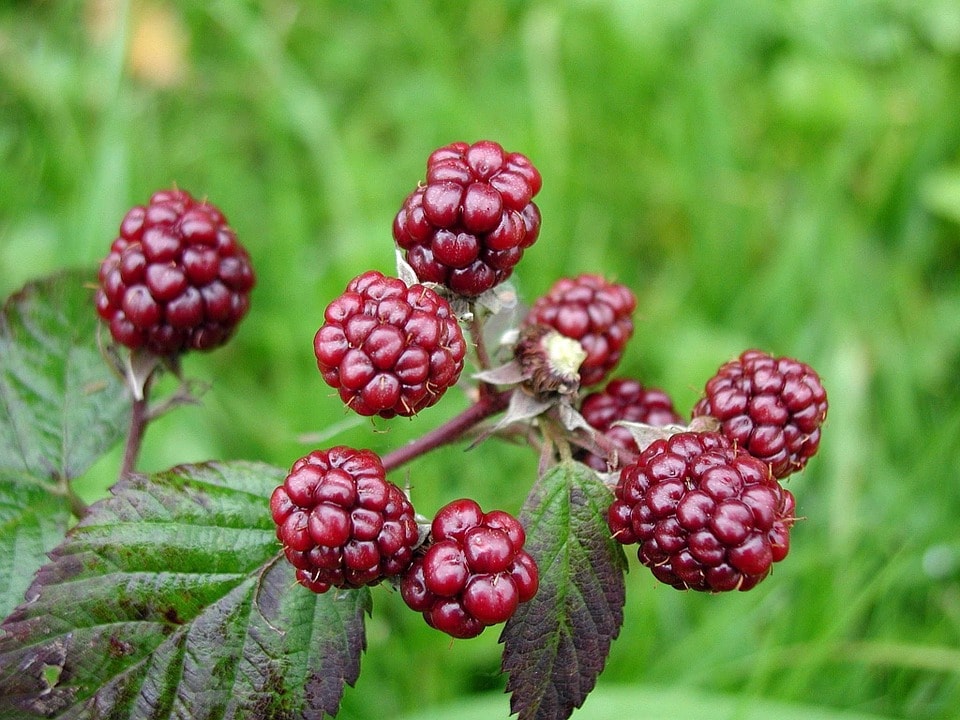 Mulberries are up-and-coming exotic fruits that are starting to gain popularity in health food circles due to their nutritional value. The trees were originally grown in China for their leaves as they are the only food that silkworms eat.
Nowadays mulberry trees, called Morus, are grown throughout the world where the deliciously sweet fruit is eaten raw or dried, canned, made into tea, jam and fruit juice, or even turned into wine.
The elongated berry consists of various tiny bulbs and comes in black, red and white due to their ripeness. When immature they're a whitish green or pale yellow, as they ripen they become pinkish red, and fully ripe mulberries are dark purple or even black. The more ripe, the more succulent, plump, and juicy.
Nutrition: Mulberries are packed with fiber, and also include vitamin C, E, K1 (phylloquinone), iron and potassium. They are also packed with antioxidants such as anthocyanins (anti-inflammatory properties) and resveratrol (an antioxidant found in red wine and peanuts used for anti-aging).
Cashew fruit or apple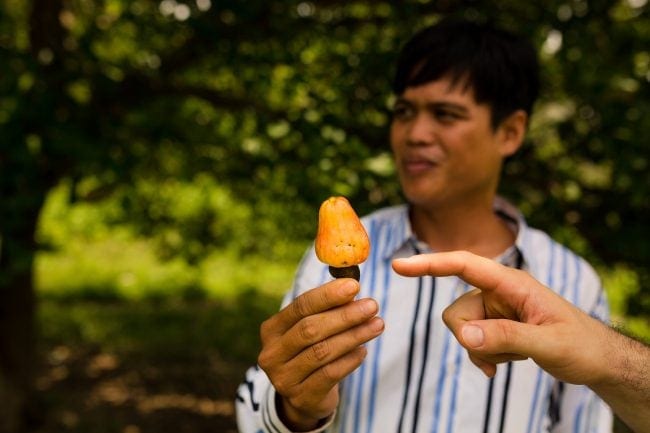 You may be very well aware of the kidney-shaped cashew nut, but did you know that the pulp encompassing the nut can also be eaten? This exotic fruit is known as the cashew fruit or cashew apple.
The waxy, yellow-to-red casing contains a spongy, fibrous, super juicy, astringent and acidic pulp. It can be eaten fresh where it is most astringent, yet steep it for 5 minutes over boiling water with salt and that astringency calms a little. Better yet cook it in a curry or make it into a preserve, chutney or jam like they do in India and Brazil (where they use it in cachaça).
While the unusual fruit is quite tasty and packed with nutrients (5 times more vitamin C than an orange), it is difficult to find as it has a very limited shelf life and bruises quite easily.
If you want to try it, your best bet is to visit Southeast Asian countries like Vietnam, the Philippines or Cambodia, but also India or South American countries to get it fresh. I picked them wild in Fernando de Noronha and next to Shinta Mani Wild in Cambodia or in other parts of Cambodia's Wild East like Ratanakiri.
In Panama it's used to make the dessert dulce de marañón (cashew in Spanish), and in India they concoct a distilled liquor called feni. So when you see "cashew apple juice", know that it's from the fruit and isn't apple juice blended with cashews.
Nutrition: Apart from being packed with vitamin C and small amounts of B vitamins (thiamin, riboflavin, niacin), cashew fruit also has fiber, calcium, phosphorus, iron, carotene and potassium. It's also said to burn fat, but not carbohydrates.
Rose or water apple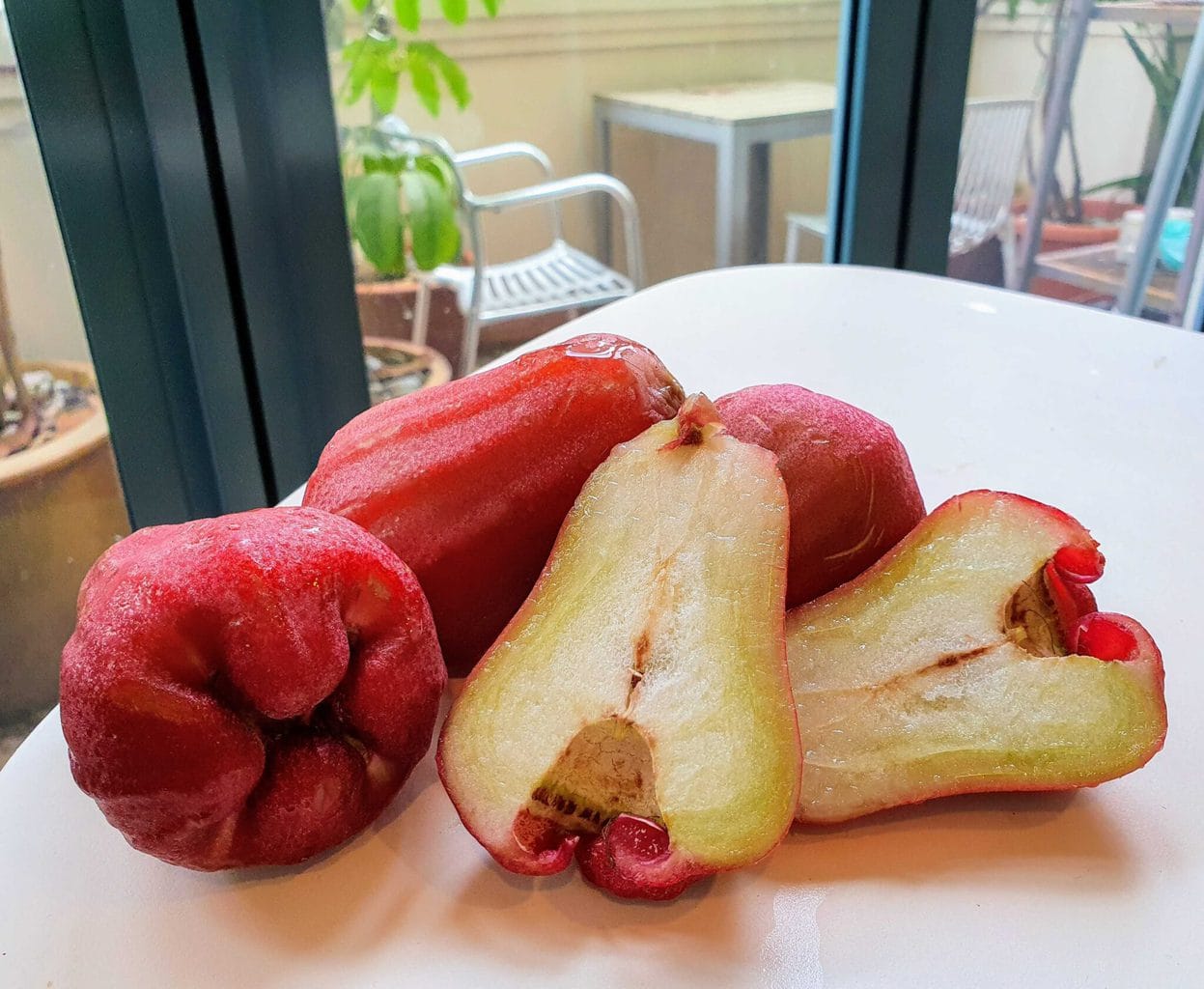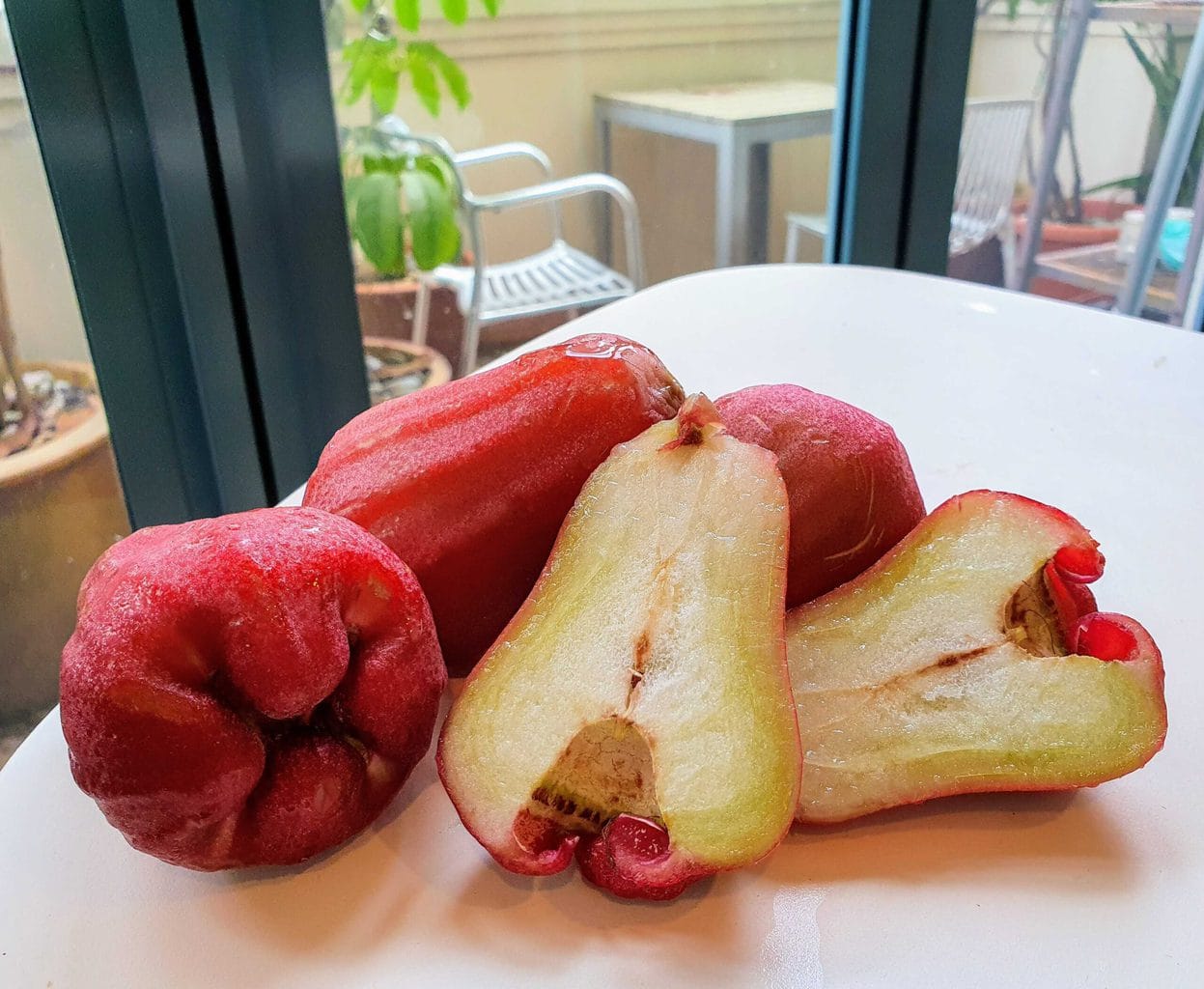 Some may know this as a rounded yellow tropical fruit (Syzygium jambos), but some may have tasted the almost pear-shaped red to green kind (Syzygium samarangense, malaccense or aqueum). However you know this unique fruit, they all come with an amazingly floral scent just like, you guessed it, a rose!
The funny thing is that they're actually classified as myrtle berries and have no relation to apples, other than the crunchy texture. Although it's more like a soft crunch of a peach than an apple. It has a mildly sweet taste, almost like a carrot, but is quite refreshing.
Make the sweetness pop by adding some spiced sugar like they do in Southeast Asia.
How do you know that the rose apple is ripe and ready? Give it a shake. If the seed is lose, it's ready to be thrown in your mouth.
Nutrition: Rose apples contain small amounts of fiber, magnesium, potassium, iron and phosphorus with larger amounts of calcium and vitamin C. They also have vitamin A and B (thiamine, riboflavin, niacin).
Tamarillo (Tree Tomato)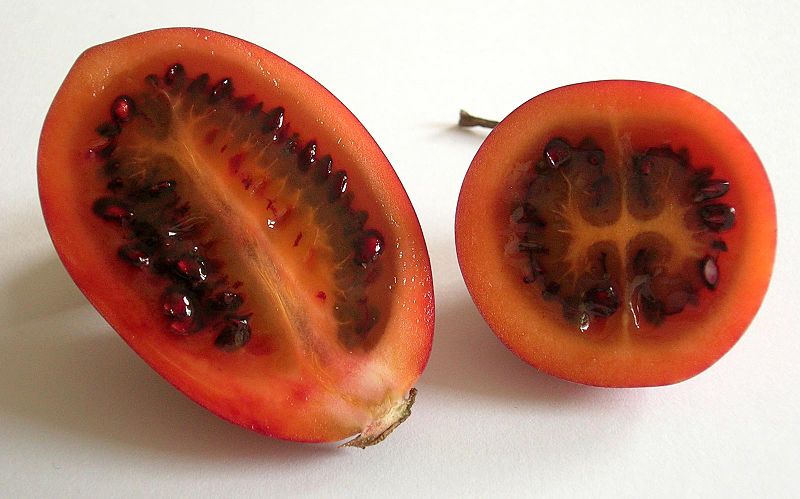 If you're looking for an exotic fruit to brighten up the taste of your salad, give the tamarillo a try. It's like a large rosa tomato in that it has an oval shape and is a relative of the tomato, eggplant, and chili pepper.
While the skin is quite bitter and rich in tannins, the flesh is slightly more tart and astringent than your average tomato. But there is a slight sweet-sour and piquant taste to it. Just scoop the flesh out if you don't want the harsh bitter taste of the peel. The small seeds are edible.
This exotic fruit comes from South America, but can also be found in other parts of the world like New Zealand. In fact it is said to be a hybrid of the Maori "tama", meaning "leadership" and the Spanish "amarillo", meaning "yellow".
Tamarillos are suitable both for dessert and garnish.
Nutrition: The tamarillo contains vitamin A, C, E and B (thiamin, riboflavin, pyridoxine). It also has beta-carotene, chlorogenic acid, potassium, copper, manganese, magnesium, phosphorus, zinc, iron, as well as anthocyanins (more in red than the golden kind).
Red banana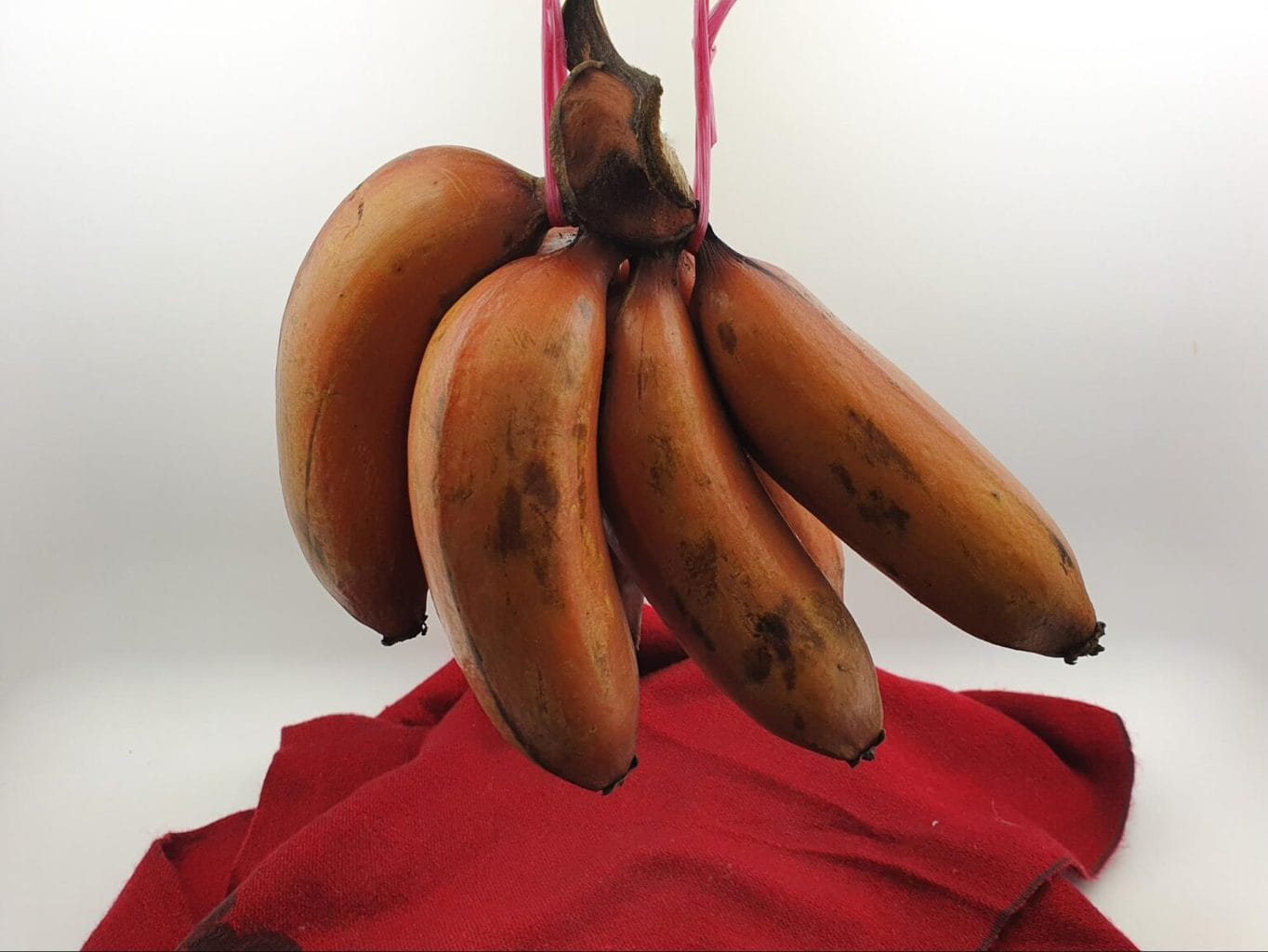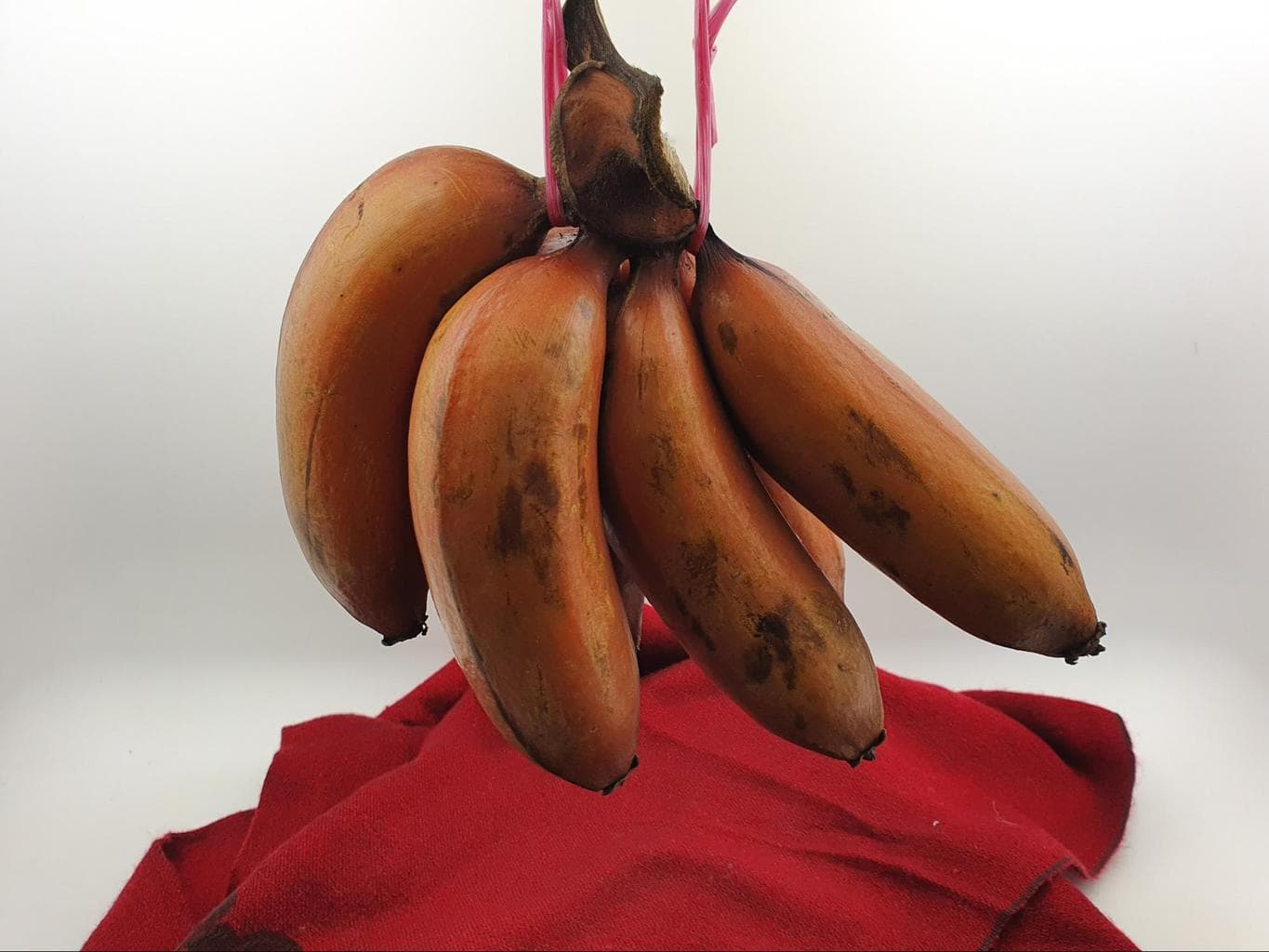 Did you know that there are different types of bananas? The yellow ones you're most likely used to are known as Cavendish bananas. In fact there are over 1,000 varieties of bananas in the world.
Red bananas are a sort of brownish maroon to deep red skin when ripe and have a thicker skin with less flesh inside.
The flesh is just like a regular yellow banana in that it's the same color. The taste is also really similar, it just is a bit more bland with a less sugary taste. They also keep a bit longer than the regular version and because they are thicker they are perfect for frozen smoothies.
Nutrition: Red bananas have more beta carotene and vitamin C than their yellow cousins. In fact, the redder the fruit, the higher the content of carotene and vitamin C. They also contain potassium and iron. And like all bananas, they contain the three natural sources of sugar, including sucrose, fructose and glucose.
Screwpine or hala fruit (Pandanus)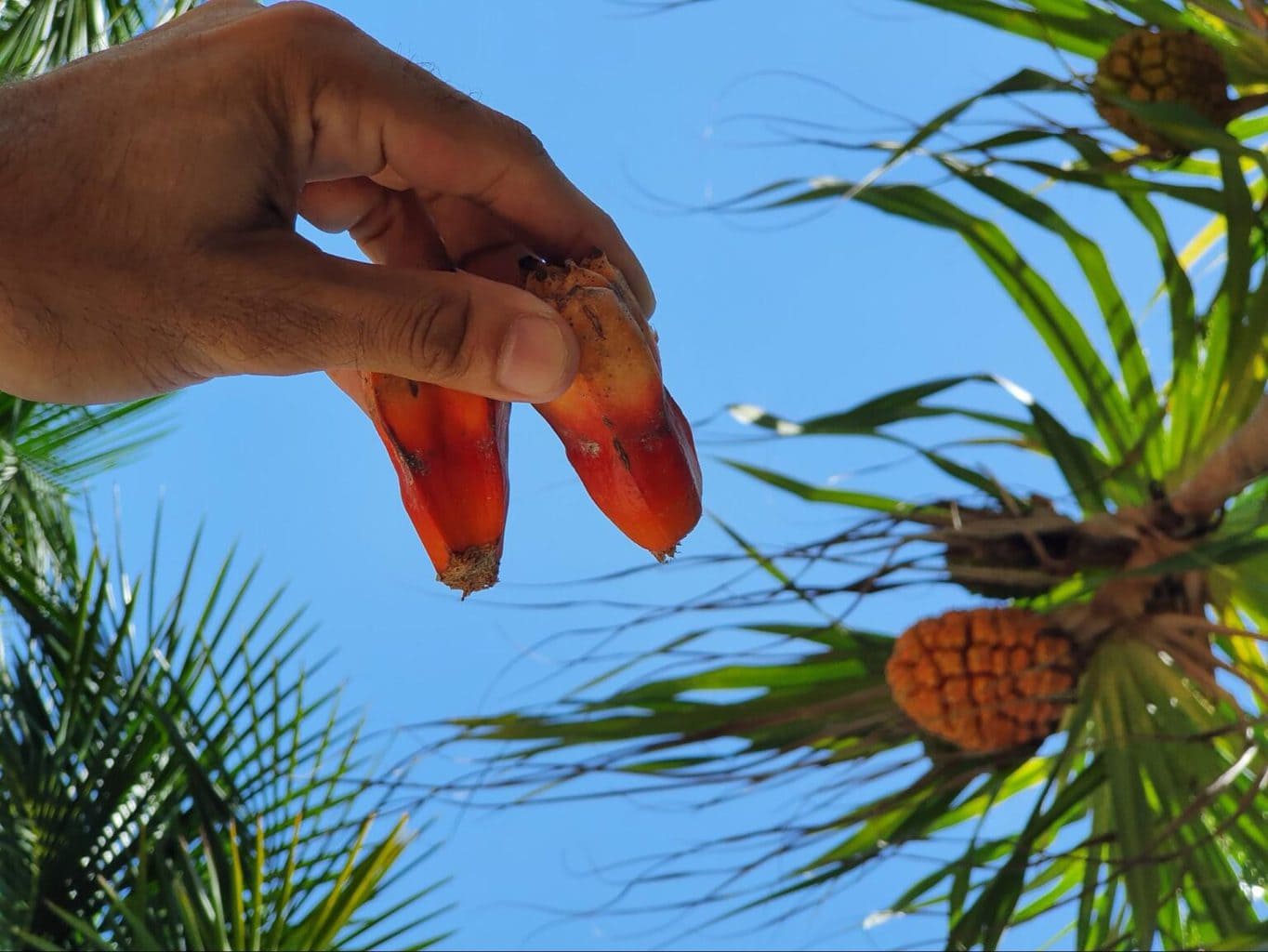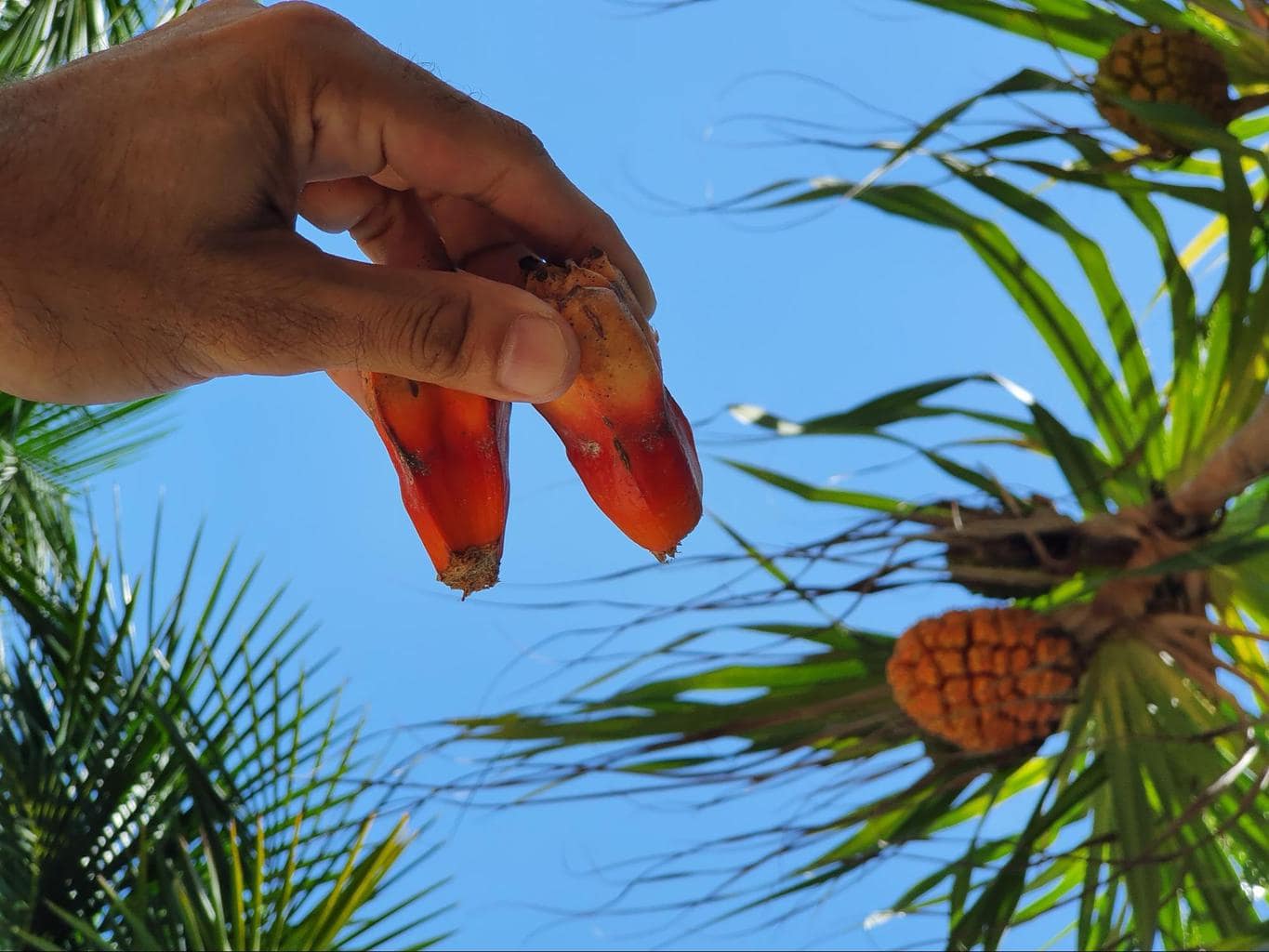 This is probably the coolest looking and weirdest fruit on this entire list. Some say that it looks something like an exploding planet, an abnormal pineapple or a mutated pinecone. Whatever you may think it looks like, this tropical fruit will surely leave you speechless.
Each segment of this exotic fruit is called a key or a cone, and each cone has a fibrous edge and a pulpy flesh. Some even use the outer edge as dental floss.
Beyond cleaning your teeth, and the obvious source of nutrition, screw pines are also used for medicine, dye and traditional leis in Hawaii. It is also part of Micronesian, Polynesian and Maldivian cuisine.
The taste is similar to that of a mango blended with sugarcane. But beware, you will need to eat it quite quickly after it ripens, unless you want a durian situation. It's not nicknamed the "stink nut" for nothing.
How you eat this unusual fruit is quite a task. You will need to pop out a few cones with a utensil, like the claw of a hammer. Then bite down on the center of each cone and suck out the juice pulp. Don't eat the top bit, which is usually green in color.
The stringy flesh is a bit of a pain to eat but makes for a good entertainment and maybe a replacement for popcorn?
Nutrition: While it has typical nutrients to most fruit including calcium, Phosphorus, iron and vitamin C and B (thiamine, riboflavin, niacin), Hala fruit is a good source of beta-carotene, so it's packed with vitamin A. It does act as a mild diuretic, so don't eat too much at once unless you need help in the toilet.
Madras Thorn or Guamuchiles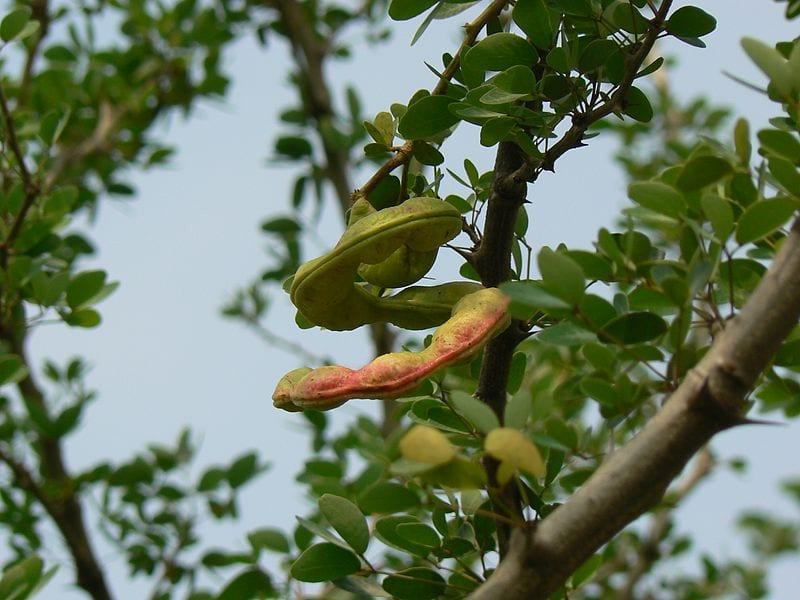 The madras thorn or Manila tamarind is the fruit of a small pod that grows from a Guamuchiles (or Camachile) tree which is found in India, Mexico, the Philippines and other parts of South America and Southeast Asia.
Due to its shape, a cute name for this tropical fruit in some parts of the world is "monkey earrings". The brown, green or red pods, each bear about 10 seeds. The pulp is mildly sweet and tart, similar to a jujube, and is used to spice up your tea or lemonade. The texture is almost rubbery, like stale popcorn.
Make sure that the pods are split open, which indicates ripeness. Another tip is that the red pulp has more flavor than the white. And be careful of the soft seed in the center, they are not edible.
Nutrition: Madras Thorn is high in vitamin C, thiamine and has a rich profile of antioxidants. They also contain calcium, phosphorus, iron, and some vitamin B.
Pomelo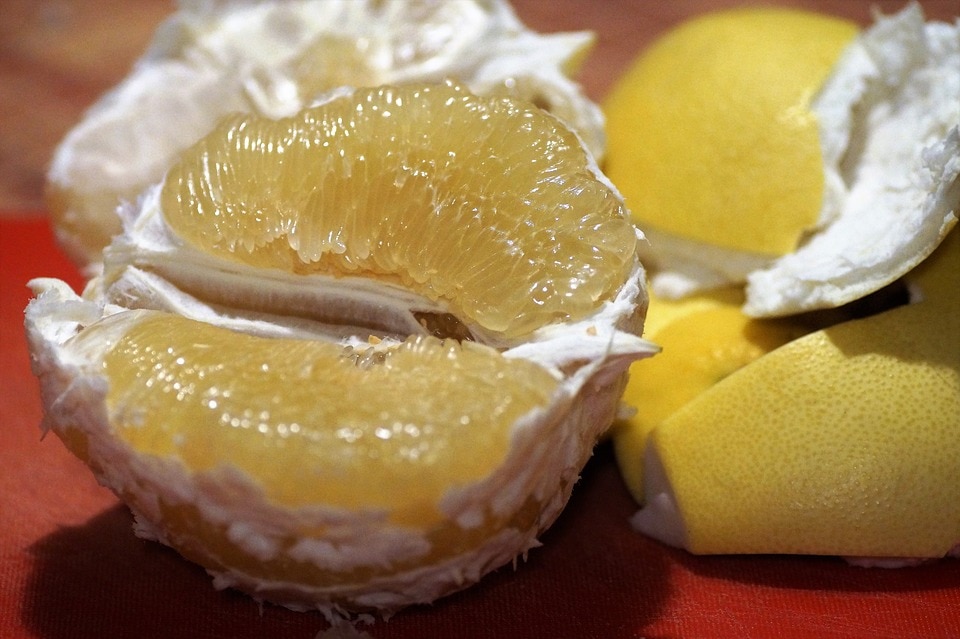 This giant citrus is native to Southeast Asia, although they are cultivated throughout the world. In fact, the pomelo is the largest citrus on the planet, reaching up to around 25cm (10in) and weighing up to 2kg (4.5pounds). Basically the size of a cantaloupe.
You can often see pomelos hanging with their own plastic netting in supermarkets and shops across Southeast Asia.
Also called the shaddock, pamplemousse or lusho fruit, this exotic fruit resembles its cousin the grapefruit, in both look and taste, although it's much sweeter and a bit less tart.
Pomelo's with a green peel (pomelo rouge) are ruby red inside and the yellow ones (pomelo honey) also have yellow pulp. It's said that the yellow pomelos are sweeter, although there is not much difference as both are quite mild. You can tell they're ripe by their weight, heavier means riper.
There are two methods to peeling a pomelo, as you'll notice they have a really thick skin. The first method is to cut it in half and then in quarters and remove the bitter tasting vesicles (the white fibrous stuff).
The second method is to cut off the top part, then score it with your knife into four sections and peel away. You're then left with the full fruit and outer white layer intact. Peel that layer off and you have your unique citrus fruit. Then eat it straight, sprinkle some salt, pepper or sugar over it, or chuck it in a salad as they're great for weight loss.
Pomelo and prawn salad is one of my most favorite Thai dishes and I always order it whenever I am eating Thai food, it's refreshing, healthy and acts as a good counterbalance to really spicy Thai food.
Nutrition: Pomelos are super high in fiber and vitamin C. They are also rich in antioxidants and contain small amounts of riboflavin, thiamine, copper and potassium.
Tamarind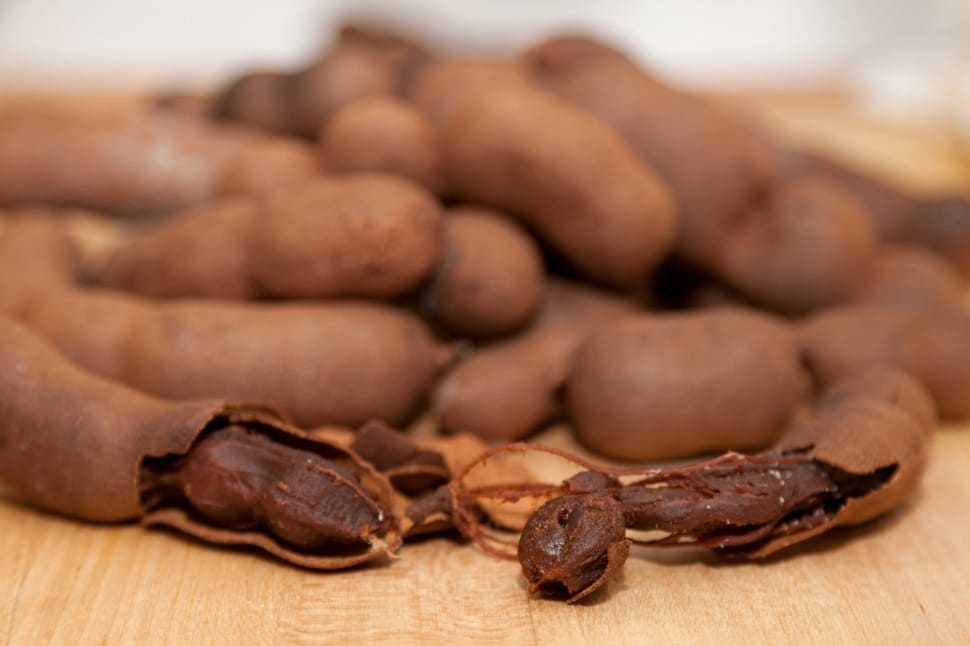 The tamarind is similar to the madras thorn in shape in that it comes in a pod. Yet tamarinds are a bit smaller and the pod color is brown. It's a tropical fruit native to Africa but it's also found in India, Pakistan, as well as South and Southeast Asia, Mexico, the Middle East and the Caribbean.
Interesting fact, the word tamarind derives from the Arabic "tamar hindi" meaning "Indian date". The bean-like pods produce seeds that are then surrounded by an unattractive fibrous pulp which is sour when young and becomes sweeter and more pasty as it ripens, similar to a date. Remove the veins and suck on the pulp, but don't forget to spit out the seed.
Tamarinds are used in a multitude of sauces, marinades and chutneys and are one of the ingredients in Worcestershire sauce and HP sauce. In fact, they're used more in cuisine than being eaten raw.
Nutrition: Tamarinds contain magnesium, potassium, iron, calcium, phosphorus and vitamin B (thiamin, riboflavin, niacin). They also have polyphenols which contain antioxidant and anti-inflammatory properties.
Santol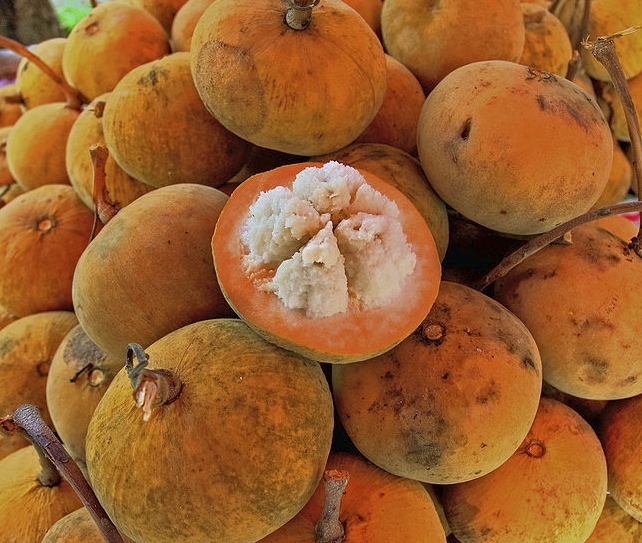 Santol fruit, also known as sour apple or cotton fruit are small round tropical fruits found in Southeast Asia with a fuzzy orange rind and white fleshy wedges that resemble mangosteen.
The more ripe they are, the sweeter they become. If you eat an unripened santol you'll most likely spit it out as it will be so sour, although locals in the Philippines sprinkle rock salt to get rid of the sourness.
Tip: look at the bottom of the fruit, the bigger the round circle at the center the sweeter the fruit will be.
Make sure to spit out the seed even though the flesh is tightly stuck to it. Carry a bag to spit your seeds into.
Nutrition: Santol contains fiber, calcium, phosphorus, iron, carotene, thiamine and niacin.
Banana Passionfruit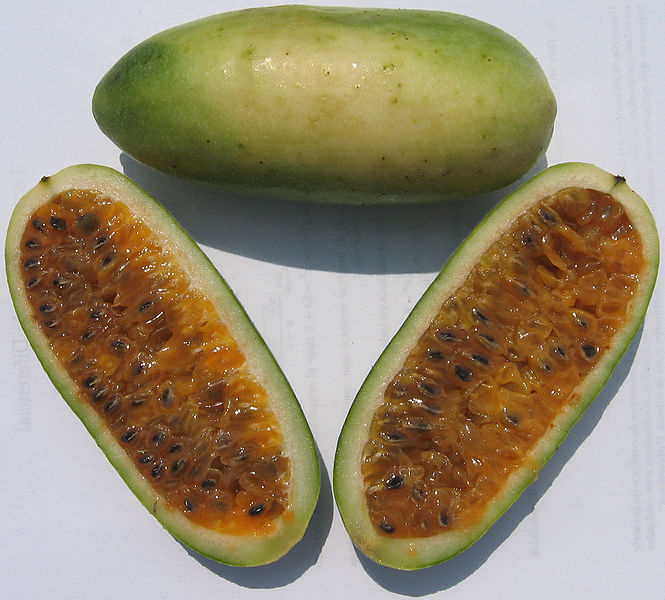 So this little super weird fruit kind of boggles the mind a bit. The peel looks somewhere between a small banana and a mango, but cut it open and the inside is passion fruit.
They grow mostly in South America where they go by different names such as banana poka (Hawaii), curuba (Colombia & Bolivia), and taxo or tumbo (Ecuador, Venezuela & Peru).
It tastes similar to passion fruit or granadilla but with hints of peach. The seeds are also edible which you can chew or just swallow whole. Many cultures use this tropical fruit as a base for juices or milkshakes and it provides a heavenly addictive taste.
Nutrition: Banana passionfruit contains a good source of fiber, vitamin A and C, as well as antioxidants. They also have calcium, phosphorus, iron, carbohydrates, and traces of protein.
Kiwano (Horned Melon)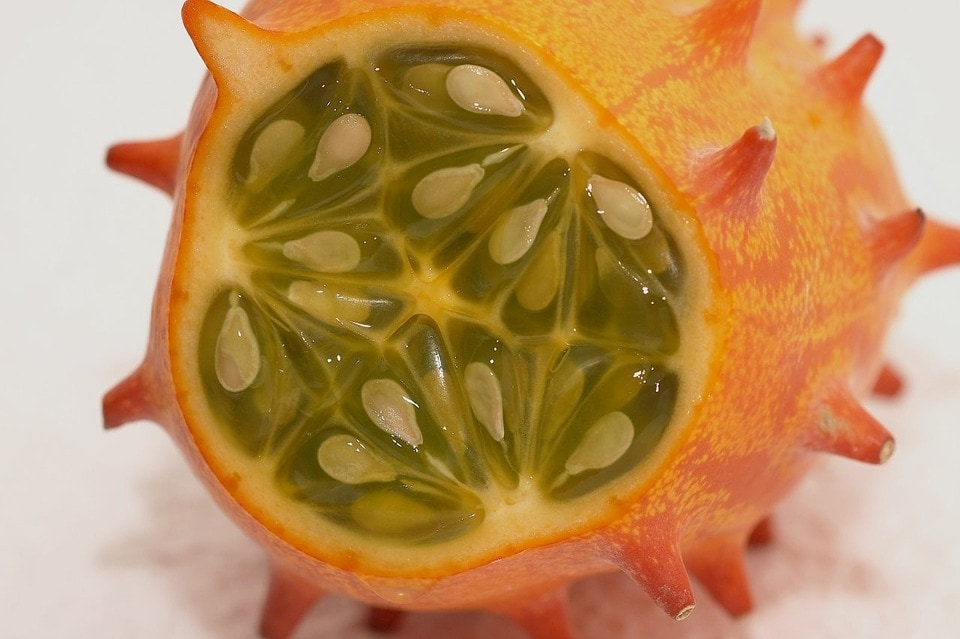 Kiwano is another intriguing strange fruit where the peel doesn't quite match the flesh, just like the curuba. In this case the skin is a peculiar and beautiful horned orange-red with a green in the hue of fine seaweed or Slimer from Ghostbusters.
This otherworldly fruit, also known as spiked melon or jelly melon is native to Sub-Saharan Africa. As it's actually part of the cucumber family, it has a cucumber-like look and flavor with the addition of kiwi fruit, passion fruit and banana with hints of citrus.
The riper the kiwano, the more abundance of flavors. Apparently a small amount of salt or sugar can increase the flavor of this unique fruit.
The texture is jelly-like and gelatinous, yet the seeds hinder that smoothness and can be quite inconvenient. The seeds, similar to immature watermelon seeds, are edible but you may prefer to spit them out. Some cultures actually eat the peel for its high vitamin C and dietary fiber content.
Nutrition: Kiwano is high in magnesium, but otherwise is mild in nutrition which includes smaller amounts of vitamin C, A, B6 as well as iron, zinc, potassium, calcium and phosphorus.
Oriental or Korean melon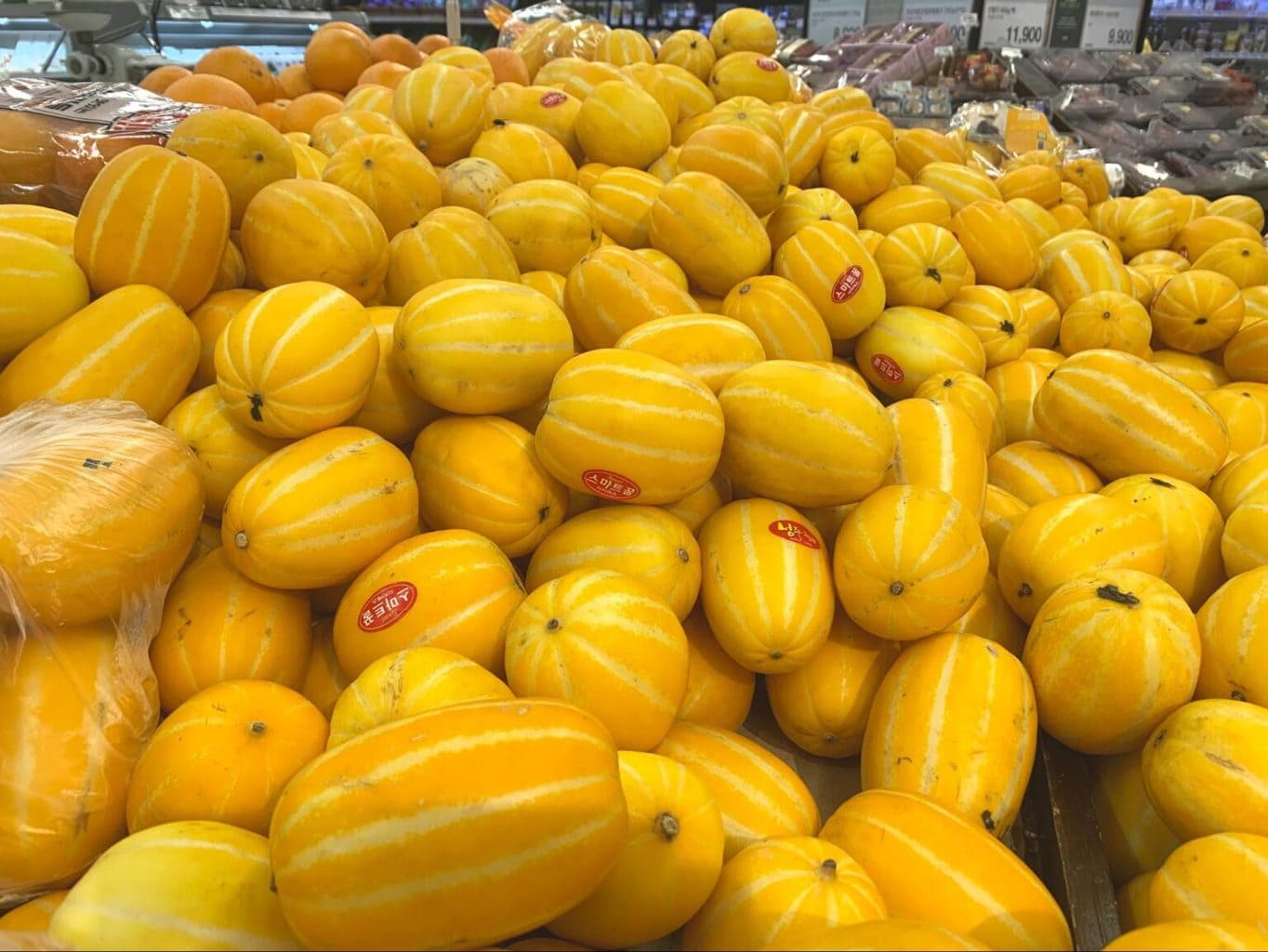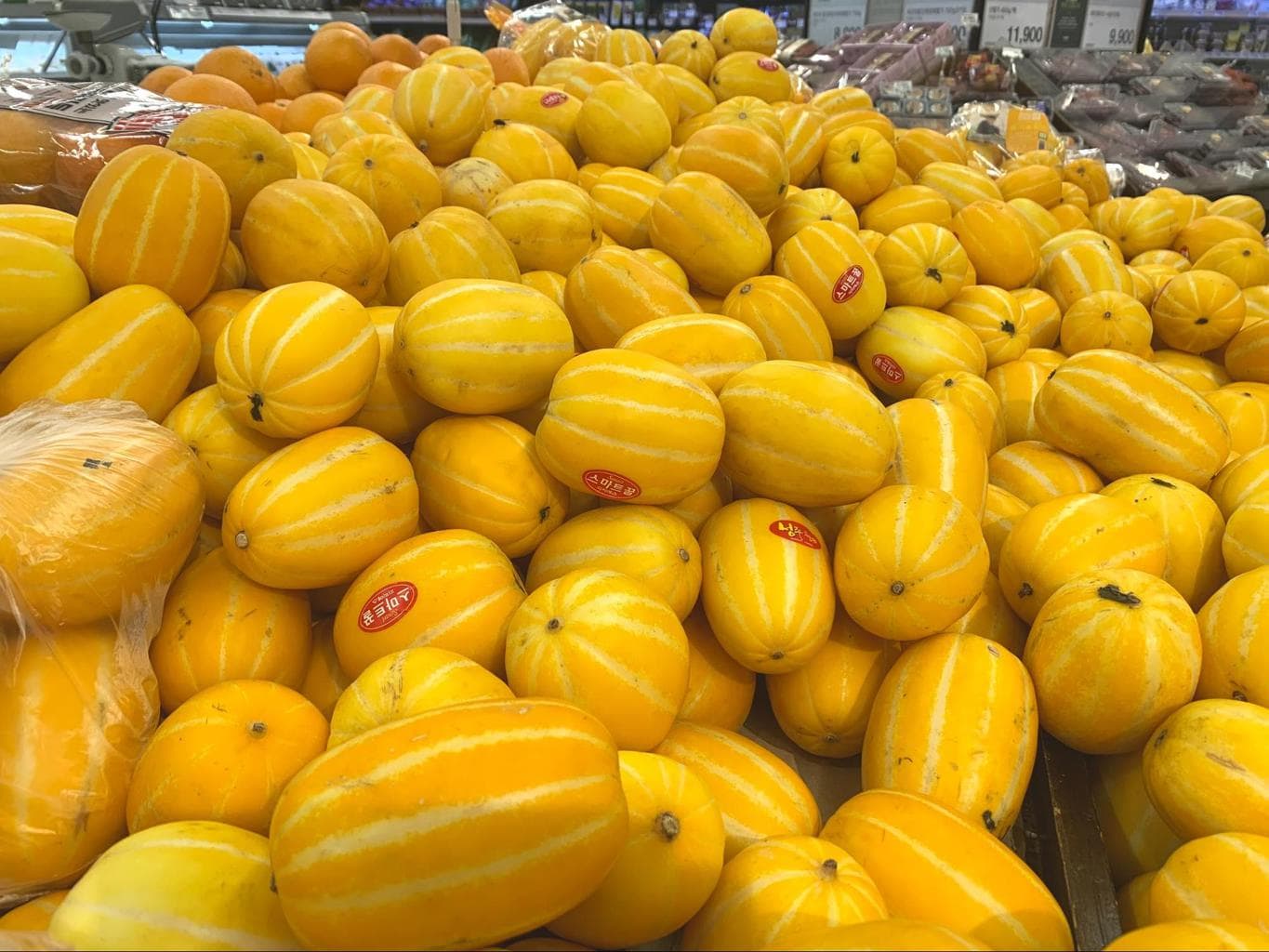 If you're in South Korea during the summer you will see an abundance of these bright yellow melons overflowing the shelves of any supermarket. Although originally from China, this crisp unique fruit made its way into Korea during the Three Kingdoms period.
In South Korea, this summer fruit is called chamoe (or 참외 in hangul and pronounced chum whe) where cham means "true" or "real" and oe meaning "cucumber (melon)". They also exist, to a lesser extent, in Japan where they are called makuwa uri.
It's a smallish yellow oval fruit with grooved white stripes. After peeling away the yellow skin, there is a white interior that encases small edible seeds, although many Koreans like to scoop the seeds out and not eat them.
It's crisp like an apple but has the flavor of a honeydew crossed with a cucumber. This exotic fruit does not have much flavor to speak of, but is nice to eat during hot summer days and packed with nutrients that help provide electrolytes and stave dehydration.
If you're visiting South Korea and Seoul, check out our article on all of the most popular Korean foods, facts about Korea and all the best places to stay in Seoul.
Nutrition: Korean melons are high in vitamin A (beta-carotene), K and C, as well as potassium, calcium, iron and fiber.
Feijoa (Pineapple Guava)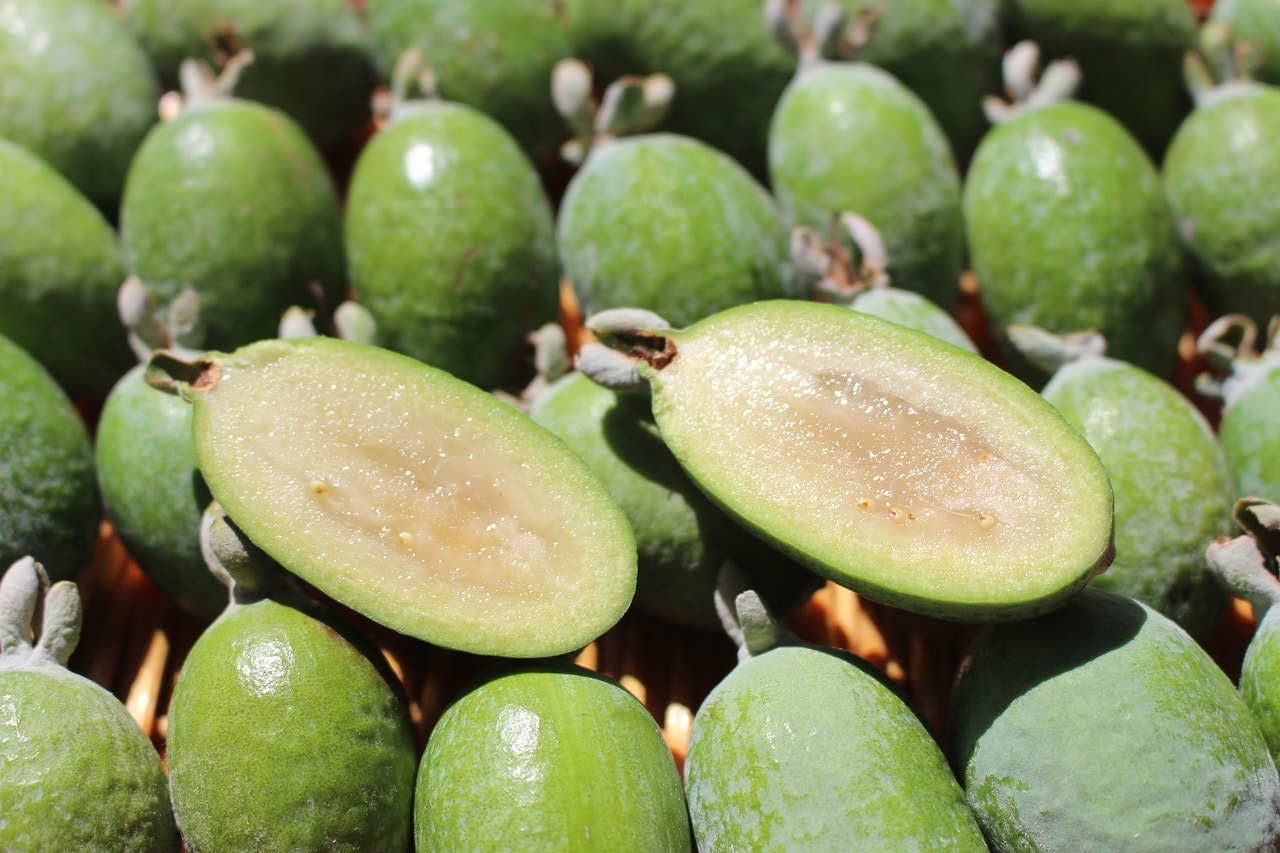 You may confuse feijoa with avocado due to its green skin, but it's related to the guava family and is also called a pineapple guava.
This elliptical exotic fruit is native to Brazil, Paraguay, Uruguay, Columbia and Argentina but also grows in the US (particularly in California) and New Zealand. They usually fall off the tree when ripe, but if store bought you will need to wait until it has a slight give when pressed.
Cut it in half and if the center is translucent, you know it's good to eat. If it's white, you may have cut it open a little too early. If brown it's a bit overripe, but still good to eat. Scoop out the flesh with a spoon and pop it in your mouth.
You'll notice the tropical fragrance when you scoop out the flesh and will understand its name when you eat it. It tastes like guava and pineapple with hints of berries, pears and mint. You can eat the skin, but it won't taste as great.
Nutrition: Feijoa is packed with vitamin C and to a lesser extent vitamin B (thiamine, riboflavin, niacin, pantothenic acid (B5), B6, folate (B9)), E, K as well as calcium, iron, magnesium, manganese, phosphorus, potassium, sodium and zinc.
Loquat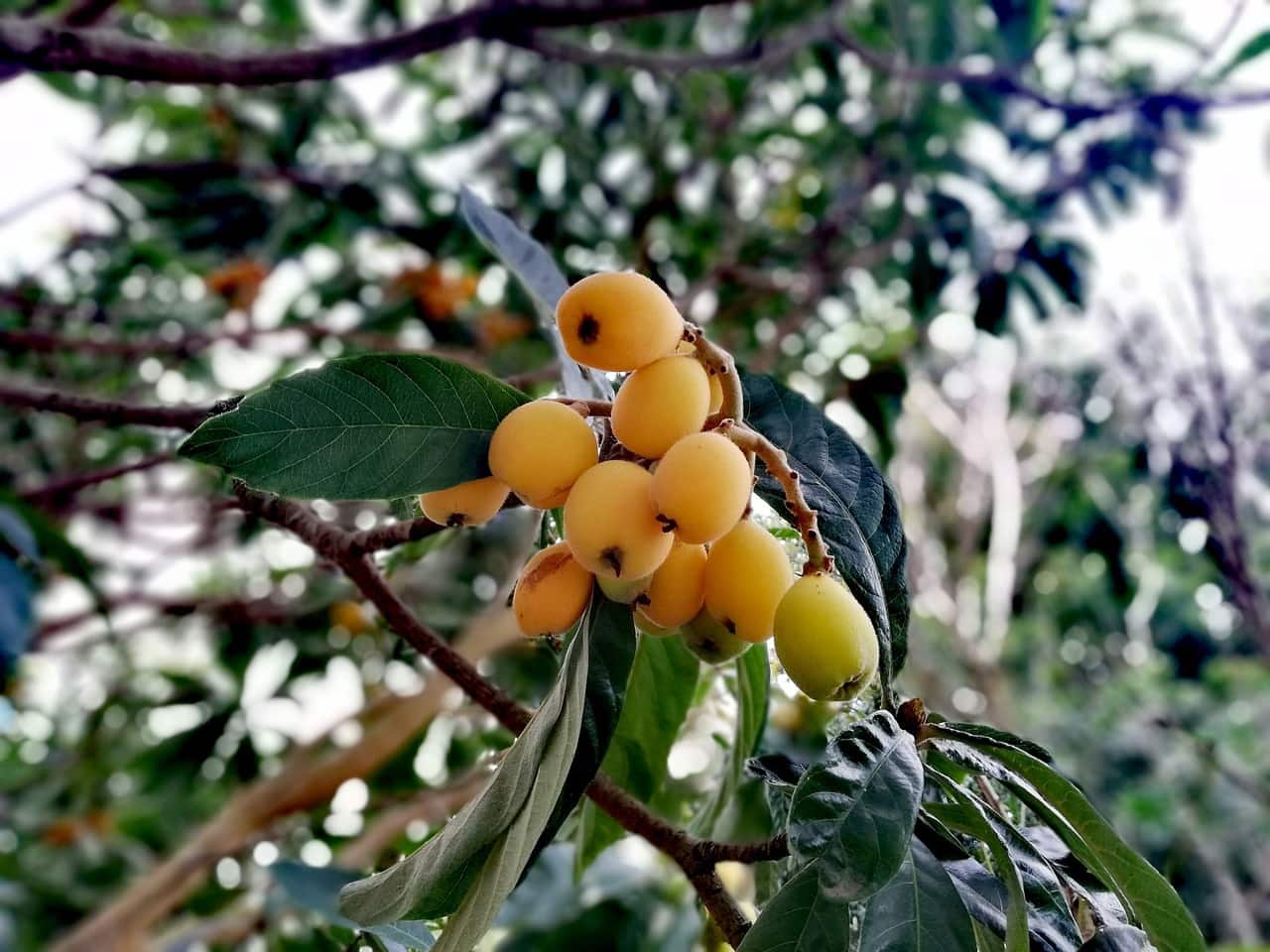 Loquats are small pear-shaped fruits with a bright orange peel when ripe. You can eat the skin if you'd like as it is very thin and difficult to peel, but don't eat the poisonous seeds.
They are somewhere between a peach, pear and mango, with a hint of citrus but it is quite mild. The riper and softer the fruit, the sweeter it will be. Many places sell both varieties of this exotic fruit, so you should state if you want the sweet or sour version to the salesperson.
Due to their golden color, loquats are used in China as ornamental fruits representing wealth and prosperity.
Nutrition: Loquats are high in vitamin A and B6, dietary fiber, potassium, and manganese with smaller amounts of vitamin B9 (folate) and magnesium.
Sour or Cherry plum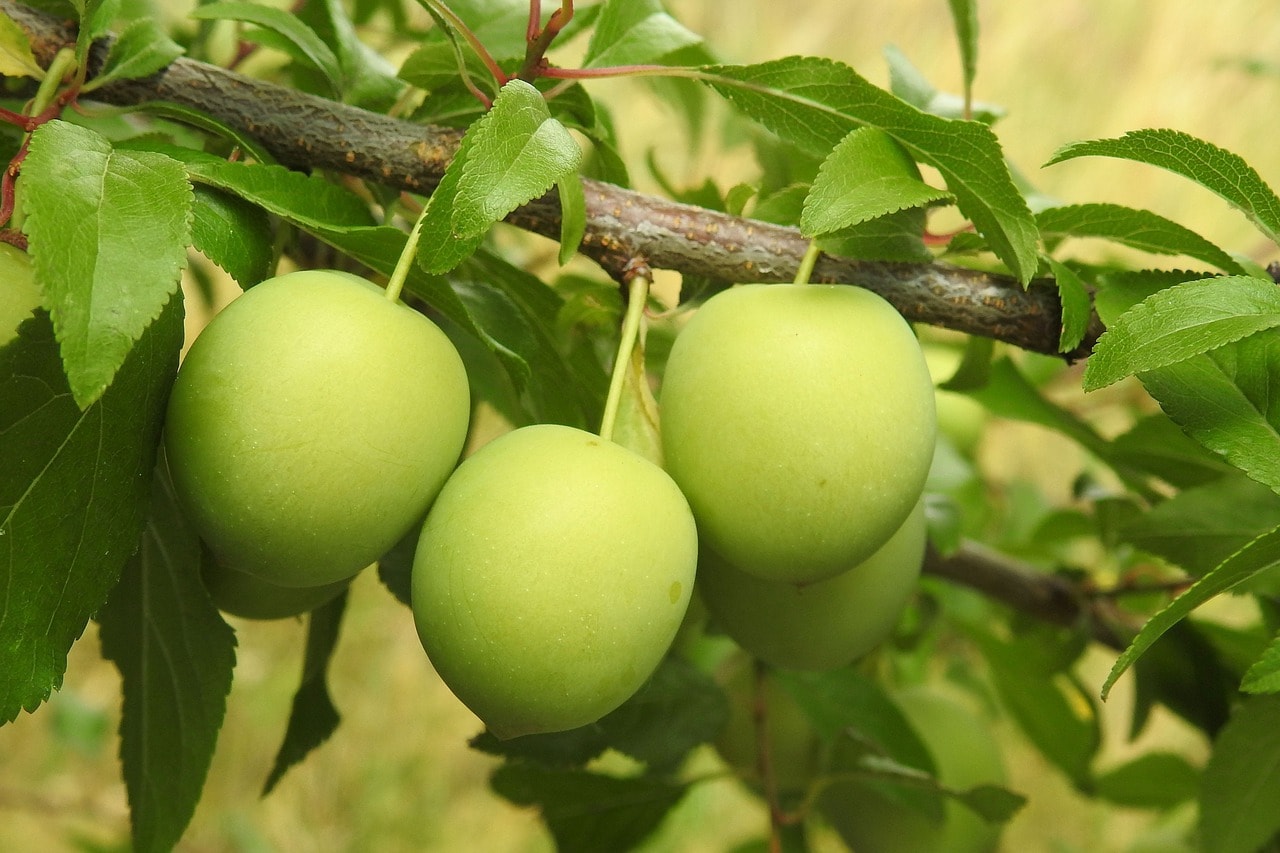 While most of the exotic fruits on this list originate in Asia, this delicious variety of plum hails from Southeast Europe, although they can be found in Asia and the US.
The tree is usually used for ornamental reasons where the early sprouting shows beautiful flowers. Some species are even used as a bonsai.
They are usually picked when green and unripe and are quite sour. It's quite popular as a snack dipped in salt in the Middle East. Yet the most popular use of the cherry plum is in Georgian cuisine where they make a sauce called Tkemali, which is also the name of the fruit in the country of Georgia.
The flavor will differ depending on what ingredients are used and can be pungently tart or nice and sweet. Apparently it's used in Georgia as much as ketchup is used in the US and goes really well as a marinade for grilled meats or fish. It's also used in traditional dishes like Tabaka (grilled, flattened baby chickens) and Lobio Tkemali (a red bean dish).
Nutrition: Cherry plums are a good source of potassium, calcium, phosphate, and vitamin C and B.
Jujube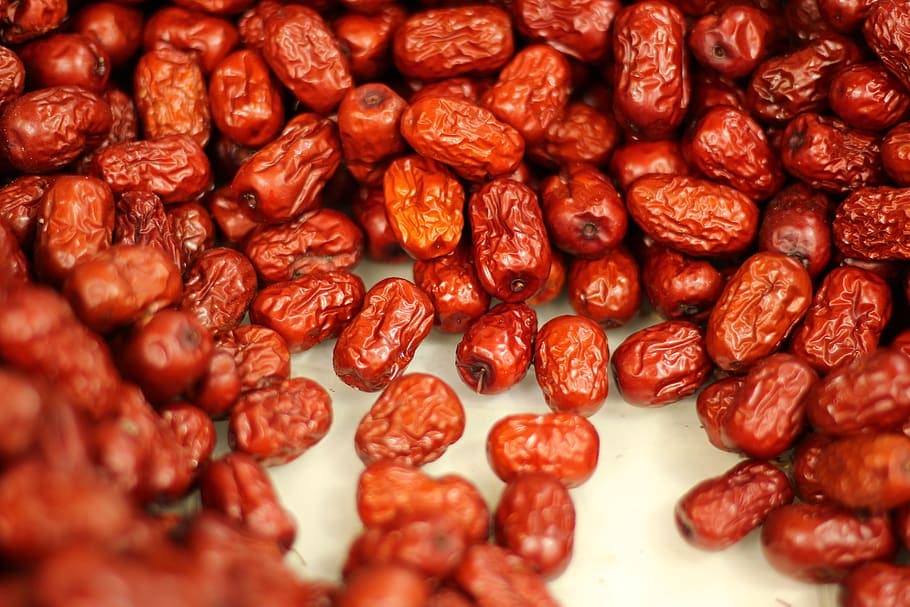 This small oval fruit from Asia is used for many purposes from tea to wine to flavor broths like Korean samgye-tang (ginseng chicken soup). It provides the broth a sweet flavor, and this is the reason that they are candied in certain parts of the world or as a snack in countries like Azerbaijan.
They're also used as a part of the traditional Korean wedding ceremony called pyebaek where parents toss jujubes (representing girls) and chestnuts (boys) to the newly married couple and the amount caught in a sheet held by the couple displays the number of children they will have.
The fruit itself looks very similar to a date in that it is red and wrinkled when mature. They can also be eaten when greenish red and not fully ripe.
Nutrition: Jujubes contain fiber and potassium and large amounts of vitamin C. They're also used in traditional Chinese medicine to improve sleep and decrease anxiety.
Jabuticaba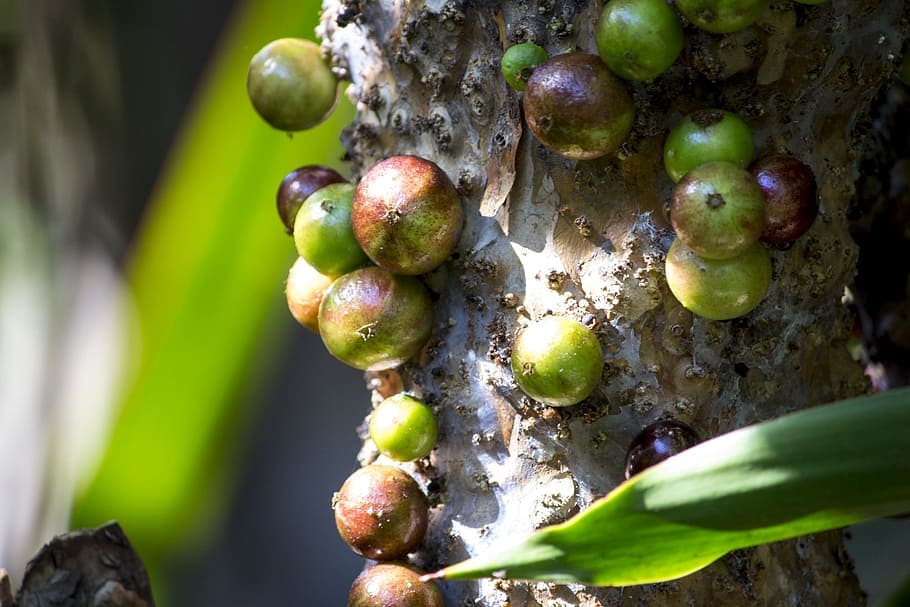 Jabuticaba is a Brazilian fruit that looks and tastes like a grape, although they are much larger and like the kepel grows directly off the tree trunk. It's uses in Brazil are similar to grapes, to make jellies, wine, and liqueurs.
The skin of the jabuticaba is quite thick, more like a wine grape than a table grape. For this reason, you may want to pop the glutinous and sweet flesh out and discard the astringent skin. The taste of the flesh is more like a table grape.
The dried skin is also used to treat asthma or is mixed with warm water to soothe sore throats in Brazil. Quite a versatile exotic fruit.
Nutrition: Jabuticaba is packed with vitamin C and B complex vitamins, as well as calcium, phosphorus, iron, amino acids such as lysine and tryptophan and anthocyanins.
Miracle berry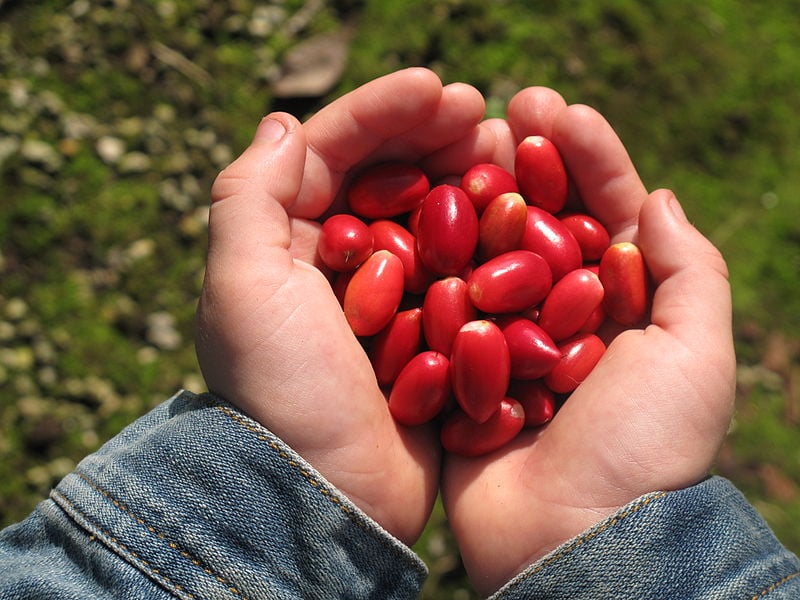 This is the strangest fruit in this list when it comes to taste. As its name suggests, the miracle berry (which has been made into a tablet called Mberry) has magical powers in that it makes any food taste sweet.
Eat one of the oblong red berries that tastes like a cherry and then try out the most sour thing you can find, like a lemon, and it will become sweet! This will last up to an hour.
Type in miracle berry in Youtube and you'll find loads of funny videos of people doing the "mberry challenge". Here's a cute video of kids tasting sour foods after eating the berry, it even makes brussel sprouts taste like peanuts apparently.
We won't try to explain the science here, but if you want to find out more about why this happens, you can read this article on the glycoprotein molecule called Miraculin. We told you it was a strange fruit!
Nutrition: Miracle berries are great sources of Vitamins C, A, and E and essential amino acids, particularly leucine. So the best reason to eat this berry is if you are craving sugary sweetness when on diet but don't want the calories.
Buddha's hand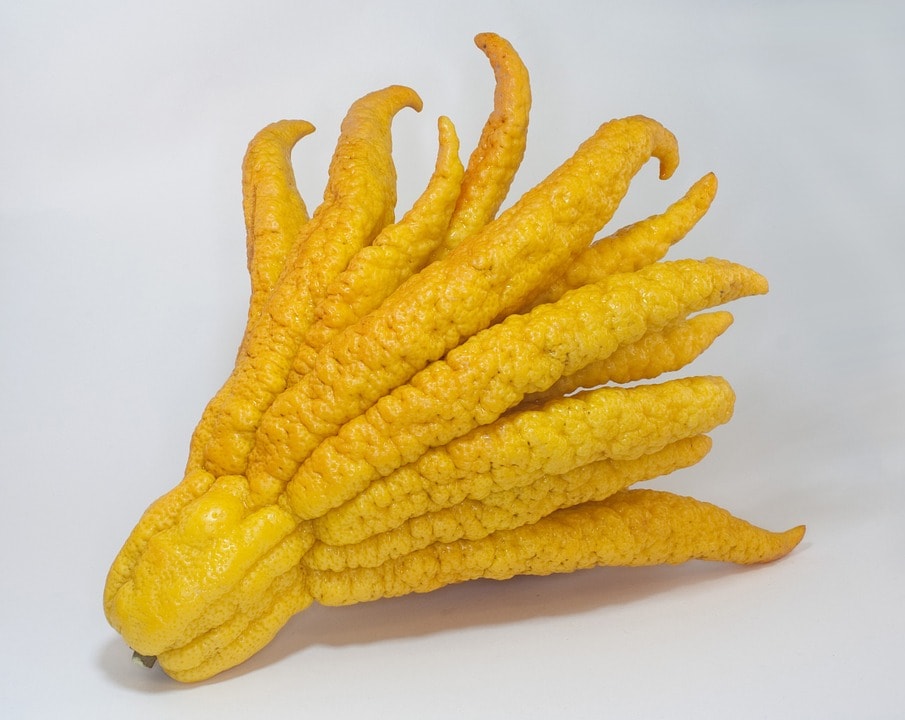 We doubt that Buddha's hand was actually this ugly, but due to the yellow "fingers" of this strange looking citrus fruit, you can tell how it got its name. The closed version of the fruit is more prized as it resembles Buddha praying. Needless to say this is a really weird fruit.
Budha's hand has the smell of a glorious robust citrus, but there is little to no juice inside and tastes more like lemon rind or pith than the juices you usually get from a citrus.
You can eat it though and it's mildly sweet. But it works best if you turn it into candy by cooking it with sugar or you infuse it with alcohol. Limoncello anyone?
Nutrition: While Buddha's hand may not have too many nutrients, it does have high amounts of vitamin C, calcium and dietary fiber.
Biriba or Rollinia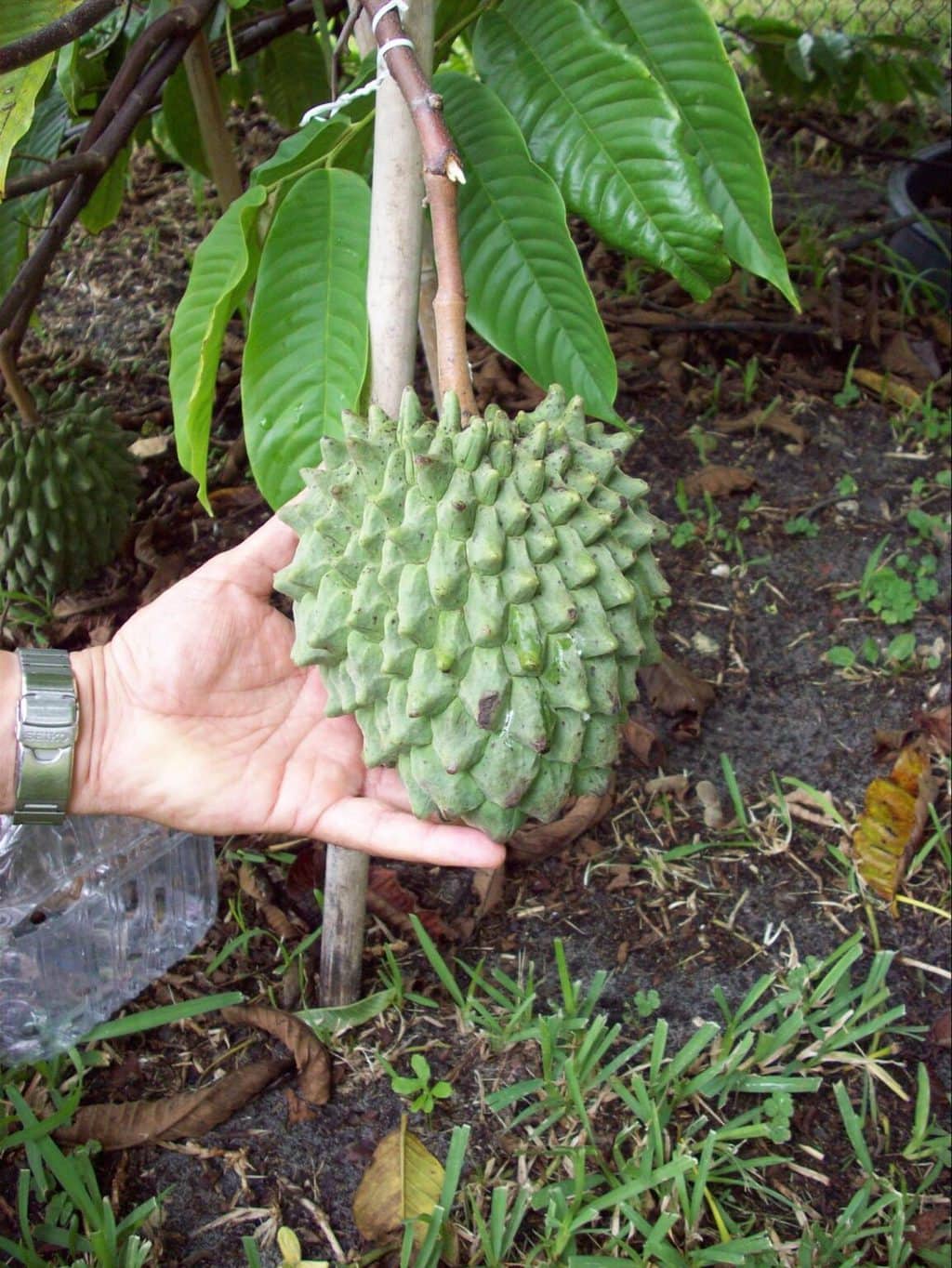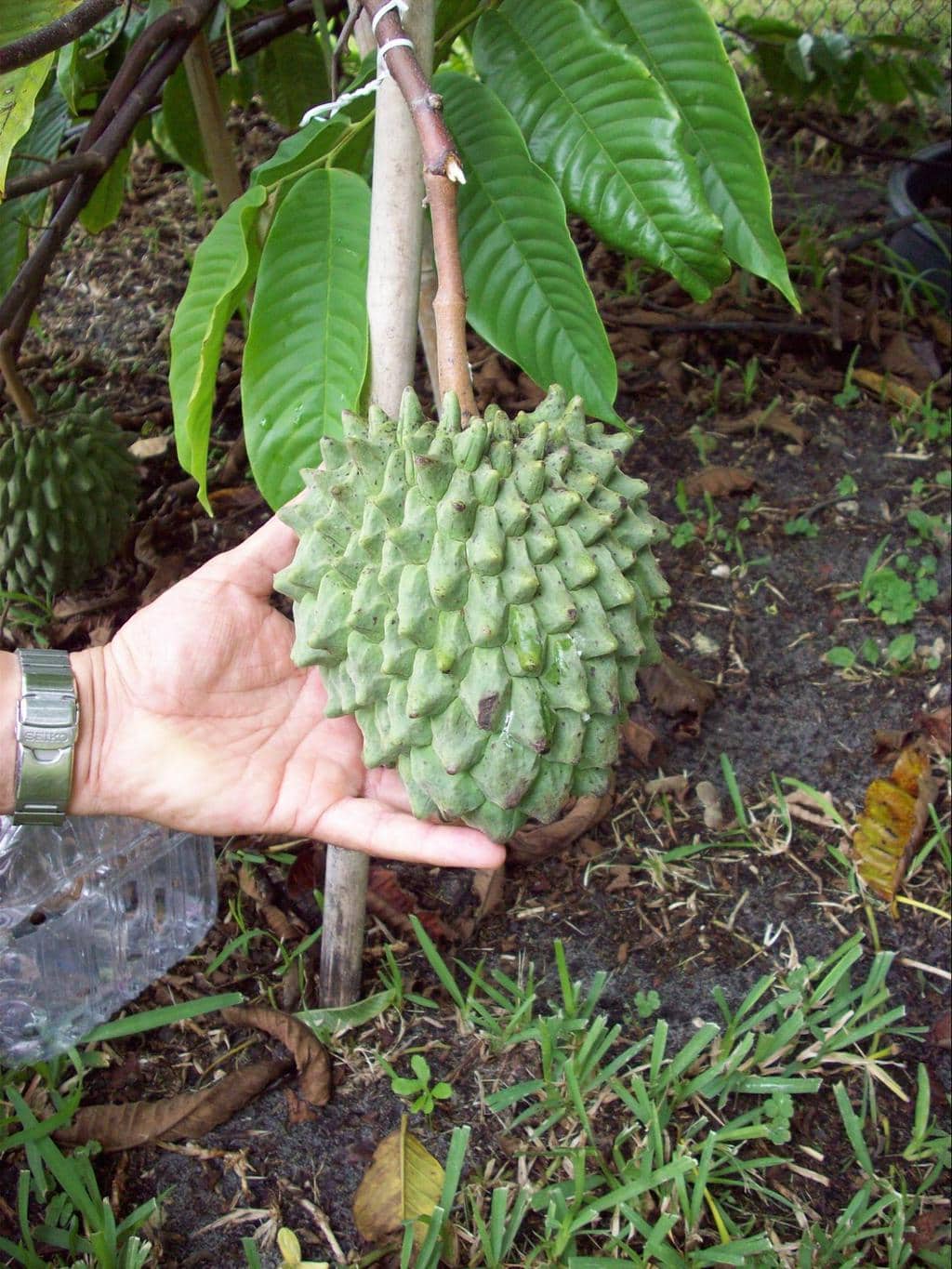 Biriba or rollinia deliciosa is a beautiful tasting fruit but has a snotty texture which is not for everyone. In fact it has the nickname "snot fruit".
The outer shell of this weird fruit looks something like Lisa Simpson as it's yellow (or green) and spiked. Yet you can tell that it is ripe when the tips have turned brownish black.
But what the biriba lacks in texture, it sure makes up for in taste. It might even be the best tasting fruit on this list which is closest in description to lemon meringue pie. Just don't eat the seeds.
Nutrition: Biriba is high in calcium and phosphorus as well as the amino acids methionine, lysine, threonine and tryptophan. It also has very small traces of fiber, iron and B complex vitamins.
Sapodilla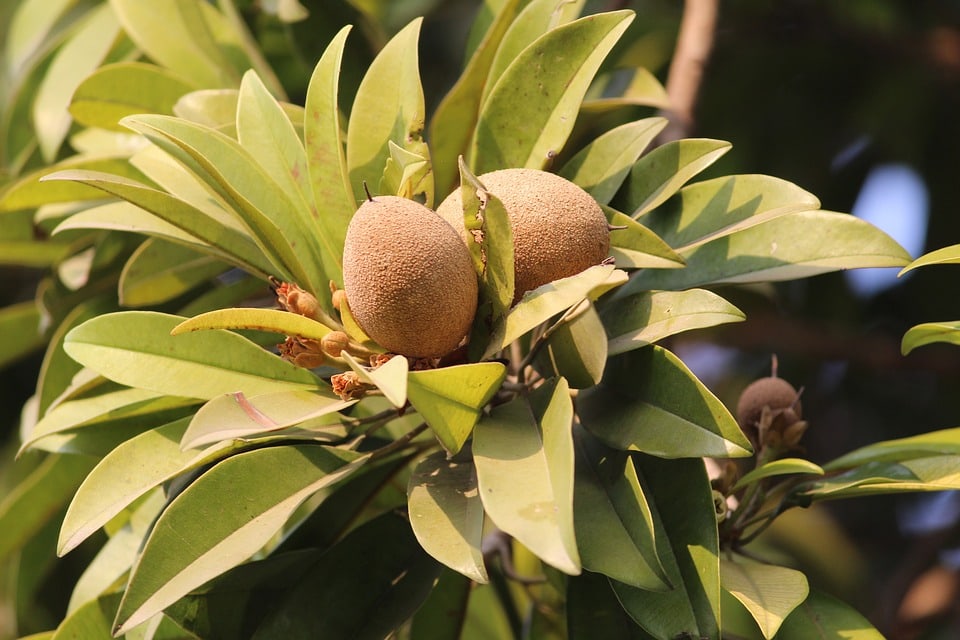 The sapodilla is mostly found in Central America, Mexico, and the Carribean, yet is also abundant in Southeast Asian countries like the Philippines where it's called ciku.
You will know it's ready to eat when it's soft to the touch and the skin becomes wrinkled. Most would think it's overripe, but actually this exotic fruit is perfectly ready to shove in your mouth.
It has a sweet pumpkin type of smell, the flesh is a gorgeous deep orange to light yellow color and the taste of a sweet black sapote, molasses, brown sugar, pumpkin pie and even root beer.
Beware of the seeds, as they have hooks that can catch in your throat if you don't remove them completely before eating.
Nutrition: The sapodilla is high in vitamin C with traces of vitamin B complexes including B2, B3, B5, B6 and B9 as well as calcium, iron, magnesium, phosphorus, potassium, sodium and zinc.
Australian finger lime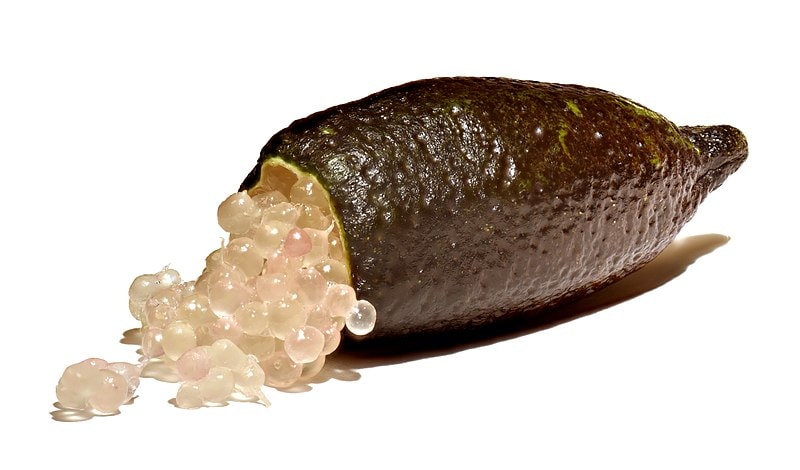 When cut open, the Australian finger lime looks more like fish eggs than some tropical fruit. This has provided the nickname "lime caviar" in its native Australia. Needless to say this exotic fruit is up there with the Buddha's hand for the weirdest in this list.
Pop one of the small juice vesicles or pearls in your mouth and you'll get a burst of tangy citrus shooting into your mouth. It tastes extremely similar to lime, hence the nickname.
This unusual fruit has actually become quite popular with demand growing as its fruit is used as a garnish and even the peel can be dried and used as a spice. They come in various colors including yellow, green, pink and white.
Nutrition: Australian finger limes are rich in folate, potassium and vitamin E (more so in the pink variety) and C (3 times more than a mandarin).
Cupuaçu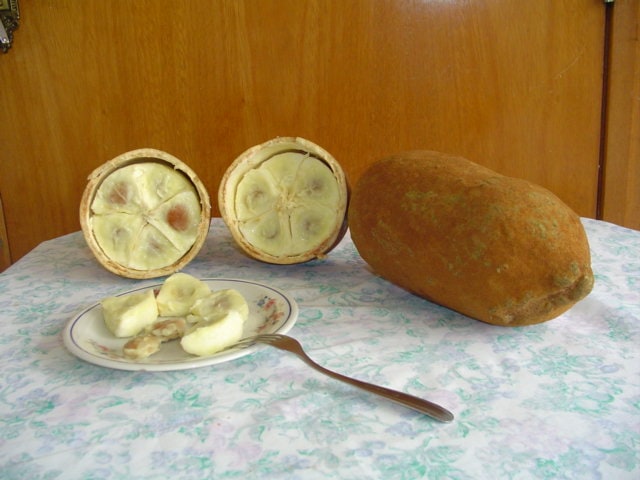 The cupuaçu (ca-poo-ah-soo) is a tropical fruit found in the Amazon basin and cultivated in South America in countries like Colombia, Bolivia, Peru and Brazil. It's a close relative to cocoa but is not commercially viable to produce large amounts of chocolate.
While it can be eaten raw, cupuaçu is usually used to make snacks, butter, juices, ice cream and smoothies. If you do get a chance to taste it raw, you're in for a journey of fruity flavors.
It's quite complex and runs through the gamut of tastes from sour to chocolatey to the tropical sweetness of melon or pineapple. You'll find the velvety shell is extremely hard, similar to a coconut, and you'll have to crack it open on a hard surface to get to the flesh.
The seed is extracted into an oil where it's used in beauty products like shampoos and lotions and has anti-aging effects on the skin.
Nutrition: Cupuaçu contains vitamin E, and to a lesser extent vitamins A, C, B1, B2, and B3, antioxidants, phytonutrient polyphenols.
Wood apple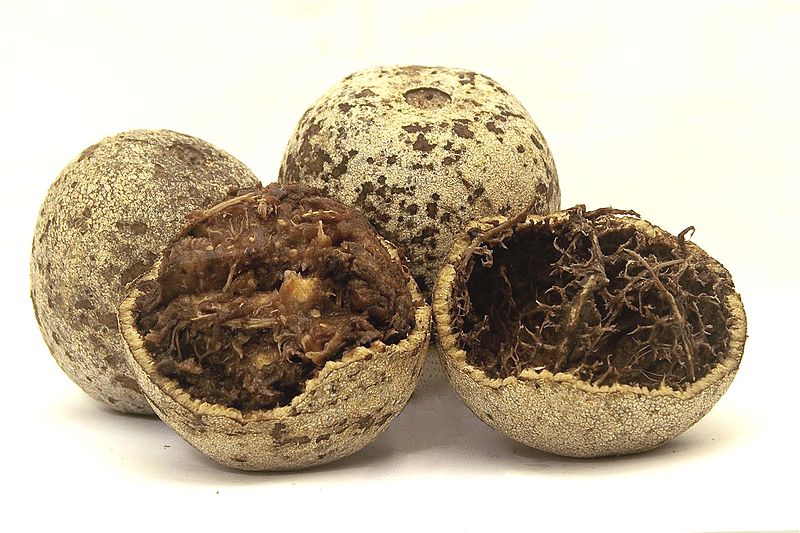 As you might be able to guess from its name, this exotic fruit has a very hard shell that is similar to wood or even a coconut. In fact, you have to smash it open with a solid object like a hammer or a cleaver in order to get to the fruit inside.
When you open up this bizarre fruit, the look might put you off from eating it. A ripe wood apple's interior should be almost orange in color, if it's brown it might have gone bad or is overripe. A good rule of thumb is if it's mealy (grainy) it's not yet ready to eat, if it's too dry, it's overripe. Either way it will look like it's gone bad.
The smell is quite unique and has been described as something like blue cheese mixed with dried fruit like raisins. The texture is really fibrous but super creamy. Due to all the different textures, there are also plenty of flavors from sweet to acidic. The taste is a mix of raisins and tamarind.
In Bangladeshi food, the wood apple is eaten with salt, chilli powder and sugar. In parts of India it's also made into a jelly, juice, syrup, jam, is mixed with milk and made into a paste, or is eaten with jaggery (cane sugar).
Tip: There are actually two fruits called the wood apple, the one mentioned above and another one, it's also both known as bael fruit, that's usually served in Southeast Asian countries like Laos as a tea or dried as a snack. Bael fruit is oval in shape and not circular. Note that sometimes both are also called bael fruit, so look out for the shape. It's also used as a laxative in India.
Nutrition: Wood apples contain B complex vitamins (B1, B2, B3) as well as vitamin C and other minerals like calcium, iron, manganese and zinc.
Strawberry tree fruit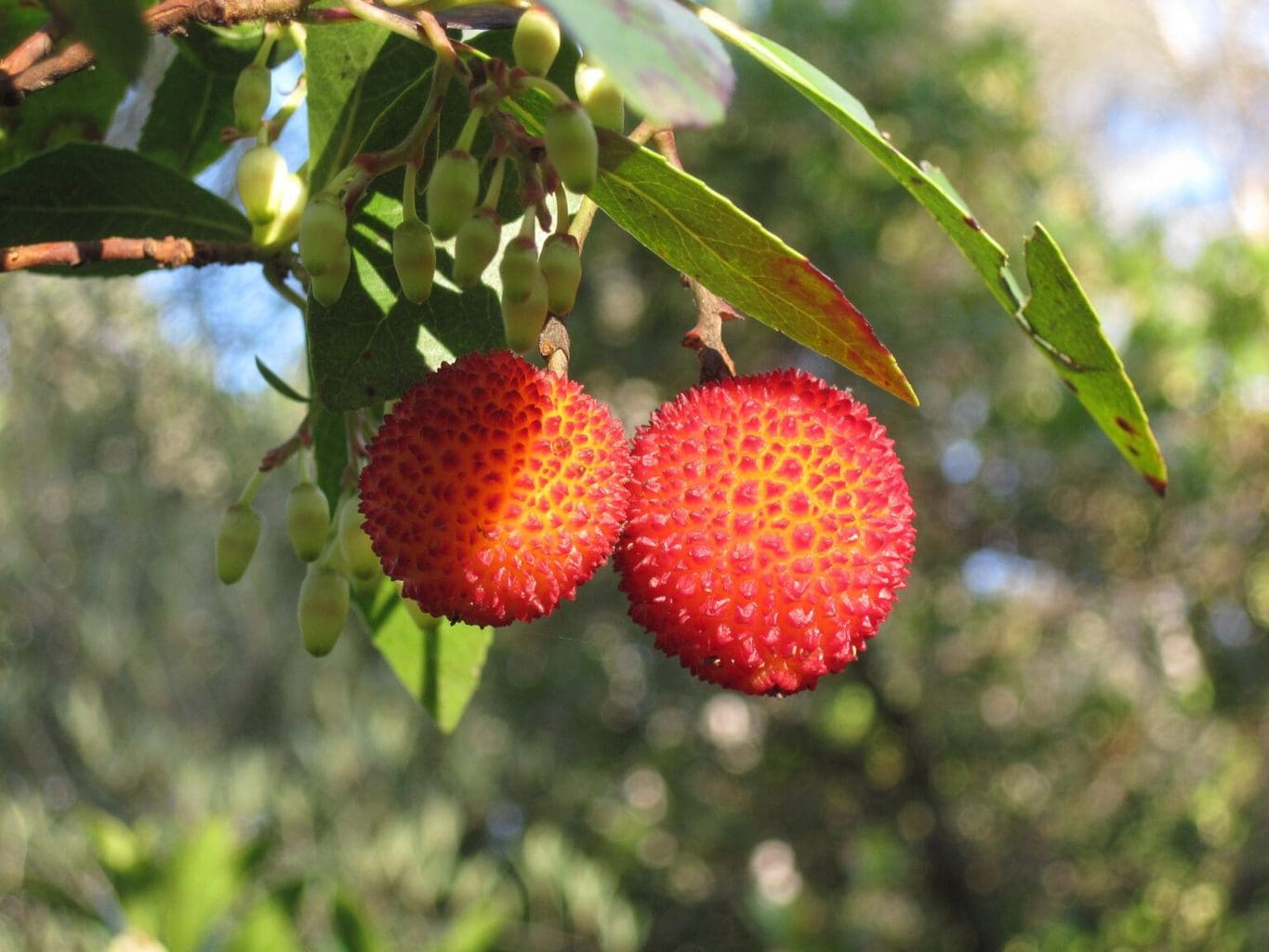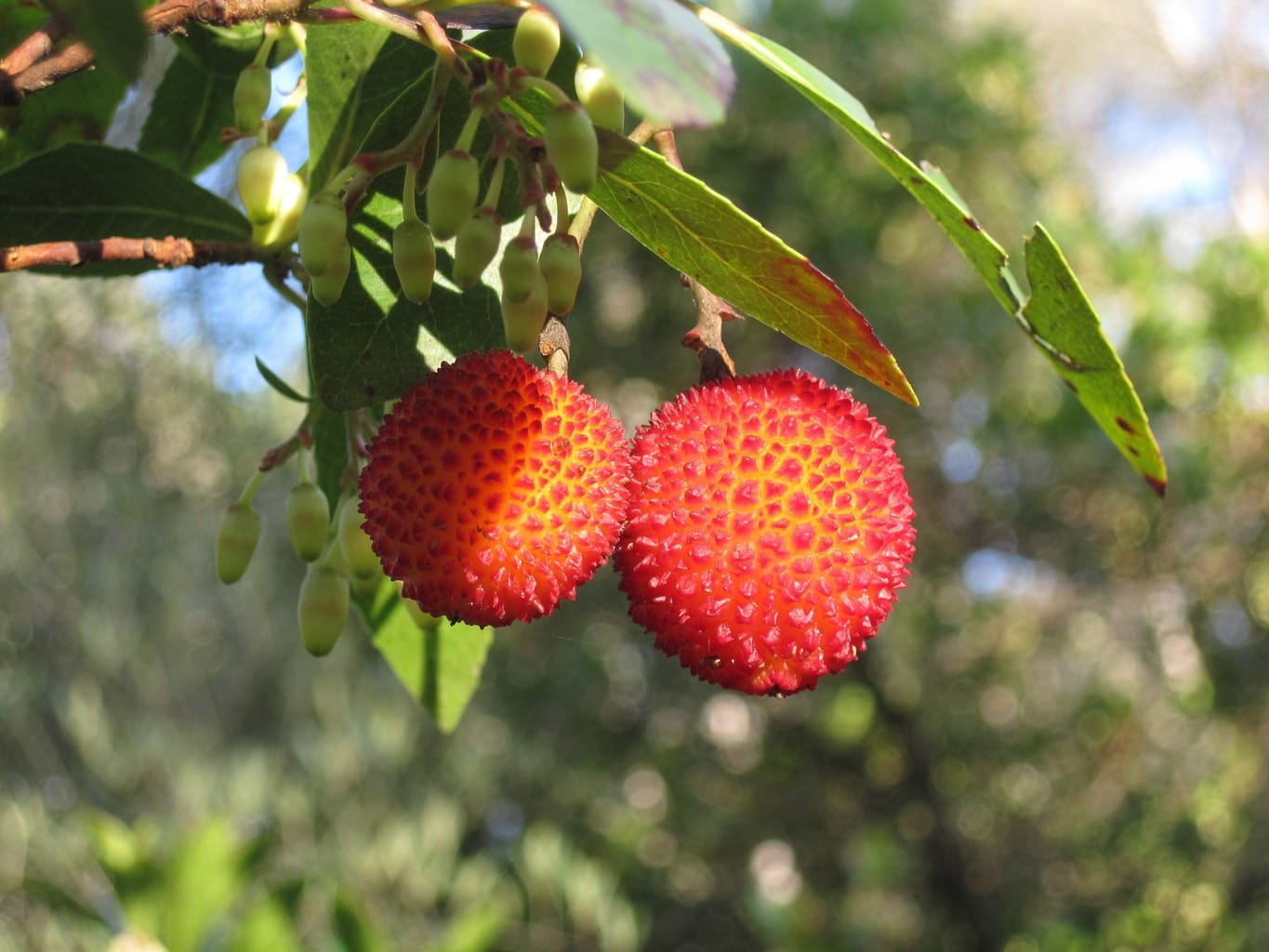 There are actually three different types of strawberry tree fruits, named as such as they all resemble the sweet fruit either in shape, texture or taste (strawberries do not grow on trees). The first is more of a berry, but the one we will talk about looks like a lychee or raspberry (its Latin name is arbutus unedo).
This squishy little fruit has a red skin and bright orange flesh. The redder and softer it is, the riper and sweeter it will be. You'll most likely only find them on trees as they're so super delicate and will probably not survive transportation. They are semi-sweet and tart with an unripened peach or mango flavor and are quite granular.
The strawberry fruit have a very small window period in which they ripen which makes them quite rare throughout the world. They're usually made into a jam, chili sauce, marmalades, yogurt or even alcoholic beverages like medronho in Portugal or rakia from Albania.
Nutrition: Strawberry tree fruit are packed with vitamin C and also contain vitamin B3 (Niacin). They also have small amounts of calcium, iron, magnesium, phosphorus, potassium, sodium, zinc, copper, and manganese.
Ackee fruit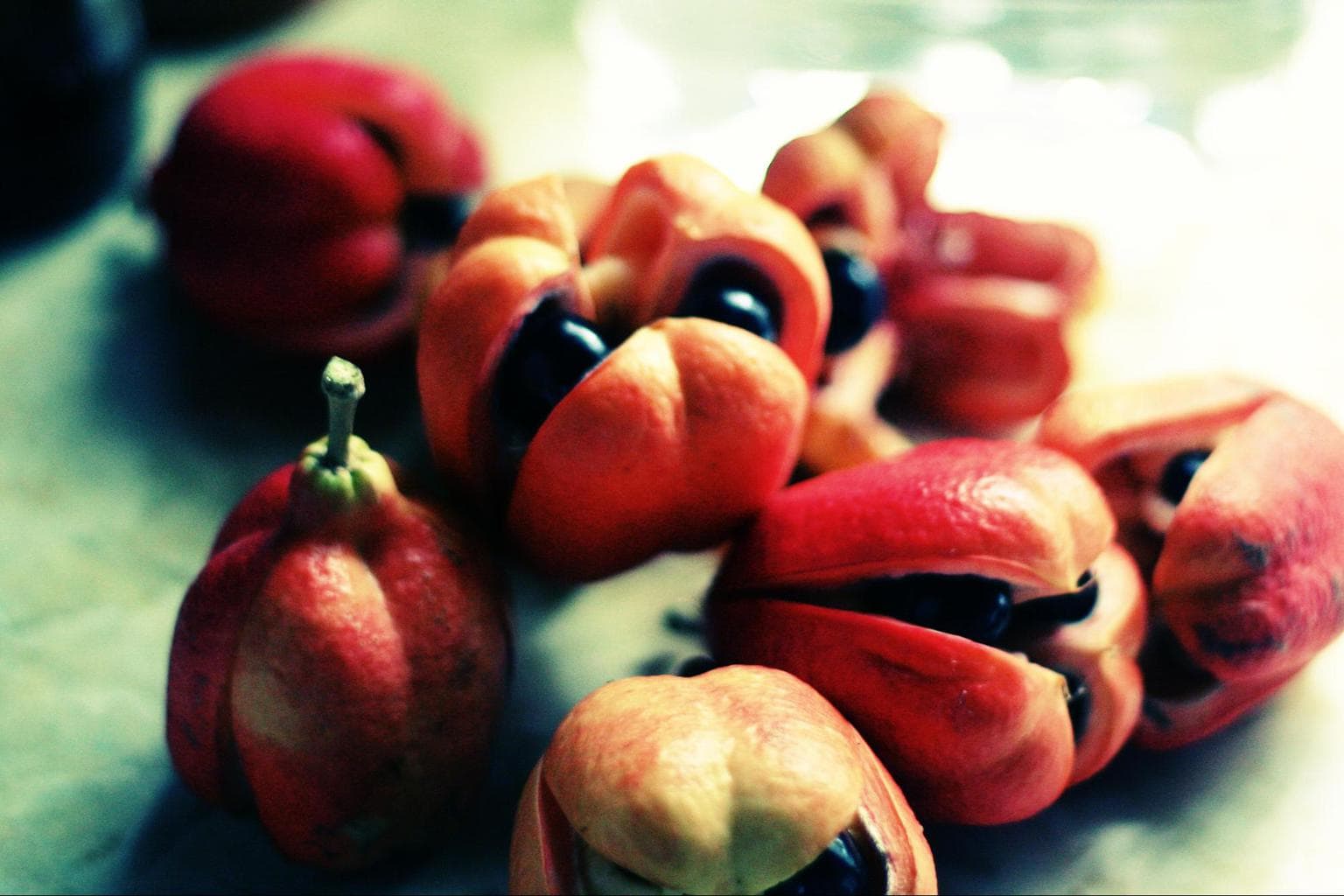 Nicknamed "the most dangerous fruit in the world", you should definitely eat this tropical fruit from Jamaica (actually the national fruit of Jamaica) with caution or with someone who knows how to prepare it. Related to the lychee or longan, the ackee fruit is dominant in Jamaican cuisine with the unofficial national dish being ackee and saltfish.
The reason this exotic fruit is so dangerous is due to its toxicity where it contains toxins hypoglycin A and hypoglycin B or "soapberry toxins". While hypoglycin B is only in the seeds, hypoglycin A is in both the arils and seeds. It's also poisonous when not yet ripe and causes something called Jamaican vomiting sickness. The rind is also poisonous.
You will know when the fruit is ripe when it "yawns" or "smiles" open to reveal the large seeds inside, much like the Demogorgon in Stranger Things, but more appealing. Never try to force it open unless you want a fatality. Avoid the pink arils and the seeds, the creamy yellowish/white parts are the edible parts.
The taste is quite nutty, like a raw peanut or almond. Don't eat too much of this raw, it's better and safer when cooked.
Nutrition: The Jamaican ackee contains calcium, potassium, sodium and small amounts of iron, zinc, vitamin A, B complexes (riboflavin, niacin) and vitamin C.
Pin this to your food of the world board!