Natra Bintan is the recently rebranded former Canopi Hotel in Bintan which is now part of Marriott's Tribute Collection and is one of the first hotels in Asia for the brand. It is also one of the best hotels near Singapore for a weekend getaway given its proximity to the ferry terminal, a mere 1h ride from Singapore's Tanah Merah.
Unlike other more refined luxury resorts in Bintan like The Sanchaya or wellness-focused Banyan Tree, Natra Bintan is a relatively no-frills 4-star hotel on the shores of Chill Cove, in Treasure Bay, Bintan's most recent development.
Featuring glamping tents, the resort is a grown-up version of nearby Anmon which offers teepees more targeted at millennials and families with children and capitalises on the trend sweeping across Asia. This is something a little different from the usual resort or overwater bungalows in Southeast Asia.
This article is a review of my stay at Natra Bintan which was not a hosted or sponsored stay in any way.
Treasure Bay Bintan
Natra Bintan is part of the integrated development of Treasure Bay. The complex includes Chill Cove with its Crystal lagoon, a calm man-made lagoon painted in bright white which reflects the sky's baby blue in its treated sea waters, an area with tropical mangroves and dirt tracks for ATV tours.
The 6-hectare park is quite large, taking about half an hour to talk around on the wooden decks and paths on the lagoon's shores. While the bay opened its doors in 2015 and is said to be the largest man-made lagoon in Southeast Asia, Treasure Bay is not finished yet and is part of a 20-year plan. So don't expect a rugged destination with the best beaches in Indonesia.
Upon completion, it will include several other hotels, such as legendary wellness-focused Thai brand Chiva Som, a leader in Wellness retreats in Asia, and Mercure Bintan Resort. As well as a ship hotel that can already be seen docked by the ferry terminal and was the oldest passenger cruise ship at high seas when it ceased to operate.
The lagoon is focused on water sports and water activities and seems to be specially designed for families with lots of activities kids would enjoy such as bumper rides, pedal boats, kayaks, large colorful floaties and water rides all in a very safe environment.
The relatively shallow and calm waters are the perfect place for those who are not advanced swimmers, especially since the shore area designated for guests and fenced off from water sports is rather shallow and does not even reach the shoulders of an adult.
As an ongoing development, Treasure Bay is still adding other activities such as a Marine Life Discovery Park opening at the end of 2019 with a range of marine life and fish and Treasure Bay Bintan Organic Farm.
Arrival and check-in at Natra Bintan
Natra Bintan is a mere 5min ride from the ferry and the hotel has a booth at arrivals to welcome guests and register them for the transfer.
If you did not book a specific transport time that does not matter since the resort operates large buses, but it probably helps with check-in and room readiness if you let them know in advance at what time you will arrive so you don't have to wait for 3h like we did.
The bus will drop you off at the hotel's lobby and the staff will take care of your luggage. Bintan remains a weekend getaway destination for Singapore residents so most visitors to Bintan arrive late on Friday evening or Saturday morning which are the peak arrival periods.
If you arrive on Saturday morning, expect your room not to be ready until closer to the check-in time of 3pm. If you arrive on Friday evening after work, your room will most likely be waiting for you.
If your room is not ready, you can leave your luggage with the concierge or get changed in the common changing rooms and enjoy the facilities, or simply sit at the restaurant and enjoy a drink or a meal.
The staff came to find us at the restaurant when the keys were ready but the check-in staff had mentioned that they would message me on WhatsApp.
Keys in hand, one of the staff members accompanied us to the tent on a golf buggy with our luggage and gave us a brief tour of the room.
The glamping tents at Natra Bintan
Natra Bintan rebranded from The Canopi Bintan on the 1st of August 2019 and all the items and materials bear the Tribute Portfolio minimal branding and Natra's main name.
The tents are comfy and cozy and resemble a safari tent except for the fact that instead of rectangular they are round and the windows cannot be unzipped and opened so it does get dark inside.
Natra's rooms are split into two sections: an indoor air-conditioned bedroom and an outdoor open-air bathroom that has small openings near the ceiling but is completely walled off for privacy. Each tent also has an outdoor garden table with two chairs.
The decor and interior design of the tents have enjoyed an upgrade with Marriott's take-over and offer now classier glamping with touches of a mobile tented African safari experience of the 1920s Big Five game hunting times.
The tents are set across a large grassy area and organized along roughly ten rows starting by the lagoon's shore. There are different categories of rooms depending on the tent's location and its size.
The lowest category is the Garden Tent which is also the one with the simplest furniture and interior design. This evolves into the Safari Tent which is the one I booked and which has a few safari-like touches such as a trunk bedside the tables and closets.
The next category up is the Lagoon View tent which is closer to the lagoon and has an outdoor section with two sun loungers. To upgrade further, you can get the same Lagoon View tent with a whirlpool bathtub. And finally, a Glamping Deluxe Tent which has garden views and whirlpool but is the largest in size.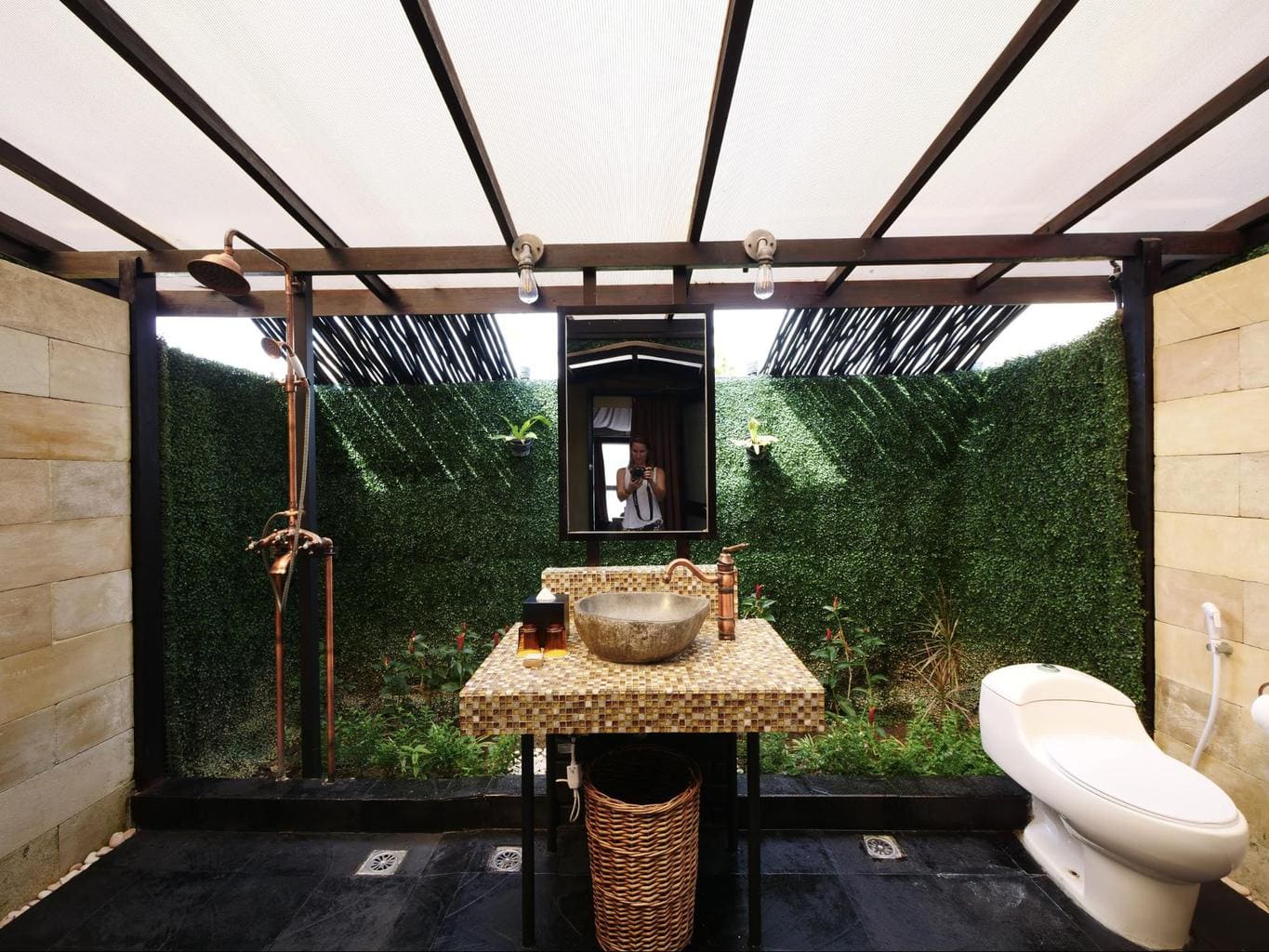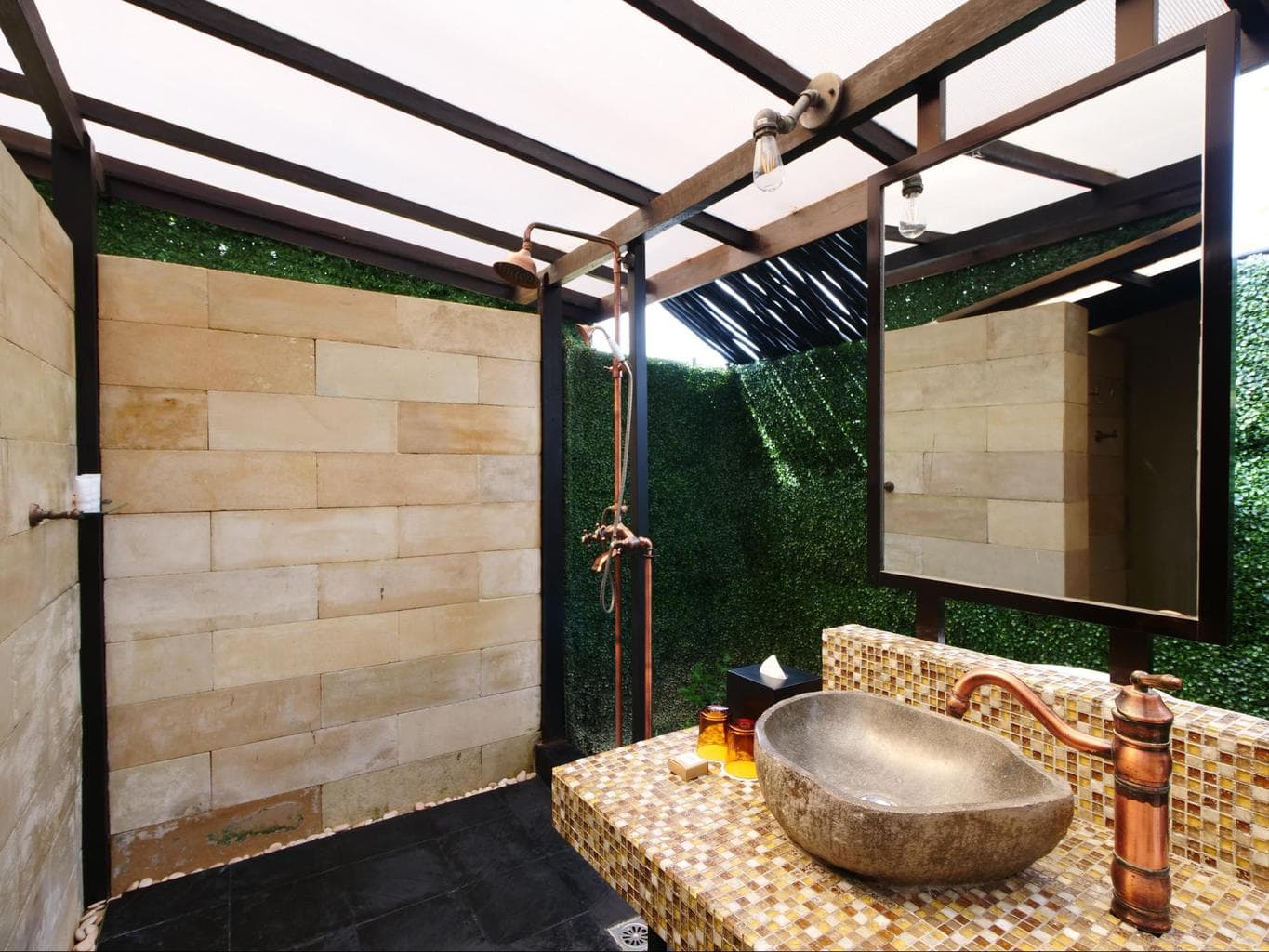 In terms of deciding, I have a hard time justifying spending more for the proximity to the lagoon because there is a path that surrounds it and if you are on the first row of tents you are basically in front of all the traffic but have no actual view of the lagoon (remember the tents have no windows) so more of a downside than an advantage.
If you are visiting Bintan as a couple and looking for a romantic getaway, a whirlpool might be a cool thing to have, if you are going with friends, not much of a point.
There is a 30-40% difference in price between the entry-level room and the highest category but I am almost inclined to suggest the Safari Tent is the best unless you want the hot tub.
Dining at Natra Bintan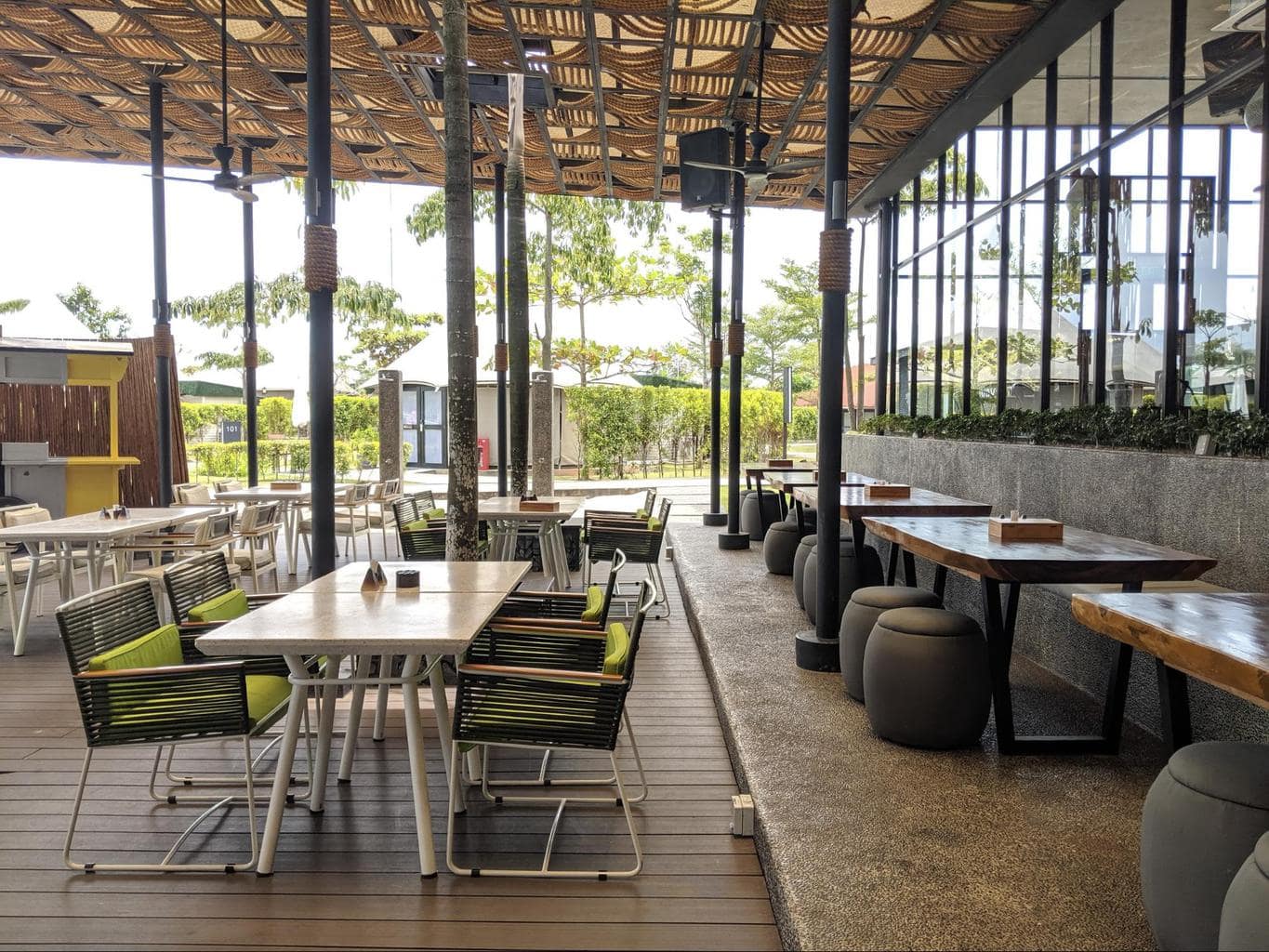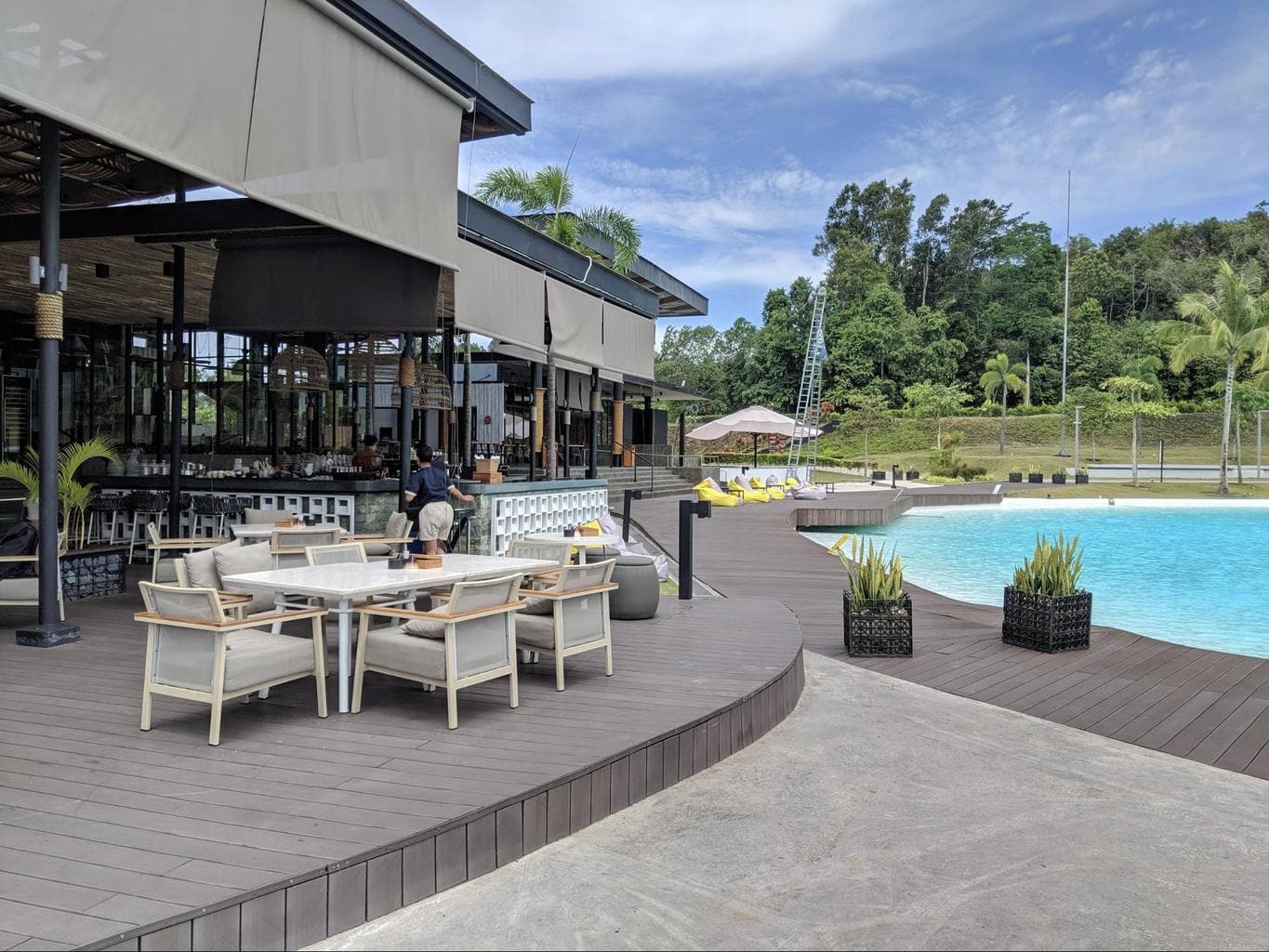 There is only one restaurant at Natra Bintan, Patio, which serves breakfast, lunch and dinner with an all-day dining concept and one menu.
Located by the reception, the restaurant and bar serve a mix of Indonesian dishes, regional pan-Asian food and comfort-food international alternatives like pasta, pizza or burgers.
The menu has been revamped since the Tribute Portfolio took over and although the selection can be limited if you are staying for long, the food quality was quite high and the dishes freshly prepared.
Service at the restaurant was attentive with several of the staff members coming to ask for feedback while we were eating.
The drinks list is extensive, especially on the non-alcoholic side, but somewhat limited on the wines, particularly by the glass with only the most affordable options you find at a supermarket in Singapore.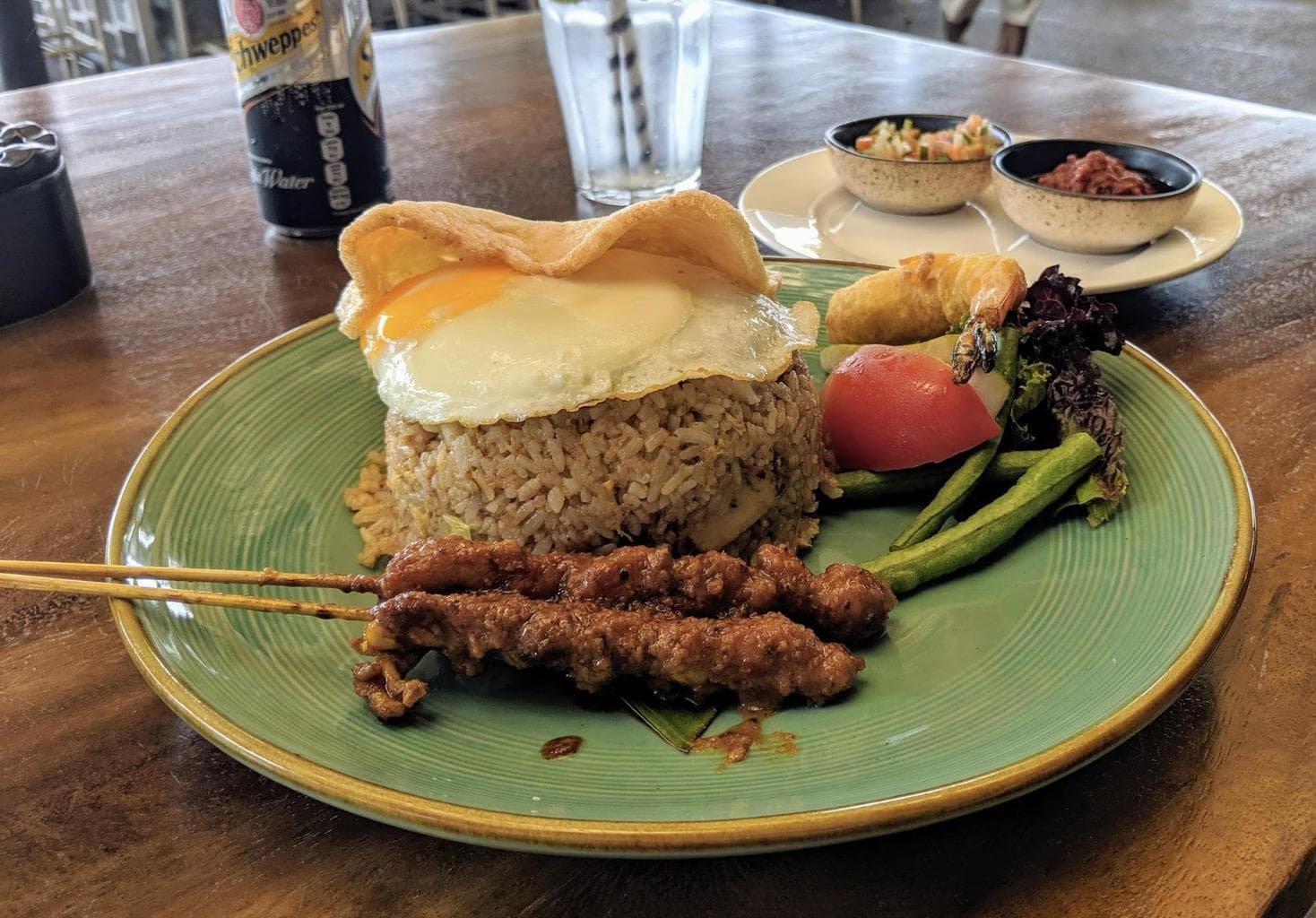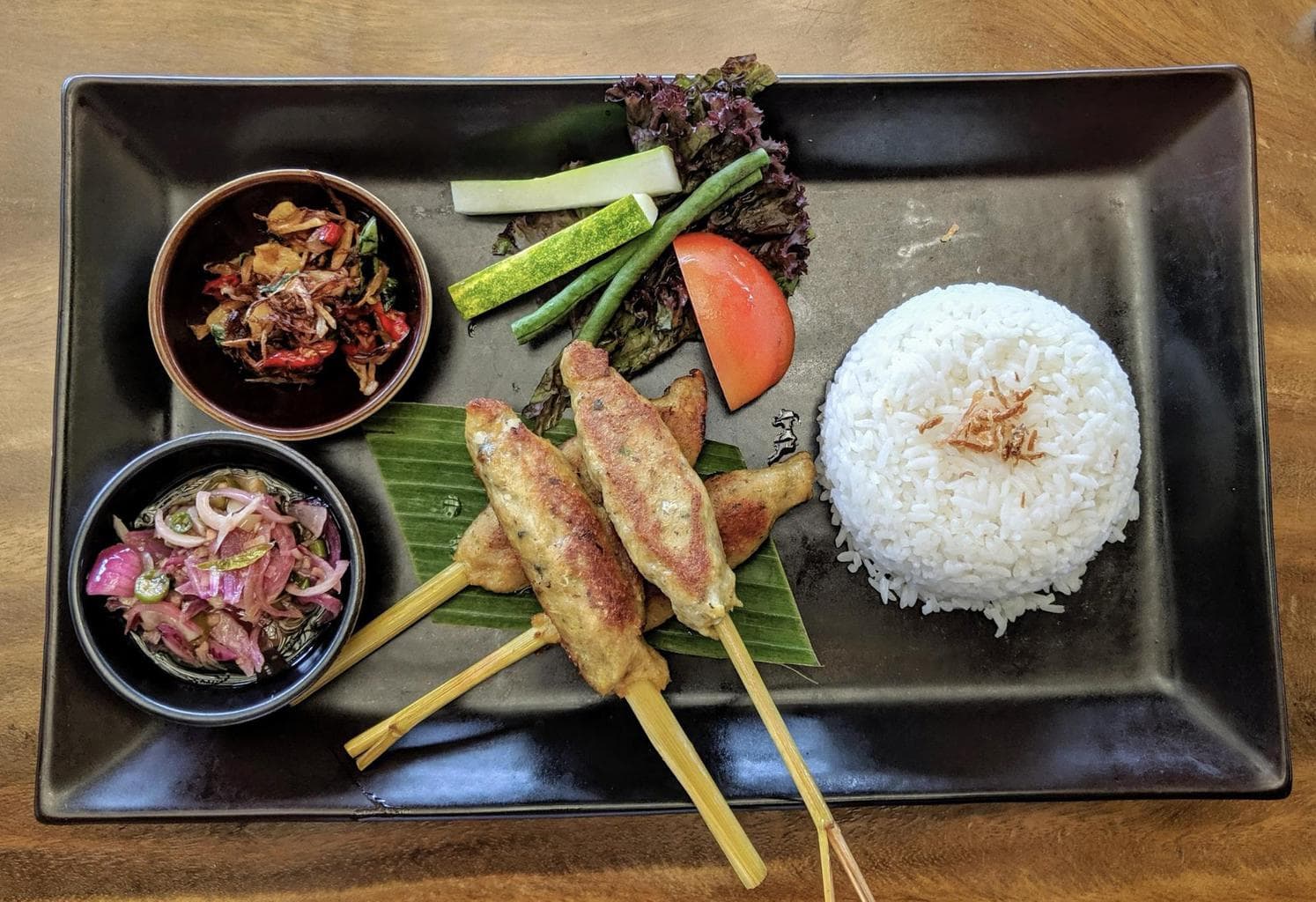 There is also a decent cocktail list, including the hotel's take on the classic, and life-saving, safari drink: the gin & tonic which includes a sort of molasses or sugar cane making it a sweet version of the bitter drink.
Breakfast is included in most bookings and consists of a relatively extensive and decent buffet located inside the restaurant. There are all the usual suspects plus a live station cooking eggs and noodles to order.
Indonesian and Chinese guests will be happy with local specialties and international guests will find everything they need in the continental range, although I found the fruit selection quite limited for a tropical place.
We were also offered a freshly made strawberry milkshake at the table which was a nice touch, despite being very sweet and not fresh.
Things to do at Natra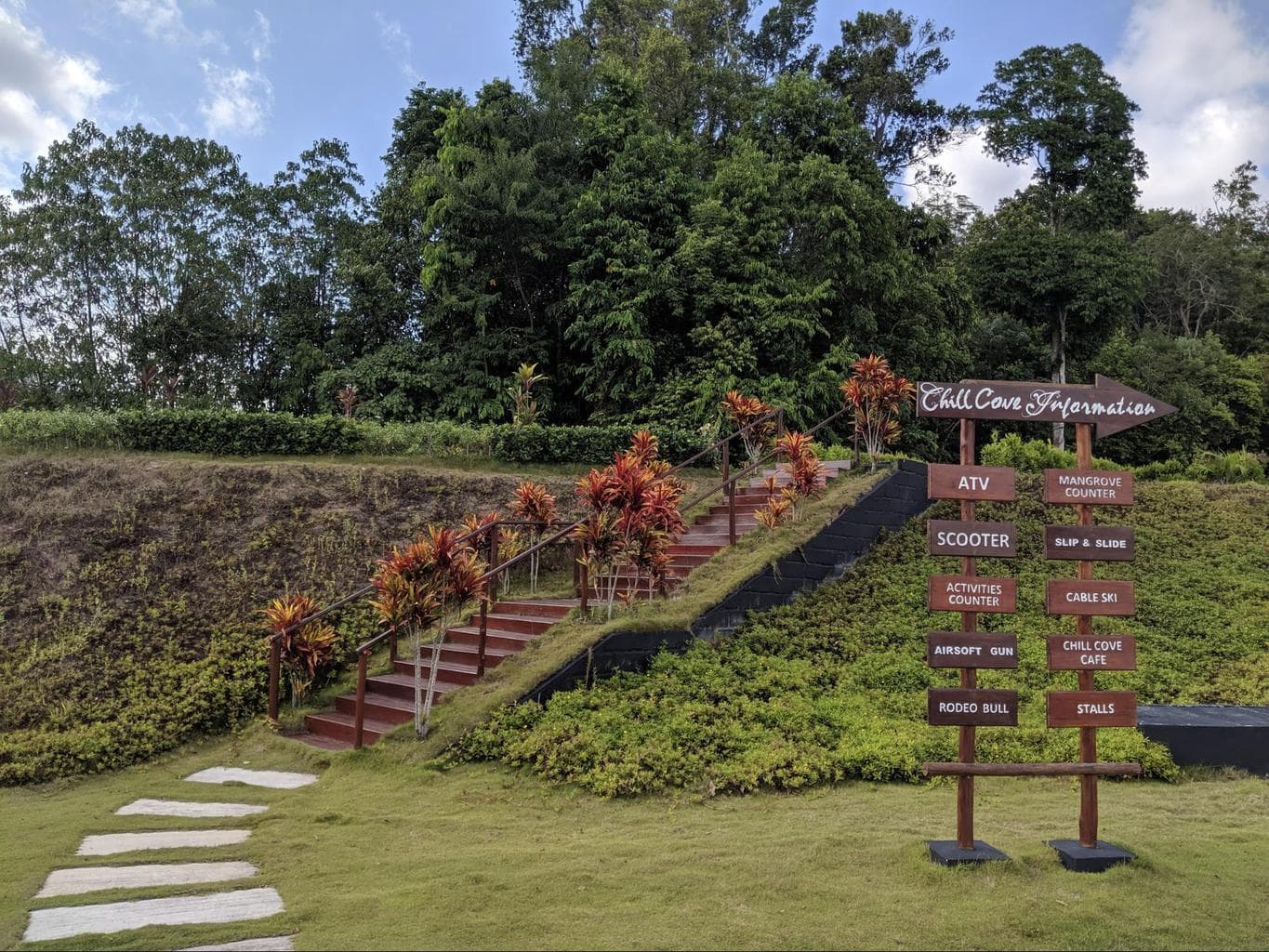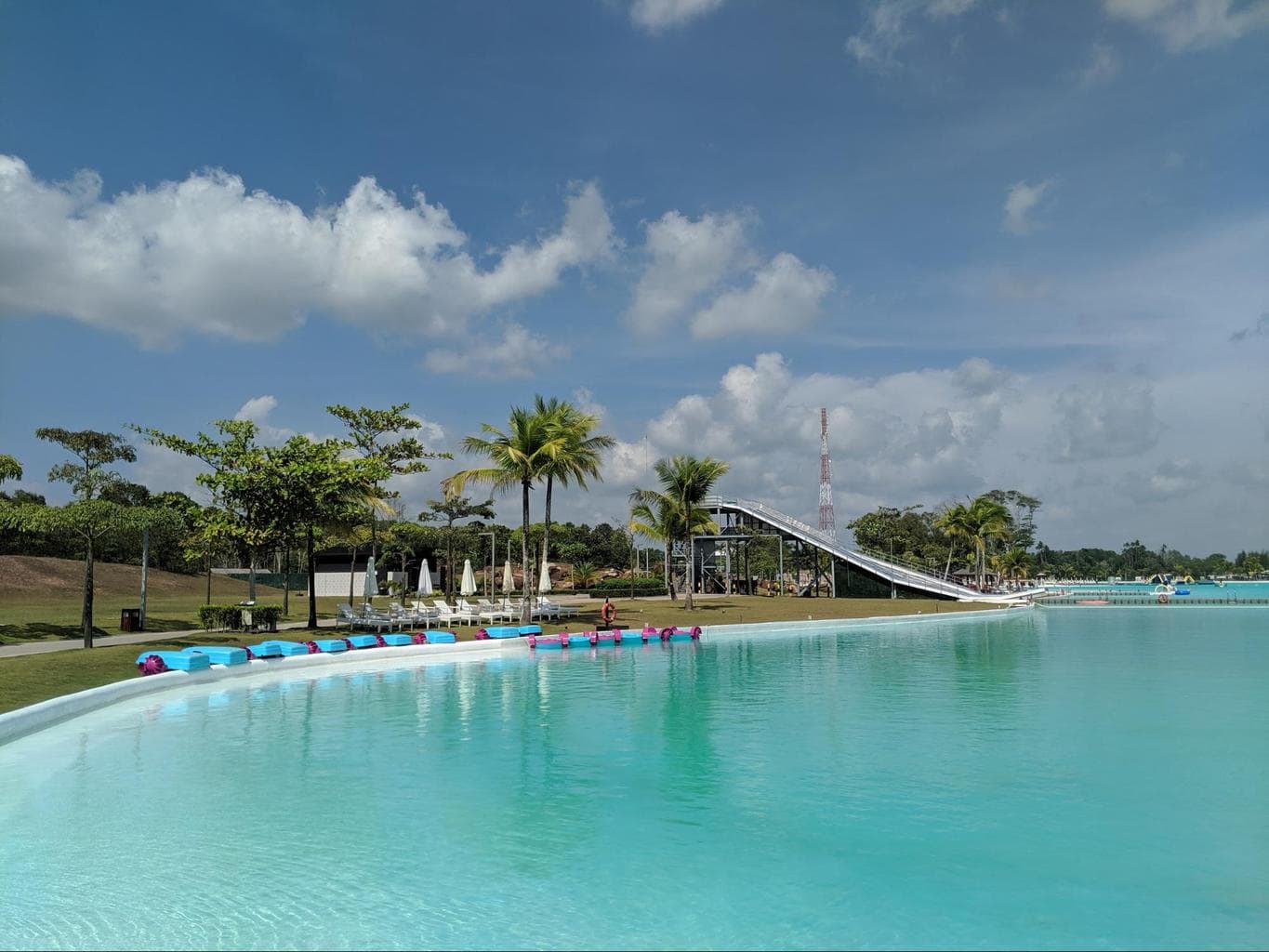 Most of the things to do at Natra are water-based and offered at Treasure Bay and charged separately by each of the providers. You cannot charge any of these activities to your room and will have to pay by cash (Singapore dollars accepted) or card.
There is a myriad of water sports available from see-through kayaks and stand-up paddleboards to wakeboarding, floaties for rent (large unicorns for a few people, pink flamingos), pedal boats for children, aqua glide sailboats, water ZORBs, small inflatables for children and even a jetovator.
Outside the bay, you can also explore the nearby mangroves on a kayak, a pontoon boat tour or at night. Book a mangrove river tour on Klook here
to avail of any promotions or discounts.
If you prefer to stay on the land, you can rent a Vespa-looking electric scooter or go on an ATV dirt track ride. Golf courses are nearby too.
Of course, you also have all the rest of the activities on Bintan available for you.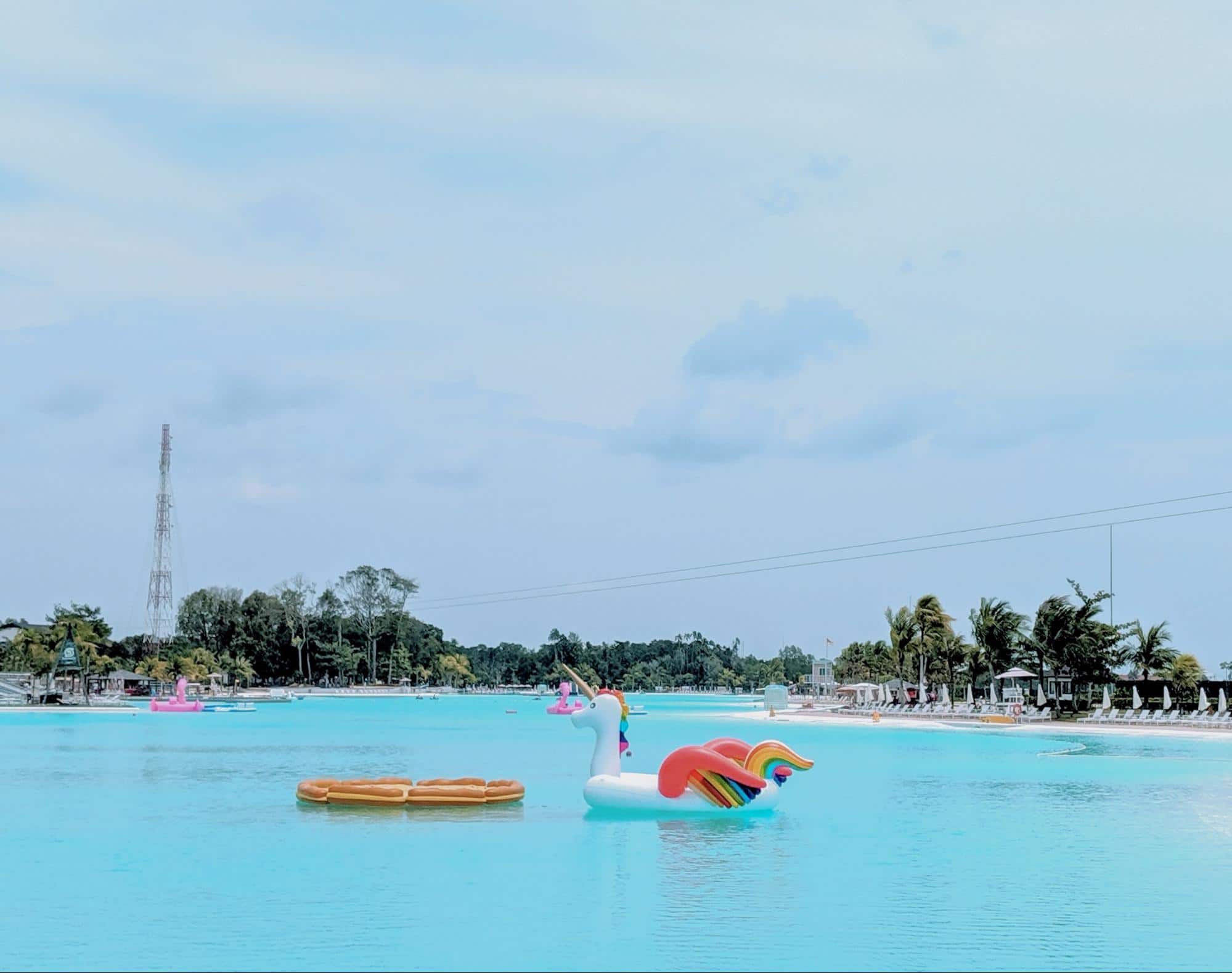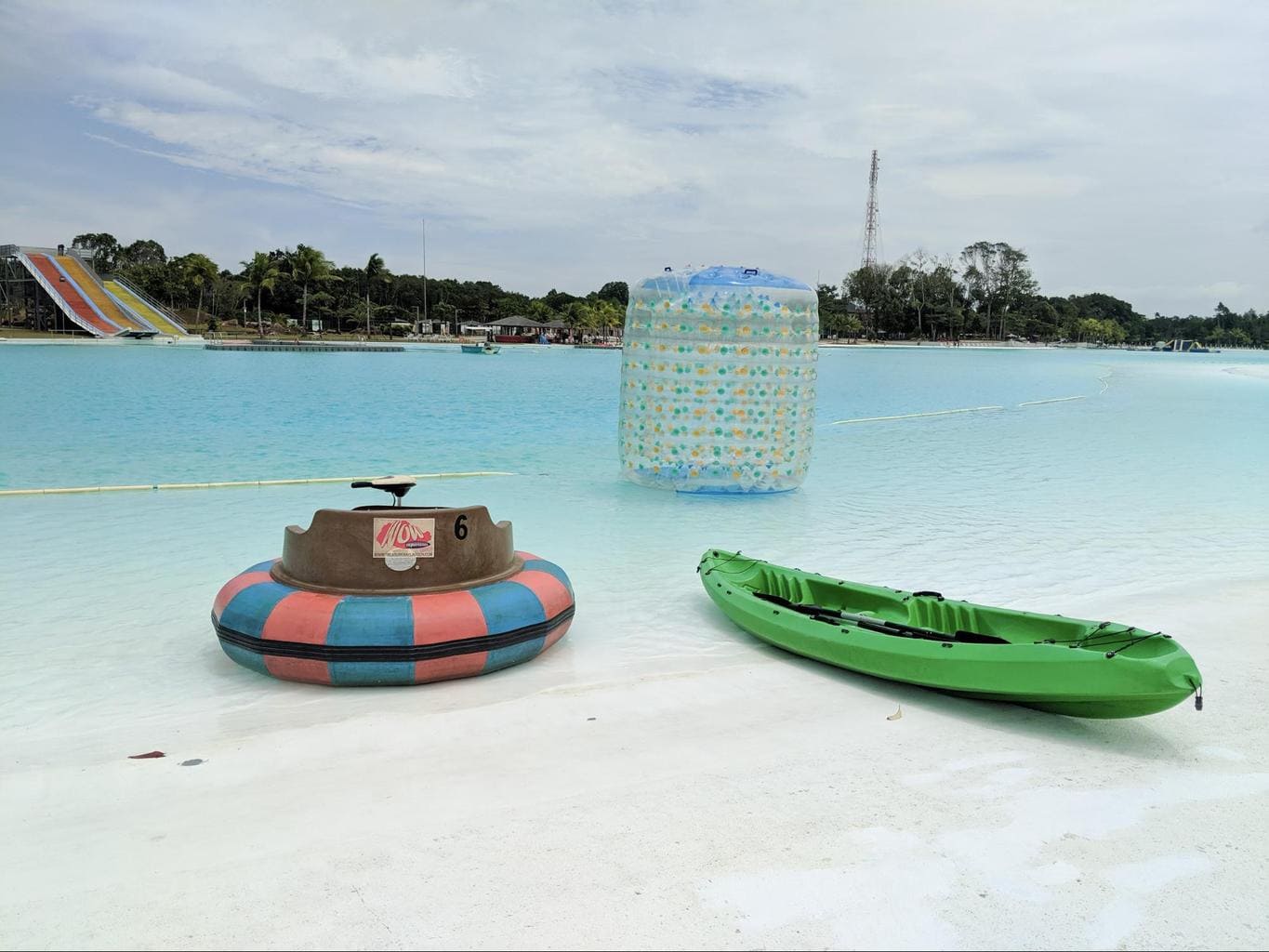 For guests of Natra Bintan, there are also sun loungers by the water set either on a sandy patch or a wooden deck and facing southeast. Umbrellas will protect you from the sun and there are small tables between the sun loungers.
Access to Treasure Bay is open to day visitors for a S$9 fee (book here
) so guests from other resorts can also come. But since the complex is so large and still undiscovered, this has minimal impact on guests. However, bear in mind Saturdays can get busy.
There is no service by the water so if you need any drinks or food you can only get it from Patio.
Service at Natra Bintan
The staff at Natra Bintan is very friendly and willing to help. They were eager and with a can-do attitude ready to ask for feedback and get anything done.
Management came a couple of times on different occasions to ask for our feedback and they seemed genuinely interested.
The verdict
If you are looking for a getaway near Singapore that is laid-back and unpretentious, Natra Bintan is a good option.
Its proximity to the ferry terminal and Singapore make it a really easy weekend escape for those who love to have an active time, while those who just want to relax will find the quiet sun loungers a great place to retire to.
Despite the nature feel of Treasure Bay, you won't need many resources to plan this safari and you won't see the wildlife of other Asian safari destinations either. There are no gorillas in Bintan, except for those donning oversized lifevests, but do bring the mosquito repellent because the buggers are as fierce as they are in Africa.
Book Natra Bintan on Booking | Agoda