Launched in early 2013, the $57 million North Eastern Riverine Loop located in Punggol (Singapore's first eco-town) is one of 5 park connector loops linking green spaces across Singapore.
The 26km route connects Punggol Park, Punggol Waterway Park, Punggol Point Park and Sengkang Riverside Park, and over 80% of the Loop runs parallel to waterways and reservoirs, so there will be plenty of wildlife to take in where you can try spotting sea otters, herons and horses in one visit. There's even a secret beach to relax on.
Although many locals think Punggol is too far, exploring the North Eastern Riverine Loop is a delight especially for cyclists, runners and nature lovers.
Journey Highlights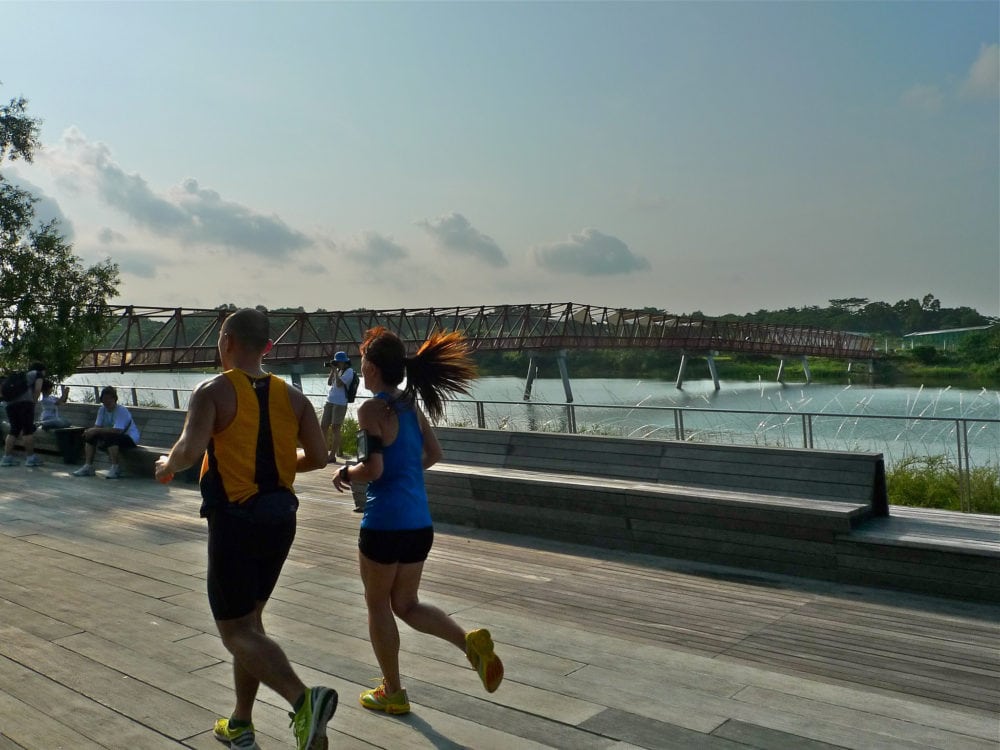 It only takes 3-4 hours to walk or a 2 hour bicycle ride to cover the Loop, but you can actually spend an entire day exploring all there is to offer. Everything listed below is from South to North, starting at Sungei Pinang and ending at the Coney Island West Entrance. Highlights 12 to 14 can be seen on your loop back via an alternative route from Coney Island to Punggol Park.
Sungei Pinang/Serangoon Park Connector
Begin your journey along this 4.2km canal, which feeds into the longer 8km Sungei Serangoon (Serangoon River). More than just a cycling and jogging path, Sungei Pinang was transformed by Singapore's national water agency, PUB, into a green recreation space to conserve the area's natural habitat. Catch herons, kingfishers and terns fishing here when the water levels are low.
Open 24/7
Park lighting hours: 7pm – 7am
Sungei Serangoon Park Connector
As you travel along this greenway running parallel to the picturesque Sungei Serangoon, you'll see vibrant plant life and the most colourful vegetation lining the banks, such as the Firecracker Plant and mystical-looking Purple Fountain Grass, which can grow up to a height of 1.2m.
If you love the outdoors, why not check out our guide to Pulau Ubin or walking the Southern Ridges.
Riverside Walk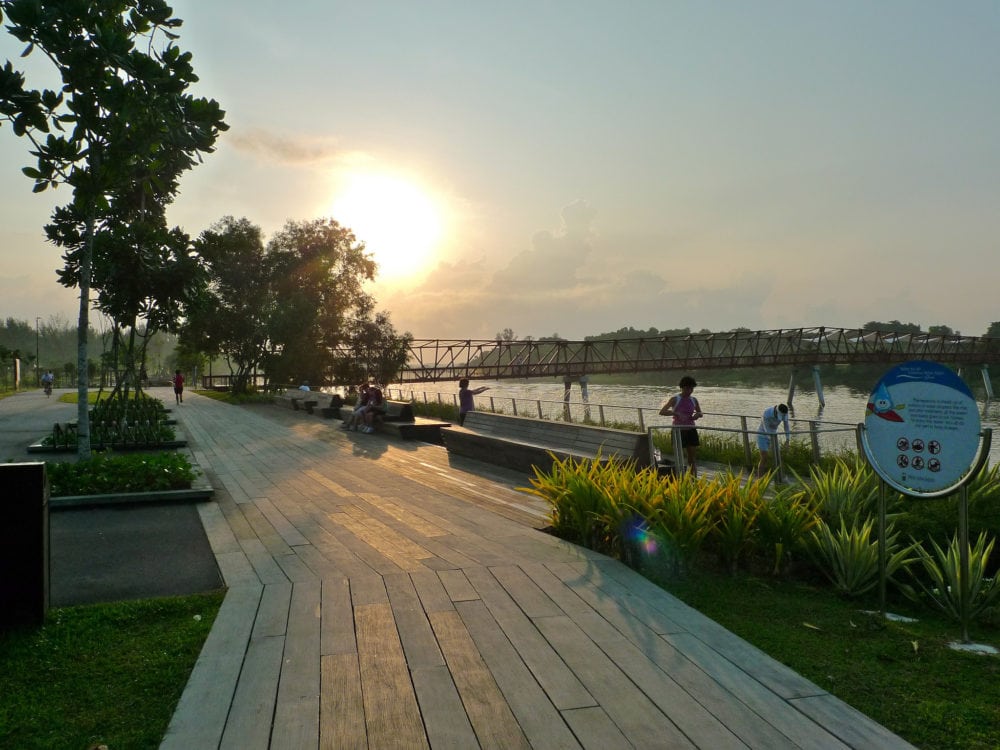 Time to spot adorable animals! The Riverside Walk along the remaining stretch of Sungei Serangoon has plenty of sheltered "lookout" points along the way to get you closer to the water and catch sight of sea otters swimming near the banks (the best time to catch them is from 6-8am).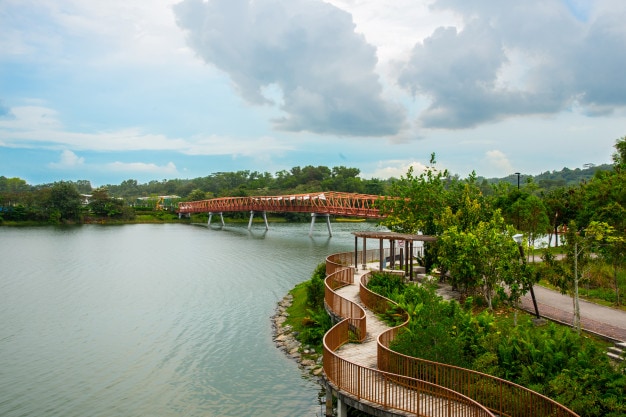 There are also two picturesque bridges for photo taking: the red Lorong Halus Bridge, resembling an old-school steel railway bridge, and the elevated Sunrise Bridge, where – you guessed it – you can catch the beautiful sun rising above the water every morning.
@Punggol
Take a break at the cluster of F&B outlets located adjacent to the Riverside Walk on Tebing Lane. The area is known collectively as @Punggol and has everything from fast food chain Popeyes and hipster cafe Whisk & Paddle to local favourite franchise Uncle Leong Seafood.
In the daytime, this area is super lively with loud music and excited soccer players having a game at Uber Sports' waterside futsal field. At night, Sungei Serangoon is extra pretty when the the banks are lit up with spotlights, so @Punggol is also a cool place to have dinner and and a pint of beer (try Frienzie Bar).
Lorong Halus Wetland
Cross Lorong Halus Bridge to the eastern bank of Sungei Serangoon and be awed by the huge wetland spanning an area of 18 soccer fields. It's hard to believe that this area, which is today full of vegetation, flowers, insects and birds, used to be a landfill that polluted the river. You can learn all about the innovative transformation at the wetlands learning center.
Punggol Waterway Park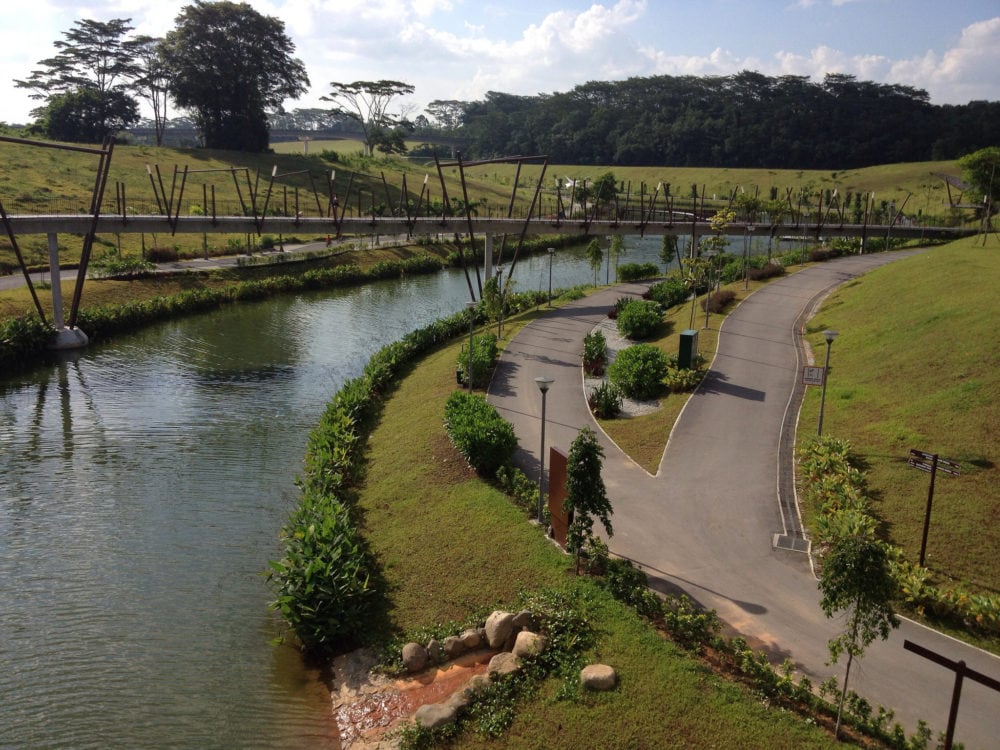 This is actually a detour from the North Eastern Riverine Loop but it honestly can't be missed while you're here. Nicknamed the "Venice of Punggol", the park is built along a 4.2km waterway and divided into four themes: Nature Cove, Recreation Zone, Heritage Zone and Green Gallery.
Cool themed bridges dot the waterway, including the Jewel Bridge to catch sunsets, a wooden suspension Adventure Bridge, the funky Kelong Bridge inspired by fishing poles, and a crab-shaped Punggol Walk Bridge. At Heritage Zone, you'll get to cycle or walk under an overhead waterfall and learn from a 280m long Heartwave Wall, featuring motifs displaying the transformation of Punggol from a fishing village to a vibrant waterfront town.
Marina Country Club
Sentosa Cove on Sentosa Island isn't the only place with fancy boats and seaside boardwalks. Apart from leisurely fishing and boat trips, this club also has the country's largest wakeboarding hub. On-land club activities include prawning, full body massages and fun at the arcade.
Enjoy all these without the fuss of signing up as a full-time member as Marina Country Club proudly declares itself as "Singapore's only private-membership club that is open to the public". Many of the yachts make their way to Singapore's Southern Islands for the day.
Punggol Point Park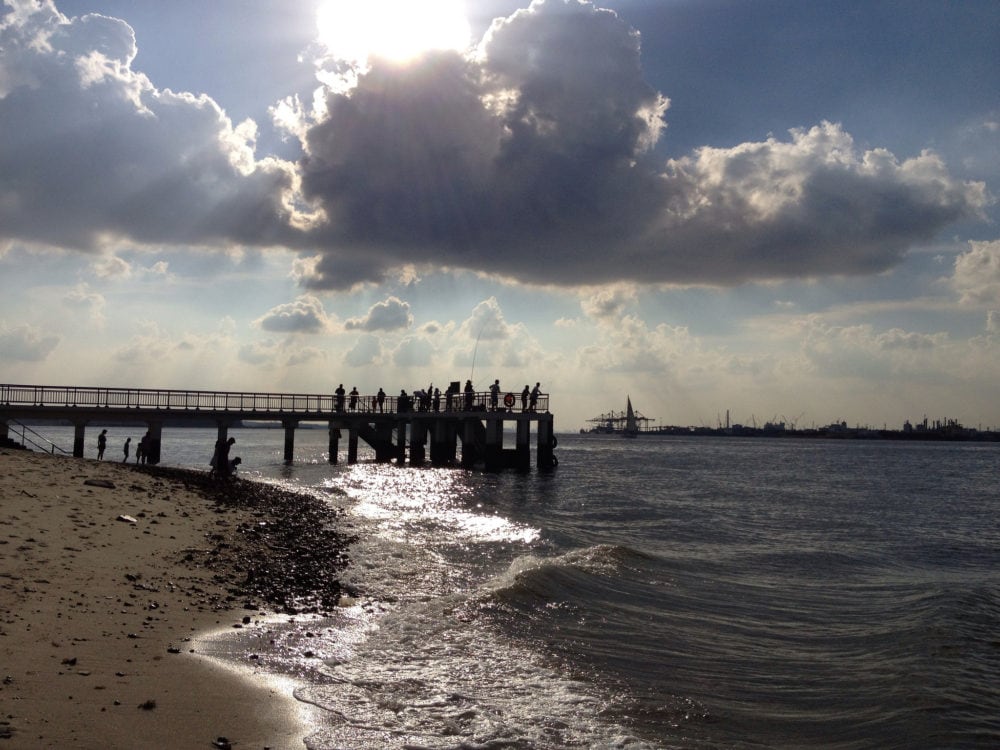 Soak in the gorgeous, calming seaside as you travel along Punggol Park Connector from Marina Country Club to Punggol Point Park, and feel free to hop off the asphalt paths to relax on the sandy coastline.
With plenty of lookout points and seaside sitting areas, there is also an elevated deck where you can enjoy views of Pulau Ubin and the Johor Straits (I was so close to Malaysia that my phone picked up the Malaysian signal!). At Punggol Point Jetty, adventurers board ferries to enjoy camping, kayaking and high elements courses at Outward Bound Singapore.
The Punggol Settlement
There are lots of cool places to eat and drink by the seaside, and the restaurants along Punggol Settlement fill up quickly at dinner time for their good views and vibes. Enjoy buffalo wings while listening to live bands at the Balinese-themed sports bar Georges by the Bay. There is also a row of Chinese seafood restaurants serving up Singaporean crab favorites, including House of Seafood, Jing Long Seafood Restaurant, and Ponggol Seafood.
Punggol Ranch
Experience Singapore's very own seaside cowboy town, the only place in the country where you'll find horseback riding, dining, and boarding in one place. Get off your bicycle and hop onto one of 60 horses and ponies here, through guided joy rides or advanced riding lessons (From $70).
Punggol Ranch is also one of Singapore's most unique staycation spots with 30 wagon-shaped and country-styled rooms, which come with BBQ facilities and archery grounds.
Prefer a more luxurious place for your upcoming staycation? Here's our guide to luxury hotels in Singapore and a few under-the-radar yet gorgeous boutique hotels in Singapore. And if you're visiting in summer, you'll need to stay at one of these hotels with rooftop pools in Singapore so that you can take a dip after your loop excursion.
Nature Walk
The only section of the North Eastern Riverine Loop without asphalt roads, the Nature Walk is an easy 2.4km dirt terrain running parallel to the waterside. Dotted with plenty of fishing platforms and rest shelters, the Nature Walk is also your entry to Coney Island.
Please avoid the Nature Walk on a rainy day. I made this mistake once and struggled to cycle through the mud, not to mention having to spend a good hour cleaning my tires afterward!
Punggol Park Connector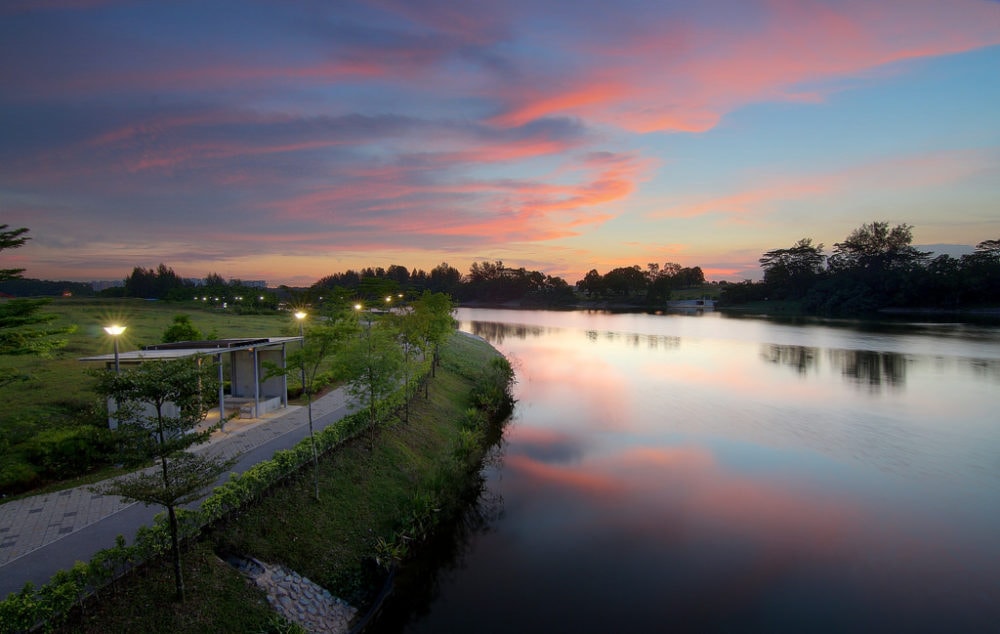 To complete the 24km Loop, you'll need to backtrack past Nature Walk and Punggol Point Park. After you pass Marina Country Club, continue straight instead of turning left to Punggol Waterway Park.
The entire 6.1km Punggol Park Connector stretch runs parallel to the Punggol Reservoir and is a feast for your eyes with its rich biodiversity. Along the way you'll see coastal and mangrove trees and "butterfly-attracting" flowers. It feels almost magical cycling past butterflies fluttering everywhere around brightly coloured flowers.
Sengkang Riverside Park
This park is an excellent example of Singapore's amazing sustainability efforts. It features PUB's Sengkang Floating Island, the size of half a soccer field and the country's first constructed wetland of floating mangroves and aquatic plants that collect and filter rainwater.
There are also educational trails to explore across the park, including a Fruit Tree Trail running along the perimeter of the wetland, featuring 16 familiar and exotic fruit trees (pond apples and island lychees anyone?).
Punggol Park
Popular with couples and families living in the surrounding Hougang neighbourhood, Punggol Park reminds me of a mini version of Central Park in New York with its sprawling grass lawns and serene 5-hectare lake. This is a great spot to relax but also good for jogging, cycling, and rollerblading along the asphalt paths circling the water.
Plus, don't miss the free weekly group Zumba workouts during Sundays @ the Park. To properly wind down after your 26km journey, have dinner and drinks at Wild Oats, a cool alfresco bar & grill overlooking the lake.
There is so much to explore in Singapore by foot, so use one of our guides to further your exporation:
And here are some general articles to give you hundreds of more ideas:
How to get to the North Eastern Riverine Loop in Singapore
Official Website: https://www.nparks.gov.sg/gardens-parks-and-nature/park-connector-network
Opening Hours: 24/7; Park lighting hours: 7pm – 7am
Nearest MRT (Start Point): Kovan
Nearest Bus Stop (Start Point): #64201 "Aft Hougang Ave 3" for buses 53, 72, 81, 87, 112, 151, 151e
Where to rent your bicycle: GoCycling (2 locations: Punggol Park and Punggol Jetty – both open Weekdays 10am – 7:30pm, Weekends 8:30am – 8:30pm)