This article on Pulau Ubin was last updated in August 2020.
Just $3 and 10 minutes takes you to a land of kampongs and beautiful nature – a picture of what Singapore was like before it became a city state. Accessible, affordable, fun and peaceful, spending a day in Pulau Ubin is one of our favourite things to do in Singapore.
If you're wondering what to do in Pulau Ubin, look no further as this guide has all the information you'll need, from how to go to Pulau Ubin to the best activities, how to rent a bike and where to eat. Best of all, we keep it updated in case things change (although the beauty of Pulau Ubin is that it does not change much).
History of Pulau Ubin
The legend of Pulau Ubin states that three animals raced to the shores of Johor. If any of the animals failed to land at Johor (in current day Malaysia) they would be instantly turned to stone.
Of the three animals, which were an elephant, a frog and a pig, none of them made it and were said to have turned into the islands of Pulau Sekudu between the Serangoon Harbour and Chek Jawa wetlands, and another two islands separated by the Jelutong River, which are now combined to make up Pulau Ubin.
Legend aside, Pulau Ubin was first a shrimp farming area, then an agricultural space with jasmine, rubber and pineapple (which was also the main business of today's famous colorful house in Little India).
Later on, when the stilts built to farm shrimp united the 5 islands into one (if you look at Pulau Ubin map you will see the original 5 islands now connected by old fish farms), Pulau Ubin became a center for granite extraction. From the mid 1800s, this activity gave it its name which literally translates to "Granite Stone Island".
Interestingly, many of Singapore's gazetted national monuments were built at that time using granite from Pulau Ubin, so in a way, a bit of the island is present in every major tourist attraction in Singapore.
The granite was used in famous Thian Hock Keng Temple, one the most beautiful temples in Singapore and a must-see in Chinatown, and to build the Singapore-Johor Causeway.
The island was first sketched by Singapore city planner and surveyor British Royal Navy Lieutenant Philip Jackson in 1828, who was also the one who designed Singapore in what we more commonly know as Sir. Stamford Raffles Plans (he came up with the idea, Jackson drew it).
Business thrived in the 1930s and this success led to the creation of Kampongs (traditional villages) where Malay and Chinese lived. Land was also cultivated for crops to both consume and sell, providing communities with fresh food to enjoy together.
The granite industry began its decline in the 1970s and commercial crop cultivation stopped in the 1980s. The last operational quarry was shut down in 1999. After that, all quarries were all flooded, giving way to bird populations and other wildlife who have repopulated the island.
Today, about 24 households remain on Pulau Ubin, relying on wells and diesel generators for electricity. Yet there are still around 300,000 visitors per year who come seeking a Singapore that is stuck in time.
How to go to Pulau Ubin – Pulau Ubin ferry
If you are wondering how to go to Pulau Ubin the answer is really simple. You need to make your way to Changi Point Ferry Terminal, walk down the stairs and stick to your right so you can join the queue marked "Pulau Ubin".
You will then be escorted to take the ferry to Pulau Ubin, although more than a ferry we are talking about a small bumboat. You don't have to buy any tickets in advance, just join the queue and wait for your spot.
The bumboat uncles are super on top of their game and are constantly moving people forward in the queue and spotting groups of people to fill the boats with up to 12 (9 in times of COVID) passengers maximum. Once the boat is full, it will depart.
On your way, enjoy the journey's view of Changi Beach, blue skies and the sea as you approach Pulau Ubin which feels like it is miles away from Singapore. Instead of the usual cityscape and container ships, you will see small sailing boats, the constant traffic of bumboats and fishermen.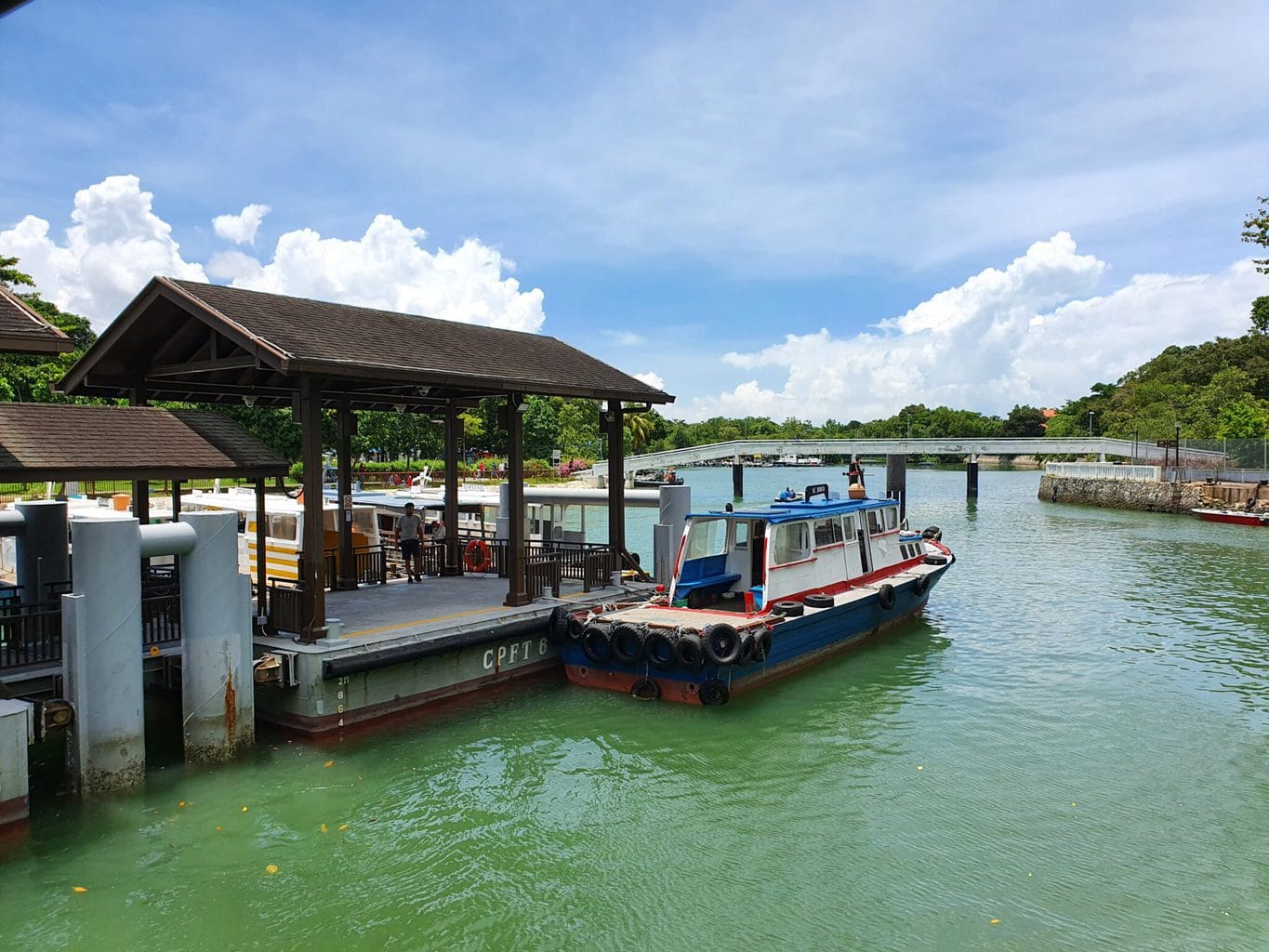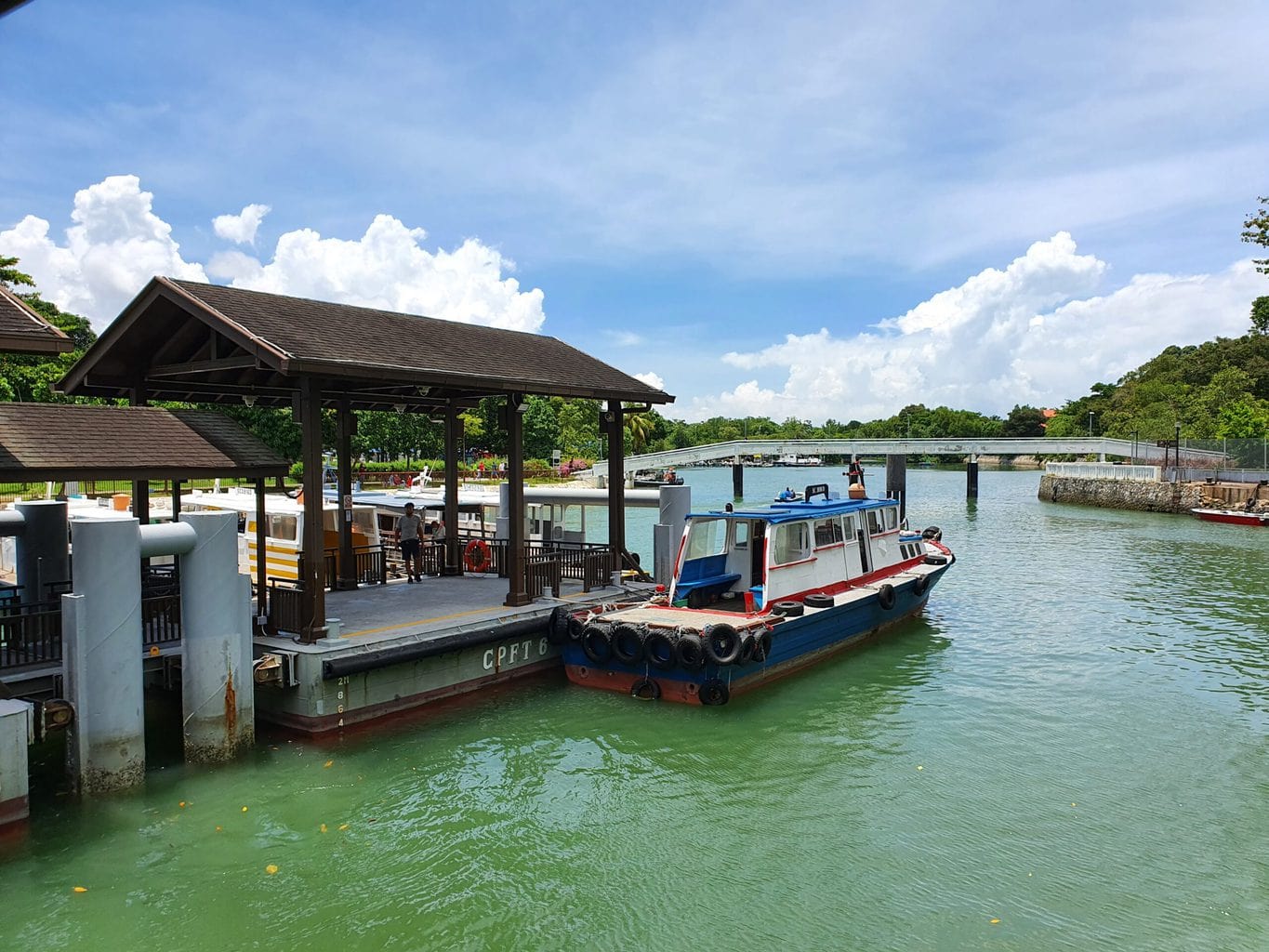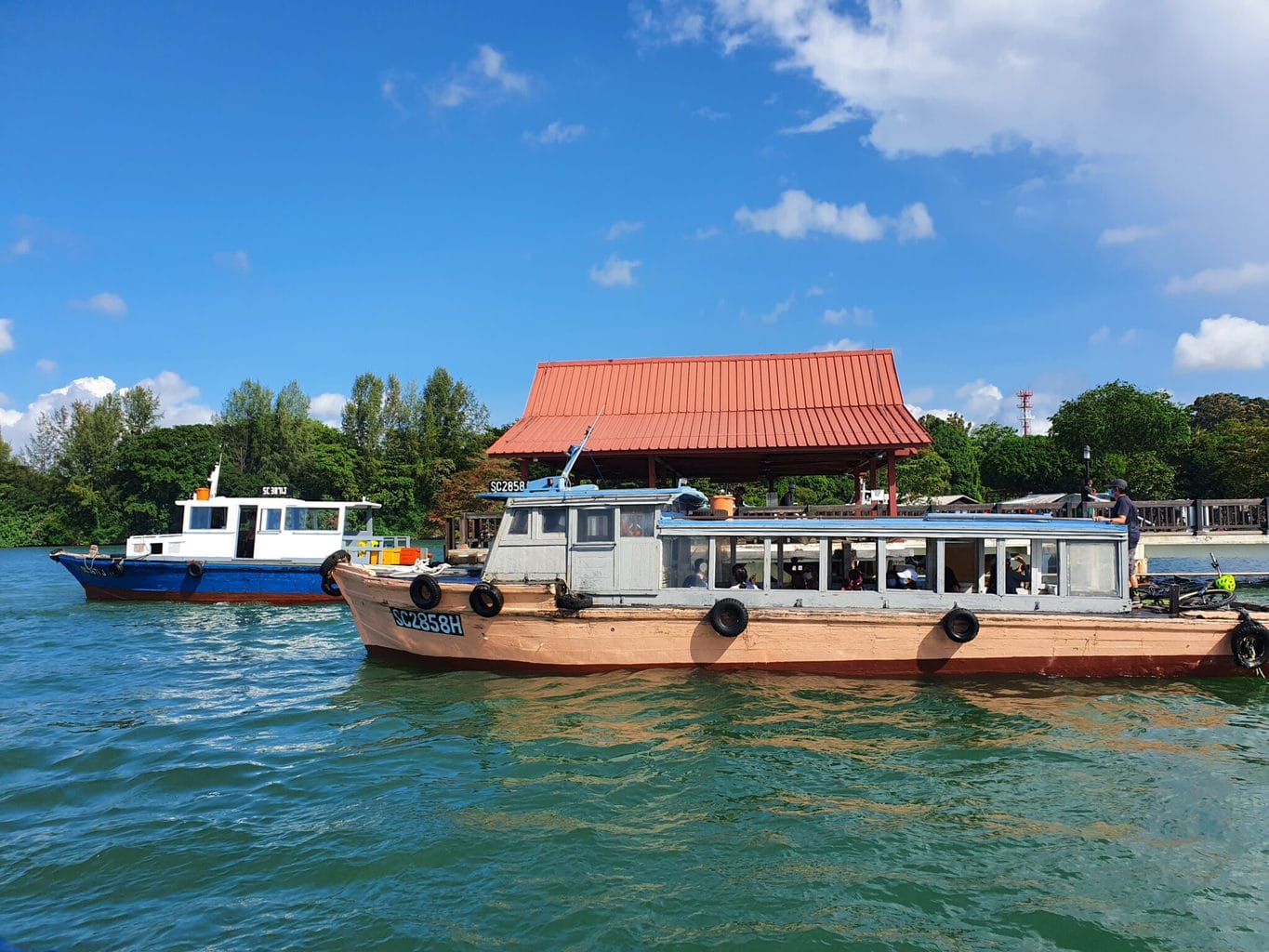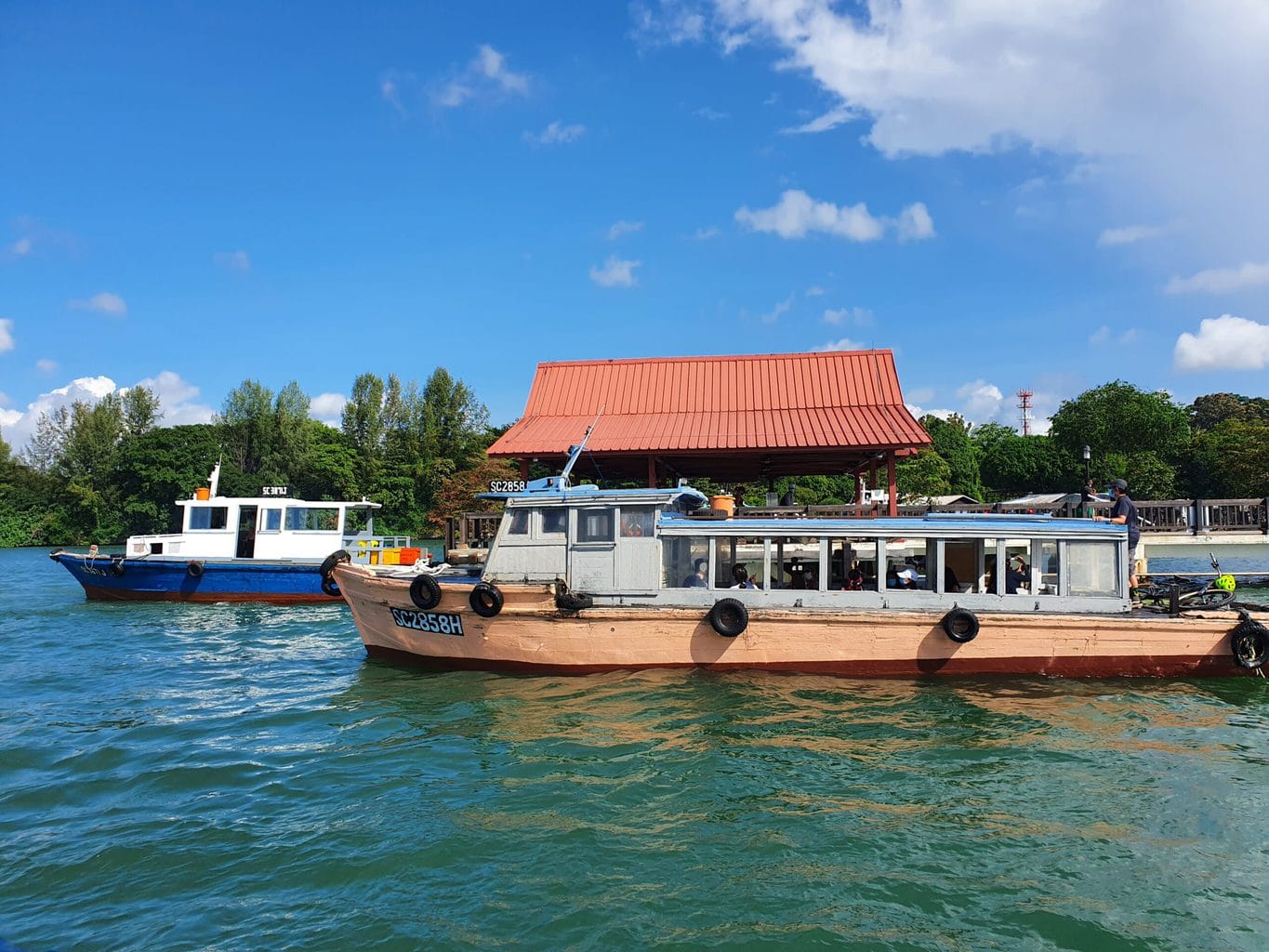 How to go to Pulau Ubin
Go to Changi Point Ferry Terminal and join the queue on the right to Pulau Ubin. Wait for your turn, walk to the bumboat, pay the bumboat operator and enjoy the 5-10min boat ride.
How much is the ferry to Pulau Ubin?
The ferry ride to Pulau Ubin is normally $3 ($4 during COVID) per person which you pay directly to the boatman in CASH (no other payment methods are accepted) as soon as the boat departs. A full boat to yourself is S$36 (in case you don't want to wait or want to stay until late and agree on a private pick up just for your party).
How long is the Pulau Ubin ferry waiting time?
Bumboats only leave when there are 12 people so if you are going on a slow day or outside of the peak hours, be prepared for a short wait. In the weekends, especially on a nice day, the queue moves really fast as there are many boats making the journey back and forth non-stop and enough passengers to fill them. If the boat is not full and you don't want to wait you will have to pay for the full amount of S$36.
How long is the boat ride to Pulau Ubin?
The ride takes 5-10min which will go by really fast as you enjoy the views.
What time does Pulau Ubin close?
The island per se does not close as there are people living there. However, the bumboat service usually runs from 6am to 7pm. If you plan to stay in Pulau Ubin after 6pm you should arrange a pick up time with the bumboat operator and pay fo the price of the whole boat (S$36). If you are stuck and can't find a bumboat, call the NParks hotline at 1800-471 7300 for assistance.
Can I bring my bike to Pulau Ubin?
Yes you can, however, you will have to pay a small supplement to the boatsman of between S$2 and S$3 and might have to wait a bit longer to get your spot. Generally speaking, it is easiest to simply rent a bike on Pulau Ubin because there are many bike rental stores as soon as you disembark from the bumboat.
Pro tip: Remember that only cash is accepted on Pulau Ubin and there are no ATMs on the island, so it's best to draw all the cash you'll need beforehand including money for food, drinks, bike rental and the bumboat ride. If you forgot to withdraw cash, you can visit the POSB and OCBC cash machines near the Changi Village hawker centre near the ferry terminal.
Pulau Ubin map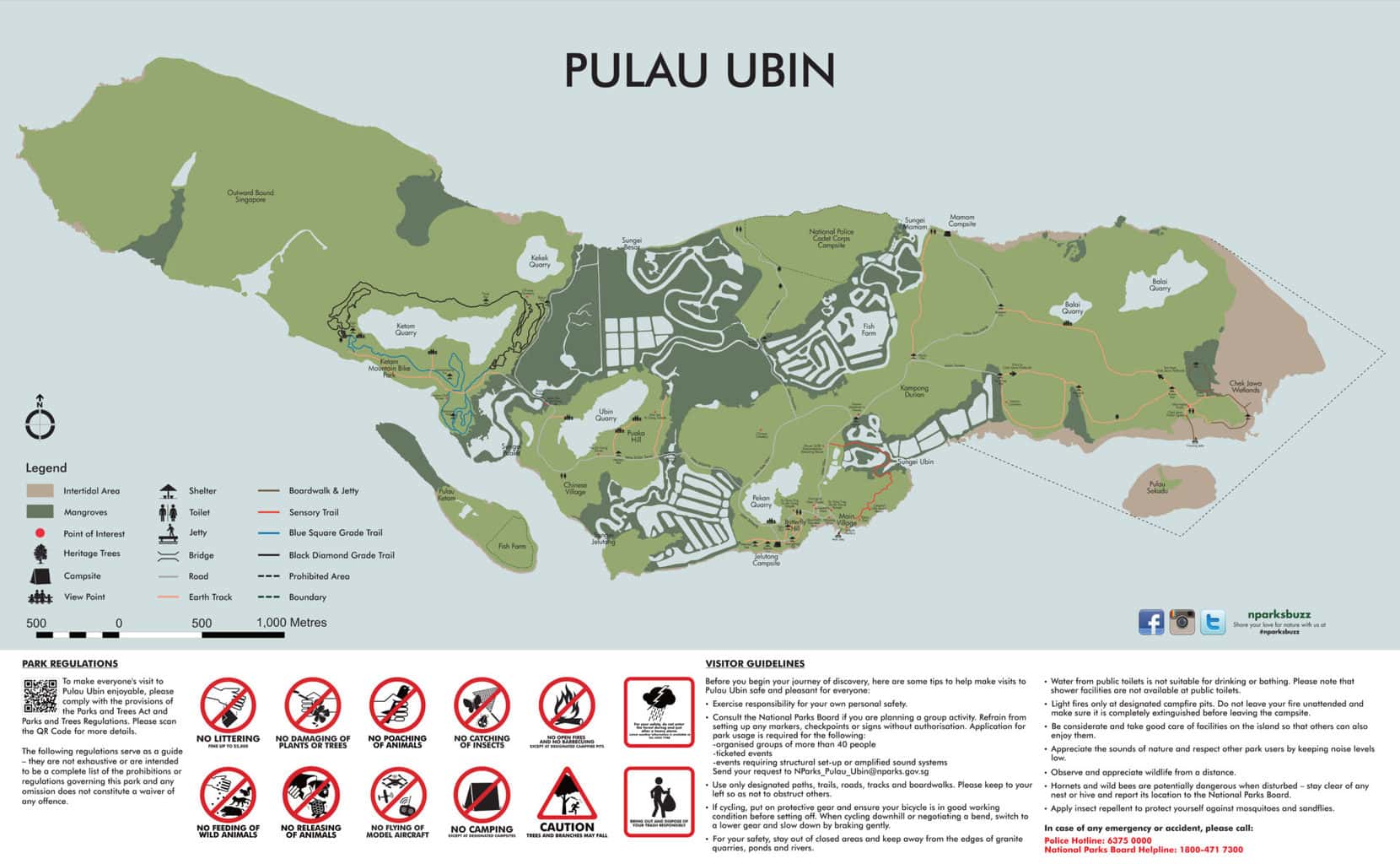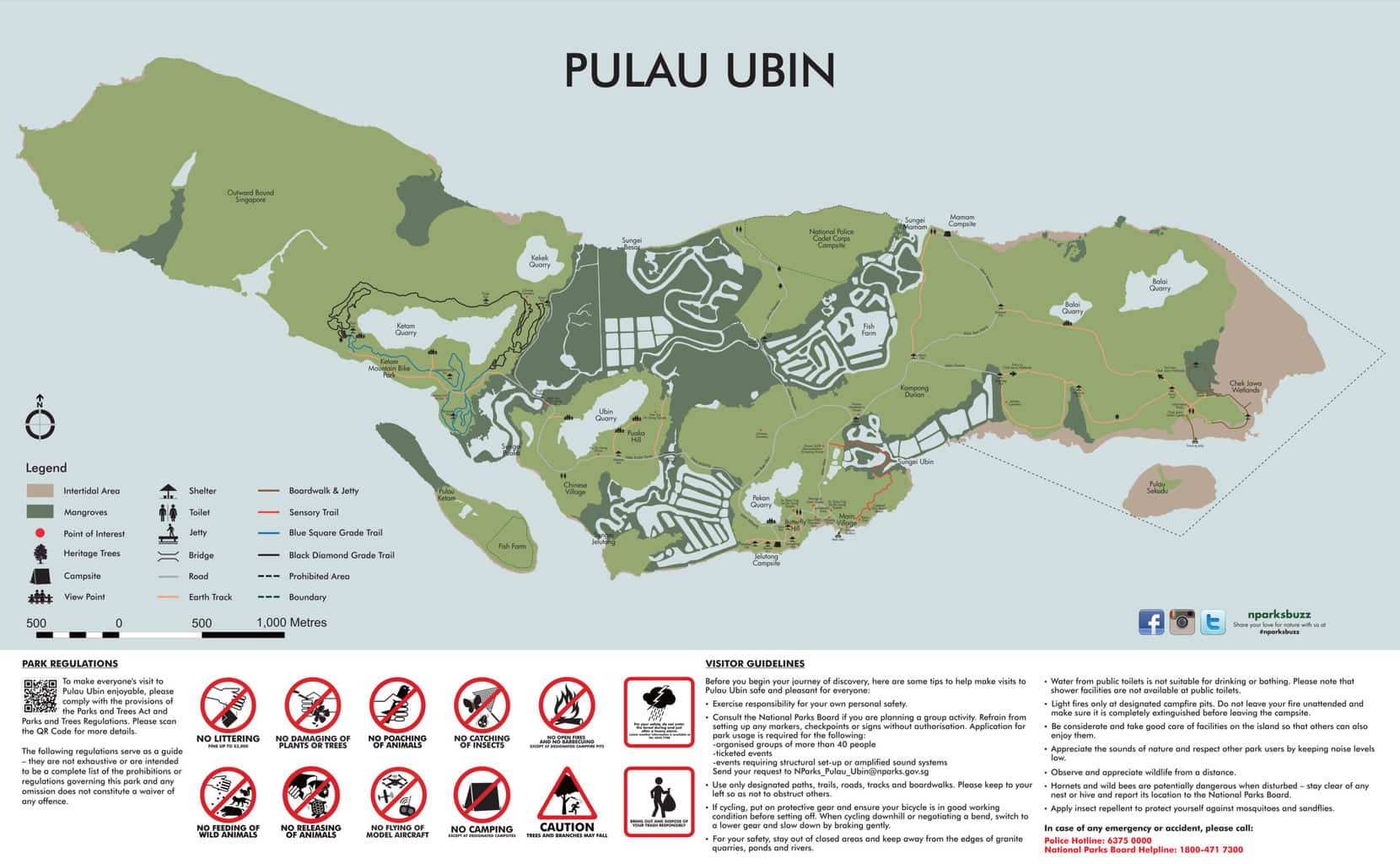 The best way to explore Pulau Ubin is on a rental bike and by following the paved roads and signs. To find your bearings, there are several Pulau Ubin maps scattered throughout the island and wooden signs pointing at the main points of interest in the key junctions.
Largely speaking, a third of Pulau Ubin is for the exclusive use of Outward Bound Singapore for youth outdoor adventures, the middle third is where most of the action happens and the eastern third is where the Chek Jawa Wetlands are
Above is a maps of Pulau Ubin which you can use to plan your trip. You can get your own paper copy from the NParks information office and Volunteer Center which is near the ferry terminal disembarkation pier or print the above. Pulau Ubin is also on Google maps and quite easy to navigate that way too.
Getting around Pulau Ubin
Pulau Ubin is not a small island. Measuring 10 square kilometers, it is easy to spend an entire day exploring all the many things to do on the island.
To get around, we highly recommend renting a bike, we have tried to explore on foot and, while the roads are paved and great for walking, it just takes too much time and you can't get everywhere on time and back before sunset.
Once you alight at the jetty, turn left and you'll find many shops offering their mountain bikes for rent. There are bikes for adults, for kids, tandem bikes for two people and bikes with baby, infant and kid seats at the back and front. Rental costs vary and you should negotiate but expect to pay between $15 and $25 for the day.
If you prefer to bring your own bicycle, it will cost another $2-3 to bring it on the bumboat. Whether you rent or bring one, we recommend picking a bike with a basket to put your bag in. Most of the bikes have them.
Pro Tip: Be sure to check if your bike is working well before you set off as some of them can be quite old and worn out!
What to bring to Pulau Ubin
Whether you plan to hike or cycle, you should pack a few essentials to go to Pulau Ubin and we recommend you place them all in a waterproof bag (we never leave on our Singapore exploration without a waterproof bag, you never known when rain can strike here!).
Comfortable closed walking shoes, especially if it has just rained as the tracks will become muddy

Light clothing, Pulau Ubin gets extremely hot in the mid afternoon

. We recommend long sleeves and long trousers to protect from the sun

A hat to protect from the sun

Sunscreen for any exposed area

A pair of sunglasses

Insect repellent, as the mosquitos can be vicious

The weather is unpredictable in Singapore so bring a poncho or an umbrella
A water bottle, filled
Tissue paper for lunch
Picnic lunch if you prefer to enjoy nature instead of eating out
In case it rains, shelters are scattered across the island to take refuge in but there arent' many. Once you leave the main village you will be exposed so be prepared and remember to drink lots of water.
What to do in Pulau Ubin
There is a lot to do in Pulau and you can easily fill a day or two just exploring the main areas so we recommend you come early so you beat the crowds that gather in the main village and then set out to explore the farther away places.
Explore the trails
Pulau Ubin is all about nature and like other parks in Singapore, it is best explored by looking for the trails and completing them. Besides the Sensory trail which we will talk about later, and the boardwalks around the wetlands, there are two more trails: The Blue Square Grade Trail and the Black Diamond Grade Trail.
If you have your bike, you are all set for cycling them. If you are hiking, you will need more time but it is still doable. Both of the trails are in the western part of the island and surround Ketan Quarry.
Chek Jawa Wetlands
You cannot miss a visit to the Chek Jawa Wetlands, a fascinating example of Singapore's richest ecosystems in a more natural and isolated setting than Gardens by the Bay. Opened to the public in December 2000, multiple habitats can be found in the wetlands.
Marine life is best seen during low tide, ideally at 0.5m and under. Be sure to check this tides table to avoid disappointment.
The best way to explore will be by attending the Chek Jawa Guided tour led by one of Npark's nature guides. The 1 hour tour costs $60 for a group of 15 people, click here for updated dates and details.
If you are only coming to Pulau Ubin for Chek Jawa, you can make your journey in one of the vans that cover the trip, they depart from the main village. The ride costs $2 per person and like the bumboat, only leaves when 12 passengers are ready.
Alternatively, cycling there is also welcome, but be sure to park and lock your bicycles at a designated lot by Punai Hut. If you prefer to travel by foot, it is an approximate 40 minute walk so plan appropriately.
Once you get there, take a stroll along the fairly new Chek Jawa Coastal Boardwalk for a great viewpoint of the ocean and surrounding nature.
Jejawi Tower @ Chek Jawa Wetlands
In the Chek Jawa Wetlands, there is a tall tower. Take a walk along the mangrove boardwalk and you'll come to the Jejawi Tower viewpoint where you will get a panoramic view of the wetlands. The tower is 20m high and above the tree canopy so you will be able to see some amazing sights of the surrounding waters and islands.
Teck Seng's Place
If you're visiting Pulau Ubin on either the 2nd and 4th weekend of the month or a public holiday between 10am to 2pm, you'll be able to see this former home turned museum which you can tour on your own.
It was the former residence of Mr Chew Teck Seng from 1970 to 2005. When him and his family moved to the mainland, he returned the house to the state. They have maintained its original kampong feel and it is a great way to see how Singaporeans lived before modernisation.
House No. 1
This Instagram-worthy Tudor-style house was built in the 1930s, received conservation status in 2003 and was restored in 2005. Today, it's actually the visiting centre for Chek Jawa and not really someone's home.
Walk over to the rear of the house to get some amazing views of Changi Village and Pulau Sekudu (Frog Island) and look out for the only remaining fireplace in Singapore which is, for obvious reasons and because of a family of vats, not in use.
See our list of the most Instagrammable spots in Singapore beyond Pulau Ubin.
Ubin Fruit Orchard and the Sensory Trail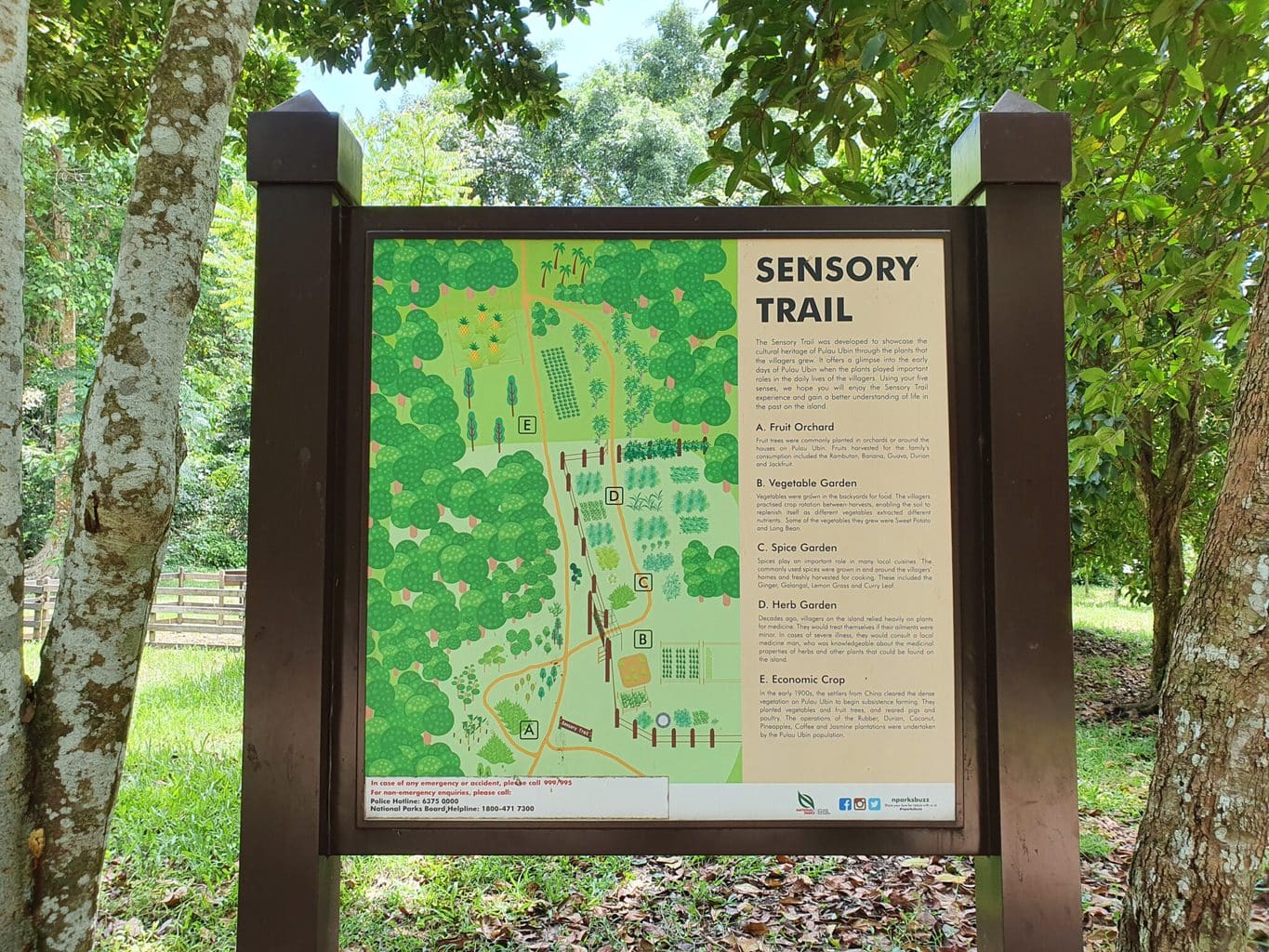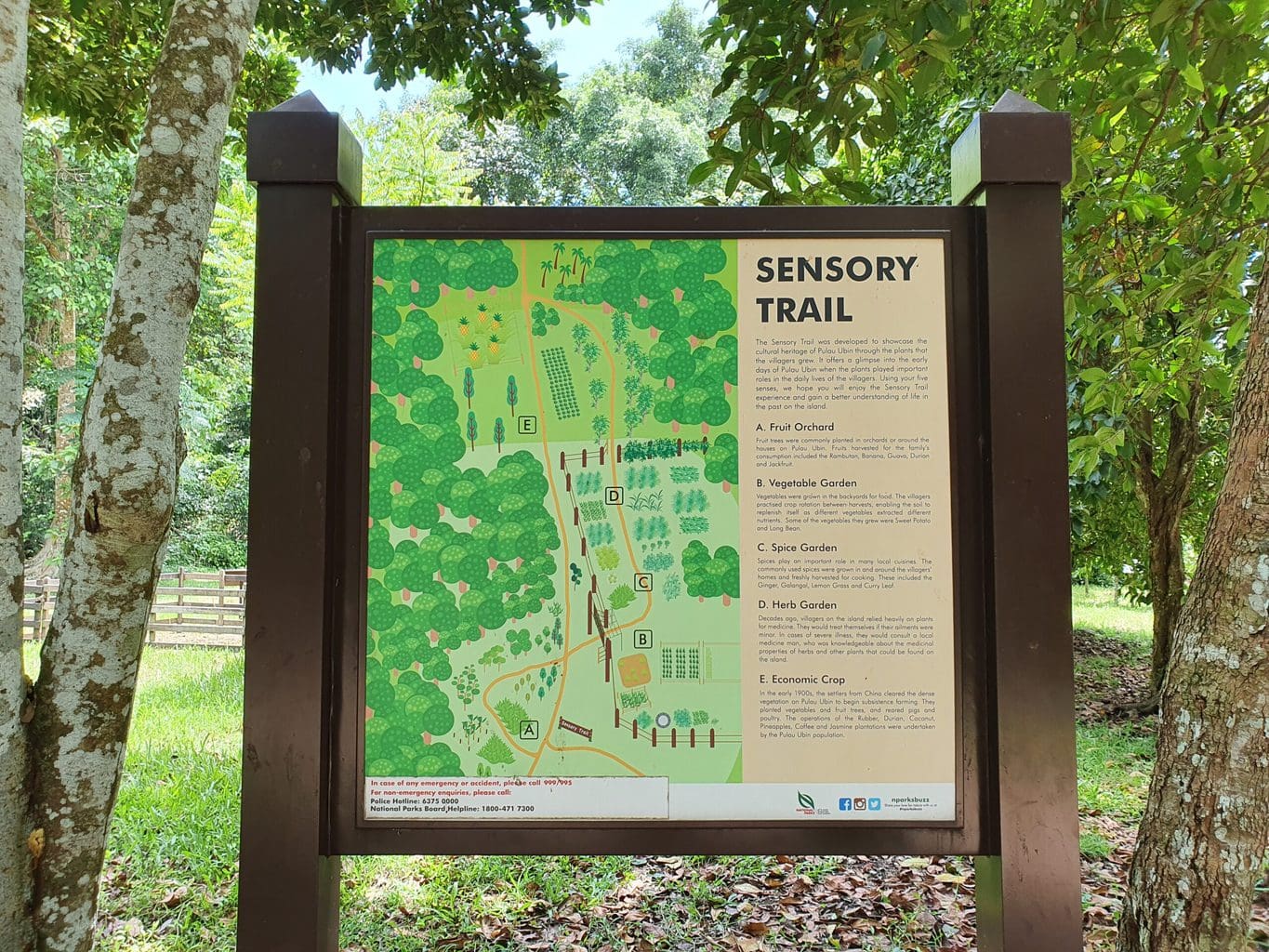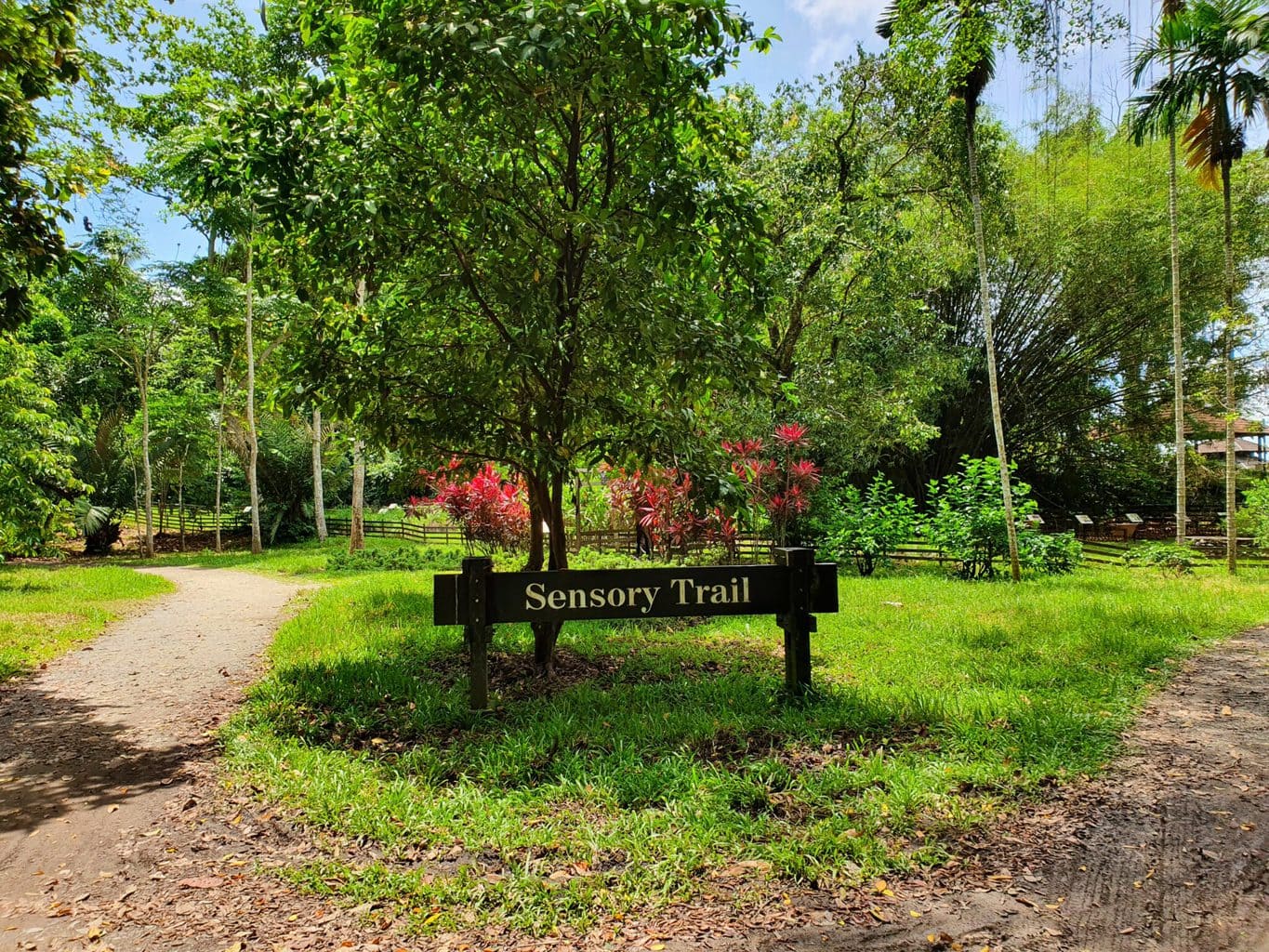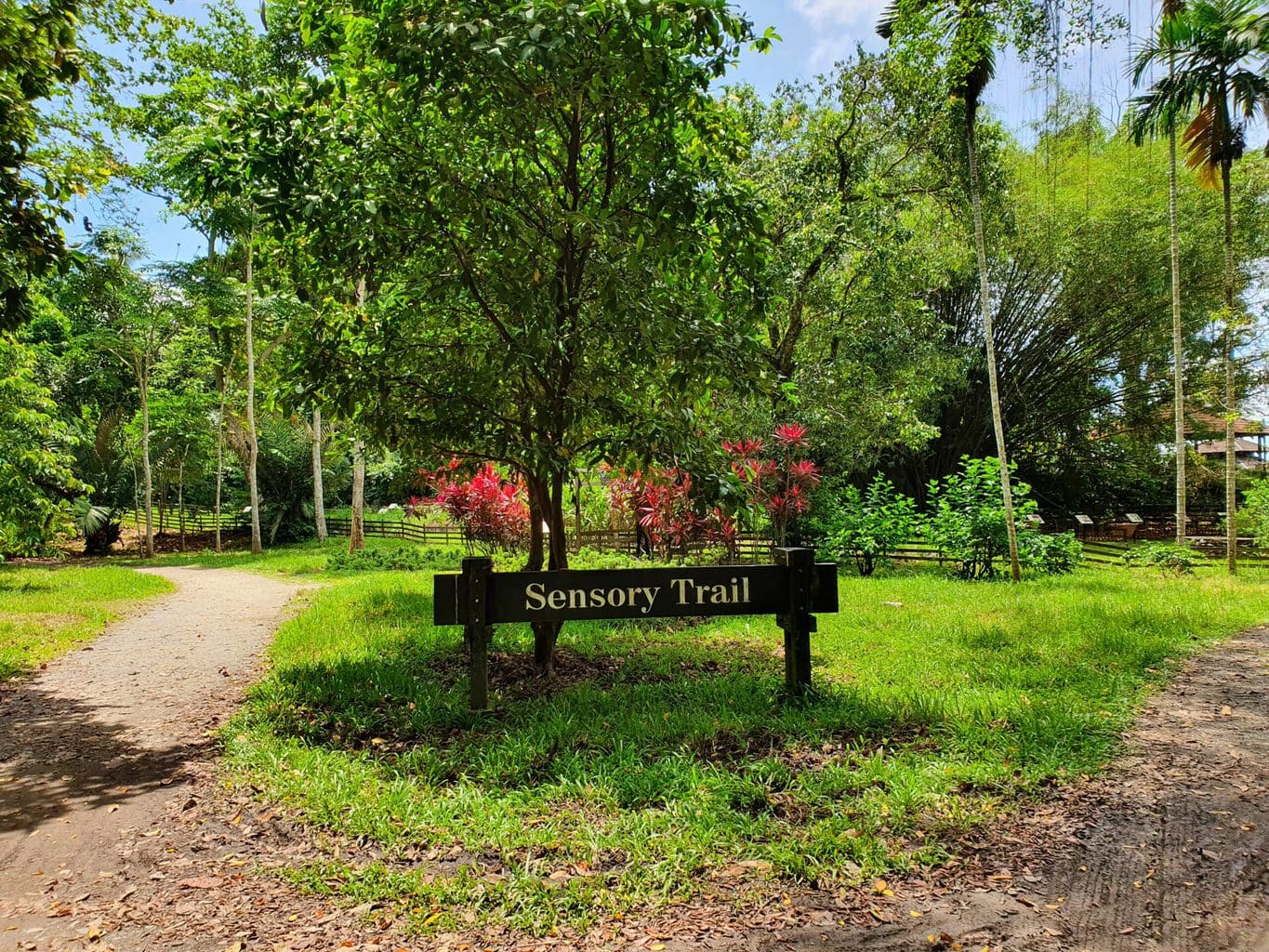 Opened in 2016, Ubin Fruit Orchard is a blossoming fruit tree arboretum where you can learn more about the uncommon tropical trees were grown Pulau Ubin back in the day. You can find durian, rambutans, and starfruit as well as other exotic fruits.
If you'd like to keep learning about the various vegetables, spices and herbs that flourished here in the 70s, then saunter along the Sensory Trail. This 1.5km path starts at the Main Village and ends at Teck Seng's Place.
The trail takes you along the shore, to the beach, through thriving mangroves and over bridges and it is one of the most pleasant walks in Pulau Ubin, especially if you are exploring the island on foot.
Visit all the quarries
There are several quarries on Pulau Ubin and you can visit them all depending on how much time you have. Pekan Quarry is the closest to the village and Ubin Quarry is on the west and has some nice viewpoints, particularly from Puaka's Hill also known as Butterfly Hill, after a 74m walk up to the highest point on the island surrounded by flying butterfiles.
The once bustling Ketam Quarry used to provide roughly 30-40% of granite to Singapore's, but is now a chilled spot to relax and take in nature. Balai Quarry is a massive space and is closest to Chek Jawa in the east.
Explore the temples
There are several temples and shrines worth visiting on Pulau Ubin. They aren't like the grand temples in Singapore's Chinatown or Little India, but are nice for contemplation and peace. There are two Fo Shan Ting Da Bo Gong Temples.
The one closest to the Main Village is the more dominant and has a stage that is used for festivals and events. The second one is a bit further neat Pekan Quarry.
Wei Tuo Fa Gong Temple, near Ubin Quarry is a multi-purpose shrine that contains various gods and religious figures from Buddha to Hindu spirits.
For those exploring Puaka's Hill, you will first pass Na Du Gong Shrine which is a small shrine dedicated to Datuk Gong or the local guardian spirits worshipped.
Find the German Girl shrine
One of the most unexpected shrines in Pulau Ubin is the German Girl Shrine, located farther away from the main village and near the Ketam Mountain Bike park.
This is dedicated to a young 18 year old German girl that was discovered dead by the plantation workers who worked for her family.
It is believed that she fell off a cliff while trying to escape from the British military just before World War I. The locals buried her and she became a sort of Taoist deity, despite most likely being Catholic. Years later, a quarry company donated an urn to keep her remains butt his was stolen so she no longer rests on the shrine or the island
Butterfly Hill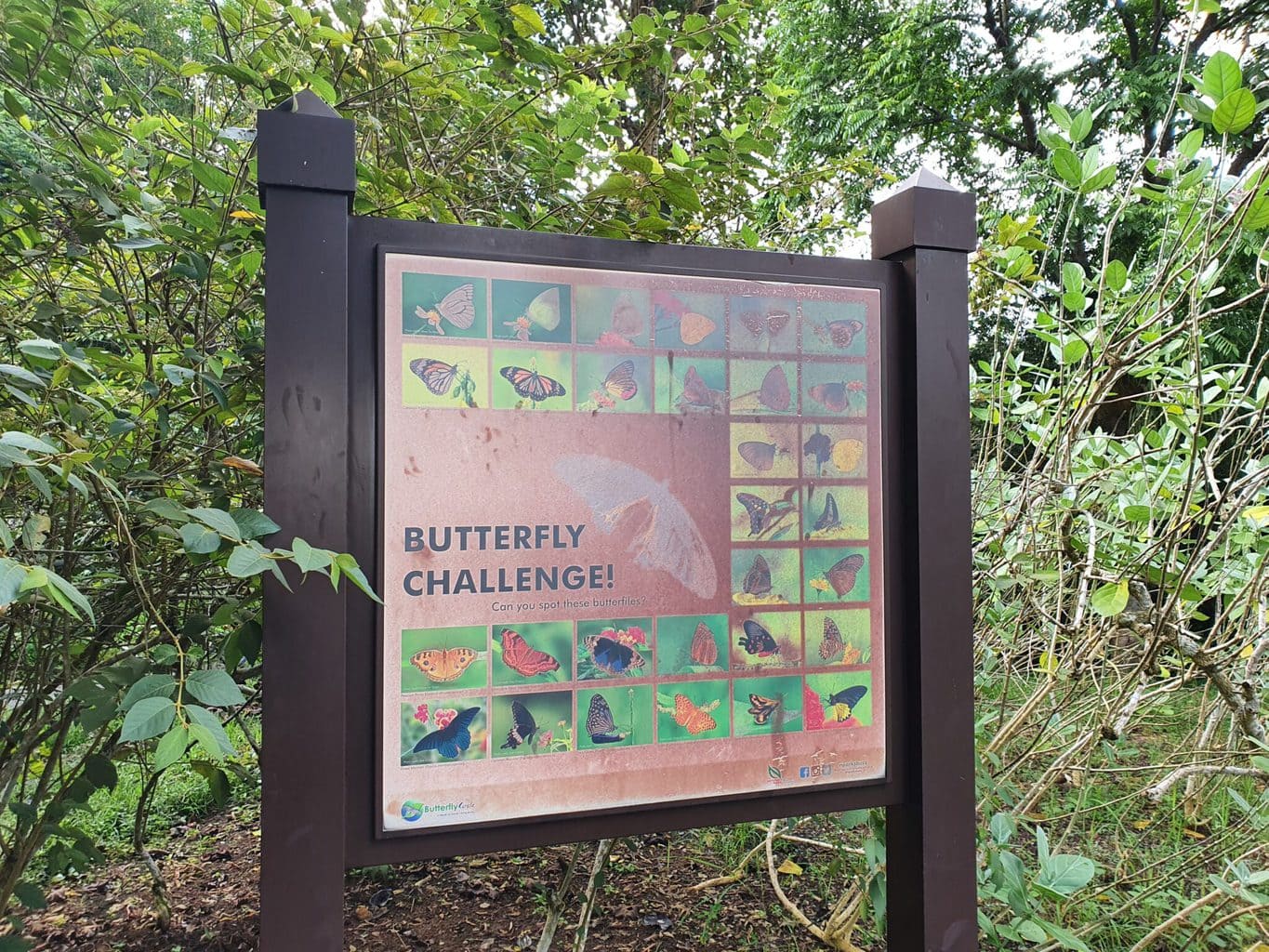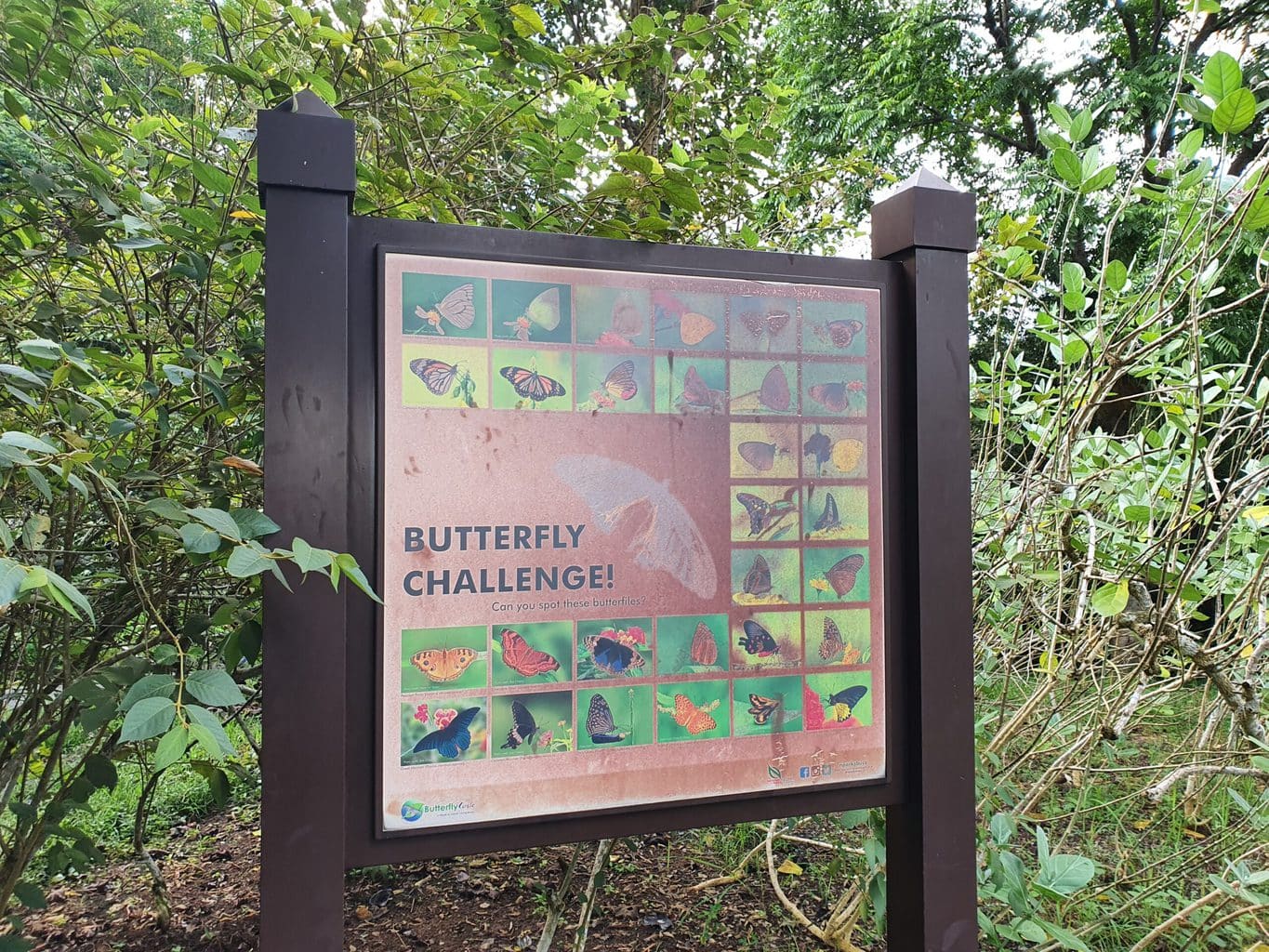 About half a km from the Main Village is the wonderful Butterfly Hill where you will find over 50 plant species that are said to attract around 140 species of butterfly. They range from the everyday to the rarer species such as the Dwarf Crow.
Walking the short trail that climbs up the hill is a pleasure as the colorful butterflies will fly around you. You can try to spot them all in the butterfly challenge which has pictures of each species.
Go fishing
Yup, you can bring your rod and chill out in Pulau Ubin while waiting for the fish to bite. While fishing is not allowed in the quarries, there are many fishing spots throughout the island that are popular with amateur and pros, you'll surely catch something.
Pulau Ubin guided tours
Pulau Ubin is a natural landscape filled with life waiting to be discovered. If being surrounded by nature isn't your forte, don't fret! There is an abundance of different tours to guide you through.
Discover what living in Pulau Ubin was like by attending the 4 hour Pulau Ubin Tour
. This cycling and hiking tour will educate you on Pulau Ubin's heritage with stories of history. It also explores the biodiversity and natural landscapes of the area.
For a tour that's a bit different, you can hop in a kayak with a certified guide to see the mangroves up close and personal. This Kayak Tour has different levels of difficulty from a chilled beginners ride through the waters to a more adventurous Ubin Bisect Kayaking tour. Book this tour here
.
If you prefer to explore on your own, take on a Pulau Ubin Tree Trail with this thorough and engaging guide from NParks, learning at your own time and pace. Or wander along every path and tick off what you see on these checklists.
The beach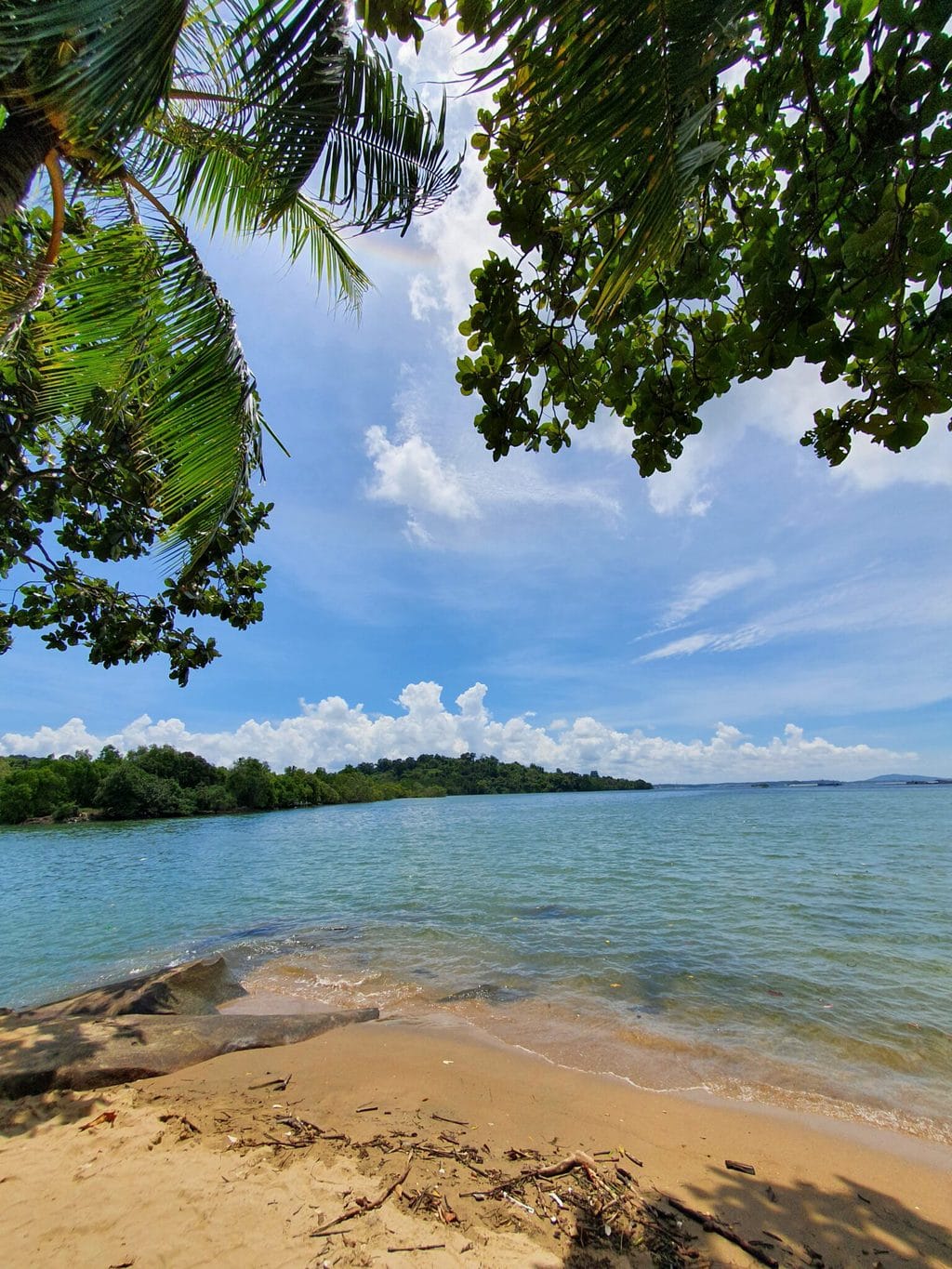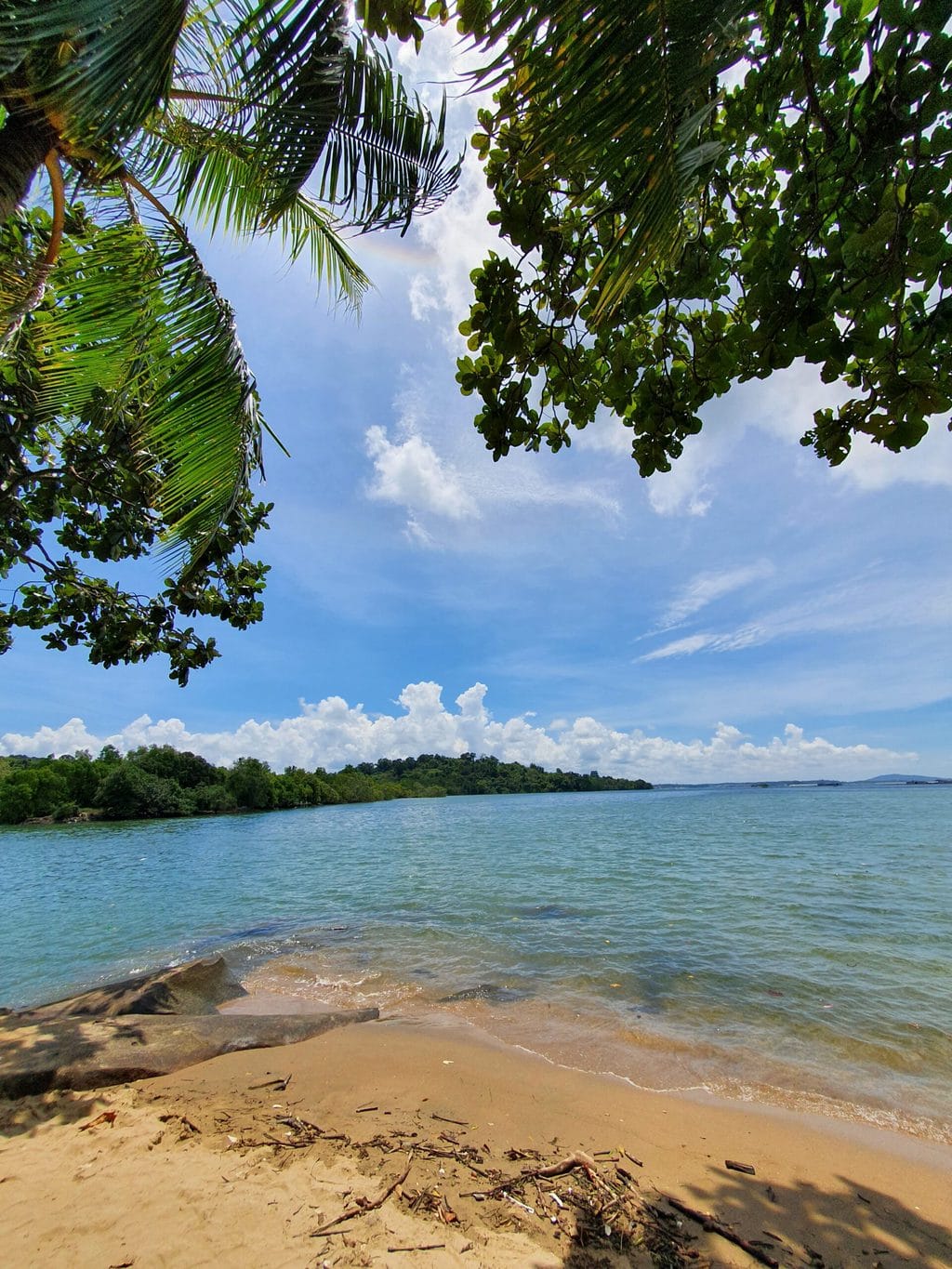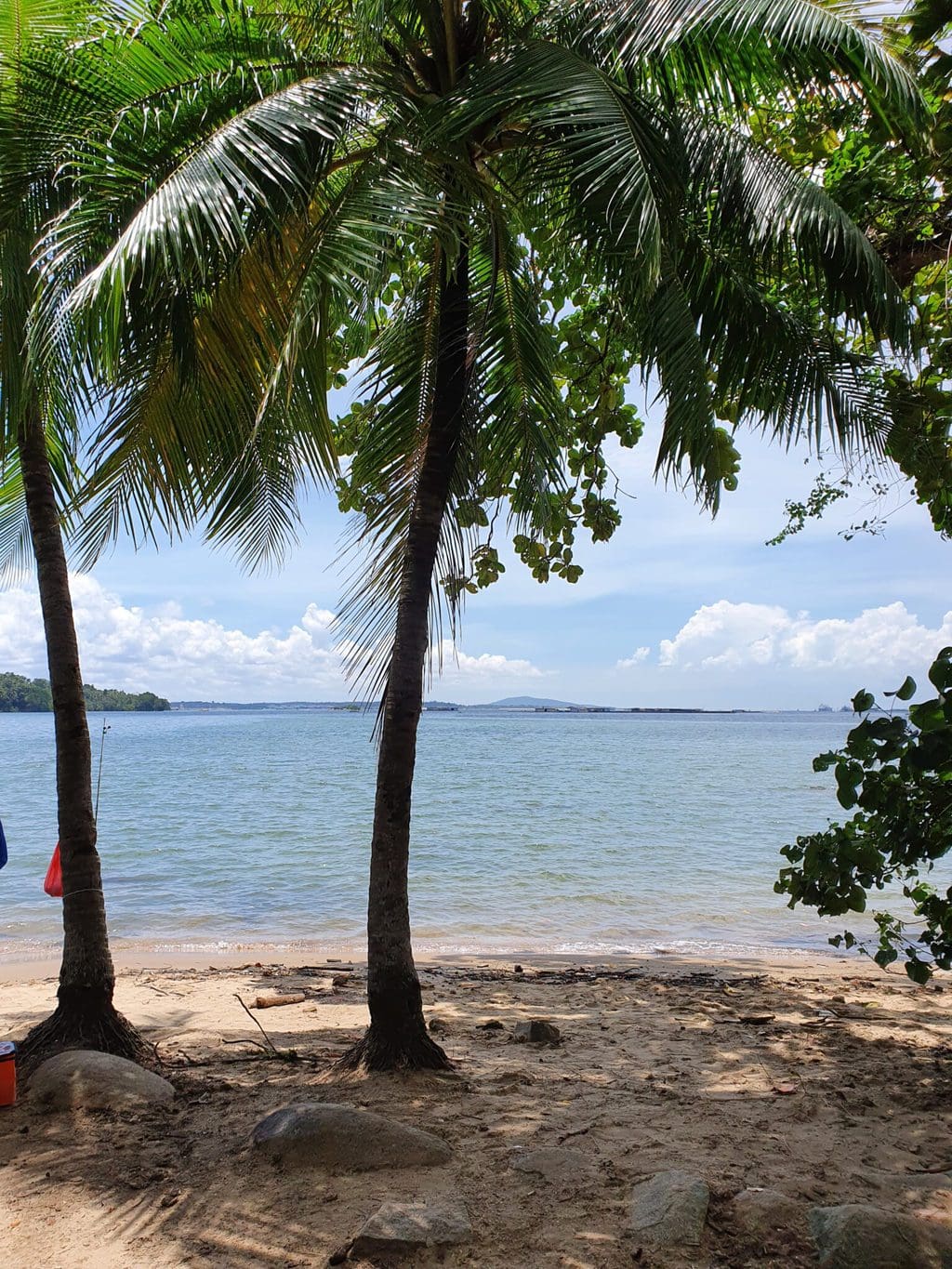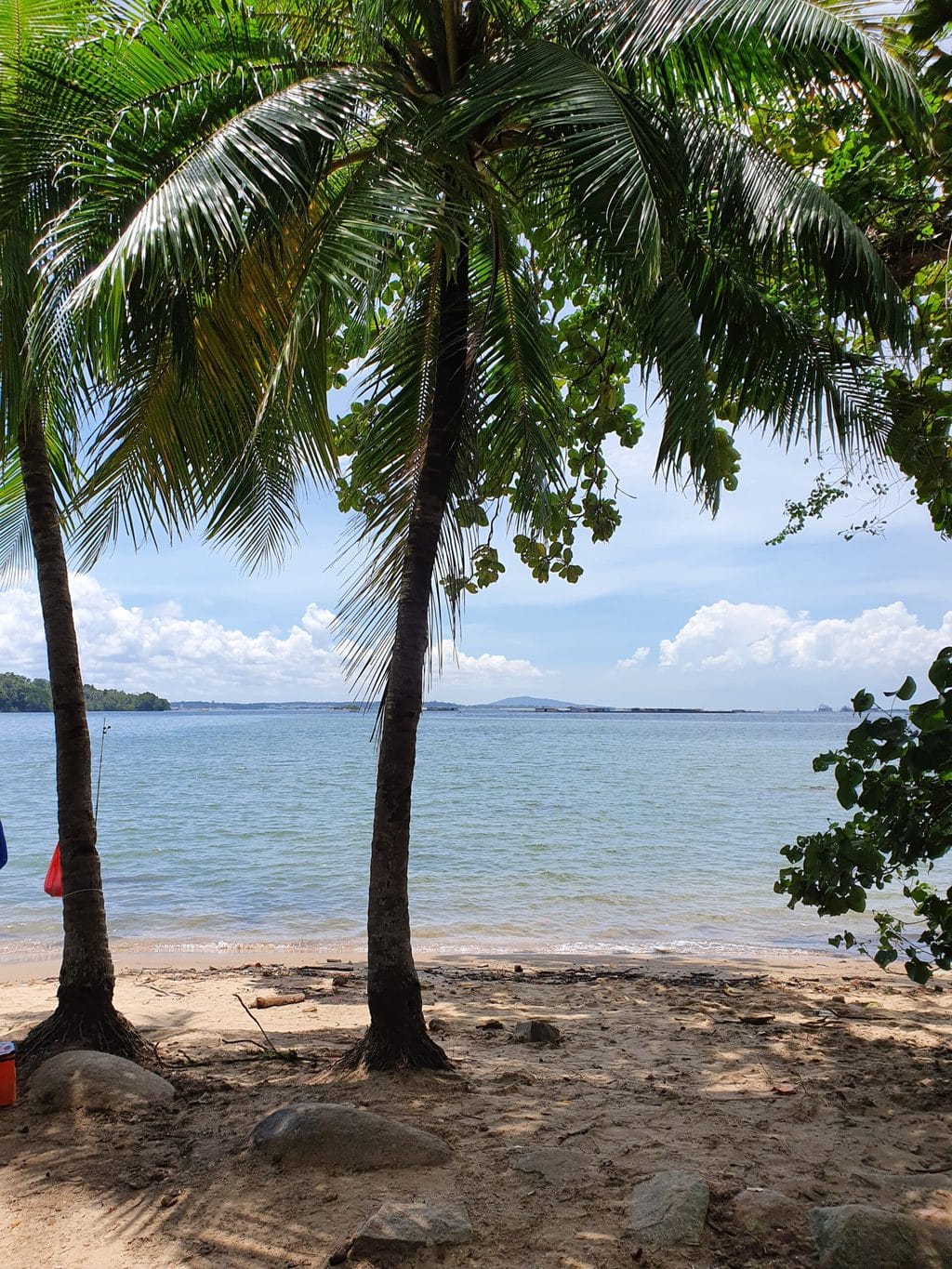 Although Singapore has bigger and more popular beaches, Pulau Ubin has a few stretches of nice sand to relax, enjoy a picnic, simply dip your toes in the sand or cool down.
Don't expect large expanses of beach where you can place your towel and order a margarita, this is more of an impromptu beach excursion but worth mentioning. The nicest bit of beach we found is on Sungei Ubin, and reachable as you explore the Sensory Trail
Kayaking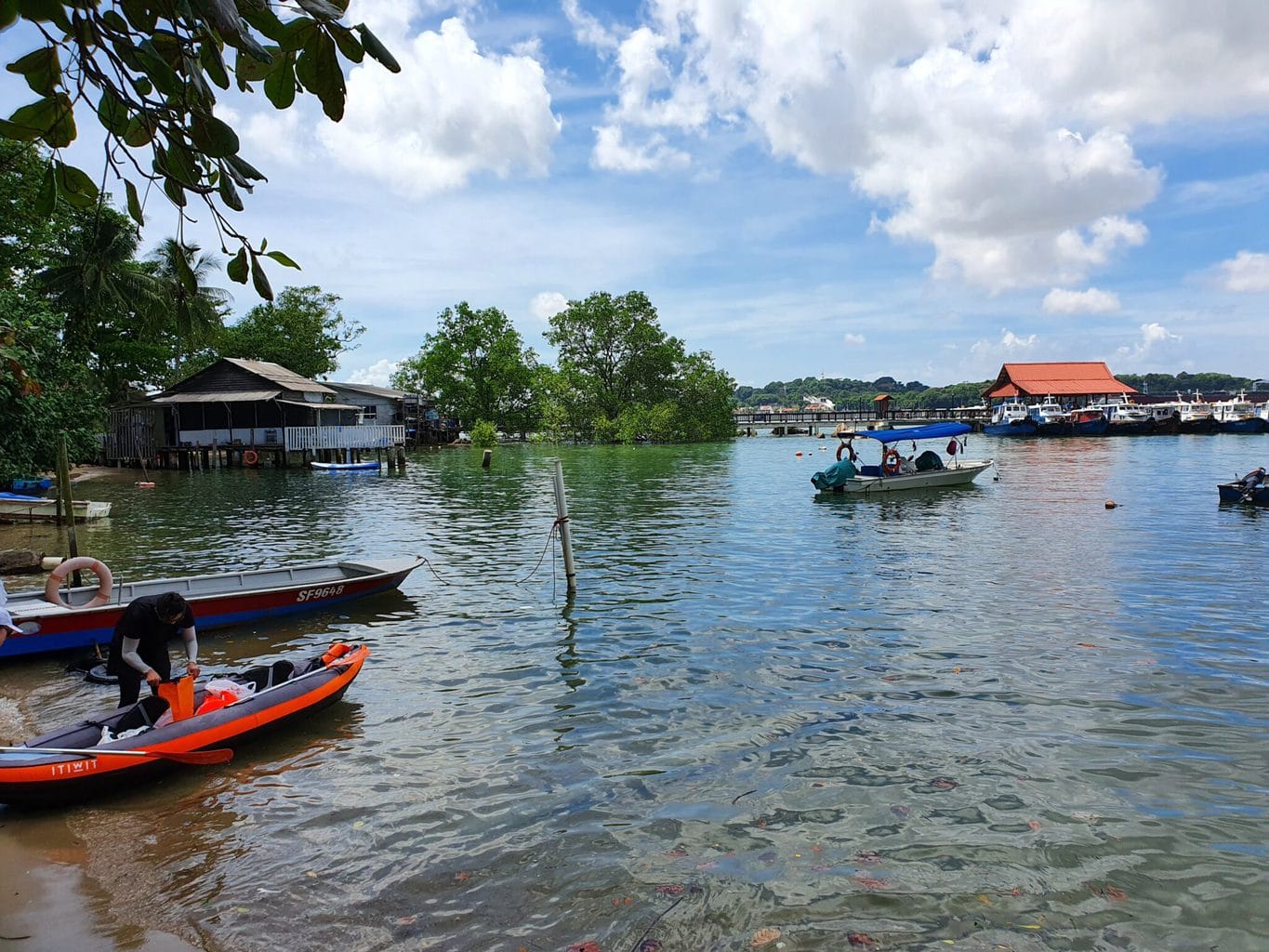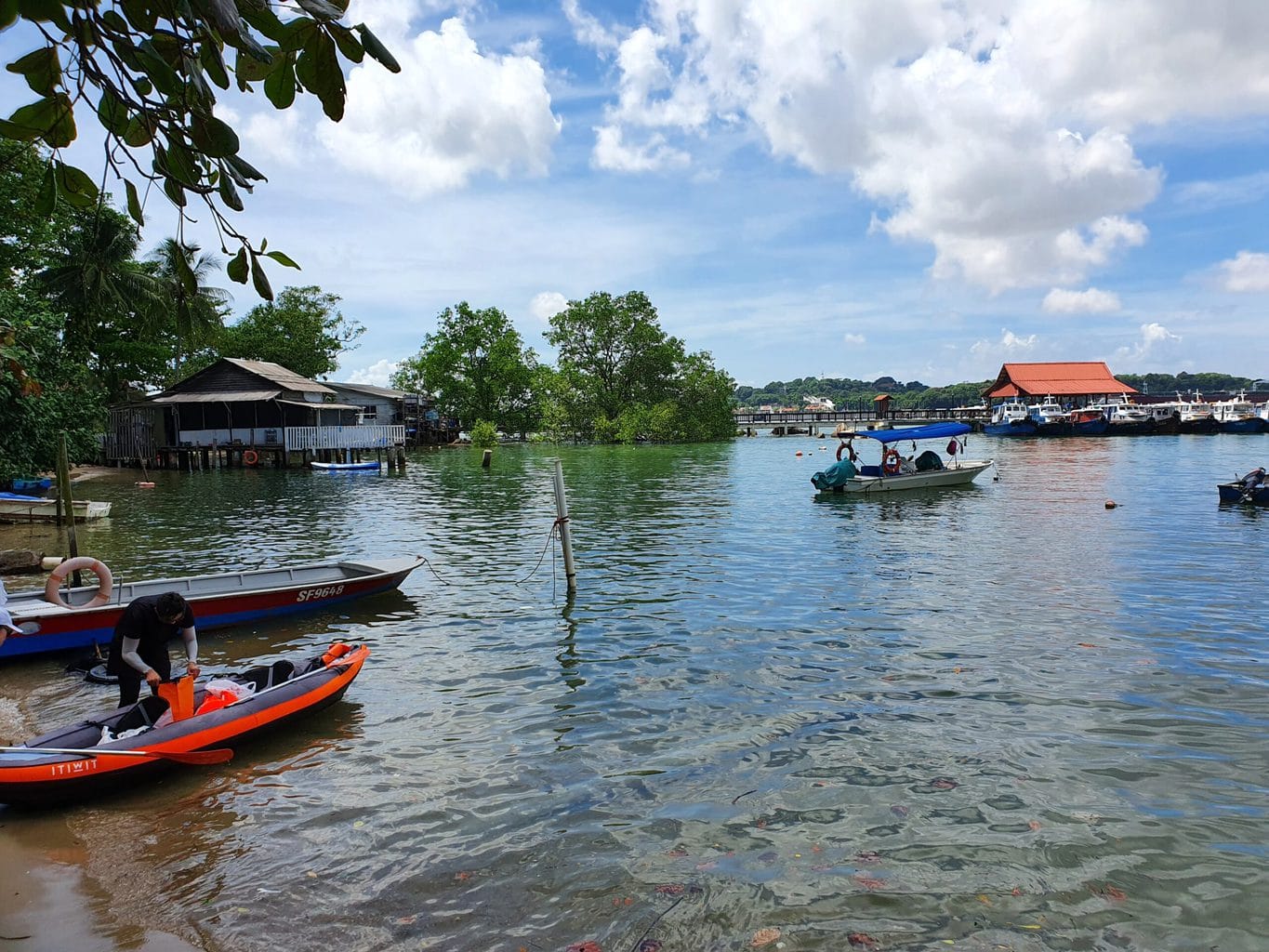 This is an island so you should expect that some of the things to do on Pulau Ubin include water in some form, kayaking is one of them. You can rent kayaks from various points but the easiest is to simply ask at the water sports stores that are in the main village, amidst all the bike rental stores.
Once on your kayak, stick to the shore as the water can be quite choppy, and head towards the mangroves which are quieter and are usually filled with birds.
Volunteer Programmes and events
A precious island needs to be properly preserved and protected. Pulau Ubin is well taken care of by volunteers doing their part, from surveying fireflies to monitoring orchids. Join monthly inspections of the forest ensuring no harm is being done, or collect mangrove plant propagules while learning how they protect us from natural disasters.
Expand your knowledge and keep Ubin beautiful by putting in time with the land. Information on different volunteering opportunities can be found here, with registration and policies on Ubin volunteering found here. There are also ongoing workshops and events on the island, which you can see online here.
Spot wild animals
One of the most fun things to do in Pulau Ubin is go in search of wild animals. As this is a relatively untouched part of Singapore, kept rustic and authentic, you will find some unusual animals such as wild pigs, red junglefowl (prone to running across the road) and hornbills.
You can also easily spot monkeys and large monitor lizards. Beware of the former and keep food in closed bags. Make sure to avoid confronting or aggravating them as they can attack and are usually not scared of humans.
What to Eat and Drink on Pulau Ubin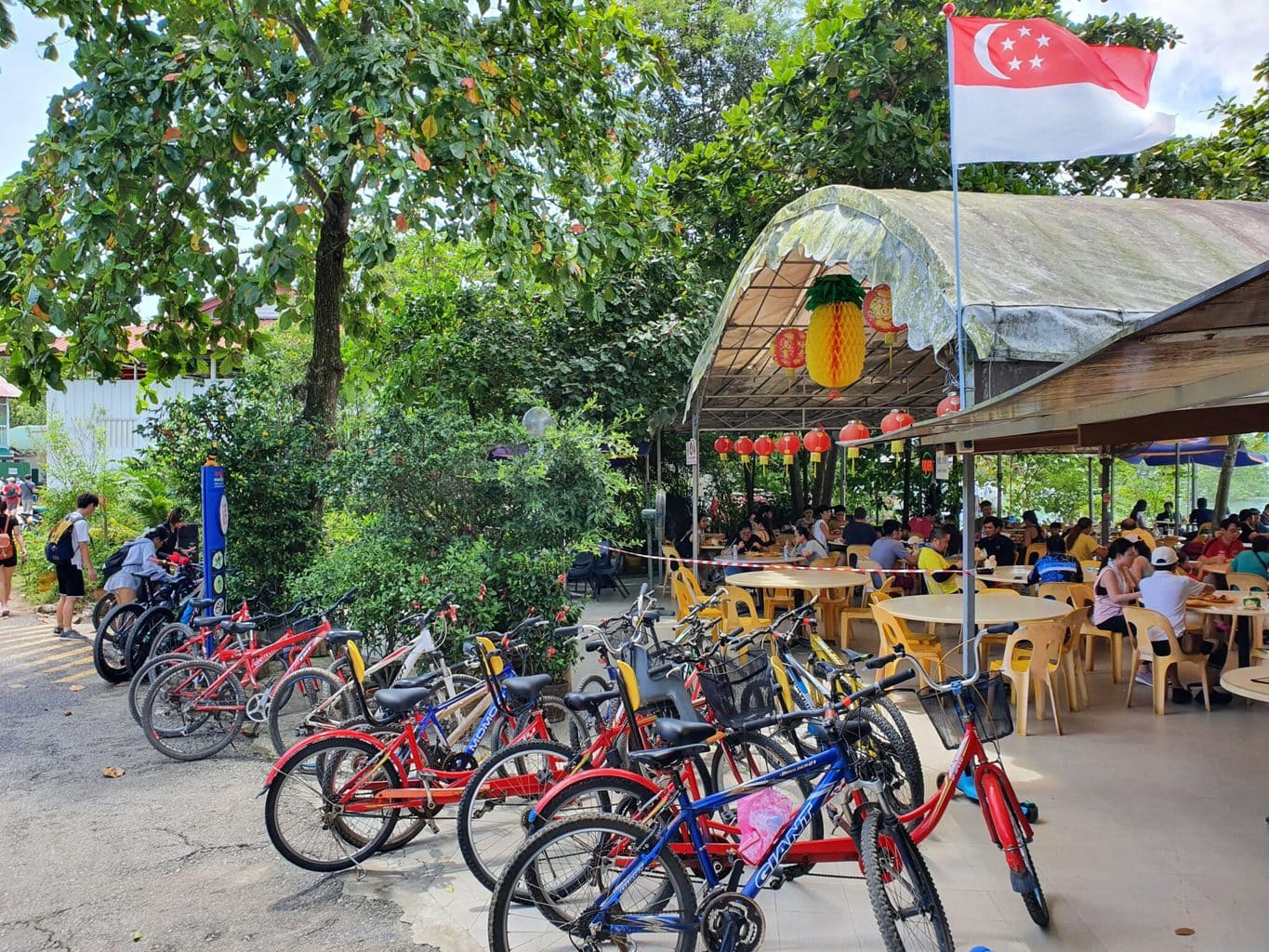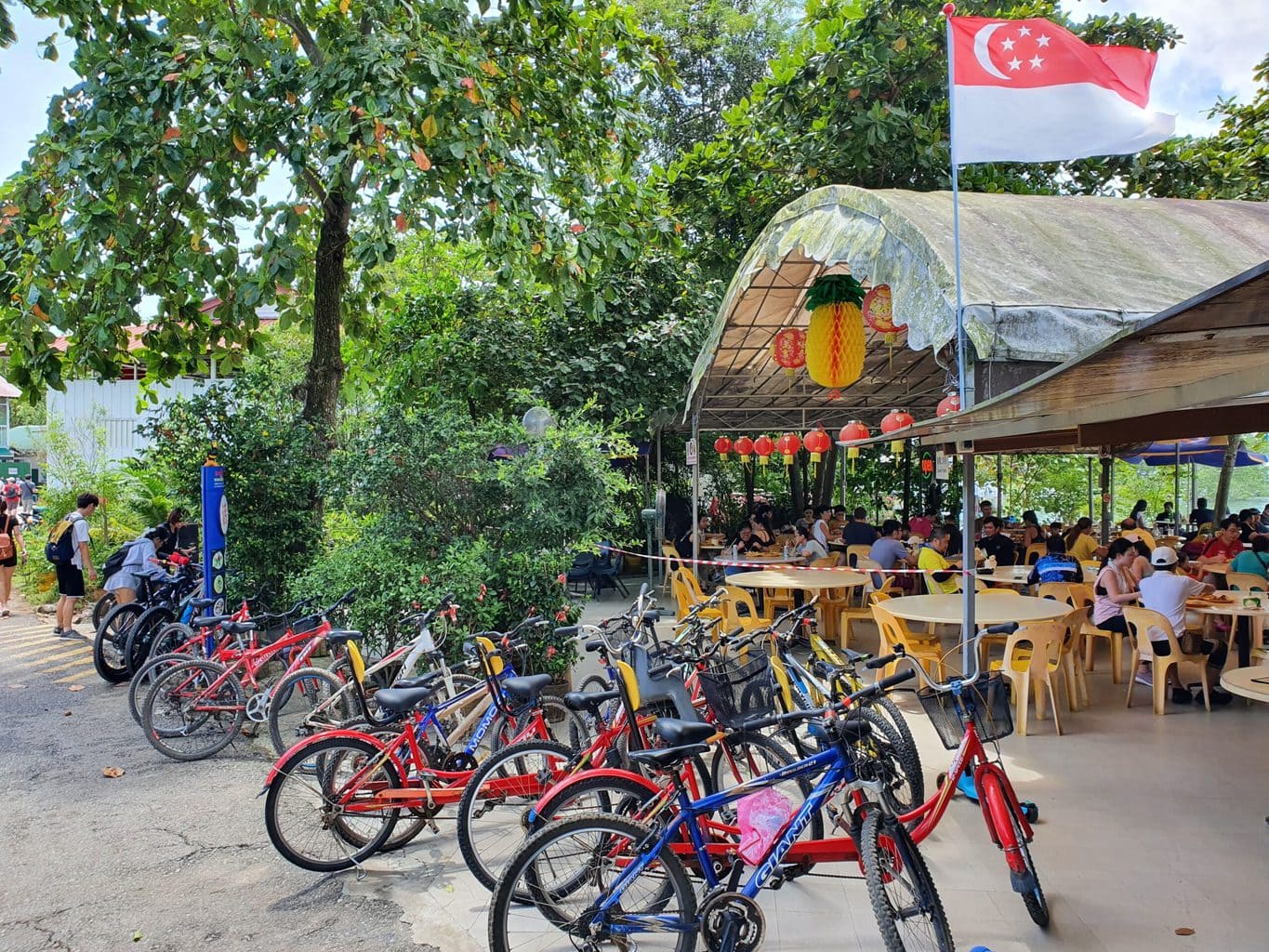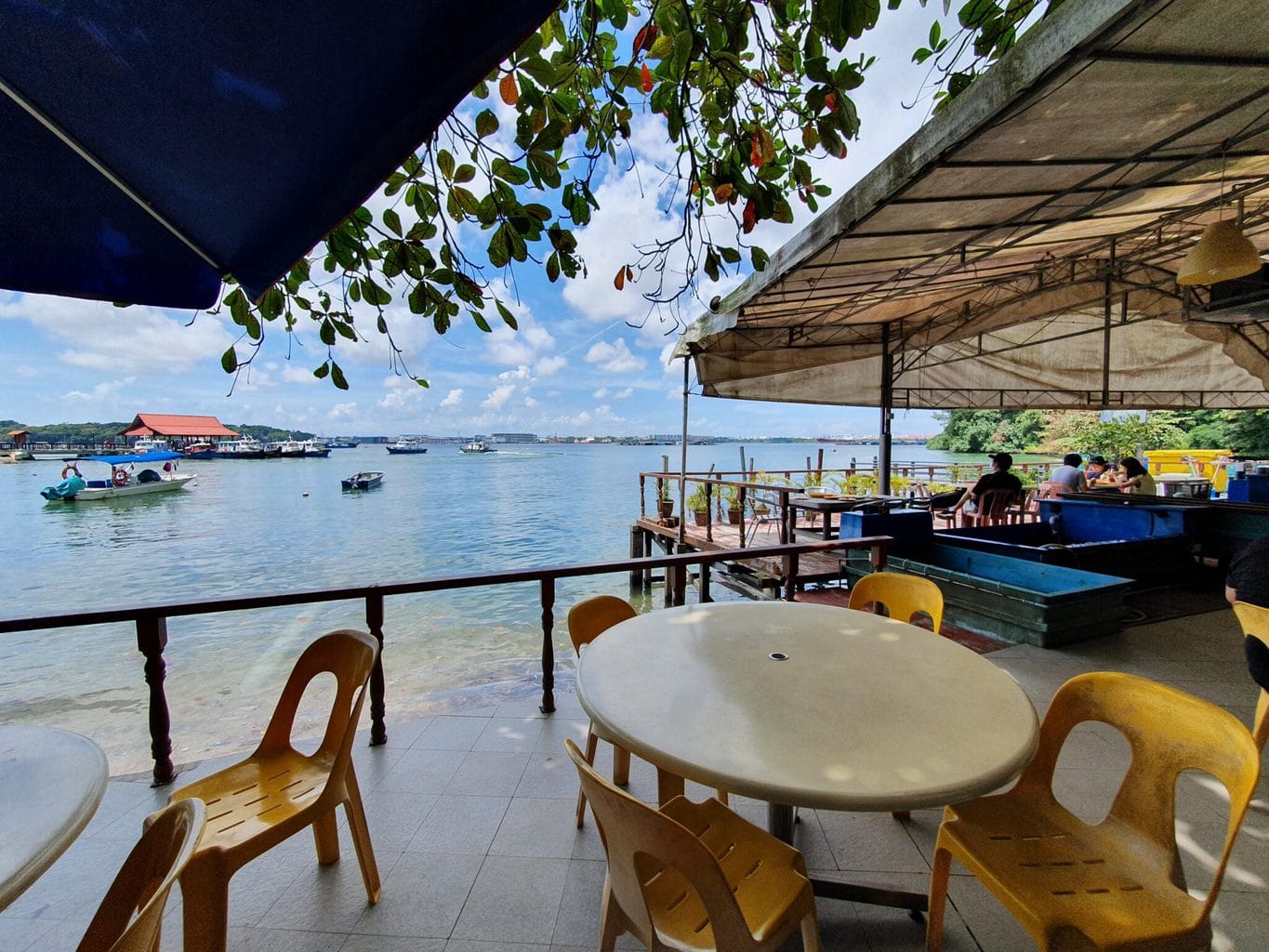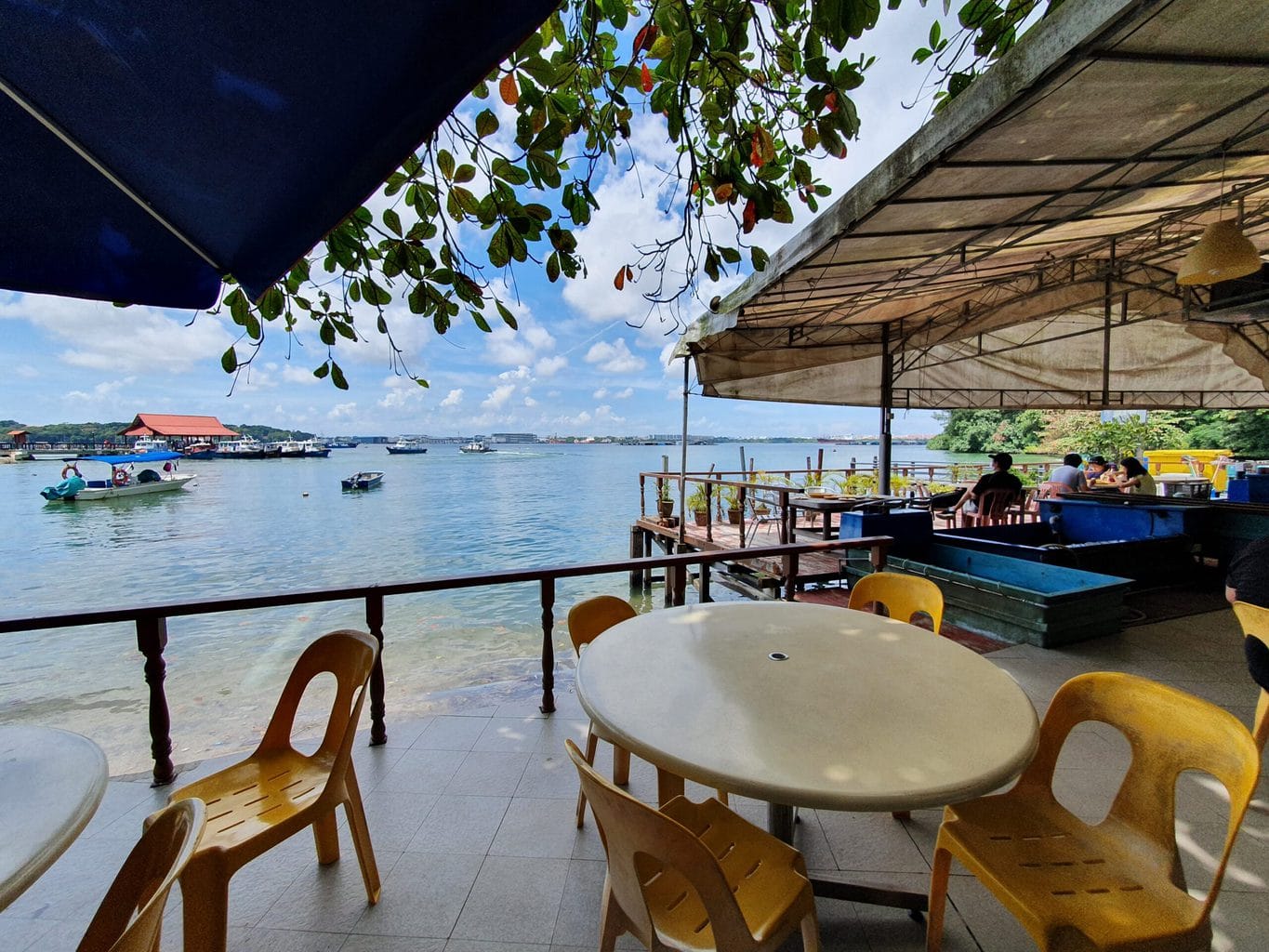 There is a selection of family hawker center style restaurants and convenience stores in Ubin town to pick from. If you need a little help deciding, here are the ones we thought were worth mentioning.
Note that most places close early, at around 5 or 6pm, as that is when the boats stop coming to the island.And if you plan to visit somewhere specific, it may very well be closed as vendors go by island time, so they close and open as they like. And remember to bring cash.
Pak Ali
Even in Singapore, Pak Ali's lontong has made a name for itself because it is the last place on the island tp serve this dish. Their coconut curry is thick and flavourful, paired perfectly with fragrant rice cakes. You have to be fast because this exclusive dish is sold only on Sundays and is often gone before 11am.
Season Live Seafood
Season Live Seafood is a tad pricier than you'd expect food in Pulau Ubin to be, but the prawn rolls are worth it. Built right on the shore, this restaurant serves fresh seafood that tastes great after a cycle around the island and is just over the water. Open Wednesday to Monday, from 10am to 6:30pm.
Cheong Lian Yuen Coffee Shop
Friendly staff and tasty food earned Cheong Lian Yuen Coffee Shop a recommendation from the locals. What they serve depends on what the fishermen catch that day – freshness is assured. More info here.
Staying overnight on Pulau Ubin
There are no resorts, hotels or hostels on Pulau Ubin but you can camp at one of the two camping sites: Jelutong and Mamam.
Both campsites are equipped with toilet and shower facilities. Jelutong is close to the village, right next to the Butterfly Hill, faces the main island, and has campfire sites. Mamam is closer to the north of the island and is more barebones.
To camp overnight you will need to register at the Pulau Ubin Police Post which is to the right when you get off the ferry terminal, right by the beach. You will also need to bring your own tent and sleeping gear along.
If you aren't into camping, here are some great luxury hotel options in Singapore for a dose of extravagance or some boutique hotels in Singapore if that's more your thing. We also made a list of the best hotels in Singapore with rooftop pools to you can dive into the water after your hike or ride around the island.
Plan your trip to Pulau Ubin
There are a few more things to note about what to do in Pulau Ubin, so read on for more information.
Facilities
Shelters are scattered across the island, and there are toilet facilities at Pulau Ubin's campsites, at the Visitor center to Chek Jawa, at the Chinese Village and near the NParks Volunteer center. There are no street lights in Pulau Ubin, so be prepared for darkness beyond the main village after sunset.
Water
Unlike Singapore, tap water in Pulau Ubin is non potable. Bottled drinks and water is available for purchase in the main village, either from convenience stores or from the family restaurants. We highly recommend you bring your own water bottle.
Steep slopes
Be wary of steep slopes especially if you're riding a bicycle. There are signs to warn you in advance so take heed. Safety first!
Useful numbers
NParks Info Kiosk: 65424108
Police Coast Guard: 63775540/63775542
Ubin Police Post: 65428664/96611591
If you find yourself in need of more amazing things to see in Singapore, then don't forget to save our choice of free walking tours in Singapore.