Singapore's new attraction, Jurassic Mile, is a cool place for kids and adults to learn more about some of the best known dinosaurs and see replicas at scale.
Starting by the parking lot of Changi Terminal 4 and stretching for 1km (not a mile) along the perimeter of the airport, Jurassic Mile is a walking path sandwiched between the airport's Terminal 4 and the Tanah Merah Golf Club that is themed after the Jurassic Park book and movie franchise and has various exhibits showing famous dinosaurs.

The short trail is part of the newly opened Changi Airport Connector, the last mile trail and cycling route (pun intended) added to the Park Connector Network (PCN) and which finally connects Changi Airport to the rest of Singapore via a comprehensive network of cycling and jogging paths.
In this article, we will provide you with some tips to plan a visit to Jurassic Mile and give you the scoop on the things you should know before you visit.
1. Entrance is free, but you need to book ahead of time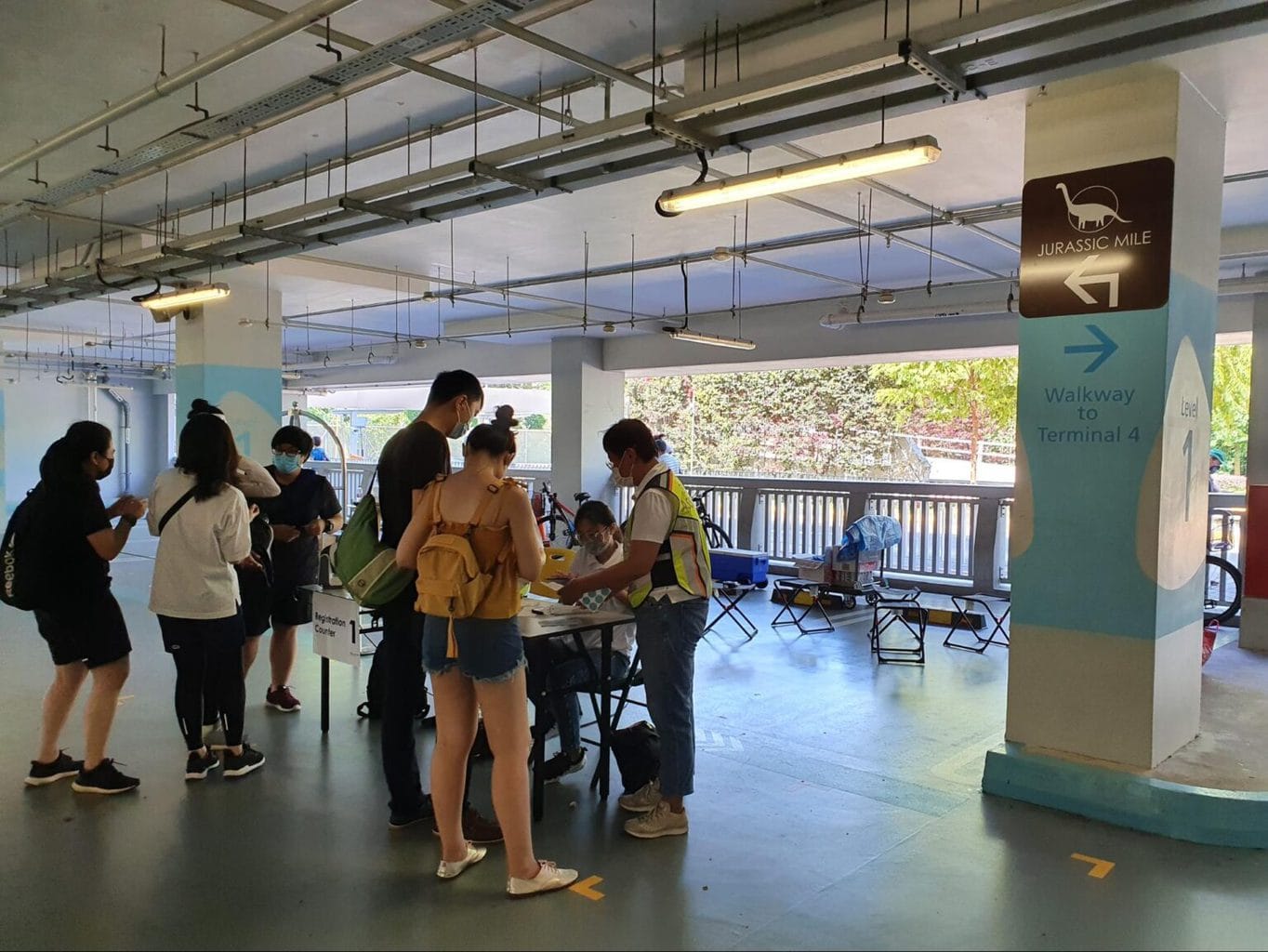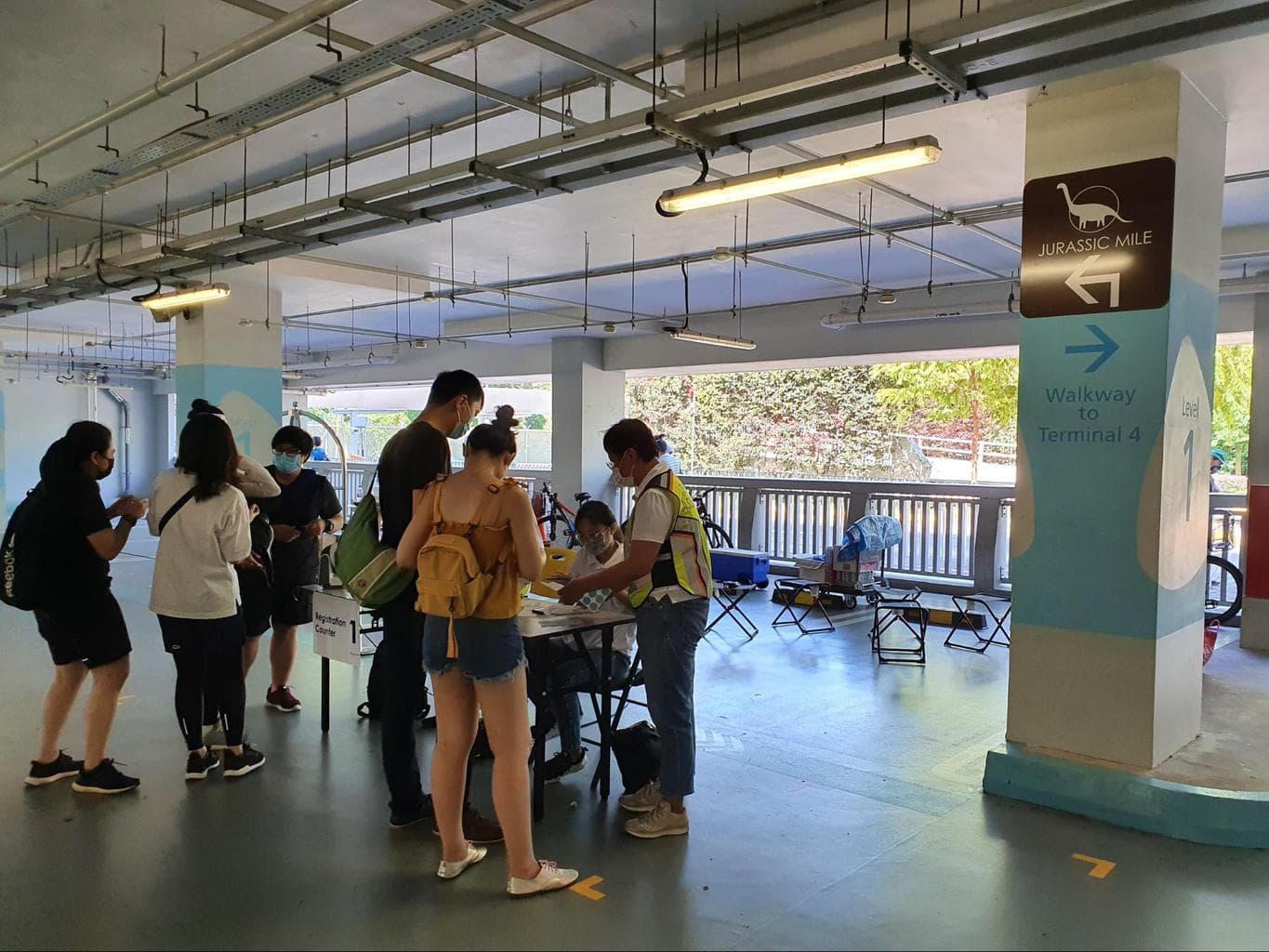 Jurassic Mile is open 24/7 however, it requires visitors to book a spot ahead of time to manage crowds and visitor numbers on Friday, Saturday and Sunday from 9am to midnight. This is expected to be the case until at least January 2021.
Trust us when we say this, it is a good idea. On a Sunday morning, Jurassic Mile can get pretty packed, even as early at 10am, so book your spot to avoid going all the way to the airport for nothing.
About 200 spots are available every 30min until 11pm and you will be allowed to stay for 1 hour in the trail. Everyone needs a pass, including infants and babies. You don't have to book if you come Monday to Thursday, or before 9am or after midnight from Friday to Sunday.
Jurassic Park entrance spots can be booked at the Changi website. You will have to get your sticker to gain entrance from either side of the trail. Find the registration desks where you can check in and get a sticker that grants you access. A member of staff will check you have the right sticker before allowing you into the trail.
2. Behind bars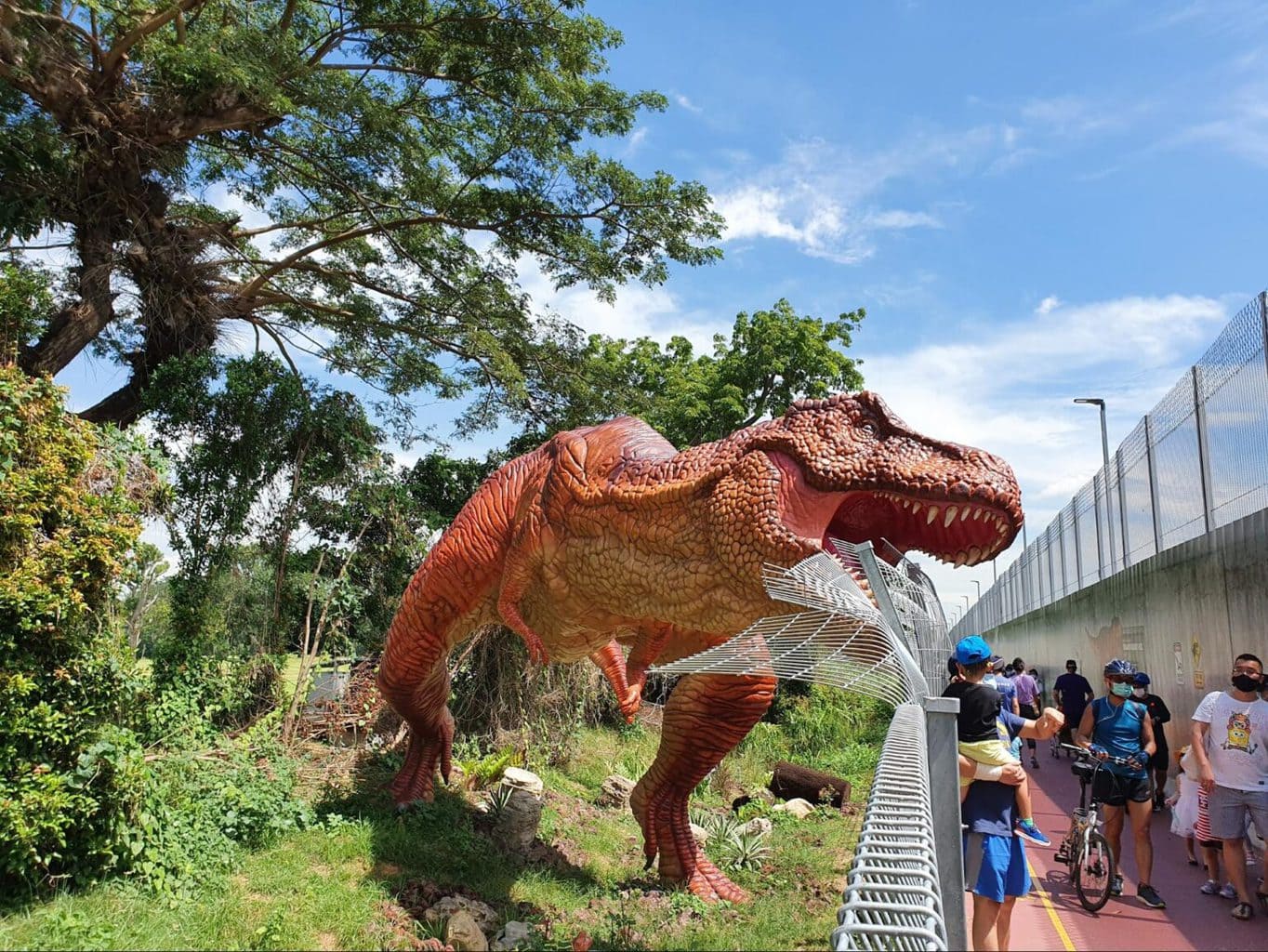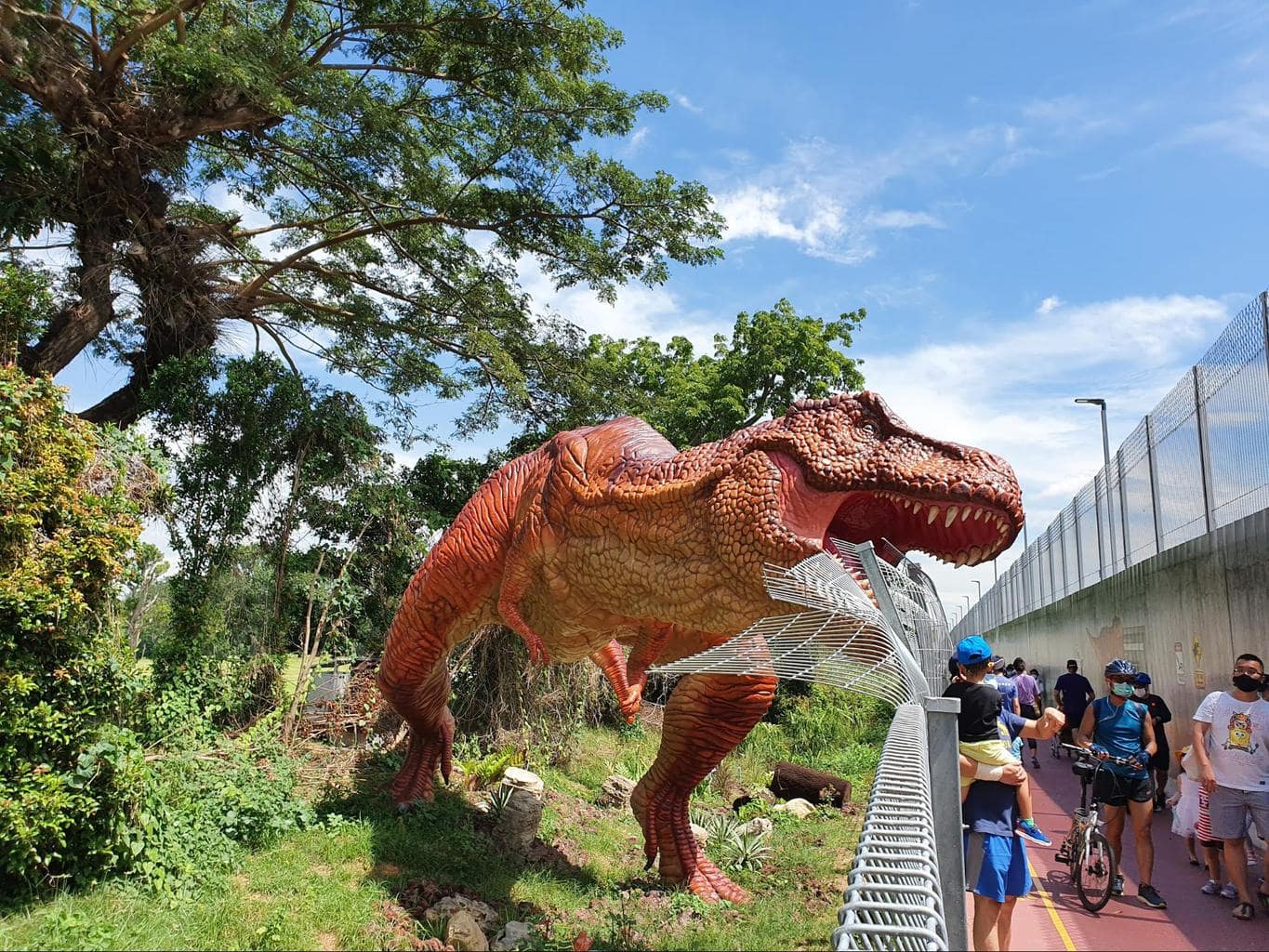 While Jurassic Mile allows you to get up and close with these ancient creatures fantasized in movies such as Jurassic Park, Jurassic World and in all manners of children books, you won't be able to get too close to them.
Most of the model dinosaur replicas are located behind bars, literally. The trail is fenced at either side. On one side there is a tall wall that separates it from the airport, on the other there is a tall metal fence that separates it from the Tanah Merah Country Club and additional netting, necessary given that shortly after its opening, a golf ball hit a visitor.
3. A return journey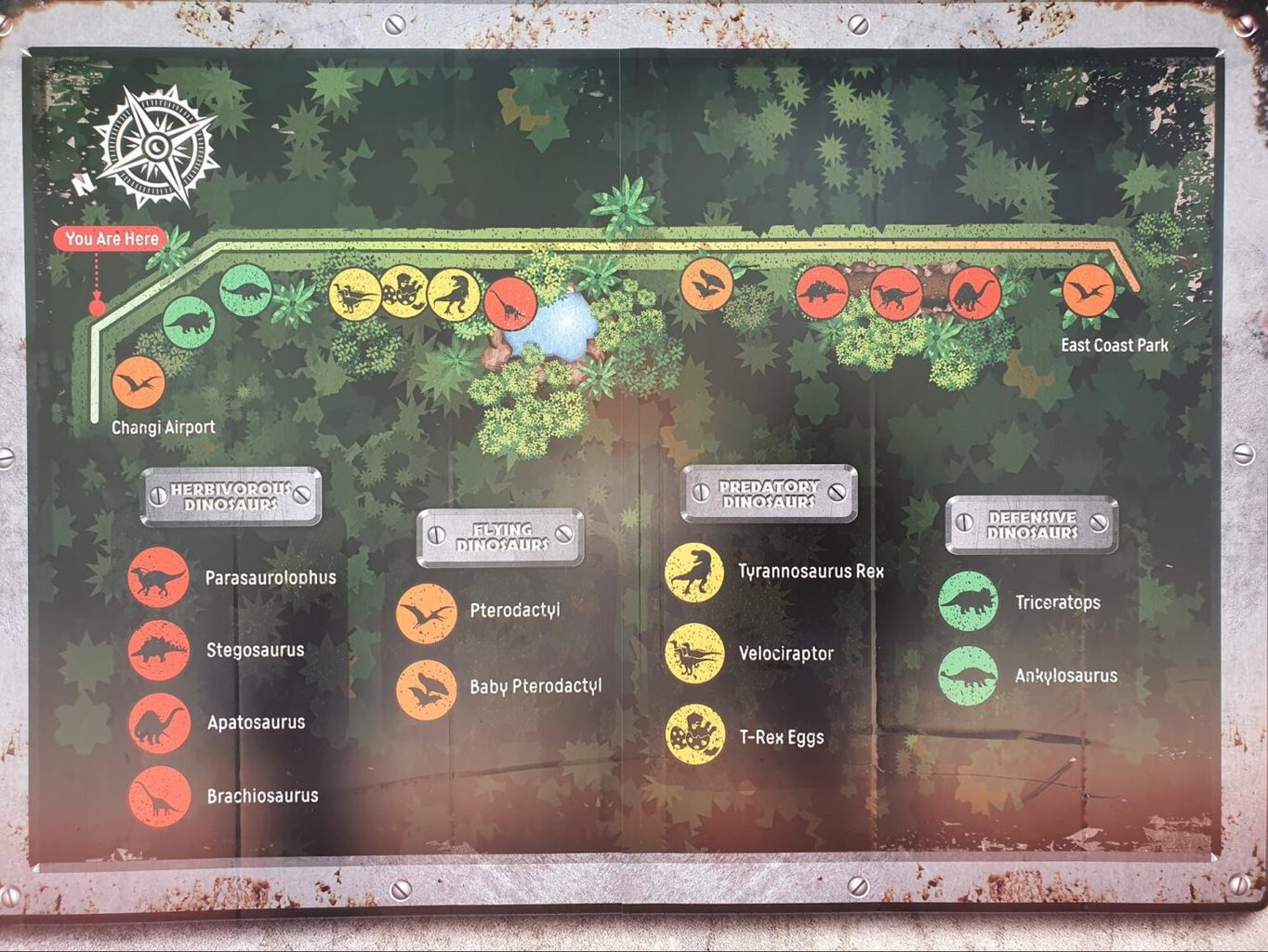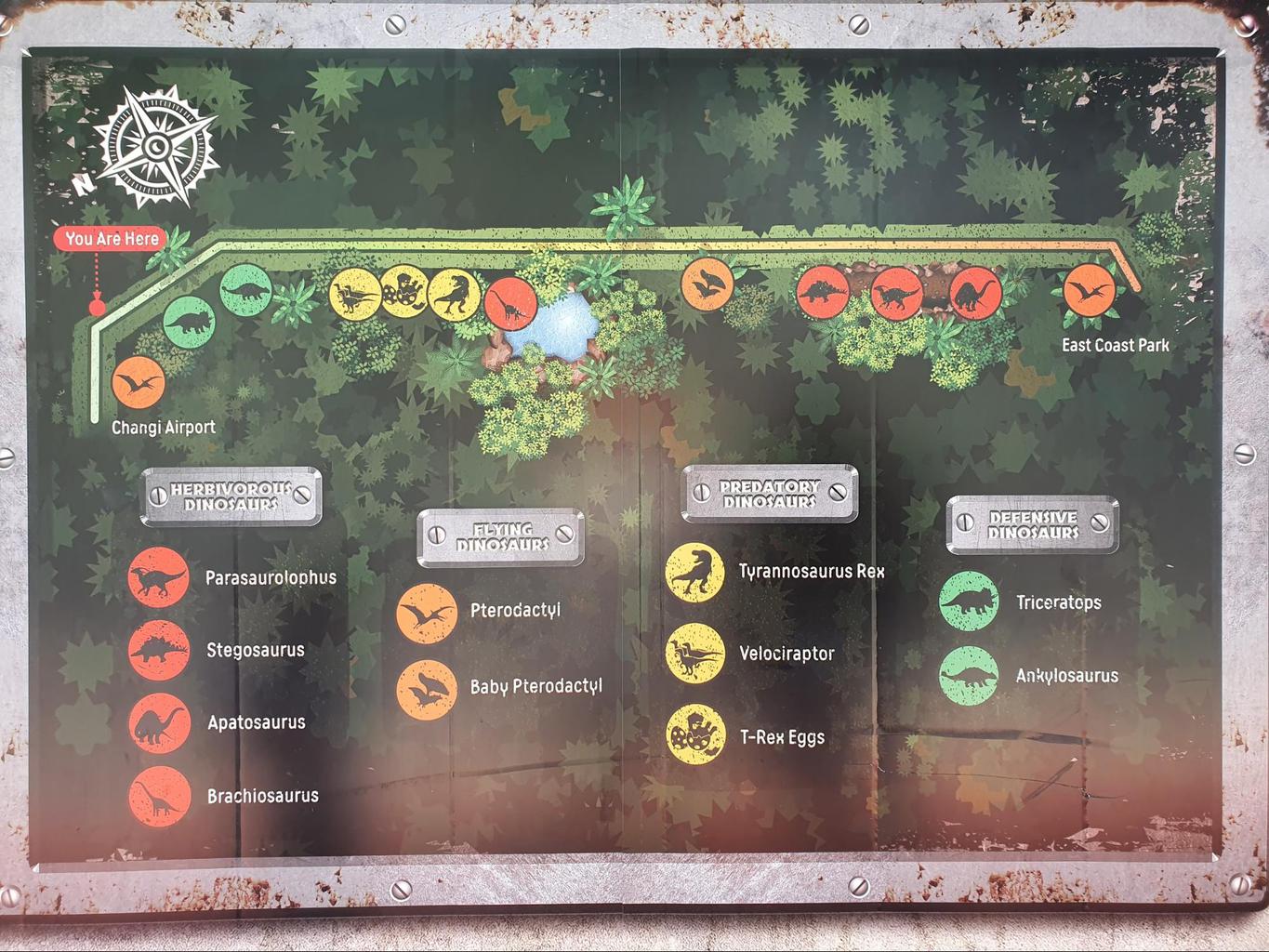 We went to Jurassic Mile thinking we would walk the trail one way and then carry on towards Changi Beach Park or East Coast Park but we realised that the most common starting point, near Terminal 4 parking lot, is relatively well connected to Terminal 2, Instagrammable Jewel and the MRT via the newly opened Changi Airport Connector, but not so well connected at the other end.
If you are planning to walk Jurassic Mile, count on a return walk, or on calling a taxi at the end of the trail as there is nothing other than the wide and heavily trafficked industrial Tanah Merah Coastal Road, and East Coast Park which is another couple of kilometers away on a sunny and concrete path that is not pleasant to walk.
Since Jurassic Mile is only 1km long, expect on a 30-45min return walk starting and ending at Terminal 4. The full walk back to T2, Jewel and the MRT is about 8km.
4. Strictly walking trail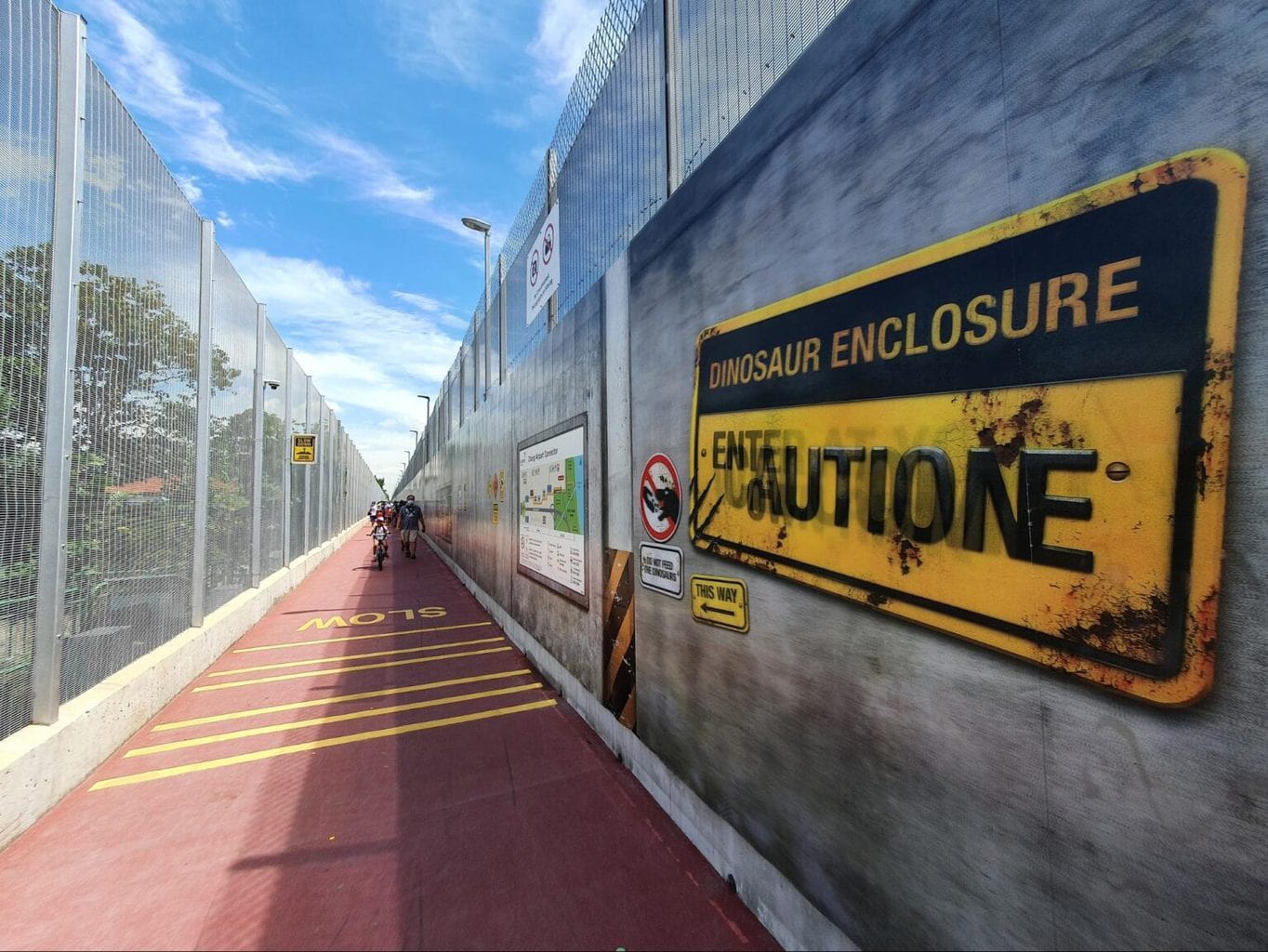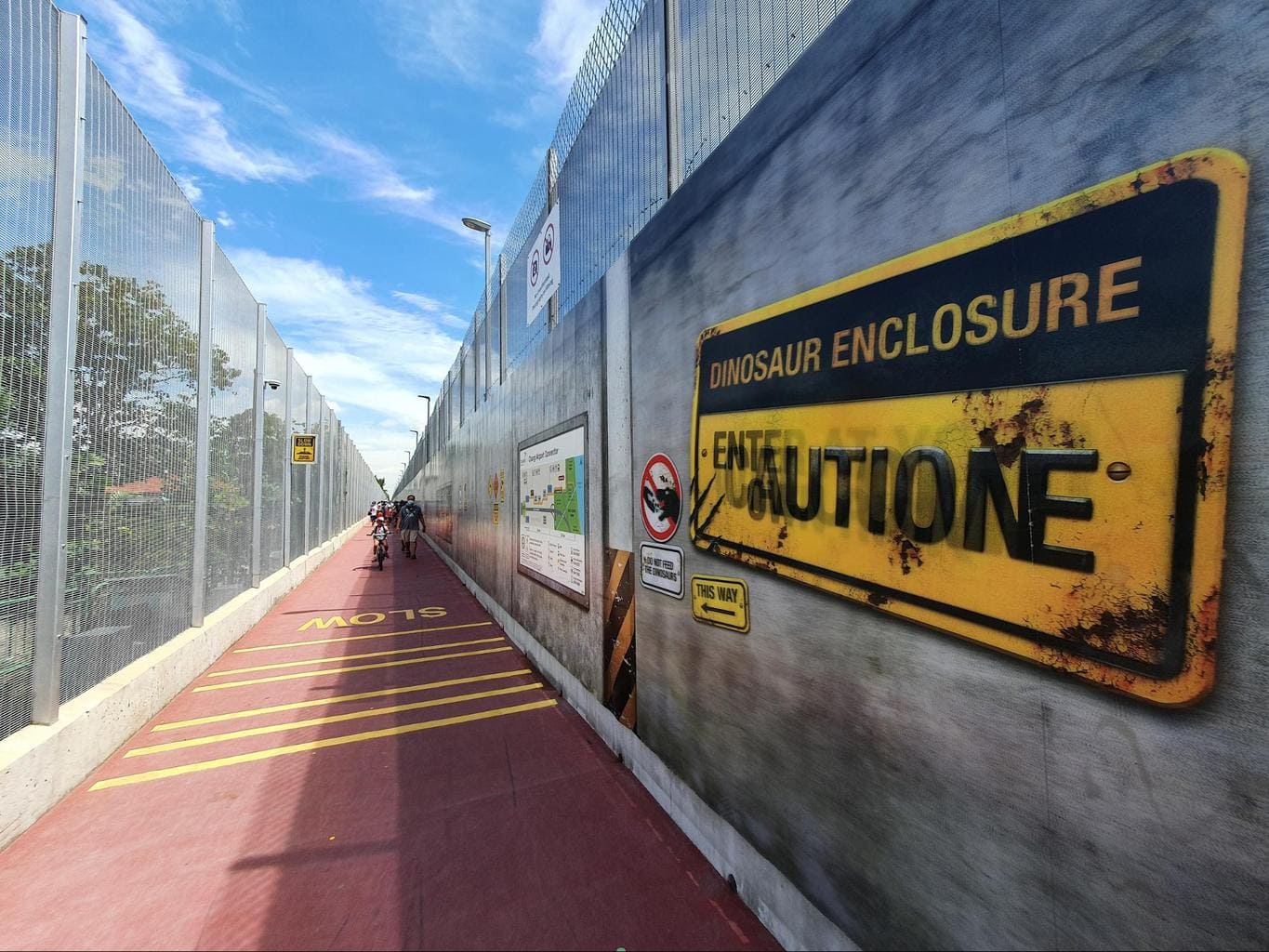 Even though Jurassic Mile is part of the Park Connector Network (PCN) and sold as part of a longer east coast cycling route, you will have to dismount and push your bike along the 1km of the trail.
This is because the trail gets quite packed, is very narrow and it is a shared walking/jogging and cycling trail, so it would be hard to cycle with oncoming pedestrian traffic. So, while this is sold as an extension of the PCN, it is not a cycling path but a walking one.
5. Go early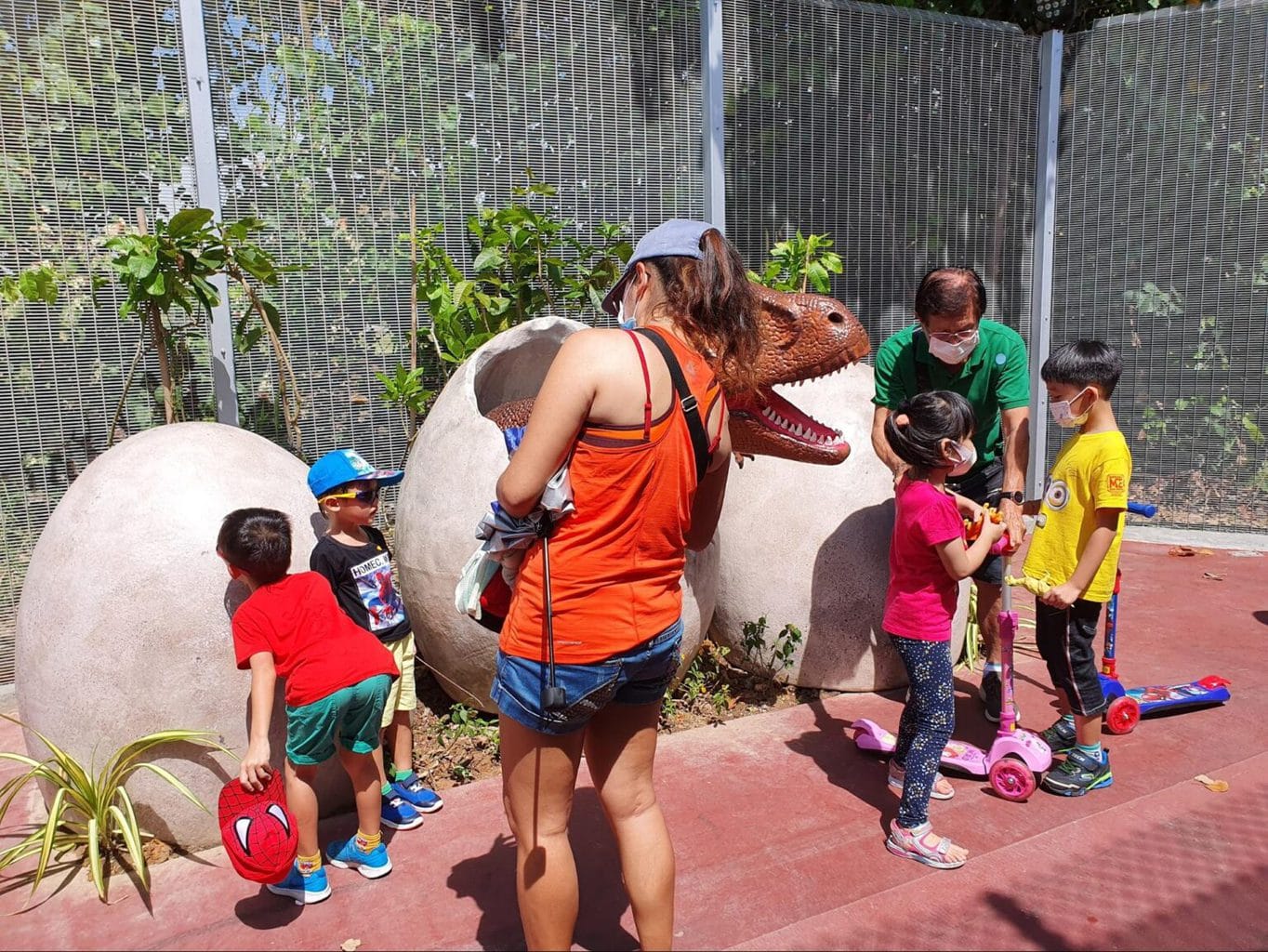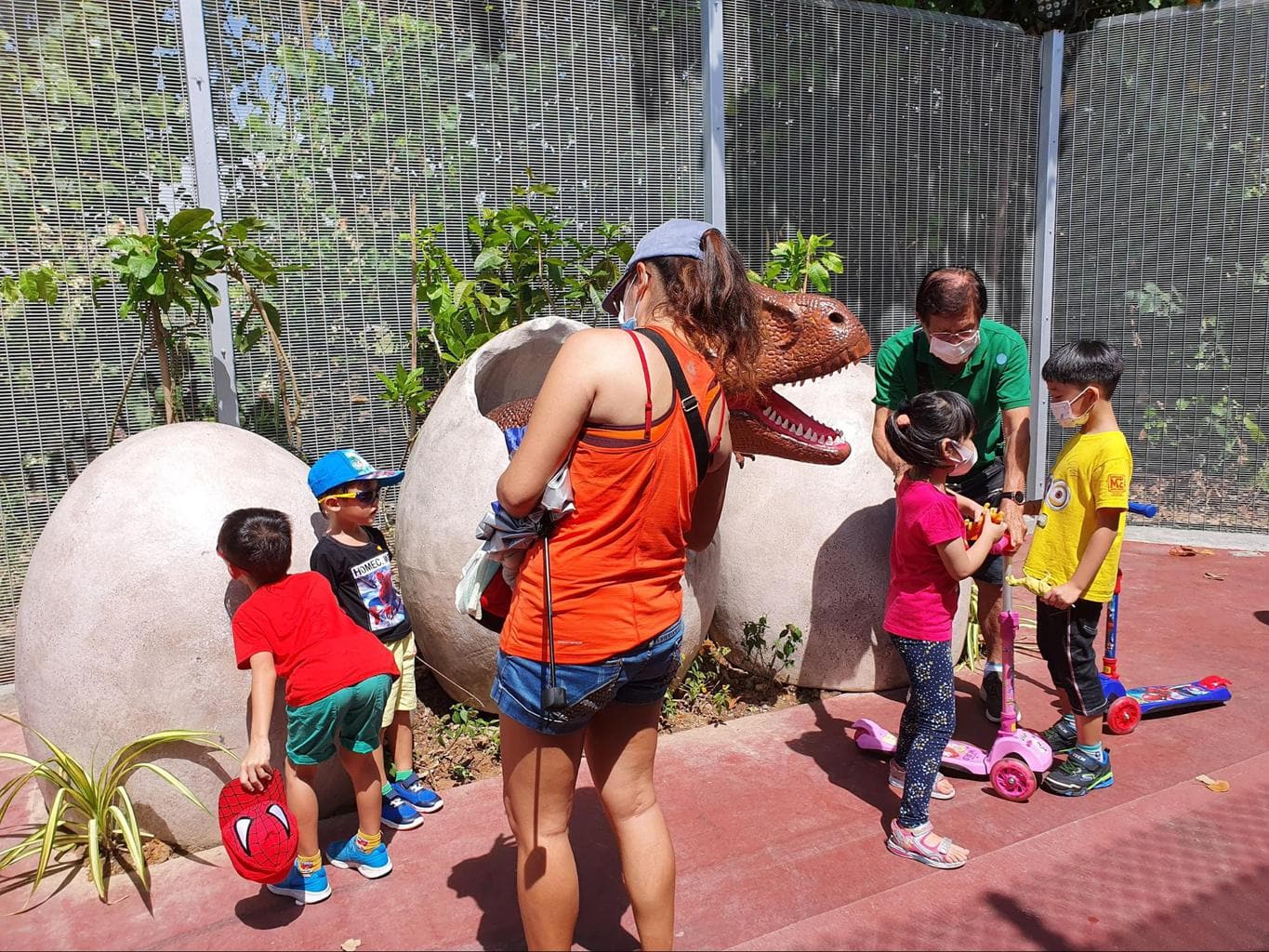 Going earlier in the morning is not only a good idea because of high visitor numbers later in the day, but also because around noon, the entire trail is in the sun, making the paved and exposed trail with no shade a really hot walk.
Before noon, half of the trail is in the shade thanks to the high wall so you can still protect yourself from the sun rays. Needless to say, the peak of the day on the weekends sees the most visitors and you will have to queue to take pictures with the dinosaurs, all while trying to socially distance and dodging oncoming traffic.
6. Make a day out of it with a visit to Jewel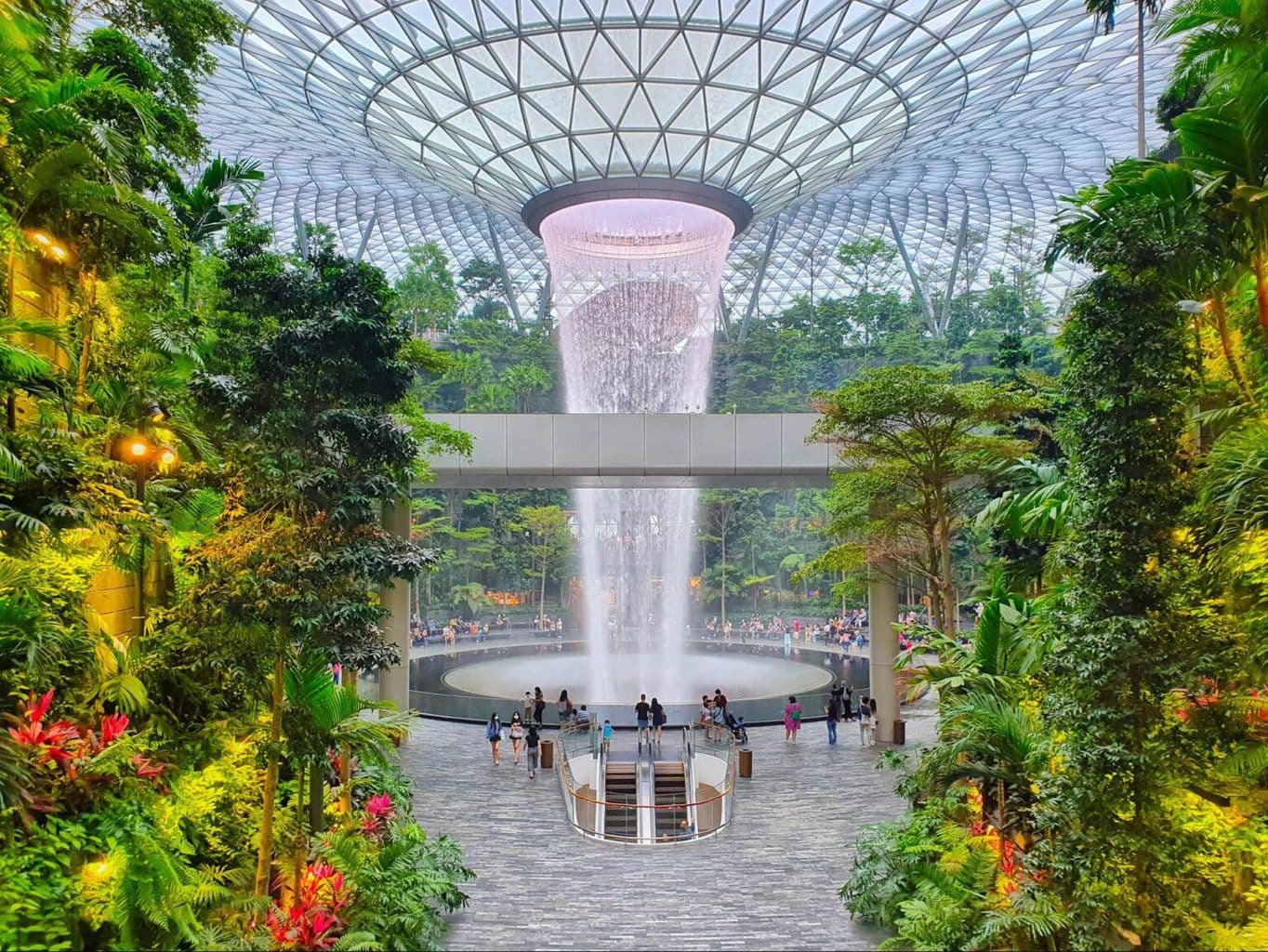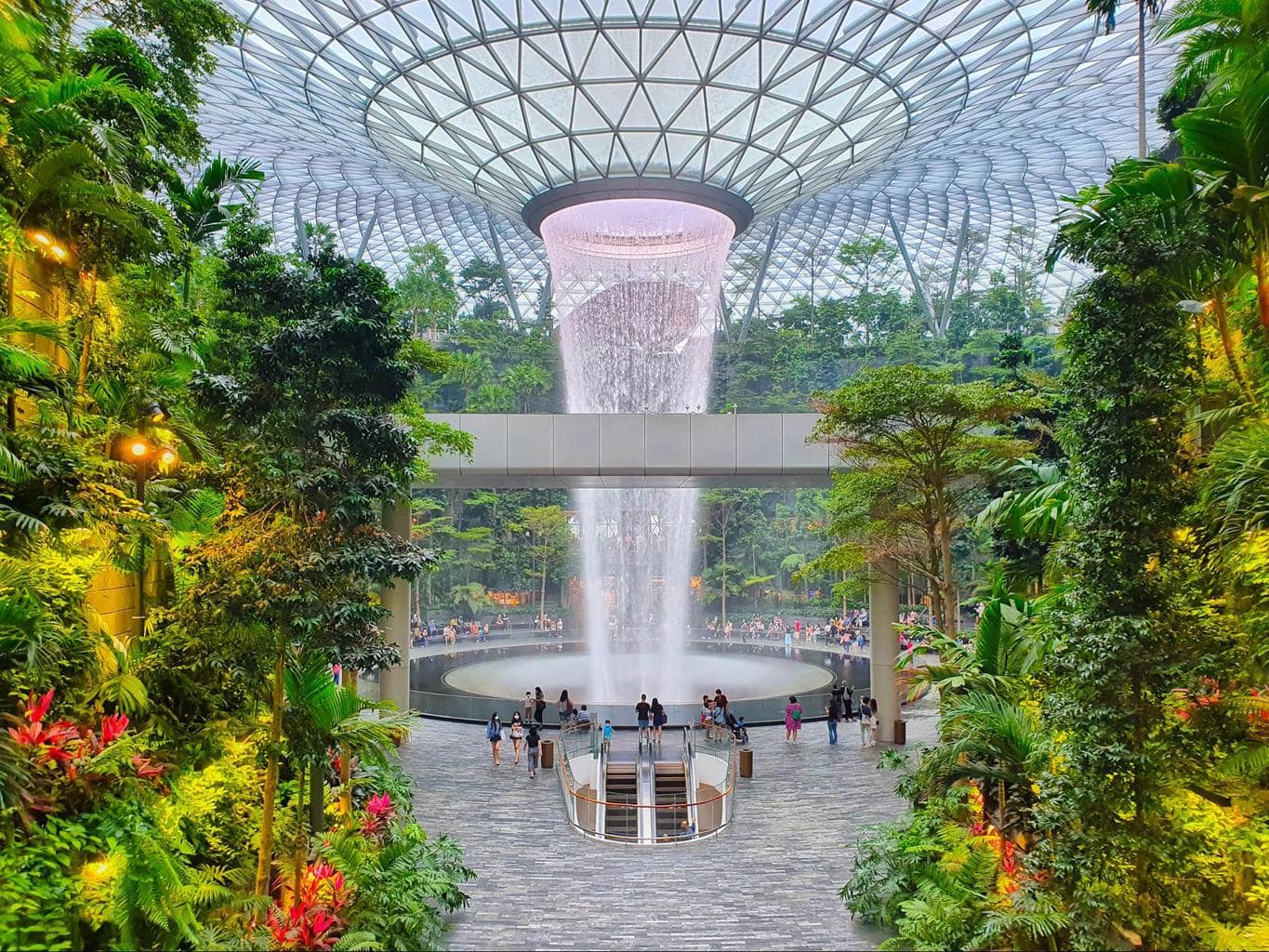 Jurassic Mile is pretty far from everything, and it's also quite far to get to, so to justify a visit, we recommend you combine it with Jewel at the world's best airport. Take the MRT or your car to Terminal 2 and walk the roughly 8km from T2 to Jurassic Mile and back to then enjoy Jewel's many offerings.
We particularly love the combo package to the canopy area at the top, or a walk along the hanging gardens around the vortex waterfall. Here are a few bookable experiences at Jewel and Changi Airport you can add to your full day:
Changi Studio offers a themed and virtual entertainment experience at Jewel. You can interact with the touch screens, play at all the virtual stations, etc. Book here.
Explore Jewel's many attractions: The canopy walk allows you to walk on a net 5 floors over the ground, the Canopy Bounce is more fun and less painful for the feet, and lets you bounce around, the Topiary has plants and flowers shaped like animals, the Maze is fun for kids to get lost, and the Canopy bridge has the best views over the vortex waterfall. Book entry to all here (essential to book ahead as the queues in the weekend are long and attractions do sell out).
Take a tour of Changi Airport and Jewel and learn all about the best airport in the world. Book here.
If you are cycling all the way here, there are 24h bike lockers to store your bike and an 80-bike parking bay where you can leave your bike while you explore Jewel.
7. Cycle on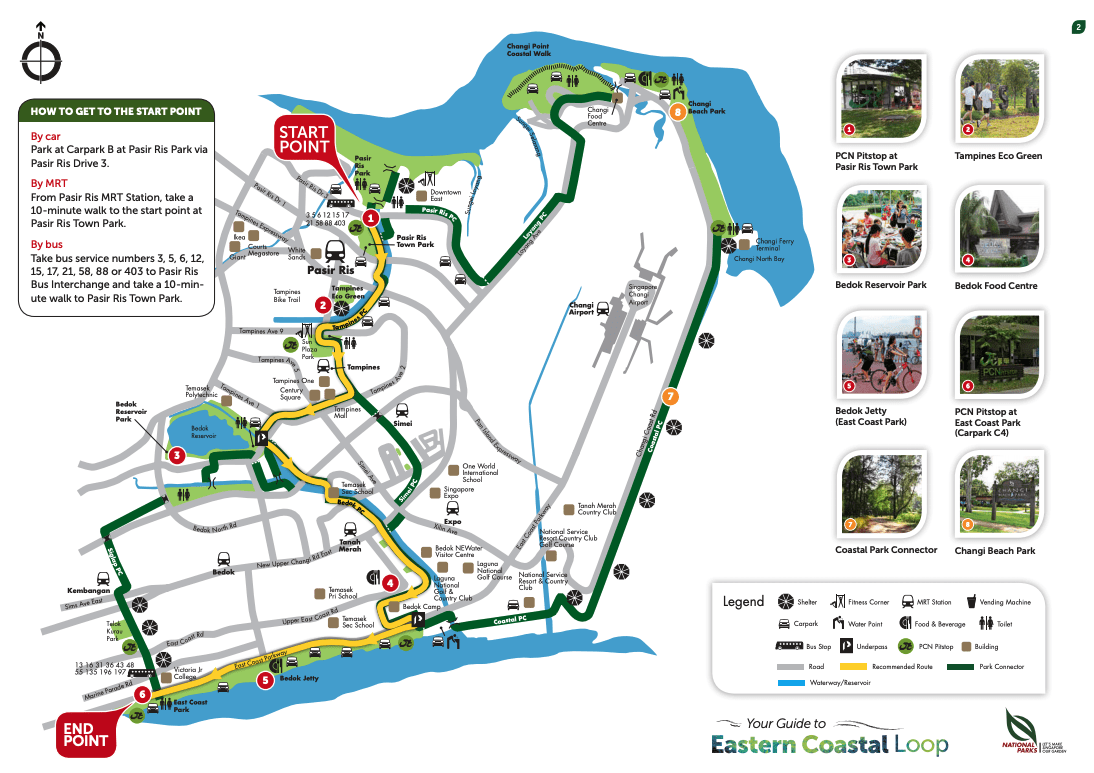 The new 4km Changi Airport Connector that Jurassic Mile is part of starts at Terminal 2 and links it to Terminal 4 and to East Coast Park that means you can cycle all the way from almost anywhere in Singapore, the Marina, Punggol, Pasir Ris or East Coast. Connect with the Eastern Coastal Loop for a trip to camping favorite Pasir Ris of East Coast Park.
If you don't have your own bike, start at Terminal 2 Hub & Spoke, a new space with a cafe, a bike rental place from GoCycling and shower facilities (S$3 for one-time entry, S$5 for two-time entry). Bike rental from GoCycling costs $8 an hour.
After you are done, drop the bike off at one of the other 9 GoCycling stores along the Park Connector Network, including a couple in East Coast Park, Pasir Ris or at Changi Beach Park which is about 12km away from the end of Jurassic Mile.
8. Onto the dinosaurs…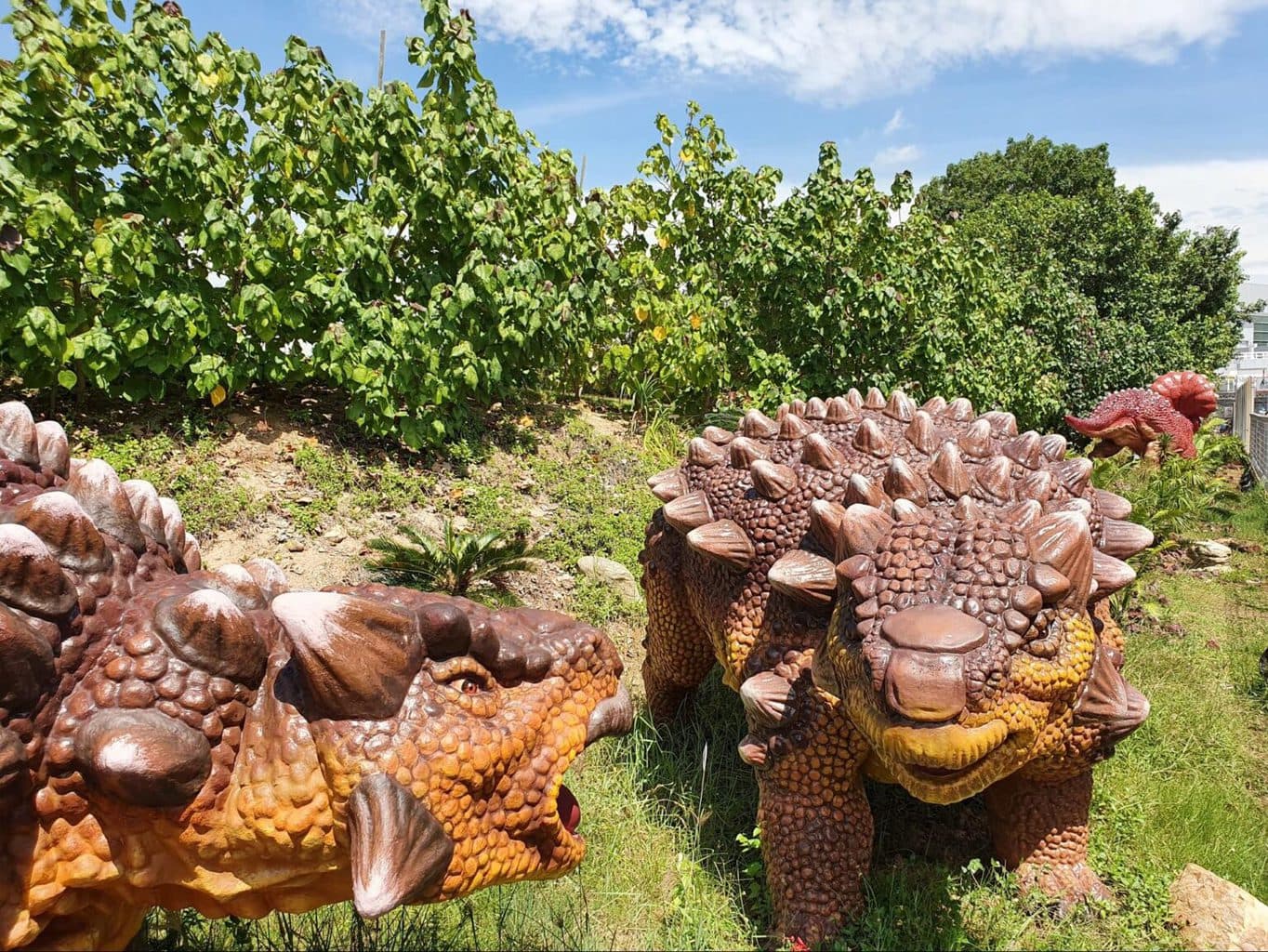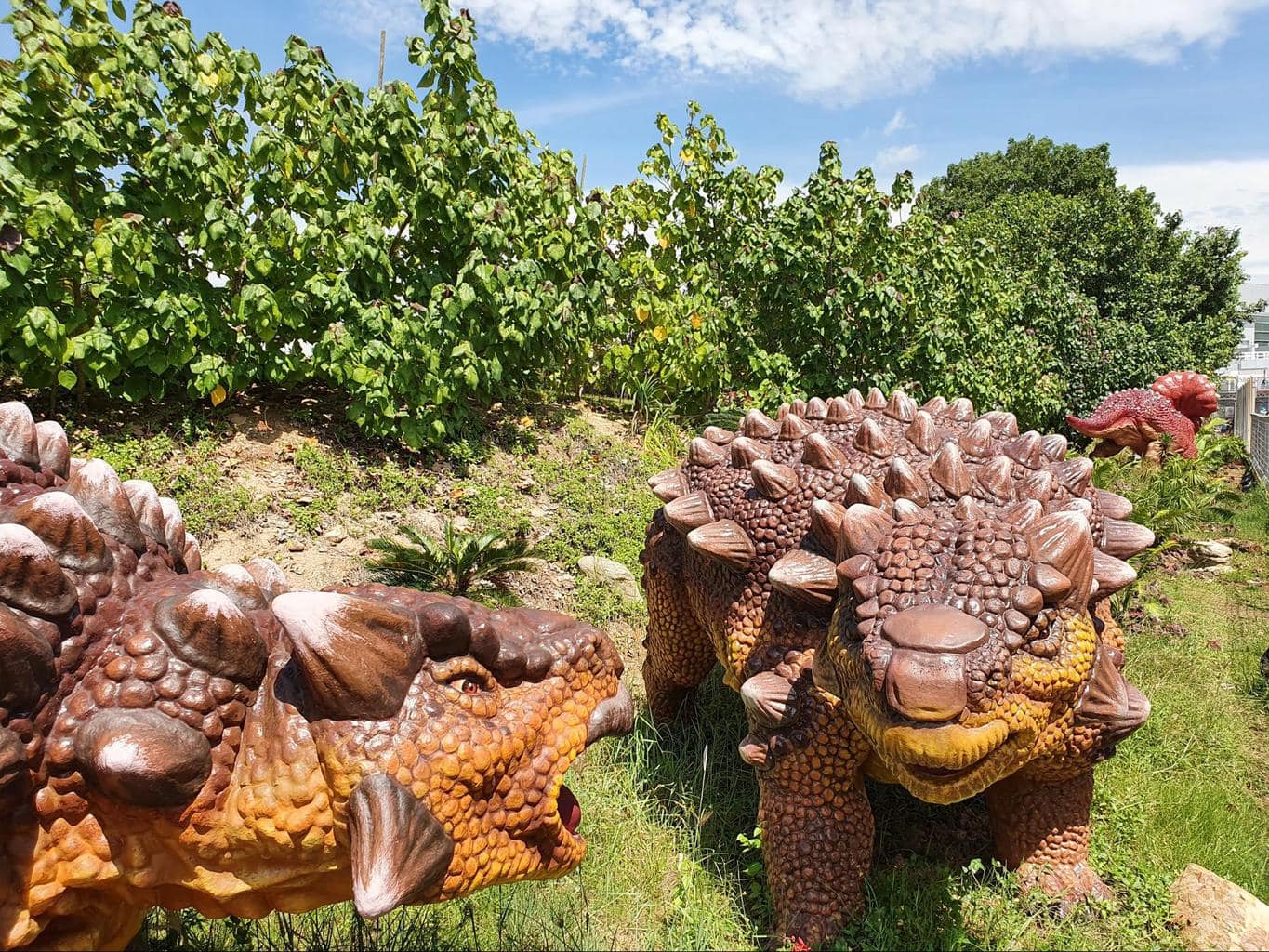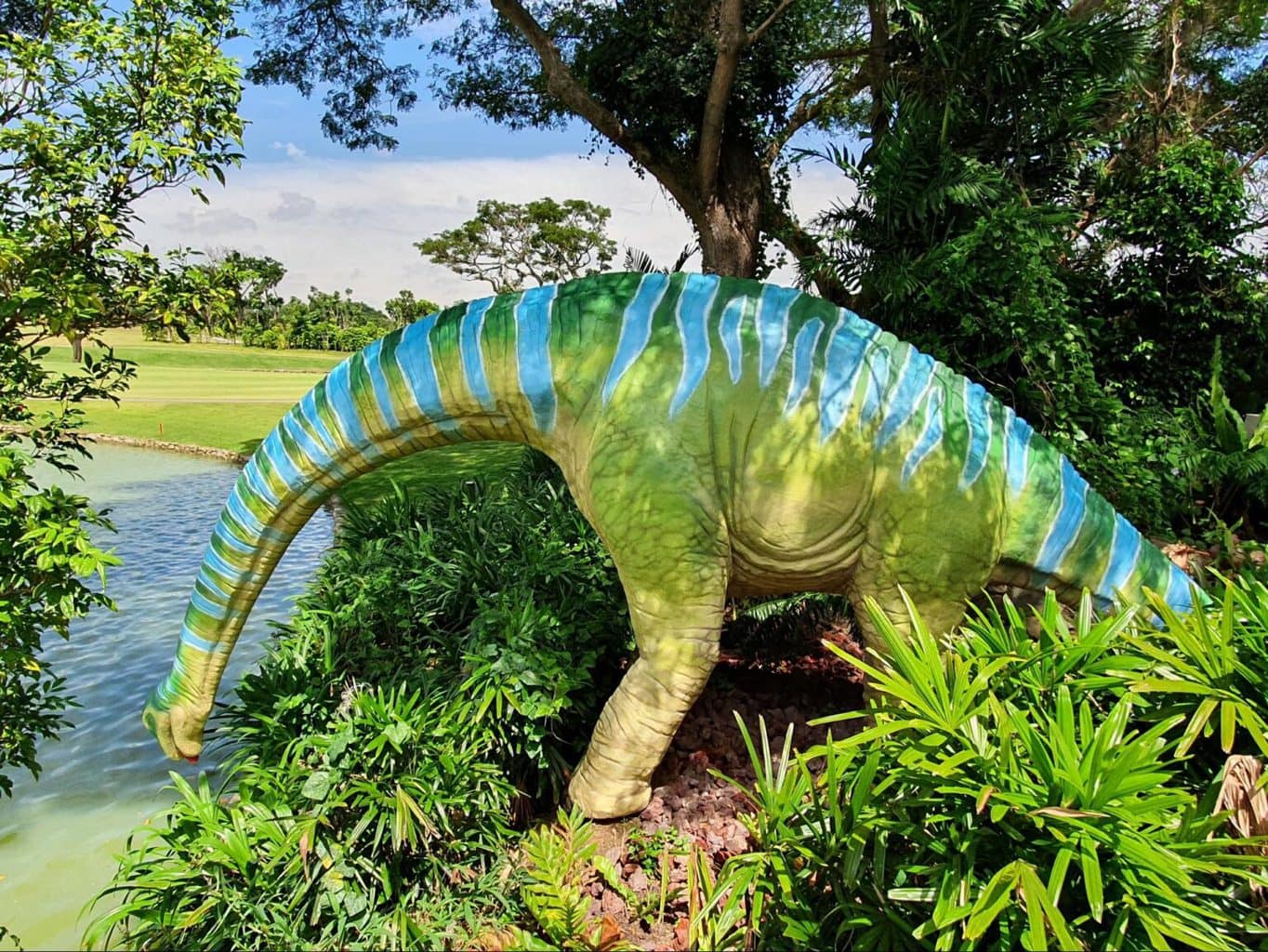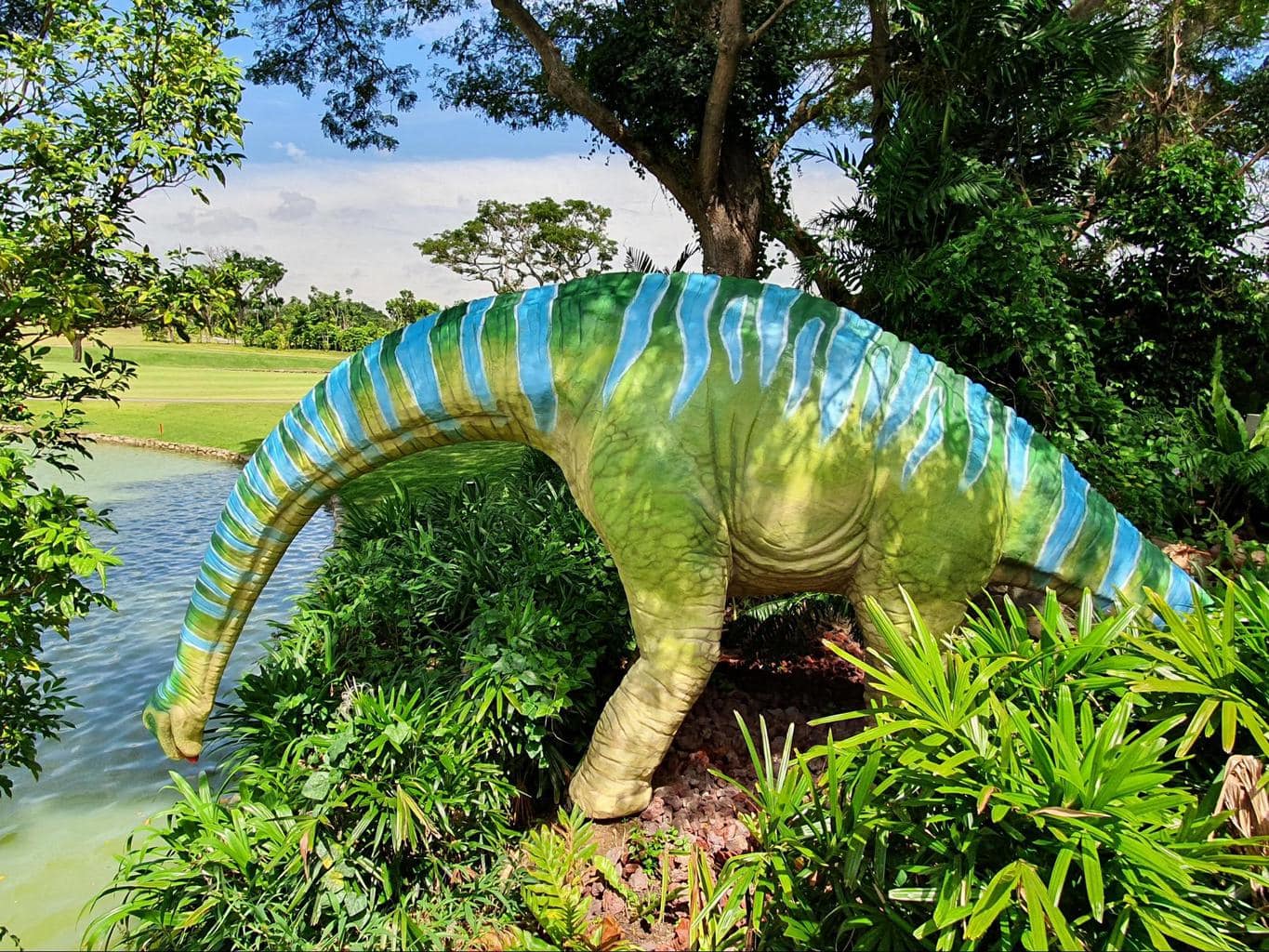 Now, onto the dinosaurs that are on display. Expect 20 dinosaur displays featuring 11 different species of the ancient creatures that used to roam the earth.
For each exhibit, there is a real size dinosaur statue and a series of panels stuck to the opposite wall telling you all about the specific animal. You will know its history, where their fossils were found, how large it was compared to a human, what they ate, etc. You will also understand why a dinosaur exhibit has anything to do with Changi Airport, but we don't want to spoil the surprise.
9. You can spot planes landing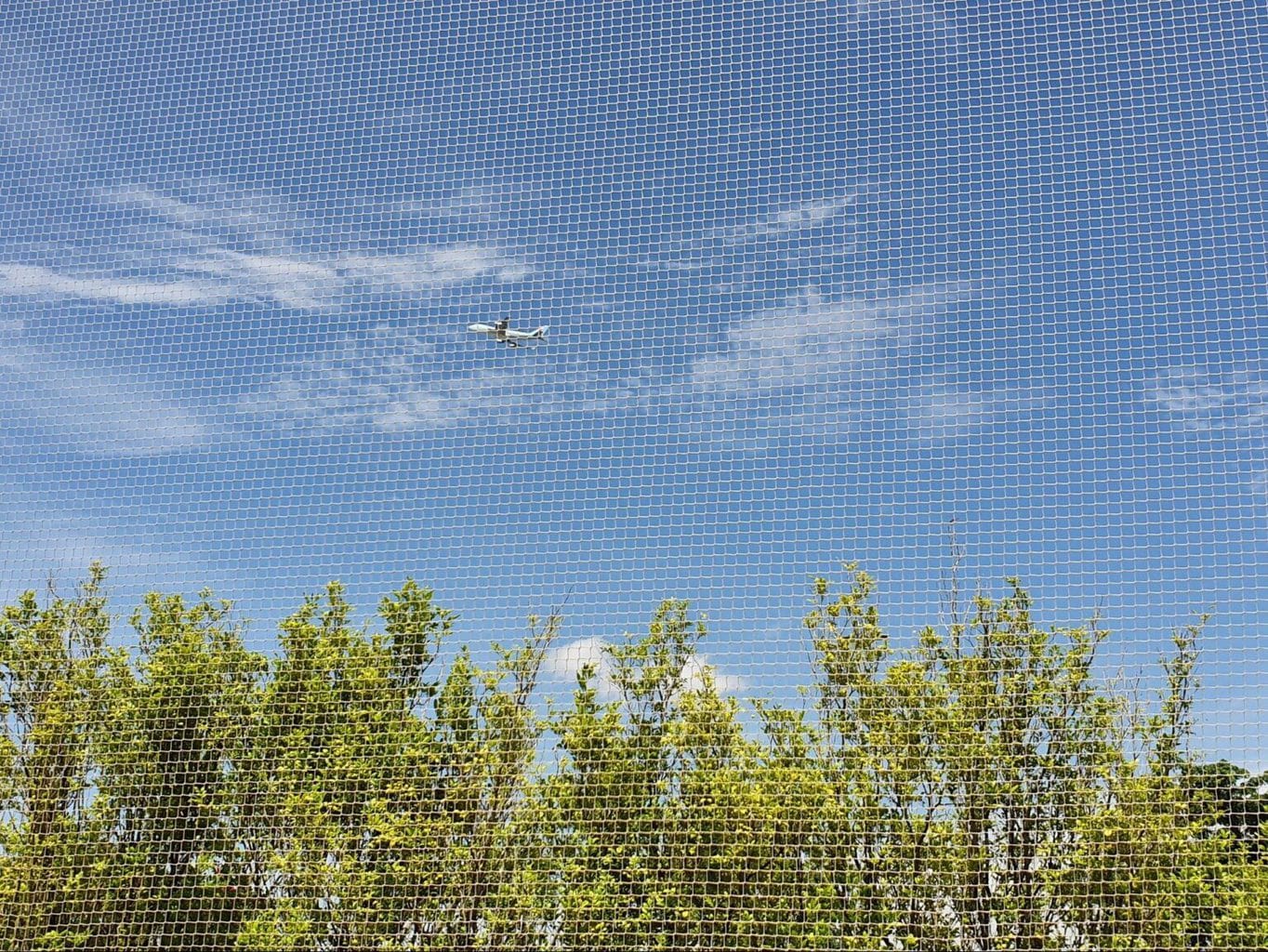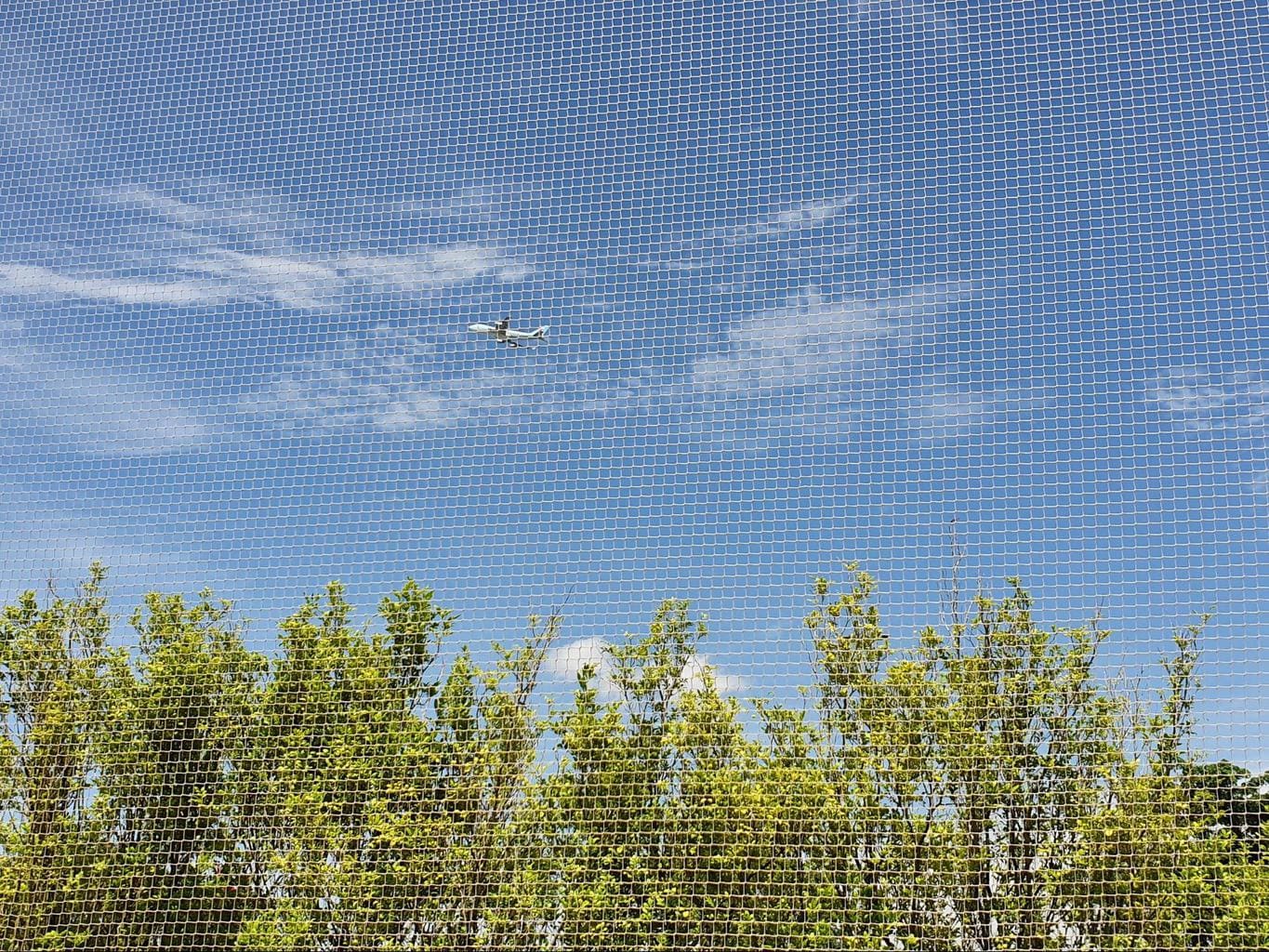 Besides enjoying the dinosaur exhibits, you can also spot planes landing above your head. Naturally, as this trail is set along Changi Terminal 4, you can expect to see planes taking off and landing from up and close. Don't worry, you will hear them too so you'll know when to look!
10. Travel light
It may be tempting to bring all your kids' bikes, scooters, rollerblades and skateboards for the ride on the Jurassic Mile, but remember what I said above about the narrow path and having to dismount?

We would recommend doing this path as light as possible because it does get packed and walking is almost on a single line so the fewer things you carry with you the better.