This article was first published on September 14, 2018 and updated in June 2020.
When people travel to Singapore, beaches aren't usually the first thing that come to mind. With so many other choices nearby like the many beach resorts in Bintan or Batam or the close beaches of Southeast Asia like Indonesia, Vietnam, the Philippines or Thailand, people often forget that there are some really nice beaches, and even islands, in Singapore. We plan to show you all the best beaches in Singapore to get your fix of vitamin sea.
So if you're in the Red Dot and can't stand the heat and humidity, you should definitely take a visit to the ocean and check out some of the beaches in Singapore or even try your hand at camping in Singapore. And don't forget to save my article on 100+ things to do in Singapore here. Can't wait one more minute to jump in the sea? Then get busy reading our list of the best beaches in Singapore.
Beaches on Sentosa Island – Siloso, Palawan and Tanjong Beach
Sentosa is a man-made island in the south of the city-state where you will find some of the highest priced properties, some of the most luxurious resorts in Singapore like the W Singapore on Sentosa Cove, Universal Studios, Tanjong Golf Course, Adventure Cove Water Park and of course, several of the better known Singapore beaches.
There are three distinct beaches on Sentosa Island for you to laze about on that cater for different types of beach goers – Siloso Beach, Palawan Beach and Tanjong Beach.
You can also purchase multiple discounted tickets online for all things Sentosa (beyond the beach) such as the Sentosa Fun Pass, Cable Car Sky Pass, S.E.A. Aquarium, Universal Studios, Skyline Luge, Cable Car trip to Mount Faber, Wings of Time Premium Seats or even a 2 hour guided bus tour or Segway Tour. They don't call it the State of Fun for nothing. But here are the best beaches…
Siloso Beach
Those interested in water sports and activities in the sand should head to Siloso Beach. It's the most active beach on Sentosa and it is lined with beach clubs and restaurants from where you can drink and eat right on the sand only a few meters from the water. Check out Coastes and Bikini Bar all of which are open day and night.
On Siloso Beach not only can you play volleyball and frisbee, there are other activities to keep your thrill levels high like bungee jumping at AJ Hackett, flowriding at Wave House Sentosa, zip-lining at Mega Adventure Park, indoor skydiving at iFly Singapore and water-jetpacking at Ola Beach Club.
Getting to Siloso beach:
Sentosa Express: Alight at Beach Station and take the Beach Shuttle
Public Bus: Board Bus 123 and alight at Beach Station and take the Beach Shuttle
Beach Shuttle: Alight at Siloso Beach
Nearest Car Park: Beach Station Car Park
Facilities at Siloso beach: Restaurants, bars, beach clubs, Cable Car Sky Network, Flying Trapeze, Mega Adventure Park, Wave House, Sea Breeze Water Sports, free public restrooms and showers, lockers with three sizes (S$1, S$2, and S$3 respectively), Gogreen bicycle and Escooter rentals.
Palawan Beach
Taking its name from the famous Philippine island, Palawan Beach is geared towards families and it is quieter and longer than Siloso Beach. Palawan Beach is great for children because there are a lot of activities that have been thought out to keep them entertained and busy. You can even take a selfie on the suspension bridge that leads to the southernmost point in continental Asia.
For some family fun on Palawan Beach head to the Pirate Ship. Pose with pretty parrots at Animal & Bird Encounters, then grab a bite to eat at beach club, bar and restaurant FOC, one of our favourite Spanish restaurants in Singapore. There is also Bora Bora Beach Bar and a food court for more casual bites.
Getting to Palawan beach:
Sentosa Express: Alight at Beach Station and take the Beach Shuttle
Public Bus: Board Bus 123 and alight at Beach Station and take the Beach Shuttle
Beach Shuttle: Alight at Palawan Beach
Tanjong 1 Car Park
Facilities at Palawan beach: Playgrounds, gardens, cafés, beach clubs, thatched shelters, palm trees, Southernmost Point of Continental Asia, Animal and Bird Encounters, free public restrooms and showers, lockers with three sizes (S$1, S$2, and S$3 respectively)
Tanjong Beach
The last beach on the Sentosa list is classy Tanjong Beach, on the outskirts of the golf course and millionaire mile Sentosa Cove.
This is a more refined beach option on Sentosa Island for beautiful people to show off their bikini-ready bodies while sipping cocktails to a live DJ. Tanjong Beach Club (TBC) is the place to be, especially on Sundays when the vibe becomes electric. There are also yoga sessions, movies under the stars and many impromptu volleyball games, stand-up paddle board meet-ups and other gatherings.
Before heading to Sentosa, check out some fascinating facts about Sentosa. Bear in mind that Sentosa is an artificial, man-made island in front of the second largest shipping port in the world, so you may come across pollution.
Getting to Tanjong beach:
Sentosa Express: Alight at Beach Station and take the Beach Shuttle
Public Bus: Board Bus 123 and alight at Beach Station and take the Beach Shuttle
Beach Shuttle: Alight at Tanjong Beach
Nearest Car Park: Tanjong 2 Car Park
Facilities at Tanjong beach: Thatched shelters, palm trees, volleyball nets, Tanjong Beach Club, free public restrooms and showers, lockers with three sizes (S$1, S$2, and S$3 respectively)
Where to stay on Sentosa Island: I recently stayed at W Singapore – Sentosa Cove and was disappointed by their service. It is a break from its usual hip brand and is more geared toward families than trendy couples, but families may think otherwise. You can read my full review here. I would much rather recommend the Sofitel, Le Meridien or Shangri-la Rasa. The Capella is by far the most luxury hotel option on Sentosa Island and I have stayed there twice and loved it every time. Here's my review of Capella Singapore.
For families, your best bet is to stay at one of the hotels at Resorts World. Take your pick at:
Beach Villas on Booking.com | Agoda
Michael Hotel on Booking.com | Agoda
Hard Rock Hotel on Booking.com | Agoda
The Equarius Hotel on Booking.com | Agoda
The Festive Hotel on Booking.com | Agoda
The Crockfords Tower on Booking.com | Agoda
Changi Beach
Changi Beach today is a beautiful 28 hectare beach park that stretches out for 3.3km and is near the airport, as the name indicates. When your feet aren't in the sand and you're not frolicking in the calm waters, you can enjoy the 2km coastal walk that has six distinct parts: Creek Walk, Beach Walk, Sailing Point Walk, Cliff Walk, Kelong Walk and Sunset Walk.
Changi Beach maintains that kampong feeling of yesteryear and is a very popular local hangout, especially on weekends. You can have a barbeque, go fishing, hire a bicycle or even just come for a jog along the path. If you go to the east by the SAF Changi Ferry Terminal, you can watch the sunrise and stroll over to the west at Changi Point for sunset.
There are also some places to have fresh fish like Bistro@Changi, or the various food options at Changi Village like Changi Village Hawker Centre or Changi Village Market all within close proximity of each other. Note that it is usually empty at the southern end of the park, if you want to do some fishing or watch the planes fly overhead with no-one in sight. The northern area is right by the ferry to Pulau Ubin, and Changi Village and is therefore much more crowded.
Getting to Changi beach: The closest stations to Changi Beach Park include:
Nicoll Dr – Changi Beach Cp 2 (99171), 206m, 4min walk.
Changi Point Ferry Terminal, 389m, 7min walk.
Changi Village Rd – Changi Village Ter (99009), 408m, 6min walk.
Changi Village Rd – Blk 4 (99131), 491m, 8min walk.
Civil Service Club (Changi), 534m, 8min walk.
You can take bus numbers: 19, 89, and 9.
Facilities at Changi beach: Barbecue pits, fitness & exercise corner with some equipment, playground, restrooms and toilets with shower facilities, World War II Memorial Plaque, sand play area, kayaking, bicycle rental
Where to stay near Changi Beach: The closest luxury hotels near Changi airport are Capri by Fraser Changi City which is more business than luxury or the Crowne Plaza at Changi Airport. However, the beach is a short 20-30min to town where there are a host of luxury hotels. Check the best hotels in Singapore on Booking.com | Agoda
Punggol Beach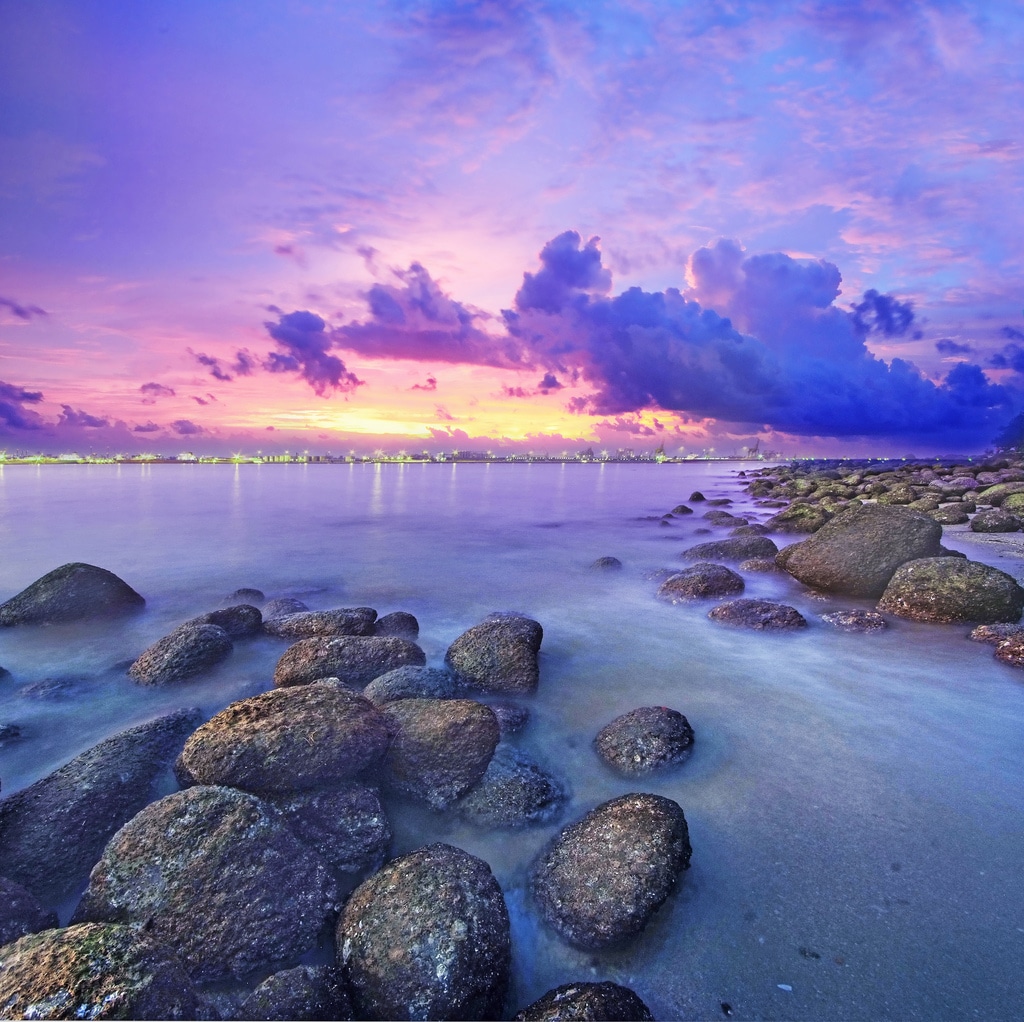 When you enter Punggol Point Park you will be gasp at the beauty of the north from the viewing deck. There are elevated views of the ocean and you can peek into nearby Malaysia which is just a few meters away across the water.
One of the reasons to visit Punggol is the ocean breeze, where you can escape the otherwise muggy city centre. After taking a stroll along the Punggol Promenade, set up your picnic on the beach.
The beach is covered in soft white sand, but large rocks are scattered around so it may take you a while to find a place to lay your blanket. It is a beautiful spot though, so traversing the rocks is worth the hassle. It also makes for a beautiful Singaporean Instagram moment.
Other activities at Punggol include a recreation centre, and a Children's Playground with toilets. You can also access Coney Island from Punggol Park and make it a full day of exploration.
Getting to Punggol beach: Take the MRT to Punggol MRT and then take bus No. 84. You can also catch the same bus from the Punggol Bus Interchange.
Facilities at Punngol beach: Vending machine with snacks, Go Cycling bicycle rental, observation deck, car park, promenade, restaurants, Outward Bound Singapore, public toilets
Where to stay near Punggol Beach: There aren't that many hotels in this are as it is primarily residential and there aren't any reasons for visitors to stay there. However, Punggol Beach is a short 20-30min to town where there are a host of luxury hotels. Check the best hotels in Singapore on Booking.com | Agoda
Coney Island (Pulau Serangoon)
At the northern tip of Punggol lies Coney Island. This is more for nature lovers than beach bums but there are a few stretches of sand. The privately-owned 50 hectare park can be trekked on foot or explored by bike to witness the environmentally-rich area. If you've been to Haw Par Villa, you'll know about the Haw Par brothers and founders of Tiger Balm. They also own Coney Island which was only opened to visitors recently and is one of the last uninhabited parts of Singapore.
As a result of isolation and lack of development, Coney Island is pretty wild and untouched, so it's not really the place to go if you're looking to show off your beach bod. There is no electricity or running water, or any stores to buy any food or drinks, so pack accordingly.
There are some beaches on Coney Island, aptly named Beach A, B, C and D, but they are small and may have sand flies, although the sand is fine and white. There is apparently a secret beach on the island that is isolated and better for tanning, but we have never found it! You can also try to find their old abandoned beach villa if it hasn't already been completely demolished.
The best thing to do on Coney Island is to hire a bike and explore the nature. It is a large island to walk and there is only one toilet, so it's best to hire a bike for easier access. There are also some eateries, with the most famous being Sembawang White Bee Hoon.
Coney Island is open from 7am to 7pm.
Getting to Coney Island beach: Take Bus no 84 from Punggol exchange to Coney Island or the North East Line MRT to Punggol. The walk is around 20 mins from either stop and there are signs.
Facilities at Coney Island beach: Nothing on the beach itself, and there is only one toilet at the East entrance. It is advisable to hire a bike to get around quicker.
Where to stay near Coney Island: There aren't that many hotels in this are as it is primarily residential and nature conservation area and there aren't any reasons for visitors to stay there. However, Coney Island is a short 20-30min to town where there are a host of luxury hotels on Booking.com | Agoda
Singapore's Southern Islands (St John's, Kusu, Sisters')
Not all the beaches in Singapore are on the main island. In fact, some of the most beautiful can be found in a cluster known as the Southern Islands, accessible only by ferry. Depending on which one of the three you choose to visit, you will need 20 to 40min on the ferry from Marina South Pier at a rate of S$18 to get there. Check the ferry schedule here. Or can also rent your own yacht and explore them independently.
The Southern Islands in Singapore are made up of three islands that include St John's, Kusu and Seven Sisters Islands. While St John's and Kusu have scheduled ferry services, you will need to hire a boat at the ferry terminal to get to Seven Sisters.
Book your tickets online! If you're planning a trip to St. John's Island, Lazarus Island and Kusu Island, make sure to book online before you go to avoid disappointment and save time by skipping the queues. Book your round trip Singapore Island Cruise Ferry Tickets here.
The beaches on St John's Island in Singapore
St John's Island is only 6.5km from the main island of Singapore and has two beaches. The first one is at the front, facing Singapore, and will be the one you see when you come off the ferry. But that is not the best the island has to offer.
The best beach on St John's Island is the crescent-shaped, white sand Lazarus Beach. Although it is the nicest beach in Singapore, it does require some effort to get to as you will need to walk for about 15min from the ferry pier to find it. Once you get there, you might forget you are in Singapore.
Due to its beauty and isolation, Lazarus Beach is mostly frequented by day visitors from Keppel Bay and One15 Marina on their private yachts looking for a day away from the city.
St. John's Island also have walking paths through the forest and various places where you can set up a picnic. You can also book one of the wooden cabins to spend the night through the Singapore Land Authority (SLA). There are no shops on St. John's Island so make sure to bring all you need with you – and take your trash back as well. Note: It seems that there is currently asbestos found on the island and some areas are closed until mid-2019 for cleaning. Please check with SLA before going.
Getting to St John's Island: Go to Marina South Pier on the North-South MRT line and take Exit B. Catch the 35-45min Singapore Island Cruise ferry from Marina South Pier to St John's Island for around S$20 for adults and S$15 for kids. Ticketing counter closes at 3pm. Ferries travel from 9am-5pm daily
Facilities at St John's Island: There are toilets, shelters and picnic areas, but no food is on sale on the island, so bring your own water and snacks, and bungalows through the Singapore Land Authority that accommodate up to 10 people or 60 people in the dormitories.
Kusu Island
Located roughly 5.6km from the main island of Singapore, Kusu Island, or "tortoise" in Chinese, is surrounded by sandy beaches. Although it is smaller than St John's and lacks the sprawling white-sand beaches, it is still a marvelous place to spend the day in nature and enjoy some sandy bits.
Kusu Island has smaller beaches to relax on and a diverse marine life to explore. There are even guided walking tours of the reef. And if you're lucky, you can spot a turtle or two while snorkeling.
There is a sweet story behind the name. As legend states, a giant tortoise turned itself into the island so that it could save two shipwrecked sailors, one Malay and one Chinese. The sailors came frequently to give thanks to the gigantic reptile. Two shrines have been built since, one Muslim and one Taoist, where pilgrims still come to give thanks. This is particularly the case in the eleventh month of the lunar calendar which is also known as the "Kusu" season.
The Taoist temple known as Da Bo Gong or Tua Pek Kong (Grand Uncle), was built by a wealthy businessman in 1923 and houses two main deities – Da Bo Gong and Guan Yin (Goddess of Mercy). The Kramat at the top of the 152 steps was built in ode to a pious man (Syed Abdul Rahman), his mother (Nenek Ghalib) and sister (Puteri Fatimah) who lived in the 19th century.
There are toilets on Kusu Island but no other facilities or stores to buy anything. The beach area is surrounded by grass and has picnic tables and chairs.
Getting to Kusu Island: Go to Marina South Pier on the North-South MRT line and take Exit B. Catch the 50min-1hr Singapore Island Cruise ferry from Marina South Pier to St John's Island and then stay on the boat to get to Kusu Island for around S$20 for adults and S$15 for kids. Ticketing counter closes at 3pm. Ferries travel from 9am-5pm daily. Note that the Kusu Pilgrimage season is held during the 9th month of the Chinese lunar calendar when around 100,000 pilgrims make their way to the island.
Facilities at Kusu Island: Toilets, shelters and picnic areas. Bring your own food and water as there is none on the island.
Sisters' Islands
Sisters' Islands is a group of islands that are more off the beaten path and perfect for the intrepid types. The most relevant islands in the group are the larger Big Sister's Island (Pulau Subar Laut) or the smaller Little Sister's Island (Pulau Subar Darat). The former faces the ocean while the latter faces the mainland, although only Big Sisters' Island is open to the public as the rest is reserved for research and conservation.
Adventurers will love snorkeling and diving here in the warm blue seas, with a chance to set up camp for the night when they are done in the water. The corals are beautiful and the marine life abundant, where it isn't difficult to spot giant clams, seahorse and octopus.
There is also a legend behind these islands. One version says that there were two beautiful sisters, Linah and Minah, who left their village after their mother passed to live with their uncle. One day, pirates arrived at the village and upon seeing Linah, the pirate chief expressed his desire to marry her. He captured her, separating the sisters, and sailed off to distant shores. Just then a storm broke out and Minah dove into the water to chase her sister. When she saw her sister drowning, Linah jumped in after her. When the storm subsided, the sisters were nowhere to be found, but the next day two islands appeared where they were last seen. Here is a trailer for a short film that was made about this legend.
Big Sisters' Island can only be visited privately (there is no public ferry connection to get there), you are almost guaranteed to be alone there. Join one of the Singapore Park's guided walks for a commentary visit and an easy ferry ride (the ferries are organised as part of the walk).
Getting to Sisters' Island: On weekends you can catch a ferry from St John's if you stay on the boat, this is only available on Marina South Ferry, not Singapore Island Cruise. On weekdays you will have to charter your own boat from West Coast Pier or Marina South Pier to visit Big Sister's Island. You can also partake in the NParks guided walks that charter a boat.
Facilities at Sisters' Island: The Marine Park is home to Singapore's first turtle hatchery, there are also shelters and toilets. Do bring your own toilet paper, food and water and clean up after yourself as there are long tailed macaques roaming the island.
Where to stay near the South Islands: There is no accommodation on the islands except for the basic cabins on St. John's. However, the pier from where the ferries depart is right by the CBD area so there are plenty of luxury hotels to choose from. For example, the Westin Hotel or the Marina Bay Sands are probably the closest, but you are unlikely to walk to the pier so any of the many hotels in the center will be perfect too. My favorite are the Six Senses Singapore, the Fort Canning Hotel and the historic Raffles Hotel.
Pulau Ubin
While you can experience the old kampong feeling at Changi village, Pulau Ubin is actually the last real kampong (traditional village) in Singapore where there is no electricity in the households and the residents live using traditional, rustic methods. It is one of the forgotten sites of Singapore that should definitely be visited, even if you don't go to the beach.
Located only 10mins from the main island and accessible by boat from Changi Point Ferry Terminal, it is a must visit as it is one of Singapore's most iconic locations that captures how Singapore was in the 60s. The beaches are small and not really what you may think of when the word beach comes to mind. There is no sunbathing or long stretches of sand, but rather grassy sandy bits.
Mamam beach, where one of the two campsites are, is your best bet for a wild piece of isolated shore. Noordin Beach used to be the place to go, but has since been closed due to severe erosion. More daring explorers can investigate the other beaches without facilities.
The nature at Chek Jawa Wetlands is beautiful and is a must whether its a guided tour or just a stroll through the mangroves. There are also hikes and fresh traditional food to eat. You can also camp on Pulau Ubin for free at Mamam campsite or Jelutong campsite. Visit here for more information about camping.
Getting to Pulau Ubin: take the MRT to Tanah Merah MRT Station (EW4), then board Bus No. 2 to Changi Village bus interchange. Walk over to Changi Jetty (now called Changi Point Ferry Terminal), which is near the Changi Village Hawker Centre. Take a bumboat (around S$2 and extra for a bicycle) from the Terminal (stand in the right queue, not the one heading for Penggerang, Johor). There are no fixed departure times and will only leave when there are 12 people. If you like you can pay the for S$24 to leave directly. Catch a bumboat between sunrise and sunset or organise a private boat for your own personal time.
Facilities at Pulau Ubin: Shelters, toilet at the campsites, family restaurants and convenience stores in Ubin town. There are no street lights in Pulau Ubin, so be prepared for darkness beyond the main village after sunset. Do not drink the tap water, bring your own or purchase from the main village.
Where to stay near Pulau Ubin: The only accommodation on the island is camping so if you want all your creature comforts, best to choose one of the many luxury hotels in Singapore and head to Pulau Ubin on a day trip.
The beach on East Coast Park
Visitors to Singapore who are looking for a quick dip in the ocean can make their way to the green belt of East Coast Park. This is a 15km stretch of coast that starts at Changi Airport and ends at the Marina, so it is very easily accessible from Changi if you are in Singapore just for the day.
East Coast Park is a very popular family spot for locals and feels the most like the other beaches of Southeast Asia. It is less frequented by tourists who prefer the hipper and more developed Sentosa, so you can really take in the local culture here.
Another reason why tourists don't really visit East Coast Park is that the views are of the container ships waiting to cross the Singapore Channel and the sand is not powdery white, but rougher than other options. But this is offset by the many facilities and activities available. You can easily spend an entire day at East Coast Park and not get bored.
East Coast Park is a brilliant place to ride a bike, single or tandem, or rollerblade as the trail stretches all the way across the coast for kilometers on end. You will find a variety or dining options on your journey and can stop wherever you please.
While the park is open all day long and there are no fences, the bike rental shops usually close at 10pm. You can check everything there is to know about cycling in Singapore in our guide here. You can find more details about East Coast Park here.
Getting to East Coast Park: There are many carparks, but they fill up quickly during the weekend. You can also get off at Bedok MRT station and then bus 401 to East Coast Park on weekends and 197 on weekdays to Marine Parade Road outside Parkway Parade where you will then walk through the underpass. There are also many other ways to get here as the stretch is quite long, so you may want to use a transportation app or take a Grab or taxi.
Facilities at East Coast Park: Beach volleyball court, BBQ pits, water point, bicycle and skate kiosk, playground, carpark, fitness area, restaurants, shelters, camping site, skatepark, free public restrooms
Where to stay near East Coast Park: East Coast Park is a long stretch of land bordering more residential spaces from Changi to the Marina. So your best option is to stay somewhere Downtown and visit for the day. Another great idea would be to stay in the Marina Area and hire a bike for the day.
Pasir Ris Beach
Pasir Ris Beach is an awesome place for beach goers as it probably has the best beach in Singapore. It is a delightful and tranquil 6km stretch of coastline that has all the facilities you can image from barbecue pits and restaurants to skateparks and sheltered areas. It is by far the most family friendly beach in Singapore.
The playgrounds are a nice place to stop at after a dip in the ocean, the mangrove trail brings serenity and the Pasir Ris Park Maze will keep the little ones busy for a couple of hours. There is also non-member horse riding available at Gallop Stable and plenty of dining options like JUMBO or Long Beach UDMC Seafood Restaurant for the famous Singapore Chilli Crab or Georges @ The Cove. This is if you prefer service over do-it-yourself at one of the 65 pits for rent along the beach. These must be booked in advance through NParks.
Getting to Pasir Ris beach: Take bus 403 to bus stop no. 77129 (Opp Unit 104), or 77119 (Aft Pasir Ris Way) and take a short walk. The closest MRT is Pasir Ris MRT (EW1) and is about a 25 min walk from Exit B.
Facilities at Pasir Ris beach: BBQ pits, playground, carpark, fitness area, restaurants, shelters, public toilets
Where to stay near Pasir Ris: Like with the other Singapore beaches on this post, there aren't really any luxury places to stay near Pasir Ris so you are best off staying in the downtown and visiting for the day. Or camping overnight for a simple but fun way to enjoy the park.
Further reading: See more of the best beaches that Southeast Asia has to offer by reading my articles on the best beaches in Vietnam, Thailand, Indonesia, and the Philippines. There's also articles on the best beaches in Montenegro, Albania, Malta, South Africa and Macau. And if you have time to venture out to Bintan, here is my review of Natra Bintan Glamping Tents, Banyan Tree Bintan review and The Sanchaya Bintan review. We've also made a list of the best overwater bungalows in Southeast Asia to spur on your wanderlust.
Pin this article for your next beach adventure!