Paying a visit to a museum is always a good idea. They are on top of the list of best things to do in Singapore on a rainy day and a great option to escape the midday heat.
There are museums in Singapore for all tastes and ages, where not only the artefacts inside are historic, but the buildings themselves are living relics of the Lion City's colonial past.
You can peruse international standards like Madame Tussauds and the Trick Eye Museum, but here we are focusing on uniquely Singaporean Museums. Paying a visit to these must-see museums tops our list of things to do in the country, as you can learn about the culture and history of the Little Red Dot and have a deeper and more meaningful journey.
Disclaimer: While we are constantly updating this article, please note that the timings & prices may change suddenly without notice. Always call ahead or check the museum's social media pages to make sure that they will be open on the day and time you are wishing to visit.
The Battle Box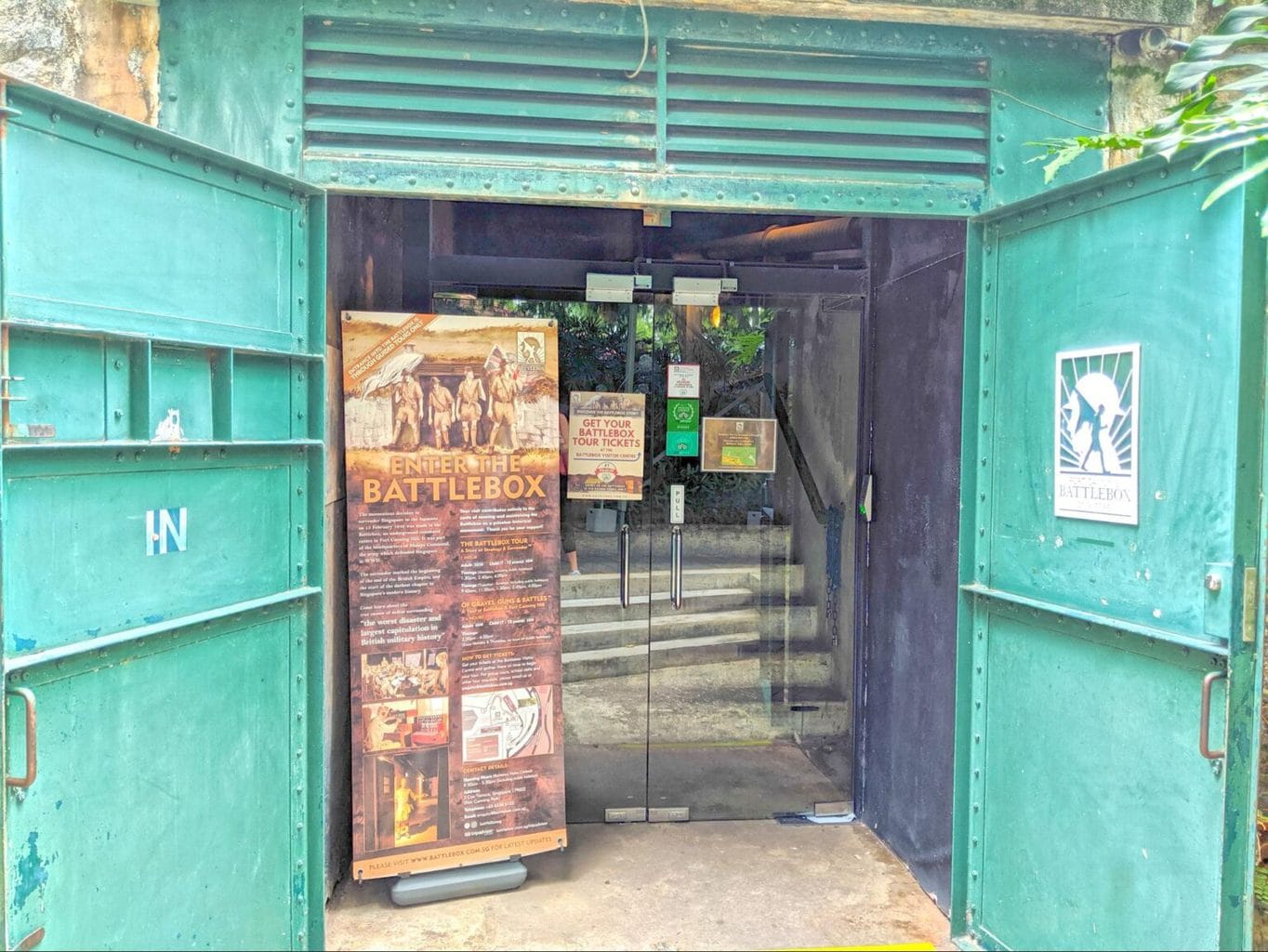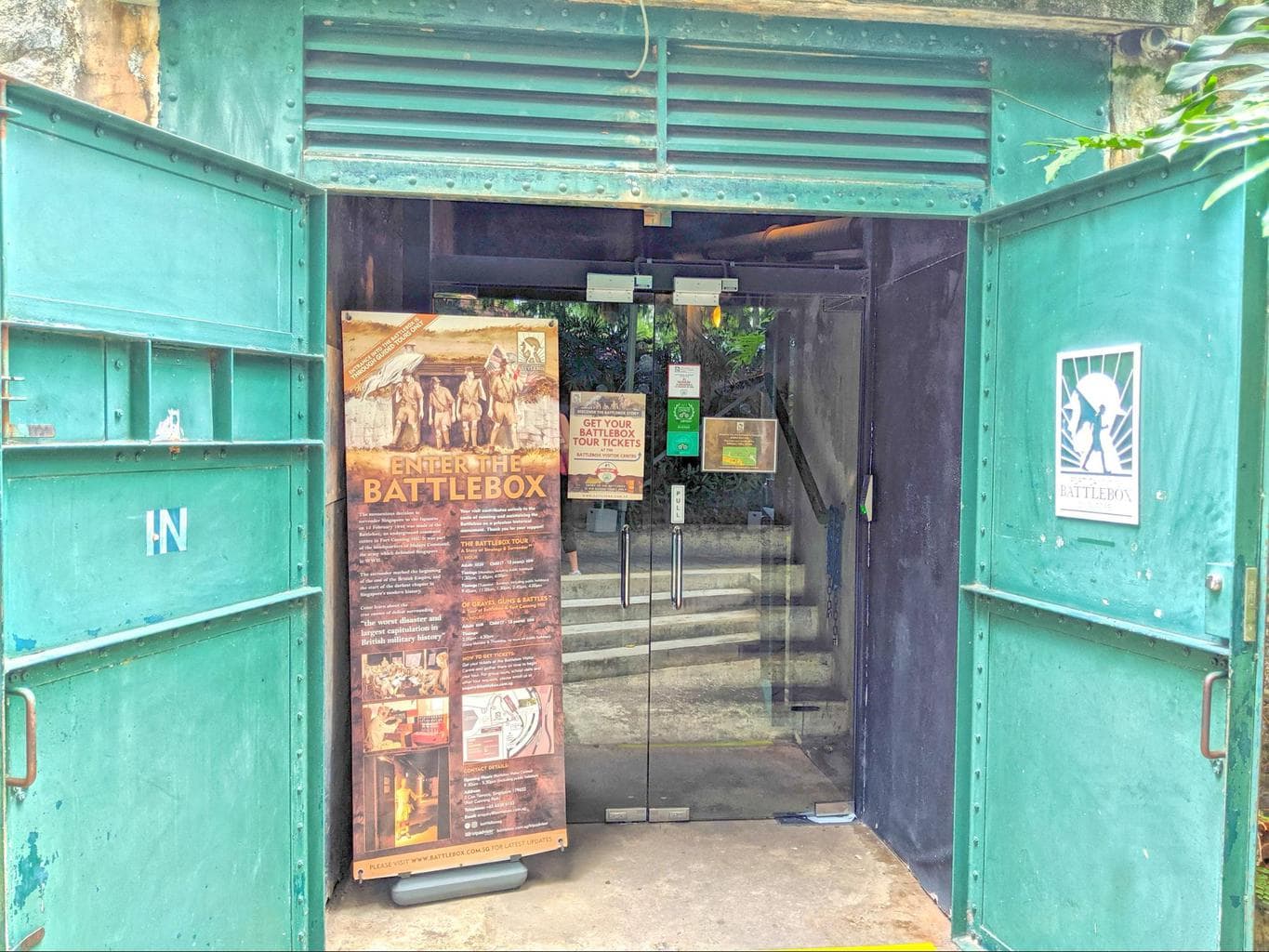 Singapore has an interesting and tumultuous history. The British took over in 1826 and held authoritative power until they surrendered to the Japanese on 15 February 1942. The cessation of power was carried out in an underground bunker in Fort Canning Hill called the Battlebox. The historic site has now become a museum and one of Singapore's most visited attractions.
The Battle Box Tour: A Story of Strategy & Surrender provides answers to the question why Singapore fell into the hands of the Japanese even though they had twice the soldiers. You will experience the historic event as you are guided through the site for one hour. They have recently opened the premises for unguided tours if you'd like to walk around on your own. Otherwise, book your tour online here.
The Of Graves, Guns & Battles Tour is a more extensive guide through Fort Canning that lasts for 2.5hrs. Fort Canning itself is a beautifully green location in the centre of the city with a gorgeous hotel, so you can visit the Battle Box along with a walk in the park.
Fort Siloso and Reflections at Bukit Chandu are two more World War II information centres in Singapore and historic sites to visit for history buffs (not necessarily museums per se).
Website: http://www.battlebox.com.sg/
Address: 2 Cox Terrace, Fort Canning Park, Singapore 179872
Operating Hours:
(Mondays, including public holidays):
1.30pm, 2.45pm, 4.00pm
(Tuesdays to Sundays, including public holidays):
9.45am, 11.00am,
1.30pm, 2.45pm, 4.00pm
Admission: $18/adult, $9/children – A Story of Strategy & Surrender Tour
$32/adult, $15/children – Of Graves, Guns & Battles Tour
National Museum of Singapore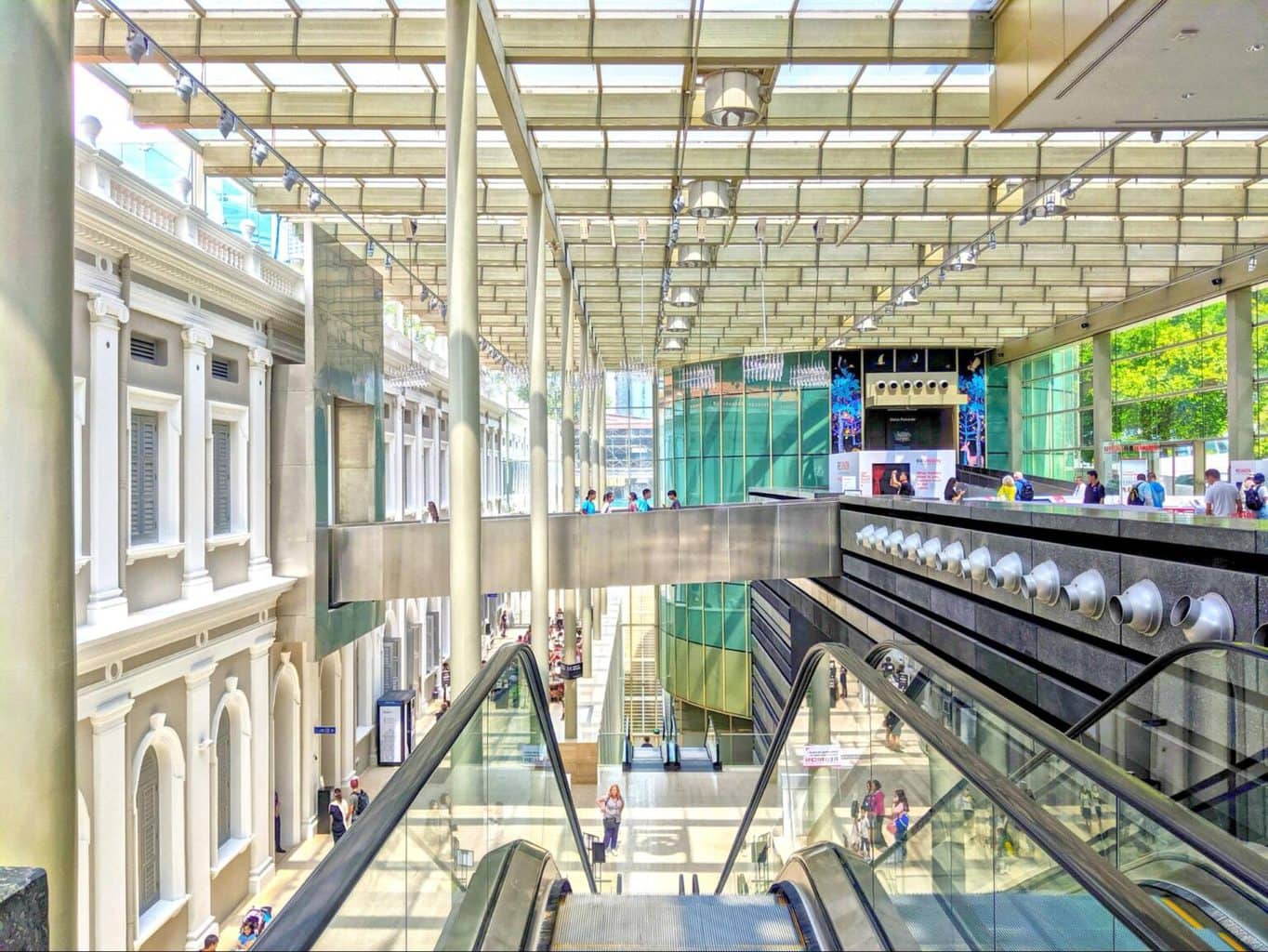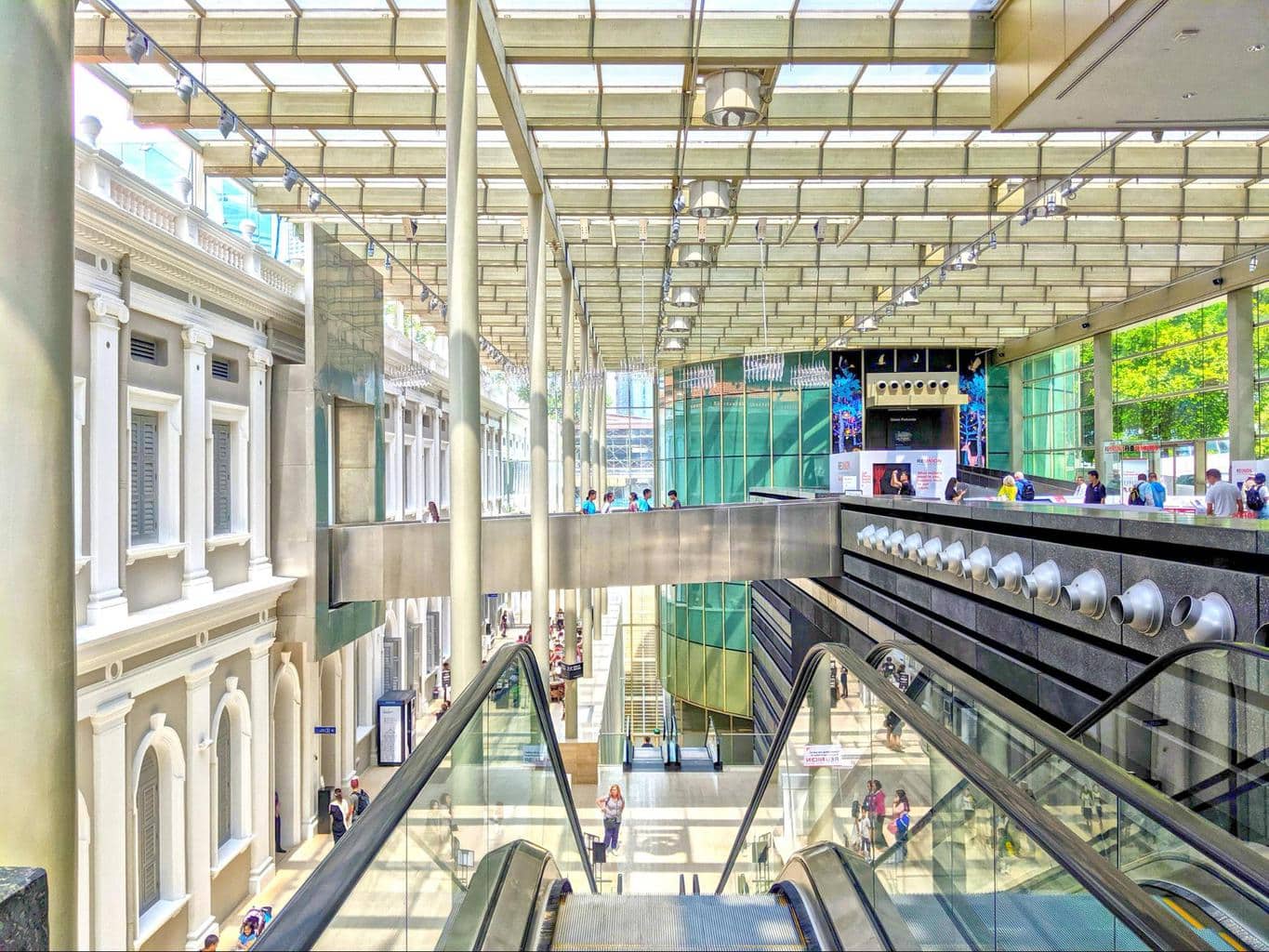 Dating back to 1887, the National Museum of Singapore is the country's oldest, making it a distinct cultural landmark.
The museum hosts the annual Night Festival, dynamic art installations, performances, and film screenings, all telling thought-provoking stories of the past. The beautiful neoclassical building itself and its glass additions is a perfect representation of Singapore's mix of old and new.
After the large scale and expensive refurbishment and rebranding ($118 million) the National Museum really is the best museum in Singapore.
There are two main galleries to visit. The first, the Singapore History Gallery, is for history buffs and retells the unique story of Singapore from the 14th century to the present day.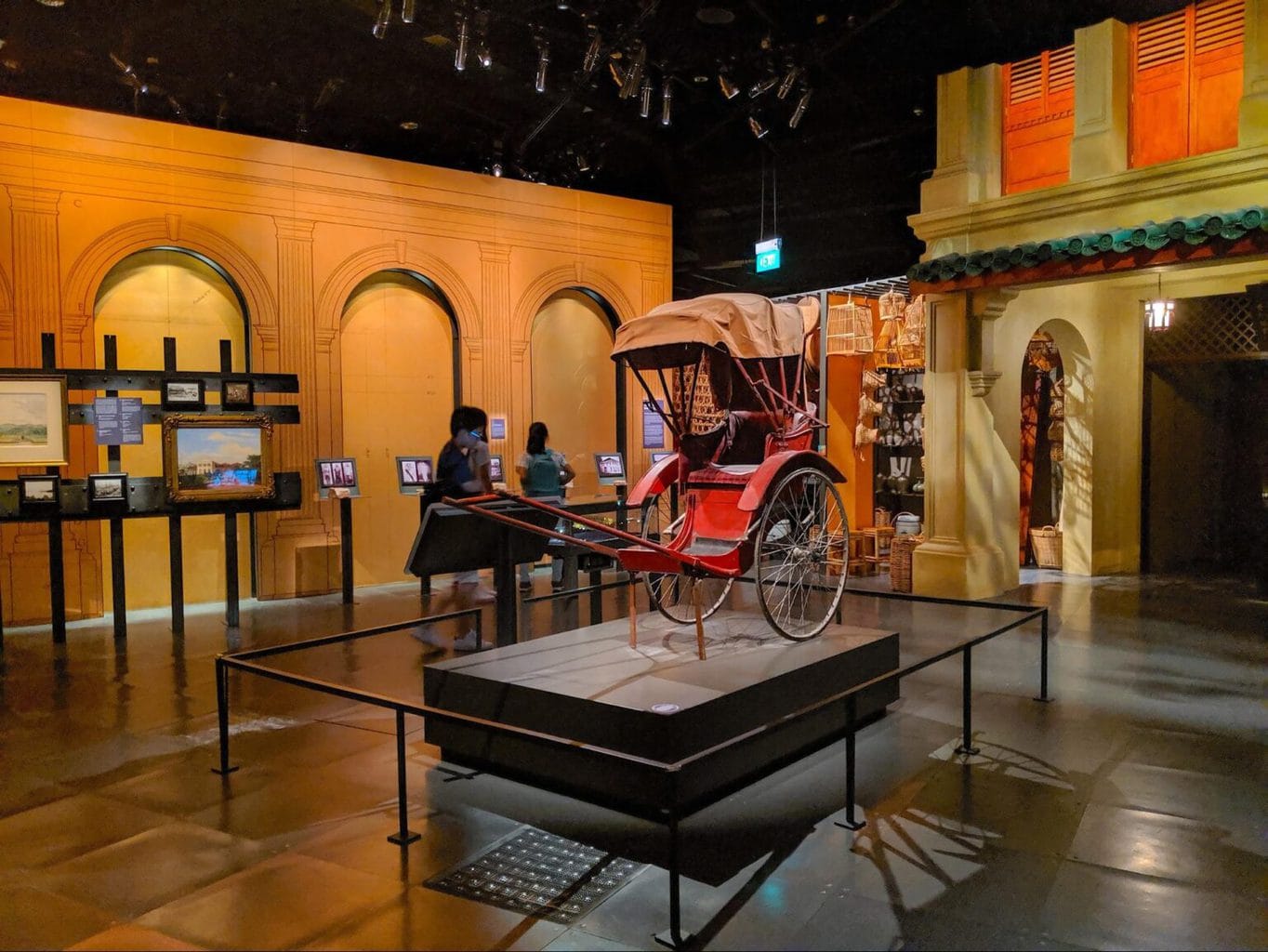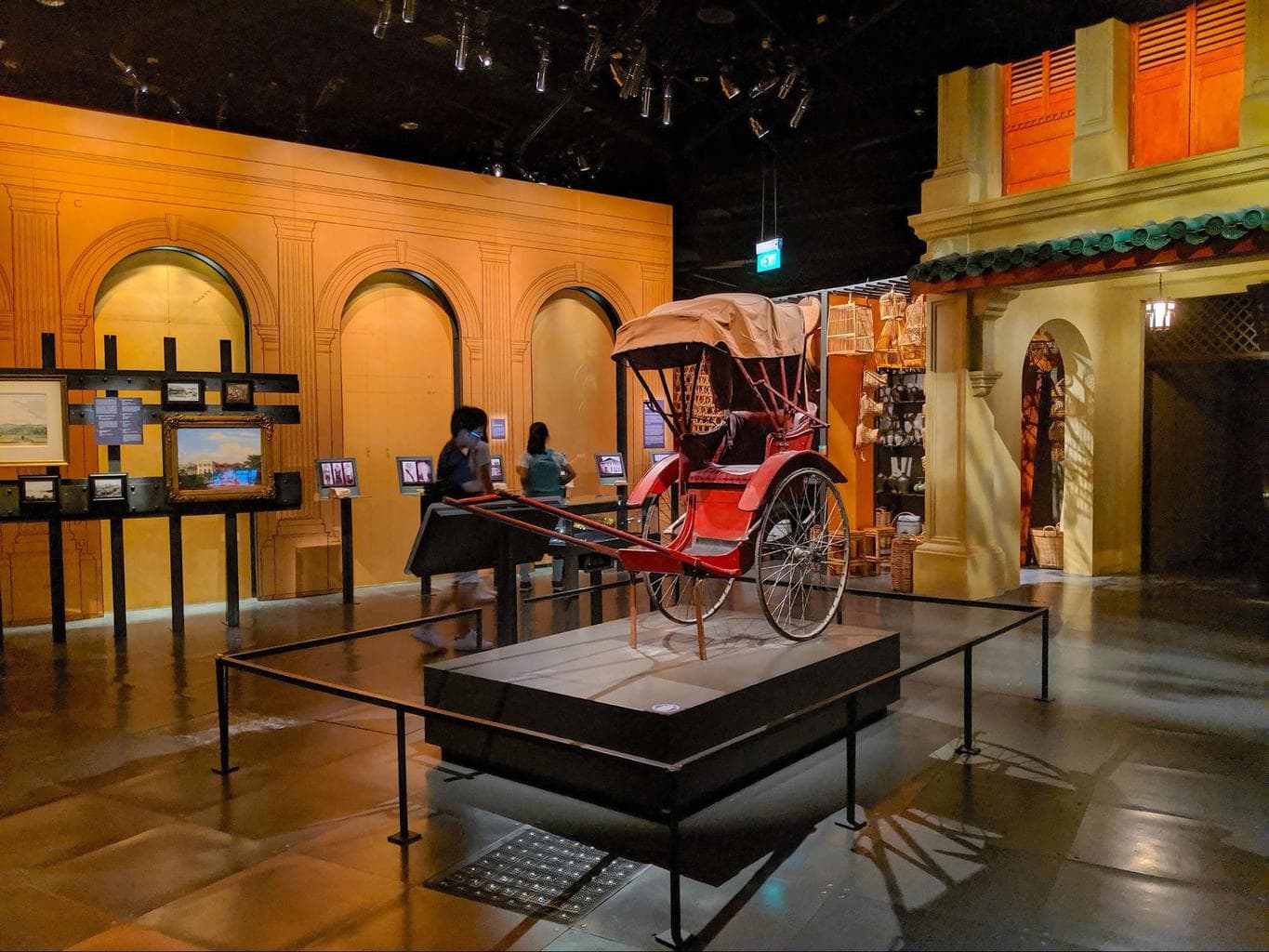 The trendier Singapore Living Galleries takes a more modern approach and focuses on four lifestyle themes that include food, fashion, film and photography. They also have film outdoor screenings occasionally, so check on their website before you go.
Plan your trip by downloading their app for a well-rounded experience. Available on the Apple Store or Google Play Store. Their online exhibition tells the story of public health, relevant to today's climate. You can view it here.
Pro tip: Join one of their free guided tours of the museum offered by volunteers, they are amazing and in 2h give you a great insight into the huge amount of exhibits available which you can then continue to explore on your own. There really is THAT much to see.
The National Museum of Singapore is on the outskirts of Fort Canning Park, so hop over to the Battle Box Museum for a bonus museum visit.
BOOK YOUR SKIP-THE-LINE DISCOUNTED TICKETS ONLINE
Website: http://www.nationalmuseum.sg/
Address: 93 Stamford Road, 178897
Opening hours: Singapore History Gallery 10am-6pm, Singapore Living Galleries 10am-8pm
Admission: Singapore Citizens and Permanent Residents (present Pink or Blue NRIC for scanning) and Children 6 years and below (any nationality) enjoy free admission to all galleries. Standard Adult $15; Senior (60 years and above), Students and Special Access $10
Asian Civilisations Museum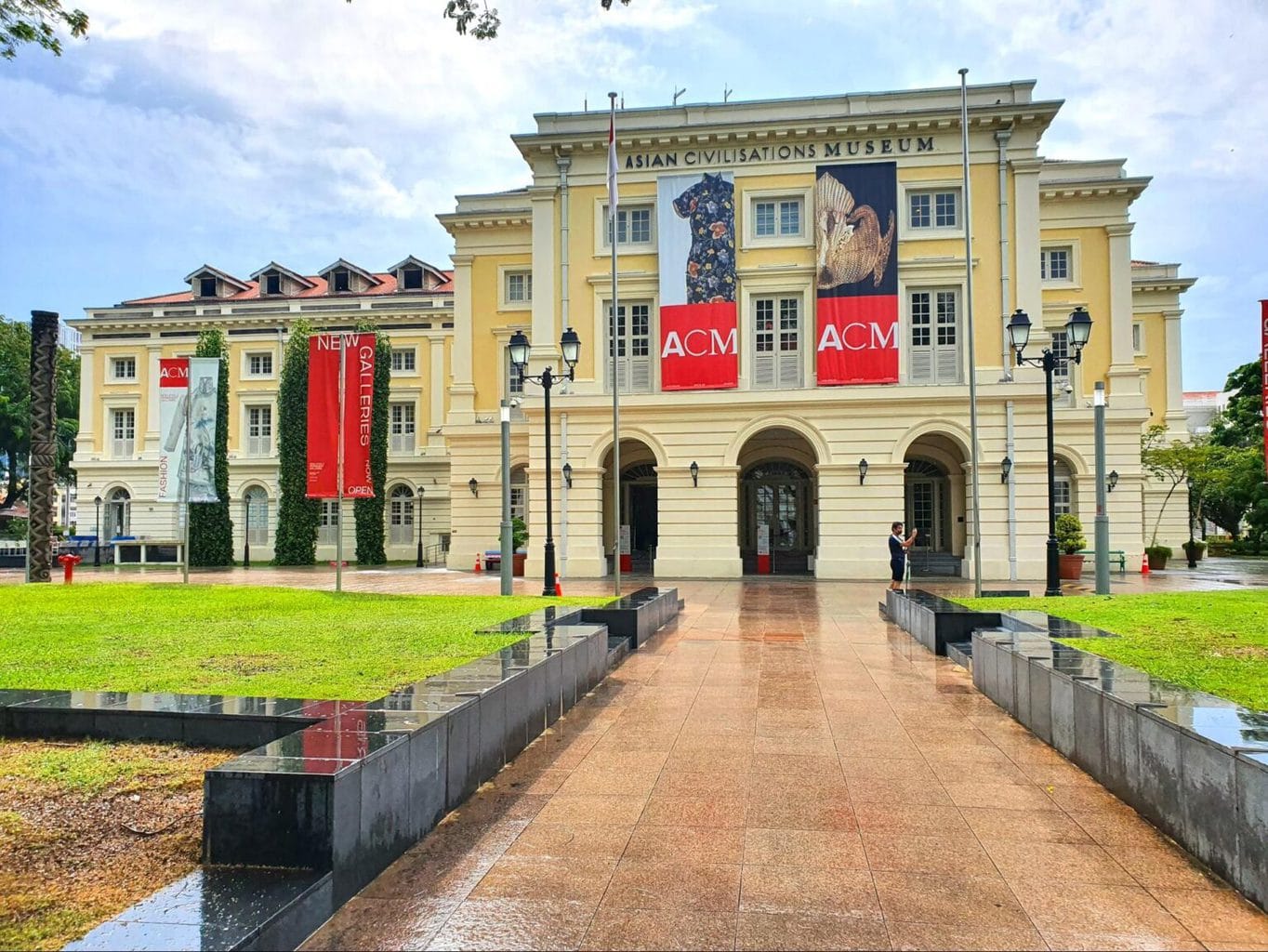 Showcasing the history of Singapore's ancestral cultures and the region, the Asian Civilisations Museum is located at the Empress Place Building, which is a National Monument in itself. Head in to explore the artefacts from China, Southeast Asia, the Indian Subcontinent, and the Islamic World.
This museum is one of Singapore's largest museums with seven galleries that hold over 2,000 artefacts from the regions mentioned above but fret not, you should be done within 1.5h because the pieces are often large and occupy a lot of space.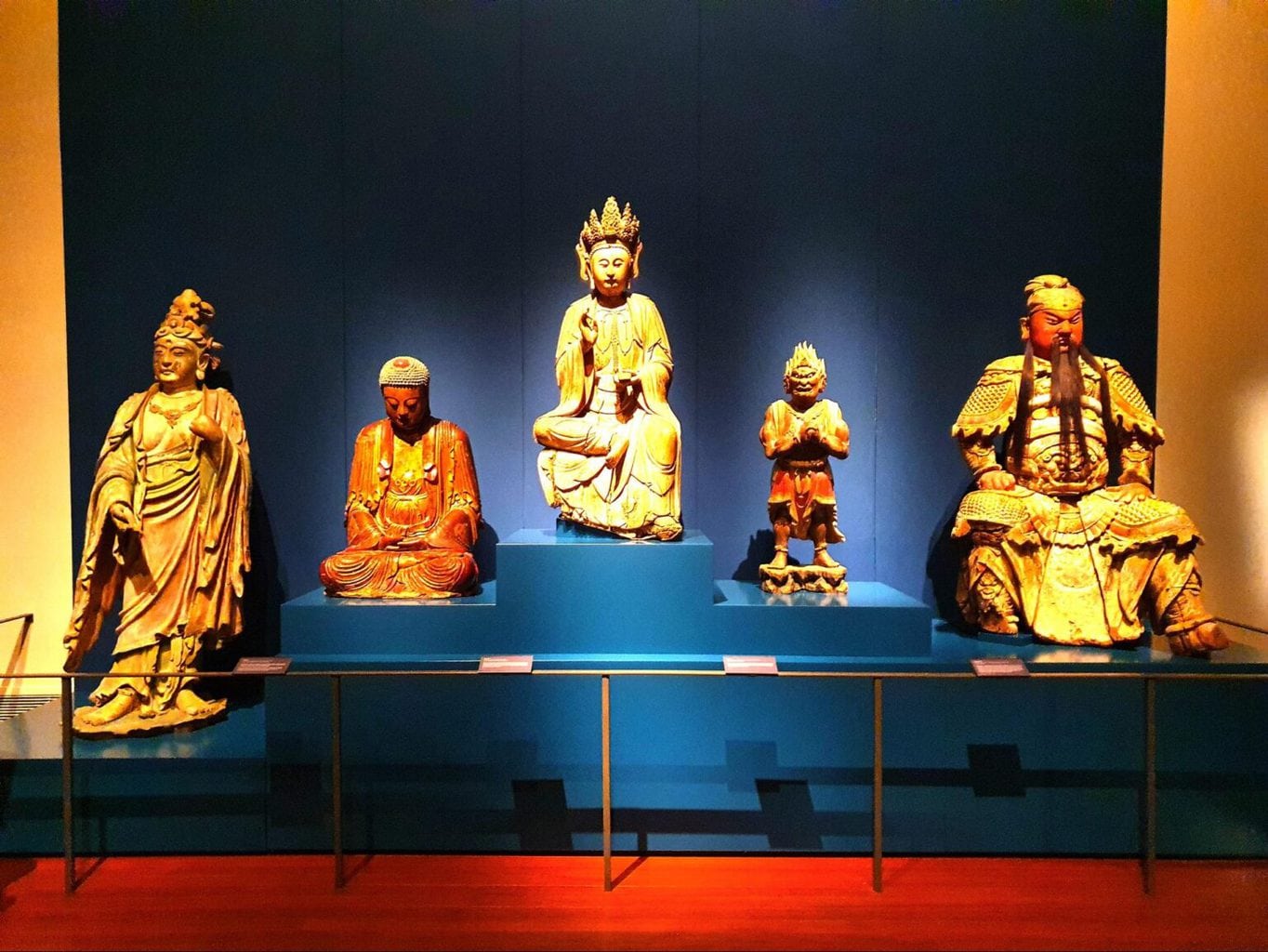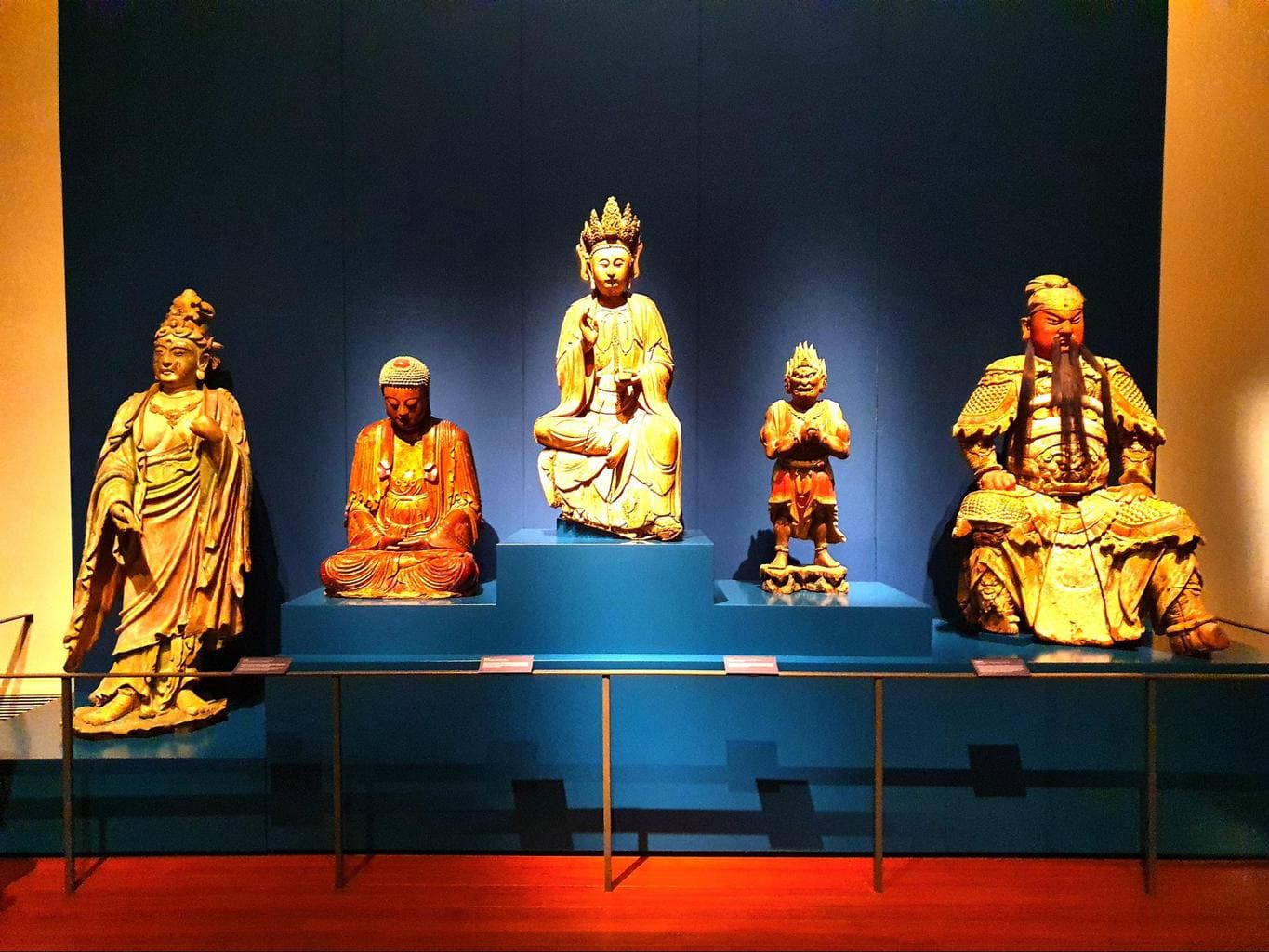 Each floor has its own distinct theme, so whether you're interested in different faiths, art or trade, you will find it here.
There are some beautiful relics to explore and some interesting insights from Asia, especially in the section about faith in the region where you can see artefacts from all religions and religious traditions explained in detail.
Website: http://www.acm.org.sg/
Address: 1 Empress Pl, Singapore 179555
Opening hours: 10am-7pm daily, except Fri 10am-9pm
Admission: Free for Singaporeans & Permanent Residents
Foreign Residents and Tourists – $8; Friday evenings, 7pm to 9pm – $4
Family of 5 – $24
Foreign Students and Seniors – $4; Friday evenings, 7pm to 9pm – $2
Lee Kong Chian Natural History Museum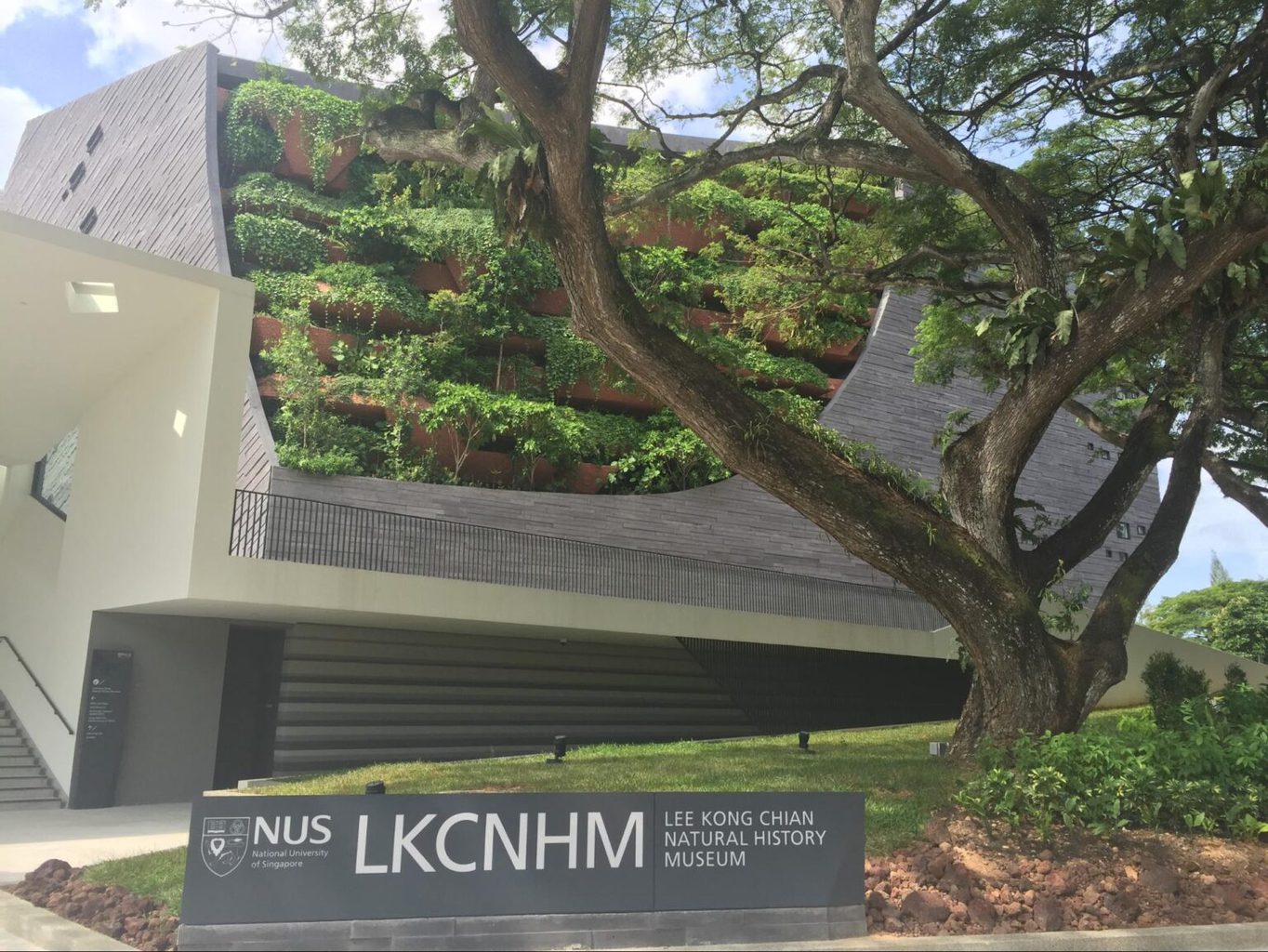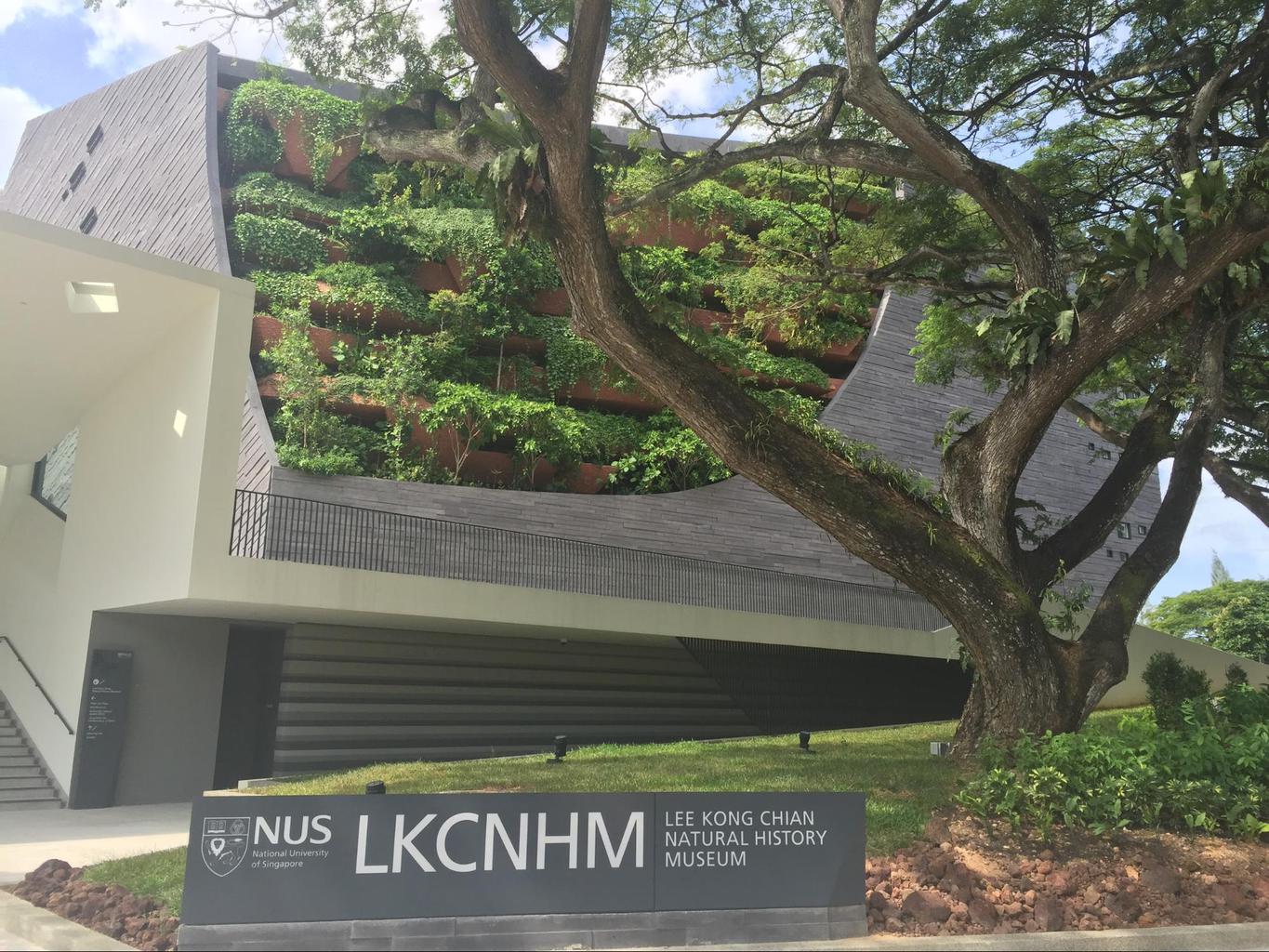 Be prepared for an epic experience when you visit Lee Kong Chian (LKC) Natural History Museum at the National University of Singapore (NUS).
The grounds of the museum themselves are a massive seven storeys and cover 8,500sqm of space. So either choose which exhibits you want to visit beforehand or come with your best marathon running shoes.
The iconic building, titled "The Rock" and designed by Singapore architect Mok Wei Wei, is a large monolithic structure that resembles a cliff, complete with a living wall of terraced planters that were sourced from the seashores of Singapore.
Inside, purveyors of history will find over 560,000 catalogued lots with over a million specimens of all kinds of curiosities from all over the region. There are dinosaur fossils, specimens of the largest turtle ever recorded, and the remains of a 10.6 metre long female sperm whale.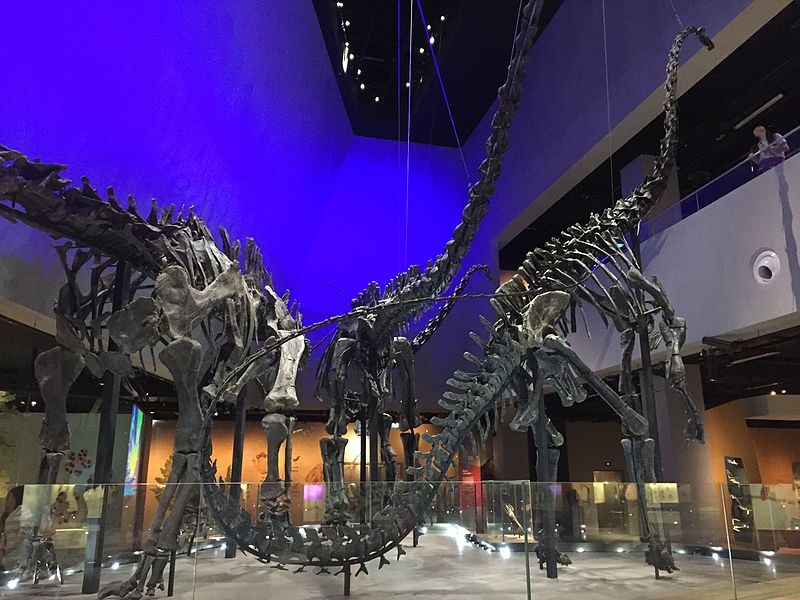 When you're ready to go outside, take a breezy walk in the phylogenetic garden to see plants of all kinds. And don't forget to download their App-ollonia on the Apple Store, an interactive web application that will surely enhance your museum experience.
Website: https://lkcnhm.nus.edu.sg/
Address: National University of Singapore, 2 Conservatory Dr, Singapore 117377
Opening hours: Tue-Sun 10am-7pm
Admission: $9-$21
Admission: Singaporean adult S$16.00; Singaporean Child, Student, NSF, Senior Citizen & Person with Disability S$9.00; Non-Singaporean Adult S$21.00; Non-Singaporean Child, Student, Senior Citizen S$13.00
Singapore Philatelic Museum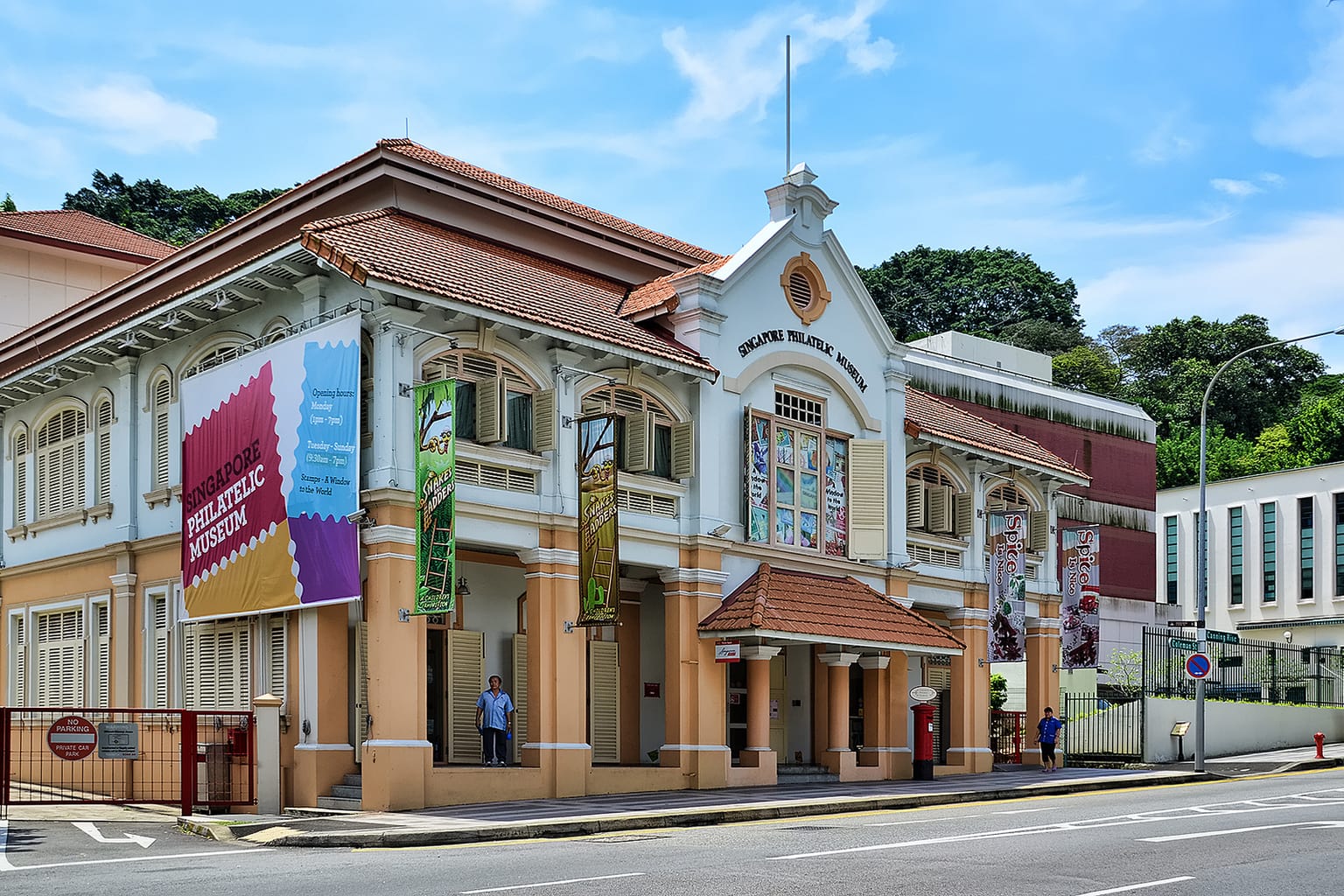 Note: The Peranakan Museum is currently under major renovations and is slated to open late 2020. Read on for reference.
Let's test your general knowledge quickly.
What does the term philatelic mean? Something to do with philanthropy or philharmonic? Or maybe just something about your uncle Phil?
Philately is actually the study of stamps and all things postal. But wait. If stamp collecting makes you yawn, hold your breath because the Singapore Philatelic Museum is bound to make you gasp.
Anyone interested in design or history will love this museum as it showcases the miniature works of art dating back to the 1830s that depict Singapore's politics, history and nature as well as its popular culture. The building itself is a marvelous transformed colonial strucuture.
There are different exhibits throughout the year, but the permanent exhibition is a wonderful window into this special field where you will see the first stamp ever made and learn about the importance of stamps. And if you need to send a package, it's also a working post office, so you can kill two birds with one stone.
Website: http://www.spm.org.sg/
Address: 23B Coleman Street, Singapore 179807
Opening hours: Daily 10am-7pm
Admission: Singapore Citizens & Permanent Residents, as well as children under 3 and their primary caregiver enter for free. Adults $8; Children (3-12), students and senior citizens $6.
Changi Museum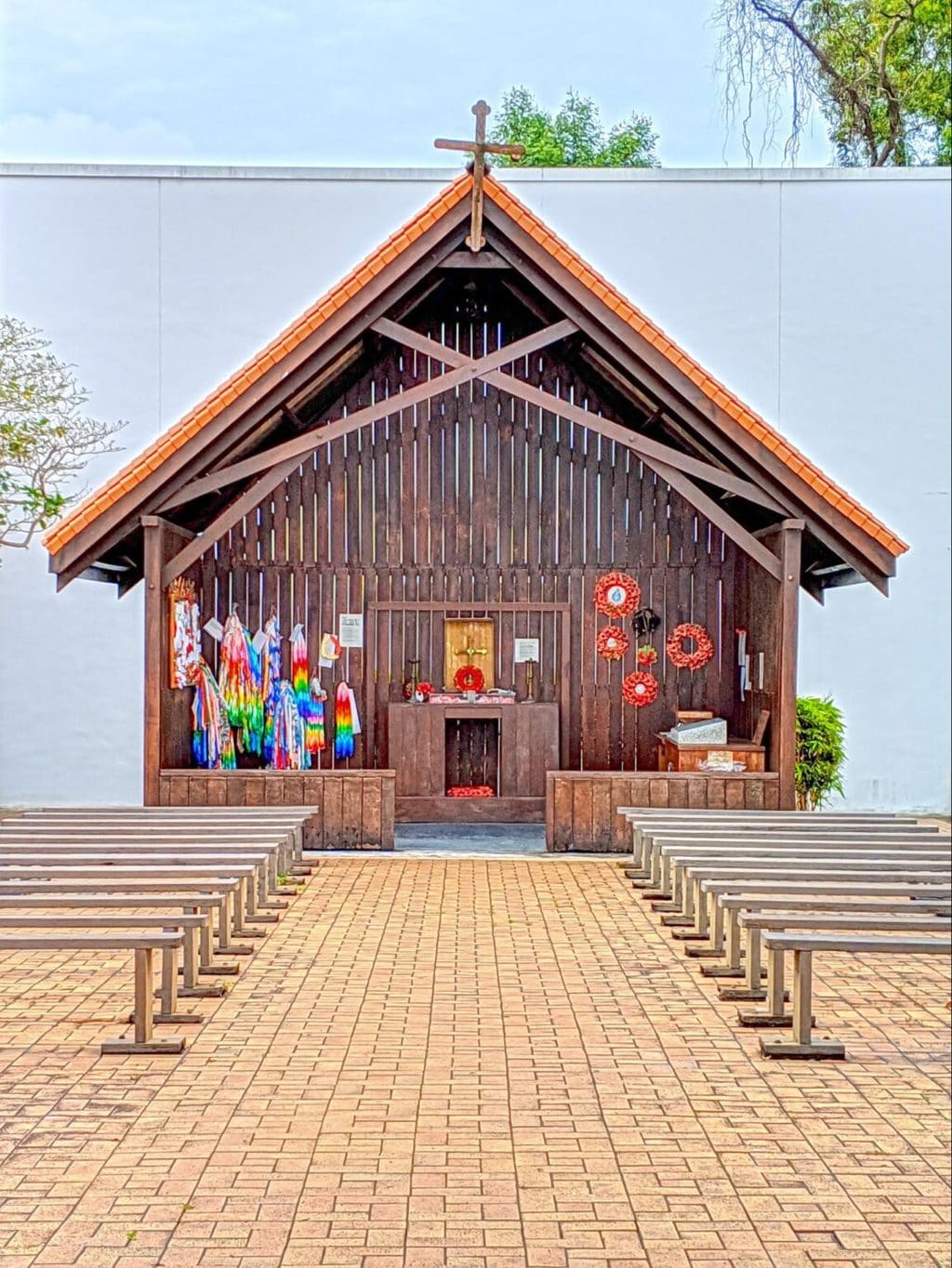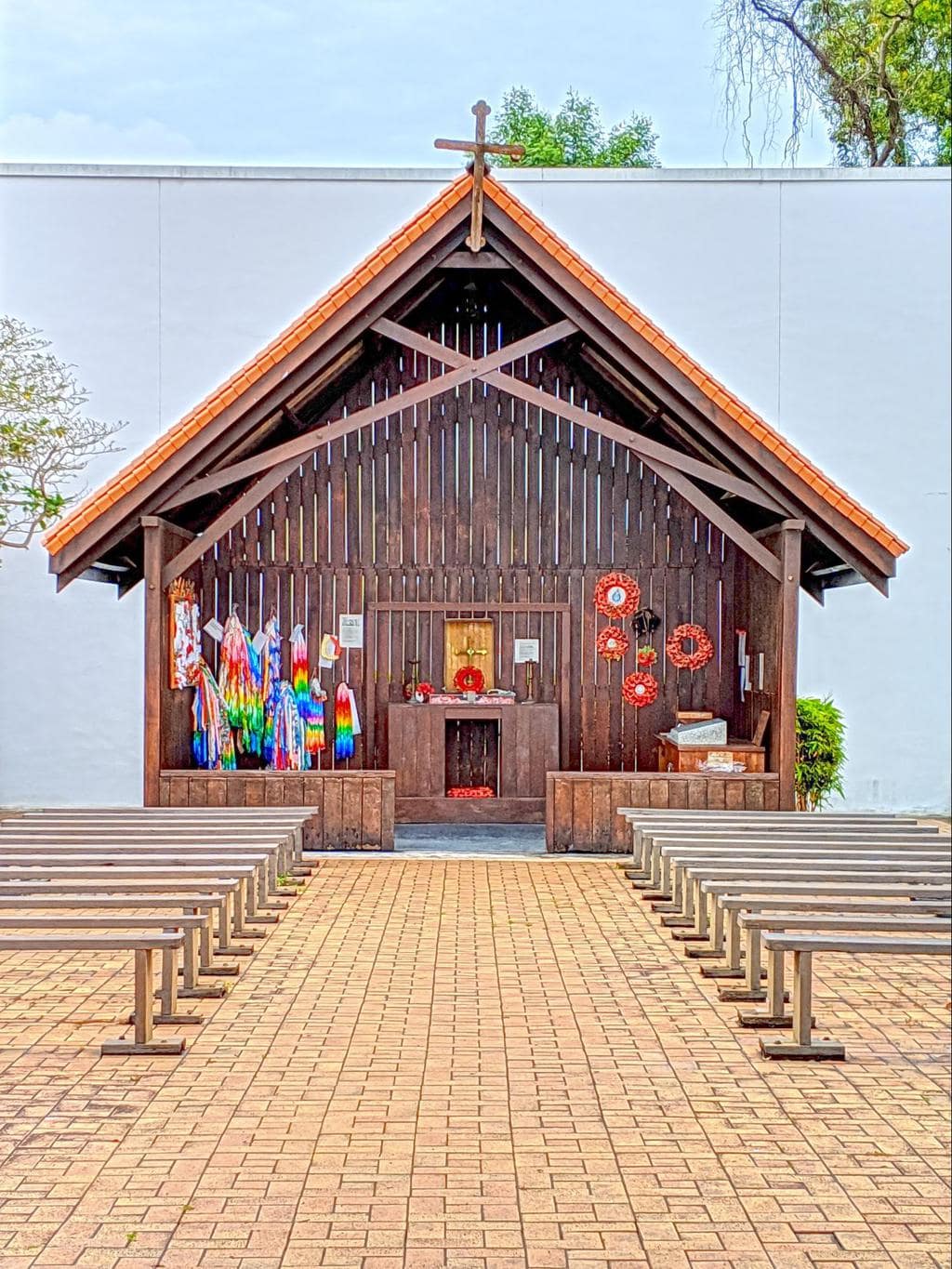 Note: The Changi Chapel and Museum is currently under major renovations and is slated to open in late 2020. They are also building a virtual experience. Read on for reference.
Honouring the spirit of those who braved WWII, the Changi Museum is an especially important museum for all the Prisoners-Of-War (POW) and their families.
Today, the museum stands as a reminder of the dark days of the war, and serves to educate visitors of the country's past. The chapel is also a beautiful place to reflect on the stories heard in the museum.
If you can only choose one WWII museum to visit in Singapore (yes there are many), then this should be it. There are guided war trails that will transport you to the various historic places that were so important in the war. There is also an audio tour of the museum where you can listen to first-hand stories from POWs that were imprisoned in Changi. Find the tour below that best suits your needs:
Website: http://www.changimuseum.sg/
Address: 1000 Upper Changi Rd N, Singapore 507707
Opening hours: 9.30am-5pm daily
Free admission
Chinatown Heritage Centre
Note: The Chinatown Heritage Centre is currently under renovations and is slated to open April 2021. Read on for reference.
Recreating the scenes of the shophouses where people lived in the 1950s, the Chinatown Heritage Centre, located within restored shophouses, transports you back in time to experience how early residents lived.
Here, you can trace the journey of early pioneers who travelled from China to Singapore, which became their home.
There are various tours available through the gallery from a self-guided multimedia tour to a docent guided tour. Or you can opt for the character tour where you will experience the history of the colorful district with a Chinatown character.
This is by far the best museum in Singapore to learn about the Chinese immigrant history with an immersive experience that will leave you far more knowledgeable about the struggles of the early settlers.
Don't forget to take our complete Guide to Singapore Chinatown with you on your trip so that you can explore this vibrant, historic and trendy part of the country like a local.
Website: https://chinatownheritagecentre.com.sg/
Address: 48 Pagoda St, Singapore 059207
Opening hours: 9am-8pm daily
Admission: With multimedia guide: Adults $15, Child (7-12 years) $11
With guided tour: Adults $20, Child (7-12 years) $16
Seniors: Free with every paying visitor; multimedia guide $3; guided tour $8
Indian Heritage Centre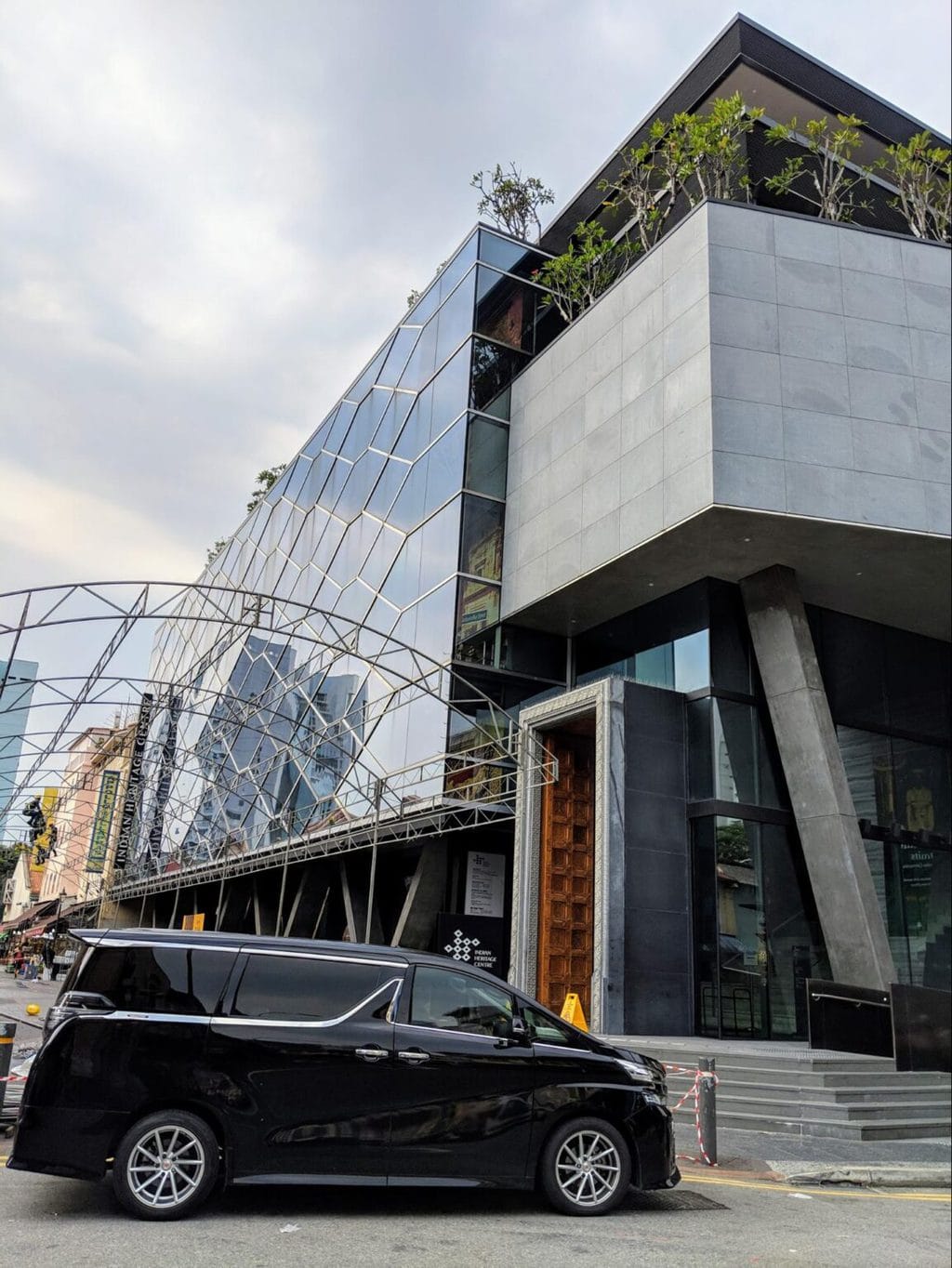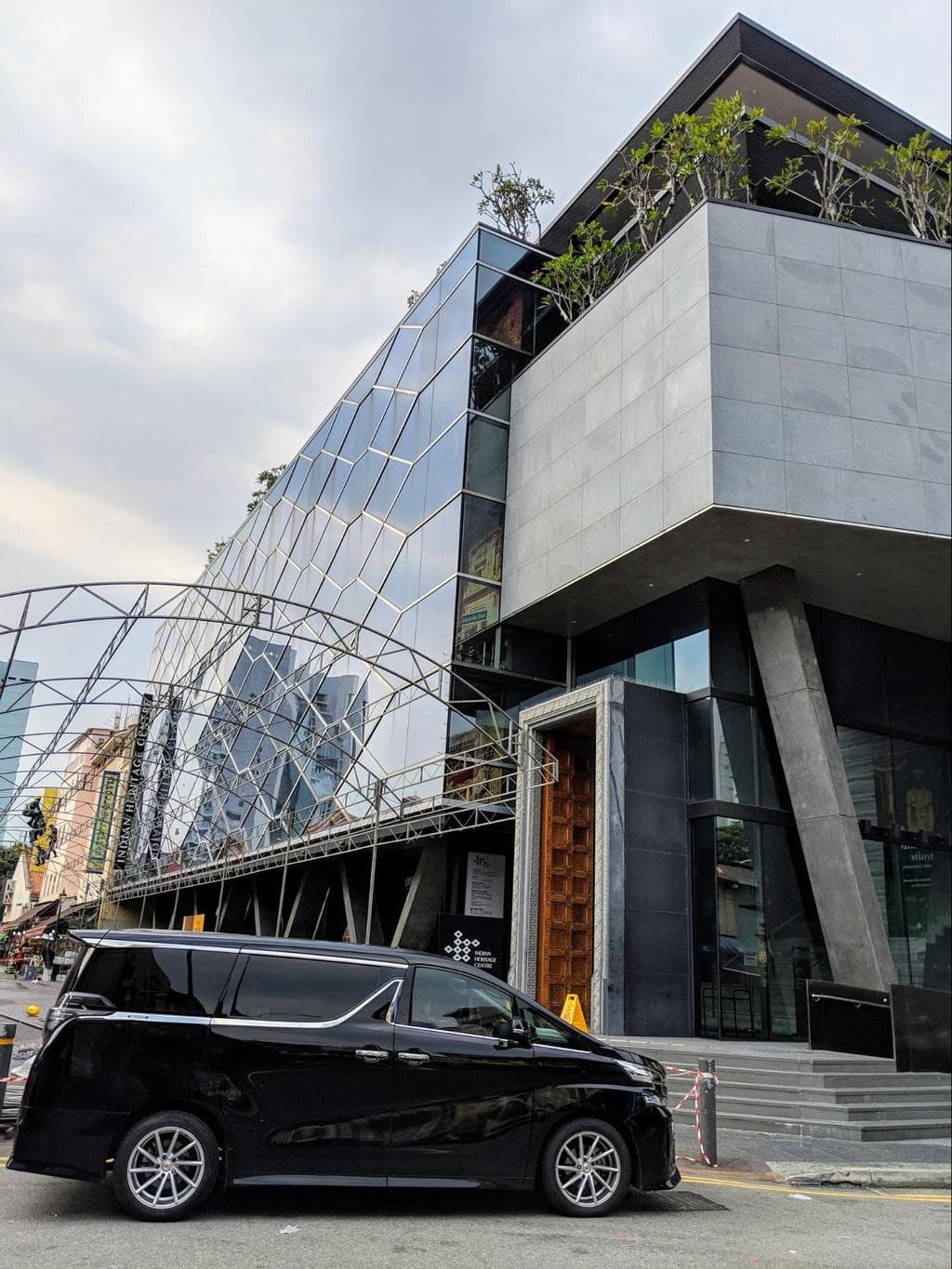 The Indian Heritage Centre showcases the history of the Indian and South Asian communities, in a four-story museum within Little India. The architecture blends both traditional Indian elements and modern features, with a design inspired by the baoli or Indian stepwell. The glass facade walls shine bright in the day and are lit up with colour at night, representing the diverse and multi-faceted Indian community living in Singapore.
The permanent exhibition, Indians in Singapore – Past & Present, is a vibrant tribute to Singapore's Indian community that features 5 themes that depict the historical ties between India and Southeast Asia.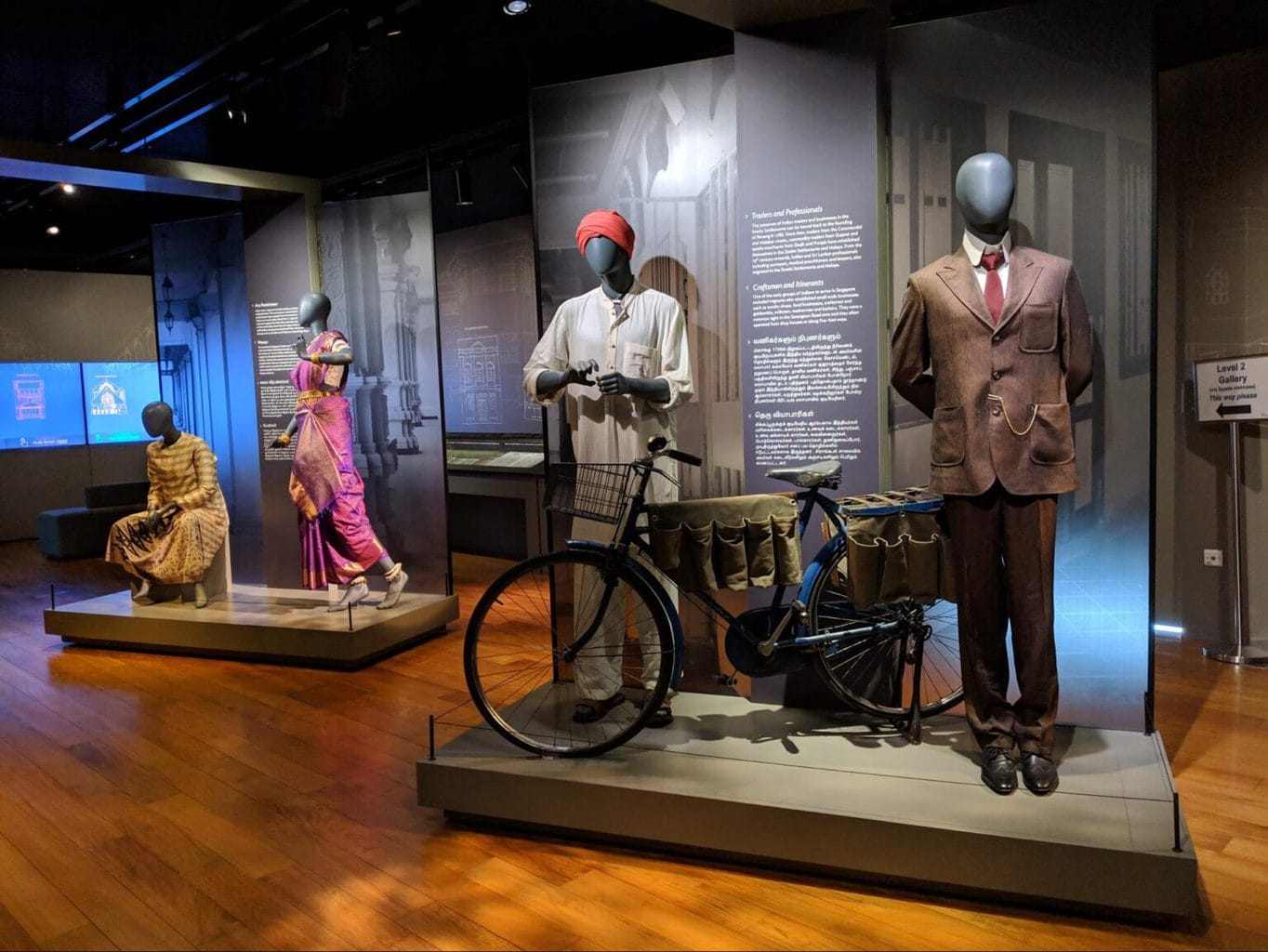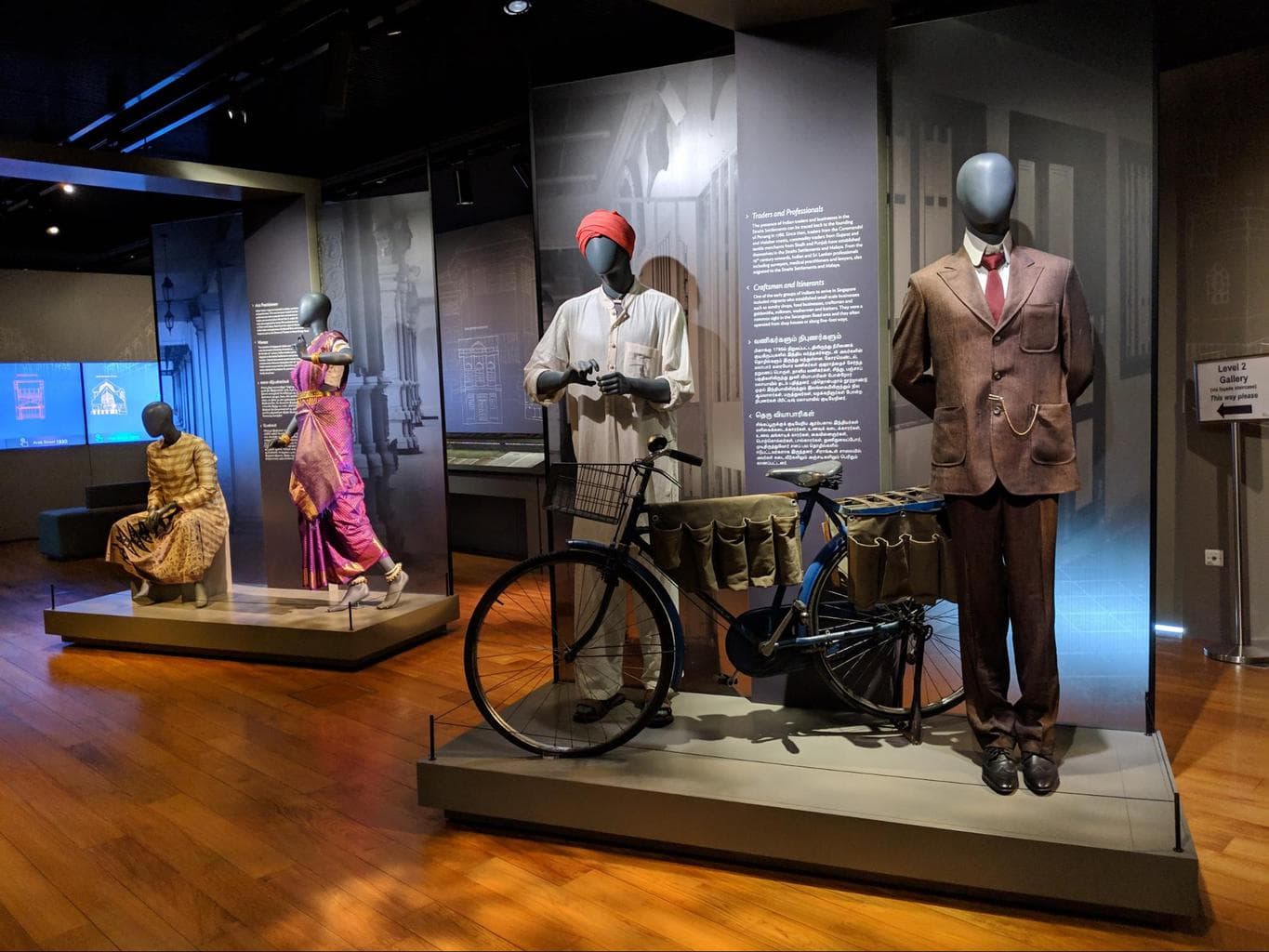 There are also special exhibitions that change every so often. Be sure to visit the Indian Heritage Centre's Visitor Services Counter and take a copy of the Little India Heritage Trail booklet. From there, you can go on a self-guided tour around Little India.
If you visit their website you can download the free app on Apple or Android. They have also joined the Smartify app (also downloadable on their page) where you can explore each artefact further on your mobile device.
Dig further into the area with our complete Guide to Little India Singapore as there is so much more to explore and food to eat!
BOOK YOUR SKIP-THE-LINE DISCOUNTED TICKETS ONLINE
Website: https://www.indianheritage.org.sg/en
Address: 5 Campbell Ln, 209924
Opening hours:
Tues to Thurs 10am-7pm
Fri & Sat 10am-8pm
Sun 10am-4pm
Admission: Free admission to Singaporeans and Permanent Residents and visitors aged 6 years and below. Overseas Visitors: Adults $6.00, Students $4.00; Seniors (60+yrs): Free
Malay Heritage Gallery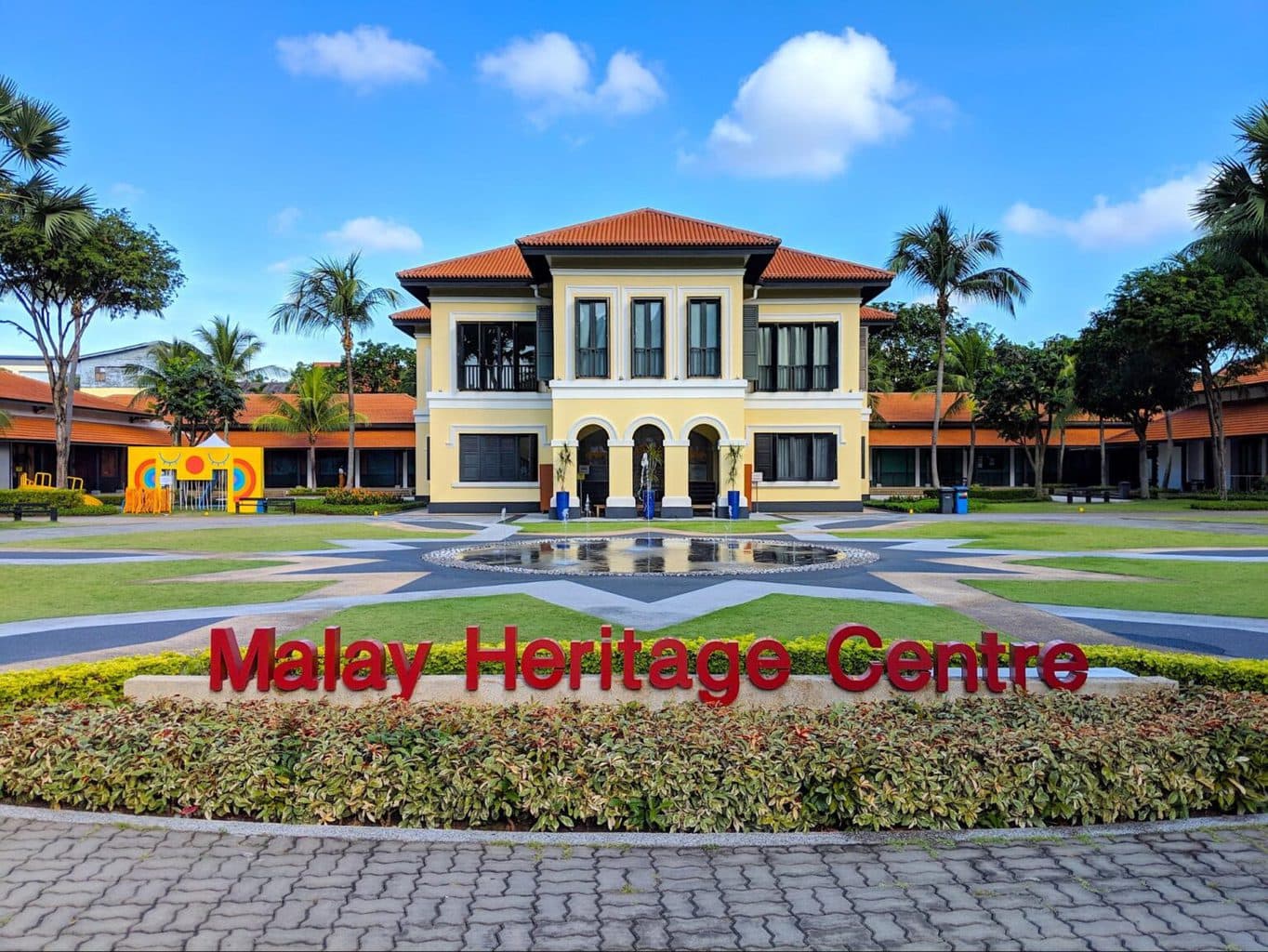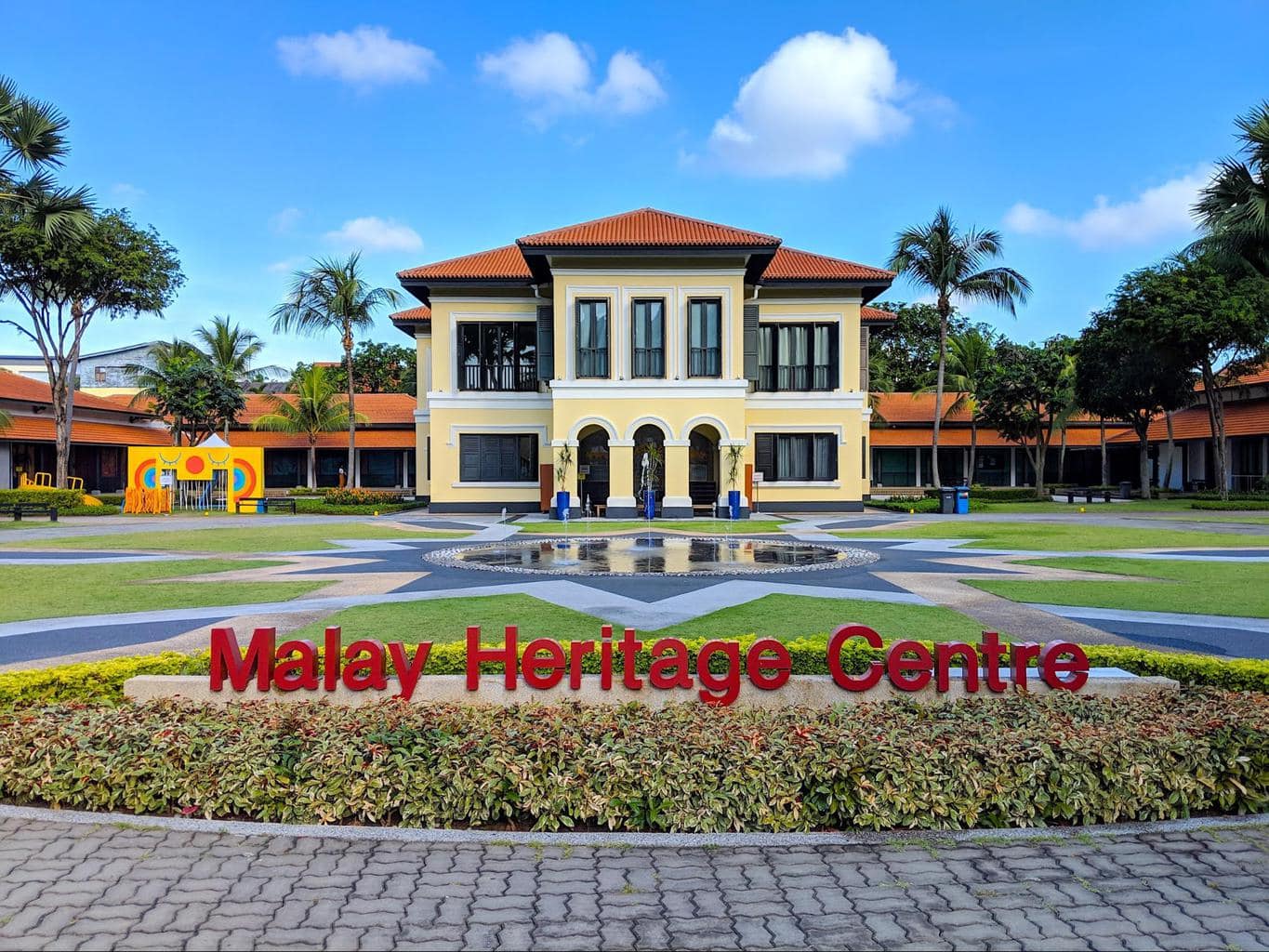 A key heritage institution for Singapore's Malay community, the Malay Heritage Gallery sits within the grounds of Istana Kampong Glam (or the Sultan's Palace), where Malay sultans once presided.
The museum is where artefacts, interactive multimedia and a range of exhibitions allow you to delve into the local Malay culture.
As the name of the area suggests, there are many gelam trees on the premises and a small herb and plant garden at one corner where you can see signs next to popular herbs used in traditional Malay cuisine. There is also a replica of a Bugis prahu boat called the Pinisi and details of the Bugis people and their trade.
Don't forget to download the Singapore Heritage Trails app before going on your Kampong Glam heritage trail walking tour. Here is our list of free and paid walking tours of Singapore if you're up for a stroll down memory lane. Here's a nice PDF from the National Heritage Board for you to read before you take the journey.
BOOK YOUR SKIP-THE-LINE DISCOUNTED TICKETS ONLINE
Website: https://www.malayheritage.org.sg/en/
Address: 85 Sultan Gate, Singapore 198501
Opening hours: 10am-6pm daily except Mon
Admission:
Admission to the Museum building is free for Citizens, Permanent Residents and children under 6 years, except for selected programmes.
International guests: Adults (20% discount for group of 20 pax and above) $6.00; Family Package (for maximum of 5 members) $18.00; Seniors (60 years old and above) and Students and Persons with Disabilities (PWD) $4.00; 1st caretaker of PWD Free Admission.
Peranakan Museum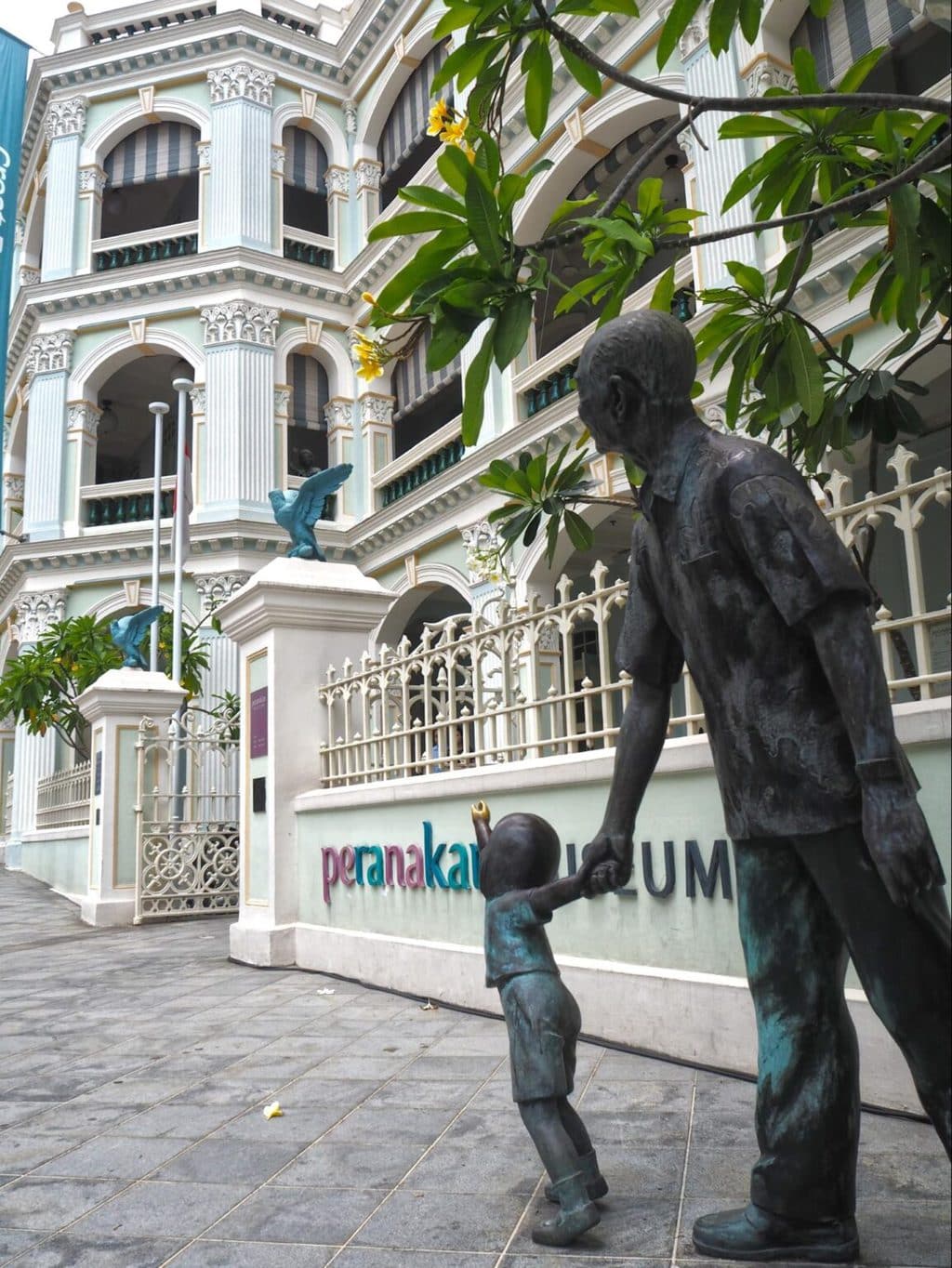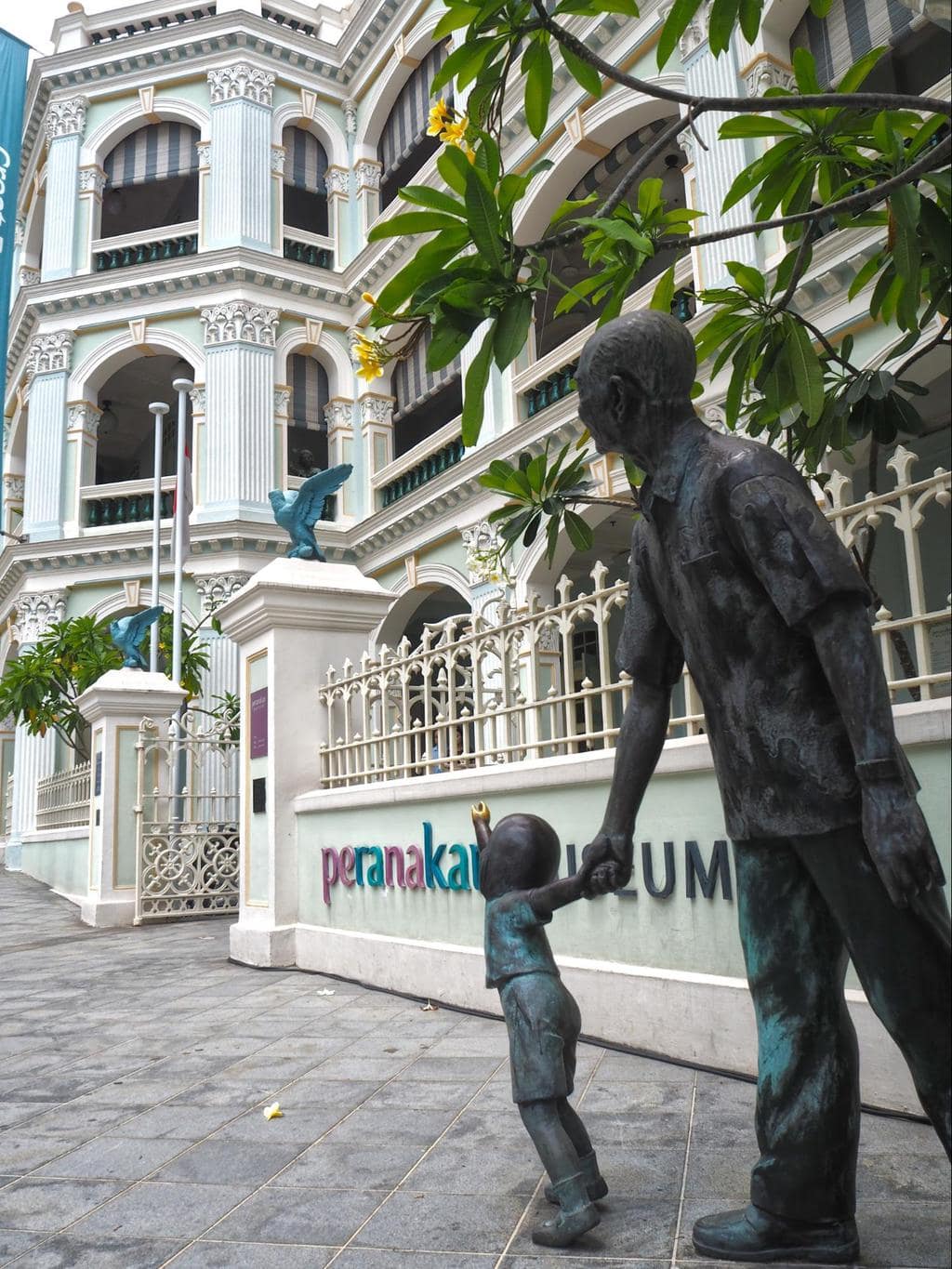 Note: The Peranakan Museum is currently under major renovations and is slated to open mid 2021. Read on for reference and have a slice of Peranakan history by visiting the Peranakan restaurant, True Blue Cuisine right next to the museum which offers traditional cuisine and an insight into traditional Peranakan houses.
The Asian Civilisations Museum's sister museum, the Peranakan Museum traces the roots of Peranakan communities in Singapore and the region. Learn about the traditional 12-day Peranakan wedding, admire beautiful motifs of batik, and take part in one of the museum's many programmes for a more interactive experience.
There are 10 galleries to choose from that showcase this vibrant hybrid culture including wedding garments and the daily life of the Peranakan Chinese community (Quick Fact: Peranakan are not only Chinese).
Before you visit, check out our guide to the Peranakan Museum which will tell you all about the Peranakans, where we provide our personal recommendations from what to watch at the Museum to where to get an authentic Peranakan meal.
Website: https://www.peranakanmuseum.org.sg/
Address: 39 Armenian St, 179941
Opening hours: 10am-7pm daily, except Fridays 10am-9pm
Admission: Singaporeans and Permanent Residents enjoy free entry to all Permanent Galleries daily, prices will differ for other exhibitions. Foreign Residents and Tourists $13; Family of 5 $39; Foreign Students and Seniors $9.
MINT Museum of Toys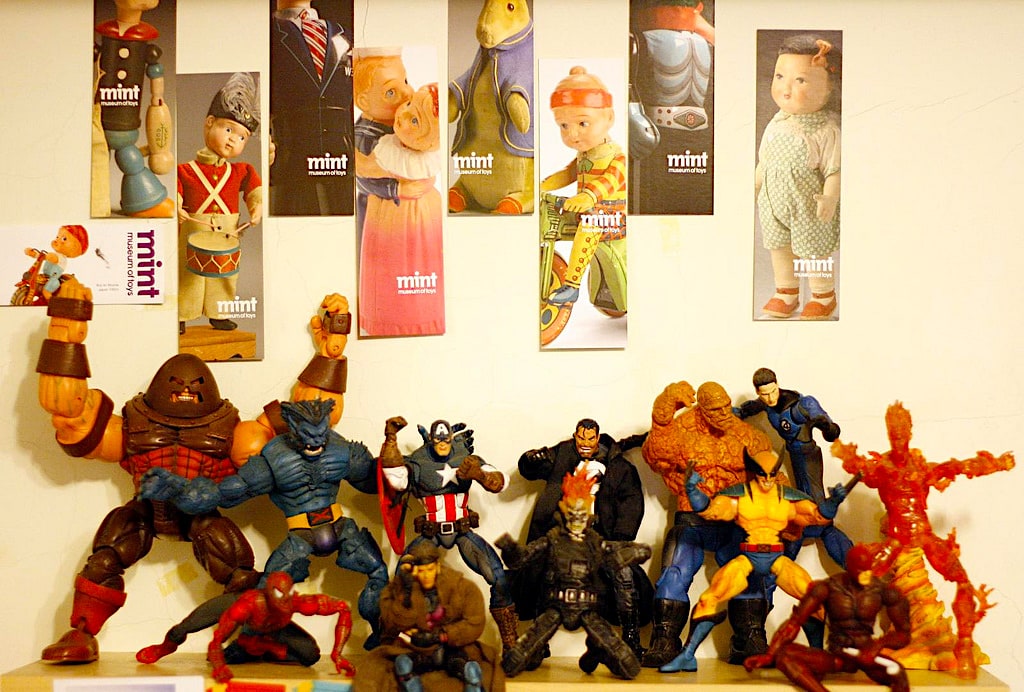 Here's a slightly different take on a typical museum. The MINT Museum of Toys houses a range of toys from the region and beyond, all in mint condition and collected by the CEO Mr Chang Yang Fa.
Over the years, the Museum's collection has grown to over 50,000 items from over 40 countries, 8,000 of which are on display. The range of toys expands from the 1840s and each level is divided into a specific theme namely: Outerspace, Characters, Childhood Favourites and Collectables.
Fun fact, the name MINT means "Moment of Imagination and Nostalgia with Toys" which alludes to the effect that toys have on our minds. What better way to explore different cultures than to take a look at what kind of toys their children play with?
Visit their Facebook Page for some amazing toy trivia. Always entertaining.
Website: http://www.emint.com/
Address: 26 Seah Street, 188382
Opening hours: 9.30am-6.30pm
Admission: Adult $15.00; Child (ages 2 to 12) $7.50; Senior Citizens (60+ with valid ID) $7.50.
Singapore Science Centre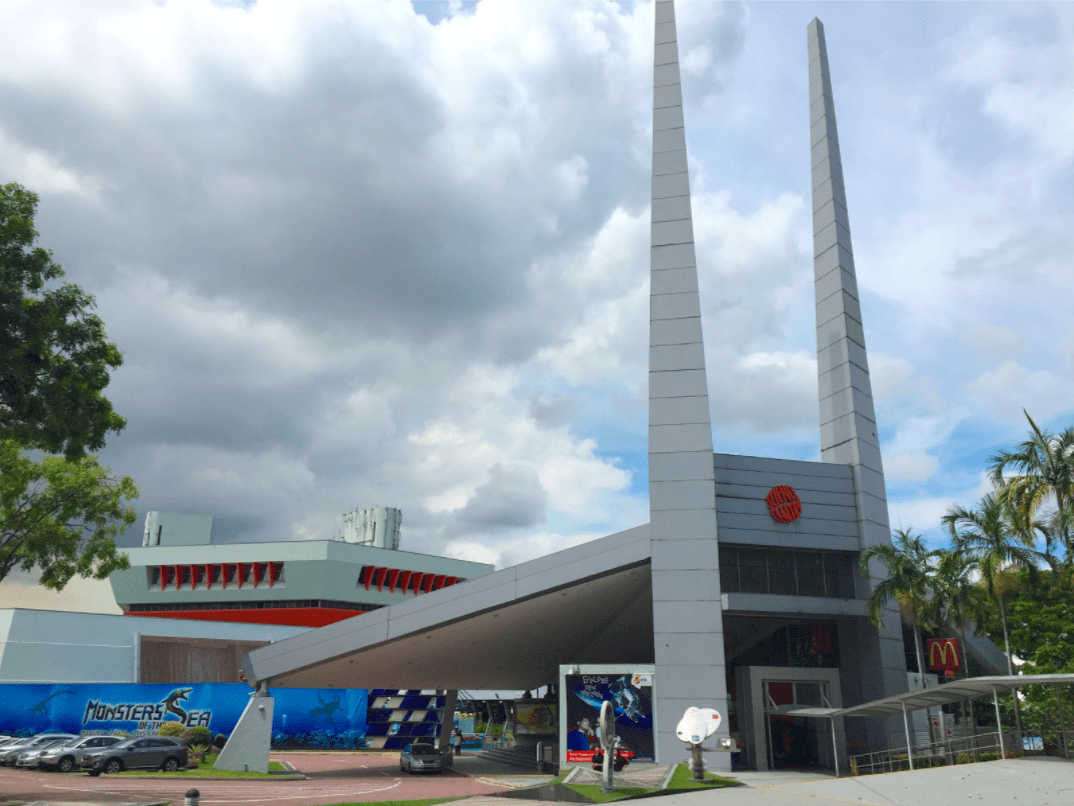 Not to be mistaken for the more popular ArtScience Museum, which is a blend of both art and Science, the Singapore Science Centre is solely focused on the wonderful discipline. The Centre first opened its doors in 1977 and has been transforming minds ever since.
There are regular exhibitions in the 14 different spaces that promote all the scientific fields from physical to industrial. It has a one-of-a-kind dome shaped roof at the Omni-Theatre, which includes a 276 seater IMAX theatre.
If you're looking for fun activities in Singapore for kids, then this should be your first destination. KidsSTOP is dedicated to younger science enthusiasts and Snow City is Singapore's only indoor Snow Centre. It also has Southeast Asia's largest Observatory.
Website: http://www.science.edu.sg/
Address: 15 Science Centre Rd, Singapore 609081
Opening hours: 10am-6pm
Admission: Tickets will differ depending on your preference. See here for details. Prebook online to avoid disappointment.
Singapore Discovery Centre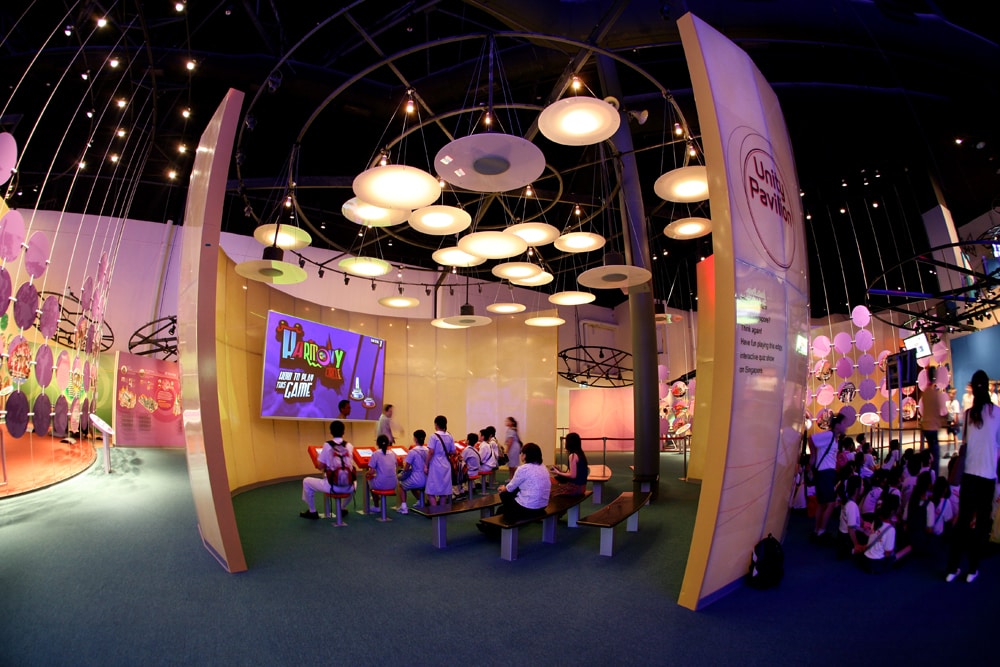 Note: The Singapore Discovery Museum is currently under renovations and is slated to open in October 2020. Read on for reference.
The Singapore Discovery Centre has humble beginnings in an idea to share the Singapore Armed Forces (SAF) story with the rest of the country and the world. Today it is much more than a military museum, showcasing five interactive galleries that are a pleasure to all the senses.
With so many exhibitions and Singapore's largest flat-screen movie theatre, you can easily spend the entire day here and not get bored. Standouts include Gateway, where you can experience Singapore's drastic transformation in just 3 short videos, the Visionarium Design Studio which has the world's largest 360-degree screen, and the 4D Simulator Ride.
There are also various simulations that educate the public on national threats, asking the viewer what would happen if there were a threat to the city-state. Other activities include paintball, paddle boats and a Singapore Armed Forces Training Institute (SAFTI) bus tour to see our protectors in action.
Website: http://www.sdc.com.sg/
Address: 510 Upper Jurong Road, Singapore 638365
Opening hours: 9.00am-6.00pm (Closed on Mon, except public or school holidays)
Admission: Free admission for Singaporeans and PR. $10; children $6
Maritime Experiential Museum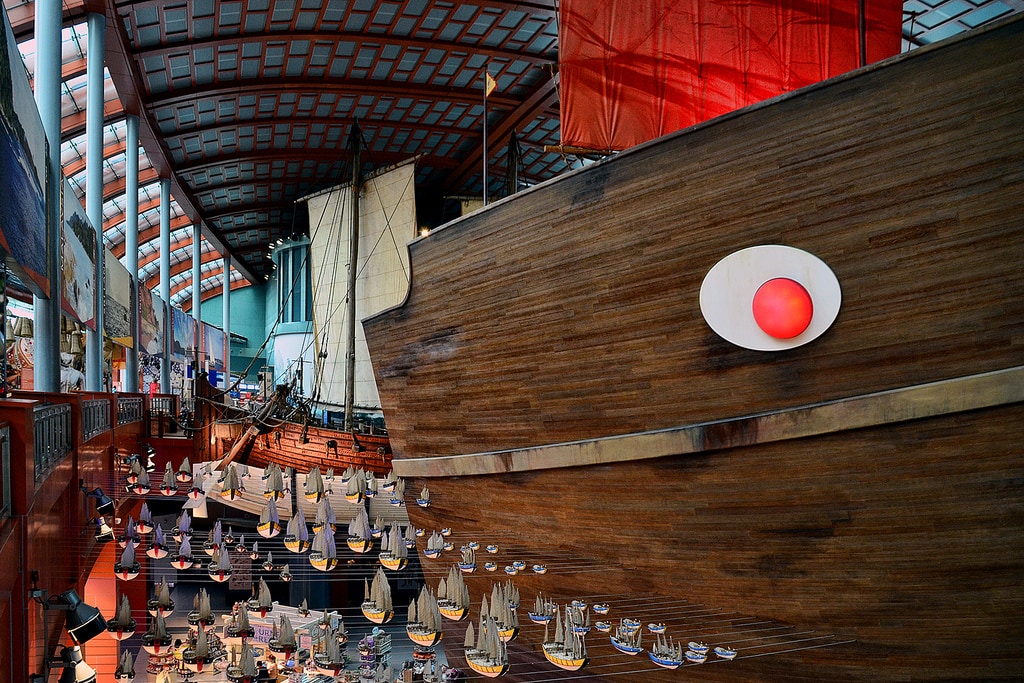 All budding seafarers (or pirates) will love this interactive museum in Singapore that transports participants back in time to the Maritime Silk Route of decades past.
A free 45min guided tour will take you on an adventure through 15 thematic galleries and even a few danger zones where you will have to escape from the clutches of the pirates or try to survive a typhoon!
There is also an exhibition that displays the Vessels of the Maritime Silk Route with different models based on Chinese, Borobudur and Javanese trading ships of the era. And there is even a training centre where you can learn to be a sailor by reading nautical charts or how to tie different knots. If you get bored, which you won't, there is the rest of Resorts World and Sentosa's beaches to keep you busy.
Read our complete Guide to Sentosa Island for some more information on what to do and where to go.
Website:
Address: Resorts World Sentosa, 8 Sentosa Gateway, Singapore 098269
Opening hours: Daily 10am-7pm
Admission: $16/adults; $10/child (4-12yrs); $5/senior citizens
Republic of Singapore Air Force Museum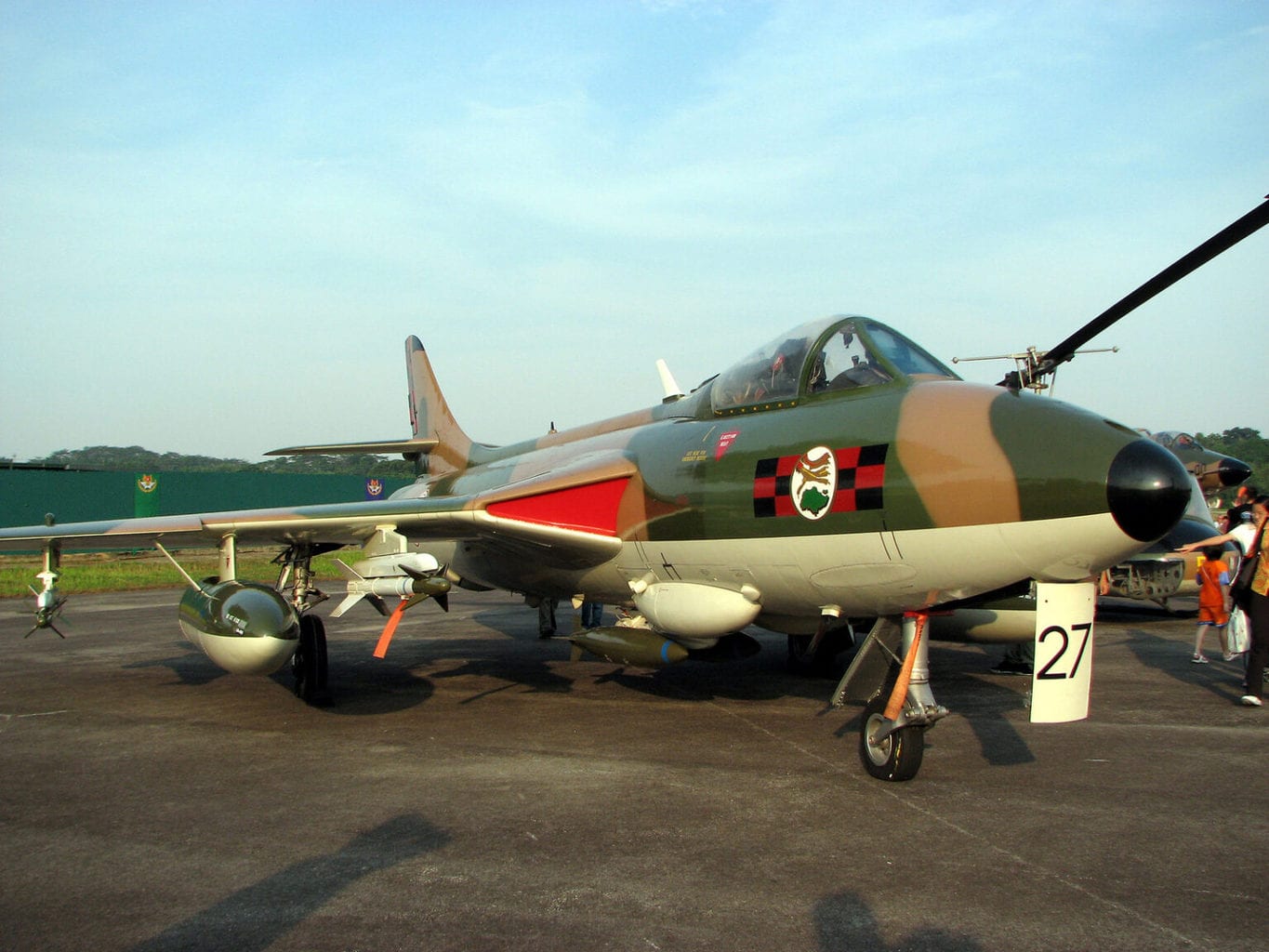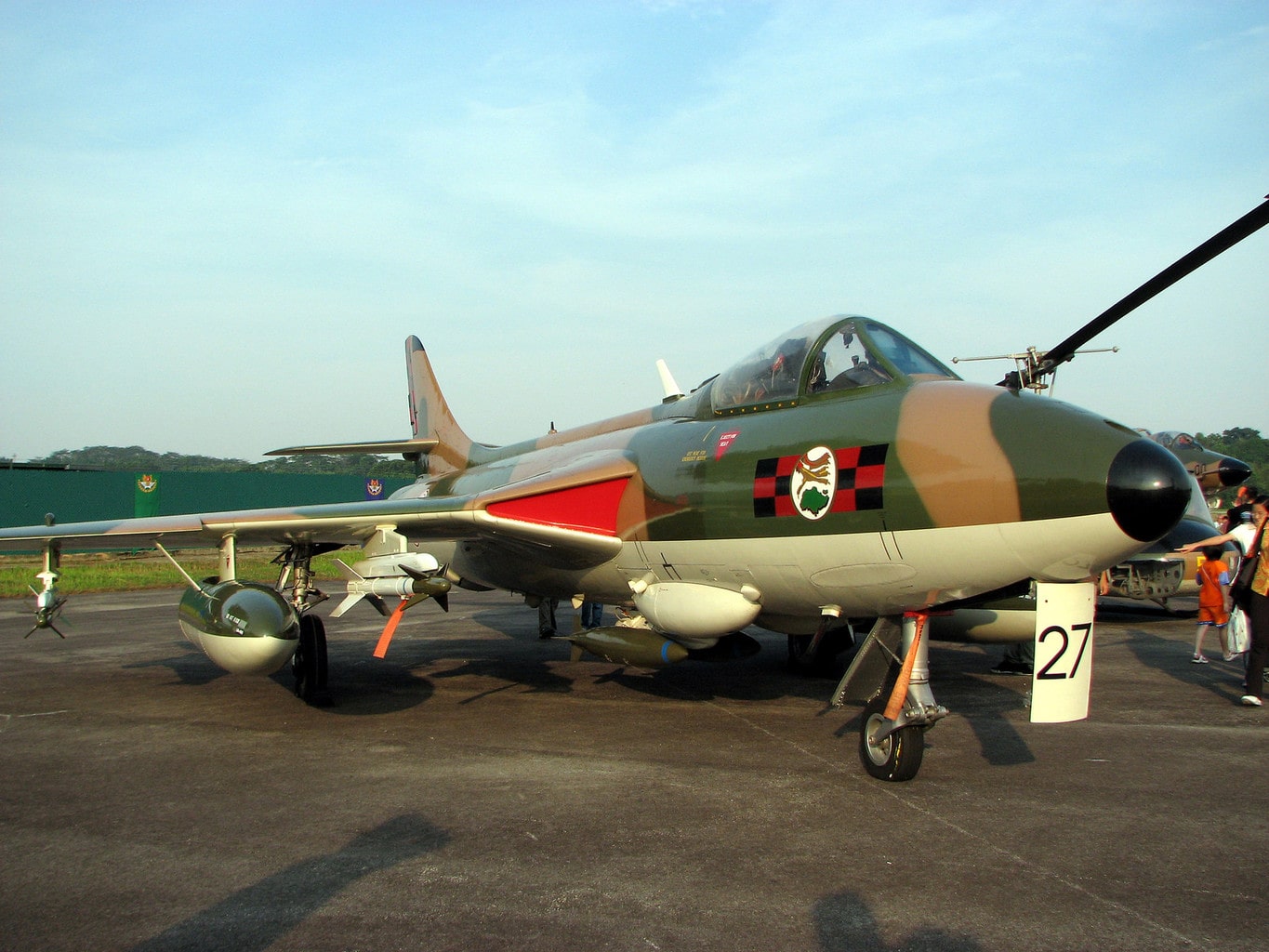 The Republic of Singapore Air Force Museum is an audiophile's dream. The Museum takes you on a journey through the development of the Lion City's Air Force from its days as part of the Royal Air Force back in 1927 to the present day. There are both interactive and artefactual displays from the nine indoor galleries to the outdoor gallery.
The indoor gallery provides an interactive historical guide of the RSAF, and by no means is it a boring diorama, there are visual effects and games as well. The outdoor gallery is a more hands-on experience for lovers of aviation.
Here you will get up close with various fighter jets like the A4-C Skyhawk, the SF 260 Marchetti and the Hunter Hawker, as well as missiles, and anti-aircraft systems. It is also an educational experience as the gallery provides a brief history of each artefact and how they help Singapore's defense remain strong.
Website: https://www.mindef.gov.sg/web/portal/rsaf/about-the-rsaf/air-force-museum
Address: Paya Lebar Airbase, 400 Airport Rd, Singapore 534234
Opening hours: Tue-Sun 8.30am-5pm (Closed on Monday & Public Holidays)
Admission: Free
Singapore Sports Museum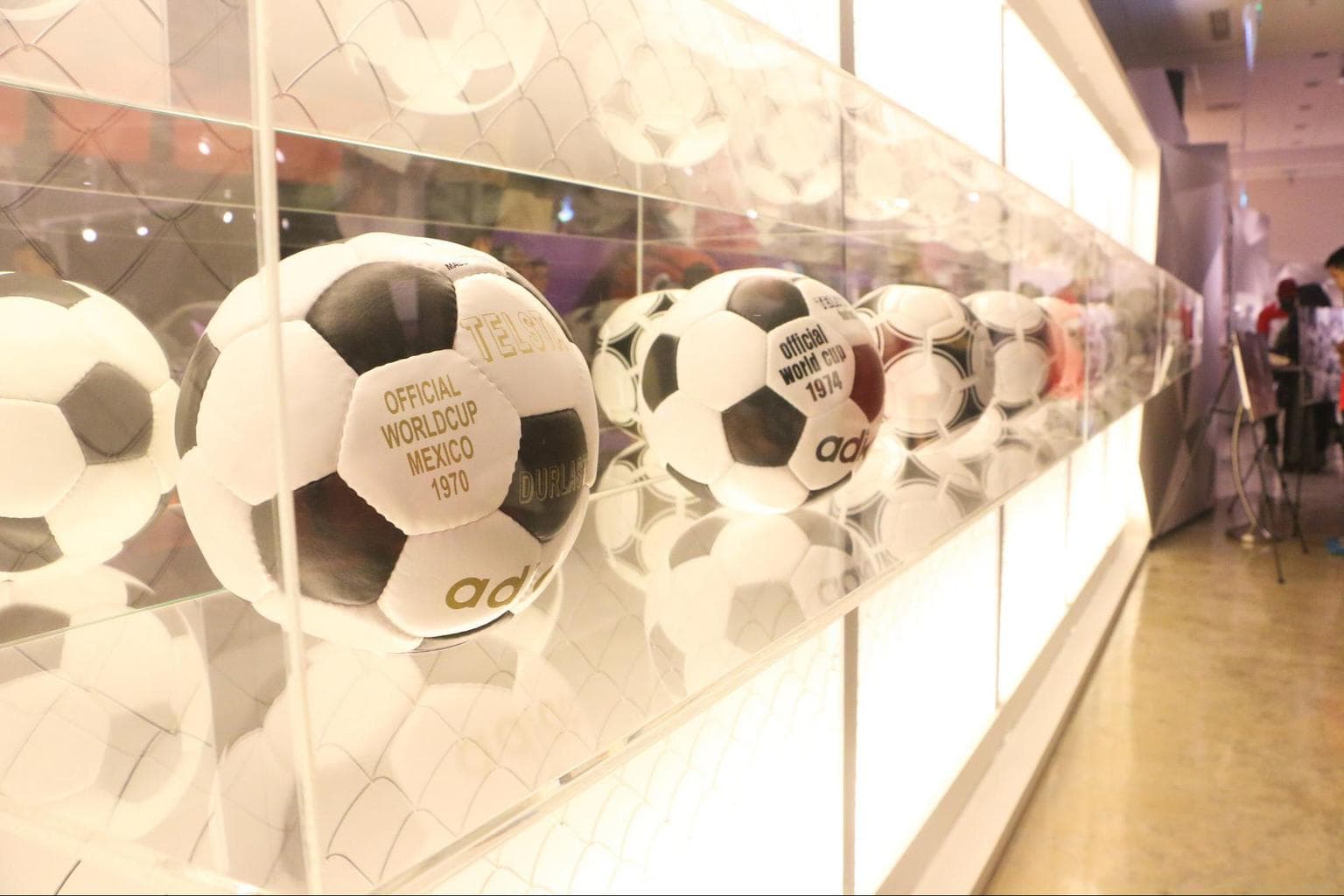 Singapore really does cater for all types, so sports enthusiasts who aren't into art or culture have a place to call home. The Singapore Sports Museum housed in the Singapore Sports Hub is fixed with permanent galleries that show the history and development of sports in the Little Red Dot from colonial times to independence.
Explore artefacts donated from some of the top sportspersons of the country and learn about when Singapore started to excel, and how it came to host international events from its first F1 Grand Prix in 1966 to hosting the 2018 WTA Finals.
Website: https://www.sportshub.com.sg/museum
Address: National Stadium, 15 Stadium Rd, Singapore 397718
Opening hours:
Weekdays: 10:00AM to 8:00PM
Weekends, Eve of Public Holidays and Public Holidays: 10:00AM to 9:00PM
Admission: Residents of Singapore and children under 6 enter for free. Adult $10; Children over 6, students and senior citizens $5
Vintage Cameras Museum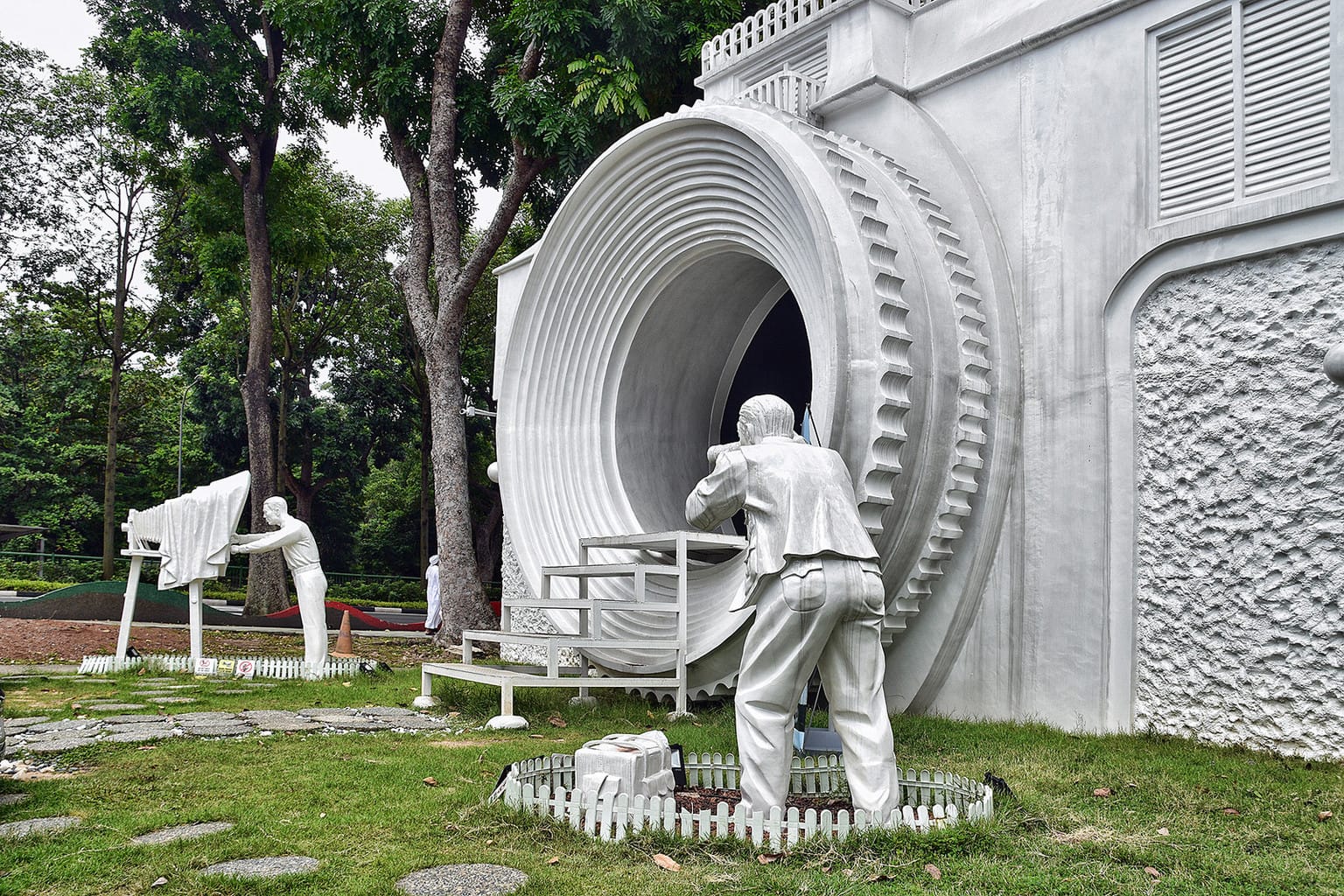 You may have passed this interesting building many times on your way through Kampong Glam to Haji Lane or Bugis, but next time you should definitely take a look inside. The highly Instagrammable white facade is of a giant Rollei camera, of which, you will have to walk through the lens to get inside.
Boasting a collection of over 1,000 vintage cameras, this is by far one of the most interesting museums in Singapore to visit.
There are cameras of all types on display, from the tiniest spy-cams to the most beautifully retro shooting instruments. Browse the gallery of old-school photographs or learn something new about the art form. Head to DECK after your visit for a complete photographic experience.
Website: https://www.facebook.com/vintagecamerasmuseumsingapore
Address: 8D Jalan Kledek, Singapore 199264
Opening hours: Daily 10.30am -9.30pm
Admission: $20 for adults; $15 for senior citizens and children below 12. Entry is free for children ages 5 and below.
National Gallery Singapore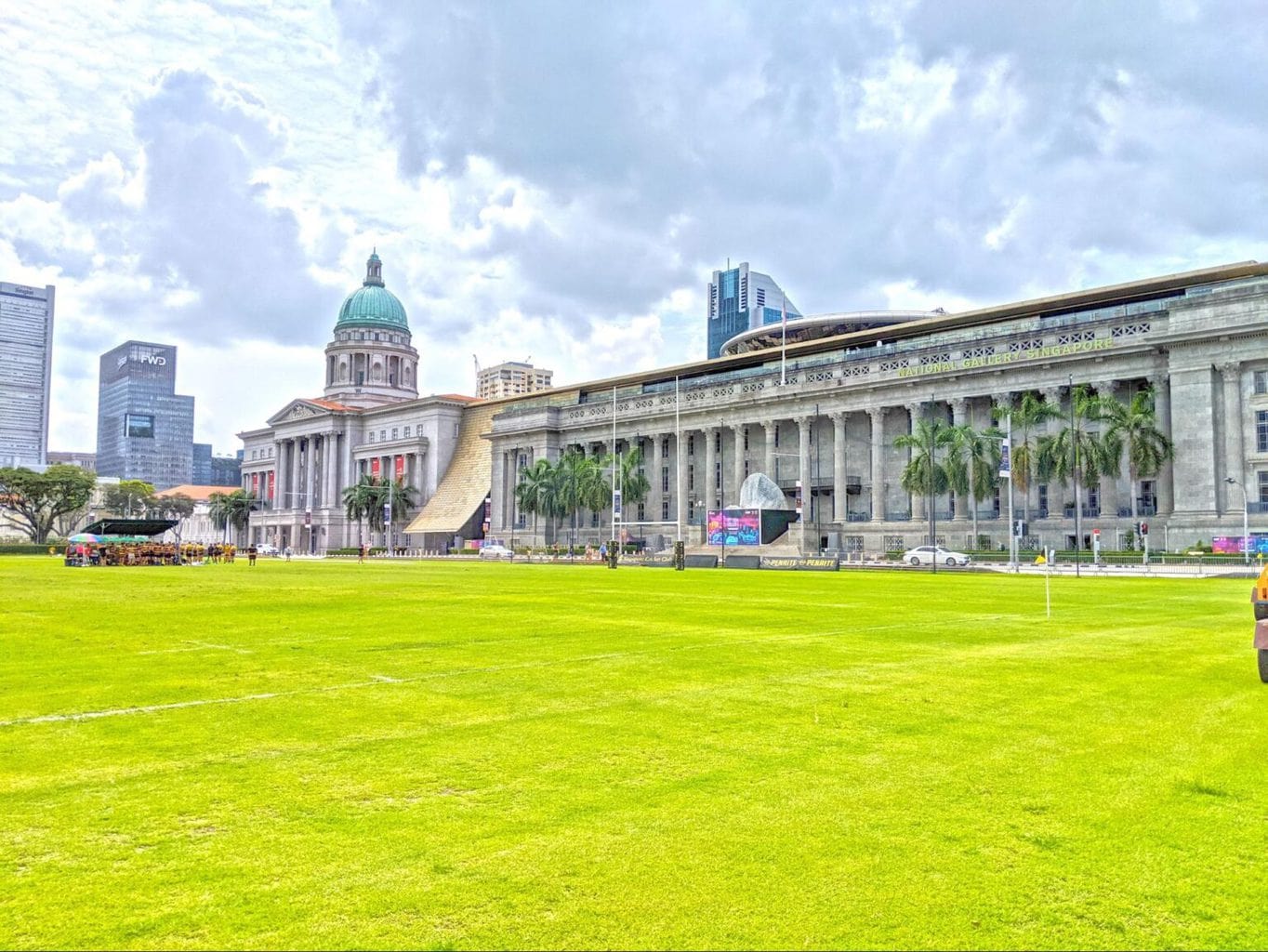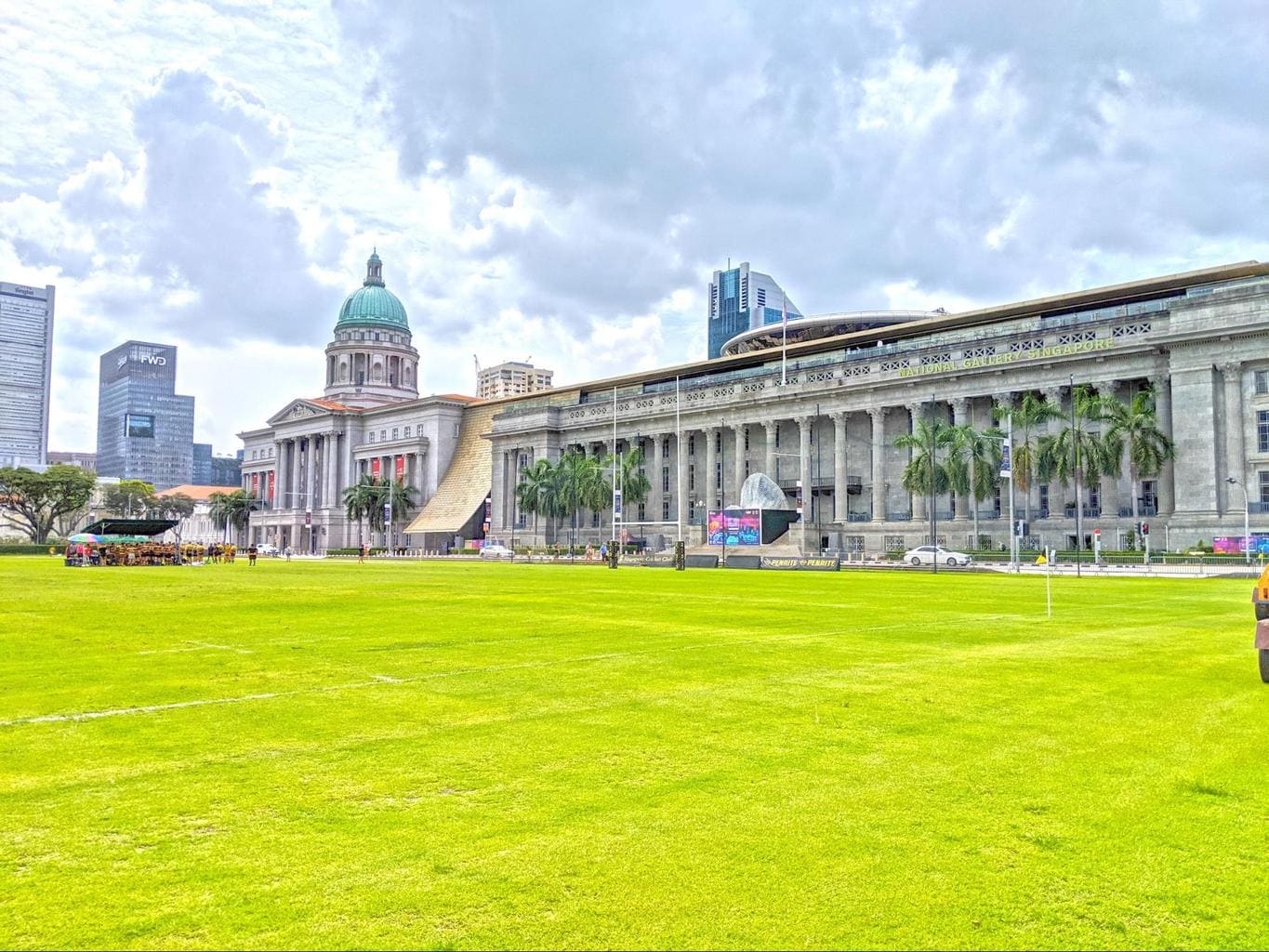 Not to be confused with the National Museum of Singapore (NGS) mentioned above, the National Gallery Singapore only a few kms away is the largest art museum in Singapore.
Housed in the old Supreme Court and City Hall building, this massive gallery has a Southeast Asia focus with art dating from the 19th century all the way up to today. In fact, it has the largest public collection of Singapore and Southeast Asian art in the world.
While adults will enjoy the historical side of the over 8,000 art pieces, kids will have the most fun with guides, books, activities and workshops of all kinds.
The Ng Teng Fong Rooftop Garden is also a fun addition with interactive exhibitions that are constantly changing. There are guided tours (including behind the scenes tours that take you back to the time when the museum was the Supreme Court), a free audio guide app, and some of the best fine dining restaurants in Singapore such as Peranakan inspired National Kitchen by Violet Oon, Michelin-awarded Odette and cantonese restaurant Yàn as well as Smoke and Mirrors, a great rooftop bar with views over the Padang and Marina Bay Sands.
BOOK YOUR SKIP-THE-LINE DISCOUNTED TICKETS ONLINE
Website: https://www.nationalgallery.sg/
Address: 1 St Andrew's Rd, Singapore 178957
Opening hours:
Mon-Thu 10am-7pm;
Fri 10am-9pm;
Sat & Sun 10am-7pm
Admission: Free admission for locals and PRs, $20 admission for foreigners; charges for special exhibitions apply
ArtScience Museum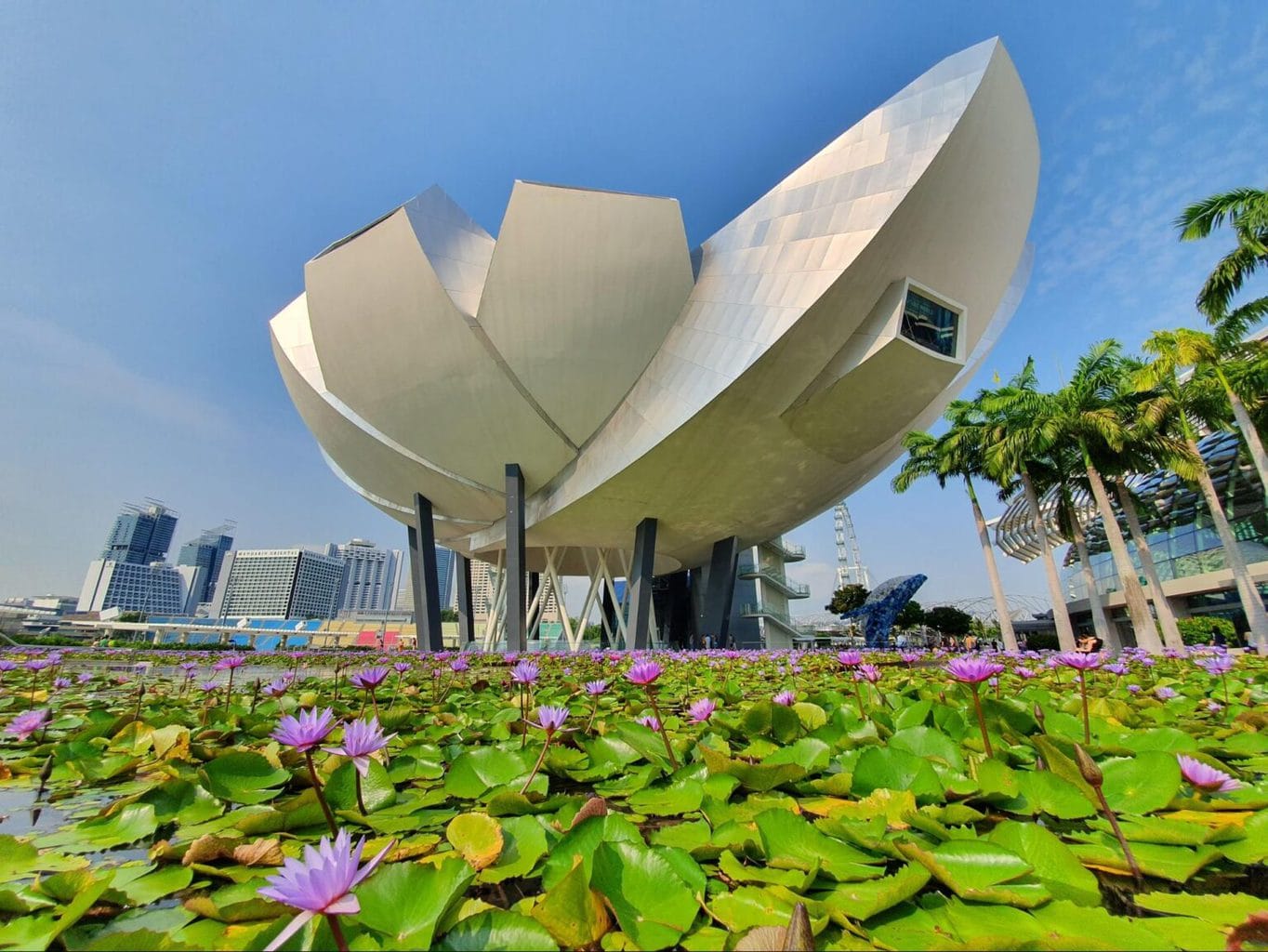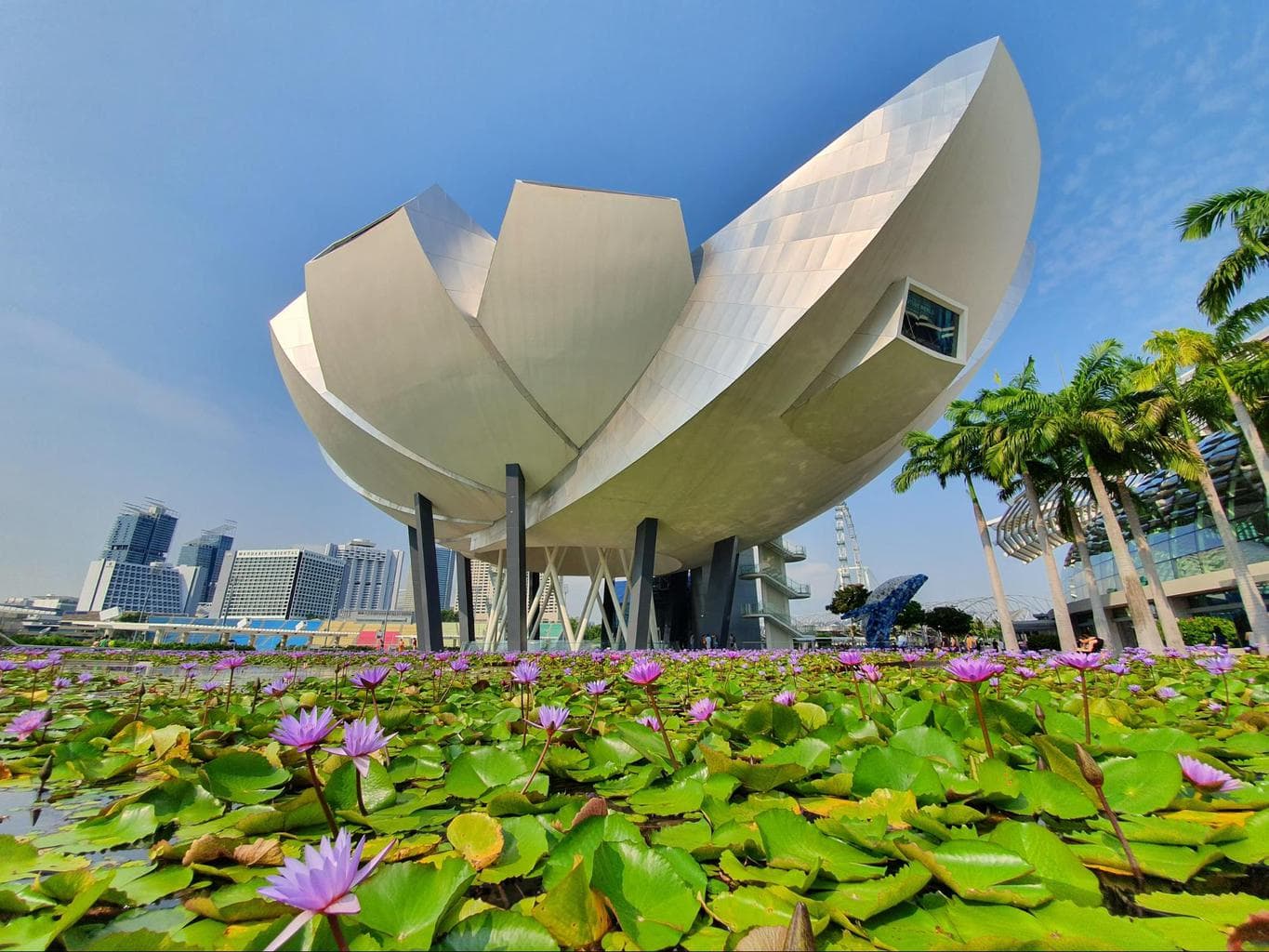 The ArtScience Museum has become a landmark, along with Marina Bay Sands and the Merlion. The building, designed by Israeli architect Moshe Safdie, stands out as a modernised lotus flower springing out of the Marina.
The Museum, which goes beyond just art, has held some of the best exhibitions in Singapore from famous artists like Andy Warhol and Vincent Van Gogh to props and costumes from the Harry Potter franchise and the recent Marvel exhibition.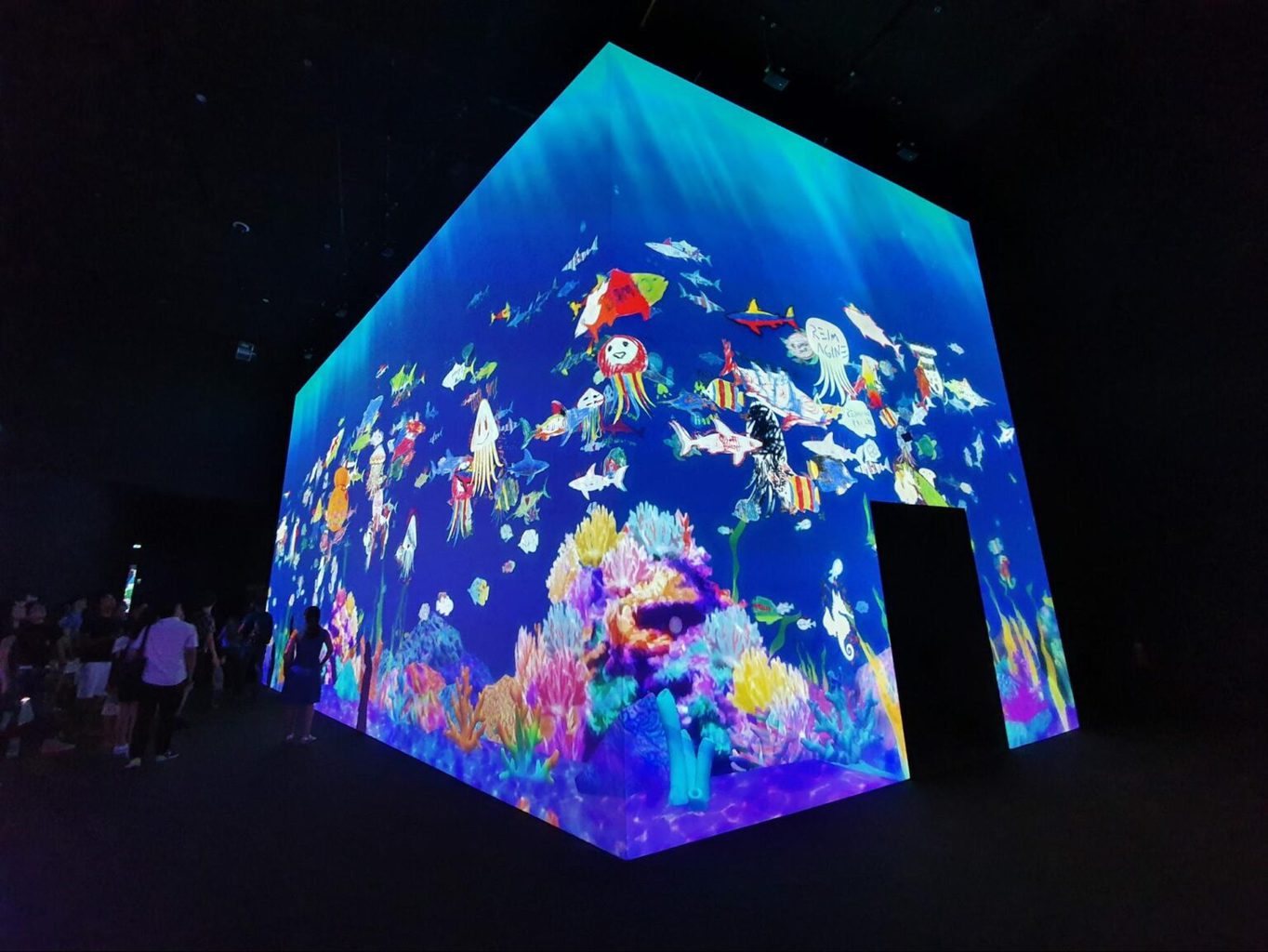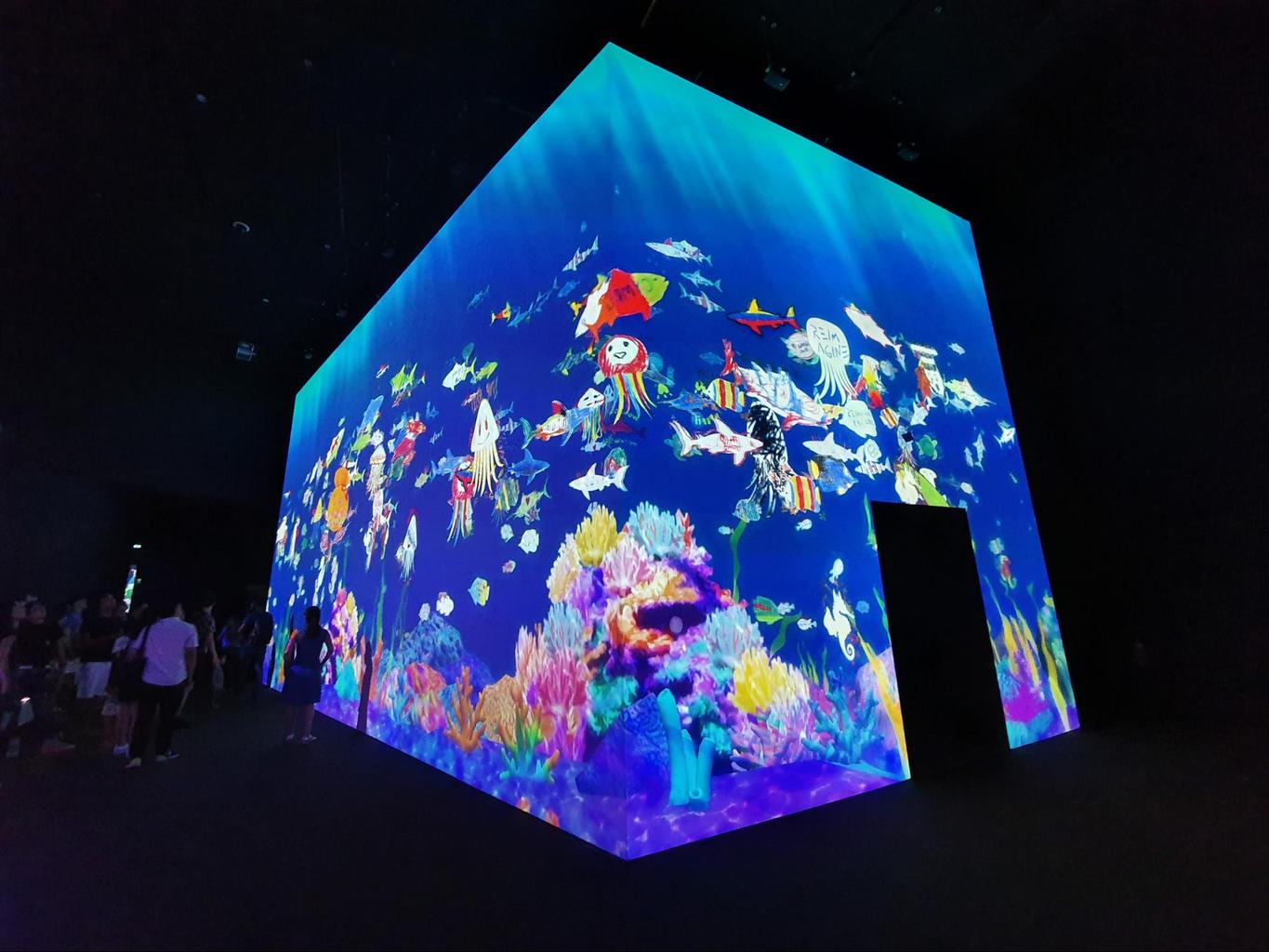 While there are 21 gallery spaces showcasing a blend of art and science, the permanent Future World, designed by Japanese arts collective teamLab, will take your mind on an interactive journey the likes of which it has never experienced.
This exhibit shows the true vision of the museum as art and science blend perfectly. Future World is permanent, yet it is refreshed every few months, so you can expect a new mind-bending show each time you go. It is also as interactive and fun for adults as it is for children, who can design their own drawing which will then be projected on the wall or go down cool toboggans.
Pop into Gardens By the Bay after your visit and don't forget to stop and witness the famous GBS Light Show.
BOOK YOUR SKIP-THE-LINE DISCOUNTED TICKETS ONLINE
Website: http://www.marinabaysands.com/museum.html
Address: 6 Bayfront Ave, Singapore 018974
Opening hours: Daily 10am-7pm (last admission at 6pm)
Admission: Pricing varies depending on the exhibits you wish to see. Click here for the full pricing list.
Singapore Art Museum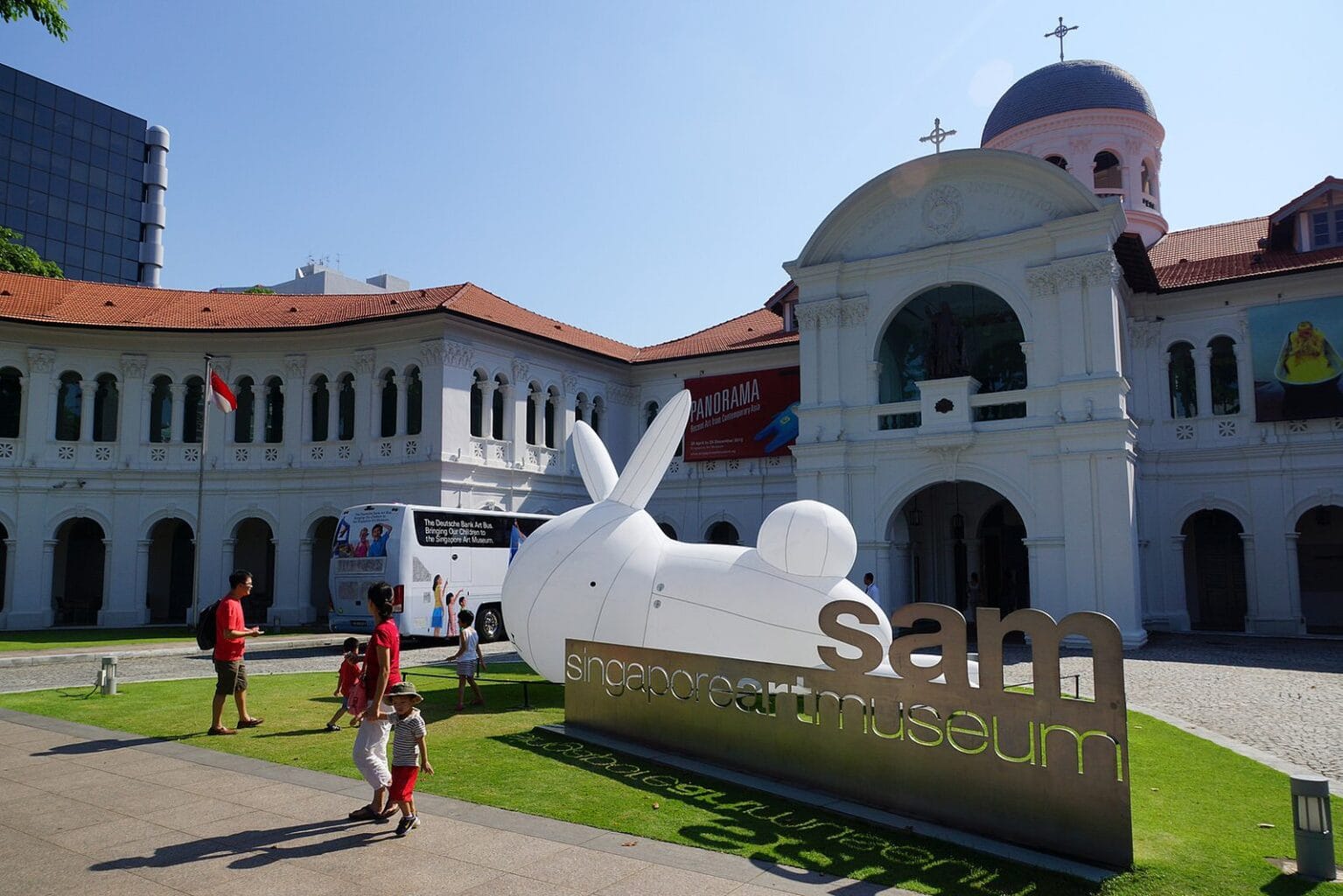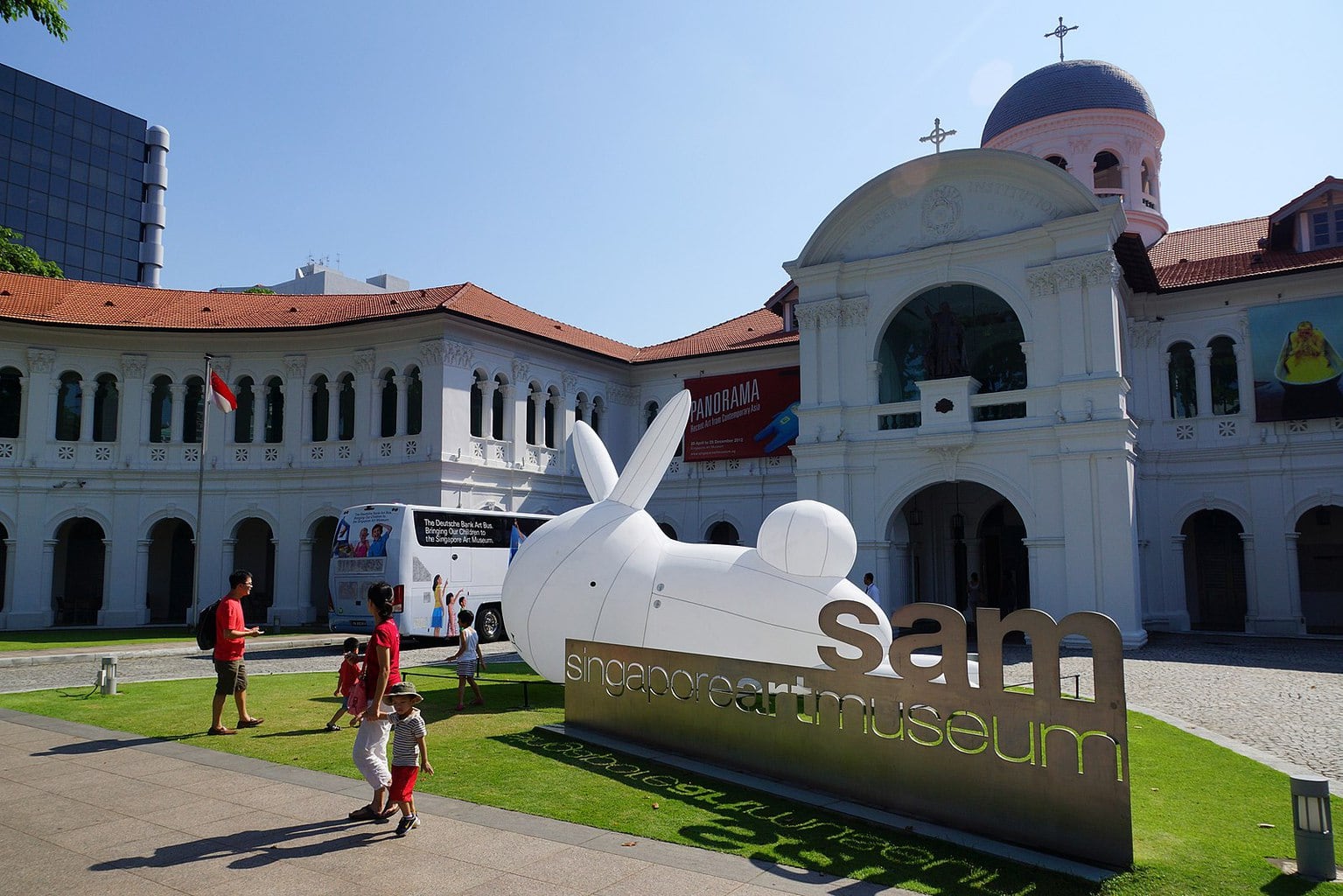 In a former life (in the 19th-century), the Singapore Art Museum (SAM) was a Catholic Boys' School called St Joseph's. Today, the museum holds over 7,000 contemporary art pieces from all over Asia.
The decorative facade of the building is kept intact and restored, so it seems as though you are still entering a Catholic Institution, and they have also preserved the central rotunda with a dome that was originally used to house a circular law library.
You can visit the museum on your own or join one of their free guided tours which are well worth it. Call ahead or check online for the timing and just be sure to go a bit early to get a spot, they are well worth it and will tell you all there is to know about the museum in a concise and story-driven way.
Standing true to its original education background, SAM provides education workshops for schools that range from Primary to Tertiary levels. There are also some great online resources like worksheets, guides and kits to widen your perspective and enhance your imagination.
And don't forget to visit SAM at 8Q, SAM's sister property about 88 steps from the main building. It was also converted from a Catholic School and focuses on youth and contemporary art. Film screenings are also held at SAM at 8Q in the Moving Image Gallery.
Website: http://www.singaporeartmuseum.sg/
Address: 71 Bras Basah Road, Singapore 189555
Opening hours:
Mon-Thu 10am-7pm;
Fri 10am-9pm;
Sat & Sun 10am-7pm
Admission: Free for Singaporeans, $5-$10 for foreigners
SAM at 8Q @ Singapore Art Museum
8 Queen Street, Singapore 188535
Operating Hours:
Monday to Thursday 10am-7pm
Friday 10am-9pm
Red Dot Design Museum Singapore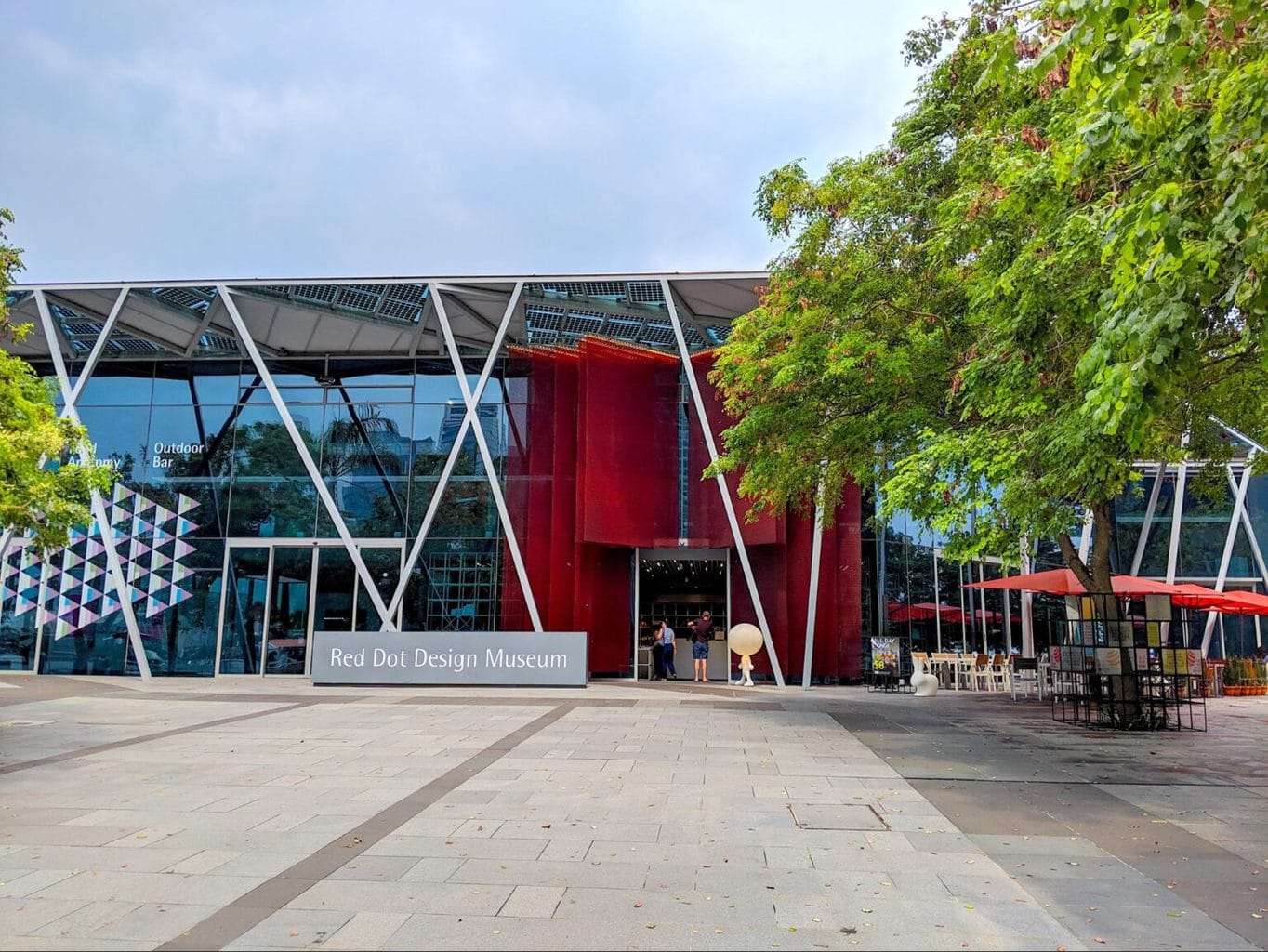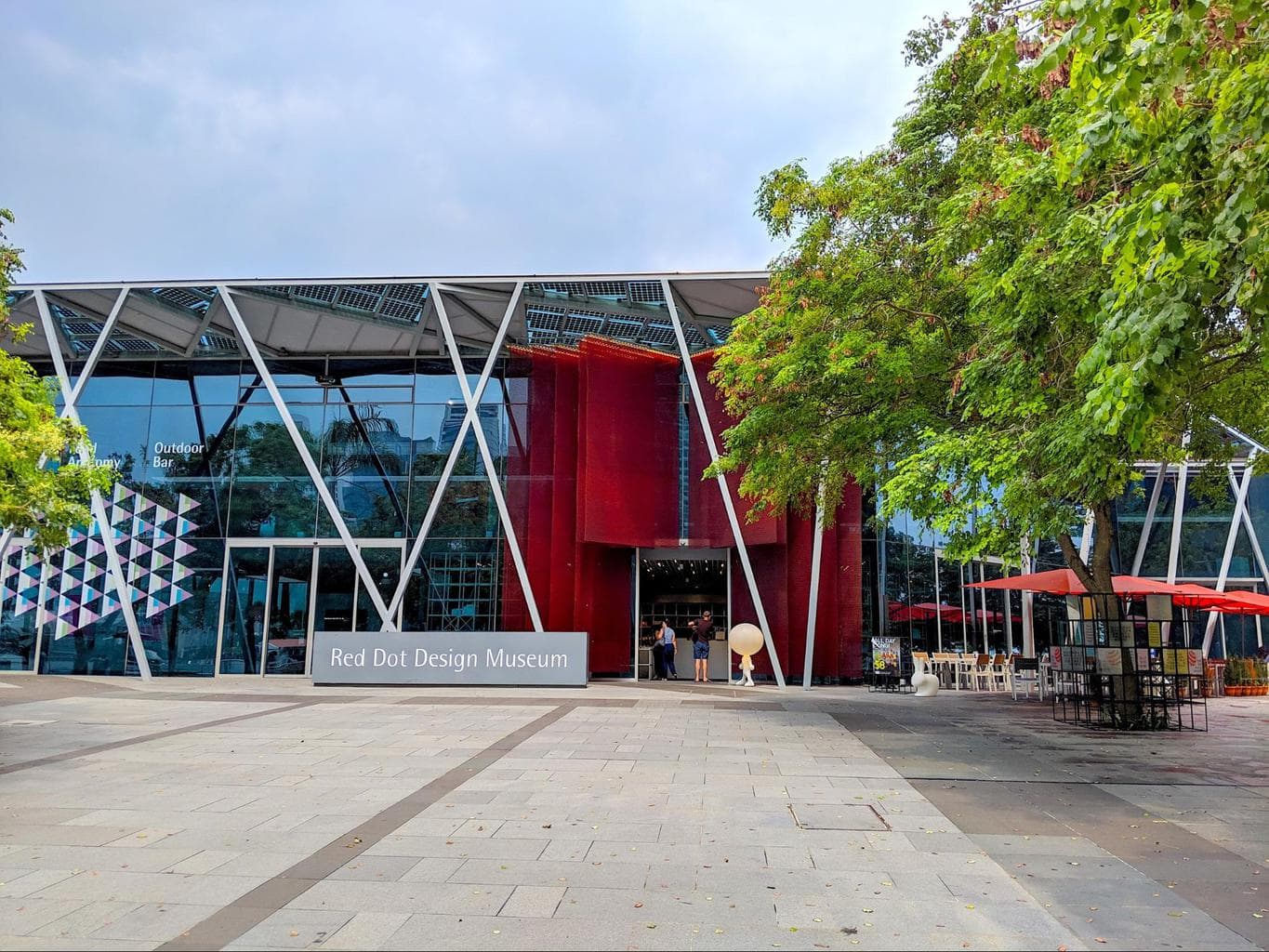 If you didn't know, the Little Red Dot is one of Singapore's various nicknames, but the museum's name has nothing to do with Singapore and actually comes from its sister property in Germany, the famous Red Dot Design Museum in Essen which you can visit on an epic roadtrip across Europe.
While this offshoot may not host the largest exhibition of contemporary design in the world, it does showcase some talented individuals and their innovative work and concepts.
Not only will you peruse 300 design works from around the world, but you can also visit the design store to shop for all your design needs, making it one of the most interesting places in Singapore.
The Red Dot Design Museum has relocated from the Red Dot Traffic Building in Maxwell Road, where it had been for the past 12 years, to the Marina Bay City Gallery in Marina Boulevard, in 2019.
The current building, designed in collaboration between Cox Architects (Australia) & Architects 61 (Singapore) is something out of a sci-fi movie, with a full glass facade that makes it glow in the night. It's open late on weekends, so if you're bored, this is the place to spend a few hours.
Website: http://www.museum.red-dot.sg/
Address: 11 Marina Blvd, Singapore 018940
Opening hours: Mon-Thu 10am-8pm, Fri-Sun 10am-11pm
Admission: Pay as you wish but the minimum fee for non Singapore citizens is S$6.40. Free admission for children aged 6 and below.
Free admission during MAAD Bazaar (Market of Artists And Designers), a grassroots initiative to promote local designers and artists since 2006. MAAD Bazaar is every first Friday of the month.
NUS Museum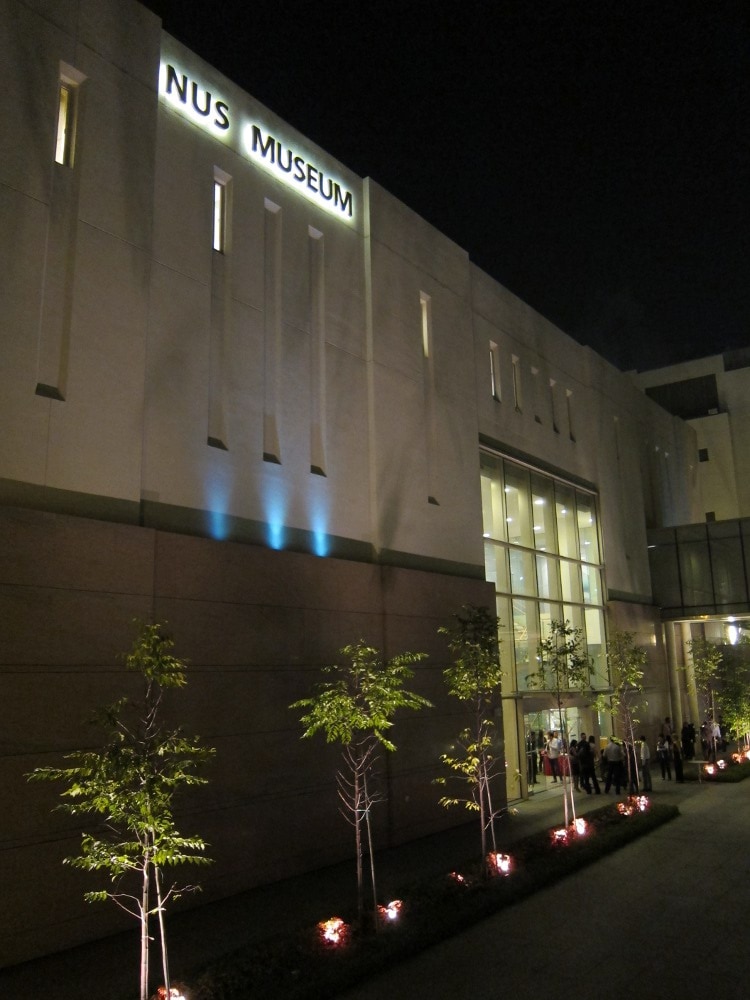 The National University of Singapore (NUS) has a museum with over 8,000 pieces of art divided between four collections. The art focuses on Asian contemporary and classical works that helps facilitate the intellectual and cultural life not only of its students, but also the outside world.
Take your pick between the Chinese works in The Lee Kong Chian Collection, Indian pieces of the South and Southeast Asian Collection, the multitude of artworks donated from the late Singaporean sculptor Ng Eng Teng in the collection with his name, or the Straits Chinese Collection which is at a different location in Baba House, one of the last surviving Straits Chinese houses in Singapore at 157 Neil Road.
This museum is adjoined to the Lee Kong Chian Natural History Museum mentioned above, so wear a comfy pair of shoes if you're planning on visiting both as you'll be walking for hours.
Website: https://museum.nus.edu.sg/
Address: University Cultural Centre Annex, National University of Singapore, 50 Kent Ridge Crescent, Singapore 119279
Opening hours: Tue-Sat 10am-7.30pm, Sun 10am-6pm
Admission: Free
Parkview Museum Singapore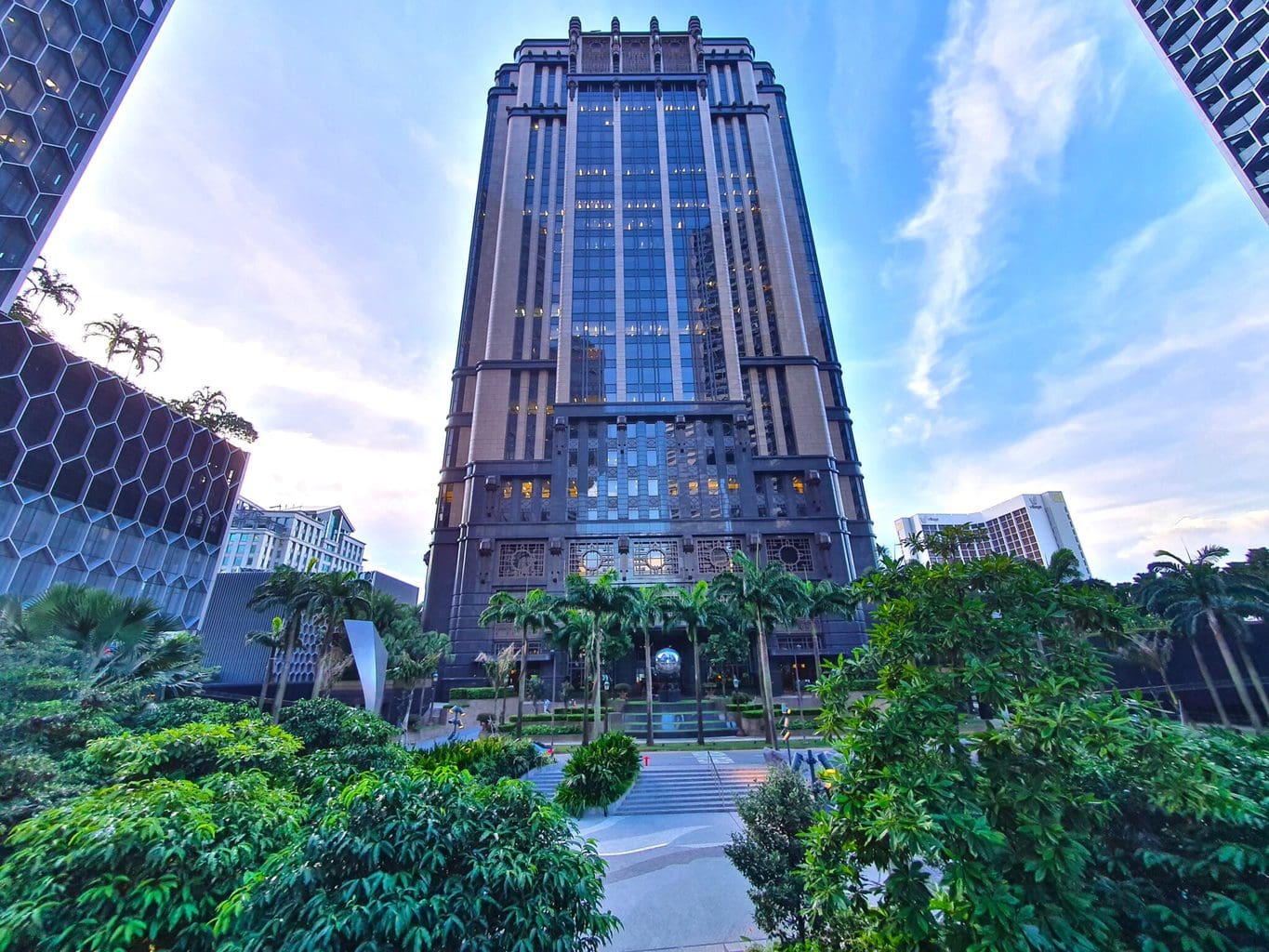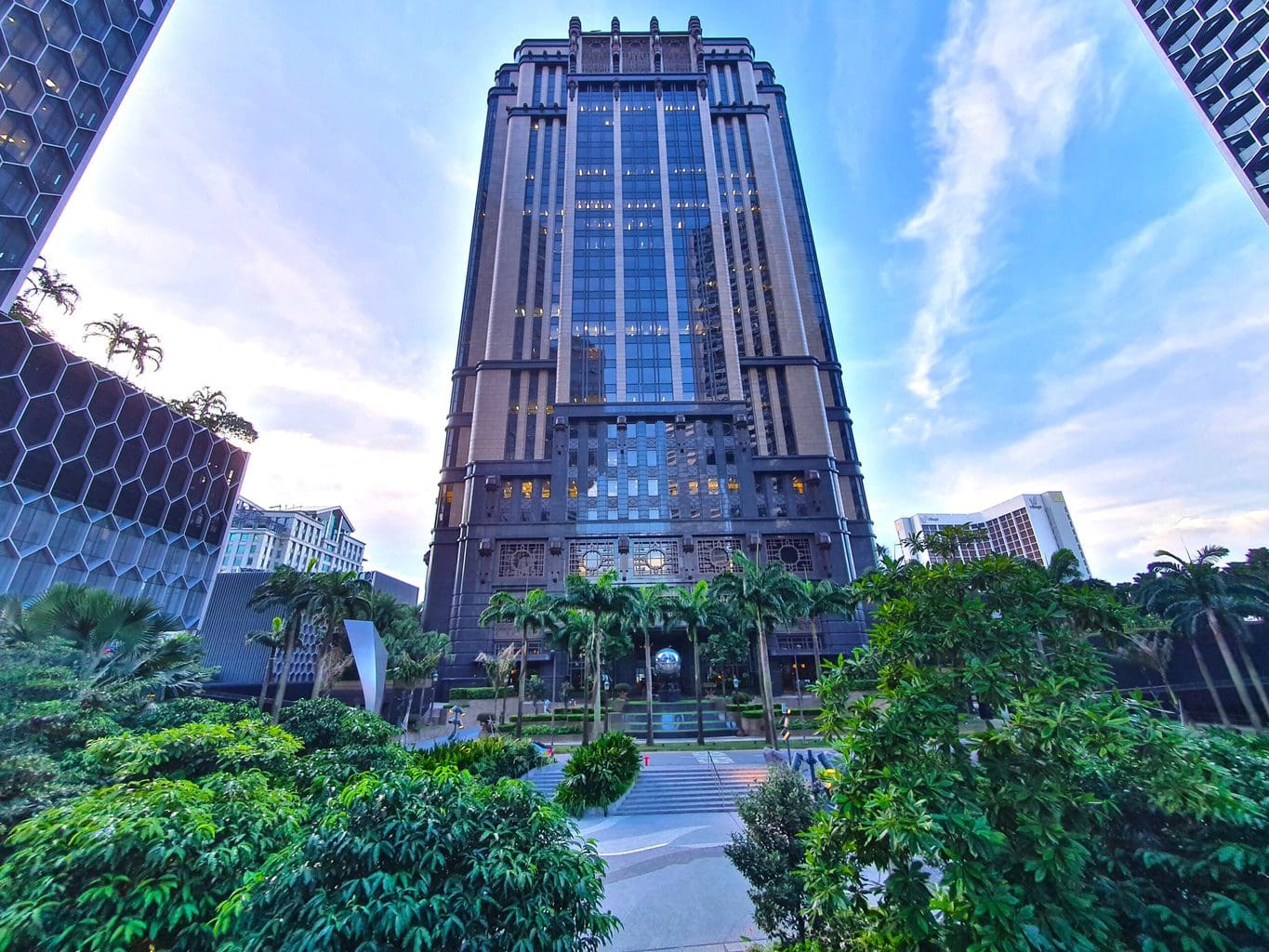 When you hear Singaporeans talk about the "Gotham City building", they are referring to the Art Deco megalith, the Parkview Square office block. The building is best known for its facade and for the ground-floor gin bar Atlas, that could also be out of a Batman movie.
But what you may not know is that on the third floor of this giant building that resembles the fictitious home of DC superhero Batman is a fantastic art museum and private gallery established by the Parkview Group.
The emphasis of the Parkview Museum is on contemporary art which showcases both local and international talent as well as pieces from its own rather large collection. In fact it holds an impressive amount of Dali pieces, not as much as his main museum in Figueres (a great day trip from Barcelona), but pretty impressive.
It also has over 10,000 works from contemporary Chinese artists, imperial Chinese stone Buddhist carvings, and contemporary art from all over the world including Austria, Germany, France, Italy and the USA.
Website: https://www.parkviewmuseum.com/
Address: L3 Parkview Square, 600 North Bridge Rd, Singapore 188778
Opening hours: Mon-Sat 12am-7pm
Admission: Free
The Arts House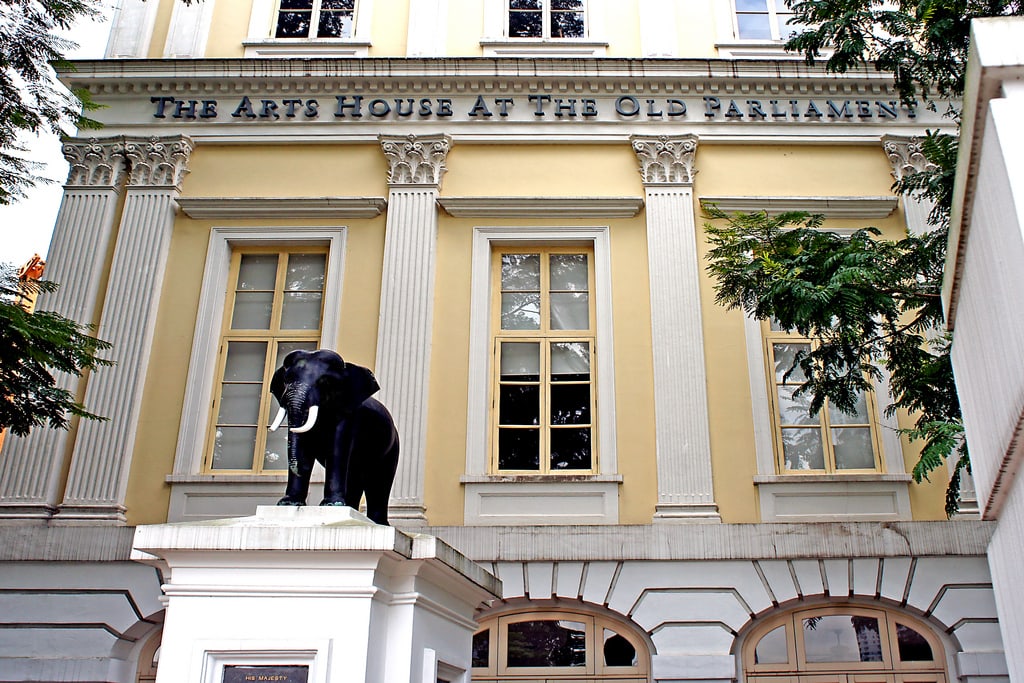 Another venue housed in an historic building, Old Parliament House, The Arts House is a multi-disciplinary arts venue with a focus on literature, so an art museum for those with an interest in the written word.
While it does exhibit pieces from the visual arts, it's a break from the norm providing a source of not only literary and spoken word from the Lion City but also a creative space to host art exhibitions and concerts in Singapore, like the Singapore International Festival of Arts.
The Arts House also manages the green warehouse-looking Goodman Arts Centre and the Aliwal Arts Centre. Whether you're after a talk, film screening, theatre performance, classical art or music appreciation, this is the place to visit.
Check out their What's On section here to see the monthly schedule. With a total of nine venues throughout the premises, you never know what you may come across.
Website: https://www.theartshouse.sg/
Address: 1 Old Parliament Ln, Singapore 179429
Opening Hours: 10am – 10pm daily
Admission: Varies depending on the event.
Kult Studio & Gallery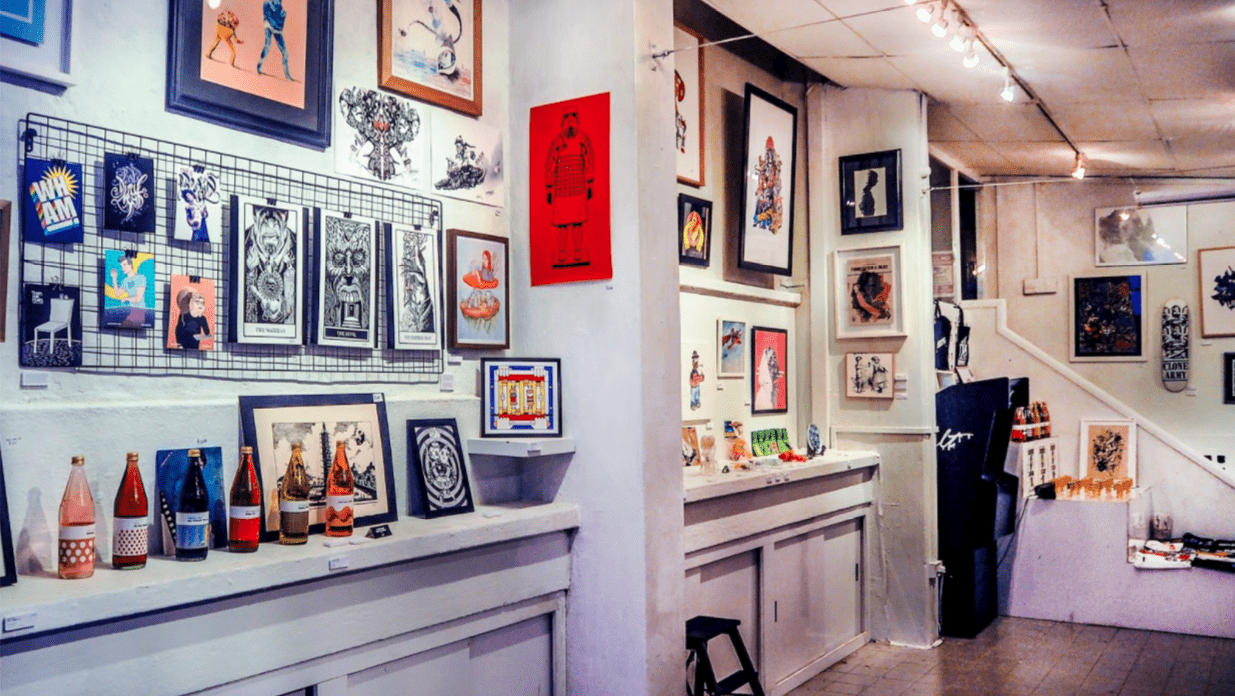 Grungier than your average art space, Kult Studio & Gallery is a fantastic art gallery in Singapore dedicated to all things counter culture and strange. From street art to creative collaborations Kult is a modern art space that allows viewers interested in the subcultures of the day to find inspiration.
The space is more like a skate shop than an art gallery, with Banksy-esque graffiti, old-school arcade machines and graphic novels. You may feel like you've stepped inside a New York gallery than Rochor/Little India.
Pop into Kult Kafe for a weirdly wonderful and eclectic experience, parties, salsa dancing and beautiful bartistry.
Website: https://www.kult.online/
Address: C2-5, Emily Hill, 11 Upper Wilkie Road, Singapore 228120
Opening Hours: Kult Kafe is open Wednesday to Saturday: 5pm-midnight; Sunday: 3pm-midnight
Admission: Depends on the event
DECK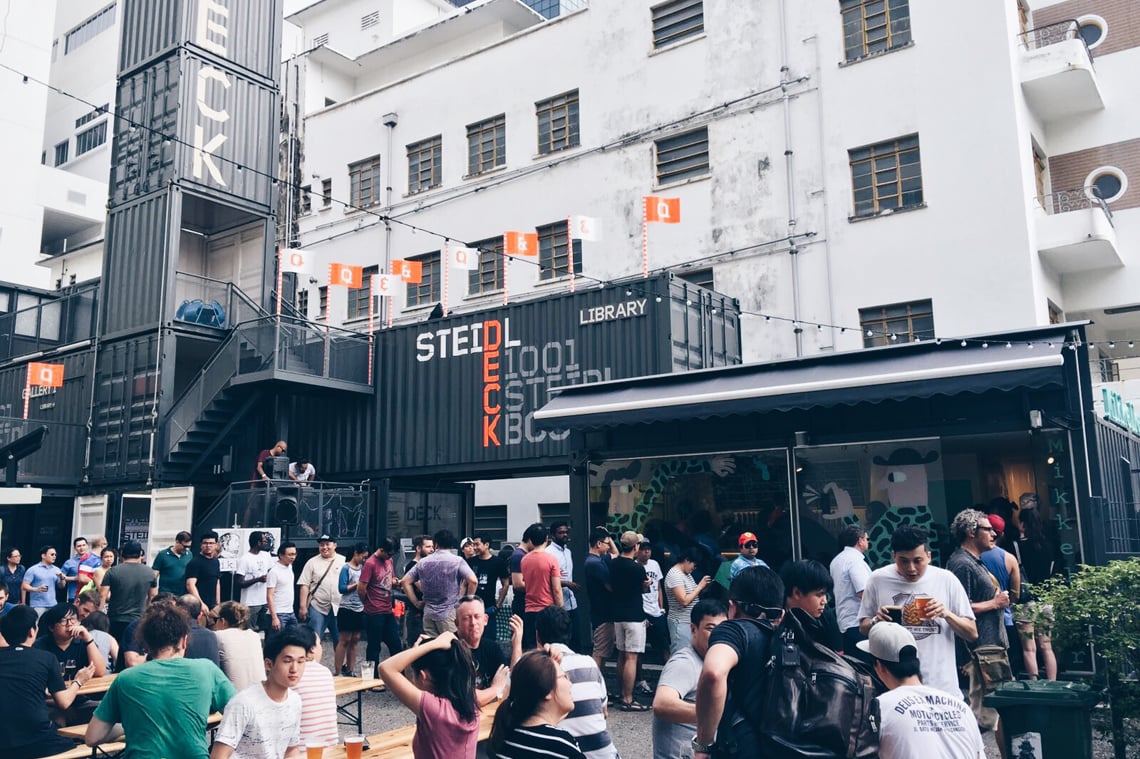 With a container space similar to Seoul's Common Ground, yet on a smaller scale and focussed solely on photography, DECK is a multi-leveled gallery space. It is also one of the most interesting galleries in Singapore.
The independent art space, launched in 2014, is one of the best places to go to witness budding photographers in Singapore and the rest of Southeast Asia.
The creators of DECK are passionate about photography and believe that the visual art should be accessible to all and not only a select few. They started the annual Singapore International Photography Festival (SIPF) to bring together all photographic enthusiasts, professionals and amateurs, to meet, collaborate and showcase their works.
With a multitude of "happenings", if you're into this beautiful art form, then this should be your first port of call. If you want to support Singaporean photography you can help make DECK a permanent space by donating.
Website: http://deck.sg/
Address: 120A Prinsep Street, Singapore 187937
Opening Hours:
Tue to Sat 12nn – 7pm
Sun 12nn – 5pm
Closed on PH and Mon
Admission: Varies depending on the event
Tanjong Pagar Distripark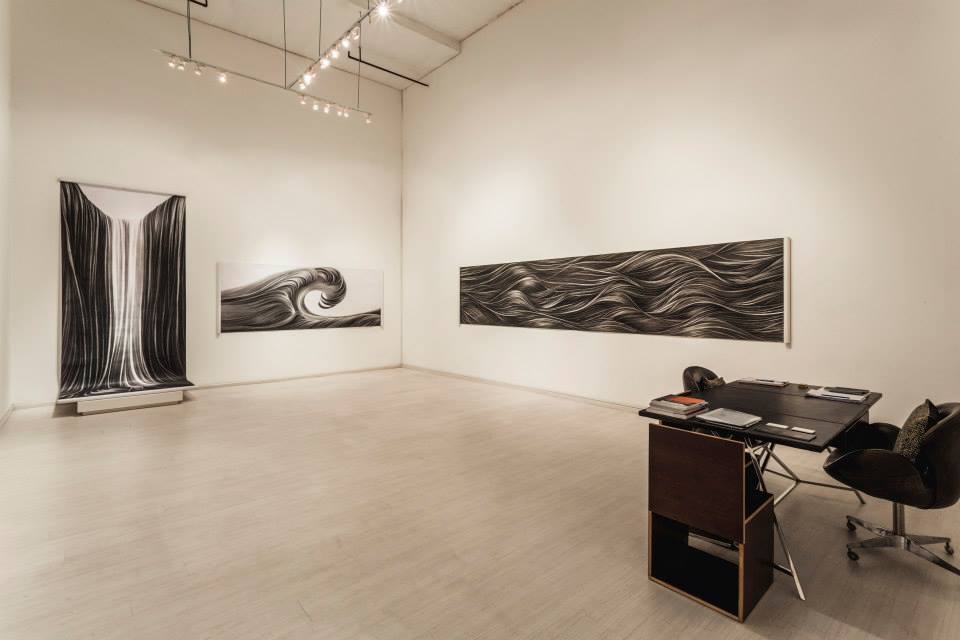 Tanjong Pagar Distripark is not just one, but rather several galleries all within the large converted warehouse space. The vibe is as contemporary as you can get at this hub for trend setting and emerging artists.
Don't be fooled by the industrial facade, take a peek inside and you will find a fantastic surprise of an art gallery. Among the galleries at Distripark are Sherman Ong's masterpieces at Ikkan Art International and Southeast Asian focussed Gajah Gallery.
Website: No website, please visit the websites of relevant galleries' in the paragraph above
Address: Blk 39 Tanjong Pagar Distripark, 39 Keppel Rd, Singapore 089065
Opening Hours: Please see the websites above
Admission: Please see the websites above
Ode to Art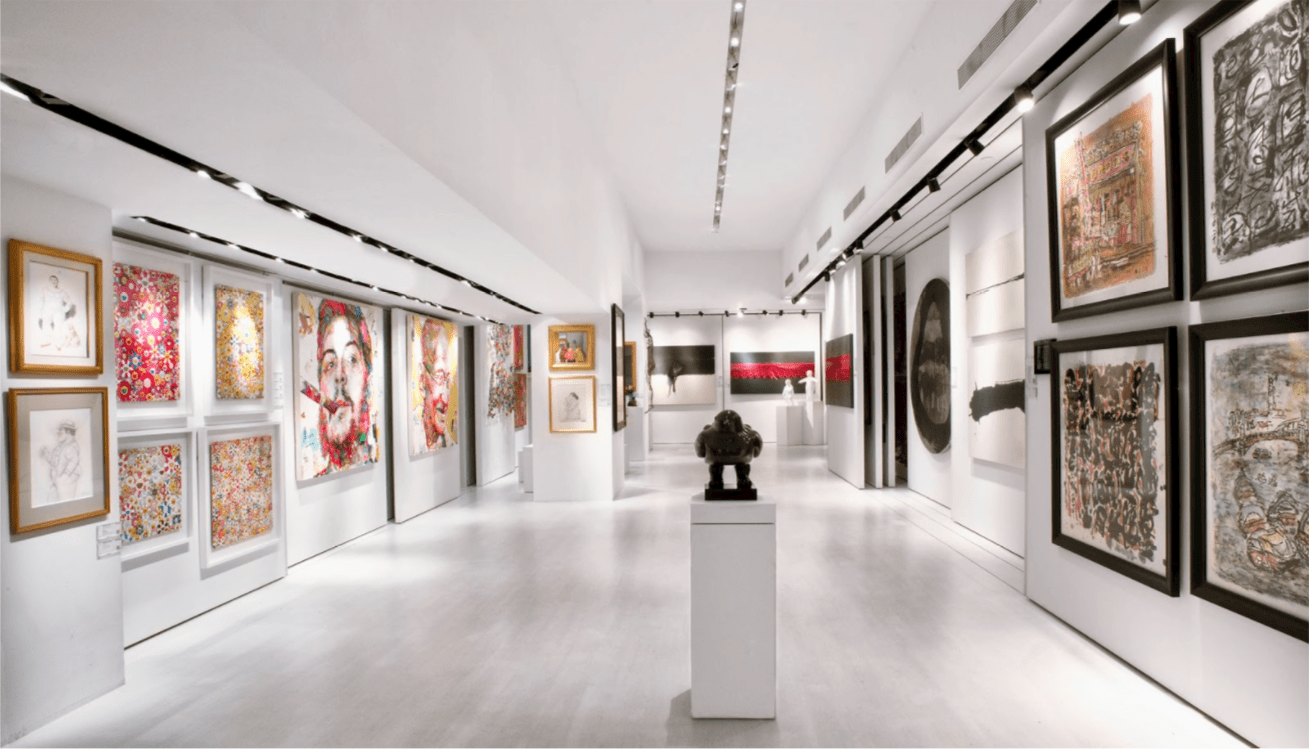 Did you know that there is an art museum inside the Raffles City Shopping Complex? The slick and sophisticated Ode to Art is right inside Raffles City and caters to the more refined art crowd. There is also a branch in Kuala Lumpur, Malaysia.
Ode To Art holds a diverse collection of both local and international artists of all media from sculpture to photography. Its current portfolio consists of some heavy hitters in the contemporary art scene like Fernando Botero, Mauro Perucchetti, Qin Feng, Chen Wenling, Lee Jung Woong and Lim TzePeng. You will also most likely find your favourite new Singaporean artist at Ode to Art as they are known to promote young and local emerging artists.
Website: https://www.odetoart.com/
Address: 252, North Bridge Road, Raffles City Shopping Centre, #01-36E/F, Singapore 179109
Opening Hours: Open daily 11am – 9pm
Admission: Free
Gillman Barracks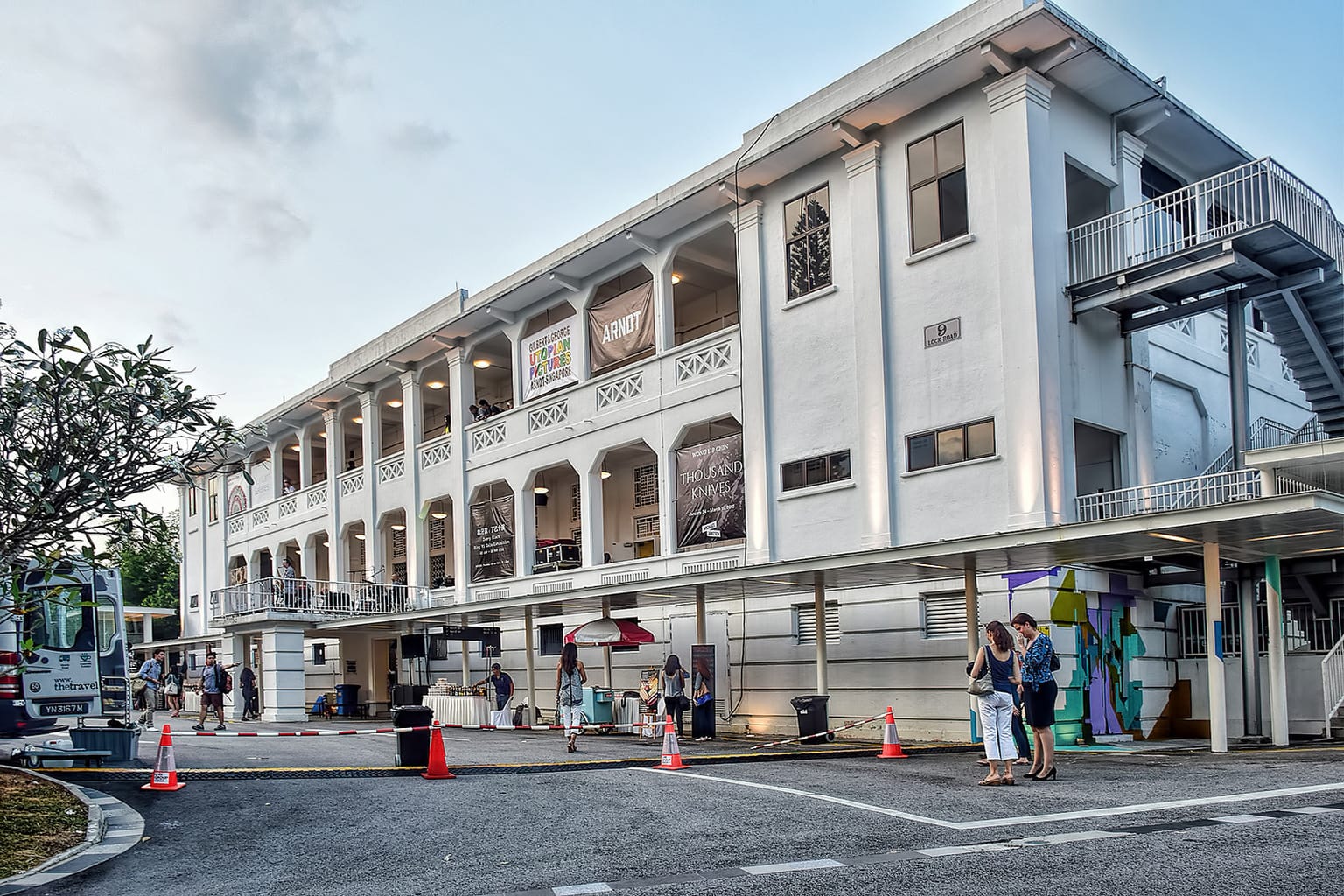 By now, you will have seen that Singapore has a knack for converting former colonial buildings into museums and art spaces. Gillman Barracks is yet another example. The colonially building cluster that has been transformed into a contemporary venue for the arts, a leafy and spacious art museum in Singapore combining heritage with modern art.
The green 6.4 hectare site runs along Alexander Road, so a walk along the Southern Ridges would be a perfect combination with your art.
The former military barracks were converted into an arts cluster that today is home to 13 art galleries, the NTU Centre for Contemporary Art (CCA) Singapore, non-profit art organisation Art Outreach and Playeum's Children's Centre for Creativity, a dedicated art space for kids.
You can also organise a guided tour through the cluster or take a slow walk among the buildings, art spaces, bars, restaurants and cafes. So there really is something for everyone, from artsy families to nature lovers to trendy hipsters.
Website: https://www.gillmanbarracks.com/
Address: 9 Lock Road, Singapore 108937
Opening Hours:
Galleries:
Monday and Public Holidays: Closed
Tuesday – Sunday: Please refer to individual pages for opening hours
NTU CCA Singapore:
Exhibition Hours (Exhibition Centre at Blk 43)
Tuesday – Sunday: 12 – 7pm
Friday: 12 – 9pm
Monday: Closed
Open on Public Holidays
Admission: Please refer to individual pages for admission pricing
Goodman Arts Centre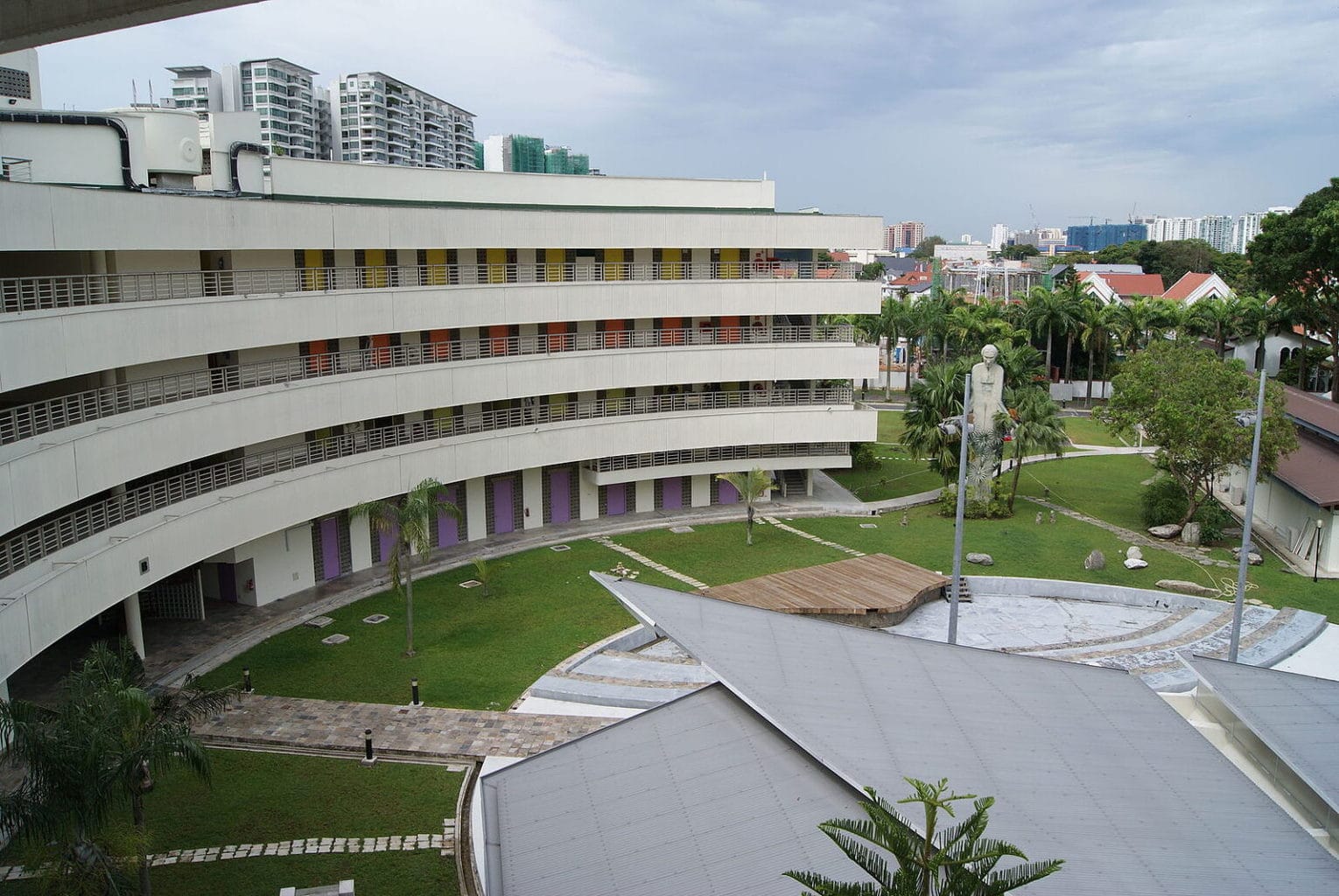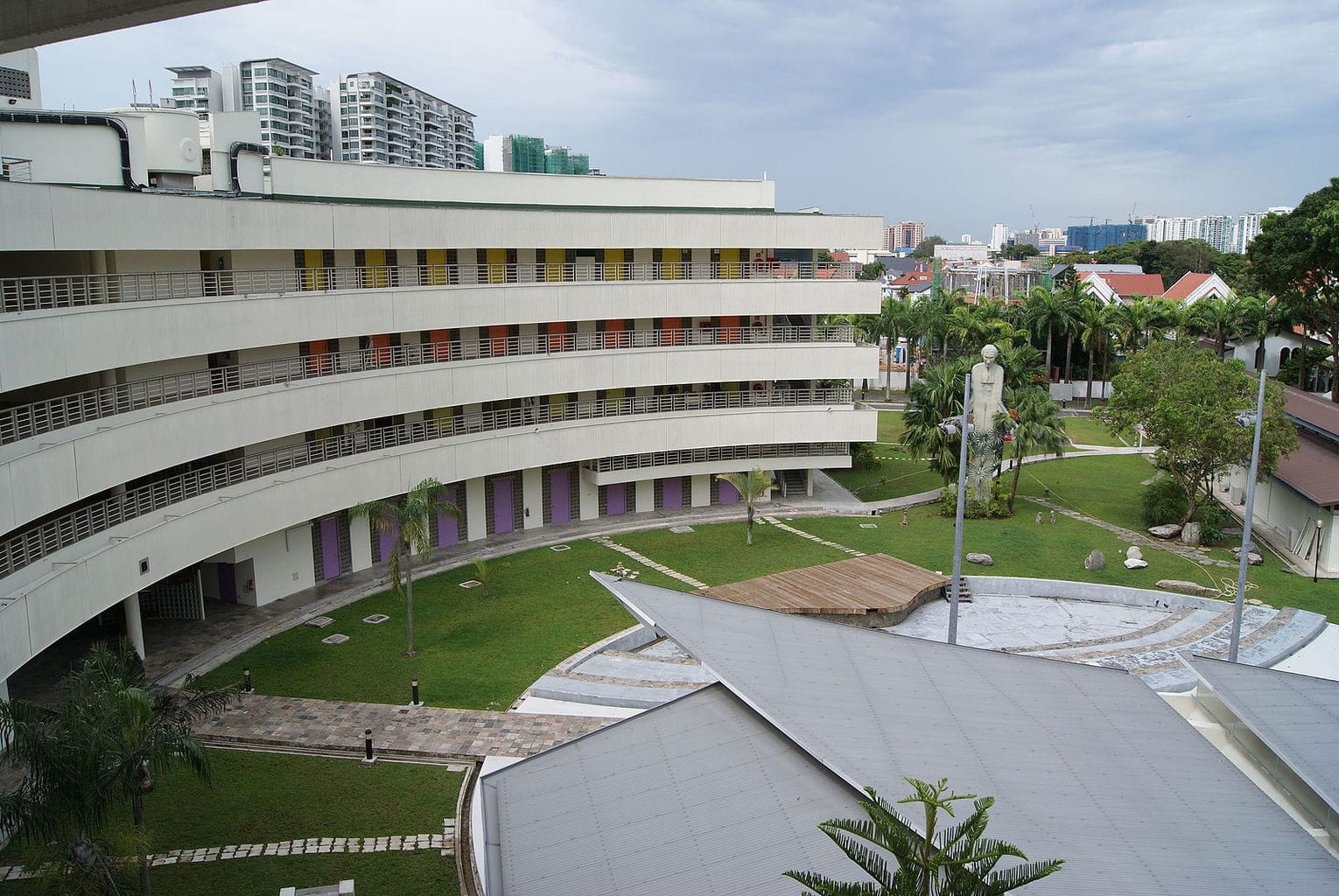 More of an arts playground than an bourgeois gallery, The Goodman Arts Centre in culturally-rich Montbatten is an interactive meeting space where the art enthusiasts of Singapore can meet, share and experience the arts.
This is more an interactive venue with various rooms, meeting halls and studios used on a short term basis for art-based activities than a museum per se. So don't go expecting a multitude of permanent art pieces. Rooms at the Goodman are also available for hire.
The Goodman Arts Centre is good for families with imaginative kids looking for fun activities to pass their time. It's best to check the events section on their website to see what's happening when you go.
Cafe Melba is also a fantastic place to gather after an event for a delicious treat and all-day breakfasts and a bouncy castle to keep the kids busy. La Barca also has a bouncy castle with a water slide which will make sure your kids are entertained while you enjoy a quieter brunch.
Website: https://www.goodmanartscentre.sg/
Address: 90 Goodman Road, Singapore 439053
Opening Hours: 9am – 6.30pm (Mondays to Fridays)
Admission: Will vary depending on the event