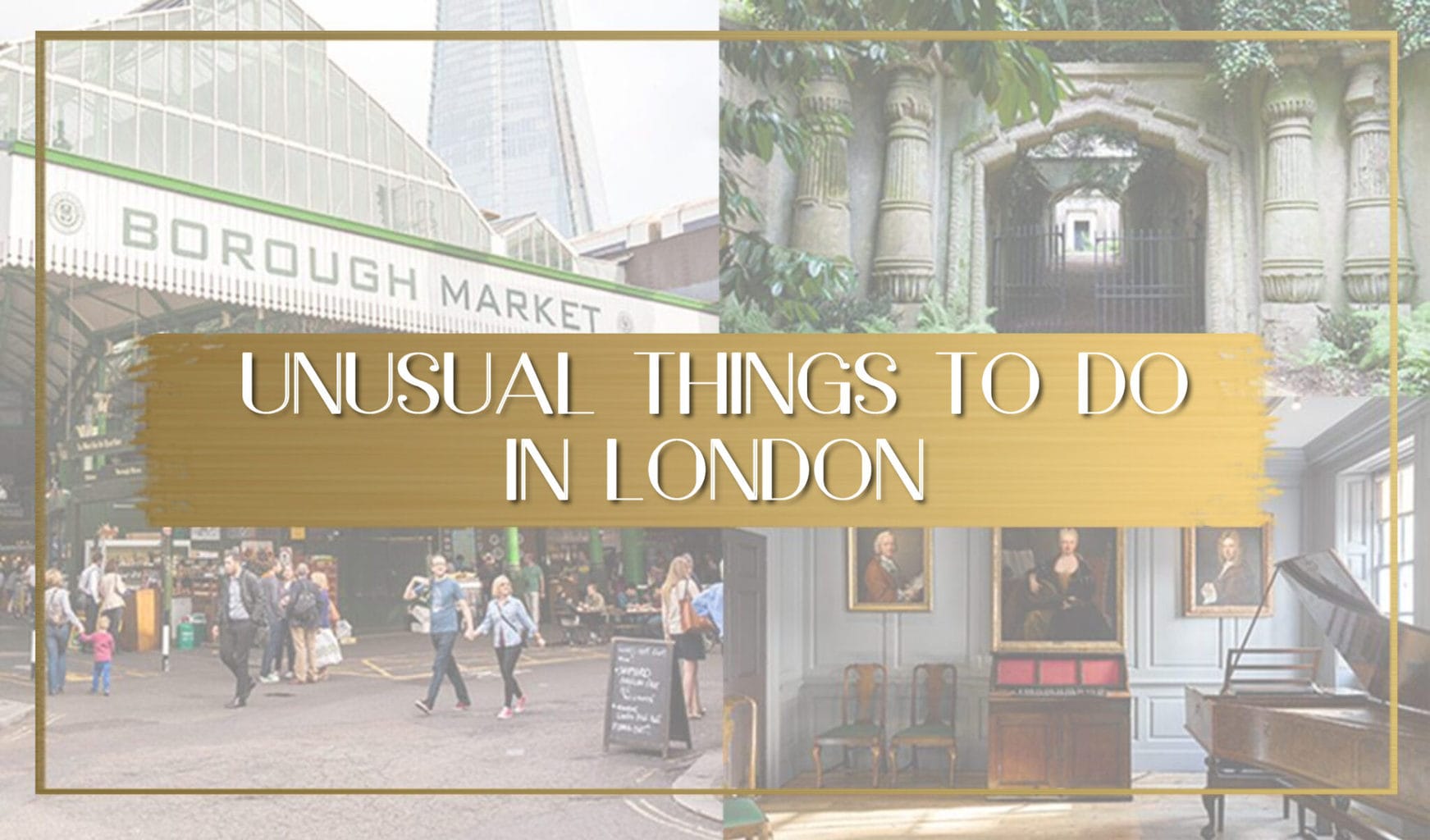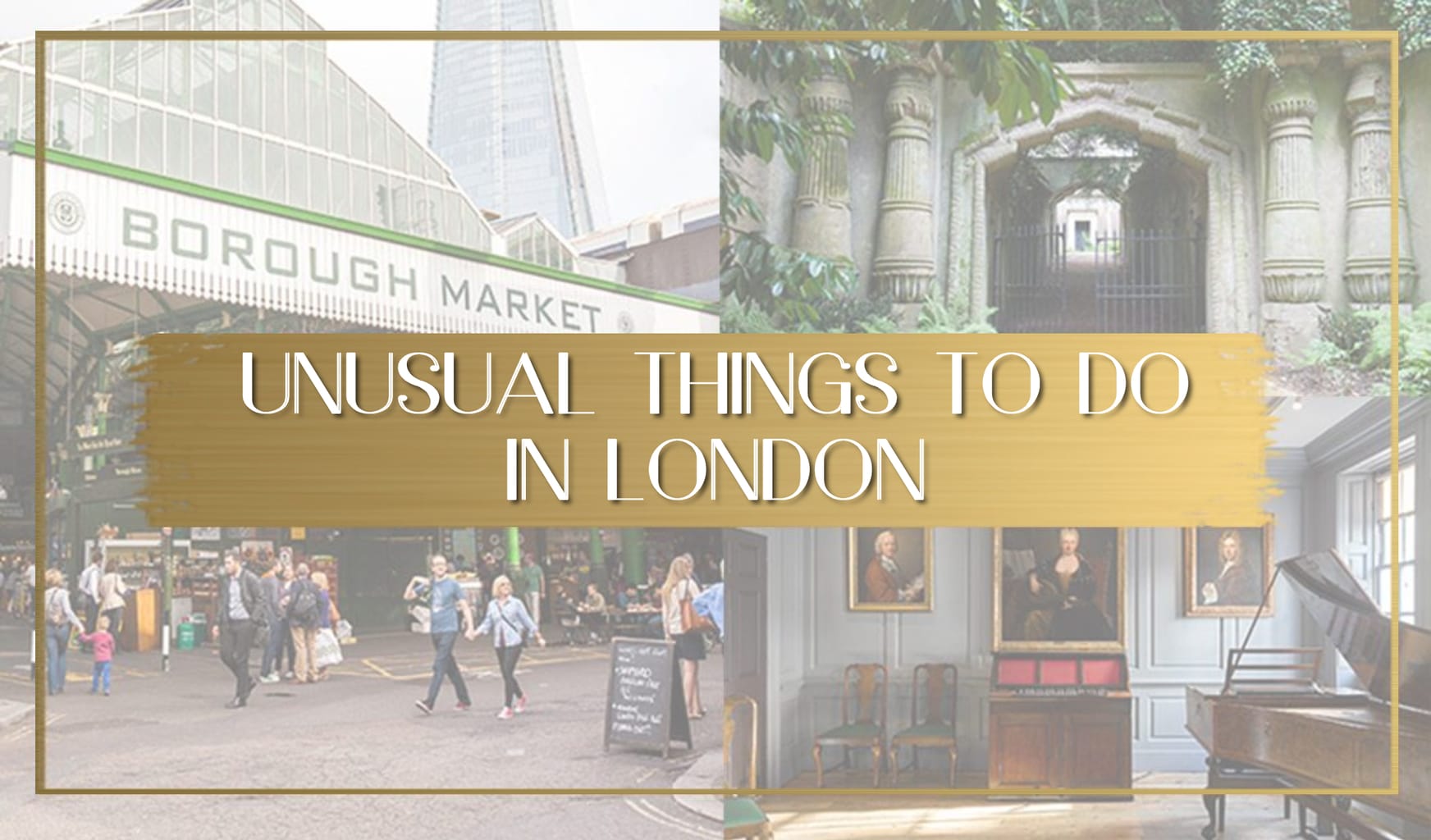 So much has been written about the city that it is really hard to find any unusual things to do in London that are away from the main tourist trail and present a unique activity.
But in this article I have attempted just that, to provide you with a list of cool places in London as suggested by some of my quirkiest friends, we all have them. Although London has recently received many interesting attractions, like the Arcelormittal Orbit Slide in Stratford, East London, some of the most fascinating things to do in London have been there for generations and have become off-the-beaten-track institutions.
What qualifies as an unusual thing to do in London? For starters something which you will not find on the pages of Time Out, the Lonely Planet or any other guide. It had to be something that talked about an interesting aspect of London's heritage and past or its present-day funky subculture.
What will most surprise you is that some of the most unusual places in London are sometimes hidden in plain sight and overlooked by the hundreds of thousands of visitors. And this is why they are special, you just need to look more carefully. I wanted to focus on the neighbourhood pub which was frequented by a famous artist or a bar serving a special drink you can't find anywhere else.
What I have not included in this list is the well-known attractions like the Big Ben, the Tower Bridge or Greenwich. A lot of unusual things to do in London are actually well-documented and even part of tours, so I have not included those.
So let's get down to it and check out the most unique activities, cool places and unusual things to do in London. And if you are looking for the cheap and cheerful, here is a list of free things to do in London. And why not go beyond London? Here is our Guide for an epic European road trip.
Quick tip: If you have a layover, or a couple of hours before check-in or after check-out at your Airbnb or hotel, consider using London luggage storage.
1. Learn to play Purple Haze at the Handel & Hendrix House in Mayfair
We start our list of the coolest things to do in London with a big bang.
Did you know that the same house was occupied by one of the greatest composers of the 18th century who spent most of his life in England, and one of the greatest guitarists of the 20th century? That is right, George Frideric Handel and Jimi Hendrix lived in the same place.
The adjacent houses are now a combined museum where you can go and listen to the Water Music played on the harpsichord in Handel's music room, then take a guitar lesson in Jimi Hendrix's living room. Talk about a cool thing to do in London!
Plan to spend some time there because there are a few rooms and lots to learn as the museum aims to educate on two very different musical periods.
2. Have a pint at Charles Dickens' local
The Lamb on Lambs Conduit Street is where Charles Dickens used to drink (his house is just around the corner and is now a museum) and one of the nicest pubs in central London.
The building is 300 years old and is probably the best preserved Victorian interior in the city. The pub is located on a nice little side street with lots of posh shops around and belongs to Young's Brewery, who run 220 of the better pubs in London and have good beer.
If Dickens doesn't do it for you, then poet and children's writer Ted Hughes and American writer Sylvia Plath were also regulars back in the day. I think you will agree with me that having a beer at a pub is not a particularly cool thing to do in London, but having it at The Lamb is a bit more special.
3. Eat pie, mash and jellied eel with green liquor at the Roman Road market
Roman Road Market has, perhaps, the only home-grown street food in London. You heard it right, one of the most unusual things to do in London is in fact eating authentic local food. Not the myriad of cuisines available but an actual dish that is original to the city and the country.
Pie and mash shops have been around since the early 19th century, mainly in the working class neighbourhoods in the East and South East of London or close to Billingsgate fish market, where you can find the freshest eels.
But for some reason, this type of food has never really become gentrified or fashionable, so you still have to go completely unique parts of London, far from the tourist traffic, to find places like the Roman Road Market, a 150 year old street market selling mostly women's fashion and apparel at discounted prices and have a uniquely local experience.
Do as locals do and "go down the Roman" in search of two stalls: G. Kelly and M. Manze, two of the better known shops, both with a long history. G. Kelly opened in 1939 and has undergone a complete renovation in 2018. M. Manzie opened in 1902 and is the oldest pie, mash and eels shop in London. They even deliver to your doorstep on a few days a week.
Don't be shy and for an extra dose of quirkiness, order your pie and mash with a side of jellied eel and green liquor made on site. Manze claims the liquor has a secret ingredient and so it is uniquely different from any other pie and mash shop. I guess you will have to try it to find out but this is indeed one of the coolest things to do in London.
4. Go gift shopping at The Oxo Tower
There are hundreds of places to visit on the South Bank, but The Oxo Tower is one of the less obvious. The tower was built in the 1930s by the OXO brand and was abandoned in the 1970s. Today it has found a new life as the home of creativity and innovation so it is one of the coolest places in London.
London is not short of retail outlets of every kind, but The Oxo Tower is perfect for gift buying because all of its tenants are independent designers conveniently located in the same building and within a good range of prices.
Here you will find unique designers selling classier souvenirs that are less high-street mass produced in China and more personalised elegance made in their onsite studios. There are jewelry stores, apparel shops, homeware, cooperatives, hair salons and dining venues.
There is quite a good bar and restaurant at the top, OXO Tower Bar & Restaurant, with nice views over the river and outdoor seating to take a break from all the shopping. There are also a range of exhibitions and events constantly being held in the tower.
5. Rub shoulders with old school East End gangsters
London in the 1960s was synonymous with the revolution in music, fashion and sexual freedom. It was also well known for its notorious gangsters, most famously the Kray Twins. The identical brothers Ronald and Reginald, along with their gang "The Firm", wreaked havoc in London's East End until they were arrested in 1968 and thrown in jail.
The Blind Beggar pub, their main haunt, was the scene of at least one famous murder by Ronnie Kray. While the atmosphere has changed a bit and you most likely won't catch the original members of The Firm hanging out, it is a nice place for a quiet pint that is steeped in history. And you will be sitting where the mob used to, isn't this one of the coolest things to do in London?
If you're a history nut and a fan of Guy Ritchie, you can take a London gangster tour with Lock, Stock and Three Smoking Barrels actor Vas Blackwood. The tour starts at this infamous pub and continues to other famed places including film locations of all your favourite London-based gangster flicks. We think that going on a gangster tour is definitely one of the most unusual things to do in in London and one you will remember.
6. See 200 years of famous dead Londoners at Highgate cemetery
Just like Pere Lachaise Cemetery in Paris, a visit to Highgate Cemetery is a relatively well-known yet unusual thing to do in London.
Highgate is a beautiful cemetery and nature reserve, which has some of the most coveted burial plots for the great and the good since 1839.
Karl Marx tops the bill, with his academic rival Herbert Spencer buried directly opposite. You can pay your respects to novelist Mary Ann Evans (George Eliot), artist Patrick Caulfield, or author Douglas Adams. Although pop icon George Michael is buried at Highgate, his site remains private and cannot be visited by the public. The list of important folks from literature, music and science, goes on and they often have fun headstones to contemplate.
Highgate is for sure one of the most unusual historical destinations in London, but it is a peaceful place of respite up on a hill and away from the fumes that consume the city. You might even catch some blue in the sky.
7. Visit the centre of 20th century Bohemian London at the Fitzroy Tavern
In the early part of the 20th century, London had a strong Bohemian community of artists and intellectuals, most famously George Orwell, but also Dylan Thomas, Jacob Epstein and other notable figures.
They all used to hang out at the Fitzroy Tavern off Charlotte street. Nowadays, Charlotte street is home to a lot of media and creative types, so you'll still run into plenty of interesting people that bring back the cool vibe of the past into the 21st century. Plus, it's a nice old venue, albeit pretty busy during the week.
Apart from being home to the Pear Shaped Comedy Club which runs every Wednesday in the downstairs bar, the pub also received a design award by CAMRA for its recent refurbishment.
You'll find it has been restored to its original glory maintaining its original Victorian facade. As the famous painter Augustus John said ""If you haven't visited the Fitzroy, you haven't visited London". So make sure to add it to your list of cool places in London.
8. Eat salt beef and and mustard at the Brick Lane Beigel Bake
Brick Lane in East London is most famous for being the centre of authentic curry houses. But what it's best known for is the 24/7 beigel bakery at the top end of the road. Brick Lane Beigel Bake has been there for more than 40 years, serving traditional Jewish baked goods, and is pretty awesome.
What makes it extra special is the fact that it has opted to do things authentically. You can even see it in the name, where they've chosen to use the original beigel, instead of the modernised bagel.
Apparently there's is a slight difference in the name and, much like Syrah and Shiraz, it is the process that differs. Beigels are hand-made, while bagels are mass-produced. So you know they are delicious and fresh out the oven. So yes, eat great handmade local food is one of the most unusual things to do in London. We are kidding (only slightly!).
For something extra unique do like the local cool people do and enjoy the beigels when they taste best. Brick Lane Beigel Bake is situated among fashionable bars with trendy hipsters, so join the queues well into the night or early in the morning to get your beigel fix. It is great comfort food that is sure to cure that throbbing hangover or keep you going through a night in London.
9. Visit the house of the father of the Arts & Crafts movement
The influence of the Arts & Crafts Movement of the late 19th and early 20th century can be seen in buildings and designs across Europe, North America and Japan. The person most associated with this movement is William Morris.
He designed and built the Red House in Bexleyheath as his family home in the mid 1800s, before the Arts & Crafts movement even had a name. He had plenty of help from his wife, Janey, and their circle of friends that included a bunch of famous pre-Raphaelite painters.
Red House has become a building of exceptional architectural and social significance which you are able to peruse today. Both the architecture and the interior show off Williams and Janey Morris' knack for style making it one of the most unique homes in the country and what painter Edward Burne-Jones described as 'the beautifullest place on earth'.
10. Eat at the foodie capital of the capital
If the accounts of Ethelred-the-Unready's routing of King Cnut in 1014 are accurate then there has been a Borough Market in existence for over 1,000 years. More importantly, since the 1990s Borough Market has been the place where small and artisan food producers have come to sell their wares. It is also, despite its age, a relevant place for the public to meet and greet.
One visit will entirely destroy any traces of the UK's old reputation for terrible food. Yes, there is more to London than oily fish and chips. As a source of quality British and international produce there is great cheese, meat, baked goods, wine, chocolate and anything else you can think of at the market.
With over 16 million visitors a year and more than 100 traders to choose from, you are sure to have a great time. Beyond the food, the market also has a heart where, together with Plan Zheroes, roughly 100,000 meals have been created from surplus food to feed the less fortunate and vulnerable citizens.
Perhaps one of the most unusual things to do in London would be to explore the behind the scenes of the market itself. The market participants live by a sustainable philosophy so the conscious traveler can rest assured that there is no waste.
The leftover food even goes to an anaerobic digestion plant where microorganisms break down the organic material and turn it into power, fertiliser and water. It's the first time we've heard of this, but it sounds amazing!
11. Browse antiquarian books and other curiosities at Cecil Court
If you're a Harry Potter fan and have finished standing in line to get your picture taken at platform 9 ¾ then try to head over to Cecil Court. Some say that it is the inspiration for Harry Potter's Diagon Alley. So you are sure this must be a truly unusual place in London.
Cecil Court is a late Victorian thoroughfare that links Charing Cross Road to St Martin's Lane that is surprisingly close to the tourist trap of Leicester Square. It's an eccentric alley that is surely the best concentration of stores in London to buy rare books, antiquarian maps, engravings, music scores and other weird old stuff. If you were thinking to buy a cool souvenir, this is the place.
Cecil Court was young Mozart's place of residence in London and it is supposedly where he wrote his first symphony. Other prominent figures have also laid their feet in Cecil Court from poet T.S. Eliot to writer Graham Greene and occultist Aleister Crowley.
12. Listen to jazz underneath Trafalgar Square
St Martin's in the Field is a rather dramatic 18th century neo-classical church in one corner of the infamous Trafalgar Square. Instead of doing the touristy thing of taking pictures above, escape underground for a truly unusual thing to do in London.
Underneath the church is the 'Cafe in the Crypt' which is a pretty interesting place to stop by for lunch. Stroll the historic tombstones that line the grounds and eat among the floor brick-vaulted ceilings. The meal is buffet style, making it good value for money.
While it is always a popular joint for tourists and locals, it is much more atmospheric and interesting if you visit on their weekly jazz night. Jazz nights are every Wednesday and tickets go on sale 6 weeks before the event and book out fast, so make sure to book a ticket before you go.
13. Shop at the best department store in London – Liberty
London obviously has a lot of great shopping options, and some World famous department stores. Selfridges, Harrods, Fortnum & Mason, Harvey Nichols come to mind. Yet, if you have to choose just one, then Liberty is the most beautiful and under the radar department store in London.
What makes a department store such a cool attraction in London is its design and architectural value. Liberty is in a stunning neo-Tudor building, with a dark, wood-paneled interior which gives it a bit of a labyrinthine feel and makes the shopping experience a bit of a voyage of discovery.
But it is not all just appearances. The department store has got substance to go along with the style, having interesting and well-selected collections, both for men and women, that cover a wide range of styles and prices.
Here's a tip for the tight-fisted. Go onto their clearance page on their website to see if there are any sales on when you're visiting. You're sure to come across something wonderful there nad have one of the coolest experiences in London, even a bit of shopping can be interesting!
14. Visit the site of the most famous accidental scientific discovery of the 20th century
Alexander Fleming's laboratory from the 1920s has been fully restored into a quaint yet curious museum that is one of the most interesting places in London. It's also situated on the site of the Old St Mary's Hospital.
It is a tiny museum, and not for everyone, but you can get a guided tour from one of the scientists working at Old St Mary's, which makes it really fascinating if you're even vaguely interested in the history of medicine, or just watch a lot of House, like I do.
Discovering the development of penicillin might not sound like like the interesting thing to do in london, a city with so much going on, but it is actually quite and edifying experience. Visit the International Historic Chemical Landmark and learn a thing or two about something we all take for granted today. And maybe pick some Trivia along the way to impress your friends at the next dinner party.
15. Spend an evening at a British jazz institution – Ronnie Scott's
A visit to London cannot be complete without a visit to bohemian Soho, central London's most exciting and unique areas. At once trendy and grungy, Soho is filled with colourful shops, indie theatres and offers a fresh perspective into a diverse city. As such, you can also expect some of the coolest things to do in London here.
If you missed jazz night Cafe in the Crypt, or if you want a more authentic musical experience, then you'll need to visit Ronnie Scott's. A key feature of Soho nightlife since the late 1950s, Ronnie Scott's remains the most important jazz venue in the UK.
The intimate atmosphere remains largely unchanged today, with small dining tables arranged around the stage and standing room at the bar. This recommendation comes directly from my best friend Edwin's dad, who has been going there for more than 50 years.
If you are as lucky as him, you may even see some of the better known musicians. He's seen everybody from Jimi Hendrix and Ella Fitzgerald to Van Morrison and Miles Davis play at this institution. Who knows who you'll find playing there on your night out.