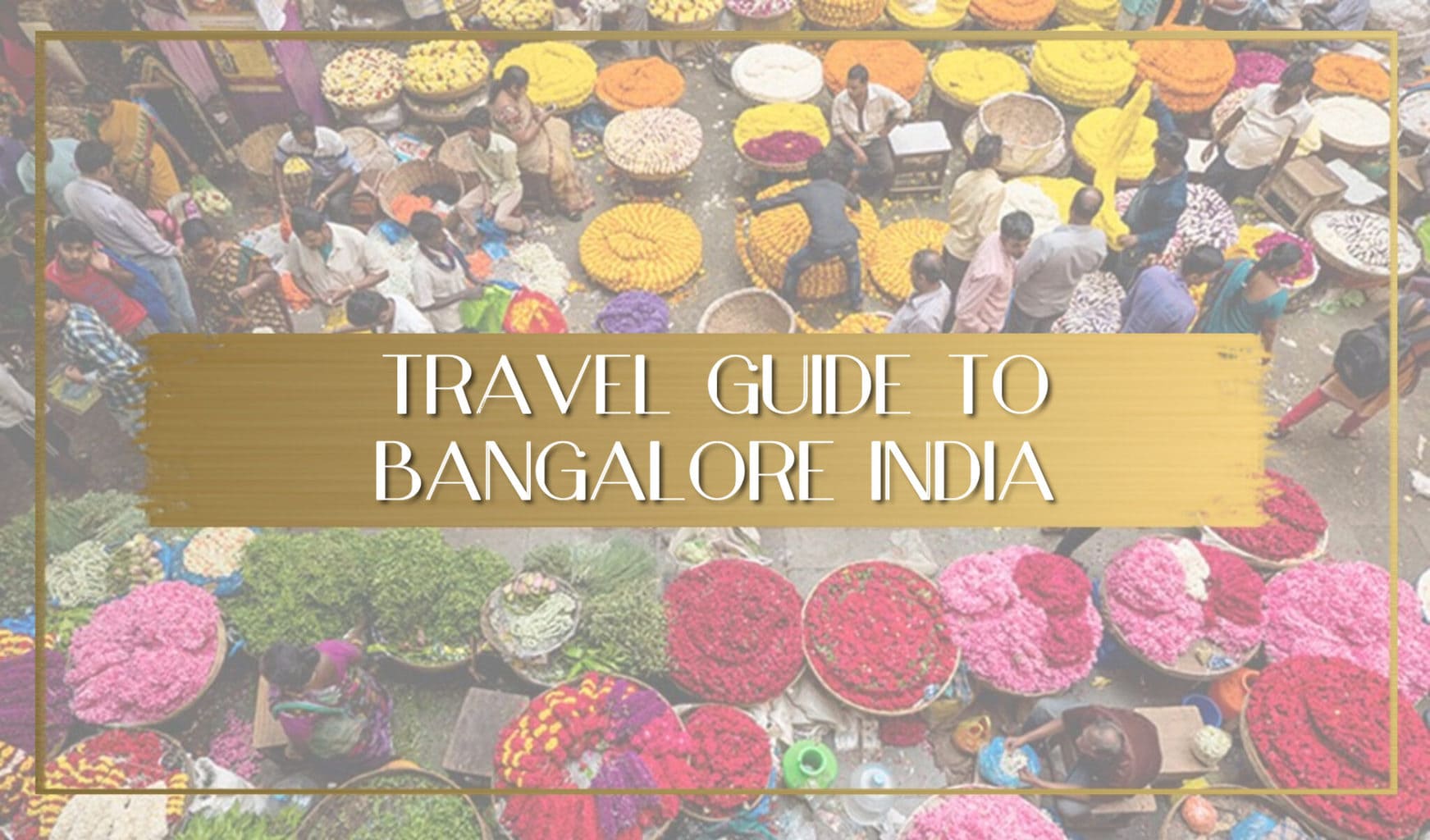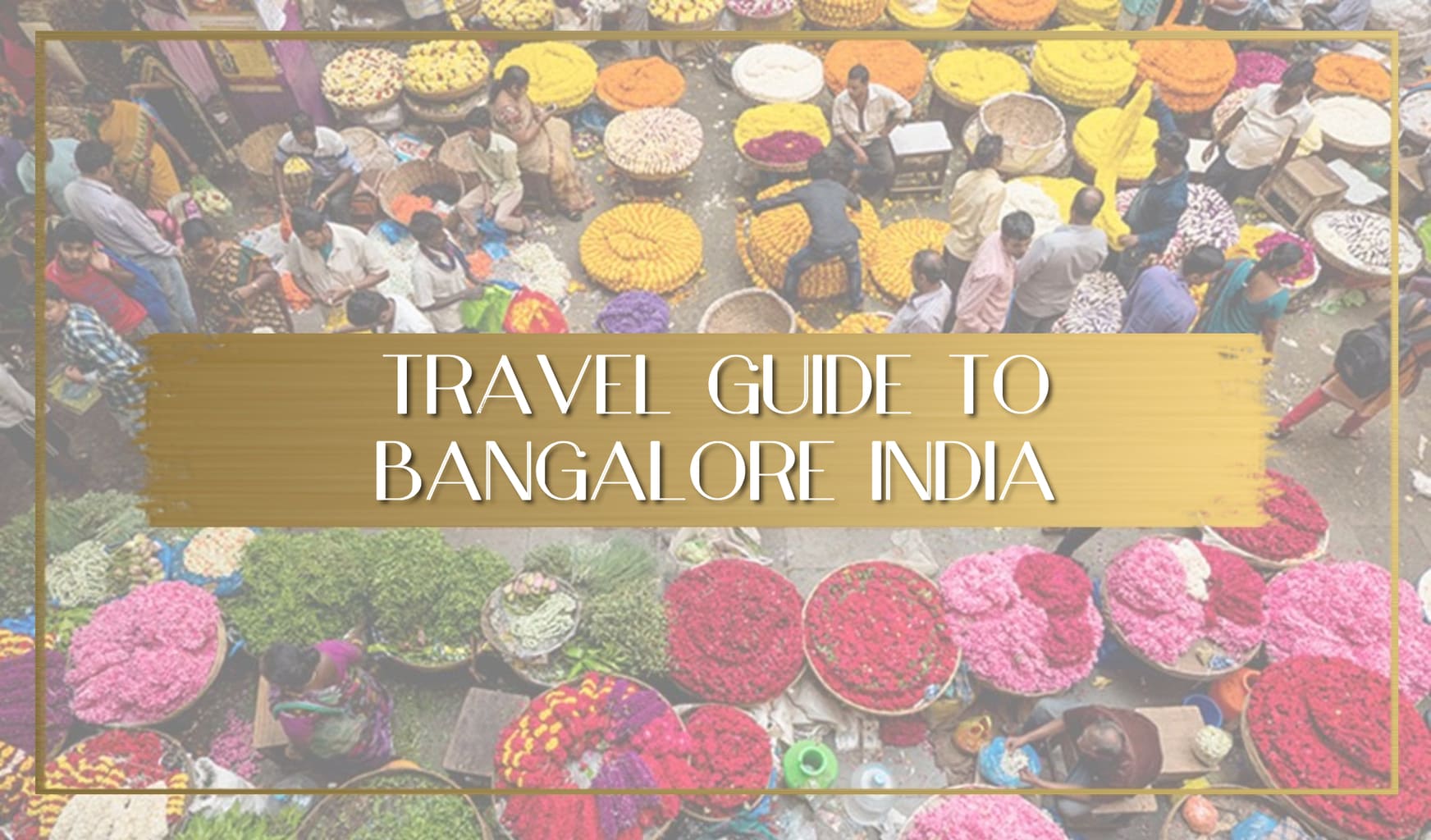 Bangalore has many a nickname. Garden City, Cyber City, Green City, Electronics City, Healthcare City… it is a city of lush greenery and of moderate temperatures, for India that is, and it is also a great city to explore. It was even one of the locations for one of the Mission Impossible franchises, which was a movie set in India and Dubai.
The city surprised me and I found many places to visit in Bangalore that suit my traveling style, so let me take you on a journey.
We will be visiting the best tourist places in Bangalore and also some hidden, off-the-beaten-path and local places which were more of a highlight for me. Don't let the other squalid lists of things to do in Bangalore mislead you into believing the city does not have many sights, take my advice and explore it with my recommendations for a lovely weekend in Bangalore or perhaps a complement to a business trip.
So let's get down to business and do a bit of Bangalore sightseeing through the best places to visit, and some hidden gems.
Bangalore or Bengaluru?
First of all, let's get this question out of the way.
A lot of Indian cities have both local and British names. For example, Mumbai or Bombay, Calcutta or Kolkata, Kochi (or Cochin), and so on. Bangalore is the same and the city is locally known as Bengaluru while the British named it Bangalore.
The name change from Bangalore to Bengaluru was proposed by the government in 2005 and finally approved in 2014. You will today see more of the signs in the city refer to it as Bengaluru.
No matter how you call it, the city is a fabulous weekend escape, so let's take a look at its best parts.
History of Bangalore
I always like to include a bit of history to all my articles because it is very useful in understanding a city's psyche and it provides a lot of background to the main sights. Bangalore is no exception.
Bangalore was founded in the 16th century by Kempe Gowda who is said to have built a mud fort in the area in 1537. His statue can still be seen in the city and it is decorated with flowers daily.
The city's name has many origins. One legend states that it was given by the Hoysala king Veera Ballala II in the 11th century when, hungry and lost, he met a poor woman who served him lady's fingers so he called the place "benda kaal-ooru" (town of boiled beans) in the local Kannada language which evolved into Bengaluru. Our guide liked this idea very much and he repeated the legend several times.
Bangalore has a rich past thanks to the many rulers who governed over the area and this is also whats makes it a great city with lots of things to do. From Gowda, the city was conquered by the Sultan of Bijapur, then the Mughals who ruled it for a mere three years before selling it over to the Wodeyar rulers from the Kingdom of Mysore who gave the city its own Jahgir, Haider Ali. When Haider Ali died, his son, Tipu Sultan, proclaimed himself Sultan over the weak Wodeyar ruler.
Tipu Sultan is a famous figure in the history of not only Bangalore but also Mysore, where the Tipu Sultan' Summer Palace as well as Mysore Palace are located, the royal seat of power at the time. He was known for his nickname, the Tiger, and loved his stripes. This nickname was well deserved after defeating the British who tried to conquer the area four times in a 20 year period, although the Sultan was eventually defeated and killed in 1799. From then on, the Wodeyar returned to power but only in figure as Bangalore and Mysore had become part of the British East India empire.
The British established their presence in the Cantonment area of Bangalore which is still preserved today and very visible. The streets have the original military names and the area has this Indian Cantonment feel of other cities like Hyderabad.
After the Indian independence, Bangalore and Mysore remained as one state grouping people of Kannada-speaking descend. It was not until 1973 that the state was renamed to Karnataka of which Bangalore is the capital.
Bangalore today
Bangalore is often referred to as the Silicon Valley of India because of the high concentration of IT related companies in the city. This status is the result of an idea by the Chairman of the Karnataka State Electronics Development Corporation (KEONICS) in the 70s. An electronics park was then created and local Indian companies came to establish their headquarters in the area.
It is said that the city's location, farthest from China and Pakistan, is a strategic asset to the city as it would be the hardest to attack in case of war. The mild weather Bangalore experiences, usually never reaching 35 degrees Celsius that makes the rest of India so hot in the summer months, and its green status, were also determining factors for IT companies looking to have an easier time keeping the large computers clean and fresh at the time.
Some of India's largest IT and outsourcing companies like Infosys or Wipro are headquartered in Bangalore, but the first international MNC to set up was Texas Instruments in 1985 followed by General Electric in 1990.
Bangalore is also the center of several well known and reputed universities in computer science and business majors.
Best things to do in Bangalore
So now that you know a bit more about the city, let's take a look at the best places to visit in Bangalore.
Here's a map of the best places to visit in Bangalore:
KR Market
This market is the largest wholesale market in the city for flowers and other items but you don't have to buy in bulk as it has also became a regular places for people to do their groceries.
KR Market is one of the best places to see in Bangalore and one which most tourists have never even heard of. It is a real local gem and something which I had to dig much into to find.
I love markets, especially flower markets. They are full of colours, they smell nice and they are an explosion to the senses. I visited Bangkok flower market, which is one of the largest and most impressive, and I was pretty excited to visit the one in Bangalore.
The market is quite big so make sure not to get lost in the maze of alleys and floors. Do not leave without finding the flower market area and get up to the first floor for a great view from above. If you like spices, this is also a great place to buy them.
Another interesting item for sale is the powder used for tilaka. Tilaka is both the name of the powder as well as the name of the red dot on the forehead that is applied across India as a blessing, for prayers or as a welcome when you arrive at a place. The powder is made from red sandalwood paste and if you mix it with water, it creates a paste that dries on the skin and holds for quite a while.
The powder is also used for other purposes like to make decorations during Diwali, The Indian Festival of Lights, mixing it with rice, to make auspicious swastika symbols on doors and for prayers and offerings to the Gods. For these purposes, the powder can be other colors, but the forehead dot is almost always dark red as it is made from red sandalwood.
Look out for the perfect conical shapes of tilaka powder in bright colors available from the stores around the flower market. If you are wondering how they do make the cones so perfect, ask one of the stall owners for their secret, or just get up close and you will see their trick.
You will also find all sorts of vegetables and fruits on sale so KR market is a great place to stock up on the best seasonal snacks.
While the market is open all day and practically all night, they say it is best to visit in the early hours of the morning, at 5-6am when the market is busiest and the amount of flowers being bought and brought in is largest. However, I went in the afternoon/evening and had a great time anyway. So if you are sleepless and jetlagged and don't know where to go, this is one of the best places to visit in Bangalore.
Jamia Mosque
Like most mosques everywhere, the largest and oldest mosque in Bangalore is called Jamia Mosque, aka, Main Mosque and was built in 1940 in honor of Tipu Sultan and can accommodate 10,000 devotees.
The mosque is entirely painted in white and made of marble and it is impressive, with its detailed carvings and towering minarets, and it is just a few steps away from KR market.
You may be able to visit inside if you are dressed properly and there is no service ongoing but just from the outside it is a pretty, impressively intricate building.
Vidhana Soudha
Vidhana Soudha often appears as the main landmark of the city and one of the most relevant tourist places in Bangalore.
The road in front of the building is regularly filled with local visitors coming to take a photo and there are even professional photographers ready to take your picture and then give you a printed version to take home. I ended up being the model to many an Indian family looking to photograph themselves against the Vidhana Soudha with a foreigner. Nothing like India to make you feel like a superstar!
Vidhana Soudha is not only an impressive Dravidian style building but also the seat of the Legislative power of the State of Karnataka. Laws are drafted and signed here. The building is neoclassical and occupies expansive grounds. The fluffy green grass in front of it and the nice flowers make for a great setting. It is worth a visit even if you cannot see it inside.
High Court of Karnataka
Another official building, the High Court of Karnataka is located across from the Vidhana Soudha and it is a Gothic red painted building surrounded by gardens.
The building was originally called Attara Kacheri and was built by Tipu Sultan in 1867 to house "eighteen offices or departments".
You cannot get into the complex which is reserved to the employees and officials, but from the outside you can get a good look into the grounds.
Tipu Sultan Palace
One of the most beautiful and celebrated tourist places to visit in Bangalore is Tipu Sultan's Palace, which was his summer residency. I talked about the history of Bangalore at the beginning of this post so you should be familiar with Tipu Sultan, the Tiger.
Although most of his constructions are in Mysore, Bangalore also has his palace, an incredible two-storey structure made of wood that looks as beautiful as it is delicate. The palace was built in 1791. You can wander the building and take photos as you admire its architectural prowess.
The palace is open from 8:30am to 5:30pm every day and a visit to the palace it is one of the best things to do in Bangalore.
Gavi Gangadhareshwara Temple
Also known as the cave temple because it was carved out of a single monolith rock, Gavi Gangadhareshwara was built by Kempe Gowda to Shiva in the 16th century. The temple is only open at certain times of the day, usually early morning and evening when locals come to pay their respects, as is common with other temples in Bangalore.
Outside, by the entrance, you can see Shiva's stone discs and two golden stupas on the roof of the temple that are guarded by a bull. A major feature of these disks is that they are placed in such a way that, once a year, they let the sunlight pass through and illuminate the Shivalinga in the temple.
As the cave is narrow and has a low ceiling, you will have to bend down to go around the idol. You need to take your shoes off to enter the temple.
The temple is not open all day so make sure to arrive during the times it is open to avoid disappointment as getting inside is what matters when visiting Gavi Gangadhareshwara temple. Opening times are in the morning from 7am to 12,30pm and in the evening 5pm to 8:30pm.
Bull Temple
Appropriately named after the God Nandi (bull), Lord Shiva's vehicle, which is located inside, and locally known as Dodda Basavana Gudi, the Bull Temple is one of the most famous places to visit in Bangalore and is the biggest temple dedicated to the bull. The temple was originally built by the founder of Bangalore, Kempe Gowda.
The bull statue was carved out of a single granite stone which has turned black because of the constant application of coconut oil, butter and other ointments. The statue is 1,5m high and six meters long. You will get blessed by the priest as you walk in and can circumnavigate it on foot, shoes off.
Outside, the temple has a majestic and intricate entrance of Dravidian style with the typical architecture of the south of India that is so common of Hindu temples in Singapore as well, the city being a center of Tamil culture.
Legend has it that the Bull Temple was built here when a group of farmers, tired of a large bull coming to eat their nut harvest every year, decided to attack the bull one evening.
As a farmer hit it in the head, the bull sat down instead of running away and turned into a statue. The statue started to grow every day, so the farmers asked Lord Shiva for help to which he came with a metal plate on the bull's head which stopped it from growing any further.
The temple is known for the Kadalekai Parishe festival (Festival of Groundnuts) taking place after the Monsoon rains stop in November or December. The farmers come to offer their first harvest to the bull and the entire street is decorated and the temple lit with lanterns.
The temple is open every day from 6:30am to 8:30pm.
Bangalore Palace
The Bangalore Palace was built by the Wodeyar Dynasty after seeing Windsor Palace in England. It is therefore of Tudor architecture. The palace was built by the British guardians to the future Wodeyar maharaja who needed a place to instruct the king to be in his teachings while he was being prepared to be the next king.
After many disputes and transfers of ownership through the years, the government has been trying to appropriate the building for the past few years and the matter is today in court.
The palace has today been turned into a museum and can be visited with an audio guide. The interiors are filled with items from the time including a Coat of Arms, various valuable paintings, furniture, etc. The grounds have been the location of many a famous concerts in the city with internationally renowned groups.
Someshwara Temple
Said to be the largest temple in Bangalore, Someshwara Temple was built by Kempe Gowda, the founder of the city, 500 years ago and so it is also one of the oldest temples in Bangalore.
ISKCON Temple
One of the most interesting things to do in Bangalore is visiting ISKCON Tempe. ISKCON Temple in Bangalore is one of the largest temple complexes you will see and it is a place where you can easily spend a few hours if you are interested in learning more about the Hare Krishna movement.
ISKCON stands for The International Society for Krishna Consciousness and so this is a place for learning and understanding. You can go visit it like me, as a tourist exploring Bangalore, but you will probably miss on an opportunity to find out a bit more about a movement that groups 500 major temples and centers.
The temple is not open at all times but only at designated times when there is service and you can talk to devotees and teachers and learn more. Services happen in the early morning or at 4pm. Go a bit earlier to beat the queues as it does get incredibly packed despite its massive size.
As a non-regular or foreigner you will follow a different path. You need to buy a ticket for 300 rupee (which is a very high price for Indian standards as most places charge far less or are free to enter), leave your shoes and cameras at the bottom of the hill and come dressed appropriately, that is, covering your legs and arms.
You can borrow clothes on site. The organisation part of the visit is incredibly structured with well laid-out signs welcoming hundreds of people in an orderly manner every day.
Once you are in, you will go through a series of marked fenced paths to half the way up to the top where you will wait until the temple opens. There were very few non-devotees when I visited so most people went through the regular visitor queues.
After the temple opens, you will go through corridors to pay respects to three idols then finally up to the main hall. There are ceremonies every 15-20min where you can sit on the floor or stand and, together with others, chant and sing repeating what the priest says while he sends offerings to the Gods.
After that, your ticket will give you a food offering and 70 rupee worth of books you can pick in any language. There are attendants to help you pick something which may be of interest to you, usually about life, the movement, the religion, answering life's questions, etc. Once you are done, you can sit down with one of teachers to discuss any topic you might be interested in.
ISKCON Temple is open Monday to Friday from 4:15 am to 5:00 am, 7:15 am to 1:00 pm and 4:15 pm to 8:15 pm. Saturdays, Sundays & Public Holidays from 7:15 am to 8:15 pm.
Best museums in Bangalore
Bangalore also has a few museums you can visit. Let me list the best ones.
Visveswaraya Industrial and Technological Museum
As Bangalore is one of the country's leaders in IT and technology, it should come as no surprise that one of the museums is devoted to the subject. There are live demonstrations and places to learn more about science.
Venkatappa Art Gallery
The gallery was built to honor a famous painter of the same name known to have painted the Mysore Durhar Hall but also houses other works by 20th century artists.
Government Museum
Thought to be one of the oldest museums in India, the building is notable for its Corinthian columns. Aside from historical items, you can also find archaeological and geological finds from the time of the Hindus Civilisation.
Food, glorious food – Best places to eat in Bangalore
Bangalore, like most of India, has great food and is primarily known for the dosa and other south Indian food. Enjoying the best dishes and local eateries is one of the best things to do in Bangalore and you have a great excuse since all this sightseeing will surely make you hungry.
I'm used to eating all the best Bangalore style food in Little India Singapore, so having it in Bangalore was a real treat! Let me give you a few ideas for where to eat in Bangalore to enjoy the best recipes and dishes because food is a great part of any culture.
Mavalli Tiffin Rooms – MTR
MTR is an abbreviation for Mavalli Tiffin Rooms, a casual local eatery in Bangalore serving "South Indian comfort food" since 1924. The place is simple and always packed with people waiting and sharing tables as dosas and chai are served.
Don't expect the service to be good, they are mostly confused, slow and uninterested. They will also kick you out as soon as you have finished eating your food so this is not a place to laze and rest but to eat and leave. But it is an institution.
Come here to enjoy all the southern breakfast meals with your hands like idli, dosa, signature dessert Chandrahara (served only on Sundays since 1950 and named after a movie of the same name), porridge like bhath, semolina khara bhath.
Karavalli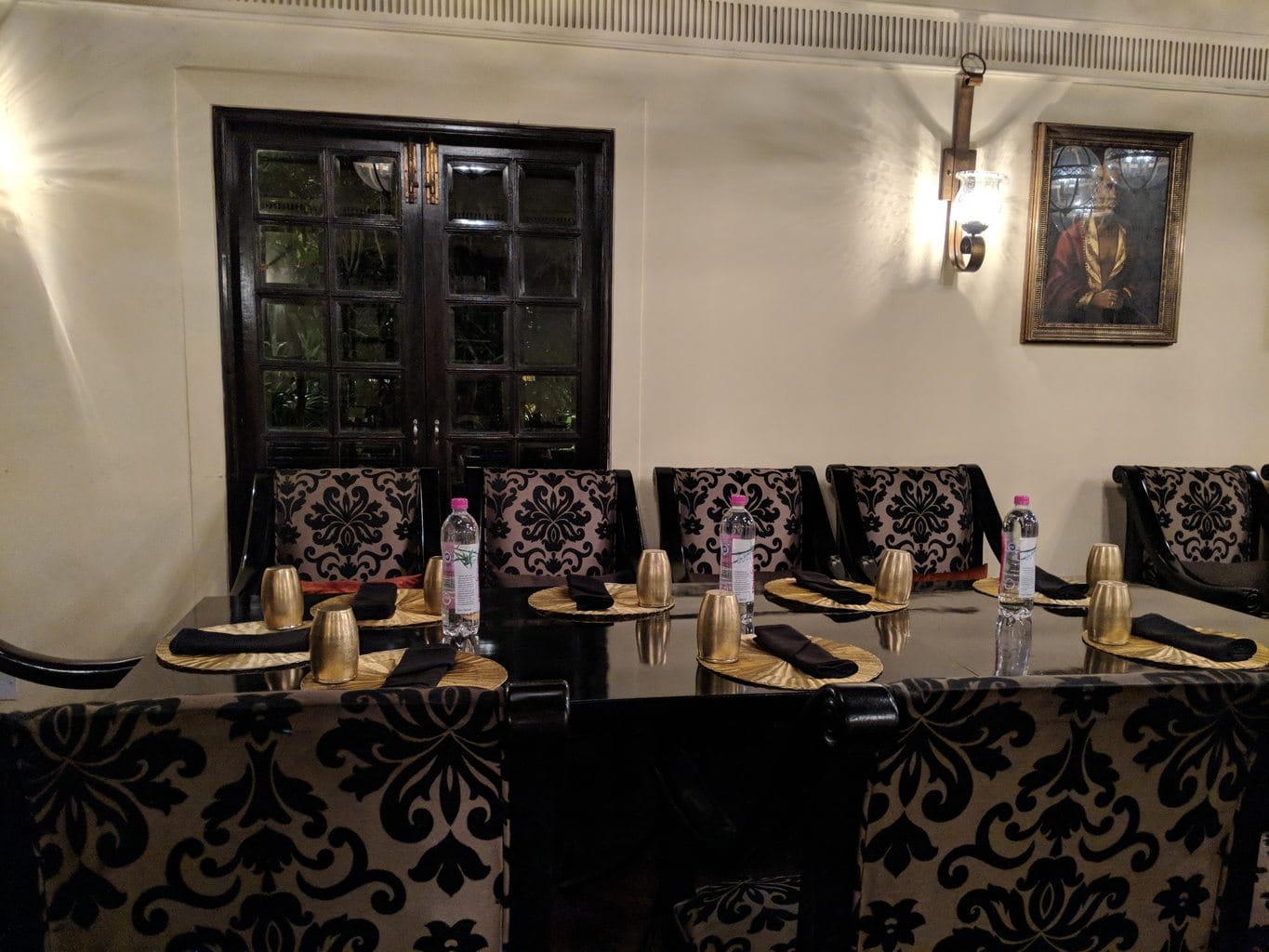 Is an acclaimed restaurant at the Gateway Hotel in Bangalore which serves homemade food from the south western regions of India including the beaches of Goa, the fishing waters of Mangalore and the coast of Kerala. The restaurant is a real treat and a great way to enjoy meals and recipes that are no longer available but in people's homes thanks to the efforts of the kitchen team.
Some of the cooking methods and spices used at Karavalli have been rescued from old recipes and the meals are even cooked using clay ovens. I went into the kitchen to see how they were managing to do that in a modern kitchen and saw the traditional clay ovens used to cook some of the dishes in the traditional way.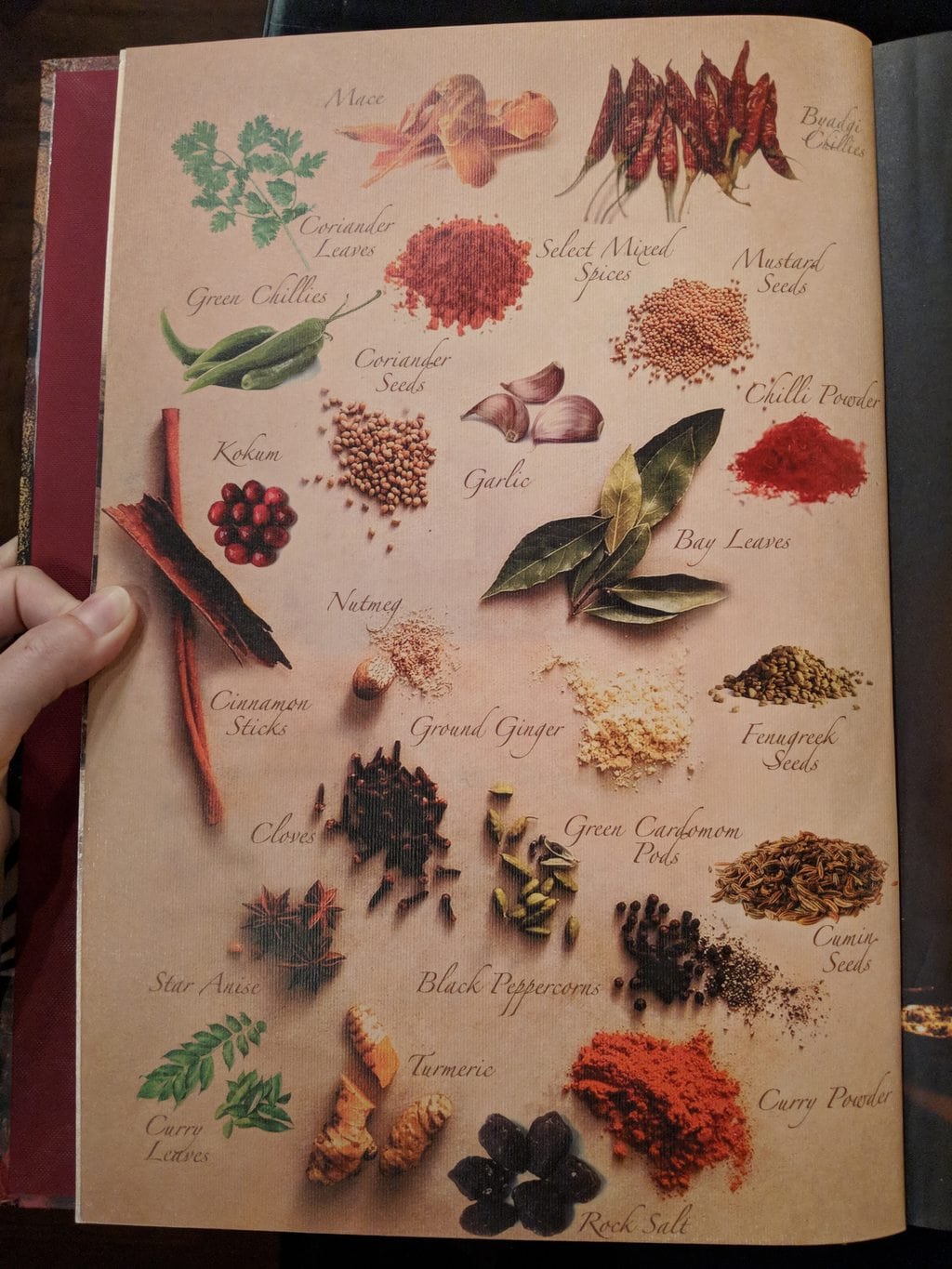 If you are not familiar with the dishes from this part of India, the menu tells you the story of the cuisine of each of these regions. It will also explain what is in season as the restaurant prides itself in only serving what is produced by Mother Earth in each month of the year to preserve the species and prevent overfishing. For example, lobster is only served from January to July and red snapper from December to August.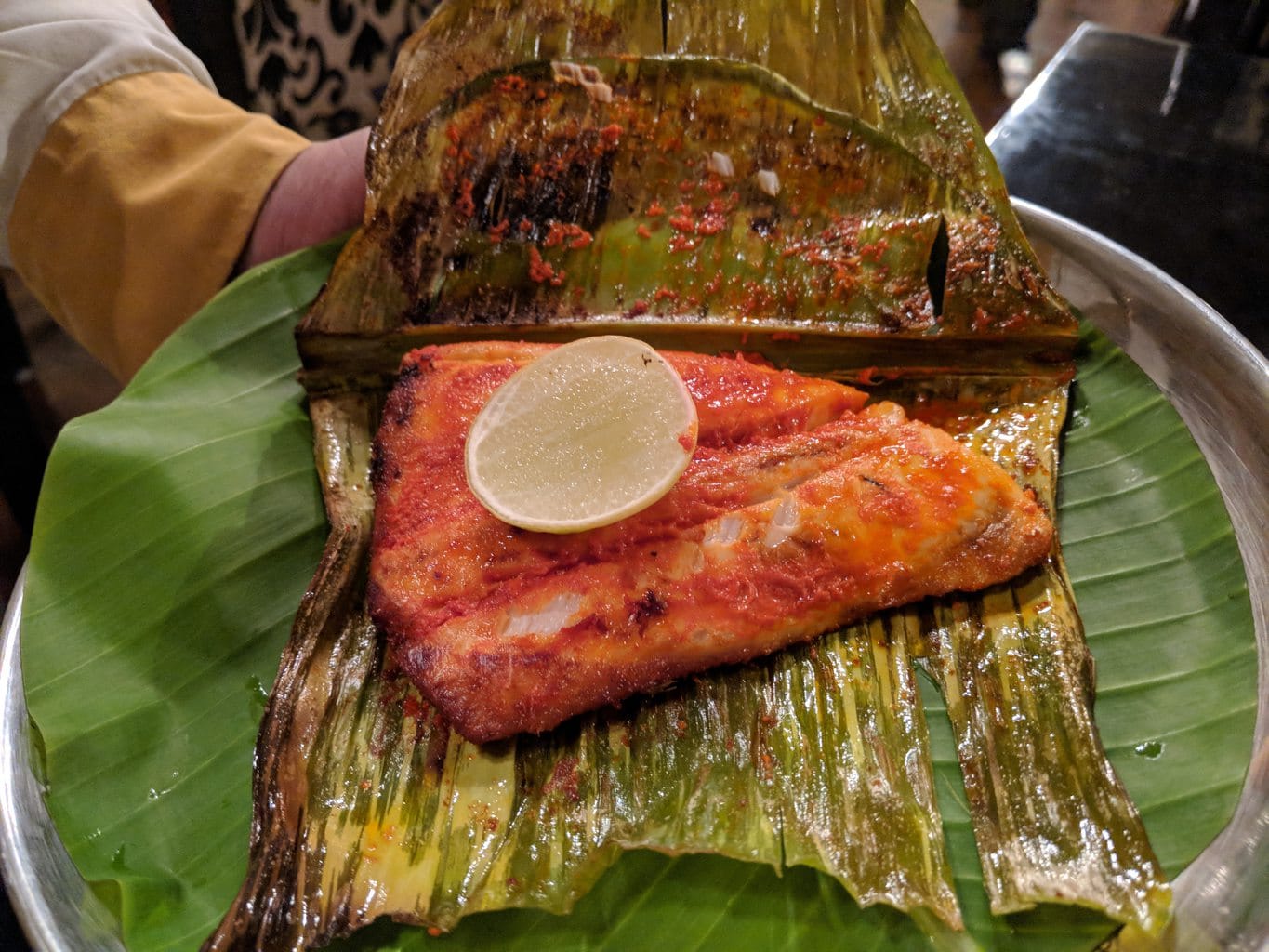 Did you ever wonder what the long list of spices used looks like? The menu also has a section with pictures of the many spices used in traditional Indian cuisine. Last but not least, the team is fantastically helpful. I was not sure what to order because I was by myself and wanted to try as many dishes as possible, and they helped me get smaller portions of a few things and brought me some dessert too at the end of the mean too. If you want to learn more about Bangalore through its food and rich cuisine, this is the place.
Vidyarthi Bhavan
While MTR has the history and the cache, Vidyarthi Bhavan has possibly the best dosa in town. This is a large cave like, hole-in-the-wall place you could easily walk past without noticing, has the longes queues outside and a host of picture frames hanging inside that shows a number of personalities that have come to enjoy their famous crispy dosas.
The vegetarian restaurant opened in 1948 and specialises in very few dishes, most of which revolve around dosa with topping. The small number of items on its menu is compensated by the perfection with which the dosas come. Wait for a space and you will enter a huge space, connected to another room to the side decked with simple tables and benches made for sharing. You may end up sitting next to the majority locals who frequent the place.
The most entertaining part of Vidyarthi Bhava are its servers who can carry 20 dosas or more at a time and serve them to several tables in one go, and with so much grace. Impressive show.
Enjoy the dosas with their home made coconut chutney and a glass of hot chai. Dosas cost less than $1 and they are thick yet crunchy on the outside while filling and soft on the inside, a real technique for something so simple, mastered over generations.
Best parks to visit in Bangalore
As India's Garden City, Bangalore is a great place to enjoy a bit of the outdoors, something that is so lacking in other parts of the country. There are a few parks in Bangalore to stretch your legs or enjoy a picnic like the locals do.
The Lalbagh Botanical Gardens were once the gardens of the Sultan and today are an expansive area to relax and enjoy nature. Cubbon Park, next to the High Courts and Vidhana Soudha, is another great park full of people enjoying the green grass.
Places to visit in Bangalore in one day
So, my Bangalore tourism guide has given you plenty of ideas but you only have one day in the city to explore. Let me pick the best places to visit in Bangalore in one day so that you can focus on the highlights of the city, for example, if it's part of a luxury train journey through India.
If you only have one day in Bangalore I recommend that you focus on the most famous places in Bangalore and also add-in some unique points of interest so you have a more rounded experience. Start with this one day itinerary in Bangalore:
Get up early, take a chai and head out to explore KR Market at sunrise or even before. Make sure to stop by the Jamia Mosque right next door before leaving
Have breakfast at one of the two restaurant options mentioned, MTR or Vidyarthi Bhavan depending on whether you want dosas or something else
Head over to Tipu Sultan Palace to admire the beauty of its architecture
From there go to Gavi Gangadhareshwara and then the Bull Temple
Have a late lunch at the restaurant at the Leela Palace
Drop by the High Courts and Vidhana Soudha for a photo op on your way to ISCKON
ISKCON Temple will probably be doing their evening ceremonies by the time you are done with lunch and can cross the city
Freshen up at your hotel and get ready for dinner at Kavalli
This would be a perfect addition to any of your #India or #travel Pinterest boards