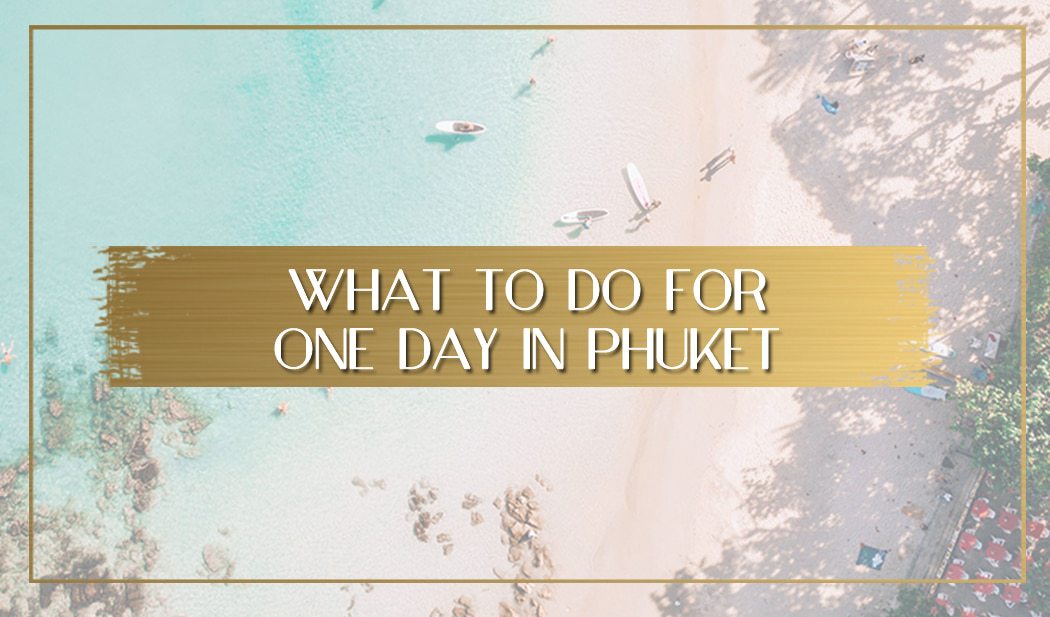 Phuket is a former timber town in the south if Thailand sitting on its own island. In the 70s, an airport was built and that started to bring in some tourists. The real explosion happened in the 2000s when the island was discovered as a beach destination with some of the best beaches in Thailand.
Today, the city has become a magnet for anybody looking for sand, sun, sea and fun and there is no doubt a lot of things to do in Phuket to keep families, solo travelers, men, women, boomers and backpackers happy.
Getting into Phuket
Phuket can be reached by international flight from major cities like Dubai, Singapore, Hong Kong and even some longer haul destinations. There are also domestic flights from all the cities in Thailand as a lot of visitors tend to include Phuket, Bangkok and often times a third city into their Thailand itinerary.
Once you are in Phuket, you will need to take a taxi or tuk tuk to get to your hotel. Alternatively, you can also rent a car so you can explore Phuket on a road trip at your own pace. I highly recommend doing that if you only have a day as otherwise you will spend a lot of time haggling with tuk tuk drivers. Having your own car will also allow you to hit a lot of the proposed places in this itinerary that may otherwise be a bit remote.
What to if you have only have one day in Phuket
Phuket has a lot to offer anyone but the reality is that most people come here for the beaches and the sea. If that is what you are interested in, you can visit some of the lesser known beaches in Phuket to relax without the crowds. I recommend doing that with your own car.
For something a bit more sophisticated, Paradise Beach has live music, DJs, bars and food and the beach is gorgeous. Don't be put off by the full moon party signs, there is a secluded section where chillout music is played and you can relax. For something emptier, Freedom beach is a good choice.
If you prefer to explore a lesser known side of Phuket related to its heritage and Sindo-Portuguese past, head to Phuket Old Town where you can see beautiful shophouses, old buildings and enjoy a coffee or meal in a hip cafe.
For food and drink lovers Thailand is a paradise. Head to The Blue Elephant for a cooking lesson with one of the best known Thai chefs and then visit the Rum Distillery to learn how Chalong Bay Rum is made.
What to taste in Phuket
Phuket, and Thailand in general, are foodie havens and all food, from the cheap street eats you can get for $2 to the elaborate Michelin starred meals are all great. So if you are in Phuket just for a day I would recommend finding something wherever you are. If you go to Paradise Beach you can eat there, if you are in Old Town, Blue Elephant is a great colonial inspired restaurant serving Royal Thai Cuisine.
Dinner is when you should splurge and what better way to do that than by ending the day with some stunning sunsets and Thai food and Thai wine? I highly recommend The Boathouse. What started as a restaurant on the beach by one of the most famous Phuket chefs and hoteliers, Mom Tri, then became a restaurant with rooms and today is one of the most emblematic of the beach hotels in Thailand.
It's still keeping its focus on the food and with excellent sunset views over Kata beach, the perfect combination to end the day. Did I say the restaurant has the largest wine cellar in Phuket? Including some Thai wines which are perfectly paired by the head sommelier.
If you just want a more casual sunset drink, there are a lot of spots to see the sunset in Phuket. Trust me, Phuket's sunsets are always stunning no matter what. And for a more affordable option, buy a couple of beers and sit on the beach.
Where to stay in Phuket
There are more than 1,000 hotels and resorts on the island so the offer is overwhelming. If you want a luxury resort in Phuket, the choice is wide but I recommend Sri Panwa for the views and the cool atmosphere, and those pool cliff villas are to die for.
For a fantasy-fuelled stay Keemala is inspired by a mystical magical group of tribes. Kata Rocks has sexy villas above Kata beach and Amanpuri has Aman's legendary service standards.
For a more affordable but chic option, there is pretty much every international hotel chain in Phuket usually offering good prices. If you want something more local and with character, try The Boathouse so you can just roll into bed after a satisfying Thai dinner with New Latitude Wines and a walk on picturesque Kata Beach.
Lastly, if you are visiting with your family, here are a few recommendations for the best family-friendly resorts in Phuket.