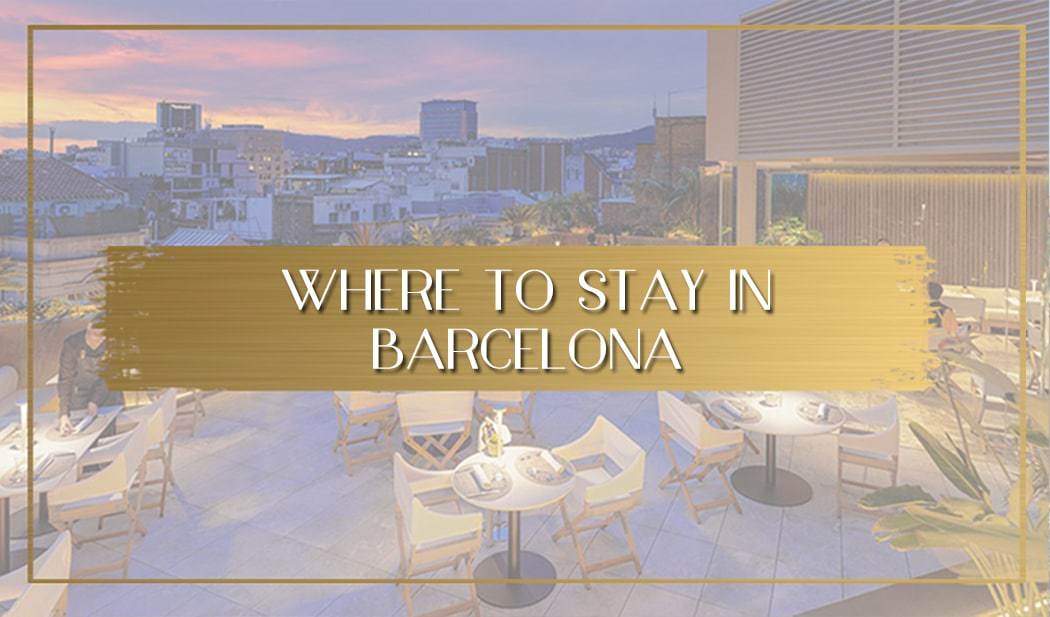 There are a lot of places to stay in Barcelona and there are also a lot of things to see in the city. Basing yourself in the right area is key, so you choose the best location in Barcelona as per your itinerary and the sights you want to see. This way, you will spend less time traveling and more time sightseeing and eating the best food. You could argue that this could be said of any destination, but it is more relevant here than in any other mid-sized city.
Why is it more important to stay in the best area in Barcelona than elsewhere? Because the city is very spread out. The triangle between Sagrada Familia, Park Guell and Camp Nou, on everybody's list, measures 6-7km at each side.We do not have a lot of skyscrapers. Buildings are low rise, no more than 7-8 storeys high for the most part, making it even more important to choose the right area in Barcelona to stay in. It is also wonderful to walk around, so if you base yourself at a nice boutique hotel centrally, you can literally walk off the hotel and onto the main sites.
I have put together this list with the best neighbourhoods and districts in Barcelona for visitors based on what most people will come to the city for. This will be helpful whether you're visiting on a vacation or considering becoming an expat in Barcelona. I have taken into account the best sights, the most interesting places and also added suggestions for the best luxury and boutique hotels to stay at in each area in Barcelona. For the complete local and authentic experience, check out my 4 day itinerary which I wrote for a friend that was visiting. It is one of my most read posts and I update it a few times a year when I visit and discover new restaurants or revisit the old recommendations so it is always up to date.
Read further for a guide on where to stay in Barcelona, including recommendations for the best areas to stay in, the most beautiful boutique hotels and the best luxury accommodations all compiled by a local.
Introduction to the city and the best neighbourhoods to stay in Barcelona
Barcelona is not a large city. There are about 1.6 million people living within the limits of the city and about twice as many in the extended metropolitan areas which includes El Prat de Llobregat (where the airport is), Hospitalet de Llobregat and Bellvitge.
When you think of Barcelona, you will no doubt think of Gaudi and his most famous building, La Sagrada Familia or even Casa Batllo. Then you will think of La Rambla and then probably also Park Guell and the Barca Camp Nou stadium.
All these sights are actually pretty far from each other. Should you stay near one of the most popular sights in Barcelona?
Probably not.
In fact, the four places I mentioned are all fabulous and I visit them almost every time I go home, even Camp Nou, as my father has three seats with a friend, but I would probably not recommend anyone staying at either of them except for maybe La Rambla.
Why?
They are all pretty far from most sights and you would need to take taxis or walk long distances, so I would recommend to stay elsewhere.
But where?
It depends on your preferences so I will give you a bit of background on each of the best places to stay in Barcelona and you can choose the one that you think you will enjoy the most.
Here is a summary of all the hotels mentioned in this article. Click the relevant button to see more photos or make a booking.
| Hotel | District | Stars on TripAdvisor | Price | Click to book now! |
| --- | --- | --- | --- | --- |
| AbAc Hotel | Barri Sarria-Sant Gervasi | 5 | $350 | Booking.com | Agoda |
| La Florida | Barri Sarria-Sant Gervasi | 4 | $200 | Booking.com | Agoda |
| Fairmont Hotel Rey Juan Carlos I | Les Corts | 4,5 | $210 | Booking.com | Agoda |
| Sofia | Les Corts | 5 | $220 | Booking.com | Agoda |
| Bagues | Cuitat Vella - El Raval | 4,5 | $275 | Booking.com | Agoda |
| Le Meridien Rambla | Cuitat Vella - El Raval | 4 | $440 | Booking.com | Agoda |
| Hotel Neri | Cuitat Vella - El Gotic | 4,5 | $380 | Booking.com | Agoda |
| Hotel Mercer | Cuitat Vella - El Gotic | 5 | $380 | Booking.com | Agoda |
| DO Placa Reial | Cuitat Vella - El Gotic | 5 | $380 | Booking.com | Agoda |
| Serras Hotel | Cuitat Vella - El Gotic | 5 | $670 | Booking.com | Agoda |
| Hotel Arts | Cuitat Vella - La Barceloneta | 4,5 | $365 | Booking.com | Agoda |
| W Hotel | Cuitat Vella - La Barceloneta | 4,5 | $460 | Booking.com | Agoda |
| Ohla | Cuitat Vella - El Born | 4,5 | $260 | Booking.com | Agoda |
| Grand Hotel Central | Cuitat Vella - El Born | 4,5 | $300 | Booking.com | Agoda |
| Mandarin Oriental | Eixample | 4,5 | $710 | Booking.com | Agoda |
| Monument Hotel | Eixample | 4,5 | $320 | Booking.com | Agoda |
| Hotel Omm | Eixample | 4,5 | $350 | Booking.com | Agoda |
| Palace hotel | Eixample | 4,5 | $360 | Booking.com | Agoda |
| The Cotton House | Eixample | 4,5 | $400 | Booking.com | Agoda |
| Alma | Eixample | 4,5 | $310 | Booking.com | Agoda |
| The One | Eixample | 5 | $330 | Booking.com | Agoda |
| Casa Fuster | Gracia | 4,5 | $250 | Booking.com | Agoda |
Bonus one day guide to Barcelona

If you only have one day in Barcelona, this is how you should spend it! Enjoy this one day itinerary for Barcelona. If you're driving, take this guide to a road trip across Europe.
Where to stay in Barcelona – guide to the best districts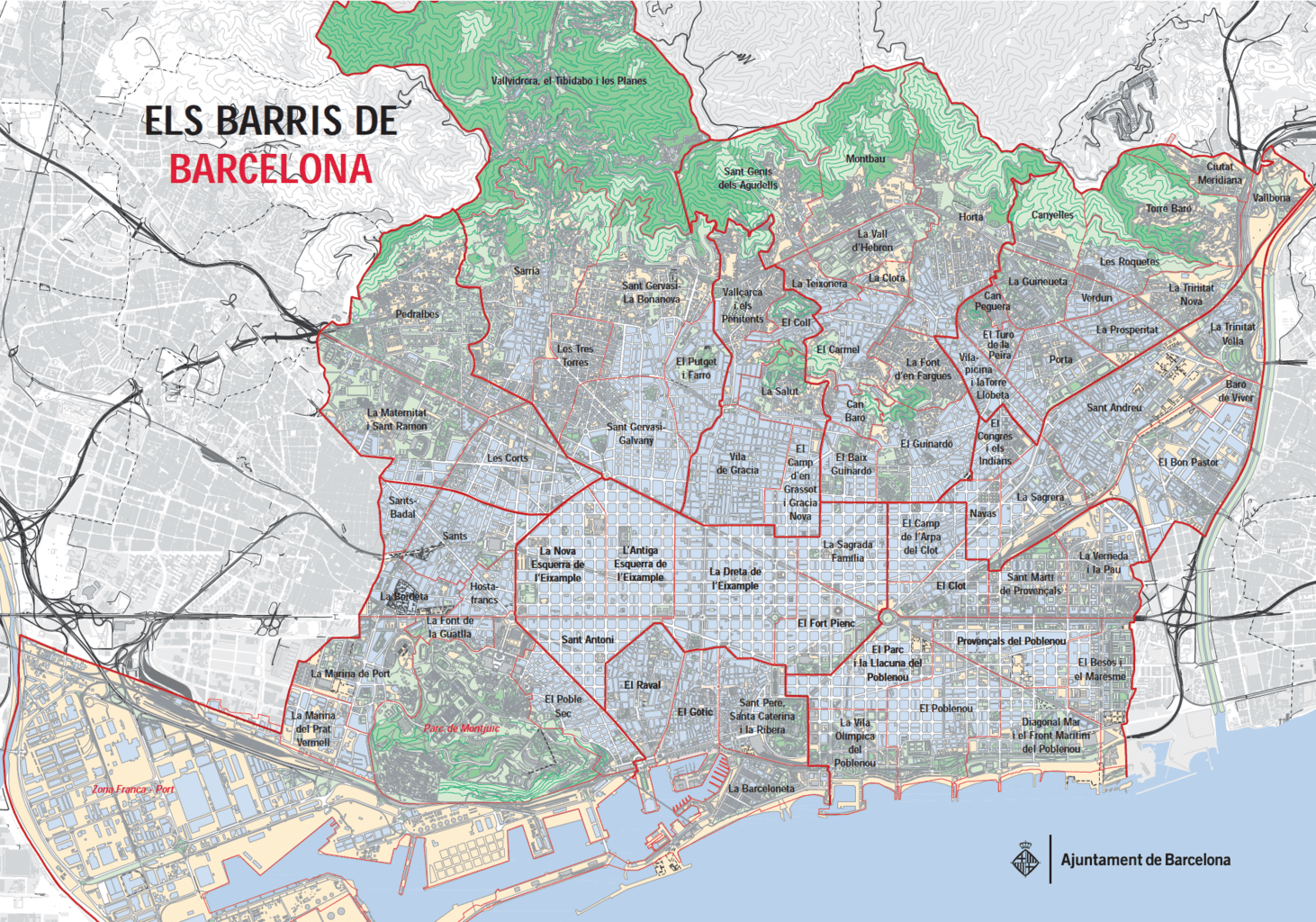 Click here to download the full size PDF of the above map on where to stay in Barcelona.
Barcelona is split into districts and neighbourhoods. There are 10 neighbourhoods and dozens of districts in those neighbourhoods. Of the 10, five are not relevant for tourists.
These are Sant Andreu, Sants-Montjuic, Horta-Guinardo, Nou Barris and Sant Marti. Of the remaining five, two are areas you would probably want to visit, but are not the best places to stay for first-time visitors to Barcelona.
These are Les Corts and Sarria-Sant Gervasi, which I will nonetheless give you some details on in case you are a seasoned visitor to Barcelona and looking for something new or less popular with tourists.
We are then left with three neighbourhoods that could be considered by visitors: El Gotic, Gracia and Eixample.
Let me give you a brief intro to each of the best neighbourhoods you should consider in your search for the best location in Barcelona and dive into the details with recommendations on the best luxury and boutique hotels in each.
Barri Sarria-Sant Gervasi – Best neighbourhood for seasoned travelers to Barcelona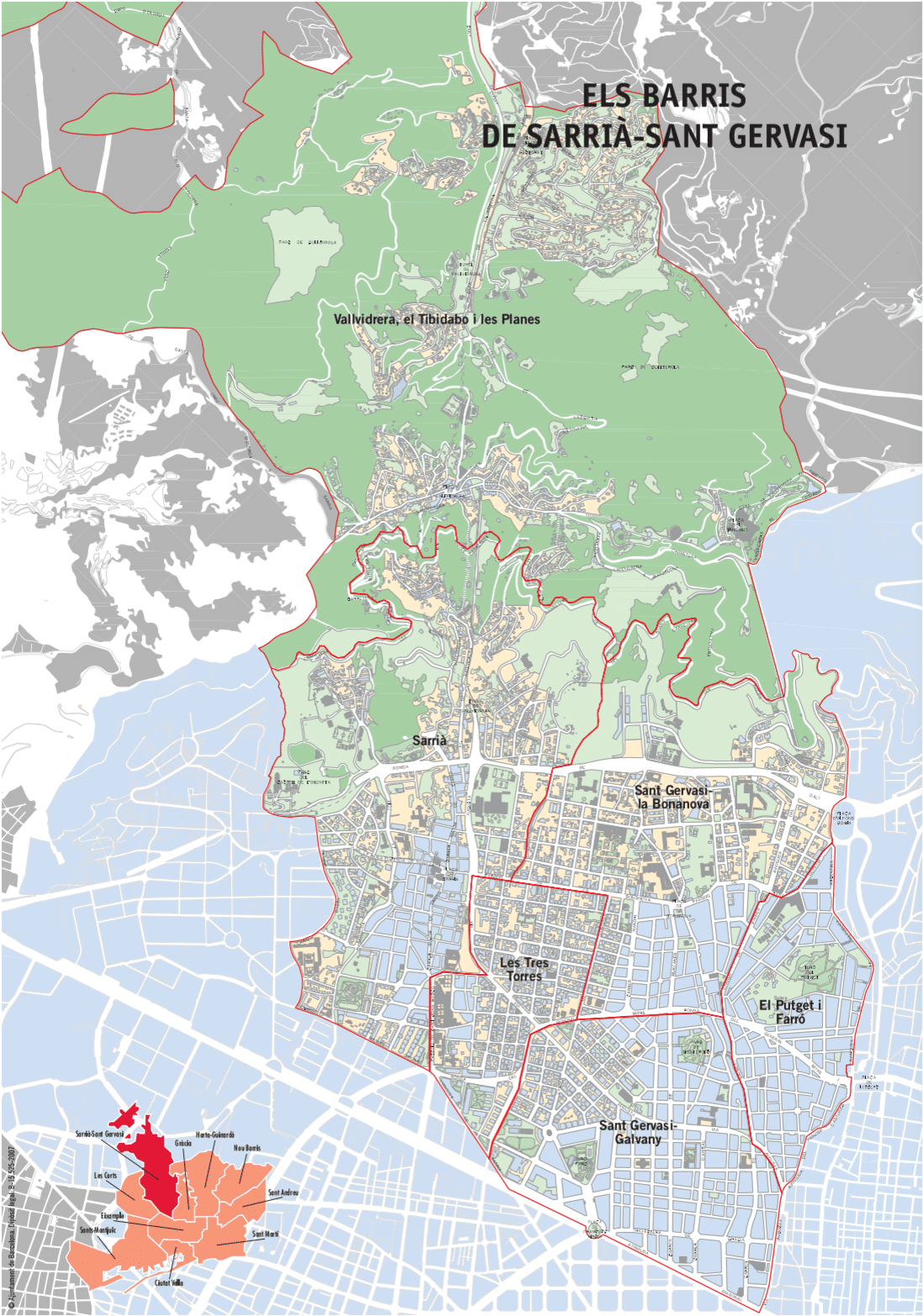 Click here to download the full size PDF of the above map on where to stay in Barcelona.
This is the most expensive part of the city (except for Pedralbes district in les Corts – see next point). There isn't anything much for visitors to see here. If you were born in Barcelona and come from a middle to upper class family, you would aspire to live in one of the premium apartment buildings or mansions.
This is also called by the locals the "upper" part of the city because it is indeed higher up in the mountains.
The streets are steep and they are filled with some of the most expensive apartments and, as you go higher up, some of the most luxurious mansions in Barcelona.
You will find some luxury boutique hotels with nice views of the city, as well as the funicular to Tibidabo mountain. The famous best-selling book by Carlos Ruiz Zafon The Shadow of the Wind, has scenes taking place here.
I like coming to Sarria because I spent a lot of time here when I was a university student as my faculty was in Pedralbes, the other even more premium district which borders Sarria, so I frequented the bars and cafes in the area.
Some of the city's oldest family-run businesses are here but unless you have been to Barcelona several times before or are staying for a long time, I would probably not recommend staying here as it is a little bit far from the city center. The only real place to visit during your stay is Tibidabo.
The mountain coupled with a visit to the amusement park is a good day-out activity if you have kids to entertain and want to see a different part of the city. As a kid, I came a few times on weekends when there were no PlayStations or internet.
The best hotels in Sarria are AbAc Hotel and La Florida.
AbAc Hotel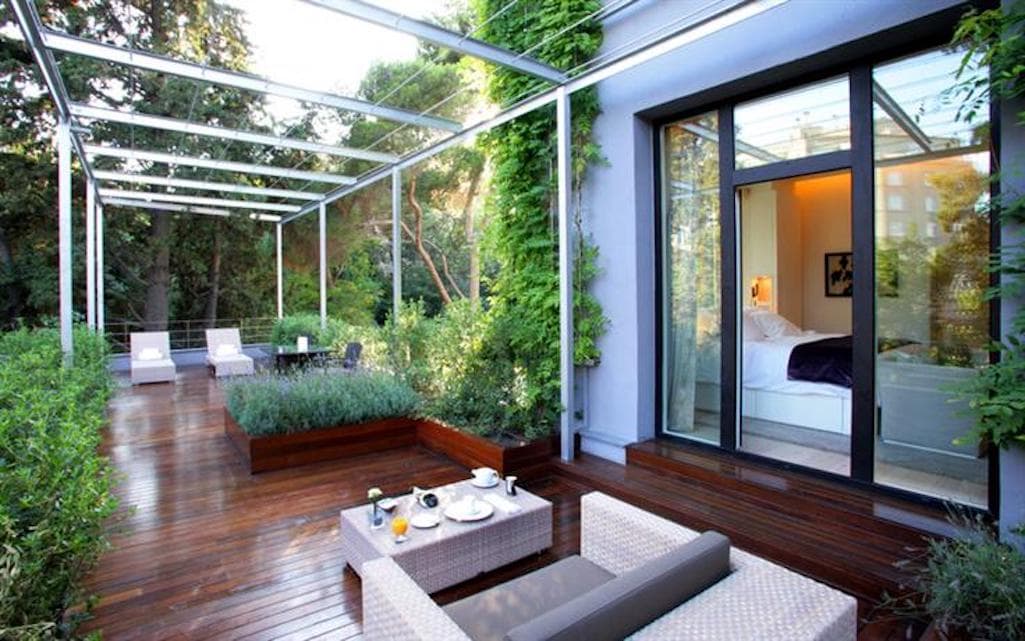 AbAc is a lovely luxury boutique hotel with pleasant gardens and easy access by car.
It is located on the way up to Tibidabo mountain, so it is an interesting location if you are planning to drive or go to Tibidabo amusement park. It also houses the two Michelin star restaurant of the same name.
The hotel is leafy, quiet and set in a residential area so it feels very far removed from the craziness that Barcelona can be, especially in the summer months.
Hotel La Florida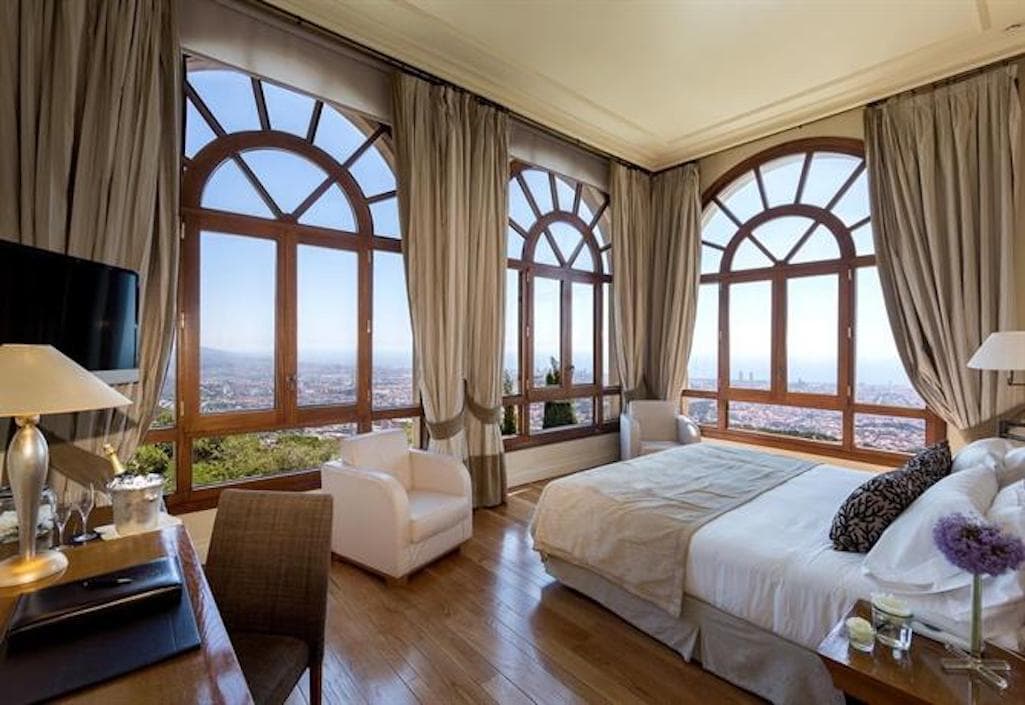 La Florida has some of the best views over the city.
Located at the top of the mountain, you should not stay here unless you plan to enjoy the hotel and probably have a car and no issues paying for parking when driving into town.
The location is remote, and far removed from the city center, but if you are looking for views of Barcelona and the sea, it does not get any more romantic than this. This is also a good place to base yourself if you plan to explore the upper parts, go to Horta Labyrinth, Park Guell, Bunkers del Carmel or even take day trips out of the city, like if you wanted to explore the various wineries near Barcelona, Girona, Andorra, Sitges or Montserrat.
The hotel is right by Tibidabo amusement park. Expect modern countryside style rooms with expansive windows overlooking the city, solariums, balconies and terraces that you will want to wake up to every morning. There is also a pool with the same views.
Les Corts – Best neighbourhood for business travelers to Barcelona
Les corts is situated halfway between Diagonal avenue. This is important because, below Diagonal the area is more of a regular working middle class district whereas above, we find Pedralbes district, the most expensive real estate in Barcelona. This is also where the private university ESADE (where I studied) is, and where the Princess (now divorced from Urdangarin) lived.
Pedralbes has nothing much for visitors as it is primarily residential, except for maybe the Pedralbes Monastery and Gaudi's dragon gate.
Aside from that, all the public faculties of the University of Barcelona are located along Diagonal at either side. Les Corts is only relevant because of Camp Nou.
Barca's stadium is right there, below Diagonal, and occupies prime real estate at the edge of the city. You would not want to base yourself here because you would be pretty far from the city center and main sights. Come to Camp Nou for a game or a tour but stay at another part of the city.
Les corts has a couple of luxury hotels.
Fairmont Hotel Don Juan Carlos I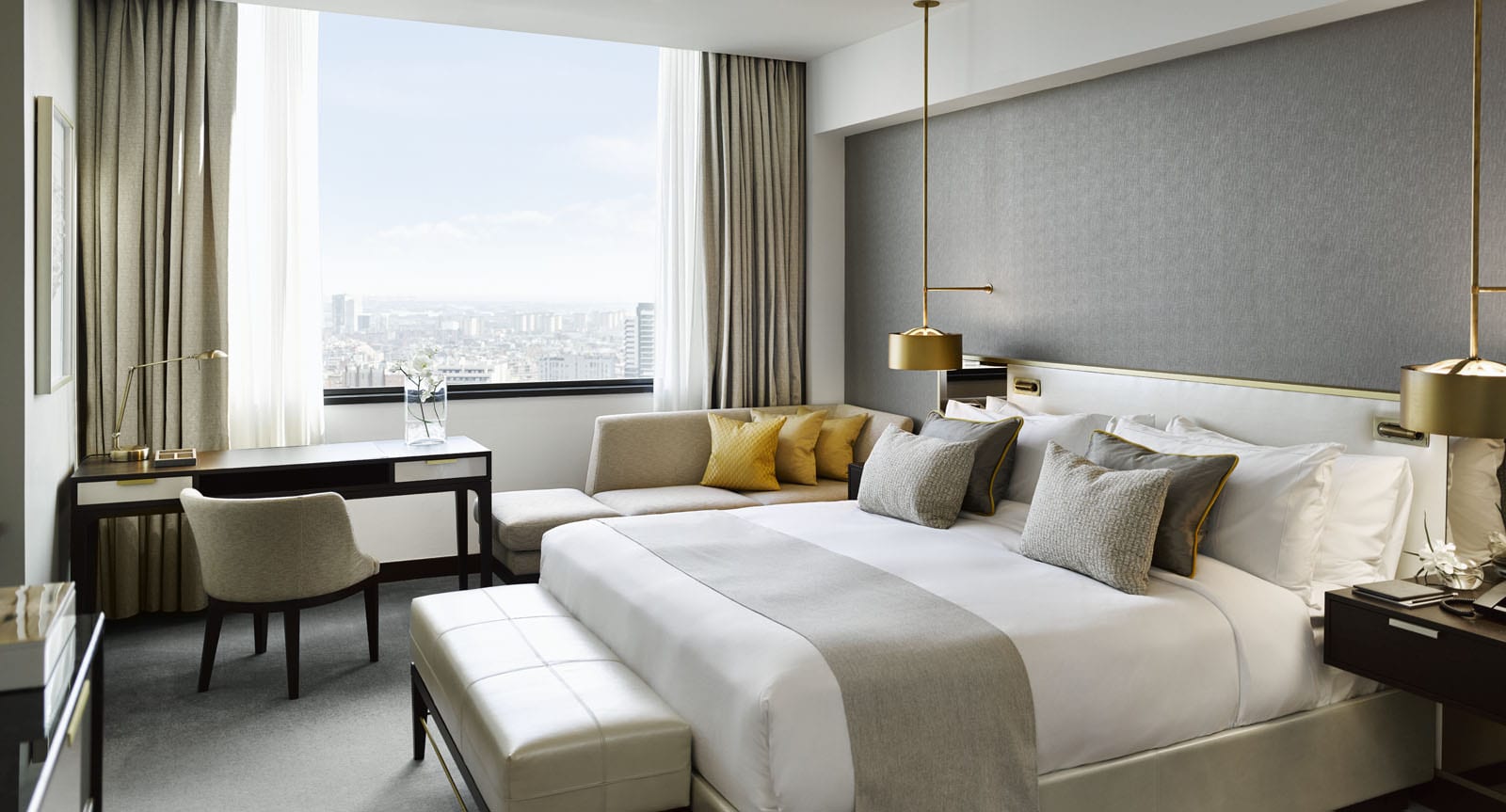 The newly refurbished Fairmont Hotel Rey Juan Carlos I, named after the former King, has just reopened to one of the very few hotels in the city with large lawns and a swimming pool. No other hotel in Barcelona can claim that. It is also one of the largest properties and has a bit of a resort feel. It is located close to the city's main exit points and business area, so it is a good place to base yourself if you have meetings in that side of town. It is very far away from the city center otherwise.
Hotel Sofia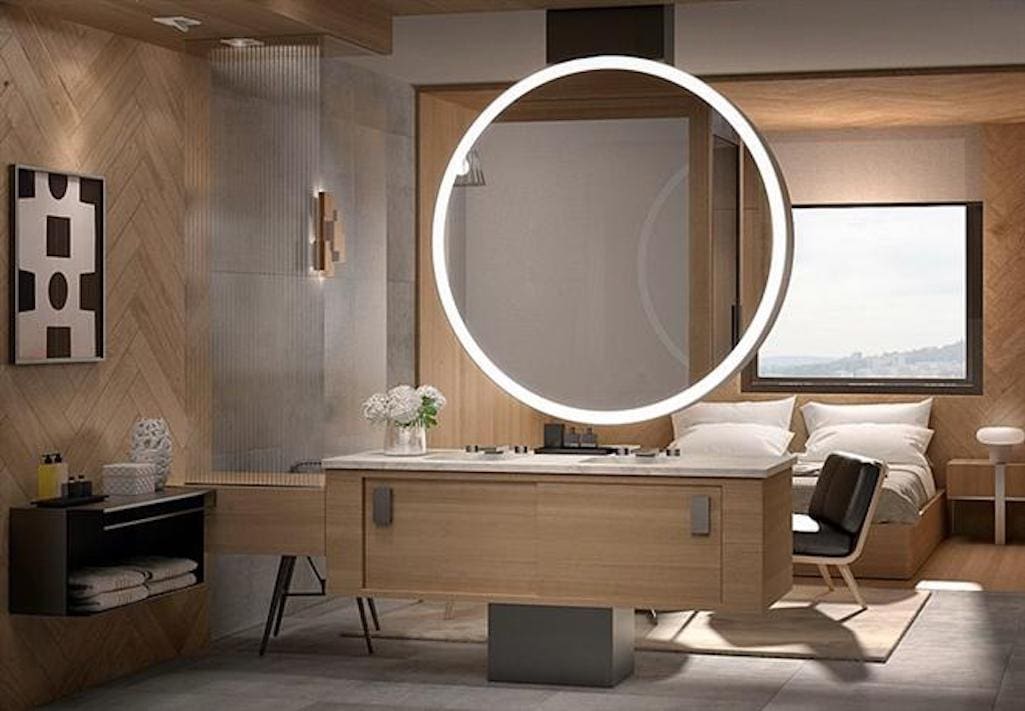 As this seems to be the royal part of town, the other luxury hotel in the area is the Sofia, named after our former Queen and Juan Carlos' wife.
Sofia is an incredibly modern hotel that tries to break moulds. It opened at the end of 2017 with a refreshing and modern look, blending summer and winter, light with night. The hotel tries to be as much into dining as it is into accommodation.
Sofia is a bit closer to the city center than the Fairmont, but still quite far. Both hotels are walking distance to Camp Nou and there are a few shopping malls in the area. It's a good choice if you're visiting for business.
Cuitat Vella – Best neighbourhood for history lovers traveling to Barcelona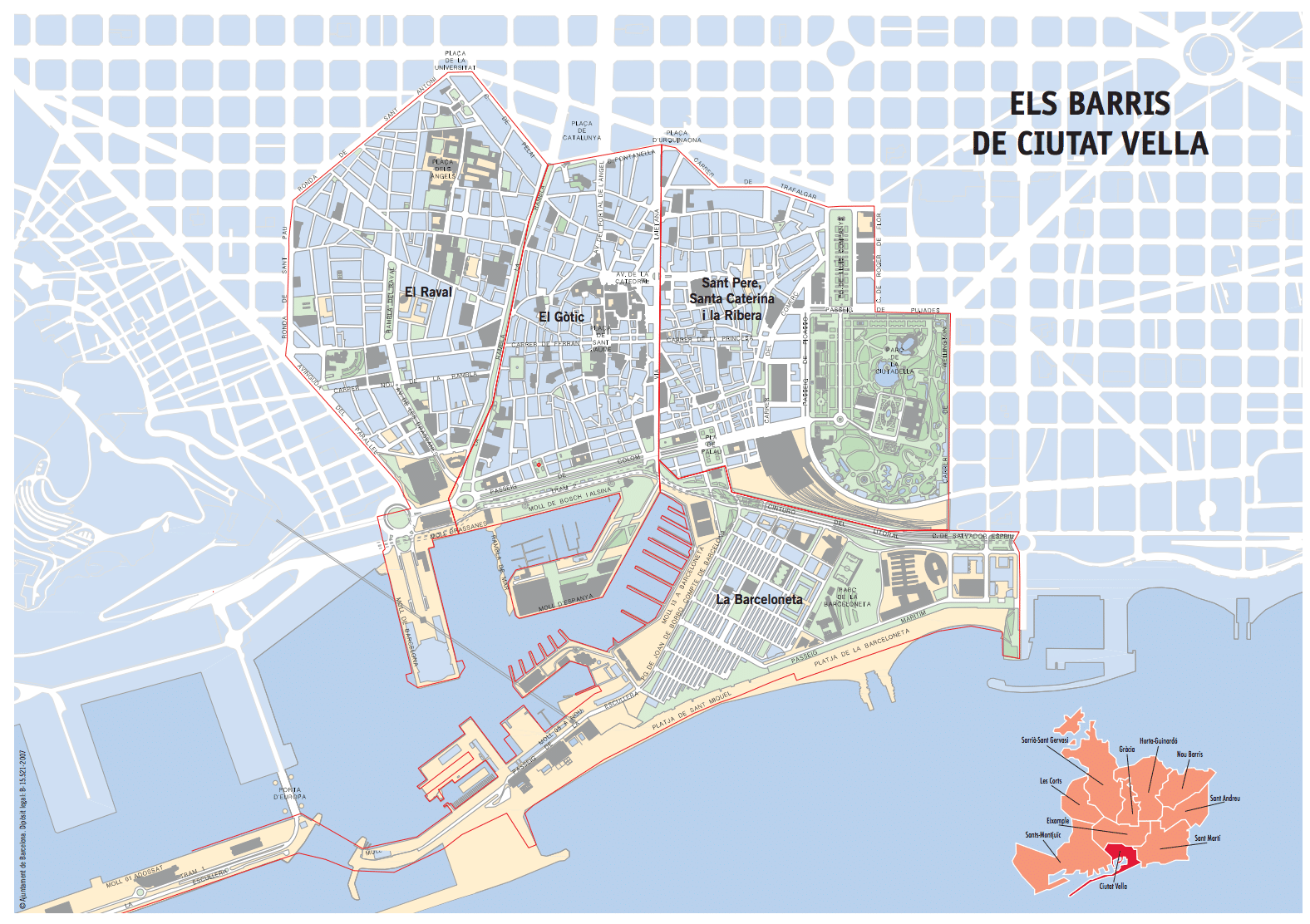 Click here to download the full size PDF of the above map on where to stay in Barcelona.
When I book a hotel in Barcelona, I always choose the neighbourhood of Ciutat Vella or Eixample.
Ciutat Vella is my favourite area in Barcelona and one of the most popular with tourists because it surrounds La Ramba.
Even though I say Barcelona is home, I actually lived there for a short period of time and I am mostly from a small town 30km south called Sitges.
When I go home and want to spend time in Barcelona without having to drive back at night, I book a hotel. I have stayed at many luxury hotels through my 12 years as an expat including Hotel Neri, Mercer Hotel, Monument Hotel, Hotel Majestic and Casa Fuster among others.
Why is Ciutat Vella the best neighbourhood in Barcelona for first time tourists to stay at?
Because it is in walking distance to the main sights, because there are a lot of boutique hotels with charm and because you will be staying in the oldest part of the city, steeped in history and rich in heritage.
To me, Ciutat Vella is magic and embodies what I think of when I think of Barcelona. I just love waking up early before the masses fill the area and wander the empty streets that have been there for hundreds of years.
There are four districts in Ciutat Vella: El Gotic; El Raval; La Barceloneta; Santa Caterina, Sant Pere i La Ribera.
The four are very distinct and can easily be delineated by La Rambla, La Via Laietana and the sea. El Gotic, where my mother lives, is my favorite, but Santa Caterina, Sant Pere i La Ribera has recently become a very hip and fashionable district thanks to up-and-coming El Born which many long-term visitors consider one of the best places to live in Barcelona.
Many will refer to this district by the name of El Born, although that is not the official name.
Why you should stay at Ciutat Vella – El Raval
El Raval, also referred to as the Chinese neighbourhood by the locals for historical reasons, is located to the left of La Rambla.
It used to be the area where immigrants working in the Port of Barcelona lived. As a result, it was also the historical red light district and prostitutes still walk the bottom part of La Rambla at night.
It has remained the place where most foreign immigrants to the city settled in and where most immigrants have moved into, turning it into a melting pot of traditions, multi-cultural interactions, East-meets-West and the Arts.
When I was a kid, El Raval was a no-go area. Drug dealers abounded and knife fights were not uncommon. The government made a significant clean-up effort in the 2000s and a few new modern art museums and centers were added.
Since then, it became the most gentrified part of the city. Old and new, rugged and shinny, bohemian and intellectual, El Raval has it all. It can still be a bit dodgy at night, but I would consider it largely safe. If you like to stay here, the best hotels are by La Rambla, on the edge between the districts of El Raval and El Gotic.
Hotel Bagues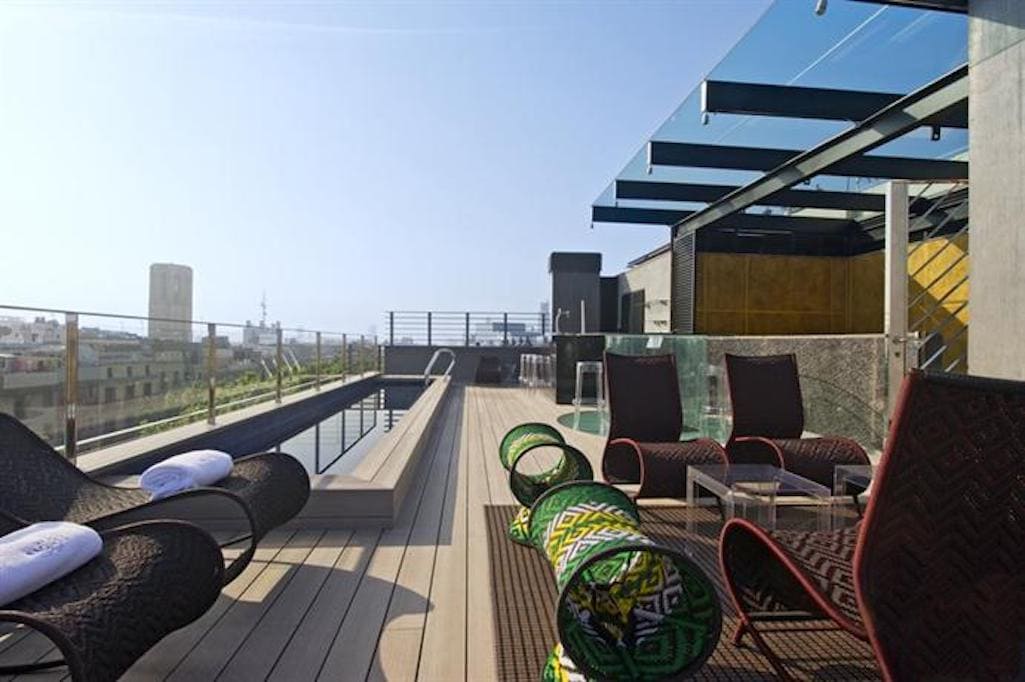 Luxury Hotel Bagues is named after the high-end modernist jewelry brand on the ground floor which used the building as a showroom, similar to Delaire Graff winery and hotel in Cape Town.
The hotel is a recently opened gem housed in a chic building with curved wooden door frames, a small plunge pool on the roof and masculine leather and grey rooms, some of which have glass roofs with beautiful views.
Rooms can be small, as is the case in many luxury hotels in Barcelona constrained by old buildings, but you can't say they are not charming and cozy. Great location in the heart of the city on the corner between La Rambla and Portaferrissa.
Le Meridien Rambla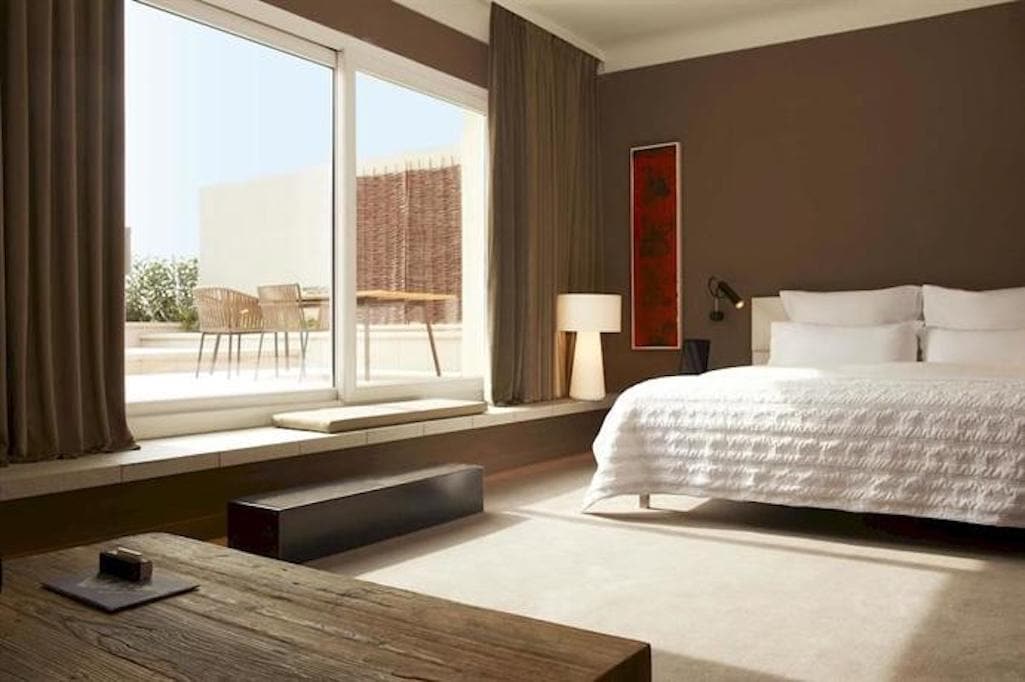 The only other option to stay at is Le Meriden Rambla which is located one street up also on the corner of La Rambla. Contrary to Le Meridien's positioning in other cities, the one in Barcelona is top notch and regularly featured as the best place to stay in the city.
This is where Madonna stayed when she visited a couple of decades ago (granted there were not as many options back then as there are now!). Great views if you have a room on the corner. Or higher floors as the building is one of the few tall ones in the area. Some of the suites have outdoor terraces and sea views.
Why you should stay at Ciutat Vella – El Gotic
El Gotic is the oldest part of Barcelona, the part that used to be entirely within the city walls and which was originally Roman Barcino and even an Iberian city before that. The streets are narrow and dark as the sun rarely makes an appearance, and most of the district is pedestrian only, with traffic limited to basic services and residents.
El Gotic houses the most beautiful part of Barcelona: the Cathedral, the Portal de l'Angel, La Placa del Pi, La Placa de Sant Jaume where the Catalan and the local Town Hall government buildings are, the ancient remains of the city walls, the Museum of the City where you can go underground and see the ruins of the former Barcino, Portaferrissa, lively Placa Reial and the Viceroy's Palace.
There are also some of the oldest stores as well as high street fashion. I bet there are more Zara stores per square kilometer here than anywhere else on the planet.
Hotel Neri
El Gotic has a number of unique boutique luxury hotels where you can sleep among 2,000 year old walls, in medieval palaces or in modern accommodations.
To me, this is what Barcelona is all about: cosmopolitan city mixed with a rich heritage. Spending the night in a luxury hotel housed in a restored medieval palace in the middle of the city is an incredible experience.
You can do so at Hotel Neri where long velvet curtains blend with balcony views of the peaceful Neri square. This is where the Civil War's bullets and shrapnel indented the back walls of Neri Church.
The inner patios of this medieval palace and the streets around it, part of the old Jewish Quarters of Barcelona, give Hotel Neri an air of elegance and heritage that are hard to replicate.
Hotel Mercer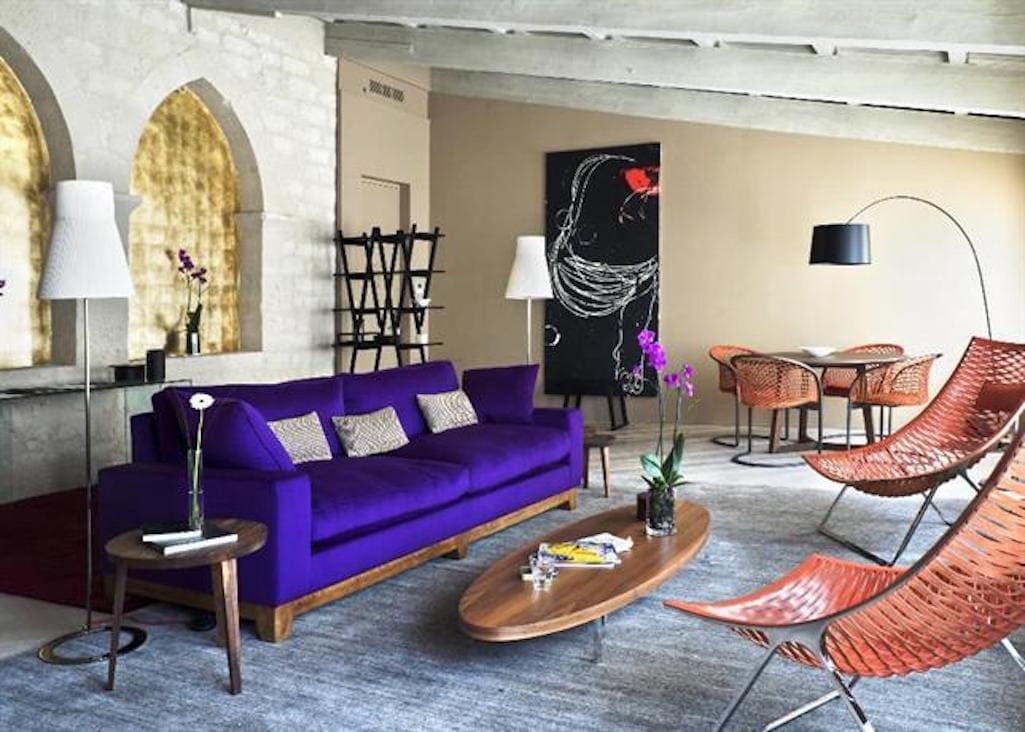 If you like history, go for the relatively new Hotel Mercer, housed in a former private residence that used to share a wall with the Roman city walls.
Some of the rooms within the hotel, like the restaurant where you can enjoy breakfast or a fine dining dinner, are 2,000 years old. Inside, the hotel conserves some parts of the wall in some of the rooms which embody the Barcelona design style: sober and elegant, yet modern. It is a stunning hotel.
Hotel DO Placa Reial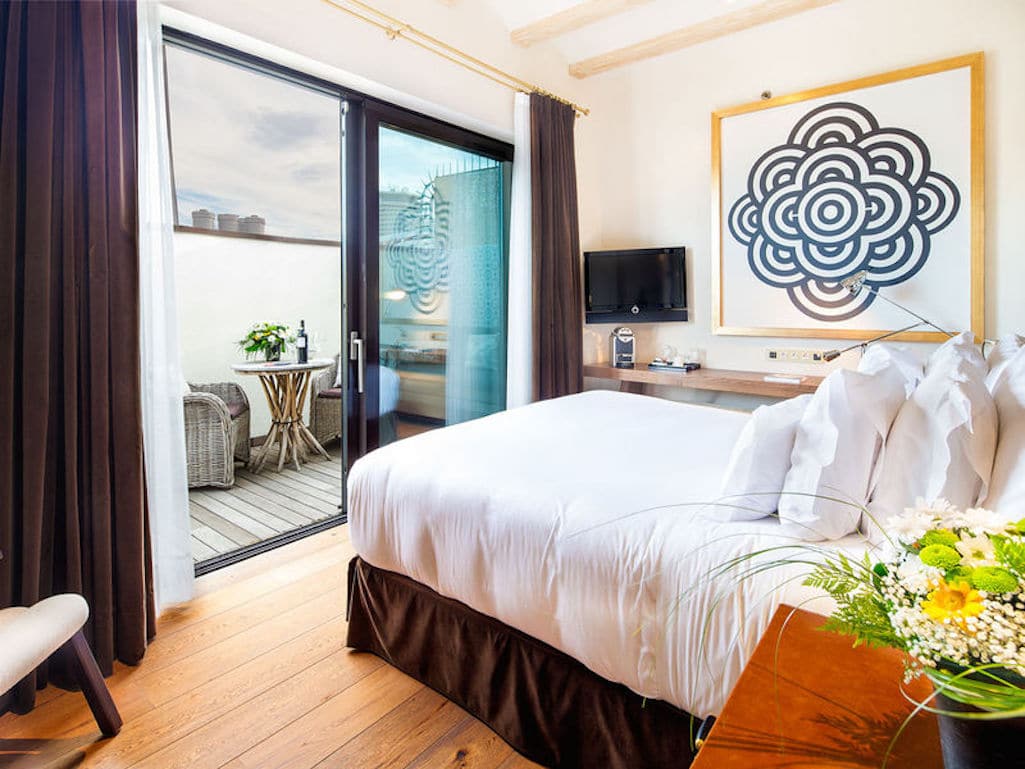 Another option is with great design DO Placa Reial, located right on the royal square in one of the historic buildings.
The hotel itself is also relatively new, although the building is not, and offers a very bohemian look and feel in one of the liveliest squares in town.
Placa Reial can be quite happening or dodgy at night depending on how you look at it. Dealers will offer you anything – my partner got offered women, hashish and cocaine in less than a second all in the same sentence as we walked past. Definitively a colourful place.
Hotel Serras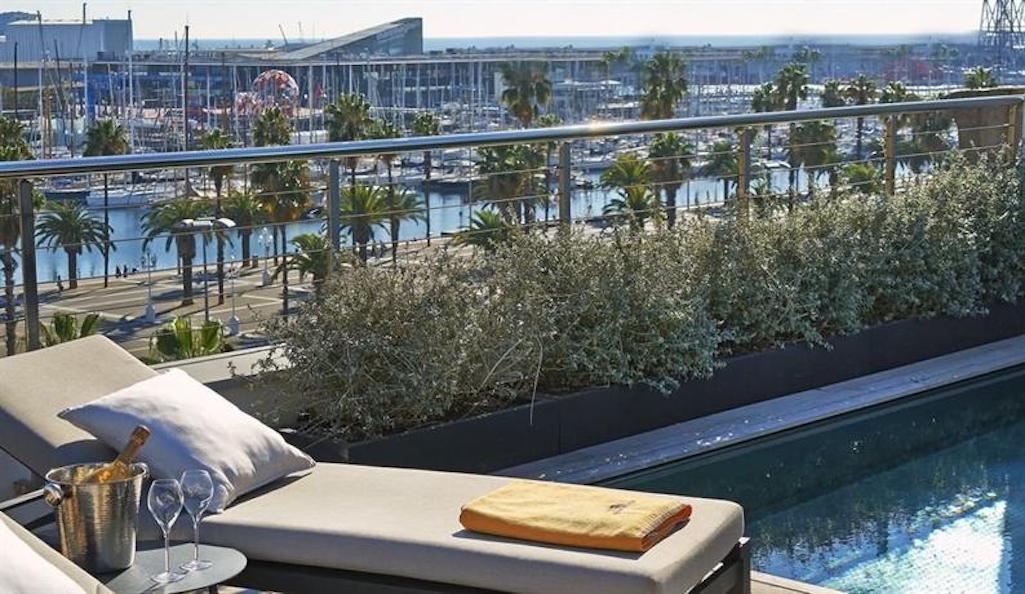 Following in the footsteps of the same architect, the Serras Hotel is right by Columbus Avenue, in front of the port and is a newly opened hotel housed in a 19th century building where Picasso had his first studio.
The hotel's rooftop is beautiful for the summer nights as you can watch the luxury superyachts and cruise liners arrive and depart and feel the light sea breeze. Inside, The Serras is a combination of industrial chic and Mediterranean colors.
Why you should stay at Ciutat Vella – La Barceloneta
La Barceloneta is the part of Barcelona that most represents its former glory as a fishing village. Here you can live by the sea and the beach and have a first class city stay by the Mediterranean in the largest European city that is located by the beach.
There are not a lot of sites per se, but the nicest thing to do in La Barcelona is to have a walk along the narrow streets or the beach. At night, Maremagnum is a lively mall with bars and restaurants and houses and is the only shopping mall open on Sundays.
Hotel Arts
There are no luxury hotels in La Barceloneta, but if you want that seaside living, try the Ritz-Carlton managed Hotel Arts, which is the only one in a skyscraper that towers 44 floors above the sea.
The rooms have incredible views of the city and if you want to wake up to the views of the ocean, this is the place.
You can expect the white glove service that is not so typical to Barcelona, refined design and the ultimate in hi-tech rooms. The Penthouses are just breathtaking if you can afford them and for the ultimate splurge, the Royal Penthouse has an outdoor terrace and a private gym with personal on-demand trainer. Hotel Arts also houses two Michelin starred Enoteca and one Michelin starred Arola.
W Hotel Barcelona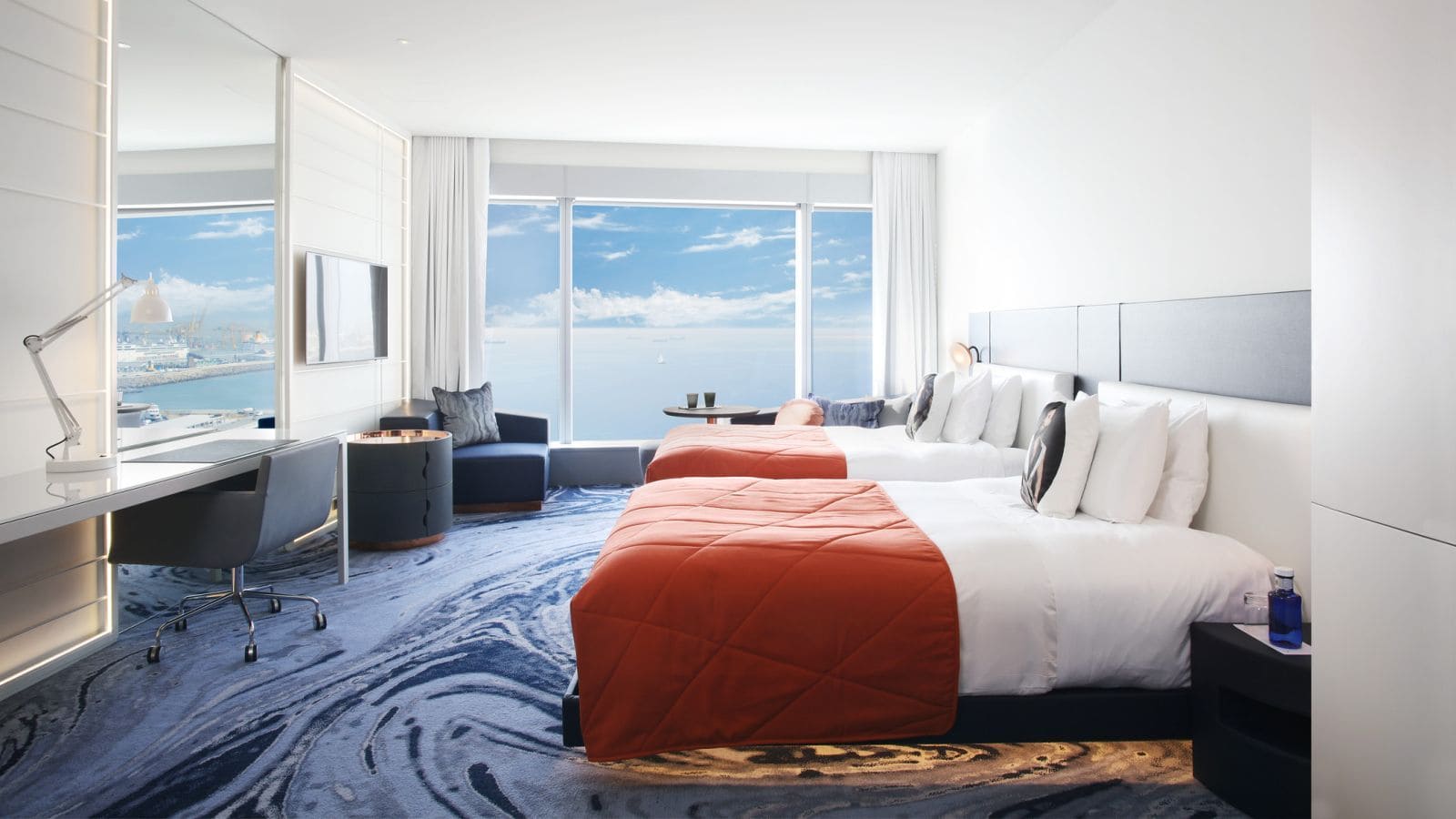 On the other side of the Barceloneta, is the W Hotel. This is the only hotel in Barcelona with direct beach access.
Beaches in Spain are public by law and a building cannot be constructed less than 100m from the coast. The W managed to do so thanks to the fact that it was built on reclaimed land and considered part of the port and not the civilian part of the city, hence the 100m rule did not apply. As a result, it is the only luxury hotel in a Spanish city on the beach.
Although the hotel has an emblematic "sail" design projected by Spanish architect Ricard Bofill that was later replicated by many (including Burj al Arab in Dubai), It is not the most convenient place to stay in Barcelona.
It is located far from everything and there are no buses or metros nearby so you will depend on 15-30min taxi rides. You can expect the usual party vibe of the W Hotels elsewhere plus sea facing rooms that are divine. It will be great waking up in front of the sea.
The pool area transforms into a party area in the summer months with the most beautiful people to see and to be seen yourself. It's a fun place to stay if very off-the-beaten-path.
Why you should stay at Ciutat Vella – Santa Caterina, Sant Pere i La Ribera (El Born)
This is the area to the right of Via Laietana. It is also one of the oldest in the city and houses most of the smaller museums like Picasso, as well as historical buildings like Santa Maria del mar (yes, my name!) Cathedral or El Palau de la Musica.
The area has become famous since El Born turned into the latest area to be gentrified and filled with alternative stores, local designers, bohemians and cool hangouts. The name El Born comes from the main square which used to be the place where medieval knights jousted.
Hotel Ohla
There are no luxury hotels to speak of here, but Ohla and Grand Hotel Central, on Via Laietana, are good options on the edge of El Gotic.
Ohla has a great rooftop terrace and bar that is open to the public in the summer months and has a glass pool from where you can see some of the best views in Barcelona. It's worth a visit even if you are not staying there.
The hotel is very aesthetically pleasing and was designed in a modern style. Some of the rooms are duplex and come with balconies and they are a bit larger than the average in Barcelona.
Grand Hotel Central
Grand Hotel Central is sleek and minimalistic. It is also housed in a historical building owned by a rich merchant who used to have a business on the lower floors and the hotel is still managed by the family.
The rooftop is impressive. It is expansive and has an infinity pool with views all the way to the sea and is worthy of a stay in the summer months.
Eixample – The best neighbourhood for modern luxury and central location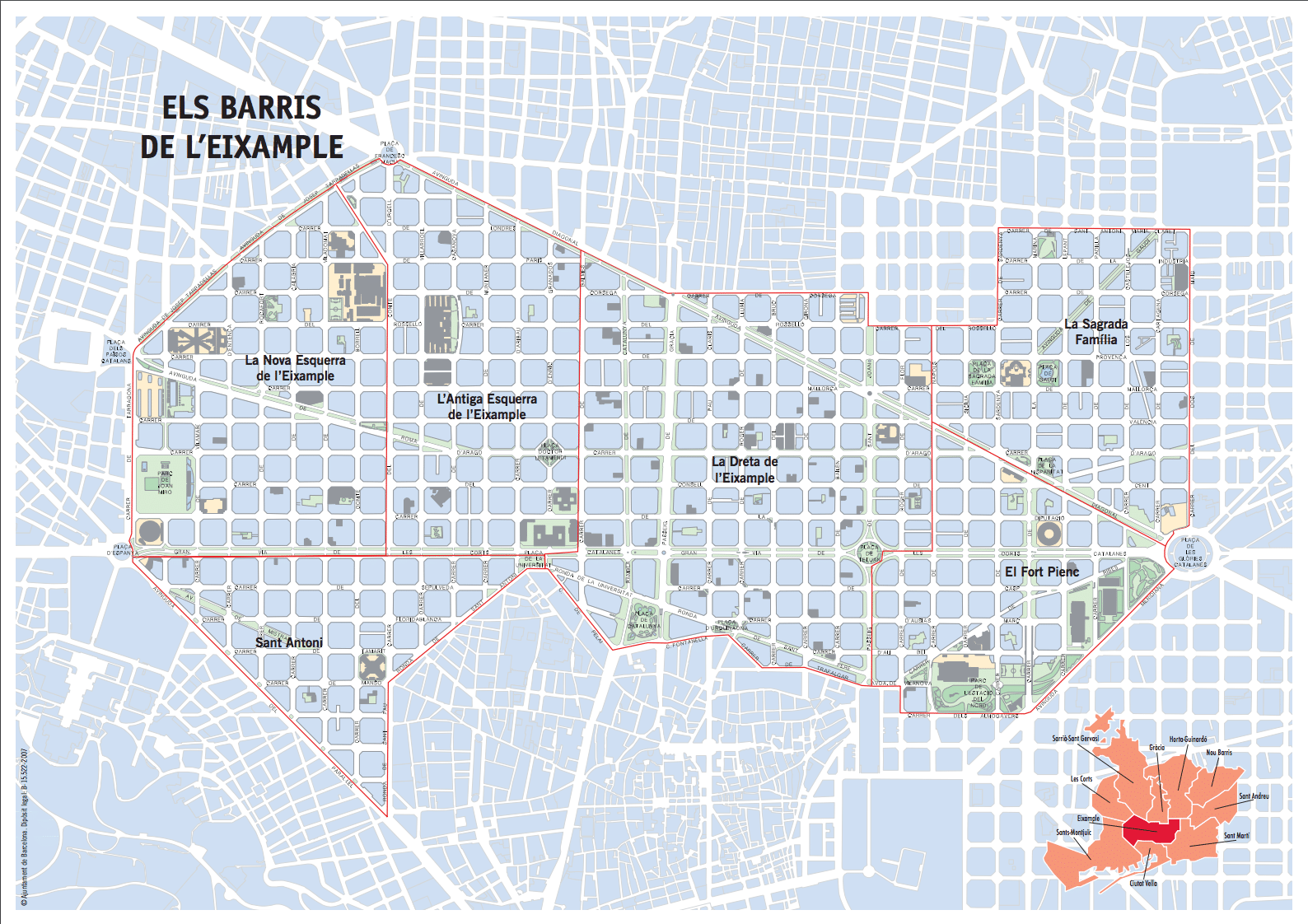 Click here to download the full size PDF of the above map on where to stay in Barcelona.
Eixample is my second favorite area to stay at in Barcelona. It is central, well connected and easy to navigate thanks to its grid-like structure and has everything you need.
You can walk a few minutes and be in El Gotic, a spacious and airy neighbourhood. This is also where most of the five star luxury hotels in Barcelona are, particularly along Passeig de Gracia, the main shopping artery of Eixample.
Here are also two of Gaudi's most famous buildings in Barcelona, Casa Batllo and La Pedrera, and Sagrada Famalia isn't too far.
Barcelona's typical architecture comes alive in this neighbourhood and you should not miss the chance to look up and admire most of the facades. Placa Catalunya, the heart of the city, is also on Eixample as are most of the Michelin awarded restaurants and some of the most delicious tapas bars.
Most middle-class Barcelonians live in Eixample's buildings with internal patios and beautiful staircases and doors. Needless to say, Eixample is a few minutes walk from Ciutat Vella.
Mandarin Oriental Barcelona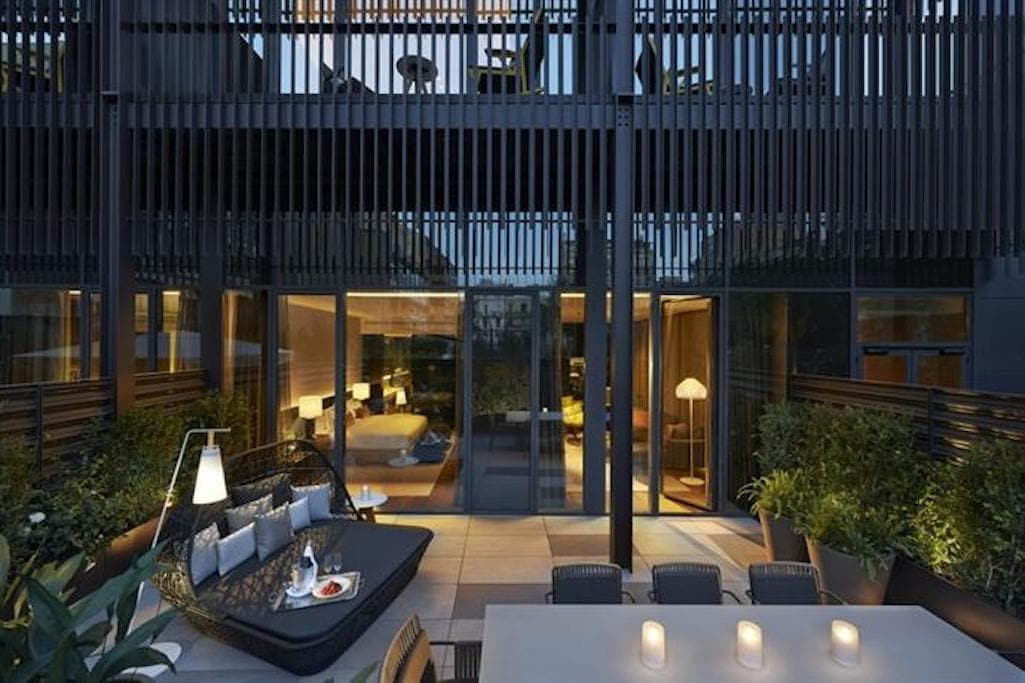 One of my favorite hotels in Barcelona is the Mandarin Oriental, also the most expensive in the city for their entry level room. The Mandarin Oriental has a two Michelin star restaurant where I have celebrated Boxing Day many years on a row.
MOments Restaurant is run by the son of two-time Michelin-star chef Carme Ruscalleda who has her home restaurant Sant Pau in Sant Pol de Mar, an hour from Barcelona on the coast, and her second one serving Catalan cuisine in Tokyo.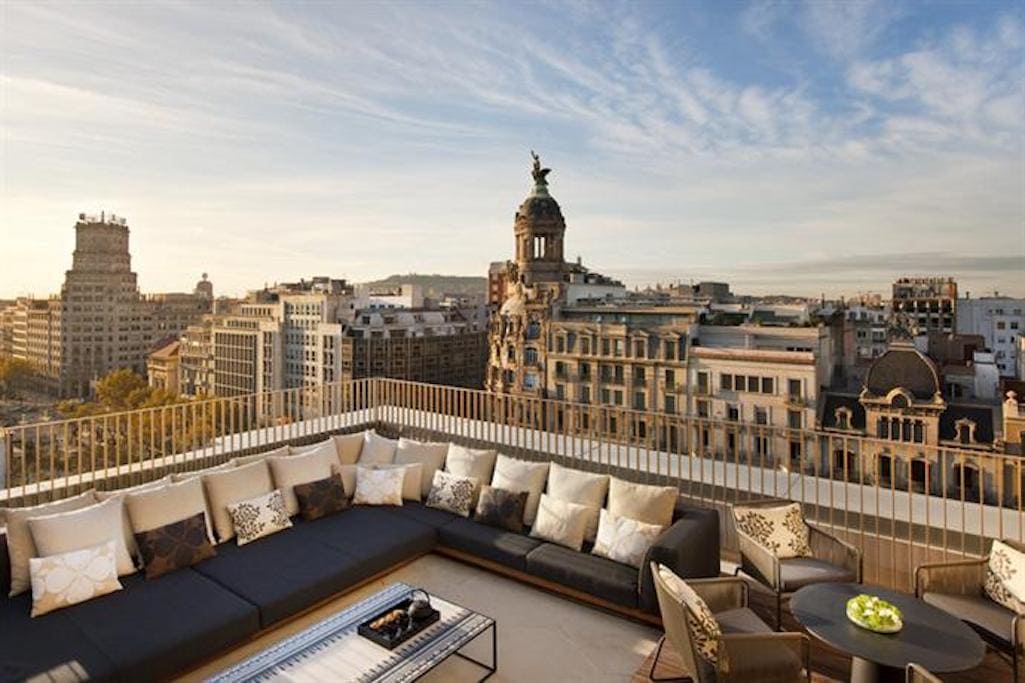 At Mandarin Oriental service prevails and the rooms combine a modern edge with a flair for the East. The building is a bit of a maze as it used to be a bank, but the concrete-dominated atmosphere blends in well with the understated luxury of the brand.
On the ground level, jewelry Tiffany's gives an air of elegance. The entrance to the hotel is secluded far inside up a ramp, so you could walk past and not realise the hotel is there.
The rooftop is also spectacular, with views all the way down Passeig de Gracia and a lovely pool to match. Class and elegance are two words that come to mind here.
Hotel Majestic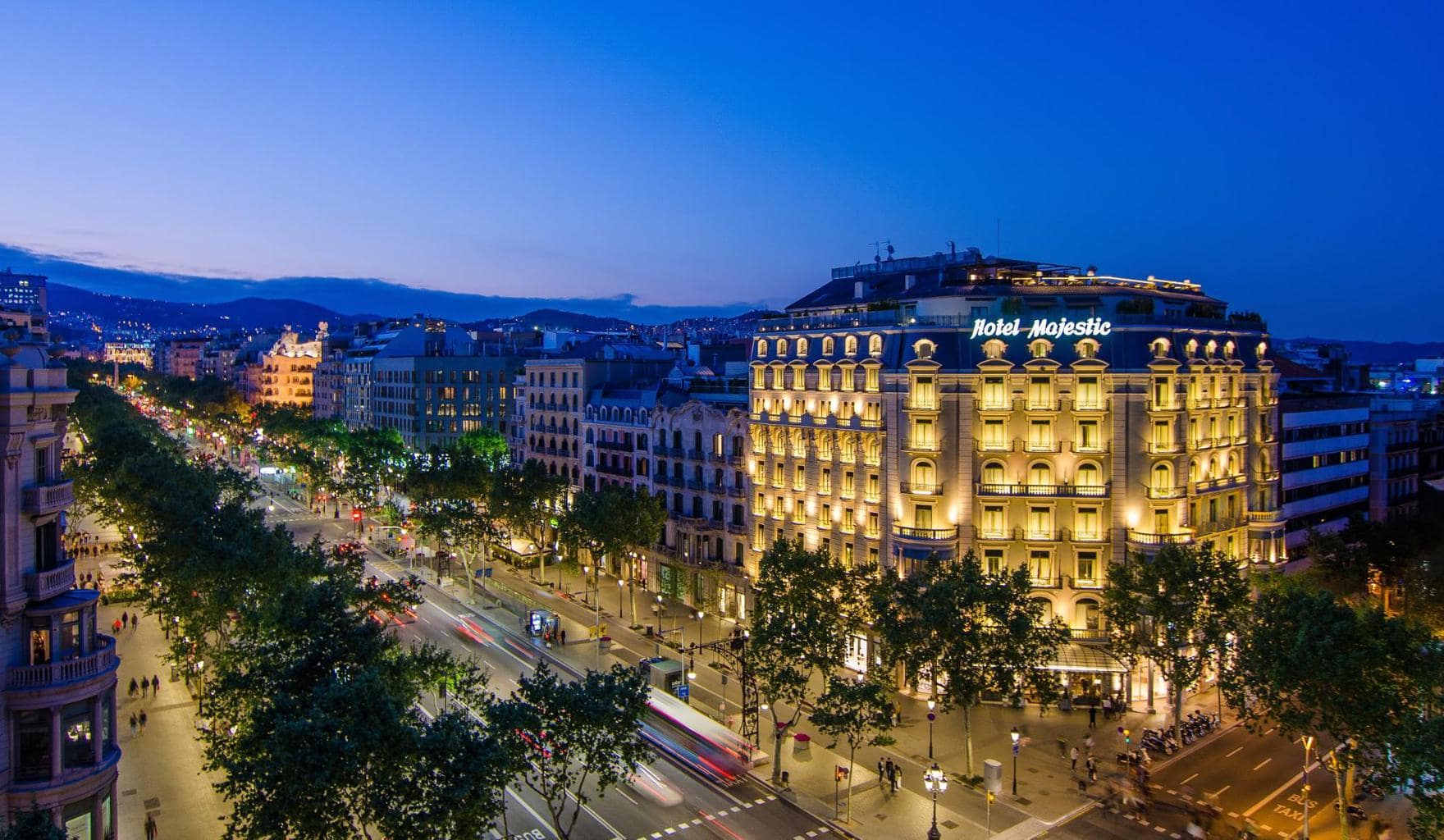 I spent a couple of days at Hotel Majestic over Christmas and very much enjoyed my stay. This is the oldest hotel in Barcelona and it sure knows how to dress up for the festive season which a facade covered in red roses and beautiful lights.
The hotel is over 100 years old and has become an institution in the city. It is elegant and timeless and it has a simplicity and attention to detail that only a hotel that has withstood the test of time can understand. But it is not all old-fashioned glamour.
The rooftop La Dolce Vitae bar is a happening place to see and be seen, especially in the summer, and SOLC, the farm to table seasonal restaurant serves weekly changing menus with locally sourced ingredients sometimes from the hotel's gardens in nearby Maresme province. Come here for Sunday brunch, for breakfast (awarded best in Europe in 2018) or for a drink at the classic lobby bar.
Monument Hotel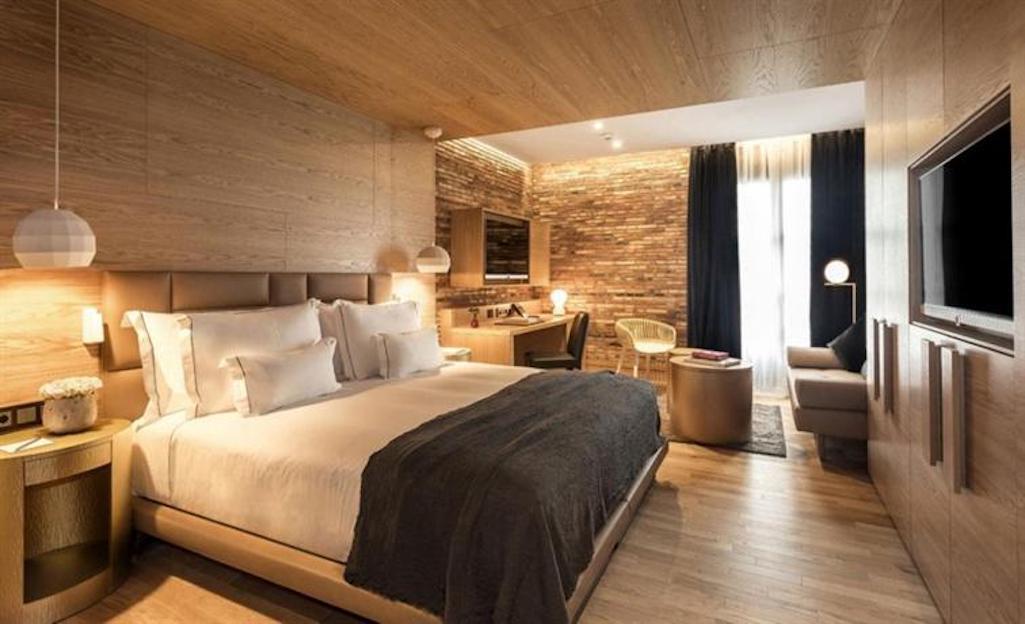 I also recently stayed at Monument Hotel, one of the newest five star luxury hotels in Barcelona. The hotel used to be part of the Ciudad Condal Hotel, across the street, but is now on its own.
The building has a traditional modernist design with internal patios and staircases but with a very decidedly modern twist. Barcelona's only three Michelin-star chef Martin Berasategui, has his Lasarte Restaurant here.
A highly recommended experience if you can snatch a table. Staying at the hotel may facilitate a booking, which is why I booked it, and I am glad I did because the hotel was also fabulous. The rooms are large and sleek in wood, leather and comfort. They were spacious and have outdoor balconies, some of which have views of Sagrada Familia.
Palace Hotel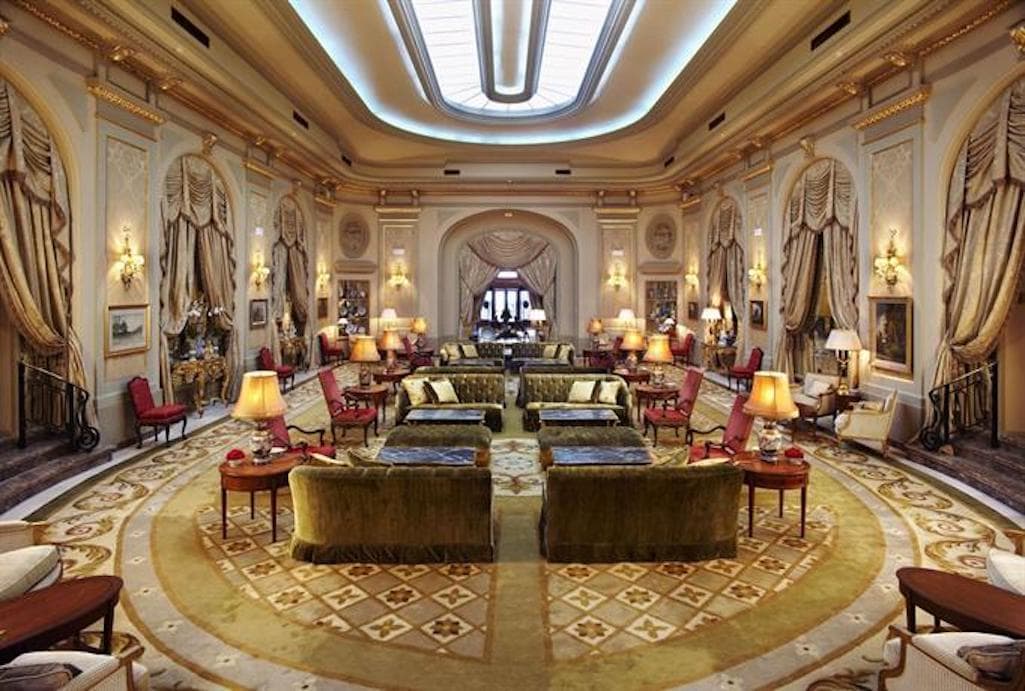 Another classic of the five star boutique hotels in Barcelona is the Palace hotel. Formerly the Ritz-Carlton, this is Renaissance France in Barcelona. Expect draped curtains, thick velvet and carpets, silverware, classic Versailles design and architecture, marble columns, ornate chandeliers and old fashioned service.
This is a very unique hotel in Barcelona which contrasts with everything else that has been built and operates in the premium segment in the city. It's not for everyone and certainly more for the older generations or for celebrities. Some rooms even have fireplaces.
Alma Hotel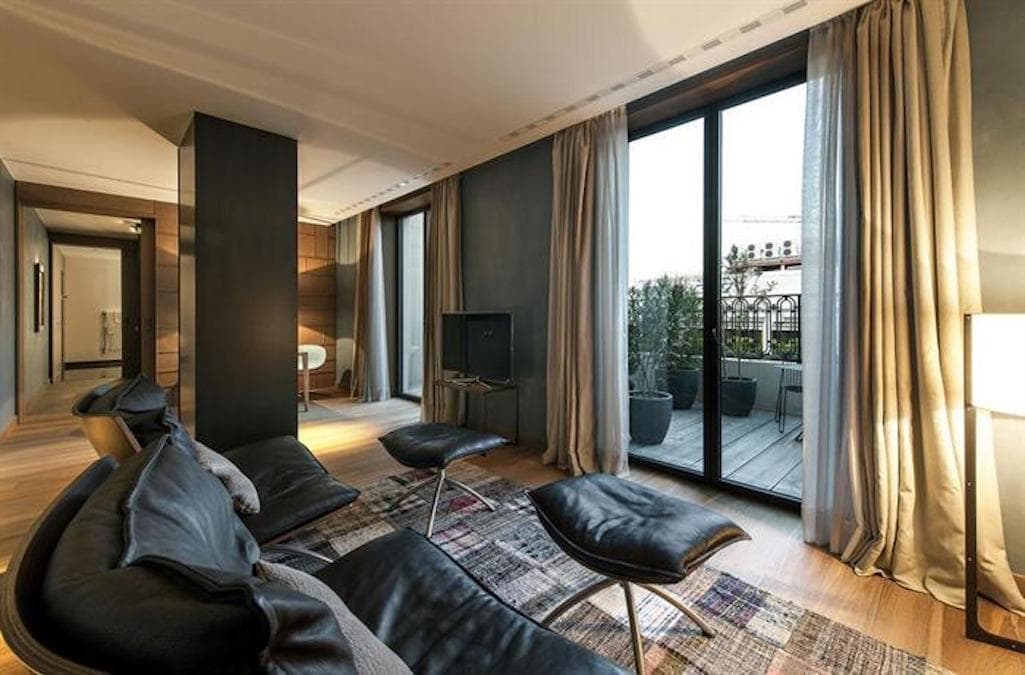 Alma is a family-owned and run hotel and has a great rooftop bar with 270 degree views of the city, which is worth a sunset drink.
What I love about it is its internal garden patio, so typical of the Eixample buildings, which is a breath of fresh air and a very quiet place to unwind and enjoy a beverage with a book. There is an indoor pool for some morning laps as well.
Hotel The One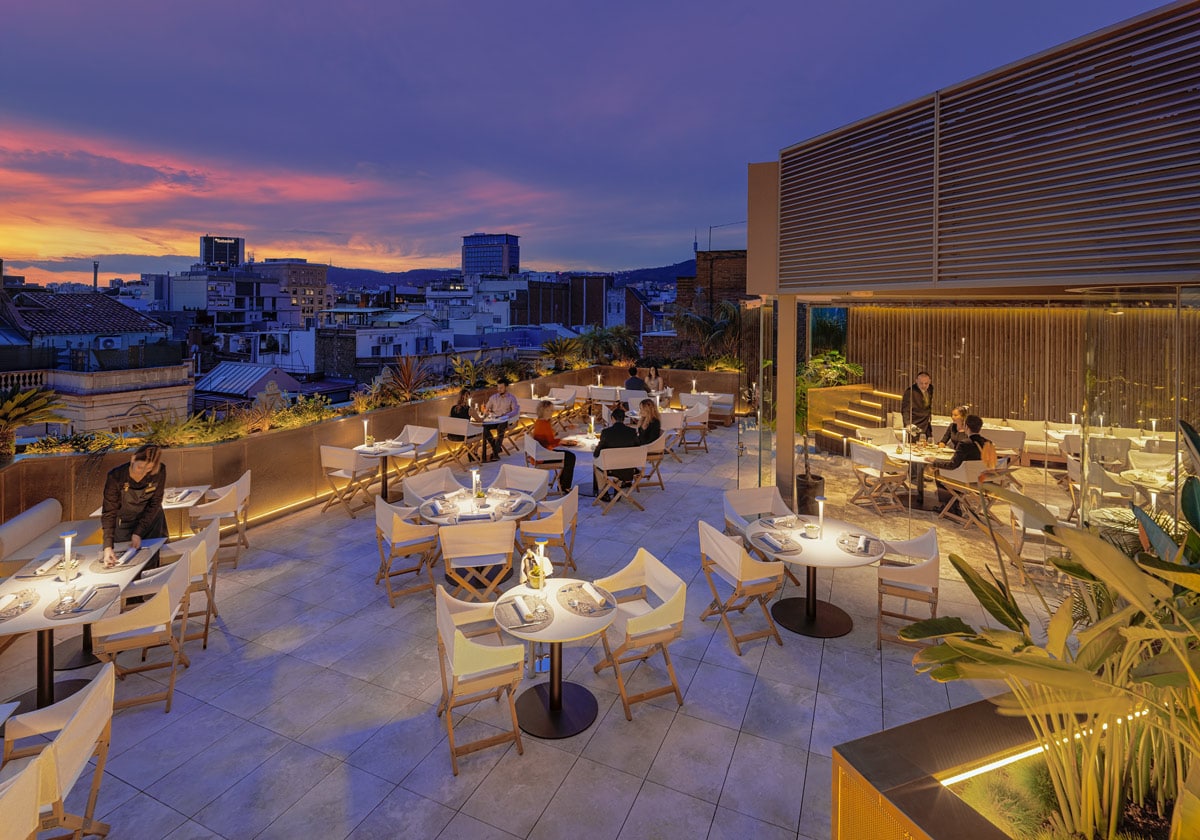 Hotel The One belongs to the H10 chain and offers rooms with balconies and the absolutely lovely Mood rooftop restaurant and bar.
Their spa is divine and the interior design and architecture is free flowing with glass and sharp lines adding an element of contemporary luxury. Look out for the black and white marble bathrooms with golden appliques and their freestanding bathtubs or outdoor jacuzzis. The rooftop pool has views over Sagrada Familia.
I recently stayed at The One and had an absolutely amazing stay, the suites are flooded with sunlight and its location just a couple of blocks away from La Pedrera is perfect.
Cotton House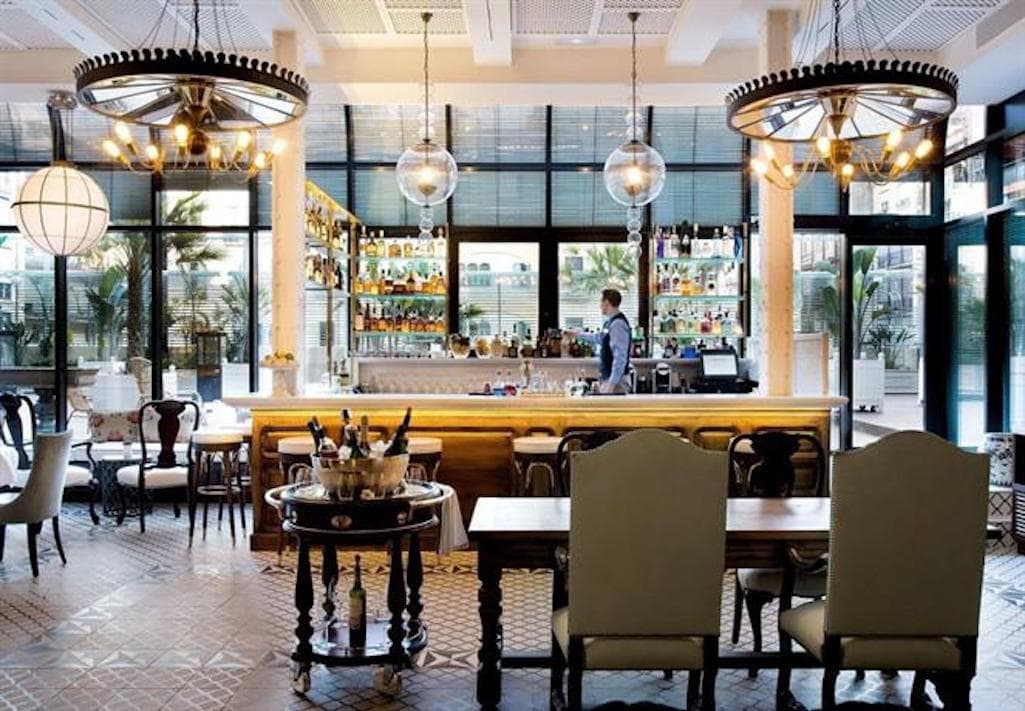 The Cotton House is an incredibly unique property recently opened in the heart of the city, on Gran Via de les Corts Catalanes and a block away from Passeig de Gracia.
The hotel has an outdoor swimming pool and a patio as well as an elegantly furnished and decadent library with the most romantic fireplace. Rooms and common spaces are decorated with vintage pieces and the original elements of this heritage building.
For example, you can see the well- maintained boiserie embellishing on the ceiling giving it an air of a time gone by. The neoclassical building used to house the Cotton Textile Foundation and was transformed into a hotel that opened its doors in 2015. Look out for the floating metal staircase that is unique and beautiful.
Gracia – The best neighbourhood for quieter small town life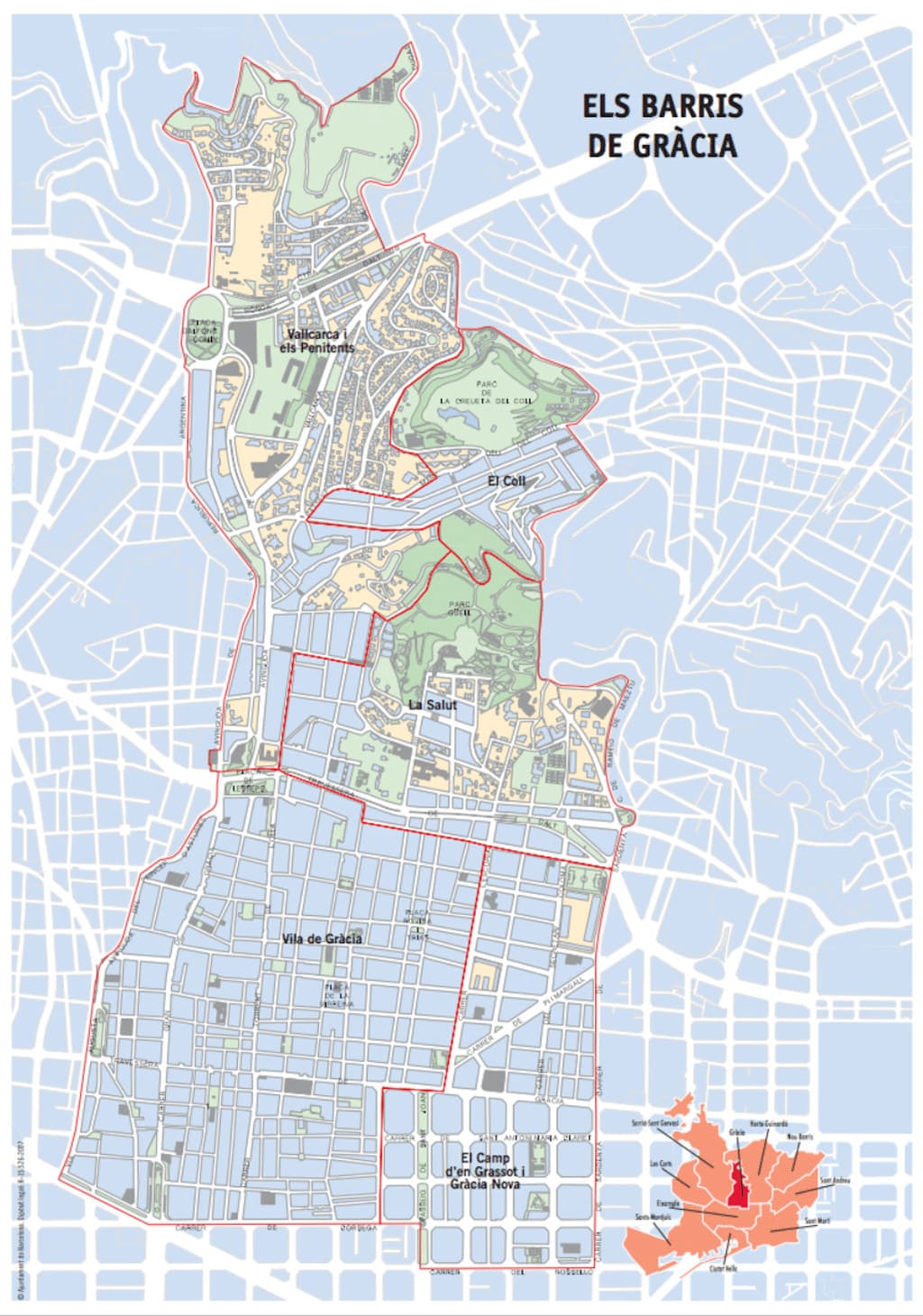 Click here to download the full size PDF of the above map on where to stay in Barcelona.
A lot of people talk of Gracia as having a small town feel despite being in the center of Barcelona.
You can find corner shops, grocery stores, traditional fishmongers and butchers and lots of small family­run bakeries. Because it is off-the-beaten-path in Barcelona and does not have a lot of sights, Gracia has remained largely unaffected by the tourism boom.
The neighbourhood is located above Diagonal and north of Eixample and is made of a mix of pedestrian and open streets.
Most of the buildings here are occupied by long term Barcelonian families who bring the neighbourhood to life during the Festa Major de Gracia, the annual neighbourhood patron saint's party. You will find hip shops, eco­friendly grocery stores, movie theatres showing alternative films and bohemian galleries.
Many longer term visitors consider Gracia the best area to stay in Barcelona. If you plan to live in Barcelona for a few weeks or months that may surely be the case.
Gracia is relaxed, laid­back and has that small­town Catalan feeling with all the upsides of a culturally rich and happening big city minus the hassle of the tourist­filled areas. You will get to know your neighbours and have a more authentic time as a local. If you are visiting on a typical shorter sightseeing trip, I would recommend Eixample or Ciutat Vella instead.
In terms of sights, the only relevant place you should visit in Gracia is Park Guell which is technically within the neighbourhood's limits if quite far north. One of Gaudi's latest buildings to be renovated, colourful Casa Vicens, is also in Gracia.
Just out of Gracia, but within walking distance of Park Guell is the Bunkers del Carmel which has become quite a popular spot for groups or couples looking for a picnic spot with views of Barcelona right up to the ocean. This is a bit of a hike, but well worth it.
There is also the unusual northern European castle style La Casa de les Punxes designed by Gaudi contemporary Josep Puig i Cadafalch. You can visit this spectacular brick face structure from 1905 with an audio guide.
Casa Fuster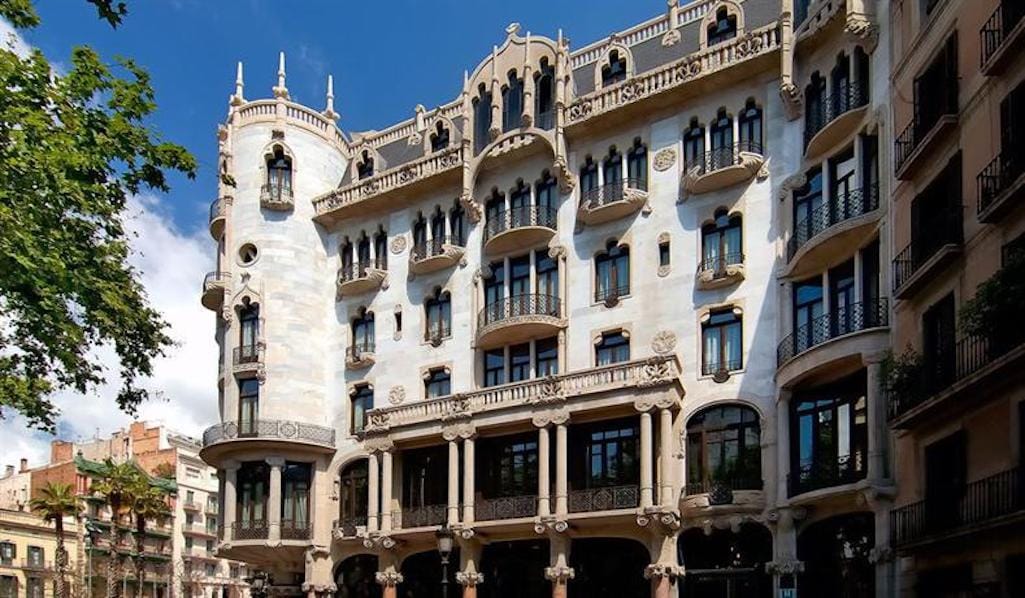 Casa Fuster is a beautiful modernist building by Catalan architect Lluís Domènech i Montaner, whose Palau de la Musica has been declared a World Heritage Site by UNESCO.
The building dates from 1908 and was a gift from husband to wife and the most expensive house at the time thanks to the marble facade and refined wood being used.
Casa Fuster was renovated into a five-star hotel in 2004. Located at the edge of Gracia and Eixample this luxury hotel is a good location for visitors and is also a great place for a coffee or a drink with a side of live Jazz at the Jazz Club. The lobby bar, Cafe Vienes, is so beautiful it deserves special mention.
Rooms are on the small side as the building cannot be altered, but it is full of history and is beautifully decorated with thick velvet and decadent touches with a modern base. Some Art Deco Modernist furniture elements dot the space.
This would be a great addition to your travel Pinterest board!