This article on the Buddha Tooth Relic Temple & Museum in Singapore Guide was last updated in June 2020.
Over one third of Singapore's population is Buddhist, so it's no surprise that Buddhist temples are scattered across the island. Most of these traditional small to medium sized temples lie in Singapore's suburban neighbourhoods, however One of the most famous is not an old one but a recent addition to Singapore's heritage Chinatown district: the Buddha Tooth Relic Temple and Museum.
While other have been around for a long time, with the oldest one, Thian Hock Keng Temple, dating back all the way to 1920, this is a newer addition to the Red Dot. Save our Guide to Singapore Chinatown and then read on for all the facts, history and a practical guide of the Buddha Tooth Relic Temple.
Buddha Tooth Relic Temple and Museum History
The idea for this temple first began in 1998 when the Singapore Tourism Board (STB) asked the now abbot of the temple, Ven. Shi Fa Zhao, to come up with a proposal.
His task was not easy – design a temple that is both "traditional" and modern that both locals and tourists could visit. It took nine different proposals before they settled on a structure that combined ancient Tang dynasty architecture with state of the art modern facilities.
The structure was completed in 2007 and cost a whopping $75 million to build. It has everything from gold statues of the Buddha and Bodhisattvas to air conditioning, lifts and TV screens.
From the outside, the temple still looks like a traditional imperial Chinese building with its slanting bamboo roofs and red wooden beams.
And the prized possession, the temple houses what is believed to be Buddha's actual tooth which was found in 1980 from the wreckage of a collapsed stupa in Myanmar in 1980.
The Buddha Tooth Relic Temple has since become one of Singapore's most popular spiritual hubs for Buddhists due to housing Buddha's left canine tooth. It now attracts over 3.6 million visitors from all religions annually looking to learn more about the history, art and culture of Buddhism.
What to see and do at the Buddha Tooth Relic Temple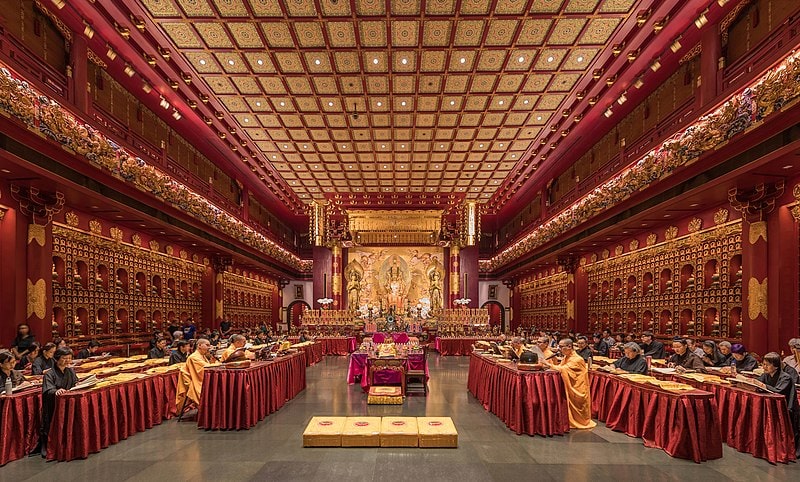 There's surprisingly a lot to do in this fairly small structure due to the several levels of the building. You can easily spend an hour browsing all the artefacts the premises has on offer. It's a great place to saunter around when it's raining in Singapore.
The temple is divided into several floors, with each floor containing a different theme. On the first floor you'll find a huge prayer hall that is surrounded by hundreds of golden Buddhas. The second floor houses the Aranya Reference Library, BTRTM History Gallery and the Aranya Buddhist Culture Shop.
Step up to the third floor and you'll see visitors browsing an array of Buddhist artefacts. The most visited floor and the one where you should go if you're pressed for time is the fourth floor which houses the temple's centrepiece, Buddha's Tooth. This is called The Sacred Light Hall and there is space to pray or meditate on the sides. This hall is quite a sight to behold.
Right on the top is the roof garden, which is a peaceful and calm place to get some respite from the crowded halls. Witness the gorgeous Ten Thousand Buddhas Pagoda, spin the large Buddha prayer wheel or just take a seat and relax while surrounded by zen greenery.
If you're there during meal times you can go down to the basement for a free and simple vegetarian meal. Even though it is free a donation is always welcome. For longer stays, the temple offers tours and meditation classes, or you can even take part in a one day retreat.
Below is more information on the main attractions of this popular Singapore temple.
Buddha's Tooth Relic
On the 4th floor of the Buddha Tooth Relic Temple lies their centrepiece: a left canine tooth believed to belong to the actual Gautama Buddha. Supposedly it was originally recovered from his funeral pyre in northern India, the tooth relic is now housed in a giant stupa weighing 3.5 tonnes and made from 320kg of real gold.
As only monks are allowed into the actual relic chamber, you won't be able to see the tooth. You will only get to see the golden stupa and a live video streaming of the tooth from behind a glass wall.
15-Foot Buddha Statue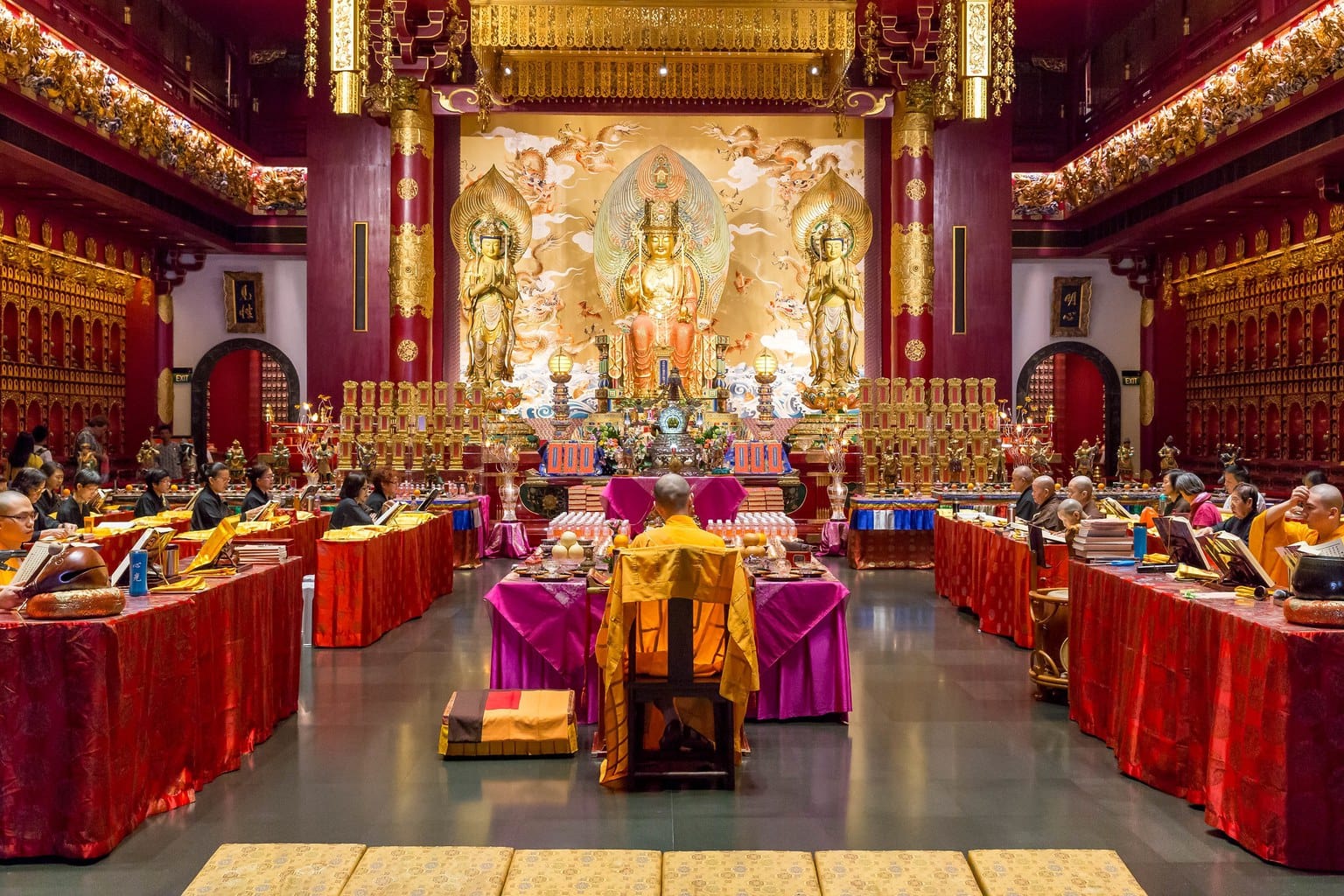 At the temple's main entrance sits a magnificent 15-foot golden Buddha that was carved from a single wooden log and then hand painted using grounded natural stones and vegetable dyes. Monks and devotees pray and chant sutras in this chamber. You can see the daily schedule for prayer rituals here.
10,000 Buddha Pavilion & Rooftop Garden
The beautiful orchid-filled rooftop garden is famous for its "10,000 Buddha Pavilion" housing a large prayer wheel, which is a rotating cylindrical book shelf engraved with Buddhist scriptures. Here, you'll see Buddhists reciting mantras while walking in circles to turn the prayer wheel.
Each full circle triggers the wheel to ring a bell and is believed to help Buddhists accumulate wisdom, merit and purify bad karma.
Eat at the (free) Dining Hall in the basement
As with most Buddhist temples in Asia, the Buddha Tooth Relic Temple serves vegetarian meals free-of-charge to monks and visitors in the basement dining hall. According to Buddhist teachings, one must accept this food in order to complete the karma of Buddha. Donations are always welcome.
Sacred Relics Chamber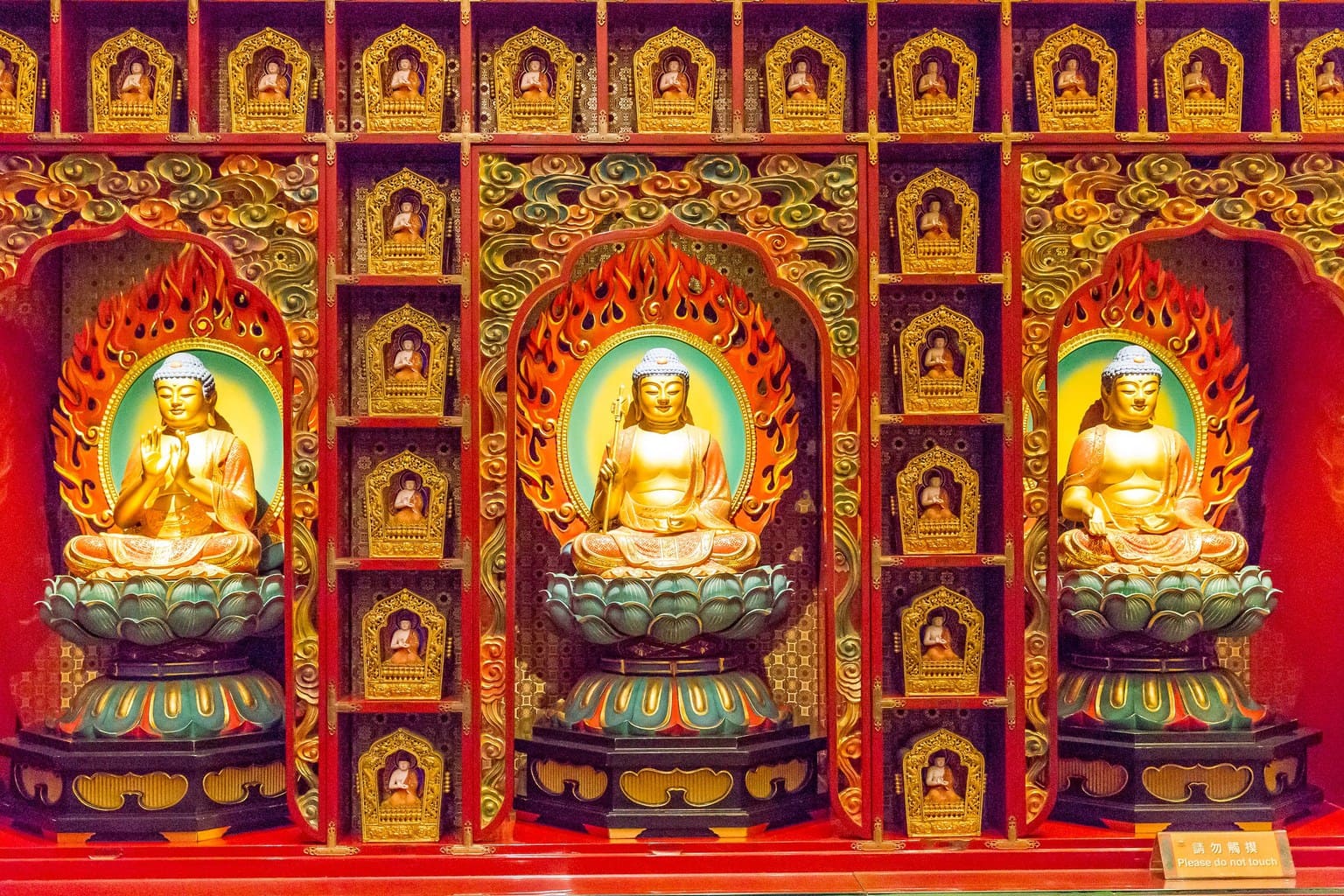 To learn more about the history and culture of Buddhism, head to the third floor museum to see donated Buddhist statues and artefacts from all over the world. You can also see sacred relics of other parts of Buddha, including his nose, brain and eyes. It's a small but interesting museum in Singapore to visit.
Mezzanine
Between the first and second floors is a mezzanine which is designed like a balcony overlooking the first floor. Not many know about this in-between floor, but it is a must-see as it offers a breathtaking view of the 15-foot Buddha statue in the main chamber below.
Things to note when visiting the Buddha Tooth Relic Temple
There are a few things to note before you step inside the temple as conduct is key. Remember that you are in a working place of worship, so dress modestly. Wear long pants or skirts that fall below the knees, and tops that cover the shoulders. Don't worry if you come in shorts and a low cut top, as you can borrow the temple's robes placed at the two entrances of the temple.
Flash photography is not allowed in the Buddha Tooth Relic Temple, except in the 4th floor relic chamber.
Take your shoes off on the 4th floor before entering the tooth relic chamber.
Don't bring pets or non-vegetarian foods into the temple.
Further information about the Buddha Tooth Relic Temple
Buddha Tooth Relic Temple is located at 288 S. Bridge Rd, Singapore 058840 and is open daily from 7am to 7pm, including Public Holidays (Relic viewing: 9am – 6pm). Admission is free, but donations are welcome. See more information on their Official Website.
If you're wondering where to stay in Singapore, you can see our guide to the best luxury hotels in the city-state or even some boutique hotels if that's more your poison. And once you're done exploring Chinatown, we recommend venturing forth into Little India for some real cultural immersion and a mind boggling venture into the Mustafa Centre. Here's our complete guide to Little India. And for the IGers, these are the spots you need to visit for your #OOTD snaps.
And if you find yourself in need of more amazing things to see in Chinatown, then don't forget to save our choice of free walking tours in Singapore.
Don't forget to Pin this to your Singapore Travel board!