This article on the most Instagrammable spots in Singapore was last updated in June 2020.
Singapore has it all. From gorgeous tropical green spaces to modern skyscrapers, hipster cafes to colorful shophouses. Above this, the architecture and general design around the Lion City is unique, inventive and absolutely photogenic. Don't forget your selfie stick and extra battery pack as you'll be snapping pics like never before.
While most of the Little Red Dot will have you pulling out your camera, we're here to help you find the most unique and the most beautiful places in Singapore to snap a selfie or pose for your #OOTD. Follow us on a journey of the most instagrammable spots in Singapore. And don't forget to check out our post on 300+ Instagram Quotes and Caption Ideas for some insta-ration.
Get around Singapore

Before starting your journey, we'd highly recommend reserving a Singapore Travel (NETS FlashPay) Card on Klook. You can conveniently pick up your preloaded public transportation card when you arrive or you can get it sent right to your door before going.

It allows you to skip the line at train stations and if you need to top it up at any point, just pop into a 7-11. The card can also be used to make cashless payments at multiple places around the city-state from convenience stores to selected hawker centres.

Apart from that, it also gives you an additional 10% off your bill at selected restaurants in Sentosa. And the card is super cute, so you can keep it as a souvenir when you go back home. You can get your Singapore Travel Card here
.
There are great Singapore staycation deals that are super Insta-worthy. Read our article on the best Singapore staycations under S$200 to find out more.
Jewel Changi Airport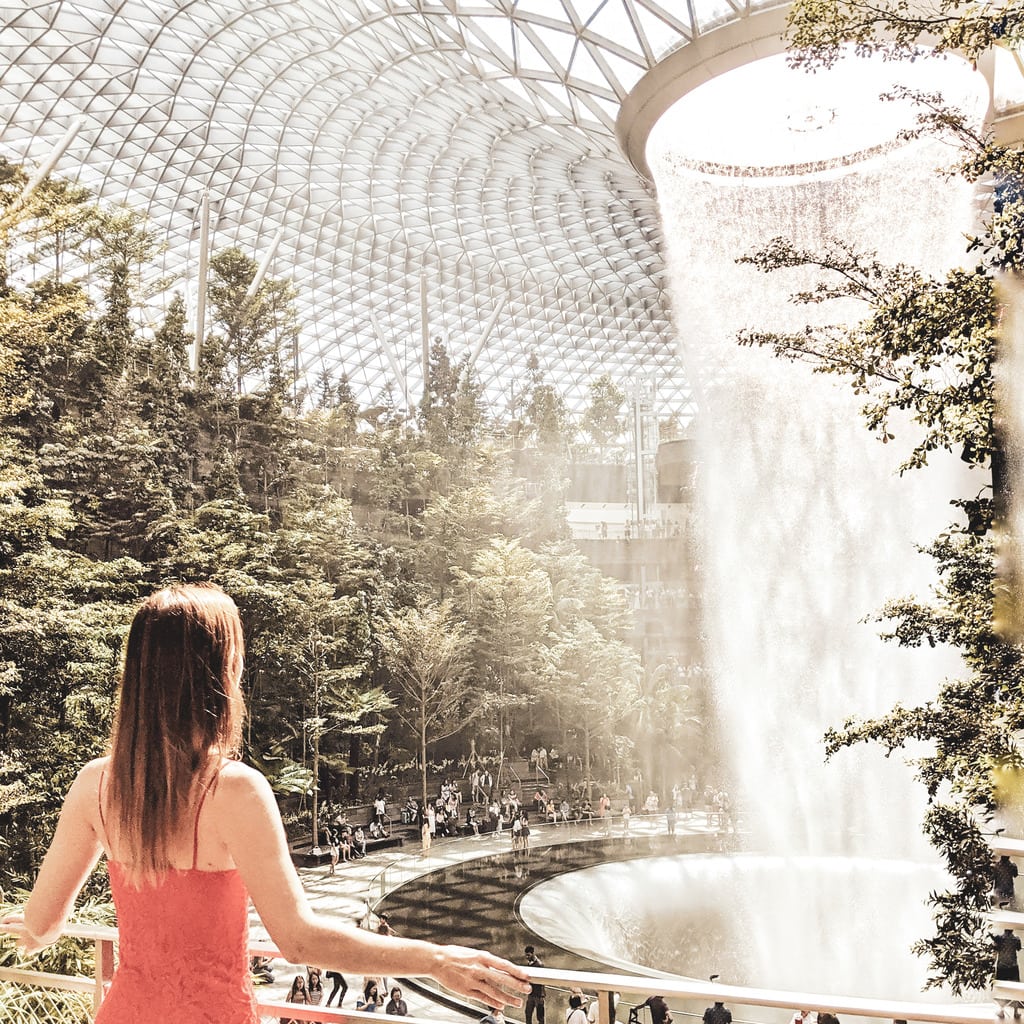 One of the newest and most popular destinations for the most Instagrammable places Singapore is the spectacular Jewel at Changi. Like the rest of the country, you will witness how nature merges seamlessly with architectural wonders to create and effortless and interactive beauty.
The retail space has all your favorite shops including the world's first Pokemon Centre outside of Japan and US food chains like Shake Shack. But if you're looking for the most epic shots for Insta, you'll want to pose in front of the world's largest indoor cascading waterfall the HSBC Rain Vortex measuring 40m.
The glistening water combined with glimmering pinkish-orange hues and the various nature attractions surrounding it make for the perfect #OOTD shot. Explore the other areas like the Canopy Bridge, Canopy Park or Shisedo Forest Valley, for some more inspired pictures and great places to visit in Singapore when it rains. Come at any time of the day and during any weather as you're guaranteed an awesome pic. And don't forget to pop by the new Jurassic Mile near T4 to get your selfie with a dinosaur.
---
Best time to come: Jewel became ridiculously popular when it opened but, like with all the Singapore attractions, interest wound down and it is more bearable now. However, it is still a very famous spot. The best time to come is early morning during the week. However, don't miss the chance to see it at night as well, the lights against the dark sky are also pretty impressive.
How to get there: The nearest MRT station is the Changi Airport stop on the green line.
Cost: All of Jewel is free.
Emerald Hill
True to its name, Emerald Hill is a true gem. What makes Emerald Hill so Instagram worthy is the blend of gorgeous Peranakan architecture on the exterior with fantastic bars inside, your camera will be working overtime here.
Formerly a nutmeg plantation that was wiped out in the 1860s due to disease, Emerald Hill was transformed into a residential area dominated by the who's who of Straits-Chinese like physician Lim Boon Keng. The surviving houses along Emerald Hill Road were built between 1902 and 1925. The Chinese Baroque and art deco houses are beautifully picturesque among the hanging foliage of the area.
After restoration works, the houses have gained their former glory, still making the area home to upscale Singaporeans where rental for one of the smaller properties is an astounding S$12,000 a month. Sitting on the patios at one of the bars lined with palm trees, fantasizing about living like a real Crazy Rich Asian is a great way to pass the day.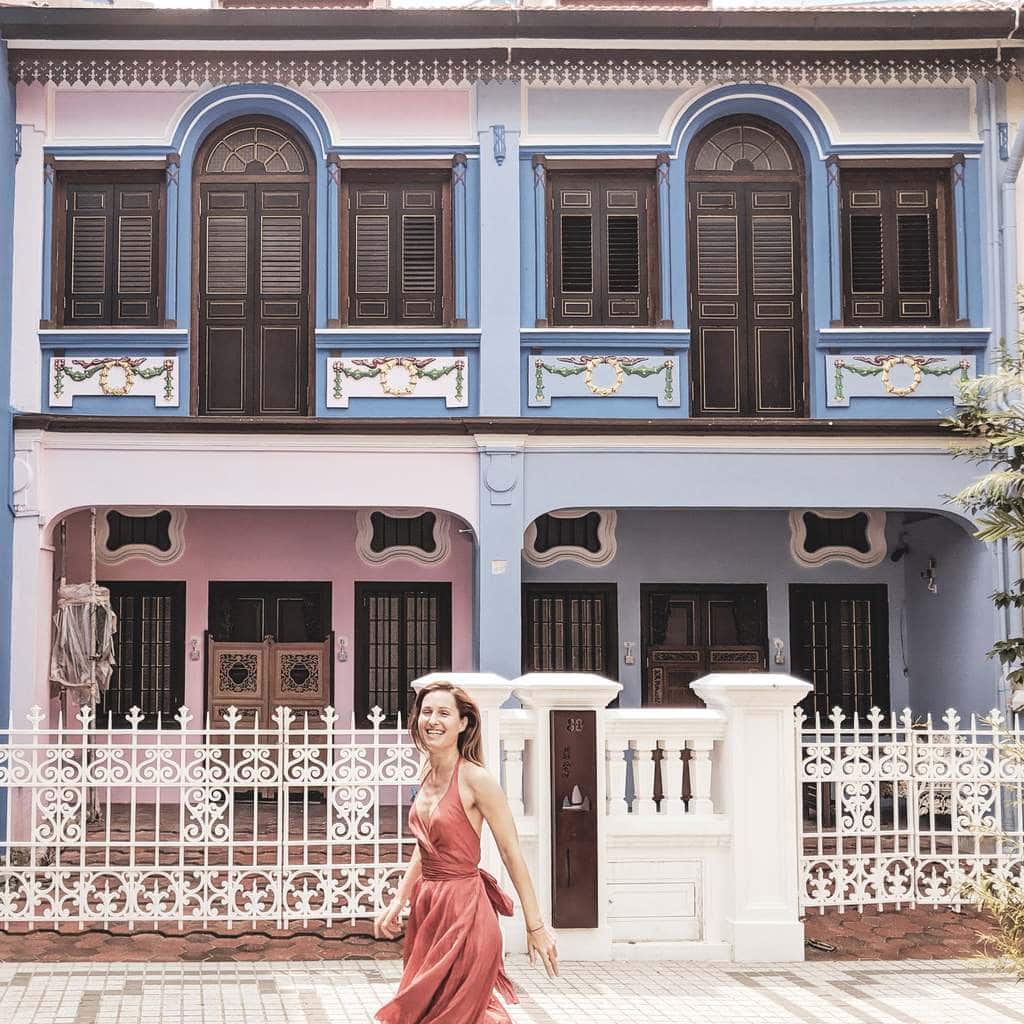 Due to the quiet and lovely surroundings just off busy Orchard Road, some very unique bars have popped up along the road. No. 5 Emerald Hill Cocktail Bar is the perfect place to try a martini which they specialise in, Ice Cold Beer Bar for the eponymous drink or Alley Bar which is the gateway to Orchard Road. Antique shop One Price Store is a fantastic place to find Singaporean souvenirs like snuff bottles and marble dragons.
---
Best time to come: The area is relatively quiet all day, without much traffic, but some of the bars at the bottom open around noon time so if you want to take the picture without the tables and chairs outside come before that. At night it gets crowded and dark so daylight is best.
How to get there: You can take a taxi there or walk for about 10min from the closest MRT station which is Dhoby Ghaut on the purple line.
Cost: You can photograph away for free.
People's Park
People's Park is one of the most well known landmarks in the Chinatown district of Singapore. It was the first complex of its kind in the entire Southeast Asia and was the blueprint for many other malls in Singapore. The bright green, yellow and red make this spot pop in any image which makes it a great pic for your IG portfolio.
The structure itself is steeped in history and knowing the story behind it will make visiting the space extra special. Before a fire destroyed the former popular People's Park Market in 1966, the area was filled with cheap housing and run-down shop houses. In 1967 the site was redeveloped by Singapore's first Urban Renewal Department Sale of Sites which focused on creating urban regeneration.
After the initial 6-floor shopping mall was built in 1970, 25 more floors were added in 1973 and those are purely residential with affordable rental prices. This change from low-rise to high-rise transformed Singapore from street food stalls to convenient shopping malls.
The design of the interior was also quite groundbreaking in the time. Like its former market, the building has a central atrium (or "city room") in the mall section designed as a public living room for social activities. A place for people to gather, sit, chat and eat.
Today the atrium is always crowded with demonstrations from eager salespeople trying to sell their ware. While inside and on the lower floors of the mall area it is always chaotic, the exterior is what you'll want to capture. The block-like brutalist architecture and Chinese characters, 珍珠坊, on the side facing Eu Tong Sen Street is the perfect addition for your #picoftheday.
---
Best time to come: The area is empty all day long but is dark at night.
How to get there: It is tricky to find the way up and technically, photos are no longer allowed. The place became far too popular with photoshoots and the car park management company decided to reclaim their privacy and put up signs against photography without permits. Admire this building from the crossing between North Bridge Road and Cross Street like the photo above, or from Smith Street in core Chinatown for the best perspectives.
Cost: Free access
Blair Road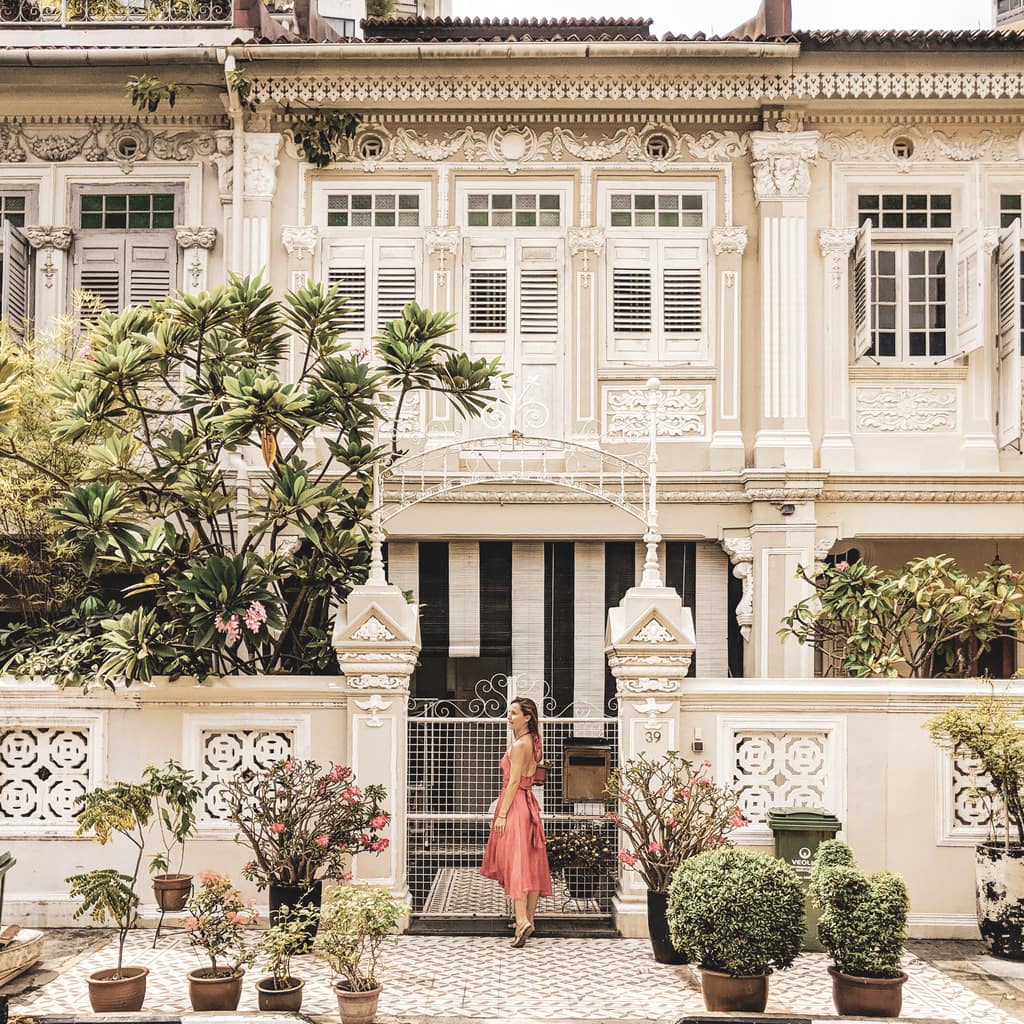 If there ever was a street that most represents Singapore, this would be it. Why? The architecture is a blend of different styles and designs, much like the melting pot that is Singapore. You'll find an eclectic mix of Peranakan shophouse design and tiles blended seamlessly with European influences like the French shutters alongside floral plaster friezes.
After the restoration and gentrification of the area in Tanjong Pagar and Outram in the 1970s, Blair Road became a hub for the wealthy. The residents today are a mix of expats and locals and the interiors showcase the often eccentric tastes of those who dwell inside.
The exteriors of this highly Instagrammable spot in Singapore are absolutely stunning. Expect pastel colors lined with floral patterned walls, gorgeous greenery and beautifully clean floor tiles (even the driveways are tiled!) on the five foot way under the overhanging first floors.
One road up is the trendy Kampong Bahru Road with a multitude of cafes and eateries that are equally as aesthetically pleasing as Blair Road. Top recommendations include Strangers Reunion and Highlander Coffee Espresso Bar.
---
Best time to come: In the morning you will find the area quieter and some of the cars will be gone as people go to work. Weekends and evening are far more crowded and there are more cars filling all the spaces.
How to get there: The nearest MRT stations are slightly farther. Outram on the Green line is about 10min away.
Cost: Free
Murals in Tiong Bahru
Functional murals are lined along the walls of Tiong Bahru which tell a story of the area's lively past. After the move from kampung style living, Singaporeans were moved into HDB public housing. The HDB housing in Tiong Bahru is the first in the country and instead of the usual concrete blocks, the buildings here had a more Art Deco feeling also worth a stroll.
After the move, residents formed a close-knit community where they would often go from house to house to spend time with their newly acquired friends.
The murals in Tiong Bahru are the vision of artist Yip Yew Chong (YipYC). His art evokes a time in the past where life was simpler, slower and more community based. You will see stories of fortune tellers, singing birds, kampung life and merchants of old as you stroll through the quiet backstreets.
The best part of visiting these murals in Tiong Bahru is that they are partially immersive. This means that they are life size renderings, so you can pose perfectly in front of any mural and totally submerge yourself in them. It will look as though you are visiting olden days, definitely one of the most Instagrammable places in Singapore.
Here is a list of all of YipYC's murals so that you can plan which one's you want to include in your list of Instagrammable spots in Singapore.
---
Best time to come: Tiong Bahru is, eminently, a weekend destination and practically empty during the week when it is just the locals so come then.
How to get there: The closest MRT station to Tiong Bahru is the one of the same name which is 10-15min walk from most of the murals.
Cost: Free
Merci Marcel Cafe
All the walking around Tiong Bahru finding YC's murals will surely make you peckish. You won't want to just visit any old cafe, but rather a beautifully Instagrammable cafe in Singapore. That's why you should head over to Merci Marcel Cafe, the bohemian-chic French eatery in the heart of Tiong Bahru.
Arriving at the cafe, the grey awning and small seating area on the outside will have you thinking that it's just another spot with nothing especially visually pleasing to offer. But once you enter the large airy 135sqm interior, you'll instantly have your thumb on the photo button.
The cafe is actually divided into three separate areas including the Lounge, Café Chic, and the Garden Patio, each as pretty at the next. The yellow diamond tiles and light wooden bar are the start of your visual journey with painted walls enticing you onward. There is a beautifully designed menu adding an elegant touch.
The food is plated delicately on floral crockery and is both pleasing to the eye and the tummy. By day Merci Marcel is a brunch cafe and by night it becomes a lively tapas-style eatery and wine bar. Take a seat at the open-air section in the back, which is the most photogenic and has beautifully painted blinds.
---
Best time to come: During the week, weekends are absolutely packed and you will have to queue, not worth it at all. Alternatively, come early (before 10am) to avoid the crowds.
How to get there: The closest MRT station is Ting Bahru which is about 15min walk away.
Cost: Menu items cost between S$15-S$25 and a coffee will easily set you back S$6.
Row of shophouses in Joo Chiat
When people talk about shophouses in Singapore, they are most probably referring Joo Chiat Road in Katong, home to Peranakan culture in east Singapore. A former coconut plantation, the area was named after Chinese landowner Chew Joo Chiat transformed into a residential neighborhood.
Its claim to fame is its colorful pre-war double storey shophouses that are equipped with ornate facades, intricate motifs and beautiful ceramic tiles.
Joo Chiat is also one of the best foodie destinations in Singapore, so you can pop into any of the eateries for a quick snack and snap. You'll want to try the famous Katong laksa (spicy coconut milk-based noodle soup), kueh chan (dumplings) and other Nonya (authentic Peranakan) delicacies. Hop over to East Coast Park for sunset after you've got all your shophouse photos for your IG feed.
---
Best time to come: Weekdays are quieter than weekends but the traffic in the street between the two rows of houses is constant throughout. Note as well that locals, tired of the constant flow of tourists, have started to pull down curtains making the photos less appealing
How to get there: There is no MRT station in that part of Singapore, one of the last bus areas in the country pending the new MRT line. Apart from taking a taxi, you can take bus 33 which stops 3min away.
Cost: Free
Haji Lane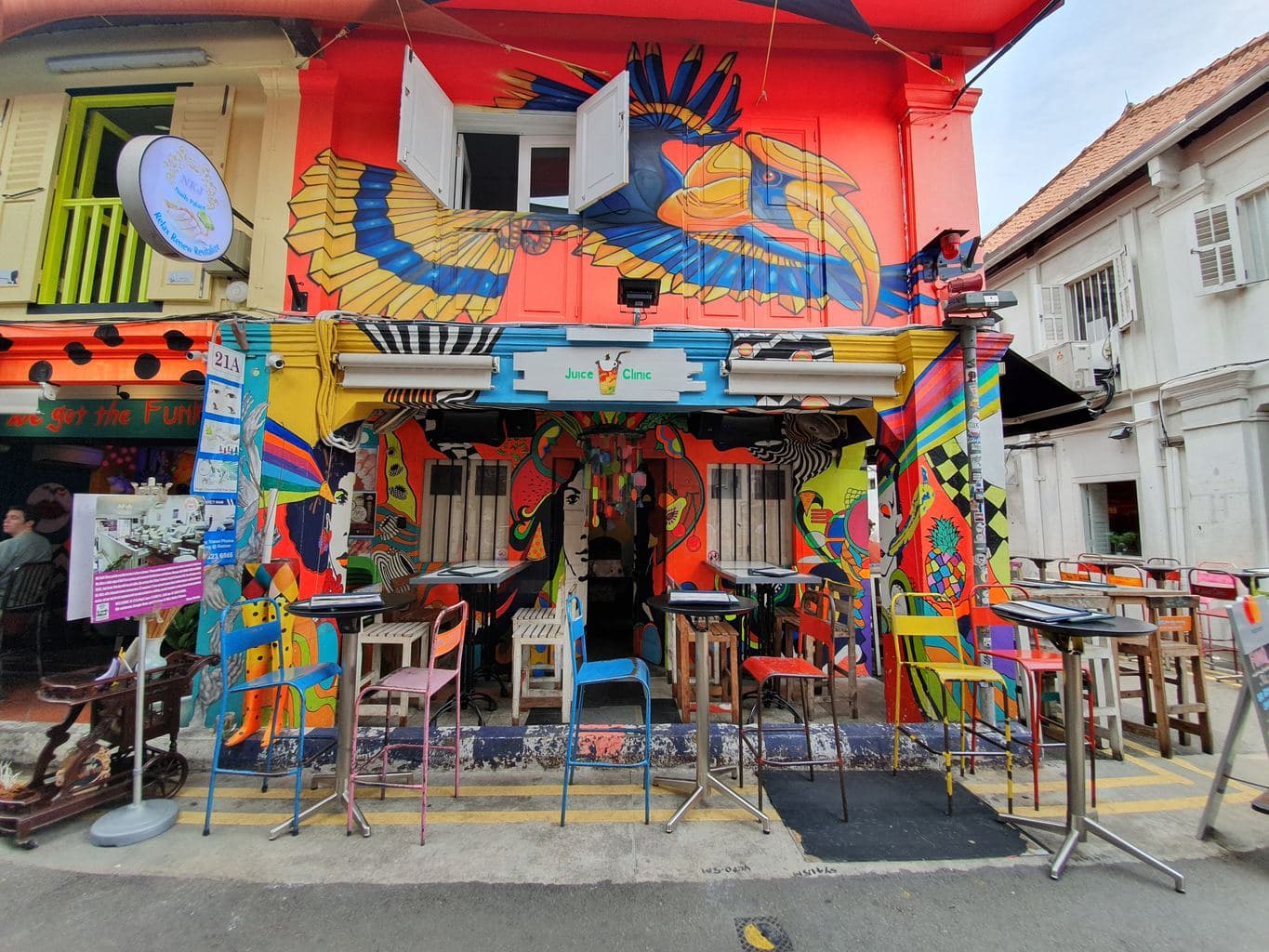 Haji Lane and Arab Street are probably the most Instagrammed places in Singapore after the Merlion and Marina Bay Sands. The popularity of the hipster street is due to the colorful graffitied walls, unique boutique stores and scrumptious cafes that create a sense of fun, youth and excitement. The murals along these streets are reason for visiting alone.
Situated in colorful and historically-rich Kampong Glam, Haji Lane is the epicentre of indie culture in Singapore. The hole-in-the-wall boutique stores have visitors browsing for hours, so expect this to be an all-day visit. Pop over to the Masjid Sultan Mosque just off North Bridge Road which is also absolutely stunning and it is one of the best temples in Singapore.
Haji Lane is bustling in the day, but it really comes alive at night with music pumping, drinks flowing and exotic scents wafting from the restaurants. Try visit during one of the street parties thrown by Mexican eatery Piedra Negra, also very Instagrammable thanks to its Mayan inspired wall murals, as it is always a super fun time.
---
Best time to come: During the week, the weekend truly sees an avalanche of people and taking photos will be extremely difficult. In the weekends, come really early, before 10am. Weekdays see far fewer people, especially in the morning.
How to get there: Bugis MRT station on the Green and Dark blue lines is less than 10min walk away.
Cost: Free
Street murals of Little India
Art lovers who can't get enough of street murals should head off to Little India for a unique walking tour. You may think that Haji Lane and Tiong Bahru are enough, but you'll regret missing out on capturing these beautiful murals spurred by ArtWalk Little India arts festival. Where else are you going to see a wall of rainbow-colored buffalos?
Little India is for the culture vultures who want to experience exotic smells, authentic tastes and alternative sights. The murals not only provide great captures for your feed, but also tell about the history of the area. From the parrot astrologers, dhobi (washerman), and the many traders and merchants to a glimpse into the past of Racecourse Road, you'll definitely learn something new as you stroll the streets.
And make sure to pop into the Mustafa Centre for a weird and wacky experience.
---
Best time to come: Like with everything else in Singapore, weekends see lots of people, in particular Sunday, less so on Saturday. You should avoid Sunday at all costs. Come weekday in the morning.
How to get there: Start at the Farrer park MRT station on the Purple line which is right by the buffalo murals, and walk your way around continuing with the colorful house (next item on this list).
Cost: Free
House of Tan Teng Niah
Little India also has tons of landmarks that are totally #OOTD worthy like the super colorful House of Tan Teng Niah to the exquisitely intricate gopuram of Sri Veeramakaliamman Temple, one of the most beautiful temples in Singapore.
It's seems contradictory to say that one of the best sights in Little India is a Chinese villa, but this house built in 1900 is as historically significant as it is unique. The last surviving Chinese villa in Little tells passersby about the often overlooked history of the Chinese community in Little India.
Tan Teng Niah was a towkay, translated as a Chinese businessman of good standing, who ran a few sweet factories Serangoon Road. He used sugarcane to make the sweet and then used the by products of that sugarcane as fuel for his rubber drying furnace.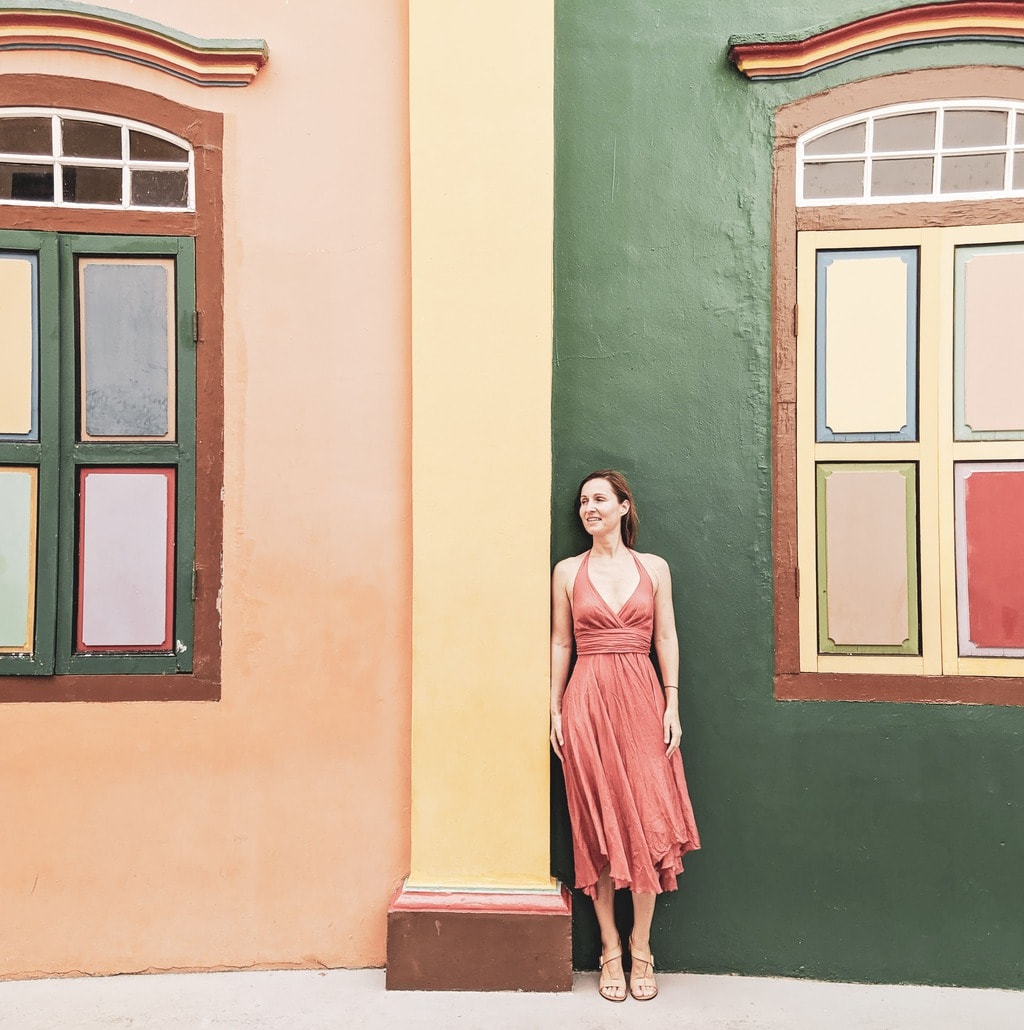 You'll instantly fall in love with this multi-colored Malay-cum-Chinese villa. Look out for the Mandarin inscription on the doors that read Siew Song meaning elegant or refined pine, a term used for endurance and expressing aspirations. Many say that Siew Song referred to Tan's wife, a love letter that has lasted to this day.
---
Best time to come: Weekday in the morning. Weekends are crowded, Sundays are impossible.
How to get there: Take the Purple line to Farrer Park MRT station.
Cost: Free
The Chinese Gardens
Travelers looking for some respite after a hard day's sightseeing should head west to the beautifully green Jurong Gardens. The Gardens are a collection of two islands on Jurong Lake consisting of The Chinese Gardens and the Japanese gardens connected by a bridge.
The Chinese Gardens were officially opened in 1975, and modelled after the northern Chinese imperial style architecture and landscaping. The seven-tiered pagoda makes for a perfect architecture shot surrounded by nature. You can also climb up the pagoda to take in the views of the traditional Suzhou-style courtyard and extended Jurong Lake.
Walking into the Gardens will feel like you have been transported back in time to Imperial China with mythical lions guarding the gates, stone bridges and even a tea house. Come during Chinese New Year and the tranquil gardens turn into a lively entertainment hub.
You'll want both your wide-angle lens to capture the 13.5 hectare grounds and your macro-lens for the multitude of miniature trees in the Bonsai Garden. Live Turtle And Tortoise Museum, home to more than 200 turtles and tortoises in over 60 different species, is one more reason to travel to the less visited west.
---
Best time to come: Anytime is good as it rarely gets crowded. Weekends see a lot more people but the gardens are huge so it never feels full.
How to get there: Getting there is time consuming because the gardens are pretty far away from the city so this is an Instagrammable spot in Singapore idea for those who have more time. Take a taxi to be most efficient, or the Green line to Lakeside MRT station which is about 1h on the metro from downtown Singapore.
Cost: The gardens are free.
Gardens by the Bay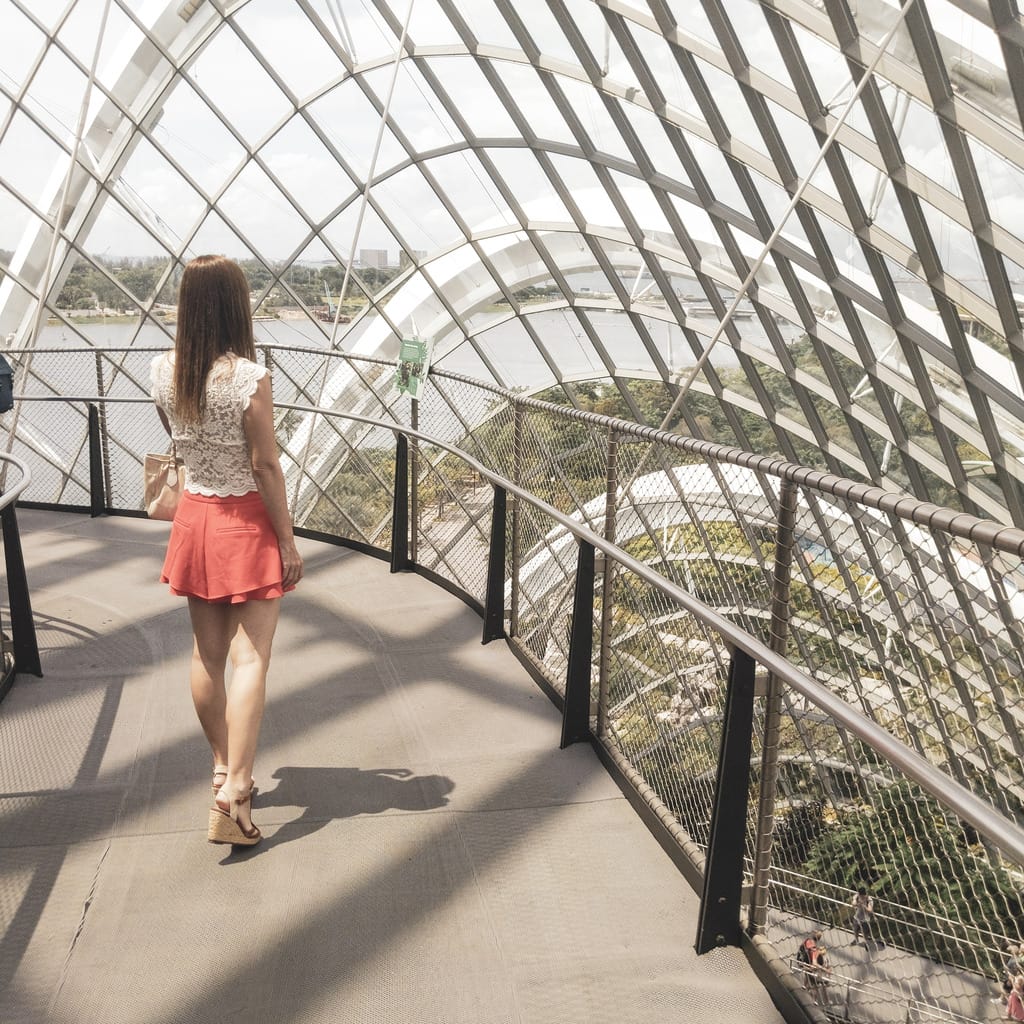 Gardens by the Bay tops many lists of the best things to do in Singapore. Not only will it keep you entertained for hours on end, but when night comes, the free music and light show will have you enthralled with wonder. Lie under the trees for the most spectacular view.
Skip the overly posted Marina Bay Sands and explore the Avatar-ish park with glimmering Supertrees, a marvelous Flower Dome and an impressive greenhouse which house the exquisite Vanda Miss Joaquim, Singapore's national flower.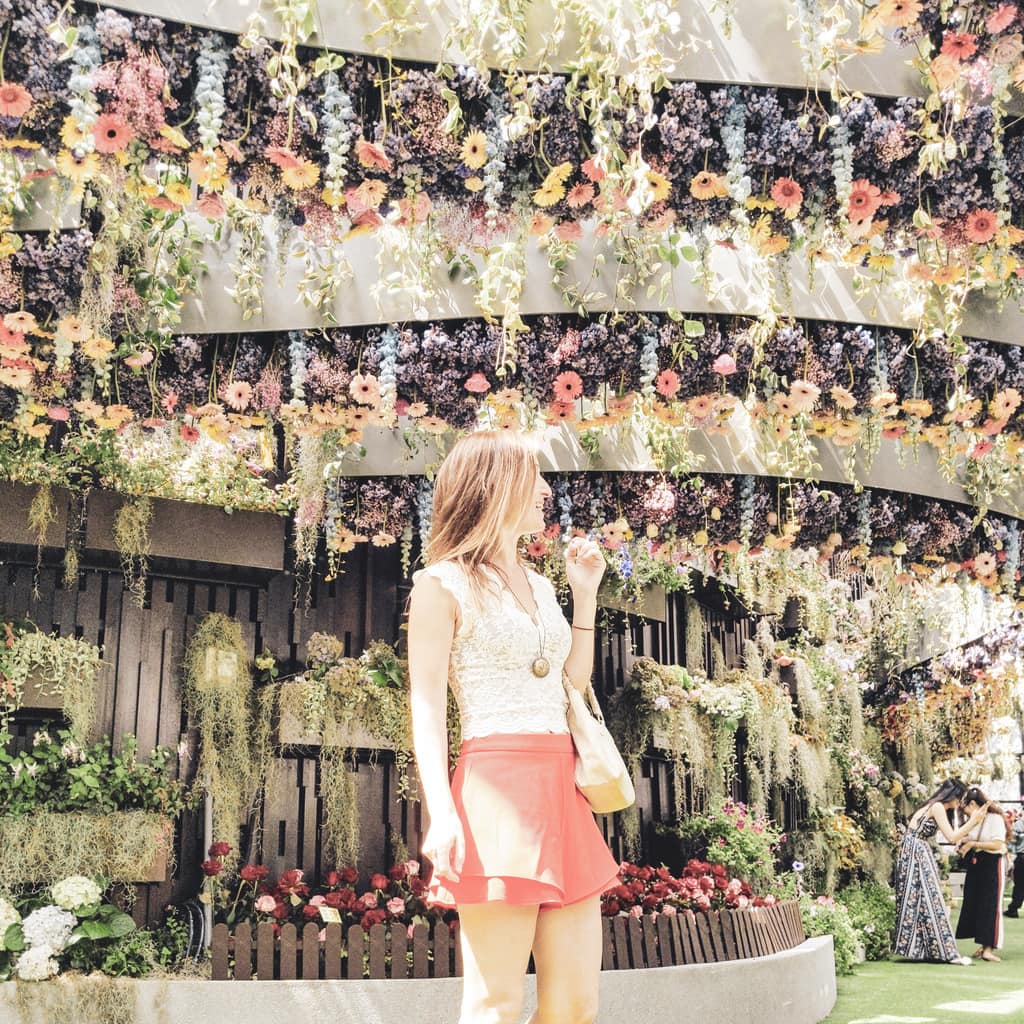 There are trails with maps, lakes, sculptures, pavilions, grassy areas and even a 25 meter mountain with a waterfall! From the moment you enter the Gardens until the time you leave, your camera will not be switched off. Hopefully you have enough memory to store all the snaps you're going to take.
Don't visit without my complete guide to Gardens by the Bay which has all the info you need from maps to prices, how to get there and some insider tips and tricks.
---
Best time to come: You can choose to go earlier in the day when the park will be empty, or just before sunset if you want to catch the best light. The park only closes at 2am (with paid areas open until 9pm on weekends), so it becomes quieter and more romantic in the nighttime. Bear in mind the sun rises from the sea onto the park whereas it sets behind Marina Bay Sands.
How to get there: Getting to Gardens by the Bay is relatively easy and there are many accesses. You can walk from the Marina by crossing the Marina Bay Sands Hotel, you can arrive via MRT from the Bayfront station on both yellow and dark blue lines, or you can take a taxi to the drop-off point. My article on the gardens give all the details.
Cost: While access to Gardens by the Bay is free, the Cloud Forest, Skywalk and Flower Dome are paid attractions. The combo tickets for the three of them costs about S$30. Buy your tickets to the Cloud Forest and to the Flower Dome here. Or he best one of them all, buy a combined ticket for all of Gardens by the Bay (Flower Dome + Skywalk + Cloud Forest) here.
Lian Shan Shuang Lin Monastery and Temple (formerly Siong Lim Temple)
Lian Shan Shuang Lin Temple started out as an omen and ended up as being one of the most beautiful temples in Singapore. A wealthy Hokkien merchant, Low Kim Pong, dreamt of a golden light rising from the west, which is a symbol of the origination of Buddhism, India standing to the west of China.
The following day, Low happened to meet a devout Buddhist family making their way to Fujian. It took a lot of convincing, but Low finally got the family to stay. The head of the family, Xian Hui, became the first abbot of the temple, which started construction in 1898, only to open its doors a decade later in 1907.
The temple itself is absolutely stunning where carpenters, architects and builders have maintained the original look and feel after millions of dollars were spent on restoration works. It is now a national monument.
Modelled after the Xi Chan Si Temple in Fuzhou, Fujian province, China, the temple utilises feng shui to create an inner harmony and flow. The best spot for your #SGIG is definitely the 9m high main gate. Be sure to get a close up shot of the intricate bronze dragon doorknobs.
And if you find yourself in need of more amazing things to see in Singapore, then don't forget to save our choice of free walking tours in Singapore.
---
Best time to come: Weekdays are better than weekends, mornings quieter than afternoons. Bear in mind the temple closes early (around 530pm).
How to get there: The best way to reach the temple is by taxi, remember that there is no Uber here, you will have to use either Gojek or Grab. But if you want to use public transportation, Bus 57 is the closest one and stops 7min away from the temple.
By MRT, you will have to take the red North South Line and walk 18min (1,4 km) from Toa Payoh MRT station.
Cost: The temple entry is free as this is a regular place of worship.
Murals in Chinatown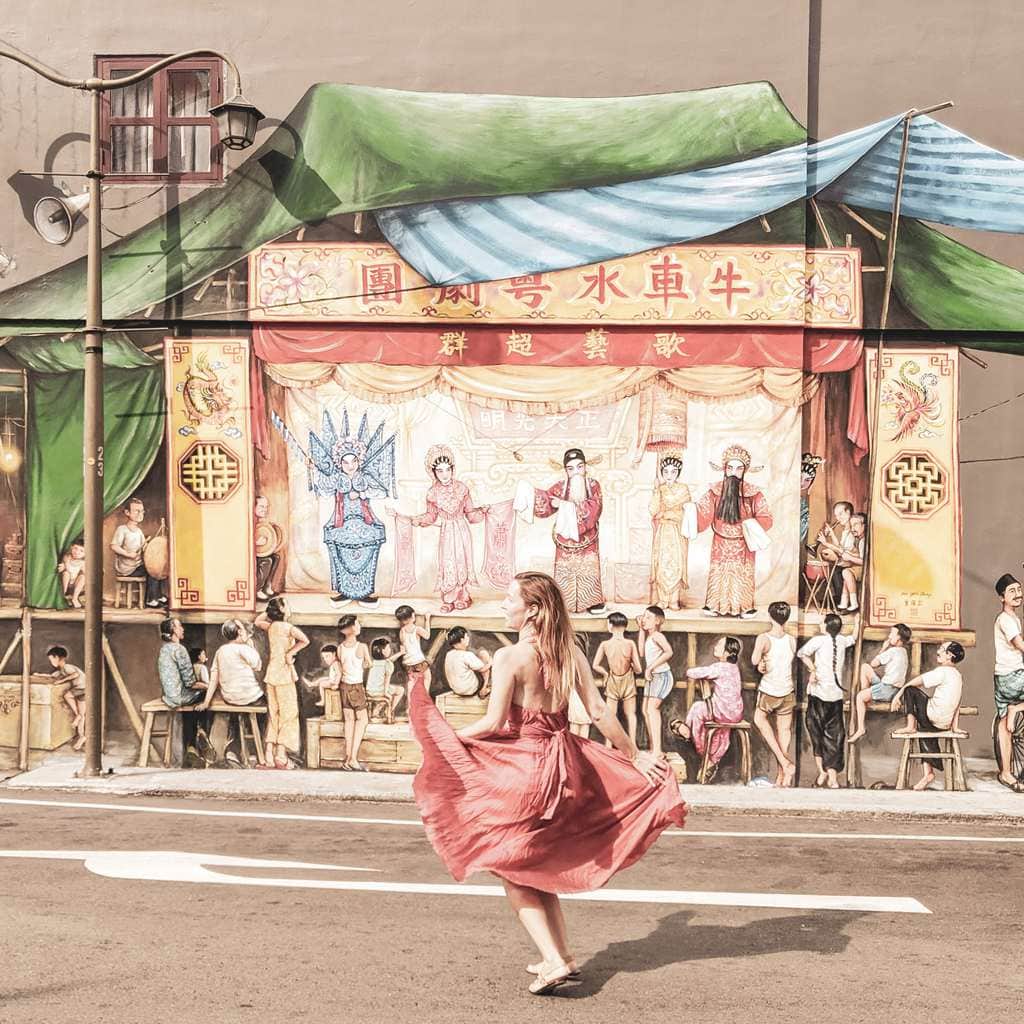 This mural by Yip Yee is uber colorful and one of his newer ones. After painting almost all of Tiong Bahru, he headed to Chinatown to add his personal signature to some of the walls and the one on Temple street, to the side of Sri Mariamman Temple, is very bright against the grey wall and talks about Singapore's artistic past in Chinese opera.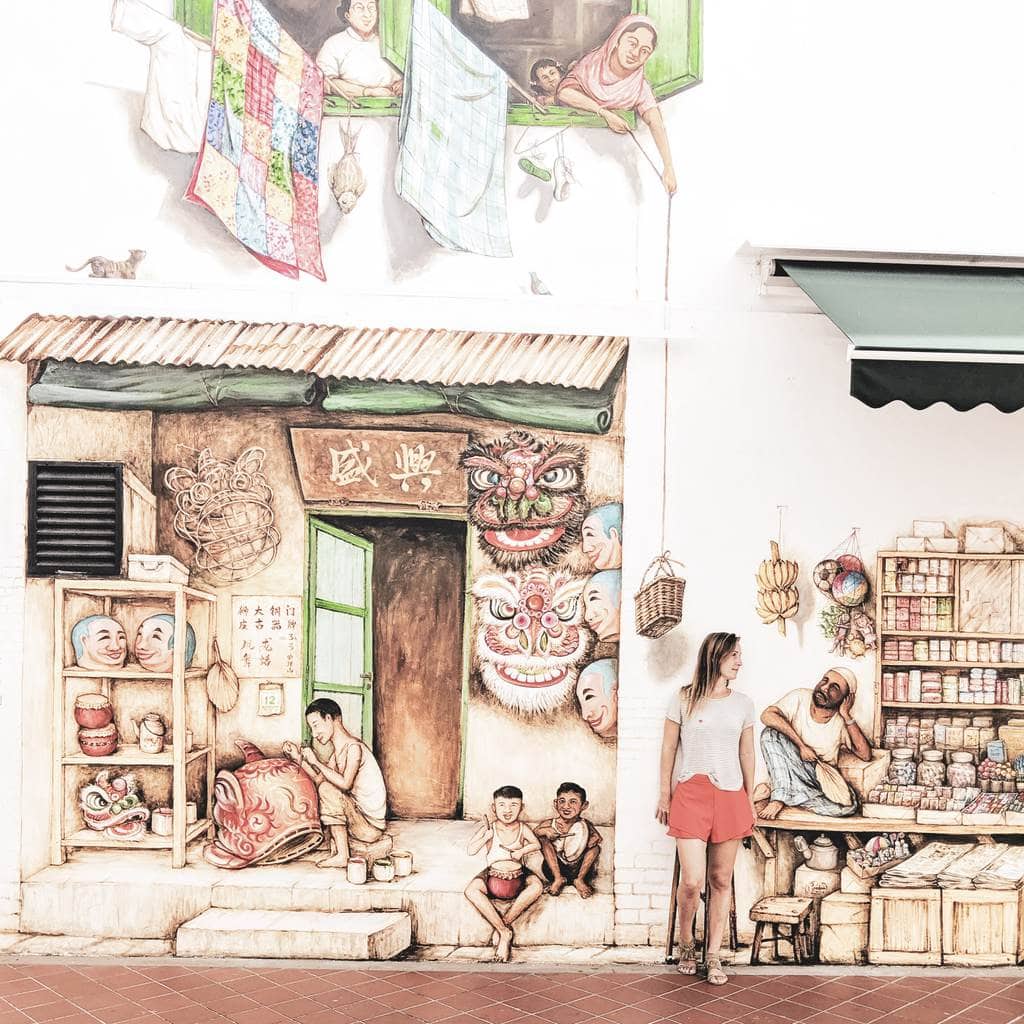 A bit further down and on the other side of South Bridge Road you will find another of his creations, one with a Chinese mask ambulant seller next to a regular scene of daily life. You can pos as if you were part of it and join in. The mask seller also pops because of the primary colors.
---
Best time to come: But because they are in the street, the best time to take your Instagram shot is in the early morning when there is not too much traffic (cars get in the way) or people.
How to get there: These murals are easy to find by simply using the map. To get there, a few MRT stations are nearby. See the list below"
Stop at Tanjong Pagar or Outram Park (they are more or less the same distance away), on the Green line and walk for about 5min on Tanjong Pagar Road which then becomes South Bridge Road. Both murals are at either side of the road
The Chinatown stop on the Purple line is the closest, less than 5min away, just walk down Cross Street and turn onto South Bridge Road
If the dark blue line is easiest for you, the Downtown station is also about 5min away
There are a multitude of buses that follow South Bridge Road
Cost: Photographing them is free, as they are public art, so they make for some of the most instagrammable places in Singapore.
Art Science Museum and teamLab exhibition
The famous Japanese artist exhibition at the ArtScience Museum has taken the city by storm and quickly become one of the most popular things to do in Singapore and definitely a top museum in Singapore. Similar to the one in Japan, this one is made of changing shining lights and colors which make for a great Instagram worthy spot.
---
Best time to come: The museum closes at 6pm, which is really early for Singapore standards, so many sure to come early. Weekdays in the morning are best, weekends get crowded.
How to get there: The best way to get here is on the MRT yellow or dark blue lines, to Bayfront station which is right under the museum and the entire Marina Bay Sands Shoppe area. Alternatively, you can walk over through the Helix Bridge or all the way from Gardens by the Bay or the Central Business District.
Cost: You will need a ticket for ArtScience Museum which you can buy in advance here.
Botanic Gardens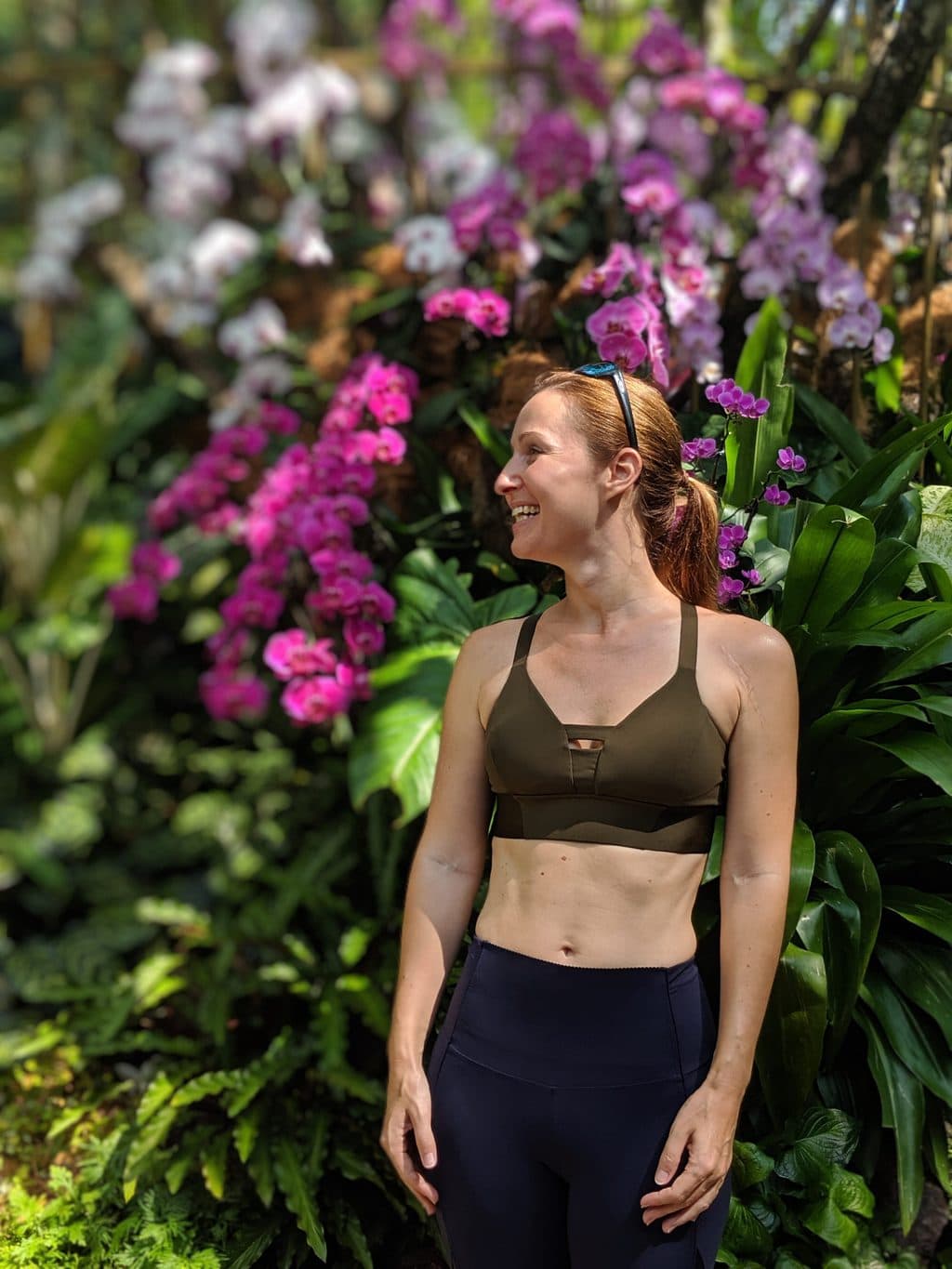 Singapore's only UNESCO site is also one of the most Instagrammable spots withs lots of little corners and places where you can take a photo and lots of colorful flowers (particularly orchids) which make for fantastic backgrounds.
The gardens are expansive, with pagodas couples can book for small weddings, lawns, a floating stage for performances and concerts, ponds, gardens of all types and a building housing an exhibition about orchids.
When in bloom, some of the arched paths are beautifully covered in bright yellow flowers, and otherwise just really green.
---
Best time to come: Definitely avoid the weekends or come early in the morning because they see the highest influx with families and tourists. However, unlike other parts of Singapore, even at popular times you can still take your photos without people with a bit of patience.
How to get there: There are two main entrances to the park, one close to the Botanic Gardens MRT station on the Yellow and Dark Blue lines and one close to Grange Road without any obvious MRT station. The MRT station entrance is the closest to the ticketed area. Alternatively, you can take a cab.
Cost: Most of the Botanic Gardens are free except for the orchid gardens which have an entry fee. Here is where you can find the flowers and the arched pathways so if you are after an instagrammable shot of Singapore, you should get tickets.
Haw Par Villa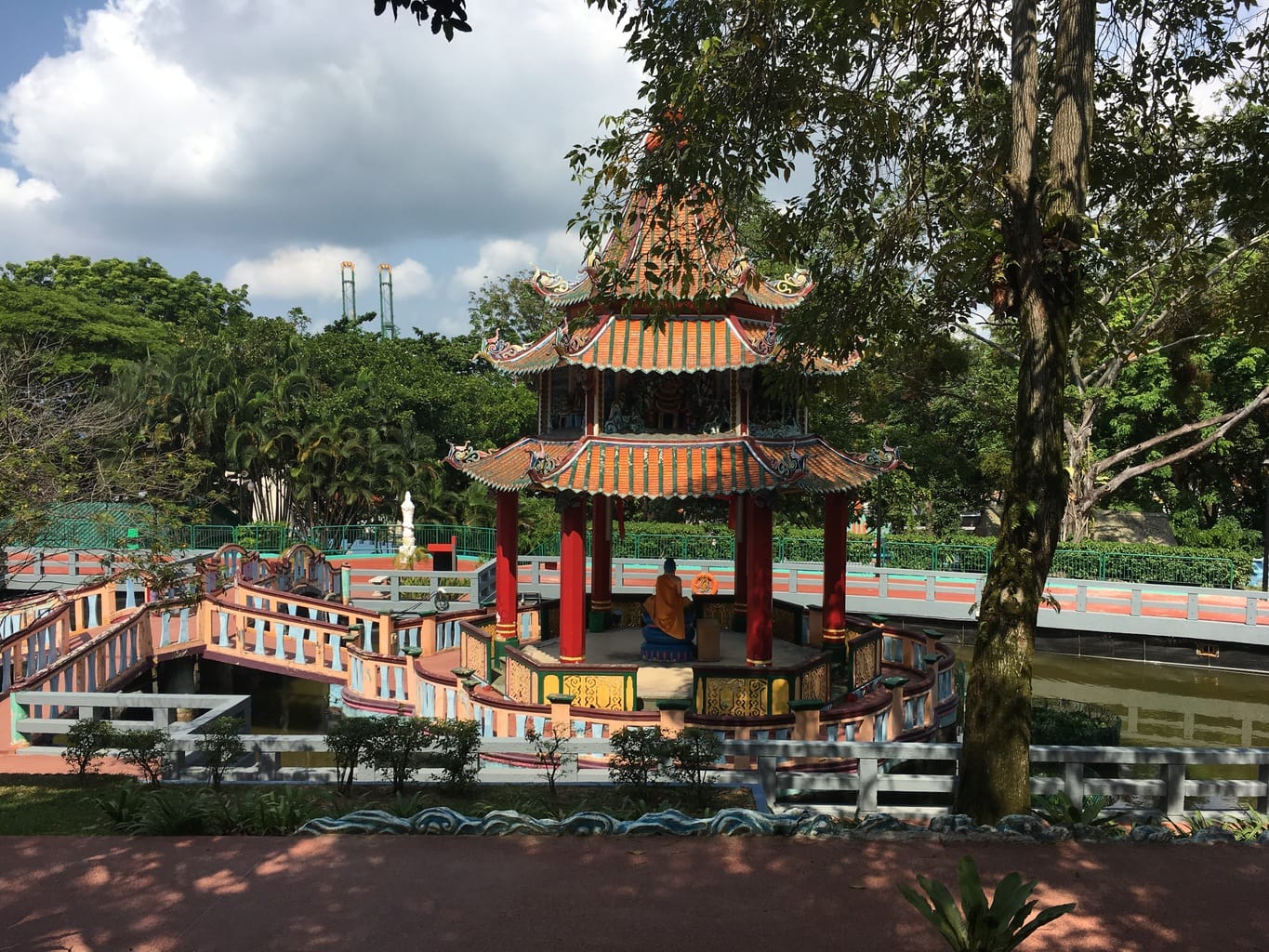 This genuinely surreal park has to be one of the most fun Instagram spots in Singapore. Come with an open mind and it will not disappoint!
Haw Par Villa was built by the Aw Brother, famous founders of the popular Asian Tiger Balm medical ointment however, it is owned by the government today.
Entering Haw Par Villa you will immediately be taken aback by the colorful statues and constructions that fill the park. But perhaps the most shocking part if the Courts of Hell section which is closed and kept away from little children.
Depicting all the possible sins according to Chinese mythology, and the punishment sinners would receive, this part of the park is grotesque and raw and it would for sure scare the little ones. Adults will find it a mix between amusing, gore and fascinating.
But we came here for Instagrammable Singapore spots right? Haw Par Villa is great for that because there are just so many sculpture and statues all in bright colors. Look for small turles in the main pond by the pagodas. Pick a background and shoot away.
---
When to go: Haw Par Villa is generally quiet with a few tourists during the weekends but it never gets crowded.
How to get there: The nearest MRT station is the one with the same name on the Yellow line which is just there. Alternatively, there are several buses like 143, 30 or 80 that run along the W Coast Highway.
Cost: Entry is free
Universal Studios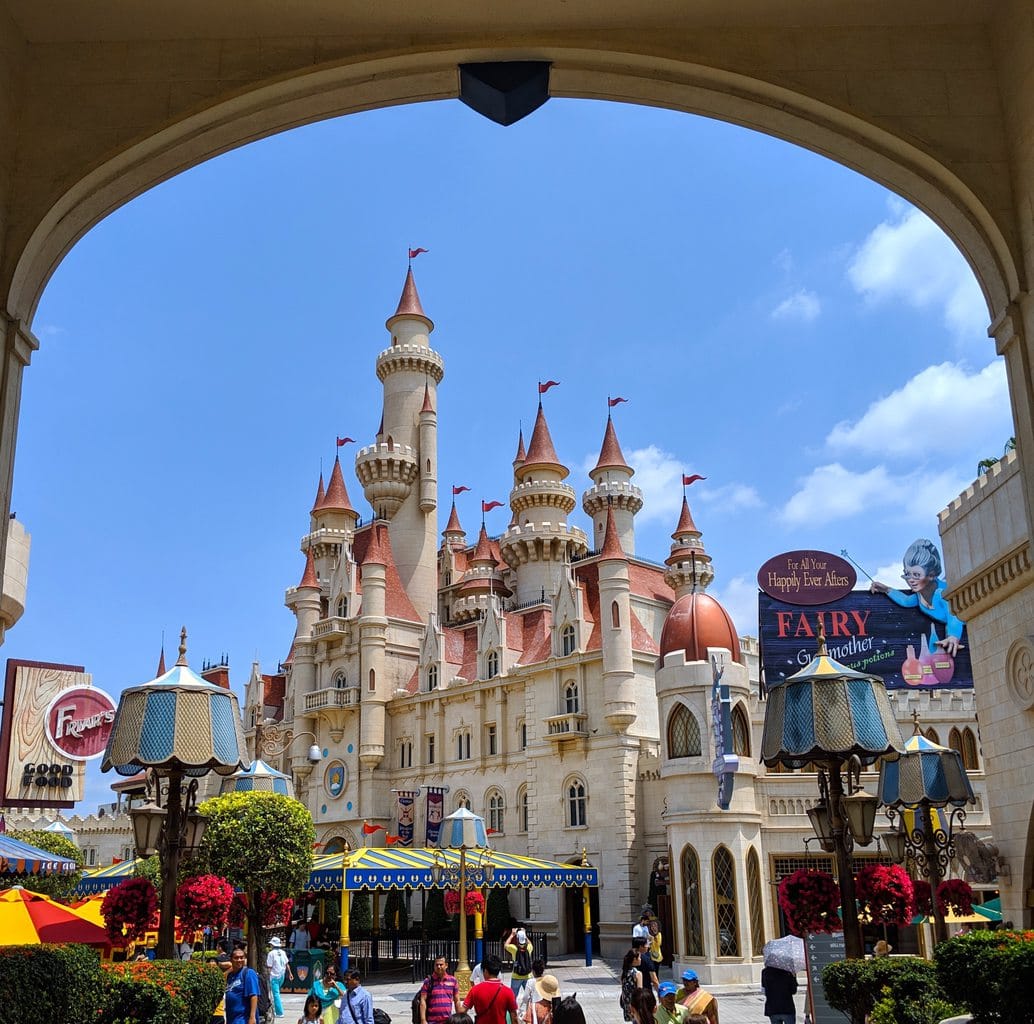 Nothing says Instagram like a cheesy, girly but utterly fun shot in front of Shrek's Princess castle. Like all amusement parks, Universal is full of spots to take Instagram photos but be sure to bring the right props and dress appropriately to make it extra fun.
There are also Hello Kitty human size teddy bears, Sesame street characters to take photos with and a host of other fun places. It definitely is the center of entertainment. And because Universal Singapore is relatively small, you will be able to go on all the rides and try it all comfortably within an afternoon. But stay till the evening for the fireworks.
---
When to go: Weekdays are practically empty as this is a family weekend destination. Come in the morning for a quieter park, after lunch it gets much busier.
How to get there: Take a taxi to the park, or the MRT to Vivo City and then the free Sentosa monorail
Cost: You need tickets to enter Universal. I highly recommend you buy them ahead but, most importantly, that you buy the Express tickets that give you access to the reserved queue so you can enjoy the rides without having to wait. I got this ticket last time I went and managed to go on all the rides on a Saturday with less than 5min wait at each, the regular wait time was 20-40min per ride which is ridiculous considering each ride is 2min long.
Be smart and book your entrance ticket with Express Pass.
MacRitchie Reservoir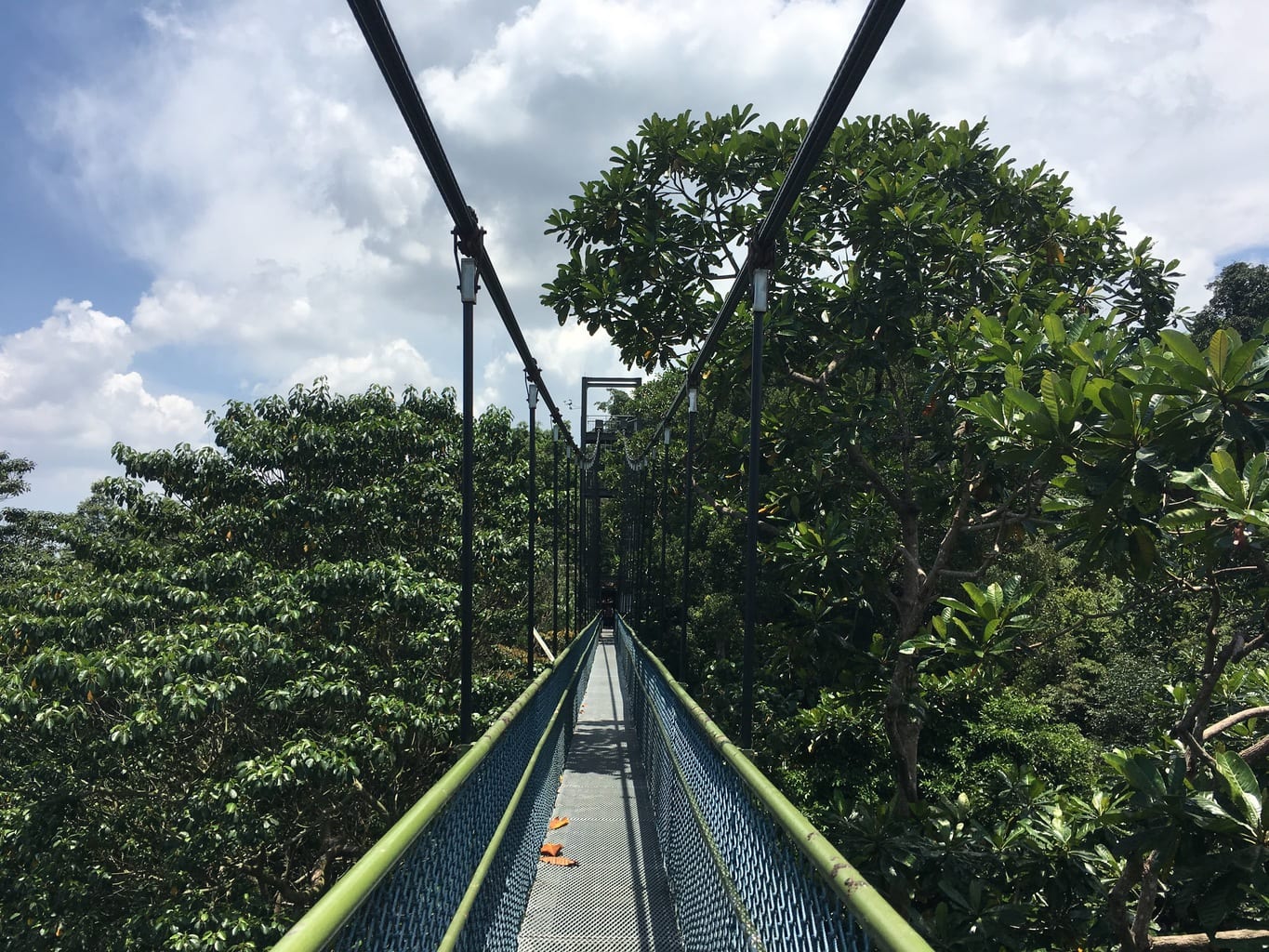 This gem of a park known to locals but rarely frequented by tourists is a hidden Instagrammable spot in Singapore that tourists have yet to discover. Why? it is farther away and it requires quite some work and physical stamina, it is not a place you can just rock up to and take a photo while dashing around Singapore.
The reward? the long trail around MacRitchie goes up to the suspended Treetop bridge that sits high above the forest canopy completely suspended. Talk about an Instagram-worthy trip. However, note that to get there you need to hike the 12km trail which is a loop around the park so it is only for the fittest.
---
When to go: MacRitchie is only popular during the weekend and mostly in the mornings. In the week it is absolutely empty and the Treetop is not usually crowded as it is the longest trail. If you come later in the afternoon around 4pm you will most likely have it all to yourself. Make sure to allow for at least 1h from the treetop to the exit. The park closes at 7pm.
How to get there: Take a taxi and walk the longest trail to the Treetop, there are maps all along the park.
Cost: Entry to the park and Treetop is free.
The Pinnacle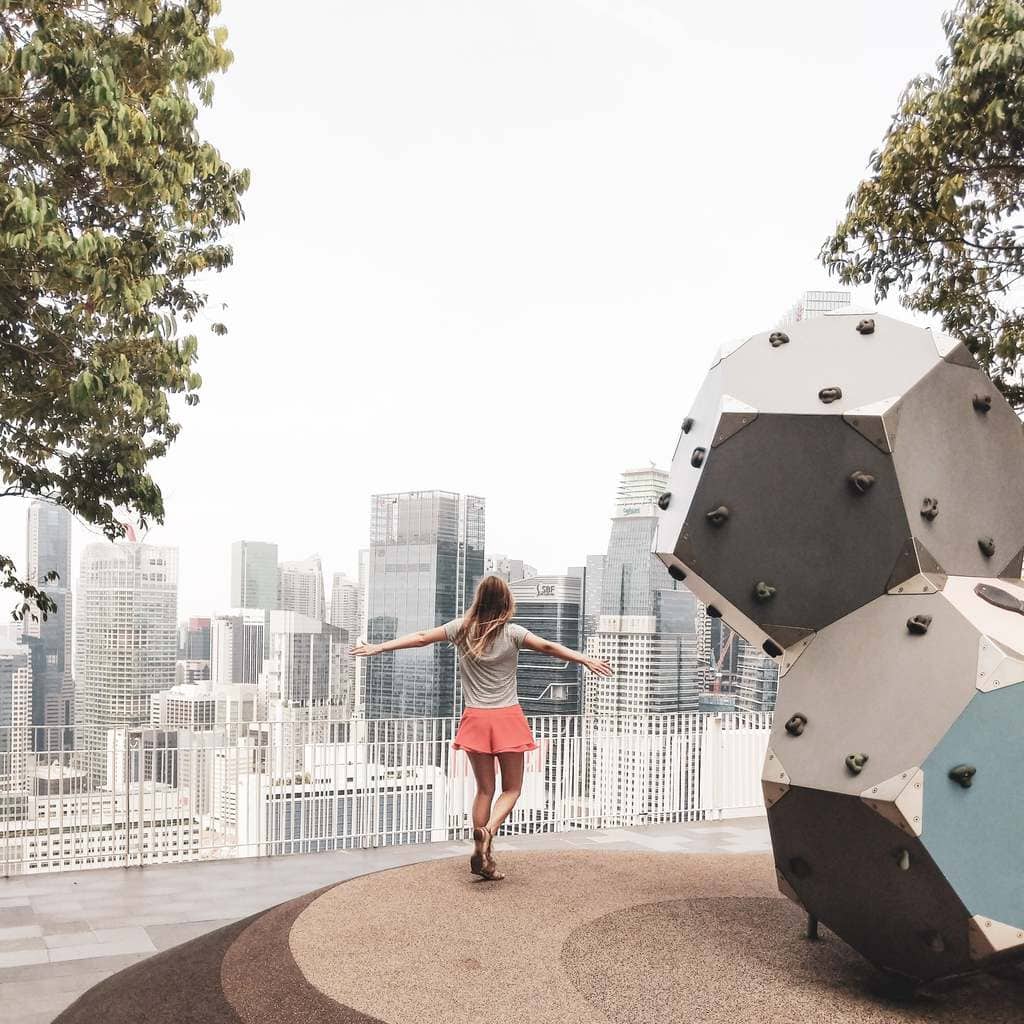 This residential complex that has more people living in it than my village back in Spain, is a sight to behold and one of the most impressive buildings in Singapore. The good news is that it can be visited, all the way up to the 50 something floor where there are sky gardens, benches and some facilities for residents and visitors alike.
From there you can take great Instagram photos and you will also be able to enjoy a 60 degree view of Singapore from the sea to the heartlands. Don't forget to look down to the Chinatown area and the pretty pattern of shophouses with the red roof tiles.
---
When to go: Try not to go on the weekends, as it can get packed. The best time to visit is definitely during sunsets.
How to get there: Exit G at Outram Park MRT. Walk along CNB (Central Narcotics Bureau) and cross the first junction. There are signs with directions to the security guard office where you can buy the ticket and take the elevator up.
Cost: S$6, but be sure to take your transportation (CEPAS or EZ-Link) card, with this amount on it as this is how you pay.
The TV HDB building
View this post on Instagram
This very popular HDB (Housing Development Board) building is a residential space in the east part of Singapore, near the airport. It is well known among locals for the analog TV end of service screen painted on it which you will only recognise if you are not a Millennial.
The HDBs across Singapore tend to be painted bright, some have artworks on them, but this is probably the most fun and interesting.
---
When to go: This is a very far off-the-beaten-path Instagrammable location in Singapore and you are bound to be on your own so anytime is good.
How to get there: The exact building with the TV end of credit image is Tampines St 41 Blk 417. It is far from town and the best way to get there is by cab. However, if you want to take public transportation, both h Dark Blue and Green lines have stops at Tampines.
Cost: Free
LASALLE
LASALLE College of the Arts is a creative university in the Bugis neighbourhood of Singapore. It's a popular hub for all sorts of artistic expression which starts in its futuristic-looking building.
The aluminium mirrored geometrical structure was designed by RSP Architects, a local firm, and represented Singapore at the 2004 Venice Biennale winning several awards.
The complex is made of six buildings that are seven storeys high and which are interrelated and intertwined to emulate nature and geology. There are also lots of other sculptures and art pieces scattered around the campus. If you come in the evening or on the weekends it is not uncommon to see festivals, student art displays, etc.
---
When to come: The area is busier in the week than in the weekends and mornings see relatively quieter activity.
How to get there: LASALLE is well connected and central. Three MRT stations are nearby: Bugis on the Green and Dark Blue lines, Little India in the Dark Blue and Purple lines and Jalan Besar in the Dark Blue line.
Cost: Free
Helix Bridge
This metal and mesh structure by the ArtScience Museum and Marina Bay Sands Hotel is an icon of Singapore and a great place to enjoy views over the Marina and to take photos.
This spiral pedestrian bridge connects both sides of the Marina and crosses the Singapore River as it makes its way to the Marina Barrage. It has a main structure with shaded areas made of metal mesh and glass, as well as three viewing platforms over the water from where you can see the Marina Bay Sands Hotel, ArtScience Museum and the Marina promenade. You can also spot the floating stage that is used for the F1 and other events.
The Helix Bridge was opened in 2010 and it represents a left handed DNA. Look out for the various pairs of letters on the floor which represent the bases of DNA.
---
How to get there: The nearest MRT station is Bayfront on the Yellow line. If you come by cab, get dropped off at the Marina Bay Sands Casino taxi stop and cross the Shoppes to come out onto the Marina promenade, then walk towards ArtScience Museum, the bridge is on the other side of it.
When to come: Avoid weekends when the bridge is far busier, if you can. Though with a bit of patience you can still take your shot. At night, the bridge is illuminated for even cooler photos.
Cost: Free
Don't forget to Pin this to your Singapore Travel board!