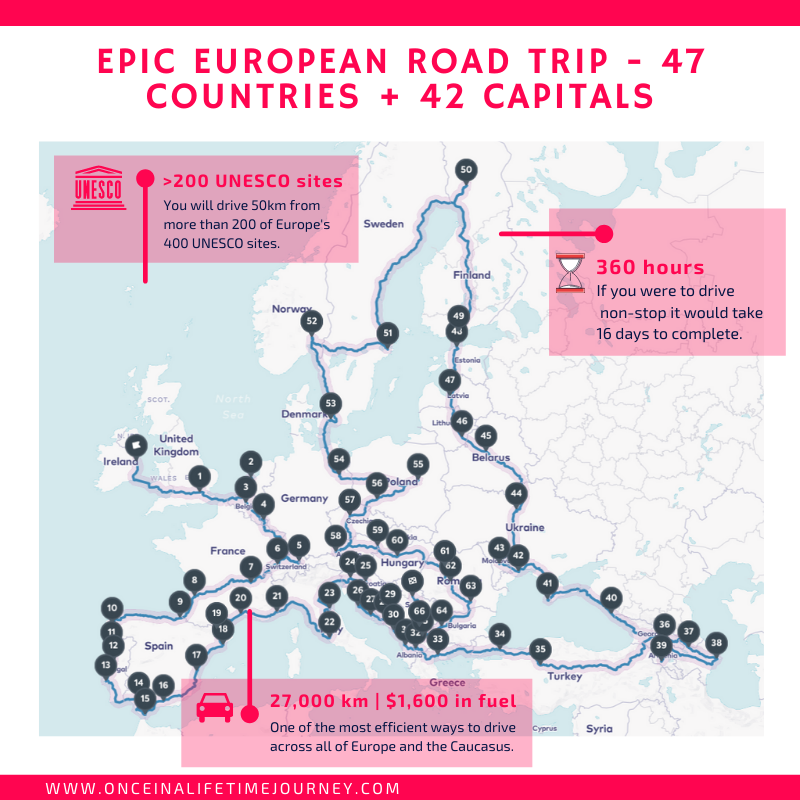 Have you ever wondered what is the most efficient way to visit all the countries in Europe by road? The answer is this epic European road trip that takes you to 47 countries in geographical Europe, and almost all of the European Union, whoa!
Unfortunately, it skips the Faroe Islands, Greenland and Iceland which you can easily do on a roadtrip either on a group tour, or independently.
If you were to drive this amazing road trip across Europe in one go, without stopping and without sleeping, it would take about 364 hours or 16 days to cover the route, and you would drive almost 27,000 kilometers.
But you wouldn't go on this once in a lifetime European road trip and just drive through, you would want to stop, probably several times every day, to explore some of the most beautiful, heritage-rich, fascinating and delicious parts of the continent. You may even consider hiring a motorhome for your journey so that you can really take your time.
Realistically, we would recommend completing this epic European road trip in probably a year, but 6 months would be enough to do justice to most of the key highlights.
We planned this road trip with a very cool and addictive app (yep, we stayed up till 2am playing with it!) called Roadtrippers which not only lets you plan a road trip but also shows you all the points of interest, accommodation & restaurants, photo spots, attractions, and more on the map. Use our bonus coupon code BTR5QTP for $5 off. Check out this list of gifts for road trippers to get all the gadgets you need.
Epic European road trip by the numbers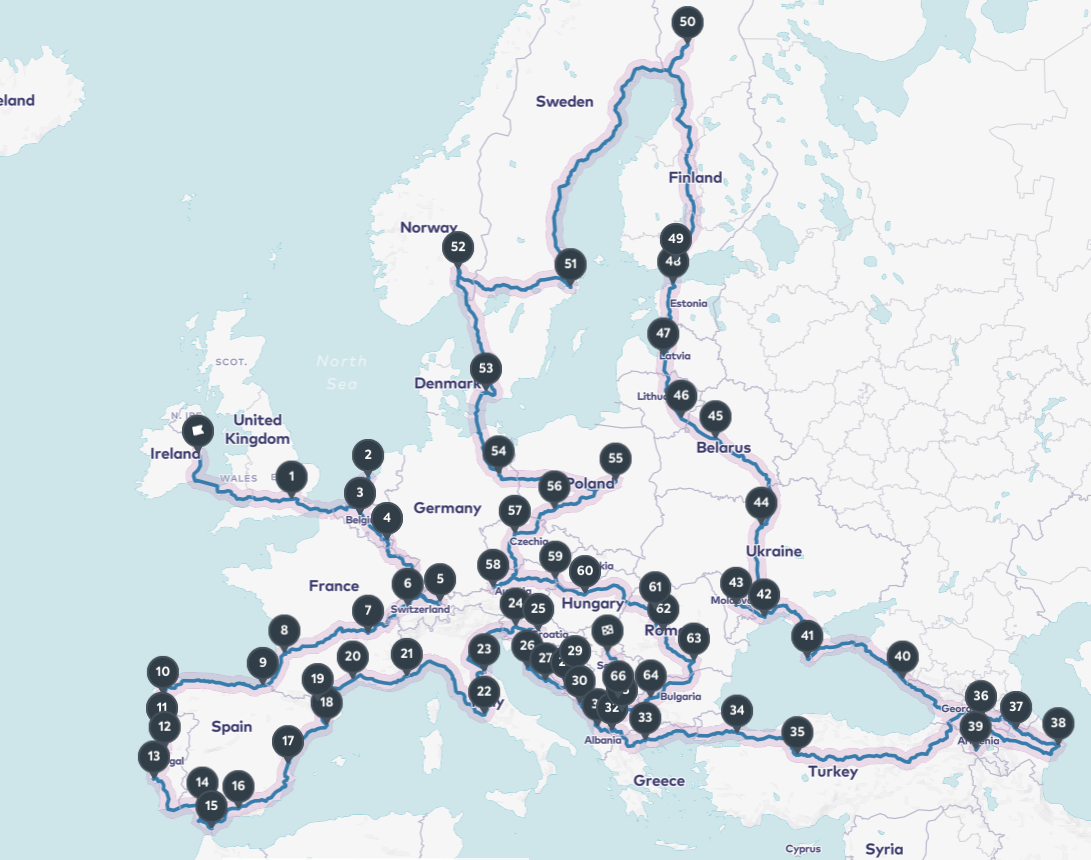 Almost 27,000km of roads.
Approximately 364h of driving time without stops.
Over $1,600 in fuel spent.
47 countries, including 25 European Union members, Kosovo (which we count as an independent country despite the lack of recognition by the UN), the 3 countries in the Caucasus, Turkey and Russia, both of which are partially in Europe and mostly in Asia. Only 3 island countries would be missing, Malta, Cyprus and Iceland.
More than 200 UNESCO sites would be within 50km of the itinerary.
In this unforgettable European road trip you will explore well-known but no less amazing cities such as Barcelona, Prague, London and Rome, and other up and coming ones such as Ljubljana, Bruges, Girona, Kiev, Tirana or Tbilisi.
Of the 400 UNESCO listed sites in Europe, this road trip will get you within 50km to more than half of the continent's most fascinating heritage, from Gaudi's La Sagrada Familia to Switzerland's stunning mountain train journeys such as the Glacier Express or lesser known spots in tiny countries such as Andorra.
More standouts include medieval Kotor, Salzburg and Dubrovnik, the Vatican City, Santiago de Compostela's Cathedral, Brussels' Grand Place, Budapest Castle, Mostar Old City, Casa Batllo, Lake Ohrid, and many more.
You could add about 100 more UNESCO sites if you take a detour to explore southern Italy and Sicily, central Spain or Germany, a country that is only bordered on this itinerary.
It is also a great road trip for foodie lovers with stops in San Sebastian for pinchos and tapas, in Bologna for parmesan cheese and mortadella, in Lyon for refined French food, Copenhagen for forward-looking Nordic food and in Porto for seafood and codfish.
The route does not just cover mainstream destinations but will also take you to the lesser known parts of the continent such as the tiny country of Liechtenstein (one of the least visited countries in the world despite being located in the middle of Europe), Croatia's Istria, Romania's Transilvannia, and historical sites such as Chernobyl.
European road trip essentials
1. Roadtrippers: Create the itinerary and navigate with points of interest marked along the way with Roadtrippers, such a cool app. Get it, it's a no brainer.
2. Visas: We highly recommend iVisa, they are prompt and professional and offer lots of services. A Schengen visa gives you access to 25 countries, others have their own system, Russia will be the trickiest.
3. Car rental: Our choice is Rentalcars.com which aggregates car rental companies across the world. Make sure you can take the car across the border and check additional insurance and permits. Or buy a car and sell it at the end.
4. Travel insurance: Do not leave the house without, really, don't. We recommend World Nomads or SafetyWing who include coverage for COVID-19 since August 2020.
5. Accommodation: Use Booking.com they offer free cancellation charge if your plans change.
6. Tours: An efficient way to see cities in a short period of time is to get a day tour. We love and use Getyourguide which allows you to cancel tours up to 24h in advance.
So where does this incredible road trip across all of Europe and the Caucasus take you? Let's explore the main stops.
1. Dublin, Ireland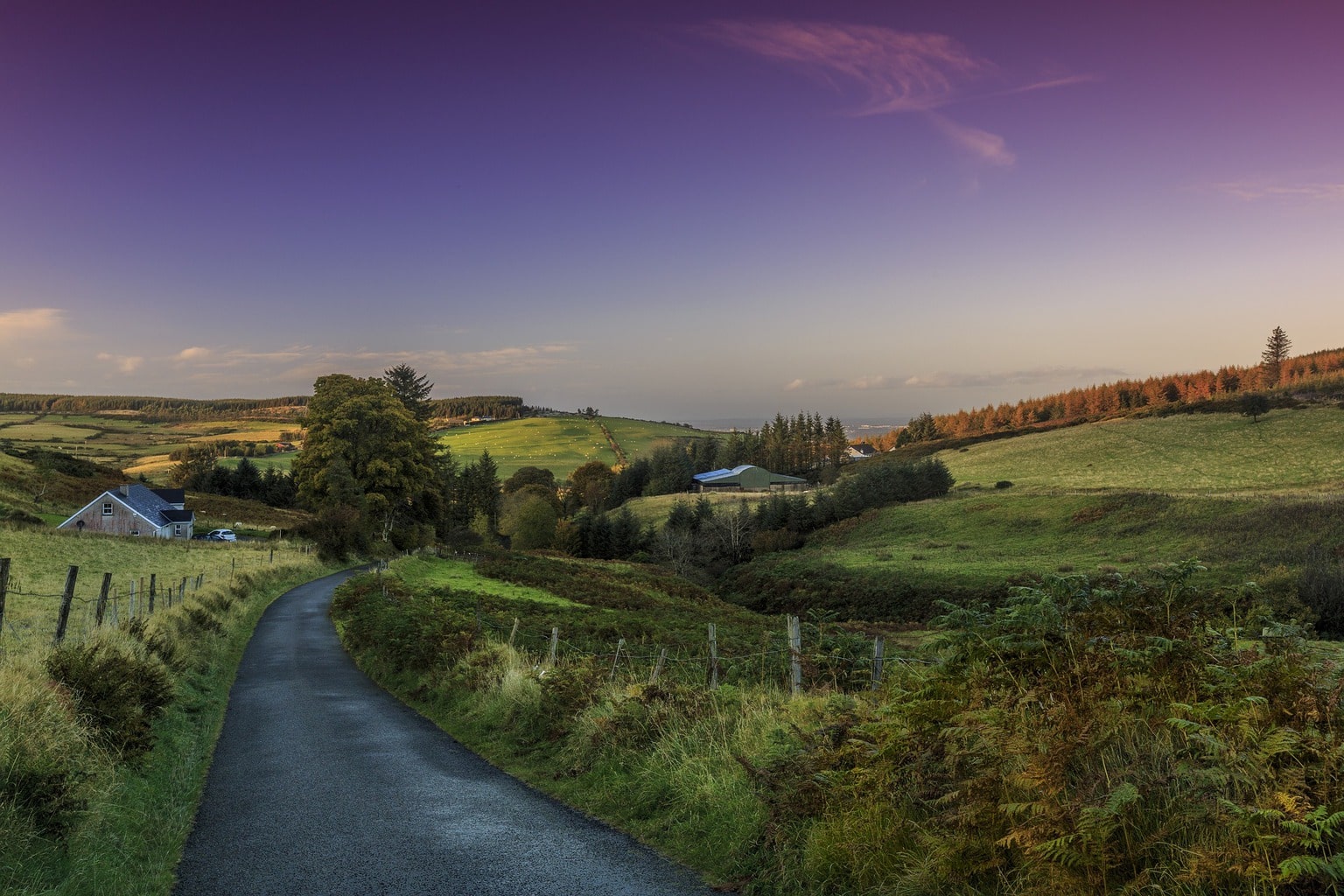 Your journey starts in the capital of Ireland, beautiful Dublin. Being the birthplace of Guinness beer, you'll definitely need to taste the dark stout in one of Dublin's 1,000 pubs like Temple Bar or The Brazen Head, Ireland's oldest pub.
If you plan on driving after your visit, just go to the Guinness Storehouse where you can dive into the 250+ year history and have a bite to eat. Jameson Whiskey also has its home in Dublin.
Peer into Ireland's Emigration history at World Travel Awards winner EPIC to see what it means to be Irish beyond the border. If you have some time left over pop into Dublin Castle which dates back to 1204 and has guided tours.
Ireland is also home to many great thinkers such as Oscar Wilde, Bram Stoker and Samuel Beckett and is even one of UNESCO's Cities of Literature. Visit Trinity College where they all got their start.
2. London, United Kingdom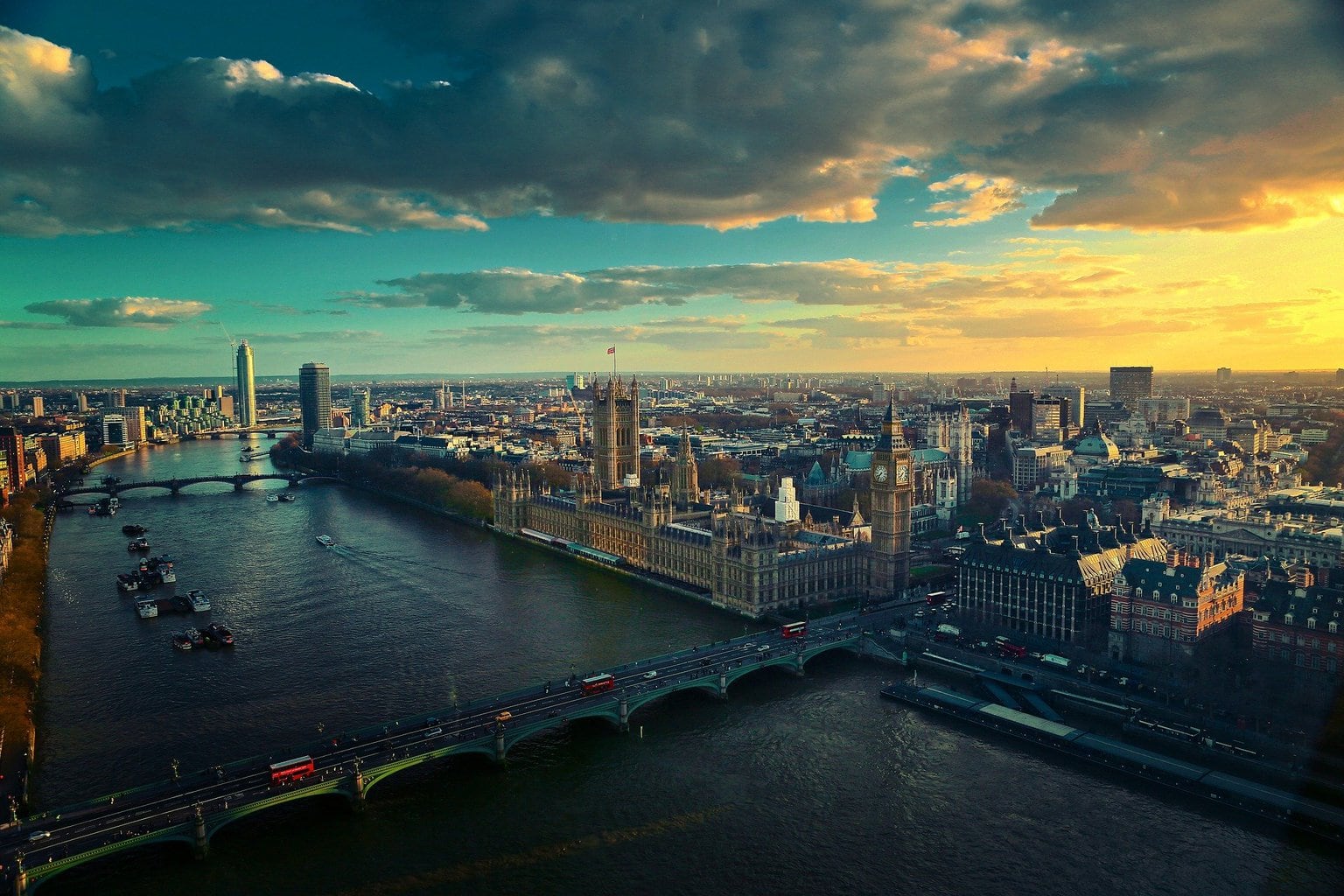 Next on your European road trip is the capital of the UK, London! With a rich history and loads of activities to take part in, you can experience art at museums like the Tate Modern or The National Gallery, have fun on the London Eye, learn something new at Speaker's Corner in Hyde Park, have a pub lunch overlooking the river Thames, or try and see the Queen at Buckingham Palace.
If you aren't for visiting tourist sites like Big Ben, the Tower of London, Westminster Abbey or the bohemian Soho district, you can always try something a little different and experience one of these unique things to do in London like eating jellied eel or take a somber stroll around Highgate Cemetery. Make sure to make a stop at Borough Market for a super good vibe with loads of fresh produce and delicious meals!
3. Amsterdam, Netherlands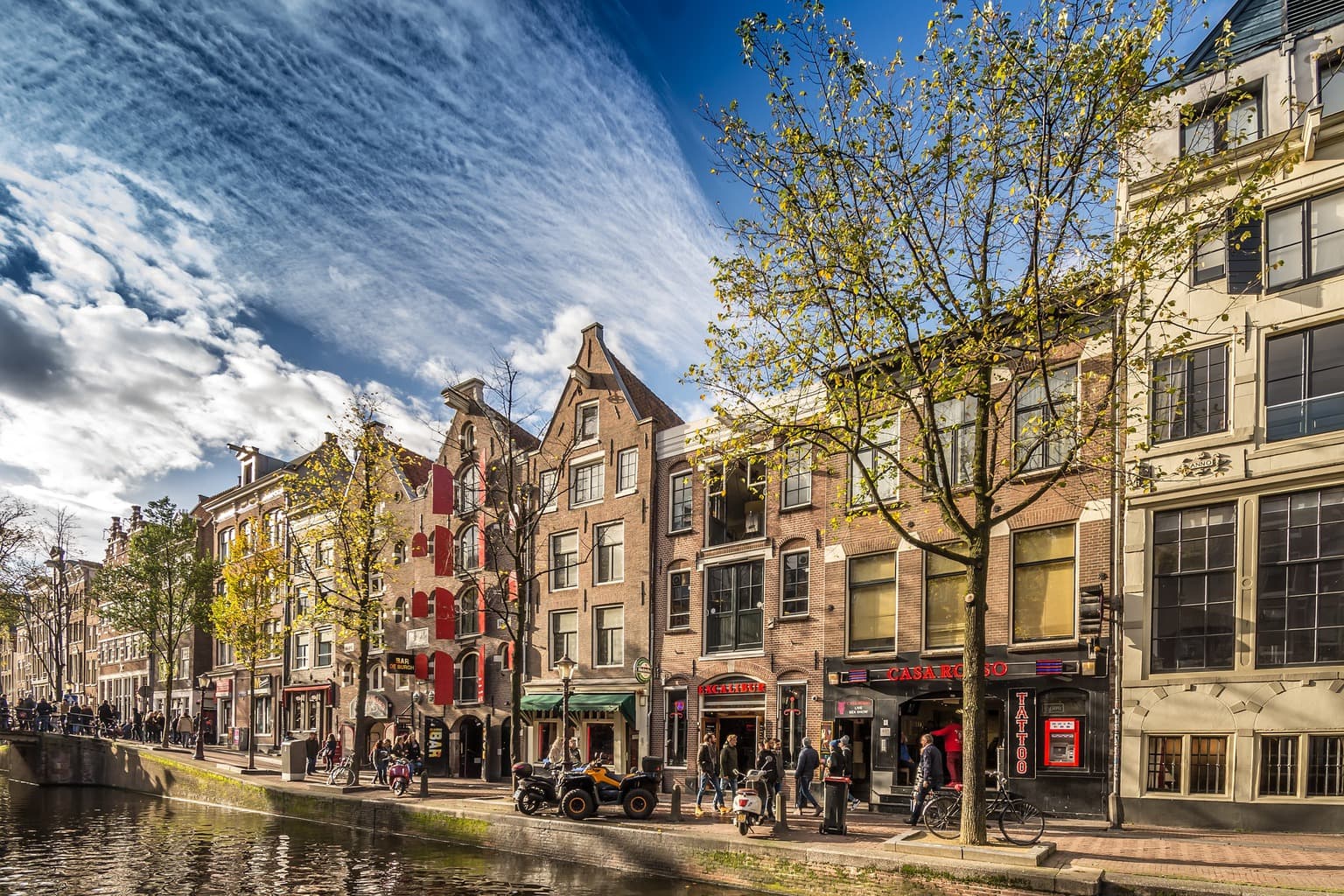 Leaving the island and riding north-east, you'll soon get to friendly Amsterdan in the Netherlands. This bustling city is so much more than hash brownies, tulips and windmills as you'll experience on a bike after parking your car.
Cruise along the canals at your own pace and visit the best tourist attractions in Amsterdam like Rijksmuseum, Van Gogh Museum, the artsy district of Jordaan, or dine way up high at A'dam Lookout.
A must-visit is Ann Frank's House, where you will learn how this brave soul lived through a treacherous time. Apart from the multitude of historic sights, Amsterdam is also home to hip and up-and-coming neighbourhoods like gentrified Westergas and creative Zaandam's Hembrugterrein. Walk the cobbled streets of De Negen Straatjes ('The Nine Streets') for some boutique retail therapy.
4. Brussels, Belgium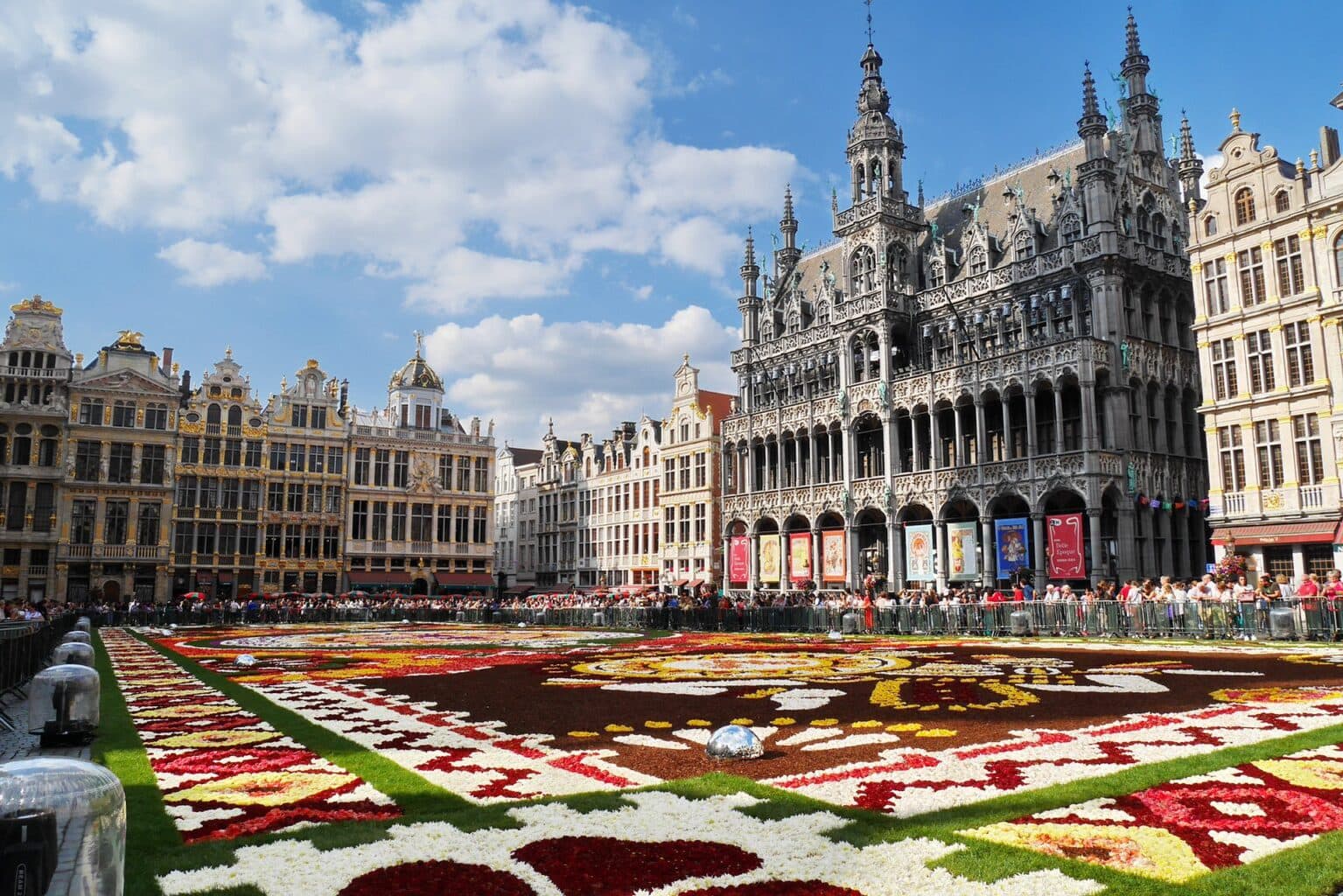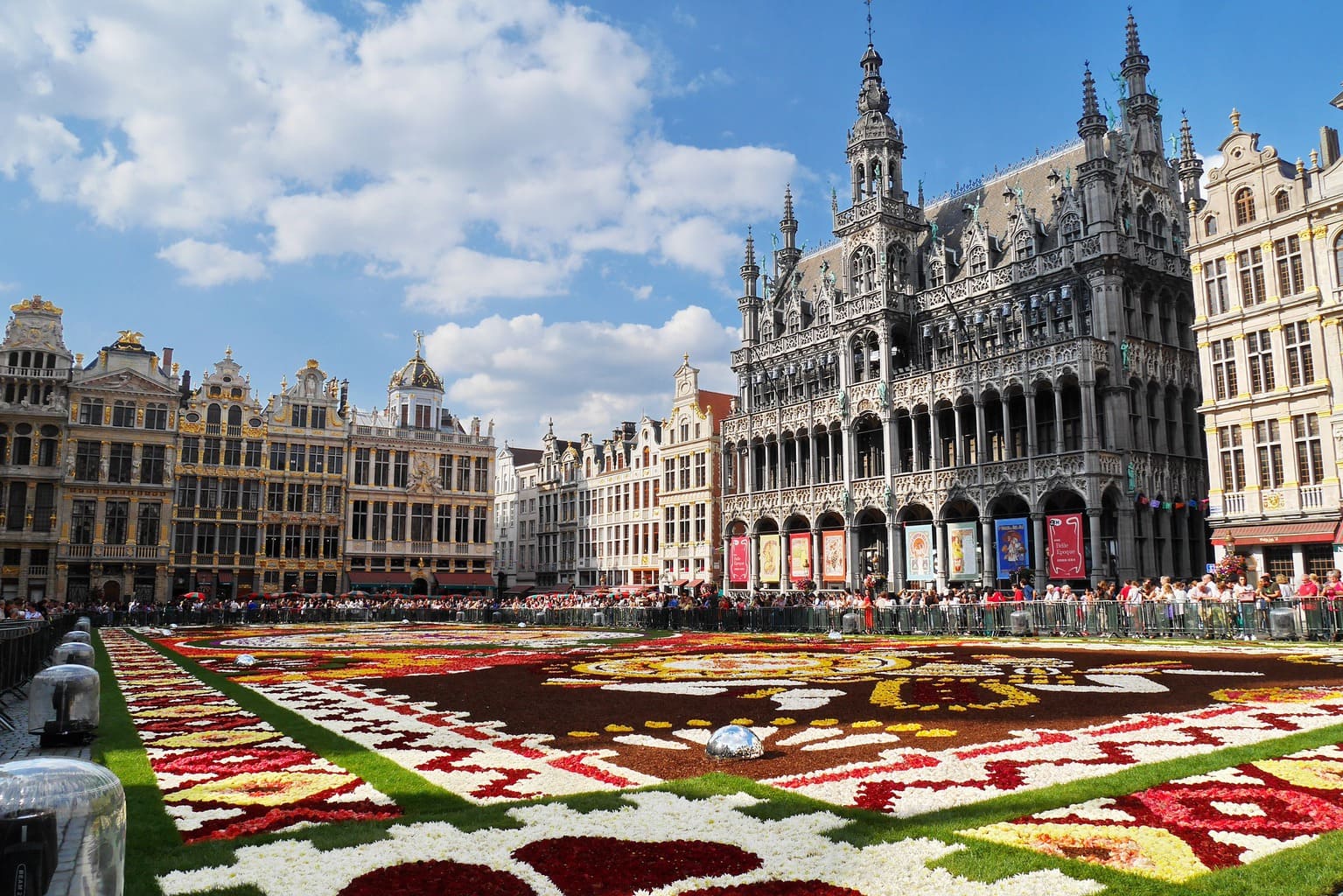 As the administerial centre of the EU, Belgium's capital can be viewed as quite a stringent place. Yet when you pass the iconic little boy peeing into the fountain at the Manneken Pis, you get a sense for the city's lightheartedness. It's this mix that makes it a fascinating place for all types of tourists.
There is spectacular architecture like the Grand Place, Notre Dame Du Sablon, or the Instagrammable Atomium. See arts and culture at the Musee des Beaux-Arts d'Ixelles or Musee Constantin Meunier and gorgeous nature at Park Malou, Parc Georges Henri or Parc Du Cinquantenaire.
But you cannot leave Brussels without going on a beer tasting tour while diving mouth-first into their famous fries and mussels.
5. Luxembourg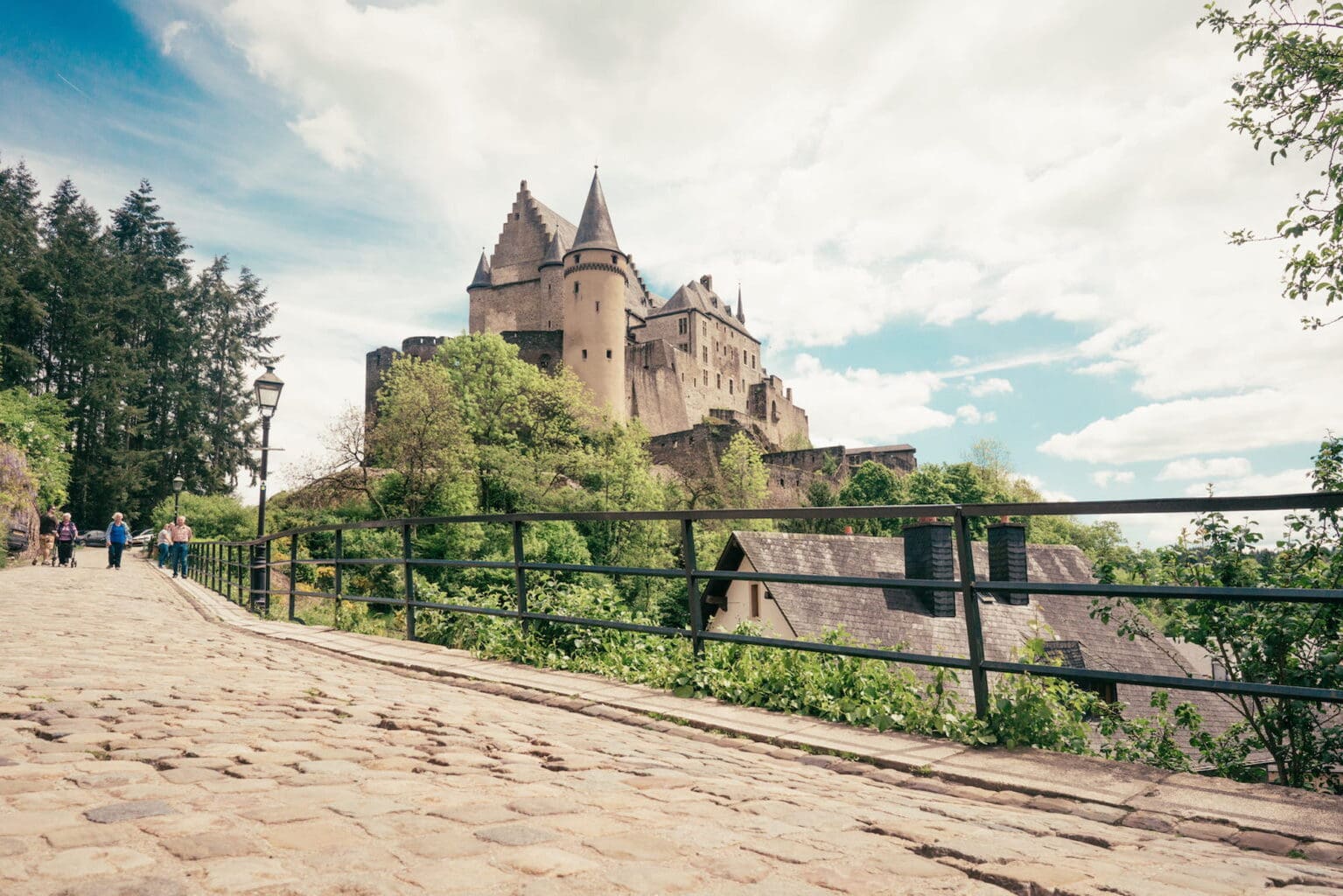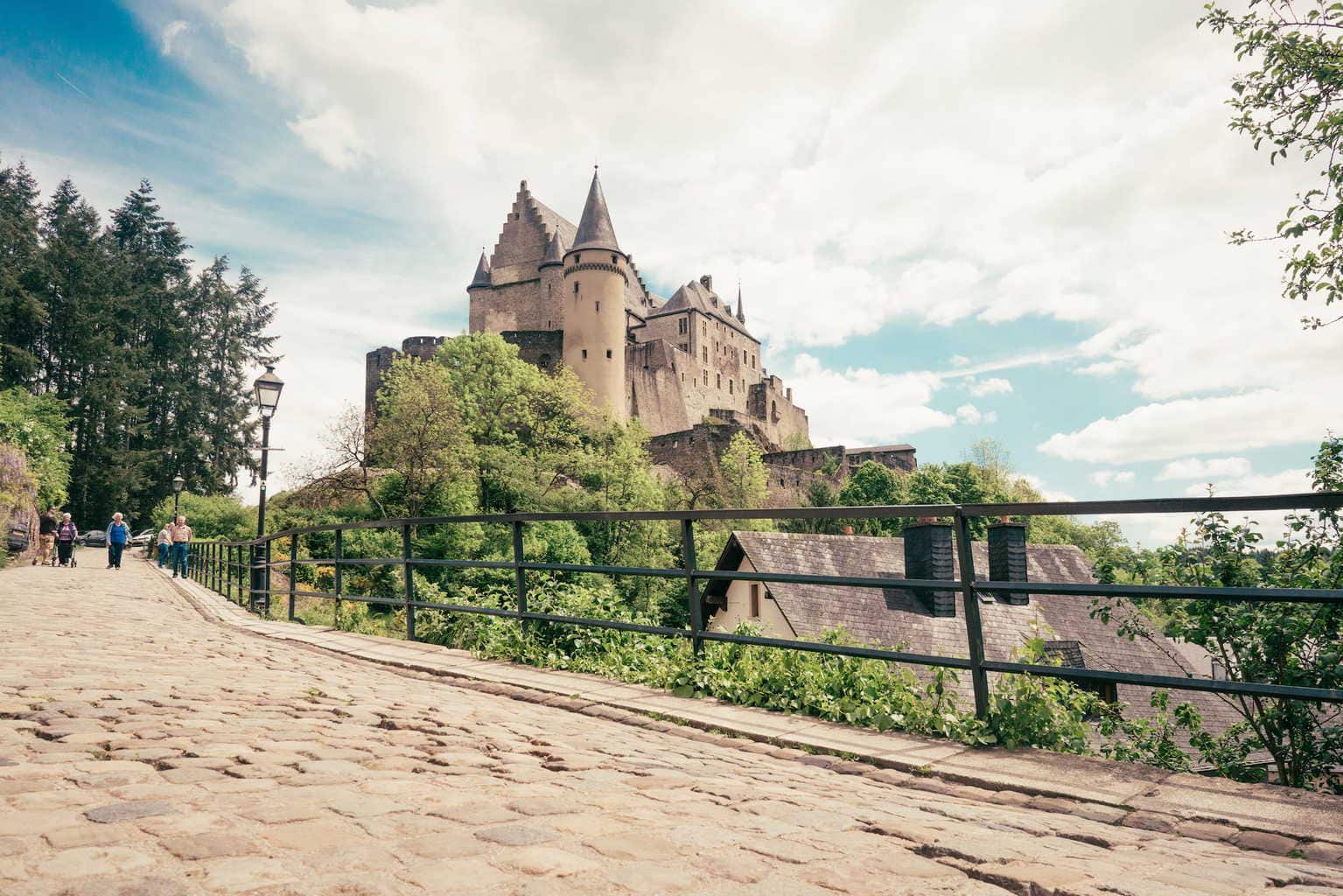 Luxembourg is one of the smallest countries in the world and most of the top places to visit in Luxembourg are all concentrated in the city center. This makes it a great day stop for your European road trip. Start slow by perusing the Old Quarter in Luxembourg City which is also a UNESCO World Heritage Site, as the night nears, take in a show at the legendary Philharmonic of Luxembourg.
Then make your way to any of the multitude of castles in the country (there are 130 in total) from Luxembourg Fortress to Vianden Castle. The castles you choose to explore will depend on the amount of time you have and whether you'd like to include a bit of nature on your visit or not.
For nature we suggest the Mullerthal region where you'll find Schiessentümpel Waterfall. You can even camp there for the night along the river Sûre in your car or spa at Mondorf-les-Bains if that's more your style.
6. Liechtenstein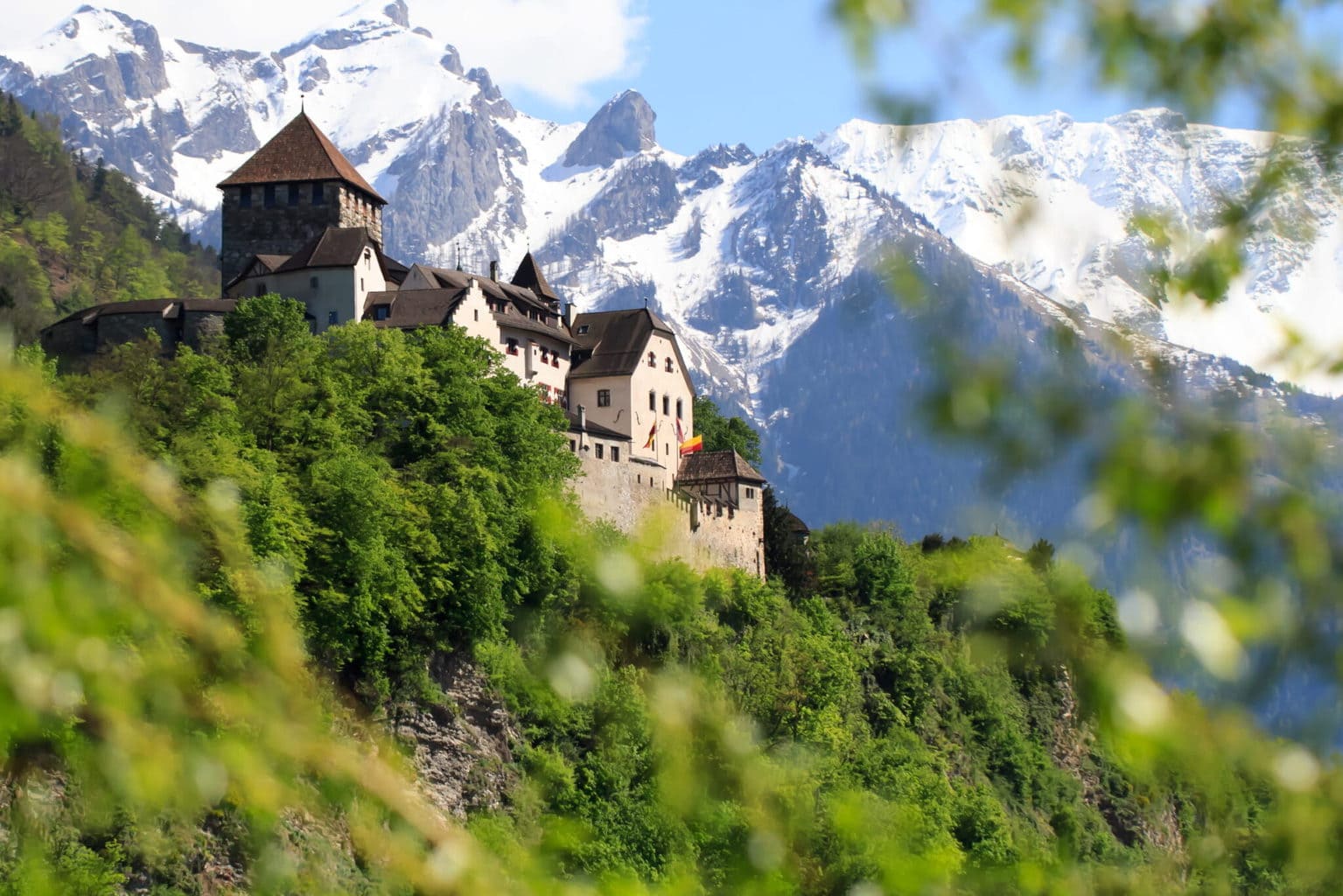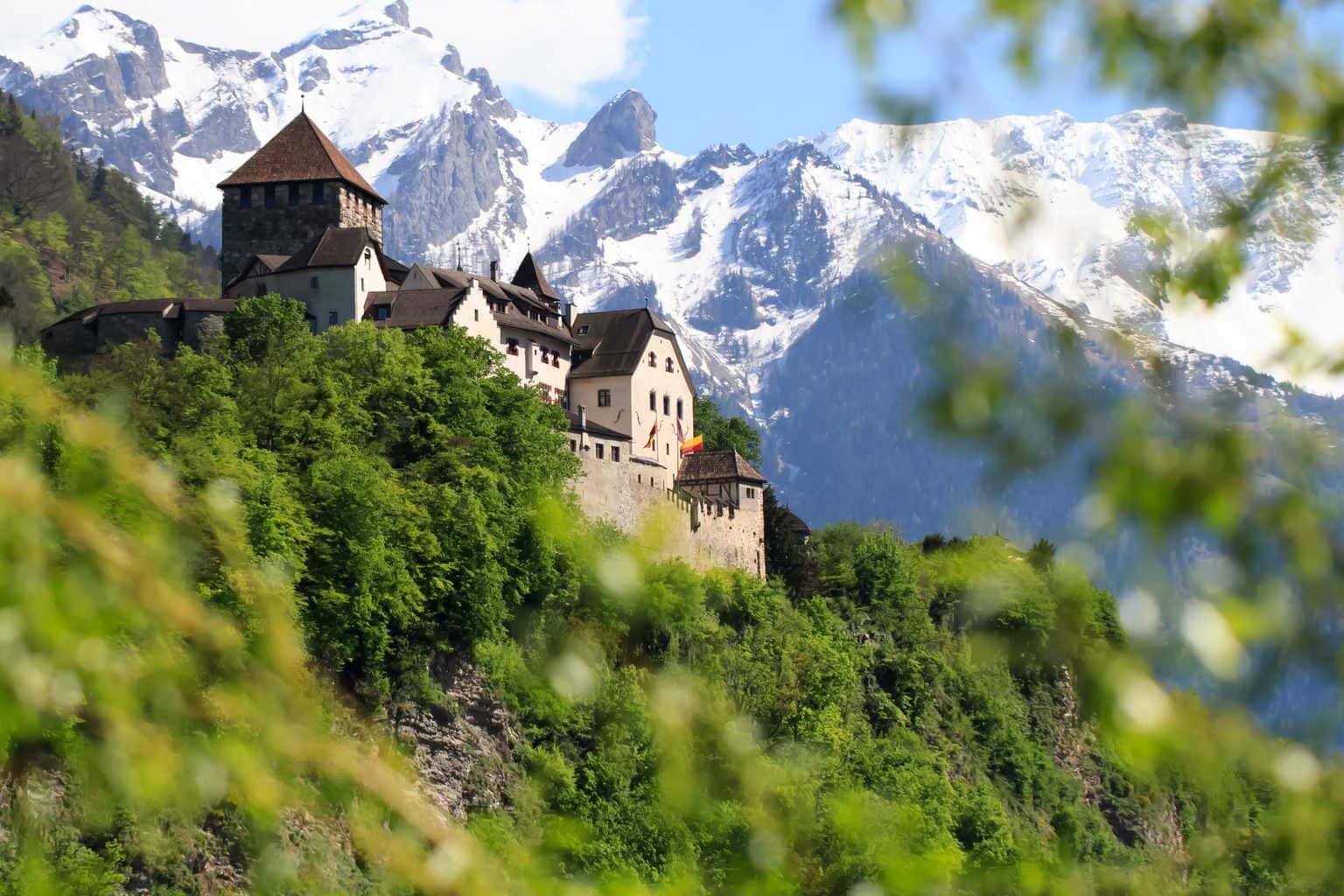 While an unlikely candidate, Liechtenstein is actually one of the least visited countries in the world. The main reason is because it's a landlocked country, sandwiched between Switzerland and Austria, without an airport. This means it's perfectly reachable by car, great for your European road trip!
A fun fact about Liechtenstein is that it hasn't had a murder since 2014 and is therefore one of the safest countries in the world. As it's so small, you can see the entire country in a day from castles like Vaduz, Burg Gutenberg or Obere Burg to jaw-dropping nature (400km network of hiking trails!) and even eat at a Michelin-awarded traditional Restaurant Torkel. This is a popular winter Europe road trip pit stop for ski fanatics.
7. Bern, Switzerland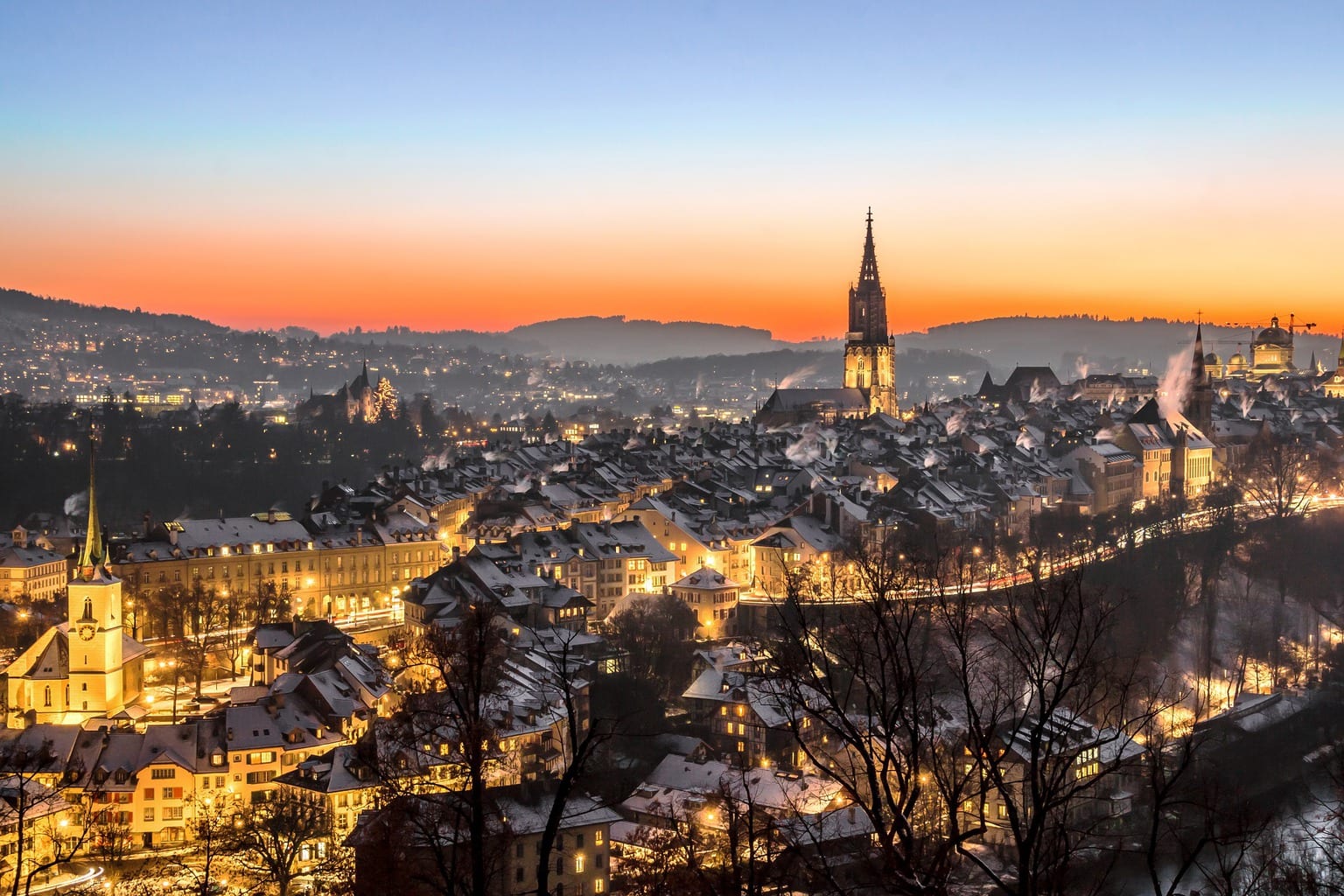 The city where Einstein started dabbling in physics and the older enclave being awarded UNESCO World Heritage status in 1983, Bern is a thriving city with a deep history and stunning sites. In fact you can visit Einstein's former residence or the museum constructed in his name.
If you're a fan of treasure hunts, you could try to find all 11 Renaissance fountains in the centre of Old Bern. Saunter around the Rosengarten, take in the views at Gurten mountain, or see the symbol of Bern (and Toblerone) at Bärengraben (Bear Pit) or BärenPark (Bear Park).
With a rich culture, Bern has loads of great artsy festivals to take part in year round from the Summer and Winter Jazz Festivals to the Buskers Festival to July's Gurtenfestival. If you miss the festivals, don't worry, there's more art at the Kunstmuseum (Museum of Art) which contains 51,000 pieces! The fascinating Zytglogge, a medieval clock tower with moving puppets, is always a fun stop over.
If you'd like to go beyond the capital and are a fan of skiing or being pampered, I would suggest making a stop at either Andermatt or St. Moritz (stay for the night at Chedi, Andermatt). Or change your mode of transportation and hop on the Glacier Express which connects St. Moritz with Zermatt and is a truly once in a lifetime experience.
8. Central France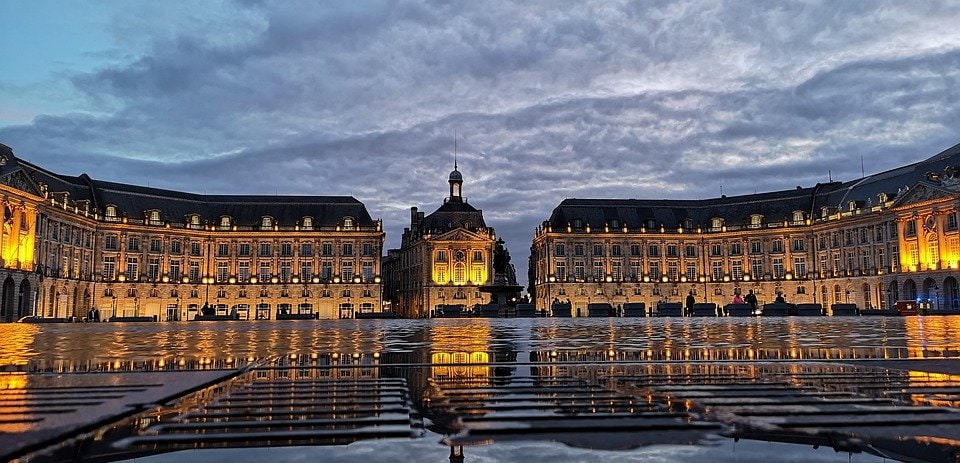 Traveling south from Switzerland (with a possible stop in Geneva before crossing the border), you'll be cruising the central part of France passing by two exquisite regions: Lyon and Bordeaux.
Lyon is steeped in a 2,000 year history and is the capital of the Auvergne-Rhône-Alpes region. It is also considered the foodie capital of France so you should make sure to eat your way around the city.
Witness the Roman Amphithéâtre des Trois Gaules and venture into Vieux (Old) Lyon with the largest renaissance old quarters in Europe. But don't miss the modern Confluence district on the Presqu'île peninsula with its elegant bistros and upscale apartments.
There are museums of all kinds from fine art at Musée des Beaux-Arts de Lyon to the Institut Lumière, an ode to the famed brothers who spearheaded the modern cinema. The architecture will leave your jaw agape, so be sure to pass by the Fourvière Basilica and Lyon Cathedral.
Making your way toward the Bay of Biscay you'll end up in one of the most praised wine regions in the world, Bordeaux. Wine enthusiasts better get a designated driver, because this stretch of your Europe road trip is bound to be the most fueled by alcohol.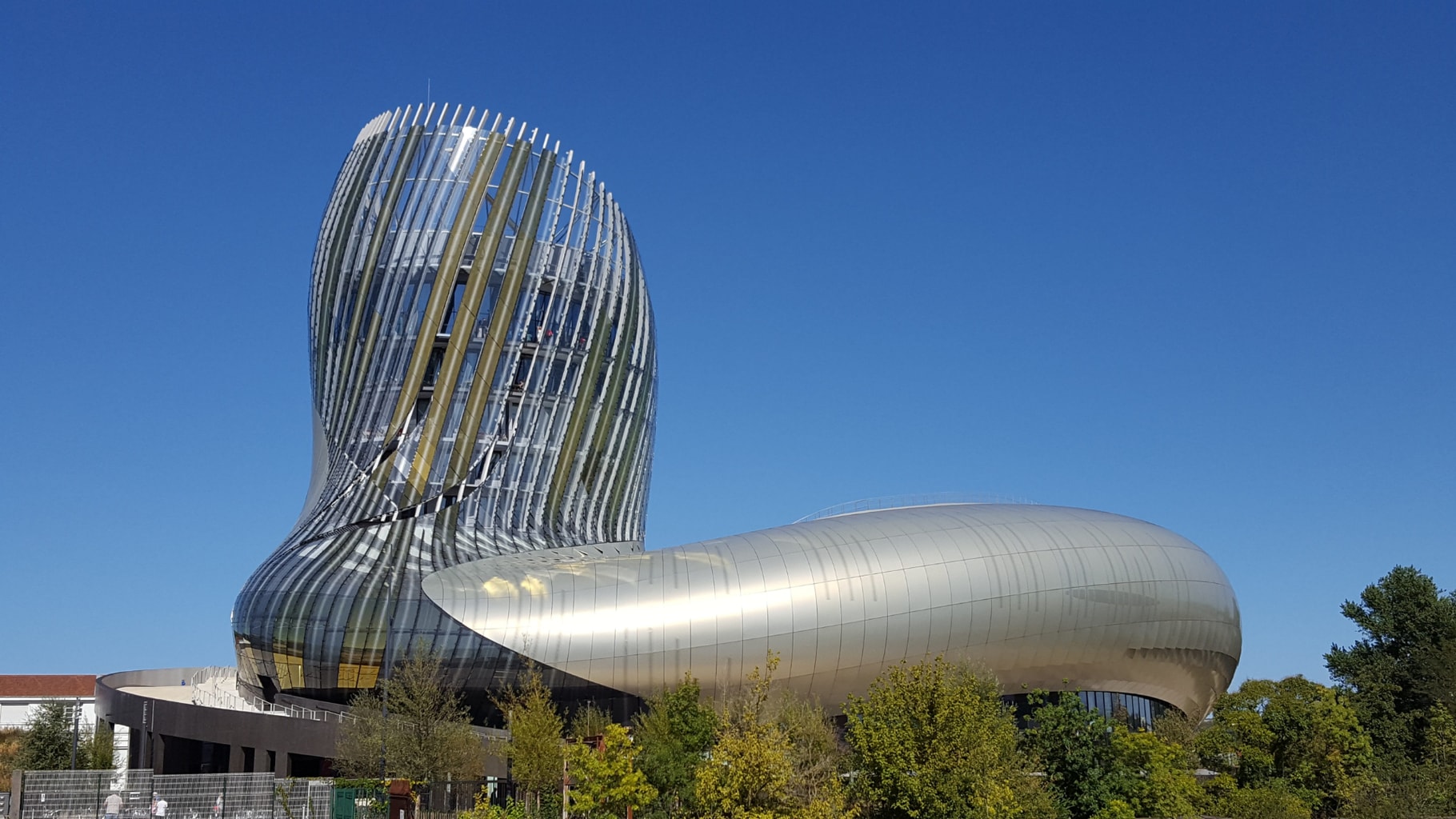 The choices of wineries to visit can be a bit overwhelming, so it's best to first visit the spectacular ode to wine, La Cité du Vin. This is a mammoth 3,000sqm building with a 55m tower that looks like a giant decanter. It has around 10 hours of audiovisual info all about the history and future of the grape. You'll also be able to get help picking which wineries to visit.
Beyond wine, there are open spaces (Quais de Bordeaux, Jardin Public), shopping streets (Rue Sainte-Catherine), ancient architecture (La Grosse Cloche, Porte Cailhau, Bordeaux Cathedral) and so much more!
Those wanting to stop by Paris should do so after Luxembourg, as this is the quickest route to the capital and you will only be venturing further south from here. Read our Parisian articles to get more insight about the City of Love:
9. Northern Spain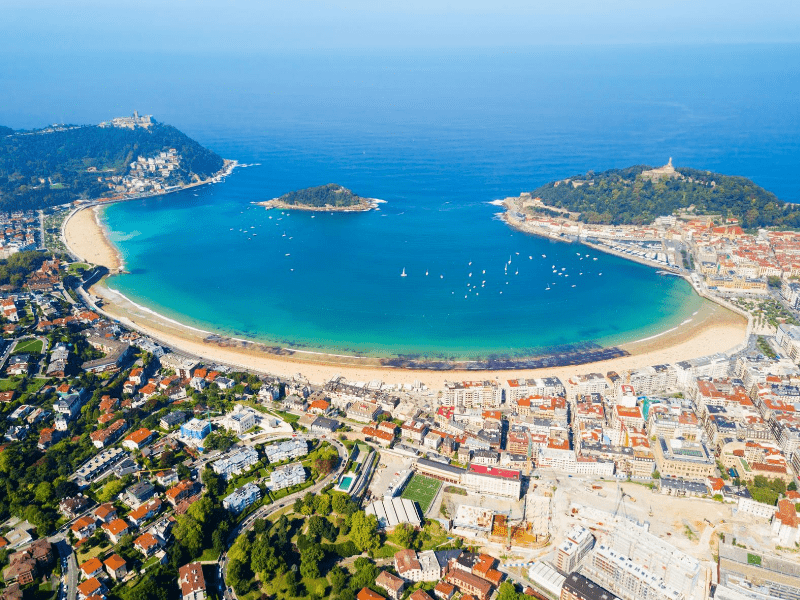 Reaching the Bay of Biscay with a possible hangover, you'll surely just want to take it easy on the beach. This is where San Sebastián comes in. Also known as Donostia, San Sebastián is a resort town hidden in Spain's mountainous Basque Country and is known for Playa de la Concha and Playa de Ondarreta.
Playa means beach, and beach is what you will get, although not the kind of warm beach you find on the Mediteranean! Bring a sweater, even in the summer months San Sebastian can be pretty chilly.
Not only will you find beautifully soft sand, but also picturesque bayfront promenades, cobblestone roads of old town (Parte Vieja), upscale shopping, vibrant pintxo bars and world-class restaurants.
San Sebastian is one of Spain's foodie capitals along with Barcelona and Madrid and the Basque Country where it is located, has more Michelin-starred restaurants than any other part of the country.
Think three-starred Arzak and Akelarre, one-starred Kokotxa and Mirador de Ulía or famous Nerua in the Guggenheim Bilbao. Or just have a picnic at Miramar Royal Palace (Palacio de Miramar) if your wallet is feeling a bit light.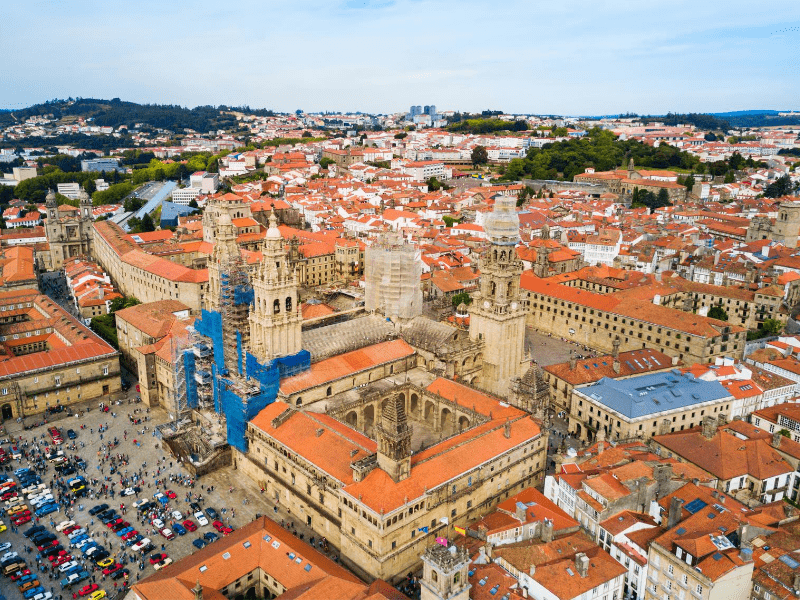 Taking the most epic coastal drive, you'll enter one of Spain's most spiritual centres at Santiago de Compostela. This is the end of the famed Camino de Santiago pilgrimage route as well as the capital of northwest Spain's Galicia region. Legend has it that the apostle St. James was buried in what is today the UNESCO-listed old town.
Even if you aren't religious, you'll find a spiritual resonance in the idyllic Romanesque, Gothic and Baroque buildings, particularly the remarkable Pórtico de la Gloria. The Cathedral of Santiago de Compostela, Praza do Obradoiro and Monastery of San Martiño Pinario are all epic and within walking distance.
10. Coastal Portugal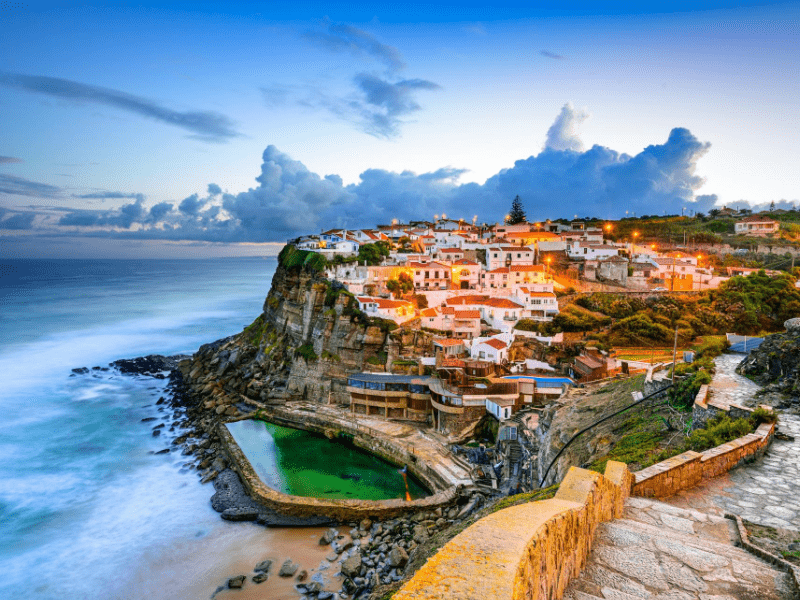 Grab your surfboards because you are entering a country with some of the best waves in the world. Even if you don't know how, Portugal is a great place to learn how to surf. It's also a burgeoning place for digital nomads so you're sure to bump into other European road trippers here on your journey.
The three standout places you're going to pass on the coastal route are Porto in the north, Coimbra in the center and Lisbon at the south. Porto is known for its dessert wine which you will know as Port. But beyond the sweet aperitif Porto offers stately bridges, the medieval Ribeira (riverside) district with cobbled streets and cafes, and grand designs from baroque São Francisco Church to the palatial Palácio de Bolsa.
Travel down to the coast and you'll end up at the riverfront city of Coimbra. It is famous for its historic University of Coimbra that houses a baroque library, the Biblioteca Joanina with a gorgeous 18th-century bell tower. You can set foot around the city's old town to take in the calm atmosphere and visit the 12th-century Romanesque cathedral Sé Velha.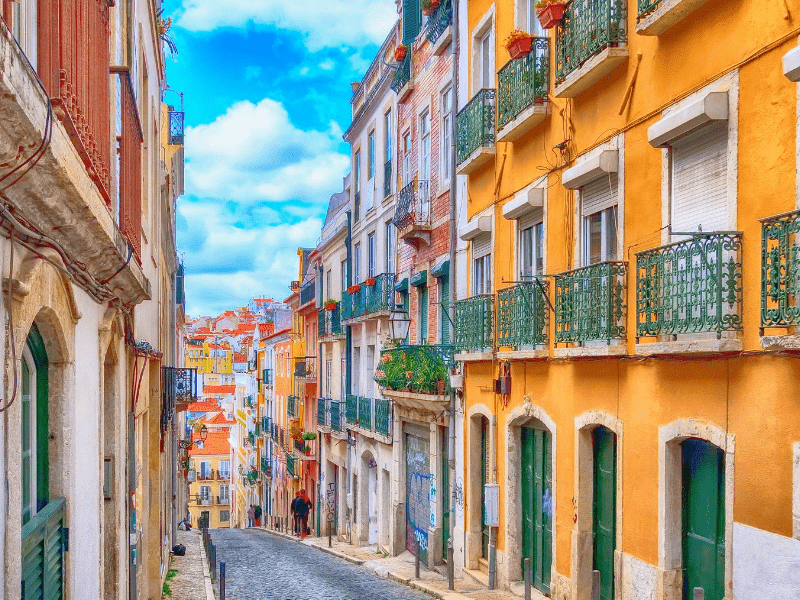 Drive south from the old capital (Coimbra) to the new one, Lisbon. This hilly coastal city has some spectacularly romantic views, particularly at sunset from São Jorge Castle where the pastel-colored buildings blend with the pink and purple hues of the setting sun.
Nature blends seamlessly with historic buildings in Lisbon, so make sure to pass along the Torre de Belém, the Golden Gate-like Ponte 25 de Abril suspension bridge, and the Padrão dos Descobrimentos. Try to take a day trip to the protected Tagus Estuary. You can ride trams throughout the city and then relax on the beaches of Cascais, Costa da Caparica, or Estoril.
11. Southern Spain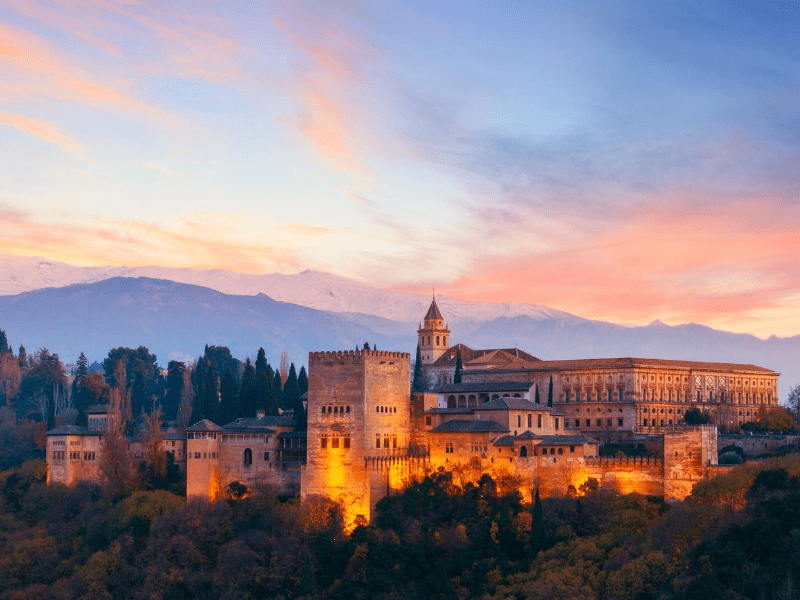 Now it's back into Spain where you'll witness a very different vibe and even peer over into Africa. The south of Spain is spectacular as you travel through Seville, Gibraltar, Granada, Valencia and finishing in Barcelona.
Seville is the capital of Andalusia and has a rich Moorish heritage which is evident in the colourful tiles, the lobed arches and the iconic Giralda tower.
This is the place to experience the stereotypically Spanish cultural activities – flamenco, tapas and toros (although we strongly oppose bullfighting and you should too). Spring is a particularly festive time to visit with Semana Santa (Holy Week) and the lively Feria de Abril (Seville Fair). Or just to stroll along the banks of the Guadalquivir.
Before you leave the area, consider a day trip to Morocco which you can take from Tarifa. Go on a guided tour which is usually cheaper than buying a ferry ticket, and add a new continent, just for the day.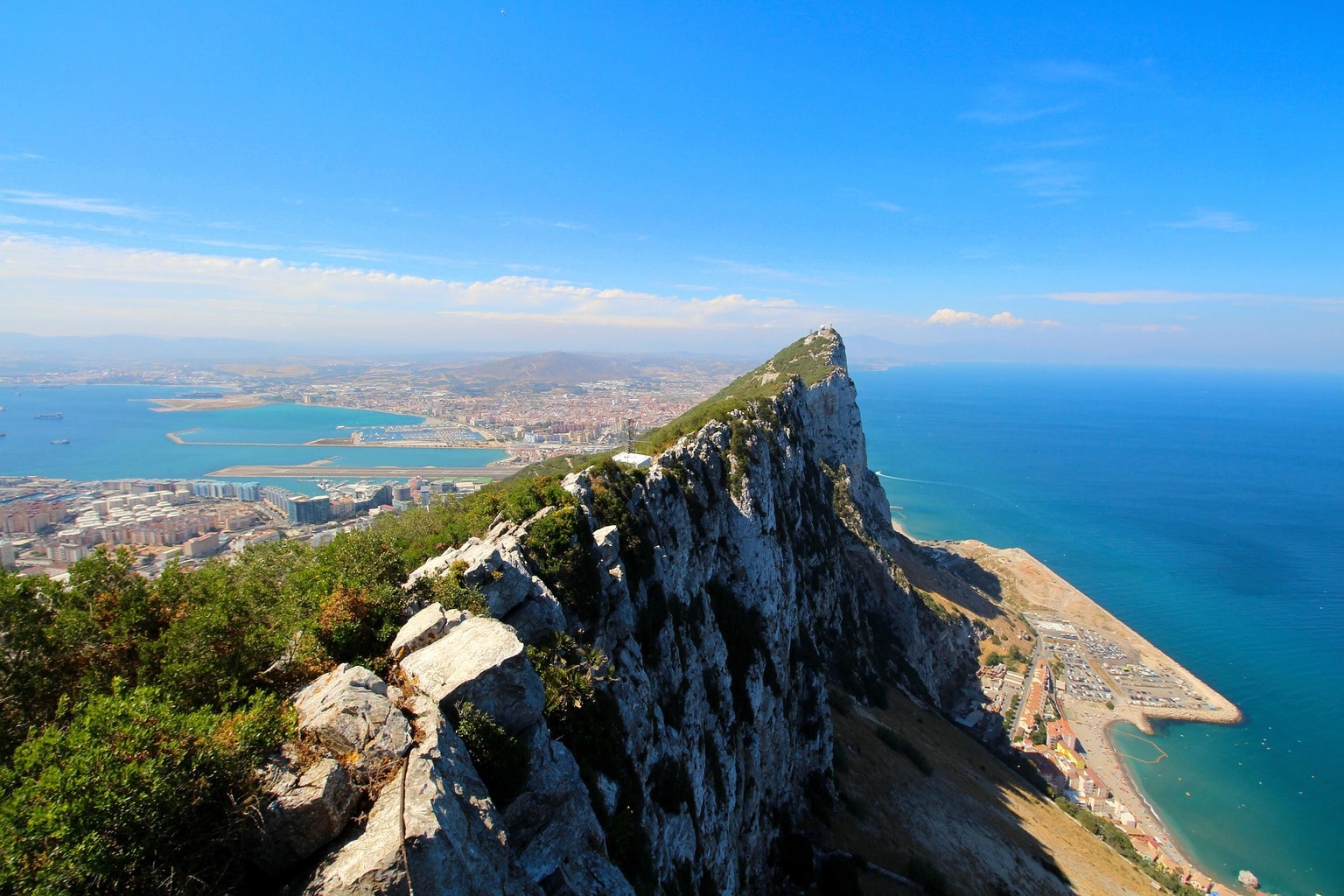 Gibraltar may be geographically located in Spain, but it was actually ceded to Britain in 1713 and remains a British Overseas Territory. This means that while Euros are accepted, the main currency is the British Sterling.
Moorish architecture and the Rock of Gibraltar are the two most famous sites. Europa Point at the most southern tip of Gibraltar is where you can glance into Morocco, an entirely different continent. Try not to visit on a Sunday as most places on Main Street will be closed.
Laying at the foothills of the Sierra Nevada mountains is Granada, best known for its pristine examples of medieval architecture, particularly the Alhambra from the Nasrid dynasty. UNESCO-listed La Alhambra is massive and needs a full day to explore properly, especially to see the Generalife gardens.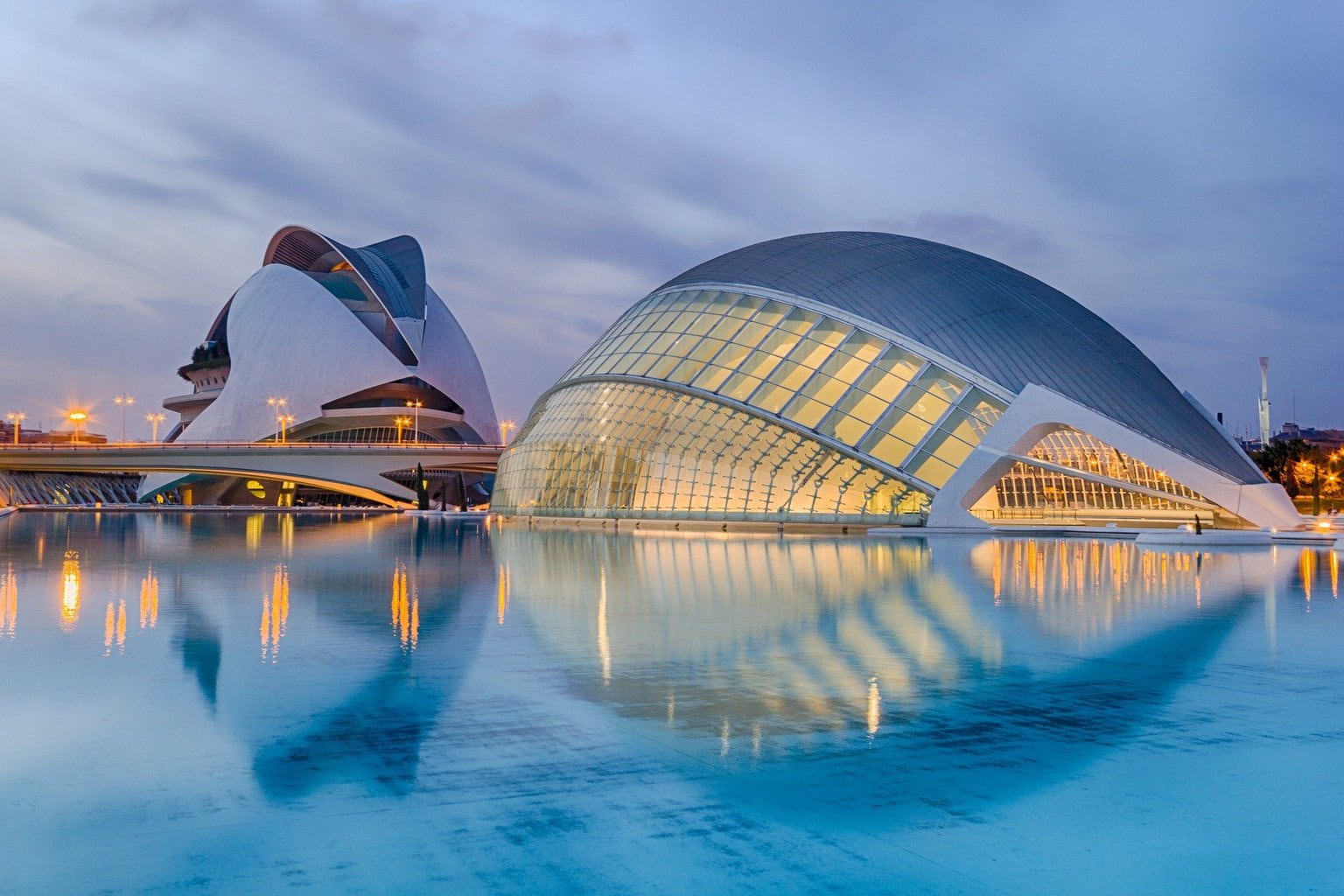 From past to future, you'll then venture forth to Valencia, known for its City of Arts and Sciences. This futuristic structure, reminiscent of Zaha Hadid's Heydar Aliyev Center in Azerbaijan or Dongdaemun Design Plaza in Seoul, Contains a planetarium, oceanarium and interactive museum.
As Valencia is a coastal city, you can also set your towel down in one of its beaches including those in the Albufera Park, which is actually a wetlands reserve with a lake and walking trails. This is also a fantastic place to try out authentic paella.
Your last stop over in Spain will be the capital of Catalunya, Barcelona. There is too much to do in Barcelona and we have written about it extensively as it is our Editor-in-Chief's home.
If you're looking for things to do in Barcelona on this leg of your European road trip, here is a massive list of articles you can save, from the best of Gaudi to the top wineries to some brilliant ideas for day trips…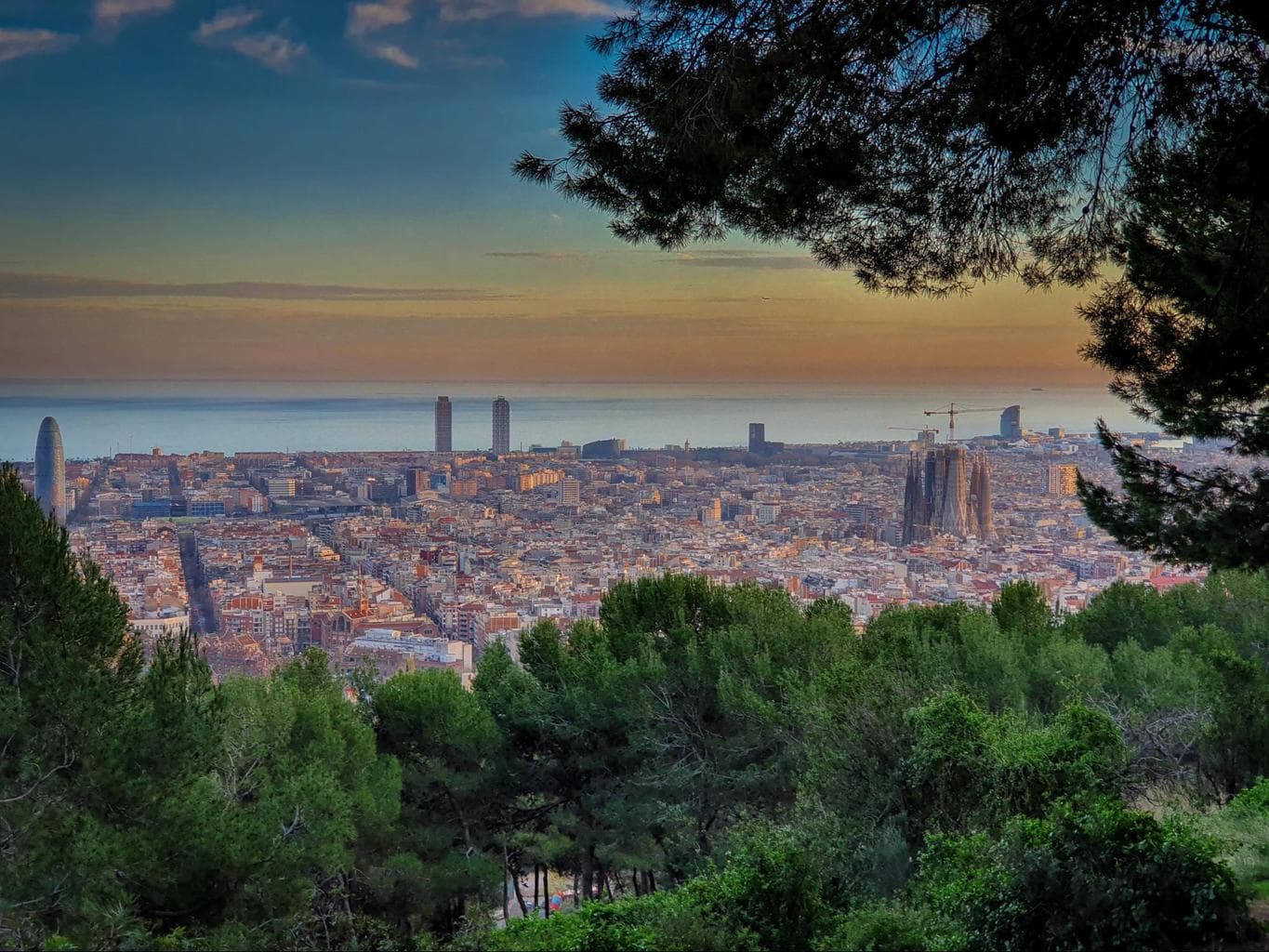 Barcelona guides:
Wineries near Barcelona & Food:
Day trips from Barcelona:
12. Andorra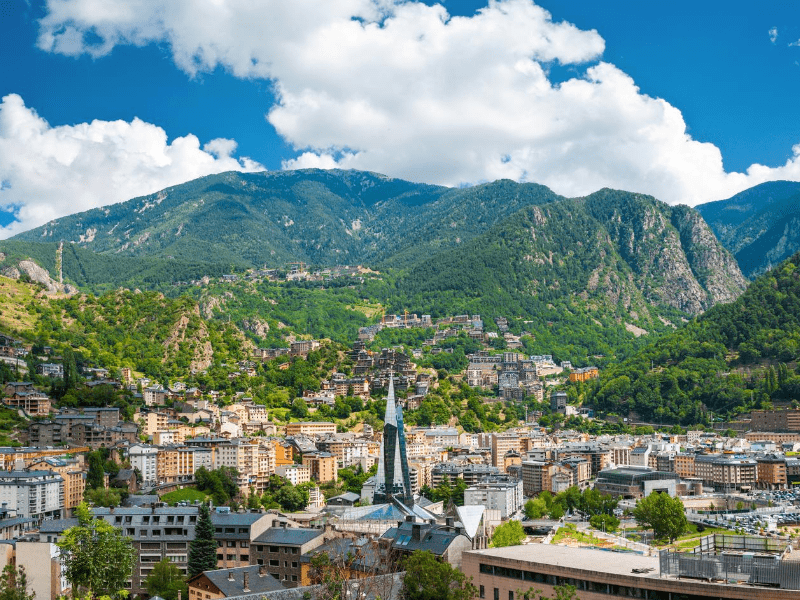 Just like Luxembourg and Liechtenstein, Andorra is another one of the smallest countries on the planet. Landlocked between Spain and France, it's a hidden secret that will add some spice to your Europe road trip. The "country in the Pyrenees mountains" is all about beautiful nature in any season.
There are ski slopes to hit in winter, gorgeous hiking trails in summer and a variety of activities for everything in between. Topping the list is the Caldea spa complex that leverages the natural hot springs in the area to provide an entertainment destination with hydrotherapy and wellness in mind.
We have written a complete guide to Andorra where you can explore all of the best things to do from savoring rustic food to a list of all the museums to the best places to go shopping and the top hotels to stay at.
13. Southern France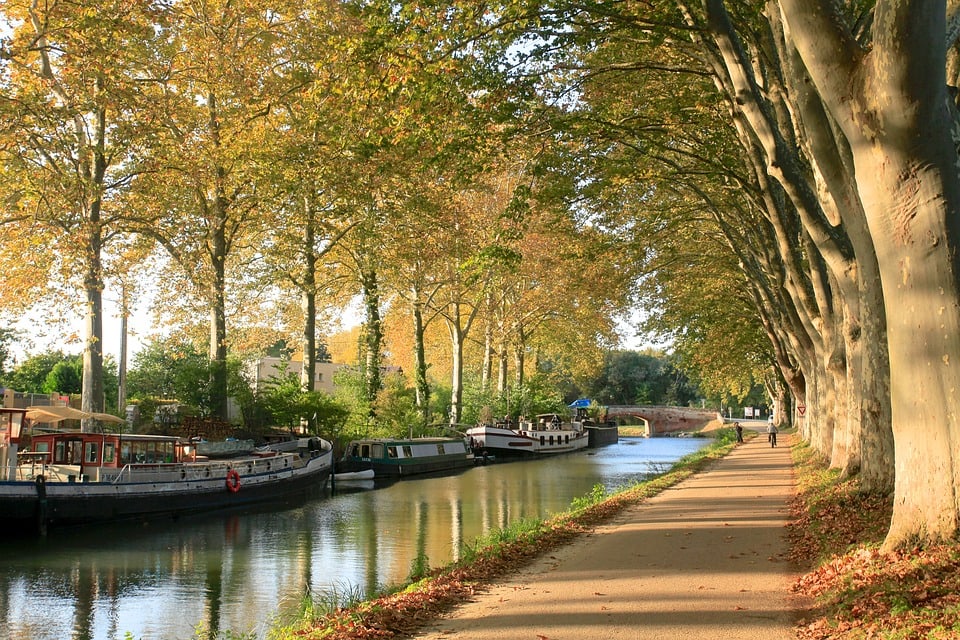 Crossing the border, you'll again venture into France, this time exploring the coastal cities along the Gulf of Lion from Languedoc to Provence all the way into Italy.
Start at Montpellier, an underrated city with a rich history, beautiful architecture and bustling boutiques and sidewalk cafés among magnificent squares. It even has its own Arc de Triomphe.
Montpellier's lively vibe is attributed to some 60,000 students that call it home. Sip some Languedoc-Roussillon wines with delicious Mediterranean-inspired cuisine or climb the 658m Pic Saint-Loup. You may want to explore Toulouse, known as "The Pink City" due to its terra-cotta bricks, as it is another lively and gorgeous destination for a European road trip.
After Montpellier, you can choose to explore the more popular port city of Marseille and Nice along the French Riviera, both in the Provence region, if you like more touristy and cosmopolitan destinations. The former is hailed for the epic Basilique Notre-Dame de la Garde and the latter pays homage to native artists Henri Matisse and Marc Chagall.
14. Monaco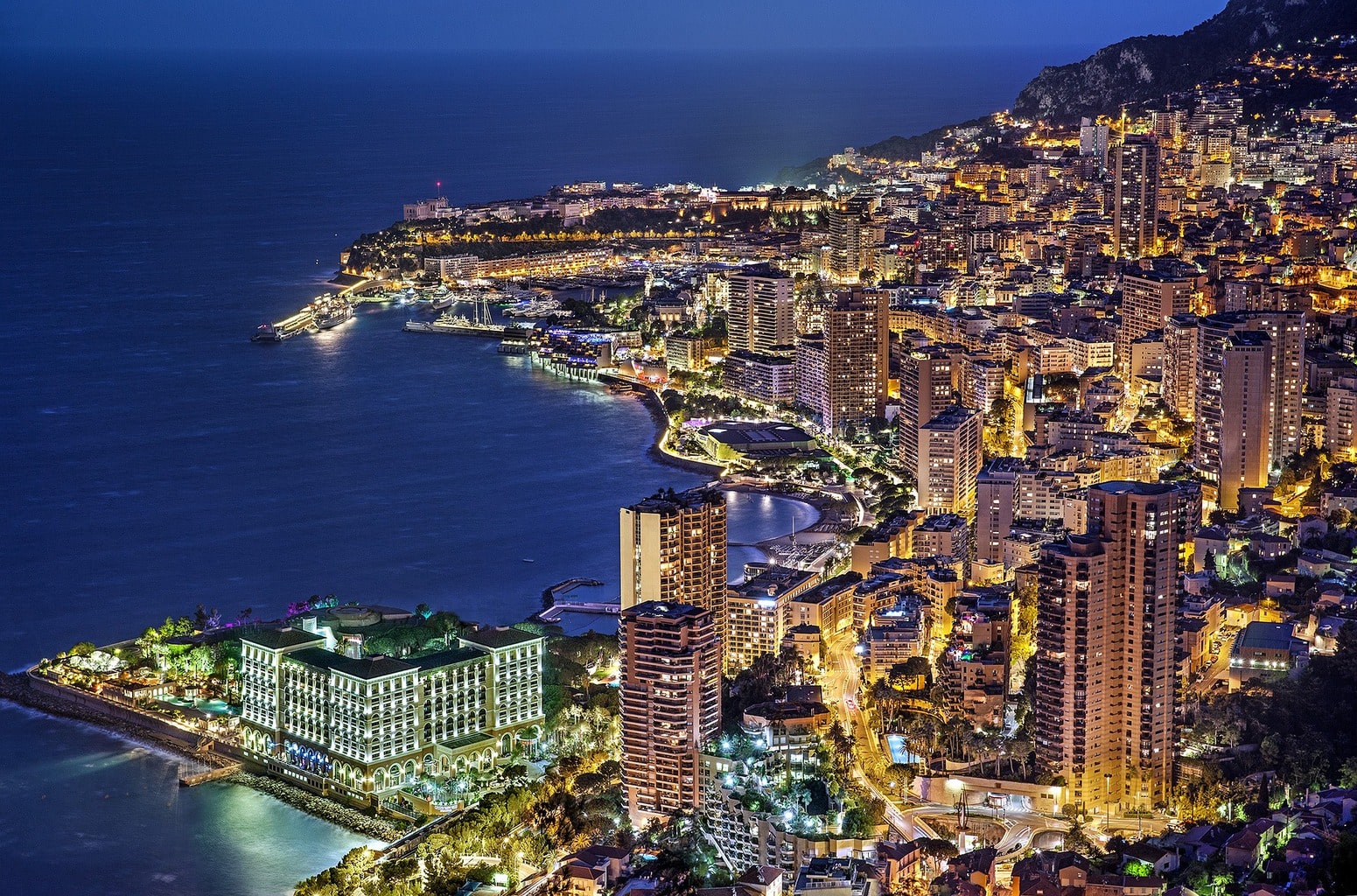 It's time to join the rich and famous in another one of the smallest countries in the world, Monaco. In fact, Monaco is the second smallest country after the Vatican and is only 2sqkm. Like Andorra and Liechtenstein, Monaco is a principality, meaning that a monarchy governs, currently ruled by Prince Albert II of the Grimaldi family.
The most well-known area in Monaco is its capital city, Monte-Carlo, synonymous with James Bond, Casinos, F1 and the rich and famous (because of its tax status). Expect a multitude of yachts docked at the ports along this country in the French Riviera housing all the beautiful people of the world.
For more, check out our guide to Monaco.
15. The Vatican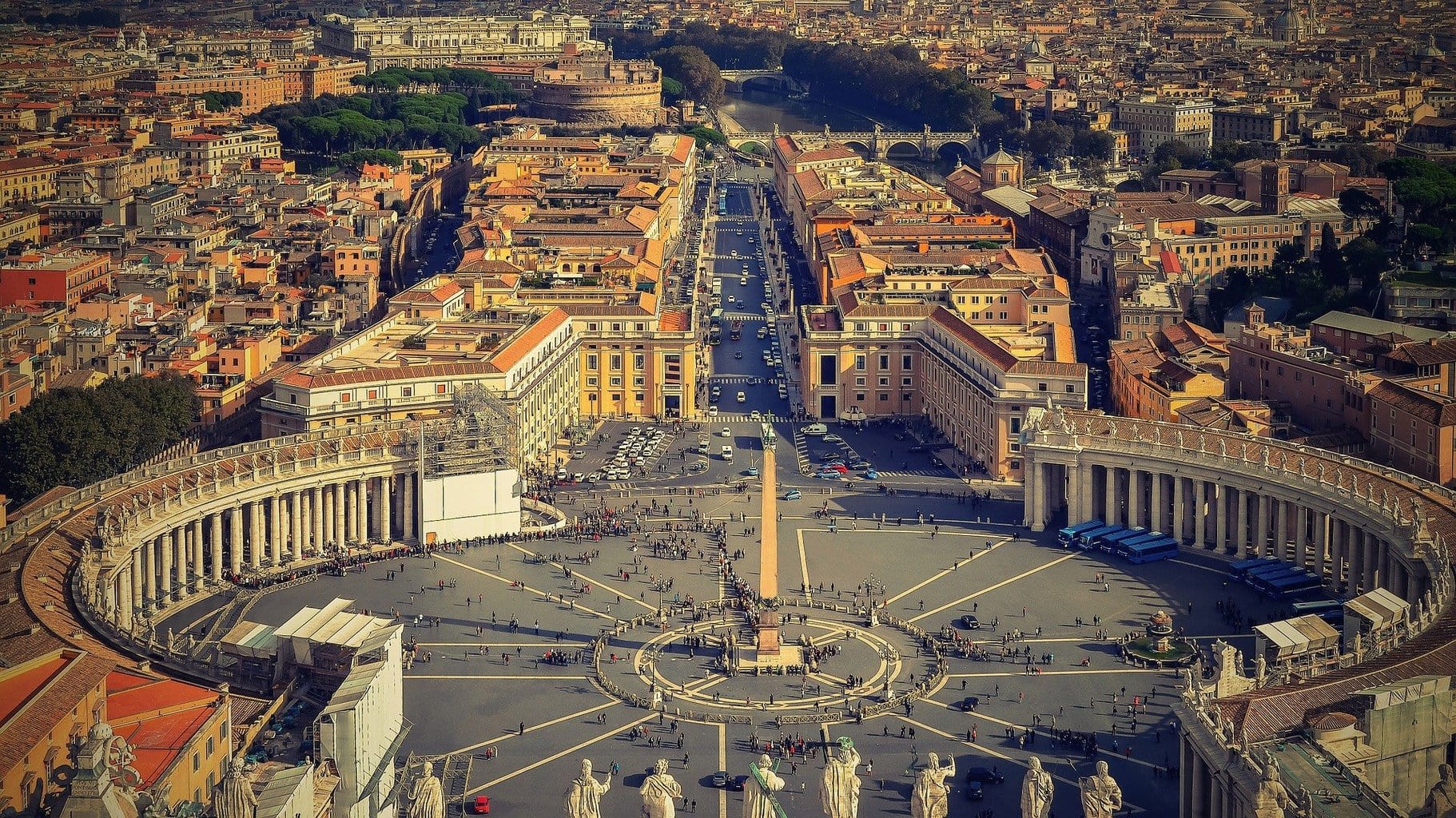 From the second smallest to indeed the smallest country in the world and the headquarters of the Roman Catholic Church which is home to the Pope.
Like Lesotho in South Africa, the Vatican is surrounded by the Italian capital, Rome. So if you're visiting Rome, the Vatican is a must. Your time at the Vatican will be spent viewing ancient buildings, seeing historic art pieces and taking in the spirituality of Catholicism.
Standouts include Michelangelo's work on the ceiling of the Sistine Chapel, St. Peter's Basilica which is the world's largest basilica of Christianity, Renaissance art treasures at the Vatican Museums, Castel Sant'Angelo, Saint Peter's Square and Gardens of Vatican City.
16. Rome, Italy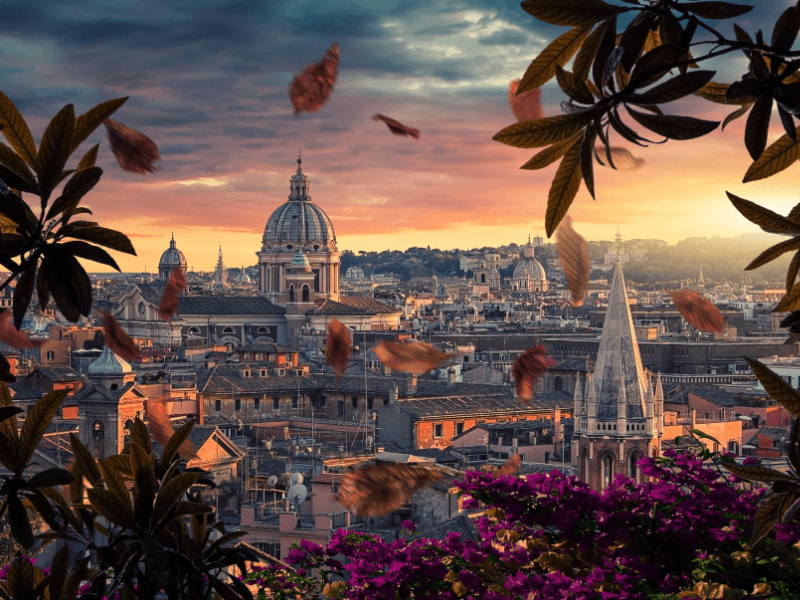 Buongiorno, you've reached the "beautiful country"! You've explored the Vatican and had your spiritual fix, so now it's time to venture into the capital of Italy, Rome. While it wasn't built in a day, you can try to see it all in 24 hours but we recommend spending much longer, Rome needs to be enjoyed not rushed.
Ancient landmarks like the Colosseum, the Pantheon, the Roman Forum and the Arch of Constantine should all leave you speechless.
Gaze at the famed Trevi Fountain as you pay homage to Federico Fellini's La Dolce Vita or "take a little time for yourself…live dangerously" at the Spanish Steps like Audrey Hepburn and Gregory Peck did in Roman Holiday. Then support the local artists and street vendors at Piazza Navona.
What next?
Eat, eat and eat some more by exploring all the Michelin-starred restaurants of Rome (there are around 20!).
You can then ride directly up into San Marino, which we explore next, or you have the option for going south into Naples and then Sicily to take a detour around the Italian coast and see some of the most famous parts of the country which have recently reached Instagram stardom (Amalfi Coast, Capri, etc.).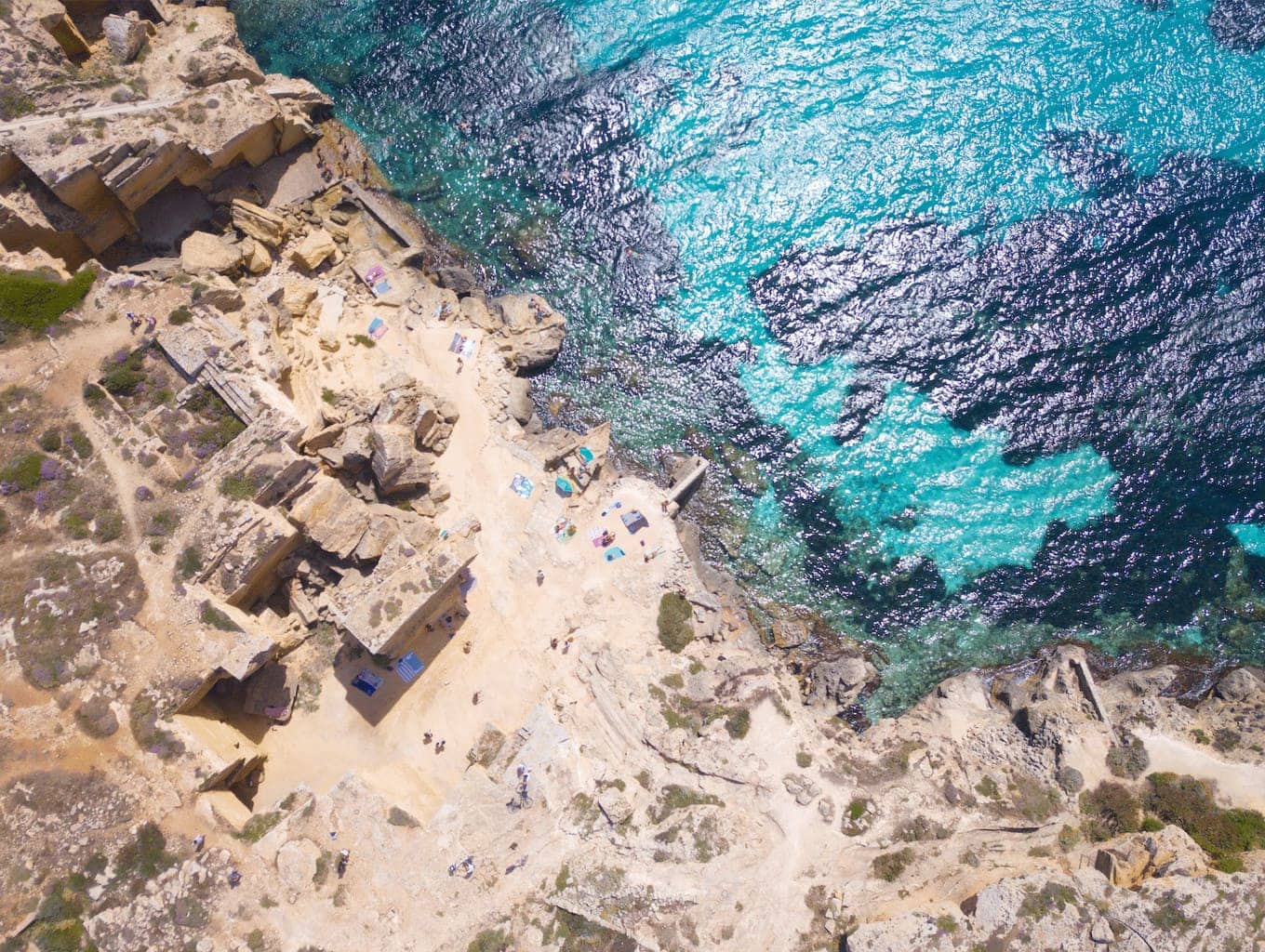 The beaches in Favignana, off Sicily
In Sicily you can hike up an active volcano at Mount Etna, explore the best Sicilian food, visit the Godfather filming locations like Savoca, or relax in the quaint towns of Syracuse or Taormina and its Ancient Greek Theater. Here's an extensive travel guide to Sicily for those who want to set out into the island.
17. San Marino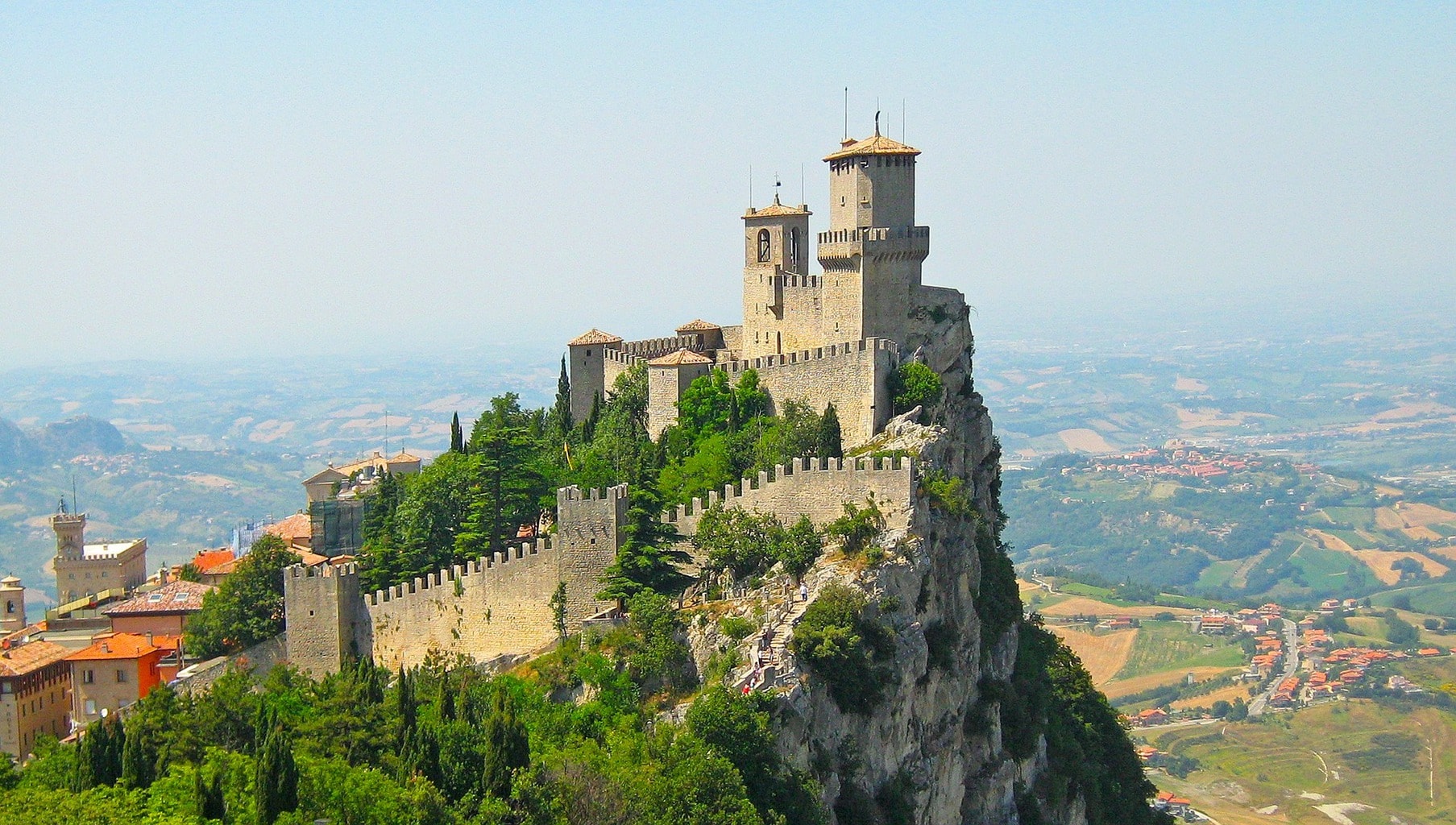 San Marino is a hilly microstate on and around Mount Titano that's completely surrounded by north-central Italy. It's as if time has stood still in this ancient republic, with much of its historic architecture still intact.
The capital, sharing the same name as the microstate, is most well known for its medieval walled old town and narrow cobblestone streets. Once a year in July there's even a Medieval Days festival which is a spectacle as the entire town dresses up and celebrates their history.
At the top of Titano's peaks sits The Three Towers which date back to the 11th century and are great viewpoints. If you have a drone, this would be the place to fly it!
You may want to pop into foodie heaven Emilia-Romagna or Venice to see the iconic canals and the colorful glass island of Murano before moving onto Slovenia.
18. Ljubljana, Slovenia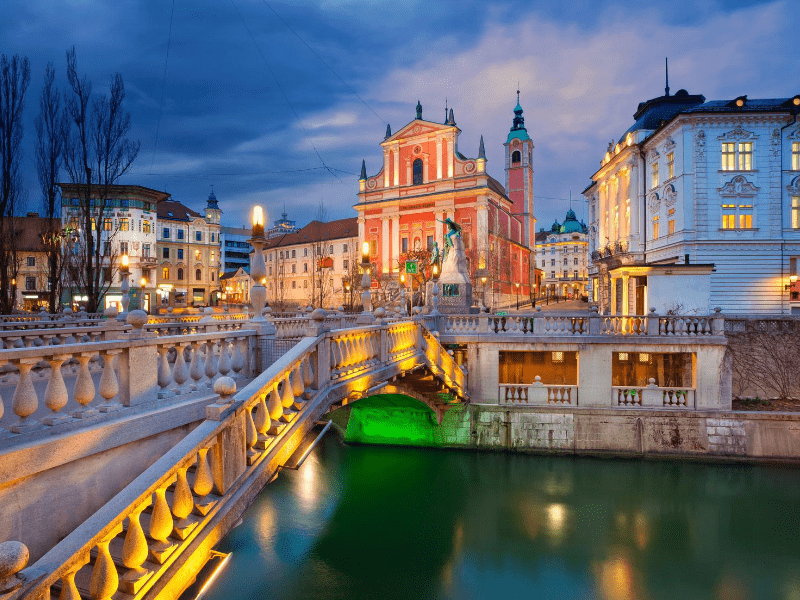 Well done, you've made it into central Europe!
Start in Slovenia, a really beautiful country known for its mountains, ski resorts and lakes. Slovenia's capital Ljubljana (say "loo-blee-ana") is a university city with epic green spaces. Tivoli Park is the first of these spaces that you'll want to explore. It's a well manicured park where you can take a break and wander to your heart's content.
Cross over the iconic Tromostovje (Triple Bridge) and visit a few of the outdoor cafes that dot the Ljubljanica River. Then get cultured at one of the many museums like the National Museum of Slovenia or the Museum of Modern Art.
55km north-west from the capital is the epic Lake Bled, the iconic blue lake with Bled island at its center that houses the Pilgrimage Church of the Assumption of Mary (Cerkev Marijinega vnebovzetja). This is closer to the Austrian border though, so you may want to visit it later in your journey as you're now going down to Croatia.
19. Zagreb & Split, Croatia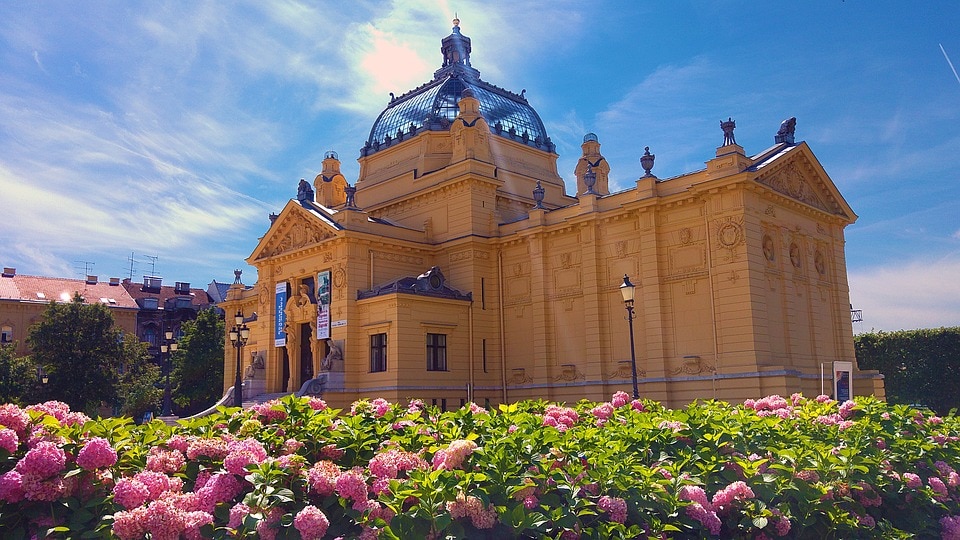 While Croatia is quite large, you'll be sticking to the south-west so that you can easily make it into Bosnia & Herzegovina and then Montenegro. This area is also the most well-catered for tourists due to its gorgeous beaches.
Starting in the capital of Zagreb, you'll get to stretch your feet as you explore the quaint Tkalčićeva Street with its outdoor cafes and car-free Jelačić Square in Lower Town which also has museums, shops and parks. Upper Town is more focused on Austro-Hungarian architecture like Zagreb Cathedral and St. Mark's Church.
Quirkier travelers can visit the Museum of Broken Relationships which is dedicated to breakups. Make sure to get a licitar, a traditional honey dough cookie in the shape of a heart and is Zagreb's symbol. There's no real to-do in Zagreb so let your feet guide you.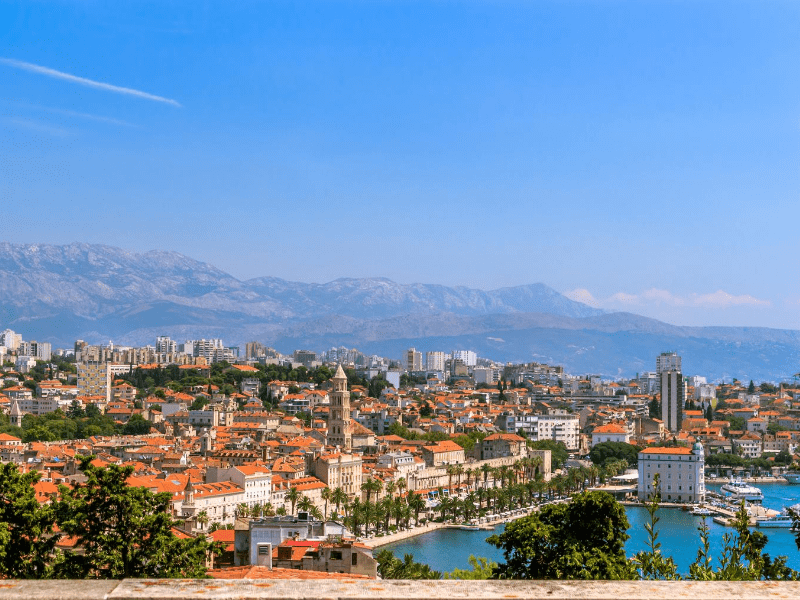 Moving onto the more touristy sites, you'll venture on down to the coastal cities of Zadar and Split. Zadar, on the Dalmatian coast, is most well known for its Roman and Venetian ruins such as St. Anastasia's Cathedral and the Church of St. Donatus.
Split on the eastern shore of the Adriatic Sea has some really beautiful beaches that get super packed in summer. The entire city center is like visiting a giant Roman palace, still going strong after 1700 years with additions and restorations. Game of Thrones fans will know all about Diocletian's Palace, which is also UNESCO listed.
20. Mostar & Sarajevo, Bosnia & Herzegovina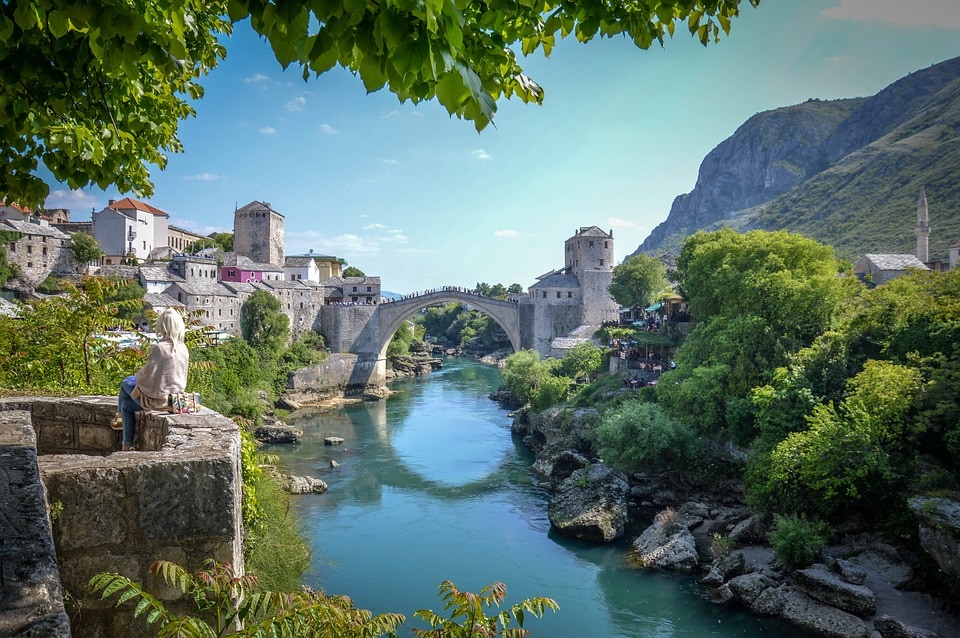 Moving onto your next country in the Balkans, Bosnia & Herzegovina came into the public eye in the 90s due to the Bosnian War. Today it's a lively off-the-beaten track destination that is safe for visitors to soak in the diverse culture.
Unlike tourist-heavy Croatia, Bosnia & Herzegovina is yet to have a tourist boom and therefore makes for a great destination for those who like a more intimate experience.
You can start your journey in Mostar before heading into the capital of Sarajevo. Mostar is a quaint city that's known for its iconic UNESCO-listed Stari Most (Old Bridge) surrounded by mountains and greenery. Explore the alleyways on foot and find some hidden gems before walking up the hills for some panoramic views.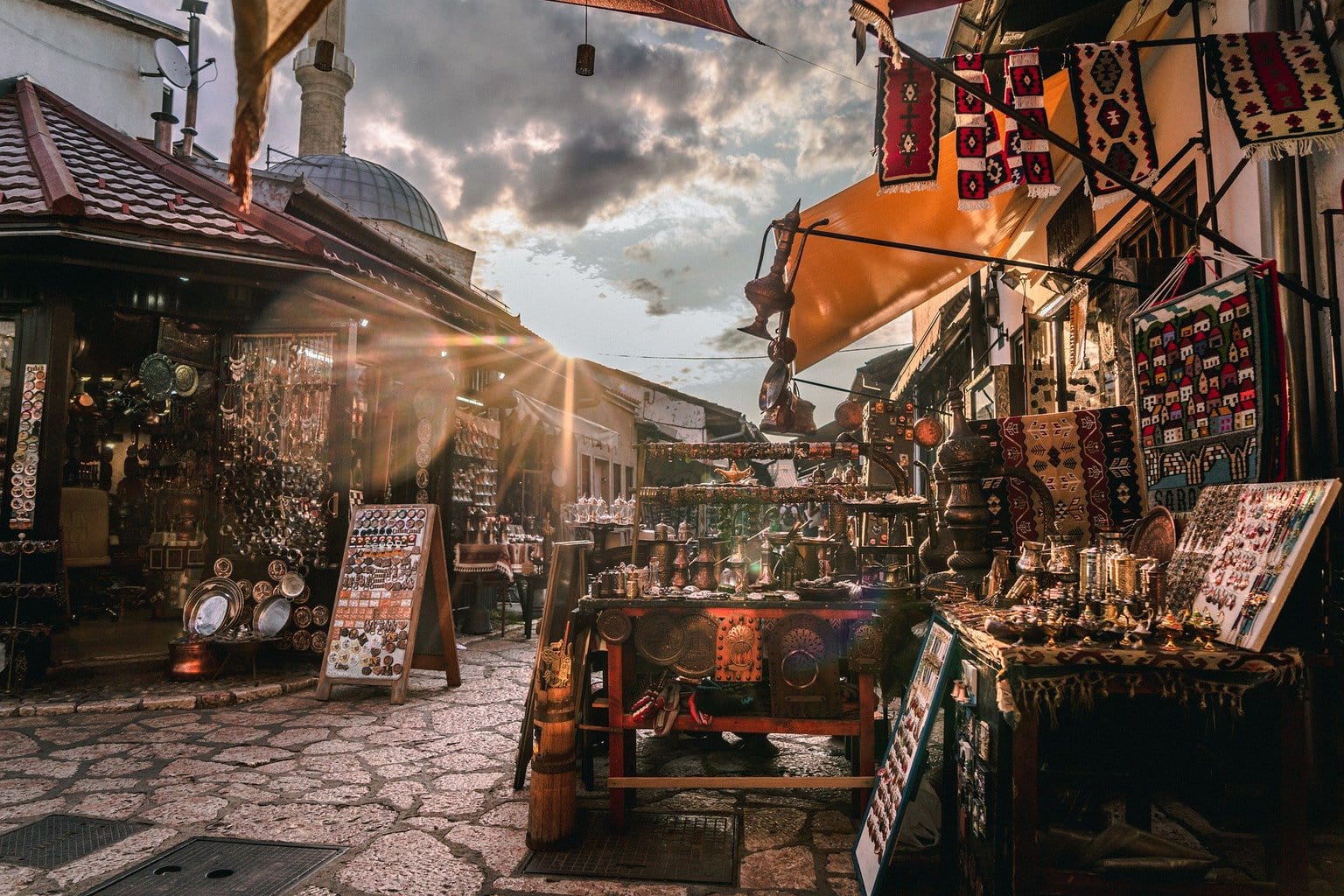 Previously war-torn Sarajevo is now completely restored to its former glory where east meets west – think Vienna paired up with Istanbul. While not too touristy, it still caters for foreigners with information booths and guides to the many churches, mosques, museums, amazing cafes and vibrant nightlife.
Stroll through the cobbled streets of Baščaršija and look out for the 100 "Sarajevo Roses" which commemorate those who lost their lives in the war. A walking tour is a must! And you should definitely educate yourself on the Bosnian War before heading into the country. Read up more about it here.
21. Kotor, Montenegro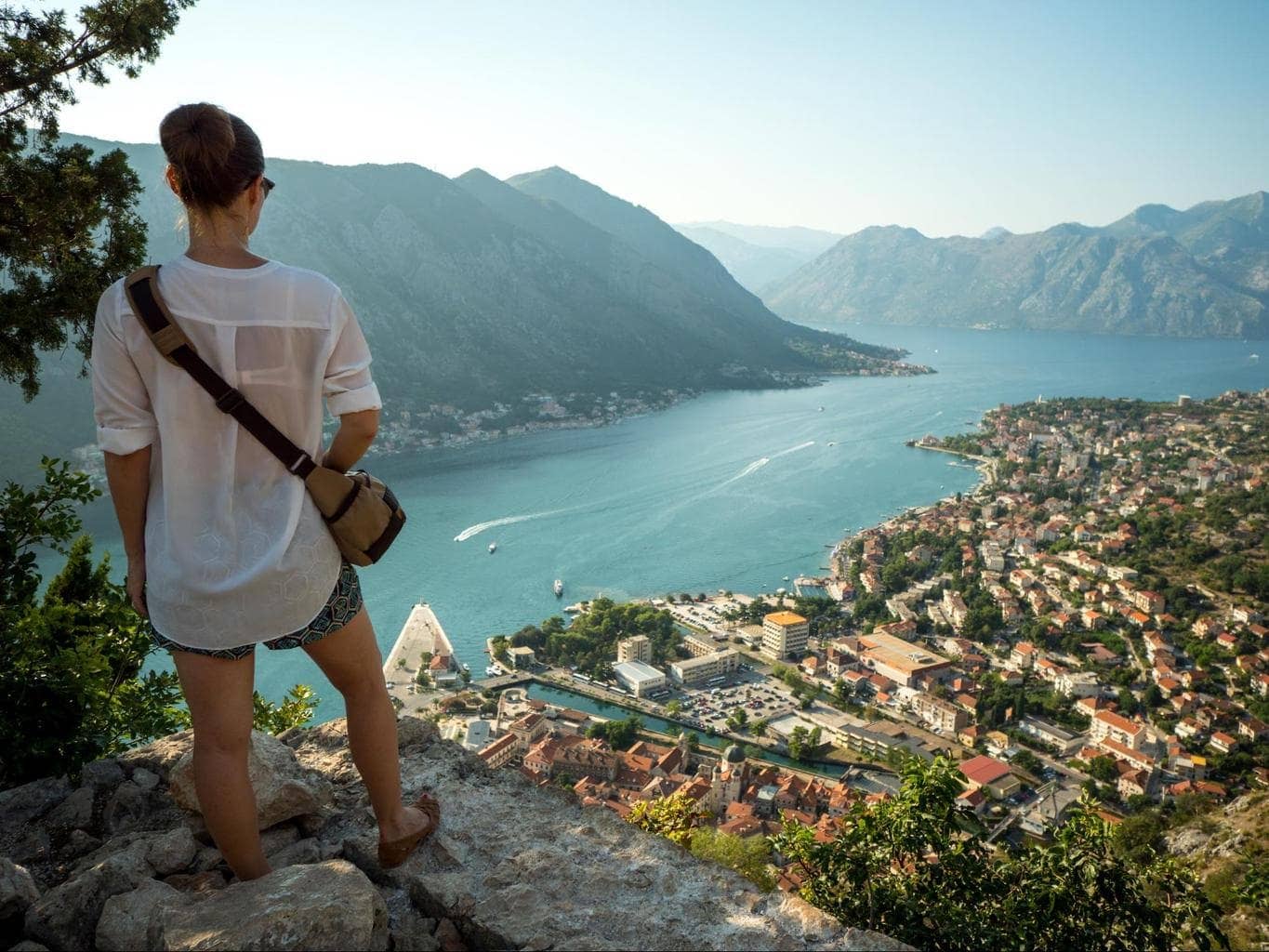 Back to the coast, you'll head to the south of gorgeous Montenegro. This is the best place to go in the Balkans for sun, sand and sea as it's way less packed than neighbouring Croatia.
The quaint UNESCO-listed fortified city of Kotor is a great place to have a moment of respite as you wander through the cobblestone roads or perhaps walk up to St. George Fortress for a spectacular view of the idyllic bay below.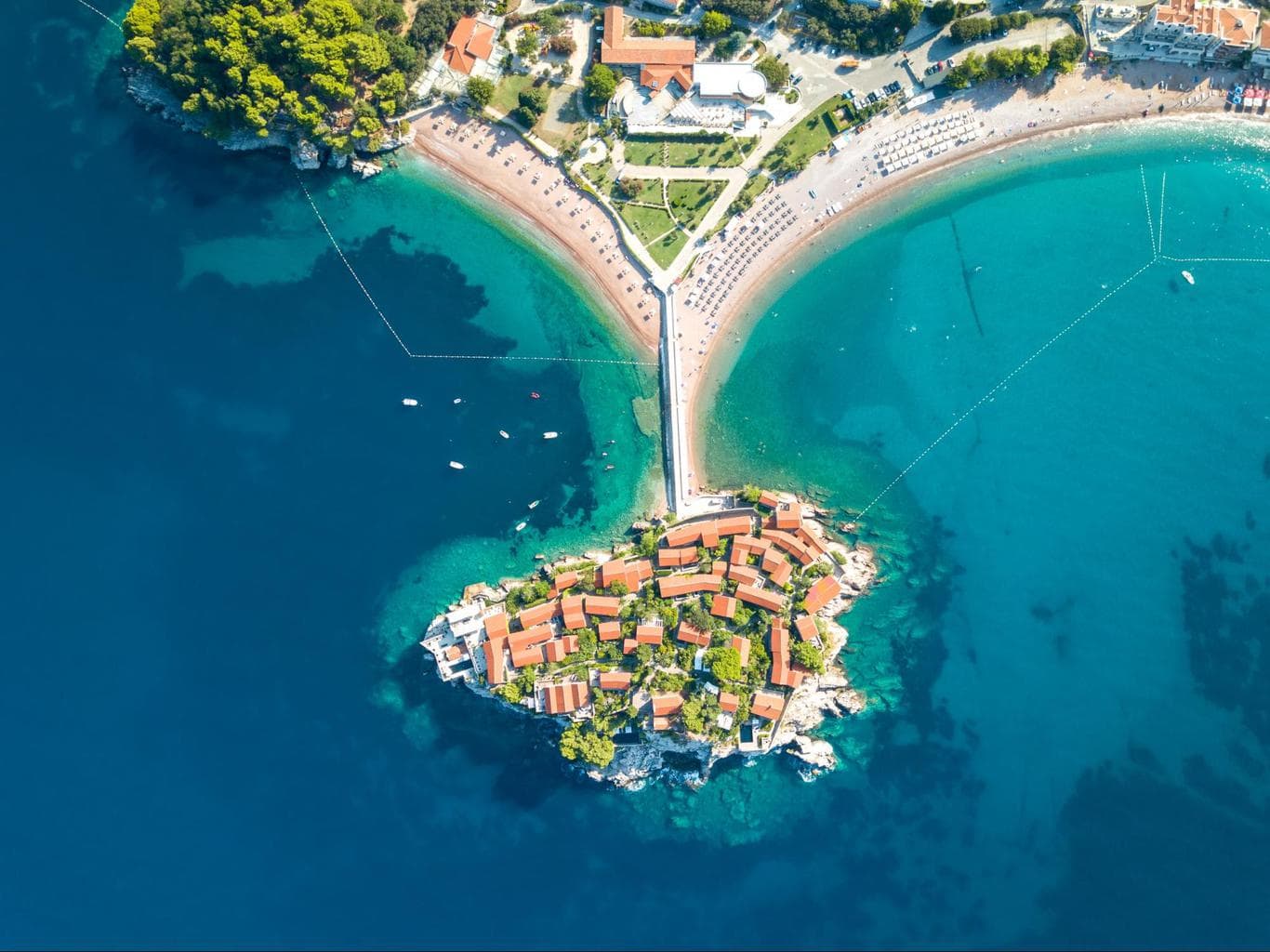 You could also choose to explore some of the many picture perfect beaches of Montenegro, take a day trip to the uber luxurious and iconic Aman Sveti Stefan, or make your way to the humble oceanside towns of Rose, Perast or Ulcinj. Montenegro also has a very unique local cuisine which is always fresh and super delicious.
22. Tirana, Albania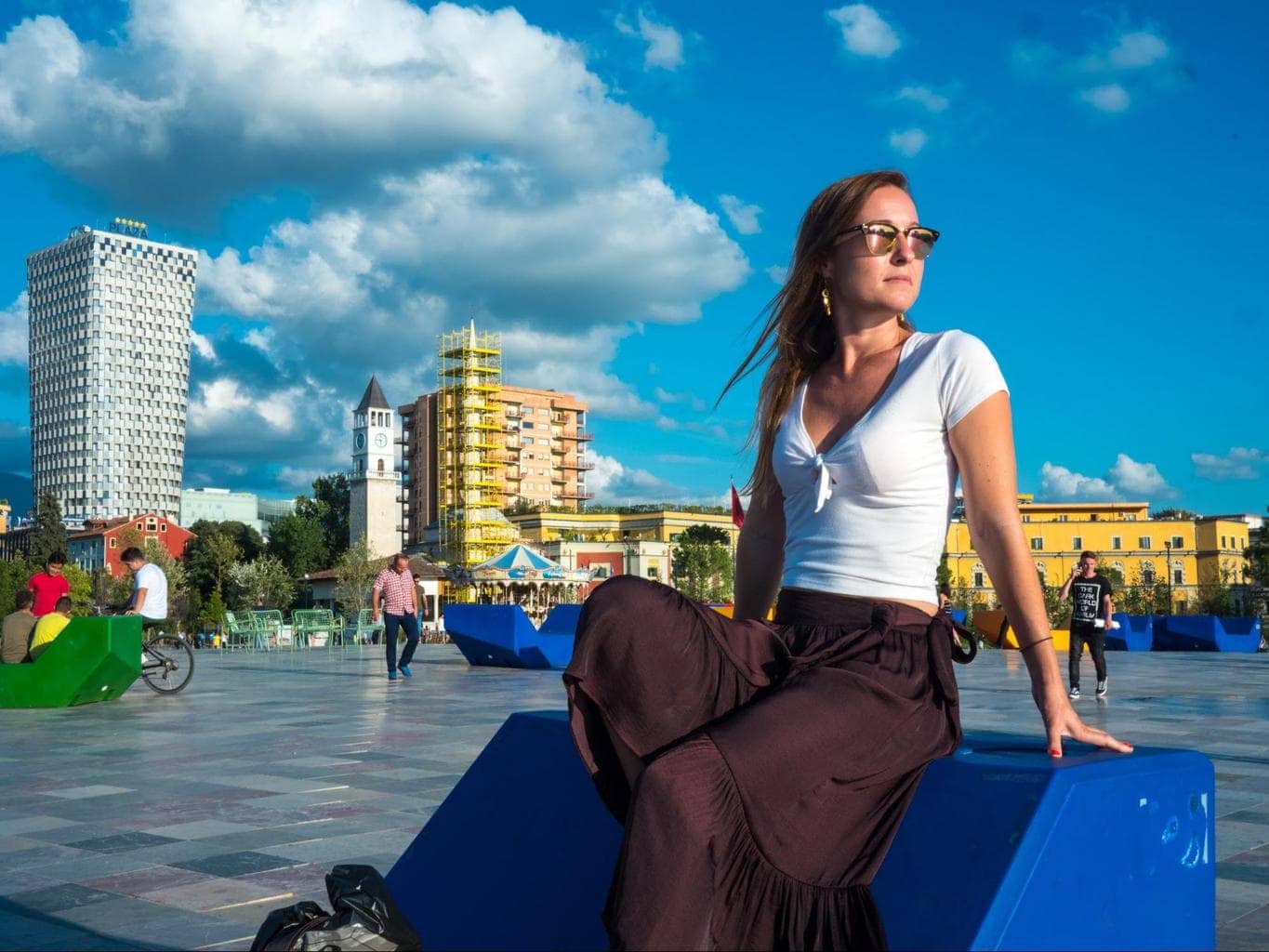 Similar to Bosnia and Herzegovina, Albania has a difficult and tumultuous past. After the fall of long term and extremely paranoid dictator, Enver Hoxha, the country has tried to rebuild itself as a center for arts and the freedom of expression.
You'll see graffiti all around the country, particularly in the capital of Tirana, where it is encouraged to turn the dreary blocklike buildings into a sign of hope for the future.
The Bunk'Art museums in Tirana are a perfect example of this change, where underground bunkers built by the Hoxha regime were converted into exhibition and learning spaces.
Beyond the beautiful Tirana, there is so much to see in Albania, from idyllic Albanian beaches to gorgeous castles (look for Rozafa, Prezë and Kruje Castles), or ancient architecture in Berat, Durres and the Greek ruins at Archeological Park of Apollonia – a UNESCO heritage site.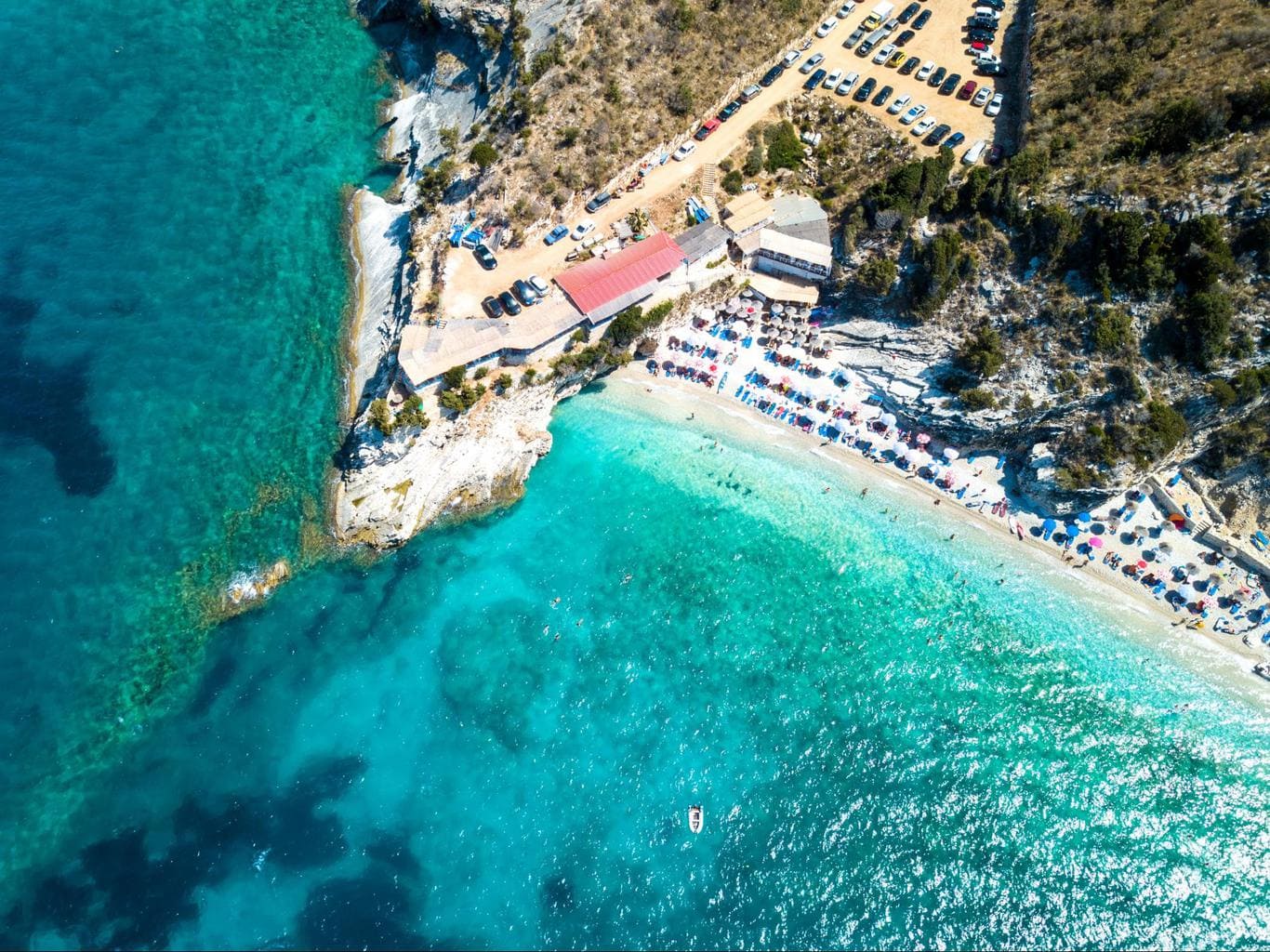 Need some more help? I have written articles on fun facts about Albania, the best food in Albania, as well as a complete travel guide to Albania and things to do in Tirana.
23. Ohrid, North Macedonia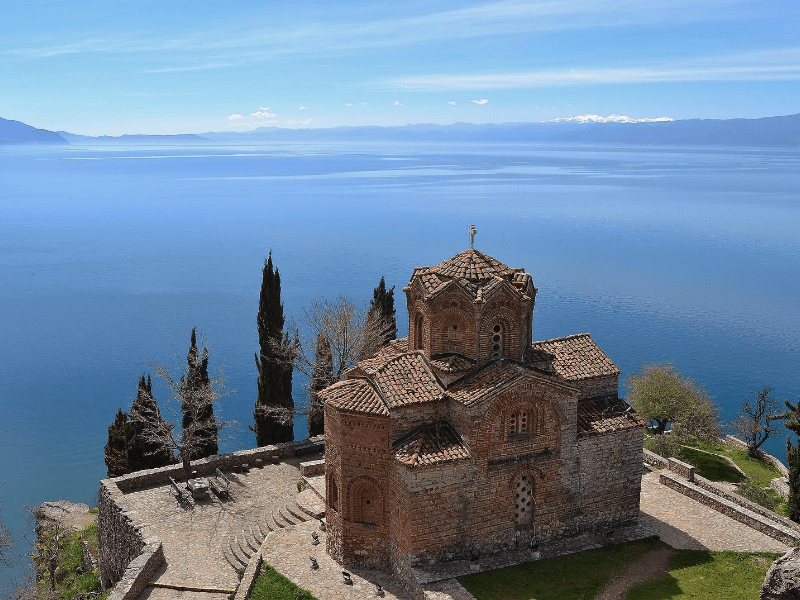 Before venturing into the Land of the Gods, you'll be making a stop at the sleepy resort city of Ohrid, Macedonia. You'll come back to the capital of Macedonia, Skopje, a bit later in the journey.
This is your chance to completely relax from the frantic sightseeing and driving – wine glass in hand, platter of cheese and cold cuts in front of you, while gazing deep into the vast expanse of UNESCO-listed Lake Ohrid.
If you can get off the view, take a stroll in Old Town, a boat tour around the lake or walk along the ancient Somoil's Fortress and picturesque St. John the Theologian Church for more epic views.
24. Thessaloniki, Greece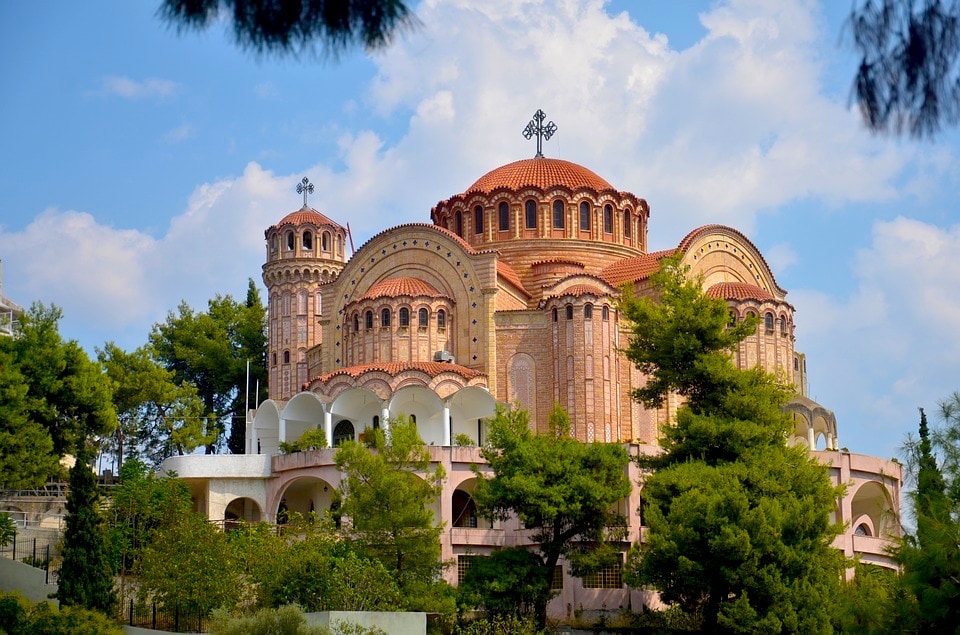 Cruising into Greece, you're going to stay in the north, stopping halfway at Thessaloniki. This port city, straddling the Thermaic Gulf of the Aegean Sea, is a glimpse into the country's past.
You can see Roman, Byzantine and Ottoman remains, particularly if you venture into the upper town of Ano Poli. While parts of the city were destroyed in the Great Fire of 1917, some ruins remain like Roman Emperor Galerius' 4th-century palace. Munch on local street food koulouri Thessalonikis and pop open a local wine from the nearby Naousa appellation.
25. Istanbul & Ankara, Turkey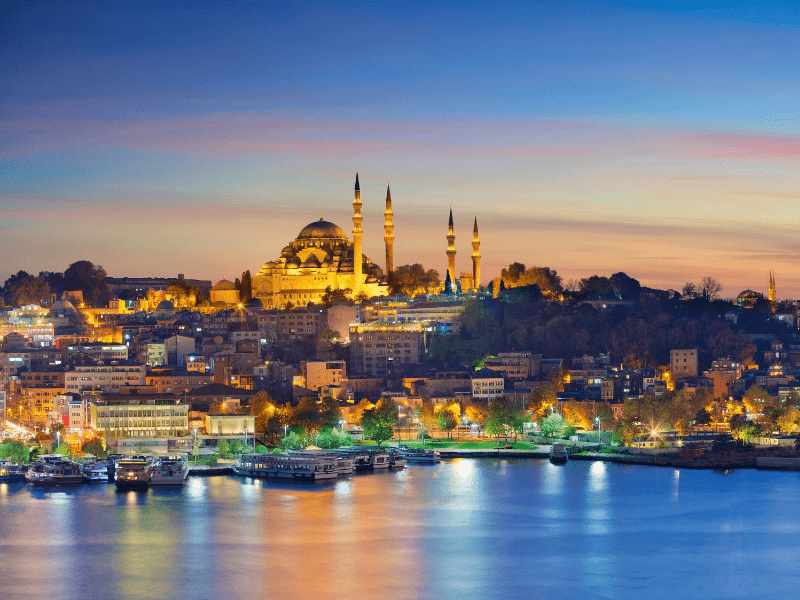 You're now on one of the longest stretches on your trip which is from Greece through Turkey and onto Georgia. You can space out your long drive by stopping first at energetic Istanbul and then in Ankara, the cosmopolitan capital.
Istanbul is the confluence of East meets West, of Europe and Asia, all in one. The fantastically fascinating Old City will give you a glimpse into the past.
Explore the Sultanahmet district which houses the Roman-era Hippodrome (think chariot races), Egyptian obelisks, the epic Blue Mosque and the jaw-droppingly beautiful Byzantine Hagia Sophia. Don't miss the Grand Bazar for some local delights.
Ankara is more about the present and has a thriving performing arts scene. This is your chance to dress up and go to the Opera, Ballet or see a show at the Presidential Symphony Orchestra. Before the show make sure to visit the grand Anıtkabir, the mausoleum of Mustafa Kemal Atatürk, the first President of the Republic of Turkey.
26. Tbilisi, Georgia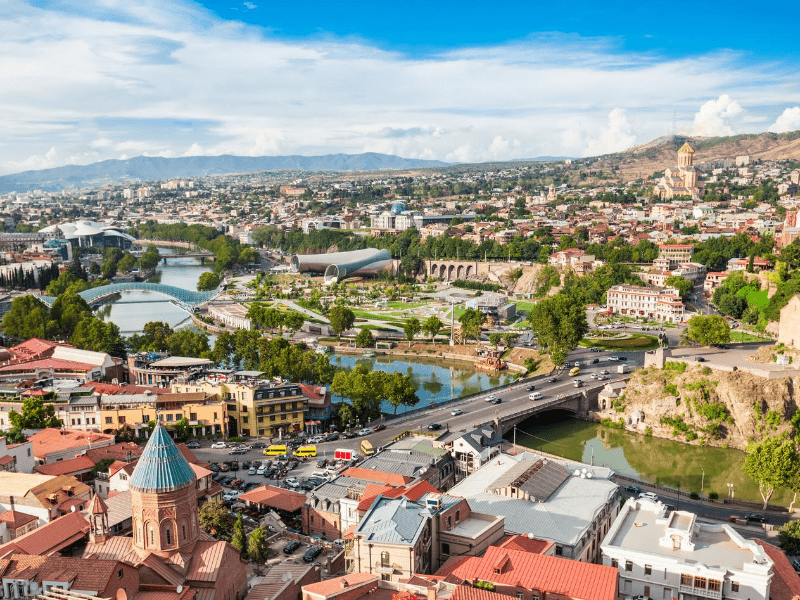 After a very long drive through the Turkish countryside, you'll finally cross the border to Georgia, which was once part of the Soviet republic. Today, due to providing 365-day visas on arrival, Georgia has become a digital nomad hotspot if you need to get some work done or meet like-minded travelers.
Georgia is famous for its black sand beaches, the quaint Caucasus Mountain villages and Vardzia, a sprawling cave monastery dating to the 12th century.
Yet you'll be stopping in the capital landlocked city of Tbilisi where you can wander through the maze-like cobblestoned roads of old town or hike up the scenic Narikala Fortress to see the blend of art nouveau buildings, Soviet Modernist structures and Eastern Orthodox churches.
27. Sheki & Baku, Azerbaijan
Azerbaijan, known as the Land of Fire and the birthplace of crude oil, is a place where East meets West, where Asia and Europe are both present but do not dominate, at once modern and a well-preserved history.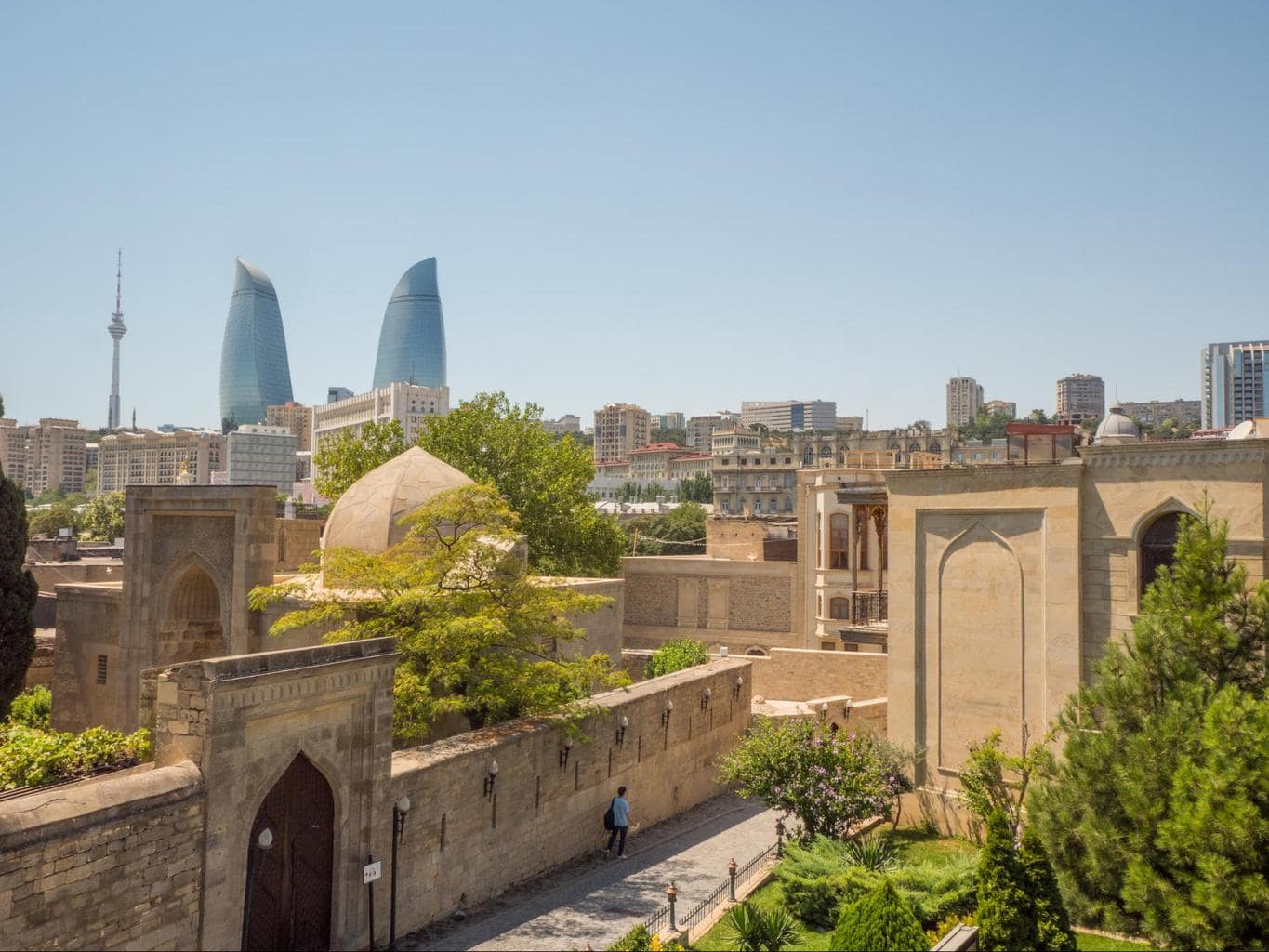 Make a culinary pitstop in Sheki, a small but gorgeous historic town on the ancient Silk Road route. You can taste some of the best local Azerbaijani food like piti and halva in a Caravanserai before moving onto the capital.
In Baku you will experience some of the most luxurious hotels in Azerbaijan like the Fairmont Baku Flame Towers, modern architecture like Zaha Hadid's Heydar Aliyev Center, and ancient natural wonders like the volcanoes.
Little known fact about Azerbaijan, it has 45% of the world's mud volcanoes! For a closer look, read my article on the top things to do in Baku and Azerbaijan.
28. Yerevan, Armenia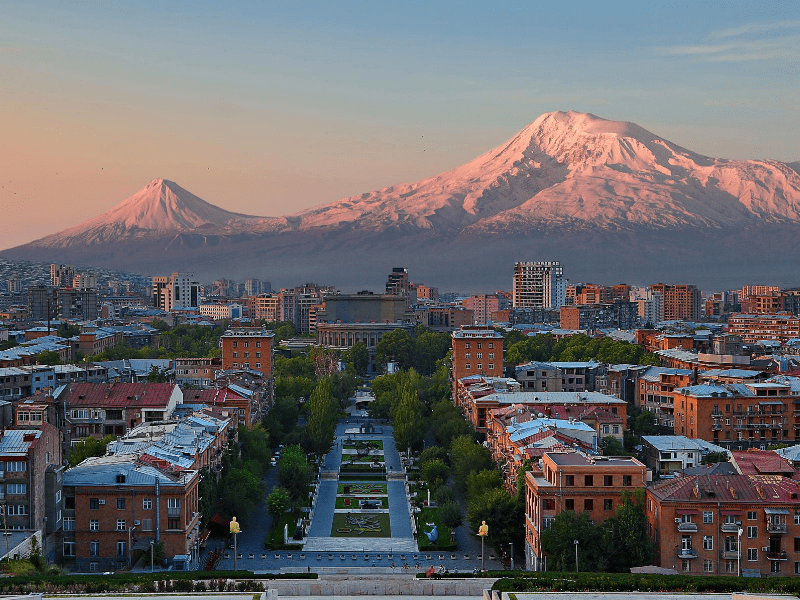 Yerevan, Armenia's capital, is your next stop on this epic European road trip. The imposing Soviet-era architecture will astound you and its history will amaze. Make a stop at the Matenadaran library, where you will find thousands of ancient Greek and Armenian manuscripts.
Then head over to the vibrant Republic Square to watch the musical water fountains. Learn a bit more about Armenia's past at the History Museum of Armenia with artefacts dating back to 3500 BC.
Note on feasibility: The itinerary considers that you return to Georgia from Armenia and then enter Russia by crossing the disputed territory of Abkhazia, however, at the time of writing, that is not possible. Instead, you should leave Georgia to the north at Kazbegi and enter Russia at Vladikavkaz and then retake the route. Thank you to Alastair Gill for pointing this out.
29. Sochi, Russia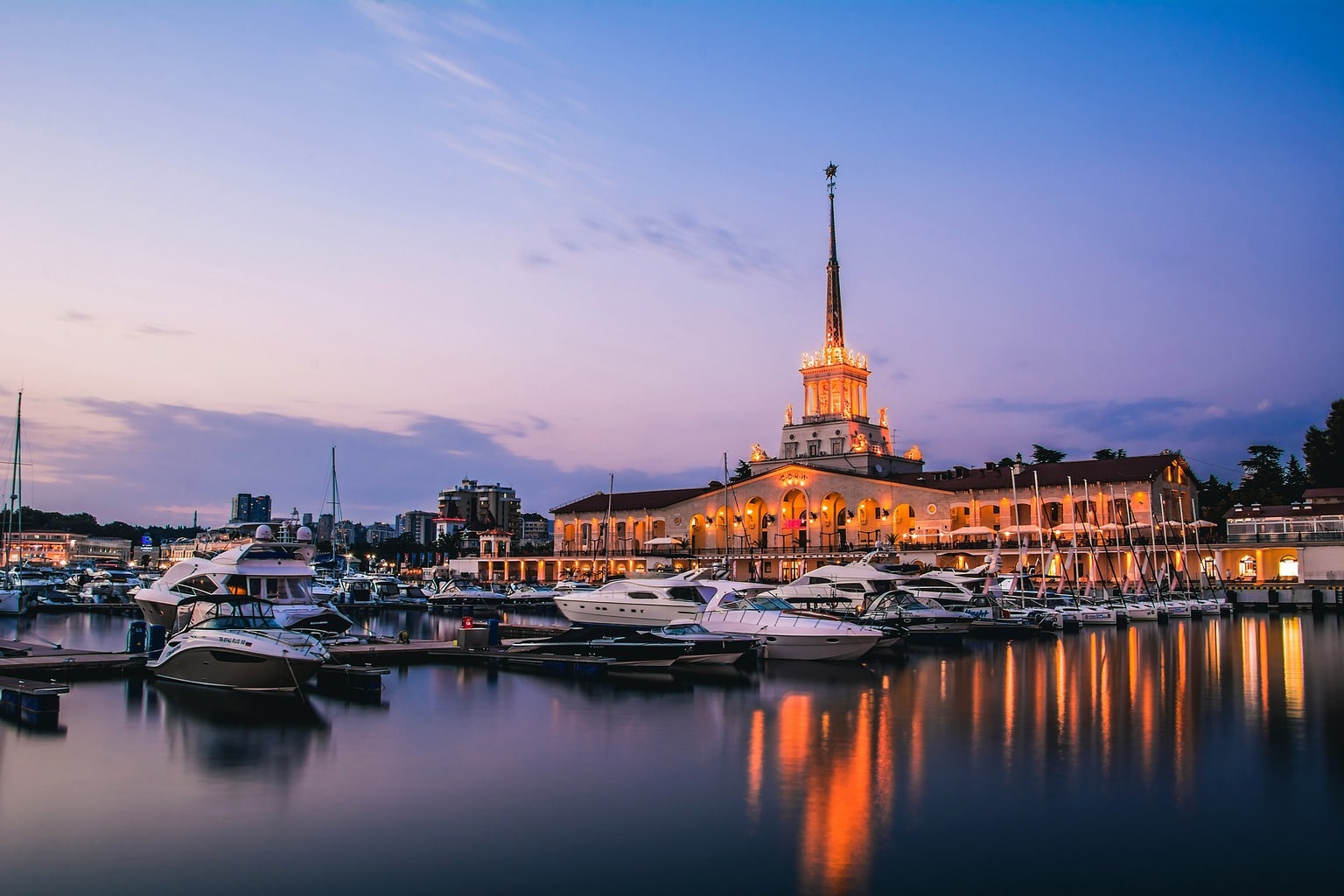 As you may know, Russia is absolutely massive. In fact, at 17 million sqkm it's the largest country in the world, by far.
To put it in perspective, the 2nd largest country, Canada, stands at just under 10 million sqkm. In order to fit Russia into your road trip of Europe, you can travel to Sochi, along the Black Sea and far from the capital Moscow. Sochi is around the same distance between Armenia and the Ukraine.
You may know Sochi best as the home to the 2014 Winter Olympics, but in summer it's also a popular beach resort destination. The 1,937sqkm Forested Sochi National Park is a must for nature lovers. Interested in ditching the car and catching the train? I'd definitely recommend either the Golden Eagle on a once in a lifetime trans-Siberian journey.
Note on safety and feasibility of this portion: At the time of writing, the itinerary passes through the disputed territory of Crimea. Entering Crimea from Russia is possible but, if you plan to continue driving into Ukraine, as shown in this itinerary, you would be entering Ukraine illegally. Likewise, crossing from Russia into Ukraine is currently difficult given the security situation. The safest and easiest way to drive from Russia into Ukraine involves driving farther north on the border between the two, possibly near Kharkiv or Sunny and then driving down to Odessa to continue with the itinerary. Thank you to Alastair Gill, Igor Gakalo and Justin Golden for share their experience.
30. Odessa & Kiev, Ukraine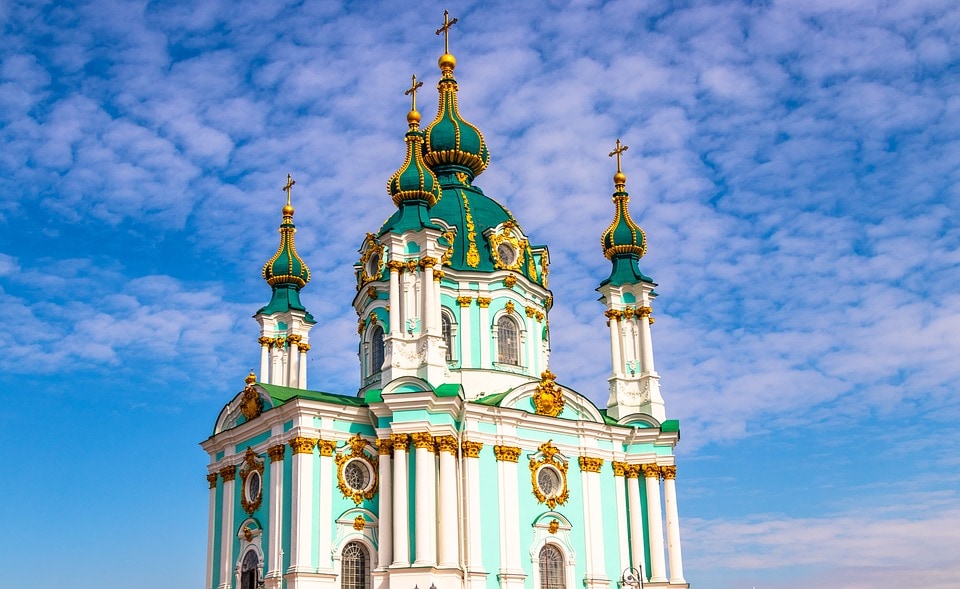 Traveling along the Black Sea, you'll cross the border over into the port city of Odessa. You'll get to relax on one of the many beaches or watch a performance at the Odessa Opera and Ballet Theater.
Film fanatics will tick an activity off their bucket list as they climb the iconic Potemkin Stairs, immortalized in The Battleship Potemkin. Saunter along Primorsky Boulevard with monuments and mansions.
Next up is Kiev, an important industrial, scientific, educational and cultural center of Eastern Europe. It's a pedestrian-friendly city with amazing public transport and a metro. So you can visit all the most beautiful monuments quite easily.
Marvel at Eastern Orthodox Christianity's most important landmark Pechersk Lavra, which is a complex of churches, bell towers and subterranean caves and contains a host of UNESCO heritage sites. Look up to see notable monuments like Maidan Nezalezhnosti or The Motherland Monument and then finish with a stroll in Hryshko National Botanical Garden.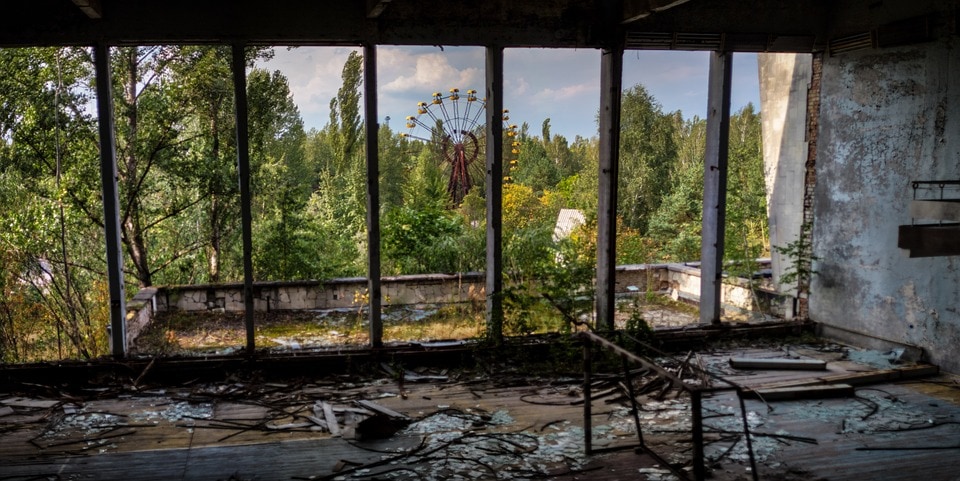 Before crossing the border to Minsk, you should make a stop in Chernobyl, an historical destination where you can learn about humanity's flaws, particularly the nuclear power plant accident from 1986.
You will need to go on a tour of the abandoned city in a hazmat suit, but it is safe due to stringent precautions. It is a sobering experience and definitely one that will stay with you. Learn more about Chernobyl from the recent HBO docuseries.
31. Chișinău, Moldova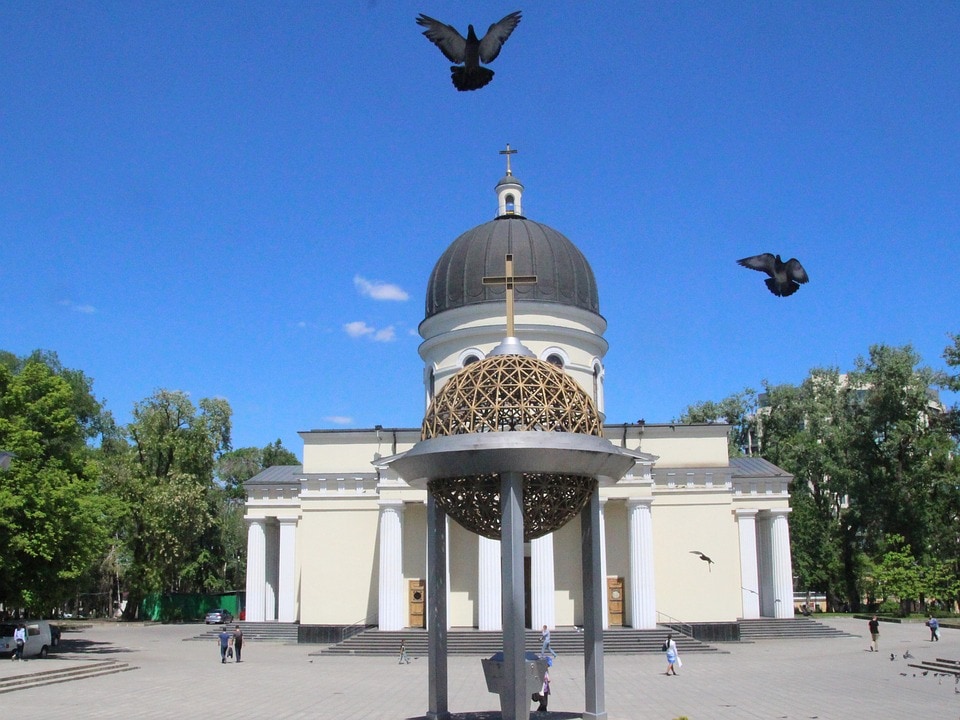 Adding Moldova to your European road trip will have you taking a bit of a detour. Instead of going straight from Odessa in the south to Kiev up north, you can make a pit stop in Chișinău between the two.
The capital of Moldova is an up and coming destination, but still one of the least visited in Europe. It's a pedestrian-friendly city where you can soak up the local culture at Piata Centrala, Stephan the Great Central Park or Valea Morilor Park. There are also a few landmarks to spot like the neoclassical Nativity Cathedral or the dome-topped Chișinău's Cathedral Park.
32. Minsk, Belarus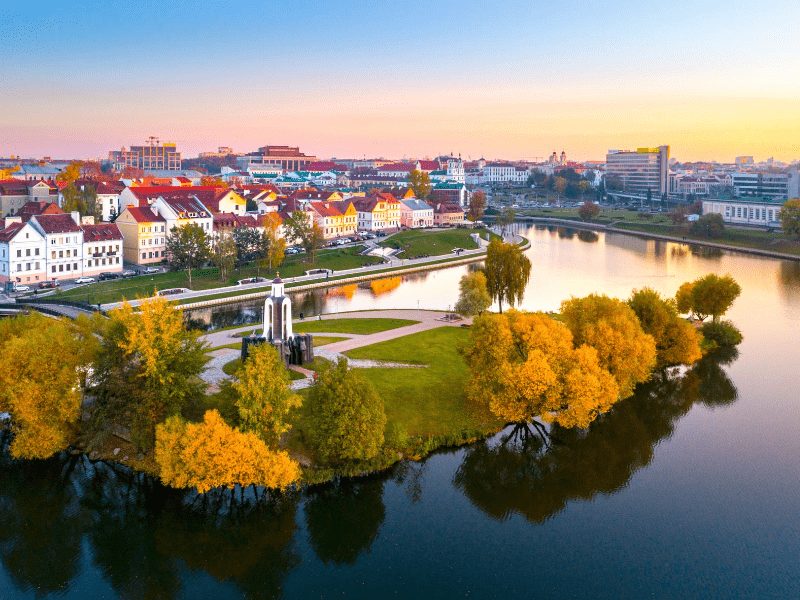 Belarus is definitely not one of the most sought after European road trip destinations, but it surely has its own charm. At first it may seem like there is not much to do in the capital city of Minsk, but the attractions could keep you busy for about 2-3 days.
Like most post Soviet Union countries, one of the top things to do in Minsk is to admire the Soviet architecture, particularly walking along Independence Avenue.
Main structures include the Central Post Office, Palace of the Republic, Nyamiha Shopping Center, the National Academic Bolshoi Opera and Ballet Theatre and even an incredible Soviet bas-relief above a KFC.
There's also a quaint Old Town, shopping at a GUM (department) store, visiting Mir and Nesvizh Castles, and checking out the hip cafes and street art near trendy Kastrychnitskaya street.
33. Vilnius, Lithuania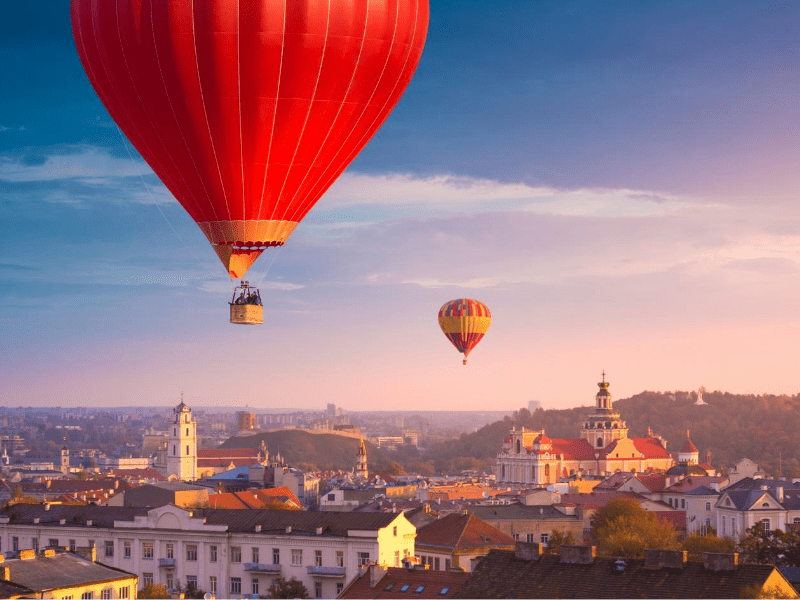 Another city where you can find astounding architecture is Lithuania's capital Vilnius, a UNESCO heritage center. Architectural styles from all periods can be found here. And did you know you can go on a hot air balloon ride over the city? Amazing.
Strolling along the cobblestoned streets of Old Town you'll come across the beautiful baroque Gate of Dawn and Basilian Monastery, neoclassical Vilnius Cathedral and Gothic St. Anne's Church (and so so much more!).
Get your green fix at Bernardine Park, open air museum Europos Parkas or atop the Hill of Three Crosses for panoramic views. Shop local at Hall Market and explore the multitude of museums.
34. Riga, Latvia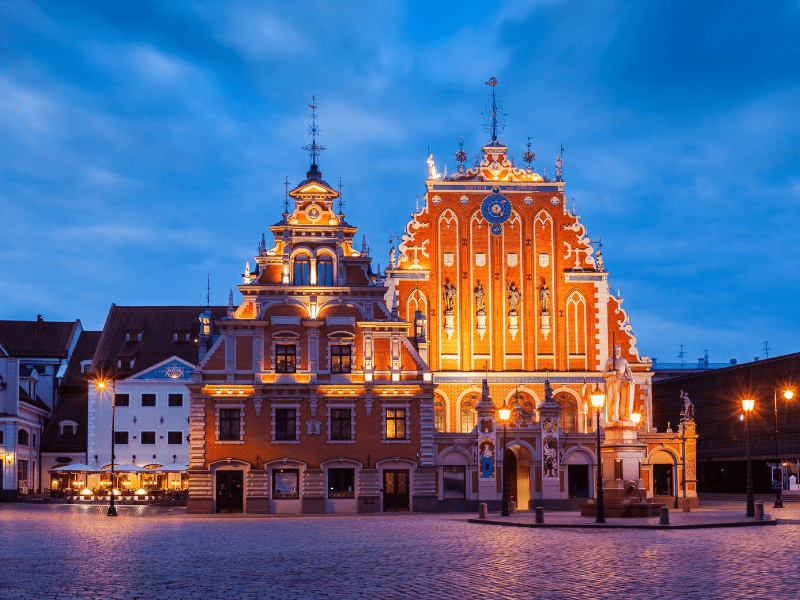 From one capital to the next, this time you'll be visiting Latvia's Riga, the largest city in the three Baltic states.
You may be a bit tired of perusing all the amazing buildings of Vilnius, and Riga is just the right place as it's a youthful city with a pumping nightlife, hipster eateries and thriving alternative scene. Maybe you'll take home a bottle of Riga Black Balsam, a bitter but slightly sweet liqueur made in oak barrels.
Before partying it up, take in the old centre of Vecrīga, with its maze-like streets filled with restaurants, museums and nightspots, Medieval churches and is also a UNESCO World Heritage Site.
But of course, there is more than enough architecture too to keep you happy from the vibrant House of the Blackheads to the world's largest collection of Art Nouveau buildings, particularly those by "Riga's Gaudí", Mikhail Eisenstein.
35. Tallinn, Estonia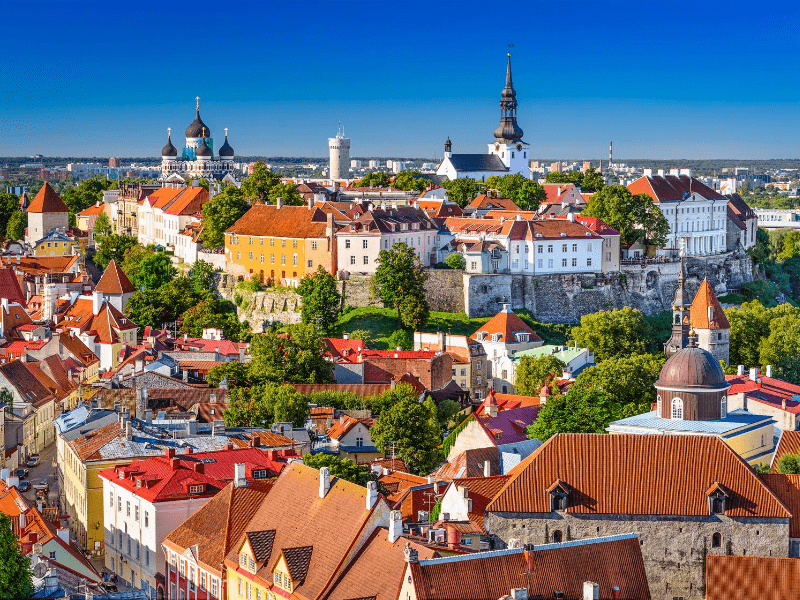 Your final Baltic State before crossing over to Northern Europe is another cultural hub right on the Black Sea. Tallinn is for creatives.
Starting at Telliskivi Loomelinnak (Creative City) where you'll find Fotografiska (home to fine-art photography), venture onto PROTO Invention Factory for a look into the history of inventions and then end off at Kumu Art Museum which won European Museum of the Year in 2008.
Cafe hop as you pass ancient monuments like Kiek in de Kök, Gothic-structured Town Hall or 13th-century St. Nicholas Church.
36. Helsinki & Rovaniemi, Finland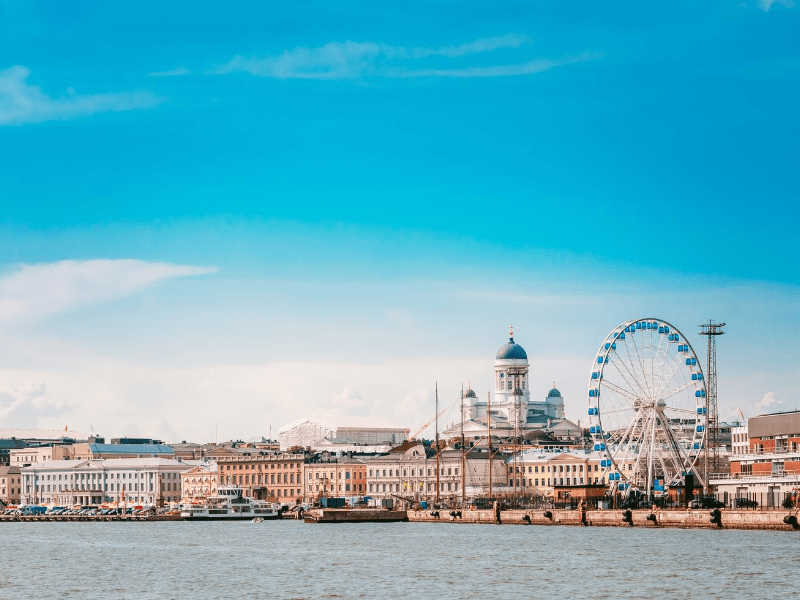 Take the 2 hour ferry ride across the Gulf of Finland where you'll end up in its capital, Helsinki. You can continue your cultural adventure by taking a walk along the Mannerheimintie, with its multitude of institutions like the National Museum, grand Parliament House and Kiasma contemporary art museum.
Temppeliaukio Church is out of this world (think Auroville in Pondicherry or Iglesia El Rosario in El Salvador) and Suomenlinna, a giant maritime fortress spread across seven islands, is man-made marvel. Red-bricked Uspenski Cathedral is also stunning.
In Helsinki, take the option of a ferry ride to St. Petersburg and avail of the 3 day free visa option to explore Russia's grandest city.
You wouldn't want to leave Finland without making a trip to Rovaniemi. Why? Because it's the official home of Santa Claus!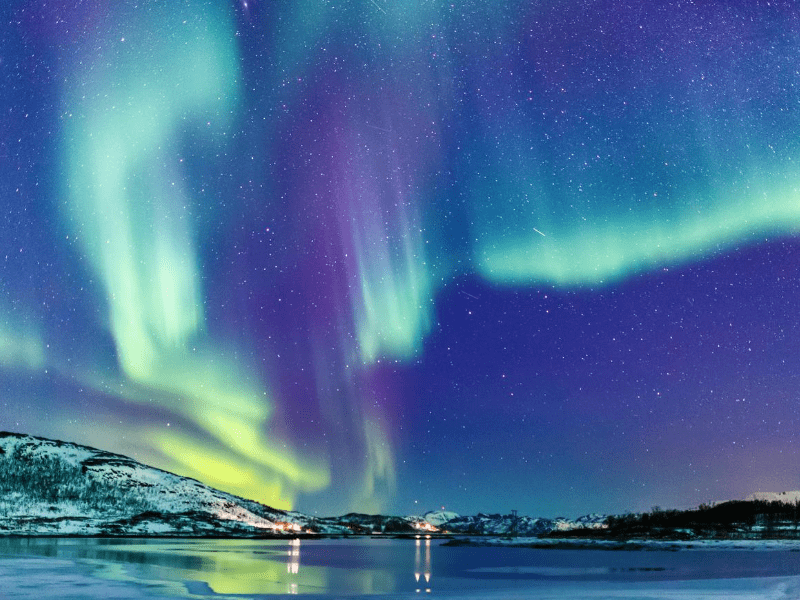 That's right, the capital of Lapland is also home to one of the most beloved figures. There's Santa Claus Village, SantaPark, Santa Claus Office and even Santa Claus Reindeer where you can meet the friendly helpers. Beyond all things Santa there is also lots to do from Arktikum Science Museum, Rovaniemi Art Museum, and of course Angry Birds Park!
Rovaniemi is also your chance to experience an authentic Finnish sauna, munch of some pulla (Finnish cardamom bread), and glimpse the Northern Lights.
37. Stockholm, Sweden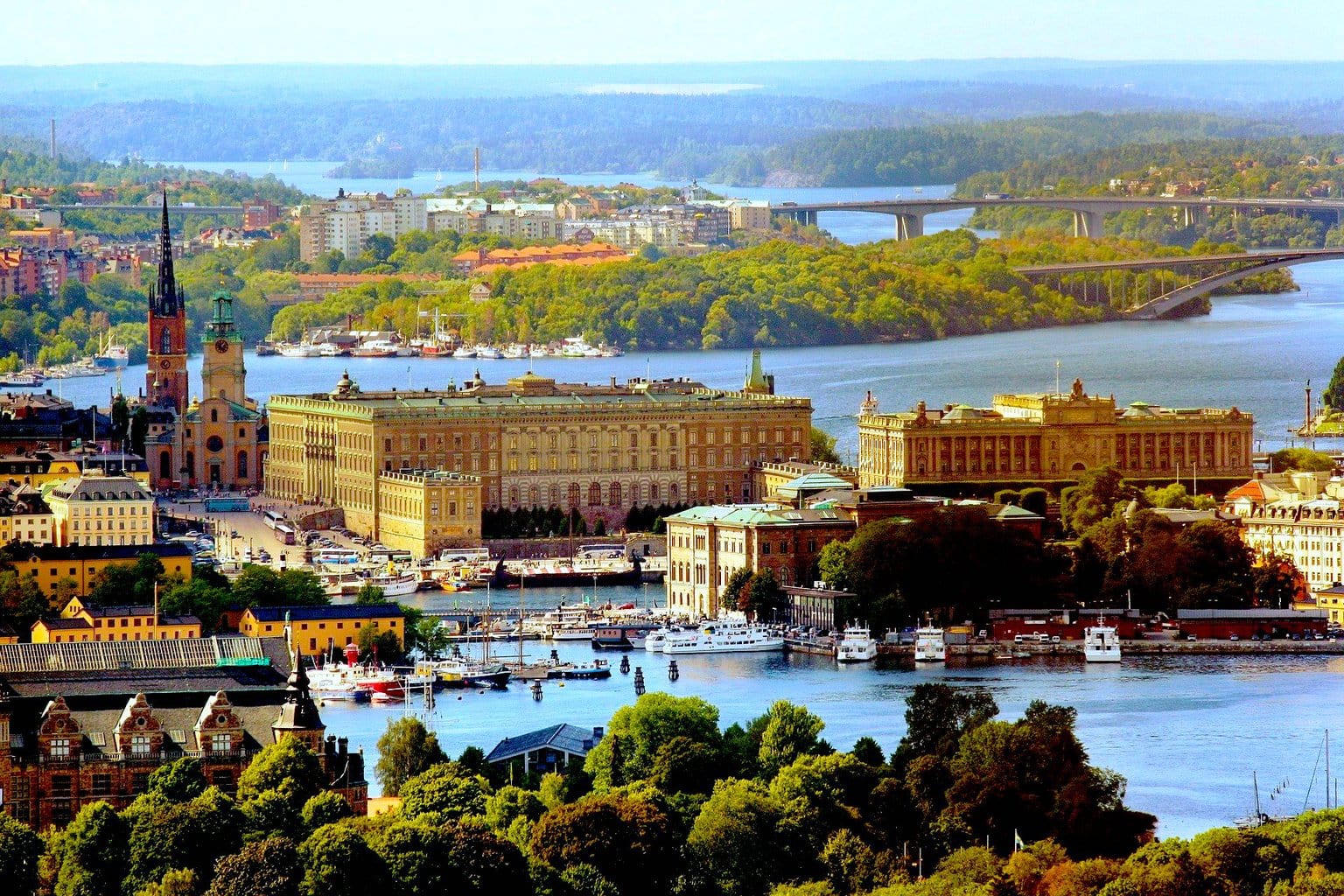 Journey down the coast of Sweden along the Gulf of Bothnia all the way down to the Baltic Sea where you'll find the capital, Stockholm. What many travelers to Stockholm might not know is that the capital city actually encompasses 14 islands with over 50 bridges. So the best way to see it all is to hop on the various ferries or sightseeing boats between the islands.
Like most large European cities, Stockholm has its own old town called Gamla Stan which stands out for its cobblestone streets and ochre-colored buildings.
Notable sites here include the 13th-century Storkyrkan Cathedral (make sure to go inside), the Swedish monarch abode Kungliga Slottet Royal Palace and the Nobel Museum (about the history of the Nobel Prize).
Get your Mama Mia on at the ABBA Museum, learn about all things nautical at the acclaimed Vasa Museum, or be more contemporary at Moderna Museet. Fashionista's shouldn't miss a visit to Södermalm (home to Greta Garbo) for "fika" (Swedish coffee break), boutique shopping, and massive photography gallery, Fotografiska.
38. Oslo, Norway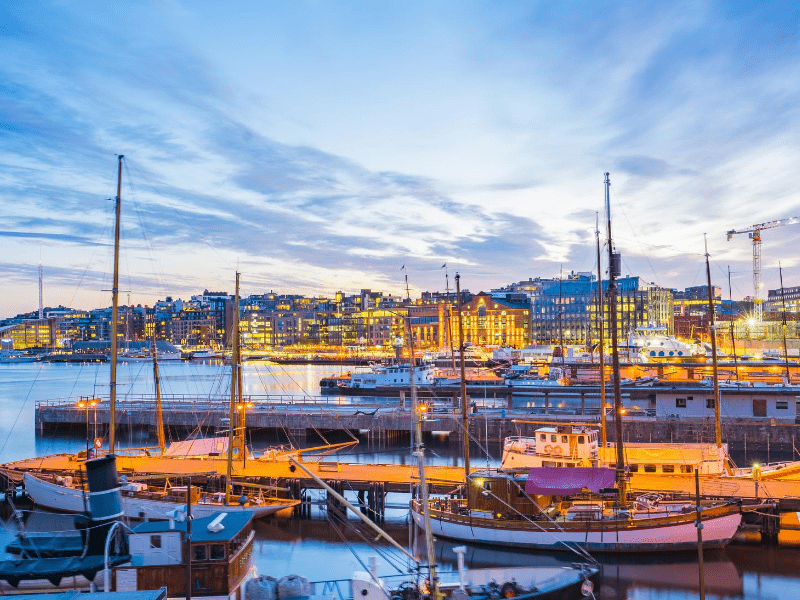 Take in the gorgeous scenic landscapes of Swedish as you travel across the country into Norway. Shortly after crossing the border, you'll arrive at the capital of Oslo.
Here you'll find vast green spaces and plenty of museums to explore. Nature is a key part of life in Oslo, so this is a great chance to get out and moving as you won't want to miss the epic scenery of the forests, walking trails and mountains – all easily accessible by public transport if you want to take a break from driving.
Take a coastal stroll on the Bygdøy Peninsula which has, apart from astounding natural scenery, 5 national museums including the Viking Museum. Saunter around Frogner Park which has some 212 sculptures from artist Gustav Vigeland (as well as an eponymous museum).
Another major artist with a dedicated museum is Edvard Munch. Learn all about sliding down snow at the Holmenkollen Ski Museum & Tower or see a show at Oslo Opera House. Make your journey complete with a tranquil trip around the Oslofjord.
We would also recommend you add 3 more weeks to your trip and explore the rest of Norway. Check out this website with 18 scenic routes in Norway.
39. Copenhagen, Denmark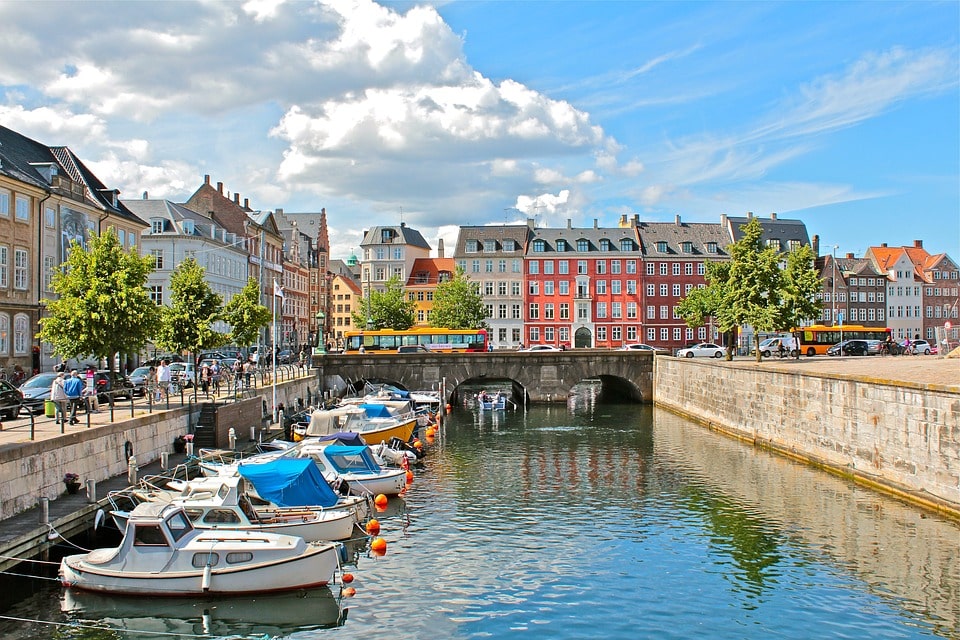 Your epic European road trip continues back into Sweden with an extensive leg of the journey down into Malmö (where you should try their famed kebabs), crossing the epic Øresund Bridge and ending up in Denmark's capital of Copenhagen. One glimpse at this beautiful city and you'll see where famed fairytale author Hans Christian Andersen got his inspiration.
Copenhagen has something for literally anyone from amusement parks (Tivoli Gardens) to trendy pedestrian streets (Strøget) to Michelin-starred cuisine (23 stars to 16 restaurants in 2020) to arts and culture galore. A short 10km ride to Lyngby-Taarbæk Kommune you'll find the oldest amusement park in the world called Dyrehavsbakken ("The Deer Pasture's Hill"), also known as Bakken ("The Hill").
Rent a bike and do as locals do, explore different areas from Christiania, an old commune, the historic waterfront of Nyhavn and of course the Little Mermaid statue.
If you can, leave your car in Copenhagen and traverse the waters into the tiny island territory of the Faroe Islands – where the roofs are covered in grass, the sheep outnumber the people and the views are epic. This might inspire you to take a trip…
40. North and East Germany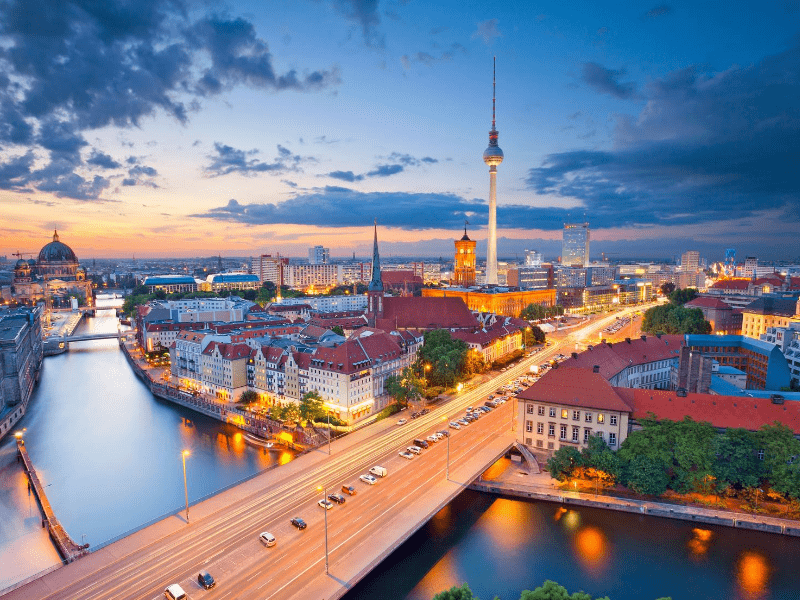 Catch another ferry from Lolland in Denmark to Fehmarn in Germany. The Fehmarn Belt connecting these two destinations through an 18km underwater tunnel has also been approved, so keep on the lookout for its opening.
You will be traveling the North of Germany through such cities as Hamberg, Bremen, Münster, Dortmund, down to the tip of the Rhine, then onward through several states from Lower Saxony, Saxony-Anhalt and Brandenburg which encompasses the capital of Berlin.
Here is where startup owners mingle with vegans, artists and hipsters, Berlin is the center of art and creativity in Germany and well worth a couple of days.
While we only border Germany, you can feel free to venture into the country and explore as much or as little as you would like. Cruise straight through as fast as you can on the Autobahn blaring Kraftwerk,enjoy sausages and beer and just take it all in.
41. Warsaw & Wrocław, Poland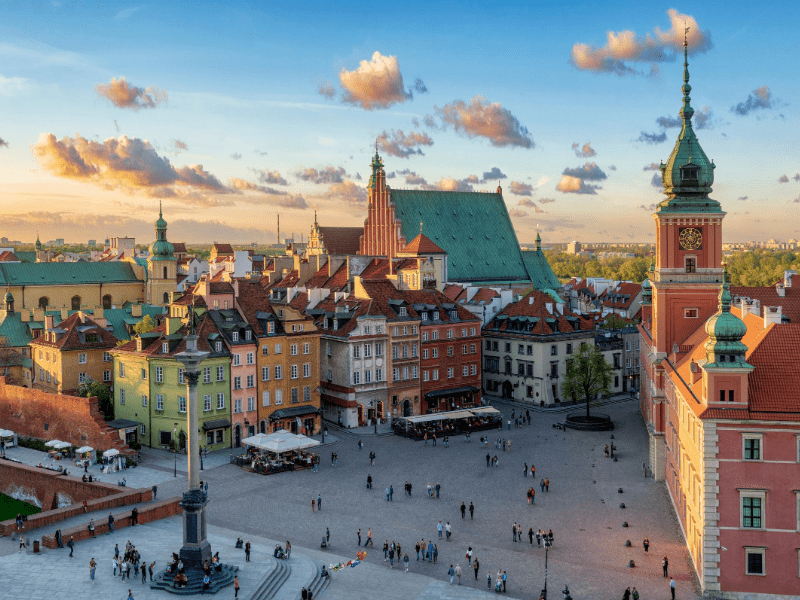 After speeding on the Autobahn and living it up in hedonistic Berlin, it's time to take it a bit slow as you enter Poland's capital of Warsaw.
Warsaw is a city to reflect on the atrocities of the Nazi invasion and the aftermath of World War II by visiting the many monuments dedicated to the mass destruction of the city and the people in it. Yet, like a flower through the cracks, the city has been restored to its former glory – a far cry from the rubble of the 1940s.
Old Town and Łazienki Park are particularly beautiful and the many museums will keep you intrigued, like POLIN, Warsaw Uprising Museum or the Copernicus Science Centre (Poland is the birthplace of the famed mathematician who found the sun to be the centre of our universe). Make a pit stop at Wrocław on the Oder River, particularly the Market Square for some more culture, art and elegant architecture.
42. Prague, Czech Republic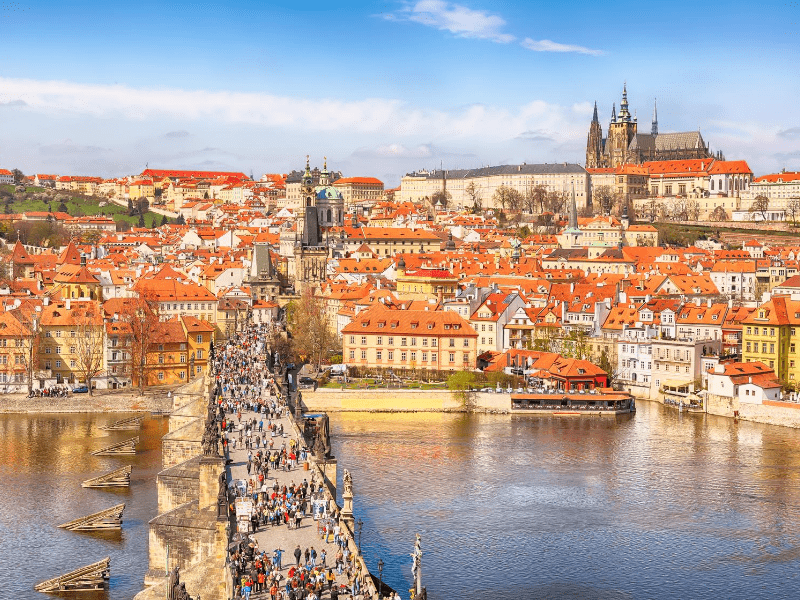 Crossing over to the center of the Czech Republic, Prague is a beautiful city to go around on foot while exploring the unique baroque buildings, Gothic churches and the stunning medieval Astronomical Clock.
It's a place where art and creativity is thriving from puppetry to jazz, and was also home to writer Franz Kafka (he used to live in Golden Lane) and father of modern psychoanalysis Sigmund Freud. There's even a statue of him hanging from a pole in Old Town.
Sip some world famous Czech pivo (beer) while gazing at the Vltava river or go the full nine yards by taking a tour of the Czech Beer Museum Tour where you can bottle your own beer. Don't forget to taste some pork knuckle and pickled cheese before exploring the thriving nightlife.
43. Salzburg & Vienna, Austria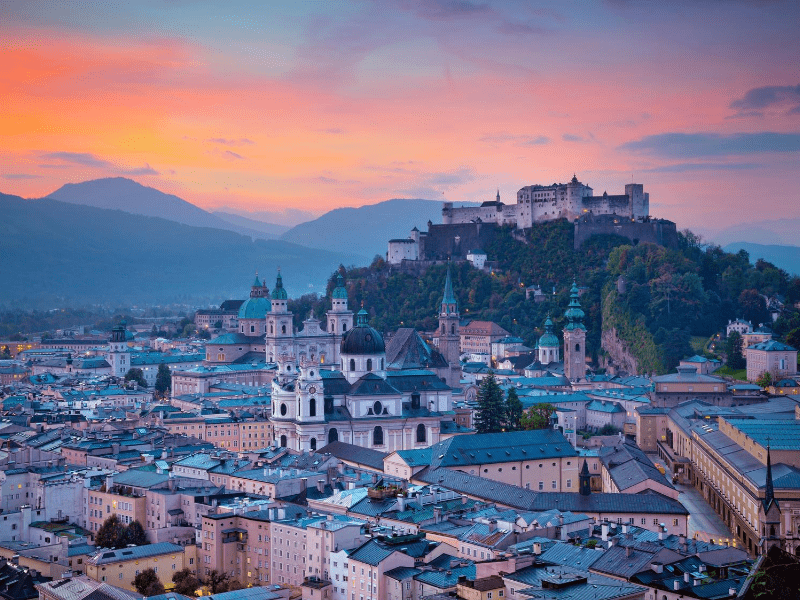 Cross yet another border and you'll be in the birthplace of Mozart, Salzburg. It is known for having the best-preserved baroque architecture in the old town centre in Europe, which is also a UNESCO World Heritage Site. If you have time visit The Eagles Nest in nearby Berchtesgaden, Germany for an amazing hike and epic views of the Bavarian Alps.
Vienna is the next stop on your epic road trip of Europe, home to the United Nations and the cultural, economic and political center of Austria. It's known as one of the most livable cities in the world and has a rich history of artists, intellectuals, culture and music. So there will be more than enough to keep you busy for a few days.
44. Bratislava, Slovakia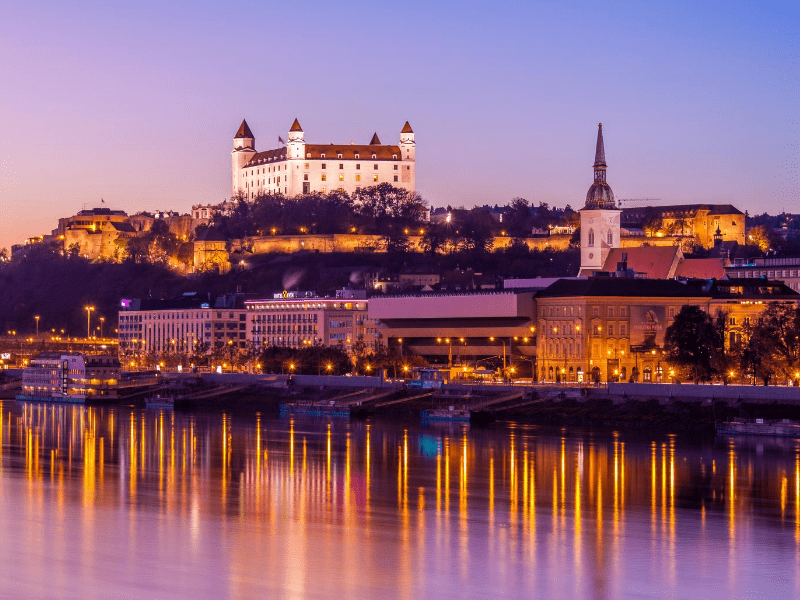 Right on the border of both Austria and Hungary is Slovakia's capital, Bratislava. So it's an easy choice to stop here between the two countries.
Get your hiking shoes because this beautiful city has many nature trails on offer through vineyards, the Little Carpathian mountains, and overlooking the breathtaking Danube river. From fairytale castles (Bratislava & Devin) to sky blue cathedrals to the revitalised Eurovea district, there is surprisingly a lot to take in when visiting Bratislava.
45. Budapest, Hungary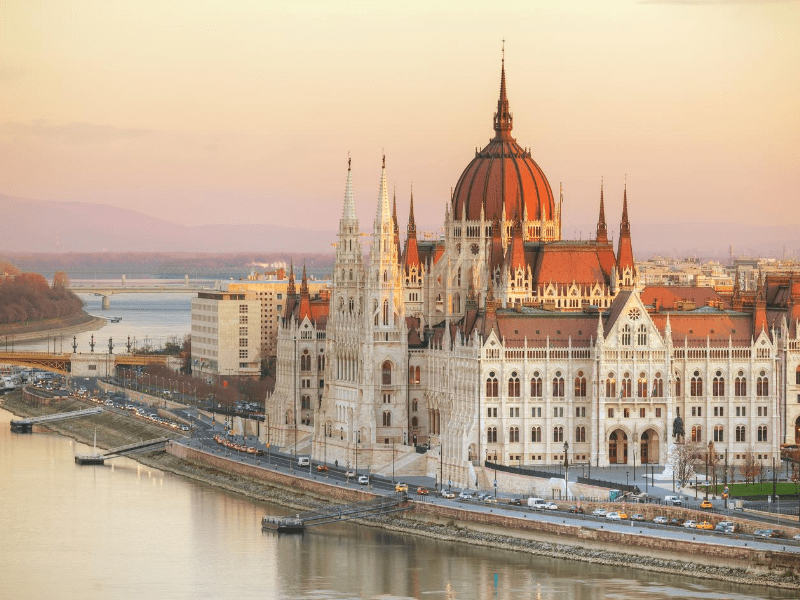 Roll along the north of Hungary until you reach the Danube, which bisects Hungary's capital Budapest. Interesting fact about Budapest is that it's actually not one, but rather 3 unified cities.
They are Buda and Óbuda on the west bank of the Danube and Pest on the east bank. Many consider Budapest to be one of the most beautiful cities in Europe and will be a surprising standout of your Europe road trip.
If you don't know where to start in this gem, try the UNESCO World Heritage Sites like Buda Castle Quarter and Andrássy Avenue. Peruse the gorgeous Parliament Building along the banks of the Danube, or Heroes' Square and St. Stephen's Basilica before descending into the infamous Faust Wine Cellars under Buda Castle. Then relax your muscles with a dip in the Széchenyi Thermal Baths or the Gellért Baths.
46. Transylvania and Bucharest, Romania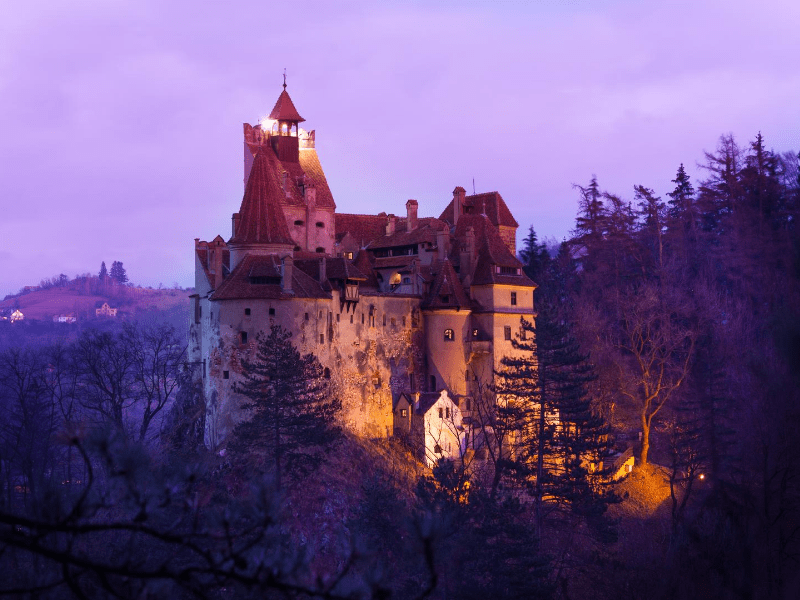 While Transylvania is usually associated with Dracula, Gothic fortresses and churches and baroque buildings, it's not as spooky as Bram Stoker makes it out to be.
Most of your Transylvania itinerary will be centred around the castles like Bran, Peleș and Corvin, the UNESCO World Heritage Site of colorful Sighișoara and exploring the Turda Salt Mine are equally impressive.
But it is a rather large region of around 102,834 sqkm, so there's a lot to cover. Hop over to the trendy student area of Cluj-Napoca for a taste of Romanian cool, explore the medieval walls and towers of Sibiu on foot or ski at Poiană Brașov.
Keep going south-east until you reach the capital of Bucharest. Once home to Vlad the Impaler and communist despot Nicolae Ceaușescu, it's now in a boom with highrise towers and sleek glass facades.
There is still a glimpse of the past among the newer lofty towers. Bucharest has the world's biggest parliamentary building Palace of Parliament standing at 365,000 sqm and 1,100 rooms. Take a romantic stroll at Cișmigiu Gardens, the cobblestone streets of Lipscani (Old Town) and glimpse a replica of Paris's Arcul de Triumf, an ode to its former nickname "Paris of the East".
47. Sofia, Bulgaria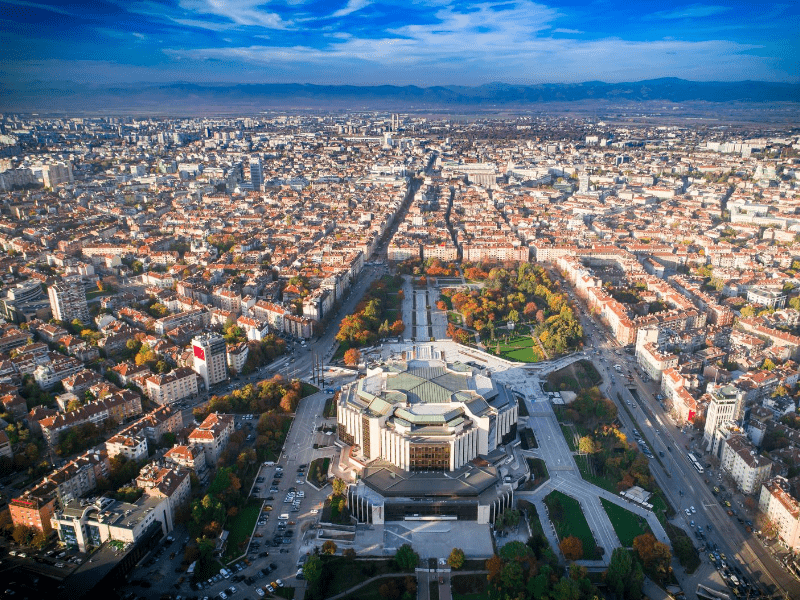 Walking through the capital of the Balkan nation of Bulgaria is like taking a time machine back to almost 2,000 years ago.
Witness Sofia's history of outside occupation through the Greek, Roman, Ottoman and Soviet landmarks. The city's history is deep and complicated where mosques have been converted into churches and monolithic soviet structures overshadow newly formed boulevards.
While you can't dip in, the Central Mineral Baths is a very photogenic spot with an informative museum. Adventurous travelers can ascend the 2,200m Vitosha Mountain.
48. Skopje, North Macedonia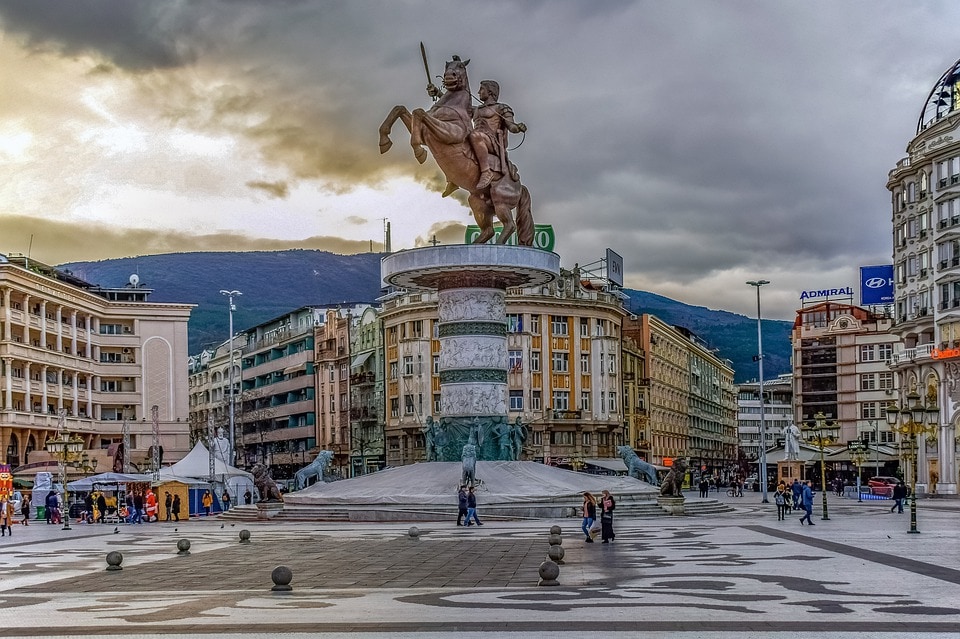 Coming back into North Macedonia, this time you'll be visiting Skopje, the country's capital and largest city.
While being the center of politics, culture, economics, and academics, it is an ancient city dating back to 4000 BC with Neolithic remains at the old Kale Fortress. Probably the best thing to do in Skopje is to stroll along the Vardar river and do some quirky architecture and statue spotting (trust us there is a lot of that!).
After all the walking, get some fuel at the old bazaar where you can also delve more into the culture of Skopje and visit the fort at the top of the hill. Then continue on to find some really quirky brutalist architecture and sip some thick coffee at the hipster Debar Maalo area.
49. Pristina, Kosovo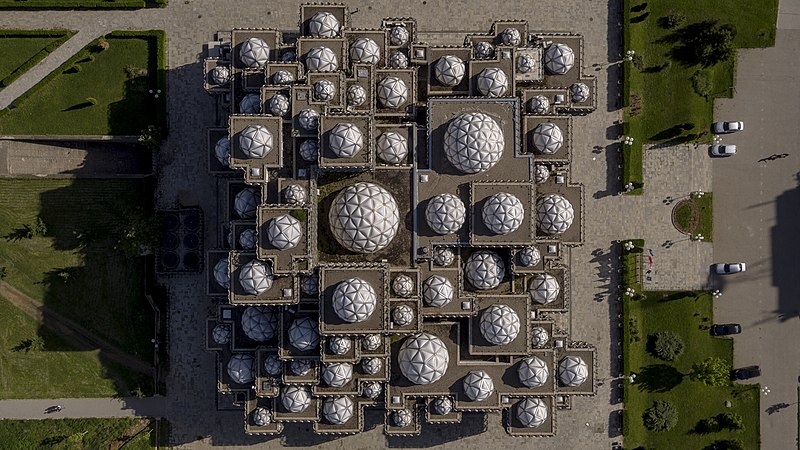 Pristina might not be the most popular or well-known city in Europe, but once you start strategizing a trip here, you'll notice that there is indeed a lot to do.
One unique fact about Albania concerns Kosovo where 92.9% of the population is actually ethnic Albanian and Muslim.
This ethnic differentiation between Muslim Kosovar people and the rest of Orthodox Serbia, the official UN country Kosovo belongs to has been the focus of tension for decades and tragically ended in the terrible Kosovo War.
Sadly, because Kosovo has not been recognised as an independent country by the UN, these tensions continue and mean that parts of the country are under the supervision of the United Nations Peacekeeping Forces. But fret not, traveling in Kosovo is very safe and attacks are rare.
Back to pristina, many of the things to do in the capital are interlinked with Albanian culture. For example, you can taste some Albanian Rakia, see sculptures of Skanderbeg like the ones in Tirana, and pay homage to the devout spiritual leader at the Cathedral of Saint Mother Teresa (who was ethnically Albanian).
You can socialise over a thick Turkish coffee, witness the medieval UNESCO Site in Gračanica or see one of the world's ugliest buildings – the Kosovo National Library.
To truly enjoy the most beautiful parts of Kosovo, take a detour to Peje and Prizren, two beautiful mountain villages where traditional architecture and rich Ottoman heritage have been preserved, they are real gems.
50. Belgrade, Serbia
You've been around the continent and visited almost every country and your final epic European road trip destination is Serbia's capital, Belgrade.
Belgrade is one of the oldest cities in Europe and has a tumultuous past of war and upheaval. It's possibly this turbulent past that's created it's free-spirited present, particularly on the Bohemian avenue of Skardarlija and in the frequent splavovi (party boats) along the Danube and Sava.
You can end your monumental road trip of Europe with a bang in Belgrade by partying the night away. After sobering up, take in your final views from the Beogradska Tvrđava fortress, stroll around in deep thought at what you've accomplished at Kalemegdan Park and then jump into the water at Ada Ciganlija island.