This article on the Glacier Express was first published in February 2016 and was updated in January 2020.
Like the Hogwarts Express but better, this is what a trip on the Glacier Express Swiss train is like. The luxury train connects St. Moritz with Zermatt in a journey that covers some of Switzerland's poshest and most coveted Alpine stations. The magical train is also an engineering feat and, parts of it are listed by UNESCO.
Those who follow me will know that I have an addiction to train travel. I have spent New Year's Eve onboard the Maharajas Express criss-crossing Rajasthan on India's most luxurious train. I also joined Golden Eagle's Trans-Siberian 11-day journey from Moscow to Ulaan Bataar in Mongolia.
In South Africa, I enjoyed the Rovos Rail trip from Joburg to Cape Town where I went onto visit some of the best wineries near Cape Town (there's the cutest little wine tram in Franschhoek). And more recently hopped on a train to Lhasa in Tibet as well as the Golden Chariot, one of India's best luxury trains.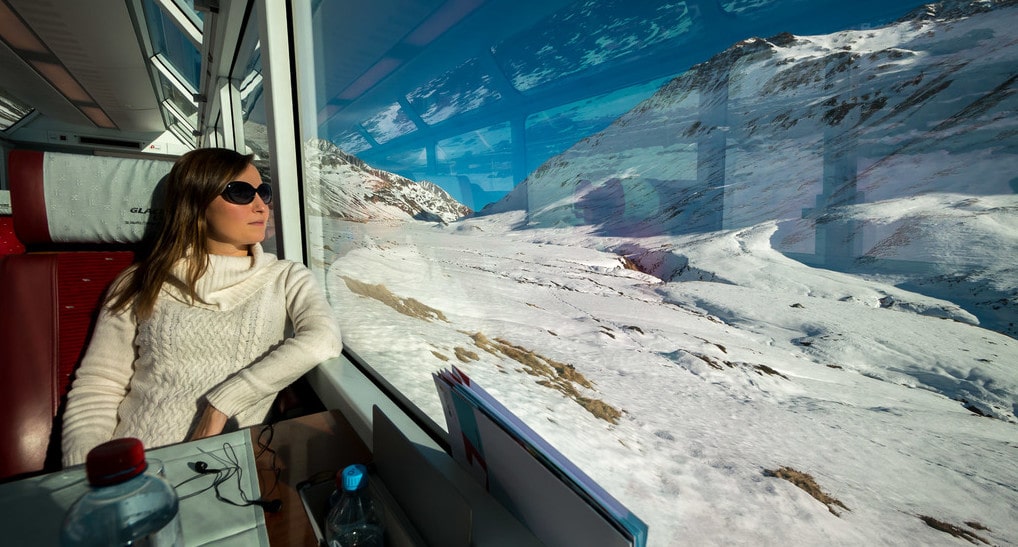 Many more train trips are on my wish list. The Glacier Express had been on it since I first found out about it. There is something mystical and utterly peaceful about sitting by the window seeing Switzerland's postcard perfect countryside roll by. It's also a great way to take a break from driving if you're on an epic road trip across Europe.
If you were looking to find out more about catching the Glacier Express in Switzerland, then you have come to the right place, as this will give you all the information you need. Read on to find out more about the Glacier Express train including the Glacier Express route, price, history, food and cabins.
History of The Glacier Express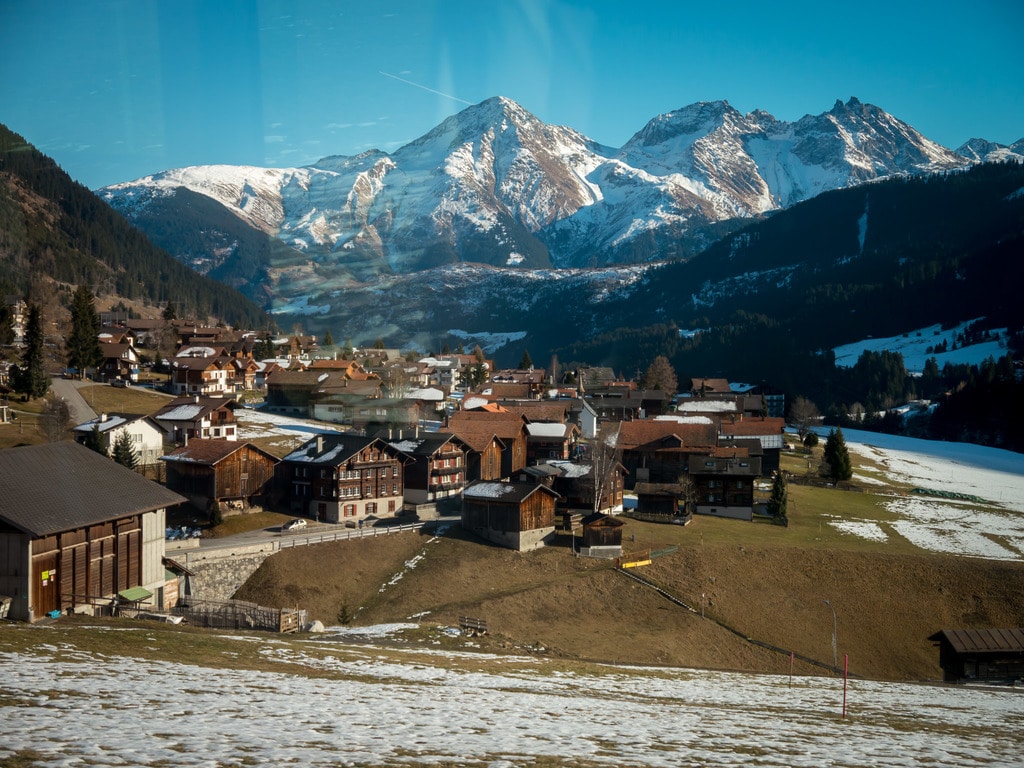 The Glacier Express ran for the first time in 1930 between Zermatt and St. Moritz. The Alpine region of Switzerland had become popular ever since the end of the 19th century when ambitious hoteliers placed St. Moritz on the map as a great winter destination for the wealthy.
Accessibility was extremely difficult so the train companies had to build 291 bridges and 91 tunnels to be able to reach some of the stops on today's itinerary.
The first trains already included a dining car where guests could indulge in food and drinks. Despite the trains being fully electric today, the Glacier Express is considered a "slow fast-train" and even "the slowest express train in the world".
Like with Switzerland's other scenic railways, which include the GoldenPass Line, Jungfrau Railway and Berinina Express, the point is to move and to watch the scenery. To arrive at the destination, is secondary.
The Glacier Express route
The Glacier Express route runs from St. Moritz to Zermatt and back, once a day and is a great way to get to Zermatt which you can then explore on a skiing trip or while taking one of the most beautiful hikes in Switzerland to the five lakes. There are extensions to Davos and various connections to other trains in the fabulous Swiss railway system.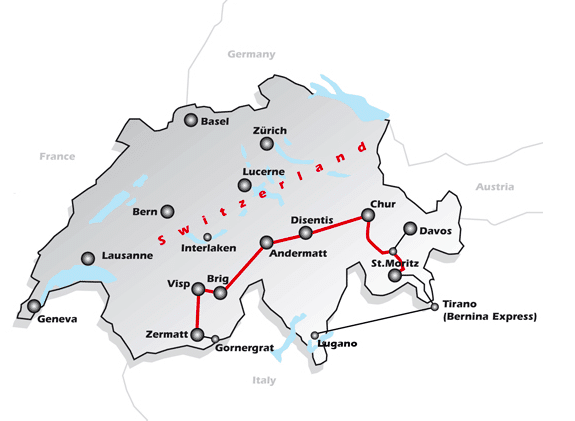 In Chur, the train retraces its steps as the line goes into Chur and has to then return to the main railway. Some of the points in the Glacier Express route are extremely high, which is what made the trip so enjoyable, impressive and a true engineering challenge.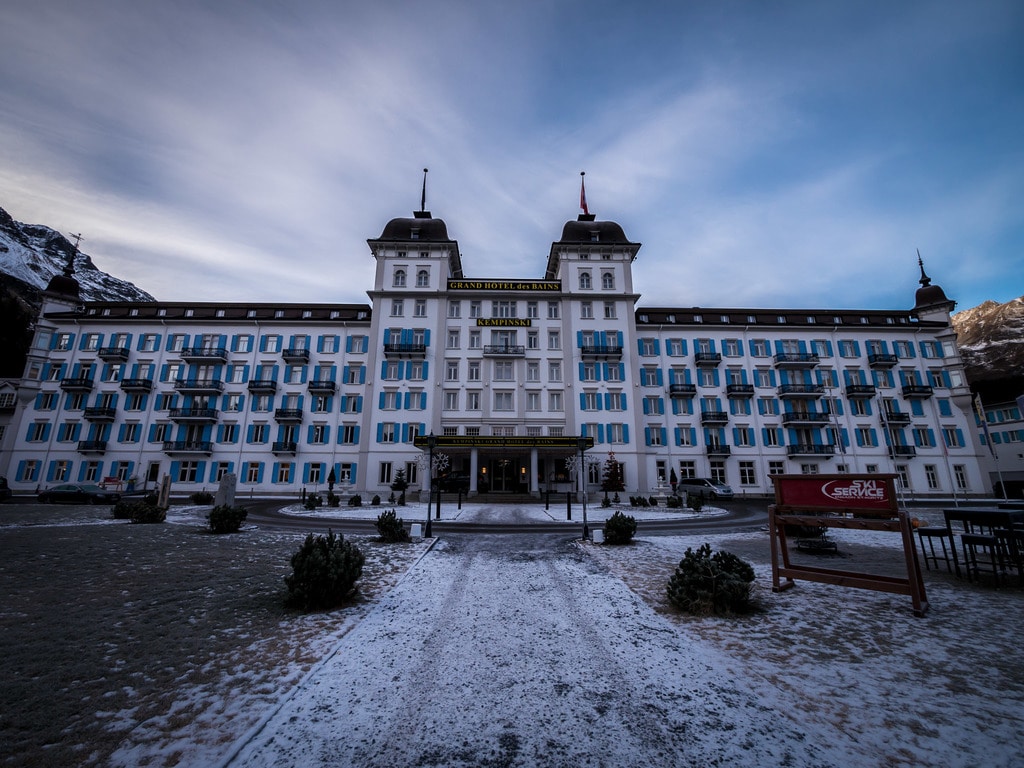 When you cross the Gothard Pass, know that you are in the deepest area of Switzerland, where the Rhine and Rhone rivers originate. The highest point in the trip is the Oberalp Pass that lies at 2,033 meters. It is a beautiful part of the journey.
As the train emerges above Andermatt to a truly picturesque and postcard perfect sight you are likely to feel like you are in a James Bond movie, discovering a hidden den for a mean world-controlling freak. The reality is much different in beautiful and up-and-coming Andermatt.
The Rhaetian Railway in the Albula/Bernina Landscape is considered a UNESCO Heritage Site. A large part of the journey crossed the Swiss National Park where trees cannot be logged, animals can't be hunted and nature is pretty much how it once was. You are likely to spot castles, hilltop farm houses and churches.
What makes the journey most stunning is the pretty architecture of the Swiss villages. Churches in the middle, wooden houses surrounding it and pastures and forests towering high with snow-capped mountains in the background. Rivers flow and cows graze. It is so pastorally picturesque and Ricola-ad perfect.
The Glacier Express seat plan
I boarded in St. Moritz and disembarked in Andermatt, before the end of the line. The train was already at the station when I arrived and I only had to find my car and seat. There is storage space at each end of the car for suitcases and clothes hangers to place your coat.
There are 1st and 2nd class cars. I had tickets for the 1st Class Panorama cars where the glass extends to a quarter of the ceiling as well as the windows and the seats are slightly better and more spacious. There did not seem to be a major difference between the two classes other than the convenience of more space.
There are twice as many seats on second class than on first. It pays to board early if you have luggage and travel in second class because there was significantly less storage space. Price difference is relevant, from EUR135 to EUR237 (one-way). The Glacier Express is also covered by the Eurail Pass.
Above this price there is a seat reservation fee of:
Long journeys high season: EUR40
Long journeys low season: EUR30
Short journeys high season: EUR30
Short journeys low season: EUR22
Excellence Class (only long journeys): EUR390
High season is mid-June to mid-Sept. Children under 6 go free, children aged 6 to 16 pay half fare but must pay the adult supplement.
There is now an even more premium ticket that you can purchase for a first class ticket plus the 390 seat reservation and is called Excellence Class. Here you are definitely going to get a window seat as they are in a 1/1 configuration across the car and facing each other. Excellence class includes (information from the Glacier Express website):
Coach & Services:
A guaranteed window seat
Access to the Glacier Bar
A tablet with Bordinfotainment, just like on a plane
A professional concierge
Personal check-in on the platform
Luggage transport in dedicated lockable sections aboard
Catering:
Coffee, juice, champagne & brioche
Apéritif & amuse-bouche
A regional and seasonal 5-course menu with wine
Coffee & digestif with a coffret of chocolates
Tea in the afternoon with extra goodies
Soft drinks & fruit juices
Snacks throughout the day available
The train is new, clean, neat and modern. Seats are comfortable, sleek and sport the usual grey and red Glacier Express color combination. There are announcements being made as you cross certain key passes, tunnels or towns. Earphones are provided to listen to them if you are keen.
They are not voiced on the speakers so if you don't want to be bothered, you just don't use them. A subtle bell will ring every time an announcement will start. Brochures and leaflets on the Glacier Express are available on the side pocket of your seat.
Food on the Glacier Express
Menus will be brought by the staff as you start the journey and a cart will pass to sell souvenirs. We had pre-ordered lunch, which is essential, because you cannot oder proper food onboard, it needs to be ordered ahead of time.
During the journey, the catering staff will come at various points in case you want to order anything else and, at around 11:30am, the table will be set for lunch. Lunch consisted of two dishes and dessert featuring simple Swiss cuisine.
We had a hot soup as a starter, pork with vegetables and mashed potatoes and an apple strudel for dessert. Catering staff served the meals in large communal trays so you could have as much or as little as you wanted. They came back after we had eaten our mains to refill our plates if we were still hungry.
Champagne anyone? It was a bit early for that as the train departed before 9am, but I did enjoy a glass of white wine with lunch.
The train has a Panorama Bar car to enjoy a drink or snacks throughout the journey.
How long does the journey take from St. Moritz to Zermatt
I felt that time went by really fast and, before we knew it, we were already in Andermatt, 5h later. The entire journey from St. Moritz to Zermatt takes just over 7h.
How to book tickets on the Glacier Express
Tickets for the Glacier Express do not get released until 30 days before the date. For peak season, I suggest getting on it on the date they are released. You must book seats, purchase the tickets and book the meals in advance all in one go.
The train's staff will come by to check your tickets shortly after boarding. You should bring a printed confirmation of your meals for the catering staff. I had to email it to them, which was a hassle with the constant loss of signal at every tunnel. Booking can be done on their site. Discounts are offered if you already have a Swiss Rail Pass.
Could you do the same route on the regular Swiss trains? Yes, but you would have to continuously change trains as the Glacier Express is the only one covering the whole route between St. Moritz and Zermatt.
Book a personal guided tour on the Glacier Express
If you want more than just a train ride, you can get a personalised tour from various locations in conjunction with your Glacier Express ride. You will ride to Chur via an intercity train and then be picked up and taken to the departure point and go on a round trip with a four hour ride on the Glacier Express.
You will receive headphones with audio explaining various facts about the train and the areas you are passing through. The rides go via an intercity train to Zurich, onto Chur where you board the Glacier Express, and then finally to Brig. You will then take the intercity train back to your original location. The only thing that is not included in the price is food and drinks.
This is a great option for those who want a gorgeous taste of the Glacier Express and a little more guided knowledge of the trip.
Skydive the Swiss Alps! Here is a great 2 hour Swiss heli and skydiving tour to see the Alps from new heights! Click here to book.