This article was first published on August 2, 2016 and is updated regularly.
Do you want to visit some wineries near Barcelona but don't know where to start?
Here you will find everything you need, from the list of the most famous and best wineries near Barcelona to tips for organising your visit independently, and suggestions for group and private tours. Because a winery tour is the best day trip from Barcelona.
Why should you read this article?
I have visited all the wineries on this list and I grew up in one myself. My father makes wine (sadly you can't visit our winery) and my brother in law works for Torres. I grew up in the wine region next to Barcelona so I breathe and live Catalan wine.
For this article, I planned my trip to the best wineries near Barcelona with the help of my brother in law who studied oenology (wine making).
We did a lot of research between the two of us, he called wineries, I read a lot, with the idea of putting together everything there is to know about the wine country near Barcelona, a region we are both very familiar with, that is, the vineyards of the Penedes and cava region, the closest vineyards to Barcelona. And I have returned to visit some more than once.
Having grown up in the region and in a winery myself, I knew a lot of the wine labels and was familiar with all the big names in the wine industry in Catalunya, my father works with all of them too, this is a small world after all.
I used this expertise to pick the oldest, most relevant or representative wineries and cava producers, the ones I would recommend my friends to visit. This list does not include the easiest wineries to visit or the ones that the tour companies take you to, which may be beautiful and great, but are not the most iconic.
The wineries on this list are the most established and renowned. Let's take a look at the list of the best wineries close to Barcelona that made the cut.
Wine tastings in Barcelona
A lot of people ask me about wineries in Barcelona.
Technically, there are no wineries IN Barcelona, at least not in the city or the metropolitan area. There are plenty of wineries and vineyards near Barcelona you can visit, some of them as close as just 30min by car or under an hour by train and public transportation, some even reachable by electric bike, but none in the city.
While this post is about wine tours near Barcelona, if you are interested in wine tastings without booking a winery tour, there are a few tours IN Barcelona with a Sommelier which are also a fantastic way to learn more about Catalan wines.
Here are my recommendations for wine tasting tours IN Barcelona:
1. Catalan and Spanish wine tasting with a Sommelier: In the center of Barcelona, includes either 3 or 5 wines to taste with tapas and insightful commentary from a sommelier. Book it here.
2. Wine tasting and tapas: If you want to learn about the wine regions of Spain in general, this tour will give you more background on the various appellations and then sample 5 wines with tapas. The tour can also be done privately. Book here
3. Gourmet wine and food tour: Lastly if you want to do some wine tasting but also want to put emphasis on the food, this tour is longer (5h instead of 2h) and includes tapas as well as gourmet dishes and wine and cava tasting. Book here
.
And don't forget to save my articles on Barcelona:
The wine regions and vineyards near Barcelona
As you can see in the above map of wine appellations in Catalunya the closest wine regions to Barcelona are Alella, Penedes and Cava. Because of the breath and range of wineries, I will focus on the ones in Penedes and Cava, just south of the city.
There are almost 180 cellars and 2,800 wine farmers in the Penedès Appellation. The concentration of wine cellars is incredible, not least because there are both regular cellars as well as cava wineries, but the wine region is small enough that you can drive through all of it in less than an hour.
As soon as you approach the region, you will notice the rolling hills covered in vineyards and other Mediterranean trees like olive groves and cereals. Wine making is in the life of almost everyone living in the Penedès.
Denominació d'Origen Penedès or DO Penedes is the Catalan name given to the appellation (more about what a DO is here). It's also the region where most of the Cava is produced with 280 cava producers, some of which are also listed as wine producers in the Penedès DO. So by visiting this area you also get the chance to learn more about Cava production end-to-end.
However, since with so many vineyards and wineries near Barcelona, it is difficult to understand who the key players are, what the most scenic or picturesque wineries are and which ones you should put on your bucket list.
So let me help you.
Along with the combined knowledge and experience of my father (a wine producer himself) and my sister's husband this article suggests the best vineyards and wineries near Barcelona.
If you are staying in Barcelona, I have written an in depth guide on where to stay in Barcelona including all the districts and best hotels. It's a great guide for both first timers and frequent travelers, giving quite a bit of inside info on the location.
Private driver to visit the wineries

While I explored the area independently by renting a car and booking each tour, not everyone wants to drive themselves and going wine tasting also means you may not be able to drink much so hiring a private driver to take you to your chosen wineries is the best option. Try this one.
Wine tours from Barcelona
When it comes to winery tours near Barcelona or Penedés winery tours, there are so many great options to choose from. Below are a few hand-picked tours that are highly recommended if you want to venture beyond the suggested itinerary mentioned above. Select the one that best suites you, click to see more information and to make a booking online. Most options provide 24hr cancelation and are eco-friendly, so make sure to double check the details before booking.
Albet i Noya: The best winery near Barcelona to understand the origins of organic wines in Spain
It is thanks to a Danish wine importer that organic wines arrived in the Penedès wine region and in Spain.
Young Albet i Noya, already a vegetarian in the 70s when the idea had not been heard before in the country, wanted to further his lifestyle philosophy, so he approached the Wine Growers Association with the idea of testing organic wines and volunteered to try it out in his land. He was a visionary, and he succeeded, not only in growing organic wines, but also in convincing others to join him.
Today, 40 years later, around 60% of the Penedès wineries are organic.
You can read my review of the visit to Albet i Noya winery here. The winery offers some of the most interesting and pleasant tours, with some time to enjoy the wines on their garden under the shaded trees.
---
Familia Torres: Spain's most acclaimed winery
Familia Torres is one of the best known and most widely respected wine brands in the country.
They are one of the largest producers in Spain, having 1,300 hectares under their ownership, and one of the oldest family-wned wine businesses turning 150 years old in 2020. Both the company and the current CEO Miguel A. Torres, have been awarded several international accolades from "The world's most admired wine brand" to a "Lifetime achievement award".
Familia Torres has been producing fine wines since the 1870s and owns estates in several wine appellations beyond the Penedès including Priorat, Rioja and Rueda in Spain, and produces wines in Chile and California, the later managed by the CEO's sister Marimar Torres.
Familia Torres offers several tour options, all of which start with an introductory video of the company's history followed by an explanation of the wine making process in Mas La Plana vineyards and ending with a cellar tour of the Waltraud Cellar nearby. You will then continue on to your tasting depending on the tour chosen.
In 2019 Familia Torres opened a restaurant onsite called El Celleret offering farm to table local produce and a changing seasonal menu with traditional Catalan dishes from the area and great vineyard views.
Signature Wine Experiences were also added, including private tastings with a Wine Educator of the brand's most premium wines in the private tasting room of Waltraud Cellar.
Read more about what to expect on a tour of Familia Torres winery here.
---
Gramona: Hand crafted Cava winery near Barcelona
Gramona is one of the smallest and most beautiful cellars in Sant Sadurni d'Anoia, the Cava's Capital. Organise a visit and they will guide you down several basement floors under the busy streets of the city.
The guide will lead you through the silent underground maze of alleys lined up with Cava bottles resting and waiting to be disgorged for what was one of the most fascinating, genuine and beautiful wine tours I have ever taken, especially because we got to see the manual disgorging of the bottles done live just for us, something which is not done in a lot of cava wineries anymore where everything is mechanised.
Don't forget to buy a bottle or two to take home for that special celebration (I am still keeping a bottle of Gran Reserva 2005 for the day my partner proposes 😉
---
Gramona is a small and family-owned cava winery which does not run organised tours but they are happy to welcome you on a private tour, which can be done in English. You can book directly with the winery here.
Getting to Gramona is easy as the main cellar is located in the village of Sant Sadurni d'Anoia which can be reached via Rodalies train from Barcelona. The journey takes 45min and there are four trains every hour.
Agusti Torello Mata: Premium & modern Cava winery near Barcelona
If you consider the long tradition of wine and cava making in Catalunya, Agusti Torello Mata is not one of the oldest wine producers, but his contribution to the industry make him and the brand a relevant one.
Hailing from a tailoring family, he wanted to enter the wine industry from an early age, but without a family tradition, he had to do so in other ways. How? By opening the first ever wine lab in the area in the 70s and then starting the Cava Guild where he is Honorary President.
A visit to Agusti Torello i Mata will most likely give you the chance to meet the man himself, since he likes to wander the shop and cellar on the weekends and say hi to any visitors.
The winery is known for the famous Kripta wine which is shaped like the ancient Roman Amphoras that were used to transport wine to Rome 25 centuries ago and is one of their most awarded Cava wines and one Catalans drink in special occasions.
---
This small winery near Barcelona does not organise group tours but you can reach out to them directly for a private visit which can be done in English. All the details are available here.
The winery is open Monday to Friday from 10am to 1pm and from 5pm to 7pm and on weekends from 11am to 2pm. They offer three types of tours: a basic Reserva visit, a Gran Reserva visit and a Premium visit ranging in price from 10 euro to 50 euro and all include wine tastings and some small bites that are paired with the wines (rose with raspberry ice cream anyone?).
I recommend the Premium visit where you can sample their top of the range wines.
Codorniu: The pioneer Cava winery close to Barcelona
The word Cava is undoubtedly associated with Codorniu. They started Cava production in 1872 and have built a family empire ever since making it the oldest family business in Spain until 2018 when the business was sold to the Carlyle Group after years of internal family disagreements.
When you visit this winery near Barcelona, you not only get to learn about cava making and Modernism architecture, but also get a peek into the 30km (you heard that right) of underground tunnels built on the side of the hill, below the winery to store the bottles. You explore those on a small train, very cool. Read my review of Cava Cordiniu.
The cellar and visitor center are located inside a very famous building which is a good enough reason to visit. The building was designed by Gaudi contemporary Puig i Cadafalc and is a great representation of Modernism. Codorniu also produces wine under the Raimat brand and owns several other estates.
---
Freixenet: For the largest Cava producer near Barcelona
The largest Cava producer and the brand name most commonly found outside of Spain is Freixenet. Selling over 100 million bottles a year, Freixenet have expanded into several other wine appellations and geographies after purchasing many other brands.
Freixenet started exporting wines to the US in the 1930s and its international profile has only but expanded since then. Today, they export to over 100 countries and produce wine in 16 different wine regions from California to Argentina to Australia.
Christmas in Spain does not start until the Freixenet Christmas ad has aired. It's the most anticipated advert in the country year after year and usually features celebrities. The ad is the company's way of sharing their best wishes for the holiday season. It is therefore akin to switching the Christmas tree lights on.
---
Cava Llopart: For the vineyards near Barcelona with the best views and longest tradition
After Codorniu decided to make sparkling wine following the Methode Champenois, local winemakers followed. One of them was Cava Llopart, selling their first bottle in 1887 and are still using the same label today.
Their Gran Reserva Tour is a great 360 degree visit of the vineyards, the cellar and the tasting room. Situated up in the Subirats hills, the views are a lovely way to kick off the day. It's also easy to reach by car, like most other wineries near Barcelona.
---
Jean Leon: Hollywood fairytale-winery near Barcelona
Jean Leon was born in the north of Spain as Ceferino Carrion. He wanted to be an actor, so he left Spain at the early age of 19 as a stowaway in a ship to New York. He eventually arrived in Hollywood, where he first worked as a waiter at Frank Sinatra's restaurant La Villa. After working his way up, he opened the well known Beverly Hills restaurant La Scala with James Dean.
But he eventually returned back to Spain and used his English-acquired name to open a winery in 1963 which has become synonymous with premium wines. He is also credited with bringing some of the French grape varieties to Spain.
Jean Leon is part of the Torres Group that acquired the winery in 1994, but is managed as an independent company and brand.
---
Pere Ventura Family Wine Estates: Adults-only adventure wine tours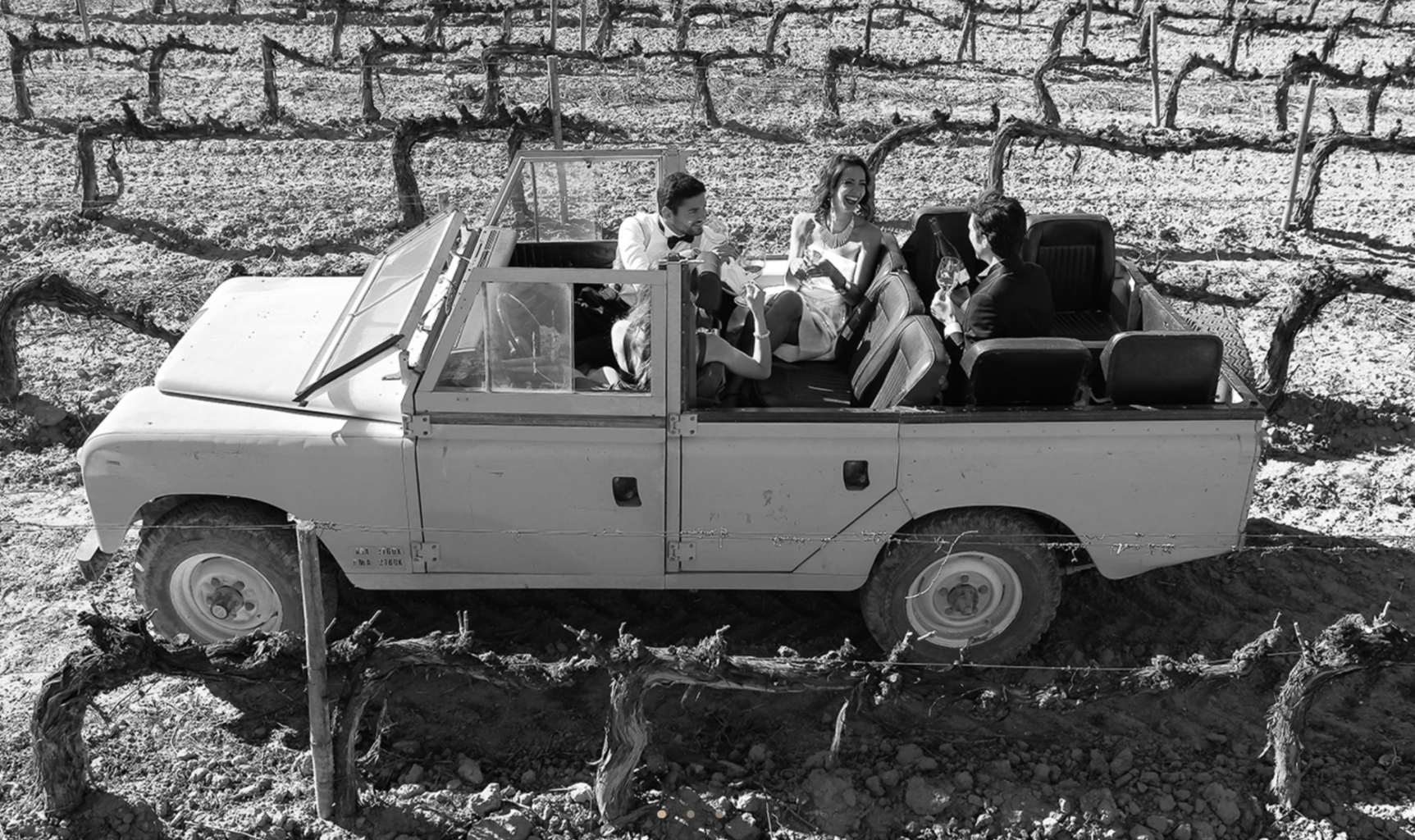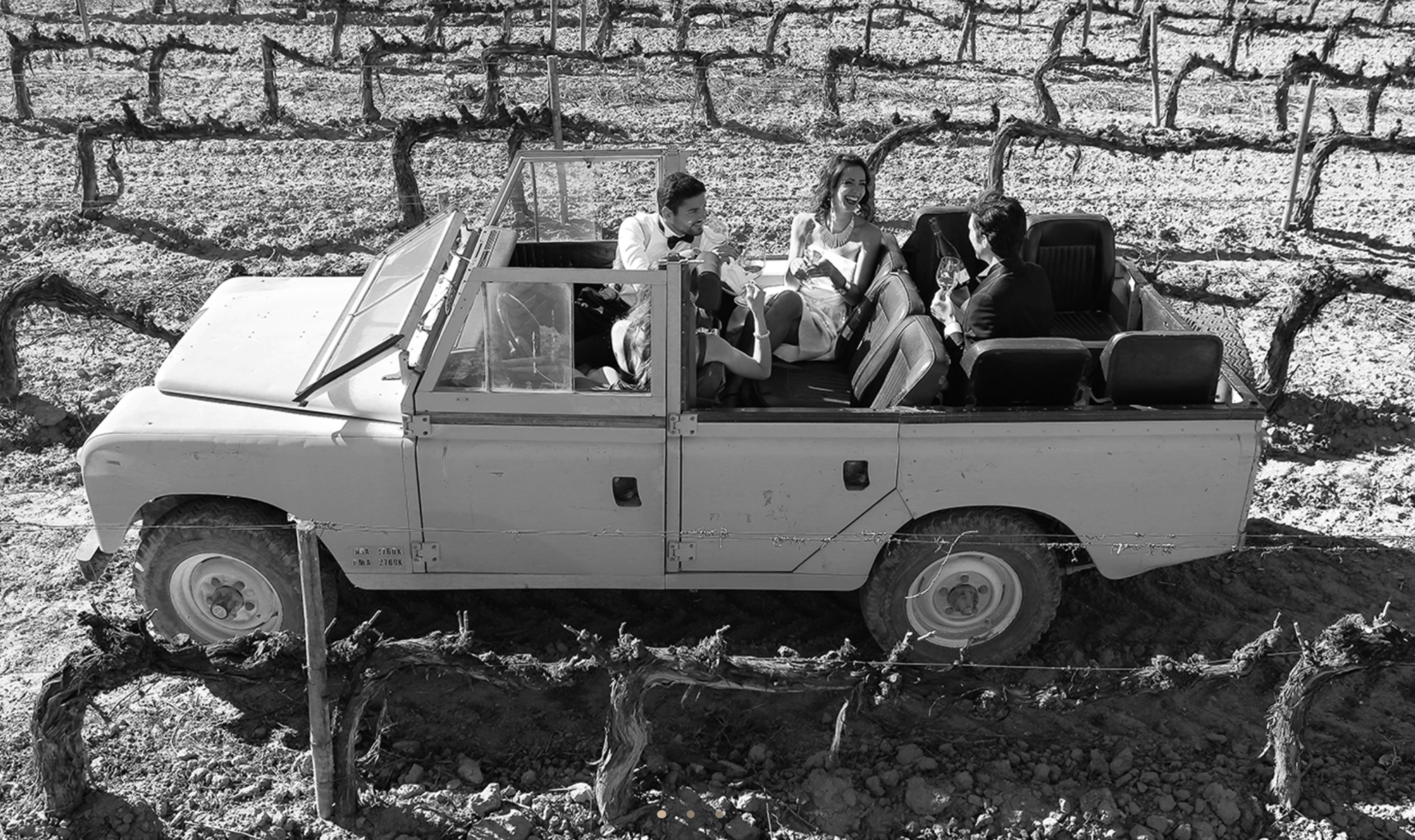 Pere Ventura is a cava and wine producer that has been making waves in recent years and which my father introduced me to because he is very good friends with the owner, Pere himself. The group owns a few estates among which Can Bas, a 17th century wine estate with a Romanesque church.
Included in 2019 Wine & Spirits Magazine Top-100 best wineries in the world, the only Catalan winery to be included, Pere Ventura also has cellars in the Priorat region and in the north of Spain.
It is an interesting winery to visit because, while it is not as old as some of the other wineries near Barcelona on this list, it has a more dynamic approach and a focus on wine tourism that is quite unique. You can go on 4×4 tours of the vineyards or join a whole day tour of Priorat. Children at not allowed on the tours so it is a very grown up and fun environment.
---
Recaredo: For the pioneer in biodynamic wines in Spain
Although this family business started making Cava in 1924, they are best known for being the first certified biodynamic winery (2006) in the Cava and Penedès wine appellations. The brand's name is the first name of the owner's grandfather, who started the business in the 1920s.
---
Of all the wineries near Barcelona, Recaredo has the most outstanding profile in the biodynamic world. Recaredo does not offer organised tours but is open to private visits and tours booked directly via their contact form.
Finca Viladellops: A traditional winery with heritage
This relatively new winery has a history dating back to 1877. Although they stopped producing wines, closing their cellar in 1980, they re-opened in 1999.
What makes this winery interesting is the location in the tiny 18-country house village of Viladellops. The town was founded in the 10th century when the Spanish conquered the castle of Olèrdola from the Moors and the area was repopulated. The castle's tower is intact so you can visit it after seeing the winery. You can also visit the Chapel the Order of the Hospital of Saint John of Jerusalem built at the same time as the castle.
---
Caves Viladellops does not offer organised group tours but you can book a visit directly with them here. There are three different types of tours which run daily at 11am and include a visit plus tasting. If you have a large group, they can also organise a lunch in the winery.
Tip: the best way to explore the wine regions near Barcelona is by car. So check out these tips for renting a car in Spain to help you plan. And then explore the rest of the continent with our epic road trip around Europe.
Add this to your #wineoftheworld Pinterest board!