As a Super Host on Airbnb in Sitges for over five years I had to guide hundreds of guests from Barcelona Airport to Sitges (and vice versa) so over the years my mum (who welcomed the guests) and I, perfected the instructions, the pictures and the directions.
Moreover, my mum and sister cover the journey regularly so we always have the latest information and details.
There are four ways to go from Barcelona Airport to Sitges: car rental, taxi, train and bus. The map below shows you the bus and train stops. You will notice they are very near each other, just a few minutes walk away.
Barcelona Airport to Sitges by rental car
If you are staying in Sitges (or Catalonia) for a longer period or plan to explore more beyond just Sitges, hiring a car is a great way to do so.
In Catalonia, we have great public transportation but many of the best places to visit are still undiscovered and hard to reach by public transportation so I highly recommend renting a car.
Since I do not live in Sitges permanently, every time I come home I rent a car from the airport. I have tried all the rental companies and can tell you it is a seamless and painless process.
Rental car pick up points: Depending on the car rental company you book with, you will either fill in the paperwork and get the keys from inside the terminal building or from the parking booths.
All the large car rental companies have counters inside the terminal. This includes Hertz/National, Alamo, Avis, Sixt, etc. You go first to the counter to get the keys and sign the contract and then collect the car from the parking right by the terminal building which you can access through the elevators. These are the most convenient conditions.
If you are renting a car from a smaller car rental company you will have to go to a remote parking area and sign the contract and pick up the car. When you are booking your car, pay attention to this and to any other instructions with regards to getting to the remote parking bays which are only accessible via the free shuttle service.
Drop off point: Make sure to double-check where and when you can return your car before you drive away.
All the large car rental companies have 24h service so you can drop the car anytime.
Some of the smaller services may not have a 24h service so you may only be able to drop the keys in a secure location and get the details later.
Cost: Car rental costs in Spain range from 40 EUR a day for small cars without full insurance to 80 EUR a day for a larger/nicer car with full insurance.
Pro tip: If you have a rental car and need to return to the airport before the end of your contract, for example, to pick up a friend arriving, you can simply park the car in the car rental service area for free. This is not cheating. If you try to go to the regular parking, the system will detect it is a rental car, issue you a ticket but not allow you to pay for the parking, so you will have to go to the Customer Service Counter in the parking to get the ticket validated.
Compare rental prices from all the companies in Barcelona Airport here.
Barcelona Airport to Sitges by taxi
If you don't want to drive or a car rental does not make sense for you, the most convenient way to get to Sitges from Barcelona Airport is obviously a taxi.
Note that Uber is banned in Barcelona so you won't be able to get one.
The journey by taxi from Barcelona Airport to Sitges takes around 20-min to half an hour depending on traffic and on whether you want to take the payable highway or the free coastal road.
You should ask the taxi driver which road he will take, or the most likely scenario is that he takes the highway and that is an additional 7 EUR on tolls.
I personally often take the coastal road because it is more scenic, especially if you are not the one driving and can enjoy the views. This road zigzags along the sea as you drive around the Garraf Massif.
Anyone with proneness to car sickness should not take this road, it is indeed very windy. Add 10 more minutes if you decide to go via the coastal road.
Taxi queue at the airport: Both terminals at Barcelona Airport have taxi queues just outside, follow the signs and you will be directed to the yellow and black Barcelona cabs.
Cost: Taxis cost anywhere from 65 EUR to 75 EUR depending on where you are going and the time of day. Make sure you have the address of your destination handy as the driver may not know Sitges well.
Barcelona Airport to Sitges by bus
If you don't want to fork out the pricey cost of a taxi, the cheapest most convenient way to go from Barcelona Airport to Sitges is the private bus service from Monbus/Plana Autocars.
This is the fastest, most convenient and reliable way to go from Barcelona Airport to Sitges by public transportation. The bus departs the airport and does not make any stops until Sitges.
Where to take the bus: Buses depart from Terminal 1 ground floor bay 7 and take exactly 30min via the highway. If you land at Terminal 2 (all low-cost airlines by Vueling do) then you will have to take the free shuttle to Terminal 1. Below is a picture of the bay.
Buses are easy to recognize because they say Monbus/Plana Autocars on the side and usually will say Sitges at the front. You can ask the driver to confirm. You can use the air control tower as a reference.
Timetable: Buses depart every half an hour at 20min past and 50min past the hour starting at 6:50am until 8:50pm, then every hour until 11:50pm. On Saturdays, there is only one bus per hour at 50 past the hour from 7:50am until 10:50pm. On Sundays, there is one bus every two hours from 9:50am until 11:50pm.
Below is a screenshot of the timetable but always make sure to check the latest schedules on their website just in case. Due to the Global Pandemic, schedule timings may be different than the screenshot below. For an updated COVID-19 schedule see this link from the official website.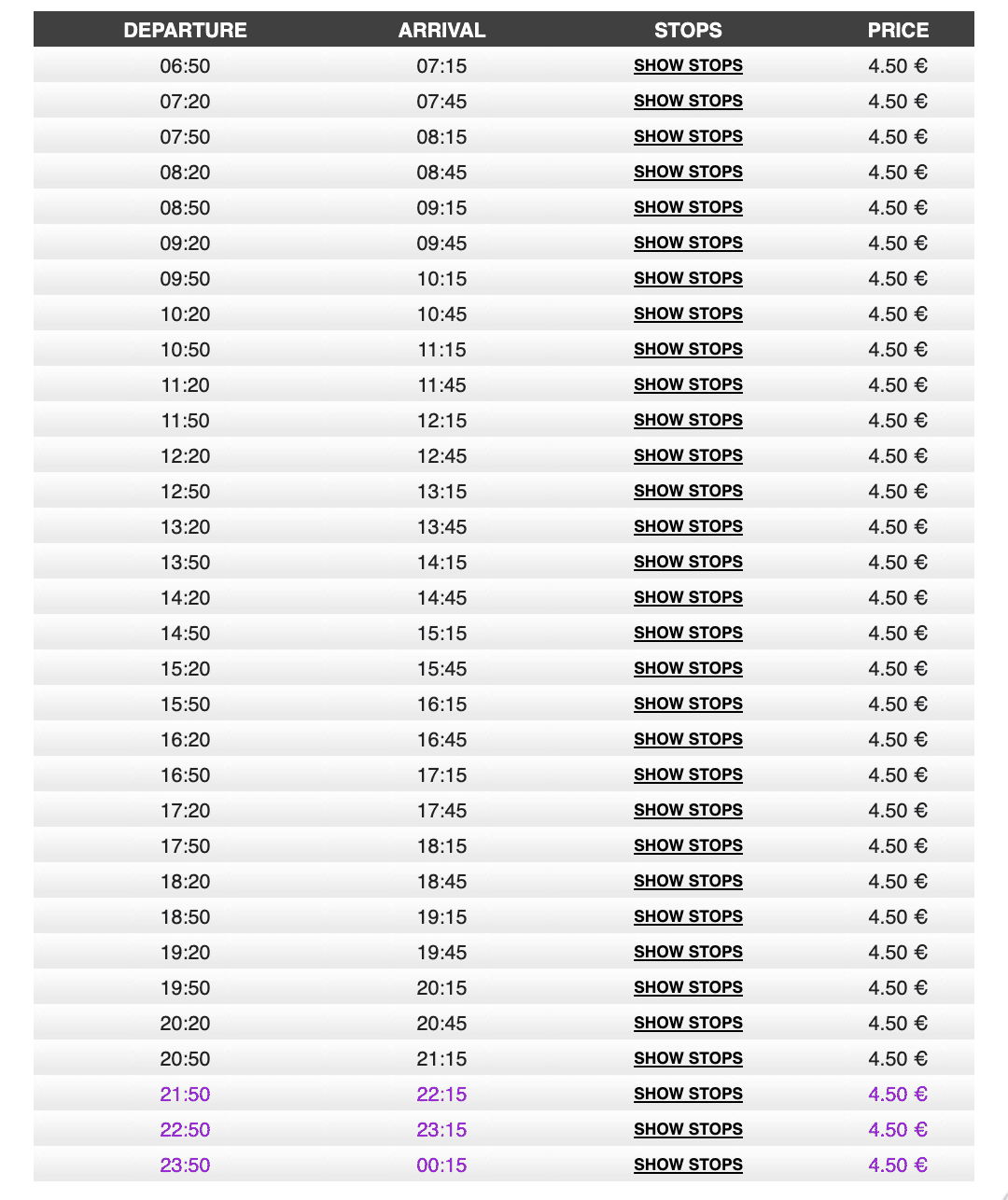 Buses depart Sitges every half an hour and full hour from 6am till 8pm and then every hour until 10pm. On Saturday, buses depart every hour from 6am to 9pm and on Sunday from 8am to 10pm every two hours.
Cost: The ticket costs 4.5 EUR and there is a small extra charge per each luggage piece.
Pro tip: On your way back, if you have purchased a T10 train pass for 3 zones from RENFE (the one you will need to go from Sitges to Barcelona by train) you can use it for the bus and you won't be charged luggage fees, at least we have never been asked, and will pay 3.2 EUR instead of 4.5 EUR.
Drop off point: The bus will drop you at the entrance to Sitges, under the train tracks, next to the letters that spell out Sitges. From there it should be around 15min walk to any place in town. You can also be dropped off at 3 additional places along Carretera de Vilanova in case you are going further away from town or to Camping Sitges.
Barcelona Airport to Sitges by train
If the bus timings don't work for you, the cheapest way to get from Barcelona Airport to Sitges is by train.
Most people think the train is the easiest or most popular way to get from Barcelona Airport to Sitges, but trust me on this, you do not want to take the train.
Firstly, the state of RENFE (the Spanish public train company) Rodalies (the regional commuter service connecting Barcelona with towns and cities within the province) is a disgrace and has been for years.
Trains get canceled and run late on a daily basis, sometimes because the line is late and saturated, other times because of natural disasters, and when there is nothing else, because of strikes.
And this is not even an exaggeration. My mum and sister take RENFE to work every day, they have for decades, and this is the sad reality of the public transportation system. Of every 3 trains, two are usually delayed or simply don't come. You definitely do not want to rely on them when going to the airport.
I was on the train in January 2020 and in Castelldefels Station, the train conductor stopped the train and, through the speakers said that this was the 14,500th delayed train. Your train will be late for sure.
However, this is not even the largest downside of taking the train from Barcelona Airport to Sitges, the worst part is that it is not even a direct service, you have to first take a train to El Prat de Llobregat Station and then another one to Sitges, so you will be a victim of RENFE twice!
Trust me, don't take the train unless you really have to, the bus is so much better, more convenient and 100% more reliable.
Under what circumstance should you take the train from Barcelona Airport to Sitges?
If you have no other choice. For example, if you land too late or depart too early for the bus service to operate, or if you happen to miss the bus and the next one is only 2h later (e.g. on Sundays).
Where to take the train: The train station at Barcelona Airport is in Terminal 2. If you fly one of the full-service airlines or Vueling, you will land in Terminal 1 and will have to take the shuttle to Terminal 2. That is another added hassle.
Timetable: Not that the timetable is followed or respected, but below you will find the train departures from the Airport and then from El Prat de Llobregat to Sitges. Trains start running from the airport at 5:42am and there are two every hour until 22:38pm on weekdays. Weekends see fewer trains in the late evening (after 10pm) and early morning (before 7am).
Although the timetable below makes it look like the arrival in El Prat is coordinated with the departure from El Prat to Sitges, since trains run whenever they want schedules end up not aligning so expect to spend a longer time waiting around. Always check the latest timetable here.
On your way back to the airport, trains to El Prat depart at 15min past and 45min past every hour. The first train is at 4:51am and the last one at 10:25pm.
Cost: The ticket costs 3.85 EUR one way, there are no extra charges for luggage.
Drop off point: Sitges RENFE train station is near the public market and El Cap de la Vila, not far from the bus stop. You should have 10-15min walk to most places in town.
Pro tip: If you need to take the train, make sure to budget enough time for delays and missed connections, I would consider between 1h and 1h15min at least.
Barcelona to Sitges Day Tours
If you don't feel like the stress of making your own way from Barcelona to Sitges, and are only going for the day, you could always book a private tour. Here are a few options that you can book online:
If you are staying in Barcelona a few days, make sure to check our insider articles – remember, I am a local Catalan!