This article was first published on December 4, 2014 and updated regularly, last in June 2020.
There is a tiny country between Spain and France most people, even well-traveled Europeans, don't know about. Can you guess which one it is? Have you ever heard of it before? That's right, in this article we will explore all the best things to do in Andorra.
Hopefully this article will help you understand where Andorra is and make you want to visit.
As the "country in the mountains" (this used to be their slogan when I was a kid: "El Pais dels Pirineus"), Andorra's tourism was always focused on its beautiful nature but there are certainly many other things to do in Andorra and I promise you, it is well worth a visit despite its tiny size.
Where is Andorra
As you can se from the map of Andorra above, the Principality of Andorra is a landlocked country, a microstate to be precise, located in the Pyrenees mountain range surrounded by Spain and France.
With only 85,000 inhabitants, one third of which are residents, Andorra is one of the smallest countries in the world. Its political system is a peculiar co-headed model with shared powers between the Bishop of La Seu d'Urgell and the French President, officially turning him into a Prince.
History of Andorra
Legend has it that Andorra was created in 805 by Charlemagne as a recognition to the locals for their protection and fighting against the Moors but official documents show Andorra being created by Charles the Bald as a donation to the Count of Urgell.
It is not until the middle of the 13th century that, after fighting for control by two Medieval Counts, a pariage agreement was signed between them giving birth to the Principality of Andorra as a shared government, format which has endured until today.
From 1789 until 1806 Napoleon rejected France's ties with Andorra because of their feudal origins and left Andorra to its full independence. And in 1806 these rights were recognised again.
As a small and isolated country without an army, Andorra remained neutral throughout all the wars of the 20th century including the Spanish Civil War and the two World Wars.
Because of its strategic position in the middle of the two countries of Spain and France, Andorra was a transit zone for merchandise and items between them during all wars, and in particular during the Spanish Civil War and the dictatorship that followed.
The country's constitution was only signed in 1993, maintaining the co-principality establishment, and expanding significantly on all other civil and human rights. This was also the year in which Andorra was admitted to the UN.
Today, Andorra is an underrated destination beyond the Spanish and French borders. You may be surprised to hear that Andorra receives over 10 million visitors, but they mostly come from the neighbouring countries, so it remains largely unknown to the rest of the European Union.
Andorra tourism is synonymous with skiing, hiking and mountains as its average elevation in 2,000m above sea level. Because of its small size and string ties with Spain and France, Andorra uses the euro as a de facto currency and previously accepted Spanish Pessetas and French Francs.
Although it is not part of the EU it enjoys a special relationship, which is why its historical tax haven status has been eroded as a result of mounting pressure. Both Catalan and French are official languages and spoken by the population although Spanish is spoken by almost everyone too.
Best time to visit Andorra
Andorra is an all-year-round destination, for real. Visit in the winter months and you will be able to ski and enjoy snow sports whereas in the summer time it is a great mountain, adventure and nature destination.
Although snowfall can't be predicted and changes every year, the ski season in Andorra usually starts around the first weekend of December when Spaniards have a long holiday on the 6th and the 8th of the month and take the opportunity to open the season.
Christmas is usually a very busy time in Andorra with lots of visitors coming to spend some time between Christmas and New Year or for the weekend in between.
Usually, snow lasts until March and spring is a lovely time to visit and enjoy nature's awakening as is Autumn, when the changing of the leaves gives the country a warm hue.
Is Andorra worth visiting on a day-trip from Barcelona?
Short answer: Yes, absolutely!
And I say this after visiting literally dozens of times through the years, many many times, in winter, in summer, in spring, in autumn, I have been to Andorra more than 50 times, and at all times of the year and I would highly recommend you do the same, but I would not go to Andorra as a day trip from Barcelona, in my opinion, this would be a real shame.
Why should you not visit Andorra on a day trip from Barcelona?
Because what you get to see in Andorra on an organised day trip after a really long drive will not do justice to this tiny country and you will leave thinking it was not worth the time and the money.
Andorra is a place that deserves a couple of days, your own car and an openness of mind, so you have enough time to visit the churches and heritage, explore the stunning mountains and get to know a bit more about this intriguing and unique micro-state. And I say this after many many day trips myself!
When I read all the people who tell you they wasted their time on a day trip to Andorra I feel sad and sorry for them but I also strongly feel it is unfair.
Would you go to Saint Moritz for a day trip? Would you visit any of the small Swiss Alpine villages on a day trip that would require you to spend 5h driving? Would it be a fair assessment to say they were not worth it?
I think you know where I am going.
Trust me on this one, give Andorra a weekend and it will show you what it's got!
One day in Andorra: If you only have one day and want to make it there, or if you are counting countries, then there is a day trip to Andorra from Barcelona you can book on Get Your Guide here. Or better yet, make it a day of nature with hiking in the mountains followed by a glamping night, you will see so many stars! Book it here.
And if you are combining your trip to Andorra with a stay in Barcelona, then you should save my articles on the city, like this 4 day itinerary to Barcelona, my guide to one day in Barcelona, this travel guide to Sitges near Barcelona, my complete guide to Sagrada Familia, or the best wineries near Barcelona.
Best things to do in Andorra
When we were kids, Andorra was a popular weekend road trip. At only a couple of hours from Barcelona it made for a refreshing getaway between nature and mountains and it was a place where we could buy goods that were not yet available in 80s and 90s Spain, just out of a 40 year dictatorship.
I am talking about Nutella and other non-essential items which were widely available in France, and hence Andorra. But Nutella and Hello Kitty are not the only reasons why Andorra was, and still is, a very appealing destination.
In the past, its duty-free and tax haven status made it the perfect destination for wealthy Spaniards looking to hide away their hard earned cash.
Most people would drive their cars for the weekend, or even just for the day, and come back home with groceries at a significantly cheaper price which more than compensated for the cost of the trip, or simply make a bank run.
For such a small country, Andorra packs in a lot of interesting sights and activities.
Wondering what to do in Andorra?
Here is a list of the best activities and some very convincing reasons to visit Andorra for your next vacation.
Go shopping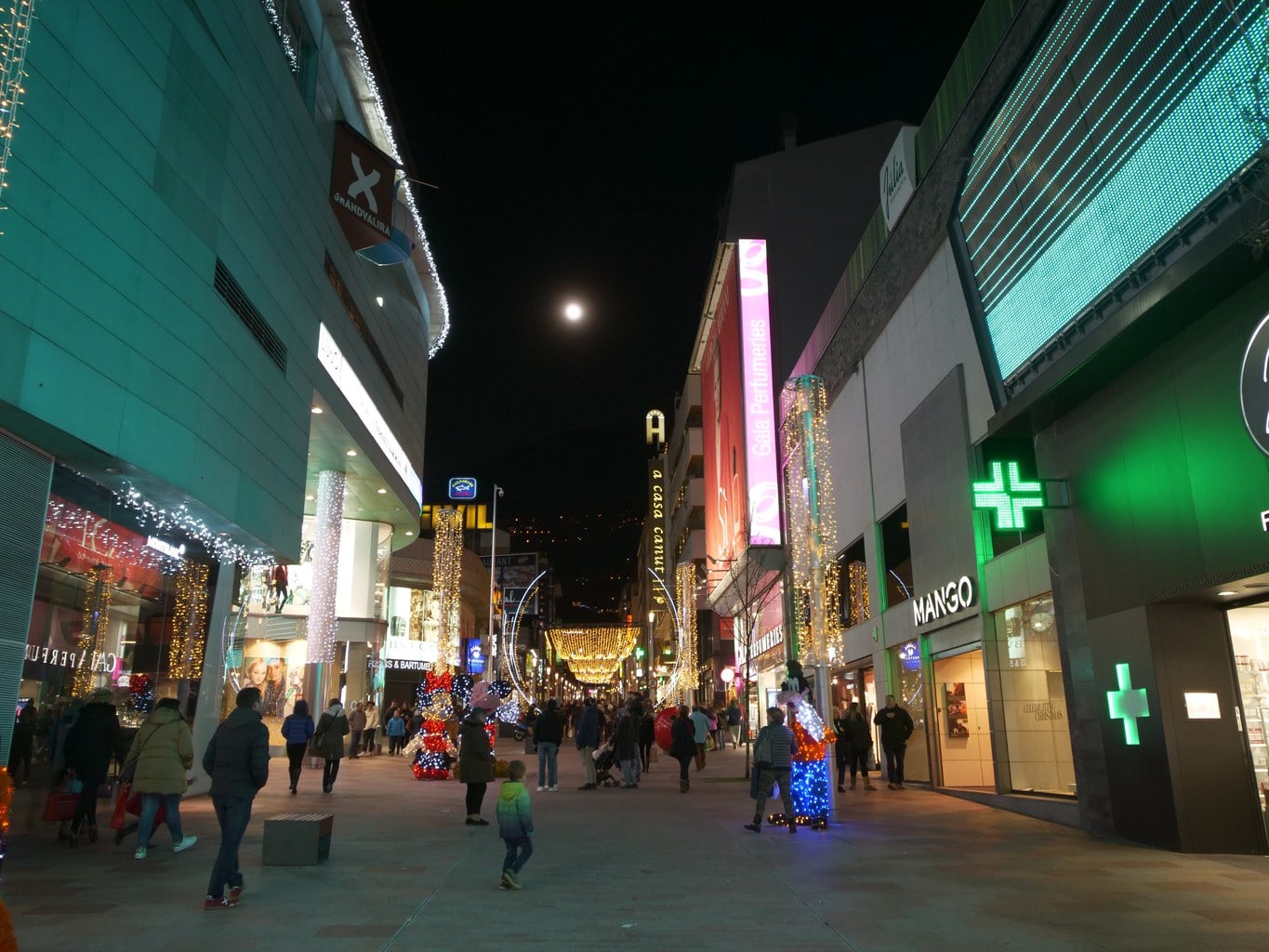 Drawing in from its historical lack of VAT Andorra used to be a shopping paradise. Designer shops were all available, even when they were still not present in the Spanish market, making it a great destination for Christmas shopping. Large hypermarkets lined the road out of the country and into Spain which were always busy with visitors doing their grocery shopping.
But things have changed quite a bit and now the city center of Escaldes, along Avinguda Carlemany, is mostly pedestrian, with shops and restaurants at either side. In Andorra La Vella, stop by the legendary Pyrenees department store where you can find all the major brands and continue along Avinguda Meritxell, which is the main artery which eventually merges into Carlemany after crossing the River Valira.
However, don't come expecting Prada, Gucci or Hermes, Andorra is about high street shopping at a slightly reduced price, not a haven for fashionistas.
Apart from groceries and apparel, Andorra used to produce tobacco and this was one of the items visitors would stock up on. Tobacco fields can still be seen and there is a tobacco museum you can visit too, more on that later.
Relax at the Caldea Spa Complex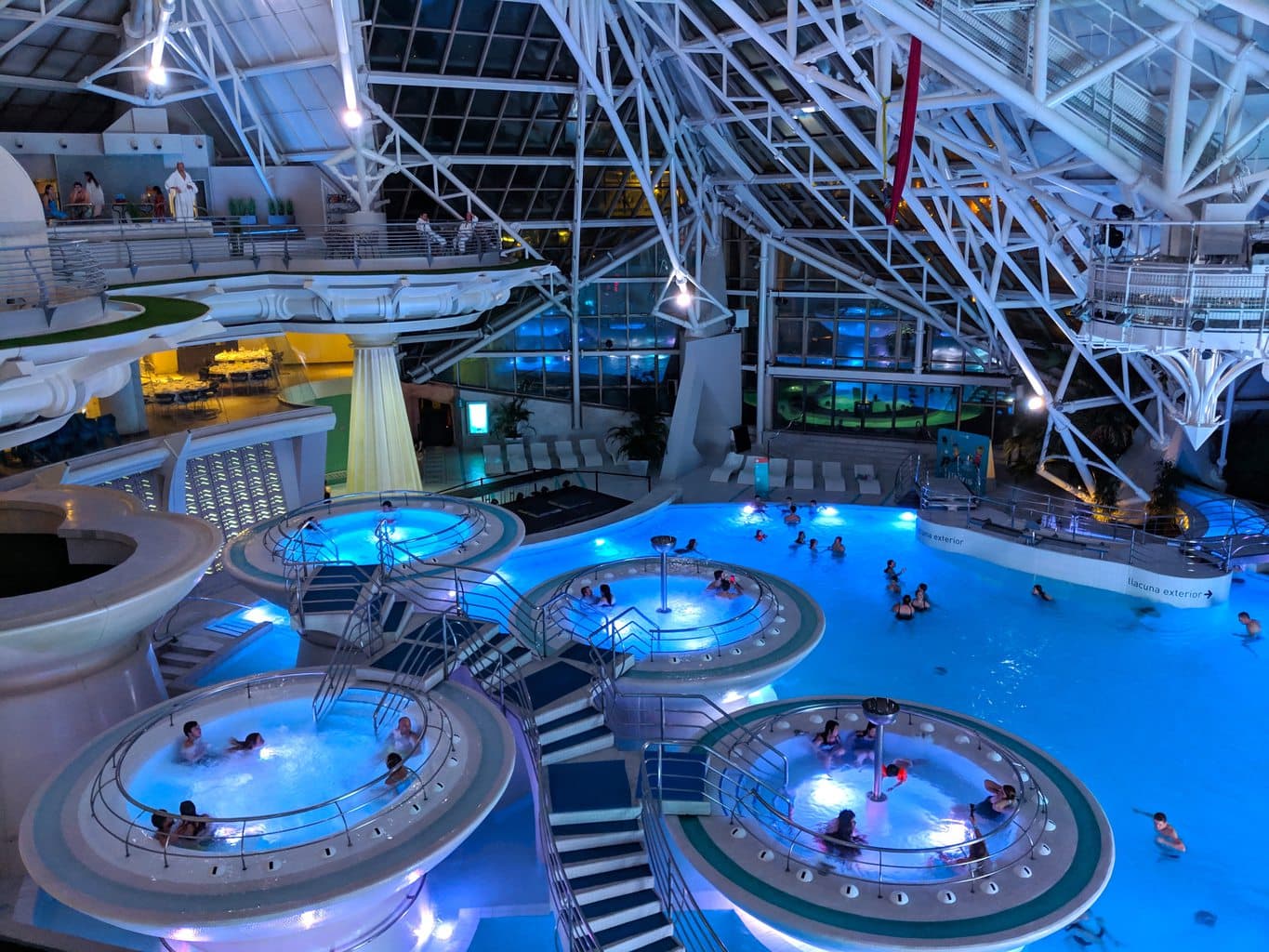 Located in the municipality of Escaldes Engordany, Caldea is a large natural spring complex with various indoor and outdoor swimming pools, jacuzzis and hydrotherapy sections spread over 18 floors in the highest building in Andorra and the largest thermal spa complex in Europe.
The complex has a separate section for adults called Inuu, and one for families and children, so it is a perfect place for everyone. No visit to Andorra would be complete without some time in Caldea. You can ask the 400,000 visitors who go every year.
The spa area is made of glass so you can see outside and even watch the stars as the center is open until midnight. No better way to relax those sore muscles after all that skiing than spending some time in Caldea. There are also shows and performances including water and lights throughout the day and night and an outdoor jacuzzi.
You can enjoy a massage, visit the Turkish baths or simply relax after a long day of shopping or exercise at its many trails or ski resorts. The complex is in town and provides great views over the city and the valley. You can buy a 3h pass, a day pass or a multi-day pass and several hotels have packages including access.
Don't let the flashiness of the place deter you, the thermal properties and natural springs are real. The spa is located above thermal waters and in a location where there was once a church, which is why it has this shape that resembles a church bell tower.
The architect also wanted the structure to reflect the beauty of the valley it is in so it is covered in mirror glass that further amplified the location.
Winter sports and skiing in Andorra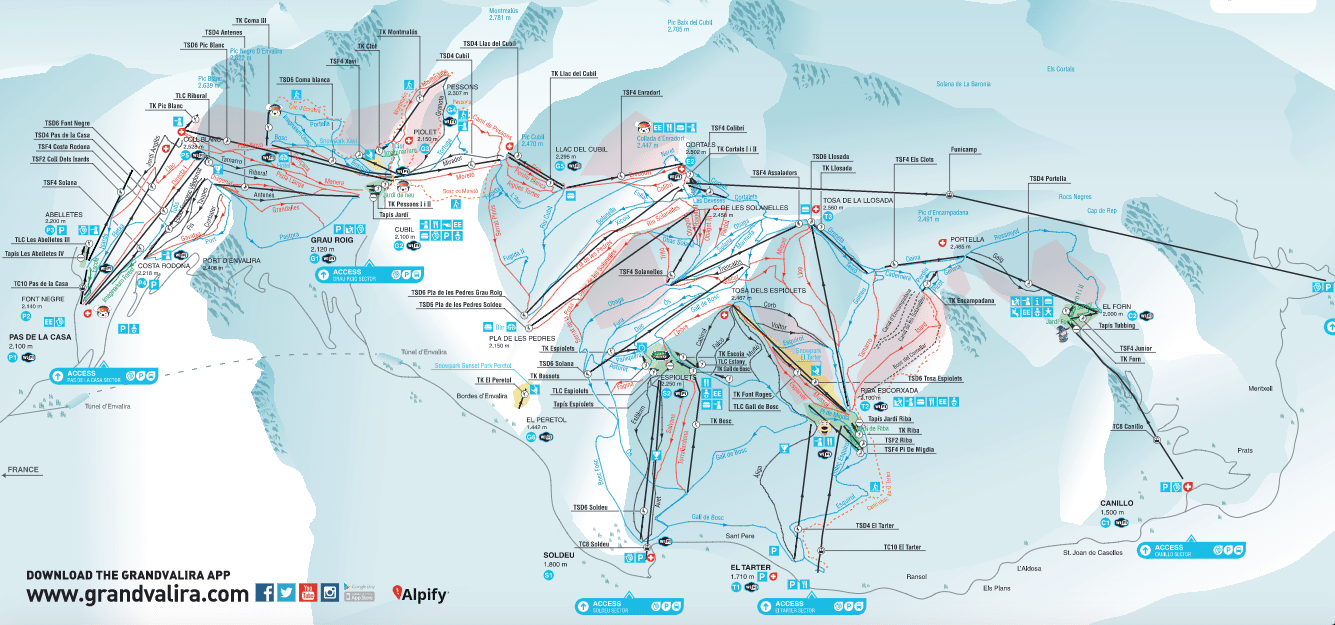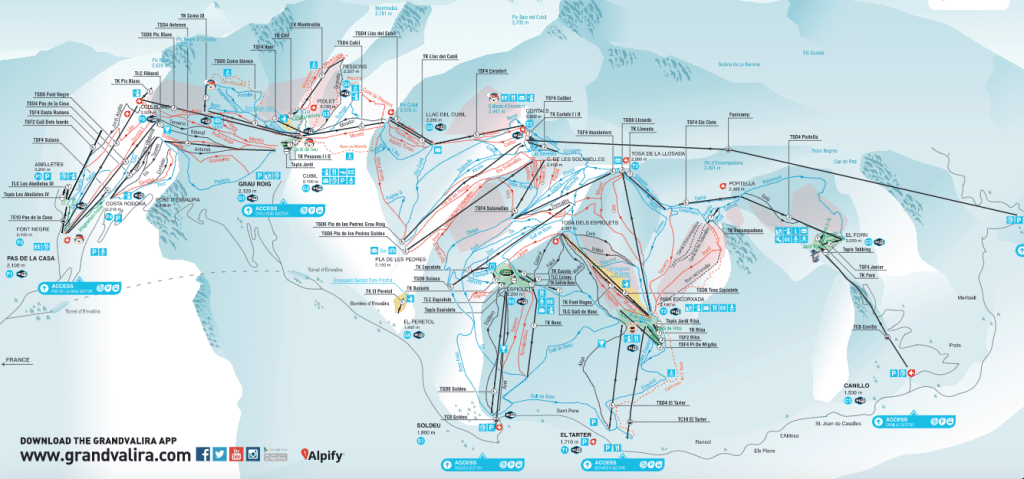 Andorra lies at an average of 2,000 meters above sea level reaching 3,000 at its highest point, so it is basically a country in the mountains like Bhutan or Switzerland. In total, Andorra has 110 lifts able to carry 156,000 skiers per hour down the 303 km of runs.
Being so mountainous, winter sport opportunities abound. No doubt the ski resorts and snow are one of the main points of interest for most winter visitors. And the evenings by the fireplace too!
You can take the ski raquettes, a dog sledge, snowboard or simply ski. Because of its moderate elevation it is a popular destination for those looking to learn the sport.
About 10 years ago, two of the main resorts in the country merged to create Gran Valira, one of the largest ski resorts in the world with 118 slopes and 210 kilometers of ski pistes.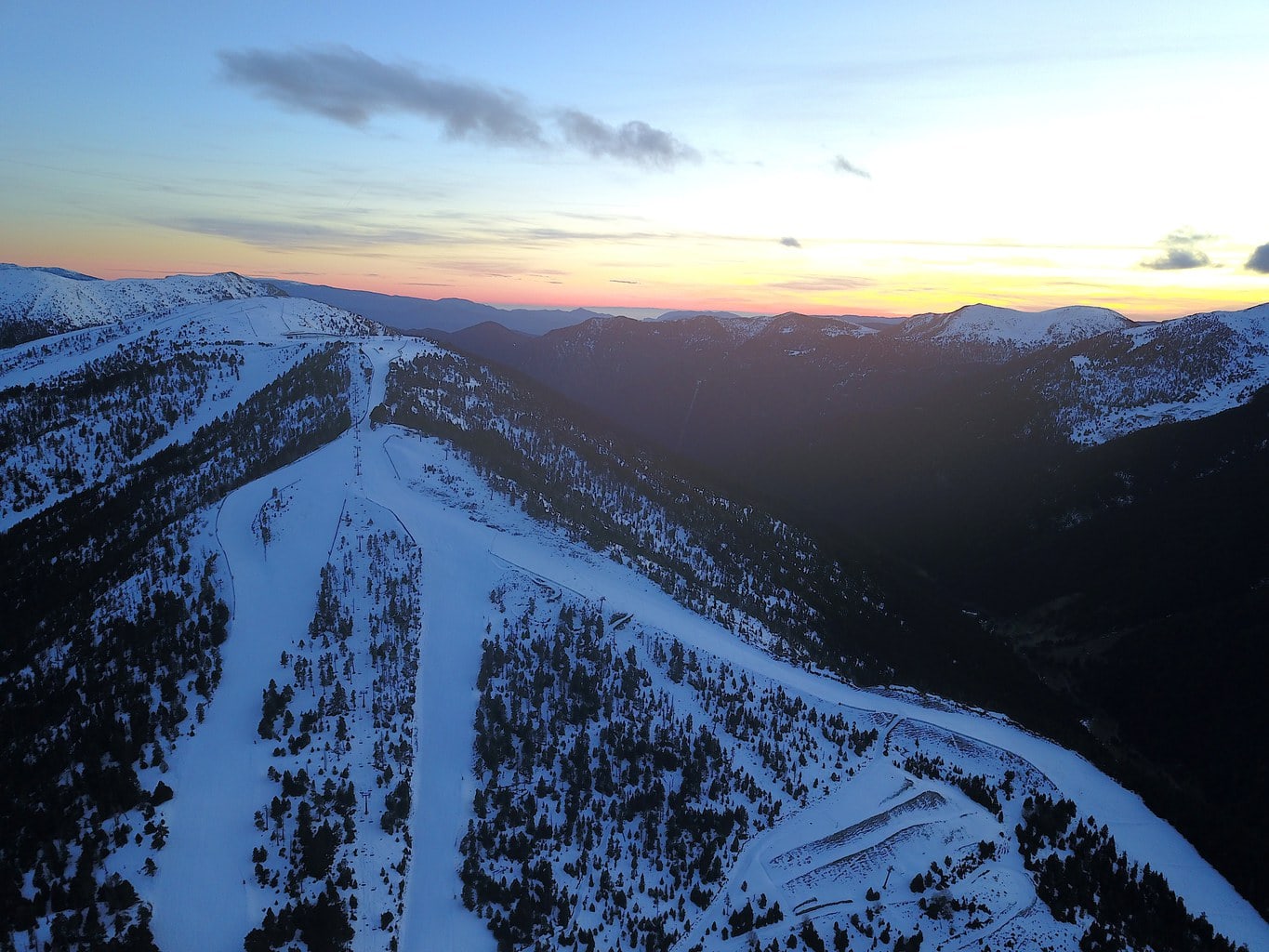 You can even hire a helicopter and pilot for the day if you're looking to really splurge on a bespoke ski or snowboard trip in the mountains.
The professional guide will take you on 2 downhills of approximately 1000 meters of descent each. Whether you're new to heli-skiing or a veteran, there is surely no better way to experience the slopes of Andorra. You can book your heli-ski adventure online here.
Learn more about Romanesque architecture
Romanesque art and architecture is part of the country's past and visiting its many churches is one of the best things to do in Andorra.
Over 40 churches dating back to Medieval times can be explored on a simple road trip around the country. Andorra's tradition and heritage is very present today and with such a small size, these can be visited on a day. However, be sure to plan accordingly using my map because the roads in Andorra are windy and distances take longer than expected.
Tip: It is best to visit the churches in the summer when some of them are open. In winter, almost all the small ones will be closed to tourists. Visit the tourism office as soon as you arrive in Andorra to find out opening times and possible tour.
These are the churches I would recommend putting in your Andorra itinerary.
Church of Sant Climent de Pal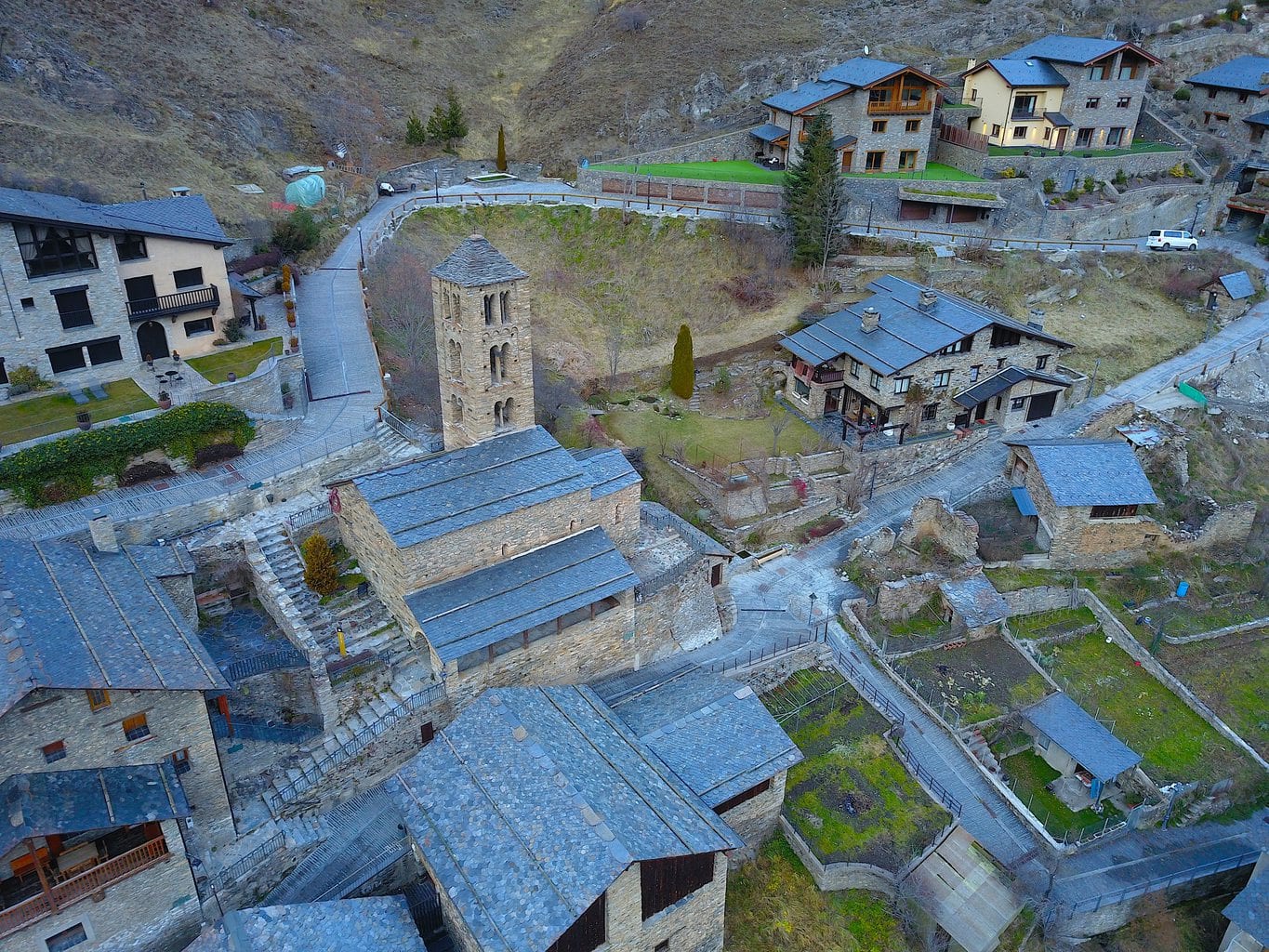 This is one of the oldest churches in Andorra and you can visit it as you also pay a visit to the Romanesque Andorra Interpretation Centre which is nearby.
The church dates back from the 11th or early 12th century and it has a three-storey bell tower with coloured glass windows. The altarpiece was dedicated to Pope Saint Clement of Rome and made in 1709.
Church of Sant Miquel d'Engolasters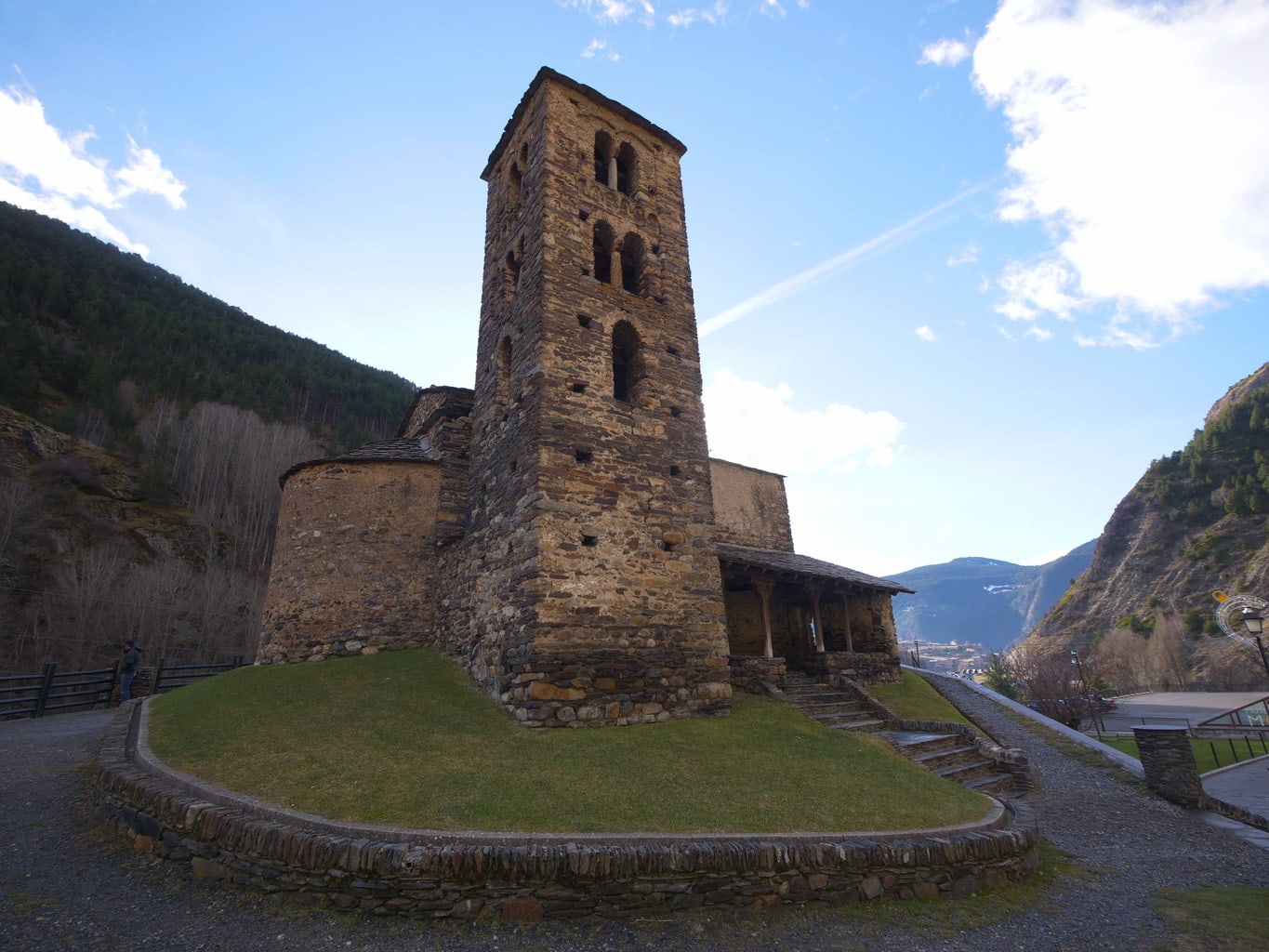 This church is right by the side of the road and is one of the most authentic Romanesque churches in Andorra, well known for its paintings and sculptural decorations and for having the original floor plan of the Romanesque churches in the country.
The most impressive element is the replica mural (the original is in the MNAC Museum in Barcelona), by the Master of Santa Coloma made in the 12th century.
The mural depicts a Maiestas Domini surrounded by a tetramorph in which the Archangel Michael, patron of the church, merges with the symbol of Saint Matthew. After or before visiting the church you can also explore the UNESCO-listed Madriu-Perafita-Claror Nature Park (more info further down).
Church of Sant Antoni de la Grella
A truly stunning location for this small church sandwiched between the mountain wall and the Valira d'Orient river and dedicated to Sant Antoni Abat who is the patron saint of muleteers.
The church seems to grow from the rock and is located where the rivers meet by the side of the main road. It was restored in the 20th century.
Church of Santa Eulàlia d'Encamp
The church's colourful windows give it a great look and you can also visit The Holy Art Museum in an annexe building. The church still enjoys mass service and was refurbished in 1989.
Sant Marti de Nagol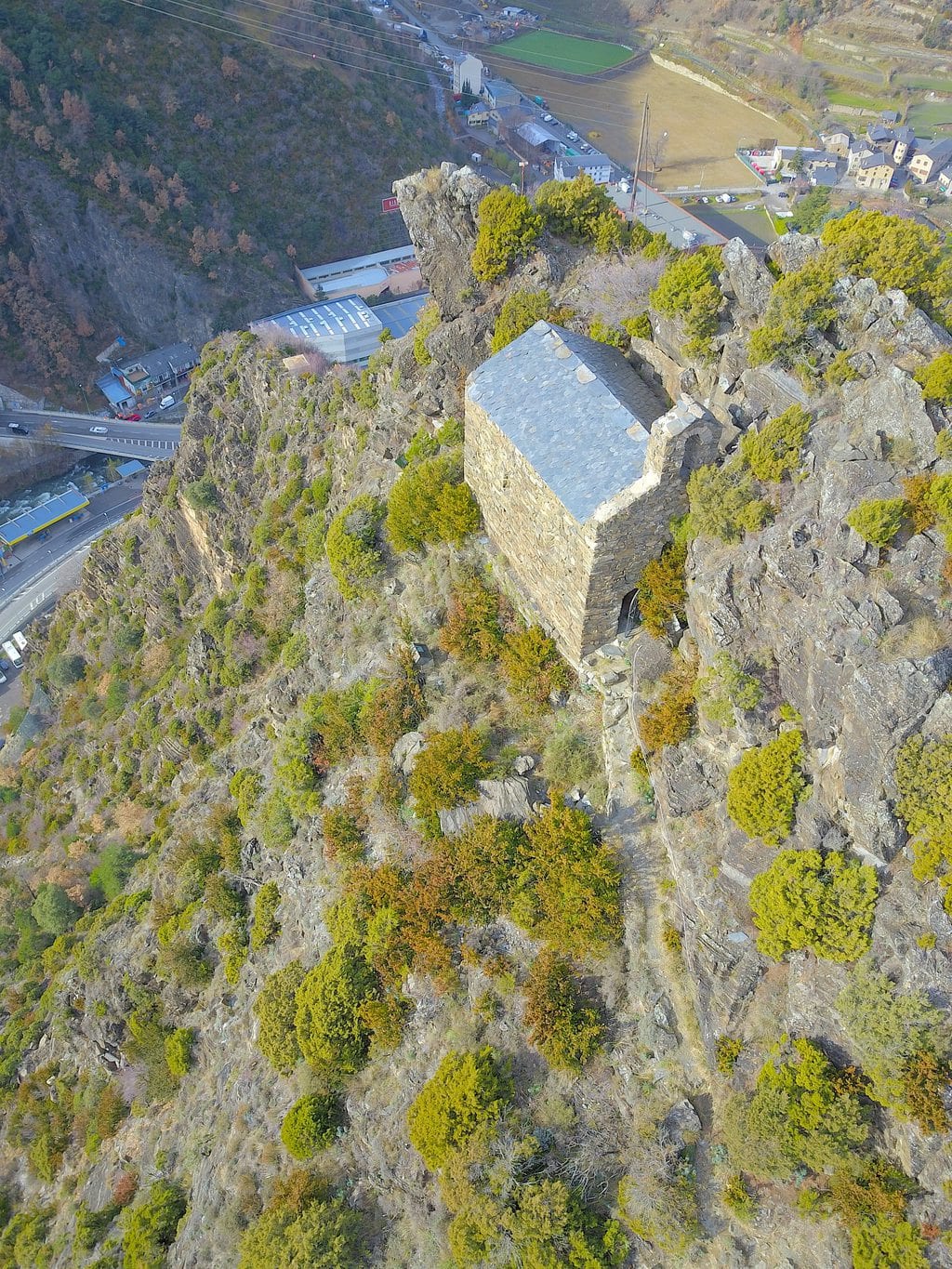 This tiny stone church precariously perched by the side of a hill as if growing from within is a feat of engineering. You can visit the church by climbing up the stairs that start by the main road in the village of Nagol in the parish of Sant Julia de Lloria, though it is probably about an hour's steep hike.
The church is very small and rectangular with a semicircular apse, as was typical of Romanesque architecture. It is believed that it dates back from the beginning of the 11th century but was restored in 1981 when excavation effort also uncovered a necropolis. Usually, the church is closed to visitors but you can still get u and close with its magnificent architecture and stunning location.
The church of Sant Serni de Nagol
Small building with some paintings and the possibility to climb upstairs. There is a small cemetery by the church and wooden furniture is still there.
Savour rustic mountain food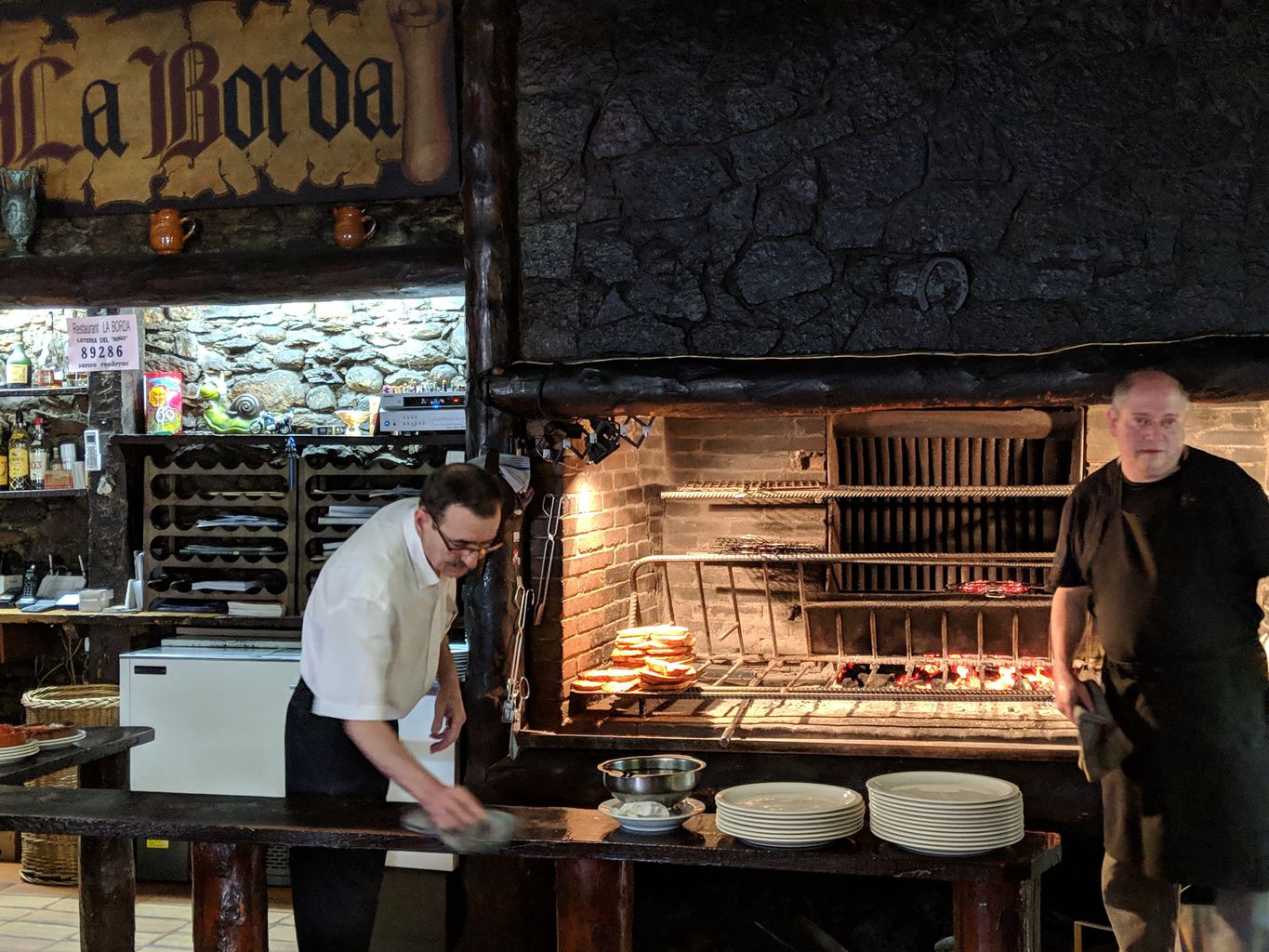 Andorra is well known for its rustic and incredibly tasty mountain cuisine and no trip to Andorra is complete without a stop at a "borda" for lunch. Bordas are old mountain barns cum restaurants and architectural masterpieces common of the Northern part of Catalunya and Andorra where winters are cold and the thick stone walls help protect from the snow and wind.
In a borda, you can expect meat based meals following traditional recipes, and filling portions. Food is prepared usually in an open fire and grilled meats are served with a generous amount of vegetables, potatoes and garlic allioli.
You can also order other delicacies such as stews, garlic snails "a la llauna" cooked in a tin tray in the oven which my father always used to order or horse meat, a traditional meat eaten in Andorra.
There are many bordas in worth a try and you definitely don't want to leave without tasting some amazing food as this is indeed one of the best things to do in Andorra. Some that are recommended by my local friends and which I have tried and enjoyed are La Borda de l'Avi and Can Manel Restaurant.
Be one with nature while hiking or trekking
When the coastal parts of Barcelona where I am from become too hot to handle, the Pyrenees are the perfect getaway to the higher and cooler mountains and Andorra makes for a perfect escape.
The country offers untouched nature, mountain scenery and lakes some of which are easily accessible and attract many tourists who come here to enjoy the best thing to do in Andorra: hiking.
There are many hiking trails, most of which are properly marked with maps and signs. I will be talking about hiking at the UNESCO-listed Madriu Perafita Claroro Valley further down, but let's have a look at other hiking trails in Andorra here.
Via Ferrata of Sant Vicenc d'Enclar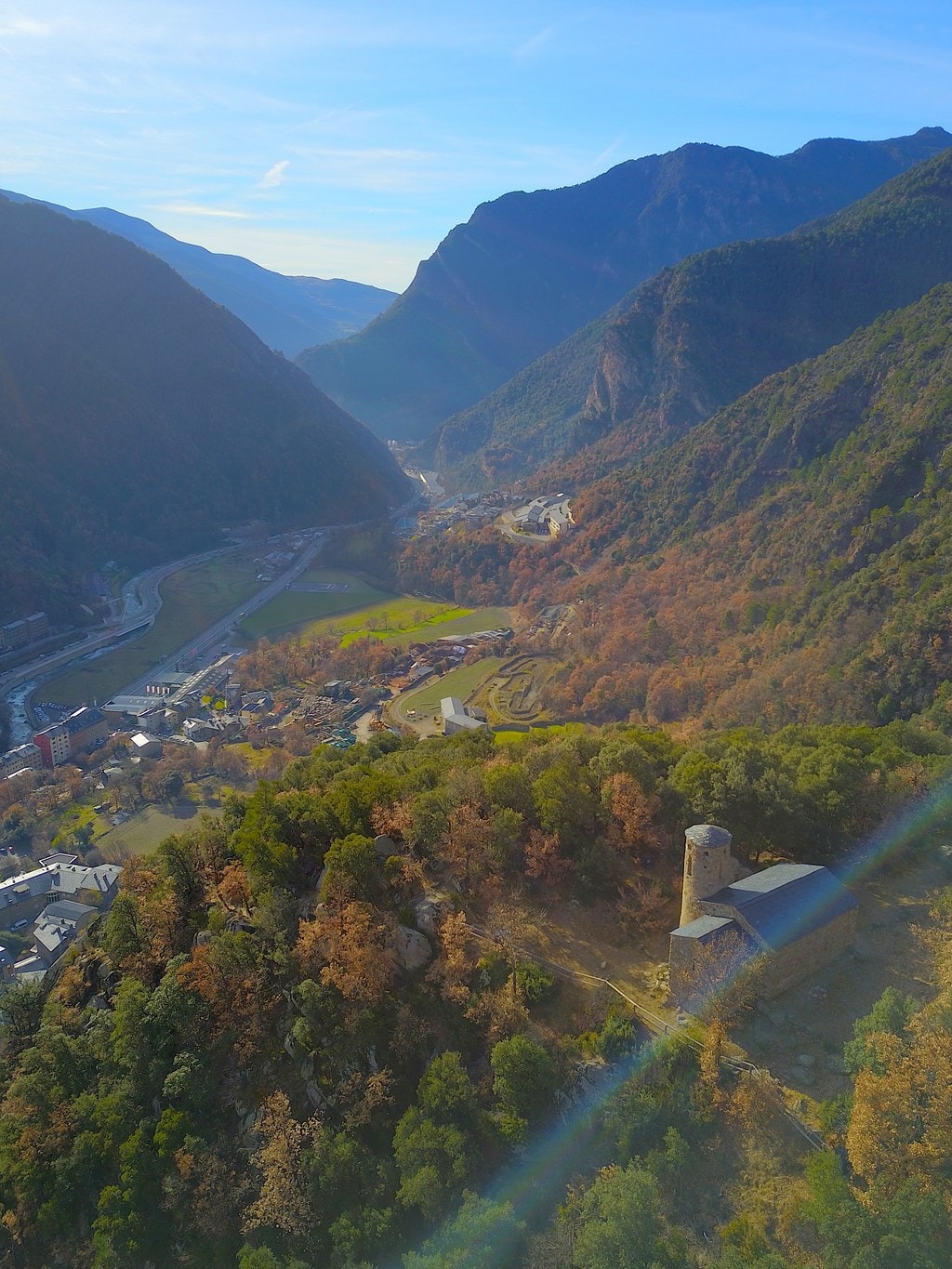 This hiking path goes up hill to the top of the valley and offers incredible views that stretch towards Andorra La Vella. There is a quaint church at the top devoted to Sant Vicenc d'Enclar that is very scenic and adds a touch of magic. You can climb via the Via ferrata or take the regular hiking trail.
The trail is of medium difficulty and takes about 1,5h to 2h and ascends some 270m to reach 1,190m above sea level. You can park your car at the very bottom and then start the hike. There is a handy sign that points at the entrance and reminds you of all the emergency numbers.
Incles Valley hiking
There are lots of hiking trails around Canillo and Incles Valley, a beautiful spot in the mountains. One of the highest peaks here are Siscaro and Escobes and a popular hike takes you to the lake of Juclar, the largest in Andorra.
Get Your Guide offers this hike with a guide plus lunch before and dinner after and a night at a borda making it a 2 day 1 night hike experience with plenty of free time on the morning after for exploring Andorra on foot. Book it here.
Sorteny Natural Park with snowshoes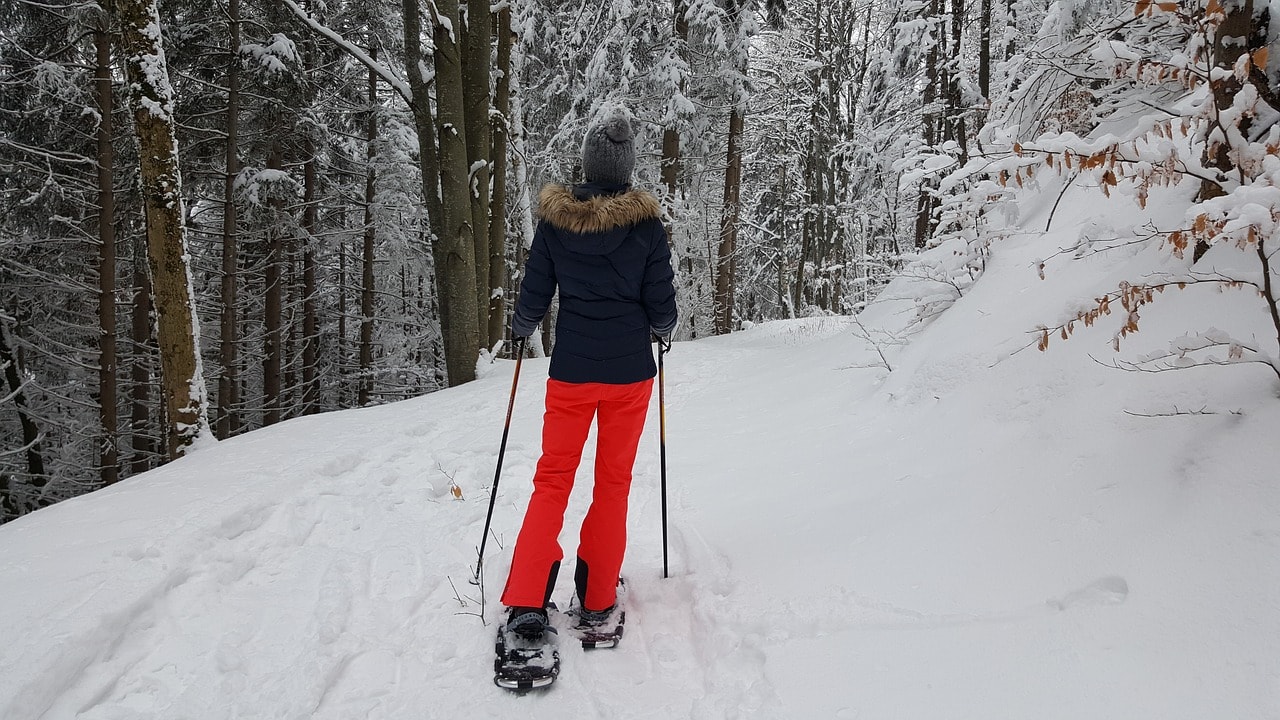 Have fun while hiking in the mountains in snowshoes! Get Your Guide has an afternoon hiking in the snow experience followed by a night at a borda or mountain cabin.
If you have never done it before, there is instruction at the beginning and a rewarding hearty meal, Andorran style, at the end. Book it here.
Stay at an Iglu hotel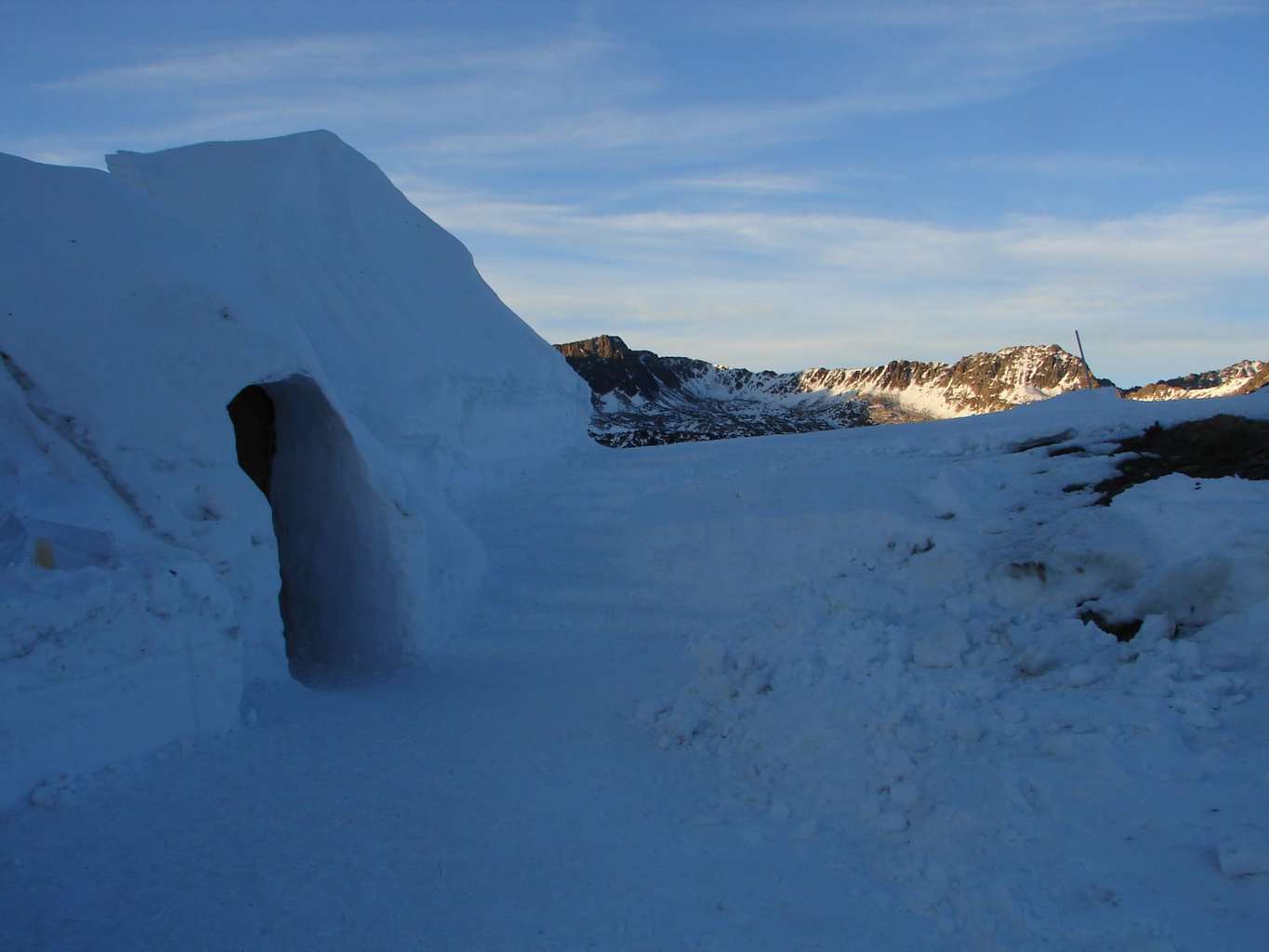 Andorra, also has its own ice hotel. Built every year entirely from snow it can accommodate up to 30 guests in 5 rooms.
You are sleeping at 0 degree temperature so bring warm clothes. The hotel provides sleeping bags but I can't imagine anyone would want to change into their pyjamas at any point.
Hike Andorra's only UNESCO site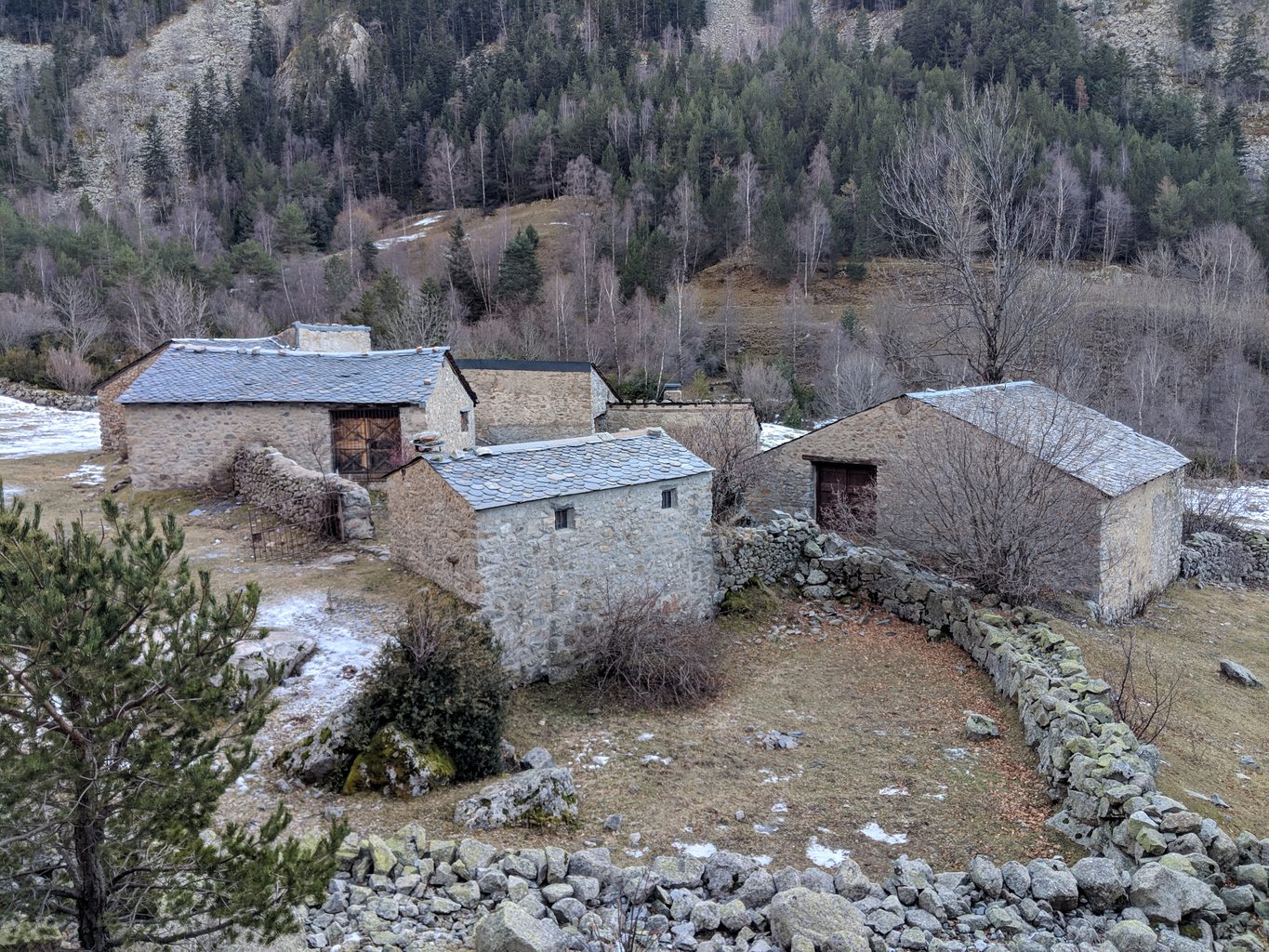 Madriu-Perafita-Claror Valley is Andorra's only UNESCO site. It is a glacial valley that serves as haven for many endemic species and is considered a spiritual place to the locals, without much development taking place.
The valley covers 9% of Andorra and is made of an upper glacial part with glacier lakes and sharp cliffs and a lower valley area. Most of the valley is protected and is a great example of human and nature living in harmony, which is why UNESCO considers the area a great example of this symbiosis.
There are many hiking trails in the Madriu-Perafita-Claror Valley but the easiest takes about 2h on a relatively steep well marked stone path, at times the path becomes stone steps. These paths were originally used by shepherds, later by smuggler and today by hikers.
There are marked spots with panels and signs along the way which tell you more about what you see. You will also cross streams and stone bridges, beautiful scenery and well-kept forests.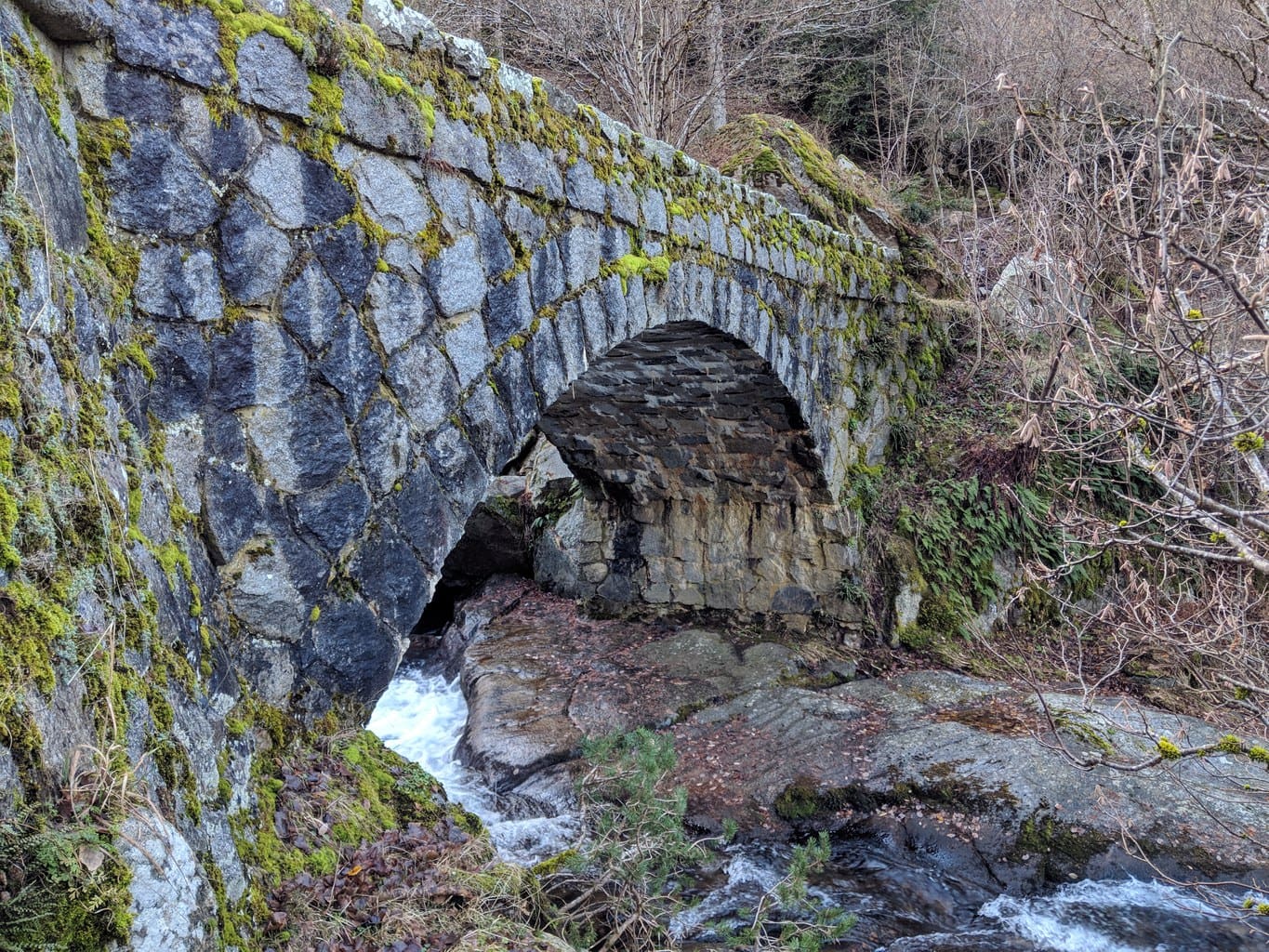 This path will take you up to the heart of the valley where you can see the former bordes, or stone houses, still in use today. These stone houses are located at 1,468m above sea level and it is believed that they date back to the 18th or 19th century, although there is no archeological find that confirms this.
The area has several dry stone walls that were used to contain the soil and create flat surfaces for agriculture. The stone path you will take to the get to the valley is also made of dry stone. The use of dry stone is an example of human-nature coexistence as no materials were used to put them together other than nature's own resources.
Be suspended mid-air at the Viewpoint Roc del Quer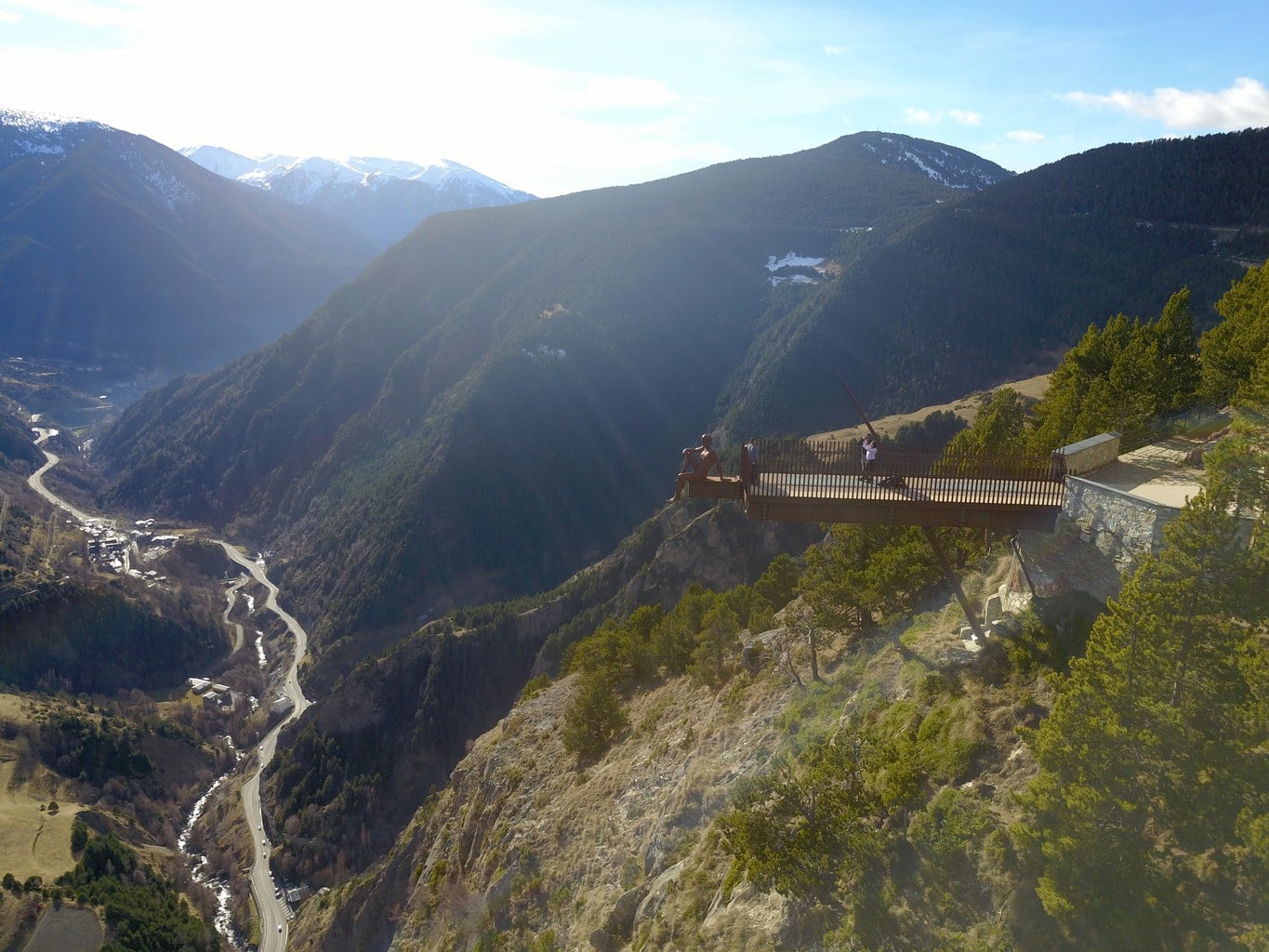 Roc del Qur is a mountain range in Andorra that was foemed 85 million years ago when the Eurasian and the Iberian plates collided and created the Pyrenees and this peak. At the bottom of Roc del Quer lies the small parish of Canillo and at the top, a viewpoint.
Coming to this scenic point is one of the best things to do in Andorra. Not only will you get fantastic views but will also be able to learn about the country and its formation through the panels located under the viewpoint. There is also a cute frame for Instagram photos.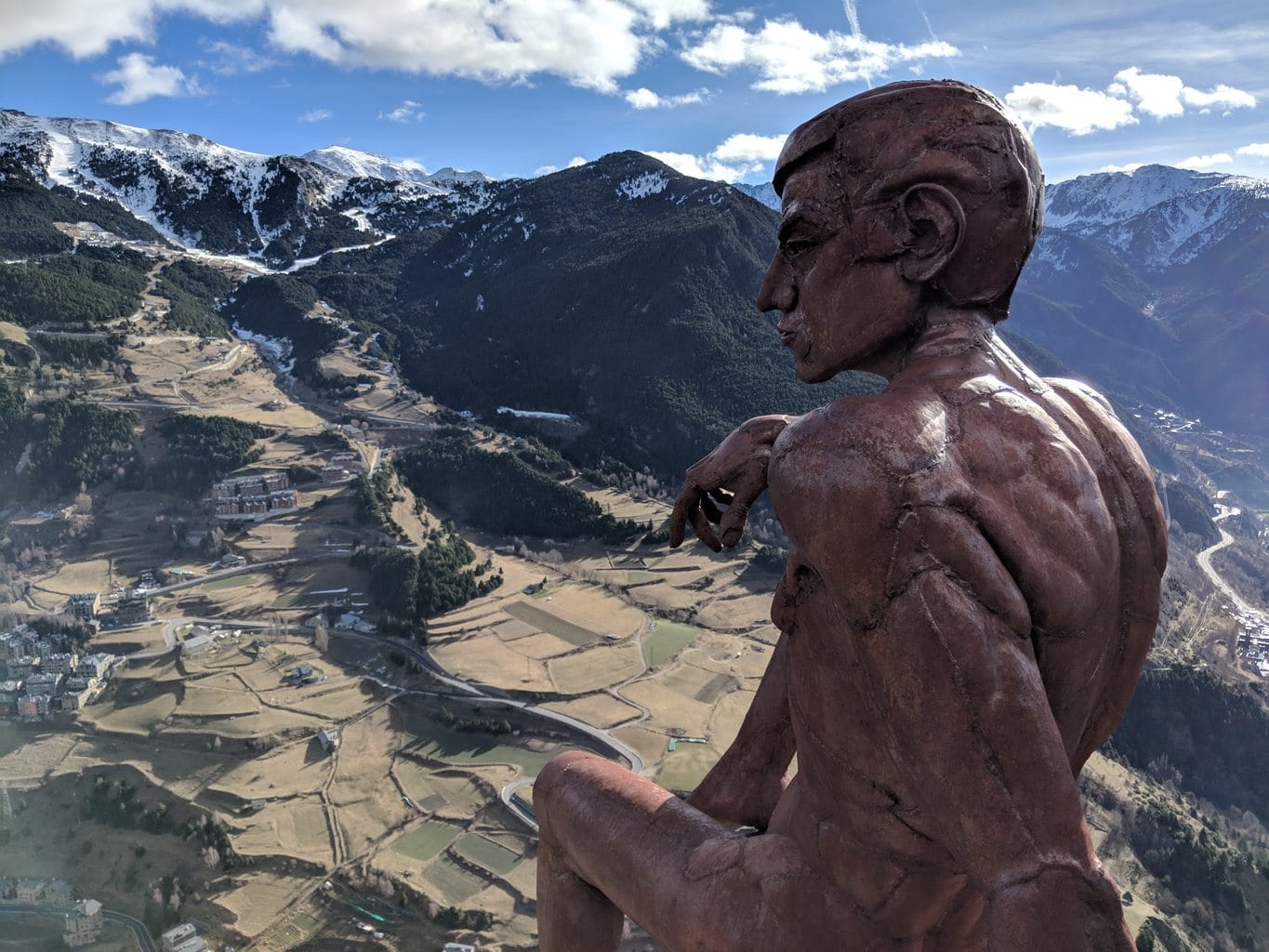 The viewpoint is part on the mountain side and 12m of it are suspended over the valley below and gives breathtaking views of Andorra's beautiful nature both from the edge as well as through the bottom glass openings. Yep, you heard it right, there is a small part of the bridge which has a glass bottom openings.
Next to the bridge is a bronze statue of a thinking man, Greek style, called The Ponderer by Miguel Ángel González. This statue symbolises the role of man, observer, who comes to the viewpoint to see the world below.
Make sure to walk down below for the panels I was mentioning above which are located on the wall and tell you about the formation of the mountain range and the origins of the Earth.
Visit museums
Yes, Andorra is not all just nature and churches, there are also a few worthy museums you can visit to learn more about some of the. things that make Andorra what it is. Also, museums are a great place to come if the weather suddenly turns sour and you want to stay indoors while also learning something you didn't know.
Here is a list of the best museums to visit in Andorra.
Arenys Plandolit House
The Areny Plandolit family was one of the most prominent in Andorra's history between the 17th and 20th century and the house where they resided is an emblematic building in the country.
The house was turned into an ethnographic museum of sorts in 1986 to display not only what is inside, which has been kept from the time when the family lived there including furniture and artefacts, but also because of its heritage value.
During your visit, you can lean about Andorran history and how the wealthy used to live. The house once housed the Natural Sciences Museum and is today an auditorium. You can also explore the beautiful gardens.
Tobacco Museum
The Tobacco Museum is one of the best places to see in Andorra and a fantastic place to come in winter if it gets too cold outside. It might sound unexpected, but Andorra has a long tradition of growing tobacco, and still does, and here you can learn all about it.
The museum is housed in the former Reig tobacco factory which closed down in 1957 and shows the process of tobacco making through a multimedia display. There is also a nice outdoors terrace for when the weather is good, and a souvenir shop. Don't miss the chance to get to know the major source of income for the country before tourism.
Romanesque Interpretation Center
I mentioned it above, but if you are planning to visit the many Romanesque churches and chapels that dot the landscape it is best to start off at the Interpretation Center where you will get background on information on this architectural style so you can appreciate it better.
The museum also display objects from some of the churches and will tell you about the evolution of Romanesque in Andorra. With the 5 euro entry ticket you get a guided tour of the museum and the Church of Sant Climent de Pal which is next door. Bookings in advance are required with the reservation center.
Opening times vary by month but the museum is closed from November to April. In May, June, September and October it opens from 10am to 2pm and from 3pm to 6pm. In July and August it closes at 7pm instead of 6pm
Museum Carmen Thyssen Andorra
The Thyssen Museum is the country's only contemporary art museum and it is a great place to see in winter because it is still open. The museum showcases the private collection of Baroness Thyssen-Bornemisza which she amassed over the years with the help of her husband. Her collection is exhibited at some of the Thyssen spaces around Spain and Andorra and keeps changing.
The entry ticket includes an audio guide that tells you about each work.
Go glamping and hiking (possible transfer from Barcelona)
While Andorra is all about rustic stone houses and beautiful settings, you can also have your dose of nature with a side of glamping, or glamurous camping. Borda Jaume, in the parish of Ordino, has a few glamping tents at 1,800m with all the comforts of a hotel but with a cozy setting. In winter, they are heated by a wooden fire.
You can book a package which includes dinner and breakfast as well as an afternoon hiking in the Llorts area. You will cross streams, see lakes and observe the traditional way of life of mountain shepherds. You can also spot some of the local wildlife including eagles.
The package can be booked on Get Your Guide and you can opt to get your transfer from Andorra, if you are staying longer, or from Barcelona if you want to make this an escape into the mountains. Book it here.
Explore quaint towns and villages
Andorra is all about quaint tows, tiny villages and pretty hamlets. It is a small country and it is very dispersed, with small urban nucleus perched on the side of hills and mountains with barely any residents, sometimes non living full time. One of my most favorite things to do in Andorra is exploring these corners. It is likely you will be on your own.
Santa Coloma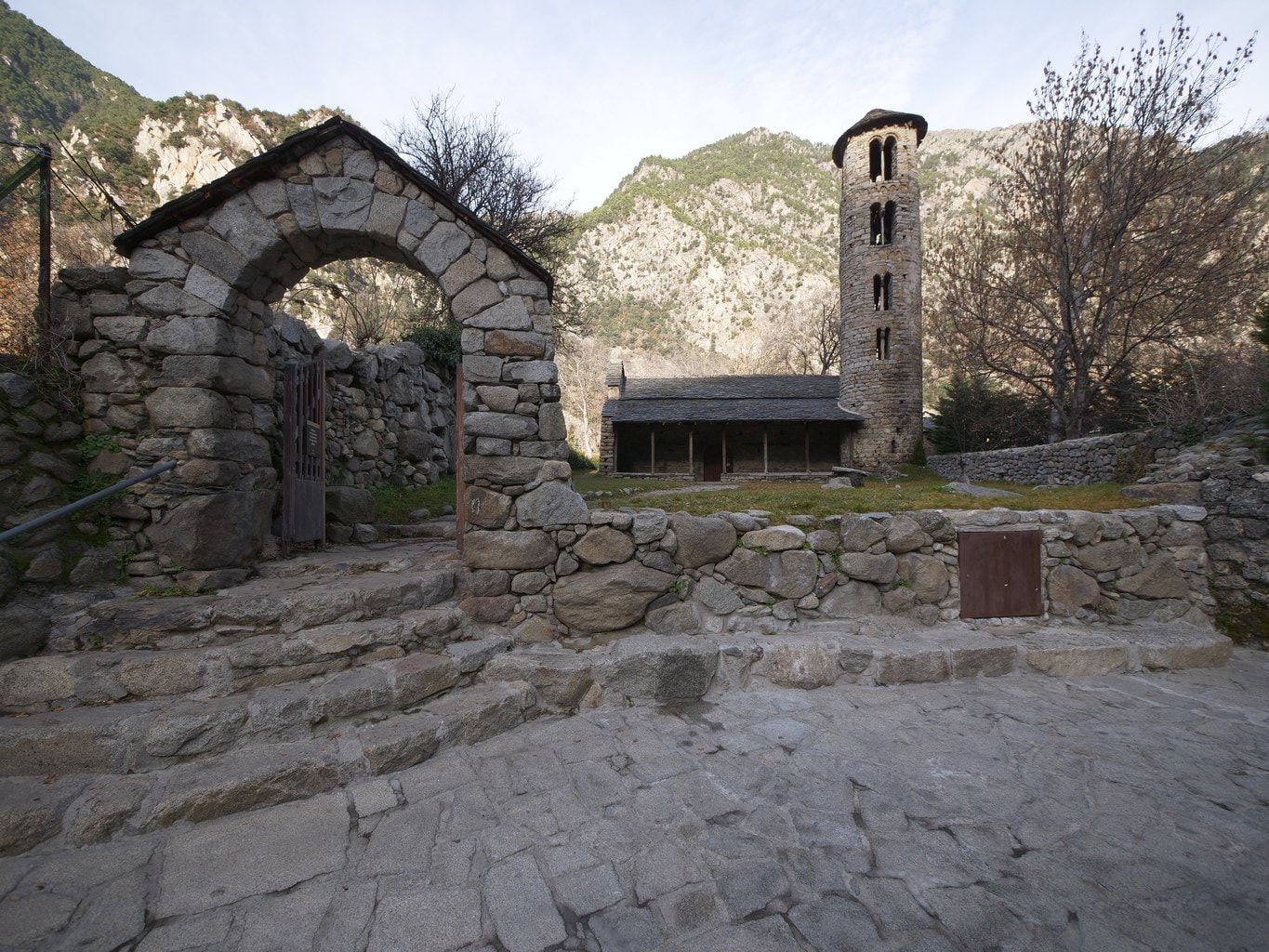 Santa Coloma is not necessarily a small town though it is not a city either. Start with its church which has a round Lombard Romanesque bell tower and is prominently located at the entrance to the town by the parking lot. The building has a pre-Romanesque structure and inside there is a wooden Romanesque image of Our Lady of Good Remedy.
Stroll the village on foot, and realise that most of its old looking streets date back to the 18th century. You can also follow the path towards Roureda de la Margineda archeological site, where you can find the rock shelter where Andorra's first inhabitants lived 12,000 years ago. Look out for the Torre dels Russos, or Russian Tower.
Visit the church from Tuesday to Saturday from 10am to 2pm and from 3pm to 6pm for a peak into a mapping video projection on its origins.
Ordino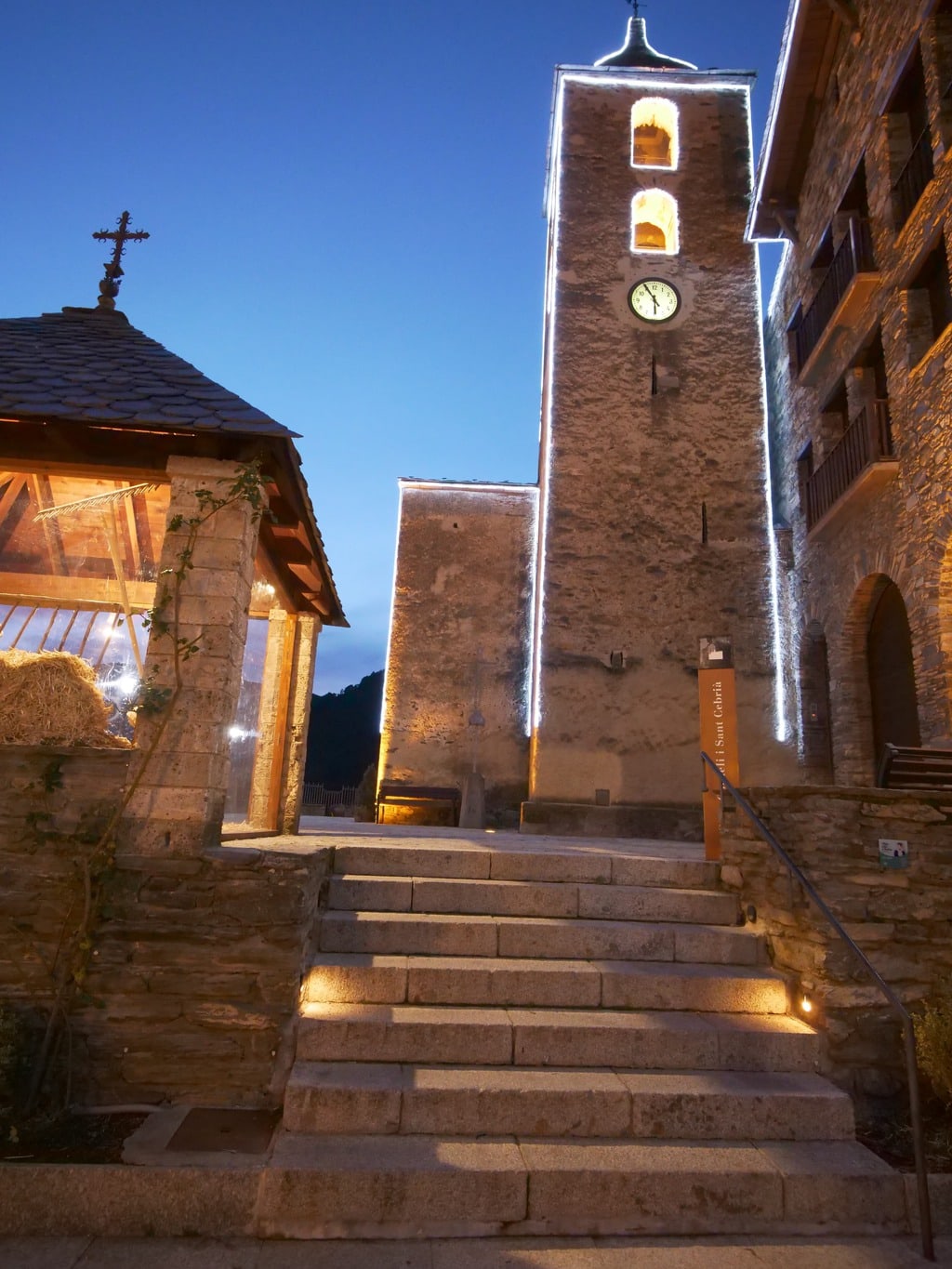 Known for the ski resort of the same name, the Parish of Ordino is another pretty little town on the way to the mountains. One of the highlights is Arenys Plandolit House but also its pretty church dedicated to Sant Cornelius and Sant Cebrià which is open to the public and houses a 12th century image of the Virgin of Remedy. The church was originally built in Medieval times but refurbished and remodelled in the 17th and 19th centuries.
The majority of the streets of Ordino are still made of stone, in particular Major Street with its bars and terraces open in the summer with outdoor seating. Make sure to stroll along the river which crosses the town and get lost in its tiny alleys.
At the Major Square, look out for a stone column that was used to tie prisoners and those who had committed a crime so everyone could see them.
Auvinya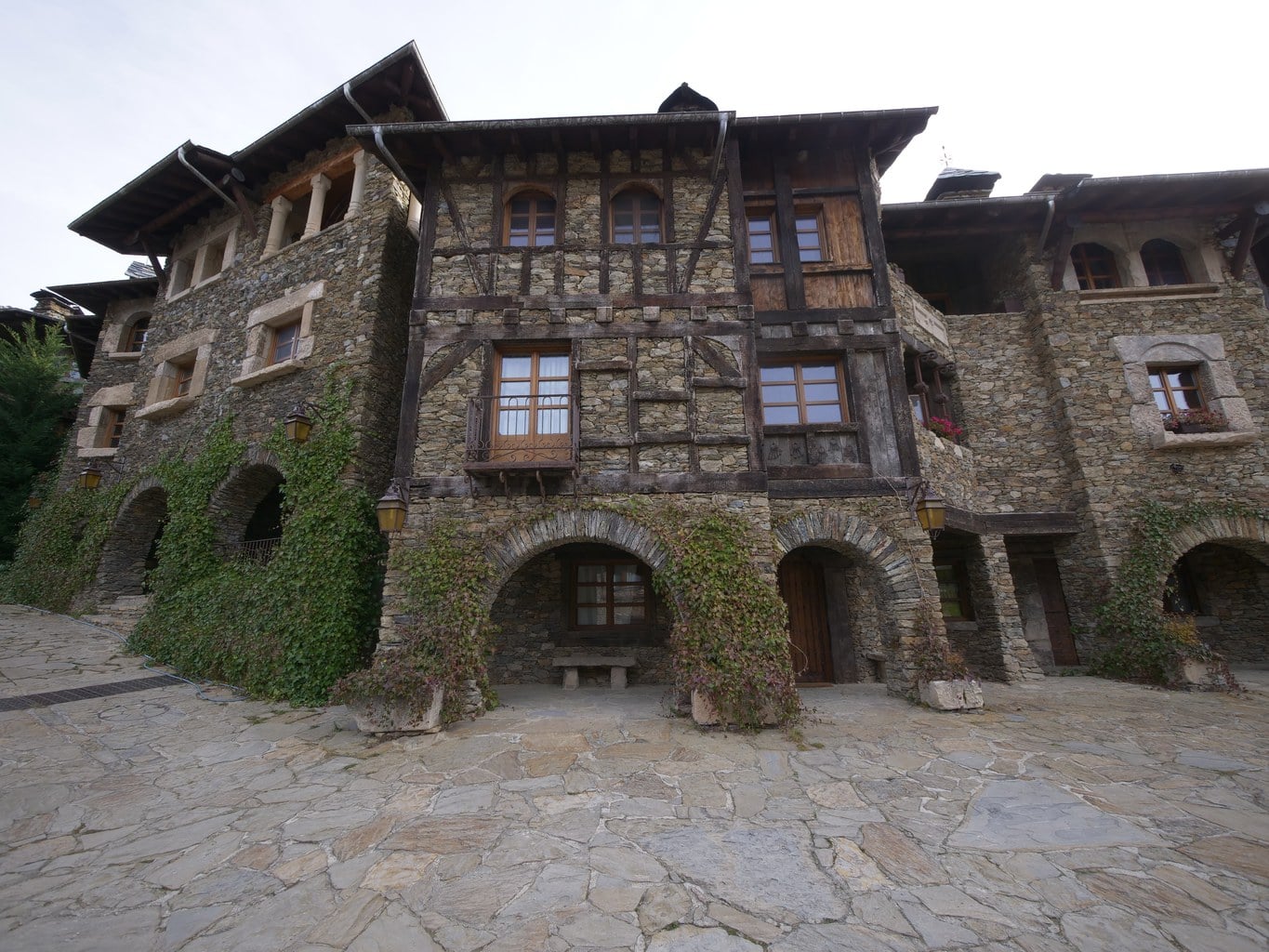 This tiny little village on top of a mountain is the quintessential mountain village with just a handful of houses perched by the side of the mountain and barely any people or cars, it does not get any more idyllic than this.
The stone and wood houses with the typical Andorran design are so pretty. Look out for one with the facade covered in iron keys. This is the oldest house in the village and was built in 875. Legend has it that this house was inhabited by a priest who would mediate between neighbourhood disputes. He is said to have given the keys to Haven to those who were able to resolve them
Visit an old hydroelectric power plant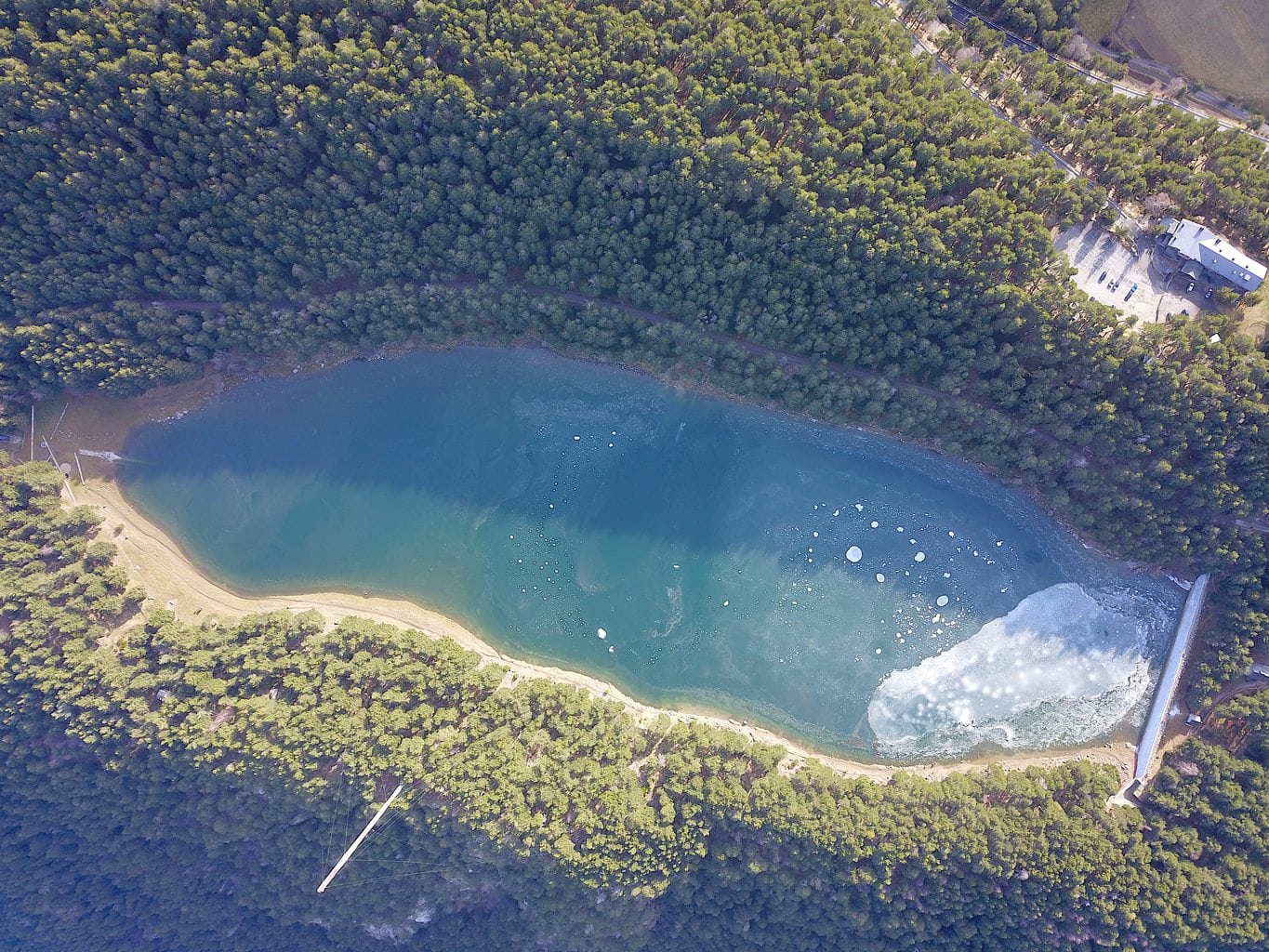 Did you ever wonder how electricity is made? Are you interested to learn how hydroelectric power works?
Engolastres has a former hydroelectric plant built in at 1,600m above sea level in 1934 along with a Dam of the same name that was used in the past to generate power. While the plant is not in use anymore, you can still see the old guard house and the funicular and in the summer months, the Museum of Electricity is open to the public and offers 1.5h guided tours.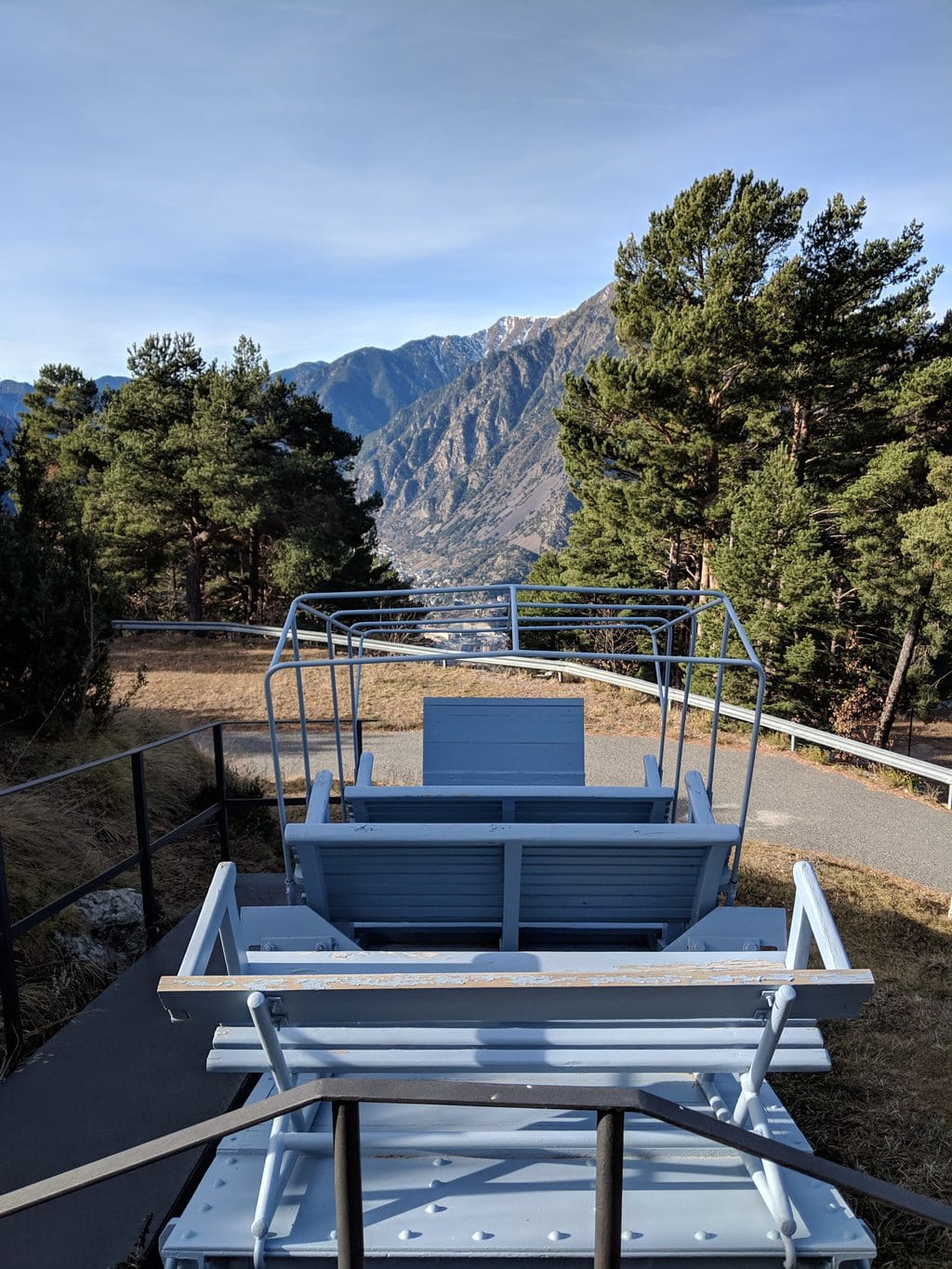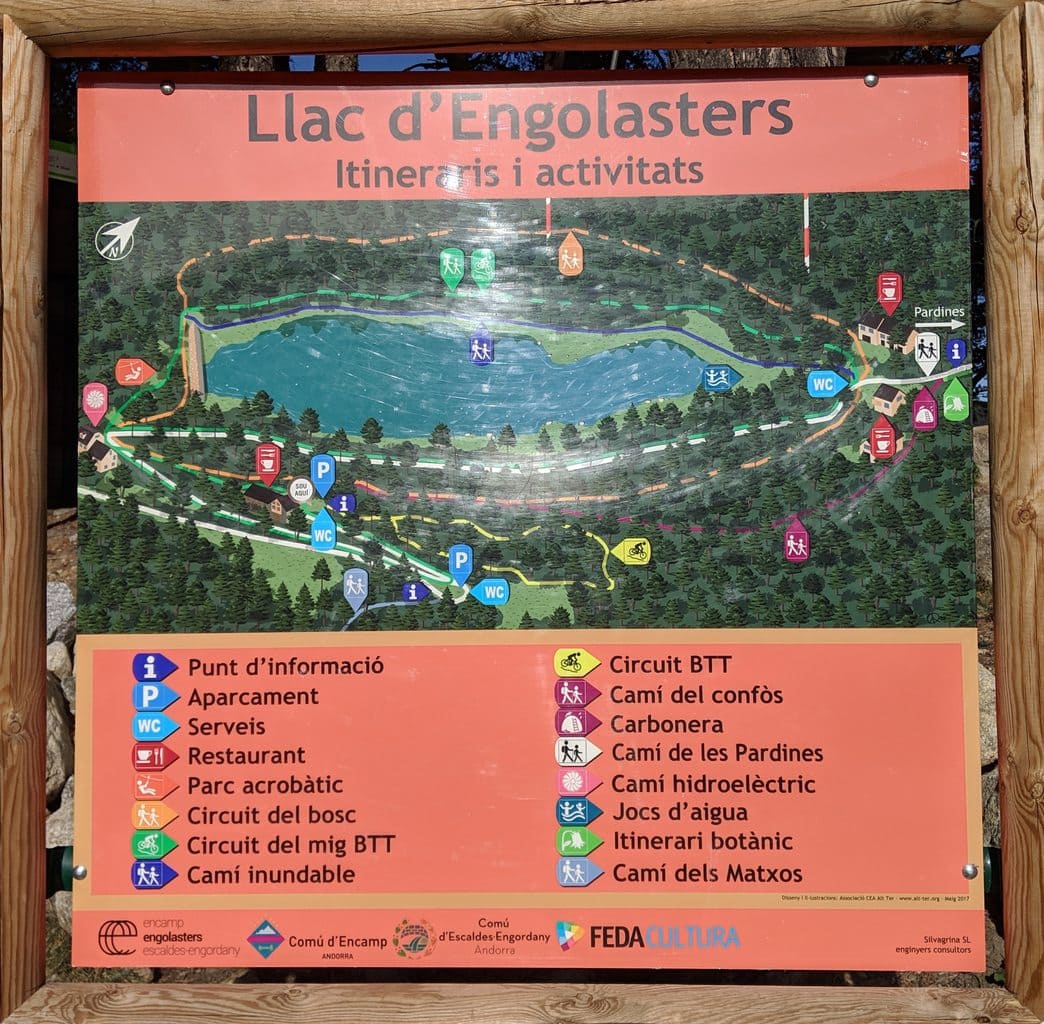 If you are visiting Andorra during the colder months, it is still worth it to come here because the dam is surrounded by towering pine trees and you can walk around it and see he funicular which is in the open behind the guard house. There are paths to have a stroll and a restaurant with facilities. In winter, the top layer of the dam freezes over.
Tour cost 5 euro and are available May, June, September and October on Saturday at 11am and 3pm. In July on Saturdays at 10am, 12pm, 3pm and 5pm and on Sundays at 10am, 12pm and 3pm. From the fourth week of July until the end of August, tours run from Tuesday to Sunday at 10am, 12pm, 3pm and 5pm and Saturday at 11am and 3pm. There is parking available by the museum.
Have fun at Naturlandia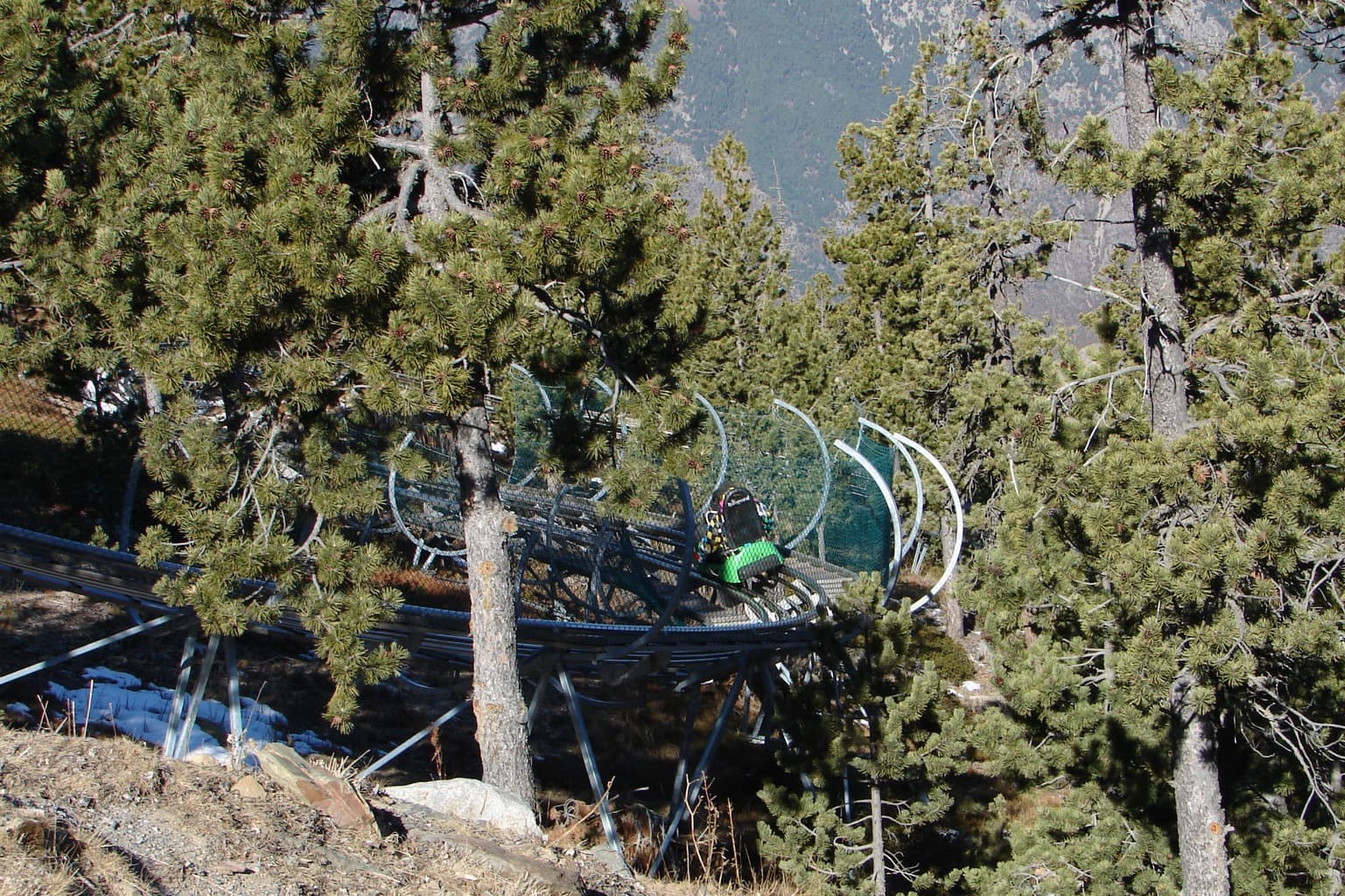 Naturlandia is Andorra's response to a theme park. Instead of rides and roller coasters, the park offers active adventures, hiking and trekking, restaurants and all sorts of activities making it one of the most fun things to do in Andorra.
Split into two sections, one at 1600m above sea level and one at 2,000m and connected by road, the park is in Sant Julia de Lloria, about 15min from Andorra La Vella. It is open all year round, though the activities vary by season.
You can go on hiking, Segway, bicycle, snowmobile or buggy tours around, all come in child and adult sizes. There are trampolines, zip lines, bouncy castles, tobotronics and tubbing. Little ones have children workshops and other activities and adults can go on night snowmobile adventures.
The animal enclosures are located at 2,000m and host species that are typical of the Pyrenees area including wild goats, bears, lynx, deer, wolfs, etc. Animals can be observed from specific points by following a path. During the winter time, snow rackets are required to walk the perimeter of the enclosure. There is also a farm area with domestic animals like pigs.
Beware, although the area meet the EU standards, they still showcase animals in an enclosure, instead of in the wild, so think if that is what you want to do. Some of these animals would have a huge territory in the wild whereas here they are constrained to a smaller space.
Some of the activities are included in the price while others need to be booked. The park opens from and you can see what activities are available live on the website, along with webcam images.
Explore Andorra La Vella
The capital of Andorra, Andorra La Vella, has a few quaint spots to take in and is well worth a couple of hours. Here are the places you need to visit.
Casa de la Vall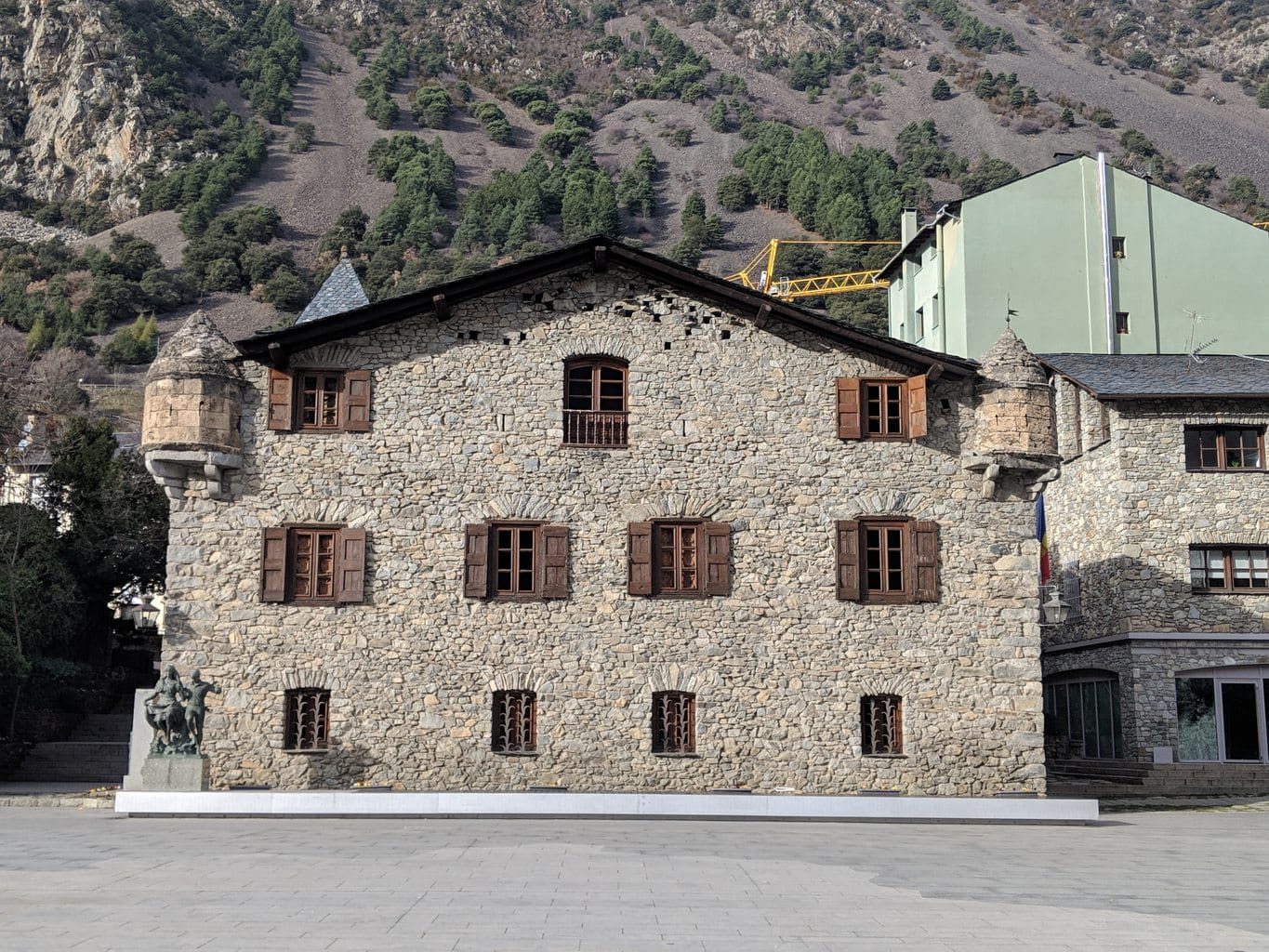 La Casa de la Vall translating to the House of the valley in Catalan, is the home of the former Andorran government. Dating back to the 16th century (the date is engraved on top of the main door), the building is open to visits and offers guided tours where you can learn more not just about the building but also about the country as this is the closest you will get to a national history museum.
La Casa de la Vall was built by a vicar from La Seu d'Urgell in 1580 and their shield is on top of the main gate, and was acquired by the government in 1701 who started to use it as the home of the government until 2011 when it moved to a new building.
Don't miss a visit where you can see the original and intricate Criminal Court, the building is quite impressive inside.
More information here.
Take a photo with the Andorra sign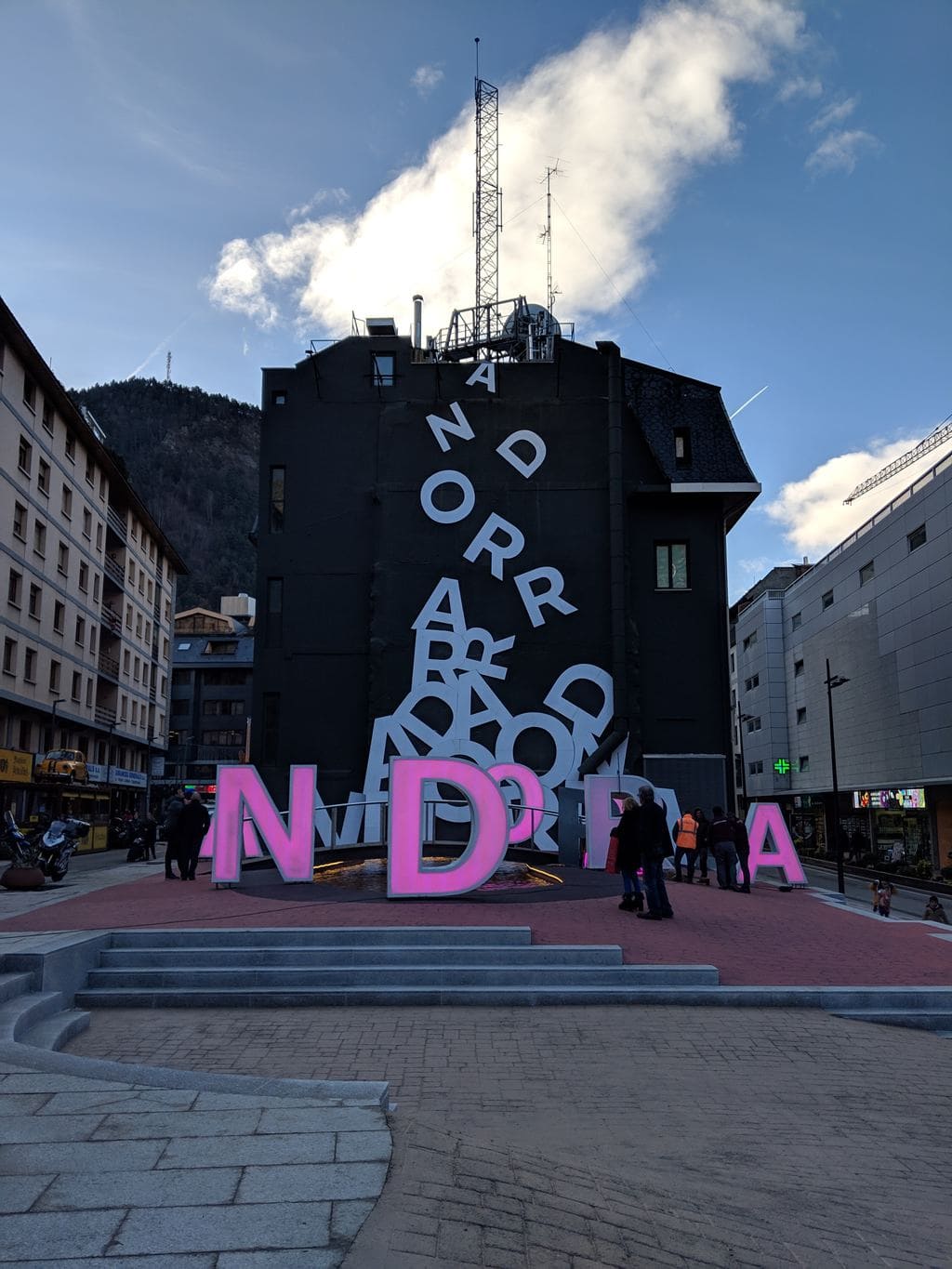 Along Avinguda Carlemany you can shop to your heart's content from perfume to clothing, from tobacco to alcohol, from jewelry to toys, but there is also a funky looking fushia pink sign spelling Andorrawhere you can take fun photos alone or with friends and family.
Admire the stained glass at Esglesia de Sant Esteve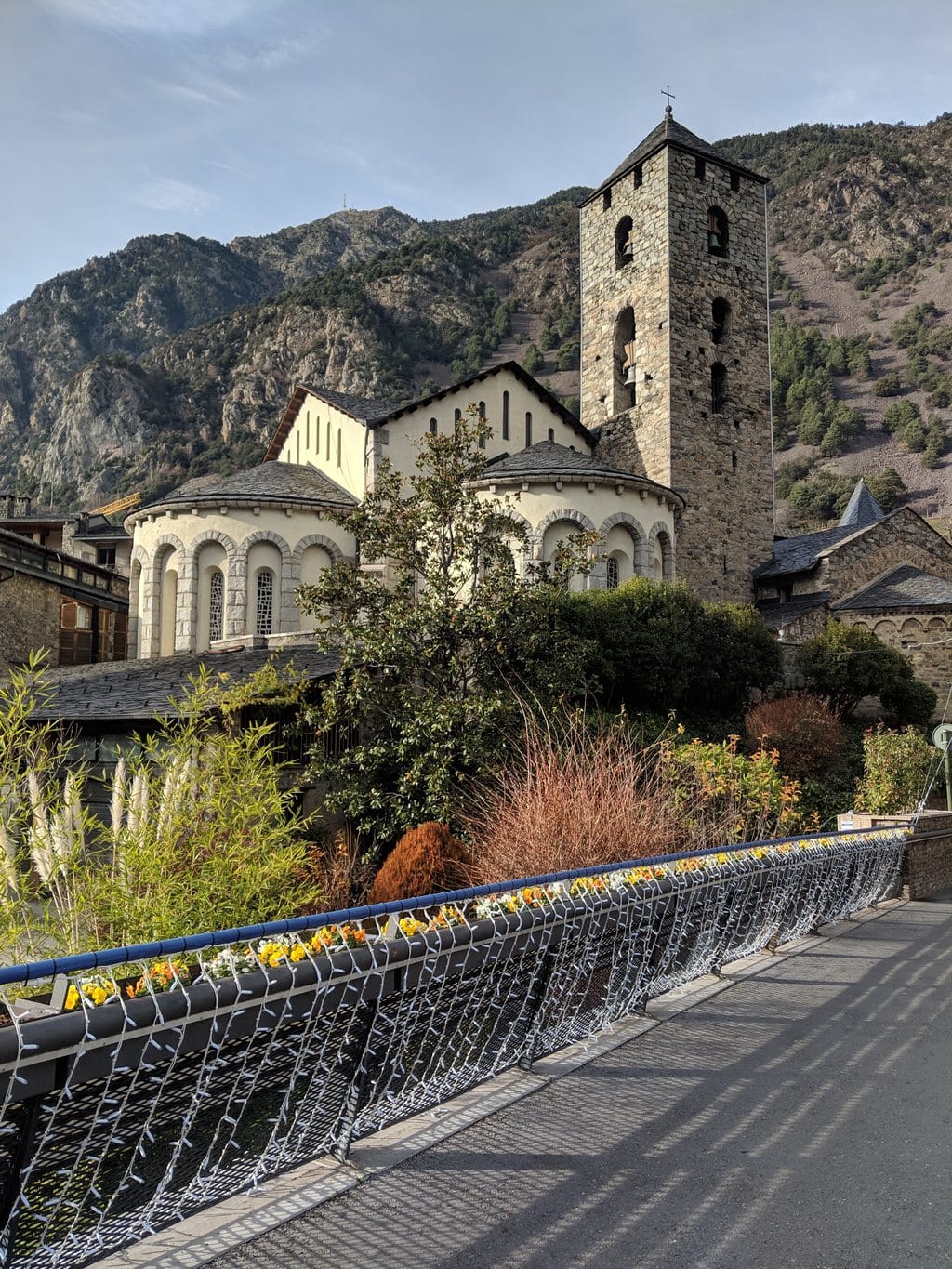 This old-looking church in the downtown of Andorra La Vella makes for picturesque photos but is mostly new except for the original Romanesque apse and the stained glass which lets in beautiful light. Located near the Placa del poble and the Casa de la Vall, this is a working church with regular service.
See the views from Placa del poble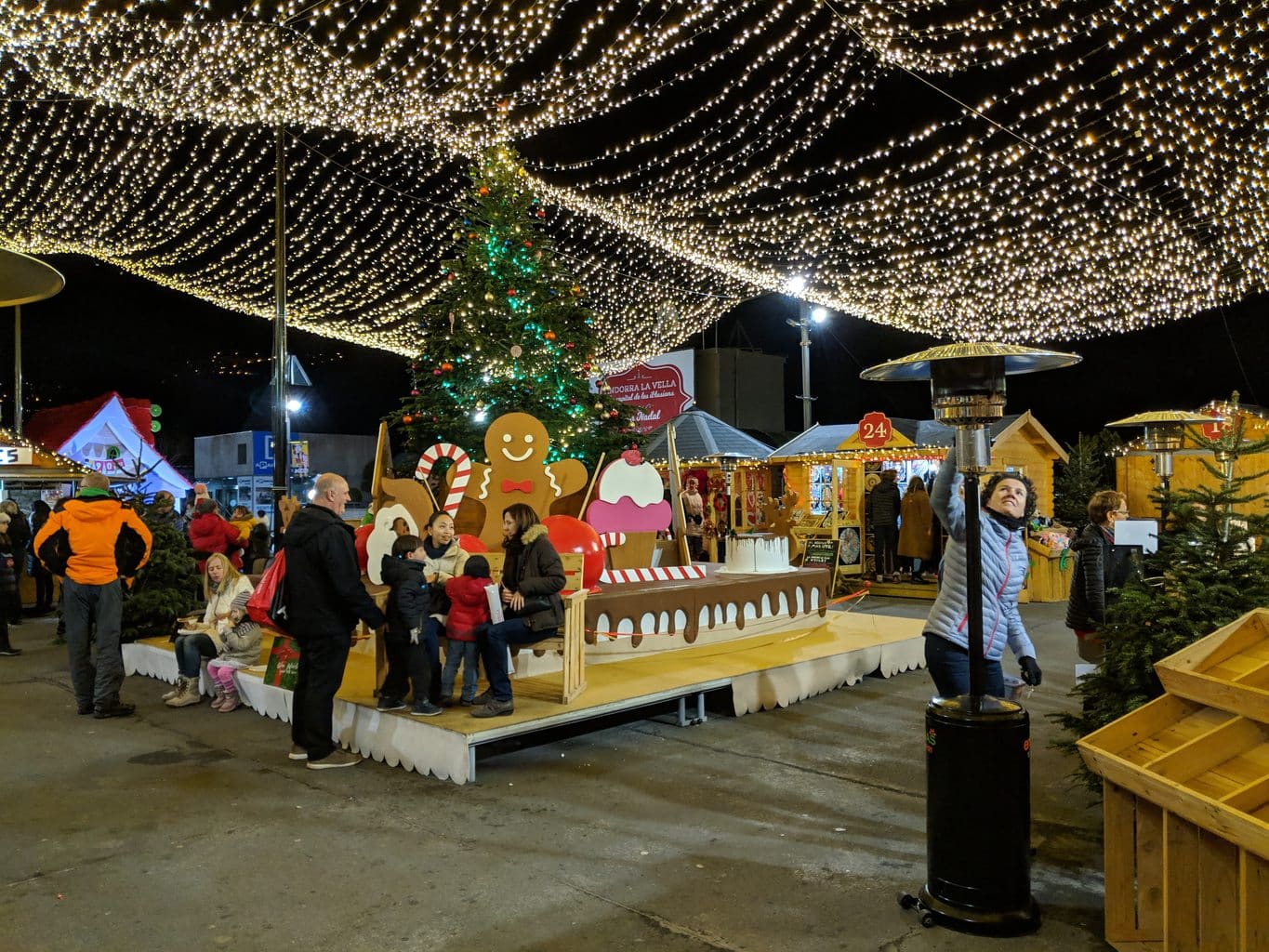 This square is the main meeting point for festivals and celebrations in the country and gives panoramic views over the city. In December, you can enjoy a fun and cozy Chritstman market with handmade products, sweets and artisan foods on sale that makes for a great evening.
Tip: There is a lift that goes from the top of the square to the bottom street below by the government building.
Spot La noblesse du temps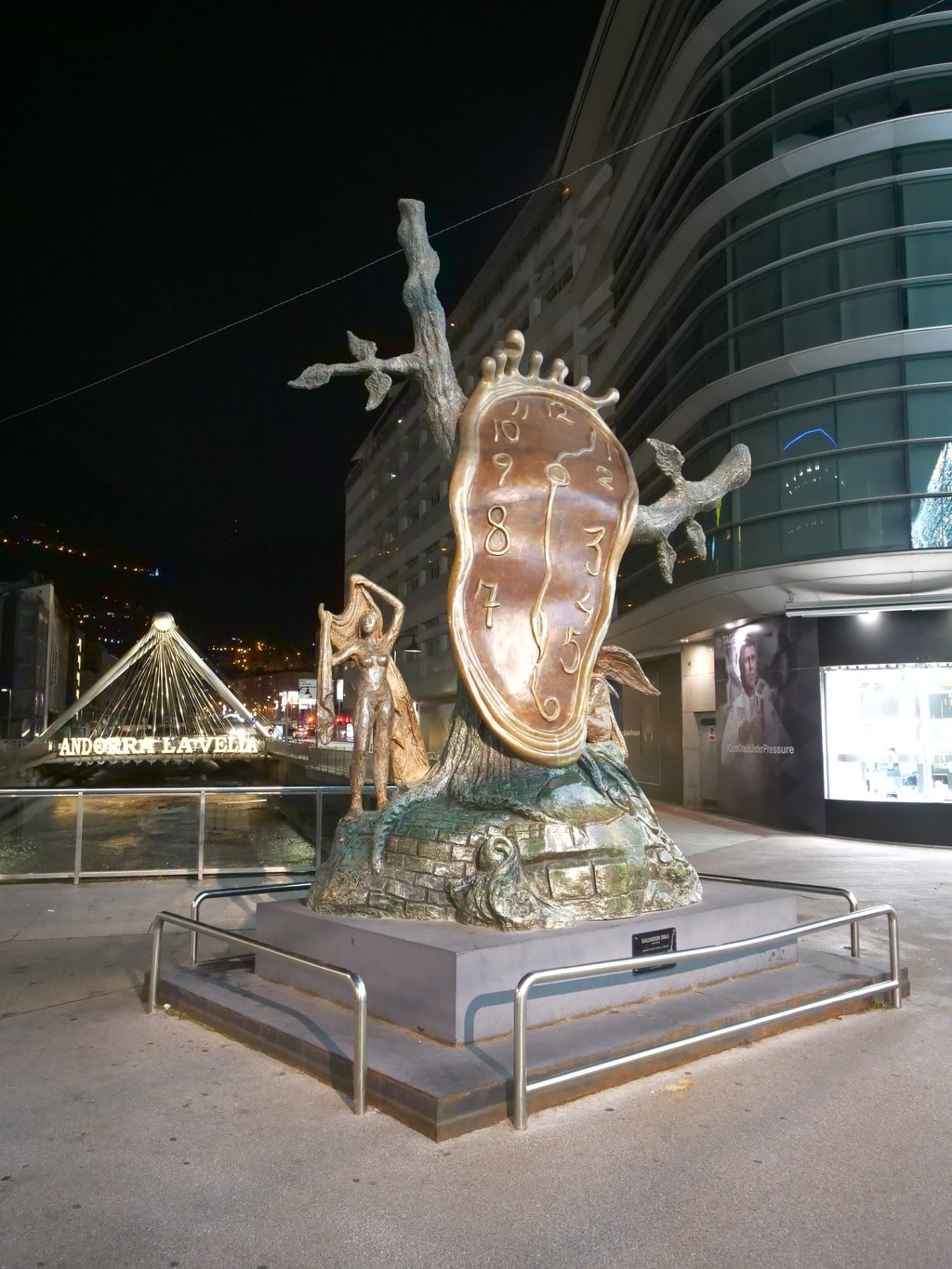 You will recognise this well known piece of art as soon as you see it. Placed by the river, in the bridge that connects Avinguda Meritxell in Andorra la Vella with Escaldes, La noblesse du temps is a sculpture by famous Dali that involves his usual melting clocks.
How to get to Andorra
Andorra has no airport and is only accessible by road. It is one of the few countries in the world which is landlocked and only accessible via roads through other countries. In fact, the other four countries without airports are also in Europe and are also micro-states, Monaco, The Vatican, Liechtenstein and San Marino. So you can get here on an epic road trip across Europe.
There are four international airports within 200km from Andorra so you can pick: Toulouse-Blagnac (TLS), Carcassonne (CCF), Girona-Costa Brava (GRO), Barcelona-El Prat (BCN) and Reus (REU).
I would then suggest to rent a car from any of these and drive. The drive should be easy with good roads. The easiest airport is probably Barcelona, and you can easily combine it with some time in the city.
Getting from Barcelona to Andorra is really easy as the roads are pretty straightforward. Here is a Google map showing the route.
Bear in mind you have two options, either a paid tunnel road which will cut your time down, or the regular national road which will save you the toll. As kids we always took the regular road as the tunnel was not built until later, but the tunnel makes a lot of sense so the drive is more comfortable.
On the way, I highly recommend you stop for food. I always drove to Andorra very early in the morning and we stopped on the way for breakfast at one of the roadside restaurants serving hearty breakfast meals including omelets, sausages and even wine with rustic bread from the local bakery and great produce.
If you have a valid visa for Spain and France you will be able to visit Andorra as there are free movement agreements in place. Most times, you may no even have to stop and show your passport.
Best Hotels in Andorra
Tourism, especially during winter, is one of the most important revenue sources for Andorra, so it should come as no surprise that the hospitality industry has years of experience welcoming guests and that there are a fair amount of ski hotels in Andorra.
However, like all other mountain countries such as Switzerland or Austria, Andorra is also a great destination in the summer months where basing yourself in the city center might make more sense.
So I decided to split this list between Andorra La Vella hotels, which includes other urban centers like Escaldes-Engordany, and hotels in Andorra ski resorts which are particularly convenient if you do not want to be stuck in traffic in and out of the slopes on the narrow one-lane mountain roads.
Hotels in the city center of Andorra
Staying in town is a great alternative to explore all the things to do in Andorra. This will give you the chance to try lots of restaurants and enjoy the happening nightlife as well, although Andorra is not big the roads are winding and 15 kms can take half an hour or more to drive.
Roc De Caldes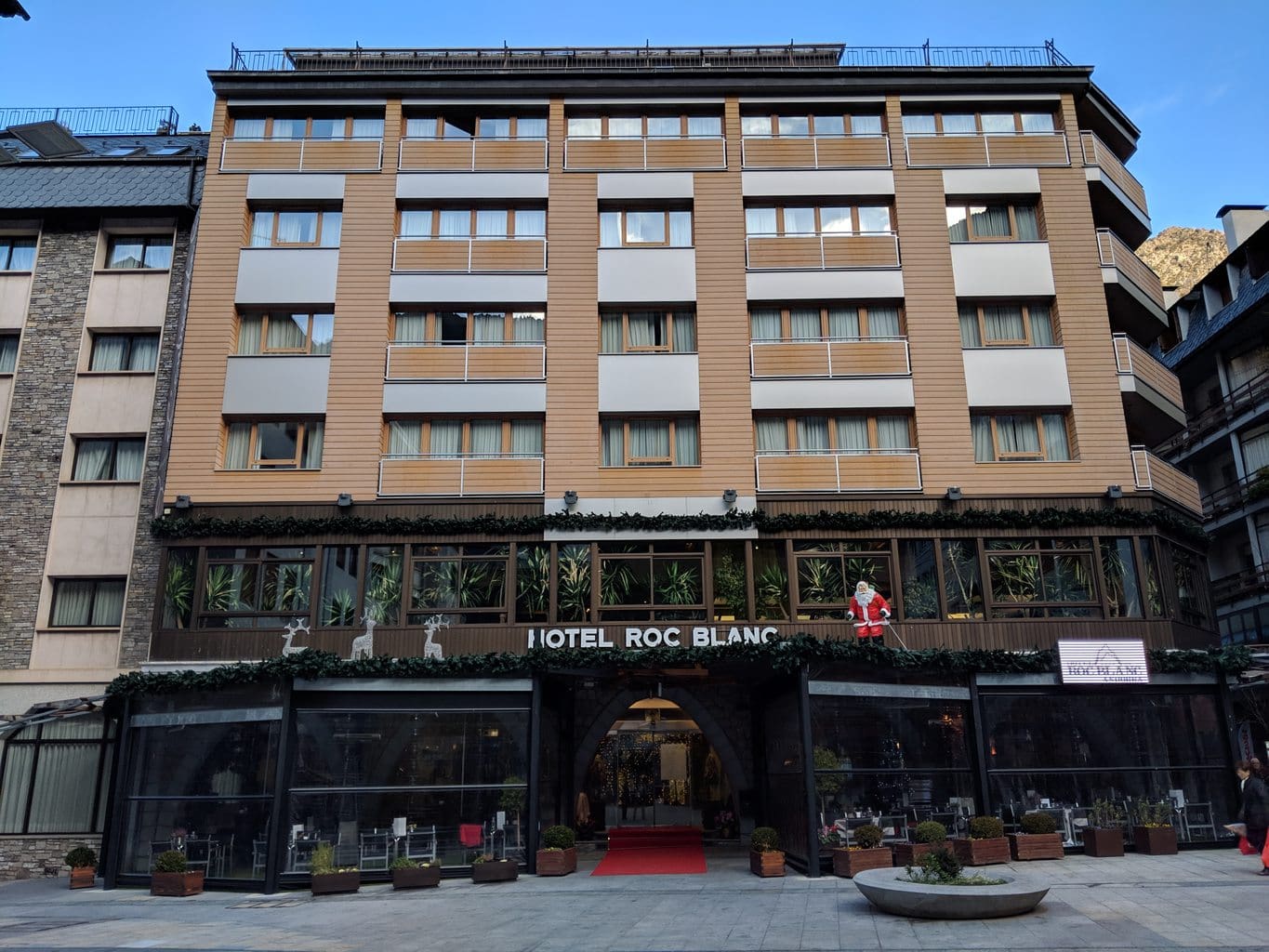 Roc De Caldes is probably slightly below in category than the other hotels here, despite having the same 5 star rating.
The hotel is traditional in design, reminiscent of what Andorra was like when I was a kid and their website is rather hard to navigate with little information, so you are definitively better off using a booking site. But it is probably this that makes it a warm and charming option.
Its location, slightly off the main city center and by greenery, makes it a great option when you are coming in the summer time and makes it quieter although still relatively close to the center of Escaldes-Engordany (where Caldea is), not Andorra La Vella.
The hotel's restaurant is a good option to try some of the more local dishes.
Book your stay on Booking.com | Agoda
Eurostars Andorra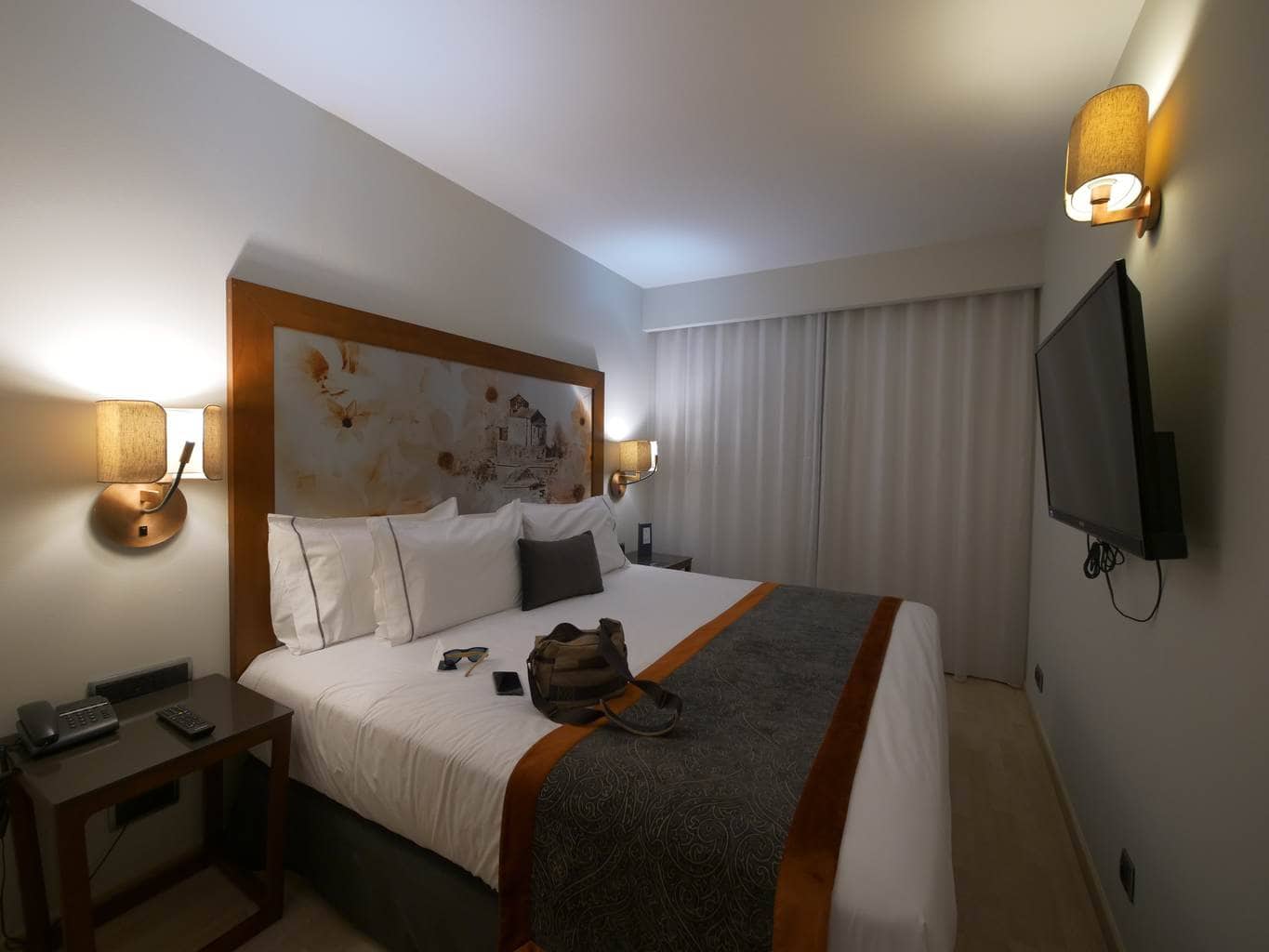 Perfectly located in the middle of Andorra La Vella very near Pyrenees on Avinguda Meritxell, the Eurostars Andorra is as good as a hotel location can be. Once you park the car, you can walk everywhere in town, which comes in handy since parking and traffic can be pretty bad.
The hotel is 4 stars and offers good value for money. Rooms are comfortable and convenient, breakfast is quite decent and abundant. Suites come with a separate living room with a sofa bed for the kids and there is a public parking within meters that is 20 euros per day. You can pay by the hour.
Book your stay on Booking.com | Agoda
Andorra Park Hotel
Located in a residential area, Andorra Park Hotel is one of the best Andorra La Vella hotels. Andorra Park hotel is surrounded by 15,000 square meters of gardens and greenery giving guests the feeling of being among nature.
The hotel is modern and luxurious and, like other hotels in this category in Andorra, comes with in-room jacuzzi and some of them have balconies facing the gardens or the pool.
Despite being more of an "uban" hotel, there is a free shuttle to Granvalira for guests and a stunning outdoor pool surrounded by a grassy and tree-filled area that will make you feel far away from civilisation.
Dining in is a good option as the hotel's restaurant, Es Andorra, comes highly recommended for trying out the local cuisine.
Book your stay on Booking.com | Agoda
Hotel Plaza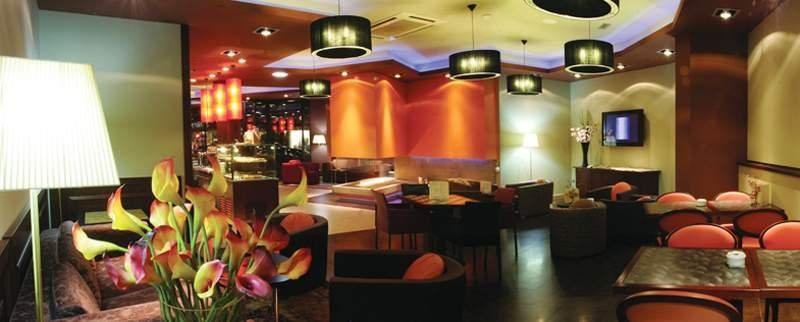 Classic English design in this luxury hotel in the downtown of Andorra La Vella that is consistently rated as one of the best hotels in Andorra. Its location is one of the best if you want to be able to walk around the city or go for dinner without having to drive.
The rooms have a more convenitonal mountain retreat feel and some of the the deluxe ones have a jacuzzi bathtub.
The facilities include a wellness area with Hammam, Sauna, Jacuzzi, crystal fountain and thermal facilities and a fully equipped spa.
Book your stay on Booking.com | Agoda
Ski hotels in Andorra
Most people will go to Andorra to enjoy winter sports and with good reason since Granvalira is the largest ski resort in Europe, so there is plenty for everyone. As expected, there are also a couple of luxury hotels in Andorra's ski resorts and I listed the top two below.
Hotel Ski Plaza & Wellness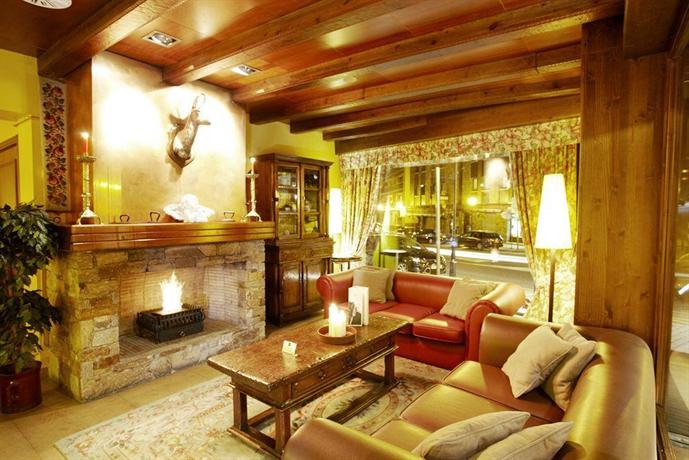 Part of the same hospitality group as The Plaza in Andorra La Vella, the Ski Plaza & Wellness is a mountain retreat located in the traditional parish of Canillo, 100m from the cablecar to Granvalira.
The hotel is warm, cozy and designed for the winter months with fireplaces and sun-in leather sofas. The restaurant has a wall mural depicting rural scenes of life in Andorra, vintage cuckoo clocks and all the details to make you feel like you are high in the mountains when it is cold outside.
Rooms are comfortable and traditional and the family rooms come with fun bunk beds for children.
The hotel is perfect for kids, with many details throughout the property targeted at making them feel loved and cared for including separate dining areas in the restaurant.
Book your stay on Booking.com | Agoda
Sport Hotel Hermitage and Spa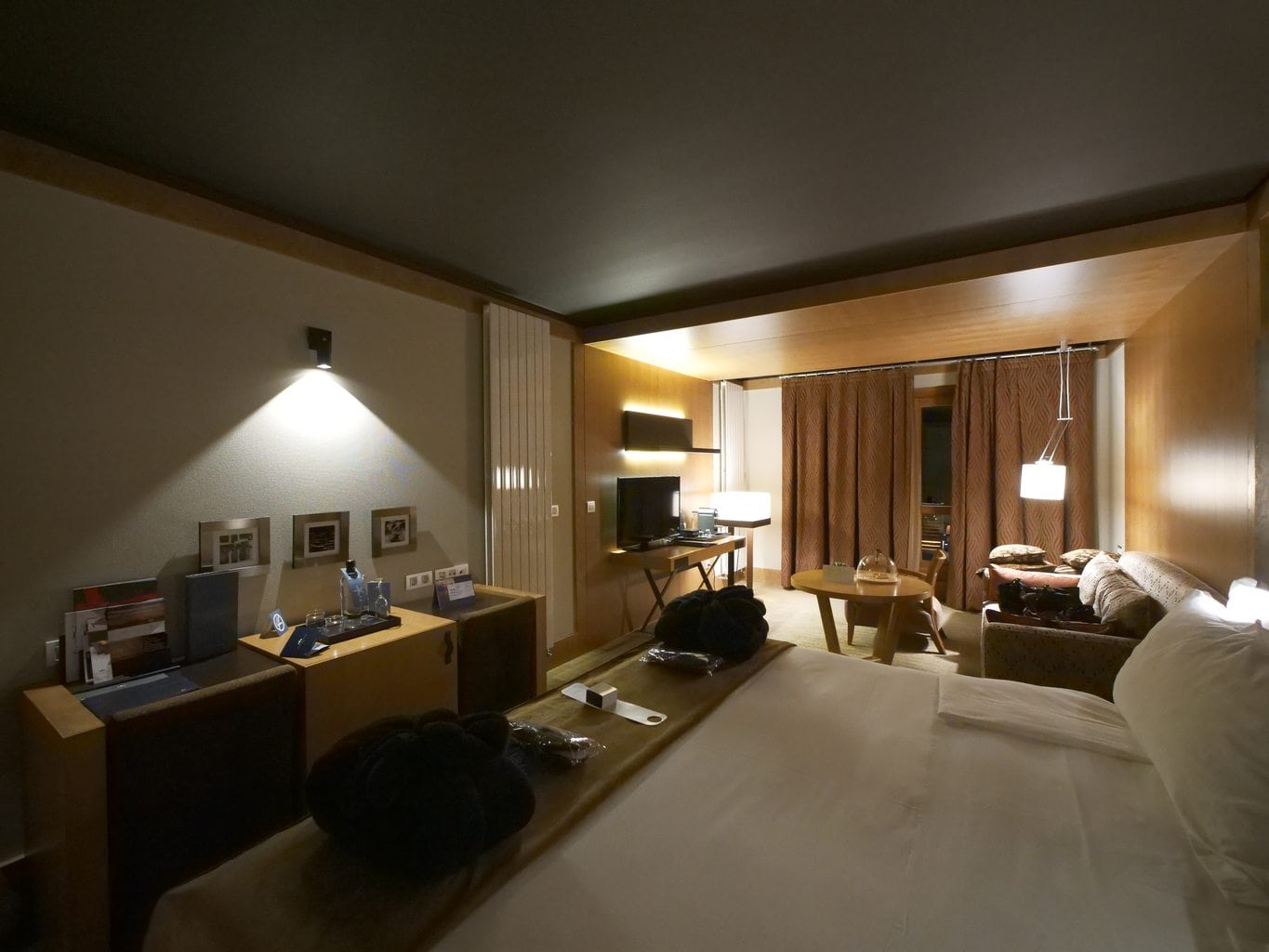 Sport Hotel Hermitage and Spa is located at 1,800m above sea level in the village of Soldeu, very near the Grandvalira ski slopes. This is the country's only member of the Leading Hotels of the World brand and one of the most luxurious ski resorts, equally interesting if you like summer sports and mountains.
The resort is also made of a 4 and 3 star hotel sharing facilities and a 5,000 square meter spa and wellness resort. All 143 rooms have their own hot tub and free access to the spa for 3h a day. The resort features the Hermitage Mountain Residences that can accommodate groups of up to 16 guests together in a 5 floor villa.
Expect the design to be mountain chic with lots of wood, sleek lines and warm interiors reminiscent of The Chedi Andermatt or other luxury Swiss Accommodation. The resort features two restaurants with Michelin-awarded chefs, the Catalan Nandu Jubany and the Japanese Hideki Matsuhisa.
Book your stay on Booking.com | Agoda
This would be a great addition to any of your #travel Pinterest boards