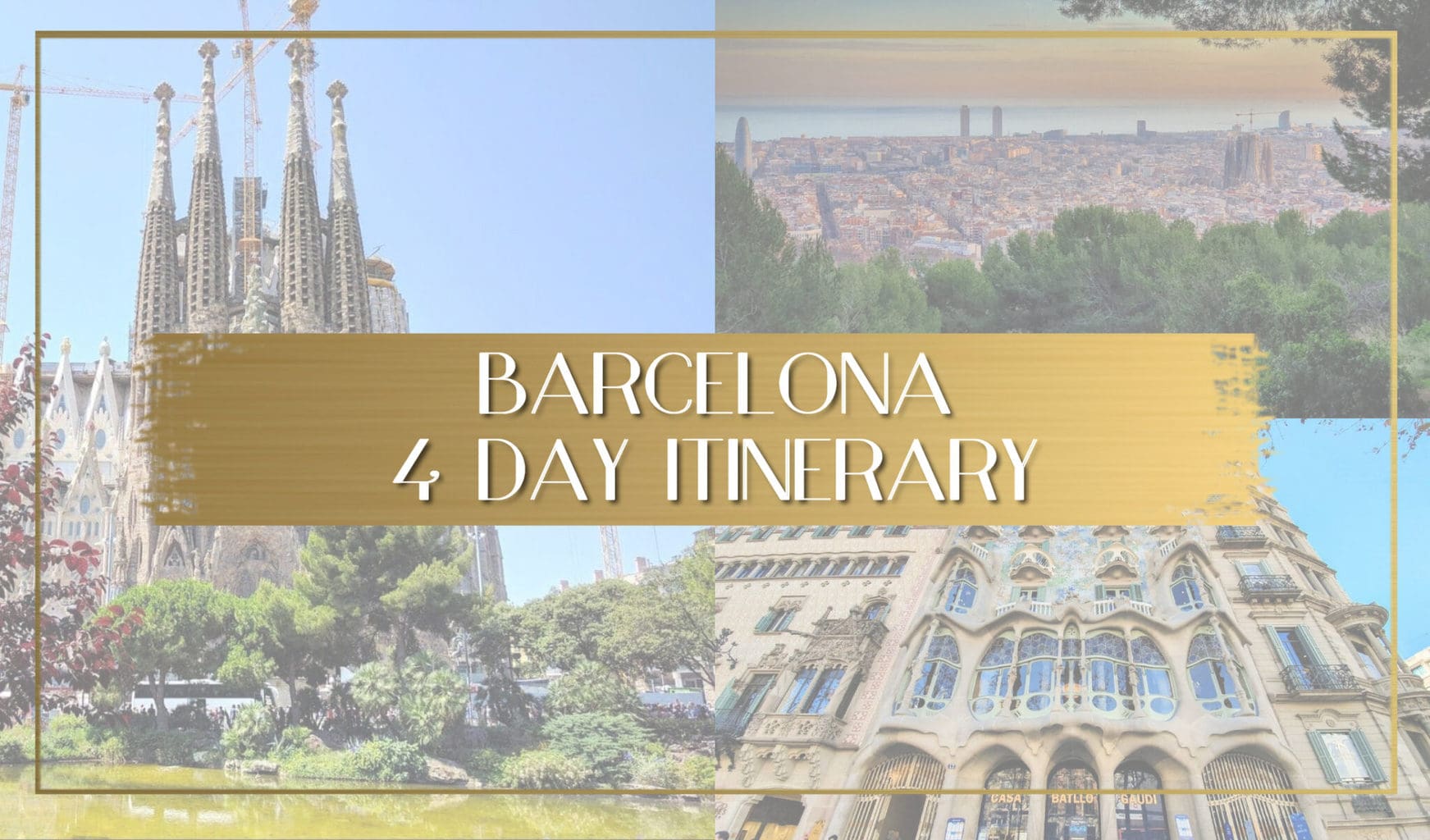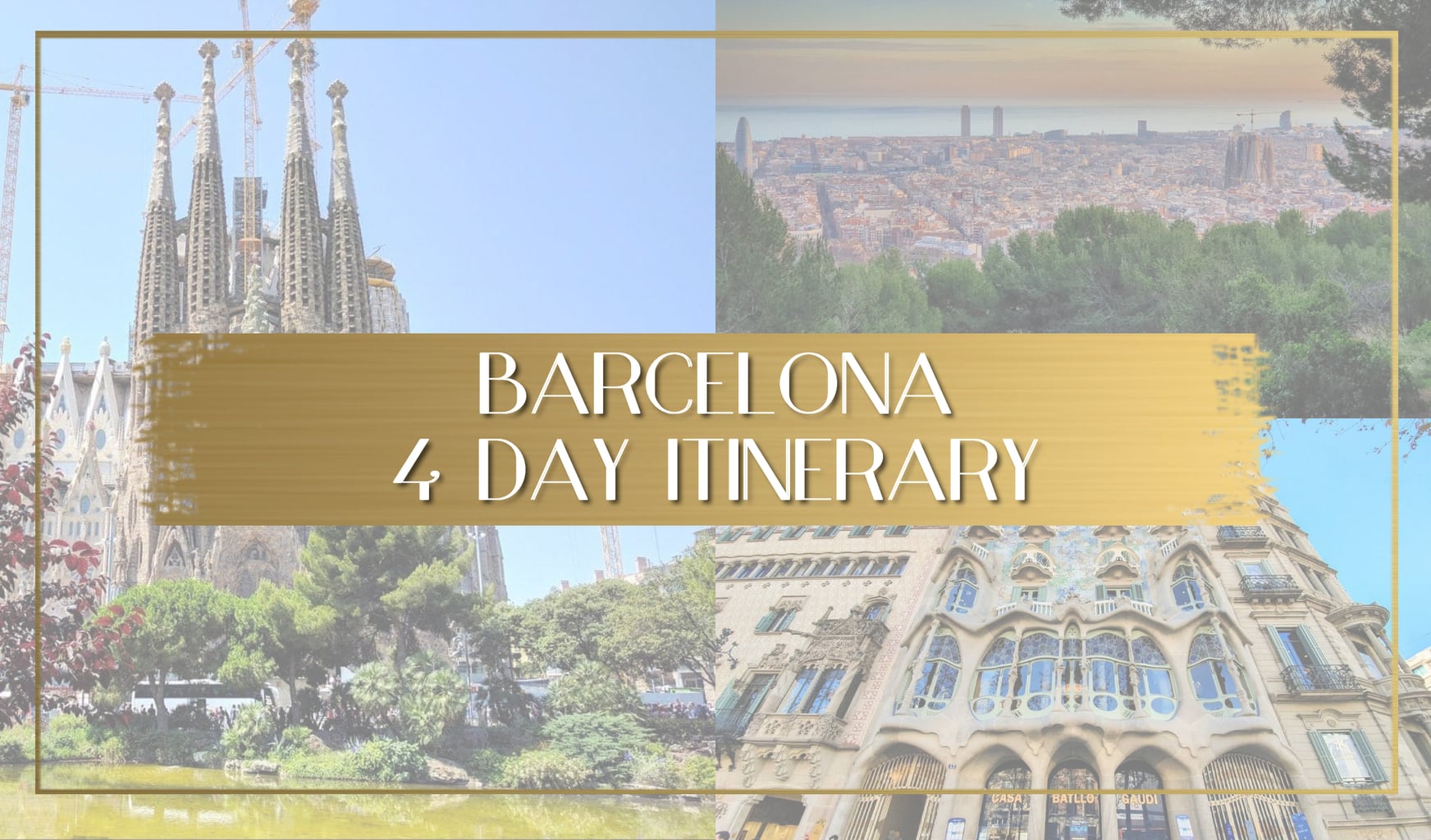 Looking for a Barcelona itinerary? Look no further than this suggestion for 4 days in Barcelona by a local, me! In such a big city, it is important to know where to focus your time on because there are a lot of things to see in the city so you need to plan your itinerary around Barcelona well to make the most of it. Let me show you the way so that you don't just see the touristy bits, but also the really local ones only a Catalan will know.
Every time someone asks where I am from the reaction is always overwhelmingly positive. They have either been to Barcelona, know someone who has or are planning to go. If they have been, the "ohhhh" and "ahhh" are endless. It is justified. Barcelona is a stunning city with history dating back to centuries B.C., a beach-like atmosphere, Mediterranean breeze and absolutely incredible food to match. What else can you ask for the perfect holiday? As you may have guesses, I am biased.
There is no doubt that Barcelona has something for everyone but on occasion of a friend's visit I put together this itinerary for 4 days in Barcelona which resembles what I usually show friends when they visit with me. This is the Barcelona itinerary I, a Catalan who grew up there, would recommend.
It is not what an expat may suggest and it is definitively not what a guide will tell you to see, my intention was to suggest the best places to see in Barcelona from a local's point of view including a bit of local flair, the most cozy and genuine bars and Barcelona's best fine dining, now that the city finally have been awarded with its first 3 Michelin starred restaurant. Let me share the best four day itinerary in Barcelona and, with it, my city, my land, my culture.
Below you will find an interactive map with all the suggested stops in my Barcelona itinerary and under it, the proposed way to spend four days exploring Barcelona like a local. I have also written a complete travel guide to Barcelona if you need even more ideas.
Barcelona Itinerary: Day 1 – The historical Barri Gotic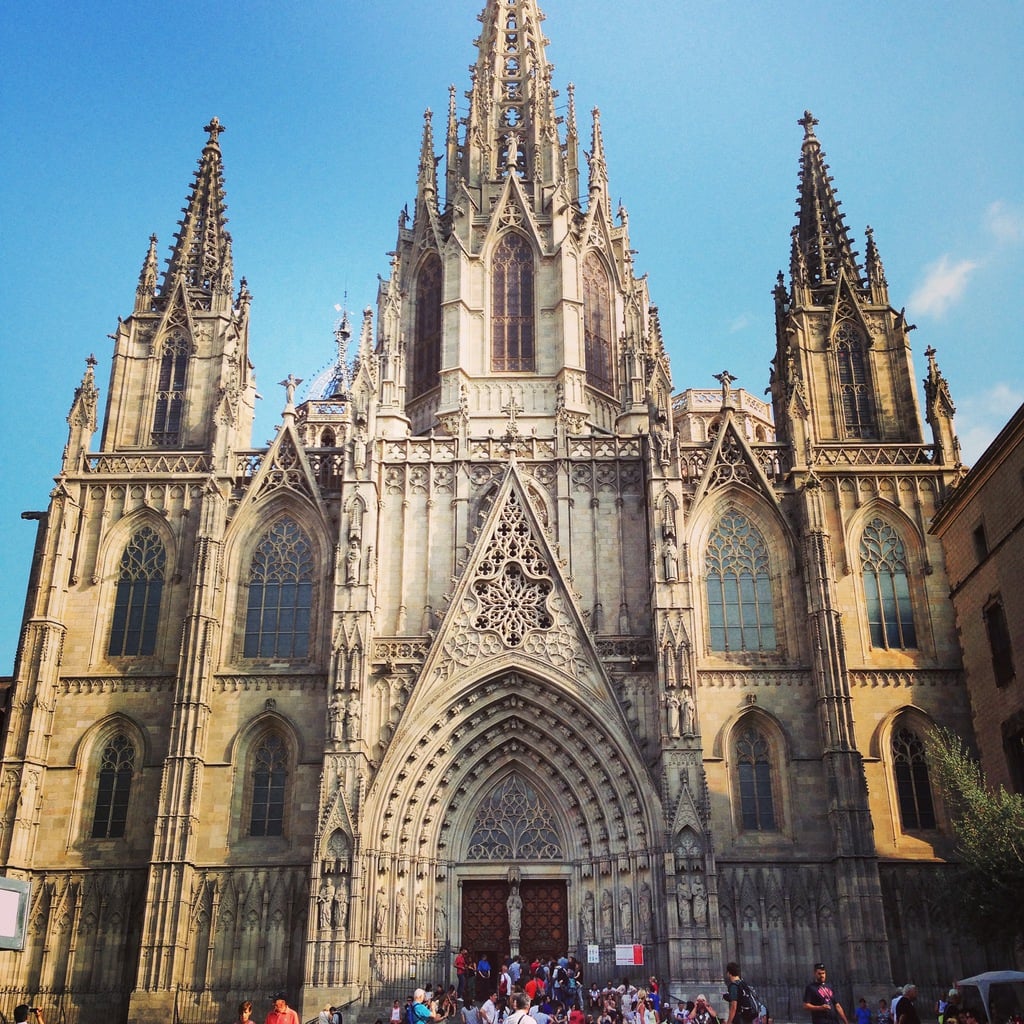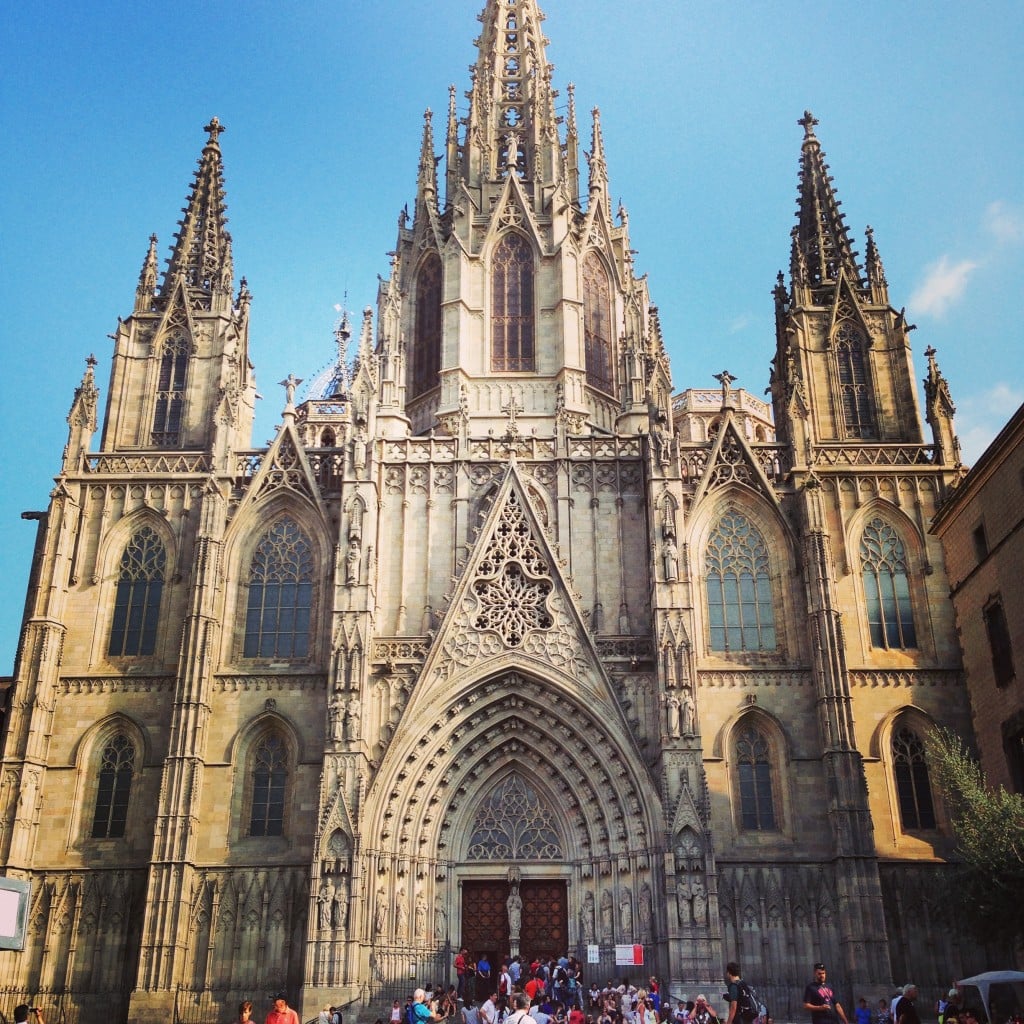 My favorite part of the city is the old part that used to be enclosed within the Medieval city walls. Today, you can't see the walls anymore as there isn't any vestige left of them in the open, but that part still looks and feels like it's breathing the stories of centuries passed. Your Barcelona itinerary needs to start here, wandering aimlessly but consciously, along the darkish and narrow pedestrian alleyways and cobblestoned streets.
Start early in the morning at Placa Catalunya and make your way towards the Cathedral through the Portal de l'Angel, and the area right of Via Laietana and left of Les Rambles. Some points of interest to look out for:
The Barcelona Cathedral
Etymologically speaking the word Cathedral indicates the seat of the dioceses' Bishop from where he teaches the doctrine. Barcelona's Cathedral was built in several waves starting in the 4th Century A.C. There are paleo-Christian foundations, Romanesque accents and a decidedly Gothic facade as the building was mostly completed in the 1300s.
The facade has eight stained-glass windows, some are modernist and others from the Renaissance. Get inside the cathedral which is allowed all day, and take in the ceiling, the tainted glass windows and, most importantly, the cloister which can also be accessed from a side street.
If mass service is ongoing you won't be able to tour beyond the back of the church but outside of service hours you can walk all around and even down to the Crypt. The cloister is made of 4 galleries and surrounded by pillars flanking a garden with palm trees, magnolias, an orange tree and a fountain dating from the mid-15th century, where the traditional "ou com balla" (the dancing egg) takes place each year for the celebration of Corpus Christi.
There is also a large pond in the Cloister which is home for the 13 white geese of the Cathedral. If you are in town on 3rd May you may be able to attend the Blessing of the District. At 9:00 am the municipal district of Barcelona is blessed from the rooftops of the Cathedral, on the occasion of the Day of the Holy Cross, for which the Cathedral is named.
During Christmas the esplanade in front of the Cathedral is filled with stalls selling Christmas products, figurines and everything to build your nativity for the Santa Llucia Fair. You can also buy the funny "Shitter" figurine. Check out the opening, visit and confession times here.
Museu d'Historia de Barcelona
From Roman Barcino to today's cosmopolitan city Barcelona has a long history of cultures and civilization occupying its land.
The MUHBA conserves and promotes a series of heritage sites across the city that help preserve its history and past. A few of them are in the Gothic Quarter and well worth a visit. Stop by the Placa del Rei, adjacent almost to the Cathedral. This is the most interesting of sites because you can descend underground and visit the real, well-preserved Roman Barcino under today's streets.
You can walk along the Roman streets, see the houses they lived in and even some of the restored mosaics. It is fascinating to be able to step back a few thousand years underground and visit 4,000 sq meters of historical grounds. You can find more information here. If you are interested in a deeper visit of the other heritage sites under the MUHBA protection they have put together an itinerary here.
If you prefer to explore the Gothic Quarter with the experts, I highly recommend going on a walking tour. If you have a bit more time, the 4h walking tour will give you insights into pretty much everything there, and it even crosses into El Born neighbourhood and Santa Maria del mar (mentioned below). But if you want a summarised version, this is a 2h walking tour of the Gothic for the highlights and a 100% focus on the Gothic part of the city. No better way to start off.
Caelum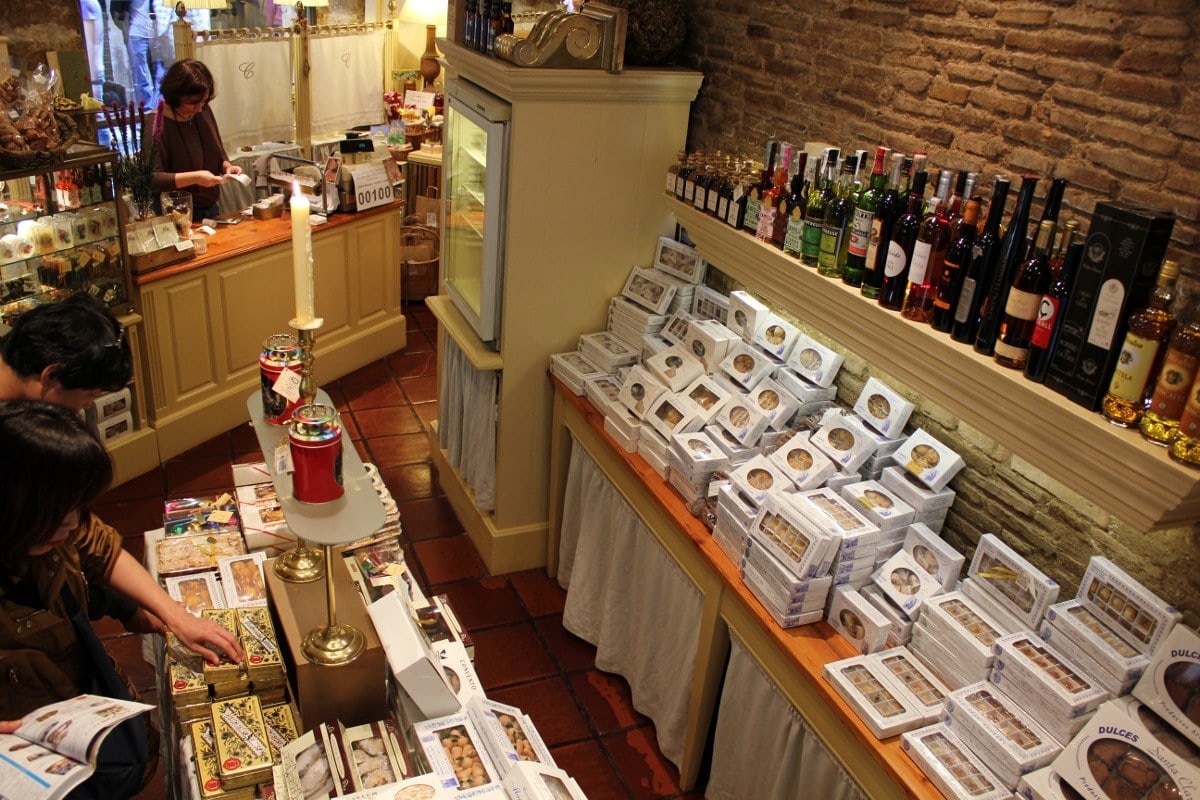 This is the perfect mid-morning break on your Barcelona itinerary.
Caelum is a hidden gem I am even scared to share with the world for fear of it being discovered. This is a unique tiny space hosted in a funky corner building that is so narrow it is just the width of this tiny slice of Heaven, literally. Caelum sells only sweets and products produced by monks and nuns in Monasteries across Spain hence their motto "Welcome to Haven".
Everything you will find here is not found anywhere else but the Convents and Monasteries themselves. The space gives the exquisite morsels of sacred cakes and wines the best home they could have. It is split into two levels, the one below called the Crypt, and it is as tiny as it is packed with love and healing recipes kept secretly by the men and women of God and passed down only to those privileged ones.
You may be able to sample some of the more traditional sweets like those made with sweet pumpkin called "Angel's hair" in Spanish, small marzipans or egg yolk sweets as well as other completely unique specialties like fried milk, bread of charity or the all saints Panellets, the almond and sugar pastries we eat only at the time of All Saints (last week of October), the Catalan Halloween. Find out more about Caelum here. I bet you never saw this being recommended in any other Barcelona itinerary, shhhhh!
Placa Sant Jaume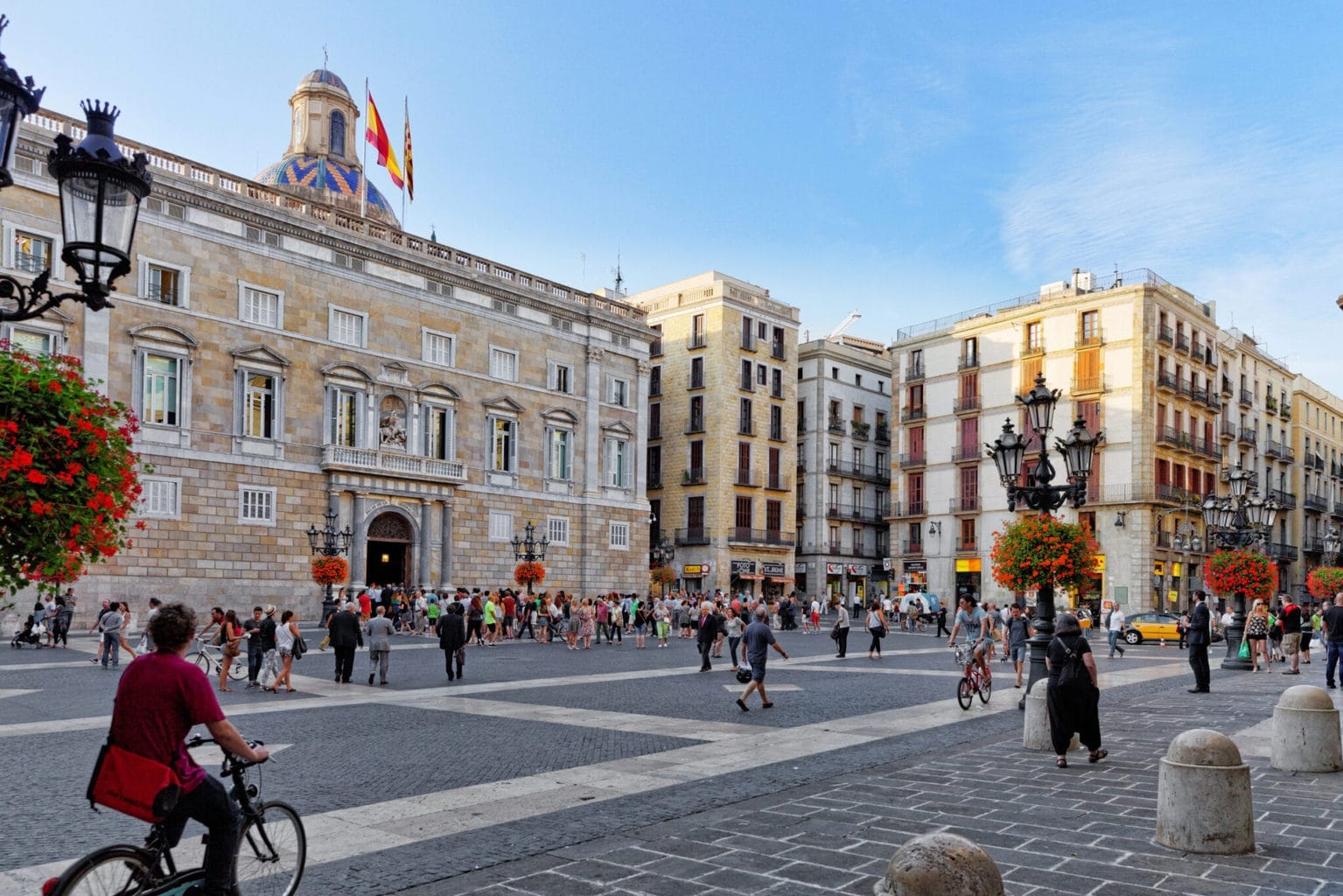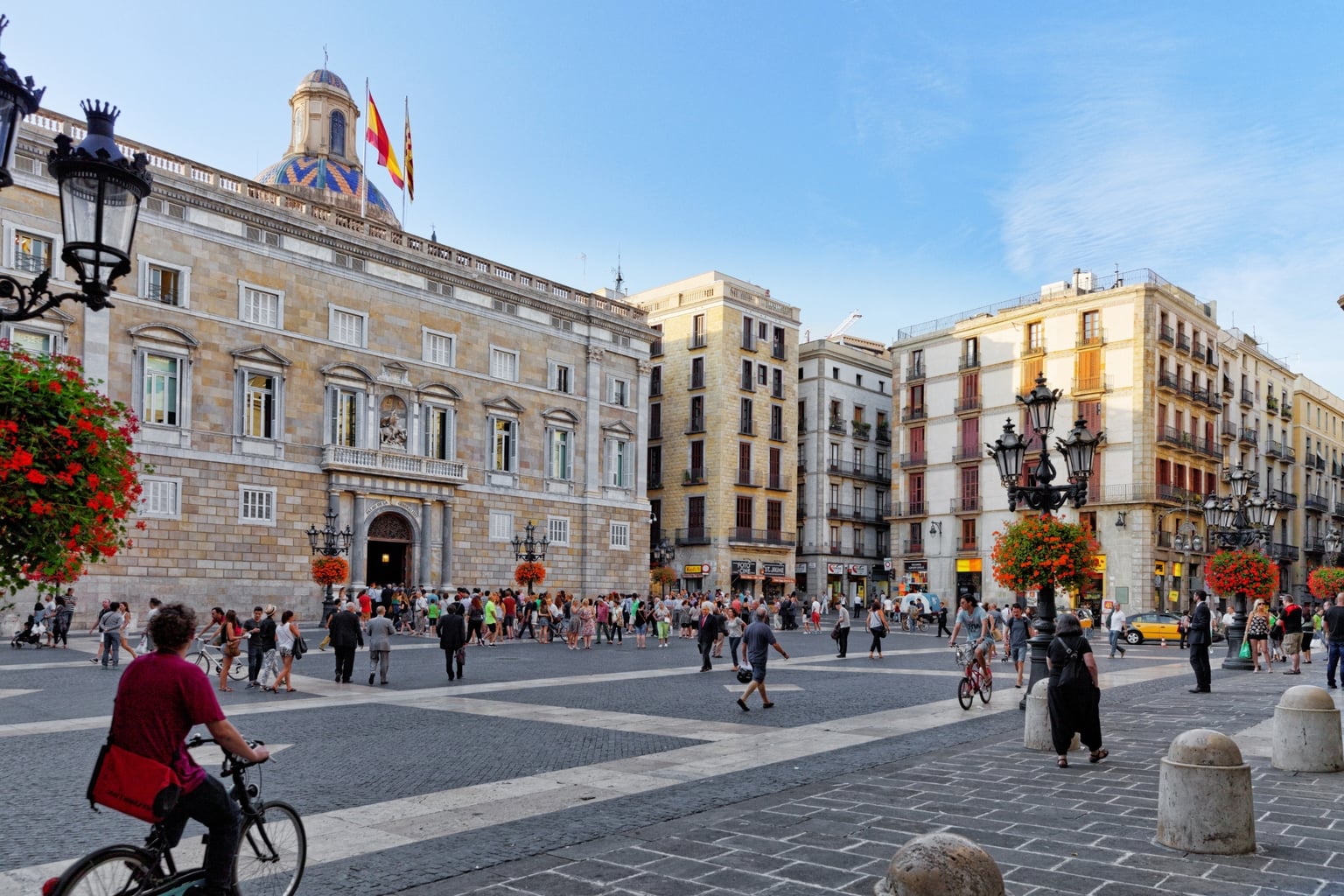 The political and cultural center of the city, Placa Sant Jaume (or Saint James's Square), is guarded, on one side by the seat of the Catalan Government, El Palau de la Generalitat, and on the other, by the Town Hall of Barcelona.
The uniform of the policemen at the entrance and the flags flying on their roof should tell you which one is which. The Catalan police, called the Mossos d'Esquadra, will wear the traditional Catalan barretina hat, similar to the French birret, and guard the Catalan government building. El Palau opens its doors to the public on key days such as St. Jordi (23rd April), La Merce, the city's patron saint (24th September) and on the Catalan National Day – 11th September. Outside of these dates one can request a free 1h guided tour on the 2nd and 4th weekend of each month by filling out this form.
The Town Hall can be visited every Sunday morning for free so make sure to time your Barcelona itinerary accordingly or come back on Sunday to visit it, it is stunning inside.
Placa Sant Jaume square sees demonstrations and cultural events regularly. There might be human tower shows, fairs or other events and during Christmas the city's Nativity is put on display for the citizen to enjoy. This is also where everyone comes to demonstrate and express their grievances, so it is not uncommon to see various groups with placard and banners.
Placa Reial
From Placa Sant Jaume take Carrer Ferran down towards Les Rambles and wander inside the Placa Reial on your left.
Built in the 19th Century, and literally translating as royal square, this a unique enclosed space meant for the nobility with palm trees and porticoed buildings. Check out the fountain of the Three Graces in the middle and the two adjacent lanterns, designed by Gaudi. Placa Reial was meant to be a place to pay homage to the Spanish king of the time, but the equestrian statue with him on a horse was never built and in its place lies the fountain.
The Square is always packed with pick-pocketers as it is a popular place in the evenings so be careful. Some of the city's famous clubs, like long term jazzclub Jamboree, are here and it is lively at night with all the outdoor terraces.
Lunch at La Boqueria and Bar Pinotxo
Get off track from your Barcelona itinerary for just a second to have lunch at La Boqueria, the beautiful most famous wet market in the city which was, in medieval times, the site of public executions and later a market. Built in the Catalan Modernist style it bears strong resemblance to any Modernist design. Look up to the sign with its name above the entrance which is made with colorful stained glass.
Wander around but be mindful and don't become a nuisance while getting distracted with photos, to those who come here to do their groceries. This is, essentially, a working market where stall owners make money from selling their produce not from the many photos tourists take. So be careful not to make it harder for them.
Find a seat at Bar Pinotxo for lunch. This tiny stall serves traditional Catalan food based on what's seasonal and found at the market. It is the ultimate market cuisine. Most of the times, the owner, Juanito, serves you whatever he wants so don't be surprised if he just dishes out a portion of what is on the menu for the day in front of you. This could include pulses, sausage, stews, squid, etc.
Here the strategy to get a seat is informal to say the least. Nobody keeps a waitlist of the people waiting for a table so just hover around until seats become available and just take them but beware of others who arrived before you. People come here to eat, so it is common etiquette to leave as soon as you are done with your meal so you should not wait for long. Or, be smart, and come outside typical lunch hours (ie before 1pm or after 3pm). If you come too late there may not be much left.
The owner is lively and noisy and the food is hearty and real. He will always wear his bow tie and vest and he is definitively an institution although the word is out for years and plenty of tourists will drop by and mingle with the regulars. Juanito has not given in to the tourists though and continues to behave just like he did 15 years ago when I was a university student so it is still worth a go. It is not unusual for him to serve his regulars first either.
If you want to have a real experience at La Boqueria, consider going on a tour with a chef who will tell you about all the seasonal foods. In Spain, we don't eat things that are not in season, although La Boqueria is one of the few markets you can actually buy imported and out of season produce. This tour includes a visit to the market followed by some sampling and then a paella cooking demonstration (although bear in mind paella is not per se Catalan but from Valencia). This tour is similar but instead of cooking a paella you make Catalan dishes and then enjoy them with wines (the tour runs on Wednesday only).
Or if you want to visit the markets but not cook, this tour explores La Boqueria and Santa Catalina Market (which is beautiful by the way) as well as some grocery shops so you can learn about food, I highly recommend it.
Placa del Pi and Placa Sant Felip Neri
Retrace your steps back to Carrer Ferran and venture left towards the old Jewish "call" Quarter to continue with your itinerary through Barcelona.
The Jewish people of the area contributed immensely to Barcelona's cultural flourishment in Medieval times and some of the buildings in the Jewish Quarter are very well preserved. Look around for two nice landmarks: Sant Felip Neri Square and Pi Square.
Sant Felip Neri is a charming square that is hard to find because it can only be reached through a narrow alleyway off the Neri Hotel, a Medieval Palace part of Relais & Chateaux that oozes history. The square's walls show the remnants of the Spanish Civil War. Look out for the holes left by the fragments of a bomb dropped during the War which killed mostly children who sought refuge inside the church of the same name.
La Placa del Pi is a much more lively and joyful square shaded by a large pine tree that gives it its name. It is famous with Bohemians and artists and arts and crafts fairs or individuals painting or sketching are commonly seen. Although it is not exactly hidden, it is less popular than other squares and still largely inhabited by locals.
Check out the church of the same name Basilica del Pi, for their summer and winter guitar concerts. Don't miss the chance to go up to the bell tower, the first opened in Barcelona for amazing views. More information here.
Porta Ferrissa
Porta Ferrissa is a commercial and historical street that used to be one of the main entrances to the Medieval city walls.
The word porta means gate and this gave entrance to the second wall of the city built in the 13th century. Ferrissa derives from the word iron and referred to the longitudinal iron bar used to keep the door closed.
The street is lined with alternative stores. Wander inside a few of them and note that some are as historical as the street although, sadly, slowly disappearing in favor of the deep-pocket international brands. You will see old stores selling hats, pastries and an old pharmacy as well as new Bohemian shops. At the end of the street, when it connects with Les Rambles you can see the tiled walls of a heritage fountain (pictured above) that explains the story of the door.
Granja Dulcinea for churros
It would be a good time to take a rest from your Barcelona itinerary and enjoy a quintessential Spanish mid-afternoon tea break of churros and hot chocolate. Remember that we eat late in Spain so the mid-afternoon snack is essential to make it through the day and until dinner time which is never before 9pm (much later in the summer).
One of the most famous and longest running institutions to serve the famous churros is Granja Dulcinea, near Placa del Pi. Step inside and you are immediately transported to the childhood of most Catalans. Wooden chairs, narrow spaces, low ceiling, painted tiles and the best sweets.
Go for the churros or for the ensaimadas, a powder-sugar topped soft pastry that you can also dip into the thick chocolate. And remember, the hot chocolate we eat in Spain is not liquid but thickened with corn flour. In Spain we buy it in individual sachets or in pots where the mixture is already made. It needs to be thick so it can properly cover the churros without making them soggy.
Better yet, join a private food tour of Barcelona where you will try churros but also other foods on a 3 hour exploration.
Article continues below…
Bonus Barcelona Guides

Check out my detailed guide on Where to stay in Barcelona with details on each neighbourhood and best hotel recommendations. Or my 1 Day in Barcelona Guide – Psst I am a local to the city!Here's a short table summary of all my favourite picks.
| Hotel | District | Stars on TripAdvisor | Price | Click to book now! |
| --- | --- | --- | --- | --- |
| AbAc Hotel | Barri Sarria-Sant Gervasi | 5 | $350 | Booking.com | Agoda |
| La Florida | Barri Sarria-Sant Gervasi | 4 | $200 | Booking.com | Agoda |
| Fairmont Hotel Rey Juan Carlos I | Les Corts | 4,5 | $210 | Booking.com | Agoda |
| Sofia | Les Corts | 5 | $220 | Booking.com | Agoda |
| Bagues | Cuitat Vella - El Raval | 4,5 | $275 | Booking.com | Agoda |
| Le Meridien Rambla | Cuitat Vella - El Raval | 4 | $440 | Booking.com | Agoda |
| Hotel Neri | Cuitat Vella - El Gotic | 4,5 | $380 | Booking.com | Agoda |
| Hotel Mercer | Cuitat Vella - El Gotic | 5 | $380 | Booking.com | Agoda |
| DO Placa Reial | Cuitat Vella - El Gotic | 5 | $380 | Booking.com | Agoda |
| Serras Hotel | Cuitat Vella - El Gotic | 5 | $670 | Booking.com | Agoda |
| Hotel Arts | Cuitat Vella - La Barceloneta | 4,5 | $365 | Booking.com | Agoda |
| W Hotel | Cuitat Vella - La Barceloneta | 4,5 | $460 | Booking.com | Agoda |
| Ohla | Cuitat Vella - El Born | 4,5 | $260 | Booking.com | Agoda |
| Grand Hotel Central | Cuitat Vella - El Born | 4,5 | $300 | Booking.com | Agoda |
| Mandarin Oriental | Eixample | 4,5 | $710 | Booking.com | Agoda |
| Monument Hotel | Eixample | 4,5 | $320 | Booking.com | Agoda |
| Hotel Omm | Eixample | 4,5 | $350 | Booking.com | Agoda |
| Palace hotel | Eixample | 4,5 | $360 | Booking.com | Agoda |
| The Cotton House | Eixample | 4,5 | $400 | Booking.com | Agoda |
| Alma | Eixample | 4,5 | $310 | Booking.com | Agoda |
| The One | Eixample | 5 | $330 | Booking.com | Agoda |
| Casa Fuster | Gracia | 4,5 | $250 | Booking.com | Agoda |
Barcelona Itinerary: Day 2 – Main arteries and charming districts of Passeig de Gracia, Les Rambles and El Raval
The second out of your 4 day itinerary of Barcelona will take in some of the most famous landmarks, streets and sights, starting at La Rambla. Everybody knows La Rambla, it is no doubt the most famous part of the city.
I will only give one piece of advise for La Rambla: be careful of your belongings. Almost everyone I know whose wallet has been stolen in Barcelona was wandering without paying attention along La Rambla. It is the place to get robbed. It is not dangerous, just hold on to your possessions because there are too many ill-meaning crooks that will make your wallet literally disappear.
Passeig de Gracia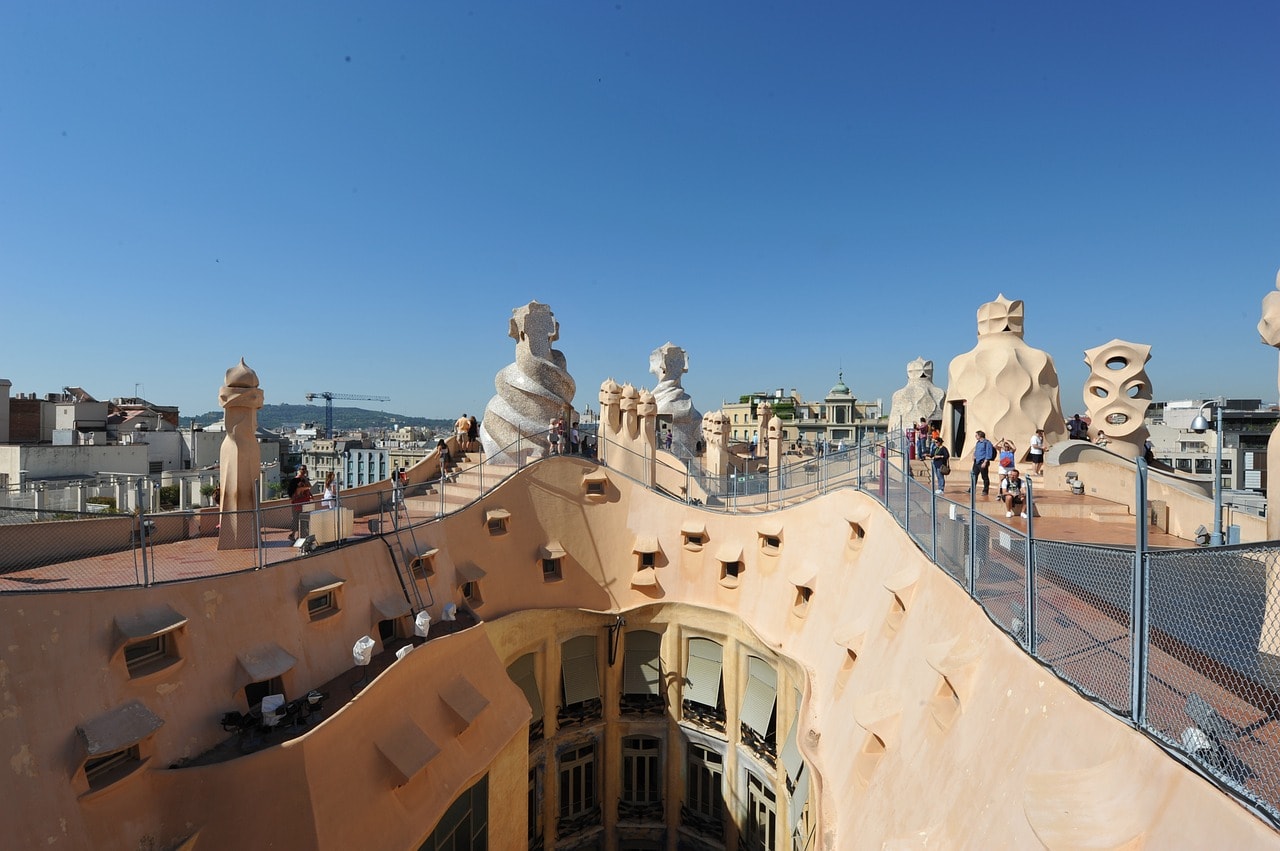 For locals, Passeig de Gracia is more famous than La Rambla which is not really a place you go for your day-to-day needs but more for a Sunday stroll. This is the main commercial artery of the city. All the luxury and high-street shops are here plus two of Gaudi's most famous buildings.
Start off at Gaudi's La Pedrera otherwise known as Casa Mila for its owners, which is for sure a must in your Barcelona itinerary. La Pedrera is an impressive building with a wavy facade located on the upper part of Pg. de Gracia and declared a UNESCO heritage site in 1984.
It represent's Gaudi's last piece of civil architecture and hence his culmination. The entire building draws from nature, like most of his constructions, and it is an impressive building to visit, one of my favorite, even more than La Sagrada Familia.
Do not miss the audio-guide and get a tour at your own pace, you can get skip-the-line tickets here, trust me, you don't want to suffer the queue that forms in front of the building everyday. If you need to refuel before the active day ahead, take a moment at the cafe on its ground floor which has views onto the light patio.
During your visit, make sure to go up to the rooftop which offers an insight into Barcelona's rooftops. Since this is one of the tallest buildings in the city you will be able to have a clear view of the famous checkered layout of Eixample District where you are now. Look out for the rounded perfect squares of urban planning "islands" as we call them. All buildings have internal patios inside and the intersections are not sharp so you could always see who was walking the other side.
If you want something a little different that really stands out in the area, hop on over 2 blocks to Casa de les Punxes designed by Gaudi contemporary Josep Puig i Cadafalch in 1905. This northern European style castle in the middle of the city recently opened up and is great to explore if you want to see how the wealthy of yesteryear lived.
La Pedrera is today a foundation dedicated to the conservation of the building through the ticket sales. One of the best ways to feel La Pedrera is by enjoying it at night attending one of the evening summer concerts, I cannot think of a more beautiful setting. You can buy tickets here. You can also spend an evening watching the sun set on La Pedrera from the Omm Hotel rooftop, one of the best rooftops in Barcelona.
Skip the queue with these Casa Mila tickets and audio guide below.
Pair them with a visit to the nearby Casa Ametller inclusive of a chocolate tasting which is what the family who owns the building is known for.
Carry on down Pg. de Gracia towards Casa Batllo on the other side of the street and make it inside, this is a must in Barcelone, you have to visit no matter the queues. Go on a self-guided visit with 3D virtual reality portions of the most beautiful Modernist building in Barcelona, in my opinion.
I have been at least 3 times and every time I marvel at the incredible beauty and magic of the place. La Casa Batllo dragon rooftop, its inner patio or the many incredible small details make it a surreal work of art that could only be conceived by a genius. What makes Casa Batllo unique is also the use of color and the various stained glass windows. This is a masterpiece.
Can you imagine living there? This was once someone's house today turned into a Foundation. Next to it don't dismiss La Casa Ametller, also a piece of Modernism architecture and very pretty as well, reminiscent of the almond trees in bloom where it gets the name (ametller = almond tree).
Get your fast-track Casa Batllo tickets and video guide ahead fo time to avoid the queues, they are usually very long for Casa Batllo. Book here to get the exclusive skip-the-line tickets which give you access to the building at 10am and a vintage photo souvenir.
Get tickets to visit Casa Ametller, La Pedrera and have a chocolate tasting here.
Or for the ultimate insight into Gaudi, join a private tour of Casa Batlló, Casa Milà, Sagrada Familia and Park Güell.
After Casa Batllo and Casa Ametller continue with your Barcelona itinerary down Paseig de Gracia. Wander into any of the shops if you feel like it. All the main Spanish brands have stores here and everything is far cheaper than outside Spain.
For lunch you may stop at either Txapela, a Basque montaditos and tapas place on the left of Pg. de Gracia when walking down or at the Pans & Company's outlet next to Casa Batllo. They sell the famous sandwiches we eat in Spain using crunchy baguette type of bread. Choose any of the classics like a jamon or fuet cured sausage sandwich or go adventurous with any of their ongoing creations.
See how many of the cold sandwiches are spread with fresh tomato rubbed against the bread. This is the traditional way of making a sandwich in Catalunya and a very unique custom. Then some virgin olive oil and the best cured meats. My childhood on a plate.
Placa Catalunya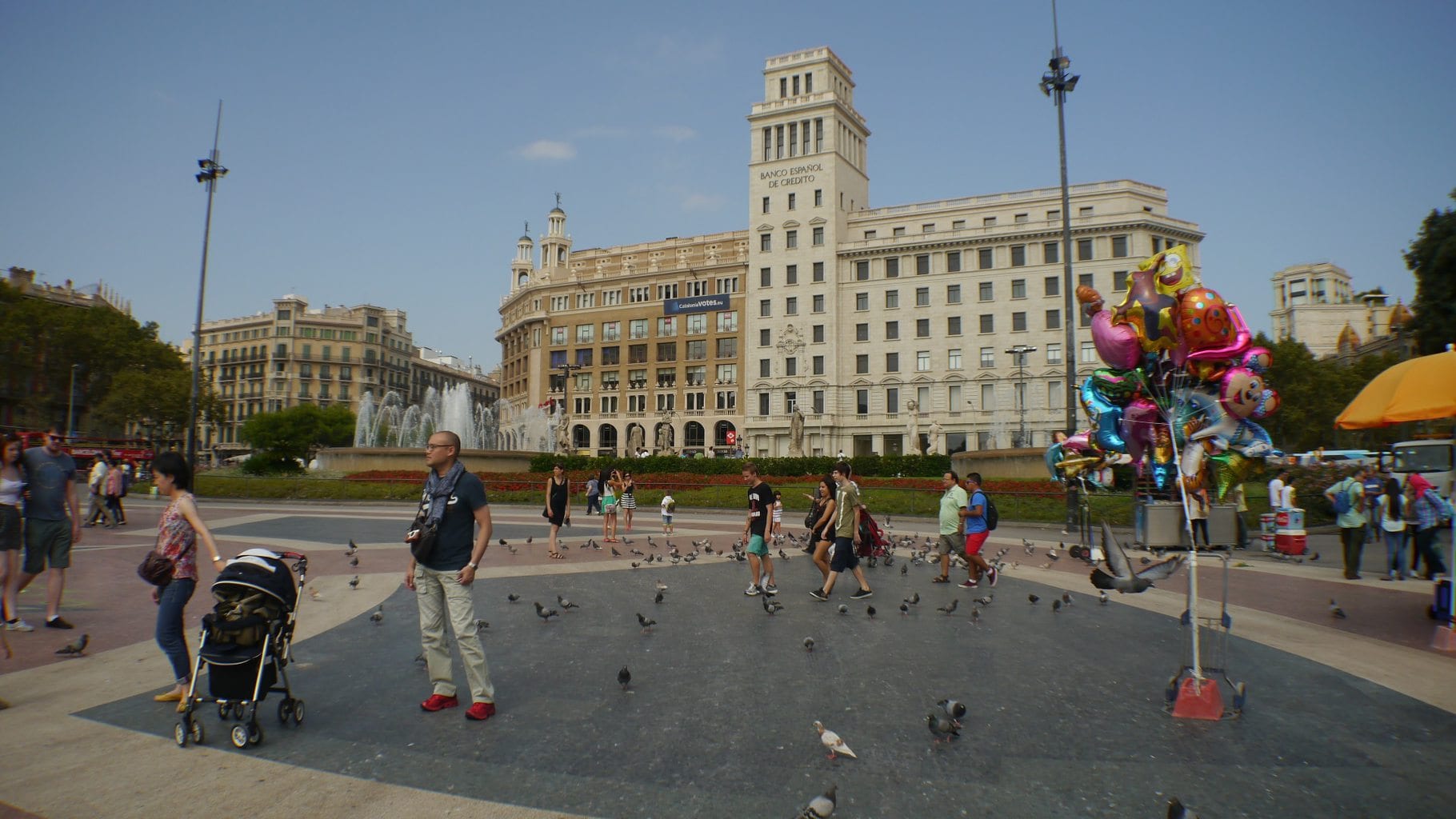 At the bottom of Pg. de Gracia you will be met with Placa Catalunya, what many consider the center of the city.
One of the main buildings that have become an institution is El Corte Ingles. A large department store that sells anything and everything, El Corte Ingles was made famous because you can buy and return everything, no questions asked, anytime. At the square you can buy food to feed the pigeons who will come in hordes to eat from your hand. If you need any tourism info the Tourism Office is under the square, as is the metro and the Police.
La Rambla and a few landmarks to look out for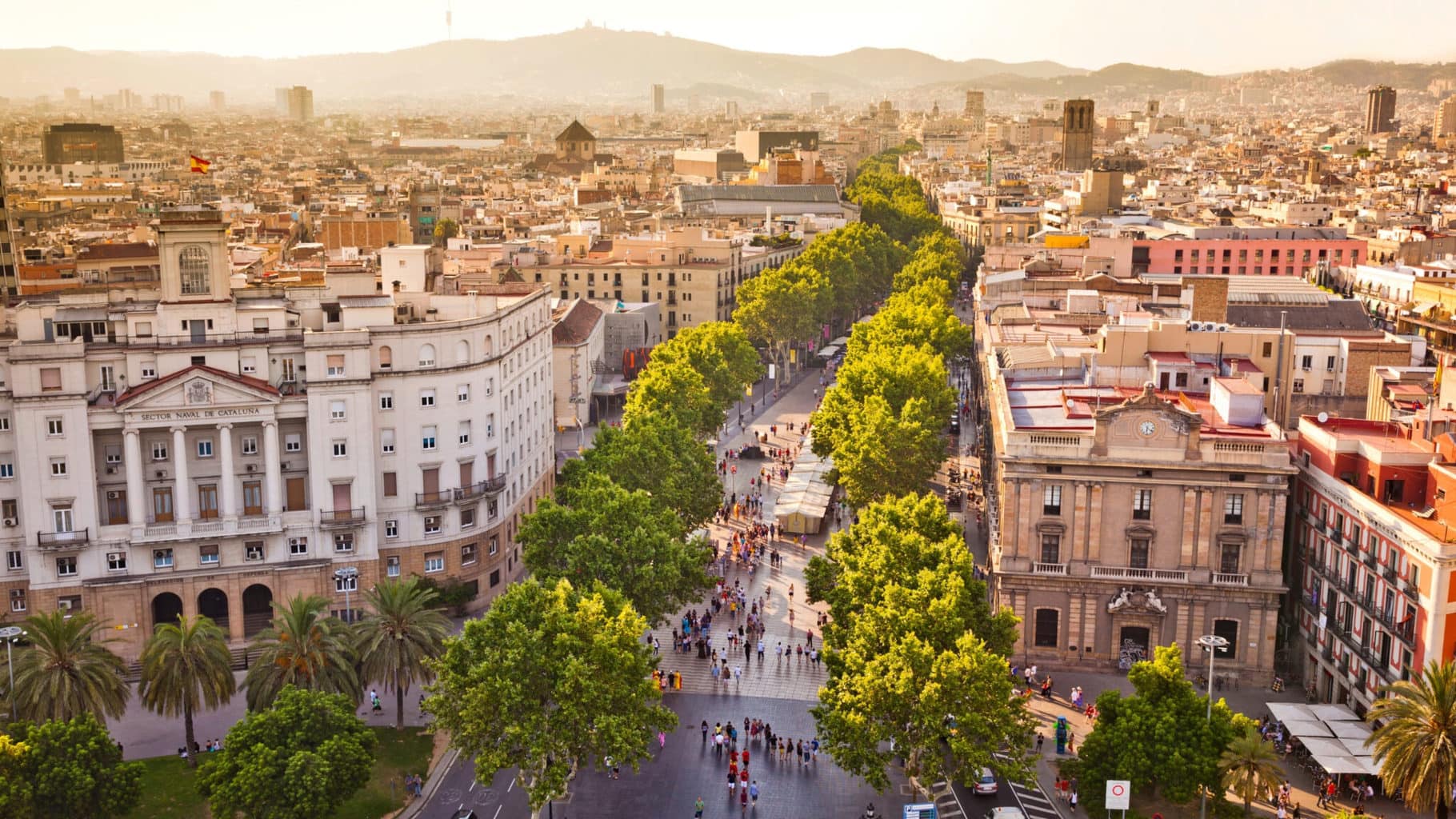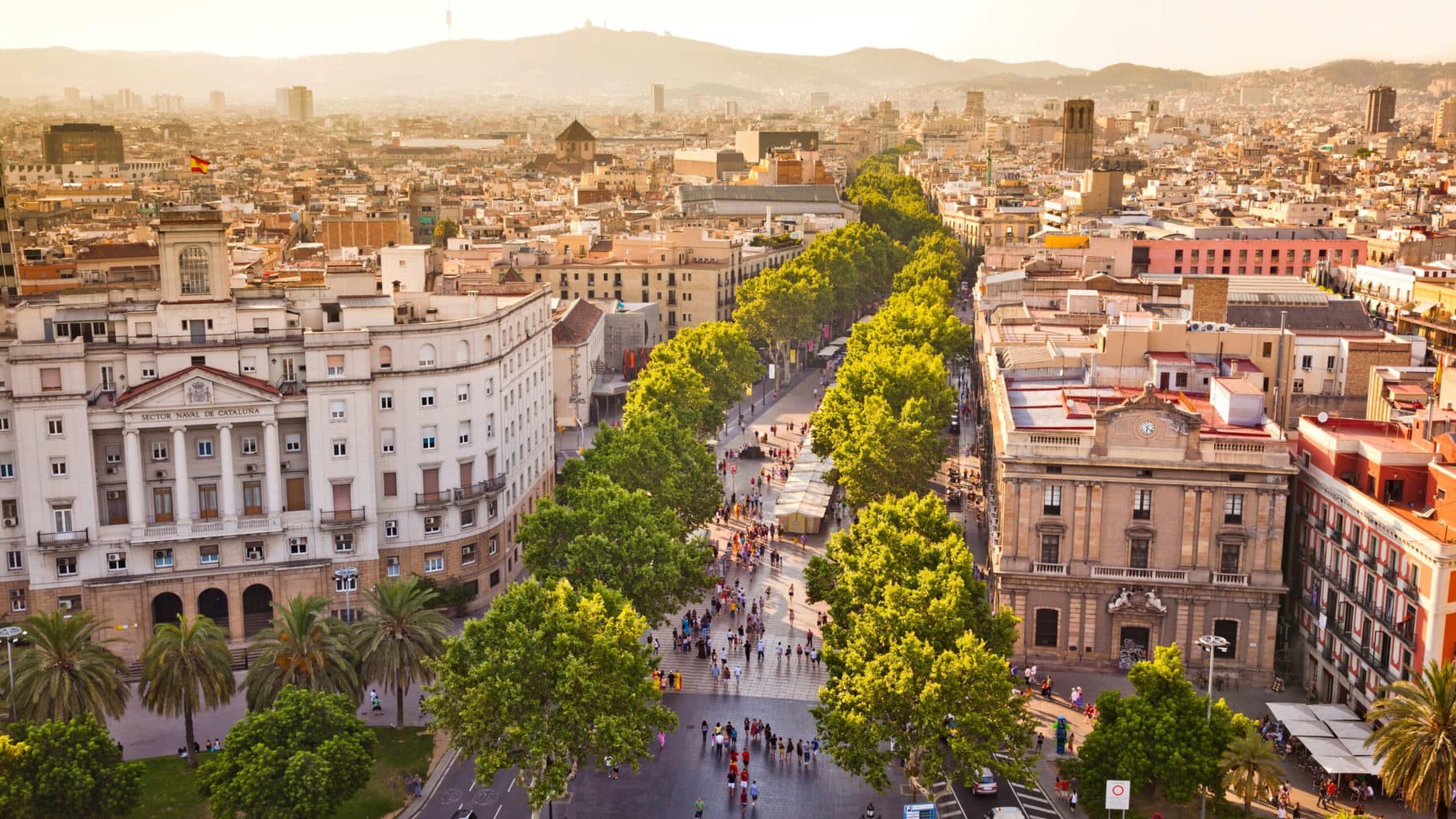 From Placa Catalunya make your way down until the Port along La Rambla, a highlight of your 4 days in Barcelona.
This major avenue 1.2 km long was founded in 1440 as a place of entertainment and leisure and a former river which was deviated when the city walls were built along it. Today, it is colorful, lively and always busy no matter what time of the day or night. it is estimated that 70 million people walk it every year.
The word rambla describes precisely this type of street with a pedestrian central area surrounded by trees, with kiosks and terraces, and traffic at either side. It is believed that the word comes from the English for ramble, or strolling.
La Rambla used to be a major center for convents, businesses and gardens until the 1835 revolt which resulted in the issuing of a decree called La desamortizacion de Mendiazabal, through which most of the Church's assets were confiscated. Convents were burnt and the face of la Rambla changed completely.
At that time is when the beautiful opera house, El Gran Teatre del Liceu was built, and it is also the origin of La Boqueria and La Placa Reial.
Wander the area up and down towards the sea, this is one of the most fascinating parts of the city and a highlight of today's Barcelona itinerary. Look out for human statues, for sellers, for the flower shops and kiosks, etc.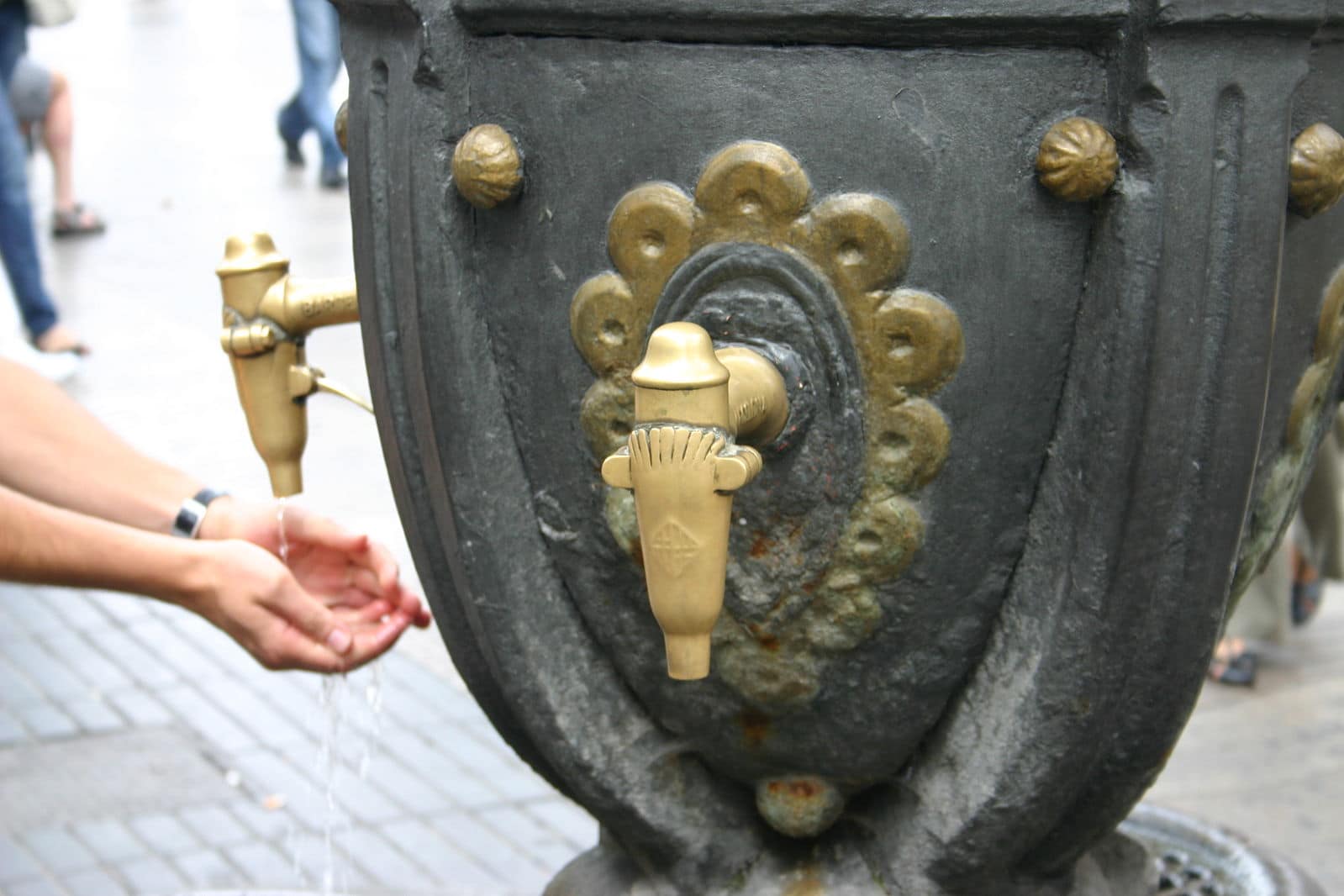 A few landmarks to look out for in La Rambla: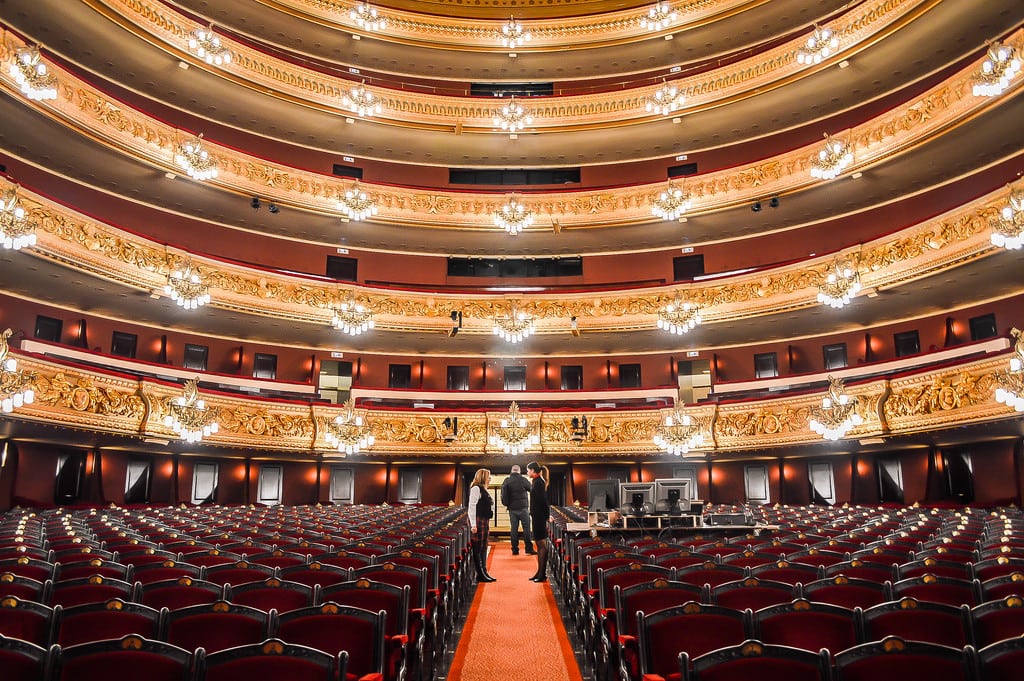 You can go inside and up to a viewpoint from where the city looks imposing and splendid. You will see the Gothic Quarter, the beach, the sea and the port. Magnifique! Opens everyday from 8:30am to 8:30pm.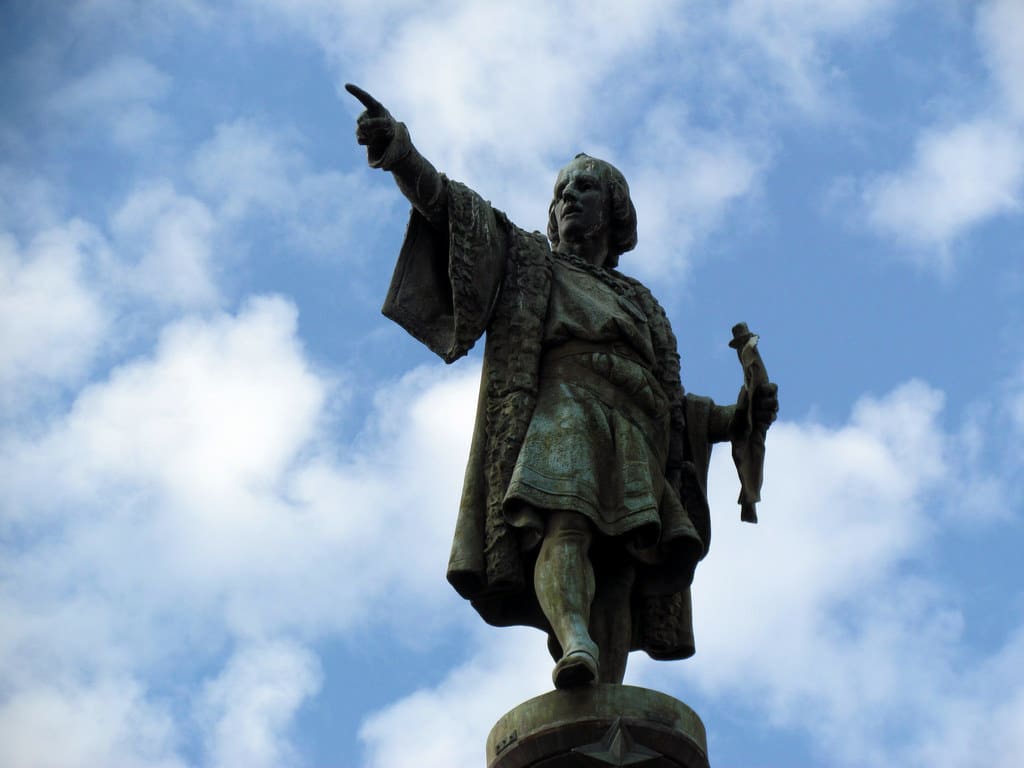 El Raval
Come back up from Columbus and venture inside the Raval Quarter to continue your itinerary of Barcelona.
The Raval is the neighborhood that is located to the right of La Rambla when facing the sea. It is considered the red light and immigrant district of the city well off-limits to most people when I was a child.
Today the area has been re-born as a center for Bohemian, alternative artistic expressions and all sorts of what makes Barcelona so unique, while still remaining home the Muslim and Arab community.
You can find cafes whose furniture comes from dumpsters, several alternative stores, design shops, etc. Drug dealers and prostitutes may still be quite visible on the corners and the bottom part of La Rambla at night. Although not dangerous, you may be put off by the constant "offering" of services. The word Raval derives from the Arabic Rabad meaning neighborhood.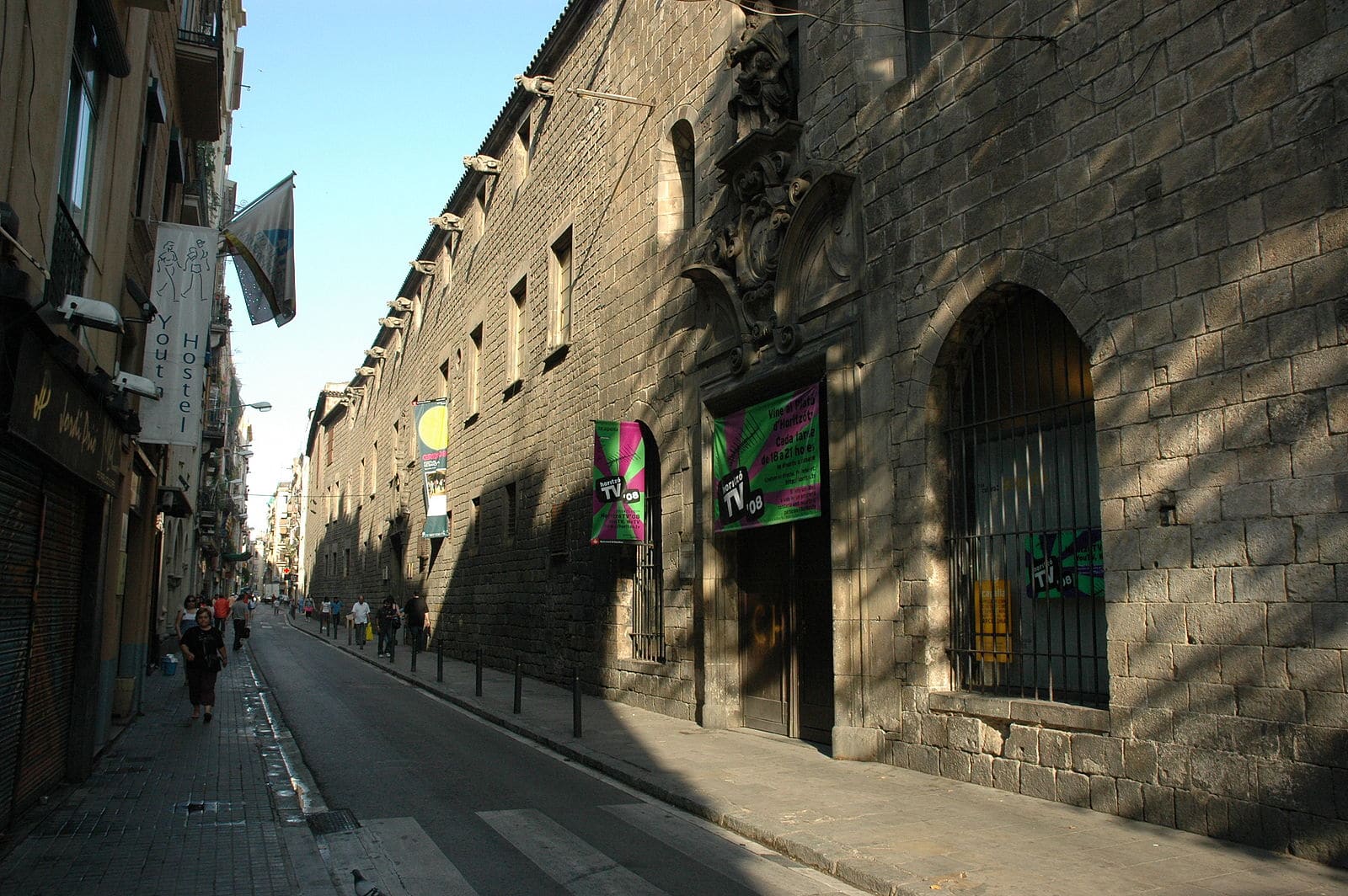 Historically, el Raval attracted migrants because of its proximity to the port and because it was the location for the first factories to be housed at the beginning of the industrial revolution. The area is also called, until today, Barrio Chino, or Chinese neighborhood, since the term was coined, for the same reason, in 1930s.
Since the 90s the government has done major efforts to clean up and relaunch the area by opening two very relevant art centers: Centre de Cultura Contemporània and MACBA (Museu d'Art Contemporani de Barcelona). The MACBA building is really cool, Book your tickets for MACB ahead of time here.
You will see teenagers on skateboards, artists enjoying a drink on any of the lazy pedestrian squares and streets and several creative spaces and innovative restaurants and bars. It is hipster's paradise. The best is to simply walk along the streets and get into the MACBA for its regular exhibitions that push the boundaries.
At Carrer Tallers, at the top end of the Raval, you will find all of Barcelona's alternative record stores and music lovers.
Bonus one day guide to Barcelona

If you only have one day in Barcelona, this is how you should spend it! Enjoy this one day itinerary for Barcelona. If you're planning on visiting other countries in the continent, here's our guide to an epic road trip across Europe.
Barcelona Itinerary: Day 3 – Parc Guell and Sagrada Familia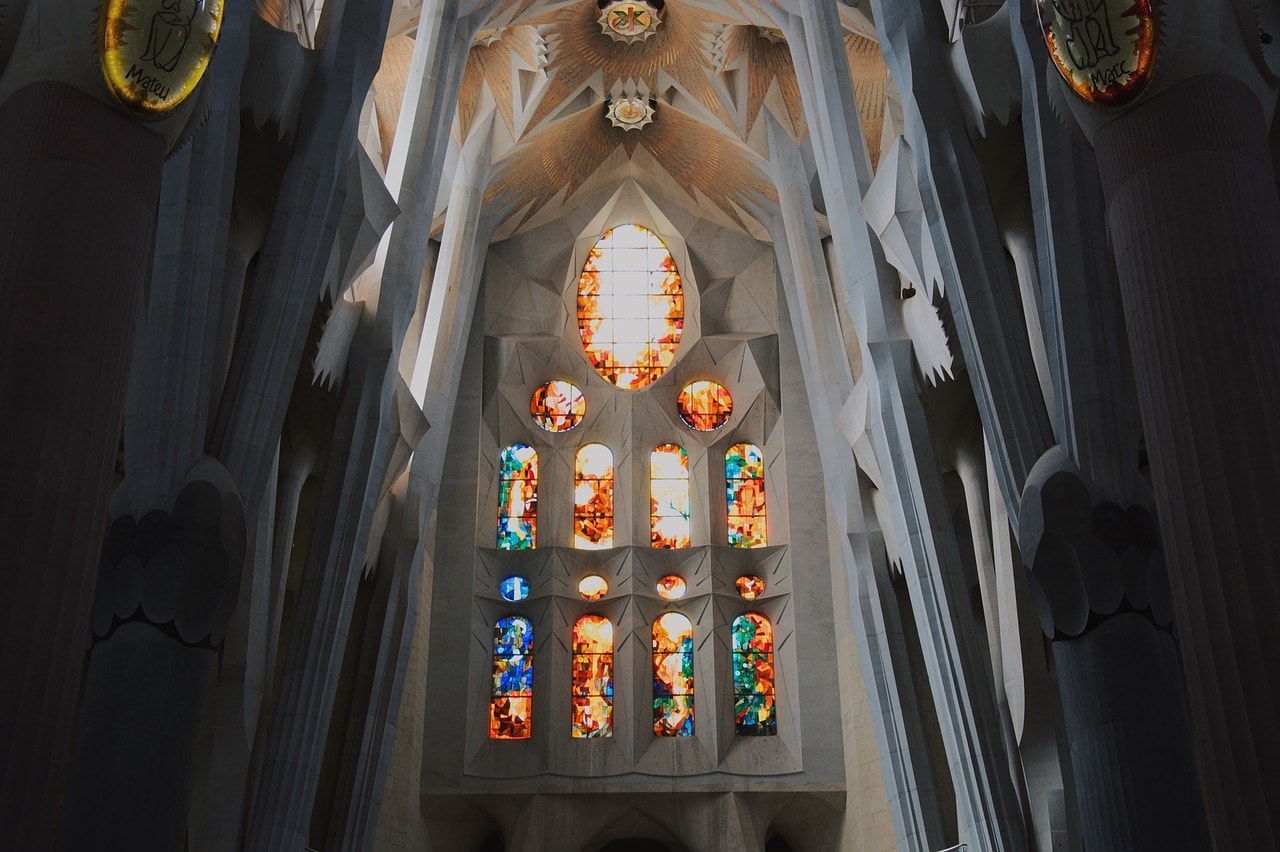 A Barcelona itinerary is not complete without a day out with Gaudi exploring his two most stunning constructions: Parc Guell and Sagrada Familia. Start your third day in this itinerary of Barcelona early so that you have time to have a leisurely lunch, the Catalan way.
Sagrada Familia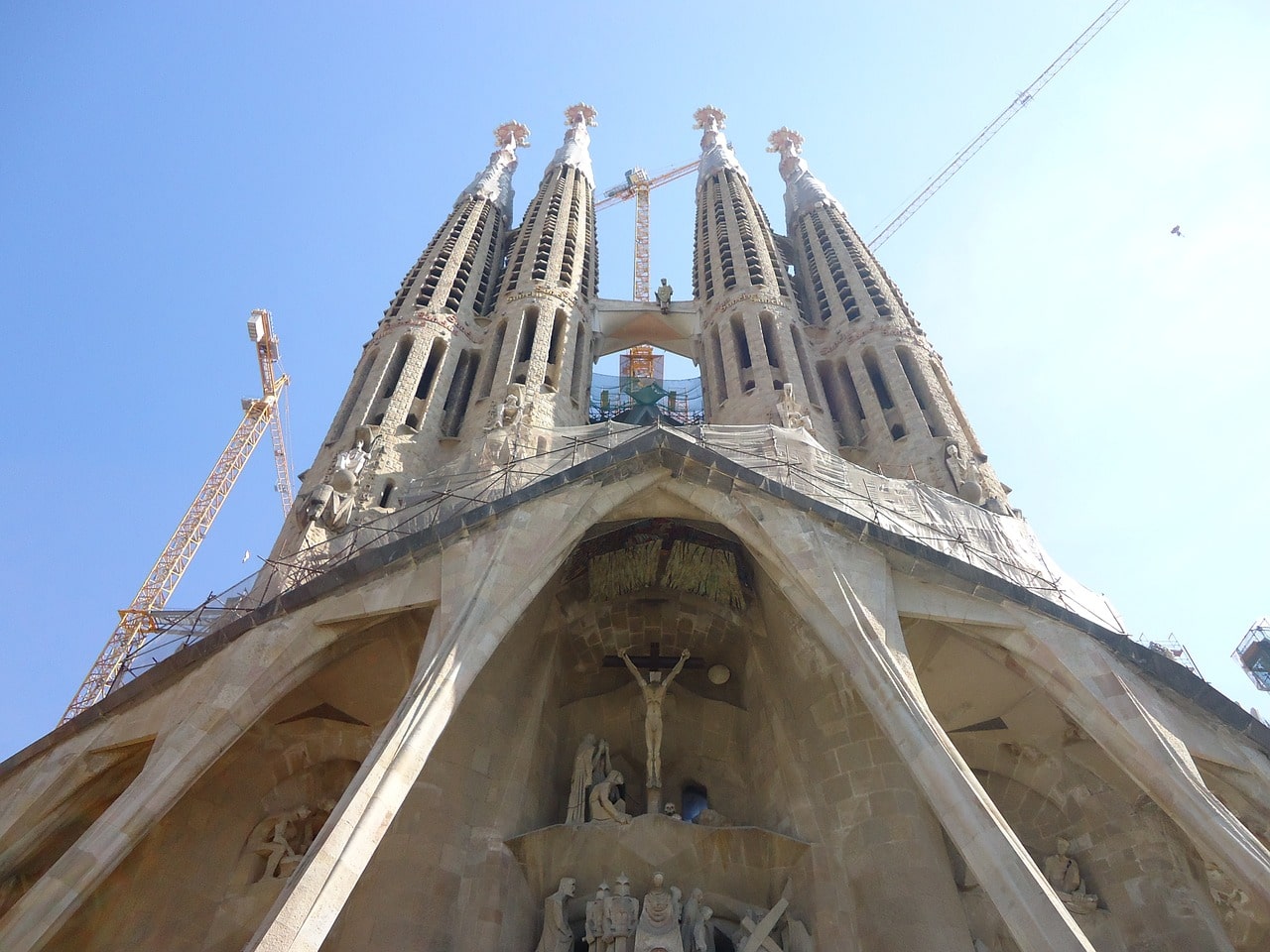 In Catalan, when somethings seems to take very long, we say it is like Sagrada Familia.
Most may never see its completion although latest estimates put that date in 2026, almost 150 years since it started. This is because the most incredible cathedral in the world is built still according to Gaudi's drawing and interpretations, but with donations from the public and the ticket sales.
No words can describe Sagrada Familia, you have to see for yourself. Sagrada Familia was Gaudi's long-life project and its main facade and crypt are designated UNESCO World Heritage Site. Go up to one of the towers for views and to see the architectural masterpiece from the air. This is a place that will stay with you forever.
Book tickets in advance to avoid the queue that is always permanently there and take the auto-guide. I strongly suggest that you book tickets with tower access because the views are amazing. So here you can book tickets with a guided tour and access to the tower.
Today a consecrated Cathedral, Sagrada Familia can host masses. I have written everything about Sagrada Familia to make life much easier for you.
Michelin starred lunch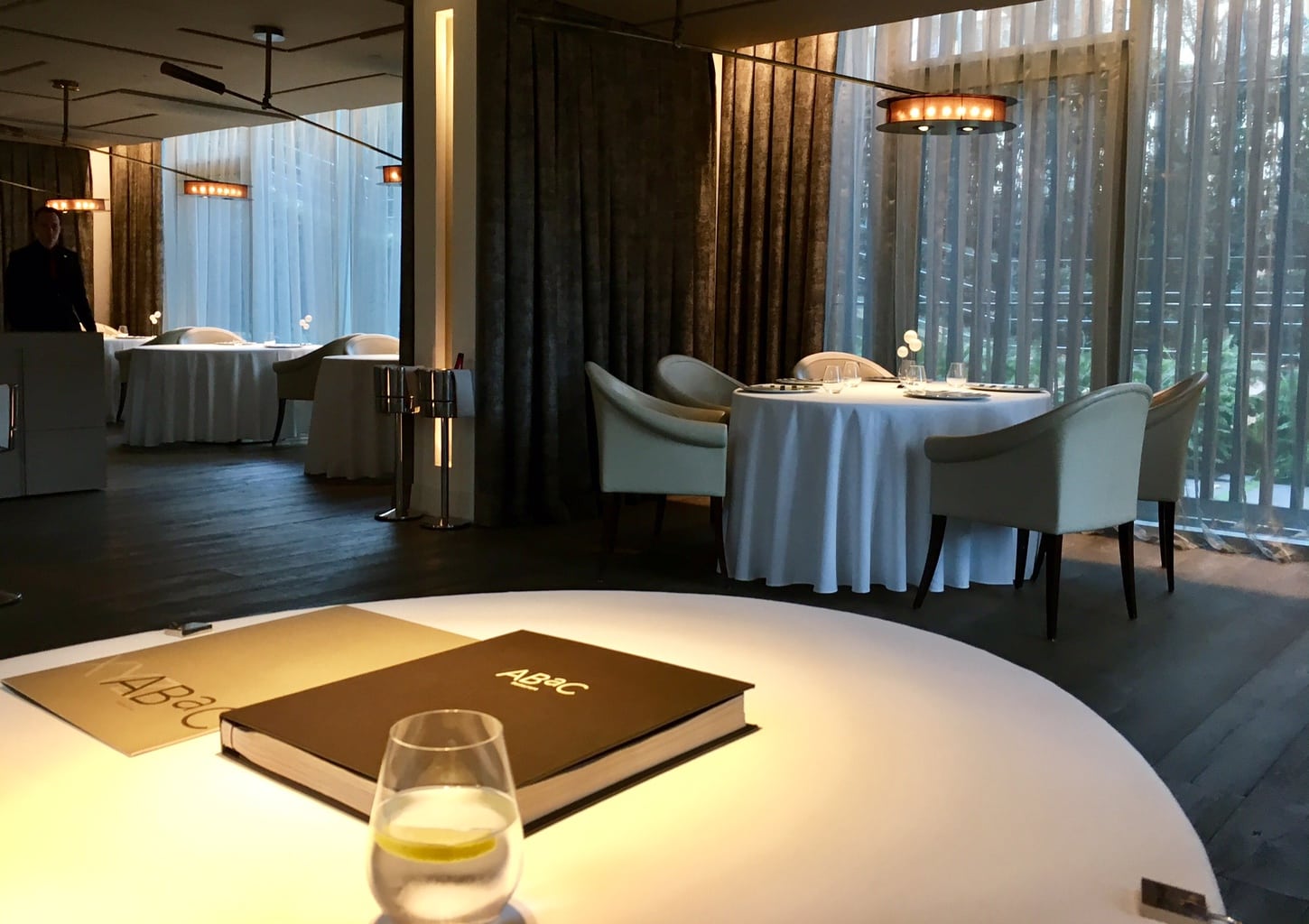 For a more leisurely day that also includes insights into what makes the city a foodie destination I would dedicate today to fine dining and experiential cuisine. Barcelona has many Michelin-starred restaurants and a long tradition in being at the forefront of international trends including molecular cuisine.
The city only has two 3-Michelin starred restaurants, several with two and a few with one.
The city also has a long list of restaurants with 1 or 2 Michelin star. I would highlight Cinc Sentits, which puts emphasis on Proximity food, as well as Disfrutar, from the chefs at elBulli which have received a wave of awards including a Michelin star within their first year of operation. I very much loved their creative, deconstructed cuisine of traditional Catalan dishes. You can read my review of Disfrutar.
Also worth checking out, if you manage to get a booking, is Tickets, Ferran Adria's venture after his 10-year Best Restaurant in the World elBulli closed down its doors. Via Veneto and Hofmann are helmed by well established Barcelonian chefs that have owned awarded restaurants for decades. Angle is other innovative options.
Park Guell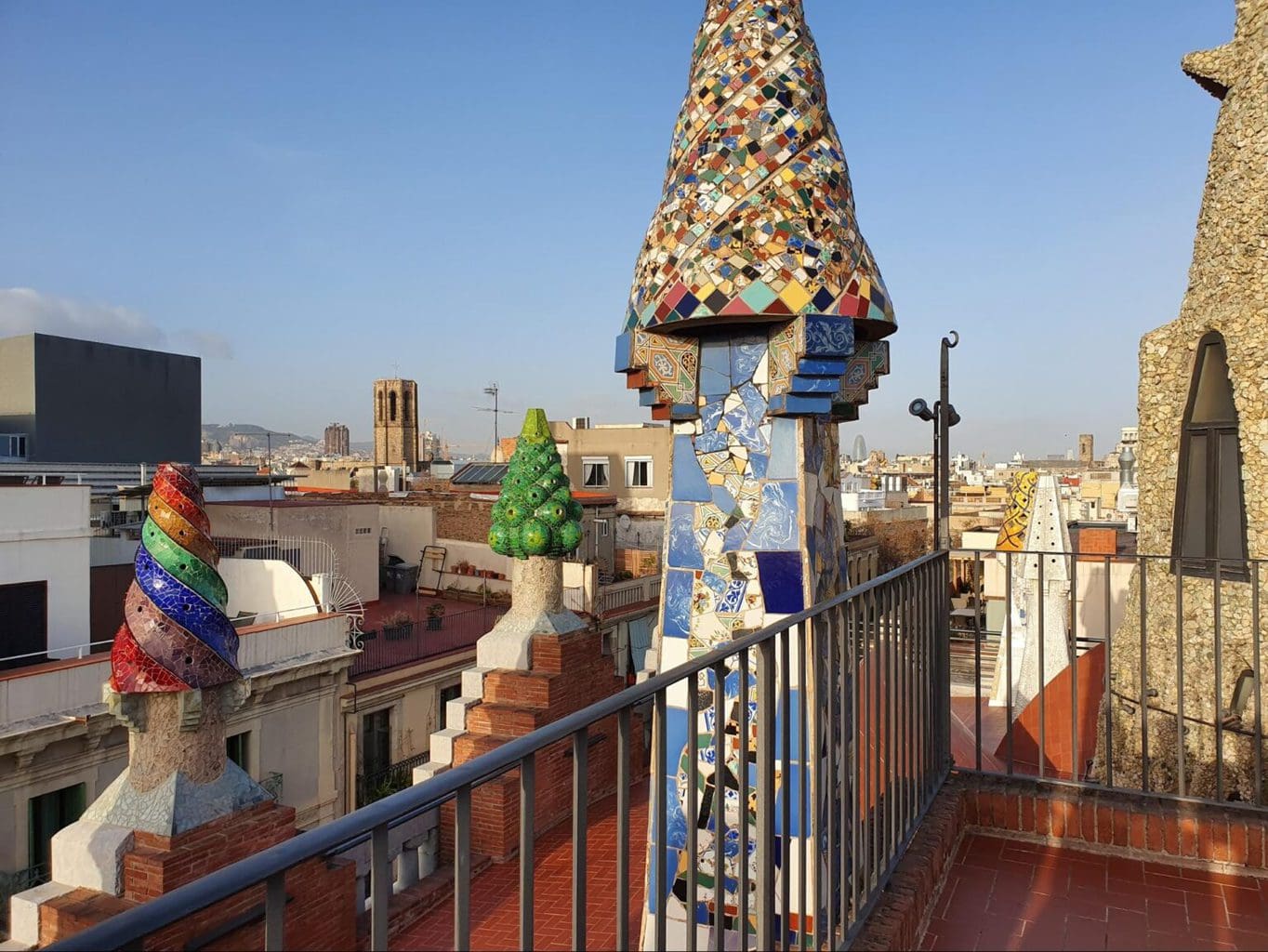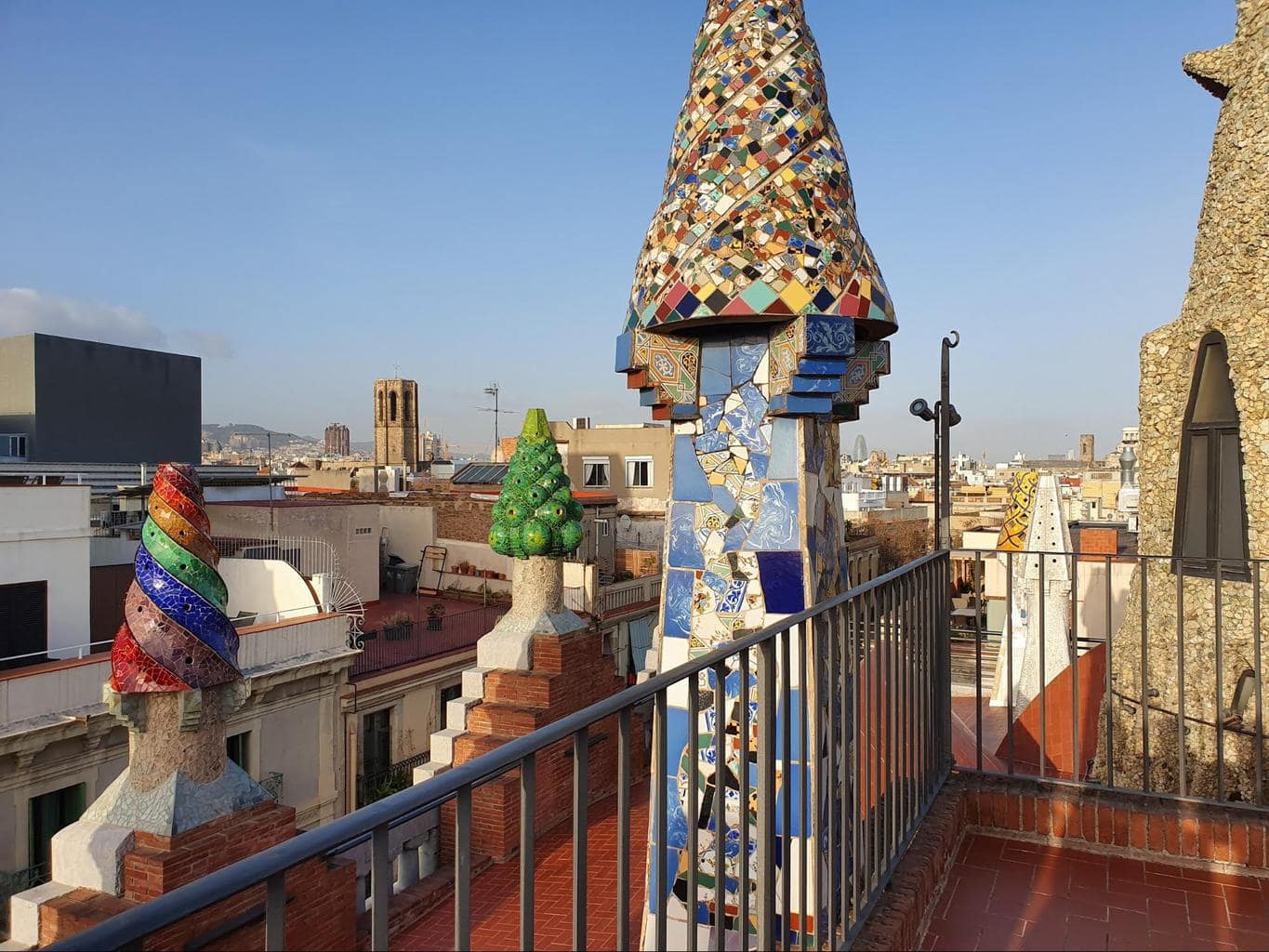 After a long and amazing lunch, visit one of the most beautiful parts of Barcelona and of this itinerary: Park Guell.
This is a public park like no other. It reminds me of my adoptive city of Singapore and its gorgeous Gardens by the Bay on its colors, its brave take on nature, and on its uniqueness, but with a decidedly Modernist design.
Park Guell is an oasis away from the city. Located up on the hill it provides a unique view over the urban sprawl and the sea. The entrance is greeted by the famous dragon made with Gaudi's popular "trencadis" technique of broken pieces of ceramic in all colors and it has become a symbol of the city souvenir industry.
The park is large and split over several levels. Make sure to wander up to the balcony made with an undulating series of benches covered with the same pieces of broken ceramic as the dragon which are so iconic.
Note how the park is called after the English word Park instead of Parc which would be the Catalan equivalent. This is because the owner wanted to design a city-park mimicking the English versions. The final project was never completed but the park remains one of Gaudi's most colorful and fantastical designs.
Since 2015 access to the monumental part of the park is now controlled via a ticketing system to preserve the area from the thousands of visitors. Buy online for discounts and to avoid queues which can run into an hour or more.
During the high season, if you do not buy tickets in advance you will not be able to get them at the entrance as they will be sold out so plan ahead. The park is designated UNESCO World Heritage Site and you can read more about it on its website.
A nice excursion from Park Guell, about 1.5km away is a hip sunset spot that has caught the attention of many an Instagrammer. The Bunkers del Carmel are a set of abandoned houses at the top of a hill with probably the best views of Barcelona where you can see right up to the ocean. This is a bit of a hike, but if you are relatively fit, it won't be a problem. Read more in my guide to visiting Barcelona Bunkers del Carmel.
Get your Park Guell admission ticket here.
For dinner I would explore another of the city's many awarded restaurants or head to Monvinic.
Barcelona Itinerary: Day 4 – The beach
Today should be a relaxing day with a bit of Bohemian undertones. so you can finish your Barcelona itinerary with a "live the city" rather than "visit the city" feeling.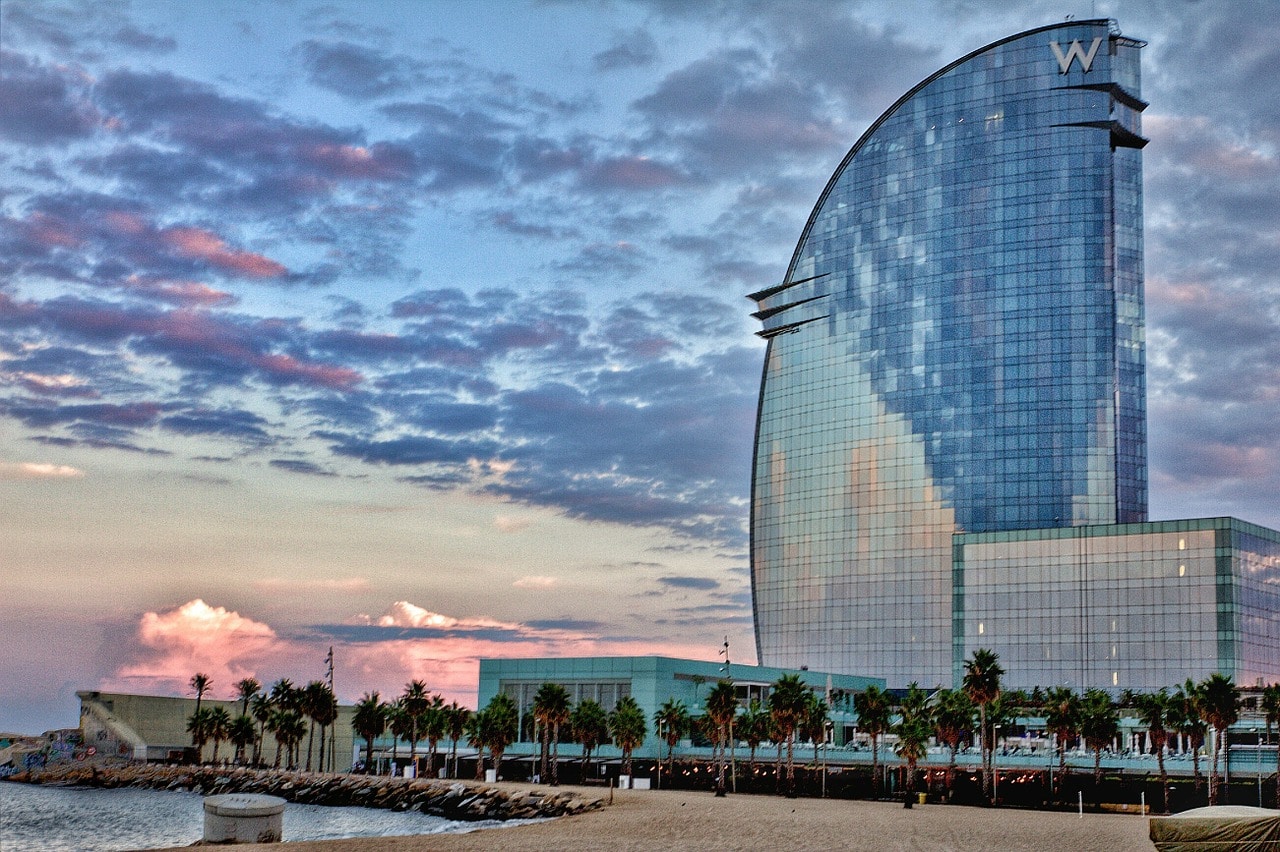 An historical stroll
Start off at El Born walking from Via Laietana into Carrer Princesa towards Santa Maria del Mar Cathedral. This architectural masterpiece is as important as the Cathedral. Walk inside to see how beautiful it is. If you're there in the summer months and on a weekend you are almost guaranteed there will be a wedding ceremony taking place at noon and throughout the afternoon.
Continue walking along Santa Maria del mar towards the main promenade. Right beside the cathedral you will find El Fossar de les Moreres, this Catalan tribute was the site of the graveyard for the fallen during the 1714 Siege of Barcelona. A monument stands on the site as a reminder.
The place sometimes goes unnoticed by visitors. For the Catalans, the fossar is more than a monument. It is a homage and the place authorities come to pay their respects on National Day which is the day the city finally fell to the siege in 1714. The flame at the top of the monument always burns.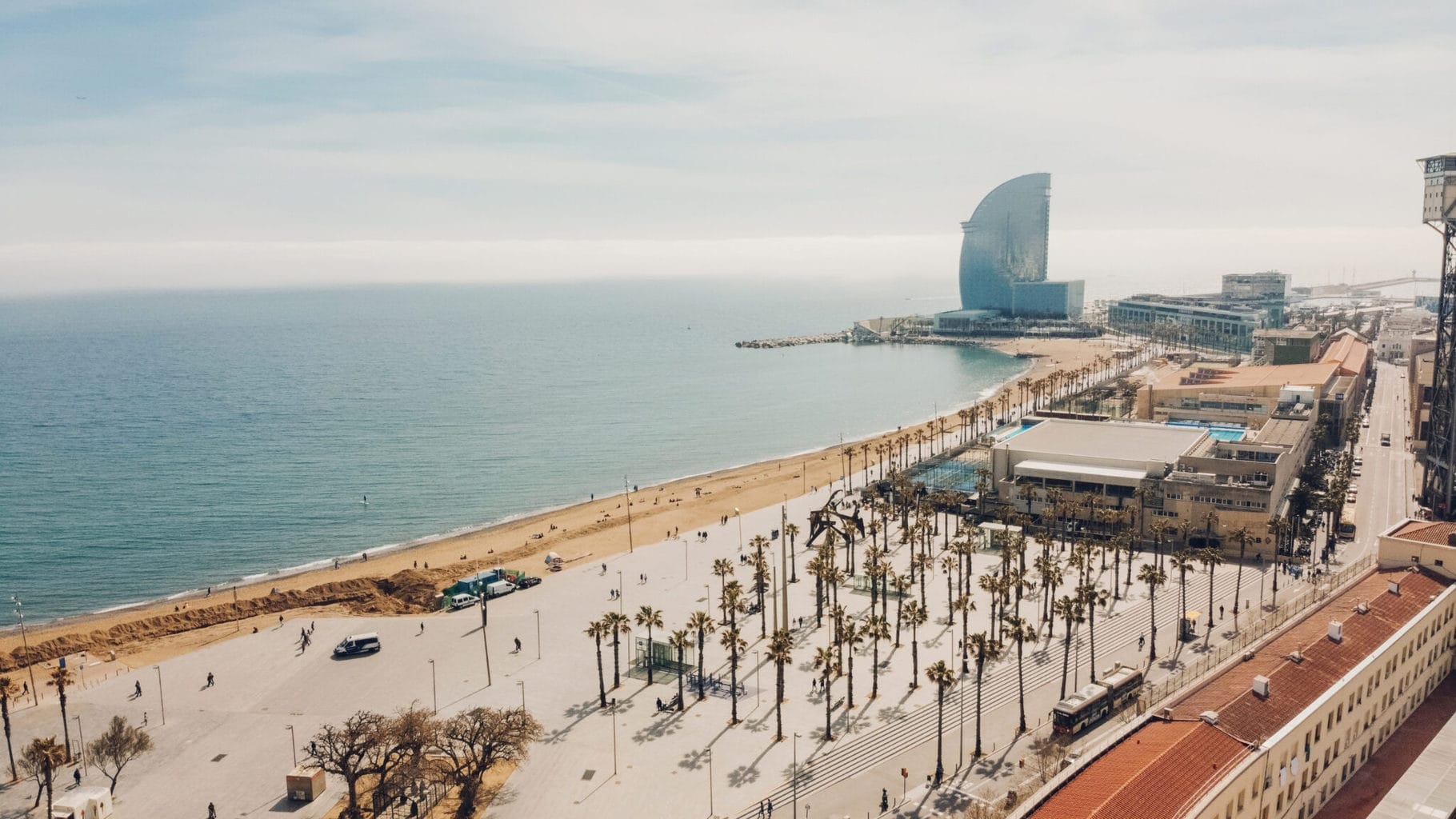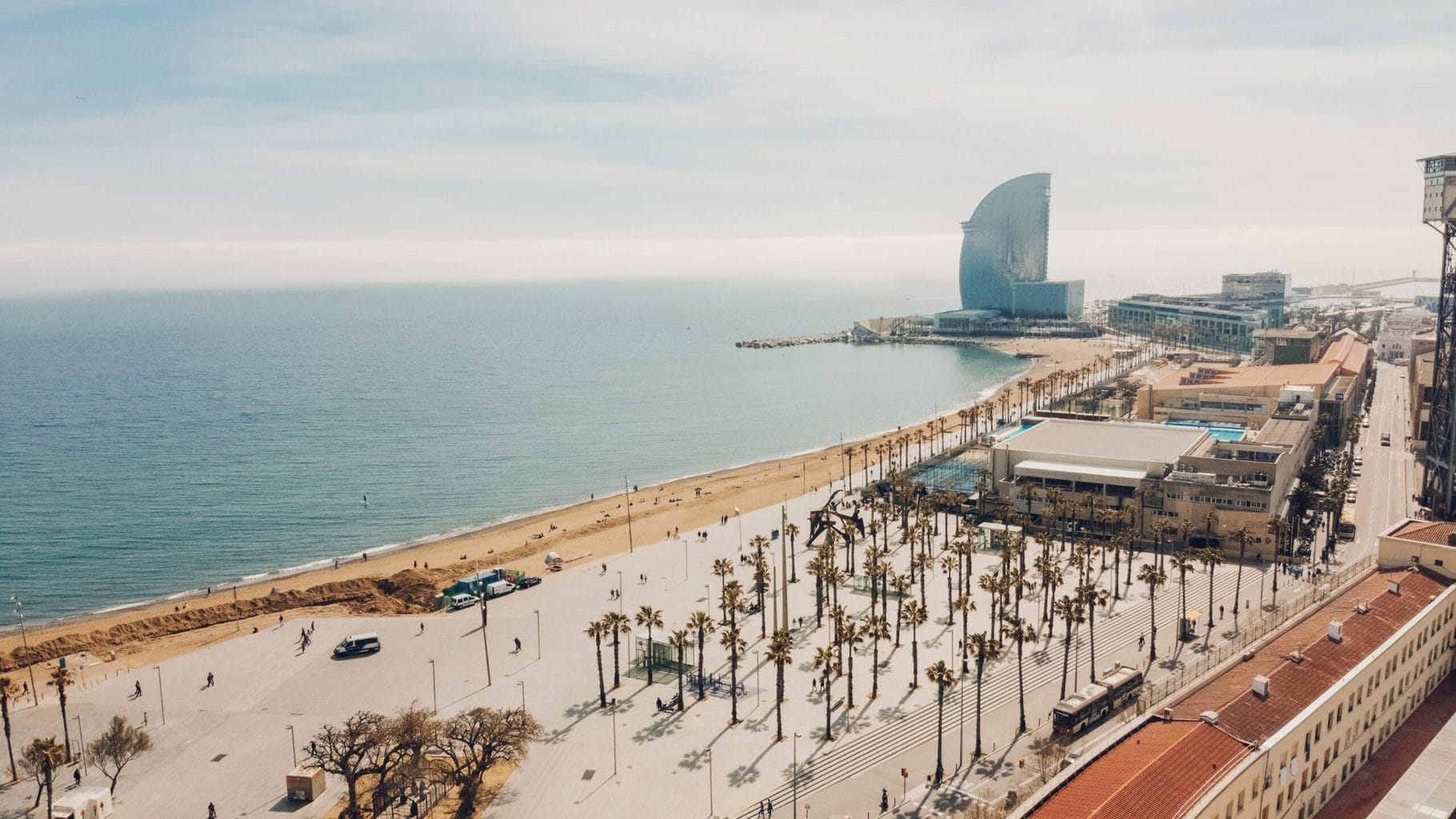 If you continue along you will reach El Paseig del Born. Born, in Catalan means jousting field, and this is the square which hosted tournaments and jousting matches. This is where merchants, artisans and guilds used to be located so there is a long tradition of commerce here.
Vogue called El Born "the Brooklyn of Barcelona" and it does have a bit of that artsy feeling. The street names conserve the original trades as guilds were grouped by areas. Here you can find artists studios and galleries and one of Barcelona's most important museum: Picasso Museum.
Although Picasso was not a native of Barcelona, he spent a long time in the city and his most important works are housed here, so it makes sense to include a visit to his museum in your 4 days in Barcelona itinerary, for he was a genius of our time. For opening times check here.
The museum is located in a small palace which is worth it on its own. You can visit the museum in conjunction with a guided walking tour of his highlights. Book tickets here.
Have lunch at Mercat de Santa Catalina on your way down where you can order any of the typical Catalan market dishes on offer. Some of the tours I mentioned above in La Boqueria also include this market with a colorful roof.
La Barceloneta
From El Born descend towards the sea following the breeze and the smell of the port. La Barceloneta was the fishermen's town no longer in use. The sea meets the city here among fishing boats, charters, large luxury cruise ships and private yachts.
In 1988, the decision was taken to demolish the old beachfront restaurants, known as xiringuitos, and public baths, heralding a process of opening the city up to the sea.
That part of the city changed dramatically with the Olympic Games in 1992 which started a new phase for Barcelona to catapult into today's stardom and cosmopolitan city.
Today, the area is oozing charm and modernity and the beach is always packed with locals and tourists alike. What other major European city has such easy and direct access to the beach? The answer is none (bar maybe Monaco)!
You've earned a relaxing afternoon walking along the sea board or enjoying a bit of sun. Have a drink at one of the bars and make your way towards the Vila Olimpica, the area that housed the Olympic athletes during the games. Find the Hotel Arts for reference and enjoy dinner at any of the terraces at beach level underneath.
Barcelona is a city that faces the sea and life very much revolves around the mediterranean so what better way to truly live the city than by taking one of the tours below which will take you right out into the sea.
Barcelona Itinerary: Other places of interest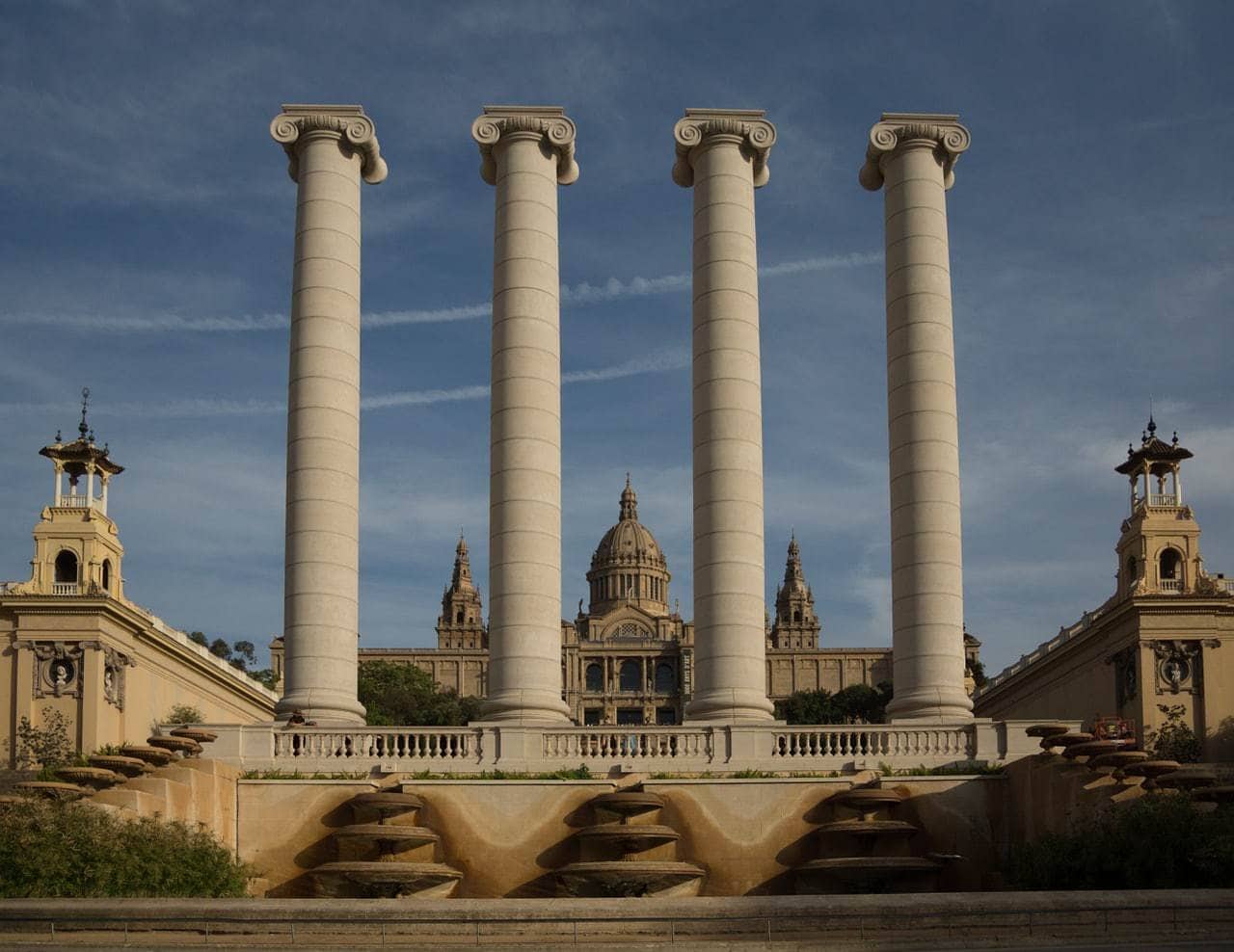 Depending on how tired or inclined you are there are a few other places that are well worth a visit.
If Barca is playing at home while you are there, get tickets! This will be a memorable experience. The Museum is also open to visitors and it is the most visited museum in Europe, but what truly shows the atmosphere of the stadium is watching a game.
Get your jersey on, wear warm clothes in the winter and a hat if you're not under cover and get ready to cheer together with almost 100,000 other fans.
Camp Nou is the second largest stadium in the world and the whistling and shouting of the crowds or the beautiful mosaics built with individual pieces of cardboard held by everyone are something very unique and emotional to any Catalan.
If you can't see a game (or even if you do), make sure to get tickets to visit the stadium and the museum or even better, book a private tour and get a chance to touch the grass and see the tunnel where the players access the stadium and their changing rooms.
Barca, is more than just a Club, it is the identity of Catalunya and the Catalans.
The Maremagnum, in front of the Columbus Monument is a nice area to shop around on Sundays when everything else in the city is closed. The architecture is very unique as well and makes for a pleasant walk.
Montjuic is the small mountain by the sea that hosted the Olympic Stadium, the flame and the various competition grounds. It is also home of the city's cemetery on one side and to the Museu Nacional d'Art de Catalunya (MNAC) where you will be able to see Medieval and older pieces of art from religious origins. Next to it there is also the Fundacio Miro.
The museum card give you access to 6 of the Museums including these two as well as Picasso Museum, Fundacio Antoni Tapies, MACBA, CCCB and MNAC.
The Magic Fountain that leads up to the MNAC is used for lights and water shows perfectly choreographed to beautiful songs. Performances happen occasionally during the summer months but the most important one is the show used to close the celebrations of Patron Saint, La Merce, on the 24th of September which also includes fireworks. It is an exquisite show and extremely beautiful.
The most famous of them was the show put together for the Olympic Games when Soprano Montserrat Caballe and Freddy Mercury sang the theme Barcelona to celebrate the city's choice as the 1992 Olympic Games destination. You can see the video here.
If you are Catalan, you can't watch this video without shedding a tear. The song was released in 1987 but Mercury died before the Olympic Games opening ceremony although the recording was still played.
Here are a few other unique tours you can take in Barcelona:
Barcelona Itinerary: How to get around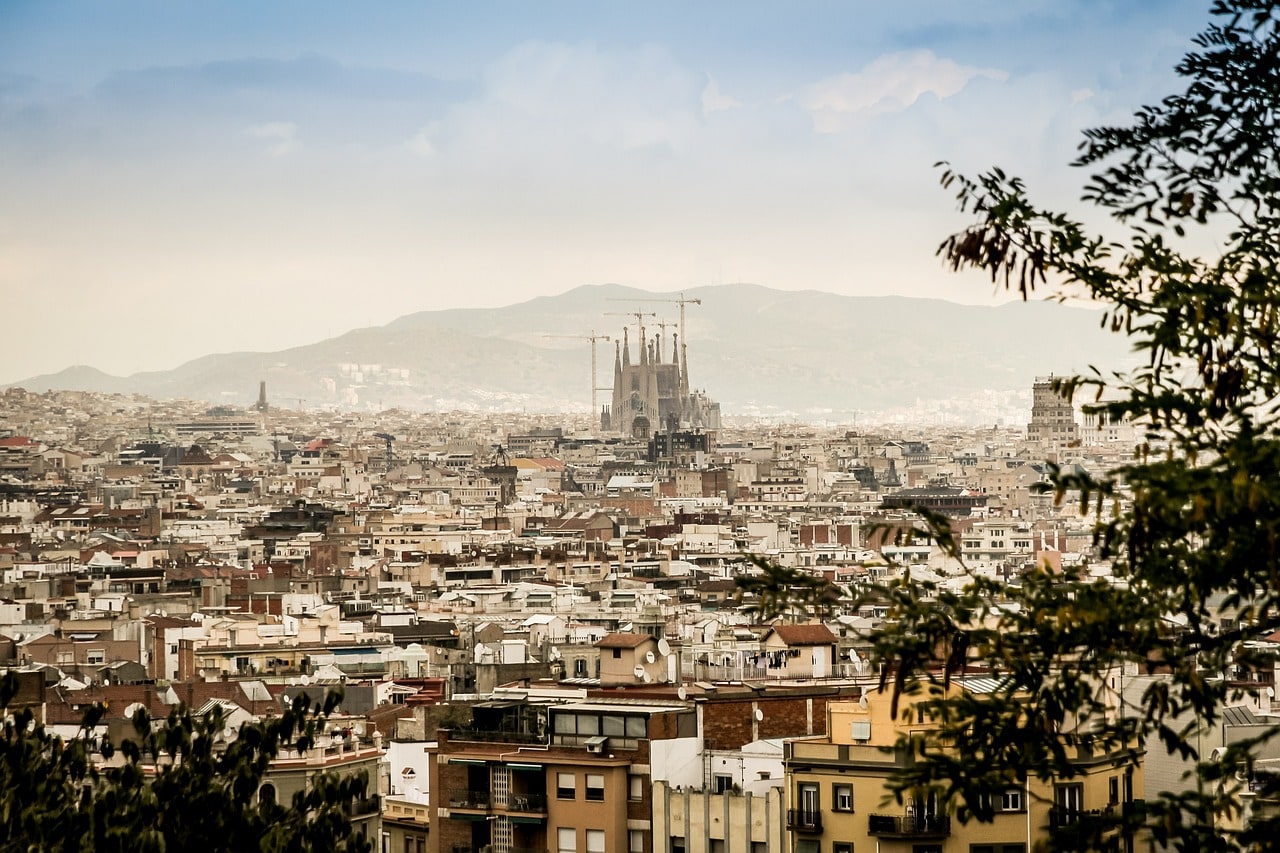 Most of my Barcelona 4 day itinerary calls for walking. Barcelona is a walkable and temperate city with mild weather all year round. It pays to walk so you can fully take in a city that should be lived. If you get tired though, take the metro or a bus.
You can find the bus routes on any of the bus stops. It will tell you the ones stopping at that particular stop and their Barcelona itinerary. You can interchange between bus and metro within a 1h period with the same ticket without having to pay again. And if you just want a quick ride, take a taxi, they are not so expensive. Uber is not available in Barcelona.
Alternatively, and more conveniently, get tickets for the Bus Touristic, the hop on hop off bus, which covers all the places mentioned here, including Park Guell which is pretty far and disconnected from the rest of the city. It pays to get the bus for a couple of days.
Here are all the best hotels in Barcelona to stay at. And don't forget to hop over to my home town of Sitges for more beach and coastal fun. Here is more on how to get from Barcelona Airport to Sitges and back if you do decide to go. You can also find some other day getaway ideas from Barcelona.
Remember to Pin this to your Barcelona Travel Pinterest boards!