This article was first published in June 2016 and is constantly being updated. The last update was in November 2019.
France is known as the country of gastronomy and Paris is full of very good restaurants making it hard to decide the best place to eat. Fine dining, corner bars, patisseries, cafes, you name it. But perhaps one of the most well known and internationally acclaimed formulas is the bistro. It wouldn't be the City of Lights without the best bistros in Paris.
The origin of the word "bistrot" is very complicated to determine. The legend says that, when the Russian Cossacks arrived in Paris in 1814, they were entering the cabarets and bars and asked to be served very quickly and Russian for "hurry!" is Bistrot. Linguists however believe that the word derived from "bistraud", which in one French dialect means "the assistant of the wine seller".
What is a Paris bistro
We have described the etymology of the term bistro above, but what is the actual difference between a bistro and a restaurant?
They aren't necessarily different things. A bistro, rather, is a type of restaurant. It's more of a laid back, casual French restaurant that served usually inexpensive food that is not prepared too elaborately. The food usually has a more rustic presentation where the chefs will interpret French classics in a new way.
This isn't to say that bistros are of lesser quality, in fact they can also be gastronomic and Michelin worthy. Another almost constant addition to any Paris bistro is an extensive wine list either from a specific region in France or a blend of amazing grape varietals.
Another type of French restaurant you may find yourself in is a brasserie. This differentiates itself from a bistro in that it has Alsatian, not Russian, roots and is literally translated from French as "brewery". They therefore have their history in beer making and there is usually beer on tap.
So while bistros are smaller, quainter and flowing with wine, brasseries are more boisterous, larger open and apart from the beer, have oysters, soup, and choucroute.
The best bistros in Paris (with map)
For a truly local guide to eating at the best bistros in Paris, start with the top 10 that locals eat at. This list of recommendations was prepared and put together by Parisian born and raised Laurence, from Paris Toujours, who specialises in putting together the best tours in and around Paris.
1. Le Café de la Nouvelle Mairie in the 5th arrondissement
Located a two-minute walk from the Pantheon, the Café de la Nouvelle Mairie is a typical bistro. In the heart of the student area of Paris, the restaurant is often filled with students, teachers and musicians. With a façade dating from 1927, the place was perfectly renovated with a typical French decoration, a zinc counter, old parquet, mosaic etc.
The welcoming staff adds to the charming atmosphere. The owner is a wine lover, and especially of organic wines so he has made his restaurant one of the best addresses in Paris for these wines from boutique wineries.
The dishes are generous, made with local produce and according to French recipes. The à la carte average price is around 20 euros. I have been to this restaurant several times and I am always surprised how it contrasts with nearby Rue Mouffetard tourist traps restaurants. Take a stroll to the Romantic Life Museum (Musée de la Vie romantique) and find one of the secret gardens of Paris for extra romance.
Café de la Nouvelle Mairie 19, rue des Fossés Saint-Jacques 5th arrdt
2. Le Pantruche in the 9th arrondissement
Located in the So-Pi district (South Pigalle), Le Pantruche – a slang word for "Parisian" – is a Paris bistro with filling and complex cuisine. The menu changes every month and proposes typical French recipes with a modern twist such as "Tender scorpion fish", "Mackerel with red berries from my stepfather's garden" and the famous "Soufflé au Grand Marnier".
It also offers a wide selection of fine wines that will perfectly match your dishes. The Chef, Franck Baranger, studied in the best Michelin-starred restaurants of Paris. He worked with Christian Constant, a famous French Chef who cooked at the Ritz and the Crillon Palace hotels. The restaurant was elected "Best Bistro of Paris" by the Fooding Guide a few years ago.
So, if you want to have the chance to eat at Le Pantruche once, you'd better make a reservation several days in advance. Make sure to take a stroll around the 9th arrondissement, where Little Athens (Quartier Athenes) is located and is a must visit part of your Paris itinerary.
Le Pantruche 3 Rue Victor Masse 9th arrdt
3.

Le Métropolitain in the 4th arrondissement (permanently closed)
Located in Le Marais district but away from the crowd, Le Métropolitain was taken over by a former candidate of Top Chef (the famous TV show), Paul-Arthur Berlan. His offer is traditional French cuisine made with fresh produce coming directly from the market like "Cod with a parmesan crust" or "White fish with beans and piquillos".
I especially love the very good value for money of Le Métropolitain. Have a taste of gastronomic cuisine for a reasonable price at this Paris bistro: the 2-course prix fixe formula costs 19 euros and a 5-course tasting menu is available at dinnertime for 45euros.
The dining room is quaint and decorated in the style of a Parisian Metro station. This is the kind of place you have to know about or you would miss the tiny and hidden Rue de Jouy. A true insider address!
Le Métropolitain 8, rue de Jouy 4th arrdt
4. La Rotisserie in the 5th arrondissement
Located just in front of the UNESCO-listed Saint-Louis island and near Notre-Dame, La Rotisserie is known as the little sister of the historic Michelin starred Tour d'Argent, one of the most famous restaurants in Paris. This bistro in Paris serves typically French and traditional cuisine.
You can find the famous "Coq au vin" that I used to eat as a child, the "Escargot de Bourgogne" or the "Côte de Boeuf Salers", various classical recipes that made the reputation of French gastronomy. The wine menu is very selective, with a special attention given to Beaujolais wines.
At La Rotisserie you will experience the typical family atmosphere of French traditional restaurants with the spirit of a countryside house.
In addition to being on the Seine riverbank, its fireplace is settled within the dining room so that clients can see their meat roasting, contributing to the charm of the place. It is recommended to make a reservation. The price à la carte is between 30 and 70 euros. Take a walk to The Arenas of Lutetia for some greenery and maybe even a romantic picnic in Paris.
La Rôtisserie 9 quai de la Tournelle 5th arrdt
5. L'Ebauchoir in the 12th arrondissement
L'Ebauchoir opened in 1995 and is now a landmark Paris bistro in the Aligre district, in the Eastern side of Paris. This is the place to go to with your friends and have passionate philosophical discussions while drinking good wine.
This restaurant will also surprise your palate with a traditional French cuisine associated with an inventive touch from other countries. Look forward to dishes like "Zander net with chorizo cream" or "Rack of lamb with tapenade and curcuma".
The wines are exclusively local with representation from most of the main French wine regions. The decoration of this bistro in Paris is retro and cheerful, with big mirrors, wooden tables and old tiles.
L'Ebauchoir 42, rue de Cîteaux 12th arrdt
6. Les Petits Plats in the 14th arrondissement of Paris
Les Petits Plats is a restaurant that has made its reputation thanks to its quality and convivial atmosphere. It is located at the corner of Villa d'Alésia, a charming cobblestone street with artist workshops, as if it was the "café of the village square" in the small French villages. This is my childhood district and every time I eat at this Paris bistro it feels like a Proust's Madeleine to me!
As per the food, the bistro in Paris gets its name from the tapas style small portions which allow you to taste several specialties of the house in one meal. Quality products are mixed to compose a refined French cuisine re-interpreting the classics. The wine menu is also very comprehensive, made of French "Grands Crus" and small traditional winemakers.
Les Petits Plats 39 rue des plantes 14th arrdt
7. Bistrot Belhara in the 7th arrondissement
Unlike the more established bistros in Paris which have been open for ages, the Bistrot Belhara only opened in 2013 and makes it sort of a new kid on the block. In the heart of Paris, this can be considered as an upscale bistro serving traditional French dishes in a refined atmosphere, with nice table cloths and cutlery.
The name is a nod to the Basque coast where the Chef comes from. He is a former student of Ducasse and Loiseau, two internationally famous French chefs. Four menus are available, one per season. All the products are traceable where proximity food is the name of the game and the chef will be happy to tell you his list of suppliers.
You will experience traditional French cuisine embellished with Basque ingredients. The "Piece of veal with Espelette pepper" or the "Braised beef marinated in red wine and gratin dauphinois" are the kind of generous dishes you can savor. The Bistrot Belhara offers good value for money with lunch prix fixe for 24€ or 34€ and 35€ for dinner. You also have a tasting menu at 52€.
Bistrot Belhara 23 rue Duvivier 7th arrdt
8. L'Ourcine in the 13th arrondissement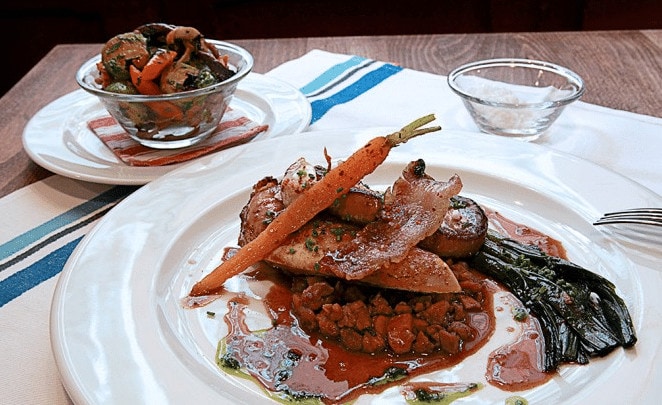 L'Ourcine is considered by some as one the restaurants where 'Bistronomie' was born. The restaurant was renovated in 2013. The decoration is very traditional, with floor tiles and wooden furniture, characteristic of the French terroir. The philosophy of the restaurant is simple: fresh produce / perfect cooking / nice presentation.
The cuisine is loyal to its philosophy, generous, simple and tasty and with an exotic twist like its "Riz au Lait de coco". The products are obviously fresh and traceable. The menu at this Paris bistro changes every day, depending on the selection that Chef Sylvain Danière finds in the market.
L'Ourcine 92 rue Broca 13th arrdt

9. La Garçonnière in the 16th arrondissement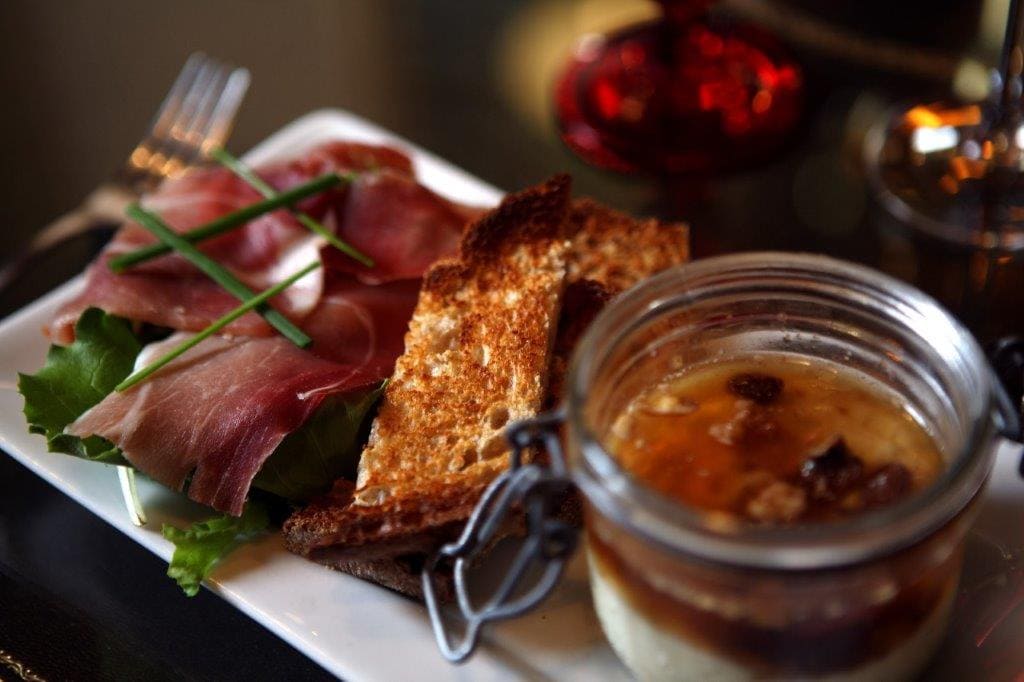 Located near the Parc des Princes stadium, you will find it difficult to find a table on the evenings of PSG soccer matches when the place brims with football fans. I was there once with a friend having some wine before a match and we were the only ladies in the entire dining room!
Outside of these days, the area is very calm and you will only cross paths with locals. Indeed, the 16th arrondissement is away from the center of Paris and essentially residential. Another seducing aspect of La Garçonnière is that it is one of the bistros in Paris with a large terrace, which quickly fills up on a sunny day.
The cuisine is French traditional, fairly simple but very generous and tasty. The chef is an old butcher and will select for you the best pieces of meat. When you're done, have a drink at The Terrace of the Raphael Hotel, which has one of the best rooftops in Paris.
La Garçonnière 98 rue Michel-Ange 16th arrdt
10. Le Coinstot-Vino in the 2nd arrondissement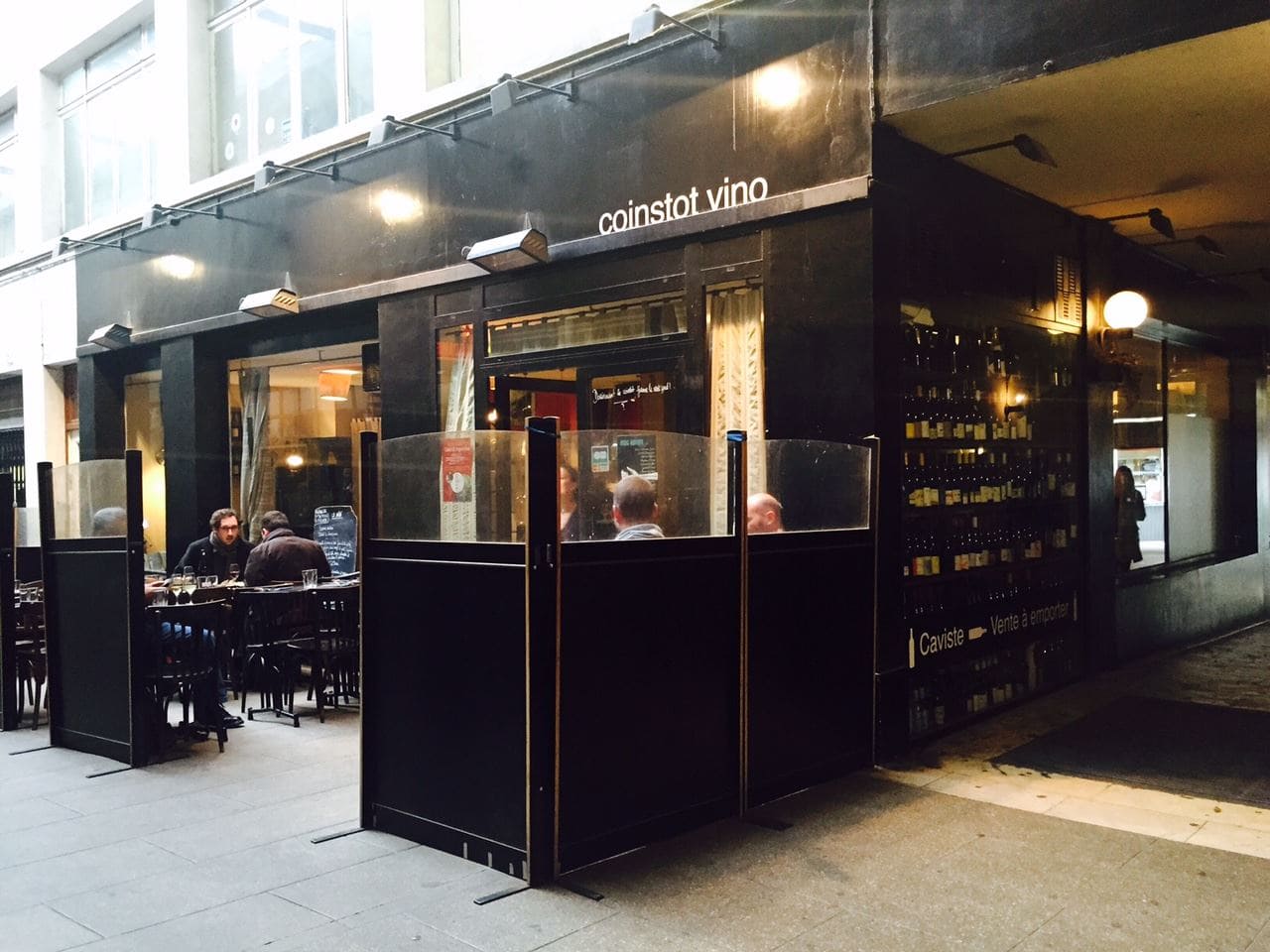 Le Coinstot-Vino is located in charming, lively and covered 'Le Passage des Panoramas' which was built in 1799 and is considered the oldest walkway in Paris. In this passage every shop and restaurant front carries a piece of Paris 19th century history.
The Coinstot-Vino offers cooked meat and French cheese boards with an identifiable list of suppliers. The menu at this Paris bistro offers traditional French dishes like the "Pork Filet Mignon with orange". This is also a temple for organic wine and it is not rare, when the night comes, to see people sharing a glass of wine with strangers, transforming the end of the passage into a kind of old-timey tavern.
Coinstot-Vino 26 bis Passage des Panoramas 2nd arrdt- Picture : Passage des Panoramas