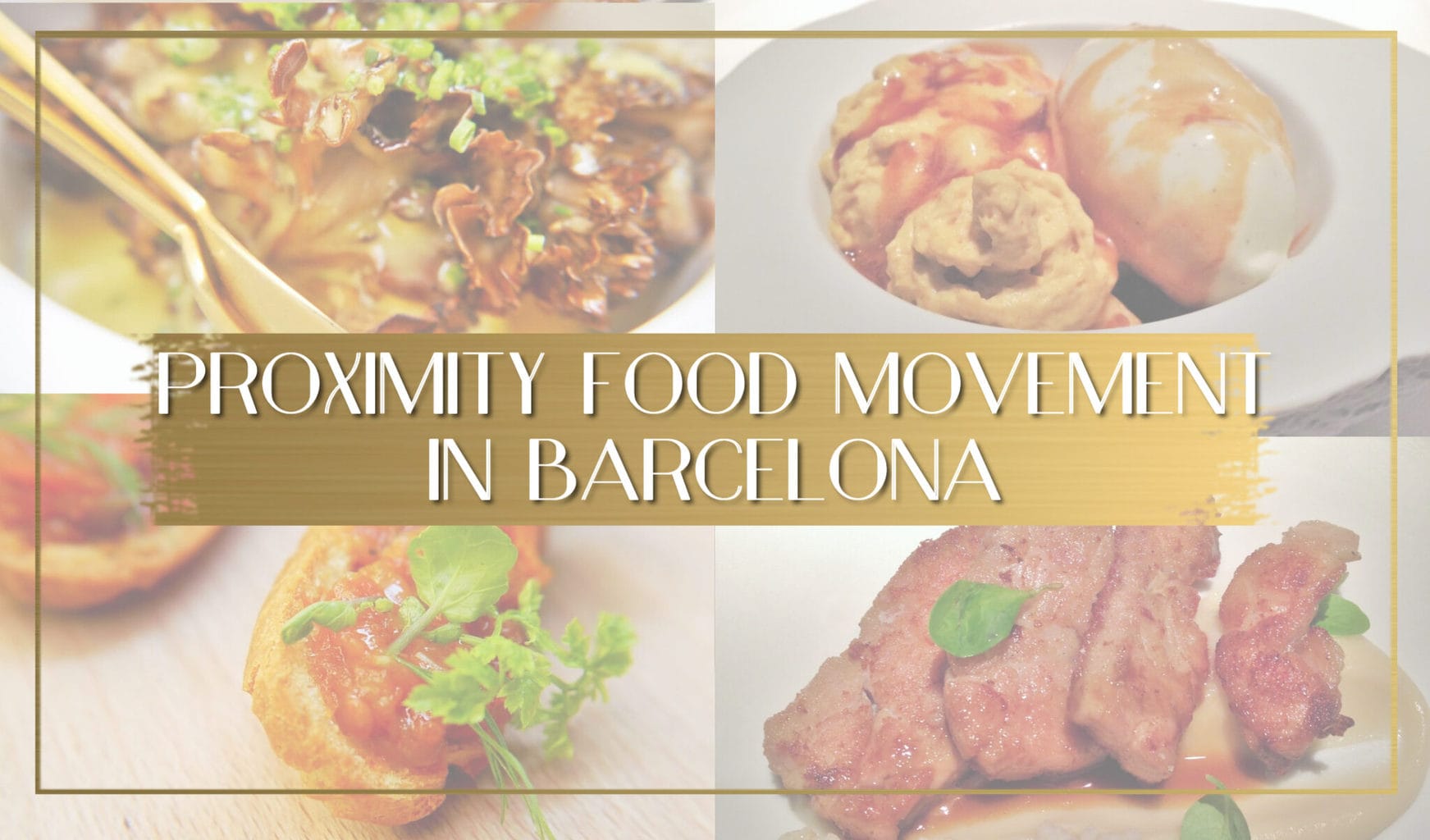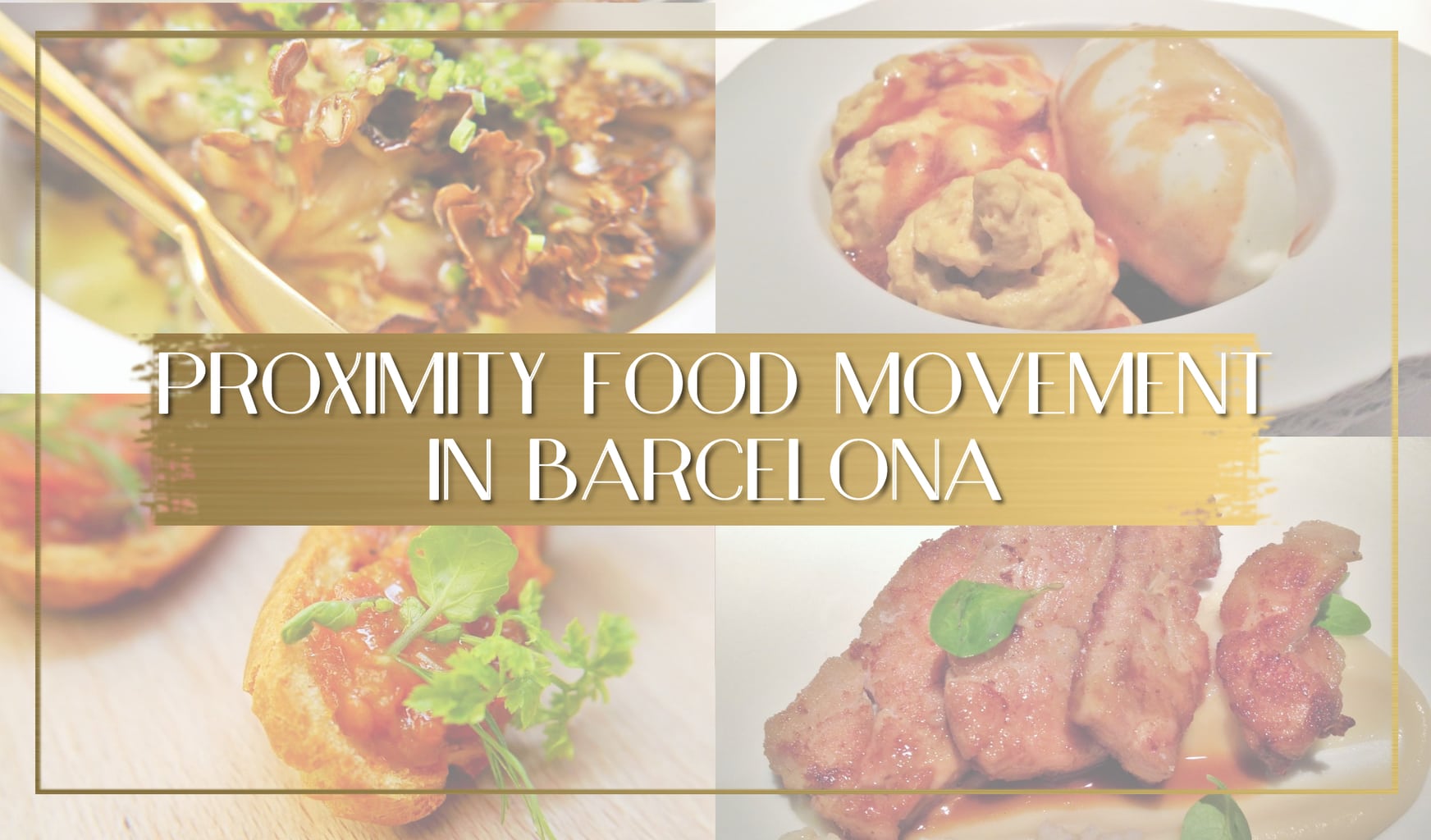 Proximity Food, Km0 Gastronomy or Slow Food is the latest buzz word in the culinary world. Gone are the days when organic produce was enough and the best chefs are now turning into organic ingredients grown locally to reap not only the benefits of pesticide free food, but also the social, economic and environmental benefits of reviving local communities and sourcing produce that grows nearby.
The proponents of Proximity Food argue that its benefits are not only to the health but are also a way to maintain traditions and a means to strengthen the economy of the local communities.
Catalan food is rooted on the land. The cuisine is simple and built on the rich agricultural past. I know this better than anyone.
My father has recently been promoting a successful organic agro-shop in our farm house where he sells the excess vegetables and fruits he has always grown for the family's and friends' consumption. We always had a garden in front of the house where we would grow anything that was in season. Picking tomatoes, lettuce, peppers and onions to make a salad for lunch was a day-to-day affair which would seem luxurious to many.
Most of his customers are local residents, tourists or day trippers from Barcelona, 30min away on the highway. They like the idea of being able to buy produce directly from the grower that is authentic and tastes real. And if they want, they can stroll through the garden just across from the shop. For city dwellers this is a privilege and a luxury.
Bonus Barcelona Guide: If you're going to Barcelona then check out my detailed guide on Where to stay in Barcelona with details on each neighbourhood and best hotel recommendations – Psst I am a local to the city!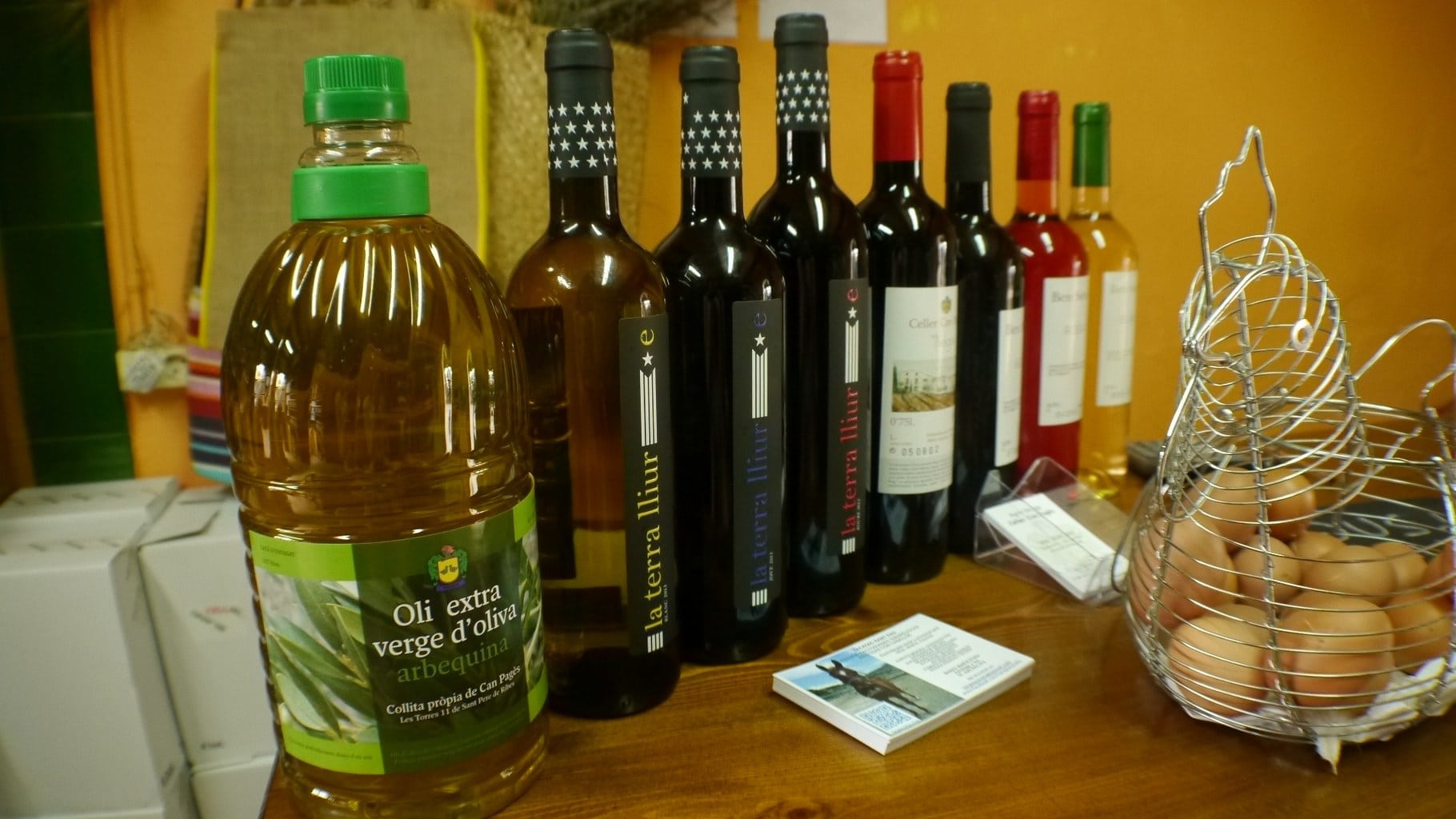 I grew up with the produce that we had at home. We would spend long summer days making tomato sauce with the onions, tomatoes and peppers my dad frantically planted. After eating gazpacho every day we still had tones of tomatoes left so we would make sauce to be used throughout the year as the basis for most of the dishes. We would keep all the glass pots we used throughout the year containing chickpeas, pickles, etc. and recycle them to keep the sauce. They were mismatched and in all sizes and colours which was also useful given that the sauce could be used for any dish, sometimes requiring a lot sometimes very little amount.
I loved eating watermelon till my belly was the size of one. They grew in the fertile yet dry summer months and ripened in the Spanish sun, juicy, crunchy and sweet.
When I became an expat, first in Dubai then in Singapore, I was amazed by the selection of fruits and vegetables available abroad. The world was the garden and you could get anything any time of the year.
But I quickly realized that not all that glitters is gold. With wider choice came also worse quality and the flavours disappeared in the beauty of the colours and the variety of the fruit sections in the supermarkets. Produce came in freezers from thousands of miles away and although it looked beautiful it was generally hard and nothing like the tasty Spanish fruit I grew up with.
Back in Barcelona, several acclaimed restaurants, some of which are Michelin starred, have focused on returning to the traditional Catalan recipes using local produce following the World Wide Slow Food Movement. They take pride in sourcing all ingredients locally and you get to know the farmer providing each of the ingredients. The food is not only organic but also irregular, with the shape Mother Nature has given it and, more importantly, it tastes like the food from my childhood.
Bonus one day guide to Barcelona: If you only have one day in Barcelona, this is how you should spend it! Enjoy this one day itinerary for Barcelona by clicking here.
Proximity Food: For wine lovers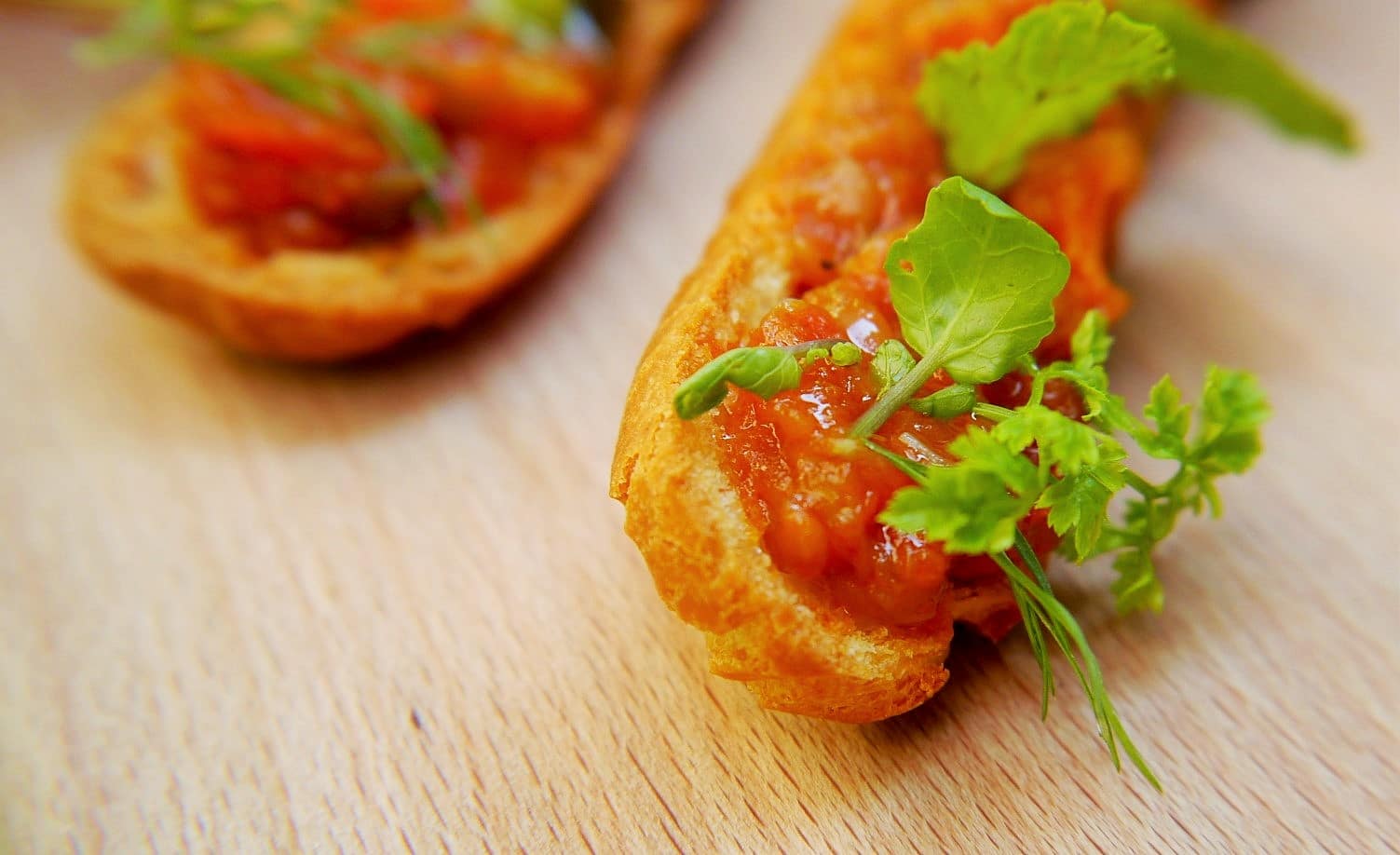 Monvinic is one of the proponents of this recent proximity food movement. Starting as a sophisticated wine bar with one of the largest selections in town the venue evolved to include a restaurant and a more casual tapas place. The restaurant is modern with clean lines in dark grey and charcoal colours. On the wall, each of the farmers used by the restaurant are featured with their photo, name and location. They are all very close to Barcelona and produce small quantities sometimes using old methods. The summer terrace is a breath of fresh air.
But their environmentally friendly take does not stop at the food. The building's design was made with energy saving and sustainable materials earning it the certification from LEED from the American Green Building Council. All of the utensils and tools used are biodegradable too.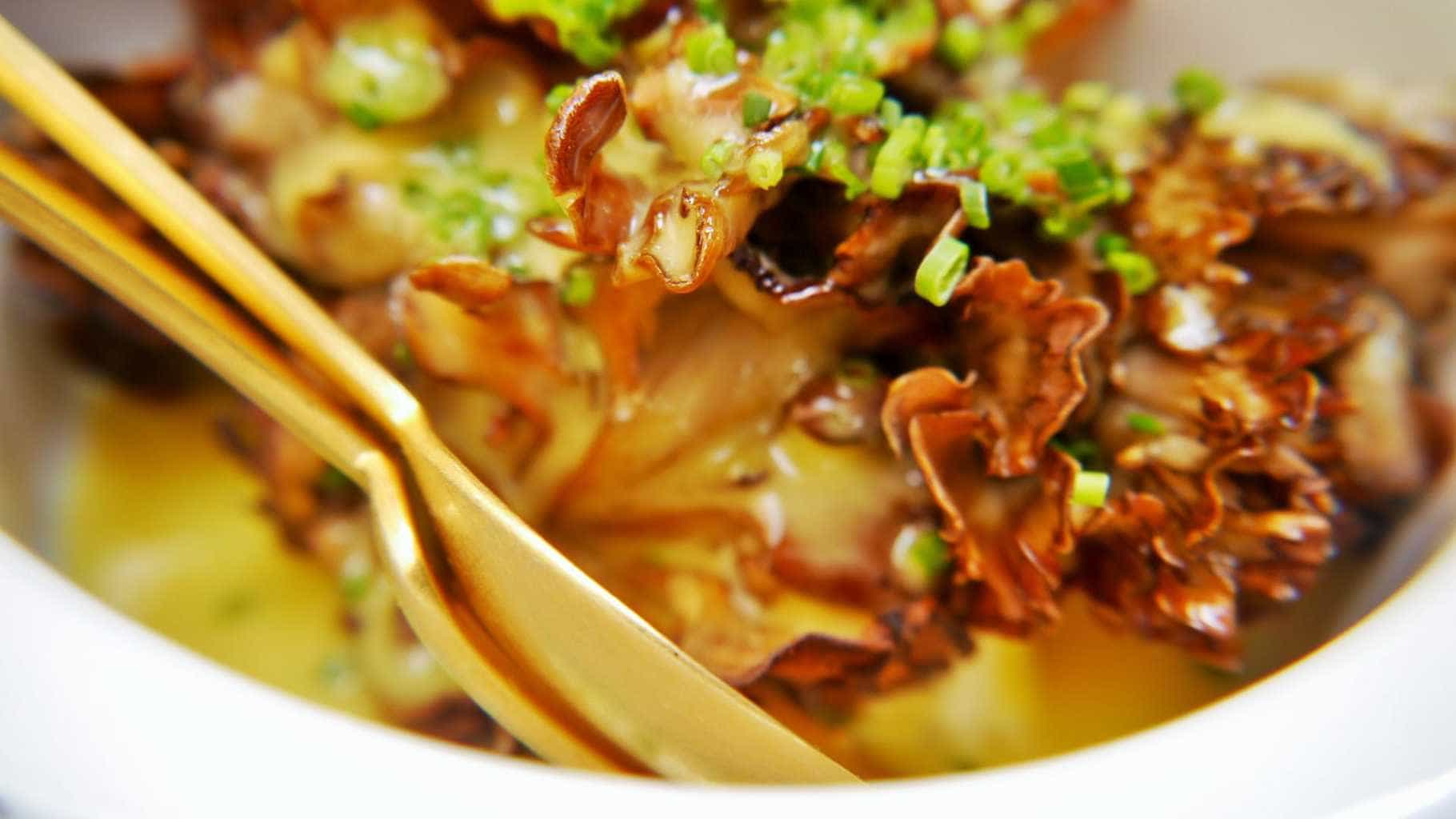 Dishes are served with the idea of sharing and are beautifully presented. Each bite is an explosion of flavour and, for me, an occasional trip down memory lane. The recipes are new but reminiscent of old recipes.
We had a small delicious toast with "escalivada" a typical mix of roasted peppers and aubergines that I also used to cook endlessly in the summer months, packing them in the same jars we used for tomato sauce. The squid balls with a vegetable flan were not only extraordinary but also beautifully presented. The flan was a vegetable creamy delight wrapped in a very thin spinach leaf.
Of course, the food can be paired with one of the many local wines which the sommelier will gladly suggest.
Proximity Food: Michelin awards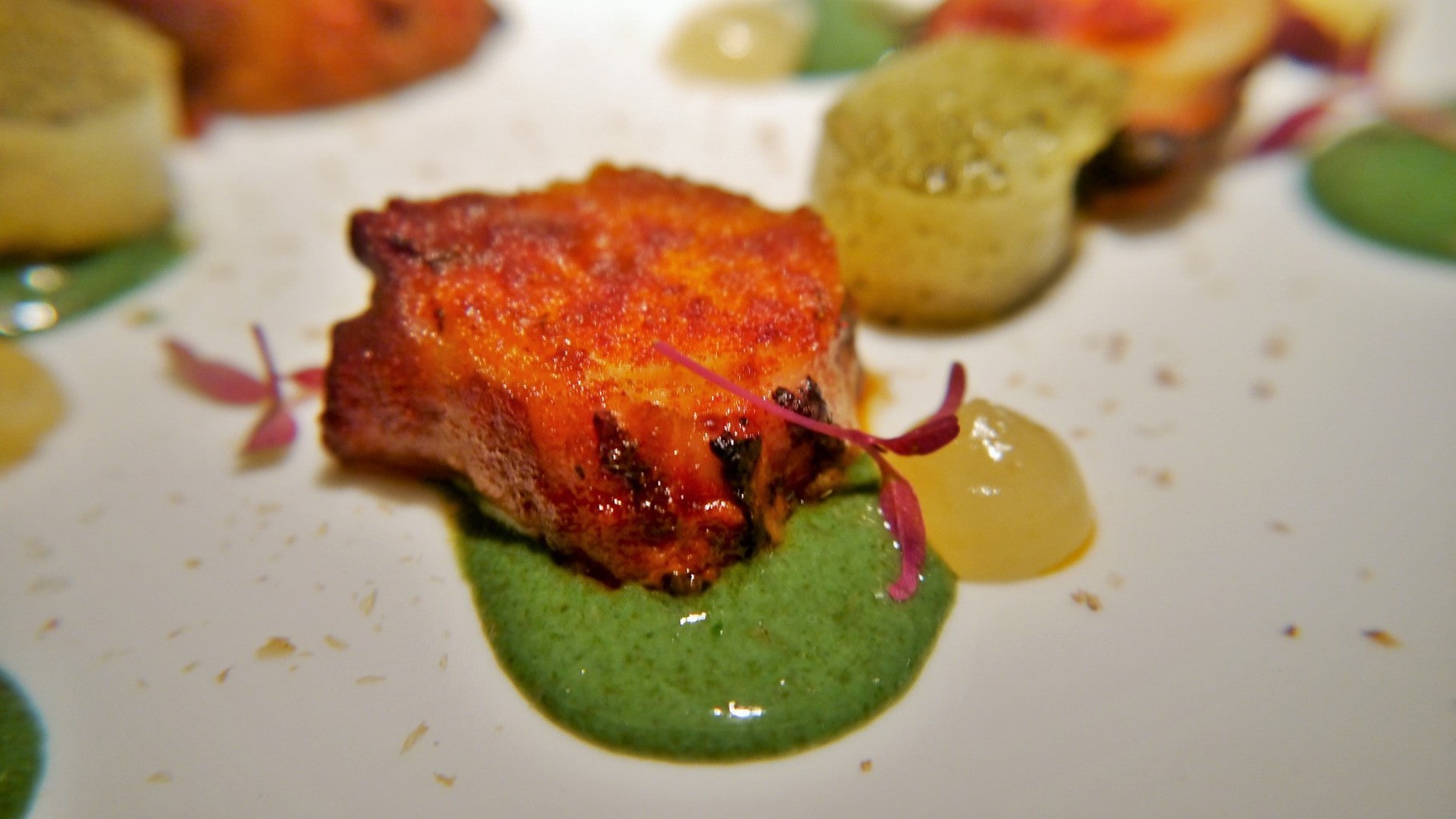 Another great example of the proximity movement is Cinc Sentits. Recently awarded 1 Michelin star it is a great example of Catalan hospitality and cuisine.
The entire staff is extremely knowledgeable and can translate the menu into several languages. You can tell their passion for food and commitment to the restaurant from the moment you walk in. They are relaxed yet extremely polite and very professional and attentive. They embody Catalan culture.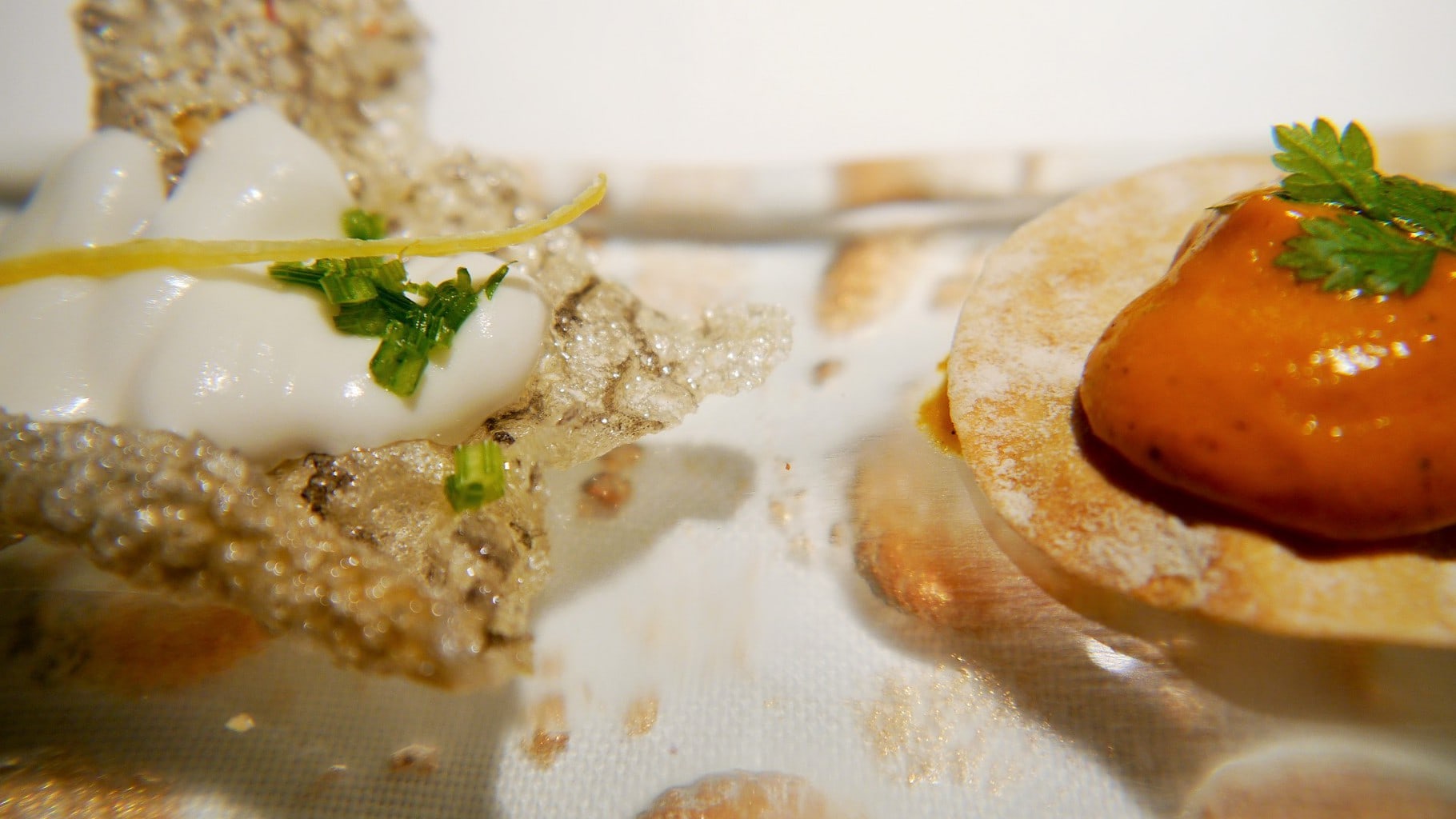 The restaurant offers 3 set degustation menus with between 5 and 13 dishes. The heartiest of them is the shortest featuring slightly larger portions and more rustic dishes going back to Catalan's traditional cuisine.
Each dish was unique and newly created by the chef using all of the older ingredients many of which have been forgotten. Codfish, honey, hazelnuts, rice, potato or even maple syrup are beautifully mixed and cooked to perfection.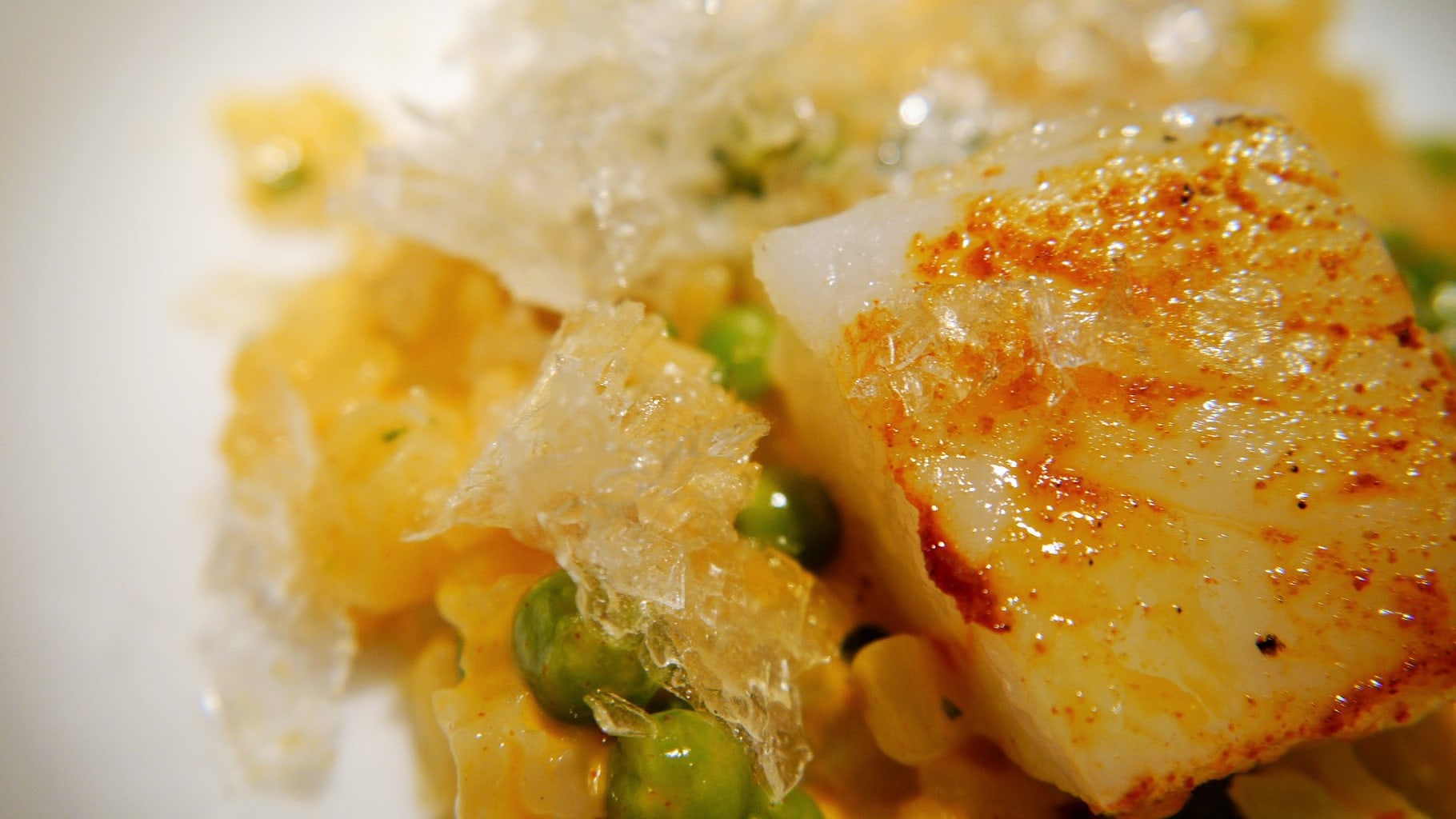 The breads are made to order with the restaurant's recipes and baked on site. Two types of olive oils are offered to dip the bread in, Catalan style.
Octopus with sweet red pepper from Mallorca dusted with dried octopus and an oyster and algae reduction served with local potatoes is soft and flavourful.
The grilled fish comes with a tasty frozen apple with a beautifully dressed celery salad. The simple local fish is so soft it melts in your mouth. It is smooth and with the right touch of the sea.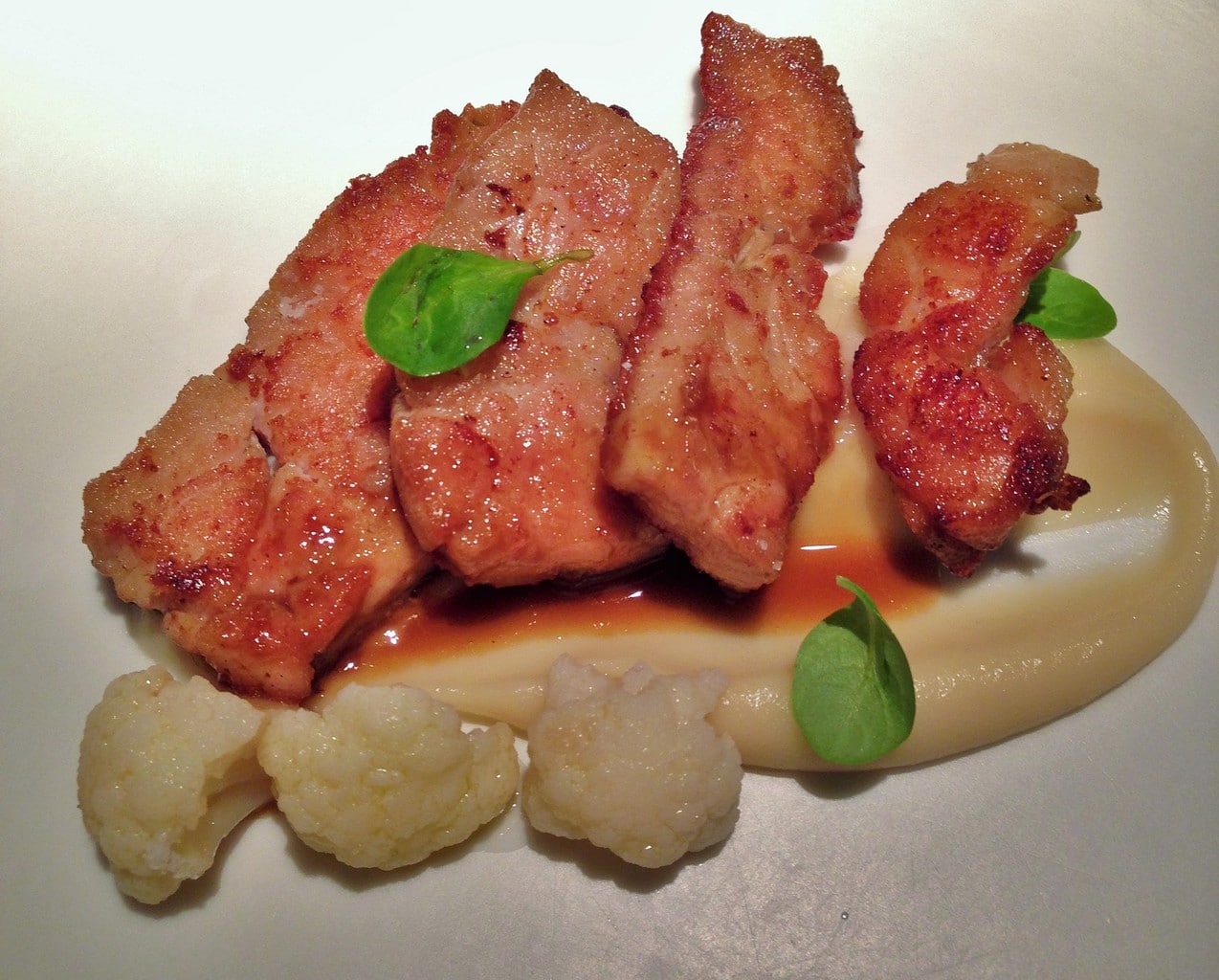 After the fish, a dish of poached eggs with a silky potato puree and light anchovies sauce which has none of the fish saltiness topped with crunchy fries is the highlight of the meal. The chef perfects basic dishes turning them into master pieces. A vulgar poached egg becomes the star of the show and the dish we all enjoyed the most.
Next comes the creamy codfish rice with codfish tripe that is so delicate you almost can't differentiate it from the rice grains. There is a very subtle lemon sauce below the rice which gives it a sweet and tangy exquisite aftertaste. It is divine. Rice in Spain is grown close to Barcelona, on the Delta de l'Ebre, a large delta at the confluence of the longest river in Spain and the Mediterranean Sea.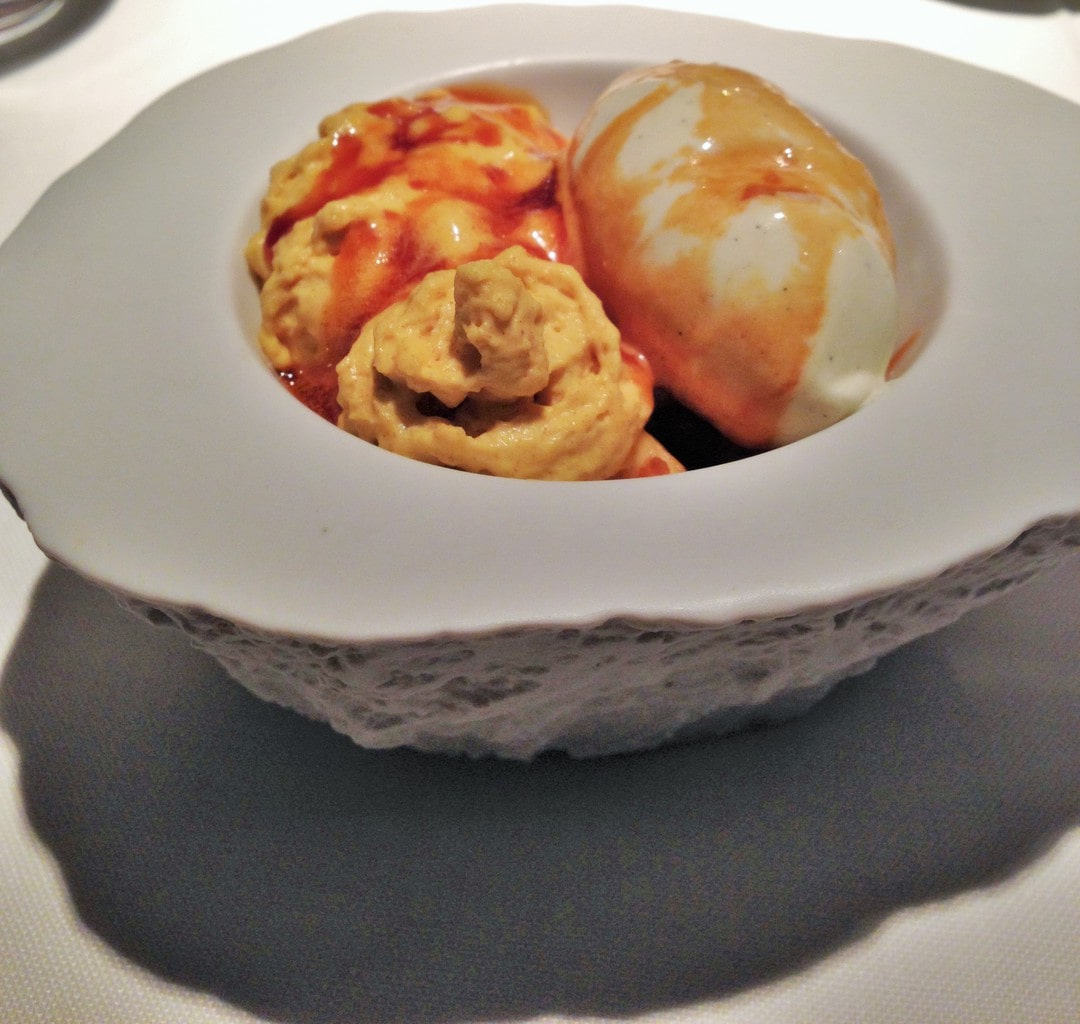 The main meat course is a young beef so tender that you almost don't need to chew it. It is accompanied by the smoothest cauliflower mash and pickled cauliflower florets that bring in a slight bitterness to the otherwise sweet dish. Deliciously combined it is a very well accomplished dish.
The dessert is a banana cake and crunchy hazelnut honey base with banana foam and vanilla and olive oil ice cream showered with salted caramel sauce.
The service is impeccable and the dishes come at the right time. Each and every one of the waiters are extremely aware of the composition of each dish and its origin. The chef focuses on ingredients that are sourced nearby by farmers and fishermen that have small patches of land and grow their produce with love. It all feels like everyone is in it for the love of the land and the good food.
Proximity Food: It is not all rosy
Locally sourcing ingredients from the highest standard of quality comes with its disadvantages too. Producers are left to nature's desires and a bad season may call for a change of menu. Prices of smaller productions could be higher than internationally-sourced mass-produced ingredients, even if they save on transportation, placing both Monvinic and Cinc Sentits well above the average meal price in Barcelona. Last but not least, because of its specialisation and aim to source ingredients where they are best suited to grow, restaurants and retailers will need to deal with a much larger base of suppliers than when dealing with the large produce distributors.
Cinc Sentits tasting menus start at 70 euro excluding drinks and at Monvinic a few tapas to share with a glass of wine will quickly add up to 50 euro. You can however, chose to eat at Fastvinic, their more informal tapas brother. It is the price to pay for going back into the past, to our parent's or grandparent's childhood. Ironically, what used to be considered a peasant's life is now a trendy movement making a comeback.
Proximity food is a new way to see food as a cure for the soul and a reaction against globalisation and taste-less frozen vegetables flown half way across the world and it provides a living to those who have chosen not to abandon the family's agricultural past for the city. It is only an option in countries where agriculture has not fully died and where local ingredients can still create entire menus.
In Spain, this is a wonderful way to re-discover lost ingredients and provide a sustenance to farmers that goes beyond the romantic. But it is not the only country where this is taking-off. Italy's Coldiretti, the association grouping 50% of the country's farmers, kicked off "Km zero, campagna amica" several years ago with the objective of promoting proximity food. The association estimated that on average, food travelled 1,900 km to its destination causing excessive fuel cost, environmental impact and social consequences. The Slow Food Movement, foundd in 1986, has been gaining momentum and it is now fully embraced in Barcelona
To me, proximity food is like enjoying my childhood meals at a restaurant and a nostalgic way to maintain the land's historical value.