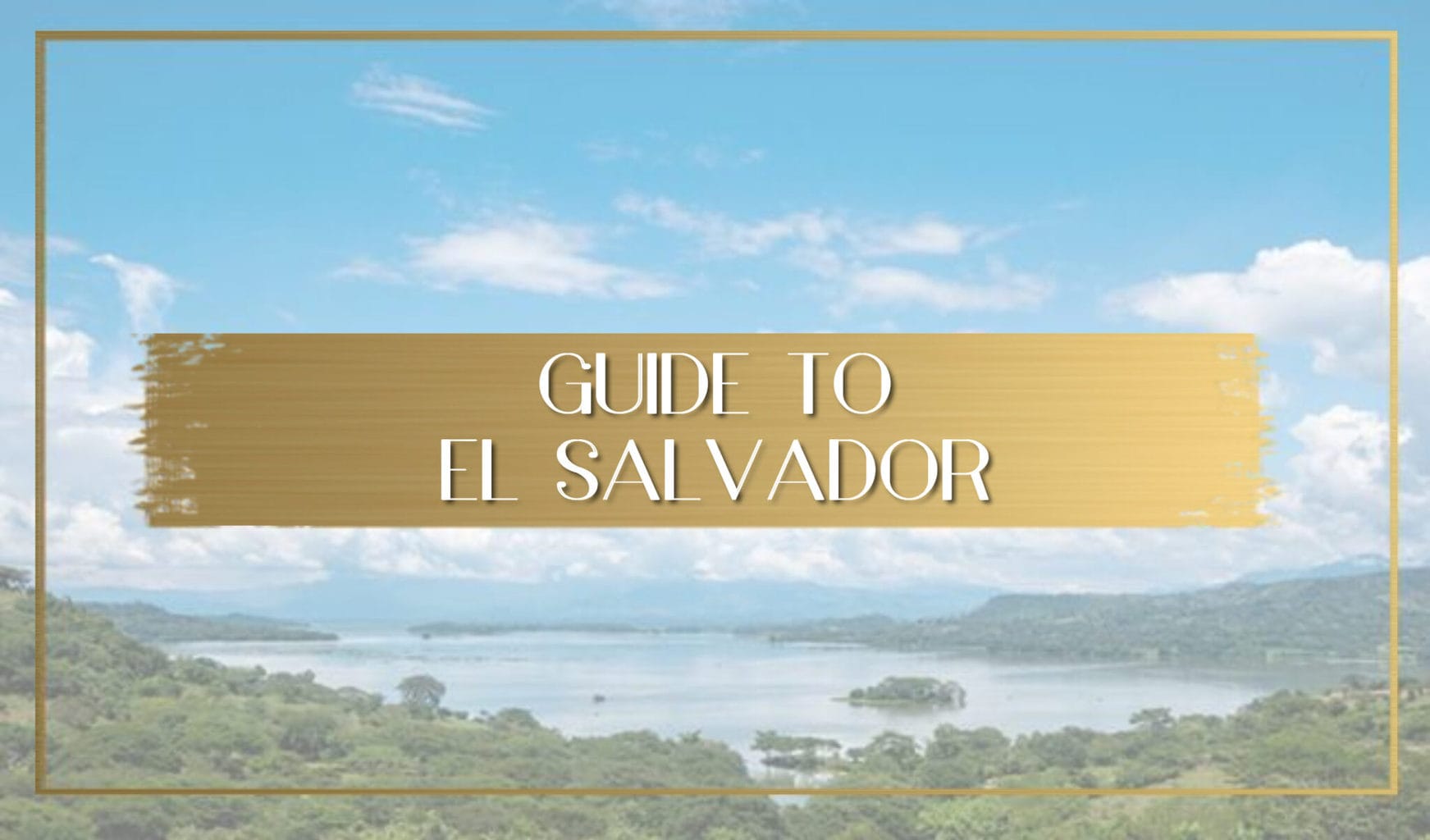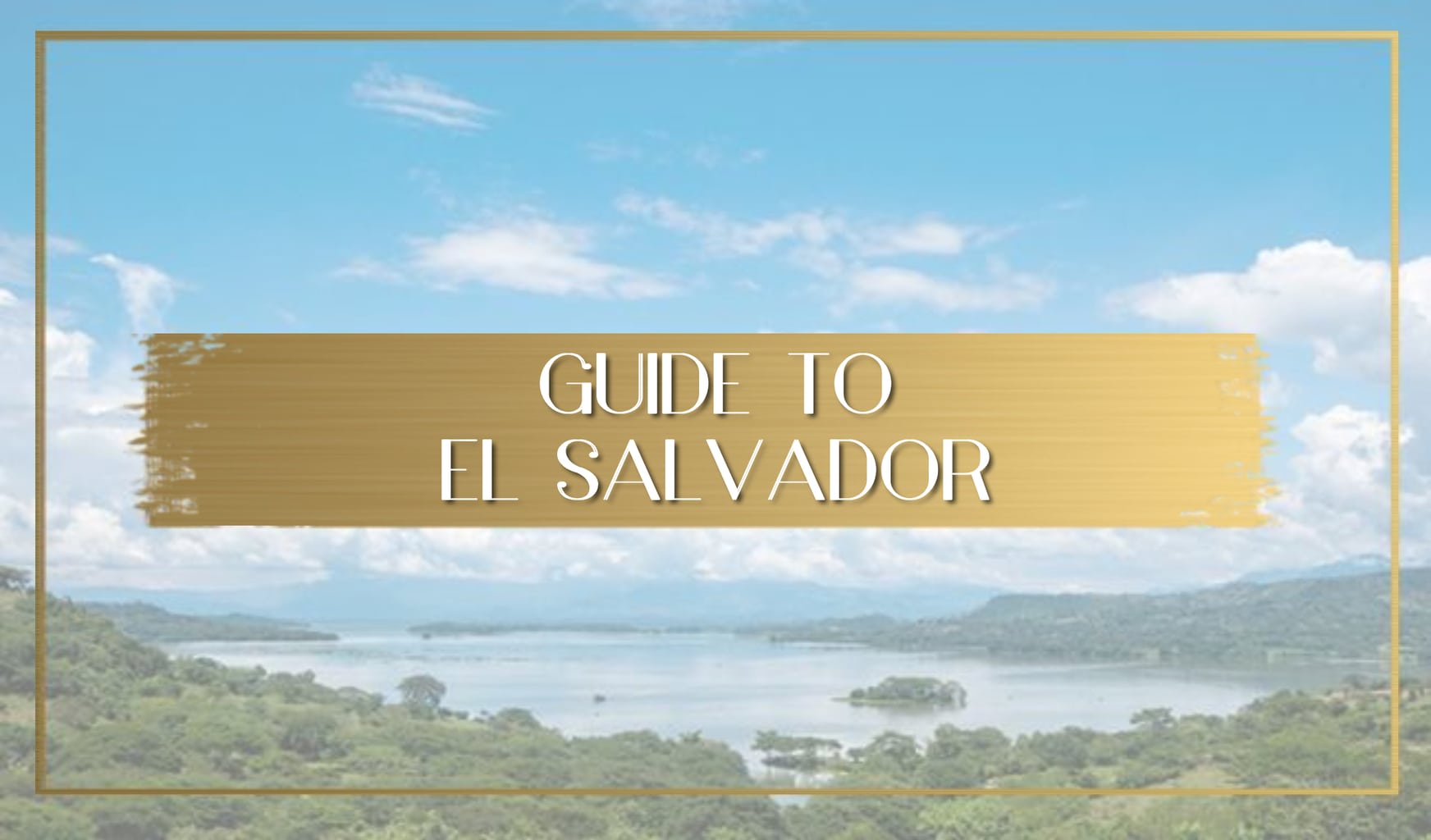 Have you ever considered El Salvador travel?
Located just 5h from San Francisco, this tiny country is a beautiful land of volcanoes and beaches with lots of interesting activities from the obvious volcano trekking to surfing to the most remote Mayan UNESCO sites.
Central America's smallest country is also its most active. Be a pioneer and travel to El Salvador, you will very much enjoy the day excursions, the colonial heritage, the beach or surf resorts, the local hospitality and the lovely Salvadoran food. Continue reading for a comprehensive list of things to do in El Salvador written after my trip.
Watch me explore El Salvador in the video below:
Travel to El Salvador: Where is the country and its capital?
In the map above you can see the location and all the things to do in El Salvador which we will be discussing in this article. You can also see how close they are to each other and to the ocean.
El Salvador, warmly known as "El Pulgarcito" or the pinky finger of Central America, is the smallest country in Latin America measuring just 300km long by 100km wide and bordering Honduras, Nicaragua, Guatemala and the Pacific Ocean. The country should not be confused with its capital that shares a similar name, San Salvador.
San Salvador is located about 30 minutes from the beach of La Libertad, the most popular beach resort area in El Salvador, and it's where the international airport is. The city received its name from the Spanish conquistadores who wanted to honour the most popular saint of the time.
There are about 6 million Salvadorans in El Salvador, and about 1.5 million overseas, mostly in the US, as a result of the migration movement caused by the civil war in the 80s. This has resulted in about 17% of the country's GDP coming from remittances sent in by immigrants that are making a good living abroad.
Travel to El Salvador: Is it Safe?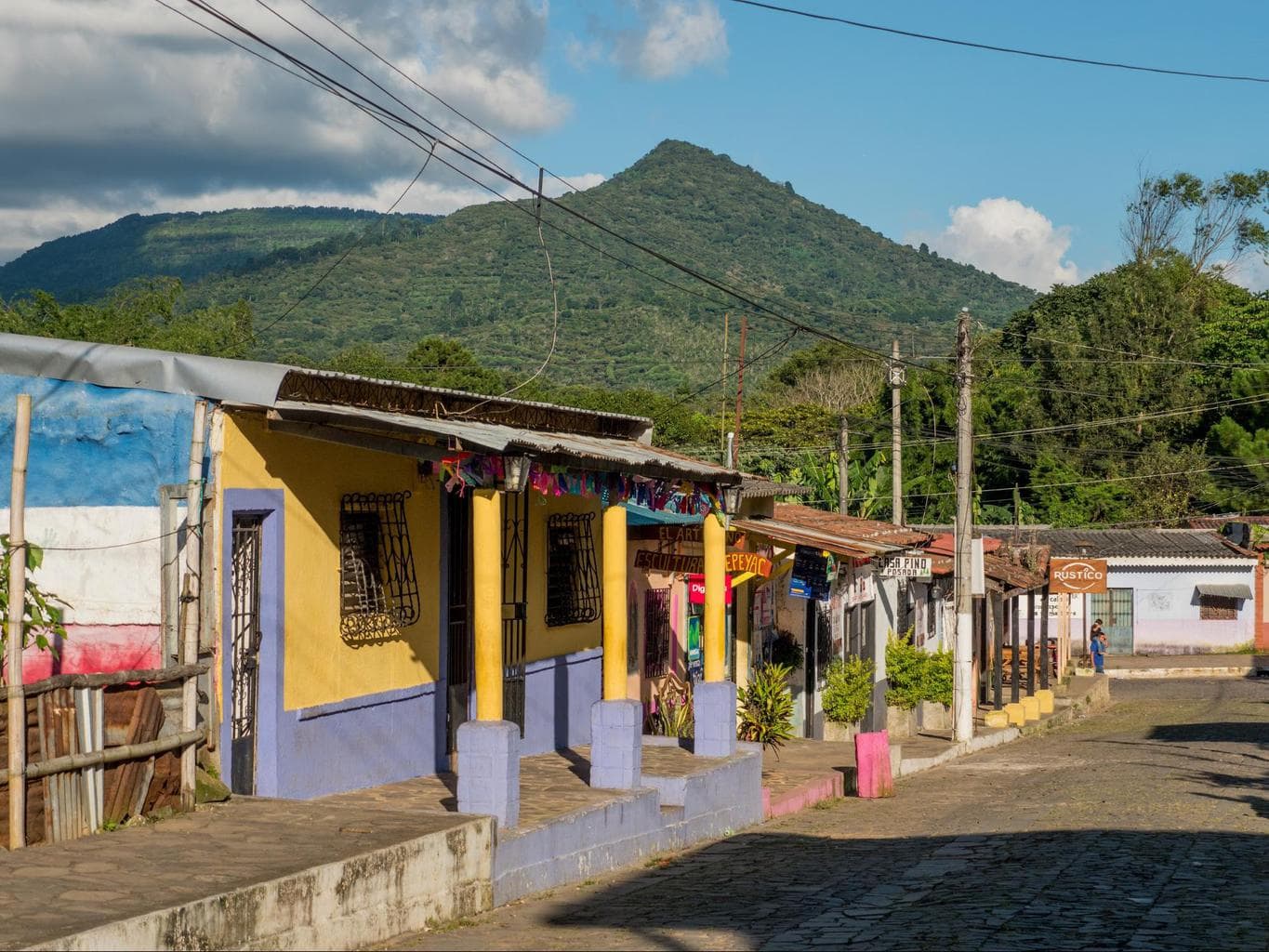 Perhaps the most obvious and first question that comes to mind to anyone reading this is post and considering to travel to El Salvador is: Is El Salvador safe?
Tourism to the country is, and has been, historically low, and this is mostly because of the country's reputation for poor safety. In fact, El Salvador used to top the list of the countries with the highest murder rate when countries at war are excluded.
I have written a separate post about El Salvador's safety and how to stay safe in El Salvador, so please take a look at that one for all the details and background about the dangers of tourism in El Salvador.
I would not let the crime rate statistics prevent you from visiting, but you should be smart and draw your route and itinerary accordingly. I never saw any violence nor did I see any signs of crime anywhere I visited but the statistics should not be taken lightly and precautions are essential.
Additionally, since 2019, the US has downgraded its safety concerns towards the country from the highest level, so things are indeed improving and with so many things to do in El Salvador, perhaps the time has come to consider visiting.
A bit of background and history of El Salvador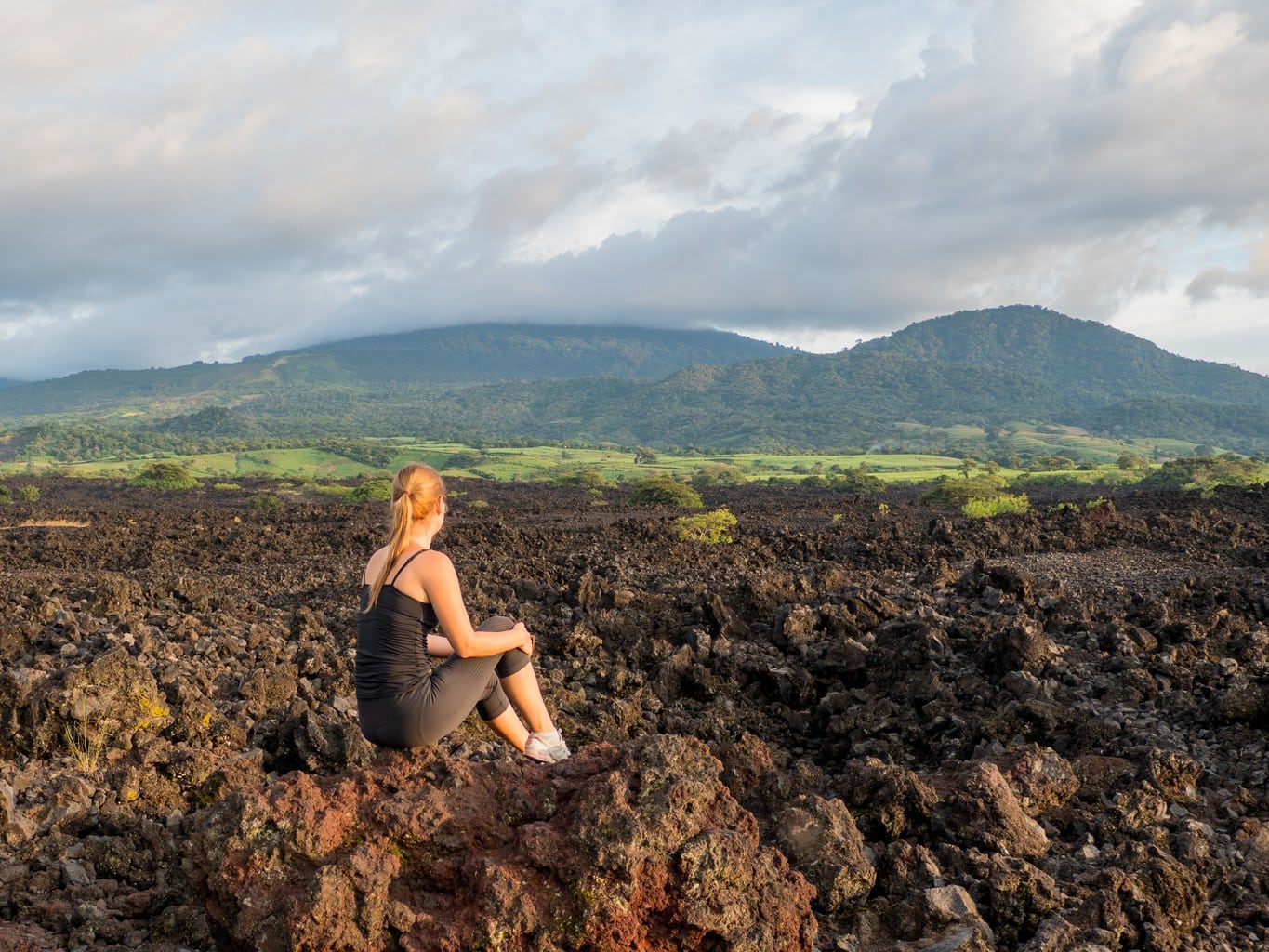 El Salvador was a Spanish colony from the 16th century until the 19th century. The 300 years of colonialism left an imprint on the country's culture, heritage and traditions.
This heritage can be seen in the architecture, the customs and the food across the country which make up for a lot of the things to do in El Salvador.
When the Spaniards discovered El Salvador in 1525, the area was inhabited by the Pipil Indians, descendants of the Aztecs, who migrated to the region in the 11th century. The colony was a major production area for sugar, indigo (blue dye) and livestock for the Spanish Crown.
Indigo, which is made from the leaves of a bush plant endemic to El Salvador, died in importance in the 19th century when chemical dyes were invented (this also affected Guatemala and even water towns like Wuzhen near Shanghai) but it is making a comeback as an organic and all-natural dye.
Some of the sugar plantations have survived until today and can still be seen across the country. In the 19th century coffee replaced less valuable alternatives as a crop and today covers about 10% of the territory.
All of Central America declared independence from Spain in 1821 and created a federation of Central American states that was dissolved in 1838. During the years that followed independence, El Salvador went through several revolutions, wars and invasions to and from neighbouring countries.
Various military dictatorships ruled from 1931 until 1979 when civil war exploded between the government and the leftist guerrilla. War ravaged the country for over a decade until a peace treaty was signed in 1992. There were horrifying massacres, 75,000 perished and thousands of Salvadorans emigrated to neighbouring countries and to the US to find peace.
El Salvador sits on the Ring of Fire and is the center of many earthquakes and natural disasters. The 1998 Hurricane Mitch, one of the deadliest on record, destroyed 80% of Honduran infrastructure and 30% of El Salvador's.
Over 20 years later, the infrastructure has recovered and the roads are in very good shape, connecting all the major places to see and ready for those looking to travel to El Salvador.
Travel to El Salvador: Getting in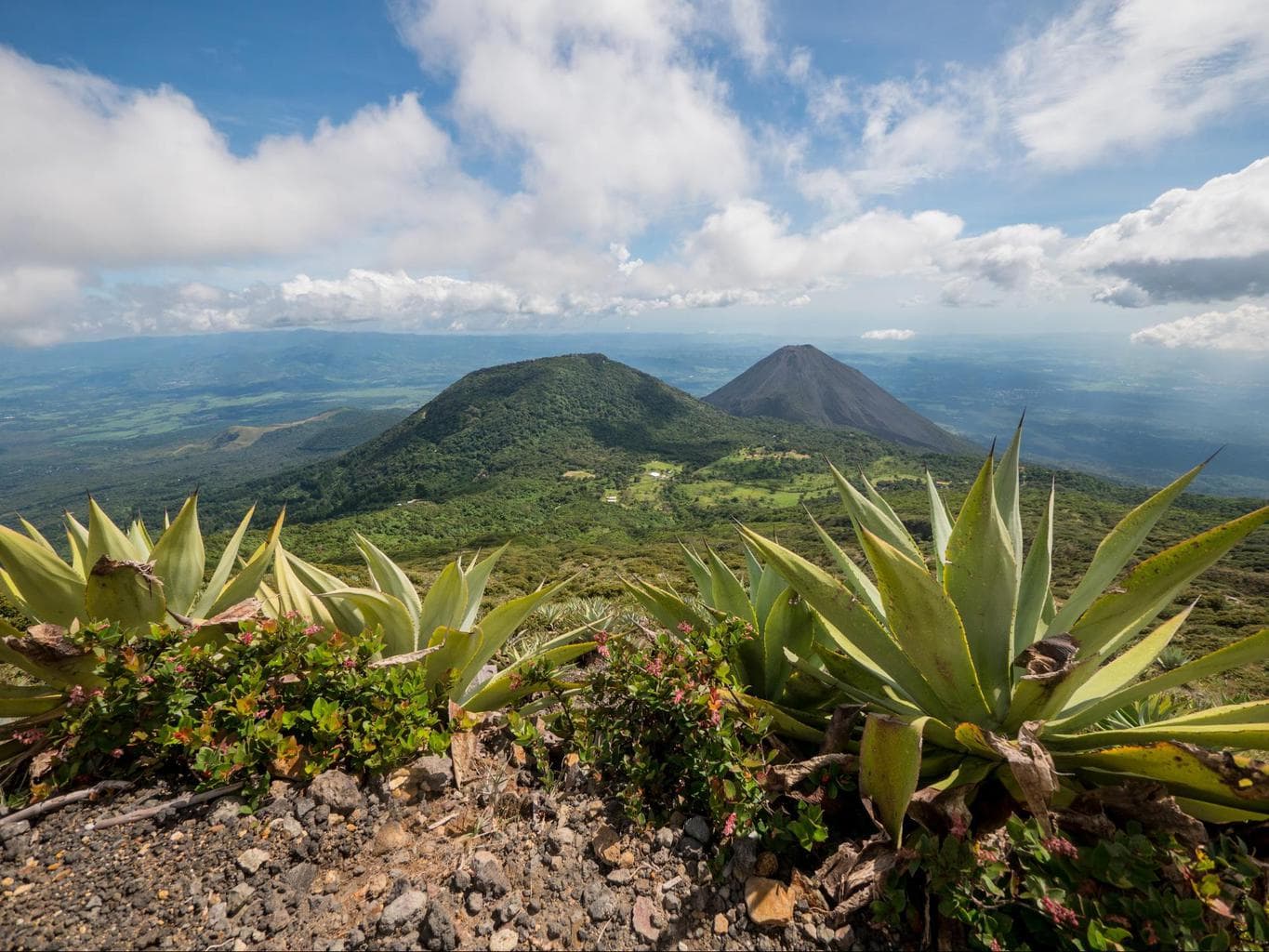 El Salvador International Airport is the link between the country and the other Central American countries or major international hubs like San Francisco, Miami or New York as well as regional flights to Panama and other cities.
Almost all of El Salvador travel starts at the airport, although a fair amount of longer term travelers arrive by roads from Honduras (the Mayan ruins of Copan are quite near) or Guatemala (Antigua is a few hours away).
Avianca recently bought the local Salvadoran airline TACA and now owns rights to most of the airport slots and uses the airport in San Salvador as a major hub in the region to connect North and South America and the Caribbean. For example, you can now fly to La Havana from San Salvador.
Flying times from California or New York to San Salvador are 5-6h and Miami is less than 3h away, making San Salvador easily reachable for an extended weekend getaway.
The airport in San Salvador is clean, compact and easy to navigate so it is a convenient stopover if you are continuing onto other destinations.
If you only have one day in El Salvador
While this article is mostly written for those who want to explore the country in detail, the great connections that TACA offers via El Salvador have brought an influx of visitors who only have half or a full day to travel El Salvador and want to make the most of it.
For short period of time, I would consider joining one of the tours that Get Your Guide offers because, should there be any delays on your flight, you can always cancel them. Below are the best layover tours in El Salvador below.
Best things to do in El Salvador
Now on to those of you who are planning on some serious El Salvador travel by staying longer.
I have put together this guide to the best things to do in El Salvador to help you plan your trip. The country is pretty small, as mentioned above, and the roads are in good shape so driving around is easy and since most of El Salvador's tourist attractions are near each other, it is easy to cover a lot in a short period of time. In a week, you should be able to cover everything on this list.
There are quite a lot of things to do and places to visit in El Salvador. Its mountainous topography, its many volcanoes and the lush greenery make the country an outdoor lover's paradise. In recent years, El Salvador has become a surfing mecca thanks to its stable all year round waves.
Book your flights to San Salvador and use this list of the best places to see to build your itinerary. El Salvador is possibly Central America's most underrated destination.
One of the best things to do in El Salvador is hiking a volcano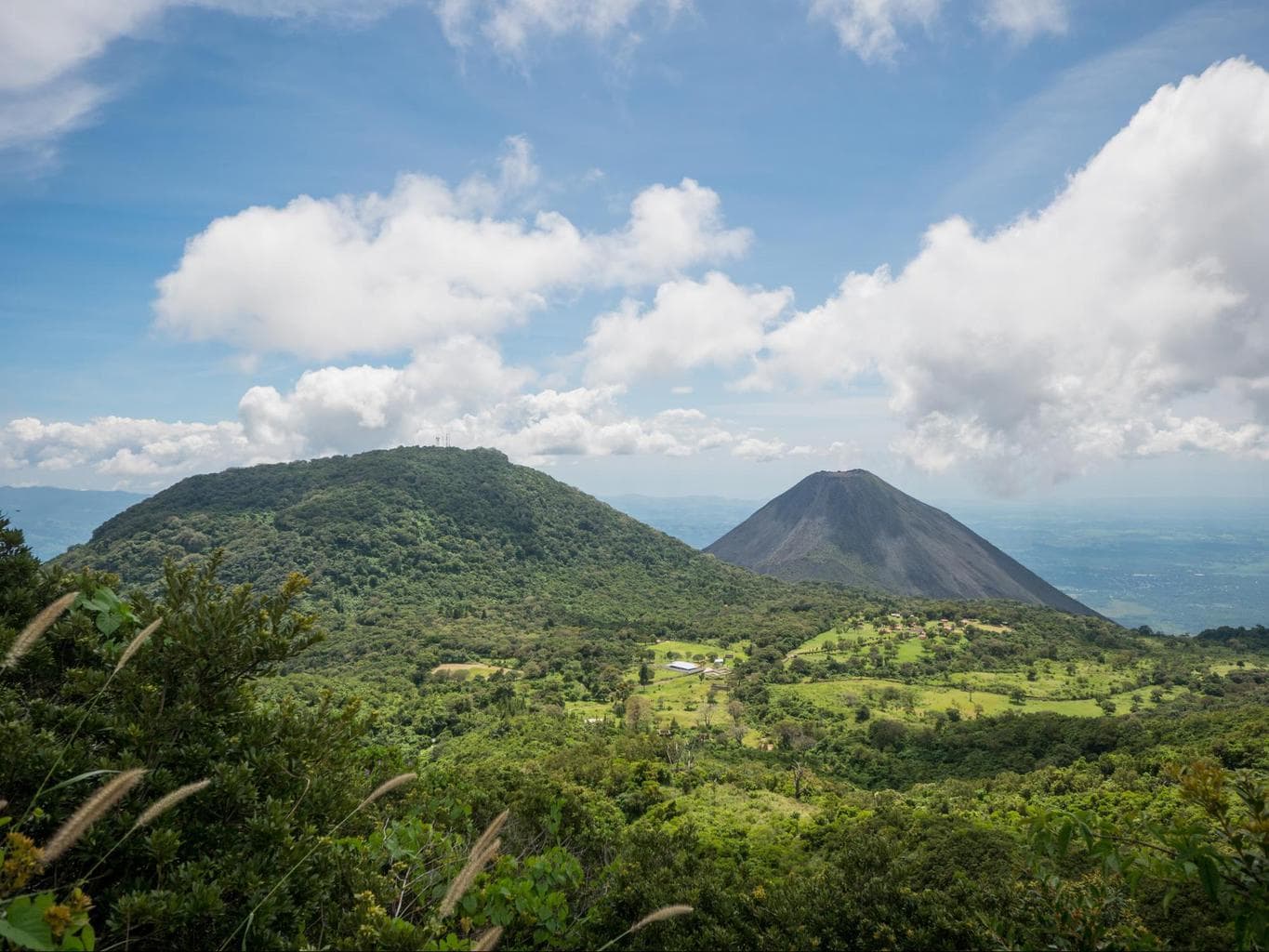 El Salvador has 20 potentially active volcanoes, some of which erupted during the last decade. The country's volcanic landscapes are the result of its location on the Pacific Ring of Fire so it has been given the nickname "The Land of Volcanoes".
El Salvador often sees real volcano aficionados coming in search of the many volcanic attractions, like the Pompeii-like effect in Joya de Ceren, a very unique Mayan archeological site in El Salvador that has been listed by UNESCO and was caused by one of the most recent volcanic explosions (recent in volcanic years).
The best way to explore the volcanoes in El Salvador is to climb up the rim of at least one. Unlike other more touristic volcanoes like Mount Etna in Sicily, volcanoes in El Salvador can only be explored on foot.
And unlike volcanoes in other parts of the world, El Salvador volcanoes show constant seismic activity. The last major eruption took place in 2013 at the Chaparrastique Volcano.
Hiking up Santa Ana Volcano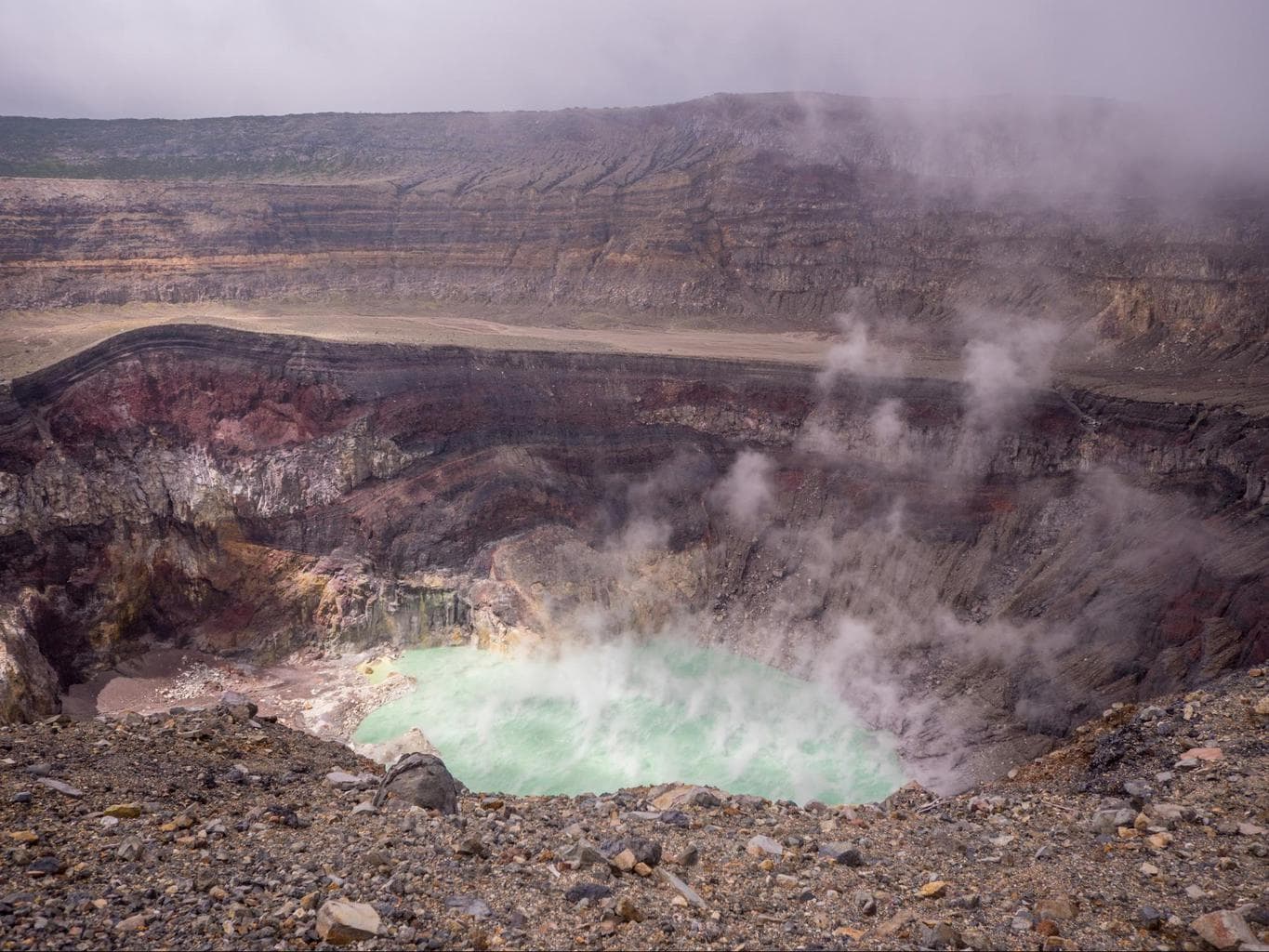 The hike up Santa Ana Volcano, locally known as Ilamatepec for its Nahuatl name, is one of the best places to visiting El Salvador and probably the country's best known tourist attraction.
From above, the view of nearby volcanoes and national parks all the way to the sea is stunning and the four concentric craters and blue lake that fills the inner one is a popular image of El Salvador and a half excursion well worth the effort. You can read all about my hike up Santa Ana Volcano in this post.
Santa Ana Volcano is active with its last eruption in 2005 and is responsible for the landscapes in El Salvador. The rim is 2,400m above sea level and the trek up will take you about an hour from the ranger station which is already at 2,100, depending on how fast you walk.
The path is well maintained and there are hundreds of people covering it daily. However, because of safety concerns and past attacks, you cannot do it on your own but need to join an escorted group that departs from the main entrance at set times.
Times may vary by day and season but there are always a few going everyday. The easiest way to climb Santa Ana is on a tour which will pick you up and drop you back off. If you travel to El Salvador, you need to make sure to add Santa Ana Volcano to your list of places to see, it was definitely the best thing I did in El Salvador.
Click here to book your guided hike up Santa Ana volcano.
Izalco Volcano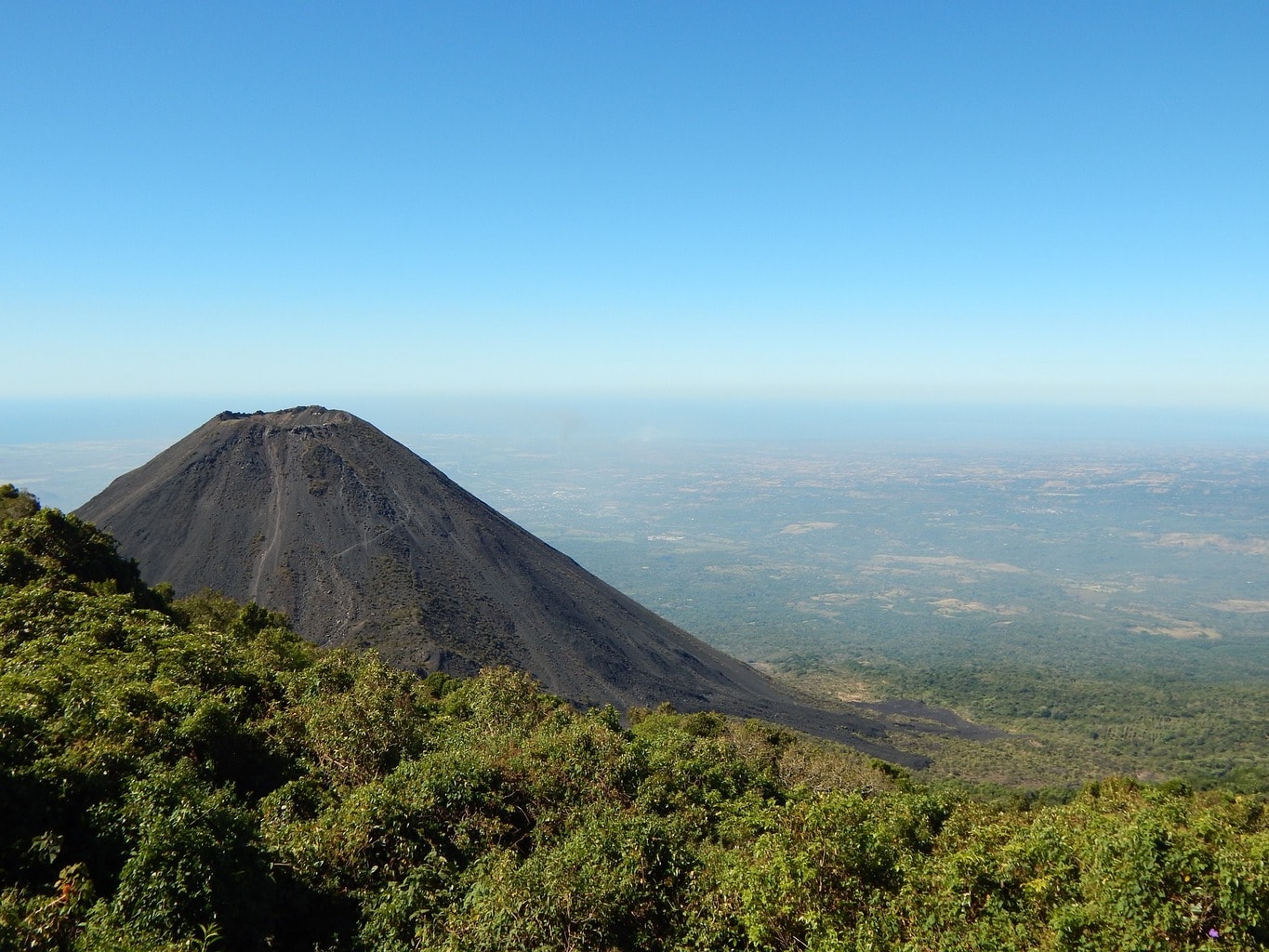 Izalco Volcano is just shy of 2,000m in height and is a perfectly conical volcano that looks exactly like the volcano emoji Yep, this one -> 🌋🌋.
The volcano was nicknamed "The Lighthouse of the Pacific" because its constant eruptions used to be seen from the ocean, which is not far away, by passing ships.
Izalco Volcano is harder to climb than Santa Ana because of its steep path and the fact that the slippery volcanic rocks and sand paths mean you take one step up and then slide down two. The path up snakes through the volcano in a zigzag and takes a bit longer than Santa Ana.
At the top, there is no lake but rather an empty crater with fantastic views of the Pacific Ocean and the neighbouring Cerro Verde and Santa Ana volcanoes. Izalco needs to be climbed with a guide and there are daily departures.
Cerro Verde
A less steep and more leisurely hike can be done around the Cerro Verde volcano and park. The area is lush and green and it's more of a nature lover's destination. There are many hikes that can be followed at various altitudes and for all levels of difficulty.
From some viewpoints, the area has stunning views over Coatepeque lake, a caldera that was filled with water thousands of years ago and which is today the playground of the rich and famous. If you want to enjoy some time outdoors but don't feel like hiking a volcano, Cerro Verde is a great alternative, full of locals in the weekends.
A great way to explore the park is on a combo tour that includes other volcanoes, like this one, or a combo tour that takes you to the country's Mayan ruins as well like this one. As mentioned before, the country is pretty small so it's easy to combine several El Salvador tourist attractions in a day tour.
Book your Cerro Verde National Park tour here.
Chill around Coatepeque Caldera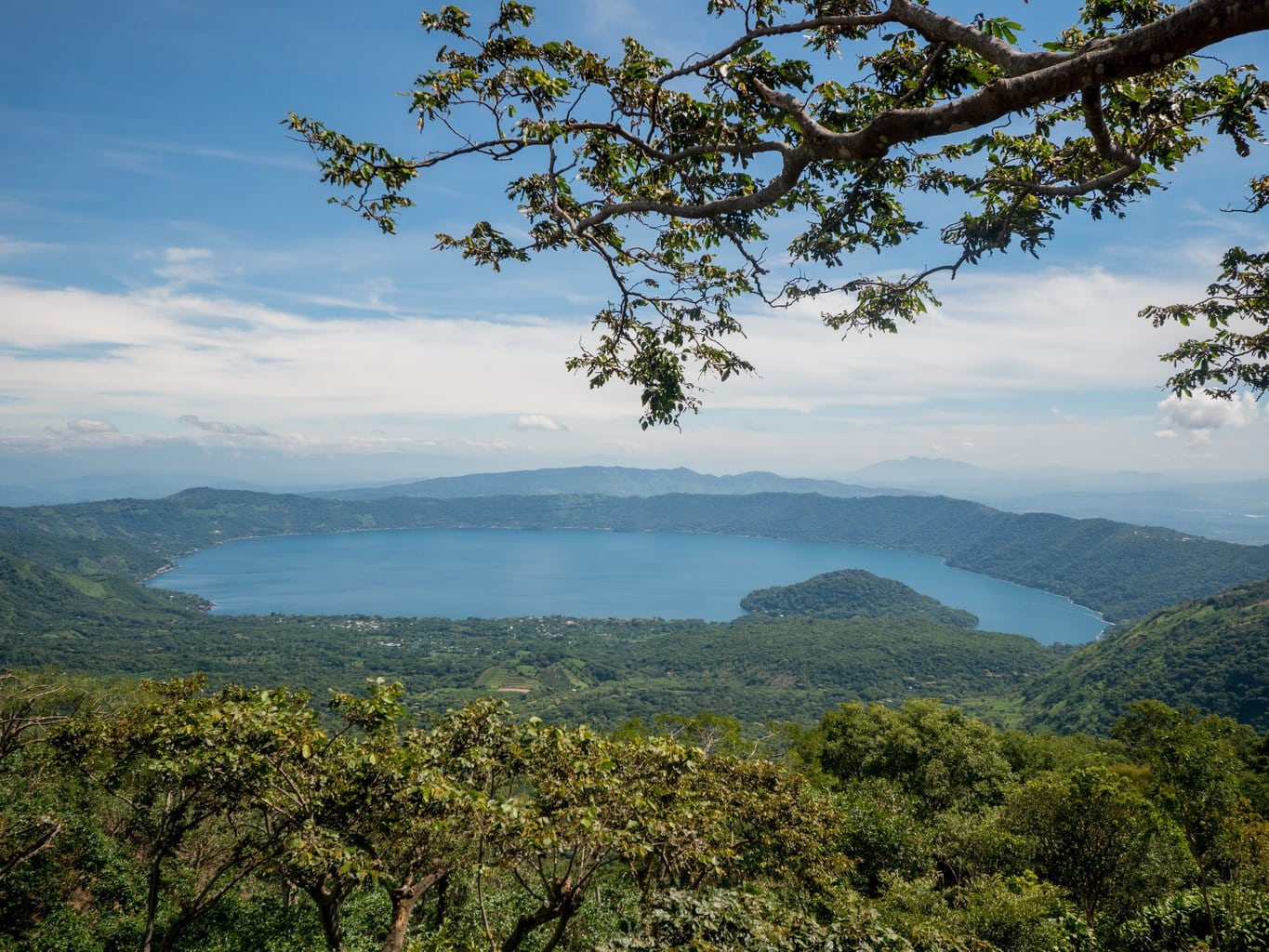 If you want to enjoy some relaxed views and the feeling of nature, Coatepeque Caldera is where the rich and famous have second homes. Don't just see the caldera from the surrounding volcanoes but come enjoy a half day closer to the water.
The ancient extinct volcano now filled with water has an island in the middle which you can visit, several look-out points and a few villages, restaurants and shacks. Think about it as the Lake Como of El Salvador. The main village around Coatepeque is El Congo.
The best way to explore the lake is by going to its shore and hiring a boat for a couple of hours. You can swim in the lake, much like you would at Atitlan in Guatemala, and you may just as well be the only one. There are several wooden piers that jet into the water for boats and people and the shore is a mix of sandy and rocky but the water is very clear.
Check out the restaurant El Solsticio which has lake-side views and makes awesome coffee. This is one of the more refined places to eat or relax.
Book your Cerro Verde National Park tour here.
San Salvador volcano or El Boqueron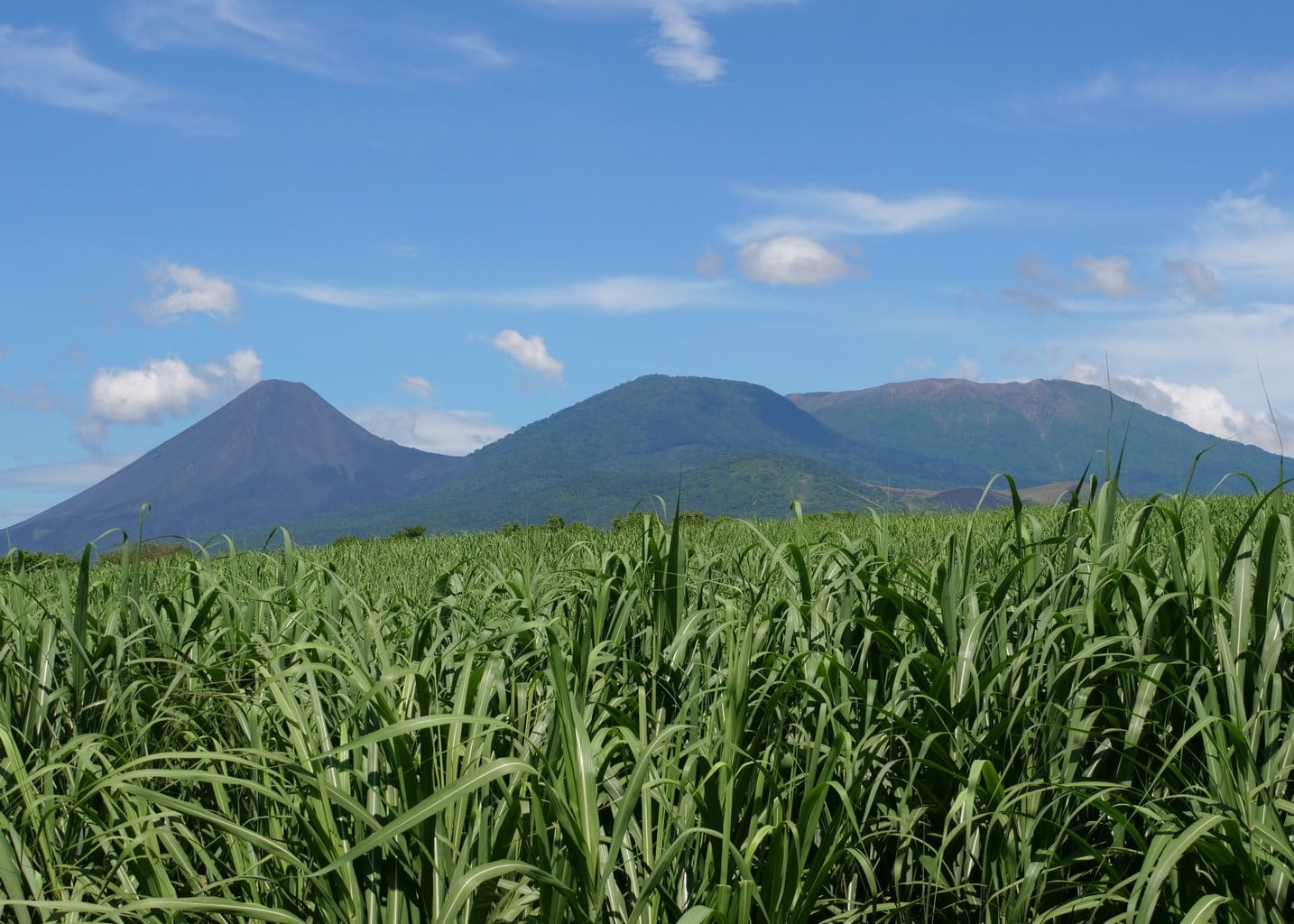 The volcano named after the capital of El Salvador received the nickname "El Boqueron" because of its very large crater measuring almost 3 km in diameter (boqueron can either mean "anchovy" or "big mouth" in Spanish, as in "boca").
San Salvador volcano is only 1,800m above sea level and constantly towering over the city. No matter where you stay or travel in El Salvador, you will be circumnavigating San Salvador volcano. But if you want, you can also climb it and hike to the top.
As the San Salvador volcano last erupted in 1917, it is expected that it will erupt again soon as legend and science seem to believe that these volcanoes erupt every hundred years. Take this tour to El Boqueron that also stops at the town of Santa Tecla and admire the wonderful landscapes that make El Salvador so unique.
Visit the Mayan Ruins of El Salvador
El Salvador has a rich Mayan heritage and some unique archaeological sites that are UNESCO listed like Joya de Ceren, known as the Pompeii of the Americas. Joya de Ceren is one of the most important tourist attractions in El Salvador and you need to make sure to include it in your list of things to do in El Salvador.
Unlike Tikkal in Guatemala or Chichen Itzal in Mexico, the Mayan ruins in El Salvador receive practically no visitors and are well outside the popular Mayan tours of Central America making them more remote and less visited.
That is definitively not because they are of lower archaeological or aesthetic value. In fact, the Salvadoran Mayan ruins are quite unique and different from Mexico's or Guatemala's because they provide a rare insight into the farmer's life during the Mayan empire, since they were preserved under ashes and mostly disappeared elsewhere.
If you like history and taking a peek at how Mayan people lived, El Salvador has the most remote Mayan ruins in existence. Best of all, the country is so small and they are so close to each other that you can visit all the relevant ones in a day.
Apart from the three main Mayan sites mentioned below, Joya de Ceren, Tazumal and Casa Blanca and San Andres, you can also visit Cihuatán Archaeological Park and Santa Leticia both of which I have marked in the my Google map of El Salvador above.
The best way to visit all the Mayan archeological sites in El Salvador is to go on a tour. A guide is almost essential as there is little information available at the sites and you will miss half of the story otherwise.
I selected a few of the best tours in El Salvador with Get Your Guide and a couple of them include the main Mayan ruins plus other options like some of the volcanos or Coatepeque lake. Click one or a few of the options below to book your personalised tour.
Book a day trip on the archeological route here.
Joya de Ceren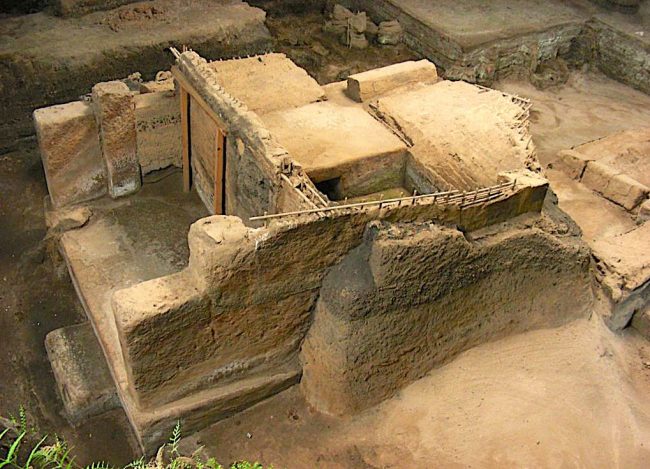 The most relevant Mayan site in El Salvador is Joya de Ceren, an entire village hidden under layers of ashes that was only discovered in 1976 when construction was slated to take place in the area.
What makes Joya de Ceren a unique tourist attraction in El Salvador and Central America is the fact that it constitutes the only remaining vestige of how the lower Mayan classes lived at the time. All the temples and ruins found in other Mayan sites are representative of how the elite population lived. Their houses and temples were the only ones which survived the passing of time.
Meanwhile, the more humble classes lived in clay and mud houses which disintegrated with time. All but Joya de Ceren, which was perfectly preserved by six meters of hot volcanic ashes that covered it all in 600 AD after an eruption, hence the name The Pompeii of the Americas.
The ruins reveal a lot about the Mayan population, as it seems they escaped in a rush leaving half-finished meals and tools as they were. Unlike Pompeii, there were no bodies found as the 200 inhabitants of Ceren had enough warning to evacuate.
Thankfully, at Joya de Ceren you will not be harassed by street sellers, or anybody trying to get you to buy a fridge magnet, because the ruins are largely devoid of the tourist hordes crowding the more famous Mayan ruins so make sure to add this in your list of things to do in El Salvador.
Tazumal and Casa Blanca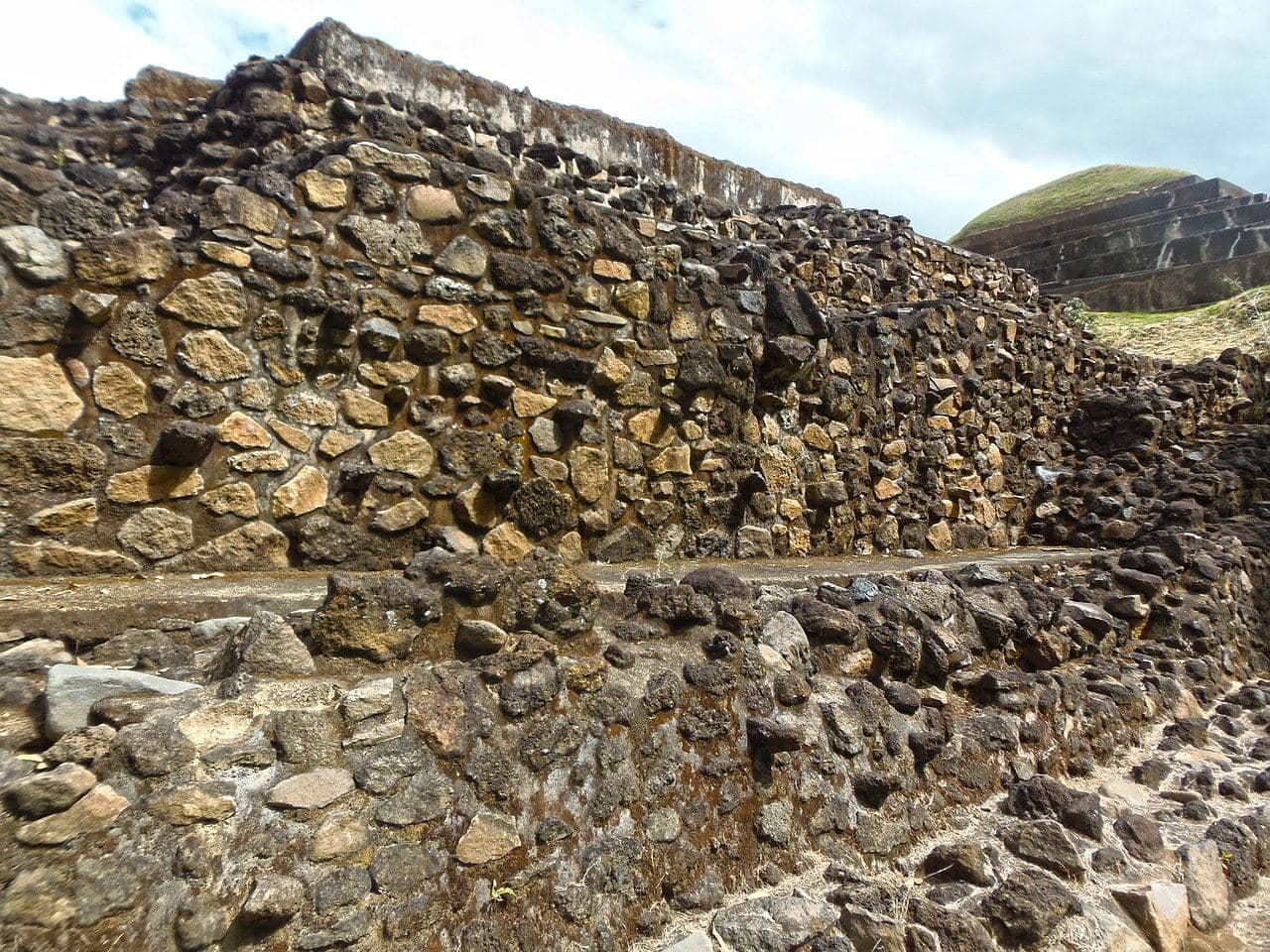 Competing with Joya de Ceren for the most important Mayan archaeological site in El Salvador is Tazumal.
Tazumal dates from 100 to 1,200 AD and includes the remains of a Mayan drainage system, tombs, an impressive 14 step pyramid and palaces. The area was inhabited for over 1,000 years until it was abandoned in 1,200 AD, but the Mayans only lived there in the 9th century AD when the local Pipil population came to occupy the city.
The ruins are the best preserved in El Salvador and are believed to occupy an area of 10 square km, so some parts are buried under today's towns.
As Tazumal is near Casa Blanca you can visit them both together. Casa Blanca is known for its relatively high (15m) pyramid structure.
San Andres
San Andres Mayan Archeological site is another one worth a visit. This Salvadorian Mayan site is in a very good state due to the volcanic eruption of 1687 which covered it in ashes thus preserving it from the elements, just like Joya de Ceren. This is the same eruption which created the beautiful volcanic plain of El Playon.
The site has a small museum that offers a glimpse into what the city must have looked in its heyday. San Andres was inhabited by 12,000 people so it was of a much bigger dimensions than Ceren.
Things to do in San Salvador
El Salvador's Capital, San Salvador, is a city that you could skip if you don't have time. It looks much like other central American cities in that it has clogged traffic, illegal market stalls occupying the main arteries (and contributing to the bad traffic) and people trying to make a living selling anything and everything.
It is less chaotic than most Asian cities because there seems to be a lower population density and the infamous scooters taking over the streets of Vietnam or Cambodia have not yet made it to El Salvador. But the city is not representative of the country's beauty, natural wealth and stunning landscapes. It is also one of the most dangerous parts of the country together with La Libertad.
This is not to say the capital is not worth it, there are a few interesting things to do in San Salvador, but if you are pressed for time and need to prioritise, I would focus on the rest of the country instead.
That being said, if you have half a day or at least a couple of hours, you might want to visit San Salvador and see what it has to offer. During my visit, the historical city center was undergoing a massive renovation effort that had all of its plazas upside down, as the mayor embarked on a complete overhaul and beautification of the city.
You can book a tour of the city together with the San Salvador volcano with Get Your Guide here. Or simply focus on the capital on a full day tour that covers it all. Visiting with a tour is probably the best way to explore the capital, for safety and so that you learn more about the country. If you want to go alone, below is a list of the best things to do in San Salvador to get your started.
Iglesia El Rosario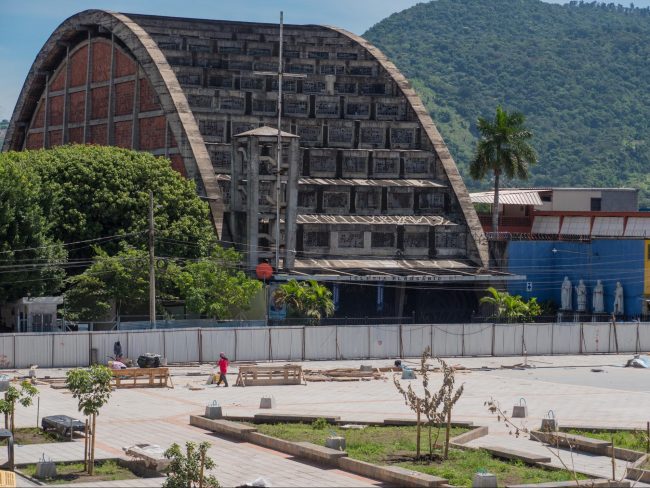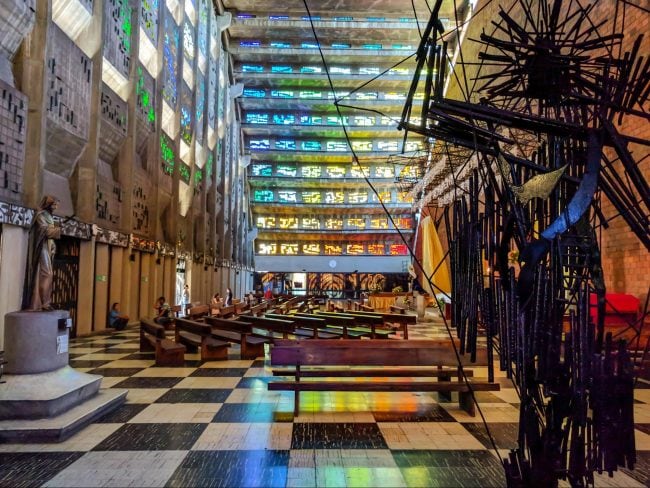 Perhaps the most important and interesting place to see in San Salvador is the controversial Iglesia El Rosario. This ugly looking concrete oval building is reminiscent of the brutalist and communist architectural style and looks more like a plane hangar than a church. It was received with mixed feelings by the very Catholic locals but makes for a very cool visit.
Dirty grey concrete with small rectangular windows that look as dirty as the façade hide an explosion of light in rainbow colors inside. Do not miss a visit inside Iglesia El Rosario to prove that one can never judge a book by its cover.
The architect and sculptor, Rubén Martínez, wanted this church to work with natural ventilation and to illuminate with the sun so the windows are covered in stained glass in all colors, exactly like Sagrada Familia. From the outside, no one could ever guess its inner beauty, which was probably the intention of the architect.
Metropolitan Cathedral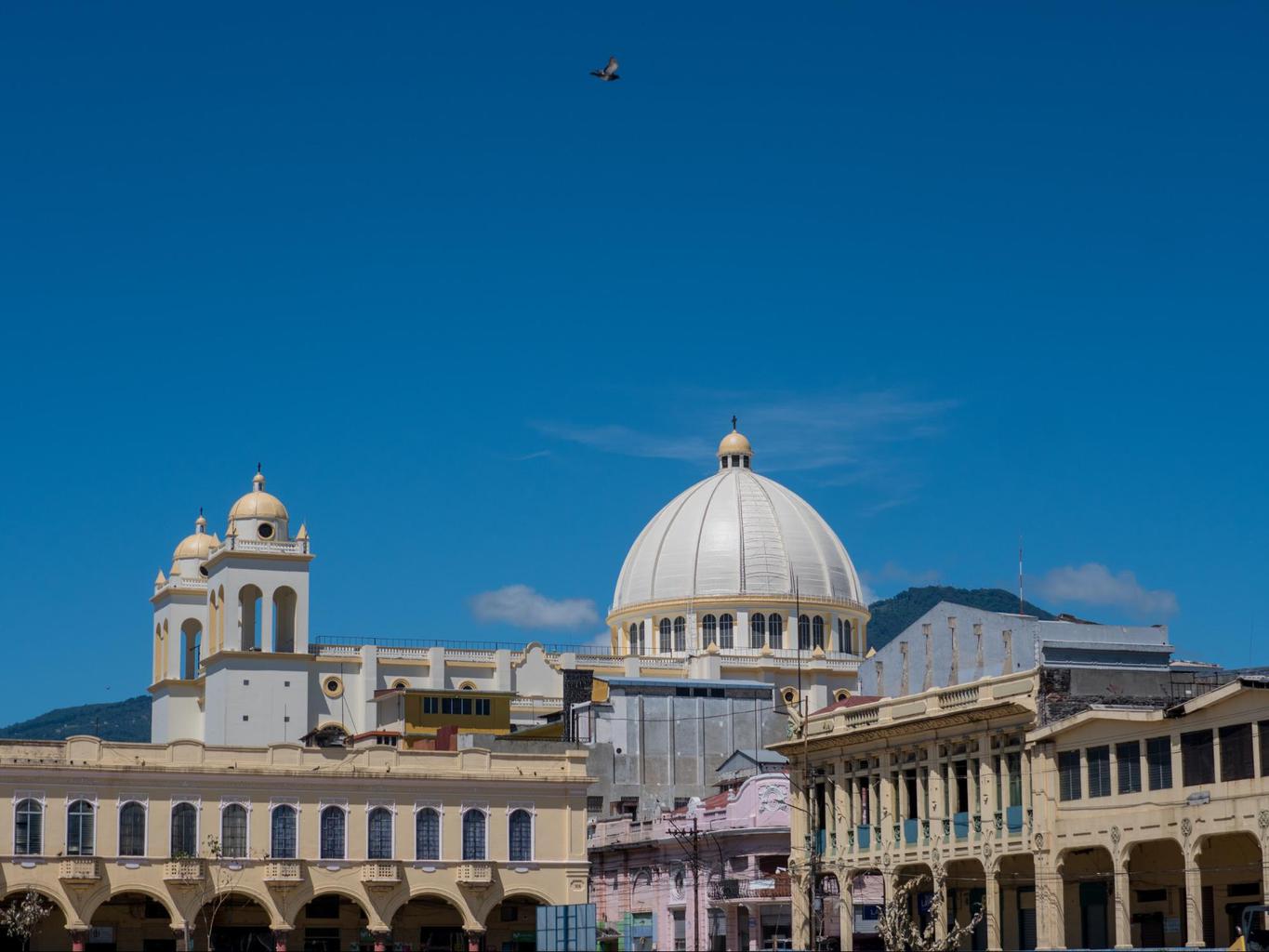 The cathedral of San Salvador is the largest church in the country. It is modern inside and out and it has a crypt where the country's most famous martyr, Monsenor Romero, is buried. The intricate church interior as well as the chapel where he is buried are worthy places to visit in San Salvador.
Monsenor Romero is known to all Salvadorans as the martyr who defended the voice of the people during the civil war. He was killed by the guerrillas in his own church during a service and was beatified by the Pope post mortem. His pictures and name are everywhere in El Salvador and there are even tours that take you around his legacy and main points of interest. Look out for his name when you book a flight to El Salvador as the airport is named after him.
Best spots to go surfing in El Salvador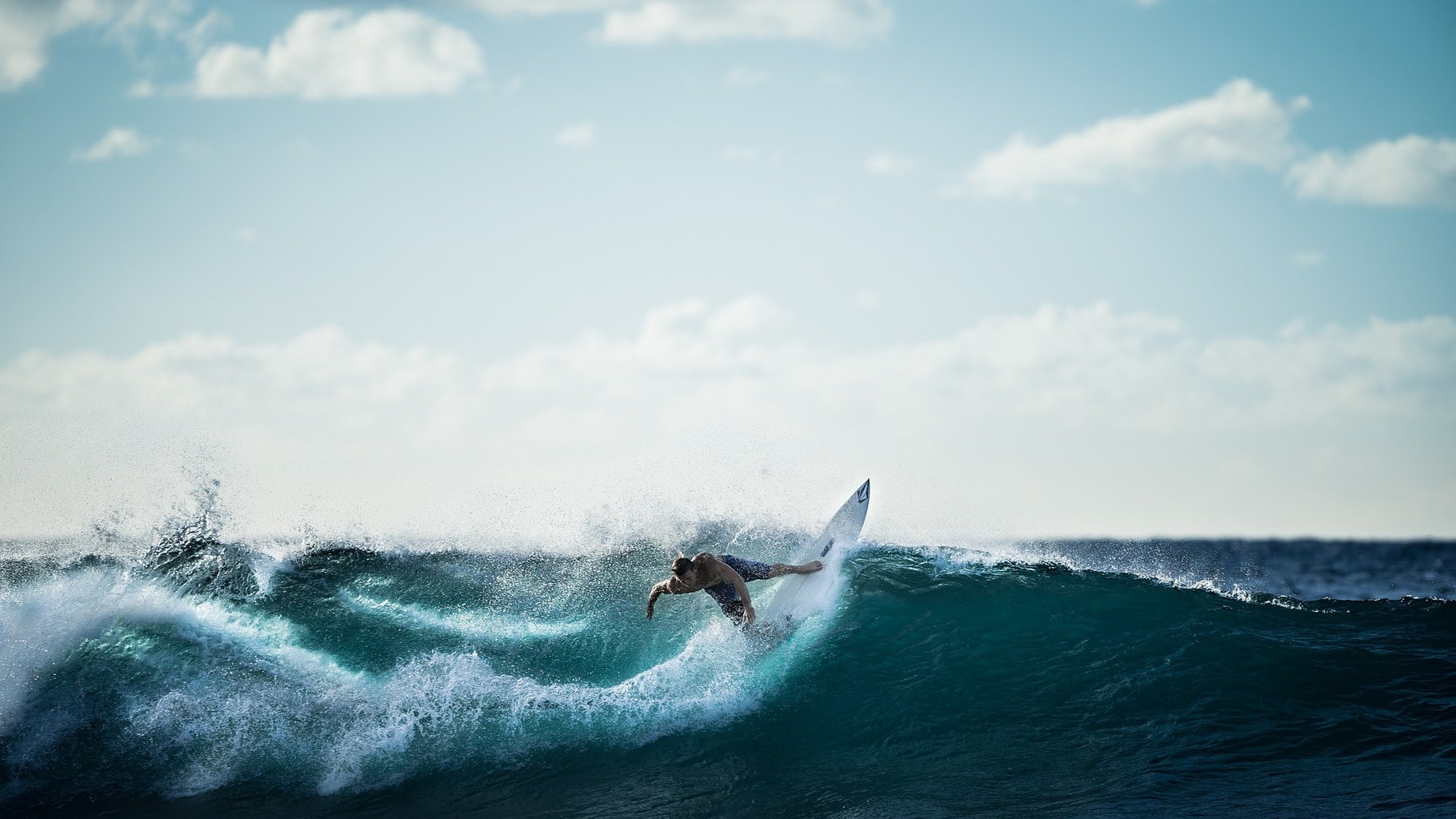 El Salvador is starting to make an appearance in the surfing world as the next secret surf destination. Its constant and almost predictable waves, its rugged coastline and its lack of mass tourism make it one of the best places to learn to surf, especially on right hand waves.
Surfing in El Salvador is also convenient as the main surf spots are near San Salvador, by the coast, and the country is very affordable. Unlike Nicaragua, veering towards surf tourism on the higher end, good beach and surf resorts in El Salvador are reasonably priced so a lot of people travel to El Salvador in search of great waves at affordable prices.
Here's a nice documentary on surfing El Salvador to get a feel of the waves.
There are a few beach towns known as surfing destinations. Check the list below for a brief description of the best surf spots in El Salvador. Most of them are located along the coast, West of San Salvador.
1. Punta Roca: Punta Roca is a break just 25 minutes out of the city that can be reached by public bus, so it is frequented by the locals. 2. El Zunzal: El Zunzal has developed into a notable surf town with a few accommodation options, bars that provide atmosphere and that surfer lifestyle, and hostels renting beds for $30. 3. El Tunco: Well known surf town in El Salvador, here you can find a well developed surf community with lots of travelers not too far from San Salvador. This is a great place to learn and mingle. 4. El Zonte: Near El Tunco but more chilled out and quiet. 5. Las Flores: one of the best known surf spots in El Salvador and also home of a boutique hotel of the same name
As the country is still being discovered as a surf destination, the list of surf breaks is increasing. Here is a list.
La Libertad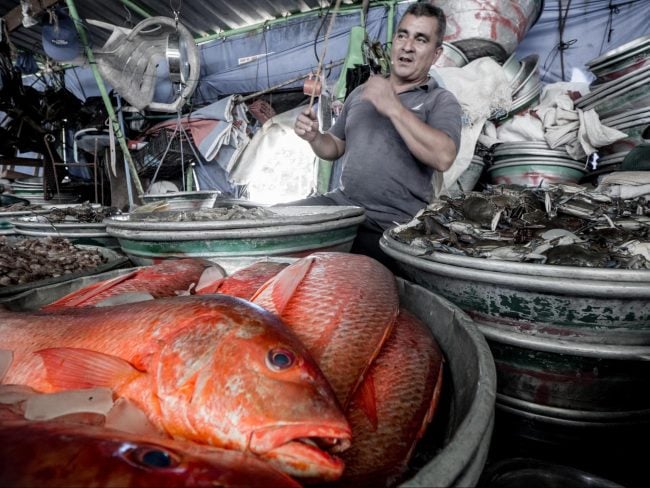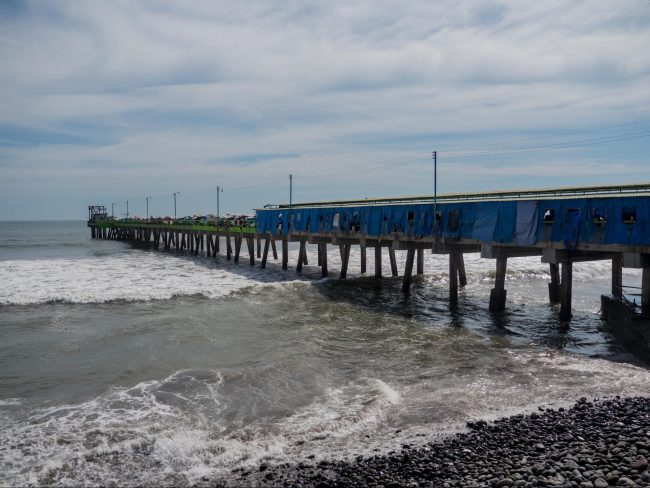 La Libertad is the closest city town to San Salvador and also the country's second largest city and one of the most popular places to base yourself if you are after surf. However, bear in mind that it is also one of the most dangerous places after the capital so you should be extra careful at night and in dangerous spots.
La Libertad is worth visiting for its fish market, located along a covered jetty. The fish and seafood there could not any fresher as the boats literally get in and out of the water at the end of the jetty and the fish doesn't go farther than a few meters until it reaches the market stalls.
Here you can buy really cheap seafood and also observe the comings and going of the fishermen and the market stall owners. For a really fresh lunch, pick one of the two sides of the jetty. On one side there are the local casual eateries while on the other side you will find the slightly more upscale restaurants.
La Ruta de Las Flores
La Ruta de Las Flores is a well-known day excursion from San Salvador, one of the most interesting things to do in El Salvador and a great chance to discover its heritage, culture, food and traditions.
The name is Spanish for the route of the flowers and, contrary to what you may read elsewhere, it is not because the area is particularly well known for its wild flowers or because the coffee beans flower at a specific time of the year.
The name was an attempt by the government to brand an itinerary along a few of the well known colonial towns and villages in the West side of the country by planting lots of flowers on the main road thus turning it into an appealing tourist attraction. You can still see some of them on particular stretches but there in fact, another part of El Salvador that is actually known for its flowers instead.
As my knowledgeable local hosts and hoteliers indicated, La Ruta de Las Flores should be known as the coffee route instead because this is where most of the coffee plantations are.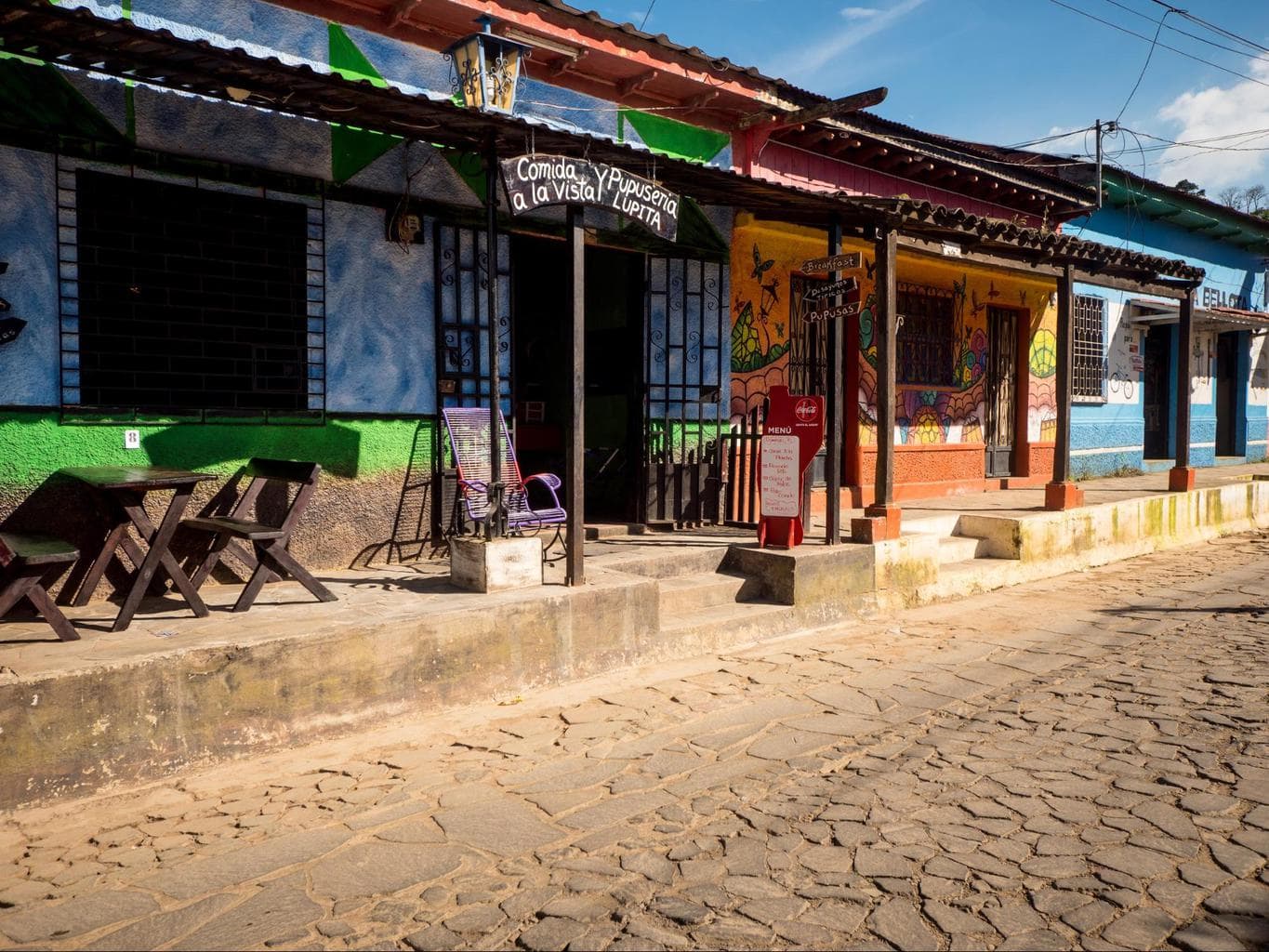 So what is there to see in La Ruta de Las Flores? There are lots of stops along the way but the below are the main towns you should be sure to stop at.
You can visit them as part of a day tour, you can self-drive or you can visit each separately but since they are quite close to each other, La Ruta de la Flores makes for a great day trip, especially on weekends when the towns are lively, packed with locals and the street food markets are on so you can sample all the great Salvadoran snacks and dishes.
You can book your tour with Get Your Guide here. The only way to cover the route in a day is by going on a tour or having your own car, public transportation will not allow you to cover it all in a day (and is more dangerous).
Go on a relaxing Thermal Spa and Coffee Plant Tour in Ataco along the Ruta de Las Flores. Book here.
Nahuizalco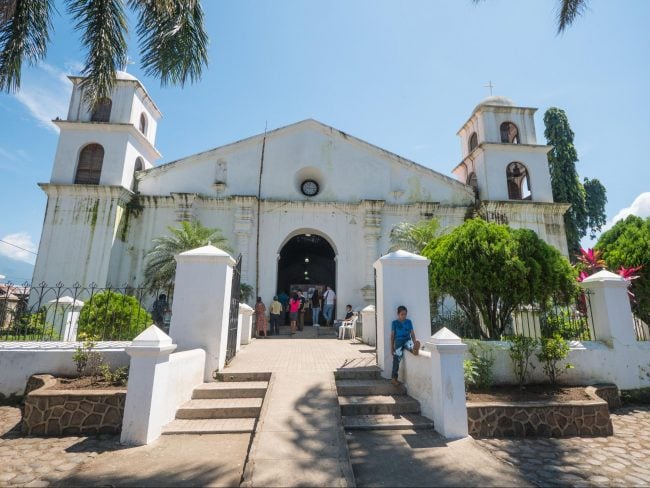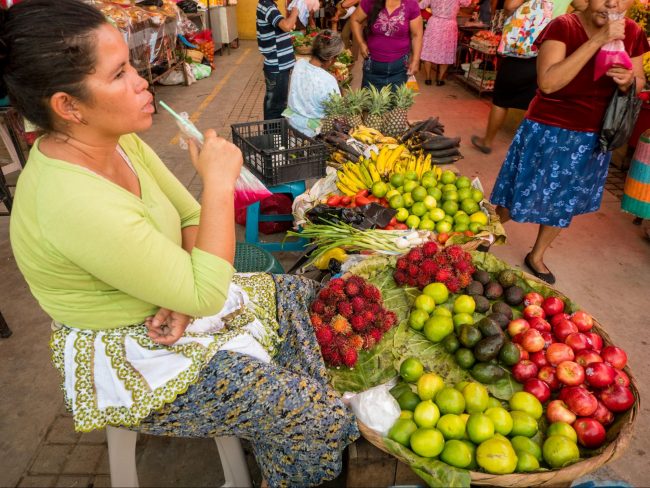 The fresh Mercado de Las Velas market that lines the main square and explodes during the weekends was my favorite part of Nahuizalco. The market's name comes from the fact that it used to be popular with all the locals coming from nearby towns in the afternoon. As its popularity grew, the market started to open until later and later, until the late night so candles were needed to light the stalls.
The town is quite high in altitude and the farmers in the area all come down in the weekend to sell their produce so it is a great chance to see vegetables, fruits and even herbs that are hard to find elsewhere.
Nahuizalco is also known for its artisanal products including handmade furniture, baskets, woven crafts and other items that are typical of the indigenous population in the area and which can be seen on display along the main streets.
Be sure not to miss the 17th century San Juan Bautista Church with its red roof.
This is the first town you are likely to stop at in La Ruta de Las Flores. When I was there the town was celebrating a feast for one of the virgins and the entire town was filled with music, dancing, processions and food.
Nahuizalco deserves a stop along the Ruta de las Flores because of its colonial look and feel and because it preserves some of the most authentic indigenous heritage in El Salvador. You can also visit the Náhuat Pipil Community Museum in Nahuizalco to find out more about the local culture.
Juayua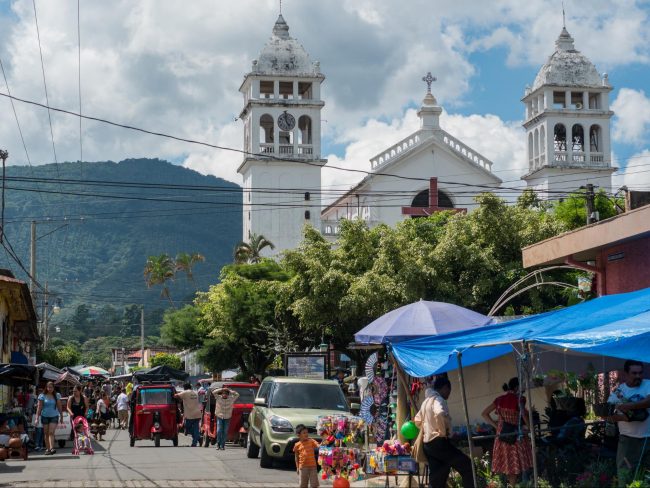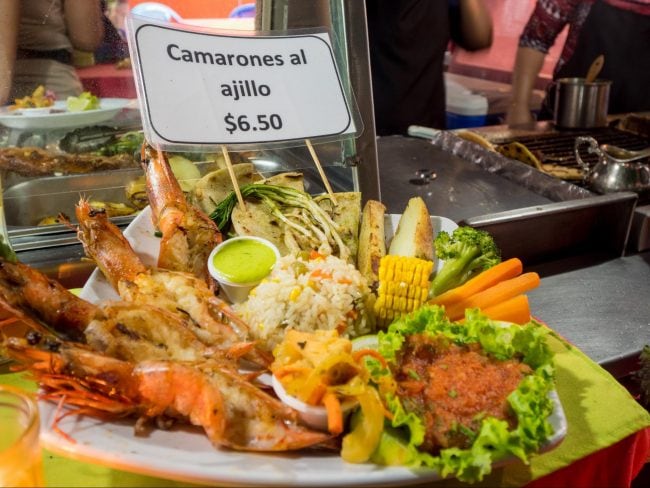 In Juayua you can find a fantastic weekend food market where all the Salvadoran dishes are represented. The market is located right in front of the main church, Iglesia Santa Lucia, known for its black Christ statue, Cristo Negro. You can just go into the church to take a look.
Undoubtedly, the best reason to visit Juayua is the weekend food fair where food abounds. The market is covered so you can get some shelter from the rain or from the blazing tropical sun.
Sit down and enjoy the great food and don't miss out on some of the delicacies and snacks that are being passed around by street sellers. There are lots of meat dishes with sausage and some of the least common protein options.
Make sure to try the fried yuca with the typical Salvadoran tomato sauce. There is a small train that covers the main tourist spots in the town on the weekends too.
Juayua is also known for the three connected waterfalls at Los Chorros which can be reached by tuk tuk from the main square or by a 45min walk. The natural pools formed have depths of up to 2m. These are popular on weekends and are clean and fresh.
Apaneca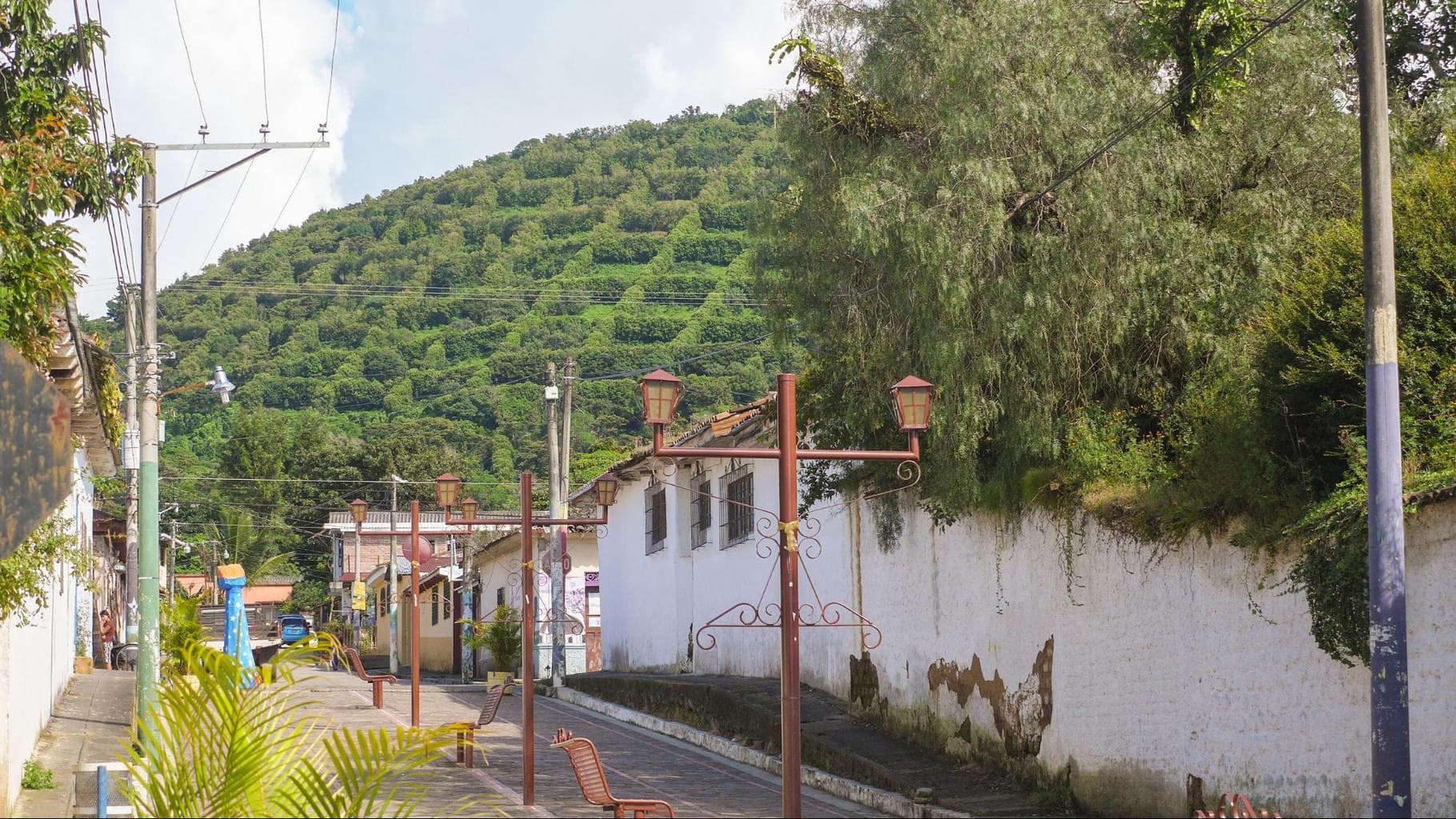 Apaneca is known in the local Nahuatl language as "the river of winds". The town is the highest habitation in El Salvador and is located at 1,400m above sea level. The square of Apaneca has a market with souvenir shops and food stalls.
But the main attraction in Apaneca is the surrounding coffee plantations with coffee bushes lined in a checkered shape and topped with three crosses. The landscapes are beautiful here.
Apaneca is the adventure and ziplining destination in El Salvador. You can go on buggy excursions or jump on a zipline above the coffee plantations. Make sure to check out the 18th century church located atop a staircase giving it a dramatic entrance.
You can get to Apaneca from Juayua on the Conga bus with live music, a bit like a party bus. Don't leave without stopping by the Axul store where you can buy plenty of local souvenirs, products, coffee and locally weaved textiles the indigenous people are so well known for. The small cafe by the store is a great place for a slice of cake and a coffee from the nearby plantations that give some amazing views from the town.
Ataco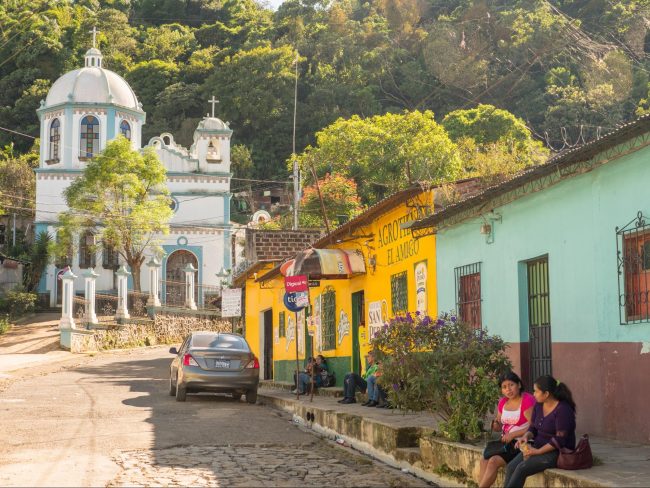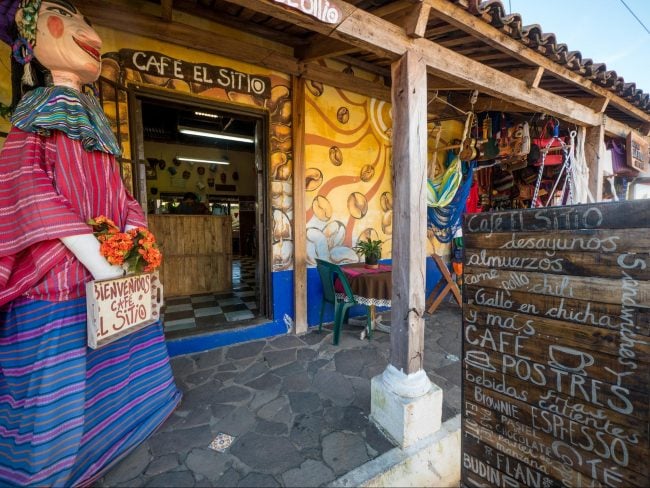 In Nahuatl Ataco means "place of high springs". This pretty cobblestoned town along La Ruta de Las Flores is filled with color and a cultural blend between colonial Spanish influence and indigenous heritage, even if you don't follow La Ruta de las Flores in full, Ataco should be on your list of things to do in El Salvador.
The town reminded me a lot of other Latin American towns which are steeped in heritage, like Antigua in Guatemala, or Granada in Nicaragua (check this guide with the best things to do in Granada if you are planning to visit).
Many of the facades in Ataco are painted with murals and there is a particularly interesting one right by the main square. Talking of which, the main square in Ataco is filled with a weekend food market and lots of local bars, cafes and restaurants on the covered ground floors of the main buildings lining the square. Ataco is as hip and cool as it is traditional and preserved.
Next to the typical pupusas we found a German-Salvadoran couple selling small empanadas in the shape of a samosa. The square is happening. It has people dressed up to take photos with kids and ice cream stalls. Arts and crafts are everywhere and nowhere else along La Ruta de Las Flores will you feel more of the Nahuatl culture as in Ataco. A great way to end your day touring La Ruta de Las Flores.
There is another Axul store in Ataco, for a second chance at that beautiful handmade gift for your loved ones.
Coffee plantation tours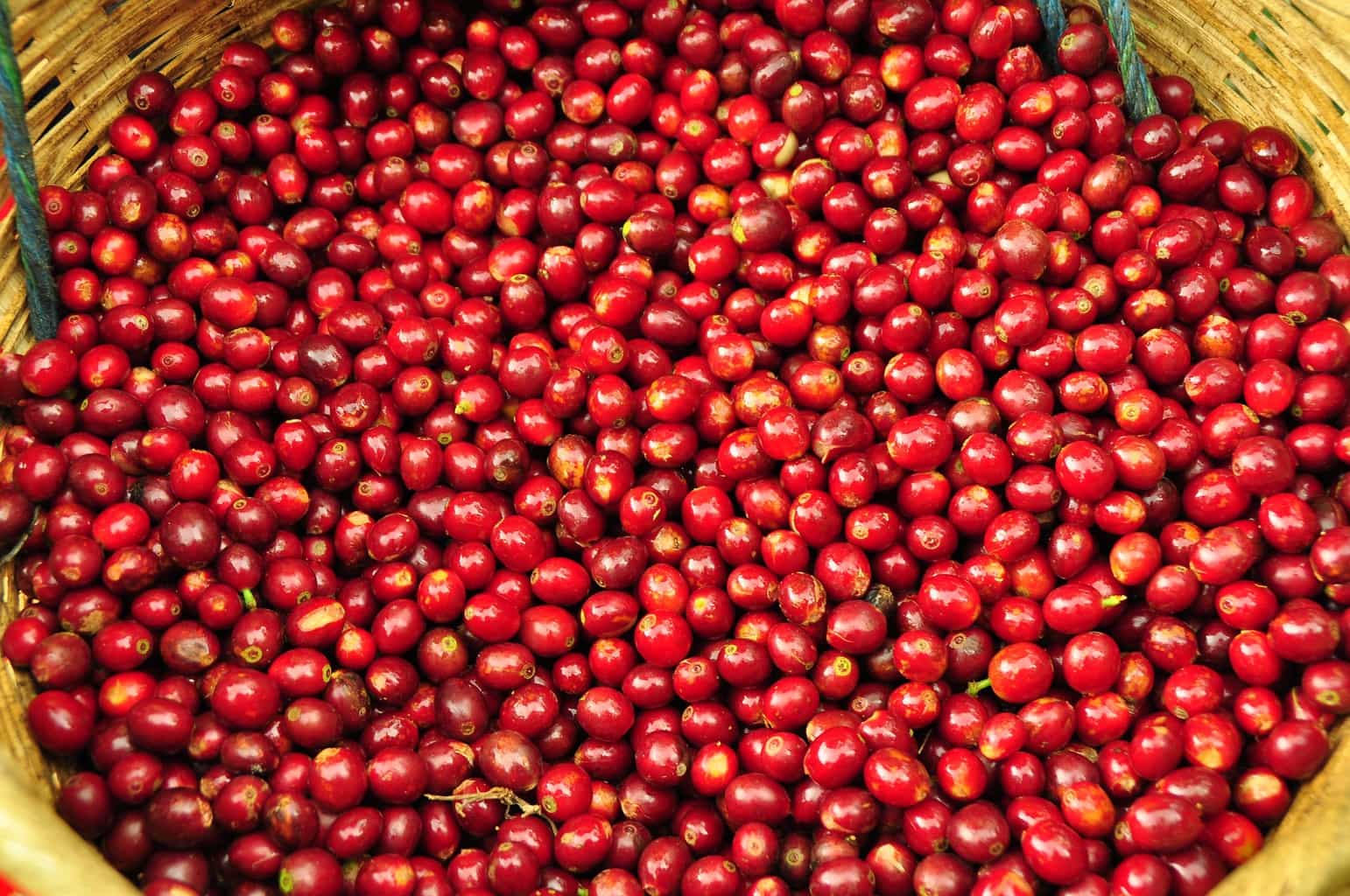 La Ruta de Las Flores should be known as the coffee route because of the many coffee plantations many of which are open for visits. This is why some of the tours combine La Ruta de las Flores with a visit to one so you can learn about the end to end coffee roasting process. It is quite an interesting thing to do in El Salvador that is lesser known. Check this tour which has both.
If you have never learned how coffee is made, this is your chance. Plus the coffee plantations in the country are very beautiful.
Other interesting places to visit in El Salvador
Apart from the capital, the volcanoes, the Mayan ruins and the surfing, there are a few other things to do in El Salvador slightly further away from the capital and which I am listing below.
Panchimalco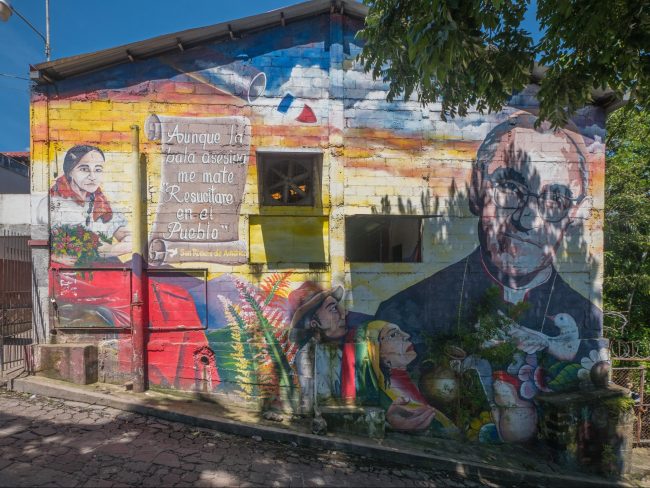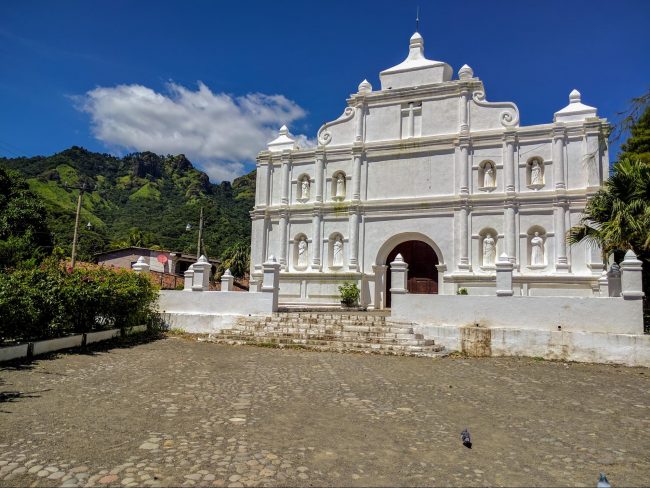 This mountain village above San Salvador is a lovely place to retire to. Local Salvadorans have started to buy weekend houses here or come here to spend a Sunday walking the trails and enjoying the views. As Panchimalco is higher up the weather is always cooler and the mountain air is refreshing so it makes for a nice place to visit in El Salvador.
There is a sculpture park you can check out and lots of art and handicrafts including a small gallery-workshop-shop called Casa Taller Encuentro that tells you more about the fabric and weaving tradition in El Salvador and other artistic traditions.
I stopped by the house studio of a famous local artist that is quite well known outside the country. Have a look at the Baroque church which has picturesque views against the backdrop of Devil's Door.
Inside you can still see the original wooden columns and the altar if the church is open, both of which are quite impressive and well preserved considering they date from the 18th century.
Panchimalco is especially interesting during the Festival de Las Flores y Palmas on the first Sunday of May when the local women spend hours decorating the palm fronds with lots of flowers which will then be shown around town in a procession carrying the two virgins the celebration is for.
This is a tradition similar to what we do in Spain for Easter when we get fresh palms from our godparents and hang them outside the balcony until they dry.
Suchitoto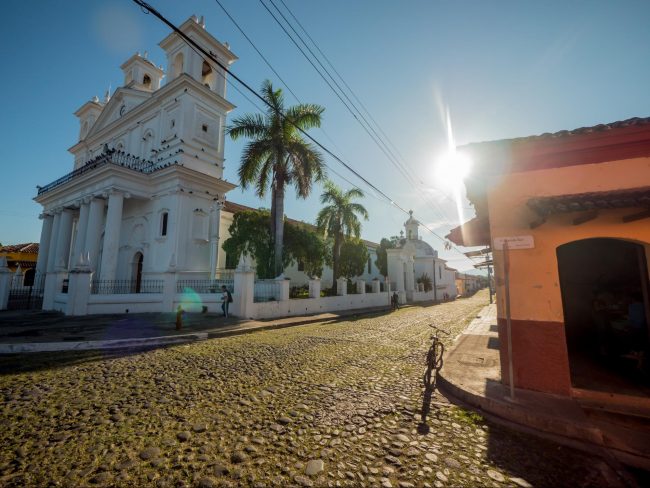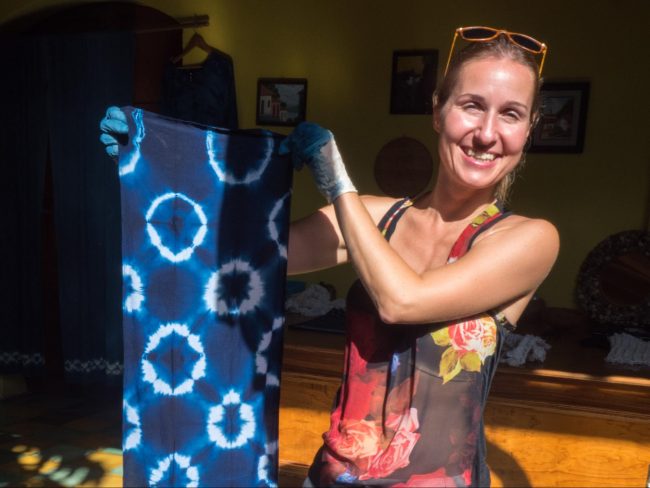 This pretty cobblestoned town about 90min from the airport is a lovely colonial town well worth a visit. The town is so small you can walk it all in half an hour, so it gives you the feeling of being part of the community straightaway, and it is one of the last remaining towns in the country with the original colonial cobblestoned streets. The town is located by the largest lake in El Salvador, a picturesque location.
Suchitoto is a great place to base yourself in and is where I spent my nights. There are very few tourists here so everybody will immediately know you. It is also close to the border with Honduras and Guatemala so a good place to stop on your way to or from Copan in Honduras.
Even if you don't choose to base yourself here, Suchitoto is an interesting half or full day excursion from San Salvador or elsewhere in El Salvador as there are a few interesting things to see. Perhaps the easiest way to explore the town is on a day tour as it is 1.5h drive from San Salvador. I recommend this one which covers the most important things including the town itself and Lake Suchitlán.
In Suchitoto, pay a visit to a very authentic and genuine indigo store called Arte Añil run and owned by Irma who has taken it upon herself to revive the old tradition of the blue dye that is endemic of and originally from El Salvador.
As companies and consumers turn to more organic dyes and materials, indigo (añil in Spanish) is making a comeback and returning to the fashion industry. Irma has a store where you can buy items that have been dyed with indigo using her own hands (her workshop is right at the store itself) but she is also happy to show you how it is done.
I got to dye my own scarf/table runner in a nice design she taught me how to do. Irma's passion and work has been featured across the world including Elle magazine and Le Figaro.
It was fascinating to understand more about how indigo is made and how it is purely the color that a bush plant's leaves provide when simply left to soak in water. The water is then strained and kept in a pot and clothes are soaked in it for a few minutes in different shapes and bundles to make the psychedelic and beautiful designs.
So interesting to see an ancient tradition being revived by committed entrepreneurial people who love their heritage. More so to realise the fashion industry is allowing that to happen thanks to conscious consumers looking for natural fabrics and materials.
Worth noting that añil or indigo cannot dye artificial fabric so if you ever are sold a lycra item and told it was dyed using indigo, you'll know it is not true unless it underwent a chemical process, defeating the point of an organic and natural fashion item. To find out more and get Irma to explain just pop by her store on a corner of the main square.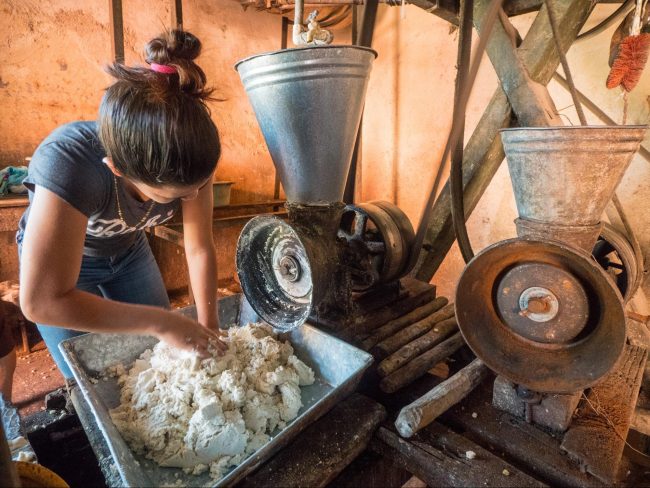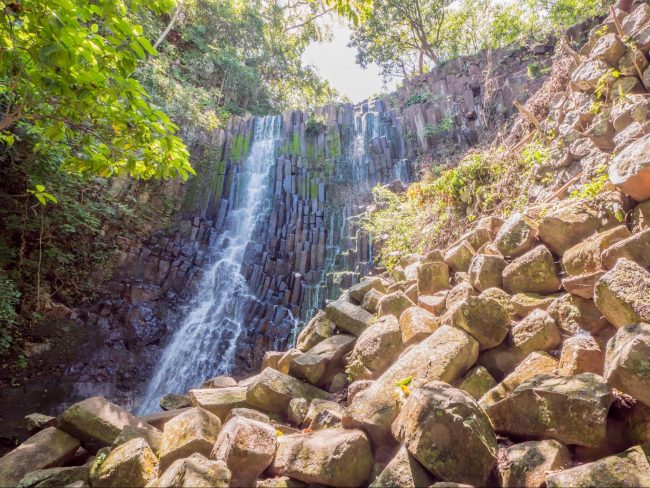 At the other end of the main square I was given a very interesting insight into local Salvadoran life. As you will read in the food section below, Salvadoran food is great and many of the Salvadoran recipes and dishes use maize flour or maize paste as their base.
Because of the large quantities used and the fact that many families cannot afford to have their own blender, there are public mills where you can bring your own maize and blend it all in with water.
The local women take plastic bowls filled with sweet corn and leave with a mountain of maize paste used to make tamales and the famous pupusas among other things.
I took a peek inside the mill right by the side of the church in Suchitoto and stood there just watching, mesmerised at the turning wheels. The locals were happy to show me how it worked as I watched in awe. A sense of community and of being all together permeated it all and I thoroughly enjoyed being a witness to such an age old tradition which would be hard to see in San Salvador.
There are other nearby places of interest in Suchitoto including the massive Lake Suchitlan, the largest in the country, which was formed when the government flooded the area to make a damn that is used for electricity and agriculture, and the interesting waterfalls.
Cascada los Tercios is a waterfall near the town, about a kilometer away and it looks very much like the Irish Causeway with large rectangular shaped stone slabs that let a large water stream fall down the small stream below. If you want to climb down the base of the waterfall make sure to wear trainers as it is very slippery and full of spider webs.
The Lempa River is right next to Suchitoto and is a beautiful place for a boat ride. The Lempa River Basin occupies 49% of El Salvador's territory but it originates in Guatemala and reaches El Salvador after crossing into Honduras. A large dam created a huge lake right where Suchitoto is and you can have lovely views of it from the Casa 1800 Hotel and restaurant.
I highly recommend going to San Juan Embarcadero (pier) and hiring a local fisherman to take you on an hour's boat ride around the lake. Not only is it massive, but it is also filled with birds and lots of small islands, some of which have holiday homes.
In the evening, head over to the main square and sit at one of the pupuserias for a meal with the locals. They are incredibly busy in the evenings.
Book your full-day Suchitoto guided experience here.
Places to visit from El Salvador
El Salvador is a very small country so it is not unheard of for tourists to head to either Copan in Honduras or Antigua in Guatemala, for a long but interesting day.
Day trip from El Salvador to Copan, Honduras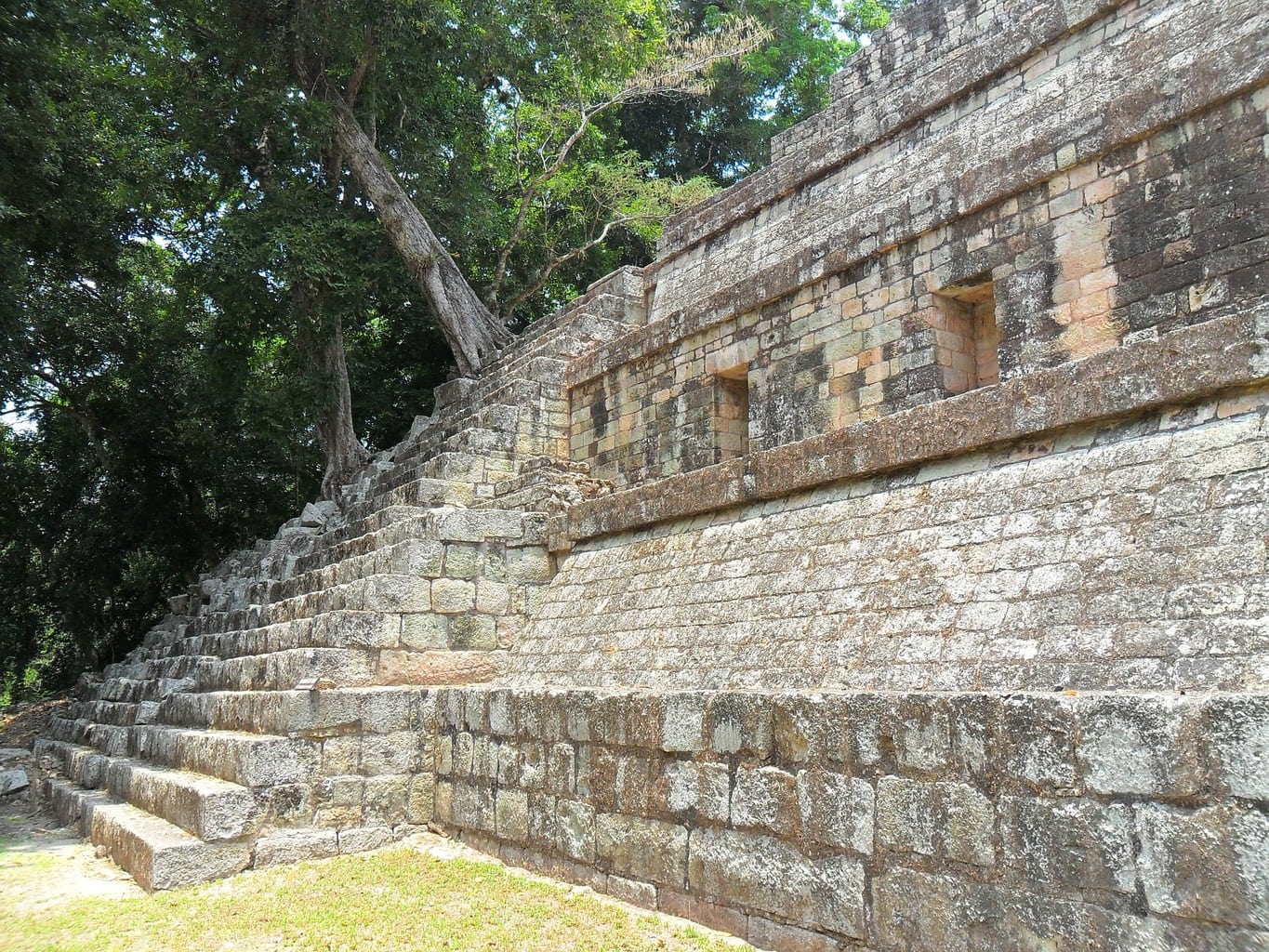 It may sound strange but one of the best aspects of traveling to El Salvador is its proximity to Copan which is otherwise hard to get to from Tegucigalpa. Copan is near the border between Honduras, Guatemala and El Salvador and it is a wonderful Mayan archaeological and UNESCO site I visited when I was living in Honduras in 2002. Back then there were absolutely no tourists, no signs and no guides.
Today, Copan has evolved and is much more developed but it retains an air of mysticism and is much less popular than the Mayan sites in Mexico or Guatemala, primarily because it is not as large and it is much harder to get to.
Copan can be visited as part of a day tour from el Salvador which you can book here. It will be a very long day, I won't lie to you, because the drive is 3-4h and you need to clear border procedures twice on both sides. But if you are in El Salvador for longer and want to explore this part of Honduras, it will be easier to get there from El Salvador than from anywhere, even from Guatemala tours to Copan are offered from Antigua but the drive is much longer (5-6h each way).
Day trip from El Salvador to Antigua, Guatemala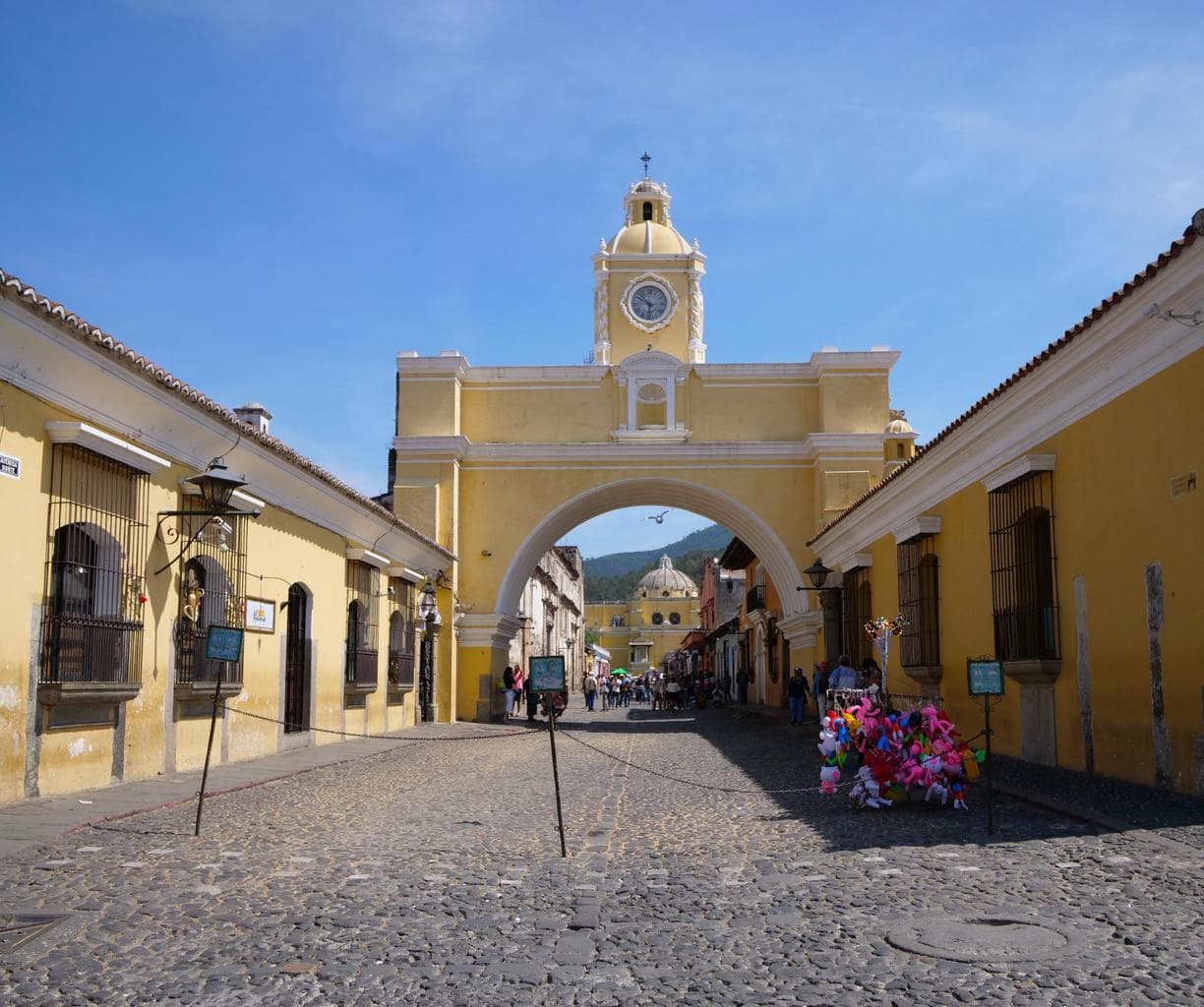 Antigua is another great day trip from El Salvador. The city is a bit further away (perhaps 4-5h drive) than Copan but is one of the most beautiful ones in Central America. In Antigua you will get a real sense of colonial heritage mixed with indigenous culture and traditions and the muted Pipil, Aztec and Mayan heritage that is lacking in El Salvador is in full bloom in Antigua.
The cobblestoned streets, the painted facades and the colorful clothes of the locals all add a dose of history worth the trek. Plus you can enjoy Guatemalan food (similar but different to Salvadoran), or continue on your travels in Guatemala by going on more volcano trekking at Acatenango, the real active ones with lava. Near Antigua is also Hobbitenango, if you want to briefly transport yourself to New Zealand.
You can book a day tour to Antigua here. It will be another long day but the city is well worth it.
Hotels and resorts in El Salvador
El Salvador has some beautiful colonial boutique hotels and some international chains in the capital city, but is otherwise quite low key when it comes to luxury accommodation. You will not find any over the top or five star property like you can find in most countries in Asia.
I find the best hotels in El Salvador are the ones run by locals who are rooted in the country and who can also play the role of great hosts. These tend to be inland and not so much by the coast. The best beach resorts in El Salvador are on the smaller side and tend to focus on the surf audience.
I have compiled the list of the best places to stay in El Salvador based on my experience, my extensive research and lots of conversations with my hosts at Los Almendros de San Lorenzo who shared with me their insider knowledge on the other properties and also the hotels they would recommend.
While I have briefly mentioned the best places to stay in each area below, I have also written an in-depth article of where to stay in El Salvador with in-depth descriptions of each luxury hotel. Click on the button below to view this article.
See the best luxury hotels & resorts in El Salvador here.
Best hotels in Suchitoto
| Hotel | Descriptioin | Price | Book here |
| --- | --- | --- | --- |
| Los Almendros de San Lorenzo | Renovated 18th century colonial boutique hotel. Fantastic hosts who have a love for the culture, heritage and food. Rooms are comfortable, rustic chic. Pool, or honeymoon suite available. | Starts from $120 | Book now on Booking.com | Agoda. |
Best hotels in San Salvador
| Hotel | Description | Price | Book here |
| --- | --- | --- | --- |
| Nico Urban Boutique Hotel | Modern, designer hotel with a more vibrant soul than others. It is central and home to restaurant Il Gustaio. | Starts from $70 | Book now on Booking.com | Agoda |
| Sheraton Presidente San Salvador | Price and quality don't match the Intercontinental, but a good option for an international stay. | Starts from $115 | Book now on Booking.com | Agoda. |
| Intercontinental San Salvador Metro-Mall | In the mall with the usual from Intercontinental, i.e. modern standard international feel and all the amenities you could want. | Starts from $100 | Book now on Booking.com | Agoda. |
Best beach resorts in El Salvador
| Hotel | Description | Price | Book here |
| --- | --- | --- | --- |
| La Cocotera | Small resort with a rustic-chic feel. It is eco-friendly and on the beach. Quiet and free from tourists. | Starts from $390 | Book now on Booking.com |
| Tortuga Village | Beach resort with thatched roofs, teak walls and close to the mangroves. | Starts from $185 | Book now on Booking.com | Agoda. |
| Boca Olas resort Villas | Surf resort in El Tunco which is bigger than the rest on this list and slightly more developed and modern. | Starts from $100 | Book now on Booking.com | Agoda. |
| Hotel B Boutique El Salvador | Cliffside resort and under La Ola restaurant. Has whitewashed walls, glass windows and ocean views with outdoor swimming pools. | Starts from $285 | Book now on Booking.com | Agoda. |
Best surf resorts in El Salvador
| Hotel | Description | Price | Book here |
| --- | --- | --- | --- |
| Las Flores | Possibly the most luxurious beach resort in El Salvador and made with surfing in mind. Infinity pool, hot tub and sea facing rooms. | Starts from $330 | Book now on Booking.com | Agoda. |
| Puro Surf | Specialises in learning or practicing surfing and located in surfing heaven El Zonte. Modern chic with a bohemian surfing vibe. | Starts from $90 | Book now on Booking.com | Agoda. |
What to eat in El Salvador – The best Salvadoran food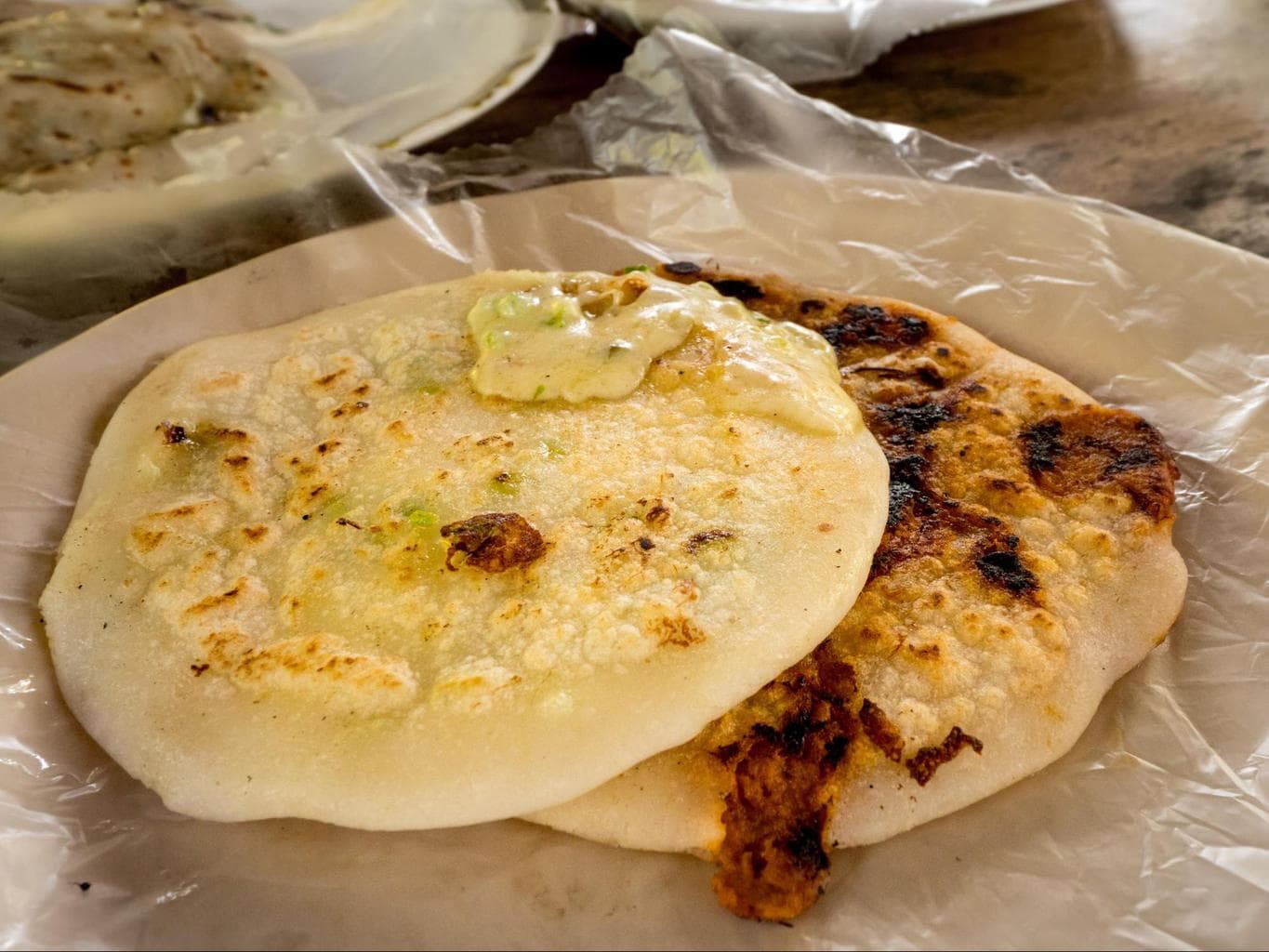 A list of what to do in El Salvador cannot be complete without a list of its best foods because nothing speaks of a country as well as its food. Here is a more comprehensive article about food in El Salvador, and below is an abstract.
You need to travel to El Salvador to appreciate its unique cuisine, which is hardly ever found outside the country. Although there are some similarities with Mexican Food, Salvadoran food has some items that are exclusive of the country. 'The most traditional food from El Salvador is the pupusa. This flat mix between a Mexican tlacoyos, an Indian paratha and a pancake is sold at Pupuserias and is available everywhere. It was my most favourite Salvadoran food and eating it is practically a social affair.
Pupusas are eaten at all times, especially at breakfast and dinner. They are made with either rice flour or maize flour and filled with condiments to add flavor and consistency. The small parcels are then flattened out and cooked over a flat hot stove.
Stands preparing and cooking pupusas can be found everywhere in El Salvador. If you visit the country you cannot leave without trying the two versions, with rice and with maize flour. As you break a piece with your hands the melted cheese is likely to pour out and escape through your fingers. Pupusas are delicious!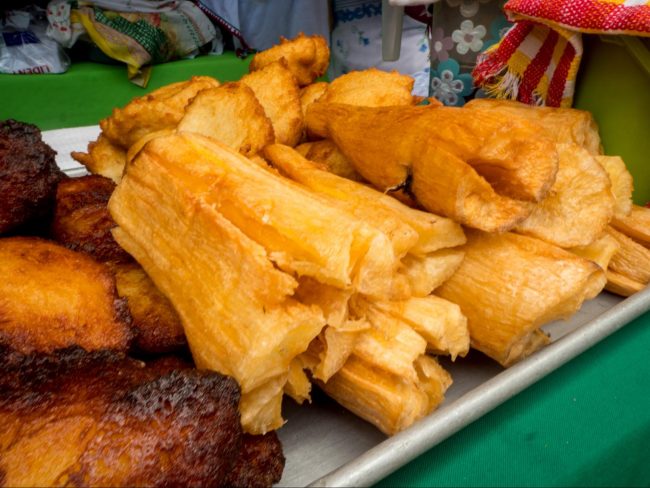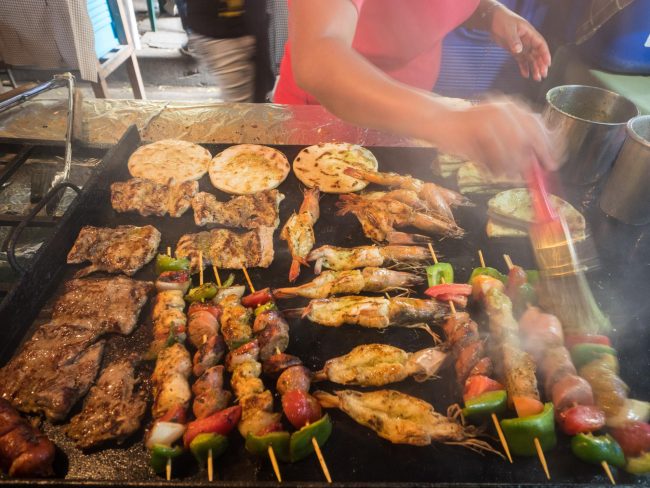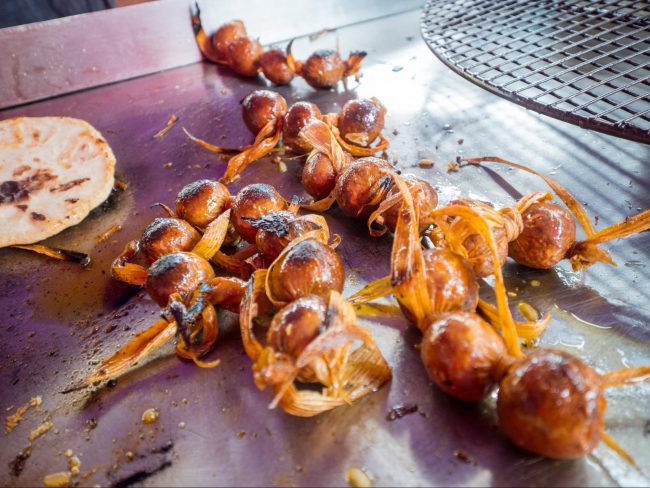 You can choose to fill your pupusas with cheese, frijoles (red beans), zucchini, minced meat, and all sorts of local herbs that you will not find anywhere else. Although pupusas are not usually spicy, chilli sauce is given on the side. You can enjoy them on the spot or to take away.
Aside from pupusas, Salvadoran food includes lots of unique items you cannot eat anywhere else. Here are a few popular Salvadoran foods to try.
Quesadillas (not to be confused with the Mexican variety) which is a sort of wet pound cake made with cheese (hence the name queso).
Gallo en chicha, rooster meat cooked in a special sweet sauce made with fermented pineapple liquor.
Tamales (similar to the ones in Mexico) which can be sweet or savoury parcels of sweet corn paste combined with herbs, spices, chicken and sometimes sugar and cooked in banana leaves.
Horchata (similar to the Mexican version) made with roasted seeds, nuts, spices and rice which are mixed with water and strained.
Merienda is a combination of cooked ears, tongue and cheek. Very important not to confuse this with the Spanish version which involves tea time food (sweets, breads and pastries).
Arroz con leche which is exactly like what we eat in Spain, rice cooked with milk, sugar and with added cinnamon.
Atole de elote is a version of the roasted sweet corn that is served with sugar.
Pastelitos de carne are small cakes made with boiled sweet corn blended in a paste and filled with minced meat and vegetables.
Ceviche is also popular in El Salvador and usually made with white fish.
Other staples include fried yuca, commonly available everywhere and eaten with a side of tomato sauce, casamiento (side dish of rice with mashed frijoles), and grilled meats of all kinds, including the famous chicharon or sausage.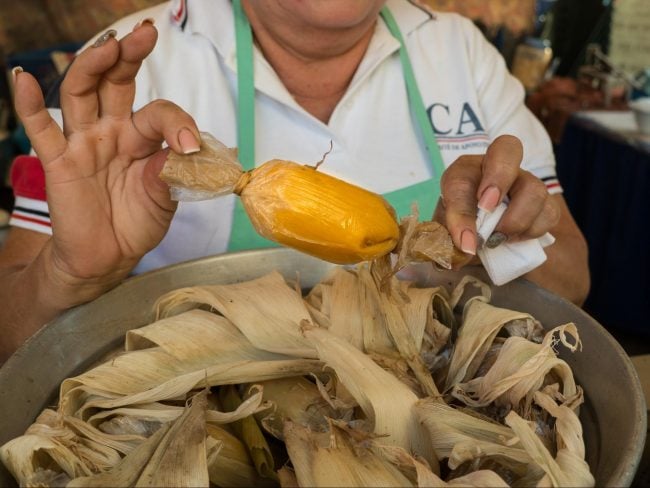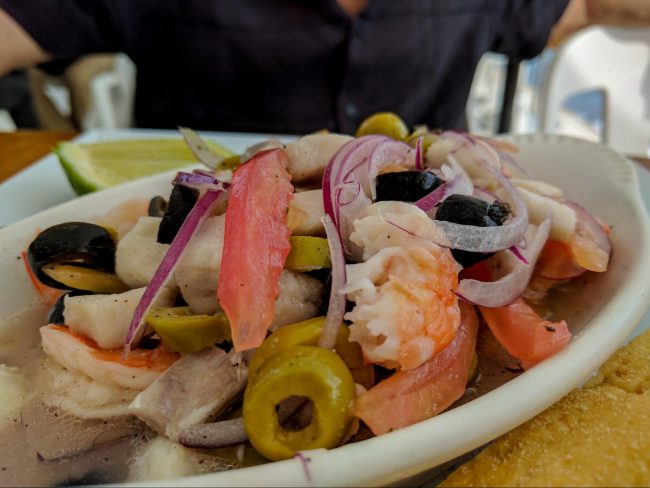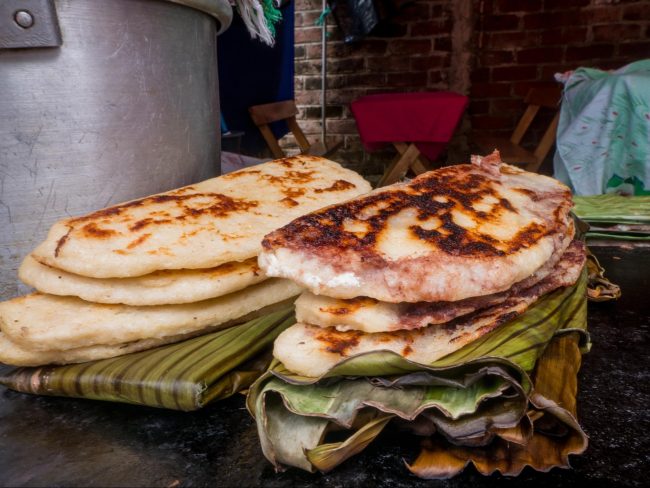 The food of El Salvador is lesser known than that of other Latin American countries like Mexico or Peru, but I found it very tasty and interesting. It reminded me of the food in Honduras a bit, but it was quite unique despite the many influences from the rest of the countries in Central America and the common heritage shared.
What to pack for a trip to El Salvador
El Salvador is a tropical country but you should not be fooled by its ocean location near the Equator, it can get pretty chilly up in the high mountains and volcanoes so it is important to have the right packing list with items both for the beach, surfing (if that is in your plan) and for hiking. The best places to visit in El Salvador will all require different clothing so bear that in mind.
Also, remember a lot of the towns along the Ruta de Las Flores and in places like Suchitoto are cobblestoned so flip flops will not be a good choice and you'll end up hurting your feet. Wear comfortable and closed shoes instead.
Sunscreen & Protection
1. Sunscreen and lip balm – I always have these items with me whenever I travel, no matter where or for what, it always comes in handy. I like using the ones below because the lotion is silky and not greasy at all (I hate putting on sunscreen then being all oily, especially when not at the beach) and I can put makeup on top of it if necessary or I feel like it.
These are some of my favourite packing items to protect from the sun:
Biore sunscreen. If you have read some of my beach posts you will know that I have been using Biore for years and I love it because it comes in pots that are less than 100ml so I don't need to check-in my luggage because of clunky pots but most importantly, I love Biore because it is not sticky, greasy or oily and it does make my body or face all shinny. You can even put it on and then apply make up on top, how amazing is that for a sunscreen? It is a daily sunscreen that you can apply every morning before going out. You can trust the Japanese to deliver the best in cosmetics. Sadly you cannot buy their spray on version (for the next level in beach laziness), on Amazon but they do sell it in stores in Singapore and in Japan.
Oakley sunglasses. If you are going to spend hours on a boat or staring at the sea with the strong sun rays reflecting on the white sand beach, you better make sure your eyes are protected. You could use a pair of stylish sunnies but trust me, you are always best off going for something which protects you. I was a lifeguard for six years on the beaches of Sitges staring at the sun for more than eight hours a day and I can tell you, Oakley is the only sunglasses we used. Make sure they are polarised so your eyes are protected. Leave the stylish sunglasses for your away from the water, boats and beaches and make sure your eyes are protected and you do not get a headache from bright sun rays.
Hiking Shoes for Men & Women
2. Proper walking shoes or light hiking boots – Trust me, you will appreciate taking my advice here. I had a pair of trainers and a pair of ballerinas which I usually travel with because they are very comfortable. I was not properly geared for the volcanos or the cobblestoned streets and I ended up with bruises on my soles. The key here is to wear shoes which are light but have a hard sole.
These are some of my favourite choices for hiking and trail running:
Salomon Speedcross 4. Even though these are officially trail running shoes, I have used them for hiking and they were really great. They fit snug, the lacing system is super convenient, the out sole is really grippy and the best part – they come in some amazing colours!
Salomon Quest 4D II GTX. I'll stick with the same brand for the more serious trekker. If you want more ankle support and think that the trail runners won't do, then I recommend these for your treks. While they are super comfy, durable and water resistant, one of the only downfalls is that they are a bit on the heavy side.
Other Tools for your Adventure
3. A cap – Protect yourself from the sun, it is critical when climbing the volcanoes as you will have the sun on your head. I always get burnt my head because my hair is very fine so a cap is essential for me. I like this Tilley Endurables LTM6 for a wide brim choice and this Outdoor Research Swift for a normal peak cap version. They've both got great ventilation and are pretty stylish for hiking hats. Both hats are unisex and come in various sizes.
4. A battery pack – I always travel with that because I need to use my phone a lot. My lovely guests from Los Almendros de San Lorenzo had a WiFi router in the car so we always had internet and I managed to charge my phone in the car's outlet but for the planes and longer trips or if you book any other tour, a battery pack will be useful to stay connected. I love this one because it will even charge my laptop.
5. A refillable water bottle – I travel with a water bottle because it helps me reduce my footprint and ensures I can always be hydrated, very important when you travel to a hot country or are exercising, like when climbing a volcano. I found the weather in El Salvador (perhaps because of the time of the year) a bit dry, so water was even more important. I always use collapsable water bottles, like this one from Baiji as they roll up nicely which is convenient when packing.