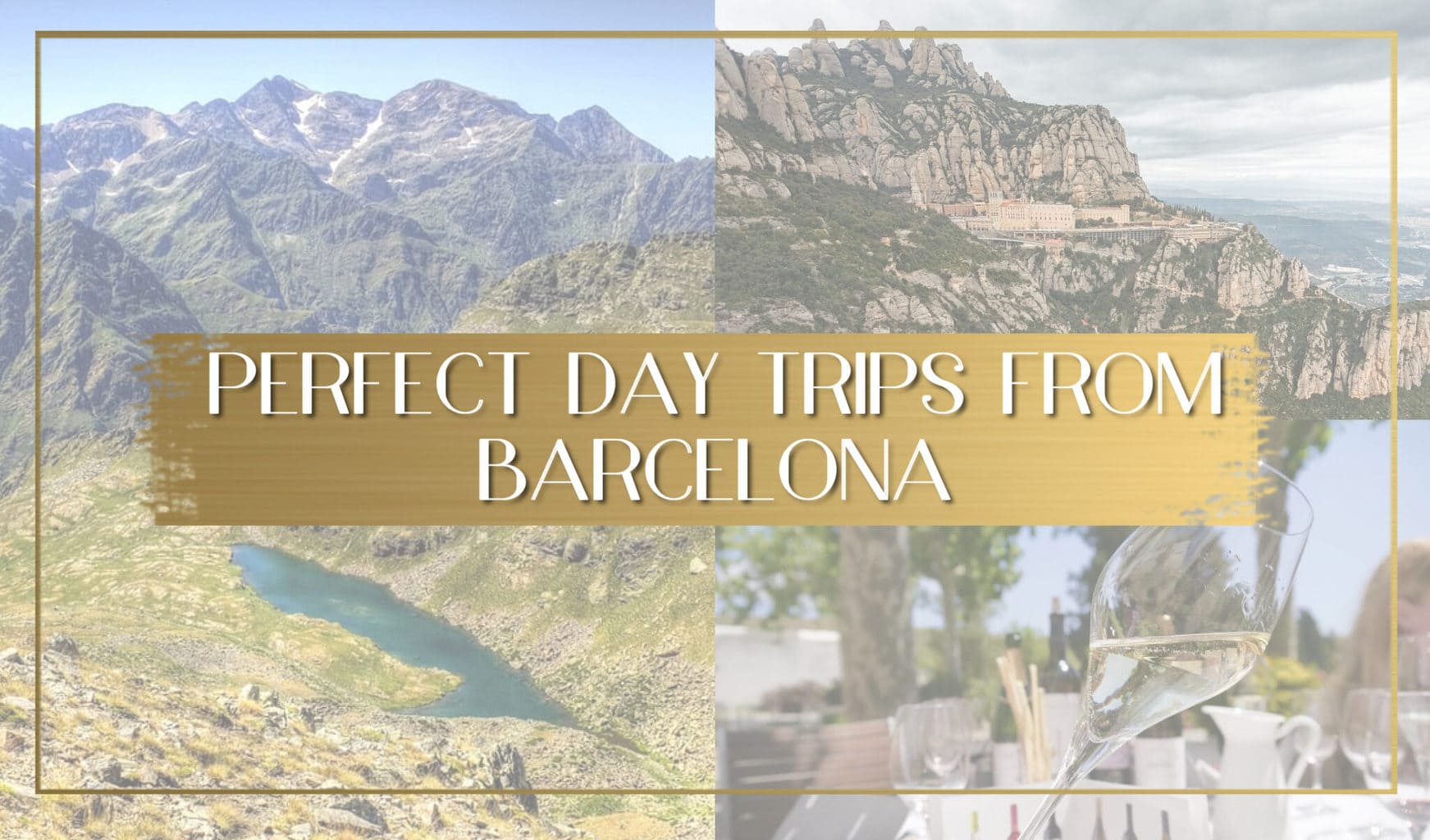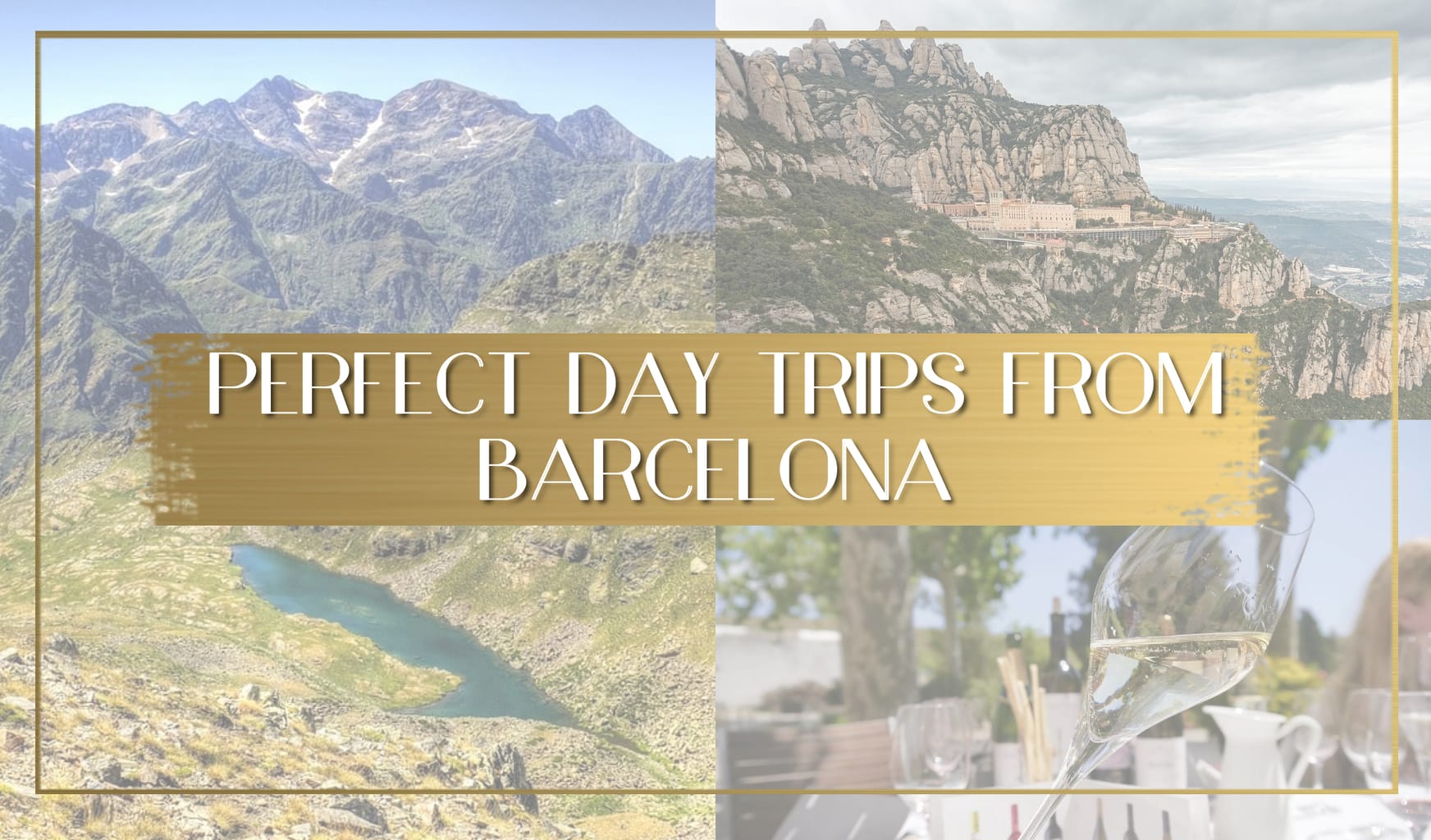 Looking for a getaway from the city and the perfect day trip from Barcelona?
Look no further.
I have selected the best excursions from Barcelona by train and by car so that, when you want some time away from the fabulous city, you can have the best ideas for places near Barcelona to visit in a day, all of the ideas below are between 30minutes and 2h from Barcelona.
As you know, I am Catalan and so this is my land and I want to make sure that you have the best of times so this list of Barcelona day trips is a great way to get a flavour for Catalunya beyond Barcelona.
Bonus: I asked locals who live in each of the places listed as one day trip ideas to give me their inside scoop so you also get the very-local hidden gems. Each of the trip ideas mentioned here are places near Barcelona so you do not waste too much time getting there and back. Lastly, I have also included tips on when it is best to go to each and how to get there. Ready, set, go!
Tip: If you are going to drive yourself, these tips from Wagoners abroad on road signs in Spain might be useful for your day trips from Barcelona. And then explore the rest of the continent with a complete road trip across Europe.
Beachside town of Sitges
Alright, I am biased at this one. Sitges is where I come from, but it is also one of the most recommended and lauded small towns within easy reach from Barcelona by most guides and lists so I am not the only one. It is quaint, it is small, it can be reached by a 30min comfortable train ride, it is fully walkable and it offers the peace and beach life that Spain is known for. What more can you ask your day trip from Barcelona that all those ingredients?
Things to do and see in Sitges
Sitges is multi-faceted. You can go simply to lay on the beach, eat a paella by the sea promenade and have a leisurely walk along the sea, or you can go for one of the many festivals and events that line the calendar, from the crazy bare-it-all Carnival to the famous Sitges International Fantastic Film Festival of Catalonia. Or just go for the culture and heritage. Here are a few options to explore Sitges rich heritage.
Cau Ferrat, a museum since 1933, was the workshop and residence of Modernist artist Santiago Rusiñol, contemporary of Gaudi, who used the space to organise artistic events turning Cau Ferrat in the "Temple of Modernisme". He collected art throughout his life and even pieces by Picasso are on display. Next to Cau Ferrat you can find Museu Maricel (Sea and sky in Catalan) which houses a lot of art pieces. But what makes this building outstanding is its location, perched above the sea waves.
Perhaps the most emblematic of the buildings in Sitges, aside from the famous church, is the Maricel Palace.
Today, the building can be rented for private events and the local Town Hall organises exhibitions throughout the year. Civil marriages can also take place inside. A friend of mine got married there and it was the most beautiful venue.
Inside, the rooms are incredibly ornate in the blue ceramic tiles that remind the visitor how close to the sea they are. The cloisters and the Gold Room are impressive and from the terraces at the top one can see the sea. Guided tours are available on Sunday.
Best time to go
All year round. In February there is the craziest Carnival you will ever see. In May, the vintage car rally from Barcelona to Sitges. In May, the flower carpets of Corpus Cristi.
In June, the Sitges Gay Pride. In July, the International Tango Festival. In August the Festa Major, a three day party and tradition festival covering the streets with parades and fire works in honour of the town's Patron's Saint St. Bartholomew.
In September, a smaller version of a Festa Major in honour of Saint Tecla. In October the Sitges International Fantastic Film Festival of Catalonia. And even if you don't come for any event, just have a walk along the 1,5km sea promenade to put your towel down on the beach.
Bonus Sitges Guide

Check out my detailed Guide to Sitges, the place I call home and where I grew up. You'll find a detailed guide on everything to do in this quaint coastal town including where to stay and eat.
How to get to Sitges
The best way to get to Sitges is by train. Rodalies Renfe trains depart 4 every hour from either Passeig de Gracia or Sant Stations and cost about 5-7 euro. Timetables can be found here.
You can also take the bus but the train is pretty convenient. Once in Sitges, the train is very much in the city center so you will find your way around without any issues.
You can also visit Sitges as part of an organised day tour from Barcelona. Below are my favorite:
Sitges and Girona day trip (see further down for details on Girona)
Sitges, Torres Winery and Montserrat anb absolutely perfect day
Girona
Girona has centuries of history, beautiful architecture and rich heritage. It is one of the four provinces in the Autonomous Community of Catalunya and it is also the name of its capital.
It has the same political status as Barcelona but it is significantly more peaceful, except for the recent popularity raised by the Game of Thrones season 6 filming. Thanks to the several rivers meeting in the city, it is often called the Venice of Catalunya. Here is my complete guide to Girona with a one day itinerary.
Things to do and see in Girona
Girona is a beautiful 100,000 inhabitant city with colourful riverside houses and a rich heritage from the Romans to the Visigoths and the Moors until Charlemagne conquered the city, expelled the Moors and made it one of the fourteen counties of Catalunya in the 8th century. But troubles did not end there.
For the following centuries, Girona suffered twenty-five sieges and was captured seven times. It was a County and a Duchy. Up until today, the King of Spain carries the title of Princess of Girona.
Girona is also famous for its Jewish community which flourished in the 12th century when it had one of the most important Kabbalistic, or Judaist schools of thought, in Europe.
But the presence of Jews in Catalunya, and in Spain, came to an end in 1492, the year of the discovery of America, when the Catholic Monarchs expelled them all from the Spanish territory under what is known as the Spanish Inquisition. Nonetheless, the Call or Jewish Quarter, is one of the best preserved in Europe and should be part of your visit to the city.
Of course, if you can get a booking and can afford it, El Celler de Can Roca, several times chosen Best Restaurant in the world and currently in the Hall of Fame, is in Girona too. If you can't get a reservation there, try their ice cream parlour, Rocambolesc where you can sample interesting flavour combinations with the same pedigree.
Other things to do in Girona include having a look at the impressive Cathedral and, of course, the beautiful reflections on the Onyar river which bring about the city's stunning colourful facades against the flowing waters.
Start at the 12th-century Esglesia de Sant Pere de Galligants and walk along the medieval walls of the city for great views. Girona is a city to get lost it. You should save my Guide to Girona which also provides a 1 day itinerary for visitors.
Best time to go
Girona is an all-year-round destination. It can be hot in the summer and cooler but pleasant in the winter. The best months to go are both spring and autumn, particularly June and September. In the summer, there are a lot of cultural events happening, free open air concerts, markets, etc. but it can be a little bit too hot for some. I personally love it.
How to get there
The city is located 100km from Barcelona and it takes about an hour and a half to drive and 40 EUR in tolls, needless to say, I do not recommend driving.
The city can also be reached by Renfe high-speed trains which take less than 40min to get there. Trains depart almost every hour from Sants Station. Timetables can be found here. If you are driving yourself and want to add some nature, try to squeeze in some wine visits in the Emporda Wine region or Costa Brava.
These are the best walking tours of Girona if you get there by train:
And these are the best day trips to Girona if you prefer to go on an organised tour:
Figueres, Dali and Cadaques
Figueres and Cadaques require a longer drive from Barcelona but they are so worth it.
Start at Dali's Museum in Figueres, a city close to the border with France, about almost 2h drive from Barcelona, before you head off to Cadaques, a tiny fishing village in the Costa Brava located at the end of a very winding road for a late lunch.
Dali – Genius or fool?
Dali was both a genius or a fool depending on how you look at it.
His works of art, mostly painting and later on sculptures, jewelry, articles, books, movies and installations, were inspired by the French Impressionism first then by Surrealism.
He was born in 1904 in Figueres and attended a French primary school, the vehicle through which he became in contact with French Art.
His father sent him to Madrid in the 1920s to study Fine Arts and there is where he met other contemporary Spanish artists of his time like movie director Luis Buñuel and poet Federico García Lorca with whom he collaborated extensively throughout his career.
At the end of he 20s, Dali traveled to Paris for the first time, met Picasso and visited the Louvre Museum. This was the first of many other future visits where he came into contact with Surrealism, the influence that most strongly shows in his work.
Dali was always a rebel. His work was shown in several galleries and exhibitions through the 20s but he never finished his Fine Arts degree because he was expelled several times from the school.
From the 30s, Cubism, Impressionism and Futurism were well behind and he was an established Surrealist painter. Some of his most famous and acclaimed works were from that period. The well-known "The Persistence of Memory" with the abstract and melting clocks, were painted then.
Although Dali was a native from Figueres, he was born in a turbulent time so when the Spanish Civil War destroyed most of Spain and sat dictator Franco on the Government, he was well integrated into French society and lived in Paris.
He travelled to the UK, Germany and the US on some of the first commercial ships to make the Atlantic crossing and eventually moved to the US when WWII Hitler's troops took Bordeuax, where he was living in 1940.
Dali expanded into American movies with the Marx Brothers and Hitchcock, entered into collaborations with theatre and jewelry makers and became more and more an all-rounded artist.
His work continued to be Surreal, in all the senses of the word, also the most mundane one. In the 50s he returned to Spain and continued expanding into illustrations and touching on mystical topics.
He wrote for The Herald and Vogue and continued to exhibit all over the world including the Georges-Pompidou Centre in Paris, London's Tate Gallery, the New York Guggenheim and the MOMA, where his work was part of several exhibitions over the years and where his most famous work, The persistence of memory, is exhibited.
In Figueres, one can visit Dali's Theatre-Museum where some of his pieces and installations are on display. You will be mesmerised by the art and the illusions Dali played on the visitor.
This is a museum that was built and designed by him as his home town paid him homage so he was involved in its creation before it opened in 1970, 14 years before he died. Dali spent his last years between the house in Portlligat, Pubol Castle, where he was appointed Marquis of Pubol by the Spanish King Juan Carlos I, and his home in Figueres.
Aside from the museum in Figueres, his house in Portlligat, an extremely picturesque and pretty fishing village right on the border with France, is the location of another of his house-museums. Gala, his wife and muse, died there and this is where he spent most of his working life in Spain until that moment.
In the summer, the Theatre-Museum also offers night tours if you are keen to do the itinerary the reverse order and enjoy a lazy day in Cadaques.
Cadaques
Cadaques is an incredibly beautiful fishing village, it is Santorini meets a real peaceful life. Although a very popular place to visit by Catalans, Cadaques still maintains the charm of a real village that has not succumbed to the tourism industry.
It has a much quieter vibe than Santorini and people don't come here to party. Its relatively isolated and peaceful status is thanks to its hard-to-reach location, a bit over 2h from Barcelona on a scenic but winding road.
But don't get me wrong, Cadaques is anything but empty. In the summer time, it is hard to find parking space because the village is tiny and the only access road is narrow and only has one lane.
But when you get there, the air is filled with the smell of freshly caught fish and traditional Havaneres songs are sang in the summer nights.
Havaneres talk about a time when Catalans fled to Cuba and a sort of native American music mixed with a type of Catalan music to create this lulling music. They are very famous of Calella de Palafrugel but can also be heard in Cadaques.
Despite its beauty and romantic feel, Cadaques seems to have avoided international stardom and is still frequented by mostly Catalans who either have a house there or in the surrounding villages and who come to have a seafood dinner by the water or launch on a small boat to reach the hidden bays in the area that cannot be accessed by road.
If you visit, I promise it will not let you go without great memories. You can also choose to take a beautiful catamaran cruise from Roses to Cap Norfeu & onto Cadaqués. Book it here.
Best time to go
Although Figueres and Dali are and all year round visit, Cadaques is a hot weather destination. However, avoid July and August at all costs as the place becomes totally clocked and you won't be able to get in, park or find a place to eat.
If you visit i Spring or Autumn you will see a much more peaceful place and some restaurants and shops may be closed. In the winter, almost all the village will be empty and all tourist services closed.
How to get there
You can get to Figueres by Renfe train and then take a bus to Cadaques. Timetables for the trains can be found here. From Figueres to Cadaques, there are just a few buses every day and the journey takes about 80minutes. Tickets can be bough here.
Although it is possible, to make this day trip from Barcelona possible, you need to take the train really early, head to Cadaques first, time your time there really well and return to Figueres only to get back from Barcelona really late.
This is why the best (and often only) way to visit Figueres and Cadaques is on an organised tour. Here are the best tour suggestions:
Figures and Dali Museum with Costa Brava (Calella de Palafrugel, Pals)
Montserrat
This is perhaps the best known day trip from Barcelona and one of the best known landmarks near Barcelona, almost everyone considers it the go-to excursion when you want to get away from the urban landscapes. And with reason.
Montserrat is an abbey, a mountain, a national park, a basilica and a sanctuary. Sitting at over 1,200m high and with a very unique shape, rounded and eroded through the millions of years since its formation, Montserrat dominates the area and presides over most of Catalunya. It is said that on a clear day, one can even see Mallorca.
Montserrat is a holy place for Catalans because of the 12th century black Our Lady of Montserrat Romanesque carving inside which was named the patron saint of Catalunya in 1881. The mountain also gives its name to many Catalan women, like for example my sister.
For years, it was believed that the caring was originally black, but it was recently discovered that it was blackened by smoke. There are many other legends around the mountain, the virgin and the sanctuary. In the past it was common for people to hike all the way to Montserrat as a pilgrimage. My father did it many times as a younger boy.
Read my entire post dedicated to taking a day trip to Montserrat.
Things to do in Montserrat
Montserrat is one of the best trekking and hiking destinations in Catalunya and the mountain is made of a network of paths ready to be explored. The mountain also offers great wall climbing opportunities to the experienced ones.
If neither of these options are of your liking and you are looking to do quieter and more relaxed things in Montserrat, this is also a great cultural and religious excursion from Barcelona. You can visit the Museum created in 1929 by Gaudi's contemporary Puig i Cadafalch.
From the monastery level, you can also buy tickets to get on the almost-vertical cable car to the top of the mountain. The Sant Joan funicular railway was opened in 1918 to connect the monastery with Sant Joan Chapel, which is on the top of the mountain, where there is also a viewpoint. In 1997 the infrastructure was modernised and the funiculars had new panoramic vehicles installed, for visitors to fully enjoy the journey. This is a lovely little excursion to take.
Going to Montserrat means a visit to the abbey, the Renaissance basilica and the sanctuary which house 70 Benedictine monks. You can enter the basilica and visit it, even go behind the altar to see the virgin behind a glass window.
If you time your visit well, a listen to the beautiful boys choir singing, L'Escolania de Montserrat, famous across Catalunya and considered one of the oldest in Europe with texts mentioning it dated from the 14th century. You can listen to some of it in the video below although hearing it live, in the basilica, is a whole different experience.
Do not leave Montserrat without buying some of the snacks, sweets and liquor made by the monastery, one of the traditions dating back to the Medieval times. They will make for a great souvenir for those back home. You can buy them in the few stores in the area or in the daily market that has been operating in the main square area since I can remember. This market is at the center of some of the best memories from my childhood.
Bonus Montserrat Guide

Check out my detailed Guide to Montserrat, where I used to make yearly trips on on foot from my home. I will guide you on the various ways to get there, the best tours and all the best things to do.
When to go to Montserrat
Although Montserrat, like all of Catalunya, can be visited all year round, it is quite cold in the winter and may even get snow so you can have a very different experience in the various seasons.
How to get to Montserrat
Getting to Montserrat is easy because it is all very well laid out to make Montserrat a great day trip from Barcelona. From Barcelona Placa Espanya station take the Ferrocarrils de la Generalitat de Catalunya (FGC) on the line Llobregat-Anoia towards Manresa and get off at the Monistrol de Montserrat station. Timetables for the FCG can be found here.
Once at Monistrol, take the Rack Railway up to the mountain. You can find details for the train and funicular tickets here. All the details to make trip independently can be found in my Day trip from Barcelona to Montserrat article.
Alternatively, there are organised tours that have it all done for you and take you to Montserrat and even other places for the day. These are my recommended ones:
Montserrat Royal Basilica With Cog-Wheel Train or Bus. Tip: If it's 4 of you the private option is almost as expensive as some of the group tours below
Full day tour of Montserrat and Santa Cecilia, the only one that gives you guaranteed enough time to hear the boy's choir
Highlights of Montserrat early morning (arrives there at 8am) or regular Highlights of Montserrat these are both express tours
Hiking day tour to Montserrat for those who want to hike up the mountain
Day trip to Andorra

If you have a bit more time, try taking the 3 hour trip from Barcelona to Andorra. Want to know why you should go, read my article on things to do in Andorra to find out!
Quaint Medieval towns of Besalu, Castellfollit de la Roca and Rupit i Pruit
Besalu, Castellfollit and Rupit are some of the most beautiful towns in Catalunya and make for one of the best day trips from Barcelona on this slist.
While Besalu is slowly becoming known to visitors and foreigners, Rupit and Castellfollit remain largely unknown except to locals, they are both true hidden gems.
Besalu was an important Medieval town with a famous count, Wilfred the Hairy, and a picturesque stone bridge that seems taken out of a Lancelot movie.
Castellfollit de la Roca is a totally unknown small village hanging from the side of a cliff and with some of the most dramatic views. It is also one of the smallest in Catalonia both in size and in population.
Anagram Rupit i Pruit is an uber quaint postcard perfect stone town that is accessed via a rope bridge is entirely pedestrian and surrounded by towering mountains. Nothing says bucolic countryside life like a stroll through Rupit i Pruit.
Things to do in Besalu
Besalu is almost entirely pedestrian except for a few locals cars and has several notable sights in its narrow cobblestoned streets. The most important landmark is the picture-perfect bridge which is one of the most famous landmarks in Catalonia.
Check out the Jewish bathhouse which is believed to be one of only 3 left in Europe, the Romanesque church, the Royal Curia and the hospital of Sant Julià.
This is a a place to be discovered on foot, simply getting lost and getting in any place that looks interesting. It is a photogenic town where you won't be able to stop yourself from taking constant photos.
Things to see in Castellfollit de la Roca
This uber tiny village with 1,000 inhabitants is one of the smallest in Catalonia and no doubt has the most picturesque location.
It's gravity defying houses hang on the side of a steep cliff that was created by the crashing of two volcanic plates. The village sits above a river and looks fairy-tale like from below. At the end of the main street is a church and a viewpoint from where you can see the villages and valley below.
Don't miss the chance to stop at one of the couple of cafes that are set inside the hanging houses, and visiting the craft beer house, Poch's, for a tasting.
Things to do in Rupit i Pruit
This tiny village does not have a lot in the way of activities, the most beautiful thing to do is to simply enjoy it slowly, exploring all the corners, accessing it through the rope bridge and hearing the river flow with a drink. The town provides a one of a kind background to your medieval fantasies and is a great way to contrast the busyness and go getter attitude of Barcelona with life in the countryside.
When to visit Besalu, Castellfollit de la Roca and Rupit i Pruit
The three towns can be quite cold in the winter as they enjoy continental weather, but then again it would probably still be milder than the rest of Europe at the time.
In the summer, they are a wonderful escape from Barcelona and spring will bring the blossoming flowers in the area.
Bear in mind that Besalu is not longer an undiscovered place and receives a lot of local, foreign and particularly French visitors so avoid going in the weekend.
How to get to Besalu, Castellfollit or Rupit it Pruit
This is not an easy day trip from Barcelona. In fact, only Besalu can be reached by public transportation with a combination of Renfe high-speed train to Girona and then a bus or by taking a bus to Besalu, the company who runs them is Teisa, more details here. The journey takes about 100 minutes.
To see all three in a day, your only option is a group tour, which I highly recommend because this is one of my favorite day trips from Barcelona. These are my recommended options:
Learn to appreciate Cava and organic wine in Penedes
Catalunya and Spain are well known for wine making. In fact, Spain is one of the top-4 largest producers of wine in the world together with Italy, France and the US.
Although I always feel very disappointed at how bad we are at marketing Spanish wines abroad, there are some really amazing wineries near the city so, what better day trip from Barcelona than a day spent visiting wineries?
This excursion from Barcelona will take you to visit some of the best and most original wineries near Barcelona, making for a lovely day trip idea. Below are my hand-picked wineries to visit.
Cava Llopart
Cava Llopart has been making cava since 1887, that makes it one of the very first cava producers in Spain after Codorniu started in 1872.
Located in the small village of Subirats, on the hills above Sant Sadurni d'Anoia, the capital of Cava, about half an hour by car, from Barcelona on the highway, Cava Llopart is worth a visit because of the great tours they offer and the incredible history.
Above all, the views over the important Montserrat Mountains from the country house where the Gran Reserva Tour starts are incredible. You will have a full 360 degree understanding of the cava production from the vineyard to the cellar and the disgorging, a fascinating process.
Of course, the Gran Reserva Tour starts with breakfast, Catalan style, with bread with tomato, extra virgin olive oil, ham and other cold cuts and cured meats like fuet and botifarra. Breakfast is paired with a couple of Llopart's cavas, including their most premium one, which maintains the original label from the first bottle in 1887.
Lunch should be had at the Mirador de les Caves, right above Cava Llopart, with amazing views and even better Catalan food. Cava Llopart offers a combined Gran Reserva tour plus lunch for 60 euro which is a steal. You cannot get there by public transport so you will need your car. Visit Cava Llopart, other wineries and Montserrat on a day trip from Barcelona with pickup. Book it here.
Albet i Noya
After lunch, head out to Albet i Noya, another pioneer in the wine making world of Spain.
Albet i Noya offers a variety of tours, some of them following the Slow Travel philosophy with bike tours and walks along the vineyards. They were the pioneers of organic wines, which now account for 60% of all the wineries in Penedes DO, the wine appellation where the Cava region and Albet i Noya are located.
A tour will give you the chance of seeing the original winery, as the family had been in the wine making business long before they started producing organic wines at the request of a Danish wine distributor in the 70s. At the end of the tour, the tasting takes place in the garden, under the shade of tall trees, with views over the vineyards. A very pleasant way to spend an afternoon.
Although the most convenient way to get to Albet i Noya is driving, we met a couple who lived in Barcelona and had come by train and walked from the station a very pleasant 45min through villages and countryside.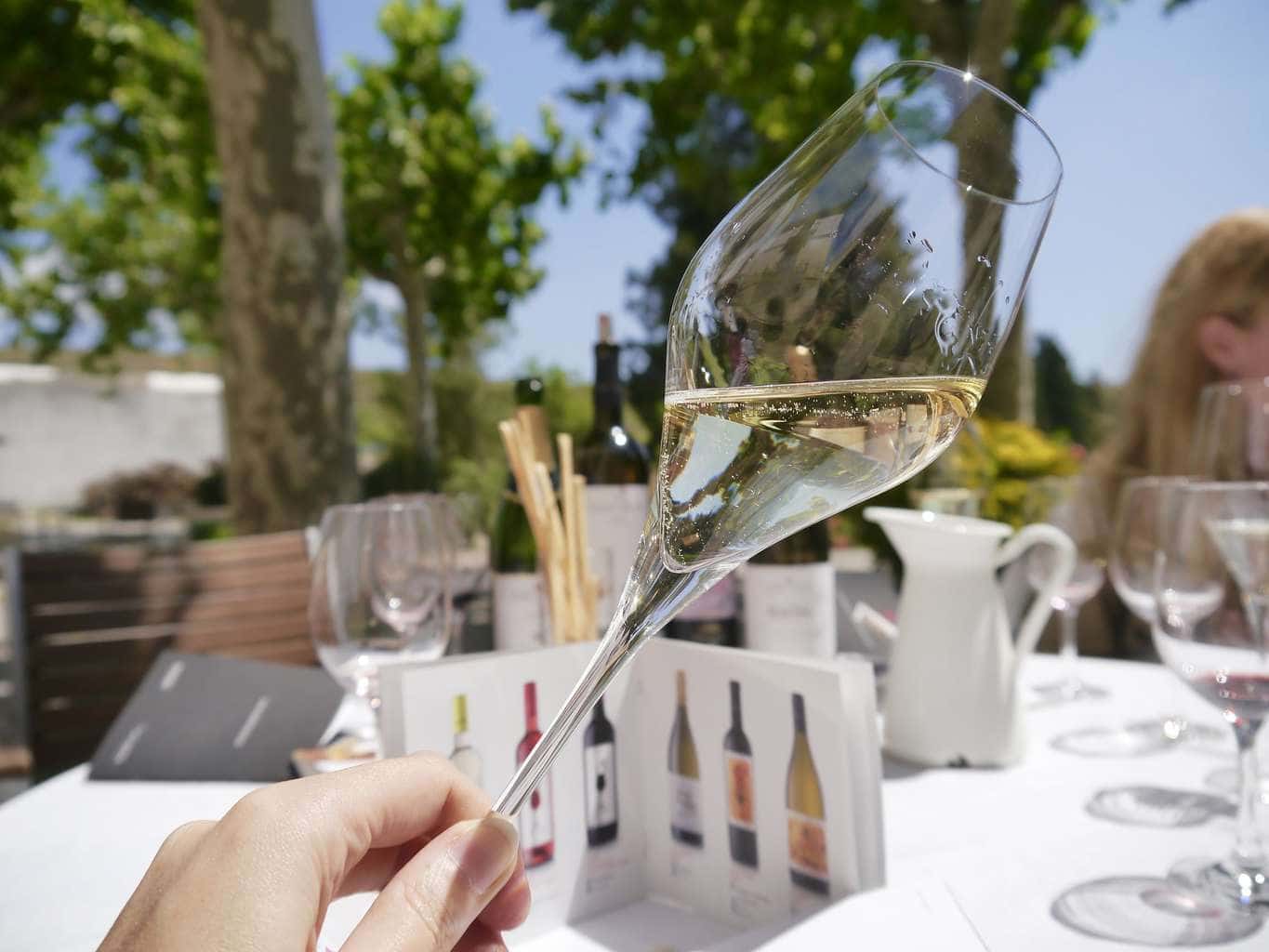 Best time to go
This is a day trip from Barcelona you can enjoy all year round.
If you go during the wine harvesting you will see the area in motion and all the wine making process live. In spring, the vines will start to green and flourish. In the summer, before the harvest, the grapes are in full bloom and the vineyards very pretty. In winter, the landscapes are more tamed but the visits are equally worthy.
How to get there
It is not easy to organise this day trip from Barcelona without a car so I would suggest you rent one for the day to have the flexibility of being able to drive around leisurely.
This will also give you the chance to explore the countryside near both wineries and even make a quick trip to Montserrat which we will talk about later. If you can't drive, you can take the train to Sant Sadurni d'Anoia and then get local taxis. Train timetables can be found here.
Alternatively, book a winery tour that includes either of the two:
For a highly recommended wine and cava experience that combines organic winery Albet i Noya with Llopart and Mas Comtal, another great winery. Book here.
Bonus one day guide to Barcelona

If you only have one day in Barcelona, this is how you should spend it! Enjoy this one day itinerary for Barcelona.
Tarragona
Tarragona is the capital of another of the four provinces in Catalunya and is located about 100km from Barcelona along the coast.
Although it is a relatively peaceful city, Tarragona used to be one of the most important Roman ports and cities in the Mediterranean, leaving behind notable UNESCO-listed Roman ruins that can be visited on preset routes highlighted by the local tourism office.
What to see in Tarragona
The best things to see in Tarragona are related to the Roman Empire, most notably, the remnants of the city's 2nd century AD walls, which are considered the oldest Roman construction in Europe outside the Italian peninsula.
After the walls, the Roman amphitheatre is worth a visit. While the building is mostly in ruins, the seating area can still be seen, giving its back to the sea, and one can feel what it must have been like to be a spectator to one of the famous Empire's entertainment shows with gladiators trying to take on wild beasts.
From the walls and the amphitheatre you should also visit the 1st century AD circus, where horse and chariot races were held. If you look carefully at the houses along the streets around the circus you will see they were built on the circus walls.
The circus was 325 meter long and could host 30,000 people. The Praetorium is a Roman tower that once housed the stairs that connected the lower city to the provincial forum. In the 12th century, it was converted into a palace for the Crown of Aragon and then a prison.
After a generous dose of Roman history, you can head over to the Balco del Mediterrani, a beautiful place to stroll above the sea. After all, Tarragona is a coastal city.
Tarragona's most famous church, the Cathedral, is a notable Romanesque 12th century building with a pretty cloister. It is said that the cathedral stands where a Roman temple used to be. Look our for the Rose window and
Best time to visit Tarragona
Tarragona is a pleasant city all year round thanks to the Mediterranean location by the sea and the mild climate. In the summer months you will enjoy hot weather and, even in the winter, the temperatures never drop too much.
How to get to Tarragona
Tarragona is an easy train ride away from Barcelona on the Renfe trains and the journey takes about 1.5h. There are trains almost every hour. Timetables can be found here.
Alternatively, if you want to visit with a guide, I recommend you go on an organised tour which often times fits in another stop like Sitges. These are my recommended tours to Tarragona:
Poblet Monastery and Kosher wines
Learn about Priorat's younger brother Appellation, Montsant, and about how Kosher wine is made and about the impact it had on a small 200 inhabitant town at Celler Capcanes. In the afternoon, explore the beautiful Poblet Monastery, a 31-monk religious 12th century complex and UNECO site.
This is a great one day trip from Barcelona for those who are keen to getting under the skin on a place and looking beyond the mere touristy ideas. You will not find this excursion mentioned anywhere else because these places are only known to locals.
Visits to the winery are not open to the general public and there are no group tours so for something unique and special, consider this Barcelona excursion idea.
Celler de Capcanes
The name Priorat has recently gained momentum and fame. What most people don't know is that, in Catalunya, the Autonomic Region Barcelona is the capital for, Priorat is the name of a county as well as a wine appellation.
Sometimes, this creates confusion because, inside the Priorat county there are two appellations, Montsant and Priorat. Although they are similar, Priorat's soil make it a very characteristic and unique wine region whereas Montsant has a different soil and hence different but equally fantastic wines.
Priorat has been awarded many accolades and largely known as a more refined and boutique alternative to Rioja wines with more character and very low production. Wine connoisseurs all over fall for the unique soil and soul of Priorat wines.
About an hour and a half from Barcelona, you can visit Celler de Capcanes, a cooperative winery that was made famous for its production of the first Kosher wine in Spain. As a cooperative, the winery is owned and managed by a council that represents the 80 vineyard owners.
A tour of the winery, organised by appointment, gives insights into how Kosher wine is made but also on life in a small village where wine, and Kosher wine in particular, revived and provided a favourable livelihood to an otherwise impoverished and bulk grape production region.
Plus their wines are excellent and expressive of the four types of soils and the very different types of vineyards the 80 farmers have.
Poblet Monastery
After Capcanes, Monestir de Poblet is a great way to understand how the Church brought wine back to Spain after the Moorish occupation and the Christian Reconquest. It is also a UNESCO heritage listed site and a beautiful expression of Romanesque and Gothic art. Poblet is inhabited by 31 ordained Cistercian monks leading a monastic life.
Best time to go
This is a year round trip from Barcelona although the landscapes in Priorat will look very different depending on the season you decide to visit.
In winter, it can get pretty cold so wrap up, and the vineyards can even be covered in snow, which makes for an incredible sight. In summer, the area looks lush and inviting.
How to get there
Unfortunately this is not a trip that you can go on without a car so it is essential to rent one for the day. Priorat and Poblet are about 2h drive from Barcelona so you should start the day early to make the most of it. Bear in mind in the winter months the sun set early, a around 5pm, while in the summer the sun will be up until 9-10pm.
I used Google maps and found that it has all the info to get there and the drive is easy so it should not be an issue to locate both places.
A visit to the winery requires you to book ahead but they offer various options including a horseback ride among the wineries as well as tours and tastings. More details here.
Tours of Poblet are organised in Catalan and Spanish almost every hour and you can also visit on your own with a map but I recommend the tour if language is not an issue.
Alternatively, if you are more interested in the monastery than the wine, there are group tours that visit Poblet and Montblanc. Montblanc is a medieval town that has been so well preserved movies are filmed here. The surrounding walls are almost intact and you can see the watch towers and wall the cobblestone streets. Book it here.
Port Aventura World amusement park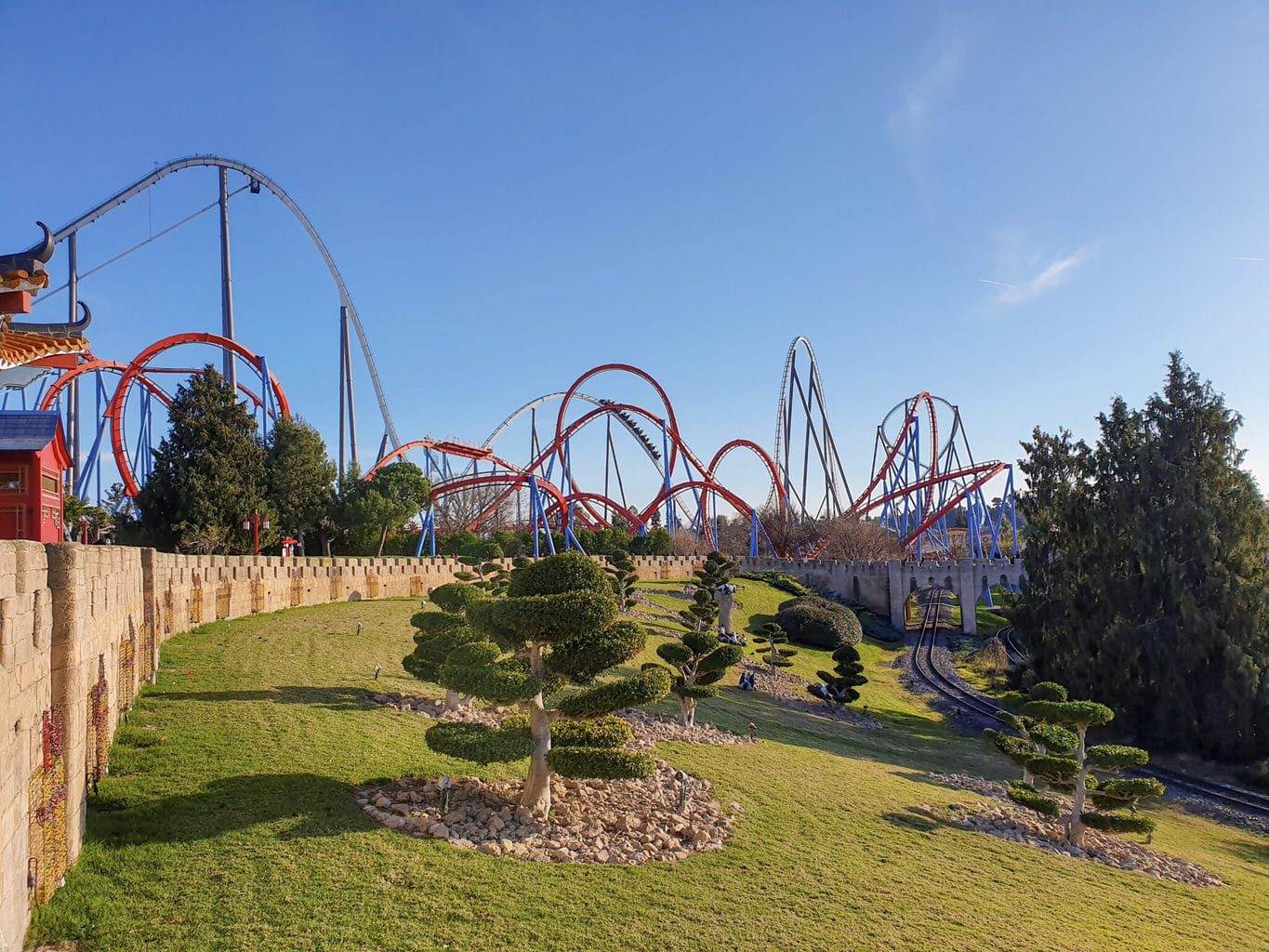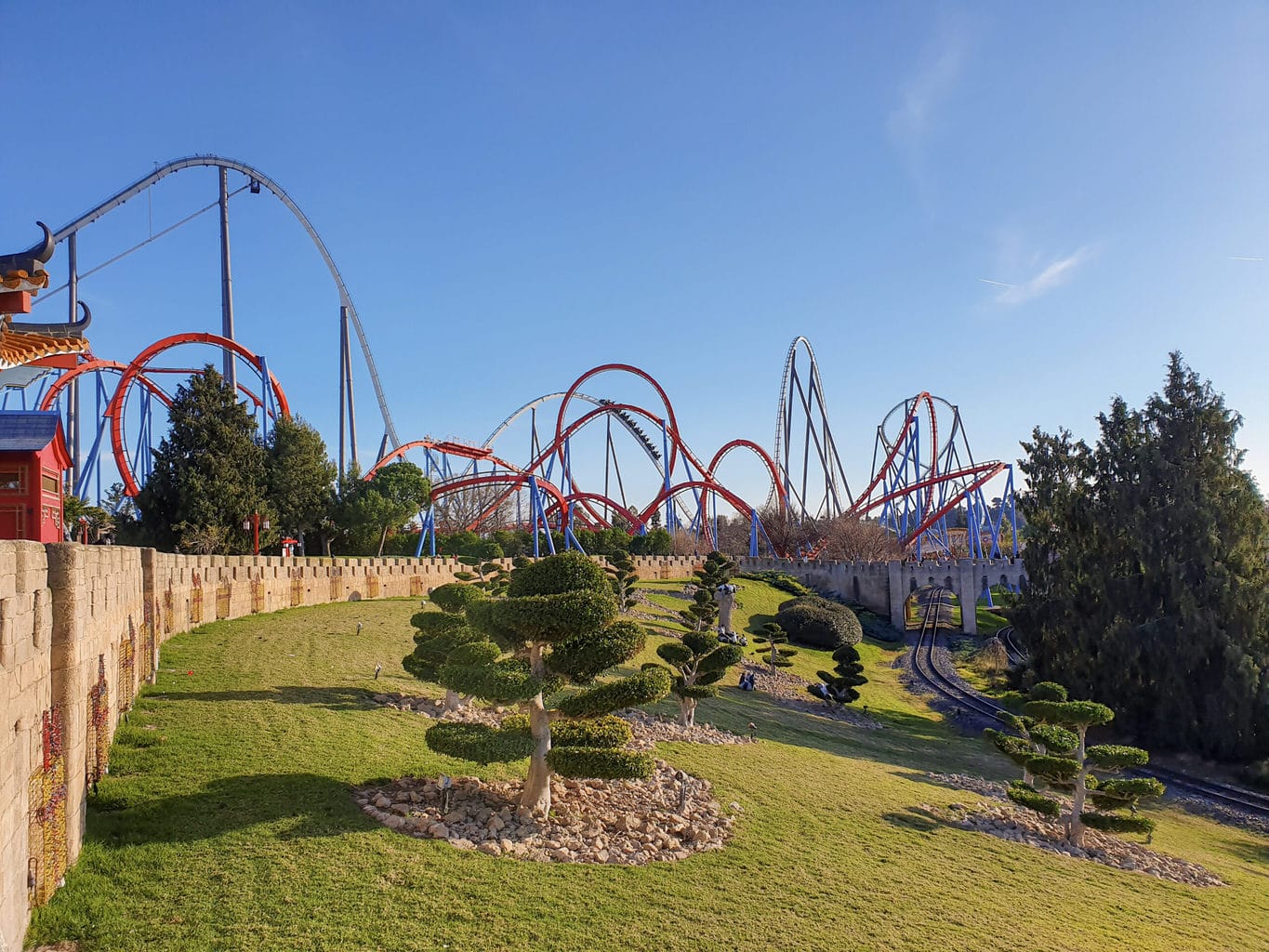 Port Aventura is a very popular family day trip destination from Barcelona because it has everything kids and teenagers love: an amusement park, a waterpark in the summer and since recently, Ferrari World park.
The park opened when I was a kid and is still going strong with thousands of families enjoying one of the six themed areas of the park: China, the American Far West, Polynesia, Mayan México, a fishing village in the Mediterranean or SesamoVentura for smaller kids.
Port Aventura World includes many restaurants, six hotels and a camping area where you can spend the night. The main park has enough to keep you busy for a day and then you could easily spend another day in the Caribe waterpark area, so more than a day trip from Barcelona, Port Aventura World can become a weekend trip.
What to do in Port Aventura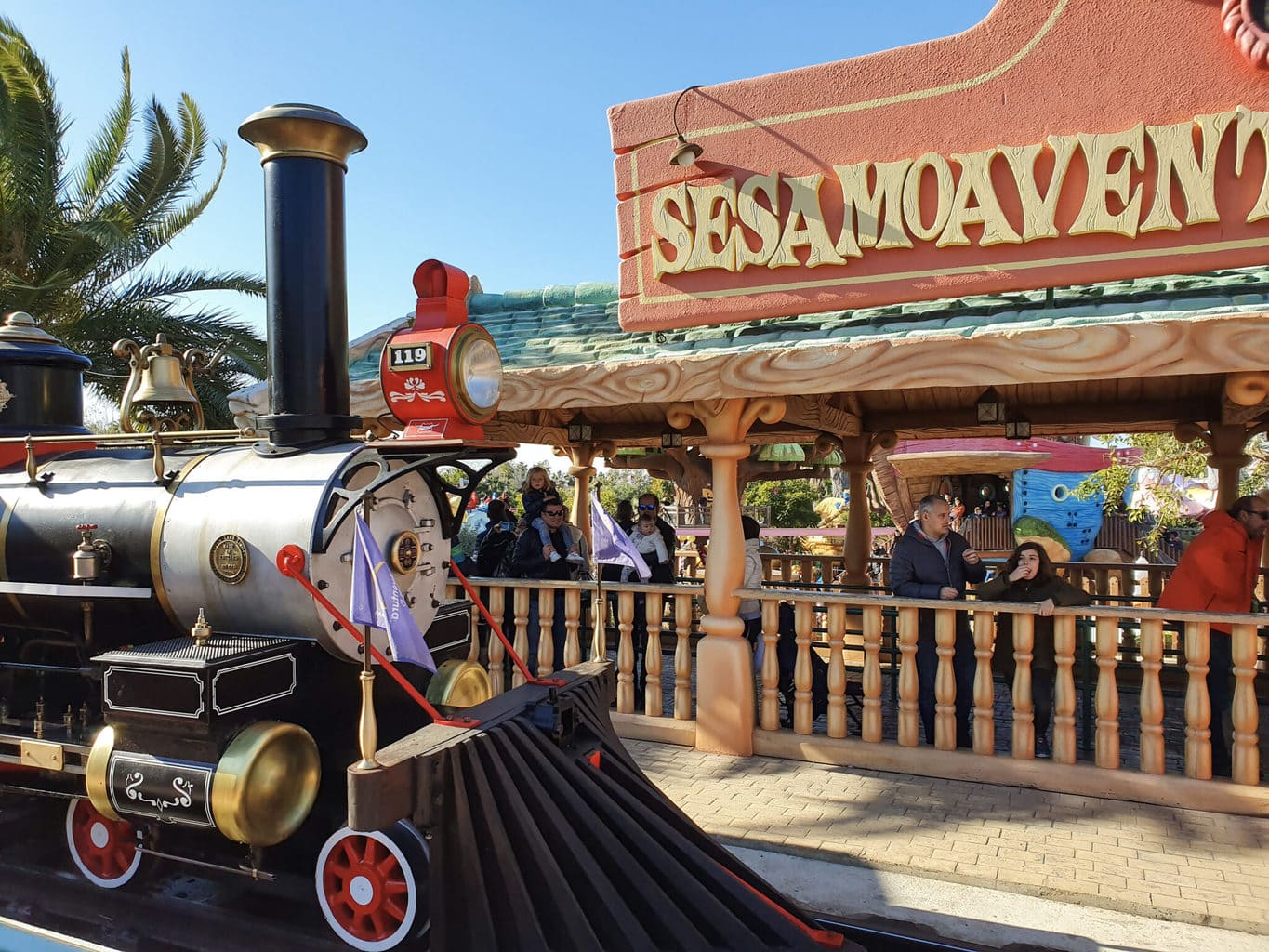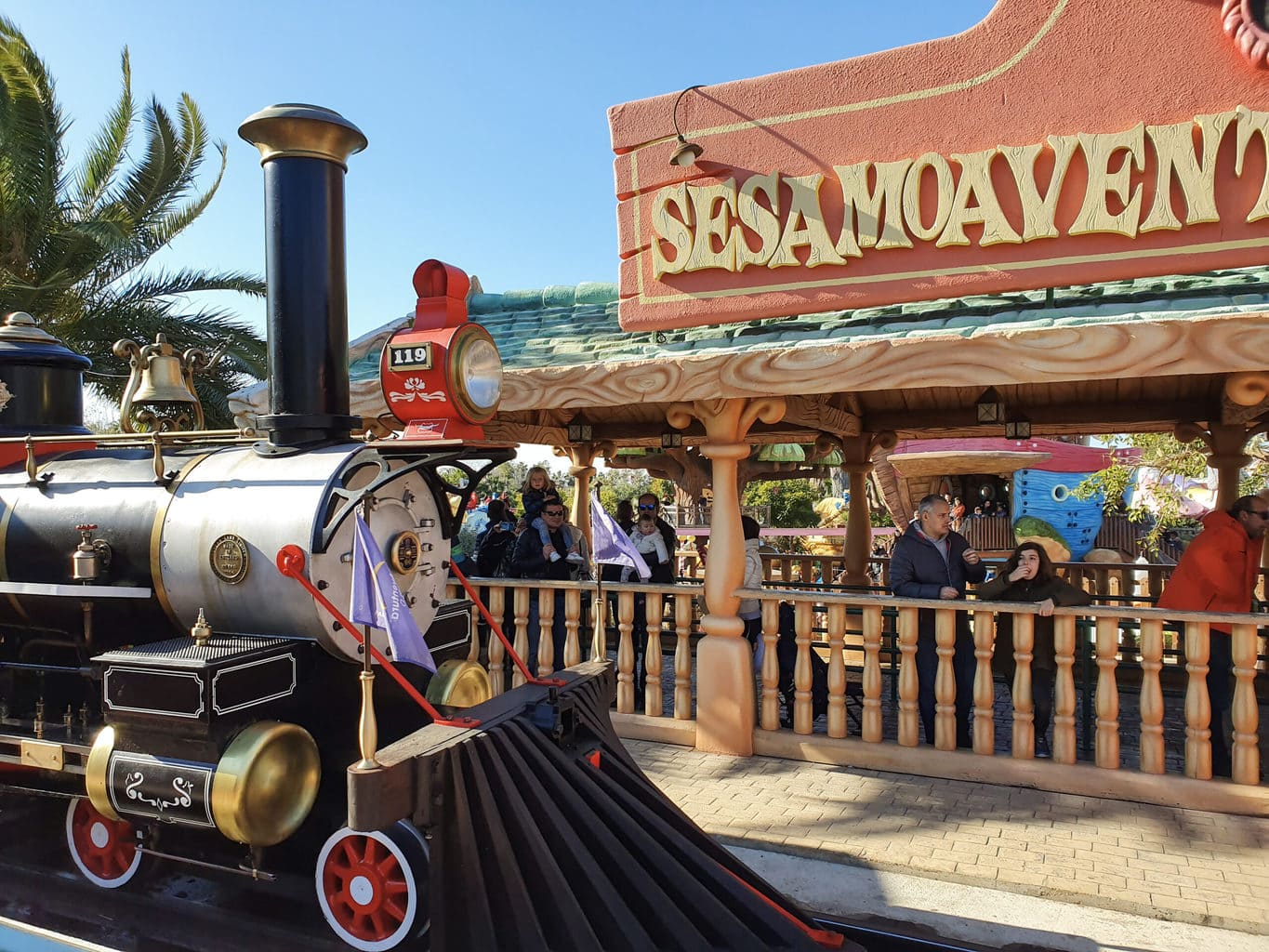 Like with most amusement and themed parks, Port Aventura has a bit of everything, from roller coasters (the first and third tallest in Europe at that), to rides where you can get wet, mirror rooms, rides that make you dizzy, that drop you from a ridiculous height, etc.
The smaller members of the family can enjoy SesamoAventura which is a part of the park entirely dedicated to the playgrounds and other age-appropriate rides. You can get there by a slow open-air train.
Ferrari World is entirely themed around the Italian motor brand and has several car and speed related rides and activities. Caribe Aqua Park is perfect for the summertime when the area, and Catalonia in general, become quite warm.
Tip: Your Port Aventura World tickets give you free access to all the ticketed attractions in Tarragona including the circus, the amphitheatre and the forum so keep them if you plan to visit Tarragona.
Best time to visit Port Aventura World
Port Aventura is busy pretty much all year round. I went last time in January and found the park packed. Weekends see an influx of locals whereas weekdays except for August, are relatively quieter and more recommended.
How to get to Port Aventura World
Port Aventura can be reached by train making it a relatively easy day trip from Barcelona. Buy tickets for Port Aventura:
Tip: If you buy the tickets to Port Aventura through the Renfe train website you get the train ticket free with your park tickets (combo tickets including more than one of the three themed parks have a discount rather than free train tickets.
Alternatively, there are also tours that include transportation and tickets to make it extra convenient so you can just get there by bus. These are the recommended options:
I created this table as a quick guide to the regions, how to get there, why you should visit and how long it would take from Barcelona.
| Area | Distance | How to get there | Why you should visit |
| --- | --- | --- | --- |
| Sitges | 30min | Train | Beaches and heritage |
| Caves and wines of Penedes | 45min | Car or train + taxi | Wine and nature |
| Poblet and Capcanes | 1h 45min | Car | UNESCO monastery and wine |
| Girona | 1h | Train | Quaint city and heritage |
| Cadaques and Dali | 1h 30min | Train + bus | Dali and fishing village |
| Tarragona | 1h | Train | UNESCO Roman sites |
| Besalu | 2h | Bus | Quaint Medieval village |
| Montserrat | 1h 30min | Train | Mountain, monastery and views |
Pin this image to your #Spain #travel Pinterest boards