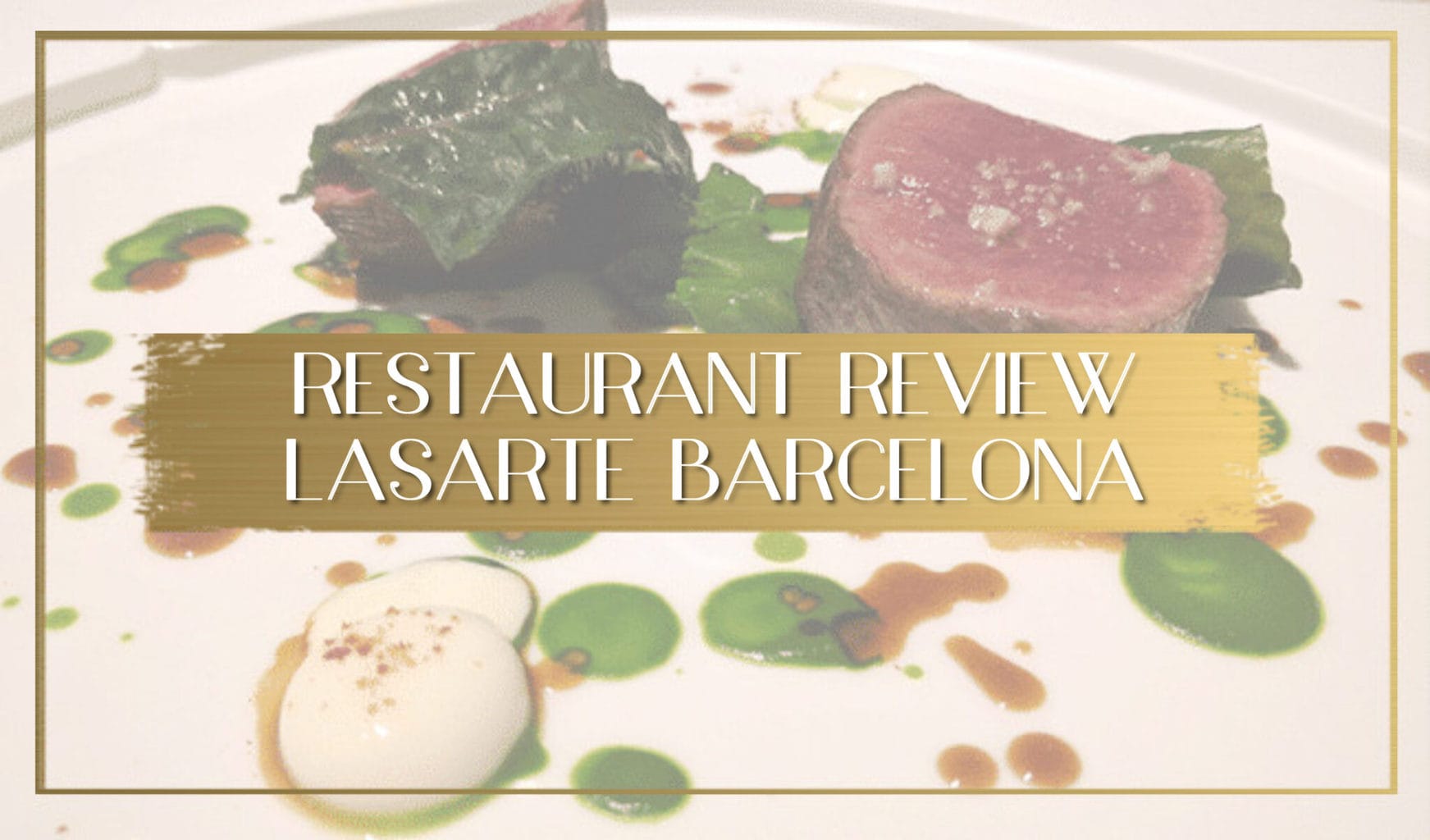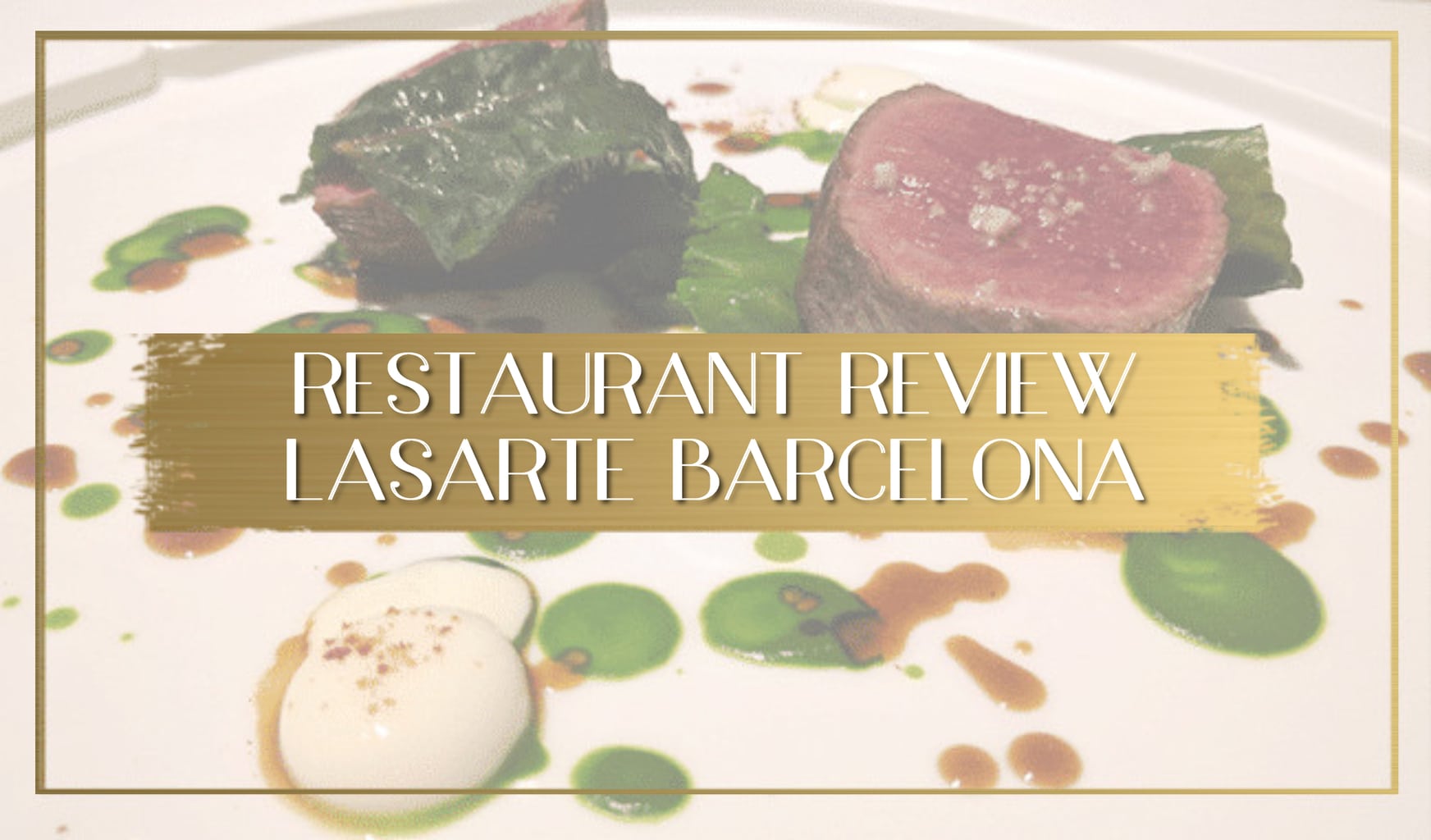 Despite being a culinary destination known the world over, Barcelona did not receive the highest Michelin award until 2017 when long time city resident and renowned chef Martin Berasategui finally achieved the highest status for his Barcelona outpost, Lasarte.
Berasategui already owns an empire in the cooking world totalling 12 restaurants under his sphere of influence. His eponymous flagship restaurant located in his native basque country, was named best restaurant in the world in 2015 by TripAdvisor and has held the three Michelin star rating since 2001.
With the third star given in 2017 to Lasarte, his total number of stars reached nine, with two restaurants holding 3 stars, making the Spanish chef with the highest number of Michelin stars. This award also positioned Spain as the third country in terms of three Michelin star restaurants with nine, after France (25) and Germany (10).
Lasarte chef & Monument Hotel
At Lasarte, Berasategui does not cook, it is his Head Chef Paolo Casagrande who helms the kitchen and Joan Carles Ibáñez who fronts the Dining Room, but he places surprises in the menu and visits regularly. The result is a fantastically Catalan take on Berasategui's fine dining Basque cuisine, with a more Mediterranean feel. It is more suitable to the city's cosmopolitan and warmer atmosphere but infused with the chef's home flavors, as drawn from the sea and the garden.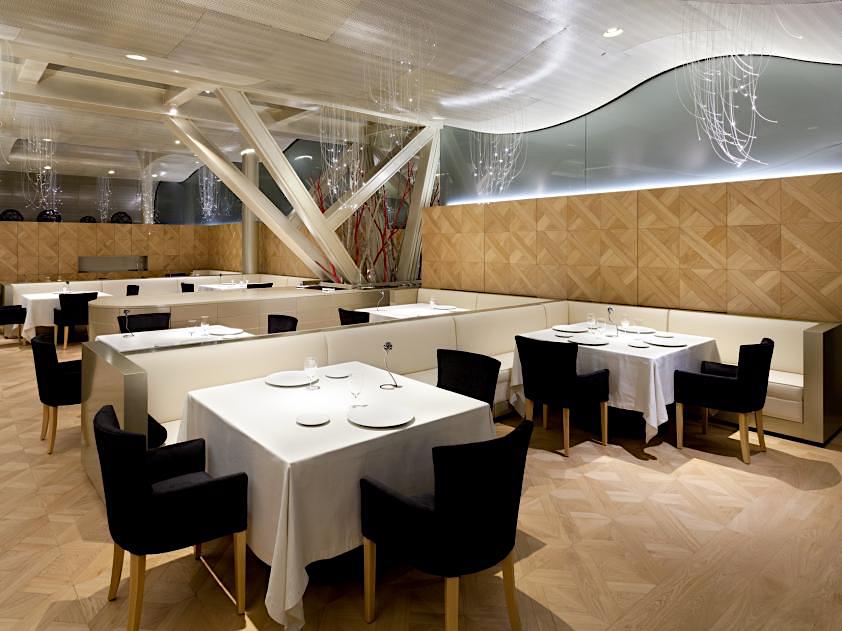 Lasarte was named after the town he comes from in the Basque Country, a northern province of Spain, and is located at the ground level of Monument Hotel, a five star Gran Lujo hotel hosted in a pre-modernist building that opened its doors in 2016 when the former Hotel Condes de Barcelona, now contained only in its building across the street, was acquired, renamed Monument Hotel, given a complete make-over and relaunched.
I stayed at Monument Hotel on my visit, hoping that it would help with securing a reservation at Lasarte, booked out two months ahead, and so that I would be able to freely enjoy the meal with drinks and wine without having to drive back home. Monument is an excellent choice regardless of Lasarte, so I was very pleased even if I could not secure a booking in advance. It was by chance that, coming back to the hotel late before lunch, we inquired about availability and got fortunate enough to snatch a table just before lunch service ended. It was one of the best fine dining experiences I've ever had.
The menu at Lasarte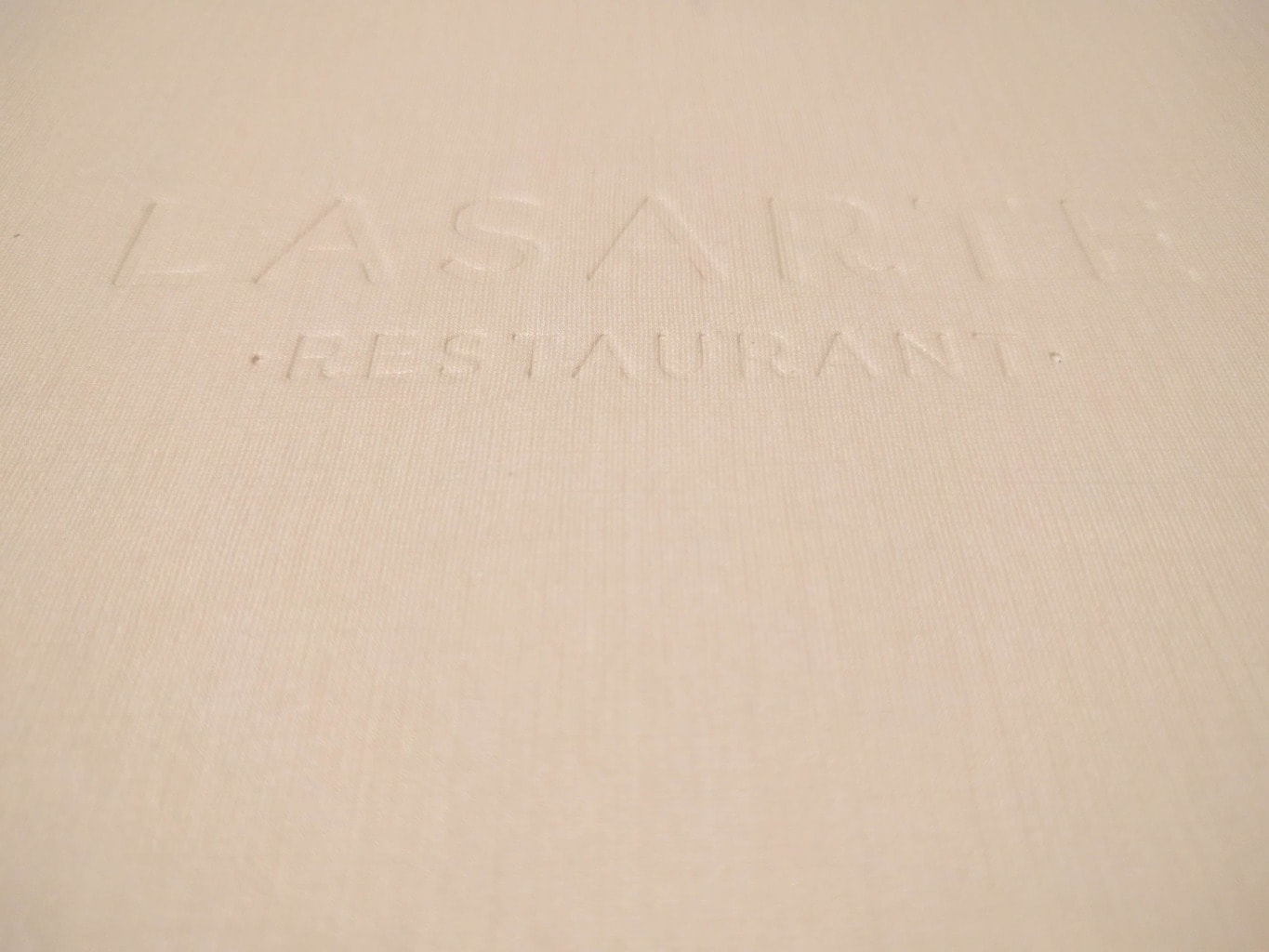 Lasarte offers two tasting menu options and an extensive a la carte. Most fine dining restaurants will usually limit the menu to degustation options only. This keeps the kitchen focused on the few dishes and limits the complexity of the options. Lasarte has no fear and offers ones of the most extensive a la carte menus I have ever seen, let alone in a fine dining, Michelin starred category.
As Barcelona is a sea-facing city, seafood features extensively. There are dishes featuring scallops, shrimp, crayfish, sole fish, sea bass or tuna. Spanish meat favorites like lamb shoulder, Iberian presa, ox, pig trotters, pigeon or ham are all on offer as well. Lasarte has such an extensive a la carte that it's terribly hard to choose an option. I therefore strongly suggest going for the degustation menus which are a great way to let the chef show off his skills. If you choose the a la carte, bear in mind that the chef has designed the dishes to be small. As he points out:
"These preparations are designed to be sampled in three or four bites, otherwise they would lose the spirit with which they were created"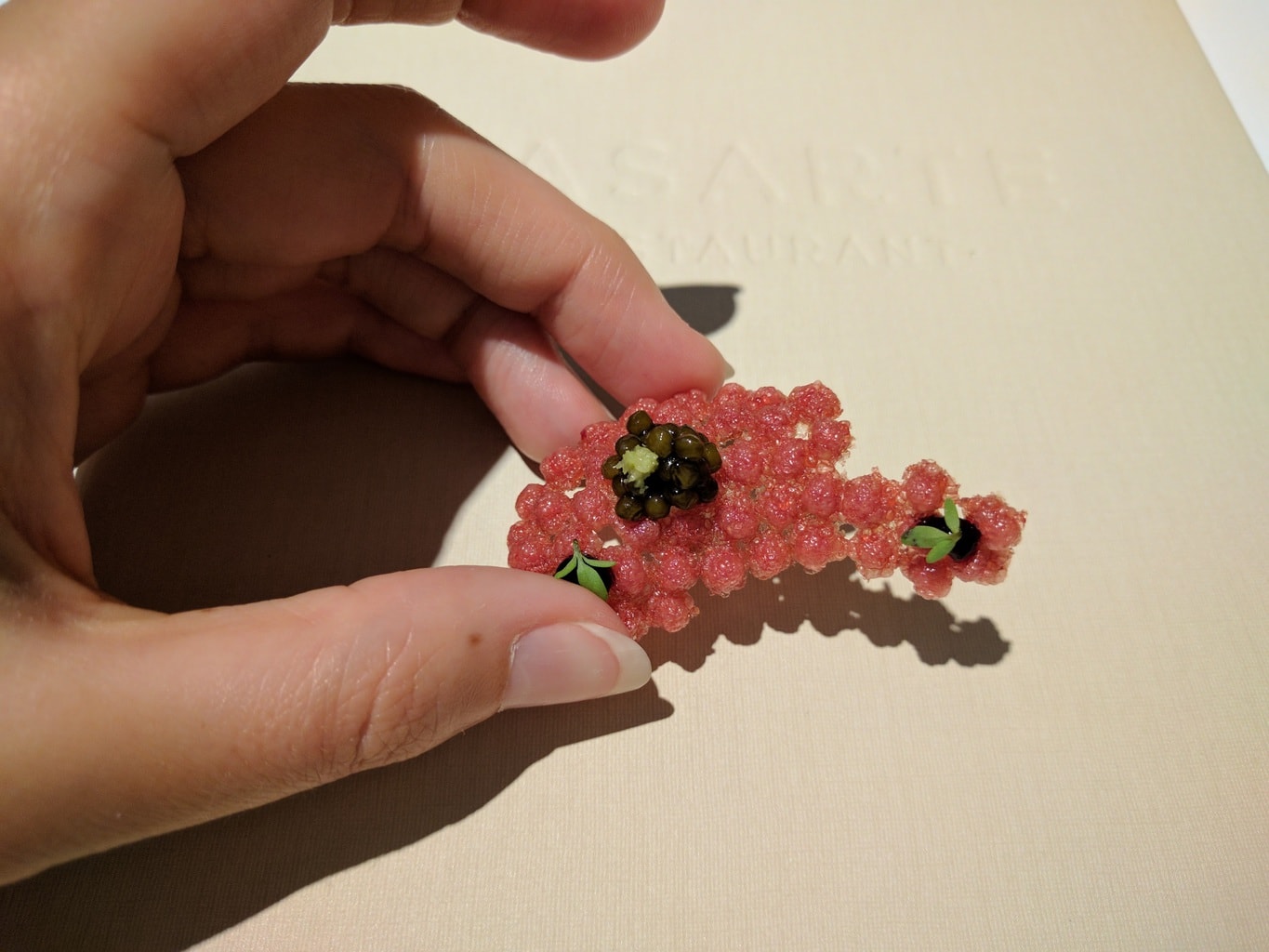 There are two degustation menus, the Lasarte menu features seasonal dishes that may not be on the menu, it is shorter and priced at 185 euro. The Tasting Menu is a selection of the best a la carte dishes, and includes more dishes and is priced at 210 euro. When I compare the prices of this foodie journey through the best of Spain with what I pay in Singapore for a similar meal, I found them to be a steal. Fine dining restaurants in Singapore cost at least twice as much, then you need to add a minimum of USD100 more for one of the most affordable wine bottles on the wine list. The most expensive restaurant I ever ate at (USD600 a head) is in Singapore. At Lasarte, we enjoyed one of the finest restaurants in Spain for a price which I felt was aligned to the experience, the care to detail, the level of service and the exquisite food. We went for the Lasarte Menu.
As per the wine, Lasarte has a very extensive, well-priced wine list with several Spanish choices and international labels. It was so long that it was hard to make a choice. So the Sommelier's role was useful, especially since we chose not to go for the pairing options and wanted a recommendation that would go well with the dishes. He was very good at providing a recommendation to us based on our preferences.
The degustation menu
The Lasarte menu has seven dishes and a series of appetisers to start off which we paired with a couple of vermouth glasses as aperitif, and then two glasses of Catalan white wine as recommended by the Sommelier.
These were the dishes we had. Click the arrows within slider below to see more images. You can find a description of each image below the photos.
Appetizers.
Queen scallop with mushrooms, quail egg, cauliflower and truffle.
Crayfish and swede with cow shank broth cubes and lemon. A traditional seafood crustacean eaten in Spain instead of lobster. The broth was lovely and delicate with just the right amount of flavour.
Slices of Iberian presa on foie-gras curd, tarama oyster and mustard ice cream. A delicious meat that was so tasty we just wanted more. The mustard ice cream was a smoother touch than a dollop of the original so a great complement to the meat. We asked for ours to be without the foie as we condone the practice but it was still amazing.
Sea bass with mantis shrimp broth, snails stew, on a vegetable puree with truffle and clams mayonnaise. I have to admit I thought the snails were mushrooms which is probably why I enjoyed the dish without preconceived ideas. The sea bass was fantastically fresh, as much as is possible in Barcelona. It was an airy dish.
Ox fillet grilled done, bed of chard chlorophyll and cheese bonbon. The meat was tender and flavourful and the addition of the greens was a light addition that more than emphasised the cut.
The first dessert, a Mandarin frozen cream with verbena, orange jelly and pearls of lemon which was as pretty as it was a well balanced dish of sweet, bitter and acidic. It was lovely.
Cocoa, fermented black garlic, raspberry and muscovado sugar. This was one of the nicest chocolate desserts I've had. It was light but had enough flavour and the combination was delightful.
Petit furs made of an amazing cherry shaped mousse, some deliciously smooth chocolates and hazelnut pralines. I don't usually eat the petit furs, more than anything because they are caloric bombs and at the end of such a feast I prefer to save whatever calories I can (hypocrite perhaps), but these were amazing so they disappeared from their pretty circus like plates.
Bonus one day guide to Barcelona
If you only have one day in Barcelona, this is how you should spend it! Enjoy this one day itinerary for Barcelona by clicking
here
.
The service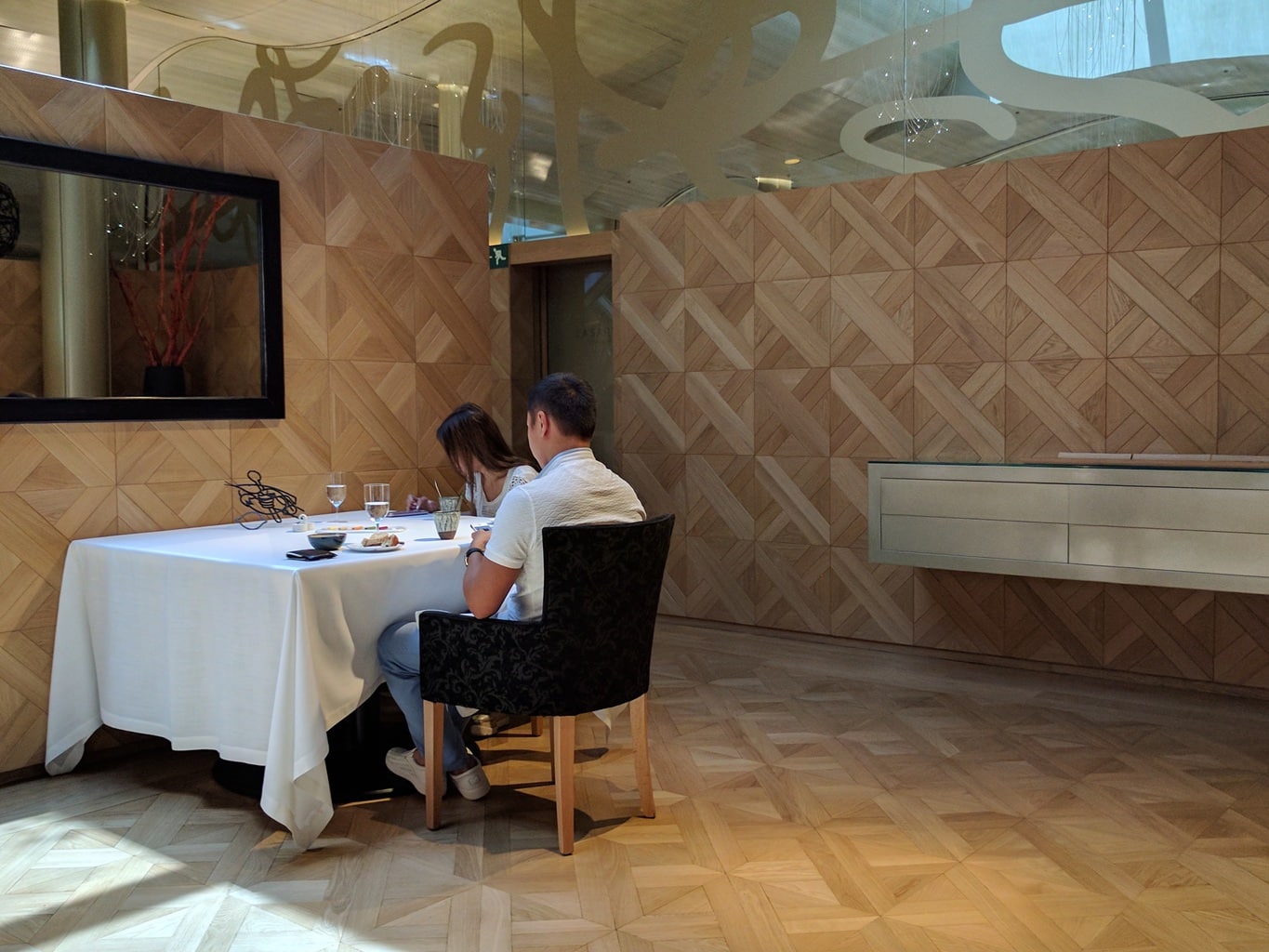 I liked the atmosphere of the dining room. As we enjoyed lunch there, the room was flooded with light coming from the large windows outside and the bright lighting. It was spacious without feeling impersonal, with several separate spaces and a very high ceiling with a dangling installation. The white tablecloth and the light colored wood added to the atmosphere.
The staff were friendly and well versed in all the dishes. I had the feeling we were placed in a room that was devoted to foreigners as all the staff spoke perfect English and the rest of the guests looked like they were not from Barcelona. In the other room, which we walked through on our way in, the guests seemed more local and so was the staff. Service was cordial, elegant and professional. We waited enough between dishes that we did not feel like we were being rushed nor did we feel like they were coming out too fast that we did not get a chance to digest and savour them. The wine recommendation was a good choice and brought the dishes alive.
I requested if we could have the menu by our side along the meal to get back to each detail when they were being served and we got a nice smaller card with the description which was a nice, if commonly accommodated, detail.
Review of Lasarte Restaurant – The Verdict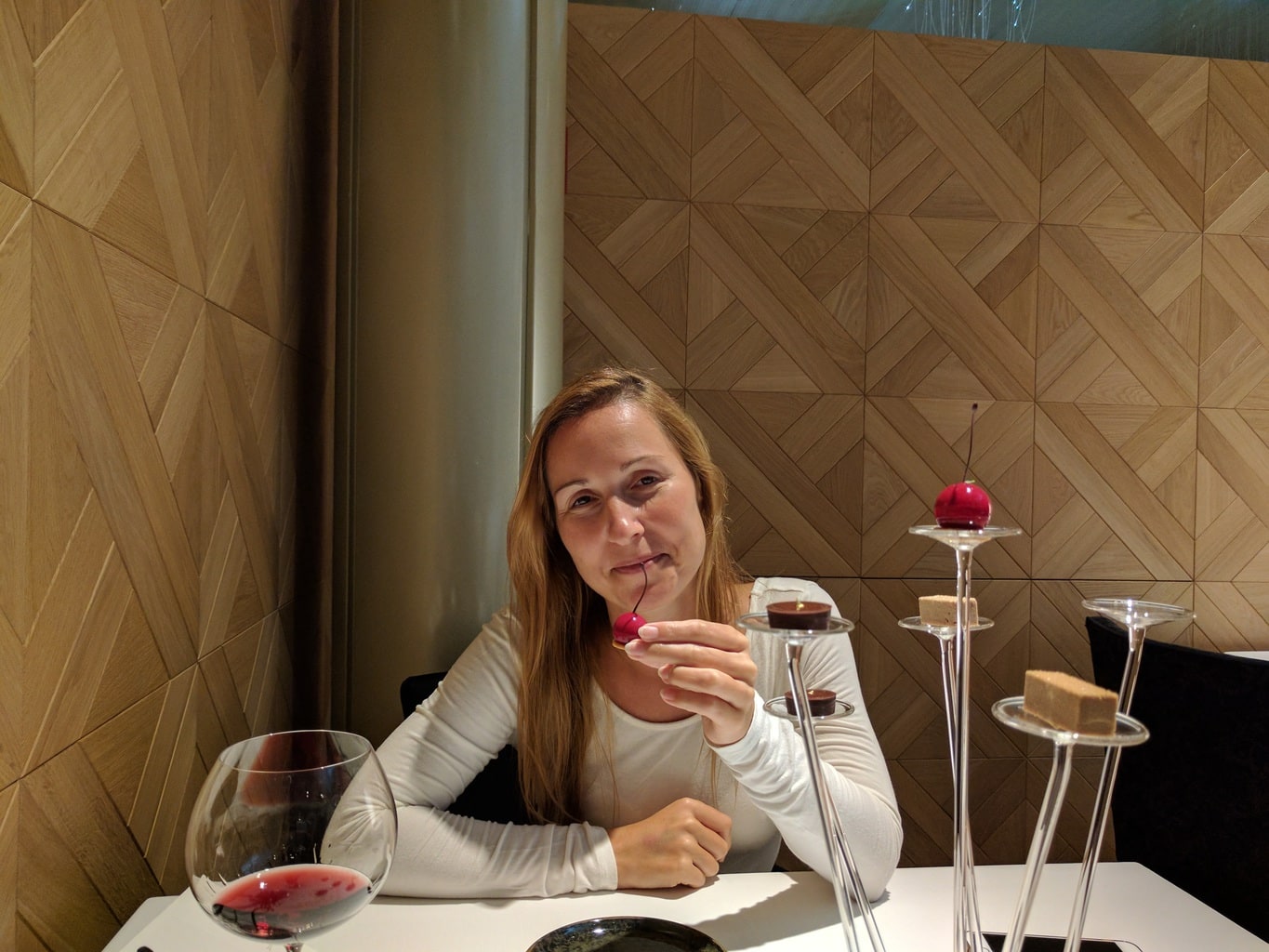 Lasarte was a delightful meal. The dishes were innovative yet featuring traditional Catalan and Basque ingredients in season. Everything was beautifully presented, colorful and clearly showing a painstaking level of detail, down to each grain and spice leaf. As my partner indicated "I was blown away by the meal".
Lasarte was a fabulous example of a well-established fine dining restaurant where every dish is perfection and there are no hit and miss dishes that are so common of other creative restaurants that have gone too far in their experiments. I loved every bit of it and there is little I can fault them on.