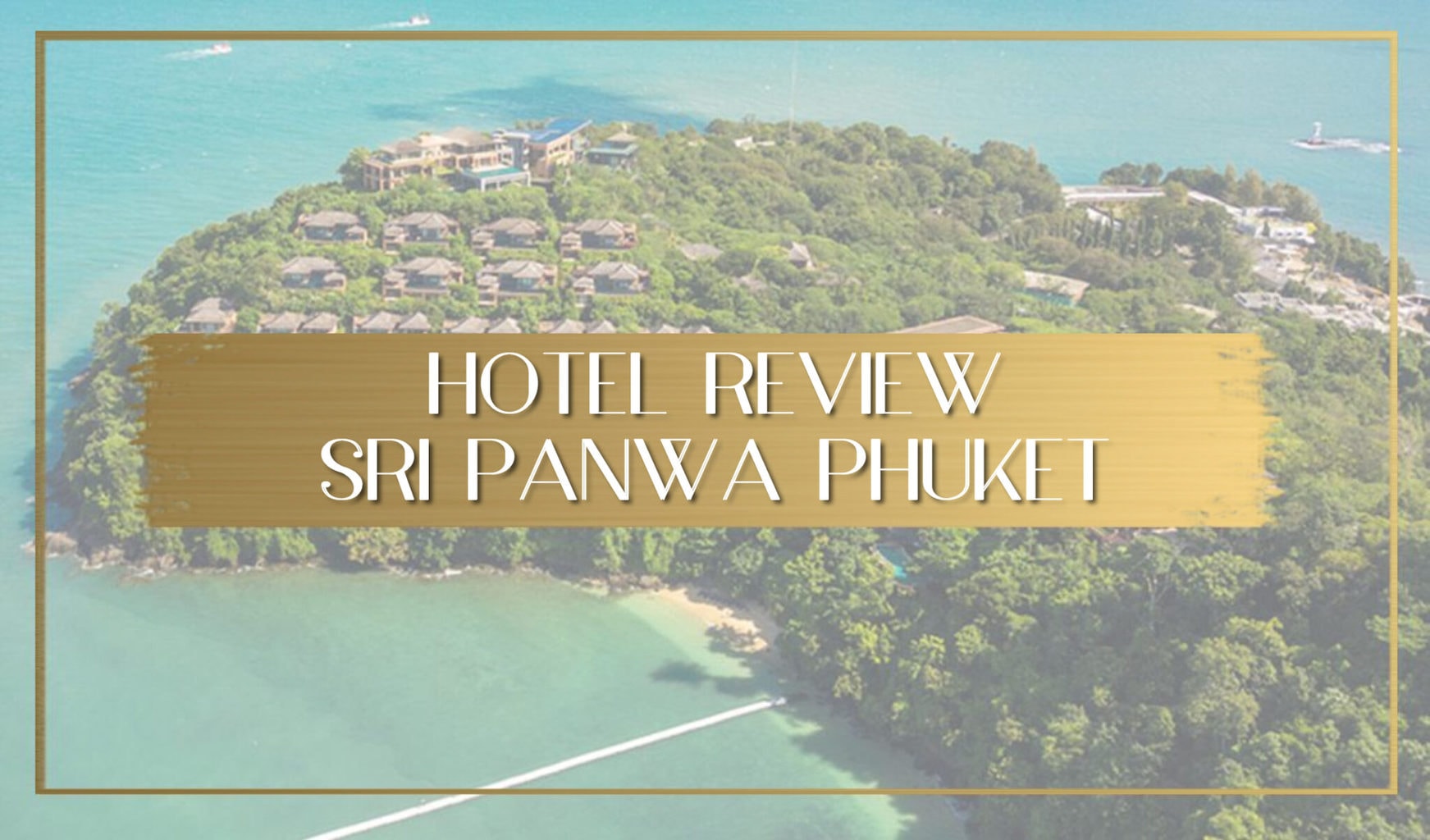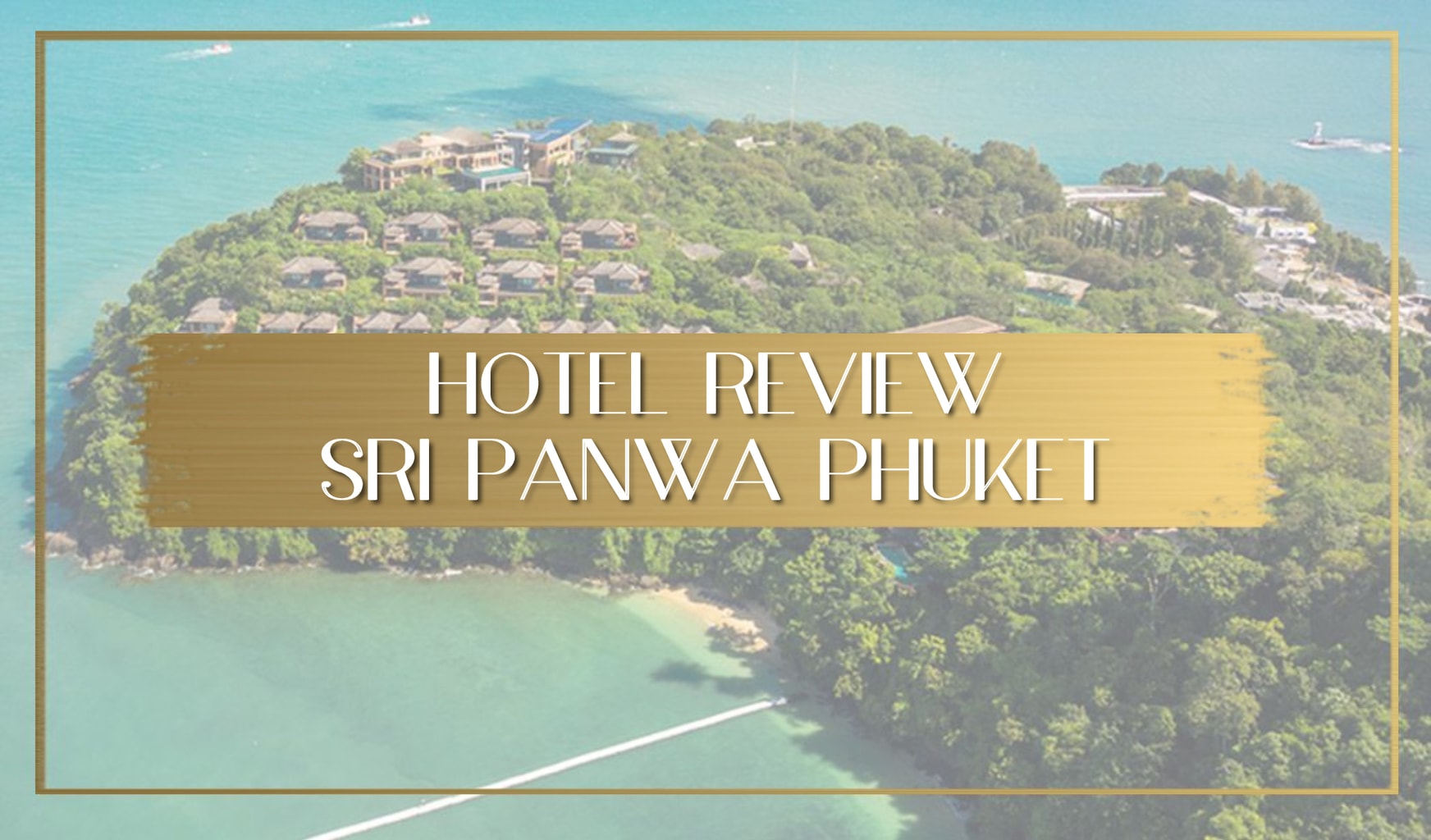 Disclaimer: Once in a Lifetime Journey was a guest of Sri Panwa, twice, in 2016 and in Aug 2018. As always, all opinions are our own.
Favourite destination of Thai celebrities and international stars, Sri Panwa is the coolest luxury resort in Phuket, Thailand's most famous beach destination. The resort has been gracing Phuket's shores since 2005 with only a few villas opening post-tsunami, in a bet that saw the young GM taking a stance to help rebuild Phuket, and a full opening in 2009.
Later on, Sri Panwa added a new building, The Habita, offering penthouses and pool rooms in a new sunset-facing building with a new cascading pool and two new restaurants. Large family villas on top of the hill, with fabulous sweeping views, are also available for ownership and booking. These are show-stealing, celebrity retreats.
Chosen in 2013 as CNN's top-2 best beach bars in the world, Sri Panwa is home to famously photogenic 360 degree sunset view Baba Nest Bar. Set atop a platform high above Phuket this is a dream-like destination for your wedding. Is there a more romantic setting to tie the knot?
I visited Sri Panwa first in 2016 after The Habita opened, to experience both the Pool Villas as well as The Habita. I returned in August 2018 to revisit Sri Panwa and stay at sister hip beach club Baba Beach Club.
I can report that it is as fabulous and luxurious as ever, and it looks as your and fresh as when it opened, over a decade ago. Sri Panwa remains one of the best luxury resorts in Phuket, an iconic hotel like The Boathouse Phuket, standing the passing of time despite the many big names in the luxury hospitality world that open their doors in Phuket every year. A must visit even if you only have one day in Phuket.
How it all started at Sri Panwa
Sri Panwa is unassumingly glam and unapologetically fun. Managed by the thirty something son of one of Thailand's most established real estate development groups, Charn Issara, Wan's youthful vibes and traditional Swiss/French hospitality training are obvious. At Sri Panwa, he choose to blend the beach club parties of Miami, the Mediterranean atmosphere of Ibiza and the architecture of Morocco. And it works.
Cool is an idea that pervades. From the refreshing mint smell that floats on the villas and wet towels, to the sporty navy-inspired polos the staff is outfitted with or the Sound Cloud DJ lists created by the in-house Russian Music Director and Wan's friend. Everyone seems proud and happy to work at Sri Panwa as if they were not coming to work but to have fun. In fact, a few of the staff members we talked to had these exact same comments. How much fun it was to work at Sri Panwa.
The crew is young, you would have to be, to climb up and down the many stairs in all the buildings, and have a permanent smile. You can tell they are having genuine fun.
In the rooms, the true meaning of luxury trumps everything else and the beauty of the Andaman Sea, the sunset or sunrise view, and the reflective infinity pools give you a reason to stay in. A world of endless summer parties is left behind as you close the wooden carved doors of your luxury villa. One of the most romantic hotels in the world for sure.
Arrival and check-in at Sri Panwa
We are met at the airport and escorted to our karaoke-equipped leather-sofa minivan. These are not mere seats, they are living room armchairs. Comfortably seated and refreshed with our first of many mint cool towels, we head to the southwest of Phuket.
The drive from the airport takes about an hour through the winding permanently cloaked roads of Phuket, until you turn into Cape Panwa's promenade, below the hotel, a fine spot to watch the sunset, and get a glimpse into a more mature and refined part of Phuket.
The main reception at Sri Panwa is also home to Soul Food, the Thai restaurant on site, and Yaya, the local shop, stocked with stylish clothing and souvenirs you might actually want to buy. A lotus pond tops the building and, as we descend to the reception, we are greeted with the signature orange, Moroccan-inspired architecture.
Sri Panwa's design is Tropical Contemporary and despite not knowing what that meant, we soon understood. The Moroccan influences are clear in the decorations, the wood carvings and the signature star shapes that are used throughout the resort. But the sea is there. This is Moroccan riad meets the Mediterranean summer.
As the resort is over 40 acres one cannot fully grasp the size without a proper map and aerial view. Walking from your room to any of the buildings in the 35+ degree heat is unthinkable and the hotel has resolved this need with a fleet of colourful branded tuk tuks. On one of those, we take our first ride to The Habita, the recently opened concept, where our first room was. We spent time both at a Penthouse in The Habita as well as at a Luxury Pool Villa.
The Habita at Sri Panwa
The Habita is a new building consisting of a tropical cascading undulating pool, grassy forested area and two new restaurants, Baba Chino, catering to the increasingly relevant Chinese travelers, and Hot Box, with barbecue and grilled meats cooked with a Josper grill that are absolutely amazing. There is also a new lounge area to enjoy the sunset and several cabanas and bean bags.
The Habita is perfect for those coming to a wedding, of which the hotel has over a half dozen per month, or for those looking for the privacy and romance of your own pool penthouse with the added benefit of some shade.
All rooms at The Habita face the sunset, so the views in the afternoon are most impressive. As the sun falls low on the horizon, the area takes on a soft orange hue that brings out the romanticism.
This is also the perfect place to come with a group of friends. Rooms are adjacent, as opposed to the pool villas which are scattered around the property. The largest Penthouses at The Habita are 140 sqm and come with their own pantry, large designer Smeg fridge fully stocked with complimentary drinks and snacks, a standing bathtub, large showers and a playful round futon bed.
The outdoor pools are a great place to watch the sunset from, drink in hand. For those who do not want to get a suntan, The Habita rooms are actually in the shade, except for the top level penthouses which have rooftop sun. Choose the top levels for the best views and a bit of sun.
When you feel like chilling by the overflowing waterfall or the grass, you just need to take a few steps down to the common area. For families, there is a small children pool in The Habita too.
One of my travel pet peeves are all these hotels who haven't understood the need for a good night sleep. The Habita has electric up and down curtain buttons that actually seal all the light out. iPods and speakers around the room proved that Sri Panwa cares deeply about setting the right mood. iPods are loaded with all of Sri Panwa's Soundcloud playlists, a large selection of music from chill out jazz to bossa nova and samba, all mixed especially for the resort.
Sri Panwa's Luxury Pool Villas
The Luxury Pool Villas are the ideal place for a couple's getaway. Starting at over $800 per night, they epitomise the pool villa idea. They are private, large and secluded with sunrise sea views to die for.
There is an indoor jacuzzi for two, a steam bath, an outdoor shower and jacuzzi (yes, a second one!) and your own infinity sea view pool wrapping around the main bedroom sala. All the villas face the sunrise or the sunset for an added reason to never leave the confines of your private dream space. Pool villas don't get any better than this.
Outside, there is a deck area with sun loungers and a large living room with day beds, another TV (which I guarantee you will never switch on) and a pantry where you can even cook on the induction surface or in the oven. During the Christmas period, guests have been known to stay for over two weeks. I can perfectly understand why this is a place you never want to leave.
There are extra details in every room. Both The Habita and our Luxury Pool Villa had fully stocked minibars, a fresh fruit platter with varieties in season (and small notes explaining what each of the tropical fruits was), a huge selection of free magazines to read, in-room dining options including your own BBQ, bathtubs with bubble foam and bath salts and his and hers slippers, bath robes and sarongs. We got a branded uber cool beach bag and a cap which were not only useful on the property but glam to take to any beach club.
Surprisingly, after having celebrated its 14th anniversary, Sri Panwa looked as new as the first day and both the sea facing luxury villa as well as the common areas were in pristine state, something that is an achievement considering the unforgiving summer sun and sea breeze.
Dining at Sri Panwa – Restaurants, lounges and bars
Talking about Sri Panwa's dining options has to start with the widely recognised and equally exclusive Baba Nest. To snatch one of only twelve tables available every evening you should book a month in advance. In-house guests have priority but even they have to book at least a week ahead.
Baba Nest is set atop a building where Sri Panwa's family has his own residence, something out of a dream which we got the chance to tour and see. Look at the photo above.
The bar commands a 360 degree view. From one of the low tables and striped bean bags, you can even see The Big Buddha up on the hill. We watched the sun set with a good pair of cocktails and some Mexican tapas before dinner and it was seriously unforgettable. The venue is also famous for its wedding ceremonies. Dressed with white flowers this has to be the most beautiful and special venue to pronounce "Yes, I do".
Soul Food, Sri Panwa's Thai restaurant, offers great local food with fabulous views of the sunset under a canopy of trees. The food is not only authentically Thai, but also fiery and hot. They do not tame the dishes for foreigners because most of Sri Panwa's guests are indeed Thai, so expect to savor the real deal here.
The first time I had dinner at Soul Food there was a fruit bat jumping from branch to branch enjoying dinner with us. The dishes at Soul Food were delicious and the venue cozy.
The main dining area at Sri Panwa is also where the main pool is.The 5,000 square meter pavilion is home to the resort's largest pool. This is the place to watch the sunrise and, believe me, we were not the only ones taking in the first few rays of the day at 7am.
Baba Pool Club contains Japanese Teppanyaki restaurant Baba Iki, the Italian all-day dining venue BabaQ where breakfast is served, and the Pool Lounge for those drinks and snacks.
Baba Iki chefs are showmen too. The food is delicious and it is served with much fanfare and laughter, just like the rest of the resort. Special and uber-premium fish cuts for sashimi are flown in from Japan and the skilful chefs slice them with great care and precision.
I enjoyed a fabulous dinner with the rest of the media team and other journalists, with Wan. With our sake glasses never empty and the procession of nine different sashimi pieces meticulously placed in front of us by the master chef, we were in good hands. This is probably Phuket's most exclusive Japanese restaurant.
As I mentioned earlier, The Habita added new and fantastic dining options to Sri Panwa. Baba Chino offers great Chinese food that is deliciously flavourful and fiery. Hot Box aims to bring the Josper BBQ style of cooking to the tropical surroundings of the area with absolutely finger-licking meats that are indulgently rich, perfect for a late lunch that ends in a satisfying siesta in one of the cabanas. On the first floor of The Habita there is another sunset location to watch the sun come down with a cocktail.
All food at Sri Panwa was exceptional. The breakfast spread included freshly prepared Thai dishes, Chinese options, continental favourites and hot dishes from an a la carte menu like lovely banana pancakes and truffle eggs that kept us coming back. Even the croissants and home made mini muffins were lovely.
There is also a hot noodle station where you can get your noddle soup made to order, a large selection of fresh cut fruits, lot of fresh juices and of course, the very sweet but addictive Thai milk tea. I don't think I have seen such a lovely spread in a while.
The facilities and activities at Sri Panwa
Not that you want to spend much time out of your private villa but Sri Panwa has a lot to offer in terms of facilities. And because it is so large, even when it is running at full occupancy, as it usually is, it still feels like you are alone.
The resort has a total of over 200 pools counting the ones in private villas and common areas. Now, that is a lot of pool time!
There are four common pools, one just perched above beach, the main one at Baba Pool Club, the tropical cascade at The Habita and a smaller one at the Cool Spa. They are all wonderful and because a lot of the guests have their own private pool in-villa, they are mostly empty.
I loved the one by the beach because it was perhaps the quietest of them all, I was in fact completely alone when enjoying it. I could swim for a bit, cool down and simply read a book laying on one of the sun loungers. The Habitat pool has lovely
We enjoyed the beach and beach pool all by ourselves for a few hours in the morning. Set atop the beach, this pool provides a nice relaxing spot over the beach and jetty. It has a whirlpool area, a couple of waterfalls and a sun deck with views over the Andaman Sea. Since it is set lower than the Baba Pool Club pool it is easier to spot the beach from it.
Baba Pool Club is a long lap infinity pool with a sun deck to one side and a set of sunken relaxing sofas and tables to the other. If you prefer the shade, you can also relax by the lounge area adjacent to the pool. Here, the views steal the show.
The Habita pool is the coolest. It is split level with a top overflowing cascade pouring down to a lower level pool, a la Ubud Hanging Gardens or Capella Ubud. Sun loungers are scattered on the sun deck and on the grass. There are cabanas, bean bags and small cake shaped low tables and stools to relax with a group of friends.
The smallest and quietest of the pools is the one at the Cool Spa. A tiny pool under waterfalls and surrounded by lush greenery and just a couple of sun beds to relax before or after your massage.
Aside from the pools, Sri Panwa has a small beach that is almost private as it only accessible to the resort's guests and, at low tide, those who wander from luxury Cape Panwa Hotel.
There are a few sun loungers lined along the stretch of fine sand and a few other under the shade of large mango trees. The best view of the resort is from the jetty. Floating above the sea, this will give you the best perspective from the distance. Bring your towel and enjoy the lulling sound and rhythm of the waves.
If you are looking for an action packed visit you can also hit the state of the art gym, the Thai boxing ring, one of two tennis courts or any of the water sports available, from paddle boarding to kayaking.
I took a Thai boxing class with the two coaches from the local Thai Boxing club the hotel uses to teach guests, or fight with you and it was one of the most fun and cool activities I have ever done at a resort, it was super invigorating and it was also rewarding to see we could kick ass straightaway. Highly recommend it.
For the sailing crowd, the hotel provides lots of options for a day trip to one of the nearby islands from famous Phi Phi to other smaller, lesser known and less crowded gems or even to some of its secret beaches. Snorkelling is possible at the end of the jetty and richer dive sites can also be reached on day trips.
The Cool Spa offers pilates and yoga on its almost floating yoga deck, right by the edge, with stunning views.
An entire Activities team is at hand at the Baba Pool Club to help organise anything. Phuket has so much to offer, and yet Sri Panwa gives such few reason to leave its confines. If you manage to, a great way to see the island is with your own rental car, on a road trip. You can also explore Phuket's vibrant nightlife or visit Old Town with this walking tour guide.
Lastly, no Thai holiday would be complete without a cooking class and Sri Panwa has its own Cooking School set under Baba Nest, where Western, Japanese and Thai hands on lessons are possible. We had a Thai cooking class at the main villa up on the hill, below Baba Nest and it was wonderful.
Not only did we get to learn how to make some of Thailand's most typical dishes like coconut curry or papaya salad but also did so in beautiful surroundings and then got to sample our own creations. We did not do badly, especially with the help of the entire kitchen team
Sri Panwa's Cool Spa
Fashioned like a Moroccan Hammam in the azure town of Chefchaouen, Cool Spa has infinity views over the sea, large sky blue reflective pools, pink bougainvillaea and waterfalls that silence all and any other noise. Stepping in is leaving everything behind.
More mint towels, scented oils and tiled floors take you to the minimalistic and chic Mediterranean Sea. There is a salon to give you the final touches for that beach glam look and two Thai salas for a traditional massage.
Couples massage rooms have large rose petal baths with views over the horizon. Massages are delivered at unison by friendly and fabulous therapists.
The treatment menu includes all the international options and some serious pampering journeys for real me-time. Pevonia facials complete the look. Exfoliations and wraps are prepared with fresh ingredients from the Sri Panwa gardens and hand made by the therapists. After your treatment, relax by the garden pools or enjoy a drink at the spa bar.
If you are not keen on leaving your room, the Spa can also come to your villa.
The little details that matter
Sri Panwa is full of the small things that make a stay extra special. The beach bags, the flip flops, the colourful sarongs and the bath robes were all great though relatively standard at other top properties. But Sri Panwa goes one level farther.
There is free WiFi everywhere around the resort, there is a fully stocked mini bar including snacks, refreshments and beers, all replenished daily. There are sockets galore, everywhere you need them, and there are so many jacuzzis and romantic spots in every villa and room that your only decision will be which one to try.
The preloaded iPod playlists, created especially by the resort's Music Director was another personalised detail that set the tone for the property. Cool does not even begin to describe some of the ever present usual suspects. Bean bags are everywhere, and who does not feel immediately at ease on one of them? Impossible to sit on one in a classy position and more difficult even to stand up from. You are forced to just let go. Even at the restaurants, rocking chairs are used sparingly. It is impossible not to relax anywhere on the property.
The rooms and common spaces are filled with magazines in all languages to flip through and ice water will show up as soon as you take a seat at one of the pool areas. Mint wet towels will too. All rooms have their own burning oil lamp with a mint scent that provides the signature cool feel. After Sri Panwa, any time I smell mint I will be transported back to Thailand's coolest luxury resort.
The service at Sri Panwa
Compared to my first visit the service levels at Sri Panwa have improved significantly and are now at par and as expected for a hotel of its cache. The staff speak english (and other languages like Russian), are quick and friendly and always willing to help. Plus I just can never get enough of that Thai hospitality. And, as opposed to in other resorts in Phuket, Sri Panwa's staff are all Thai including the management layer.
The verdict
Sri Panwa is a definite contender for the best luxury resorts in Phuket. It is youthful and unpretentious and the coolness and hip feeling is ever present and incredibly consistent. There are so many elements of the resort that are show-stoppers that i could not list them all without repeating myself.
Both the Luxury Pool Villas and Baba Nest are a reason in themselves to stay at Sri Panwa. For romance and time together, few places provide so many opportunities and elements to make the stay extra special.
If you are looking fora fun, romantic, casual but over the top luxury with all the bits and pieces of the best and a seriously stylish and trendy hotel in Phuket, this is, without a doubt, your best bet. You will not be disappointed.