Searching for hotels in Phuket on Agoda returns over 1,300 options. Needless to say, choosing the right hotel in Phuket for you is hard, even if you are looking for a luxury resort, there are over 60 high-end properties on the island and it is impossible to know which one is better or whether the prices that some charge are justified.
Some will say that Phuket has so many 5 star hotels that a 6 star category is required. So here is a list of the best luxury hotels in Phuket that has been specially crafted thanks to my experience traveling to the island over a dozen times. If you're only in Phuket for a night, here's a great itinerary for one day in the city.
The Shore at Katathani – for infinity pool villas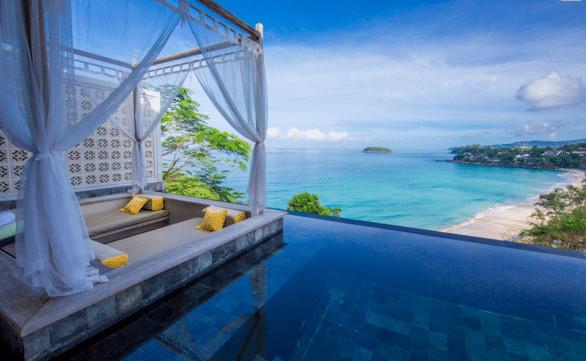 A beautiful luxury resort in a peaceful and pretty beach at the other end of famous Mom Tri's Vila Royale. Much like Kata Rocks, The Shore is a white and blue infinity pool villa stacked up on the cliffside against the backdrop of a beautiful bay tucked away from the crowds. It is beautiful and serene, without being removed and has one of the most secluded beaches in Phuket, Kata Noi.
Sister property Katathani Resort is nearby but this is a love birds' paradise. Get breakfast in the privacy of your villa, enjoy time together at the outdoor bale, or take a dip into the lovely infinity pool. Kata beach is one of the best beaches in Thailand and is quiet as well and there are a few stalls, restaurants and other options just minutes away on foot. The only resort on this list you can walk out out from, if you so wished, and feel like you are in Thailand, yet without the masses that flock Patong and the neon Same Same vests.
Rates start at $400 per night. Book your trip now on Booking.com | Agoda
The Boathouse Phuket – For a beachfront hotel with fantastic food and drinks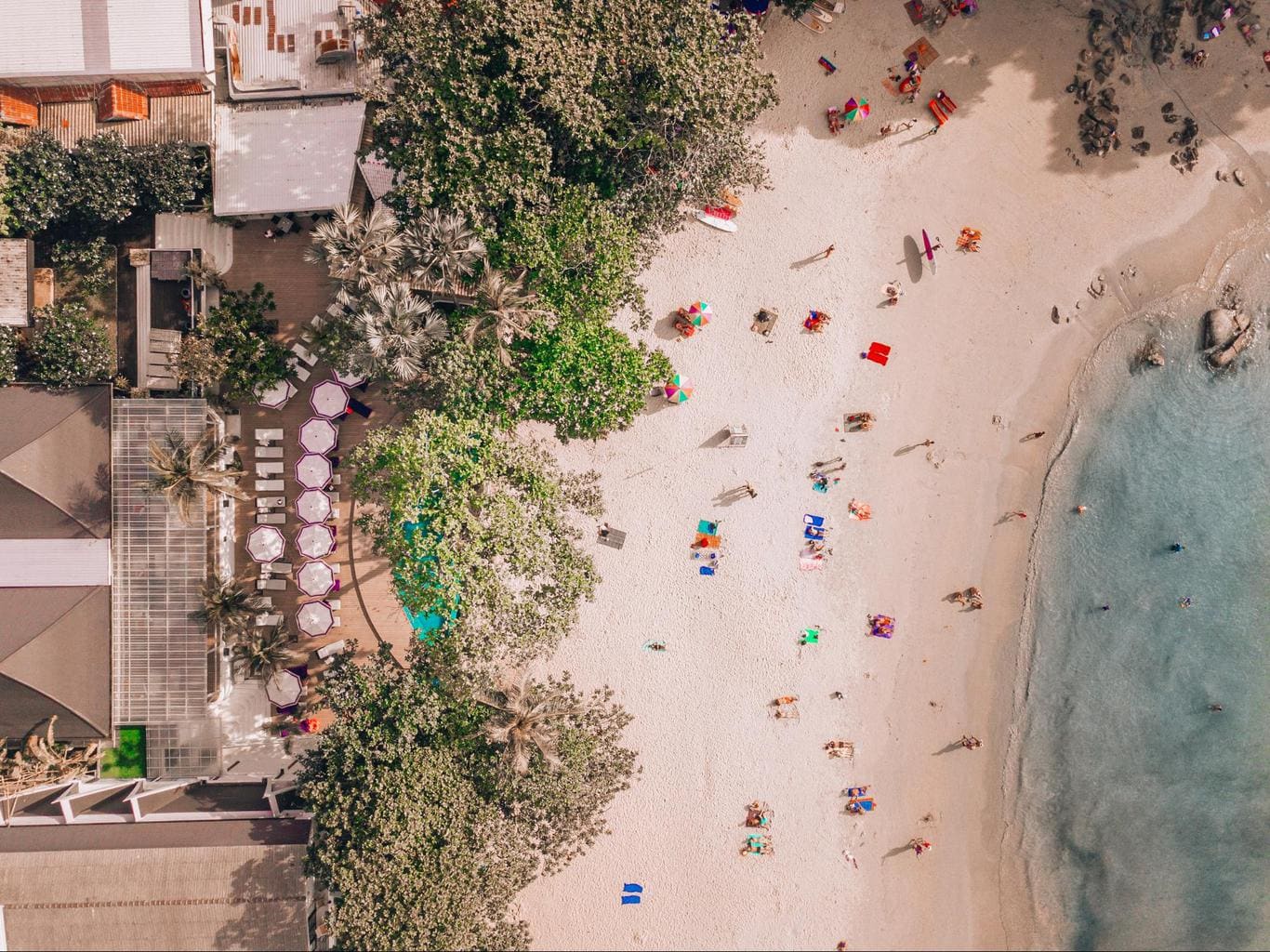 Lots of hotels on this list have incredible pools and views but only The Boathouse Phuket is actually on the beach. From my suite to the sand of Kata Beach there were less than 50 steps. At night I could even hear the waves. The Boathouse is also an institution in Phuket having opened in the late 80s as a beach restaurant first. The hotel has been fully renovated in 2017 and reopened with even more marine accents and the same amazing food as always. What I also loved about The Boathouse is the cocktail workshop, the cooking class and the bling wine tasting evenings courtesy of the trained Sommeliers and the extensive and internationally awarded wine cellar. Here's my full, unbiased review of The Boathouse Phuket.
Rates start at $180 per night. Book your trip now on Booking.com | their website
Sri Panwa – for the trendy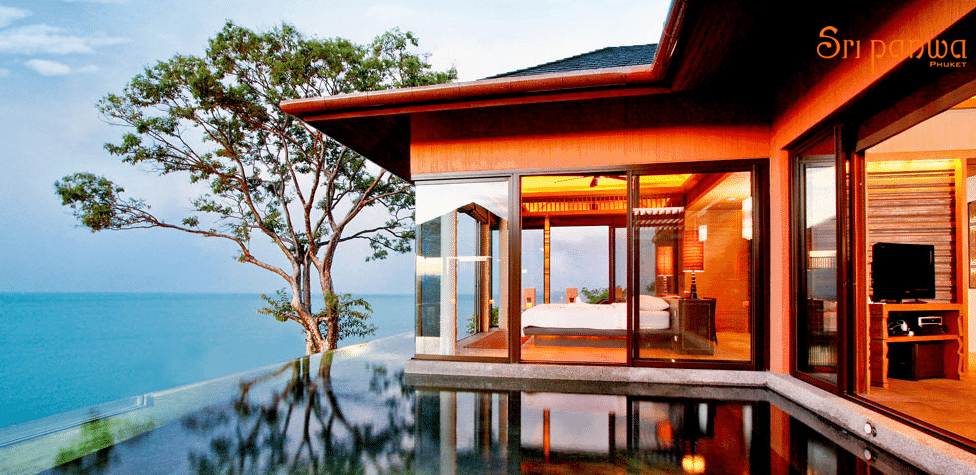 One of the swankiest resorts in town, Sri Panwa has been turning heads since its opening. Set on the impressive sea facing Cape of the same name with views over the peaceful boats and islets in the distance, this is a couples' paradise of glam, chic and fashionably understated bliss.
The resort has an awarded rooftop bar, Baba Nest, from where to watch the sunset, amazing pool villas with wrap-around glass looking out to the infinity pool and the sea, and a cliff side location to die for. DJs and celebrities graze their shores frequently and it feels like guests have come here to sport their latest catwalk outfits, though you are not likely to see others often as everyone stays within the confines of their private cocoons. Put on your best effortless look and come mingle with the beautifully cool people of Thailand which is by far one of the best things to do in Phuket. If you're not staying at Sri Panwa, definitely make it part of your itinerary, even on a weekend road trip throughout Phuket.
Rates start at $450 per night. Book your trip now on Booking.com | Agoda
The Naka Island Resort & Spa – for getting away from it all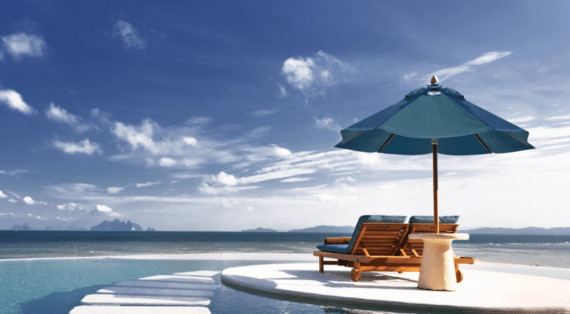 They say that the highest level of luxury is exclusivity and seclusion. Or so it seems to be the case on safaris in Africa. The Naka Island Resort & Spa is on a separate tiny island, 15min by boat from Phuket, and completely secluded.
As opposed to other island resorts like the Six Senses, Naka Island is a tiny almost uninhabited place with only a small village and an empty beach. You are not likely to see anybody else so if you are just looking for a no-distractions romantic luxury getaway this is it. Enjoy sunset drinks, private BBQ on your villa or swim in your private villa like noone's watching.
This is also the only hotel on the list that is part of a larger international chain (notwithstanding the Banyan Tree, Aman or Six Senses which I do not consider part of a chain), Starwood, under their The Luxury Collection brand.
Rates start at $400 per night. Book your trip now on Booking.com | Agoda
Keemala – for fantastic romance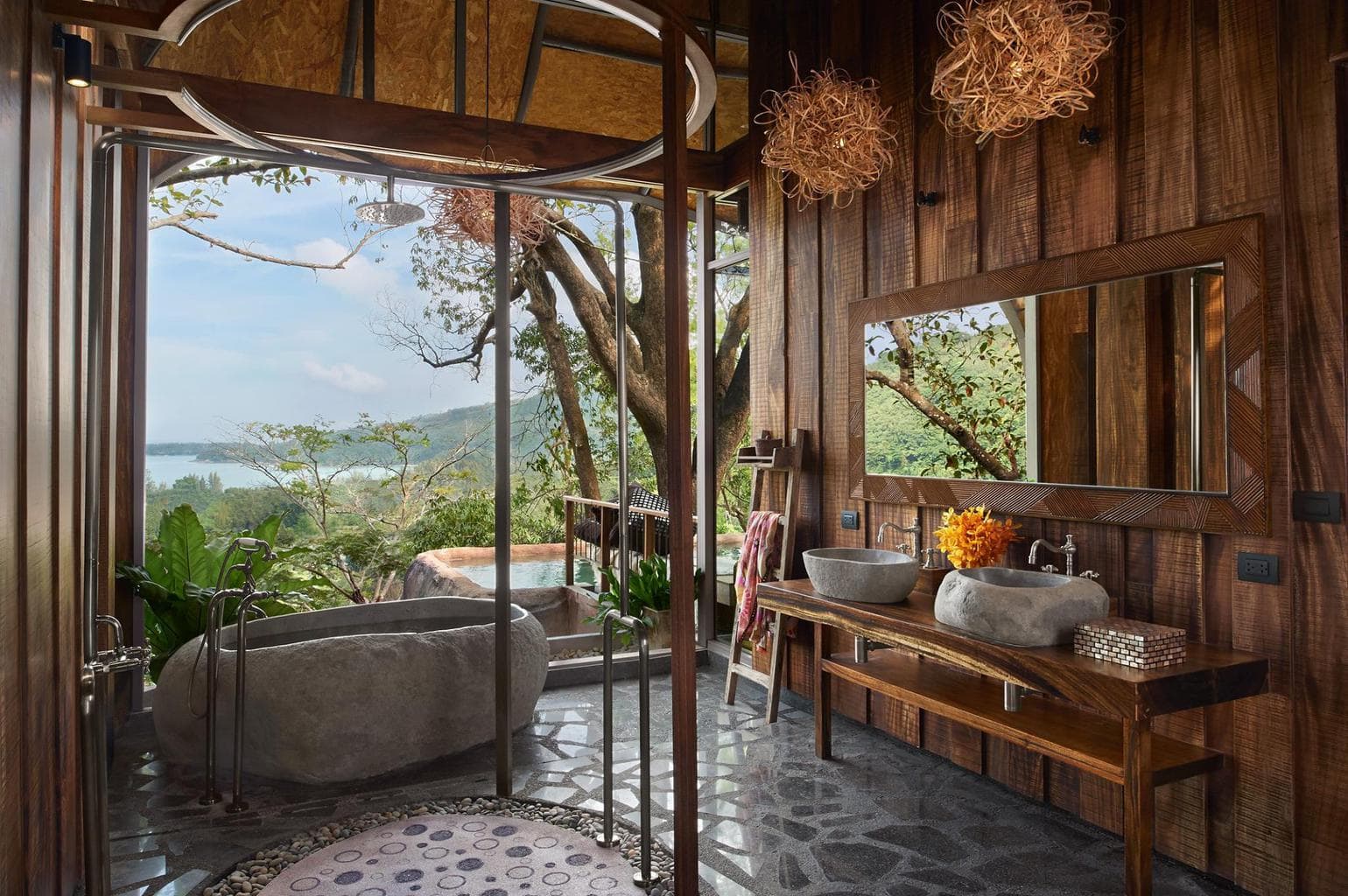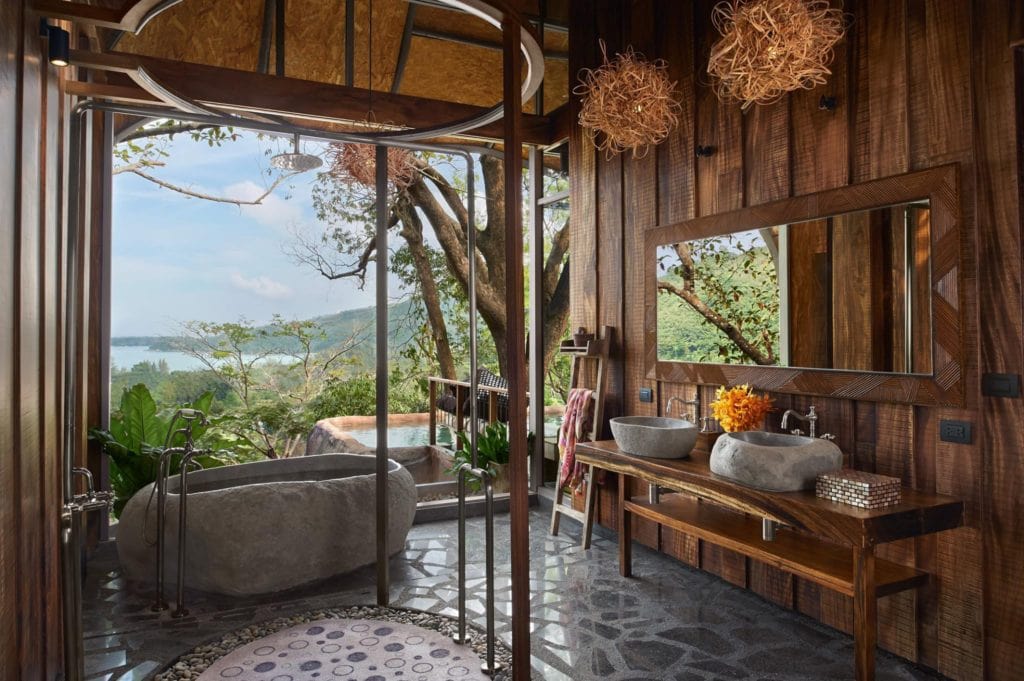 If you ever dreamed of being transported to a place where fantastic creatures and fairies come out from behind leafy green overgrown trees Keemala was most likely your dream. The latest addition to Phuket's luxury resort list, Keemala offers a set of four different types of private "pods" in four villages made to look like ancient civilisations. Choose from clay huts, tree houses, bird's nests or safari tents. Most of the rooms are in the jungle so the obvious sea views of other properties are not standard here. Instead you are taken to a magical place.
What we like the most about this property is that it is the only luxury resort on Phuket that will discourage its guests from partaking in animal tourism. No elephant shows, no zoos and no pictures with tigers as guests are advised against the unethical tours most hotels offer to book.
Rates start at $450 per night. Book your trip now on Booking.com | Agoda
Six Senses Yao Noi – For a Robinson Crusoe escape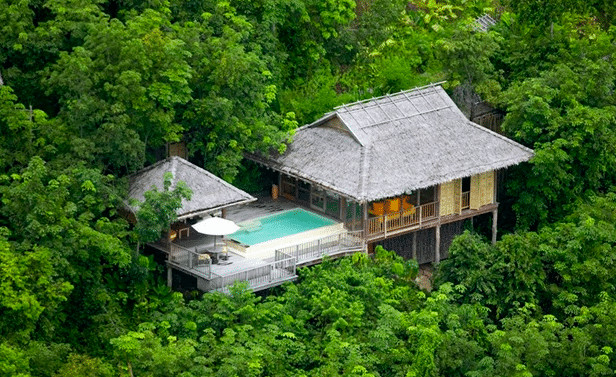 Located on the island of Yao Noi, a boat ride away from Phuket, Six Senses Yao Noi is secluded and completely isolated, just like most of the properties within the eco-friendly luxury resort group. The views over Phang Nga Bay are nothing short of amazing and the Six Senses signature green approach and fresh food can only improve Thailand's bounty. Six Senses never disappoints.
Earth-friendly architecture, expansive private pool villas and a rustic chic hideaway environment. You come here to escape. If Robinson Crusoe ever had a luxury houses, this would be it, complete with driftwood decor. Did we say there is free ice cream? Be careful don't end up like me going for a serving of one of the 40 flavours at sister property Soneva Kiri.
Rates start at $500 per night. Book your trip now on Booking.com | Agoda
Paresa Resort – For star gazing up and down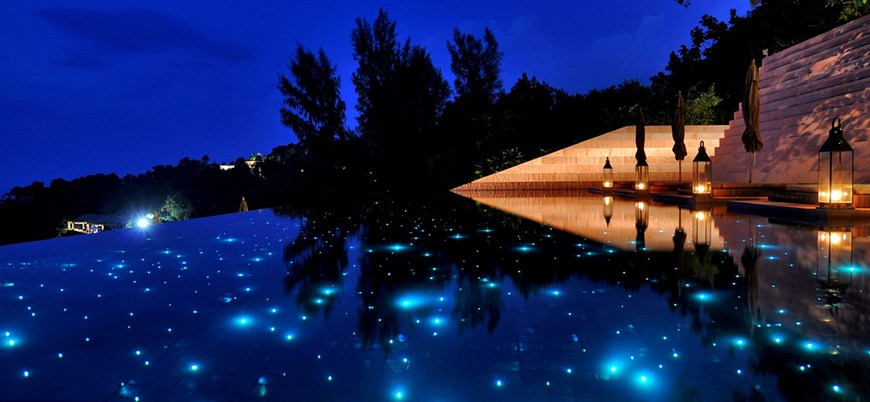 An example that one can never have it all, Paresa Resort boats a privileged location clifftop, with matching views over the Andaman Sea and the sunset, but it lacks direct access to the beach, accessible by complimentary bus shuttle. Located above Kamala Beach, on what is known as "Millionaire's row" for the high concentration of them, this is another escape resort one comes to enjoy. The Paresa Resort has a lot of other draws and you are guaranteed a memorable time. From the fibre optics starry swimming pool to the free standing bathtubs with sea views, this is a luxury resort in Phuket to indulge in.
Rates start at $350 per night. Book your trip now on Booking.com | Agoda
Trisara – For a local luxury experience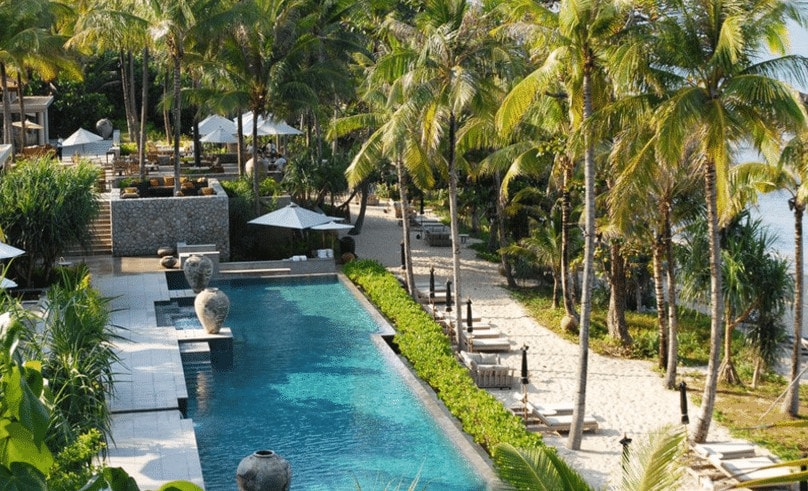 A locally owned luxury resort Trisara offers jaw-dropping hillside pool villas with great sunset views. The resort is set in the forest but the villas are equipped with mosquito-netted sliding doors so you can actually sleep with the doors open and be lulled to sleep by the lapping waves. The Thai design and furniture are a great way to remind you you are in Thailand as you are unlikely to want to explore anything outside of the resort.
Trisara is expensive though, not just on the rates but also on all the other things you will spend money on. But this is a place for kings and you will feel like one. The beach is almost private but not good for swimming during the low season. The common and private villa pools should be enough for splashing, sun bathing and exercising.
Rates start at $700 per night. Book your trip now on Booking.com | Agoda
Kata Rocks – For a stylish minimalist retreat
You may wonder if you died and woke up in Mediterranean haven. The white decor, glass doors, sharp lines and baby blue of the Andaman Sea all blend in to create stylish and cool pool villas with great views. You could be in Santorini or in Ibiza, and it does not matter because you came here for privacy and sleek surroundings.
If you are a design fanatic or Philip Stark levels and like clean lines, this is the place for you. The resort is also open to visitors who purchase a day pass to their facilities and pools and the bar is a funky place to enjoy the sunset.
Rates start at $600 per night. Book your trip now on Booking.com | Agoda
Amanpuri – For discrete but outstanding service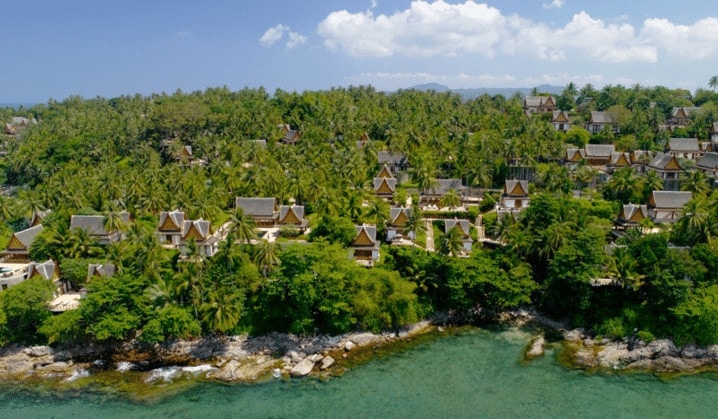 One of the few luxury hotels in Phuket that are unlikely to appear on your Expedia or Agoda search. Part of the uber luxe Aman resorts group, Amanpuri has been gracing Phuket with its understated style and uncompromising service levels for 30 years. You can expect all of Aman's high standards that never disappoint.
I am a big fan, and a self confessed #AmanJunkie, having stayed at various of its properties at The Summer Palace, in Beijing, as well as the two properties in Sri Lanka. But the long standing presence on Surin Beach, despite being near all the rich and famous, may be taking its toll as the resort is less over the top as newer developments are, and private pools are not a regular fixture.
Stay here if you are looking for the ultimate service the brand never fails to deliver and if you appreciate discretion and seclusion. Although beaches in Thailand are all public, Amanpuri's beach can only be accessed through the resort or by boat so it is more peaceful than most.
Rates start at $890 per night. Book your trip now on their website
Double Pools Villas by Banyan Tree – For a wellness and spa getaway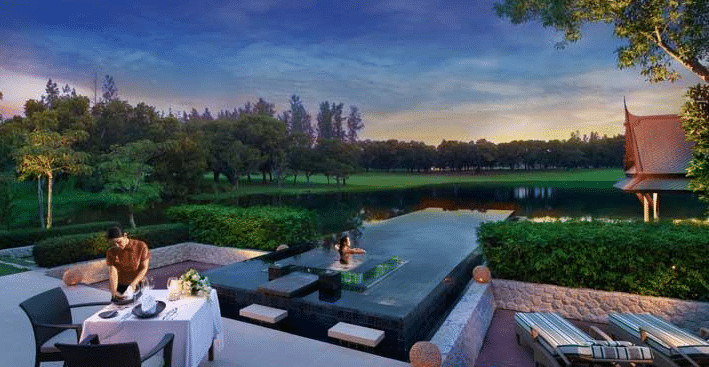 A secluded adults-only section of the larger Banyan Tree Phuket, the first in the family of luxury resorts, the villas here come with two private pools and a garden. Privacy and seclusion are maximum but, when you are in mood to see other people, you can head out to the rest of the resort or the even larger Laguna development with over 30 restaurants and bars. Banyan Tree Resort was the pioneer in garden spa villas.
The resort opened in 1994 and has remained at the top of its game ever since. The Thai focused architecture and serenity of the place provide a great local experience with all the fantastic bits of Thai service and hospitality. Spaces are large and you will be treated like a kind. They are an institution in luxury accommodation in Phuket and their Spa has earned many accolades and is a reason in itself to visit or stay.
Rates start at $600 per night. Book your trip now on Booking.com | Agoda
Iniala Beach House – For the 1%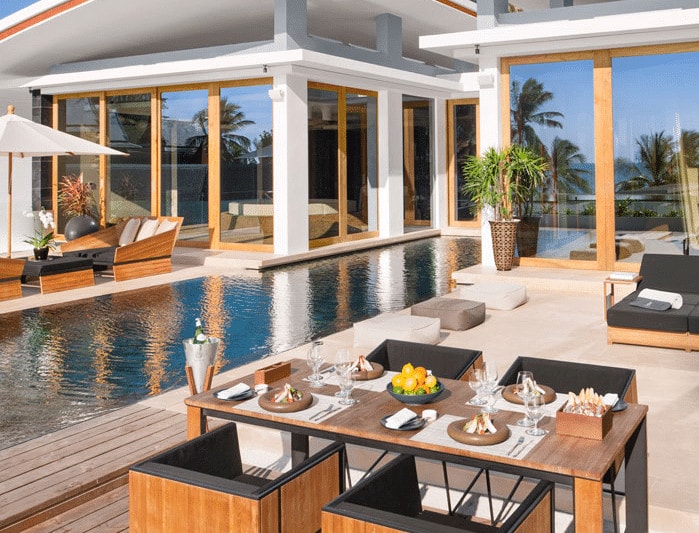 This is Thailand's most luxuriously appointed and possibly Asia's only clear uber-luxe contestant. No other hotel in the region can offer a level of personalised, Michelin-awarded journey to the senses like Iniala. Here, the food is the center piece, and that is a lot to say from a three villa and one penthouse resort that features some of the most incredible interior and exterior designs in the continent and whose nightly rates go well above the $2,000 mark, despite being marketed on their website as "All-inclusive – Affordable Luxury at Iniala".
A cast of awarded, internationally trained and acclaimed chefs prepare daily meals to each guest's palate and preferences. Spanish Executive Chef Aguilera and Basque 3-Michelin starred genius Ineko Atxa, from Aziamendi, are the main drawcard at the resort. Aziamendi is not there every day, but a restaurant of the same name is the hotel's fine dining option and he has a starred crew from gastronomic Hall of Fame cache.
The Aguilera's team have been trained with the likes of Daniel Boulud or Heston Blummenthal. You come here for the food, then get mesmerised at the unique and exclusive designs of each of the spaces. As an added bonus, the owner, Mark Weingard, devotes 10% of revenues (not profits) to Inspirasia Foundation which focuses on projects in health and education across Asia.
This is how he managed to get renowned architects to each design one of the villas. This is a level of luxury that you or I will never get to experience but a fascinating insight into how the other half lives, complete with cocoon beds, olive green velvet sofas, golden chandeliers and exclusive beach views.
Rates start at $350 per night. Book your trip now on Booking.com | Agoda
I can also recommend staying at The Racha Phuket if you don't want to stay on the mainland and are looking for a bit of a getaway. Here's my full review.
Click the image below to see my top picks of the best places to watch the sunset in Phuket