The Capella Ubud is a cross between an uber-luxe glamping resort and an African tented camp like those in East Africa. The resort prefers to call itself a luxury tented camp, but the resemblance with a typical glamping experience is indisputable.
The difference is perhaps the accessibility; Capella Ubud is not for those with limited mobility as most of the tents are located down very steep volcanic stone paths. They can be very slippery with the constant moisture that envelops in the area.
The resort and the architect
Opened in the summer of 2018, Capella Ubud is one of the most stunning and unique resorts in Bali.
Conceived by the flamboyant hotel designer Bill Bensley, who managed to convince the owner, businessman Suwito Gunawan, to forgo the 100+ room resort idea for an intimate and high-end tented property that would preserve the rainforest as is, Capella Ubud is a place to admire.
Bensley has a huge portfolio of vibrant properties under his belt, from The Siam in Bangkok to the Intercontinental Danang, the Four Seasons Tented Camp in the Golden Triangle or the Shinta Mani properties like Shinta Mani Wild and Shinta Mani Siem Reap with a similar essence to Capella Ubud.
He is famous for challenging stereotypes and for coming up with something fresh every time, albeit always preserving his exotic and extravagant take on non-ostentatious luxury. Black and white meets bright bold solid colors and patterns are the signature of many of his properties. When you enter into a Bill Bensley property, you know it.
The designer is also a fervent conservation activist, through his Shinta Mani properties and through the hotels he designs, which try to minimize destruction during their construction. Nature is flawless, the designer's role is to preserve as much of that as possible.
Capella Ubud is not his only safari-inspired property. Shinta Mani Wild, as well as Rosewood Luang Prabang, have similar design concepts.
For Capella Ubud, Bensley took inspiration from the first European settler who arrived in Indonesia at the turn of the 19th century. The lodge tries to portray their spirit of adventure through a combination of European colonial elements mixed with the local Balinese culture.
Located in a wild and under-exploited rainforest north of Ubud, close to Mount Agung, Capella Ubud's construction avoided cutting any trees, although some of them had to be moved and didn't survive the transplanting.
The tents and facilities are built around the vegetation which is why no two tents are the same and why there is often a tree trunk in the middle of the room (aka a spa treatment room) or the restaurant. The lodge hides within nature.
Arrival and Check-in at the Capella Ubud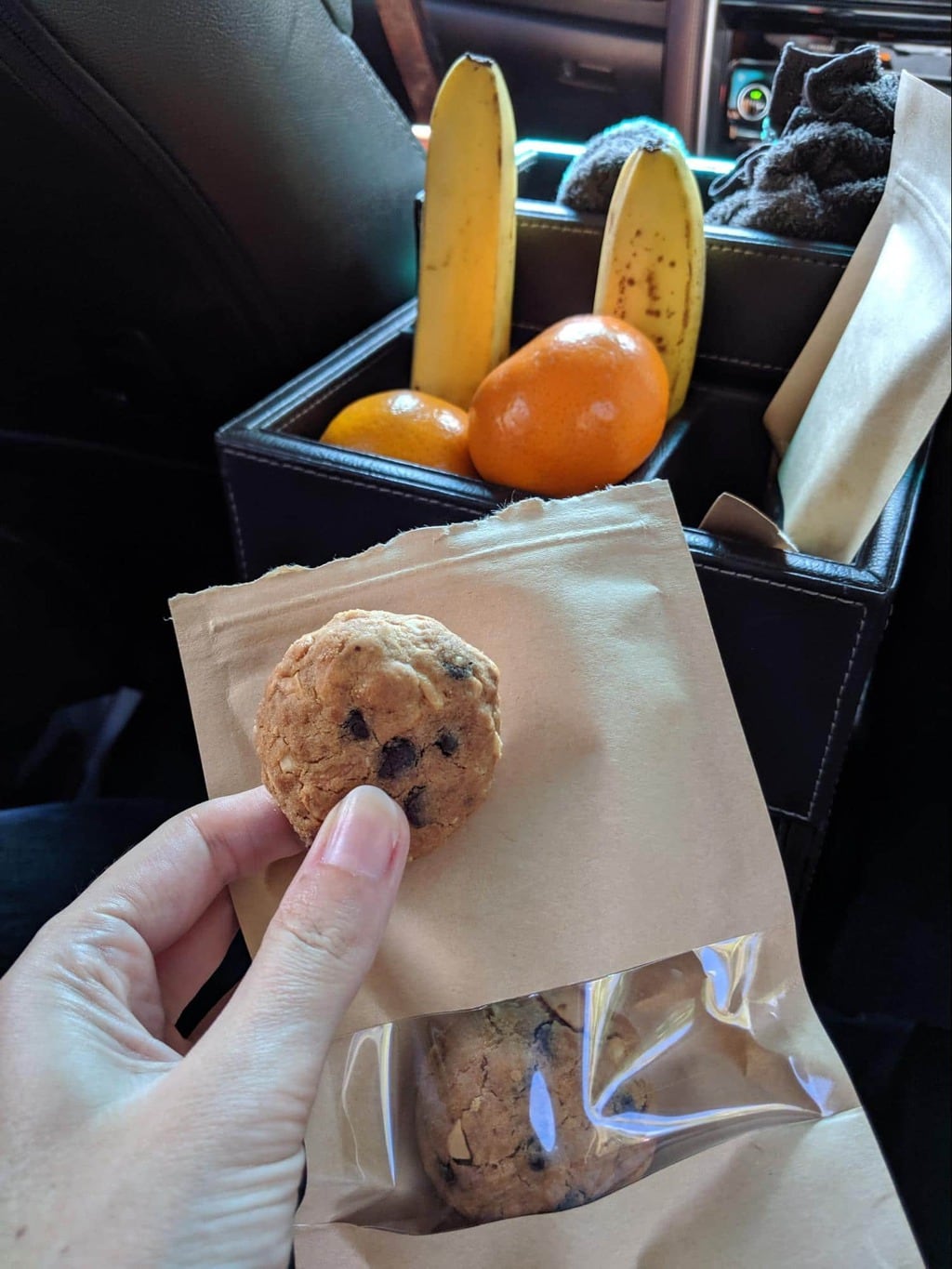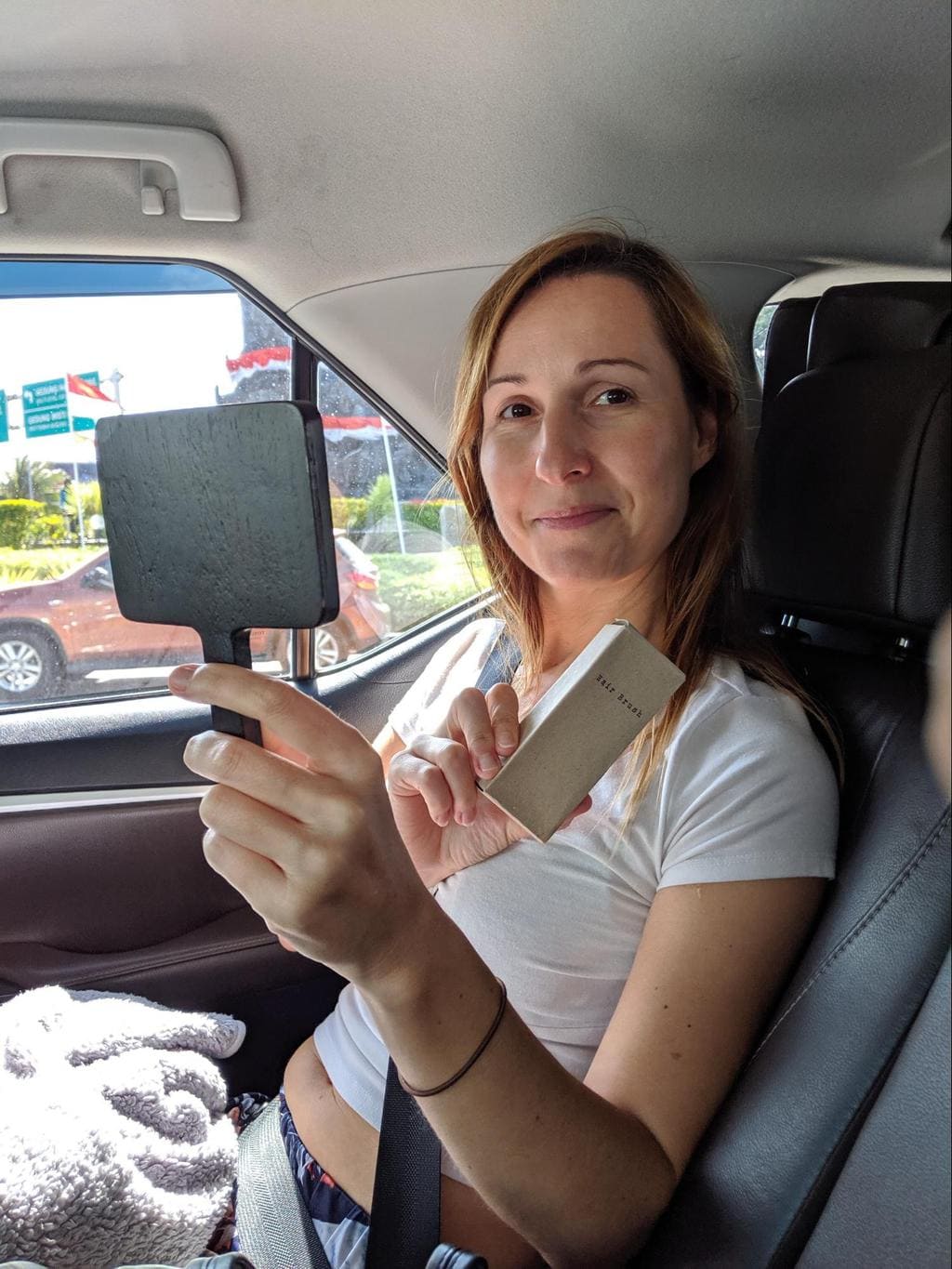 My booking at Capella Ubud included airport pick up (all bookings for a minimum of two nights do) so we were met by the staff at the arrivals area of Denpasar Airport and taken to our comfortable 4×4 car.
The car was spacious and contained a few goodies. There were cool towels, freshly baked chocolate chip cookies, bananas, water, mandarins and a few items one might want to use after a long flight: a hairbrush (like the ones included in airline amenity kits) and a small mirror.
The drive from the airport to the lodge took about 2 hours and I would not say the traffic was particularly bad, this is just an average length of trip because the distance is long and driving through the small roads in Bali just takes time.
When we arrived at the lodge our luggage was taken directly to the tent and we did the check-in formalities at the lobby while sipping on a lemony hibiscus tea.
The General Manager who had been recently appointed, came to say hi and advise us that he would be away from the next day and until we would depart. He also greeted me on my birthday since this was my own treat to myself and the hotel had asked ahead of time if we were celebrated anything special.
Our concierge then escorted us down to our tent and when I say down, I mean it literally. Our tent was pretty low, closer to the river and that meant about 5-10min of steep and slippery volcanic rock stairs every time we wanted to go to the room. I can assure you we made sure to plan the day and not forget anything when we left the room.
When we got to the room we were given a tour of the various parts, and also asked if we wanted our luggage unpacked which we declined but should not have. I also sent a couple of dresses for ironing, also included in the rate, like at any African safari lodge.
It's also worth noting that the lodge offers helicopter transfers, if the traffic in Bali leaves you feeling anxious and you can afford it.
The tents at the Capella Ubud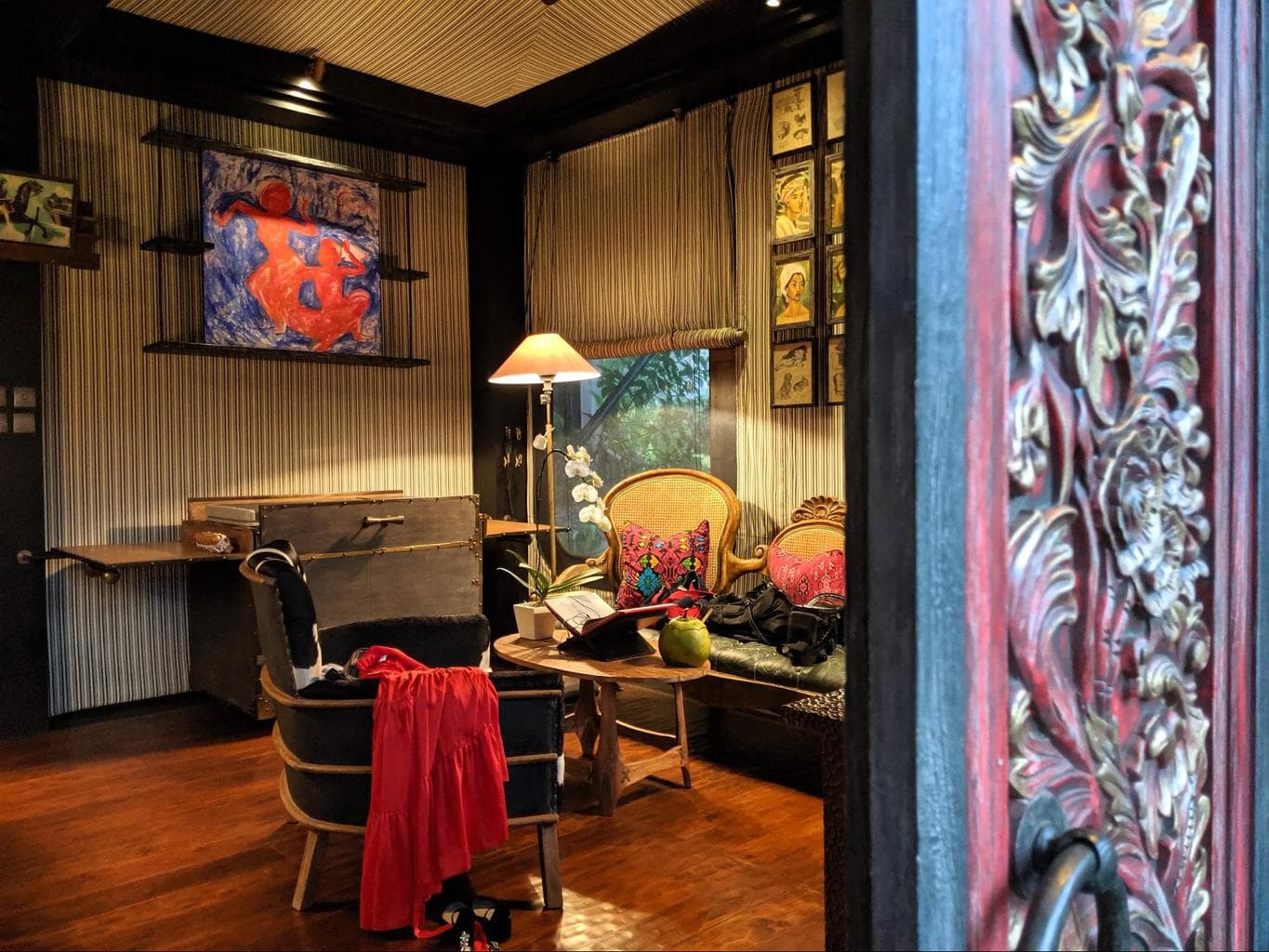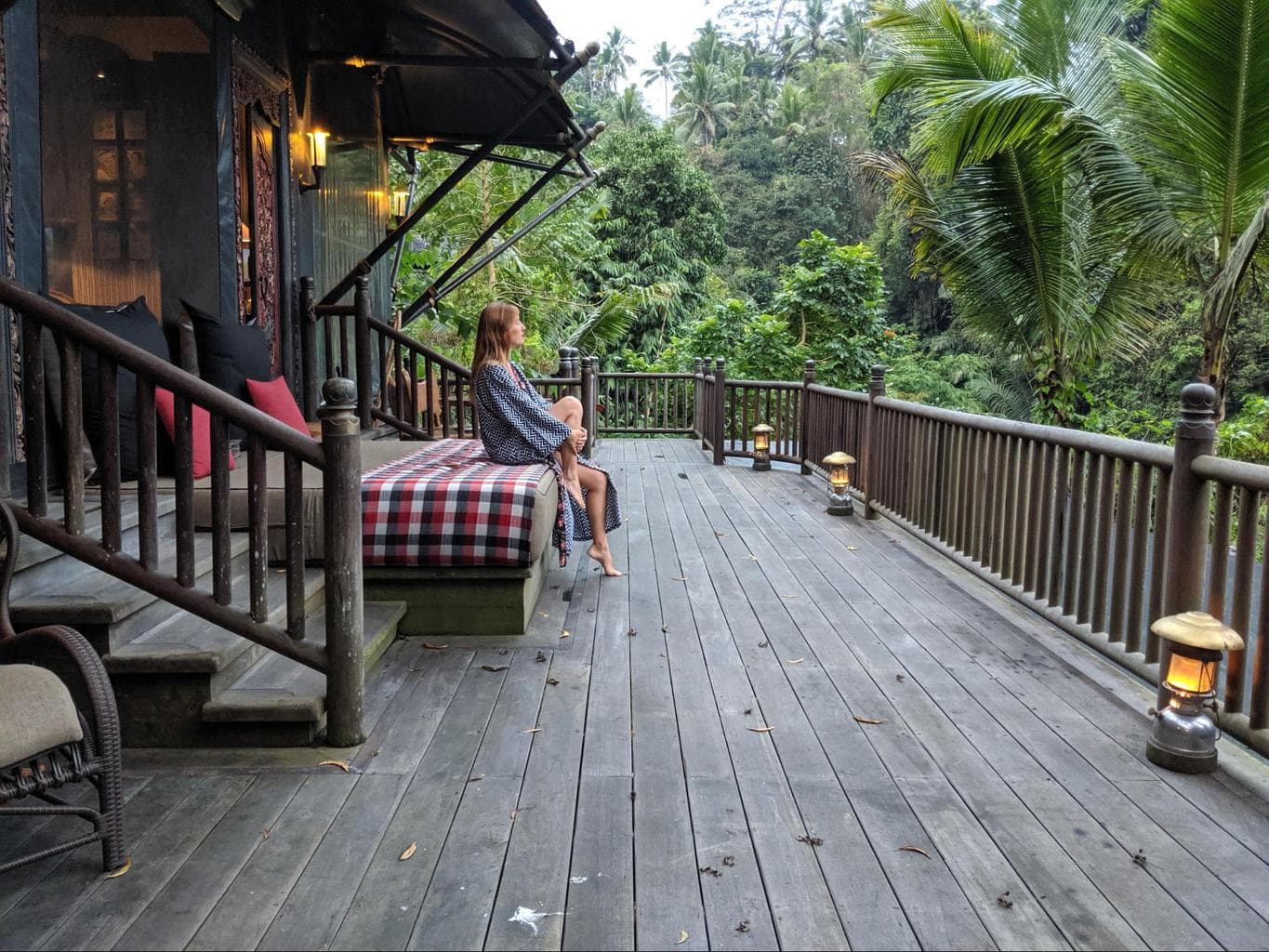 Capella Ubud only has 23 luxury tents spread out on the terraced hillside from the lodge's entrance at the top to the river at the bottom. All are one-bedroom tents except for The Lodge which is a two-bedroom tent.
Tent categories can be differentiated by their location and views with entry-level Terrace tents located higher up the hill and Wos River Tents farther down by the river. The farther away from the lobby the tent is, the longer the walk down the steep and sometimes slippery steps.
Each tent is accessed via a suspended bridge and located on an elevated platform. Inside, there are two main spaces, although they are only lightly separated by a half wall. Outside, each tent has a large deck and a pool.
Tents are named after specific professions which were carried out by those first explorers: toy maker, baker, photographer, painter, and decorated accordingly with objects and art pieces that represent it. My tent was the Painter's tent and it was filled with brushes and paintings.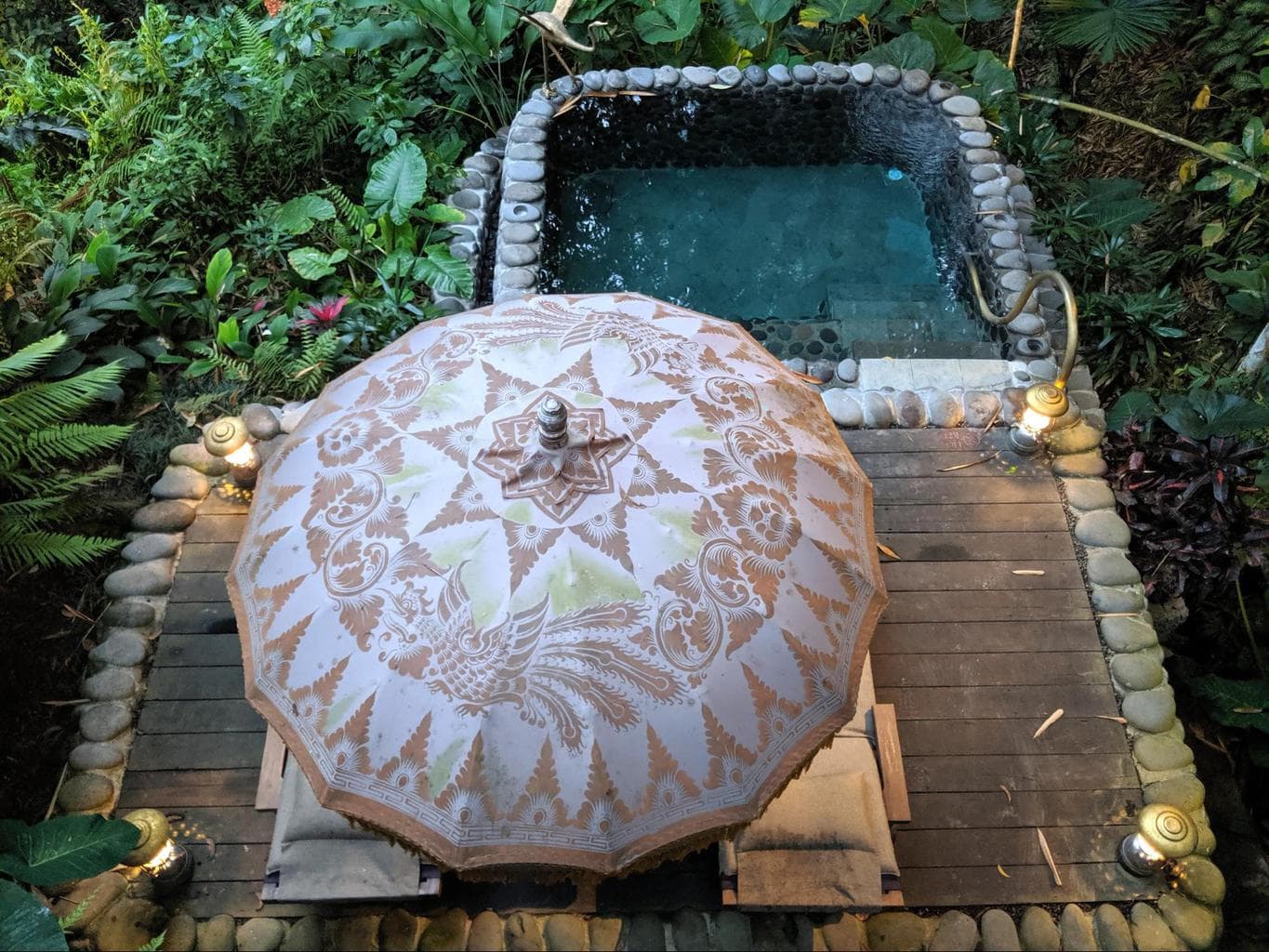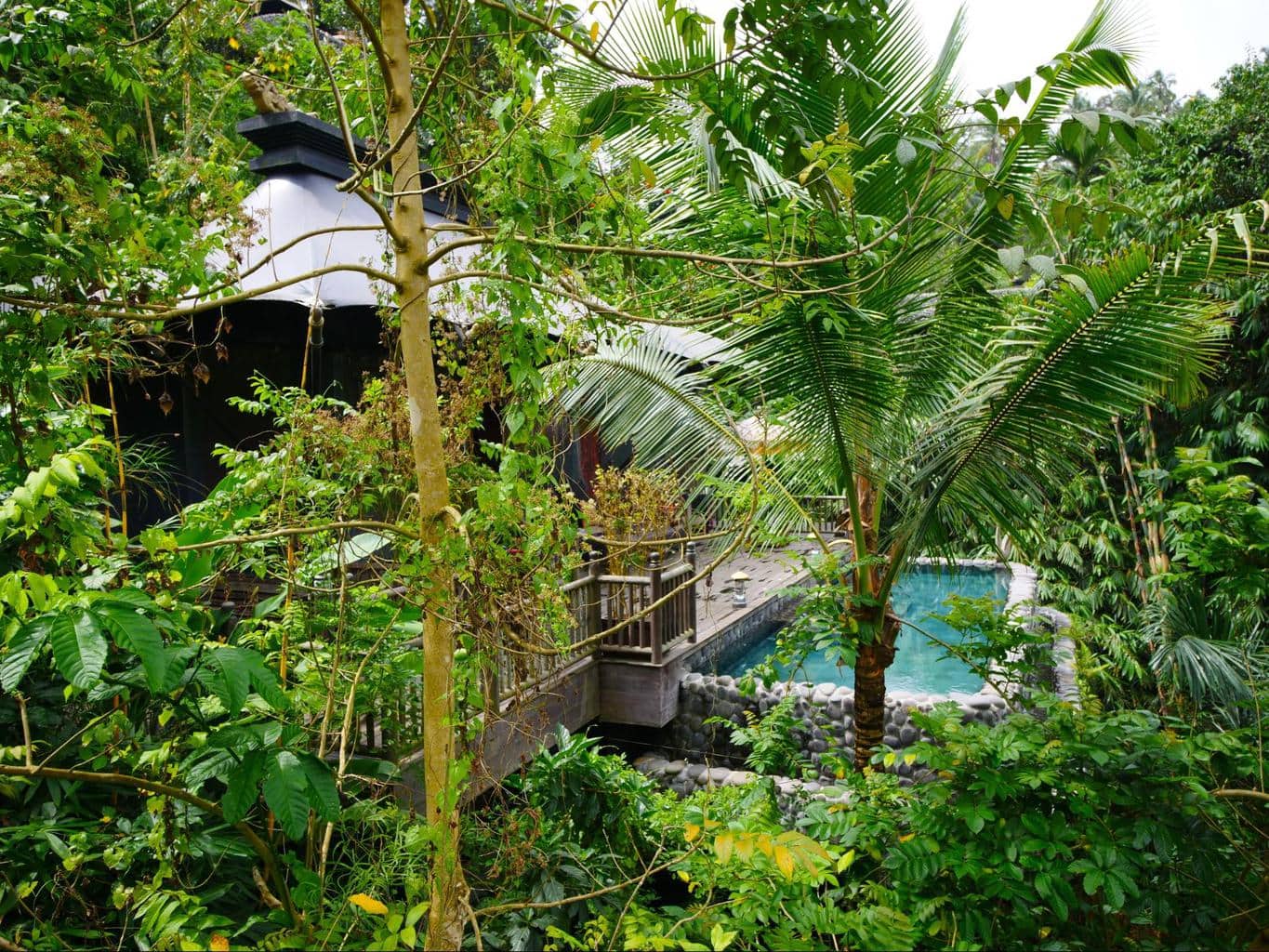 Capella Ubud's tents combine elements of a canvas safari lodge with those of a traditional Balinese home, such as carved wooden doors or saput poleng, two-color checkered bed throws. They are designed to honor The Age of Exploration, a time when European explorers set out to conquer the seas.
Windows can be open like safari tents, unzipping the inner canvas curtain or the outer mosquito net. There are also see-through plastic covers that allow you to look through even in the rain, a common occurrence in this part of Bali.
Bill Bensley's design elements can be seen across the tents with mismatched patterns in bright colors, and quirky vintage objects that you would never imagine could fit and yet they seem at ease with one another. And even deer heads placed at the top of the toilet throne.
Bensley put on a true design performance at Capella Ubud, bringing out all his best talent to create something that transports you back a few centuries while still feeling very here-and-now in Bali's luxury renaissance.
Throughout the tents, and the rest of the lodge, you can also find several unique antique pieces. Both the owner and Bensley share the same passion for old and beautiful and this is how they first met.
All tents have solid king-size four-poster beds floating on wooden platforms. The tall structure and wood carving headrests are placed in the middle of the tent, facing out onto the jungle below through the canvas window.
Bedside tables have enough sockets (and USB plugs) to charge all your electronics, and a vintage phone to call for any help. There was supposed to be a Handy phone with internet access and international calls, but our tent did not have it.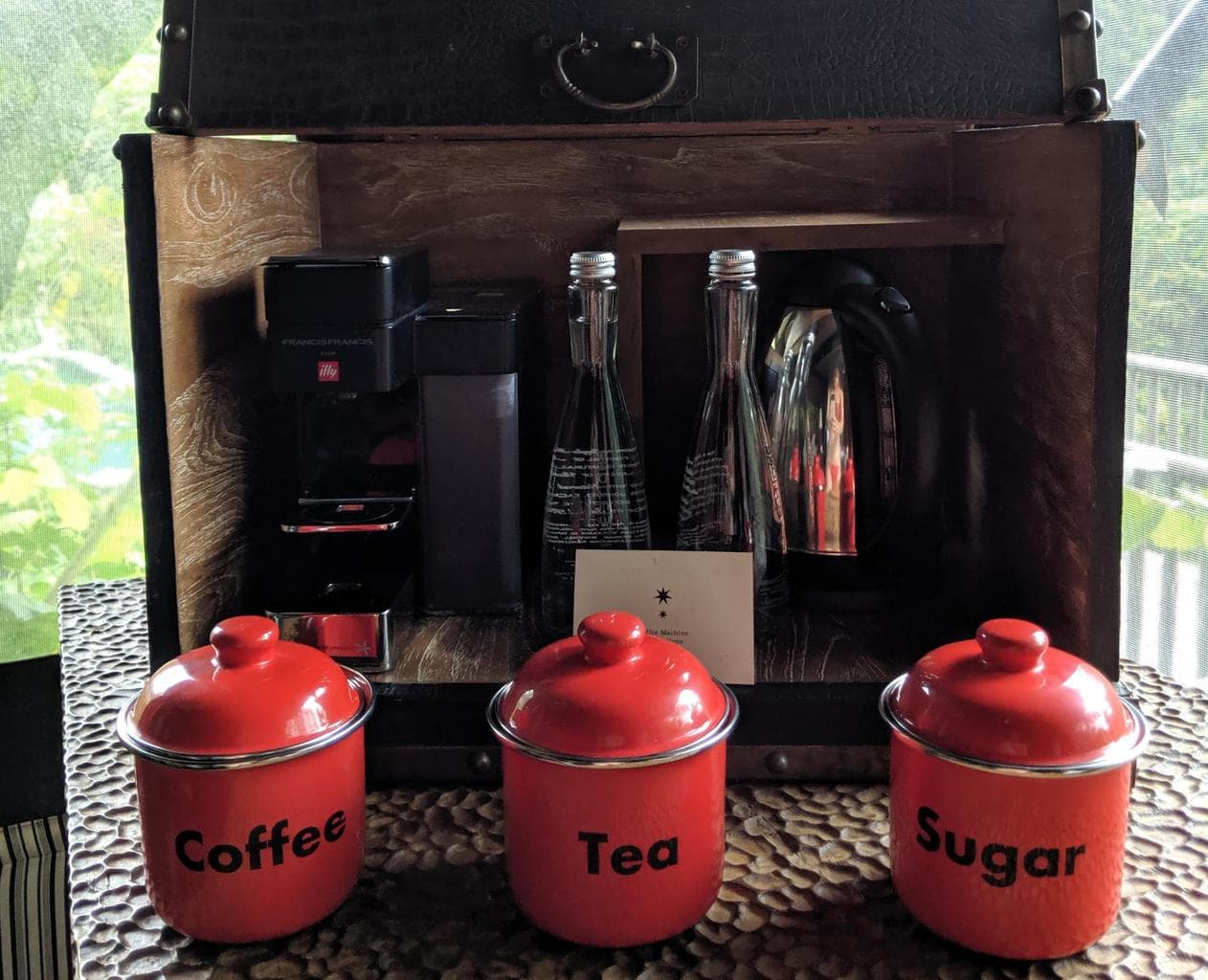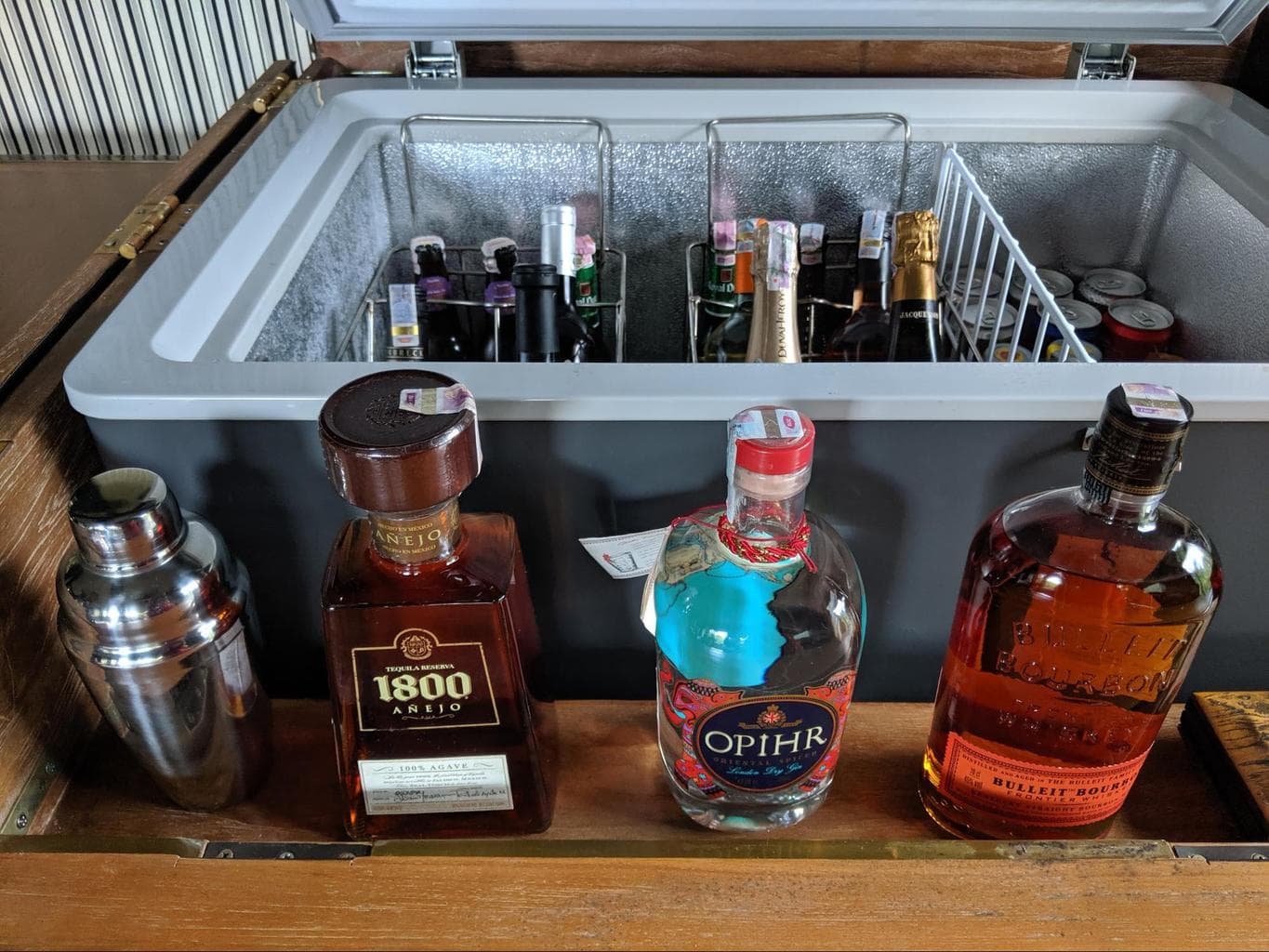 To the right of the bed is the lounge area and to the left the bathroom. The lounge has a large sofa, a cow skin armchair and one of the largest minibar fridges I have ever seen hidden inside a vintage refreshments trunk, a la Louis Vuitton.
The minibar is stocked with premium liquors and spirits as well as a range of non-alcoholic drinks, a few bottles of wine and infused water. There is also a separate wine fridge with premium wine bottles.
The staff called me in advance to ask what drinks I wanted to be stocked in the room, although I did not realize that the fridge was so large and I was not given a drinks list to choose from.
The lounge also has a desk, not so much for working (there are no plugs nearby and the chair-stool is rather uncomfortable), but to place the Illy espresso machine, a pretty Chinese teapot and a large assortment of cutlery and plates, although I was not sure what they were for.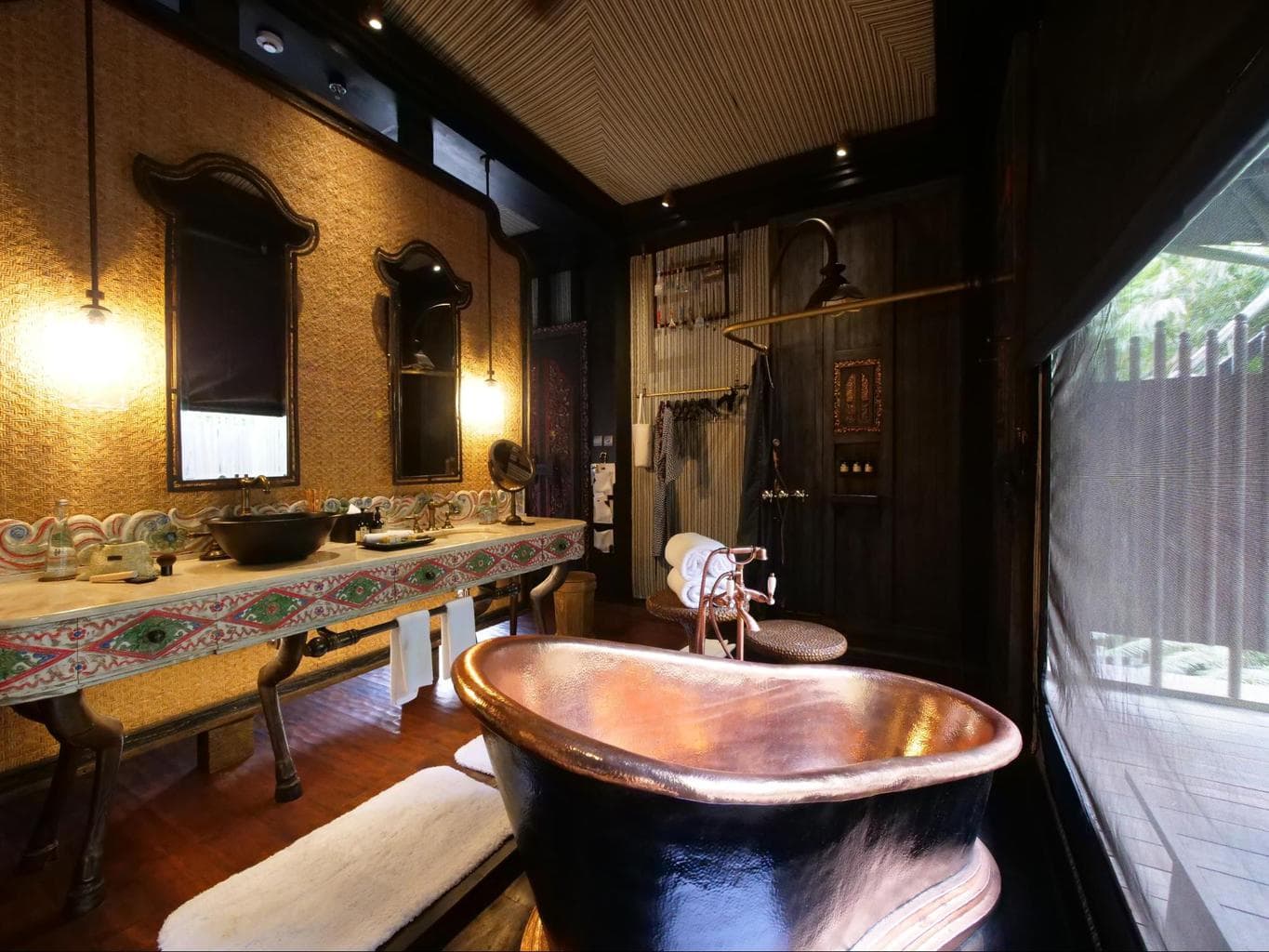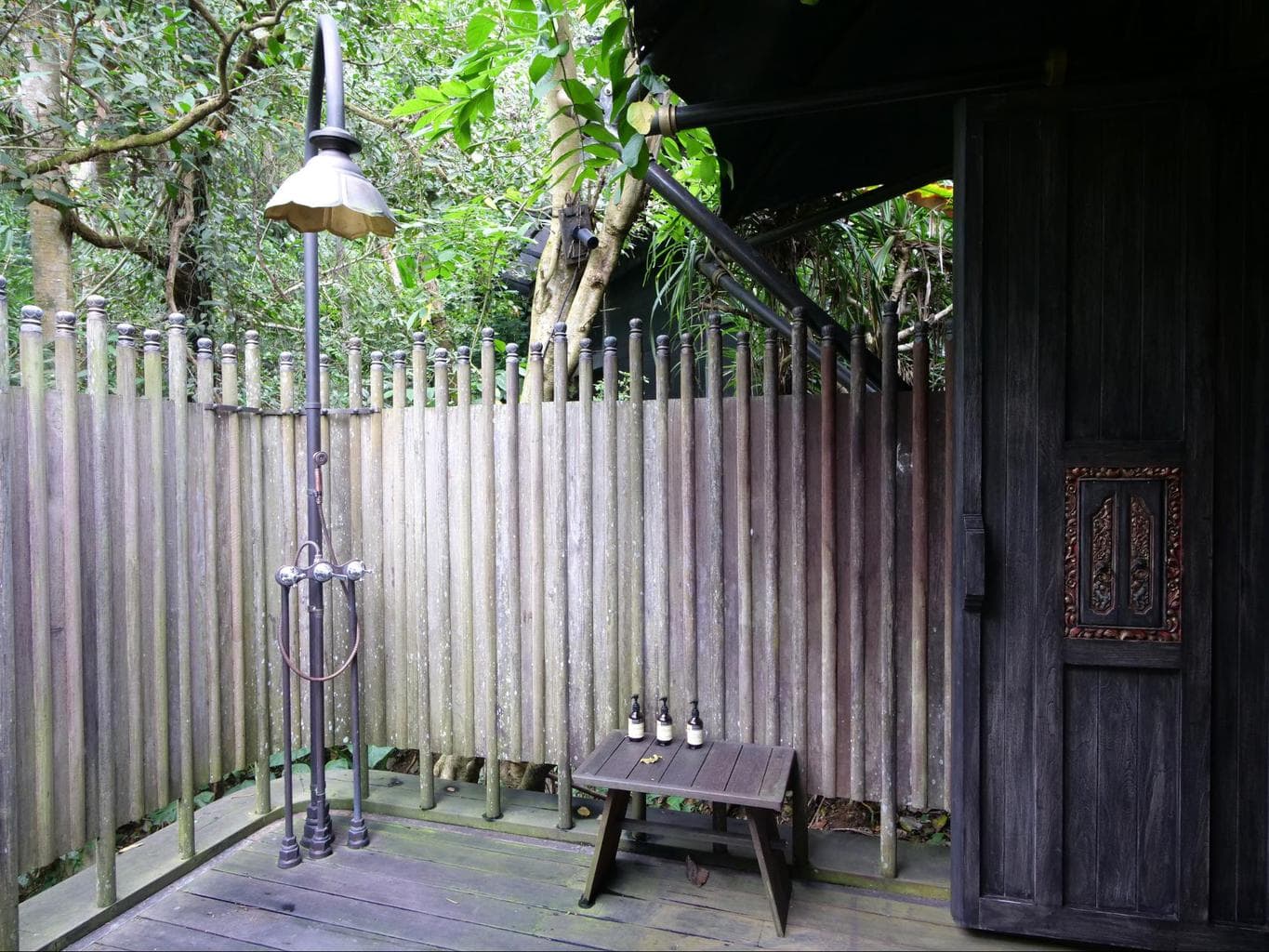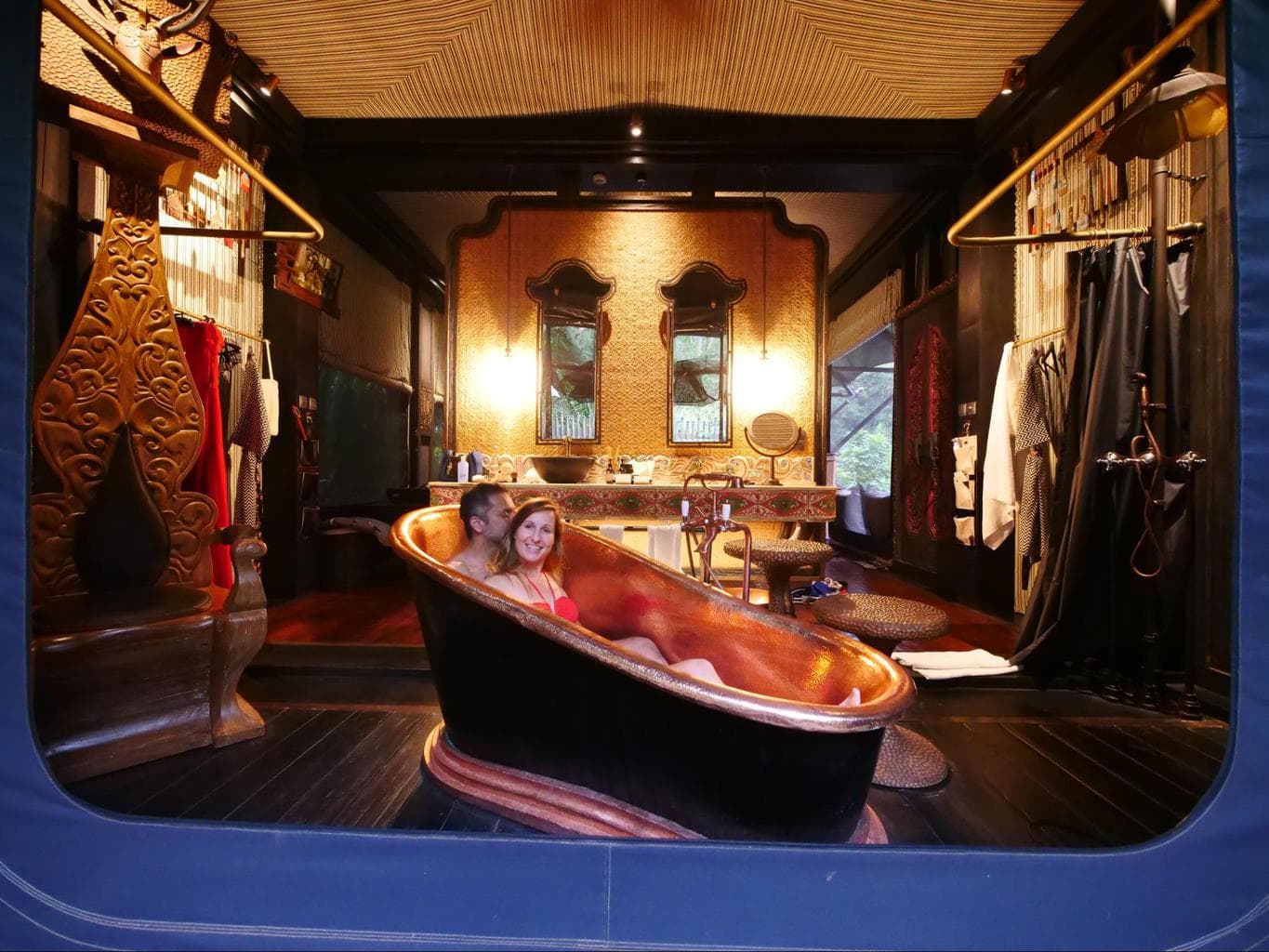 Each guest receives an explorers duffel bag containing camp essentials: a small Survival Kit with repellent, sun lotion, plasters and aromatherapy oil, as well as plastic rain ponchos and ear plugs should the noise of the jungle become too much.
Behind the bed is a luggage storage area, large enough to place all your suitcases which the staff can unpack and repack for you.
The bathroom is relatively small compared to the outdoor shower space and to the rest of the room and can feel a little bit cramped. It also has one of the most unique elements of the entire lodge: a throne-style toilet.
These have become almost a signature item of the lodge and receive commentary from almost every single guest and media piece. Since its opening, the lodge has added curtains around the thrones to provide a bit of privacy, but the lack of a bathroom door is still an issue.
As would be expected, the bathroom has a free-standing copper bathtub that is actually comfortable to soak in. The bright copper color is in stark contrast with the dark green of the jungle outside. The outdoor shower area is surrounded by wooden walls for privacy.
Bathroom amenities are organic and when you arrive you will be able to pick two handmade soaps from a selection. Chocolate, vanilla, lavender, orange – the soaps were beautiful.
The outdoor verandahs have daybeds located below the tent, large enough for two people to comfortably laze around in. There is also a table with two chairs, perfect for in-tent dining, and two armchairs to sit in and read.
All tents have their own salt-water pools, some larger than others, and in varying locations depending on the tents. My pool was below and to the right of the tent while other tents have the pool outside the room with infinity views over the valley below, and others above.
The pools have two sun loungers and one of the pretty yellow and red umbrellas that decorate Hindu temples across Bali.
Efforts to heat the pools were underway when I visited which is great news because the lodge is hidden in the jungle at the footsteps of Mount Agung and chillier than the rest of Bali.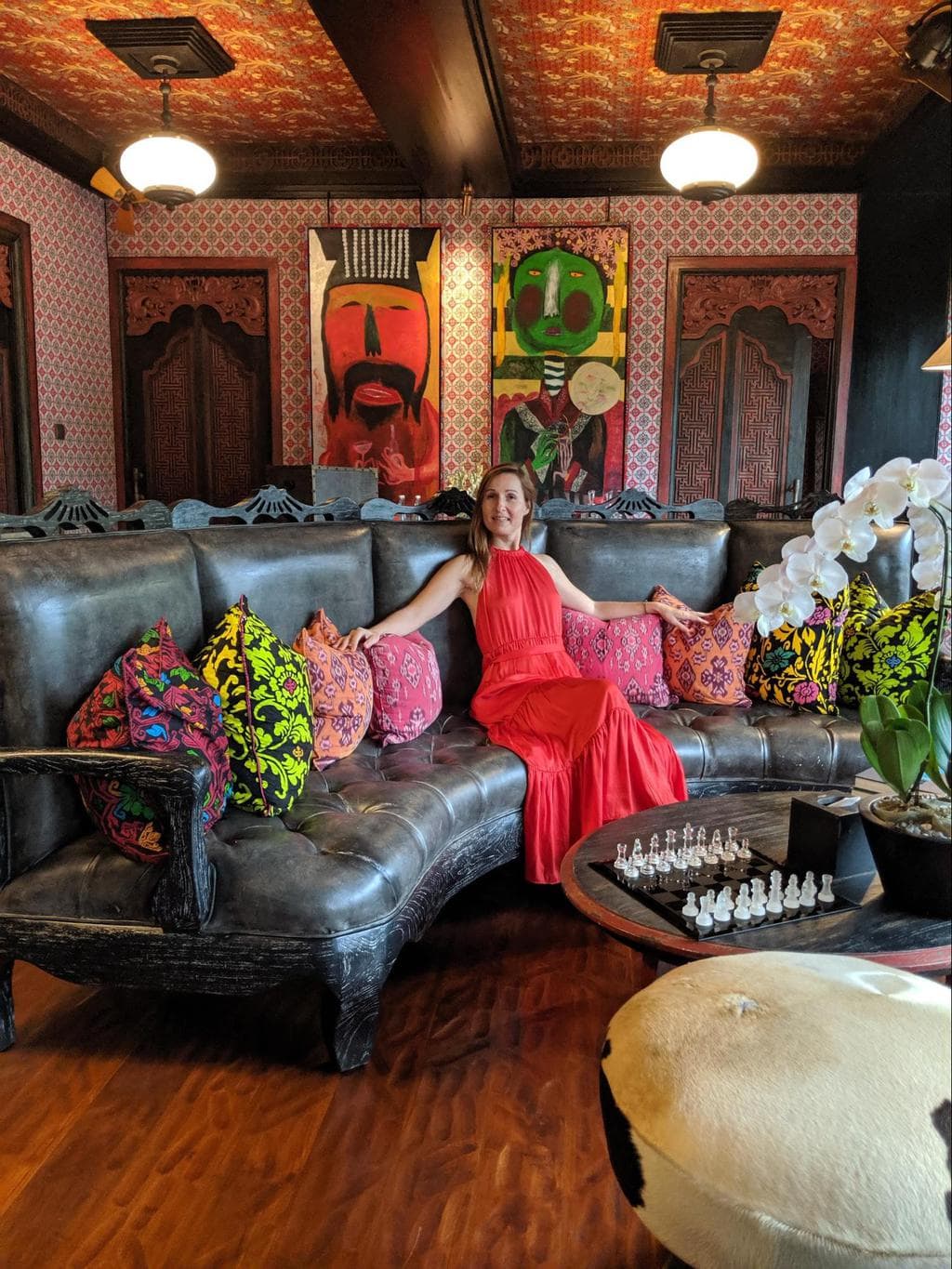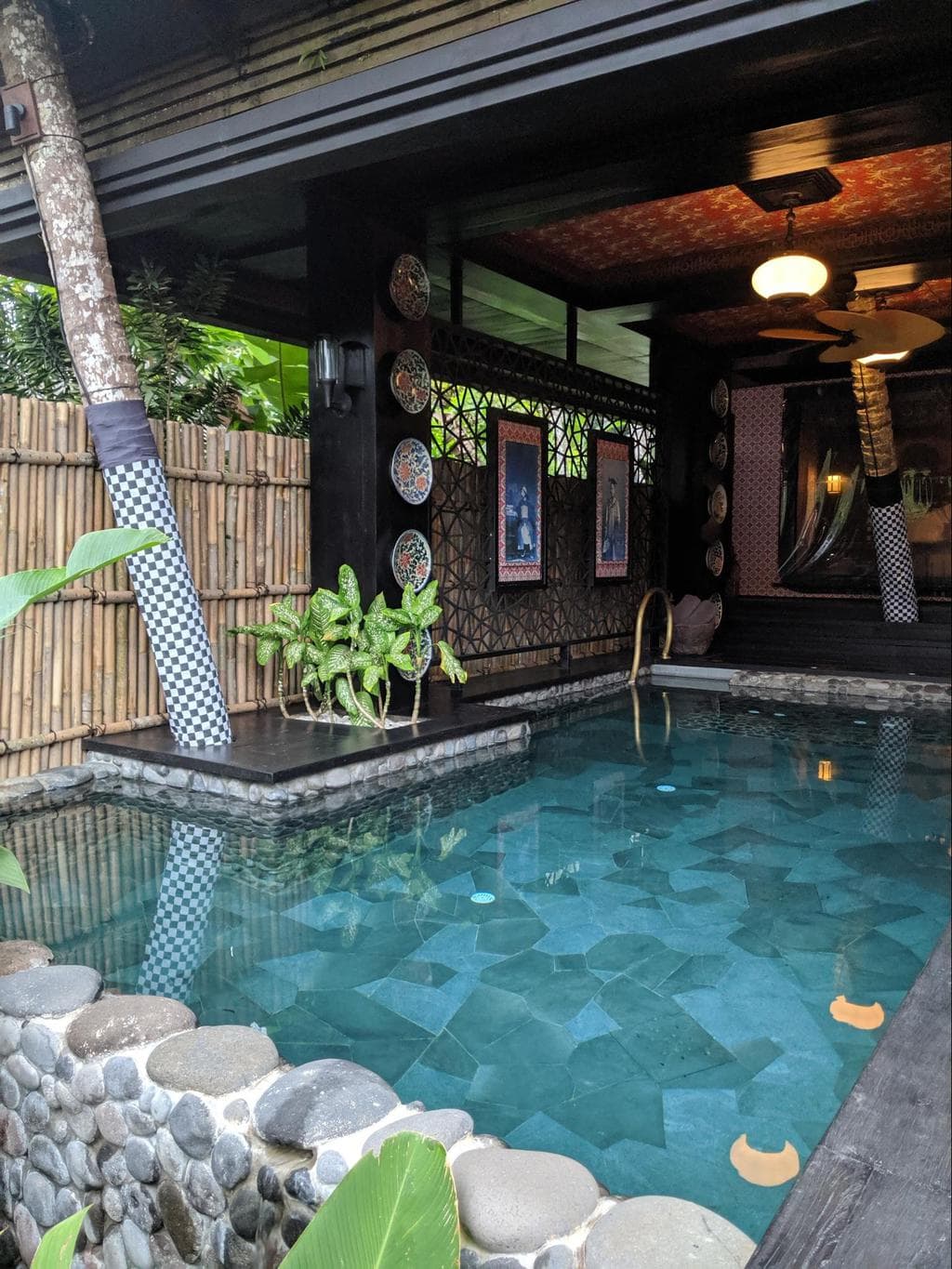 It is worth noting that while the tents are cleverly placed, quite far apart from each other, the vegetation has not grown enough to provide full privacy and from one of our tent's side windows we could see the neighbors. Walking up and down the stairs we could easily spot other guests in their pools.
Tents are notorious for not providing enough sound proofing (hence the ear plugs in the survival kit) so if you speak too loudly, you may also be heard by the neighbors.
Dining at the Capella Ubud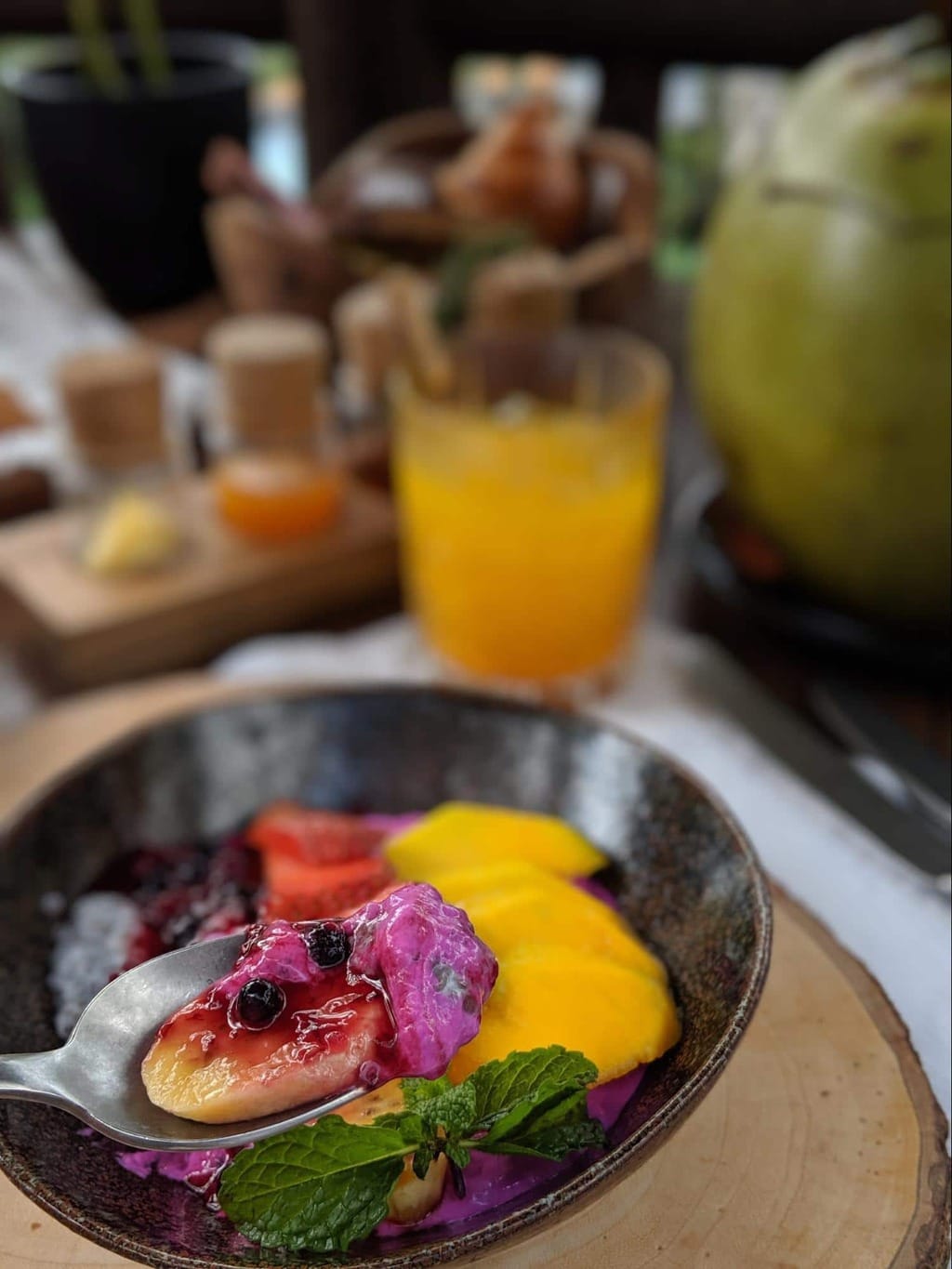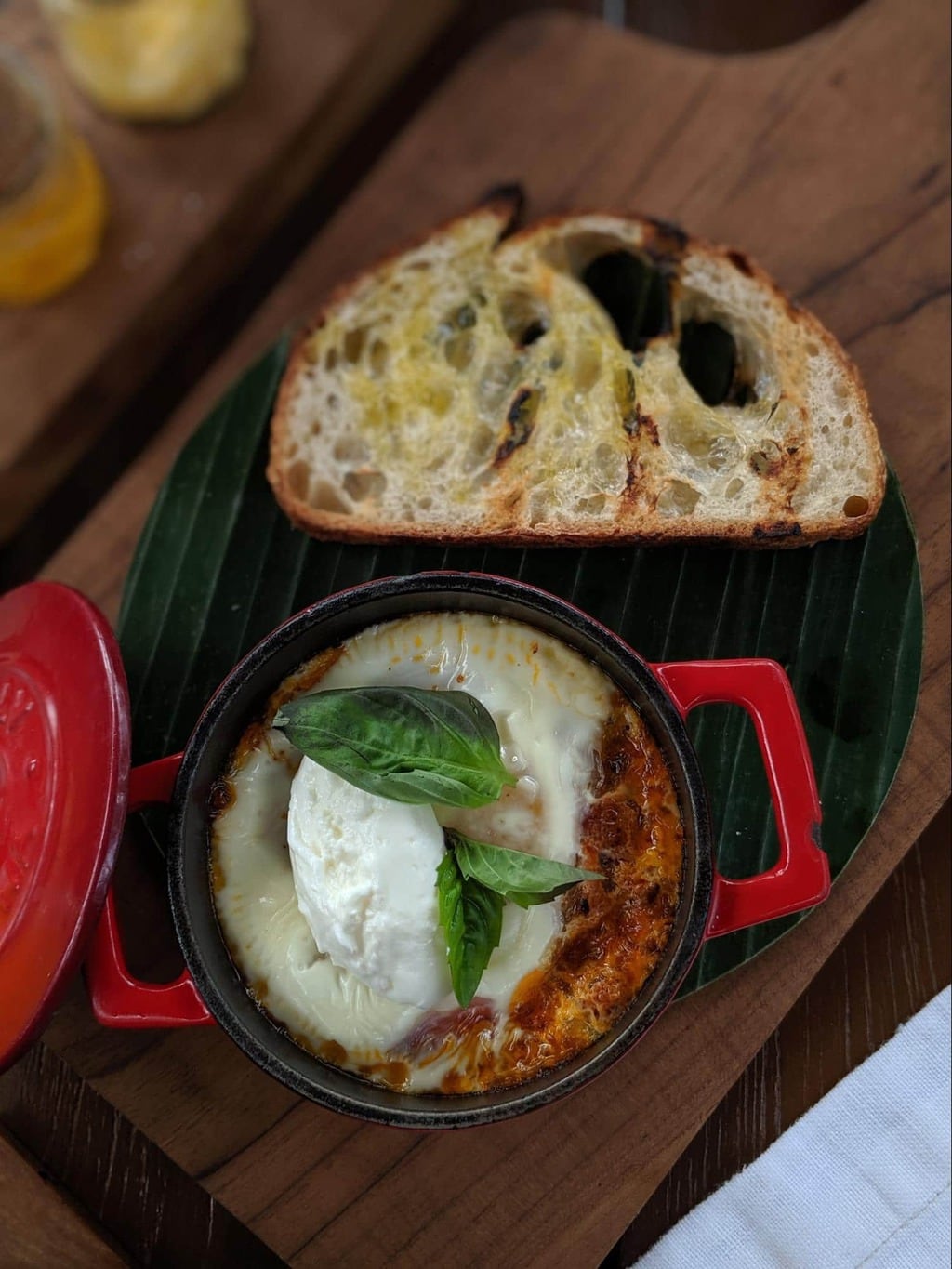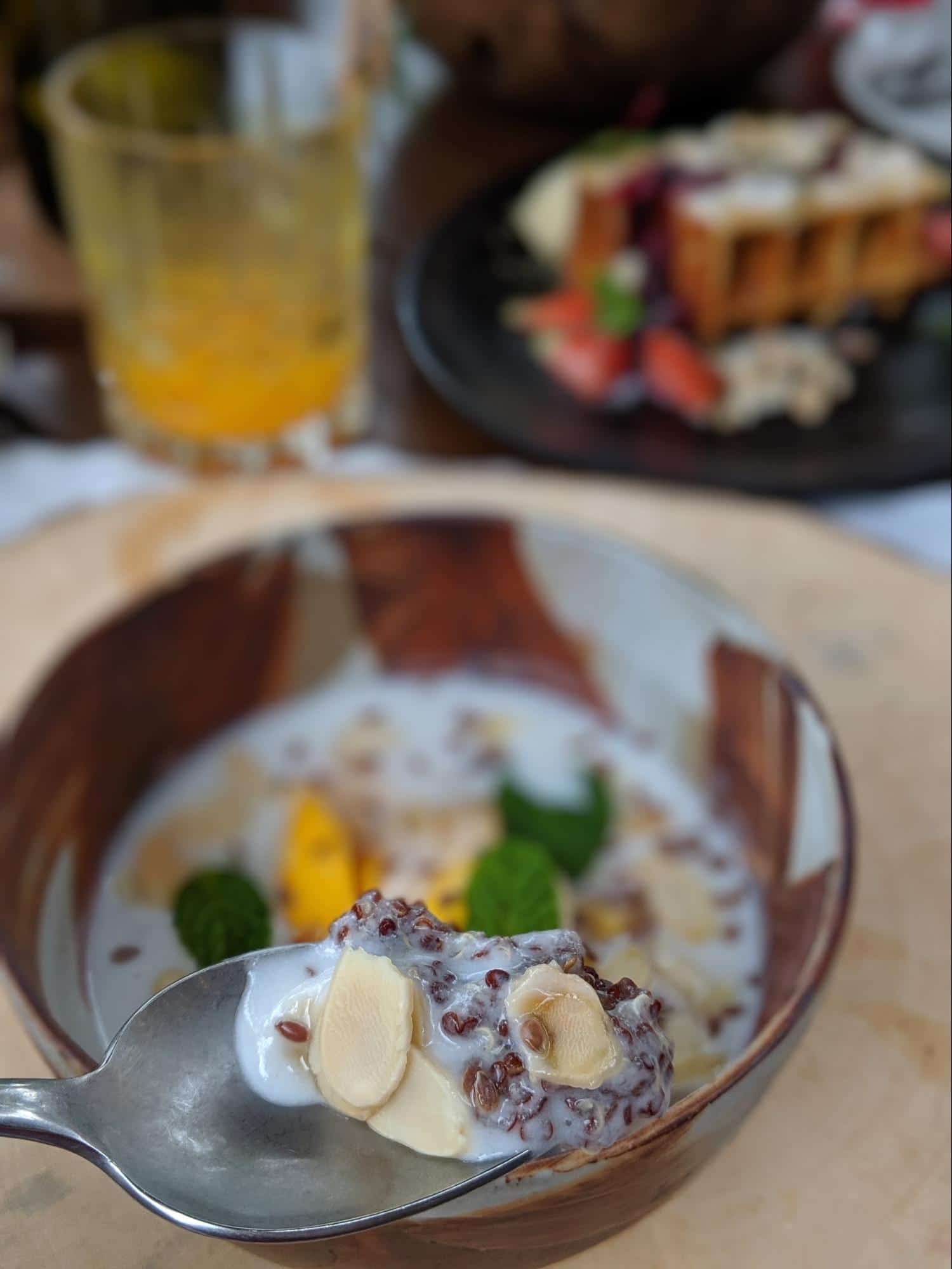 There are two restaurants at Capella Ubud, Mad's Lounge (named after a Danish explorer of the 19th century) opened throughout the day and serving a range of local and international cuisine, and Api Jiwa opened only at night and focused on refined Japanese fusion barbecue omakase meals. There is also a poolside bar called Mortar and Pestle.
Both restaurants are located above and behind the pool in their own grand tent by the Officer's Tent and reception area. Api Jiwa is below in a cozy environment set around the main counter while Mad's Lounge is much larger and split into two levels with an uncovered terrace. Look up to the ceiling's impressive painting.
Apart from the grand architectural design of the building they are hosted in, the restaurants are a bit more low key than the tents and have simpler wooden furniture and decorations letting the landscape take center stage instead.
I only dined at Mad's Lounge, for breakfast and lunch, as I decided to head out for dinner to the acclaimed farm to table Locavore and Room4Dessert, two of my most favorite places to eat at in Ubud and to also eat at all the best cafes in Ubud.
Mad's lunch breakfast menu has to be one of the best in the entire Bali. Entirely made to order from a long list of possible dishes, this was a time to slowly indulge with Indonesian jamu tonics, freshly made coffee, fresh fruits and juices and a huge array of hot and cold dishes.
There were several kinds of super bowls with ingredients such as quinoa, chia seeds, acai, homemade granola, cacao, nuts and fresh fruits. Bircher muesli and regular cereals were also possible.
Then there were the hot dishes, from pancakes or waffles to eggs any style, big English breakfast items, sausages and cold cuts, smoked salmon, and all sorts of Japanese, Chinese and Indonesian dishes such as rice porridge, miso soup, nasi lemak or tempeh.
The staff would bring a basket of fresh pastries, colorful bread (broccoli, beetroot) and bright fruit platters on top of your order. You could pick as many dishes from the menu as you wanted. I made my breakfast into a brunch so that I wasn't too hungry for lunch. Then came afternoon tea, evening drinks and snacks and then dinner.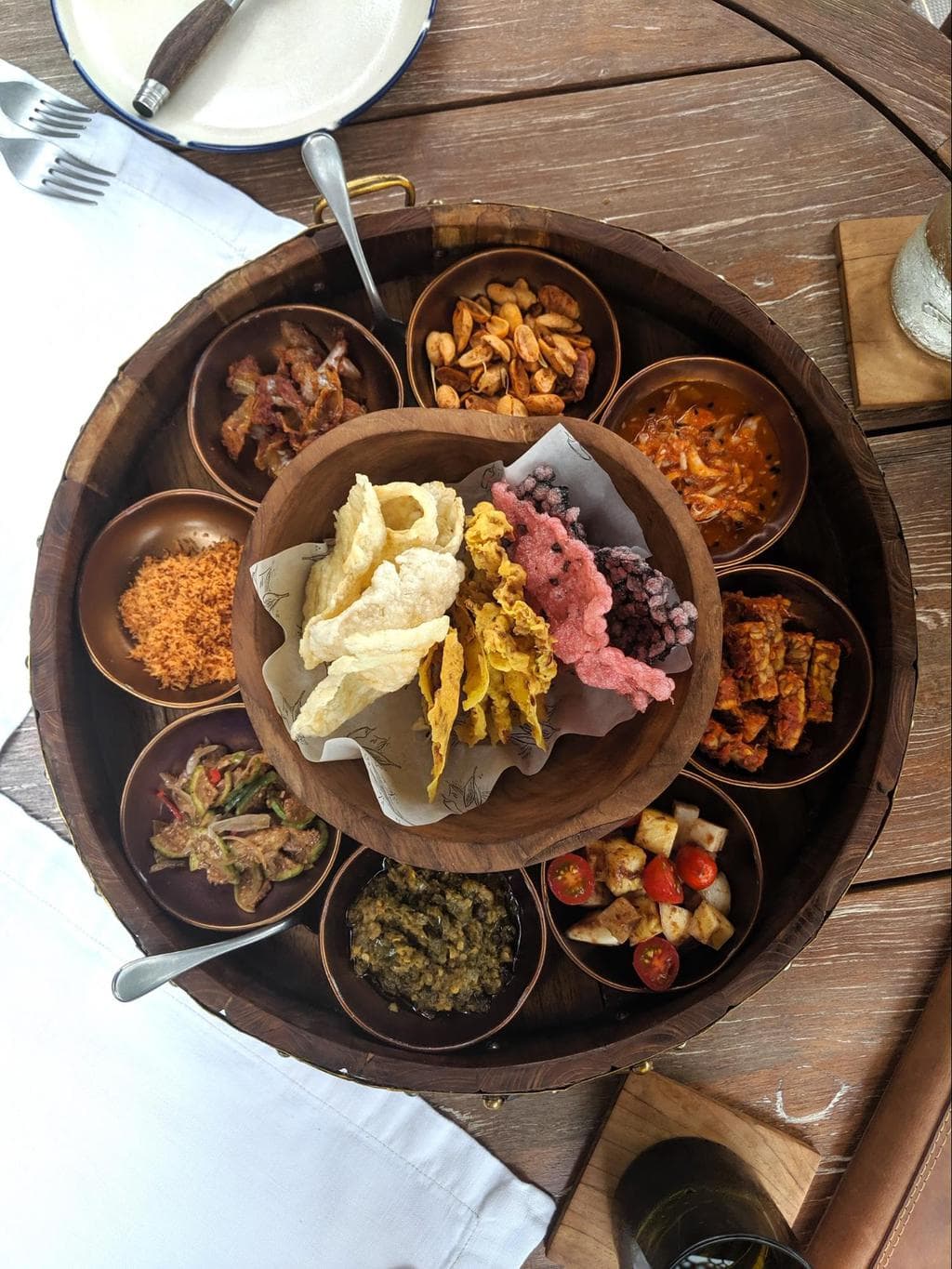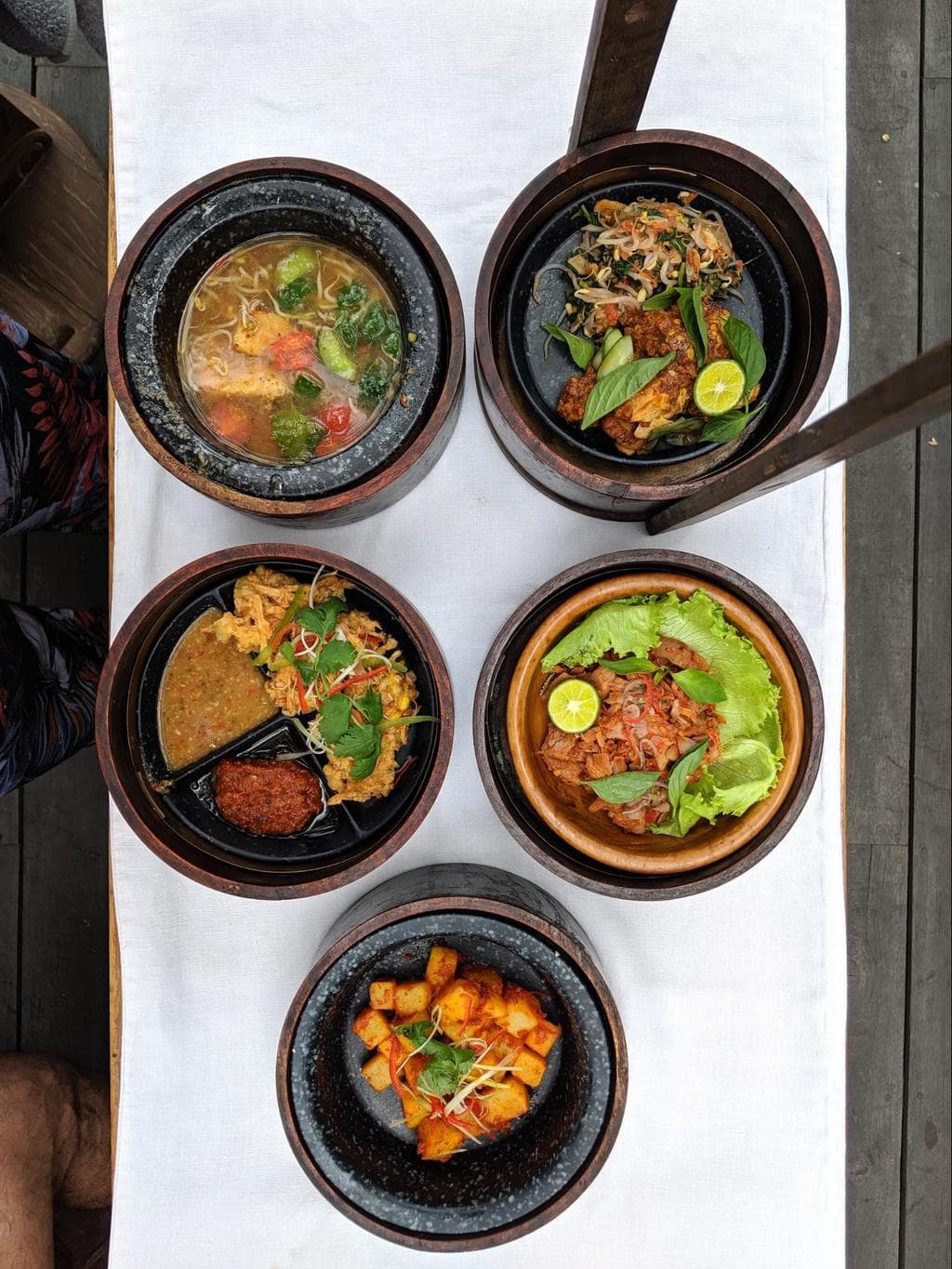 The lunch menu was quite vast too with several international options, Indonesian favorites and the Indonesian colonial multi-course shared meal called rijsttafel that is commonly found in Holland and across Dutch colonies such as Indonesia.
The meal evolved from the original Nasi Padang meal made of many side dishes served alongside several kinds of rice and is one of the best ways to enjoy Indonesian food as you can try a bit of everything.
Capella Ubud decided to adapt this dish to their own with a starter plate made of various kinds of rice crackers served with several accompaniments such as pickles, sambal, dried fish, grated coconut or peanuts.
We were then brought a selection of Indonesian hot dishes encapsulated inside the tiffin boxes that are common also in Singapore, former British colonies and China and which were used to transport food while keeping it hot and unmixed.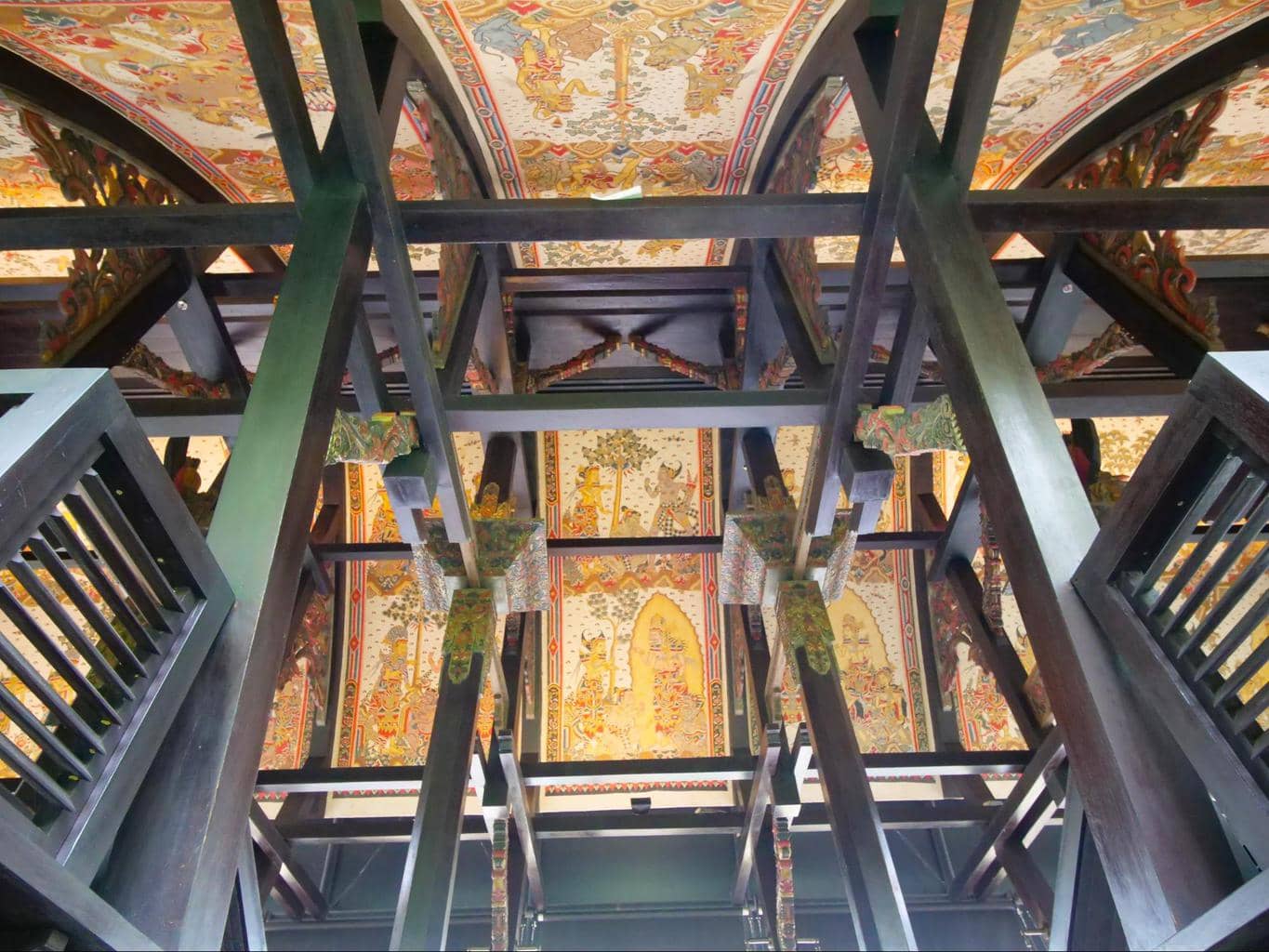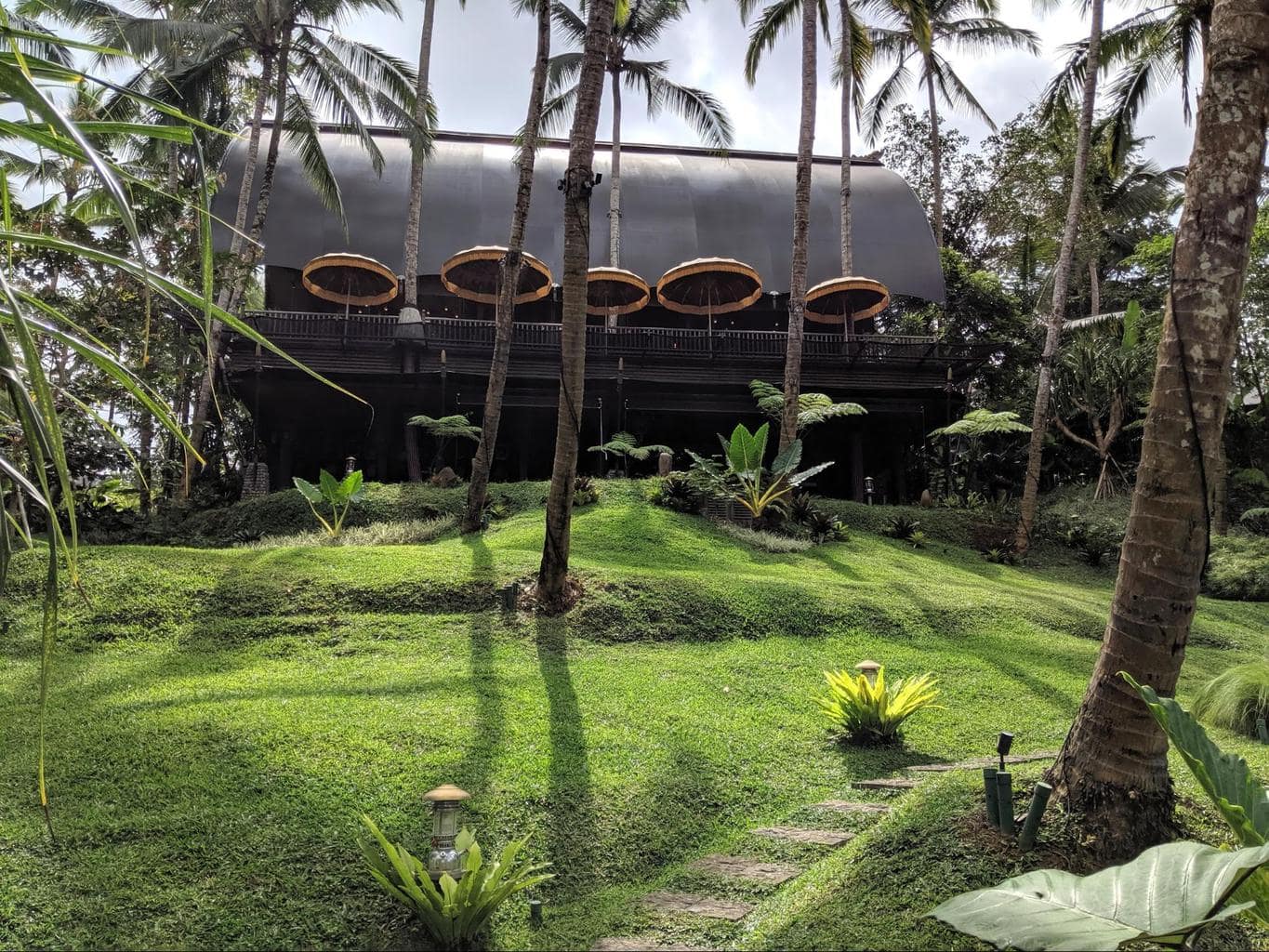 Needless to say, the meal was a feast and for USD100 for two people reasonably priced for a luxury hotel like the Capella.
But the food is not the only freshly made, locally grown part of the dining scene at Capella Ubud, the drinks are also often house brewed or infused. My negroni used house infused vermouth served from a small barrel.
If you are looking for a special celebration, the lodge can also tailor private dining experiences such as in-tent dining ($250 per person with a set menu and wine), you can order room service, or what is now one of the most Instagrammable Balinese experiences, a floating breakfast in the pool.
Overall, I found the food at the Capella to be of great quality, freshly prepared and always flavorful and beautifully presented. It did not let the rest of the lodge down. The chef was also happy to adapt dishes and, when my vegan friend came to visit on the last day, they prepared special vegan snacks at happy hour for her.
Things to do at the Capella Ubud
Despite the safari-themed feel of the lodge, you won't find any unusual wildlife or landscapes here, save for perhaps the odd monkey wandering away from Monkey Forest, and lots of birds. If you are looking for a real wildlife safari, you might have to go elsewhere in Asia.
But, even though you won't have to pack the usual safari outfits, you can still enjoy the safari life since this part of Ubud is still undiscovered and there are few hotels and resorts nearby.
What the Capella Culturists offer are local and unique experiences (if that is possible in heavily touristy Bali) not readily available at other resorts or to the general public. Forget about the usual things to do in Bali, I am referring to activities that are more local and immersive, and well, also a bit more wow.
You can go on early morning treks across the rice paddies with a local guide, hike Mount Agung at sunrise and enjoy breakfast at the top as the sun peers through the volcano crater, learn about cacao, a recent craze in Bali, or bicycle around Bali.
Complimentary afternoon tea is served at the Officer's Tent inclusive of savory and sweet finger foods, where you can play a game of pool, read a book from the library collection, or challenge your travel partner to a board game.
In the evenings, before dinner, feel like Hemingway at the Officer's Tent where unlimited premium drinks, snacks and canapes are served. This is the perfect time and place for a safari staple, a gin and tonic, which has its origins in India as a mosquito protection medicine.
The lodge also lights a campfire every evening in front of a projector showing an old silent Balinese movie in black and white. On request, marshmallows can be provided for a true camp experience.
If you are looking to relax, there is also an onsite Auriga Spa with international prices to match, located in three adjacent tents by the main pool area. So there's no need to travel to any of the far flung beaches in Indonesia to relax by the water.
If your tent pool is not large enough or you are looking for some sun, there is a common elevated pool called the cistern by the restaurants. The cistern is made of large steel plates and pays homage to the old water collection systems.
You won't be able to laze by this pool's edge because the only way to access it is via the two sets of stairs, but there are some sun loungers and umbrellas on the deck facing out to the Keliki Valley that have gorgeous views.
The cistern was rarely used throughout my stay, always empty and peaceful. I did love the fact that the sun loungers had a hole for the face, similar to the massage tables, so you could comfortably lie down.
For those who like to keep in tip top shape, there is the Armoury, a gym with state of the art equipment where I enjoyed some acroyoga time with my friend.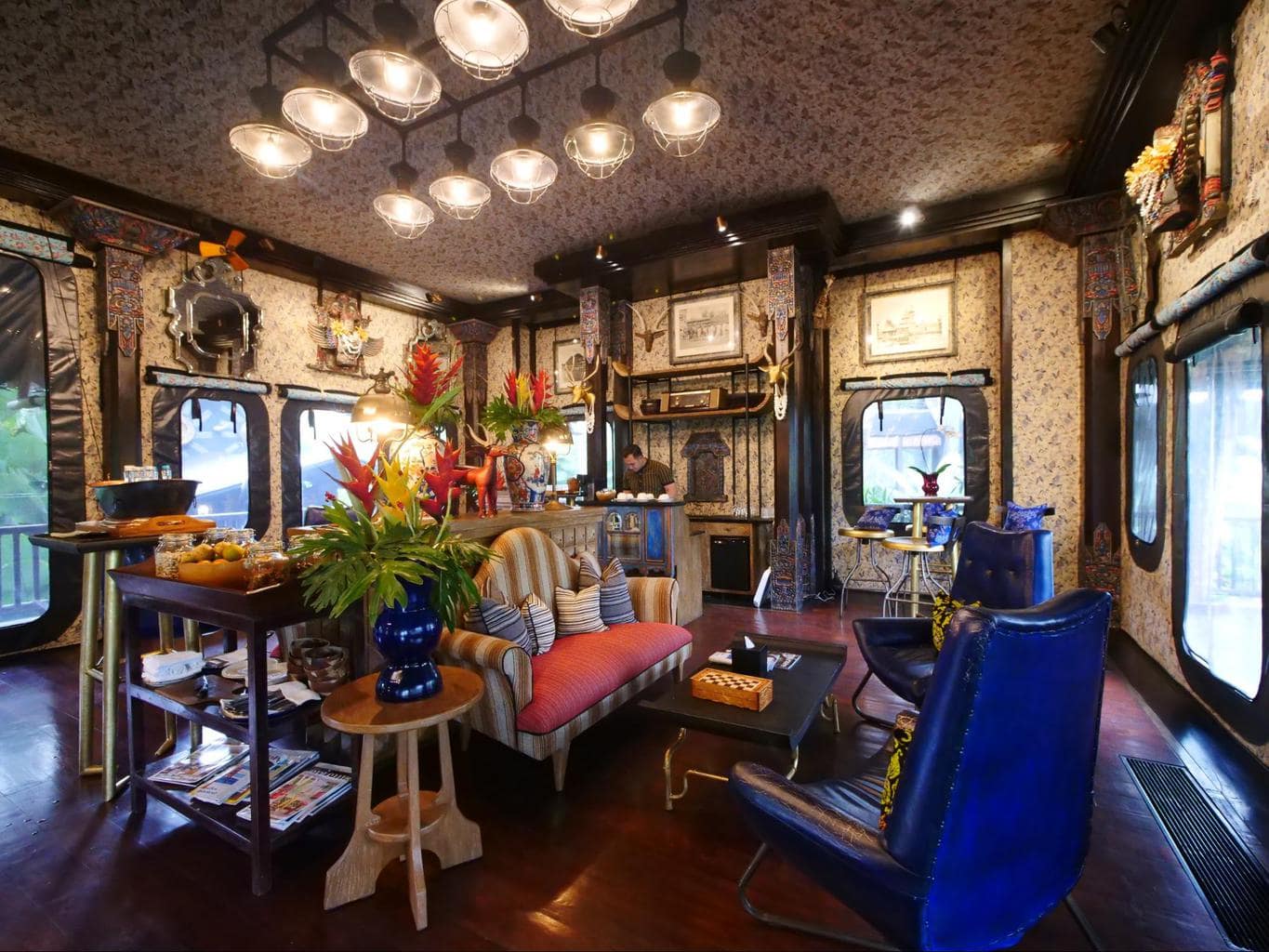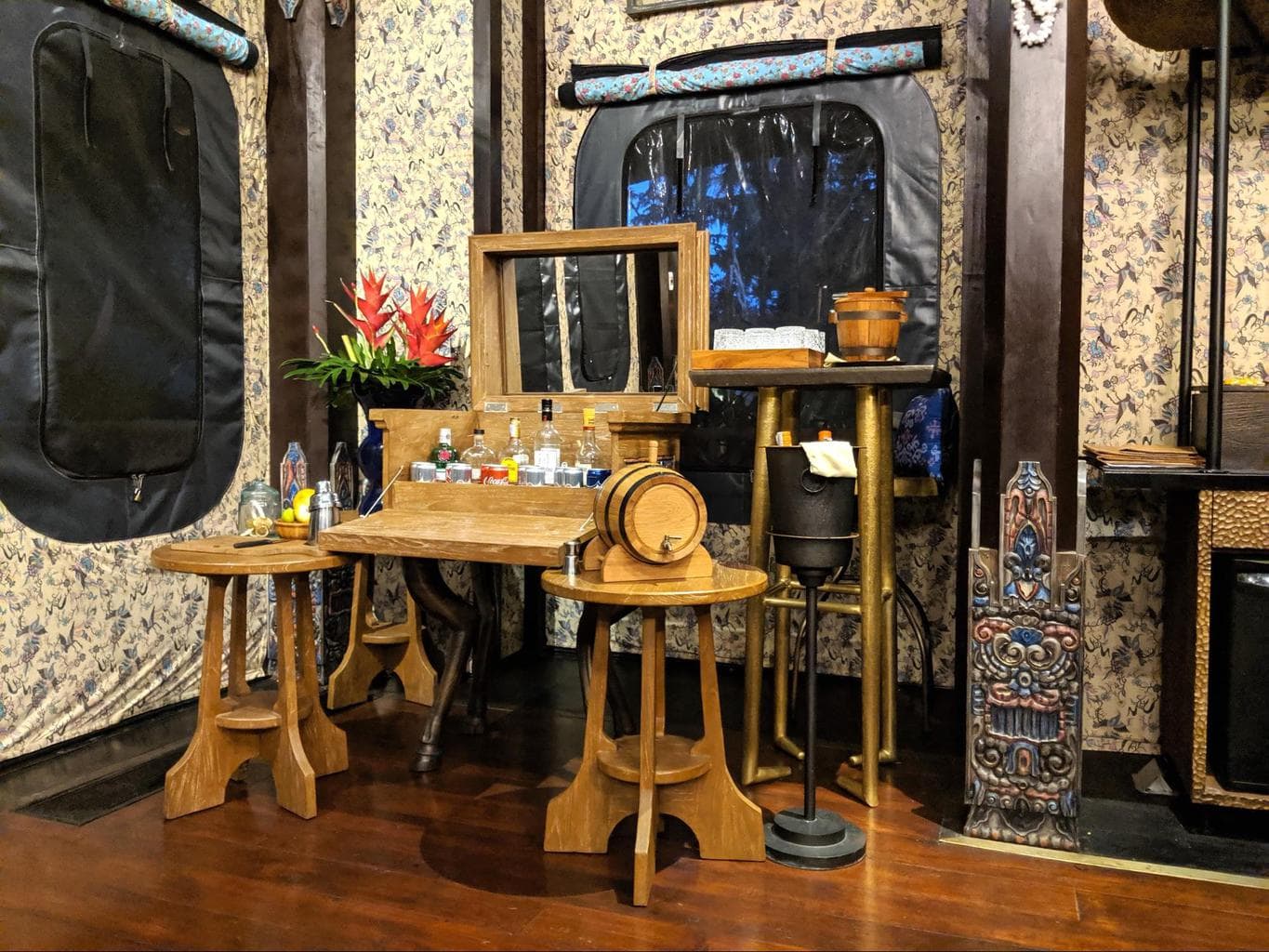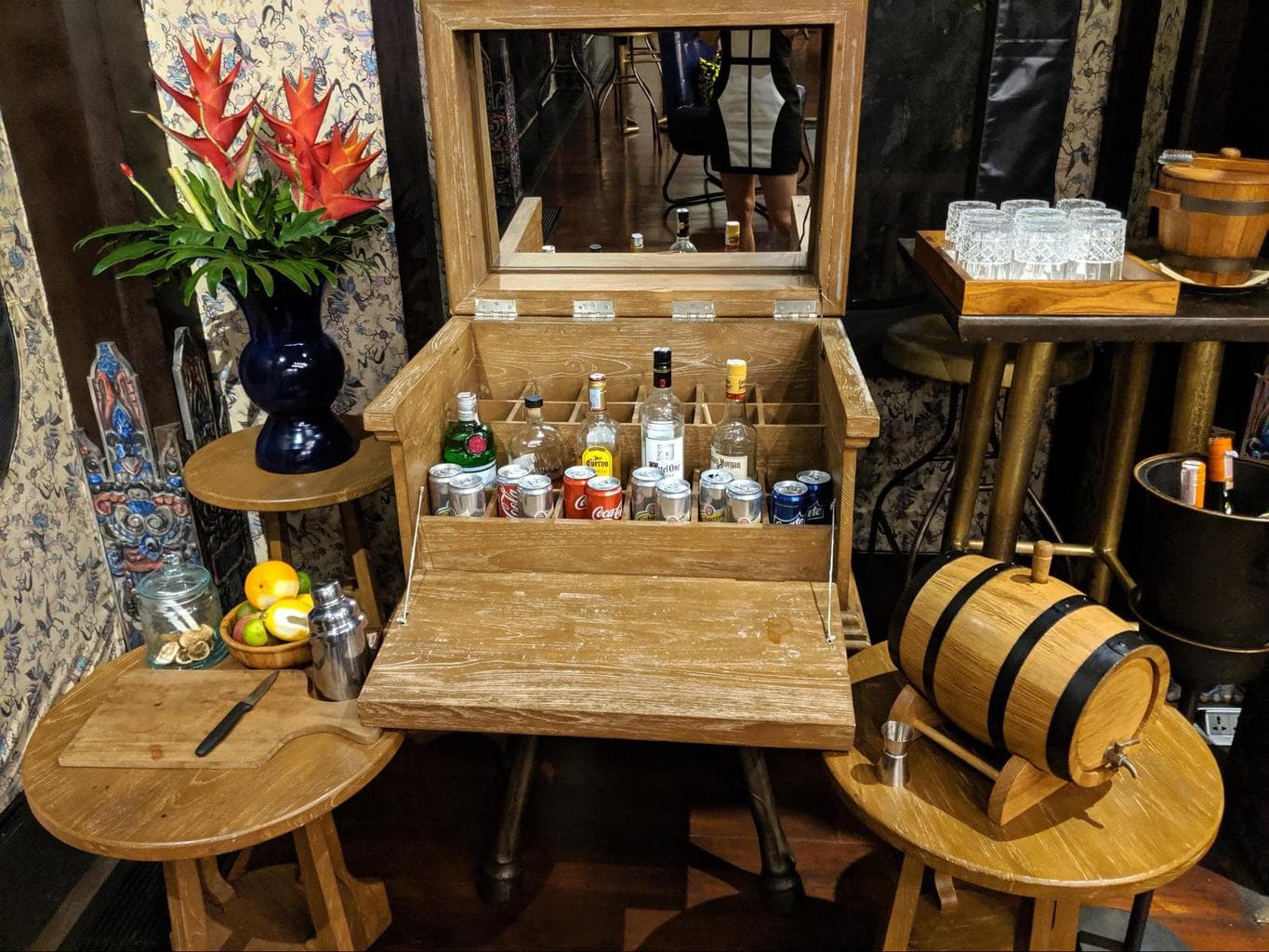 Did someone say yoga? The lodge also offers complimentary yoga classes in the morning at the open air studio below the Armoury and other active options like HIIT as well as paid personal training and fitness sessions.
Last but not least, spirituality is also catered for at the Wos Temple, located right down by the Wos River, which was expanded by the hotel. This is a traditional Balinese Hindu Temple with bright yellow umbrellas, daily offerings and water flowing through wall fountains.
Getting there required a skilled trek down the steep steps but was well worth it.
Service at the Capella Ubud
I had read that the staff at the hotel were largely from the nearby Keliki village and every time I asked one of the members of the team where they lived they were indeed from the area.
The concierge staff at the Capella Ubud are always available and ready to make you feel at home. Rather than just having a person assigned to you, which we did, you can also just call the reception and get help from anyone. Every time I asked for something it was done swiftly and with lots of smiles. The staff were very accommodating.
In addition to that, Capella Culturists can organize any activities you may want to do or to take care of any requests. I have to admit that the team was on top of everything.
Capella Ubud did also one thing which was a first for me: they called me ahead of the trip to confirm transfer details, ask a few questions like if I wanted any drinks to be specifically stocked, and advise us to bring flat shoes and a sweater for the evenings.
At the time I was a bit surprised. Many hotels contact you before a trip, but that is almost always done via email not a phone call. The language barrier also made it a bit of a strange conversation but when I arrived I was very grateful they called.
The flat shoes were a must given that the resort is incredibly steep and the stairs are slippery and require you to be in good shape. And the sweater was essential since the weather is unusually cool in Keliki and guests would usually assume Bali is warm.
They had also asked if we were celebrating any special occasion, and I mentioned it was my birthday to which they advised a complimentary cake would be provided in the tent, but we never saw the cake or an acknowledgement about my birthday, other than from the GM on arrival.
The fact that they proactively said there would be a cake created an unfulfilled expectation, which was a shame.
Overall, I found the service at Capella Ubud to be very friendly, accommodating and helpful, never a no, just a "let me check". It was also all very well coordinated, with our evenings at the Officer's tent followed by drop off in town for dinner seamlessly organised in a way that only Aman knows how to do.
The verdict: Review of the Capella Ubud
Capella Ubud is surely one of the most expensive (maybe the most expensive?) resorts in Bali and so my expectations were pretty high. With room rates above the USD1,000 a night mark, it takes a lot to exceed them, especially in a destination with so much competition in the luxury segment.
I found Capella Ubud to be an exceptional resort. The architecture and design of the lodge are stunning and Bensley's quirks, which he seems to have had free rein to explore here, put a smile on your face every time. It helps that I adore his style.
Cheeky brass monkey statues on rooftops, unique antique pieces everywhere and the impractical but noteworthy throne toilets all help make you feel like you are part of a large performance.
I also found that the value for money was balanced after all the perks that were provided. Firstly, I booked an offer that had a third night complimentary, making the rate 33% cheaper. My booking also included transfers in the very comfortable premium car, as well as afternoon tea and evening drinks and canapes, which we took full advantage of.
Breakfast is an indulgent affair, and we made the most of it, it was impossible to pick just one dish so we tried a couple every morning. That means that we were not hungry for lunch and could make the most of afternoon tea and evening drinks.
We did go out to Locavore and Room4Dessert for dinner and the lodge dropped and picked us up for $20 each way which was pricey when compared to Bali's rates, but reasonable and it was extremely convenient.
The activities were however quite expensive going from between $150 and $500+ per person depending on what you wanted to do, a rate to be expected from such a resort category, same for the spa. We didn't book any because the intention of the weekend was to simply relax and enjoy the resort and I have been to Bali a dozen times.
Overall, I felt the hotel was good value for money if obviously an expensive experience deserving of a special occasion like my birthday.
If you'd like to book a stay at the Capella Ubud, you can book online at Booking.com | Agoda