This article was first published in May 2016 and is constantly being updated when new places are found or others are closed down. The last update was November 2019.
Holiday means sunset drinks, at least in my book. And Phuket usually means holiday. As a consequence, Phuket means sunset drinks. If you are following my logic, then you arrived at the best place because these are the best places to watch the sunset in Phuket, tried and tested. Trust me. From the simple promenades to the swanky high-end rooftop bars, these are the best sunset spots in Phuket.
1. The Boathouse Phuket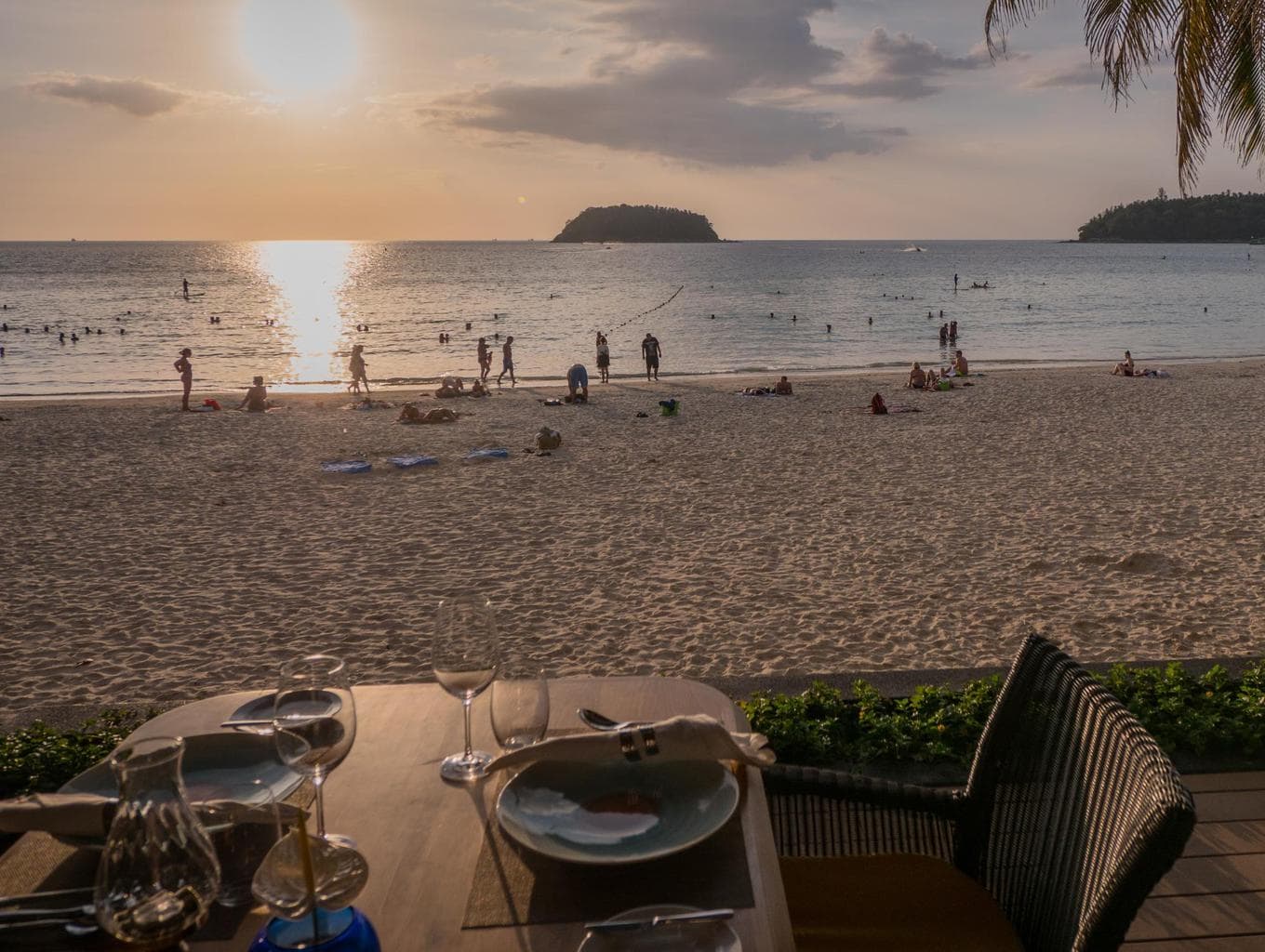 The Boathouse Phuket is one of the nicest places to watch the sunset in Phuket. It is one of the most luxurious resorts in Phuket and has all the ingredients for a perfect evening. Firstly, there are fantastic cocktails, some of which are signature from the resort only, created and executed with a high level of detail and love by the mixologist.
Then there is the fabulous food at The Boathouse Restaurant which is renowned for being one of the oldest and best restaurants in Phuket and has an award-winning wine cellar and two Sommeliers on site to provide pairing suggestions.
And last but not least, there is the fantastic unobstructed beach view over Kata Beach which is right below the restaurant. After drinks and dinner, you can stroll on the quiet sands of Kata Beach for the perfect night. Or stroll over to the more isolated beach, Kata Noi where the beautiful Impiana Private Villas are located.
2. The Galleri By Katathani (previously Foto Hotel)
From the rooftop bar of the The Galleri By Katathani one can see one of the best sunsets in Phuket over Kata and Karon. It has a cool vibe, comfy beanbags/sofas and great drinks. This is a place to keep to yourself. Oops!
Opens from 6:30pm to 11pm.
3. Promthep Cape
If you are on a round the island road trip, then Promthep Cape is a perfect place to see the end of the day with great views away from Phuket and towards Phang Nga Bay in the distance. Promthep Cape is Phuket's southernmost point and because it is a nice place with a parking right by the side of the main coastal road, it tends to get crowded at sunset as everyone tries to capture the best shots.
One of the best ways to get away from the crowds and enjoy the sunset on your own maybe with a drink or a picnic and great company, is to get over the low rock wall and go under the main parking area and towards the cape's tip. There is a small temple below the wall, so a path leads to it, and you can continue walking down the few trails that take you to the tip of the cape until you find a spot you like.
The walk is not difficult as you can see from the picture above, and the trails are unmarked but clear to see. You will be more comfortable with closed shoes like trainers. Avoid going on a rainy day as it can get slippery, and avoid getting too close to the edge, especially if it windy, as you could fall down.
4. Joe's Downstairs
Joe's Downstairs is an acclaimed restaurant located on Kalim Bay offering hip and trendy drinks and tapas to snack on at sunset time. The setting against the rocks, and the outdoor location right above the water, are divine, but Joe's is also a great place to have a romantic meal after the sun has set.
The restaurant is part of Baan Rim Pa Group and shares the wine list with sister restaurant Baan Rim Pa Kalim next door. This is an awarded wine list recipient of Wine Spectator Award of Excellence since 2002 so will be a great choice for wine lovers. Or you can enjoy a drink at Joe's then head to Ban Rim pa, one of the best Thai restaurants on the island for a more local experience.
Joe's Downstairs is also a great lunch spot when you can see the beach and clear waters of Phuket in their full glory, and the open air design with a covered area will ensure you don't sunburn.
5. Baba Nest
We would be fools not to include one of CNN's most beautiful rooftop bars in the world on the list of best sunset spots in Phuket. But be sure to book well in advance as this gets filled up quickly and only very few tables are reserved for non in-house guests every evening.
Baba Nest is located in one of Phuket's most stunning, luxurious and breathtaking properties, Sri Panwa, Baba Beach Club's sister property. Located on the cape of the same name, Sri Panwa manages to wow with infinity cliffside pool villas and one of the most chic, fabulous and laid-back bars in town with one of the most amazing views. A treat to the senses. It's a nice place to start off your hen night, sipping cocktails while you watch the sun go down.
If you like infinity pools, why not go one step further and stay at one of the best overwater bungalows in Southeast Asia? There's a few real gems in Thailand to watch the sunset from after diving into the ocean.
Scroll down for number 6
Looking to stay at Sri Panwa?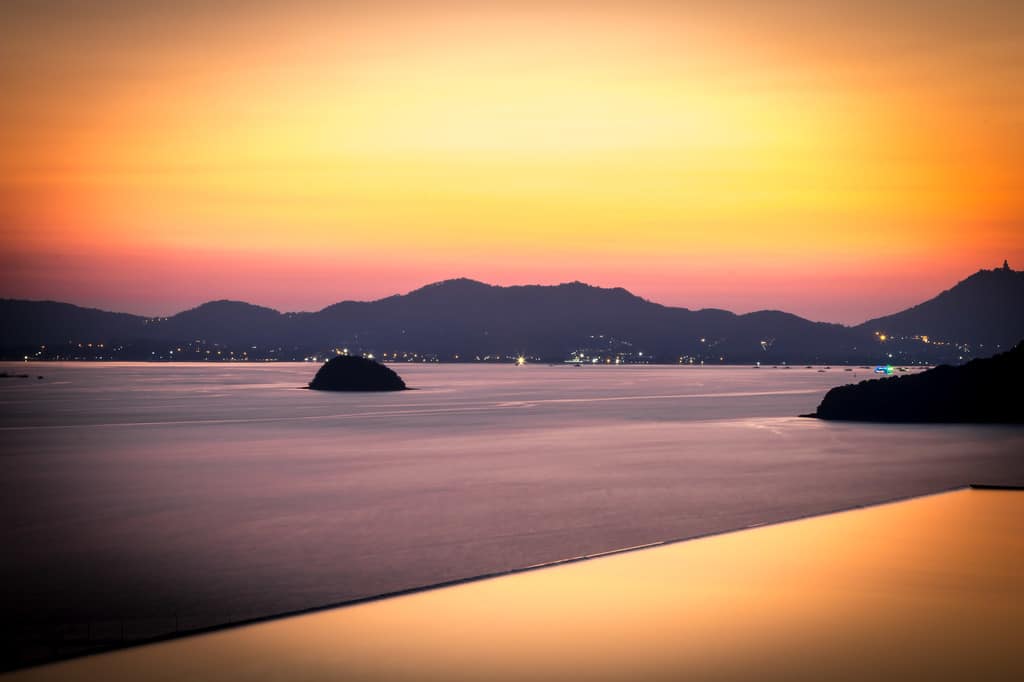 If you loved the sunset from Baba Nest so much that you're thinking of a longer stay at Sri Panwa, then your thoughts are well justified. I stayed at Sri Panwa twice and absolutely loved it both times. Check my full review by clicking the button below. It's also the perfect place to go if you only have one day in Phuket.
See my complete Sri Panwa review.
6. Patong Beach
I agree, Patong is crowded, filled with banana boats, parasailing, drunken bachelor parties and other less than peaceful endeavours, but Patong also offers incredible Phuket sunsets right on the beach. If you are looking for something more casual, a sand-between-your-toes type of place, this is it. Simply sit on the sand and watch the sun set behind the horizon.
Bring a drink and some snacks for a low cost alternative to the more expensive places to watch the sunset in Phuket. Or read our article on the best beaches in Thailand for some more inspiration.
7. Your own yacht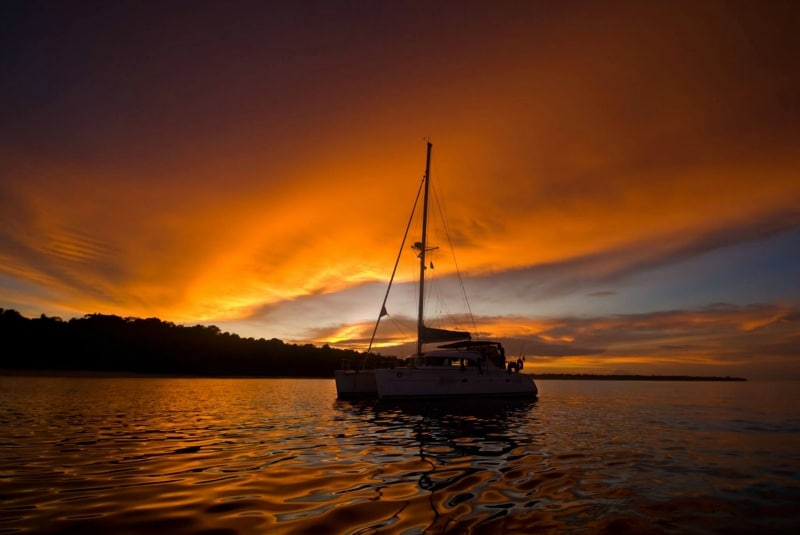 Staying on solid ground has its advantages, especially to those with weak legs at sea. But setting sail from Phuket will give you the most incredible sunset views, all to yourself and in the complete peace of the sea.
Rent a sailing boat from one of Phuket's marinas with a full crew, and sail out to Phang Nga Bay and beyond. Every night, the stars will surprise you as you get lost counting the many that cover the mighty sky. If you were looking for epic sunsets in Phuket, nothing beats the magic and exclusivity of your own private yacht.
8. From a beach club
Whether it is at Catch Beach Club, Nikki Beach or even Kata Rocks with a day pass, your drinks and music supply will be satisfied at one of Phuket's beach clubs where beautiful people come to dance the day away and enjoy the beautiful beach in hip surroundings, with great cocktails, designer sun loungers and DJ music. Don't mind the sound of champagne bottles popping or the sparkles that accompany them.
Catch Beach Club, Nikki Beach and Kata Rocks all offer great sunset views too. You should book a sun lounger ahead of time just to be sure. Day passes usually include a credit to spend on food or drinks, the use of a sun lounger and a towel. Some of them will provide the access to the club for free if you dine-in. Weekend brunch specials are not to be missed.
9. Cape Panwa Promenade
If you prefer a more DIY option than sitting at a high end hotel, the Cape Panwa promenade, is an easy evening stroll. There are benches to sit and watch the sunset, or a nice promenade to walk along holding hands.
10. Wassa Homemade Bar
View this post on Instagram
We've mentioned Patong beach above, but if you want to experience the sunset from a rooftop on Patong head to Wassa Homemade bar. The bar, perched high up up on a hill, has sweeping 180 degree views over Patong Bay. It's open year-round from 4PM to 12AM, catering specifically for sundowners with cocktails and Thai and International snacks and meals.
Book a table on their website.
11. Big Buddha
The Big Buddha might be one of the top things to do in Phuket, but many go early which is a shame as the sunsets are extra-ordinarily beautiful from up there. The massive 45m high and 25m wide Buddha provides an amazing silhouette too which makes for some amazing pictures. See the sun go down in zen-like calm near this statue and working monastery.
12. 360 Degrees Restaurant
View this post on Instagram
The Pavilions Boutique Hotel is a luxurious leafy sanctuary situated on a hill in Cherngtalay, Thalang district. And at the top of restaurant sits the aptly named 350 Degrees Restaurant. The atmosphere is of laid-back sophistication with cocktails, wine and some amazing haute cuisine served in tapas form.
The hotel also offers in villa BBQs if you'd prefer some solitude with your sunset.
13. Heaven Restaurant & Bar
Heaven Restaurant & Bar is a really popular place to propose in Phuket. The setting is, as the name suggests, heaven over Karon Beach below, almost as if you were floating in the clouds. It's a really romantic spot and is a great place for a date night on the spacious veranda.
If you are planning to propose, the staff will help you out by playing the song of your choice and filming your magical moment. Just plan ahead by contacting them on Facebook.
14. Samet Nangshe Viewpoint
This spot in Phang Nga Bay has gone from being practically unknown to really busy, particularly during the sunset. As there is not much infrastructure around, it provides one of the most idyllic panoramic views of the mangroves and limestone islets in Phang Nga Bay.
And the best part is that after the sun sets, you can look up and see the twinkling stars splattered around the Milky Way as there is little light pollution. It does involve about a 30 min ride from the center of Phuket and then another 30 min hike up the hill, but is well worth it for the idyllic views and calm nature. Hire a tent and stay the night for a perfect escape under the stars. 
Where to stay for sunsets in Phuket
Here are our top 3 picks of hotels to stay at that offer restaurants and suites with gorgeous sunset views.
Kata Rocks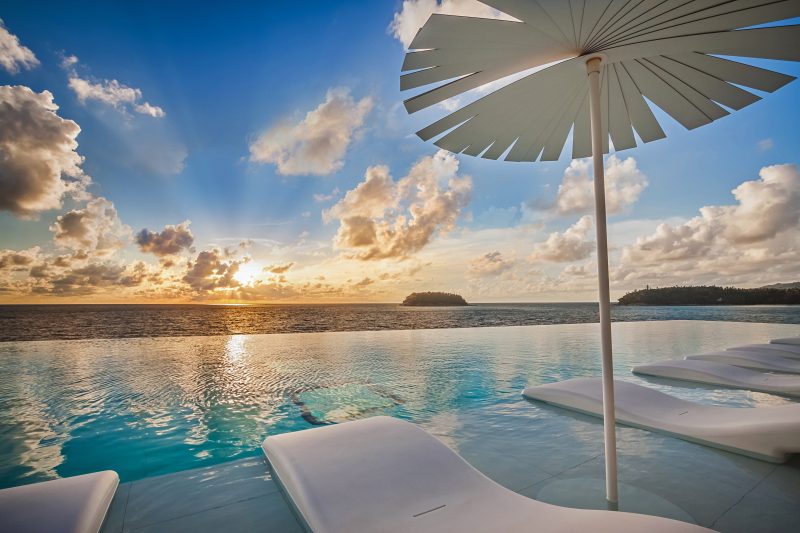 An infinity pool to die for with eponymously named Kata Rocks restaurant. So you can have second helpings of sunset with your meal. Book your stay here.
The Boathouse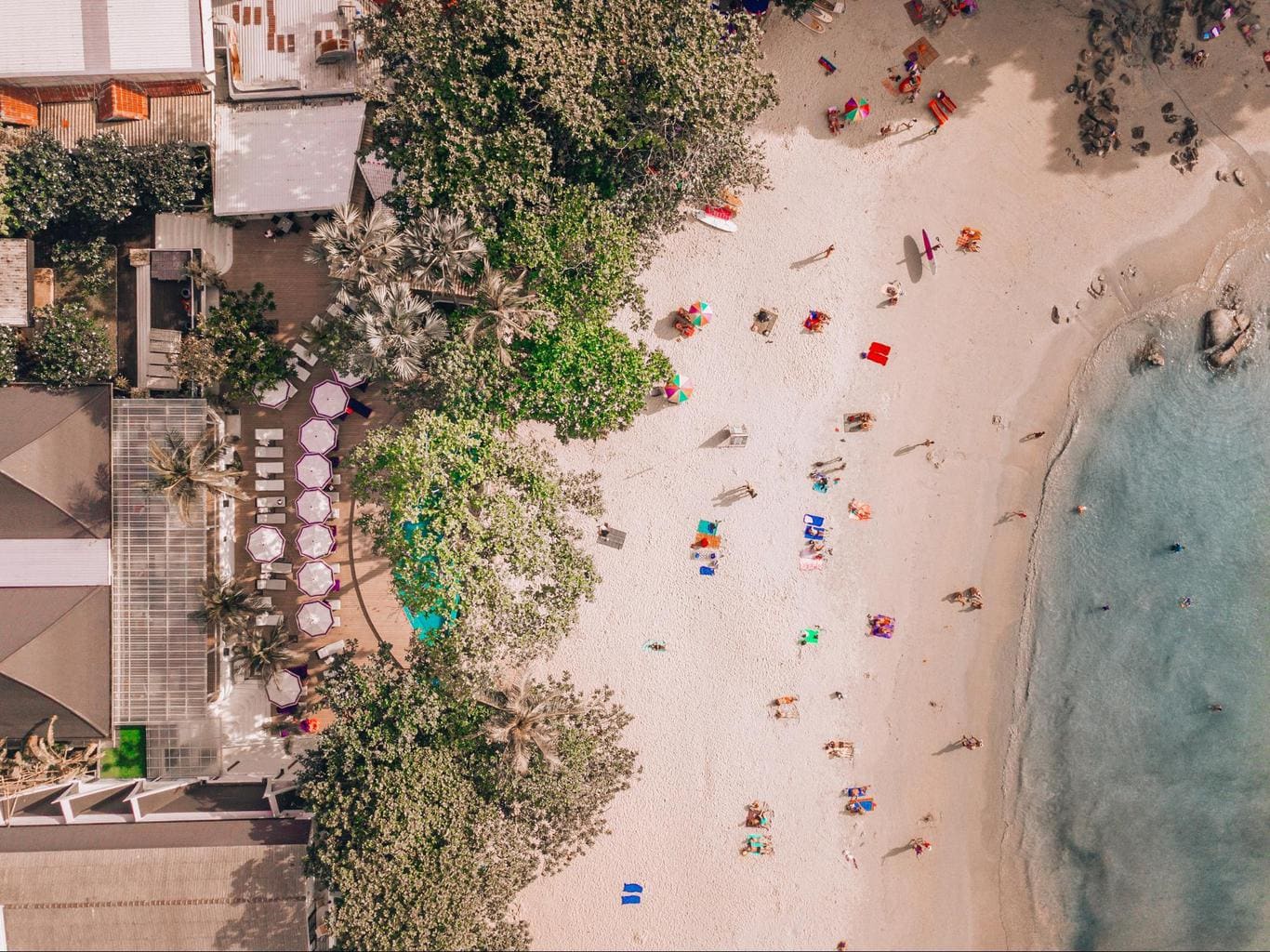 Unobstructed views of Kata Beach in a Phuket institution. It is one of the oldest and best restaurants in Phuket to date with outstanding service, delicious food and cooking classes available. Book your stay here.
Sri Panwa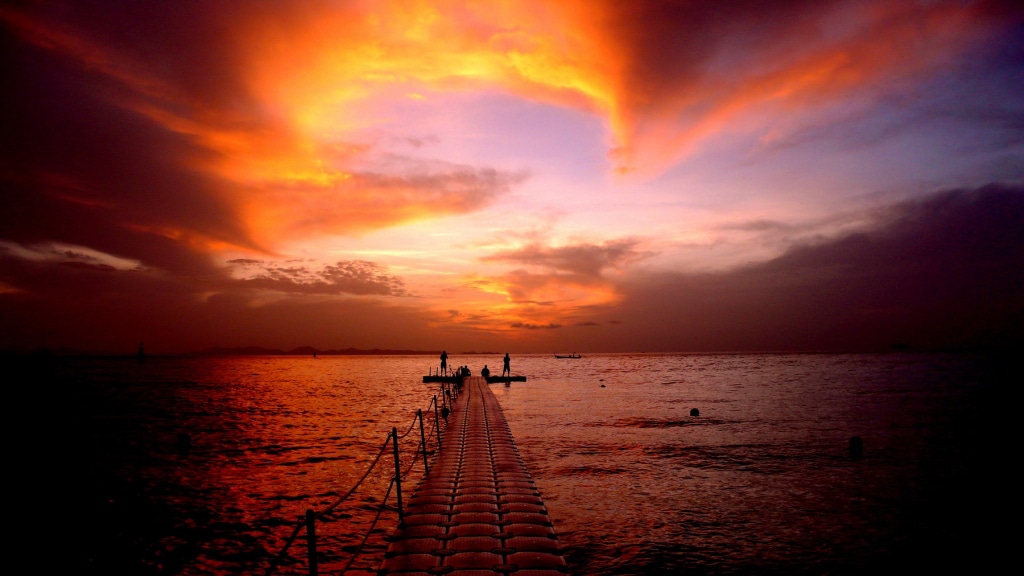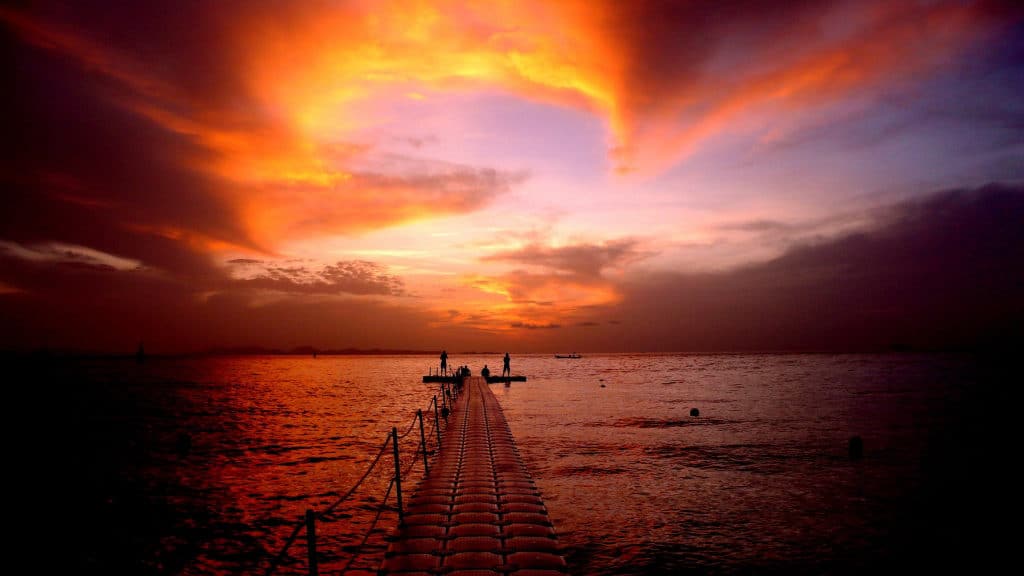 Relax to the most epic views while sipping a cocktail from the gorgeous infinity pool. Sri Panwa has been voted by many as one of the best rooftop bars in the world for a reason. Come see why. Book your stay here.
Or pick one of our top hotels in Phuket which we've written about more extensively.