This article was originally published in July 2014 and has been updated several times, last in March 2020.
As Thailand's biggest island it's no surprise that there are lots of things to do in Phuket.
From beach bumming (psst Phuket has some of the best beaches in Southeast Asia not just in Thailand) to partying, from romance at a luxury hotel to debauchery in Patong, everyone will find their perfect vacation here.
Like Bali, Phuket is spread out and is larger than most people realise at 543 km² with a population around 417,000. It will take you over an hour and a half to drive from the airport, in the north, to the southern part of the island, so it pays to plan a smart itinerary if you want to do a bit more than just sun tanning or reading a book by the beach.
It is also advisable to rent a car if you want to explore the island on a fun Phuket road trip like I did. If you only have one day read my article for a breakdown of the best things to do in Phuket in a day, basically an abbreviated version of this post in itinerary format.
Before beginning our best things to do in Phuket list, it might be useful to delve into its past.
The history of Phuket
In order to understand the various Phuket attractions and see how it all fits, it's worth to have a quick look at a brief history of the island.
Historically a tin mining town, Phuket only started to boom as a tourist haven in the 70s when the airport was built. Admittedly, the best things to see in Phuket today relate to the touristy bits, like the beach or the party scene, although understanding the heritage and history behind Old Phuket is equally fascinating.
Phuket was the center of Chinese and Indian exchanges well before the rest of Thailand. Ships from both empires would seek refuge in its safe harbor during the monsoon season. The area only became part of the Thai Empire in the 13th century when the Sukhothai took it over from the Sumatran Sirivijaya Empire (the same empire who discovered Singapore and gave it its current name, interesting fact about Singapore for you). The name Phuket was derived from the Malay word bukit, meaning hill.
The jungles of the interior were inhabited by indigenous tribes who were displaced by the tin miners whereas the coast was the home of sea gypsies, some of which are still living there and in adjacent islands.
Tin mining brought prosperity to Phuket and the interest of the British Empire who almost annexed it in the 19th century but ended up going for Penang as a safer harbor. The Sino-Portuguese buildings that one can still see today in Old Phuket were built at that time by the rich merchants.
Due to a lack of global demand, tin prices fell drastically from 1985 onward. In fact, at this time 90% of tin mines in southern Thailand to shut down. This, along with a local push for environmentalism through riots in 1986, solidified Phuket's move from mining to tourism.
Tourism has steadily increased over the years to reach a peak of 10 million in 2017 with a dip in 2019. It's unclear how many hotel rooms are on the island but estimates range between 40,000 to 90,000. Either way, that's a lot of choice and is a clear sign of its high tourism potential.
So, why is this Thai province so popular with travelers? Read on to find out through a list of the best things to do in Phuket.
Getting into and around Phuket
It's always best to book your transportation online and ahead of time to avoid stress. Bookaway is a fantastic and trusted travel booking platform where you can search for transportation between multiple destinations. Here is a list of transportation options to take around Phuket. Use the search function to choose your specific destination if you're traveling into or out of Phuket.
Another useful app to have is TAGTHAi which lists a bunch of free redeamable benefits, things to do and discounts.
Best things to do in Phuket, Thailand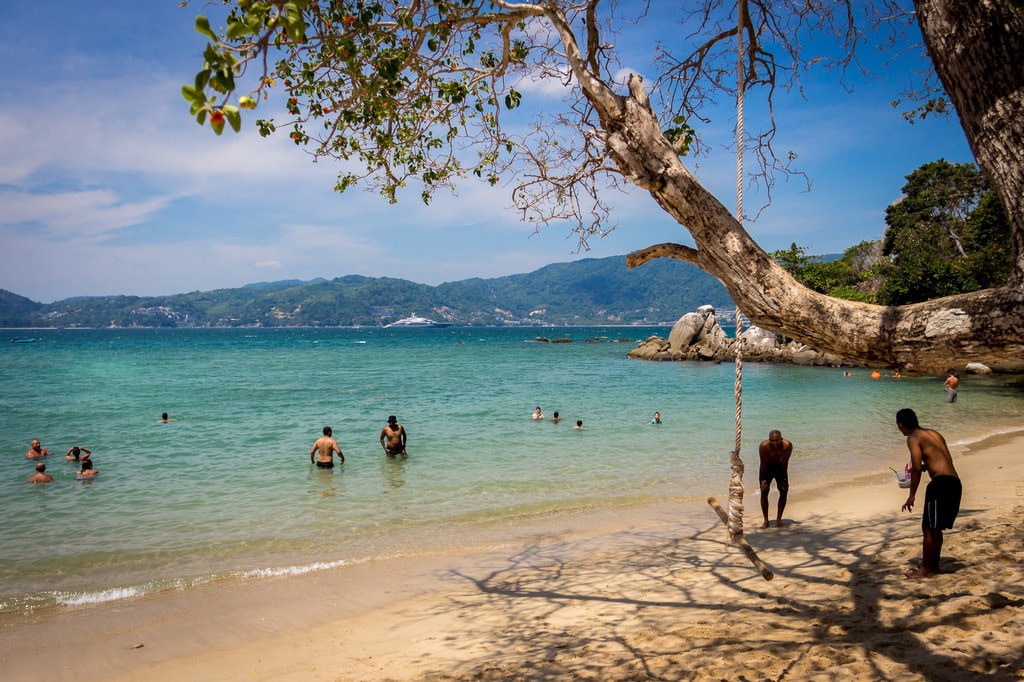 I have been to Phuket over a dozen times and every trip is different. You can surely spend a weekend getaway in Phuket and just see the beaches. But you could also do Phuket the other way and not even step foot on the beach. Instead you can enjoy nature, culture, food (glorious food) and the many other Phuket attractions that make the island such an interesting destination.
In this post I wanted to gather all of the top things to do in Phuket including all the well-known attractions (they are famous and popular for a reason) and a few cool things to do in Phuket that most people don't know about, and are probably slightly off the beaten path – if that is at all possible on an island that receives over 9 million visitors a year (in 2019).
If you are looking for an organised and neatly laid out itinerary including most of the places to see in Phuket mentioned here, head to my weekend road trip around Phuket.
For those looking to party, just head to Patong or Bangla Road, all the party you need is there. The area is party-central with bars that seem to be open around the clock and all the music and drinks you need. Patong is also what makes Phuket such a great gay destination.
However, I do have a hidden secret for what to do in Phuket at night, like no other, so scroll down and see if you can find it. I promise that was one of the most fun nights I have ever had in Phuket and elsewhere. And no, it did not involve ping pong, beer pong or any other dodgy or doubtful activity you would be too ashamed to tell your mother about.
Karon View Point three beaches view – For the views
You are unlikely going to be alone here because this is an extremely popular Phuket attraction with most of the island bus tours stopping here. Either way Karon Viewpoint is popular for a reason (see image above for a visual explanation).
From above, you will be able to see the three beaches north of the viewpoint. Couples go there to sit on the benches and observe the view. It's a nice stopover if you are driving past and it gives you a bit of perspective on the island. After all, Phuket gets its name from the Malay word for hill (bukit) so there are a few places where you can enjoy the view from above.
---
The Karon viewpoint is also sometimes called the three beaches viewpoint due to the view of Kata Noi, Kata, and Karon beaches. It's reached by car on quite a good road and there is parking near the viewpoint along with pathways, and some stalls that sell food and drinks. While you cannot see Patong from here, you will be able to peak at the Big Buddha far off in the distance and over the hills.
Explorers looking for convenience should hire a private driver. Click here to book an English-speaking driver so that you can explore all the places to visit in Phuket at your own pace.
Alternatively, you can even walk up the hill starting from the south end of Kata Beach. The walk is straight up and over 2kms, so it is recommended that you be quite fit and go at a slow pace. But this is a good option for those who want to save on taxi fare.
Phuket Town Weekend Night Market or Talad Tairot – For the markets
Phuket Old Town offers a glimpse into the heritage-rich past of the island and it seems that the trading tradition has evolved right into the 21st century with what tourists have come to know as the Weekend Night Market, one of the most exciting places to visit in Phuket.
For the Phuket locals, the market is called "boot car sale" or Talad Tairot so that should give you an idea of the spread. You will find everything here and mostly copies of anything you can think of, from bags and watches to CDs and DVD, but don't be surprised if the quality is nothing like the original brand.
One of the most interesting shops is the one selling second hand shoes, in case the prices of new stuff are not cheap enough already! A visit to the market can be one of the most unusual things to do in Phuket or it can be one of the most fun, see for yourself.
As this is Thailand, there is also plenty of food to enjoy, or check out my guide to Phuket Old Town for ideas about where to eat (Hint: there are lots of cafes and hawker stalls that are historic and delicious).
---
Phuket Weekend Market is every Saturday and Sunday, starting from 4pm until around 9pm. It's on Wirat Hongyok Road, in Vichit district and directly opposite Wat Naka Ram, a Buddhist temple. It's just over 1km from Central Festival Phuket shopping mall, so you can walk there after shopping in about 30mins.
Best thing to do in Phuket for aspiring chefs – Learning to cook Thai food
What better place is there to learn to cook Thai dishes than in Thailand?
There are hundreds of places to learn and your hotel may offer a class too but, for a genuine and well-known school, try Blue Elephant Cooking School
.
This is one of the best known restaurants in Phuket and a real institution that specialises in Royal Thai cuisine. The chef is famous and the restaurant serves fabulous food in the beautiful settings of an old mansion house, which is a popular Phuket attraction in itself worth checking out (even if you don't join a class).
Everything is great here: the food, the teacher, the setting, if you ever wanted to learn to make some of the easier Thai dishes back home, there is no better cooking class than this one. And if you don't want to cook, just go for a meal
.
Another option we love is the cooking class at The Boathouse Phuket. This long running restaurant has been a staple of Phuket's dining scene for almost 30 years. Not only do they serve signature dishes that keep guests coming back every year for more, but they also offer great cooking classes.
Their cooking class is also probably one of the best things to do in Phuket because it's right by the ocean so on top of the class itself you also get lovely beach views, rather than being in a closed and dark kitchen.
They start with a visit to the market with the Sous Chef followed by a 4 course meal cooked at the rooftop kitchen with views over the beach. You will also get to eat your food (trust us, the chef makes sure it all tastes wonderful), get a jar with their signature massaman curry paste, a recipe book and a certificate.
The experience is fantastic and the setting excellent and there are never more than 2 couples at the same workshop so it is really personalised. See more info on their website.
---
Getting here is a fairly simple ride in a car or taxi to Kata Beach. The address is 182 Koktanode Road, Kata Beach, Phuket 83100, Thailand.
Best activity in Phuket for water lovers – Phang Nga Bay
One of the most typical activities in Phuket is a day trip to Phang Nga Bay. There are lots of islands near Phuket and many possible stops along the way. The tour that you book will determine where you stop but you will almost surely stop at James Bond Island, the island made famous by The Man with the Golden Gun movie.
It is a pretty old movie, so if you haven't seen it, one of the scenes where the man with the golden gun is holding the eponymous item, is filmed there. It is a striking rock on its own due to its sharp upside down looking shape.
The other common stop on day trips is a kayak trip inside some of the caves, and the longer tours also make it to Maya Bay, at the back of Phi Phi, another spot made famous by blockbuster The Beach.
You should make sure to be properly equipped for the tour with towels to dry yourself, sunscreen, a hat, sun glasses and long sleeves if you plan to kayak, so you don't end up with the wrong sun marks. You don't want all your photos of one of the top places to see in Phuket to come out with you looking like a tomato.
---
The best way to get up close to Phang Nga Bay is to book a boat tour from the ferry points in Phuket:
Full day tour. You can book an 8hr excursion that includes a visit to James Bond island, a kayak expedition among the limestone caves, as well as a pop in to the sacred Buddha Cave Temple at Wat Tham Suwanakhuha here (lunch included).
Half day tour. There is a faster option that is more beach oriented and on a speedboat instead of a traditional longtail boat that you can book here.
Best thing to do in Phuket if you love island hopping –
Koh Racha and Koh Phi Phi
While Phang Nga Bay is one of the most iconic Phuket attractions, there are two other options for those who love island hopping and beach rather than boat trips: popular Phi Phi Island and the less frequented Racha Island.
The best way to go island hopping is to book a proper island hopping adventure online before you go. This ensures a hassle-free and convenient trip on a modern speedboat. You could also take local longtail boats if you have more time and simply do one of the two islands.
Book this tour
of Maya Bay and Koh Phi Phi to explore both these islands as well as several others including Monkey Island, Mosquito Island and Pileh Cove.
Considered as two of the most beautiful islands near Phuket, Racha (Raya) and Coral island, are filled with hidden coves, pristine white sand beaches as well as loads of water activities. So you can relax in the sand or head to the ocean for some parasailing or diving. Racha Island also offers the chance of eating at a proper restaurant with amazing cuisine, so you don't have to eat subpar food.
---
Phi Phi is reached either by ferry or speedboat, the former being the more popular as it's usually cheaper. The ferry takes around 2hrs from Phuket or 90mins from Krabi or Koh Lanta. If you're going from Phuket, you will depart from Rassada Pier in Phuket Town.
For Koh Racha you can hire a speedboat from Chalong Pier or Rawai Beach which will take around 35mins. There are also ferry shuttle services available from Chalong Pier.
I stayed at the The Racha, which is the luxury hotel on the island and it was pure bliss. You can read my full review The Racha Phuket.
There is also a bustling marine life for some epic snorkeling. You can book your day tour here
or go one step up and cruise to Racha and Maithon Island on a catamaran here
.
Or maybe you'd prefer partying the day away on the HYPE Luxury Boat Club with a cocktail in one hand and gourmet finger food in the other. It goes to multiple islands including Ko Hong, Ko Racha, Coral Island, or James Bond Island. Book your ticket online here.
Scooter time around Koh Yao Noi – For a trip back in time
Koh Yao Noi (similar to neighboring Koh Yao Yai) is a small fishing island off Phuket. You can get there by boat and spend a few hours cruising on a scooter or bicycle and have some delicious food before coming back to busy Phuket. It is a mini getaway from the getaway and a tourist activity in Phuket many people love because of the peacefulness of the islands compared to buzzing Phuket.
---
Koh Yao Noi can be reached by longtail boat or speedboat from Phuket at Bangrong pier and Krabi at Ta Len pier. It takes around 30-60mins from Phuket or Krabi depending on the type of boat taken.
If you prefer to cycle the 20km loop around Koh Yao Noi with a guide, you can book one online here. Not only will an experienced English-speaking Thai guide direct you through rice paddies and hidden beaches (including a picnic), you will also get to visit a working farm where you can learn all about sustainable farming. A fantastic day trip away from all the touristy top things to do in Phuket.
Ka Jok See – For free-spirited fun
A fun, crazy, exhilarating and liberating evening of good Thai food and entertainment.
If you were thinking of going to some of the shows on Bangla Road, forget it, they can be fun, but are also pretty seedy. Ka Jok See is a much classier and much more fun alternative. If you're looking for what to do in Phuket at night and are not interested in Patong's infamous bars this is your best alternative.
For the price of unlimited food and drinks you also get an impromptu cabaret show on the tables and chairs to go with it. I don't want to spoil the surprise as a lot of the experience is based on not knowing what will happen, but it is sure to be a great evening.
Ka Jok See has no publicity, no website with minimal information on their facebook page. And they wouldn't want to have it any other way. I have sent multiple groups of friends to Ka Jok See and they all, without exception, have had a fabulous unforgettable time.
---
If you want to know more about what to expect, check my review (<- spoiler alert!). To book you will have to call them as you can't just show up because they are always fully booked and it is a tiny place. They're open from 6:30pm till 2am and are located at 26 Takuapa Rd, before Suay Restaurant, close to the fountain circle. Here's the number to call if you want to secure a spot 076 217903.
Other popular shows and things to do in Phuket at night
While I highly recommend visiting Ka Jok See, there are also other popular shows to visit on the island like the Simon Cabaret Show
.
Singles and partygoers can also go on a pub crawl of Bangla with a guide which you can book here which will tell you more about each place, a peculiar but fun way to explore Phuket's nightlife.
Rawai beach – For an insight into local's lives
Not one of your usual tourist attractions in Phuket, Rawai beach is rather an insight into the lives of many Thai fishermen who do not live off tourism to the island but rather from other traditional sources.
You should visit Rawai with a fresh set of eyes and an intention to absorb what goes on around you. Watch the day go by from a tree trunk or chat with the local fishermen. Observe life as it once was for the many that have not been affected by the tourism boom.
---
You can get to Rawai Beach by catching a songtheaw from Ranong Rd in Phuket Town, which run from 7am to 5:30pm. When heading back, wait for the songtheaw at the eastern end of the beach road. Try make it before these times, unless you're fine traveling back by tuk tuk or cab.
Promthep Cape – For a Titanic moment
Promthep Cape is one of the places to visit in Phuket at the end of a busy day sightseeing, especially if you have been driving around and exploring Phuket by car.
Bring your own drinks and snacks and find a good rock to sit on. Promthep Cape is at the very bottom of the island and it affords great sunsets so it is one of my favorite Phuket places to visit to watch the sun go down below the horizon.
At the top of Promthep there is a parking area where buses and scooters can park. It does get quite busy as most people will come for the photo and leave, few stay. From the viewing platform, follow the few steps down to a small Buddhist shrine. You can also get over the concrete wall and walk all the way to the end of the Cape for the most impressive views, and most likely, complete solitude as very few tourists go all the way.
Pro tip: touting and selling are not allowed so you can take a respite from the "boat tour?", "massage?" you may have heard a few times already.
---
You can visit Promthep Cape either through the west coast of Kata Beach, down through the Soi 7 area of Rawai, or from Phuket town, heading from the east side of Rawai. So it's a good idea to visit Rawai on your way there or back. It's best to take a bike during daylight hours as the parking lot can get absolutely packed and traffic to the parking lot can be backed up quite far. A bike can cut through all this traffic. Before sunrise and after sunset, Promthep becomes a quiet and peaceful place, far apart from the tour buses of the daylight hours.
Walk around Phuket Old Town – For a dose of heritage
This is one of my favourite things to do in Phuket.
Often dismissed, a walking tour of Phuket Old Town is a great trip back to the Sino-Portuguese past that once made Phuket the center of the tin mining industry in Thailand plus is a good reminder of other colonial parts of Asia, from Penang to Malacca and even Singapore's Chinatown.
Today, Phuket's Old Town is full of hipster cafes, restored colorful shophouses and shrines that are bringing back the glory of days gone by. Look up from the main road so you can admire the facade of the buildings, they are very reminiscent of Singapore's shophouses. Don't forget to explore the flavors of Peranakan food or the beautiful architecture.
---
If you don't want to go it alone you can take part in an epic foodie tour of Old Town where you will get to indulge in hidden secrets from a Burmese tea shop, to a mean bowl of Hokkien noodles to rich peanut satay. You can book this 4hr foodsploration here. You can also take a guided tour of Phuket that stops by the Old Town on this half-day Phuket highlights tour.
By day you can take this guided heritage tour
with a local that will take you to many places including Chinpracha House and Thai Hua museum, and the old post office and first hotel in Phuket. By night savor Old Town's most amazing foods like Hokkien Mee noodles, Cumin Fried Fish or Crab Curry on this night tour of Old Town
.
The Big Buddha – For monumental views
A regular stop for the island tours, and possibly the best known Phuket attraction other than the beaches, the Big Buddha is exactly what its name suggests – a gigantic statue of Buddha overlooking Phuket with beautiful panoramic views. The statue is 45m high and 25m wide, it is decorated with Burmese jade marble and it weighs 135 tons.
This is still a functioning Buddhist monastery so take a walk around and maybe contribute to its construction. No matter where you are in Phuket the tall statue presides over every part of the island. It is still under restoration (March 2020) so you will see more construction and scaffolding than anything else but the views from the top of the hill are pretty. The official website of the Buddha and temple is here.
---
To get to the Big Buddha, just follow the many signs from Chalong Circle. As it's one of the biggest and most visited cultural sites, it is clearly marked with signage. It's around 10mins by car to Wat Chalong. While the roads are in pretty good shape, the ride up is fairly steep. So those who scare easily should hire a driver or car rather than a tuk-tuk.
DO NOT RIDE THE ELEPHANTS UP! This is a strenuous walk up for any creature, great and small, so please don't support animal cruelty.
Wat Chalong – For temple beauty
Phuket's largest and most visited temple is a red-roofed 19th century Buddhist temple stupa originally called Wat Chaiyathararamand but known to everyone as Wat Chalong for its location.
The temple is covered in gold and ornate decorations. It is one of the prettiest Phuket attractions, very well maintained and a pilgrimage destination for many Thai people who come to pay respect to the two Buddhist monks and a bone splint from the Buddha housed in a glass box at the top of the 60m stupa.
The temple is dedicated to these two famous local Buddhist monks called Luang Pho Chaem and Luang Cho Chuang, who led an uprising against Chinese tin miners at the end of the 19th century. They helped care for the victims and those affected and were even recognised by King Rama V. Their gold-leaf covered statues are located in the main temple building.
Beware the fireworks that devotees pay for as a sign of gratitude. They will go off all of a sudden and make your heart skip a beat. The official temple website is here.
---
Wat Chalong is easily reached from Phuket City and is around 8km away. Pass Central Festival Phuket along along Chao Fah Nok Rd (Chao Fa West Rd) or if you're passing Chalong Circle, take the same road heading towards town.
Would you like to explore all of Phuket Old Town, Wat Chalong, Big Buddha Statue, Laem Promthep viewpoint and the Rum factory in one easy full day? Check this tour which covers it all in one day.
Koh Panyi fishing floating village – For market buzz
Koh Panyi is a floating Muslim village on stilts where its inhabitants still live off fishing and, more recently, the hordes of tourists coming down to feel like the lost world of sea gypsies.
There are a fair amount of tourist shops and restaurants but if you get there early you can also chat with the locals and see how life at sea is like. And ask them about the floating football field which the local built to be able to play football.
Be mindful of people's lives. This is a real village but they are used to tourists taking photos of them all day long as they go about their daily routine.
The village gets really touristy at lunch time when all the Phang Nga Bay day tours start to arrive, so the trick is to get there before they do, on your own, so you can also sail around the village and get a sense of place.
---
If you want to get to Koh Panyi, then head down to Surakul pier in Phang Nga. Once you arrive, hire a long tail boat for 1,500 Baht and get there in less than half an hour. It will cost more but you will most likely have it all to yourself. Although it is popular with tourists, Koh Panyi is still one of the most unusual things to do in Phuket as you will not find something this unique on the island.
Sri Panwa – For the best sunset views in Phuket
Phuket is a lovely place to watch the sun set. Maybe it's the warm air, or the island vibes but nothing says holiday like a drink and a glorious sunset.
I did the research for you and selected the best places to watch the sunset in Phuket, all of them tried and tested and compiled in an article. The number one place for sunsets in Phuket is no doubt the award-winning Baba Nest rooftop bar at the luxury hotel Sri Panwa. Visiting Sri Panwa itself is also one top things to do in Phuket as it is a gorgeous hotel.
It has been named by CNN among the most beautiful rooftop bars in the world and it gives 360 degree views over Phuket island. Make sure to book in advance as very few seats are available every evening and guests take priority.
---
You can get to Sri Panwa from the airport in about 40mins without a smooth flow of traffic. It will take around 90mins if the traffic is bad. The address is 88 Sakdidej Rd, Vichit Muang Chang Wat Phuket 83000, Thailand.
Local beaches – For escaping the crowds on the best hidden beaches
There are a lot of beaches in Phuket and some of the most famous ones can be truly packed in the peak months. After all, this is the most popular thing to do in Phuket. But despite the mass tourism, there are still a few hidden beaches in Phuket with far fewer visitors if any and mostly locals chilling by the sea.
---
As the island is quite large, most tourists crowd the easily reached beaches which can be accessed by bus or a short walk. I went on a road trip of Phuket and discovered all the best beaches, some of which I had all to myself. I published a round up here, don't tell anyone!
Cocktail workshop – For delicious drink recipes to take home
Nothing says tropical paradise as much as an umbrella cocktail. If there is a slightly classier and 100% local version of that, even better.
The Boathouse Phuket Restaurant on Kata Beach not only provides stellar accommodation, amazing food and a cooking class (mentioned above), but also is the perfect place to learn how to prepare some of the signature cocktails. They are sure to leave your guests mesmerised next time you host a party.
The mixologist has created unique cocktails that play on the local ingredients and a which are absolutely beautifully presented. What is best? You can then enjoy your drinks and the sunset at The Boathouse Phuket Restaurant and maybe stay in for dinner and sample the food from one of the oldest restaurants in Phuket.
---
As mentioned above, getting here is a fairly simple ride in a car or taxi to Kata Beach. The address is 182 Koktanode Road, Kata Beach, Phuket 83100, Thailand. For those considering what to do in Phuket for something new and fun, this is the answer. Here is my full review of the hotel.
Go watch a professional Muay Thai fight – For sport mixed with culture
If you don't mind watching live combat then you should definitely go see a Muay Thai or Thai boxing match. It's an amazing local spectacle as you watch fighters using the "art of eight limbs" to defeat their opponents with fists, elbows, knees, and shins.
---
You can choose from VIP, Ringside or normal Stadium seats at Patong Boxing Stadium. The address is 2 59 Sainamyen Rd, Tambon Patong, Amphoe Kathu, Chang Wat Phuket 83150, Thailand.
Take a helicopter ride – For out of this world views
I am a huge fan of both helicopters and seaplanes. There is no better way, in my opinion, to see a city than by the air as the views are always mind-blowing especially in gorgeous places like Phuket.
Depending on how long you fly (there are options from 10-60mins) you will get to experience most of the Phuket attractions mentioned in this list such James Bond Island, the floating Muslim Village, Big Buddha, and Wat Chalong. The pilot also provides narration of all the sites, so you'll learn something new too.
---
I would advise taking the tour when you arrive so that you can get the lay of the land before you start driving or island hopping. Book your birds eye experience online through Klook here
.
What to do in Phuket if you want to escape the tourists
As Phuket became such a well-known island with millions of visitors every year, some parts of it have forever changed into something that no longer resembles the magic of the past.
But, with the masses of tourists coming for specific well known activities in Phuket, some parts of the island that are less promoted by the tour companies have remained untouched and peaceful. Believe it or not, there are still a lot of places in Phuket that are quiet, known only to locals and which are not even on Google Maps. I know because I discovered them and now, I am (reluctantly) sharing them with you.
Here are a few unusual things to do in Phuket that are off the beaten path and not regularly included from the regular top things to do in Phuket lists. See my top activities in Phuket for off the beaten path adventures.
Buddha Cave
The Buddha Cave in Phang Nga town, called Wat Tham Suwan Khuha, is one of the best places to visit in Phuket for explorers. It is a network of tunnels and caves with a large reclining Buddha that is hardly explored by visitors. It's therefore a great alternative to the more popular canoe tours and other tourist activities in Phuket that explore the more well known parts of Phang Nga Bay.
You don't actually need a boat to get there but rather just drive to the town in the northern part of Phuket and find the cave which can be visited independently. The cave is surrounded by trails and waterfalls.
---
Wat Tham Suwan Khuha is around 10kms from Phang Nga Town by car and is reached through a hole in the cliff. Monkeys are all over the place and they can be quite mischievous, so remember to park quite far away from the cave or you may come back to your rented car from the antenna ripped off.
Secret and quiet beaches in Phuket
As an island, Phuket thrives on beach life. Some of the easily accessible and more developed ones are crowded and filled with souvenir shops selling "Same Same" t-shirts. But there are a lot of less frequented and harder to reach beaches that offer a paradisiacal setting. For a complete list click here.
I went on a quest to find them all, Google Maps in hand, veering off at any turn off the main roads that seemed to lead down to the beach. For the best quiet beaches in Phuket try Freedom Beach, found down a cliff, or Haad Sai Gaew beach on the north of the island where fluffy white sand goes on for miles.
---
Freedom Beach is closed off and you need to trek down a steep forest path to get there so there will be far fewer tourists. There is usually a hut to buy snacks and drinks but it might be worth bringing your own if you plan to spend the day. It's one of the best places in Phuket for some peace and quiet.
Chalong Bay Distillery Tour
A fun place to visit in Phuket in the middle of nowhere among lush sugar cane fields is Chalong Bay Rum Distillery. The distillery is easily accessible by car, has loads of parking, and serves great fresh and simple lunches with a variety of delicious cocktails.
As alcohol is involved, you would think that this not family-friendly, but it is actually great for the young ones. Why? Firstly, there is an expansive lawn for the kids to run amok. Secondly, the 20min tour is held every hour. So one parent can watch the little ones, while the other goes on tour. Then you can change. Perfect!
The greatest thing about the rum is that it's made from actual sugar cane, not the molasses byproduct that the most famous rums, like Bacardi, use. So it is authentic and delicious. You can even take a cocktail class or get a recipe book as a souvenir (I got both!).
---
Here are some tips to make the most of your Chalong Bay. You can even partake in a rum cocktail making workshop which is great fun. Book in advance here
to avoid disappointment.
Best places to stay in Phuket
Now that I have told you about all the great things to do in Phuket, you'll need to know where to stay. I'm here to help you find the right resort on Phuket because there are hundreds on the island.
As I have visited countless times, this is a good selection, that is tried and tested, of the best luxury hotels.
Sri Panwa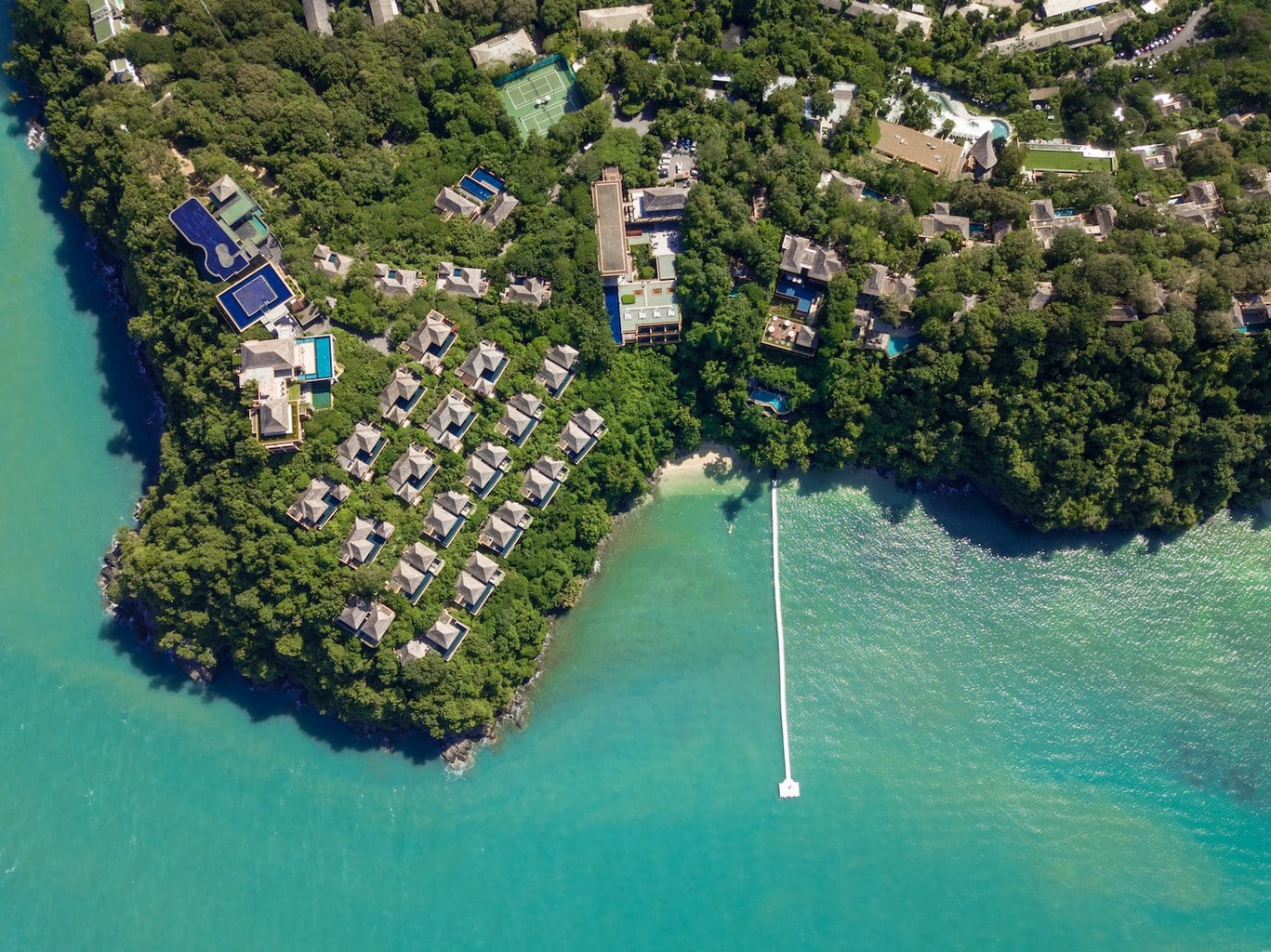 Sri Panwa is Phuket's coolest resort. The wonderful pool villas have incredible views and the most romantic of settings. If you are visiting with some friends, the Habitat area has a pool with great vibes and more affordable rooms. And don't forget Baba Nest rooftop bar, one of the places to see in Phuket for amazing views. Read my full review here. Book now by clicking here.
Six Senses Yao Noi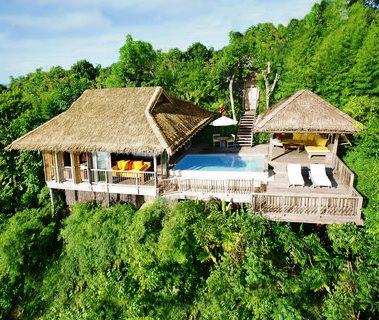 I am a huge fan of Six Senses and their Yao Noi island resort is one of the most beautiful there is. It is located on a separate island (also one of the best places to visit in Phuket for tranquility) but you can organise day trips to Phuket. Enjoy the eco-friendly chic design and the fantastic organic food that makes Six Senses so unique and their food so delicious. Did I mention the fabulous Phang Nga Bay views? Book now by clicking here.
Double Pool Villas by Banyan Tree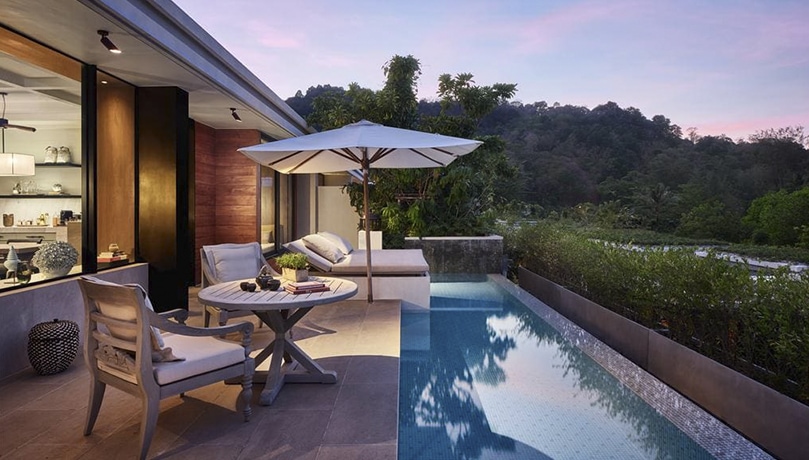 The go-to luxury resort in Phuket for the wellness-focused traveler, The Rosewood Phuket focuses on retreats to recharge along a 600-meter beachfront at Emerald Bay. The villas are spacious and open and there are also helicopter tours and yacht charters available to see the surrounds from a different angle. Don't let the tranquility fool you, the resort is also family-oriented with the Rose Buds Kids Club. Book now by clicking here.
Keemala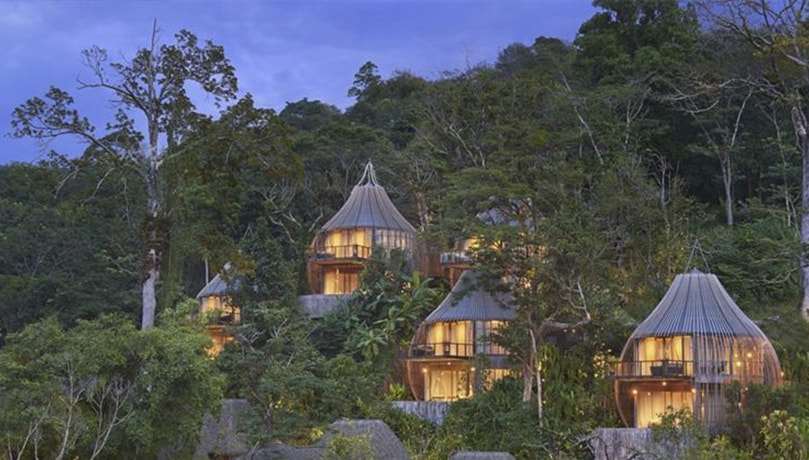 Keemala is one of the latest resorts to open in Phuket. This fantastic resort offers a set of four different types of private "pods" in four villages made to look like ancient civilisations. It is one of the most unique resorts I have ever seen. The best part of Keemala. They discourage their guests from partaking in any animal tourism activities. Book now by clicking here.
Read here for more luxury hotel options in Phuket.
Best way to explore Phuket
Given its size, the best way to explore all the activities in Phuket mentioned above is by renting a car. Taxis can be expensive if you are covering such big distances and I, for one, don't enjoy the constant haggling and feeling of being ripped off.
Driving to all the Phuket attractions is relatively easy. Google Maps is well versed in all the nooks and crannies of the island and the roads are in good condition, well sign-posted and easily drivable. There are petrol stations at regular intervals (although you are unlikely to drive for too long) and parking is relatively easy.
You can pick up a car at the airport and drop it off there. Most of the international car rental companies will be there. It pays to check the prices ahead to make sure you will be able to rent the car that you need. You do not need a 4×4 to get to any of the places to visit in Phuket, so any regular car will do.
If you would like to go on a little road trip of Phuket, check out my article about it, we had lots of fun!
Pin this to your #Phuket travel boards!