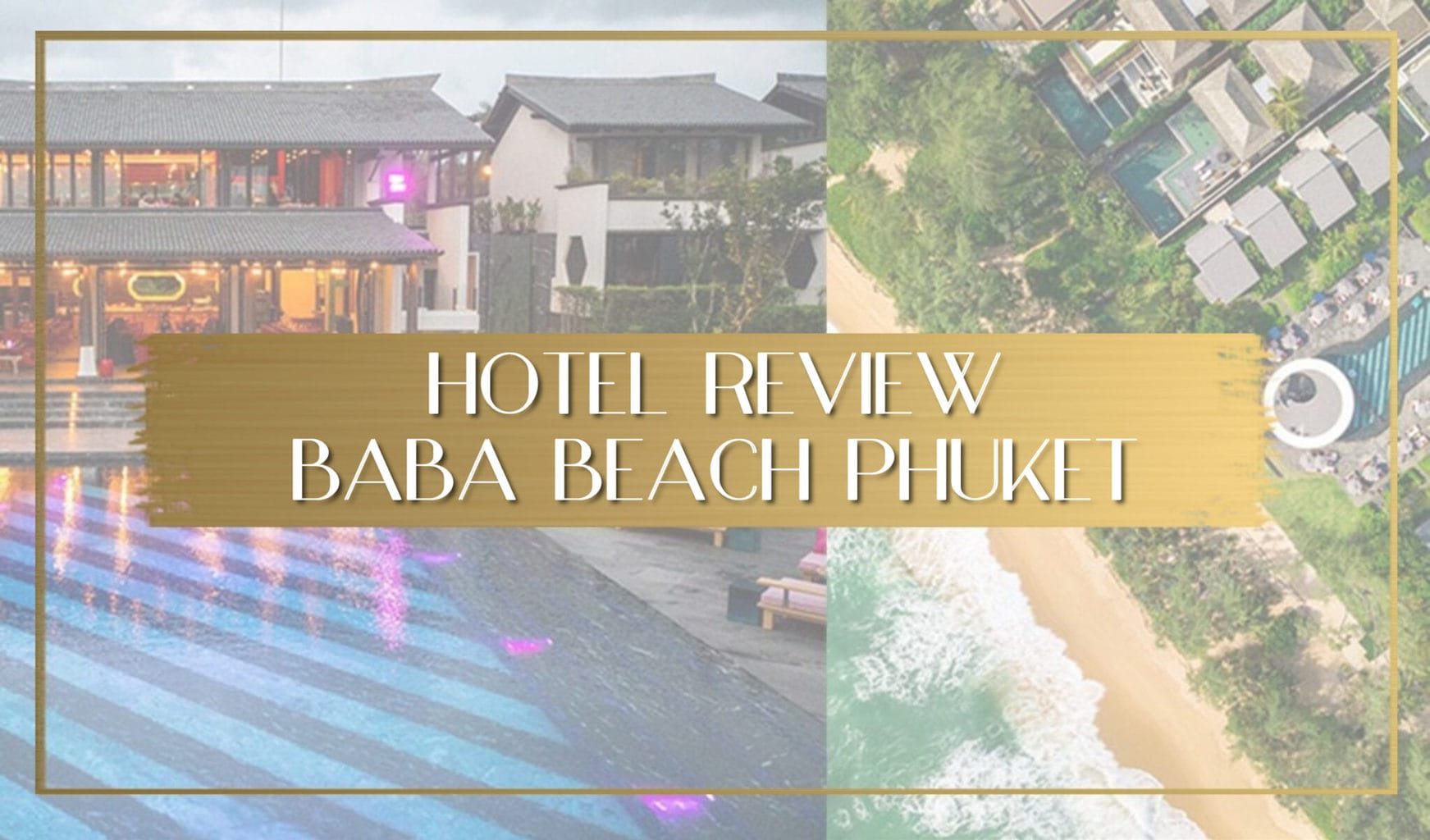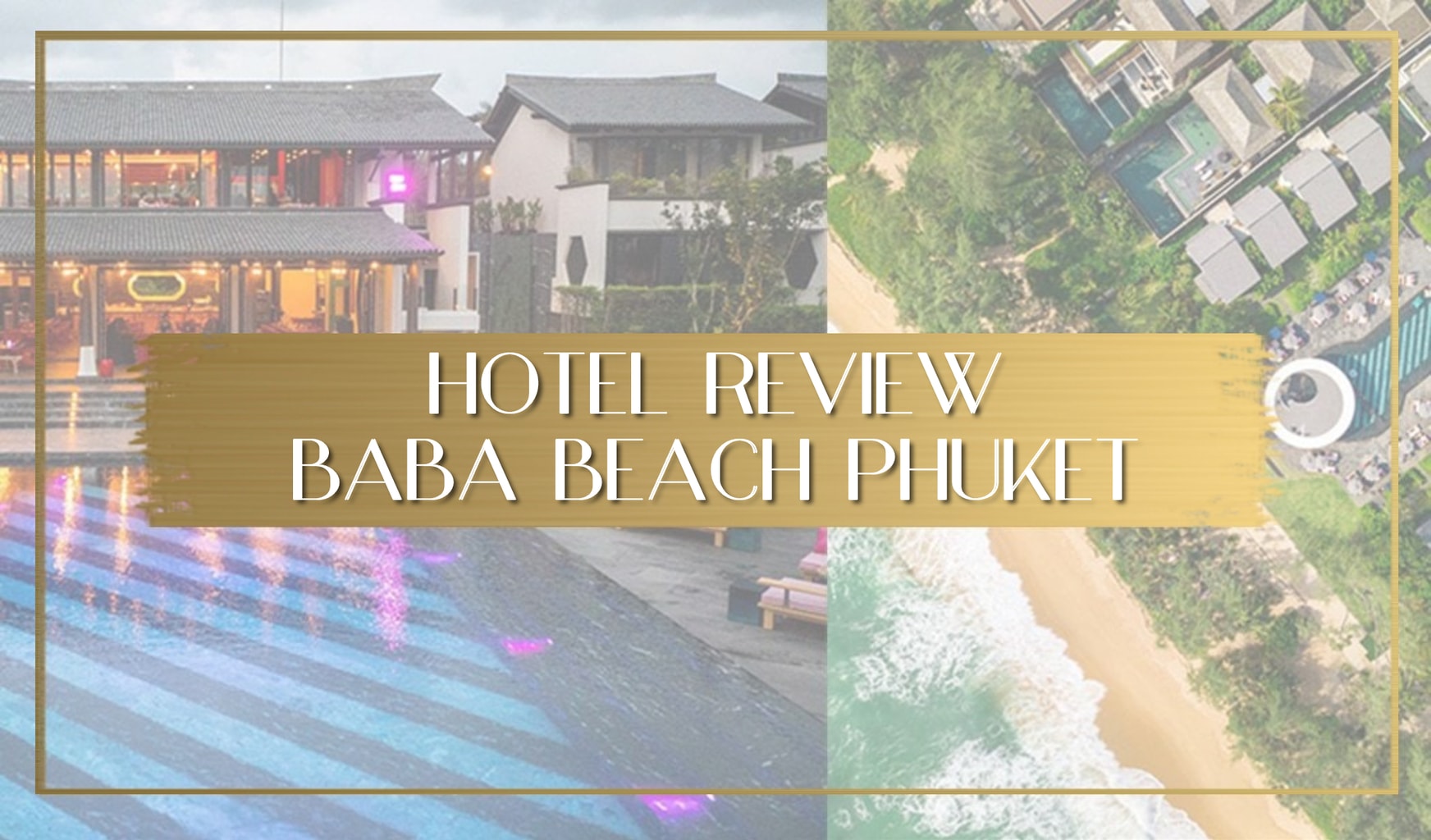 Phuket is one of Thailand's most popular destinations and no trip to the country is complete without some time spent on Thailand's best beaches, its island and its clubs. But if you want to have it all in the same place, some of Phuket's hotels and resorts are unashamedly designed as beach clubs, with pumping house music, pool parties and beachfront locations.
But they are rarely classy, favouring sparkles on your pricey bottle of champagne. There is probably room in Phuket's ever growing luxury resort range for something that still includes partying but in more elegant surroundings, can Baba Beach Club be the answer?
The makings of Baba Beach Club
The latest of Phuket's beach clubs opened at the end of 2017, only 20 minutes north of the airport, by the hands of Wan Issara, of Sri Panwa's Issara Real Estate.
Baba Beach Club is the younger, fun and carefree version of Sri Panwa, one of my favourite luxury resorts in Phuket. This is where the young and beautiful come to party by the pool, listen to a local and international DJ roster and sample the brand's fabulous cocktails in one of the most remote beachfront real estates near Phuket, where only a handful of the most exclusive resorts are located.
The resort is a combination of 16 suites, poolside gabanas, two- and five-bedroom villas and a set of tropical, managed villas set in a lush garden area at the back that will open during 2019.
Issara Group's young General Manager and owner, Wan Issara, excitedly talks about his passion for the Baba Beach Club brand which opened two outposts in Phuket and Hua Hin in 2017 and is planning its international expansion in China's Sanya Island in 2019.
Wan's confidence, friendly and serendipitous approach to marketing are both contagious and optimistic. He is Western educated, between Switzerland and Miami, and a lover of all things fun and music. His New Year's Eve parties are legendary he confides as we enjoy a dinner of terribly spicy food at Sri Panwa's Soul Food Restaurant, and he is friends with most of Ibiza's who's who. This is how he managed to get the big Ibiza DJ names to come to Phuket when Sri Panwa opened.
Baba is a term used extensively throughout not only the beach resort but also at Sri Panwa, where most of the restaurants, bars and even the spa carry the word.
Baba Iki is the Japanese restaurant, Baba Cool the spa. "It means young boy in Thai", Wan reveals, and it was chosen after an exercise in brainstorming with the team yielded no usable suggestions. The word could well define him too.
He opened Sri Panwa in his early 20s in post-tsunami Phuket and successfully grew it to be a reference family-owned and run resort in the competitive island. His time spent in Miami and his Swiss hospitality background coupled with Thailand's legendary hospitality were a win from the beginning.
He recognised that they stumbled onto their success with the local Thai market by coincidence, when all other international big names opening in Phuket preferred to focus on western guests. But it has paid off.
Young and boyish are definitively adjectives that bode well for Baba Beach Club, but they do not refer to the 20-something backpackers that fill the streets of Thailand but rather to the well-off, well-traveled clientele that come to Baba Beach Club for the music, the wild, long stretch of golden beach, the chilli-infused pizza made by a professional pizzaiolo and the beautiful people.
Arrival and check-in at Baba Beach Club Phuket
Many of Phuket's luxury resorts are reached via an hour, or longer, taxi ride. The southern part of the island, where the most popular beaches are, is quite far from the airport so one of Baba Beach Club's advantages is its location in an empty beach north of Phuket, technically located on the next Thai province up, Phang Nga, across the bridge from Phuket Island.
This part of Thailand is surprisingly underdeveloped and only celebrity-famous Iniala and a couple of other locally owned resorts can be found on what is a largely deserted coastal strip that may well be the center of Thailand's next tourism boom.
The airport is not only near, it is also predictably reached within 20-25min as the ride is not affected by the traffic jams that regularly cloak Phuket.
When our minivan pulled by the side of the road all I could see was a Chinese inspired full moon window, like those that can be spotted in Macau's main tourist spots, and which reminded me of Old Phuket Town sino-Portuguese background. This is precisely the style that inspired the resort, Phuket's rich heritage and colonial past, now only visible in its old town area.
The reception continues with this architectural style as inspiration and has a few carved furniture pieces that are reminiscent of that period. There are also the resort's two stray dogs who were found at the location during its construction and which have remained as de facto house pets.
During the day it is too hot for them to go out so they stay in the air conditioned reception. As the sun sets, you can find them playing in the garden or on the beach, getting completely breaded in sand. Wan also brings his dog, a gentle giant who is as loyal to him as he is now well behaved in the confines of a luxury resort.
As I was visiting on an invitation from the resort and with five other members of the press, our check in was swift and pre-arranged and we were quickly showed to our pool gabanas.
The rooms at Baba Beach Club Phuket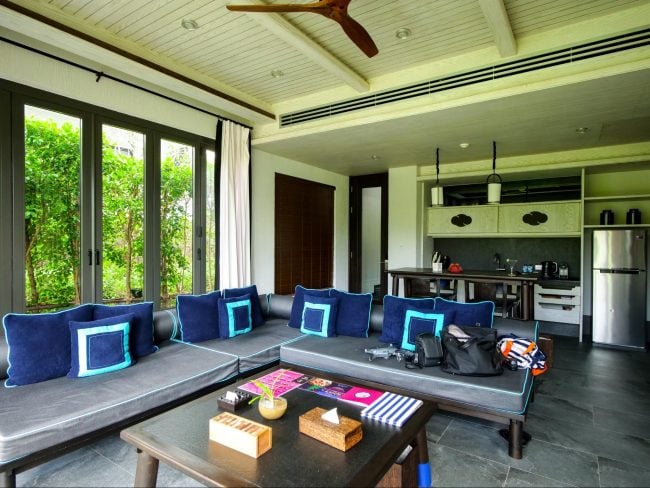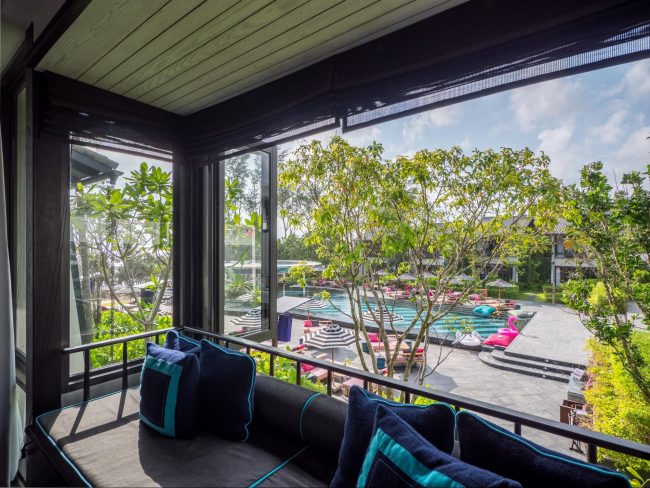 The resort opened with just the eight main building suites and its four two-storey poolside gabanas. There are also two five-bedroom beach villas and two two-bedroom beach villas available for booking or purchase on a management contract.
The gabanas are very spacious, just like at Sri Panwa, and an open plan design to facilitate the free flow of outside and in.
The ground floor has the large living room space with an L-shaped sofa, a tall table with stools and a kitchen with a large fridge and everything to make a longer stay comfortable. Everything is in the signature navy blue, sky blue and neon fuchsia of the Shanghai Tang brand used for the fabrics and decor.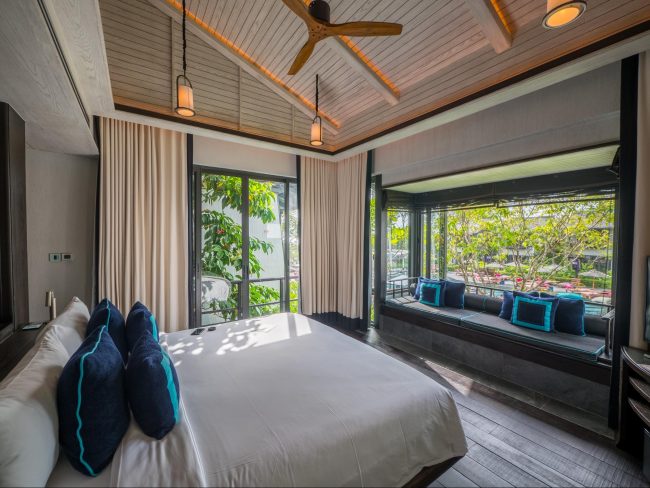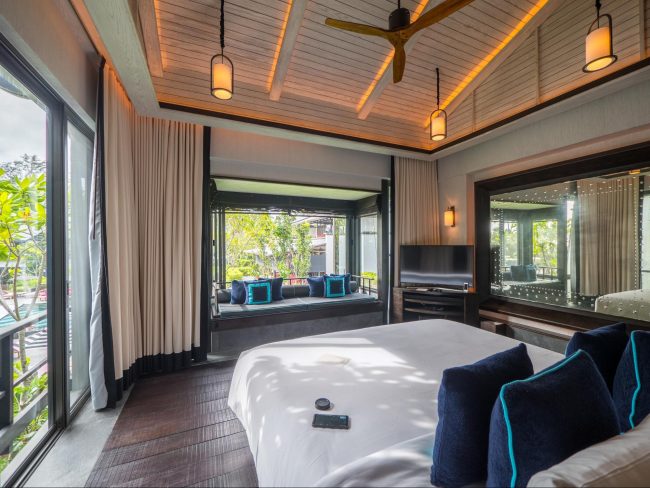 There are magazines to read, the monthly DJ calendar and a vintage looking speaker. The kitchen is well equipped and has all the crockery required if you were inclined to cook. The fridge acts as a minibar and is stocked with soft drinks, beer and wine. The freezer has ice pops in three flavours and the drawers have the same snacks found at Sri Panwa, dried seaweed, cup noodles, chocolates and other savoury snacks. All of these, minus the wine, are complimentary. There is also plenty of water to keep hydrated.
The open plan concept means that the ground floor glass doors can be easily and completely opened to the small front garden and pool area.
Upstairs is an equally large bedroom, walk in closet and bathroom. The bedroom follows the same open plan concept and the windows of its small indoor verandah can easily be folded to fully open onto the pool below.
The bed is large and comfortable, with soft bed sheets. The room has various Shanghai Tang design details like a large Chinese tassel charm hanging on the wall or cushions with geometric shapes.
The suites are located in the main building and split among various categories. The entry level suites are on the ground floor and have small terraces. The Ocean View Suites are on the upper floors thus having the namesake views. Pool Villas and Ocean View Pool Villas have outdoor pool areas instead of terraces.
These rooms are smaller than the cabanas as they are on just one floor, but offer a great level of comfort and have the same interior design and comforts. Because they are facing the sea rather than the pool, like the cabanas, the upper floors have expansive views via the top of the palm trees.
The multi-bedroom villas are right on the beach, at either side of the resort, and are either two or five bedrooms. These are stunning and the perfect beach vacation destination for families or friends. Because of their beach location farther away from the main pool area, the music and party feel of the resort is not as pervasive and, instead, you have a full sense of privacy. The beach is completely empty and the resort owns 200m of it so you are sure to enjoy full privacy.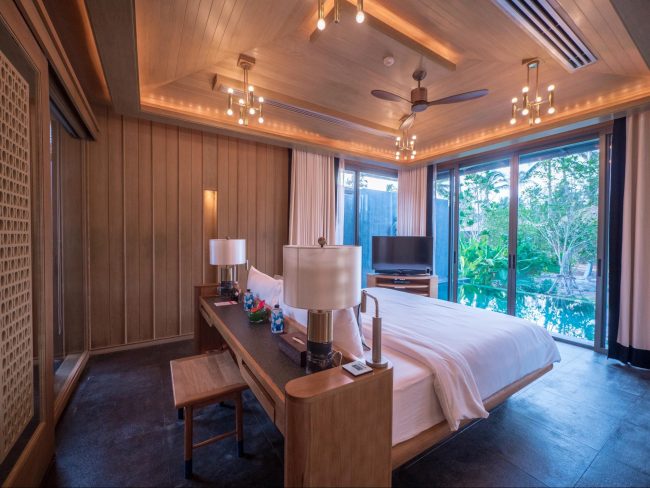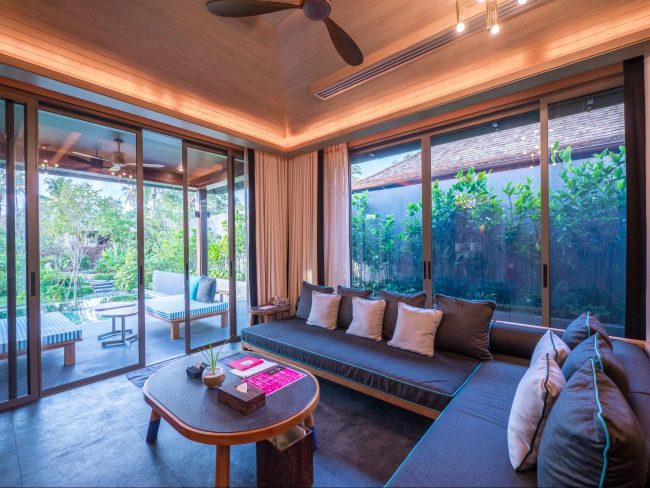 In a party and music themed hotel, the sound system is paramount and operated by an iPod with a varied playlist, signature of the resort's in-house music team and Baba Beach Club's Soundcloud.
By default, the music played inside the room is the same one played by the pool, whether that is the curated playlist or the live DJ sessions which change daily. You can also choose other options on the preloaded playlist, or connect your own music device directly via the cable provided.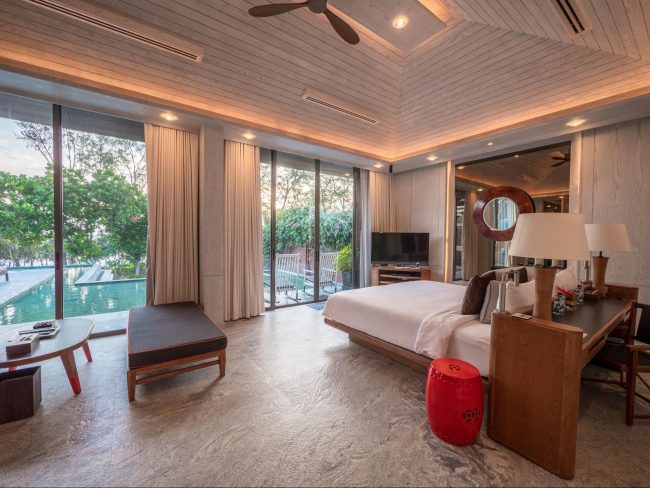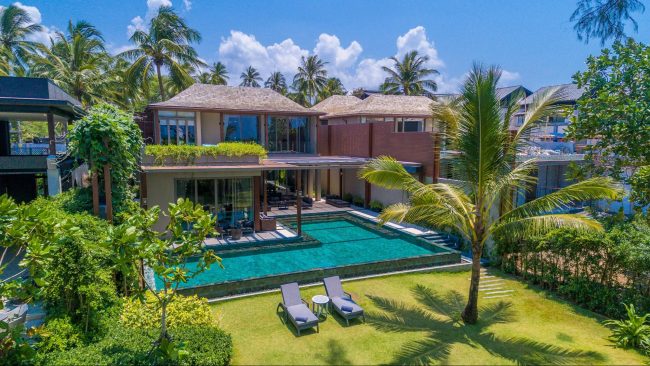 Music is the main defining element at Baba Beach Club and it features extensively throughout the resort's design and philosophy. You can have your party in the room or outside by the pool but the party is ever present. A warning on the website is a clear statement to potentially mistaken guests, "… as a Music Lovers Hotel, we take pride in playing music throughout the hotel. Please note that music can therefore be heard from the comforts of your own suite or villa."
Dining at Baba Beach Club Phuket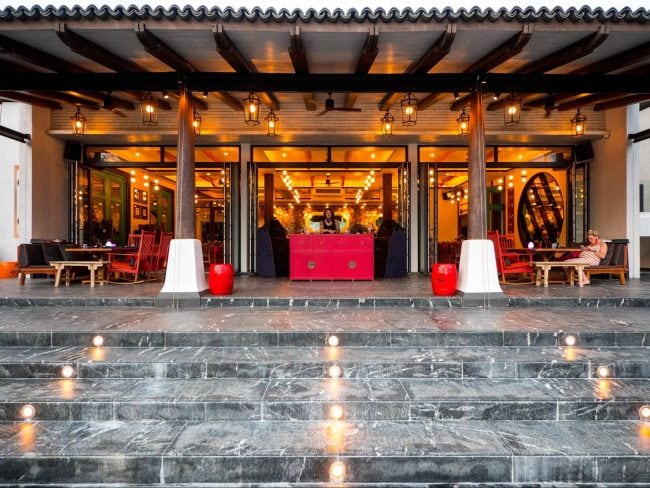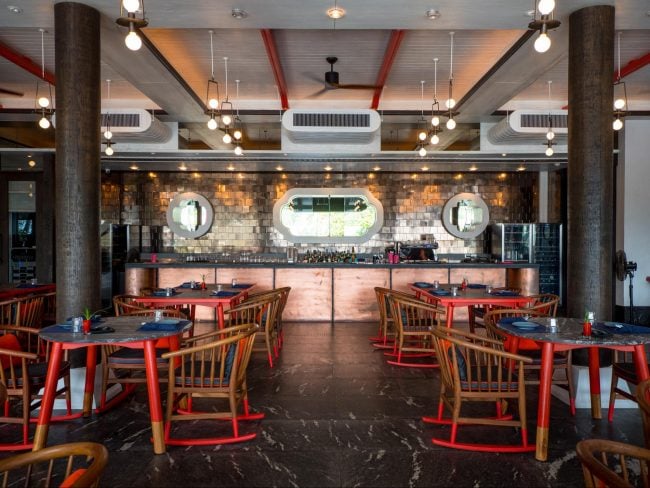 While the new tropical pool villas are being finalised the resort has two dining areas split into the two levels of the main building, Baba Beach Restaurant and Baba Iki. The decor at both locations in the same and the menu can be enjoyed at both although this may change in the future when the resort expands and the restaurants specialise.
The menu is extensive and offers three types of cuisines: Italian, Thai and Japanese following the formula at Sri Panwa. Italian food, and homemade pizzas by the inhouse pizzaiolo are fantastic options given the chef is Swiss-Italian. He has fused some of the flavors of Thailand into the pizzas and you can enjoy the fiery combination of pad thai on the thin crusted pizzas.
The pasta dishes are very special. Wan studied Hospitality at DCT International Hotel & Business Management School in Switzerland and trained under the 2 Michelin star Chef Stefano Baiocco of Grand Hotel At Villa Feltrinelli. This friendship has allowed Wan to receive the same fresh flour Chef Baiocco uses at the restaurant to make Baba's pasta in-house. So you are eating 2 Michelin starred pasta in Phuket!
The Japanese dishes are a combination of the freshest sushi and sashimi often flown in from Japan, as well as grilled meats to perfection at the inhouse Josper Grill. The chefs are professionally trained and can prepare fantastic dishes with precision.
And if you want to enjoy the local specialties, those are also available in an extensive Thai menu.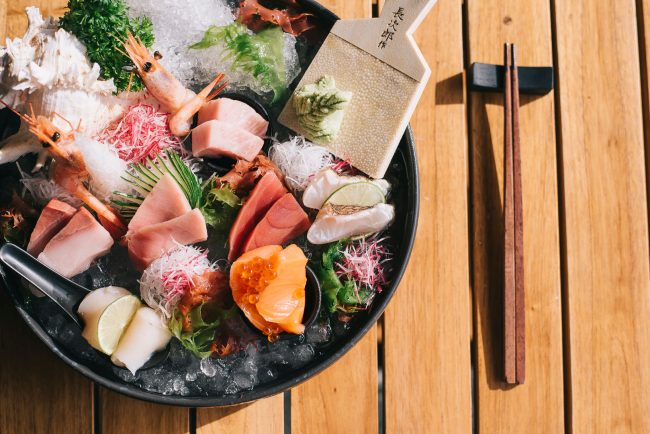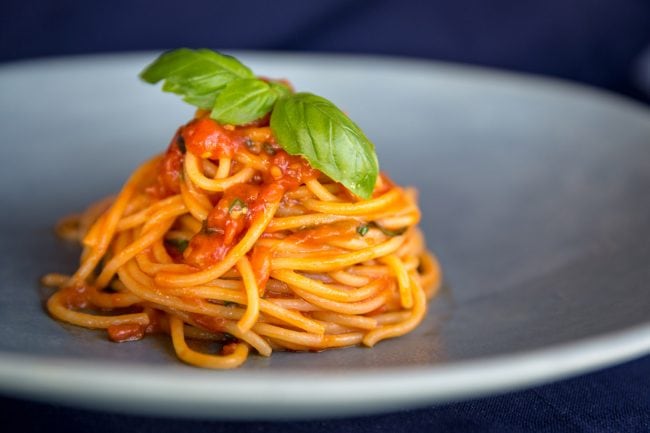 While the restaurant is great for lunch and dinner, breakfast is also served there from an a la carte menu of hot and cold dishes including eggs, pastries, yogurts, pancakes, waffles, etc. made to order and brought to your table. The outdoor seating and open plan space of the restaurant mean that you are basically enjoying a leisurely lazy breakfast by the pool.
Lastly, the entire pool area is a bar and casual lounging space any time of the day or night and you can order drinks from the fabulous drinks menu (shared with Sri Panwa) or some food as well. The cocktails are truly fantastic with so many local variations and adaptations to Thai flavours following a beach club theme. I tried many of them during our stay at both resorts and they were all great. Notable mentions for a Tom Yum cocktail which was pretty spicy, lemongrass cocktails that were great, lycheetini that is signature at Sri Panwa and many other options, including an extensive mocktail list too.
Facilities and activities at Baba Beach Club Phuket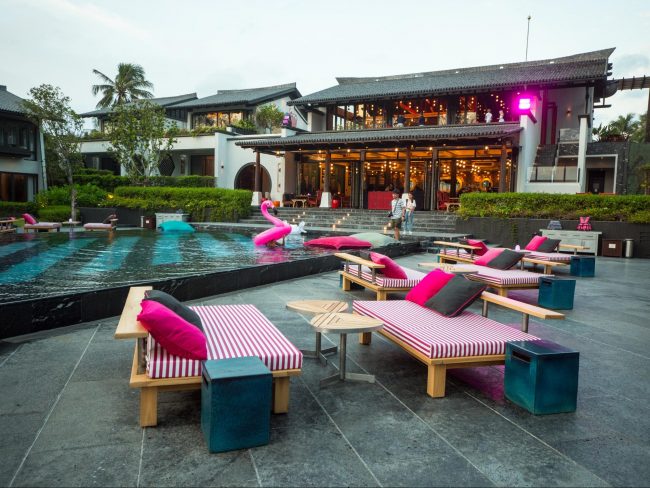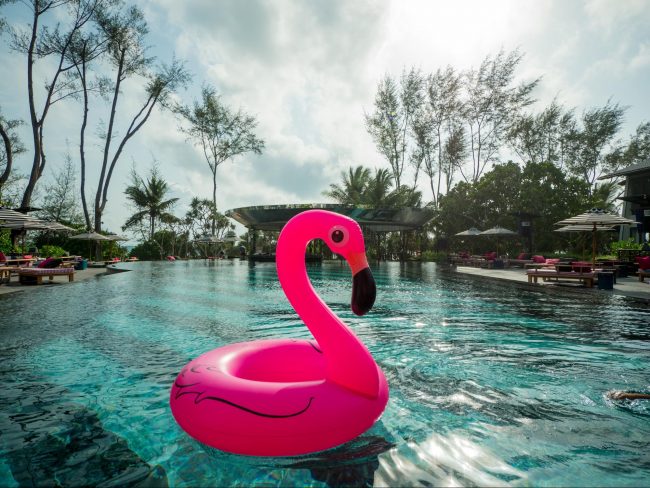 Since the resort just opened this is the part that has been developed the least and which will be fully completed once the villas are finalised and the new gym is completed.
Of course the main draw to the resort is its lounging pool which is perfectly lit at night and filled with floaties for that perfect Instagram photo. There are plenty of sofa lounges around and some bean bags on the water. Finding beautiful people on what looks like an official photoshoot is not uncommon.
Between the pool and the sea there is a dried mangrove forest that has some shaded loungers and tables to relax away from the sun.
For now, there is a small gym by the beach with outdoor boxing bag and some machines and the best exercise would be had at the beach, swimming or running on the long stretch. A large well equipped gym will open later as will the spa.
In the high dry season, when the waves are not wild and the sea is accessible, there are water sports available too. Other activities include pizza making for kids, cooking classes (the one at Sri Panwa was a lot of fun!), yoga sessions, cocktail workshops with the bartenders and Muay Thai classes (I tried it at Sri Panwa and may have seriously discovered my next exercise routine!)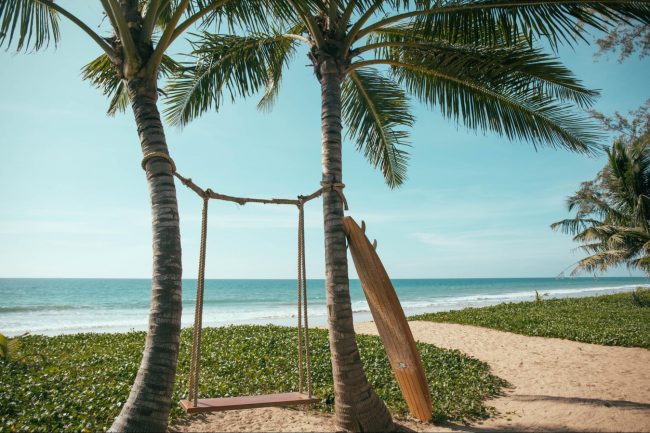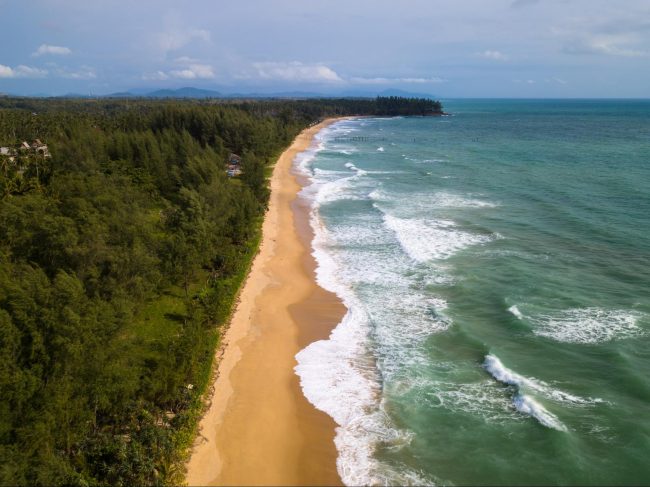 And of course, the entire Phuket Island is just a stone throw away and full of things to do. Check out my article to find out more about the many activities you can join on Phuket. You can also book the resort's private speedboat to go out and explore the many beautiful islands in Phuket in the most exclusive manner.
Service at Baba Beach Club Phuket
I was of course on a media trip and hosted by the marketing team so the service I received was outstanding. Because I have stayed at Sri Panwa before, I know that service is one of the elements Wan and the entire team focuses on. Thailand is known for having a strong service industry and with an all-Thai team the only issue you may occasionally face is perhaps a language misunderstanding.
I found a few details that were particularly noteworthy. My clothes were always folded and hanged when left lying around. They were properly placed so that they would not be creased. All my toiletries were also stacked tidily on the bathroom top in an almost symmetrically perfect picture. There were even small pots to put my makeup brush so it would not touch the dirty surfaces. As I was checking out, the staff offered to pack my luggage.
Baba Beach Club staff can prepare a bathtub for you. And you know I am a fan of bathtubs as the many pictures of me in one prove, so I had to try. I was impressed by their skills and I found the fluffiest most foamy bathtub I have ever seen, I wish I had paid attention to how he did it so I could repeat it!
The verdict: Baba Beach Club Phuket
Baba Beach Club is a fun brand of party beach clubs designed to entertain and indulge music lovers. Here, it is all about lazy afternoons to the sound of DJ sets and iced cocktails more reminiscent of Ibiza than of Patong.
This is a playground for adults and place to see and be seen. Class is a must. The fuschia-purple splashes of color are both unapologetic and an invitation to wear oversized sunglasses and statement beachwear.
The brand is competing with brand like Nikki Beach or W Resorts, where it still holds the adults-only, party-central atmosphere (not in places like Singapore) but with higher attention to detail, better quality of food and drinks, and a passionate and personally curated list of DJs brought to Phuket by the hand of its owner and Ibiza regular, Wan Issara.
The formula works for those in search of exactly that but would be a disaster if you were looking for a discreet hideaway or a private resort. If you're only in Phuket for one day and love a good party at a trendy place, this is the place to visit.