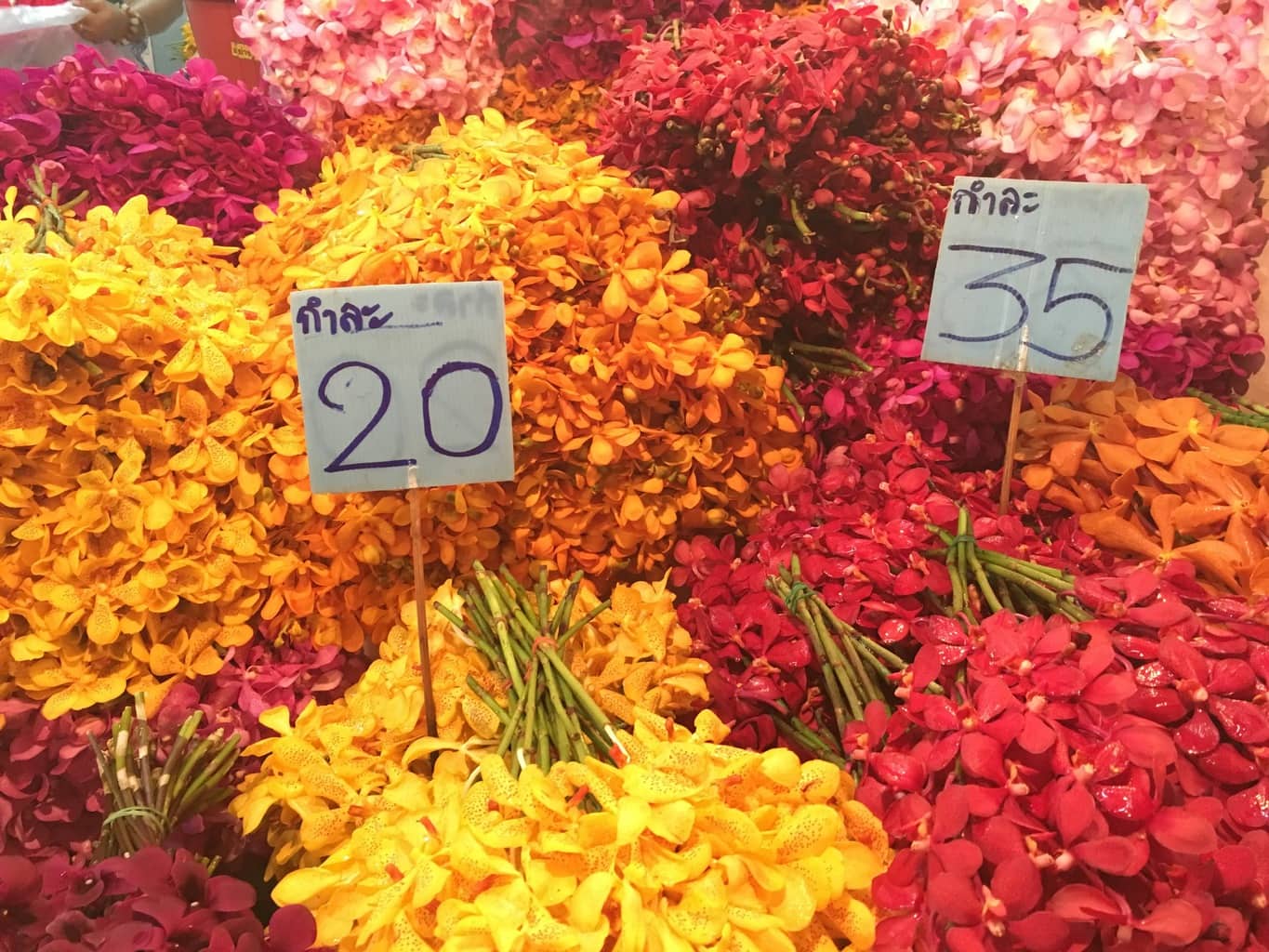 Pak Klong Talad also known as Bangkok Flower Market is a 24h haven of flowers and arrangements supplying the city with its ever beautiful colours and smells. Its name in Thai means "market at the mouth of the river", which it alludes to its location.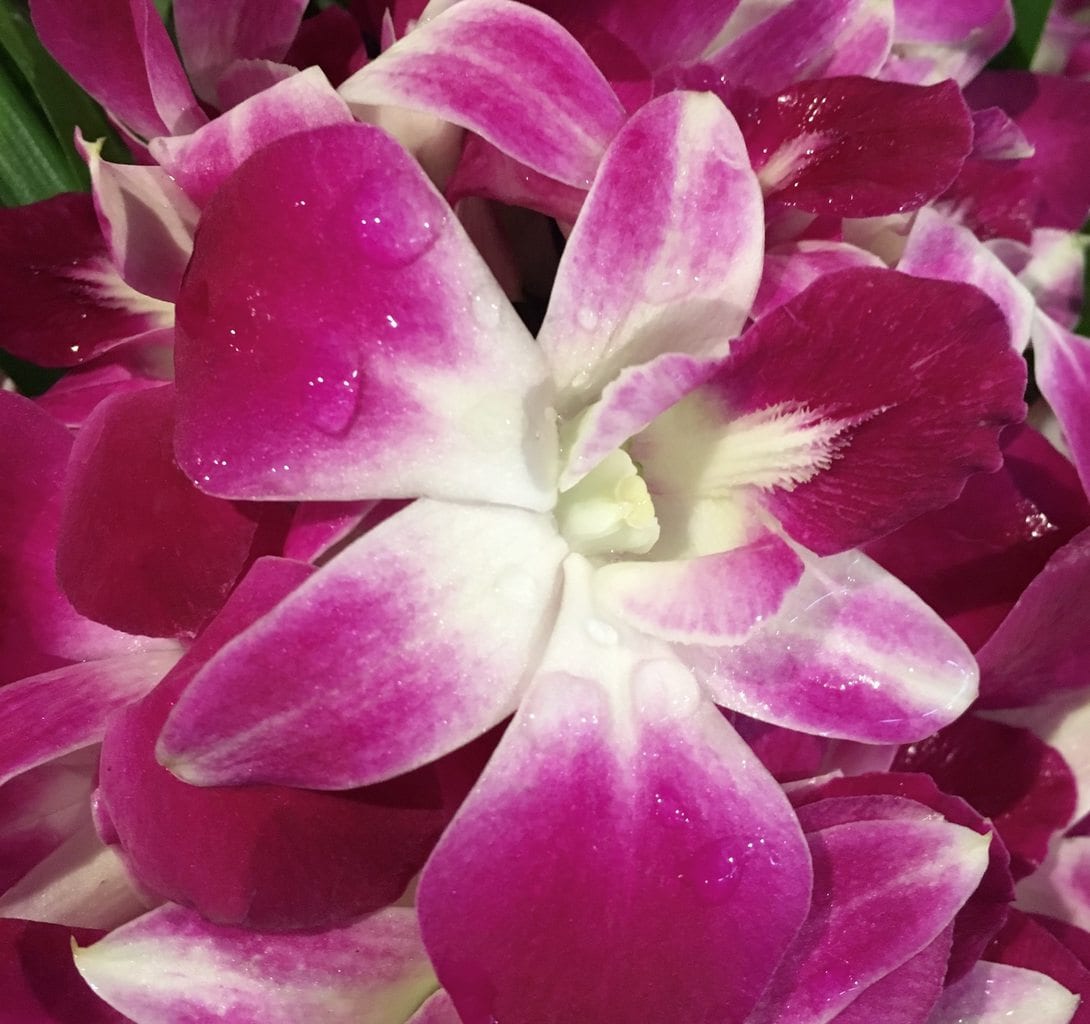 Bangkok flower market is located on Chak Phet Road near the Memorial Bridge and South of Wat Pho, the Temple of the Reclining Buddha.
It is accessible by boat as the river pier is close by so it makes for a great stopover after visiting the temple and historical sites along the river. It is also a great way to end a food tour of Chinatown.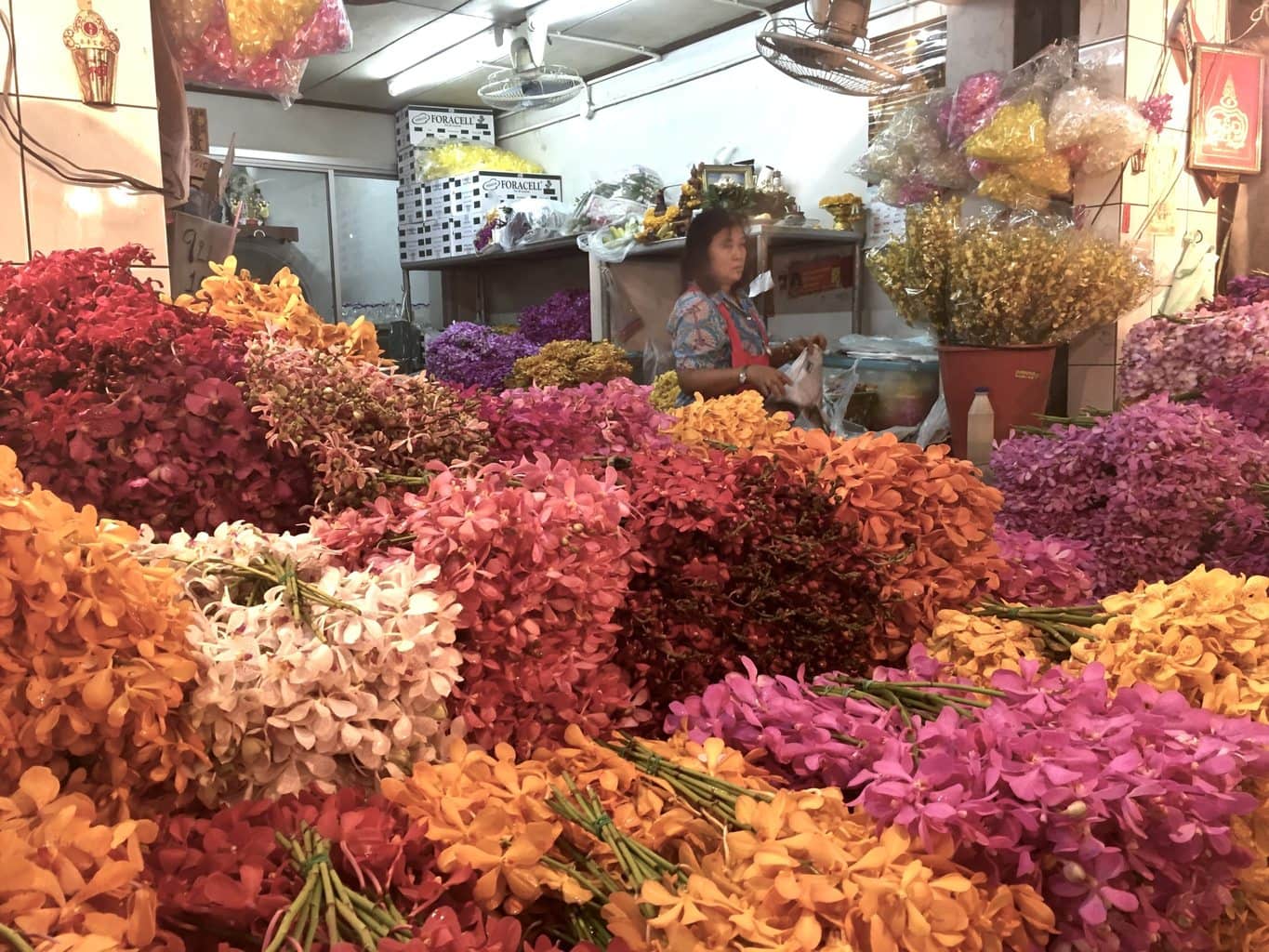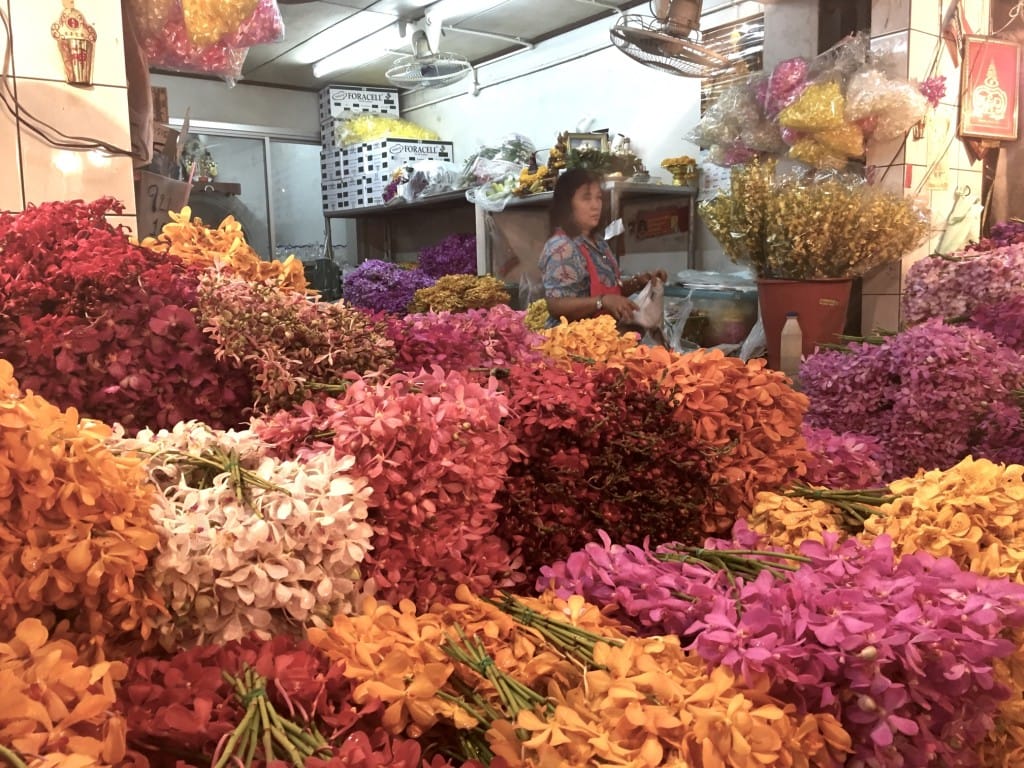 The market is massive and stalls are located inside two to three-storey shop-houses on both sides of the main road and outside by the sidewalks. Stall after stall selling flowers of all colours and smells fight for the attention of buyers and visitors alike. It is overwhelming but in a good way.
As it would be expected, the flower market sells a multitude of flowers, from simple roses in all colours to intricate arrangements and creations with jasmine, orchids and marigold.
Both local and international flowers coexist at the Bangkok flower market but orchids, jasmine and marigold remain all time favourites for their link to Thai Buddhist offerings and traditions.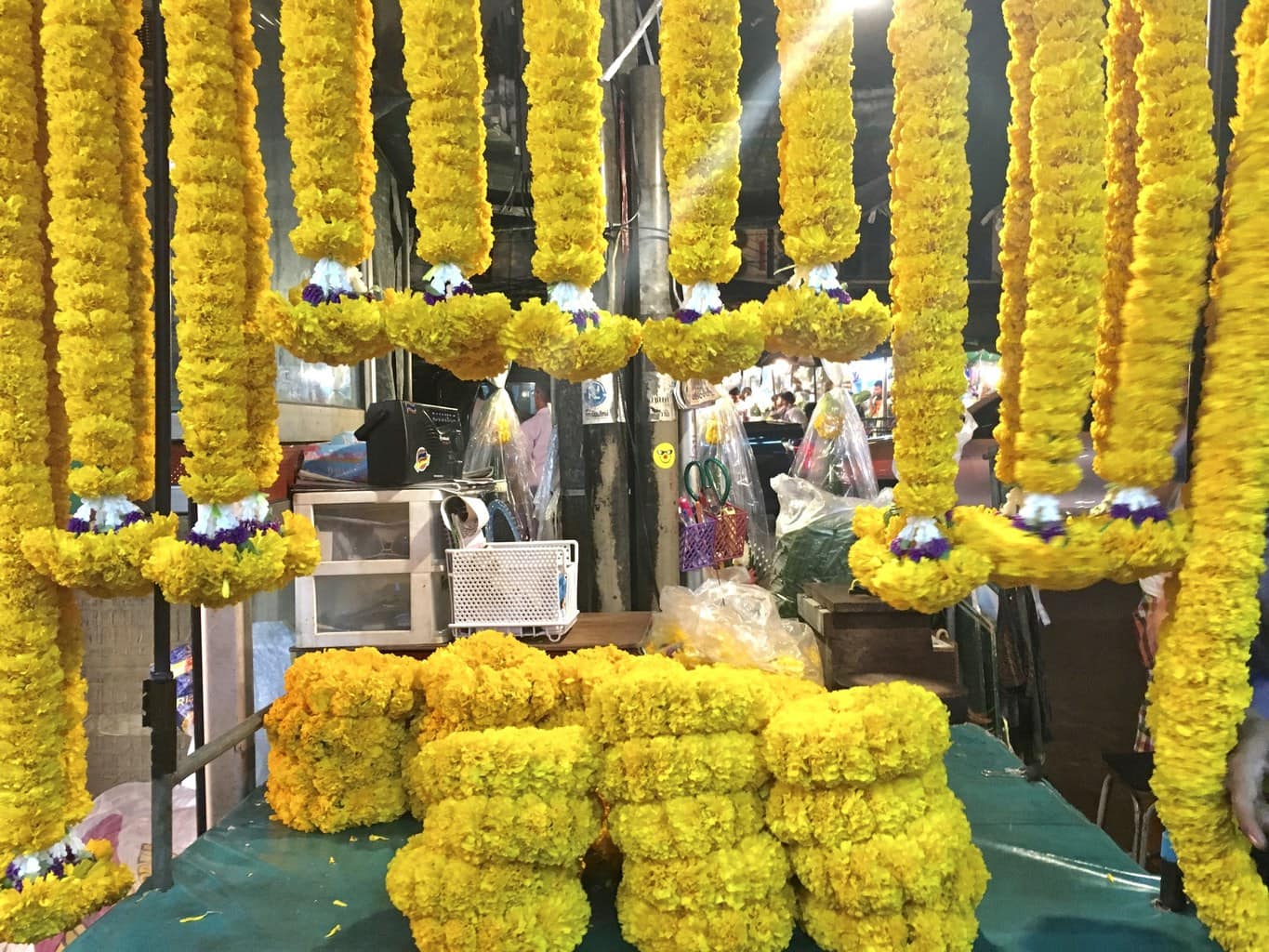 Although heading there after dinner in Chinatown makes for a great stroll, the Bangkok flower market is busiest and most blooming between 3-4am when the wholesale growers deliver their new produce to the market vendors from all over Thailand, even from as far as Chiang Mai.
At that time, you can sit down and simply see the comings and goings of the locals. Pushers carrying towering piles of flowers on wooden carts, large trucks downloading their produce, tuk tuks carrying huge loads to the city's hotels and the general noise of Thailand's largest flower market.
It is best if you find a quieter spot and simply watch the day unfold to make sure that you do not intrude with the vendors getting their work done. After all, Pak Klong Talad is a working flower market.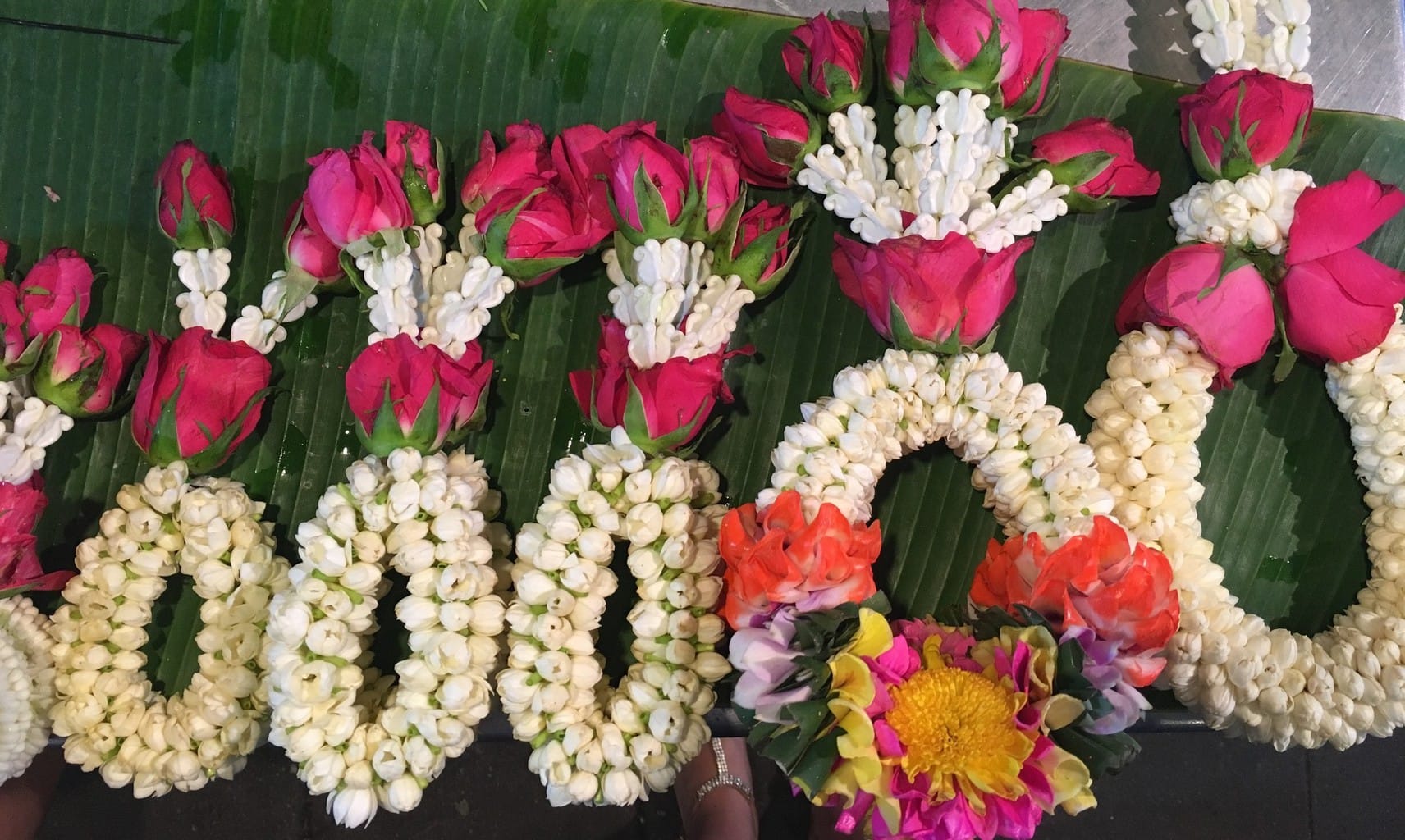 If you go in the evening, when it is slightly quieter, you may be lucky enough to strike a conversation with the sellers and even get them to teach you how to fold lotus flowers into the pretty arrangements you see at temples all around the country, or how to make the beautiful garlands you may have been given in your hotel, just ask some of the hard working families who gather around the stalls preparing their goods.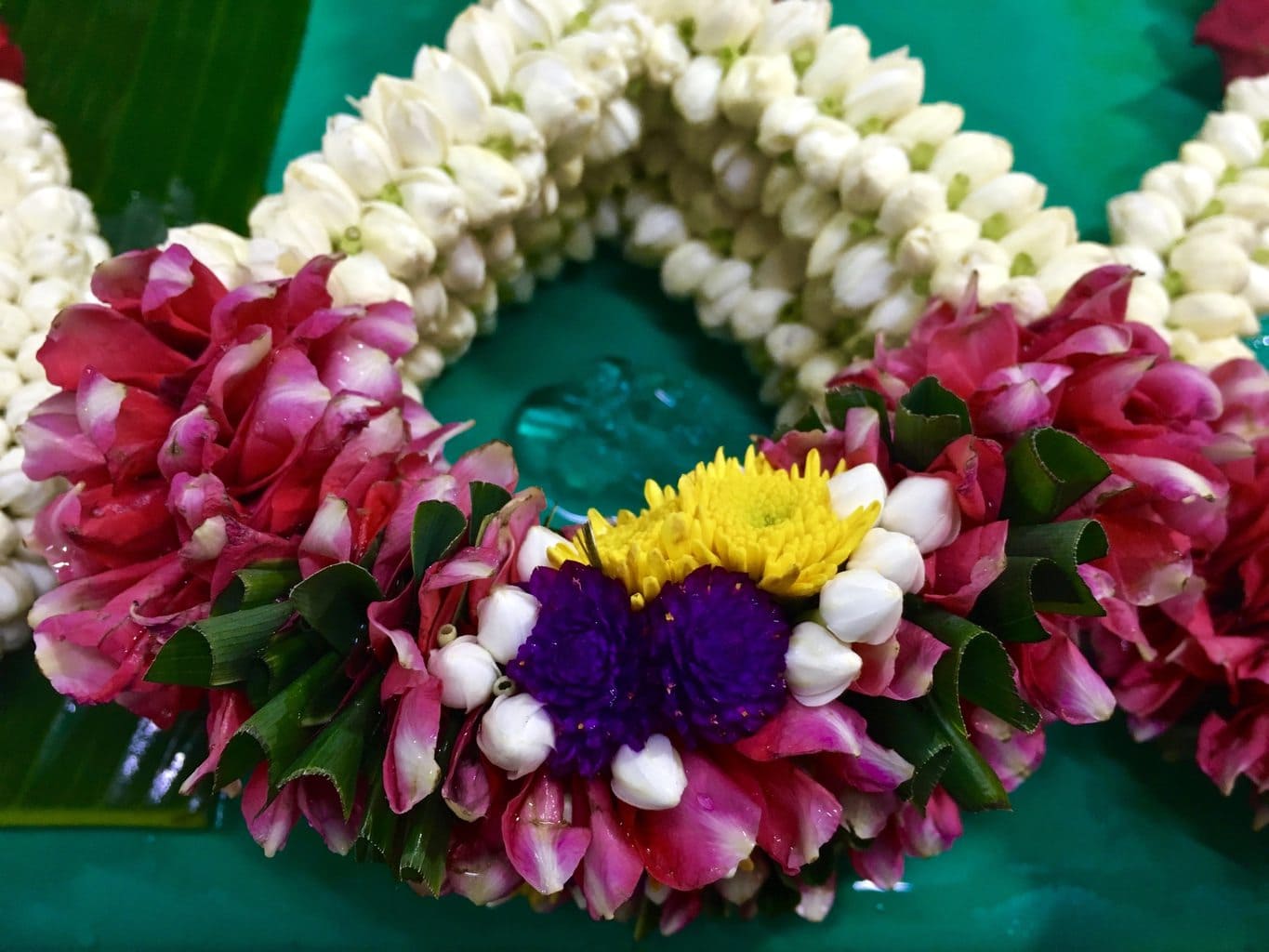 The sights of piles of bright yellow chrysanthemums next to purple orchids by the bucket load made me remember the very expensive price tags of the latter, untouchable in shops all around the world. At the Bangkok flower market, orchids are as affordable as they are beautiful.
As it is a wholesale market, expect packages to include several dozen flowers, although you may buy smaller bunches to take home.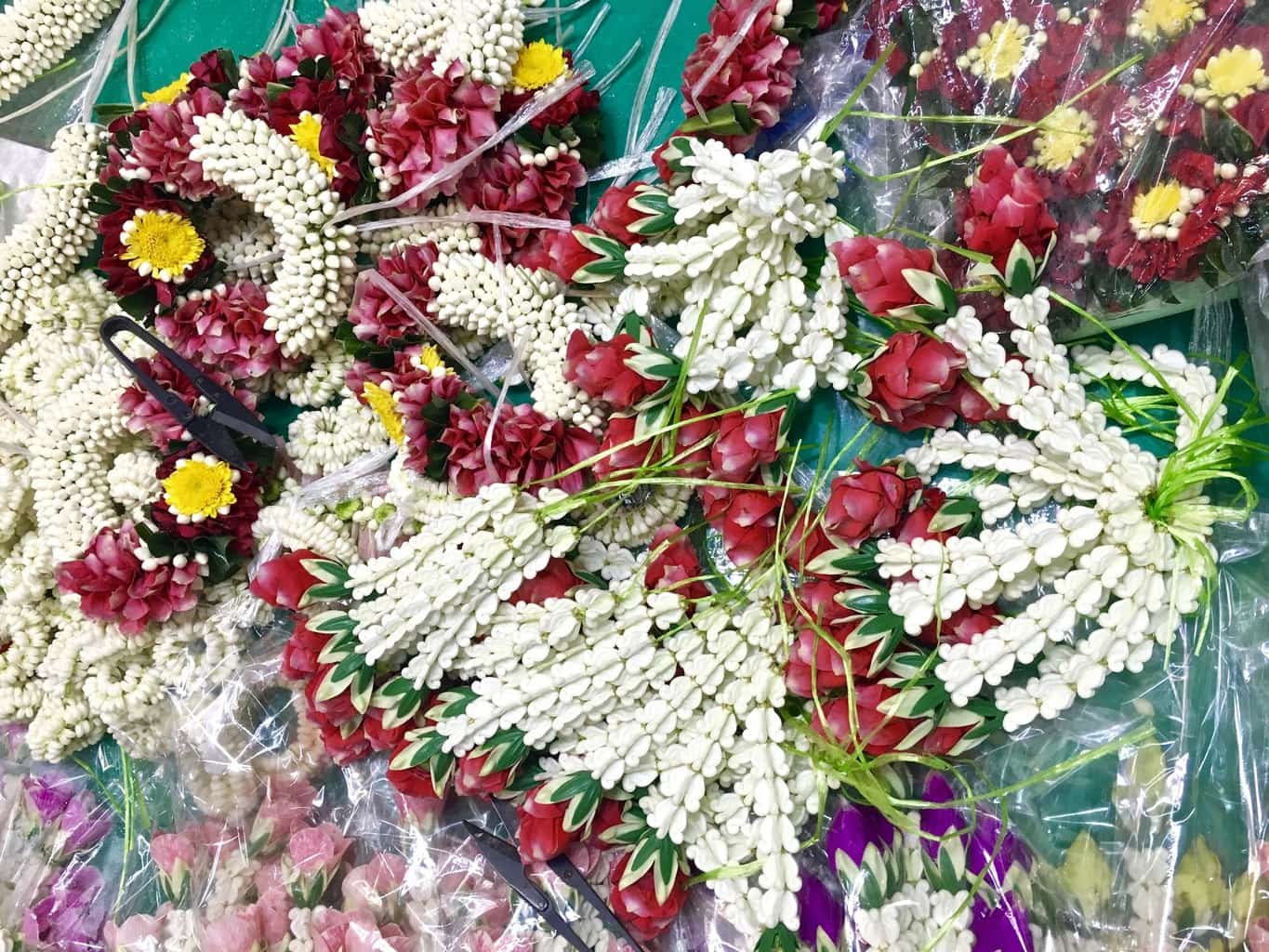 Bangkok's flower market is no doubt, one of the most beautiful sights in Bangkok and one sure to mesmerise the visitor. I, for one, was completely taken back by the incredible explosion of colours and could not stop myself from saying "How beautiful!", or "How pretty!" over and over again. Go as part of a Chinatown Food Tour with Context Travel and get insights from their docent guides. Check prices and availability here.