Whereas big brother Puerto Vallarta is famous for its all-inclusive large resorts and it's long stretch of beach, if you venture a bit out of town, 25km north to be precise, you will find a yogi and surf spot with a hippie laid back vibe. Discover the things to do and places to see in Sayulita, the quieter side of Nayarit coast, but with a lot of activities to offer.
If you are looking to actually do things near Puerto Vallarta but hate the all-inclusive approach, Sayulita is the right place for you.
I even put together a complete list of the best places to stay in Sayulita when I realised how much of a chic low-key place it was when compared to Puerto Vallarta's glitzy all-inclusive behemoth resorts. You can also include Sayulita on a one day road trip from Puerto Vallarta to Punta Mita.
Sayulita is a small walkable town of 6,000 inhabitants discovered as a surf destination in the 60s. It has developed from a hidden and unknown little secret to a rather popular tourist magnet for those looking for the relaxed attitude of a yoga meets surf meets wellness lifestyle.
Some people arrive in Sayulita in search of a digital nomad spot. Others come to take a breather, but most come to enjoy the hipster feel and the very relaxed atmosphere. This is an almost complete list of things to do, places to see and activities in Sayulita.
0. Explore Sayulita on a day trip from Puerto Vallarta
I visited Sayulita by car. I had rented a car and was exploring the area around Sayulita and Puerto Vallarta on my own. However, the easiest way to explore Sayulita is on a day trip from Puerto Vallarta where they take you there and back without you having to rent a car and drive on your own.
Unless you are on a longer road trip, I would recommend you book a tour, it is just much easier and convenient. These two options are great:
Half-day (5h) trip to Sayulita and San Pancho (a smaller and even quieter village). The tour includes transport, a guide and water. Book it here.
Sayulita day trip with free time to explore the town and beaches. This tour includes Playa de los Muertos as well as Sayulita town. Book it here.
1. Snorkeling
You can put on your mask and explore the waters off the main beach, or go to Los Muertos where there is a bit more marine life and clearer waters.
For an extra dose of awesomeness, book a tour to Marietas Islands, a marine park, but be sure to book one without dolphin kissing/swimming included, that is not an ethical activity. Wild animals are best left to roam freely.
🤿 Tour the Marieta Islands 🐠
Marietas Islands can only be accessed on a boat tour as they are a bit far offshore. There are several alternatives and I have highlighted the best ones below.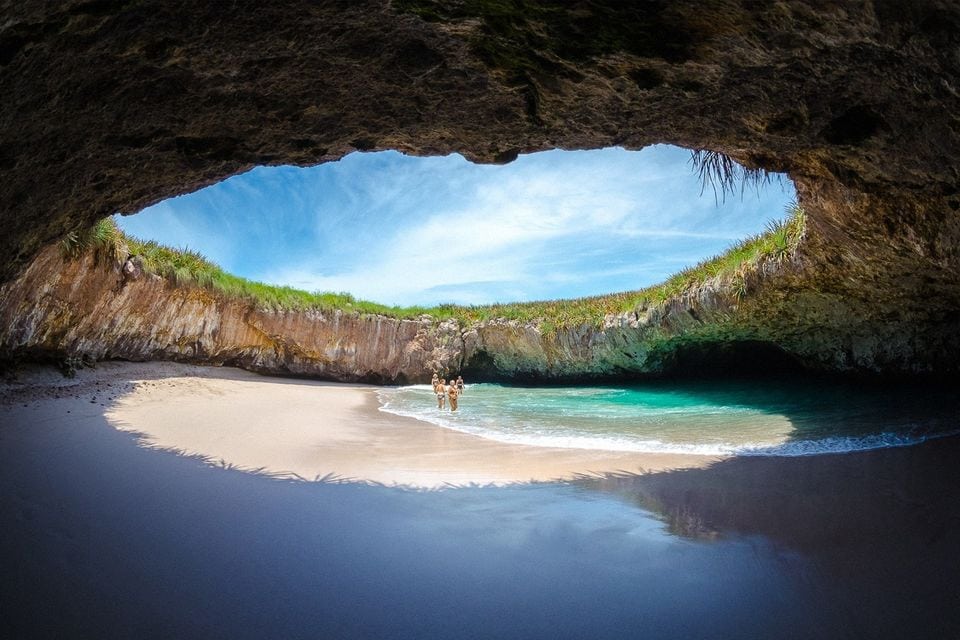 A 3.5hrs long snorkeling tour with a small group that includes places like the famed crater Stone Bridge. Book your tour online here.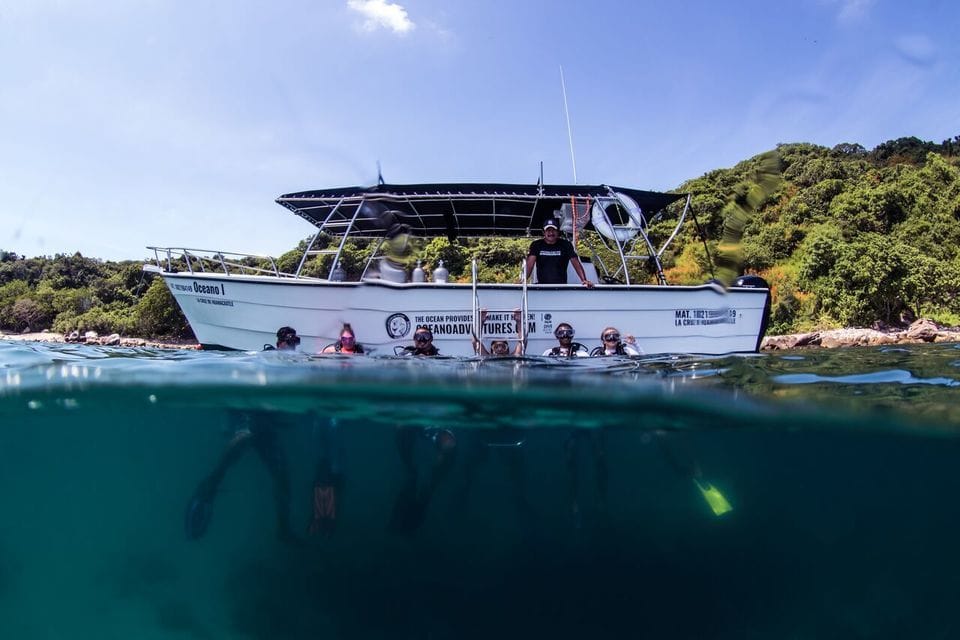 A diving trip so you can get up and close with turtles and whales in season. This excursion is 3.5hrs and includes a dive-master guide as well as national park fees and all dive gear. Book online here.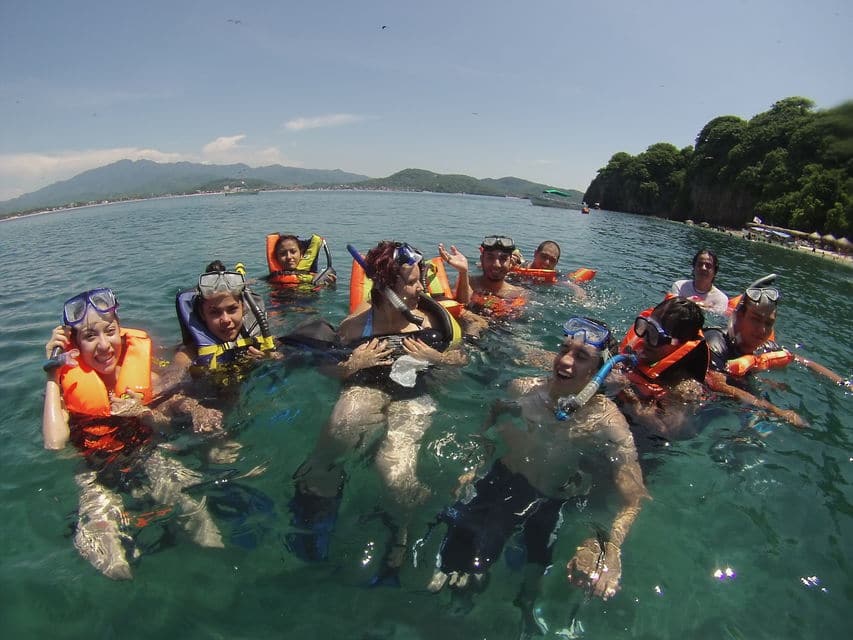 Make it a day trip with snorkeling on Coral Island in Rincon de Guayabitos Bay followed by a walking tour of Sayulita. This tour includes breakfast, lunch and unlimited drinks. Book online here.
2. Visit stunning hidden beach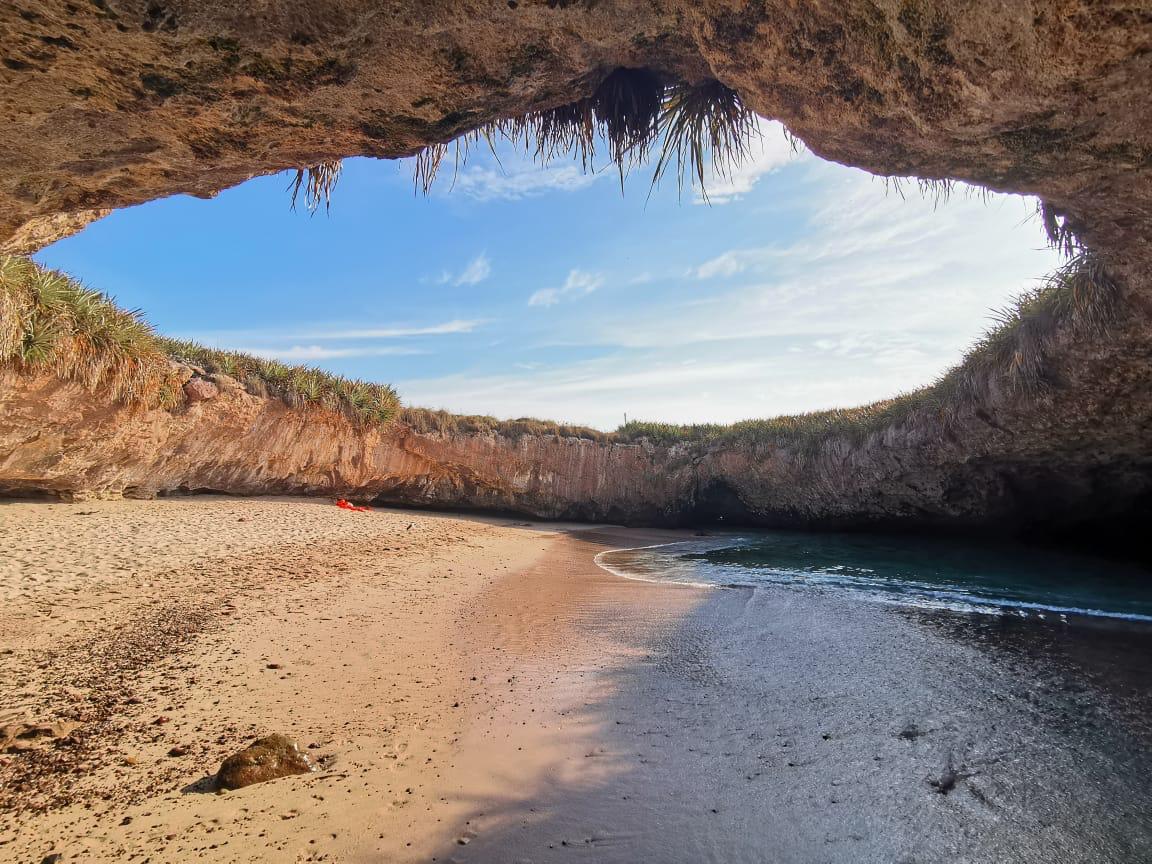 This photogenic and popular spot within the Marieta Islands can only be reached by swimming in at low tide. Once you get inside, you will enjoy a cenote type of feeling, with an opening at the top that collapsed and a hidden beach inside.
It is one of the coolest places to visit near Sayulita and makes for a popular day trip. You can book a group trip to Hidden Beach with a bit of island hopping here.
3. Surfing
Sayulita became famous thanks to the consistent waves that are good for all levels of surfing. Lots of people come here to learn the sport and you will see a fair amount of surfers both in the water as well as on shore. You can join a 4-day surf camp and become a surfer dude or dudette.
4. Fishing in Sayulita
The beach at Sayulita is filled with wooden boats and the air has the smell of fish. You can hire any of the locals to take you out in search of large tuna or sea bream.
If you want to learn to spear fish, for the wilder more adventurous type, you can join a spearfishing trip where you will be taught all the ins and outs.
5. Beach-ing
You are by the coast so spending time at the beach seems only logical. However, don't expect Sayulita's main beach to be the fluffy white sand beach of other parts of Mexico, this is the Pacific. The water is colder than on the Caribbean side and the beach is packed and not particularly pretty.
Don't get me wrong, it is worth going, but don't expect Thailand style beaches, more European style ones. For a quieter spot with picturesque views head to Los Muertos, a beach that is near a cemetery (hence the name "The dead").
If you want something a bit classier though still pretty hippie than laying your own towel on the sand, you can try Don Pedros, which has sun beds, bar service and amazing food or El Break Café, the colour explosion beach deck with a healthy menu.
6. Walking on the beach
It may seem like an obvious and mundane activity but the beach at Sayulita is best enjoyed on a leisurely stroll.
It is long and it goes through ups and downs in messiness, chaos and popularity. Watch the waves, the surfers, the kids playing, the locals, the fishermen. A walk along the grey sand is one of the best exercises there is. Try to do it at sunrise when the beach is pretty much empty of visitors and only the daily life occupies it.
7. Living la vida loca
One cannot come to a chilled out beach town and not enjoy a few drinks at sunset. And sunsets at Sayulita are stunning.
So pick a cocktail (margarita preferably) and take a seat at one of the cool bars. Club Camaron, right on the beach is a favourite. Expect Latin rhythms and lots of sweaty, messy-hair surfers to match. Nothing says Loving la vida loca like salty hair, sticky fingers and the sea breeze on your lips.
8. Huichol culture and heritage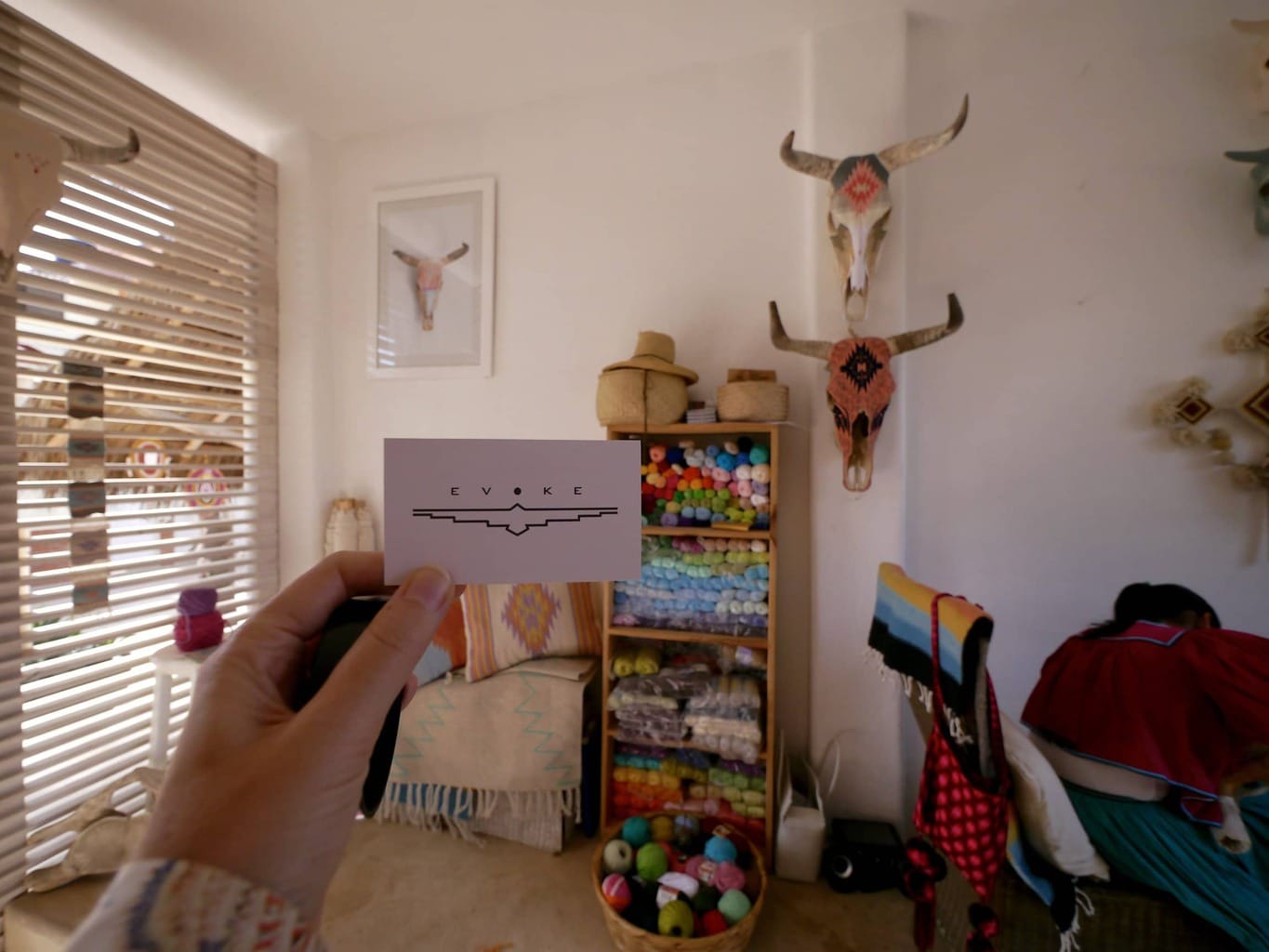 Sayulita has been recently named Pueblo Magico by the Mexican Government and that goes beyond its popular tourist cache. A Pueblo Magico consideration refers to Sayulita's historical roots and its rich heritage.
Before the Spanish invaded these sacred lands, and well before the Mexicans and the gringos arrived, Sayulita and the surrounding area was inhabited by the Huichol, descendants of the Aztec. Dressed in white and red, Huichol people can still be seen today around town selling their artwork and beadwork. The artwork is inspired by their cosmology, which is in turn aided by use of peyote, the psychedelic cactus sacred to the tribe.
9. Shop
Sayulita is one of those places where designers, artsy people and those escaping urban noise in search of inspiration head to. To me, it felt very much like Ubud that is lined with boutique stores and hipster cafes.
The narrow cobblestoned alleyways are lined with classier souvenir shops selling anything from clothing, designer pieces, paintings, art installations and even native Indian inspired goat heads decorated with wool designs at Evoke.
Your wallet can go on a holiday spree too at the many stores where glam accessories, colourful well intentioned fair trade items are for sale. A lesson in local Indian culture is awaiting at every corner, don't miss any opportunity to chat with the store owners to get the stories behind the pretty items. To shop for Huichol items head to Galeria Tanana or La Hamaca.
10. Yoga
If you didn't come here for the surf you most likely came for the yoga. The Bali of Mexico attracts a bunch of people looking for a healthier lifestyle where meditation, being in the moment and mindfulness take center stage.
11. Jungle hikes, bikes and horse back riding
The thick forests int he area protected it from proper invasion and left the local ethnic groups largely undisturbed. You can go hiking up and down hills and forests and explore nature or you can take a bike ride through the jungle. Explore Monkey Mountain, hidden waterfalls or ancient petroglyphs.
Best to get a local guide so that you don't miss out on the butterflies, the parrots and the streams. Check out Rancho Manuel for a real horse riding experience through the jungle, the beach and the hills so you can combine it all.
12. Whale watching
Humpback whales come to enjoy the peaceful waters from December to April and you can often see them from the coast. But if you want to get up close with these gentle giants, you can book a whale watching tour.
This tour will take you on a whale watching excursion for half a day. Unlike in places like Tonga, you don't get into the water but observe them from a safe distance. You can get picked up from Puerto Vallarta or Punta Mita. Book it here.
13. Release turtles
They were before harvested and eaten but today, turtles are taken care of and released throughout the season. You can find out more and join one of the tours.
14. Eat local food
You cannot come to Mexico and not devote a significant part of your day to eating. Sayulita has great fish tacos, organic health conscious hipster options, the freshest fish, but the beach, and lots of lovely cafes for a caffeine fix. For the best beach eating spot and people watching, head to Don Pedro's.
For the best tacos, Naty's Cocina, open for breakfast and early lunch. El Jakal for lunch is a must. But to be honest, any local food at one of the pretty bars, cafes, or restaurants in town will be great. Even better, taste the weekend market street food for the tastiest of all.
And if you're not sure what to eat, here's my guide to the best Mexican food.
🏝️ Explore Sayulita with these Tours 🏝️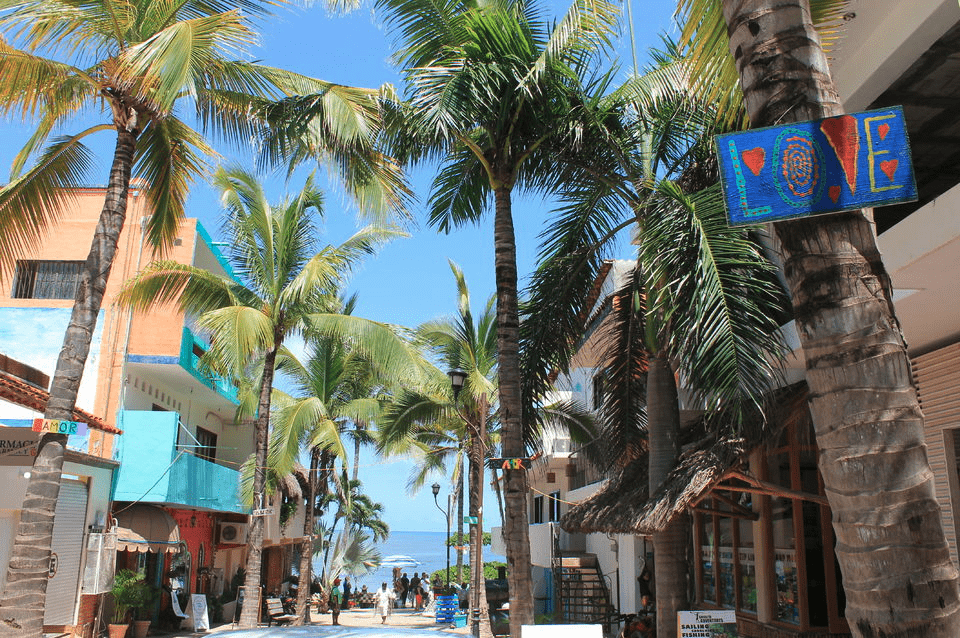 Visit two really popular beaches of Riviera Nayarit including San Pancho and Sayulita. Book here.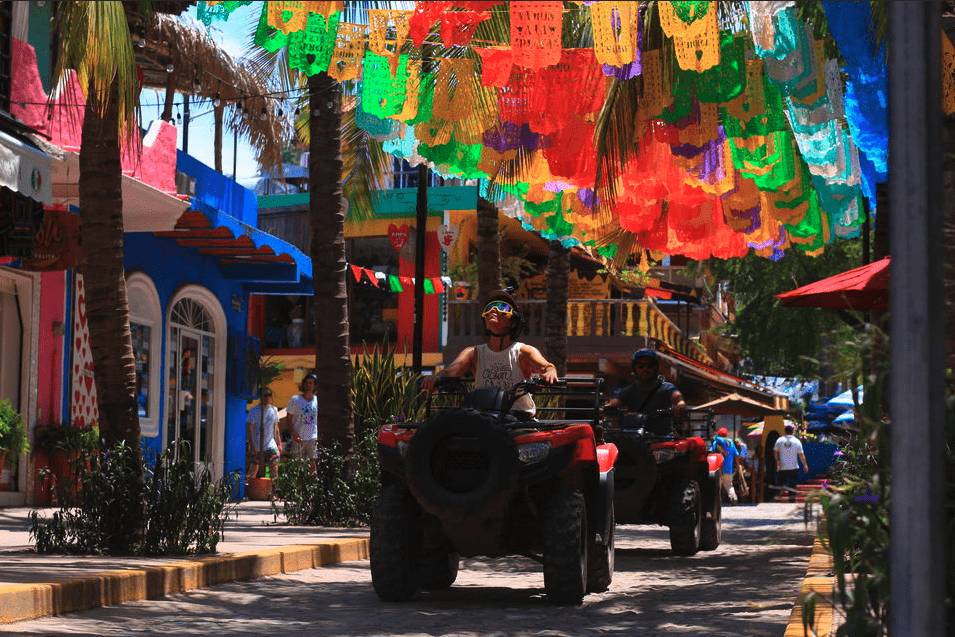 Go on a 2-hour ATV tour of Sayulita from Cerro de La Loca to the Mountain of the Crazy, with a tequila tasting after. Book here.
Best hotels in Sayulita
For more information and further explanations you can read my article on the best hotels in Sayulita.
Villa Amor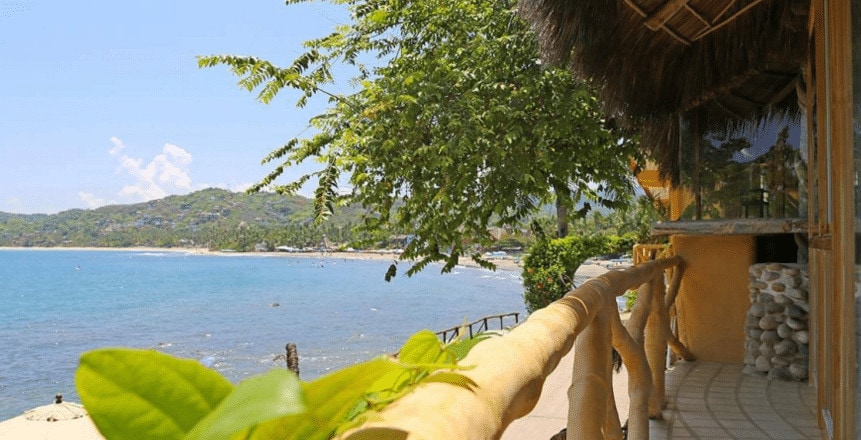 Sea facing villas with a rustic chic. Rates starting at $100.
Petit Hotel Hafa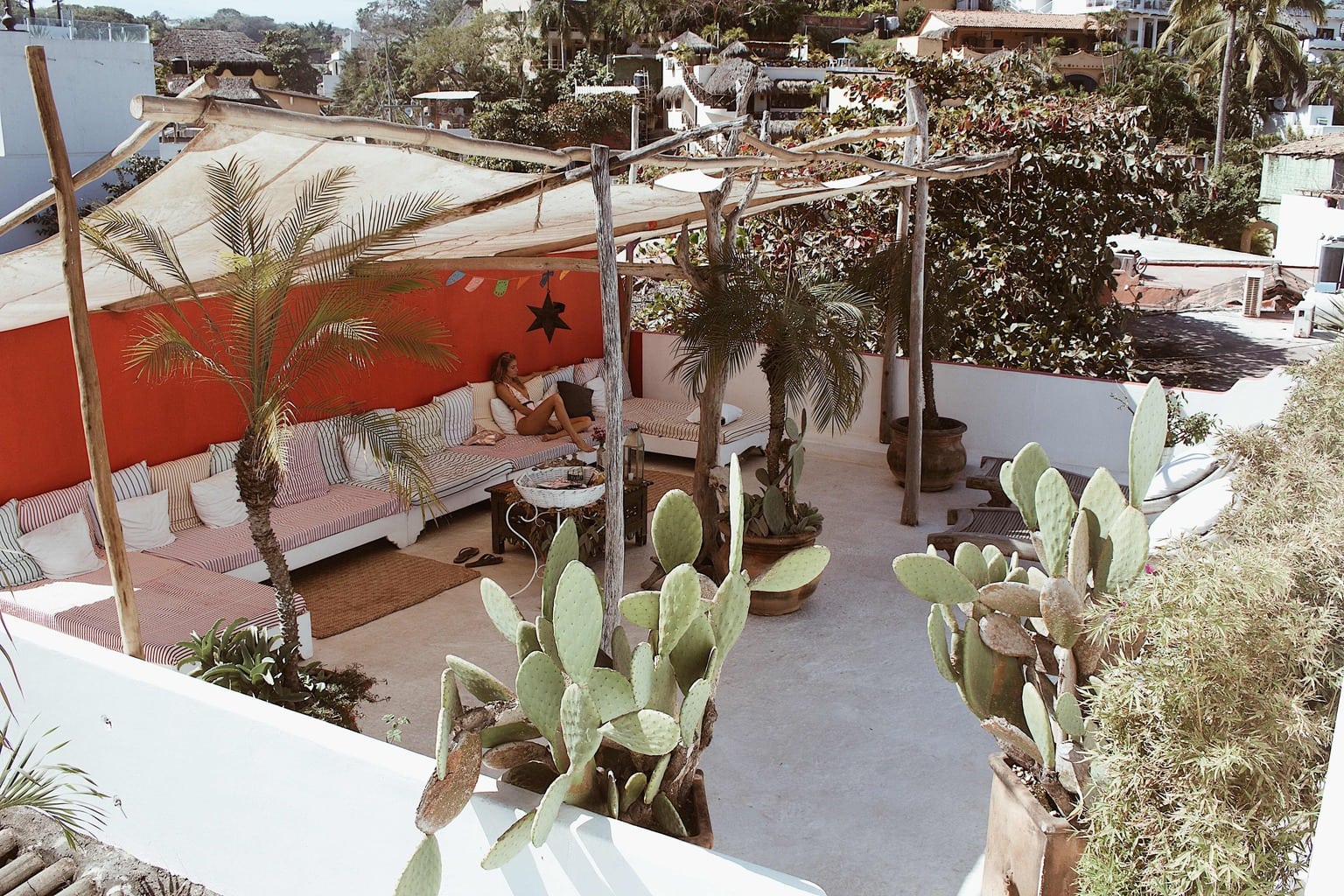 Moroccan riad meets Mexican chic in this boutique hotel in the middle of town. Rates starting at $65.
Playa Escondida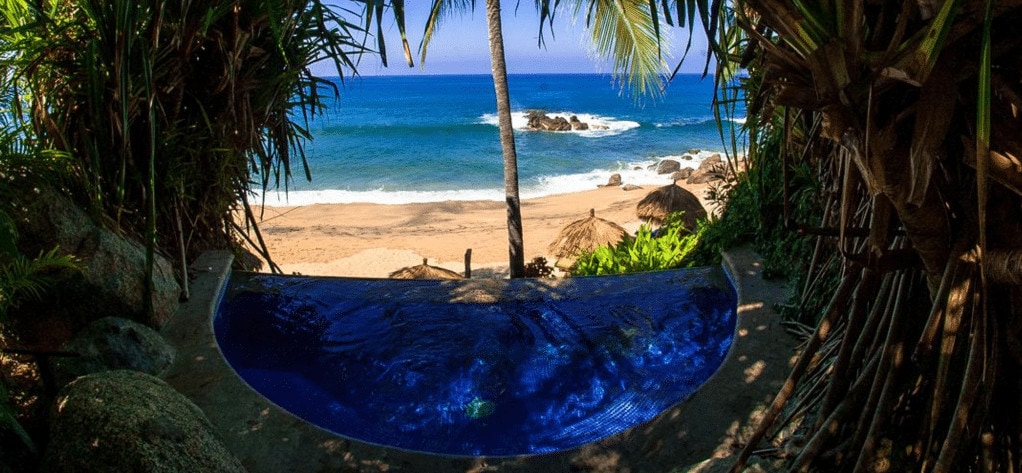 A rustic hotel for those looking for a more secluded stay that isn't too far from town. Rates start at $165.
Casa Brava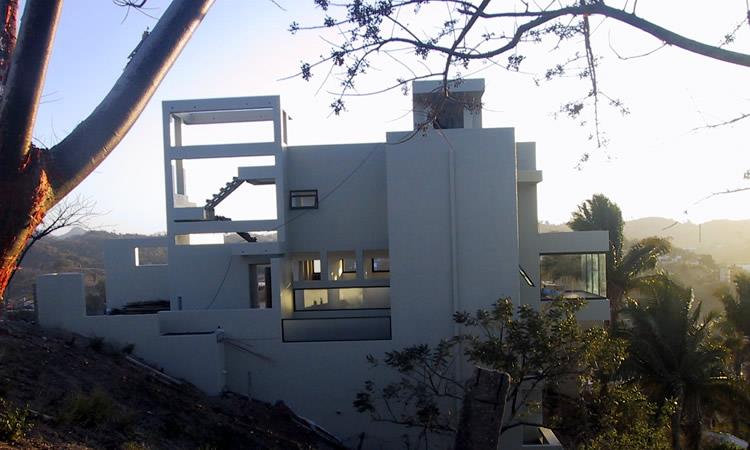 Watch the sunset from your pool in this small hotel atop a hill. Rates start at $115.
Hotel Sayulita Central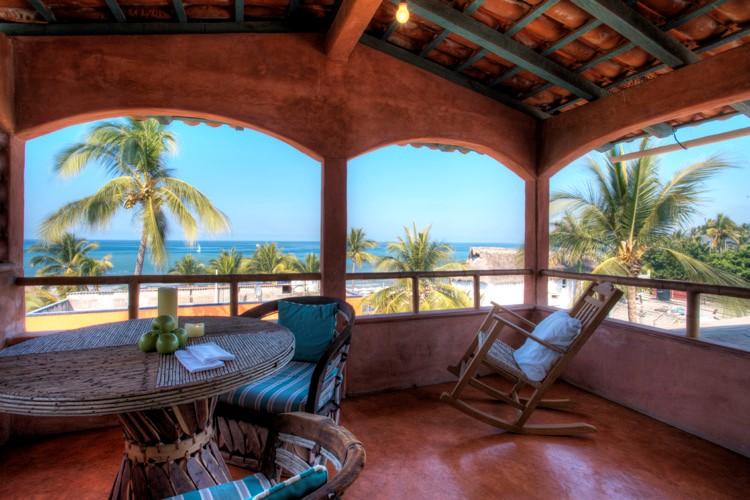 An eccentrically styled Bohemian Aztec B&B which is colourful and rustic chic. Rates start at $110.
Book Hotel Sayulita Central now
Aurinko Bungalows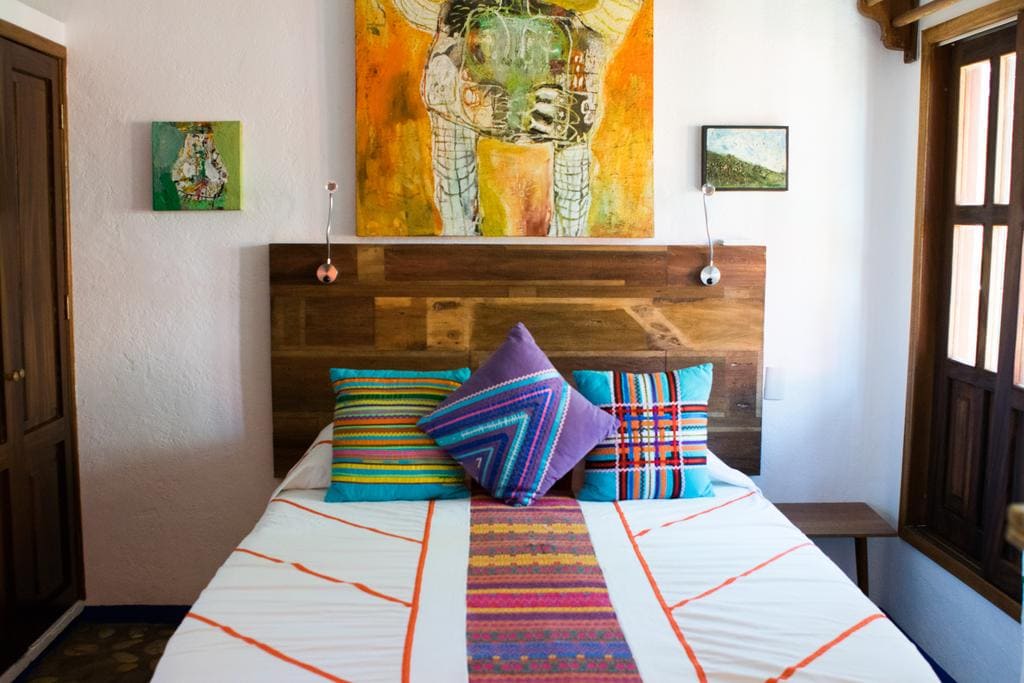 Bungalows with their own kitchen in a more refined Bohemian chic feel. Rates start at $70.
Hotel Villas Sayulita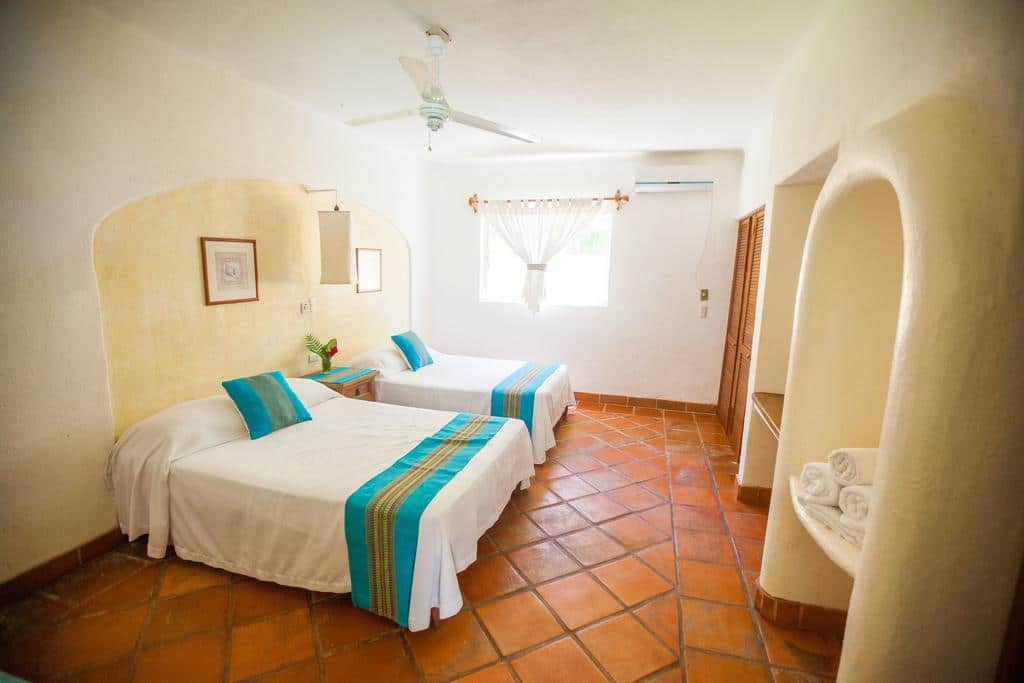 A wellness inspired retreat with a pool, a secret garden with orchards, a smoothie bar and animals. Rates start at $115.
Book Hotel Villas Sayulita now
For a more in depth description of the hotels mentioned above see our guide to the best hotels and villas in Sayulita.
Pin this to your #MEXICOVACATION board!