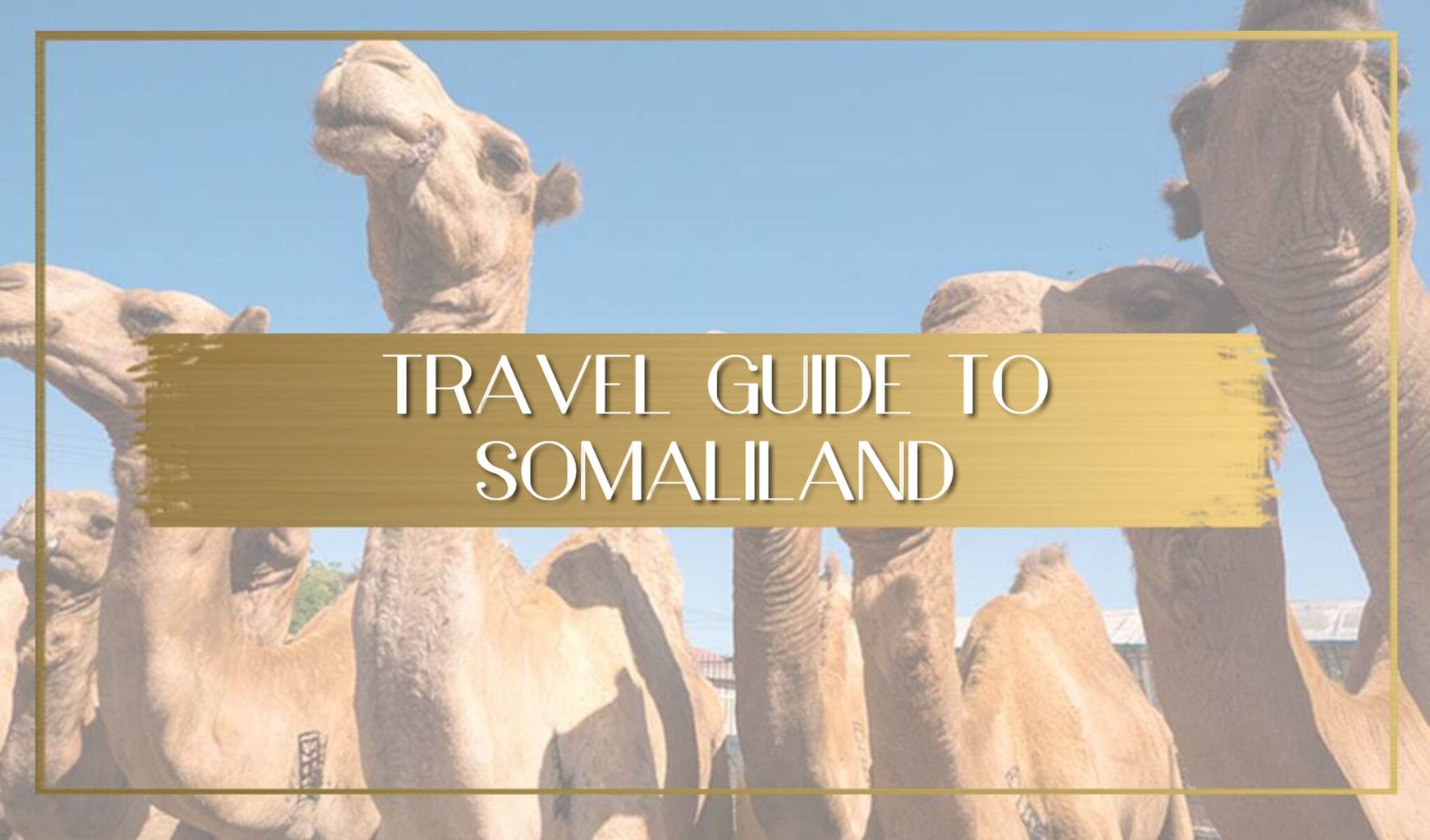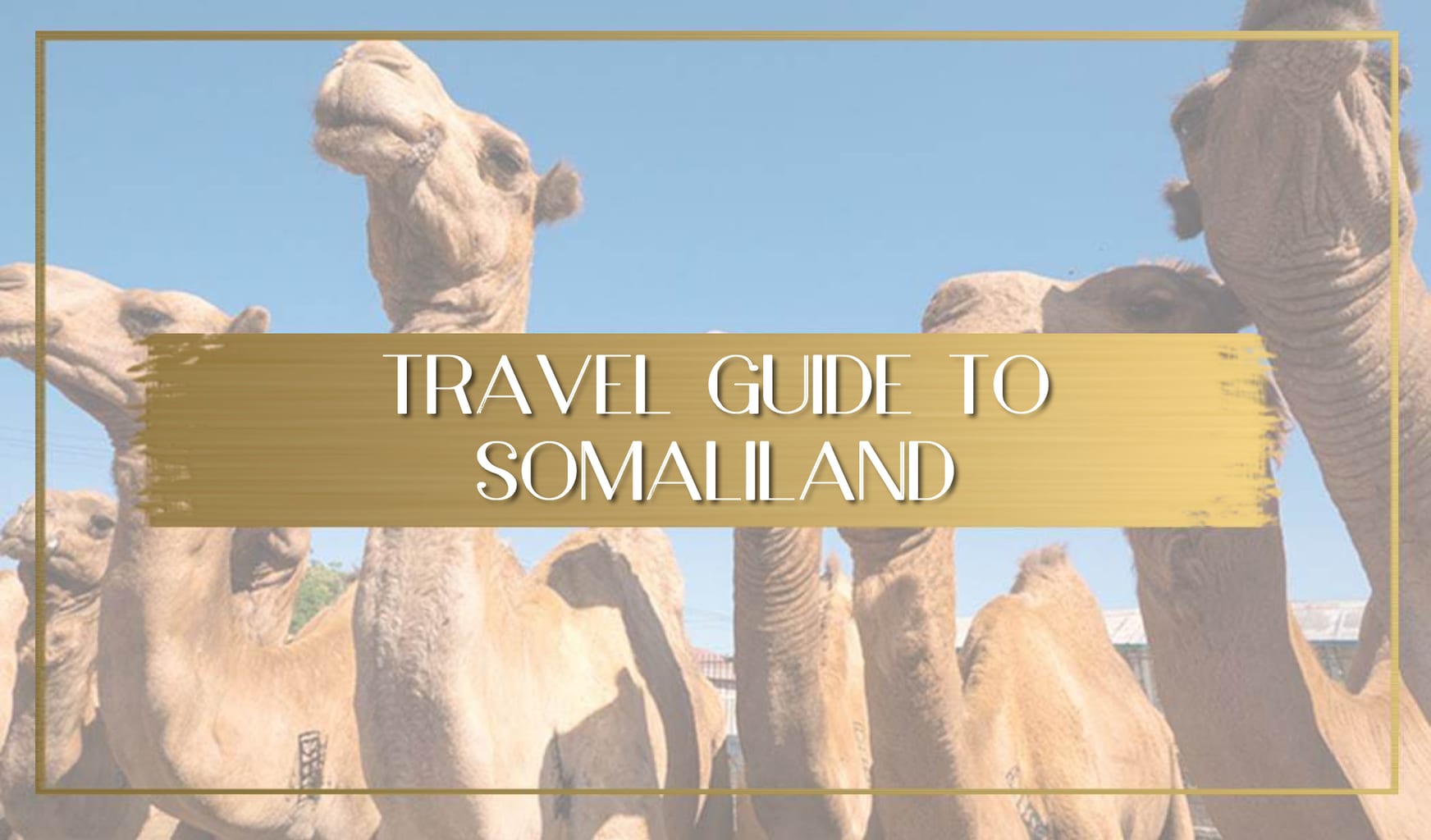 You are visiting Somaliland you say? This was the kind of reaction I got from everyone I told I was going there, usually coupled with a face of disbelief and fright. They were partially right in their assessment. Somalia, which Somaliland still officially belongs to, is dangerous and has been for several years, it is one of the least visited countries in the world and the amount of things to see and do in Somaliland is not very long. So, why should anybody travel to Somaliland?
But if you have been a reader of this blog for a while or know me from social media or in person, you will understand that there are two types of trips I enjoy taking and neither of the two includes big cities or well-visited places.
I like spending time at luxury resorts, in exclusive destinations or partaking in premium experiences (frankly, given the choice, who doesn't) or to get lost in the least visited countries in the world. The harder to reach, more isolated and less frequented by travelers the more intriguing and interesting it sounds to me.
These two seem to be highly incompatible types of travel and if someone enjoys one type of trip he or she will most likely never be found at the other. However, I have a few friends who share the same preferences and I blame our collective professional experience for this rather bizarre style of travel.
So I decided to make Somaliland, and Somalia at least at the time of the visit, my 98th country by organising a trip there, getting that rare passport stamp and spending time visiting the main Somaliland sights over a five day trip.
Somaliland map: Geography and location
Where is Somaliland, you may be wondering.
Somaliland is in the Horn of Africa, in fact it makes the horn of the Horn of Africa, meaning it is right at the tip bordering Ethiopia and Djibouti, a country I visited before and the reason why I wanted to return to see Somaliland.
Take a look at this map of Somaliland so you can better appreciate its location.
The country's geography is quite different from Djibouti's because it is farther away from the Danakil Depression and the geological activity in the area. Instead, you can find some hills, mountains even, and more greenery than elsewhere in the area.
Is Somaliland a country? Somaliland vs. Somalia
When I told people I was going to Somaliland most people asked me if it was a country since they had no doubt heard of Somalia but never of Somaliland. What is the difference between Somalia and Somaliland?
Somaliland is in fact a self-declared Somalian province not recognized by the United Nations. That means that it is still officially in Somalia in the maps and in the papers. In the eyes of most countries' governments, Somaliland does not exist.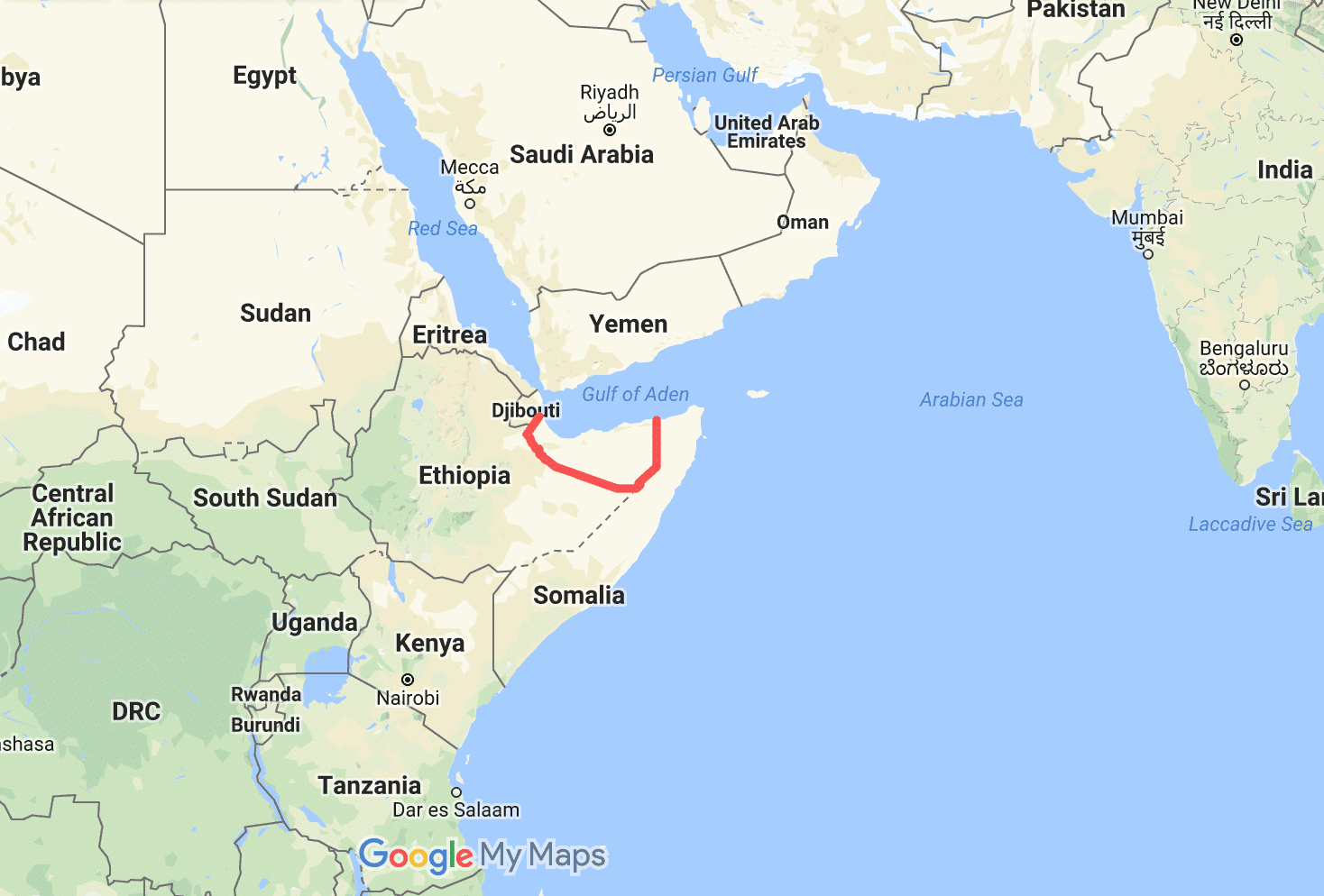 However, this part of Somalia declared independence in 1991 after the country descended into civil war and has maintained stability, relative safety and proper rule of law ever since with elections, a parliament and its own police, passport and visa system. A lot of official countries can claim far less than that today.
So the difference between Somaliland and Somalia is that one is part of the other, like Scotland is part of the UK, or Catalunya part of Spain, but a day may come when Somaliland becomes an independent state.
History of Somaliland
If the above explanation piqued your curiosity, read more to understand the history of Somaliland.
Somaliland was created in 1991 after some of the northern clans in Somalia decided to put an end ot the civil unrest that followed the coup of 1991 by declaring their own country and bringing peace.
This date, in May, is still grandly celebrated in the country as the national day and military parades and commemoration speeches ensue. It is much more important than the date the country took independence from the British or the Italians.
If we go back in time, to the creation of Somalia as a country, the area was previously known as British Somaliland and under British rule. When the British withdrew in 1960, Somaliland declared its independence on the 26th of June and received congratulatory notes from 35 of the UN member states.
However, five days later, Somaliland decided to join the rest of the Somali territories to create a Greater Somalia with a view of a set of common ground rules agreed in the treaty of the union. But Somalia passed a different treaty to parliament than the agreed and Somaliland ended up being in a country with a constitution it did not agree with. That was the beginning of the discontent and the self-declaration of independence.
The situation worsened when a coup in 1969 brought a socialist authoritarian ruler who prosecuted political opponents and attacked the northern areas of Somaliland, laying mines and causing internal refugees. The regime eventually collapsed in 1991 and chaos and violence took over Somalia. Somaliland took that state of chaos to declare its own independence and reclaim its identity.
Somaliland travel and tourism: Places to see and things to do in Somaliland
Travel and tourism in general in Somaliland is admittedly scarce. In the five days I spent in the country I did not see any other visitor and the only foreigner was a businessman in Berbera. At the airport's departures lounge I saw three Western women who were leaving the country and who I assume were working there in humanitarian, research or charitable missions. My flight into the country did not contain any other visitor and the three foreigners in the plane were there on business.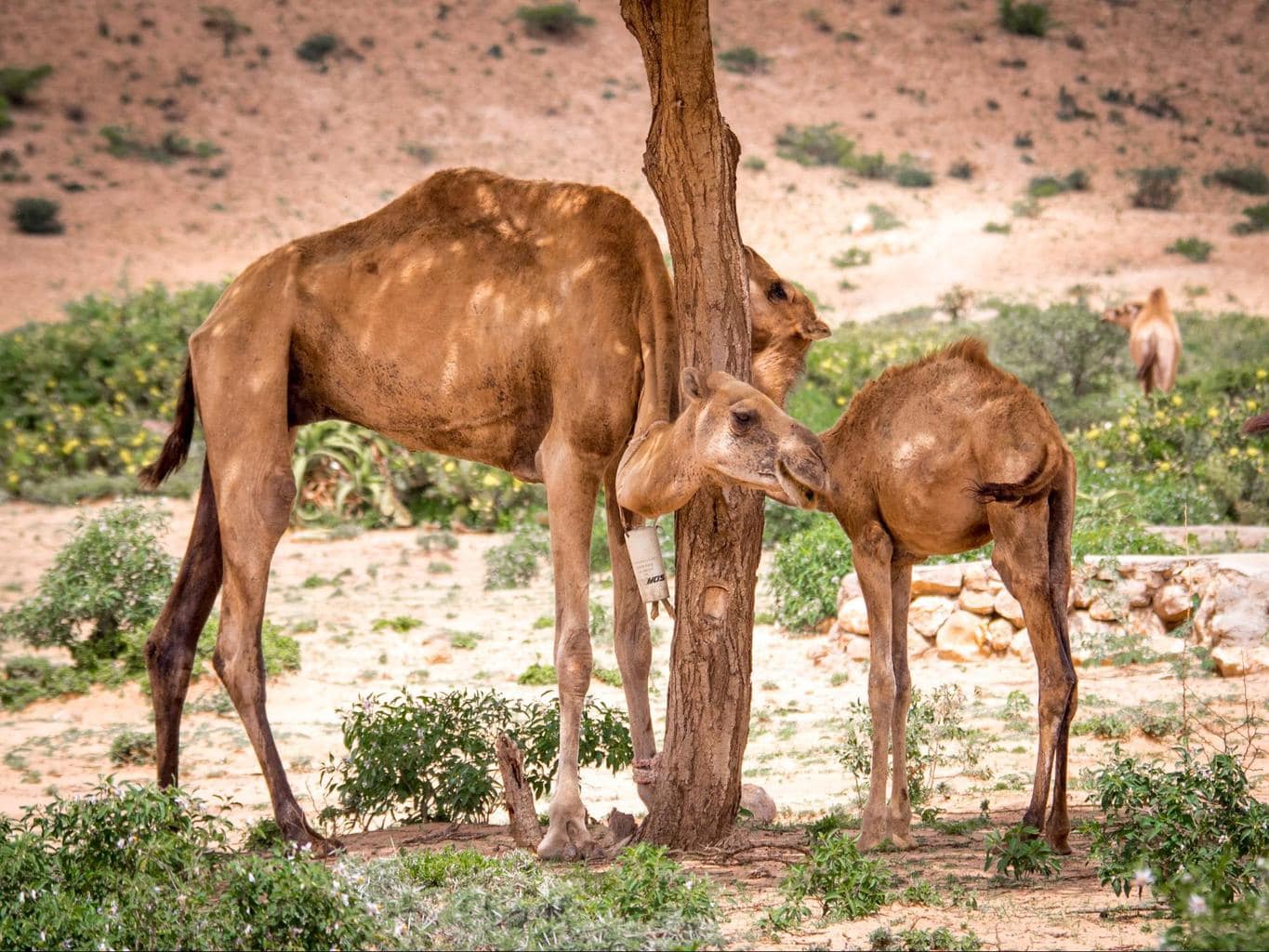 When we went to Laas Geel, the UNESCO-listed cave paintings, we signed the guest book and saw the last entry made two weeks prior. We could only assume that there had been no visitors in that period as they were quite adamant we leave a comment so anybody visiting would have been strongly encouraged to do so too.
Suffice to say that most people traveling to Somaliland are either chasing all the countries in the world or are looking for the least visited countries, as is in me and my friend Edwin's case.
But don't despair, Somaliland does have some tourist sights and there are a few things to see and do which should keep you busy for a few days. I am listing all the tourist attractions of Somaliland below.
Laas Geel cave paintings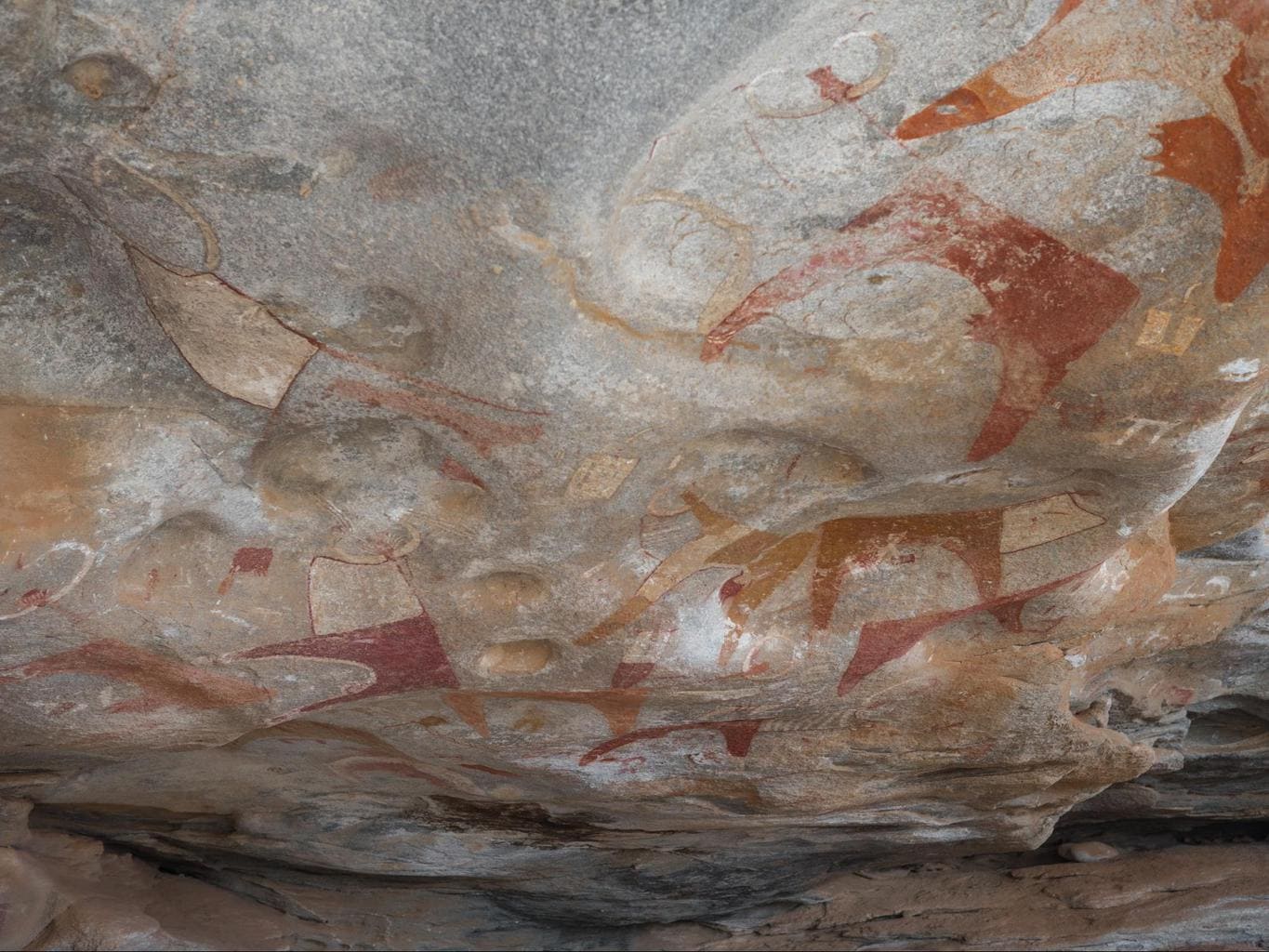 This is by far the most interesting tourist attraction in Somaliland and should feature in anyone's list of places to visit if you are traveling there.
Laas Geel is a complex of cave paintings that are extremely well-preserved and are considered to be the oldest in the Horn of Africa. The rock art is believed to date back to around 6,000 BC although the international community only discovered them in 2002 when a French team of researchers found them through the directions of the local villagers who thought the place to be haunted.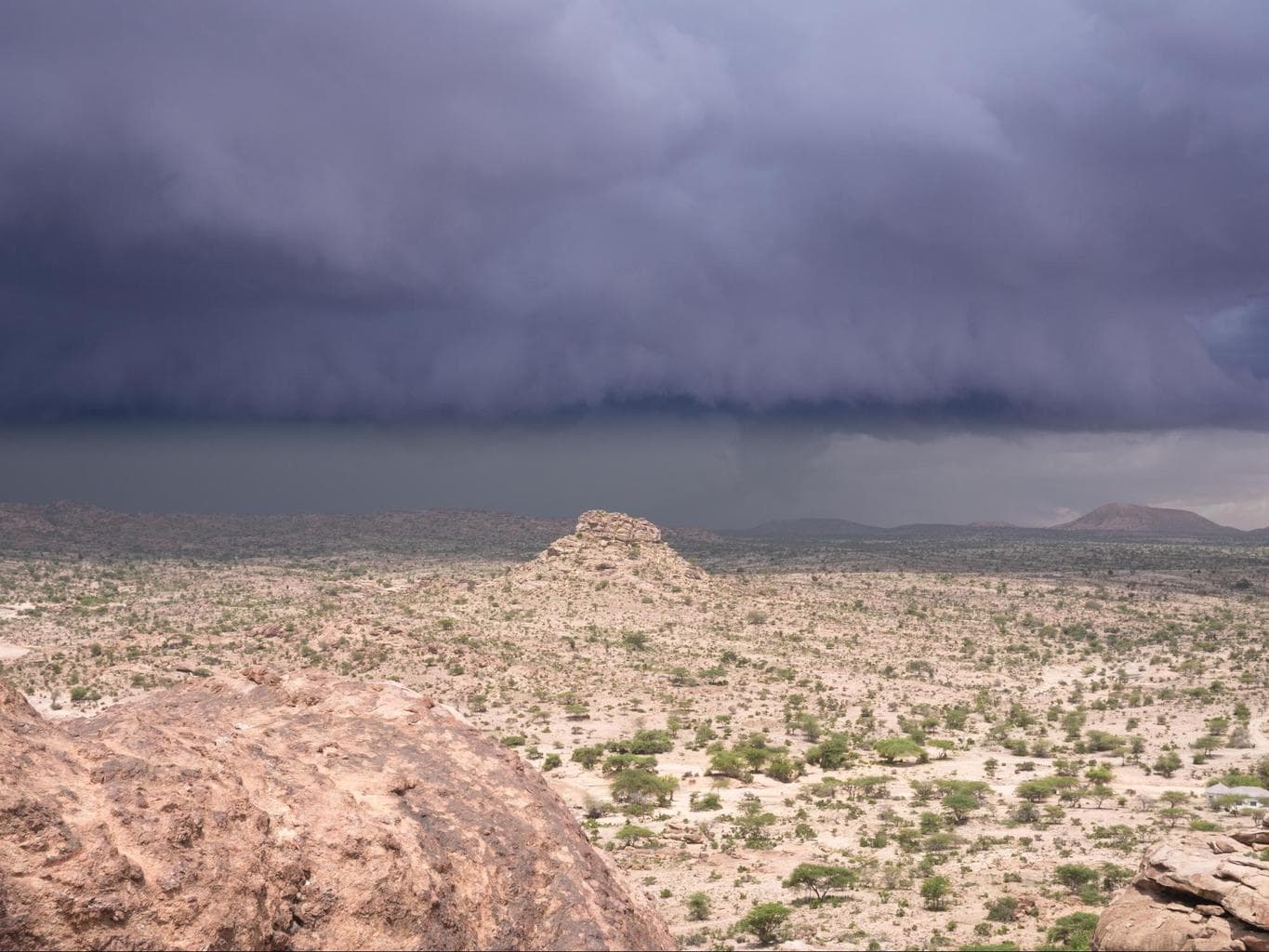 The rock art is drawn on the walls and ceilings of 10 rock shelters and it is incredible to think that they are several thousand years old and still perfectly discernible. Scientists still don't know what ink was used for it to have survived through the centuries with little erosion. Tests aimed at finding out have all failed with the ink vanishing within years.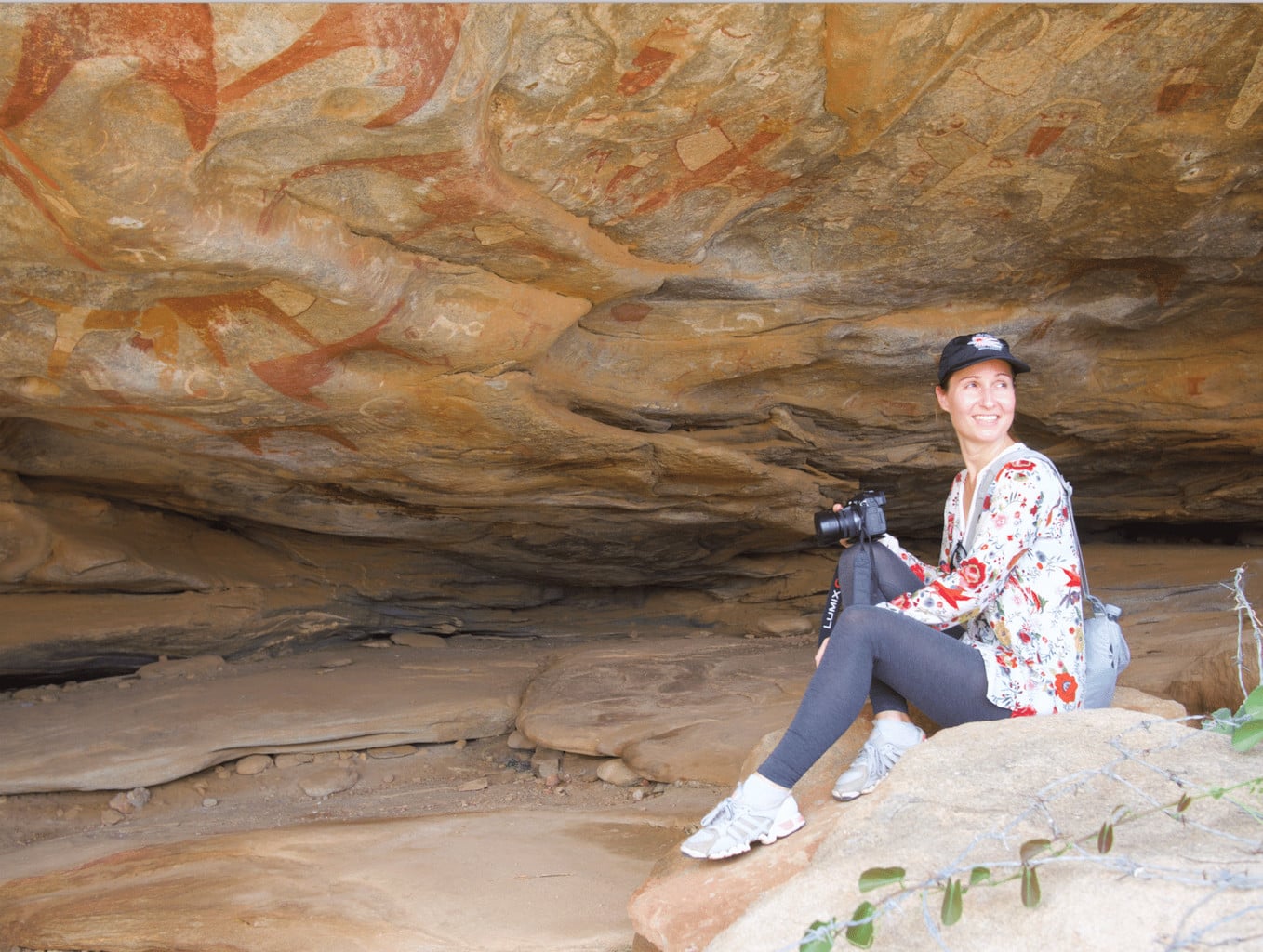 Laas Geel is located about a couple of hours drive from the capital of Hargeisa and you can read more about it in my dedicated post about Laas Geel.
The money market in Hargeisa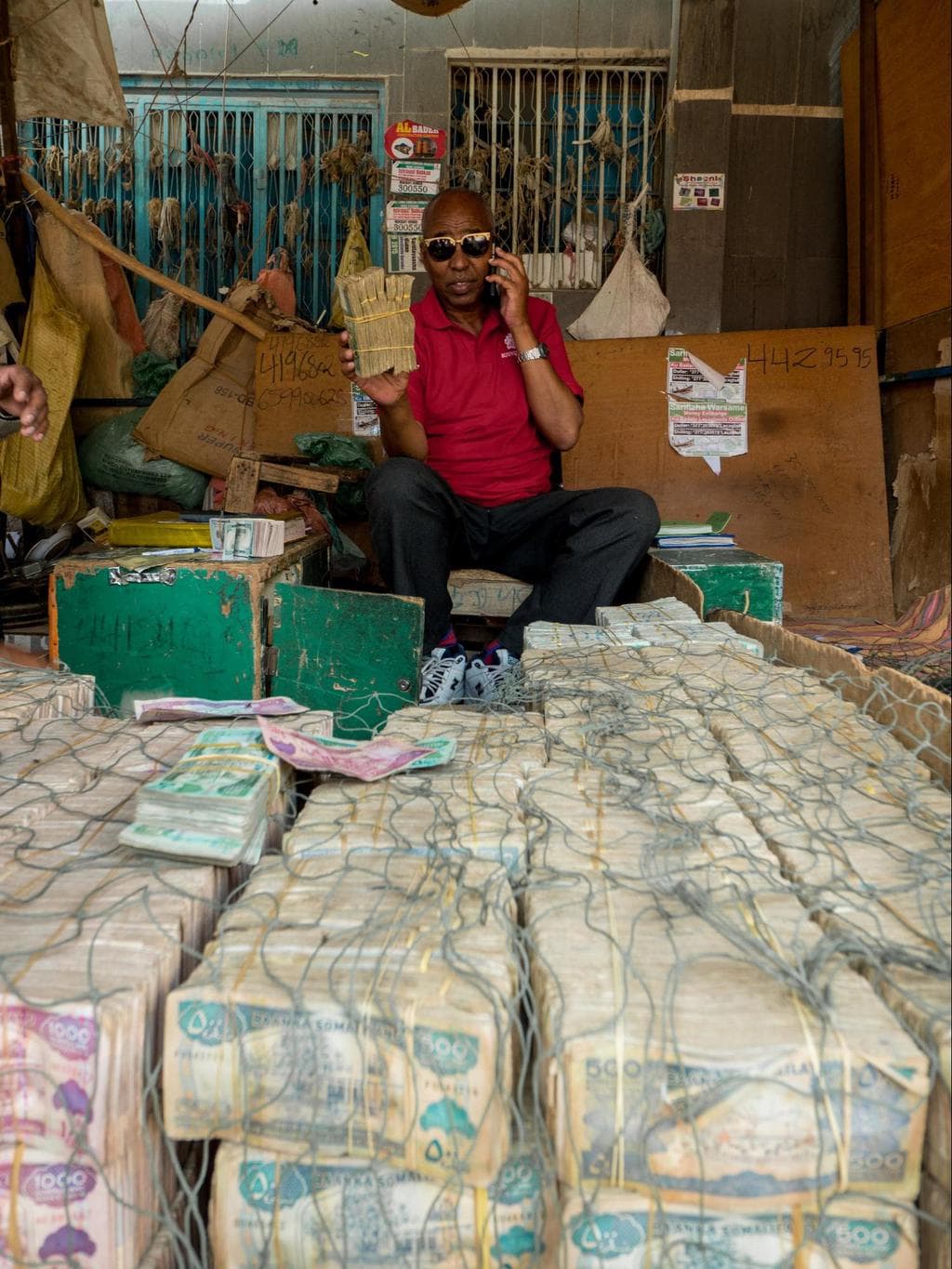 Many visitors who are counting countries may only come to Somaliland to tick off Somalia from their list and hence visiting to Hargeisa is enough. But this is probably one of the world's capitals with the least amount of tourist attractions I have ever been to, up there with Juba in South Sudan. Half a day suffices to see everything there is to see and have a good feel for the place.
You should not skip it though, as there are some genuinely unique and rare things to be seen in Hargeisa such as the money market.
Not technically a market per se but more of a grouping of stalls exchanging money. The money changers are a Somaliland institution and something that, should the country ever be recognised and develop, will disappear as it is essentially covering for a gap in need.
Look out for the money changers with stacks of Somaliland currency piled up and netted to protect it from the wind and also from prying thieves, lest the draft created by a passing car take the notes away.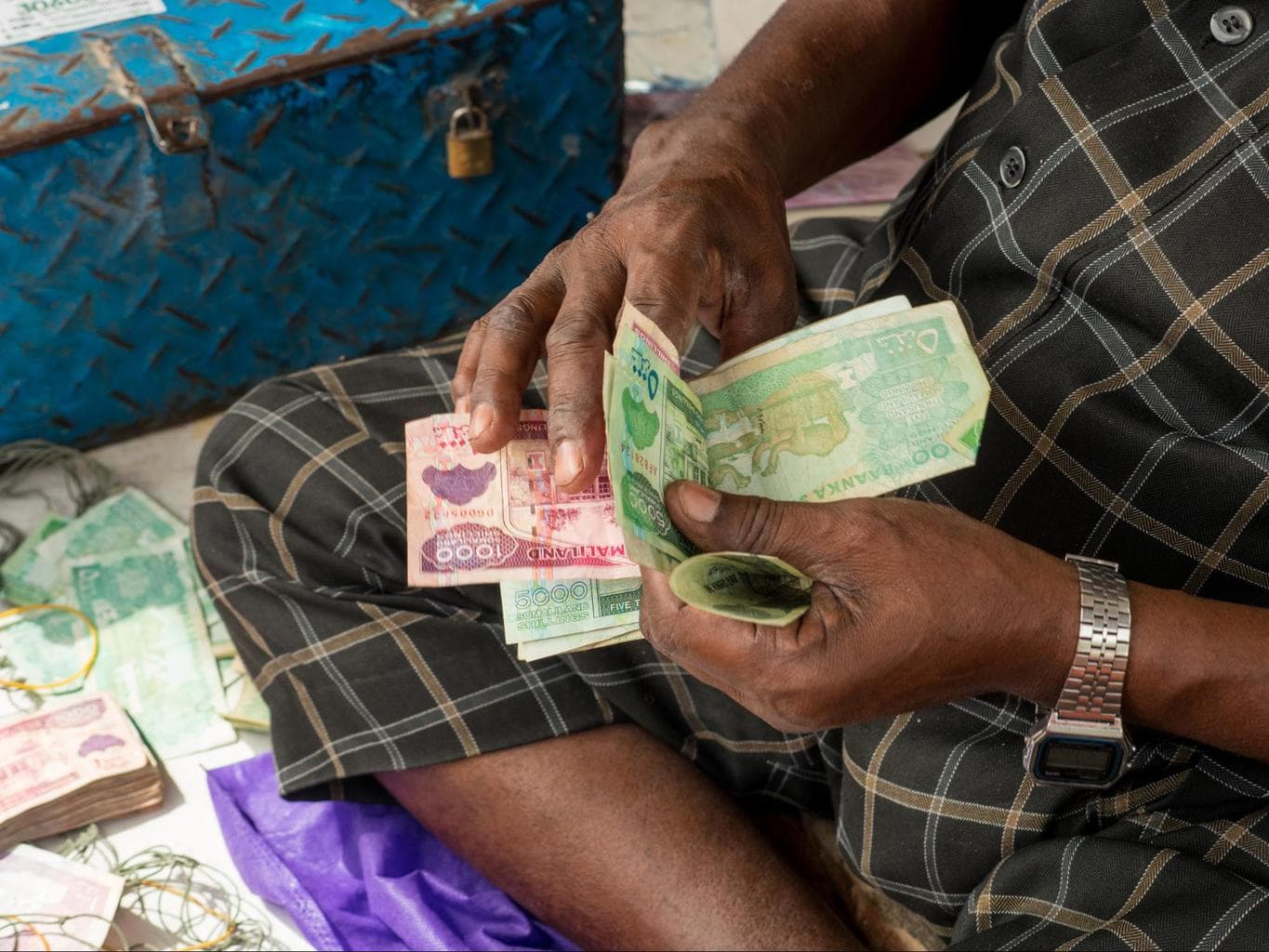 The sighting will impress you. Some of these businessmen can handle over $10,000 a day in transactions be it to cash out the US Dollar denominated balance on the mobile money accounts or to exchange the local currency into US Dollars, Ethiopian Birr or Djibouti Francs or vice versa.
The money market and the money changers appeared as a result of several reasons. Firstly, the Shilling is highly volatile and its value cannot be depended upon for a country that relies on remittances for a quarter of its GDP and on massive but seasonal sales of livestock to the Middle East.
Secondly, the Shilling comes in very few and low denominations. The current exchange rate is around 10,000 Shilling to one US Dollar, similar to the Indonesian Rupee, but the highest denomination is only 5,000 Shilling while the most commonly used one is the 1,000 note worth about 10 cents of a US Dollar.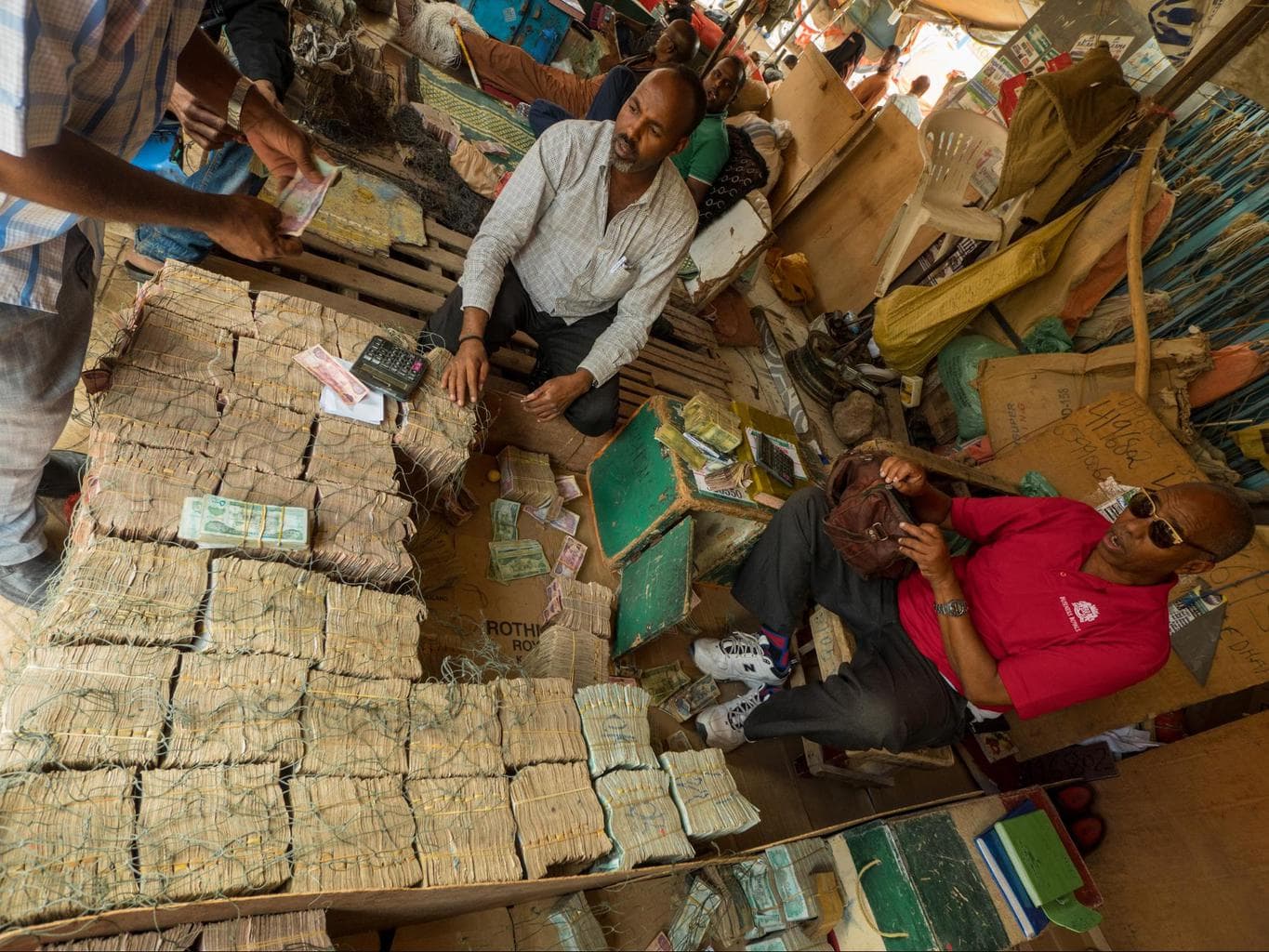 This means that you are an instant millionaire when you exchange $100 but also that you need to carry tons of cash around because one $100 note will convert into two hundred 5,000 notes to carry, if you can find that many 5,000 Shilling notes, as they are uncommon. This is not only ridiculous but also impractical and time consuming as you need to keep counting notes and notes every time you make a transaction.
Conversely, if you want to make a small purchase, there are no coins in circulation and the lowest note is 500 Shilling or about 5 cents. This may not seem like a lot to anyone but in Somaliland, you can buy a few things for this amount and the lack of smaller denominations sets a bottom price for anything at 5 US Dollar cents.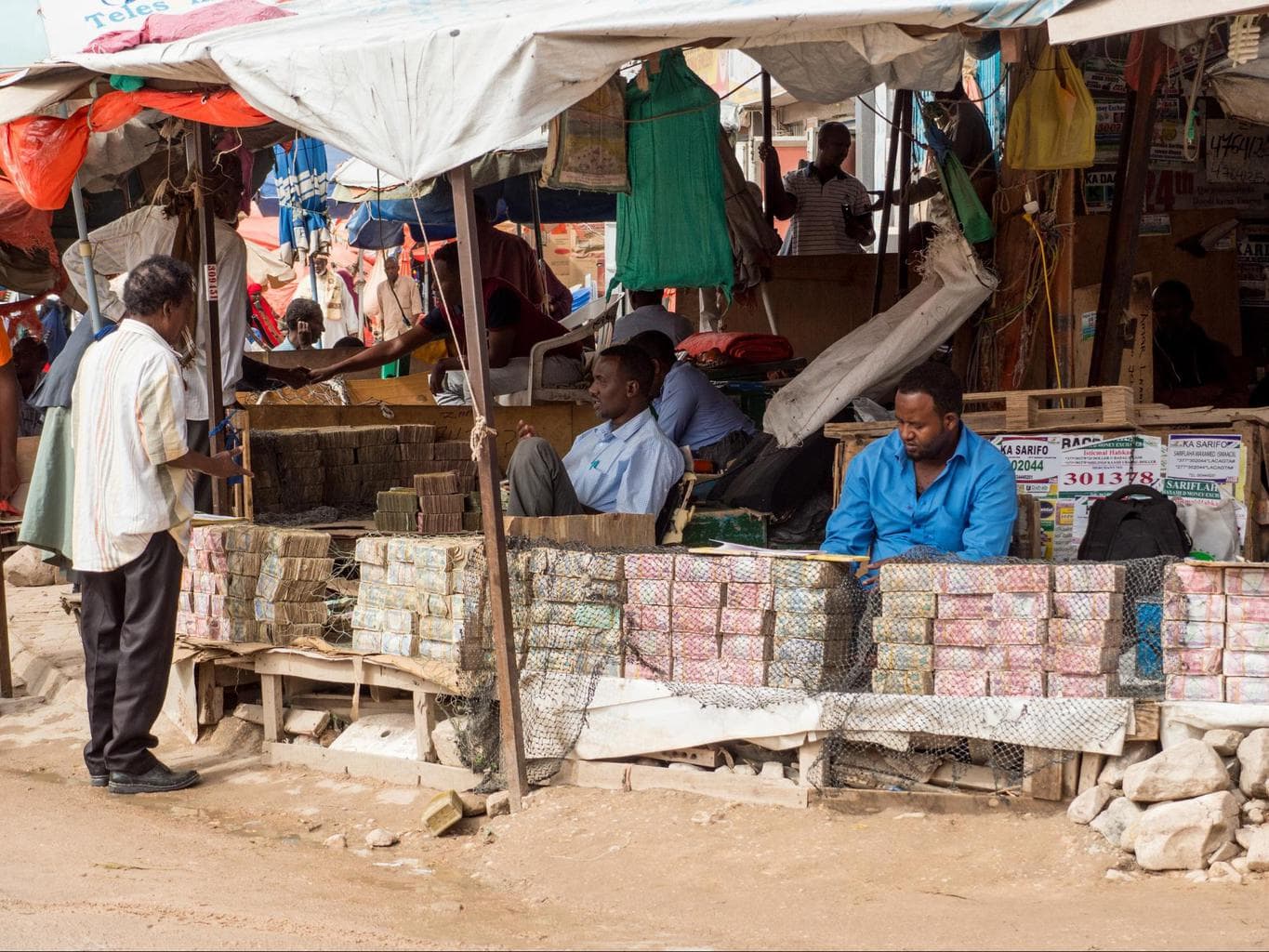 Fourthly, the difficulty and safety concern of carrying so much cash around for medium size transactions and the lack of coins is added to the fact that the Somali Shilling is a highly volatile and inflationary currency locals cannot depend on.
The Financial Times reported in early 2017 that up to 98% of the Somali bank notes are counterfeit as they are easily printed outside the country and reintroduced into the market. The country hasn't printed any notes since the coup of 1991 when it descended into the chaos that prevails today.
Somali people are resourceful and, faced with all these challenges that couldn't be solved, the economy came up with an alternative: Mobile money. High mobile phone penetration created the perfect storm for mobile payment and mobile money services to flourish. And they did.
The mobile money service Zaad launched by telecom company Telesom or E-Dahab from Dahabshiil Bank for Somtel users have become the de facto currency used by everyone to pay for everything, from a meal to the groceries. And it is in US Dollars, so it is stable and reliable. Stall vendors and businesses have their Zaad number well marked on their businesses facade to make it easy to transact.
But with all that cash in the electronic format and in US Dollars, locals need a way to cash it out when needed and the money market appeared to fulfill this need.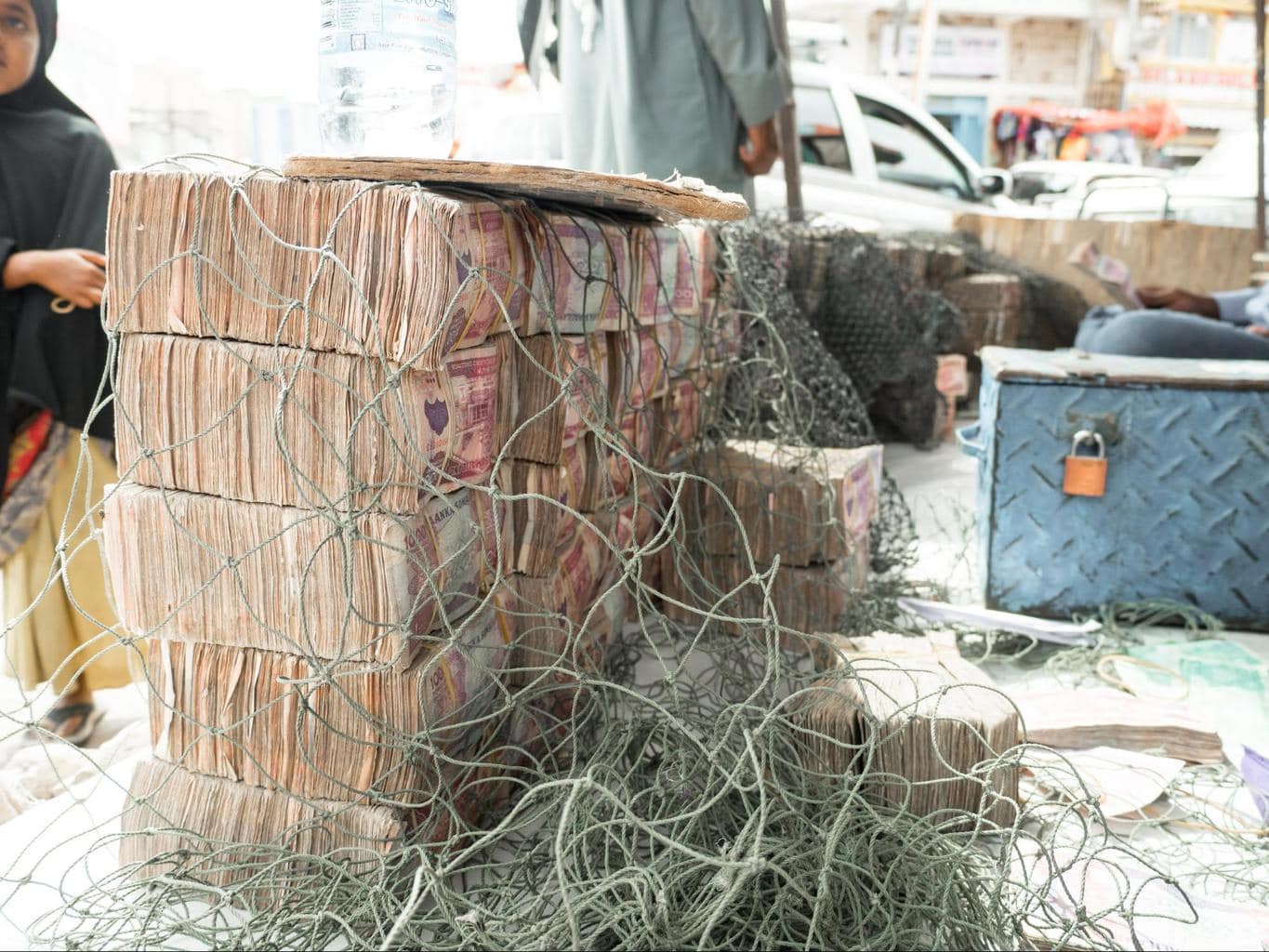 Seeing the traffic and the frequency of transactions in the market is astonishing. I chatted to a couple of the friendlier and more open money market stall owners and one of them with the largest pile of cash, tells me that he exchanges over $20,000 every day. He also shows me every possible currency from the region, from Ethiopian Birr to Djibouti Franc or Kenyan Shilling. He also has Euro and of course US Dollars.
The most impressive part of it all is the fact that these men sit around on the floor, on cardboard seats and maybe a thin cushion, sometimes sipping tea or chewing khat, with their cash neatly piled but without any protection or security. They are not afraid they will be robbed and they could not be more obvious in flaunting their wealth than this.
If you have some foreign currency or Somali Shillings left, this is the time to exchange them and participate in this flamboyant and unique informal banking system.
Somali Air Force MiG jet fighter – Hargeisa War Memorial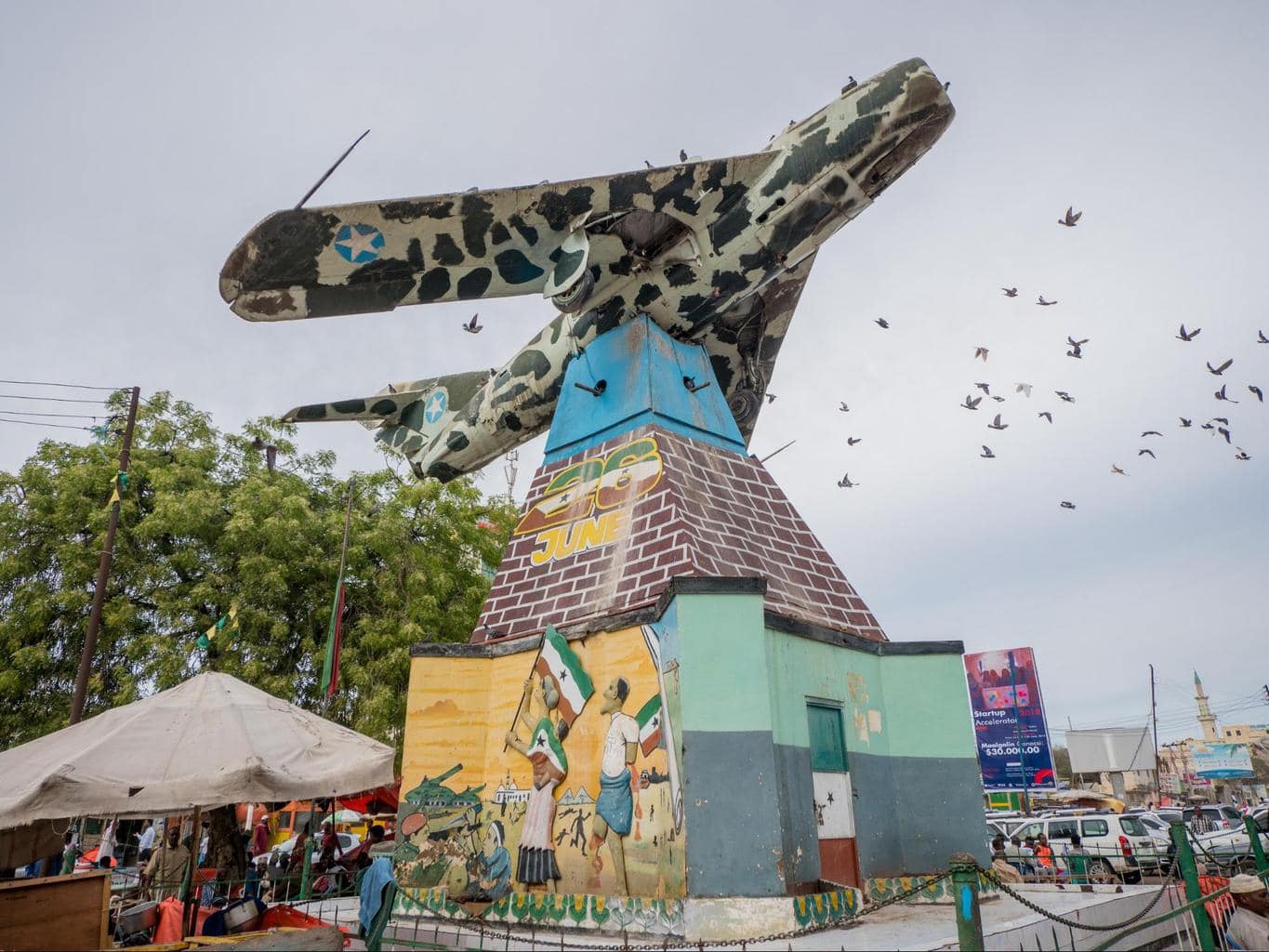 Somaliland is not a place for monuments and landmarks. There is little in the way of this type of sight. Instead, the majority of the things to do in Somaliland are related to experiencing the place.
However, if there is one monument to check out that is the War Memorial in Freedom Square, in Hargeisa which consists of a MiG-17 jet fighter that the locals brought down by throwing rocks and shooting at it.
The plane is an emblem of Somaliland's independence and struggle with the central Somali government and, although small and usually hidden by vendors peddling anything from shoe polish to clothes, you should stop by and walk around its four faces.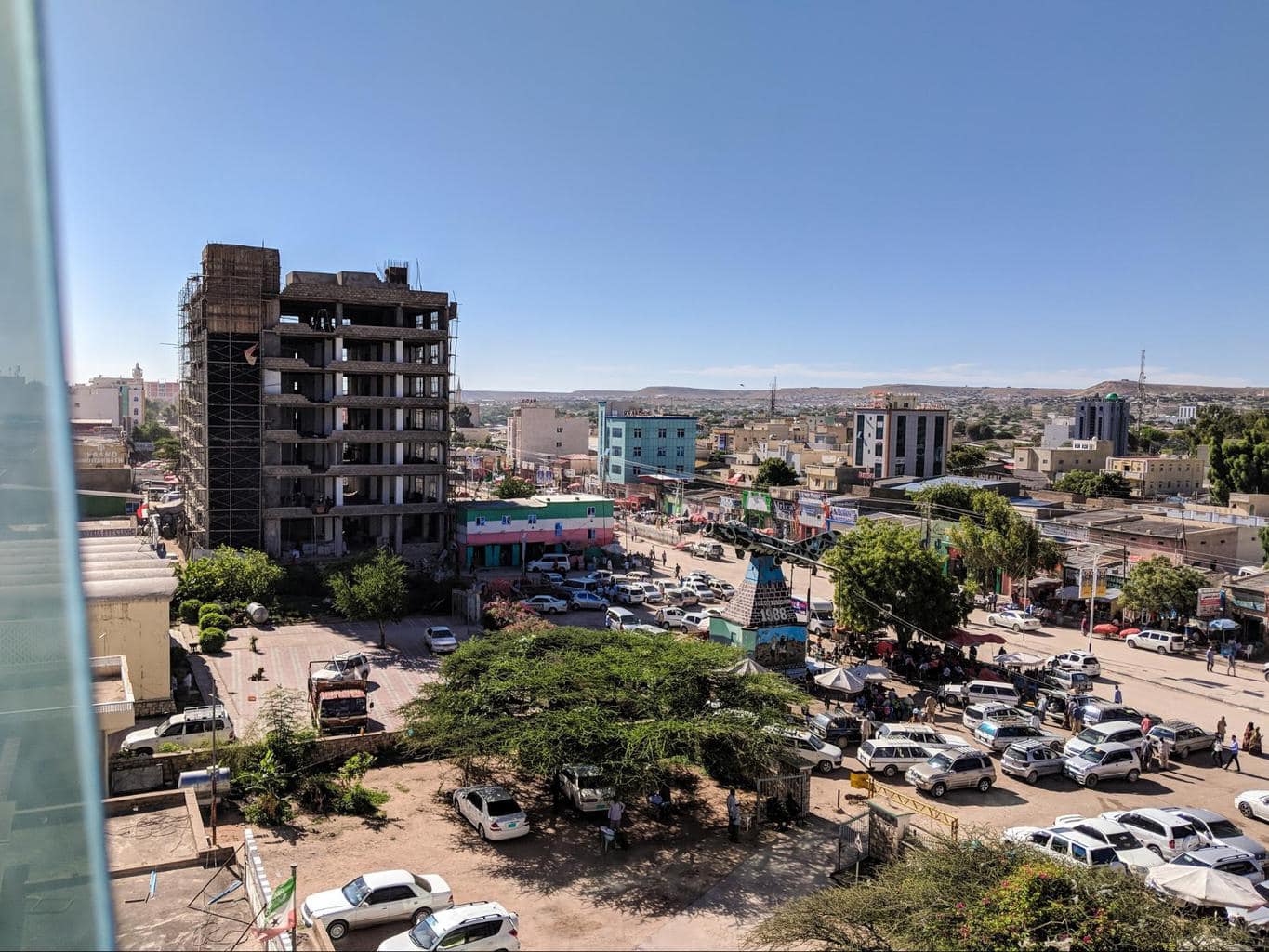 The jet fighter was designed by the Soviet Union in the 70s and used by the totalitarian leader of Somalia, General Siad Barre, to attack and bomb Somaliland in the 80s. At the time, the attacks destroyed between 70% and 90% of the city with shelling and bombings.
This landmark is located almost in front of the Damal Hotel (where I stayed) and you can always pop by the hotel's top floor restaurant for a meal or a drink and some high-up views of Hargeisa.
Hiddo Dhawr
Hiddo Dhawr is a kind of cultural center and live music venue where Somaliland traditions and music are showcased. If you happen to be in town when there are scheduled performances you can see bands playing on stage. Usually that is on 1 when locals gather to socialise.
This is only one of the few places where you can sample local cuisine in a relatively authentic manner and the setting tries to show visitors how Somalilanders live. Or you can watch it live through their facebook page.
Learn more about Somaliland culture at the Hargeisa Cultural Center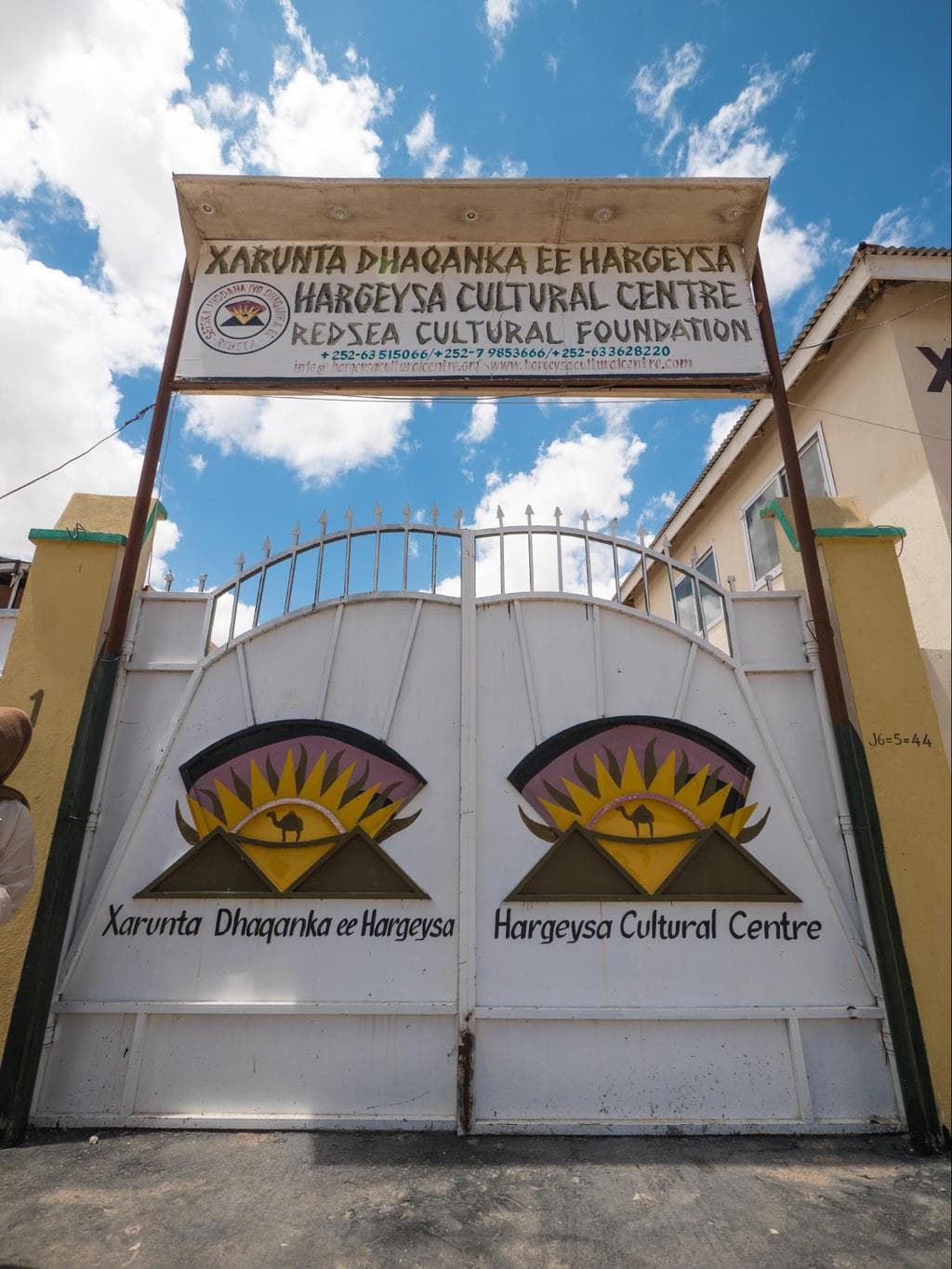 The Hargeisa Cultural Center was opened in 2014 and is a privately owned venue that is a mix between library and an art gallery. The center was created by the Red Sea Foundation, which also runs the annual Hargeisa International Book Fair (also spelt Hargeysa International Book Fair).
Inside the small complex you can find a traditional garden with the plants and fruit trees that grow in the country as well as a two storey library building, with students doing their homework and a few rooms housing artworks, old books and paintings.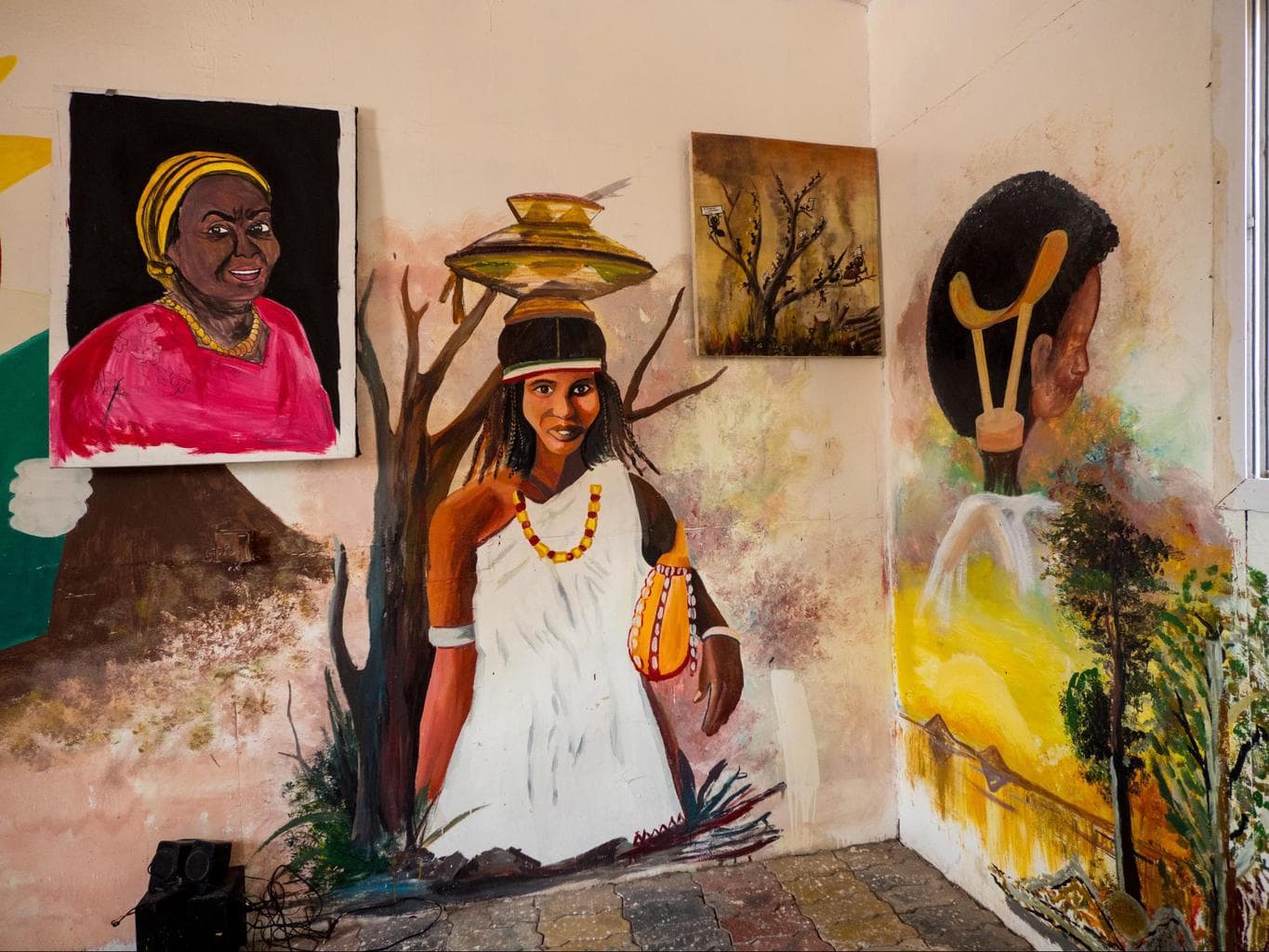 If you visit, the staff will give you a tour of the facilities and explain the stories depicted in the paintings and artworks. The books available at the library are mostly unique and cannot be found elsewhere in the country. These are also a valuable resource for students and professors who come and borrow the titles.
The center also hosts exhibitions, talks and movie screenings.
The Saryan Museum
Although it opened as recently as 2017, the Saryan Museum his is the first museum opened in Somaliland and it intends to promote its heritage and culture.
Inside, you can find a collection of over 2,500 artifacts from prehistoric times to today including maps, stamps, prehistoric items, newspapers, etc. You can also find out about famous Somalilanders.
The museum is a go-to place to learn more about Somaliland's struggle for independence and was founded by one of the liberation fighters, Saed Shukri Hussein.
The cafe at the museum is also the closest to a western cafe you will find in Hargeisa with clean premises, nice tea and fresh juices and even some cakes. It is best to call ahead and make sure the museum is open and they can receive you for a tour since the low numbers of visitors means unexpected closures are common.
Visit the port town of Berbera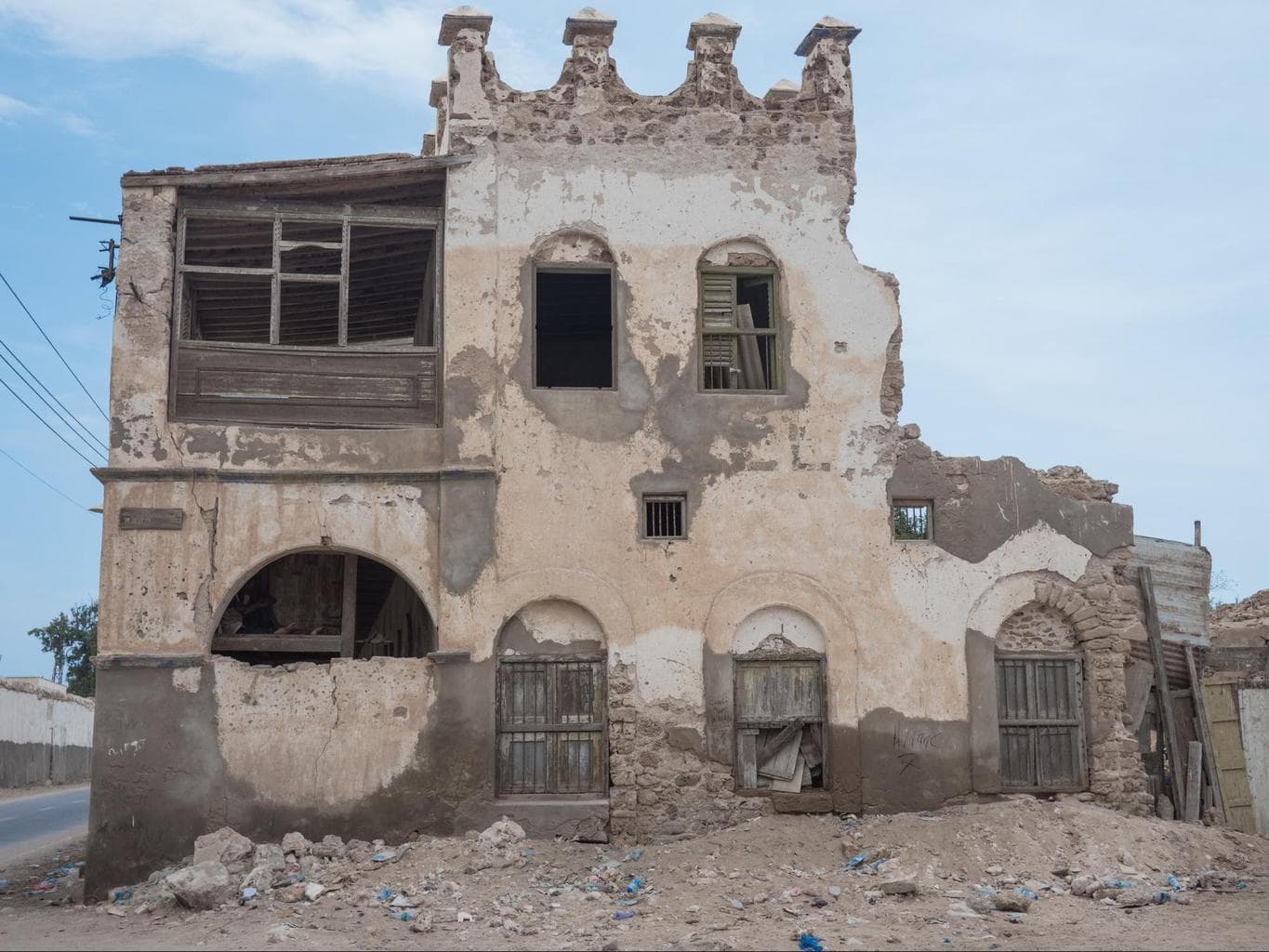 After Hargeisa, Berbera is the city in Somaliland most visited city by tourists, due to its easy access, historical significance and empty beaches. Although none of these features are necessarily so great that they would justify a trip on their own, in combination they make Berbera a reasonably interesting place to spend a day or two.
Driving North East from Hargeisa, you pass the Laas Geel cave paintings after a couple of hours, and then approximately the same distance again will get you to Berbera. So, potentially you could leave Hargeisa after breakfast, stop at Laas Geel on the way, and be in Berbera in time for a late lunch.
In reality, the quality of the road infrastructure is pretty poor, and lots of things can go wrong, so this sort of timing is largely theoretical. For us, it was a flash flood making one of the many wadi crossings impassible. A good excuse to mingle with the crowds of other stranded people, but essentially a five hour pit stop.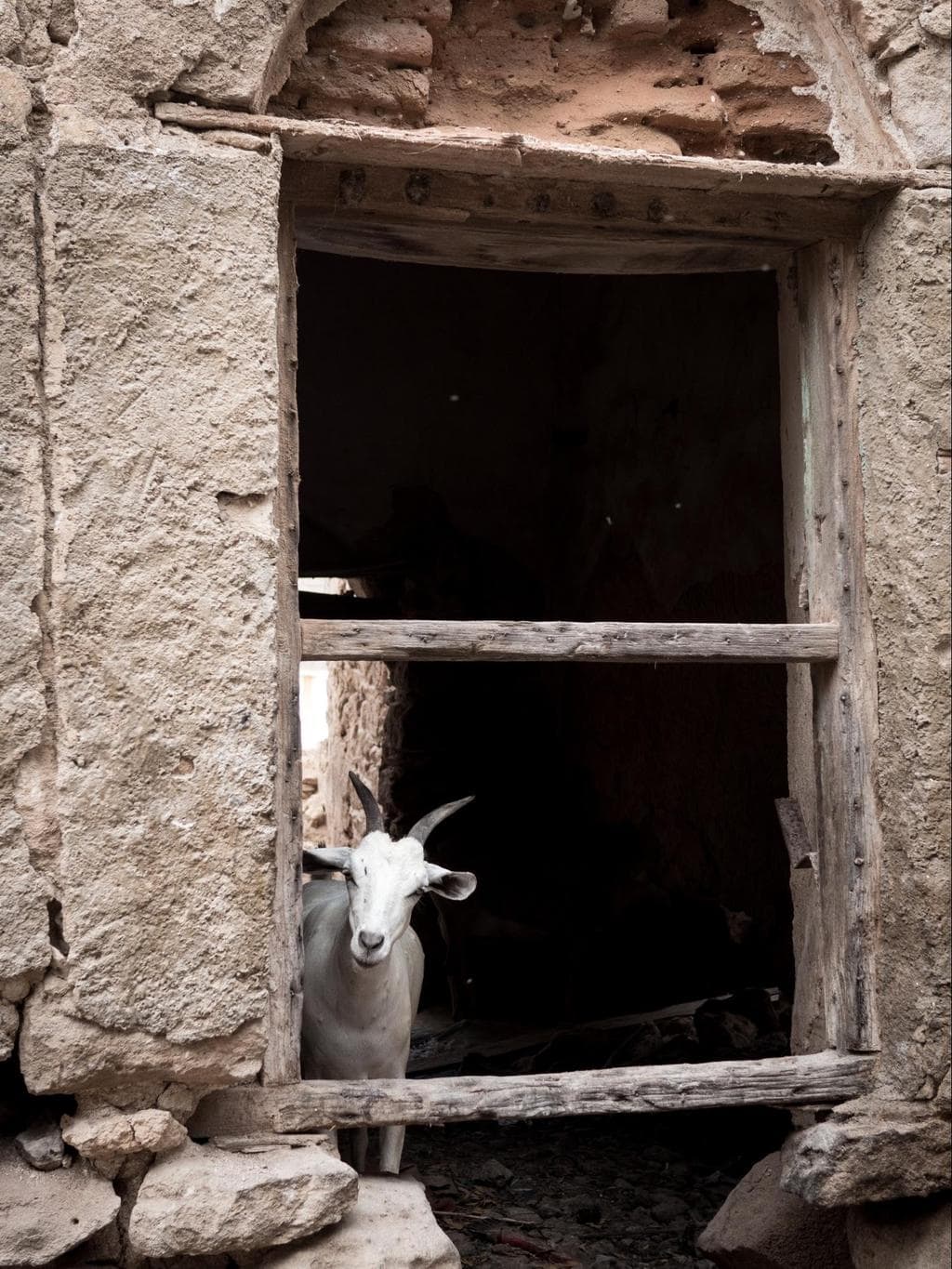 Berbera itself is a relatively sleepy port city. A population of around 50,000 centered around the local fishing industry and the nearby container port, recently constructed by Dubai's DP World. Berbera has been a significant port for East Africa for at least the last 2,000 years, and indeed was the capital of Somaliland during the Colonial period of the late 19th and first half of the 20th centuries.
Remnants of its historical significance make a walking tour of the old city a worthwhile exercise. The old port and adjacent fish market is the place to start where you can witness some vigorous trading between Yemeni fisherman, local store owners and Djiboutian traders with the mix of Arabic, French and Somali adding to the sense of chaos.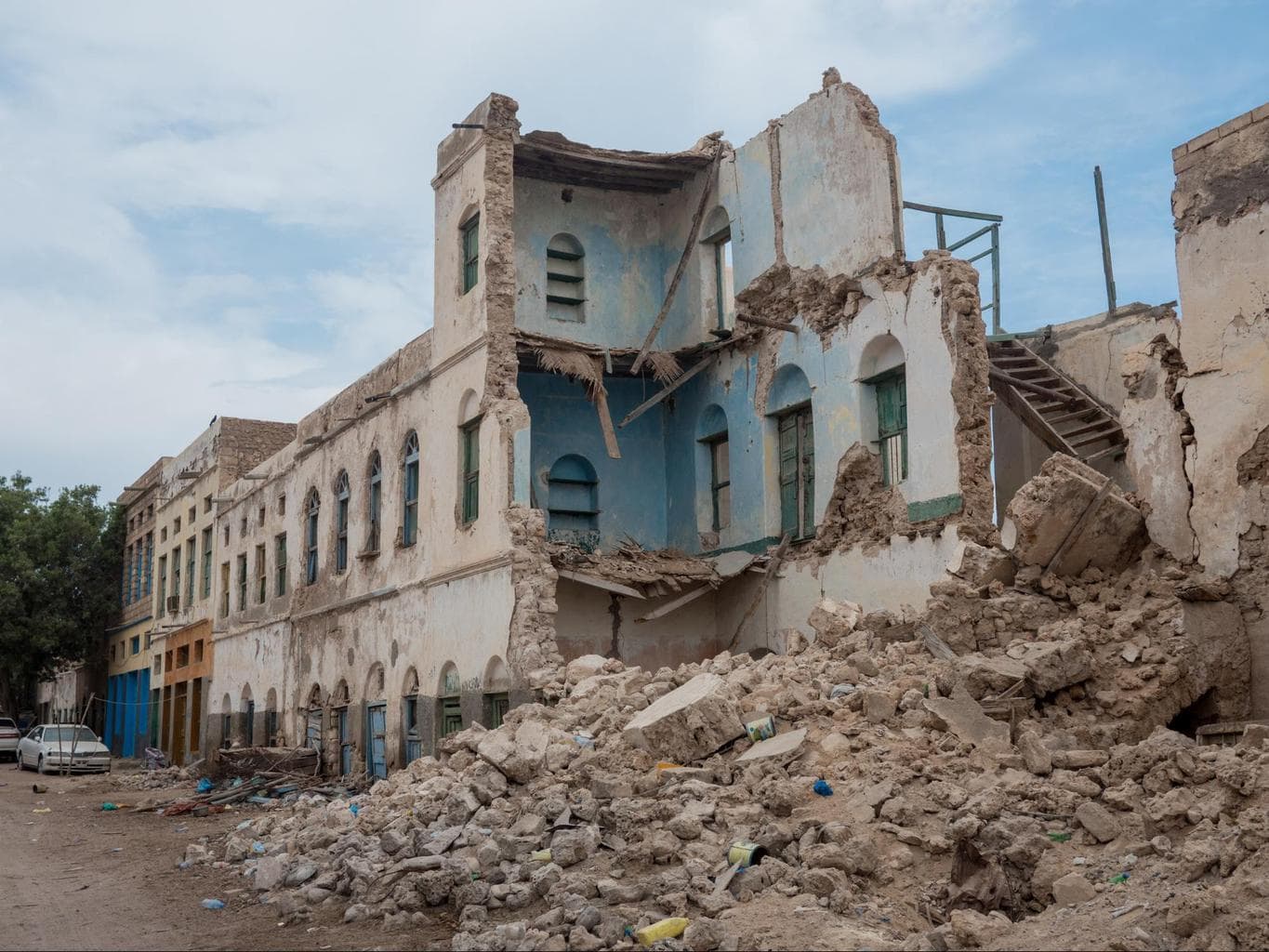 Turning away from the port to the side streets, you find broad unpaved streets flanked by British and Ottoman colonial buildings, most in states of severe disrepair and serving as a source of building supplies, anchoring for shacks and shelter for the many goats. Most people we encounter are friendly and mildly curious, if somewhat camera shy.
There were one or two occasions where the interactions with locals turned a bit frosty, once with an aggressive demand for money, and once with a Yemeni fisherman expressing his strong views on American foreign policy. Neither was too worrying, but I was glad to have our guide to help bridge the language barrier.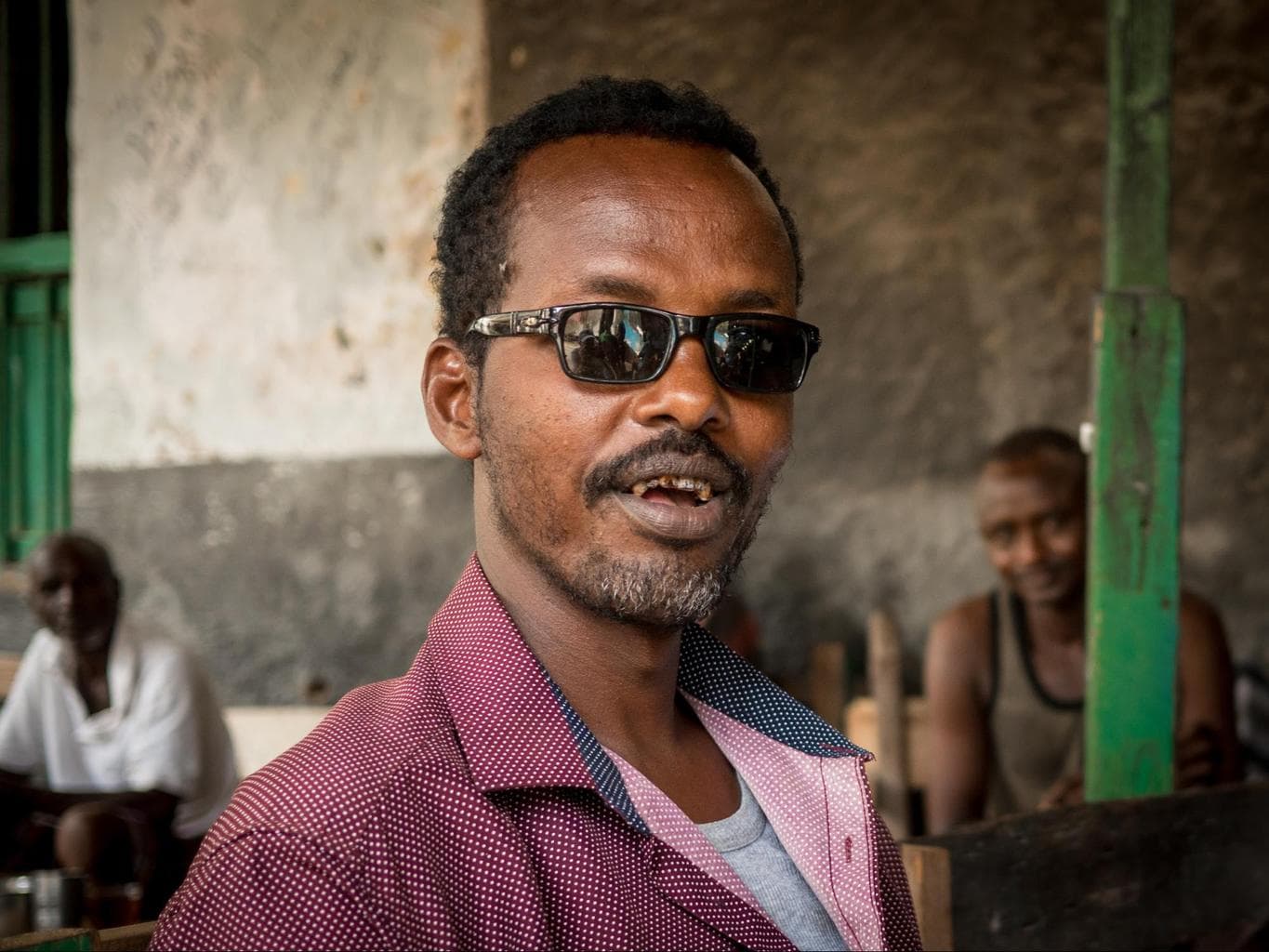 The numerous local cafes on most streets provide some respite from the heat of the day, and the opportunity to chat to some locals. The cafes consist of ramshackle collections of benches and chairs, serving the local sweet chai to the exclusively male clientele. By the early afternoon, the khat chewing had already started, and the people were friendly and courteous, although I wouldn't say it was an entirely relaxing environment, mostly due to the rather still faces.
A short drive across town gives the chance to wander around some slightly better preserved Ottoman buildings, a modern brutalist area known locally as 'Little Moscow', and a chance to chat to a few other passers-by, curious as to why we were there and what was our marital status and religious persuasion.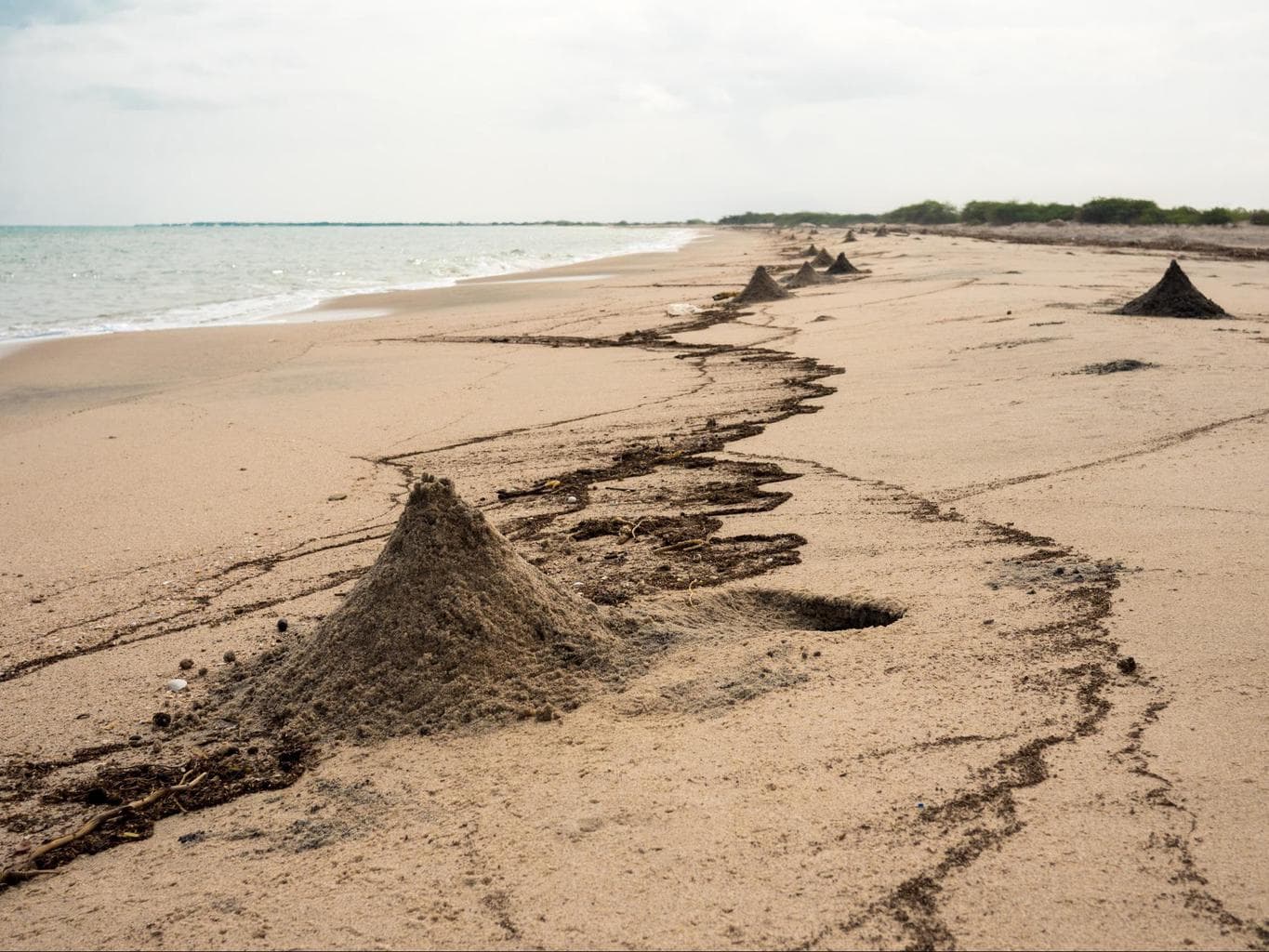 A twenty minute drive from downtown Berbera takes you to the beaches which are part of most tourist itineraries. Currently there is only one fairly rudimentary beachfront hotel, but judging by the number of plots and new developments along the way, it will not remain this way for long.
The beach is long, featureless and largely deserted, save for a large number of pretty sizable crabs. A fine place to relax and take a walk, so long as you're not expecting white sand, palm trees, sun loungers and women in bikinis.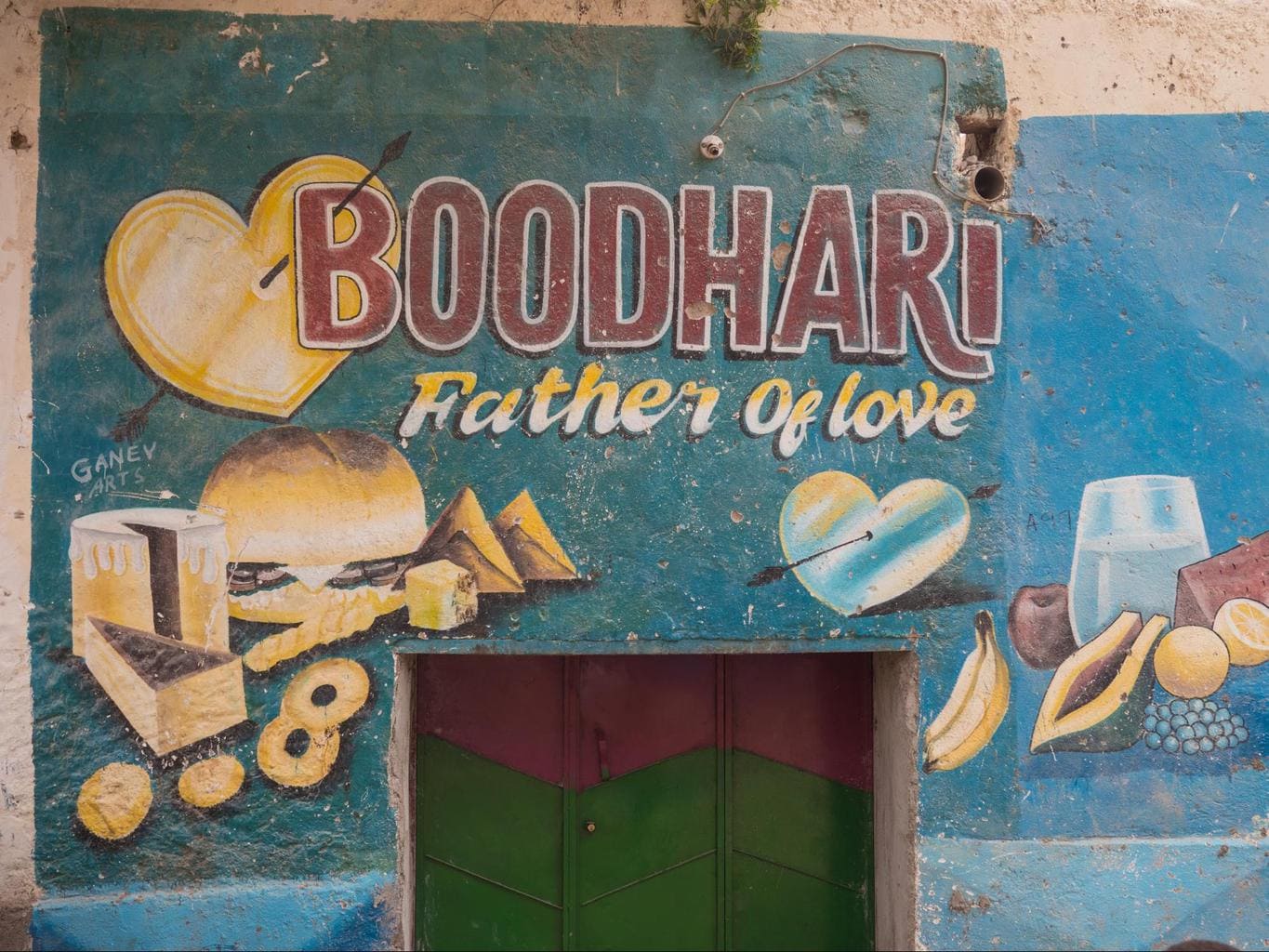 Evenings are quiet and dining options limited to a couple of local joints with the colorful murals displaying the food they are offering. The good thing is that Berbera at least has the option of getting fresh fish, in contrast to the dominance of camel and goat meat in Hargeisa.
Departing from Berbera for most tourists is a drive back along 'Road Number 1' to Hargeisa. There is an international airport with the occasional regional flight to Djibouti or Mogadishu, but schedules change frequently so need to be checked in advance.
For the more adventurous, there is a road that runs South East taking you to the mountainous Sanaag region, and ultimately down to Puntland and on to the undisputed parts of Somalia, but those trips require weeks rather than just a few days.
Zeyla (Seylac)
The coastal town of Zeyla (also, Seylac) is believed to be the first entry point of Islam into Africa and is located near the border with Djibouti so if you are visiting the country you might want to add a quick stop in Zeyla because it is rather far from Hargeisa.
This is an ancient port city with several mentions in many historical texts including the Bible and a fascinating past. The city is known to have been used as the main port for the ancient Berber tribes, the original inhabitants of this part of Somalia, to set sail towards Arabia and Egypt and trade their goods, including frankincense.
Through the centuries, the city evolved and grew into a prosperous and multicultural place with peoples from the many empires that dominated the Middle East, Africa and even Europe at the time. By the 19th century, Zeyla had declined in importance and was reduced to a small city with mud walls. It was subsequently controlled by the Ottoman Empire and then the British and when the civil war erupted in 1991 the city was destroyed, although modest reconstruction efforts are ongoing.
Today, visitors will be able to wander its ruined streets and try to imagine what it was like hundreds of years ago although not much is left of this ancient city. Zeyla's Masjid al-Qiblatayn ruins are unique because they are one of the few ancient mosques with two mihrabs each pointing at Mecca and Jerusalem.
Some of the other things to see there are the coral reefs and the few offshore islands. This is a much unexplored part of the country and it would make sense to add it to your Somaliland itinerary if you are also traveling to Djibouti by road.
Look out for the leopard tortoise, one of the Small 5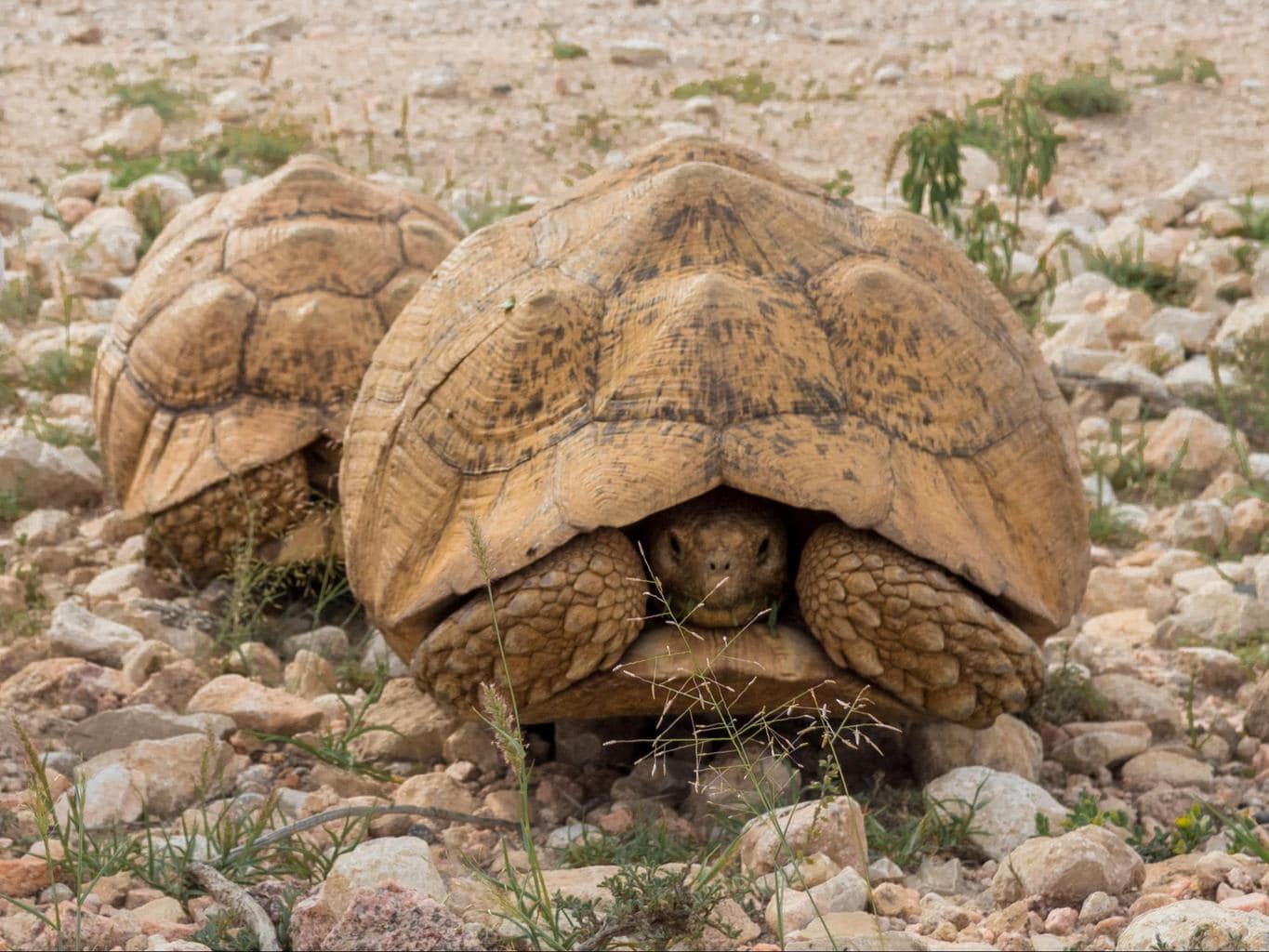 This endemic animal to Eastern and Southern Africa is easily spotted by the side of the road. As it is remarkably slow (as it would be expected), if you look out as you are driving and you spot one you can probably stop, jump off the car and take a selfie with them, albeit you may have to wait for a bit for their shy faces to come out of the shell.
The leopard tortoise is part of the Small 5 along with the rhino beetle, the red-billed buffalo weaver, the elephant shrew (also inhabiting Somaliland) and the antlion, a grouping that takes off from the famous Big 5 (lion, leopard, rhino, buffalo and elephant) and is the only tortoise that can swim and raise its head.
The livestock market in Hargeisa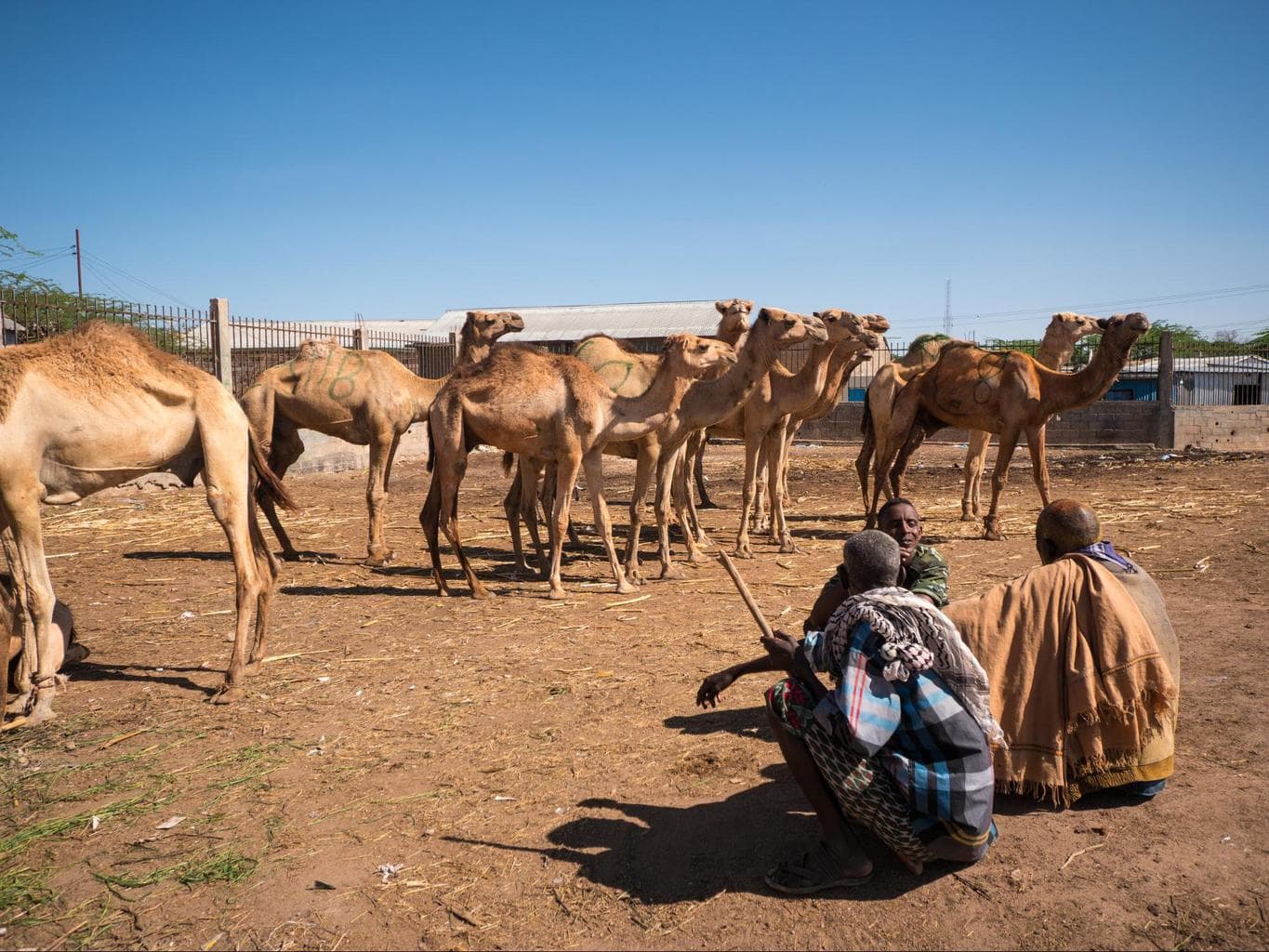 Livestock markets in agricultural and pastoral countries are a great way to understand what fuels their economy. The livestock market in Hargeisa is a pretty good example and it is one of the most fascinating tourist attractions in Somaliland. No visit to Somaliland or Hargeisa is complete without a quick trip to the livestock market.
What can you see there? Don't expect this to be an organised meet-up or permanent structure. The market is simply an agreed place to come and sell the animals. Sellers come with their best ones and buyers know they will find the right animals there.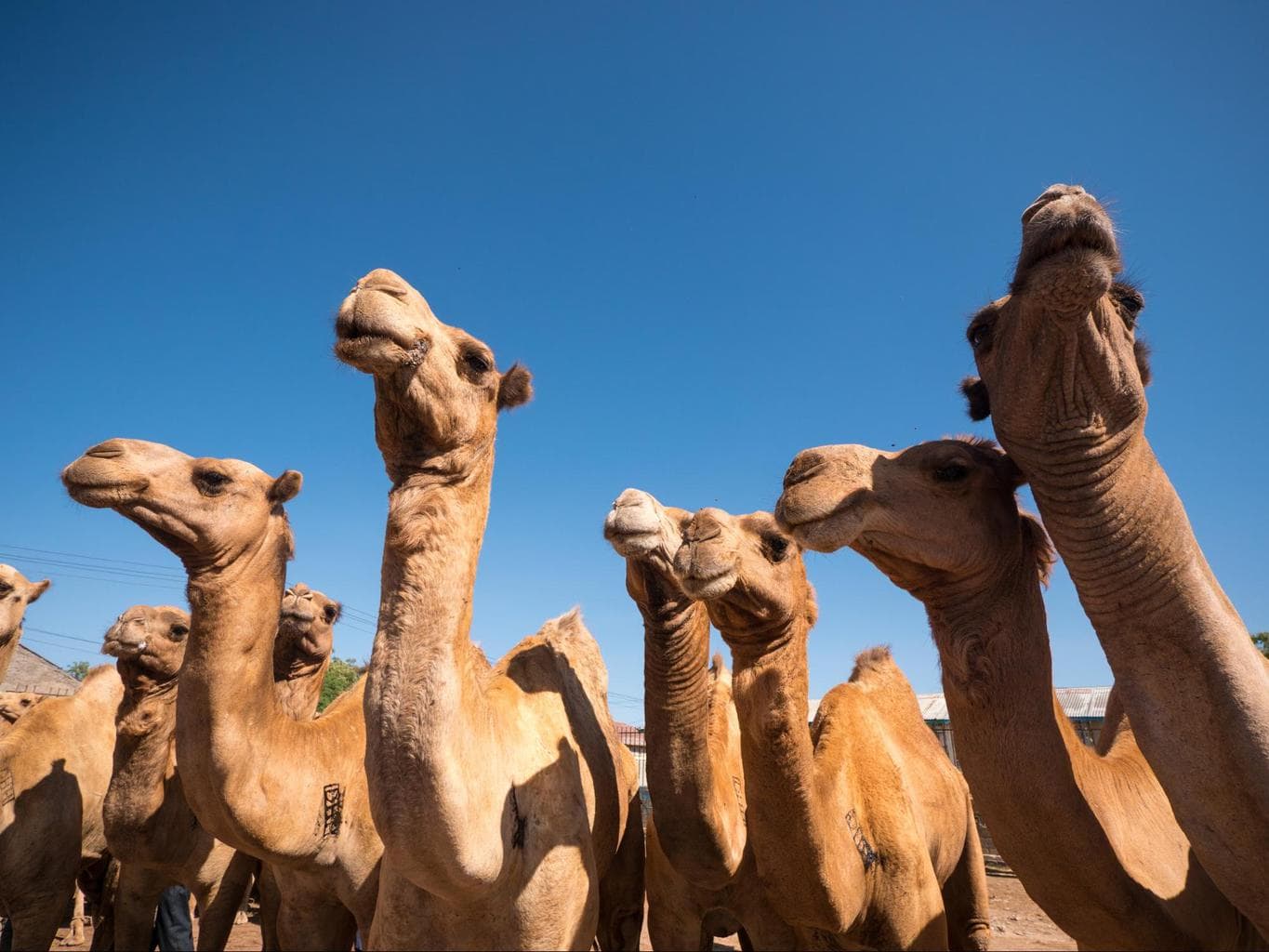 The market caters mostly to camels and goats, the animals who provide essential livelihood to most Somali people. Having around 7 million camels means that Somalia accounts for half of the world's camel population and these animals can be found roaming the land everywhere in the country.
As a tourist in Somalia, it is quite amusing to see these funny animals everywhere and they often make for the best pictures, like this image of a wet camel trying to hide from the pouring rain I took by the side of the road on our trip back from Laas Geel.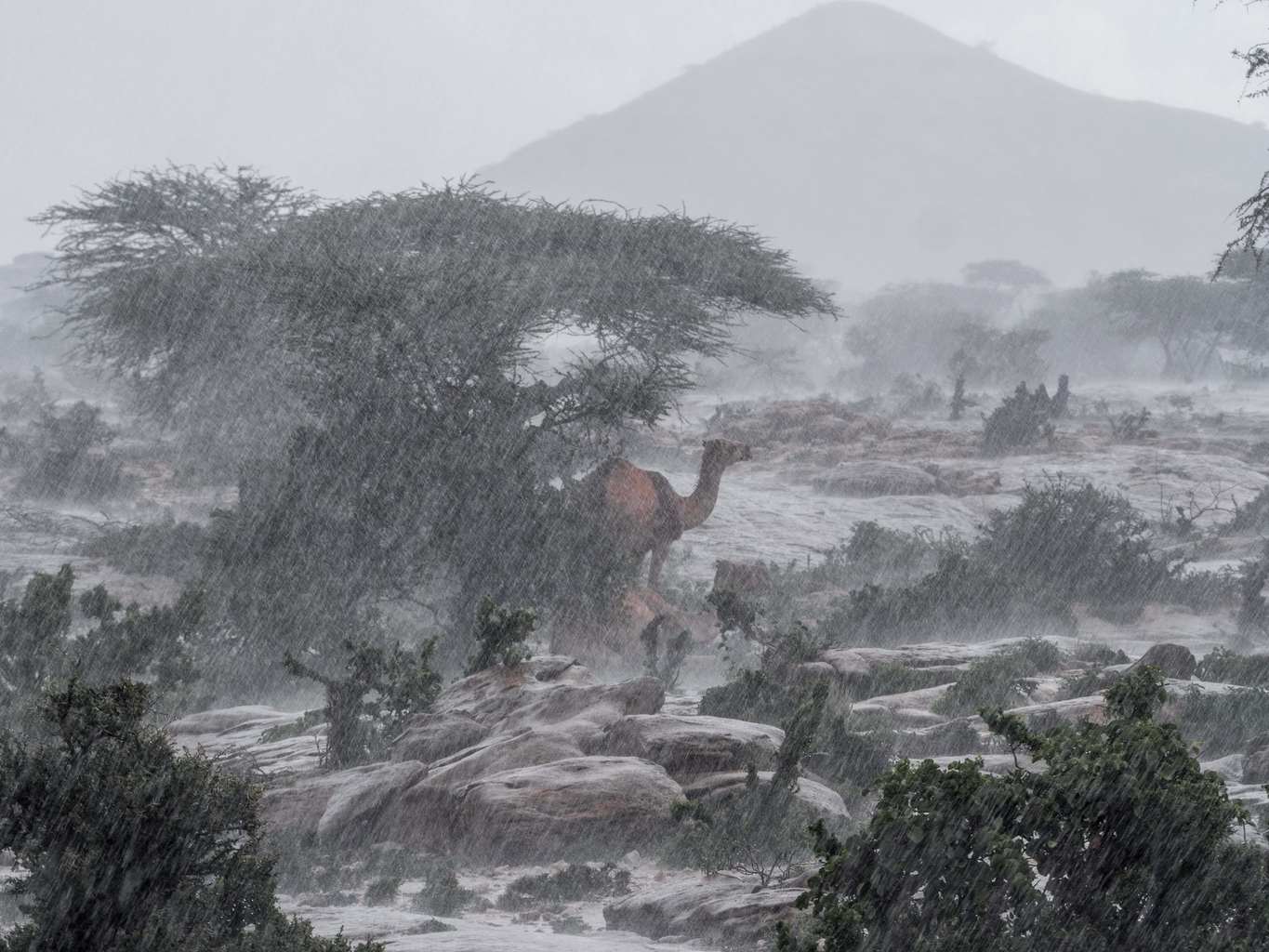 At the livestock market prepare to find all sizes of camels. The camels are marked with the name of the buyer once they have been sold and are otherwise tied together with ropes. Sellers and buyers engage in heated bargaining on price. Goats are also available, especially the funny looking Somali goats which have a thick amount of fat at the end of their spine and under the tail and are easily recognised by their black head and white bodies.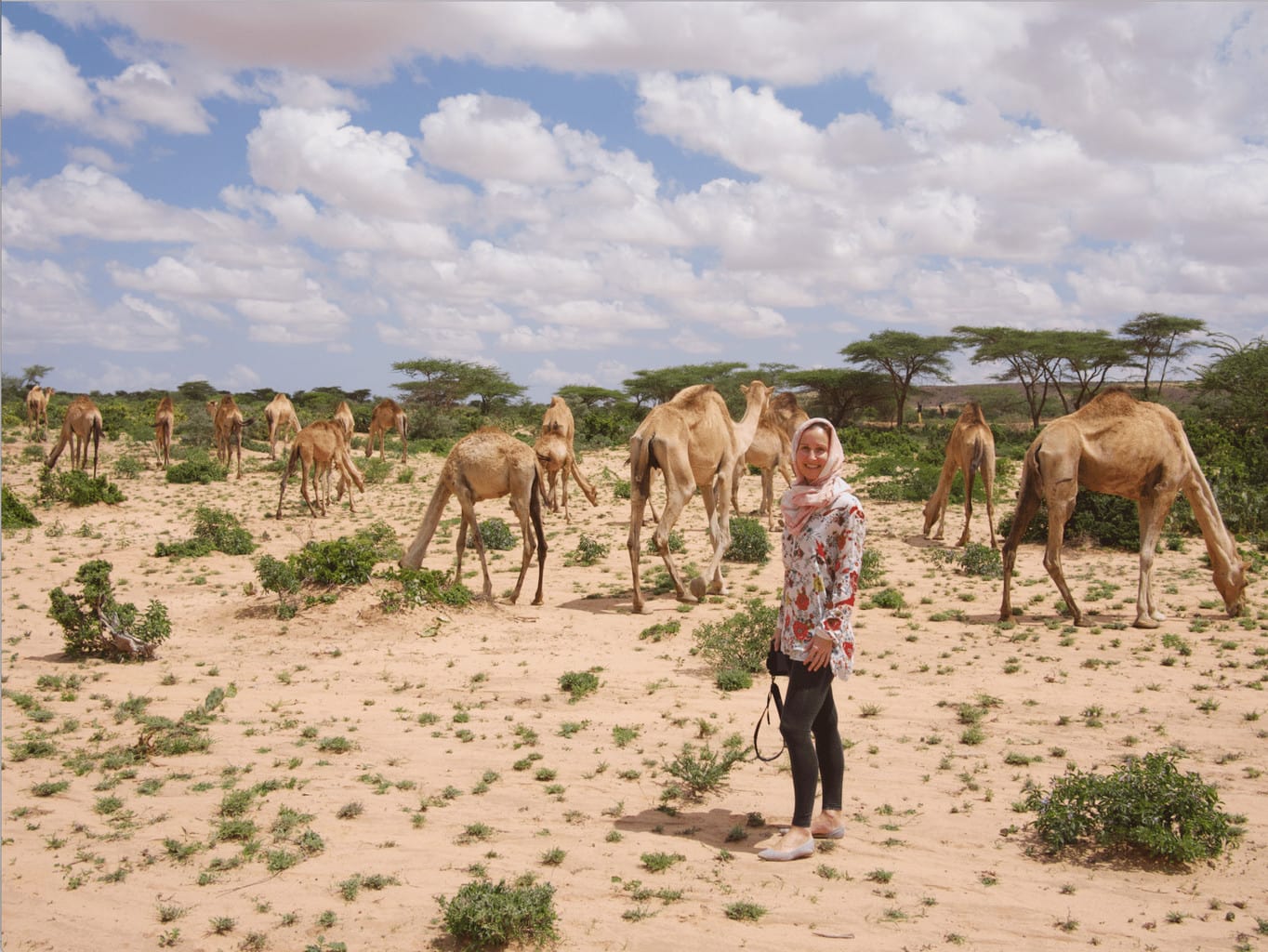 Both camels and goats are exported to the Middle East and not just used for internal consumption and camels can fetch really high prices in the markets overseas. In Somaliland, camel and goat meat is practically the only food on offer, often served with spaghetti or rice.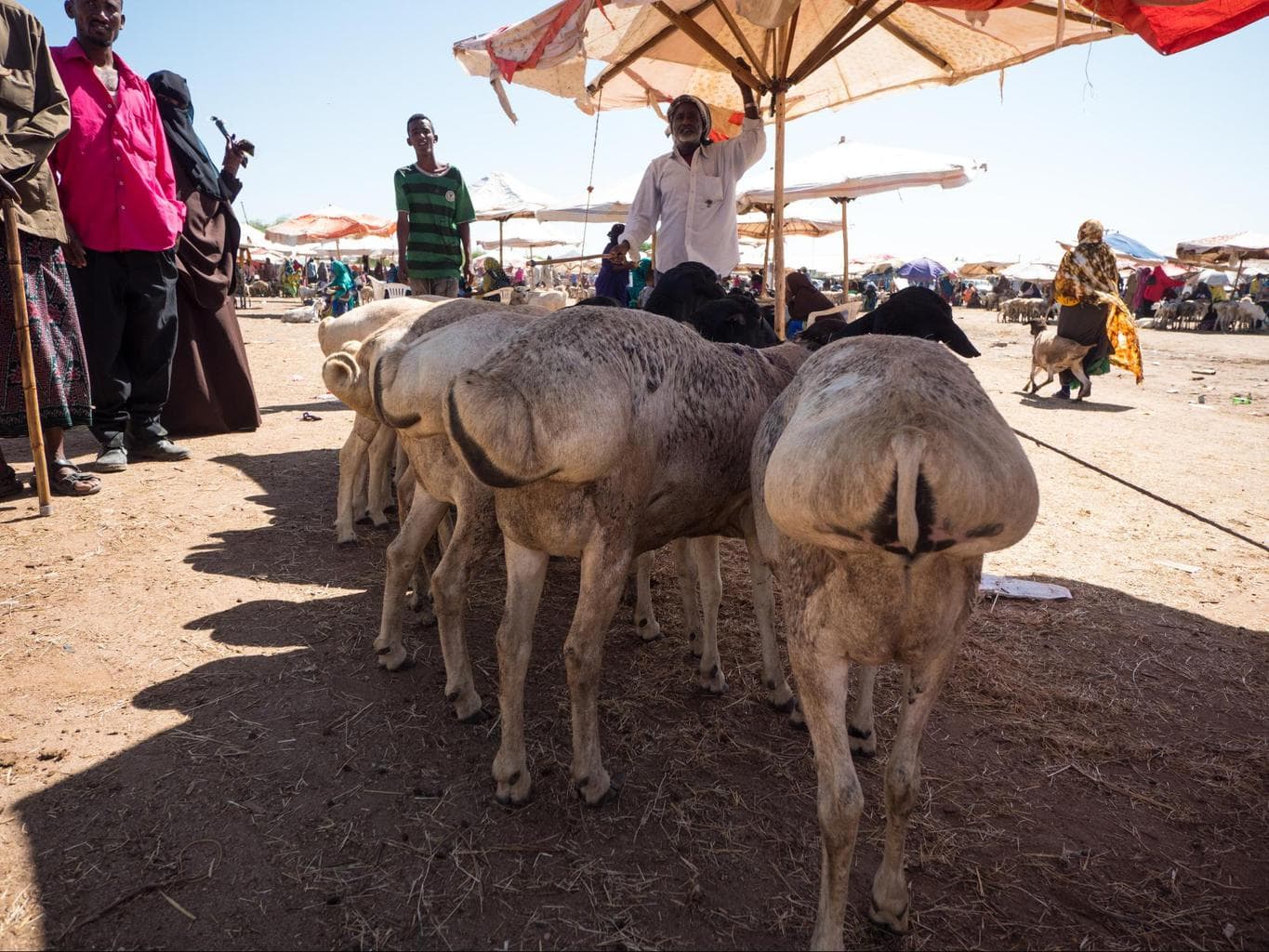 Come to the market to observe the merchant dealings and chat to the people with the help of your guide. You can go there alone but our guide recommended we use the Special Police Unit staff, which we did as a staff member was provided to accompany us. People are not always open to visitors and their reaction can be volatile and unexpected at times.
I found the opposite in my visit and aside from being told by a few women that I should be wearing a dress, I had no issues and mostly felt that people were curious and happy to engage in conversations and let me take their picture. Do not take any photo without asking for permission as things can get really ugly if you do.
Explore the market in Hargeisa and get a dress made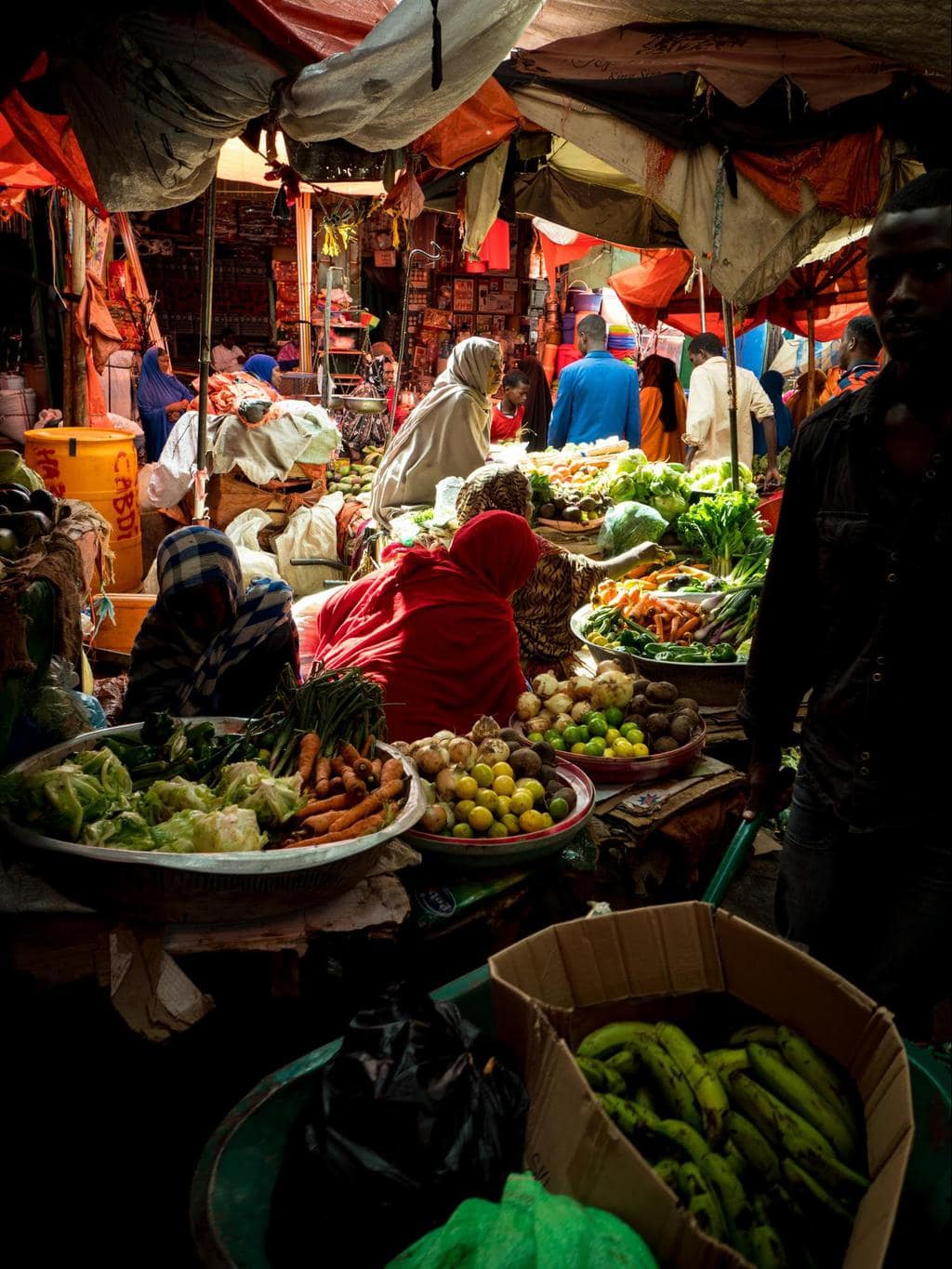 I love markets. Wandering around buzzing streets is one of my most favorite things to do anywhere. Hargeisa's downtown area, near the Damal and the Oriental Hotel, is filled with street vendors selling everything, from fruit and vegetables to clothing.
Do not miss the chance to find the souq, hidden behind the main streets, where you can join the chaotic and busy endeavours of porters and market vendors. It is hard to tell you where the souq entrance is, but, as you walk around the streets, look out for people going into buildings or follow the porters with their wheelbarrows.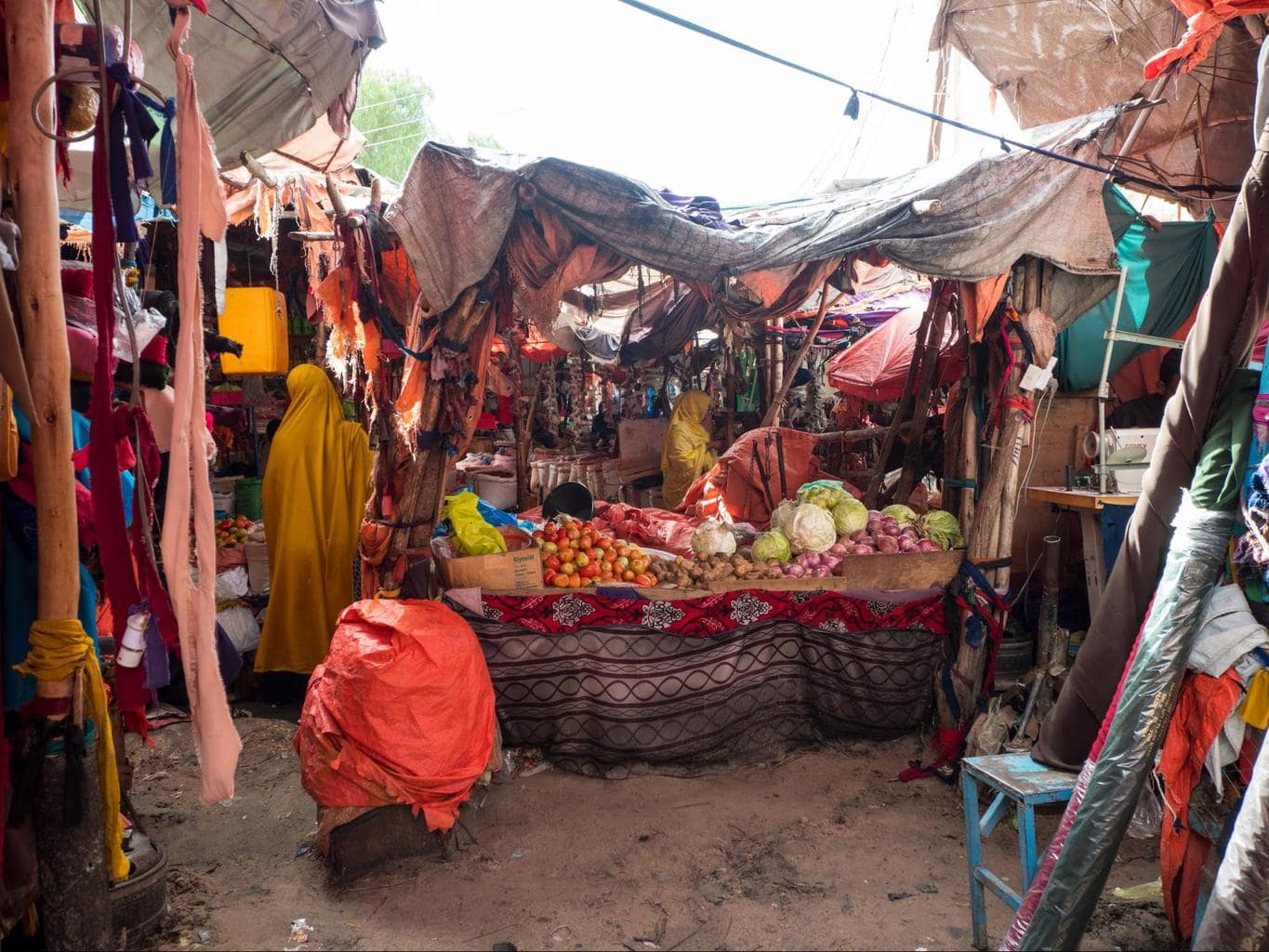 In the souq, you will find fabric for sale and there are sewing men around ready to make a dress out of your chosen pattern. I got one made in about 10 minutes. This is highly recommended if, like me, you came with the expectation of wearing trousers and realised that is a big no-no.
You can also find spices and herbs, vegetables, fruits and even gold sold in the streets as if it was something of no value.
Make sure to ask people for photos before taking them. Some will be averse to it, others will pose and want to see the photo you took.
Chew Khat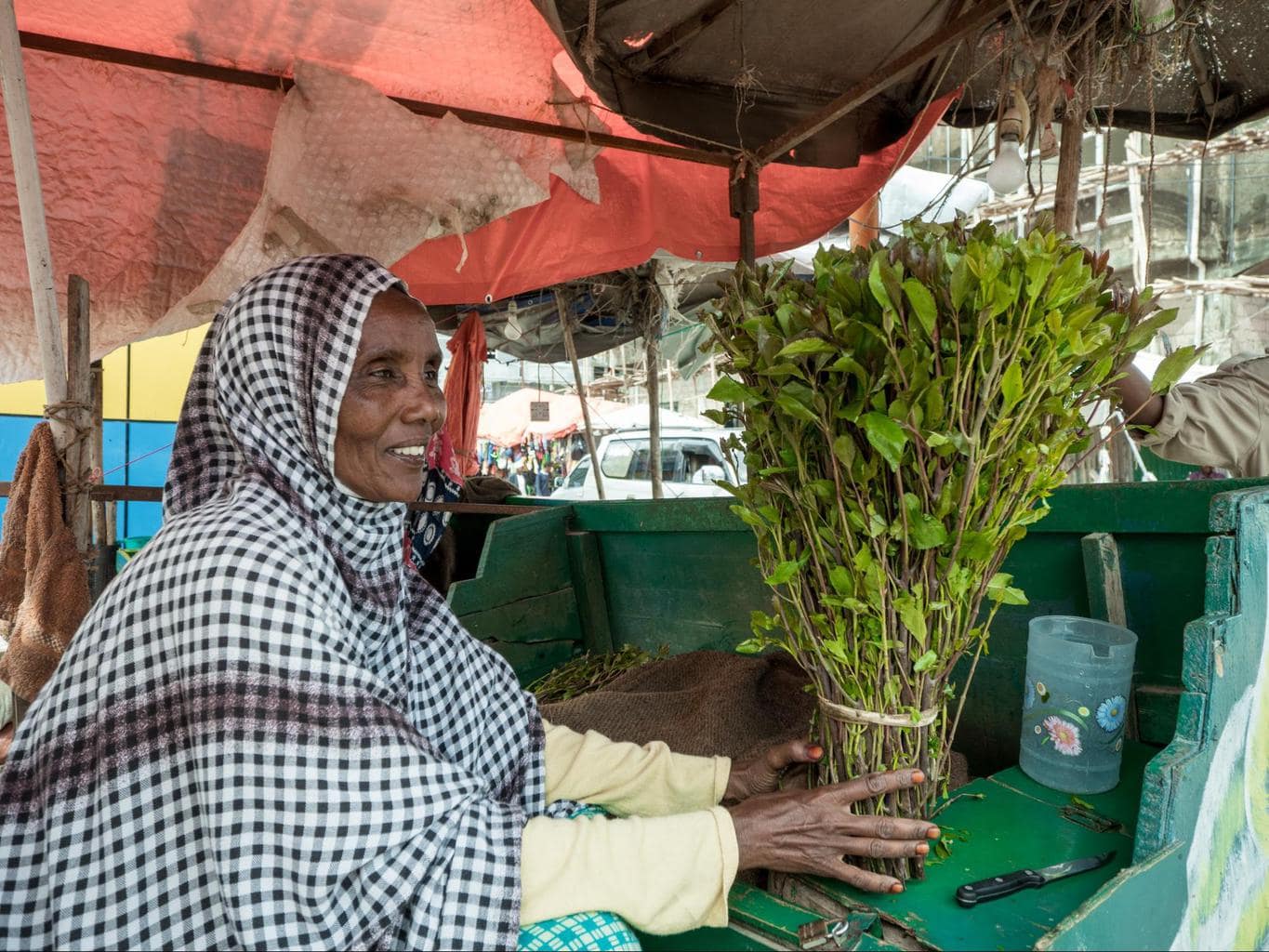 Khat is a green leafy branch consumed across the Red Sea countries of Yemen, Ethiopia, Djibouti and Somalia as part of social settings and age old traditions.
I saw it in Yemen as well as in Djibouti and I was not surprised to see it in Somaliland where khat sellers are everywhere and the plant is grown in the higher and more verdant areas. Khat is also known as qat, chaat or gat.
Khat contains an amphetamine-like stimulant and is considered a mild hallucinogen and pretty much every single man in these countries chews it from early afternoon until late night. Khat is considered a controlled substance by the World Health Organisation that does not produce strong dependency and is not believed to cause death. As a result it is illegal in several western countries like Canada, the US, the UK and Germany while legal in others.
If you are curious to see how it tastes, chewing khat is one of the most unique things to do in Somaliland. Beware, it is quite gross, or at least that is what I think every time I try it. It does indeed taste like you would expect chewing leaves to: like eating green grass.
Eat camel meat or drink camel milk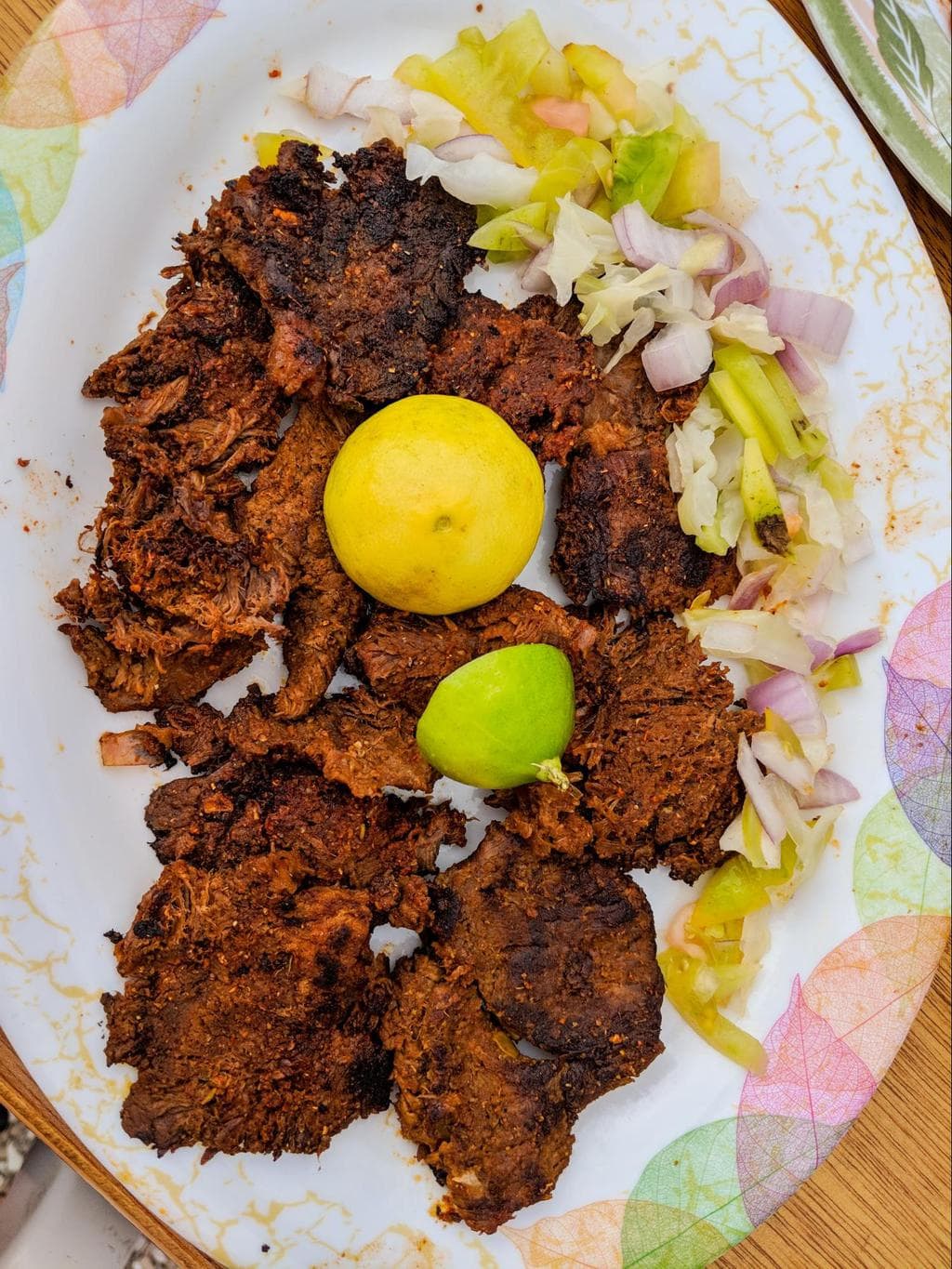 On the subject of food, Somaliland has some of the most consistently repetitive cuisine I have ever seen and it consists entirely on camel meat and spaghetti. If you are lucky, you can also find some tender goat meat, but it is far less common, and for a change, you can probably get rice instead of spaghetti but this is the staple dish that is served and eaten across the country.
Naturally, after a few days you will be utterly bored and tired of the camel meat in which case try to head to some of the larger hotels for a bit of a change in food.
If you are brave, try the camel milk as well, but not from the side of the road where you are sure to end up with food poisoning (even the salads at the top hotels will send you to the emergency services at the hospital, as I discovered). It is believed to have great nutritional value and be better than cow's milk.
Have tea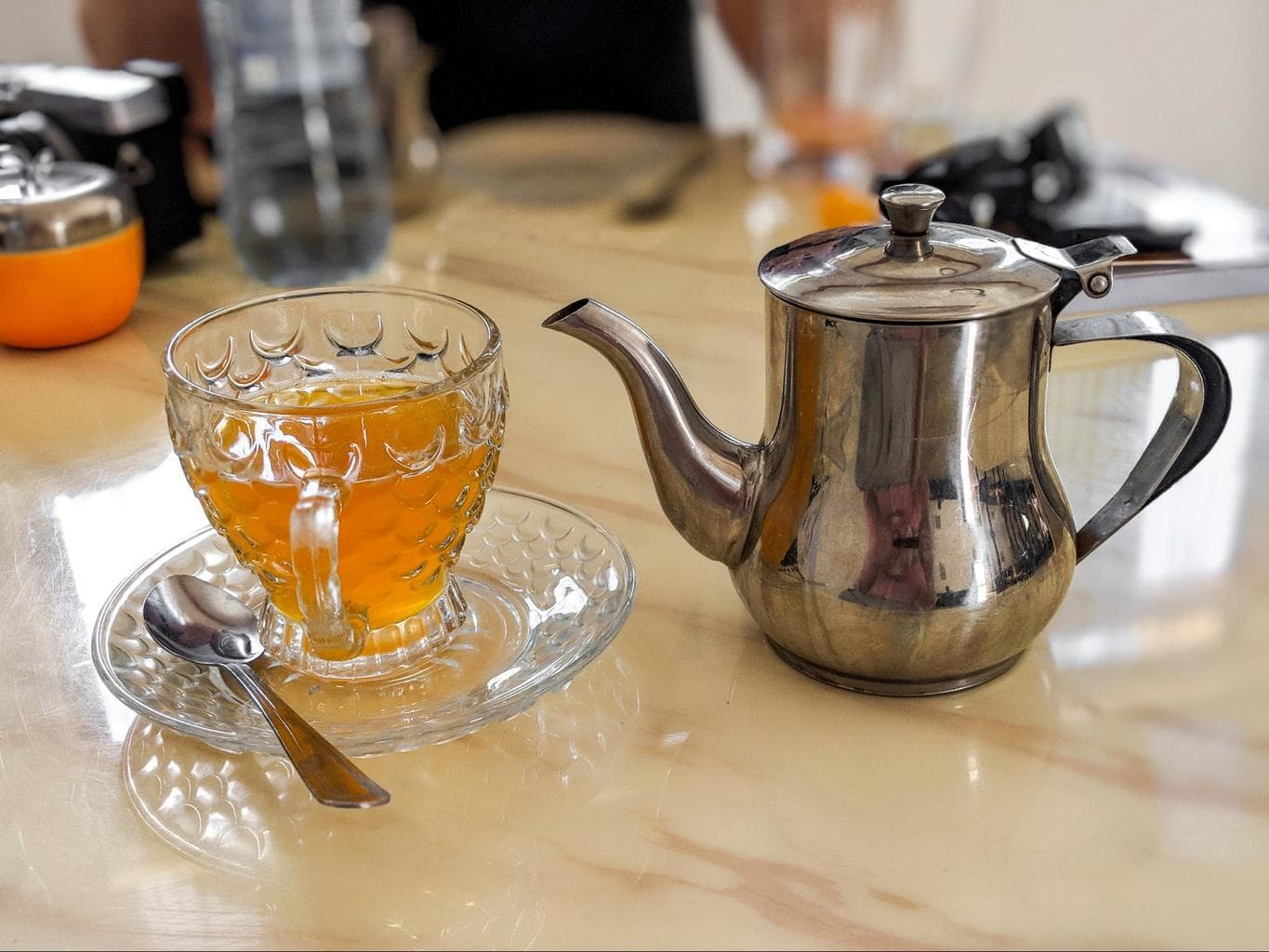 Alcohol is forbidden in Somalia and there is little in the way of party or clubbing. Somalis spend their time drinking tea and chewing khat. If you are traveling outside of Hargeisa and to Laas Geel or Berbera, you will not doubt need to stop for toilet breaks or a drink. Tea houses, where camel meat and spaghetti/rice are served, abound and you will have no issues finding one with a toilet nearby, or simply use nature.
Our guide certainly thought tea stops were part of the itinerary and we stopped a few times for one. This is perhaps one of the most local things you can do in Somaliland. If the setting allows, feel free to strike a conversation with anyone who speaks English or who is keen to talk you up.
Somaliland has been attracting locals that emigrated and wanted to return home and help rebuild the country for years so it is not hard to find someone whose relatives are still abroad or who have lived where you come from, especially if you are British.
Weather in Somaliland
The best time to visit Somaliland is from December to March when it is not too hot in the coast and there are no rains. From April to September flash floods can make roads impassable and strand you for hours when a previously dry wadi suddenly fills with torrential rains and cuts a main road, like it happened to us.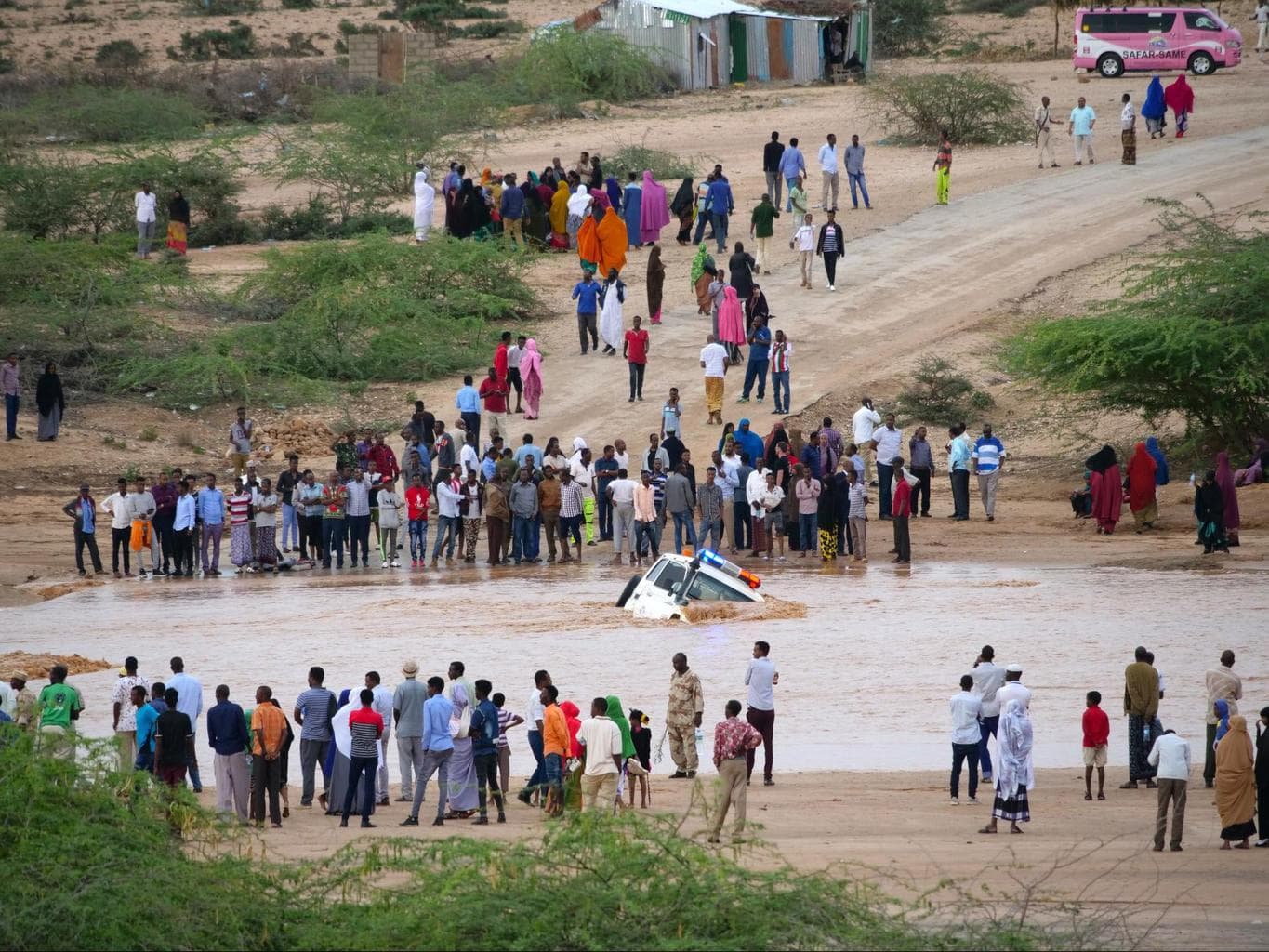 Although these rains pass quickly, they give you a very different perspective on the country. The interruption is short too as the wadies dry in just a few hours, but they can dampen your holiday quite a bit (no pun intended) and walking in the muddy streets of Hargeisa is not pleasant by any means (I had to throw away my flat shoes after that). July and August are very hot months while October and November are good shoulder months.
Best Hotels in Somaliland
Reading online about Somaliland and the few accounts from other travelers you may think that there is only one hotel in Hargeisa: The Oriental Hotel. However, there are a few other better options of you are not interested in rugging it out.
Best hotels for business travelers to Somaliland
Most government officials, foreign businessmen and other international visitors prefer to stay at either the Ambassador Hotel or the Mansoor Hotel both of which are far from town and near the airport.
The choice is usually based on the fact that both have stronger security and safety measures than all other places in town. They have guards, double walls and other safety precautions in place. That makes them the preferred option for all international travelers, especially those on business as Somalia continues to be under the threat of terrorism attacks. Hotels and other places where officials and international visitors concentrate are of special interest.
Here you can find modern facilities and a relatively international feel. Bear in mind neither of the two hotels have AC in the rooms, despite billing themselves as the business hotels of choice.
The preferred budget hotel in Hargeisa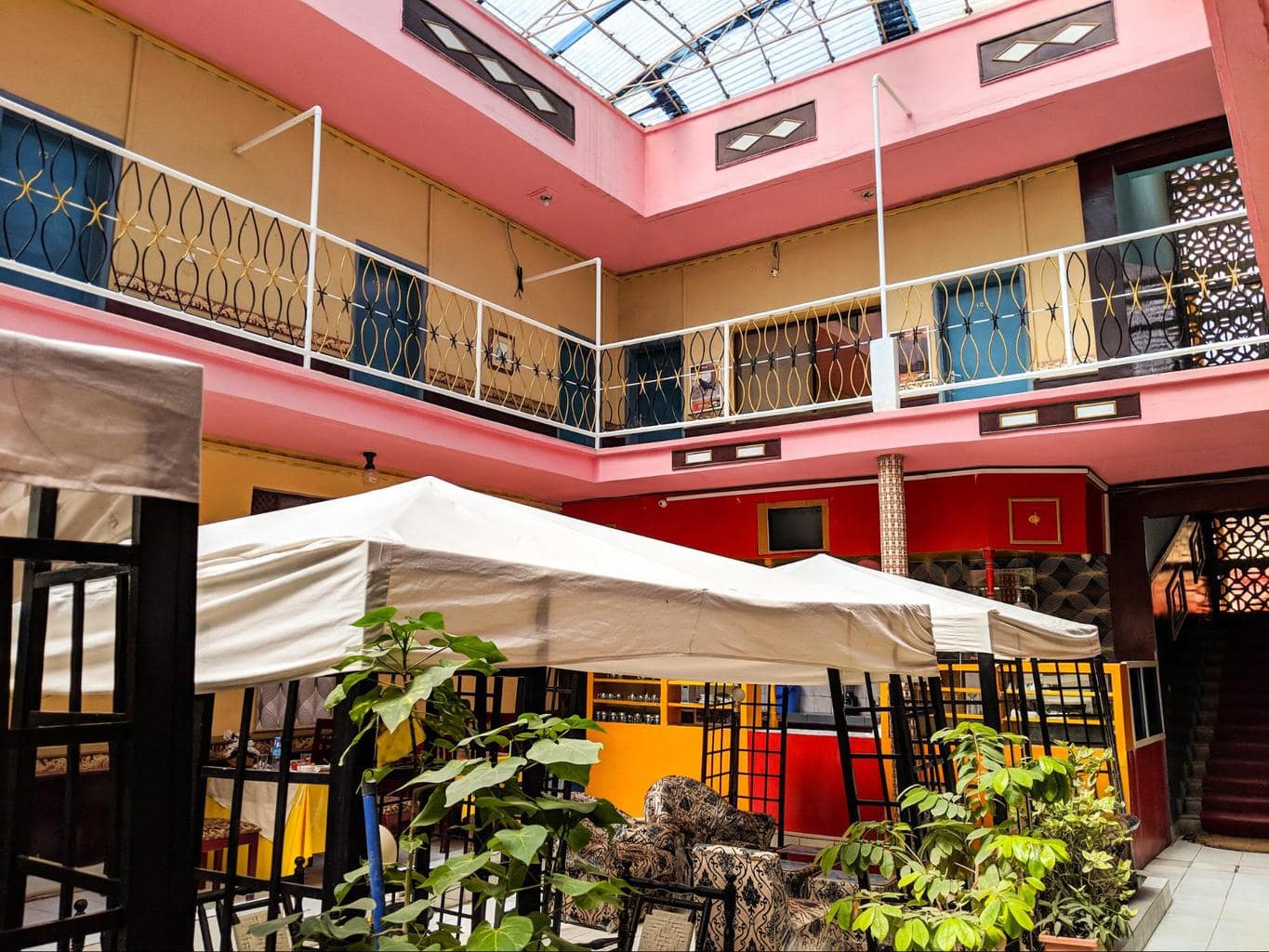 The majority of travelers, especially those on a budget, prefer to stay at the legendary Oriental Hotel in Hargeisa, the oldest and most charismatic hotel in town. This is because it is the best hotel for those who prefer to limit the amount of money they spend (you can book a room for $15-$20 a night) or are looking for an authentic experience. It is also very central so you can walk anywhere that is of interest in the city, except for the livestock market.
The Oriental Hotel is also known for being great at organising tours to Laas Geel or Berbera, and finding you a travel companion to share the cost of a car and driver, even if you are not staying there. They are well known in the frequent travelers circuits for being the go-to de facto "tour company". It is indeed the meet-up place for intrepid travelers who make their way to Somaliland and for the price, it can't be beat if you just want a bed and shower. It is likely that any other traveler in Hargeisa at the time will also stay there so you can probably mingle at the restaurant.
The best modern hotels in Somaliland
I am not so much the budget traveler type and if I can spend a bit more and sleep in a comfortable bed with hot water and even AC, I prefer to do so.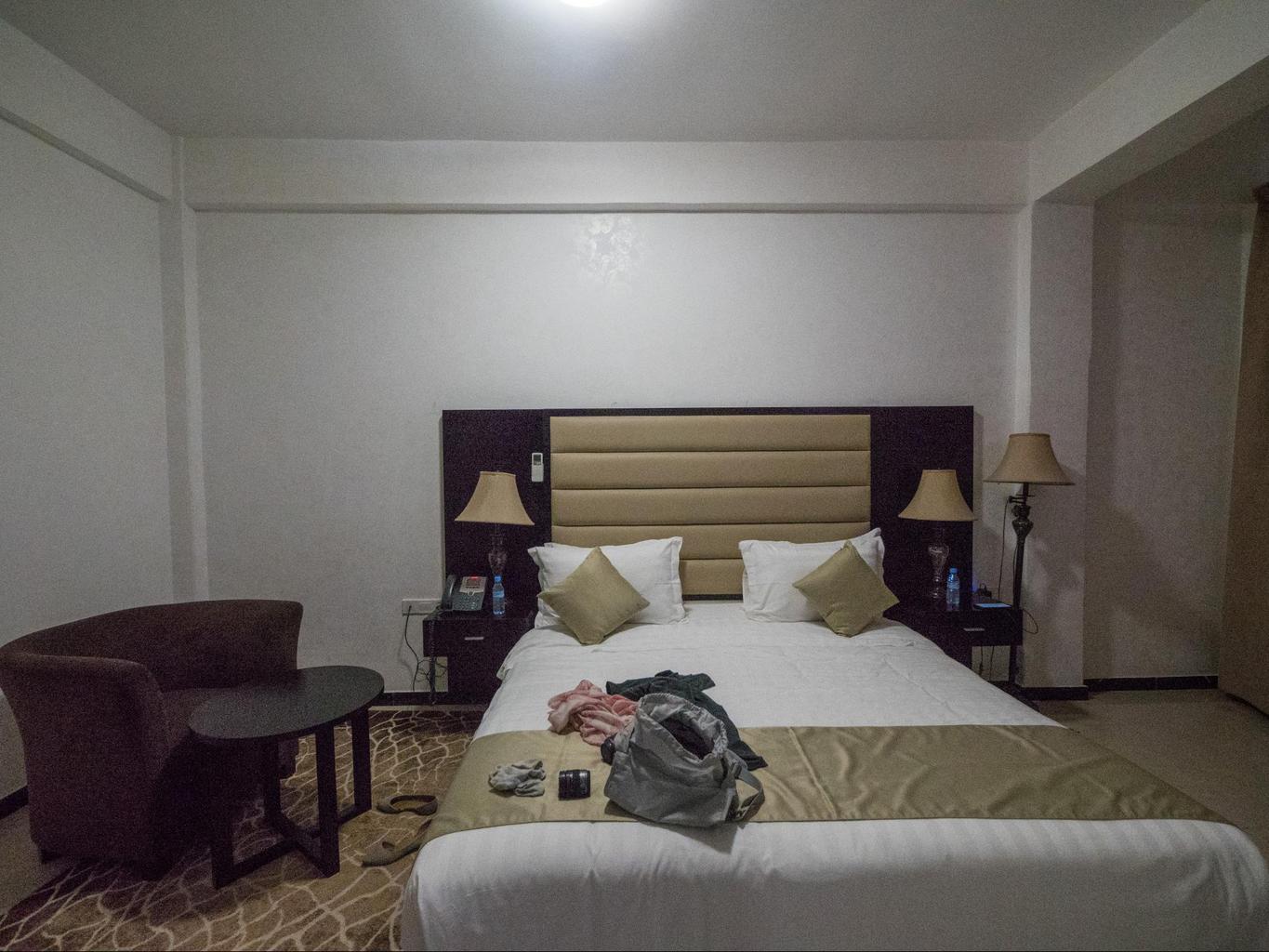 So I stayed at the Damal Hotel in Hargeisa and the Damal Hotel in Berbera where I spent a night. They are both new hotels owned by the main bank in Somaliland and they are more expensive than the Oriental but in exchange you get a new place and rooms with the only AC in the country. In the summer months, especially in Berbera, you will be grateful for that feature.
The Damal Hotels also have free (and relatively fast) WiFi across the hotel including the rooms. The rooms and common areas are clean and the staff friendly. When I got really sick with food poisoning and spent the night in the bathroom in Berbera the staff was quite nice.
Back in Hargeisa, the lady at reception organised drinks for me and called the hospital to get me checked out. The food is also quite decent and with more variety than the usual for Somaliland standards.
For example, you can get steak, fish and even chicken. Breakfast has pancakes, laxoox and eggs to order. Even the coffee is better than at most places. However, I am pretty sure I caught food poisoning from the salad at the Damal Berbera. My fault really, as you shouldn't have salad or other uncooked vegetables anywhere in the country.
Safety in Somaliland
How safe Somaliland is will depend very much to your level of comfort with uncertainty, with countries which are at risk of terrorism attacks and where situations change constantly.
I wrote a really detailed post on safety in Somaliland touching on the crime level, the threats, the terrorism rate in Somaliland and the steps you can take to ensure you protect yourself as much as possible.
But at the end of the day, your decision to travel should be a personal one based on the facts and the experiences from other people. It is important to check the latest news and status on the ground before going because things can change at any moment. A local guide is the best way to know as they are knowledgeable on what the reality is and can advise if they feel certain areas are off limits.
The practicalities of traveling to Somaliland – What you need to know
Somaliland's political situation and the overall country instability make this a relatively hard to explore place, so it pays to be well-prepared so everything goes smoothly. Here are a few things you need to know before going to Somaliland.
Money in Somaliland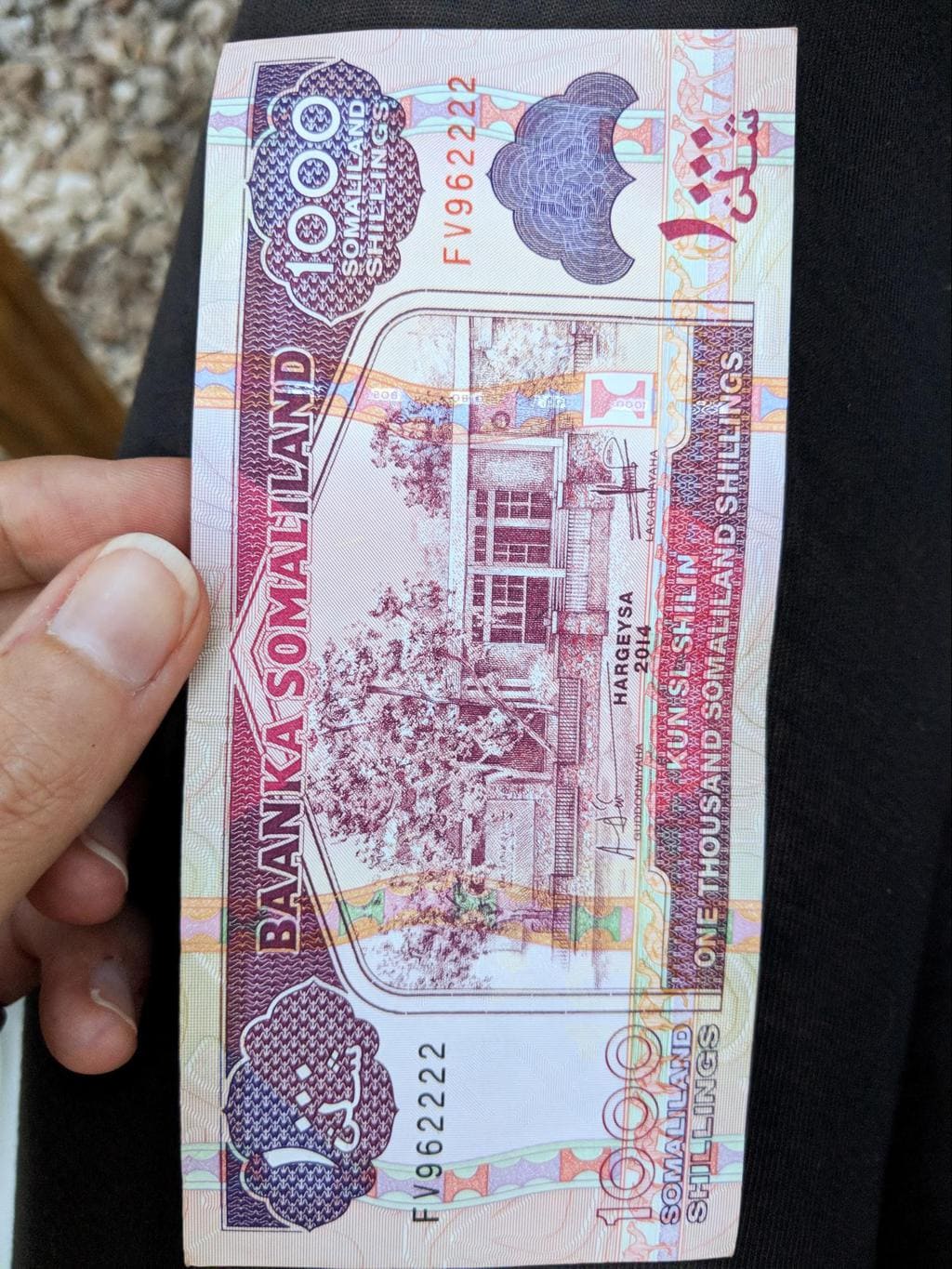 You should assume that credit cards do not work in Somaliland so you should make sure to bring cash, US Dollars ideally, and have enough for your trip. If you travel with an agency that organised your trip, they will have paid for everything in advance, so your need for cash will be limited.
The visa on arrival is $60 and buying a SIM card with 4GB of internet was $50 so before we left the airport we were $170 down. We spent little after that.
Somaliland is extremely cheap. A bottle of water is less than half a dollar, food is cheap (especially if bought at local restaurants) and you will not be using any for alcohol as it is banned because the country follows Sharia Law (like Sudan, Saudi Arabia, Brunei and Iran among others). Souvenirs are nonexistent.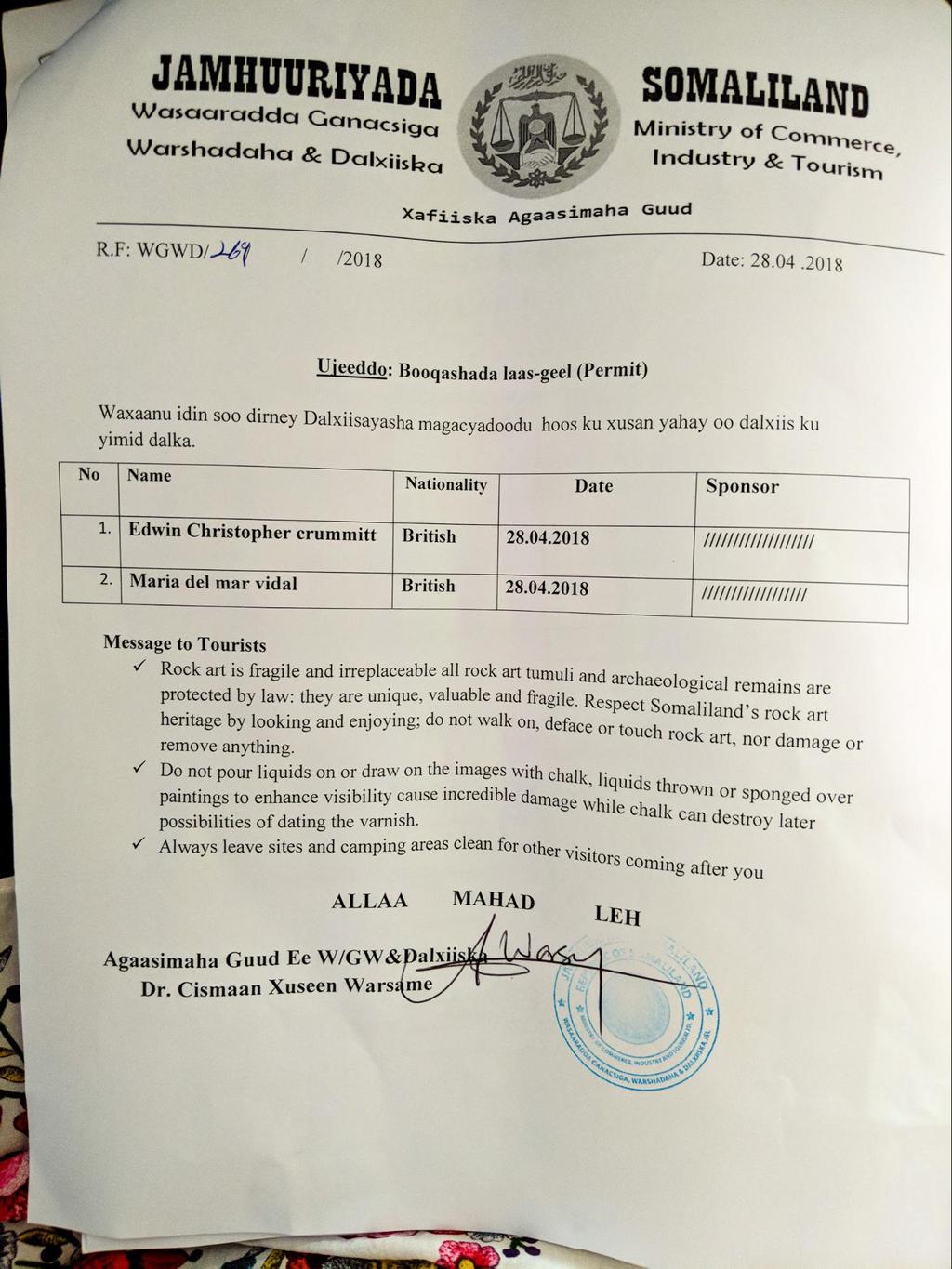 If you are traveling independently and need to organise your tours to Laas Geel or to Berbera, then bring enough cash to pay for the police escort. You should account for around $150 for a day trip to Laas Geel and most travelers report the Oriental Hotel as the best place to organise this, and even the chance of finding another traveler to share the costs with.
Things to pack and what to wear in Somaliland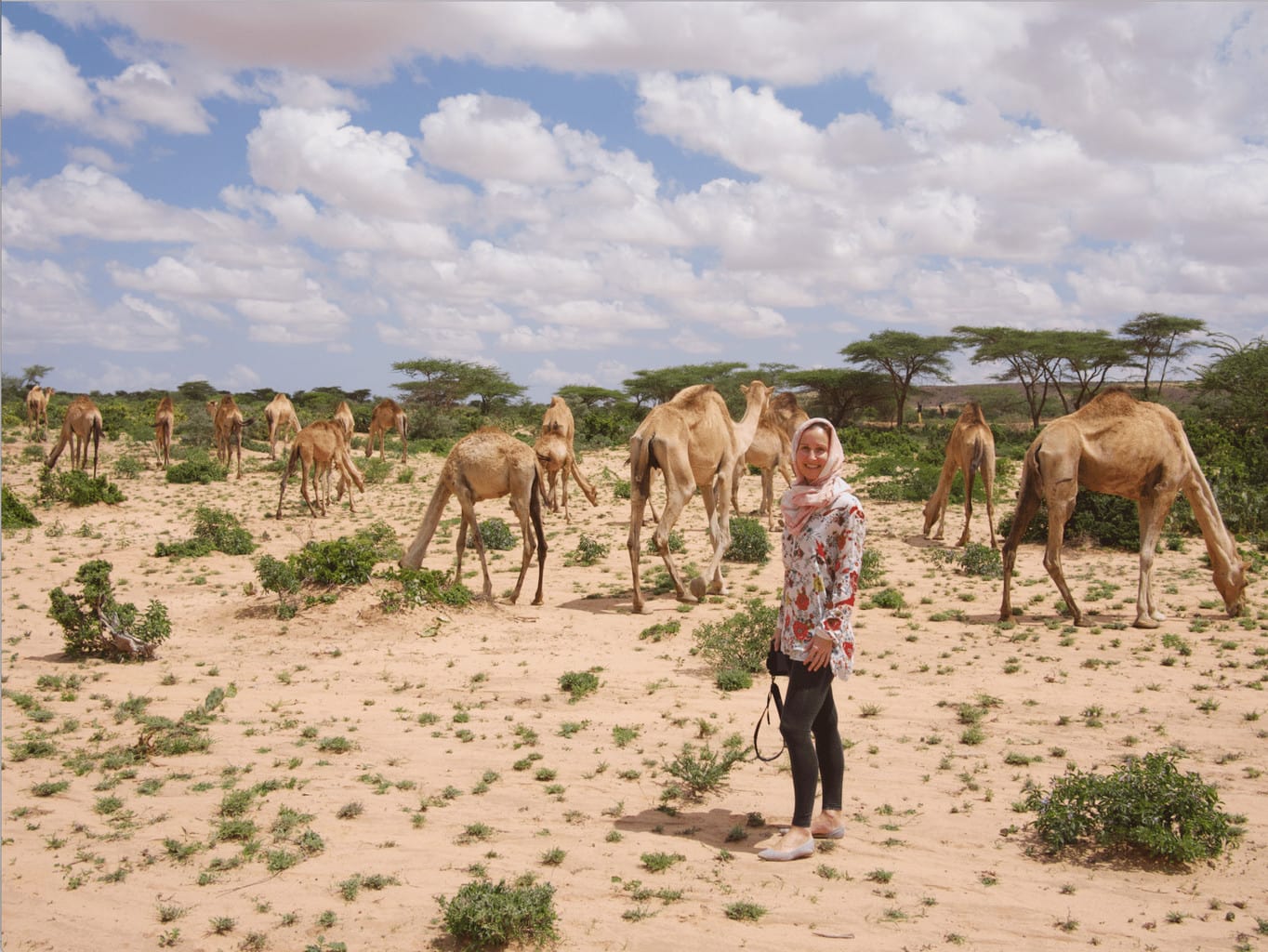 This was probably the biggest faux-pas I made. I brought a scarf to cover my head and long tunic-style shirts that went well below my butt. However, as female traveler, I was not dressed appropriately for the country and this posed a mild issue with the locals, particularly women who did not understand why I was wearing trousers.
I have traveled and worked full time across the Middle East and Africa and I had never had this problem, but in Somaliland I did. My advice for any women traveling to Somaliland is to wear long skirts, long shirts, long sleeves and a scarf. Or just do like what I did and go to a local market and get a sac-type of dress made on the spot to comply. It will not make you stand out any less, but it will give the locals one less reason to object your presence. I got a few smiles from the locals when dressed like that, even if I looked a bit like an idiot and kept stepping on the dress in the muddy streets of Hargeisa.
For men, long trousers and shirts are also preferable. You will most likely stand out anyway, but you will be less obvious than if you wear shorts and short-sleeve t-shirts.
For Laas Geel, I recommend wearing proper trainers or hiking boots as it is rocky and slippery. A hat, sunglasses and sunscreen are a must and you can probably do well with insect repellent. I removed my scarf for Laas Geel and wore a cap instead as it was just us and the guide plus the minder and it was really really hot to be covering up with a scarf.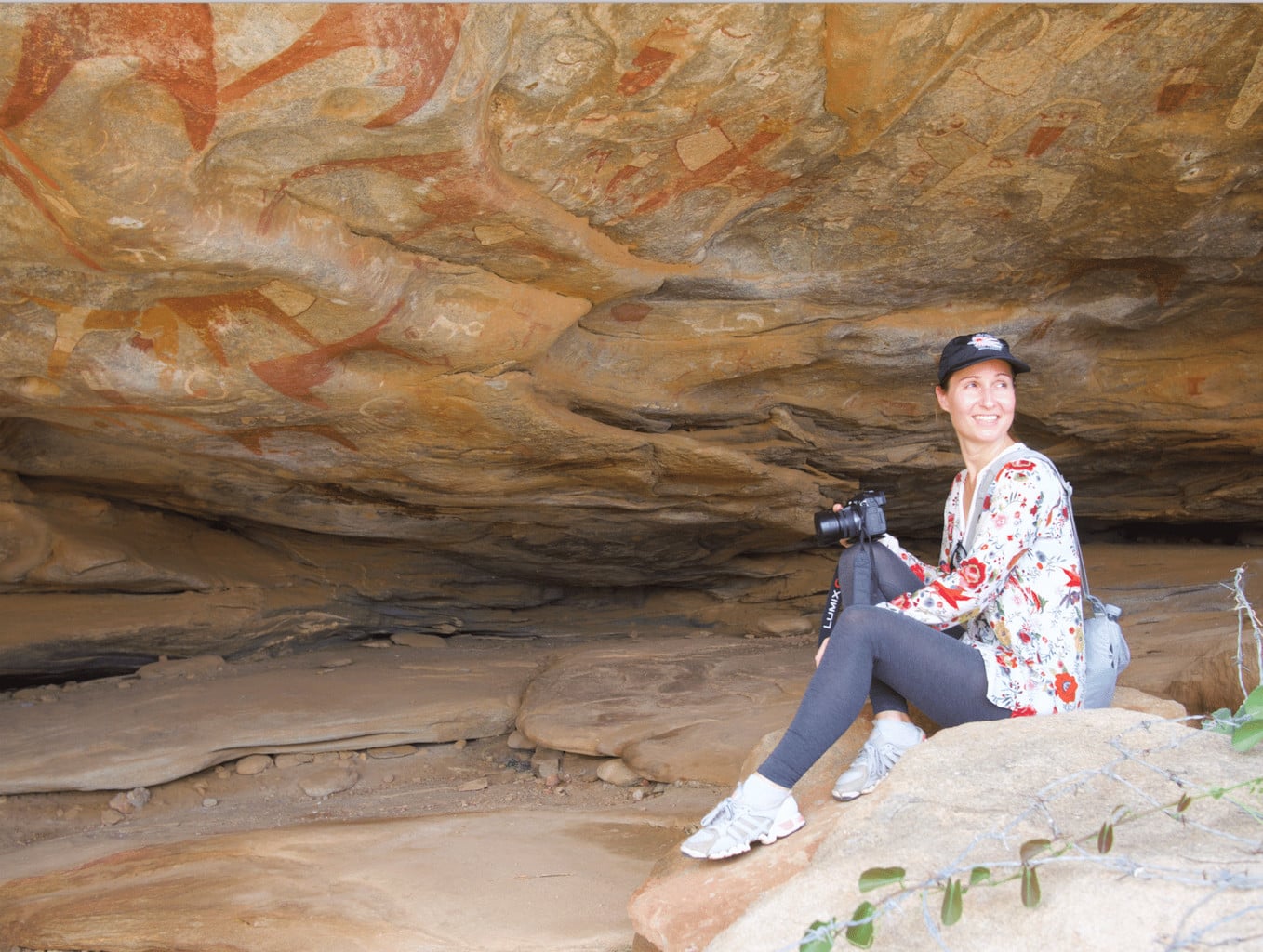 Water is essential due to the high temperatures and the heat that you may encounter, especially if you travel to Berbera and dehydration is a real risk. Hargeisa is less hot than other places in the region like Djibouti because of its altitude, and flash floods are common during the rainy months.
In 5 minutes the entire place can be totally flooded and the roads impassable, as we discovered when we tried to get to Berbera and were stuck at a wadi crossing where the water was flowing down as if a massive storm had dropped water for days even if it had not even been half an hour.
Other precautions against yellow fever, typhoid and malaria may be advisable and you should consult your doctor. I ended up with food poisoning from a salad at my premium hotel. It was probably not a wise decision even for someone with a stomach of steel, but after three days without any vegetables I was desperate.
This gave me the unique opportunity to check the local hospital which was not terrible. As they are used to these types of issues, I was given miraculous tablets and rehydration powder and I was well the next day but probably best to avoid this experience if you can. You'll eat vegetables when you leave the country!