This stay was hosted by Majestic Hotel & Spa Barcelona. As always all opinions are honest and our own.
Majestic Hotel & Spa Barcelona is the oldest hotel in the city and, after having tried and tested 10 of the best places to stay in Barcelona, I would rank it as one of the best.
Thanks to its enviable location at the center of all the best things to do in Barcelona, I have walked past Majestic Hotel & Spa Barcelona thousands of times.
I have come for sunset drinks at the Dolce Vitae rooftop bar, for dinner at Km.0 SOLC Restaurant with my mother, who always knows the best places in the city, and for dinner. Every experience has shown me a different yet equally wonderful side of the hotel and helped me have a more rounded opinion.
This time, I came to stay, and the hotel exceeded my expectations.
In a city where new luxury hotels still open up every year, it is reassuring to leave your stay in the hands of a team that has been welcoming guests to my beloved Barcelona for over a century. 
But has the passion with which Martin Casals opened Hotel Majestic Inglaterra in 1918 or the service that has made it legendary been preserved?
I was sure to find out.
History of Majestic Hotel & Spa Barcelona
Majestic Hotel & Spa Barcelona's Neo-classical facade has been a fixture of Passeig de Gracia for over 100 years.
The hotel was built at the time when La Pedrera and other remarkable Eixample buildings were constructed along Barcelona's most coveted avenue.
It has lived through the Spanish Republic, the Civil War and Franco's dictatorship and remains, until today, a family-owned hotel offering the same level of service and magic that attracted so many celebrities, artists and royals in the last century.
Through the decades, the original Hotel Majestic Inglaterra, opened by the great grandfather of the current owners, expanded, but it kept the neoclassical facade more typical of continental Europe or the UK than of Barcelona, its original name may partially explain the design.
The first hotel occupied the building on Passeig de Gracia and it was not until the 1970s that the building on Carrer Valencia was added.
Today, the two buildings are seamlessly connected and appear as a single unit from outside but you will notice that not all lifts go to all floors and that, occasionally, half floor stairs connect the two.
The Soldevila-Casals family has been at the helm of Majestic Hotel & Spa Barcelona throughout its history. They also own or manage other properties under the Majestic Hotel Group portfolio including Murmuri hotels and residences and the MiM Brand with hotels in Sitges, Ibiza and Mallorca owned by FC Barcelona player Messi and managed by The Majestic Group.
The family are renowned patrons of the arts and collectors, a passion which has given the hotel the nickname of Hotel of the Arts. Throughout the public areas of the hotel and the rooms you can see some of the 1,000 art pieces owned by the family with notable works by Tapies or Miro.
To commemorate the 100th anniversary of the hotel, a dinner in honor of Miro was organised with its proceeds going to finance the restoration of his largest work, 1972's The Tapestry of the Foundation on display at Miro Foundation and which replaced a similar work that had been on display at the New York Twin Towers.
In a city that is so artistically-rich, the Majestic Hotel & Spa Barcelona seems to be the only one with a matching interest, despite the city's Ritz-Carlton brand hotel being named Hotel Arts.
This passion for art can only be compared to the family's focus on dining experiences, which brought the first Michelin star to Barcelona for the hotel's restaurant Drolma, now closed.
The hotel underwent a complete renovation in 2013 and today stands timeless, with an interior design that is neutral but elegant, fitting with the classic cache of Passeig de Gracia and the modern cosmopolitan outlook of Barcelona.
Arrival and check-in at Majestic Hotel & Spa Barcelona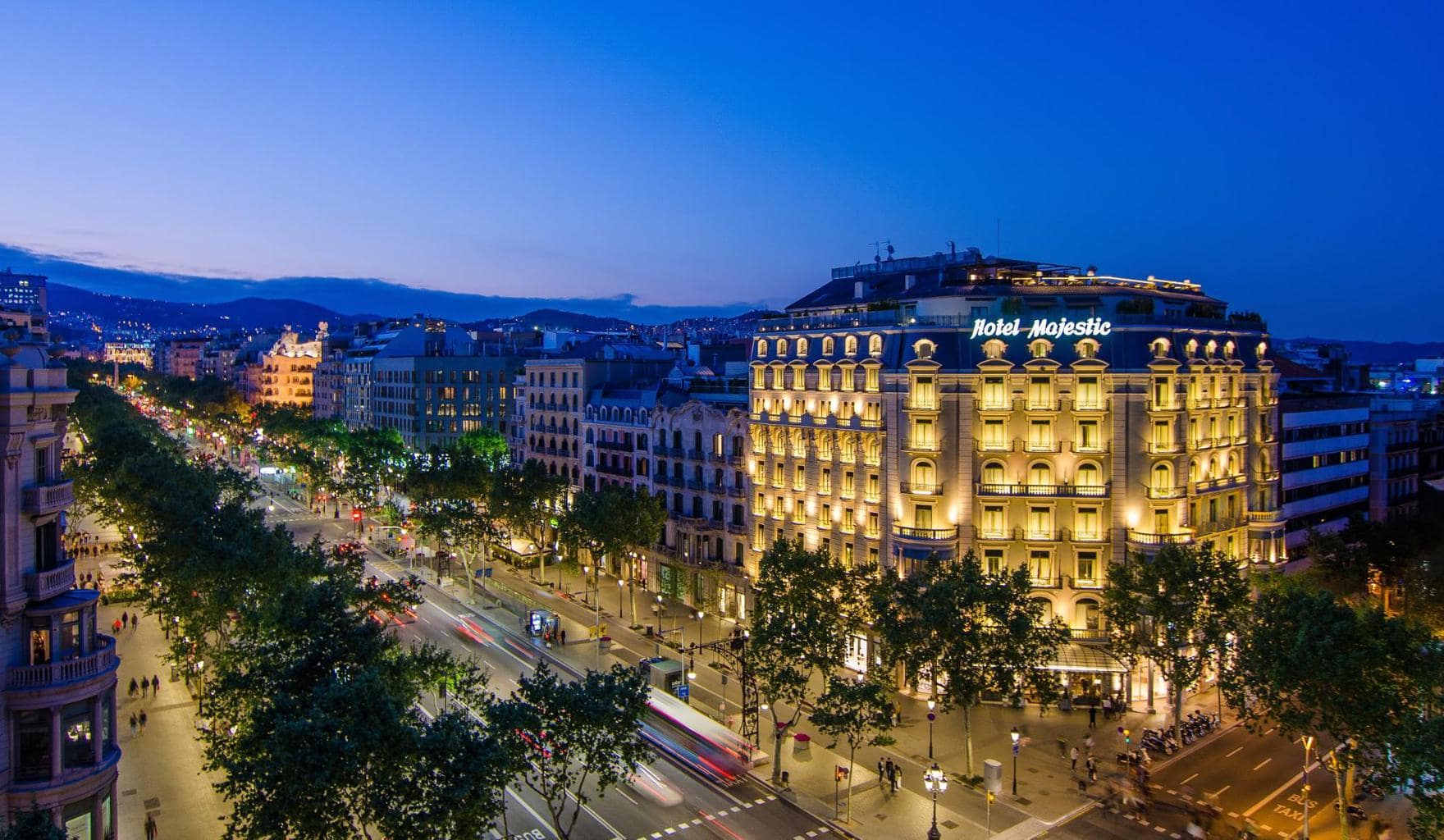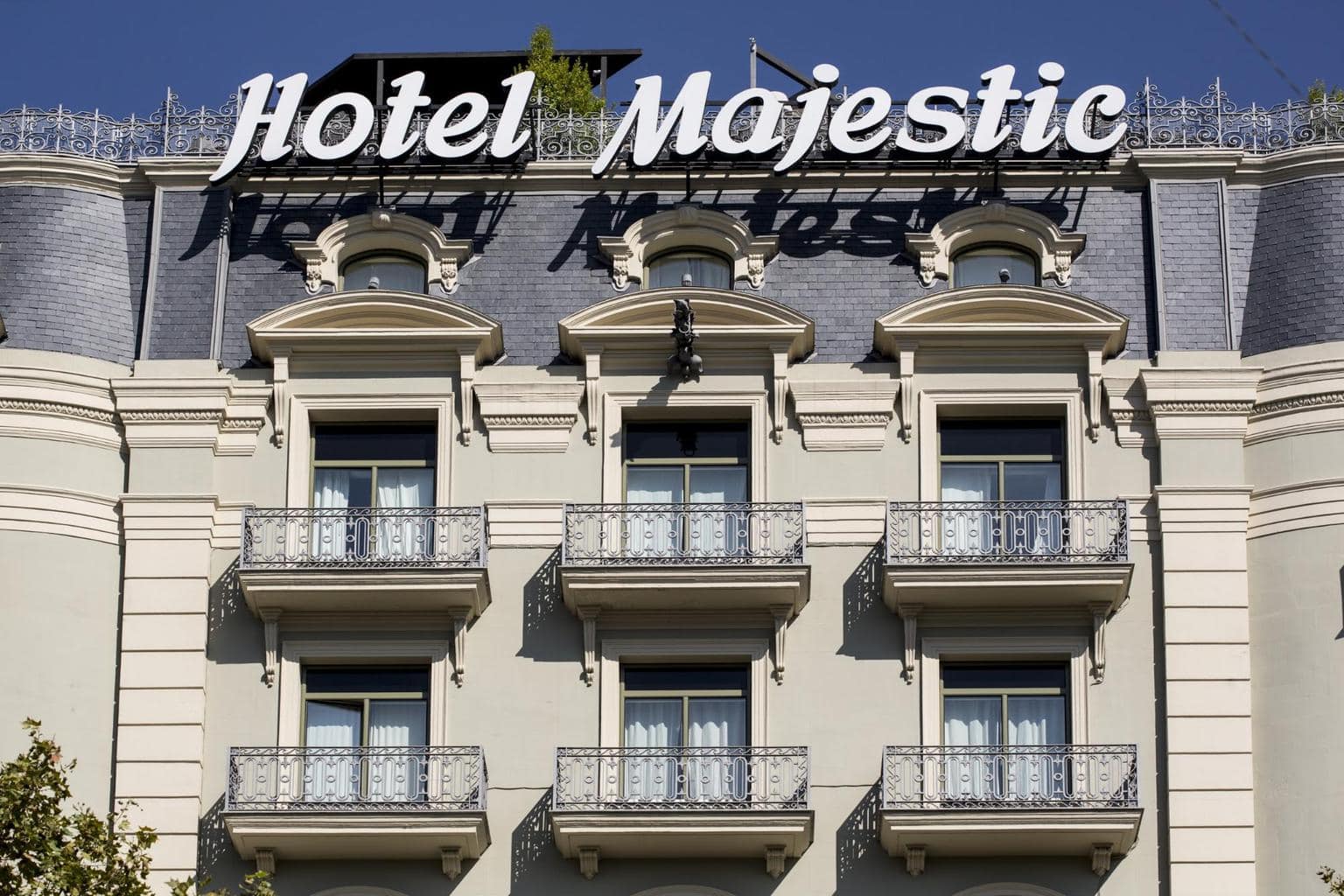 The hotel's Neo-classical facade, a rarity in Barcelona's modernist and neo-Gothic Eixample, is easily recognisable.
Standing grand on the corner of Passeig de Gracia and Valencia, one of the most coveted addresses in the city, the doormen at Majestic Hotel & Spa Barcelona are a sign of what's to come.
I stopped the car by the corner and my friend got out of the car to ask for help from the elegant staff with the top hats and tails who immediately came out to help us. We left the car, keys and luggage with them and proceeded to check-in.
Conveniently, and uniquely for a hotel in Barcelona, the hotel has its own parking and the staff will park and bring your car back whenever you need it.
This is very useful since parking in the streets of Eixample is not possible. Alternatively, there is a public by-the-hour parking lot below the hotel with an entrance almost in front of it which you can use.
At check-in, we gave passports and signed check-in forms and were then shown to our room by one of the staff members. Our luggage came as soon as we arrived at the room.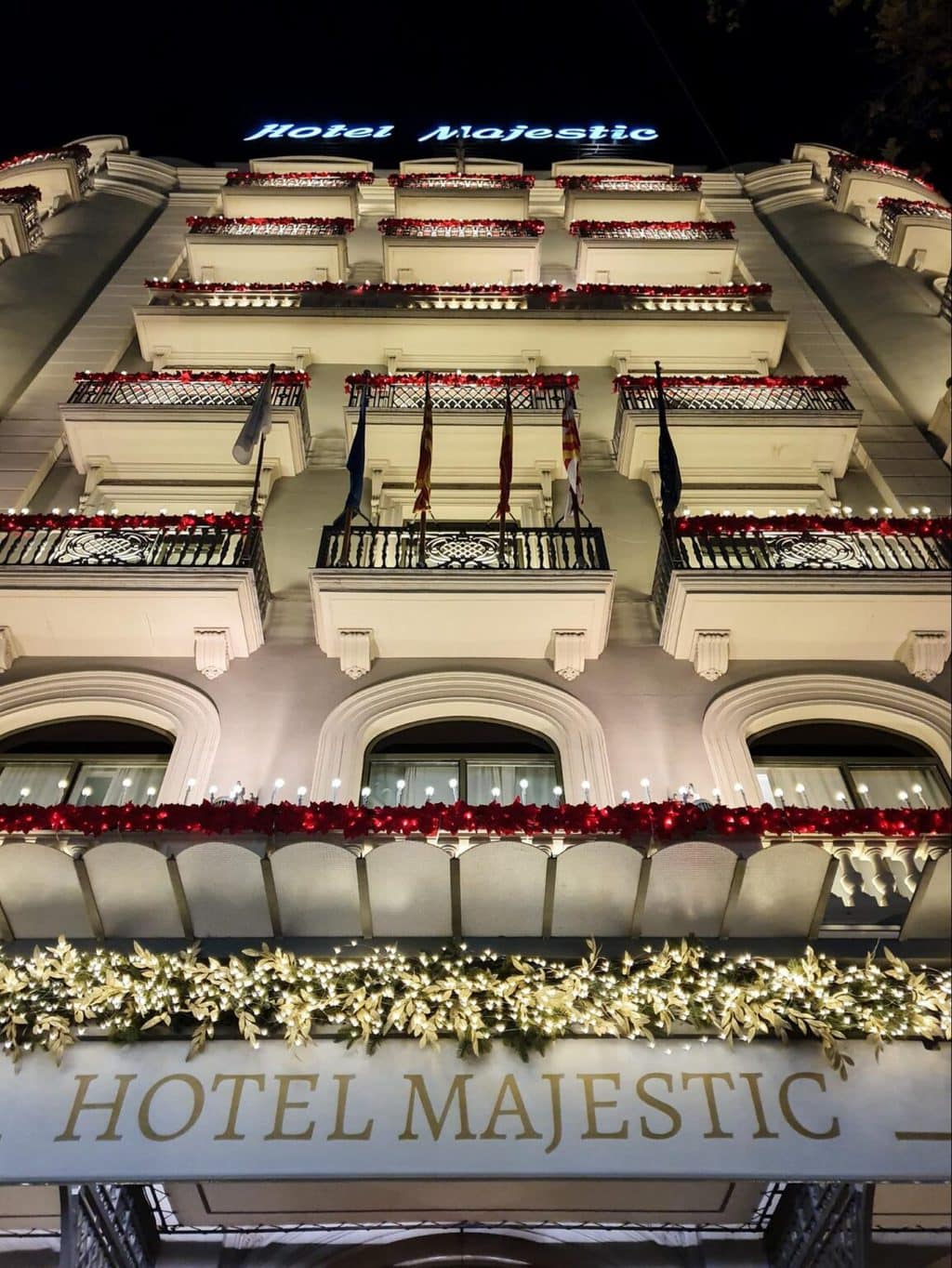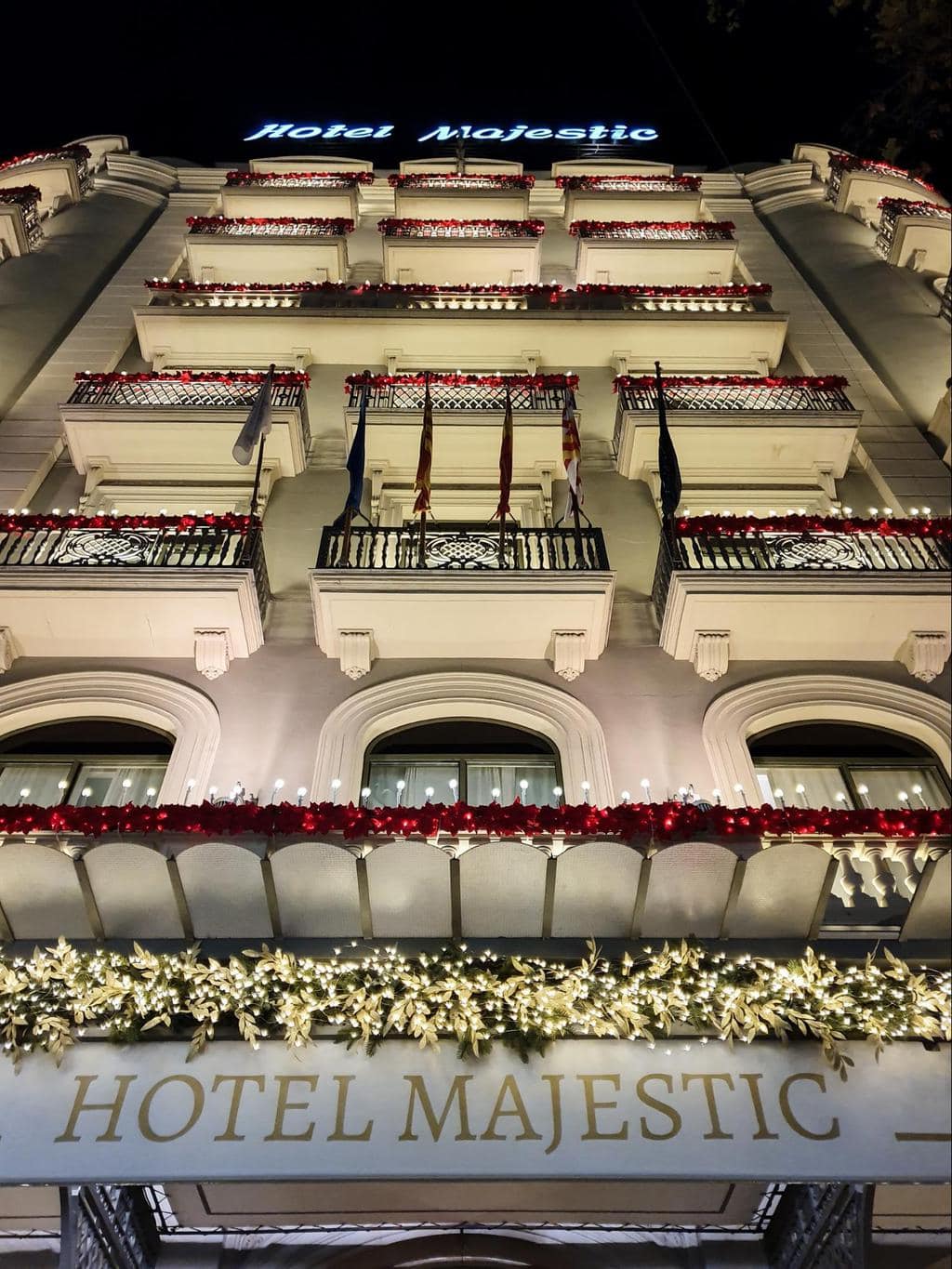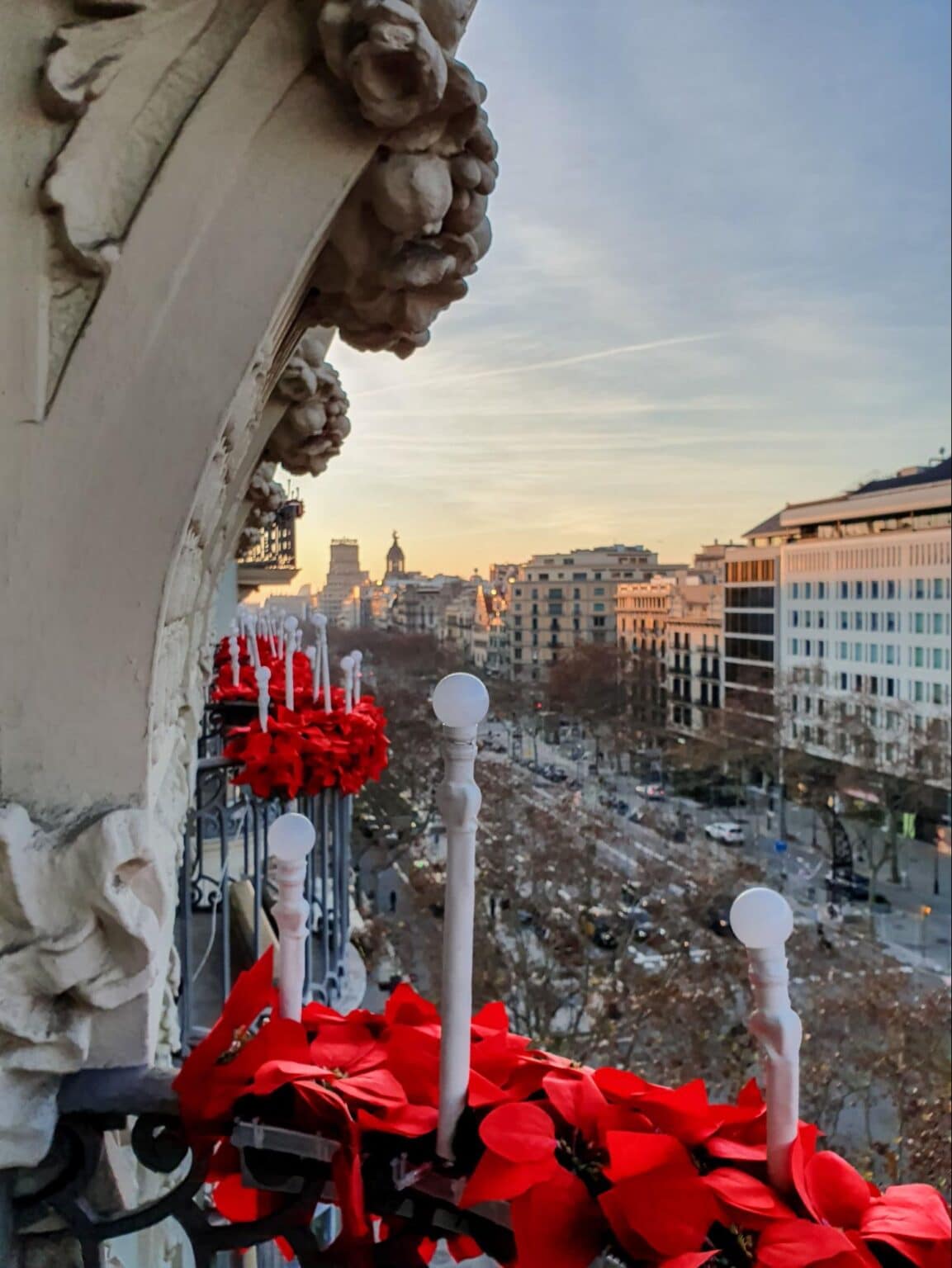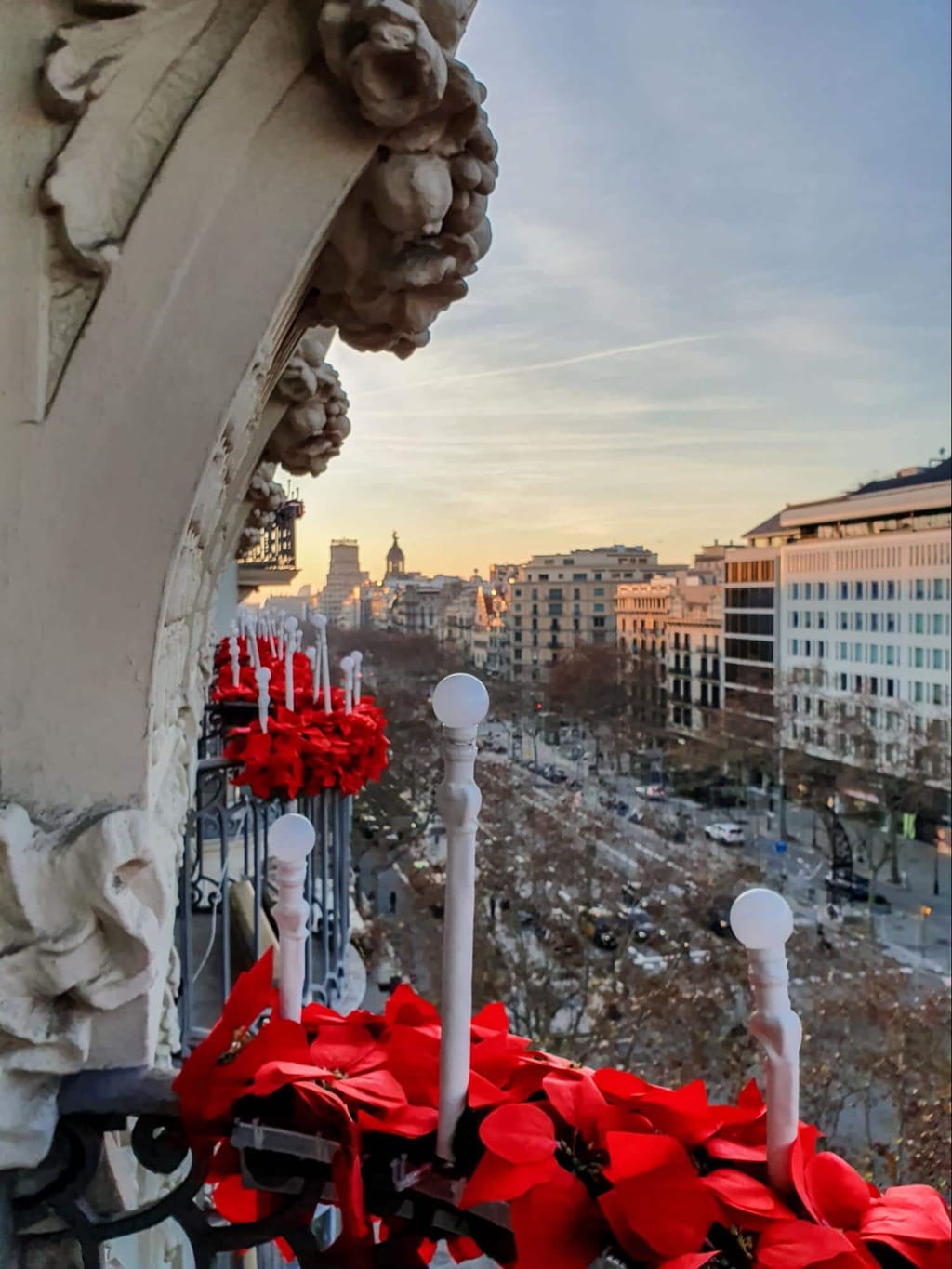 If you are staying at Majestic Hotel & Spa Barcelona or visiting the city during any of the marked occasions, such as Sant Jordi or Christmas, you will see the building's facade come to life with red roses. This is one of the most beautiful decorations in the city.
The rooms at Majestic Hotel & Spa Barcelona
The Majestic Hotel & Spa Barcelona now has 270 rooms (down from 307 before the renovation) split into four categories and further differentiated by their location and views. Because of the building's structure and design, few rooms are alike.
The new design of the rooms is classic and elegant, with touches of beige and other neutral colors, thick carpets and double glazed windows that block any outside noise completely. It was impressive to open the balcony doors to hear the city and then close them to find silence back.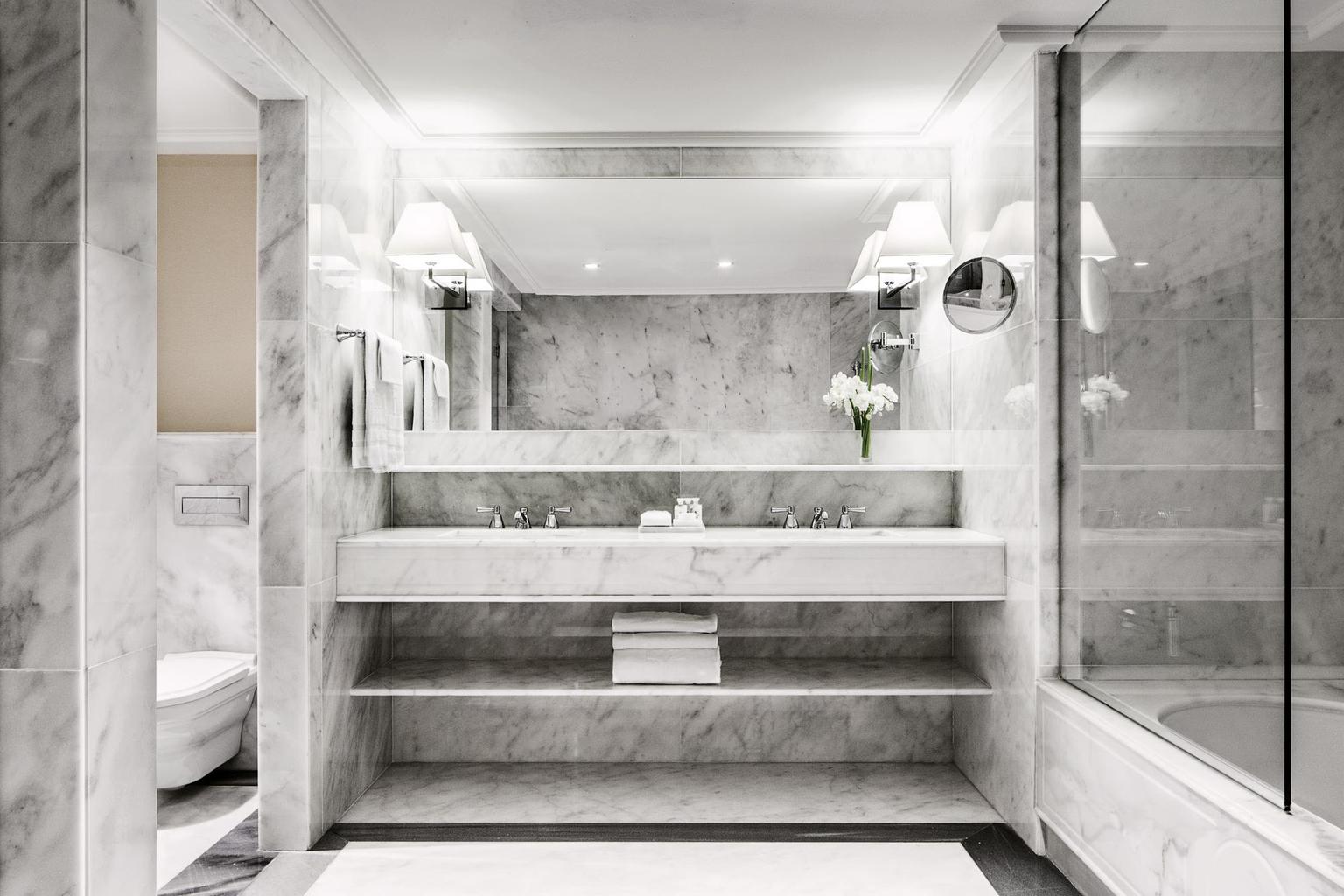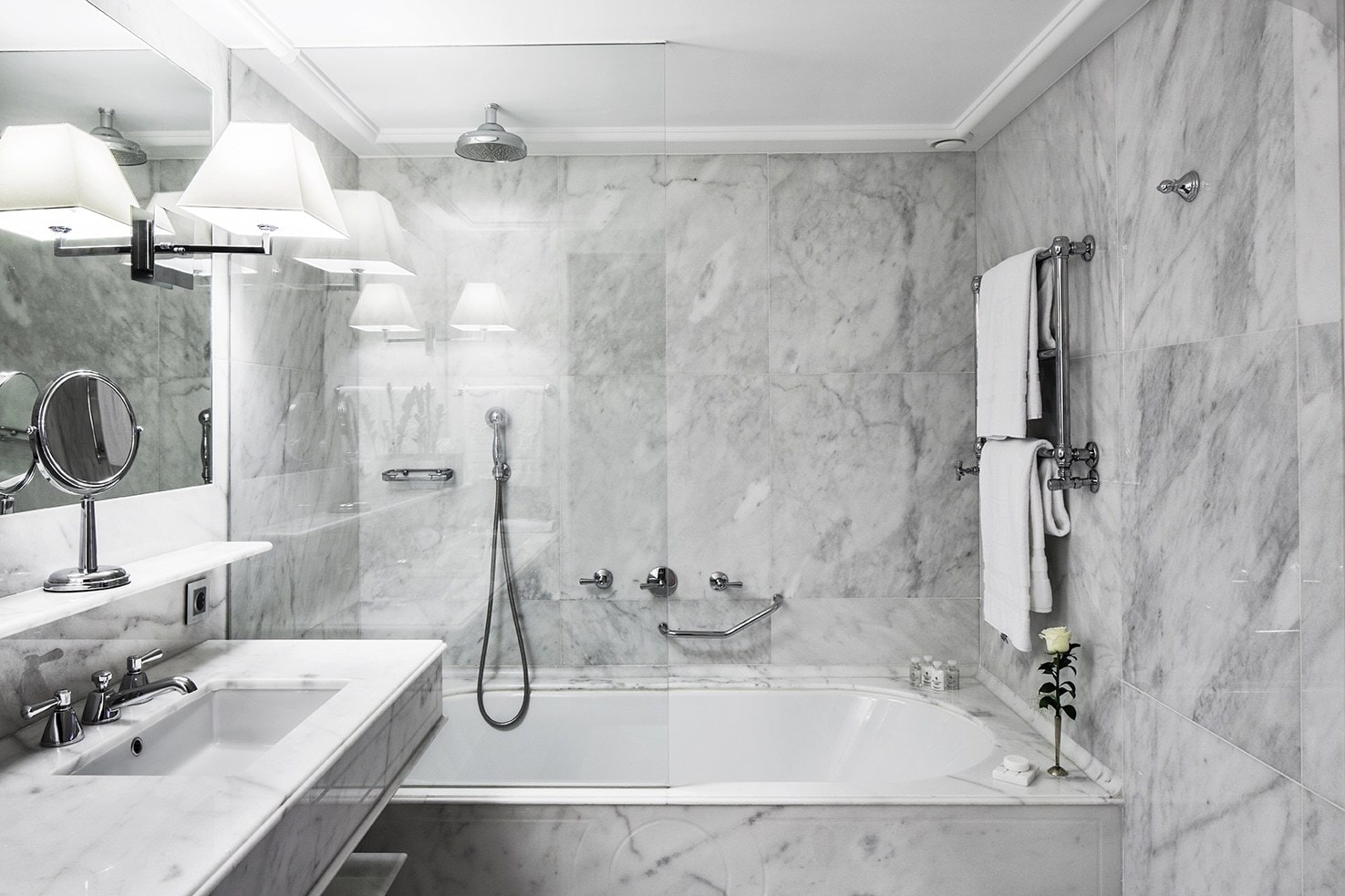 In all rooms you will find impeccable white marble bathrooms where this noble material is used for the floor, walls, ceilings, and even the bathtubs. This brightness of the bathroom contrasts with the beige and neutral colors of the bedrooms.
Bathrobes, slippers, Atelier Cologne amenities, a Nespresso machine and, usually, welcome amenities like a bottle of wine from the family's estate are nice finishing touches in a hotel that is well known for its attention to detail and service.
Entry-level Deluxe rooms are comfortable and relatively spacious for an entry-level room in Barcelona, but can vary significantly depending on the views. Some Deluxe rooms face the interior courtyard typical of Eixample whereas others face Passeig de Gracia or Valencia and have stunning views.
The name of each room category should give you a hint as to where it faces, those facing Passeig de Gracia are the best and are named as such.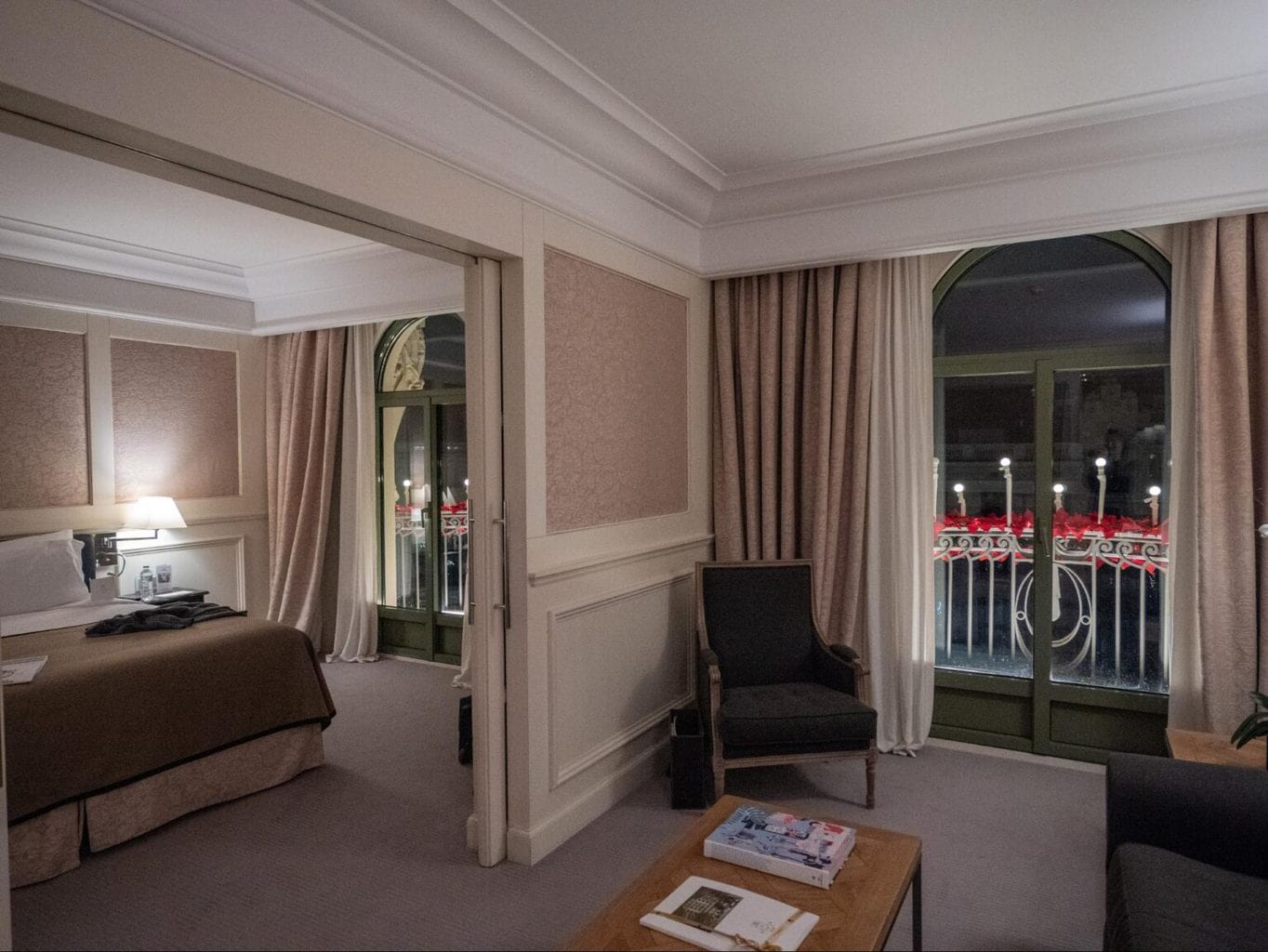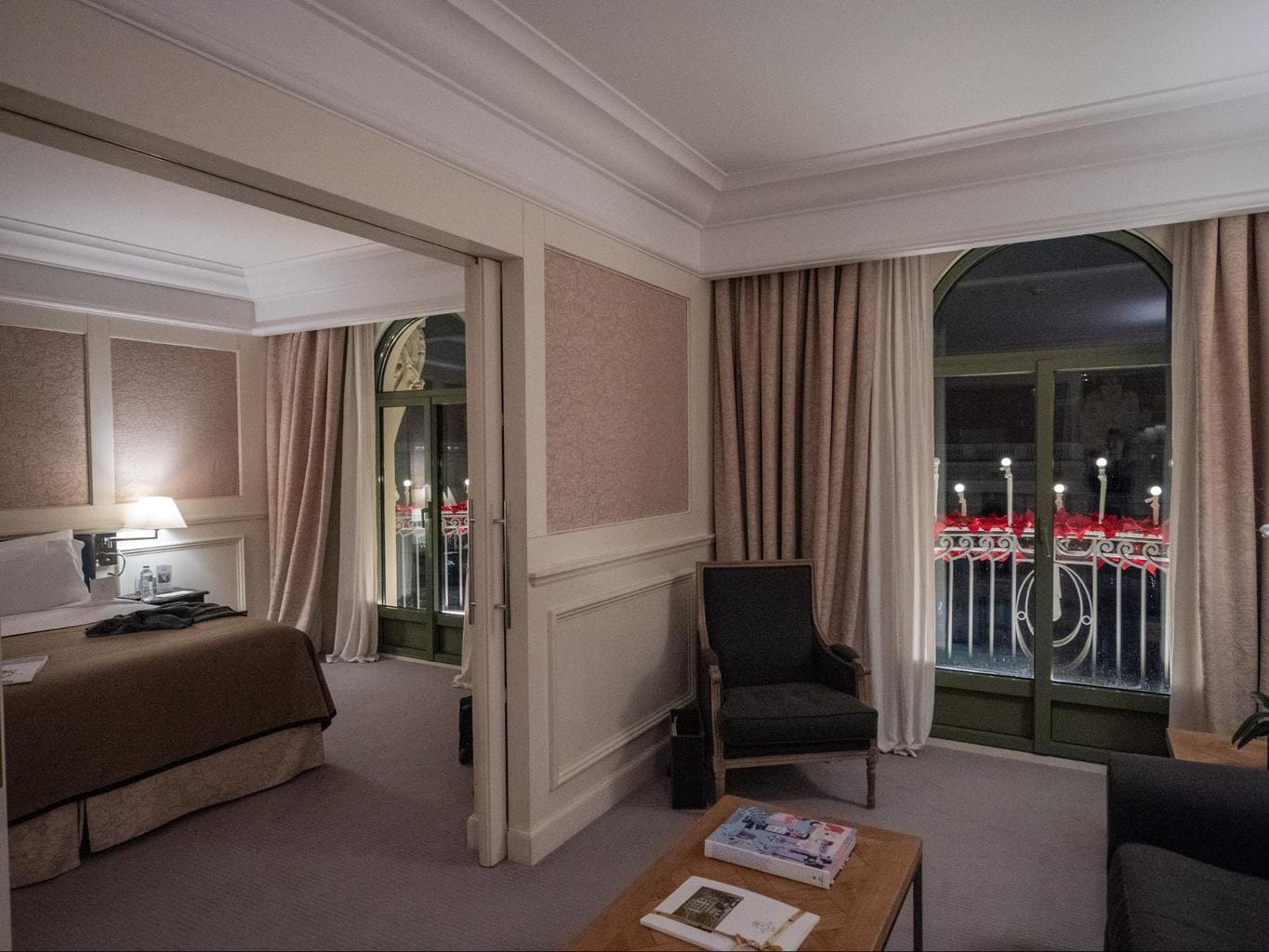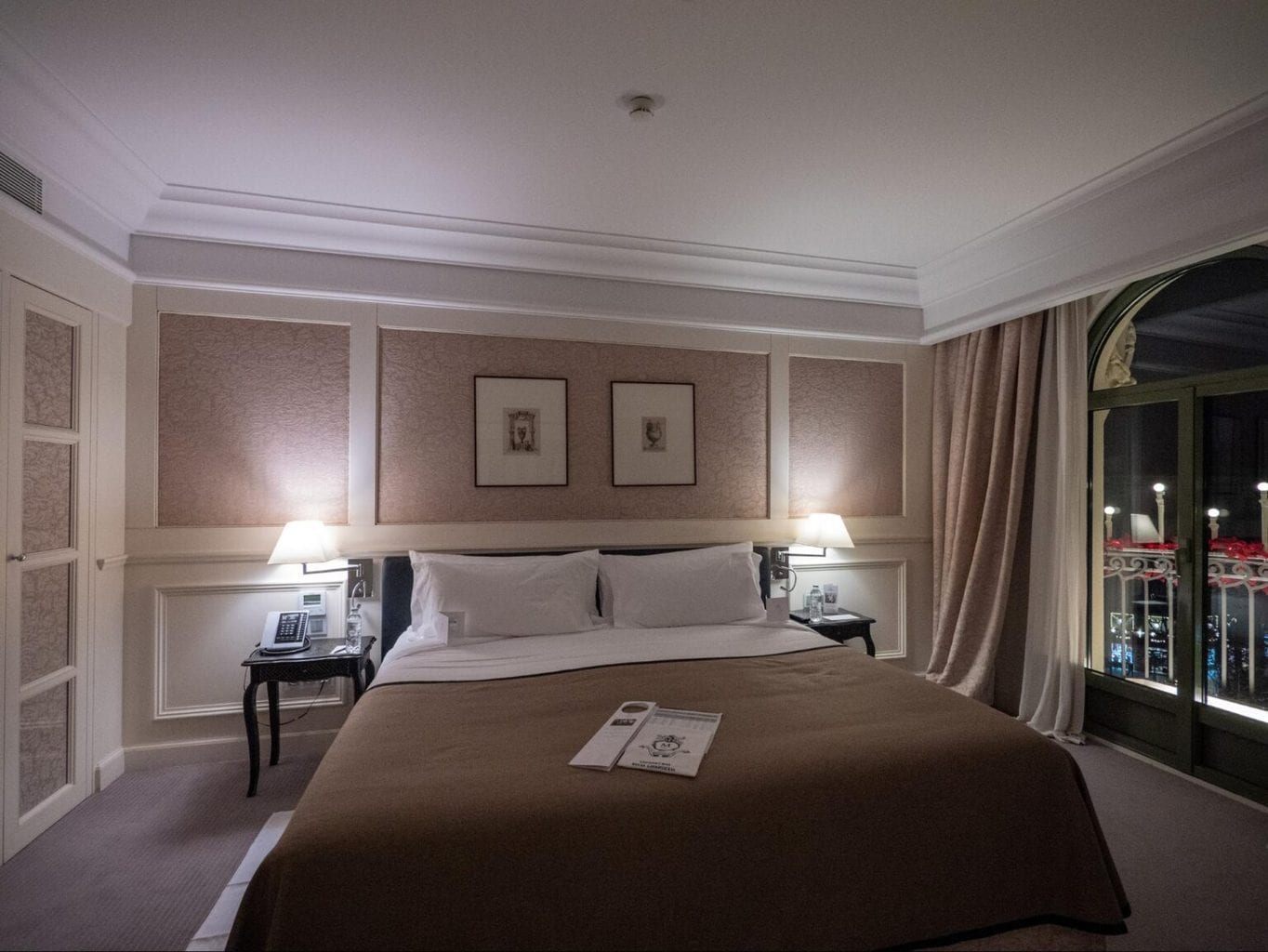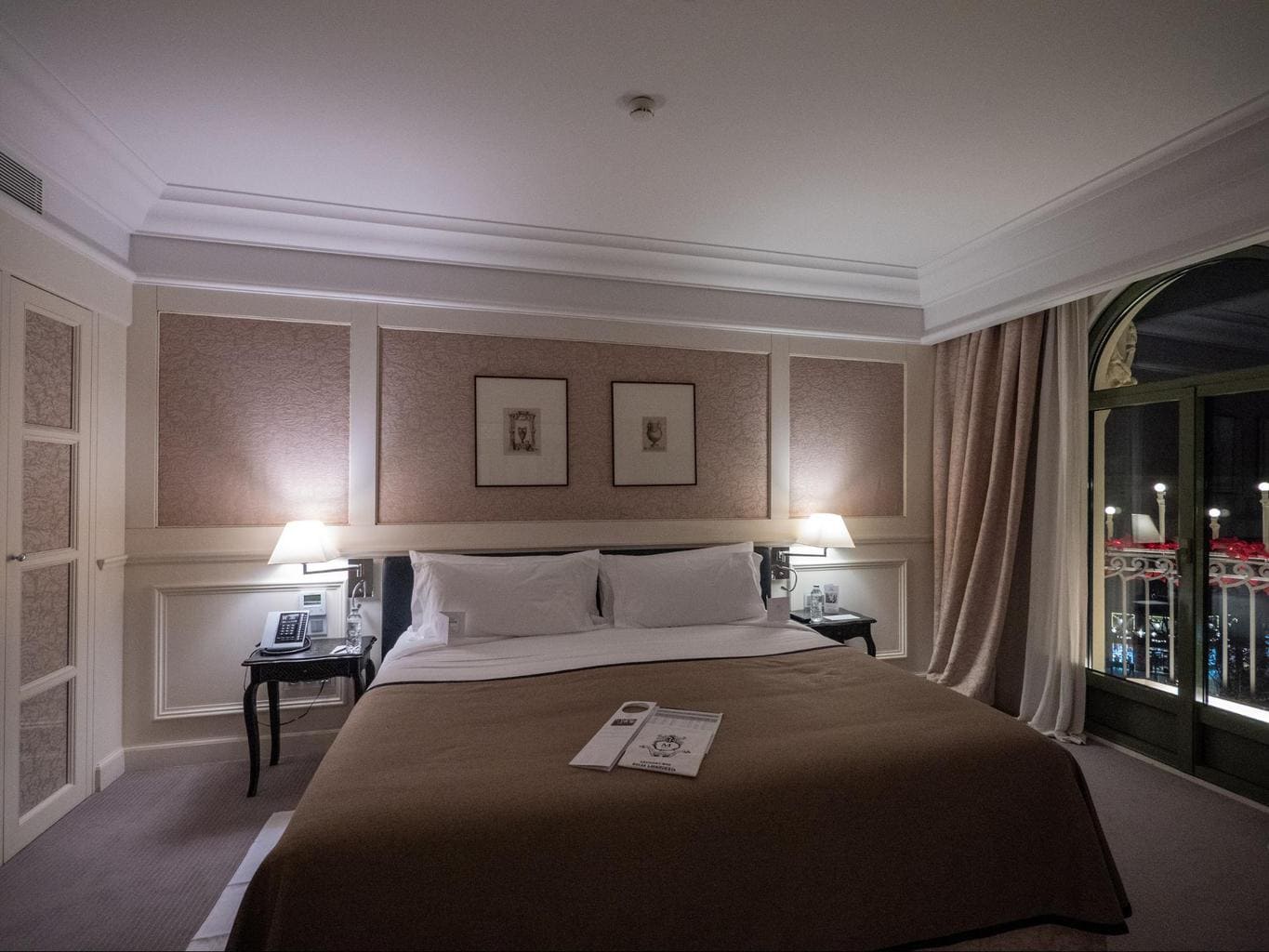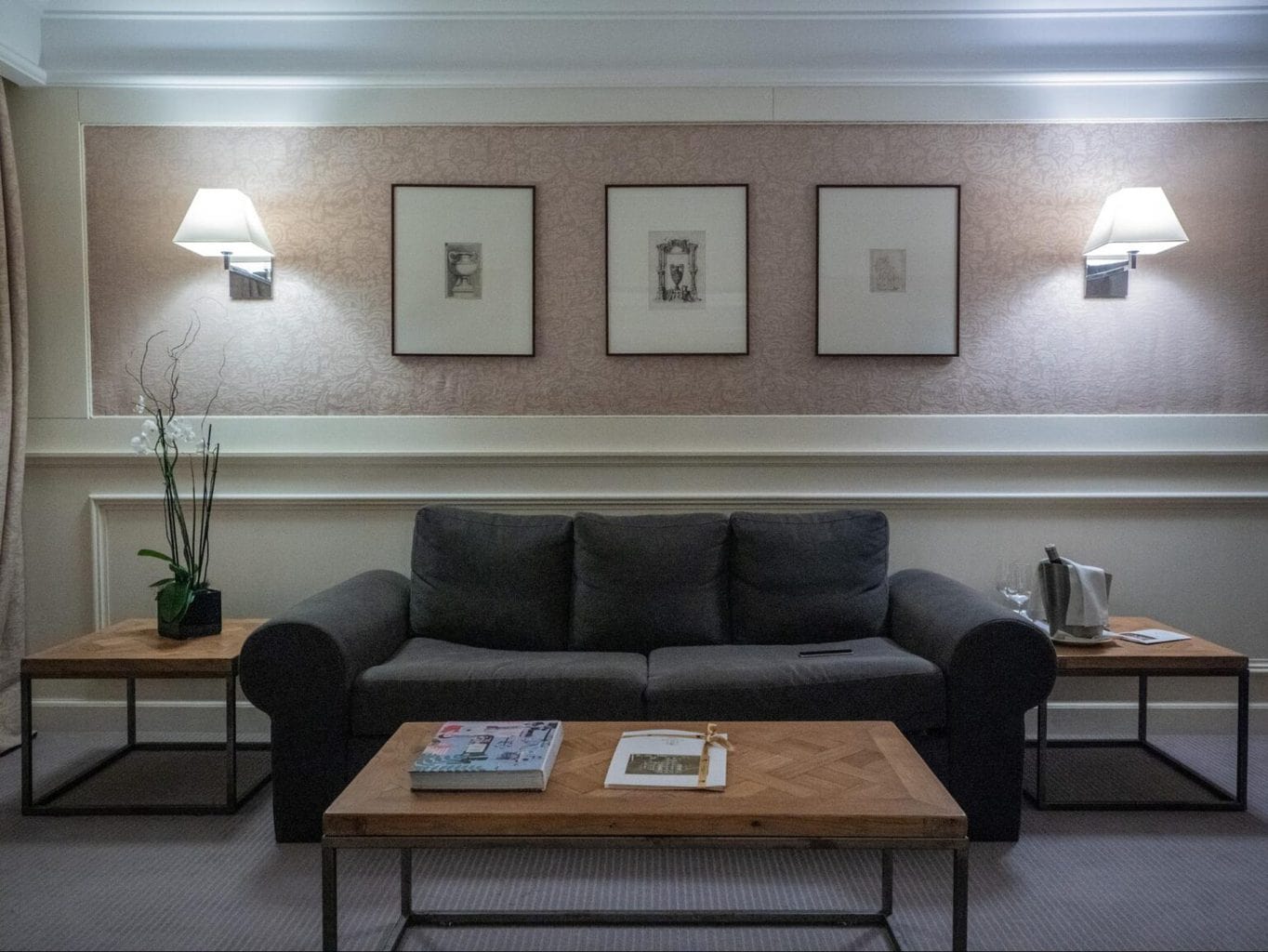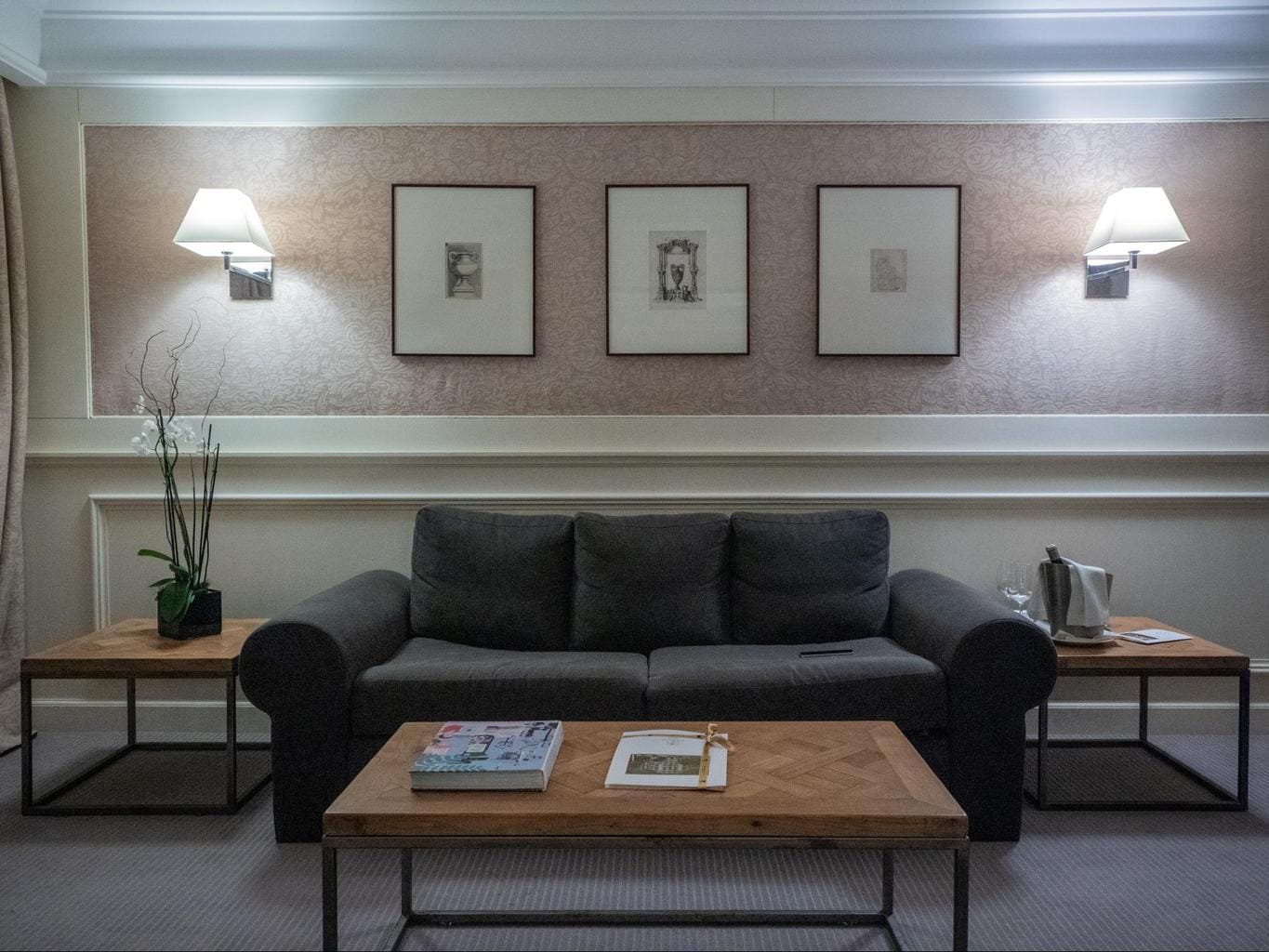 Junior Suites have a separate bedroom and lounge area with a sofa that can be converted into a bed, a desk and great views. At 40 sqm, this room category is very spacious and many come with balconies.
I stayed at a Junior Suite Passeig de Gracia and found it an extremely comfortable room with a large 2x2m bed, some of the best hotel views in the city from its two balconies and a classic but warm design.
The Majestic Suites are between 45 and 65 sqm and are located on the corners or chamfer of the hotel with panoramic views over the city's main shopping street, you can even spot Casa Batllo from the balconies.
Last but not least are the hotel's ninth floor, five Penthouses, which come with outdoor jacuzzi, terraces, private butlers and evening canapes and drinks.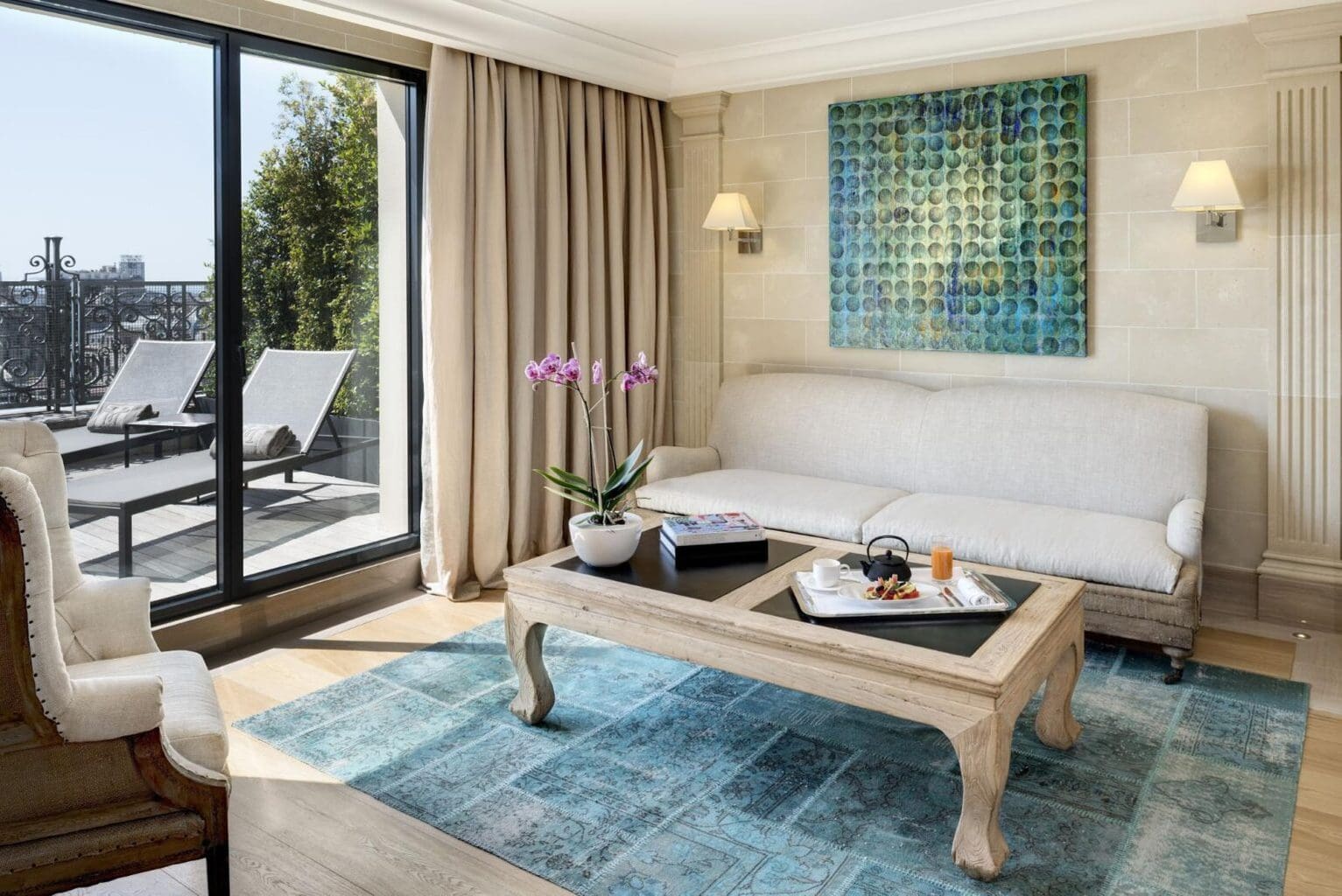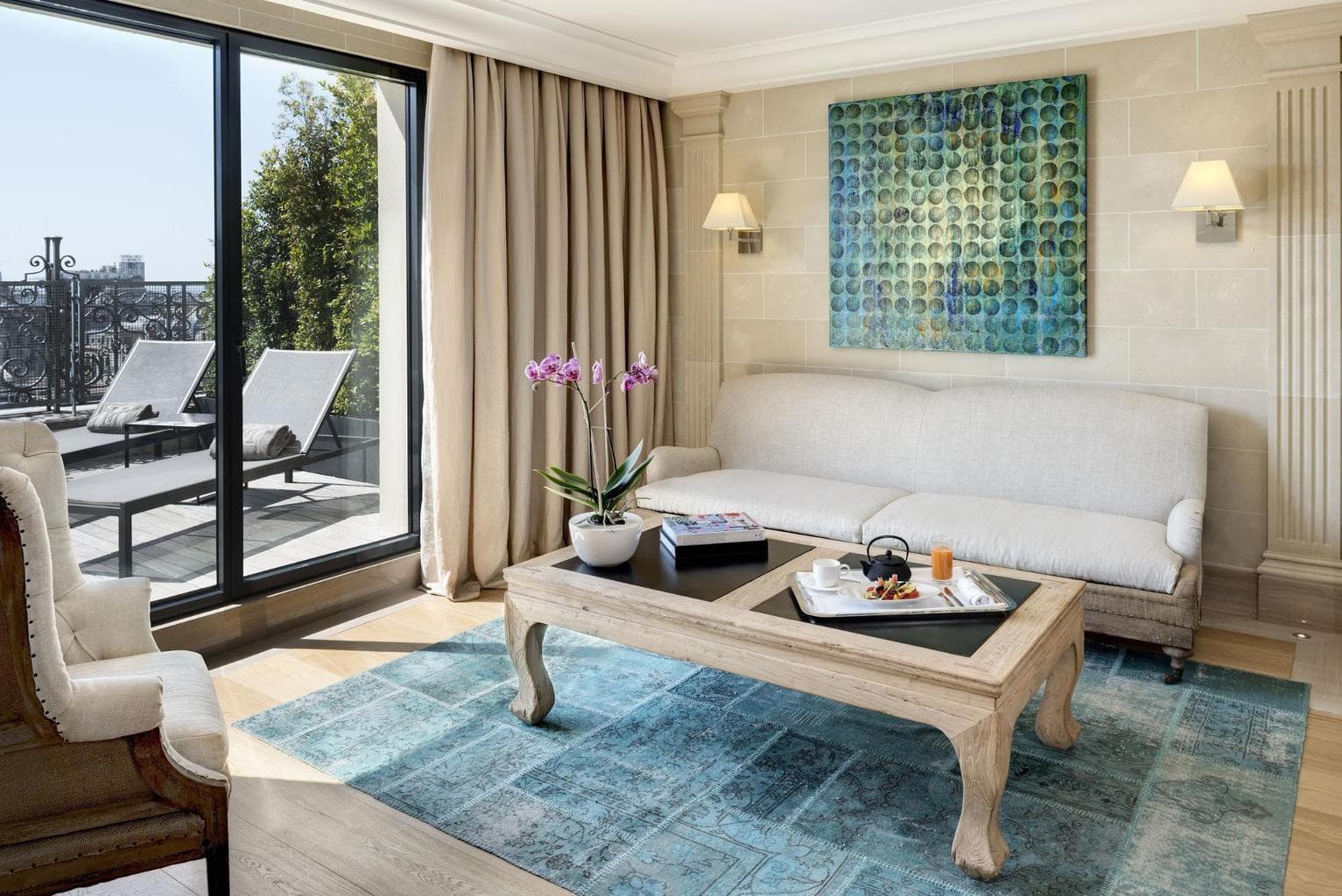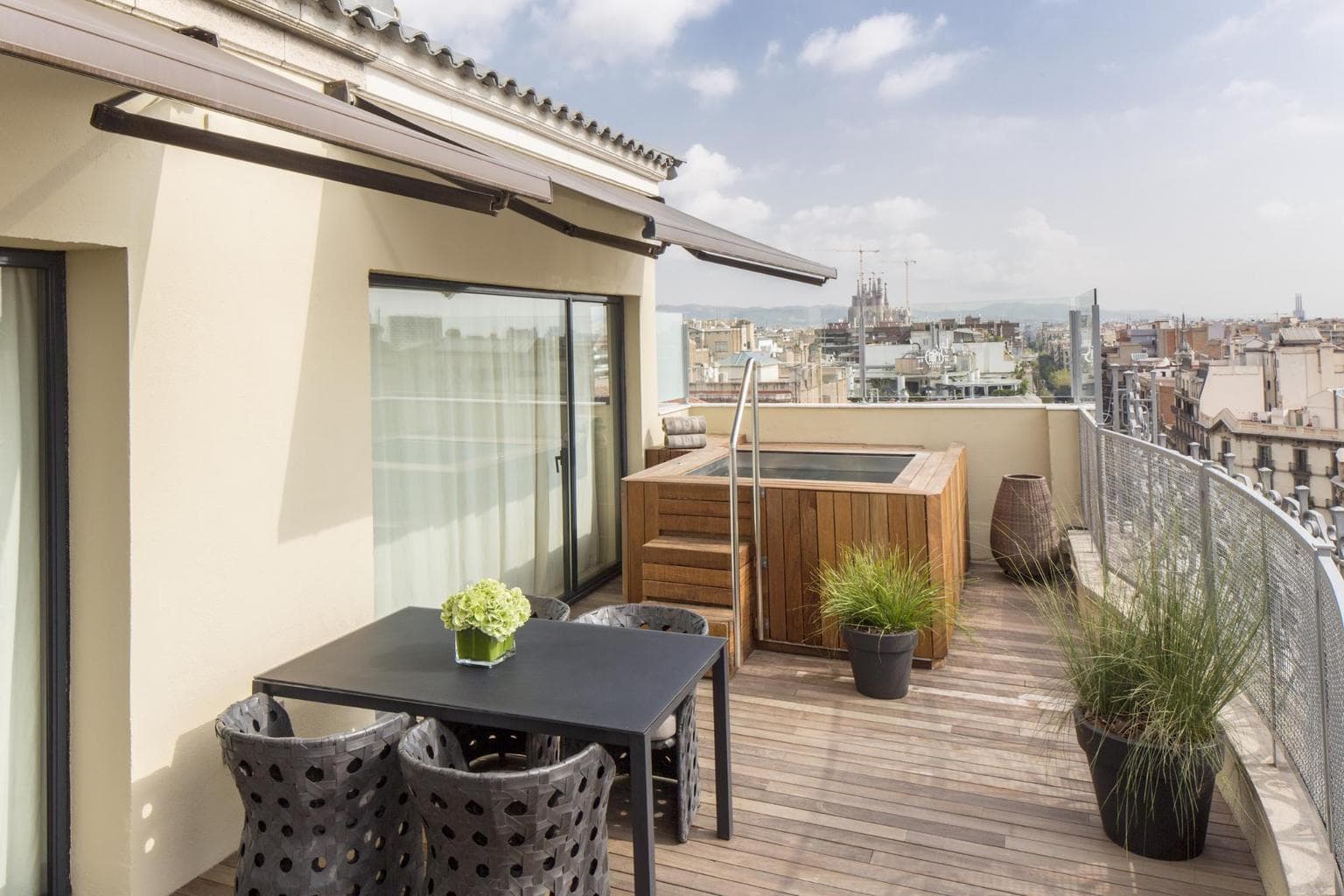 The views of three of the most famous Gaudi Barcelona buildings, Casa Batllo, Casa Mila and Sagrada Familia from the rooftop terrace of the penthouses, are exceptional and unmatched.
But the most impressive room is The Majestic Royal Penthouse which measures 467 sqm and is the largest suite in Barcelona made when up to three of the Penthouse Suites are joined together around the stunning dining room.
The suite's Far East-inspired living room, with maroon and golden wallpaper and wooden floor, takes center stage. Outside, is a large terrace with a Zuchetti jacuzzi and outdoor furniture by recognizable global brands Dedon and Kettal.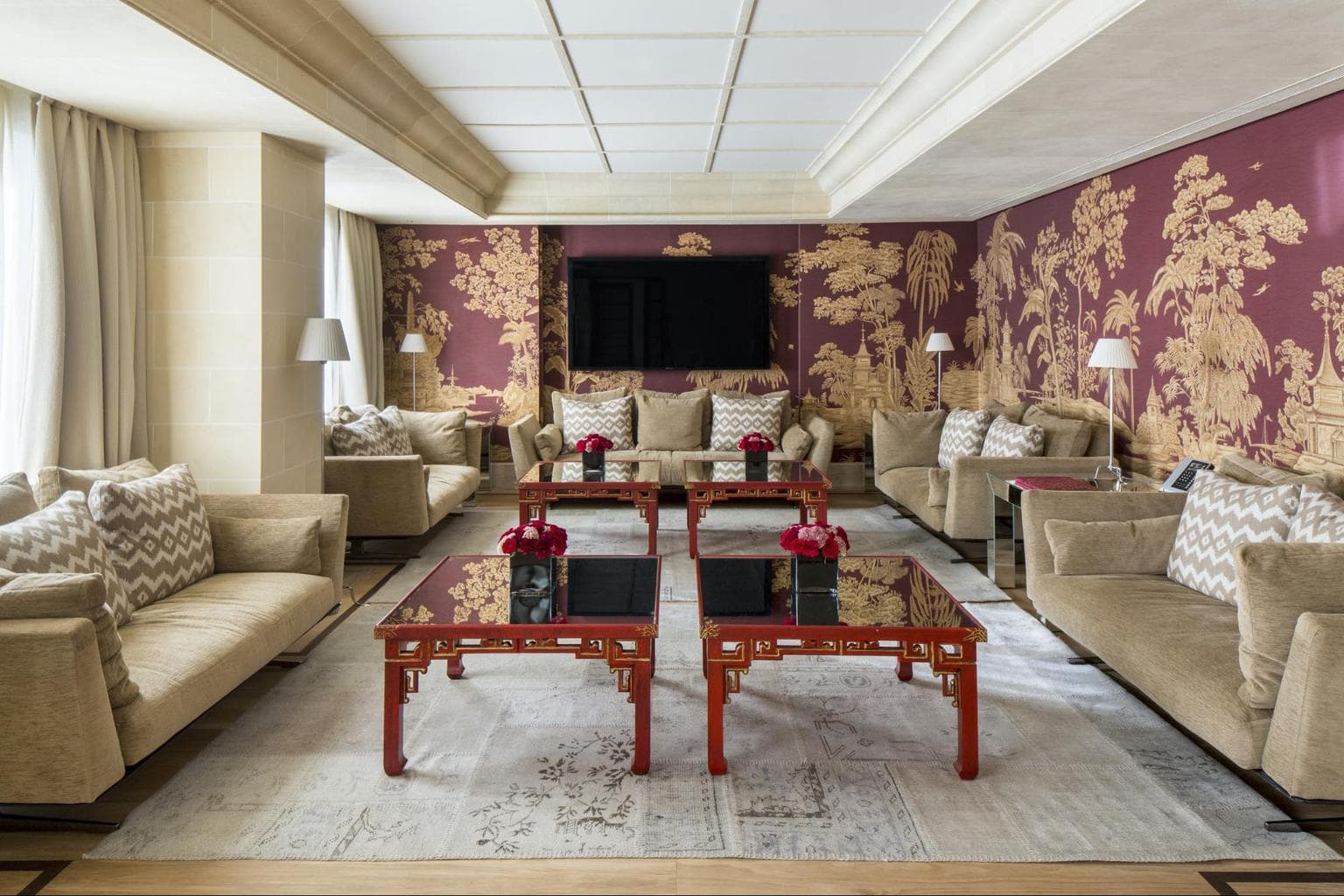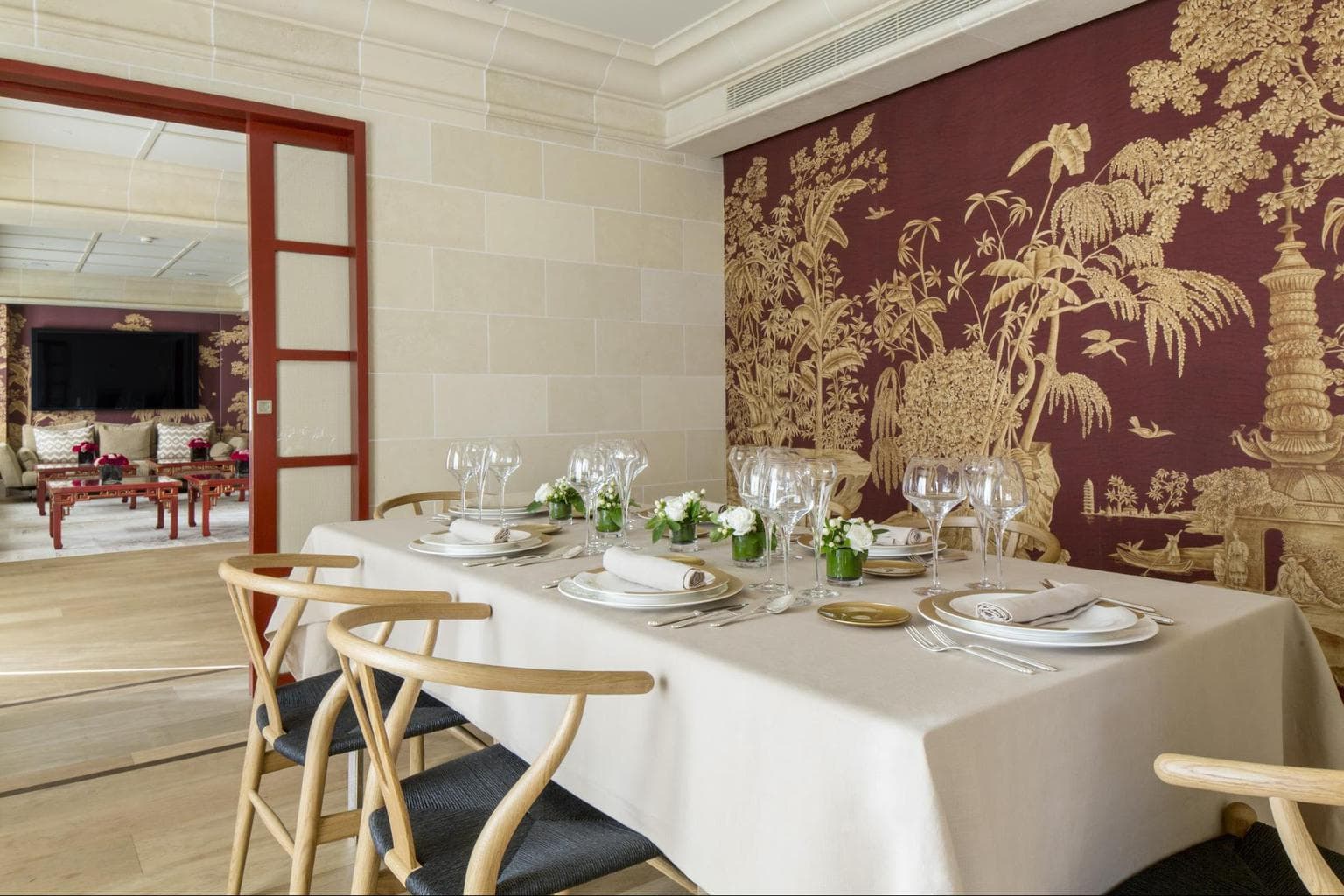 Mallorcan designer Antonio Obrador supervised the hotel's last renovation and the design of the Penthouse.
Inside, not a detail was left out. You will find several TVs by Dnaish premium brand Bang & Olufsen, a Maxibar which can be stocked with the guest's favorite drinks and a Bar a parfum by Atelier Cologne, which supplies the amenities to the hotel.
This perfume bar contains five small fragrances in a leather case embossed with the guest's initials to take home. The Suite can be configured with up to three bedrooms around the central living room.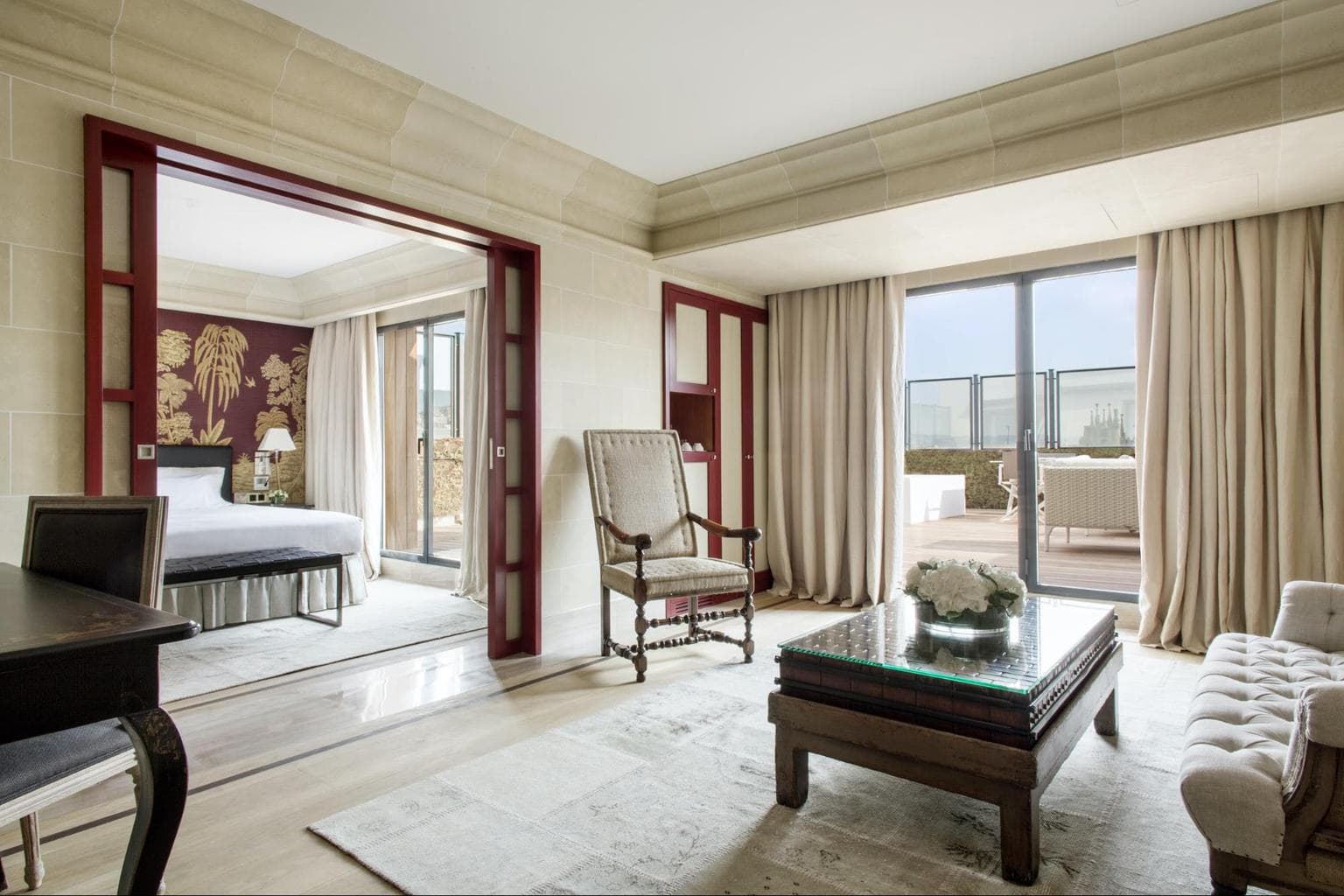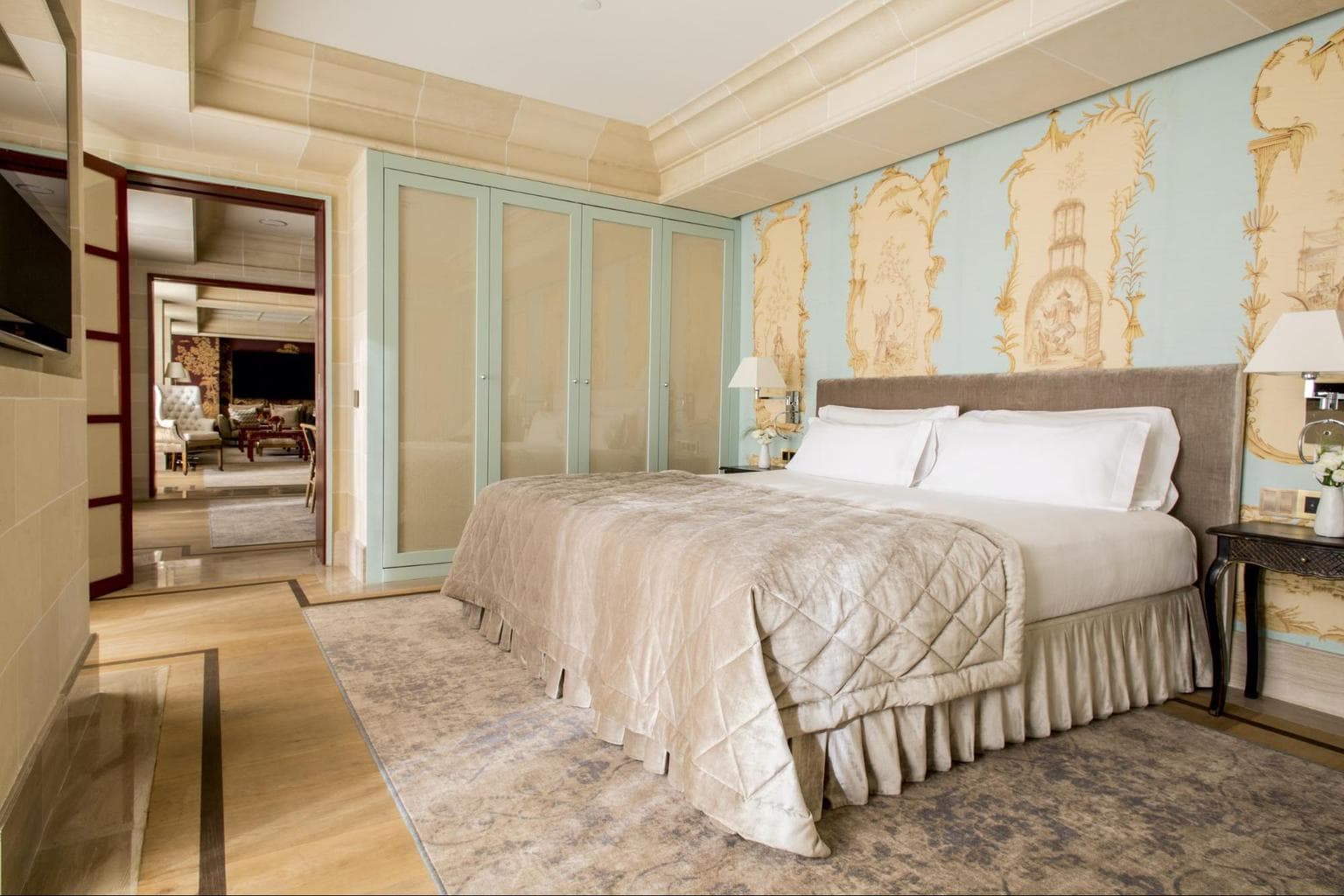 During our tour, just before Christmas, the dining table was decorated and piled up with beautifully-wrapped Christmas gifts, probably courtesy of the butler, awaiting the guest's arrival.
The hotel was the first one in Spain to have fully adapted rooms for guests with disabilities designed by Adom. These rooms provide full autonomy for guests with limited mobility or other impairments such as hearing.
For those looking for long-term accommodation, the hotel also owns and manages 28 executive residences located across the street on Passeig de Gracia.
Dining at Majestic Hotel & Spa Barcelona
As with art, dining is another strong point at Majestic Hotel & Spa Barcelona.
Food is one of the group's strengths and an area of focus and commitment which translated into the purchase of an estate called Can Met in the agricultural province of Maresme, outside Barcelona where seasonal, Mediterranian produce is grown. This allows the hotel to offer proximity cuisine using km0 ingredients and true farm-to-table dining.
In addition to having its own vegetable garden, the hotel's sommelier is involved in the production of Cava Can Genis from Alta Alella winery in DO Alella (one of the wine regions near Barcelona). I received a bottle of the Cuvee Majestic Cava as a welcome amenity which I very much enjoyed.
Day Tour Outside Barcelona

Pst! Alta Alella Winery is the closest winery to Barcelona and they produce organic and natural wines in an enviable position in front of the sea with fantastic views. The winery is so close to Barcelona you can visit on a day tour on after a short sailing trip from Barcelona with a tasting. What a great day out! More details here.
Besides this long-term commitment to providing fresh, seasonal and locally-grown ingredients that promote Catalan cuisine, the dining offer at Majestic Hotel has been designed under the guidance of Michelin-awarded Catalan chef Nando Jubany.
Jubany has his own restaurant Can Jubany, awarded 1 Michelin star since 1998 and several other projects under his wing including a boutique hotel and several event spaces.
He also owns and provides guidance to a variety of international projects I have had the pleasure of experiencing, including his three restaurants in Singapore (FOC, FOC Sentosa and Pim Pam) and the fine dining restaurant of luxury 5* Sport Hotel Hermitage & Spa in Andorra.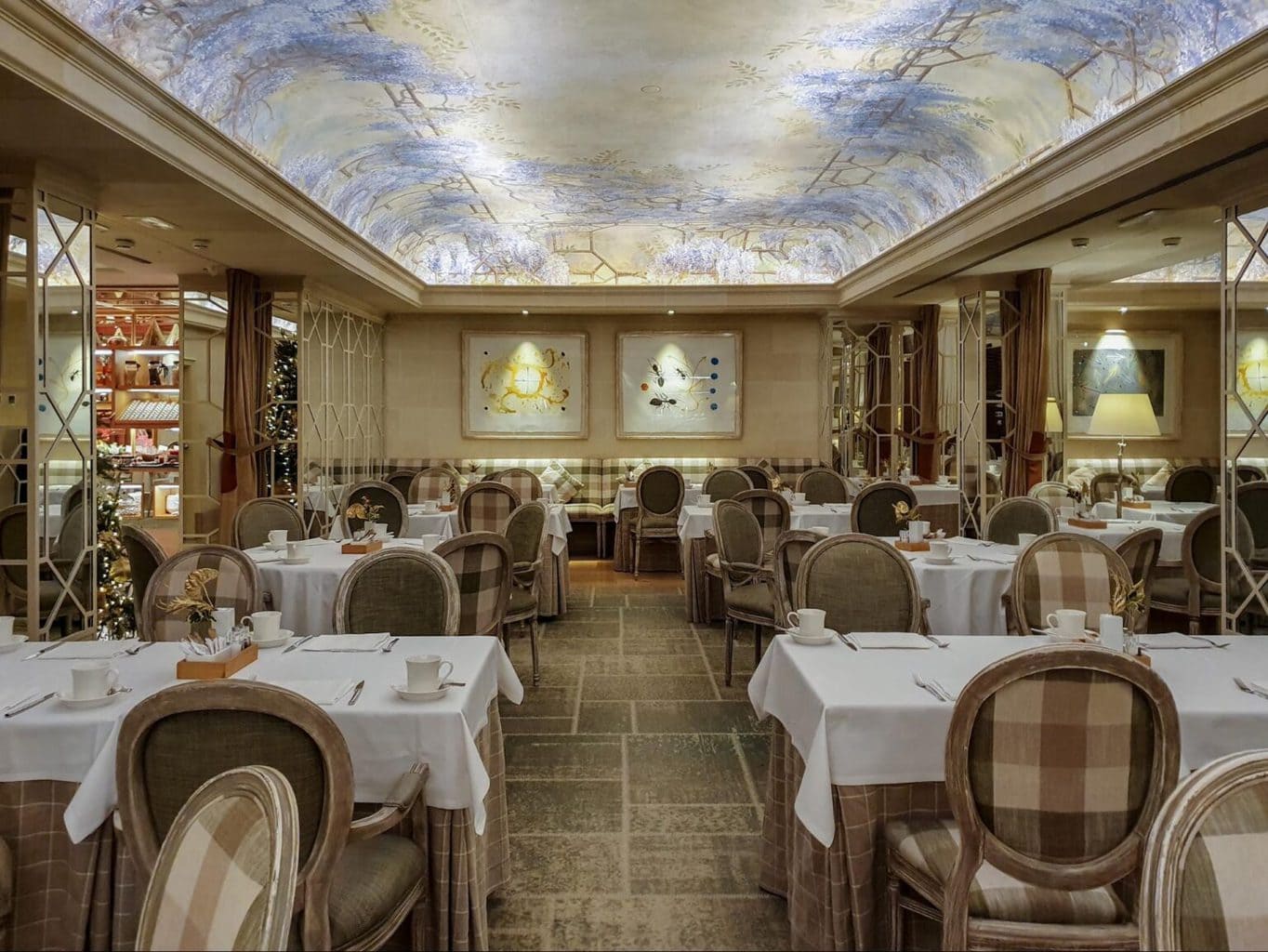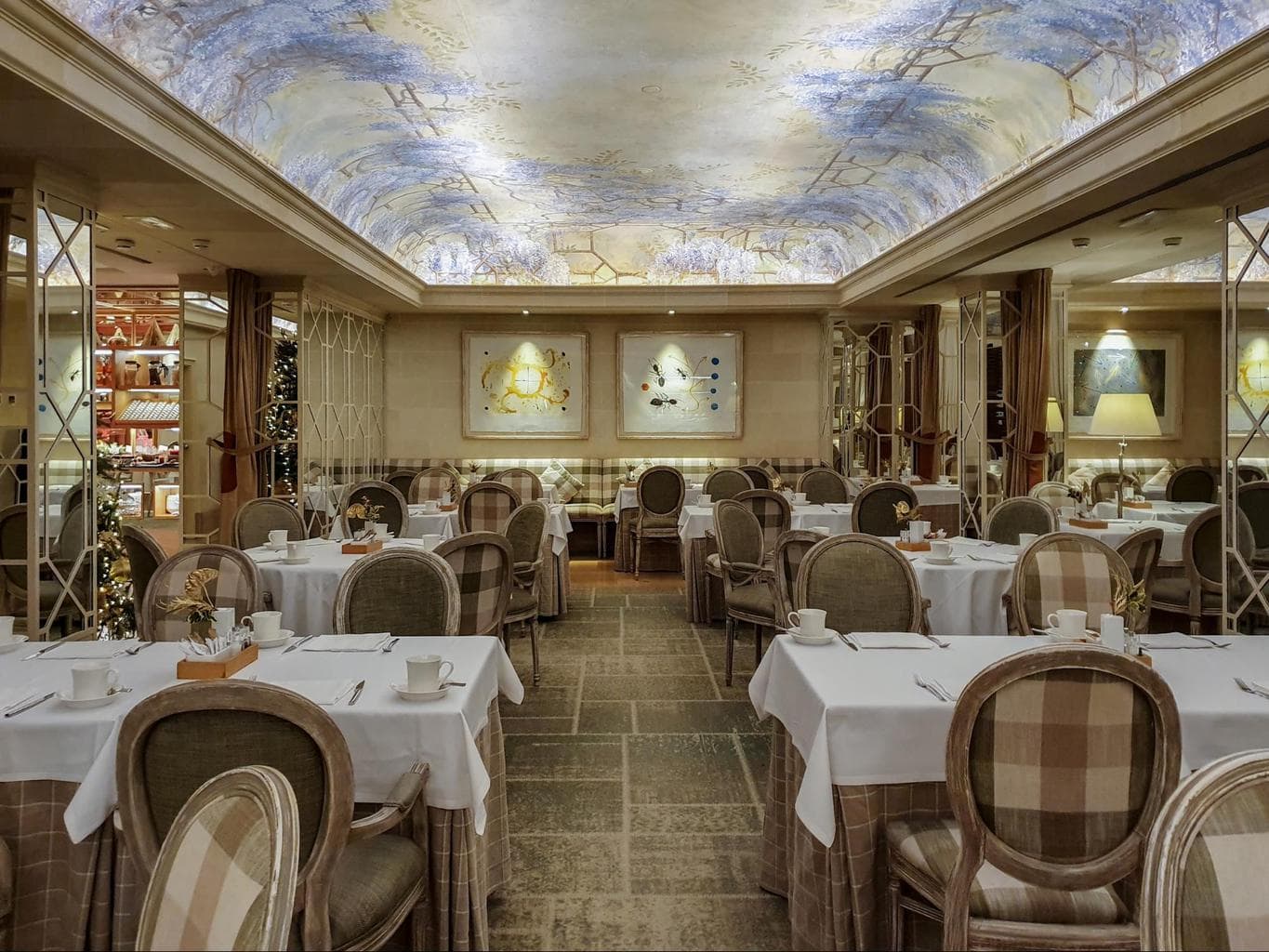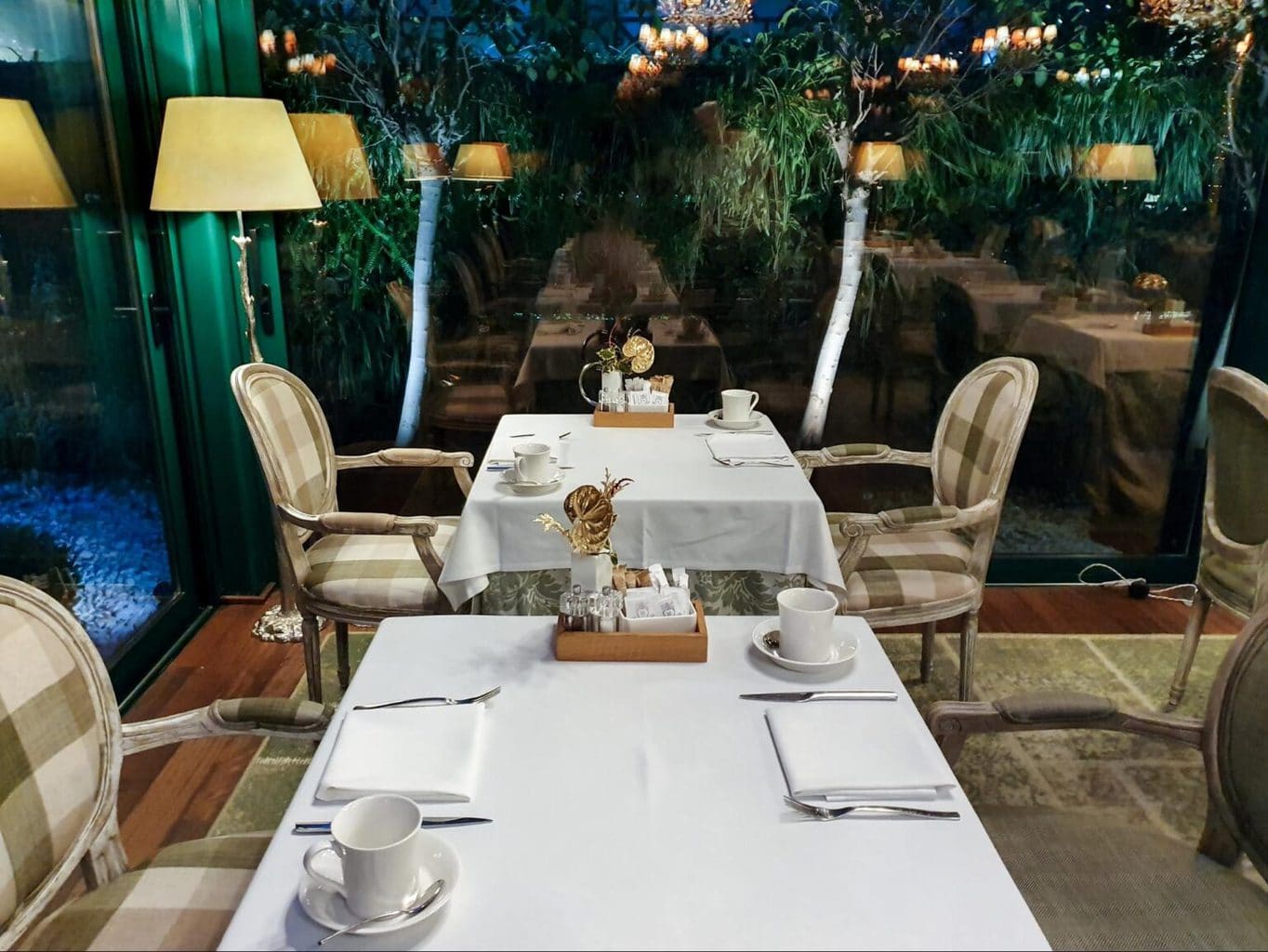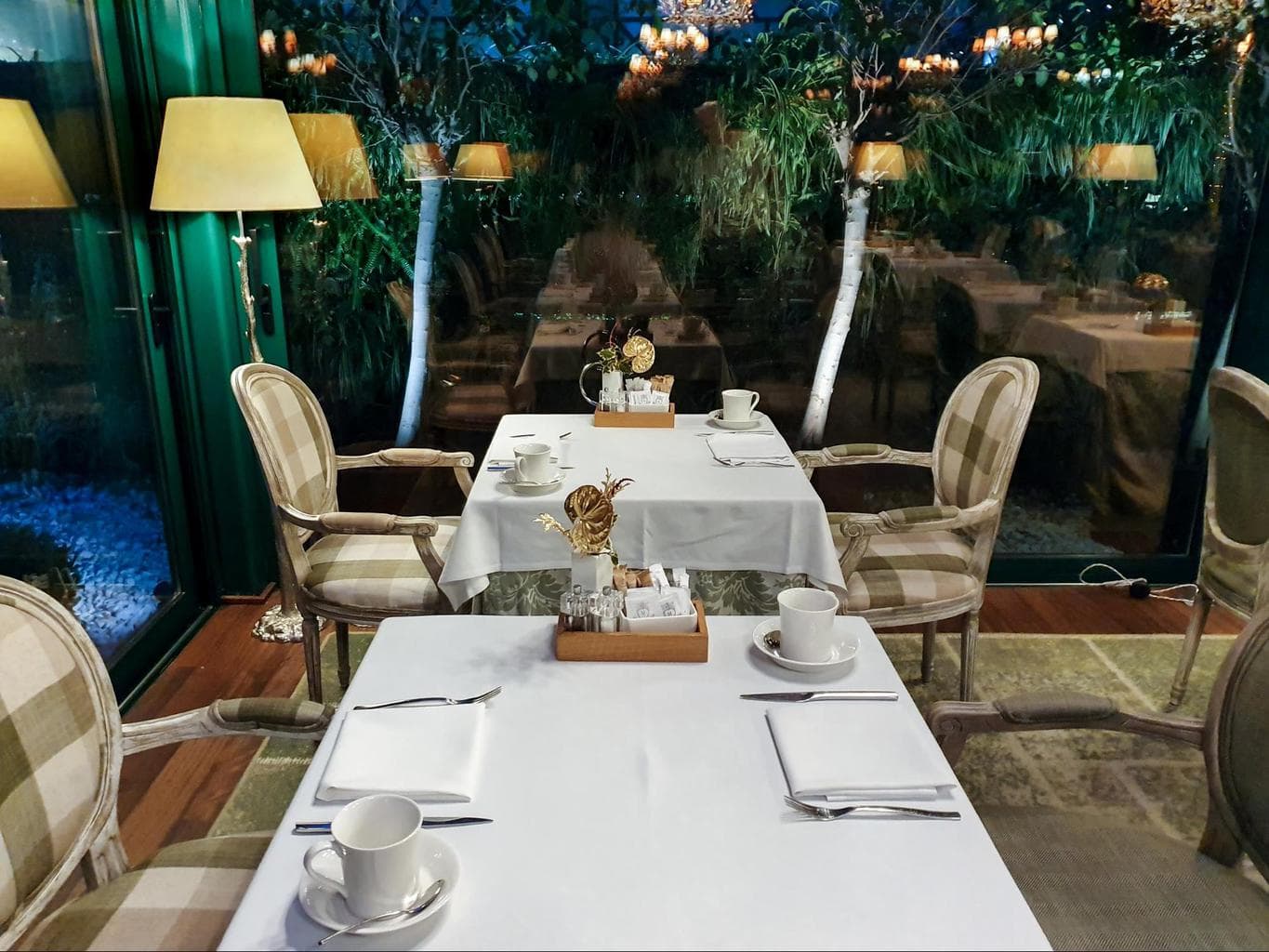 This double commitment, along with an experienced team, gives the hotel a strong dining portfolio that has received much praise. The hotel has three dining spots: La Dolce Vitae rooftop bar, SOLC Restaurant and El Bar del Majestic lobby bar.
The hotel's main restaurant, SOLC, is located in the interior courtyard and surrounded by greenery. It serves breakfast, lunch and dinner with a constantly changing, completely seasonal menu made with produce from the garden and other proximity food grown and produced around Barcelona.
The menu only features a few dishes but is made with what is available every week. Both set menus for lunch (25 EUR) and dinner (50 EUR) were well-priced and pleasant with lots of vegetables, a main of fish or meat and dessert.
The hotel's breakfast was chosen Best hotel breakfast in Europe in 2018 and I can testify to how amazing it was. Not only did it include all the great components of a Catalan breakfast but also a huge selection of cheeses, cold cuts and prepared small morsels of tastiness in the form of sandwiches, small cakes, pies and other canapes.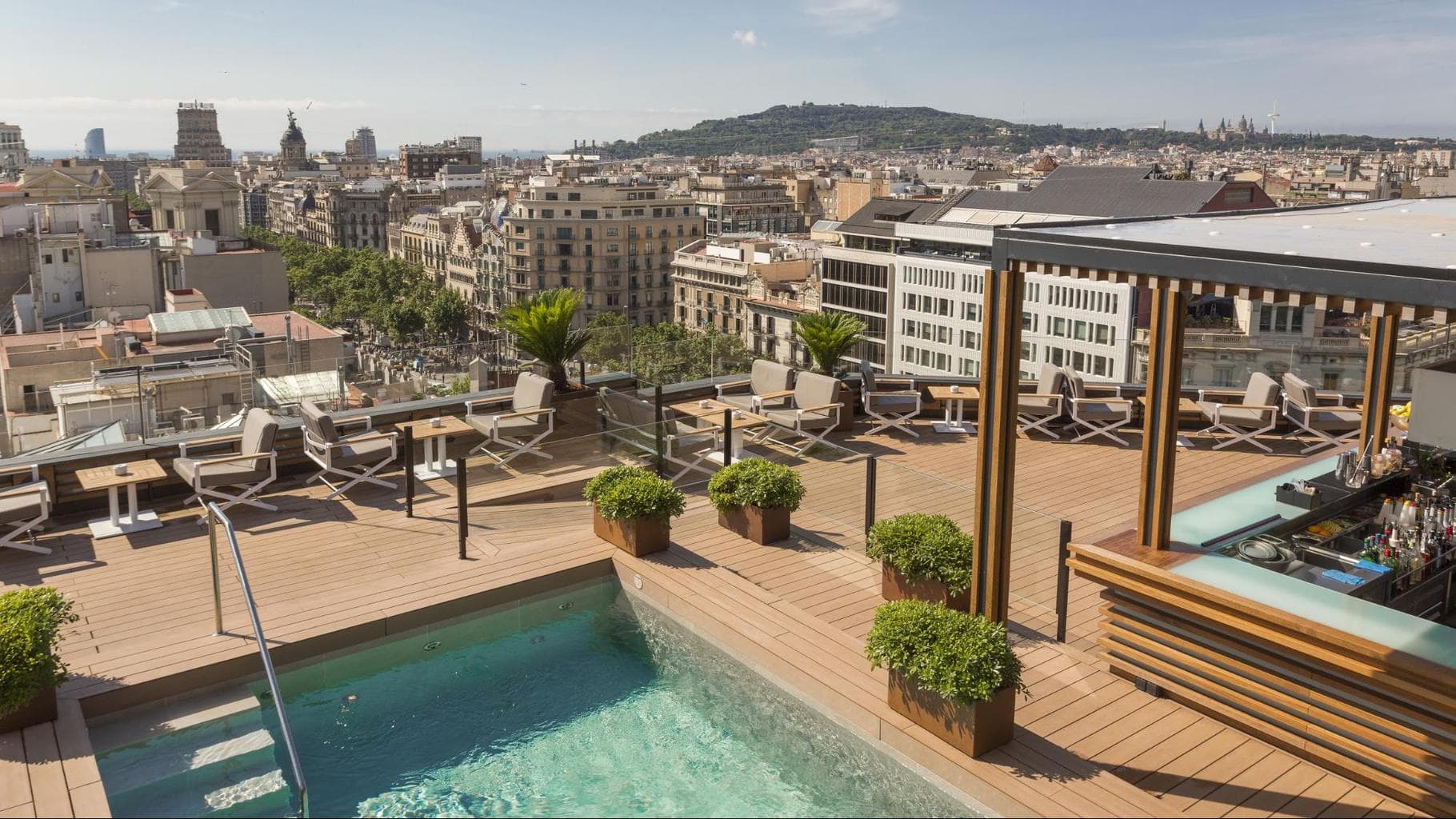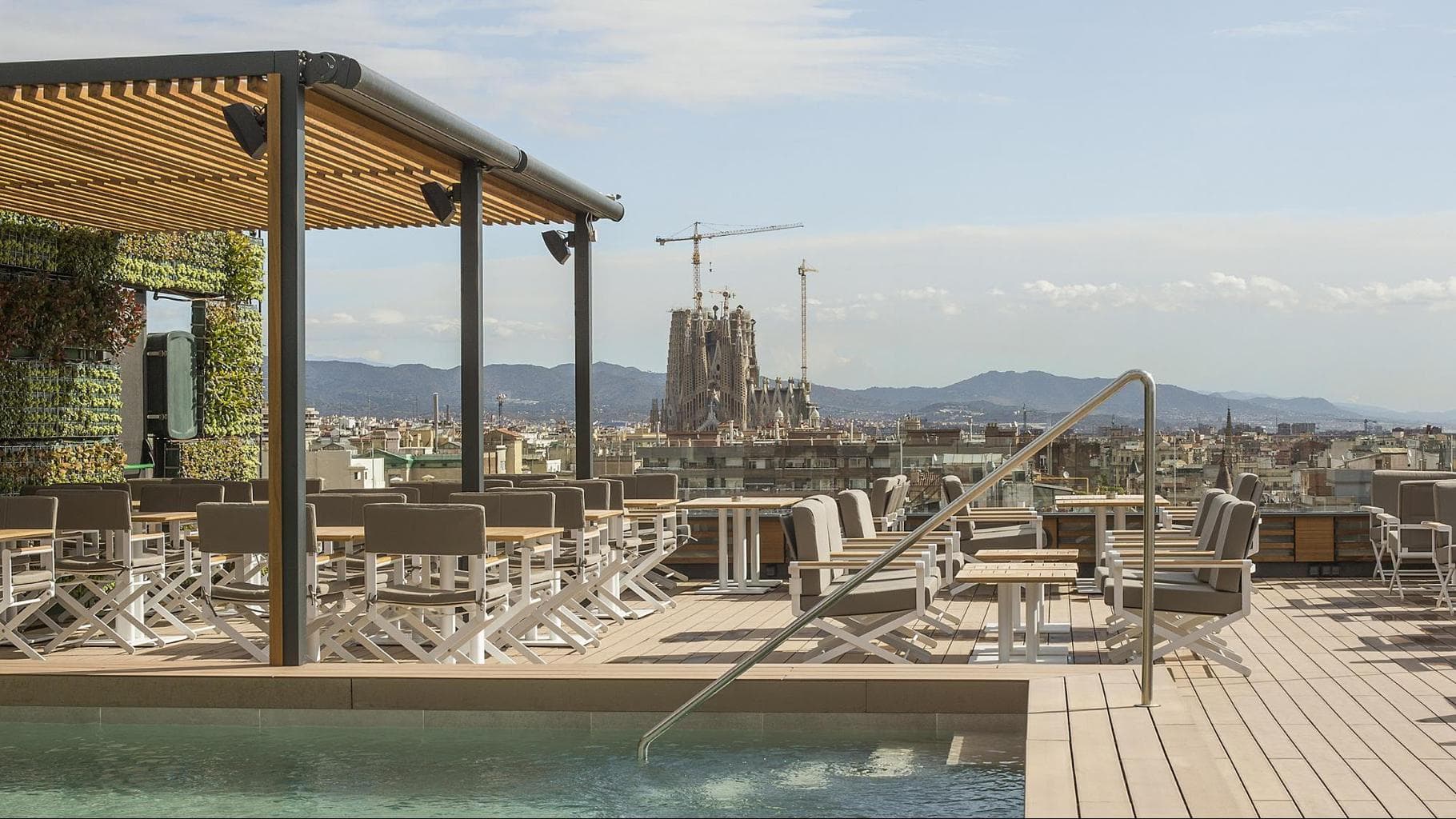 Majestic Hotel & Spa Barcelona Sunday brunch (59 EUR) at SOLC is one of the best in the city and the summer Sunday Brunch at La Dolce Vitae is the place to be, especially after 3pm when the DJ starts playing.
La Dolce Vitae is open in the summer until 2am and in the winter until 8pm and it has some of the best views over Passeig de Gracia, all the way to the sea, which are some of the best the city has to offer. The restaurant service offers tapas and other casual food.
El Bar del Majestic has an expert bartender, live piano several days a week and an extensive wine list. There are also traditional Catalan snacks to accompany vermouth or evening time drinks and breakfast service for those not keen to indulge in the fabulous buffet breakfast.
This is a cozy place for a quiet conversation or to cuddle up with a book on the velvet sofas and armchairs.
Facilities and experiences at Majestic Hotel & Spa Barcelona
In a city that is as cosmopolitan and forward-looking as Barcelona, old world charm has a special place in a few of the grand hotels of the city, the Majestic Hotel & Spa Barcelona is one of them.
Piano melodies at the bar, a professional afternoon shoe shine service, butlers and a concierge ready to help with any request (or to carry overflowing shopping bags from ground level Chanel stores) are some of the classic touches offered by the hotel.
Other more expected yet fantastic additions are the small, rooftop plunge pool and terrace that comes with views of Barcelona's main landmarks, from Tibidabo to Montjuic and Sagrada Familia.
There is also a small gym and a full-fledged spa with 5 treatment rooms offering massages, pedicures, manicures, a hair salon and a range of treatments. Catalan brand Natura Bisse is used at the spa which also offers Dr. Perricone's holistic program.
But you did not come to the city to stay at the hotel, you came to explore, be it for 4 days in Barcelona or just one day in Barcelona, and if the typical itinerary for first-timers is not what you're after, the hotel can help out with a range of unique experiences, from luxury car rentals to garden and winery tours under the Farm to Table signature experiences.
The hotel's experience portfolio is specially designed to offer the best of the city and its surroundings. There are wine tourism trips, food-related experiences from fishmarket visits to cooking or chocolate themed tours or farm to table days, and of course, art-focused tours.
Service at Majestic Hotel & Spa Barcelona
It is always difficult to rate the service levels of a hotel on a hosted stay, after all, they know I am reviewing them, but since I had been to the hotel several times before to enjoy their dining experiences anonymously, I had a few more reference points.
The service we experienced at Majestic Hotel & Spa Barcelona was impeccable. From the person welcoming us at SOLC to the doormen (who did not know we were before we identified ourselves at reception), or the team at La Dolce Vitae.
Service was what you would expect at an international, well-established 5* star hotel, anticipating your needs, helpful but not overwhelming, quick to answer any question or offer any help, timely and courteous. Each person we interacted with was this and more.
What is more, the pleasant experience started with the PR and Marketing team I interacted with pre-visit. It had been a while since I last had such an enjoyable and pleasant experience with the entire team of a hotel.
While I am not a difficult guest, and I did not stay long enough at the hotel to test too many of its aspects, I am a very observant one, and I also paid careful attention to the staff's interactions with the rest of the guests.
I would rate the service levels at Majestic Hotel & Spa Barcelona as some of the best in the city.
The verdict – Majestic Hotel & Spa Barcelona
Objectively, Majestic Hotel & Spa Barcelona has one of the best locations in the city. Just a few minutes walk from almost all the top tourist attractions in Barcelona, unlimited dining options and all the luxury stores.
But it isn't just the location that makes it a great choice in the city. Every detail of your experience at Majestic Hotel & Spa Barcelona has been perfectly curated with expert advice and attention to detail.
From the exclusively ambience Musc Imperial smell by Atelier Parfuml, to the ingredients in every dish or the signature top hat and tail uniform of the doormen, this is not a new hotel experimenting with new ideas or testing a new offer, this is a long-standing institution that knows how to serve guests and has been successfully doing so for 100 years.
If you come here looking for a sleek or fancy experience, you may be disappointed. Instead, stay at the Majestic Hotel & Spa Barcelona for its unbeatable location, its old-world charm and its authentic service that can get any request sorted out and make you feel welcome every time you come back.
Or simply come for a drink or for Sunday brunch, no better way to while away the last day of the week.
You can book a stay at the fabulous Majestic Hotel & Spa Barcelona online HERE.
This would make a great addition to your travel and Barcelona Pinterest boards!