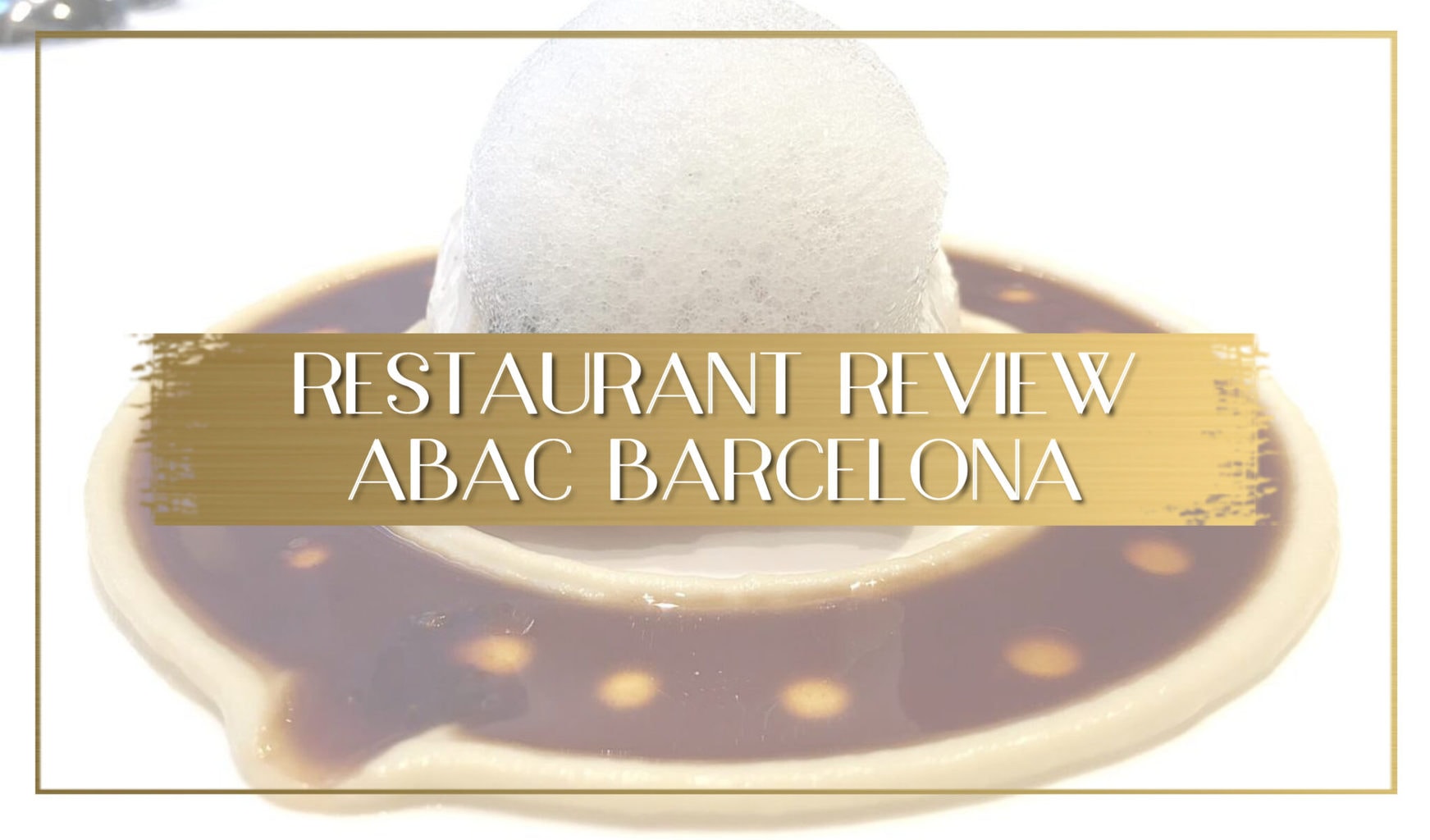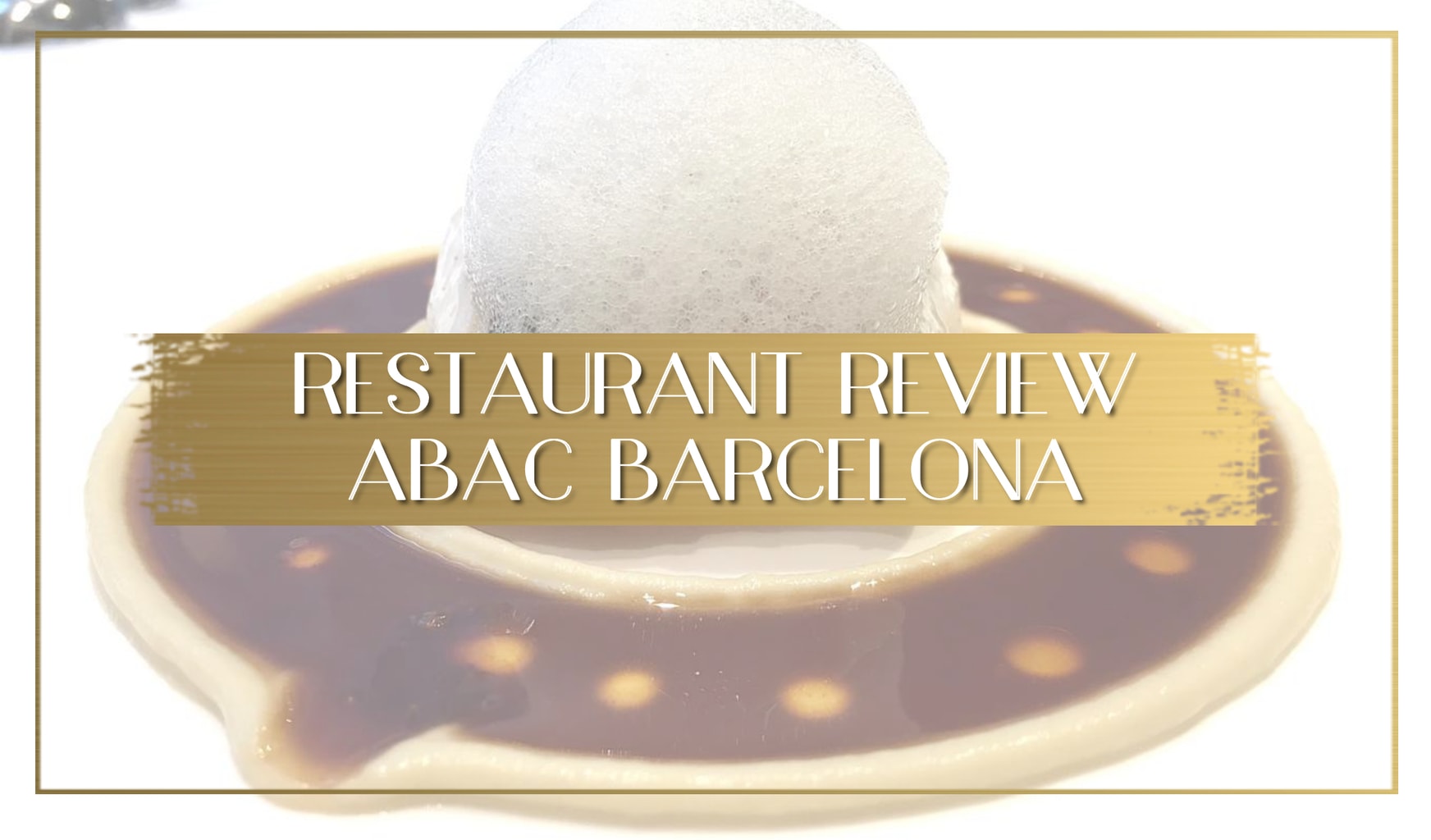 This review was first published in Jan 2017 and updated in Jan 2018 as the restaurant was awarded its third Michelin star.
Catalunya and Barcelona mean fantastic proximity food with fresh, seasonal ingredients, creative cuisine and great company. The best restaurant in the world for so many years, and the inventor of molecular cuisine, elBulli, was located in the north of Catalunya and, today's Best Restaurant, El Celler de Can Roca, is only a few kilometres away from it.
But the 3 Michelin Stars seemed to elude the capital of Barcelona. This changed in 2016 thanks to Basque restaurant Lasarte and in 2017 with aBaC, which now has 3 Michelin starts too. In addition to these two top-rated restaurants, Barcelona has four 2 Michelin starred restaurants (including two of my favourites, Disfrutar and MOments) and 18 with 1 star. ABaC is one of the restaurants with 2 stars. Read on for my review of ABaC Restaurant
The location
Located in the Hotel of the same name, ABaC serves modern Catalan inspired cuisine with strong creativity and innovative ideas. The Hotel ABaC is a 4 star boutique luxury hotel that is part of the Small Luxury Hotels of the World. From the outside, you cannot tell there is a hotel behind the high cement walls. The Hotel is discreet and out of the way, high up Barcelona on the Tibidabo Avenue and among the wealthiest part of the city.
The dining room is split across several spaces on the ground floor of the hotel, facing a small garden and terrace. Tables are set far apart from each other but the lack of ambient music makes it hard not to hear the conversations of your fellow diners.
The space is bright during the day thanks to sunlight coming in through the glass walls all around the room and dimmed at night. Tables are sober and simple with thick white linen and lamps right above. Curtains split the room giving it an intimate setting despite the large space.
Bonus Barcelona Guide
Check out my detailed guide on
Where to stay in Barcelona
with details on each neighbourhood and best hotel recommendations – Psst I am a local to the city!
The chef

at ABAC
Chef Jordi Cruz was the youngest Spanish chef and second in the world to be awarded a Michelin star at the tender age of 24 for his time at restaurant Estany Clar in Barcelona. He then moved to L'Angle in Món Sant Benet where he also earned a Michelin star and finally moved to ABaC in 2010 where he replaced Xavier Pellicer, the head chef at famous Can Fabes.
This was Catalunya's first 3 Michelin starred restaurant which had to sadly close down after chef Santi Santamaria died in Singapore of a heart attack and the restaurant was no longer viable as a "project based on excellence".
Jordi Cruz also opened a tapas restaurant in hip Born neighbourhood in Barcelona and is part of the jury for the Spanish version of Master Chef.
The Degustation Menu
ABaC's proposes several degustation menus of various price levels starting at around 140 euro per person which is adequate for a 3 Michelin restaurant in Barcelona and great value for money when compared to international price levels. The meal came in 13 dishes plus petit furs.
There is an option for wine pairing at 65 euros which is a bargain, or a very large wine list with options from all the Old World countries and some from the New World. the wine list had some gems like a Vega Sicilia Unico from 1970 at 1,200 euro and some great and more affordable Spanish wines.
Lunch started with a take on the Bloody Mary made with a tomato essence served on tomato ice cubes and accompanying a small bowl with tomato in various textures. This was a great casual way to whet our appetites and bring up the conversation and replaced the need for a cocktail, which we were also offered beforehand.
The next appetiser included mussels, which I do not eat, so I was offered an eel burger morsel which was rich and came in a small bamboo box. It was very tasty although a tat greasy. The burger was served with a dollop of alioli and a dash of wasabi and I devoured it with my hands.
Next up was the sea urchin but, as I also do not eat shellfish, I got prawns instead, equally fresh and flavourful. In Spain, fresh seafood is the best you will ever find.
Several of the dishes at ABaC had to be eaten with your hands and were prepared table side which was not a problem given the table sizes, on the larger end of the spectrum with ample space to spare. The next dish was one of them.
Scalded tomatoes were mixed in a morter with extra virgin olive oil until made into a paste that could be easily spread on a small toast and topped with a roasted sardine. This was an incredibly simple but very enjoyable dish that paid homage to Catalunya's popular bread with tomato. The sardines were delicious too.
The sardine was followed with a small toast topped with foie and served with corn ice cream but since neither me nor my lunch companion are in favour of foie gras, our dish was replaced by the same crunchy toast topped with cheese and a small bowl with concentrate mushroom consome which was also very pleasant.
The flavours were intense but mellow and the toast had to be eaten with your hands too, alternating in some soup and some of the toast.
A lone caneloni made with calamari came next. The calamari were delicately sliced into thin pieces and served raw and wrapped around with a fine calamari sheet and topped with some parmesan cheese. The flavours of the sea came through in such a subtle way that it was hard to believe the calamari were so pure.
Our appetisers ended with a large onion that was used as a bowl to serve onion soup with pieces of walnut, slivers of truffle and spheres of soft Sant Felicien cheese that were as delicate as they were a perfect complement to the onion.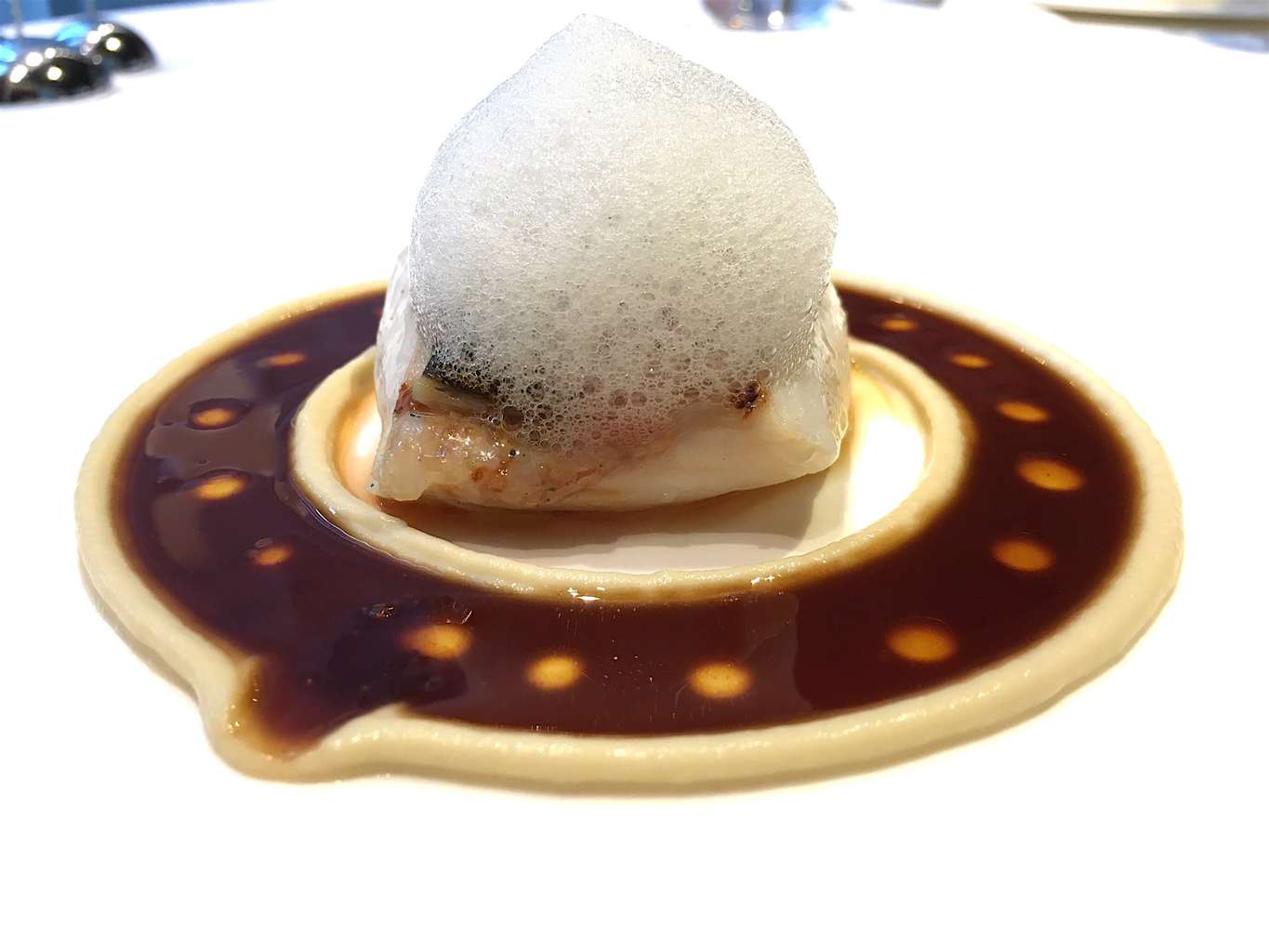 Our first main dish was a piece of roasted turbot fish presented beautifully in the center of the dish and surrounded by a fine cream that formed the edges of a river made with fish broth, shellfish, aubergines and small onions. The cream and sauce was incredibly concentrated in flavours and complemented well the refined turbot. I did dip some of the delicious bread into this sauce.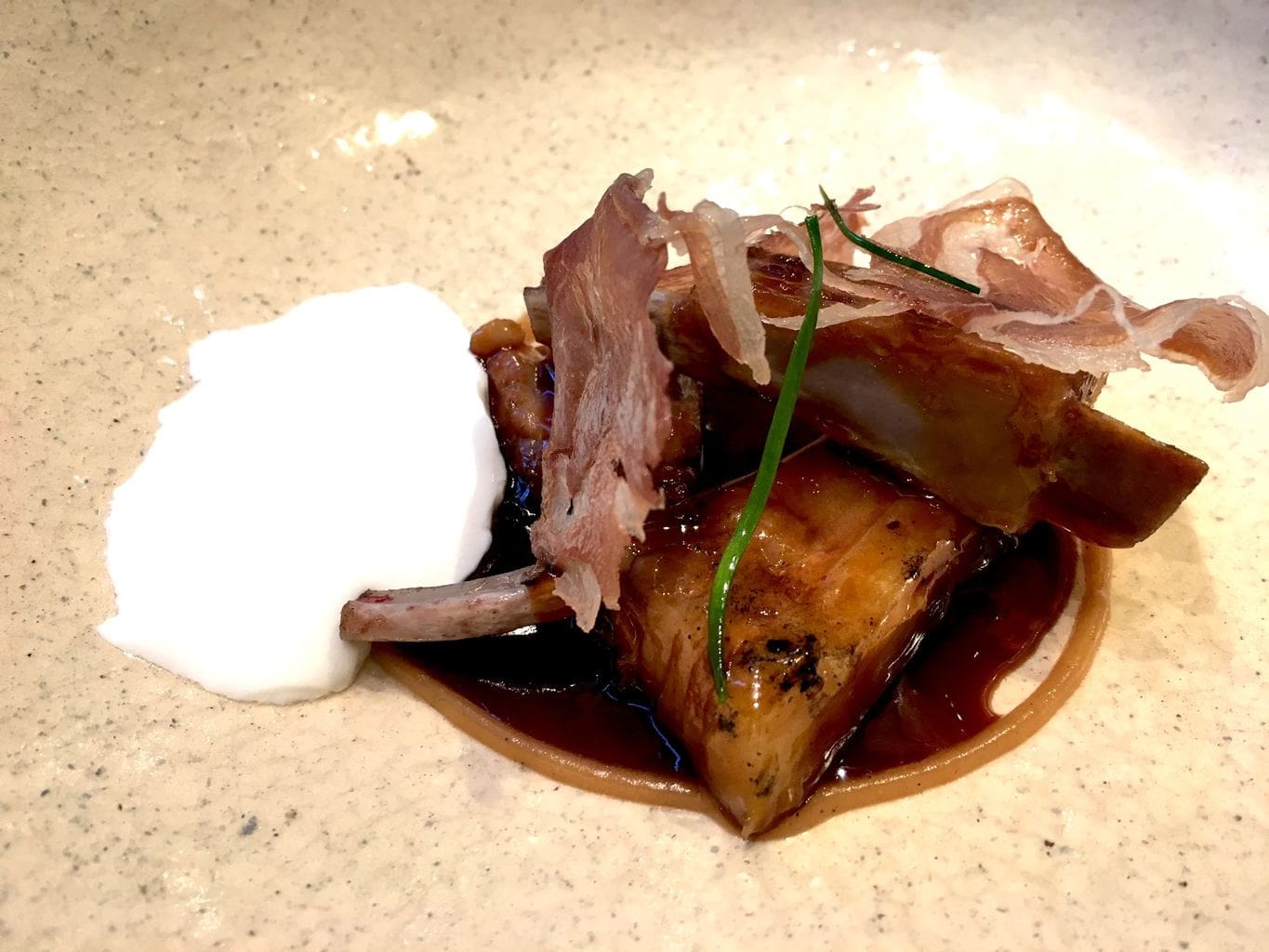 Roasted baby lamb in three textures and cooking methods followed the fish. The tiny lamb rack was so fatty and rich that a small portion like the one served, eaten with your hands, was enough. The garlic compote a la alioli was a good companion to the meat. This was as finger licking as you would expect of such tender and young meat if probably terrible for my cholesterol.
The last of the entrees was inventive and unusual. We were given three small gnocchi-looking morsels made of parmesan cheese and wild board cheek resting on a bed of concentrate civet and mustard sauce. The aged mustard grains went remarkably well with the meat and the gnocchi and the dish was very light thanks to the airy texture of the gnocchi.
Desserts came in three dishes. The first one was a "Fragile crate with chamomile, milk and biscuit roll with a touch of lightly spicy citruses" which was pretty and silky, soft, cold and warm all together in one dish playing with flavours, sweet and sour, textures and temperatures so it was a very pleasant and light dish.
The second one was "Infused and frozen wood and bark with vanilla, chocolate, species, treacle and resin" which was a very interesting combination of chocolate-looking-not-tasting ice cream and a small souffle that had been steaming on the table in a glass pot and a tiny candle while we ate our mains.
It was not sweet and it had tones of savoury so I was a little disappointed that there was no actual chocolate flavour in it. The addition of Jerusalem Artichoke was a strange touch. All in all, it was creative and interesting, but I would have preferred a decadent chocolate finish. Personal preference, I suppose.
Thirdly, we savoured "Fossilized red fruit tart with vanilla butter Chantilly cream, caramel, oranges and roses" which was a very delicate and beautiful dish using pretty petals for decoration.
Many have written that Jordi's dishes are as pretty as he is good looking, he appeared on the cover of Men's Health magazine after participating in a challenge to lose weight through exercise and a healthy diet thus becoming Spanish sexiest chef in 2014. This final dish certainly did pay homage to this title.
The petit furs were served in a pretty iron carved sequence of pieces with the various small sweets held by the various endings. I liked that they were not overly sweet or large making them true "petit" sweet endings.
Bonus one day guide to Barcelona
If you only have one day in Barcelona, this is how you should spend it! Enjoy this one day itinerary for Barcelona by clicking
here
.
The service
Perhaps what I like most about Catalan fine dining restaurants is the unassuming and friendly service. There is not a stiff French approach or the discriminating feeling one has in places in Italy. At ABaC, like in most other Michelin starred restaurants I have eaten at in Spain, the servers, the sommelier and the Maitre d' are all friendly and casual if professional and refined.
Our waiter was from the Canary Islands and was knowledgeable and experienced as well as fun and passionate transmitting the chef's philosophy and humility to the service.
The verdict
I loved ABaC and would highly recommend it to anyone looking for a fine dining experience in Barcelona or a place for that special occasion. The food was excellent, totally deserving of the many awards the restaurant and Chef have received, and the setting and service only enhanced the experience. Treat yourself and you will not be disappointed.
Remember to Pin this post to your favourite foodie board.