Bali is Indonesia's most famous spot and almost eight of every ten travelers to the country will make it to the island of Gods. If you live in Southeast Asia, Bali is possibly the no.1 destination for a great weekend getaway. It is large enough to have places to visit and things to do to satisfy every type of traveler and small enough that you don't get overwhelmed by the distances.
In the last year I have been to Bali over ten times and every time had a completely different experience. A few times all I wanted was to relax and have a self-indulgent vacation and, believe me, Bali has a lot to offer to those looking for an hedonistic escape.
A couple of times I accompanied a friend who surfs and I simply enjoyed some time in the southern part of the island where the mostly-Australian crowds gather to catch big waves. On a couple of occasions I wanted to explore the cultural and spiritual side of Indonesia, Ubud being my main destination.
And, in every occasion, I knew I was in for a treat, staying at one of the luxury and stunning hotels and discovering the freshest, most innovative creations from the many celebrity and local chefs who put their heart into bringing fabulous recipes to live.
If you are going to Bali, this is the ultimate list of places to visit and things to do in Bali, for that fabulous weekend escape. As an added bonus, I also include the best time to go to all these places, there is a reason why Bali is so popular and, being able to avoid the crowds will make your time there extra special. And if you get hungry, these are the best restaurants to eat at in Ubud, as well as all the best hipster Ubud cafes.
1. Tanah Lot, one of seven sea temples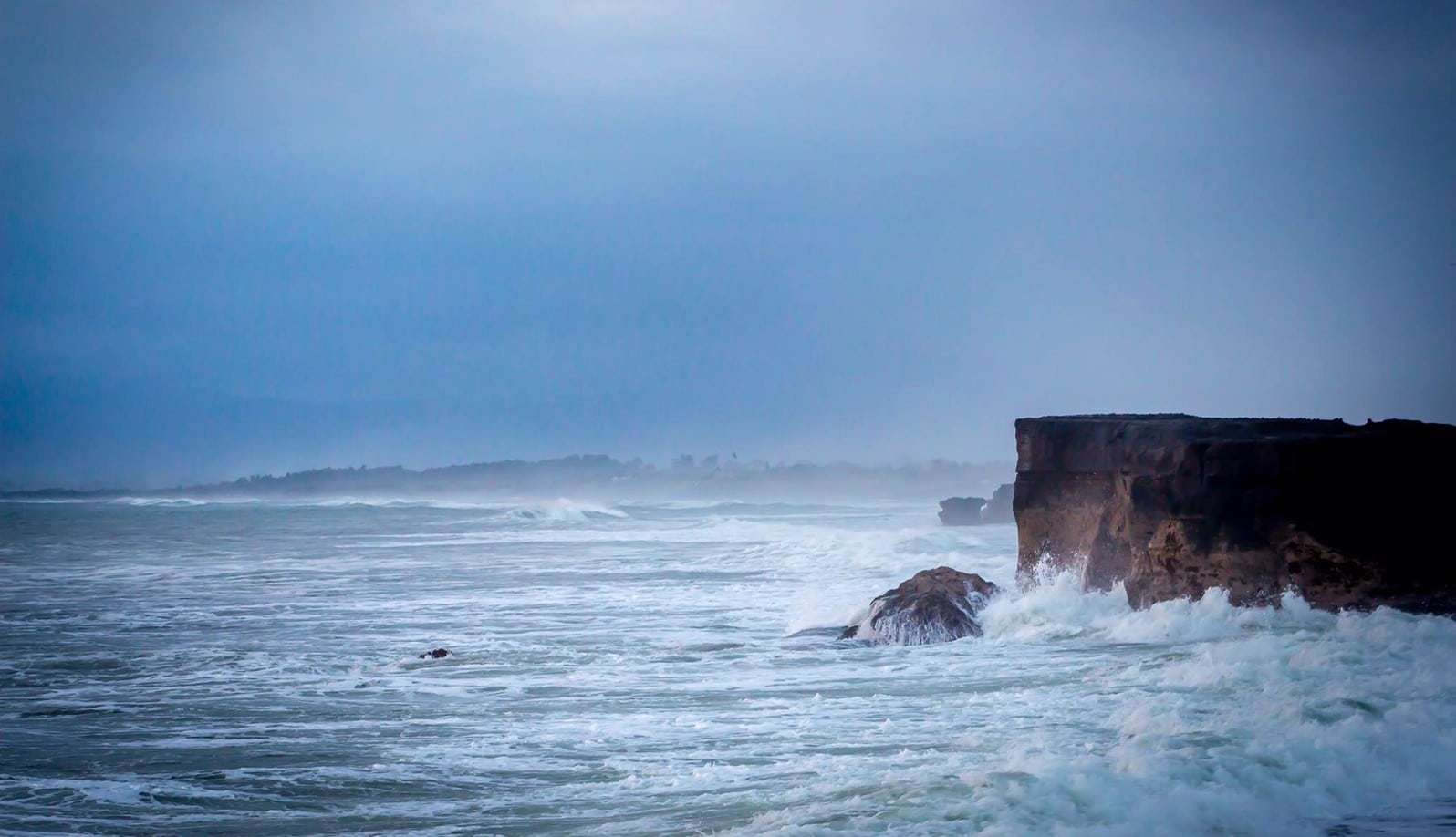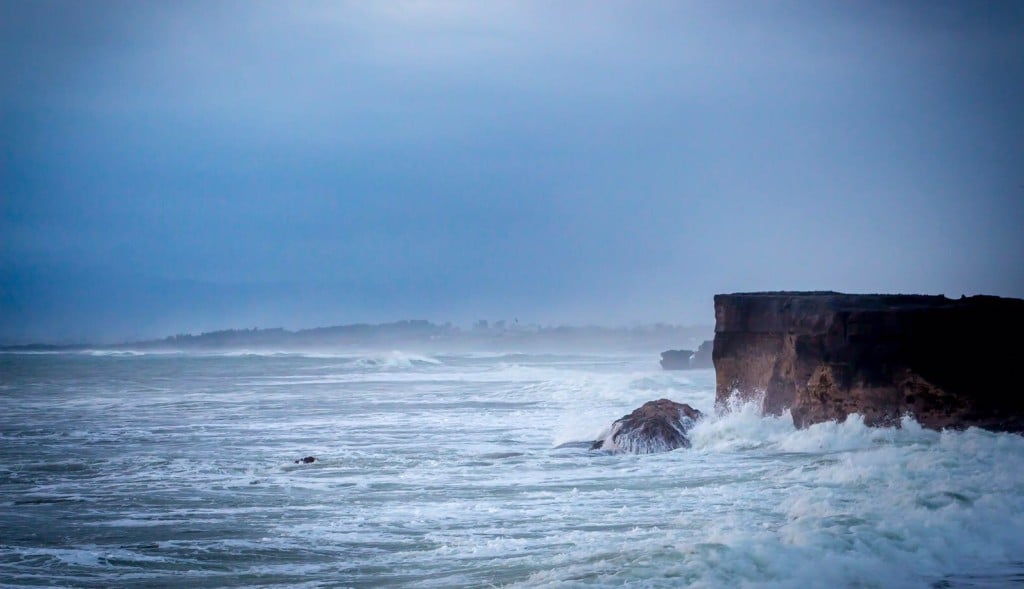 Possibly the better known temple in Bali among the 6,000+ temples on the island, Tanah Lot is worth a trip for the stunning location and the Irish-like cliffs along the coast. Meaning "Land in the Sea", the temple is found inside a rock formation.
A significant part of the rock is not the original but a restoration taken place during the 80s thanks to a loan provided by the Japanese government. It is almost impossible to distinguish the real from the restored. The temple is one of seven sea temples dotting the Balinese coast. Each of them is placed so that the next one can be seen. There are Hinduism influences in its architecture.
When to go: If you can take it, sunrise is quietest. Sunset is beautiful, but expect to be slightly "harassed" and to share the place with many other visitors.
2. Surfing in Uluwatu
There is a reason why Bali has direct flights from various Australian cities, whereas even for very popular destinations like Phuket, there aren't flights from all of them. The surf.
Bali has almost year-round good waves and is a great place to learn with breaks for beginners and for advanced surfers and great infrastructure around it. You can easily find surf camps where lessons are combined with affordable accommodation, fresh food and a young vibe.
When to go: May to September, during the dry season for perfect waves and blue skies
3. Green Bowl beach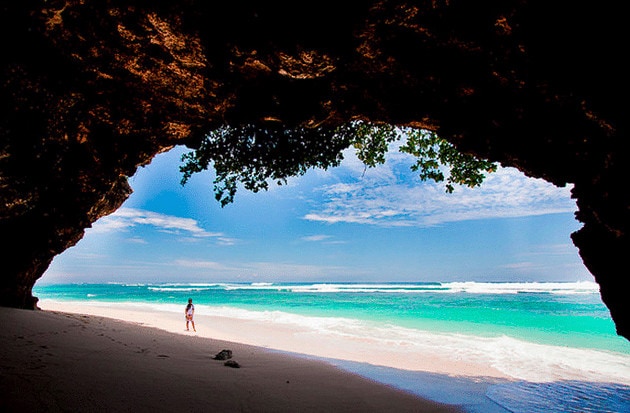 Bali is, contrary to what most think, not so much of the beach paradise as other parts of Indonesia. It is an island, true, but the beaches tend to be rougher, with large waves or crowded with sand that is not the finer, fluffy version of other beaches in Southeast Asia. I have seen many a traveler get disappointed with Bali when going in search if idyllic Indonesian beaches. The most popular ones are nice but not breathtaking. For a white-sand-turquoise-water alternative head to Green Bowl beach.
When to go: from noon to 3pm to avoid the very high tide that covers the stairs or the very low tide which gives the beach its name as the rocks get covered by algae.
4. Geger beach, Seaweed farms and snorkeling
Seaweed farms on Geger beach attract lots of fish making it a snorkeling destination. The beach is also located on Nusa Dua and mostly frequented by expats so it is easier to reach and not really known to tourists.
Watch out for the seaweed farmers working on the beach. The seaweed is used for cosmetics and it is a fascinating sight msot people don't know about.
When to go: afternoon, bring a picnic and watch the sun set
5. Mount Batur volcano
A volcano with a lake popular with trekkers who brave the climb. Mount Batur sits on the northern part of Bali, much less visited than the rest of the island as most tourists stay in the southern shores. If you want a real dose of adrenaline, try Mount Rinjani which is tougher.
When to go: Batur is good all year round but go during the dry season
6. Dive off Tulamben shipwreck
It is an easy shore dive through the black pebbled beach into the sea to this ship which in the 60s. Tulamben was torpedoed by a Japanese ship during WWII and it was left on shore to rescue the cargo (it was not an army vessel but a cargo ship) but the eruption of Mount Agung in 1963 pushed it back into the sea. The outer part is covered in corals and marine life and you can see plenty of fish and other pelagic roaming around.
When to go: join any of the dive centers in the Easter part of the island for an early morning dive. Some of the dive resorts have direct access to the dive spot
7. Lake Tamblingan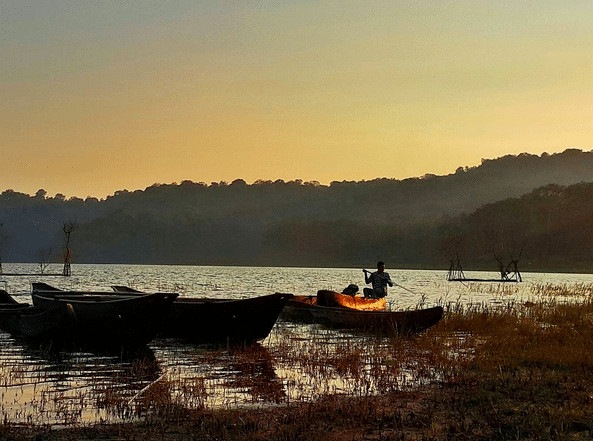 This eerie and mystical lake is believed to have miraculous powers. Translated as "spiritual medicine" legends say that when the locals of the four villages surrounding the lake fell ill a local priest took water from the lake to heal them. Several temples have been built in its surroundings and it is a beautiful place to trek to from Lovina in the north of Bali. You can also just drive there.
When to go: Try to avoid trekking in the middle of the day when the jungle becomes humid. Temperatures here are cooler as the lake is 1,000m above sea level
8. Suluban Beach Cave
Directly under Uluwatu this cave is popular with surfers and makes for an incredible experience.
When to go: when it is hot the water streams provide a refreshing respite
9. Trek to the top of Bali at Mount Agung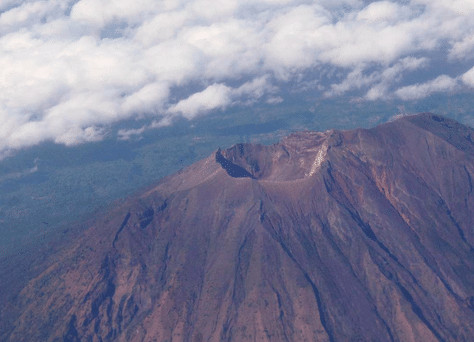 The 5th largest mountain in Indonesia, in a country with many peaks, Mount Agung is an active volcano providing 360 degree views over the Island of Gods. The mountain is over 3,000m high and can be trekked during the night to reach the summit at sunrise when the views are most impressive. It last erupted in 1964 (Update: Mt Agung last erupted in 2017).
When to go: Anytime, rainy season best avoided. You will need 7-8h to reach the summit and will depart around midnight
10. Go dolphin watching
The North of Bali is home to various schools of dolphins. You can take a tour to watch them in the wild with one of the many tour companies. Lovina is 3h drive from Denpasar and dolphin tours go out to watch them at 6am so you may want to consider staying in the northern part of the island to make sure you are awake when the playful creatures come out to play.
When to go: dolphins can be seen in the dry season, May to November
11. Try kopi Luwak, the world's most expensive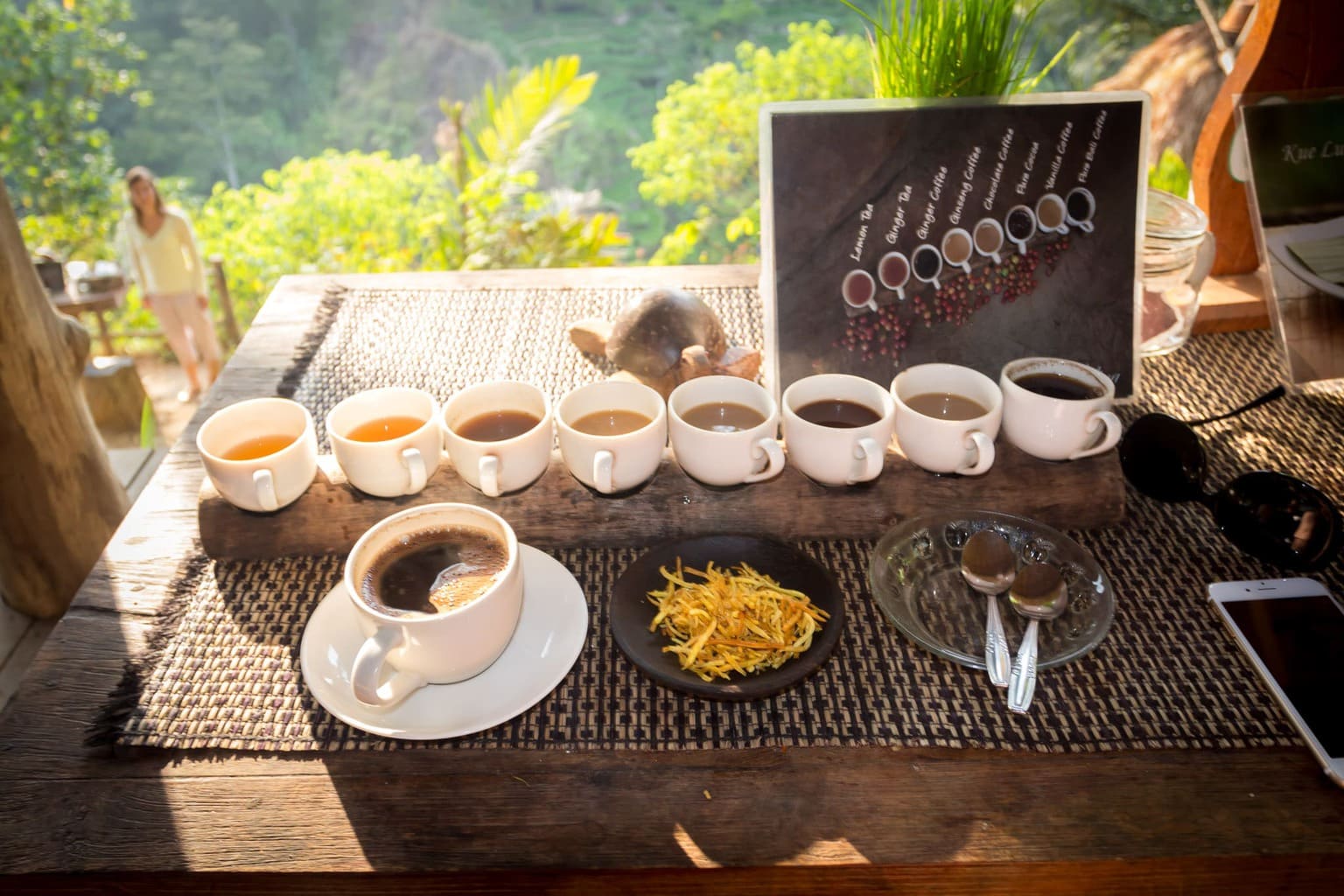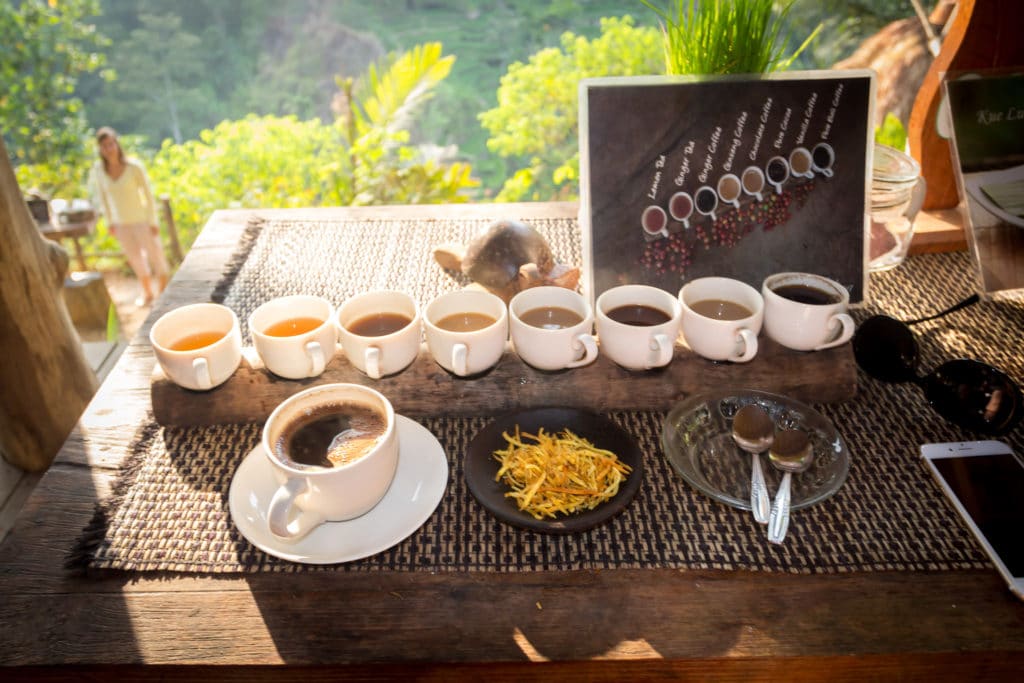 Bali is known for various kopi luwak, of civet coffee, farms. Usually, you get a free tour of the premises, learn about how the coffee is "harvested" and get to even try it for a fee. The coffee can retail at over $300 per kilo and its flavor is created by the cat's stomach fluids which do not decompose the beans but instead give it a refined less bitter taste.
Slightly disgusting if you think about it too much, but a delicacy to many. There are other considerations to be had with the trade of civet coffee as a lot of organizations complain that the cats are kept in captivity and fed the beans instead of freely roaming the plantations as they initially did when the kopi variety was discovered. Drink with caution and to the level that your conscience allows.
When to go: I found this most efficient to be done as part of another excursion. For example, you may stop on the way from Ubud to Seminyak.
12. Swim in Aling-Aling Waterfall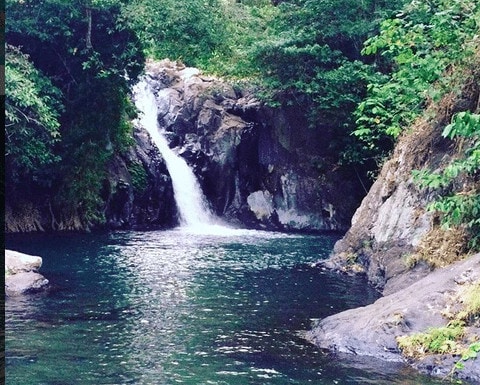 Split at the top the 35m Aling-Aling waterfall bottom is reached through a steep descend through stairs. Locals know the way there but this waterfall is rarely visited by tourists so you are likely to have it all to yourself. If you want to avoid the more popular Gitgit Waterfall this is a peaceful alternative.
When to go: Pack lunch and enjoy a swim before heading back up the steps.
13. See a local healer, a la Eat, Pray, Love
Are you looking for a magical healer that can guess what is wrong with you like in the movie? You can see Ketut Liyer, the person from the book (yes, he is a real person) and get his thoughts on how to improve your life. He only sees a few people per day so go early. Fame has also increased his fees which are higher than most other healers. Any hotel can also provide details of a healer to visit.
Update: Ketut Liyer sadly left this world in 2016. Condolences to his family, he will be missed.
When to go: For the more famous healers, early in the morning so you can make sure he will see you
14. Enjoy raw and vegan food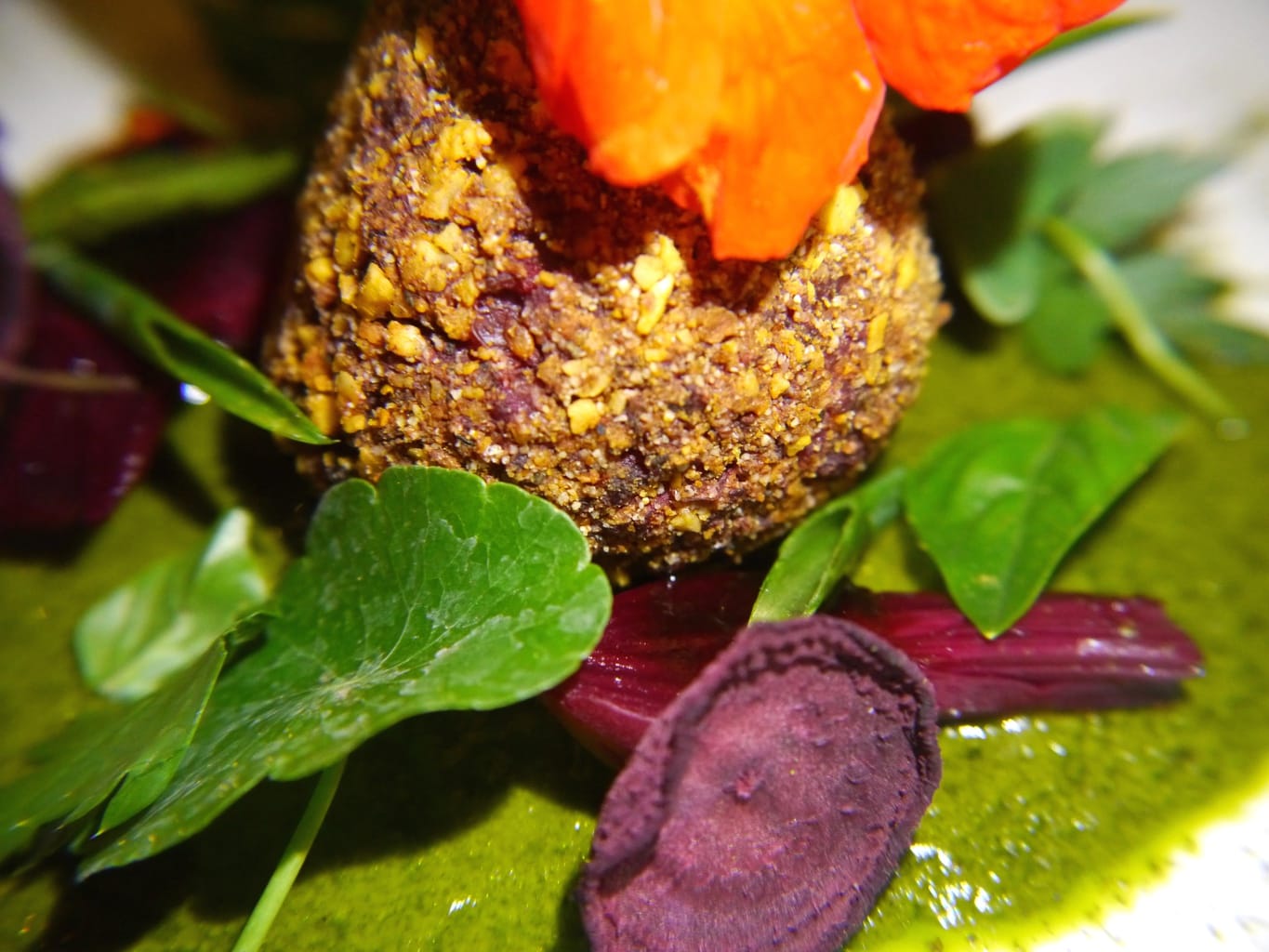 I have written about the best places to eat in Ubud as well as the best cafes in Ubud but what the cultural center of Bali is known best for is alternative, spiritual and organic living. Several vegan, vegetarian and even raw cafes and restaurants are springing to provide yogis, creative souls and those looking to have a peaceful and complete life with enriching, invigorating and alive food. And trust me, you won't be able to tell some of the dishes are raw and contain no meat.
When to go: Cafes for lunch, restaurants for dinner, there is something for every occasion.
15. Cycle along Ubud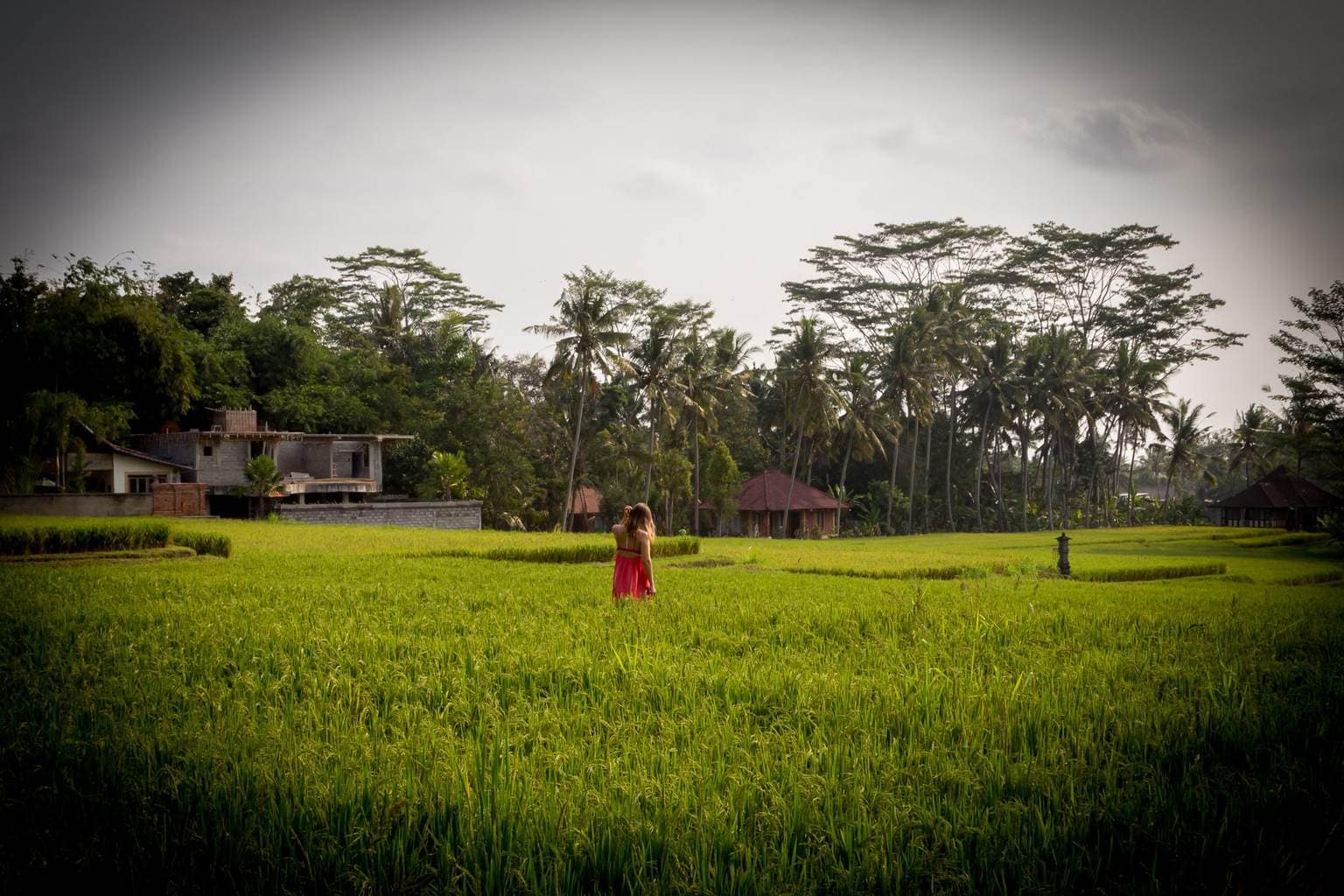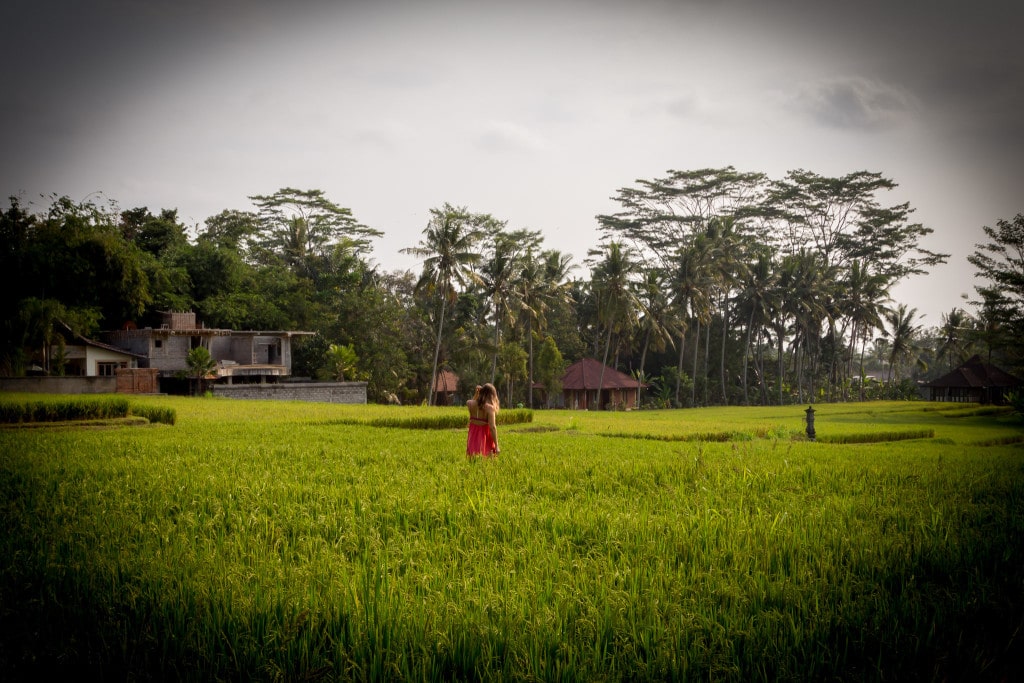 The green and peaceful rice paddies of Ubud are the most soul-soothing experience. You could rent a scooter and cruise around but, for an experience that is more un-synch with nature and with your own body, rent a bike and wander around the quieter parts of town, taking it all in.
When to go: Aside from the dry season, Ubud can be really hot so it is best to wake up early and go right after sunrise.
16. Shopping in Seminyak
Seminyak is filled with local designer shops. Jewelry, clothes, art and artifacts fill the many shops along the road parallel to the beach. Best explored on foot, you could spend an entire day shop-hopping. Make sure to ask the shop assistant about the brand's story, she/he could be the owner.
When to go: before sunset, the area has a tanned look and the heat of the day has passed
17. Indulge with beats and bites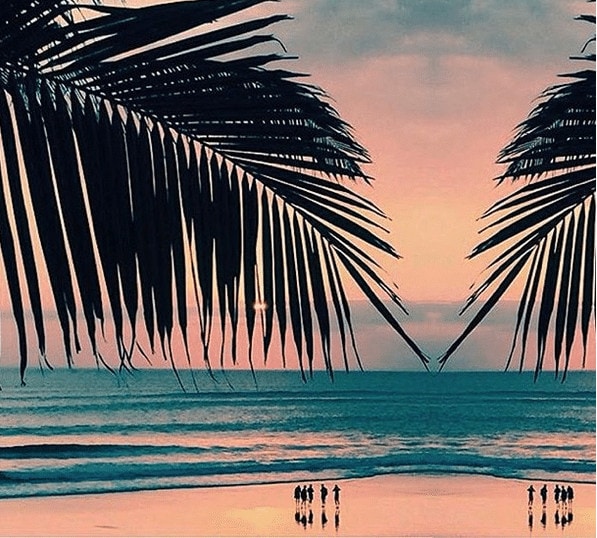 Bali is well-known for being a hedonist's paradise. Great food, the beach, nightlife and fabulous drinks. Add in some fantastic beach clubs and you have the complete package. A trip to Bali cannot be complete without an afternoon lazing and indulging at one of Bali's beach destinations. Choose between Potato Head, long-standing Ku De Ta or the W Hotel's beach bar Woobar, just to name a few.
When to go: Two hours before sunset to enjoy a drink, some snacks and the sun set. You will have to book for the most popular places
18. Tegalalang rice paddies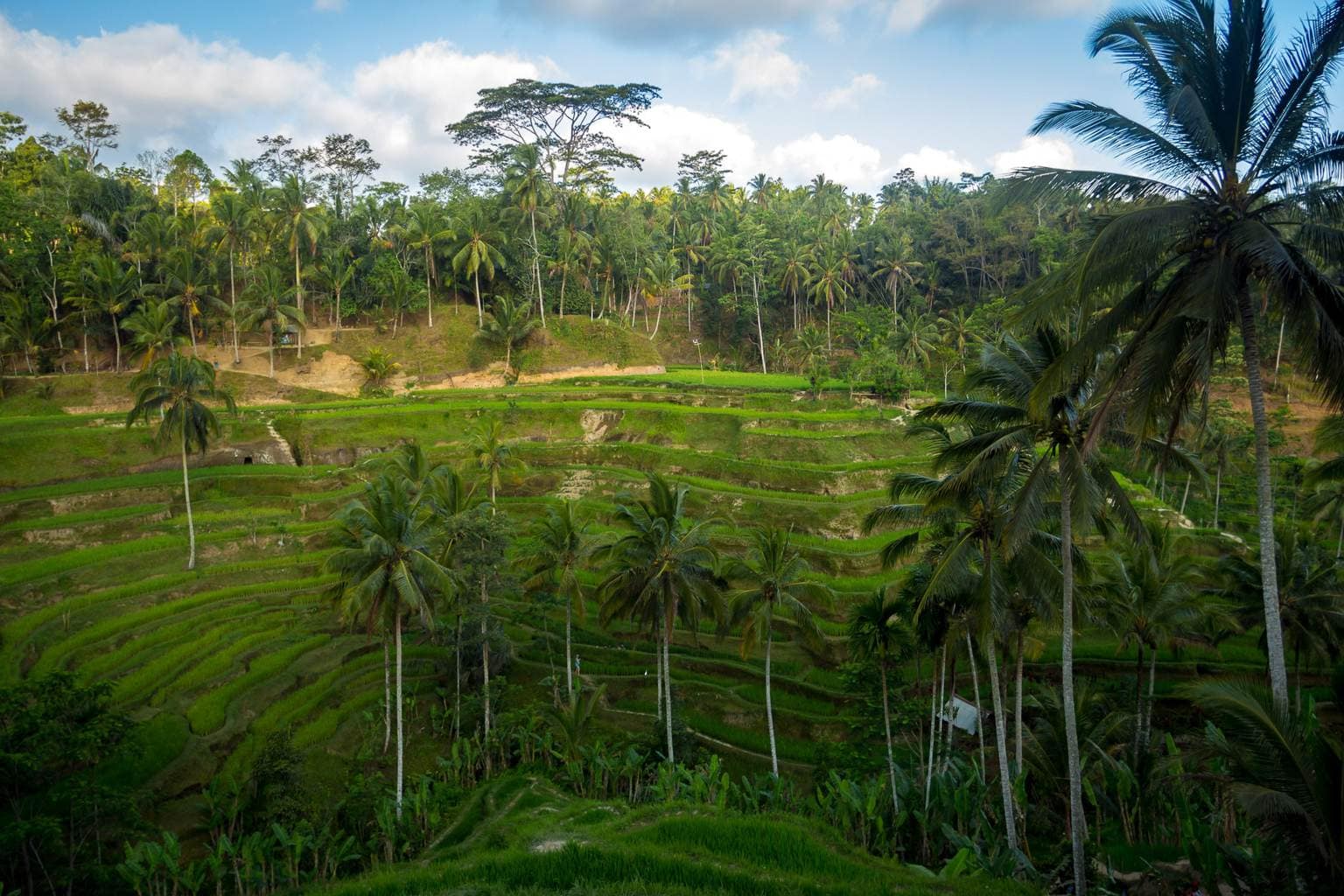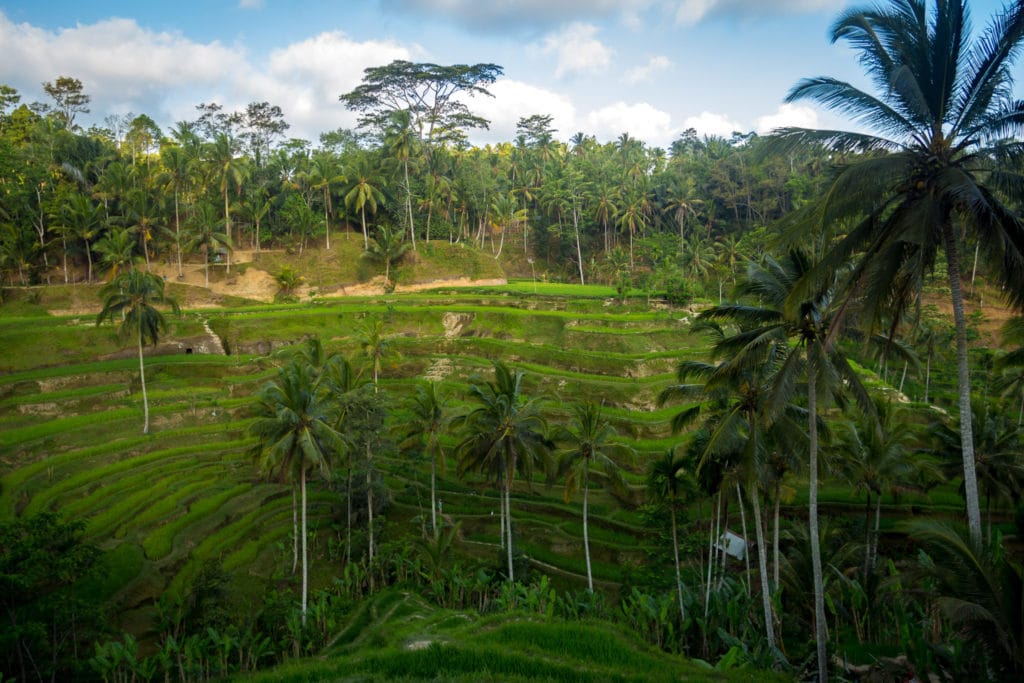 Probably the most photographed and photogenic of the rice paddies, these terraced ones are worth a trip north of Ubud. You can stop by in front of them and take a shot. On the way, there are many other terraces that are equally beautiful.
When to go: At sunset, just before the sun goes down, the colours of the paddies are most beautiful, though the terraces are pretty anytime. Crowds are smaller at early or later times.
19. Fair trade wines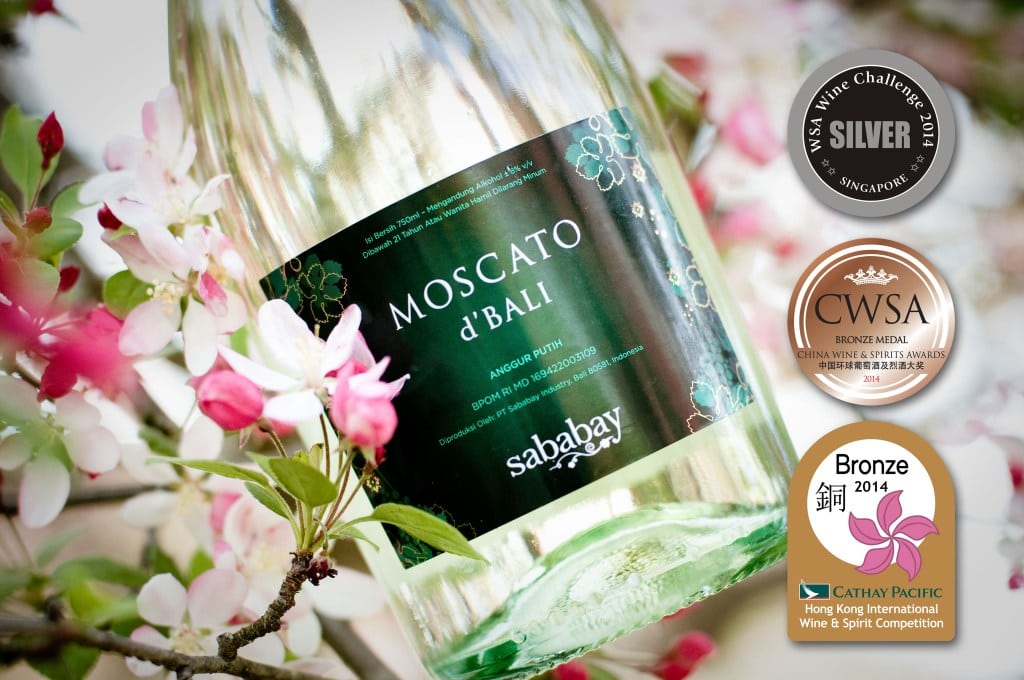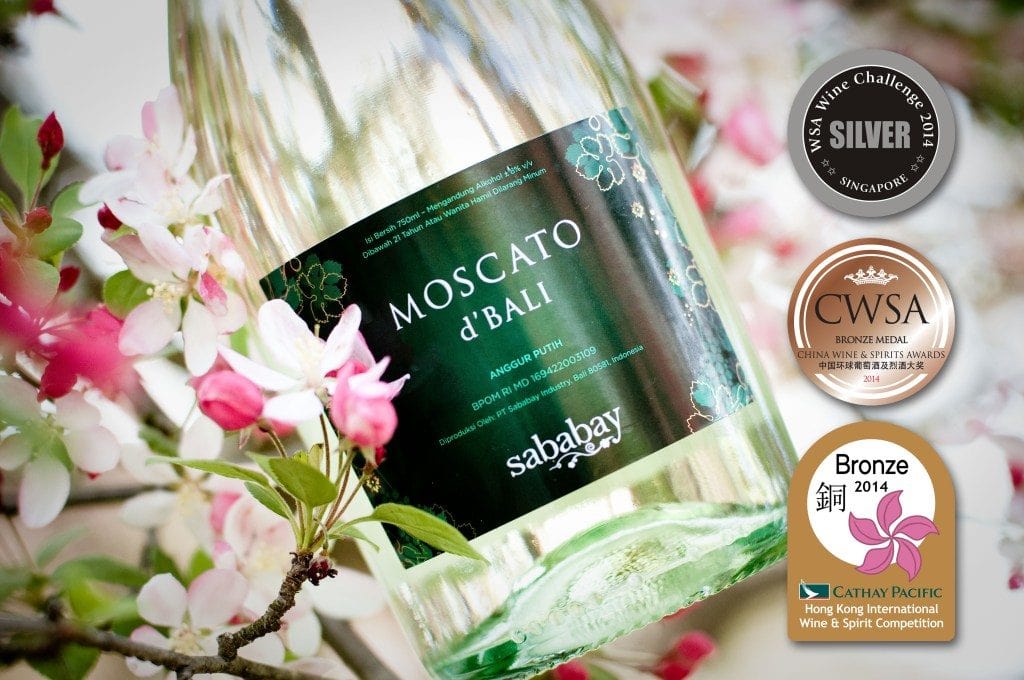 Sababay is a locally founded fair trade wine making company based in Bali. The founder believes in providing opportunities to the farmers of Bali through fair pricing and two harvests a year. She sells the wines locally in Indonesia, therefore avoiding hefty import duty on alcohol in an eminently Muslim country, and has hired French winemakers to set up the whole operation.
The wines are sweet and light with low percentage of alcohol to suit the local food and palate and the climate. This is one of the few successful Indonesian New Latitude wineries in Bali. It is well worth a visit but make sure to make an appointment beforehand.
When to go: Go during the harvest season, twice a year in feb or Sep and make sure to make an appointment beforehand to get a tour and taste the wines. Bring some cash to buy a bottle to enjoy by the beach in the hot Balinese afternoons.
20. Viewpoint of Mount Agung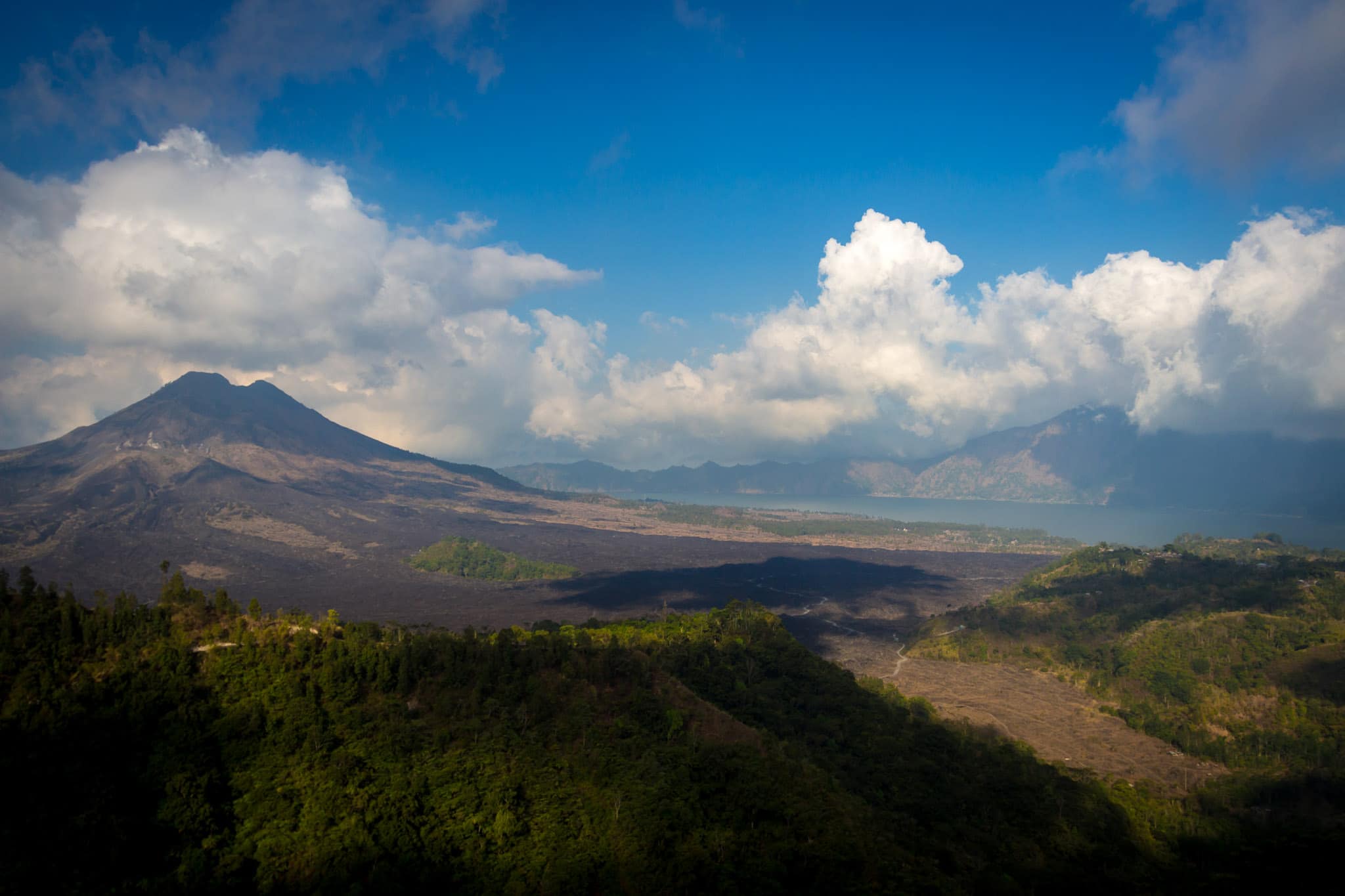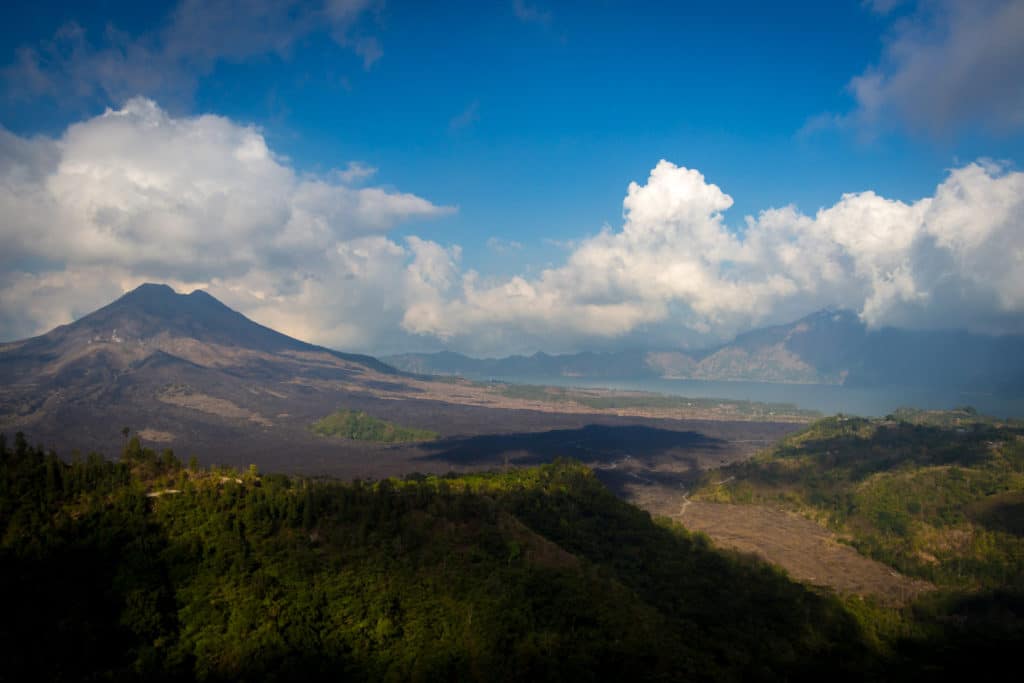 You could also climb it, but if you are less adventurous, Mount Agung can be enjoyed from the comfort of a rather cool experience at a cafe in front of the volcano and lake. All drivers know the location
When to go: Sunset is prettiest with all the colours, but you can go anytime
Looking for a Gay friendly guide to Bali? Check out Nomadic Boys article with juicy, tried and tested recommendations.
And if you're looking for somewhere to stay in Bali check out my review of Capella, Chapung Se Bali, Candidasa, Intercontinental Resort Bali, and the Ubud Hanging Gardens. Or my complete list of the best hotels and luxury resorts in Bali.
Getting around Bali
Traveling around Bali can be a bit of a hit and miss with Grab and taxis being unreliable. That's why it's best to book your transportation online with a trusted provider.
Bookaway is a fantastic and trusted travel booking platform where you can search for transportation between multiple destinations. You can search any destination in Bali and see if they have your specific destinations by visiting their homepage.
Here are some routes around Bali that we have preselected for you and includes free hotel pick up: