With an ever growing popularity, Bali is Indonesia's main tourist destination and also increasibgly becoming a popular place to elope (perhaps the Eat, Pray, Love effect is still alive).
Eight of every ten visitors to Indonesia will travel to the Island of Gods. With visa requirements removed for many nationalities, Bali will only become a more desirable destination.
As the busy areas of Seminyak and Nusa Dua become more crowded and tend towards a happy for all approach, Ubud, with its quirky, spiritual and alternative stance, is turning into the destination for foodie extravaganzas and experimentation.
In the words of the owner of one of its hippest hotels, "Ubud is where one can experiment and where the dreams which would ruin you in Europe can become a reality".
With this philosophy in mind, the rice paddy capital of Indonesia provides many innovative, creative and even back-to-basics options for those looking for something "more" on their plates than delicious food. And if you are in need of some sea breeze, the coast is about an hour's ride away in a car and makes for a great day trip.
If you are wondering where to eat in Ubud, these are six restaurants that will take you on a journey of discovery across the island's spices, roots, flavors and ingredients and some of then are definitively include in the list of the best restaurants in Bali.
1. Mozaic Restaurant Gastronomique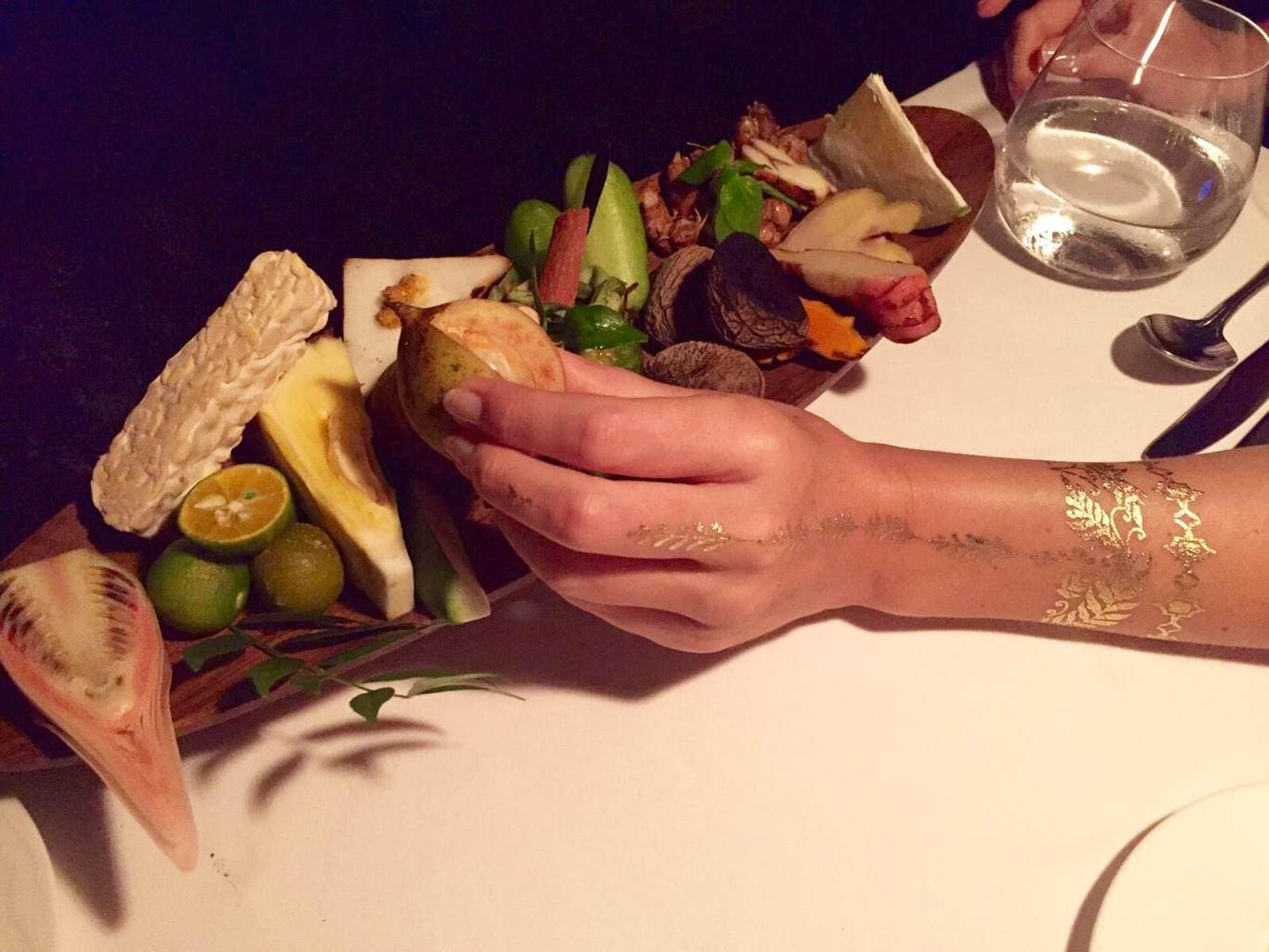 I have been to Mozaic three times. That is as many times as I have been to Ubud, and it never disappoints. Award-winning Chef Chris Salans marries Western techniques with native Balinese ingredients and it creates a fascinating, unique and always inspiring result.
The dishes are explained in detail, trust me, I tested the staff asking what every single ingredient on the plate was and they were not only patient but also extremely knowledgeable and capable of explaining what it was, where it came from and what it was used in.
Mozaic has won many accolades in the 15 years of operation an is one of the best established and recognized tables in Asia. I keep on returning because of its intimate and romantic atmosphere, set among palm trees, dimmed table lights, and because the food is always imaginative and a journey of discovery through Indonesia's gardens.
The Chef's creations can also be enjoyed in his Beach Club on Seminyak and, more recently, at Spice, a Parisian-style Bistro in Ubud's downtown.
2. Five Elements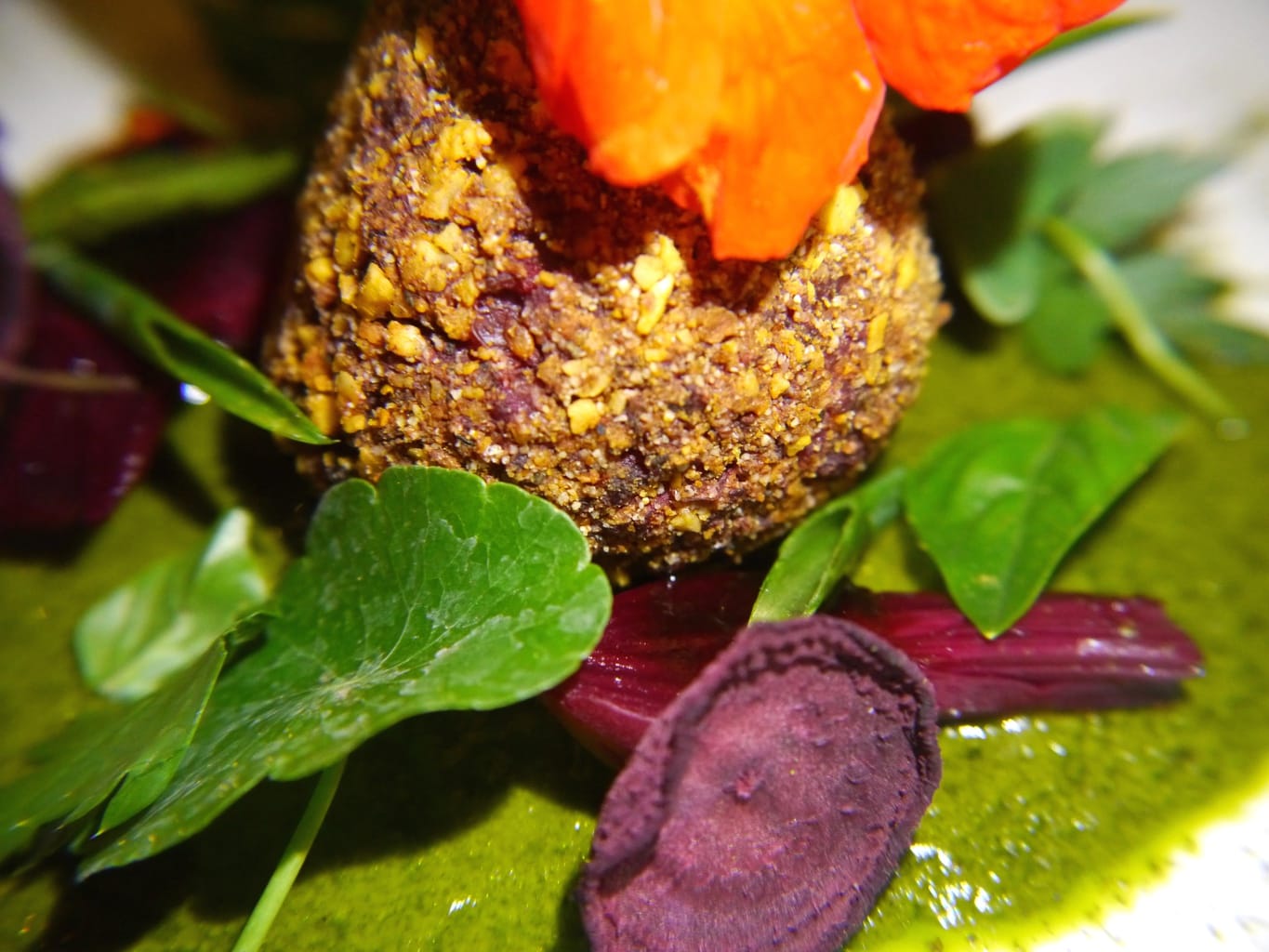 A mention of Ubud's foodie scene would not be complete without the raw and healthy Five Elements. Located in the resort of the same name, Five Elements promotes healing retreats through raw food. None of the dishes we ate had been cooked in any way and all ingredients were vegan.
Sakti Dining Room, as the restaurant is called, offers a choice of three tasting menus with 3, 5 or 7 dishes in an eco-friendly wooden setting resembling a beehive. No alcohol is served and the degustation menus are paired with elixirs, juices and teas that complement the superlatives by which the restaurant is described.
Words like "Epicurean plant-based, raw vegan living foods," or, "sustainable agriculture and environmentally friendly" best define what the experience will be like.
We sat down in an eminently peaceful environment, surrounded by warm light and the sound of a nearby river, to enjoy a very fascinating menu. Not being a vegetarian myself, I was impressed at the technique, the flavors and the incredible dishes hat were placed in front of us.
We would have never known there was no meat, no dairy and just vegetables in the recipes. Praise to the chef for his refined art in disguising the vegetables into such convincing shapes and forms. It was a truly enjoyable dinner and an incredibly invigorating meal.
3. Sage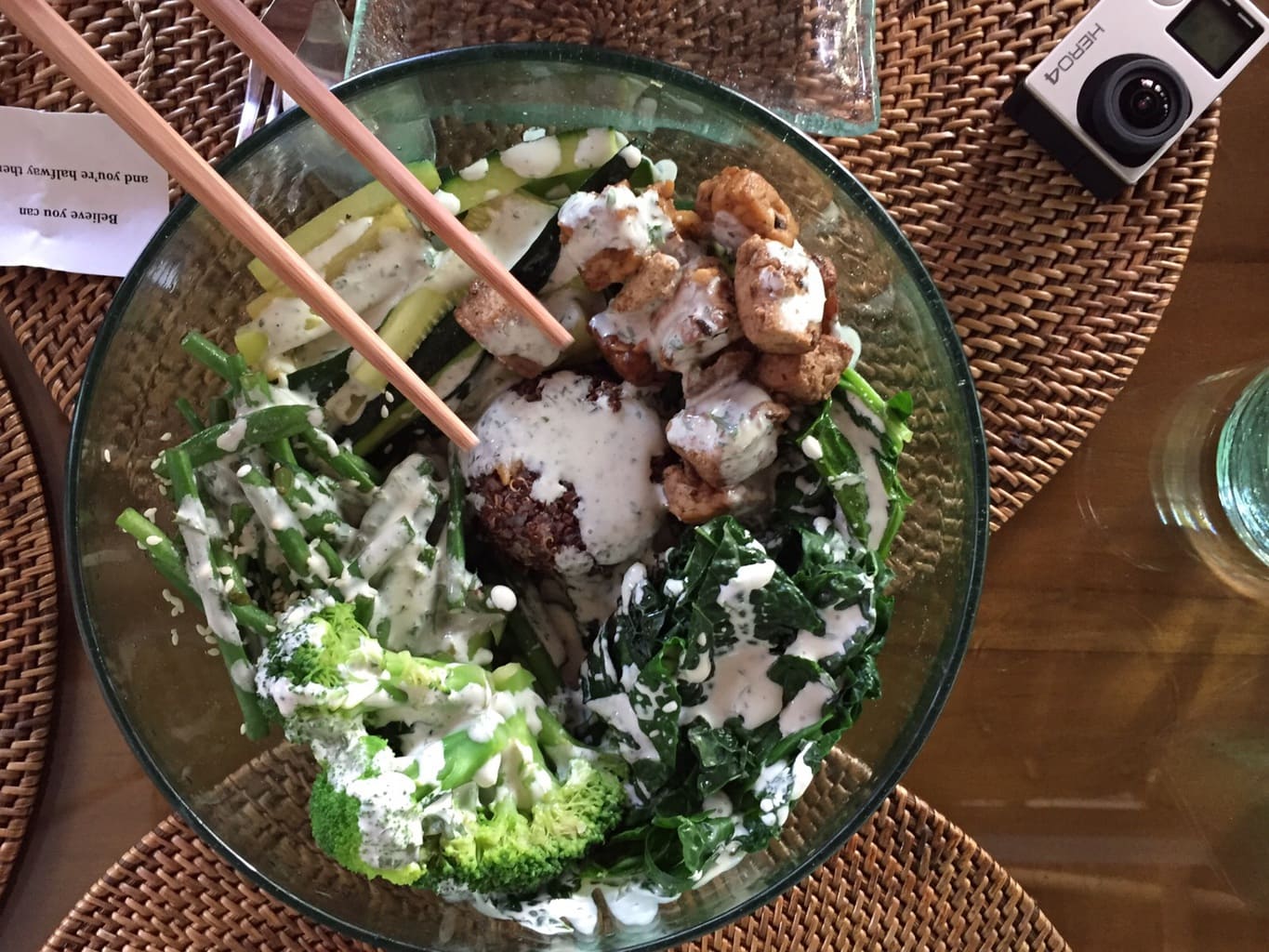 Newly opened and still in "pre-opening" when we visited, Sage promises vibrant vegan fare.
The setting is bare but friendly, in white, light wood and green. The menu included delicious smoothies and drinks plus some very interesting and yummy vegan Mexican options. It is more of a cafe than a formal restaurant and the airy and refreshing ambience gives it a pleasant feel. The food was a positive surprise.
Even the steamed vegetables tasted fantastic, flavorful, which is quite an achievement when were are talking about simply made green beans and broccoli. If you're looking the best cafes in Ubud I have you covered.
4. Locavore
No doubt Locavore is the start of the foodie universe in Ubud. Bookings need to be done weeks in advance for dinner and, unless you live in Ubud, it is hard to come by an opening.
Locavore serves only locally sourced and sustainable food that is found in the backyard bounties of Indonesia. Even the plates are made locally. The Indonesian and Dutch chefs offer a mix of local dishes with Western influence.
All of their ingredients are grown in Indonesia, from the asparagus to the seaweed and the seafood. The duo met in the kitchen of Alila and decided to start on their own with the hotel's restaurant manager.
The dishes are beautifully presented and showcase Indonesia's variety of flavors and fertile land and sea. Get a table if you can.
5. Naughty Nuri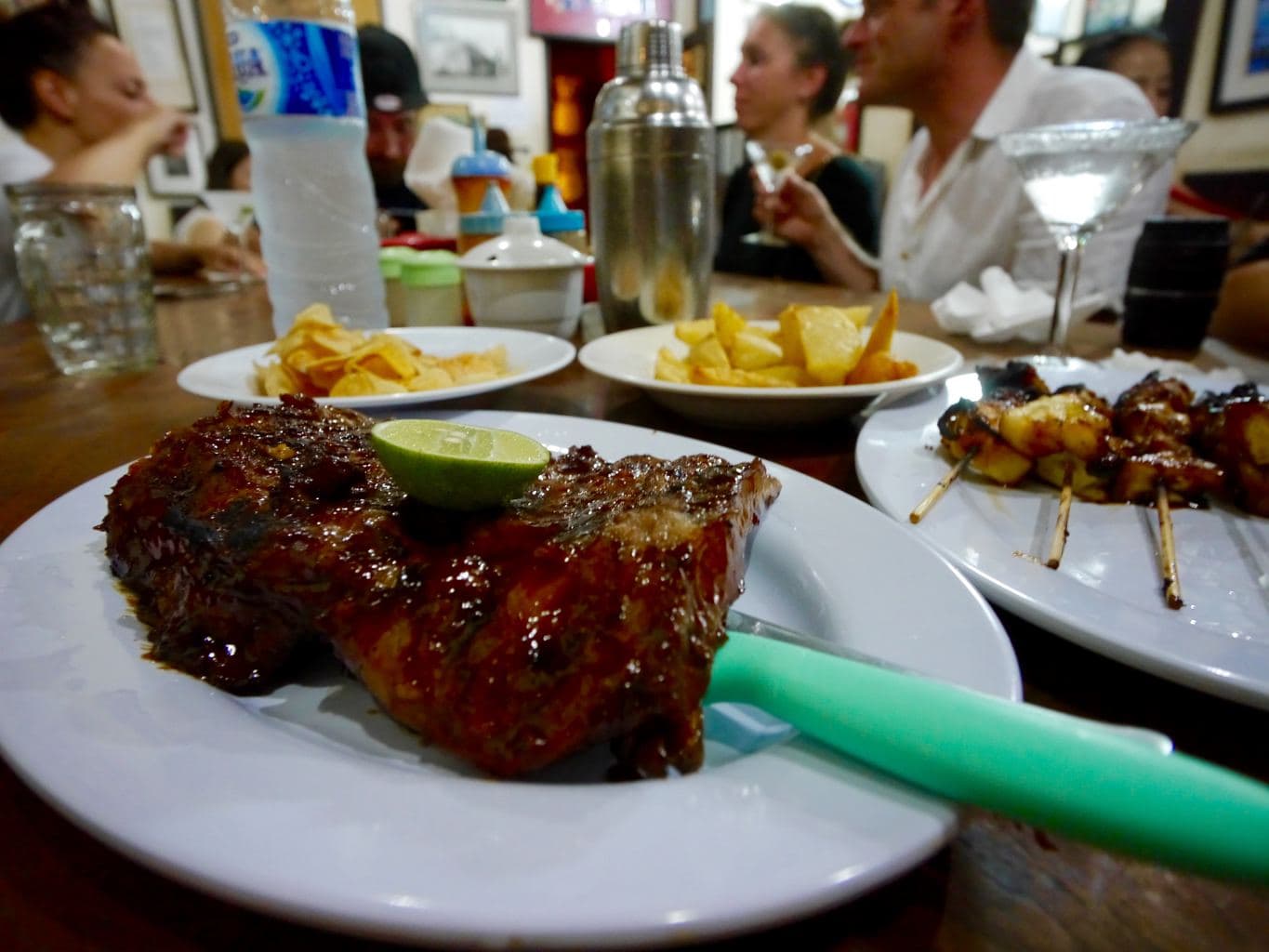 No trip to Bali can be complete without a trip to Naughty Nuri for barbecue pork ribs you can get your fingers sticky on. Sit down in this hole in the wall of a place where you will most likely share the table with other customers and shake your own martini.
Naughty Nuri is known for its delicious pork ribs and for the martinis that may seem like a strange pairing but did work very well. Ir perhaps both were so delicious that it did not matter they were served together.
Also, by the time the ribs came I had drank the killer martini. Drink in moderation claimed a poster, in other words of course, but I suspect the naughtiness may come from the combination of dirty ribs and dirty martinis.
A not so fancy place but you surely didn't go to Nuri's for the refined dining but to get your hands dirty.
6. Room 4 dessert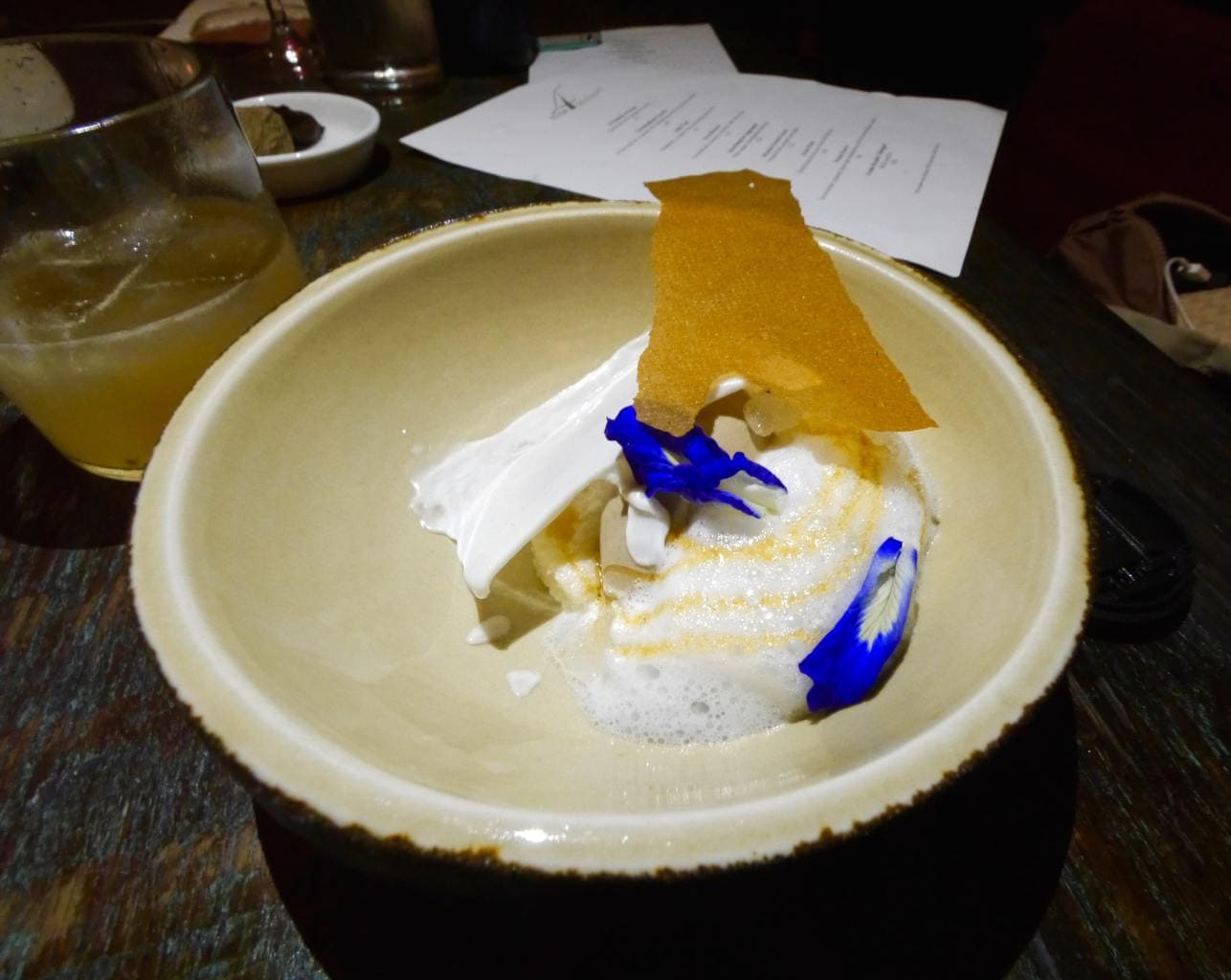 Conveniently located next to Nuri's, Room 4 dessert is the place to end a night out in Ubud. The cultural capital of Bali is not the most happening place after the sun sets. Most yogis and other locals looking for deeper meaning and a more mindful life tend to get up very early so evenings feel very quiet.
Room for dessert offers an increasingly popular formula: cocktails and desserts. Their degustation menu includes a few of their best dishes with fabulous combinations and the use of local ingredients in surprising manner. Expect to read exotic ingredients like belinjo or klepon in every dish that you can't place. Is it a vegetable? A nut? A fruit?
The restaurant's backyard is the gathering place for the hospitality professionals in Ubud who come to have one last drink before heading home for the night. Called Hort, this hidden garden offers Catalan dishes in a patio setting.
Being from Barcelona myself I found this endearing and fascinating. Grab some tapas pre-dessert and sample Catalan cuisine in the heart of Bali. Make sure to leave room for desert, you wouldn't want to miss "crazy scientist" chef Will's playful creations.
Salivating over the dishes above? Eager to jump on the next flight to Bali? Here are the best places to stay, from the Capella and Chapung Se Bali to Candidasa, the Intercontinental Resort Bali and the Ubud Hanging Gardens.
Feature image by charlieontravel.com (CC BY 2.0)