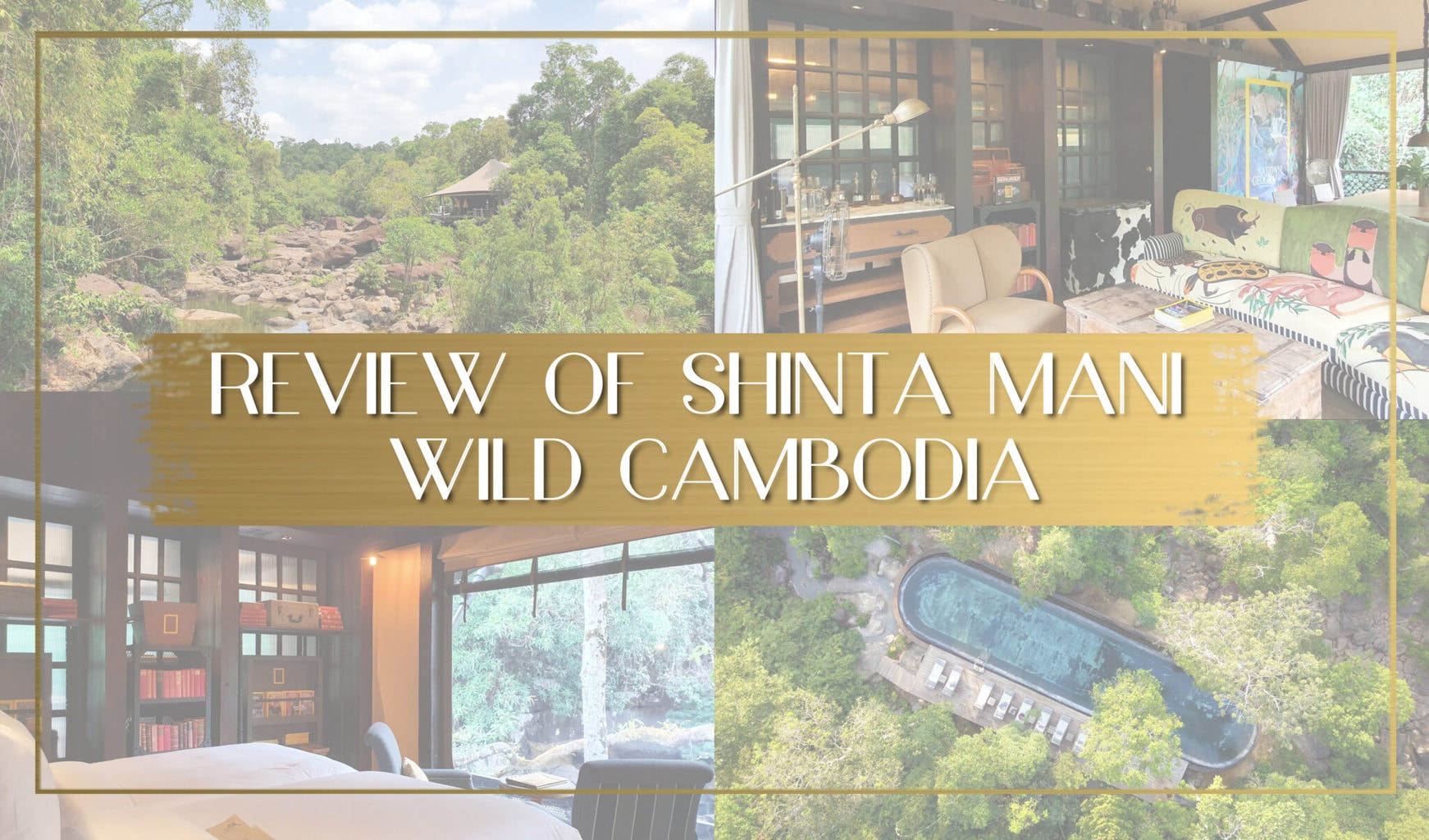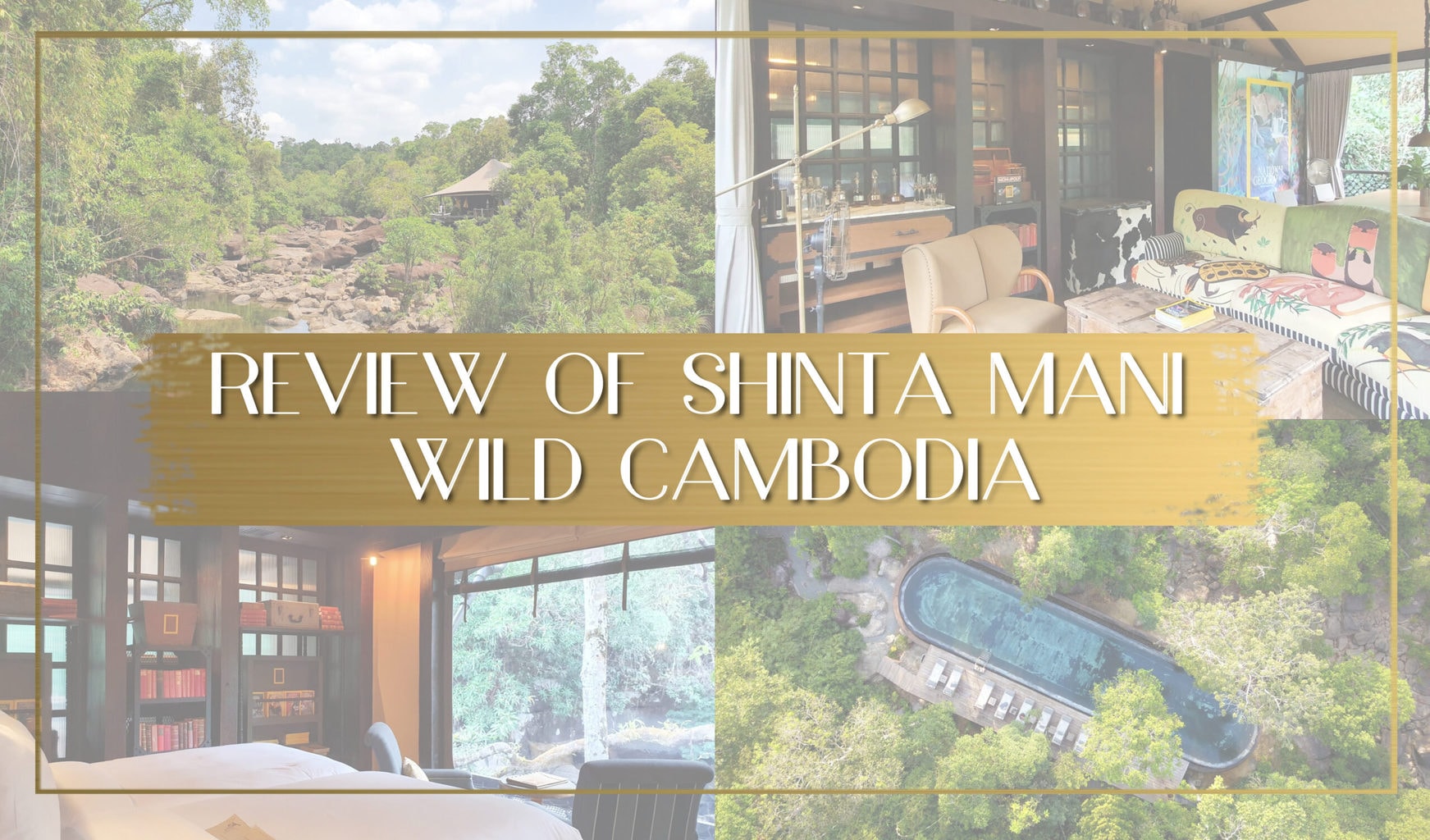 Once in a Lifetime Journey was a guest of Shinta Mani Wild, as always, all opinions are honest and our own.
Certain places can easily be explained to others with superlatives and descriptors, others, it is the sense of place that captivates you, and this cannot be explained with words, it needs to be lived. Shinta Mani Wild is one of those places.
As someone whose favorite trips involve being away from civilization, surrounded by wildlife and staring at the expansive savannah, sleeping in a tented camp in one of the last remaining forests in Southeast Asia is the definition of a perfect vacation.
I had my eyes set on Shinta Mani Wild even before it opened.
Its remote location and its African safari feel captured all my attention. The more I read about it, the more convinced I became that this was "my kind of place".
Now that I returned home from my stay at Shinta Mani Wild and at Bensley Collection Shinta Mani in Siem Reap, I know this is the place where the words "travel with purpose" are most heartfelt.
A brief history of Shinta Mani Wild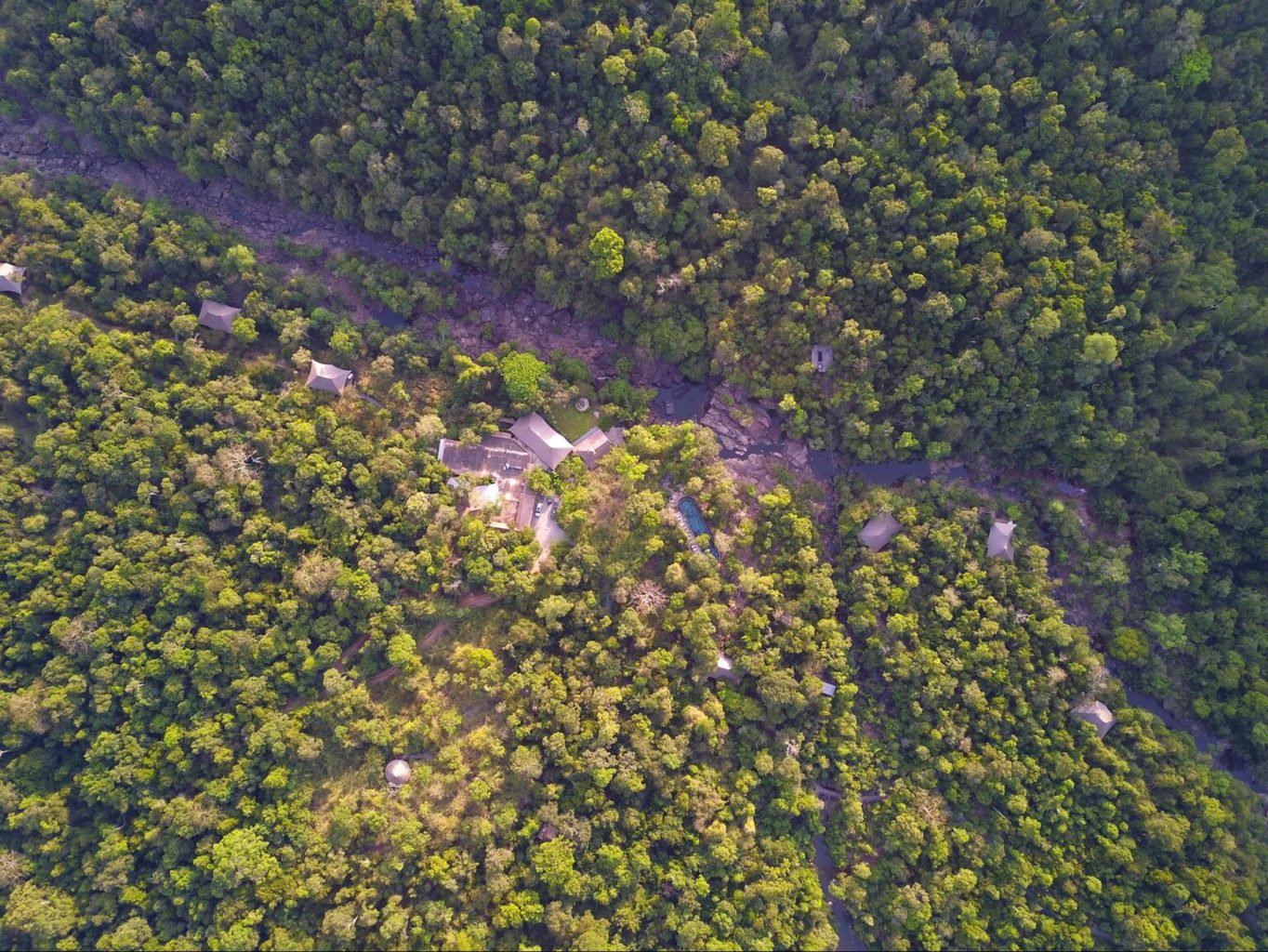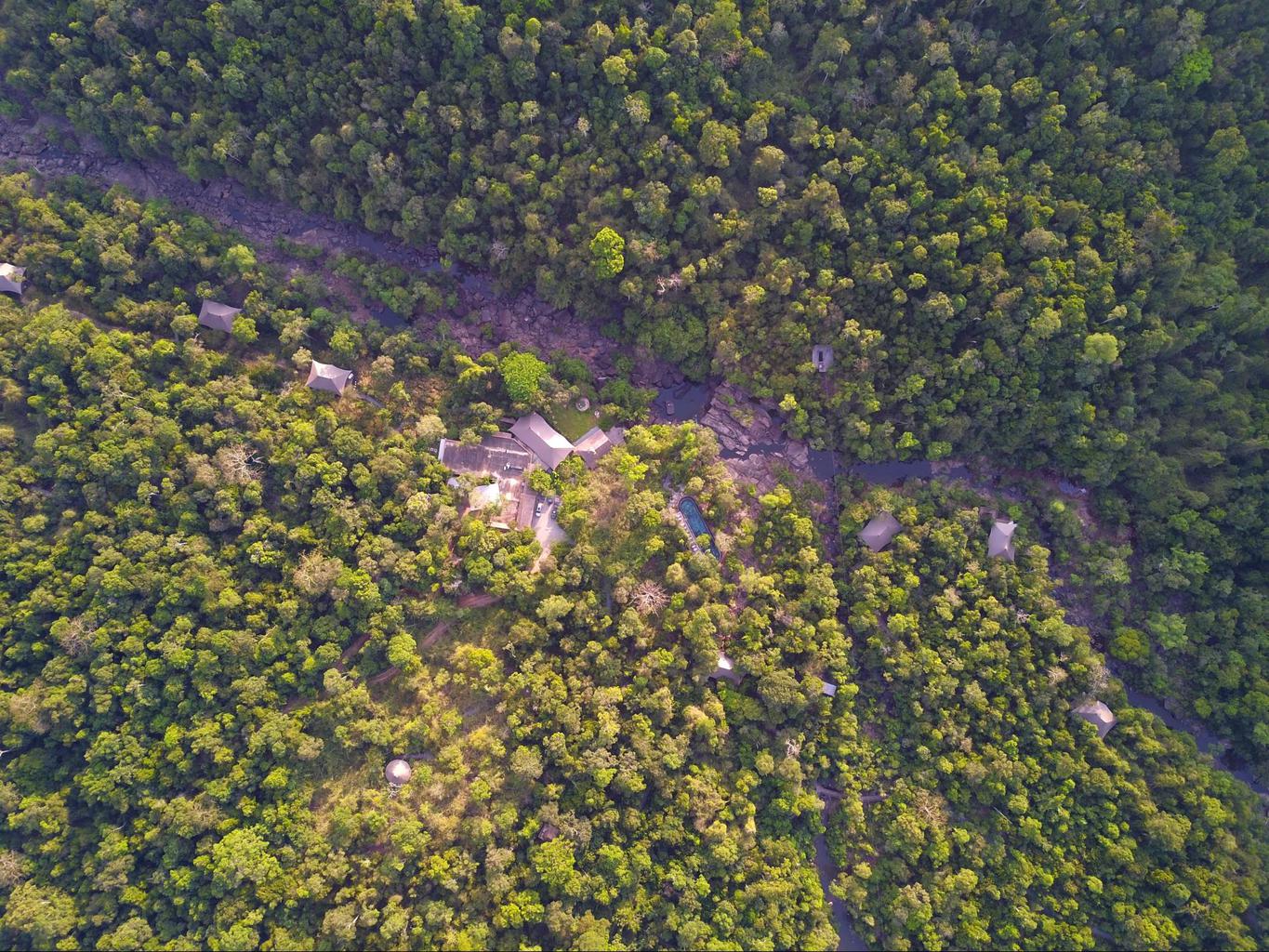 Shinta Mani Wild opened in 2018 with the intention to provide guests with the ability to explore this remote part of Cambodia while contributing to its conservation and protection.
Cambodia has one of the last virgin forested areas in Southeast Asia but one which is rapidly disappearing as a result of logging, a sad fact about Cambodia. Encroachment and habitat destruction have resulted in a great decrease in wildlife numbers and in some species becoming extinct.
Today, the Cardamom National Park is home to 50 endangered and 5 critically endangered species including the Sunda pangolin, sun bears, slow loris or even some of the African Big Five, like the Asian elephant or the clouded leopard.
Most of the reduction in forest area has happened in favor of an increase in agricultural and farmland as well as logging and mining. Illegal logging is rampant and forests are burnt for land grabbing.
Since 2002, a highway connecting Cambodia to Thailand cut through the forest and provided the perfect road for poachers and loggers to escape. This skyrocketed illegal practices and resulted in the death of many elephants and tigers.
The Wildlife Alliance started efforts to patrol and protect the area since 2002, confiscating chainsaws, removing snares and monitoring and putting off wildfires. It also managed to include the park as a protected area, with similar rights as some of the conservation areas in Kenya.
Bill Bensley and Sokoun Champreda first acquired the concession of over 350 hectares of forest in the Cardamom National Park at a logging auction with the intention of simply preserving it.
However, the Government prompted them to create development opportunities and this is how the idea of a very high-end lodge, a la Rwanda, came about.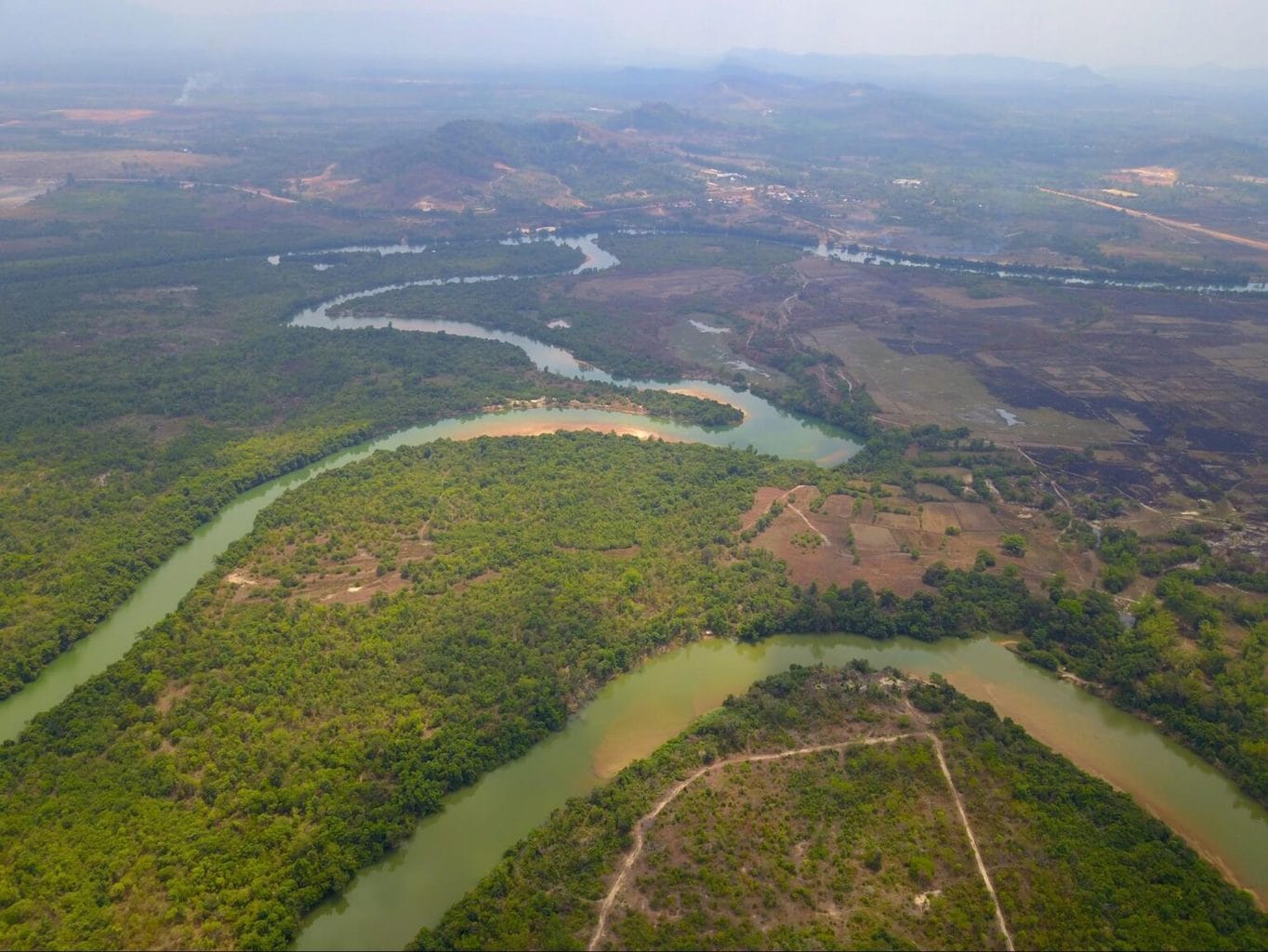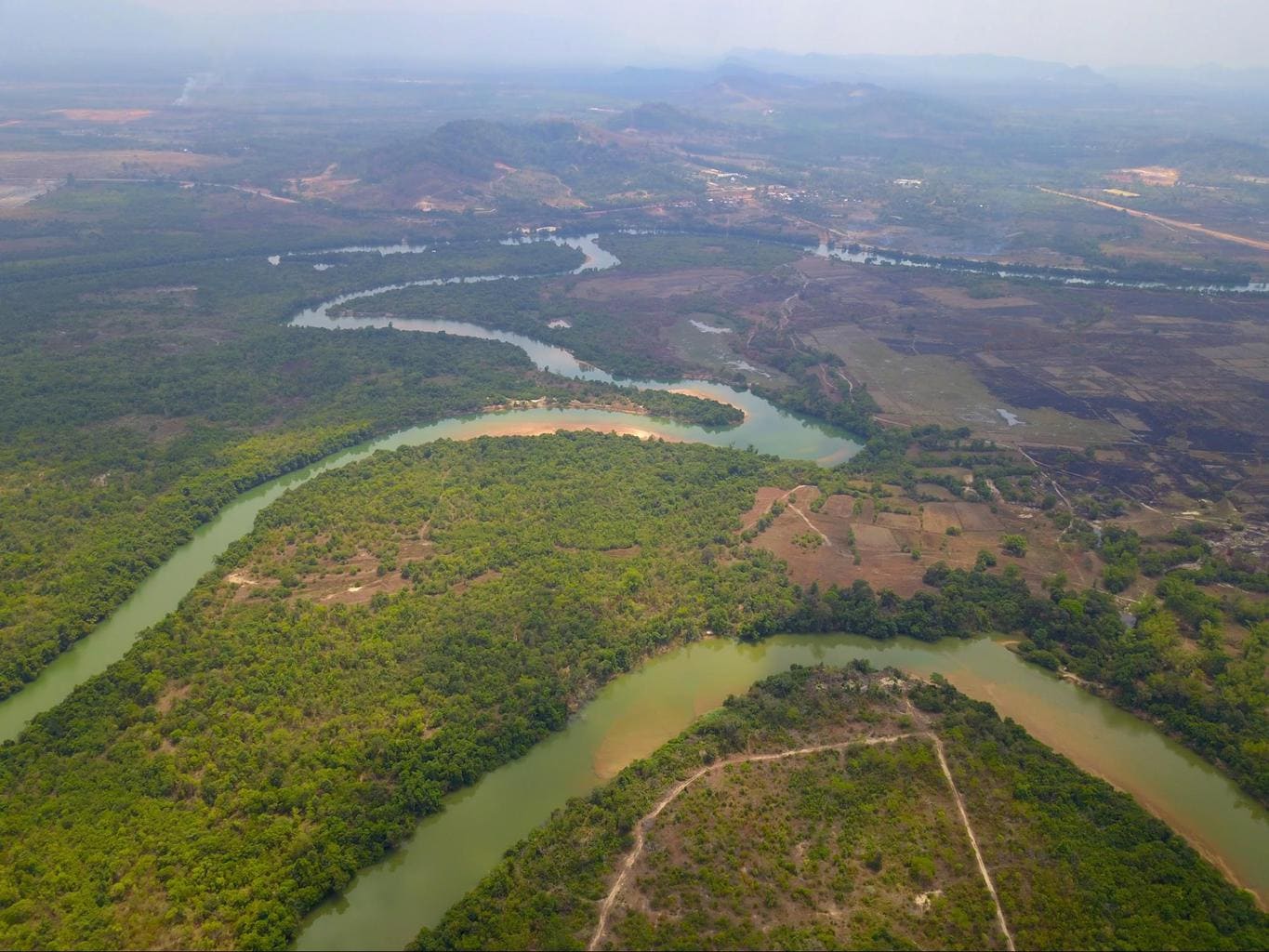 Shinta Mani Wild was the perfect low environmental impact alternative to ensuring the forests and wildlife would be preserved. A group of just 15 set along 1.5km of river shore helps finance the conservation efforts and raises awareness on the daily challenges of conservation in Asia.
Shinta Mani Foundation has been working with the Wildlife Alliance to patrol and protect the forest and with the opening of the resort, guests also have the opportunity to join the rangers and anti-poaching teams in their day-to-day operations.
The result is a widely awarded resort, prized for its unique design (which probably inspired the very similar Capella Ubud) and its conservation focus.
Architect Bill Bensley admits that this is the culmination of his life's work and the camp has been designed "exactly how I would design it for myself". But invites us to "Go wild".
In addition to all the recognition, in 2019, Shinta Mani Wild became a part of the National Geographic Lodges of the World collection, "rare experiences offering guests intimate encounters with parts of the world not many get to know about". The resort themed a tent after the legendary magazine, with issues from the 1960s.
Arrival and check-in at Shinta Mani Wild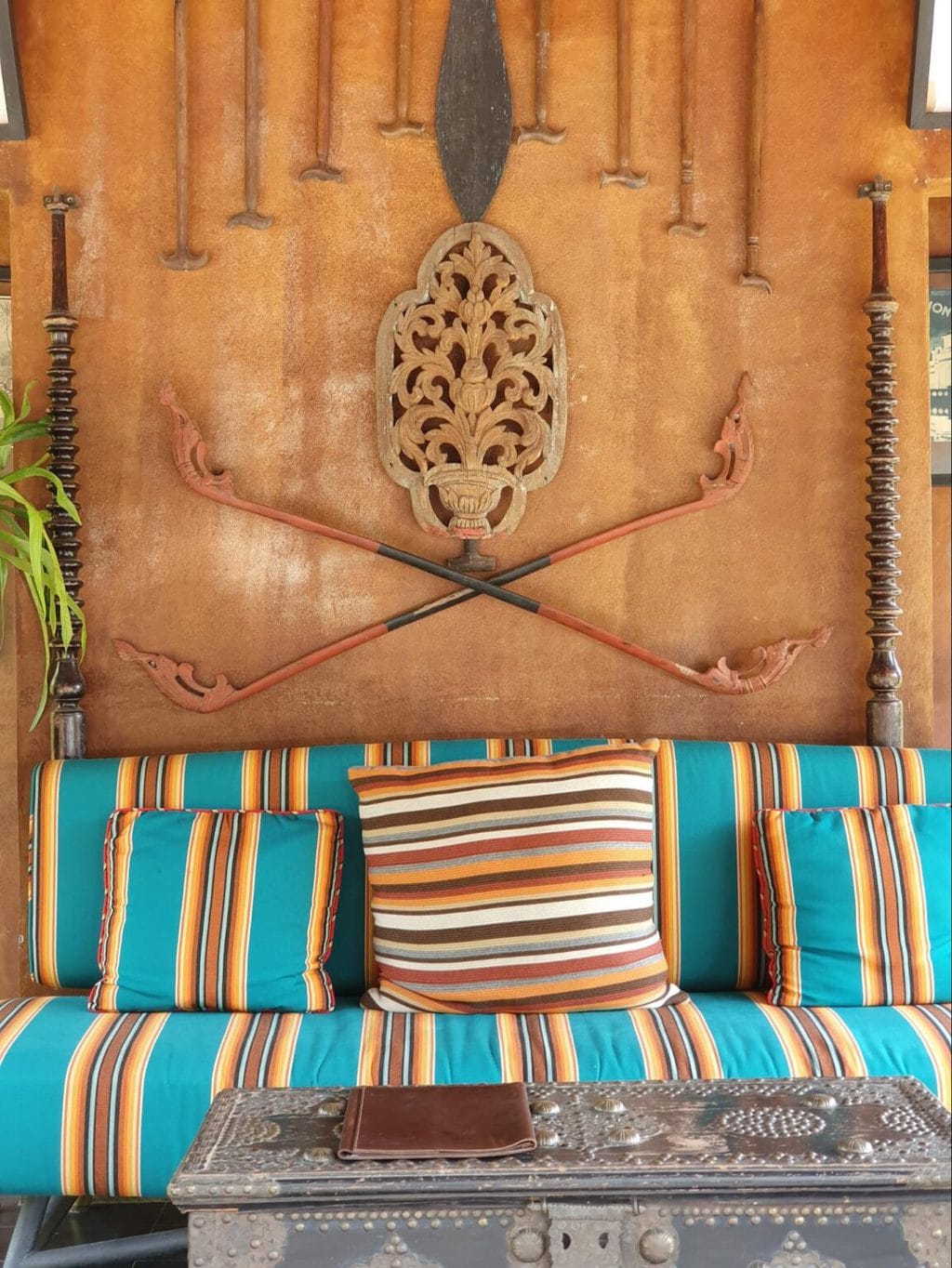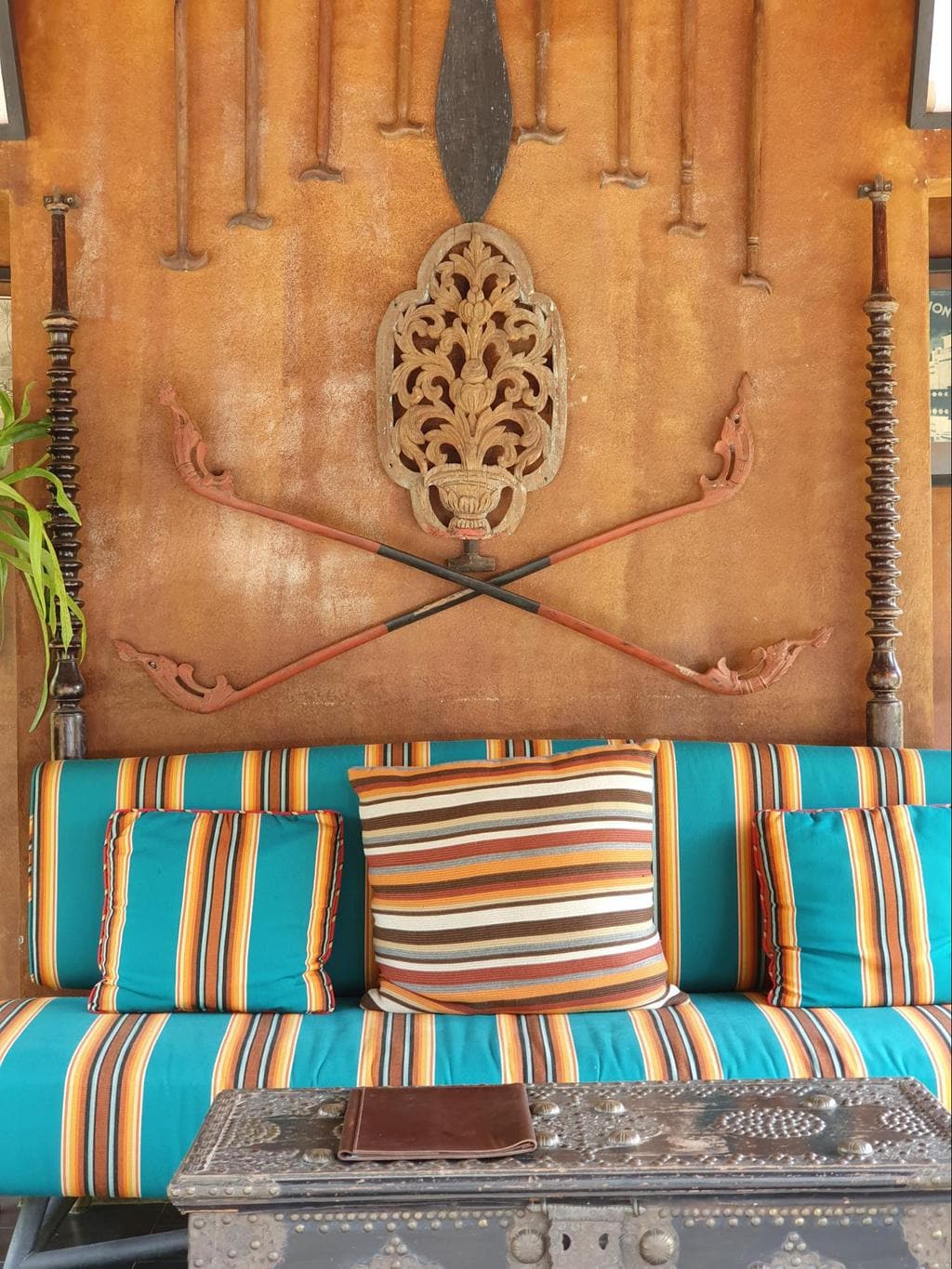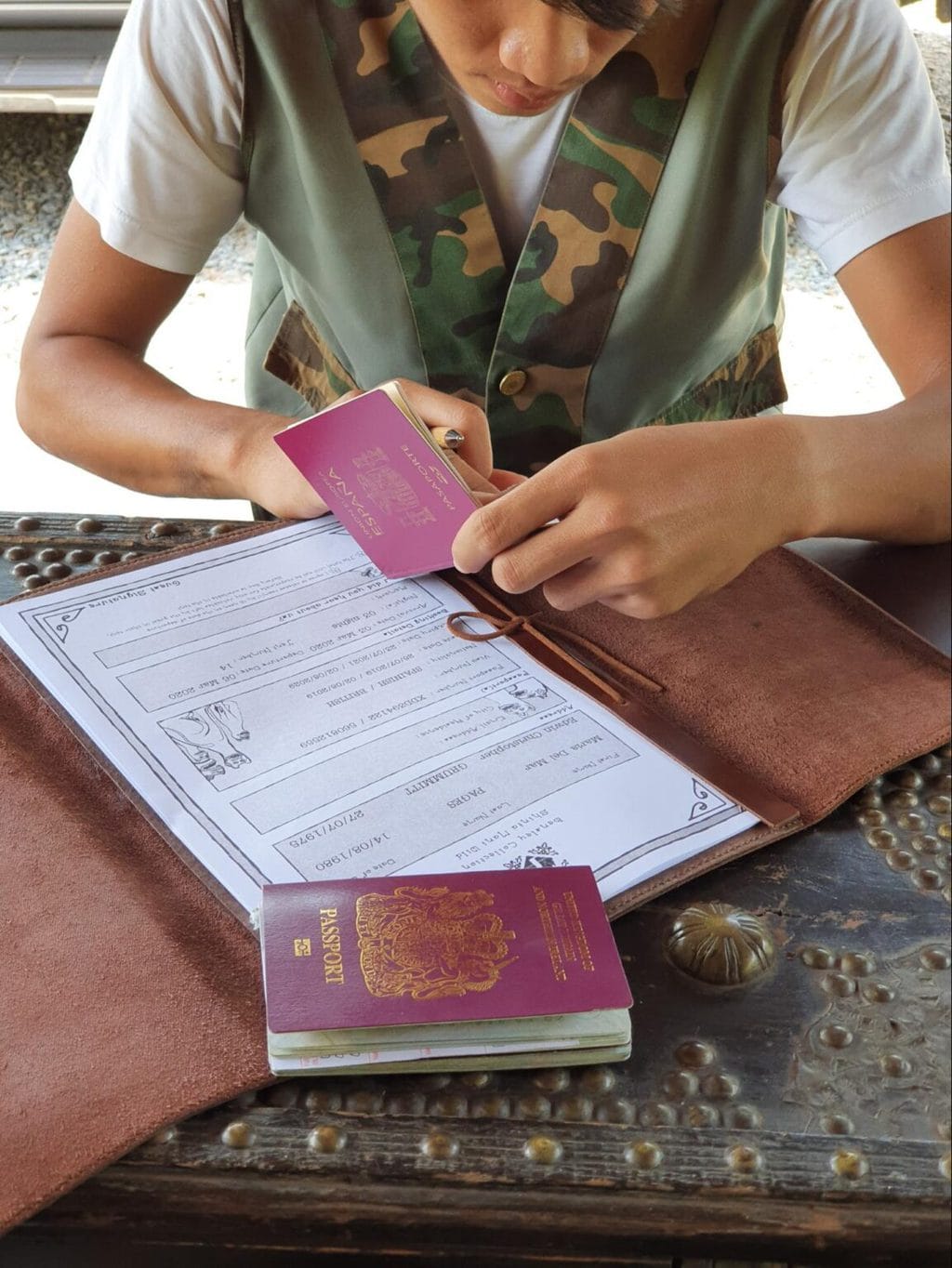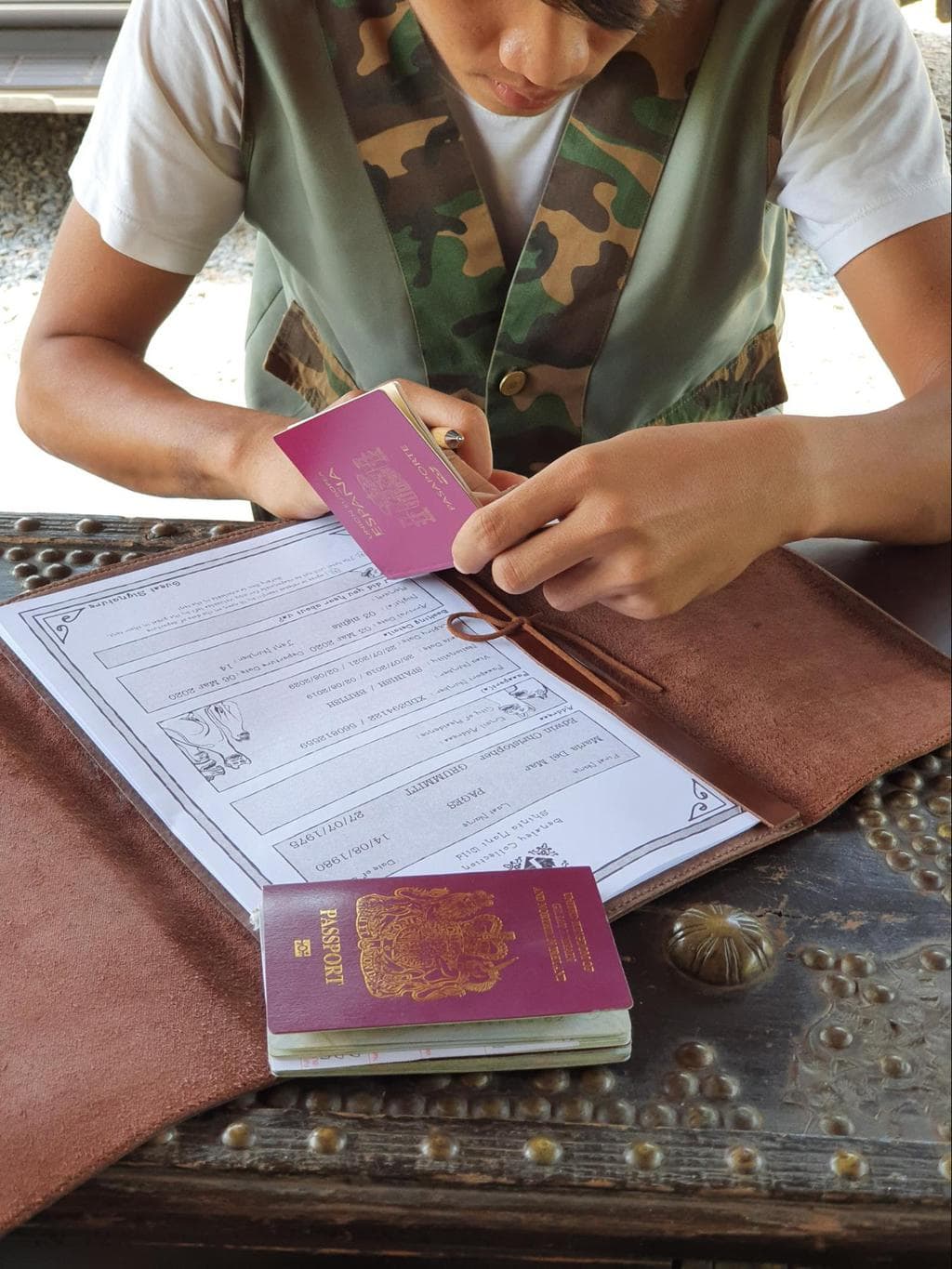 Arriving at Shinta Mani Wild is an experience in itself.
You can travel to the lodge by road from Sihanoukville (2h away), from Phnom Penh (3.5h) or from Siem Reap (8h) or charter your own private helicopter for a journey with class.
Your pick up will include a fridge with beers and fresh coconuts, homemade cookies, scented cold towels and eyeshades, should you wish to ignore the occasional traffic jams with a snooze. You can also watch your favorite Netflix show through the portable WiFi.
As you approach the lodge, your Bensley Adventure Butler will be waiting for you at the lodge's entry fence. Check-in formalities are technically completed there and then, at the arrival hut. You are then given a choice for the last few meters.
You can continue by car or, for the best memories, jump in a vintage 4WD and head to the jungle zipline, hanging over the forest and the waterfall. The lush nature representative of Cambodia's Wild East, also known as the Green Triangle.
I could easily rate this as one of the best ways to make an entrance, but I may still have to rank the paragliding experience at Six Senses Zighy Bay above, purely because my heart pumped harder.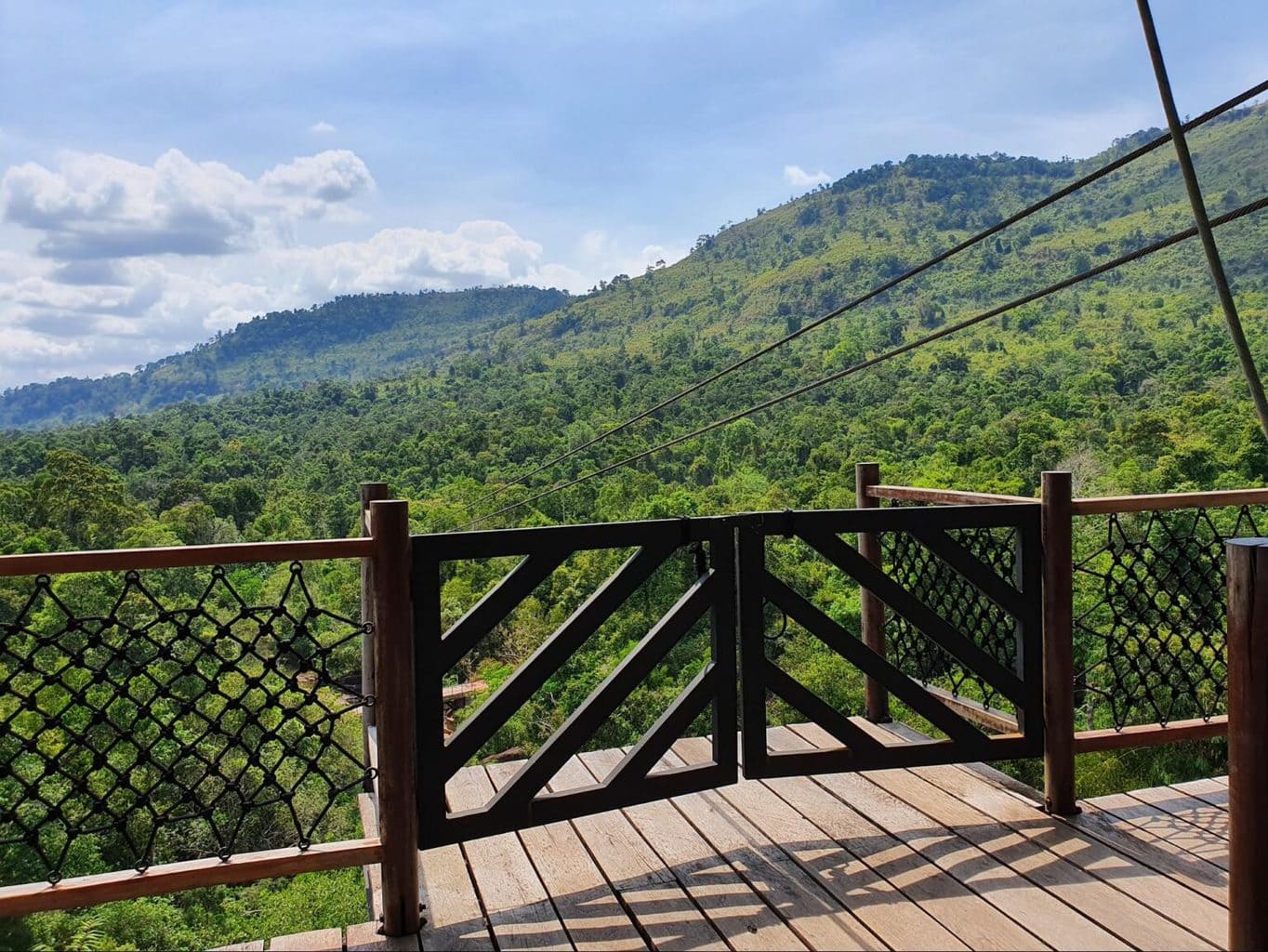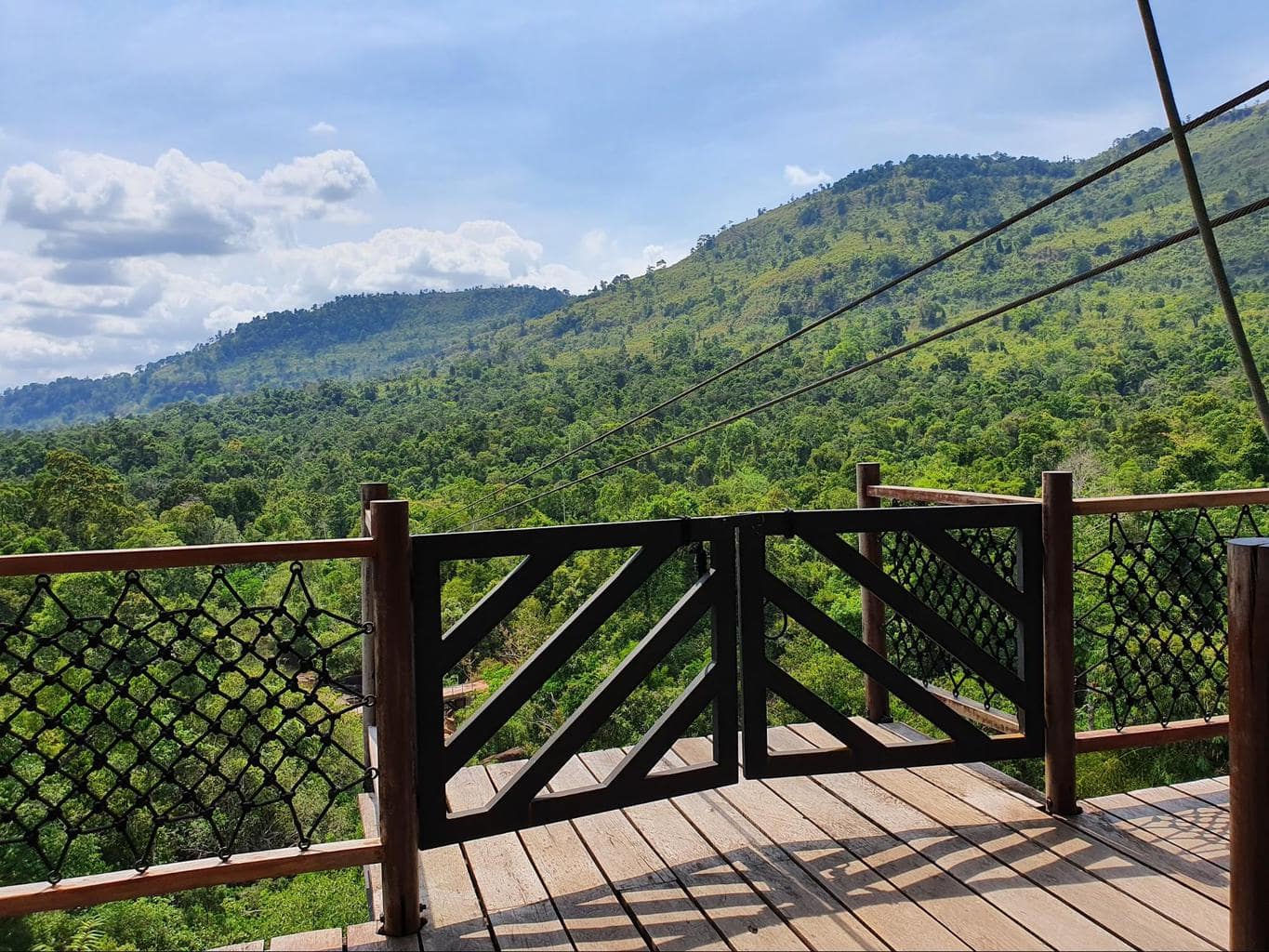 The zipline ride is split into two sections. The first one will take you from the top of a tall tower seven floors above the ground at the level of the forest canopy, all the way down following the course of the river.
The second shorter zipline will take you from the lower platform to the landing point, on the other side of the river, and will have you zip above a waterfall.
This second platform is surrounded by a large rectangular yellow window that frames the landing spot and bar. I did not realize it at the time, but this was a reference to the lodge becoming a part of National Geographic Lodges of the World in 2019.
The best part of this is not the zipline, which will fly you over a roaring waterfall, and get you wet in the rainy season (don't worry you'll get a waterproof jacket), but the locally inspired margarita that awaits for you at the bar, aged tequila optional.
The tents at Shinta Mani Wild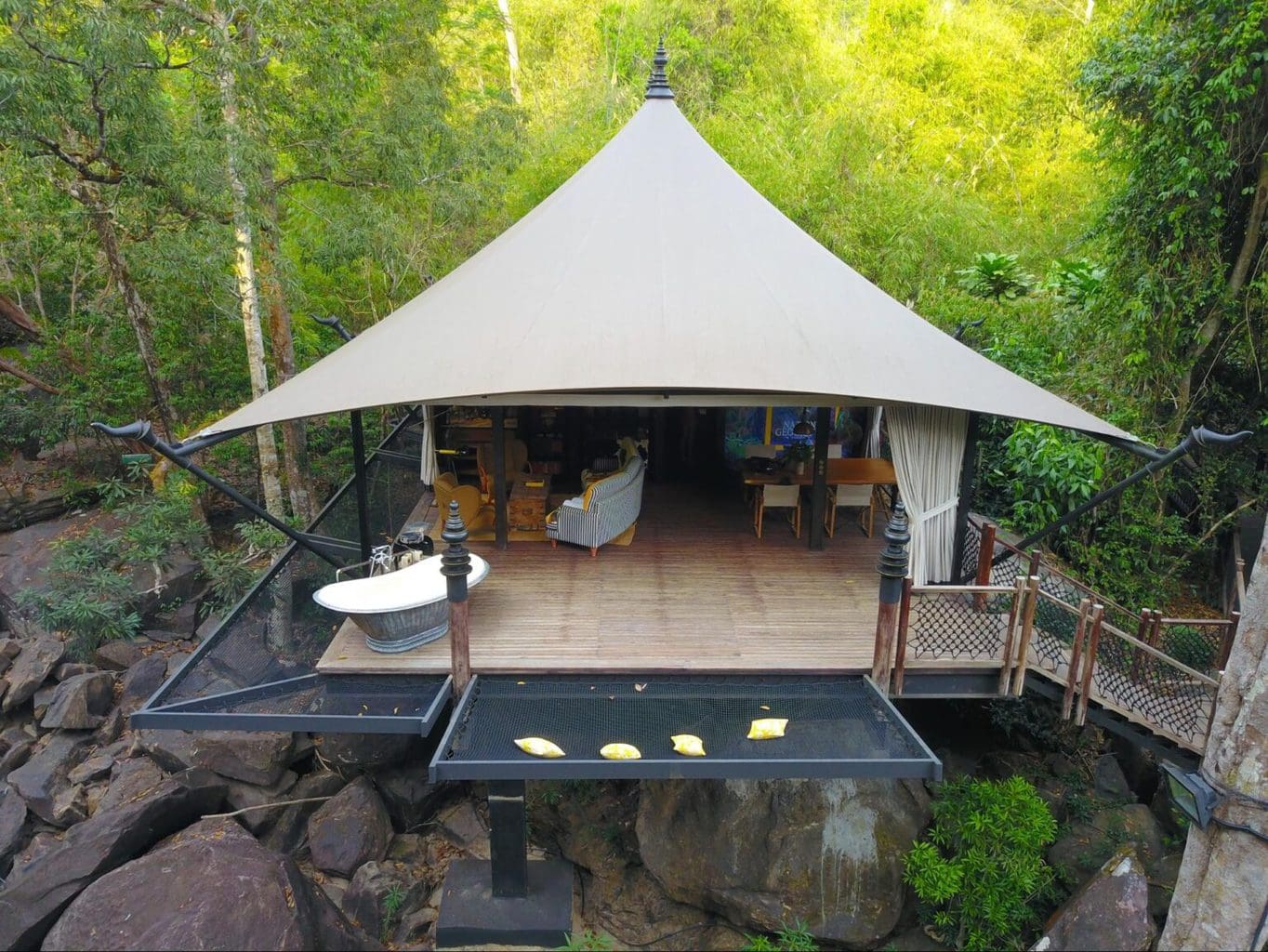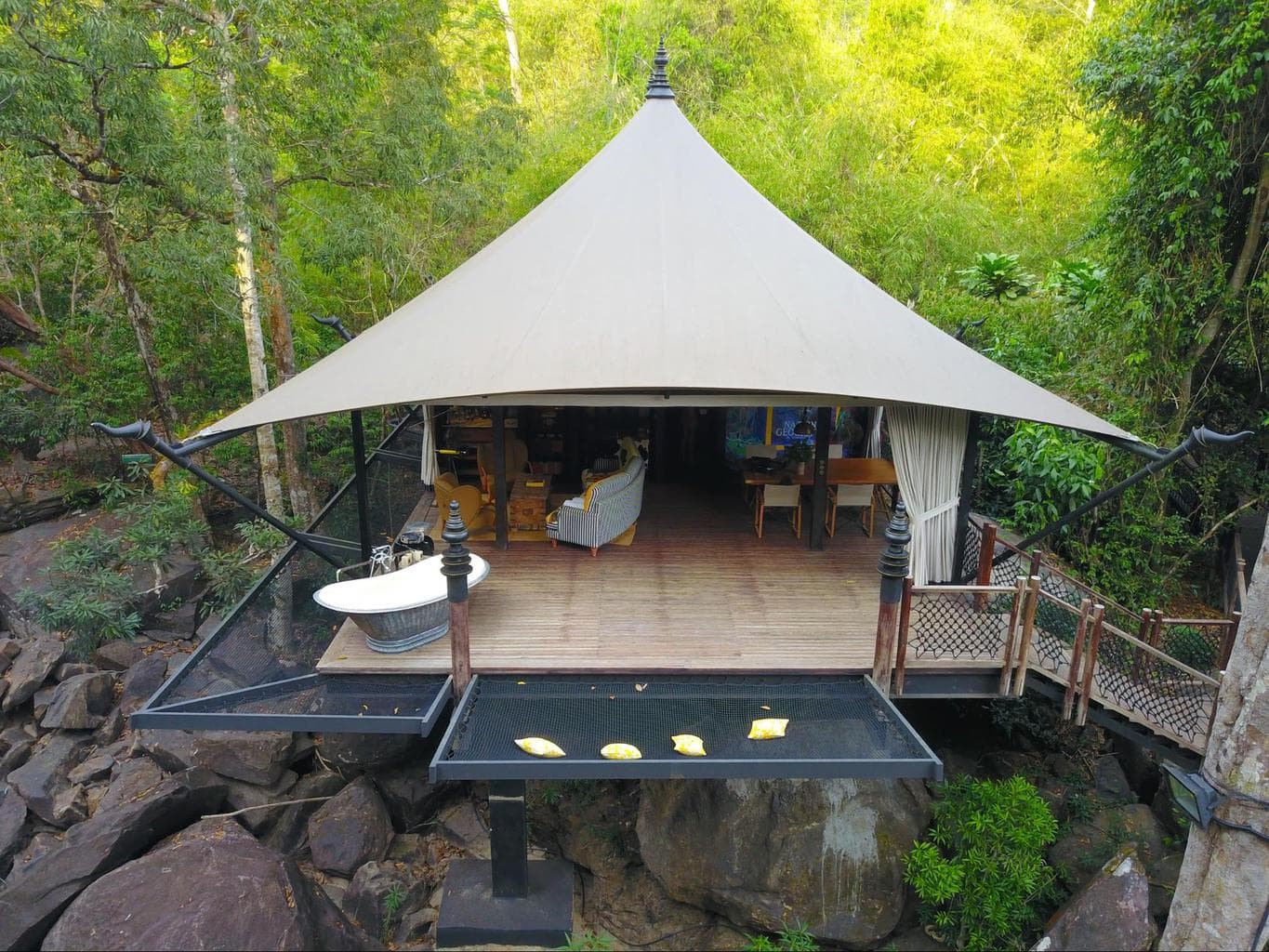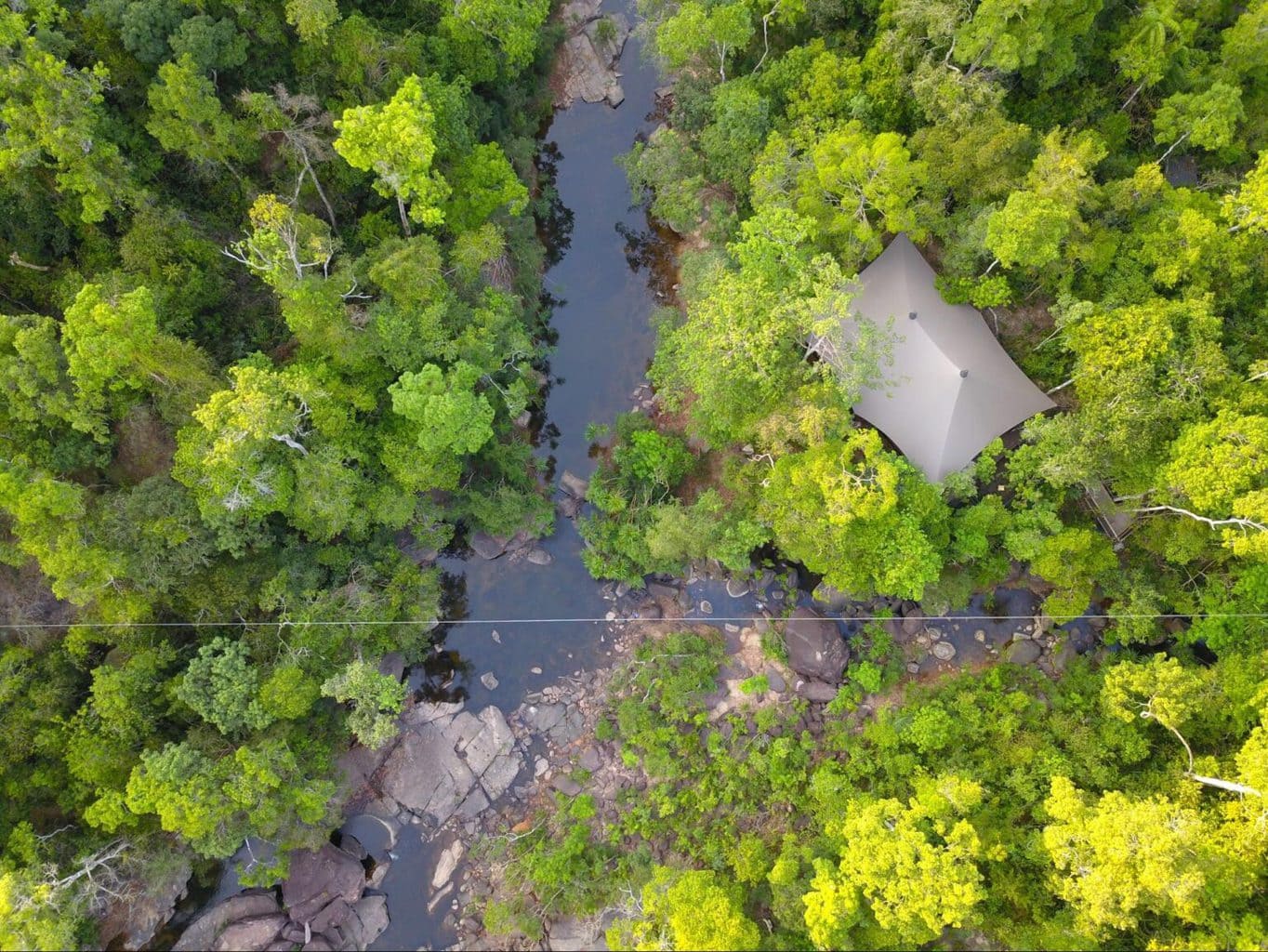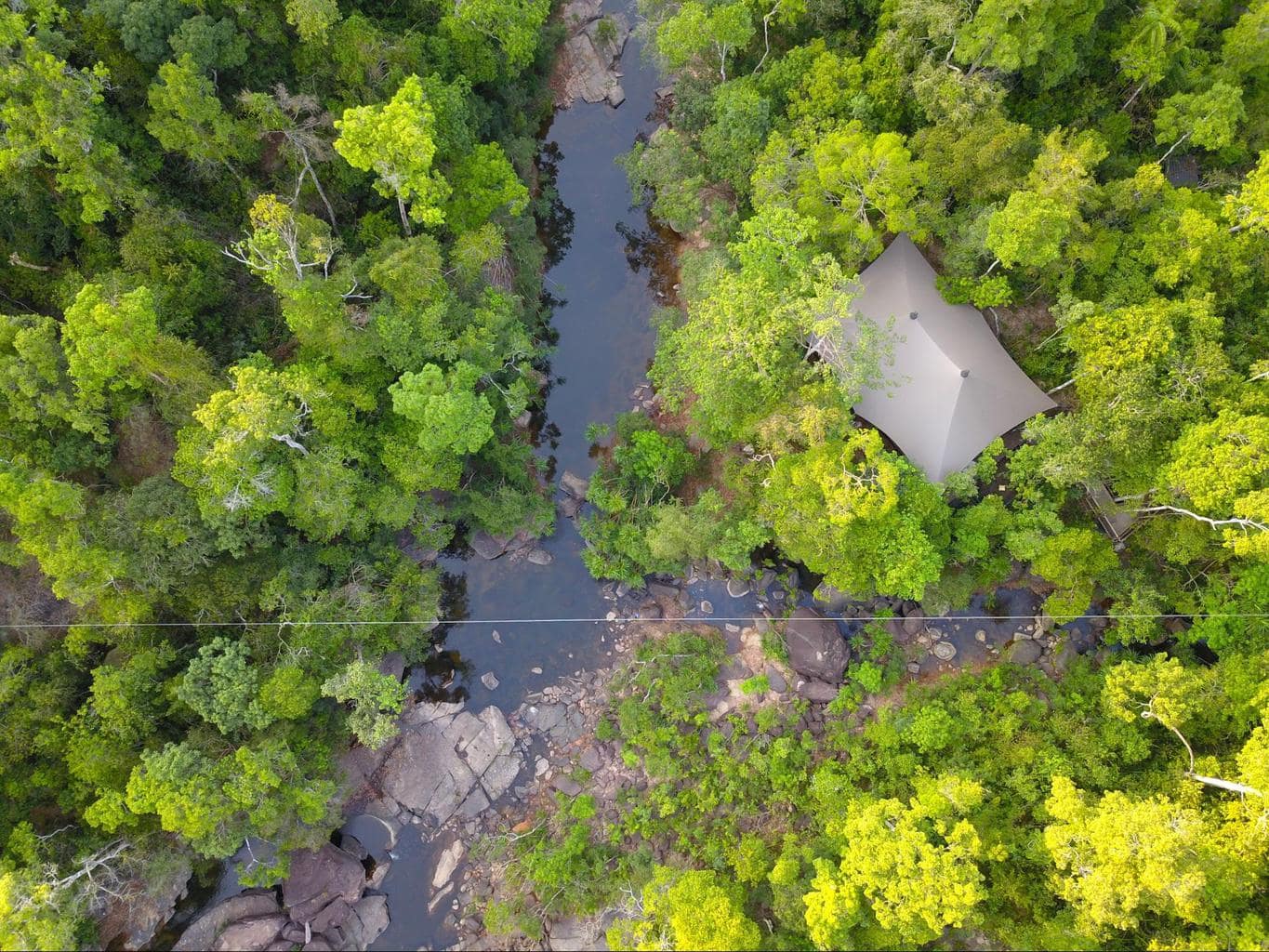 Shinta Mani Wild has a total of 15 one-bedroom tents, two of which can be connected to create a family space. The tents are spaced out about 100m from each other along a 1.5km stretch of river with the Headquarters in between tents 5 and 6.
This means that if you are in the last tents, 1 and 15, you may need to walk about 15min to get back to the camp. There are pick up points so that no guest needs to walk longer than 300m if they do not wish to and rangers will walk you at night to and from camp.
The paths are covered in pebbles, at times they turn into boardwalks and cross streams, and they are always surrounded by the dense forest and thick bamboo stalks. At night, they are lit but torches and flashlights are necessary as light pollution is minimized.
The interior of each of the tents is different and is themed after a person (The Cambodian Royalty or Khmer King Jayavarman), an interest (birder or botanist), an animal (elephant, pangolin, butterfly) or an organization (The Wildlife Alliance or National Geographic).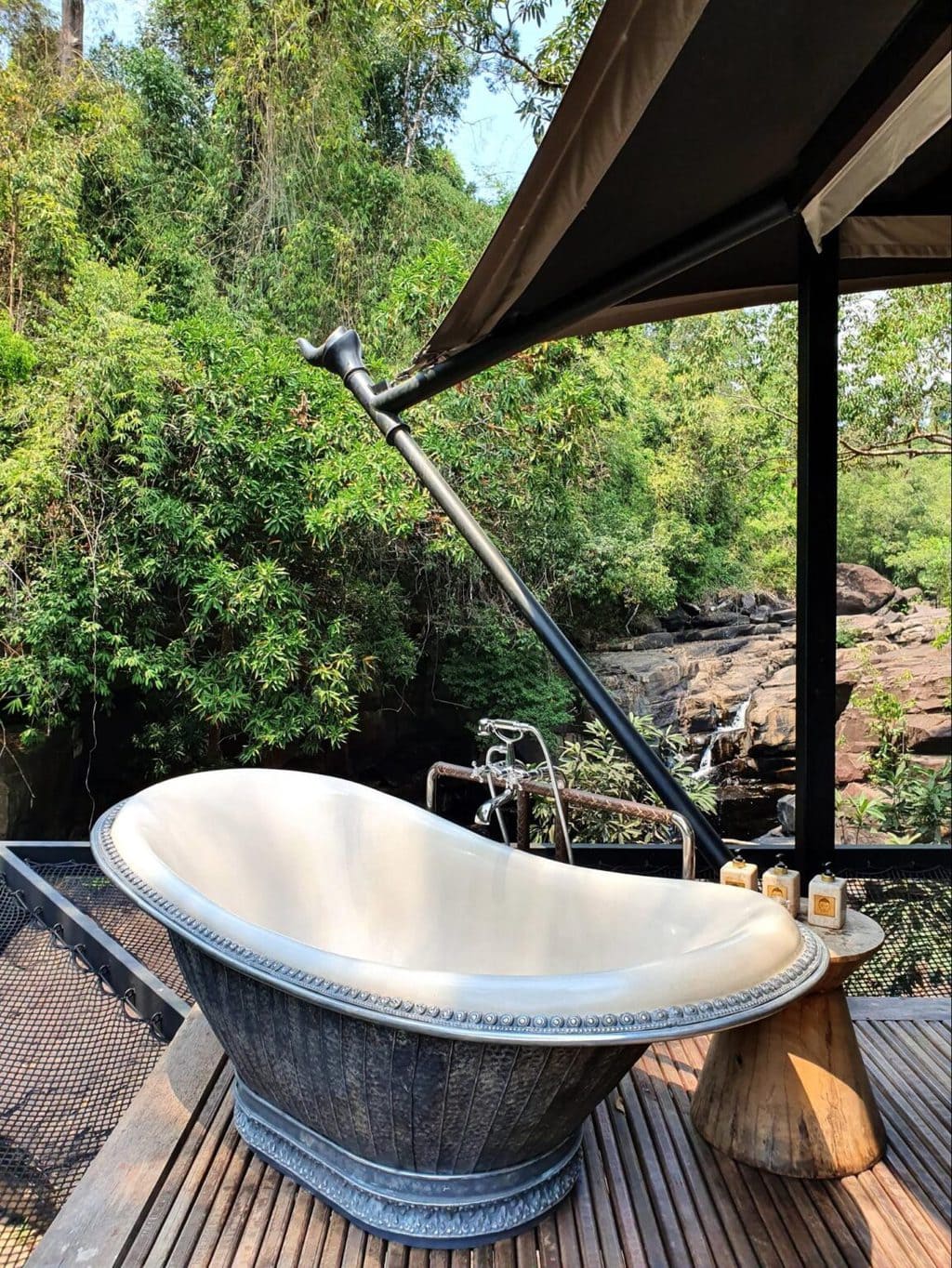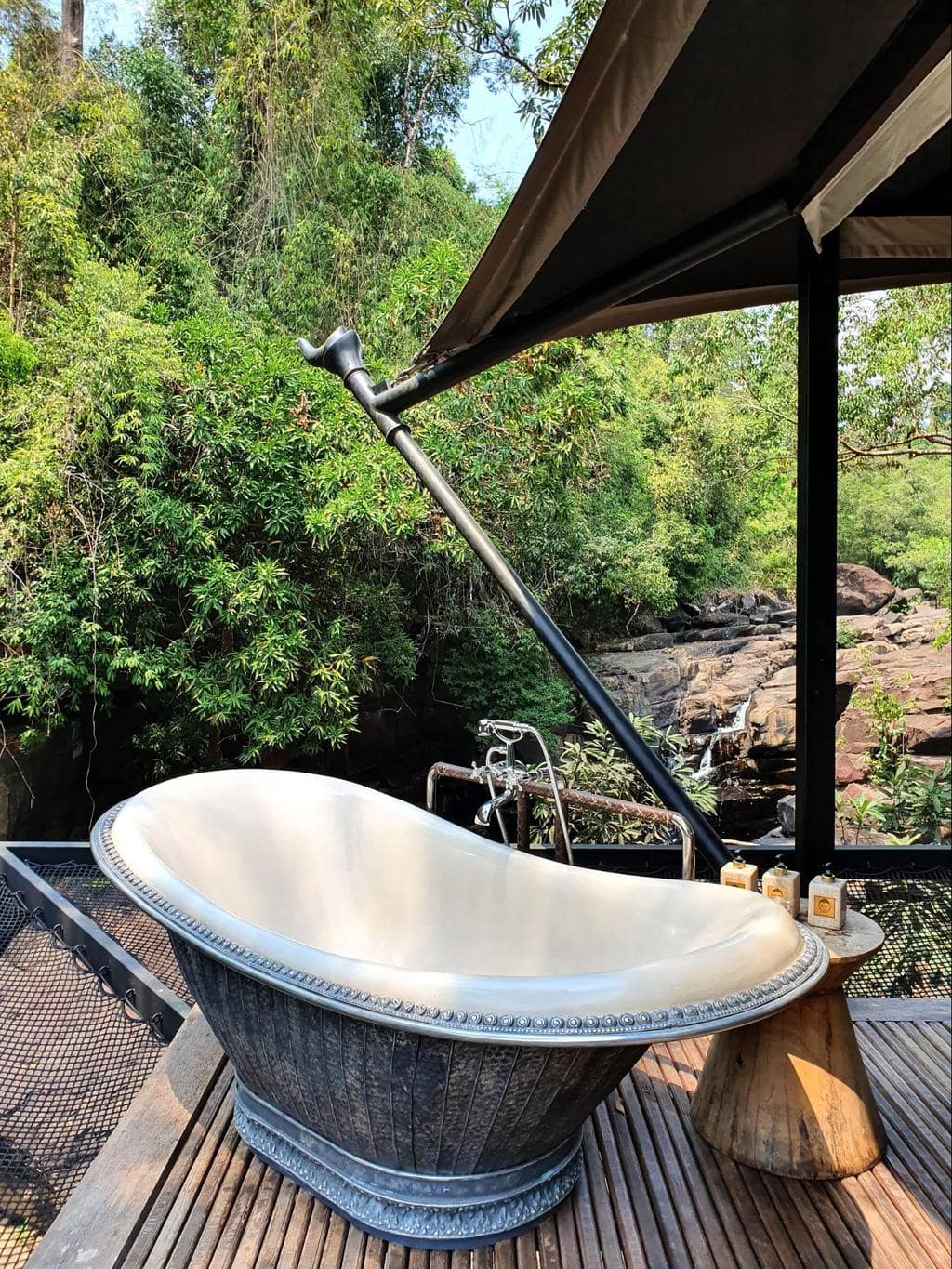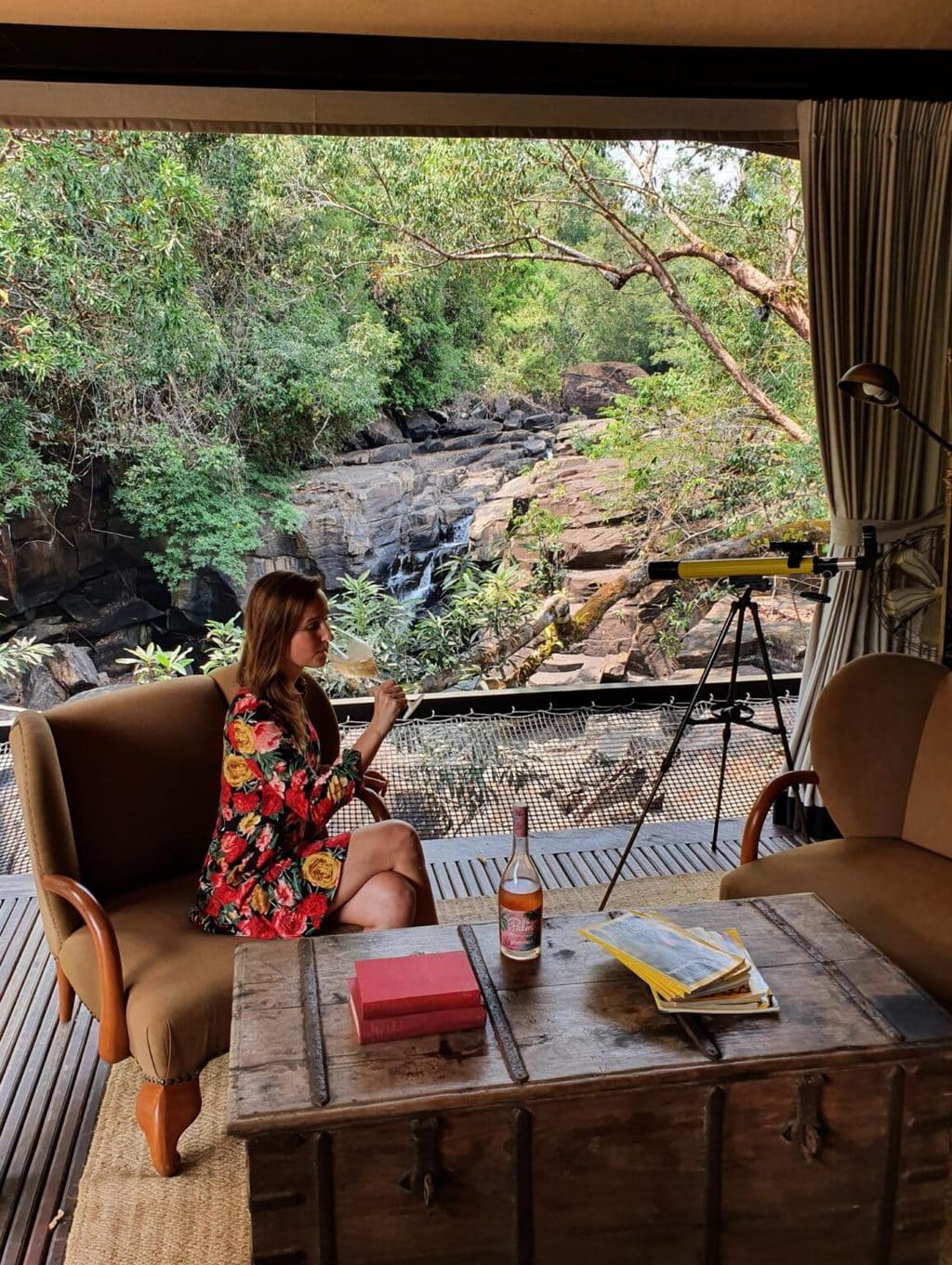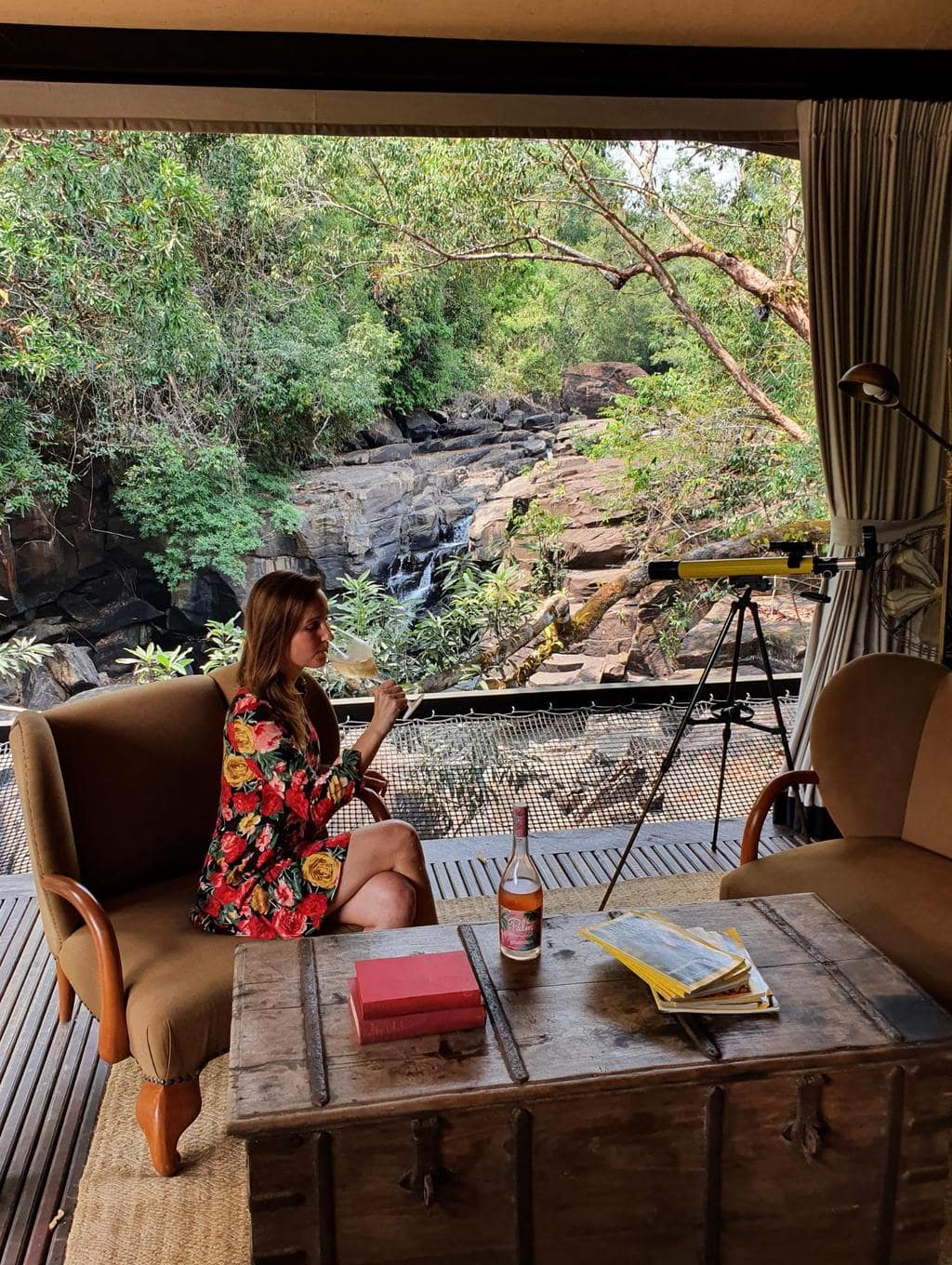 They are the ultimate representation of Bill Bensley's style, designed how he would design his own, he says in the Guest Directory. Although you will not find his popular black and white stripes, but his vision of a fully integrated lodge that hides in the forest.
Apart from the interior decor in each tent being different, tents are also set more or less close to the river shore and three of them are extra special because they are right by one of the three waterfalls.
We had the tent dedicated to National Geographic, it had been decorated as such since the lodge was included in the list of Lodges of the World in 2019. Besides the very appropriate theme for a traveler like me, this tent is also right in front of a waterfall and you can hear the roaring water from your bed.
The staff all agreed that the best tents were number 14 (National Geographic) and number 1, themed after The Cambodian Royalty and set in a wider part of the river where it forms several pools. Needless to say, all the tents are amazing.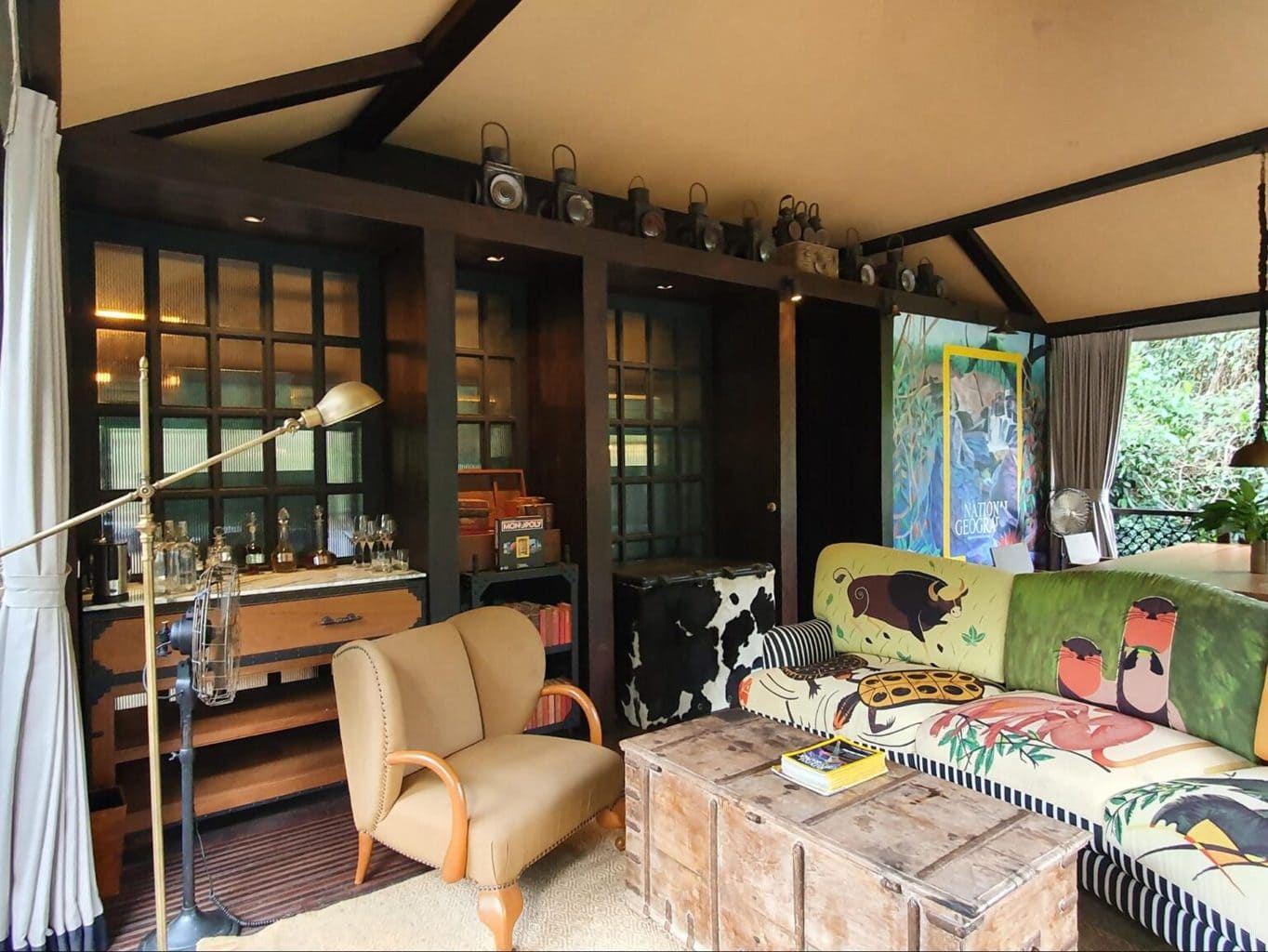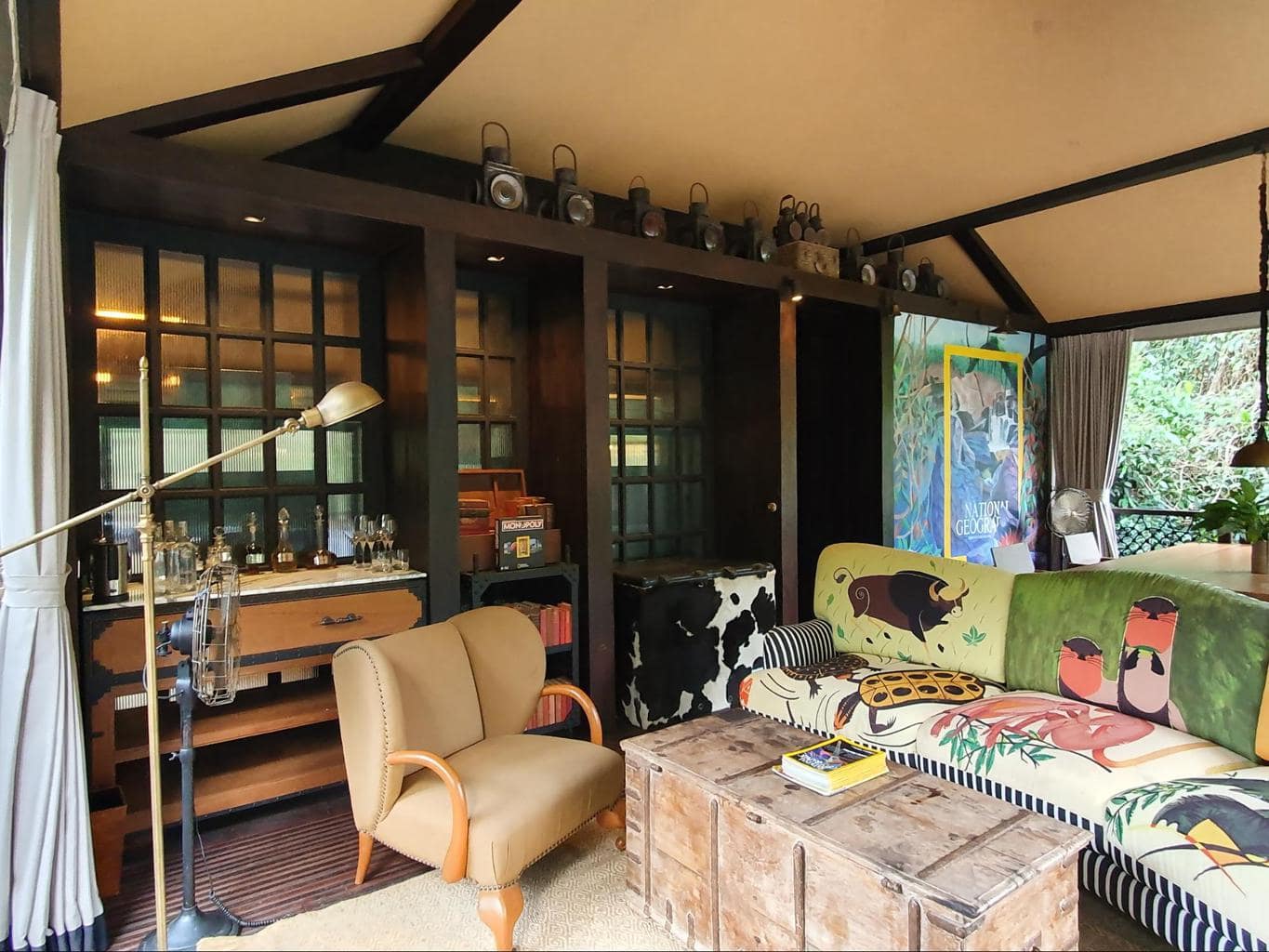 Shinta Mani Wild tents are inspired by the golden age of Cambodia and Jackie O's personal trip through the country with the Royal Family to fulfill a lifelong dream to see Angkor Wat. They are a vintage version of the modern tents you find in many luxury African lodges such as Hoanib in Namibia.
Tents all have outdoor decks surrounded by hanging nets set above the river for you to relax or read suspended in the air, if you are brave enough.
Under the canvas roof, there are sofas, a large maxi bar fully stocked with enough drinks that you never have to leave, all the tools and ingredients to mix or shake the perfect cocktail, snacks and a dining table with chairs. We also had a telescope and plenty of books.
All tents have outdoor bathtubs right at the edge of the verandah that seem to be hanging over the river and forest. This could well be one of the most scenic bathtubs in the world.
Inside, you will feel like you are in a luxury safari tent, with a separate toilet room with a door, a larger bedroom space and a bathroom area with a walk-in shower and individual sinks.
The tent's main wall is made of wood while the rest are made of canvas and have netted windows. There are curtains but they don't fully blackout the light, and even if they did, the sounds of the forest would wake you up, a wonderful way to start the day.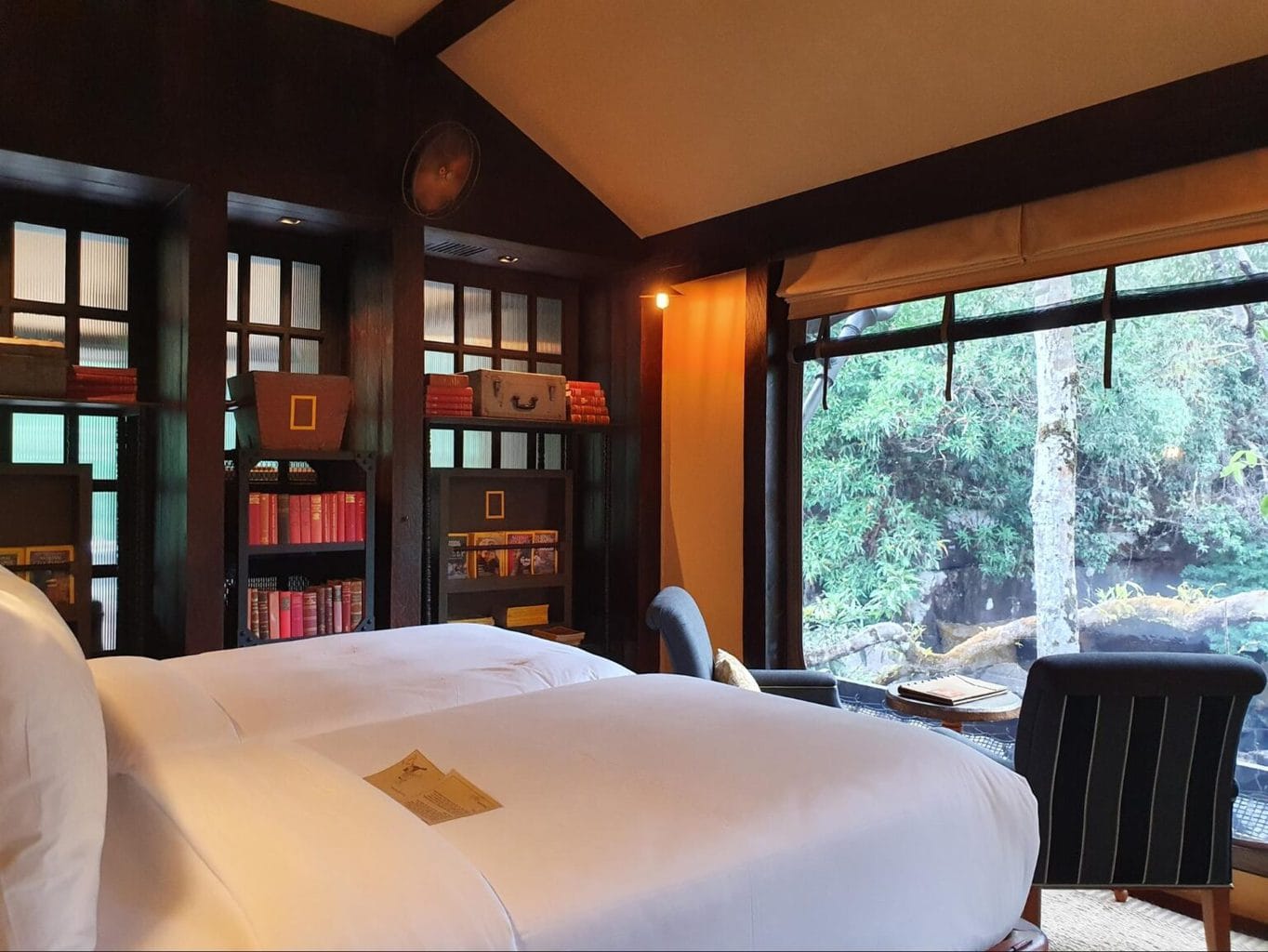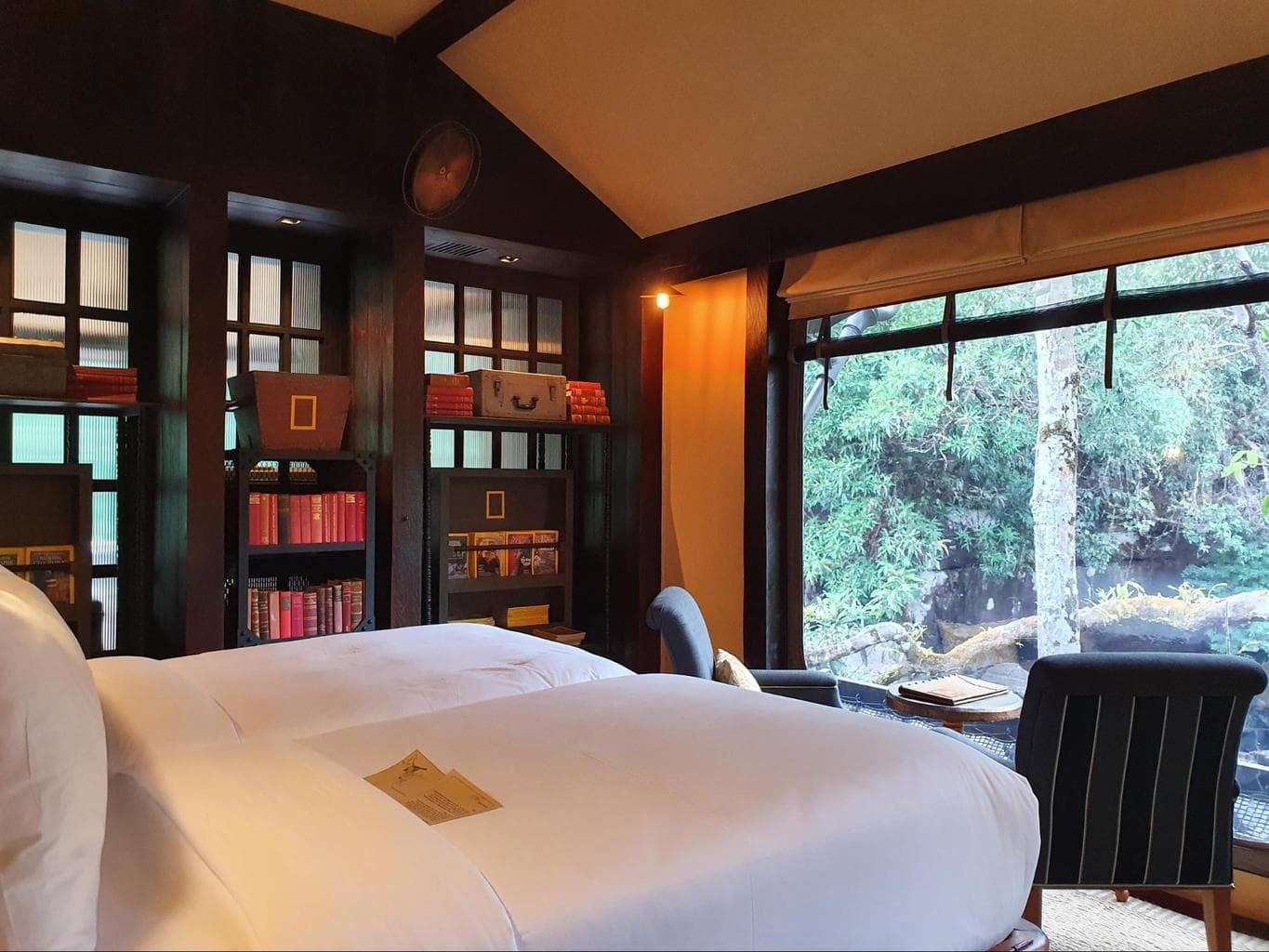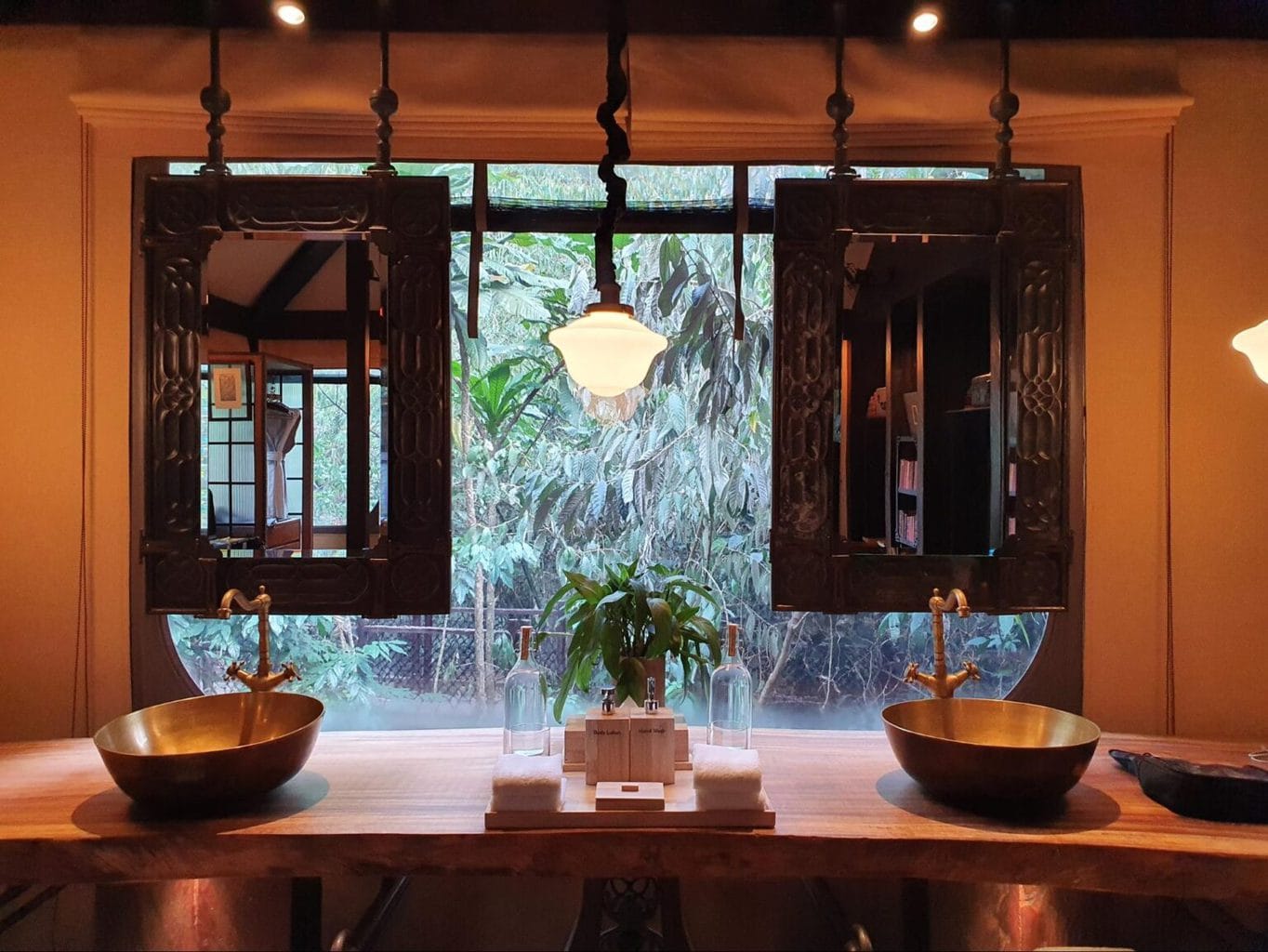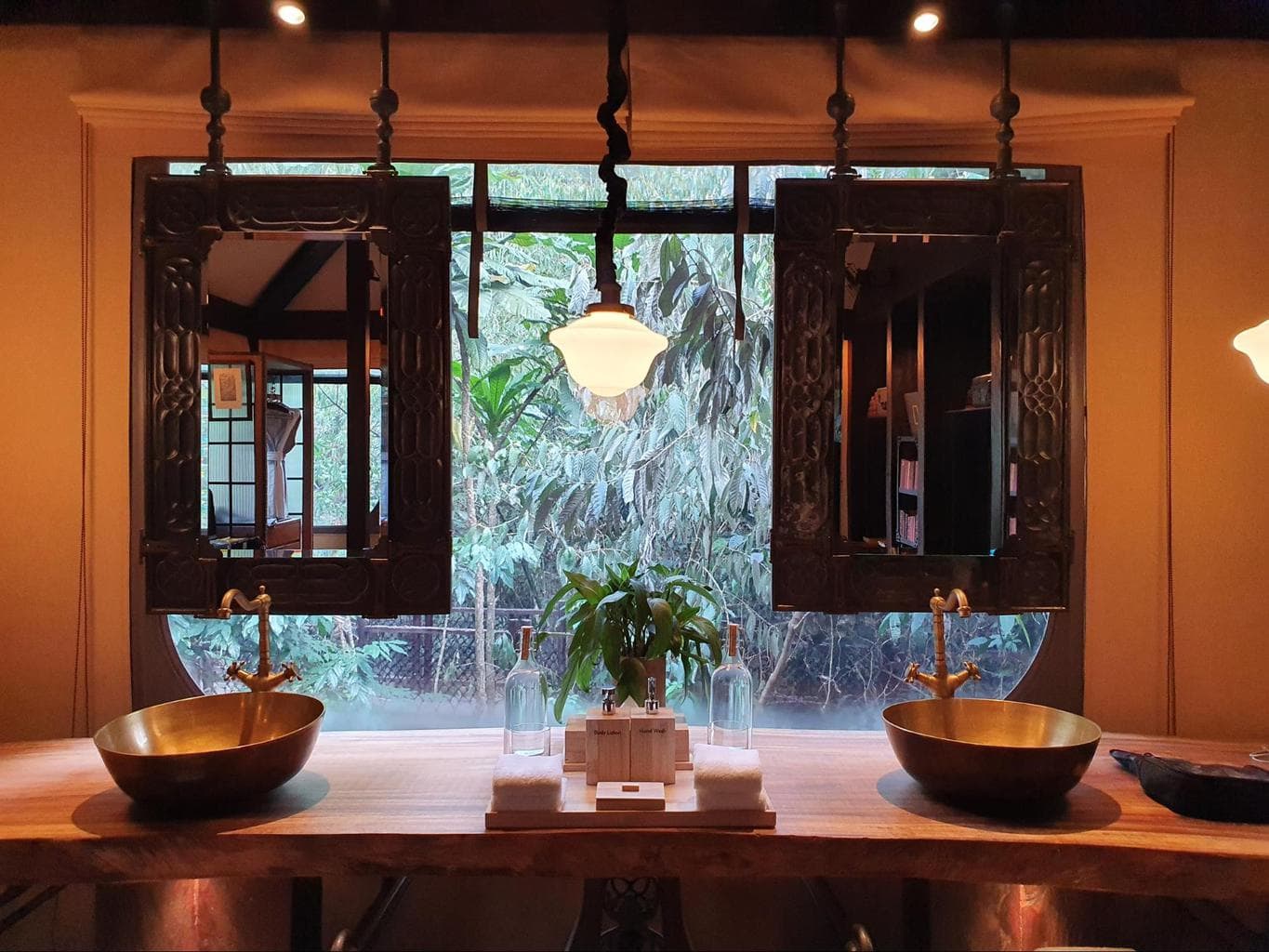 The wooden beds are very high and have lovely headboards. Small bedside tables hold vintage matte gold lamps and a black old fashioned rotary dial phone.
Our room had lots of shelves filled with National Geographic magazine issues, the oldest I could find dated from the 60s and had articles on Jane Goodall's chimpanzee projects.
Two armchairs and a small table by the window, at the end of the bed, looked out to the waterfall. A great place to enjoy an evening drink if mosquitoes bothered you outside.
Your clothes can be hung in the open closet and there is enough space for two large suitcases to remain open. The lodge provides unpacking and repacking service as well as mending and clothes washing (no dry cleaning) free of charge.
The bathroom is open, with a walk-in shower and two sinks with individual mirrors looking out onto the forest. You will not find disposable amenities, but if you need them, they are available. In case your luggage is delayed or lost, the resort can also provide an emergency kit, something I would have loved at Nihi Sumba.
Tents are comfortable, they are large, especially outside, and they are private, you will not see or hear another guest. The paths that connect each tent to the main path are long so other guests don't walk near your tent. You feel like you're in complete isolation.
Dining at Shinta Mani Wild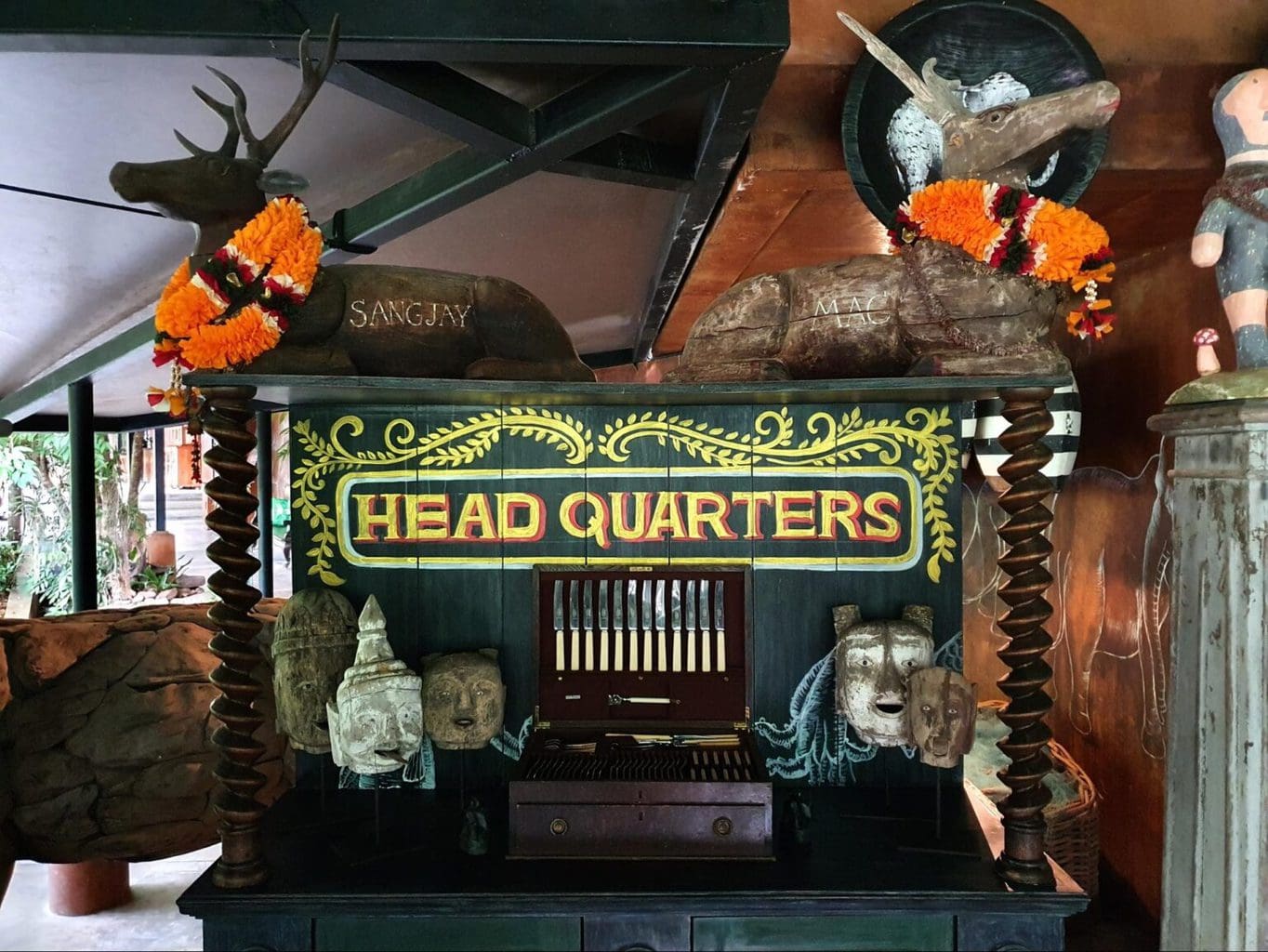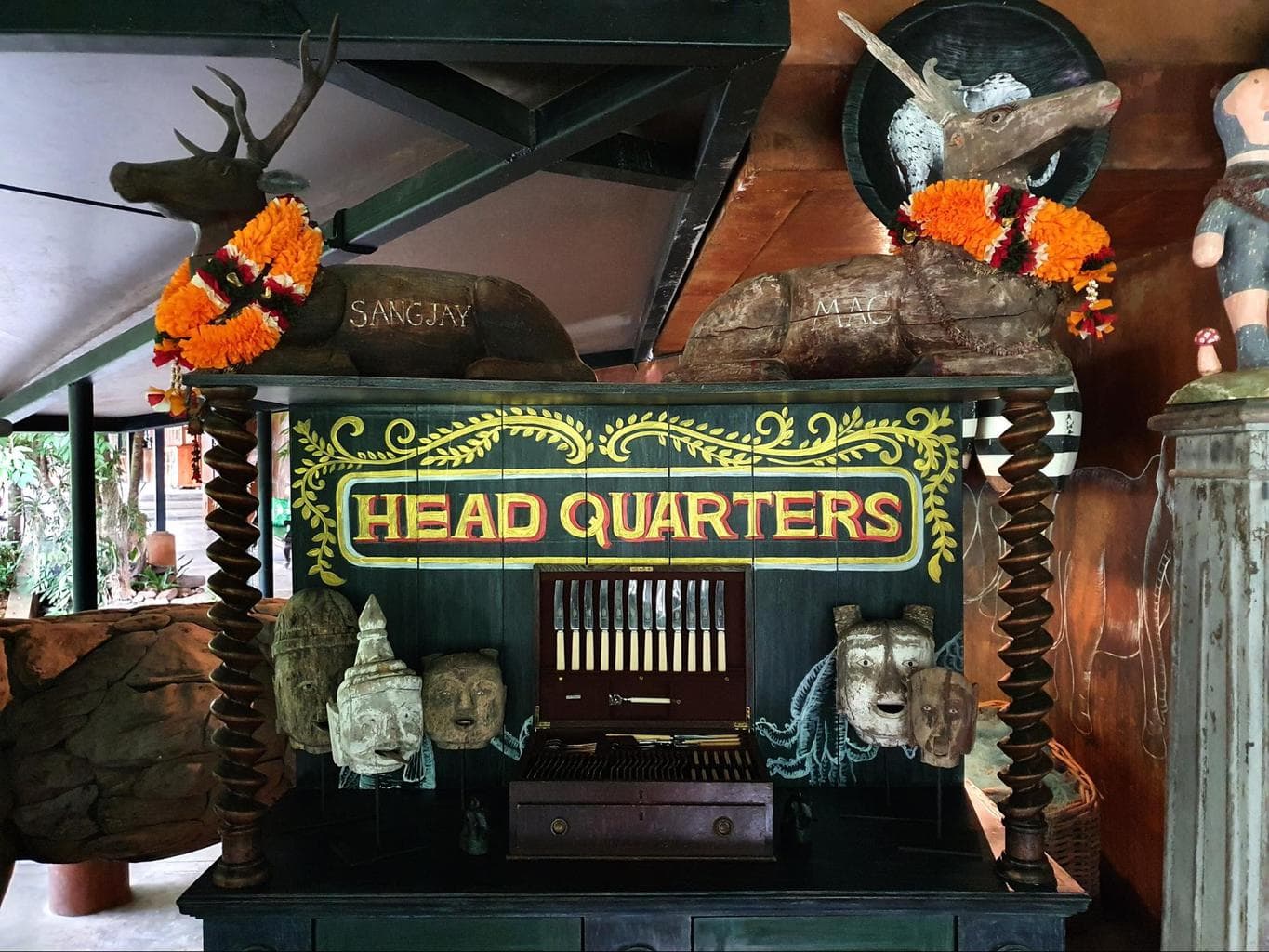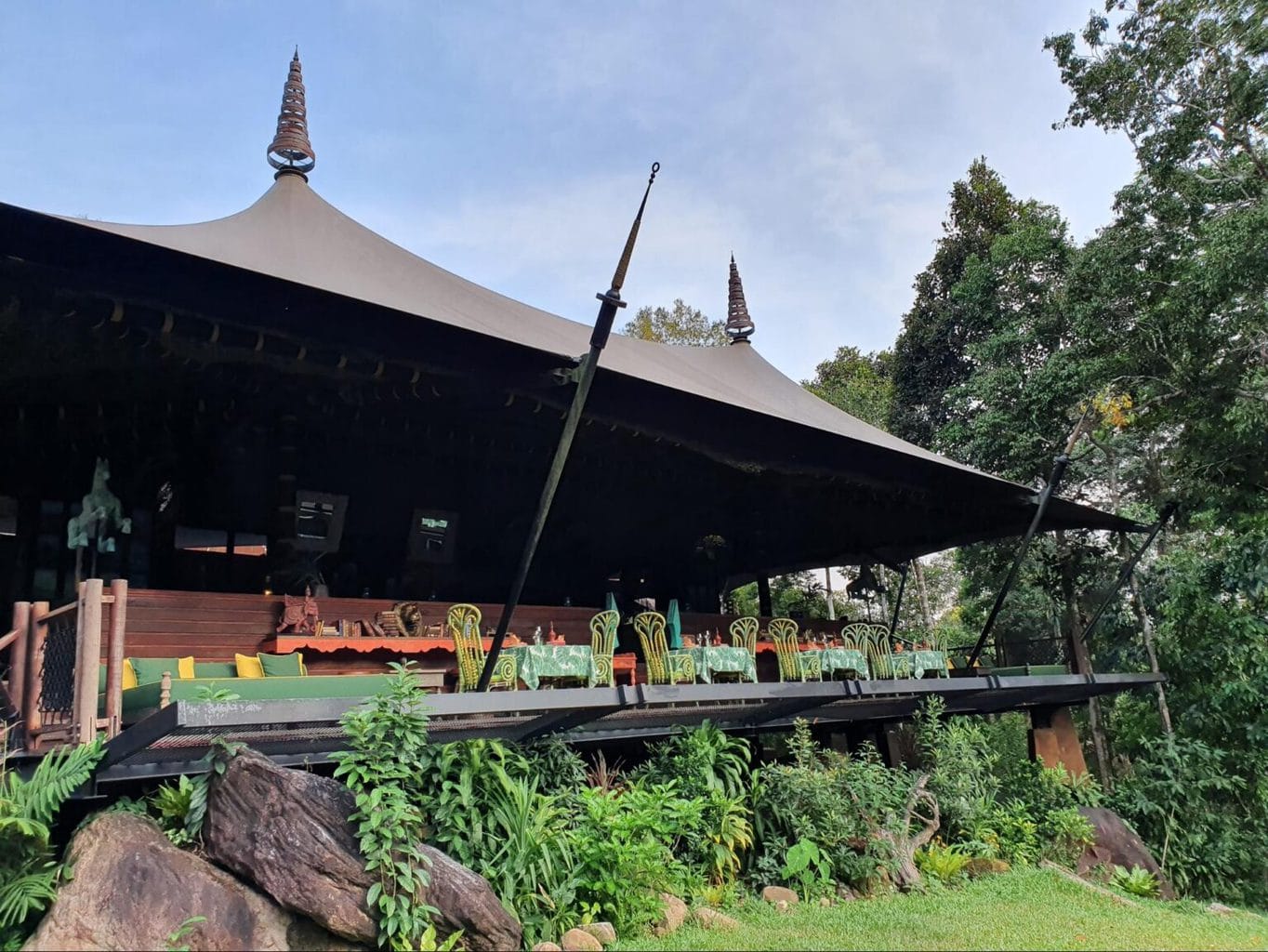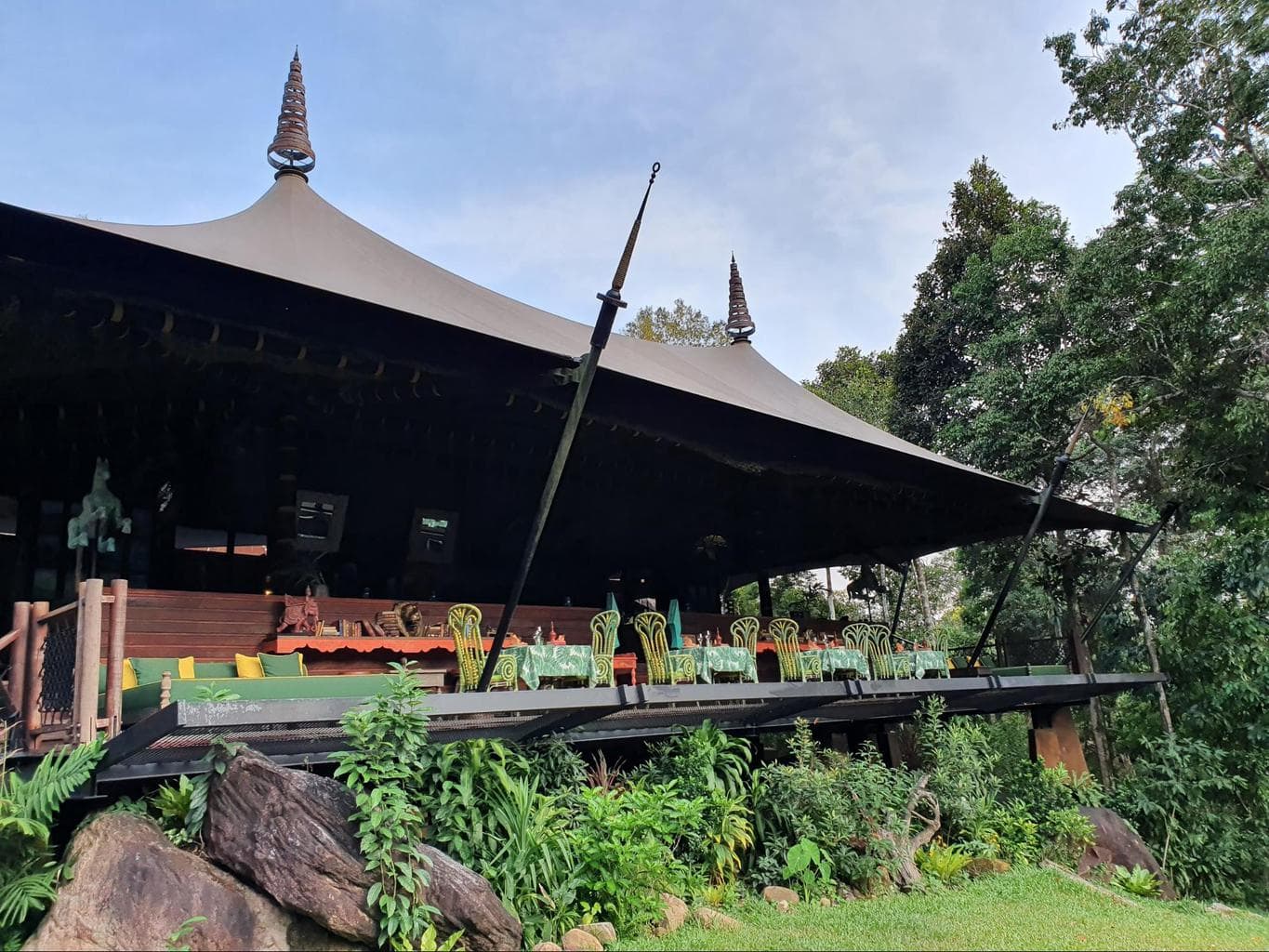 Shinta Mani Wild is a small lodge with only 15 tents, hence there is only one restaurant at the Headquarters tent serving a daily changing menu from a blackboard list of specials.
The chef, during my visit, was Nepalese but had been cooking in Cambodia for a few years so was able to infuse Asian flavors to Cambodian favorites while also serving great international dishes.
Breakfast consists of fresh fruit juices and coffee, freshly baked (and incredibly flaky) pastries served at your table with jam and butter, freshly cut tropical fruits and a cooked dish made to order from a list of 3 to 5 options including sweet and savory. If there is anything in particular you feel like eating, the chef will also oblige.
Breakfast cooked items were perfect. We tried a few options, from Mexican specialties like huevos rancheros to souffle pancakes and they were all divine. There were also lots of Asian options to choose from.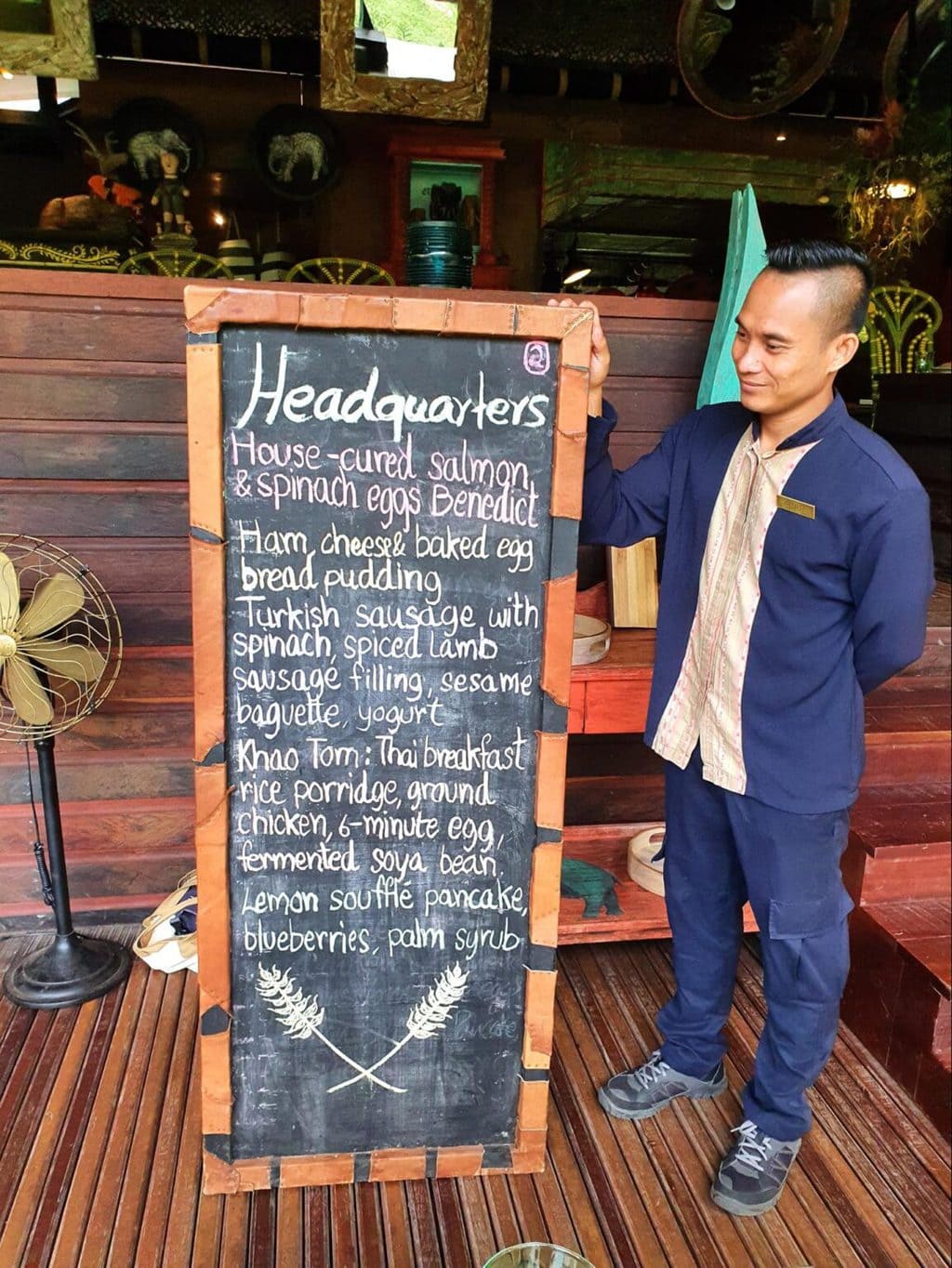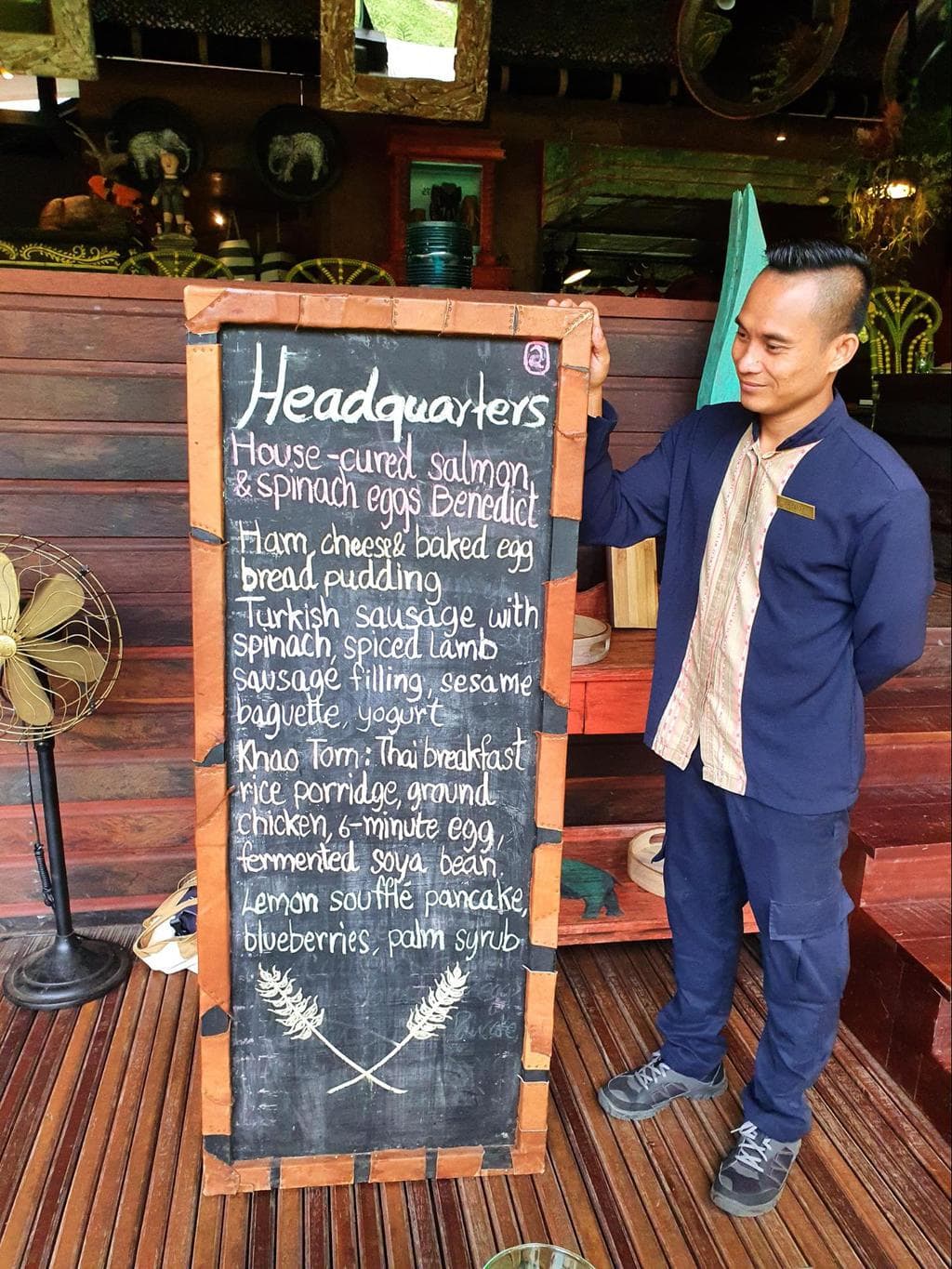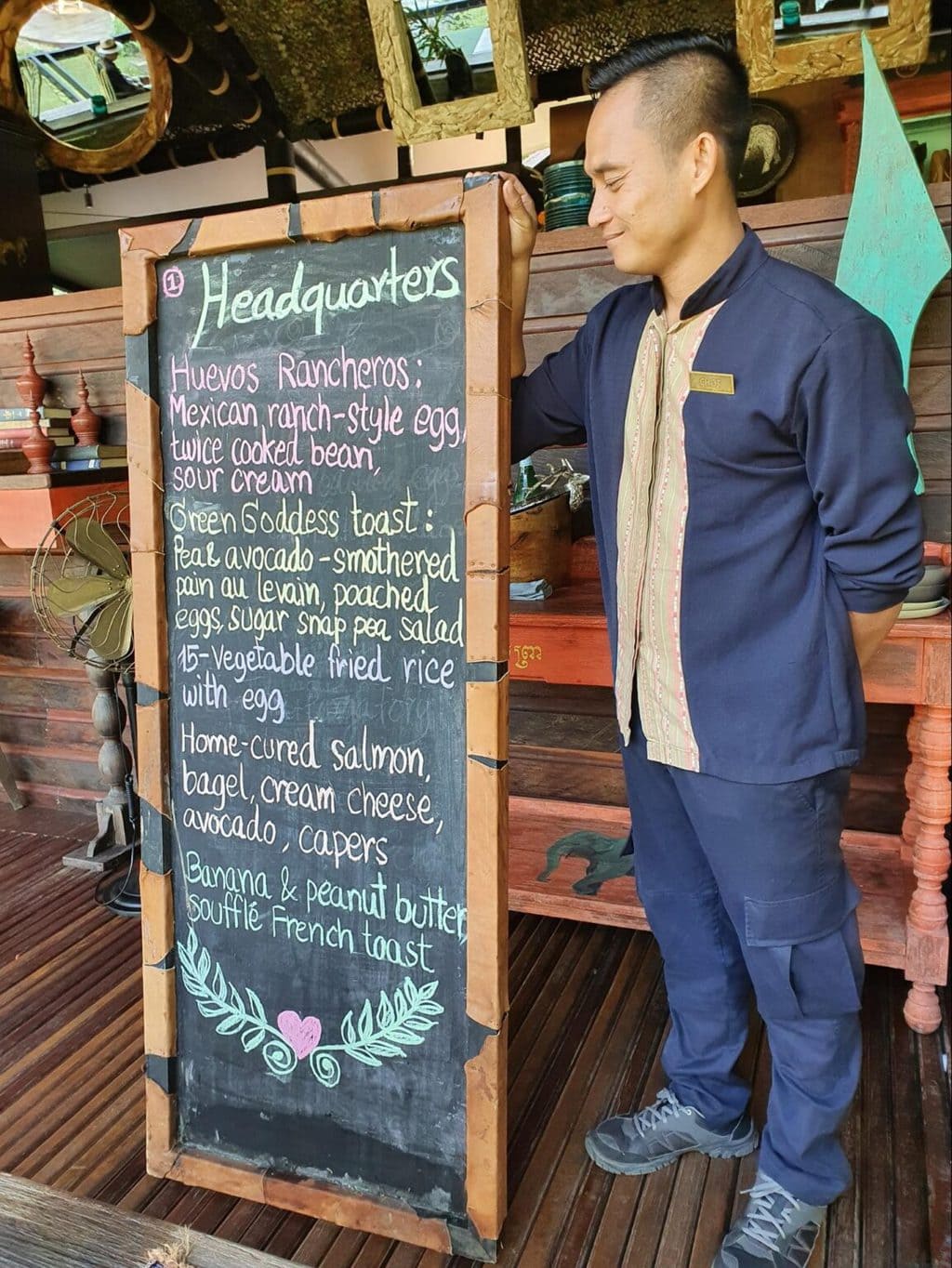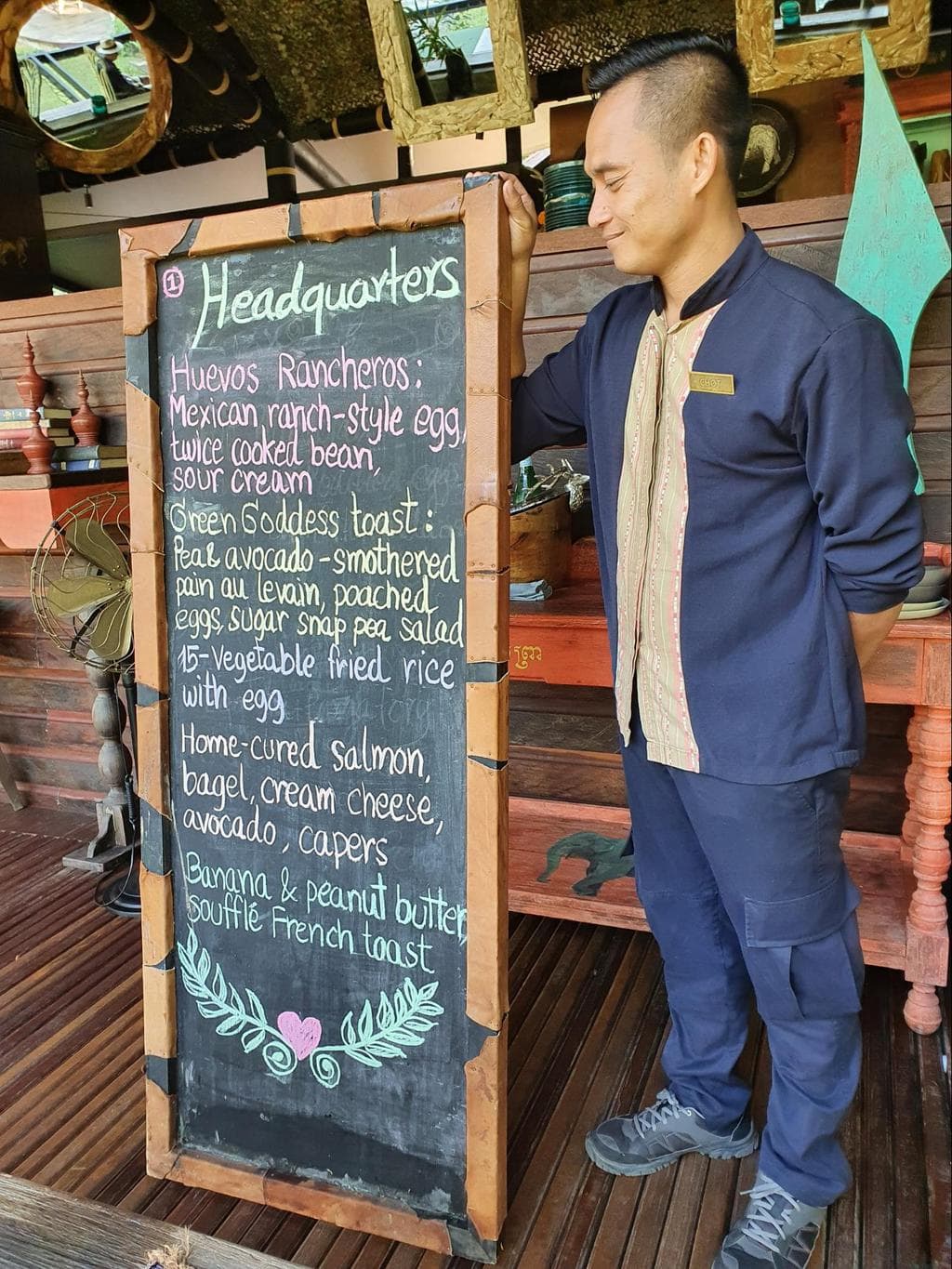 Lunch consists of a starter, a main and a dessert from a list of 5-6 dishes and dinner is a rotation of 3 evenings that constantly change. When I visited the three themed nights were: curry, dumpling and foraging (a.k.a. Khmer food).
Most guests will stay three nights, which is why the rotating schedule works. If you are staying longer, the chef will discuss your likings with you. I would not recommend staying for less than three nights.
Besides the standard meal options, your Adventure Butler will be able to organize other themed meals like a BBQ by the river shore on your boat adventure, picnics by the waterfall, drinks on the river bed, etc.
What you surprisingly can't book is in-villa dining, and there is a good reason for that.
The lodge does not provide room service because leaving food outside will attract wildlife and the lodge does not want to alter the ecosystem. If you really want this, you can probably discuss similar alternatives with your butler.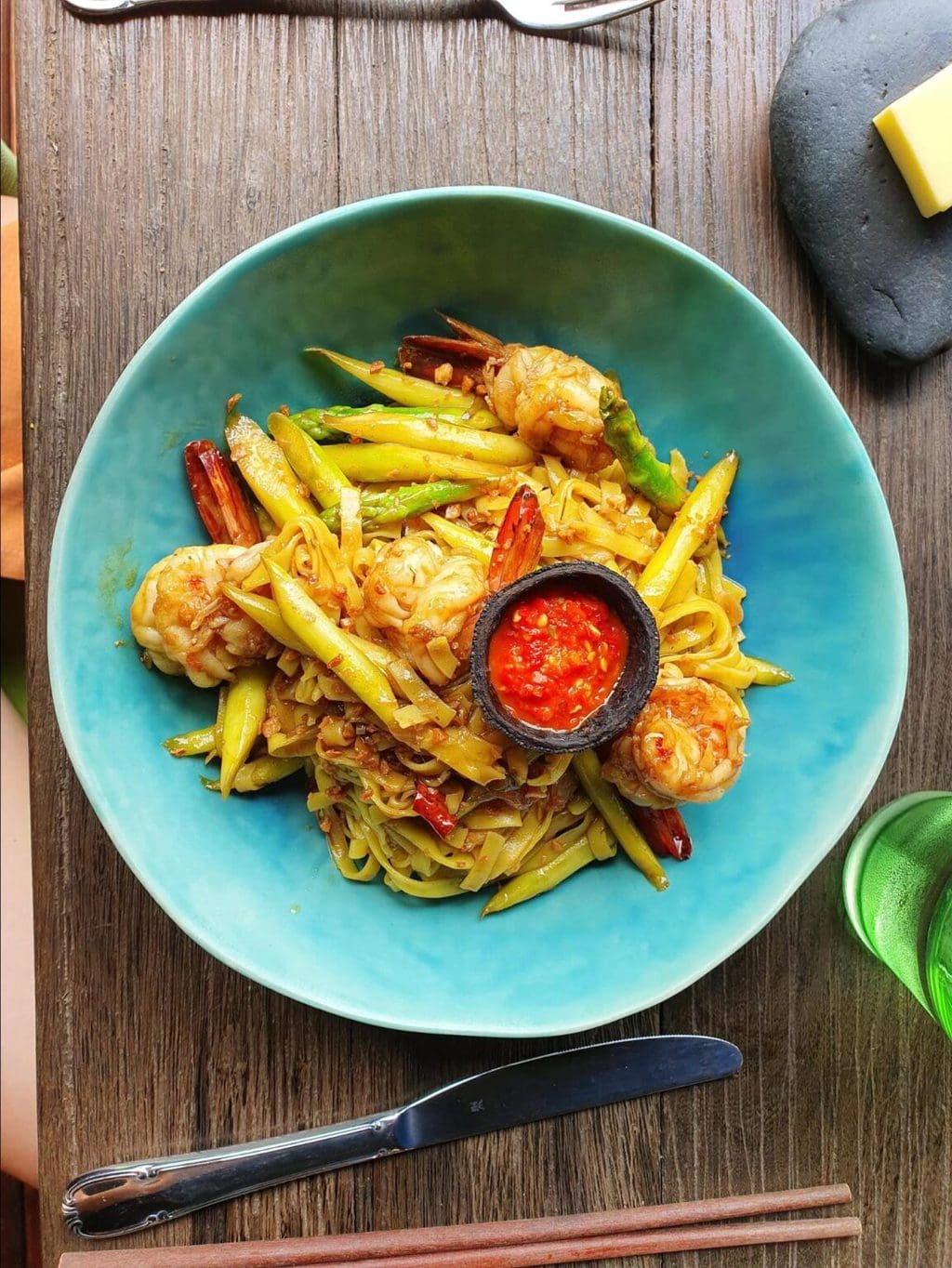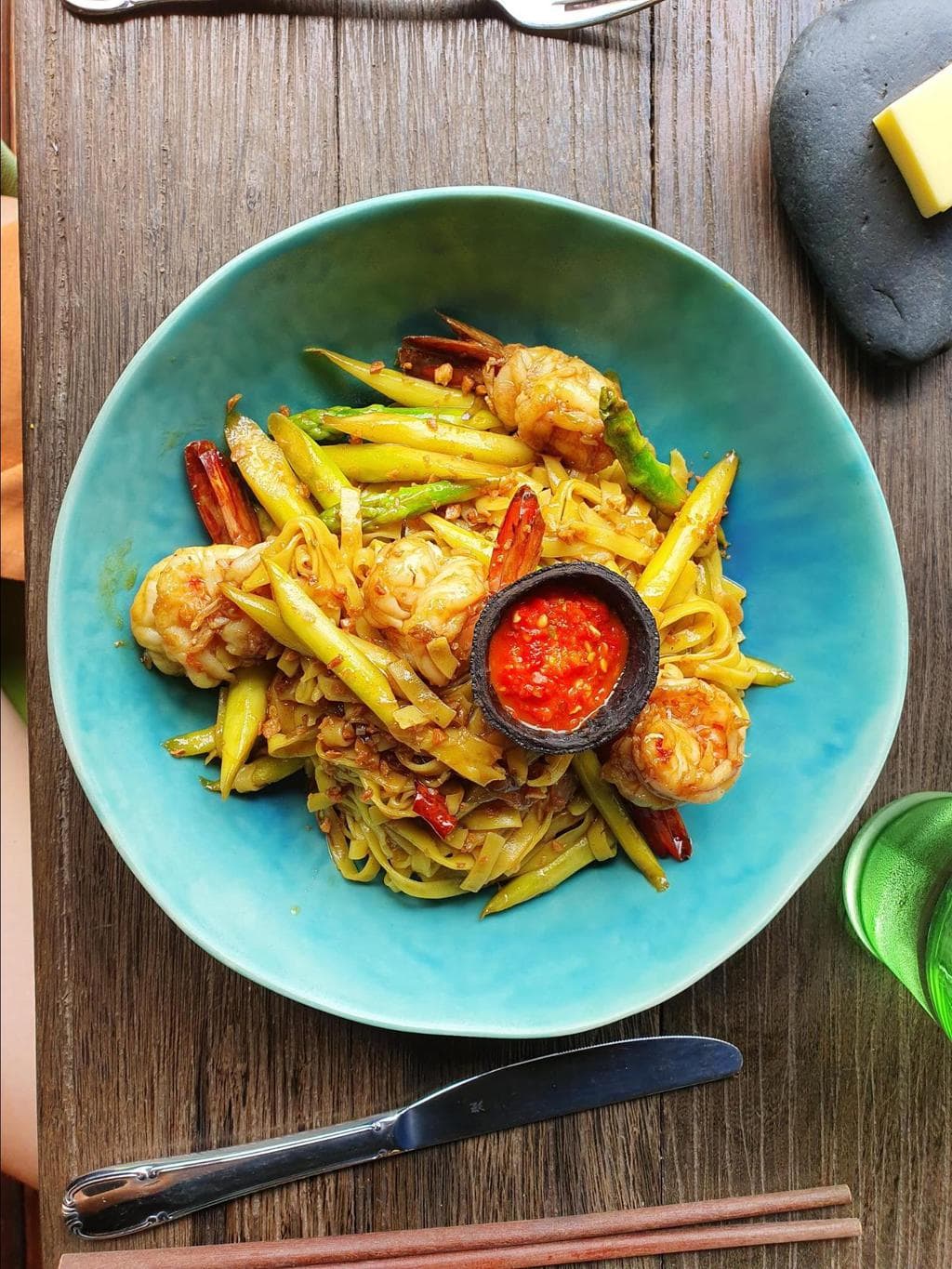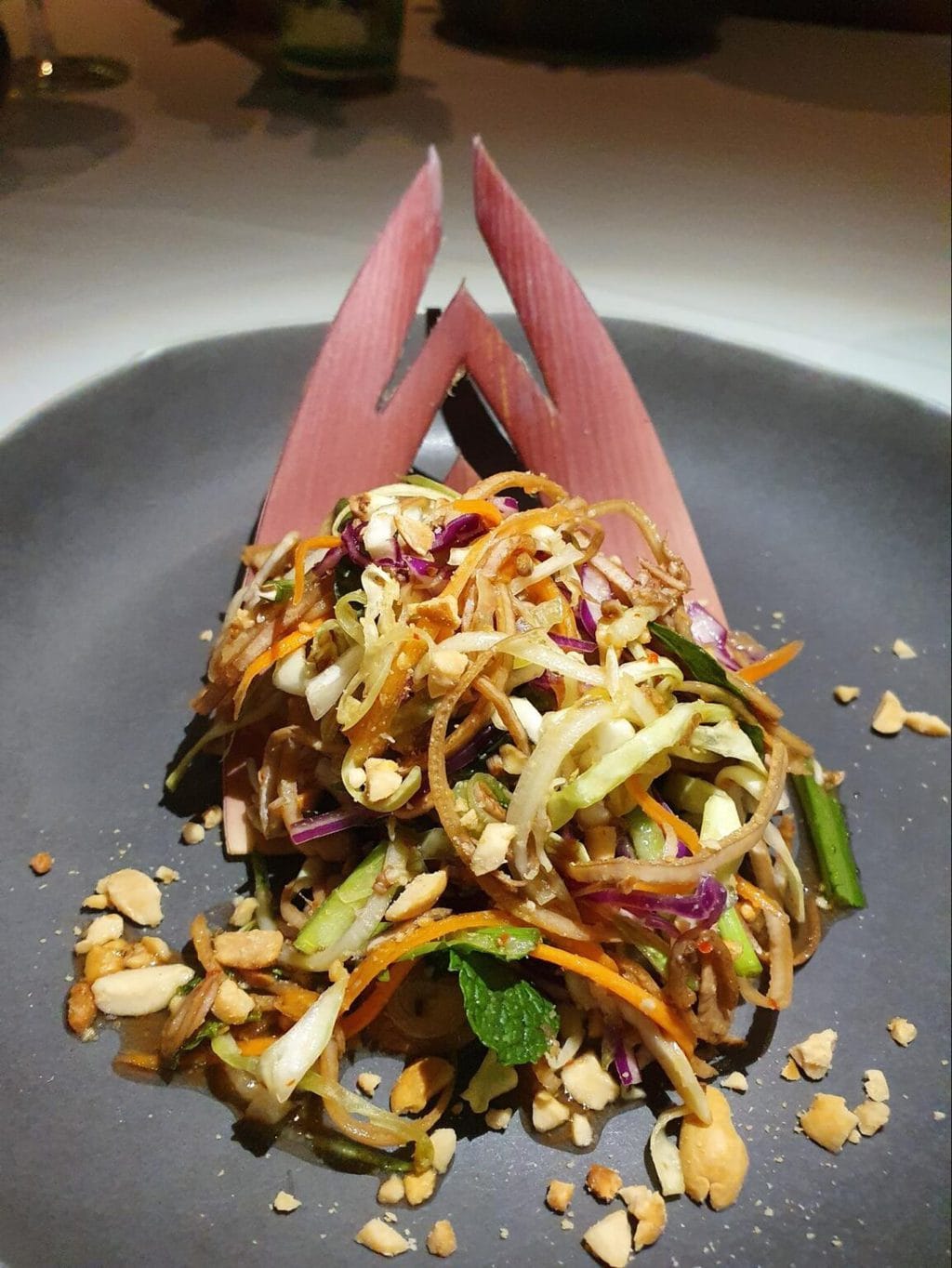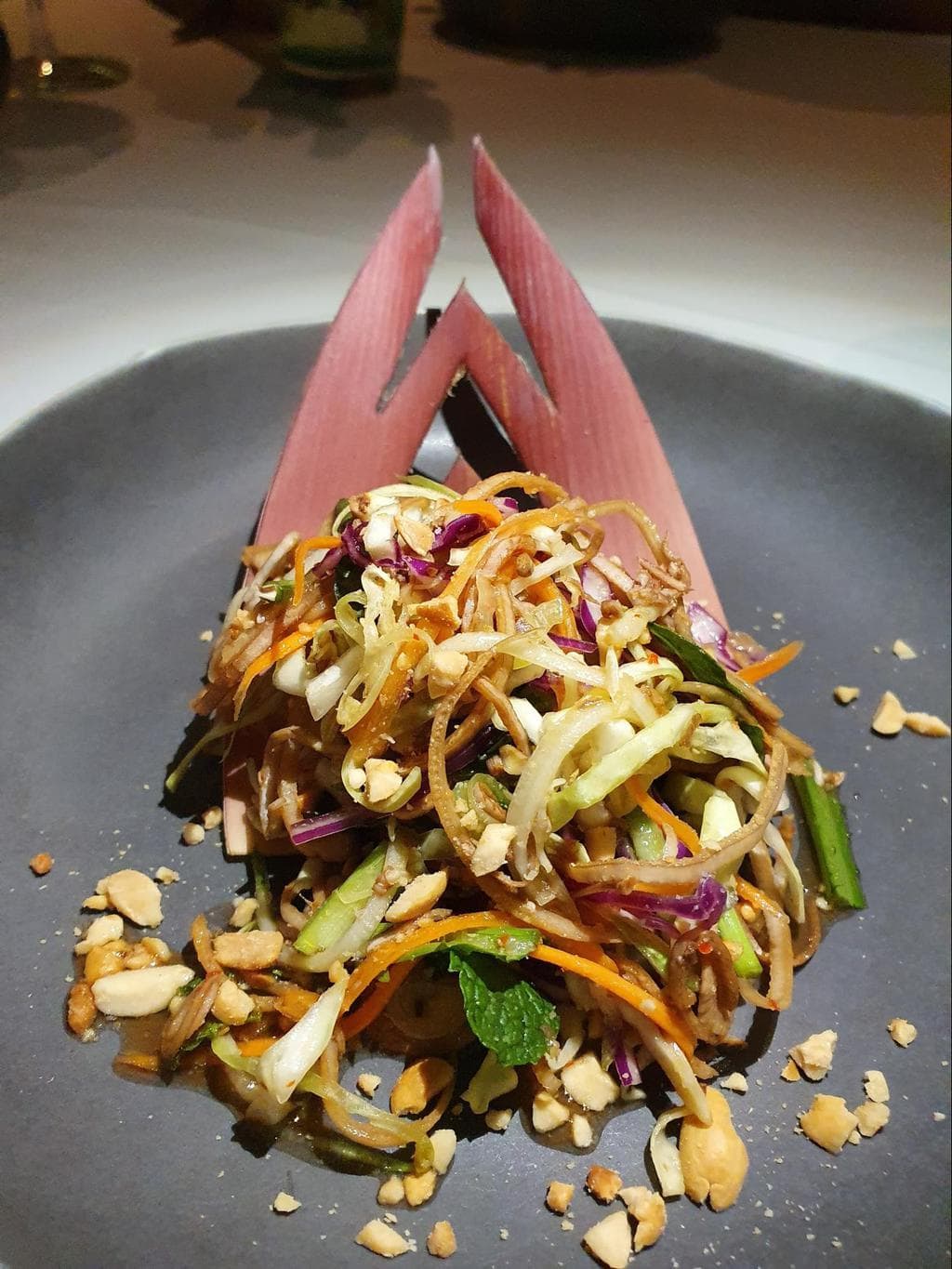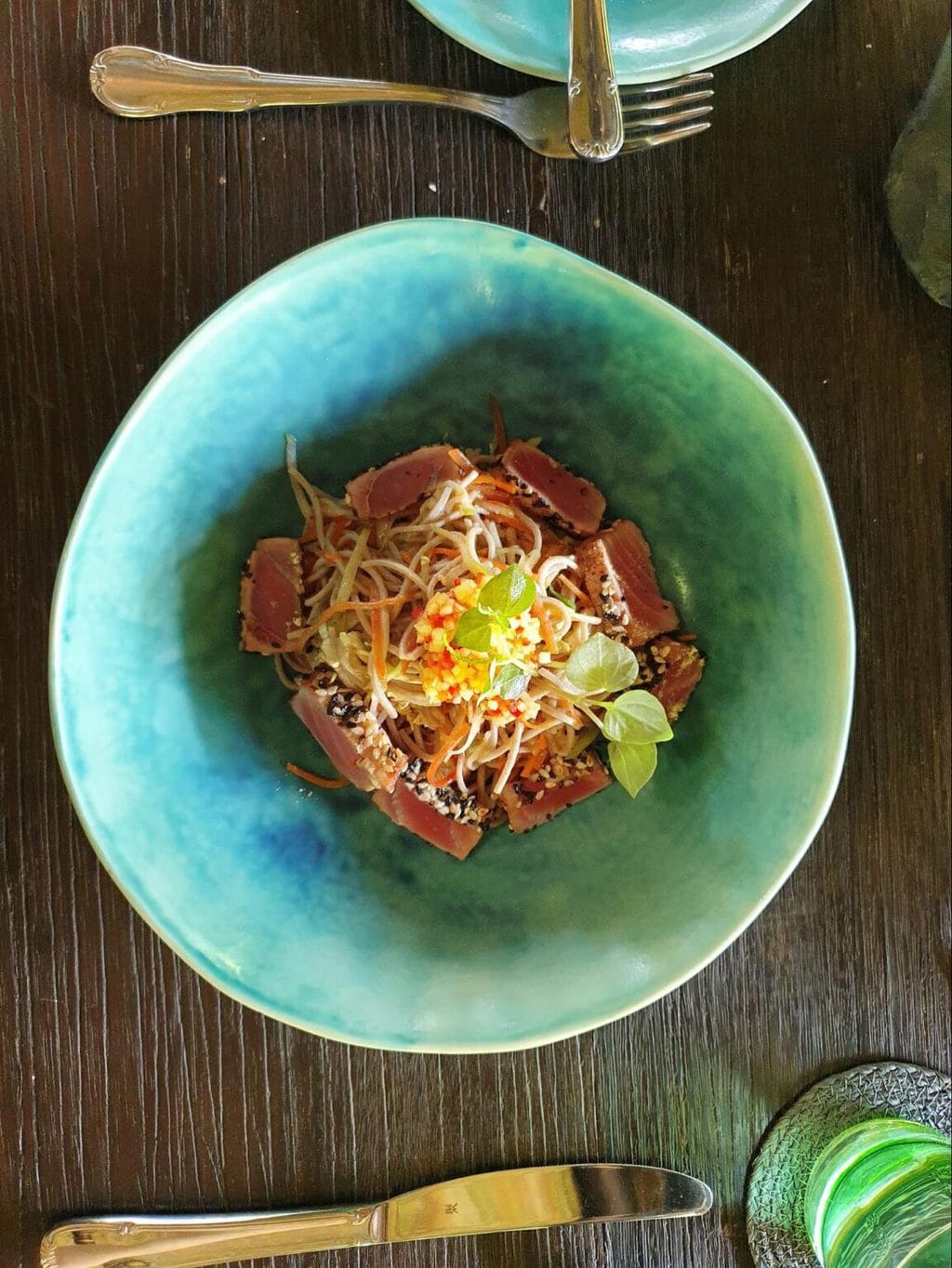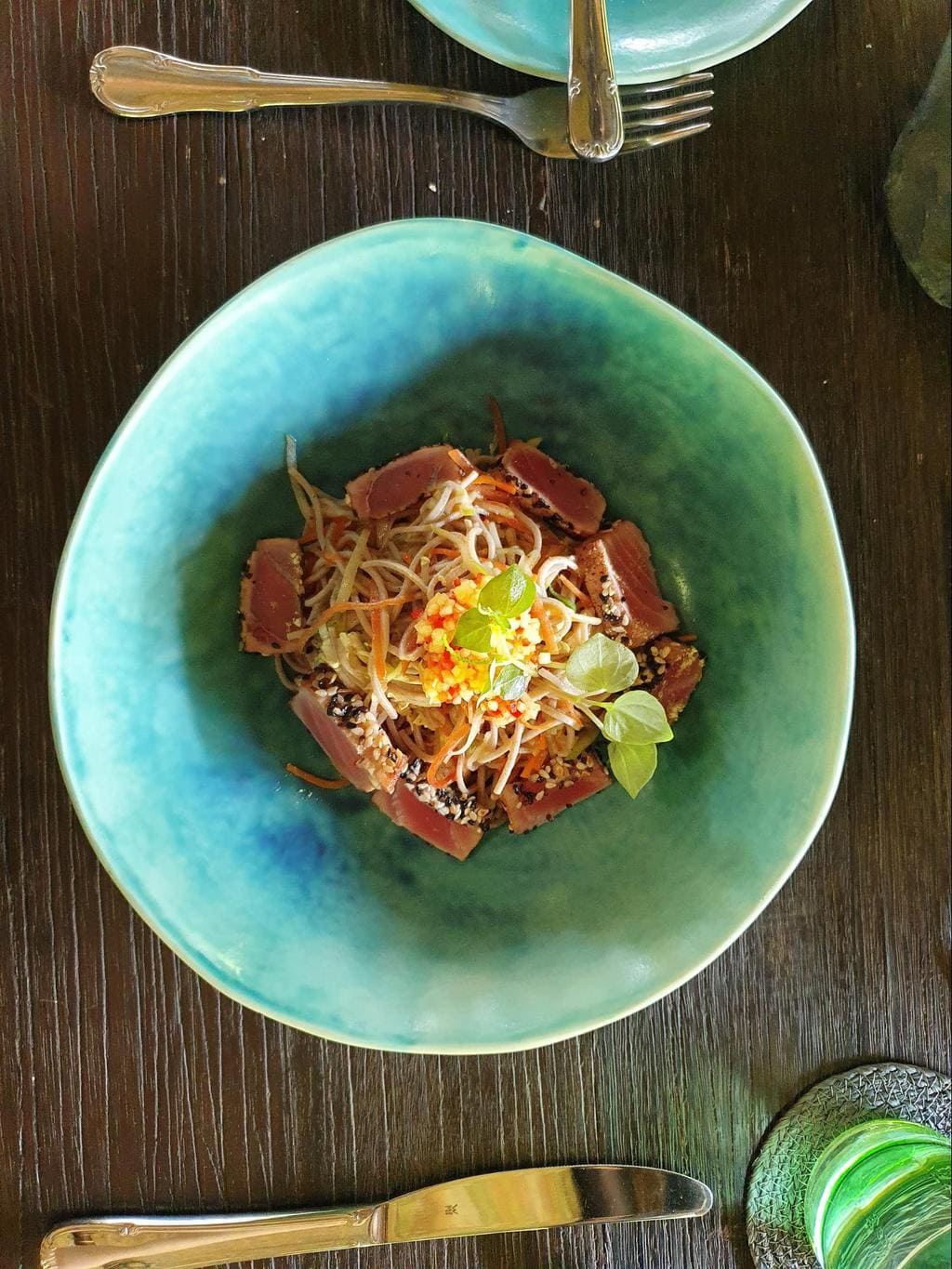 The food at Shinta Mani Wild is fresh, locally sourced whenever possible (beef comes from Australia) and leveraging local ingredients and herbs that are foraged and bought from the local markets. The kitchen team does a remarkable job at preparing fresh and yum dishes in a remote part of the world.
As all stays are on a full-board basis, food is included in the rate, as is unlimited alcohol, from wines to spirits or cocktails. The wine list was quite good and since Cambodia is one of the few countries in Southeast Asia not to impose high taxes on alcohol, you can find a decent list of options. There were several French wines, Spanish Rioja, New Zealand Sauvignon Blanc, etc.
Besides the restaurant, Shinta Mani Wild also has a bar at the landing point with leather sofas you can sink into, and an extensive bar with high stools.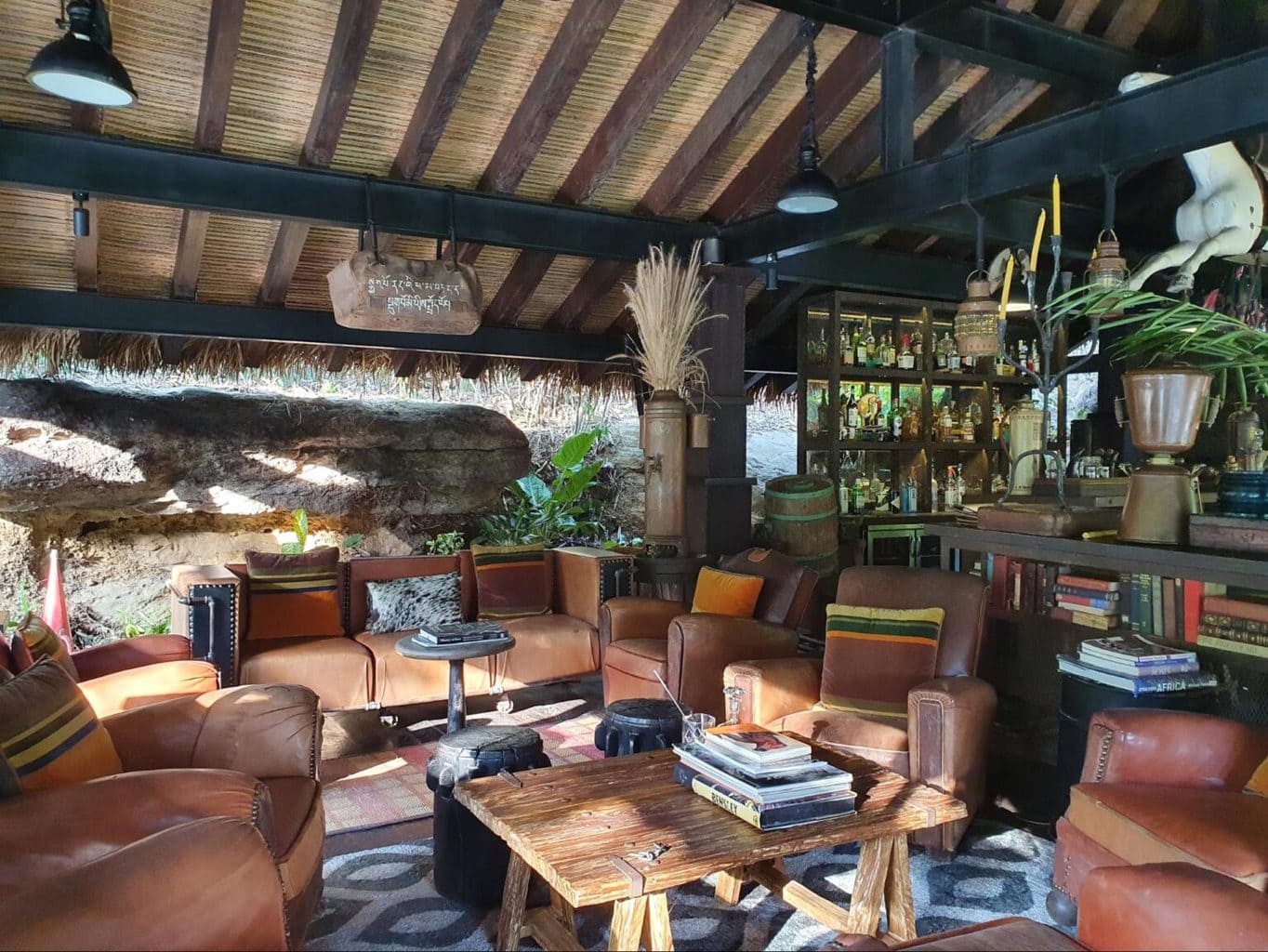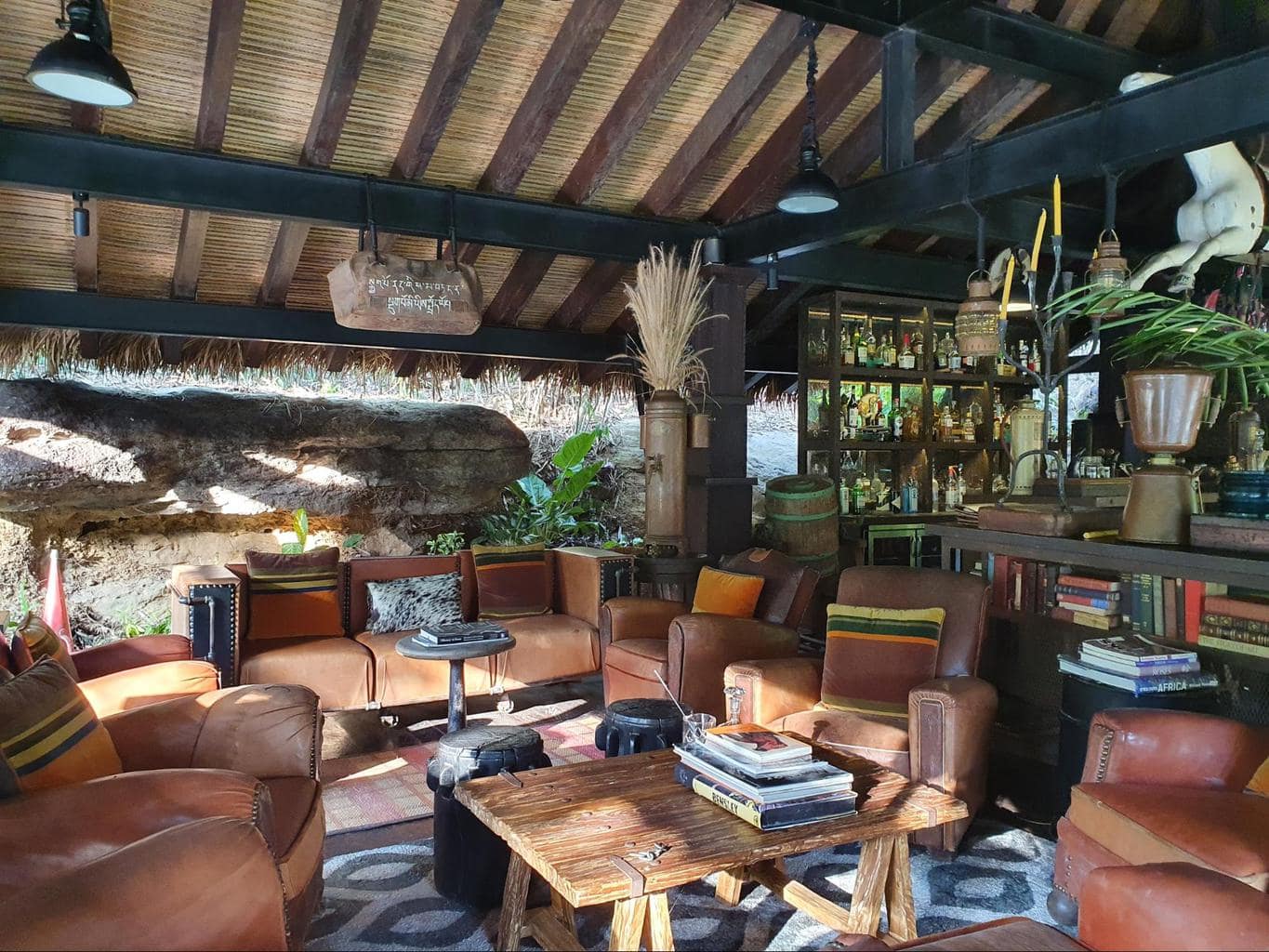 The bartenders are exceptional, especially Ae, the Thai F&B Manager, who served us amazing cocktails. I particularly remember a smokey honey Old Fashioned that was divine and served with smoke coming out of the bottle – I still dream of it.
Once every few days the lodge organizes GM evening drinks on the riverbed. Drinks and snacks are brought over, a campfire is lit and candles fill the area as the masseuses give foot massages. That part of the river is filled with small fish that eat dead skin, in case you want to experience it in its natural state.
Activities and experiences at Shinta Mani Wild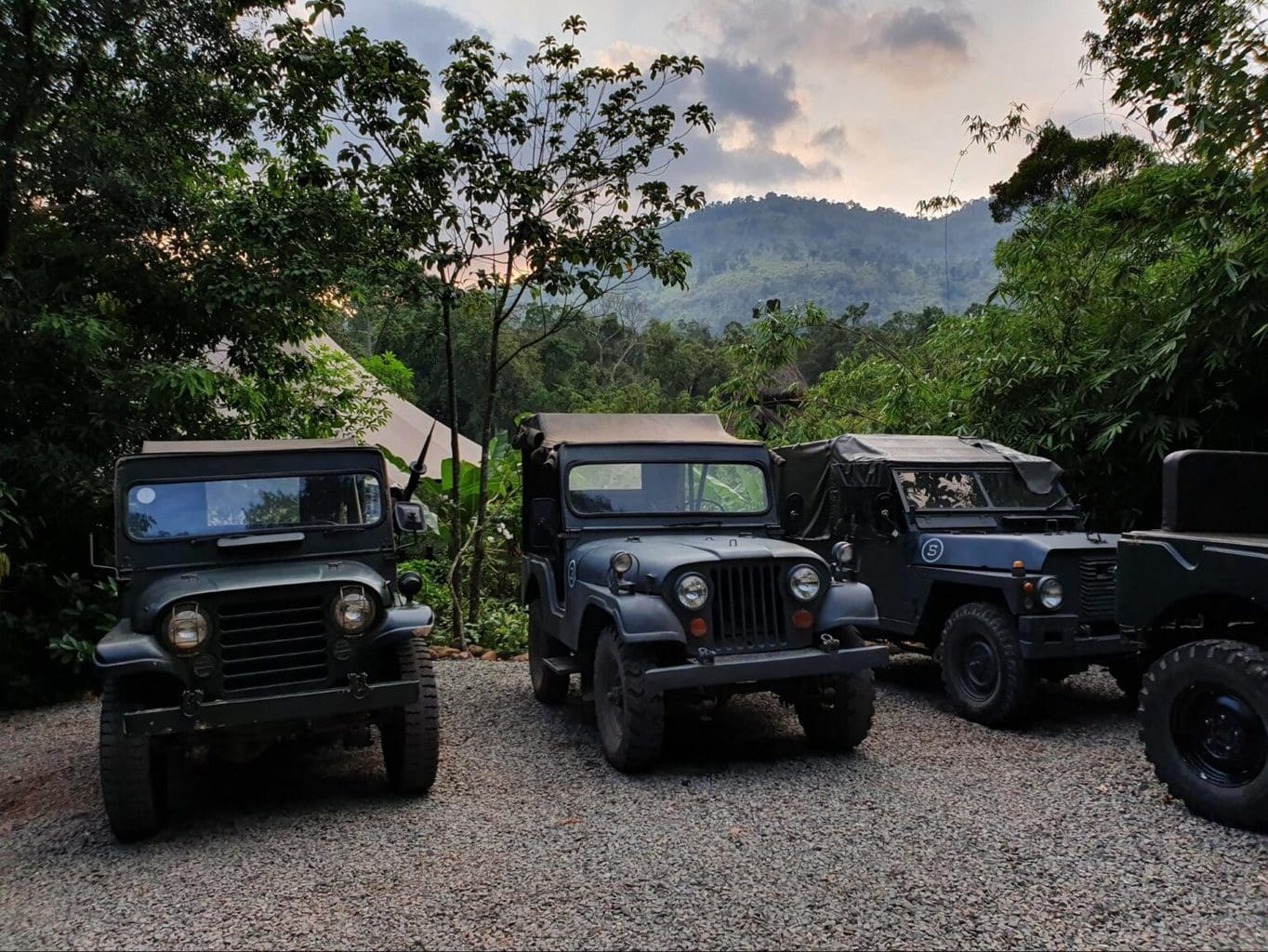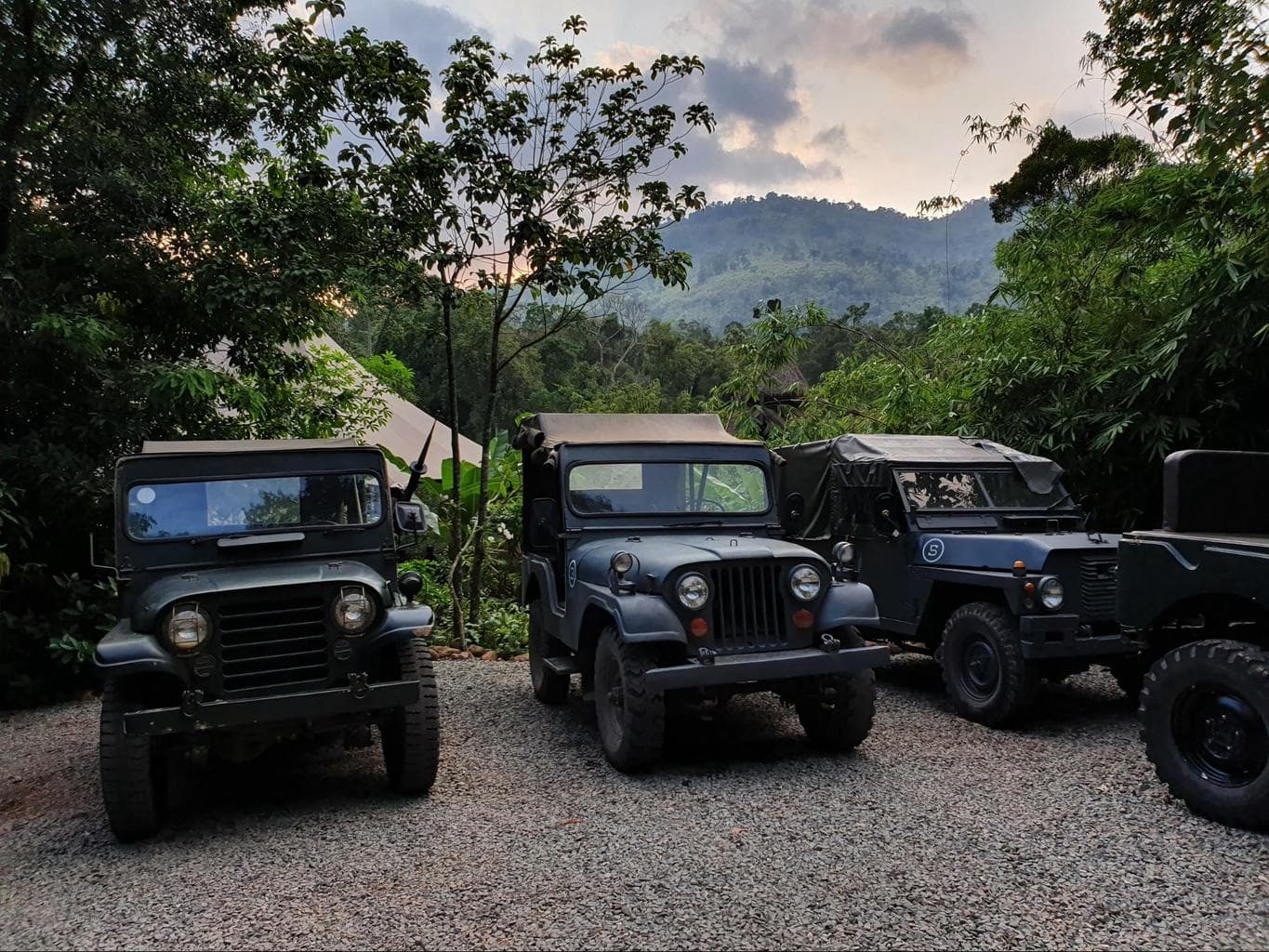 Shinta Mani Wild is a place you come to explore the area, although the serenity of the place and the sound of the waterfalls also invites reflection and relaxation and you could easily sit on your verandah and simply read a book.
If you do indeed want to go wild, as prescribed by Bensley himself, don your safari clothes and jump on the vintage 4WD used to move around.
You can book one of the activities available from your Porter & Sail app which will be emailed to you before arrival so you can customize your stay. The team will then place all your selected activities in an itinerary that will be ready when you arrive.
You can do lots of things, from biking trips to excursions to waterfalls or a morning spent with the rangers from the Wildlife Alliance which the lodge and Shinta Mani Foundation support. Your days can be safari days, Cambodia-style.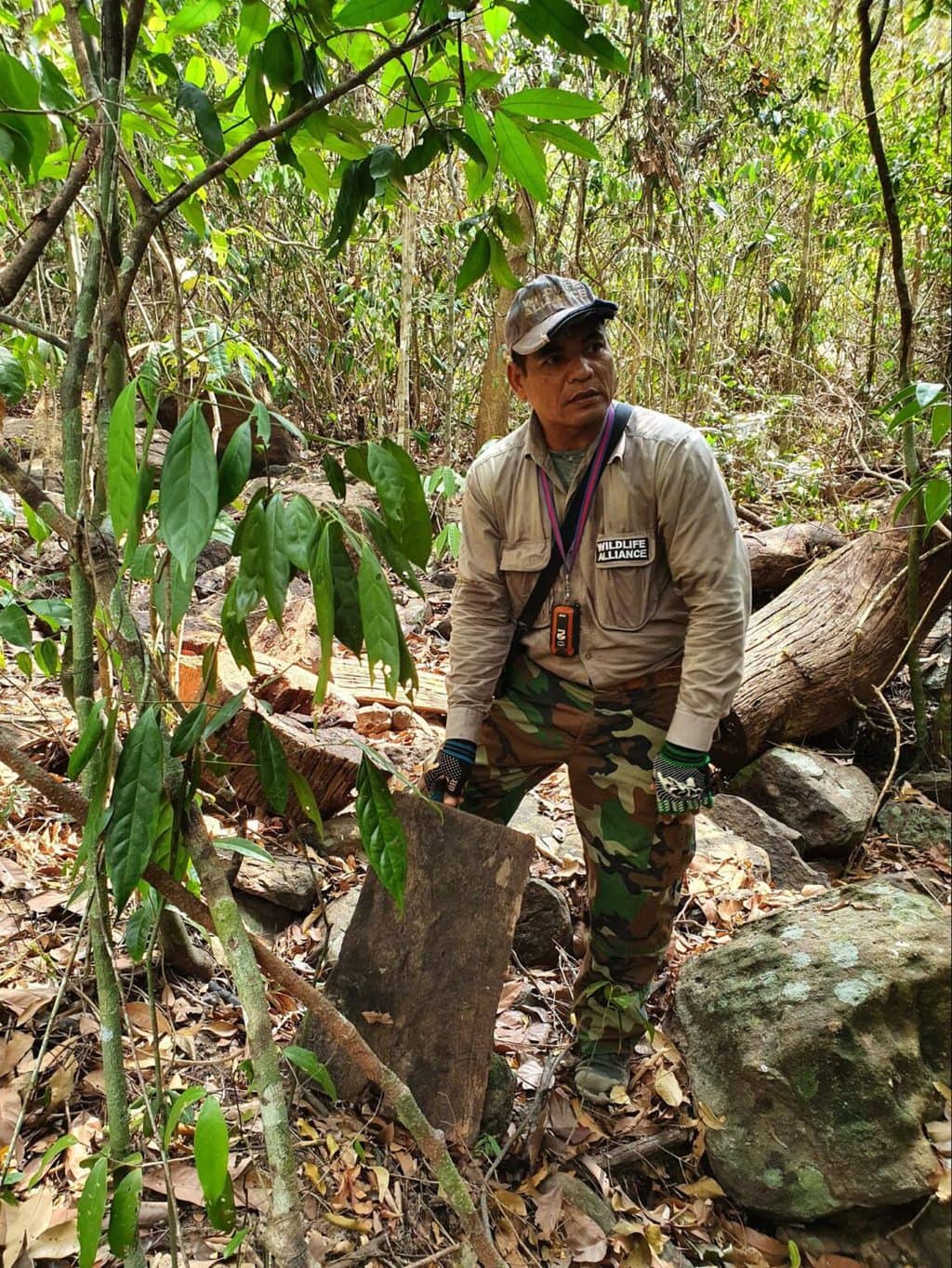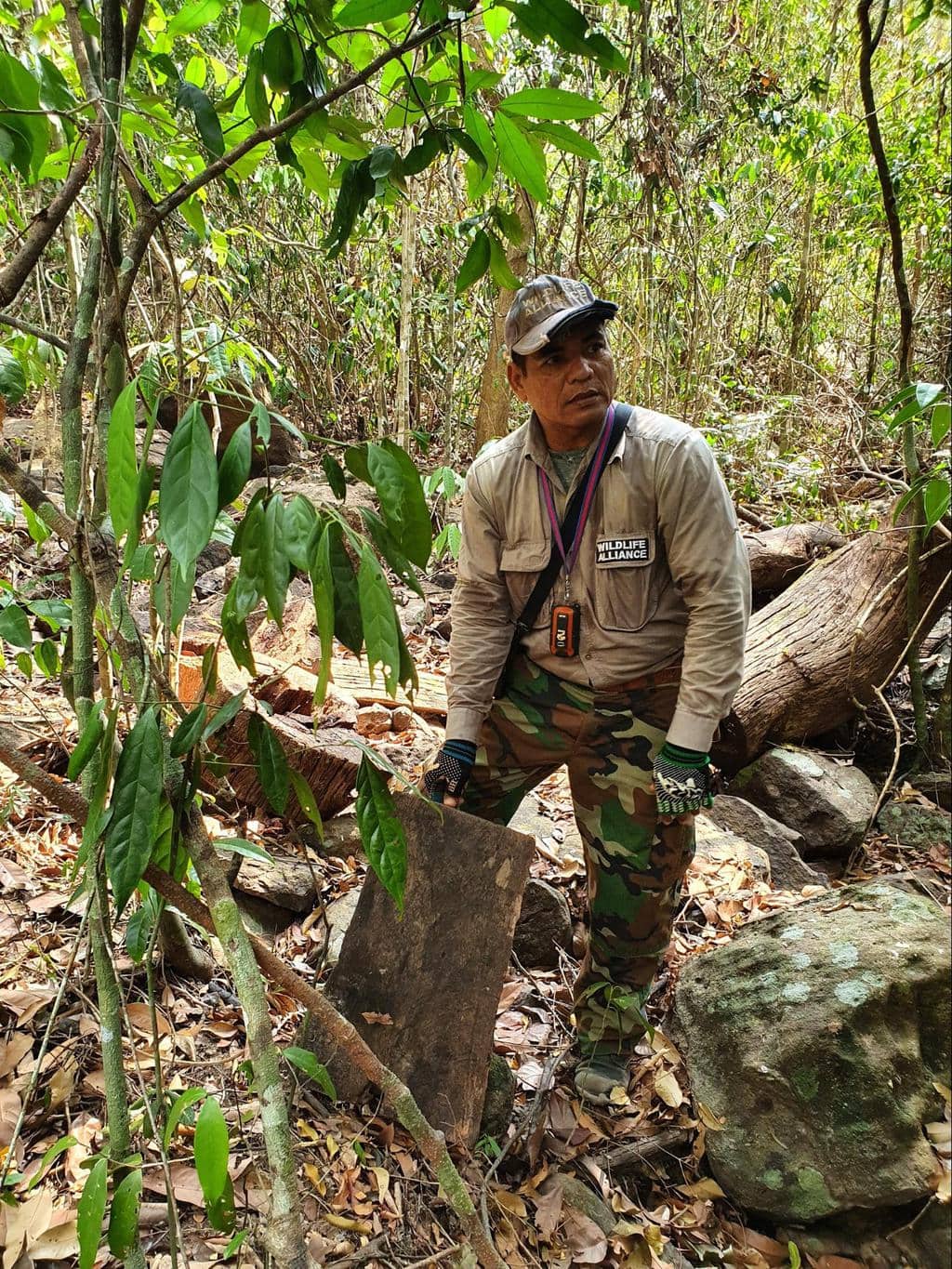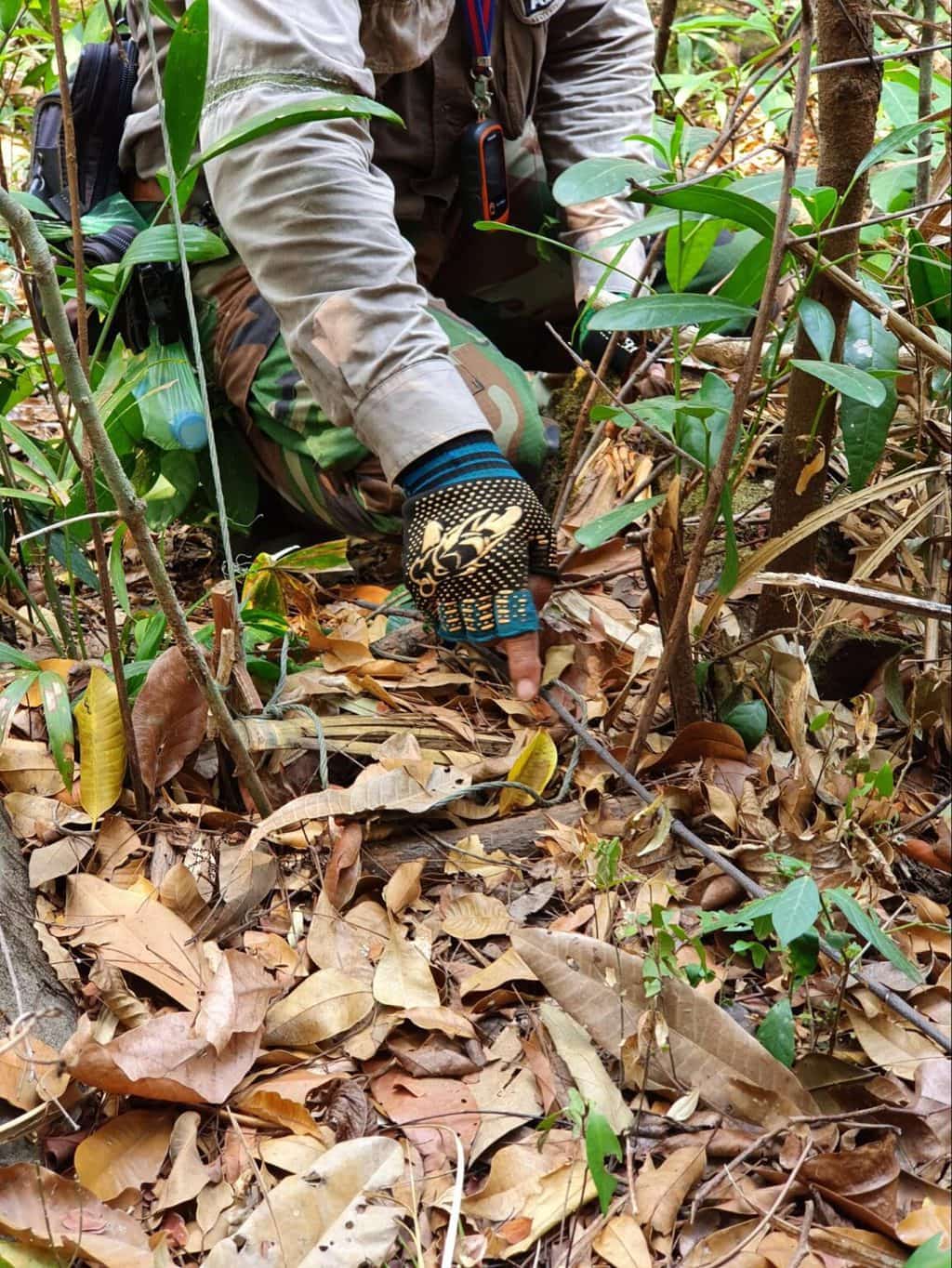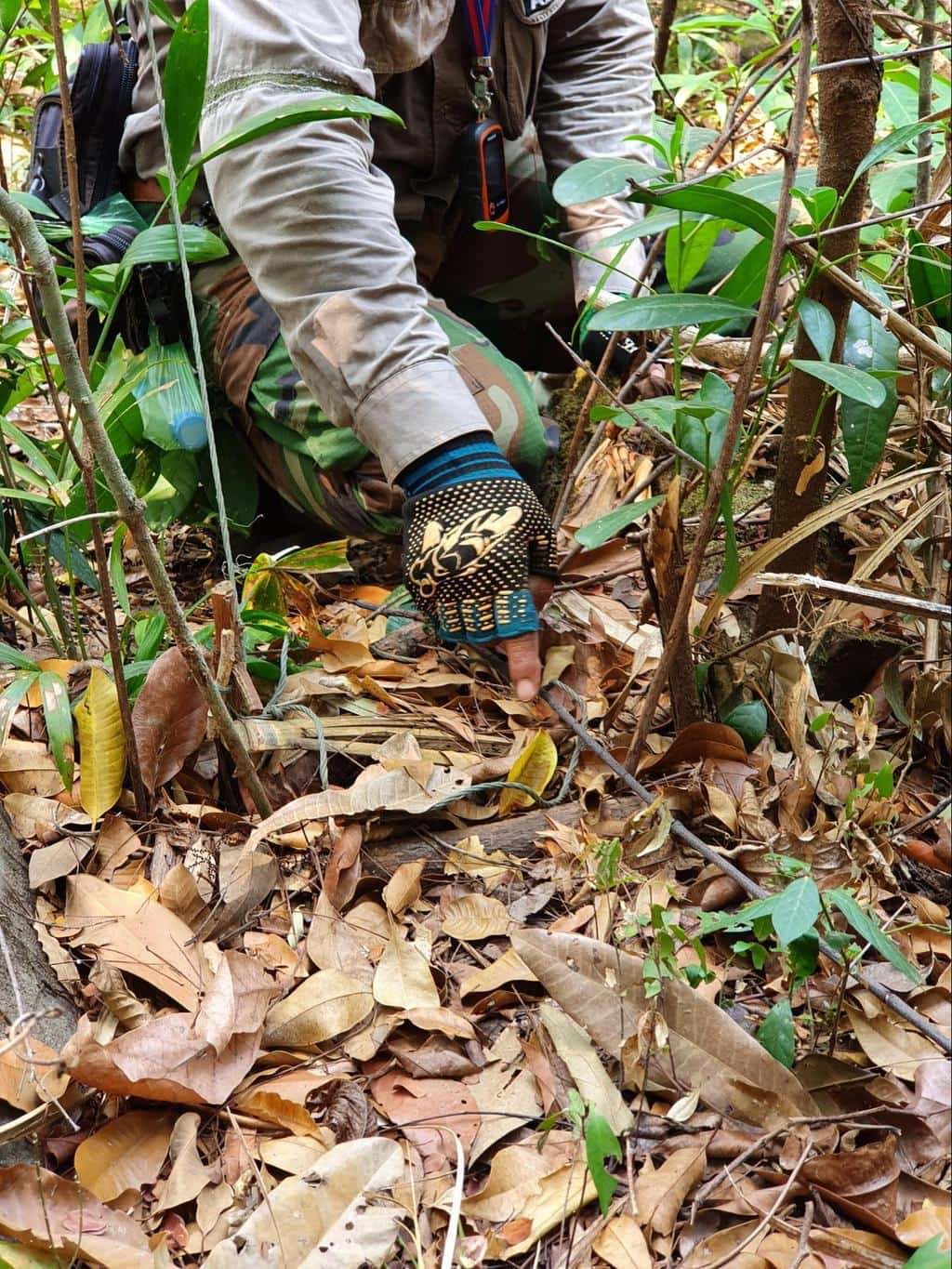 One of the signature excursions is a half-day spent on the lodge's boat. You will drive for an hour to the river shore and then jump on your adventure boat that will cruise along the snaking river.
Lunch will be cooked and served at a small beach with white powdering sand. How this fluffy slice of beach was formed remains a mystery. You can suntan on the boat's top deck or on the beach. Your butler will bring your favorite drink too. If you feel so inclined, you can stay until sunset.
But the activity I enjoyed the most and which I think best represents the lodge is the excursion with the Wildlife Alliance anti-poaching rangers.
The Wildlife Alliance runs projects in several countries and has been protecting the forests of the Cardamom National Park since 2002. A group of rangers spread over 7 ranger stations patrols a huge area of the forest every day. When situations become dangerous and the poachers turn violent, they have to call for the help of the army, an occurrence that is far too common.
The presence of the Wildlife Alliance has definitely made a difference in the Cardamom National Park and no elephant has been killed since 2006, an encouraging statistic in Asia's poor conservation track record.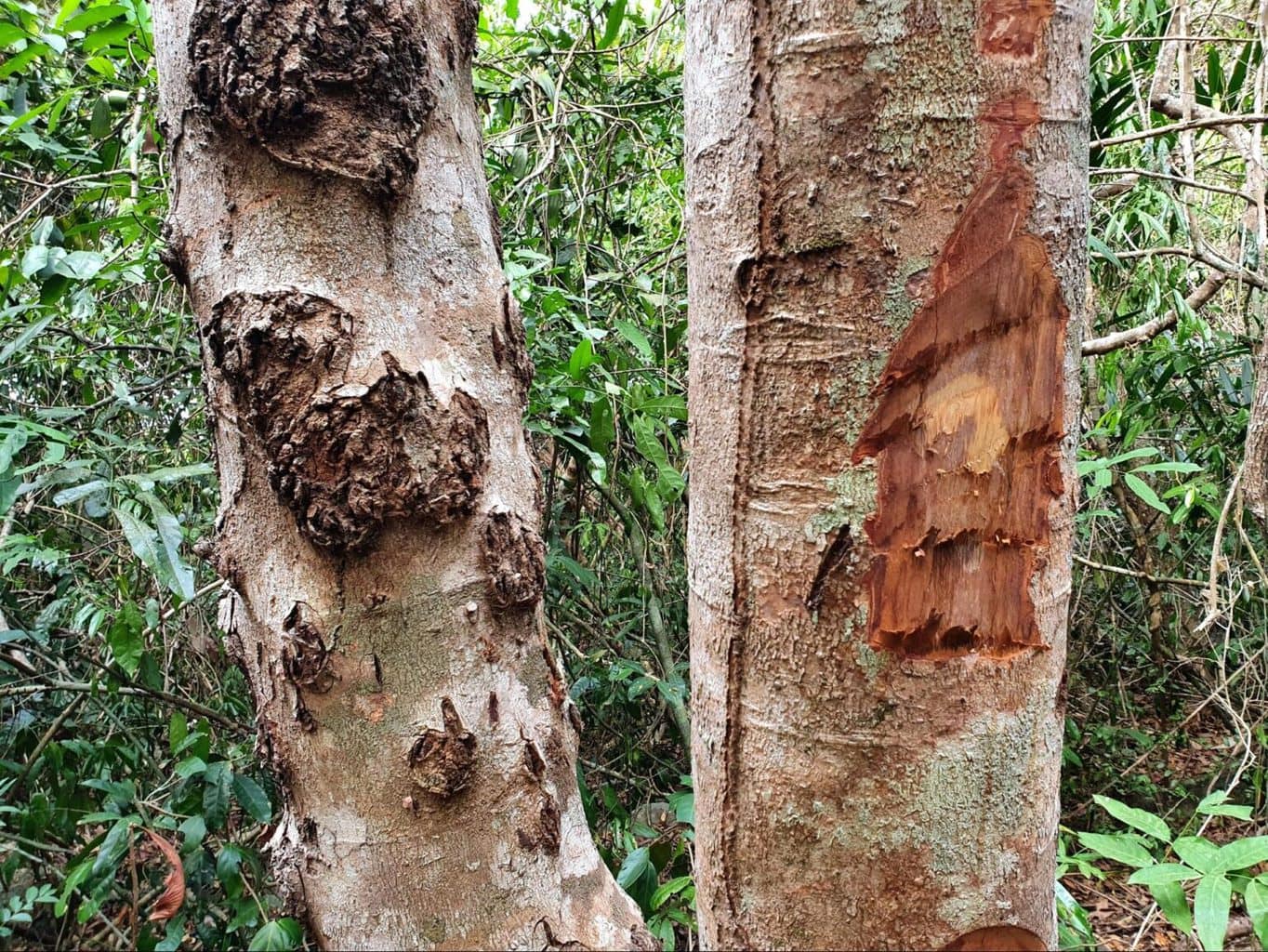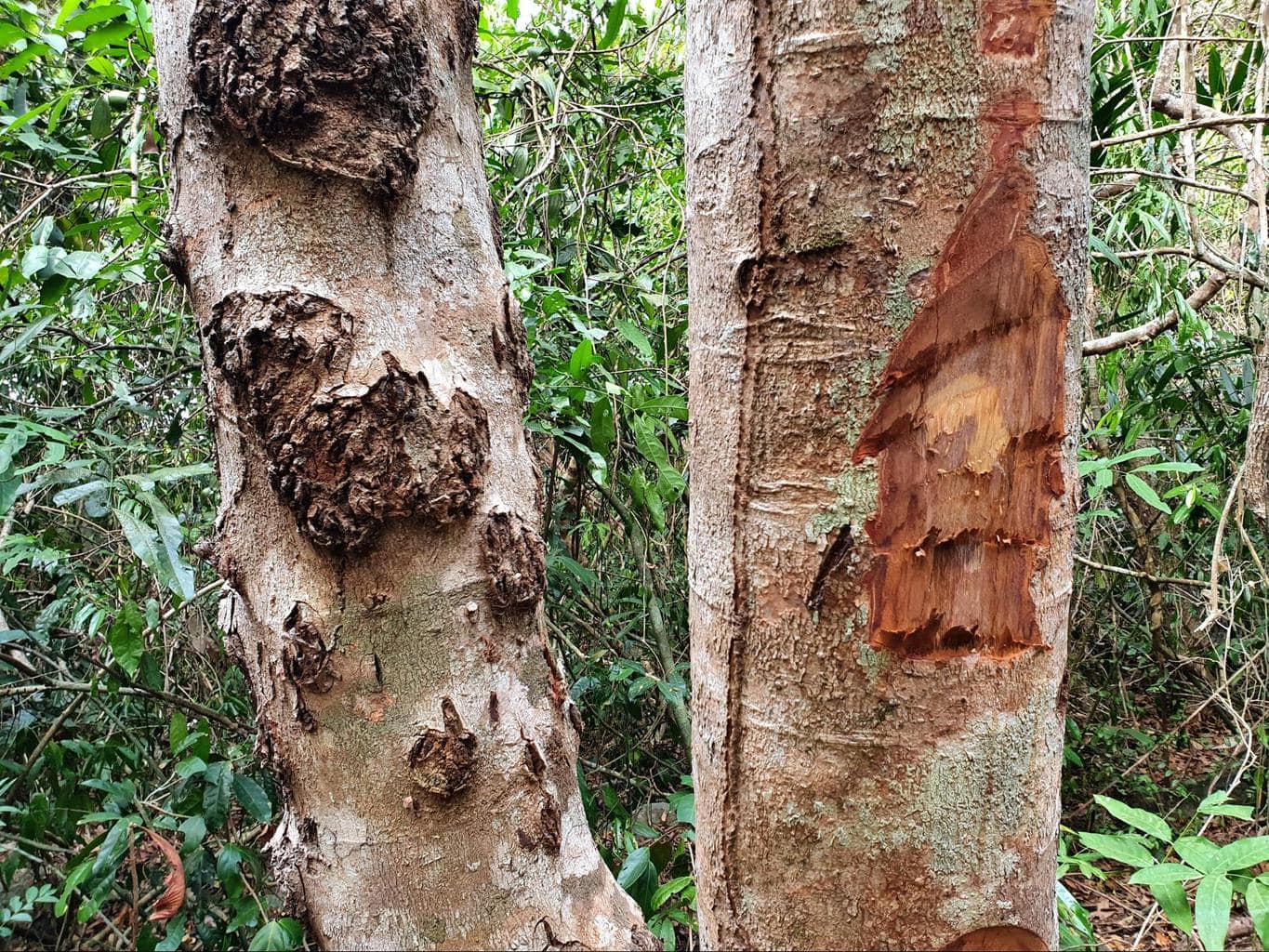 They are also working to reintroduce tigers, a species that has become extinct in Cambodia and treating the animals that are rescued before they can be released again.
You can sponsor one of the 7 ranger stations by donating $5 a month for a year or help with animal care. When you stay at Shinta Mani Wild you are also helping with the efforts as the lodge supports 8 of the rangers in the ranger station nearby.
The activity starts around 8:30am after their briefing and takes guests on a 1h ride at the back of a sturdy and all-terrain motorbike piloted by a ranger or your butler and into the forest.
Escorted and accompanying the rangers, you will learn first hand about their work as you look for snares, traps, illegal fires and signs of poaching or illegal logging.
The ride is exhilarating and quite heart-pumping at times when the bike descends over steep and rocky paths. In the forest, you will learn about the illegal cutting of trees, particularly rosewood trees which can sell for thousands of dollars, more than a family in the countryside earns in a year.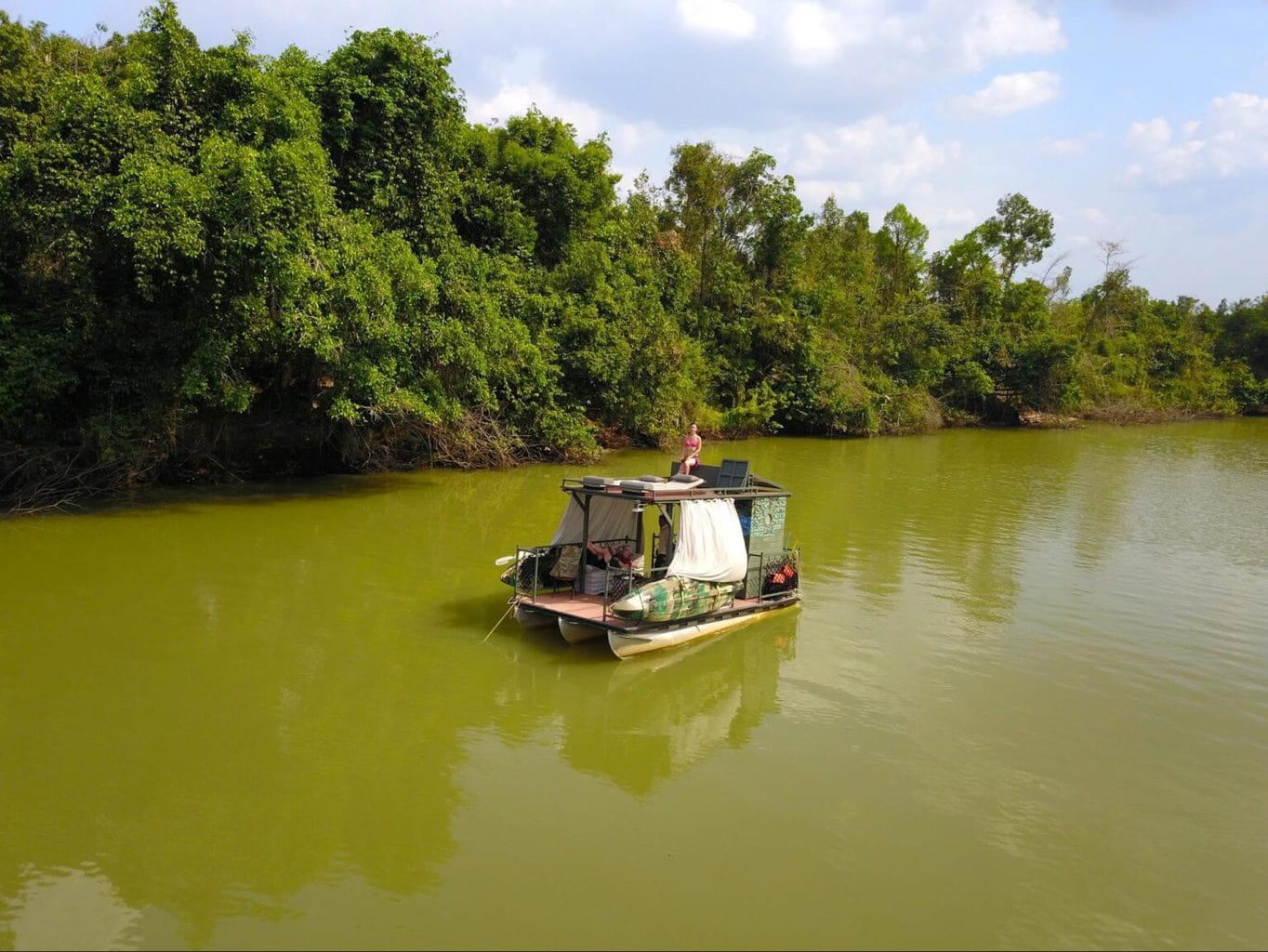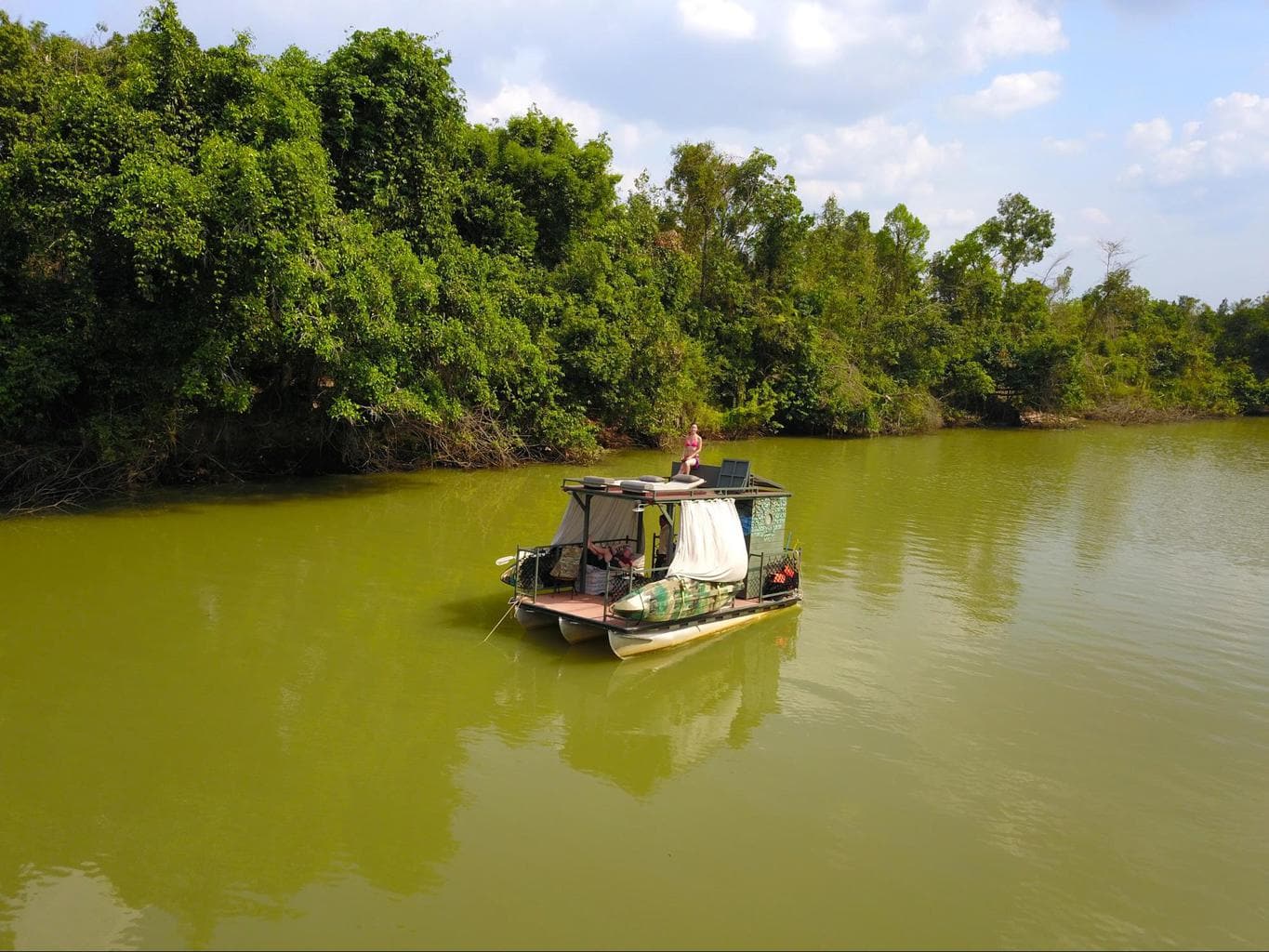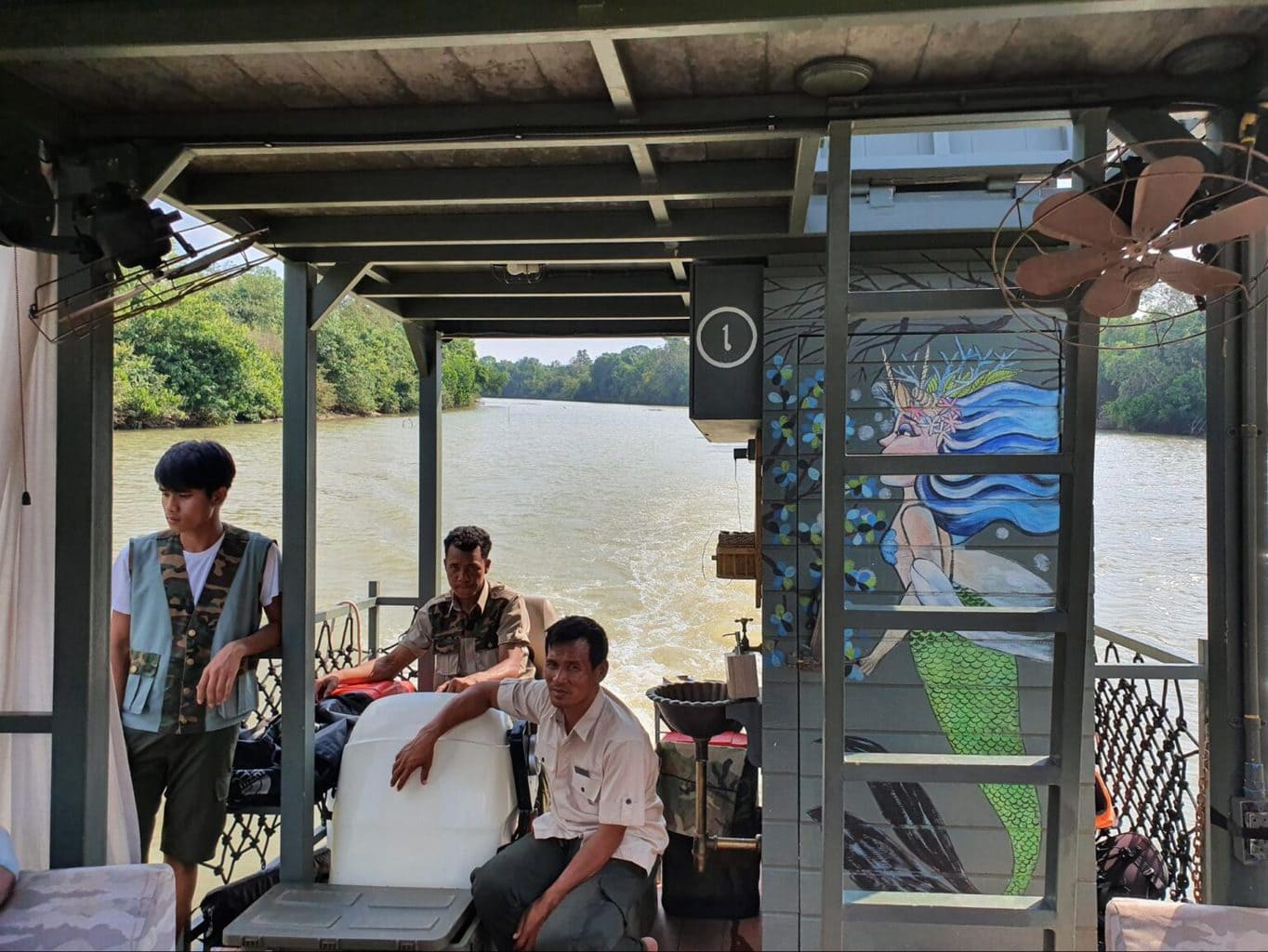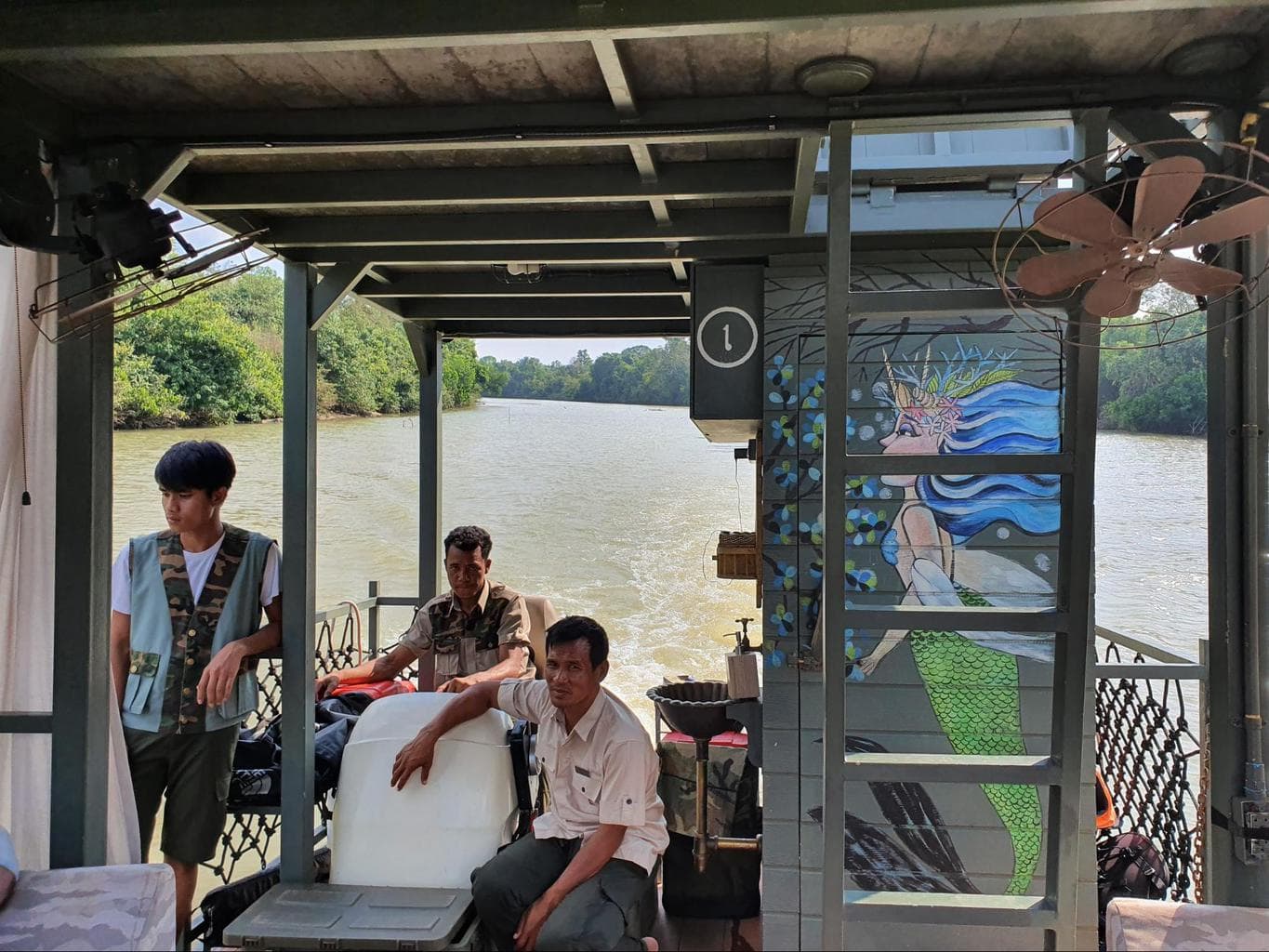 You will also most likely spot and remove snares and traps, a recurrent work the ranges never get tired of, despite it being their daily fight. These can be small traps set to capture deers or pangolin, or larger snares that target larger animals, even elephants.
These animals are captured for their meat but also for their value in the black market, in Chinese medicine and as an ingredient in other potions.
On our trip, we found the roots of a rosewood tree that had already been cut but which still has a high street market and which the rangers continue to protect and check upon regularly.
We also saw plenty of markers on rocks used to delimit parts of the forest slated for illegal burning. Once the forest is burnt and disappears, they can claim ownership from the Government.
Our ranger also spotted and removed a trap made with cord and attached to a bamboo branch. While it might have trapped smaller animals, they would have probably managed to escape if given enough time.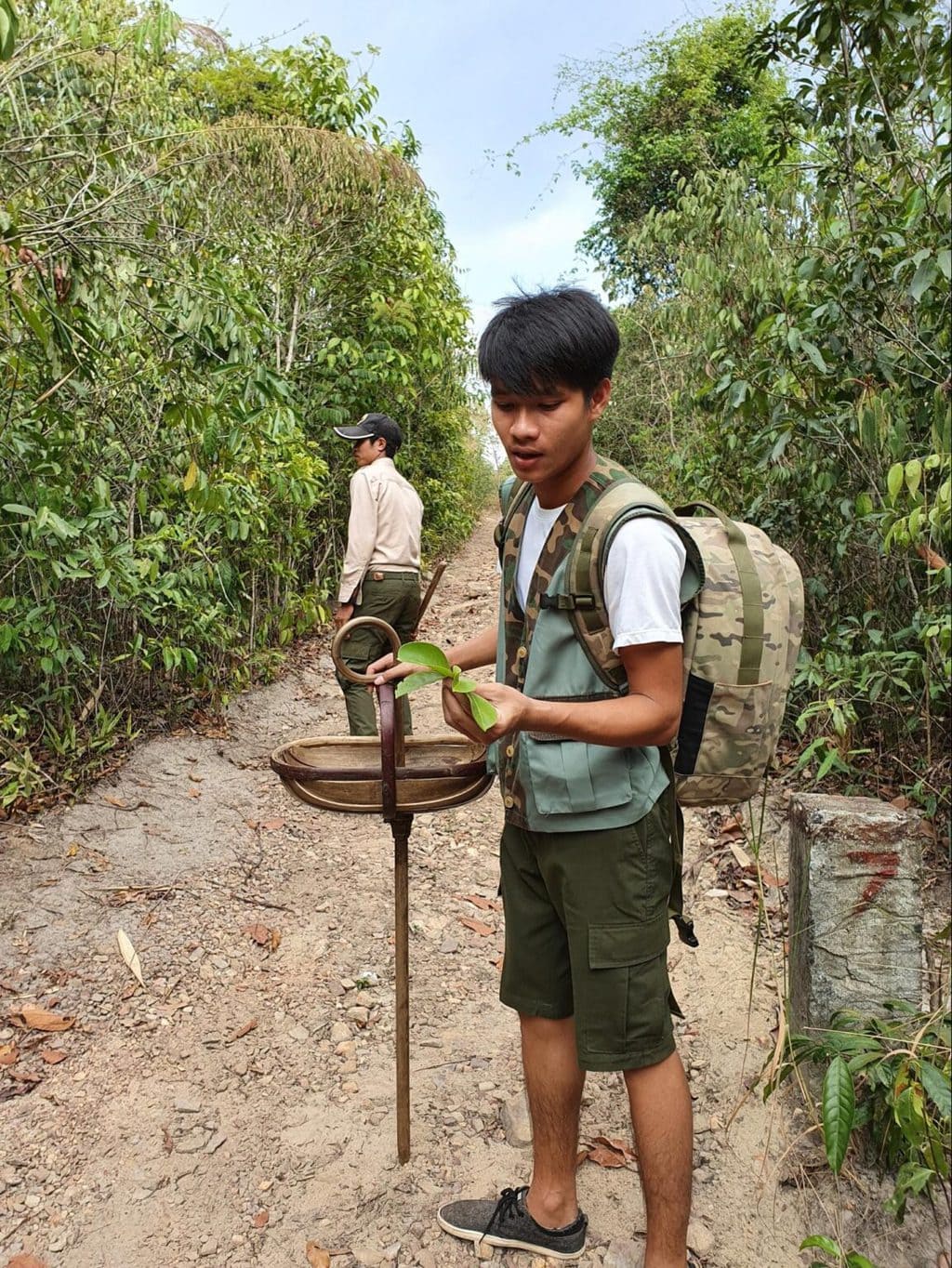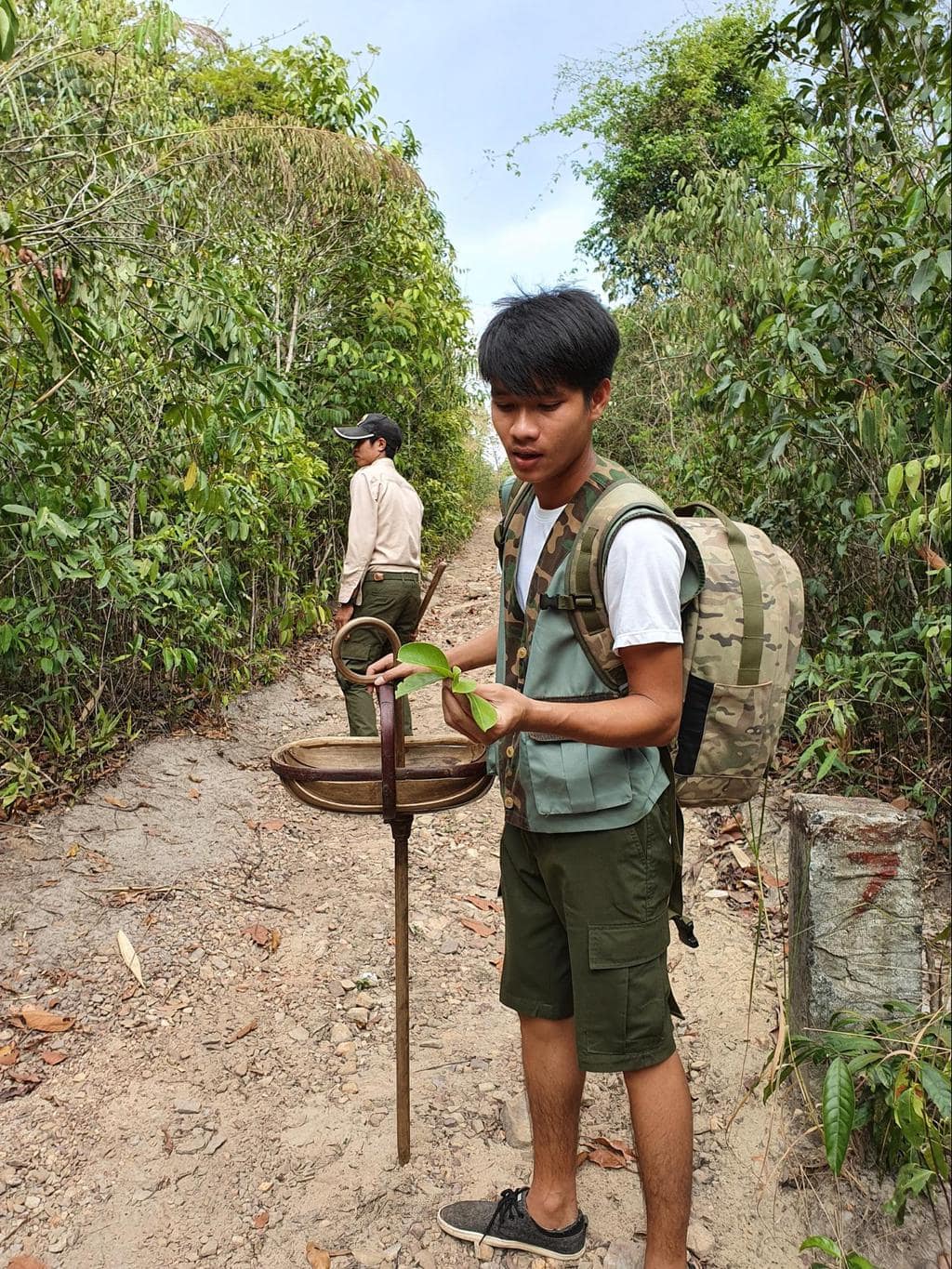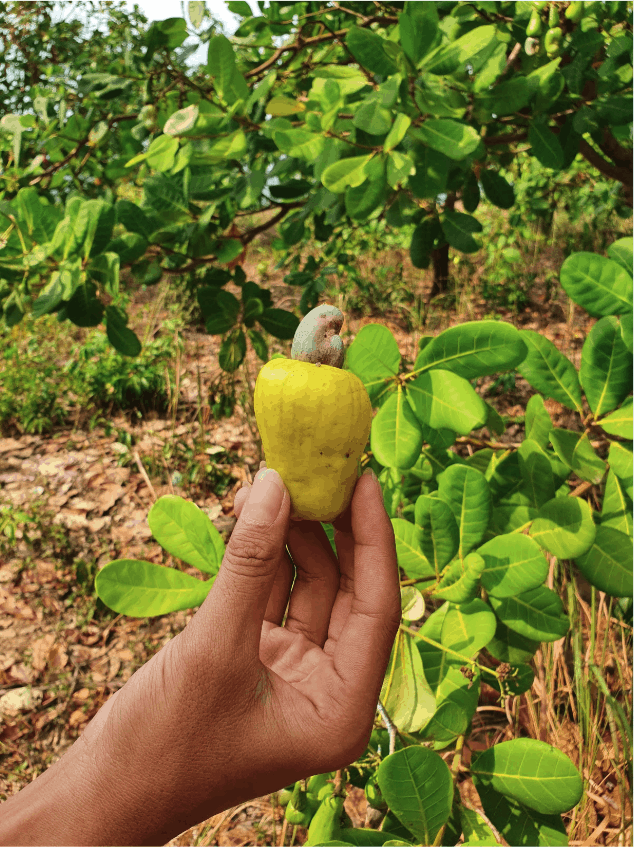 Another fun activity you can do and which we enjoyed was a foraging excursion around the lodge. With our experienced butler, we walked for about an hour through the forest and farming areas nearby discovering fruits and vegetables, wild or domesticated, growing in the area.
We then continued with a Khmer cooking class where some of these ingredients were used with the chef, learning and tasting fish Amok is a must in Cambodia, similar to our experience at Templation in Siem Reap.
For those living in urban centers or outside of Southeast Asia, some of the fruits you find may be a novelty or you may have never seen in the wild. Did you know that pineapples grow on the ground or cashews shells are very toxic? This was a fun activity to do.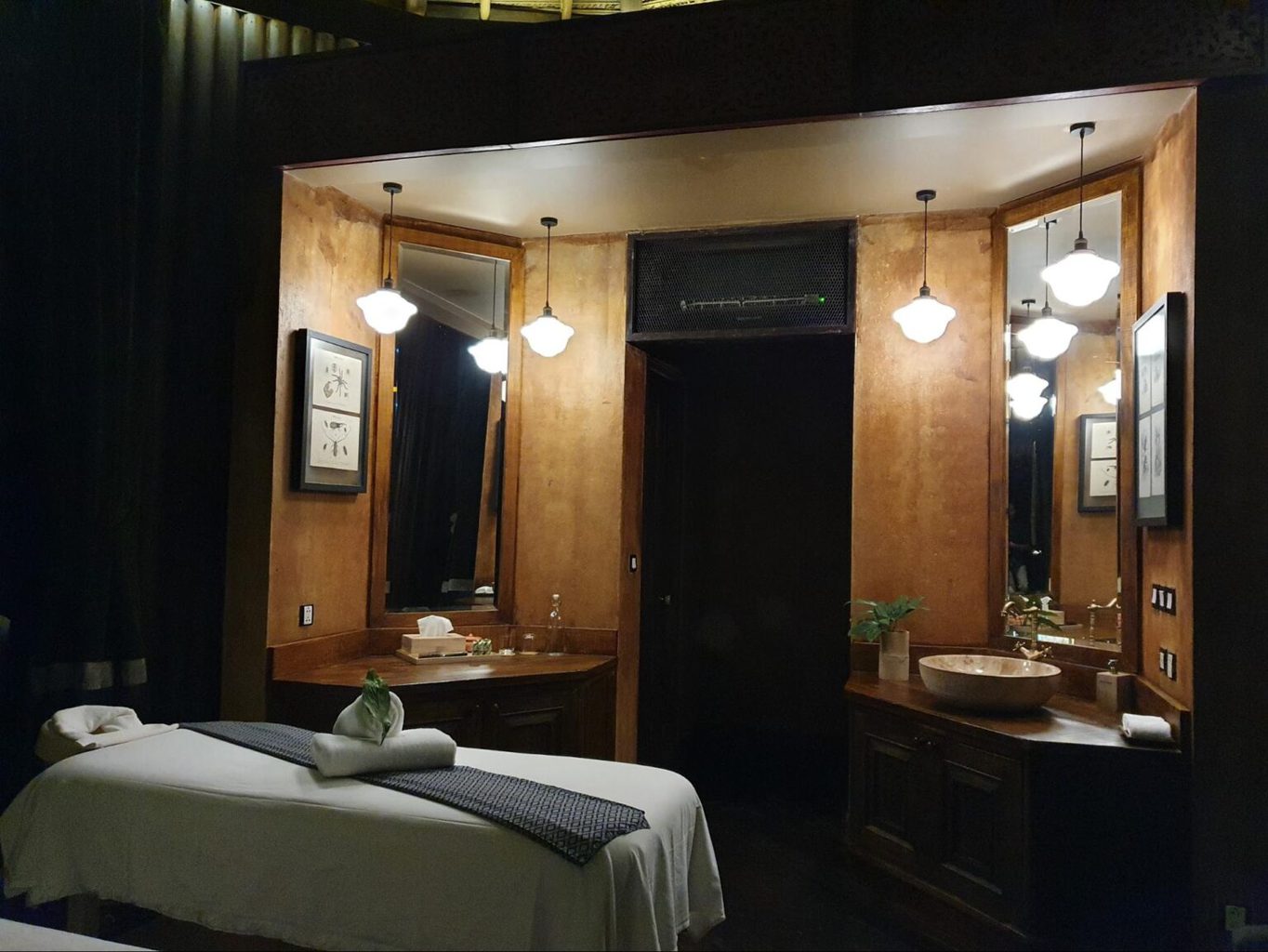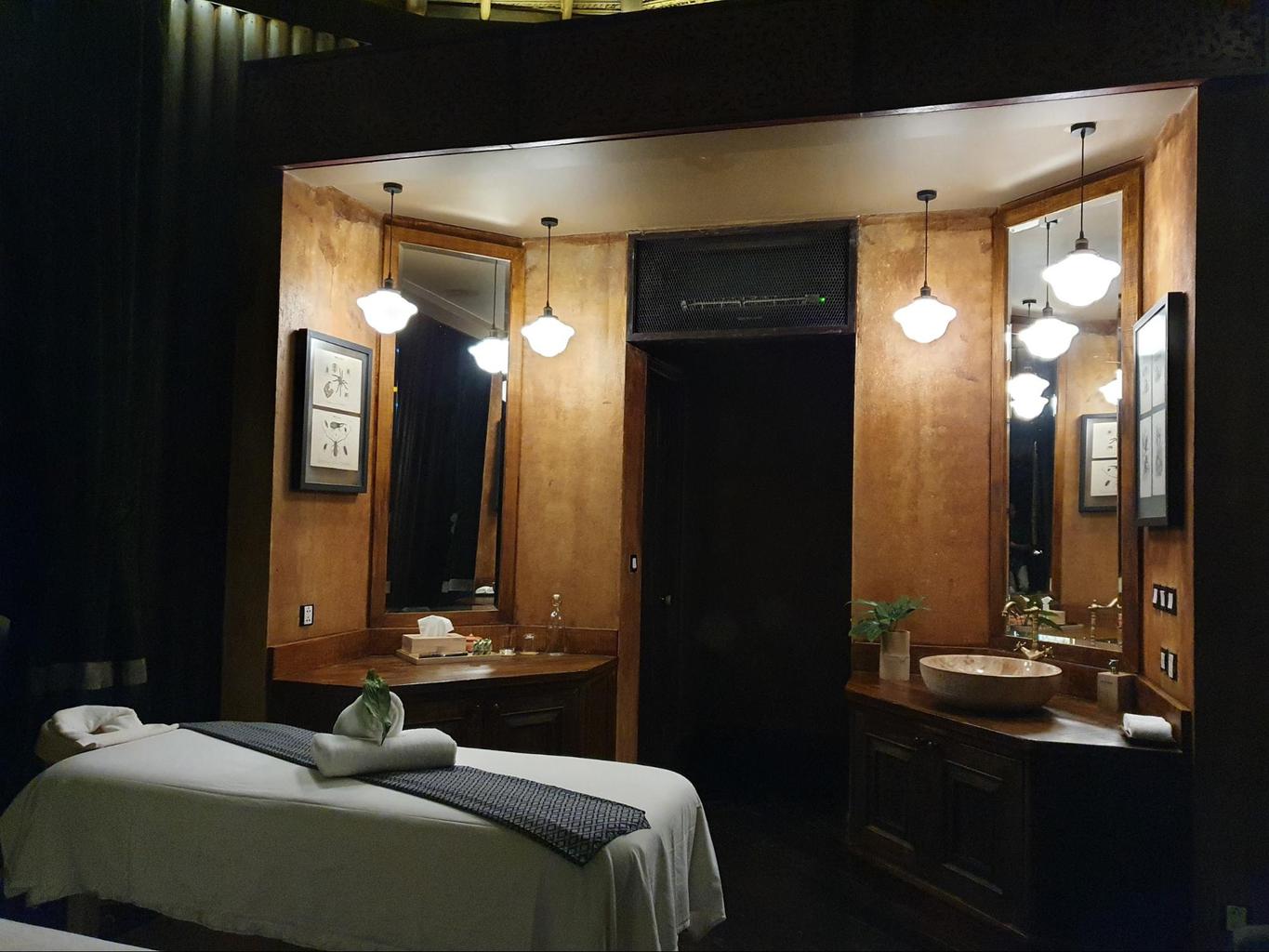 I can't finish the list of activities at Shinta Mani Wild without mentioning the spa. Without us having to ask for it, our butler Lucky had arranged a spa treatment for the two of us on the first evening, before dinner. It was so good that I repeated it every evening.
Spa, drinks, dinner, the perfect evening at Shinta Mani Wild, all thanks to the fact that rates are all-inclusive of meals, unlimited premium drinks and spa treatments.
You can choose from seven options of treatments from aromatherapy massages to Thai massage, a body scrub, a facial or a foot massage. I tried a few and the therapists were really great, able to tailor the pressure to your liking. I slept through the first massage, drooled even, but managed to stay more or less awake the other two times.
The facilities at Shinta Mani Wild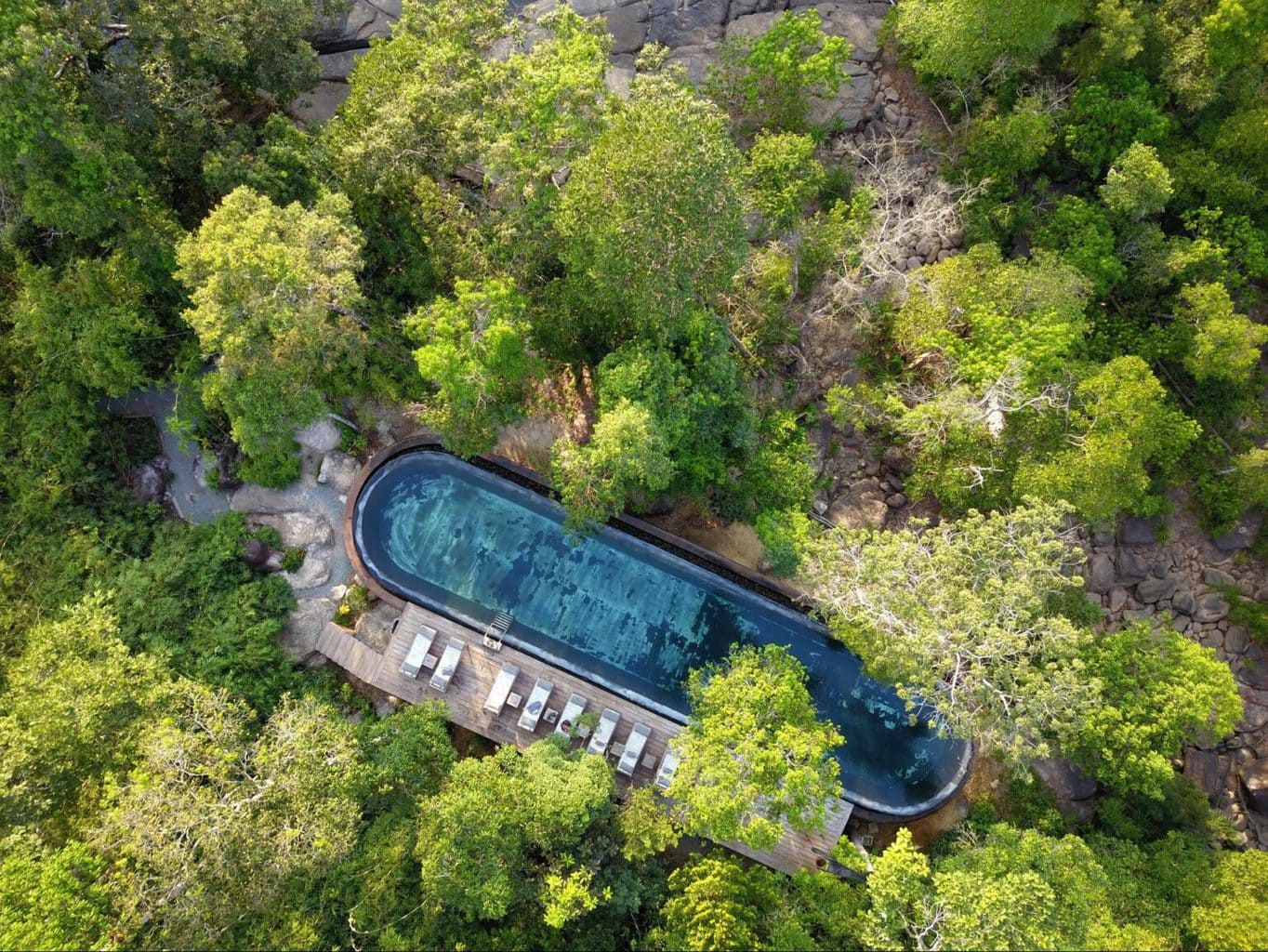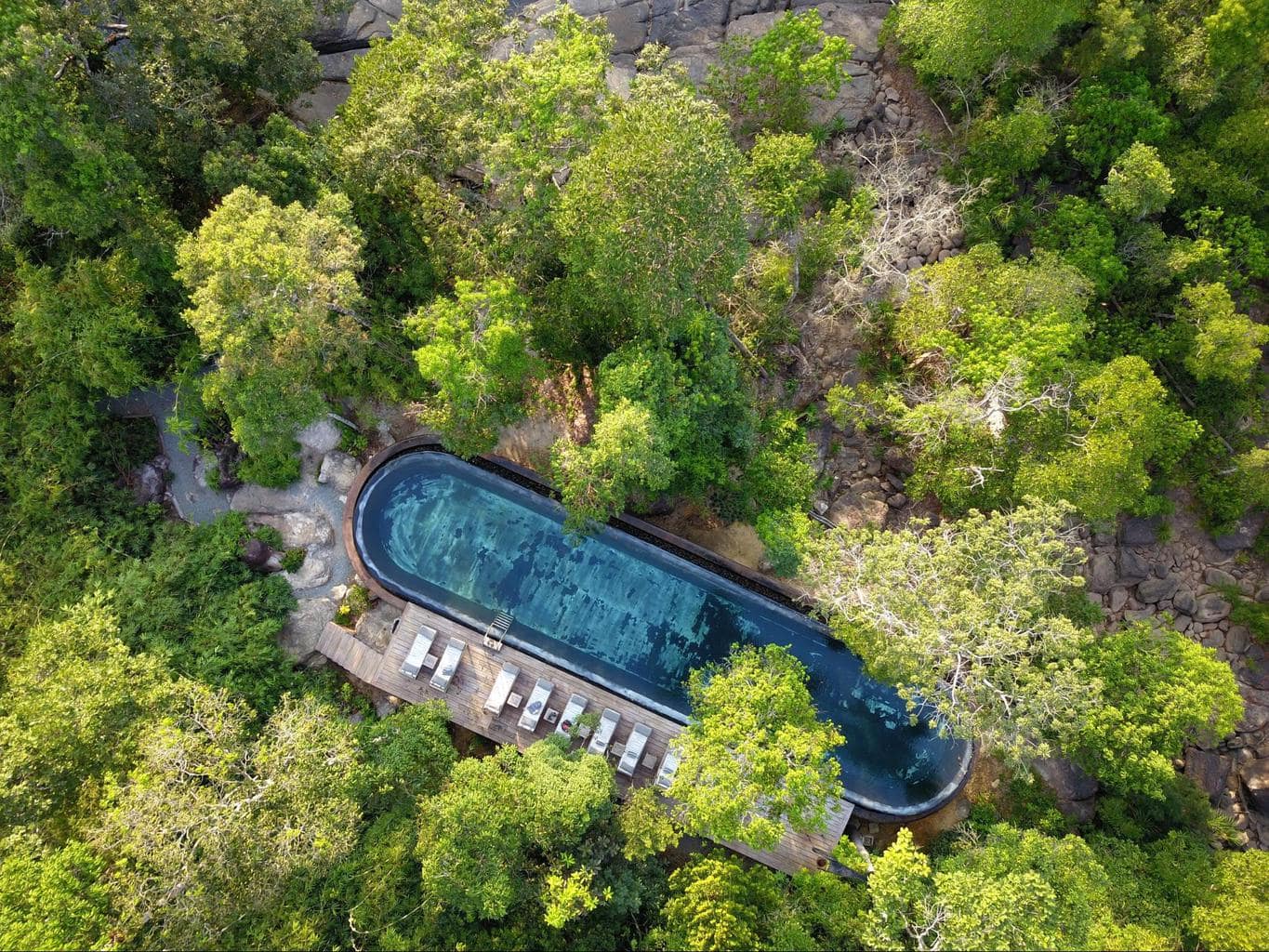 Shinta Mani Wild is a low impact lodge, hence there aren't the typical facilities you will find in other places such as gyms or large common areas.
You have the main Headquarters, the Landing point bar, a spa hidden in the jungle and the cistern pool that looks like a huge black bathtub that a giant gently placed on the Cambodian forest.
No hole was dug to put the pool in and no trees were cut when building the main tents. Occasionally, a tree goes through the ceiling. The lodge is camouflaged between the foliage and the canopy. Even from the drone view, I could barely spot the tents and common areas.
Shinta Mani wild also has a Shop with a Heart store where cool clothes and other objects are for sale. All the proceeds from the sale of items go to fund the Wildlife Alliance. If you have ever seen Bill Bensley himself at conferences and events you may have noticed his khaki green jacket with colorful patches, its from the shop's collection.
Service at Shinta Mani Wild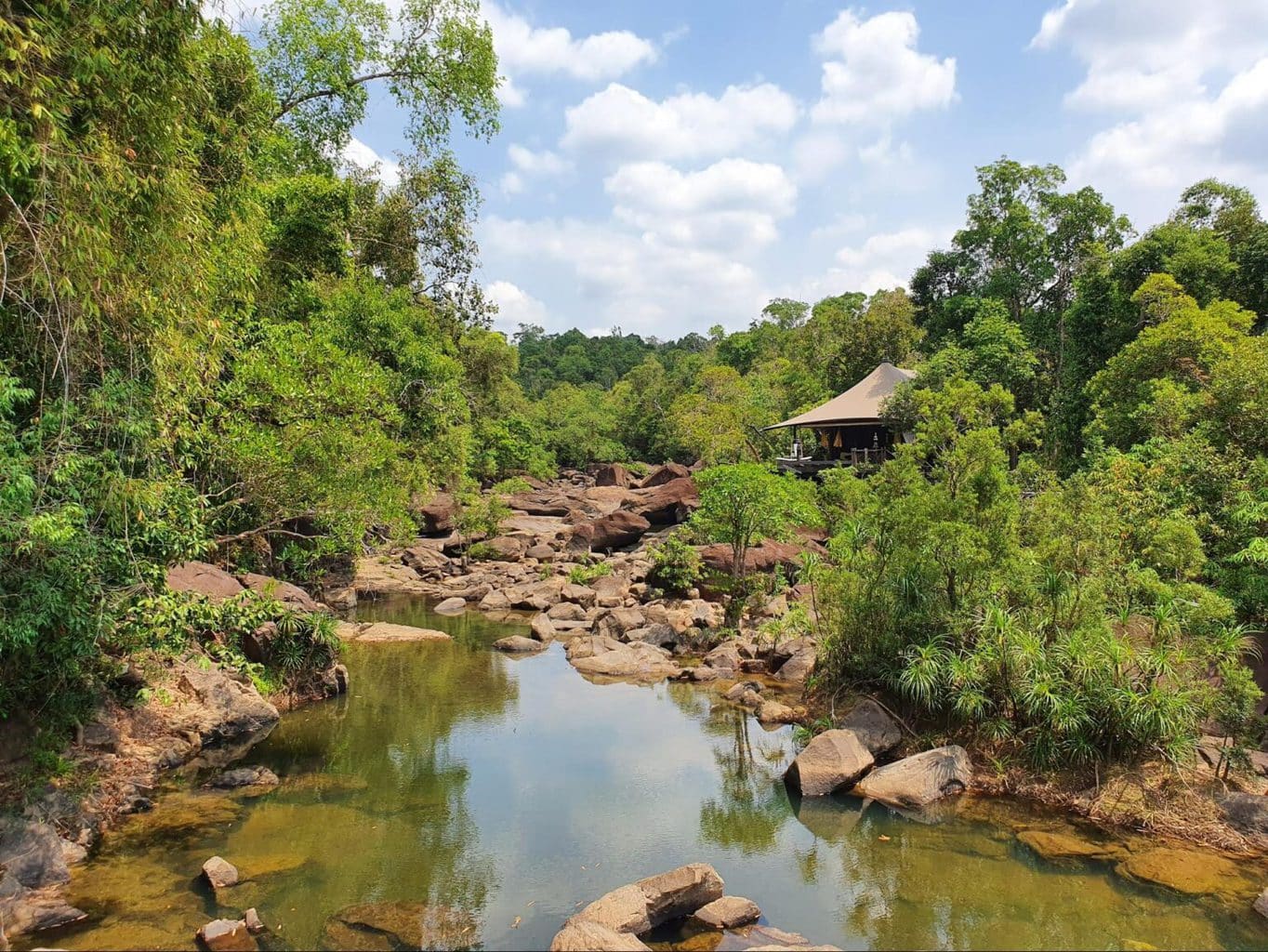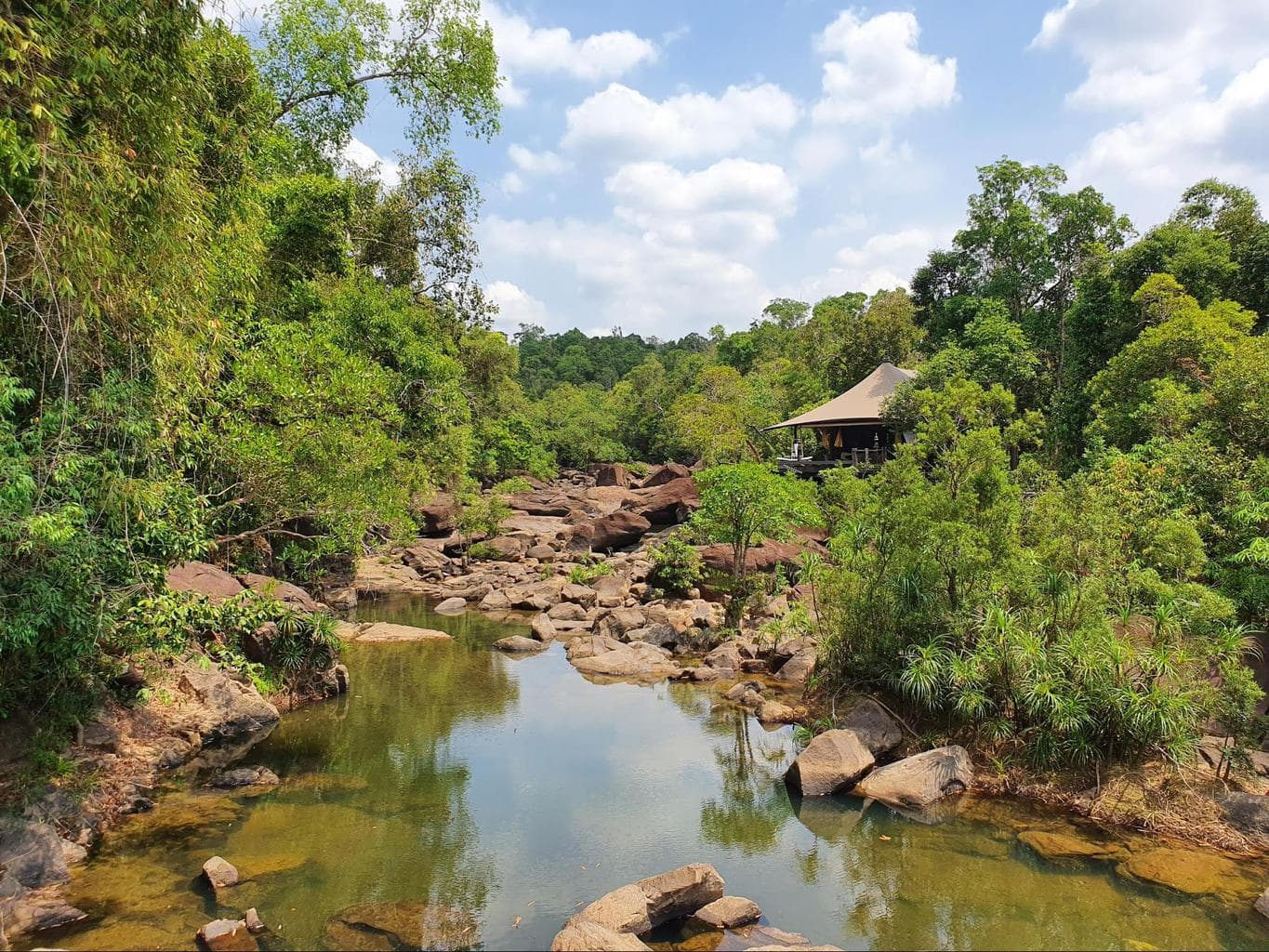 Perhaps what makes Shinta Mani Wild unique is its approach to service. You will have an assigned Adventure Butler with you for the duration of your stay.
This is not a butler in the same way butlers are anywhere else in the world, even in exclusive places such as the Mr/Ms Friday Butlers at Gili Lankanfusi, one of the best resorts in the Maldives. The Bensley Butlers are there with you for the duration of your stay and are exclusively dedicated to you, escorting you everywhere.
This means you don't go on excursions with guides or other members of the team but you go with your own butler. He has no other guests for the duration of your stay and is entirely devoted to making your time memorable.
Cambodians are kind and gentle and Bensley butlers have been picked from the best. They have been specially trained and several come from the Shinta Mani Hospitality School. Our butler, Lucky, was very friendly and helpful and was always there to anticipate our needs.
He came with us on all excursions and made sure we had water, repellent and sunscreen. He also cooked our lunch on the boat ride and took us foraging in the forest. The only activity we did not do with him was the cooking class, which was led by the chef.
I would define the Adventure Butlers at Shinta Mani Wild more as your host in the literal sense of the word than as a butler. They are literally there to host you during your stay and they are your link to Cambodia.
The verdict: Review of Shinta Mani Wild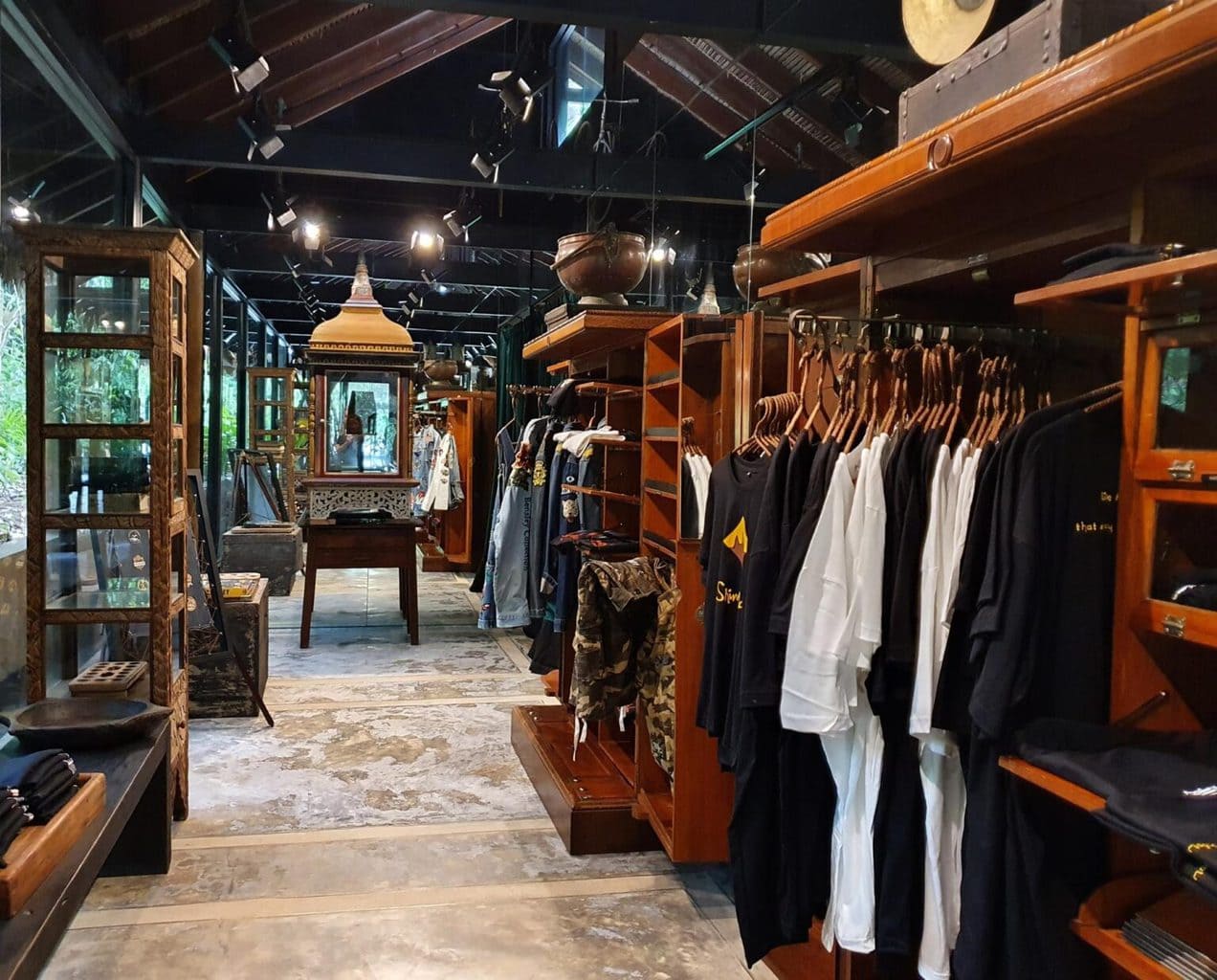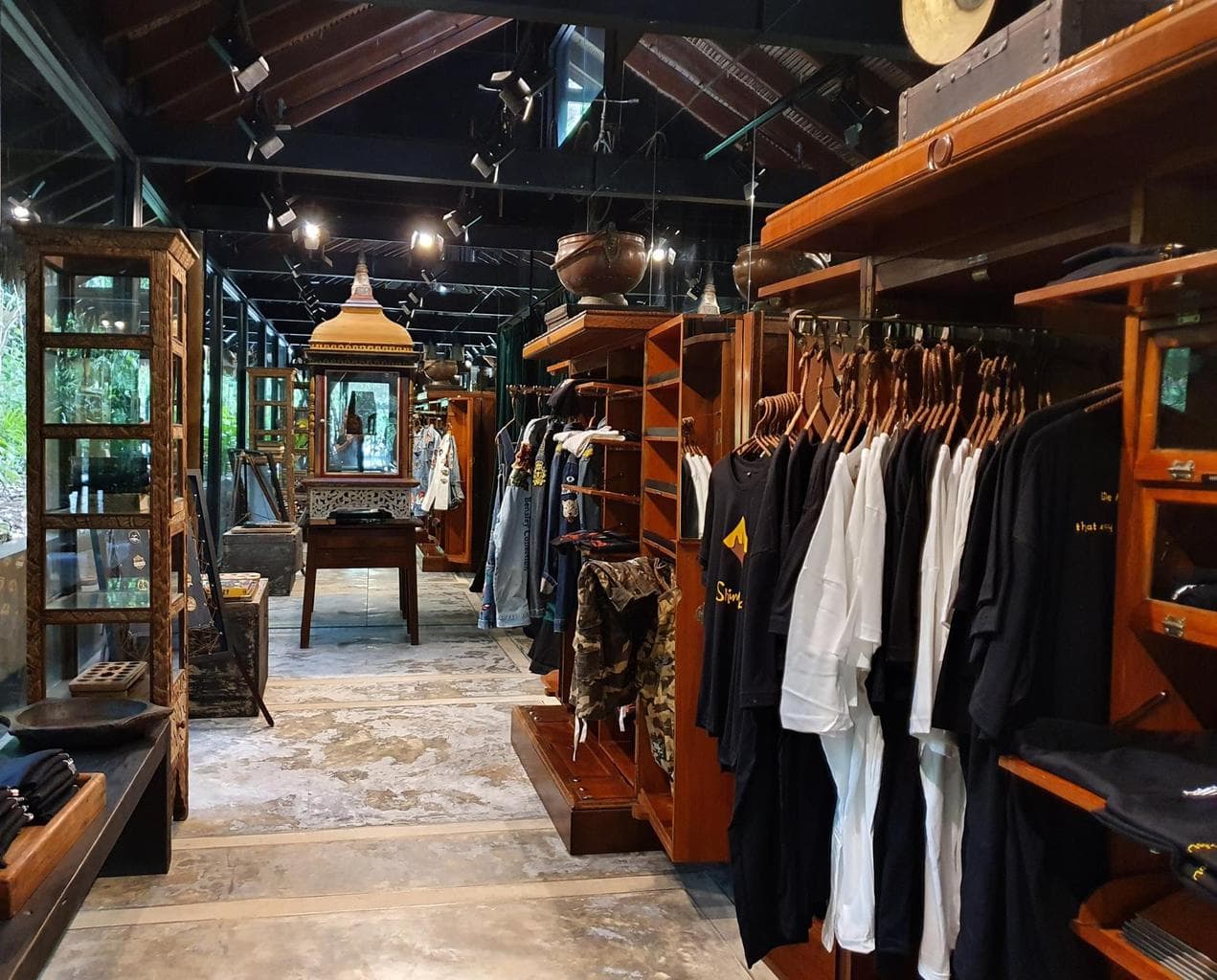 Shinta Mani Wild is one of those properties that embodies the concept of traveling with purpose.
The lodge was created not only as a tourism magnet with guests and financial goals in mind but as a means to continue to support and finance the conservation efforts with which the land was first purchased.
Support for the Wildlife Alliance, the opportunity to spend time with them to fully understand on the ground the efforts being made and the low impact design of the lodge give us hope that someone does care about the preservation and wildlife conservation of the Cardamom National Park.
Don't forget to Pin this to your bucketlist resorts of the world board!