You thought you could endure a week of sun, sea and relaxation but after the second day you are itching for some activity? Six Senses Laamu has something for everyone.
Although their website explains most of the experiences available once you get there you realize there are even more seasonal or changing options available. Read about my experience at Six Senses Laamu with this complete review of the resort.
Dolphin sunset safari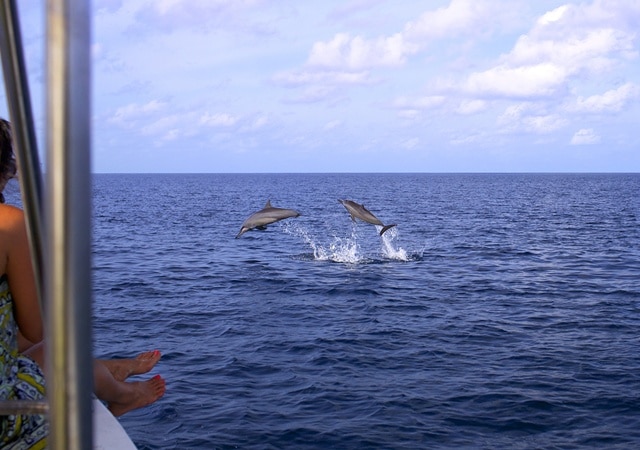 Laamu atoll, like most of the Maldives, has a very rich marine life among which spinner dolphins. As they tend to be nocturnal animals they are hidden resting during the day and come out at sunset to hunt and play. The resort organizes sunset cruises to see them while sipping champagne.
These are extremely graceful creatures, despite I once got bitten by one in Cuba, who enjoy playing. After swift departure the marine biologist on staff gave us an introduction about their habits and what to expect and we soon started to see them jumping and spinning in the air.
They seemed to enjoy the presence of the boat and the waves and after half an hour of sailing alongside they went off into the horizon. It was very interesting and soothing to see them having such a great time. If you prefer a more private experience you can book your private sunset cruise or a cruise on a dhoni instead of the larger boat for the group cruise
Diving with manta rays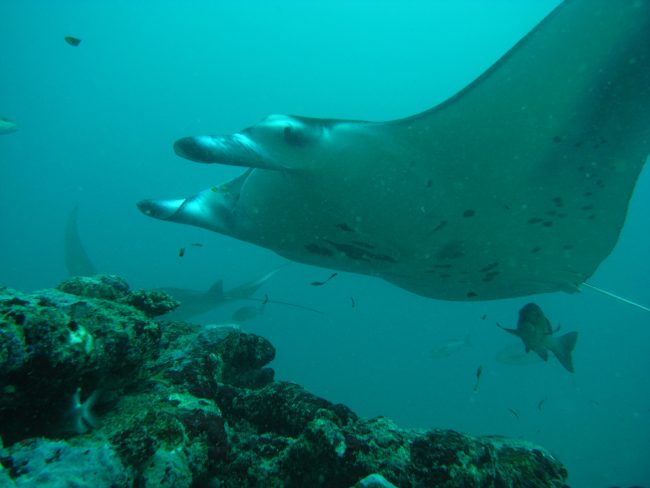 Six Sense Laamu has had a team from the charity Manta Trust onsite for the last few months recording sighting of the local stable population of mantas. If you dive, you have the chance to join them in one of their daily dives and see these creatures under water. They are so elegant for such a huge creature. Even if you don't see mantas you can carry on diving in one of the many spots available.
Surfing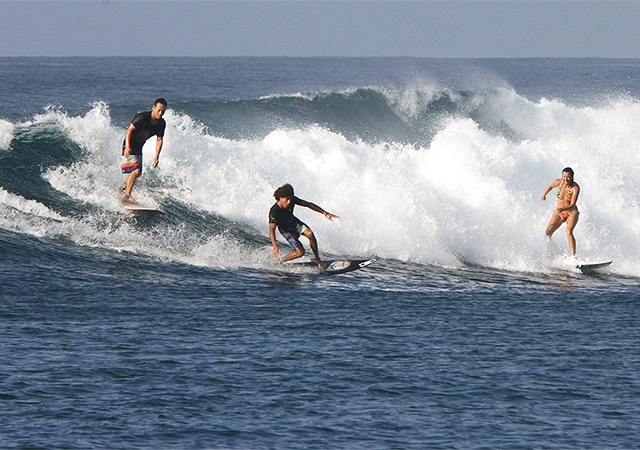 Six Sense Laamu is located next to one of the best waves in the Maldives, Yin Yang. The resort is surrounded by several breaks that are easily accessible, some directly paddling from your villa some a very short boat drop off from the resort. There are coaches at hand if you are looking to learn or if you want some company and local Maldivian are very likely to join you as the resort is in front of an inhabited island. Several staff from the resort use their day off to enjoy the surf.
Snorkeling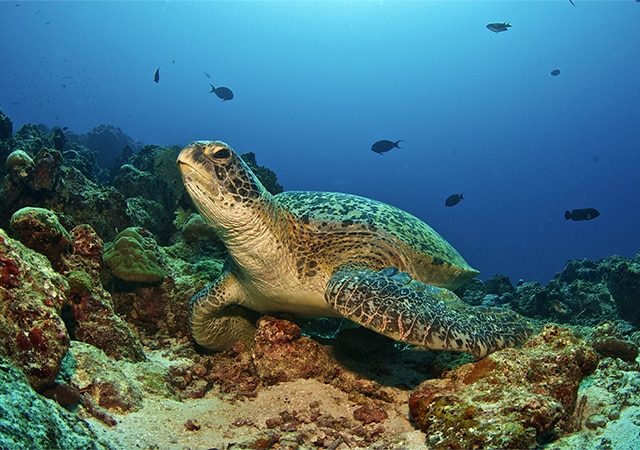 Options for snorkeling abound. From the very accessible house reef to the farther off islands within the atoll joining one of the snorkeling trips the dive centre organizes. Snorkeling in the Maldives is a relatively easy and accessible activity. From the resort's Edge bar you can jump in anytime. Don mask and fins and explore the waters.
Water sports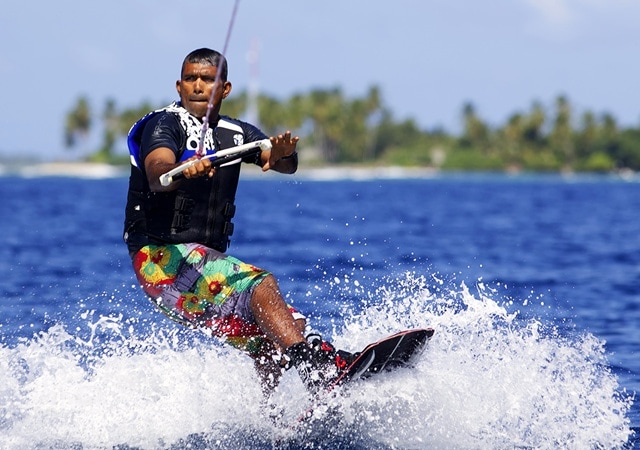 For sirens and pirates the resort offers all sorts of water sports. From wake boarding to wind surfing, sailing and fishing. You could spend the entire day in the water trying out all the different options
Island hopping
If the resort's beaches are not enough you can choose to explore any of the available alternatives. From the hotel's private sandbank just minutes away where you can privately sun bathe or any other of the nearby islands. The resort can organize an island hoping trip including lunch. For those looking for a bit more than just quiet beach time a visit to the local inhabited islands is also an option. There, guests can visit the local mosque, the school and various stores.
Wine tasting
The resort's Head Sommelier is truly knowledgeable and very happy to share his experience with guests through a variety of wine tastings. You can test your knowledge with some blind tastings or indulge in Wine & C's a pairing with cheese, chocolate or canapes.
If you are more inclined to make it an event you can book a private Wine Dinner where delicious food is perfectly paired with the Sommelier's choices of wine. There are also set evenings where Italian, organic or champagne dinners are prepared.
Aerial yoga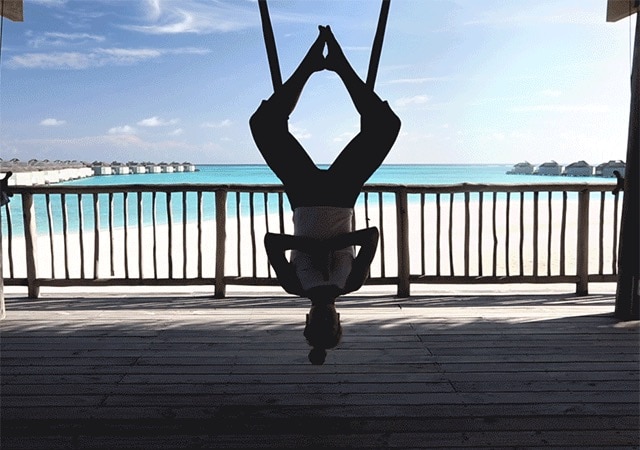 Yes, you read right, the resort's yoga and pilates trainer offers an aerial version combining meditation and breathing. You are suspended in the air and try to strike a pose. Certainly innovative and interesting. You are suspended in the air on a silk hammock.
Wellness activities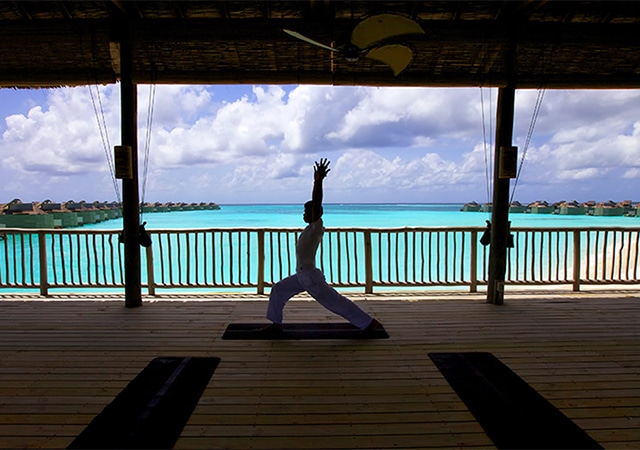 The Spa offers a variety of free and affordable group or private activities that promote wellbeing. Among them you can find Meditation, Tai ChiStretching & Relaxation, Power walking, Yoga, Pilates, Interval Training, Breathing and Thai Massage Workshops. The instructors are well trained and friendly and there are at least 3-4 activities per day to keep you busy and healthy
Note that getting to Six Senses involves taking a domestic airliner and then a speedboat. This is different from the seaplanes in the Maldives you will catch with some of the other hotels and resorts that are closer to Malé International Airport.
And, if you're unsure whether you want to stay in the Maldives or Bora Bora, I have written a comprehensive article on this topic which has an interactive guide that will help you personalise your choice. Read on for which to choose Maldives or Bora Bora.
Credit: Some images taken from the Six Senses Laamu website