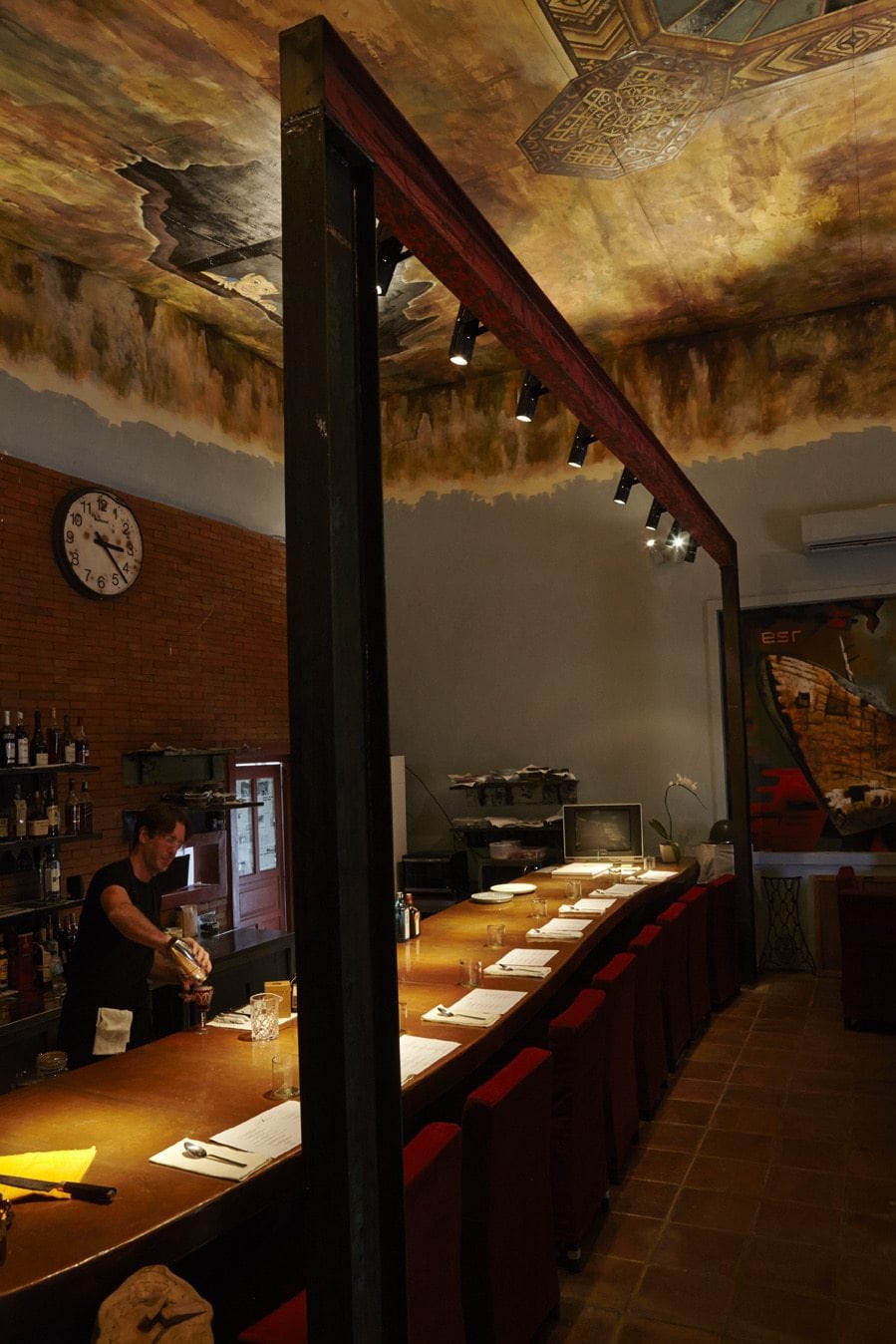 I explore the fast-changing Asian food trends at one of Ubud's best bars and restaurants, Room 4 Dessert.
Although Asian cuisines are not known for sweets, dessert bars are a common substitute for the wine bar culture of Europe. The trends are ever changing, spiking and dying in a matter of months. Many of them start in Korea. First there was the shaved ice, so popular in so many Far Eastern countries such as the Philippines with Halo Halo, and then bingsu South Korea or even North Korea. Sophisticated versions can be found in hip and alternative cafes across the region especially at all the best cafes in trendy Ubud. Then there was the frozen yogurt.
Next came the milk ice cream with honey. Going out for food seems to be the national pastime in many Asian countries. Teenagers meet up at the local dessert parlor after the other national sport, shopping. There, they sit around a pyramid of goodness, piling layers and layers of ice cream, shaved ice, beans, sprinkles of nuts, fresh fruits and other condiments.
At night, dessert and cocktail bars are proving a winning combination to those looking for an alternative to the loud clubs and bars. Designer desserts paired with sour cocktails are sprouting in major Asian cities. Ubud, Bali's cultural center, is the country's culinary laboratory and is always first to showcase the new trends in food.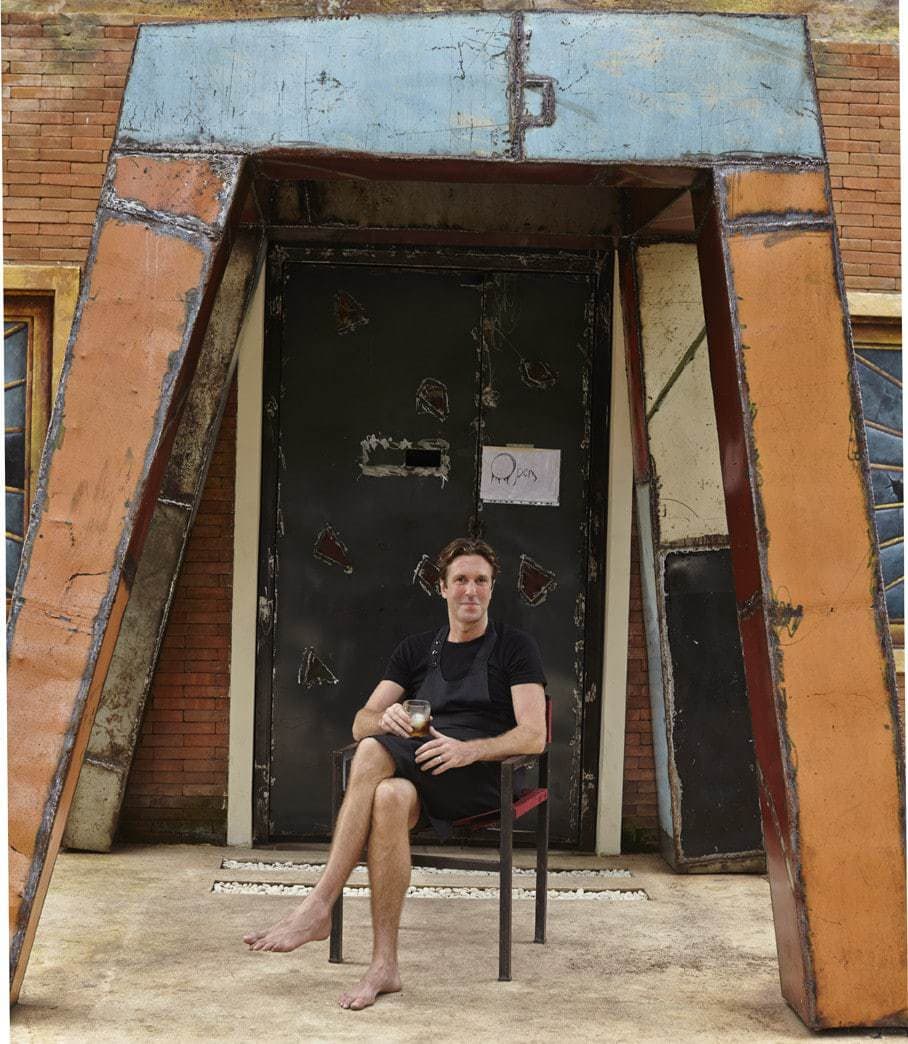 Locavore is promoting 100% locally sourced food; long-term favorite, Mozaic, incorporates local Balinese spices and ingredients into Western dishes; raw restaurants are spreading like in no other part of meat-loving Southeast Asia. Thus, it comes at no surprise that Ubud is also the place where a dessert and cocktail bar called Room 4 Dessert led by veteran Will Goldfarb, would be most logically found in Indonesia.
Chef Will invited us into his dark room of pleasure in the heart of Ubud. With desserts named "50 Shades of Grace" and a champagne menu titled "Bubbles Rule!", Room 4 dessert is a fun and playful take on a meal's happy ending.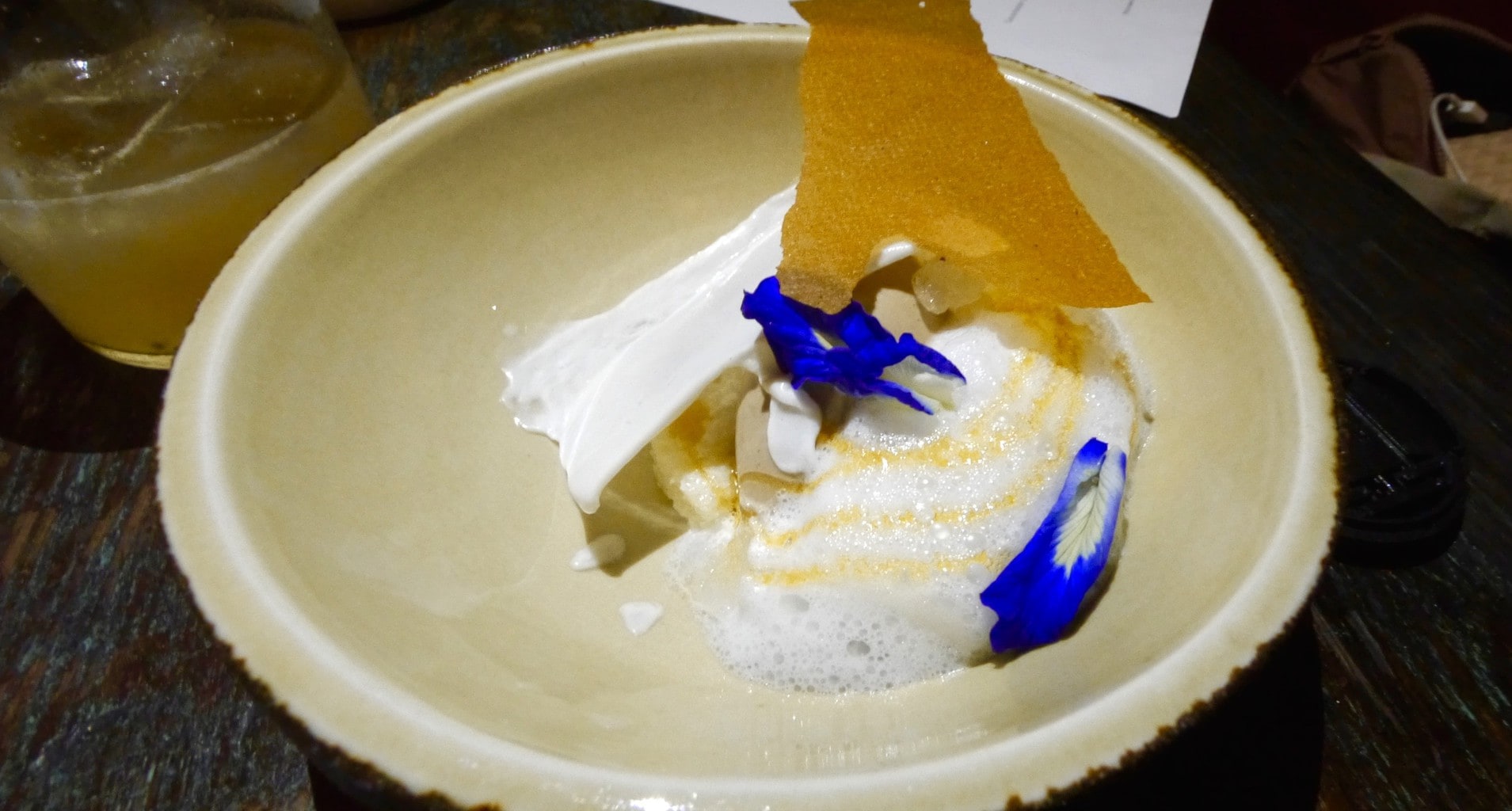 Cheeky and naughty, Will's dishes combine local spices, nuts and aromatics from Bali's bountiful gardens with seasonal fruits and traditional dessert ingredients like chocolate, vanilla and sugar. The result is a flabbergasting explosion of unusual flavors that are unlikely to be found anywhere else. As someone who believes a meal cannot end without dessert, I was in food heaven.
We embarked on a journey of the nine desserts on the Room 4 Dessert tasting menu, which we shared among the four of us. As it could be no other way, the dishes were beautifully presented and mysterious. It was hard to tell what each one would taste like as we had no reference as to the flavors listed under the description of each. We had been invited to a blind tasting of Bali's uniqueness.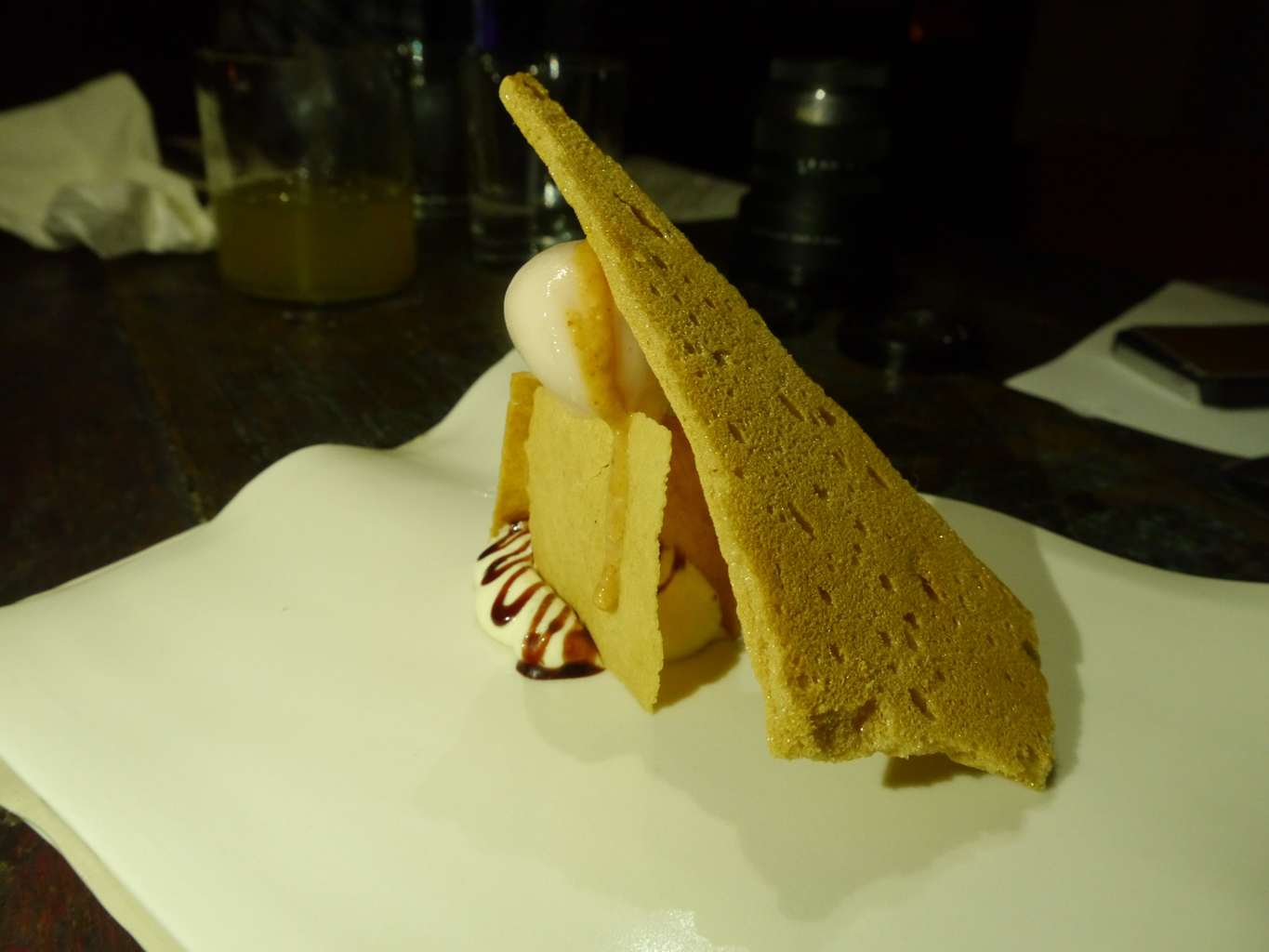 The tasting started with 50 shades of Grace, a glutinous rice, tangerine and whey combination that was airy and fluffy. The tangerine was just the right amount of sour, balancing the silky texture of the rice. It disappeared within seconds.
Next came the Chocobubbles Too.Oh a chocolate base dessert that was styled like a tootsie roll with belimbing (star fruit) raisin and kluwak crumble. The chocolate part looked and tasted like the lightest of mousses. The flavor was there but the texture was as if we were trying to eat clouds. Kluwak is a black nut similar to the ones used for beef rendang, a very aromatic and creamy nut that is slightly bigger than an almond in the shell and is as hard.
It is a poisonous nut and can only be eaten if fermented. It grows on tall trees among mangroves. Because it takes years for the seeds to ripe, the trees can only be found wildly as it is not economically viable to cultivate them. The crumble was fine and crunchy and added a texture to the otherwise disappearing mousse.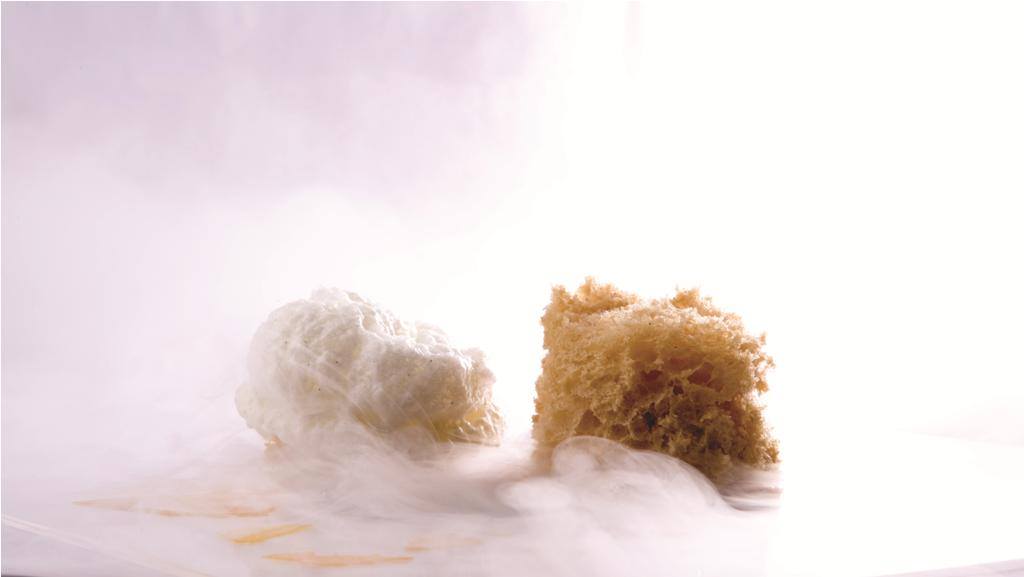 The Little Tart was our next treat. Raspberry, yogurt, lime, kemangi (lemon basil) and green tea may sound like a strange mix but proved to be an interesting experiment. Our delicacy sat in the middle of a large plate, the red and green colors tamed by the dimmed lights. The green tea came in the form of ice cream. We had to fight for a piece, wanting more.
No tropical dessert bar would be complete without a coconut dish. Coco Beware has caramelized coconut, coconut cake and aloe vera. The foam topped with a thin stream of caramelized coconut and the crunchy biscuit were just delicious. The plate was garnished with the brightest edible blue flower. It was deliciously exotic and made my tequila mango cocktail, an me, very happy.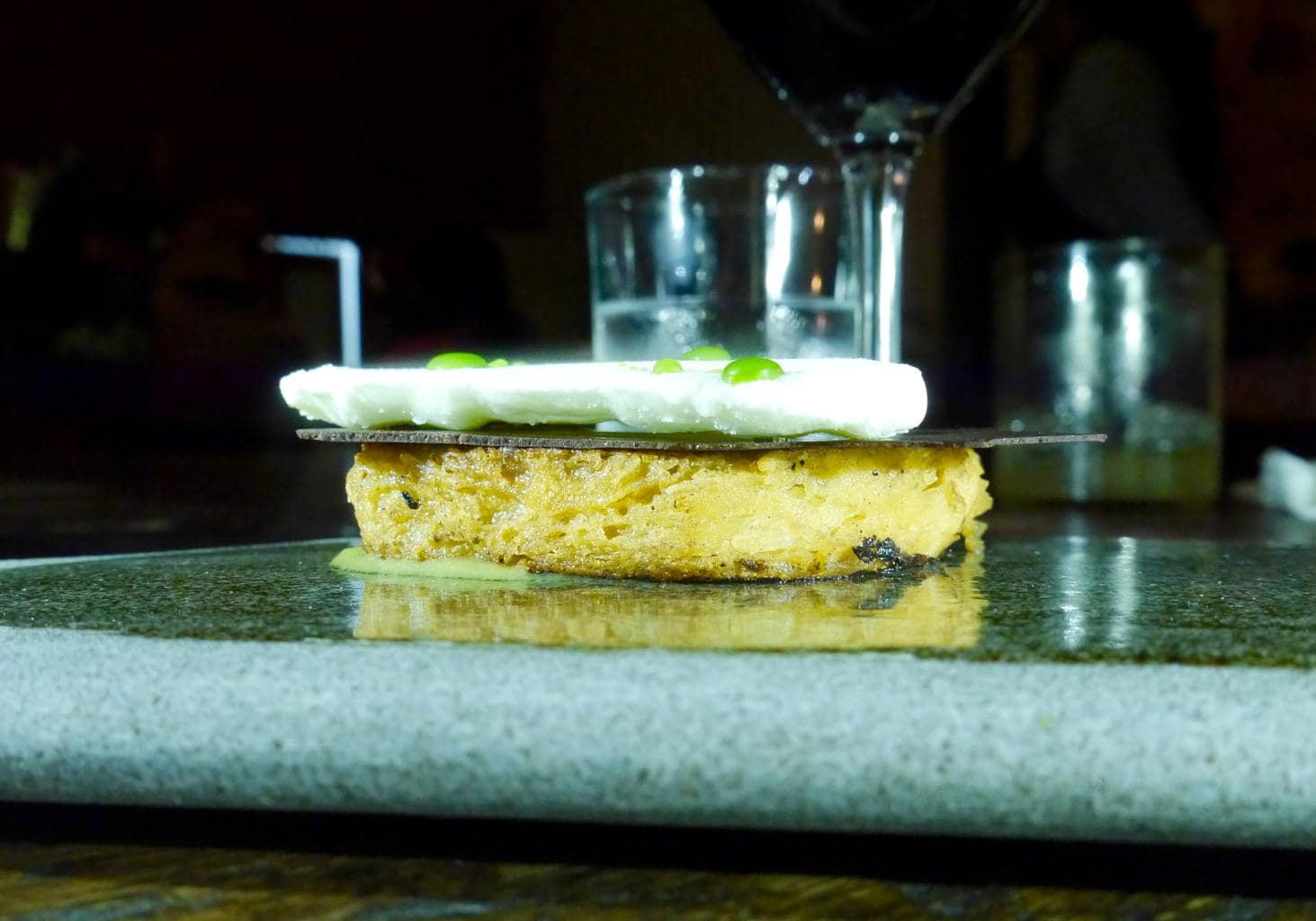 Several restaurants and cafes across Bali serve a light brown and fine sugar made from a local palm tree. It is not as sweet as the shelf white version and it has a very refined taste. Will used it for the Searching for Sugarman recipe where he combined it with mangosteen and belinjo. The three ingredients were made into different textures and the palm sugar had a crumbling texture and a flavor reminiscent of cotton candy; as soon as I bit on it, it disappeared in my palate. Oh the culinary art!
The Brioche French Toast came in an interesting tower with the three layers of passion fruit, yogurt and tarragon, in an oil form. The flavors were so concentrated I could taste the olives in the tarragon oil drops, and they were tiny.
Paying tribute to the variety of local fruits, Will included his take on a Fruit Plate that featured fresh fruits from his favorite farmers. We got a pretty yellow plate including various textures of jelly, ice cream, crunchy biscuit and shredded pomelo. I could tell flavors of mango, passion fruit and other citruses.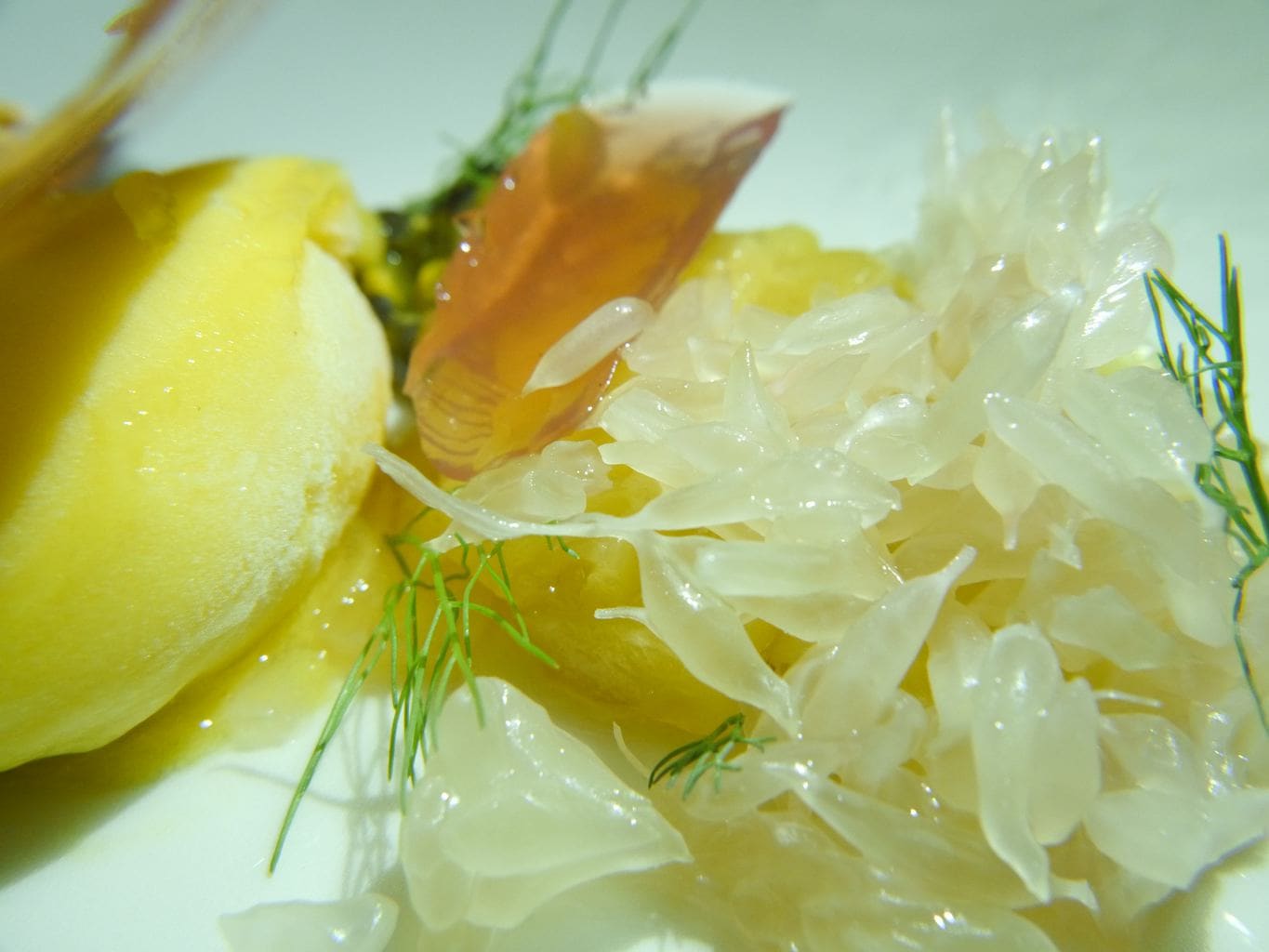 As in any other meal, the menu also included Petit Fours with Cocoa Butter Caramel, Lime Leaf Madeleine, Dried Crème Brulee and Salak (snake fruit). As with the rest of the menu, each small morsel of sweetness was perfectly rounded. The caramel tasted and looked like a soft toffee. The dried crème brulee melted in your mouth from the solid state and the salak had the consistency of a sugar-topped jelly.
The meal ended with the Crème Brulee "Allegee" in a single serve wooden box and with a solid layer of burnt sugar.
I was sorry when the last dishes came out. "Already done?", I asked myself. Shame all good things come to an end. When in Ubud, make room for dessert.
If sweets are not what you are after, L'Hort, the bar/bistro at the back of Room 4 Dessert serves savory treats in a friendly and informal atmosphere.
When in Ubud, make room 4 dessert.
And if you're looking for somewhere to stay in Bali check out my review of Capella, Chapung Se Bali, Candidasa, Intercontinental Resort Bali, and the Ubud Hanging Gardens.