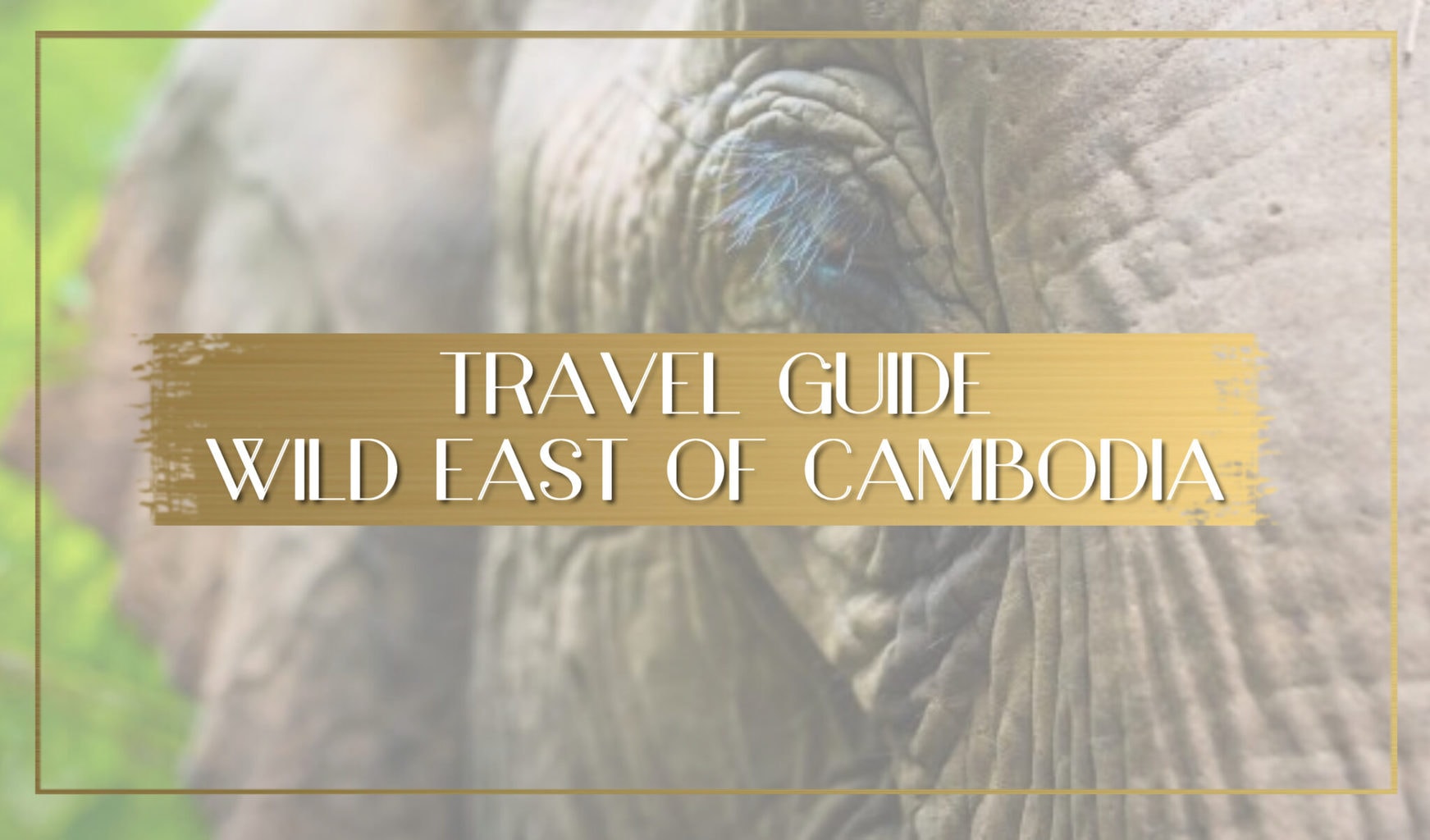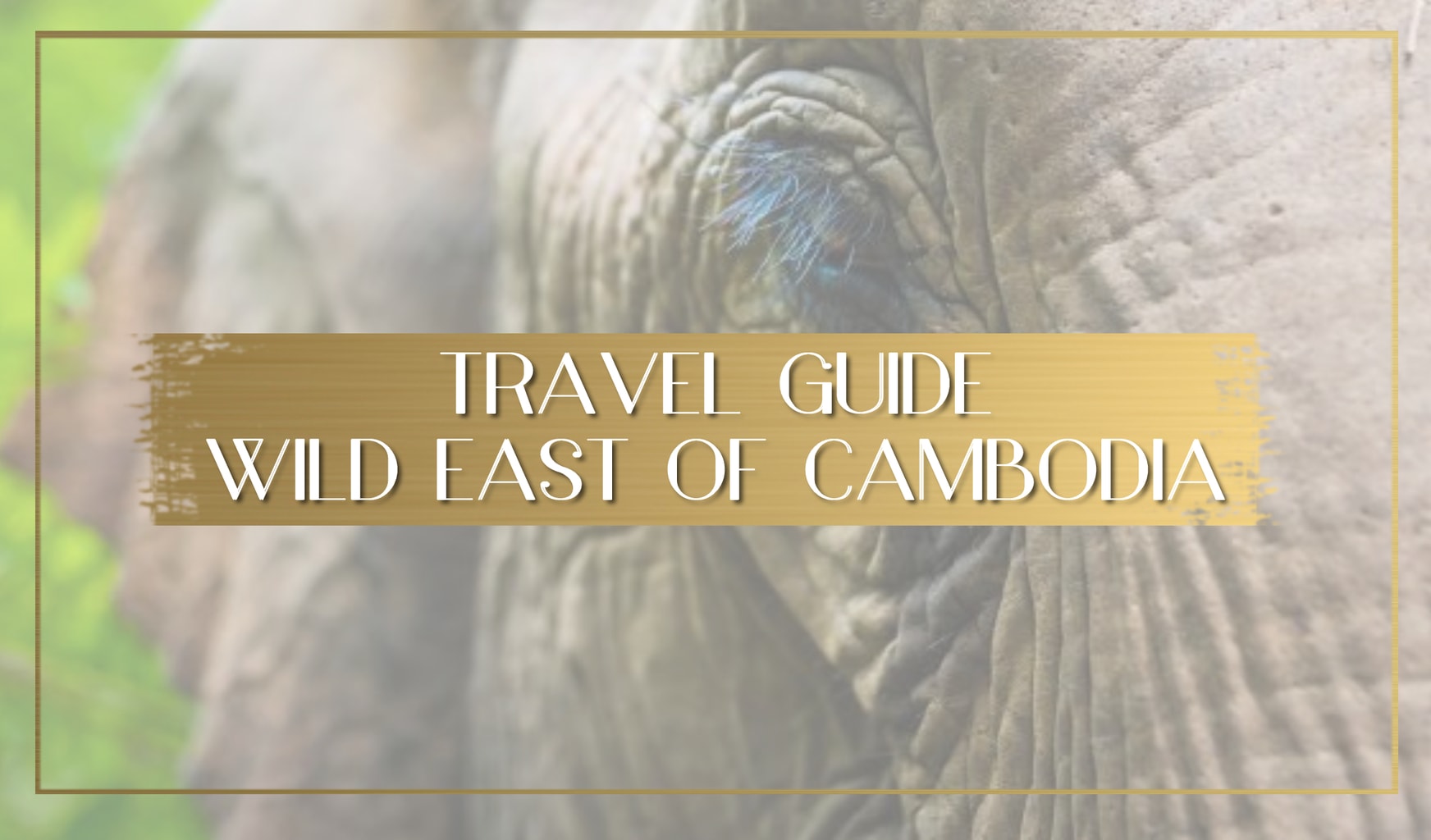 Cambodia is a country filled with sweeping scenes of natural beauty and wildlife. Yet ever present and all consuming is the spread of plantations. With deforestation and the illegal logging industry that is widespread in the country, a journey to the "Wild East" is a refreshing take on the Cambodia of old.
Grandiose in its expansive jungle and notorious for its welcoming people, the eastern green belt of Cambodia is gaining a wider presence in the tourism industry, away from the clusters of Siem Reap and Phnom Penh. But it is a largely undiscovered part of Southeast Asia.
Despite the growing plantations, the northeastern provinces of Ratanakiri, Mondulkiri, and Kratie are filled with local NGOs going the lengths to protect the wild areas of this gorgeous part of the country. Wildlife preserves and elephant sanctuaries abound and intrepid explorers can trek to their hearts' content.
My eyes were open with wonder while the mahouts and tour guides macheted bamboo to clear a small path through the jungle.
My wonderful journey through the Green Triangle of northeast Cambodia was done by the hands of guides from MAADS who invited me to spend time in this stunning area and gave me the chance to put together this guide.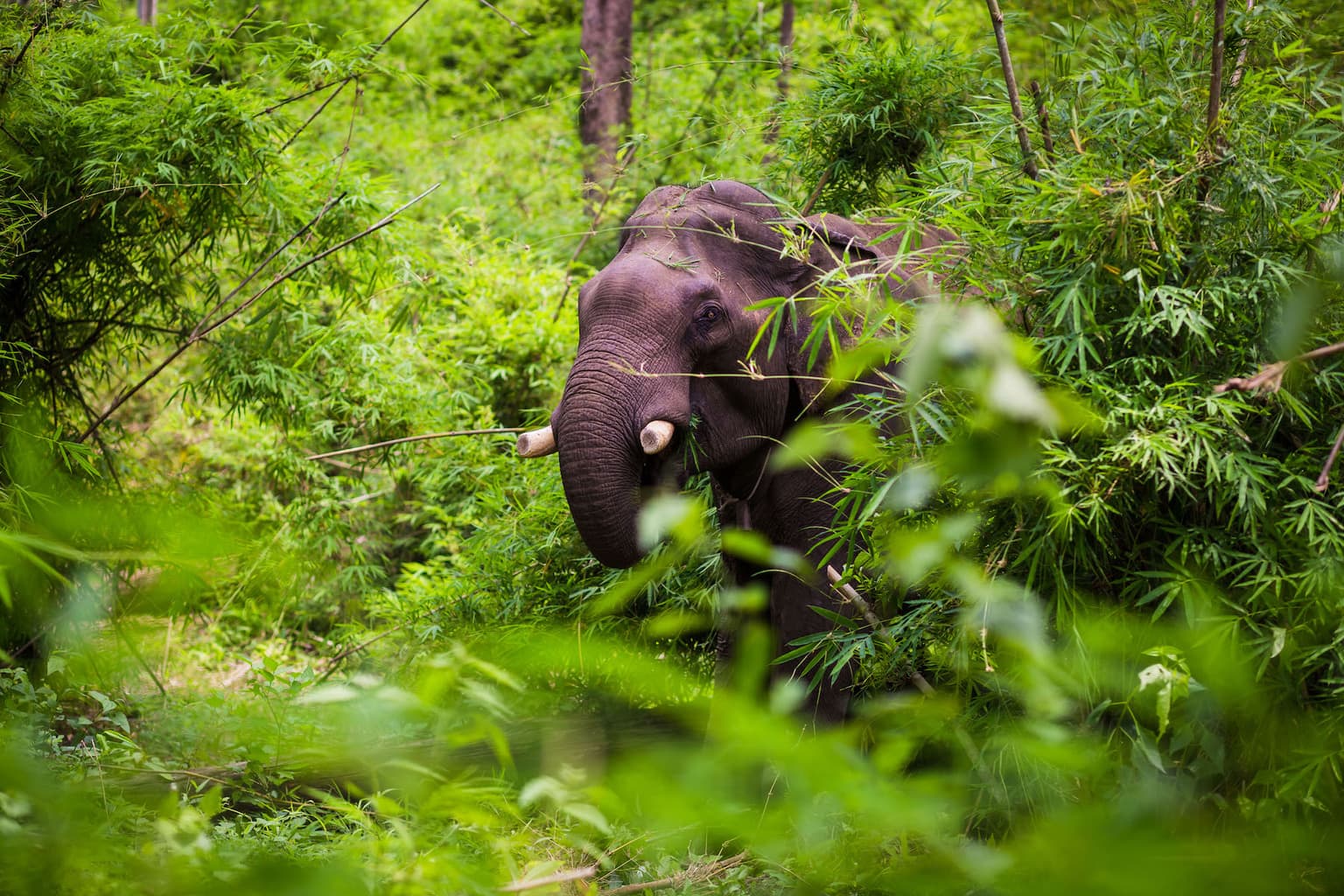 I started in the province of Ratanakiri that borders Vietnam and Laos. It is known for its lush greenery and as a transitionary place for those going onward to Veun Sai, Virachey National Park. The area is known for its lush soil which has brought in deforestation and the planting of cash crops like rubber, cashews, mangos and tobacco.
The provincial capital moved from Voen Sai to Banlung in 1979 to facilitate trade with Vietnam. I visited Ratanakiri to visit the minority tribes along the Tonle San river, particularly the Katcha (or Kachok) tribes to see their Totems.
Moving along, I traveled directly south to Mondulkiri province, also bordering Vietnam. The area is also known to have rich soil so it is also an agrarian province with rice, fruit trees, and a variety of vegetables as the main crops. There is also strawberries, coffee, rubber, and cashew nuts.
The building of the highway from Ratanakiri to Mondulkiri has opened it to a lot of greedy land grabbing, negatively impacting the local indigenous Pnong tribe. Many an adventure seeker and eco-tourist visit Mondulkiri to see the elephants roam free with the Elephant Valley Project (EVP) and to visit the beautiful waterfalls, particularly Bousra.
Moving west I went to the provincial capital of Kratie in Kratie province. This sleepy town lies along the Mekong river. In fact it runs for 140kms through the province. The river provides sustenance to the people and therefore they usually live quite close to the river bed, with most residents being subsistence farmers or fishers.
The main impetus to visit Kratie is two-fold. The first is to see the dwindling species known as the Irrawaddy dolphin. There are only 70 of these interesting looking creatures left in the world, around 20 of them living in the town of Kampi, about 30mins north of Kratie city. The second reason is to experience daily traditional Khmer life on Koh Trong island in the middle of the Mekong.
I would recommend at least three nights in each destination for a full experience without too much rush. The Wild East is best explored in combination with a trip to Siem Reap or Phnom Penh or even a few days by the beach.
History of Ratanakiri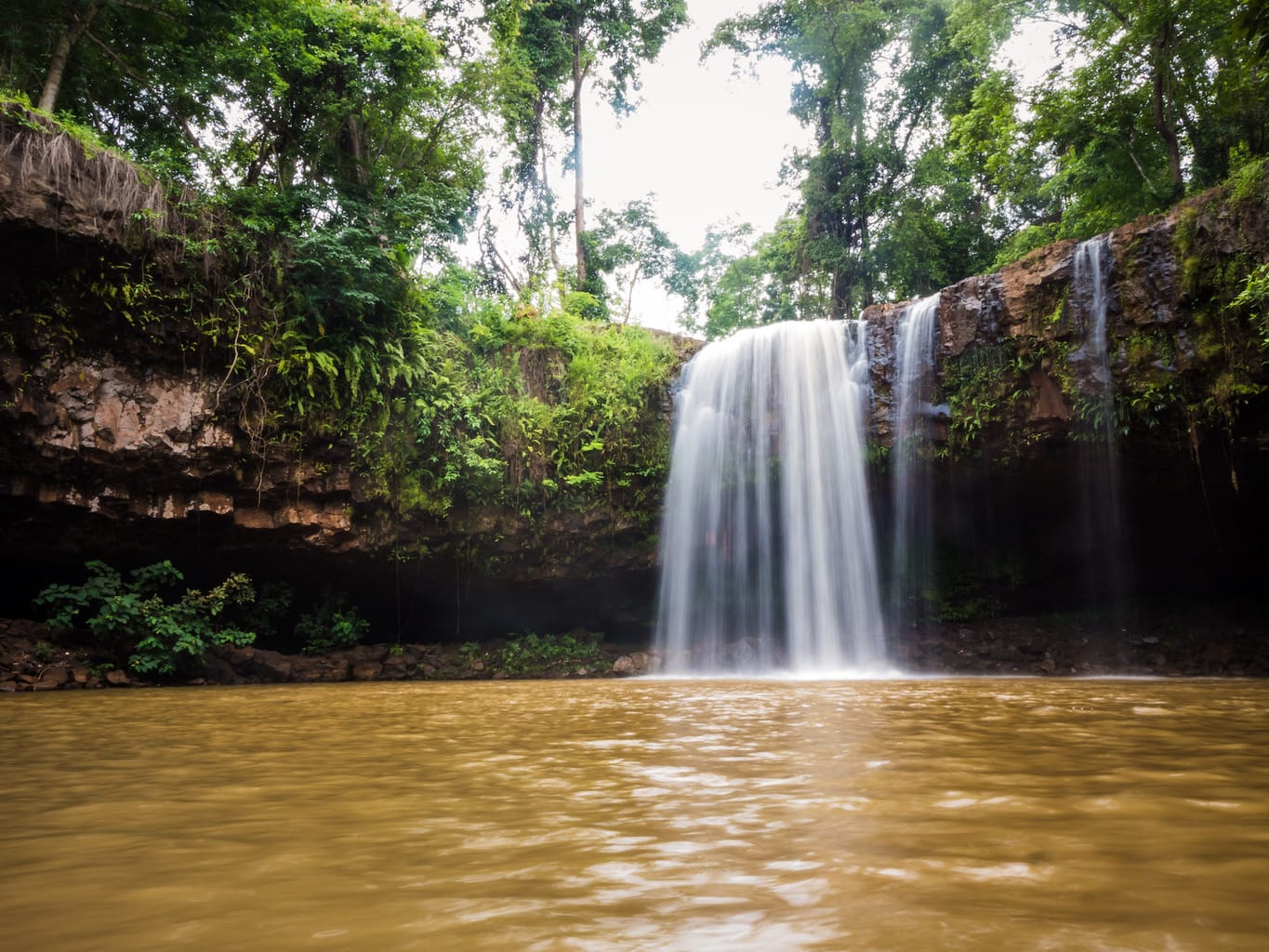 Once lush in natural jungle, the northeast junction of Cambodia, bordering Laos and Vietnam, is now scattered with plantations, mostly rubber, cassava and cashew. There is also illegal logging in the more natural areas that are filled with valuable hardwoods such as rosewood and teak. Yet thanks to the painful efforts of local and international businesses and NGOs, these loggers are slowly being put to a halt.
The provincial capital of Ratanakiri, or "gemstone mountain", is the relaxed town of Banlung. It is small, lackadaisical and actually quite refreshing, literally, as it stands at roughly 350 meters before venturing further up to Mondulkiri at 850 meters.
It is the place where tourists stop off before heading on their treks to Veun Sai, Virachey National Park or the volcanic crater and tranquil lake of Yeak Laom. Taking a stroll around the market area or visiting one of the expat bars scattered among local eateries will take you back to Cambodia of old.
I stayed at the wonderful wooden-clad Terres Rouges lodge that overlooks the peaceful scene of Kanseng Lake. I absolutely loved my dinners overlooking this gorgeous spread of water, lapping in the cool air after a long day's trek in the jungle. The lake is also home to various other guesthouses, eateries and B&Bs. So it was a nice area to take an evening stroll or enjoying a wine or beer among backpackers.
Map of Ratanakiri, Mondulkiri & Kratie
Activities in Ratanakiri
Here are some great options for activities in Ratanakiri.
Elephant trekking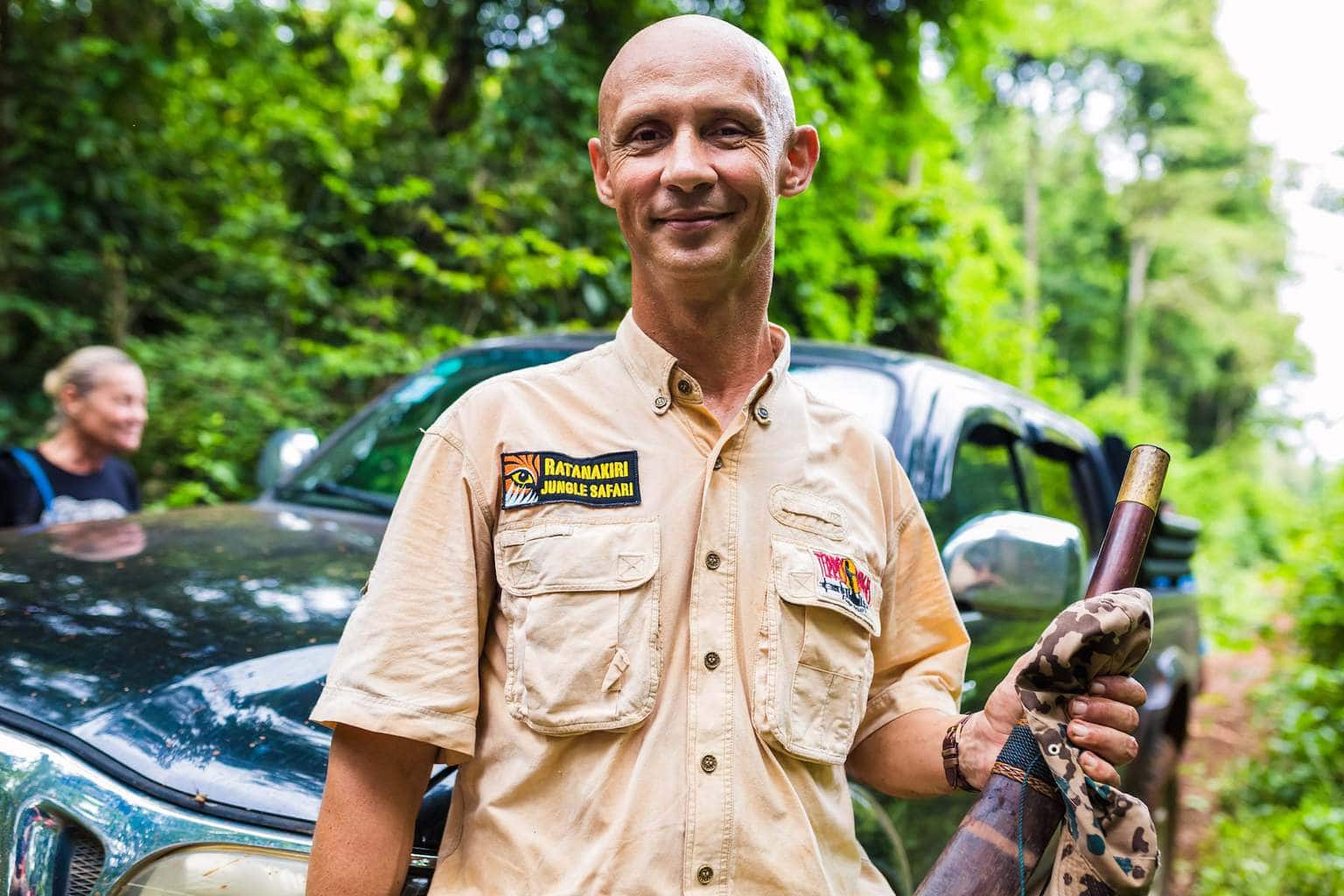 Machete-clad Pierre-Yves, owner of the Terres Rouges lodge, took us through the O Katieng forest to go and visit his gorgeous elephants. His foundation, Airavata (the name of the mythical white elephant in Hindu mythology), has a mission to save all elephants in captivity and let them live a free and happy life. Their focus on responsible and ethical tourism is refreshing and Pierre-Yves will tell you all about it.
In contrast to the Elephant Valley Project in Mondulkiri, the four elephants at Airavata are allowed to be ridden and must be chained up during the nighttime. While I despise using elephants as a tourist trap, like those in Siem Reap, Airavata takes on a different approach.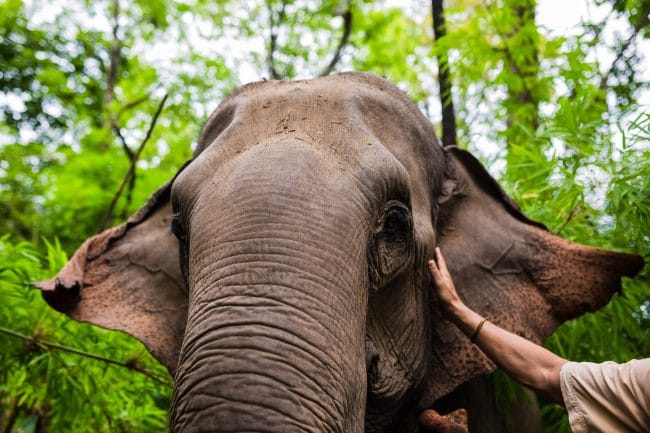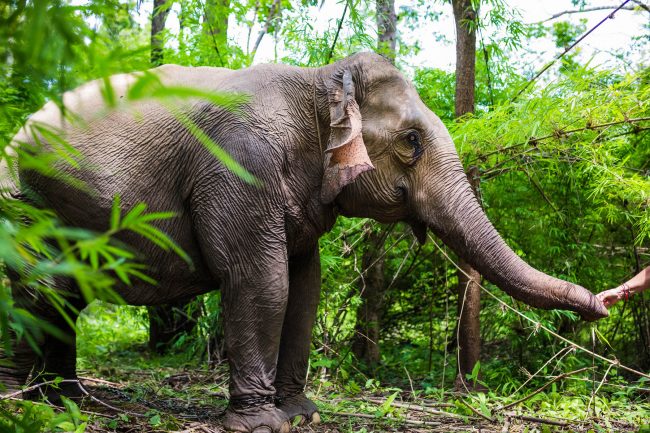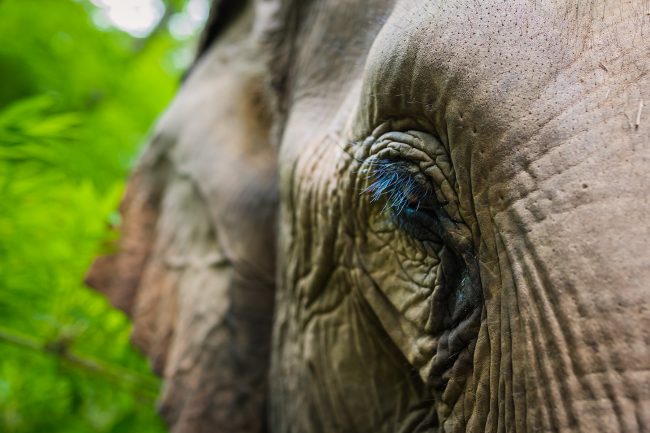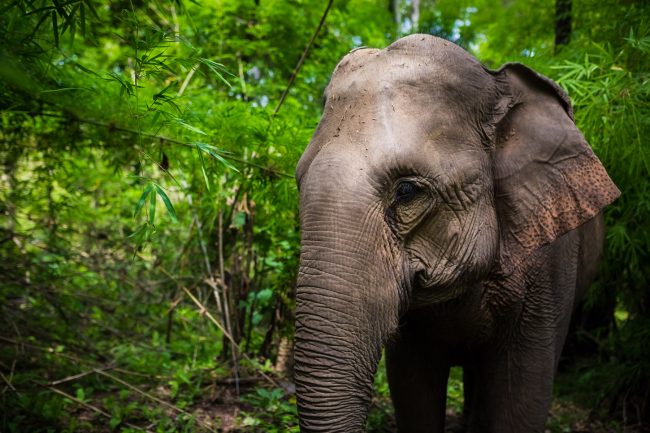 The elephants are allowed to roam freely during the day, letting them get the nutrition and exercise they need to stay healthy and happy. The phrase "chained up" sounds sinister, but it is not what one would expect. These former captured elephants cannot be set into the wild on their own and need to be looked after. The chains are long and are there so that the elephants do not escape and destroy the local properties and local small crops in the area.
Each elephant has an assigned mahout and is cared for. They all have heartbreaking histories of slavery, but are now well cared for and plump. Visit the elephants and read their stories here. Meeting them was an opportunity of a lifetime. While we shook trunks with the beautiful Ikeo (the only female), we could only watch the other male elephants from afar.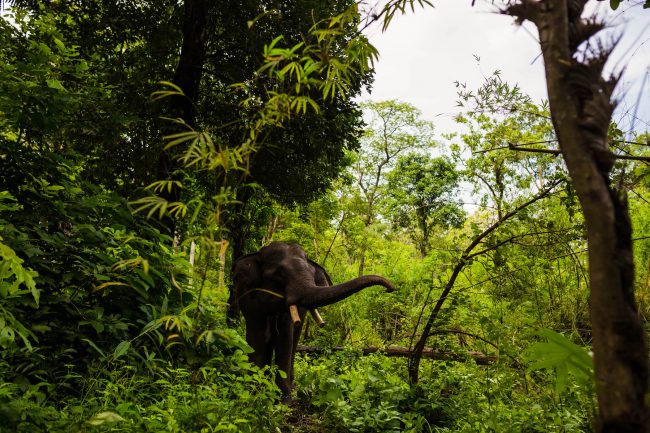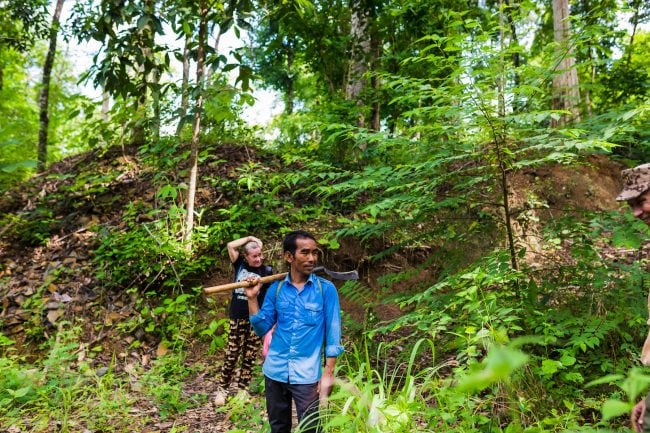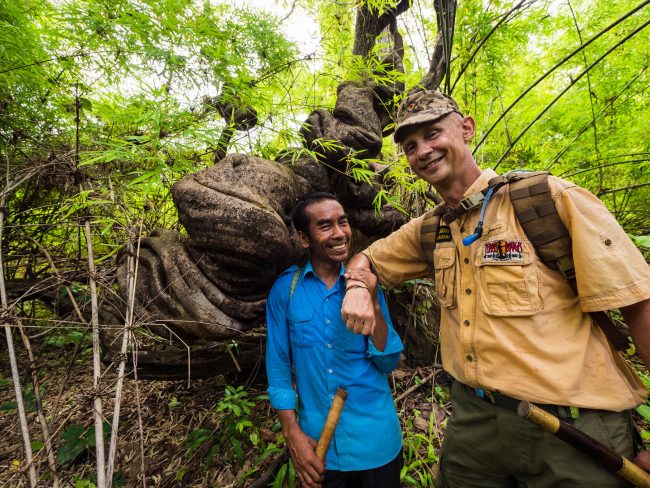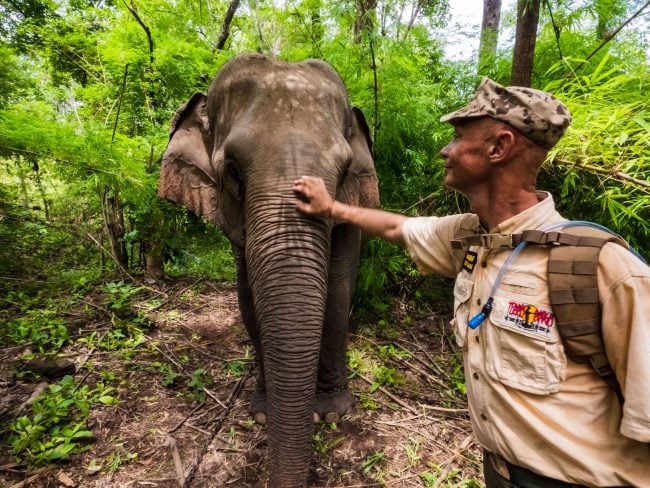 We noticed that their tusks were trimmed, and Pierre-Yves let us know that the reason was they are less likely to be poached for their ivory. The filing of the tusks is a painless process for the elephants and they are trimmed by professionals, so that it does not get too close to the nerves.
We chose not to ride the elephants, as we still do not believe that it is responsible for tourists to ride on the elephants' backs, only mahouts on their necks. But our version was a lovely journey and is highly recommended.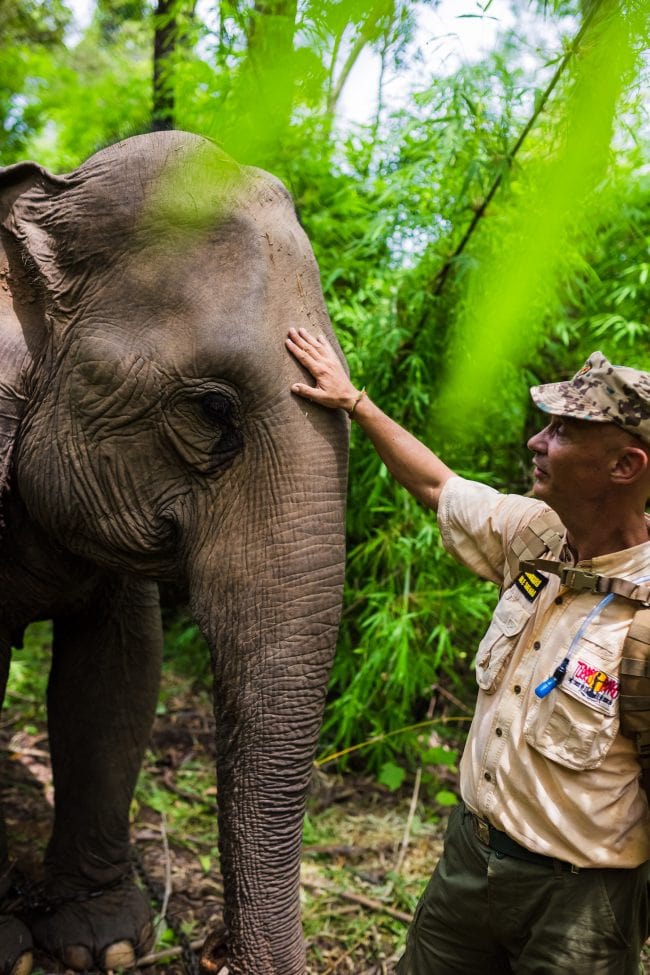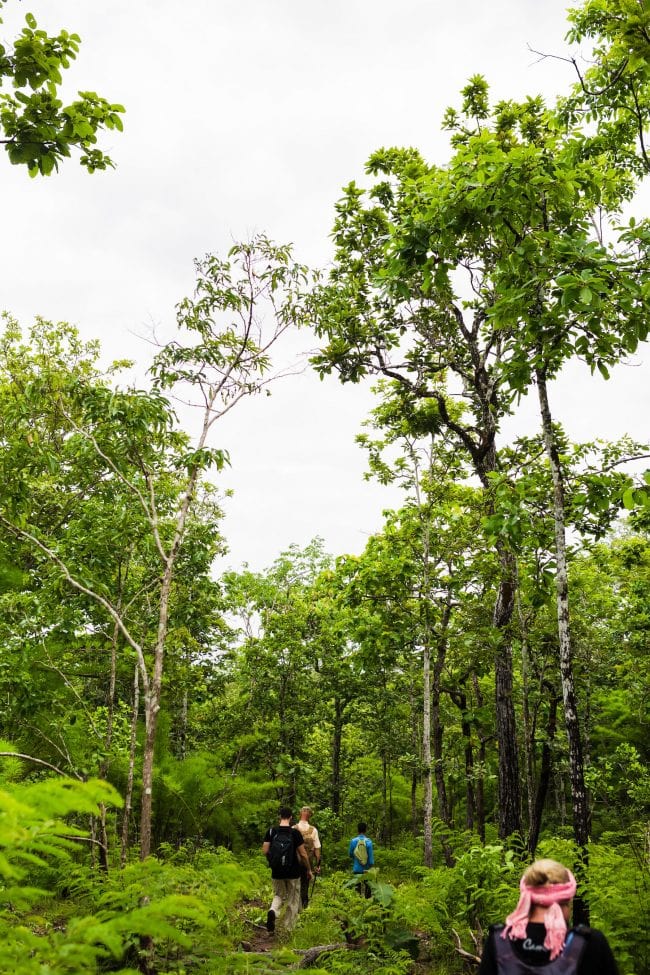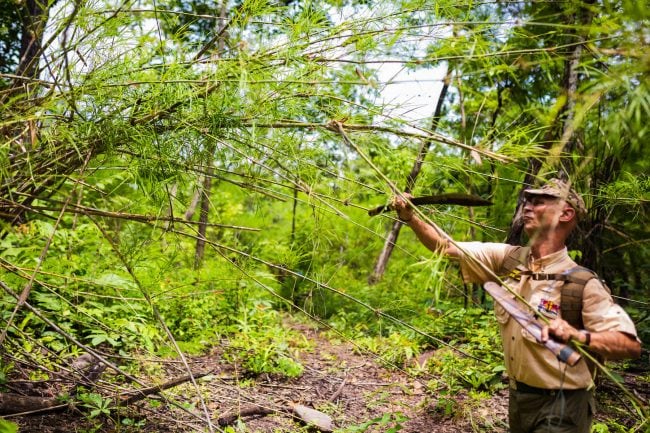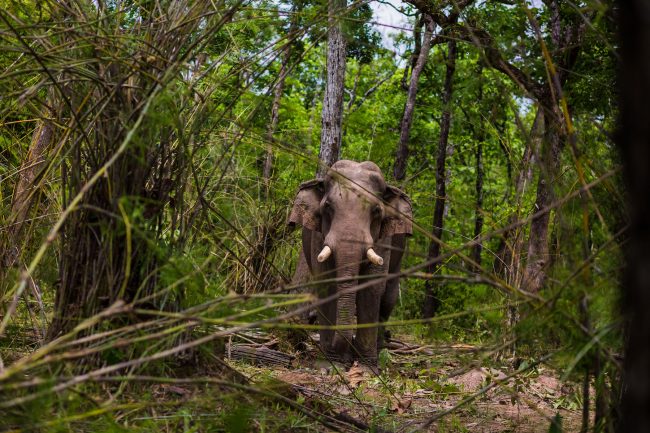 Throughout the 3-4 hour hike, we visited the Okatchagn and Okatieng waterfalls, the now defunct Laos gold mine and were treated to an authentic Khmer lunch (and a Pastis) at Airavata headquarters in the middle of the jungle. As we did not ride the elephants through the jungle, we trekked for about 5 hours in total.
There are also options to scrub the elephants and even go to mahout school (a longer journey of about 7 hours). I will not get into the debate about the ethics of interacting with elephants, because I do not think it is as easily black and white as most would have you believe.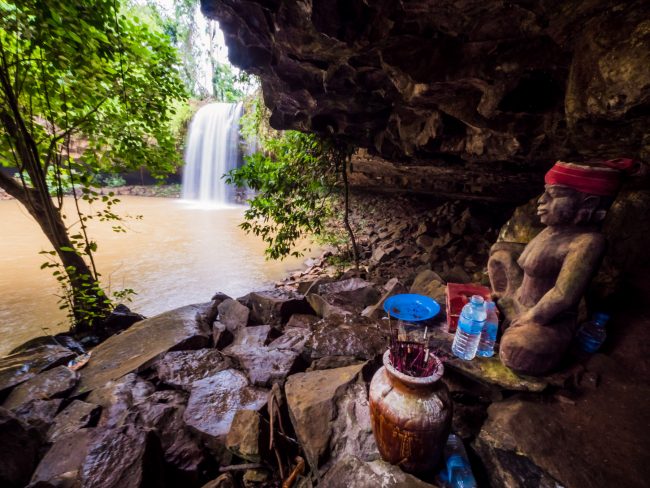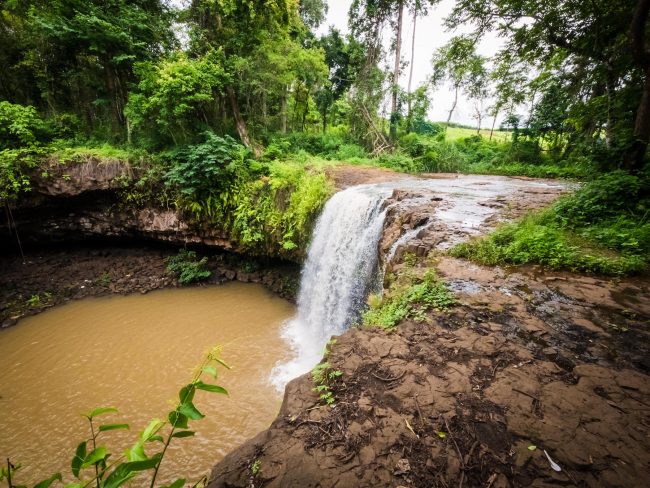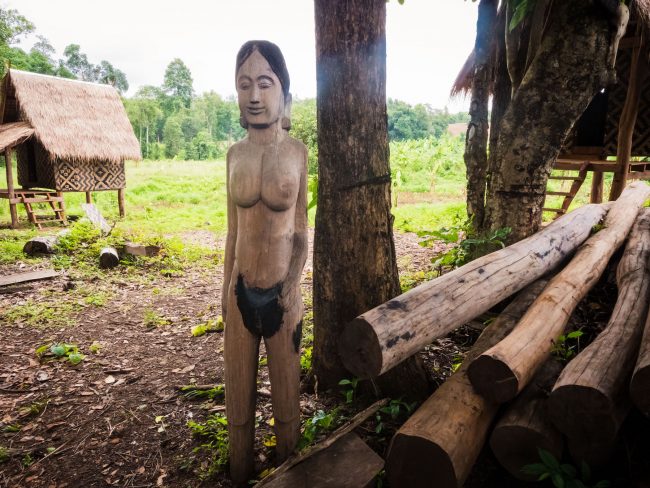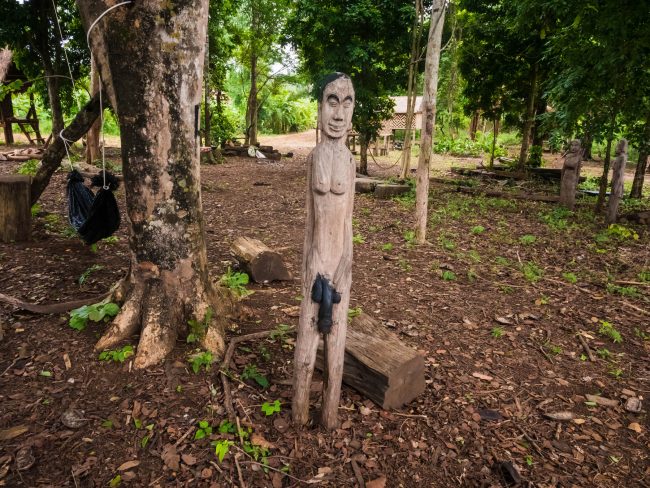 I do not ride them myself, beyond the moral discussions, because it hurts their backs. So even if you do not think there is anything wrong with riding elephants, you should know that they are physically harmed by carrying humans on their backs so you are causing them pain by doing so.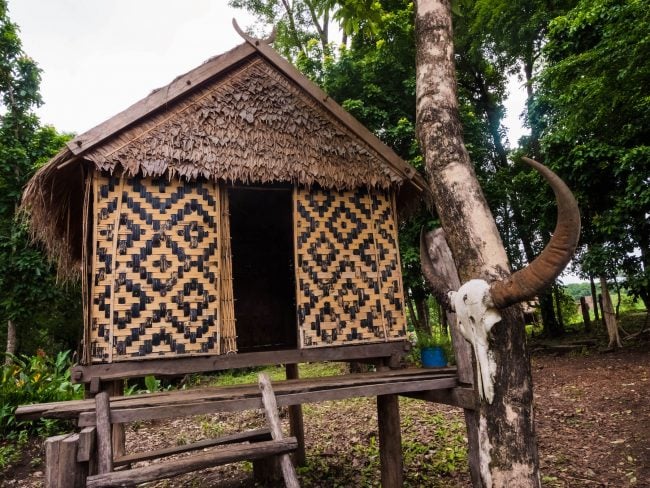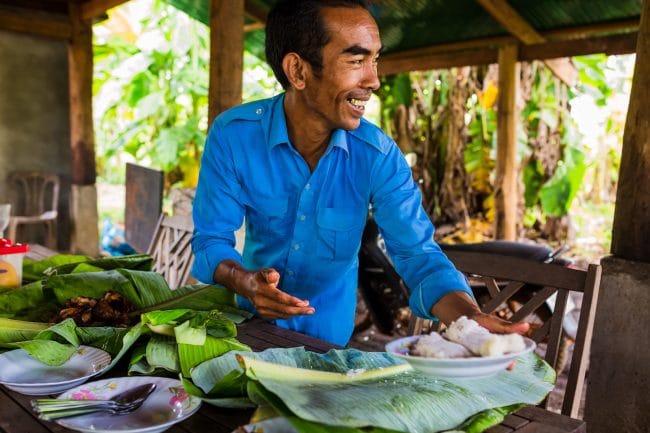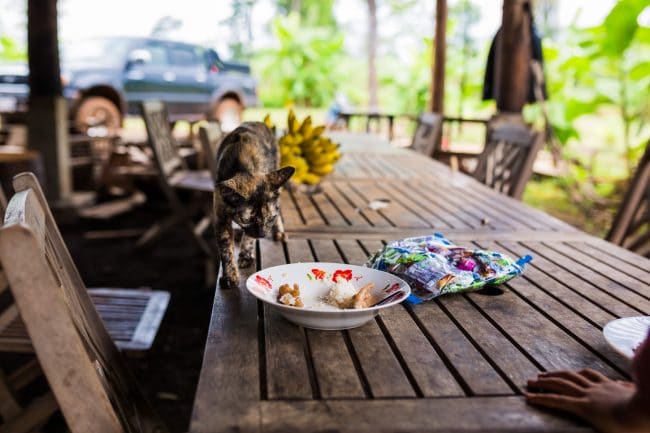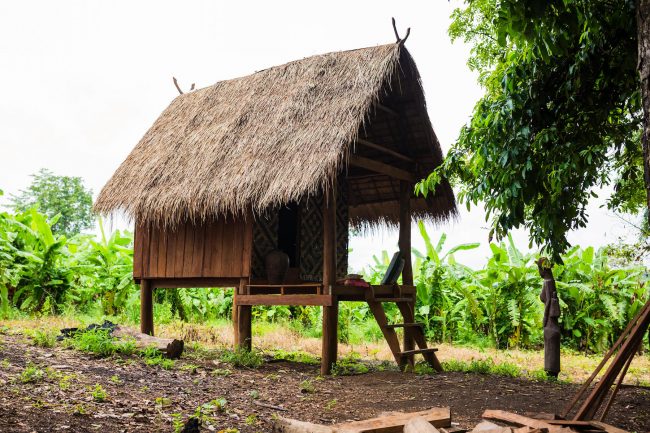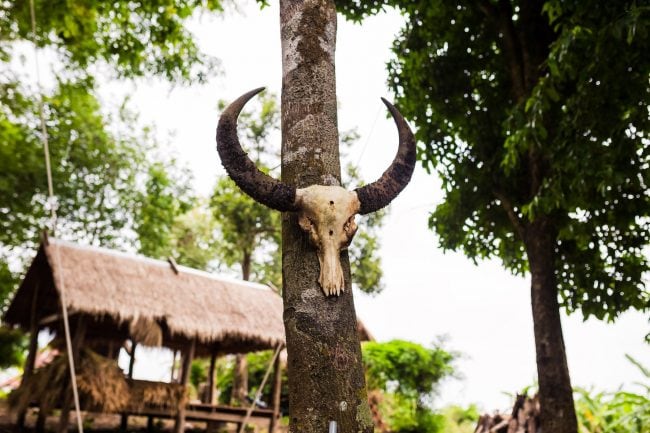 Airavata elephant tour may be expensive but it also goes to help out with the cause of keeping these elephants away from slavery. Tour costs US$145­­­­­­­­/person, transport & lunch included, or US$115­­­­ for guests staying at Terres Rouges Lodge (for groups of minimum 3 people), and 40% off for children below 12 years of age.
View the Katcha Totems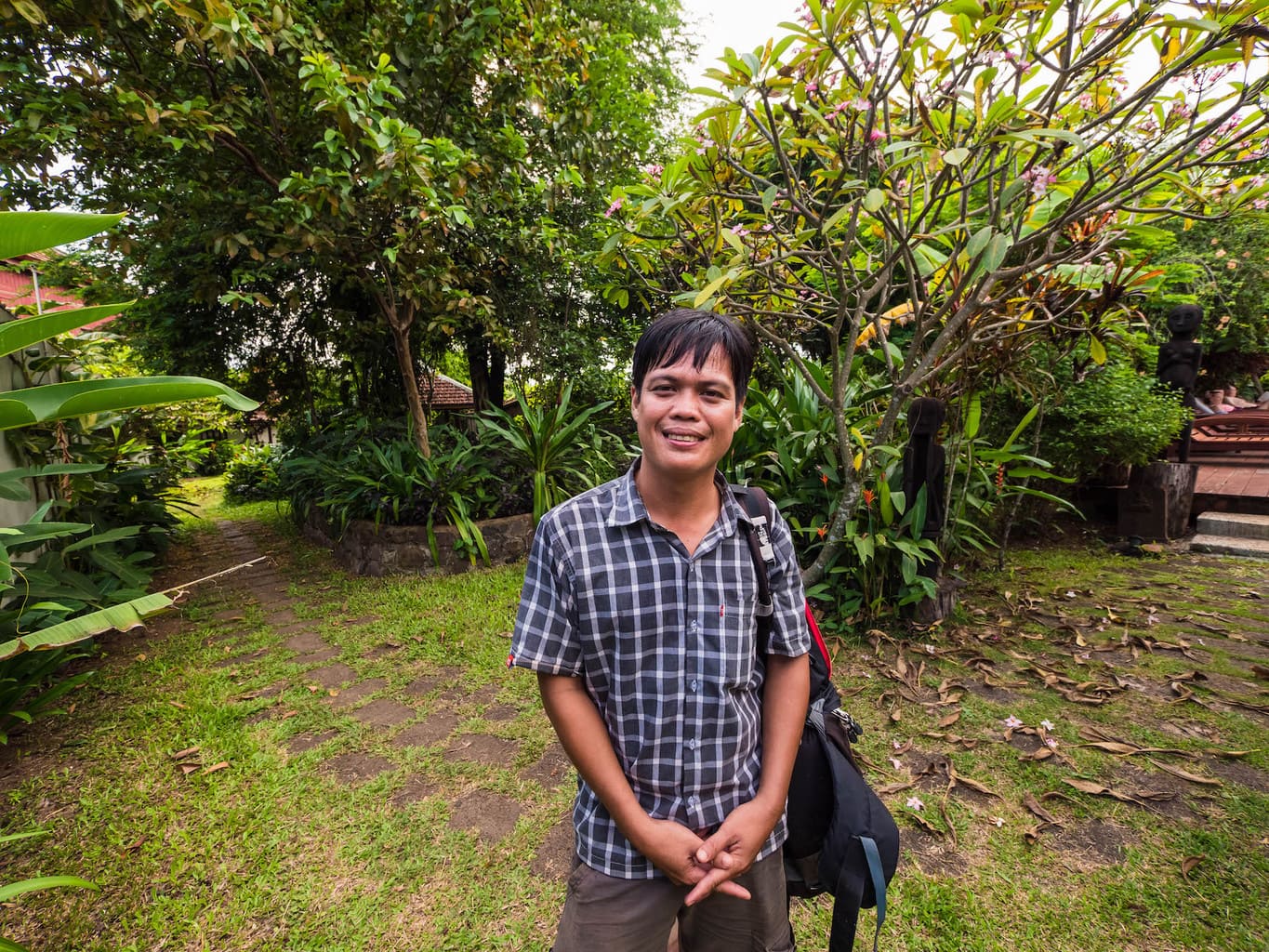 This part of our journey was truly eye-opening, invigorating and emotionally uplifting. Our excursion started early as we traversed the bumpy roads in a 4×4 for 36kms to the Tonle San River. This is not the Tonle Sap, but rather the Tonle San River that extends from mid-Western Vietnam.
In fact, Vietnam has decided in the past to open the gates of their dams, resulting in flooding of the local villages in Cambodia that lie along this river. They may do it at anytime without warning.
As we drove through the expansive scenery we saw plantations of all kinds, from rubber and cashews to cassava and avocado. This reminded us of the current situation. We saw many fires along the way on the side of the road.
And as we learned from our guide, Vuttha, this is not a fire for cooking but rather burning of trash as there is minimal public garbage collection in the area. Trash is a pervasive sight around Cambodia that littered the many otherwise beautiful areas.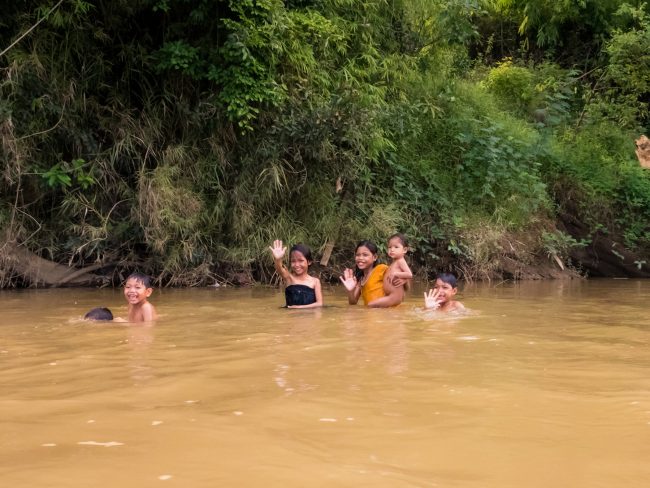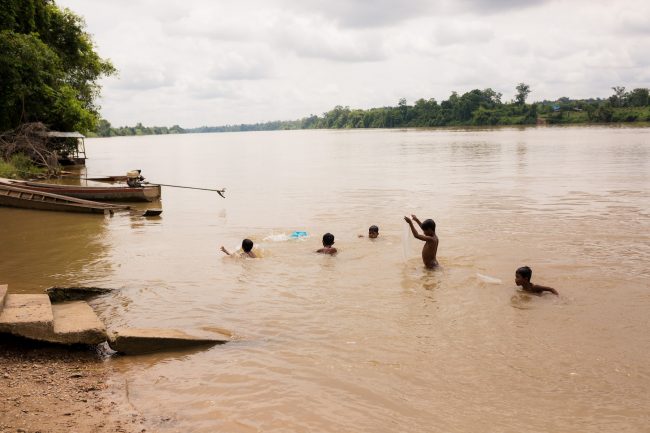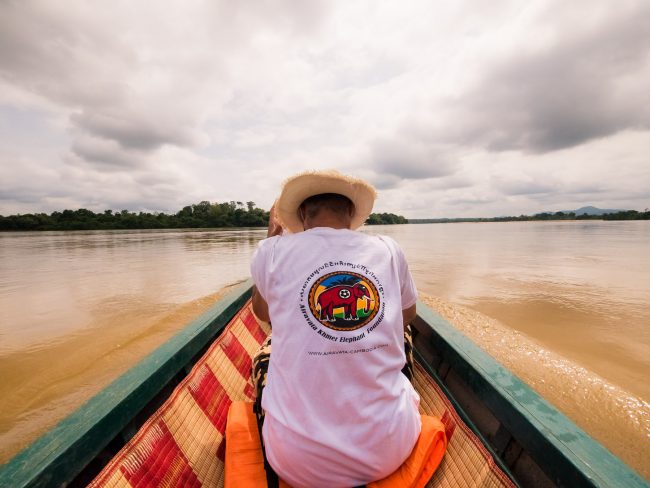 After discussion the trash situation, Vuttha changed the subject to the outback of Ratanakiri, where he says he has been on many a hike and seen some of the cleanest waterfalls in Cambodia, which can be arranged for the more intrepid type. He says he has seen black bears, hornbills, gibbons and gaur (wild buffalo).
I asked if there were still tigers. Vuttha smiled and said, "If you want to see tigers, take a picture of a tiger with you on the trek".
Upon arrival, we hopped onto our motorized boat and started our journey eastward to the local villages where we found the animistic tribes of the Khmer Loeu or "Upland Khmer" tribes including the Tampoun, Kroeung, Jaraï, Kuy, Pear, Broa and Katcha. These tribes only have spoken languages and no written alphabetical structure.
Most younger members can also speak Khmer, but some more distant tribes cannot. Visiting these remote areas reminded me of the Himba tribe. There is one school where children of all ages participate in class together. There is also a running well sponsored by an NGO, where the locals must pump to get drinking water.
Chickens, pigs and dogs run amok, while the people sit in the shaded area under their homes if they aren't tending their farms.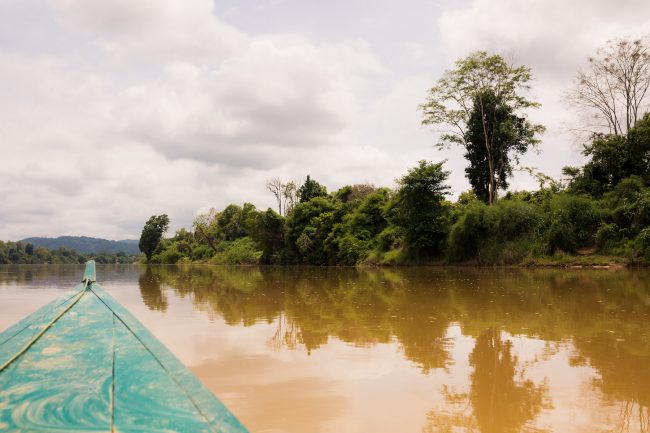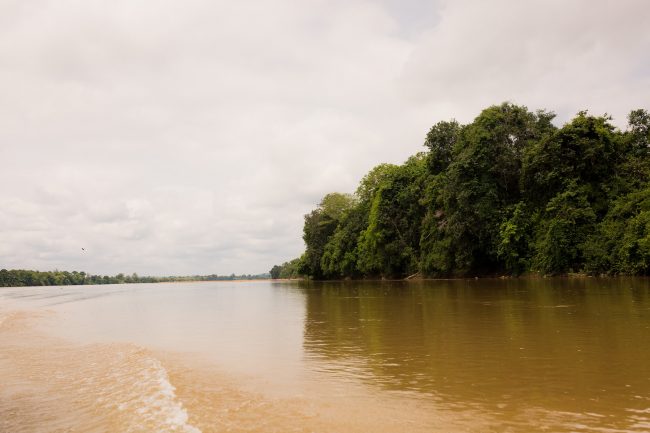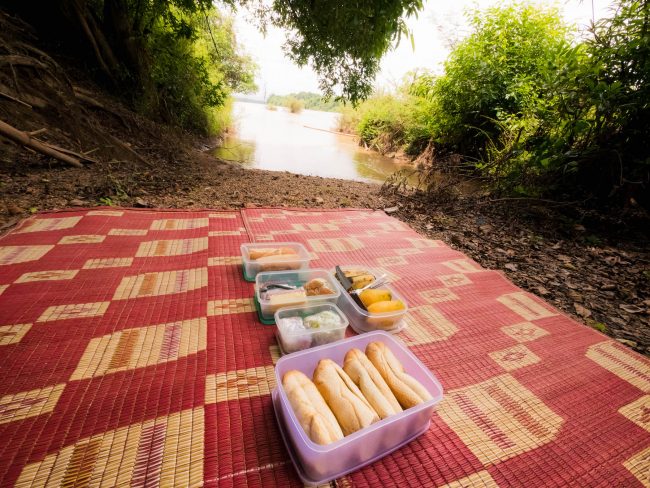 Koh Peak village is home to the Katcha tribe. The main activities of this 362 person tribe is growing rice, and raising water buffalo, cows, chickens, and pigs for eating and offering to the gods, as well as fishing.
Before the Khmer Rouge, all the different tribes lived separately along the river. During their reign of terror, the Khmer Rouge took everyone and put them in one place, Koh Peak village, so that they had more people to work the rice fields for food. At the end of the Khmer Rouge rule, some tribes decided to stay here and others went back to their own villages.
Vuttha was an absolute blessing, as he knew the locals personally. So while many a tourist gets a glimpse of these villages from the river, we were able to venture inside to get a closer look at the friendly Katcha people and their unique cultural conventions.
We walked among traditional stilted wooden houses in Koh Peak village with windows being holes cut out of the wood. I was able to taste some traditional rice wine out of a coconut with one of the elderly members of the tribe in his home, while his granddaughter breastfed her baby and his daughter cooked from an indoor fire stove.
Interesting thing about stilted Cambodian architecture is that along the river they are stilted to prevent flood prevention, but in other areas they are used as a storage or resting area and have nothing to do with flood prevention.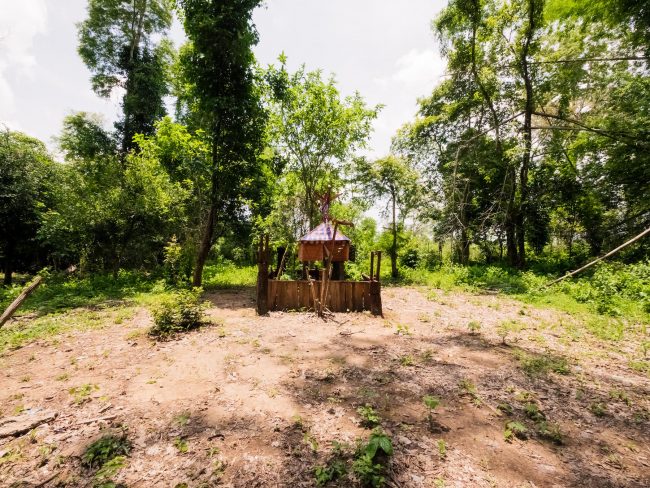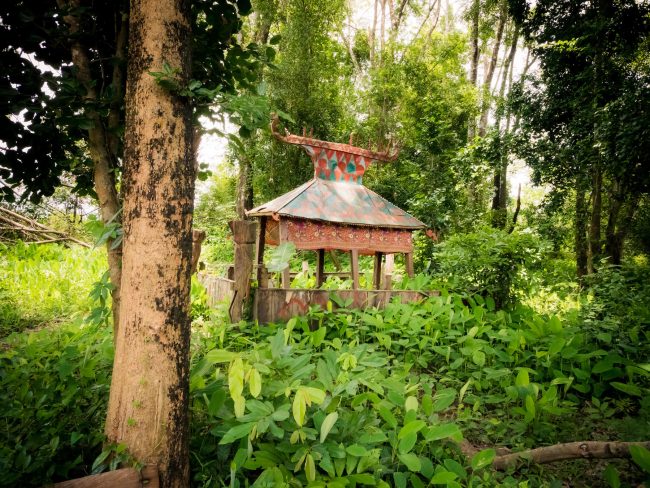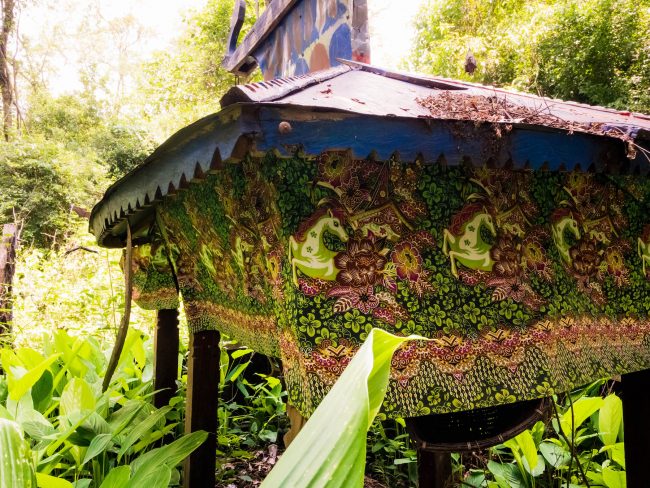 Vuttha told us all about the unique Kroeung cultural practices on the other side of the river. At about 12 years old, parents build a small house for their children, lower houses for girls and higher boys. But these days boys live with their parents, while girls still live separately, only eating and working with the parents.
I asked why the girls lived separately, the response was that, "At night time, the boy can come to the girl's house and they can play together, and the girl, if she loves the boy, she can choose to stay together with her until they want to get married". Yet this "play together" does not usually involve intercourse, as if a girl gets pregnant before marriage, her parents will be fined by the village chief, and they will have to sacrifice some of their animals for mercy.
This not only causes shame for the families, but is an expensive undertaking. They say because of this "mistake", the people in the village may get sick as they angered the spirits. The rest of the custom states that the girls and boys live separately in the girl's house for three years, then boy's house for three years.
So after 6 years they can have their own house after getting married. If they still don't have a house after 6 years, they can stay and work with their parents. Children as young as 16 years old in the area will be holding their babies.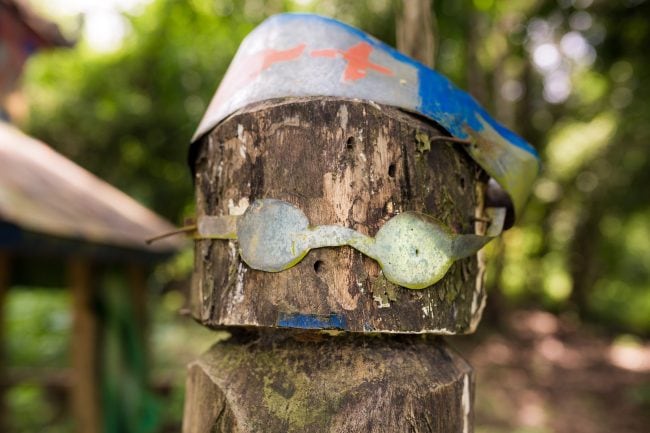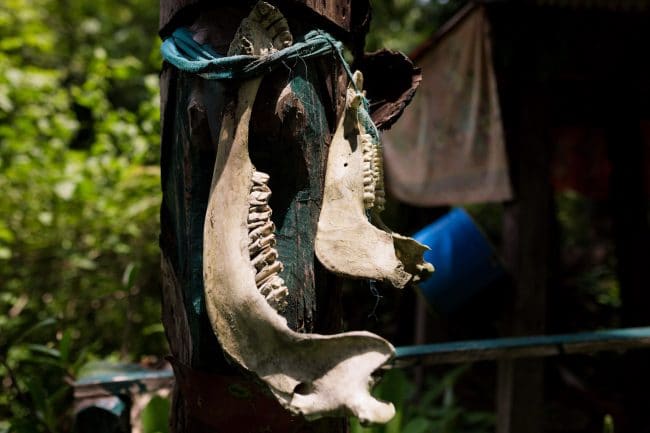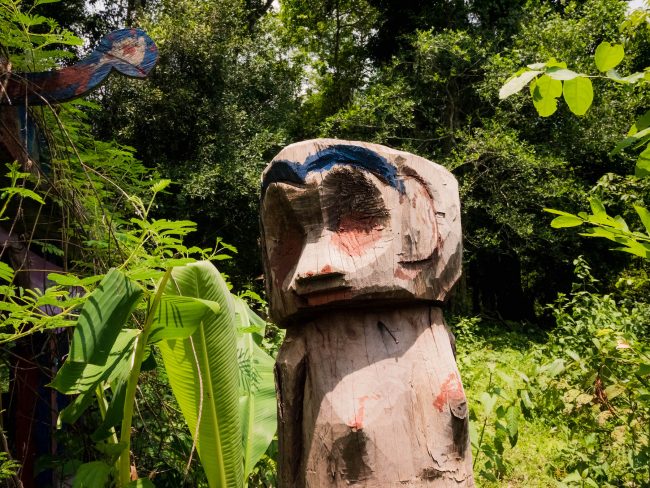 Upstream of the Sé San (sé (Vietnamese) and tonle (Cambodian) mean river) are a certain number of Tampoun and Katcha villages that practice funeral statuary. All the tribes in this area don't cremate but rather bury the deceased, but they have different burial rituals. Only three tribes, including the Tampoun, Jaraï, and Katcha, make a beautiful grave in honour of the deceased. The rest of the tribes only practice burials and sacrificial offerings, but do not make totems.
The process goes like this. After passing away, the deceased are kept at home for a few days to a week depending on whether the family is rich or poor. Richer families will have more animals to sacrifice and therefore a longer process. After the wait they make a coffin in a different style from western cultures.
They cut down a very large tree and hollow it out. They then place the deceased in the middle of the hollow log after which they use resin to seal wood at both ends to avoid foul odours. After placing the deceased in the coffin, a party ensues where they sing and dance around the coffin and then the house.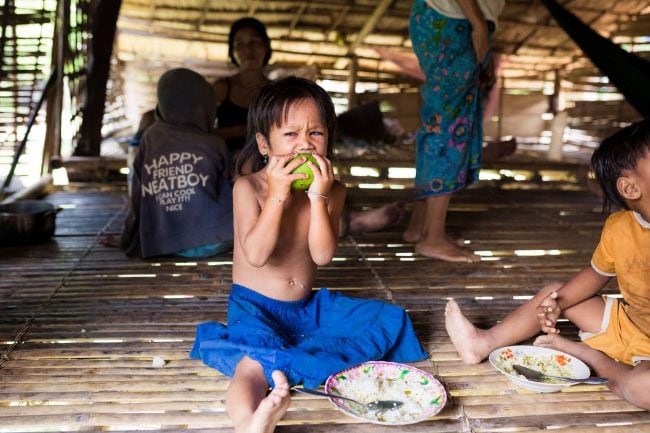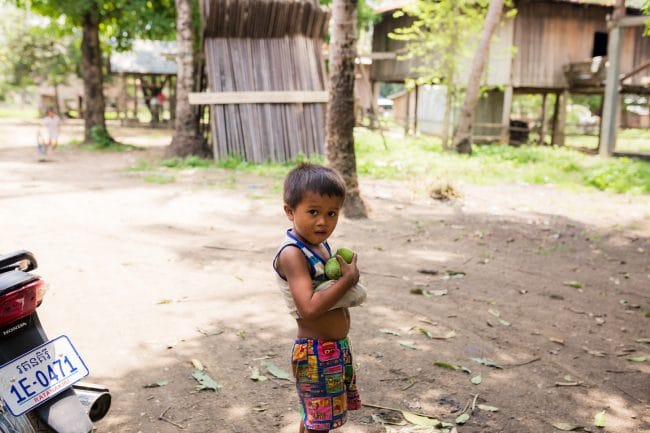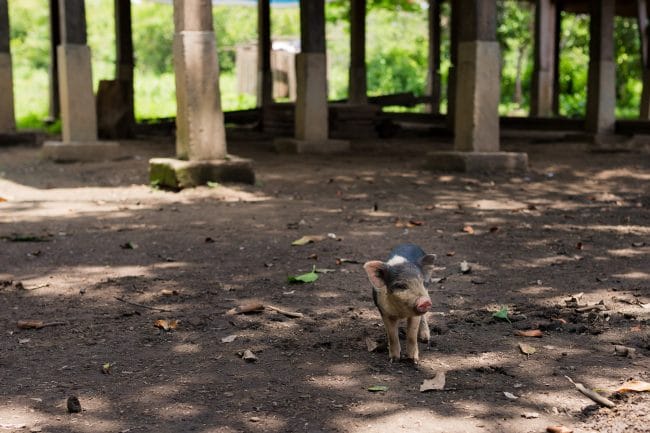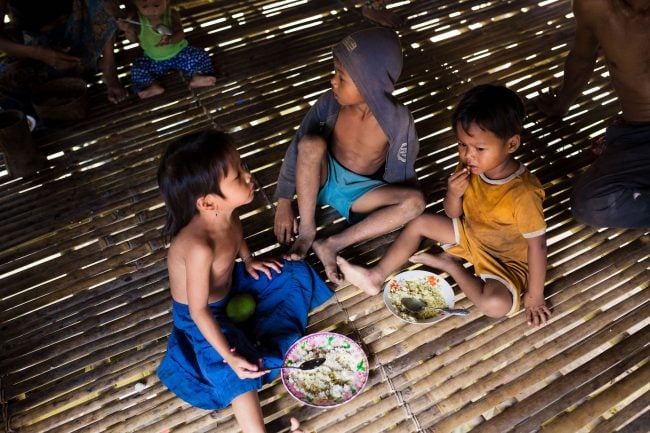 They then bring the coffin to the burial site, clean it, make fires and provide sacrificial offerings, from food to cigarettes, every day for an entire year! Yet more current tradition only does this for one season depending on when the deceased passed away.
At the end of the year or season they have one final, massive offering where they sacrifice entire buffalos, build a sort of house around the deceased and erect statues in their honour. Starting at around 4 or 5am, which is evening in the spirit world, young people will bring speakers to the mammoth event and play pop or traditional music as they celebrate.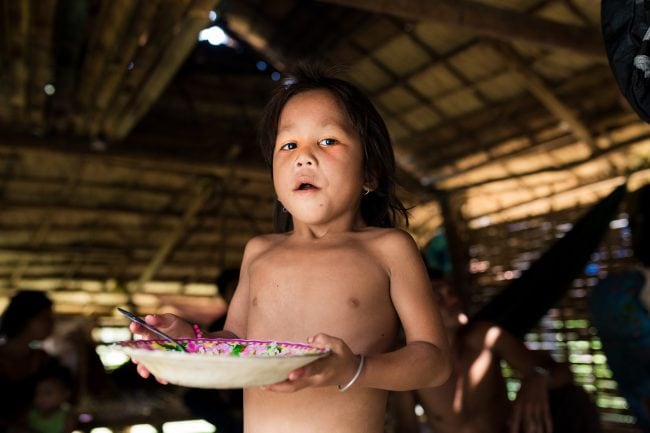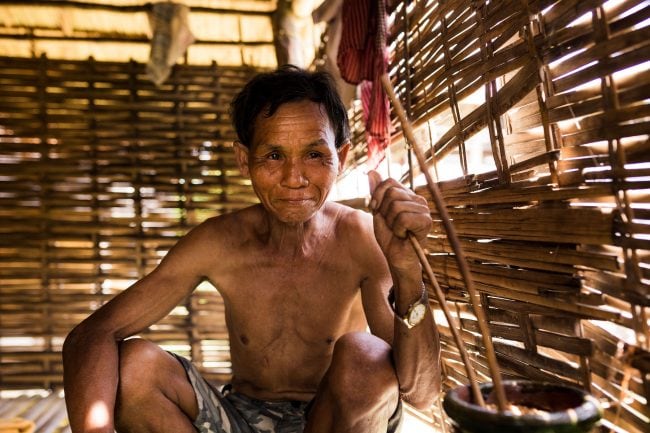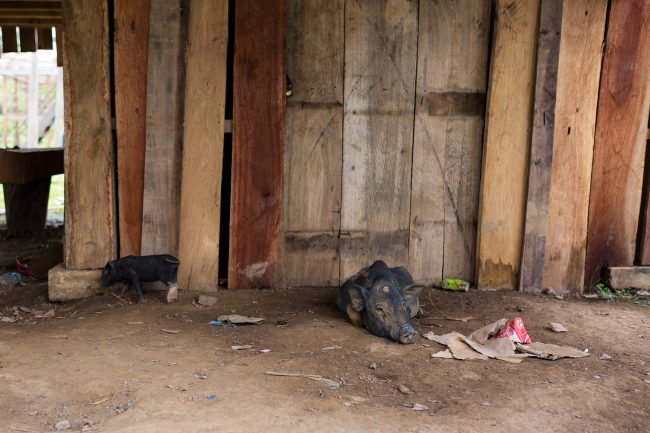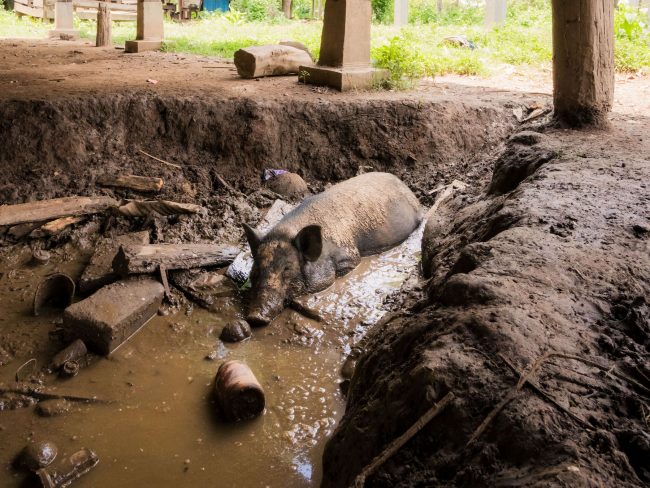 Looking at the primitive, yet enduring wooden sculptures certainly brought a smile to my face. Our favourite was one was where the sculptor made glasses out of an old coke can showing imagination and a naïve artistic integrity. Whether only the wife or husband dies, they will create two statues, one of the husband and one of the wife. When babies pass away, a smaller gravesite is constructed with a minor sacrificial ceremony.
One intriguing fact that differs from Western practices is that once the ceremony is done, they will never come again to the grave site. This is done because it is believed that the spirit of the deceased has now separated from the family and gone onto the next world. So even if a tree falls on the gravesite or a bush grows over the graves, this does not phase them.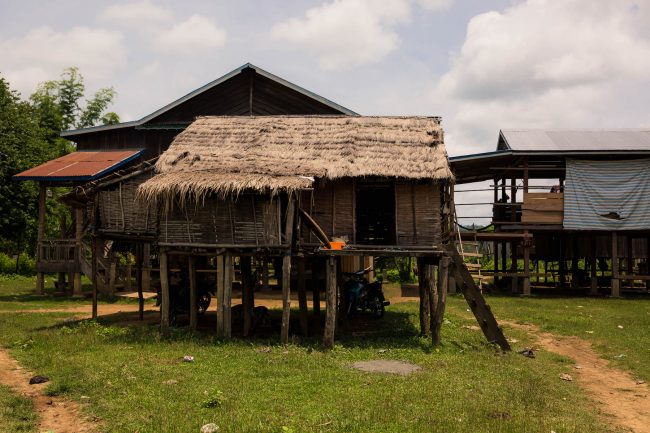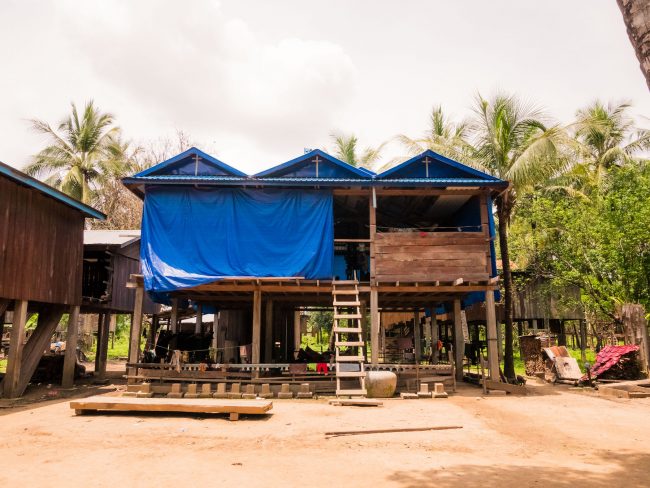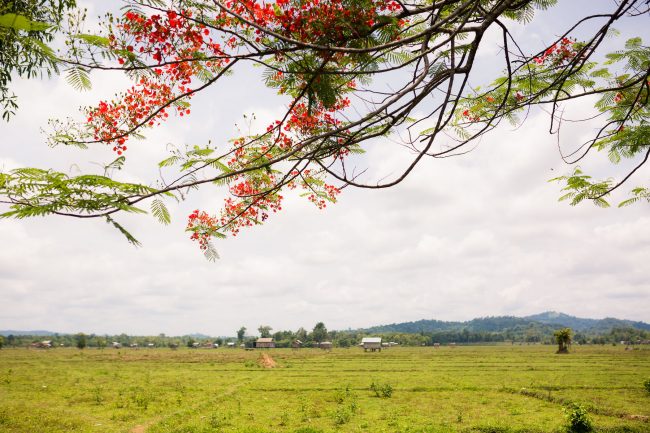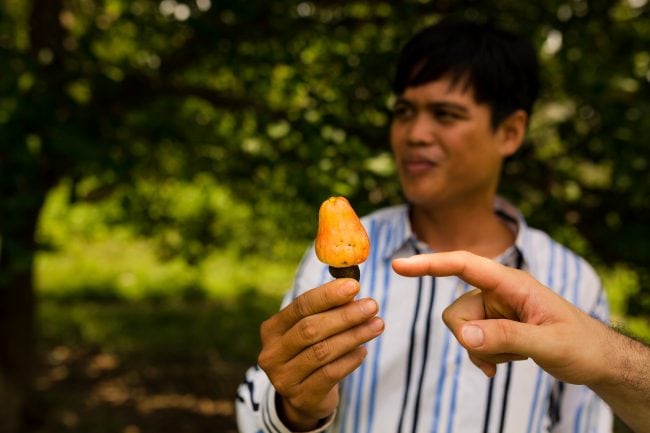 After viewing the Katcha gravesite and totems, we stopped on an island in the middle of the river for a lunch at, in our tour guide's words, "a five-star restaurant". It was actually a tiny bank of shaded sand in the middle of the river with a small picnic basket. Truly exclusive.
We then had a quick excursion to the Chinese and Laos villages in Veun Sai. This involved a quick visit to the school. There are two buildings in the structure. On the left is the Chinese school and on the right is the Khmer. When we visited the Chineses class involved grammar and the Khmer children were learning about the HIV virus.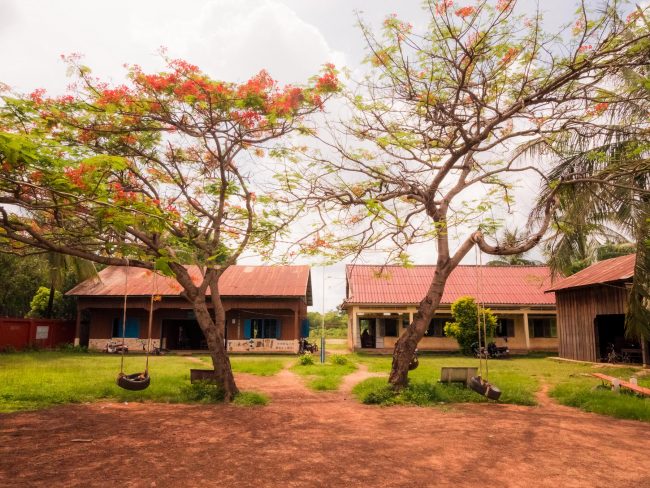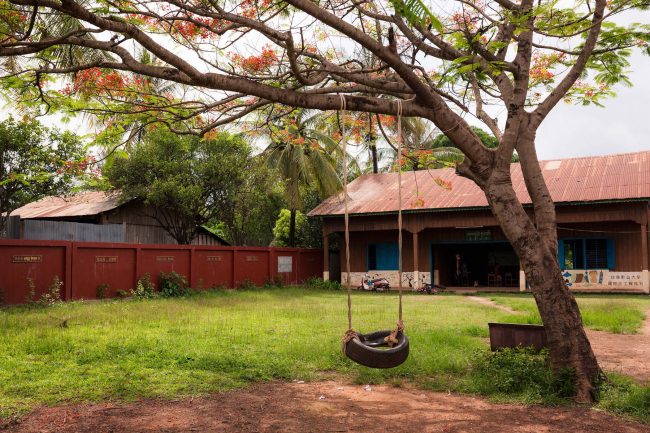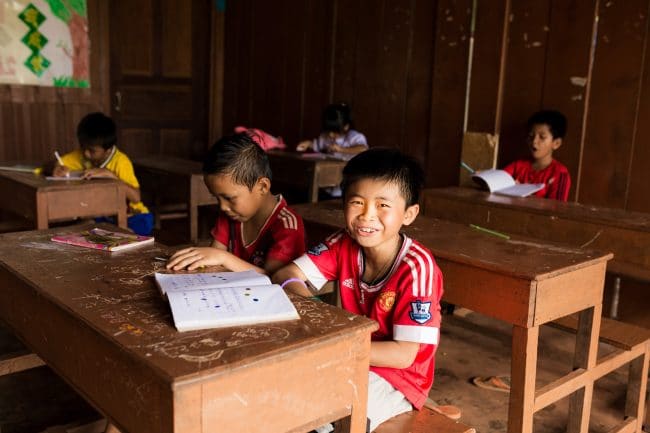 After this we took a quick walk to our boat driver's house, a thin, yet extremely long property that leads to an amazing garden and then jungle with all the fruit and herbs one could dream of. He was also brewing rice wine, which I tasted for the second time in one day.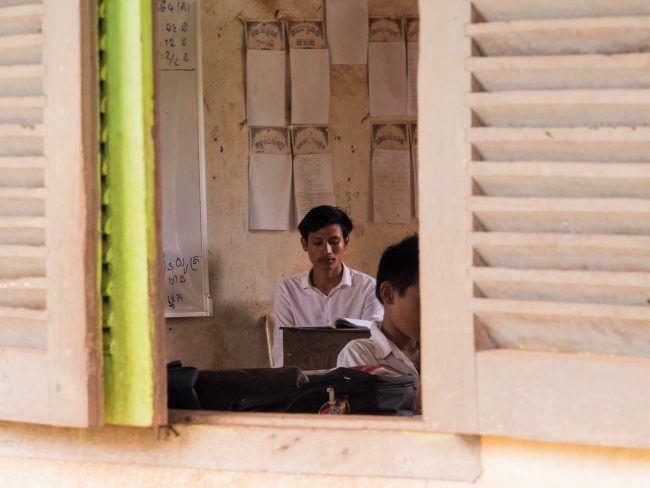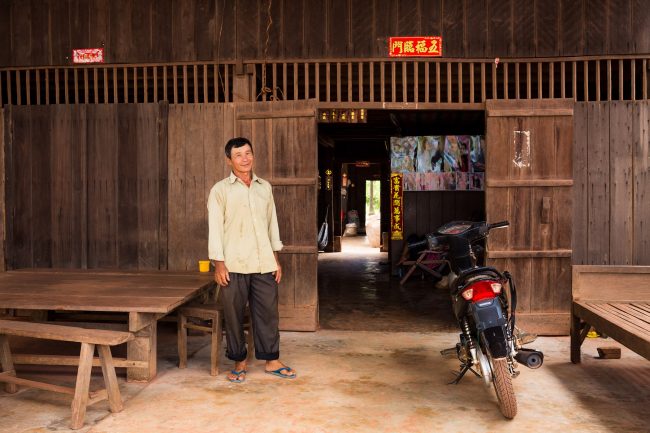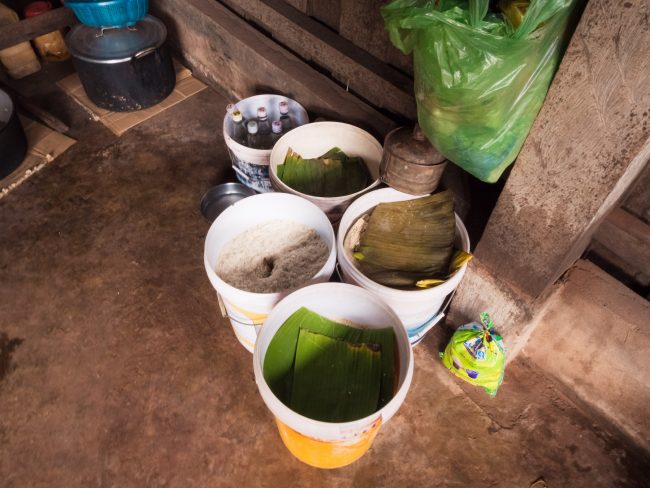 The inside was clean, spacious and filled with posters of K-pop stars and images of his beautiful children. This type of trip was only possible with our guide Vuttha, as they are friends.Visiting the totems could not be more recommended, it blew us away and injected a sense of wonder and awe.
Yeak Laom Lake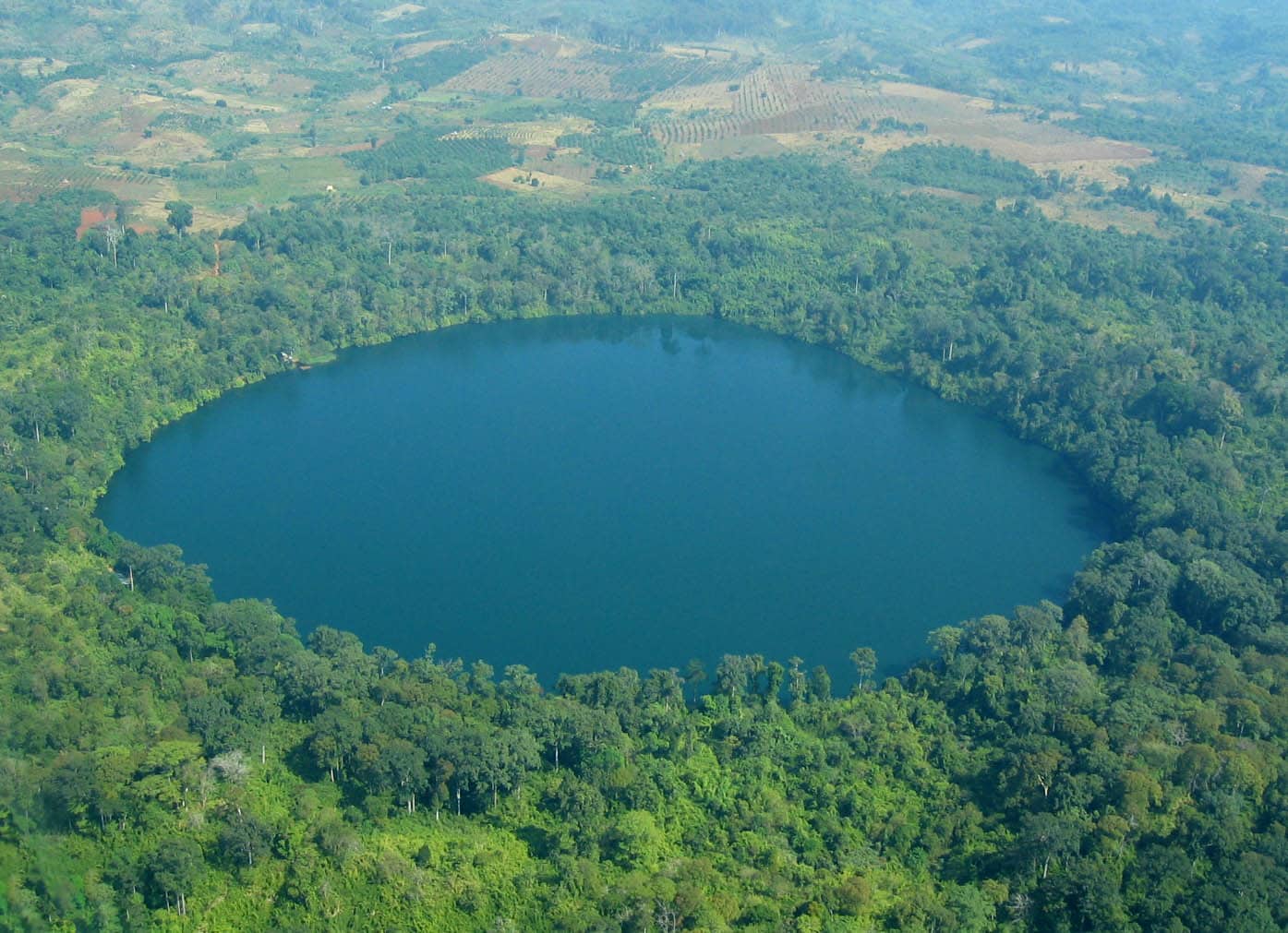 Yeak Laom Lake is about a 5km drive south of Banlung. It is a gorgeous, clean lake in the center of a 4,000-year-old volcanic crater that is sacred to the Tampoun tribe. The circular lake is about 800 meters in diameter and 48 meters deep. We enjoyed a picnic on the west bank of the lake at the tourist information center while listening to the parrots and other exotic birds chirping.
It is recommended to bring your own food and beverages which can be enjoyed after a swim and a small hike around the 3km track. Souvenirs made by the local Chunchiet are for sale at the tourist information center. This area is serene, calming and tranquil, yet there have been reports of petty theft, so tourists should proceed with caution if they decide to go for a dip, watching their belongings.
What to eat in Ratanakiri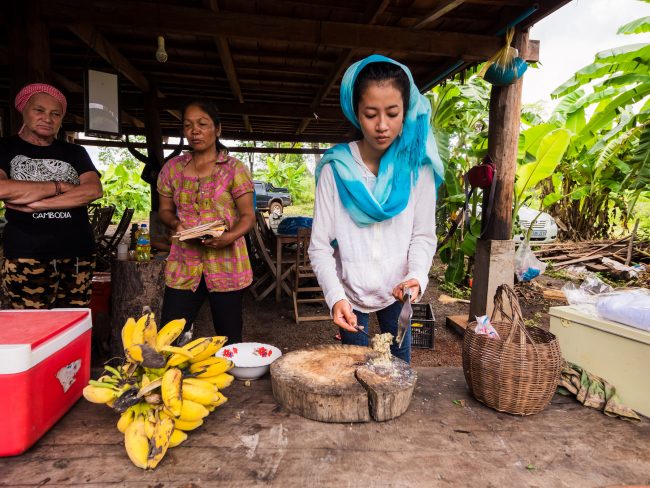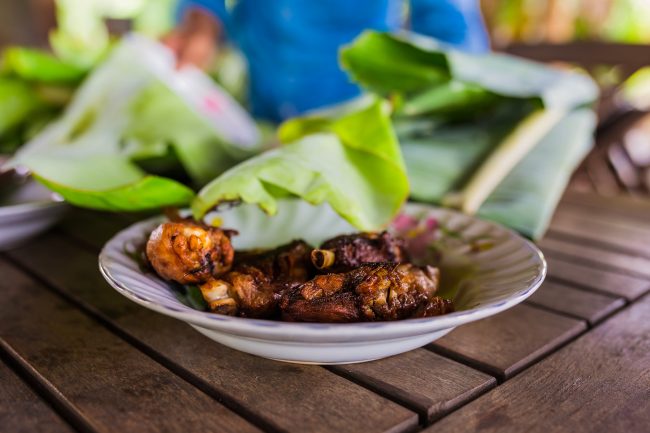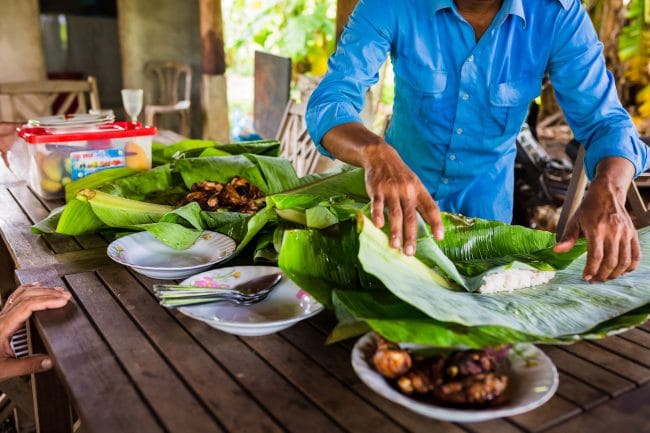 It may be the Wild East, but there were many options available for dining.
Café Alee was the perfect place to watch the sunset behind the mountains. It also had a variety of local and western fare. It was quite nostalgic listening to the MTV unplugged album while watching the Cambodian sunset. It is located a little walk down road 78A, off the main 78 road.
Another place to eat both Western and Khmer cuisine is the Green Carrot Restaurant and bar located on the same road, but closer to the main road 78.
Down the street on road 502 is Sal's Restaurant. The menu had everything from a double beef burger to Mexican cuisine. A real treat.
While we didn't go, we saw that other popular choices are Everest restaurant or Bamboo Vegetarian Restaurant on Road 62. We had so many options around Kan Seng Lake, but ended up mostly eating at Terres Rouges as they have a fantastic restaurant with the best wine selection in Banlung (not difficult to beat) and French, Italian or Khmer treats that tickled our palate.
Pteas Bay Khmer Restaurant is across the lake, which we only looked at from the balcony of Terres Rouges. There are also more backpacker eateries nearby at Banlung Balcony Guesthouse and Flashpacker Pad.
Where to stay in Ratanakiri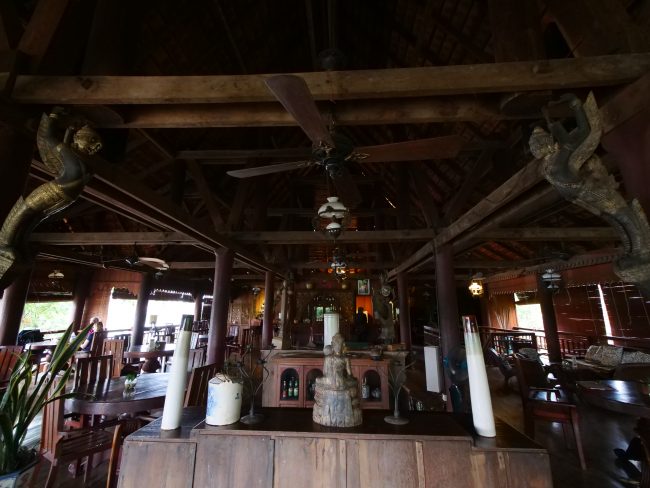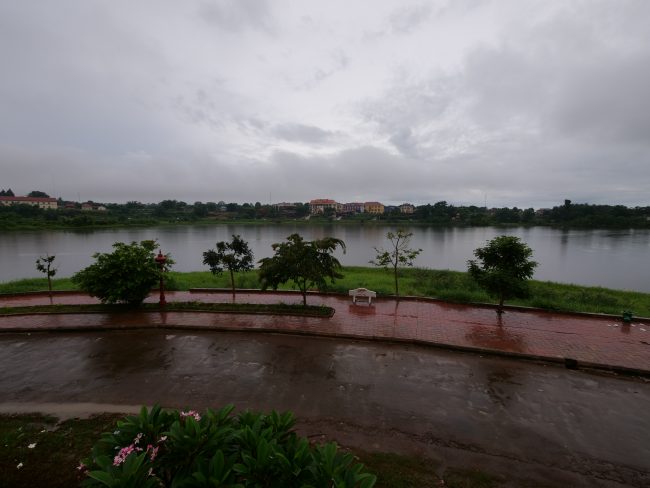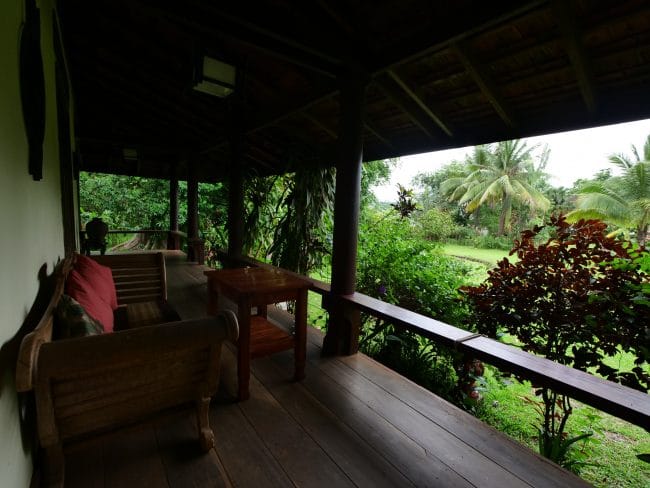 Staying at Terres Rouges is an absolute treat. It is the former residence of the province's governor and feels as rustically glamorous as you'd expect of a governor's home. While we didn't stay in the Governor's Suite, it is a good choice for honeymooners wishing to escape away from the world.
The outdoor bath and shower, along with a splendid and spacious room were all very welcoming, the pool is a bonus and the massive garden a plus. The restaurant overlooks the tranquil Kan Seng Lake and Thy Ath Lodge and Prakdara Guest House on the other side. I loved showering among the elements and the voyeuristic geckos. It was comfortable, clean and felt like I could have been an olden day explorer on safari.
But it was meeting expat owner and sort of a legend in Cambodia, Pierre-Yves Clais, it what really made our trip.
Former paratrooper of the UN peacekeeping mission, this lively French expat, who arrived in 1992, is a fantastic albeit eccentric guide. He is also the owner of Rajabori villas in Kratie and head of the Airavata foundation and is a mahout extraordinaire.
I thoroughly enjoyed his brash take on Cambodia history and politics. Let's just say that he's not afraid to speak his mind. He is a fountain of stories and tales of Khmer Rouge and Cambodia's tumultuous past and present. If you're lucky, he will personally guide you to his elephants, who he has a deep love and adoration for.
Travel to Mondulkiri
There are several shared vans leaving daily from Banlung to Sen Monorom in Mondulkiri at around 8am for US$7. I would recommended to have the guesthouse or lodge reserve a seat. The drive is a 3.5 to 4 hour journey through small villages on what, a few years ago, was just jungle and a dirt road.
As Pierre-Yves was on his way there, he offered to give us a ride, which we were extremely grateful for. Suffice it to say, we heard some very authentically enjoyable stories of how Cambodia has changed since his arrival in 1992. Hiring a private taxi might be a more enjoyable way to travel and the one I would have gone for. Private taxi costs around US$90.
History of Mondulkiri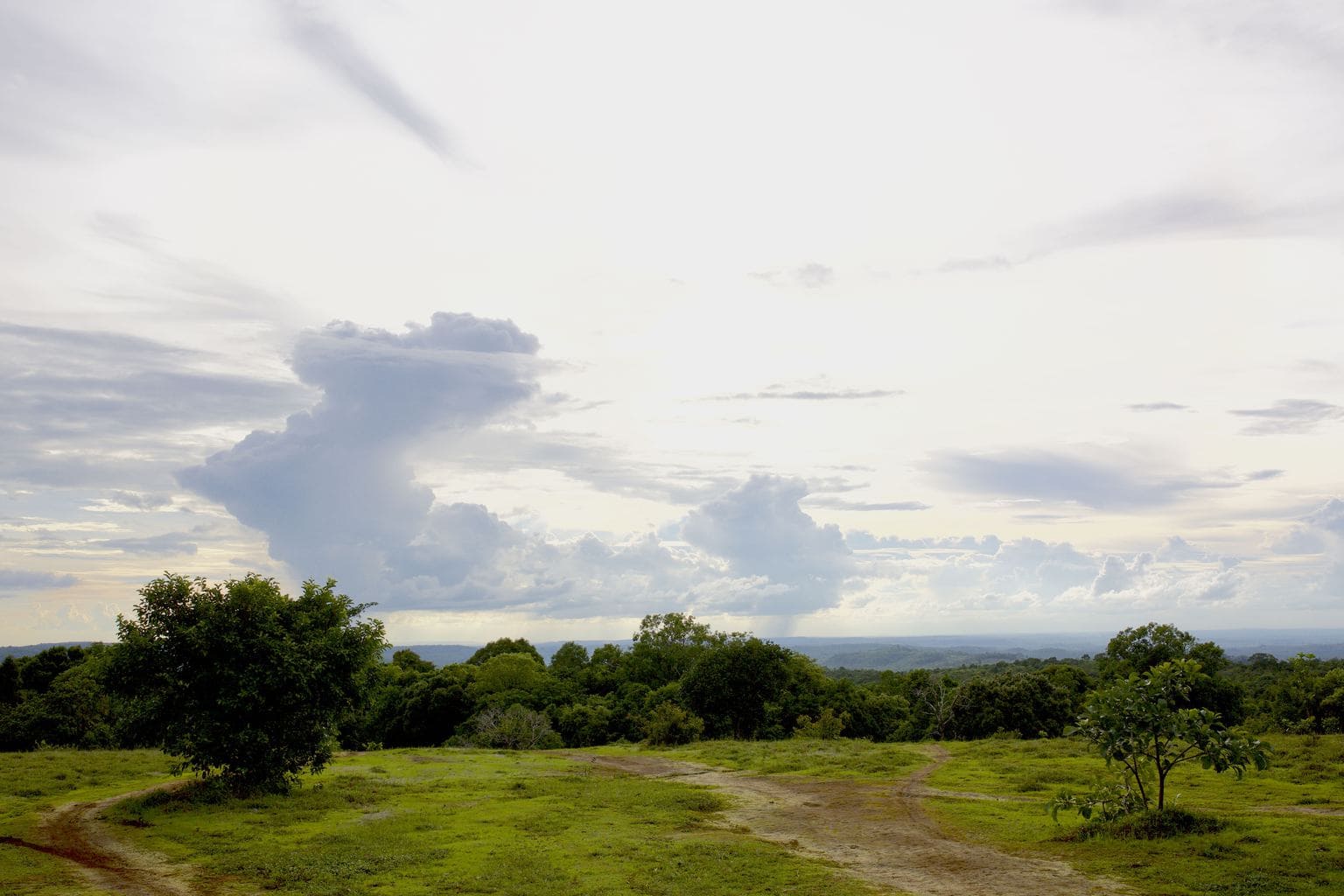 After a short 3 hour drive through plantations and small towns, including a distinct Muslim town, something I didn't expect in this part of the world and was wonderful to see, we landed at Mayura Hill Resort in Sen Monorom, Mondulkiri. Mayura Hill is beyond a resort and very active in helping the province and its people thrive.
They have spearheaded campaigns like Keep Mondulkiri Clean, and are also owners of the Mayura zipline at Bousra Waterfall, bringing jobs to the local community. On Dohkrormom Mountain, there is an expansive wooden ledge with a large "I love Mondulkiri" engraving, also sponsored by Mayura.
Mondulkiri, or "Meeting of the Hills" is the original Wild East and is splattered with jungle in every direction, well, more plantation, but definitely has its "wild" charm intact, especially to the West. The cooler climate, at roughly 800m was welcoming, I even had a hot shower, something I hadn't done in Cambodia until this point.
It is possibly best known for its nature conservation efforts and for visiting the elephants. It is no easy task to stave off greedy loggers, pepper farmers and poachers, there seems to be some kind of balance being established.
While new roads have opened the way to Mondulkiri for easier access to tourism, it has also opened it up to greed and corruption with the elite profiting off its lush soil. Endless rubber and cashew plantations plague the area. But Mondulkiri is huge, in fact it's the biggest province in Cambodia standing at whopping 14,288 square kilometres. So not all hope is lost.
If Mondulkiri is the original Wild East, then the provincial capital, Sen Monorom, is the epicenter, reminding one of a typical "Wild West" frontier towns of American history, just a bit more tropical and lush. Many an adventure traveler and ecotourist pass through this sleepy town on their way to explore the jungle or visit the elephants.
While there are a few hotels and guesthouses and more being built, it is still ultimately undeveloped and feels miles away from the mass-tourism of Siem Reap. I preferred Mondulkiri to Ratanakiri, as I felt it to be a bit more expansive, calmer and lush.
One thing to note when planning a trip is that there are very few tuk tuks. There are moto drivers that can be found just on the turn off towards the market, but are usually gone by sunset.
Organizing transportation with the hotel was essential for us, especially as we were staying about 1.5km away. Luckily Mayura Hill Resort has on call drivers until 9pm that dropped us off and picked us up. We would have taken one of their scooters or bicycles on offer if it wasn't for the rain.
Activities in Mondulkiri
Here are some of the best activities in Mondulkiri to try out.
Bousra Waterfall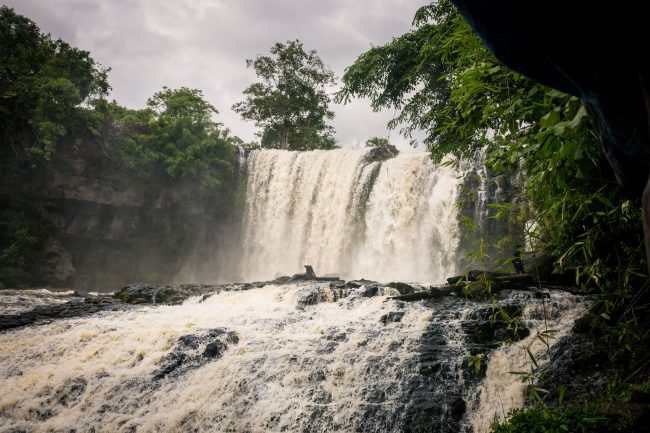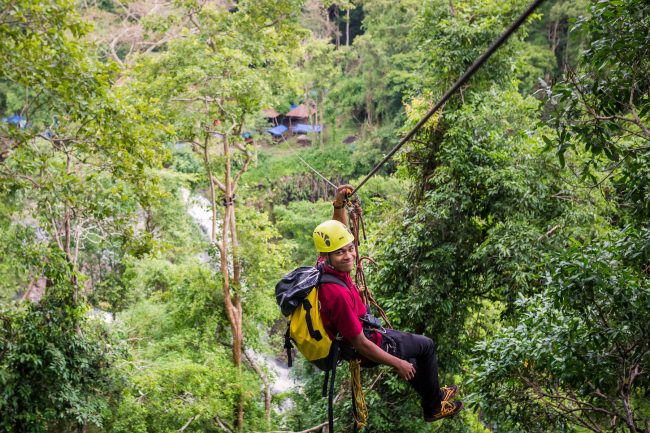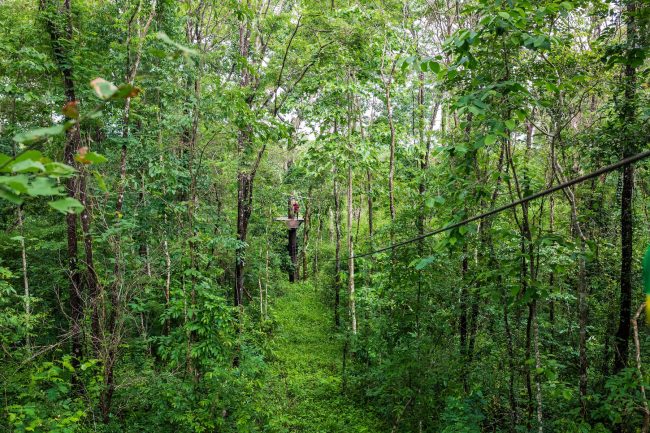 About 43kms outside of Sen Monorom, along hordes of pepper plantations, we travelled to the thunderous Bousra waterfall. It is a three-tiered natural waterfall with only the first two accessible to the public. When we visited, locals were enjoying picnics and swimming in front of the main falls. One more in-the-loop group of teenagers was blasting Ed Sheeren's "Shape of you" from their boombox on repeat. I will always think of Bousra when that songs plays, not sure if that's a good or bad thing.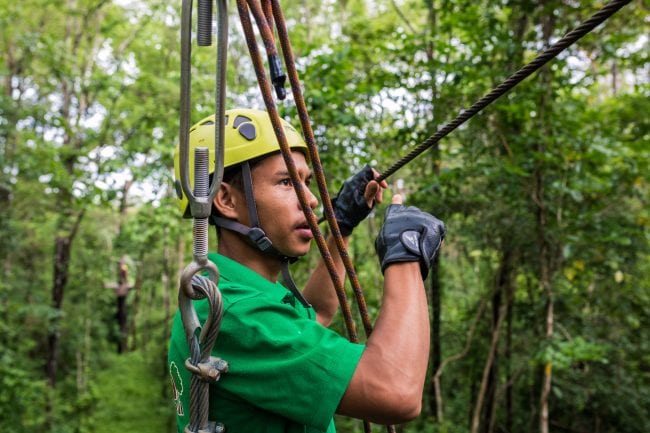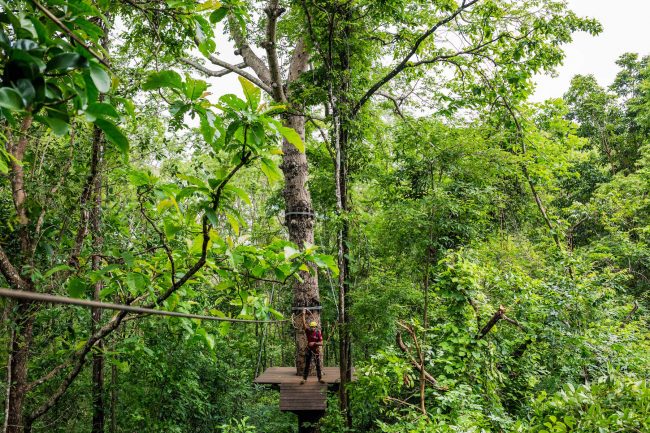 That being said, there is a vibrant energy at this popular spot, if not from the day visitors, then from the roaring water itself. We sat down in one of the wooden booths to take a timelapse before being shooed away by one of the vendors. Apparently we had to purchase a spot there.
Keeping Bousra clean is also another one of Mayura's endeavours. Thanks to them, there are intact walkways, a visitor's centre, and a waste-management system, as well as the highest zipline in the region. Tourists usually have have to fork out $2.50 to see the waterfalls, but this was included in our tour.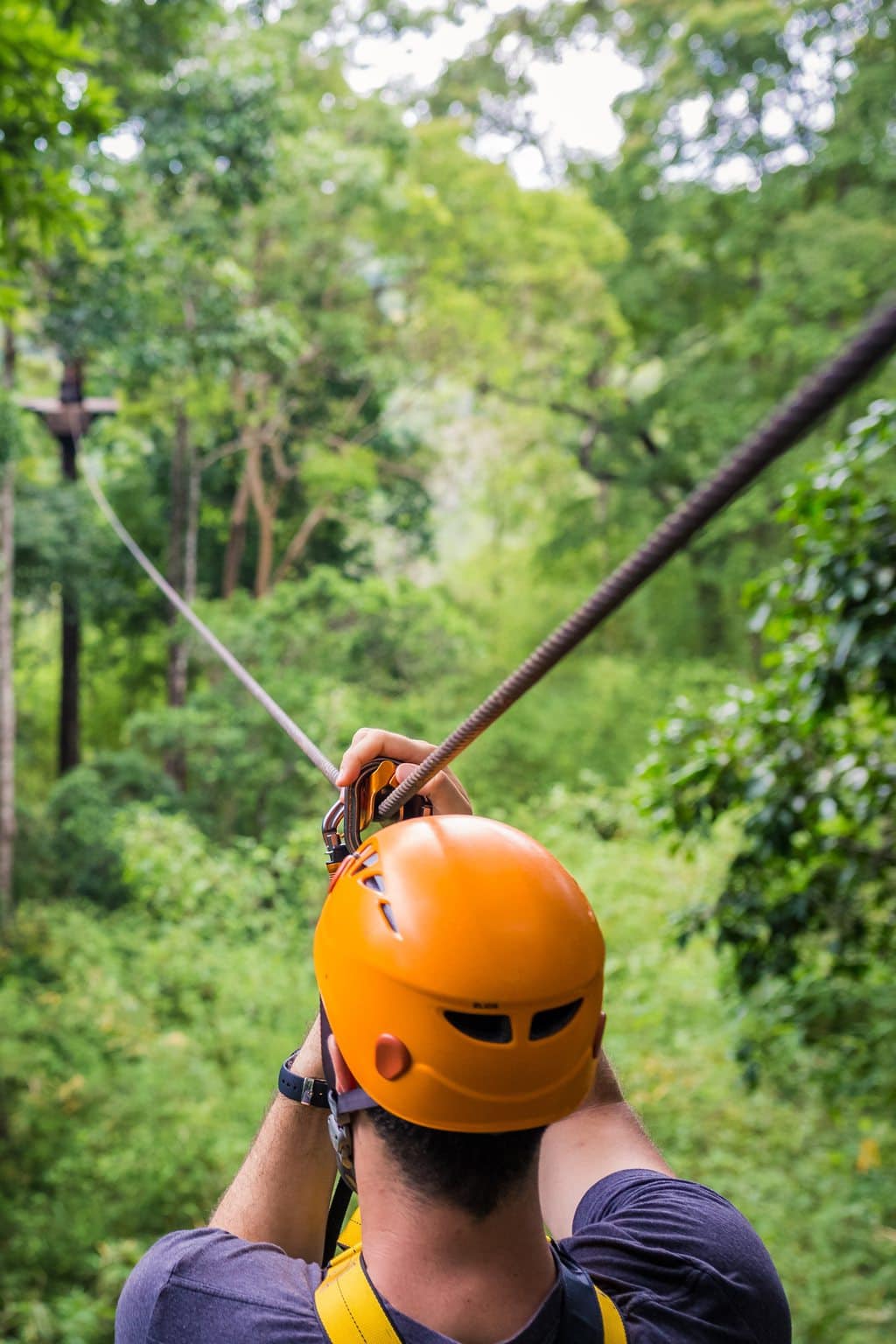 Thanks to Mayura, we were able to experience the zipline and it was impressive. Our guides were very knowledgeable about the area, over and above being extremely professional. We felt safe the entire trip and learned about local herbs and fruits along the way.
The penultimate line that goes directly over the waterfalls stood out as one of the best experiences in Mondulkiri, the view was spectacular. And right at the end was the lover's line where you can cheesily ride together, holding hands with your loved one. Tickets are $69pp for a half-day excursion, including pick-up and drop off.
Ocean of Trees and Dohkrormom Mountain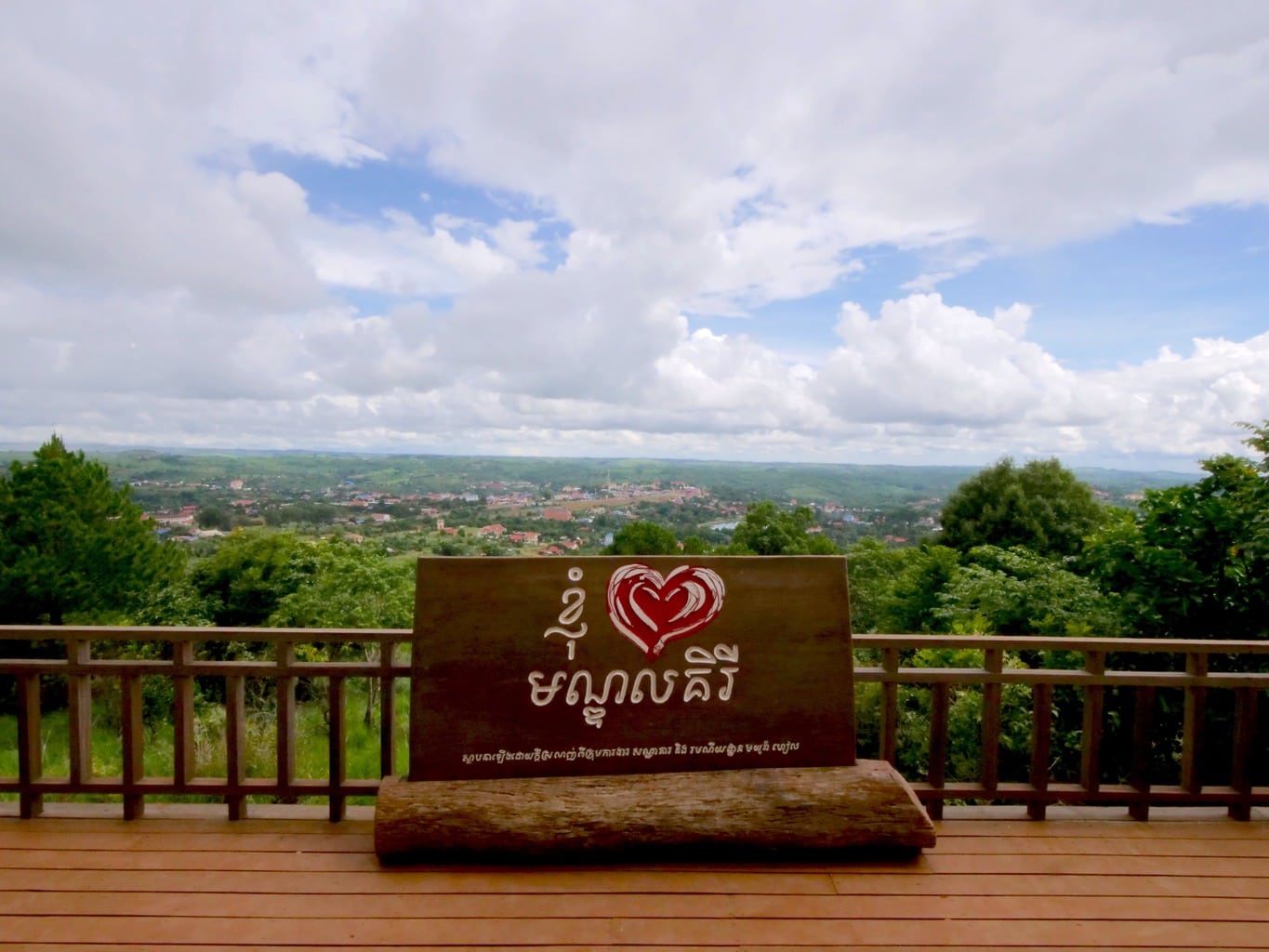 On the way back we were supposed to visit Sambol Cher, better known as the Ocean of Trees, near Dohkrormom Pagoda but were unfortunately unable to due to road conditions. This deluge of natural forest is apparently an epic sight. Instead we ascended Dohkrormom Mountain by car, but it can also be climbed using the stairs.
This was actually a set of two large hills next to each other that have aptly been given this name that translates to "female's breast mountain". At the top there was a quaint pagoda and a bunch of monkeys playing in the trees and eating the lush fruit and sacrificial leftovers. Mayura built a wooden platform there to gaze at the infinite plains.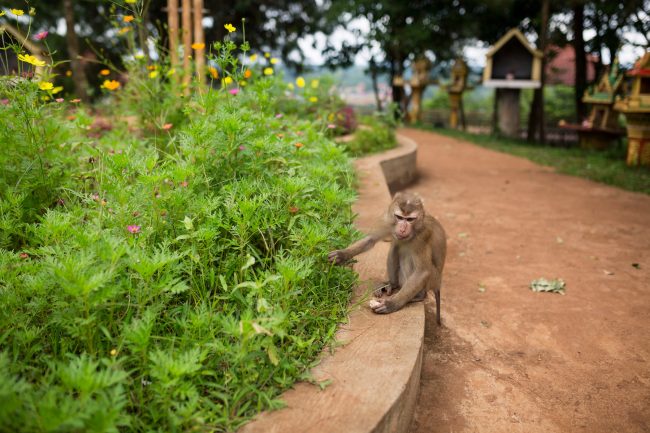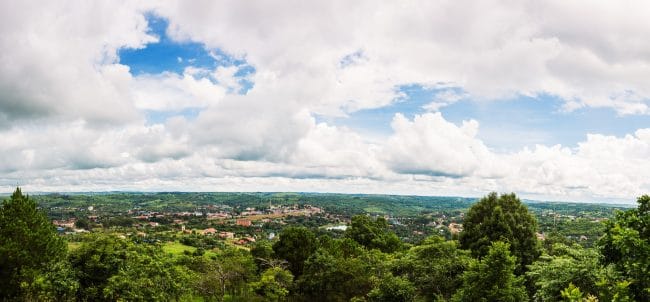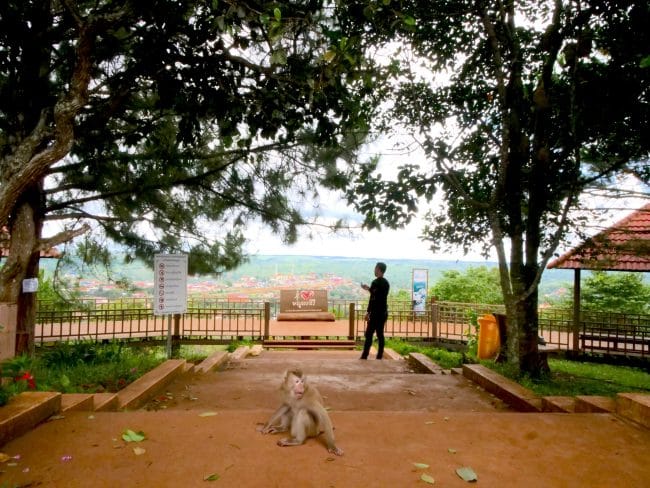 We had lunch at Coffee Plantation, a working coffee plantation as the eponymous name suggests. The food is local Khmer, with the usual lok lak and curry options. It was quite tasty and the view over the lake was popping with beauty.
The coffee was sweet, as it is all over Cambodia, and we walked around the grounds and looked at all the other produce that they grew. Were were careful not to pick anything, as tempting as it was, as this would get us a fine. It was nice to see pineapple, avocado, coffee and durian on the trees.
The only thing I did not approve of was the baby capuchin that was captured and kept in a tiny cage while locals teased it by pretending to give it food. The cute little guy looked like he was going insane in the tiny cage. It really was a downer to the end of an otherwise exciting and invigorating experience and saddening that there was nothing I could do to free the poor soul.
Elephant Valley Project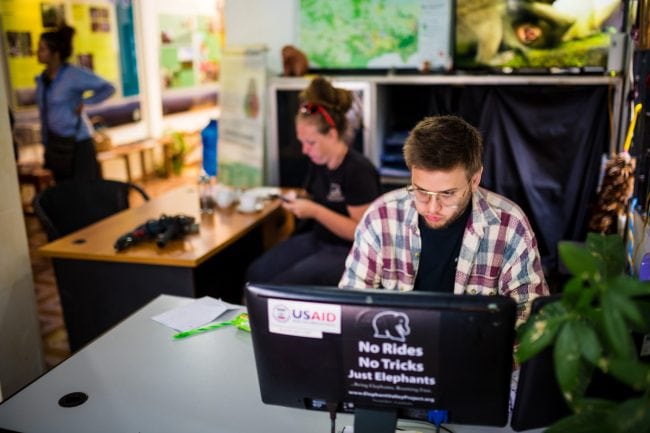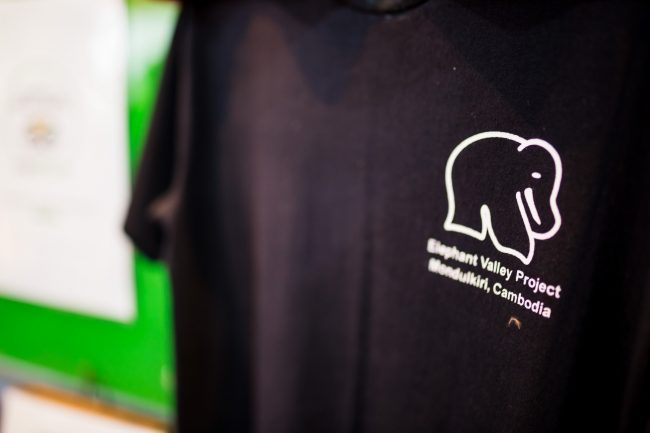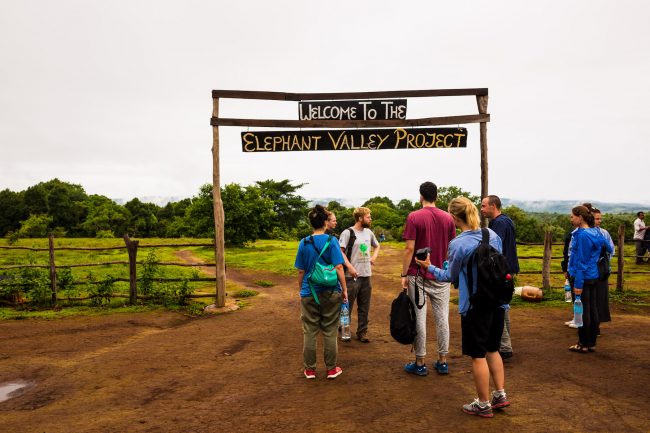 The main reason why tourists visit Mondulkiri, is to spend the day among the elephants with Elephant Valley Project. I must first state that the existence and sustenance of the EVP is quite controversial in Mondulkiri. There are petitions from the local Bunong people about EVP's claims to protect the Bunong's cultural heritage by hiring them to work at the EVP.
According to a local restaurant owner the project denies local income as they remove their chances for tourism and business. He said that the Tripadvisor reviews are in English, and as they cannot defend themselves in this language, it is a skewered view.
He also claimed that the area in which the elephants roam is a public community centre, so donations are not needed and most of the profits go into the owner's pocket. Whatever the impetus behind the owner of the EVP and in extension E.L.I.E., I will comment on my experience with the knowledgeable guides (both an Australian expat and a local Bunong, Tu'wan) and my time with the elephants.
The whole ethos behind the EVP is to let the elephants roam free, with as little human interaction as possible, so that the once captive elephants can learn to be elephants again. It is quite a strange thing to think that humans have to teach elephants to be elephants, but it is ever so necessary. We started our tour at the Hefalump Café, a quaint café on road 76 that serves a selection of cakes and some nice coffee.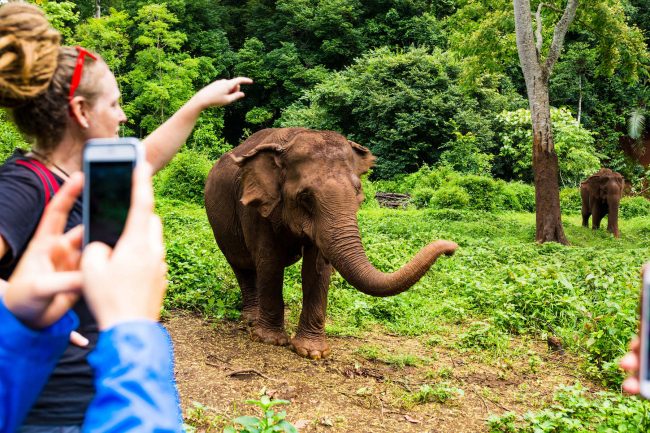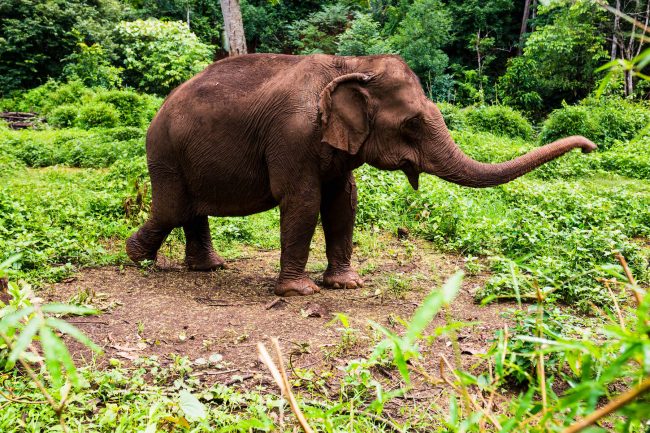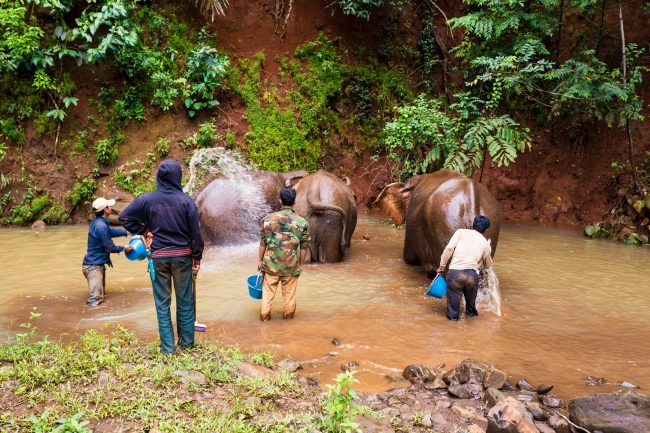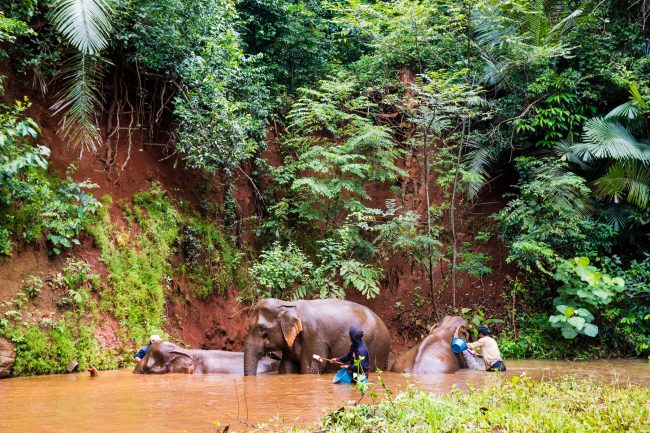 After hopping in the car, we began our journey to the Elephant Valley Project's "Elephant Heaven". The view is astounding with wild jungle, and local crops such as bamboo, bananas, avocado and mangos. We had a quick briefing on how the EVP works and the itinerary for the day before venturing off.
We learned that the EVP is not only involved in elephant conservation, but also reforestation of the area, as it is slowly being lost to plantation owners. Volunteers help the EVP to plant and farm the fields of bamboo that are now available for the elephants to graze on, and in so doing get a discount of the tour.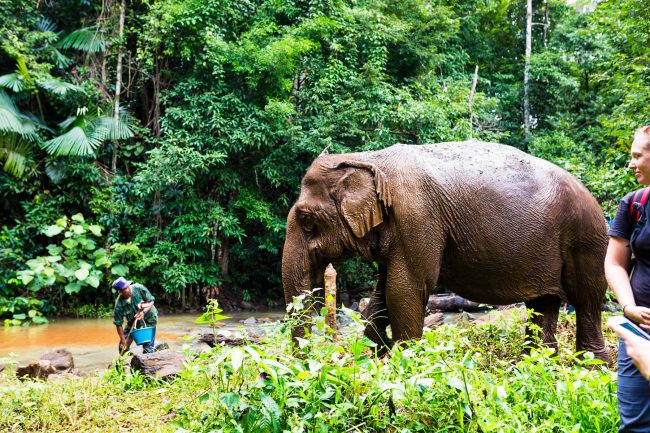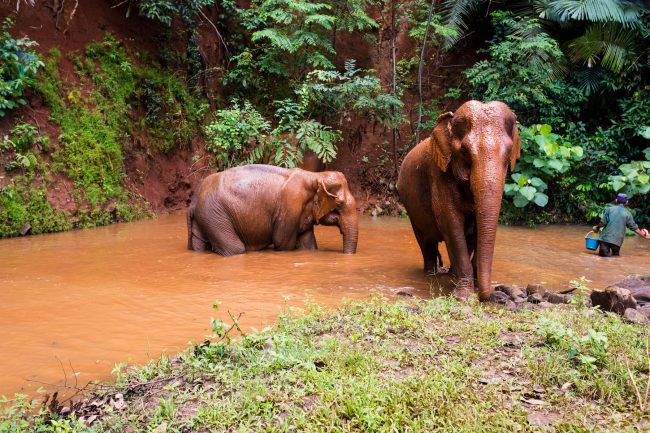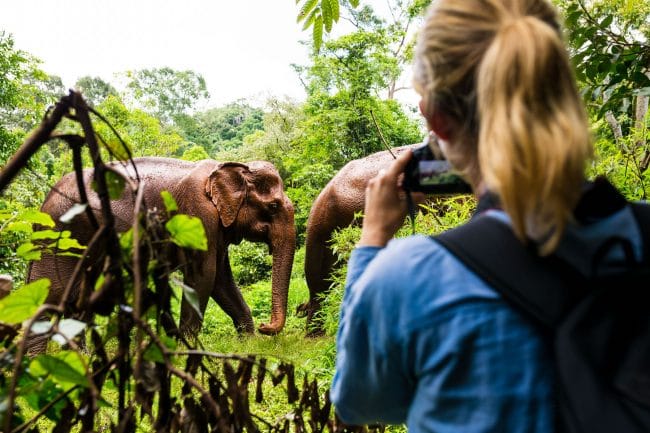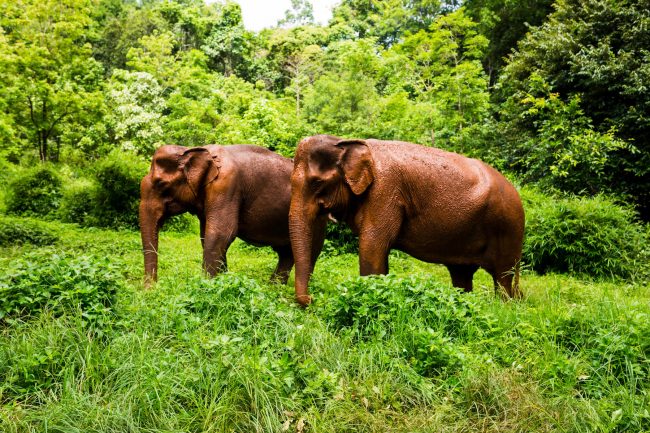 The itinerary works like this. Each morning the elephants come down to the river beds to take their bath. So we trekked down into the Valley for about 45 minutes in pure jungle down a slippery path to watch the elephants take their morning bath. After watching the mahouts bathe their assigned elephants, the group snapped as many pictures they possibly could, zoom lenses are recommended. It was a beautiful experience to watch the elephants in the jungle among trees, plants and bustling wildlife.
We were told to always give the elephants about a 5-6m radius of personal space, this is so they are able to interact with one another without our interaction. Depending on the elephants' moods, the group can give them a bit of a pat on the trunk or side, but it was up to the elephants, the choice was theirs. We did not touch the elephants on our trip, but rather just watched them from afar. I had no urge to pat them, just watching them was enough for me. Bathing or riding the elephants is prohibited as it does not align with EVP's ethos of minimal human interaction.
We were given a passionate lecture on why riding the elephants is bad for them. Getting a 400kg basket and then a further 3-4 tourists on its back is very bad for their ribs, essentially squashing their ribcage over time. Elephants are not a domestic species, and should not be ridden. It takes generations of mixed breeding for an animal to become a domestic species. Mahouts do ride on the elephants, but this is on the crevice of their neck, not their backs and is kept to a minimum.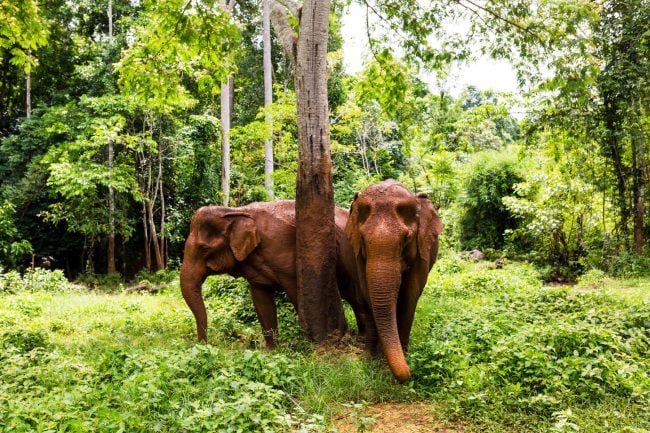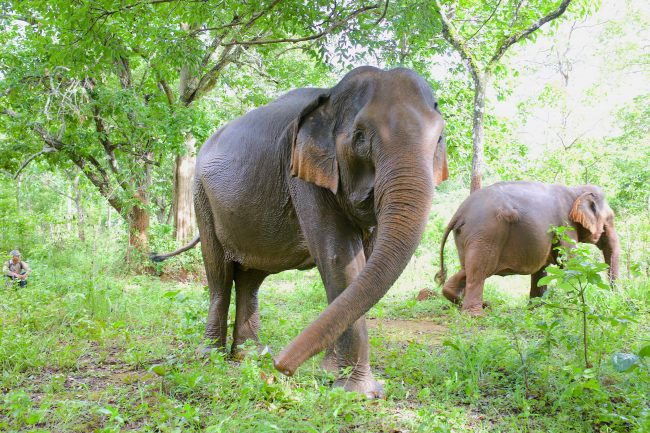 EVP allows the elephants to form herds, a once natural occurrence that has been skewered through domestication and forced labour. They are then able to figure out their social ladder and friend groups once again. The ethos of the sanctuary is to have a hands-off approach where the elephants are just allowed to be elephants again.
After watching the elephants and moving with them up and down the river, we hiked up to the headquarters for lunch for a buffet of Khmer curries and fruits. I thought of getting the mains first and then coming back for the fruits, this was a bad choice as all the fruits were gone on my return.
The food was delicious though and the spacious resting area that also acts as accommodation for overnight guests was comfortable. The view, yet again, was astounding. I drifted off to sleep on beanbag only to be woken up by the gong, which meant we were going on our second excursion. I could have slept all day in the quiet of the jungle. The only downside is that there is one toilet for the entire group of about 15-20 people.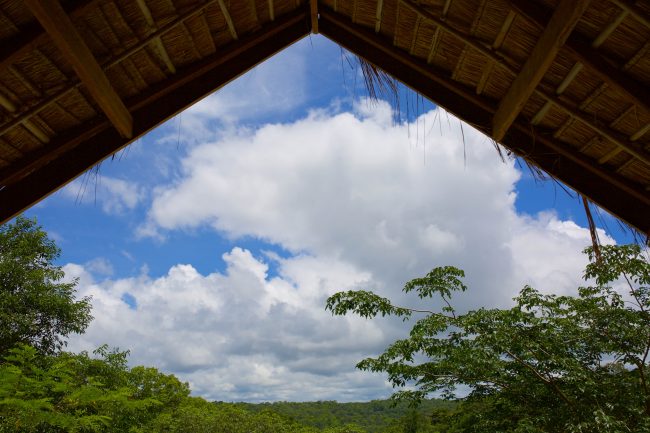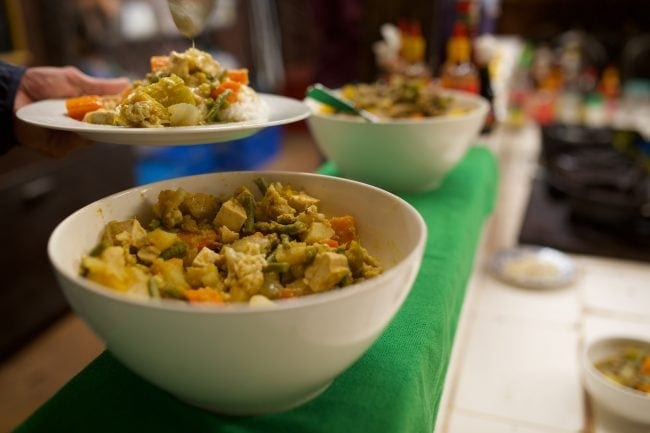 The second half of the trip, much like the first, involved trekking to wherever the elephants have decided to walk. The time of the trip changes depending on where they end up. While watching the majestic giants do their thing, we were bombarded with elephant facts and figures such as how elephants communicate.
We were told that, other than blowing their trunks as a sort of exclamation, they also squeak for comfort and social bonding, or like whales, communicate through sonar, inaudible to the human ear.
Another fact I found interesting is that most of the time, elephants just eat. 75% of their diet is grass, so when they eat, they get fat and get happy. In fact, they need to eat 5-10% (about 150-300kgs) of their body weight just to maintain a normal body weight. So one of the biggest issues of captive elephants is their diet.
Eating upwards of 200kgs of food takes time, so when they are pushed to work for 12 hours, they can't get their natural diet in. Captors actually give them a high sugar diet in cities like Siem Reap, which destroys their immune system, giving them digestion problems.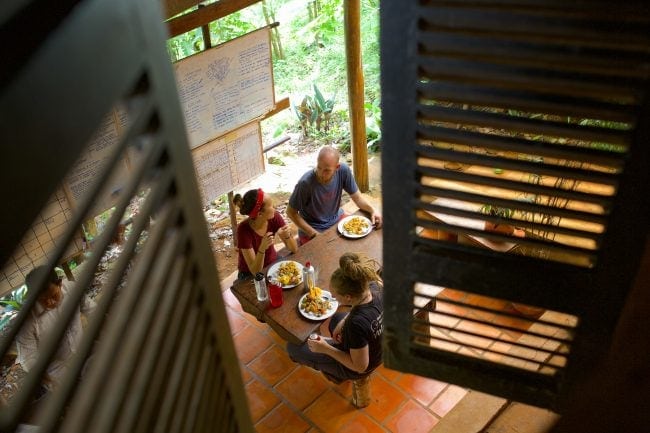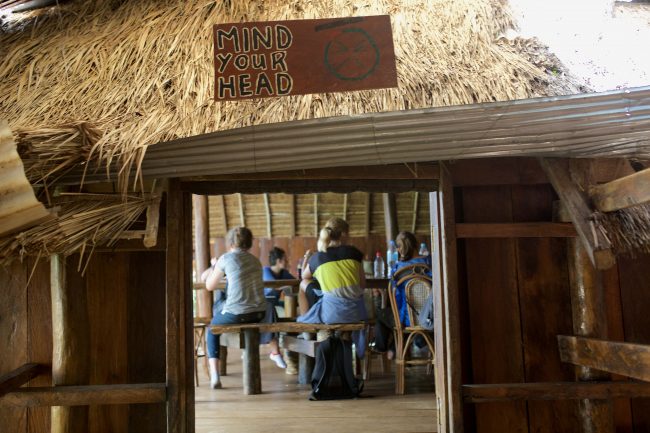 Think about running a marathon, eating a sugar-filled energy bar may get the runners through the first 30 minutes, but then they will crash. This is the same with the elephants. They can do some of the work, but not as much as humans expect of them.
The guide relayed that a healthy elephant can be spotted by looking, among other things, at their ears. If they are flapping they are happy. As our guide said, "happy flappy". If the elephant is concentrating on something or is dehydrated and in pain, their ears stop flapping.
One of the ways the elephants are introduced to the sanctuary is on a rental program. For example, the youngster Ruby decided to stomp around in a farmer's rubber plantation before coming to the EVP. Ruby's owners then had to pay the landowner back for what she destroyed, which left them in debt. As they needed money to repay the debt, they signed her over to the EVP, who had a fundraiser and got the money to pay back the plantation owner.
After walking back up the mountain, I was at once completely drained and totally invigorated. We drove back to Hefalump café before going on to our next adventure, which for me was a cold shower and lounging by Mayura Hills' pool.
The adventure costs US$85pp or $55 for half day. The guide had told us that the money goes back to salaries, land conservation and a sort of financial pool for the local Bunong, whose land the sanctuary presides in. The locals dispute this. Either way, the experience is educational and the guides are extremely well-informed and passionate about elephants, something I truly appreciated – you cannot feign that kind of passion.
For the elephant profiles, visit this link. For rates and tour itineraries, click here.
What to eat in Mondulkiri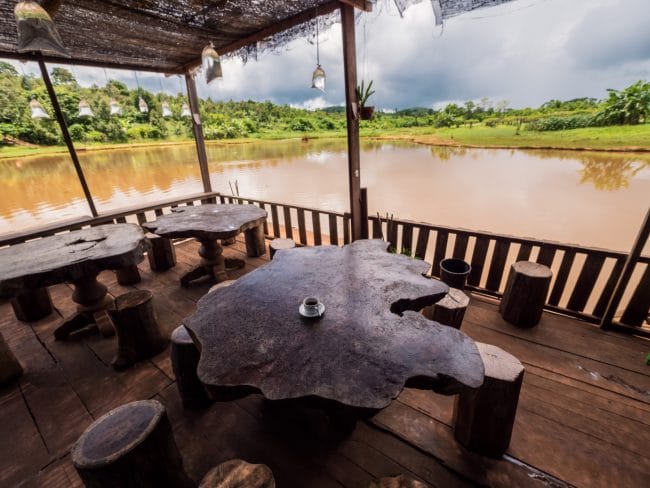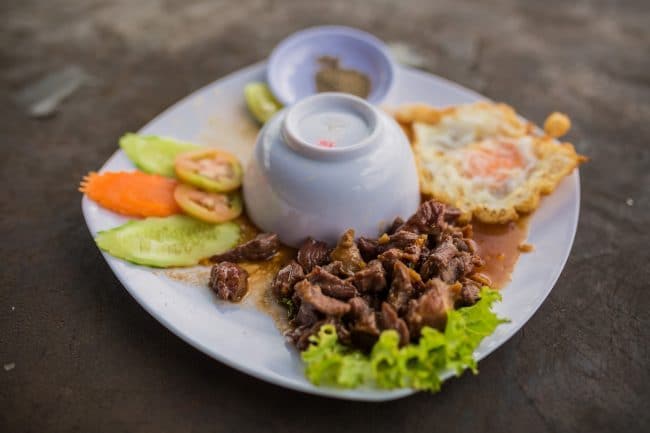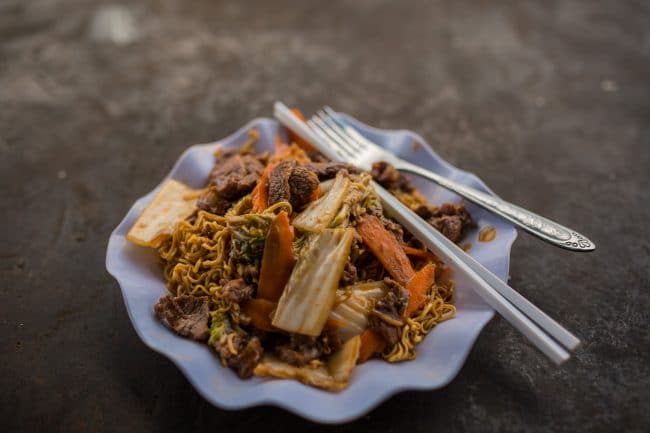 MK Cafe was a cozy café that just does not fit in here. Yet it was refreshing to sit here and have a coffee nonetheless. It is super clean, modern and would not be out of place in Phnom Penh.
Chili on the Rocks was a great little hole in the wall Swedish restaurant and bar. The couple, Swedish expats, hooked us up with super welcoming vibes and authentic Swedish meatballs.
We didn't go, but heard that Mondulkiri Pizza is great for pizza. It was the self-proclaimed best pizza in Mondulkiri, which is probably correct due to the online reviews and the little competition.
There are other cafes. Cinnamon café and bakery, Hefalump Café (where EVP is based), Damnak Café, and Peace Coffee are all close to one another.
We heard the Khmer curry is great at The Hangout and we had many delightful meals at Mayura Hill Resort.
Where to stay in Mondulkiri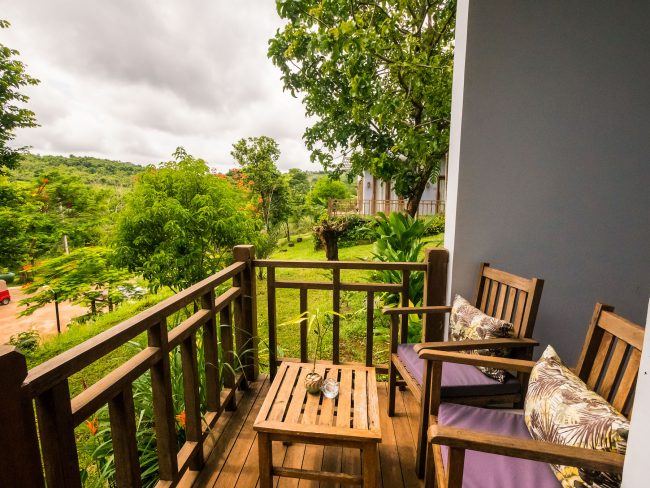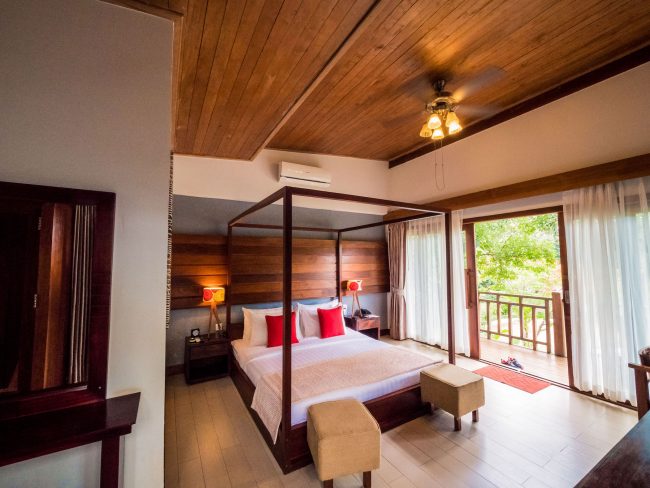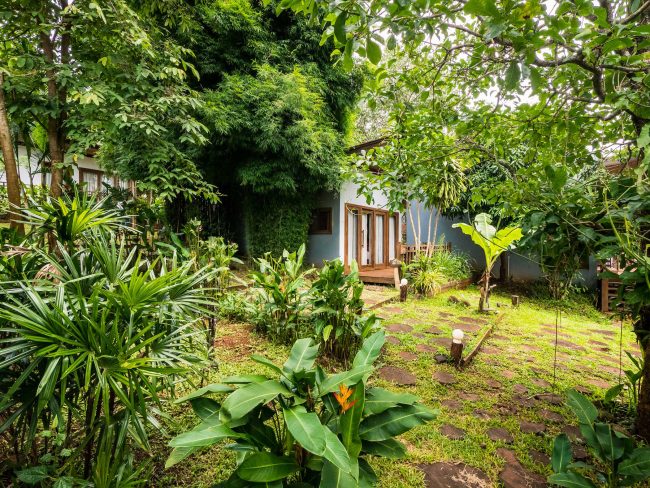 Our stay at Mayura Hill Resort was tranquil and easy. Not a luxury resort by any means, but the perfect spot to hide out if you don't want to stay on the main strip, and to us, it is the best place to stay in Mondulkiri.
The rooms are strategically placed on a hill among the foliage. There is a charming infinity pool with sun loungers as well as a little gym that we actually were able to use as the climate is a bit cooler here. The service is friendly, young and professional and we could call the driver anytime before 9pm to take us anywhere in Mondulkiri.
There are also bikes that we could borrow at anytime. As I have mentioned, Mayura are also involved in many projects around Mondulkiri and will provide great rates on tours to Bousra and the ziplining.
The restaurant is small but the food was great and the interior clean if a little bit worn and faded. The location is what got us though, as we were surrounded by lush jungle.
Travel to Kratie
Going onward to Kratie we hopped in a private taxi for extra comfort and speed. We checked and there are also share-taxis available that your hotel can reserve for you. The drive to Kratie was something else. I'm so used to skyscrapers in Singapore, but I never expected to see towering fields or natural bamboo as tall as buildings. It was a gorgeous and quick ride as I slept about half the way.
History of Kratie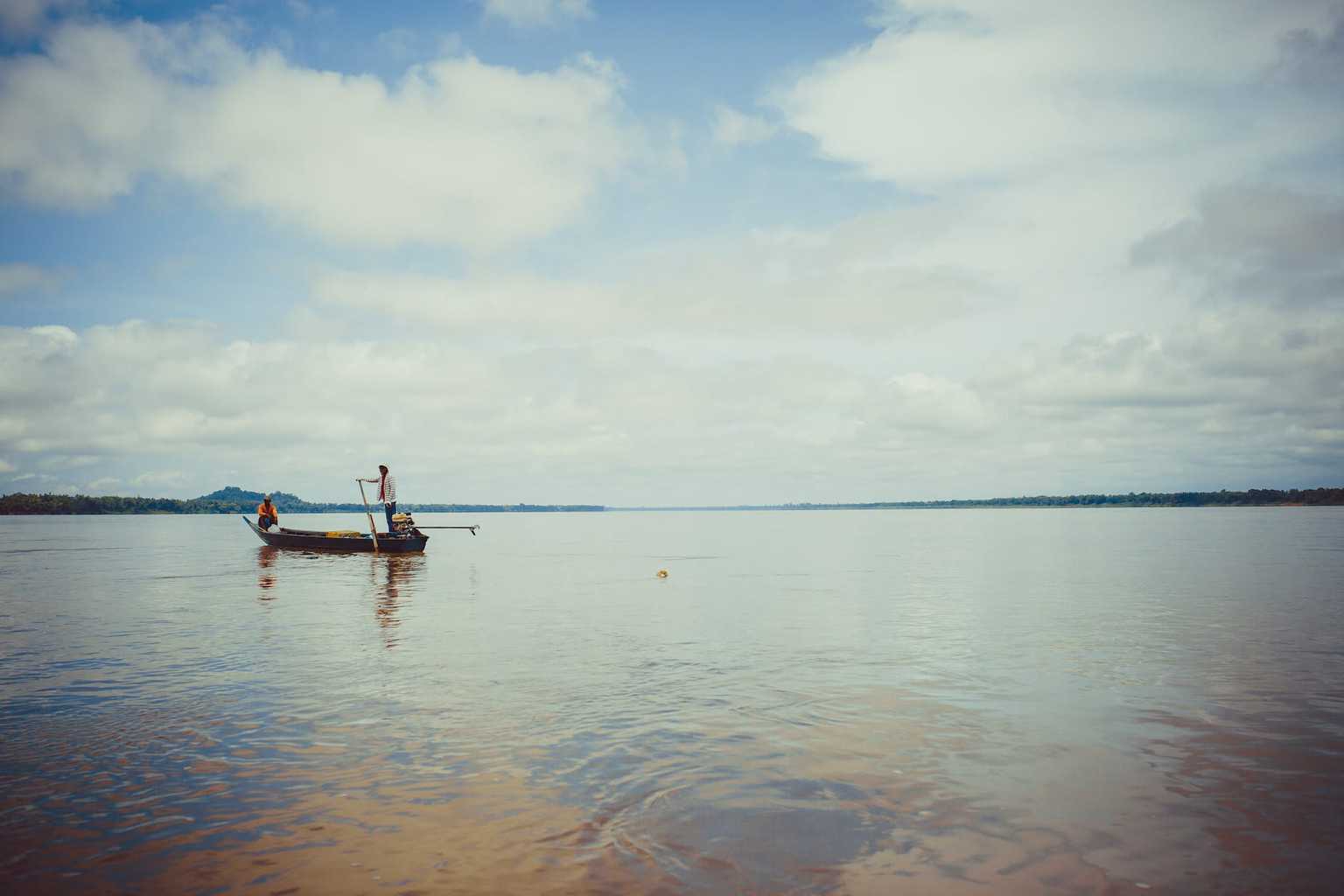 The the eastern province and the capital city of this area along the Mekong are both named Kratie (pronounced krah-cheh). The river town of Kampi (about a 30-minute drive from the capital) is home to about 20 Irrawaddy dolphins out of the roughly 70 that are still in existence today (the rest residing in the Mekong in Laos). This is why the majority of tourists visit this off-the-grid area.
The old French architecture is still in one piece as Kratie was not as affected by the war as other places in the country. Other sites to see are the beautiful Koh Trong island, the 100-Column Pagoda, Sambok Mountain and the small Roko Kandal pagoda. There are also loads of nature and outdoor activities including cycling, hiking, kayaking, fishing and even camping. The rest of the province is lush in jungle, crops and forest, due to the life-giving Mekong that runs 140kms through the province. Several tribes exist in Kratie including the Phnorng, Kouy, Mil, Khonh, Steang, and Thamoun.
Activities in Kratie
Here are some of the most amazing activities in Kratie to explore.
Irrawaddy Dolphins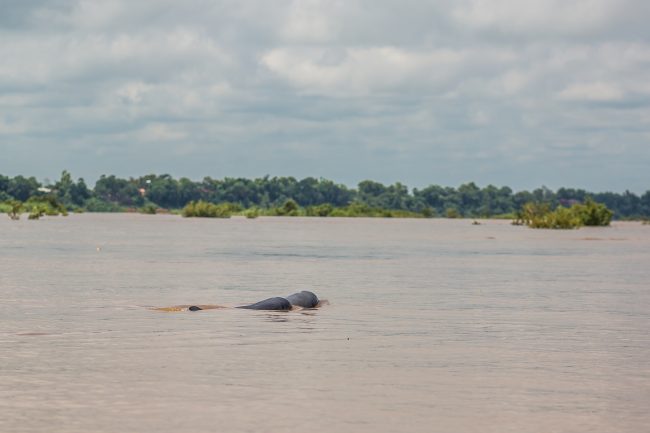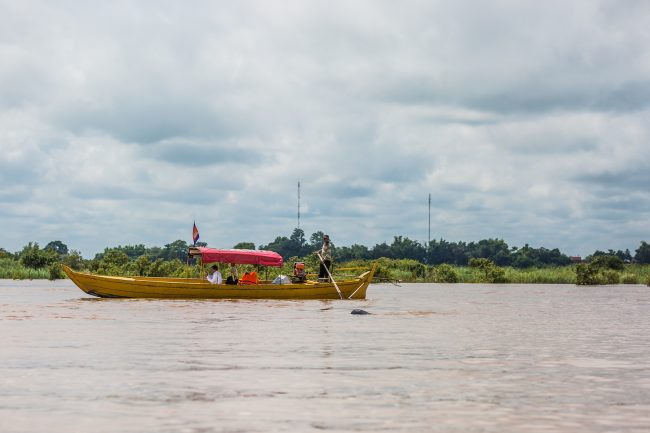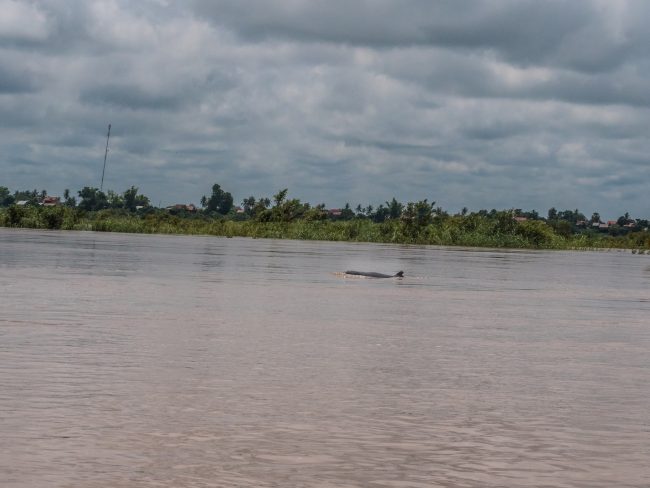 We decided to explore Kratie and its surrounding areas by ourselves, without a guide. We caught a tuk tuk from Jasmine boat Café to Kampi. While they say it's best to go early morning, we arrived at around 9:30am and saw the dolphins swimming along the Mekong.
We learnt that the dolphins were used as oil during the Khmer Rouge and due to pollution, fishing nets and inbreeding, they are almost all wiped out. They are distinctive in that they are freshwater dolphins and have a very uniquely shaped bulbous forehead.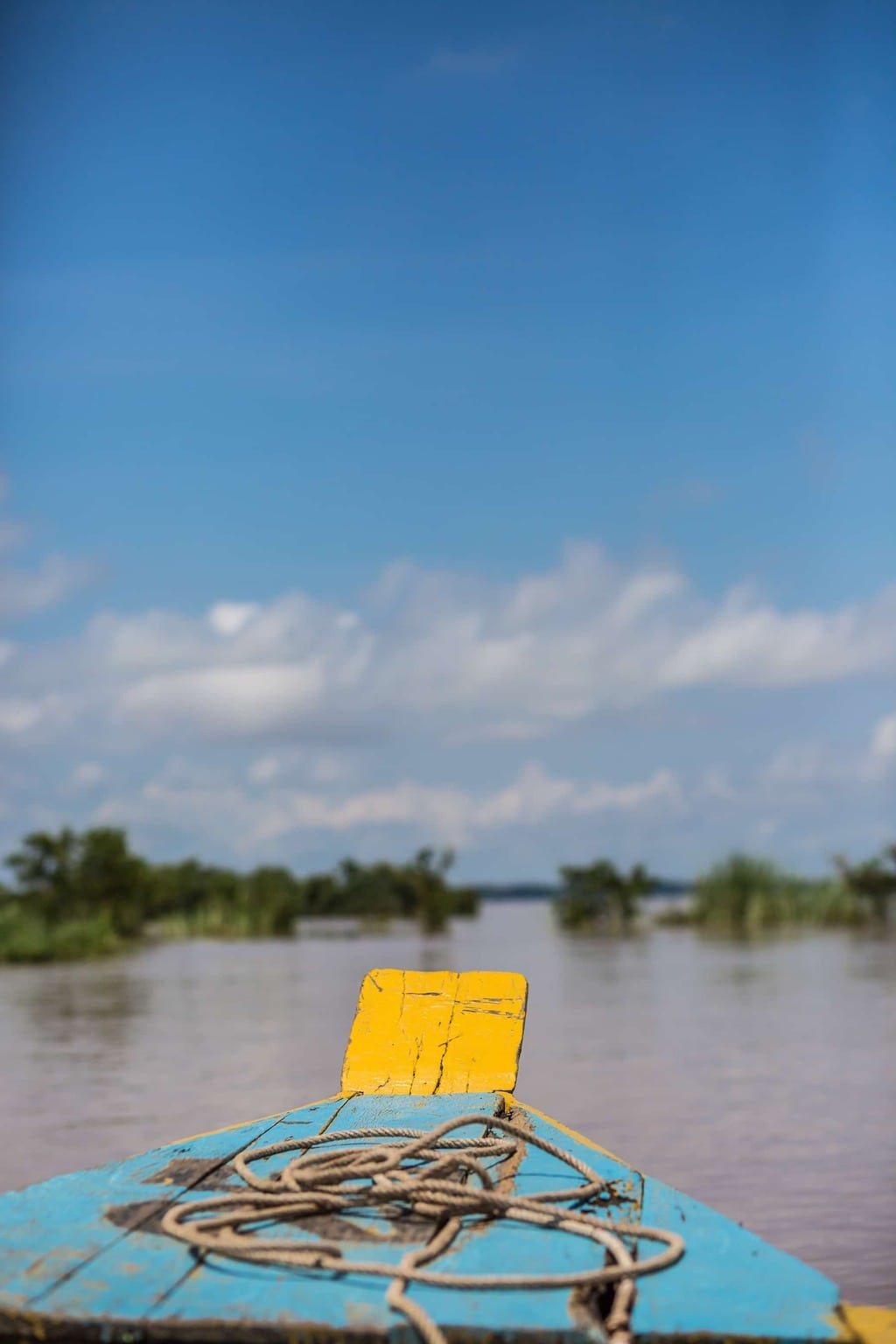 While we did spot them on our trip, they did not jump out of the water as the tourism images displayed. We weren't even able to catch a glimpse of their uniquely shaped heads. We just heard them surfacing and saw their fins.
Tickets can be bought at the ticket office when entering the grounds at $9 pp for 1-2 people or $7 pp with a group of 3 or more. Children under 12 will pay $4. While the sign says 60mins from November to May and 90mins between June and October, we only went out for 45 minutes, which was sufficient.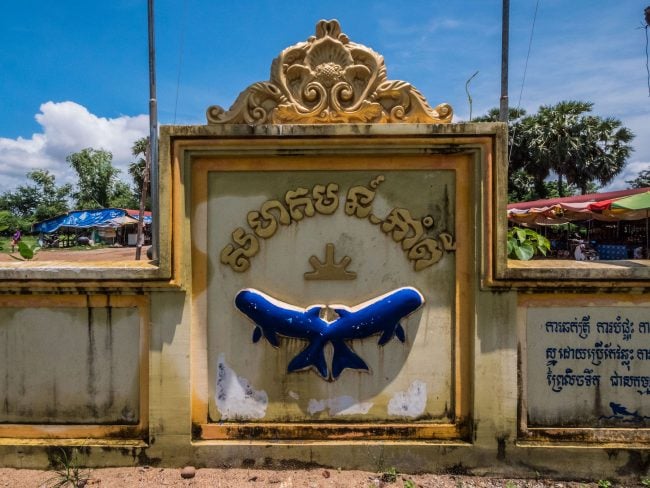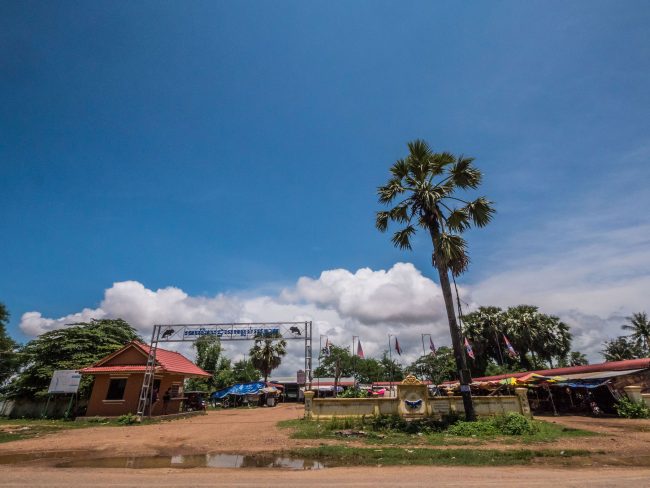 You can also kayak out instead of taking a boat with Sorya Kayaking, which sounded like a better option if it weren't so hot. Prices range from $17 to $43 depending on the amount of people in your group. Try to group with other travelers for a cheaper tour. For other information check out their website.
100-Column Pagoda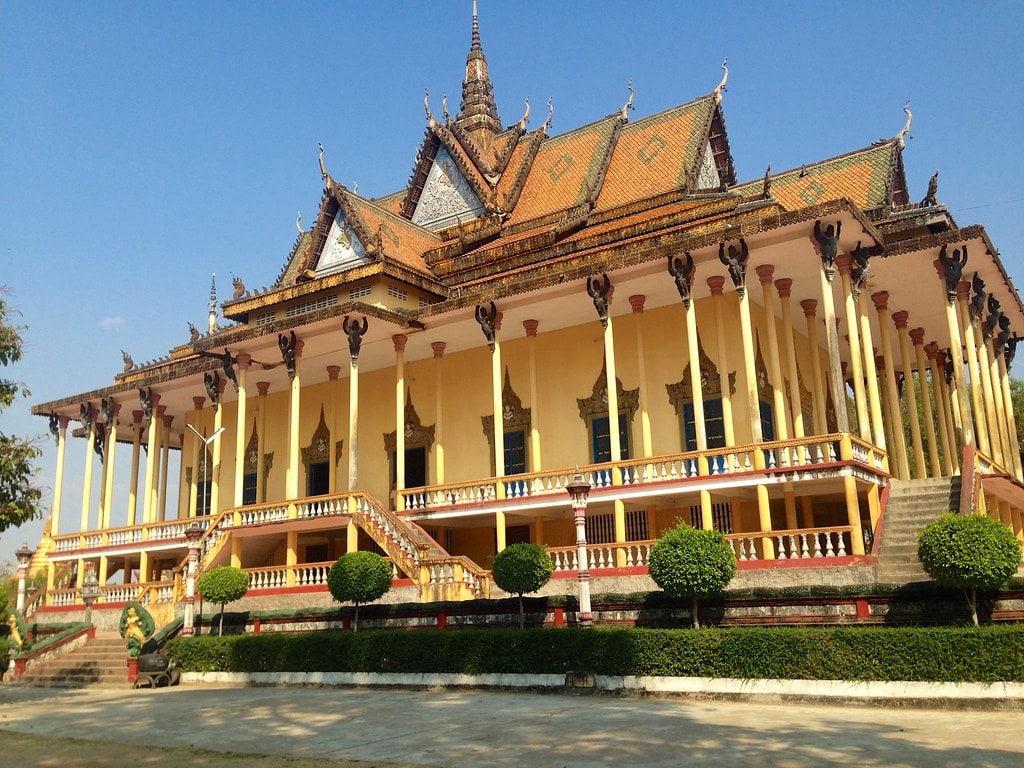 The 100-Column Pagoda or Wat Sorsor Muoy Roy in Sambour is absolutely delightful. The trip is about a 30-minute ride along traditional Khmer stilted houses and plantations of all kinds. The Pagoda comprises 116 columns in total. It was revived in January 1998 after lightning struck it, burning it to the ground. Sources say the carvings are marvelous, the four Buddhist temples are intriguing and the gigantic golden Buddha statue is something to marvel at.
Sambok Mountain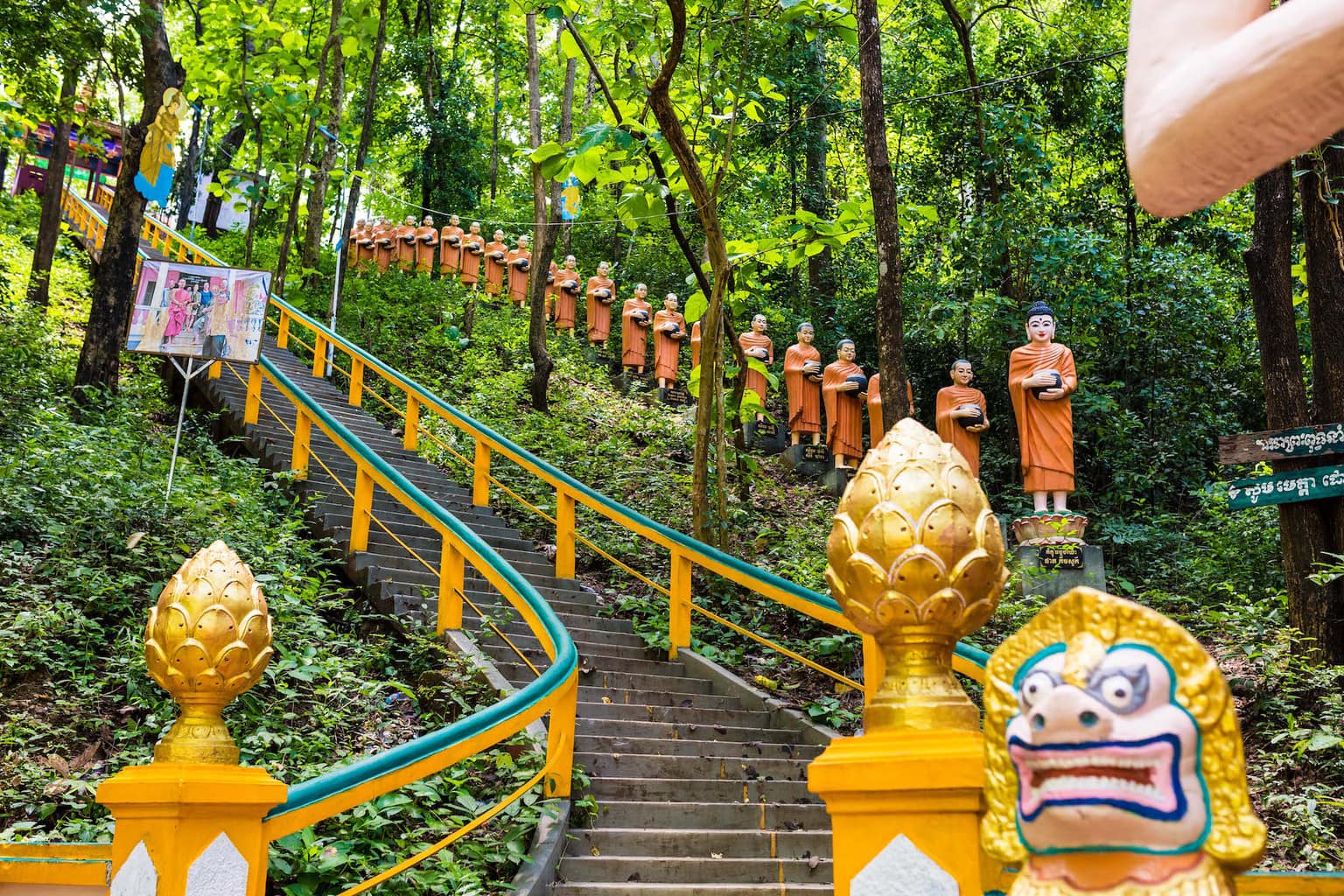 Sambok Mountain is made of a Buddhist monastery reached through 300 stairs lined with as many Buddhist monk statues with an amazing pagoda and reclining golden Buddha at the top.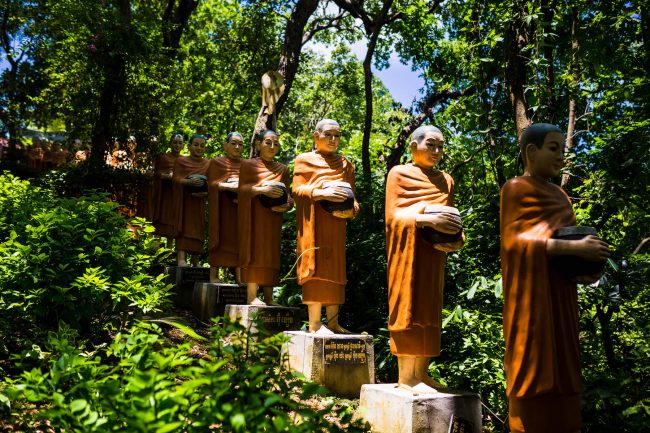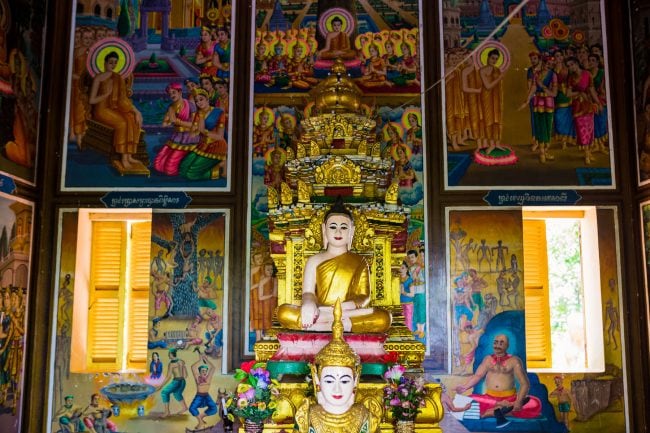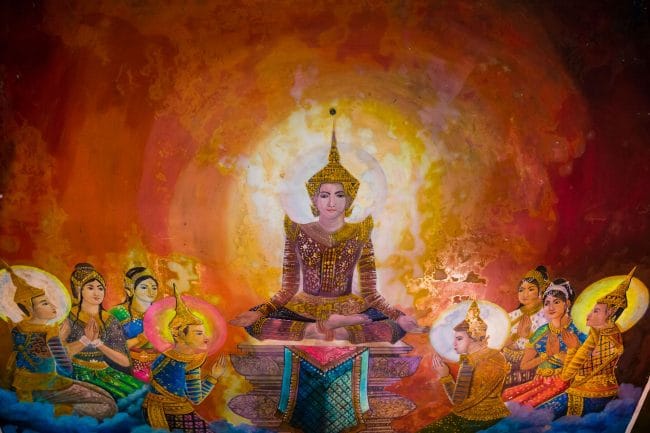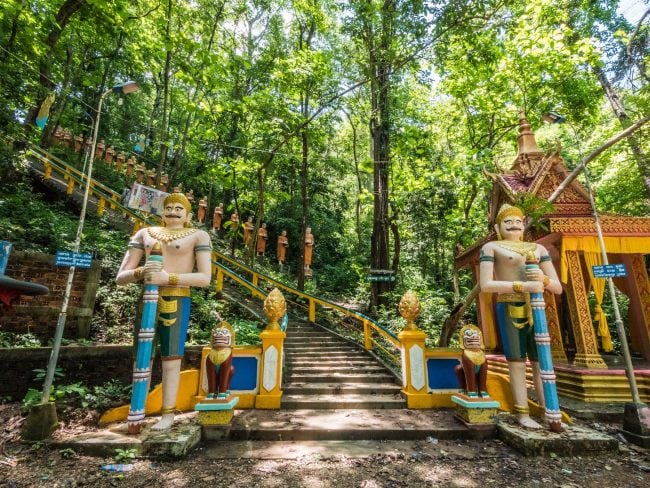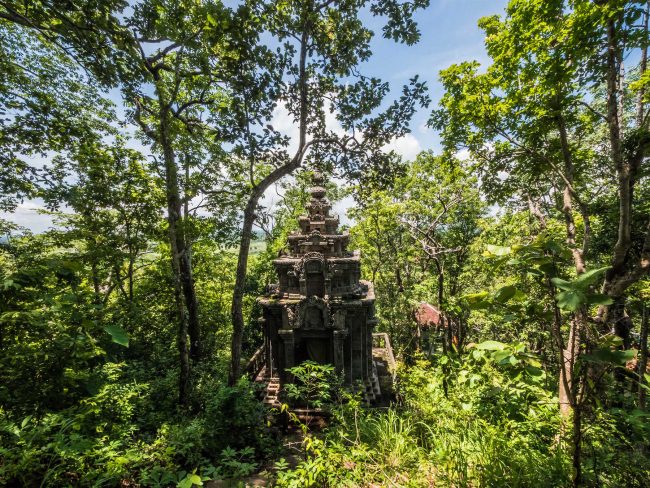 The origin of this 18th-century temple has two stories. The first being king Chakrei Earsaravarman wanting to find gold. His official found gold at the foot of the mountain and it was thus named Kanliang Sambo Meas or "very rich in gold". The name then changed to Phnom Sambok Meas and finally Phnom Sambok.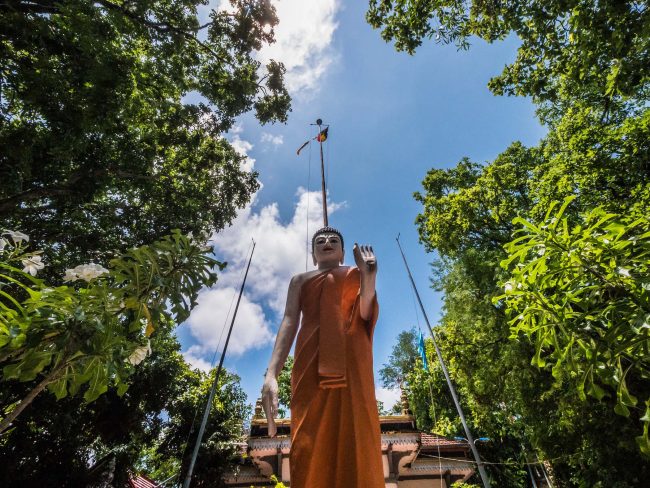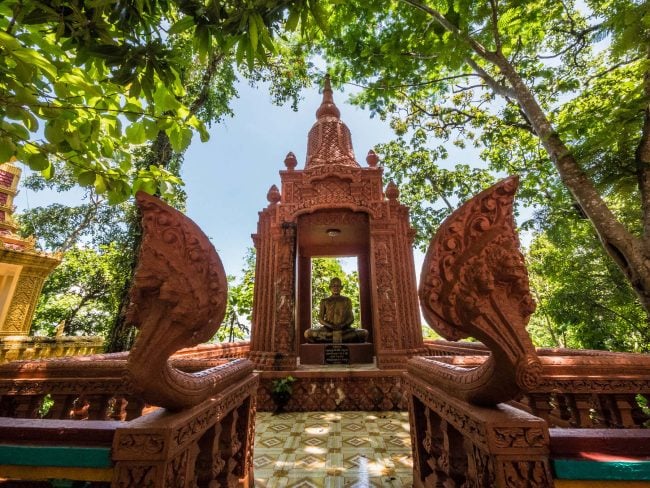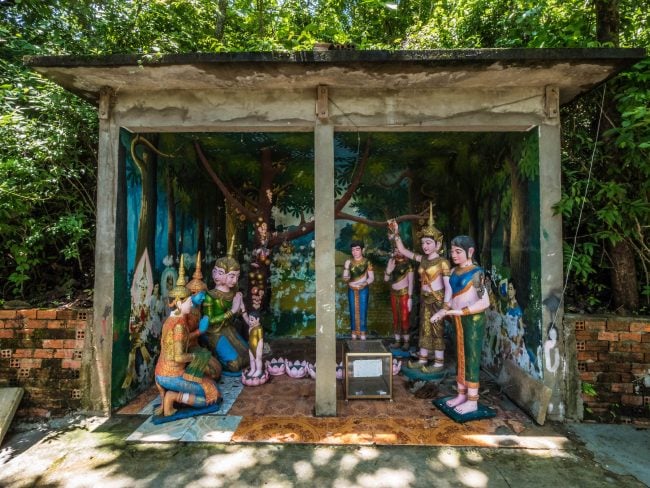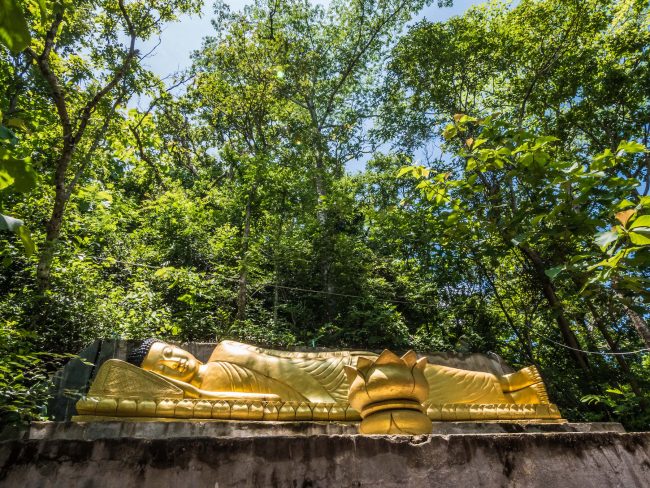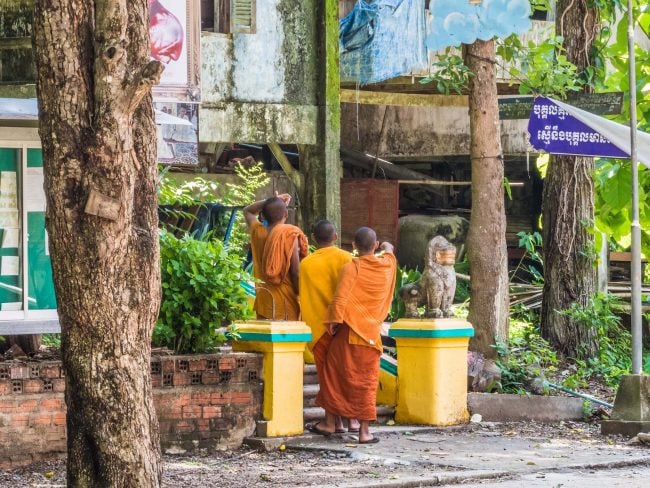 The second story involves a magical monk known as Neak Voan, who used to meditate on top of this mountain. Monks would then ascend the mountain to learn his mysterious ways. As we reached the top, we felt the same mystical air as we explored the life-sized statues relaying stories from the Buddha's life and meditation masters that have passed away.
Some locals were having a picnic which seemed like a good idea until we were confronted with rather large monkeys. So tourists should take caution if they decide to eat up there.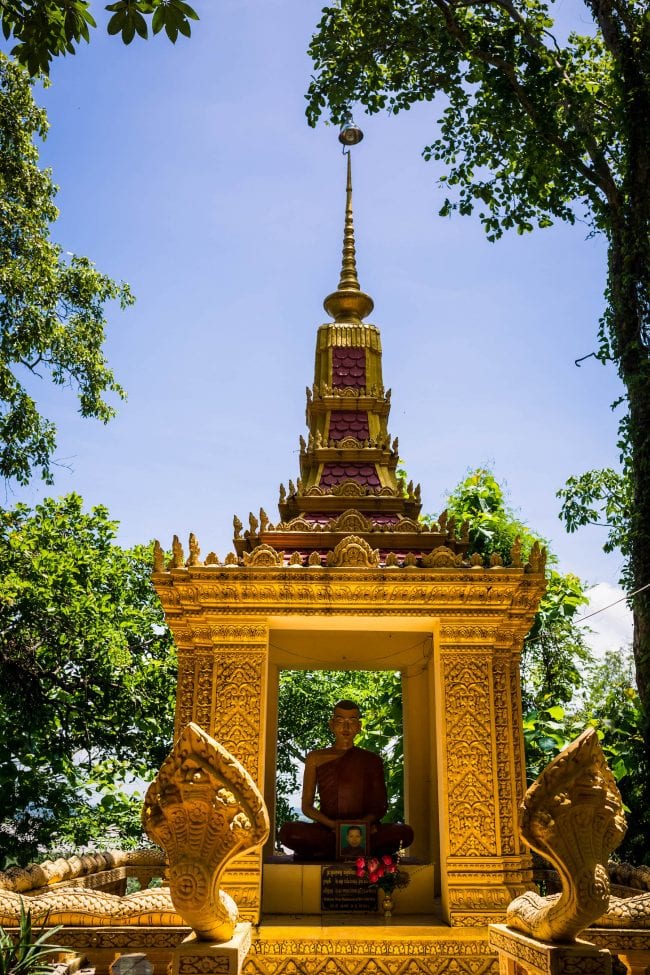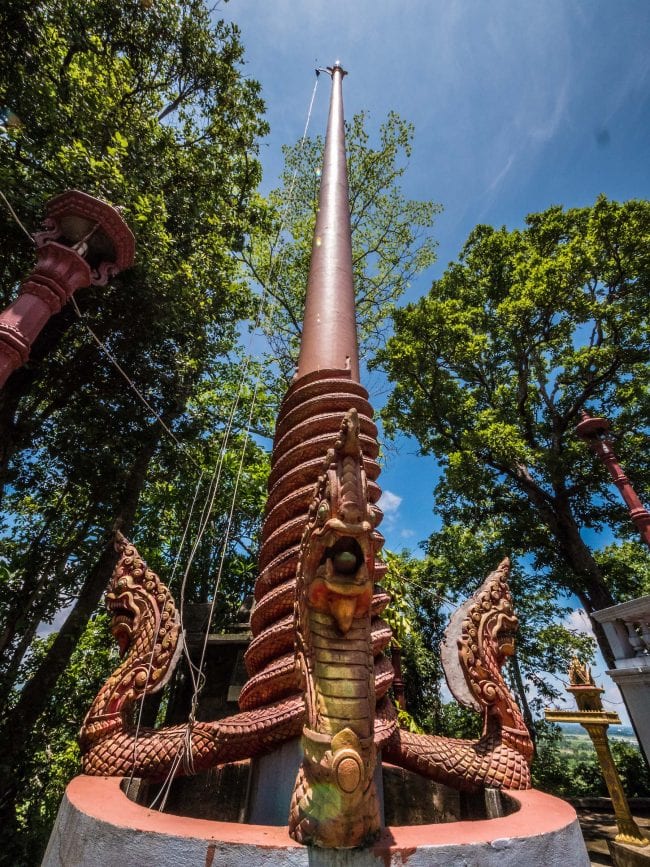 We were impressed by the gorgeous golden Buddhas and the colorful paintings depicting his life. There is also a panoramic view of Kratie when reaching the top. We took in the view and spirituality of the moment.
The market
When we arrived back, we snacked on some sticky rice in bamboo while sauntering through the market. The market is a place to experience the life of the locals along the Mekong.
Koh Trong island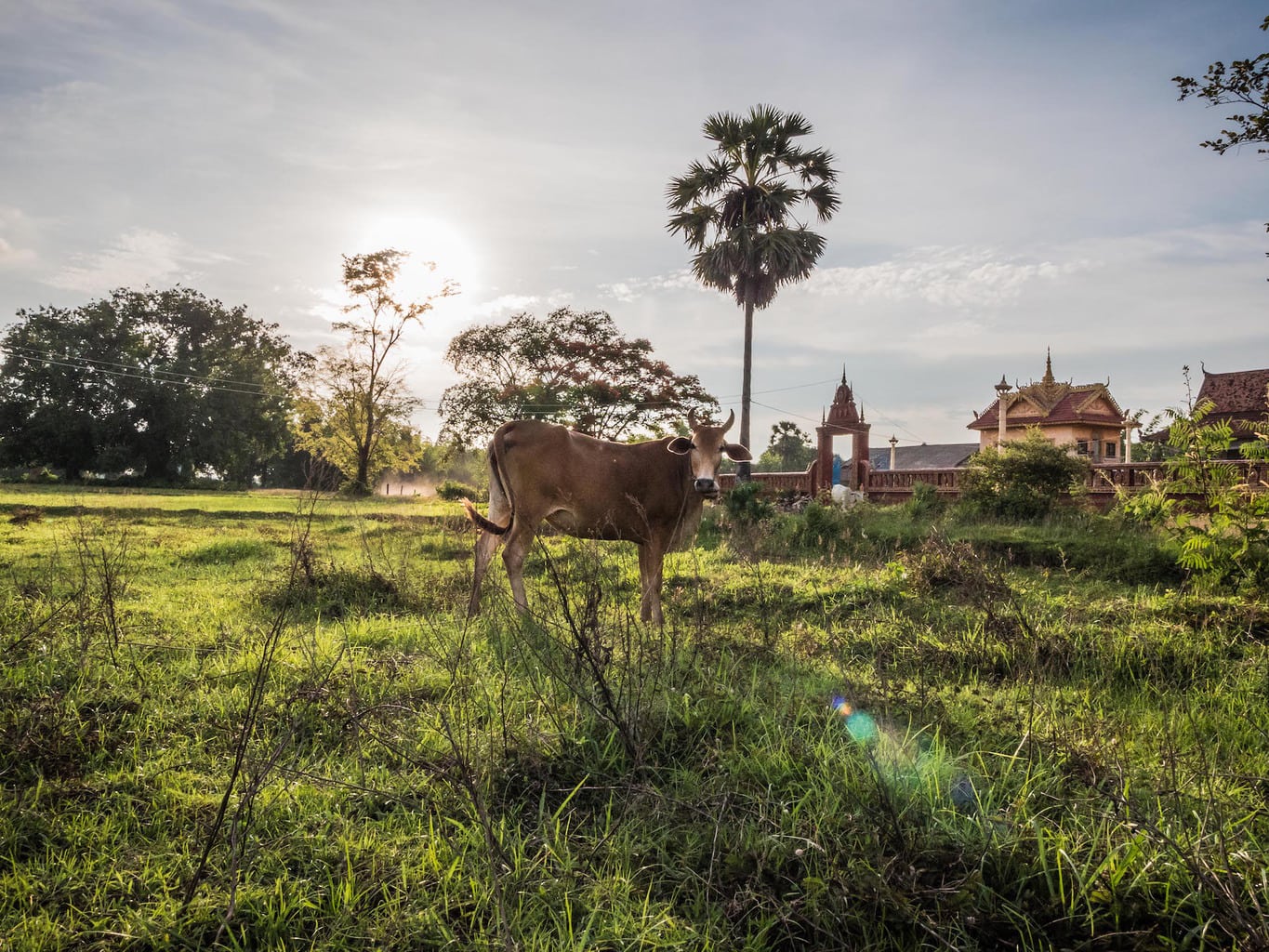 We stayed on this picturesque island and absolutely loved it there. A day of cycling around the island is a good way to explore. It is beautiful and picturesque and answers the question, what was Cambodia like before the ubiquitous Lexus took over the roads?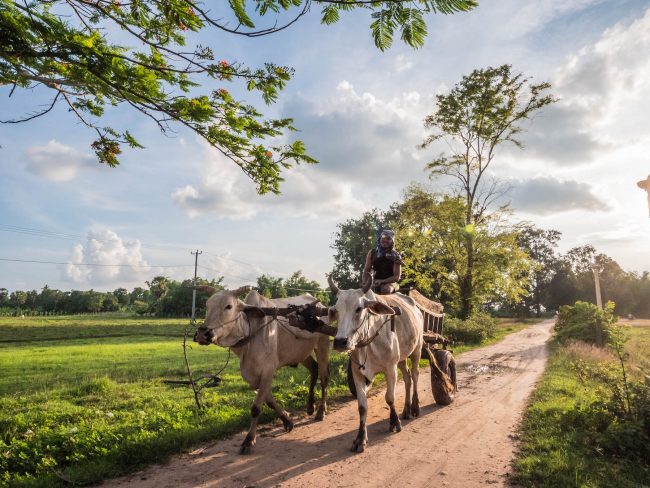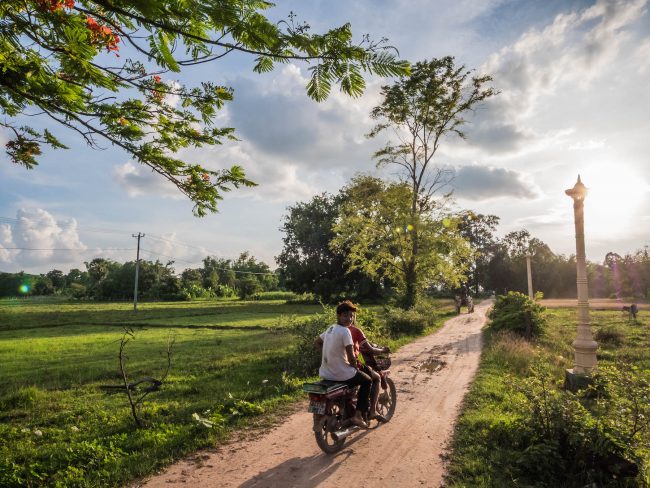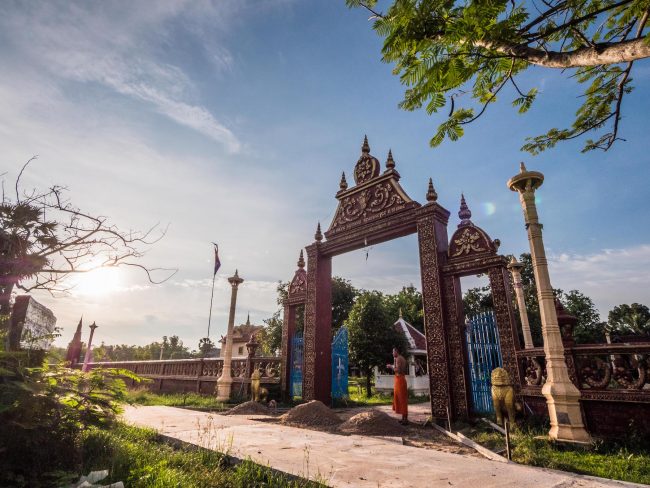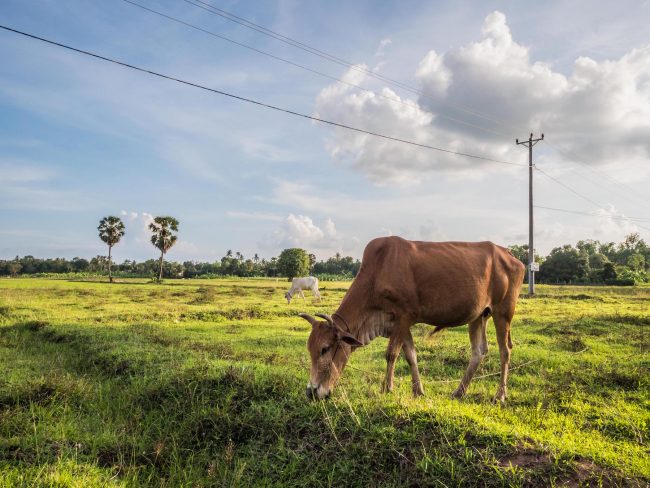 The ferry is only 1,000 riel pp and an additional 500 riel if a bike is taken with. Bikes can be hired $1 on the island itself from the Community Based Tourism Centre.
The island is only 3kms from end to end with a 9km, mostly concrete, path. It is a tiny path, so we had to pull over for motorcycles when they passed. There is a floating Vietnamese village to the southwest, a temple at the southern tip, and a newer temple and ancient stupa near the centre.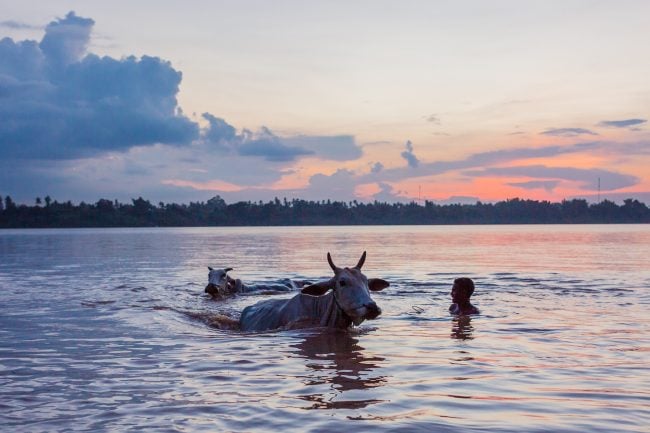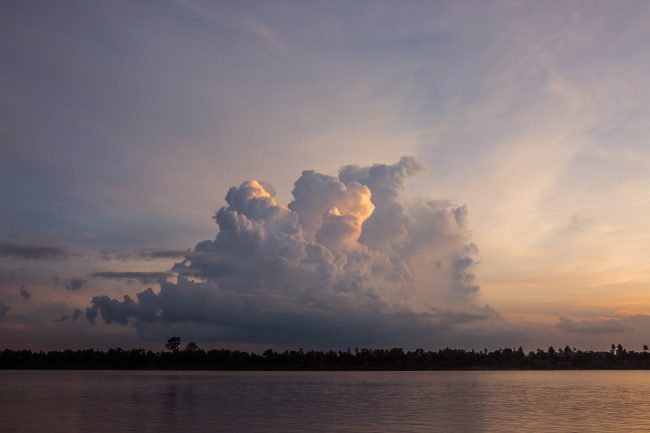 On the northeastern end is Rajabori Hotel, where we stayed. We recommend coming here for lunch while on the island. There is an additional charge of $5 to swim in the enormous pool if you are not a guest.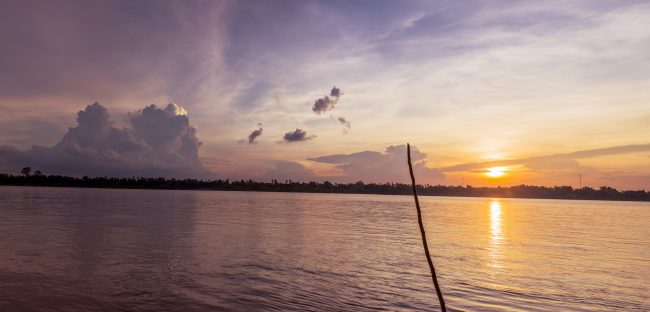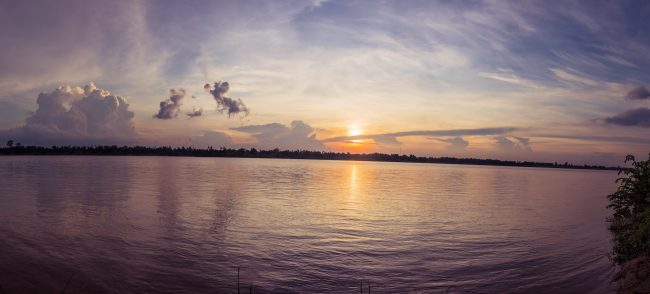 On the west side is Koh Trong Café, an incredibly friendly place to sip coffee or fresh coconut milk. We traveled to the Western banks by bicycle to watch the most epic of sunsets. We also gazed on as a local farmer bathed his cows in the magical Mekong water, a wondrous and mystical experience. Note that the ferry does stop running at 18:30 sharp or if it is raining heavily.
What to eat in Kratie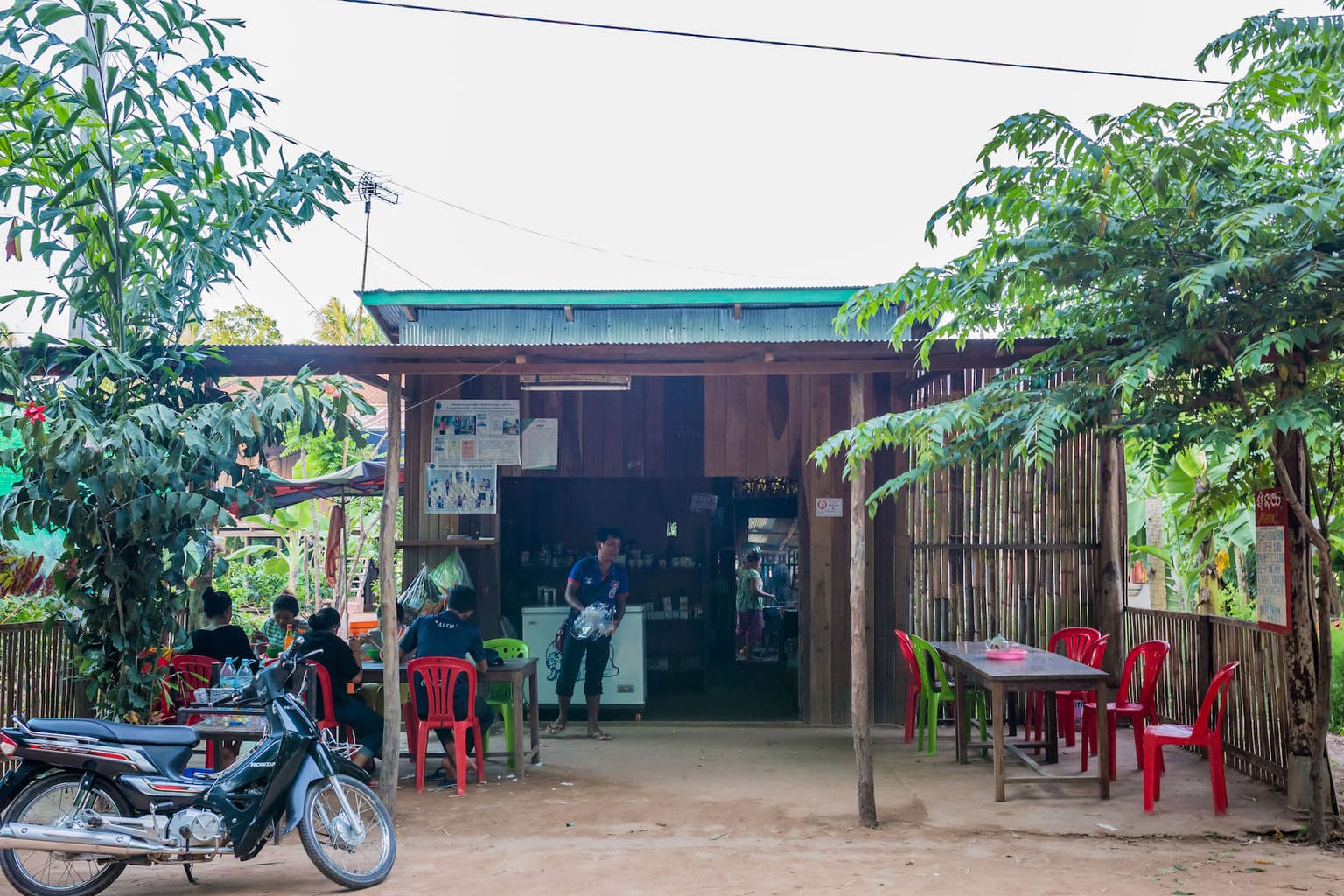 Le Tonle Guesthouse and restaurant was a great place for lunch or dinner. It also acts as a tourism and training center providing practical experiences for young Khmer people. All the profits go directly into the training center. We found a host of affordable Western and Khmer delights on the menu as well as super refreshing fruit juices and ice cold beer.
Jasmine Boat Café was a hotch potch menu of just about anything under the sun. We opted for the Khmer dishes that were nice. The main reason why we ate here was the view of the Mekong. While the short storm thundered away, we sat in awe of the gorgeous Mekong and its surroundings.
We loved our breakfasts, lunches and dinners at Rajabori, which basically serves the same menu items as it's sister property Terres Rouges. We mostly had their Khmer dishes, which we constantly complimented the staff on.
There are other restaurants and bars in the main strip and by the market, but unfortunately we didn't have time to dine at any of them.
Where to stay in Kratie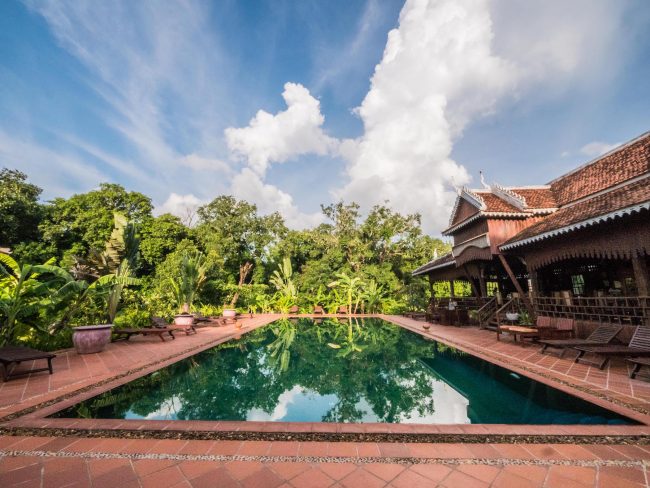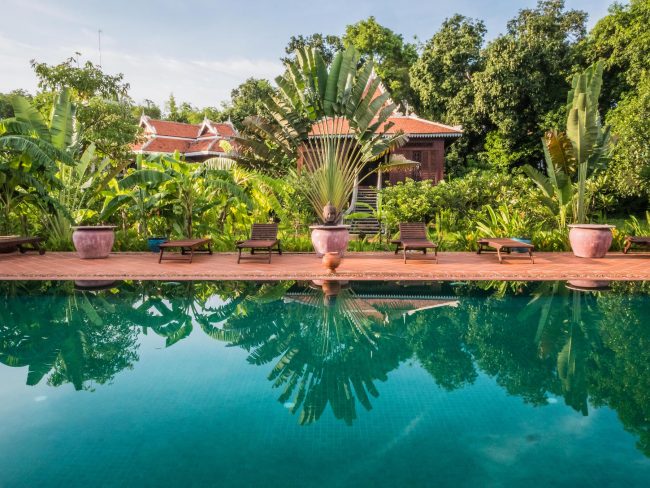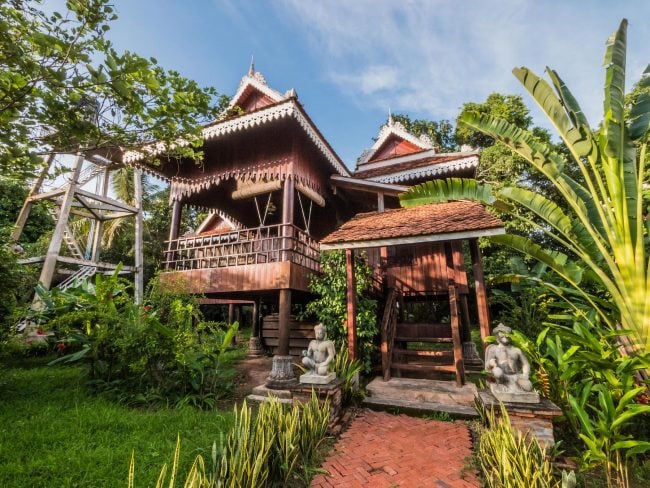 We had the once off opportunity to stay on Koh Trong island at Rajabori Villas, Pierre-Yves' other project. After crossing the Mekong by boat, our tuk tuk driver came to pick us up and drove us the length of the island, about 3km. Rajabori Villas is situated at the northeastern end of the island and is built using traditional Khmer stilted architecture with no A/C and just natural airflow. This is really going against the tide of the more modern structures popping up around Cambodia.
Rajabori is a simpler and more local option to Terres Rouges and gives the opportunity to experience local life, including mangos dropping from trees and mosquito repellent nets over the beds. Bring repellent to douse the net and avoid being bitten.
The lodge was one of the most beautiful foundations I have seen, gorgeously designed, and with a gigantic swimming pool where you can certainly enjoy laps to cool down.
Travel back to Phnom Penh
While there are a few options for buses, share taxis and private taxis, we found the best option was to actually ask our hotel to make a reservation for us with a private taxi. The taxi driver seemed angry to be in existence and drove like a maniac the entire way to Phnom Penh, screaming, threatening and pointing at drivers as he hastily took over.
I guess catching a taxi in Cambodia is like Forrest Gump's box of chocolates, you never know what you're going to get. We arrived in Phnom Penh with all our limbs intact and spent one last night at the wonderful and highly recommended TeaHouse, another MAADS hotels, before heading back home.
Other things to know
Visas
Make sure to take one colour passport sized photo and US$30 cash for your visa on arrival. We waited in two queues of very unfriendly officials (probably the only unfriendly Cambodians in Cambodia) before collecting our bags.
Currency
One interesting thing I learnt here is that US dollars or Cambodian riel are welcome – mostly everywhere in the country. But paying in dollars will get you change in both currencies. Good rule of thumb, 4,000 riel equals one dollar, no matter what the exchange rate is doing on that day.
Driving
Be prepared for a shift in driving mentality. The middle of the road is used for cars to take over and the side is reserved for motorbikes and tuk tuks or slower cars. Unlike other SEA countries, Cambodians do not incessantly hoot but rather give a light tap of the horn only to warn other drivers, who will pop out of nowhere, and children crossing the road – on motorbikes. Like in other SEA countries, children ride motorbikes that are also too big for them. Sometimes granny is chilling on the back of the bike, sometimes an entire family of four is on one bike. Embrace the culture and relax, traffic accidents mainly occur from drunk drivers, so calm down and trust the driver.
Make sure to discuss rates with tuk tuk drivers before embarking to avoid expensive surprises.
Insect repellant
There are mosquitos everywhere, so I rubbed, sprayed and doused myself in repellant at all times to avoid getting eaten alive. Sunscreen is a must and a hat useful.