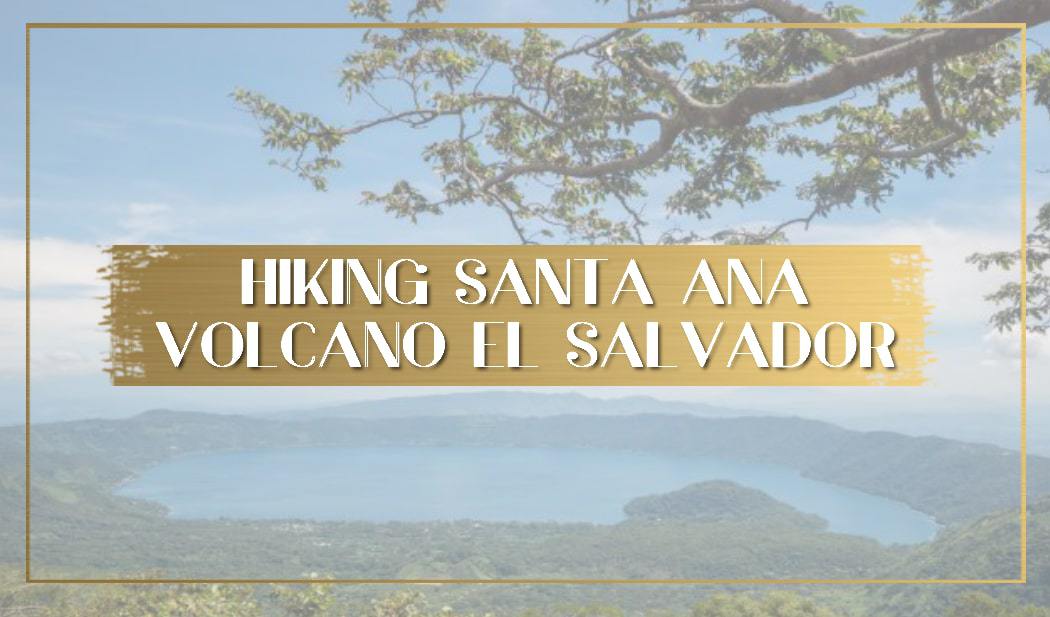 This article was first published in March 2018 and updated in January 2020.
Santa Ana volcano is the tallest and most emblematic volcano in El Salvador because of its beautiful turquoise lake and great 360 degree views from the top. From the rim you have a vantage point over the two other volcanoes in the Parque de los Volcanes, Idalco and Cerro Verde, the ocean on the horizon and the Coatepeque Lake on the other side of the volcano.
Hiking Santa Ana is one of the best activities in El Salvador and you should not miss the chance to make it to the top and hear all about El Salvador's volcanic past and history. You can book my recommended tour here and see my complete guide to El Salvador.
Getting to Santa Ana Volcano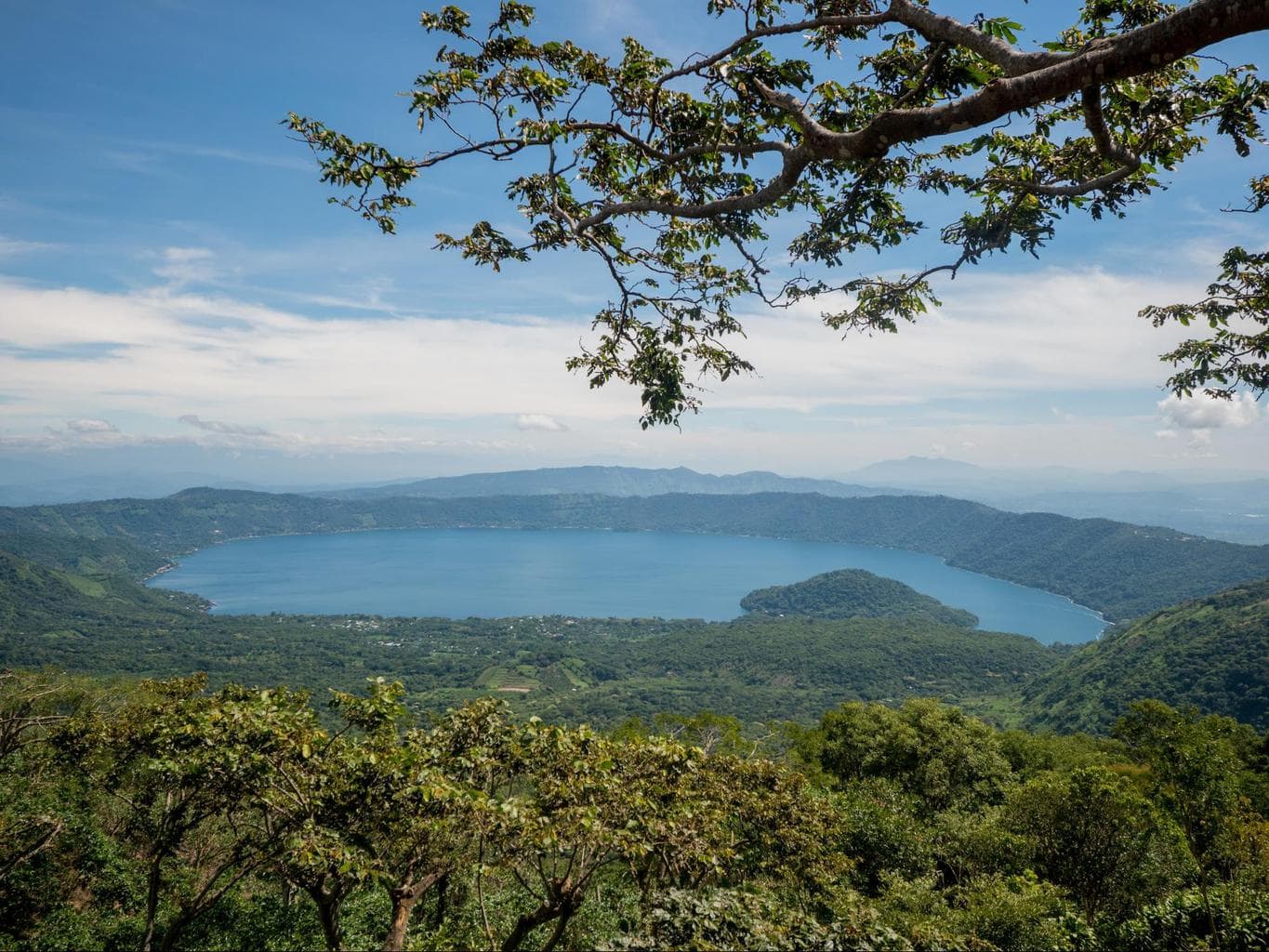 Santa Ana Volcano is located in the Parque de los Volcanes, or Volcano National Park, and is one of the three volcanoes located in the park.
To reach Santa Ana Volcano you must drive up the Cerro Verde road, a snaking road at times turning into nothing more than a gravel path but is mostly paved. You will be best off driving in a 4×4 or going slowly. Getting up to the starting point of the hike is half the fun as it is a very scenic route.
You can stop for photo opportunities along the way, especially for panoramic views of Coatepeque Lake, a beautiful lake in the caldera of an extinguished volcano that has become the playground for the rich and famous in El Salvador. Lake Coatepeque ("place of snakes" in Mayan) has a small island in the middle that was called Place of Gods by the Mayan who used the island as the location to place all of their deities.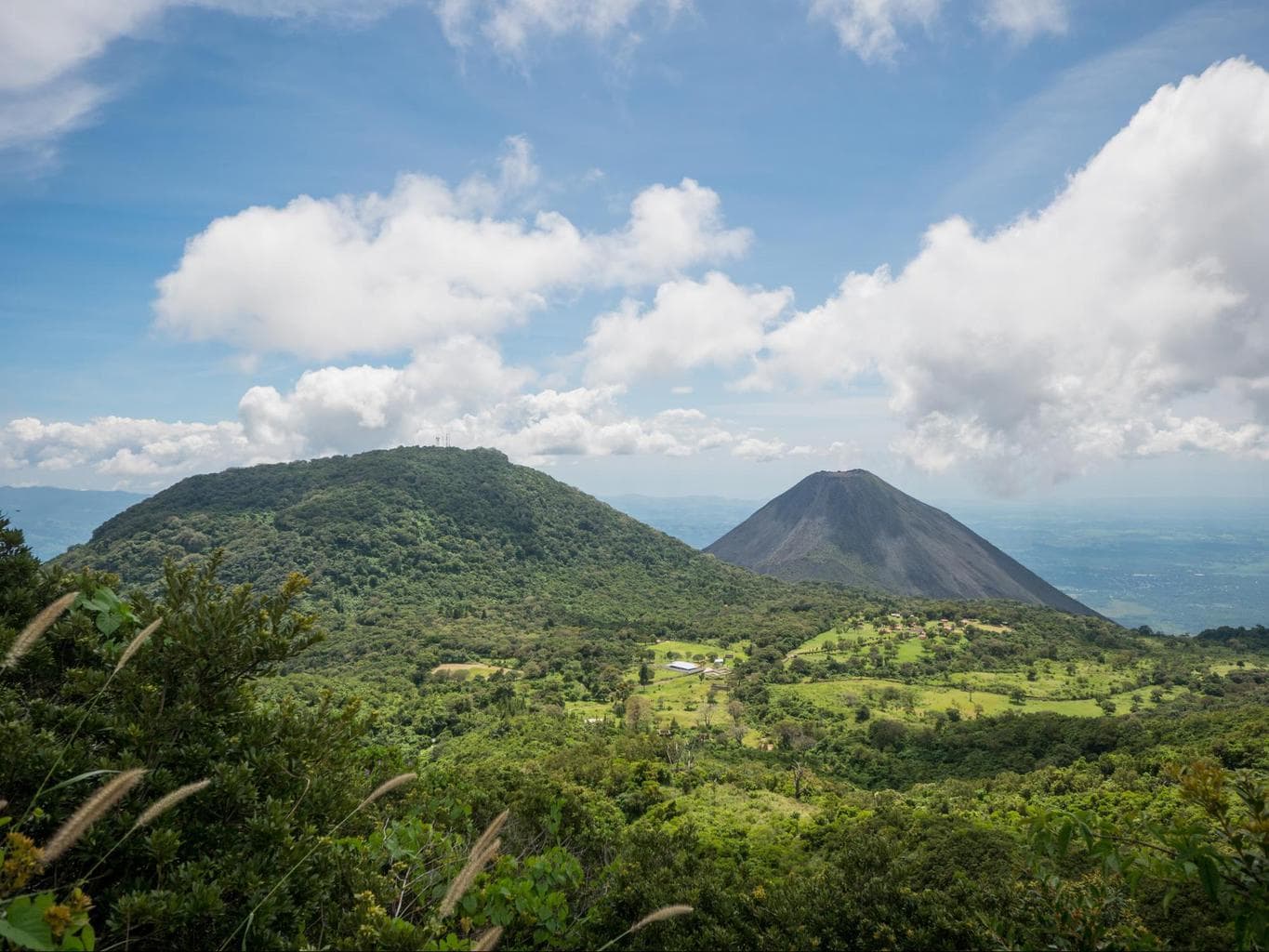 As you drive up you will see many stalls by the side of the road selling food, drinks, snacks and fruit. As the volcano is higher up and the park is cooler than San Salvador, soup is a common item on sale. You can decide which Salvadoran food try by reading my article on the best food in El Salvador.
The history of Santa Ana Volcano
Santa Ana is the tallest volcano in El Salvador and it is quite unique because of its four nested concentric craters, one inside the other, as a result of many eruptions and seismic activity and its beautiful blue lake in the innermost crater.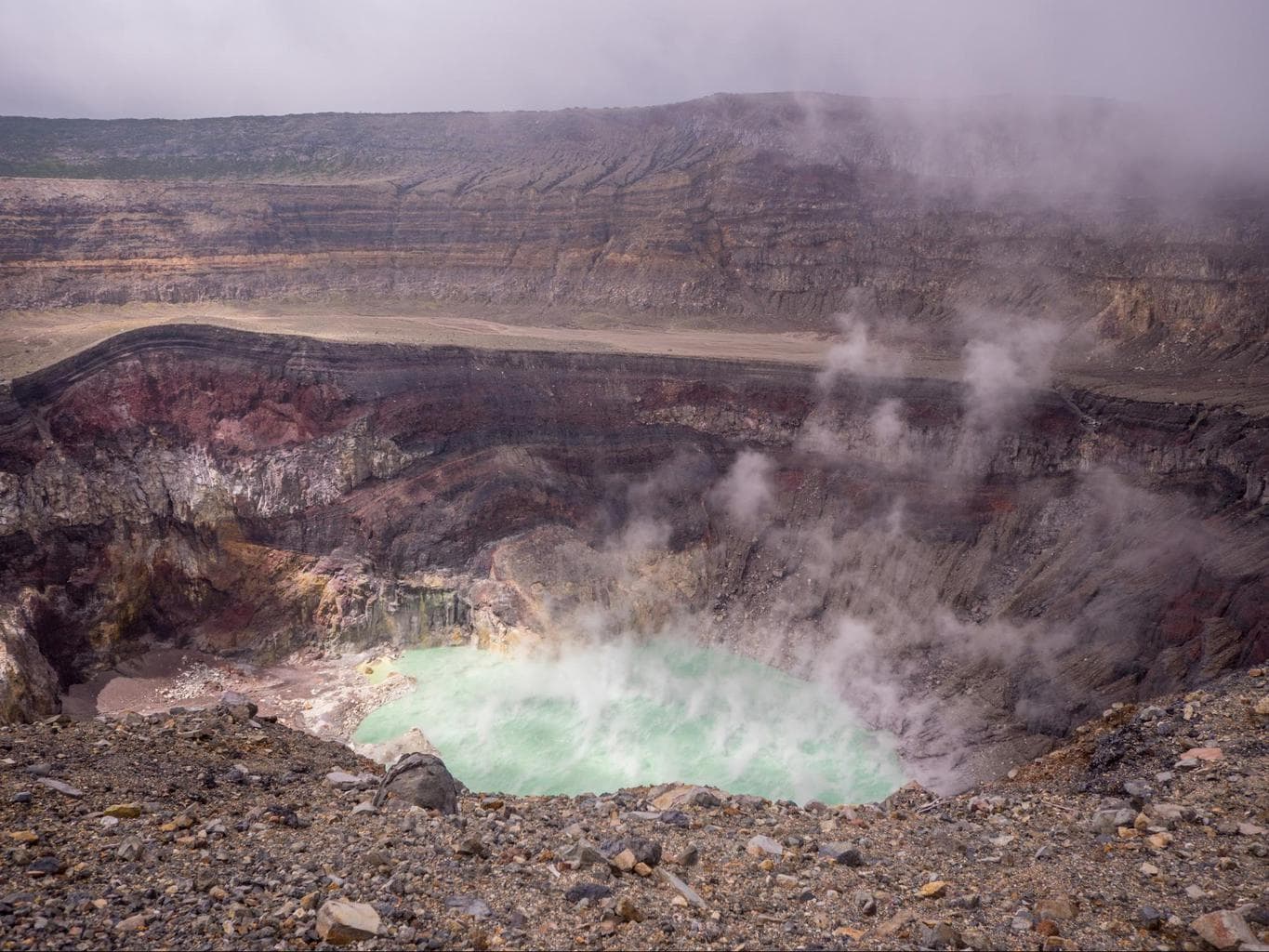 Santa Ana was the second capital of El Salvador and the original Nahuatl name of the Volcano is Ilamatepec which means Mother Mountain. The volcano features in the book The Little Prince as the author's wife was Salvadoran and is still active, with the latest eruption taking place in 2005, 101 years after the previous eruption in 1904. The last eruption killed two people and spat out rocks the size of cars.
The many eruptions from Santa Ana Volcano have created some of the landscapes of El Salvador, like the Acajutla Peninsula and the most important reef in Central America which runs from Panama to Mexico when the lava reached the sea thousands of years ago. You can snorkel the reef at Los Cobanos beach.
Hiking up Santa Ana Volcano
Before getting into the details of hiking up Santa Ana Volcano, here are some tours you can take, like I did, with Getyourguide.
Booking a trusted Santa Ana Volcano hike
The hike up Santa Ana Volcano in El Salvador is one of the most beautiful excursions in the country and one that you should not miss. Here are some tours you can take from just the hike up to full tours from San Salvador:
A hike up Santa Ana Volcano to the summit with views of Coatepeque Lake, Izalco Volcano, and Cerro Verde. Book here.
An Archeological Route Full-Day Tour from San Salvador with Maya trails, Santa Ana City and 3 archeological ruin sites: Joya de Cerén, San Andrés, and Tazumal. Book here.
A combo day tour with the Izalco Volcano, Santa Ana Volcano and Cerro Verde Volcano, Mayan Sites, Joya de Ceren. Book here.
The rim of the volcano can be reached via a 45-minute to one-hour hike from the ranger station, depending on how fast you can conquer the approximate 300 meters from 2,100m above sea level to 2,400m. I hiked it in 40 minutes but we were going up so fast it felt as if we were being chased. I also felt the altitude and was short of breath for the first few minutes, a flash memory of my time in Tibet earlier in the year.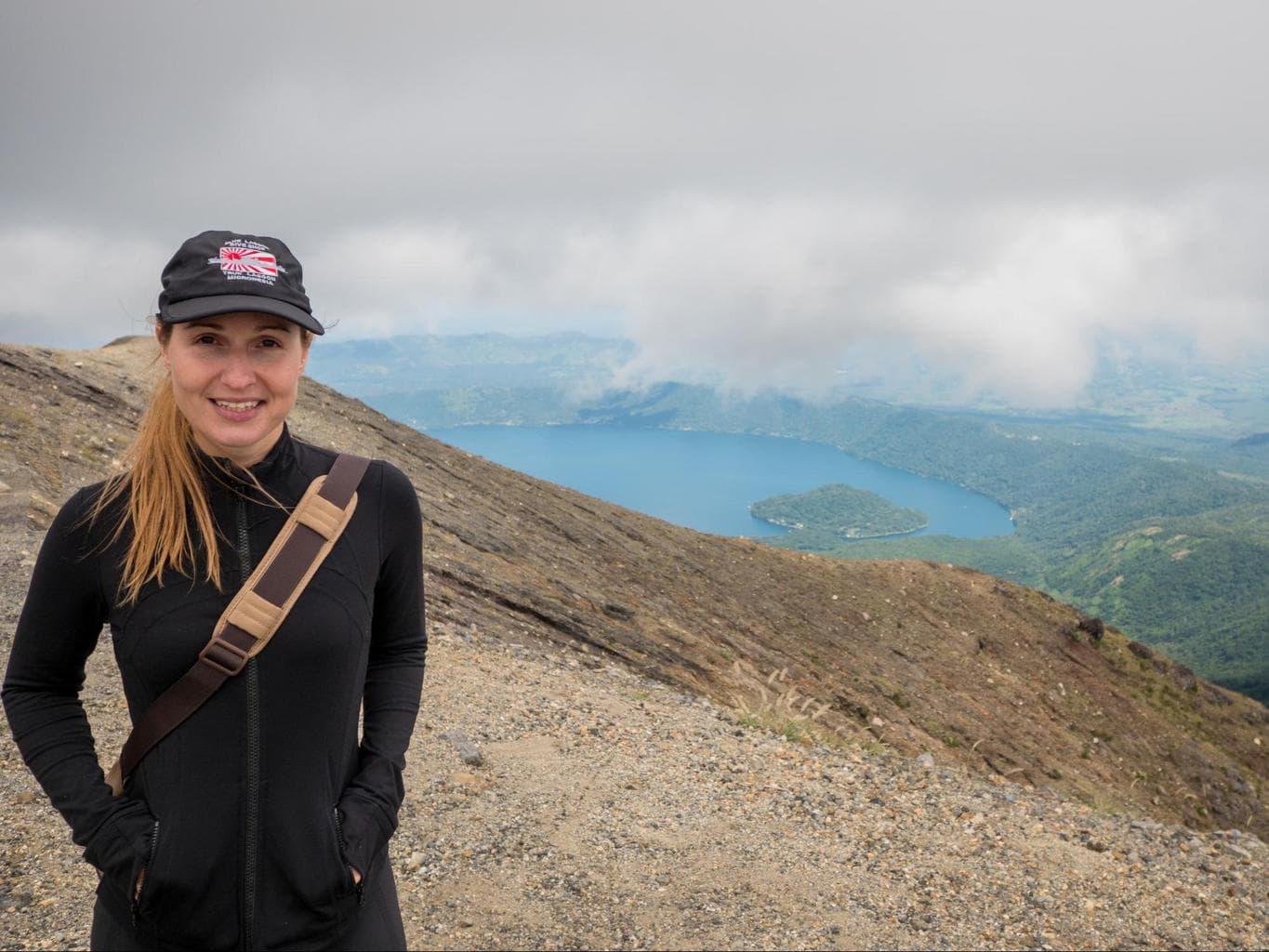 My group of four was made of a very fit Belgian couple who had been biking for a year across Central America and a friend of the local guide from ISTU who was probably wishing he was with other less active people. We set out from the ranger station and topped the volcano first, so we had it all to ourselves for a few minutes.
I went up with our small four-person group instead of the larger group of almost 150 people hiking up that day that was just behind us. The hotel I stayed at, Los Almendros de San Lorenzo, organized the guide for our smaller group so we could have a more personalized service. That meant that I could chat with the guide all the way.
The guides do not speak any other language other than Spanish so you will need to bring your own guide to translate. For example, Pascal from Los Almendros de San Lorenzo, usually accompanies his guests if they don't speak Spanish.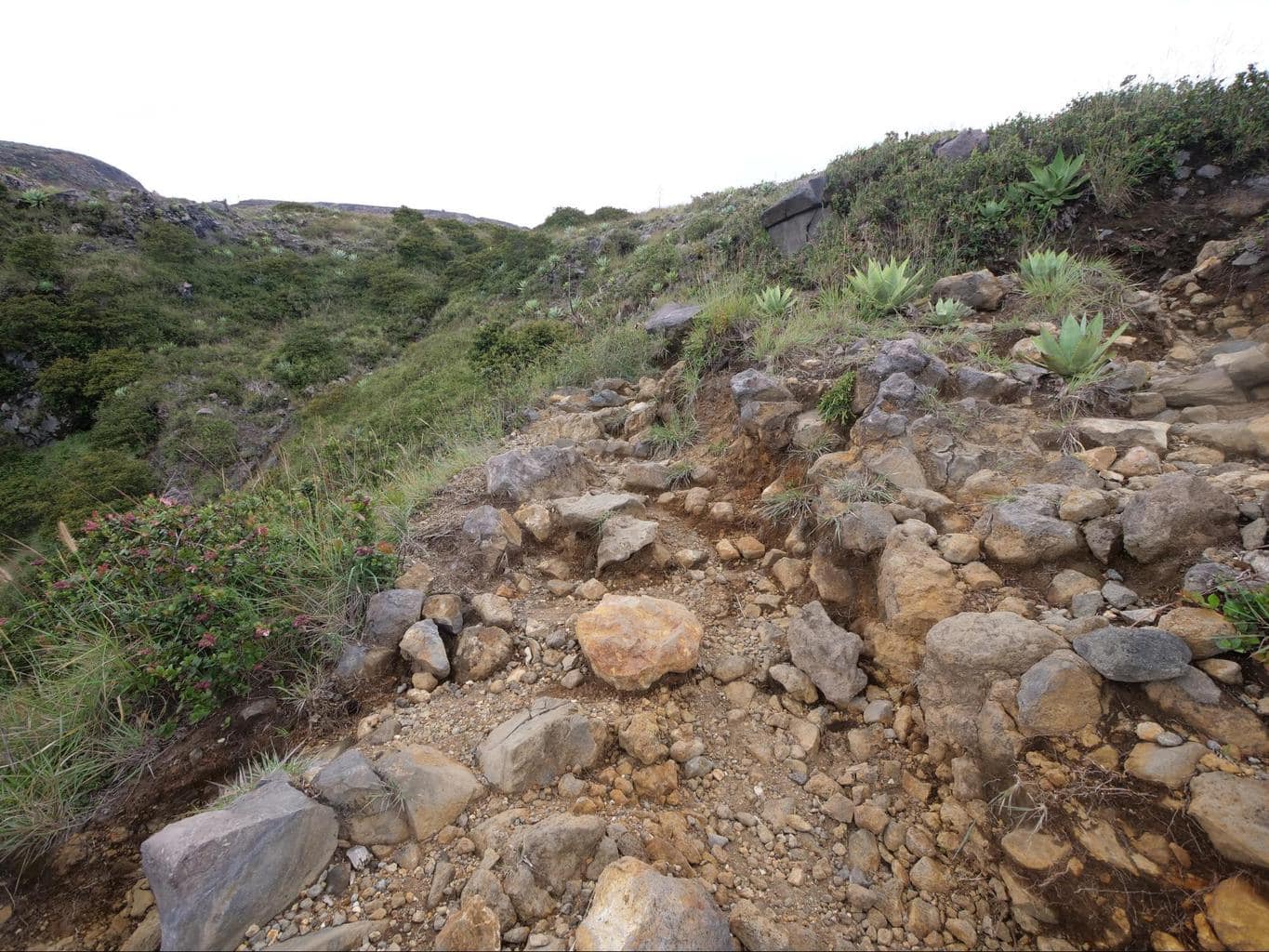 The hike is of moderate difficulty because of the many rocks along the way and the steep climb. You will be better off if you wear hard sole hiking boots. You can do it perfectly in trainers, like me, but I ended with some bruises on the sole of my foot because of the sharp rocks I stepped on.
The landscapes will evolve from thick pine forests to drier mountain vegetation including some mezcal cactus, until finally reaching a Moon-like-crater scene with grey and black rocks and deserted vegetation near the top. It is worth remembering that the Santa Ana volcano last erupted in 2005.
The views from above are very nice and make it well worth the effort. The wind is always blowing and the clouds come and go very fast. The crater lake is constantly releasing Sulphur fumes so you are not allowed to walk around the rim. It would also take an hour and a half as it is over three kilometers in diameter.
To the right of the volcano you have a bird's eye view of Coatepeque lake, the residence of the rich and famous Salvadoran where you can rent a stunning house lake-side on Airbnb. Check this link for a selection of the best Airbnb houses on the lake which I have filtered for those which have SuperHost status.
Being a Host on Airbnb for 4.5 years myself I know becoming and maintaining SuperHost status us SUPER tough so you are in good hands if you choose one of those. Use this link to get USD25 free credit and if you're thinking of becoming an Airbnb host, you can read my tips for new hosts here.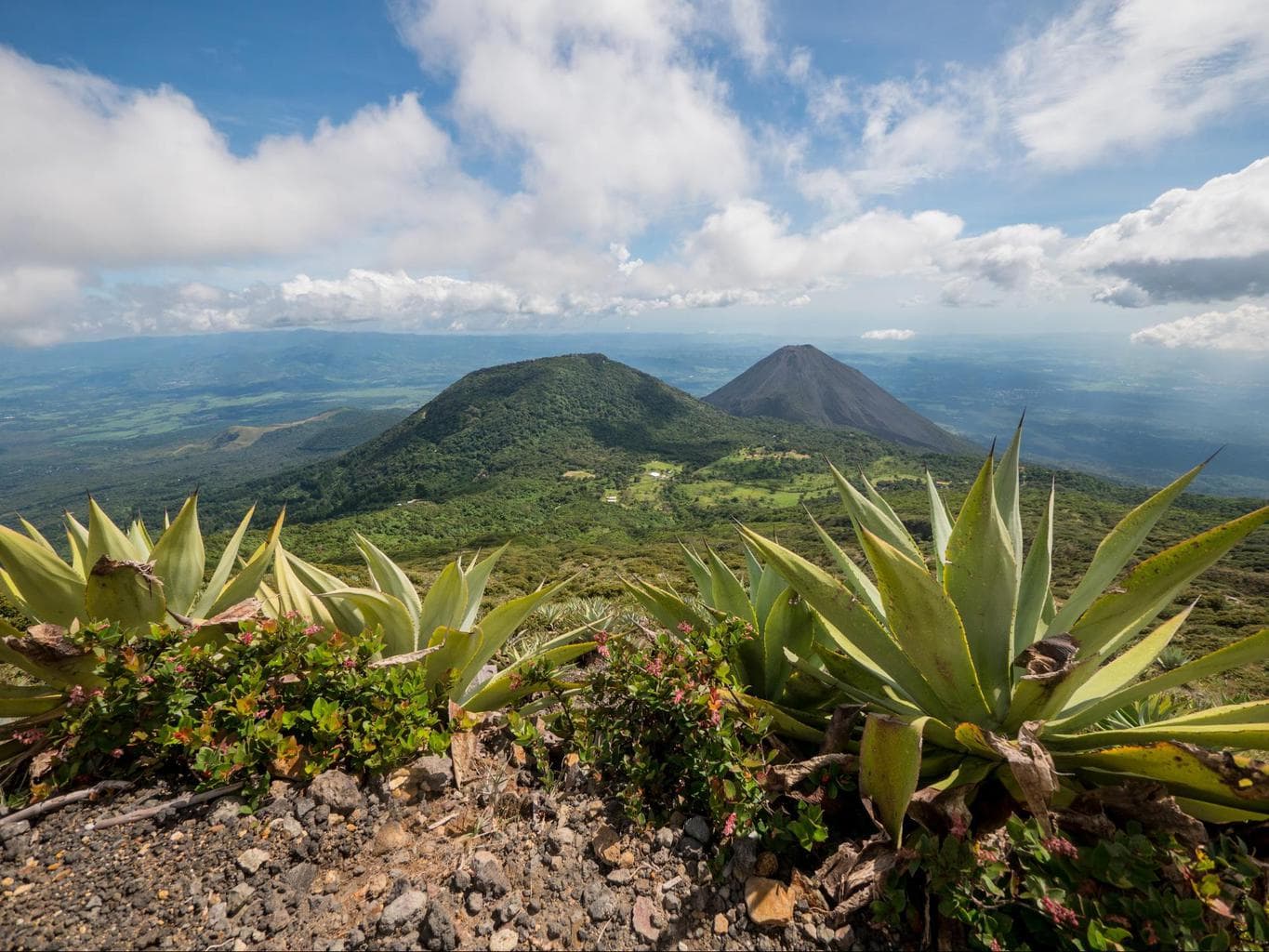 You can start the hike to the top of the Santa Ana Volcano from the base at El Cerro Verde or from the ranger station like me. I was driven to the Casa de Cristal which is near the park ranger's station and we set off from there. Most locals don't do that because there is a one dollar charge per person and per car to park there.
Starting at the bottom also gives you a chance to make a day out of the hike. It will then take about two hours up and an hour down. You can bring your picnic to enjoy around the Casa de Cristal which has a few huts for overnight stays, a lookout platform over Izalco volcano and the ocean, and picnic tables.
Safety along the hike to Santa Ana Volcano
Because of a history of bandit attacks and robberies, the hike up Santa Ana Volcano is done with a police escort. That means there are set departure times which may vary every day from 10am to 11am.
Two policemen will be ready to join the hiking group, one at the front and one at the back, which will also be accompanied by a few volunteer guides from the tourism Institute of El Salvador (ISTU) who work on a tip basis of a dollar per visitor.
What to bring on your hike up Santa Ana Volcano
You will be best off wearing hiking boots than trainers, not because you can't do it but because the path is full of sharp rocks that will end up hurting your feet.
At the top of Santa Ana Volcano there is always a lot of wind, so bring a jacket because it gets very chilly. Wearing sunscreen and bringing lip balm is also recommended because after you go through the forest part the hike is done through open air without any protection. A cap is also a good idea.
Depending on what route you take and how long your hike is, you may want to bring a sandwich to eat at the top like I did, and lots of water as well, especially if it is a hot day.
Some biscuits are useful to replenish your energy even if your lunch will be waiting for you at the top. When you are packing for your trip, take a look at this hiking holiday packing list with lots of other useful advise on the right things to bring.
This would be a great addition to your #SouthAmerica Pinterest board