Almost every Japan trip will start in Tokyo, a sprawling city of contrasts. From the high rise office buildings in Roppongi Hills to the weird and wacky stores in Akihabara it is impossible for the city to leave you untouched. Do you only have 4 days in Tokyo? Are you overwhelmed with the choice and the size of the city?
Don't worry, this post will help you decide what to do in Tokyo in 4 days as I wrote it after my own Tokyo itinerary so it is curated and tested. With so much on offer it is important to plan your time well so my itinerary to discover Tokyo in 4 days is perfect to decide what to include and what to leave out.
For those with limited time, rest assured that you can make the most of your visit to Tokyo in 4 days with a generous dose of subculture, of the weird and wonderful and of heritage.
If you prefer a much longer, slower and more affordable travel, this guide to travel in Japan will be very useful. But be sure to be prepared for the cultural shock with my post about 10 Things to know before visiting Japan.
While this post is a detailed Tokyo itinerary for 4 days, I also want to give you the chance to build your own Tokyo itinerary based on how much time you'll spend in the city. So here is quick guide to various itineraries for 2 days in Tokyo or for 3 days in Tokyo.
If you only have 1 day in Tokyo, then you will be short on time and will be better off taking a day tour.
Day 1 – Discover Asakusa + itinerary of Akihabara
If you asked anybody who has been there what to do in Tokyo for 4 days one of the first things they would suggest is funky Akihabara and the historical temples in Asakusa, which give you the right kind of heritage background you need and which you may have seen in Japanese movies. Start your Tokyo 4 days itinerary strong with a full heritage and subculture day with plenty to browse and lots of culture shocks.
Senso-ji Temple
In the morning, ideally early, reach Asakusa, the spiritual and historical center of the city and one of the most relevant places of interest in Tokyo where you can explore Senso-ji Temple and the intricate blend of Shinto and Buddhist beliefs.
I very much recommend you do as I did and book a tour with a private guide, otherwise you will get lost in the crowds without fully understanding half of what all the shrines and alleys tell you about. The best way to get immersed into the complex Japanese culture explosion of this part of Tokyo is with a guide.
A private guided tour usually is for half a day so you can choose to visit Asakusa's main shrines and area around it which should take about 2h and then head to another part of Tokyo, for example, you could go to Akihabara as mentioned in this Tokyo itinerary.
You could also start the morning with a 30 minute rickshaw tour before you continue with your private guide. Or if you want something more affordable, there are also tours that only take you through Senso-ji temple and then you can stroll the area on your own.
Either way, I highly recommend that you take a guide at last for a portion of your time in Asakusa because the area is teeming with history which needs to be heard to understand a lot of Tokyo.
Akihabara
From Asakusa, walk (45min) or take a taxi or the subway to get to Akihabara, the mecca of anime and possibly the most famous place to go for a certain kind of shopping in Tokyo. Here you will continue your Tokyo itinerary through some of the city's most emblematic and infamous neighbourhoods.
Akihabara will fulfil all your manga and Japanese subculture dreams. If you want to visit one of the famous Maid Cafe, this is the place. The streets are filled with girls dressed as maids and calling you into one of the hundreds of them. For the best experience join a guided tour of Akihabara with a maid who will tell you all about the culture and the area and you will have the chance of visiting one of the cafes with her.
A very fascinating discussion. Or have a full-on entertaining adventure tour that covers karaoke (a very Japanese experience), a visit to a Maid Cafe and then some time at shopping emporium and house of all things kitch and fun Don Quijote.
For the original experience head to Cure, although you will need to become a member to be able to book ahead, and a Japanese friend to help mediate as they don't speak English. It was a rather cumbersome experience and without anyone to tell you more about it you probably miss half the story, at least that is how me and my friend felt. For other weird and wonderful cafes in Tokyo this is a list of the best, Tokyo certainly delivers in that very special skill!
After a coffee and some food to recharge at a maid cafe wander along the main boulevard, Chuor Dori, where you can find lots of different stores that may pop in your mind when you think of Akihabara.
Anime stuff, collectibles, gambling stores, game stores, everything and anything is available here so spend some time just wandering and getting in and out of the stores that pique your curiosity. If you want to learn more about why the area is known as the Electronics heart of the city, there are private walking tours that let you customise your own fun experience and take you to the other part of the neighbourhood beyond karaoke and maid cafe.
Yodobashi
Afterwards, head to Yodobashi, the center of all things electronic. Beware, Japanese electronics are not cheaper in Japan than back home and come with the extra challenge of being in Japanese only. Beware, that Panasonic or Sony camera you were trying to snatch at a cheaper price will actually come only in Japanese language but the store is a great place to get advice.
I managed to find the lens that I really wanted to buy but couldn't remember what it was called there and a couple of their staff members did actually speak English. The range on display is extraordinary and the place overwhelming.
As you walk along you may spot all the maids and locals dressed in cosplay outfits hanging out in the cool neighbourhood. If you want a photo of or with either make sure to ask. The girls do not like photos and many will be holding a sign stating so and it is safe to assume even those who don't have the sign do not appreciate it either. Ask or be sneaky, and make sure not to be caught!
Mandarake
The most impressive store in Akihabara is Mandarake. This building version of a Batmobile is the center of all things anime and weird. Think porn comic books, all the robots and little figurines of every potential cartoon or Japanese character available on any size, old Game Boys and Nintendo, in short, all sorts of collector's stuff to fill your wildest hoarder dreams.
This is the place to spend money on things you don't need and will not have a place for when you get home. But they look oh-so enticing and underground. This is Japanese subculture paradise and the heartbeat of Akihabara, at least in my mind. Climb up all the floors because every one of them is devoted to a specific topic from J Pop CDs to comic books, from the oldest items to the newest raging trend.
Make sure not to get lost in a world of magic and role play. Mandarake has other branches in other parts of town but the one here is the most authentic because of its location at the center of Tokyo's subculture play.
After Yodobashi and Mandarake you might want to take a break. Walk over to AKB48 for a dose of J Pop and fanatism for the pop girl groups.
AKB48 and various cafes
AKB48 is the name and performing headquarters of Japans' largest girl group. The group is made of over 140 girls today although it started with just 48 (hence the name). Go in and take a seat at the theatre/bar where you can enjoy some (not so great) Japanese food and drink while watching some of their performances on the large TV screen. It is slightly strange to the visitor but permanently full.
If you are a robot fan, you could try Gundam Cafe instead. Or if you aren't fussed by either, Anime (and regular) cafes can be found everywhere so just pick one for a quick break. If you want something a bit better try the Akiba Ichi inside UDX center where there are several stores selling food of better qualities. I settled for the J Pop option because I was hot and it was the closest but the food was admittedly unsatisfying yet the surroundings fascinating.
Other things to watch out for in Akihabara are general celebrity meet and greets. As we were walking around there were two of them where the characters of anime movies or J Pop groups come to meet their fans. The queues in the street will be telling. You won't get anything but it is fun to watch.
If you want to explore all of Akihabara and get good insights into the subculture that makes Tokyo and Japan so fascinating, get under the skin of the city's subculture with a Manga and Anime private tour. Hopefully by the end of it you really understand the Otaku subculture and will be able to piece together some of the most fascinating facts about Japan.
After Akihabara you will no doubt be tired so head back to your hotel to shower and freshen up, the night is young!
For dinner, make sure to book tickets for the Robot Cafe for a night show before dinner, you must book them ahead of time as the sessions are almost always full. O-M-G this is one of the craziest things you can do in Tokyo. Ideally, the 5pm slot should work best if you make it but they also have 7pm. Just make sure not to order any food, it is overpriced and not nice, Tokyo has great food so it would be a shame to spoil your appetite here.
The Robot Cafe has become one of the most famous things to do in Tokyo since it opened. No words can describe it so you will have to see for yourself. Money well spent. Here's my experience in more detail.
Completely shaken and surprised, you will come out of the Robot cafe thinking: What just happened? It's time for a bit more Japanese culture at another themed restaurant but this one is less about the tricks and more about the food: Ninja Asakasa.
Beyond being a cool themed restaurant, Ninja Asakasa serves some really good food with some Ninja tricks to match and some funky role plays parts by the waiters. I promise you will not be disappointed. This should close the night as tomorrow is another long day.
But if you liked the whole samurai experience and want to learn to be one, there are private Samurai lessons you can take to learn to handle the sword or you can visit the Samurai Museum.
Scroll down for Day 2
Read more about Asakusa, Akiharaba and the Robot Cafe
Where to stay in Akihabara or Asakusa
Day 2 – Shibuya and Roppongi
A Tokyo itinerary would not be complete without indulging into people watching and shopping. Start the day in Shibuya where shopping has no end and no beginning.
The neighbourhood has anything and everything, from the high end brands to all the local designers, the funky stores, the strange, the weird and the wonderful. Shibuya 109 is not to be missed as the disposable fashion center of the Earth, if you go during Sales, like I did, expect to be met by hordes of store assistants yelling "short sale" non stop at the top of their lungs.
There are also lots of stores with collectors trainers (remember that Michael Jordan Air trainers you wanted to get when you were a teenager but your parents never bought you? I challenge you to buy them and wear them), cute clothes for all your cosplay needs, Japanese too cool for school hip hop fashion, you name it and they have it.
Harajuku
Wander around Harajuku, starting from the subway station of the same name, where the new fashion trends can be first spotted and where you will be able to do some serious fashion shopping in Tokyo. Along with clothes, you will also find the famous Calbee potato chips, pink cute crepe stores galore and pretty much any dress up and halloween outfit need.
Don't miss Laforet shopping mall, with half floors of endless fashion. Great photo opportunities all along but I particularly enjoyed the view from inside Tokyu Plaza Omotesando Harajuku which is lined with mirrors.
Before leaving Shibuya, make sure to stop by at Shibuya Hikarie where you can find some of the more stylish and refined items for those picky relatives you can't buy a tacky mange souvenir for. For a very special and insightful exploration of Harajuku, get a private guide for a walking tour of the area if you want to to get the local insider's tips and knowledge. You can customise your tour the day before by telling the guide what you like.
But Harajuku is not just a place to go shopping or get oversized crepes, it is also a great place to admire the architecture and the design which is apparent the moment you leave the main pastel colored thoroughfares. If you want to truly learn more about it, there is little info online in English, so a guided walking tour with an expert is a must. This one offers just that.
Lunch should be had late at one of the many ramen places. For an extra original experience look for one with a vending machine. Shibuya is full of them and they make for a very fun way to get your food, with a low failure rate because the machines have pictures!
Zojoji Temple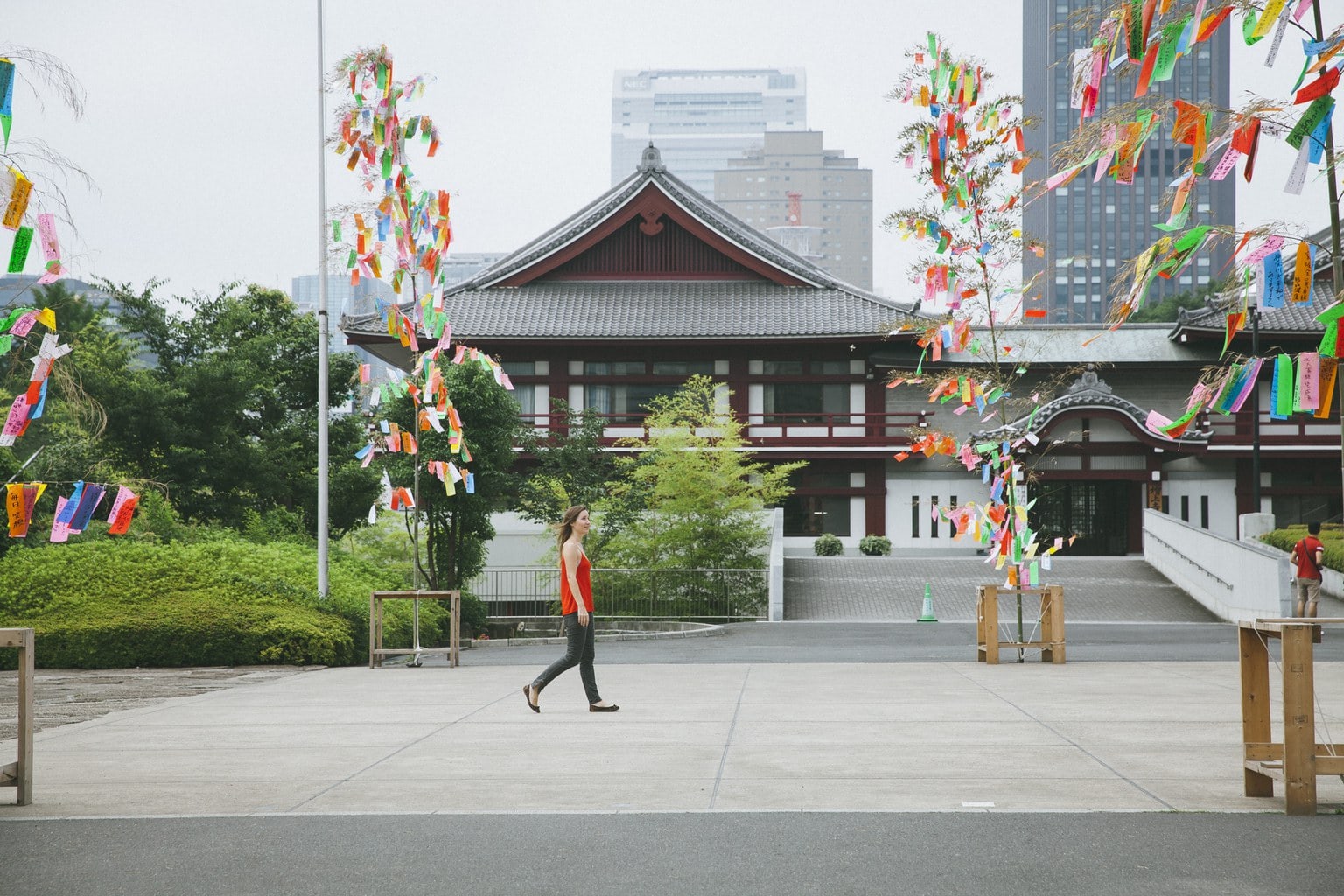 After a shopping overload and a full stomach (I could never finish any of the bowls of ramen) find some respite in one of the most unique temples in Tokyo: Zojoji Temple back in the Roppongi business district.
A much bypassed temple, Zojoji is a colorful temple complex made of several buildings and gardens near Tokyo Tower. Despite its location in the busy business district, the temple is almost always empty and provides a respite from the formal streets around.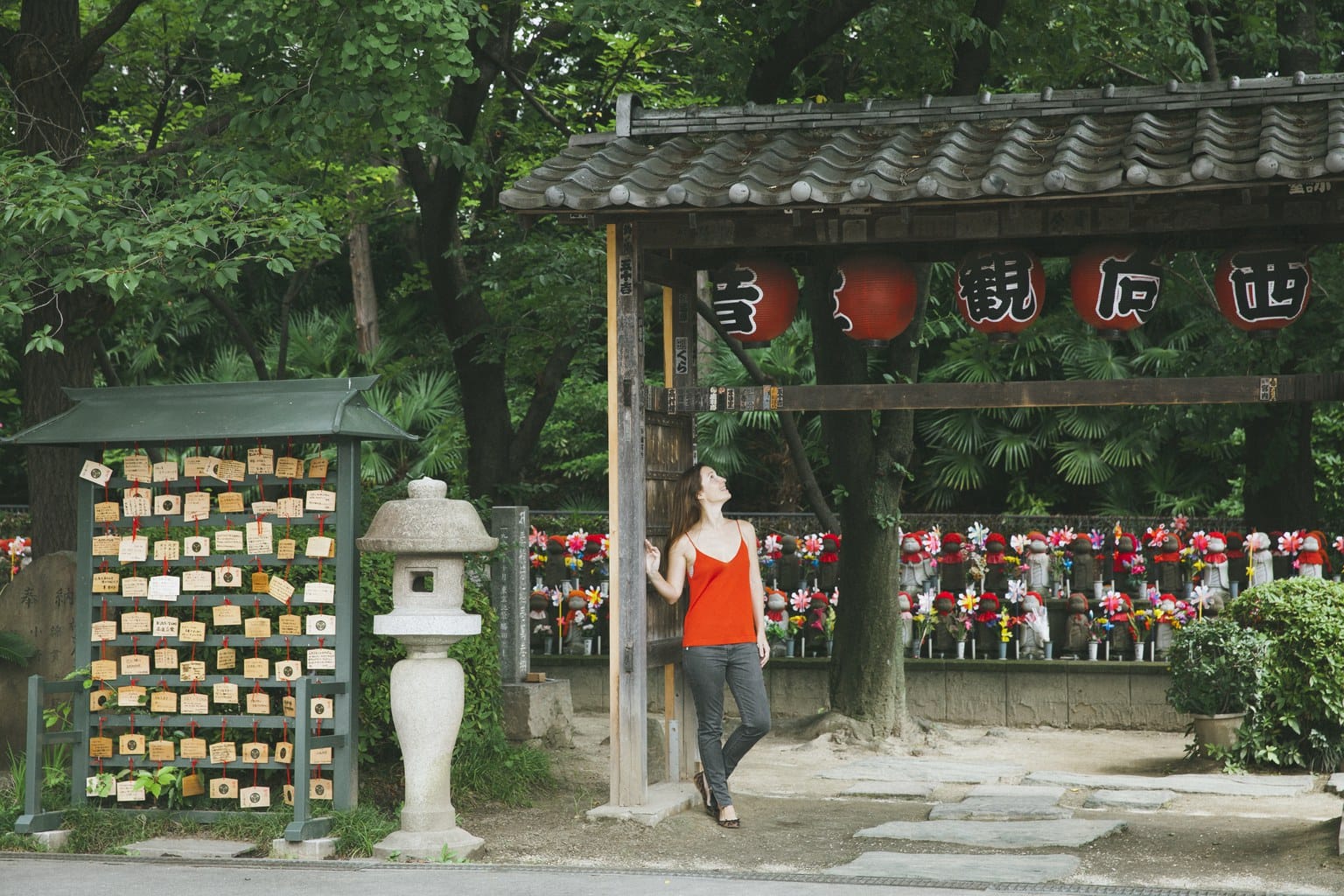 Like many other temples in Japan, Zojoji has been destroyed by fire and attacks from WWII several times, and reconstructed as many. Today, only the main gate, which is two storeys high, is original from the 16th century, when the temple was built, and is the oldest building in Tokyo.
The temple complex is made of several buildings and is also the final resting place of several members of the Tokugawa clan, the rulers of Japan during the Edo Period when the temple was constructed, who used it as their family temple.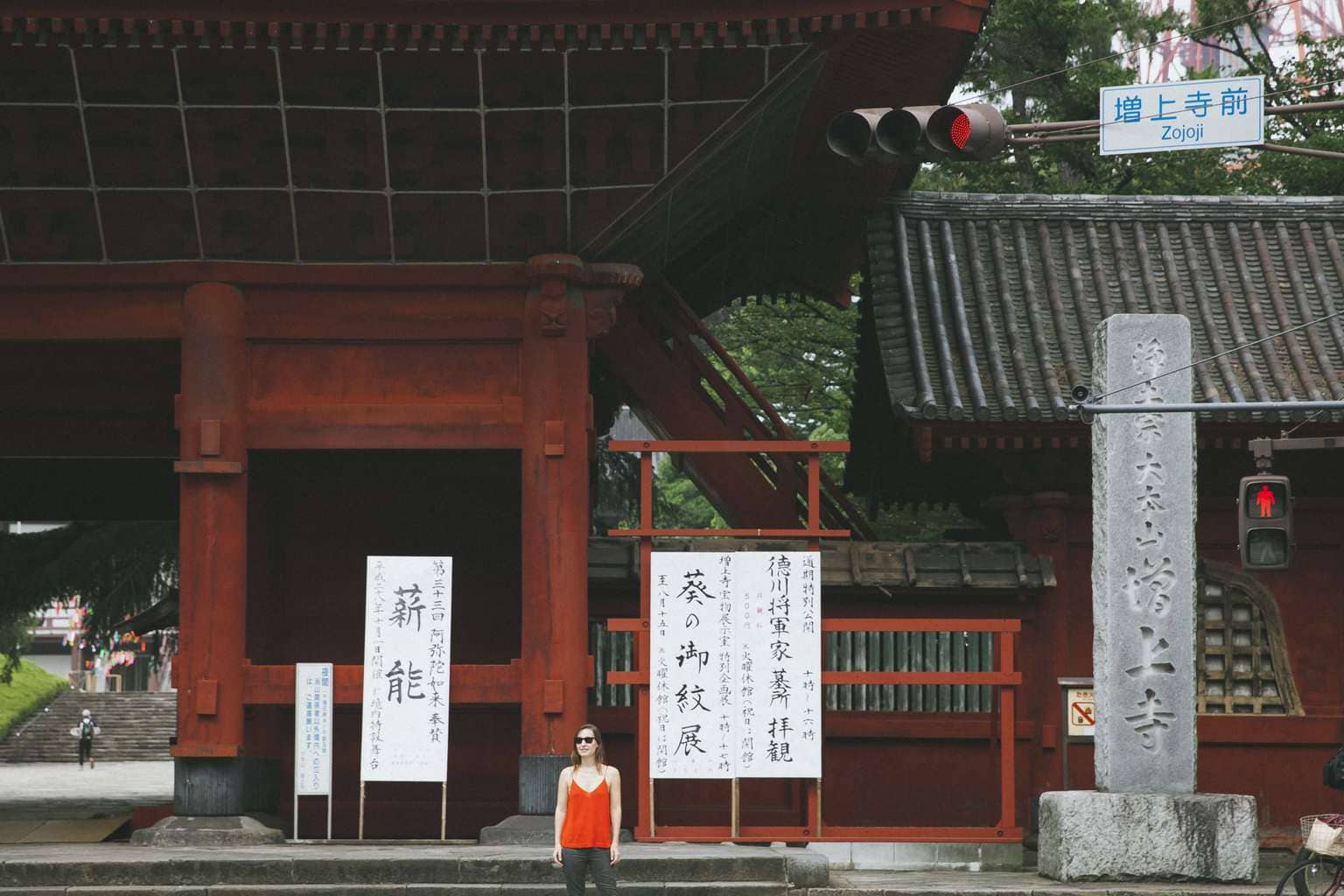 Inside the temple you can explore several parts such as the mausoleum of the Tokugawa shoguns (the last military feudal rulers of Japan), the main temple and the gardens. Look out for the pretty fountain where a ladle is set for anyone to wash their hands with water.
There are several paper lanterns adding to the beauty of the temple and, at times, a tree of wishes with pens and cards for anyone to add theirs in.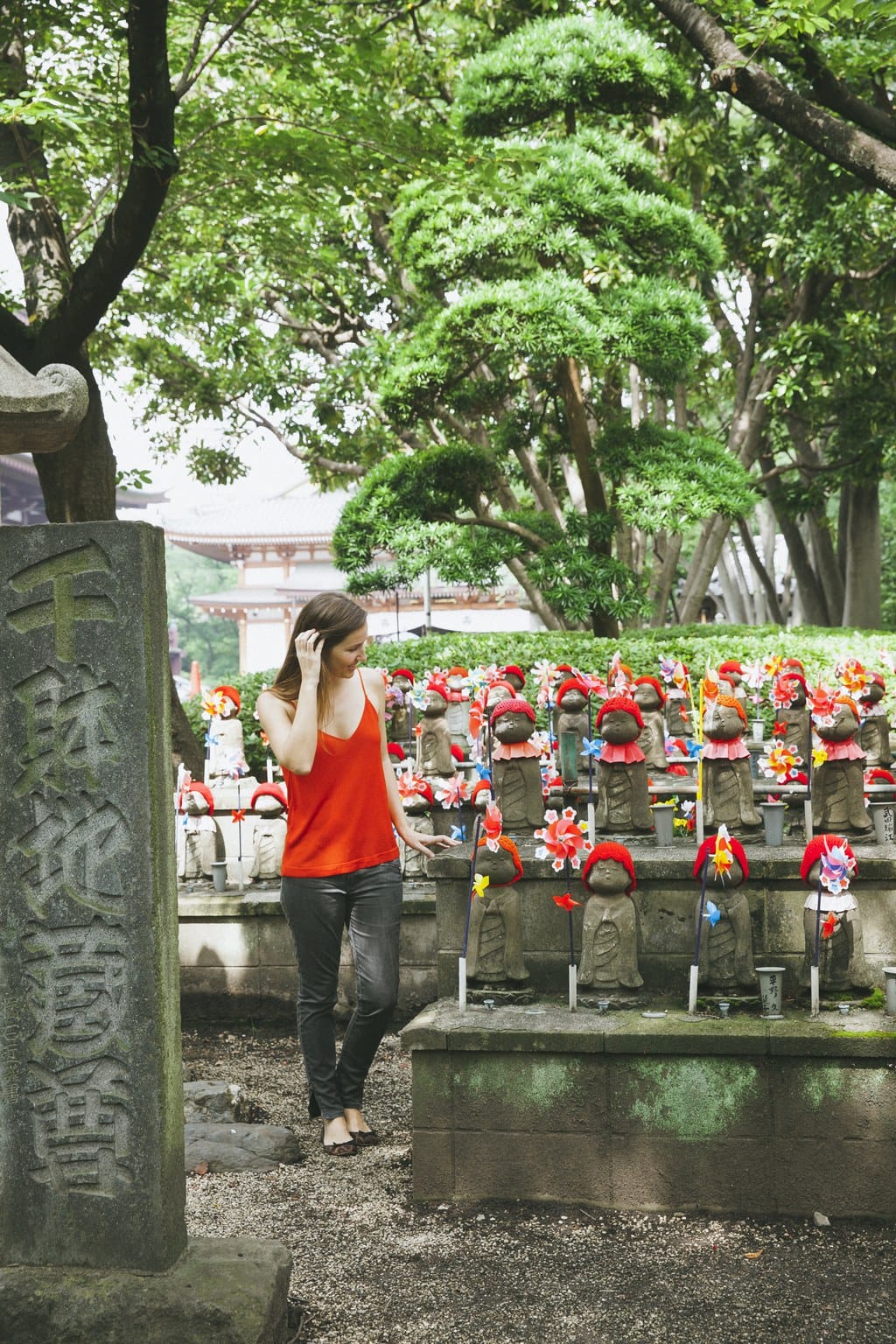 Aside from wandering the temple grounds, going inside and admiring the beautiful garden, a sobering but insightful parts of the complex is the Garden of Unborn Children, located by the side of the temple.
You will find rows and rows of stone statues representing unborn children which parents have chosen and decorated with hats, scarfs dressed in hats and scarves and other pieces of clothing usually accompanied by offerings to Jizo such as toys, the guardian and patron deity of deceased children, which can help them pass to the afterlife successfully.
Hedgehog Cafe
Next, head over to Harry hedgehog cafe, a cute hole in the wall place which, as the name indicates, is an animal cafe giving you the chance of playing with this spiky animals.
They are as adorable as they are dangerous so be careful how you gold them. You should book ahead online and choose between 30min to 1h. I reckon you will want to give it an hour. The cafe also has lizards you can hold, they are bigger than a gecko but smaller than an iguana.
Tokyo Observatory
Completely animal-ed up, see if you want to walk upstairs from Harry into the bunny cafe, another adorable animal place. But if it is too much and you've had enough, just go back to Roppongi Hills and up onto the Observatory at the top of the Mori Tower which also has a super cool and uber-famous digital museum by teamLab.
The views over the city will be stunning. The tower is pretty tall and at the top there is a cafe and outdoor area that looks like the helipad. It is pretty cool to enjoy the 360 degree views.
Make sure to get a ticket that takes you to the helipad at the top for 360 degree views. Tokyo is not known for its skyline but at sunset, if you are lucky and the weather is good, the views will be pretty neat and you will realise how sprawling and huge the city is. Tokyo expands as far as the eye can see in all directions.
For other great city views from above, there are other viewpoints in Tokyo. The most famous one is Tokyo Skytree which is the pointy tower with a restaurant at the top. You can get the simple Skip the queue tickets, or buy he same skip the queue tickets and a meal so you can sit down and enjoy the view from the restaurant. The restaurant sits at 345m above sea level and you can see all the way to Mount Fuji. Result!
Narisawa restaurant
After sunset, dinner tonight should be at Narisawa Tokyo, Asia's 2nd Best restaurant (in 2016) and the recipient of 2 Michelin stars. Chef Narisawa serves satoyama inspired modern Japanese cuisine focused on the forest and local ingredients.
The meal is a set course and you need to book ahead. Get the 9,30pm slot so you have time to go back home and freshen up. Dress code: smart casual as this is a fine dining venue. For more of the best places to eat in Tokyo read this article.
Scroll down for Day 3
Read more about the many wonderful cafes in Tokyo and Narisawa
Where to stay in Tokyo's Minato area
Day 3 – Markets, Temples and Parks
Today will be a dose of history as you take in the sights, smells and tastes of Japan's capital city.
Tokyo or Tsukiji Fish Market
Start the day at Tokyo or Tsukiji Fish Market. You will need between 1-2h to wander all the alleys of the market, stopping for photos or to observe the locals going about their daily business.
This is a working market so beware of interrupting traffic or being a nuisance to any of the workers. Watch the ice blocks being ground, the large fish cut into smaller pieces and the daily goings and comings of the market. The large tuna auction happens before dawn but unless you are joining a guided tour or speak Japanese this may not be so enjoyable.
Another great way to explore the market is with a guide from Context Travel so you get more than just observing. The tour takes a couple of hours.
Meiji Shrine
In a city that is so crowded a bit of greenery and peace are welcome so, after the wet and dirty floors of the fish market head to the Meiji Shrine.
The shrine is in a forest area of planted trees donated by the people and was opened in 1920. There is a torii gate at the entrance made of a 1,500 cypress tree and the entire area is a bit less colourful than other temples. It is a rather peaceful and pretty place that evokes tranquility, a far cry from yesterday's shopping extravaganza, although just across the road from Harajuku fashion mecca.
Owl Cafe in Harajuku
Since you are in the vicinity, head back to Harajuku subway station and find the Village Owl Cafe where you can spend some time with these birds of prey, they are actually pretty tame and sweet. You can pat them, hold them and feed them. They are pretty cool and weird at the same time. You have to book ahead.
Around the owl cafe there are a few ramen stores and places to grab some food before or after (there is one right next to the cafe that was quite good).
Imperial Palace
After lunch, take the subway to Tokyo Station and continue onwards to the Imperial Palace and its gardens which are free. The Imperial Palace is where the Japanese Emperor and Empress live and it is surrounded by a mote.
To visit its surroundings you will have to book ahead but the gardens are open to everyone. The Palace is located where the old Edo Castle used to be in the 17th and 18th centuries. In its time, it was the largest castle in the country with the inner part measuring 8km in diameter but it was destroyed in the fires of 1657 and the Imperial Palace was built there instead. The gardens are popular during cherry blossom season and host several seasonal flowers.
Nihonryori RyuGin restaurant
Go back to your hotel and freshen up before an early dinner at Nihonryori RyuGin, translated as the Japanese cuisine of the singing dragon, is a beautifully traditional and formal Japanese kaiseki style restaurant in the business district with a modern and more palatable flavour than some other kaiseki restaurants in Japan that may not be for everyone.
Kaiseki refers to the Japanese equivalent of a fine dining multi-course meal where the chef is allowed to show his skills and combine four types of Japanese cuisine: court, samurai, temple and tea ceremony cuisine. The dishes can also be considered a type of art form that balances the taste, texture, appearance, and colours of food with incredibly beautiful, delicate and ornate dishes.
When I visited Kyoto a couple of years ago I made the mistake of booking a very traditional kaiseki and Michelin awarded restaurant for dinner and sticking to their traditional set course without any modifications, to experience the real deal. I ended up not enjoying the meal at all.
Some of the dishes were incredibly precious and the price tag certainly reflected that, but the type of food and ingredients served were just not my cup of tea, much like Singapore's Waku Ghin, with expensive things like oysters, caviar, abalone, fish liver, rare seafood, etc.
At Nihonryori RyuGin, Chef Yamamoto veers away from the very strict kaiseki rules to offer something that might be more pleasing to Western palates. Notable dishes include his favourite Ayu fish, served slowly grilled whole and eaten with your hands, whole as well.
The chef often comes out after the meal to wave you goodbye although I am not entirely sure if he spoke English. We did not recognise him and we simply bowed when he bowed only to realise, later on, that he was indeed the awarded chef who is always at the restaurant. When he is away, the kitchen simply closes. Dress code should match the occasion but ties are not necessary.
Golden Gai
As dinner will finish relatively early and the night is young, head to the Golden Gai area where there are dozens of hole in the wall bars most of which cannot fit more than 5-6 people.
Have a walk along the few narrow alleys and then pick one. Just beware, some of them have signs stating foreigners are not allowed (yes, it is true), are reserved to regular customers only or have a steep cover charge so pick the one that tickles your fancy.
This truly is an incredible part of the city with themed bars, owners dressed in weird outfits, others look like music fanatics or musicians, some are Latin themed, some are down right dark, mysterious and scary. even if you don't actually sit down in any, it is a great evening walk.
If you want to explore the night with a guide so you can learn more about the bar culture and the small streets and alleys check out these three tours:
Scroll down for Day 4
Read more about unique things to do in Japan
Where to stay in Shinjuku and Tokyo's shopping areas
Looking for something different? Check out more hotel options in Tokyo here.
Day 4 – A tale of Sumo wrestlers, Geishas and Samurais
Your last of your 4 days in Tokyo includes a more humanistic and cultural side to the city, where you will explore the various ancient art forms of Japan, Sumo, Geisha traditions and Samurai.
Sumo Wrestling
Start the day with a sumo tournament or a sumo practice at one of the stables. As these events are rarely accessible to foreigners without a Japanese speaking guide you will have to join one of the tours.
If it is tournament season (3 months of the year in Tokyo) then you can buy tickets to attend one of them. The tour I suggest includes a traditional lunch so you will be sorted.
Geisha makeover
The day must continue with another immersive Japanese activity: a full geisha and samurai make over at the Geisha Studio.
Here you will get he full make up and dress up experience and will emerge as a true Geisha. This is not a touristy thing, locals actually do this at the studios like the one I went to, in order to take photos. The entire transformation takes between 3-4h depending on how many there are of you and how many photos you want to take.
The longest part is the make up, which takes up an entire hour with layers and layers of paint and make up applied to the skin. If you are a man and want to transform into a samurai, the process is significantly shorter.
You can also transform as a couple, either two samurai, or two geisha or a geisha and a samurai and take individual or couple photos. The wig fitting and the kimono fit out are also lengthy and delicate processes.
Once you are kitted out there is a professional photo shot in the studio upper floors where you can immortalise your transformation for all to see, if they can recognise you! It is a fascinating insight into the life of this mesmerising world. Needless to say this must be booked ahead. Start earliest 2pm as the sumo tour usually ends between 11am-12pm. Here is my full experience.
If you want to complete the cultural exploration into this eminently Japanese tradition, you can join a geisha performance. While geishas are more traditionally found in Kyoto, you already know that there are also some performance theatres in the area around Sensoji Temple.
After you return back to being yourself a shower will be needed to get the paint off your hair and back properly to go back and take a shower. Your Tokyo itinerary is about to hit some of the most popular parts of the city.
Inakaya restaurant
Have dinner early, around 7pm, at the famous and very local Robatayaki restaurant Inakaya, a Japanese traditional barbecue place of which there are two very near. You must book ahead.
Point at the vegetables, meats or fish you like and get the waiter to cook them for you in between the screams and yells of the entire staff every time a new order is made or served. You will not understand anything and might be a bit overwhelmed in the beginning but watch others and see what they order to make up your mind. Wash down with some Japanese beer.
The oysters they serve are GIANT, and have a price tag to match so be careful. There is a menu but it is only in Japanese so you will not be given a copy unless you ask as it will be mostly useless. Try the ginko nuts, the corn on the cob and the beef. The red mullet type of fish is also great and the asparagus were delicious. Chicken teriyaki is also a winner.
Shibuya Crossing
After dinner explore the very last stop in your authentic best of Tokyo trip: Shibuya crossing, in its full glory at night. The only lookout place to see it fully is from the inside of the Starbucks cafe above it where you will see the hundreds of people crossing the 4 pedestrian crossings that zigzag along the many traffic joints.
I was a little disappointed as it is nothing more than a crossing, but at night, the crowds and order that reigns in the apparent chaos was quite impressive. There are more strange and fun cultural experiences to be had which you can read about here.
It's not easy to get tired of Tokyo, but if you do want an escape from the hustle and bustle, try Niseko in the north for some calm, adventure and natural beauty.
Read more about my Geisha transformation and the beauty of Niseko
This article was first published in Sept 2016 and updated in June 2020.
Pin this best of Tokyo article for your trip!