I could easily write an encyclopedia about all the wonderful places to visit and things to do in Japan. The country is so diverse and so exciting that no two visits are the same.
I've been travelling in Japan since I was a child, and continue to return once or twice a year. No matter how often I'm in a city like Tokyo or Kyoto, I find myself excited to revisit my favorite haunts, and discover incredible new attractions.
There are so many fascinating things to do in Japan. The island nation encompasses a wide variety of climates, geographical features, and local cultures so it has something for everyone to enjoy, no matter your age, travel style, or niche interest.
Families can explore Hello Kitty theme parks, while couples can take a romantic getaway to an onsen (hot springs). If you're the active type, then you'll adore hiking in Nikko, skiing in Hokkaido or snorkeling in Okinawa.
Spiritual seekers can stay in a Buddhist temple, while foodies can dine at Michelin-starred eateries or explore all the great Japanese food. From anime cafes to Harajuku fashion shopping in Tokyo, Japan's attractions are among the best in the world.
Part of what makes Japan such an interesting destination is the constant juxtaposition of ancient and high-tech. If you aren't sure what to do in Japan, I recommend diving into both sides of this spectrum.
Since the country remained isolated for years, it developed a rich history and currently has 23 UNESCO sites. Culture-lovers will adore dressing like a geisha and strolling through temples like the famous red gates at Kyoto's Fushimi Inari.
You can also be wowed by the bizarre, modern J-pop culture that encompasses robot restaurants, Gothic Lolita boutiques and Pokemon centers.
How to organise a visit to Japan
Many of my friends ask me: how can I narrow down where to go in Japan with so much to see and do?
It is easiest to organise a trip geographically by basing yourself in the main urban centers and picking the Japanese cities that have more of what you like, although all of them have great food, rich history and lots of fun elements thrown in.
In this guide, I'll give suggestions for things to do in the major Japanese cities (Tokyo, Osaka, Kyoto, Hiroshima) and in the islands (Hokkaido and Okinawa).
But because Japan is huge and densely populated, I added a variety of day trips from these major centers for good measure, so you can pet deer at Nara or bow to the big Buddha at Kamakura.
This comprehensive travel guide covers the main tourist spots in Japan, such as Hiroshima's Peace Memorial Museum, and all the well known temples in the cities. It also goes off the beaten track to locations like Naoshima art island that may still be unknown to the majority of the tourists.
At the end, I describe activities that aren't tied to a single location, such as watching the cherry blossoms (sakura), one of the most popular times to visit Japan. I wrap up with helpful tips about transportation, currency, cultural etiquette and other logistics: all the useful facts about Japan that you need to plan a trip.
I hope this overview of the best places to visit in Japan helps you have an unforgettable trip. If you're traveling here for the first time, I recommend staying for at least two weeks. Perhaps do five days in Tokyo, and take the train to spend a few days in Kyoto, Osaka, and nearby cities.
One of the best and most economical ways to get around is with an unlimited Japan Rail Pass
, which covers the whole of Japan. You can ride all the rails, buses and ferries for a consecutive 7, 14, or 21 days with a JRailPass. Read more about the Japan Railpass here.
You might also wish to plan your travels around seasons and specific activities, such as Sapporo's ice festival or sakura in spring, but these require extra advanced planning because they are very popular times of the year to visit Japan.
As you will see, Japan has a remarkable diversity of activities, culture, and food to discover. After your first taste, I'm sure you'll be eager to come back to the Land of the Rising Sun to see and do much more.
Best things to do in Japan: Tokyo and surroundings
Neon skyscrapers, girls in cosplay, all-night karaoke… There's no city in the world quite like Tokyo and many of the most well-known things to do in Japan can be done in or around Tokyo.
Most travelers begin their journey in the Japanese capital and they often don't go anywhere else. I don't blame them. From digital art museums to cute food, there's a seemingly endless list of inspiring and often bizarre Japanese activities here.
But let's take a brief look at how it all started.
Tokyo was once a tiny fishing village called Edo (a name you will still see being used to refer to the city), which exploded in size after it became the shogun's (the Japanese feudal commander in chief) seat of power in 1603.
The city prospered under a policy of seclusion and complete isolation from the rest of the world and did not open until Commodore Matthew Perry's arrival in 1853. From then on, Tokyo thrived, although it suffered many fires that razed parts of the city to the ground.
Today, this is one of the planet's most iconic metropolises, with over 13 million residents and one of the highest population densities.
Tokyo is split up into many neighborhoods, each with its own distinct feel and speciality. You've likely heard of the major business and entertainment centers, Shinjuku and Shibuya, and the youth fashion capital of Harajuku. But there is more.
The city also has an area specializing in tech, anime and manga called Akihabara, traditional temples in Asakusa and a lush park in Yoyogi.
No matter where you are in the city, you'll find outstanding food, sometimes with an offbeat twist, such as ramen parlors with privacy partitions or an Alice in Wonderland theme restaurant with Instagrammable desserts.
In the city that never sleeps, you can take part in activities from day to night. Begin at dawn with fresh sashimi at Tsukiji, spend the day shopping in Harajuku and exploring many of Japan's things to do and then party all night in Golden Gai bars. And we've even created a jam-packed 4 day Tokyo itinerary to get you started.
Plan for a few days in Tokyo and you'll understand why it's a must on the list of best places in Japan to visit. To get an insider look at the city, you can hire a local to take you on a private tour to secret spots. This is a good way to get your Japanese etiquette on.
If you're planning to travel to Tokyo and nearby cities by train, a flexible JR East Tohoku Pass
provides excellent value. You'll get unlimited travel on trains (including the shinkansen) on these lines, for a period of 5 days within a 2 week period.
You can also book an unlimited Japan Rail Pass that lets you travel throughout all of Japan. Take unlimited rides on all Japan railways, buses and ferries for a consecutive 7, 14, or 21 days by booking a JRailPass here
.
Party in Shinjuku
Let's start on a high note with what to do in Japan at night.
When the sun goes down, party animals of all stripes head to Shinjuku. There's a nightlife scene for every subculture or niche in this entertainment district.
You can groove at a reggae joint, play original Nintendo in a gamer bar, headbang with J-rockers or dance to Depeche Mode with Japanese Goths.
Pull up a seat at any tiny drinking hole, order sake and say cheers or "kampai" to an evening you won't forget. Here are some of our favorite nightlife spots in Japan.
Golden Gai
Head for a drink (or several) at Golden Gai in Shinjuku, a cluster of tiny (and we mean really tiny) streets packed with bars, right next to Hanazono Shrine.
Each little place has a unique theme and may only fit five people at the counter. One might offer karaoke, while another specializes in whiskey, making Golden Gai a fun location to bar-hop.
I like to give a high-five to Mr T, who runs the punk bar Hair of the Dogs. I frequently pop into Cambiare, which honors Italian movie director Dario Argento's "Suspiria" with bloody decor and drinks.
Pro tip: Most of Golden Gai's bars have cover charges, so be on the lookout for those without any. Cambiare has no cover. Hair of the Dogs has a cover fee of 800 yen ($7.50 USD) but it's worth it for the unique theme, and to help small establishments keep on running.
Ni-chome
Ni-chome, Tokyo's gay district, is a flamboyant and inclusive neighborhood for a night out. After dark, the district comes alive with a few hundred LGBTQ bars and nightclubs.
Many of them cater to a particular crowd. Bears and leather enthusiasts gather at The Eagle, while lesbians hang out at Gold Finger. Some clubs like Arty Farty attract more of a mixed crowd, including foreigners.
Dance to Japanese Italo Disco with drag queens and then go outside to drink convenience store alcohol with giddy partygoers.
Pro tip: If you ask me and my friends, the best Ni-chome partying tends to take place on the street, outside the 7-Eleven!
Decabar Z
One of the most fun things to do in Japan is to dress up and be whoever you feel like being. Rub shoulders with Tokyo's most fashionable subcultures at Decabar Z, which is run by the founder of the famous Tokyo Decadance parties.
Decabar Z is open every evening and has regular theme nights such as "Addams Family" costume parties or pole-dancing drag queens.
Wave hello to the smiling bartender Preta Porco, who always wears bright yellow face paint and futuristic garments. Drink a glass of absinthe and admire the cybergoth decor as you dance to 1980s synth.
Guinea Pig
Dare to visit an eccentric underground bar called Guinea Pig. The nightmarish decor consists of metal chains, creepy baby mannequins and zombies nailed on crosses. Drink a grapefruit special while bloody cult movies play in the background and a snake sits in a tank.
---
All of Shinjuku's major bars and clubs are located within walking distance from Shinjuku Station. You can also join a drinks and nightlife tour of this district, to get a taste of the wide variety of creative bars and subculture insights.
Pro tip: Tokyo's subways close around midnight or 1am, and don't start up again until 5am. If you're out partying, be sure to head back before the last train. Otherwise, make plans to stay out all night, as taxis tend to be very expensive.
Geek out in Akihabara
Akihabara, also known as Electric Town (or Akiba), is Tokyo's high-tech district. This is the favorite hangout for "otaku," or nerdy young Japanese passionate about anime, manga, video games, and cosplay.
The streets are towering with electronics stores and decorated with giant posters of fantasy girls, making Akiba, as the area is historically known, feel like a vision from the future.
Let out your inner geek by spending a day exploring Akihabara. Try the latest UFO machines at a game center, and snap "purikura" sticker booth photos with your friends. Eat at a maid café, where the pretty servers treat you like Prince Charming. Then, hunt for rare anime figurines and DVDs at Mandarake and Super Potato.
---
Ride the subway to Akihabara Station and go out the Electric Town exit to be immersed smack-dab in the action.
You can also take a private tour of Akiba with a sweet local dressed as a French maid. She'll take you to hidden stores and answer your questions about the strange J-pop culture you encounter.
Pro tip: Beware that the maids don't want you to take photos with or of them and will usually have a sign that states that, respect them. If you want to interact, a tour is your best bet at getting closer.
Be entertained on Odaiba Island
Located across a Rainbow Bridge, Odaiba is a man-made entertainment island that lets you escape from reality for the day, something Japan does better than anyone else.
In the 1990s, Tokyo's artificial port developed into a commercial center bursting with amusing, fantastical attractions. My friends and I can easily spend a day in Odaiba: eating, playing games, shopping and goofing off, all of our favorite things to do in Japan.
Gundam Base
Begin the day at the Gundam Base, a store that sells toys and memorabilia themed around mecha battle robots.
Outside, a giant Mobile Suit Gundam (from a TV series about robots that has been going on for over 40 years) stands 18 meters high. Arrive at the top of the hour to see the robot turn his head and emit flashing lights. Then duck into the Gundam Cafe for a matcha latte decorated like the green character Haro.
Trick Art Museum
Odaiba has a variety of bizarre entertainment options, from a "Little Hong Kong" recreation to an Unko Museum in praise of poop. I had a ridiculous time at the Trick Art Museum above Sega Joypolis
with my friends.
Visitors can take photos with backdrops and sets designed with optical illusions. The resulting image makes it seem as if you're being eaten by a shark, decapitated, or chased by Japanese ghosts!
King of the Pirates theme restaurant
The off-kilter dining options at Odaiba include a "takoyaki village" that serves dozens of varieties of octopus balls. If you're in a swashbuckling mood, plunder a meal at the King of the Pirates theme restaurant.
You can put on a hat and fake limb at the costume rack, and pretend to fight with the eye-patched mannequins. Order a black squid ink curry and go out to the patio to pretend you're steering a pirate ship.
Retro game center
The 1980s are alive and well at Tokyo Decks. This enormous retro game center lets you play old-school arcade machines and chuckle over cheesy 1970s Japanese pop idol collectibles, how's that for a fun thing to do in Japan?
The shopping area also has a wide selection of cute character goods. Pop into the Hello Kitty boutique or find a plush green Gachapin toy (he's a Japanese kids TV character).
---
Odaiba Island is connected to the mainland by a Rainbow Bridge. Most visitors board the Rinkai Line and get off at Tokyo Teleport station.
From here, you can walk to Gundam Front, as well as Aqua City (location of the pirates restaurant), Tokyo Decks and Sega Joypolis (VR center and Trick Art museum).
You can also get there on a cruise from Akihabara
so you have a different perspective of both.
To enjoy a variety of virtual reality and video games at Joypolis, you can purchase a pass here
. Or go to the other end of the spectrum and chill at an Onsen which Odaiba has a few of, which you can also book online here
.
Meet Totoro at the Ghibli Museum
Hayao Miyazaki is considered Japan's animation genius and one of his animated movies, iconic Spirited Away, even won an Oscar. If you're a fan of his work, you'll be blown away by the whimsical world at the Studio Ghibli Museum.
A huge smiling Totoro statue welcomes children and adults at the entrance. Give the cute grey and white creature a hug and pose with the Castle in the Sky robot on the green rooftop.
Inside, you can gaze at design sketches and go into a Catbus, one of the characters from iconic 1988 My Neighbour Totoro movie. At the gift store, pick up handcrafted Ghibli character merchandise or toys such as a remote-controlled catbus found only here.
---
To access the Ghibli museum by subway disembark at Kichijoji Station. You can also walk 20 minutes from Mitaka Station or take a shuttle bus from this stop decorated with the characters.
Studio Ghibli passes sell out easily, so be sure to get them well in advance. You can purchase a ticket and take part in a themed tour here.
Learn to be a ninja
One of the most amazing things to do in Japan is to become a ninja (Japan's feudal secret agents) for the day. Join a class and hone your stealth and fighting skills in a dojo (the "place of the way" or location where the class takes place).
To get you in the mood (and take the perfect Instagram shots), don a black ninja outfit. The instructor will rivet you with legends of the sneaky Japanese warriors. Then, you'll learn the basics of sword fighting, throwing metal stars and martial art moves.
The dojo also uses virtual reality headsets to let you feel as if you're fighting monsters.
---
Book a ninja training experience, complete with VR activities and costume rentals, here. The dojo is located a few blocks west of Tokyo's Kanda Station.
See soaring views of Tokyo
One of the best ways to get a sense of Tokyo is by admiring it from above. You can enjoy the sprawling, high views of the city from two of its most famous observation points and popular places to visit in Japan.
Ascend Tokyo Skytree, which holds the title of the world's tallest freestanding broadcasting tower at 634m. It's also the second tallest structure in the world after Dubai's Burj Khalifa.
The silver broadcasting device looks like a cross between a futuristic spire, and a historical pagoda. Look out at the city from Skytree's 360 degree observatory. Dare to walk on the glass-covered skywalk, which gives you a dizzying view of the busy streets below.
You can also go up Tokyo Tower, the second tallest structure in the country. This orange and white tower is a Japanese icon, as it looks a bit like the Eiffel Tower, and is featured in the establishing shots of many films.
Ride the elevator up to enjoy soaring views of Tokyo. Then, be entertained by the Foot Town rides and museums on the bottom level. Tokyo Tower even has a Shinto shrine on the second floor of the observatory, and an amusement park themed after the manga One Piece.
---
Tokyo Skytree is accessed from Tokyo Skytree Station or Oshiage Station. Buy your ticket to Skytree in advance here
.
Tokyo Tower is a 5-10 minute walk from either Onarimon, Akabanebashi or Kamiyacho Station. Book a ticket to Tokyo Tower's main observatory here
.
Experience Hello Kitty cuteness
Hail Hello Kitty, the queen of Japanese "kawaii" cute characters. The white cat with a pink bow debuted in 1974 by the hands of the company Sanrio and has been charming people worldwide ever since.
Today, Hello Kitty remains the most well-known and beloved mascot in the country. Not surprisingly, there are multiple attractions in Tokyo for her fans to enjoy and you shouldn't be surprised to read that this list of the best things to do in Japan includes some Hello Kitty too.
There are a few places in Japan, and Tokyo in particular, where you can interact or get up and close with Hello Kitty merchandising and products. Here are the best.
Tokyo Station
If you love "kawaii" (Japanese cute design), save your yen for "Character Street" at Tokyo Station.
You'll discover an entire level of boutiques dedicated to cute mascots like Pokemon, Anpanman, and San-X. The Sanrio store is one of the largest and sells limited edition items themed after Hello Kitty and her friends.
I was tempted to buy adorable plush toys of her friends, Pochacco and Cinnamonroll, dressed as Japanese train conductors.
Puroland
Tokyo also has a massive theme park dedicated to the cute cat and her friends, called Puroland and of course, it is one of the most popular tourist attractions in Japan.
Be prepared for pink overload once you cross the rainbow entrance into her universe. Hello Kitty and Dear Daniel wave from the balcony, dressed in royal outfits. Hug a life-sized Kuromi mascot, eat cat-shaped sweets and watch a flashy stage show featuring all the characters.
Hello Kitty hotel
Take your love for Kitty to the next level by sleeping in a Hello Kitty themed hotel room at Keio Plaza Shinjuku hotel and take your experience to the next level.
Each features bright images of the characters all over the walls and ceilings and pillows and decorations in their shapes.
---
To access Character Street, go to Tokyo Station, find the Yaesu North exit, and walk down the stairs. Puroland amusement park is located a few minutes walk from Tama-Center Station. Book a ticket to Sanrio's Puroland theme park here
.
To sleep with Kitty, make a booking at Keio Plaza Shinjuku and request to stay in the Kitty Town, My Melody, or Little Twin Stars rooms.
Visit an animal theme cafe
Many Japanese cannot keep pets due to lack of time and space in their apartments. Instead, they get their cuteness fix by visiting animal theme cafes, where they can cuddle dozens of adorable critters, as well as snack on food and drinks.
Through the years, pet cafes have become one of the most well-known tourist attractions in Japan and across the world. It is almost impossible to travel in Japan and not see them everywhere.
If you are wondering where to go in Japan to get up and close with this very uniquely Japanese trend, see below a selection of the best pet cafes in Tokyo where these abound.
Cat and dog cafes
Japanese cat cafes were the first to set the trend and are still one of the most popular places to in Japan. Visitors can pet and play with all breeds of kitties and sip on paw-print lattes. Curl up on a sofa and put a bizarre costume (like a sequined bow tie) on a furry friend.
Today, you can find cat cafes in all the major districts of Tokyo (and abroad) but Calico Cafe in Shinjuku was one of the original ones (and I even shot a TV show here).
Dog cafes became the next evolution of animal cafes. At some, you can show up and play with the in-house dogs. At others, like Deco's Dog Cafe, you bring your own pampered pup, and eat snacks designed for both human and canine consumption.
Small critter cafes
Because cats and dogs are relatively "common" pets, next came animal cafes centered around small critters. There's also a Hedgehog Cafe called Harry in Harajuku, for fans of the spiky mammals. Wear white gloves (these spikes are really spiky!), and handle a real-life version of Sonic the Hedgehog.
Unusual animal cafes
As animal cafes became more common, business owners continued to up the ante and brought in strange or exotic creatures.
Owl cafes became the next wave: people could hold and sometimes pet the nocturnal birds, with supervision from staff and for a short period of time. I was enthralled by the majestic creatures, which ranged in size from large barn owls to birds that fit in your palm.
Not many travelers know that in Ikebukuro you can visit a Penguin Bar. See the Happy Feet creatures through a glass window that keeps their environment cold. Around 7pm, you can watch the penguins leap for food at feeding time.
If you aren't afraid of spiders and snakes, raise a glass of sake at Bar Yatonokami. The reptile bar has over 100 cold-blooded critters in terrariums, including tropical iguanas and big black tarantulas. This wins the prize for the weirdest place to visit in Japan.
---
Animal cafes are found in Tokyo's main entertainment districts, particularly Ikebukuro, Shinjuku, and Harajuku and are one of the most popular tourist attractions in Japan.
As such, you need to book a slot to pet each of the animals ahead of time. If you just show up, you will most likely not be able to visit.
Here are a few ways to do so on Klook and GetYourGuide:
Make a booking to meet owls in an Akihabara cafe

here

.

A slot at a hedgehog cafe in Shibuya can be booked here.
Visit a cafe that has hedgehogs, dwarf flying squirrels also known as momongas (one of the cutest animals you will ever see) and small otters all in one. Book here.
For the rest of the animal cafes above, visit their website and make a booking directly.
Pro tip: Hedgehogs do not like parfum so avoid wearing them on the day.
Dine at the strangest themed restaurants
Tokyo's themed restaurants are among the oddest and best places to go in Japan. My friends and I love to dress up to match the theme and escape to a fantasy realm for the evening.
Japanese theme dining tends to be on the weird side, with over-the-top decor, food, and immersive experiences. As soon as you enter, you're transported to a different universe, whether it's a haunted monster asylum, a cute maid cafe parlor or a bloody vampire lounge.
Some of Tokyo's theme cafes are temporary pop-ups, such as the Pokemon one in Shibuya that served Pikachu pancakes. Others are permanent and are popular gathering spots for birthday parties and special events.
Dream at fantasy themed restaurants
Fall down the rabbit hole into the Alice in Wonderland restaurant in Shinjuku. The topsy-turvy decor features Lewis Carroll illustrations, and the sweet waitresses dress as Disney's Alice, the Mad Hatter, and the White Rabbit.
The Alice restaurant menu sits inside a pop-up storybook and most of the dishes are adorably decorated. Munch on playing card pizza, Cheshire Cat risotto and avocado sushi that looks like the green Caterpillar.
This restaurant was such a hit among locals, especially Gothic Lolita girls, that a few similar ones opened. If you're hungry for more, you can have a mad tea party at Tokyo's Alice in a Labyrinth cafe.
One of Tokyo's coolest theme restaurants is Ninja Akasaka. The experience begins at the entrance: you may have difficulty finding the secret door and making it through a convoluted forest.
The servers dress as ninjas and mesmerize you with card tricks and other magic. Ninja's food is also full of surprises, like an appetizer shaped like ninja stars and a dish with lit dynamite. But it is not just gimmicky, the food is actually really good and of high quality, which is why the price is quite high too.
Suffer at horror-themed restaurants
My favorite theme restaurants are the ones that skirt the dark side, more so because you can hardly find these easily outside of Japan so they are my favorite places to visit when in Japan.
At the Vampire Cafe in Ginza the waiters look like Count Dracula and a coffin rests in the dining room. Christon Cafe in Shinjuku looks like a disco version of a cathedral, serving "Tower of Babel" salads while you sit in confession booths.
Some theme restaurants put you behind bars. At The Lock-Up Shinjuku, the staff throws you inside a prison cell and slams the door. The "jail food" menu includes pieces of chicken inside metal cages, and cocktails in syringes.
Meet your idol at a Character cafe
Some of the cutest theme cafes are the ones based on popular anime and manga characters known as "kawaii" mascots. Sanrio's Pompompurin Cafe pays homage to the yellow puppy, with decorated curries and sweets that are almost too cute to eat.
Final Fantasy fans can chow down on Chocobo pancakes at the uber-cool and futuristic Square Enix Artnia cafe, as well as gaze at rare memorabilia.
Tokyo also has anime and manga theme restaurants dedicated to Kamen Rider, One Piece, and Gundam robots.
I'm fond of the cute Moomin cafe (which has another location in Seoul), dedicated to the white Scandinavian mascot and can't wait to experience the new Sailor Moon theme restaurant with live performances and lots of souvenirs.
Maid and butler cafes
Those hungry for female attention can visit a maid cafe, no doubt the most famous of all the cafe-themed tourist attractions in Japan. The pretty servers wear frilly French maid uniforms and make customers blush with compliments and cutesy banter.
You can find maid cafes all over the city, especially in Akihabara. Maidreamin and @Home Cafe are two well-established names.
Some of these maid cafes put twists on the theme. The waitresses may dress as either angels or demons, or as Shinto apprentices, or they may even be drag queens!
And they are not just for men. At Swallowtail Ikebukuro, you're served by handsome men who call you princess and attend to your every need.
---
Tokyo's weird theme restaurants are located all throughout the city, but many are clustered in Shinjuku and Akihabara.
Book a tour to skip the queues
Bear in mind that almost all the cafes mentioned here require advanced booking and will not entertain you if you don't have one or are late for your appointment. This would be easy elsewhere but rather complex in Japan.
Many of the cafes don't have websites and those that do have them in Japanese only (we added links hwere they do). To make matters worse, email exchanges sound like literal Google translate versions of Japanese, making it all quite a hilarious, if time-consuming and frustrating experience.
This is why I recommend booking a personalized private Tokyo tour and ask to be taken to a few of the cafes. You would have to discuss the program with them beforehand so bookings can be done.
Alternatively, if you are only interested in a few, you can book some of them via Klook (remember you can cancel up to 24h in advance). The maid cafe Maidreamin is here
.
You can also learn more about this phenomenon in the book Crazy, Wacky Theme Restaurants: Tokyo by yours truly.
Play pachinko, if you can
Pachinko is a mechanical arcade game similar to slot machines said to collect 30 times more than Las Vegas in cash and they're an obsession for some Japanese. Visit one of these parlors – which are loud, flashy, smoke-filled affairs – and try your luck at a game.
Each turn at pachinko costs 200-500 yen ($2-5 USD). The gameplay is rather complex, but in short, you use handles to fire metal balls through a maze. Try to have them go into certain holes or line up in a sequence for a bigger score.
Since Japan forbids direct gambling for cash, you'll receive a receipt when you are done. You can then exchange it for prizes, or go to a nearby "TUC" shop to trade it for cash.
Pro tip: Be aware that people smoke heavily inside pachinko parlors.
---
Pachinko parlors are found all throughout Tokyo, especially in Akihabara, Shinjuku and Shibuya, you can't miss them. If you want to play the game without the gambling aspect and cigarette smoke, you can visit a video game center, as many have pachinko machines for recreational play only.
Sing karaoke at the Lost in Translation parlor
A karaoke parlor must be on your list of places to go in Japan and Tokyo is a great place to do this because of the range of choices. Book a room at one of these "empty orchestra" establishments, and wail along to lyrics that flash across a screen.
Karaoke parlors are ubiquitous in Tokyo and most are open 24 hours, with special rates between 11pm and dawn. You can pay for a certain block of time, such as 1 or 2 hours, and extend it if you want to keep on singing. All of the soundproof rooms are private and locals often go alone to croon to their heart's delight.
Pick up the phone by the door to order food and drinks. Then, use the touch-pad to toggle the language to English and search for your favorite tunes. Tokyo karaoke parlors tend to have an enormous selection in both Japanese and English. My crew and I love to mix it up with anime theme songs, 1980s ballads and J-rock screaming.
---
You can recreate the Lost in Translation singing scene at Karaoke Kan in Shibuya Udagawacho, one of the most well-known Western movie to be shot in Japan. Ask to book room 601 or 602, as the Sofia Coppola movie was shot in both of these.
Have dinner at piss alley
Locals come to Shinjuku's Omoide Yokocho, or Memory Lane, for a taste of the past. This tiny maze of alleys is cluttered with traditional food vendors and bars. Making your way past the colorful lanterns and signs, you'll feel like you're back in the Showa era.
In the 1940s, this area was a raucous illegal drinking spot. Since there weren't any bathroom facilities back in the day, people relieved themselves nearby resulting in the nickname Piss Alley. Fortunately, this is no longer the case and everything is served under sanitary conditions!
Memory Lane is best known for its yakitori stands, or chicken and other meat skewered on bamboo sticks. Choose a selection from the charcoal grills and dare to try the more experimental options like pig testicles and frog sashimi slices.
The alley's restaurants offer a variety of other food, such as ramen at a counter with space for only 10 people. After your meal, cram into a bar to drink an inexpensive beer.
---
Walk out the West Exit of Shinjuku station and look for a tangle of alleyways.
You can also visit Omoide Yokocho as part of this Shinjuku bar tour. This will make sure that you get all the cultural insights and find your way around with the help of the guide's knowledge.
Shop for kawaii in Harajuku
Harajuku is the young subculture center of Tokyo and the best place to shop for experimental Japanese fashion.
Starting in the 1980s, Harajuku Bridge became a gathering spot for "style tribes" who wore Gothic and Sweet Lolita, J-rock, decora (covered in cute bright accessories) and other out-there fashion. It has remained one of the best places for shopping in Tokyo.
Walk down Takeshita Dori, the main road, and branch out into the side streets to shop till you drop.
Look for flamboyant drag dresses at Takenoko, and hunt for frilly Lolita headdresses and jumperskirts at Closet Child. Men can pick up skull-decorated shirts at AC/DC Rag, while ladies might love the pastel tutus at Nile Perch.
When you reach the end of Takeshita Street, turn right and look for the department store Laforet. Focus on the basement levels, which are home to Japanese Goth punk alternative brands like Algonquins and Atelier Pierrot.
---
Take the train to Harajuku Station and go out through the main exit. The Takeshita Street sign is right in front and leads to the major shops.
You can also sign up or a half-day walking tour of Harajuku here
and then continue shopping after the tour.
Buy a kimono
Buying a kimono is no doubt one of the most enjoyable things to do in Japan, whether it is for yourself or as a gift, and Tokyo is one of the best places to purchase one.
The beautiful and classic Japanese garment consists of a long-sleeved robe, tied with an obi (sash) that is knotted at the back. Locals still wear the centuries-old garment for special occasions, so why not pick up a beautiful one while you're in town?
Shop for luxurious kimonos at Isetan in Shinjuku. The exclusive department store was founded in 1886 and was originally a kimono shop. Today, Isetan's 7th floor remains dedicated to kimonos. Run your fingers over robes made with embroidered silk and find tabi shoes to match.
The department store Ginza Mitsukoshi first operated as a kimono shop in 1673. At their "Salon de kimono" you can purchase the finest designer robes and accessories to match the seasons. They also have an innovative "new kimono shop" that modernizes the Japanese garment, making it easier to wear on a day-to-day basis.
For a more affordable option, visit Tansu-ya, a second hand kimono shop in Asakusa's Shin-Nakamise. Since 1961, Tansu-ya has been saving and altering kimonos to give them a second life.
Compared to the fancy department stores, the shopping experience is more relaxed here. Shimokitazawa's Chicago vintage store also has a brilliant selection of secondhand kimono at all price points.
---
The department store kimono salons are located in Shinjuku and Ginza, while the vintage ones are in Asakusa and Shimokitazawa. You can also rent a kimono
in Asakusa for the day and simply take pictures with it. If you like it, you can then go shopping for one.
Watch a game of baseball
You may be surprised to hear that baseball is big in Japan and that watching a baseball game is one of the most fun things to do in Japan, much like seeing Barca play at Camp Nou.
Tokyo's two professional baseball teams, the Yomiuri Giants and Yakult Swallows, have a rabid fan following. If you're pondering what to do in Japan that veers away from all the culture and subculture, then a baseball game is a unique cultural experience you can add to the list.
Baseball season runs between late March and late October. The Giants are the more popular and successful baseball team and their home base is Tokyo Dome. The Tokyo Yakult Swallows play at Meiji Jingu Stadium, which is not far from Harajuku.
The audience at a Japanese baseball game is wildly enthusiastic, so expect chanting and waving throughout the match. Grab a Japanese beer and sing along with the fans as you root for the home team. You can also pick up merchandise at the sports stadium gift shop.
---
Tokyo Dome is located in Suidobachi, while Meiji Jingu stadium is close to Gaienmae and Sendagaya stations.
You can book a ticket to a Yomiuri Giants baseball match on Klook here
.
Cross the Shibuya scramble
One of the most recognizable sights in Tokyo is the Shibuya crossing or scramble. Every few minutes, all the traffic lights turn red and, within seconds, as many as 2,500 pedestrians flow out into the road, crossing from all directions.
Join the hordes in crossing Shibuya's crazy intersection. Walk swiftly and purposefully to get to the other side of the street, without running into people coming from all angles.
---
Shibuya scramble is right outside the Hachiko exit of Shibuya Station, near the dog statue. The best views from above are from the popular Starbucks inside Tsutaya. Grab a drink and watch it all unfold like a coordinated performance.
Indulge in Michelin-starred food
Did you know that Tokyo has more Michelin starred restaurants than any other city in the world?
Since 2011, the capital has maintained this top title, beating out Paris and other food capitals. As of the 2018 Guide, 13 of Japan's restaurants have three Michelin stars, which is the highest rating on the scale.
It goes without saying that Tokyo is an outstanding destination for indulging in fine dining. Treat yourself to a memorable dinner at a Michelin-starred establishment, there are 230 to choose from, representing a variety of cuisines and influences.
You can't go wrong at Narisawa, which has earned two Michelin stars and regularly features at the top of Asia's Best Restaurant list. Chef Yoshihiro Narisawa lets you experience Japanese flavors with experimental fusion. The menu changes with the seasons, but you can expect mind-blowing dishes like Okinawa black sea snake with taro, and a beautifully decorated Gion Festival eggplant.
Make room for two other great contenders, Den and Nihonryori RyuGin. 1 star holder Den, one of Japan's best restaurants, combines modern kaiseki dishes with a friendly and fun atmosphere.
For a perfect omakase meal from the masterat Nihonryori RyuGin, a small and cozy traditional restaurant in Roppongi that changes menu as per what is freshest every day and is helmed by one of the most acclaimed kaiseki chefs in Japan. He also has branches in Hong Kong and Taipei.
But that is not all. From sushi master and 3-Michelin star winner Sukiyabashi Jiro's upscale sushi omakase to Kyourakutei's inexpensive bowl of soba, Tokyo's Michelin-starred restaurants will satisfy the most discerning foodies.
Pro tip: All of Tokyo's, and Japan's Michelin and awarded restaurants have dress codes, make sure to check it in advance as it may include things like not wearing perfume or cologne at Nihonryori RyuGin.
---
For Michelin-starred kaiseki, or traditional seasonal dining, reserve a table at Ginza's Ibuki
or at Omotesando's Sekihou
via Klook.
You can also reserve a course at Ryuzu
, to try two-starred Japanese-French cuisine.
See a sumo wrestling match
Professional sumo wrestling traces back to the Edo era and remains a popular Japanese sport. Watching a match is no doubt one of the most fascinating things to do in Japan and one which many visitors look forward to.
Sumo wrestlers are big boys, tipping the scales at 350 lbs (159 kg) and it may be quite the culture shock to watch them perform rituals and then grapple in the ring, wearing only wrestling belts.
One of the most exciting Japan places to visit is a sumo dojo. Watch the wrestlers face off in a tournament. The winner is the one who can force his opponent out of the ring, or make him touch the ground with any body part other than the soles of his feet.
Our of season, you can also drop by a sumo stable, to watch the pro wrestlers train and bulk up on chankonabe, a nourishing and calorie-laden soup.
---
Sumo stables are mostly open to the public and you can even see the wrestlers perform from outside, through the glass window. However, you need to visit with a guide and book ahead because space is limited. Matches also require a booking.
Visit a sumo stable to meet the athletes and see them practice for their next sumo match by booking a tour here.
Become a geisha or a samurai
Be part of Japanese fashion history and transform into a coy geisha or fierce samurai for the day. Tokyo has multiple photo studios that let you dress up like a figure from the past, and shoot professional images against backdrops. A photo session will include all the costumes and makeup you need to turn into a samurai or geisha.
If you choose to become an ancient Japanese hostess, the staff will put a heavy wig on you, and cover your face with white facepaint highlighted with black and white. Choose a robe and props such as a fan and pose seductively for the photographer's lens with the guidance from the staff.
If you prefer to become a medieval Japanese warrior, you can put on samurai battle armor and a wig with a top knot. Hold up a sword and scowl as the camera clicks. Group or couple photos are also allowed.
Pro tip: The wig is really heavy and the makeup thick, so it all becomes quite uncomfortable after a while. Budget for 3-4 hour for the whole experience, 1 hour alone for the make up.
---
For the full experience, email Studio Geisha Cafe to become either a geisha or samurai. If you're interested in transforming into a royal courtesan, or oiran, you can book a package
that includes costume and makeup at Nanairo Studio.
The difference from a geisha dress-up is that here the makeup is lighter and you don't get the heavy wig (so the costume is more comfortable). Whereas the geisha transformation is what locals do and is a more genuine but demanding.
Samurai wannabes can don the traditional armor, and strike poses by Senso-ji Temple through this experience
.
Bow at Asakusa Temple
One of the most impressive places in Japan is Tokyo's Senso-ji Temple. Located in Asakusa, the red temple is the oldest in the city and dates back to the 7th century.
Before passing through any entryway you are encouraged to bow and keep to the sides. You can also cleanse your hands with wooden ladles at the purification fountain at the entrance, marked with dragons.
Start at the massive red gate, known as Kaminarimon or "Thunder Gate," adorned with a huge lantern and two giant-sized sandals. This is a popular spot to take photos so take your time. Then, pass through the inner gate known as Hozomon, or Treasure House.
You'll have now reached Senso-ji Temple's main hall and five-story pagoda. Wave smoke from the incense towards you, as a purification. Admire the historic architecture, and then go to the shopping street on the temple grounds (Nakamise) to pick up snacks and mementos.
Pro tip: From the top floor of the Tourism Office, by the entrance to the temple's shopping street, you have panoramic views of the temple grounds.
---
Senso-ji is right at Asakusa Station and opens between 6am and 5pm. When you arrive, take exit 1 to Kaminarimon, the red Thunder Gate.
The temple has so many intricate elements and details, so a guide is highly recommended. Here are a few tour options:
Get immersed in digital art at teamLab Borderless and Planets
Be inspired by Tokyo's new "digital art" museums, which push the boundaries of immersive technologies and are fast becoming the best tourist attractions in Japan.
Japanese teamLab collective opened Borderless and Planets, which encourage visitors to play with the projections that surround them.
They are also the minds behind Singapore's Future World, a permanent exhibition at the ArtScience museum since 2016.
At teamLab Borderless (aka the Digital Mori Museum), you'll wander into enormous rooms covered in digital art that responds to your presence. Bounce through life-sized balloons that flicker with neon colors, dance with rabbits that emit sounds based on your movements, and color a bird that comes to life and flies throughout the room.
Planets is a separate exhibition that is set in water. Visitors take off their shoes and wade through a calf-high "ocean" bursting with koi fish and rainbow flowers. You can also change patterns of infinite flickering lights, and lie down to watch flowers fall over you.
---
Borderless is by Aomi Station, while Planets is near Shin-Toyosu station. The two museums are close to each other, so you can see both in a day.
Tickets sell out well in advance for these digital museums, so I recommend booking as early as possible. You can get an entry pass to teamLab Planets from GetYourGuide here, and tickets to Borderless (Digital Mori) here. Or book Borderless tickets from Klook here
.
Be left speechless at the Robot Restaurant
Spending a baffling evening with Mr. Roboto and space-invader girls at the Robot Restaurant has become one of the most famous things to do in Japan.
The stage show, which Anthony Bourdain featured on Parts Unknown, is an over-the-top rave with loud music and galactic outfits. The storyline and choreography don't make much sense, but the high energy and weirdness make this worth the ticket.
Perhaps the craziest show elements are the Day Glo robots. Some are giant mecha fem-bots ridden by girls in skimpy outfits, while others look like terrifying clowns and aliens. Laugh, shake your head and be wowed by this "only in Japan" experience.
Pro tip: Skip the bento box and drinks at the Robot Restaurant, as they're overpriced and mediocre, and just book the show tickets.
---
The Robot Restaurant is a short walk from Shinjuku station's Kabukicho east exit. You need to book a ticket for the 90-minute extravaganza in advance, which you can do here.
Shop for the freshest fish
Tsukiji Market is a bustling fish market, and one of the most well-known places in Japan. While the tuna auction and wholesale have now moved to Toyosu Market, Tsukiji remains a lively locale to taste local seafood and purchase kitchenware.
Arrive early in the morning for the freshest sushi breakfast of your life. The restaurants open around 5am and close around noon, and serve mouth-watering fish slices from the catch of the day.
Then, explore the hundreds of small shops that make up Tsukiji Outer Market. Hunt for handmade pottery and kitchen utensils, and taste seafood dishes from the food stalls. This is a wonderful spot to people-watch, as locals come to pick up rare and unusual ocean species.
Pro tip: You can also visit Toyosu Market to see the morning tuna auction, as it now takes place there along with the wholesale fish trade. To get a spot on the observation deck, you must fill out an application at least a month in advance, and be chosen by lottery.
---
Take the subway to Tsukiji Station or Tsukijishijo Station and just wander around. For more insightful experience, book one of the available tours:
Enjoy a guided walk through the fish market and a 3 hour Japanese sushi cooking class

here

.

Just

book a market food tour

with breakfast without the cooking class but with an expert.

You can also join a tour of

Toyosu Market

that includes an educational tour with a guide, and a fresh sushi breakfast.
Eat all the traditional Japanese foods you can
Foodies worldwide agree that Japanese food is diverse and delicious and food tours are some of the most popular things to do in Japan. Tokyo has the widest selection of traditional food, from train station soba to elegant omakase sushi.
Whenever I'm here, I try to eat as many different Japanese foods as I can. Many ingredients are not found outside the country, or the dishes aren't prepared as well, so this is the perfect opportunity to indulge.
Of course, Japanese sushi is the best in the world. Visit a kaiten (conveyer belt) sushi parlor and sample a variety of inexpensive plates. Try more than just the salmon, which was only introduced into Japan in the 1980s, an interesting fact about Japan you may not have known.
Okonomiyaki (savory pancake) and takiyaki (octopus balls) are addictive street foods you must try. Slurp up Japanese noodles (ramen, soba, udon) and dig into a plate of slightly sweet curry at Coco Ichibanya.
If it's cold outside, warm up with hot pot dishes like shabu-shabu. Indulge in kaiseki (an elegant seasonal meal served in courses) and Kobe beef. Or simply pick up an onigiri rice ball at the convenience store.
Leave room for desserts such as mochi (rice flour dumplings) and taiyaki (red bean fish waffles). At night, say kanpai with a glass of local sake or whiskey. Be sure to try Japanese fruit liqueurs such as umeshu (plum wine) or my personal favorite, yuzu.
---
You can find fantastic cuisine at all price points, all over the city. Visit a department store basement food hall to sample a variety of traditional fare, including bento boxes and skewered meats.
To make the most of a Tokyo food journey, here are a few tour options:
Order ramen from a vending machine and eat it alone
Ramen noodles are a national obsession so you cannot leave the country without one of the most fun things to do in Japan: slurping down a bowl (or several) of rich ramen you ordered from a vending machine.
Japanese ramen consists of wheat noodles in a savory broth, usually topped with pork slices, scallions, nori (dried seaweed sheets) and a soft-boiled egg. Most restaurants offer it prepared in several ways, such as shio (salty), shoyu (soy sauce), spicy, miso, and tonkotsu (pork).
Many ramen restaurants use a vending machine ordering system. Punch buttons to select your order, pay, and the machine will spit out a ticket. The staff will then take the ticket and make your order.
For an odd eating experience, try the ramen at Ichiran. You sit in an individual partition with wood barriers to either side of you and a bamboo screen in front. The staff rolls up the screen to deliver your bowl, then pulls it back down leaving you to dine in absolute privacy!
---
Ichiran is a ramen chain with several locations including Shibuya and Shinjuku. You can go on your own or learn more about this famous Japanese dish with a ramen tasting tour. Book it here.
Learn to make sushi
Sushi is the world's most famous Japanese food and a very difficult art form in Japan to perfect. The chefs go through a grueling apprenticeship, and some spend years simply polishing and preparing the rice, before moving on to other ingredients.
Travelers, however, can take a sushi-making class with a chef to learn the basics. This is a wonderful way to appreciate sushi, as you'll learn each step in preparing the balanced and deceptively simple rolls.
Don a white uniform with a cap, and learn about the history of sushi in Japan. The master instructor will teach you how to make nigiri (fish on rice), ikura gundam (salmon eggs in a nori and rice boat), and tamago egg secured on rice with a nori "belt."
---
You can take a sushi lesson, using fresh ingredients from Tsukiji market. Book it here.
Visit the palace of the world's only Emperor
Did you know that Japan is the only country in the world that still has an Emperor as its head of state?
In the late 19th century, the Emperor ruled from Edo Castle. After it was rebuilt in the mid 20th century, the royal home became known as the Tokyo Imperial Palace. To this day, it remains the main residence of Japan's Emperor and his family.
Spend a peaceful day at the Tokyo Imperial Residence and admire the grand architecture with upturned eaves. The palace grounds have impeccably maintained green spaces, including ponds with bridges, and elegantly shaped trees.
Look for the remains of the former moat walls, and step into the Music Hall. The palace is especially lovely during cherry blossom season and many locals have hanami picnics under the pink trees.
Pro tip: Usually, visitors can only access the outer grounds. The inner palace area is open to the public on January 2 and February 23, when the Emperor makes appearances for New Year's and his birthday.
---
The Imperial Palace is a short stroll from Tokyo Station. Take a walking tour of the royal residence with an expert guide here
. Or visit independently with one of the palace's free tours offered daily. The schedule can be found here.
Eat the most instagrammable food
Japan's fondness for cute, round "kawaii" designs extends to its food.
In Tokyo, you can find all types of colorful and smiley-faced dishes, such as dog-faced cakes and panda donuts that are almost too cute to eat. Snap plenty of selfies to share on Instagram, and then dig in.
All over the city, you can find breads and cakes that look like cute animals but here are some of the coolest and most instagrammable cafes.
True to its trendy reputation, Harajuku has plenty of places with Instagrammable sweets. On Takeshita Dori, you can't miss the stalls that advertise dozens of crepes, loaded with whipped cream and fruit sauces.
You can also visit Cafe Gram to dine on a stack of thick, fluffy Japanese pancakes which are even seasonally shaped (Autumn crepes anyone?). And Totti Candy Factory selles rainbow cotton candy.
You might think you're on an LSD trip when you step into Harajuku Kawaii Monster Cafe. The decor is over-the-top candy kitsch, with a sofa shaped like a cat, and a gigantic revolving cake. Dine on rainbow-colored pasta and unicorn cake, and watch a drag queen strut her stuff.
Take the train to Setagaya to Shiro-Hige's Cream Puff Factory: they specialize in cream puffs that look like 3D Totoros! Pop into Patisserie Swallowtail at Tokyu Hands Ikebukuro; their rotation of cakes includes charming owls and Jack-o-lanterns at Halloween.
Q-Pot cafe in Shibuya offers tea sets with pastries that look like bears, and once did a Sailor Moon collaboration. After your coffee, get an animal ice cream from The Zoo which sells scoops with koala and bear eyes and mouths.
Wash down your snack with intricate 3D latte art that looks like happy creatures. Oshiage Nyanko Cafe turns your cappuccino foam into a smiling cat lying on his back, with head and paws sticking out of your cup.
At Cafe Reissue in Shibuya, you can get two or three-dimensional pictures of your favorite mascots on your drink.
---
Many cutie-faced baked goods are found in Harajuku but we have marked them all in the map so you can easily find them. Alternately, join a crazy kawaii Harajuku food tour to sample the cutest food.
Have a picnic in a park
Despite being a megalopolis, Tokyo has a surprisingly large number of green spaces. If you aren't sure what to see in Japan, you can't go wrong with hanging out in one of these lovely city parks, as they each have a different vibe.
I often find myself in Yoyogi Koen, since it's sandwiched between Shinjuku and Shibuya, and right next to Harajuku. Jog around the pond with a fountain, and pet a shiba inu dog at the dog run.
Pro tip: On the weekends, you can see the Elvis dancers boogie-woogie under the trees, dressed in leather jackets and slicked-back hair.
Not many tourists know about Hama Rikyu, a Japanese garden oasis surrounded by Shimbashi's skyscrapers. Once a 17th century lord's residence, the grounds preserve a teahouse and garden from the Edo era. Come here year-round to take a breather, and see the foliage change with the seasons.
Locals love to take a long walk in Shinjuku Gyoen, which was a lord's residence in the Edo era, and has gardens in Japanese, French and English styles.
Ueno Park is a family favorite since it has a zoo and multiple museums. It's also one of the best places in Japan to have a picnic during cherry blossom (sakura) season which comes in full bloom here.
---
Visit a grocery store or "conbini" to put together a picnic. Include onigiri rice balls, seaweed snacks and fruit liqueur. Then, take the subway to one of the many parks and enjoy the scenic views.
Be a kid again at Tokyo Disney
Wondering what to do in Japan with kids? Look no further.
Tokyo Disney Resort is a massive draw for Mickey Mouse fans around the world. You can easily spend a day or more exploring the two amusement parks, four themed hotels, and shopping streets.
Unlike other Disney resorts, the environment is clean and calm, with a few Japanese twists. For example, in the summer, you can take part in a Disney-fied Natsu Matsuri festival, or hang wishing cards during Tanabata Days.
Start at Tokyo Disneyland to enjoy the classic attractions, such as the Magic Castle and Splash Mountain. Teleport into Tomorrowland and Adventurelan and watch the Electric Parade with all your favorite characters.
Next door, Tokyo DisneySea lets you imagine you're in a port filled with pirates and magic ocean creatures. It is one of the most popular things to do in Japan and one of the most visited places in the world.
The newer Disneysea transports you to various harbors, and has an outstanding selection of food. Before you leave, shop for character merchandise that can only be found here.
---
I recommend you purchase a 1-day pass to Tokyo DisneySea with skip the line privileges in advance here, so you don't have to queue.
To get there, book a one-way bus transfer to Tokyo Disney here
. Alternately, take the train to Maihama Station (it's decorated with the mascots) and then either walk 20 minutes or hop on the Disney Resort Monorail and buy the tickets on site.
The official website is here.
Climb Mt Fuji, Japan's highest mountain
The majestic Mount Fuji is an icon and a must-see attraction in Japan.
Rising up at 3,776 meters (12,389 feet), Fuji-san is the tallest mountain in the country and one of the most famous places in Japan. Between early July and mid-September, you can challenge yourself to hike to the top of its peak.
Fuji's paths can be steep and rocky, but they aren't overly difficult to traverse, and you won't run into any snow during the official climbing season. The most popular Yoshida Trail takes 5-7 hours to ascend, and 3-5 hours to get back down.
Most people reserve mountain huts and stay overnight, reaching the top at sunrise. If you're fit, you can time a trip to go up and down in a day, definitely a challenging thing to do in Japan.
Pro tip: Avoid the busy Obon Week, Japan's festival of the dead, in mid-August. Plan a hike for early July, as the tourists and students generally climb later in the summer.
---
Board a bus to Fuji from the Shinjuku Highway Bus terminal, which brings you to the start of the Yoshida trail up Mount Fuji and travels for about 2.5 hours. If you prefer the train, get this unlimited train and bus pass
including the local ferry in the area.
For those looking to climb the mountain, it is best to get a guide who can also tell you more about the area. You can book it here.
If you are not looking to climb the mountain but want to get close and admire the majestic views, there are a few tour options available to make a day trip. All include lunch and various pick up options, and are the most highly rated:
Day trip to the snow monkeys in Nagano
Take a one day journey to Shibu Onsen in Nagano, one of the most relaxing places to visit in Japan and the destination to see a crazy case of "monkey see, monkey do".
Japan's cheeky macaques are known for joyfully bathing in these hot springs, just as humans do! Aww over the fuzzy monkeys as they soak and play in the hot water. They're accustomed to visitors, so you can get remarkably close to them.
Then, explore the dramatic Jigokudani (which translates to "hell valley") and pop into Zenko-ji, one of the country's oldest Buddhist temples.
Pro tip: Jigokudani Snow Monkey Park is especially worth seeing in the winter, when snow covers the ground and the monkeys' fur. While the park is open year round, the best time to visit is between late December and early March.
---
To get to Shibu Onsen, ride the bullet train from Tokyo to Nagano Station. Then, ride the local line to Yudanaka Station and board a short bus to the park.
One of the easiest ways to experience the snow monkeys is by joining this guided tour
that departs from Nagano Station.
Day trip to see nature and shrines in Nikko
Escape to Nikko, a UNESCO World Heritage Site famed as the burial place of the Tokugawa shoguns. In this peaceful environment, you can explore the best of Japanese culture, history, and stunning nature.
Pay homage to powerful ruler Tokugawa Ieyasu at his mausoleum, Toshogu Shrine. Unlike at most Japanese temples, the architecture here is ornate and colorful. Look for a carving of three monkeys who see, hear and speak no evil. Admire the five-story pagoda and surrounding shrines.
Outdoor enthusiasts will adore Nikko National Park, which has plenty of hiking trails. The trees are particularly beautiful in the fall, when the leaves turn fiery red and orange. Remember to visit Lake Chuzenji and Kegon Waterfall, where you can spot the local wildlife.
---
From Tokyo's Asakusa station, you can take a 2-3 hour train to Nikko. The fastest way is via the Spacia Express, with a switch at Shimoimaichi Station. Book the pass here
, which also includes unlimited local bus and train rides in the area.
Travellers can also book a highly-rated day tour of Nikko
to see heritage highlights with a guide, a much more comfortable way to visit one of the most beautiful places to visit in Japan.
Or if you also want to visit the onsens in the area, book this group tour
that includes a stop at the hot springs. Lunch is not included in the price.
Day trip to see the Kamakura Buddha
Kamakura is an ancient Japanese settlement and the shogun's seat of power from 1185 to 1333. Today, people around the world travel to this historic city outside of Tokyo to see the many beautiful Buddhist temples.
Make a bee-line to the Daibutsu, the towering bronze Buddha statue at Kotoku-in temple. Named a National Treasure, the spiritual work dates back to 1252 and is the largest Buddhist sculpture in the country.
After, you can bow at the surrounding temples, admire historical monuments, or take a long walk on Kamakura's beach.
---
From Tokyo Station, ride the JR Yokosuka for an hour to reach Kamakura Station. Alternately, from Shinjuku, board the reserved Odakyu Romance-car to Enoshima/Kamakura. Make the most of a day trip by taking part in a guided walking tour
to Kamakura's shrines and temples.
Best things to do in Japan: Kyoto and surroundings
Kyoto is known as the country's spiritual and cultural capital, and is one of the most romantic places to visit in Japan. Once home to the Emperor, the city retains a historic, tranquil atmosphere. I love to be inspired by the art of Kyoto: being here feels as if I'm back in the Edo era.
During WWII, Kyoto was mostly spared from bombings, which means the city's classical architecture remains beautifully preserved today.
Every district is rich with castles, palaces, temples, and elegant parks. In Gion, you can admire the finest pottery and kimonos and catch glimpses of geisha in the streets.
In contrast to Tokyo's frenetic pop culture, Kyoto is a place to relax, take part in ancient rituals like a tea ceremony, and soak in an onsen. You can also easily take day trips, such as to Nara to feed the deer.
Since it is an easy 2.5 to 4-hour train ride from Tokyo, I recommend spending at least a few days here.
You can explore Kyoto, Kobe, Osaka, and other cities in the Kansai region with an unlimited 5-day Kansai-wide train pass
. This gives you unlimited access on the JR lines, letting you hop around to cities in this prefecture at a far lower cost than buying individual tickets.
Dress up like a maiko or geisha
Kyoto feels like a city preserved in time, so why not dress the part? Get fully immersed in tradition by dressing up as a maiko or geisha, and taking photos at famous sites.
Head to Gion to rent a kimono for the day. The robes come in a multitude of colors and patterns, so choose the one that "speaks" to you. The staff will help you coordinate the outfit and tie the complicated belts.
You can also opt to have your hair styled in a classic fashion, such as an updo with ribbons or barrettes. Unlike in a photo studio session, you won't be weighed down by a heavy wig and makeup. This kimono dress-up experience is designed to let you get outdoors and explore in style.
Once your outfit is complete, spend the day strolling through Gion, visiting shrines, or taking part in a cultural activity. Snap plenty of photos, and simply return the kimono at the end of the day.
---
Rent a kimono for the day from this facility
, which also offers hairstyling. You can also book a Kyoto kimono photoshoot here
.
Spot geisha in Kyoto
The art of the geisha reached its highest form in Kyoto. In the present day, you can still see glimpses of the coy Japanese entertainers in the streets of the old capital. Take a walk around Kyoto to see the elegant geishas and their apprentices known as maiko.
Just like in past centuries, these ladies train in the classic arts of song, dance and etiquette. In the evenings, they put on full white-faced makeup, hair sets and kimonos to entertain customers at high-end establishments.
You'll have a good chance of spotting a full-dressed geisha around 5:30 or 6pm, in the districts of Gion, Pontocho and Miyagawacho. If you linger around teahouses and traditional restaurants, you'll likely run into them as they come for the evening's work.
Geisha also perform regularly at Kyoto's matsuri (festivals), including the Odori dance event. Another option is to watch a show at Gion Corner to admire their performance skills.
---
To access Gion, ride the subway to Gion-Shijo or Kawaramachi Station and just wander around the area, as seeing them in the evening is relatively easy.
Alternatively, to make the most of it and also explore the nightlife, take a guided night walk in Gion.
Experience a tea ceremony
If you're a culture-lover, then one of the loveliest things to do in Japan is to take part in a tea ceremony. The art of "Chado" originated in the 9th century and it came to Japan from China through Buddhist monks.
However, in the country, it was adopted by both monks and the nobility, each with their own tea ceremony styles. Chado developed into a stylized ritual that lets you slow down and appreciate the nuances of a cup of tea.
The tea ceremony was born in Kyoto, so I encourage you to experience it while you're here. A Japanese tea ceremony usually takes place in a traditional teahouse, where you sit at a low table on tatami mats.
One of the three types of traditional tea ceremonies from the 15th century relies on Zen principles, with simple decorations that let the tea brewing process shine. This is what you will find in Kyoto.
Watch the master precisely brew and serve tea with specialized tools. You'll take part in a sequence of cleansing and pouring rituals, before enjoying a cup of tea along with pretty "wagashi" sweet confections.
---
Experience a Kyoto Japanese tea ceremony with a guide to understand all the nuances of what goes on. Book your experience here.
Walk among forests of bamboo
One of the most amazing and Instagrammable places to visit in Japan is Arashiyama. The name might not sound familiar to you, but I'm sure you have seen photos of this lush, green bamboo grove on Instagram.
To find the sky-high rows of bamboo, visit Tenryu-ji Temple, the headquarters of the Rinzai Zen school. Savor the calm energy as you stroll through the garden, and make a wish at Nonomiya Shrine.
In the surrounding area, you can discover other beautiful temples such as Daikakuji, which is devoted to the art of ikebana (flower arrangement).
Then, meet the mischievous residents of Iwatayama Monkey Park. Hike up to see the cheeky macaque monkeys, but watch your belongings, as they're known for snatching snacks and more!
---
Take the train
from Kyoto Station to Saga Arashiyama. You can also see Arashiyama by rickshaw, with this special tour. Or book a day tour
that also includes Nara and Todai-ji to make it into an amazing a full day.
Wander through the red gates of Fushimi Inari
Although it's among the major tourist attractions in Japan, the vermillion gates of Fushimi Inari won't disappoint you. Your jaw may drop when you see this shrine and paths, lined with thousands of red-orange torii.
Founded in 711 ACE, the Shinto shrine sits at the base of Inari mountain and has trails that go up several kilometers. If you walk the entire pathway of 5,000 gates, it'll take you about two hours, or more if you constantly stop for photo ops!
Greet the fox spirit statues and write something on the back of an ema (wishing board) to bring good fortune. Look at the left side of the gate to see who donated each.
Pro tip: Come early in the morning and try not to see Fushimi Inari Taisha on weekends to avoid a traffic jam of tourists in the gates. Also, the higher up you go the fewer people there will be.
---
The gates are right outside JR Inari Station or a few minutes walk from Fushimi Inari Station. Here
is the rail pass if you'd like to book online. Make the most of Kyoto by booking a UNESCO site tour, which includes time at Fushimi Inari.
Find Zen in Kyoto
Kyoto is a center of Zen Buddhism, especially the Rinzai school that practiced zazen, or sitting meditation. Take a cue from practitioners and be in the moment, as you discover Kyoto's many Zen sites.
Start at Kinkaku-ji, also known as the Golden Pavilion, one of Japan's most famous places. This Zen temple features two floors covered in gold leaf, which glisten under the sunlight. Pass through the gardens, which are carefully arranged to bring in peaceful energy, and stop by the Sekkatei teahouse for a bowl of matcha.
Then, pay homage to the roots of Zen at its oldest temple. Kennin-ji was founded in 1202, and maintains an impressive rock and sand garden with designs made by the resident monks.
After, visit the nearby 13th century Nanzen-ji to see its unusual brick aqueduct, and a gate carved with little Buddhas.
Some temples even offer meditation classes. Learn about the significance of zazen from a Zen monk. Practice sitting in silence as you focus on the breath, and gain insight into the nature of reality.
---
To get there, take the Karasuma Line from JR Kyoto Station to Kita-Oji Station and walk for about 2mins from Kita-Oji Station to Kitaoji Bus Terminal. You will find a number of Kyoto City Buses (#101, 102, 204, or 205) that will take you to Kinkakuji-michi bus stop (10 mins). You can explore the temple grounds on your own or for a more complete and in-depth experience, join a cultural and spiritual tour that includes a Zen meditation lesson with a Buddhist monk.
See the mighty Nijo Castle
Constructed in 1603, Nijo Castle was the fortress of Edo's first shogun, Tokugawa Ieyasu. To protect his home from invaders, he erected mighty stone walls and moats around the elegant white residence, with a roof outlined in black.
The complex was designated part of Kyoto's UNESCO monument. It's a favorite spot for locals to gather under plum and cherry blossom trees, as the castle is surrounded by them.
Be amazed by Nijo Castle's enormous chambers, decked out in intricate paintings. Step on the "nightingale" floors that make the sound of birds and pretend you're a royal consort as you peruse the serene gardens.
---
Get here using the train
and then go over to Nijo Castle which is a short walk from Nijojo-mae Station and you can buy tickets on the spot. However, I recommend you reserve an advance ticket to the grounds here
or even better, book a guided half-day tour to the castle and Ryoanji Temple here
.
Relax at an onsen or hot spring
For centuries, the Japanese have adored taking a long soak in a hot spring, or onsen. Visitors have recently discovered this as one of the best things to do in Japan, especially in winter when it is snowing outside, and are joining in the locals for a truly Japanese experience.
Kyoto is one of the best places in Japan to experience a natural or a man-made onsen, as the city is all about spiritual rejuvenation.
Treat yourself to a spa day and submerge your body in a large pool filled with warm, therapeutic waters. In most cases, men and women bathe in separate private areas and you enter the hot springs naked. Guests can also typically enjoy a steam room, sauna or cold plunge.
While you can experience an onsen anywhere in Japan, Kyoto's spas are especially lovely. They tend to have classic tatami interiors and outdoor hot springs that let you unwind in nature, and gaze at the stars. Many onsens serve delicious Japanese meals as well, so be sure to stay for dinner.
Pro tip: Most onsen will not allow visitors who have tattoos, as these are associated with the Japanese mafia (yakuza). If you have ink, you should research which onsen will allow tattooed guests or if it is small enough, cover it with a plaster so it is not visible.
---
Take a dip at a highly-rated onsen in Uji
, the matcha district. Uji is reached via the JR train along the JR Nara Line. Take either the rapid or local train from Kyoto station. Get to Kyoto using the JR line with this Pass
.
You can also book a ticket to a traditionally-designed Kyoto hot springs here
.
If you are a ski lover, you will also find onsens in Niseko or Sapporo, Japan's famous and popular ski resorts, where onsens are the best way to end a day at the slopes.
These onsens usually have an outdoor section among the snow and are open after dark so you can see the stars. For example, in Niseko, The Green Leaf and the Hilton both have great onsens.
Treat yourself to a kaiseki meal
While you're traveling in Kyoto, I suggest indulging in a kaiseki dinner. This traditional Japanese meal lets you savor a series of elegant courses, each made with fresh seasonal ingredients and beautifully presented with the most incredible level of detail.
Kaiseki tends to be a bit pricey (5,000 yen or $50 USD and up per person), but it's a cultural dining experience unlike any other and the dishes are always unique and different, using only ingredients that are in season. I guarantee you will have never tried something like it before.
Pro tip: Kaiseki dishes are not your typical Japanese food and may use ingredients that you have never tried before, oftentimes heavy on seafood and fish. It is best that you make sure you like everything before the meal starts by talking to your server.
Kaiseki menus are available everywhere in Japan but in Kyoto, they take on a more traditional and beautiful look and are served in a traditional ryokan (inn) or fine restaurant. Perch at a low table on a tatami mat, and the staff will bring out eye-catching Japanese dishes.
The memorable meal generally starts with small amuse bouches, followed by soups and subtle, colorful dishes prepared in a variety of ways. Leave room for the artfully decorated desserts.
---
There are a lot of restaurants that offer kaiseki experiences in Kyoto and across Japan. One which you can easily book online (remember most restaurants have Japanese-only websites) is Hamatoku, a kaiseki restaurant that offers creative cuisine. Make a reservation here
.
Day trip to temples and deer at Nara
Nara is Japan's ancient capital (from 710-784 ACE) and a spiritual center that offers plenty of historic attractions including six Buddhist temples, a Shinto shrine and Heijo Palace which were Japan's first UNESCO-listed sites.
Gaze up at Todaiji Temple, the largest wooden structure in the world. Inside, admire the gilded Buddhas and fierce protector statues, and bow in front of the country's second-largest Buddha statue (after Kamakura). You can also pop into the Todaiji Museum to see spiritual relics.
Nara is perhaps most famous for the tame deer that roam through the parks and Buddhist temple grounds. Get close to the friendly creatures, who are considered sacred, and snap a new profile photo with Bambi.
As souvenirs of Nara, take home some narazuke pickles (watermelon, melon, cucumber and ginger) which are local specialties, and calligraphy brushes. Plenty of vendors sell these products by the main temple and park.
---
Nara is one of the most popular places to visit in Japan and an easy day trip from Kyoto. Take a 45 minute train ride between Kyoto Station and JR Nara Station using this rail pass
.
Or take an afternoon tour of the ancient capital here
. Go one step further and join a Nara walking tour with a professional photographer, who will capture your encounters with the cute deer.
Dream of fairytales at Himeji Castle
Himeji is the largest castle in Japan and considered the most beautiful too. Once you get a glimpse of "White Heron Castle," you'll find it hard to disagree.
First built in 1333, the elegant curved roofs, grand gates and beautifully manicured gardens make Himeji look like something out of a fairytale.
Admire the medieval architecture, which includes clever defensive features like holes for windows and stones. You might find yourself confused by the maze-like path of gates leading to the castle, designed to keep enemies at bay.
Dare to peek into Okiku's Well, which is allegedly haunted by the ghost of someone who was thrown in, much like Sadako from The Ring.
Pro tip: Himeji Castle is among the most popular places to visit in Japan, so be prepared for lines during busy periods. Book in advance, try to come on weekdays and avoid vacation times such as sakura season, Golden Week, and New Year's Day.
---
From Kyoto Station, board the Special Rapid Service to Himeji Station, which takes about 1.5-2 hours. Then, walk about 20 minutes or hop on a shuttle bus. Get your JR rail pass here
.
Like most tourist attractions in Japan, it pays to have a guide that can tell you all about the grand castle. Book a guided tour of Himeji Castle
with a local expert, which includes a virtual reality experience.
Best things to do in Japan: Osaka and surroundings
Osakans pride themselves on their down-to-earth character. True to this reputation, you might notice that the locals are friendlier than in other cities, and speak with a rougher "Kansan-ban" dialect.
I love visiting gritty Osaka, as I feel I can put aside typical Japanese formalities and let loose. There are phenomenal historic and modern attractions to experience, from ancient castles to Universal Studios Japan.
I spend much of my time in Amerikamura, the Osaka youth district that's compared to Tokyo Harajuku. Dotonbori's street food is also a highlight. This is one of the best places in Japan to eat takoyaki, okonomiyaki, and other comforting favorites.
To make the most of your time in Osaka, you might want to grab an "Amazing Pass
". This gives you entry to 30 tourist sites, including museums and the Hep Five Ferris Wheel.
Eat street food in Dotonbori
Osakans love food so much that they have a funny word for indulging: kuidaore, or "eat yourself into ruin". Act like a local and dine to your heart's delight on Japanese street food in the Dotonbori district.
Dotonbori is a food-lover's paradise. When the sun sets, these streets glow with neon lights and crazy signs, such as Glico's (the creators of Pocky and Pretz) running man. Look for a huge red mechanical crab, which perches ominously above Kani Doraku restaurant. Inside, try a crab tasting set that includes tempura and chawanmushi.
Whenever I'm in Osaka, I hunt for one of my favorite Japanese dishes, okonomiyaki. This savory pancake contains a mix of cabbage and other ingredients, such as squid, beef, or cheese. I'm also a fan of takoyaki, or octopus balls sold by street vendors. Both of these hole-in-the-wall foods are topped with a slightly sweet brown sauce, nori flakes, mayonnaise, and dried bonito.
Be sure to look for battera, a rectangular-shaped sushi that is pressed in a wooden box. The juicy mackerel version is considered a local specialty. Osakans also love to chew on skewers of meat, such as yakitori, that are deep-fried in panko and dipped in tonkatsu sauce.
---
Take the train to Namba Station and walk north towards the water to Shinsaibashi and Dotonbori Bridge, then explore the area by following your senses. And get your JR rail pass here
.
For the ultimate foodie experience, book a 3hour nighttime food tour of Osaka here, or hire a local guide to show you the best of the city's street food.
Ride roller coasters at Universal Studios Osaka
Universal Studios Osaka rocks, and is a fantastic attraction for adults, for friends and for couples, in addition to being a family destination for the older kids.
The amusement park pays tribute to your favorite films, with areas themed after Jaws, Jurassic Park, Terminator, Spiderman, Waterworld and more. Universal's attractions are constantly changing and include thrilling coasters, virtual reality experiences, and seasonal events such as Halloween haunted houses.
Typical for Japan, the staff are extremely helpful and the grounds are kept squeaky-clean. Many Japanese visitors cosplay as their favorite mascots, so you can snap photos of their impressive Resident Evil and Minions outfits.
One of Universal Japan's highlights is the Wizarding World of Harry Potter, which recreates his adventures with Hogwarts towers and magic demonstrations. For fans of the J.K. Rowling books, this is one of the most amazing things to do in Japan.
You can also find limited edition goods all over the park, such as Sanrio snacks and couture at Hello Kitty Fashion Avenue. Around Halloween, I was tempted to purchase Chucky cookies, while my friend left with a wizard wand.
Pro tip: In September and October, Universal Studios Osaka goes all-out for Halloween Horror Nights. Come to experience live zombie attacks, and frightening special attractions dedicated to Japanese villains, including Sadako of the Ring.
---
Take the train to Universal City Station and walk five minutes to the gates. From Osaka Station, you can transit directly to the park in 12 minutes. And get your JR rail pass here
.
Make sure to get your ticket ahead to avoid queues and get all the latest promos that are only available online. Book a one-day ticket
to Universal Japan and the Osaka Amazing Pass for the best value.
See the view from Umeda Sky Building
Feel as if you're entering the future at Umeda Sky Building, a 173 meter high structure that looks like a gateway into outer space.
The two glass vertical towers connect at the top, creating a "floating garden" observatory that gives you spectacular panoramic views of Osaka.
Zoom up in a high-speed elevator, followed by a glass escalator that makes you feel as if you're boarding a spaceship. Go out into the open-air deck and try not to get dizzy as you gaze down through a 30 meter wide circular opening.
At night, the Umeda Sky Building Rooftop Garden is a favorite date spot, lit up with sparkling lights.
Before you leave, stop by the basement, which is designed to look like a Showa-era town. Wander the narrow alleys and choose a traditional noodle shop to grab a bite.
---
Hop on the train and exit from Osaka Station or Umeda Station. Then, walk 10 minutes. Osaka's "Amazing Pass
" gives you access to the city's 30 top sites, including the Umeda Sky Building.
Catch em all at the Pokemon Center
You might have a "Pikachu surprised face" when you walk into the Osaka Pokemon Center. This is the largest Pokemon store in the country, spanning 830 square meters (8900 square feet) and containing thousands of pocket monster goods.
Shop for every Pokemon item imaginable, including rare Mimikyu ghost plushies, and human-sized Snorlax chairs. The center hosts special events for children, as well as intense card game tournaments. Many young otaku come here to meet others and "catch em all" on Pokemon Go.
---
The Pokemon Center is right next to Umeda and Osaka Stations. It's located on the 13th floor of the Daimaru Umeda department store.
Wander in Osaka Castle and park
History buffs can pass a peaceful afternoon at Osaka Castle, one of the city's and Japan's most famous attractions. This is a reconstruction of General Toyotomi Hideyoshi's 17th century castle, which burned down after being struck by lightning.
Learn about the castle's past, and daydream as you take in the stone walls, turrets, and moats. The interior has modern amenities, which makes it more accessible for travelers with disabilities than other Japanese historic sites.
Next, spend time in Osaka Castle Park. The large public space includes various athletic fields, open-air concert halls, and a shrine to samurai Toyotomi Hideyoshi. Locals come here to sit under the cherry blossom trees and enjoy a picnic.
---
Osaka Castle is closest to Tanimachi Yonchome and Osakajokoen Stations. Take a luminous night walk
on the grounds, or join a day tour
that includes the castle, Dotonbori street food, and Kuromon Market. And get your JR rail pass here
.
Shop for alternative fashion in Amerikamura
Shinsaibashi and Amerikamura are at the subculture heart of Osaka. This area is often compared to Harajuku in Tokyo, as it's a fabulous destination for alternative, Gothic, Lolita and punk fashion.
Wander around Amerikamura or Ame-Mura (which means America Village) and discover edgy independent boutiques.
Be amazed by taxidermy store Babylon, which doubles as a piercing and body arts studio. Owner Bonzin stocks a wide selection of oddities such as stuffed steampunk rats, apocalyptic jewellery, rare anthropology books, and horror tapes on VHS.
Then, descend into Territory, a lair of Satanism and witchcraft. Owner Taiki will awe you with his collection of evil talismans and can help you pick out homewares stamped with the number of the beast.
All around Amerikamura, you'll find vintage stores devoted to underground fashion, such as Closet Child.
At the Big Step department store, you can browse elegant Gothic Lolita brands like Baby the Stars Shine Bright, Kera and Miho Matsuda. Aldo drop by the Alice on Wednesday shop, which has collectibles themed after the Queen of Hearts and White Rabbit.
---
Take the subway to Shinsaibashi Station, and walk south to start exploring.
Day trip to eat Kobe beef
The luxurious Kobe beef is famous worldwide for its marbled texture (with lots of flavourful fat), tenderness and full-on flavor. Of course, the best place in Japan to try this highly-coveted meat is in its birthplace, Kobe.
Take a day trip to Kobe to see why diners rave about the fine local beef. Don't be misled by the term "wagyu", as that refers to all cattle from Japan. Kobe beef comes from a Hyogo cow breed that is treated like royalty, with daily massages and a diet that includes beer.
Visit a reputable steakhouse, and try Kobe beef prepared in a myriad of ways. Expect to pay over $100 USD a pound for the meat, but it's worth the price for the phenomenal taste.
---
The bullet train between Shin-Osaka and Shin-Kobe Station takes only 13 minutes. For a less expensive ride that takes 20 minutes, board the JR Special Rapid from Osaka Station to Kobe Sannomiya Station.
Savor a delicious steak at Kobe Beef Eikichi restaurant which you can book here
.
Book a Buddhist temple-stay at Mount Koya
Make a spiritual retreat to Koyasan, the heart of Japanese Shingon Buddhism. Visitors can come for the day, or spend a night or two at a temple-stay with resident monks.
The mystical Mount Koya was settled in 819 ACE by the monk Kūkai. Since then, both adepts and lay people have come to Koya-san to study and practice Esoteric Buddhism.
Book a stay in a "shukubo," or temple stay, like Hoon-in. The classic accommodations include tatami floor mats, sliding doors, futons, and shared baths. Wake up early to watch the monks chant, and sit together to eat delicious vegetarian meals.
During the day, you can meander around and visit the temples, Tokugawa mausoleum, and other Buddhist sites. I adored the otherworldly feeling of Okunoin graveyard, which is the largest in Japan. Spot small Buddha statues in red bibs and hats: they represent the Bodhisattva Jizo, who protects travelers, women and children.
---
The train from Osaka to Koya-san takes about two hours. Ride the Nankai line from Namba or Shin-Imamiya Stations and get off at Gokurakubashi (you may need to transfer at Hashimoto station). Then, it's a 5 minute cable car up the scenic mountains, and a short bus ride into town.
If you have a Japan rail pass the rides will be included and therefore free. Otherwise the cable car ride will be 390 yen and the bus another 298 yen.
You can join a one day trek from Osaka to Mount Koya here
. You can also participate in a two-day self-guided tour of Koya-san, which includes a temple stay here.
Best things to do in Japan: Hiroshima
When most people hear the word Hiroshima, they immediately think of the 1945 atomic bomb that decimated the city and ended WWII. Many travelers come here to remember the nuclear tragedy and its victims at commemorative sites such as the Peace Museum, or to learn more about the war history.
However, there's much more to Hiroshima than its past.
The city has a rich historical and spiritual culture, epitomized by the red floating shrine at Miyajima. There's also a vivid pop culture, dining and bar scene that might alter your preconceptions of Hiroshima.
To get around with ease, purchase a Hiroshima Tourist Pass
that includes unlimited public transportation, and discounts for top attractions and restaurants. You can also take a private, customizable day tour with a local.
I also recommend this JR 5-day pass
, which lets you skip lines and travel by train to Hiroshima and major cities in the Kansai region. The unlimited pass lets you ride on the bullet train and ferries in the region for 5 days.
Pay your respects at Peace Memorial Museum and Atomic Dome
Dedicate time to remembering the nuclear bombing of Hiroshima during World War II. The Peace Memorial Park encompasses 120,000 square meters, and honors those who died with thoughtful monuments.
Look for the Hypocenter, or exact location where the atomic bomb "Little Boy" hit Hiroshima on August 6, 1945. The sheer devastation is apparent when you see Atomic Dome, or Genbaku Dome building. Only the skeleton of the structure remains, and the round roof looks like it's made from cobwebs.
Stroll through Peace Memorial Park to see the arched Cenotaph, Eternal Flame, and other structures that memorialize the victims. Then, take your time to soak it all in at the Peace Memorial Museum.
Hiroshima's major museum features interactive videos that show the scale of the nuclear destruction. Learn about the effects of radiation, and how the city rebuilt. I thought the most powerful displays were the ones with the burnt clothes of victims, and photographs of the shadows they left behind. The stories and paintings of survivors also conveyed the unspeakable horror of the nuclear attack.
---
Take the subway to Genbaku Dome-mae Station, to access the Hiroshima Peace Museum and park. The rest of the sites are nearby.
To learn more about Hiroshima, WWII and other historical sites with a guide, here are two options:
Half-day walking tour of the WWII sites, which you can book

here

.

Customisable tour that you can tailor to your interests. Book it

here

.

If you don't want to spend the night at Hiroshima, you can also visit on a day tour from Kyoto or Tokyo in conjunction with Miyajima (see next section). Book it here.
Greet the floating red gate at Miyajima
One of the loveliest places to visit in Japan is Itsukushima, popularly known as Miyajima or "shrine island" because of the very famous torii gate that is used in many Japan travel brochures.
As you approach the isle by boat, you can't help but smile as you see the immense orange-red torii gate, which appears to be floating in the waters and is one of the most famous tourist attractions in the whole of Japan.
Itsukushima Shrine's unusual gate was built over the water. At low tide, you can walk right up to it to take photos with the bright pillars.
Take a breather in this gorgeous natural environment, say hello to the friendly deer, and poke into Buddhist and Shinto temples. Before you ferry back, explore Miyajima's quaint cafes and craft shops, which sell local specialties such as fresh oysters.
---
Ride the metro to Miyajimaguchi and then board the JR Miyajima Ferry. From downtown Hiroshima, it takes about 45 minutes to get here.
Anyone can book a day trip to Miyajima here
. You can also take part in a cultural experience
at Miyajima that includes calligraphy, a tea ceremony, and dessert making.
Eat momiji manju, a local maple cookie
Don't leave Hiroshima without trying momiji manju, a sweet that originated from the island of Itsukushima. These buckwheat and rice pastries are shaped like maple leaves, and usually loaded with red bean paste.
Momiji manju was invented by a confectioner in the late Meiji period. If you're in Itsukushima, look for vendors that make the pastry fresh. You can try steamed or fried momiji, stuffed with fillings like chocolate, custard or cheese. Super-fans can even pick up a maple leaf toy with a happy face to commemorate the occasion.
---
Hunt for warm momiji manju on Miyajima, the island with the vermillion floating torii. You can also find the sweets in Hiroshima department stores, in elegant boxes.
Climb to the top of Hiroshima Castle
Get a superb view of the city from the peak of Hiroshima Castle. Also called Carp Castle, the daimyo (Japanese feudal nobility) made this his residence in the 1590s. The original structure was sadly destroyed by the atomic bomb, but a close replica was rebuilt in 1958.
Cross the moat bridge and be impressed by the classic stone and wood architecture. The main keep is five stories high and surrounded by lush gardens.
Inside, you can visit a museum about Hiroshima's history before World War II. Take the staircase to the top floor, and pretend you're a medieval lord as you gaze out at the city from the balcony. To get further in the mood, the museum has a free dress-up station for you to put on samurai armor.
---
The castle is near the Kamiyacho-nishi or Kamiyacho-higashi tram stops. You can purchase a 5 day JR pass
to use in Hiroshima and nearby areas, to save on transit costs.
Eat Hiroshimayaki and drink sake
Try Hiroshimayaki, a local version of okonomiyaki, the savory Japanese pancake. Unlike the typical preparation, which mixes the ingredients and batter, Hiroshima's chefs layer and press the toppings on a grill.
Hiroshimayaki typically has lots of cabbage and no soba noodles. At the end, the chefs crack an egg on top of the pile, and cover it in brown sauce and seaweed flakes.
You'll find Hiroshima-style okonomiyaki everywhere in the city, but one of the most popular locations is Okonomimura. This okonomiyaki-themed entertainment park of sorts consists of several floors specializing in the homey dish.
Hiroshima is also known for its special sake, which has a distinct taste due to the local water hardness and brewing process. Taste the difference at Sakagura-dori (Sake Brewery Street). You can enter several breweries for tastings and tours, and pick up bottles of your favorites to take home.
---
Visit Hiroshima's sake district, pop into breweries and taste hot pot made with sake in this special tour.
Experience pop culture in Hondori
Pass an enjoyable afternoon in Hondori, the largest shopping street in Hiroshima. This pedestrian-only covered arcade has about 200 stores including a cat cafe, game centers and fashion boutiques catering to young shoppers.
Enter Sunmall, a youth department store with an entire floor for edgy Japanese fashion. Find elegant Gothic Lolita gowns by Moi-meme-Moitie and pastel cat-print tops by Metamorphose temps de fille.
Rummage for kitschy magazines at Book-Off, and purchase cute stationery and home goods at the famous 100-yen store Daiso. Finally, drop some coins at a multi-level game center with Hello Kitty prizes and sticker-picture booths.
---
Arrive at Hondori metro station and look for the pedestrian-friendly shopping street and the various shops mentioned above.
Escape to the art island of Naoshima
Did you know Japan has an island dedicated to art? Naoshima island rests on the Seto Inland Sea, making it an inspiring day trip from Hiroshima.
Naoshima has become a hub for avantgarde museums and exhibits. Run around inside one of polka-dot queen Yayoi Kusama's cabin-sized pumpkins. Be wowed and/or puzzled by the Honmura Art Houses, which transformed abandoned village homes into experimental works.
The main attraction is the Chichu Museum, which rests below stark, concrete panes by Japanese architect Tadao Ando. The architecture harmonizes perfectly with the permanent displays that include the waterlilies paintings by Claude Monet, an alien-like sphere by Walter de Maria, and James Turrell works that play with light.
Pro tip: Tickets to Naoshima's Chichu art museum sell out well in advance, so be sure to book early here.
---
Reserve a shinkansen seat to Okayama, then transfer to the local train and get off at Uno Station. Cross the street to the boat terminal, and buy a ticket for the ferry to Naoshima.
You can also book a tour of the art island including transportation here
. An expert tells you all about the art, the artists and the island: highly recommended if you are not a connoisseur.
Visit an island full of rabbits
If you're mad about bunnies, hop over to Okunoshima, one of the most unique places in Japan. This island near Hiroshima is home to about 1,000 rabbits of all colors and sizes!
Rumor has it that a British couple brought a pair of bunnies here in the 1970s, and they bred like wildfire. Today, the cute furry animals are a major draw for tourists.
Bike or stroll around the scenic Okunoshima, which has mystical views of the mountains over the water. Then, engage in one of the most adorable things to do in Japan: play with rabbits that come right up to your hand and munch on feed.
Okunoshima also has a less "kawaii" side. The island was once a secret poison gas factory, which produced chemical weapons for WWII. Visitors can also learn about the dark history at the Poison Gas Museum.
---
Ride a bus or train to JR Tadanoumi Station. Then walk to the port, and take the Okunoshima ferry. You can join a cycling tour of the rabbit island here
or charter a private sightseeing journey here
.
Best things to do in Japan: Okinawa
Known as the "Hawaii of Japan", Okinawa is located at the southernmost tip of the country. Made up of over 150 islands, this is a tropical paradise of white sand beaches, colorful flowers and unusual sea creatures like the dugong (a marine animal that likely inspired mermaid legends). You may be surprised by how the warm island feels more like Guam than Tokyo.
Until recently, Okinawa mainly drew Japanese visitors seeking a beach escape. Now, the islands are becoming more popular with travelers around the world, and make it onto lists of the best places to visit in Japan. Take off your funky floral shirt and go diving or snorkeling in the clear turquoise waters.
Culture-seekers can explore the islands' nine UNESCO sites, including Shuri Castle and Tamaudun Royal Mausoleum. Foodies will fall for the distinctive local cuisine, such as champuru stir-fry with the bitter vegetable goya.
Okinawans are known for their long lifespans, with a significant number of residents living over 100 years. Part of this is explained by their low-stress beach lifestyle, and a healthy diet with plenty of vegetables, seafood, and fermented soy.
Japan's "sea people" also invented karate and are known for their musical talents, especially on the banjo-like sanshin instrument.
You can access 12 of Okinawa's most popular sightseeing spots, including Churaumi Aquarium, Ryuguji butterfly garden and Nago Pineapple Park, with this discounted travel pass
. Travelers can also take a hop on off bus
that goes to the major landmarks.
Enjoy Okinawa's beaches
Okinawa's main draws are the sun, sea and sand, which have earned it a spot in the list of the best things to do in Japan.
Because of its location at the southern part of the Japanese archipelago, local temperatures rarely go below 15°C, even in winter. My friends like to take a quick flight here to get away from busy jobs in Tokyo and they spend most of the vacation hanging out on the spectacular beaches.
Only 49 of Okinawa's islands are inhabited, giving you access to hundreds of fantastic beaches with white sand, clear waters, and rich coral reefs.
One of Okinawa's most popular sunbathing spots is Emerald Beach. Although the beach is man-made, it has some of the most beautiful waters in the area, bearing a remarkable emerald-green hue. This beach is also part of the Ocean Expo Park and close to the aquarium, so you can see several sights as well as frolic on the sand.
For a more remote experience, cross from the main island to Kouri Island. When you reach the end of the bridge, you can't miss Kouri Beach spreading out from either side.
These shallow waters are excellent for children to wade and swim in. Then, go to Tinu Beach on the north end, and snap a romantic photo with the heart-shaped Heart Rock.
---
Many travelers choose to rent a car as this easily lets you get around to different Okinawan islands. Driving is also a breeze on these lazy roads, compared to a major city like Tokyo. You can rent a car in Okinawa here
.
See Shuri Castle, a UNESCO site
In medieval times, Okinawa was an independent nation ruled by the Ryukyu Kingdom. The islands were invaded in 1609 and became a prefecture of Japan in 1879. At Shuri Castle, you can still get a sense of the distinctive history and culture of the fallen kingdom.
Shuri Castle was destroyed in World War II, during the Battle of Okinawa. In the 1990s, it was painstakingly reconstructed from historical records and is now one of the top places to visit.
Visit the royal palace made from Ryukyuan limestone and wood. The design is quite different from other Japanese castles and draws inspiration from Chinese architecture.
You might be surprised to see red lacquered columns and rainbow eaves. Look for fierce statues and gold paintings of dragons throughout the palace. Go inside the inner sanctums to see where priestesses carried out nature rituals.
---
Take the Okinawa Monorail to Shuri Station in Naha and then either walk 20 minutes or ride the bus to the Shuri Castle or Shurijo-mae stop.
You can join a half day tour of the castle, as well as try a traditional coral dying activity by booking here
.
Conquer the medieval Nakagusuku Castle
Around the year 1440, a powerful Ryukyuan commander called Gosamaru built Nakagusuku Castle to protect his people from attacks. It's a marvelous example of a gusuku, or Ryukyu fortress, with clever defenses such as walls that absorb cannon fire.
While Nakagusuku Castle is now in ruins, it remains an impressive monument and was designated a UNESCO World Heritage Site. Check out the six stone courtyards and steep stairs, which look over dramatic cliffs and waves.
The village of Nakagusuku is also known for inventing a dance form called tafaku. Catch a performance by the Chinese-inspired dancers, who wear Qing dynasty costumes with a long braid.
---
From Naha Bus Terminal, you can board #30 bus to Nakagusuku Shogakko-mae, which takes about an hour. Then, walk around 30 minutes to reach the castle.
Go diving in the Kerama Islands
Okinawa's clear waters invite you to swim along sea turtles and bright, tropical fish. Go snorkeling or diving in the Kerama Islands, which are particularly rich with marine animals and underground caves.
The best way to get underwater is by joining a day tour. The guide will bring you by boat to the Kerama Islands, a cluster of 22 isles about 20 miles southwest of Okinawa Island. You'll be provided all the equipment and instructions to safely dive or snorkel.
Jump in and be mesmerized by the brilliant reefs and schools of fish that live in this part of the Pacific Ocean. Take underwater selfies with the hundreds of species, including seahorses and clownfish, and then enjoy a Japanese lunch on the sand.
---
Join a diving tour
that caters to divers of all experience levels, including beginners. If you don't dive, take a snorkeling journey
in the Kerama Islands to get up close with Okinawa's water creatures.
Eat unusual Okinawan food
Okinawans take pride in their local cuisine, which developed apart from the rest of Japan, and uses tropical ingredients such as fruit. During your trip, fall in love with Okinawa food by tasting a variety of traditional dishes.
The best place to sample these laid-back dishes is at a mom-and-pop izakaya frequented by locals. Look for shochu cocktails made with tropical fruits like mango, dragonfruit, and my personal favorite, shikwasa or calamansi, a sweet green citrus similar to a lime.
Chefs love to use every part of the pig in their dishes (reminiscent of food in the Philippines), as well as local vegetables such as goya (bitter melon) and purple yam. Try a goya champuru, or stir fry with the green vegetable, pork, firm tofu and egg.
Dare to order "pork eggs," a strange mixture of scrambled eggs and fried Spam slices doused in ketchup, with a side of rice and miso soup. (Did you know Guam is the largest eater of Spam? I told you Okinawa was similar to Guam!).
Your taste buds may also be surprised by taco rice, which puts ground meat, cheese, lettuce and tomatoes on rice.
Okinawa soba is another specialty, and you'll find noodle joints all over the islands. The soba is thicker and more irregularly shaped than on the mainland and served in a savory hot broth. Of course, pork is the favorite add-on: try Okinawan soba with generous portions of pork ribs, trotters or belly.
Children like to munch on sweets made with dark cane sugar. Also be on the lookout for umi budo, or sea grapes on the vine that come with soy sauce.
Wash down your meal with the local Orion beer, or a glass of awamori. This clear local spirit dates back to the Ryukyu Kingdom and is brewed from imported Thai jasmine rice. Awamori contains 40-60% alcohol and can be drunk straight, with water, on the rocks or mixed in cocktails.
---
Book a traditional cooking class that lets you learn about Okinawa's food culture. Start with a tour of Naha's Makishi Public Market and then prepare an authentic dinner
including an appetizer, main, soup and dessert.
Best things to do in Japan: Hokkaido
Hokkaido is the northernmost island of Japan and its largest prefecture, and is about the opposite of Okinawa. With a colder climate and lush national parks, this destination is all about getting outdoors and is one of the best places in Japan for nature lovers.
Until about a century ago, Hokkaido was mostly inhabited by the hunter-gatherer Ainu people. In 1857, the capital of Sapporo only had seven residents. Today, almost 2 million live in this city with a grid-like structure and every modern amenity imaginable.
Travelers flock to Hokkaido to soak in natural hot springs, prance in fields of lavender and hike the many National Parks. In the winter, this is among the best places in the world to go powder skiing and some stations receive over 15m of fresh powder snow.
Hokkaido is also famous for its ocean-fresh seafood and miso ramen, which is my favorite variation of the hot noodle soup.
You can discover the best of Hokkaido Island with a full day tour
that includes entry to Asahiyama Zoo and a stop at Shirogane Blue Pond.
One of the most convenient ways to get around is with a 6 Day JR East-South Hokkaido Pass. It lets you freely ride all the bullet trains between Tokyo and Sapporo, as well as travel in eastern Honshu and southern Hokkaido, for six days. Book this unlimited pass here
.
Enjoy active summer adventure activities in Niseko
Most people associate Hokkaido with winter fun, especially skiing. This is the most popular place in Japan to come as it's perfect for the sport, as well as to learn because of the gentle slopes and the powder snow.
However, the island is just as wonderful for hot weather activities. Unlike in other areas of Japan, such as Tokyo, the summer months are warm but not overly hot and muggy; in fact, you will need to pack a sweater. This makes Hokkaido an excellent choice for those who love to camp and spend time in the great outdoors.
Niseko, a northern resort town, is one of the best locations for summer sports. Breathe in the fresh mountain air as you play a round of golf. Thrill-seekers can go canyoning at Kiroro, and rappelling at Konbu. The village also has a 2.5 hour zipline course that lets you soar high above the birch trees.
Niseko's Shiribetsu River is known for its white-water rapids. Dress warm and hold on tight as your raft bounces along the fast streams.
I loved riding a hot air balloon to see breathtaking views of the mountains and forests. Soar up, up in the air in a basket, which has windows to allow children to look out at the scenery.
Horseback riding lessons and guided tours are also popular with families. Beginners and expert riders alike can get on the back of a horse, and trot through the green fields of Komo Yokoyama.
---
You can rent a car and drive around Niseko on your own, as public transportation is limited, or book the various activities via your hotel or on Klook and GetYourGuide. Here are the best:
You can book a whitewater rafting experience in Hokkaido here.
For a majestic hot air balloon ride, book online here.
Go horse riding with a guided adventure. This tour includes a cowboy lesson and a hot drink, for the best horseback riding day ever.
When in Niseko, there are two main hotels, The Green Leaf and the Hilton, both of which have very affordable rates in the summer off-season and great onsens with outdoor areas to relax at the end of the day.
Visit Tsubetsu Pass
Be dazzled by a sea of clouds at Tsubetsu Pass Observatory. Before sunrise, one of the best things to do in Japan, is to travel to the pass that lies on the western shore of Lake Kussharo. As the sun climbs into the sky, it lights up a sea of clouds covering the lake, resulting in a heavenly sight.
Watch the ever-changing clouds, which look like a fluff of marshmallows beneath glowing pink and orange skies. From the 947 meter tall observation deck, gasp at the 360 degree views of the Sea of Okhotsk and surrounding mountains.
---
See the clouds float over the horizon at dawn, with this journey
to Tsubetsu Pass Observatory.
Get into nature at Shiretoko, a UNESCO park
Hokkaido's Shiretoko National Park is a UNESCO site and considered one of the most spectacular natural environments in the country. Don't miss out on these unspoiled forests and lakes, which are teeming with wildlife including foxes and brown bears and should be on your list of places to visit in Japan.
Put on your hiking boots, and take a long trek along the scenic trails. Gaze up at the century-old trees, and spot wild creatures such as Yezo Sika deer.
Take a breather at the ancient Shiretoko Goko Lakes, which are best viewed from the elevated boardwalk. If your legs aren't tired, hike onward to the hot springs of Kamuiwakka and the cascading Furepe Waterfall.
---
Join a guided tour
that lets you discover Shiretoko Park's most scenic sites, including the Goko Lakes.
Go skiing in powder snow
When Sapporo hosted the Winter Olympics in 1972, the world realized that Hokkaido has some of the best skiing conditions in the world.
Niseko, the most famous ski town on the island, receives around 15m of snowfall per year. The Japanese powder is so phenomenal that it has its own name, Ja-Pow.
Skiers and snowboarders can take lessons in different languages, including English, and attack slopes for all levels. If you're an experienced skier, you'll be thrilled by the steep and wild terrain. Niseko has fantastic backcountry skiing at its resorts as well.
---
Experience the joys of powder snow skiing at a Niseko or luxury villa. All of the below offer skiing, rental of equipment and classes for beginners. Niseko is a great place to learn because of the powder snow and the gentle slopes. Unlike the Alps or other ski resorts in Europe, the mountains here are low.
Here are our best recommendation options for Niseko:
Services luxury apartments at

Kasara Niseko Village

, which come with butlers, premium finishings and everything you need for a ski holiday, from a storage area for the equipment to warm fireplaces.

The Green Leaf Resort

is a more laid-back family style resort with direct access to the ski lift from the joint resort area called Niseko Village shared with the Hilton. Here's my complete

review of The Green Leaf Niseko

.

Hilton Niseko

is the most premium of all the accommodation options in Niseko, yet it is not a flashy destination. Geared towards skiers, it shares Niseko Village with The Green Leaf and has a great onsen and direct access to the ski lift.
Pro tip: Niseko and all the rest of the ski resorts in Hokkaido get booked a year ahead with visitors booking the following year after they leave, so plan early and book as soon as possible
The airport in Hokkaido is about 2h drive from Niseko. Book a private transfer
between Shin-Chitose International Airport and Niseko to get to the ski hills as quickly and easily as possible, and also as economically as possible.
Frolic in the flower fields
In the summer, Hokkaido's countryside blossoms into color. Fields of flowers open up their petals and turn the landscape into rainbow shade.
Experience "flower power" at Hokkaido's many floral attractions available during the warmest months. See the lily gardens near Sapporo and snap photos in lavender fields that will wow your friends.
Kamiyubetsu Tulip Park is popular from May to June, while Hokuryu is the place to be when the sunflowers rise in July. Or see a bit of everything at Shikisai-no-oka; the garden contains many flower species that bloom from spring to early autumn.
---
You can explore all the flower fields independently with your own car. Or join a Sapporo flower farm tour
that lets you see several glorious fields.
Walk among ice sculptures
Every February, 2 million people visit Sapporo for the famous Snow Festival. The city turns into a winter wonderland of intricate ice sculptures, and winter activities for all ages.
The event originated in 1950, when a few students built snow sculptures in Odori Park. Now, the Sapporo Snow Festival is one of the most popular winter attractions in the country.
Be blown away by about 400 magnificent ice sculptures at the various festival sites. The Snow Sculpture Competition draws in expert carvers from all over the world. Some of their works tower 15 meters above the ground, and many are lit up with lights after dark.
I especially loved the cute ice statues, such as all-white carvings of Doraemon and Pokemon. My jaw dropped when I saw an enormous ice recreation of Egypt's Sphinx and Abu Simbel.
The Sapporo Snow Festival also hosts concerts, food stalls, and activities such as snow sliding on long ramps.
Pro tip: Make sure to visit the festival at night when the lights are on and it all takes on a fairytale look.
---
Check the Sapporo Snow Festival website to see the upcoming dates, as they change each year. When you're in Sapporo, you can book a personalized full day tour with a local that includes fun at the festival.
Make sure to dress appropriately. Temperatures during the festival can be -20 Celsius and if you are not wearing ski-proof and thermal gear, you will not survive.
Savor all the local foods
Hokkaido has a spectacular food scene. The island is especially known for its seafood and dairy, and for being the birthplace of miso ramen.
The cold waters that surround Hokkaido are rich with hairy and king crabs. Taste sea urchins, oysters and scallops straight out of the waters, perhaps served in a donburi rice bowl with a sprinkling of ikura, or salmon roe.
Hokkaido cows thrive in the countryside, and are also known for producing the creamiest milk in Japan. Local chefs use dairy in unusual ways, so you might find ramen topped with butter, or curry with cream cheese.
And don't forget to try the famous egg tarts, the latest food craze from Japan to hit Asia causing the longest queues in Singapore and Hong Kong. Hokkaido egg tarts are slightly creamier and runnier than the Macau version.
The island is also known for its juicy melons, especially the luxurious Yubari King Melon that sells at high prices every year breaking new record prices.
The cold climate makes a hot noodle soup especially satisfying. My favorite type of ramen is Sapporo's version, made with a miso broth. Shio, or salty ramen, is a specialty of Hakodate, while you can taste soy sauce ramen in Asahikawa.
Hokkaido also created a "soup curry" based on a spicy liquid broth, chock full of meat and vegetables. Locals also like to fill up on jingisukan or Genghis Khan, a mixture of lamb and vegetables barbequed over a round grill, and then dipped in sauces.
Hokkaido is also renowned for its Sapporo Beer, one of the most popular labels in the country, and a well-known name worldwide. Raise a glass, and visit the Sapporo Beer Museum to learn about Japan's first brewery, which was founded in 1876.
---
Slurp down miso or soy sauce ramen at Sapporo's Ramen Kitaichi
, and warm up with a fragrant soup curry at Maharaja
that includes vegetarian options. At night, drink heartily at the Sapporo Beer Garden
, and then fill up on crab dishes and Genghis Khan.
Best things to do in Japan: Everywhere else
Some of the best tourist attractions in Japan defy a geographic category. I loved seeing different regions via the shinkansen, and I'm intrigued by a new luxury train that crosses the country.
There are also many activities that you can enjoy in all parts of Japan, such as quirky theme hotels and the blossoming pink cherry blossom trees.
See the cherry blossoms
Sakura season is one of the biggest reasons for people to fly to Japan. During this fleeting time, the country's parks are covered with delicate cherry blossoms.
One of the most beloved Japanese rituals is hanami, or a sakura-viewing picnic under the trees with friends. In the animated series Rilakkuma and Kaoru, you can see how the characters take pleasure in eating dango as they watch the pink petals fall.
The cherry blossoms (sakura) usually bloom in the last week of March, and the first two weeks of April. Check the Japan Meteorological Corporation's "cherry blossom forecast" before booking your trip, as the flowers open up at different times in different cities — starting from the southern parts of the country that become warmer earlier, and ending in the cooler north.
All over Japan, friends and family gather in public green spaces to admire the pretty blossoms. Tokyoites like to gather at Shinjuku Gyoen, while Kyoto natives head to Tenryuji Temple. Osaka Castle and Kema Sakuranomiya Park are especially brilliant spots, with around 5,000 cherry blossom trees at each.
Go early to secure a spot with your blanket, as the popular parks quickly get packed. Many Japanese put on a yukata, or summer robe, for the occasion.
Share a picnic with seasonal food, such as sakura mochi and dango (sweet rice dumplings), kamaboko (pink and white fish cakes), strawberries and umeshu (plum wine). You can also find limited-edition sakura flavored food everywhere, from Kit-Kat bars to Starbucks drinks.
---
Planning your sakura trip is not easy. The main places to visit in Japan for sakura (Tokyo, Kyoto and Osaka) will be packed full, with hotels booked well ahead and prices soaring to even more expensive levels.
This is problematic because the weather forecast is not accurate until it gets closer to the date, as temperatures are unpredictable in springtime. So you will have to take your chances or book a long enough window to increase your probability of being in the country for it.
Too early and it will still be cold without any blooming flowers, too late and the petals will have already fallen on the ground.
Remember, cherry blossoms will start in the south and move north. The ideal time to be there is right in the middle of the two week period, when the petals start to fall in what looks like a fairytale flower rain.
If you are there at the right time, take part in an evening hanami in Nakameguro, Tokyo. This bookable three hour activity includes local snacks and a stroll after dark, where you can admire the sakura trees lit by lanterns.
Visit a sake distillery
Japanese sake is a more nuanced and variegated drink than you may expect. This clear or slightly cloudy liqueur is made from polished and fermented rice and has about 15-20% alcohol. While it's served at most bars and izakayas, you can learn more about sake and its production process by taking a distillery tour.
In the Edo era, sake masters made improvements to the fermentation process and by the 20th century, the drink was being made on an industrial scale with rice-polishing machines.
Pop into a sake brewery to learn about the history of sake, and how it is made in different styles. These tours include tastings that let you distinguish sake with different sweetness and acid levels.
---
Get tipsy at a Kyoto sake distillery tour that includes lunch and a walking tour of Fushimi Inari temple. In Hiroshima, you can visit multiple breweries and drink sake in the Saijo district at this link. Or join a Tokyo sake tour and food pairing with a sommelier.
Stay at a themed hotel
Did you know that in Japan, you can stay in a wild selection of theme hotels?
Much like with theme restaurants, these accommodations turn up the whimsy and weirdness to level 10 and make for fabulous places to visit in Japan.
Tokyo has multiple hotels that offer themed rooms. At Keio Plaza Shinjuku, you can elect to sleep in rooms decked out in Little Twin Stars or Hello Kitty decor, which includes cute floor-to-ceiling murals.
At the Tokyo Disneyland Hotel, I was stunned by the level of detail that went into rooms honoring the Queen of Hearts, Cinderella, Beauty and the Beast, and Tinkerbell.
I particularly loved Hotel Gracery Kabukicho, which has a giant fire-breathing Godzilla statue on the roof, and suites filled with rare movie memorabilia.
One of the oddest hotel chains is Henn Na, which has a few locations around Tokyo. You won't encounter a single human worker as you check in. Instead, the front desk is staffed by robots, which look like creepy women or vicious dinosaurs!
Once you've gotten past them, a robotic arm and automated trolley store your luggage, or take it to your room.
A funny Seinfeld episode poked light at how the Japanese are accustomed to sleeping in spaces as cramped as a chest of drawers. Capsule hotels are in fact barely bigger than a casket, and arranged in rows.
Squeeze into one and you'll barely have room to turn around. For about $50 US, you'll get a futon, a tiny TV hanging over your head, and access to shared bathrooms. Certainly an experience for one night, but perhaps too crammed for longer.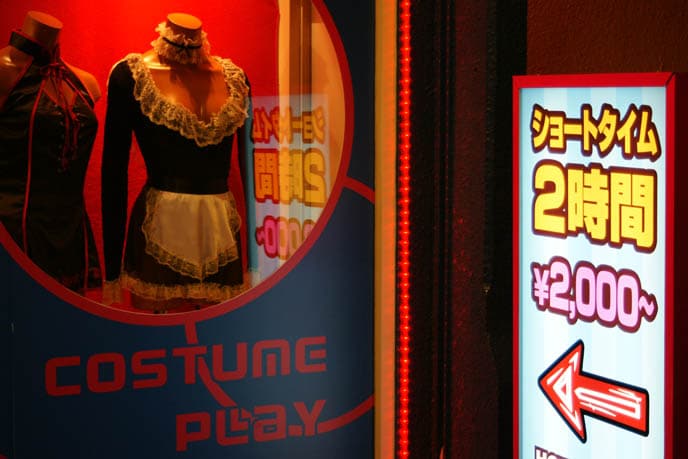 Japan also invented love hotels, which are designed to let couples have a romp for a few hours, or overnight. The name comes from Osaka's Hotel Love, which advertises its accomodations with a kitschy revolving sign.
Some love hotels offer crazy themed rooms, which cater to every kink imaginable. For those with a medical fetish, Keibajo US Hotel has a hospital room with metal beds on wheels, and an examination table. If you're hot for teacher, book the classroom-themed room a blackboard and wood desks with attached chairs.
---
Here is where you can book each of the hotels above:
In Tokyo, you can stay at

Keio Plaza

(Sanrio Hello Kitty rooms),

Gracery Shinjuku

(Godzilla), or

Henna Na

(robots).

Capsule hotels are found in all the major metropolises, such as

Nine Hours Shinjuku North

and

Nine Hours Kyoto

, which have capsules for both men and women.

Love hotels are also found in city red light districts, including the original

Hotel Love Osaka

and Tokyo's BDSM-themed

Alpha Inn

.
Sleep on the floor at a traditional ryokan
In his book, "Surely You're Joking, Mr. Feynman!" the Nobel Prize-winning physicist Richard Feynman reminisced about his first time in Japan. While his colleagues stayed in Western-style hotels, he chose to sleep on the floor in a ryokan (traditional inn), and loved the experience.
Have a cultural experience like Feynman's by booking a stay in a ryokan. Many of these are run by families, who offer personal service and home-cooked or kaiseki meals.
Ryokans have classic design elements such as paper screen doors, wood floors, and large shared baths. The rooms are covered with tatami mats. At night, the staff makes up a futon on the floor for you to sleep on. I can't think of a more fantastic way to experience the Japanese lifestyle for a night or more.
---
Ryokans are found throughout Japan. At Osaka Hinode Hotel
, you can soothe your body in a bubbling onsen and eat authentic lamian-style noodles.
Ride the shinkansen bullet train
I remember riding the shinkansen, or bullet train, for the first time in the 1990s. I was floored by the fast speed and smoothness of the rail journey. Looking out the window, the scenery seemed to fly by.
Japan was the first country to build high-speed railway lines, debuting the shinkansen in 1964 in time for the first Tokyo Olympics. The world was wowed by the advanced technology and sleek, bullet-shaped trains. Today, the shinkansen can reach speeds of 320 km per hour (200 mph).
Many travelers take the bullet train from Tokyo to Kyoto, Osaka, and Hiroshima, as it only takes a few hours to go between each. A one, two or three-week Japan Rail Pass
lets you take unlimited rides on the trains and is superb value if you're hopping around to several cities.
Some routes even have themed trains for certain periods. I rode the Hello Kitty shinkansen, that offers cute mascot statues, limited edition merchandise and a bizarre pink Hello Kitty smoking room. The railways had a temporary Pokemon themed line, and will soon be releasing a Mickey Mouse route.
---
Reserve seats in advance to guarantee your spot on the train. You can ride the bullet train from Tokyo to Kyoto or Osaka. Book an unlimited JR Rail Pass for 7, 14, or 21 days here
.
Board a luxury train you need to apply for
If you have yen to spare, travel in style on the Train Suite Shiki-Shima. A ticket on this uber luxurious train begins at ¥320,000 ($3,000 US), and that's if you can get past the application process and lottery system.
Unlike the luxury trains in India, which you can just book, only 34 lucky passengers get to experience this luxurious sleeper train, which begins in Tokyo and takes you through Tohoku and Hokkaido. The dining, lounge and sightseeing cars are covered in floor-to-ceiling glass windows for panoramic views, similar to the Glacier Express in Switzerland.
The Shiki-Shima experience includes premium services such as limousine rides, plus cultural and wellness excursions like you would get in Rajasthan's Maharajas Express, Karnataka's Golden Chariot or Golden Eagle's Trans-Siberian.
And because this is Japan, as you enter different regions, the daily restaurant menu changes to reflect the local products.
---
Apply for a spot on the Shiki-Shima here. The seats are extremely limited, so aim for a booking well in advance.
Sleep at the world's oldest hotel
Asia has a few old hotels, but Japan is home to not only the world's oldest but also the second oldest, operating as such since the beginning of the 8th century and certified by the Guinness World Records.
Nishiyama Onsen Keiunkan is a family-run business now in its 52nd generation and located near an onsen in Yamanashi Prefecture, 2.5 hours to Mount Fuji.
Everything in the hotel is in Japanese and little English is spoken. There is no flashy Instagram account or modern facilities. This is a traditional ryokan that has preserved its original charm despite the worldwide recognition.
Planning a trip to Japan – Practicalities
Here are some general tips and tricks that will make your Japan travel experience so much better.
Find out all about visas, best times to visit and other useful things from Japanese phrases to cell phone rental.
Best time to visit Japan
Japan's climate ranges from tropical Okinawa beaches to chilly Hokkaido ski slopes, and everything in between. If you're heading to Tokyo or nearby cities (such as Kyoto and Osaka), I recommend coming in the spring or fall.
Much like the East Coast of the United States or travel to the Faroe Islands, this region tends to be freezing in winter, and swelteringly humid in the summer. Most people will agree that the best time to visit Japan is in the spring or autumn.
If you come around mid-March to early April, you'll be able to see the legendary Japanese cherry blossoms. The downside is that everyone has the same idea, so flights and hotels will be pricier than usual and you'll encounter many tourists.
I personally prefer to come before or after sakura season, as the weather is lovely but you avoid the high season. Or even better: travel to Japan in September or October. The fall leaves, temperatures, and seasonal food are outstanding at this time. Plus, you can enjoy all the spooky-cute merchandise and alternative Halloween parties.
I also recommend avoiding peak seasons, if possible. Prices are high and places get booked up around Christmas, New Year's and Golden Week (a national holiday around the first week of May). Be wary around Obon Week in mid-August as well, as schools are out and destinations like Mount Fuji get crowded.
For those aiming to ski in Hokkaido, the season starts around mid December and runs until late March or early April. Okinawa is always warm, but beach bums will prefer March-May and September-December.
Keep in mind that May-June is rainy season in Okinawa, while the storms hit other parts of Japan around June-July. Cyclones are legendary in Japan so you might want to avoid the rainy season altogether.
Flights and visas
Tokyo's Narita and Haneda airports are the most popular Japanese airports and serve airlines from around the world. Most vacationers first fly to Tokyo and then take trains or domestic flights to other parts of the country.
I recommend flying directly to Japan, if possible. I know some people who tried to save a few hundred dollars by transiting in China, or flying on cheaper Chinese airlines, and they've always regretted it. I can tell you stories of terrible service and delays, leading them to be stuck in airports in the middle of the mainland…
If you can't fly directly, do your best to stop over in a major city such as Hong Kong, Taipei, Seoul, Bangkok, or Singapore.
I love flying on Japan Airlines and All Nippon Airways, as they offer spectacular service. I even find the food edible: they tend to serve a Japanese selection that includes miso soup, and soba with dipping sauce and wasabi. If you're flying on ANA, ask for the signature kabosu lime juice, followed by an umeshu plum liquor on the rocks.
Once you've landed, you'll find that Customs is efficient and the officers speak English. Drug charges are taken extremely seriously in Japan, so if you have a record, check procedures before booking a ticket or risk being denied entry. Even Paris Hilton was turned away from Japan after pleading guilty to a drug charge.
Also check visa regulations for your country's passport before coming to Japan. For citizens of Western Europe, North America, and major parts of Asia, you'll generally receive a 3-month tourist visa on arrival, without any cost.
How to get from the airport to the city
Many Japanese airports are quite a distance from the heart of the city. If you've landed in Tokyo, I don't suggest taking a taxi or Uber. It can take 45 minutes (from Haneda) to 1-1.5 hours (from Narita) to reach your hotel, costing you a shocking US $200+.
If you prefer to travel by car, you can book a private one-way charter from Haneda Airport. You can also book a shared shuttle from Haneda, at a lower cost.
For years, I've been taking the Limousine Bus from Narita or Haneda airport. After exiting Arrivals, look for a booth with an orange sign that says Airport Limousine Bus. There are many departures that go to different parts of Tokyo, including all the major hotels.
A one-way journey takes about 100 minutes and costs 3,100 yen ($30). Foreign tourists can purchase a round trip ticket for a discounted 4,500 yen ($45).
From Narita airport, you can also take an inexpensive Access Narita bus to Ginza or Tokyo station. The seats are a flat rate of 1,000 yen ($10).
Another inexpensive and fast option is to take the Narita Express train. The N'EX arrives at Tokyo Station in under an hour and an ordinary class ticket is 3,020 yen ($30) or 4,000 round trip ($40). It's also possible to use the Japan Rail Pass to ride this train.
There's a second train option from Narita, the Keisei Skyliner. This high speed limited express service goes to Keisei Ueno station, and is 2,470 yen ($25) one-way or 4,970 yen ($50) round trip. You can book discounted tickets for the Skyliner here
.
If you flew into Osaka's Kansai Airport, look for the "Rap:t" limited express trains to Namba Station. This takes 35 minutes and costs 1,430 yen ($14.50) for a reserved seat.
City transit and getting around Japan
If your itinerary includes several cities in Japan, you should investigate flying domestically. The bullet train may be pricer than you expect and you might also save time by taking a short flight, because the train often forces you to change several times.
Look for discount tickets from cheap short-haul airlines like Jetstar, Peach and Vanilla Air (Peach and Vanilla plan to merge by the end of 2019). You can also play around with multi-stop bookings on national airlines JAL and ANA.
Perhaps the most exciting and enjoyable way to travel throughout Japan is by bullet train. The Japan Rail Pass provides terrific value, as you can hop on and off any trains (as well as buses and ferries) for a period of 7, 14, or 21 days. You can book a J Rail Pass and have it delivered to your address here.
The shinkansen's fastest and most direct routes are also the priciest. Anyone with a tourist visa can save yen by booking a slower platt kodama ticket from a Tokyo sales office.
For example, if you're going from Tokyo to Kyoto, a regular date ticket is 10,300 Yen ($100) via platt kodama, versus the usual 13,600 yen ($130). You can also book a discounted shinkansen ticket from Tokyo to Kyoto or Osaka here
.
I don't recommend driving in the major cities, since public transportation is so efficient, and it's stressful to navigate the busy and unfamiliar roads. Parking is also extremely costly in a place like Tokyo.
However, if you're in the countryside, driving may be a good option especially in places like Okinawa or Hokkaido, as long as you have an International Driving Permit, or meet the specific regulations for your license. You can book a rental car to pick up from Narita Airport here
.
I'm a big fan of the Japanese subway system, which has plenty of efficient routes and is always a clean and timely experience. To figure out how to travel from station to station, you can use this English-language route finder. Remember that all trains stop running between 12-1am to dawn, so don't miss the last departure.
You can purchase a prepaid Suica IC card here
and simply tap it to get through the gates. Or purchase an unlimited pass
on the Tokyo Metro and Toei lines for 24, 48, or 72 hours.
Japan has Uber and taxis, but they tend to be expensive, and driving often takes longer than riding the metro. Be aware that many drivers don't speak English and may not recognize the name of your hotel. I suggest bringing along the hotel's address written in Japanese, such as on a business card.
Japanese currency
Japan uses yen as its national currency and cashiers will not accept USD or other bank notes. There is no tipping or bargaining here and the sticker price will either be 税込 (tax included) or 税引 (tax excluded).
You might be surprised to learn that in high-tech Japan, cash remains king. Many businesses don't take credit cards, so have plenty of yen in your wallet.
You can take out cash before your trip at your home bank or currency exchange, or go to an ATM while you're in Japan. Look for ATMs inside or right next to convenience stores like Family Mart because these accept foreign cards. Again, surprisingly, it is not easy to get cash from an ATM because many of them don't accept foreign cards.
Foreign travelers may be able to take advantage of Japan's tax-free shopping policy, but it's only applicable under certain circumstances. Take a look at the official government website to see all the terms of tax-free shopping.
Safety
in Japan
Japan lives up to its reputation as a super-safe country; in fact, it is the safest country in the world at par with Singapore. Very little crime occurs here, so don't be afraid of thieves.
However, as in any city, act respectfully and have your wits about you. If anything happens, you can ask for help at the local koban, or police box.
Cell phones and internet
In hyper-connected Japan, the Internet is fast and found everywhere. You can access free wifi at hotels, department stores, convenience stores and cafes such as Starbucks.
When I'm working on travel TV shows in Japan, I rent a cell phone from Rentafone Japan. Choose a phone model, and they'll deliver it to your hotel with a prepaid envelope that you can use to mail it back.
A Rentafone is 3,900 yen for one week ($37 USD), plus charges of 35-45 yen (about $0.40 USD) for each call.
If you need wifi on the go, look into renting a pocket wifi router. These portable devices are easier to set up than SIM cards. Plus, people traveling together can share one, as well as use it for their laptops and tablets. Loan a wifi router in Tokyo here
.
A prepaid SIM card will only work with unlocked or SIM-free phones. You'll have to change the access point settings to get into the network, and the SIM may not work in rural areas. If you're in Osaka, book a SIM card here
.
Useful Japanese phrases
It's always helpful to learn a few basic sentences in the local language, to get around and take part in the culture. Here are a few helpful Japanese phrases, and you can study more here.
Thank you: Arigato gozaimasu

Yes: hai. No: iie

Please: Onegai shimasu

Excuse me, sorry: Sumimasen

Hello: Konnichiwa

Good morning: Ohayou Gozaimasu. Good Evening:: Konbanwa

I'm sorry, I don't understand: Gomen nasai, wakarimasen

Where is XXX: XXX wa doko desu ka?

How much is it: Ikura desu ka?
Etiquette dos and don'ts
Japan is known as a polite society. Most of the local etiquette is common sense, but here are some lesser-known cultural manners that should be followed.
On the subway, don't eat, drink, or talk on your cellphone. Texting silently is fine.

Don't be late, especially for business appointments. Aim to arrive 10 minutes early.

Don't stick your chopsticks into your rice, or lay them on the bowl; they should go on the chopstick rests. If sharing plates, use the serving chopsticks to help yourself.

Take off your shoes before entering a home. Many restaurants provide cubbyholes for you to store your footwear.

Don't blow your nose in public. Wipe it, and find a private area to sneeze.

Don't take photos inside stores without asking and receiving permission.
About the author
La Carmina is a travel writer and TV host, best known for her work about Japanese fashion and alternative cultures. She runs the award-winning La Carmina blog, and published three books about Jpop culture with Penguin Random House. La Carmina appears regularly as a presenter on NBC, Food Network, Travel Channel (No Reservations with Anthony Bourdain, Bizarre Foods with Andrew Zimmern) and other top television networks worldwide. Find her on @lacarmina Instagram, Twitter, and Facebook.