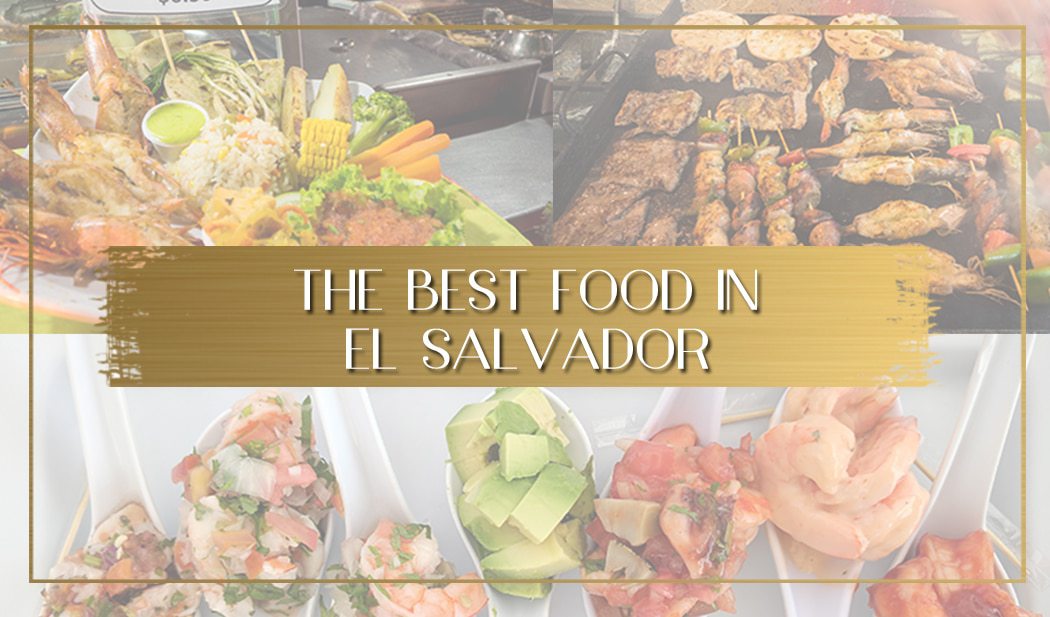 This article was first published in May 2019 and was last updated in June 2020.
Food in El Salvador is as unique as the country. Because of its Mayan and Aztec past, Salvadorian food shows some similarities with the cuisine of other Latin American and, in particular, Central American countries such as Mexico and Guatemala, but it also stands on its own two feet on several dishes that are uniquely Salvadorian and not found anywhere else.
If you planning to travel to El Salvador are wondering what you will eat or what Salvadoran cuisine is all about, this is a great list to get your started.
The origins of Salvadorian food
Salvadorian food is a mix of pre-Colombian traditions with Spanish influence. The local food originated with the Mesoamerican civilizations who inhabited the area centuries ago. With the arrival of the Spaniards the foods evolved to incorporate new found ingredients such as chicken, beef or dairy among other.
Corn was considered holy by the Pre-Colombian cultures and was also used for offerings. The Maya believed that men were created from an ear of corn and so we were all made of it.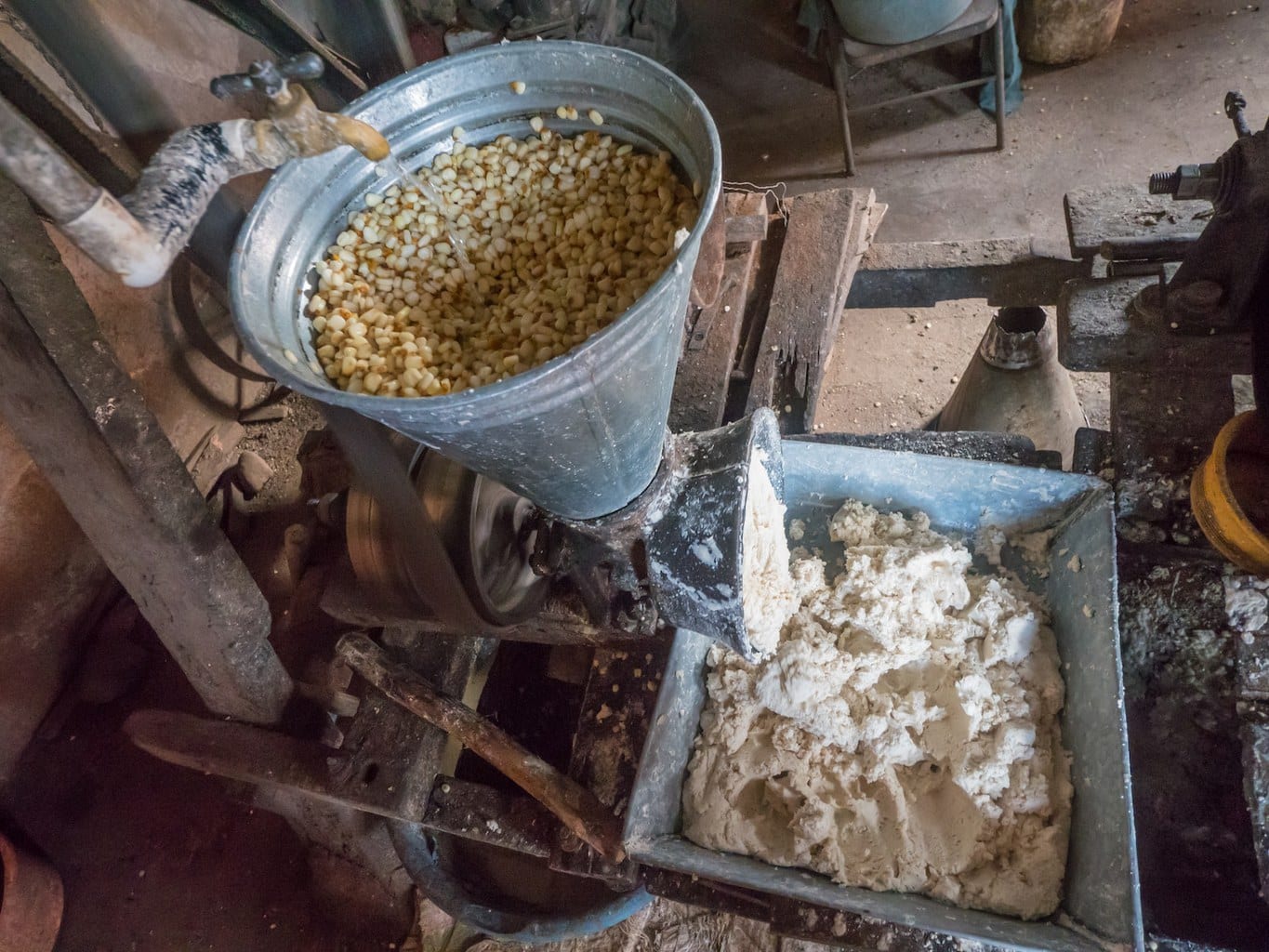 If you look closely at food in Mexico, where the Aztec and Maya were strongest and lived the longest, corn is the base for almost all the dishes.
It is eaten on the cob, boiled or steamed, and turned into a masa, or dough, that is the basis for tortillas and in turn, the basis for everything else, from sopes to gorditas, tlacoyos, tamales and all the dishes made with tortillas themselves, from tacos to quesadillas.
Corn is an equally important ingredient in Salvadorian cuisine, but the country also eats a variety of other foods that reflect its position on the Pacific coast of Central America to define a unique Salvadorian gastronomy.
Best food in El Salvador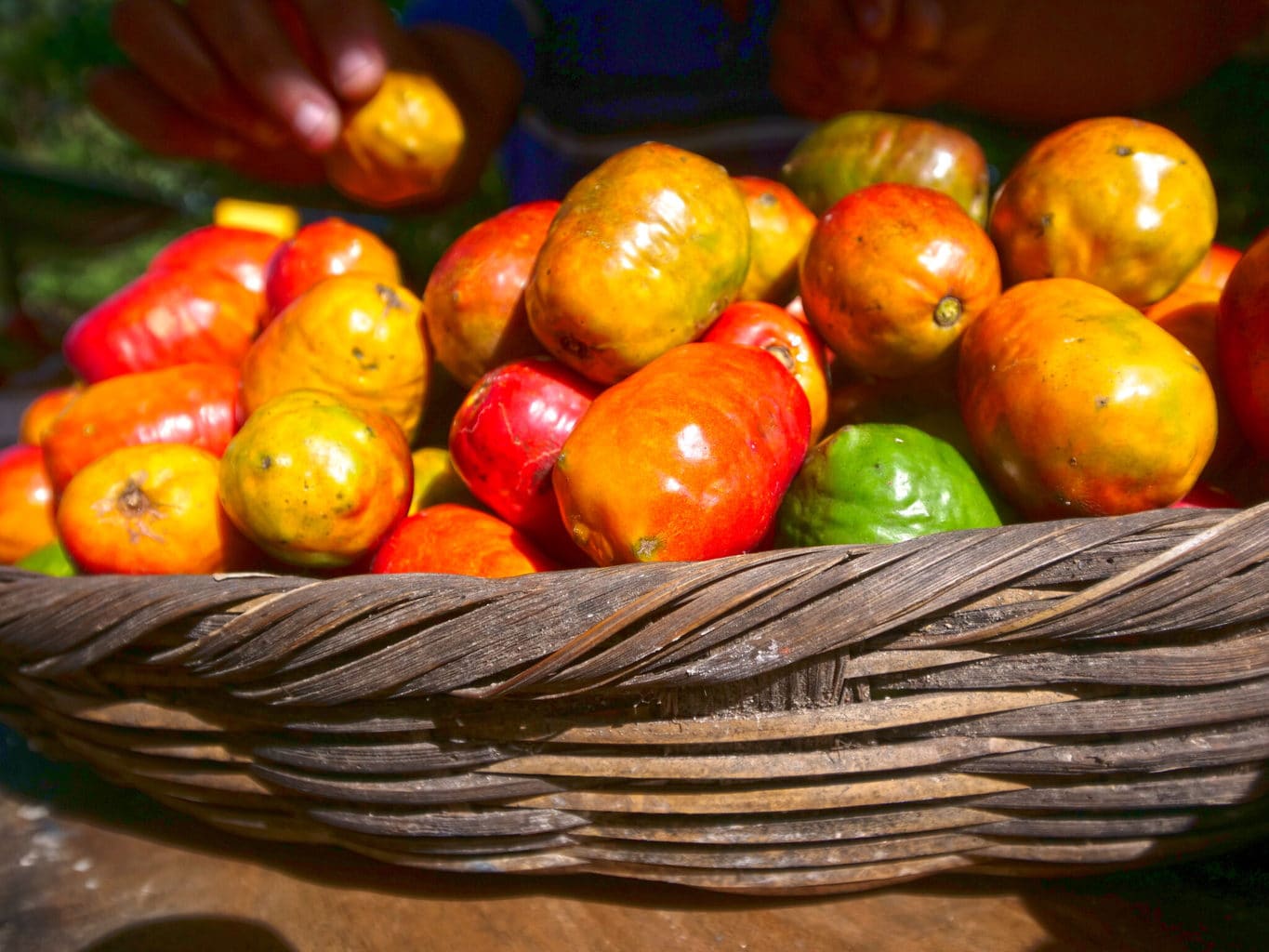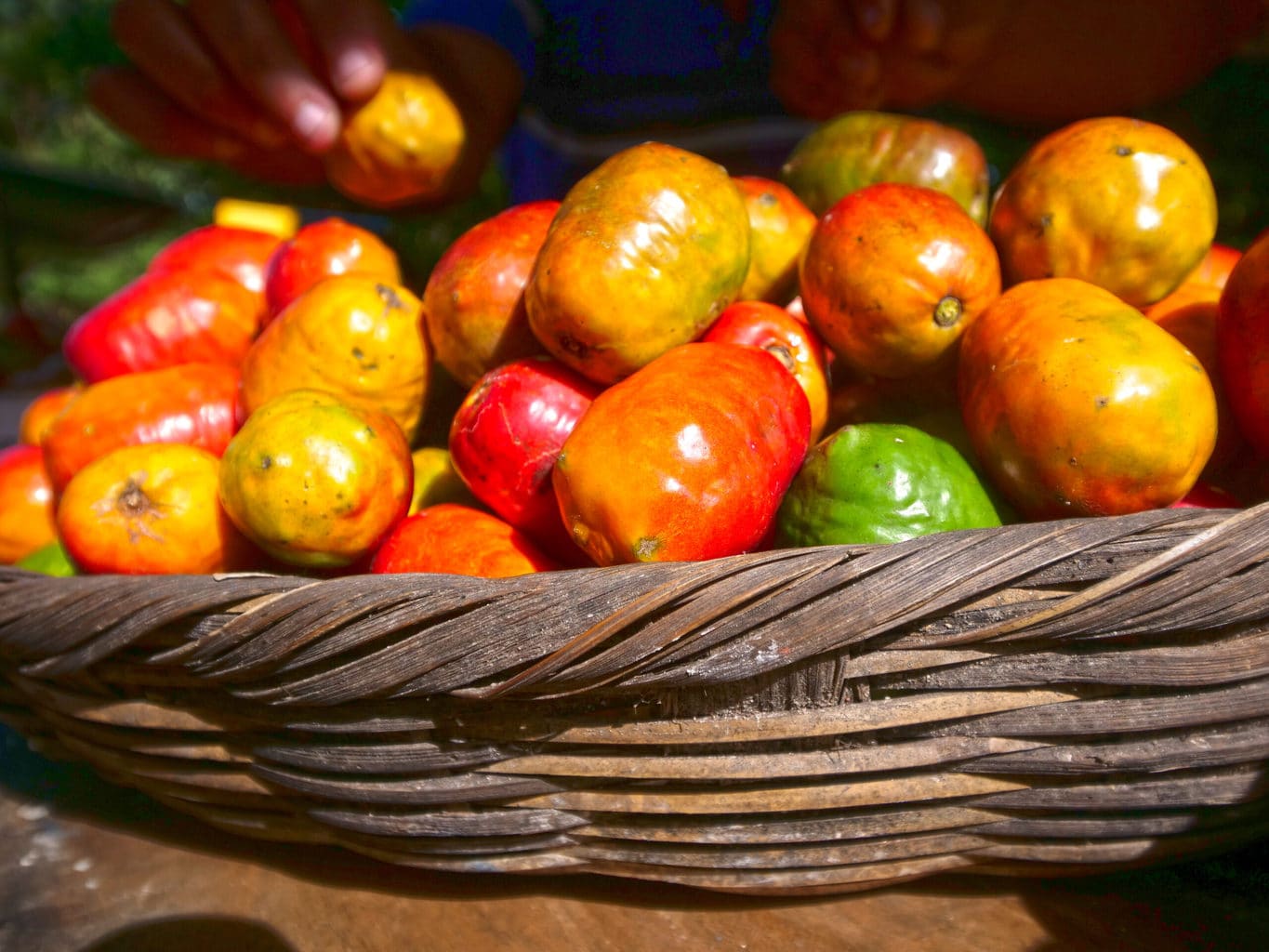 Salvadorian food uses a variety of ingredients from corn and derivatives to fruits, meats and even fish, common by the country's long coast. Common ingredients used in many dishes include frijoles, both red and black, tomatoes, corn and cheese. Chilli sauce and curtido, pickled cabbage, are popular condiments.
To get your started on the local cuisine, here are a few popular Salvadorian foods to try.
Pupusas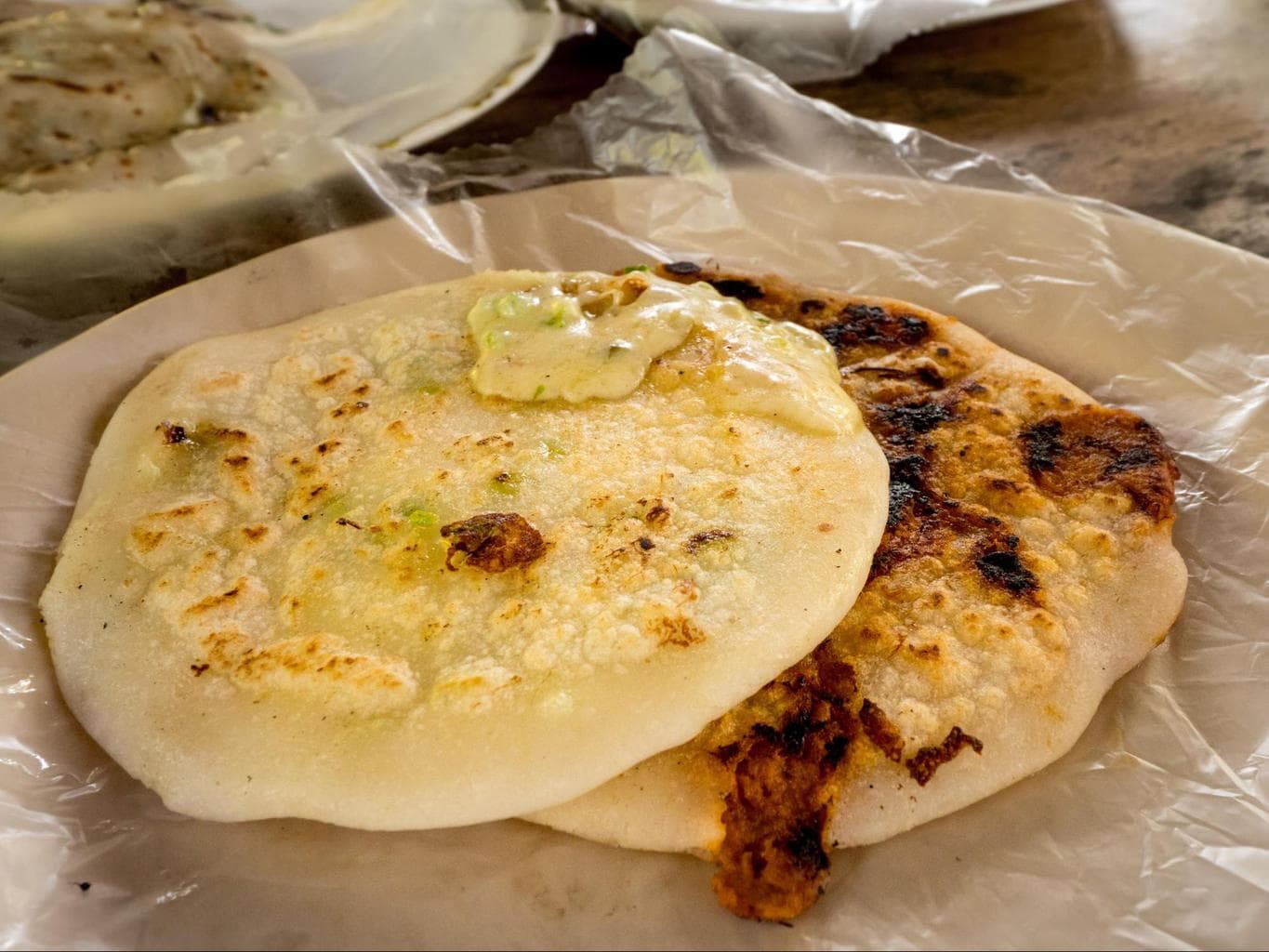 Anybody who travels to El Salvador will appreciate its unique cuisine, much of which is hardly ever found outside the country.
The most traditional food in El Salvador is the pupusa. Coming from the Nahuatl for fat tortilla, this mix between a Mexican tortilla, an Indian paratha and a pancake that is sold at Pupuserias and is available everywhere. It is also considered the national dish and celebrated the second Sunday of November on National Pupusa Day after a 2005 decree.
Pupusas are corn patties stuffed with meat, cheese or vegetables and eaten at all times, especially at breakfast and for dinner, but also as street snacks. They are made with either rice flour or maize flour then flattened out like tortillas and cooked over a flat hot comal stove to order. Stands preparing and cooking pupusas can be found everywhere.
It was my most favourite Salvadorian food and I could not resist one every time I saw a pupuseria. Eating pupusas is a social affair, with families and friends all sat around a table and ordering them like snacks one after the other.
If you visit El Salvador you cannot leave without trying the two versions of pupusas, the one made with rice flour and the one made with maize flour. As you break a piece with your hands (pupusas are not eaten with cutlery) the melted cheese is likely to pour out and escape through your fingers as if you were taking a slice of pizza. My mouth salivates just thinking about it. Pupusas are delicious!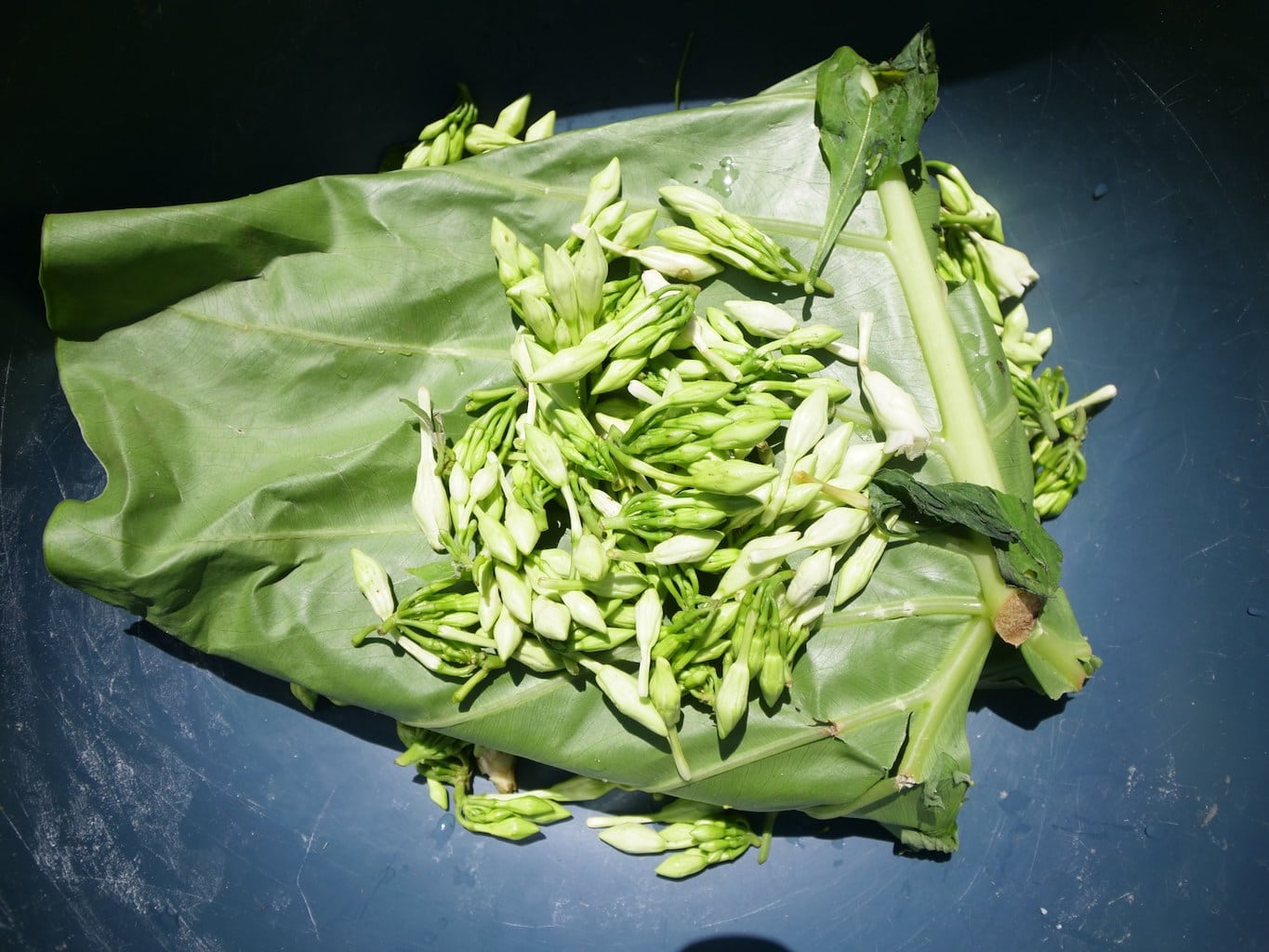 You can choose to fill your pupusas with cheese, frijoles (red beans), zucchini, minced pork meat, a sausage called chicharron, and all sorts of local herbs that you will not find anywhere else, such as the bud of a local flower called loroco.
Although pupusas are not usually spicy, chilli sauce is always available and a portion of curtido, a pickled coleslaw salad which is usually spicy, is always served on the side.
You can enjoy pupusas on the spot or to take away. If you take away, you should make sure to eat them while they are warm and the cheese still melted.
Quesadilla Salvadorena
Salvadorian quesadillas are not to be confused with the Mexican variety which is made with a tortilla filled with cheese or other ingredients then folded and cooked on a hot griddle or comal.
Quesadillas in El Salvador are a sort of soft pound cake made with fresh cheese (hence the name queso). The cheese is what adds moisture to the cake and brings an otherwise plain pound cake to another level.

Desayuno tipico, or typical breakfast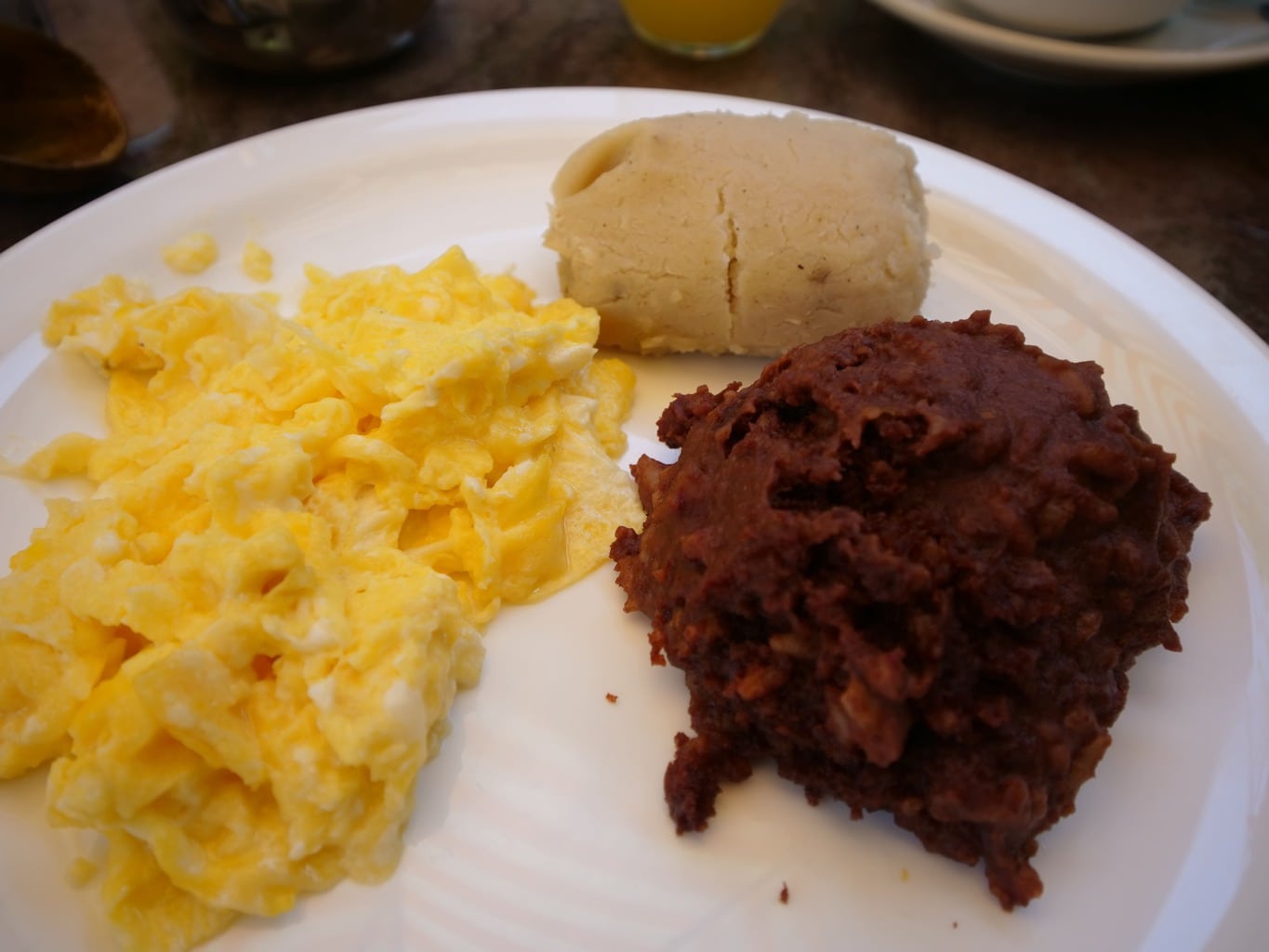 The very traditional breakfast in El Salvador consists of scrambled eggs usually cooked with chopped chilli or peppers and maybe onions, and accompanied with cheese, mashed frijoles and fried banana.
The combination of sweet and sour and the amount of complex carbs (beans, bananas, corn) makes for a complete breakfast that will leave you full. Also, everybody loves fried bananas. You can also get a side order of bread or toast with it, or more commonly tortillas. Or you can add a tamal or use it to replace the banana, like in the picture above (I had the fried banana the previous day).
Breakfast in El Salvador must include a cup of local coffee too as El Salvador grows amazing beans on its volcanic soil from areas such as Santa Ana Volcano.
Consome de garrobo
Garrobos are black iguanas that are eaten in El Salvador in various ways, but most commonly into a soup. I saw the soup for sale in the markets of La Ruta de las Flores so it should be easy to find, although I did not see it on menus at any restaurant. They are occasionally found in Salvadoran markets in the US too.
The meat is considered to be an energy boost and is given to people when they are sick or when they need an extra vitamins or want a natural Viagra. While both iguanas and garrobos can be eaten, garrobos are far tastier and preferred.
Gallo en chicha
This is a very uniquely Salvadorian dish rarely found outside the country. As the name indicates, gallo en chicha is made with rooster meat cooked in a special sweet sauce made with fermented pineapple liquor. it sounds weird but it is pretty tasty and the sweet flavor of the sauce goes great with the otherwise rather tough rooster meat.
Tamales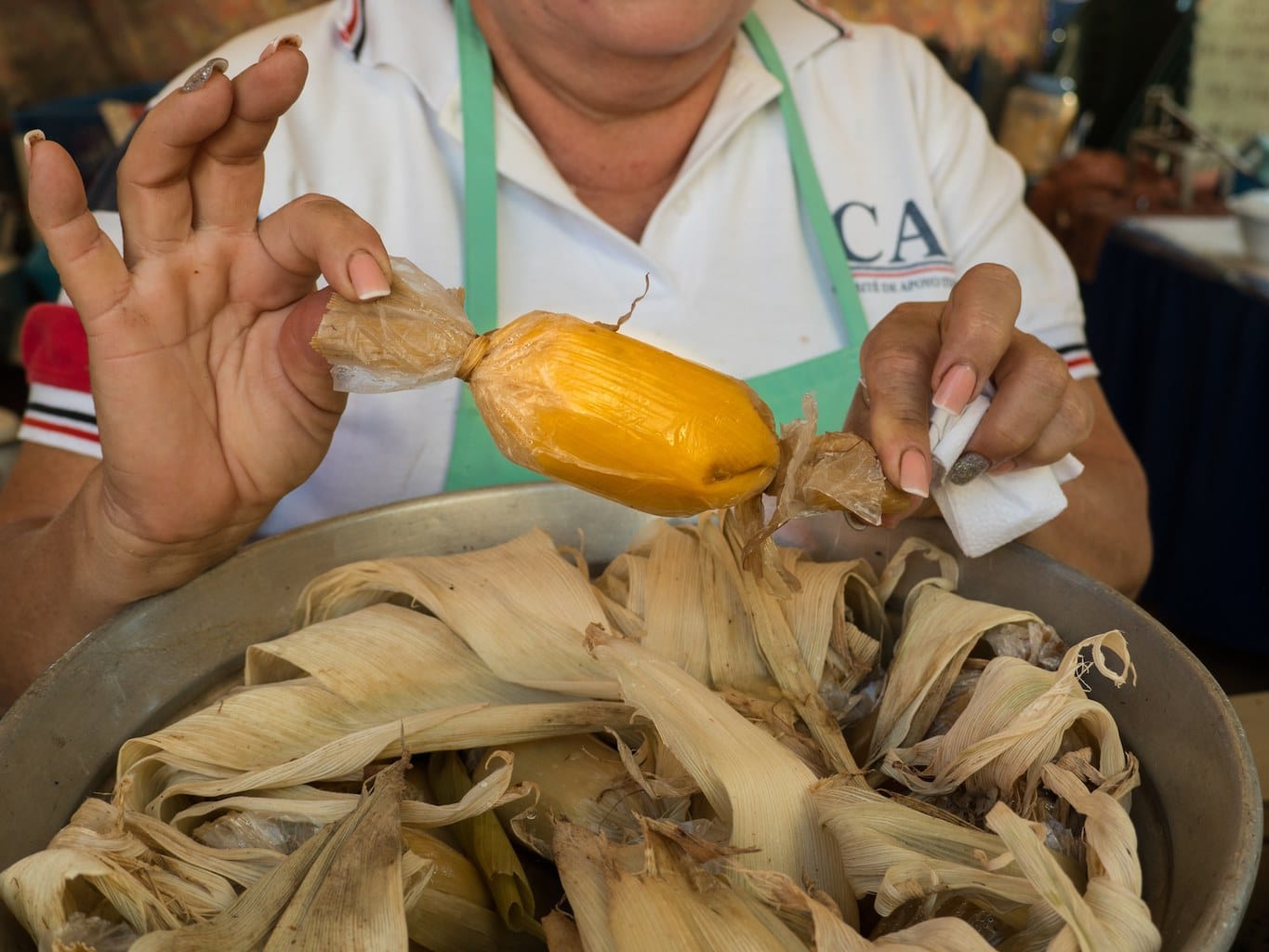 Similar to the ones in Mexico or Guatemala, tamales must be the most widely available food in all of Latin America and loved by everyone. What is not to like of a stuffed corn cake steamed in banana leaves or corn husk and filled with goodness.
Tamales can be sweet or savoury parcels filled with herbs, spices, vegetables, chicken, pork, frijoles (red and black) and sometimes even palm sugar for the sweet version. They are commonly available from street vendors in fairs and fiestas and they are generally considered a special occasion food eaten at celebrations.
Merienda
A combination of cooked ears, tongue and cheek. Very important not to confuse this with the Spanish word which involves tea time food (sweets, breads and pastries). If you are expecting an afternoon snack and you get pigs delicacies you might be disappointed.
Pastelitos de carne
These Salvadoran empanadas are small fried corn cakes made with filled corn masa with minced meat and vegetables that is fried in hot oil. Pastelitos are usually orange in color because of the achiote that is used for coloring, like in Mexico.
Achiote is a food coloring ingredient made from the anatto seeds. It does not add flavor only color. Pastelitos are usually served with curtido which cuts through the fried flavor with acidity.
Ceviche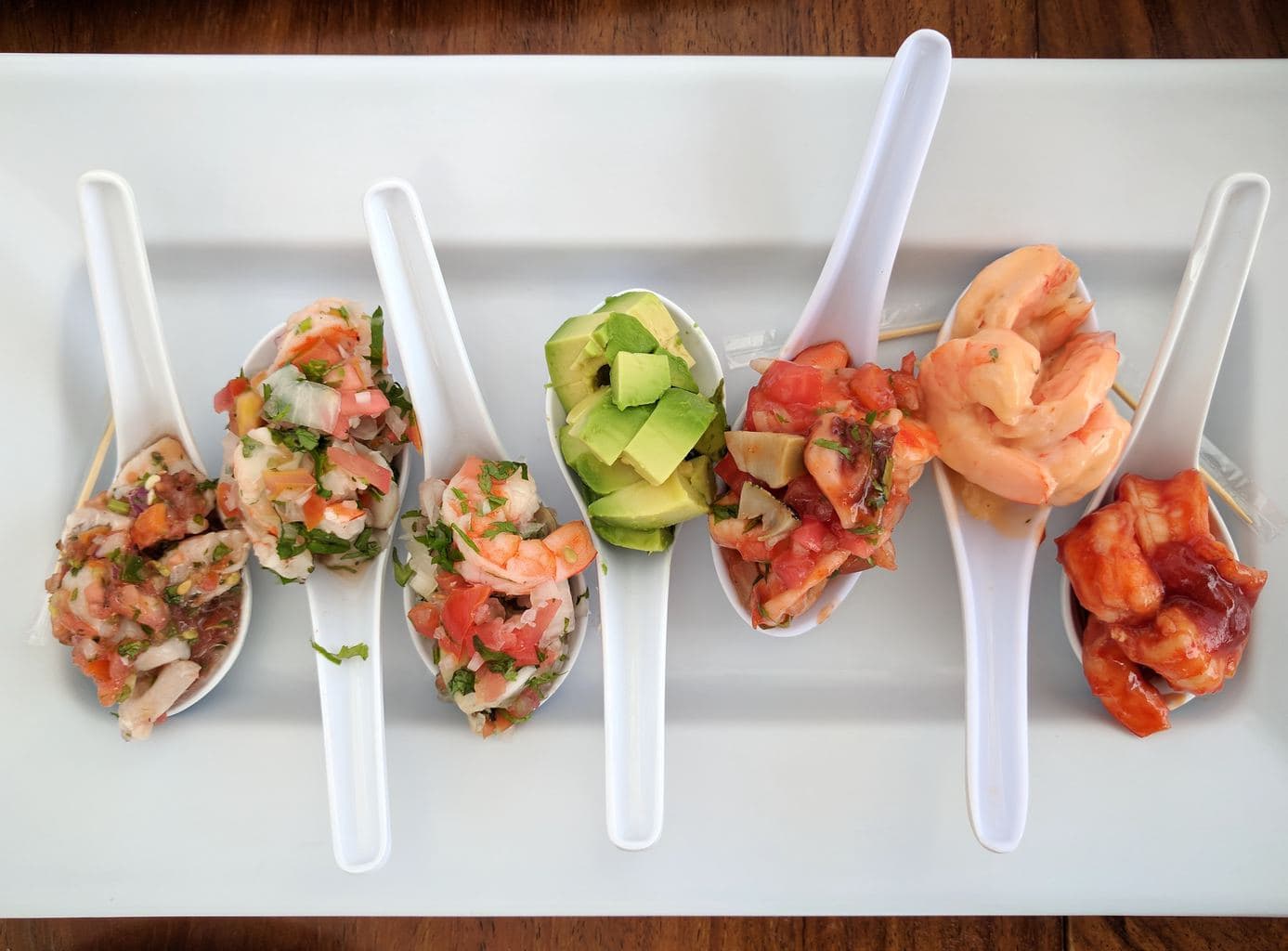 Ceviche is a very popular Latin American dish found across the continent. In El Salvador, it is usually made with white raw fish or camarones (prawns) caught off its coast. This is one of the healthiest Salvadorian dishes thanks to the fact hat the fish is not cooked but simply marinated in lemon juice and chilli. The lemon juice actually "cooks" the fish, although we can't call it cooking because no heat is involved, rather denaturalised.
Ceviche usually has finely chopped garlic, onion, tomato, cilantro, parsley and chilli. You can also add other ingredients, for example, mango. Add chilli sauce, olive oil, salt and pepper to taste.
Banana chips are often served with the ceviche, instead of the usual tostadas of Mexico. You will find ceviche on the menus of most coastal restaurants along La Libertad and surroundings.
Grilled seafood and fish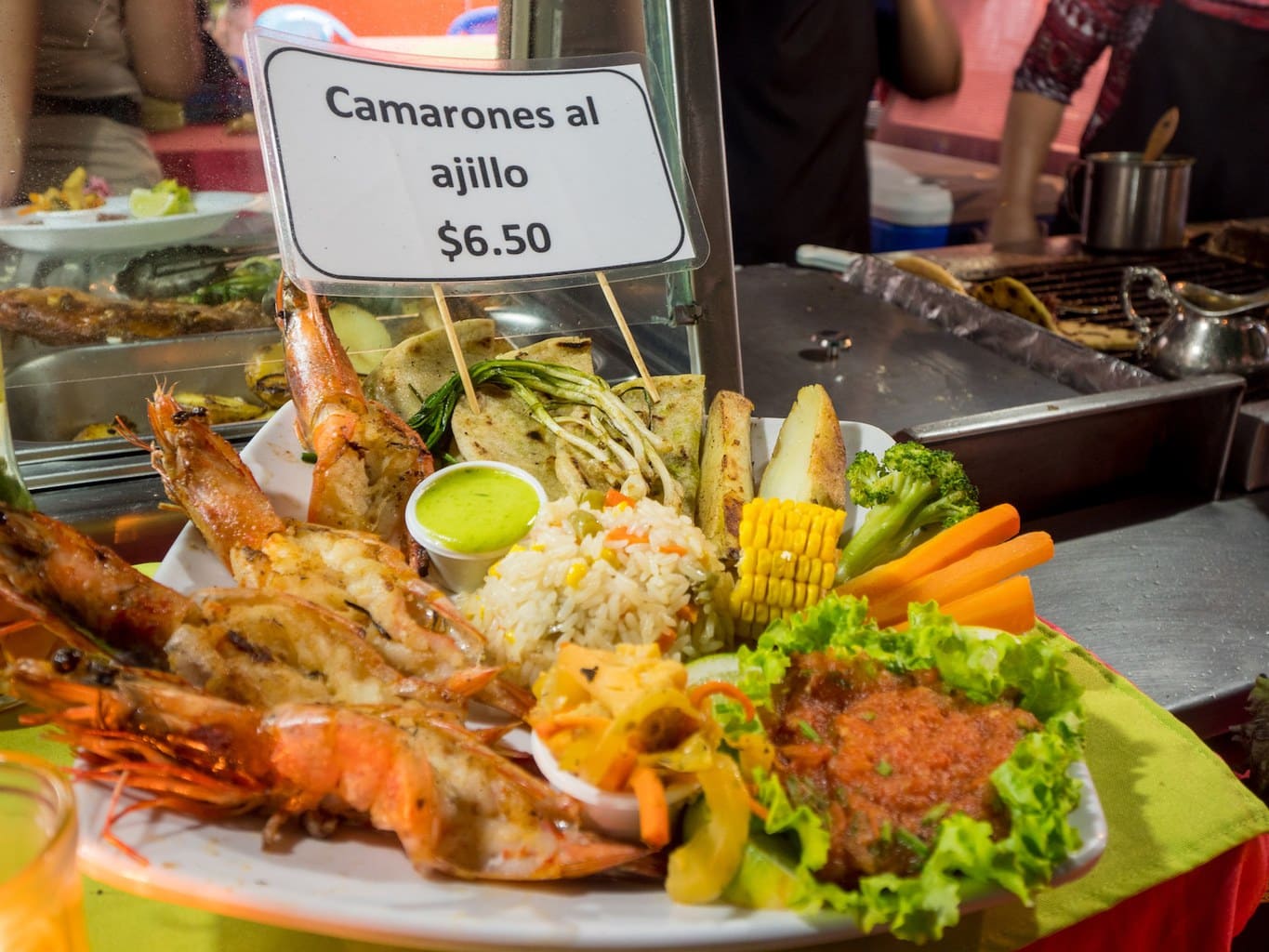 El Salvador enjoys a long coast on the Pacific side and this means that fresh fish comes daily at the fisheries of La Libertad. I visited the market and marvelled at the many types of fresh fish on sale. Seafood like clams, lobster, and muscles are also widely available.
As a result, the freshest grilled fish can be easily found on menus along the coast but beware as soon as you head inland as it may not be as fresh, even if the ocean is a mere couple of hours away.
Fried yuca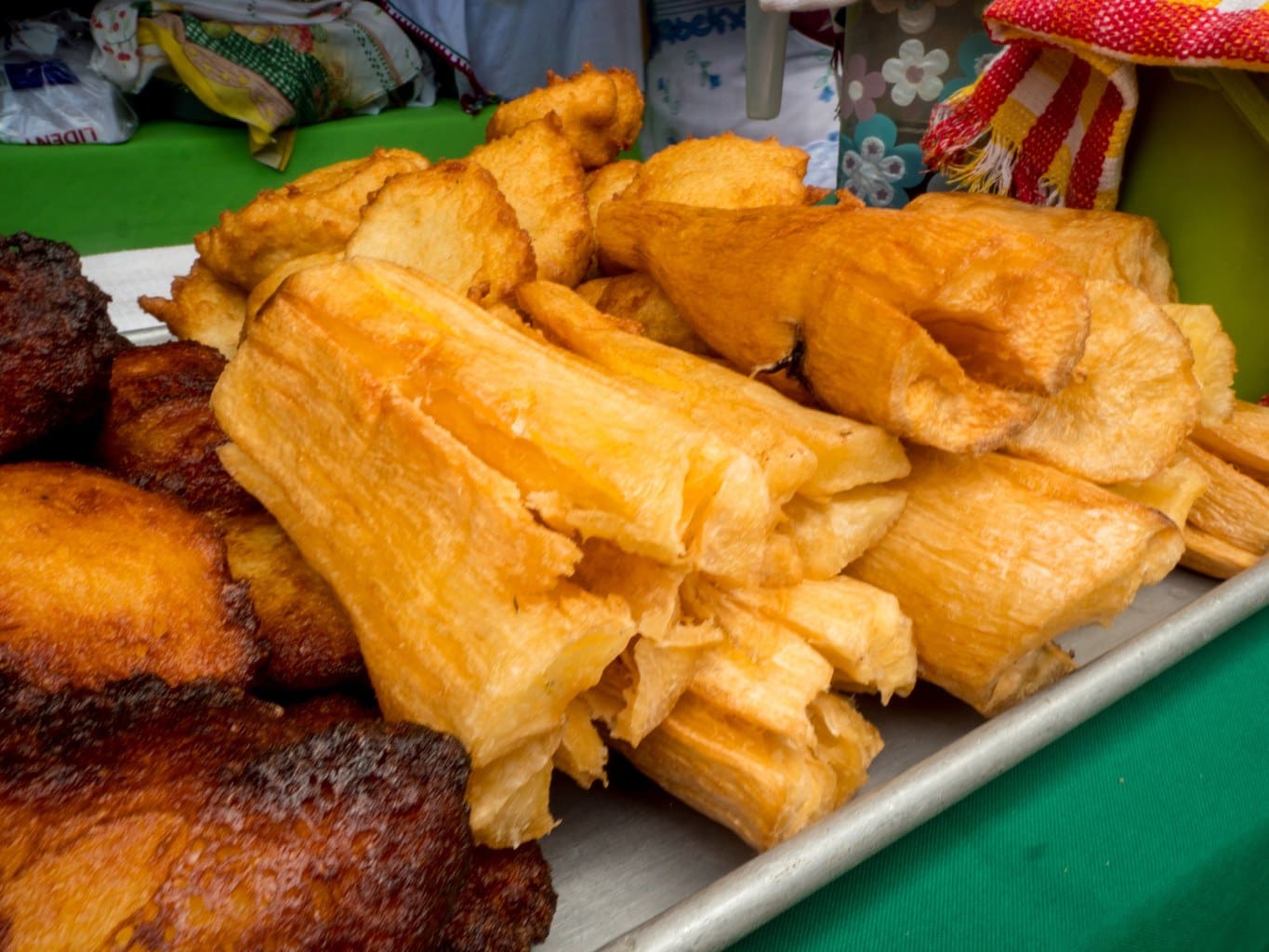 Yuca, also known as cassava, is a carbohydrate commonly available everywhere in El Salvador and in South America and the tropics in general. The root vegetable is usually eaten boiled then fried with a side of tomato sauce, as if it was the local equivalent of French fries, eaten as snacks, as sides for main dishes or even as street foods easily found everywhere.
I really love the meatier and more consistent taste of the yuca when compared to plain potatoes (it also has twice as many carbs) and enjoy that is is usually cut thicker with a crunchy layer at the top and mushier and softer inside. Yuca is the third most important starch in tropical countries and widely available in the Pacific and in Africa too where wheat can't grow easily.
While Cassava is thought to have originated in Brazil, the first remains of cultivation of the root were found in El Salvador Joya de Ceren site. From there, the Spanish and Portuguese colonisers exported it to their colonies in Africa and Asia where it is grown and eaten today. Did you know that raw cassava is poisonous? It has high level of cyanide and can cause intoxication and death so it has to be properly prepared before eating.
Elotes locos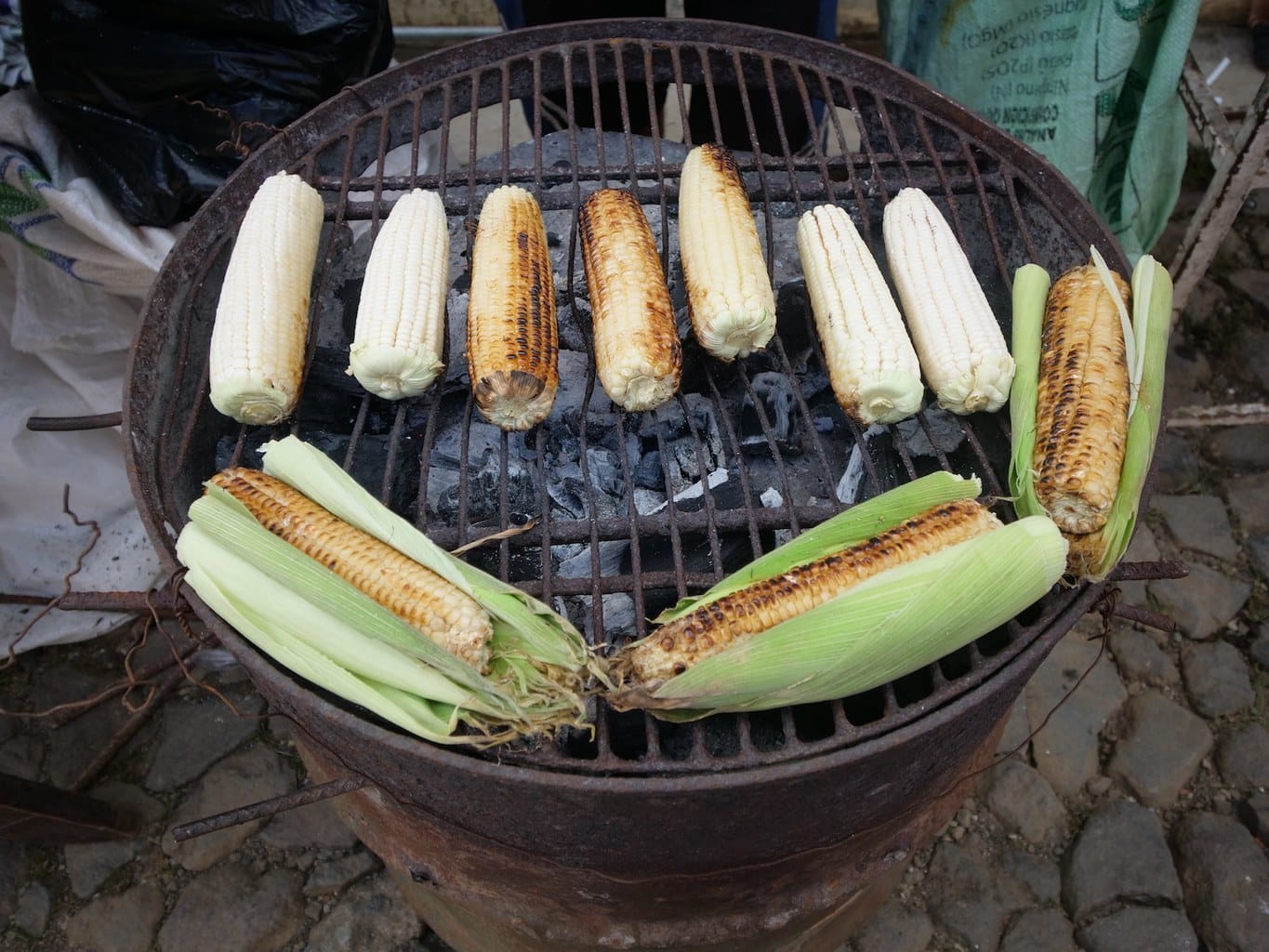 Much like in Mexico or Guatemala grilled corn on the cob is a great snack sold in the streets on a stick to hold it then topped with various sauces, grated cheese, mayonnaise, tomato sauce, etc. depending on your preference.
Casamiento
This side dish of rice with mashed frijoles called "marriage" is one of the most popular dishes in El Salvador and in Costa Rica. It is almost as if a meal is not complete until there is a plate of casamiento. Because of the filling blend of two strong carbs, casamiento can almost be a meal on its own without any meat.
Pan relleno
As its name indicates, this sandwich is made with a long soft bread like the ones used to make subs, filled with grilled meat. It makes for a great take away meal or street food because it is filling and has all the ingredients of a meal in an easy to carry way, but it is perhaps the least authentically local of all the Salvadorian foods because it is something that in one shape or another can be found across countries.
Grilled meats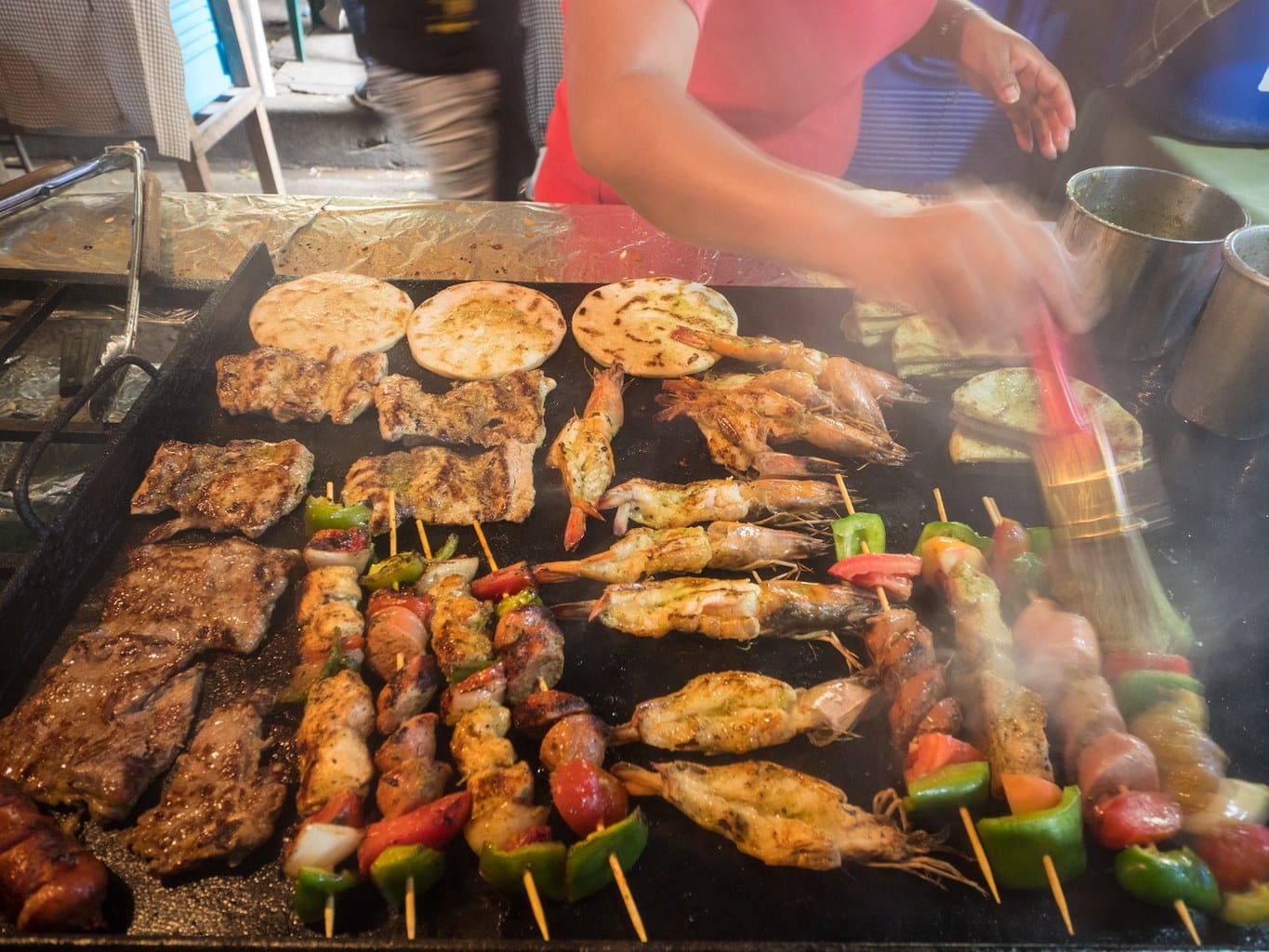 Salvadorians love to eat grilled meat. if you are going on a journey along La Ruta de las Flores, you will surely stop at the few colonial towns. On the weekends, they will be filled with food markets that cover the main streets and squares and fill the air with the smell of spices and foods.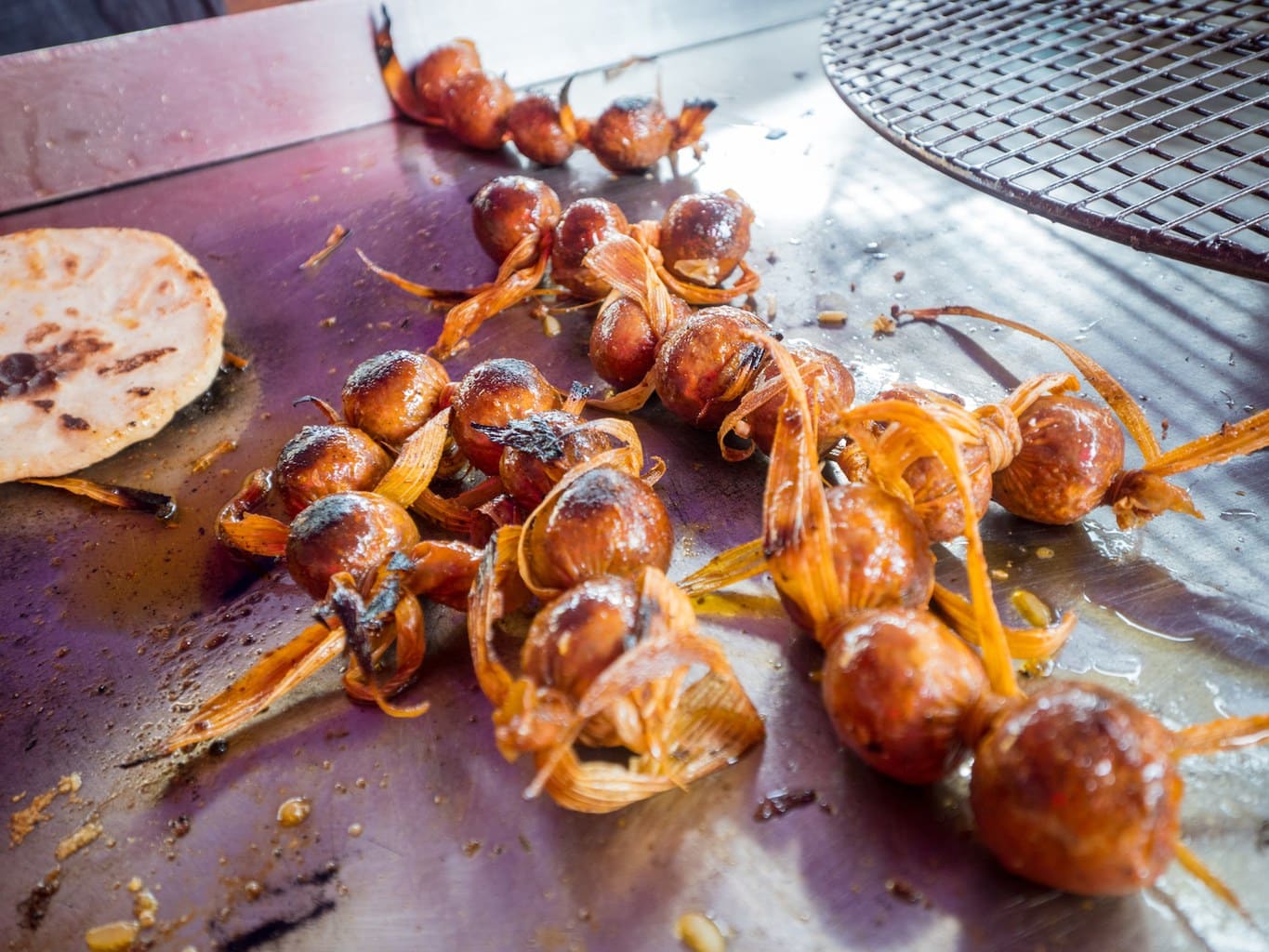 But perhaps the most commonly available food from these street vendors is grilled meat. You will find meat feasts with all kinds of chicken and pork, but also beef, and the famous pork chicharon sausage. You can pick your piece and get it on a plate with some yuca or casamiento for a fulfilling meal.
Sopa de pata
This hearty Salvadorian stew is made with meats and vegetables but not just any.
I will be honest, I did not try this one myself, I just couldn't. Why? Because this Salvadorian dish is made with cows hooves, that's right, the cow's feet, which is why it is called sopa de pata, literally translated as feet soup.
To accompany the meat there are vegetables and usually a starch, yuca most likely. I am sure it is pretty tasty as the feet are rich in marrow and gelatin that gets released when cooked and gives the dish this MSG texture.
Riguas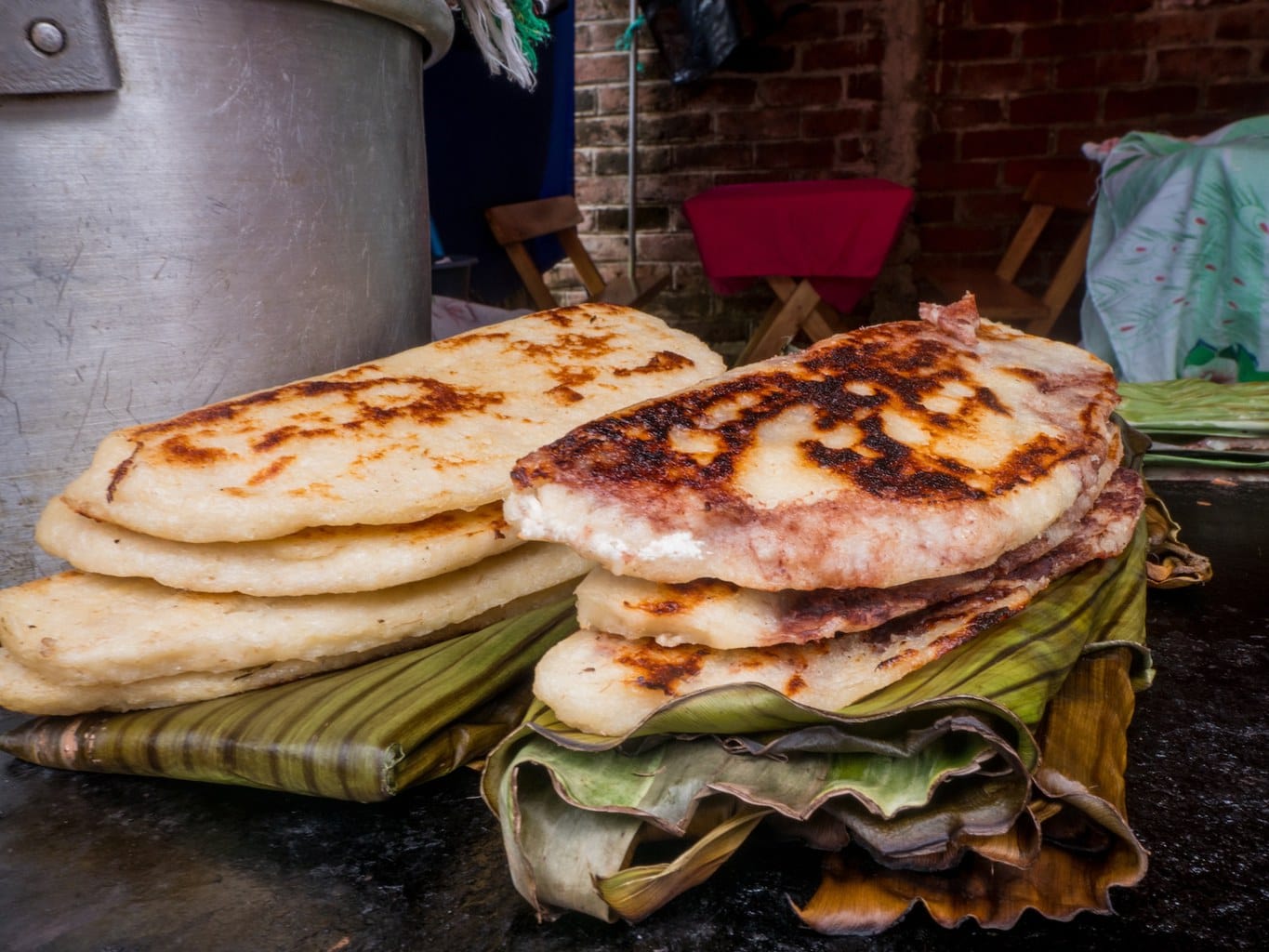 This snack reminded me of Mexican street foods. It is made with corn dough that is stuffed with frijoles and cheese and cooked over a banana leaf on a comal then toasted without the leaf.
Great Salvadorian desserts to try
Did I get you salivating already with all this Salvadorian foods? You haven't seen anything, the best is yet to at the end of the meal, for dessert.
Like in other Central American countries, dessert in El Salvador is largely influenced by Spanish tradition. This is because, besides cocoa and corn, sugar and dairy were brought by the global trade between the Spanish colonies in Asia and Europe.
Empanadas de leche
This Salvadorian sweet treat is a must try if you find it. Made with wheat flour and moulded in the shape of a half moon (like the pastelitos) and filled with dulce de leche, hence the name, the small empanadas are then sprinkled with sugar and ready to eat.
Canoas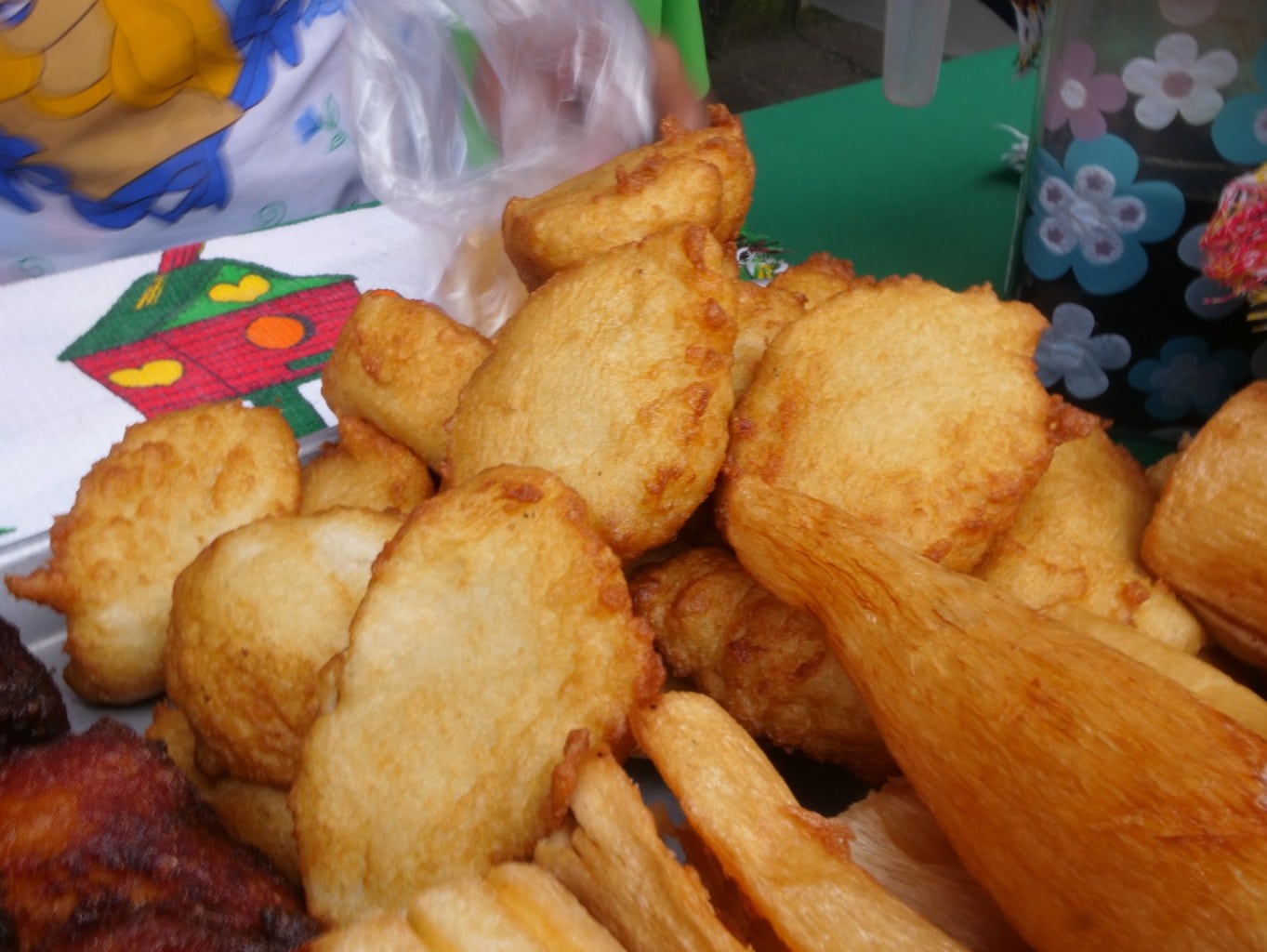 Another false friend of the Salvadorian cuisine are the canoas. Unrelated to canoes of any kind, these are stuffed plantain patties fried in oil that are usually eaten as snacks. The name probably refers to the fact that they do look like little canoes floating on a sea of oil.
Arroz con leche
Arroz con leche is one of my most favorite desserts available in Spain and also in Mexico, Guatemala and El Salvador.
Unlike other foods which have same name but are different things, arroz con leche came from Spain and has not been modified, it still is rice cooked in milk, sugar and topped with cinnamon powder. You can also add cinnamon sticks or lemon grind to the cooking but essentially, it is a very simple and easy to make Salvadorian dessert.
Tres leches cake
Tres leches cake is a sponge cake soaked in three different kind of milk, hence its name. It is common in Argentina as it is in Mexico, Guatemala and across Central and South America, and you will also find it on many Salvadorian menus.
The cake is made with a soft sponge that is then soaked in evaporated milk, condensed milk and full milk that give its characteristic moist texture. The cake is then topped with a thick layer of whipped cream.
While the recipe is relatively simple, the combination, thickness and the way in which each of these three milks is prepared and used determines how light or heavy the cake can be. Sometimes, dulce de leche is also used, as is the case in Argentina, and sometimes the cake is made into a layer cake with cream in between layers of sponge cake.
Did you know that whole the origin of the cake is not clear Nestle had recipes for it on its condensed milk pots in the 1940s? This probably spread this food everywhere in Latin America where the company had open local subsidiaries. You can read more about the origin of this cake and how it spread like wildfire in the Americas here.
Semita
Semita is a great sweet snack from El Salvador that consists of a pineapple jam filled pastry or biscuit a bit like the typical pineapple tarts eaten during Chinese New Year in Singapore.
The pastry version is almost like a Spanish empanada, a thin dough baked in the oven and filled with jam which can be sliced. You may also find the more buscuit/cookie version which is almost like the Dutch
Torrijas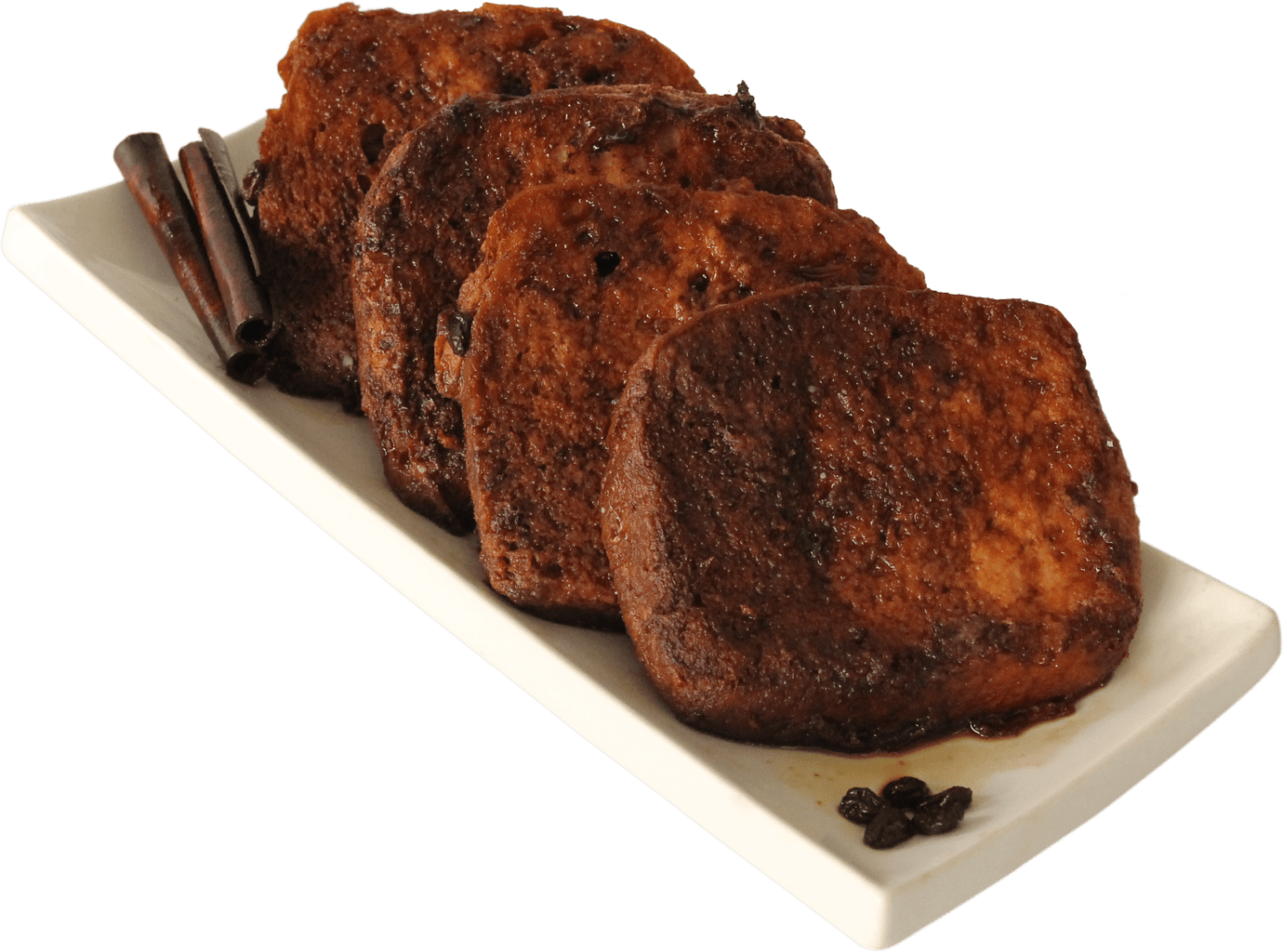 This Spanish version of a French toast (technically pain perdu) made its way to Central America through the colonizers. Torrijas are milk soaked, egg dipped, fried bread slices (usually old bread that has become stale) which can then be doused in honey and sprinkled with sugar and cinnamon. Note that we don't say torrija, we say torrijas, that is, plural, because one never eats just one.
In Spain, torrijas are common during Lent and Easter and fried with olive oil only, like in El Salvador, not with butter like the French pain perdu, and they ened to be cooked until brown. They were originally eaten by women after giving birth because of their high caloric amount and nowadays a popular dessert item that is best enjoyed with sweet dessert wine.
Drinks in El Salvador
Most of the traditional Salvadorian drinks are the same you will find across Central America but there are also some exclusive ones that are not found elsewhere. Check this list to see how to complement food in El Salvador.
Horchata
Unrelated to the Spanish horchata which is made with tiger nuts, but similar to the Mexican horchata which made with roasted seeds, nuts, spices and rice which are mixed with water and strained. This makes for a refreshing drink and is one of my most favorite foods in El Salvador.
Horchata is available at restaurants and from street stalls, but careful with the ice.
Atole de elote
Atole de elote is a very traditional Salvadorian and Central American drink that originated in Pre-Colombian civilizations.
Paintings and murals as well as statues found at Mayan and Aztec sites show their rulers drinking atole de elote, a frothed ceremonial drink sometimes sweetened with sugar or flavored with cocoa. The drink is made from corn masa and is a bit thick.
Ensalada
This is a drink, not a salad, although you could argue that it is a fruit salad in a glass and mixed with fruit juice, usually lemon. Ensaladas are quite refreshing and widely available from street vendors, but be careful with that if you have a delicate stomach.
Michelada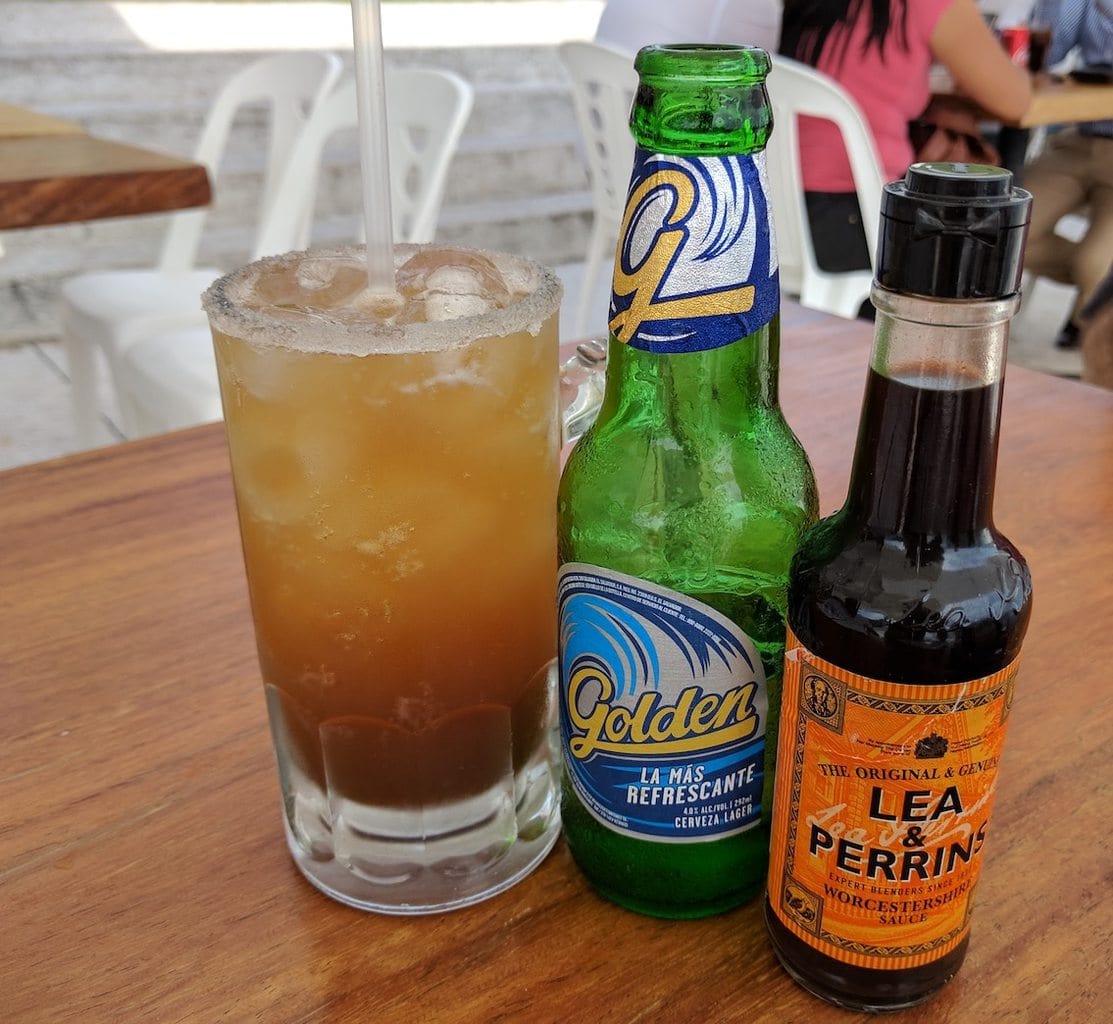 Like in Mexico, a michelada is a drink prepared with beer, Lea & Perrins sauce and salt. Unlike the Mexican version, micheladas in El Salvador don't contain any other ingredients and are just these three things. Micheladas can be ordered with our food or as an aperitif or stand alone drink.
The food of El Salvador is lesser known than that of other Latin American countries like Mexico or Peru, but I found it very tasty and interesting.
Don't forget to Pin this to your South American Cuisine board!