Bangkok has no shortage of dining options. Aside from the great street food several restaurants experimenting beyond the traditional flavours have even been recognized on Asia's Best Restaurants List.
Having become the world's most visited city Bangkok gives local chefs enough leeway to test and experiment with new flavours, try innovative takes on traditional Thai dishes or simply bring back the long lost traditions.
On a long weekend getaway these are 4 great foodie Bangkok dining options.
1. Nahm
Asia's Best Restaurant and 13th in the World according to Restaurant Magazine prestigious list, Nahm, is located in Bangkok's Metropolitan Hotel and offers a modern take on century's old traditional Thai food. It has been on the list for the past 3 years steadily climbing up to last year's position.
Interestingly enough the Executive Chef is not Thai but Australian born and his London restaurant of the same name became famous for being awarded the first Michelin star going to a Thai Restaurant.
Plates are meant for sharing and leverage the chef's focus on balancing Thai's four flavours of sweet, sour, spicy and salty.
Given its cache, the restaurant is booked solid so it is a good option for lunch. Also, the setting and décor is suited for a bright day.
2. SRA BUA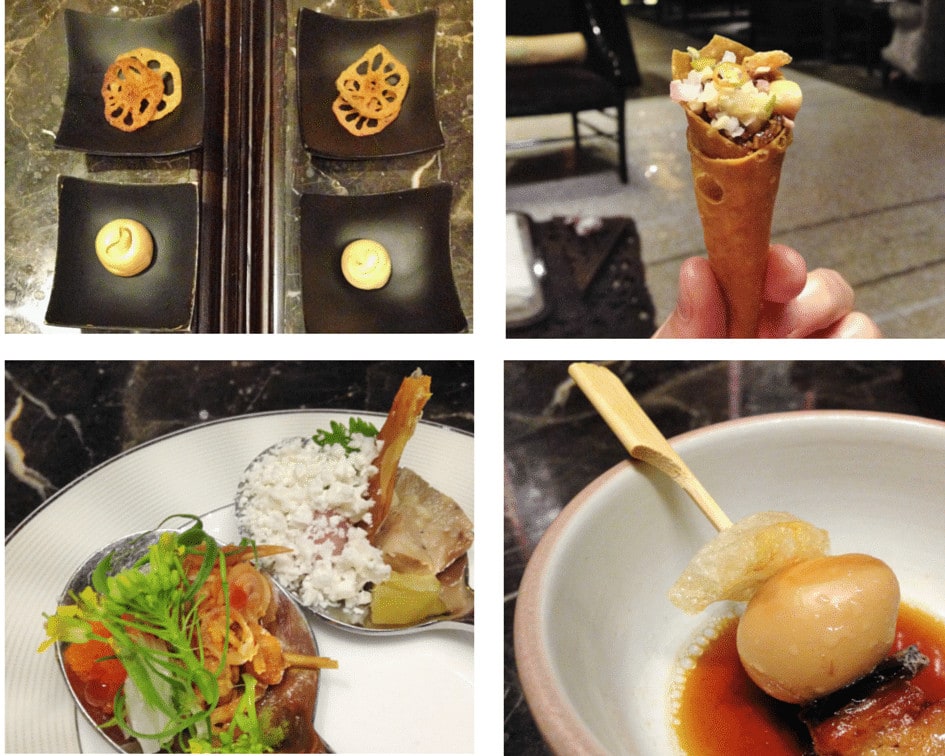 Highly recommended and proud brother of Michelin Starred Kiin Kiin, Sra Bua is the fine dining restaurant in fabulously well located Kempinski Bangkok. The again-not-local chef, Danish Henrik de Andersen, is currently the only chef of a Thai Michelin Starred restaurant in, you guessed it, Copenhagen. Sra Bua is his Asian adventure.
The room is airy and with high ceilings. Tones in brown and green and a plush lounge area give it an old-world charm. Furniture is antique looking and in dark wood.
The menu has a split personality. You can opt for the traditional book style menu or venture into the 21st century iPad where you can navigate the menus and pairing options.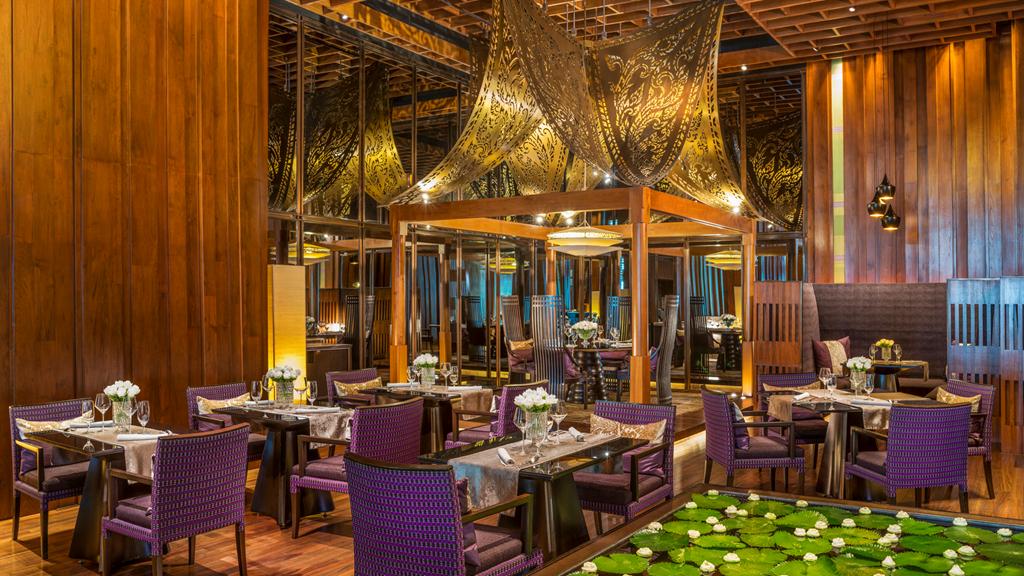 The menu consists of two degustation options to choose from depending on your appetite. Pairing options are offered with non-alcoholic drinks, wine or cocktails. Both menus start with the same snacks and street food amouse bouche where the chef reincarnates Thai favourite street meals into a fine dining setting. These are playful and tasty. Small morsels of Thai flavours you are encouraged to eat with your hands.
The snacks included lotus root, prawn and squid crackers and peanut meringue. All of them burst in your mouth. The 6 street food snacks were beautifully presented, colourful and very sophisticated leveraging Thailand's strong flavours of lemongrass and chilli.
• Tuna with banana and lemongrass
• Miang Kham Cornette
• Frozen Tom Kha with mushroom
• Chiang Mai sausage
• Five spice pork
• Flan with Dried Swordfish
The rest of the dishes are served in the main dining area.
Sra Bua tries to surprise with different textures and unexpected renditions of popular dishes. Our Chicken satay came deconstructed, in the same way El Bulli became famous for its deconstructed potato omelette, with a piece of crispy chicken skin, ice cream, a curry dust and a flan. Intriguingly looking we tried to mix all the ingredients but failed miserably.
The Tom Yam soup was also made of two bowls. Spicy lobster on one side, Tom Yam broth on the other. This was a particularly fiery dish which set our throats on fire.
The last dish was a beef with oyster sauce which was quite deliciously mellow and sweet.
Dessert was decidedly coconuty despite the name: Banana cake and salted caramel. Shredded coconut with little banana muffins and salted caramel ice cream. A dash of beautifully smooth caramel sauce on one side of the banana tree wooden plate.
A lot of effort has been put into presentation and even the plates complement the expression and background of each dish. Stick to the wine pairing.
3. SIROCCO
Frequently featured as one of the best rooftop bars and restaurants in the world and in the Hangover II movie, Lebua Hotel's Sirocco restaurant is a special occasion on its own.
Towering over Bangkok's river and sprawling over the city's skyline a cocktail at this famous landmark is almost a must. But aside from enjoying an overpriced cocktail and being slightly harassed by the waitresses wanting you to order another one the dining experience is quite unique too, beyond having the most expensive price tag in Bangkok. That's right, the set menu and a bottle of premium wine will set you back almost 600USD for two.
Sunset views are unforgettable, though. On the night we visited, peering through the clouds in all shades of yellow, orange and fire red the sunset was magical.
The restaurant looks slightly different from the typical photos you may have seen in famous lists of the best rooftops in the world. This is because the staff will not allow you to take photos from where all these shots are taken. Is this to preserve the integrity of the omnipresent image?
The menu is Mediterranean with strong Spanish influence. The jabugo ham, even for a Spaniard, is divine. The degustation menu is very complete with several international dishes. Although none of them lingered in our minds much past the evening it was a pleasant meal with fine romantic views.
4. Bo.lan
A couple named Duangporn, nicknamed Bo, and Dylan started Bo.lan with the idea that the best Thai restaurant should be in Thailand's soil. The name, aside from being a combination of the couple's names, is also a slight variation from the Thai word for ancient or antique and that is exactly the style of the restaurant. Set in a quiet and lush villa in the middle of bustling Bangkok it is an oasis of tranquillity, perhaps even too much judging by how long dinner may take to arrive.
Their philosophy is to work with local farmers to bring back ancient recipes and a diverse range of produce. Dishes shy away from Thailand's famous items focusing instead on the food Thai grandmothers used to cook.
Emphasis is on slow food and attention to detail. The duo also works in various projects to reduce the restaurant's carbon impact as well as raise awareness on responsible eating.
Dinner is a choice between two set menus which need to be served for the entire table and cannot be altered in any way. Food was innovative while keeping with tradition. We were served a platter of interesting snacks to start with followed by a Thai version of a tequila shot. Thai tequila, pandan shot with a sour fruit reminiscent of a star fruit and salt. A rather solid start with very strong alcohol. Pandan and coconut featured prominently on the menu. As did the usual suspects in Thai cuisine, chili and lemongrass.
The majority of the meal is served at once in sharing platters. You can feast on incredibly milky fried whole fish, lobster salad, melt-in-your-mouth beef curry or pork. Rather than a tasting menu the portions are filling.
Desserts are preceded by a delicious palate cleanser with coconut milk and ice and followed by a colourful selection of petit fours served with tea which are a play on textures.
Eating at Bo.lan is a culinary voyage through Thailand. Be patient, sit back, relax and enjoy the journey.
5. Sunday Brunch at the Four Seasons
What better way to round up the weekend than by enjoying one of the most luscious meals: Sunday brunch. And what better place for that than the restaurant with the same name.
At the Four Seasons Sunday brunch is a world tour of flavours. You can sample a vast selection of cold cuts and cheeses in the purpose room, feast on Sunday roast favorites, enjoy Thai dishes, Chinese dim sum or peking duck, hummus, kebabs or roasted foie gras. The choice is endless. There are also several cocktails on offer as are wines and beers. The open air patio is a pleasant place to while away Sunday afternoon.