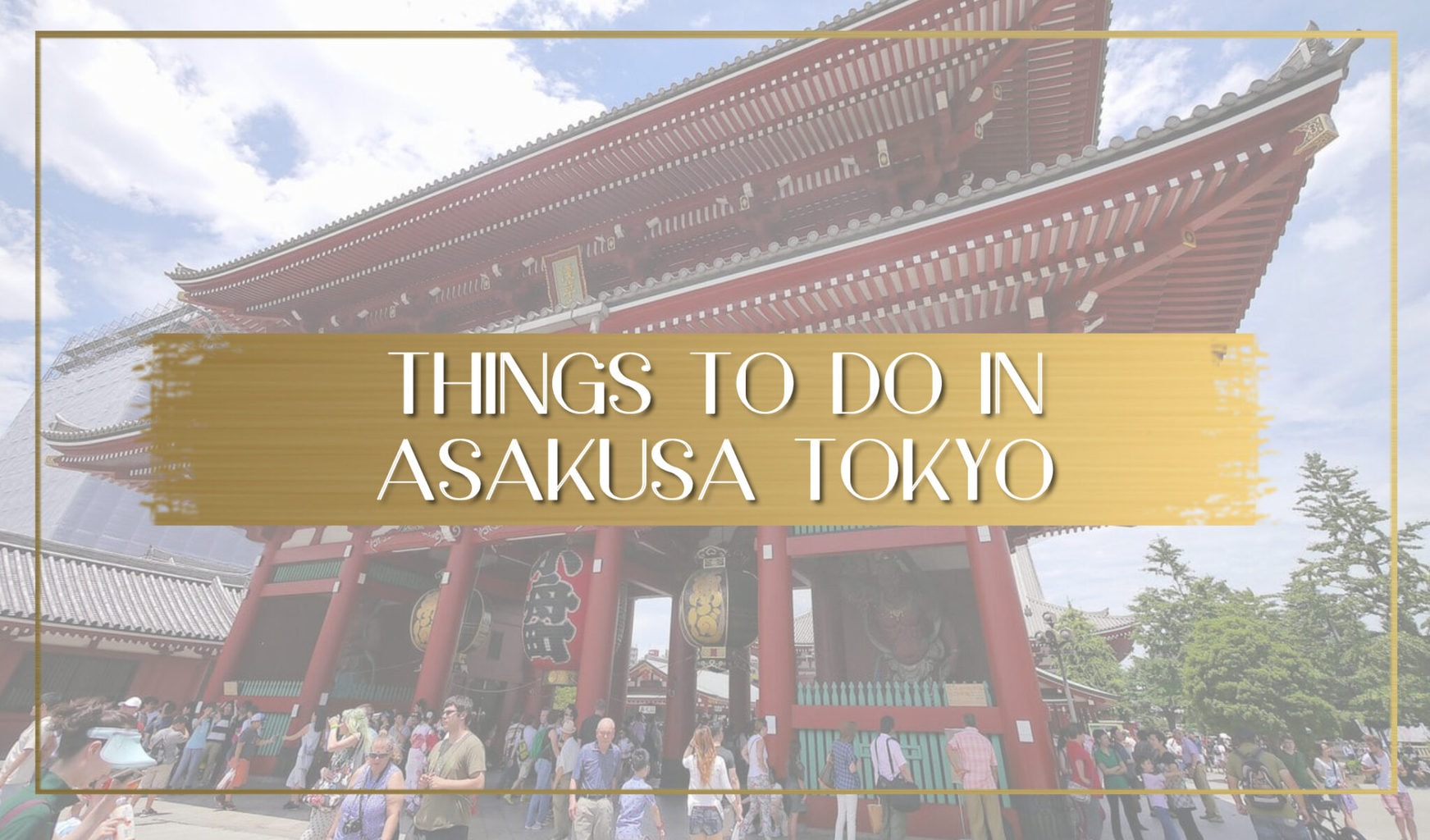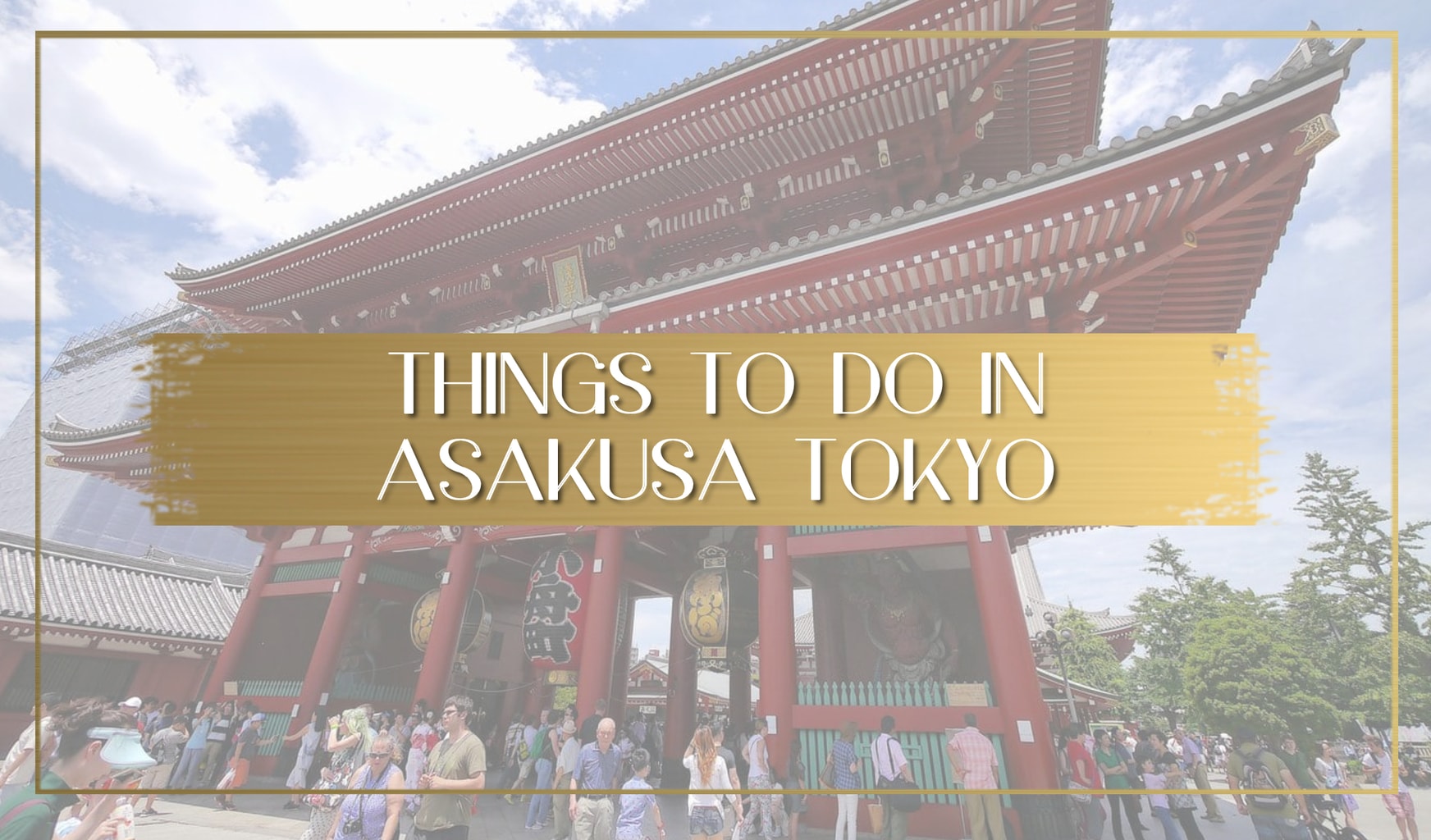 No trip to Tokyo will be complete without a visit to Asakusa. Tokyo's former Red Light District is possibly the most heritage rich neighbourhood in the city and one with the most beautiful sites.
For first timers to Tokyo, Asakusa is a good place to start to learn more about the city, and the country's past. Temples, geisha, festivals and even plastic food shops, can all be found in Asakusa. Here are a few of the best things to do in Asakusa.
For further reading when you're done with this article, you can see our 4 day itinerary for Tokyo, which will tell you the best time to visit Asakusa. Here's our complete guide of the best things to do in Japan for first time or even seasoned travelers. We have also written about the most delicious Japanese food to try, a complete shopping guide to Tokyo, some inspirational facts about Japan to know before you go or a list of the best movies about Japan.
A bit of history about Asakusa
Located outside of the city during the Edo period, Asakusa was the center of entertainment and Buddhist spirituality from the 17th century until the 1940s. The area was historically dotted with kabuki theatres, a form of traditional Japanese theatre considered UNESCO Intangible Cultural Heritage, and later with modern types of theatres and cinemas. Most of the district was destroyed during the WWII air raids and whereas Sensoji Temple, one of the main draws to today's Asakusa, was rebuilt, the entertainment never returned.
Although the area can be easily explored on foot and on your own, in order to really understand Tokyo's and Japan's history, a guide is most recommended to really understand more about the best places of interest in Asaukusa. I went on a private Tour of Asakusa with Context Travel, my trusty go-to company for expertly-led culture tours, and was paired with Jay, an Urban Development expert who shared an incredible amount of detail and knowledge about Sensoji, the area and the various elements that we came across with during our two hour tour.
Best things to do in Asakusa
Below are some of the best things to do in Asakusa from temples to food and beyond.
Asakusa Culture Tourist Information Center
Sensoji Temple grounds, the main attraction in Asakusa, are reached via two gates at the beginning and end of a shopping street. This is the busiest part of the neighbourhood and always filled with tourists and visitors.
The best place to start your exploration of Asakusa is the Asakusa Culture Tourist Information Center where you can see the entire neighbourhood from all sides, from the river to the back, to the temple at the front. The center has a cafe on the same observation deck. The views from the floors below are also great and closer to the ground so you do get more of a detailed perspective than from higher up.
From this vantage point, our guide also revealed one of the secrets for not getting lost in Tokyo: look for a tall building. This may seem like an obvious piece of advise, but there is more to it than meets the eye. Tokyo is prone to earthquakes, so a lot of old buildings were built in wood. But this, has the extra risk of fires.
Tokyo has been burnt to the ground several times, so the current urban regulation states that streets be designed to provide enough space for people inside buildings to escape in case of evacuations. This means that a tall building will always be surrounded by a wide street that can accommodate everyone inside trying to run out from a building. The need for a wide enough street has also limited the amount of tall buildings in the city, so these are rare. Additionally, tall buildings are more likely to be near train stations, which are useful landmarks, because of the same need for a wide enough street nearby.
Kaminari Gate
Across from the tourist information center you will see Kaminari Gate, one of the most famous things to see in Asakusa and a very pretty gate to photograph.
The gate was first built in the 10th century, holds a large red and black lantern and is flanked by four statues, two on either side, of Shinto and Buddhist Gods. As with most other sights in Tokyo, Kaminari Gate was burnt to the ground and rebuilt at least four times, last one in 1960 after WWII.
Check out the bottom of the lantern for an interesting dragon wood carving. This reminds us of Sensoji Temple official name: Golden Dragon Mountain.
Nakamise
After Kaminari Gate you will find yourself in Nakamise, a street lined up with stores selling anything Japanese and Asakusa. You could spend a day simply exploring each and every single one of these stores, all pretty as pink and full of details. Look out for anything from lanterns to paper fans, miniature key rings, sweet snacks, chopsticks, china and other more mass market souvenirs like t-shirts or children toys.
Don't be fooled by the look of the area, some shops are pure tourist fare but others are well over 100 years old and have been standing there for generations. Can you spot them? Nakamise can be really packed and hot in the summer as there is limited shade under the stall's umbrellas so bring a hat if you plan to explore this important sight.
Hozomon Gate
Before reaching Sensoji you will cross another gate. Hozomon Gate stands right in front of Sensoji and before the ablution fountains ad is one of the most famous things to see in Asakusa.
The gate has another interesting design. Note the bronze statues of a dragon spilling the water. They are for washing your hands (and mouth if you wish) with the wooden ladle. There is also incense burning in a center bowl which is used to purify and treat ailments, feel free to spread it on any area of concern.
Hozomon is a large two-storey gate whose top floor houses Sensoji's treasures. Hozomon burnt down less than Kaminari but today's structure also dates from after the war and was built using fire resistant materials. The gate is also interesting because of the two giant sandal statues at either side.
Goju no To
To the left of Hozomon you can also spot a 1t0th century five-stories pagoda which is equally as old as the gate and very pretty. Pagodas this tall are not common in Tokyo because they have been destroyed through the years by the many fires, so this is a rare photo op. You cannot go inside because this is essentially a graveyard.
Next to the pagoda is also a pair of massive sandals from sumo wrestlers that are meant to be protectors of the temple.
Sensoji Temple
No doubt the most important thing to do in Asakusa is exploring the grounds around Sensoji, a Buddhist temple originally built in the 7th century but rebuilt after WWII.
The legend says that in the 7th century, two brothers found a statue of Kannon, the Buddhist goddess of mercy, in the River and even though they didn't want to take it out of the water, the statue kept coming back. Eventually, Sensoji was built to host the Goddess Kannon. Sensoji's early origins make it the oldest temple in the city, even if todays construction is post-war.
Sensoji Temple is large, always packed and very beautiful. The high ceilings and the bright red color of the columns and walls gives it a fiery appearance. Do look up as the ceiling's paintings are quite impressive. Locals come to the temple regularly for celebrations and ceremonies as it is a working Buddhist Temple so the inside room at the back of the open area is reserved for those who have booked a ceremony. Tourists are not allowed in but you can still look from the outside.
Get your fortune (mis)read
One of the quirkiest things to do in Asakusa is getting your fortune read, or misread, by the magic sticks. If you want to learn more about what the future holds for you, you can make a 100 yen donation and pick a numbered stick from a tin box which will lead you to one of the drawers from a wooden chest of drawers containing a paper with your oracle.
The predictions have english translations that look more like it had been done using Google Translate that an official translator. With the help of our guide I found a better translation to the one proposed one which talked about large birds and cages and was too far fetched for my own interpretation. Even with the more intelligent translation, my oracle was not very optimistic and still sounded more like a metaphor than an actionable suggestion. I guess you can only give so much detail if you have to reduce all possible future combinations of humankind to just a few options.
Asakusa Shrine
To the right of Sensoji there is a smaller ancient Shinto shrine devoted to the founders of Sensoji, the two men who found Kannon in the river and the elder that built the temple for the deity. It is remarkably humble when compared to the main temple but there is often live music or other celebrations and performances happening on its grounds which add to the visit.
Halls and old stone bridge
To the left of Sensoji there are various shrines and halls as well as Tokyo's oldest stone bridge, dating back to the 17th century, which crosses a cute stream in a quiet lush garden and hangs above a pond with koi fish. The area is remarkably peaceful considering its close proximity to the permanently busy Sensoji Temple. if you need a respite from the crowded temple grounds this is a good place to sit down at one of the benches.
Take a rickshaw tour
Another fun thing to do in Asakusa, perhaps after you have finished the tour and are looking to just people watch on a relaxed ride, is to jump on one of the many human-powered rickshaws that consist of a rather toned and fit Japanese man wearing tight black and white lycra pulling a horse carriage around Asakusa. He will also add in some colour and flair with comments, if you are lucky and he speaks English, and it is a rather amusing way to complement the walking tour.
Plastic food stores
As I live in Asia, plastic food is something that I have become accustomed to so it either surprises me nor does it even get my attention anymore. But I will admit that some of the creations displayed at some Japanese restaurants are pretty impressive.
In case you are not familiar with this, many Japanese restaurants and cafes will have plastic replicas of the dishes on their menus on the display window for passersby to have a look and see if this is what they are looking for. Some of the plastic food is actually standard but many are made to order, sort of, to showcase the specific details of the dish in question. If you are less used to this alternative version of a menu with photos, Sensoji Temple is very near the mecca for all things plastic food. Head to Kappabashi Street if you want to buy some funky pieces of fake food.
See soba noddles being made
This is a free and daily "show" at several of the noodle stores around the temple grounds. Many of the stores still hand made and cut the noodles manually and the chefs in some of the restaurants do so in front of the window so you can see how it all unfolds from the street. There are many soba noodle places in the area to top the day.
Sumida River architecture
Asakusa is also home to lots of weird looking buildings, especially along the Sumida River which is a few steps away from the Tourism center. You can't miss two Asahi Beer buildings, one is shaped to look like a beer pint and the other has a large golden flame to represent the workers. Next to them, you can see Tokyo's Skytree, another Eiffel Tower looking building, and the tallest structure in Japan.
Enjoy some yakitori
While most of Asakusa's non-historical bits are relatively new and rebuilt after WWII, you can still find small eateries and holes in the wall which sell you yakitori or other traditional Japanese foods with copious amounts of beer in traditionally-looking stores. The area is particularly busy in the evenings. Some of the smaller streets to the left of the temple are fashioned to look like the older street, the pavement painted as if it was made of mud and the smaller shops looking like the old wooden houses.
Watch a traditional performance
Most of Asakusa is new and rebuilt after the WWII destruction. With it, went all the performances and entertainment that had historically made the area famous but you can still find some of the Kabuki theatres where you can watch traditional Japanese performances. Check out Asakusa Engei Hall where it is said the next big stars are found. This is one of the most unique thing to see in Asakusa, even though it is unlikely that you will understand anything as the performances are in Japanese, but the outfits and the feeling of the place are still worth it.