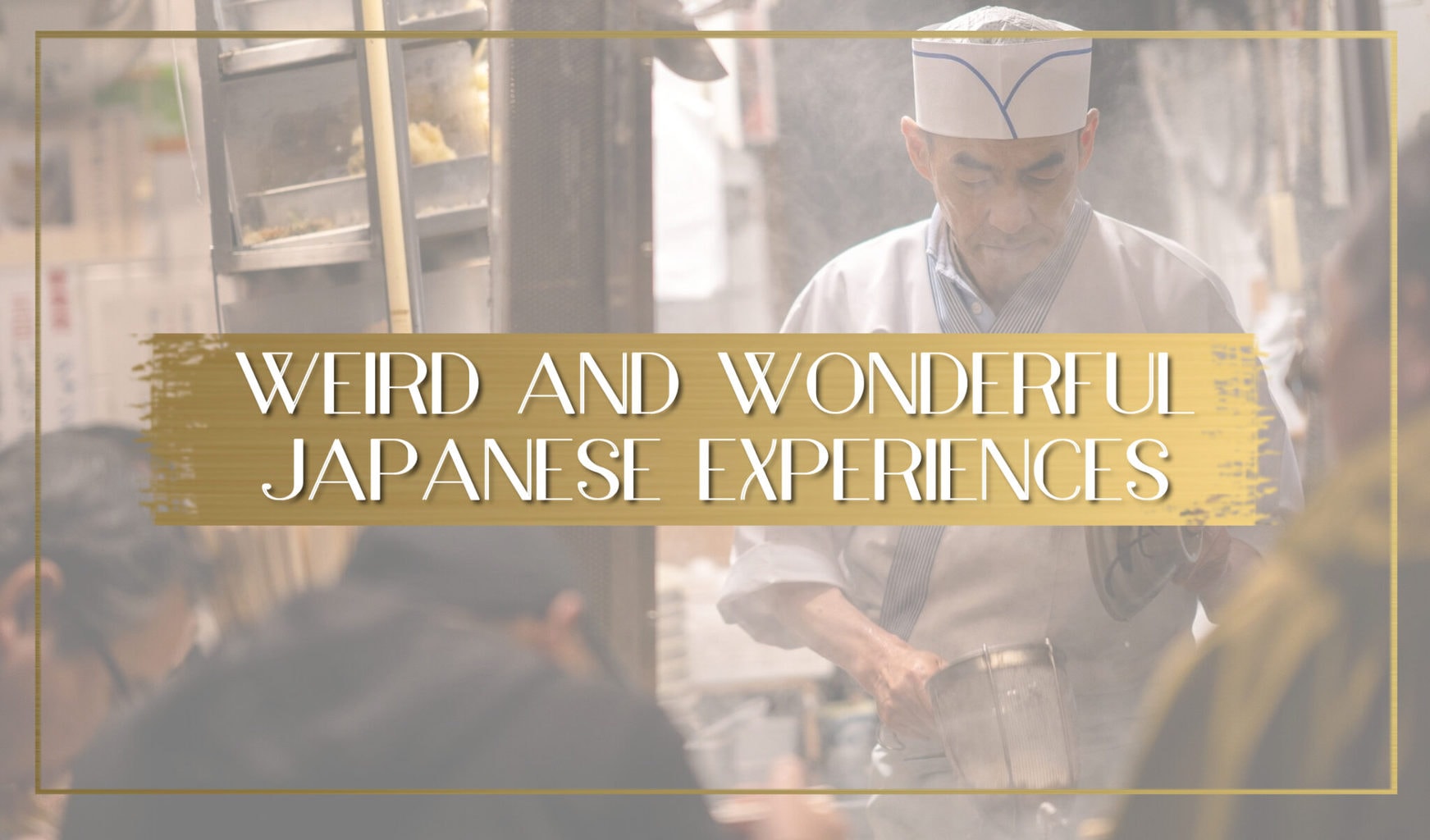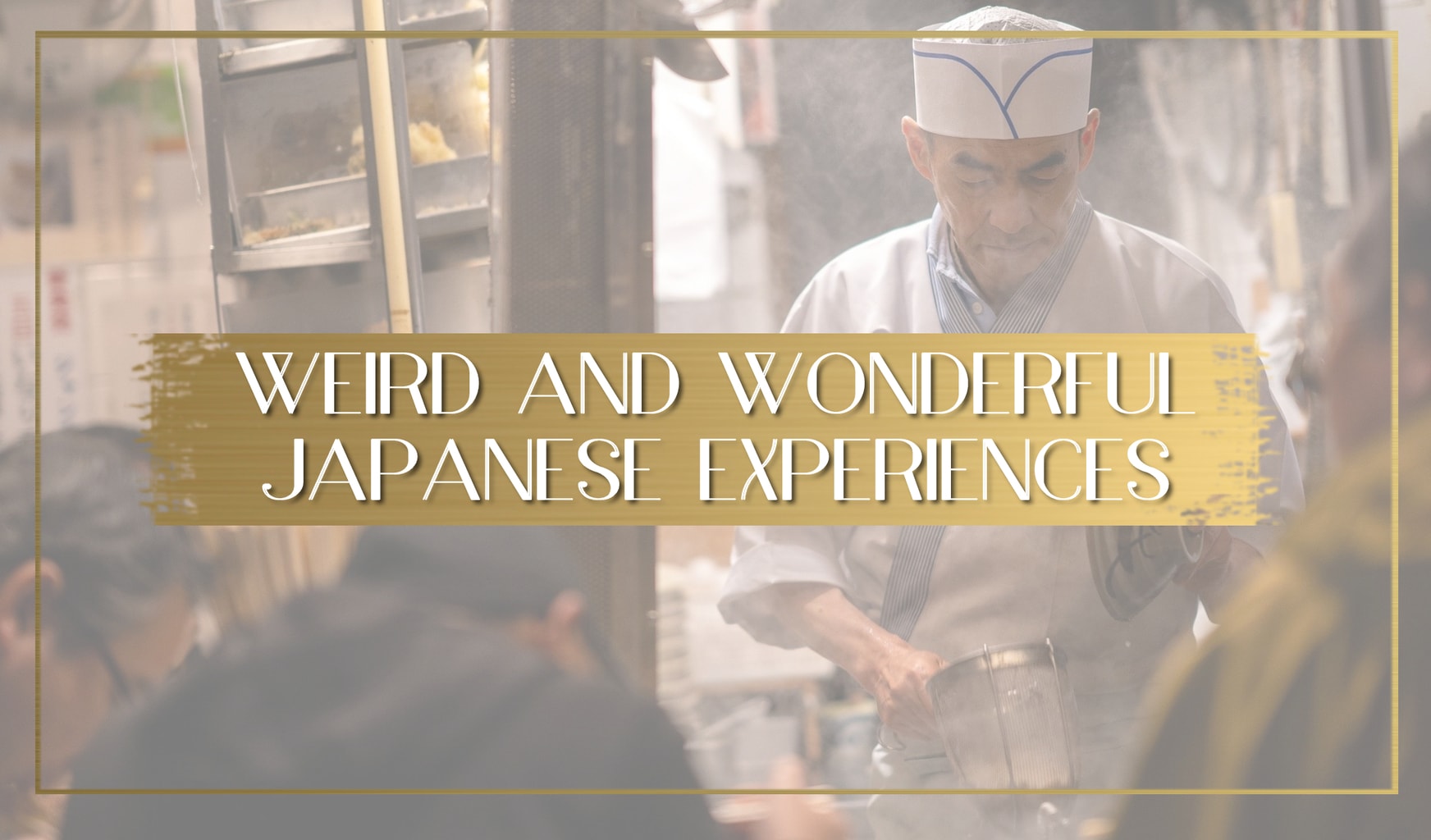 Tokyo is an enchanting and incredibly busy city with lots to offer and lots of things to do. Whereas traveling always gives the chance to experience a new culture, in Japan that is taken to a whole new level because the culture is so shockingly different and at times unpredictable to foreigners.
Here are a few truly Japanese experiences to immerse in the culture that is so fascinating and intriguing to many.
Here's our complete guide of the best things to do in Japan for first time or even seasoned travelers. We have also written about the most delicious Japanese food to try, a complete shopping guide to Tokyo and some inspirational facts about Japan to know before you go. And don't forget our jam-packed 4 day Tokyo itinerary if you're planning to visit the capital.
1. Become a geisha for the day
Geisha have a long standing history in Japan and their origins are closely linked to Japanese culture and psyche, aside from fascinating Westerners and visitors alike with their occasional sightings in the few remaining hanamachi.
If you want to fully understand what it takes to be a geisha, you can sign up for a complete geisha make over and become a geisha for a day. The process, including the photo shot, takes about four hours and it is done at a studio with professional make up and hair artist, a dressing team and a professional photographer.
You can get some of the photos printed as souvenirs and all of them burnt into a CD. It was a truly incredible experience, not to mention the shocking transformation.
2. Join a Sumo wrestling practice session
You can go watch a sumo competition if you happen to be around during the season but perhaps a more authentic experience is to join sumo practice at one of the stables.
As these events are rarely accessible to foreigners without a Japanese speaking guide you will have to join one of the tours. If it is tournament season (3 months of the year in Tokyo) then you can buy tickets to attend one of them. More information can be found here.
3. Be a ninja or samurai for a day
You can make a booking at the Ninja Akasaka restaurant for a true show of ninja skills or go the extra mile and become a samurai for the day with one of the available samurai classes.
You will learn the art of wilding a sword. Check out the page of the most famous samurai sword artist groups, including the master who headed the choreography for Kill Bill. Here are more weird and amazing cafes to visit in Tokyo.
4. Watch Japan's most famous girl group sing
AKB48 is the name and performing headquarters of Japans' largest girl group. The group is made of over 140 girls today although it started with just 48, hence the name which is the abbreviation for Akihabara, where the girls started to sing.
Go in and take a seat at the theatre/bar where you can enjoy some awful food and drink while watching some of their performances on the large TV screen. It is slightly strange to the visitor but permanently full. Or you can go full monty and buy tickets for one of their live events on the upper floors.
5. Play Pachinko
If you are British the Pachinko machine may exude a sense of romanticism and nostalgia most people my age would get from arcade ping ball machines. Pachinko is a strange game of chance played all across Japan. So far nothing weird about it.
Until you get into one of the Pachinko Dens and realise it is all about the players and not about the game. Smoking indoors is still allowed in Japan and Pachinko places seem to be the right time to chain smoke with the same voracity and tenacity as one would do at a racing event.
Lines and lines of loud music, loud arcade machine noise and chain-smoking players throwing money away for unknown reasons at a game that appears to be completely random and boring. A sight to behold.
From the outskirts, Pachinko looks may not look like much, but there is actually a lot to learn and some skill involved. If you want to join in you can book a guided Pachinko lesson here to fully immerse yourself in the experience.
6. Animal themed cafes
Needless to say, Japan put the themed and animal cafes on the world map and they have since sprung across the globe. From the innocent looking cat cafes that can now be found everywhere to the more unusual but still commonplace owl cafes or the rarer hedgehog cafes, Japan will provide your zoo fix with a side of tea.
7. Shop for adult comics
That is right, comic manga pornography (hentai) is openly available to all in Mandarake. This building version of a Batmobile is the center of all things anime and weird in Akihabara. If you were looking for that special gift for your mates or you wanted to take something home that epitomises the anime culture of Japan, this is the place. Make sure they are not in your hand luggage in case airport security really fancies a pat down.
8. Get the perfect outfit for your next dress-up party
At Shibuya 109 (and pretty much across Shibuya) you will be able to get the perfect Kawaii sub-culture cute outfit for your next dress-up party. Think Lolita-inspired lace, pink, innocent doll-looking attire mixing in elements of Gothic fashion, something out of a Japanese movie.
It is truly admirable to watch how some of the shop assistants in the truly Kawaii stores dress. Their raised ponytails, the layered up outfits and the chunky platform shoes all add up to that incredible Japanese icon. You will be the center of attention.
9. Go ga-ga with Robots
Since its opening in 2013 the Robot Restaurant has become as emblematic and well-known as the rest of the themed food places in Tokyo. It is such a weird and wonderful place that it is guaranteed to leave you speechless and make your jaw drop for the duration of the show. You will be wondering what it is all about. It is hard to describe but, if you want a peek, look here. Book online here for the best experience.
10. Get ripped off at a gambling machine
Apart from Pachinko gambling and games are part of the culture. The Japanese have gamified everything, from the street signs to the simple purchases. For the ultimate passtime, head to one of the stores that sell all sorts of small toys in one of those pick up machines and lose some money.
11. Buy a drink at a vending machine
Everybody knows that Japan is the place where you can buy a pair of used panties from a vending machine. I did not see the famous item being sold but buying at least a drink from one of the many vending machines you can find anywhere is almost a right of passage to prove you have been to Japan.
12. Squeeze yourself into the world's smallest bars
Golden Gai is a set of narrow streets in Tokyo that are filled with the world's tiniest bars. Many of them do not accept tourists or patrons that are not part of their usual clientele whereas other might be happy to welcome customers but, in all cases, you will be brushing elbows with all the other clients as space is terribly limited. Go in for a truly local experience and to make new friends, it will be impossible not to talk to the person next to you in one of these sardine cans.
13. Get confused at your future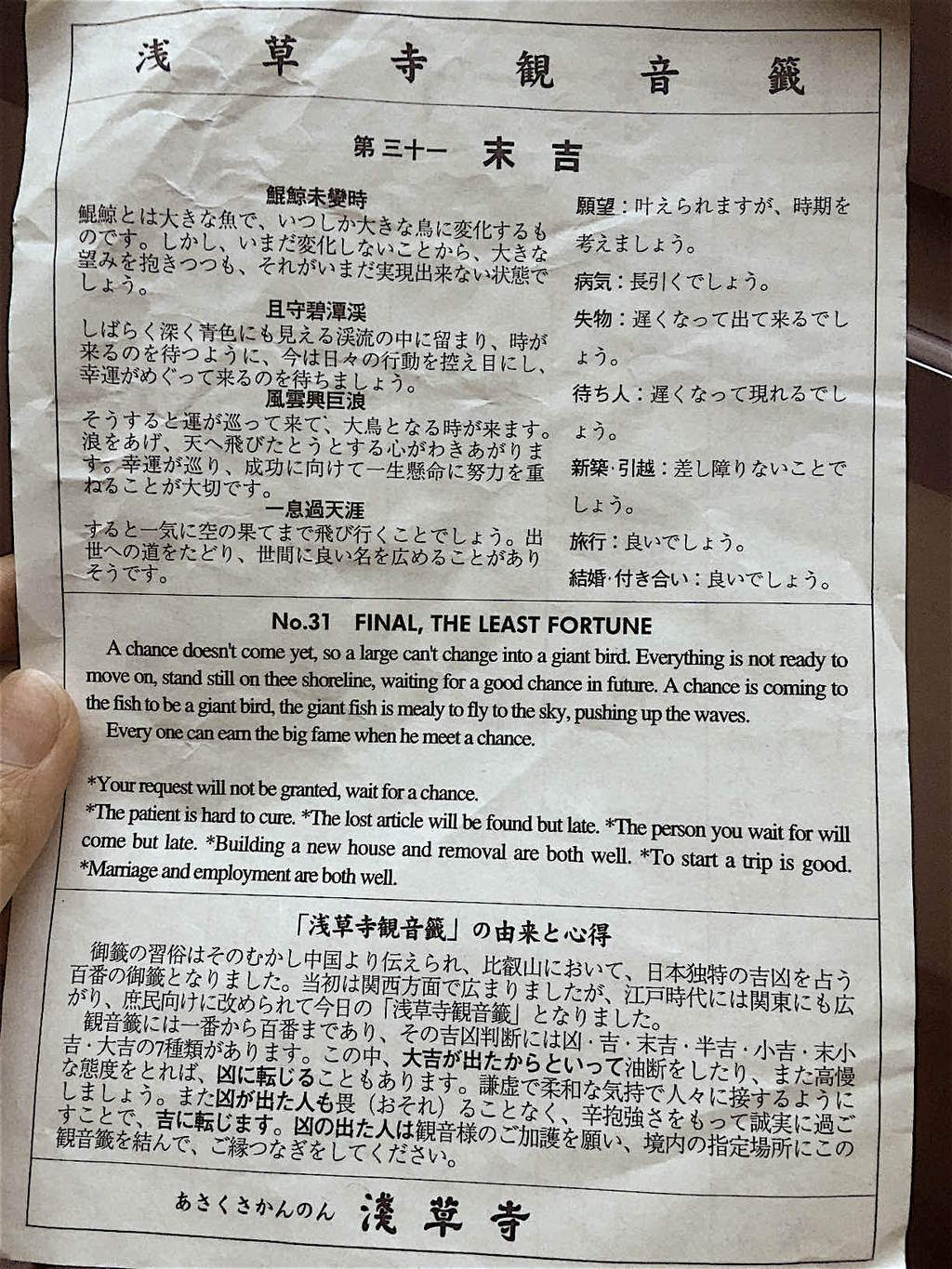 In Asakusa you can visit Tokyo's most famous and holiest temples, Senso-ji. Although this is a working temple where ceremonies take place in the backside, the front part is open to visitors and you can get a stab at your future, just don't expect to understand much.
You pick a number from a set of wooden sticks and the number will determine the drawer from the chest of drawers where your future will be written. In my case, the Oracle talked about fish that can fly and other incomprehensible stories. There is a translation into english, part of which makes no sense, but even, the Japanese version, which my guide translated for me, did not shed much light.
14. Go on, use that spray!
Aside from vending machines and weird cafes Japan is well known for the now widely-spread, smart toilets that will wash you, dry you and even give you a massage all serenaded by the nice music of forest. You will find peace and calm in the bathroom. Go on, try it out!